New Age Islam News Bureau
24 Jan 2018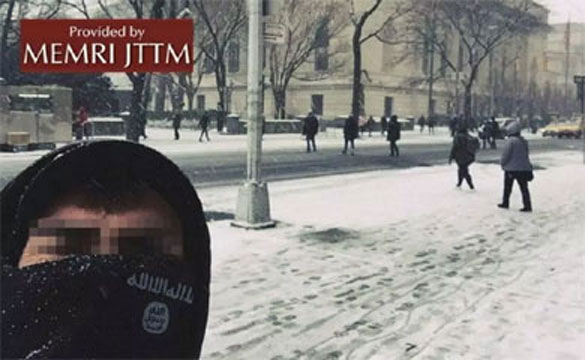 A supposed Isis supporter poses in front of New York Metropolitan museum, posted on 30 December 2017. The caption that appeared on the social messaging platform Telegram, with the original post said, "We are in your home" MEMRI/The Washington Post
-----
• US Designates Indian-Origin ISIS Militant Siddhartha Dhar as Global Terrorist
• Hafiz Saeed offers UN to Visit All JuD Centres
• Libya Car Bomb Death Toll Rises to 33 and Wounds 71 In Benghazi
• Pentagon Strategy Calls for Proxies to Fight War on Terror
• Isis Steps Up Online Propaganda War after Defeat in Raqqa Warning, 'We Are In Your Home
India
• US Designates Indian-Origin ISIS Militant Siddhartha Dhar as Global Terrorist
• Basant, A Festival to Celebrate Hindu-Muslim Unity
• Make Daily Singing of National Anthem Mandatory in Madrassas, Shia Waqf Chief Writes to PM Modi
• Kerala 'Love Jihad' Case: SC Says NIACan't Probe Legitimacy of Hadiya's Marriage
• Terror Accused Wanted an IS-Like 'Caliphate' In India
• Surat Muslim Outfits to Hold Job Fair, 40 Companies Invited
• Hindu and Muslim Families Whose Babies Were Switched At Birth Decide To Keep Them to Raise As Their Own
• Kulbhushan Jadhav case: ICJ fixes deadline for India, Pakistan to file written pleadings
--------
Pakistan
• Hafiz Saeed offers UN to Visit All JuD Centres
• KP Govt Takes Notice of 'Objectionable' Content in Afghan Refugees' Books
• Pakistan on Trump's Order to Fight Jihadists: We're 'Forcing' Them to Return to Afghanistan
• Drone strike kills Haqqani Network commander, two others in N Waziristan
• Ruling elite does not believe in supremacy of Constitution, judiciary: Siraj
• JuD chief asks LHC to stop govt from arresting him
• Taliban negotiators visited Pakistan to discuss peace process: Qatar office
• PUC asks CJP to take suo motu notice of college principal killing
--------
Africa
• Libya Car Bomb Death Toll Rises To 33 And Wounds 71 In Benghazi
• Kenyan Short Film 'Watu Wote' Nominated for Oscar Awards
--------
North America
• Pentagon Strategy Calls for Proxies to Fight War on Terror
• Pentagon-Funded Afghan Units Accused Of Rights Abuses
• US officials arrive in Ankara to discuss Syria
• Number of Anti-Muslim groups in US increased three-fold since Trump launched his Presidential campaign, say experts
--------
Arab World
• Isis Steps Up Online Propaganda War after Defeat in Raqqa Warning, 'We Are In Your Home
• Strikes Kill 150 ISIS Militants in Syria
• Qatar backs Turkey's military action against Kurds
• Saudi airstrike kills more Yemeni children in Sa'ada
• Over 50 Turkish Soldiers, Allied Militants Killed in Clashes with Kurdish Fighters in Northern Syria
• Northern Syria: Turkish Army, Militant Allies Attacking Kurds in Five Directions
• US Treasury: Lebanon must cut Hezbollah from financial system
• Turkey presses assault on Kurdish militia in Syria
• Russia deploys four S-400 missile defense systems to Syria
• Yemen humanitarian operation explained at Saudi meeting
--------
Southeast Asia
• This Indonesian School Is Deradicalizing The Children Of Convicted Terrorists
• Philippines to Fast Track Muslim Self-Rule in Mindanao
• Pray, Are These Halal, Mahathir Asks His Islamic Critics
• Asri attacks missing Amri, says Shia Islam threatens 'national security'
• Indonesia ready to build International Islamic university
• Report: IS sympathisers pose threat to Malaysia, region
• US, Indonesia stepping up cooperation
--------
Mideast
• Iran's Civil Defense Chief Warns of ISIL Access to Biological Weapons
• How Houthi Militias Have Been Plundering Food from UN Aid Agencies
• US, Israel decisions on al-Quds threat to Palestine: Hamas chief
• Turkey clashes with Kurdish militia as US sounds alarm
• Iranian Speaker Warns against Israel as Terrorist Regime
• French FM criticizes US for putting pressure on EU to change Iran deal
• Pence visits Western Wall after pro-Israel speech
--------
South Asia
• Fatwa against Suicide Bombings Causes Dispute between Islamabad, Kabul
• UN Urges Rethink Of Rohingya Repatriations without Safeguards
• US commends Afghan forces swift action in response to Kabul attack
--------
Europe
• Man in Mosque Attack Allegedly Scanned Far-Right Messages
• Briton 'Jihadi Sid' Placed On Global Terror List for Role as Isil Executioner
• 'Daesh landlord' in the dock in first Paris attacks trial
• World steps up pressure on Syria, Russia over chemical attacks
Compiled by New Age Islam News Bureau
URL: https://www.newageislam.com/islamic-world-news/us-designates-indian-origin-isis/d/114045
--------
US designates Indian-origin ISIS militant Siddhartha Dhar as global terrorist
January 24, 2018
The US today designated Indian-origin Islamic State militant from Britain Siddhartha Dhar along with a Belgian-Moroccan citizen as global terrorists and imposed sanctions on them, the State Department said.
Dhar, a British Hindu who converted to Islam and now goes by the name Abu Rumaysah, had skipped police bail in the UK to travel to Syria with his wife and young children in 2014.
Nihad Barakat, a Yazidi teenager held as a sex slave by ISIS, was quoted as saying by the Independent in May 2016 that she was kidnapped and trafficked by Dhar, who was based in Mosul, the groups former stronghold in Iraq.
Dhar was dubbed as the "New Jihadi John" and became a senior commander of the dreaded outfit, the report had said.
The State Department has designated two ISIS members, Siddhartha Dhar and Abdelatif Gaini, as Specially Designated Global Terrorists under Section 1(b) of Executive Order which also imposes sanctions on foreign persons determined to have committed, or pose a significant risk of committing, acts of terrorism that threaten the security of US nationals or the national security, foreign policy, or economy of the US, a state department spokesperson said in a statement.
These designations seek to deny Dhar and Gaini the resources they need to plan and carry out further terrorist attacks, it said.
Among other consequences, all of Dhars and Gainis property and interests in property subject to US jurisdiction are blocked, and US persons are generally prohibited from engaging in any transactions with them, it said.
Dhar was a leading member of now-defunct terrorist organisation Al-Muhajiroun. In late 2014, Dhar left the United Kingdom to travel to Syria to join ISIS, it said.
He is considered to have replaced ISIS executioner Mohammad Emwazi, also known as "Jihadi John", it said.
Dhar is believed to be the masked leader who appeared in a January 2016 ISIS video of the execution of several prisoners ISIS accused of spying for the UK, the statement said.
Gaini is a Belgian-Moroccan citizen believed to be fighting for ISIS in the Middle East. Gaini is connected to UK-based ISIS sympathizers Mohamad Ali Ahmed and Humza Ali, who were convicted in the UK in 2016 of terrorism offenses, it said.
Todays action notifies the US public and the international community that Dhar and Gaini have committed or pose a significant risk of committing acts of terrorism, it said.
Terrorism designations expose and isolate organizations and individuals, and deny them access to the US financial system. Moreover, designations can assist the law enforcement activities of US agencies and other governments, it said.
https://www.indiatoday.in/world/story/us-designates-indian-origin-isis-militant-as-global-terrorist-1152826-2018-01-24
--------
Hafiz Saeed offers UN to visit all JuD centres
BY IHSAN QADIR
Jan 24, 2018
LAHORE: Jamaat-ud-Dawa (JuD) Ameer Hafiz Muhammad Saeed on Tuesday announced to observe ten days for Kashmir from February 2 to 11.
Addressing a press conference at Markaz Al-Qadsia, he said, "The countrywide campaign will be launched to express solidarity with the Kashmiri brethren."
He offered a UN team to visit any centre in Pakistan.
"We do not do any illegal work," he said. "Doors of educational complex of Markaz Taiba and all of our centres in Pakistan are open for everyone."
He said plans to freeze and take over the assets of JuD and Falah-e-Insaniat foundation have been conceived due to external pressures.
"In the past, our rulers accepted the US' 'do more' mantra, and now a similar policy is being followed regarding India's dictates against JuD. The UN delegation's arrival for the review of restrictions on JuD has been used by the government as a pretext for all of its anti-JuD actions," he said. "The government is trying to fool the people as it is not the first time these delegations have come. This also depicts the difference in Pakistan and India's approach towards these resolutions. There are a plethora of UN resolutions on Kashmir but India simply does not care."
He also lashed out at the Indian army for massacring the Kashmiris in the valley, urging the government of Pakistan to raise a strong voice and give a strong message to New Delhi.
He also announced to observe 2018 for Kashmiris and said, "We will hold all parties conferences and seminars to keep the issue in the limelight. Similarly, on a district level, programmes and rallies will be arranged. 'Martyrdom Days' on the anniversary of Afzal Guru and Maqbool Butt will also be observed on February 9 and 11 February respectively."
Hafiz Muhammad Saeed called the ban on media coverage of JuD and its activities "illegal". He said, "We are under observation in Pakistan. Why were we banned? We have filed a petition in the high court regarding the government's steps."
Urging the interior minister to present the court's decision in the UN, he said, "The Supreme Court and high court have given their verdicts many times in our favour. Why the world is not giving our courts' decisions any worth?"
He said the interior minister seemed to be inspired by Indian propaganda.
"Last year, I announced to observe the year 2017 for Kashmir. After this announcement, my allies and I were put under house arrest. On the other side of the border, India detained Kashmiri leaders," he said. "After a 10-month detention, I announced to raise a forceful voice for Kashmir. When I declared 2018 as the year of Kashmir's freedom, India accelerated its propaganda campaign against us. Israel and the US have also embraced India's vicious course."
He said, "Israel has announced to support Indian surgical strike. After the agreement between India and Israel, intensive firing has been witnessed at the Line of Control."
India's foreign policy seemed to be revolving only around Hafiz Saeed, he said, adding that his issue with India was regarding Kashmir only.
He said, "We are serving the humanity in the whole country. Monthly ration, free education and healthcare facilities have been provided to Kashmiri refugees for the past seven years. The government is not giving any aid."
JuD head of political affairs Hafiz Abdul Rehman Makki, Moulana Ameer Hamza and Abul Hashim Rabbani were also present.
https://www.pakistantoday.com.pk/2018/01/23/hafiz-saeed-offers-un-to-visit-all-jud-centres/
--------
Libya car bomb death toll rises to 33 and wounds 71 in Benghazi
24 January 2018
The death toll from a car bomb blast has risen to 33 people and wounded 71 others near a mosque in the Libyan city of Benghazi on Tuesday night, security officials told Al Arabiya.
The explosives-rigged vehicle blew up in front of a mosque in the central neighborhood of Al-Sleimani, a security source said.
Sources have also confirmed to Al Arabiya that Libya's counter-espionage director at Libyan Intelligence, Brigadier Mahdi Falah, is among the injured in the blast.
Spokesman of Central Security in Benghazi Tarek al-Kharraz earlier told Al Arabiya that the bombing left more than 40 wounded.
"Aid is still ongoing, while the criminal investigation teams and other security services are investigating the incident to reach the culprits," Kharraz told Al Arabiya.
He confirmed that the bombings were targeting civilians in the densely populated Sleimani area.
Libya has been rocked by chaos since a 2011 uprising that toppled and killed dictator Muamar Ghadafi, with two rival authorities and multiple militias vying for control of the oil-rich country.
Military strongman Khalifa Haftar in July announced the "total liberation" of Benghazi, three years after his forces launched a military operation to seize the city from jihadists who had made it a stronghold following the revolution.
But clashes and attacks in the city have continued, including against diplomatic facilities and security forces.
Haftar supports a parliament based in the far east of Libya, while a rival United Nations-backed unity government in the western capital Tripoli has struggled to assert its authority nationwide.
https://english.alarabiya.net/en/News/north-africa/2018/01/24/Car-bomb-kills-at-least-4-in-Libya-s-Benghazi.html
--------
Pentagon strategy calls for proxies to fight war on terror
By Carlo Muñoz
January 23, 2018
Taking a page from its adversaries' playbook, the U.S. military is looking to outsource more of the fighting in the global war on terror to allied proxy forces and potentially private military contractors.
The Defense Department's long-awaited National Defense Strategy rolled out last week calls for the Pentagon to increase its reliance on local forces, possibly backed by a significant private contractor force, to tamp down extremists in hot spots such as Syria, Libya and the Philippines.
The plan, which in some ways mirrors Iran's heavy use of proxy forces to expand its influence and unnerve its foes across the region, could usher in a new era in America's decades-old counterterrorism mission, former U.S. defense and counterterrorism officials say.
A large portion of the unclassified summary of the National Defense Strategy is dedicated to revamping American military and national security policy to counter the growing military challenge from rising major state powers such as China and Russia. But buried within the document is a more aggressive tactic toward employing partner nations and proxy forces in the fight against terrorist groups that has been a central Pentagon obsession since Sept. 11, 2001.
"Our allies and partners came to our aid after the terrorist attacks of 9/11, and have contributed to every major military engagement since," according to the National Defense Strategy. "We will strengthen and evolve our alliances into an extended network to meet the shared challenges of our time" in the realm of counterterrorism.
The counterterrorism blueprint is "more of a refinement of the Obama-era strategy than an abandonment" of the mission altogether, said Hal Brands, a defense official in the Obama administration and now a senior analyst at the Washington-based Center for Strategic and Budgetary Assessments.
Despite the deployment of U.S. air power, drones and special operations forces, the Obama administration's seeming reluctance to employ such measures in the counterterrorism wars was a major sticking point for the current administration, Mr. Brands said.
The "light footprint" approach to counterterrorism that defined the U.S. operations under Mr. Obama is seen by President Trump's advisers as overly cautious, Mr. Brands said, while the heavier emphasis on state-building in Afghanistan and elsewhere was a path Trump officials were loath to go down.
The new strategy, emphasizing "the aggressive use of military advisers and overwhelming air power" to support proxy forces in Iraq, Syria, Yemen and other hot spots, is an attempt to limit the chances of another long-term military commitment like Afghanistan, Mr. Brands said.
"That is the crucial balance in the [new] strategy," he said.
David Sedney, a onetime Obama administration aide and now a senior analyst at the Center for Strategic and International Studies, said the plan represents "a harder footprint" in the counterterrorism fight.
"I see it as keeping continuity [with the Obama administration] in terms of focus on counterterrorism," Mr. Sedney said. "But what we are going to have is a harder, stronger [strategy] with a focus on striking and defeating" terrorist organizations, rather than engaging in the nation-building quagmires in Iraq and Afghanistan.
'Harder footprint'
As part of this harder footprint, American commanders and national security policymakers are looking to reinforce ties with allied militaries and expand a network of "regional coalitions" in areas where groups such as Islamic State and al Qaeda are gaining footholds.
"We will develop new partnerships around shared interests" with regional powers, to curb expansion of extremist networks across the globe, according to the strategy. "We have shared responsibilities for resisting authoritarian trends, contesting radical ideologies and serving as bulwarks against instability."
The Pentagon and State Department will entice potential partners with American weapons and support, the strategy states. The Defense Department, in consultation with State and Capitol Hill, "will prioritize requests for U.S. military equipment sales, accelerating foreign partner modernization and ability to integrate with U.S. forces."
The Trump administration has already moved toward easing restrictions on American arms sales overseas.
Proxy allied forces will also have the protection of U.S. air power and adviser forces on the ground, according to the National Defense Strategy.
The support strategy was on prominent display in the fight against Islamic State, with Iraqi forces and Syrian Kurdish fighters taking the lead on the ground in ousting the terrorist group from its strongholds in Mosul and Raqqa, with the U.S. providing devastating airstrike support.
Mr. Trump also sent a signal by green-lighting the dropping of the "Mother of all Bombs" on an Islamic State tunnel complex in Afghanistan in June, marking the first time U.S. forces used the massive conventional bomb in combat.
Washington will look for local partners on the ground in targeting extremist enclaves in Africa as well, according to the strategy. "We will bolster existing bilateral and multilateral partnerships and develop new relationships to address significant terrorist threats that threaten U.S. interests," it said.
Critics worry that the new approach too closely mirrors the Iranian model — and may come with some of the same drawbacks.
Military advisers with the Islamic Revolutionary Guard Corps and the Quds Force, which specialized in training and advising Iranian proxy forces, have successfully trained and equipped a collection of proxy forces stretching across Iraq and Syria to Lebanon's border. The establishment of that "Shiite Crescent" is a testament to Tehran's deftness at cultivating proxies to expand its influence at a bargain price.
But Mr. Sedney said the Iranian comparison was an attempt "to score cheap political points" against the White House.
"Countries using other countries is not new, and it certainly was not invented by Iran," he said. "Some people will call them proxies, while others call them partner nations."
Contracted out
The new Pentagon strategy could also be a boon for private military contracting firms, which could find lucrative business supporting American partner nations.
"Our military runs on contractors," Mr. Sedney said. "In comparing the numbers between contractors and military troops on the ground now, the [difference] is not that different."
In the wake of the campaign against Islamic State in Iraq, the numbers of private contractors has only increased.
The number of Defense Department contractors in Iraq rose 37 percent, from 3,592 to 4,927, in the past year, according to U.S. Central Command figures released last week. Contractors involved in base operations and logistics in the Islamic State campaign jumped from just over 1,700 in January 2017 to over 2,300 this month, Military Times has reported.
The White House also has not shied away from using more private military contractors — mercenaries — in U.S.-led operations. Administration officials reportedly entertained the idea of having security contractors conduct the bulk of the military adviser mission in Afghanistan.
Proposed by Erik Prince, the former Navy SEAL and founder of Blackwater, the plan would have the 5,000-member contractor army backed by a privately owned air force operated outside the Pentagon's chain of command. The proposal includes recruiting retired special operations forces soldiers from the United States and allied nations to embed with Afghan army units.
Mr. Trump eventually decided to go with a traditional U.S. military force for his planned escalation, but Mr. Prince is said not to have abandoned his idea.
https://www.washingtontimes.com/news/2018/jan/23/national-defense-strategy-eyes-war-on-terror-proxi/
--------
Isis steps up online propaganda war after defeat in Raqqa warning, 'We are in your home
Jan 24, 2018
The man with the Isis scarf appears to be playing a kind of jihadist peekaboo.
In the photo, he hides his features behind the terrorist group's infamous logo but shows just enough background scenery so viewers can recognise his location: New York's Central Park, in wintertime.
"We are in your home," reads the photo's simple caption, posted online a few days after Christmas and circulated widely on a prominent jihadist internet channel.
Precisely when the photo was taken is not known, but the message is chillingly clear. It has been repeated in similar posts in recent weeks, all purporting to show Isis operatives casing landmarks in Western cities and urging followers to carry out attacks wherever they are. "It is time to harvest the heads," the narrator in one such video states.
Such is the typical fare served up by Isis's propaganda machine, which remains very much alive three months after the fall of the terrorist organisation's capital in Raqqa, Syria. The self-proclaimed caliphate has been reduced to a handful of villages in the Syrian desert, but the "virtual caliphate" fights on, a diminished but still formidable presence focused on rallying the group's followers in the face of crushing military defeats, according to US officials and independent analysts.
The content has changed significantly since the loss of Raqqa, formerly home to the group's official media division and production facilities. Gone are the glossy Isis magazines and slick videos extolling the virtues of life under militant Islamist rule. In their place is a steady stream of incitements, nearly all of them aimed at offering encouragement and detailed instructions for carrying out terrorist attacks.
Some are amateurish and appear to originate not from studios or official spokesmen, but from bloggers and other volunteers who often are only loosely affiliated with Isis - the online equivalent of lone-wolf terrorists who act without official guidance or instruction. Terrorism analysts say Isis is growing more dependent on such independent platforms, which are capable of distributing highly targeted appeals in scores of local languages and can't be easily silenced by military strikes.
At the same time, there are signs of new life from the group's official mouthpiece. Last week, Isis's Amaq News Agency issued its first English-language communiques since mid-September, just before the fall of Raqqa. The first weeks of 2018 have also seen a sharp rise in traffic on pro-Isis social media accounts compared with previous months, according to an analysis released Friday by the SITE Intelligence Group, a private firm that monitors jihadist content.
"The Islamic State is now showing the first signs of a regrouping media operation," said SITE Executive Director Rita Katz. "The group suffered major setbacks by coalition and regime attacks but is now clearly taking major steps to reassemble its propaganda operation, which is among its most dangerous weapons."
The newest propaganda campaign illustrates the difficulties faced by counter-terrorism officials in seeking to stop militants from connecting with would-be terrorists in the United States and throughout the West. Even after destroying the Isis's sanctuary and successfully blocking - with help from private companies - hundreds of the group's social media accounts, the terrorists and their supporters continue to find ways to get their messages out, analysts say.
"The depletion of Isis on the battlefield has not yet translated into the degradation of Isis in the online space," said Tara Maller, a former CIA military analyst and senior policy adviser for the Counter Extremism Project, a nonpartisan group that promotes policies to block extremist content online. "What we see is a continuing effort to engage online and an increased effort to inspire people to carry out lone-wolf attacks."
US officials and analysts have been watching closely to see how the collapse of the caliphate would affect the group's propaganda machine, the driving force behind Isis's rise to global prominence. Beginning in Syria in 2013, the group's leaders spent millions of dollars creating a nimble, technically savvy media operation with a heavy social media presence.
Under Presidents Barack Obama and Trump, the Pentagon and CIA tried different measures to knock the terrorists offline. US fighter jets and drones bombed Isis's production houses and stalked its spokesmen, while the State Department pressed YouTube and other social media companies to block the militants' Web channels and chat rooms. In response, the terrorists shifted tactics, migrating to different social media platforms and cultivating a global network of allies to amplify official messages and post their own pro-Isis content.
Still, the fall of Raqqa in October resulted in a steep decline in Isis's official media output. Rumiyah, the group's flagship online publication, appears to have ceased production entirely, while the number of routine posts and videos is down sharply. The analysis by SITE shows that Isis-affiliated websites put out a total of 907 communiques, reports and videos between November and December of 2016. During the same period this past year, the group and its supporters managed only 211.
An analysis published on 7 January by the national security blog Lawfare cites an overall drop in content of about 90 percent from Isis's high-water mark in 2015.
"This is not just a media decline - it is a full-fledged collapse," the report's authors, counterterrorism researchers Charlie Winter and Jade Parker, write in the blog.
But volunteers have stepped up to fill the gap, analysts say. The broader web of militant commentators and videographers - a network that was encouraged and facilitated by Isis in its heyday - was designed to continue functioning even if the mother branch was completely shut down.
While many of the individual cyberwarriors have been around for years, Isis has become more reliant on them in issuing appeals for what Winter and Parker call "retributive terrorism" - acts of violence intended to avenge the group's losses while convincing followers and foes that it remains relevant.
"Before its territorial decline, a successful terrorist operation was a tactical bonus. Now, it is a strategic necessity," the writers state. "The online sphere has been tailored to facilitate these attacks more efficiently than ever before.
The posting of the "peekaboo" jihadist's selfie in New York was part of a remarkable incitement campaign that began in the weeks before Christmas and continued through early January. Several videos and photographs that appeared online during the period sought to convey the impression that Isis warriors were lurking everywhere. The images depict well-known landmarks such as Paris's Eiffel Tower, the Sydney Harbour Bridge in Australia and the Los Angeles skyline.
The New York photo appears to have been taken outside New York's Metropolitan Museum of Art, on the edge of Central Park on the city's Upper East Side. It is unclear whether the photo is genuine or altered, but it depicts weather similar to that experienced by New Yorkers late last month, with pedestrians in heavy coats and hats trudging along sidewalks lightly covered with snow.
A commentary accompanying one of the videos warns of coming terrorist attacks while offering tips to supporters on how to unleash mayhem during the Christmas holiday season, when urban streets would be packed with shoppers and revellers.
"Make [explosive] devices and plant them in their celebrations," it says, "or set their homes and forests on fire, or run over the largest number of unbelievers with your vehicle, or stab them repeatedly with a knife."
Other postings in recent weeks offered detailed technical advice. On the messaging application Telegram, Isis supporters published a Knights of the Lone Jihad series with how-to manuals on everything from bomb-making to the poisoning of food supplies.
Experts who closely monitor jihadist channels say the overall impression is that of a vibrant propaganda machine that hasn't slowed appreciably or moderated its content. To ensure the broadest audience, the messages are typically translated into multiple languages, including English, Arabic, Russian, Urdu and even Chinese.
"When you look at the unofficial Isis material out there - the stuff posted by Isis supporters - that has not diminished," said Steven Stalinsky, executive director of the Middle East Media Research Institute, a Washington nonprofit. "There is so much content - so many accounts, so many new chats - and more popping up every day."
For whatever reason, the holiday season appeals did not bear fruit, although there was at least one close call. In mid-December, federal officials arrested a 26-year-old California man for allegedly plotting a Christmas-week attack on San Francisco's famed Pier 39 commercial area. US officials said the suspect, a former Marine, had expressed support for Isis on social media.
Both suspects in the two attacks in New York last year - Sayfullo Saipov, the Uzbek immigrant who ran over pedestrians with a truck in Lower Manhattan on 31 October, and Akayed Ullah, a Bangladeshi immigrant who exploded a crude bomb in a Times Square subway tunnel on 11 December - also told authorities they were inspired by Isis videos.
Each terrorism attempt - successful or not - serves as a reinforcer, generating waves of excitement among online jihadists while encouraging further use of the same tactics, said Stalinsky, who also is the author of American Traitor, a biography of the al-Qaeda propagandist Adam Gadahn.
"Even if it's a small attack, it pumps blood into the cyber-body of ISIS," he said. "All it takes is one attack to produce a lot of energy for the online movement."
http://www.independent.co.uk/news/world/middle-east/isis-propaganda-war-online-raqqa-defeat-telegram-terror-threat-islamic-state-extremism-a8173456.html
--------
India
Basant, A Festival to Celebrate Hindu-Muslim Unity
Jan 24, 2018
HYDERABAD: Admirers of Sufism were at their ecstatic high on Monday night as the sacred environs of the Dargah of Hazrat Shaik Ji Hali in Old City reverberated with the devotional songs of the 13th century saint-poet Amir Khusro to mark the festival of Basant.
The Sufi Basant festival, a symbol of Hindu-Muslim unity, is celebrated at all major dargahs of Sufi saints on Basant Panchami, which heralds the spring . It is also dedicated to Saraswati, the goddess of learning and knowledge.
As Sufi singers recited the famous Khusro poem (a mix of Persian and proto-Hindi), Zehaal-e-miskeen makun taghaful, duraye naina banaye batiyan(Do not overlook my misery, by blandishing your eyes and weaving tales), the Dargah and the nearby Charkaman and Gulzar Houz were transformed into a realm of spiritualism and love.
Incidentally, the Dargah of Hazrat Shaik Ji Hali is located where once the palaces of the Qutub Shahi rulers stood. The Qutub Shahis introduced the Muslim participation in Basant, essentially a Hindu festival, about five centuries ago.
Mohammad Quli, the founder of Hyderabad, wrote many poems in Telugu and Urdu on Basant Panchami. He also wrote on Mrugashira that heralds monsoon. Though none of his Telugu poems are available, nine Basant songs in Urdu were compiled eight decades ago. The anthology, Kuliyat-Muhammad Quli Qutub Shah, was published in 1940.
The idea behind holding Basant as a royal festival during Qutub Shahi period was to promote communal harmony. The Basant tradition was introduced in India by Amir Khusro, a follower of Hazrat Nizamuddin. It was revived in Hyderabad by Moulana Muzaffar Ali Soofi Chisti, custodian of Shaik Ji Hali Dargah.
The story goes that Khusro wanted to bring back the smile on the face of his teacher, Hazrat Nizamuddin, who had withdrawn from the world after the death of his nephew. Khusro dressed himself in yellow and sang carrying mustard flowers, bringing a smile on his teacher's face. In fact, Khusro was inspired by a group of Hindu women who were out to worship Saraswati on Basant Panchami.
The Sufi Basant festival on Monday saw the participation of many dignitaries, including consul-general of Turkey Adnan Altay Altinors, deputy high commissioner of UK Andrew Fleming, Nalsar University VC Prof Faizan Mustafa and Intach Telangana co-convener P Anuradha Reddy.
https://timesofindia.indiatimes.com/city/hyderabad/a-festival-to-celebrate-hindu-muslim-unity/articleshow/62628132.cms
--------
Make daily singing of national anthem mandatory in madrassas, Shia waqf chief writes to PM Modi
Jan 23, 2018
Yusra Husain
LUCKNOW: After asking madrassas to be shut down for radicalising Indian Muslims, UP Shia Central Waqf Board chairperson Waseem Rizvi has now asked for mandatory singing of national anthem at madrassas. He also demanded mandatory flying of the national tricolour on all national festivals.
In his nine-point letter to Prime Minister Narendra Modi and chief minister Yogi Adityanath, the board's chairperson also asked for revamping of the madrassa education and syllabus on the pattern of the ICSE/CBSC/state boards. These, he said, are his suggestions to authorities for the modernisation of madrassa.
Rizvi has also asked for mandatory verification of foreign students studying in Muslim madrassas, schools, colleges and all educational institutions by local intelligence authorities to ensure national interest and security.
"It is the fundamental duty of every Indian to fly the national tricolour and sing the national anthem under the sub-clause (a) of Article 51A of the Indian constitution," reads Rizvi's letter.
It states that regular conferences and seminars on role of Indian revolutionaries and educationists including Muslim intelligentsia like Sir Syed Ahmad Khan should be spelt out before students for inculcating nationalism in their nascent minds.
"A mechanism should be made to thoroughly monitor donations and other incomes earned by madrassas for national security to counter aims of Jihadi groups, terrorists and Wahabis who are trying to radicalise Muslim youth and nascent minds worldwide. They spread misconceived practices and policies against national interest," he said.
The letter states that a common education policy for madrassas is required since a number of children studying in these institutions that Rizvi interacted with "are hardly aware of even the basics of education."
The said letter comes after Rizvi raised a storm by sending a similar representation to PM Modi and CM Adityanath on January 8 asking for madrassas to be shut, which received flak from both Shia and Sunni clerics and an FIR was lodged in Delhi by them.
He was also sent a defamation notice from the Maharashtra unit of Jamiat Ulama-e-Hind and the Islamic Madrasa Modernisation Teacher's Association. Rizvi claimed that he had also received a threat call from an aide of underworld don Dawood Ibrahim for the same.
Full report at:
https://timesofindia.indiatimes.com/india/make-daily-singing-of-national-anthem-mandatory-at-madrassas-shia-waqf-chief-writes-to-pm-modi/articleshow/62624943.cms
--------
Kerala 'Love Jihad' Case: SC Says NIACan't Probe Legitimacy of Hadiya's Marriage
Jan 23, 2018
The Supreme Court said on Tuesday the National Investigation Agency (NIA) cannot probe the legitimacy of Hadiya Jahan's marriage that was annulled by the Kerala high court last year, sparking a raging debate over personal freedom in India.
The bench headed by chief justice Dipak Misra said marriage has to be separated from criminal action or conspiracy, adding that adding that only Hadiya has the right "to decide on her choices".
The SC made Hadiya a party in the case and asked her to file a response as it continued hearing the case of alleged forced conversion.
"She is an adult. She appeared before us and said she is married. What can the court do? We can't get into the legitimacy of the person whom she has married. Legitimacy of marriage can be questioned only by her or the man," the SC said on Tuesday.
The apex court said the NIA's investigation into a "pattern" involving conversion to Islam and marriages in Kerala will have no bearing in deciding the aspects of the legitimacy of marriage of Hadiya and Shafin Jehan.
Hadiya, 24, was born Akhila Ashokan before she converted after her marriage. The HC had sent her back to her father's house but the top court later freed Hadiya to continue her studies.
The woman's father claims the marriage was forced and was a case of love jihad, a term right-wing groups use to allege an Islamist strategy of converting Hindu women through seduction, marriage or money.
Full report at:
https://www.hindustantimes.com/india-news/kerala-love-jihad-case-sc-says-legitimacy-of-hadiya-s-marriage-can-t-be-questioned/story-heXe5HrjxslG7HbdsNcoDL.html
--------
Terror Accused Wanted an IS-Like 'Caliphate' In India
Jan 24, 2018
NEW DELHI: Arrested terror operative Abdul Subhan Qureshi alias Tauqeer has told his interrogators that he had left India after the Ahmedabad blasts to establish an IS-like "caliphate", which would have been headed by Mullah Omar of Taliban.
"Tauqeer said that after SIMI was banned in 2001, he and Safdar Nagori formed a new outfit and gave it the temporary name of Islamic Movement by picking I and M from SIMI. Later, these initials were used for Indian Mujahideen. This new outfit had pledged allegiance to Omar," said an investigator.
After being assigned the task of liaising between IM and Taliban, Tauqeer started on his quest using inputs provided by one Nasir who had links with Lashkar-e-Taiba. Omar was based in Af-Pak region at that time.
Nasir, who had returned after receiving terror training from camps in POK, had encouraged Nagori to take the Jihad to a bigger level and also promised to procure automatic weapons. TOI had on Tuesday reported that Nasir had given bomb-making lessons to Tauqeer.
The caliphate was supposed to comprise sleeper cells and underground members of SIMI and IM, apart from the cadres formed by Tauqeer in Bihar and Jharkhand. To train these members, camps were organised at various places and recruits shown videos of Gujarat riots to brainwash them into joining a global jihad.
After escaping to Nepal, Tauqeer met Riyaz Bhatkal who hooked him up with one Nizam Khan for logistics. Riyaz subsequently fled to Karachi. Though cops suspect that Tauqeer travelled from Nepal to Pakistan on a fake passport, they are yet to gather any evidence.
However, cops said that Tauqeer provided no evidence of his meeting with Omar, who died in a Pak hospital in April 2013. The news of his death, however, was confirmed in 2015. After getting to know of Omar's death, Tauqeer travelled to Saudi Arabia at the behest of Riyaz Bhatkal to raise funds and meet people who could help him establish the caliphate.
Full report at:
https://timesofindia.indiatimes.com/city/delhi/terror-accused-wanted-an-is-like-caliphate/articleshow/62626236.cms
--------
Surat Muslim outfits to hold job fair, 40 companies invited
January 24, 2018
by Kamaal Saiyed
Mumbai-based organisation Associate Muslim Professionals (AMP) is set to hold its first job fair in Surat on January 27, and has invited youths from every religion and caste to participate in the fair.
AMP, a group of 20 professionals, has been working in the fields of educational training, jobs and career guidance in Maharashtra and other states for the past few years.
Now, the Surat chapter of the organisation has collaborated with the Surat Islam Yatimkhana Society, Progressive Muslim Education Trust and National Career Services, and invited over 40 corporate companies to participate in the job fair.
The eligibility criteria for employment at the job fair is 10th standard and above. Firms from different sectors like insurance, finance, retail, FMCG, BPO etc have been invited. Attempts are being made to create awareness among the unemployed youth in the city regarding the fair.
Aamir Edressy, the president of AMP, said, "We are putting our level best to make this program a grand success. This is our 21st job fair in India. Till now over 21,000 unemployed youths got jobs through our fairs". "Our teams maintain regular contact with the corporate firms and collect data on their vacancies, after which we organise job fairs. We will assess the response in Surat and conduct similar fairs again in Gujarat," added Edressy.
AMP Surat chapter member Kasim Bham said, "This job fair is not only for Muslims, any youth irrespective of religion or caste, can approach and participate in the fair." "The youths should bring their photo identity with necessary certificates and fill the forms on January 27 and on the same day they would be interviewed by the representatives of different corporate companies. The jobs will be given in Surat and not outside the district," said Bham.
Full report at:
http://indianexpress.com/article/india/surat-muslim-outfits-to-hold-job-fair-40-companies-invited-5036916/
--------
Hindu and Muslim families whose babies were switched at birth decide to keep them to raise as their own
Jan 24, 2018
Two children born into separate Hindu and Muslim families and switched at birth are refusing to change back after DNA results proved their parentage.
After heading to court earlier this month to carry out the exchange, the toddlers refused to leave the parents they had grown up with.
On Wednesday, the two families will tell a judge in the north-eastern Indian state of Assam that they intend to raise each other's offspring, according to the BBC.
The accidental switch was confirmed when Shahabuddin Ahmed received the test results showing no genetic match between his wife, Salma Parbin, and his legal son, Jonait.
Ms Parbin said she doubted Jonait was her son the moment she first set eyes on him shortly after he was born almost three years ago at the Mangaldai Civil Hospital in March 2015.
"When I saw his face, I had doubts. I remembered the face of the other woman in the labour room and he resembled her. I could make out from his eyes. He's got small eyes, no-one in my family has eyes like that," she told the BBC.
When Mr Ahmed told the hospital about his wife's suspicions, he said an employee dismissed it out of hand and suggested his wife seek psychiatric help.
So he submitted a right to information petition – India's equivalent to a freedom of information request – asking the hospital for details of all the babies born around 7am the same day Jonait was born.
After receiving the details of seven mothers, he said a "tribal lady" particularly stood out, as she and his wife had given birth to boys just five minutes apart, and both babies weighed 6.6lb.
After writing a letter to the Hindu couple - Anil and Shewali Boro - Mr Ahmed, Ms Parbin and Jonait travelled to meet them and their child, Riyan Chandra, in a village 19 miles away.
Ms Boro told the BBC the first time she saw Jonait, she "felt very sad and cried" after noticing the resemblance to her husband.
"We are Bodo tribals, we are not like the other Assamese or Muslim people. Our eyes slant upwards, our cheeks and hands are plumper. We are different. We have Mongolian features," she said.
Ms Parbin said she knew Riyan was her child immediately and wanted to swap the children right away, but Mr Boro's mother rejected the proposal.
After a forensic laboratory proved the hospital's mistake, the couples arrived at court, but realised they could not go through with the swap.
"The magistrate told us that if we wanted to swap the babies we could do it, but we said we won't do it. Because we've raised them for the past three years, we can't just let them go," Ms Parbin.
"Also, Jonait was crying. He was in my brother-in-law's lap, he held him tightly, wrapped his arms around his neck and refused to leave."
Riyan also reportedly began crying and refused to let go of Ms Boro.
Both couples told the BBC they did not believe the boys would cope well if they were forced to swap now. They said when the children grow older, they will leave the decision to them as to where they live.
Full report at:
http://www.independent.co.uk/news/world/asia/muslim-hindu-children-switched-birth-refuse-change-back-families-a8173636.html
--------
Kulbhushan Jadhav case: ICJ fixes deadline for India, Pakistan to file written pleadings
January 24, 2018
The International Court of Justice (ICJ) has set separate deadlines for India and Pakistan for the filing of the written pleadings by them in the Kulbhushan Jadhav case. April 17 and July 17 have been fixed as "time-limits" for India and Pakistan respectively. 47-year-old Jadhav was sentenced to death by a Pakistani military court on charges of espionage and terrorism in April last year. This prompted India to move the Hague-based ICJ in May. Subsequently, a 10-member bench of the ICJ on May 18 restrained Pakistan from executing Jadhav till adjudication of the case.
The principal judicial organ of the UN released a statement which said that the international top court authorised the submission of a reply by India and of a rejoinder by Pakistan in the Jadhav case. "The Court fixed 17 April 2018 and 17 July 2018 as the respective time-limits for the filing of these written pleadings," said the statement issued last week. The statement further said the ICJ made its decision taking into account the views of the parties and the circumstances of the case. Also Read: Pakistan release another 'confessional' video of Kulbhushan Jadhav: All your questions answered
Pakistan claims its security forces arrested Jadhav from its restive Balochistan province on March 3 last year after he reportedly entered from Iran. India, however, maintains that Jadhav was kidnapped from Iran where he had business interests after retiring from the Indian Navy. Opinion:
How Kulbhushan Jadhav drama unfolds hereon will depend on how matters are worked out away from media's gaze
Recently, Pakistan had raked up the Jadhav issue in the UNSC after it was accused by India, the US and Afghanistan, for providing safe havens to terrorists. Permanent Representative of Pakistan to the UN Maleeha Lodhi was responding to Indian Ambassador to the UN Syed Akbaruddin who said Pakistan needs to change its "mindset" of differentiating between good and bad terrorists. Also Read: 'Propagandistic' exercises don't carry weight: MEA on Kulbhushan Jadhav video
Full report at:
http://indianexpress.com/article/india/kulbhushan-jadhav-case-icj-fixes-time-limits-for-india-pakistan-to-file-written-pleadings-5036537/
--------
Pakistan
KP govt takes notice of 'objectionable' content in Afghan refugees' books
Jan 24, 2018
The Khyber Pakhtunkhwa government took notice on Tuesday of the alleged anti-Pakistan curriculum being taught under a United Nations High Commissioner for Refugees (UNHCR) run project in schools for children of Afghan refugees across the province.
UNHCR currently runs The Community Oriented Primary Education project is to dispense free education to the children of Afghan refugees in Pakistan.
The home and tribal affairs department of KP government, through a letter, directed the Commissionerate Afghan Refugees (CAR) to take necessary measures to stop this practice.
Reportedly, UNHCR had recently changed the syllabus being taught in as many as 101 schools for Afghan children. It is said that no prior approval was taken either by the federal or provincial government to change the syllabus being taught to grades 1-6 in the province.
The controversial syllabus is being taught to Afghan refugee children in grades 1-6. The KP government's letter highlighted the following elements in the curriculum that it viewed with "great concern".
The letter sent to the commissionerate includes several objections including the presence of Afghan flag on every page of the English books, India being proposed as a friendly country to Afghanistan, Gilgit-Baltistan and disputed Kashmir to be the part of India on the maps in the social studies books and the Pak-Afghan border being called as 'Durand Line'.
However, the UNHCR denied all the allegations saying that no such changes in the curriculum were made in the textbooks being taught to the children of Afghan refugees.
Answering to the objectionable content, the UNHCR said in a statement that the same syllabus is being taught to the Afghan children in Pakistan as it is taught in the Afghan schools so the children can integrate in the society after they return back to Afghanistan.
https://www.pakistantoday.com.pk/2018/01/24/kp-govt-takes-notice-of-objectionable-content-in-afghan-refugees-books/
--------
Pakistan on Trump's Order to Fight Jihadists: We're 'Forcing' Them to Return to Afghanistan
23 Jan 2018
WASHINGTON, DC — Pakistan has urged the Afghan Taliban and its al-Qaeda-linked Haqqani Network allies to go back to Afghanistan and join the "political mainstream" there in response to U.S. President Donald Trump's request that Islamabad take "decisive action" with the jihadist groups, Breitbart News has learned.
The Pakistani government's claim, which acknowledges that the mentioned terrorist groups operate on Pakistani soil, appears to stem from the Trump administration's efforts to pressure Pakistan into bringing the Afghan Taliban and the Haqqani Network to the negotiation table with Kabul.
The Trump administration has suspended about $1 billion in security for Pakistan due to Islamabad's support for jihadist groups' killing and maiming American troops and their allies in Afghanistan, saying the Muslim-majority country could get the money back if it took "decisive action" against the terrorists.
During an event hosted by the Center for Strategic & International Studies (CSIS) on Monday, Breitbart News submitted a question to the moderator. The question to the guest speaker, Pakistani Ambassador Aizaz Ahmad Chaudhry, was about Trump's ordering Pakistan to take "decisive action" against the Afghan Taliban and other terrorists operating within its borders to get the suspended security aid back: Is Pakistan willing to play ball?
Amb. Chaudhry responded:
Pakistan would very much want to push the Taliban and the Haqqanis to Afghanistan because they belong to Afghanistan. We don't want them to bring stress to our relation with your country [the United States] and with Afghanistan. We think that they should join the political mainstream there, and we will continue to move them to that path. Regardless of whether the U.S. has made a decision on [releasing] aid or not … this is a step that we are taking in our own interest and in the interest of peace in the region:
Chaudhry's claims contradict assertions that the Trump administration's Afghan war strategy has pressured Pakistan to urge the Afghan Taliban to engage in peace talks with Kabul.
Last week, Taliban jihadists reportedly met with a representative from the Afghan government in Islamabad to participate in "exploratory talks" to discuss potential peace talks.
Nikki Haley, the U.S. ambassador to the United Nations, suggested Trump's Afghan war strategy is pushing the Taliban to consider peace.
Moreover, the Express Tribune reported:
Washington is pushing Islamabad to convince the Haqqani Network to come to the negotiating table, according to a senior Pakistani official, who not only has direct knowledge of the development, but also is part of the ongoing talks with American interlocutors.
Islamabad has long denied accusations it is harboring terrorist groups.
Through the CSIS, Breitbart News asked the Pakistani ambassador to describe the level of influence Islamabad holds over the Afghan Taliban which, according to the Pentagon, has long enjoyed sanctuary in Pakistan.
Ambassador Chaudhry conceded that his country holds at least some sway over the terrorist group, noting that Pakistan has participated and hosted many of the high-profile peace talks between the Afghan Taliban and Kabul.
"As for our leverage over the Taliban … we think that we don't want to give it up," noted the Pakistani envoy, referring to Islamabad's ability to urge the Taliban to engage in peace talks.
In recent months, relations between the United States and Pakistan have soured due to Pakistan's reluctance to abide by President Trump's demands that the Muslim-majority nation stop serving as a sanctuary for jihadists.
Chaudhry's remarks Monday echo what he said last Friday, telling the Express Tribune that Pakistan intends to push the Taliban and the Haqqani Network, considered the top threat facing American troops in the region, back into Afghanistan.
Pakistan has repeatedly insisted that it does not harbor terrorists.
Citing BBC Urdu, the Express Tribune reported:
However, if the U.S. has any information [on the issue] then they should share it with us as we want to eliminate them [Taliban and Haqqanis] as well. Our position on the issue is very clear that we want them back to their country… we don't want Taliban and Haqqanis living with us. In fact, we are forcing them to go and live in Afghanistan and join the political mainstream there, and they're not accepted here anymore.
Taliban jihadists and their allies controlled or contested about 45 percent of Afghanistan as of the end of September 2017, independent and government assessments revealed.
Pentagon officials have long accused Pakistan of providing sanctuary to the Afghan Taliban and their allies.
Terrorists kill and injure most U.S. military as well as Afghan civilian and security forces in Afghan provinces that border Pakistan. The majority of terror sanctuaries in the region lie along the Afghanistan-Pakistan region, home to the highest concentration of terror groups in the world.
On Friday, "Pakistan's Foreign Office (FO) Spokesperson Dr Mohammad Faisal had stated that the country was determined to eradicate terrorism from its soil and the recent meetings with the US officials were also aimed at finding the common targets in this regard," reports the Express Tribune.
Full report at:
http://www.breitbart.com/national-security/2018/01/23/pakistan-trumps-order-fight-jihadists-forcing-return-afghanistan/
--------
Drone strike kills Haqqani Network commander, two others in N Waziristan
Jan 24, 2018
PESHAWAR: Haqqani Network Commander Ehsan alias Khawari and two of his companions were allegedly killed during a twin drone strike conducted in North Waziristan on Wednesday.
According to reports, the drone strikes were allegedly carried out by US spy planes and targeted a house belonging to Afghan refugees.
Station House Officer Dal, Ameer Zaman confirmed the death of a man named Nasir Mehmood alias Khawari.
Further reports indicated that the strike was carried out on a Haqqani Network hideout.
Earlier, on January 17, as many as two suspected militants were killed in the day's second drone strike in Afghanistan near the border with Pakistan.
The latest drone attack took place in Shanqilay area of Afghanistan near the Pak-Afghan border. Hours before, at least one person was injured in a strike in Lower Kurram Agency.
Full report at:
https://www.pakistantoday.com.pk/2018/01/24/drone-strike-kills-haqqani-network-commander-two-others-in-n-waziristan/
--------
Ruling elite does not believe in supremacy of Constitution, judiciary: Siraj
Jan 24, 2018
JI ameer says Indian PM Modi's belligerence can be checked only by replying him in the same coin
Siraj calls for establishing industrial zones in Gilgit and Baltistan
Jamaat e Islami Ameer Senator Sirajul Haq has said that the ruling elite did not believe in the supremacy of the Constitution and the judiciary and accepted only those judicial decisions as were in their favour.
Talking to a delegation led by JI Azad Kashmir Chief Mushtaq Ahmed in Islamabad on Tuesday, he said that as long as the supremacy of the judiciary was not accepted, the rule of the law could not be established.
Sirajul Haq stressed that Indian Prime Minister Modi's belligerence could be checked only by replying him in the same coin. The JI chief said that the people of Gilgit and Baltistan had offered huge sacrifices for the liberation of Kashmir but they had not been rewarded for that.
He said the CPEC was passing through Gilgit and Baltistan but these areas had not been given due share as there was not a single industrial project in this area. He called for establishing industrial zones in these areas to remove the sense of deprivation among the local people.
The JI chief said the rulers considered themselves above the law. The rulers' criticism of the judicial decisions showed that they did not like anyone to question them about their unlimited wealth and their resources of income.
He said that the elite ruling the country was swallowing the national resources unscrupulously whereas the country could not progress unless a judicious use of the national resources was ensured.
He said that electoral reforms were essential to ensure true democracy in the country. He said that the elections could not be transparent without the accountability of the plunderers.
Full report at:
https://www.pakistantoday.com.pk/2018/01/24/ruling-elite-does-not-believe-in-supremacy-of-constitution-judiciary-siraj/
--------
JuD chief asks LHC to stop govt from arresting him
January 24, 2018
LAHORE: Jamaatud Dawa (JuD) chief Hafiz Mohammad Saeed has approached the Lahore High Court to avert his arrest allegedly at the behest of the United States and India.
In a petition filed through lawyer A.K. Dogar in the LHC on Tuesday, Mr Saeed said a delegation of the United Nations was due in the country on Friday (Jan 26) and the government intended to take an "adverse action" against him during the team's stay.
The counsel for Hafiz Saeed said the petitioner was the founder/chairman of JuD and Falah-i-Insaniat Foundation (FIF) and he had set up 142 schools and three universities and was engaged in public welfare for a long time.
Mr Dogar stated that the Punjab government had recently detained the petitioner under the Maintenance of Public Order ordinance for 90 days, but a review board comprising judges of the high court had rejected the government's application for extending Hafiz Saeed's house arrest because it was unable to justify his detention.
The counsel alleged that the government had acted against the petitioner under pressure from the US and Indian lobbies, which "have made an unfounded assumption that Mr Saeed was somehow involved in the Mumbai attacks".
Mr Dogar requested the court to restrain the federal government from acting in a manner not permitted by law and to direct it to respect fundamental rights of the petitioner under Article 9 of the Constitution.
Full report at:
https://www.dawn.com/news/1384890/jud-chief-asks-lhc-to-stop-govt-from-arresting-him
--------
Taliban negotiators visited Pakistan to discuss peace process: Qatar office
Tahir Khan
JANUARY 24, 2018
ISLAMABAD: The Afghan Taliban political office in Qatar has confirmed that their five political negotiators from Qatar office traveled to Pakistan to discuss options for peace process.
A statement issued from the Taliban political office on Tuesday night said that the Taliban had always kept the option open for political process to "find out a durable and a real solution" to the Afghan problem.
The Pashto-language statement sent to the media said Pakistani government recently conveyed its desire to the Taliban political office that it wanted to "cooperate" in the political solution to the Afghan problem and to share its options with the Taliban political leaders.
"In view of Pakistan's suggestion, the political office of the Islamic Emirate sent a five-member delegation to Pakistan for talks with the Pakistani officials," the Taliban statement said.
Maulvi Shahabud Din Dilawar, Syed Rasool Haleem, Muhammad Suhail Shaheen, Jan Muhammad Madnai and Qari Deen Muhammad were members of the delegation, the statement said. "The delegation shared its suggestions with the Pakistani side about the political solution to the Afghan conflict and also listened to the views of the Pakistani side. Later, the delegation informed leaders of the Islamic Emirate in Afghanistan, about the details of its meetings with Pakistan, China, Qatar, and other countries," the statement further said.
The Taliban political representatives will consider other options after they receive directives from senior leaders in Afghanistan. The statement said Taliban were interested in a real solution to the Afghan problem so all reasons of the war are ended and Afghans live in peace and security. "We believe that only slogans and hollow promises cannot resolve the issue. It is the responsibility of all sides to pay attention to a durable and basic solution to the conflict," the Taliban political office said. Taliban spokesman Zabihullah Mujahid and Pakistan Foreign Office spokesman Dr Muhammad Faisal had earlier refused to offer any comments when Daily Times reported the visit on January 15. The Taliban had landed in Pakistan amid growing US pressure on Pakistan and allegations by President Donald Trump and several other leaders that Pakistan "shelters the Taliban the Haqqani Network". However, the visit of the Taliban political envoys could be seen as Pakistan's renewed efforts to push for political solution to the Afghan conflict at a time when the United States is focusing on military option. Besides Pakistan, regional stakeholders – China, Russia, Iran and Central Asian states — are pressing for political solution as the military solution in 16 years has not only failed bur Afghanistan is now facing worst security situation. On Saturday, a group of Taliban bombers stormed the highly-secured Intercontinental Hotel in Kabul, killing about two dozen people, mostly foreigners. The US officials have now confirmed several Americans were also among the dead.
Full report at:
https://dailytimes.com.pk/187435/taliban-negotiators-visited-pakistan-discuss-peace-process-qatar-office/
--------
PUC asks CJP to take suo motu notice of college principal killing
JANUARY 24, 2018
LAHORE: Leadership of Pakistan Ulema Council has demanded of Chief Justice of Pakistan to take Suo Motu action on the killing of a private college principal in Shabqadar to probe the murder. The joint statement issued by the Pakistan Ulema Council underlined that Islamic Shariah did not allow anyone to kill any innocent person based on allegations and accusations.
The joint statement issued by the Pakistan Ulema Council stated that if anyone has committed blasphemy, even then the court owned the mandate to punish the accused of blasphemy.
Self-interpretation of Islamic teachings is maligning Muslims and Islam.
The joint statement issued from Pakistan Ulema Council asserted that the killing of a private college principal in Shabqadar by a student of the very college on blasphemy allegations is very alarming as the Blasphemy Law is prevalent in the country and no one can individually or at an organizational level be allowed to kill anyone in accordance of self-interpreted explanation of Islamic Shariah.
Killing of the private college principal under blasphemy allegations is very unfortunate. If the college principal had uttered any derogatory remarks intentionally or unintentionally, the people have to move in court instead of taking the law into their own hands and killing the college principal or anyone.
Full report at:
https://dailytimes.com.pk/187608/puc-asks-cjp-take-suo-motu-notice-college-principal-killing/
--------
Africa
Kenyan Short Film 'Watu Wote' Nominated for Oscar Awards
24 JANUARY 2018
By Hilary Kimuyu
A Kenyan film, based on the Mandera bus attack of December 21, 2015 has been nominated for Best Live Action short film at the 90th Oscar awards.
The announcement was made on Tuesday afternoon just hours before the Nairobi premier of Watu Wote (All of Us), a film by a German student, which has been nominated for the prestigious awards slated for March 4.
The film inspired by the terrorist attack - in which two people were killed and several others injured - has been nominated by the Academy of Motion Picture Arts and Sciences to compete with five other live action short films.
The film has won over 35 five film festival awards, including the Gold Student Academy Award.
TERRORIST ATTACKS
The film centers on the conflicts of the Muslims and Christians in Kenya who have been targeted by the brutal terrorist attacks of the Al-Shaaab. The incessant anxiety created around this conflict continues until one day in 2015, passengers on a bus prove that faith and solidarity can prevail acts of terror and violence.
The religious divide is bridged when two religious groups come together and defy the odds by fighting a common enemy with Muslims shielding Christians from the attackers by offering them their Islamic attire to disguise themselves.
Loice Anyango, the only Christian lady on board on the fateful day, was given Islamic clothing by Muslim ladies to disguise herself as a Muslim.
A primary school teacher who was injured during the attack while fighting for the Christians succumbed to bullet injuries while undergoing treatment in Nairobi.
Led by production manager Tobias Rosen, the film makers intended to show the world that terrorism is not about religion but about a few individuals with ill motives.
The film was produced by Tobias Rosen of Hamburg Media School and Bramwel Iro and Matrid Nyagah of LightBox Africa and directed by Katja Benrath.
Produced in 2016 as the graduation film for the Hamburg Media School master class program, the film was nominated for and won the Student Oscars.
http://allafrica.com/stories/201801240086.html
--------
North America
Pentagon-funded Afghan units accused of rights abuses
January 24, 2018
WASHINGTON - The US military funded Afghan police and security units even though American officials knew members were implicated in gross human rights violations, according to a watchdog report released Tuesday.
The previously secret report, first provided to Congress in June but now declassified, lays bare the cultural rifts that can exist when America works with local partners.
According to the report by the office of the Special Inspector General for Afghanistan Reconstruction (SIGAR), the Pentagon repeatedly granted exemptions from US rules that bar assistance to a foreign nation's security forces if credible information exists of rights violations.
For instance, the Pentagon approved waivers to these so-called Leahy Laws to continue funding for 12 Afghan security force units implicated in 14 gross human rights violations in 2013.
The same workaround, known as the "notwithstanding clause," was used for eight of nine additional units implicated in 2014. Although the Defense Department and State Department have "confirmed that some units of the Afghan security forces have committed gross violations of human rights, the secretary of defense has used the notwithstanding clause" to some implicated units , the report states. The exemptions were made under then-secretaries Chuck Hagel and Ash Carter.
In a response to the report, the Pentagon said the document "does not reflect an understanding of the challenges faced by US forces in Afghanistan in developing and sustaining the Afghan National Defense and Security Forces."
Jedidiah Royal, a Pentagon official, wrote that removing the "notwithstanding clause" would remove the defense secretary's ability to balance the Leahy Laws with "national security objectives and the protection of US forces."
The report states that as of June 12, 2,106 officials were tracking 75 reported gross violation of human rights incidents, including seven involving child sexual assault.
Afghanistan has an entrenched custom of what is known as "bacha bazi" - or the sexual abuse of boys - and critics have long accused the US of not doing enough to counter it.
In one instance outlined in the report, a US soldier heard Afghan men screaming "in what sounded like sex" but did not take action to report it, SIGAR states. "The full extent of child sexual assault committed by Afghan security forces may never be known," the report says.
In addition to the seven child sex assault incidents, officials were also tracking extrajudicial killings and the torture of detainees.
https://nation.com.pk/24-Jan-2018/pentagon-funded-afghan-units-accused-of-rights-abuses
--------
US officials arrive in Ankara to discuss Syria
23 January 2018
A high-level U.S. delegation arrived here Monday to discuss a number of issues with officials, including cooperation and the Turkish military operation in Syria's Afrin region, according to diplomatic sources.
The American delegation will also have a meeting at the Turkish General Staff.
The Turkish group will be led by Deputy Foreign Ministry Undersecretary Ahmet Muhtar Gun at the meeting Tuesday, and the U.S. delegation will be headed by Deputy Assistant Secretary Jonathan Cohen, according to the sources, who spoke on condition of anonymity due to restrictions on speaking to the media.
Diplomatic conversations are being held between Washington and Ankara regarding Turkey's ongoing operation against terror groups in Afrin, the Pentagon told Anadolu Agency on Monday.
"I can tell you that we are presently in conversations with our Turkish allies to resolve the situation right now," said spokesman Adrian Rankine-Galloway.
Turkey launched Operation Olive Branch on Saturday to remove PYD/PKK and ISIL terrorists from Afrin.
According to the Turkish General Staff, the operation is to establish security and stability along Turkish borders and the region as well as to protect Syrians from the oppression and cruelty of terrorists.
The U.S. has supported the PYD/PKK, considered by Ankara as the Syrian offshoot of the PKK terror organization that has waged a more than 30-year war against the Turkish state. The terror campaign has resulted in tens of thousands of deaths.
Full report at:
http://www.worldbulletin.net/america-canada/198116/us-officials-arrive-in-ankara-to-discuss-syria
--------
Number of Anti-Muslim groups in US increased three-fold since Trump launched his Presidential campaign, say experts
Jan 24, 2018
The number of anti-Muslim groups has trebled since Donald Trump launched his bid for White House, experts have said.
Against the backdrop of a highly publicised election campaign during which Mr Trump frequently denounced Muslims and vowed to ban them from the country, both the number of anti-Muslim groups and the number of hate crimes carried out against Muslims has increased.
These incidents include everything from the bullying of Muslim children at school, the harassment of Muslim women wearing headscarves and the vandalising of mosques, said Madihha Ahussain, a lawyer specialising in anti-Muslim bigotry with the national advocacy group, Muslim Advocates.
The number of anti-Muslim groups has trebled since Donald Trump launched his bid for White House, experts have said.
Against the backdrop of a highly publicised election campaign during which Mr Trump frequently denounced Muslims and vowed to ban them from the country, both the number of anti-Muslim groups and the number of hate crimes carried out against Muslims has increased.
These incidents include everything from the bullying of Muslim children at school, the harassment of Muslim women wearing headscarves and the vandalising of mosques, said Madihha Ahussain, a lawyer specialising in anti-Muslim bigotry with the national advocacy group, Muslim Advocates.
Ms Beirich said over the past year hate groups had become more radical and had increased their capabilities, both on the streets as well as in state legislatures. She said groups such as Act For America, anti-Muslim group which the Southern Poverty Law Centre describes as a hate group, were frequently involved with neo-Nazis, white supremacists and armed militia.
"In many cases those protests were led by members of these groups," she said. "To us, that represents a frightening convergence of extremism around anti-Muslim hatred and bigotry."
Ms Beirich said over the past year hate groups had become more radical and had increased their capabilities, both on the streets as well as in state legislatures. She said groups such as Act For America, anti-Muslim group which the Southern Poverty Law Centre describes as a hate group, were frequently involved with neo-Nazis, white supremacists and armed militia.
"In many cases those protests were led by members of these groups," she said. "To us, that represents a frightening convergence of extremism around anti-Muslim hatred and bigotry."
Ms Beirich claimed anti-Muslim groups had never before enjoyed the level of access they currently do the White House. She said Brigitte Gabriel, who founded Act for America in 2007, has visited the White House and has "close allies" there. She said other groups had access to people in the administration.
"These hate groups also have access at the congressional level," she said.
Full report at:
http://www.independent.co.uk/news/world/americas/us-politics/trump-presidential-campaign-anti-muslim-groups-islamophobia-racism-white-house-a8174486.html
--------
Arab World
Strikes kill 150 ISIS militants in Syria
24 January 2018
The US-led international coalition fighting ISIS said it killed nearly 150 militants in strikes on Saturday in the Syrian middle Euphrates River Valley.
The latest strikes come as the United States urged Turkey to show restraint in its campaign against Kurdish forces in northern Syria and to focus on fighting ISIS militants.
The United States has signaled an open-ended military presence in Syria as part of a broader strategy to prevent ISIS's resurgence, pave the way diplomatically for the eventual departure of Syrian President Bashar al-Assad and curtail Iran's influence.
"The precision strikes were a culmination of extensive intelligence preparation to confirm an ISIS headquarters and command and control center in an exclusively ISIS-occupied location in the contested middle Euphrates River Valley," a statement issued on Tuesday said, using an acronym for ISIS.
The strikes took place near As Shafah, Syria and killed between 145 and 150 militants. The statement added that US-backed Syrian Democratic Forces (SDF), which includes Kurdish YPG fighters, helped in target observation.
Turkey seeks to avoid any clash with US, Russian or Syrian forces but will take any steps needed for its security, a Turkish minister said on Tuesday, the fourth day of its air and ground offensive against Kurdish forces.
The United States and Russia both have military forces in Syria and have urged Turkey to show restraint in its campaign, named Operation Olive Branch, to crush the US-backed Kurdish YPG in the Afrin region on Turkey's southern border.
"Our SDF partners are still making daily progress and sacrifices, and together we are still finding, targeting and killing ISIS terrorists intent on keeping their extremist hold on the region," Major General James Jarrard, commander of special operations for the coalition, said in the statement.
The United States has led an international coalition conducting air strikes against ISIS since 2014. US troops have served as advisers on the ground with Iraqi government forces and with Kurdish and Arab groups in Syria.
The coalition has said in the past that fewer than 1,000 ISIS fighters remain in Iraq and Syria, but that the militant group still remains a threat. The figure excludes areas in western Syria under the control of Assad's government and his allies.
https://english.alarabiya.net/en/News/middle-east/2018/01/24/Strikes-kill-150-ISIS-militants-in-Syria-.html
--------
Qatar backs Turkey's military action against Kurds
January 23, 2018
Qatar has thrown its weight behind Turkey 's military offensive against Kurdish militia in Syria, coming to the defence of the "national security" of one of its closest allies.
"The state of Qatar reaffirmed its support for the efforts of the Republic of Turkey to maintain its national security in the wake of the breaches and terrorist attacks carried out inside Turkish territories," foreign ministry spokeswoman Lolwa Al-Khater said.
Speaking to Qatari media on Monday, Khater said Turkey 's launch of Operation Olive Branch was "driven by legitimate concerns related to its national security and securing its borders, as well as protecting the territorial integrity of Syria from the danger of secession".
Qatar 's announcement came as Turkey 's President Recep Tayyip Erdogan vowed to step up an offensive against Kurdish targets in neighbouring Syria and Iraq. The operation, which includes an air and ground campaign involving Ankara-backed Syrian rebels, aims to oust the People's Protection Units (YPG) from Afrin in northern Syria.
Turkey considers the YPG as a terror group and an offshoot of the Kurdistan Workers' Party (PKK), which has long fought for autonomy. The YPG denies aiming for separatism.
Turkey 's offensive is complicated by the United States' relationship with the YPG, which it relied on to help oust the militant Islamic State (IS) fighters from their Syrian strongholds.
Qatar has grown closer to Turkey since June when Saudi Arabia, the UAE, Bahrain and Egypt cut all relations with Doha, which they accused of ties to Islamist extremists and Iran. Ankara has since stepped in, providing food imports and political backing to Qatar amid the boycott.
The offensive on Afrin has also surfaced as a point of contention among the Gulf states. UAE State Minister for Foreign Affairs Anwar Gargash on Sunday warned that the operation risks further rupturing the unity of Arab states.
"The developments around Afrin reaffirm the need to rebuild and restore the concept of Arab national security," Gargash tweeted. "Without that, the Arabs will be marginalised."
Full report at:
https://nation.com.pk/23-Jan-2018/qatar-backs-turkey-s-military-action-against-kurds
--------
Saudi airstrike kills more Yemeni children in Sa'ada
Jan 23, 2018
Saudi warplanes have carried out a fresh deadly attack on civilian areas in Yemen's northern province of Sa'ada to bring the toll from children falling victim to the attacks to seven in less than a day.
Yemen's al-Masirah TV said Tuesday that four children and five other civilians had been killed in the Saudi attack on the district of Razih in Sa'ada.
The attack was the latest to target children in the Yemeni province where people mostly support the Houthi Ansarullah movement, the party that rules the capital Sana'a while resisting an all-out Saudi-led military aggression. Saudi jets had hit the Sahar district of Sa'ada on Monday, killing 10, including five children and a woman. Two of the victims in the Tuesday attack in Razih were also women.
Saudi Arabia has consistently dismissed reports that its devastating air campaign, which it says is meant to restore a sacked president, has mostly targeted civilians rather than Ansarullah fighters. More than 13,000 people have been killed since the start of the multi-prong war in March 2015 as Saudi Arabia keeps ignoring international calls for a halt to the illegal campaign against the impoverished southern neighbor.
Estimates by international monitors, including those from the United Nations, have confirmed the death of civilians, including many children who have lost their lives in attacks targeting their homes. Many more children have suffered from the war as a result of losing their parents.
Full report at:
http://www.presstv.com/Detail/2018/01/23/549912/Yemen-Saudi-attack-children
--------
Over 50 Turkish Soldiers, Allied Militants Killed in Clashes with Kurdish Fighters in Northern Syria
Jan 23, 2018
The SDF's statement said that the entire attacks carried out by the forces of the Olive Branch Operation have been repelled in Afrin and Shahba regions, and the Kurdish fighters have carried out a number of counter-attacks on the Turkish soldiers and their allied militants.
The SDF further said that 53 forces of the Olive Branch Operation have been killed and 38 more have been wounded in clashes with the Kurdish fighters, adding that the Kurds have not thus far recaptured the entire lost lands due to heavy air raids by the Turkish Air Force.
Dissident sources said earlier today that a sum of 14 militants have been killed or wounded in a rocket attack from the Kurdish regions in Northern Syria on a camp of the Ankara-affiliated Free Syrian Army (FSA) in Southwestern Turkey.
The dissident-affiliated websites reported that at least two people have been killed and 12 others injured after a rocket, launched from the Syrian Northern district of Afrin, hit a camp in the Turkish province of Hatay, where the FSA militant group is located.
Full report at:
http://en.farsnews.com/newstext.aspx?nn=13961103001199
--------
Northern Syria: Turkish Army, Militant Allies Attacking Kurds in Five Directions
Jan 23, 2018
The sources said that the army and affiliated militants known as the Olive Branch Operation forces kicked off their attacks on the Kurds from five flanks, including the town of Bolbol North of Afrin, Rajou region Northwest of Afrin, Sheikh al-Hadid region West of Afrin, Jandaris region Southwest of Afrin and Azaz region to East of the Kurdish-held town of Afrin.
Also, the Turkish Air Force continues massive bombing raids against the Kurds in the villages and settlements in Afrin region, hitting residential areas and the Kurdish fighters' positions.
The Kurdish sources reported on Monday that over 25 civilians were killed or wounded in heavy attacks by the Turkish Army and Ankara-backed militants on the town of Afrin in Northern Aleppo.
The sources said that 11 civilians, including 6 women and children, were killed and 16 more were wounded in air and artillery attacks by the Turkish army and Ankara-backed militants on Afrin.
Full report at:
http://en.farsnews.com/newstext.aspx?nn=13961103001079
--------
US Treasury: Lebanon must cut Hezbollah from financial system
24 January 2018
Lebanon must cut Iran-backed Hezbollah from the financial sector, a US official on combating illicit finance said on Tuesday, two weeks after Washington began a new push to disrupt the militant group's global financing routes.
On a two-day visit to Lebanon, the US Treasury's Assistant Secretary for Terrorist Financing Marshall Billingslea "urged Lebanon to take every possible measure to ensure (Hezbollah) is not part of the financial sector".
Billingslea also "stressed the importance of countering Iranian malign activity in Lebanon," a statement from the United States embassy in Lebanon said.
The Iran-backed, Shi'ite Hezbollah is classified as a terrorist group by Washington, but sits in Lebanon's delicate national unity government.
US officials say Hezbollah is funded not just by Iran but by global networks of people, businesses and money laundering operations.
The US Hezbollah International Financing Prevention Acts of 2015 and 2017 aimed to sever the group's funding routes and a number of people linked to Hezbollah are on sanctions lists.
The United States has had to balance its targeting of Hezbollah funding routes with the need to maintain Lebanon's stability. Lebanese banking and political authorities have lobbied Washington to make sure its anti-Hezbollah measures do not destroy the banking system underpinning the economy.
In his meetings with President Michel Aoun, Prime Minister Saad al-Hariri and other banking and political figures, Billingslea said the US government was committed to work with Lebanon to protect its financial system and support a "strong, stable, and prosperous Lebanon".
Billingslea also said Washington would help Lebanon protect its financial system from Islamic State and other militants.
Two weeks ago, the Trump administration set up a team to reinvigorate US investigations into Hezbollah-linked drug trafficking.
Full report at:
https://english.alarabiya.net/en/News/middle-east/2018/01/24/US-Treasury-Lebanon-must-cut-Hezbollah-from-financial-system.html
--------
Turkey presses assault on Kurdish militia in Syria
23 January 2018
Turkish troops and their Syrian rebel allies pressed an assault on a border enclave held by Kurdish militia on Tuesday but the fighting was more narrowly focused, a monitor said.
Turkish warplanes carried out new strikes on the northwest of the Afrin enclave and also hit the outskirts of the mainly Kurdish-held city of Qamishli far to the east, wounding two children, the Syrian Observatory for Human Rights said.
"The fighting is fierce but the focus is much narrower than yesterday (Monday)," Observatory head Rami Abdel Rahman told AFP, adding that it was mainly concentrated in the north and the southwest of the enclave.
In the northeast of Afrin, pro-Ankara rebels entered the village of Qastal Jando, the Observatory said.
In the same area, Turkish forces and their allies had briefly captured a strategic hill on Monday but it was retaken by the Kurdish People's Protection Units (YPG) in the evening.
Barsaya Hill overlooks both the Syrian town of Azaz, which is held by pro-Ankara rebels, and the Turkish town of Kilis just across the border.
Ankara sees the YPG as an offshoot of the outlawed Kurdistan Workers Party (PKK) which has waged a bloody insurgency in southeastern Turkey since 1984.
After months of threats, on Saturday Turkey announced the launch of Operation Olive Branch, an air and ground assault aimed at dislodging the YPG from Afrin. On Sunday its troops crossed the border.
Full report at:
https://english.alarabiya.net/en/News/middle-east/2018/01/23/Turkey-presses-assault-on-Kurdish-militia-in-Syria.html
--------
Russia deploys four S-400 missile defense systems to Syria
Jan 23, 2018
The Russian military has deployed four units of its state-of-the-art S-400 anti-aircraft missile defensive systems to Syria.
In the videos published by the Russian Defense Ministry on Tuesday, two of the four units can be seen being delivered to the Hmeimim airbase in Syria's coastal province of Latakia.
The two other units were shipped to the Russian maritime facility located in Syria's Mediterranean coastal city of Tartus.
The S-400 is Russia's latest operational anti-aircraft weapons system and is designed to target airborne targets including ballistic missiles. It is capable of simultaneously engaging up to 36 targets.
Hmeimim serves as Russia's permanent airbase inside Syria and is adjacent to the Bassel al-Assad International Airport, with which it shares some airfield facilities.
In 2016, Damascus and Moscow signed a treaty to lease the base to Russian military forces for 49 years, extendable for an additional 25 years.
Since September 2015, Russia has been conducting aerial attacks against terrorist positions in Syria at a request from the Damascus government.
Full report at:
http://www.presstv.com/Detail/2018/01/23/549954/russia-s400-missile-syria
--------
Yemen humanitarian operation explained at Saudi meeting
23 January 2018
RIYADH: The Saudi Ambassador to Yemen and the Spokesman of Arab Coalition Forces Supporting Legitimacy in Yemen outlined the humanitarian operation there at a meeting at the Saudi Ministry of Foreign Affairs on Tuesday.
Ambassador Mohammed bin Saeed Al-Jaber, who is also Director of Comprehensive Coordination of Humanitarian Affairs in Yemen, and Col. Turki Al-Malki met in the presence of a number of ambassadors and members of the diplomatic corps to explain the humanitarian needs of the Yemeni people and the delivery of shipments and oil derivatives to all Yemen regions, including Sana'a and Hodeidah.
Among the most important goals of the plan was consideration of the threat posed by Iranian-backed Houthi coup militias to the security of the Kingdom of Saudi Arabia, the countries of the region and the waterways of international trade. The Houthi militias had fired more than 250 ballistic missiles, more than 80 of them targeting the Kingdom.
They added that humanitarian contributions amounted to more than $900 million, including direct and indirect aid to Yemeni displaced people and joint programs with the Yemeni government worth more than $8 billion.
The comprehensive humanitarian plan for Yemen includes delivering four mobile cranes for the World Food Programme (WFP) and installing them in Hodeidah port. The plans aim to increase the capacity of the Yemeni ports and to make Yemen capable of receiving imports amounting to 1.4 million metric tons per month compared to 1.1 million metric tons per month in 2017.
It also aims to increase the capacity of the Yemeni ports in Aden, Mukalla and Mokha to 500,000 metric tons per month of oil derivatives as soon as possible, up from 250,000 metric tons per month in 2017.
They said that they plan to increase capacity in these ports by installing four mobile cranes, two in Mokha and one in Aden and Makala, in addition to other logistics' projects in these ports, such as power generators and warehouses.
Jazan port will be used to receive goods because of its proximity to northern Yemen. The comprehensive humanitarian operation includes establishing an airlift in Marib to deliver key humanitarian aid and medical assistance by C-130 aircraft carriers through three border crossings from Saudi Arabia to Yemen, namely Al-Tuwal, to serve the Hajjah governorate of Yemen and Khadra to serve the governorates of Saada, Al-Jawf and Al- Wadi'ah.
The coalition will establish safe corridors to ensure delivery and distribution of aid and shipments to all Yemeni regions, to be used by United Nations agencies and other humanitarian organizations, they said, pointing out that the coalition will also allow the entry of fuel shipments, food shipments and humanitarian shipments to Hodeidah port for a month.
If the Houthi militias continue to refuse the plan, the port of Hodeidah will remain open exclusively for shipments of humanitarian aid, relief, medical supplies, and trade food shipments, they said.
These measures will also be applied to the port of Salib, as the fuel and non-food cargoes would be transferred to other cities, including Sana'a, Hodeidah and other areas, through safe corridors. The coalition will bear the cost of delivering to Houthi- controlled areas, maintaining the previous price level.
Full report at:
http://www.arabnews.com/node/1231931/saudi-arabia
--------
Southeast Asia
This Indonesian school is deradicalizing the children of convicted terrorists
Jan 24, 2018
As the headmaster of an Islamic boarding school in Indonesia, Khairul Ghazali's biggest challenge is changing his students' radical views of Islam.
"Even when we taught them that what their parents did was wrong, they contradicted us," Ghazali told VICE News. "They said that what their parents did was right, that their parents were killed, tortured. They still defended them."
Ghazali is no stranger to extremism, being a former terrorist himself. But after he served a six-year jail sentence, he set out to help those children, eventually opening his school in 2015.
Indonesia is the world's most populous Muslim-majority country, and it's sent hundreds of fighters to ISIS and Syria — more than any other country in Asia. Ghazali estimates that there are more than 3,000 children of extremists in Indonesia, and he hopes that his school will help to stop the radicalization of the next generation.
https://news.vice.com/en_us/article/59w8kx/this-indonesian-school-is-deradicalizing-the-children-of-convicted-terrorists
--------
Philippines to fast track Muslim self-rule in Mindanao
by Ted Regencia
Jan 24, 2018
The Philippine Congress has vowed to fast-track a long-delayed bill establishing self-rule for Muslims in the southern island of Mindanao, in response to President Rodrigo Duterte's warning that another war could break out if the legislation collapses.
Three House of Representatives sub-committees are consolidating their reports on Muslim autonomy, and public consultations in seven communities have been scheduled before the bill's expected passage in mid-March, according to Ruby Sahali, House member from the southern province of Tawi-Tawi.
"I cannot stress enough the urgency to pass this bill," Sahali, chairman of the House Committee on Peace, Reconciliation and Unity that is overseeing the bill, told Al Jazeera on Tuesday.
"The government must deliver on its promises in the peace deal signed with the Moro Islamic Liberation Front (MILF)," she said.
Sahali expects the Senate will pass the bill soon after the House version is approved.
The MILF is the largest political and armed group fighting for autonomy on behalf of the minority Muslims in Mindanao.
After decades of fighting and 17 years of negotiations, the group signed a comprehensive peace deal with Duterte's predecessor, President Benigno Aquino, in 2014.
In exchange for a promised autonomy under the Bangsamoro Basic Law (BBL), the group agreed to lay down its arms.
However, the push for Muslim autonomy was stalled following a botched operation in 2015, which left dozens of police commandos dead, souring public opinion in the predominantly Catholic country.
Hopes were revived when Duterte took over in 2016. But less than a year into his presidency, armed Muslim fighters who pledged allegiance to the Islamic State of Iraq and the Levant (ISIL, also known as ISIS) attacked the southern city of Marawi.
Over 1,000 fighters, soldiers and civilians were killed, and an estimated 250,000 were displaced, during the five-month-long siege. The violence set back the discussion of BBL a few more months.
The siege had also prompted Duterte to declare martial law in Mindanao. That order, which has been questioned by civil rights activists, has been extended until the end of 2018.
Warlordism, corruption'
Sahali said the Marawi siege serves as a wake-up call to quickly pass the BBL legislation.
"Extremism emanates from the frustration and loss of hope of the Muslim population towards the government," the House member said. "The fear is that what happened in Marawi could happen elsewhere in Mindanao, not only in the Muslim areas."
Last week, Duterte had urged passage of the bill, saying, "It's about time the historical injustices committed against them are corrected.
"If nothing happens to the BBL, there will be war in Mindanao," he said.
The passage of the bill would be a major achievement for Duterte, who is from Mindanao, and who pledged a peace deal during the 2016 campaign.
Previous presidents have tried and failed to deliver peace in the resource-rich, southern island.
Mikee Pantaran Maruhom, a student leader with family roots from Marawi, said that while BBL could "help stop another version" of the Marawi siege, the proposed autonomy would not hold for long "if the same style of leadership will continue" in their communities.
"I think the BBL can placate a huge number of secessionists" including the MILF, he said.
But it could turn out to be "another ARMM in the making ... if warlordism and corruption will continue", Maruhom said, referring to the Autonomous Region of Muslim Mindanao, an existing government framework, which grants limited autonomy to a number of southern Muslim-majority provinces.
"What brought this need for autonomy, aside from asserting our right to freely live with our beliefs, are the social injustices that we experienced - misgovernance, displacement and even lack of opportunity," Maruhom told Al Jazeera.
He urged that BBL should be "free from corruption and self-interest".
Maruhom also said many in his community are worried that the passage of the BBL "might be just for the sake of campaign promise and compliance", and that the ongoing push to change the constitution might sideline the real concerns of Muslim minorities.
Full report at:
http://www.aljazeera.com/news/2018/01/congress-fast-track-muslim-rule-mindanao-180123061216074.html
--------
Pray, Are These Halal, Mahathir Asks His Islamic Critics
January 23, 2018
PETALING JAYA: Dr Mahathir Mohamad today questioned those who use Islam to justify their wrong deeds, in a blog post defending himself from claims that he is not qualified to talk about religion.
In an apparent reference to 1MDB and the state firm's sponsorship of haj pilgrims, the former prime minister gave the analogy of Islam's prohibition of pork.
"Will the pork be still haram to Muslims if the pig was slaughtered by reciting the name of God?
"By extension, is stolen money haram or not?" he asked, in a reference to accusations that billions of ringgit had been siphoned off from the state fund.
"If it's haram, can the money be made halal by using it to perform the pilgrimage or umrah?
"If we are unaware that the money is stolen, is it wrong if we use it to go on the pilgrimage? If we know the money is stolen, will it become halal if we use it to perform the pilgrimage?" he asked.
He said these were among contrasting positions taken by the ulama to justify the haram as halal.
"Yes, there are many Islamic teachings and practices that confuse me. I will ask about them a few at a time," the former leader, known for his witty sarcasm towards his critics, wrote.
He added that he accepted the fact that he is not an Islamic scholar.
"They say I have not studied the religion and I don't understand Arabic. And I don't have the appearance of an ulama, that is, I don't wear a turban and jubah (Arab robe) and go about in sandals.
"I was advised to just listen to the teachings and lectures delivered by people who are qualified, who are religious people with the training and learning in the religion, even though only at the village pondok."
On Saturday, controversial government preacher Zamihan Mat Zin questioned Mahathir's intention to return to politics, saying at his old age, he should enrol himself in a madrasah and spend time in prayer.
Full report at:
http://www.freemalaysiatoday.com/category/nation/2018/01/23/pray-are-these-halal-mahathir-asks-his-islamic-critics/
--------
Asri attacks missing Amri, says Shia Islam threatens 'national security'
Khairil Ashraf
January 23, 2018
SEPANG: Perlis mufti Mohd Asri Zainul Abidin today launched an attack on Amri Che Mat, a day after the missing activist's wife named his state fatwa office and Islamic authorities as among those she suspected of involvement in her husband's disappearance. Asri said Amri was a Shia Muslim who practised mut'ah, a form of contract marriage not recognised in Malaysia, which can be summarily ended with the consent of both sides.
But Asri denied any suggestion linking him to Amri's disappearance, after Amri's wife told the Human Rights Commission of Malaysia (Suhakam) inquiry yesterday that the Perlis Mufti Department could have played a role in it.
"Maybe her husband has gone off somewhere. Maybe he has gone to Iran," he said, referring to the Shia-majority country.
"Maybe he has gone to practise mut'ah in Thailand. How should I know?" he said when met at the Kuala Lumpur International Airport (KLIA) here.
Amri, who co-founded Perlis Hope, has been missing since Nov 24, 2016.
His mysterious disappearance, and that of three others – Raymond Koh, Joshua Hilmy and his wife Ruth – has been the subject of an ongoing inquiry by Suhakam.
Yesterday, Amri's wife Norhayati Ariffin told the inquiry that Asri was part of a team of some 20 policemen and officers from the Perlis Mufti Department, who arrived at their home in 2015 to question Amri and investigate the activities of Perlis Hope.
She said during the visit, she heard a commotion outside her home, adding that a policeman had screamed at her daughter to ask of her parents' whereabouts.
Asri admitted he was part of the team of officers, but said the visit took place in 2016. He said it was also conducted peacefully.
"I never heard any policeman screaming at her daughter," he said, adding that they had entered the house "respectfully".
'Shia is a threat, my duty to investigate'
Asri said the house was decorated with pictures of Shia imams.
"The surroundings were similar to a Shia mosque in Iran," he added.
Asri has been a vocal opponent of Shia Islam, the second largest sect in the Muslim world which Malaysian Islamic authorities label as "deviant".
In the past, there were accusations that Amri was involved in spreading Shia Islam, a claim dismissed by his wife.
But Asri said it was his duty to investigate the claim following "many complaints from the public" who accused his mufti department of "inaction".
He added that he was not out to stop Amri from practising his personal beliefs as long as he did not turn it into "an activity".
"That's why I went to his house. Not because I wanted to deny his freedom.
"You know me, I talk about freedom of thought, human rights, but this has crossed the limit. You make people around you confused," said Asri.
Asri also spoke about the spread of Shia in Perlis and neighbouring Thailand.
"They have their centres in Perlis and Satun. This is not a small issue. I repeat, it could threaten national security," he added.
According to Asri, there was a possibility that Perlis Hope was working towards establishing a theocracy.
"I am against any extremist thinking to establish a country that is based on religious extremism, a mullah state," said Asri, who has in the past been linked to allegations of promoting Wahhabism, a strain of Islam practised in Saudi Arabia.
Full report at:
http://www.freemalaysiatoday.com/category/nation/2018/01/23/asri-attacks-missing-amri-says-shia-islam-threatens-national-security/
--------
Indonesia ready to build International Islamic university
January 23, 2018
Indonesia is set to build a university later this year in what its president and observers say is an attempt to counter Islamic extremism at home and spread peaceful Muslim values throughout the world.
Construction of the Indonesia International Islamic University will begin in the middle of the year in Depok, West Java.
Through the university people from around the globe can learn about "moderate Islam" as exemplified by Indonesia, President Joko Widodo said on Jan. 18.
"This is not planned to meet domestic needs but to primarily meet demands of the international community and to strengthen Indonesia's position in the world, especially among Islamic nations," he said at a meeting to announce the university will go ahead. He said a number of Muslim leaders told him during an Organization of Islamic Cooperation summit in Jakarta in 2016 that young students from the Middle East would benefit from learning about Islam in in Indonesia.
"They believe moderate Islam practiced by Indonesians is the correct way," Widodo said.
The government has allocated 143 hectares of land in Depok and US$300 million to build the university.
Komaruddin Hidayat, rector of the Islamic State University of Syarif Hidayatullah in South Jakarta and a committee member of the construction project, said it is hoped the university will take about a year to build.
"Through this university, Indonesian clerics, scholars and intellectuals can contribute to the world community," he told ucanews.com.
The move to build the university comes amid fears in Indonesia about the growing influence of hard-line Muslims groups, especially in politics as seen in last year's Jakarta governor elections which saw hard-line groups play a key role in the defeat of Christian governor Basuki Tjahaja Purnama.
Father Antonius Benny Susetyo, secretary of Setara Institute for Democracy and Peace's national council, said the proposed university underscores the government's commitment to ensure Indonesia stays a moderate Muslim country.
"By setting up the campus, Widodo wants to tell to us and the whole world that there is no space for extremism in Indonesia," he said.
Full report at:
https://www.ucanews.com/news/indonesia-ready-to-build-international-islamic-university/81312
--------
Report: IS sympathisers pose threat to Malaysia, region
Zam Yusa
January 24, 2018
PETALING JAYA: Islamic State (IS) sympathisers numbering in the thousands pose a security threat to Malaysia, a special report by a Singapore-based terrorism research centre revealed recently.
The journal "Counter Terrorist Trends and Analyses", published by the International Centre for Political Violence and Terrorism Research (ICPVTR), states there are "still thousands of online IS sympathisers and their activities are a concern".
It says the security threat that Malaysia faces from terrorism originates from three major groups.
"The first group consists of locals as well as Malaysian foreign fighters who carry out acts of violence.
"The second group consists of supporters of terrorist groups and their fighters.
"The third group represents terrorist sympathisers, who constitute an online community that has allowed IS to spread their propaganda and gain new recruits and supporters."
The journal says IS will move towards a "virtual caliphate" as it loses its strongholds in Iraq and Syria, adding that there are two meanings behind this term.
The first meaning refers to a functioning organisation existing on computer servers that carries out functions traditionally held by a state.
"These include creating training camps, mapping out a state's constitution and drafting tax laws."
The second meaning of "virtual caliphate" refers to that of an imagined community of terrorist sympathisers.
"Through IS propaganda, they are convinced of the existence and legitimacy of the so-called caliphate and its actions, and believe that whatever they do to build this community and sustain it amounts to real support of the caliphate," says the journal.
It pointed out that in 2015, Malaysia reported that 75% of IS supporters were radicalised online.
Surrounded by centres of conflict
According to the publication, Malaysia also sits in a region with three active centres of terrorism – Marawi in the Philippines, Arakan in Myanmar and the southern provinces of Thailand.
"Malaysia has to take precautions due to its proximity to the three conflict zones," Muhammad Haziq Jani, a research analyst at ICPVTR, told FMT.
"The terrorist groups in Myanmar, Philippines, and southern Thailand are making use of Malaysia as a recruitment ground, a planning centre, a way to smuggle weapons and to get in contact with one another."
Haziq, one of the authors of the journal, said terrorist groups make use of social media and messaging to recruit supporters and sympathisers to help them, as well as fighters to join them.
"Hence, Malaysia has an important role to play in curbing regional terrorism and online radicalisation," he said.
"Essentially, Malaysia needs to do more than strategic counter-messaging. It needs the community to get involved."
A targeted response
The journal also suggests Malaysia should prepare itself for when IS and other terrorist groups face territorial defeat.
"Malaysia, as well as other countries in the region, might not have time to wait for the various institutions of counter-messaging to come to fruition or reach their optimum level.
"These counter-radicalisation or counter-violent extremism institutions such as the Regional Digital Counter-Messaging Communication Centre (RDC3) are still relevant and important for the broader audiences who have yet to be inducted into the terrorist and extremist milieu.
"However, the niche audiences synced with terrorist propaganda may need targeted efforts, such as rehabilitation and counselling, to bring them back into the fold of society before they pursue acts of violence and other criminal activities.
"Malaysia could consider community-based approaches to identifying at-risk individuals and provide them with the help they need," the journal says.
The journal also advises Malaysians to help look out for their family members and friends while spending time online.
Full report at:
http://www.freemalaysiatoday.com/category/nation/2018/01/24/terrorist-sympathisers-pose-threat-to-malaysia-warns-research-centre/
--------
US, Indonesia stepping up cooperation
Jan 24, 2018
US Defence Secretary James Mattis yesterday completed a heady day of meetings in Indonesia in a bid to reinforce defence relations between the United States and South-east Asia's largest nation.
While the visit was widely seen as a counter to China's growing military presence and influence in the region, it was also in line with a key part of a new US national security strategy unveiled last week, which centred on building partnerships and strengthening alliances.
"I'm here to listen to your leaders and understand what it is we can do to assist you," Mr Mattis told reporters after a courtesy call on President Joko Widodo at the Istana. "One democracy to another, you who are so important here in the Indo-Pacific region."
The former commander of the US Central Command has also had meetings with Coordinating Minister for Political, Legal and Security Affairs Wiranto, Defence Minister Ryamizard Ryacudu, armed forces chief Hadi Tjahjanto and Foreign Minister Retno Marsudi.
Mr Mattis is in Jakarta as part of a week-long tour of Asia, which includes a stop in Vietnam just days ahead of the 50th anniversary of the Tet Offensive, one of the largest military campaigns of the Vietnam War launched on Jan 30, 1968.
He has said that maritime security cooperation, in view of Beijing's territorial claims in the South China Sea, will be among the issues he hopes to discuss in Hanoi.
China claims almost all of the waterway, where about US$5 trillion (S$6.6 trillion) in cargo passes every year, while Vietnam, the Philippines, Malaysia, Brunei and Taiwan have overlapping claims.
Indonesia is not a party to the territorial dispute, and it enjoys mostly friendly ties with China.
But Beijing's claims in 2016 that parts of Indonesia's waters off the Natunas are its "traditional fishing grounds" had led to some tension.
Bilateral ties took another turn last July when Jakarta named waters in its Exclusive Economic Zone, just off its northern perimeter, the North Natuna Sea, an act of resistance to Beijing's ambitions in the South China Sea.
Senior editor Prashanth Parameswaran of the Washington-based current affairs website The Diplomat says Indonesia and Vietnam are critical to US efforts to build a security architecture that promotes a free and open Indo-Pacific. "Indonesia - the world's largest archipelagic state and biggest Muslim-majority country - is a significant actor in South-east Asia and an important partner in addressing challenges ranging from maritime security to Islamic extremism," he said yesterday.
"Vietnam, meanwhile, has moved briskly from a US adversary (at the end of the Cold War) to a closer US partner, including in the defence domain."
Mr Mattis said the US wants to work with Indonesia, the maritime fulcrum of the Indo-Pacific, to ensure that the rule of law and freedom of navigation is upheld in the region.
"The maritime fulcrum of the Indo-Pacific area is critical and as we can help in maintaining the maritime domain awareness in the South China Sea, the North Natuna Sea, this is something that we look forward to do," he added.
Mr Mattis was speaking to reporters after a meeting with his Indonesian counterpart Ryamizard.
He also acknowledged Indonesia's efforts in fighting extremism, saying it has "sdone a very good job over the last 10 years", and US support for those efforts will now include Special Forces units that conduct counter-terrorism.
Full report at:
http://www.straitstimes.com/asia/se-asia/us-indonesia-stepping-up-cooperation
--------
Mideast
Iran's Civil Defense Chief Warns of ISIL Access to Biological Weapons
Jan 23, 2018
"We have received reports saying that the ISIL has gained the tools and know-how for the limited production of biological weapons which have, of course, been damaged during the war fortunately," Jalali said, addressing a forum in Tehran on Tuesday.
He also cautioned about the use of chemical weapons in any future clashes by the terrorist groups, specially ISIL, blasting the US and Europe for supporting them.
Elsewhere, General Jalali revealed that the US has transferred a part of the ISIL forces and equipment to Afghanistan.
The ISIL made extensive efforts to gain access to different kinds of weapons of mass destruction (WMDs) ever since the terrorist group occupied parts of Syria and Iraq.
Media reports said in 2015 that the ISIL is trying very hard to gain access to fatal biological arms, and has killed many Iraqi scientists after they have rejected to help ISIL produce such deadly weapons.
"The ISIL Takfiri militants executed head of the physics department at Mosul University because he refrained from cooperating with them in developing biological weapons," the Arabic-language Al-Sumeriya news website quoted a local source in Nineveh province as saying at the time.
In September 2015, a UN official announced that the ISIL had evidently manufactured and used chemical agents at least four times during attacks on Kurdish forces in Syria and Iraq.
Several reports by the Kurdish forces fighting the ISIL indicated the terrorist group's use of chemical weapons, sparking an investigation by the UN
A UN official said that at least four ISIL-led attacks using powdered mustard agents have been documented on both sides of the Syria-Iraq border.
http://en.farsnews.com/newstext.aspx?nn=13961103001358
--------
How Houthi militias have been plundering food from UN aid agencies
23 January 2018
Houthi militias have issued a decision to suspend the work of 36 international, Arab and local relief organizations working in the health field in all areas under its control across Yemen.
According to aid workers' reports, the Houthi militia punishes any international or UN relief organization that does not bow to its pressure and guidance to stop its support and prevent it from carrying out its humanitarian duty to millions of Yemenis who have been suffering from extremely difficult humanitarian conditions since the coup.
Abdulaziz Al-Dailami, appointed by the militias as Undersecretary of the Ministry of Health, went so far in instructing all health offices in the directorates and governorates under Houthi control to stop the work of 36 international aid organizations claiming that these organizations do not operate under the supervision of the Ministry of Health, and function independently.
He said in a memo that only under the militia's authorization can they carry their missions.
This claim is issued to justify the militia's looting of aid and relief supplies and to deprive those eligible to receive it in order to finance what it calls the war effort.
Obstructing aid
The obstruction of humanitarian aid is a serious crime prohibited globally in accordance with international conventions and laws.
According to UN reports, the organizations are using a lot of their financial officials and aid distribution Houthi officials who receive about $1,000 a month, (450 thousand Yemeni riyals) to submit the lists of the needy.
Observers from within the capital say that these employees register names of Houthi elements or their associates only and then after receiving the aid such as oil, sugar, flour and canned goods, they sell it to the wholesale shops of food in Sanaa.
The Houthis also confiscated $57 mln in funds from private companies and institutions and gave them to their militants claiming that the funders obstruct their work in Sanaa.
A report issued by the King Salman Center for Relief and Humanitarian Action, reported that the Houthi militia committed various attacks targeting the United Nations' aid organizations and relief organizations as well as workers between 2015 and 2017.
Full report at:
https://english.alarabiya.net/en/features/2018/01/23/This-is-how-Houthis-plunder-food-from-the-UN-aid.html
--------
US, Israel decisions on al-Quds threat to Palestine: Hamas chief
Jan 23, 2018
Hamas leader Ismail Haniyeh has warned against the "rash decisions" of the US and Israel with regard to Jerusalem al-Quds as a historic threat against Palestine.
In a Tuesday speech, Haniyeh described US President Donald Trump's recognition of East Jerusalem al-Quds as "the beginning of the end of Israel."
He said to serious efforts are underway across the region based on two main strategies, including not recognizing Israel and supporting the resistance movement.
If the entire world recognizes al-Quds as the capital of Israel, such a "futile" measure will not create any commitment for the Palestinian nation, the Hamas chief said.
He underlined the need for national reconciliation among Palestinian factions, noting that the new threats against the Gaza Strip and al-Quds make it necessary for all Palestinians to find a national strategy with regard to the issue.
Haniyeh stressed the importance of resistance in Palestine's economic and military strategies and by the media.
The remarks came amid the ongoing wave of protests and general strikes across the Palestinian territories in protest at US Vice President Mike Pence's visit to the Old City of Jerusalem al-Quds.
On Tuesday, shops, government institutions, and businesses closed as part of the strike action. Public transportation unions also participated in the walkout action.
Pence landed at Tel Aviv's Ben-Gurion Airport on Sunday, marking the highest-level visit by a US official to the region since Trump's decision.
Washington's dramatic U-turn on Jerusalem al-Quds drew global condemnations, prompting the UN General Assembly to overwhelmingly approve a resolution against Trump's declaration.
The Palestinian Authority says it would reject all so-called peace talks, sponsored by the US, until Washington rescinds its decision on al-Quds.
The entire Jerusalem al-Quds is currently under Israel's control, while the regime also claims the city's eastern part, which hosts the third holiest Muslim site.
Full report at:
http://www.presstv.com/Detail/2018/01/23/549915/palestine-Hamas-ISrael
--------
Turkey clashes with Kurdish militia as US sounds alarm
January 24, 2018
HASSA - The Turkish army was on Tuesday engaged in intense clashes with Kurdish militia inside Syria as the United States voiced alarm Ankara's operation could endanger attempts to bring peace to the conflict-torn country.
President Recep Tayyip Erdogan vowed at the funeral of the first Turkish soldier to be killed in the cross-border campaign that Ankara would emerge victorious from the campaign.
Turkey on Saturday launched operation "Olive Branch" aimed at rooting out the Kurdish People's Protection Units (YPG) militia , which Ankara sees as a terror group, from its Afrin enclave in northern Syria.
The campaign has caused ripples of concern among Turkey's NATO allies, especially the United States which is still working closely with the YPG to defeat Islamic State (IS) militants in Syria and fears the offensive will be a distraction.
In his strongest comments yet on the offensive, US Defense Secretary Jim Mattis called for Turkey to show "restraint". He warned the offensive "disrupts what was a relatively stable area in Syria and distracts from the international effort to defeat" IS, on a visit to Indonesia.
Turkish artillery on Tuesday pounded targets of the YPG inside Syria, the state-run Anadolu news agency said. Meanwhile, Turkish drones were also carrying out attacks, state television said.
The Britain-based Syrian Observatory for Human Rights monitor said "fierce clashes" were continuing especially north and southwest of Afrin.
As well as the artillery and air strikes, Turkish ground troops and Ankara-backed Syrian rebels have punched over the border several kilometres (miles) into Syrian territory, taking several villages, according to state media. After intense exchanges, Turkey's forces took control of the hill of Barsaya, a key strategic point in the Afrin region.
The Observatory said 25 Ankara-backed rebels and 26 Kurdish fighters had been killed in the fighting so far. It has also said 24 civilians have been killed on the Syrian side but this is vehemently rejected by Turkey which says it is only targeting militants. A Turkish soldier was killed Monday on the third day of the offensive, the first Turkish military fatality of the operation.
Sergeant Musa Ozalkan, 30, was laid to rest Tuesday with full honours in a ceremony attended by the Turkish leadership including Erdogan.
"We will win and reach victory in this operation together with our people, together with Free Syrian Army," Erdogan assured mourners, referring to the Ankara-backed rebels.
"We have full confidence," he added.
The campaign - which Erdogan has made clear has no fixed timetable - is fraught with risks for Turkey .
Two civilians have been killed inside Turkey in border towns in the last two days by rocket fire from Syria blamed on the YPG.
In Afrin, residents queued at bakeries and cars were on the streets as residents braced themselves for any violence, an AFP correspondent said.
The offensive against the YPG is also fraught with diplomatic sensitivities with Western capitals particularly concerned that it will take the focus away from eliminating IS.
France and the European Union have made similar comments to those made by Mattis. But Ankara has expressed impatience with such sentiments, arguing that the YPG is the Syrian offshoot of the Kurdistan Workers' Party (PKK) which has waged a bloody three-decade insurgency against the Turkish state.
The foreign ministry of Qatar - Turkey's closest Gulf ally - gave its unequivocal backing to the operation.
Turkey also launched air strikes in northern Iraq on Kurdish militants planning an attack, the army said on Tuesday. Such raids have been frequent since a ceasefire with the PKK collapsed in 2015.
The UN Security Council discussed Turkey's intensifying offensive and the worsening humanitarian crisis in Syria on Monday but did not condemn or demand an end to the Turkish operation.
Critical is the opinion of Russia, which has a military presence in the area and a cordial relationship with the YPG but is also working with Turkey to bring an end to the seven-year Syrian civil war.
Erdogan said Monday that the offensive had been agreed with Russia but this has not been confirmed by Moscow.
However many analysts argue that Turkey would never have gone ahead with the offensive without the Kremlin's blessing.
Turkey's previous incursion into Syria was the Euphrates Shield campaign in August 2016-March 2017, targeting both the YPG and IS in an area east of Afrin.
Full report at:
https://nation.com.pk/24-Jan-2018/turkey-clashes-with-kurdish-militia-as-us-sounds-alarm
--------
Iranian Speaker Warns against Israel as Terrorist Regime
Jan 23, 2018
"The Zionist regime has assassinated 500 important figures and they know no borders and boundary and carry out assassinations and harassment inside the borders of other countries," Larijani said, addressing a forum in Tehran on Tuesday.
He also reminded the Israeli agents' assassination of Iranian nuclear scientists, including Mostafa Ahmadi-Roshan in 2012.
Larijani's remarks came a few days after a recent book by Israeli researcher and journalist Ronen Bergman revealed that the Israeli intelligence service Mossad killed at least 3,000 people.
"In total, we are talking about at least 3,000 people, not only the targeted people, but the many innocent people who were in the wrong place at the wrong place," the writer said in the German magazine Der Spiegel.
Bergman's book, "The Shadow War, Israel and the Mossad's Secret Killings," is on the market as of Monday.
According to the author, he spoke in his research with about 1,000 people, "including six former heads of the Mossad and six Israeli prime ministers, such as Ehud Barak and Ehud Olmert, as well as with current Israeli Prime Minister Benjamin Netanyahu."
Bergman said that during the second intifada alone, orders were issued for "targeted killings" of between four to five people, usually those of members of Hamas.
Full report at:
http://en.farsnews.com/newstext.aspx?nn=13961103001620
--------
French FM criticizes US for putting pressure on EU to change Iran deal
Jan 24, 2018
The French foreign minister has criticized the US for exerting pressure on European countries to change the terms of the 2015 nuclear deal with Iran, saying Washington knows when an agreement is inked, all parties must honor their end of the bargain.
"There is a basic principle on which we are very firm, it's the upholding of the (nuclear deal) to the extent it is respected," Jean-Yves Le Drian said ahead of a meeting with US Secretary of State Rex Tillerson in Paris on Tuesday.
The top French diplomat also noted that the International Atomic Energy Agency (IAEA), the the United Nations nuclear watchdog, has verified Iranian compliance with the agreement and thus there was no source of worry.
"If it is respected by Iran -- which is what the IAEA says, and we don't have any reason not to believe it - the signatories must stand by their word," he said. "Because when an agreement is signed, each signatory must respect it. He (Tillerson) knows it."
Earlier this month, US President Donald Trump extended waivers of key economic sanctions on Iran, lifted under the nuclear deal, for another 120 days but said he was doing so "for the last time."
He also called on European allies and the US Congress to work with him to "fix the disastrous flaws" in the pact, officially called the Joint Comprehensive Plan of Action (JCPOA), or face a US exit.
Elsewhere in his comments, Le Drian questioned why the Trump administration was "kicking the ball back to Congress and the Europeans," when Russia and China were also parties to the deal.
Tillerson has traveled to Europe in an attempt to seek support for the US president's hostile stance on the JCPOA.
On Monday, the US secretary of state met with British Prime Minister Theresa May, Foreign Secretary Boris Johnson and National Security Adviser Mark Sedwill.
After the meetings, Tillerson said that they had agreed to set up a working group of experts on fixing flaws in the Iran deal.
The group will soon begin to develop a "side agreement" to the JCPOA aimed at easing President Trump's complaints about the agreement, he told reporters in London.
However, Russian Deputy Foreign Minister Sergei Ryabkov said on Tuesday that the new US push aimed at making revisions to the Iran nuclear deal is unlikely to bring forth "positive" results.
The JCPOA was reached between Iran and the P5+1 countries — namely the US, Russia, China, France, Britain, and Germany — in July 2015 and took effect in January 2016.
Full report at:
http://www.presstv.com/Detail/2018/01/24/549977/Iran-JCPOA-Jean-Yves-LeDrian
--------
Pence visits Western Wall after pro-Israel speech
23 January 2018
JERUSALEM: US Vice President Mike Pence visited Jerusalem's Western Wall on Tuesday while Palestinians held a general strike after denouncing his fervently pro-Israel speech the previous day as "messianic".
The devout Christian's speech to the Israeli parliament on Monday laden with biblical references was praised by Israelis as perhaps the best they could ever hope for from a US administration, but Palestinians saw it as confirming some of their worst fears.
Pence proudly reaffirmed US President Donald Trump's December 6 declaration of Jerusalem as Israel's capital and pledged to move the embassy to the disputed city by the end of 2019.
"The friendship between our peoples has never been deeper," he said.
On Tuesday, as he wrapped up his trip, Pence, who was boycotted by the Palestinians, visited one of the holiest sites in Judaism, the Western Wall.
The site lies in Israeli-annexed east Jerusalem, the sector the Palestinians want as the capital of their future state, and many Israelis were likely to interpret it as Pence further backing their claim over the entire city.
"Very inspiring," Pence said after the visit during which he was not accompanied by Israeli government officials.
Pence followed in the footsteps of Trump, who in May became the first sitting US president to visit the Western Wall.
In December, a US senior administration official said: "We cannot envision any situation under which the Western Wall would not part of Israel."
Pence also toured Jerusalem's Yad Vashem Holocaust memorial accompanied by Israeli Prime Minister Benjamin Netanyahu on Tuesday and met President Reuven Rivlin.
Full report at:
http://www.arabnews.com/node/1231891/middle-east
--------
South Asia
Fatwa against Suicide Bombings Causes Dispute between Islamabad, Kabul
23 January, 2018
A dispute has arisen between governments of Pakistan and Afghanistan over issuing a fatwa banning suicide bombings, with each government blaming the other for failing to comply with an understanding reached between the two governments in October 2017.
Officials from Pakistan and Afghanistan reached an understanding in 2017 whereby the two governments agreed to try to persuade as many religious leaders as possible to issue a fatwa against suicide bombings that cover both countries.
The agreement was reached during a meeting between Afghan President Ashraf Ghani and Pakistani Army Chief of Staff Qamar Javed Bajwa in Kabul in October 2017. Both governments agreed during the meeting to organize a meeting between religious leaders from the two countries asking them to issue a fatwa against suicide bombings as something prohibited by religion.
Currently, a dispute has arisen between the two governments as the Afghan president questions the feasibility and legitimacy of a fatwa issued by 1,800 Pakistani religious scholars condemning suicide bombings in general, but does not mention Afghanistan specifically.
President Ghani criticized the fatwa, saying it must cover all of the Muslim world, including Afghanistan.
More than 1,800 Pakistani Muslim clerics have issued an Islamic directive forbidding suicide bombings, in a book published by the government last week entitled "Paigham-e-Pakistan".
The announcement of the publication of the book during a spectacular ceremony in Islamabad, with President Mamnoun Hussein as the main guest.
During the ceremony, the President delivered a speech in which he expressed confidence that the fatwa issued by a large group of clerics from various schools would help address the challenges posed by terrorism, extremism and sectarianism.
President Ashraf Ghani said the Pakistani fatwa should have included the entire Muslim world including Afghanistan.
Foreign Minister Khawaja Asif, however, clarified that the suicide bombing was un-Islamic "whether it takes place on the moon or in any part of the world" in an effort to dispel the impression the move was not sufficient enough to cover Afghanistan.
However, Pakistani government blamed its Afghan counterpart for failing to rally Afghan clerics and urging them to issue a similar fatwa against suicide bombings inside Afghanistan itself.
Speaking to Asharq Al-Awsat, a senior Pakistani official said that they are waiting for the Afghan government to issue a request for clerics inside Afghanistan to issue a similar fatwa against suicide bombings in their country.
The official stressed that Pakistan has committed to that part of the agreement by issuing the directive, reiterating that according to Islamic ideology, any religious fatwa is applicable everywhere in the world.
"Now, we expect Afghanistan to honor its own part of the agreement," the official indicated.
https://aawsat.com/english/home/article/1152216/fatwa-against-suicide-bombings-causes-dispute-between-islamabad-kabul
--------
UN urges rethink of Rohingya repatriations without safeguards
January 23, 2018
The UN refugee agency and other groups have urged a rethink of the plan to send Rohingya refugees back to Myanmar amid fears of forced repatriations and the inability of aid agencies to ensure the safety of hundreds of thousands who fled bloodshed at home.
The calls come as Bangladesh delayed the repatriation of the largely stateless Rohingya to Myanmar as the process of compiling and verifying the list of people to be sent back was incomplete.
"In order for the repatriation to be (done) right, to be sustainable, actually viable ... you need to really address a number of issues that for the time being we have heard nothing about," UNHCR head Filippo Grandi said in Geneva, noting that issues like citizenship had not been addressed.
More than 688,000 Muslim Rohingyas and a few hundred Hindu Rohingyas have fled to Bangladesh since August 25 last year after the Myanmar military cracked down in the northern part of Rakhine state, amid witness reports of killings, looting and rape, in response to militant attacks on security forces.
Many in Buddhist-majority Myanmar regard the largely Muslim Rohingya community as illegal immigrants from Bangladesh. The United Nations described Myanmar's crackdown as ethnic cleansing of the Rohingya, which Myanmar denies.
Grandi said it was important to set in place a monitoring mechanism in Rakhine for those returning and noted the UNHCR currently did not have the ability to move freely and perform this role there.
Myanmar and Bangladesh agreed earlier this month to complete a voluntary repatriation of the refugees in two years. Myanmar says it had set up two reception centers and a temporary camp near the border in Rakhine to receive the first arrivals.
Human Rights Watch, a non-government organization, said on Tuesday that Bangladesh should suspend the plan entirely as it "threatens the refugees' security and wellbeing".
The plan has sparked fears in refugee camps in Bangladesh that people may be forced to return despite a lack of guarantees around their security.
"We are not doing anything hurriedly. We are working hard to ensure their safe, dignified and sustainable return to their homeland. We'll not send anyone until a conducive environment is created for them," a Bangladeshi official, who participated in the repatriation talks with Myanmar, told Reuters on Tuesday.
He said that some 6,000 refugees, who are currently in no man's land between the two countries, were likely to be the first ones sent to the camps being set up in Myanmar.
Officials in Myanmar said they were ready to begin the repatriation process.
"We are right now at the border ready to receive, if the Bangladeshis bring them to our side," Kyaw Tin, Minister of International Cooperation, told reporters in Naypyidaw, Myanmar's capital.
He said Myanmar was "prepared to receive 300 people a day" to begin with. He said the repatriation would take place five days a week, and then be reviewed after three months to see if it can be accelerated.
Full report at:
http://www.thedailystar.net/rohingya-crisis/united-nations-un-urges-bangladesh-bd-myanmar-authorities-rethink-rohingya-repatriations-without-safeguards-1523971
--------
US commends Afghan forces swift action in response to Kabul attack
Jan 23 2018
The White House hailed the Afghan National Defense and Security Forces (ANDSF) for their swift action in response to the Taliban attack on Intercontinental Hotel.
The White House spokesperson Sara Sanders said the US government commends the swift action of the Afghan forces at the time off the attack.
She said "Afghanistan forces, with our support, will continue to relentlessly pursue the enemies of Afghanistan who also seek to export terror around the world."
The Taliban militants group claimed responsibility behind the coordinated attack on Intercontinental Hotel in Kabul that left dozens of people dead or wounded.
Taliban group spokesman Zabiullah Muajahid claimed that scores of people were killed in the attack as he accused the victims of the attack as 'invaders'.
However, the Ministry of Interior says at least 18 people were killed and 9 others were wounded in the attack and the majority of the victims were ordinary civilians.
Full report at:
https://www.khaama.com/us-commends-afghan-forces-swift-action-in-response-to-kabul-attack-04331
--------
Europe
Man in mosque attack allegedly scanned far-right messages
January 23, 2018
LONDON — British prosecutors told jurors Tuesday that a man accused of driving into worshippers outside a London mosque looked at emails and social media messages written by far-right activists before the attack.
The prosecutors alleged during 48-year-old Darren Osborne's trial that searches for English Defense League founder Tommy Robinson and Britain First leader Paul Golding were found on Osborne's computer.
A prosecutor read jurors a screenshot that warned of a nation built on "hatred, on violence and on Islam."
Testimony indicated that the unemployed Osborne showed a hateful attitude toward Muslims at a pub near his hometown of Cardiff, Wales, shortly before the attack.
A member of the British Army, Callum Spence, said Osborne told pubgoers, "I'm going to kill all Muslims" and "Muslims are all terrorists."
Pub worker Angelo Lamberti told jurors he had overheard Osborne telling Spence that he was also a soldier. When Spence queried his regiment, Osborne responded, "you will find out tomorrow."
Osborne is accused of driving into a crowd of people leaving Ramadan prayers at Finsbury Park Mosque in June. A 51-year-old man, Makram Ali, was killed and nine people were injured. Osborne has pleaded innocent to murder and attempted murder charges.
The rampage closely followed deadly attacks in Manchester, England, and on London Bridge attributed to radicalized Muslims.
Osborne's estranged partner, Sarah Andrews, described him as a "total loner" who became "brainwashed" after watching a television show about a case in which Muslim men sexually exploited women and girls in the U.K.
Copyright 2018 The Associated Press. All rights reserved. This material may not be published, broadcast, rewritten or redistributed.
https://www.washingtonpost.com/world/europe/man-in-mosque-attack-allegedly-scanned-far-right-messages/2018/01/23/0edf7b8a-005e-11e8-86b9-8908743c79dd_story.html?utm_term=.d77366c3ae59
--------
Briton 'Jihadi Sid' placed on global terror list for role as Isil executioner
23 JANUARY 2018
US officials have put a British jihadist on a global terrorist list and identified him as the replacement for Jihadi John as Islamic State group's executioner.
Siddhartha Dhar was designated a global terrorist by the US State Department alongside a Belgian-Morrocan also fighting for the militants in the Middle East.
Dhar, a former bouncy castle salesman also known as Abu Rumasayah, was able to escape the authorities and take his family to Syria despite being on bail for terrorism offences.
After arriving in the self-declared caliphate of Islamic State in Iraq and Levant (Isil) he was then believed to have appeared as a masked figure presenting a propaganda video which he said showed "British spies" being executed.
In the gruesome ten and a half minute clip, the men, who are wearing orange jump suits, each confess to passing on information about Isil and its operatives.
The US Government said the declaration of Dhar and Abdelatif Gaini as specially designated global terrorists would seek to deny them "the resources they need to plan and carry out further terrorist attacks".
A statement said Dhar, who has been nicknamed 'Jihadi Sid' was a leading member of the now-defunct terrorist organization Al-Muhajiroun, alongside Anjem Choudary.
"He is considered to have replaced ISIS executioner Mohammad Emwazi, also known as Jihadi John.
"Dhar is believed to be the masked leader who appeared in a January 2016 ISIS video of the execution of several prisoners ISIS accused of spying for the UK."
American officials said the designation "notifies the US public and the international community that Dhar and Gaini have committed, or pose a significant risk of committing acts of terrorism.
"Terrorism designations expose and isolate organizations and individuals, and deny them access to the US financial system."
Dhar was arrested in September 2014 alongside Choudary on suspicion of belonging to the banned group Al-Muhajiroun.
But to the embarrassment of the authorities, just hours after being granted police bail, Dhar caught a bus to Paris with his family and then travelled on to Syria where he joined Isil.
He then taunted the British authorities by boasting of his new life in the Caliphate and posted pictures on Twitter, showing him holding an AK-47 assault rifle in one arm and his baby son on the other.
Dhar was raised a Hindu, but converted to Islam to marry his Muslim wife Aisha.
Former neighbours in Walthamstow, east London, have claimed Dhar's wife was more devout than him and suggested she may have put him on the path to extremism.
In the months leading up to his arrest Dhar was accused of burning poppies and calling for the imposition of Sharia law in Britain.
He was a key member of al-Muhajiroun and offshoot groups such as the Shariah Project, masterminding 'roadshows' in London that aimed to recruit troubled youngsters to Islam.
Full report at:
http://www.telegraph.co.uk/news/2018/01/23/us-lists-siddhartha-dhar-global-terrorist-identifies-jihadi/
--------
'Daesh landlord' in the dock in first Paris attacks trial
24 Jan 2018
PARIS: The first trial stemming from the November 2015 Paris terror attacks opens Wednesday (Jan 24) when Jawad Bendaoud appears in court, charged with harbouring two of the jihadists in the aftermath of the carnage.
Bendaoud, 31, became a national laughing stock after a television interview in which he came across as clueless, insisting "I didn't know they were terrorists".
It provided a rare reason to laugh after the deadliest attacks in France since World War II, spawning endless parodies on the internet mocking his apparent naivety.
Bendaoud stands accused of lending his apartment to Abdelhamid Abaaoud - a senior Islamic State jihadist suspected of coordinating the attacks that killed 130 people - and his accomplice Chakib Akrouh.
The court will seek to determine whether Bendaoud actively conspired in helping the pair to hide out or whether he got caught up in events unknowingly.
Anti-terror police killed Abaaoud, Akrouh, and Abaaoud's cousin Hasna Aitboulahcen in a ferocious assault on the apartment on Nov 18, five days after the attacks.
Bendaoud gave his now infamous interview to BFM television just as armed officers were surrounding the apartment in the gritty Saint-Denis suburb north of Paris.
"Someone asked me for a favour, I helped them out," he said, adding that all he knew was that they were from Belgium and wanted access to water and a place to pray.
"I was asked to give accommodation to two people for three days and I did the favour," said the bespectacled Bendaoud, wearing a leather jacket with his hair gelled back.
"If I'd known, do you really think I would have hosted them?"
The clip became a viral sensation, with internet users mocking his apparent lack of curiosity about his guests, at a time when a huge manhunt had been launched for jihadists.
The press nicknamed Bendaoud the "Daesh landlord" after another name for IS, and his own lawyer Xavier Nogueras described him as "the one we laughed about, having cried so much".
HOW MUCH DID HE KNOW?
The case will turn on what Bendaoud, a Saint-Denis native with a long criminal record, knew about the men.
He was previously sentenced to eight years in jail for killing a man in a fight over a mobile phone, and was released in 2013.
Bendaoud will go on trial alongside his friend Mohamed Soumah as well as Youssef Aitboulahcen, the brother of the woman killed in the raid on the apartment.
Ten heavily armed jihadists attacked the national stadium, bars and restaurants in Paris as well as the Bataclan concert venue on the night of Nov 13 in attacks claimed by IS.
Before they were killed in the raid on the apartment, Abaaoud and Akrouh were suspected of preparing a suicide attack on the French capital's La Defense business district.
Only one of the Paris gunmen survived. Salah Abdeslam was arrested in Belgium four months after the attacks and transferred to France, where he has refused to cooperate with investigators.
He is to go on trial in Belgium on Feb 5 over a shootout with police that left several officers wounded but led to his capture.
Full report at:
https://www.channelnewsasia.com/news/world/-daesh-landlord--in-the-dock-in-first-paris-attacks-trial-9890432
--------
World steps up pressure on Syria, Russia over chemical attacks
January 24, 2018
PARIS - Two dozen countries agreed Tuesday to push for sanctions against perpetrators of chemical attacks in Syria , with US Secretary of State Rex Tillerson saying Russia "ultimately bears responsibility" for such strikes.
Twenty-four nations approved a new "partnership against impunity" for the use of chemical weapons, just a day after reports they were used in an attack that sickened 21 people in rebel-held Eastern Ghouta, which Tillerson said was suspected to involve chlorine.
"Whoever conducted the attacks, Russia ultimately bears responsibility for the victims in East Ghouta and countless other Syrians targeted with chemical weapons since Russia became involved in Syria ," Tillerson said after the international meeting in Paris, and ahead of further talks with ministers from several countries on ending the conflict.
"There is simply no denying that Russia , by shielding its Syrian ally, has breached its commitments to the US as a framework guarantor" overseeing the destruction of Syria's chemical weapons stockpiles, as agreed in September 2013, he added.
Despite its pledge to destroy such weapons, the Syrian regime has been repeatedly accused of staging chemical attacks, with the United Nations among those blaming it for an April 2017 sarin gas attack on the opposition-held village of Khan Sheikhun which left scores dead.
There have been at least 130 separate chemical weapons attacks in Syria since 2012, according to French estimates, with the Islamic State group also accused of using mustard gas in Syria and Iraq.
Russia twice used its UN veto in November to block an extension of an international expert inquiry into chemical attacks in Syria , to the consternation of Western powers.
Moscow, backed by Iran and Turkey, has organised talks in the Russian city of Sochi next week aimed at finding a resolution to the brutal and multifaceted civil war.
Those efforts are running parallel to talks overseen by the UN, with the latest round due in Vienna on Thursday and Friday.
The talks have so far failed to make progress in ending a war that has left more than 340,000 people dead.
Tillerson said that "Russia's failure to resolve the chemical weapons issue in Syria calls into question its relevance to the resolution of the overall crisis".
"At a bare minimum, Russia must stop vetoing, or at the very least abstain, from future Security Council votes on this issue," he said.
At Tuesday's meeting, 24 out of 29 countries attending committed to sharing information and compiling a list of individuals implicated in the use of chemical weapons in Syria and beyond.
These could then be hit with sanctions such as asset freezes and entry bans as well as criminal proceedings at the national level.
Ahead of the meeting France announced asset freezes against 25 Syrian companies and executives, as well as French, Lebanese and Chinese businesses accused of aiding regime use of chemical weapons.
"The criminals who take the responsibility for using and developing these barbaric weapons must know that they will not go unpunished," said French foreign minister Jean-Yves Le Drian, who chaired Tuesday's meeting. "The current situation cannot continue."
Tillerson, Le Drian and several other ministers including Britain's Boris Johnson were meeting for further talks laying the groundwork for a new contact group on Syria that French President Emmanuel Macron has been urging for months.
Macron wants the new group to bring together the five permanent members of the UN Security Council - Britain, China, France, Russia and the US - along with regional countries to find a solution.
Johnson said he was also set to host his US, Saudi Arabian and UAE counterparts at the British Embassy to discuss the Yemen conflict in a whirlwind of Middle Eastern diplomacy.
"The conflicts in Syria and Yemen have created two of the worst humanitarian crises of our time," an aide to Le Drian said.
"There can be no military solution to either conflict, only peaceful and carefully negotiated political solutions will truly end the suffering."
The Syrian war has grown even more complex in recent days with Turkey launching a new ground operation against Kurdish militia who it considers an offshoot of the outlawed Kurdistan Workers' Party (PKK).
Tillerson met with Turkish foreign minister Mevlut Cavusoglu in Paris on Tuesday, though he did not hold a press conference to discuss their talks.
Full report at:
https://nation.com.pk/24-Jan-2018/world-steps-up-pressure-on-syria-russia-over-chemical-attacks
--------
URL: https://www.newageislam.com/islamic-world-news/us-designates-indian-origin-isis/d/114045
New Age Islam, Islam Online, Islamic Website, African Muslim News, Arab World News, South Asia News, Indian Muslim News, World Muslim News, Women in Islam, Islamic Feminism, Arab Women, Women In Arab, Islamophobia in America, Muslim Women in West, Islam Women and Feminism