New Age Islam News Bureau
29 August 2020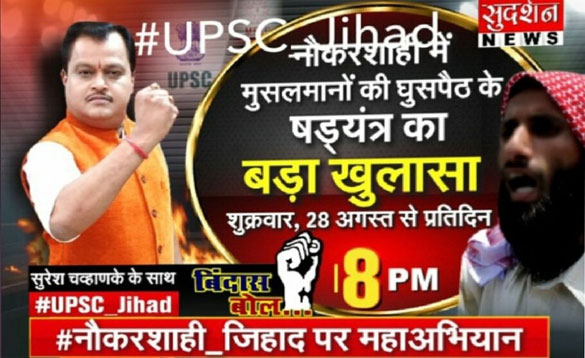 On August 26, Chavhanke had tweeted the trailer of his upcoming show, which he claimed was an "expose" on the "infiltration of Muslims" in the Civil Services
-----
• Pak Anti-Terror Court sentences 3 Close Aides of JuD Leader Hafiz Saeed To Over 16 Years In Jail For Terror Financing
• Church Leaders Tell PAS MP Drinking No Sin in Christianity As Bible Only Condemns Drunkenness
• First Israel To UAE Flight Scheduled for Monday Under Israeli El Al Airlines
• Riot Erupts in Sweden's Malmo After Anti-Islam Activities
• West African Countries Insist on Return to Civilian Rule in Mali
India
• UPSC Jihad: Delhi HC Stays Broadcast of Sudarshan News Show Claiming 'Infiltration of Muslims' In UPSC
• Tablighi Jamaat: HC Judge Disagrees With 'Indirect Warning to Indian Muslims' Remark by Fellow Justice
• Assamese TV Serial 'Begum Jaan' Banned For 2 Months for Promoting 'Love Jihad'
• Yogi Adityanath asks UP officials to stop 'love jihad' as police say cases rising
• Jammu and Kashmir Police detain several Shia mourners trying to take out Muharram procession
• 1 soldier killed; 3 terrorists gunned down in J-K's Pulwama
• 'Paints itself as victim, shelters terrorists': Jaishankar pans Pakistan
--------
Pakistan
• Pak Anti-Terror Court sentences 3 Close Aides of JuD Leader Hafiz Saeed To Over 16 Years In Jail For Terror Financing
• Govt plans another joint sitting of parliament for FATF bills passage
• ECP to take up PTI foreign funding case shortly
--------
Southeast Asia
• Church Leaders Tell PAS MP Drinking No Sin in Christianity As Bible Only Condemns Drunkenness
• Ku Li urges Umno MPs to resign from Cabinet following Bersatu's proposal to admit non-Bumiputera members
--------
Mideast
• First Israel To UAE Flight Scheduled for Monday Under Israeli El Al Airlines
• Iran Urges International Pressure on Israel to Join NPT
• EU set to sanction Turkey over east Mediterranean: Top diplomat
• Iranian man who beheaded teenage daughter sentenced to nine years in prison
• Turkish lawyer Ebru Timtik dies on hunger strike after 238 days
• Human Rights Watch raps Jordan over arrest of cartoonist criticizing UAE-Israel deal
--------
Europe
• Riot Erupts In Sweden's Malmo After Anti-Islam Activities
• US mulls pressure on European allies for siding with Iran: Report
• French minister heads to Iraq amid Islamic State resurgence
• Mutating terror threat still looms over Europe
--------
Africa
• West African Countries Insist on Return to Civilian Rule in Mali
• Nigeria: Boko Haram Has Political Patrons, the Question Is - Who Are They?
• Two Killed, 15 Injured in Jihadist Ambush in Nigeria
• Militants kill four Malian soldiers in ambush
• Mozambique: Terrorist Behead Seven on Nhonge Island
--------
South Asia
• Ex-President Hamid Karzai Says 'Serious Mistakes Were Made by the US' In Afghanistan
• Afghan Leaders: US-Backed Peace Talks with Taliban to Begin Next Week
--------
Arab world
• Deadly Firefight in Lebanon Sparks Warnings of More Sectarian Trouble
• Turkey uses drinking water as weapon of war against civilians in Syria's Hasakah: UN envoy
• Lebanese presidency to consult with Parliament on Monday to designate new PM
• Egypt arrests Muslim Brotherhood leader Mahmoud Ezzat
• Saudi Arabia's Public Prosecutor to review of death penalties against three minors
• Bin Salman cancels Washington meeting with Netanyahu over leak fears: Report
• US to slash number of troops in Iraq by about one-third: Report
• Organization of Islamic Cooperation condemns Houthi attacks against Saudi Arabia
• Lebanon: Two killed in armed clashes with Hezbollah supporters
--------
North America
• US expected to reduce troops in Iraq by a third to about 3,500: Official
• Will Europe back more US sanctions against Iran? And why?
• US to slash number of troops in Iraq by about one-third: Report
Compiled by New Age Islam News Bureau
URL: https://www.newageislam.com/islamic-world-news/india-rwandan-media-stumped-upsc/d/122747
--------
UPSC Jihad: Delhi HC Stays Broadcast of Sudarshan News Show Claiming 'Infiltration of Muslims' In UPSC
August 28, 2020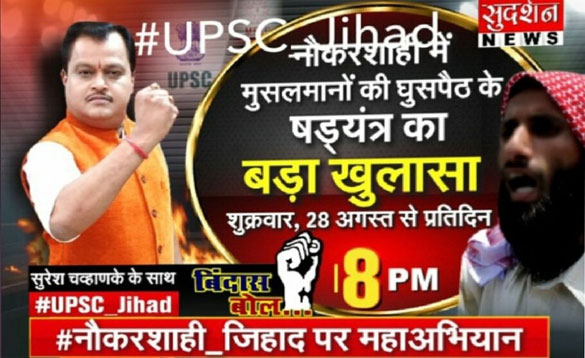 On August 26, Chavhanke had tweeted the trailer of his upcoming show, which he claimed was an "expose" on the "infiltration of Muslims" in the Civil Services
-----
The Delhi High Court on Friday stayed the broadcast of a showby Sudarshan channel on the "infiltration of Muslims" in the civil services, after controversy erupted over a clip promoting the show. The editor of the channel, however, claimed his show was only raising questions about the "bias" in the selection process, adding that people should make up their mind after watching the show.
A single judge bench of Justice Navin Chawla issued notices to the Centre, the Union Public Service Commission (UPSC), Sudarshan News, and its editor in chief, Suresh Chavhanke. The next hearing in the matter is on 7 September.
In the petition filed by students and alumni of the Jamia Milia Islamia university, petitioners said that the show "sought to defame, attack and incite hatred against Jamia Milia Islamia, its alumni and the Muslim community at large," The Leaflet reported. The report added that the show carried the hashtag 'UPSC Jihad'.
The plea added that Chavhanke had "openly incited his target non-Muslim audience by fear-mongering that "jihadis" or terrorists from Jamia Millia Islamia would soon hold positions of authority and power like that of Collector and Secretary."
Petitioners also said that the content "constitutes hate speech and criminal defamation in terms of Sections 153A (1), 153B (1), 295A and 499 of Indian Penal Code," Bar and Bench reported.
The show, which was promoted as an 'expose' and was scheduled to air on Friday night, was condemned by alumni of the university and several public figures, including serving and retired IAS officers. They criticised the show for its insinuation against the minority community.
The IPS Association, the central body of the Indian Police Service officers, reacted strongly saying, "A news story targeting candidates in civil services on the basis of religion is being promoted by Sudarshan TV. We condemn the communal and irresponsible piece of journalism."
The Indian Police Foundation, an independent think-tank bringing together the police and citizens to work for police reforms and scientific policing, also tweeted that the "hate story" "against minority candidates joining IAS/IPS is dangerous bigotry".
The foundation further said it hoped that the News Broadcasting Standards Authority, the Uttar Pradesh Police and other concerned government authorities would take strict action.
Several people tweeted their opposition against the promotional clip, which also appeared to raise questions about a coaching centre run by Jamia Millia Islamia for IAS aspirants.
Jamia Millia Islamia PRO Ahmed Azeem said, "We have written to the Education Ministry informing about the whole episode and requested them to take appropriate action. We told them that the Sudarshan Channel has not only tried to tarnish the image of JMI and a particular community but the image of UPSC also."
Bahujan Samaj Party's Lok Sabha MP Kunwar Danish Ali, an alumnus of Jamia Millia Islamia, said the educational institution has played a leading role in nation-building before and after Independence.
A number of serving and retired civil service officers also condemned the video posted by the channel.
IPS officer Niharika Bhatt slammed the video, saying it was a "despicable attempt at hate mongering".
"To question the credentials of officers on the basis of religion is not only laughable, but should also be dealt with strictest legal provisions. We are all Indians first," she said.
Retired IPS officer NC Asthana said, "By casting doubts on the integrity and impartiality of a constitutional body like the UPSC in the selection of officers for All-India Services, he is spreading disaffection for the constitutional scheme of governance."
IPS officer RK Vij said it was "disgusting" and "condemnable", and must be stopped.
Before the Delhi high court's stay order on the show, PTI quoted Chavhanke as saying that he would go ahead with the programme as scheduled. He had also alleged that the issue was being twisted by the IPS Association.
He added that the issue was the "sudden spike in the number of people of certain categories selected in UPSC" examinations in the last few years. He also urged people to watch the episode first and then react.
Chavhanke also said he was not saying anything against the serving IAS or IPS officers and his show was only raising questions about the "bias and conspiracy" in the selection process.
https://www.firstpost.com/india/delhi-hc-stays-broadcast-of-sudarshan-news-show-claiming-infiltration-of-muslims-in-upsc-next-hearing-on-7-sept-8764981.html
--------
Pak Anti-Terror Court sentences 3 Close Aides of JuD Leader Hafiz Saeed To Over 16 Years In Jail For Terror Financing
Omer Farooq Khan
Aug 29, 2020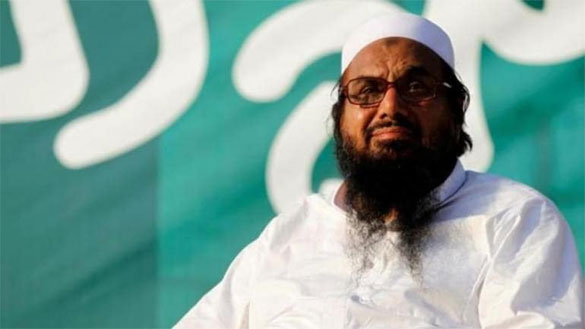 The US named Hafiz Saeed as a Specially Designated Global Terrorist, and the US, since 2012, has offered a USD 10-million reward for information that brings Saeed to justice. (File photo)
-----
ISLAMABAD: An anti-terrorism court (ATC) in Lahore on Friday sentenced up to five years three top leaders of the banned Jamaat-ud-Dawa (JuD) and close aides of the 2008 Mumbai terror attacks mastermind Hafiz Saeed on terror related charges.
ATC judge Ejaz Ahmad Buttar sentenced Abdur Rehman Makki (Saeed's brother-in-law), Malik Zafar Iqbal and Abdus Salam on different counts. They were sentenced to imprisonment for one-and-a-half year with a fine of Rs 20,000 each under Section 11-F of the Anti-Terrorism Act (ATA), 1997. According to Section 11-F of ATA, a person is guilty of an offence if he belongs or professes to belong to a proscribed organization, supporting activities of a banned outfit or addressing a meeting or delivering a sermon to its members and supporters.
The trio was also sentenced to five years of rigorous imprisonment with a fine of Rs 50,000 each under ATA for the use and possession of money or any other property for the purposes of terrorism.
They were also awarded separate five years of rigorous imprisonment and fined Rs 50,000 each for fundraising for acts of terror.
The three terrorists were also sentenced to five years of rigorous imprisonment with a fine of Rs 50,000 each for funding arrangements for the purposes of terrorism.
"All the sentences shall run concurrently of this case and of previously awarded, if any (sic)," the verdict read.
The Counter Terrorism Department (CTD) of Punjab police had registered 23 FIRs against 70-year-old Saeed and his accomplices on the charges of terror financing in 2019 in police stations of Lahore, Gujranwala, Multan, Faisalabad, Sahiwal and Sargodha.
The CTD accused them of using properties of religious seminaries and mosques for terror financing.
Saeed had also been indicted in at least five cases along with his other colleagues. The suspects, however, had rejected the allegations as baseless and claimed the government registered the cases as a result of "international pressure".
Last February, the court had handed down five-and-a-half-year rigorous imprisonment each to Saeed and Malik Zafar Iqbal in two of such cases.
Saeed, a UN designated terrorist whom the US has placed a $10 million bounty on, was arrested on July 17, 2019, and is lodged at the high-security Kot Lakhpat jail here.
Saeed-led JuD is the front organisation for the Lashkar-e-Taiba, which is responsible for the 2008 Mumbai carnage that had left 166 people dead, including six Americans.
The US named Saeed as a Specially Designated Global Terrorist, and since 2012, has offered a $10 million reward for information that brings Saeed to justice. He was listed as a terrorist under the UN Security Council Resolution 1267 in December 2008.
https://timesofindia.indiatimes.com/world/pakistan/pak-anti-terror-court-sentences-3-jud-leaders/articleshow/77811507.cms
--------
Church Leaders tell PAS MP Drinking no Sin in Christianity as Bible only Condemns Drunkenness
28 Aug 2020
BY JERRY CHOONG
Rev Clarence Devadass, director of the Catholic Research Centre in the archdiocese of Kuala Lumpur, said the church is not against alcohol per se but abuses that result in harm. — Picture by Choo Choy May
-----
KUALA LUMPUR, Aug 28 — Christianity does not forbid liquor but only condemns intoxication and debauchery, church leaders said today in response to a PAS lawmaker who claimed all religions prohibited the consumption of alcohol.
Rev Clarence Devadass, director of the Catholic Research Centre in the archdiocese of Kuala Lumpur, said the church is not against alcohol per se but abuses that result in harm.
"In fact, a small amount of wine is integrally used for the celebration of the Catholic Mass.
"The Bible does not forbid the consumption of alcoholic beverages, but drunkenness is clearly condemned and considered sin," he told Malay Mail when asked to respond to Nik Muhammad Zawawi Salleh's claim in Parliament last Wednesday.
The Pasir Puteh MP who professed to have studied comparative religions made the sweeping statement during a debate on drink driving and even told Beruas MP Datuk Ngeh Koo Ham, a Christian, that Jesus Christ forbade the consumption of alcohol but that the Bible was later "manipulated".
"On the whole, the church teaches that the virtue of temperance or moderation disposes us to avoid every kind of excess, which includes the abuse of food, alcohol, tobacco and even medicine.
"Irresponsible actions arising from the abuse of substance incurs grave guilt," Clarence said.
Likewise, Council of Churches Malaysia general secretary Rev Hermen Shastri said alcohol consumption has been used in civilisations worldwide for religious celebrations and medicinally since long ago.
"It has been used for its medicinal value. In countries with colder climates, it helped people survive winters without heated rooms.
"Additionally, it was also used for religious celebrations and socialising. In the case where most religions frown upon alcohol is due to the susceptibility of abuse and potential addiction," he said.
Hermen said Christianity only warns against drunkenness and its adherents are reminded to set good examples to others.
"The PAS MP should not impose his views on others. In a diverse society we need governance based on rational thinking and not taking the religious high ground," he added.
Christian Federation of Malaysia executive secretary Tan Kong Beng who taught theology in a seminary for seven years suggested Islamist party lawmaker Nik Zawawi take another look at what he had studied about Christianity.
"I do not recall whether he quoted any texts to support his claim," he said of Nik Zawawi, adding that those familiar with Christian scripture would know there were a number of passages about alcohol, but in praise rather than in prohibition.
Tan cited several examples to support his assertion, including Psalms 104, verses 14 to 15 which he said spoke of God's greatness in creating all things.
"Among the things these verses mention, wine is specifically highlighted, referred to as wine that gladdens hearts. All this we receive from God with thanksgiving," he said.
Like the other two Christian clerics contacted by Malay Mail, Tan said consuming alcohol was not the problem but overindulgence and cited other passages from the Bible that he said addressed this.
"Of course if we overindulge in wine, it will mock us because we become inebriated, losing our faculties and our rationality. Indeed, Proverbs 20:1 states that overindulgence in wine leads us astray.
"Similarly, Ephesians 5:18 tells us not to get drunk on wine but instead be filled with the Spirit of God," he said.
Tan also cited 1 Timothy 5:23 which relates how Paul the apostle told his younger colleague Timothy of Lystra who was later made a saint, to stop drinking only water and instead use a little wine when the later complained of stomach ailments and other illnesses.
"So as you can see, wine comes from what God has given to us, and this also applies to alcoholic beverages in general. There is no outright prohibition, just a warning.
"I think it would be better that everyone, Muslim and non-Muslim, come together and learn from each other for the sake of religious harmony. We should learn from one another's scriptures, as opposed to speaking out of turn and mentioning the religions of others without much knowledge," Tan said.
https://www.malaymail.com/news/malaysia/2020/08/28/church-leaders-tell-pas-mp-drinking-no-sin-in-christianity-as-bible-only-co/1898037
--------
First Israel to UAE flight scheduled for Monday under Israeli El Al Airlines
28 August 2020
Israel's El Al Airlines will fly a plane to the United Arab Emirates on Monday, an online flight timetable for Israel's Ben Gurion Airport showed, which would make it the first-ever commercial flight between the two countries.
The flight between Tel Aviv and Abu Dhabi is expected to carry an Israeli delegation and accompanying US officials for talks on cementing Israel and the UAE's normalisation agreement.
For all the latest headlines follow our Google News channel online or via the app.
The website of the Israel Airports Authority listed the flight on Friday.
It said the flight would be numbered LY971, a nod to the UAE's international calling code number. A return flight to Ben Gurion International Airport on Tuesday will be numbered LY972, Israel's international calling code.
A return flight from Abu Dhabi to Tel Aviv was scheduled for Tuesday afternoon, the online timetable showed.
Authorities in Israel and the UAE did not immediately acknowledge the flight. The US Embassy in Abu Dhabi did not immediately respond to a request for comment.
https://english.alarabiya.net/en/News/gulf/2020/08/28/First-Israel-to-UAE-flight-scheduled-for-Monday-under-Israeli-El-Al-Airlines.html
--------
Riot erupts in Sweden's Malmo after anti-Islam activities
29 August 2020
A riot erupted as at least 300 people protested against anti-Islam activities in a Swedish city of Malmo on Friday, police said.
Protesters threw objects at police officers and set car tyres on fire, with violence intensifying as the evening wore on, a police spokesperson said.
The police said the protests were linked to an incident earlier in the day in which right-wing extremists burned a copy of the Quran, the Islamic holy book.
"We don't have this under control, but we are working actively to take control," police spokesman Rickard Lundqvis said.
He added that the protests had escalated in the same area where the Quran had been burned.
"We see a connection between what is happening now and what happened earlier today."
Rasmus Paludan, leader of Danish far-right political party Hard Line, was due to travel to Malmo, Sweden's third-largest city, to speak at the far-right rally, which was being held on the same day as Muslim Friday prayers.
Authorities pre-empted Paludan's arrival by announcing he had been banned from entering Sweden for two years. He was later arrested near Malmo.
"We suspect that he was going to break the law in Sweden," Calle Persson, another police spokesperson in Malmo told AFP.
"There was also a risk that his behaviour... would pose a threat to society."
Daily Aftonbladet said several anti-Islam activities took place in Malmo on Friday after the ban on Paludan, including three men kicking a copy of the Quran between them in a public square.
Three people were arrested at the anti-Islam events for inciting racial hatred.
Last year, Paludan attracted media attention for burning a Quran wrapped in bacon – a meat prohibited in Islam.
https://www.middleeasteye.net/news/malmo-sweden-riot-anti-islam-activities
--------
West African countries insist on return to civilian rule in Mali
28 August 2020
West African countries on Friday insisted on a return to civilian rule in Mali, where rebel troops ousted president Ibrahim Boubacar Keita on August 18 and held him for nine days.
"If we consider that the question of (Keita's) release is resolved, it is not the same concerning the return to constitutional order, which pre-supposes that all troops return to their barracks," President Mahamadou Issoufou Keita of Niger, who currently chairs the regional bloc ECOWAS, told a video summit.
The 15-nation Economic Community of West African States slapped sanctions on Mali after the coup, including a closure of borders and ban on trade and financial flows.
It has demanded the release of Keita and other detained leaders and insisted on a swift return to civilian rule.
The conference Friday has to weigh the future of the sanctions in the light of events since the putsch.
These include a three-day ECOWAS mission that foundered over a timetable for civilian transition, and the announcement by the junta on the eve of the summit that Keita had been freed.
Issoufou said Keita had told the ECOWAS envoys "that he resigned quite freely, convinced that this decision was necessary for peace and stability in Mali."
"The junta accepted letting president Keita return to his home with the security appropriate to his rank as former head of state, as well as the possibility of having the doctor of his choice and of travelling abroad for medical checkups," he said.
Within hours of taking control, the junta promised to enact a political transition and stage elections within a "reasonable time" but in their public statements have not spelt out any details.
According to the chief ECOWAS envoy, former Nigerian president Goodluck Jonathan, the coup leaders wanted a three-year transition period.
This was rejected by the ECOWAS team, which called for an interim government, "headed by a civilian or retired military officer, to last for six or nine months, and maximum of 12 calendar months," Jonathan was quoted as saying in a statement issued by the Nigerian president on Wednesday.
https://www.presstv.com/Detail/2020/08/28/632794/West-Africa-civilian-rule-Mali
--------
India
Tablighi Jamaat: HC judge disagrees with 'indirect warning to Indian Muslims' remark by fellow justice
by Omkar Gokhale
August 29, 2020
Justice Mukund G Sewlikar, one of the two judges of the Aurangabad bench of the Bombay High Court that last week quashed FIRs filed against 29 foreign nationals and six Indians in connection with a Tablighi Jamaat gathering in Delhi amid Covid-19 restrictions at the end of March, on Thursday disagreed with the observations made by the senior judge on the bench, who said that action against the foreign nationals was an "indirect warning to Indian Muslims" after the protests against the Citizenship (Amendment) Act (CAA).
A division bench of Justice Tanaji V Nalawade and Justice Mukund G Sewlikar had on August 21 passed judgment on three petitions filed by the 29 foreigners, charged with violating their visa terms and Epidemic Act guidelines, and the six Indians accused of granting them shelter in Ahmednagar.
"A political government tries to find a scapegoat when there is a pandemic or calamity and the circumstances show that there is a probability that these foreigners were chosen to make them a scapegoat," the court had said.
Justice Sewlikar had then said that while he agreed with the part of the order quashing the FIRs, he had differing views on a few observations made by Justice Nalawade. Justice Sewlikar on Thursday passed a separate order mentioning his reasons.
Maintaining that he agreed with all observations made by Justice Nalawade except the one pertaining to CAA protests, Justice Sewlikar said that since none of the offences could be proved by the prosecution, the chargesheets against the petitioners deserved to be quashed.
He referred to Justice Nalawade's observations in the 58-paged judgment, which stated, "There were protests… at many places in India from at least prior to January 2020. Most of the persons (who) participated in the protests were Muslims. It is their contention that the Citizenship (Amendment) Act, 2019, is discriminatory against Muslims… They were protesting against the National Register of Citizens."
He added, "It can be said that due to the action taken, fear was created in the minds of those Muslims. This action indirectly gave warning to Indian Muslims that action in any form and for anything can be taken against Muslims. It was indicated that even for keeping contact with Muslims of other countries, action will be taken against them. Thus, there is smell of malice to the action taken against these foreigners and Muslim for their alleged activities. The circumstance like malice is an important consideration when relief is claimed of quashing of FIR and the case itself."
In light of these observations, Justice Sewlikar noted in his August 27 order, "I find it difficult to concur with these observations as allegations in this respect are (neither) made in the petitions nor there is any evidence in this regard. Therefore, in my opinion these observations are outside the scope of the petitions."
https://indianexpress.com/article/india/tablighi-jamaat-aurangabad-bench-order-of-august-21-hc-judge-disagrees-with-indirect-warning-to-indian-muslims-remark-by-fellow-justice-6573725/
--------
Assamese TV serial 'Begum Jaan' banned for 2 months for promoting 'love jihad'
28th August 2020
GUWAHATI: An Assamese TV serial, which was allegedly promoting "love jihad", has been banned for two months by the local administration.
Guwahati Police Commissioner Munna Prasad Gupta said "Begum Jaan" had been banned based on the recommendations of a 10-member district level monitoring committee. The serial was aired by the entertainment channel 'Rengoni'.
"A prohibitory order under the Cable Television Network (Regulations) Act, 1995 has been passed to suspend the telecast of the serial for two months. We received several complaints and they were deliberated upon by the district level monitoring committee. The order of ban was issued based on the committee's recommendations," Gupta told this newspaper.
"There are apprehensions that there may be a breach of peace and tranquility. As such, the committee recommended the ban," he added.
The action was taken in the wake of protests lodged by some right-wing groups, including the Hindu Jagran Manch, and social media users. Alleging that the serial promoted love jihad and belittled Hindu and Assamese culture, they had demanded its complete ban. An organisation, called the Hindu Janajagruti Samiti, had launched an online campaign calling for a ban on its broadcast.
Preety Kongkana, who plays the role of the protagonist, said love jihad in "Begum Jaan" was a figment of some people's imagination.
"This is basically about a Hindu girl being caught in a difficult situation and is helped by a Muslim man. However, the rumour is spread that Janmoni (her character) eloped with the Muslim man," she said, adding, "There's no communal angle in it. It, in fact, depicts humanity above faith".
Preety alleged that she was trolled, bullied and she received rape threats on the Internet. She had lodged a complaint with the police earlier. The Guwahati Police Commissioner said they were looking into her charges.
https://www.newindianexpress.com/nation/2020/aug/28/assamese-tv-serial-begum-jaan-banned-for-2-months-for-promoting-love-jihad-2189496.html
--------
Yogi Adityanath asks UP officials to stop 'love jihad' as police say cases rising
by Maulshree Seth
August 29, 2020
Uttar Pradesh Chief Minister Yogi Adityanath on Friday directed senior officials of the state Home Department to prepare a plan to stop incidents of "love jihad", following several such cases reported from different parts of the state, according to senior officials.
Love jihad is a terminology used by Hindutva groups to describe inter-religious marriages, which they allege involves conversion of the woman – either by force or guile – to marry a Muslim man.
According to officials, the direction came on the back of multiple incidents reported from Kanpur, Meerut, and a recent one in Lakhimpur Kheri, where the police claim there is evidence that the women were being forced to convert and marry.
"There are increasing cases of love jihad being reported from different parts of the state. Thus the Chief Minister instructed senior Home Department officials to prepare a plan to stop such incidents," Mrityunjay Kumar, media adviser to Adityanath, said.
He said officials have been told to prepare a strategy and see whether a new law is required.
Additional Chief Secretary, Home, Awaneesh Kumar Awasthi, who was part of the informal meeting, said: "This is a social issue. To stop it, they would have to be taken seriously – action needs to be taken against the accused, and we have to be harsh. These days, social media is available everywhere and it goes into the mind of others as well"
Awasthi said while modalities will be worked out, among issues being looked into is to make possible fast-track hearing of such cases, as a lot of these matters are pending in courts due to their coronavirus-induced closure. "The accused should not be allowed to get bail; then the woman's family should be given monetary help, etc," he said.
Asked if a new law will be brought in, Awasthi said that as of now the existing law would suffice, but it needs to be implemented properly.
Recently, following several cases of inter-religious marriages in Kanpur's Juhi Colony, the police had formed a special investigating team (SIT) to probe allegations of conversion – either by force or by "brainwashing" the women – before marriage. The SIT was formed after families of five women from Juhi Colony met senior police officials and sought help, alleging that the women were allegedly brainwashed into converting before marrying.
The recent incident being cited by the police took place in a village in Lakhimpur Kheri district earlier this week, where a teenage girl was found raped and murdered. The police later caught one Dilshad, who they say confessed to raping the girl and later slitting her throat following a heated discussion.
Call records of the victim's cellphone showed she was in touch with Dilshad, according to the police.
Adityanath has directed invoking NSA, if required, in the Lakhimpur Kheri case.
In Meerut, one Shamshad was arrested in connection with murder of a mother-daughter duo and then burying them at their home. Since there was no other relative, a friend of the women filed the police complaint.
During investigation, the police said, it emerged that Shamshad had changed his name and allegedly projected himself as a Hindu before approaching the woman for marriage.
https://indianexpress.com/article/cities/lucknow/love-jihad-yogi-adityanath-up-6574283/
--------
Jammu and Kashmir Police detain several Shia mourners trying to take out Muharram procession
Aug 29, 2020
SRINAGAR: The police on Friday detained dozens of Shia mourners to foil repeated attempts made by them to take out a Muharram tazia procession through the streets of uptown Srinagar.
The mourners had earlier emerged out of dark alleys of the City's Batamaloo, Shaheed Gunj and Dal Gate areas, chanting slogans and rhymes in praise of Imam Hussain, the grandson of Islam's Prophet Muhammad, who was martyred along with 71 of his family members and companions in the Battle of Karbala in October 680.
The witnesses said that as the police came in their way, the mourners offered stiff resistance and marched ahead but only to be overpowered by the cops, bundled into police vans and then driven to Shaheed Gunj and Kothi Bagh police stations.
The police sources said that 68 people were detained for violating an official ban on Muharram processions and rallies in the Valley announced by Kashmir's Divisional Commissioner, Pandurang K Pole, earlier in view of the spike in COVID-19 deaths and positive cases.
The sources said that among the detainees are two youths who raised a banner reading 'Free Kashmir' while attempting to march along Srinagar street. Earlier this week, the police had arrested two youth on charge of raising pro-freedom slogans at one of the Muharram tazia processions on the outskirts of Srinagar.
At dawn on Friday, the J-K police and Central armed police forces sealed Srinagar's central square Lal Chowk, its neighbourhood and some other parts the summer capital by laying spools of Concertina razor wires and other barricades to enforce a security lockdown.
The officials said that restrictions under Section 144 CrPC were imposed on areas falling under eight police stations - Batamaloo, Shaheed Gunj, Karan Nagar, Maisuma, Kothi Bagh, Shergari, Krala Khud and Ram Munshi Bagh.
On Thursday, Pole had urged the heads of religious organizations to use their influence and make people aware of the importance of following coronavirus related SOPs, including social distancing protocol and use of face masks while commemorating martyrdom of Imam Hussain.
Several Shia religious organizations and leaders had earlier announced that no mass rallies, processions or congregations (gatherings) would be held this year to commemorate the martyrdom of Imam Hussain in view of coronavirus and appealed the devotees to follow SOPs strictly while even holding restricted majalis (mourning assemblies) in their respective areas. However, such appeals were ignored in some areas, including the central town of Budgam where the police used force to break up a large mourning procession on Wednesday.
In Kashmir Valley, an official ban remains in force on organizing mourning rallies and processions along select traditional routes on the 8th and 10th day of Muharram, mainly in Srinagar, ever since the separatist campaign became violent way back in 1989. Only small mourning rallies and processions with certain restrictions would be permitted in the areas having sizable Shia populations, including at Imam Barahs or the places where functions connected with Muharram are held by them traditionally. However this year, the authorities decided to impose a blanket ban on such rallies and procession in view of COVID-19.
http://www.asianage.com/india/all-india/290820/jammu-and-kashmir-police-detain-several-shia-mourners-trying-to-take-out-muharram-procession.html
--------
1 soldier killed; 3 terrorists gunned down in J-K's Pulwama
Edited by: Harshit Sabarwal
Aug 29, 2020
A soldier of the Indian Army was killed and three terrorists were gunned down on Saturday during a gun battle in Pulwama district of Jammu and Kashmir, officials said.
"One AK and two pistols recovered. One soldier was critically injured and succumbed to his injuries. A joint operation is in progress," Colonel Rajesh Kalia, the army's spokesperson, said.
Police officials said that the encounter started at around 1am on Saturday in Pulwama's Zadoora area when army and police personnel launched a joint operation.
Three terrorists were killed in an encounter in Shopian district on Friday, which has taken the total number of terrorists killed in the Valley to six in less than 24 hours. One terrorist was captured alive.
https://www.hindustantimes.com/india-news/3-terrorists-killed-in-encounter-in-jammu-and-kashmir-s-pulwama/story-bALavkJVZspUa5hoo8xklL.html
--------
'Paints itself as victim, shelters terrorists': Jaishankar pans Pakistan
Aug 28, 2020
External affairs minister S Jaishankar on Friday criticised Pakistan for portraying itself as a victim of terror while grudgingly acknowledging the presence of wanted terrorists and crime leaders on its territory due to sustained international pressure.
Jaishankar didn't directly name Pakistan in his remarks while presiding over the Darbari Seth memorial lecture. He described the 9/11 terror attacks in the US and the Covid-19 pandemic as "stand-out moments that disrupted the trajectory of human society".
Nineteen years after the 9/11 attacks and 12 years since the 2008 Mumbai attacks, the world has a range of mechanisms to counter terrorism, including the Financial Action Task Force (FATF), several UN sanctions committees and the Counter Terrorism Executive Directorate, he said. However, it lacks a comprehensive convention on international terrorism as members of the UN are still "wrestling with certain foundational principles", he added.
"All the while, states that have turned the production of terrorists into a primary export have attempted, by dint of bland denials, to paint themselves also as victims of terror," Jaishankar said, a clear reference to Pakistan's use of terrorism as an instrument of state policy.
"But as we have seen last week, sustained pressure through international mechanisms to prevent the movement of funds for terror groups and their front agencies can work. It has eventually compelled a state complicit in aiding, abetting, training and directing terror groups and associated criminal syndicates to grudgingly acknowledge the presence of wanted terrorists and organised crime leaders on its territory," he said.
Weeks ahead of an expected assessment of Pakistan's counter-terror financing regime, Islamabad issued two notifications on August 18 to enforce UN Security Council sanctions on hundreds of terrorist individuals and entities, including Lashkar-e-Taiba founder Hafiz Saeed, Jaish-e-Mohammed chief Masood Azhar and Dawood Ibrahim. One of the documents listed three addresses in Karachi for Ibrahim, wanted by India for his role in the 1993 Mumbai bombings.
After the issue was widely reported in the Indian media, Pakistan's foreign ministry said in a statement the notifications didn't amount to "Pakistan admitting to the presence of certain listed individuals on its territory".
Jaishankar acknowledged the "struggle against terror and those who aid and abet it is a work in progress". He said, "It remains for the international system to create the necessary mechanisms to shut down the structures that support and enable terrorism, whether in South Asia or across the globe."
The world, he said, also faces a structural challenge in improving the global architecture used to fight pandemics. In similar crises over the past century, the outbreaks occurred in remote sites or the monitoring systems managed to head off a crisis. "This time, however, the international warning systems, reporting protocols and response mechanisms were unable to prevent the spread beyond ground zero," he said.
This has highlighted the need for a more enlightened and responsive multilateral system, and a "new, inclusive and non-transactional approach to multilateralism", he said. "The reform of international organisations is not merely desirable but imperative. We need to modernise the international system, step by step, to make it fit for purpose, beginning by making each entity relevant to the age in which we live, not when it was created," he added.
This will require revisiting membership and structures of control, reorienting operational principles and rules, and rebuilding resourcing channels of key pillars of multilateralism, Jaishankar said.
Strengthening skill sets and creating a better enabling environment are the goals of the "Atmanirbhar Bharat" campaign since India can make a difference at the global level only by scaling up its capacities, he said.
The spirit of local action for global outcomes is reflected in India's work with France to create the International Solar Alliance, whose framework agreement has so far been ratified by 67 countries, and the launch of the Coalition for Disaster Resilient Infrastructure, Jaishankar said.
The memorial lecture was delivered by UN Secretary-General Antonio Gutteres, who said India has all the ingredients for exerting leadership at home and abroad. He added the drivers are poverty alleviation and universal energy access – two of India's top priorities.
"Scaling up clean energy, particularly solar, is the recipe for solving both. Investments in renewable energy, clean transport and energy efficiency during the recovery from the pandemic could extend electricity access to 270 million people worldwide – fully a third of people that currently lack it," he said. He added, "These same investments could help create nine million jobs annually over the next three years."
https://www.hindustantimes.com/india-news/paints-itself-as-victim-shelters-terrorists-jaishankar-pans-pakistan/story-W7UzvUDhwNbjTe7IvMA2xK.html
--------
Pakistan
Govt plans another joint sitting of parliament for FATF bills passage
Amir Wasim
29 Aug 2020
ISLAMABAD: After the rejection of two FATF-related bills by the opposition-dominated Senate, the government is now planning to convene another joint sitting of parliament next week to get the crucial legislation passed, Dawn has learnt.
Adviser to the Prime Minister on Parliamentary Affairs Babar Awan on Friday talked to National Assembly Speaker Asad Qaiser over phone to discuss the agenda for the upcoming joint sitting in order to ensure the smooth passage of the bills required to be passed to fulfil conditions of the Financial Action Task Force (FATF) to bring the country out of the grey list of the countries in terms of terror financing.
After the passage of the 18th Constitution Amendment, if a bill passed by one house of parliament is rejected by the other house, it can only become a law after its passage from a combined sitting of the two houses.
When contacted, Mr Awan said that so far no date had been finalised for the joint sitting. He said that he planned to have a joint meeting with the NA speaker and Senate Chairman Sadiq Sanjrani to finalise the date and agenda for the joint session.
In reply to a question, he said the government was ready to talk to the opposition, but no compromise would be made on the issues of national security and accountability. He alleged that the opposition was only interested in putting "a lock at the gate of the National Accountability Bureau (NAB)".
PM's aide rules out compromise on national security, accountability
The 104-member Senate had on Aug 25 rejected through a voice vote the Anti-Money Laundering (Second Amendment) Bill and the Islamabad Capital Territory (ICT) Waqf Properties Bill that had already been passed by the National Assembly only the previous day after the opposition objected to some of the provisions of the laws and linked its cooperation to retraction of the remarks made by Leader of the House Dr Shahzad Waseem about their leadership.
Responding to the opposition's insistence on withdrawal of his remarks on Tuesday, Mr Waseem said he had not named anybody.
Some opposition members, however, said he did name Shahbaz Sharif and Asif Ali Zardari.
The opposition members had also sought an apology from him, whereas the government side accused the opposition of trying to blackmail it.
A day after the rejection of the two bills, the opposition questioned the legality of the entire proceedings leading to the voting process and said the bills could not be sent to the joint sitting of parliament.
While the opposition controverted the discretionary powers exercised by the Senate chairman to allow the motion seeking permission to take the bills for consideration, Chairman Sadiq Sanjrani ruled that the proceedings were in accordance with the rules of business.
The opposition has a thin majority of just nine votes in the joint sitting of parliament, but the government is hopeful of getting the two bills passed from it.
The opposition's attitude in the Senate drew an immediate and strong reaction from Prime Minister Imran Khan who wrote a series of tweets to attack the opposition parties after the rejection of the bills, stating that "from day one, I have maintained that the self-serving interests of the opposition leaders and the country's interests are divergent".
Mr Khan stated that the opposition leaders had become desperate to save their corrupt money by trying to prevent parliament from functioning "by seeking to undermine government's effective Covid-19 strategy — a recognised global success story — and now by trying to sabotage Pakistan's efforts to exit FATF grey list".
The prime minister further said that the opposition tried to hide behind facade of democracy to protect their loot and plunder.
"To blackmail for NRO by defanging NAB, they would even have Pak put on FATF black list to destroy nation's economy & increase poverty. They keep threatening to bring down govt unless given NRO," he had said, adding that "no matter what happens, my government will not allow any NRO as it would be betrayal of nation's trust in holding plunderers of public wealth accountable".
Soon after the prime minister's tweets, both the Pakistan Peoples Party (PPP) and the Pakistan Muslim League-Nawaz (PML-N) defended their act of opposing the bills.
PPP's Sherry Rehman, while replying to the PM's remarks, also through tweets, said they had opposed the bills as powers to arrest without warrants were being given to the police and investigators, adding that "this is neither required by FATF nor is it defensible in any even the most illiberal democracy".
"These laws are being pushed as draconian laws," she said. Moreover, she added, the FATF was being used "to expand the scope of NAB to witch hunt the opposition".
PML-N's Shahid Khaqan Abbasi had also declared the proposed bills as "black laws" and in violation of the fundamental rights of the citizens.
The government had previously convened joint sittings of parliament on Aug 6 and Aug 20.
https://www.dawn.com/news/1576920/govt-plans-another-joint-sitting-of-parliament-for-fatf-bills-passage
--------
ECP to take up PTI foreign funding case shortly
Iftikhar A. Khan
29 Aug 2020
ISLAMABAD: The Election Commission of Pakistan (ECP) is in the process of examining the report of its scrutiny committee and will shortly take up for hearing the PTI foreign funding case, informed sources told Dawn.
The ECP Scrutiny Committee submitted its report to the commission on August 17 after meeting on over 70 occasions since March 2018 when it was formed.
The committee was initially mandated to complete scrutiny in one month. However, its mandate was extended for another two months and subsequently for an indefinite period. Finally on applications filed by the petitioner and PTI founding member Akbar S. Babar complaining about lack of progress, the ECP on July 2, 2020 ordered the committee to complete its scrutiny by August 17 and submit a report to the ECP.
Dawn has gained exclusive access to ECP Scrutiny Committee order sheets that make shocking revelations about the PTI's continued failure right till the end of the scrutiny this month to share financial details ordered by the committee in April 2018. The financial records include details of bank accounts in and outside Pakistan and sources and details of funds received from different parts of the world.
The Scrutiny Committee order sheets reveal that in April 2018, the committee for the first time listed 10 financial instruments that included statements of all bank accounts maintained by the PTI in Pakistan and abroad. On May 28, 2018, the committee asked the PTI lawyer "whether the accounts and other information asked for vide order, dated April 25, 2018, have been prepared or not". The reply was in negative."
Documents highlight party's refusal to share details of its bank accounts with scrutiny committee
Once again in its order sheet dated July 23, 2019, the committee states that "despite repeated directions, the respondent did not provide complete information". On June 2, 2020, the committee once again wrote in its order sheet that the "learned counsel for the respondent (PTI) was asked to provide details of foreign accounts as per direction of the Committee dated April 25, 2018". As late as July 15, 2020, the committee reminded the PTI to submit details of sources of income of the period in question. It further asked the party to make available the record of domestic contributions/donations, along with details of expenditures of the period.
Even during the final meetings of the committee, the PTI failed to provide the requisite information as the committee notes in its order of July 23, 2020 that "the respondent party (PTI) is directed to provide the requisite information on the next date of hearing to come up for further proceedings on August 6, 2020".
The ECP Scrutiny Committee order sheets also confirm the exclusive "Dawn Story of January 10, 2019" in which the discovery of more than a dozen PTI bank accounts, mostly concealed from the ECP, was revealed. The story was contested by the PTI. The Scrutiny Committee order sheet dated July 18, 2018 confirms that "in response to our letter dated July 3, 2018, addressed to the Governor, State Bank of Pakistan, Karachi, Statement of 23 banks have so far been received".
The Scrutiny Committee order sheets make another shocking revelation on the pressure exerted by the PTI on the committee to refuse sharing details of its bank statements with the petitioner." The order sheet dated December 2, 2019 states that the "learned Counsel for the complainant (Akbar S. Babar) was told that copies of the documents submitted by the respondent cannot be provided at this stage as the respondent (PTI) seriously opposes it, however he will be allowed to inspect the same during the proceedings of scrutiny".
Subsequently, the ECP Scrutiny Committee even refused to allow the petitioner to examine the PTI bank statements in contradiction of its earlier order of December 2, 2019. The subsequent order of February 25, 2020 states that "the Committee vide order dated December 2, 2019 had decided to allow the complainant to peruse the documents submitted by the respondent except bank statements which have been requisitioned by the committee from the Banks through State Bank of Pakistan and also from the respondent (PTI)."
During the two-and-a-half years, the committee met on 70 plus occasions, during which time on more than 24 occasions, the PTI sought adjournments on various pretexts.
There is documented evidence on how the PTI raised objections about one of the auditors who was subsequently replaced.
The last meeting of the Scrutiny Committee was held on August 13, 2020, when the petitioner Akbar S. Babar submitted a note challenging the scrutiny of allegedly fake and fabricated documents while the committee refused to share authenticated PTI bank statements received on the instructions of the State Bank of Pakistan. Mr Babar termed such scrutiny an "eyewash and a vain attempt to rubber-stamp unauthenticated and fake documents submitted by PTI".
Mr Babar claims that the committee had made no serious attempt to proactively verify the evidence submitted before it by the petitioner. In the note submitted before the committee, the petitioner concludes that he cannot be part of "eyewash and a vain attempt to rubber stamp scrutiny on the basis of fake documents to re-engineer facts".
Mr Babar, who filed the foreign funding case in November 2014, claims that no auditor worth his name would categorise an audit of any organisation as transparent and credible:
where 23 SBP-certified PTI bank accounts are kept secret;
where all international PTI bank accounts (6 identified) are kept secret;
where a five-year scrutiny is reduced to four years, excluding year 2013 against the written orders of the Supreme Court;
where the evidence of a damming Imran Khan-certified PTI special audit report is ignored and declared a non-paper;
where accounts of two US- based limited liability companies registered under the instructions of Imran Khan are kept secret;
where documented evidence of illegal funding from Saudi Arabia and elsewhere is not even investigated.
Mr Babar has now called for an ECP inquiry to ascertain why the committee failed to conduct a full and transparent scrutiny of PTI accounts and bowed to the pressure of the party by not sharing bank account details received on instructions of the SBP.
https://www.dawn.com/news/1576944/ecp-to-take-up-pti-foreign-funding-case-shortly
--------
Southeast Asia
Ku Li urges Umno MPs to resign from Cabinet following Bersatu's proposal to admit non-Bumiputera members
28 Aug 2020
BY RADZI RAZAK
KUALA LUMPUR, Aug 28 — Umno veteran leader Tengku Tan Sri Razaleigh Hamzah has urged MPs from his party today to quit their Cabinet posts, following Parti Pribumi Bersatu Malaysia's proposal to accept non-Malays as members.
The Gua Musang MP, more commonly known as Ku Li, said the decision means that Bersatu can no longer be a part of a Malay-Muslim ruling pact supported by Muafakat Nasional, the alliance between Umno and PAS.
"Umno has never joined Perikatan Nasional and we only gave our support to form the government in the interest of the country's political stability.
"With the changes in Bersatu, it is appropriate for Umno leaders in the Cabinet to withdraw from the government.
"This should be done as soon as possible so we do not waste time which should be used to focus on bigger issues such as the difficulty of youth to find jobs in the Covid-19 pandemic," he said in a statement.
Tengku Razaleigh also said this issue must be addressed in the party's annual general meeting soon.
Last month, during a lavish ceremony welcoming the faction of former PKR deputy president Datuk Seri Azmin Ali into Bersatu, Muhyiddin proposed a new chapter in the Malay native party to accommodate and allow non-Malay leaders to contribute and hold positions in the party.
The party currently allows non-Malays to join the party as associate members but they cannot hold leadership positions.
Bersatu recently agreed to join Muafakat Nasional along with Umno and PAS.
It is also in the process of registering the Perikatan Nasional coalition with PAS and two Sabah parties SAPP and STAR.
https://www.malaymail.com/news/malaysia/2020/08/28/ku-li-urges-umno-mps-to-resign-from-cabinet-following-bersatus-proposal-to/1898110
--------
Mideast
Iran Urges International Pressure on Israel to Join NPT
Aug 28, 2020
Deputy Permanent Representative of Iran to the UN Eshaq Al Habib said that the international community must force the Zionist regime to sign the NPT.
"The destructive role of the US and the Israeli regime has prevented the realization of the Middle East Weapons of Mass Destruction Free Zone," Al Habib said.
He made the remarks in a virtual meeting held on the anniversary of the Comprehensive Nuclear-Test-Ban Treaty (CTBT) on Thursday.
Al Habib pointed to the destructive and criminal role of the Israeli regime in the region, emphasizing that the regime must allow IAEA access to its nuclear facilities.
The diplomat strongly slammed Washington's role in the proliferation of nuclear weapons, and noted that with 1054 nuclear tests, the US has had the highest number of the tests in the world.
"The US has the world's largest nuclear arsenal and is the only country that has used nuclear bombs," said he, adding that Washington does not intend to end its nuclear tests, and rather, aims to modernize its nuclear arsenal.
"Nuclear disarmament must remain at the top of the international community's agenda," Al Habib said, adding that the nuclear tests must be stopped since they are against the soul of CTBT and commitment to nuclear disarmament as per the Article VI of the NPT.
In relevant remarks in June, Iranian Ambassador and Permanent Representative to Vienna-Based International Organization Kazzem Qaribabadi reaffirmed Tehran's principled position for complete obliteration of nuclear weapons, and expressed deep concern over violation of the Comprehensive Nuclear-Test-Ban Treaty (CTBT) by France and the US.
Addressing the 54th Session of the Preparatory Commission for the Comprehensive Nuclear-Test-Ban Treaty Organization (CTBTO) in Vienna on Thursday June 25, Qaribabadi stressed once again Iran's long-standing and principled position on the urgent need for the full elimination of nuclear weapons, and added, "France's recent test of a missile, which is capable of carrying multiple nuclear warheads, and nuclear test explosions proposed by the US, are in serious breach of international nuclear nonproliferation treaties."
He noted that unfortunately, after more than two decades since the approval of the treaty, achieving its main goal to terminate nuclear weapons' development has become more out of reach.
Iran's envoy underlined that the modernization and testing of nuclear weapons threaten NPT as well as the global peace and security.
The unilateral and illegal withdrawal from many international agreements, such as the Open Skies Treaty, the Nuclear Non-Proliferation Treaty, and the Intermediate-Range Nuclear Forces Treaty and JCPOA has become normal for the US that is not only against multilateralism but also damages international peace and security, he said.
He also expressed concern over US Senate approval of a $10 million budget for such a nuclear test, calling on the US and France to live up to their commitments to comply with protecting the objectives of disarmament treaties.
https://en.farsnews.ir/newstext.aspx?nn=13990607000445
--------
EU set to sanction Turkey over east Mediterranean: Top diplomat
28 August 2020
The European Union is preparing sanctions against Turkey that could be discussed at the bloc's next summit on Sept. 24 in response to the eastern Mediterranean dispute with Greece, the EU's top diplomat said on Friday.
The measures could include individuals, ships or the use of European ports, said Josep Borrell, adding the EU would focus on everything related to "activities we consider illegal."
Tensions between Turkey and Greece escalated after Ankara sent a survey vessel to disputed eastern Mediterranean waters this month, a step Athens called illegal.
Turkey said Thursday it will host military drills involving the use of live ammunition in the eastern Mediterranean next week, according to a tweet by Turkey's TRT Arabic news outlet.
The drills will take place on Tuesday, September 1, and Wednesday, September 2, said TRT, despite concerns being voiced by Greece, Cyprus and other countries over Turkey's increasingly assertive claims over mineral rights in vast swathes of disputed waters.
"We are determined to protect our rights in the eastern Mediterranean," the Turkish media outlet quoted the country's Defense Minister Hulusi Agar as saying.
Agar echoed the words of Turkish President Recep Tayyip Erdogan, who said on Wednesday that Ankara was "determined to do whatever is necessary" to secure its claims in the eastern Mediterranean.
https://english.alarabiya.net/en/News/middle-east/2020/08/28/EU-may-sanction-Turkish-ships-over-east-Mediterranean-Top-diplomat.html
--------
Iranian man who beheaded teenage daughter sentenced to nine years in prison
28 August 2020
An Iranian man who beheaded his teenage daughter in a so-called "honor killing" back in May has been sentenced to nine years in prison, the victim's mother said on Friday.
The victim's mother, Rana Dashti, said she intends to appeal for a harsher sentence against her husband, Reza Ashrafi, who beheaded their 13-year-old daughter Romina Ashrafi in her sleep on May 14 in a so-called "honor killing" that shook Iran and stoked a nationwide outcry.
The court's verdict has "caused fear and panic in me and my family," Dashti told the semi-official ILNA news agency.
"I object to this verdict and I want to appeal to the Supreme Court," she said.
Dashti said she worries about the safety of her only other child should her husband be released, saying: "I do not want my husband to ever return to our village."
Iranians have also expressed their dissatisfaction with the verdict on social media.
Many noted that the country regularly issues much harsher sentences for journalists and activists.
The victim, Romina Ashrafi, had run away from home with an older man – reportedly 35 years old – following her father's opposition to the two getting married.
The man Ashrafi had run away with has been sentenced to two years in prison, her mother said.
Ashrafi was found and handed over to her father by the police despite her "repeated warnings" that she would be in danger at home, according to reports. The incident occurred in the city of Talesh in the northern province of Gilan.
Iran's judiciary chief Ebrahim Raisi had promised at the time that the case will be dealt with in a manner that would deter others from committing similar acts.
Many Iranians believe the country's laws facilitate "honor killings" by being overly lenient on those who carry them out.
A month before killing his daughter, Ashrafi had checked and found out through his son-in-law, who is a lawyer, that based on Iran's laws, he would not receive the death penalty for killing his own child, an Iranian daily reported.
A father who kills his child is not considered a murderer and escapes the death penalty, according to Iran's laws. Yet last month Iran executed a man for drinking alcohol.
The exact figures for honor killings in Iran are unknown.
In 2014, Hadi Mostafaei, a senior police official at the time, said that honor killings made up 20 percent of the murder cases in the country.
https://english.alarabiya.net/en/News/middle-east/2020/08/28/Iranian-who-beheaded-teenage-daughter-sentenced-to-nine-years-in-prison.html
--------
Turkish lawyer Ebru Timtik dies on hunger strike after 238 days
28 August 2020
A Turkish lawyer demanding a fair trial after being charged with membership of a terrorist organization has died in an Istanbul hospital on the 238th day of her hunger strike.
Friends said Ebru Timtik weighed just 30 kilogrammes (65 pounds) at the time of her death, which has sparked condemnation from opposition parties in Turkey.
"Ebru Timtik, who has been on hunger strike for 238 days demanding fair trial, became a martyr!" the People's Law Bureau, a leftist lawyers' organization mainly focused on Turkey's political cases, announced on Twitter late Thursday.
For all the latest headlines follow our Google News channel online or via the app.
Timtik was a member of the Contemporary Lawyers' Association (CHD), another leftist group accused of having close ties to the outlawed Revolutionary People's Liberation Party-Front (DHKP-C), a far-left Marxist organization.
The DHKP-C has claimed responsibility for a number of deadly attacks in Turkey, including a 2013 suicide bombing at the US embassy in Ankara, which killed a Turkish security guard.
In 2019, an Istanbul court handed multiple sentences to 18 lawyers, including Timtik, on charges of "forming and running a terror group" and "membership in a terror group."
Timtik, who had been initially detained in September 2018, was sentenced to 13 years and six months in prison, which prompted her and some other lawyers to start a hunger strike in February.
She had been jailed in Silivri - a huge court and prison complex on the outskirts of Istanbul.
Last October, an appeals court unheld the lawyers' jail sentences.
Hunger strike in Turkish prison
Timtik, who turned her hunger strike into a death fast together with another lawyer, Aytac Unsal, was moved from the prison to a hospital in July.
The pair were consuming only liquids and vitamins, and a forensic report showed at the time that their condition was "not suitable" for a continued stay in prison.
A few dozen people were waiting Friday outside an Istanbul forensic lab which was examining her body.
Police heightened security measures around the building, according to an AFP reporter.
The death of Timtik, who friends said was born in 1978, has been condemned by opposition parties.
"Ebru Timtik was massacred by the tyrants in power!" Peoples' Democratic Party (HDP) lawmaker Garo Paylan said in a tweet.
Turkey has in the past seen hunger strikes launched by left-leaning political groups.
Last year, thousands of prisoners ended their hunger strike against the conditions of jailed Kurdish leader Abdullah Ocalan around 200 days after launching their fast.
https://english.alarabiya.net/en/News/middle-east/2020/08/28/Turkish-lawyer-Ebru-Timtik-dies-on-hunger-strike-after-238-days.html
--------
Human Rights Watch raps Jordan over arrest of cartoonist criticizing UAE-Israel deal
29 August 2020
Human Rights Watch has censured the detention of prominent Jordanian cartoonist Emad al-Hajjaj for publishing a cartoon satirizing the recent agreement between the United Arab Emirates (UAE) and Israel to normalize full diplomatic relations, calling on authorities to immediately release and drop abusive charges against him.
"Calling a satirical cartoon a terrorism offense only confirms that Jordan intends to muzzle citizens who speak freely," Joe Stork, Deputy Director for the Middle East and North Africa division of the New York-based organization, said on Friday.
He added, "This arrest sends the message that Jordanian authorities would rather abuse the rights of their own citizens than risk offending a [Persian] Gulf leader's feelings."
On August 26, Jordanian authorities arrested Hajjaj after he posted a cartoon to his website and social media, which shows Abu Dhabi Crown Prince Mohammed bin Zayed Al Nahyan holding a dove with the Israeli flag painted on it, spitting on the face of the UAE de facto ruler, who is also known as MBZ.
The cartoon referenced recent reports that Israel had urged the United States not to sell F-35 stealth combat aircraft to the UAE despite the recent normalization deal between the Tel Aviv regime and the Persian Gulf state.
The public prosecutor referred the 53-year-old cartoonist to the State Security Court the following day, on the charge of "disturbing [Jordan's] relations with a foreign state."
The court, a military tribunal which deals with terrorism-related cases, decided to keep Hajjaj in detention for 14 days pending an investigation. He could face up to five years in prison if found guilty.
Hajjaj's detention reflects a broader deterioration of protections for free expression and media freedom in Jordan in recent years, the HRW said.
The human rights organization underlined that Jordanian authorities should release the cartoonist and drop the abusive charges against him, and work to remove overly broad articles from the country's Penal Code, Electronic Crimes Law, and counterterrorism law that are frequently used to unduly restrict Jordanians' right to freedom of expression.
"Jordan should be more concerned about harming its international standing through these politically motivated prosecutions than about its citizens peacefully criticizing other countries' rulers," Stork said.
Meanwhile, the International Federation of Journalists (IFJ) has condemned Hajjaj's arrest and recent attacks on media freedom in Jordan, and demanded the immediate release of the renowned cartoonist whose satirical cartoons have appeared in major Jordanian daily newspapers for decades.
"These unfortunate developments reveal a rapid and severe deterioration of press freedom and union rights in Jordan. The media blackout crushes journalists' ability to report on issues of the utmost importance, and restricts people's right to engage in a democratic debate. Jordan must immediately lift the media blackout and release Emad Hajjaj," IFJ Secretary General, Anthony Bellanger, said.
The Committee to Protect Journalists has also urged Jordanian authorities to immediately release Hajjaj, drop all charges against him, and let him work freely.
"Journalists and cartoonists like Emad Hajjaj are entitled to express their views freely on the Israel-UAE deal, which affects the lives of millions of people across the region," CPJ's Middle East and North Africa representative, Ignacio Miguel Delgado, said.
He added, "Jordanian authorities should immediately release Hajjaj, drop all charges against him, and allow him to provide political commentary without fear of imprisonment."
Under the agreement between Israel and the UAE, the Tel Aviv regime has purportedly agreed to "temporarily" suspend applying its own rule to further areas in the occupied West Bank and the strategic Jordan Valley that Netanyahu had pledged to annex.
While Emirati officials have described the normalization deal with the Tel Aviv regime as a successful means to stave off annexation and save the so-called two-state solution to the Israeli-Palestinian conflict, Israeli leaders have lined up to reject MBZ's bluff that Israel's annexation plans were off the table.
Netanyahu has underlined that annexation is not off the table, but has simply been delayed.
A senior Israeli source also said Trump's administration had requested to temporarily suspend the announcement of annexations "to first implement the historic peace agreement with the UAE."
https://www.presstv.com/Detail/2020/08/29/632833/Human-Rights-Watch-raps-Jordan-over-arrest-of-cartoonist-criticizing-Israel-UAE-deal
--------
Europe
US mulls pressure on European allies for siding with Iran: Report
28 August 2020
The administration of US President Donald Trump is reportedly considering options to pressure European members of the United Nations Security Council (UNSC) following their refusal to support the United States in its efforts to extend an illegal arms embargo on Iran.
Multiple American officials, who spoke to the Washington Free Beacon news website on Thursday, said the Trump administration was mulling repercussions for its European allies after they broke with the US on a proposed Iran arms ban earlier in the month, a move that plunged US diplomatic ties with Europe to a new historic low.
On August 14, the 15-member UNSC unanimously rejected a US resolution to extend an arms embargo on Iran, which is due to expire in October in line with a landmark nuclear deal, officially known as the Joint Comprehensive Plan of Action (JCPOA).
The resolution needed nine of 15 votes to pass. Eleven members abstained, including France, Germany and Britain, while the US and the Dominican Republic were the only "yes" votes.
The vote highlighted the division between Washington and its European allies since Trump unilaterally withdrew from the JCPOA, which had been endorsed by Security Council Resolution 2231, in May 2018.
The Trump administration's affiliates in Congress expressed anger over Europe's move at the UNSC and acknowledged that relations with the United States could crumble over the Iran dispute.
Washington Free Beacon cited some American officials as saying that the US diplomats were seeking to force European allies to split with Iran as well as Russia and China.
"The fecklessness shown over the last few weeks by Britain, France, and Germany will obviously and unfortunately complicate our relations," said a spokesman for US Republican Senator Ted Cruz, an Iran hawk.
As part of efforts to exert pressure on France, Germany, and the United Kingdom — the E3 — Washington is projected to move forward with plans to levy sanctions on a financial mechanism known as INSTEX, which has been used by Europe to bypass sanctions on Iran and facilitate the export of medical goods from Europe to the country.
The United States could also freeze assets and deny visas to European diplomats who work with INSTEX to help Iran gain access to liquid assets, according to a former senior administration official familiar with the matter.
https://www.presstv.com/Detail/2020/08/28/632790/US-repercussions-UNSC-European-allies-arms-embargo
--------
French minister heads to Iraq amid Islamic State resurgence
AUGUST 27, 2020
PARIS (Reuters) - French armed forces minister Florence Parly began a trip to Iraq on Thursday that the ministry said formed part of the country's ongoing commitment to the fight against terrorism and its support for Iraq's sovereignty.
"The minister for the armed forces is insistent upon the fact that Islamic State remains a serious challenge which we must continue to face up to. French airstrikes against isolated pockets of Islamic State have picked up in recent months," the French armed forces ministry said in a statement.
Ministry officials said Paris was concerned by a resurgence in Iraq of the group, which is profiting from political uncertainty in the country and rivalries between Iran and the United States in the region.
https://www.reuters.com/article/us-france-iraq/french-minister-heads-to-iraq-amid-islamic-state-resurgence-idUSKBN25N0TP?utm_source=iterable&utm_medium=email&utm_campaign=1478976_
--------
Mutating terror threat still looms over Europe
28/08/2020
The terrorist threat against Europe has mutated in the last half-decade as jihadist groups have seen their Middle East sanctuaries eroded, but analysts say the West must remain braced for more attacks.
Both Al-Qaeda and the Islamic State group -- together responsible for the highest-profile and most horrific terror attacks of the past two decades -- have lost potency as global organisations.
Despite splintering into branches and franchises, their murderous ideology is still able to inspire individuals to carry out random attacks in their name.
Next week in Paris, 14 people face trial over the massacres in January 2015 at satirical magazine Charlie Hebdo, a policewoman and hostages in a Jewish supermarket -- violence claimed for both IS and Al-Qaeda.
The murderous shooting spree heralded an unprecedented wave of attacks in France.
The deadliest were the coordinated attacks in Paris on November 13 that year at the Bataclan music venue and other venues, when gunmen killed 130 in a plan stemming from the IS group's core leadership in Syria.
Experts believe the same style of assault would be unlikely to recur now, not least because IS has seen a dramatic loss of its territory and membership in Iraq and Syria.
More typical this year were "isolated individuals who were not spotted by the intelligence services... and their limited or even non-existent contacts with identified jihadist networks," a source in the French anti-terror prosecutors' office told AFP.
Since 2015, France has seen 17 crimes classified as acts of terror.
Three took place in 2020, none of which were claimed by the terror groups but were instead perpetrated by isolated individuals suffering from psychological problems.
But anti-terror prosecutors still see signs of operational coordination, including "networks of false documents and funding," the source said.
- 'Attack possible' -
Seth Jones, director of the Transnational Threats Project at the Center for Strategic and International Studies (CSIS) in Washington, said that in recent years, US and other military operations had "decimated" the IS external operations network, killing or capturing many of its key operational leaders.
Its military rout and the loss of territory IS had declared as a caliphate in Iraq and Syria have also diminished its status, and the motivation for individuals to carry out attacks in its name.
It remains possible that Al-Qaeda could carry out a major attack in Europe, Jones said, either directly or through individuals inspired by its ideology, though this was "not a high probability".
The Covid-19 pandemic may have taken some focus off terrorism for security forces worldwide.
But it has also complicated the task of the jihadists, who have been active on a local level but very cautious about ranging further afield.
"In general, the short-term terrorist threat has risen in conflict zones and fallen in non-conflict zones," a UN report said in mid-July.
- 'Easier in Africa' -
Plots continue to emerge, however.
German authorities said in April they had foiled a plot to target American military installations, and arrested five Tajiks suspected of acting in the name of IS.
Another source of risk comes from individuals released from jail in Europe or freed or escaped from Kurdish-controlled prisons in northern Syria where they have been held since IS was defeated.
Jean-Charles Brisard, head of the France-based Center for the Analysis of Terrorism (CAT), told AFP he did not rule out a new targeted action by IS, pointing to recent attacks foiled in Europe.
"The next cycle will be that of those who are leaving jail," he said.
The CAT has established that 60 percent of prisoners in France convicted over their actions in past conflicts in Bosnia, Iraq or Afghanistan reoffended violently after their release.
A French security source, who asked not to be named, said West Africa is a particular concern after France's forces deployed in the region in June killed the head of Al-Qaeda in the Islamic Maghreb (AQIM), Abdelmalek Droukdel.
Eight people, including six young French aid workers, were killed in a suspected jihadist raid on August 9 in Niger but no group has claimed responsibility for the attack.
"I find it more likely that AQIM will conduct a revenge attack against French forces or other French targets in Africa -- including North and West Africa -- than in France itself," said Jones. "It is easier for the group to operate in Africa."
https://www.france24.com/en/20200828-mutating-terror-threat-still-looms-over-europe?utm_source=iterable&utm_medium=email&utm_campaign=1478976_
--------
Africa
Nigeria: Boko Haram Has Political Patrons, the Question Is - Who Are They?
27 AUGUST 2020
By Olu Fasan
Obadiah Mailafia, former Deputy Governor of the Central Bank of Nigeria, recently stirred up a hornet's nest when he told a radio station that "one of the northern governors is the commander of Boko Haram".
As quick as a flash, the Department of State Services, DSS, invited him for "questioning", and the Nigerian Broadcasting Commission, NBC, slammed a N5m fine on the radio station, Nigeria Info 99.3 FM, for giving Dr. Mailafia a platform "to promote unverifiable and inciting views".
Defending the DSS's action, President Buhari's senior media assistant, Garba Shehu, said: "When somebody claiming to be a responsible citizen makes such a claim as Obadiah Mailafia did ... and he shouldn't be asked questions, so what kind of society do we want?"
My immediate reaction was: What an utter distraction! The Yoruba would say A kii fi ete sile pa lapalapa, meaning: "One does not ignore leprosy to treat a rash." But that's what the Buhari government is doing.
It is ignoring the leprosy of terrorism that is devastating lives and communities across Nigeria and focusing on the rash of so-called hate speech!
The truth is that all major terrorist organisations have financial backers and political patrons who fund and arm them; otherwise, they would easily be crushed by the state's firepower.
So, given the seeming indestructibility of Boko Haram and the killer herdsmen, whose attacks are well-planned, organised and systematic, with sophisticated weaponry, such as machine guns, AK47s, rocket launchers and rocket-propelled grenades, according to an Amnesty International report, Nigerians are entitled to ask: Who are behind them?
Dr. Mailafia is not the first to say that powerful political forces are behind the terrorist groups. Former President Olusegun Obasanjo once described Boko Haram's agenda as the "Fulanisation" and "Islamisation" of Nigeria, and, in March 2018, General Theophilus Danjuma, former chief of army staff and defence minister, told the Middle-Belt people to "protect" themselves, saying: "The armed forces are not neutral. They collude with the armed bandits. They facilitate their movements, they cover them"!
Crucially, those views are shared internationally. Indeed, while some of us, including me, are being politically correct by using the term "killer-herdsmen" instead of "Fulani herdsmen", international observers are not that circumspect. For instance, in several recent debates on Nigeria in the UK House of Lords, most speakers referred to "Fulani militia" or "Fulani insurgents". Nigerians may be sugar-coating the facts; the world is not!
Furthermore, few around the world believe that the so-called herder-farmer clashes are driven only by desertification and competition for resources. As Baroness Cox, a regular visitor to Nigeria, put it, "there is a strong ideological dimension to the Fulani attacks".
And Lord Alton posited that "given the escalation, frequency, organisation and asymmetry of the Fulani attacks", the references to "farmer-herder clashes" no longer sufficed.
In other words, the insurgencies have ethnic, religious and ideological drivers, and, inevitably, financial backers and political patrons, who align with and fuel those motivations.
Strange, then, that some commentators pooh-poohed Mailafia's comment as a "conspiracy theory". But if Mailafia's theory of political leadership of Boko Haram is flawed, if Obasanjo's thesis of Fulanisation and Islamisation is wrong and if Danjuma's postulation about the military's collusion in ethnic cleansing is outlandish, so what exactly is the correct theory?
Why is the military offensively and defensively too weak to confront Boko Haram's spread and daringness? How could the insurgents, supposedly "technically defeated" since 2015, overrun an army base in 2018, "leaving hundreds of soldiers unaccounted for"?
Where are the Islamist Fulani herdsmen getting their highly sophisticated weaponry from? Allow me one more question: Buhari vowed during the 2015 election campaign to bring Boko Haram insurgency to a rapid end, so why, five years later, has he raised the white flag, saying rather blithely recently: "I am surprised Boko Haram still exists"?
Of course, there is another theory: Nigeria is a failed state! After all, a state's basic claim to legitimacy is that it has a monopoly on the use of organised violence within its territory. But when a 'state' lacks the capacity to respond effectively to organised non-state violence, well, it has become a failed or fragile state.
Sadly, Nigeria is too ill-equipped to tackle the widespread security threats from organised non-state violence. When terrorists are overrunning army bases and overpowering soldiers, as Boko Haram often does, we are in a failed or fragile state territory, aren't we?
Even if, as some might argue, the problem is the trafficking of weapons and migration of terrorists from neighbouring states, well, it's only failed or fragile states that can't secure their borders
But valid as the failed or fragile state theory might be, it cannot explain or excuse the serious ethno-religious dimensions of the Boko Haram and herdsmen's attacks. Nor can it disguise what seems like the state's passive support - government sometimes turns a blind eye to the atrocities of the armed bandits - and the political patronage that embolden the insurgents.
https://allafrica.com/stories/202008270109.html?utm_source=iterable&utm_medium=email&utm_campaign=1478976_
--------
Two Killed, 15 Injured in Jihadist Ambush in Nigeria
August 29, 2020
Jihadists have ambushed a civilian convoy in northeast Nigeria's Borno state, killing two people and injuring 15, militia sources said Friday.
The gunmen opened fire as the convoy, under military escort, was heading to the town of Gamboru near the border with Cameroon late Thursday, they said.
"The insurgents killed two civilians and seriously injured 15," militia leader Ibrahim Liman told AFP.
The convoy, comprising mostly traders, was coming from the regional capital Maiduguri, 130 kilometres (80 miles) from the Cameroonian border, when the attack occurred in the village of Mussine.
"The troops returned fire and the attackers retreated, but unfortunately two people were killed among the passengers," said another militia leader, Umar Kachalla.
Travelling on highways in northern Borno has become dangerous as fighters from the so-called Islamic State West Africa Province (ISWAP) and rival Boko Haram set up bogus checkpoints where they kill or abduct passengers.
The situation has prompted the authorities to organise travellers in convoys under military protection but attacks have persisted.
It was not immediately clear which jihadist faction was behind the latest attack as both Boko Haram and ISWAP operate in the area.
The decade-long jihadist conflict, which spilled into nighbouring Niger, Chad and Cameroon, has left 36,000 and and displaced around two million from their homes in Nigeria alone.
A regional military coalition involving troops from the four countries, is fighting to end the violence.
http://www.naharnet.com/stories/en/274469?utm_source=iterable&utm_medium=email&utm_campaign=1478976_
--------
Militants kill four Malian soldiers in ambush
AUGUST 27, 2020
BAMAKO (Reuters) - Four Malian solders were killed and 12 wounded on Thursday after militants ambushed a military anti-poaching patrol in the violence-plagued central region of Mopti, the army said.
Mali was rocked last week by a coup that ousted President Ibrahim Boubacar Keita, which international powers fear could further destabilise the country and undermine the fight against insurgents there and in the wider Sahel region.
Islamist groups with links to al Qaeda and Islamic State operate in arid central and northern Mali, using the area as a base to attack soldiers and civilians in neighboring Burkina Faso, Niger and beyond.
Reinforcements have been sent to the area of the Mopti attack around 25 km (16 miles) from the town of Konna, the army said in a statement.
https://www.reuters.com/article/us-mali-security-attack/militants-kill-four-malian-soldiers-in-ambush-idUSKBN25N2GM?utm_source=iterable&utm_medium=email&utm_campaign=1478976_
--------
Mozambique: Terrorist Behead Seven On Nhonge Island
27 AUGUST 2020
Maputo — Islamist terrorists have beheaded seven people in an attack against the island of Nhonge, off the coast of Mocimboa da Praia district, in the northern Mozambican province of Cabo Delgado, reports Thursday's issue of the independent newssheet "Mediafax".
According to local sources, cited by "Mediafax", the island was formerly regarded as a safe haven. People used to flee to Nhonge from the mainland to escape the atrocities committed by the terrorists, known locally as "Al-Shabaab", although they do not seem to have any organisational links with the Somali organisation of that name.
But the island came under attack last Friday, perhaps because, at low tide, it is possible to walk to the island from the main land village of Ulo. The attackers seized seven men and beheaded them.
They kidnapped a further ten to 20 people (the paper's sources differed as to the exact number) and looted goods from the informal shops on the island. The stolen goods were loaded onto five boats and taken to the mainland.
https://allafrica.com/stories/202008270856.html?utm_source=iterable&utm_medium=email&utm_campaign=1478976_
--------
South Asia
Ex-president Hamid Karzai says 'serious mistakes were made by the US' in Afghanistan
29 August 2020
Former president of Afghanistan Hamid Karzai said that serious mistakes were made by the United States in his country but held out hope that ongoing intra-Afghan negotiations with the Taliban brokered by Washington would bring lasting peace.
Karzai, speaking from Kabul with Al Arabiya senior anchor Mayssoun Noueihed in a special interview, said the US' so-called "War or Terror" was the basis of the issues Afghanistan has faced in the past two decades.
For all the latest headlines follow our Google News channel online or via the app.
"Serious mistakes were made by the United States of America. They did not conduct their so-called War on Terror from where it was coming. But they went and began to hurt and bomb the Afghan villages, the Afghan people and began to arrest of Afghan people, that became the foundation of the troubles that we have now and the foundation also of my disagreements with the United States," Karzai said.
Karzai became Afghanistan's president after a 2001 US-led invasion ousted the Taliban government.
Peace talks between warring Afghan sides will begin in September said the country's top peace negotiator last Thursday in Kabul, a crucial diplomatic process needed to end about two decades of war in Afghanistan.
US President Donald Trump's administration has been pushing both sides to resolve difference and sit across the negotiating table, paving way to end one of America's longest war.
"For the start of talks, the most important thing, the most important element in that agreement is an end to hostilities in Afghanistan and inter-fighting Afghanistan, and the withdrawal of US troops and the return of Afghanistan to intra Afghan dialogue and peace talks. These are fundamental principles to which we agree," Karzai told Al Arabiya.
"The aspirations for Afghanistan are the same, a peaceful Afghanistan, a stable Afghanistan, a United Afghanistan. Now how to function, how to govern, how to move towards that, there may be different interpretations, it is these interpretations of certain values within society, the interpretation of how to move progress. What is progress is to be discussed, and I'm sure that agreement will come," the former president added.
https://english.alarabiya.net/en/features/2020/08/29/Former-leader-Hamid-Karzai-says-serious-mistakes-were-made-by-the-US-in-Afghanistan.html
--------
Afghan Leaders: US-Backed Peace Talks with Taliban to Begin Next Week
By Ayaz Gul
August 27, 2020
ISLAMABAD, PAKISTAN - Top leaders in Afghanistan announced Thursday that U.S.-backed peace talks with the Taliban insurgency will start next week to negotiate a political settlement to the country's long conflict.
The proposed dialogue stems from a landmark pact the United States sealed with the Taliban in February to promote a negotiated settlement to the Afghan war, the longest U.S. overseas military intervention.
Abdullah Abdullah, who leads the state peacemaking High Council for National Reconciliation, told a seminar in Kabul his team "is well prepared" to enter what he referred to as intra-Afghan negotiations.
Just hours later, Afghan Foreign Minister Haneef Atmar confirmed to an online forum in Washington that his government has moved to finally settle the dispute over a prisoner swap that had prevented the Taliban from joining the talks.
"We are optimistic that next week we will be making big progress in this respect. The last hurdles in terms of release of prisoners are being addressed successfully. So, hopefully we will be soon done with all those initial hurdles that were in the way of starting the peace negotiations," Atmar said in his speech at the U.S. Institute of Peace.
Atmar noted he was "cautiously optimistic" that there will not be a further hurdle on the way to the talks. He also said he expected the Taliban to meet its promise that the freed prisoners will not return to the battlefield, saying the inmates are a "very dangerous" group of people.
"With the release of the last batch of the Taliban prisoners, we will have released by the end of next week over 5,600 of the Taliban's prisoners ... Second, we want a reduction in [Taliban] violence," the Afghan foreign minister stressed.
'The ball was in their court'
Taliban spokesman Suhail Shaheen swiftly but cautiously welcomed Thursday's announcements by the Afghan government.
"The ball was in their court, and if they have decided to free the prisoners and remove the last hurdle in the way to negotiations, then it is, indeed, good news," Shaheen told VOA.
The February 29 U.S.-Taliban agreement calls for the insurgents to free 1,000 Afghan security personnel from their captivity. Kabul, which is not part of the pact, was required to release 5,000 Taliban prisoners to pave the way for the two adversaries to come to the negotiation table.
While the Taliban already has set free the prisoners to meet their obligation, the Afghan government released all but 320 insurgent fighters citing security concerns. Kabul also insisted that foreign governments were opposing the release of some of the detainees for allegedly killing their nationals.
The Taliban clarified in a recent statement that the start of intra-Afghan negotiations will not mean a cease-fire or reduction of violence by insurgents, saying the subject will be part of the agenda in the intra-Afghan talks. The insurgent group also has stated that its leadership has instructed all Taliban members released by Kabul to go back to their families and not to rejoin the fighting.
For its part, the U.S. has already reduced its forces in Afghanistan to about 8,600 since signing the deal with the Taliban. President Donald Trump said earlier this month that the number of American troops would be cut to "between 4,000 and 5,000" by the November U.S. presidential election.
Washington has committed itself to pull out all U.S. forces from the country by mid-2021 in return for assurances the Taliban will prevent the use of Afghan soil for international terrorism and successfully negotiate a deal with rival Afghan factions.
Pakistan's role
Pakistan, which shares a long border with Afghanistan, has played a key role in organizing and facilitating the U.S.-Taliban deal. The neighboring country's spy agency, Inter-Services Intelligence (ISI), is known for its traditionally close ties with Afghan armed groups, including the Taliban, since the time of the former Soviet Union's occupation of Afghanistan in the 1980s.
The latest positive developments in the troubled Afghan peace process followed Tuesday's talks between Pakistan and a visiting high-level Taliban delegation in Islamabad.
On Wednesday, Pakistani Prime Minister Imran Khan telephoned Abdullah and told him that "Pakistan looks forward to the commencement of intra-Afghan negotiations at the earliest."
Renewed hopes for peace talks come as deadly clashes continued in Afghanistan, inflicting heavy casualties on combatants and civilians. The United Nations reported Thursday that days of fighting between government forces and insurgents in the northern province of Kunduz have also displaced more than 64,000 people.
Meanwhile, Afghan officials said the death toll Thursday had risen to at least 150 after two days of rain-triggered heavy flooding in northern and eastern parts of the country.
The calamity compounded challenges for authorities as they struggled to contain the spread of the coronavirus that has infected more than 38,000 Afghans and killed 1,400.
https://www.voanews.com/south-central-asia/afghan-leaders-us-backed-peace-talks-taliban-begin-next-week?utm_source=iterable&utm_medium=email&utm_campaign=1478976_
--------
Arab world
Deadly firefight in Lebanon sparks warnings of more sectarian trouble
NAJIA HOUSSARI
August 29, 2020
BEIRUT: A deadly battle between two major Lebanese sectarian groups has prompted warnings of more violence as the country is pushed to the breaking point by a financial meltdown and political tensions.
Two people — a 13-year-old Lebanese Sunni boy and a Syrian man — were killed in the Khaldeh area south of the capital in the shootout on Thursday night. Machine guns and rocket-propelled grenades were used in the fighting, which witnesses said lasted four hours.
A Sunni Arab tribe to which the boy belonged accused members of the Iran-backed Shiite group Hezbollah of opening fire.
The Lebanese army, which was heavily deployed in the area on Friday, said the problem spiralled out of a row over a poster put up by Shiites.
Lebanese President Michel Aoun has set Aug. 31 as a date for binding parliamentary consultations to designate a new prime minister to succeed Hassan Diab's government.
Sources close to the former leaders told Arab News: "There is a decision not to give President Aoun political authority, and we have to wait to see who will respond to Aoun's invitation to the consultations on Monday in light of the significant political dispute with him."
Leader of the Progressive Socialist Party Walid Jumblatt said: "After a delay in calling for consultations and violating the Taif Agreement, it appears that some political forces are already examining a new constitution, and some are loudly calling for it."
Aoun objected to Parliament Speaker Nabih Berri's proposal to nominate Hariri to head the next government, and Hezbollah objected to nominating Nawaf Salam, a judge on the International Court of Justice in The Hague, and Mohammed Baasiri, who was vice-governor of the Banque du Liban and the secretary of the Special Investigation Commission fighting money laundering.
Aoun's office released a schedule of the consultations that will begin Monday morning and end in the afternoon. The person who gets the largest backing from parliamentary blocs and members will be asked by Aoun to form a new Cabinet.
French President Emmanuel Macron will next week meet iconic singer Fairuz and members of Lebanon's political leadership as he returns to the country in search of serious reform in the wake of the devastating Beirut port blast.
Macron will be in Lebanon on Monday and Tuesday for his second visit in less than a month.
Fairuz, 85, is one of the rare figures in Lebanon who is admired across the multi-confessional country.
Karim Emile Bitar, a political science professor in France and Lebanon, tweeted it was an "excellent decision" by Macron to meet Fairuz, describing her as "arguably the most iconic, dignified and consensual Lebanese figure."
An official in the French presidency said that Macron's visit to Beirut aims "to pressure Lebanon's political leaders to move forward in forming a government that can implement urgent reforms. The president will not give up."
https://www.arabnews.com/node/1726236/middle-east
--------
Turkey uses drinking water as weapon of war against civilians in Syria's Hasakah: UN envoy
28 August 2020
Syria's Permanent Representative to the United Nations Bashar al-Jaafari says Turkey uses drinking war as a weapon of war against ordinary people in the country's northeastern province of Hasakah.
"The sufferings of people in the Jazira Region are neither limited to the criminal practices of Daesh nor the crimes being committed by the illegal international coalition, which loots Syria's resources. Their ordeal is escalated by the crimes of US and Turkish troops and those of their associated separatist militants and members of terrorist groups," Jaafari said during a virtual UN Security Council session on the situation in Syria on Thursday.
The Syrian diplomat noted that more than one million civilians in Hasakah and surrounding neighborhoods are thirsty, suffering from the lack of drinking water for more than 20 days.
Jaafari added that Turkish forces and their allied terrorists have cut off water from the Allouk station, located near the border town of Ra's al-Ayn, and feeding wells more than 16 times.
He went on to say that even though the US-led military coalition has recently admitted to the killing of at least 1,377 civilians since 2014, the matter will go unnoticed as long as Belgium and Germany are the so-called Syria humanitarian co-penholders at the Security Council.
The Syrian UN ambassador emphasized that the Damascus government and Syrian humanitarian organizations are carrying their responsibilities in the face of Turkey's water supply cuts in Hasakah, but deployment of US and Turkish forces to the area is impeding the process.
Jaafari added that terrorists, in line with the policies of states hostile to Syria, blew up the Arab Gas Pipeline between the towns of Ad Dumayr and Adra a few days ago, causing a blackout across Syria.
"The terrorist attack carried out by US-sponsored terrorist groups in al-Tanf region is only a fraction of the economic terrorism that has been ongoing against Syria," he said.
"The economic terrorism is being practiced by some UN member states against Syria through imposition of unilateral coercive measures, including the so-called Caesar Act, besides crimes being committed by their allied separatist militants and terrorists to plunder Syria's crude oil, natural gas, antiquities as well as agricultural crops, and to destroy civilian infrastructure," Jaafari noted.
Syria's official news agency SANA reported late on Thursday that water pumping resumed in Hasakah after "government efforts and international pressure" on Turkey.
On October 9, 2019, Turkish forces and Ankara-backed militants launched a cross-border invasion of northeastern Syria in a declared attempt to push Kurdish militants affiliated with the so-called People's Protection Units (YPG) away from border areas.
Ankara views the YPG, which is supported by the White House, as a terrorist organization tied to the homegrown Kurdistan Workers' Party (PKK), which has been seeking an autonomous Kurdish region in Turkey since 1984.
Two weeks after the invasion began, Russian President Vladimir Putin and Turkey's Recep Tayyip Erdogan signed a memorandum of understanding that asserted the YPG had to withdraw from the Turkish-controlled "safe zone" in northeastern Syria within 150 hours, after which Ankara and Moscow would run joint patrols around the area. The patrols have come under attacks by militants ever since.
https://www.presstv.com/Detail/2020/08/28/632778/Turkey-uses-drinking-water-as-weapon-of-war-against-civilians-in-Syria%E2%80%99s-Hasakah-UN-envoy
--------
Lebanese presidency to consult with Parliament on Monday to designate new PM
28 August 2020
The Lebanese presidency will convene consultations with parliamentary blocs on Monday to designate a new prime minister, the presidency said, after the government quit earlier this month following the catastrophic explosion at Beirut port.
The president is required to designate the candidate with the greatest level of support among MPs.
Sunni politician Saad al-Hariri is so far the only serious name floated for the post. But he said earlier this week he was not a candidate after several major parties said they did not support his return to the job.
https://english.alarabiya.net/en/News/middle-east/2020/08/28/Lebanese-presidency-to-consult-with-Parliament-on-Monday-to-designate-new-PM.html
--------
Egypt arrests Muslim Brotherhood leader Mahmoud Ezzat
28 August 2020
Egyptian authorities have arrested the Muslim Brotherhood leader Mahmoud Ezzat, according to a statement from the Interior Ministry on Friday.
Ezzat was serving as one of the leaders of the organization's military wing in absentia and was arrested in a hideout in Cairo, said the ministry.
For all the latest headlines follow our Google News channel online or via the app.
The ministry said that it had discovered Ezzat in a fifth floor apartment in New Cairo as part of its wider operation to track down dissident Brotherhood leaders.
In a statement, the ministry listed the alleged crimes committed and roles played by Ezzat.
"The terrorist leader is primarily responsible for establishing the armed wing of the terrorist Brotherhood organization and supervising the management of terrorist and sabotage operations committed by the organization in the country after the June 30, 2013 revolution until its arrest, which was most notable:
The assassination of former Attorney General Hisham Barakat in 2015.
The assassination of Brigadier General Wael Tahoun in front of his house in Ain Shams in 2015.
The assassination of Brigadier General Staff Adel Rajai in Obour City in 2016.
Attempt to assassinate Counselor Zakaria Abdulaziz, former Assistant Attorney General, in 2016.
A car bomb explosion in front of the Oncology Institute in August, 2016."
The arrest
According to Al Arabiya sources, Ezzat had been moving between a series of underground hideouts in the Egyptian capital and using technology to avoid being tracked.
After being arrested, Ezzat was moved to a security headquarters where he will be interrogated.
A security team from the National Security Agency and the Ministry of Interior is currently unloading several computers and mobile phones found with Ezzat, added the source, saying that the authorities are collecting data from the devices.
Authorities are also reportedly looking into a number of people who frequented the hideout where Ezzat was caught.
https://english.alarabiya.net/en/News/middle-east/2020/08/28/Egypt-arrests-Muslim-Brotherhood-leader-Mahmoud-Ezzat.html
--------
Saudi Arabia's Public Prosecutor to review of death penalties against three minors
Ismaeel Naar
28 August 2020
Saudi Arabia's Public Prosecutor has issued an order to review the death penalty issued against three individuals who were sentenced after committing crimes when they were minors, according to a statement on Thursday.
Saud al-Mojeb, Saudi Arabia's Public Prosecutor, said he would review the death penalty issued against Ali al-Nimr, Daoud al-Marhoun, and Abdullah al-Zahir, who were sentenced to death for committing crimes related to terrorism, when they were minors before their eighteenth birthday, according to the head of the Saudi Arabia's Human Rights Commission Awwad al-Awwad.
For all the latest headlines follow our Google News channel online or via the app.
In a statement, al-Awwad said that the Public Prosecutor's order represents "an important step in the way of reforming the judicial system and promoting human rights in Saudi Arabia."
"These referrals mark important progress in faithfully implementing an important reform in the legal system, and in advancing human rights in Saudi Arabia," said al-Awwad, president of the rights commission.
"They demonstrate the critical importance of these reforms not just in changes to the legal code, but in actions," he added.
Saudi Arabia said in April that it will no longer use the death sentence for individuals who committed crimes while still minors under 18 years of age, according to a document seen by Al Arabiya English at the time citing a royal decree by King Salman bin Abdulaziz.
The abolishment of the death penalty on minors is the second major judicial reform this year after the Kingdom ended flogging as a form of punishment in "Ta'zir" cases, in a decision by Saudi Arabia's General Commission for the Supreme Court. That punishment is to be replaced by prison sentences or fines, or both.
https://english.alarabiya.net/en/News/gulf/2020/08/28/Saudi-Arabia-s-Public-Prosecutor-to-review-of-death-penalties-against-three-minors.html
--------
Bin Salman cancels Washington meeting with Netanyahu over leak fears: Report
29 August 2020
Saudi Crown Prince Mohammed bin Salman (MBS) has reportedly cancelled a planned visit to Washington to meet Israeli prime minister Benjamin Netanyahu amid fears that the news of his trip has been leaked.
Citing an informed top Saudi source, the Middle East Eye (MEE) news portal reported that bin Salman was expected to arrive in the US on August 31 after the end of the Republican Convention.
The report said four houses had been purchased at a secret location just for bin Salman's stay as he did not want to stay in the embassy or the ambassador's residence, which are known locations to attract demonstrations against the heir to the Saudi throne.
Bin Salman's advisers had calculated that the crown prince's opponents in US Congress would have no time to prepare statements and that campaigners for the murdered Saudi journalist Jamal Khashoggi and lawyers acting for ex-intelligence official Saad al-Jabri would have no time to prepare legal actions.
However, the report added, the heir to the Saudi throne cancelled the visit after he received reports that it had been leaked.
"His bottom-line condition with the White House was that the visit should go ahead in total secrecy and that his presence in the capital would only be known once the event itself was taking place," it said.
US President Donald Trump and his son-in-law and adviser Jared Kushner, who were pushing for the meeting to take place, saw the prospect of a handshake between Netanyahu and bin Salman as a way to shore up regional support for the US-brokered normalization deal between the UAE and Israel.
"MBS was going to Washington on 31 August. It was fixed. It was meant to be to do something big related to Israel. What exactly was still under discussion," said the Saudi source, who was speaking on condition of confidentiality.
"The meeting itself with Netanyahu would either have been private or in front of the cameras. Either way it was meant to be a big thing. It was not expected to be full announcement of normalization of relations, but giving a hint he is going in that direction."
He further noted that other announcements, possibly from Bahrain, were expected to coincide with the crown prince's presence in Washington.
The initiative for the handshake on this occasion came from the US side. However the crown prince had one condition: that the visit be kept secret until he was in Washington, the source said.
"His advisers told him that if the visit were leaked, the CIA, Congress, journalists, campaigners for Khashoggi and lawyers for Jabri would all have time to launch a massive negative campaign against him and his presence in Washington would become a nightmare.
"MBS was calculating that if he suddenly appears with Netanyahu the big event would be enough to re-launch his image as a peacemaker," the source pointed out.
In a joint statement issued by the White House on August 13, Israel and the UAE announced that they had "agreed to the full normalization of relations."
Delegations from Tel Aviv and Abu Dhabi are expected to sign bilateral agreements regarding investment, tourism, direct flights, security and the establishment of reciprocal embassies.
All Palestinian factions have unanimously condemned the UAE-Israel deal, describing it as a stab in the back of the oppressed nation.
Senior Saudi princes have distanced themselves publicly from the normalization agreement between Tel Aviv and Abu Dhabi.
In an interview with CNBC, Kushner said it was inevitable that the Riyadh regime would follow the UAE's suit in forging ties with Israel.
"I do think that we have other countries that are very interested in moving forward," he added. "And then, as that progresses, I do think it is an inevitability that Saudi Arabia and Israel will have fully normalized relations."
https://www.presstv.com/Detail/2020/08/29/632834/Saudi-Arabia-Mohammed-bin-Salman-Israel-Benjamin-Netanyahu-Washington
--------
US to slash number of troops in Iraq by about one-third: Report
28 August 2020
The Pentagon is planning to decrease the number of American troops in Iraq by about one-third, a report says.
The Wall Street Journal cited American officials as saying that the number of the American troops stationed in Iraq would decrease from the current approximately 5,200 to about 3,500 over the next two to three months.
Iraq's Prime Minister Mustafa al-Kadhemi visited Washington last week, discussing, among other things, the US obligation to pull out its forces from the country in accordance with a mandate issued by the Iraqi parliament in January.
Anti-American sentiments have been running high in Iraq since the US assassinated Iranian commander Lieutenant General Qassem Soleimani and the second-in-command of the Iraqi Popular Mobilization Units, Abu Mahdi al-Muhandis, in the Iraqi capital, Baghdad, on January 3.
Just two days later, Iraqi lawmakers unanimously passed a bill mandating the withdrawal of all foreign troops from Iraq.
Last Sunday, US troops withdrew from the Taji base north of the Iraqi capital and handed it over to Iraqi security forces.
Despite the Iraqi parliament's mandate for the withdrawal of foreign troops, US President Donald Trump is likely to use any pullout to claim progress toward ending American wars abroad, a promise that he made during his 2016 presidential campaign but that he never fulfilled.
More than 17 years after the US invasion of Iraq, Trump has said he would withdraw all American troops from the country but has not provided a timetable. His term in office comes to an end this year.
https://www.presstv.com/Detail/2020/08/28/632819/US-troops-Iraq-one-third-Wall-Street-Journal
--------
Organization of Islamic Cooperation condemns Houthi attacks against Saudi Arabia
August 29, 2020
JEDDAH: The secretary-general of the Organization of Islamic Cooperation praised the combat effectiveness of the Arab coalition after the latest Houthi attacks on Saudi Arabia were thwarted.
The coalition intercepted and destroyed a Houthi drone laden with explosives targeting Saudi Arabia's southern region on Friday. The forces also destroyed a ballistic missile launched by Houthi militants toward the city of Najran on Thursday.
Dr. Yousef Al-Othaimeen denounced the militia group's targeting of civilians and civilian infrastructure, and the use of civilians as human shields at missile launch sites.
https://www.arabnews.com/node/1726191/saudi-arabia
--------
Lebanon: Two killed in armed clashes with Hezbollah supporters
August 27, 2020
At least two people were killed and 10 wounded when clashes broke out between armed members of the militant group Hezbollah and tribal members south of Beirut on Thursday, local media reported.
The clashes in Khaldeh, south of the Lebanese capital, reportedly erupted after a row over banners that had been hung.
The National News Agency said the two dead were a Lebanese and a Syrian citizen; the three wounded were members of the same family.
Heavy automatic weapons fire could be heard in videos posted to social media.
The clashes took place around the motorway that links Beirut with the country's south.
The Lebanese army was sent to the area, made four arrests and sealed off the motorway.
"Four people have been arrested in Khaldeh, including two Syrians, and the rest of those involved are being pursued," the army said.
It said reinforcements were being sent to the area.
The fighting lasted nearly three hours and a nearby building was torched.
Lebanese President Michel Aoun called different political factions to try to calm the situation.
Last week, a brief clash broke out in the same area when Hezbollah supporters tried to raise a poster of Salim Ayyash, a Hezbollah member charged by a UN-backed tribunal of involvement in the assassination of former Lebanese Prime Minister Rafik Hariri in a huge suicide truck bombing in Beirut 15 years ago.
In its verdict August 18, the Special Tribunal for Lebanon convicted Ayyash and acquitted three others of involvement in the assassination, which sent shock waves through the Middle East.
The country is still reeling from devastating explosion that destroyed Beirut port on August 4.
It is also suffering from a crippling economic crisis.
Hezbollah's leader Hassan Nasrallah warned of a risk of civil war in Lebanon after the blast.
https://www.thenational.ae/world/mena/lebanon-two-killed-in-armed-clashes-with-hezbollah-supporters-1.1069434?utm_source=iterable&utm_medium=email&utm_campaign=1478976_
--------
North America
US expected to reduce troops in Iraq by a third to about 3,500: Official
28 August 2020
The United States is expected to reduce its troops' presence in Iraq by about a third in the coming months, a US official said on Friday, a move that had been expected after President Donald Trump's administration committed to a reduction recently.
The United States has around 5,200 troops that were deployed in Iraq to fight ISIS. Officials in the US-led coalition say Iraqi forces are now mostly able to handle the remnants of ISIS on their own.
For all the latest headlines follow our Google News channel online or via the app.
The United States and Iraq in June affirmed their commitment to the reduction of US troops in the country in the coming months, with no plans by Washington to maintain permanent bases or a permanent military presence.
In 2016 Trump campaigned on ending America's "endless wars," but US troops remain in countries like Afghanistan, Iraq, and Syria, albeit in smaller numbers.
A US official, speaking on condition of anonymity, said the United States would go down to about 3,500 troops in Iraq in the next two to three months.
The Pentagon did not immediately respond to a request for comment.
This month during a meeting with the Iraqi prime minister, President Donald Trump redoubled his promise to withdraw the US troops still in Iraq.
Trump's meeting with the Iraqi leader came amid a new spike in tensions between Washington and Tehran after Washington said it would seek to reinstate all previously suspended US sanctions on Iran at the United Nations.
Iraq's parliament had voted earlier this year for the departure of foreign troops from Iraq, and the United States and other coalition troops have been leaving as part of a drawdown.
The number of troops to be withdrawn was first reported by the Wall Street Journal.
https://english.alarabiya.net/en/News/middle-east/2020/08/28/US-expected-to-reduce-troops-in-Iraq-by-a-third-to-about-3-500-Official.html
--------
Will Europe back more US sanctions against Iran? And why?
28 August 2020
By J. Michael Springmann
The article in the Washington Free Beacon is possibly suspect. It's an online newspaper that has Conservative leanings, and sometimes has problems with reporting accurately or using bias in its reporting with loaded words. But, conceivably, somebody in the Trump administration, a spokesman might have contacted them because it is a right-wing organization. If that is so, and if it was in fact not made up by the Washington Free Beacon or changed in some fashion, I think the Europeans would get their backs up about this.
However, in the past, the Europeans have not been terribly strong in their support of Iran and the efforts to circumvent the ridiculous illegal and questionable American sanctions. While the Europeans have been going on about protesting the American sanctions, they let their companies, VW and Renault, and a number of other large firms like Adidas, the shoe people, move out of Iran rather than lose the American market.
And so Trump is threatening the Europeans with sanctioning anybody who is involved with INSTEX - the so far ineffective means of swapping Euros for the Iranian currency. I think it is going to be a way of pressuring the Europeans and the Europeans may well back down.
As to why this happened, I think it's, basically, Israel the apartheid entity, which seems to control the entire world, even to the point of having the Chinese block the visit of an African, Dieudonné M'bala M'bala, who has spoken out against Israel. They have even stopped his podcasts reaching China.
So I think the Israelis are behind this. The Israelis are on a roll. They've gotten the Americans to pressure the United Arab Emirates into establishing diplomatic and trade relations with Israel.
So, why is the United States doing this? It is basically Israeli pressure, Israeli influence, and they have so far succeeded in destroying Lebanon. They destroyed Iraq, they've destroyed Syria, and they are very good at getting what they want from the Americans. The Americans are backing them in their efforts to destroy Iran. And I think they're doubling down on this, again getting the United States involved with more sanctions because Trump wants to play up to the Jewish vote in the country, and also to play up to the Evangelical Christians who support Israel, no matter what.
So I think, on balance, the Europeans are going to knuckle under to the Americans, they will often huff and puff about the situation. But, they will face the threat of sanctions and they will avoid the threat of sanctions. They will lay down and say or do whatever the US wants. "We won't oppose you." And, of course, the Americans are completely under the thrall of the Zionist entity, and they will continue to pressure Iran until Iran is destroyed or the Americans are destroyed in the process.
J. Michael Springmann is a former American diplomat, and political commentator based in Washington, DC. He had formerly worked at the US Commerce Department's International Trade Administration and as a diplomat with the US Department of State. He had been assigned to Germany, India, Saudi Arabia, and the Bureau of Intelligence and Research in Washington, DC.
He's the author of two books, Visas for Al Qaeda: CIA Handouts That Rocked the World: An Insider's View and Goodbye, Europe? Hello, Chaos?: Merkel's Migrant Bomb.
https://www.presstv.com/Detail/2020/08/28/632821/Will-Europe-back-more-US-sanctions-against-Iran?
--------
US to slash number of troops in Iraq by about one-third: Report
28 August 2020
The Pentagon is planning to decrease the number of American troops in Iraq by about one-third, a report says.
The Wall Street Journal cited American officials as saying that the number of the American troops stationed in Iraq would decrease from the current approximately 5,200 to about 3,500 over the next two to three months.
Iraq's Prime Minister Mustafa al-Kadhemi visited Washington last week, discussing, among other things, the US obligation to pull out its forces from the country in accordance with a mandate issued by the Iraqi parliament in January.
Anti-American sentiments have been running high in Iraq since the US assassinated Iranian commander Lieutenant General Qassem Soleimani and the second-in-command of the Iraqi Popular Mobilization Units, Abu Mahdi al-Muhandis, in the Iraqi capital, Baghdad, on January 3.
Just two days later, Iraqi lawmakers unanimously passed a bill mandating the withdrawal of all foreign troops from Iraq.
Last Sunday, US troops withdrew from the Taji base north of the Iraqi capital and handed it over to Iraqi security forces.
Despite the Iraqi parliament's mandate for the withdrawal of foreign troops, US President Donald Trump is likely to use any pullout to claim progress toward ending American wars abroad, a promise that he made during his 2016 presidential campaign but that he never fulfilled.
More than 17 years after the US invasion of Iraq, Trump has said he would withdraw all American troops from the country but has not provided a timetable. His term in office comes to an end this year.
https://www.presstv.com/Detail/2020/08/28/632819/US-troops-Iraq-one-third-Wall-Street-Journal
--------
URL: https://www.newageislam.com/islamic-world-news/india-rwandan-media-stumped-upsc/d/122747
New Age Islam, Islam Online, Islamic Website, African Muslim News, Arab World News, South Asia News, Indian Muslim News, World Muslim News, Women in Islam, Islamic Feminism, Arab Women, Women In Arab, Islamophobia in America, Muslim Women in West, Islam Women and Feminism