New Age Islam News Bureau
19 November 2020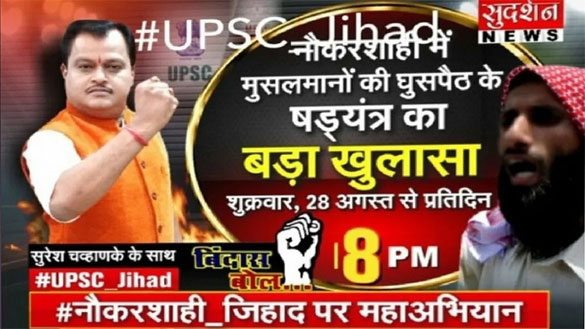 UPSC Jihad - TV Show Offensive
------
• UN-designated Terror Group Jaish-e-Mohammed Threatens French President Macron, Calls Him a 'Blasphemer',
• Mumbai Terror Attack Mastermind Hafiz Saeed Sentenced to 10 Years in Jail in Illegal Funding Case
• Hostility Towards Pakistan Quickest Route To National Unity In India, Says Obama
• Pressure Mounting On Myanmar Over Rohingya Repatriation
• Bahrain Calls For Resuming Palestine-Israel Negotiations Based On Two-State Solution
• Iran Releases Documents Proving Terrorist Grouplet's Link with Riyadh
• UAE summit: Jordan's King Abdullah meets Bahrain King, Abu Dhabi Crown Prince
India
• UPSC Jihad - TV Show Offensive, Could Promote Communal Attitudes — Government In Affidavit To Supreme Court
• 'Love Jihad' Undefined, Yet Indian States Rushing With Anti-Conversion Laws
• Four JeM terrorists killed in Jammu encounter
• 12 civilians injured in grenade attack in south Kashmir's Pulwama
--------
Europe
• UN-designated Terror Group Jaish-e-Mohammed Threatens French President Macron, Calls Him a 'Blasphemer',
• France Ups The Ante Against Pakistan, Turkey; Urges EU To Take This Step To Curb Terrorism
• Armenia's prime minister unveils action plan amid pressure after Karabakh peace deal
• UK sees sharp increase of children as young as 10 investigated for far-right extremism: report
• German state minister resigns over gun purchase from right-wing extremist
• UK to likely follow US in reducing troops in Afghanistan: Defence minister
--------
Pakistan
• Mumbai Terror Attack Mastermind Hafiz Saeed Sentenced to 10 Years in Jail in Illegal Funding Case
• Trader 'Pays For' Meeting Maryam, Refused Entry To PM's Event In Faisalabad
• Pakistan parliamentary committee passes CPEC Authority Bill
• Thousands of Pakistani labourers protest in Karachi against China's unequal wages for locals
• Pemra ban on airing Nawaz speeches challenged in court
• GB govt seeks army deployment in Gilgit, Chilas amid protests
--------
North America
• Hostility Towards Pakistan Quickest Route To National Unity In India, Says Obama
• US To Withdraw Troops From Afghanistan, Iraq: 'We've Destroyed ISIS Caliphate', says Acting Defence Secretary
• US senators seek to stop Trump arms sales to UAE over Israel's military edge
• Saudis Target Muslim Brotherhood As Biden Takes Over Washington
• Over 13,000 civilians killed in US attacks in Iraq, Syria since 2014: Airwars
--------
South Asia
• Pressure Mounting On Myanmar Over Rohingya Repatriation
• Australian Forces Suspected of Killing 39 Locals in Afghanistan
• All Madrassas In Kabul to Biometrically Register 'Students'
• 'Good step': Taliban welcome US troop drawdown from Afghanistan
--------
Arab world
• Bahrain Calls For Resuming Palestine-Israel Negotiations Based On Two-State Solution
• Saudi Arabia, Iraq reopen border after 30 years
• UAE Suspends Visit Visas For Pakistan, 11 Other Countries
• Shadowy new militias in Iraq targeting US forces as new front for Iran
• Arab Coalition intercepts Houthi drone launched from Yemen targeting Saudi Arabia
--------
Mideast
• Iran Releases Documents Proving Terrorist Grouplet's Link with Riyadh
• Iran will 'automatically' return to nuclear commitments if Biden lifts sanctions
• Top Security Official: No Safe Haven for Iranian Nation's Ill-Wishers
• Official Blasts US Sanctions for Violating Iranian People's Rights
• Afghan FM Lauds Iran's "Sincere, Brotherly" Support
• UAE health workers attacked by 'cowardly' gunmen in Yemen, says Red Crescent
• Bahrain's first official government delegation heads to Israel on Gulf Air flight
• Iran dismisses Canadian-drafted resolution on its human rights situation
--------
Africa
• UAE summit: Jordan's King Abdullah meets Bahrain King, Abu Dhabi Crown Prince
• Behind Susan Rosenberg and the roots of left-wing domestic extremism
• 5 Killed in Mogadishu Bombing After Report That US Will Pull Troops from Somalia
• In jihadist-hit Burkina areas, no elections -- and no state
--------
Southeast Asia
• Only Non-Muslim Houses Of Worship Exempted From Jawi Signage Rule, Says Pahang Exco
• Bangsa Malaysia only way to unite the ummah, not a 'grand coalition'
Compiled by New Age Islam News Bureau
URL: https://www.newageislam.com/islamic-world-news/upsc-jihad-tv-show-offensive/d/123514
--------
UPSC Jihad - TV Show Offensive, Could Promote Communal Attitudes — Government In Affidavit To Supreme Court
AMRITA NAYAK DUTTA
18 November, 2020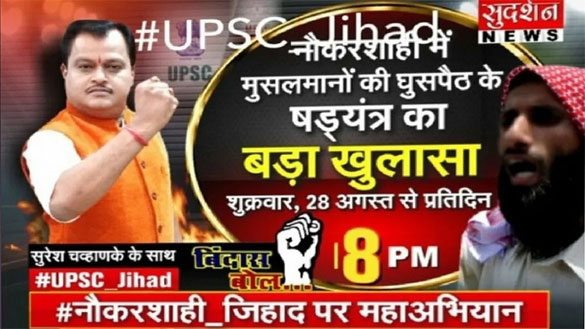 UPSC Jihad - TV Show Offensive
------
New Delhi: The controversial 'UPSC jihad' episode of TV channel Sudarshan News' show 'Bindas Bol', which sought to "expose" an alleged conspiracy to infiltrate Muslims into the Indian civil services, is "offensive, not in good taste and has the likelihood of promoting communal attitudes", the Union Ministry of Information & Broadcasting has said in an affidavit filed before the Supreme Court Wednesday.
"…The tone and tenor of the episodes telecast do indicate that the channel through the various utterances and audio-visual content breached the Programme Code," the government added in its affidavit, a copy of was seen by ThePrint.
The Programme Code is a list of yardsticks TV content needs to adhere to before it is aired for audiences.
The ministry states in the affidavit that it has through an order issued earlier this month cautioned the channel to be careful in future.
It also directed the channel to review the content of the yet-to-be-aired episodes of 'Bindas Bol-UPSC Jihad' and suitably moderate and modify them, to ensure there is no violation of the Programme Code, the ministry said.
VDO.AI
The ministry has asked the channel to comply with its directions and report to the government.
Four of the controversial show's 10 episodes have already been aired. However, the airing of the remaining six were barred by the Supreme Court on 15 September and the case has been sub judice since. The matter will be heard Thursday by a Supreme Court bench headed by Justice D.Y. Chandrachud.
Reached for comment, Suresh Chavhanke, editor-in-chief of the channel, told ThePrint that the government has not barred the airing of the subsequent episodes, adding that he is hopeful the Supreme Court will allow them to be telecast too.
'Don't intervene in freedom'
The Programme and Advertising Codes, prescribed under the Cable TV Network Rules, 1994, list what cannot be carried by a cable service.
Restrictions include content that offends "good taste or decency, contains attack on religions or communities or visuals or words contemptuous of religious groups or which promote communal attitudes", among other things.
According to the ministry, the programme portrays one community and the UPSC in poor light as "certain videos and utterances are not in good taste or decency".
The ministry's conclusion is based on the contents of the programme and the findings and recommendations of the inter-ministerial committee (IMC) that decides if private television channels have violated broadcast rules, besides the submissions of the channel. The IMC heard the matter last month.
However, the ministry said it concurs with the findings of the IMC, which said the issue of the alleged terror links of Zakat Foundation — a UPSC IAS training institute at the centre of the Sudarshan News programme — is a disputed matter, and requires to be investigated.
Chavhanke said he was grateful to the ministry for acknowledging that the issue they dealt with in the programme is serious and needs to investigated.
He added: "The government and courts should not intervene in the freedom of the press."
The Sudarshan News episode came to light after the channel released a promotional trailer of the programme, which at once elicited widespread criticism, with many alleging the content amounted to hate speech.
The episode was also challenged in the Delhi High Court, which stayed its telecast. When Sudarshan News approached the court to vacate the stay, the latter asked the I&B ministry to take a call.
Subsequently, the ministry said it cannot pre-censor a programme, or stop it from being telecast, and allowed the show to air, but asked the channel to ensure the programme proposed to be telecast does not violate the Programme Code.
After the airing of the four episodes, the channel was served a show cause notice by the central government for allegedly violating the programme code. The Supreme Court started hearing the matter after it was approached by a lawyer, Firoz Iqbal Khan.
Why news media is in crisis & How you can fix it
India needs free, fair, non-hyphenated and questioning journalism even more as it faces multiple crises.
But the news media is in a crisis of its own. There have been brutal layoffs and pay-cuts. The best of journalism is shrinking, yielding to crude prime-time spectacle.
ThePrint has the finest young reporters, columnists and editors working for it. Sustaining journalism of this quality needs smart and thinking people like you to pay for it. Whether you live in India or overseas, you can do it here.
https://theprint.in/india/governance/upsc-jihad-show-offensive-could-promote-communal-attitudes-govt-in-affidavit-to-sc/547415/
--------
UN-designated Terror Group Jaish-e-Mohammed Threatens French President Macron, Calls Him a 'Blasphemer',
November 19, 2020
Macron's strong expression of support for the publication of the Prophet cartoons has triggered protests in Pakistan, with huge crowds gathering in Rawalpindi under the leadership of Barelvi Sunni preacher Khadim Hussain Rizvi, and have laid siege to the main highway to Islamabad.
-----
New Delhi: UN-designated terror group Jaish-e-Mohammed (JeM) has warned French President Emmanuel Macron and "others like him" that they will be targeted by those ready to be "sacrificed for the honour of the Prophet", said a report. Also Read - France Plans Hefty Punishment Against Those Issuing 'Virginity Certificate' For Marriage
According to an article published by The Indian Express, the terror group, in an unsigned article published on the website of its online journal Al Qalam has not only called President Macron a "blasphemer" but also threatened him for his support for the publication of cartoons of Prophet Muhammad. Also Read - French President Emmanuel Macron Receives Threat From Al-Qaeda, After Country Kills 50 Jihadists
The article said, "If not today then tomorrow, if not tomorrow then day after there will be some Abdullah Checheni (the Chechen youth who killed a teacher in Paris last month), Mumtaz Qadri (who killed Pakistani politician Salman Taseer in 2011), and Ghazi Khalid (who shot dead Tahir Ahmed Naseem, an Ahmedi, in a Pakistan courtroom where Naseem was being tried for alleged blasphemy in July this year)." Also Read - Pakistani Teacher Beheads French President Macron's Effigy In Front of Young Girls, Video Goes Viral
The article that goes with the header, 'Muslims: Sacrifice for the Honour of the Prophet', further stated, "if someone commits the sin of blasphemy, it gives birth to the Abdullah type of young men… no Muslim will allow you to burn the Koran or blaspheme against the Prophet."
Even though JeM has been listed as a proscribed organisation by Pakistan's National Counter Terrorism Authority and the Deobandi JeM and its leader Masood Azhar are designated terrorist entities under the UN Security Council's Resolution 1267, its website Al Qalam continues to be available. The date on the main page of the website is May 2019, but the articles in it are being updated regularly on a page called Madina Madina and the article that mentions President Macron is the latest update in it, said The Indian Express report.
Macron's staunch support of secular laws that the Prophet Muhammad caricatures are protected under freedom of speech had triggered many protests and also heightened tensions between the French government and the Muslim world. Protesters in countries like Pakistan, Bangladesh, Iraq, Turkey and Gaza not only burned his effigies but also branded him a 'Satan-worshipper'.
https://www.india.com/news/world/un-designated-terror-group-jaish-e-mohammed-threatens-french-president-macron-blasphemy-sacrifice-for-honour-of-the-prophet-charlie-hebdo-cartoons-4214892/
--------
Mumbai Terror Attack Mastermind Hafiz Saeed Sentenced to 10 Years in Jail in Illegal Funding Case
News18 19 November 2020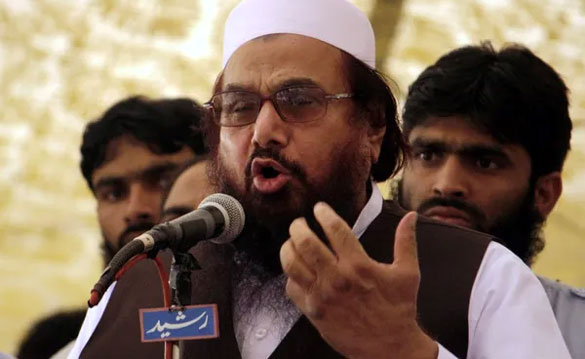 Hafiz Saeed
-----
26/11 Attack Mastermind Hafiz Saeed Sentenced to 10 Years in Jail in Illegal Funding Case
An anti-terrorism court in Pakistan on Thursday sentenced Jamat-ud-Dawa head Hafiz Saeed, along with three others, to 10-year imprisonment in an illegal funding case. The court also ordered that Saeed's properties be confiscated.
"The Anti-Terrorism Court (ATC) of Lahore on Thursday sentenced four leaders of Jamat-ud-Dawa, including its chief Hafiz Saeed, in two more cases," said a court official.
Saeed and his two close aides - Zafar Iqbal and Yahya Mujahid - have been sentenced to 10 and a half years each, while JuD chief's brother-in-law Abdul Rehman Makki was sentenced to six months imprisonment. "Judge Arshad Hussain Bhutta of ATC Court No. 1 heard the case No. 16/19 and 25/19 filed by Counter Terrorism Department in which the verdict has been announced after the statements of witnesses were cross-examined by Naseeruddin Nayyar and Mohammad Imran Fazal Gul Advocate," the official said.
A total of 41 cases have been registered by the CTD against the JuD leaders, out of which 24 have been decided while the rest are pending in the ATC courts. Four cases have been decided against Saeed so far. Saeed-led JuD is the front organisation for the Lashkar-e-Toiba (LeT) which is responsible for carrying out the 2008 Mumbai attack that killed 166 people, including six Americans. The US Department of the Treasury has designated Saeed as a Specially Designated Global Terrorist. He was listed under the UN Security Council Resolution 1267 in December 2008.
(With inputs from PTI)
https://www.news18.com/news/world/2611-attack-mastermind-hafiz-saeed-sentenced-to-10-years-in-jail-in-illegal-funding-case-3096575.html
------
Hostility towards Pakistan quickest route to national unity in India, says Obama
Anwar Iqbal
19 Nov 2020
WASHINGTON: The quickest route to national unity in India is "expressing hostility toward Pakistan," says Barack Obama, America's first coloured president in his new book, "A Promised Land."
The book, released worldwide on Nov 17, also includes a pen portrait of former Indian prime minister, Manmohan Singh, whom he first met at the 2009 G20 summit in Pittsburgh.
When Obama met Singh again during his visit to India in November 2010, Singh told him that he feared "rising anti-Muslim sentiment had strengthened the influence of Hindu nationalist BJP", the main opposition party at the time.
Obama described Singh as "a gentle, soft-spoken economist" who engineered the modernisation of his nation's economy.
Obama quoted Singh as saying that the "call of religious and ethnic solidarity can be intoxicating" for politicians, particularly in a country like India, which was still racked by poverty, wealth inequality, violence and ultra-nationalism.
Obama noted that "many Indians (took) great pride in the knowledge that their country had developed a nuclear weapons programme to match Pakistan's, untroubled by the fact that a single miscalculation by either side could risk regional annihilation."
"Violence, both public and private, remained an all-too-pervasive part of Indian life. Expressing hostility towards Pakistan was still the quickest route to national unity," Obama wrote.
"Most of all, India's politics still rev­olved around religion, clan, and caste."
But Obama also acknowledged that "in many respects, modern-day India counted as a success story, having survived repeated changeovers in government, bitter feuds within political parties, various armed separatist movements, and all manner of corruption scandals".
But "despite its genuine economic progress, … India remained a chaotic and impoverished place: largely divided by religion and caste, captive to the whims of corrupt local officials and power brokers, hamstrung by a parochial bureaucracy that was resistant to change," he added.
"A Promised Land" ends with the US raid on the Bin Laden compound in 2011 and, therefore, does not include the current Indian prime minister, Narendra Modi.
Commenting on the prevalence of violence in India, Obama wondered if "violence, greed, corruption, nationalism, racism, and religious intolerance" were "too strong for any democracy to permanently contain".
The former US leader noted that those who believed in violence "see­m­­ed to lie in wait everywhere, ready to resurface whenever growth rates stal­led or demographics changed or a charismatic leader chose to ride the wave of people's fears and resentments".
Obama also praised Singh's ascent to prime minister's office, noting that he was from an "often persecuted Sikh religious minority."
He claimed that "more than one political observer" told him that Sonia Gandhi had "chosen Singh precisely because as an elderly Sikh with no national political base, he posed no threat to her 40-year-old son, Rahul, whom she was grooming to take over the Congress Party."
"Somehow, I was doubtful" if Rahul Gandhi was capable of "preserving the Congress Party's dominance over the divisive nationalism touted by the BJP," he wrote.
Obama described Rahul Gandhi as "smart and earnest," with good looks" but noted that "there was a nervous, unformed quality about him, as if he were a student who'd done the coursework and was eager to impress the teacher but deep down lacked either the aptitude or the passion to master the subject."
Obama wrote that India had "always held a special place in my imagination." Analysing this fascination, he said: "Maybe it was its sheer size, with one-sixth of the world's population, an estimated two thousand distinct ethnic groups, and more than seven hundred languages spoken."
But "more than anything, though, my fascination with India had to do with Mahatma Gandhi. Along with Lincoln, King, and Mandela, Gandhi had profoundly influenced my thinking," he added.
Obama mentioned that his Indian and Pakistani college friends, who "taught me to cook dahl and keema and turned me on to Bollywood movies" also stirred his interest in India.
But this, he wrote, could not hide the huge issues India faced as the world's second most populated country.
"Across the country, millions continued to live in squalor, trapped in sunbaked villages or labyrinthine slums, even as the titans of Indian industry enjoyed lifestyles that the rajas and moguls of old would have envied," he writes in his new memoir.
"Violence, both public and private, remained an all-too-pervasive part of Indian life."
https://www.dawn.com/news/1591177/hostility-towards-pakistan-quickest-route-to-national-unity-in-india-says-obama
--------
Pressure mounting on Myanmar over Rohingya repatriation
Md. Kamruzzaman
19.11.2020
DHAKA, Bangladesh
Worldwide pressure is seemingly mounting on Myanmar to address the repatriation of Rohingya refugees after the newly elected Suu Kyi administration assumed power for a second consecutive term.
Sidelining the country's nearly two million Rohingya at home and abroad, the Buddhist-majority Southeast Asian country of more than 54 million people held national polls on Nov. 8.
Nobel Peace Laureate and Myanmar's de facto leader Aung San Suu Kyi's National League for Democracy (NLD) party once again ascended to power after its victory in the 2015 elections.
The polls, however, received a huge amount of criticism across the globe for disenfranchising nearly 2.8 million ethnic minorities including 600,000 Rohingya still in Myanmar and over one million in Bangladesh, raising concerns over whether Rohingya can be peacefully repatriated to their home country.
Amid the prevailing situation, Bangladesh, the host country of more than 1.1 million Rohingya, has been planning to step up pressure on Myanmar since the very beginning of the Suu Kyi government's second term.
Dhaka also wishes to engage Beijing, the main ally of Naypyidaw, in the repatriation process so that during the four-year-long second term of Suu Kyi, Bangladesh can achieve a concrete goal.
Timeframe for repatriation
Bangladesh's top diplomat even declared that he will ask the newly elected government in Myanmar for a specific timeframe for the sustainable repatriation of Rohingya to their homeland in Rakhine state, formerly known as Arakan province.
"We will ask them to give us a date of commencing Rohingya repatriation […] We [Bangladesh] are ready to send them back," Bangladesh's Foreign Minister AK Abdul Momen told local media Tuesday following a public function in the capital Dhaka.
Underling the assurance to Bangladesh by the global community to put pressure on Myanmar's new administration, Momen added: "Our friends like China, Japan, the European Union and the United Kingdom assured us that they would help us so that Myanmar takes the initiative in this regard," he added, referring to Rohingya repatriation.
Bangladesh has already been engaged in a tripartite mechanism with China and Myanmar to speed up the repatriation issue.
Speaking to Anadolu Agency late Wednesday, Momen added that Bangladesh was optimistic about starting the sustainable repatriation of Rohingya.
"We are ready to send the displaced people of Myanmar back to their country. We believe, as Myanmar agreed to take them back, ensuring their safety and security, that the new government will honor its commitment," he said.
Seeking an initiative from the international community, he said: "It is high time for the international leadership to take a proactive initiative for their [Rohingya] safe, secure and dignified return."
Underlining the sustainable repatriation of Rohingya as crucial for the peace and stability of the entire region, Momen added: "Otherwise, if repatriation is delayed, it may create pockets of radicalism that may create uncertainty in the region, frustrating hopes for a better future for the region."
He also warned that a lingering Rohingya repatriation may result in an adverse impact on overall regional investments.
"All the investments in the region may face uncertainty," he said.
Repatriation the only solution
Pointing to subhuman living conditions in the crammed makeshift settlements in Bangladesh's southern district of Cox's Bazar, lack of education and growing up new generations as stateless people, a Rohingya community leader told Anadolu Agency that peaceful and dignified repatriation to homeland is the only solution to the crisis.
"Without immediate repatriation with citizenship rights and safety, we have no hope here in Bangladesh," Rahmat Karim, a Rohingya community leader in Cox's Bazar camp told Anadolu Agency.
Speaking to Anadolu Agency Kyaw Win, Executive Director of UK-based Rohingya rights defender Burma Human Rights Network (BHRN), addressed the peaceful and dignified repatriation of Rohingya as one of the top priority issues for them.
"But before repatriation we must ensure two factors -- the Rohingya must be allowed to return to their original places of birth from where they were forced to flee and their citizenship rights must be restored."
The rights network also outlined a series of demands from the upcoming government of Myanmar in order to ensure a more democratic and humane future for the country.
"The process of Rohingya repatriation must be sped up while ensuring the dignity and rights of the population. In order to do so, Rohingya politicians and leaders in Burma must be involved in the process," BHRN said in statement on Wednesday.
Acting president of European Rohingya Council Dr. Ambia Perveen, however, told Anadolu Agency: "We hope that the Bangladesh government will hold dialogue with Myanmar and appoint some new visionary young ministers to solve the Rohingya reparation issue".
"The dialogues should be transparent with the participation of Rohingya representatives," she added.
Parveen also demanded for a prior visit to the Rakhine state to assess the real condition there by Rohingya for a "conducive and meaningful repatriation".
Repatriation without transit camps
A global Rohingya rights defenders' platform, the Arakan Rohingya Union, in a report submitted to the Organization of Islamic Cooperation urged the newly elected government of Myanmar to "immediately start repatriation of the forcefully displaced Rohingya from camps in Bangladesh directly to their original homes in Arakan with no transit camps."
The report, issued Sunday, also recommended permanently stopping the controversial National Verification Card process of the Myanmar government and to "reinstate the National Registration Certificates and White Cards of the Rohingya ethnic minority."
The persecuted Rohingya have rejected the card, terming it a "genocide card" and a trick of the Myanmar government to establish Rohingya as illegal Bengali.
The platform, representing 61 Rohingya organizations worldwide, also recommended dismantling the internally displaced people camps in Arakan and resetting the IDPs in the original locations on their property.
It is estimated that nearly 120,000 Rohingya have been living in the camps like in open prisons without basic rights of movement and education.
The letter also recommended stopping the Burmese military from "indiscriminately shelling the villages in Buddhist Rakhine and Rohingya areas in Arakan, causing death, destruction and displacement of the civilian population."
Persecuted people
According to Amnesty International, more than 750,000 Rohingya refugees, mostly women and children, fled Myanmar and crossed into Bangladesh after Myanmar forces launched a crackdown on the minority Muslim community in August 2017, pushing the number of persecuted people in Bangladesh above 1.2 million.
Since Aug. 25, 2017, nearly 24,000 Rohingya Muslims have been killed by Myanmar's state forces, according to a report by the Ontario International Development Agency (OIDA).
More than 34,000 Rohingya were also thrown into fires, while over 114,000 others were beaten, said the OIDA report, entitled Forced Migration of Rohingya: The Untold Experience.
As many as 18,000 Rohingya women and girls were raped by Myanmar's army and police and over 115,000 Rohingya homes burned down, while 113,000 others were vandalized, it added.
https://www.aa.com.tr/en/asia-pacific/pressure-mounting-on-myanmar-over-rohingya-repatriation/2048717
--------
Bahrain calls for resuming Palestine-Israel negotiations based on two-state solution
Rawad Taha
18 November 2020
Bahraini Foreign Minister Abdullatif al-Zayani called Wednesday for the resumption of peace negotiations between Israel and Palestine based on a two-state solution.
Al-Zayani's call came during the first official trip by a Bahraini government delegation to Israel, where he also announced that flights between the two countries would begin in December.
"Let us achieve a peace that brings prosperity to the Middle East. We must work to solve the Palestinian-Israeli conflict, and we call for the resumption of peace negotiations based on the two-state solution. The vital cooperation between Bahrain and Israel will pave the way for a new dawn," al-Zayani said.
For all the latest headlines follow our Google News channel online or via the app.
Israel and Bahrain will institute an "e-visa system" on Dec. 1, which aims to facilitate travel by their respective citizens between the two countries, Bahrain's FM also said he anticipates 14 weekly flights between the Gulf kingdom and Tel Aviv.
Praising Washington's role in brokering the peace deals between the UAE, Bahrain and Israel, al-Zayani said: "We value the role of the United States in achieving peace agreements. We are optimistic about achieving what was agreed upon with Israel."
https://english.alarabiya.net/en/News/gulf/2020/11/18/Bahrain-foreign-minister-calls-resumption-of-negotiations-based-on-two-state-solution
--------
Iran Releases Documents Proving Terrorist Grouplet's Link with Riyadh
2020-November-18
Iranian Ministry of Intelligence has published several documents that proves Harakat al-Nidhal al-Arabi terrorist group has connections with the Saudi intelligence apparatus.
The Iranian intelligence ministry confirmed in a statement last Thursday that Farajollah Chaab, has been arrested.
The statement said that the leader of the separatist and terrorist group, which had planned several other large-scale operations in Tehran and Khuzestan in recent years, has been planning a new terrorist operation.
"This terrorist group, which is directly supported by the Saudi intelligence services and the Zionist regime, has been managing terrorist operations in Iran despite the issuance of international arrest orders for the group's leaders," it added.
"The main perpetrator of the bloody terrorist attack in Ahvaz is now in the hands of the Intelligence Ministry; he also has revealed details of other terrorist and bloody operations of this group," the statement said.
Farajollah Chaab, also known as Habib Osivad is the former leader and the current vice-president of the Al-Ahwaziya terrorist group, which claimed responsibility for the September 2018 terrorist attack on a military parade in Ahvaz, Southwest of Iran, which killed 26 and injured 69 others.
The terrorists attacked the bystanders watching the annual Armed Forces' parades, marking the start of the Sacred Defense Week, commemorating Iranians' sacrifices during the 8 years of the Iraqi imposed war on Iran in 1980s, in disguise of the Islamic Revolution Guards Corps (IRGC) and Basij (volunteer) forces, killing and wounding several people, including innocent women and children.
None of the officials participating in the military parades in Ahwaz city in Khuzestan province was injured in the attack.
Last February, the Danish Security and Intelligence Service (PET) and the Netherlands police separately arrested and charged four members of an anti-Iran terrorist group on suspicions of spying for Saudi Arabia and plans to conduct terrorist attack in Iran.
Three members of the Arab Struggle Movement for the Liberation of Ahwaz (ASMLA) or al-Ahwaziyeh terrorist group carried out espionage activities from 2012 to 2018, PET said in a statement on February 3.
It said the three individuals "collected information about individuals in Denmark and abroad and passed on this information to a Saudi intelligence service," among other things.
A pretrial detention hearing is due on February 4.
In August, the Iranian Intelligence Ministry announced it has arrested Jamshid Sharmahd, the ringleader of an anti-Iran terrorist group based in the United States.
Sharmahd directed "armed operations and acts of sabotage" in Iran from the US, according to the Intelligence Ministry.
Following a complicated operation, the ringleader of the group, named Tondar (Thunder), was arrested and he is "now in the powerful hands" of Iranian security forces, it said at the time.
Also, in October 2019, the Intelligence Organization of Iran's Islamic Revolution Guards Corp (IRGC) had managed to arrest Rouhollah Zam, the administrator of counterrevolutionary website Amad News, in a neighboring country.
The meticulous intelligence operation involved outmaneuvering the intelligence services of certain Western countries, especially France, which offered Zam guidance and protection for his operation.
"Intelligence forces had been keeping a watchful eye on Rouhollah Zam's movements for a long time and he stepped into the intelligence trap set by IRGC some two years ago. Ultimately, we were able to arrest him through cooperation with other intelligence services," Second Brigadier General Mohammad Tavallaei, a high-ranking IRGC official, said at the time.
In June this year, Iran's Judiciary sentenced Zam to death after he was convicted of corruption on earth.
https://www.farsnews.ir/en/news/13990828000582/Iran-Releases-Dcmens-Prving-Terrris-Grple%E2%80%99s-Link-wih-Riyadh
--------
UAE summit: Jordan's King Abdullah meets Bahrain King, Abu Dhabi Crown Prince
Emily Judd
18 November 2020
Jordan's King Abdullah II has joined Bahrain and UAE leaders for a trilateral summit in Abu Dhabi on Wednesday.
Bahrain's King Hamad bin Isa Al Khalifa arrived in the UAE on Tuesday and was received by Abu Dhabi Crown Prince Sheikh Mohamed bin Zayed Al Nahyan, according to Emirati state news agency WAM.
Other officials present included UAE Ambassador to Bahrain Sheikh Sultan bin Hamdan bin Zayed Al Nahyan, Deputy Prime Minister and Minister of the Interior Lt. General Sheikh Saif bin Zayed Al Nahyan, and Deputy Chairman of Abu Dhabi Executive Council Sheikh Hazza bin Zayed Al Nahyan.
"They welcomed King Hamad and expressed sincere condolences to him on the death of [Bahrain's] Prince Khalifa bin Salman Al Khalifa," WAM reported.
King Abdullah arrived in Abu Dhabi on Tuesday as well, at the invitation of Sheikh Mohamed, according to the office of the Jordanian king.
The summit comes after the UAE and Bahrain normalized relations in September with Jordan's neighbor, Israel.
Jordan made peace with Israel in 1994.
UAE Ambassador to the US Yousef Al Otaiba said in August that the UAE-Israel deal would directly benefit Jordan.
The UAE's treaty with Israel "bolsters Jordan's stability and reaffirms its importance in future initiatives," Al Otaiba wrote in an op-ed for Israeli news outlet Ynet.
Jordan's Foreign Minister Ayman Safadi said that the UAE-Israel deal would "move the region toward a just peace" - if Israel approached it as an incentive to end occupation of Palestinian land.
https://english.alarabiya.net/en/News/gulf/2020/11/18/UAE-summit-Jordan-s-King-Abdullah-meets-Bahrain-King-Abu-Dhabi-Crown-Prince
--------
India
'Love Jihad' Undefined, Yet Indian States Rushing With Anti-Conversion Laws
Prabhash K Dutta
November 18, 2020
With Madhya Pradesh government announcing its plan to bring a law to ban religious conversion for marriage, talks around 'love jihad' are gaining traction again. 'Love jihad' is more a political term than legal for religious conversion resulting from inter-faith marriages. This term is not defined in law, Union Minister of State for Home Affairs Kishan Reddy told Parliament in February this year.
"The term 'Love Jihad' is not defined under the extant laws. No such case of 'Love Jihad' has been reported by any of the Central agencies," Kishan Reddy had replied to a question by Congress MP Benny Behanan, who sought to know "whether Central agencies have reported any case of 'Love Jihad' from Kerala during the past two years"
Rush for laws against 'love jihad'
Yet, some of the state governments have said in subsequent months that they will bring laws against 'love jihad'. In October, Uttar Pradesh Chief Minister Yogi Adityanath said at a bypoll rally, "We will bring an effective law. It is my warning to those who play with the honour and dignity of sisters and daughters by hiding their real names and identities, if they do not mend their ways, the 'Ram Naam Satya' [final] journey will start."
His remark came a day after the Allahabad High Court ruled that religious conversion for the sole purpose of marriage was null and void. "So, the government has also decided that it will take stern measures to stop 'love jihad'. We will make an effective law," he said.
Later, the BJP governments of Haryana, Madhya Pradesh and Karnataka too said they will bring out laws to check 'love jihad'. The proposed law in Madhya Pradesh makes it a "cognisable" and "non-bailable" crime that will attract a jail term of five years.
Existing anti-conversion laws
Interestingly, at least 10 states have had passed anti-conversion laws in India. These states are Odisha, Madhya Pradesh, Arunachal Pradesh, Chhattisgarh, Gujarat, Himachal Pradesh, Rajasthan, Tamil Nadu and Jharkhand.
In the case of Tamil Nadu, the law was repealed in 2004. In Rajasthan, the anti-conversion bill passed by the state legislature was returned by the Centre. Most of these laws ban religious conversion by force or allurement.
The recent push for conversion laws emanates from an amendment made by Himachal Pradesh to its 1968 law. It was this law that Haryana minister Anil Vij recently referred to while announcing that the state government would bring a law to check 'love jihad'. His comments came against the backdrop of the Nikita Tomar murder case.
A model 'love jihad' law?
The anti-conversion law of Himachal Pradesh bans conversion from one religion to another "by use of misrepresentation, force, undue influence, coercion, inducement or by any fraudulent means or by marriage". It does not, however, cover a person re-converting to his "parent religion".
The law provides for declaring a marriage null and void if the conversion was conducted for the sole purpose of it.
Further, the Himachal Pradesh law says if somebody wants to convert to any other religion, he or she is required to give a declaration to authorities at least one month in advance expressing "free consent". The priest presiding over the conversion has to inform the authorities one month in advance. In absence of advance information, the conversion will be invalid.
Himachal Pradesh's anti-conversion law puts the burden of proof that conversion was not forced on the person converting and, on those facilitating conversion. An illegal conversion under this law is a cognisable, non-bailable crime with punishment up to five years in jail.
If the person converting is a minor, a woman or an SC/ST member, the punishment can go up to seven years in jail. Failure to give advance notice of conversion attracts two years in jail.
Why no all-India anti-conversion law?
Laws banning conversion from one religion to another began in pre-Independence colonial rule. Several princely states rolled out such laws. After Independence, the first anti-conversion bill was brought out in 1954. It was called the Indian Conversion (Regulation and Registration) Bill. Parliament did not pass it.
Another bill by the name of Backward Communities (Religious Protection) Bill came up in 1960 and one more in 1979 titled the Freedom of Religion Bill was introduced. None were passed by Parliament. Failure of Parliament to pass such a law got Odisha (then called Orissa) to pass the first anti-conversion law in India in 1968.
In 2015, the Law Ministry wrote to the Home Ministry expressing its view on an all-India anti-conversion law and said the matter is "purely a state subject" and legislating such a law by Parliament would not be in accordance with the tenets of the Constitution. This means anti-conversion laws are completely in the domain of the states.
Can inter-faith marriages happen legally al all?
There is a Special Marriage Act passed by Parliament in 1954. This law allows marriage of individuals from different religions. Under this law, a civil marriage can be registered in courts without requiring conversion to another religion.
But this law has not found much favour as it requires a notice of one month. During this period, the details of the marrying couple are "prominently" displayed so that objections can be received. This provision was inserted in the law to check possible fraud by one of the parties getting married.
This provision, however, becomes troublesome for the couples who fear harassment from their families in case the marriage is against their will.
Another issue with the Special Marriage Act is that when a member of an undivided Hindu family -- which in legal term also includes Buddhist, Sikh or Jain religions -- gets married, it leads to his or her "severance" from the parental family. This denies them the right of inheritance.
https://www.indiatoday.in/news-analysis/story/love-jihad-anti-conversion-laws-madhya-pradesh-uttar-pradesh-haryana-karnataka-1741872-2020-11-18
--------
Four JeM terrorists killed in Jammu encounter
Nov 19, 2020
JAMMU: Four terrorists travelling in a truck were killed on Thursday morning during an ongoing encounter near Nagrota in J&K' Jammu district, top police officials said.
"Four terrorists have been neutralised and one police constable injured in an encounter at Ban Toll Plaza Jammu with Police, CRPF and Army. Area is being sanitized," police said.
Speaking to IANS, Director General of Police Dilbag Singh said a group of four JeM terrorists had infiltrated into India through the International Border in Samba on Wednesday night.
They were travelling in a truck on the Jammu-Srinagar National Highway, which was intercepted by the police at a toll plaza near Nagrota.
After they were intercepted the heavily armed terrorists threw grenades at the police party. During the gun battle the truck caught fire.
The area was cordoned off and additional forces were rushed to the spot. This is the second such encounter on the Jammu-Srinagar National Highway this year.
According to the police, the terrorists belong to the Pakistan-based Jaish-e-Mohammed terror group.
In January three terrorists were gunned down by the security forces. They had adopted the similar modus operandi by hiding inside a truck.
https://timesofindia.indiatimes.com/india/four-jem-terrorists-killed-in-jammu-encounter/articleshow/79295810.cms
--------
12 civilians injured in grenade attack in south Kashmir's Pulwama
Nov 18, 2020
Twelve civilians were injured when militants hurled a grenade at a CRPF bunker in South Kashmir's Pulwama district Wednesday evening. The grenade missed the intended target and exploded on the road causing injuries to locals.
A police spokesman said militants tossed a grenade on a CRPF bunker at main market Kakapora in Pulwama.
"Preliminary investigation revealed that terrorists had hurled a grenade upon a bunker of 41 battalion CRPF at main town Kakapora of Pulwama. However, the grenade missed the intended target and exploded on the road. In this incident 12 civilians received injuries," the spokesman said.
He said senior officers reached the spot to investigate the matter.
All the injured civilians were taken to district hospital Pulwama for treatment where their condition is stated to be stable.
The police spokesman said that they have registered a case and the investigation into the terror crime is in progress . "The area has been cordoned and search in the area is going on," he said.
So far no group has claimed responsibility for the attack.
https://www.hindustantimes.com/india-news/12-civilians-injured-in-grenade-attack-in-south-kashmir-s-pulwama/story-vx0hEJJnF7LmeykbjQPSqM.html
--------
Europe
France ups the ante against Pakistan, Turkey; urges EU to take this step to curb terrorism
Nov 19, 2020
Tanweer Azam
Expressing serious concerns over the support provided by terrorists from countries like Turkey and Pakistan, French Member of the European Parliament (MEP) Jordan Bardella has called for "real financial or trade sanctions" against Ankara, Islamabad, Kuwait city and Doha. Bardella said that sanctions are needed in order to make "European solidarity tangible".
Bardella has made the call at a time when the rift between France and Muslim countries are increasing. It may be recalled that France in has witnessed several terror attacks in October after Charlie Hebdo announced to republish the controversial cartoon of Prophet Muhammed. The stiuation worsened after French President Emmanuel Macron refused to criticise Charlie Hebdo's decision.
Protests erupted in several Muslim countries over the incident and people in many Muslim countries, including Saudi Arabia, UAE and Pakistan, joined calls to boycott French goods.
On October 16, a secondary school teacher was beheaded by a terrorist for using controversial cartoons of Prophet Mohammad in his classes. On October 30, a man stabbed three people to death and wounded several others in a church in Nice.
On November 2, an Islamist terrorist shot dead four people in Vienna.
"Ongoing tragedy and terrorism continues on European soil and Europe struggles to find a common solution to the constant killings of innocent victims at the hand of the terrorists and extremists," the European Chronicle reported.
Following his own statement "over and beyond feeble statements concerning the Turkish President's 'unacceptable' comments," MEP Bardella requested to know if the Commission is "planning to adopt any real financial or trade sanctions against countries such as Turkey, Pakistan, Kuwait and Qatar, in order to reassert our common values and make European solidarity tangible?"
It is expected that the European Commission would nswer the questions of MEP Bardella in the coming weeks.
Another French Member of European Parliament (MEP) Nicolas Bay has also appealed to the EU to stop "showering" Ankara and Islamabad with subsidies and impose sanctions against them for supporting terrorism.
"During the European Parliamentary plenary of November 11, French MEP Nicolas Bay from the Identity and Democracy Group had strong words against European aid to Pakistan and Turkey in light of threats coming from both countries. MEP Bay's comments were made in the context of a debate on the 'fight against terrorism, freedom of expression and education'," a press statement read.
https://zeenews.india.com/world/france-ups-the-ante-against-pakistan-turkey-urges-eu-to-take-this-step-to-curb-terrorism-2325423.html
--------
Armenia's prime minister unveils action plan amid pressure after Karabakh peace deal
18 November 2020
Armenia's Prime Minister Nikol Pashinyan has unveiled an action plan amid pressure to resign over a 'disastrous' handling of the conflict with Azerbaijan.
Pashinyan has rejected calls from opponents and protesters to resign over what they describe as his ill handling of the six-week fighting with Azerbaijan over the disputed Nagorno-Karabakh region.
Pashinyan said on Wednesday that the six-month action plan had been designed to ensure the democratic stability of his country.
Under a Russian-brokered peace deal, swaths of territory previously controlled by ethnic Armenians were being handed over to Azerbaijan, whose forces recaptured chunks of territory which Baku lost in an earlier war in the 1990s.
The deal triggered political turmoil in Armenia. Foreign Minister Zohrab Mnatsakanyan was forced to resign.
On Tuesday, Russian President Vladimir Putin said, "Armenia is an independent, sovereign state, it has the right to decide its internal affairs as it sees fit."
However, Putin warned that if Armenia backed out or refused to comply with the Nagorno-Karabakh agreement, that would be "suicide."
Putin pointed out that the status of Nagorno-Karabakh will be determined in the future.
Meanwhile, the Russian Federation Council has passed a resolution granting President Putin its consent to dispatch Russian peacekeeping forces to Nagorno-Karabakh. The upper house of the Russian parliament approved the measure on Wednesday.
On November 9, leaders of Russia, Azerbaijan and Armenia signed a joint statement on the complete ceasefire in Nagorno-Karabakh.
The agreement ended weeks of heavy fighting that left at least 2,400 people dead and displaced tens of thousands.
https://www.presstv.com/Detail/2020/11/18/638859/Armenia-action-plan
--------
UK sees sharp increase of children as young as 10 investigated for far-right extremism: report
18 November 2020
Children under the age of 10 in the U.K. are being investigated over their links to far-right extremism, Sky News has found.
Home Office figures show a dramatic rise in the number of under-18s referred to the government's counterterrorism program Channel over concerns about their possible involvement with the far-right.
A total of 682 children were referred for this reason in 2017-18, compared with 131 in 2014-15 — a more than five-fold increase, according to figures obtained through a freedom of information request.
The total for 2017-18 includes 24 children under the age of 10.
For the first time since the data has been recorded, there was an equal balance in the number of cases linked to the far-right and those linked to Islamic radicalization in the year up to March 2019.
Out of 5,738 referrals across all age groups, 1,404 (24%) were for concerns related to Islamist radicalization and 1,389 (24%) related to right-wing radicalization
The bulk of referrals, 62%, were related to young people up to the age of 20.
https://www.foxnews.com/world/uk-sees-sharp-increase-of-children-as-young-as-10-investigated-for-far-right-extremist-links-report?utm_source=iterable&utm_medium=email&utm_campaign=1730121_
--------
German state minister resigns over gun purchase from right-wing extremist
17.11.2020
A controversial gun purchase prompted the resignation of the interior minister of the German state of Mecklenburg-Western Pomerania on Tuesday.
The minister, Lorenz Caffier, bought a hunting pistol from the arms dealer in 2018. It later came to light that the dealer was a member of the Nordkreuz (Northern Cross) group, an extreme-right survivalist network made up of people stockpiling for the collapse of the German state.
"I bought a firearm from someone whom I should not have bought it from, in hindsight. Although it was not the purchase that was a mistake, but how I handled it. I apologize for that," Caffier said in a statement.
The arms dealer's affiliation with the group only came to light in 2019, but the dealer's name was already known to authorities in 2017. The name came to light during the questioning of a witness associated with the Nordkreuz Group, and the information was then forwarded to authorities in Mecklenburg-Western Pomerania.
As the state interior minister, Caffier oversaw the police and intelligence agencies conducting an investigation into the extreme-right group.
In his statement Tuesday, Caffier flatly denied any links to right-wing extremists and condemned "unrestrained reporting" into the case. He said he was resigning to "protect my family, the people around me and my staff" and to "avert damage from the government."
Who is Lorenz Caffier?
Caffier, 65, had served as Mecklenburg-Western Pomerania interior minister for 14 years and was the oldest sitting politician in that position. He also served as the leader of the center-right CDU party in the northeastern German state from 2009 to 2017.
He had also played a key role in a proposed ban of the extreme-right NPD party, a measure that was not implemented.
https://www.dw.com/en/german-state-minister-resigns-over-gun-purchase-from-right-wing-extremist/a-55636461?utm_source=iterable&utm_medium=email&utm_campaign=1730121_
--------
UK to likely follow US in reducing troops in Afghanistan: Defence minister
19 November 2020
Britain will likely follow the United States in reducing troop levels in Afghanistan but it will continue to work with its government and the US to protect the country's security, Britain's Defense Secretary Ben Wallace said.
"I expect if they (the US) are reducing at some stage, we will come down," he told Sky News on Thursday.
The Pentagon said on Tuesday that President Donald Trump will sharply reduce the number of US forces in Afghanistan from 4,500 to 2,500 by mid-January.
https://english.alarabiya.net/en/News/world/2020/11/19/UK-seeing-hostile-states-using-cyber-attacks-against-it-Minister
--------
Pakistan
Trader 'pays for' meeting Maryam, refused entry to PM's event in Faisalabad
19 Nov 2020
FAISALABAD: The chairman of the Supreme Anjuman-i-Tajran City has protested against the district administration for not allowing him to attend the prime minister's function despite official invitation.
Traders of Jail Road and Narawala Road also faced issues as the administration allegedly forced them to shut their shops en route the prime minister's convoy.
Aslam Bhali along with others had met PML-N leader Maryam Nawaz on Monday and Bhali claimed that he was refused entry due to the meeting.
Talking to reporters outside the hotel, Bhali showed the invitation dispatched to him by the district administration to attend the function. He said he came here as a representative of the traders who had been facing numerous issues.
He said it seemed his name had been excluded from the guests list as a 'punishment' that was why he had met Maryam Nawaz with a delegation.
"I came to see Prime Minister Imran Khan to present him the issues the traders had been facing to run their businesses. I am a representative of traders having no political affiliation, so being their voice I have to meet everyone to resolve issues."
Traders, talking to the media, said the prime minister came to Faisalabad for solution to the issues being faced by the business community, while on the contrary the district administration created problems for them by forcible closure of their shops.
They said during the election campaign the Pakistan Tehreek-i-Insaaf had been criticising the VIP culture in the country and vowed to eliminate it. However, the administration forced us to close the shops due to the VIP movement.
Traffic leading to the Serena Hotel Road also remained suspended due to the event.
https://www.dawn.com/news/1591139/trader-pays-for-meeting-maryam-refused-entry-to-pms-event-in-faisalabad
--------
Pakistan parliamentary committee passes CPEC Authority Bill
Nov 18, 2020
ISLAMABAD: A parliamentary committee has cleared with majority vote the "China Pakistan Economic Corridor Authority (Amendment) Bill, 2020" which was blocked by the opposition members during the last meeting, a media report said on Wednesday.
The National Assembly's Standing Committee on Planning and Development presided over by ruling Pakistan Tehreek-i-Insaf (PTI) leader Junaid Akbar took up the government bill on Tuesday. After a detailed discussion, the committee agreed to decide the fate of the bill through voting.
The Opposition members said their objections over the creation of the CPEC Authority (CPECA) had not been addressed and the creation of a new authority would affect CPEC projects instead of expediting them.
The USD 60 billion China-Pakistan Economic Corridor (CPEC) is fully funded by Beijing under the multi-billion One Belt One Road (OBOR) initiative. India has protested to China over the CPEC as it is being laid through Pakistan-occupied Kashmir.
Planning and Development Minister Asad Umar said the CPECA would have no powers as all work would be carried out by the line ministries and added that the authority's operations would not be in conflict with the working of the line ministries.
The committee chairman then put the bill to vote, saying a comprehensive discussion had already been held during the previous meeting.
The committee recommended with majority 7:5 votes that the bill may be passed by the National Assembly, the report said.
Out of total 20 members of the committee, half each from the government and opposition benches, 13 members were present in the meeting. Out of 10 members from the government benches eight were present while five of the Opposition members attended the meeting.
Members of the committee belonging to the Opposition Pakistan Muslim League-Nawaz (PML-N) and Pakistan Peoples Party (PPP) voted against the bill.
Former planning minister Ahsan Iqbal strongly opposed the creation of the CPECA, saying it was unnecessary and superfluous as the planning ministry had discharged the role very diligently and effectively in the past.
The PML-N members believed that the CPECA would become a parallel Planning Commission with little utility and the real role and would be another "white elephant".
Iqbal recalled that more than USD 29 billion worth of investment had been channelised by the Planning Commission successfully without any authority and with the support of various ministries which should continue for successful implementation.
The planning ministry advocated the creation of CPECA, saying it would be "responsible for planning, facilitating, coordinating, monitoring and evaluating to ensure implementation of all activities related to CPEC".
It said the authority was also required to ensure inter-provincial and inter-ministerial coordination, organising and coordinating meetings of a joint coordination committee and joint working groups.
It would also "be responsible for conducting sectoral research for informed decision making and long-term planning, monitoring and evaluation and to ensure implementation, besides narrative building and communication of CPEC and other related activities from time to time, " according to the planning ministry.
https://timesofindia.indiatimes.com/world/pakistan/pakistan-parliamentary-committee-passes-cpec-authority-bill/articleshow/79283796.cms
--------
Thousands of Pakistani labourers protest in Karachi against China's unequal wages for locals
Nov 18, 2020
ISLAMABAD: Thousands of labourers on Wednesday staged a protest against China in Sindh's Karachi complaining about unequal wages received by them as compared to their Chinese compatriots.
Earlier, The News International reported that the Chinese staff recruited by the Punjab Mass Transit Authority for Orange Line Metro Train (OLMT) project was getting huge salaries in comparison to their Pakistani employees.
The huge disparity in the salaries is impacting the morale of the Pakistani staff, who are also given a different grade system than the Chinese. Besides, even as the Chinese staff is being paid in Yuan, the locals are getting their salaries in Pakistani rupees (PKR).
"On Wednesday, the value of 1 CNY against 1 PKR was equal to Rs 24.02. According to the data of the salaries of 93 Chinese working at the OLMT project, the Chinese staff is highly paid. If the salaries of Pakistani officials working on the same/equivalent seats are compared with those of Chinese staff, the Pakistan employees are getting mere peanuts. According to data, a Chinese-origin deputy chief executive officer/CFO/director with grade L2 is being paid 136,000 CNY per month which is equal to over Rs 3.26 million. There were three positions and all were filled with Chinese. No Pakistani was hired on this designation," The News International stated.
Giving another example of the disparity in salaries, The News International said while 12 people of Chinese origin working on the slot of train dispatcher/train crew are getting 57,000 CNY each, equal to Rs 1.36m, the locally recruited employees working on the OLMT project are getting much lower salaries.
The Pakistani employees have demanded a salary hike from the government in accordance with the salary of their Chinese counterparts.
Meanwhile, Beijing has put a hold on projects that are part of the $62 billion CPEC, a flagship project of China's Belt and Road Initiative (BRI), and the COVID-19 pandemic, ongoing political unrest and foreign debt limits have resulted in a slowing of Chinese investments in Pakistan.
According to sources, Pakistan in 2017 had decided to cut the salaries of contractual employees responsible for executing various projects in the CPEC. Pakistan's finance ministry had refused to pay the employees as per the agreement.
Meanwhile, the National Assembly Standing Committee on Planning and Development on Tuesday cleared the CPEC Authority Bill 2020 with majority despite members belonging to opposition parties strongly opposing the bill, reported The News International.
Former minister for planning Ahsan Iqbal opposed the bill and presented seven reasons for opposition to the creation of the CPEC authority. However, after conducting a heated debate, the NA panel passed the CPEC authority bill with a majority.
"Creation of CPEC authority is superfluous and unnecessary," he said. "Ministry of planning has discharged the role diligently and effectively in the past."
The national debt of USD 80 billion on account CPEC is bound to pose a danger to the sovereignty of Pakistan in coming years; as has been the CCP methodology in numerous under-developed countries.
The incidents clearly depict the Chinese Communist Party's (CCP) core motive, which is using the CPEC project to turn Pakistan into a 'Chinese colony'.
As Imran Khan states China as an 'all-weather' friend, till then, the CCP will maintain a facade of Pakistan-China friendship whilst continuing to exploit Pakistan and market outdated items from its industries to Pakistan. Pakistan's debt burden is also being pushed up by the CCP on every available opportunity.
https://timesofindia.indiatimes.com/world/pakistan/thousands-of-pakistani-labourers-protest-in-karachi-against-chinas-unequal-wages-for-locals/articleshow/79278917.cms
--------
Pemra ban on airing Nawaz speeches challenged in court
19 Nov 2020
ISLAMABAD: The Human Rights Commission of Pakistan (HRCP) and 15 renowned journalists, anchorpersons and media analysts have filed a petition before the Islamabad High Court (IHC) against the Pakistan Electronic Media Regulatory Authority (Pemra)'s prohibition order to all TV news channels banning the broadcast of speeches, interviews and public addresses by proclaimed offenders and absconders.
Pemra issued these directives after Pakistan Muslim League-Nawaz supremo Nawaz Sharif's speech was live broadcast by the electronic media while he was addressing a multi-parties conference via video link from London in October.
The petitioners include I.A. Rehman, Mohammad Ziauddin, Saleem Safi, Zahid Hussain, Asma Shirazi, Syed Ejaz Haider, Munizae Jahangir, Ghazi Salahuddin, Zubeida Mustafa, Najam Sethi, Nasim Zehra, Amber Rahim Shamsi, Gharida Farooqi, Mehmal Sarfraz and Mansoor Ali Khan. Vice chairman of the Pakistan Bar Council Abid Saqi and the HRCP's Saleema Hashmi are also among the petitioners. The petition challenges the order Pemra issued on October 1 and another directive of May 25, 2019. Besides banning the above-mentioned broadcast, Pemra has also banned the broadcast of any debate on possible outcomes of sub-judice matters.
The petition contends that the order of the electronic media watchdog is "unconstitutional and illegal prohibitions have been imposed on the electronic media of Pakistan with respect to the dissemination of information. This prohibition is a constitutional wrong in its own right and amounts [to] nullifying the rights made available under Article 19A of the constitution".
According to the petition, it is the right of the petitioners and of the print and electronic media in general to express, publish, disseminate, relay and broadcast the views and words of any person, including a convict, proclaimed offender or an absconder.
"Is a convict, proclaimed offender or absconder deprived of the fundamental rights guaranteed by the constitution including the right to express, the petition asks.
It requests the court to declare Pemra's directives illegal. The IHC chief justice will take up the petition for hearing on Thursday (today).
https://www.dawn.com/news/1591191/pemra-ban-on-airing-nawaz-speeches-challenged-in-court
--------
GB govt seeks army deployment in Gilgit, Chilas amid protests
Jamil Nagri
19 Nov 2020
GILGIT: Amid ongoing controversy and protest demonstrations against the alleged rigging in the Gilgit-Baltistan elections, the caretaker government of the region on Wednesday sought Pakistan Army's assistance to control security situation in the region.
Through a letter written to the Federal Ministry of Interior, the GB government has requisitioned two companies of army to maintain law and order situation in Gilgit and Chilas.
The GB administration has requisitioned 480 troops, out of which 300 to be deployed in Gilgit and 180 in Chilas.
The troops will standby as third tier security layer to aid the administration and will remain deployed till Nov 23.
The workers of PPP continued their protest sit-in near the deputy commissioner's office in Gilgit against the alleged rigging in elections on GBLA-2 Gilgit-2 seat.
Writes letter to interior ministry; recounting completed in GBLA-2; re-polling at female station ordered
PPP alleged that its candidate Jamil Ahmed was leading in the vote count on Sunday night, but next day his result was changed and he was shown trailing merely by two votes to PTI's Fatehullah Khan.
The PPP workers have blocked Shahrah Quaid-i-Azam in Gilgit since Monday morning.
Following the PPP's protest, the GB Election Commission already ordered recounting of the votes in the constituency. The recounting took place in the presence of both the candidates on Tuesday but the results have so far so not been announced due to the fear of a law and order situation.
The supporters of an independent candidate Haji Dilpazeer also blocked Karakorum Highway near Thalichi and Gunarfarm against the alleged rigging in GBLA-15 Diamer constituency.
The protesters alleged that 418 postal ballots in favour of Dilpazeer were rejected. Another independent candidate Haji Shah Baig has been unofficially declared winner from the constituency.
Meanwhile, GB chief election commissioner issued orders for re-polling at a female polling station in GBLA-17 Diamer III on Nov 22. The orders came in the light of the reports that women had been barred from voting through implied agreement or by threats from religious scholars on Nov 15.
The GB Election Commission also ordered re-polling at Gindai polling station in GBLA-21 Ghizer on Nov 22 after the returning officer reported unlawful taking out of ballot boxes from the polling station.
Meanwhile, PPP chairman Bilawal Bhutto-Zardari on Wednesday through his social media account on Twitter claimed that despite the fact his party was not provided a level playing field in the Sunday's GB polls, it got more votes than any other party.
He also posted screenshot of a TV channel showing that PPP had secured 25 per cent of the total votes polled, followed by 24pc and 12pc by PTI and PML-N, respectively.
On the other hand, in a statement, PPP vice-president Sherry Rehman alleged that federal government openly violated election rules in GB. According to the Election Act 2017, she said, the federal government was not allowed to campaign on the ground.
https://www.dawn.com/news/1591218/gb-govt-seeks-army-deployment-in-gilgit-chilas-amid-protests
--------
North America
US To Withdraw Troops From Afghanistan, Iraq: 'We've Destroyed ISIS Caliphate', says Acting Defence Secretary
Nov 18, 2020
The United States on Tuesday announced to reduce its troops' presence in Afghanistan and Iraq to 2,500 each by January 15 next year.
"By January 15, 2021, our force size in Afghanistan will be 2,500 troops. Our force size in Iraq will also be 2,500 by that same day," Acting Defence Secretary Christopher Miller said during a live press conference.
The United States has around 4,500 troops currently in Afghanistan and over 3,000 in Iraq, according to CNBC.
"This decision by the president is based on continuous engagement with his national security cabinet over the past several months including ongoing discussions with me and my colleagues across the United States government," Miller told reporters at the Pentagon.
The "repositioning" of the US forces were being done on the orders of President Donald Trump, he said, adding that the decision was taken after consulting with key leaders in the Congress , NATO Secretary-General Stoltenberg and Afghanistan's President Ghani.
"Just this morning, I spoke with key leaders in Congress as well as our allies and partners abroad to update them on these plans in light of our shared approach. We went in together, we adjust together and when the time is right, we will leave together," said Miller.
NATO chief's dissent
The announcement on the heels of the NATO chief's warning against leaving the war-torn country too soon. He said that an uncoordinated effort could cause unintended consequences for the world's largest military organization.
"Afghanistan risks of becoming once again a platform for international terrorists to plan and organize attacks on our homelands. And ISIS could rebuild in Afghanistan the terror caliphate it lost in Syria and Iraq," said NATO chief Stoltenberg said, reported CNBC. On the contrary, Miller said that the US has destroyed the ISIS caliphate.
According to the US news outlet, NATO joined the international efforts in Afghanistan in 2003 and has more than 7000 security personnel in the country where the Taliban is gaining strength.
https://www.ibtimes.co.in/weve-destroyed-isis-caliphate-us-withdraw-troops-afghanistan-iraq-830385?utm_source=iterable&utm_medium=email&utm_campaign=1730121_
--------
US senators seek to stop Trump arms sales to UAE over Israel's military edge
19 November 2020
Several US senators have said they would introduce legislation to block the sale of more than $23 billion of weapons to the United Arab Emirates, voicing concern over the deal seen as a reward for the Persian Gulf Arab country's recognition of Israel.
Democratic Senators Bob Menendez and Chris Murphy and Republican Senator Rand Paul will introduce resolutions of disapproval of President Donald Trump's plan to sell F-35 fighter aircraft, Reaper drones and air-to-air missiles to the UAE.
The munitions also include products from privately held General Atomics, Lockheed Martin Corp F-35s and missiles made by Raytheon, and more than 14,000 bombs.
Lawmakers expressed concern about whether the UAE sales would violate a longstanding agreement with Israel that any US weapons sold in the Middle East would not impair Tel Aviv's "Qualitative Military Edge" (QME) in the Middle East region.
Senator Chris Murphy, a Democrat close to President-elect Joe Biden, also said that the UAE violated terms of previous sales, pointing to reports that weapons sent to the US ally have been discovered in war-ravaged Yemen and Libya.
"I support the normalization of relations between Israel and the United Arab Emirates, but nothing in that agreement requires us to flood the region with more weapons and facilitate a dangerous arms race," Murphy said.
US Secretary of State Mike Pompeo last week formally informed Congress of the sale, hailing the UAE normalization with Israel and casting the sale as part of efforts against Iran.
The senators said the Trump administration, seeking to rush the sale as it brokered a peace deal between the UAE and Israel, circumvented the normal review process. They said State and the Pentagon failed to respond to their inquiries.
The UAE had long requested the F-35 fighter jets, which have stealth capacity and can be deployed for precision bombing, intelligence gathering and air-to-air combat.
Israel had considered its own F-35 fleet to be vital to its own strategic edge over Arab nations but dropped its opposition to the US sale as it saw the advantage of normalized ties.
Tel Aviv last month ended its opposition after getting so-called US guarantees that Israeli military superiority would be preserved.
Congress last year tried to block a major arms package for Saudi Arabia and the UAE but failed to muster the two-thirds majority to override Trump's vetoes.
https://www.presstv.com/Detail/2020/11/19/638916/US-senators-Trump-arms-sales-UAE-Israel-Qualitative-Military-Edge
--------
Saudis target Muslim Brotherhood as Biden takes over Washington
November 18, 2020
DUBAI: Saudi Arabia is pursuing a new campaign to denounce the Muslim Brotherhood, the Islamist political movement feared by most Gulf monarchies, as Riyadh prepares to deal with what is likely to be a less friendly US administration under Joe Biden.
Over the past two weeks, officials, religious scholars and state media have warned Saudis about the group's ideas, saying they sow dissent and call for disobedience against the state's rulers.
They have urged people to report members to authorities.
Such diatribes are an indication Riyadh is worried that president-elect Biden's administration will more closely watch the autocratic kingdom's human rights record and be more tolerant of peaceful Islamist activism, experts say.
It was not known if authorities had arrested anyone since the campaign began.
The Saudi government did not respond to a request for comment on the campaign and if it was linked to the incoming US administration.
The Brotherhood, which welcomed Biden's election win earlier this month, denied the Saudi accusations.
"The group is far away from violence and terrorism, it has been rather a victim of dictators' terror," the movement's Egyptian branch said on Tuesday.
It called on the new US administration to review policies which it said supported dictatorships.
Dynastic rule
The Brotherhood is viewed by Saudi Arabia as an ideological competitor and sees its promotion of political activism, including support for elections, as a direct threat to its dynastic system of rule.
Founded more than 90 years ago in Egypt, it has survived repeated crackdowns at home and influenced other political movements across the Middle East.
It went underground in Egypt when current President Abdel Fattah al-Sisi toppled then Islamist President Mohamed Mursi in 2013.
In Saudi Arabia, activists and some clerics have founded Brotherhood-linked organisations in the past but those groups were banned and most of their members jailed.
Saudi Arabia, the United Arab Emirates, Bahrain and Egypt list the Brotherhood as a terrorist organisation and have lobbied Washington for years to designate it as such.
Relations reassessed
Biden has already pledged to reassess ties with Riyadh, demanding more accountability over the killing of journalist Jamal Khashoggi by Saudi agents in its Istanbul consulate in 2018 and calling for an end to US support for its forces in the Yemen war.
Khashoggi was accused by Saudi media of being a member of the Brotherhood.
Crown Prince Mohamed bin Salman's relationship with current President Donald Trump had provided a buffer against international criticism.
He has come under increasing global scrutiny over his human rights record since Khashoggi's murder and the detention of dozens of women activists, intellectuals, clerics and journalists.
On Monday, Saudi Grand Mufti Sheikh Abdulaziz al-Sheikh called the Brotherhood a "deviant group" that "had no links to Islam whatsoever".
Islamic Affairs Minister Abdullatif al-Sheikh, in an interview with al-Arabiya televison, urged Saudi citizens to report members of the group to authorities.
"It is a religious duty … anyone who does not report them to authorities is like them," he said.
Sheikh's comments followed another statement, issued by Saudi Arabia's highest religious body, the Council of Senior Scholars, that warned Saudis of joining the group or having "sympathy" for its members.
Prayer sermons echoed the council's statements across the kingdom.
Attacks
The push against the group follows two security incidents in the Red Sea city of Jeddah and the first attack with explosives in years targetting foreigners in Saudi Arabia.
The bomb attack on a non-Muslim cemetery during a World War I remembrance ceremony last week was claimed by Islamic State and there was no link between the other security incidents and the Brotherhood.
But, said Elisabeth Kendall of Oxford University, shifting attention to countering extremism was "useful" for Saudi Arabia to justify any planned crackdown at a time when the incoming US administration is expected to question its record of repression.
"The new Saudi campaign helps to mark out Saudi as a victim of terrorism rather than an incubator of it," Kendall said.
Shadi Hamid of the Brookings Institution in Washington said Saudi Arabia was trying the make the most of the last two months of Trump's tenure.
It wants to get "as much authoritarianism out of one's system before it comes under additional scrutiny under a President Biden," he said.
"It's almost like a rush to the finish line."
https://www.freemalaysiatoday.com/category/world/2020/11/18/saudis-target-muslim-brotherhood-as-biden-takes-over-washington/
--------
Over 13,000 civilians killed in US attacks in Iraq, Syria since 2014: Airwars
19 November 2020
A watchdog group has obtained US military data on almost all instances of civilian harm and casualties in Iraq and Syria, according to which up to 13,000 civilians were killed by US forces over the past six years.
For the first time since the US-led coalition launched its so-called war on Daesh in Iraq and Syria in 2014, the military exclusively released the geographic coordinates for nearly all confirmed instances of civilian harm and deaths in the two countries.
According to the data, obtained by the watchdog group, Airwars, the total number of civilians killed by US-led coalition forces during the war is somewhere in the range of 8,310 to 13,187.
Former spokesman for the US-led coalition Myles Caggins told the ­Britain-based organization group that the primary reason behind the decision to release this data now was transparency.
"We take every allegation of civilian casualties with the utmost sincerity, concern, and diligence," he said. "We see the addition of the geolocations as a testament to transparency."
The data indicates when and where a particular event took place, and simplifies the process of determining which individuals were affected by a specific attack, according to Airwars.
Of the 344 "credible" incidents of civilian harm on record, 341 have been confirmed through this data, it said.
The remaining three were excluded by the military for various reasons such as continuing investigations and the inclusion of sensitive information.
The watchdog group said many of these incidents have been confirmed through firsthand accounts such as photos and videos posted to the internet by witnesses.
This new evidence could now provide an opportunity for affected civilians in Iraq and Syria, to pursue their compensation claims from the United States and its allies, who joined a campaign of airstrikes purportedly against Daesh in August 2014.
An inability to prove the exact attack or location of an offensive that caused civilian casualties, have so far posed a major obstacle to those seeking to pursue claims.
Citing a report from the Pentagon, Airwars said only six "ex gratia" payments were made to Iraqis in 2019.
The US and its allies of 68 nations, has repeatedly been accused of targeting and killing civilians.
The coalition released a report last year, admitting that it has killed over 1300 civilians in 34,514 strikes between August 2014 and the end of May 2019 in Iraq and Syria.
"During this period, it "assesses at least 1,319 civilians have been unintentionally killed by coalition strikes,' the report said.
The US-led coalition has, however, been largely incapable of fulfilling its declared aim of eliminating Daesh.
https://www.presstv.com/Detail/2020/11/19/638908/US-military-civilian-deaths-Daesh-ISIS-Airwars-Syria-Iraq
--------
South Asia
Australian Forces Suspected of Killing 39 Locals in Afghanistan
By Mohammad Arif Sheva
19 Nov 2020
KABUL, Afghanistan – At least 19 current and former Australian soldiers will be referred for potential criminal prosecution for allegedly killing 39 Afghan locals, Canberra said Thursday, the majority of whom had been unarmed and captured.
Detailing the findings of the long-awaited inquiry into the conduct of Special Forces personnel in Afghanistan between 2005 and 2016, Australia's General Angus John Campbell said there was credible information of 39 unlawful killings by 25 Australian Special Forces personnel in 23 separate incidents, as TOLOnews reported.
All of those kills were outside the "heat of battle", Campbell said. "These findings allege the most serious breaches of military conduct and professional values."
"The unlawful killing, of civilians and prisoners is never acceptable," he added.
According to reports, majority of those killed – including prisoners, farmers and Afghan locals – were initially kept hostage; and therefore, are protected under international law.
Campbell said 19 current and former members of Australia's military will be referred to a soon-to-be appointed special investigator to determine whether there was sufficient evidence to prosecute, said the report.
Australia's Minister for Defense Linda Reynolds said last week that Canberra had been advised that local prosecution would negate charges at the International Criminal Court at The Hague.
https://www.khaama.com/australian-forces-suspected-of-killing-39-locals-in-afghanistan-34534/
--------
All Madrassas In Kabul to Biometrically Register 'Students'
By Mohammad Haroon Alim
18 Nov 2020
Boys study at the madrassa in Lamatak village, in Afghanistan's Kunar province, on Sept. 16, 2019. STEFANIE GLINSKI FOR FOREIGN POLICY
First Vice President Amrullah Saleh said all madrassas in Kabul had been ordered to biometrically register, and identify their students and teachers so that they would not be abused, or taken advantage of.
First Vice President Amrullah Saleh wrote on his Facebook page that, 362 madrassas in Kabul and 130 in the districts have been told to biometrically identify and register all their students and teachers so that no one could take advantage of them.
Saleh called on Central Statistics Office that this matter should be prioritized, and focused on.
This comes as the country's madrassas are being used for lawless activities and students are being encouraged for worst actions.
This comes as a Taliban militant was arrested for extorting $ 100,000 from money changers and previously had thrown a hand grenade at them to set a grown fear among the Shroffs.
https://www.khaama.com/religious-educational-institutions-to-biometrically-register-students-9798798/
--------
'Good step': Taliban welcome US troop drawdown from Afghanistan
18 November 2020
The Taliban on Wednesday welcomed the Pentagon's announcement it would soon pull about 2,000 US troops from Afghanistan as a "good step" that will help end the country's long-running conflict.
The Pentagon announced Tuesday that the US will slash troop levels in Afghanistan and Iraq to their lowest levels in nearly 20 years of war after President Donald Trump pledged to end conflicts abroad.
"It is a good step and in the interest of the people of both countries," Taliban spokesman Zabihullah Mujahid told AFP, referring to the US and Afghanistan.
"The sooner the foreign forces leave, the more the war will be prevented."
Critics have expressed concerns that a precipitous departure could embolden the Taliban and erode gains made since 2001, when US-led forces ousted the hardline extremists in the wake of the September 11 attacks.
The latest Pentagon move would see 2,000 US troops quit Afghanistan by January 15, less than a week before President-elect Joe Biden is expected to be sworn into office.
The withdrawal follows outgoing President Donald Trump's plan to end US military involvement in Afghanistan.
Under a deal signed February 29, the Trump administration agreed to pull all foreign forces from the country by May 2021.
In return, the Taliban promised not to attack US forces and said they would stop transnational extremist groups like Al-Qaeda and Islamic State from operating in the country.
Germany, which has hundreds of troops in northern Afghanistan, on Wednesday said it was worried the speedy US withdrawal could affect the bid to find peace in Afghanistan.
"We are particularly concerned over what the US announcement could mean for the continuation of peace talks in Afghanistan," German Foreign Minister Heiko Maas said.
"We should not create additional hurdles -- something that a hasty withdrawal from Afghanistan would most certainly lead to."
https://english.alarabiya.net/en/News/world/2020/11/18/-Good-step-Taliban-welcome-US-troop-drawdown-from-Afghanistan
--------
Arab world
Saudi Arabia, Iraq reopen border after 30 years
19 Nov 2020
BAGHDAD: Iraq and Saudi Arabia on Wednesday reopened their land border for the first time in 30 years, with closer trade ties between the two countries irking allies of Riyadh's rival, Tehran.
Top officials including Iraq's interior minister and the head of its border commission travelled from Baghdad to formally open the Arar crossing.
They met a delegation who had joined them from Riyadh, all in masks, and cut a red ribbon at the border crossing as a line of cargo trucks waited behind them.
Arar will be open to both goods and people for the first time since Riyadh cut off its diplomatic relationship with Baghdad in 1990, following Iraqi ex-dictator Saddam Hussein's invasion of Kuwait.
Ties have remained rocky ever since, but current Iraqi Prime Minister Mustafa al-Kadhemi has a close personal relationship with Saudi Crown Prince Mohammed bin Salman.
Kadhemi was to travel to Saudi Arabia on his first foreign trip as prime minister in May, but the visit was cancelled at the last minute when Saudi King Salman was hospitalised.
He has yet to make the trip, although Iraqi ministers have visited Riyadh to meet their counterparts and a top-level Saudi delegation travelled to Baghdad last week.
Baghdad sees Arar as a potential alternative to its crossings with eastern neighbour Iran, through which Iraq brings in a large share of its imports.
The two Arab states are also exploring the reopening of a second border point at Al-Jumayma, along Iraq's southern border with the Saudi kingdom.
But pro-Iran factions in Iraq, which call themselves the "Islamic Resistance", have stood firmly against closer ties with Saudi Arabia.
Ahead of Arar's opening, one such group identifying itself as Ashab al-Kahf published a statement announcing its "rejection of the Saudi project in Iraq".
"The intelligence cadres of the Islamic Resistance are following all the details of the Saudi enemy's activities on the Iraqi border," it warned.
Speaking to reporters on Tuesday evening, Kadhemi fired back against those describing the rapprochement as Saudi "colonialism".
"This is a lie. It's shameful," he said.
"Let them invest. Welcome to Iraq," Kadhemi added, saying Saudi investment could bring in a flood of new jobs to Iraq where more than one-third of youth are unemployed.
The closer ties have been a long time coming.
They did not improve much after Saddam's toppling in the 2003 US-led invasion, as Riyadh looked at the new Shiite-dominated political class with suspicion due to their ties to Iran.
A thaw began in 2017 when then Saudi foreign minister Adel al-Jubeir travelled to Baghdad — the first such visit in decades — followed by a Riyadh trip by Iraqi premier Haider al-Abadi.
The first commercial flights resumed between the two countries and officials began discussing Arar, with high-profile US diplomat Brett McGurk even visiting the crossing in 2017 to support its reopening.
But those plans were repeatedly delayed, with Arar only opened on rare occasions to allow through Iraqi religious pilgrims on their way to Makkah for the Haj.
Iraq is the second-largest producer in the OPEC oil cartel, outranked only by Saudi Arabia.
Its oil, gas and electricity infrastructure is severely outdated and inefficient but low oil prices this year have stymied efforts to revamp it.
Baghdad is also notoriously slow to activate external investment, with international firms and foreign countries complaining that rampant corruption hamstrings more investment.
Kadhemi's government has sought to fast-track foreign investment including Saudi support for energy and agriculture.
On his trip to Washington this summer, he agreed to a half-dozen projects that would use Saudi funding to finance US energy firms.
Last year, Iraq signed a deal to plug into the Gulf Cooperation Council's power grid and add up to 500 MW of electricity to its dilapidated electricity sector.
Those deals too have been criticised by pro-Iran factions in Iraq.
https://www.dawn.com/news/1591174/saudi-arabia-iraq-reopen-border-after-30-years
--------
UAE suspends visit visas for Pakistan, 11 other countries
Nov 19, 2020
ISLAMABAD: The United Arab Emirates (UAE) has temporarily suspended the issuance of new visas to visitors for Pakistan and 11 other countries until further notice.
Pakistan's Foreign Office on Wednesday confirmed the news saying that the decision by the UAE authorities is "believed to be related to the second wave of Covid-19", The Express Tribune reported.
"We have learned that the UAE has temporarily suspended the issuance of new visit visas until further announcement for 12 countries, including Pakistan," the country's Foreign Office spokesperson Zahid Hafeez Chaudhri said.
Besides Pakistan, the UAE government suspended the issuance of visit visas to Turkey, Iran, Yamen, Syria, Iraq, Somalia, Libya, Kenya, and Afghanistan among others.
This development comes amid a rising number of Covid-19 cases in the country. For nearly one week, Pakistan has recorded over 2,000 new coronavirus cases.
Back in June, when cases in Pakistan were on the rise, UAE's Emirates had announced the temporary suspension of passenger services.
Pakistan has so far recorded 363,380 cases of coronavirus and 7,230 deaths. There are 30,362 active Covid-19 cases in the country, Geo News reported.
https://timesofindia.indiatimes.com/world/pakistan/uae-suspends-visit-visas-for-pakistan-11-other-countries/articleshow/79295342.cms
--------
Shadowy new militias in Iraq targeting US forces as new front for Iran
Lauren Holtmeier and Yaghoub Fazeli
18 November 2020
A handful of shadowy Shia militias have emerged over the last year in Iraq intent on targeting US coalition forces and Western interests in the country. The new militias, loyal to Iran, have claimed responsibility for several attacks on US targets, including those in Baghdad's Green Zone.
Much about the groups is unknown, including how many there are or how many fighters are in their ranks. Al Arabiya English was able to identify more than 10, and some experts put the number as high as 20, but their shifting nature makes it difficult to track.
The groups demand the full withdrawal of US and Coalition forces from Iraq, with some suggesting that they seek revenge for the killing of Iran's Islamic Revolutionary Guard Corps (IRGC) Quds Force commander Qassem Soleimani and Abu Mahdi al-Mohandes, who was the deputy commander of Iran-backed militias known as the Popular Mobilization Forces,.
One group even bears the name Lewaa Thaar al-Muhandis, or al-Mohandes's Revenge Brigade, and has claimed at least two attacks on US facilities and properties, a May report from BBC Monitoring service noted. The November 18 attack on the Green Zone was claimed by Ashab al-Khaf, another of the groups that has emerged over the past year.
Usbat al-Thaereen, or the League of Revolutionaries, one of the more prominent new militias, claimed the attack on Camp Taji that hosts US Coalition forces near Baghdad that killed two US soldiers and one British soldier in March earlier this year.
The groups have no clear leadership or command structures – which experts say is by design.
The loose design structure of these groups gives Iran "plausible deniability" for attacks they carry out, Phillip Smyth, a fellow at the Washington Institute, explained to Al Arabiya English.
While direct state-on-state conflict would be a costly and dangerous move for Iran, by using its militia proxies, Iran is able to carry out attacks on US targets with little fear of retribution, Emily Hawthorne, a Middle East and North Africa analyst at Stratfor, told Al Arabiya English.
The groups began to emerge in early 2020 in the wake of the US targeting and subsequent deaths of Soleimani and al-Mohandes on January 3 in an airstrike at Baghdad International Airport.
However, Smyth, who is set to publish a report on the new front groups soon, said that he had noticed activity from a variety of different groups across the region before January, signaling that the Iranian regime had already begun committing resources to its proxy militias.
"The front groups themselves – they really kind of got their start in 2019 where they were testing the waters," he said. "The Iranians do things in phases, and had started sending signals even since 2018."
Soleimani and al-Mohandes' deaths presented Iran with an opportunity to up the ante, allowing them to push forward with a new phase of their regional strategy, Smyth said.
Pressure has mounted for the US to withdraw troops from Iraq since the January assassinations. Attacks against US targets have escalated, and in response US Secretary Mike Pompeo has warned the US could close its embassy and would impose sanctions and limits on dollar transactions if the attacks against US targets do not cease.
The groups primarily target US forces, but in practice this often means Iraqi contractors – such as truck drivers – are the victims of these attacks, said experts who spoke to Al Arabiya English.
They also target Iraqi protesters.
"They have assassinated and targeted Iraqis, including protesters," Dr. Zana Gulmohamed, an analyst who has previously written about Shia militias in Iraq, said. "The level of involvement is unknown but it is there."
Links to Iran
Experts seem confident the new wave of militias, referred to as "Katyusha" factions by Michael Knights, a fellow at the Washington Institute, are linked to Iran, but questions remain about the autonomy of these groups, where these fighters came from, and if they are distinct entities.
Over the past decade, Iran has used similar tactics, creating front groups and others as part of a pattern of asymmetric warfare. While Iran is regionally isolated and has continued to avoid direct military action, it has used these tactics to continue its regional expansionist objectives through alternative means.
"[The new front groups] appear to be a tactic to blur responsibility to allow Kata'ib Hezbollah and Harakat Hezbollah al-Nujaba to pay no political price for the attacks, but this has not worked. Iraqis think of the 'Katyusha' factions as one, despite the new names," Knights told Al Arabiya English.
Gulmohamad suggested that while some of the factions may be operating alone, it is nearly impossible to know much about these secretive groups yet. Smyth, however, said he doesn't necessarily believe that any of these groups are "truly independent."
For all the latest headlines, follow our Google News channel online or via the app.
Kata'ib Hezbollah is one of Iran's more established proxy groups, and experts have already said that evidence has begun to emerge that these new militias are closely linked to the group.
"The question is if these are all front groups for established groups like Kata'ib Hezbollah, are they actually something that will keep growing, are we going to see real, deadly attacks come out of these groups, that still is up in the air," Hawthorne said.
So far, the groups have demonstrated relatively basic capabilities, mostly relying on roadside improvised explosive device (IED) attacks and Katyusha rockets. Al-Mohandes' Revenge Brigade, for instance, in May published a video claiming that it targeted to US helicopters with surface-to-air missiles.
Laying low
While attacks claimed by these groups have so far been low-level, Smyth said this could be by design. The militias may be looking to strike a balancing act where they can strike targets without prompting a significant response from the US.
And while the militias have only carried out small-scale attacks before, the fighters may be more seasoned than demonstrated.
"You may have some younger fighters that are involved, based on some of the releases that have come out, but that doesn't mean they're not going through more trusted, more advanced training regimens that the IRGC gives them," Smyth said, adding that a lot of them have likely already participated in fighting in Syria and have potentially cooperated with other groups.
"They're experienced and loyal fighters who they know can do stuff and get away with it. Sometimes the more experienced older guys will have people out there, but they can cull from a lot of different organizations."
https://english.alarabiya.net/en/features/2020/11/18/Iraqi-militias-Shadowy-new-militias-in-Iraq-targeting-US-forces-as-new-front-for-Iran
--------
Arab Coalition intercepts Houthi drone launched from Yemen targeting Saudi Arabia
Rawad Taha
19 November 2020
The Arab Coalition announced late Wednesday night that its forces had intercepted and destroyed an explosives-laden drone launched by the Iran-backed Houthi militia towards Saudi Arabia.
In a statement, coalition spokesman Colonel Turki Al Malki said that Coalition Forces destroyed the drone which was "systematically and deliberately" targeting civilians in the Kingdom's Southern Region.
https://english.alarabiya.net/en/News/gulf/2020/11/19/Arab-Coalition-intercepts-Houthi-drone-targeting-Saudi-Arabia
--------
Mideast
Iran will 'automatically' return to nuclear commitments if Biden lifts sanctions
18 November 2020
Iran will "automatically" return to its nuclear commitments if US President-elect Joe Biden lifts sanctions imposed over the past two years, its foreign minister said on Wednesday.
Tehran's return to its commitments "can be done automatically and needs no conditions or even negotiations," Mohammad Javad Zarif said in comments published in the state-run Iran daily.
Decades old US-Iranian tensions escalated after US President Donald Trump unilaterally withdrew from a landmark nuclear agreement in 2018 and reimposed, then reinforced, crippling sanctions.
For all the latest headlines follow our Google News channel online or via the app.
While Trump has sought to maximize pressure on Iran and isolate it globally, Biden has proposed to offer the Islamic republic a "credible path back to diplomacy."
Zarif argued that "America is obligated to implement Resolution 2231 as a member of the United Nations and its Security Council," pointing to the UNSC resolution that enshrined the 2015 nuclear deal.
"If it does carry out this resolution and sanctions are lifted and there are no obstacles to Iran's economic activities, then Iran will carry out" its obligations under the deal, he said.
Iran, which denies it is seeking to build a nuclear bomb, has since May 2019 gradually suspended most of its key obligations under the agreement.
It argued it was reacting to the sanctions and the inability of the other parties -- Britain, China, France, Germany and Russia -- to provide Tehran with the deal's promised economic benefits.
Zarif described Biden as a "foreign affairs veteran" whom he has known for 30 years.
Once in the White House, Biden could "lift all of these (sanctions) with three executive orders," Zarif argued.
If Biden's administration does so, Iran's return to nuclear commitments will be "quick", the minister added.
Washington's return to the deal, however, could wait, Zarif added.
"The next stage that will need negotiating is America's return ... which is not a priority," he said.
"The first priority is America ending its law breaking and rebelling."
The New York Times reported Monday that Trump had last week asked top aides about the possibility of striking Iran's nuclear facilities.
Senior officials reportedly "dissuaded the president from moving ahead with a military strike," warning him that such an attack could escalate into a broader conflict in the last weeks of his presidency.
https://english.alarabiya.net/en/News/middle-east/2020/11/18/Iran-will-automatically-return-to-nuclear-commitments-if-Biden-lifts-sanctions
--------
Top Security Official: No Safe Haven for Iranian Nation's Ill-Wishers
2020-November-18
"There is no safe and impenetrable haven for criminals and ill-wishers of the Iranian nation," Shamkhani wrote on his twitter page on Wednesday.
He warned that the powerful hands of the defenders of the Islamic Republic of Iran "will sooner or later take the breath of any aggressor or criminal', adding that history will witness this claim.
Shamkhani also used the #انتقام_سخت (harsh revenge) in his twitter post (written in Persian language) which had gone viral after the US assassination of former IRGC Quds Force Commander Lieutenant General Qassem Soleimani in January.
In relevant remarks on Monday, Islamic Revolution Guards Corps (IRGC) Aerospace Commander Amir Ali Hajizadeh said taking revenge from the United States for its nefarious assassination of General Soleimani will surely take place, and meantime, stressed the need to heed the conspiracies hatched by the US against the Islamic Ummah.
"Taking revenge from the US for Martyr Soleimani will certainly happen," Hajizadeh said on Monday in his meeting with the visiting Iraqi Defense Minister Juma Anad Saadoun and his accompanying delegation, and underlined the need to pay attention to the schemes and strategies of the wicked enemies of the Islamic Ummah, specially the US.
Also, on Sunday, IRGC Commander Major General Hossein Salami emphasized that Iran will take revenge from the killers of General Soleimani, stressing that martyr Soleimani and deputy commander of Iraq's Popular Mobilization Forces (PMF) Abu Mahdi Al-Muhandis played the main role in obliteration of ISIL.
Salami made the remarks during a meeting with the visiting Iraqi Defense Minister Juma Anad Saadoun, adding that Iran will definitely take revenge for General Soleimani's blood from murderers on the battlefield.
"Taking revenge has nothing to do with the legal pursuit of the assassination," he said, adding, "We are sure that the children of the great Iraq will also take revenge for Abu Mahdi Al-Muhandis' blood."
"General Soleimani started defeating ISIL from Iraq. Americans could not tolerate his brilliance and decided to kill him," the commander noted.
Lieutenant General Soleimani was assassinated in a US drone strike on Baghdad International Airport in Iraq on January 3, 2020.
The airstrike also martyred al-Muhandis. The two were martyred in an American airstrike that targeted their vehicle on the road to the airport.
Five Iranian and five Iraqi military men were martyred by the missiles fired by the US drone at Baghdad International Airport.
On January 8, the IRGC Aerospace Force started heavy ballistic missile attacks on US Ein Al-Assad airbase in Southwestern Iraq near the border with Syria and a US operated airbase in Erbil in retaliation for the US assassination of General Soleimani.
Ein Al-Assad is an airbase with a 4km runway at 188m altitude from sea levels, which is the main and the largest US airbase in Iraq. Early reports said the radar systems and missile defense shields in Ein Al-Assad failed to operate and intercept the Iranian missiles. Unofficial reports said the US army's central radar systems at Ein Al-Assad had been jammed by electronic warfare.
The second IRGC reprisal attack targeted a US military base near Erbil airport in Iraqi Kurdistan Region in the second leg of "Martyr Soleimani" reprisal operation.
Iraq said the attacks had not taken any toll from its army men stationed at these two bases. The US army had blocked entrance into Ein Al-Assad to everyone, including the Iraqi army.
The IRGC officials said none of the missiles had been intercepted.
Meantime, Iran announced in late June that it had issued arrest warrants for 36 officials of the US and other countries who have been involved in the assassination of the martyred General Soleimani.
"36 individuals who have been involved or ordered the assassination of Hajj Qassem, including the political and military officials of the US and other governments, have been identified and arrest warrants have been issued for them by the judiciary officials and red alerts have also been issued for them via the Interpol," Prosecutor-General of Tehran Ali Alqasi Mehr said.
He said that the prosecuted individuals are accused of murder and terrorist action, adding that US President Donald Trump stands at the top of the list and will be prosecuted as soon as he stands down presidency after his term ends.
https://www.farsnews.ir/en/news/13990828000948/Tp-Secriy-Official-N-Safe-Haven-fr-Iranian-Nain%E2%80%99s-Ill-Wishers
--------
Official Blasts US Sanctions for Violating Iranian People's Rights
2020-November-18
"The imposition of extraterritorial unilateral sanctions has had unacceptable and unfortunate impacts on human rights. Even sanctions have prevented global charities from sending donations and medical and health donations to the population and vulnerable countries of embargoed countries," Darvishian said on Wednesday, addressing the Fourth meeting of the Eurasian Ombudsman Association and the International Conference on Human Rights.
He added that based on the remarks by the Special Rapporteur of the Human Rights Council, unilateral sanctions have had very unfortunate consequences and have targeted the most vulnerable sections of society and the most fundamental human rights, including the basic rights of living and health of children, the elderly and the sick.
Darvishian said at a time when the coronavirus had become an epidemic, the US government proudly imposed the toughest-ever sanctions on the Islamic Republic of Iran, which have been unprecedented in the history of international relations.
According to latest official records, coronavirus has so far claimed the lives of over 42,000 Iranians. However, medical reports indicate that the number of Iranian patients who are dying because of lack of particular foreign-made medications, whose imports have been obstructed by the unilateral sanctions of the US, hit a higher number.
Late in December, Head of the Iranian Society of Child Blood and Cancer Hassan Abolqassemi said that the US sanctions have almost made it impossible for cancer patients in Iran to access and supply their needed medicine.
"The US has targeted the Iranian patients and they have planned to pressure those who are consumers of these drugs. Therefore, the vitamins and ordinary drugs are easily accessed in the market, but the US is making its utmost efforts to prevent Iran from purchasing vital pharmaceutical products and those which are necessary for cancer patients," Abolqassemi told FNA.
The US sanctions and restrictions on export of drugs and medical equipment to Iran have shortened the breath of patients suffering from cancer, hemophilia, epilepsy and thalassemia.
Despite the American officials' claims of not imposing sanctions on imports of drugs to Iran, it's reported that medications are hard to obtain in the country due to banking embargos that hamper money transactions which causes some Western companies to refuse to sell the necessary drugs and medical equipment to Tehran.
https://www.farsnews.ir/en/news/13990828000975/Official-Blass-US-Sancins-fr-Vilaing-Iranian-Peple%E2%80%99s-Righs
--------
Afghan FM Lauds Iran's "Sincere, Brotherly" Support
2020-November-18
During the meeting in Kabul on Wednesday, the two sides discussed the Afghanistan peace negotiations and Iran's role in supporting the talks.
Strengthening of mutual cooperation, specially holding a joint economic commission meeting, endorsement of the comprehensive document to increase cooperation between the two countries and inauguration of Khwaf-Herat railway were among other issues discussed by the two sides.
Taherianfard, for his part, stressed Iran's continued support for the Afghanistan peace talks, describing the regional and world states' support for the current peace negotiations as important.
Iran has always underlined its help to the process of peace talks in Afghanistan.
Iranian Foreign Minister Mohammad Javad Zarif said in September that Tehran was prepared to contribute to the intra-Afghan talks to improve the peace process in the neighboring country.
Zarif discussed the latest situation of Afghan parties within the framework of peace process in a phone contact with Atmar, and stressed that Iran is ready to offer any help for the improvement of the peace talks.
He also touched upon the role of neighboring countries in the peace process.
Zarif expressed satisfaction with the ongoing talks among the Afghan parties.
https://www.farsnews.ir/en/news/13990828000388/Afghan-FM-Lads-Iran%E2%80%99s-%E2%80%9CSincere-Brherly%E2%80%9D-Sppr
--------
UAE health workers attacked by 'cowardly' gunmen in Yemen, says Red Crescent
18 November 2020
The Emirati Red Crescent said Wednesday one of its mobile health clinics was attacked by gunmen in war-torn Yemen, in a strike it condemned as a "cowardly terrorist act."
It did not mention any casualties in the assault in Yemen's third largest city of Taiz, which is under government control but surrounded by forces of the Iran-backed Houthi militia.
"The Emirates Red Crescent condemns and deeply regrets the cowardly terrorist act that targeted its medical staff working in mobile clinics," the organization said in a statement.
The "shooting attack" on its medical staff "represents a major violation of international norms, treaties and covenants," it said.
The UAE foreign ministry did not accuse any group of the attack, but also criticized the breaching of conventions that provide special protection for aid and rescue workers.
"The ministry stressed that such hostile acts impede relief operations and hinder humanitarian access in Yemen, which may aggravate the plight of the people and worsen their conditions," the state news agency WAM said.
https://english.alarabiya.net/en/News/middle-east/2020/11/18/UAE-health-workers-attacked-by-cowardly-gunmen-in-Yemen-says-Red-Crescent-
--------
Bahrain's first official government delegation heads to Israel on Gulf Air flight
18 November 2020
Bahrain's first official government delegation to Israel traveling on the first Gulf Air commercial flight to Tel Aviv landed in Israel on Wednesday as the two countries look to broaden cooperation after establishing formal ties in September.
For all the latest headlines follow our Google News channel online or via the app.
Gulf Air flight GF972 - a reference to Israel's country telephone code - took off from Manama airport Wednesday morning and landed at Tel Aviv's Ben Gurion Airport about two hours later, according to a US official and flight tracking website FlightRadar24.
Bahrain's foreign minister, Abdullatif al-Zayani, was leading the delegation.
President Donald Trump's Middle East envoy, Avi Berkowitz, was also on the flight and was leading a US delegation to Bahrain and Israel, he said on Twitter.
Bahrain and the United Arab Emirates established formal ties with Israel in a US-brokered deal signed at the White House on September 15. Sudan has since said it would also formalize relations with Israel, a former foe.
The foreign minister's trip to Israel will coincide with a visit there by US Secretary of State Mike Pompeo. They will hold a three-way meeting with Netanyahu, two diplomats briefed on the planning said.
https://english.alarabiya.net/en/News/gulf/2020/11/18/Israel-relations-Bahrain-s-first-official-government-delegation-heads-to-Israel-on-Gulf-Air-flight
--------
Iran dismisses Canadian-drafted resolution on its human rights situation
19 November 2020
Iran has condemned a UN resolution, drafted and proposed by Canada, as a rehash of "groundless" claims about the Islamic Republic's human rights situation, saying it instead proves the "hypocrisy" of the "notorious" group of countries that voted for it.
Iran's Foreign Ministry spokesman condemned the "unacceptable" resolution, saying it "lacks any legal grounds and effect".
Saeed Khatibzadeh noted that the move made by the Ottawa government and other sympathizers of the resolution is a clear example of "abusing lofty human rights concepts and values in order to achieve short-sighted political objectives."
He expressed regret that the Canadian government is using human rights and its international mechanisms as a means for achieving its goals and political ambitions.
"Such unconstructive actions will not only fail to help promote the status of human rights and respect for human rights at the international level, but will only trigger moves to form negative clichés against, and attach political stigmas to independent countries," the spokesman added.
The anti-Iran resolution was passed with 79 'yes' votes at the third committee of the UN General Assembly on Wednesday, even though 32 countries had voted against it and 64 others abstained from voting.
In his statement, Khatibzadeh said the majority of UN member states either voted 'no' or abstained from voting in a bid to show their discontent with the hypocritical approach adopted by the supporters of the resolution.
The resolution was adopted with the votes of less than half the UN member states, including the Israeli regime, the United States, Saudi Arabia, Bahrain, the United Arab Emirates, Albania, Britain and Canada, he said.
Khatibzadeh stressed it is a shame that Canada has brought together a bunch of governments with "notorious records in the domain of human rights", including the American, Israeli and Bahraini regimes, to teach human rights to Iranian people.
He also urged Canada to stop hosting economic offenders and looters of Iranian people's wealth, "who have found Canada a safe haven for the transfer and investment of the assets they have looted."
Earlier on Monday, the head of the Iranian Judiciary's High Council for Human Rights had slammed the countries trying to pass the anti-Iran rights resolution at the United Nations General Assembly's Third Committee, highlighting bleak rights records of the sponsors of the draft resolution.
"Canada, which is the main driving force behind rights resolution against Iran has a record of systematic violation of human rights," including against the country's native population while being among top countries in terms of violence against women and girls, Ali Baqeri-Kani said.
"Those who are behind this resolution are the same countries, which have given refuge to terrorist groups that have killed thousands of Iranians ... or have been following suit with the United States' "maximum pressure" campaign by implementing Washington's unjust and illegal sanctions against the Iranian nation," Iran's rights chief added.
https://www.presstv.com/Detail/2020/11/18/638903/iran-human-rights-canada-resolution
--------
Africa
Behind Susan Rosenberg and the roots of left-wing domestic extremism
18 November 2020
Susan Rosenberg, who made the FBI's Most Wanted list by the time she was 29, is among the most prominent far-left revolutionary activists in the U.S.
Earlier this summer, she sparked controversy after it was discovered that she purportedly sat on the board as vice-chair of Thousand Currents, which has poured more than $10 million into grassroots social change initiatives, including Black Lives Matter as of late.
The nonprofit, formerly known as IDEX, quickly removed the director's page featuring Rosenberg from its website in June. It remained unclear if and to what capacity she still serves the organization. Thousand Currents did not immediately respond to Fox News' request for comment.
The police officer who personally escorted Rosenberg out of the Newark courthouse in 1985 after she was sentenced to 58 years for explosives possession said her affiliation with the group showed that the same domestic terrorism ideologies from 35 years ago still are percolating now.
"I was at first shocked to learn of (Rosenberg's new role), but on the other hand, I wasn't so shocked given that members of these same groups get into academia and still follow the same teachings and inspiration," retired NYPD Police Commissioner Bernard Kerik told Fox News.
Born in 1955 and raised on New York City's Upper West Side, Rosenberg fervently joined activist causes during high school, including the Black liberation movement and others rejecting "repressive" U.S. policies globally and domestically.
Starting in the late 1970s, Rosenberg became involved in the far-left revolutionary terrorist outfit, May 19 Communist Organization ("M19CO"), which the FBI described as "openly advocating for the overthrow of the U.S. government through armed struggle and the use of violence."
According to officials at the time, the M19C0 gave support and resources to an adjunct of the Black Liberation Army (BLA), which the Terrorism Research and Analysis Consortium (TRAC) characterized as an "underground Black nationalist militant organization that operated from 1970 to 1981." As a splinter group of the Black Panther Party, it was known to have "carried out a series of bombings, murders, robberies and prison breaks."
She also was linked to the controversial Weather Underground Organization (WUO), founded in 1969 on the Ann Arbor campus of the University of Michigan, with a 1974 stated goal "to create a revolutionary party to overthrow American imperialism," according to the FBI, which labeled it a "domestic terrorist organization" when bombings began the following year.
"The left-wing extremist groups were predominantly Marxist in political thought," noted Kenneth Gray, a senior lecturer on criminal justice and forensic sciences at the University of New Haven. "They conducted robberies and hundreds of bombings throughout the U.S."
By the time she was 29, Rosenberg was on the FBI's Most Wanted List, suspected of being an accomplice in the 1979 prison escape of the still FBI-wanted Joanne Chesimard, aka "Assata Shakur," a BLA member who was serving a life sentence for the murder of police troopers in New Jersey. Rosenberg was also wanted in connection to a 1981 Brink's robbery that claimed the lives of two police officers and one guard.
Rosenberg, after several years as a fugitive in disguise, finally resurfaced in the late fall of 1984. She was caught after renting out a storage unit in New Jersey under a stolen identity – that of Barbara Grodin. She was found storing 12 assorted guns, nearly 200 sticks of dynamite, more than 100 sticks of the highly explosive DuPont Trovex, and hundreds of false identification documents.
On Dec. 6, 1984, a federal grand jury returned an indictment charging Rosenberg and her associate, Timothy Blunk, with conspiracy, firearms offenses and possession of false identification documents.
Prosecutors dropped the conspiracy and racketeering charges against Rosenberg, and she was never tried in connection to the Shakur escape nor the Brink's robbery. According to an archived New York Times report, it was Rudolph Giuliani, then U.S. attorney for the Southern District of New York, who chose not to prosecute the Brink's charges on the premise that the other charges sufficed.
As the court filings from the March 1985 hearing highlighted, from the beginning of the proceedings, "it was evident that Blunk and Rosenberg styled themselves as 'political prisoners' rather than criminal defendants."
"The defendants insisted on being absent from most of the trial proceedings and directed their retained counsel to remain inactive during the trial," filings stated. "To accommodate them, the trial judge provided Blunk and Rosenberg with closed-circuit television through which they could monitor the proceedings, and appointed a public defender to remain in the courtroom for the trial to protect the defendants' interests."
On March 17, 1985, the jury returned a verdict of guilty on all submitted counts for both Rosenberg and Blunk. New Jersey U.S. District Court Judge Frederick Bernard Lacey slapped them with the maximum sentence of 58 years each behind bars at New York's maximum-security Metropolitan Correctional Center (MCC).
Sympathizers lamented that the sentence was 16 times the national average for similar offenses.
Craig Caine, a former law enforcement officer who later went on to become a U.S. federal marshal, said he remembered the day scores of special officers, a bomb squad, and a legion of high-ranking officers arrived at the MCC, coupled with closed off roads, ceaseless sirens and cleared areas in preparation for a "high profile prisoner."
"They brought in the skinny little woman, who seemed scared and I wondered who the heck this was," Caine recalled. "Then, I found out it was someone who basically had enough dynamite to blow up half of Manhattan."
Caine said Rosenberg immediately became something of "a celebrity" inside the MCC, with a following of female fans and entrenched in her own clique of inmates, but stressed that she always was "respectful" and stayed out of the way of authorities.
Kerik had a different take.
"She despised us all; I am sure she would have killed every single one of us if she could have," he conjectured. "In court, she and Blunk would go on rampages about the government and all this death to America."
Moving Rosenberg to court or anywhere outside the MCC was no easy feat – requiring roads to be shuttered, backup cars, and trained snipers in the vicinity.
In 1988, Rosenberg additionally faced accusations of "aiding and abetting" a string of bombings targeting the U.S. Capitol, the National War College and the New York Patrolmen's Benevolent Association.
Additional charges included a role in a series of New York attacks, of which bombs were planted but did not detonate, on sites such as the FBI's office in Staten Island. These charges were discarded as part of a plea deal by other revolutionary members and Rosenberg was neither tried nor convicted in connection to the 1983-1985 terrorism surge.
Rosenberg and Blunk went on to appeal their convictions and sentences unsuccessfully.
Throughout what would be just 16 years in federal lockup, Rosenberg became a noted author, poet and activist – even earning a master's degree from Antioch University and voraciously writing. In the morning of Jan. 20, 2001, then-President Bill Clinton commuted Rosenberg's sentence.
She swiftly moved from prison to her mother's Manhattan apartment.
"I have seen speculation that Rosenberg's sentence was commuted based upon the connection between her former attorney Howard Gutman and President Clinton," Gray said. "Gutman was a big donor to the Democratic Party."
The commutation ignited outrage among law enforcement and elected officials in the New York area from both parties, who viewed the move as an act of betrayal, given that their own brethren had lost their lives during crimes tied to Rosenberg.
"I wrote (Clinton) a scathing letter," Kerik said. "Rosenberg's group was responsible for a number of murders of cops."
Over the ensuing years, now a free woman and anti-prison advocate, Rosenberg entered academia, teaching at Manhattan's Jay College of Criminal Justice. After four semesters, the CUNY administration was forced to let her contract quietly expire amid the political pressure surrounding her hiring.
Rosenberg also penned a memoir in 2011 entitled "An American Radical: A Political Prisoner in My Own Country," in which she defended her 1984 actions, proclaiming that "there was no immediate, specific plan to use the explosives" with which she and Blunk were apprehended.
"We were stockpiling arms for the distant revolution that we all had convinced ourselves would come soon," Rosenberg wrote. "I also believed that our government ruled the world by force and that it was necessary to oppose it with force."
Soon after Rosenberg's name resurfaced publicly again over the summer, President Trump threatened to designate Antifa – an extreme left-wing, leaderless conglomerate – a "terrorist" organization. Critics have pushed back with the counterargument that Antifa was merely an ideology and that right-wing extremists were to blame for much of the protracted violence.
Nonetheless, it points to the notion that even with the passage of time, "domestic terrorism" may have changed little in its actions and may still be comprised of the same advisers and activities that birthed the movement decades ago.
"Many of the inspirations (and ideologies) are still the same," Kerik added. "Many like Rosenberg are still alive, have gone into academia, and are still doing the same thing years on."
https://www.foxnews.com/us/susan-rosenberg-left-wing-domestic-extremism-roots?utm_source=iterable&utm_medium=email&utm_campaign=1730121_
--------
5 Killed in Mogadishu Bombing After Report That US Will Pull Troops from Somalia
By Harun Maruf
November 17, 2020
At least five people were killed, and eight others were injured following a suicide bombing near the main Somalia police academy in Mogadishu on Tuesday, officials said.
Government communication sources said two police officers, a military officer and two civilians were killed when a suicide bomber detonated an explosive vest outside a restaurant that is often used by members of the police academy.
Police spokesman Major Sadiiq Aden Ali confirmed the death toll to VOA Somali. Other government officials said eight others were injured.
The al-Shabab militant group claimed responsibility for the attack.
Hours earlier, The New York Times reported that President Donald Trump could withdraw U.S. troops out of Somalia under an order being circulated at the Pentagon.
Virtually all of the more than 700 troops conducting training and counterterrorism missions would leave, the paper reported. Pentagon officials have not commented on the report.
U.S. troops in Somalia provide training and advice and assistance to a unit of Somali army known as Danab (Lightning) that has been hailed as model for rebuilding the Somali army.
The U.S. also conducts airstrikes against al-Shabab, which have increased since Trump took office in 2017.
The Times report says the plan under discussion to pull out of Somalia may not apply to U.S. forces stationed in nearby Kenya and Djibouti, where American drones that carry out airstrikes in Somalia are based.
When the news of possible U.S. troop withdrawal emerged last month, Somalia's president Mohamed Abdullahi Farmajo voiced his opposition to the idea. He tweeted that U.S. military support to Somalia has enabled the country to combat al-Shabab.
Farmajo called for continuous security partnership and capacity building support.
https://www.voanews.com/africa/5-killed-mogadishu-bombing-after-report-us-will-pull-troops-somalia?utm_source=iterable&utm_medium=email&utm_campaign=1730121_
--------
In jihadist-hit Burkina areas, no elections -- and no state
18/11/2020
Two days before Burkina Faso's President Roch Marc Christian Kabore held a campaign rally in the northern town of Dori earlier this month, the body of a driver for a regional MP was found 15 kilometres (nine miles) away.
The death of Sorgho Wendtoin served as a brutal reminder of the difficulty of holding a national election in a country where large areas remain outside the state's control due to a grinding jihadist insurgency.
Amadou Abdouramane Ly, a civil servant in Dori and parliamentary candidate for the ruling party, said "we must tell the truth, the situation is precarious".
"This is a new example of it."
Burkina Faso is preparing for presidential and parliamentary elections on November 22, while neighbouring Niger has its own presidential election on December 27.
But no votes will be cast in many districts because the state is absent in the "three borders" region between Burkina, Niger and Mali.
The territory is at the mercy of jihadist forces that have spread across large swathes of the three Sahel nations.
Burkina first came under attack in 2015 from groups that have sworn allegiance to the Islamic State and Al-Qaeda.
"How are we to organise an election in a zone where the attacks come almost every day?" asked a Burkinabe security specialist.
Islamist fighters killed 14 soldiers in a road ambush on November 11, the biggest attack on the army in several months.
— 'Immense challenge' —
On Saturday, a week before the general election, a large group of jihadist fighters with about 100 motorcycles and five other vehicles was reported in Mali's In-Tillit zone, near the border with Burkina Faso.
"We know very well that this is going to be an immense challenge," a source close to the authorities in Dori said of the election.
The toll from jihadist attacks -- sometimes intertwined with conflicts between ethnic groups -- is heavy in Burkina Faso. Some 1,200 people have been killed, mostly civilians, and about one million have fled their homes over the past five years.
The north is the hardest-hit.
The Constitutional Council has acknowledged that the election cannot take place in almost one-fifth of Burkina's territory because of "the presence of terrorist groups in places, the absence of the administration in affected zones, the abandonment by the population of places where they lived."
"You have to add the one million displaced persons, who mostly came from these zones, and who will not vote," said Mahamoudou Savadogo, a Burkinabe researcher studying violent extremism.
At the bus station in Dori, the north's biggest city and commercial hub, the drivers look grim. They know there are many routes they can no longer use for fear of a potentially deadly encounter.
"There are too many problems on the road," one of them said, withholding his name. Commercial buses must wait for a military escort before heading to Djibo, 200 kilometres (125 miles) west of Dori.
— 'Children of the nation' —
"The victory of the jihadist groups is not so much a military one as having installed a fear that makes people's lives extremely difficult," Rinaldo Depagne of the International Crisis Group said.
The jihadists "are the children of the nation. They know the terrain and they're on social networks. The attacks are never a matter of chance," said Saidou Maiga, mayor of the rural commune of Falagountou, on the border with Niger.
Maiga warned against visiting Gorom-Gorom, 30 kilometres from Dori, "even at midday". He said in the old days "we took the road at night to go to drink tea there and drive back to Dori afterwards".
"This is not a question that Burkina Faso can answer alone," the mayor added.
"As long as together (with Niger and Mali), we don't master these three borders, it won't go well."
The G5 Sahel Joint Force, a regional military body backed by the United Nations, was deployed in 2017, adding troops from Chad and Mauritania to those of the "three borders" nations.
The force, which has yet not had major effect, is also supported by 5,000 troops as part of France's Operation Barkhane, as well as the fledgeling European force Operation Takuba.
"It's only around the towns that the soldiers are present. In the camps in the bush, there are none left, everybody has gone," Savadogo said.
"The state has no more control there. Whole tracts of the country will be unable to vote."
https://www.france24.com/en/live-news/20201118-in-jihadist-hit-burkina-areas-no-elections-and-no-state?utm_source=iterable&utm_medium=email&utm_campaign=1730121_
--------
Southeast Asia
Only non-Muslim houses of worship exempted from jawi signage rule, says Pahang exco
18 Nov 2020
KUANTAN, Nov 18 — Only non-Muslim houses of worship are exempted from the Pahang government's directive to include jawi script on signboards, said state Local Government and Housing Committee chairman Datuk Abd Rahim Muda.
He said the directive to use jawi script on business premises and advertisement signboards, as well as road signs beginning Jan 1 this year, was subjected to all premises, including those that belong to non-governmental organisations and Chinese associations.
"We want to clarify that jawi script does not symbolises Islam, but it is part of Malay and Arab culture. In fact, agreements between the past government and the British were written in jawi.
"Supposedly there should not be any confusion regarding the jawi issue at this level, because everything had been informed together with the terms and font size," he said when replying to a question from Lee Chin Chen (PH-Bilut) at the State Legislative Assembly at Wisma Sri Pahang here today.
As of Sept 30, he said a total of 198 compound fines had been issued by local authorities to the owners of business premises who failed to comply with the directive. — Bernama
https://www.malaymail.com/news/malaysia/2020/11/18/only-non-muslim-houses-of-worship-exempted-from-jawi-signage-rule-says-paha/1923913
--------
Bangsa Malaysia only way to unite the ummah, not a 'grand coalition'
K. Parkaran
November 19, 2020
Ummah is an Arabic word which means a community. But over time, the word has now become a synonym for the Islamic community in general. In the Malaysian context, it had always referred to the Malay/Muslim community.
As a far as I can remember, Malay-based parties Umno and PAS were always calling for the unity of the ummah, meaning Malays and Muslims. It was accepted that the other races were not in this equation and no one complained.
Similarly, another oft-used phrase by the leaders that had always bothered me was agama, bangsa and negara (religion, race and nation) to marshal all Malaysians. I always wondered if it encompassed all races and religions or was it only used to rally Malays and Muslims.
After losing power in the 2018 general election; which saw a government with a better racial balance in power, Umno and PAS decided to use the "Penyatuan Ummah" (Uniting the Community) theme to tell the Malay-Muslim community that if they did not unite, they will lose the political power that they had been enjoying. Obviously they knew it would work, and work it did.
From then on, we saw racial and religious ties on a downward slide, with some leaders within Pakatan Harapan (PH) itself attending cloak and dagger meetings to whip up the ummah sentiments that finally led to the infamous Sheraton Move. As we know, some turncoats caused PH to be robbed of its electoral mandate. Again, they openly declared it was done in the name of uniting the ummah.
So, when Barisan Nasional secretary-general Annuar Musa proposed a grand coalition to unite the ummah to settle what he termed as Malaysia's political paralysis by making overtures to Malay and multi-racial parties, some felt it merited attention. They were those who said it was just a moot point.
Annuar did single out Malay and Bumiputera parties like Pejuang, the youth party Muda and multiracial Warisan to join Perikatan Nasional (PN) to form this coalition. He also included non-Malay and non-Muslim political parties like the Indian Progressive Front, Makkal Sakthi and Parti Cinta Malaysia, among others.
As long as they were opposed to PH, he said, they could join the coalition. Soon after including the "others" in his grand plan, what he said got me thinking. "The efforts of the union of the ummah must be our main responsibility and continuous." One wonders who he actually had in mind when he uttered this.
Are we to assume that Annuar or BN are now having a change of heart and including the "others" into the ummah? In other words, will we then be part of the Malaysian ummah, or is it another of their political games to just get a comfortable number to stay in power? Your guess is as good as mine.
I am asking this because if he says he only wants anti-PH politicians or parties to join this grand coalition, "uniting the ummah" does not make sense because DAP, PKR and Amanah combined have more than 40% of the MPs in Parliament.
A split down the middle, right? Sounds very rhetorical indeed. Looking at the larger picture, if you use elected representatives as a yardstick for uniting the ummah, it will not be reflected on the ground, far from it as we can see today. Politicians actually split the ummah.
So, the grand coalition is not the panacea for all our unity ills as Annuar makes it sound. The fact is we are facing a Malaysian dilemma. While many non-Malays are ready to identify ourselves first as Malaysians, it is not the case in the Malay community.
The only time we do this is when we are abroad, telling foreigners that we are Malaysians and not identifying ourselves racially. Once we are home, we tend to go back into the racial cocoon. When some of our leaders were asked whether they were Malay or Malaysian first, most did not give direct answers except for Prime Minister Muhyiddin Yassin.
Posed the question in 2010, Muhyiddin said: "I am a Malay first, I want to say that. But being a Malay first does not mean you are not a Malaysian. How can I say I am a Malaysian first and Malay second? All the Malays will shun me and say you are not proper. An Indian will say he is Indian first. Can (DAP stalwart Lim) Kit Siang say he is Chinese last and Malaysian first?"
Former prime minister Najib Razak tackled the question differently in an interview with Al Jazeera also in 2010. He said: "Technically, I am a Malay under the constitution. And I am comfortable being a Malaysian. And I want us to work towards becoming a one Malaysian society. I am proud to be a Malay, proud to be a Muslim. The fact that I am proud to be a Malay and Muslim, it does not mean that I cannot relate to others."
Opposition leader Anwar Ibrahim chose to be diplomatic in his answer to Al Jazeera two years ago, with a bit of distraction though."To me, there is no contradiction, if you ask me am I a Muslim first or Malaysian first or a Malay first. I am a Malay, I am a Muslim, I am a Malaysian. I am an Asian, I am an internationalist, I am a practising Muslim, I consider Shakespeare as an international genius, and that does not erode my belief in race, religion, culture or nation."
And as recent as Nov 10, PPBM youth leader Wan Ahmad Fayhsal declared he is a Malay first before being a Malaysian, dashing hopes of the younger generation taking a more liberal stand on this.
"This question has been asked to Muhyiddin. My answer is: 'I am Malay first', as this comes from a legacy which has been recognised physically, biologically and culturally. Being a citizen comes from a legal aspect," he said.
When Dr Mahathir Mohamad launched his Vision 2020 in 1991 when he was prime minister, he declared we will see the evolution of a Bangsa Malaysia when it comes to fruition. Ironically, it was this same man who had a hand, directly or indirectly, in destroying this vision.
The 2021 budget further underscored the perceived "irrelevance" of the non-Bumiputera community when the allocations stunk to high heaven. It became a race-based budget, not a Malaysian needs-based plan.
Muafakat Nasional has announced it will meet to formally seal a tripartite alliance between Umno, PAS and the Bersatu faction of Muhyiddin. This is going to change the political landscape quite significantly and have a bearing in all future elections.
With this, have we also sealed all hopes of giving birth to a Bangsa Malaysia that will unite us and move the nation forward? Although it may just be a dream, I choose to remain optimistic for the sake of our children and grandchildren.
https://www.freemalaysiatoday.com/category/highlight/2020/11/19/bangsa-malaysia-only-way-to-unite-the-ummah-not-a-grand-coalition/
--------
URL: https://www.newageislam.com/islamic-world-news/upsc-jihad-tv-show-offensive/d/123514
New Age Islam, Islam Online, Islamic Website, African Muslim News, Arab World News, South Asia News, Indian Muslim News, World Muslim News, Women in Islam, Islamic Feminism, Arab Women, Women In Arab, Islamophobia in America, Muslim Women in West, Islam Women and Feminism