New Age Islam News Bureau
27 August 2022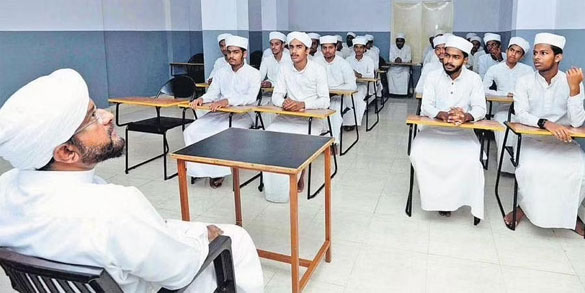 Onampilly Muhammad Faizy interacting with students of Academy of Sharia Advanced Studies in Thrissur | Express
-----
• UK 'Secretly' Doubles Funding To Saudi Arabia, Bahrain for Unknown Reasons: Report
• Islamic Group Hefazat-e-Islam Poses Challenge for Bangladesh: Think Tank
• As Terrorism Continues Pakistan Army Eye Tougher Stance against Tehreek-I-Taliban Pakistan after Talks Fail
• Malaysia Supports Rohingya Struggle to Return to Myanmar: Foreign Minister
India
• IIM Bangalore Faculty Stunned, Deeply Anguished On Remission of Bilkis Bano Gang Rape and Mass Murder Convicts
• Quran does not say mosque needed in every nook and corner: Kerala HC
• Srinagar: Mirwaiz Umar Farooq Exposes 'No House Arrest' Lie
• Delhi Police deny permission to comedian Munawar Faruqui's show
• Conversion case: Madras High Court grants bail to Muslim youth
• Indian Security Agencies on High Alert after Uzbek Bomber Revelations
• About 120 terrorists waiting across LOC to enter J&K: GOC 19 Division
--------
Europe
• 'Ball in Iran's Court' On Nuclear Deal: France's Macron
• Germany to return stolen bronze artefacts to Nigeria
--------
South Asia
• China Supports UNSC Travel Ban Exemptions for Islamic Emirate Leaders
• Islamic Emirate Not against Women's Education: Head of the Emirate's Political Office
• Ahead of Hasina visit, India-Bangladesh finalise text of Kushiyara water MoU
• Amnesty calls out Taliban for its atrocities on Afghans, says country at brink of irreversible ruin
--------
Pakistan
• Imran Khan calls himself 'very dangerous' amid terrorism charges
• Awami Workers Party to hold protest against Pakistan government over constitutional amendment
• Govt slams PTI for 'jeopardising IMF deal'
• 'Misleading and incorrect': Nawaz dissociates himself from 'negative comments' about PM Shehbaz
• US says it backs 'democratic' order in Pakistan after Imran Khan charged
• Punjab lodges terrorism case against Sanaullah for 'threatening judiciary, officials'
--------
Southeast Asia
• Pundits: Right-veering PAS a handful even for Umno, Bersatu as Malay ruling parties hunker down for GE15
• Police report lodged over 'leaked Rosmah judgment'
• PM Ismail Sabri: Jihad against inflation showing positive results
--------
Arab World
• Kurdish Forces Arrest Suspected ISIS Extremists in Sweep of Syria's Al-Hol Camp
• Iraq's Sadrists refile call for judiciary to suspend parliament amid political crisis
• Turkish forces neutralize 6 PKK/YPG terrorists in northern Syria
• Russian forces: Syria intercepted nearly half of Israeli projectiles during recent strike
--------
Mideast
• Islamic Jihad Looks to Hezbollah after Disastrous Gaza War
• FM: Iran Very Serious about Safeguards Issues
• Iran Strongly Criticizes UN Conference for Refusing to Urge Israeli Regime to Join NPT Treay
• Iran, Qatar Vow to Broaden Mutual Cooperation
• Turkey dismisses concerns over a US sanctions warning
• 'Extreme tension' in Israeli jails as Palestinian prisoners protest abuses
• Iran-IAEA standoff last major hurdle in reviving nuclear deal
• Dozens of Palestinians injured as Israeli forces attack anti-settlement protesters
--------
Africa
• UN Slams Movement Restrictions in 'Security Ops' Around Sirte
• Somalia seeking more support to join regional bloc
• Rival Libyan groups deploy forces on outskirts of Tripoli
• South Sudan diplomat recalled from US over 'alleged rape'
• Airstrike reported in capital of rebel-held Ethiopian state amid renewed fighting
--------
North America
• New Mexico Man, Herman Leyvoune Wilson, Accused Of Planning Islamic State Training Centre
• US Insisted On Failed Nation-Building, Western Model In Afghanistan: Former CENTCOM Commander
• Arab Americans Can Improve Their Image by Telling Their Own Stories, Egyptian-American Actor Says
• Pro-Palestine activists rally in Minnesota, demand US divest from Israel
• US ran disinformation campaign against Iran, Russia and China, research reveals
Compiled by New Age Islam News Bureau
URL: https://newageislam.com/islamic-world-news/upanishads-advaita-gita-sanskrit-islamic-sunni/d/127817
--------
Upanishads, Advaita philosophy, Gita, Sanskrit Taught In Kerala-Based Islamic Institute Run by a Sunni Organisation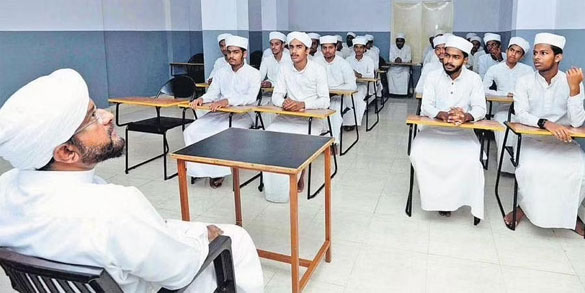 Onampilly Muhammad Faizy interacting with students of Academy of Sharia Advanced Studies in Thrissur | Express
-----
27th August 2022
By MP Prashanth
KOZHIKODE: Rinshad C P, a native of Pattambi in Palakkad, is pursuing a course on Islamic Sharia. He is also taking classes on the Upanishads, Advaita philosophy and Bhagvad Gita, besides learning Sanskrit. It is not simply out of personal interest that Rinshad is studying Indian philosophy and Hindu scriptures. This is how the Islamic Sharia course, offered by Thrissur-based Academy of Sharia and Advanced Studies (ASAS), is designed.
In a world where people are quick to ridicule beliefs that differ from theirs, ASAS shows how learning about such views widens a person's knowledge. This also makes the institution stand apart from other Islamic institutes. Run by Malik bin Dinar Islamic Complex, ASAS is under the management of Samastha Kerala Jam-Iyyathul Ulema, a Sunni organisation.
Samastha Ernakulam district secretary Onampilly Muhammad Faizy, a Sanskrit scholar himself, is the brain behind ASAS. "Here, we try to make our students aware of the rich diversity of Indian culture and inculcate a positive vibe in them at a time when they are bombarded with information that leaves them bitter," said Faizy, who did graduation and post-graduation in Advaita from Sree Sankara College, Kalady.
Knowing only Islamic terminology hinders Muslim students: Faizy
Faizy said Sanskrit is taught in a systematic way, beginning with Sidharoopam. "Those more interested in learning it are sent to higher levels. Yatheendran, the disciple of Sanskrit scholar K P Narayana Pisharodi, is one of our faculty members. I teach the Bhagvad Gita," he said.
ASAS holds workshops on Sanskrit regularly and encourages students to learn how to speak it. "Prophet Muhammad had told a youth to study the Syrian language. The more we delve into other systems, the more our horizons are widened," Faizy said.
He said one of the hindrances Muslim students studying Islamic subjects face is that fact that they know only Islamic terminology. "This creates limitations in their interactions with other sections in society," he said.
Students are admitted to ASAS after they clear the SSLC examination. Upon completing the eight-year course, they get a university degree besides a religious degree tiled 'Maliki.' The graduate degree is provided under the distance education stream of Calicut University. Rinshad, a sixth-year student, said: "I was fortunate to join the course as we are getting an opportunity to learn Sanskrit from experts and know about other beliefs and branches of knowledge here."
Source: New Indian Express
Please click the following URL to read the text of the original story:
https://www.newindianexpress.com/good-news/2022/aug/27/gita-sanskrit-taught-in-this-kerala-based-islamic-institutes-syllabus-2491849.html
--------
UK 'Secretly' Doubles Funding To Saudi Arabia, Bahrain for Unknown Reasons: Report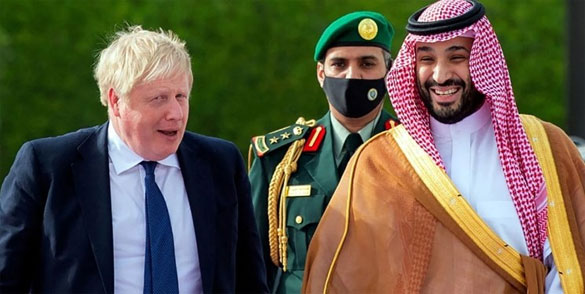 Photo: Fars News
---
26 August 2022
The UK government's funding for Saudi Arabia and Bahrain has more than doubled this year through Persian Gulf Strategy Fund (GSF) for unknown reasons, according to a report.
GSF spending for Saudi Arabia increased from £813,605 to £1.8m and from £710,028 to £1.8m for Bahrain in 2021-2022, the Foreign, Commonwealth and Development Office (FCDO) disclosed in response to Freedom of Information requests made by Middle East Eye.
"The UK works with partners around the world to improve their human rights records, including in the Persian Gulf," FCDO claimed in response to MEE.
"All cooperation through the Persian Gulf Strategy Fund is subject to rigorous risk assessments to ensure all work meets our human rights obligations and values," it added.
Scottish National Party MP Brendan O'Hara, who chairs the All-Party Parliamentary Group on Democracy and Human Rights in the Persian Gulf, told MEE that despite previous concerns raised by the APPG about the fund, the increase in funding to the two Arab countries is "astounding."
He reiterated a call he made last year to suspend the fund, saying the Select Committee should investigate the fund's activities "as a matter of urgency."
"The fact that the UK government has chosen to spend millions more pounds of taxpayers' money on projects in the Persian Gulf during a cost-of-living crisis is astounding," he said.
"I will be writing urgently to the foreign secretary to raise my concerns regarding this alleged funding increase, and to ask for a breakdown of where and to whom this funding has been allocated."
The report comes as Saudi Arabia and Bahrain remain close allies of the UK despite widespread criticisms leveled against the two Persian Gulf countries over their human rights violations.
A Saudi court recently sentenced Salma al-Shehab, a Ph.D. candidate at Leeds University and mother of two children, to 34 years in prison and a 34-year travel ban due to tweets that were critical of Riyadh.
Saudi Arabia has also been leading an all-out war and economic siege against Yemen for many years in cooperation with some Arab and Western countries.
Also, the case of the murder of Jamal Khashoggi, a Washington Post columnist, still remains in an aura of ambiguity.
Sayed al-Alwadaei, advocacy director of the UK-based Bahrain Institute for Rights and Democracy (Bird), said: "Despite an outcry in parliament, raising alarm over this fund's support of Persian Gulf bodies implicated in serious rights violations including torture and whitewashing of war crimes, the UK government has chosen to quietly reward rich Persian Gulf states with millions more in taxpayer money."
Lina al-Hathloul, head of monitoring and communications at UK-based rights group ALQST, said that now is the time for the UK government to provide answers.
"The fact that the UK has increased its funding to Saudi Arabia at a time when the human rights situation in the kingdom has continued to deteriorate raises alarm bells about its impact," she said.
"Whether the funding has gone to bodies directly implicated in abuses, or is now used to fund other activities, there are serious questions about the human rights measures it is contingent upon."
Source: Press TV
Please click the following URL to read the text of the original story:
https://www.presstv.ir/Detail/2022/08/26/688061/UK-doubles-funding-Saudi-Arabia-Bahrain
--------
Islamic Group Hefazat-E-Islam Poses Challenge For Bangladesh: Think Tank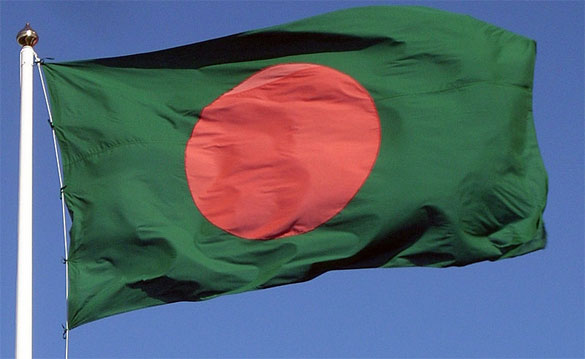 Representational image by Fredrik Rubensson via Wikimedia Commons
-----
August 26, 2022
Bangladesh is gripped by challenges posed by hardline Islamic group Hefazat-e-Islam as the country continues to witness frequent outbursts of massive violence, increase in religiously motivated illiberalism, and a general shrinking of free, liberal, and secular thinking, a thinktank South Asia Democratic Forum (SADF) reported.
The South Asia Democratic Forum (SADF) is a Brussels-based think tank devoted to South Asia and its relationship with the European Union (EU) in the context of a global, changing world. As per a report written by Dr. Siegfried O. Wolf, Director of Research at SADF, though in recent years, the number of terrorist incidents and related casualties have steadily declined in Bangladesh yet the problem of Islamist extremism remains.
Under the research report titled "The Hefazat-e-Islam and the Islamist challenge in Bangladesh", the SADF research director noted that HeI is the most recent and largest entity in Bangladesh's complex web of ultra-conservative, radicalised Islamist groupings.
He defined the group as by a large variety of terms, for instance — a Islamist pressure group, an Islamist advocacy movement, an ultraconservative Islamist group, a socio-political extremist group, or an Islamic social movement.
According to his analysis, there are demands to designate the Islamic radical group as a terrorist group.
While speaking on the challenges posed by the group, the SADF director said the terms used for the group do not really give out the complete picture as to how HeI is challenging the secular and democratic foundations of the state – and how it is contributing to the menace of violent Islamism in Bangladesh.
In retrospect, he noted that for over a decade, Bangladesh witnessed not only violent mass protests and vandalism stirred by HeI supporters but also a firm counter-reaction by the government – so as to protect the state, citizenry, and law and order more generally speaking.
Many senior members of the HeI were arrested for their role in public unrest, and as the organisation also suffered from a leadership crisis, some analysts even concluded that the Islamist organisation became much less of a threat.
However, he pointed out, that such an assessment is short-sighted since it does not consider the facts on the ground. It also fails to understand the Islamist menace in Bangladesh (and beyond) in general – and the the HeI organisation in particular.
The SADF director was educated at the Institute of Political Science (IPW) and South Asia Institute (SAI), both at Heidelberg University.
Additionally, he is a member (affiliated researcher) of the SAI as well as a former research fellow at IPW and Centre de Sciences Humaines (New Delhi, India). Dr Wolf works as a consultant to NATO-sponsored periodic strategic independent research and assessment of Afghanistan-Pakistan issues.
Source: Indian Arrative
Please click the following URL to read the text of the original story:
https://www.indianarrative.com/india-news/islamic-group-hefazat-e-islam-poses-challenge-for-bangladesh-think-tank-42489.html
--------
As Terrorism Continues Pakistan Army Eye Tougher Stance against Tehreek-I-Taliban Pakistan after Talks Fail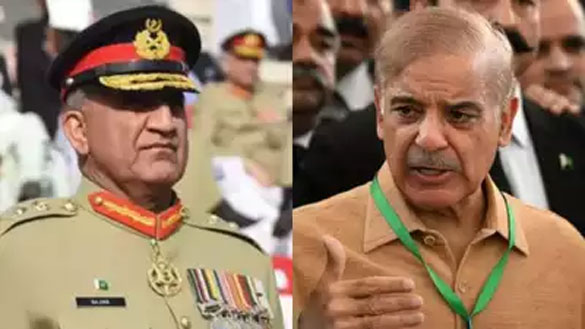 Pakistan army chief General Qamar Javed Bajwa (L) and PM She ..
-----
Aug 26, 2022
ISLAMABAD: After several failed efforts to conclude a long-term peace deal with Tehreek-i-Taliban Pakistan (TTP), the Pakistan army is mulling a tougher stance against the outlawed group as terrorism continues in the country.
The shift in the Pakistan army's approach comes amid the three-month ceasefire, as TTP fighters return to Khyber-Pakhtunkhawa and Balochistan, the Dawn newspaper reported.
"Directed formations to maintain operational readiness and efforts to counter terrorism, particularly in KP and Balochistan must continue," said Pakistan Army Chief Gen Qamar Bajwa during the 250th Corps Commanders' Conference, as quoted by Dawn.
TTP, popularly known as Pakistan Taliban, recently set alarm bells ringing in Islamabad after the outlawed group reappeared in Khyber Pakhtunkhwa's Swat valley.
Taliban terrorists reportedly had occupied hilltops of Swat district's Matta subdivision a few months ago which created panic in a number of neighbouring districts, The News International newspaper reported.
The Taliban's unexpected appearance led to anger among the people and caused damage to tourism as the day Taliban were reported to have arrived in the valley, the report added.
Initially, both the Khyber Pakhtunkhwa and Shehbaz Sharif governments kept quiet on the issue. After the issue came to the limelight, Pakistan Defence Minister Khawaja Asif said that they were in touch with the Afghan government about the Taliban's appearance in Swat.
"The Taliban accepted requests of the local elders and agreed to leave Swat peacefully. By Saturday afternoon, the Taliban started leaving Swat via Dir," a Pakistan senior government official told The News on condition of anonymity. The Pakistani newspaper said the government had moved additional troops to Swat and deployed them in different places for a likely offensive against the Taliban.
"Luckily, the situation returned to normal and there was no incident of violence in the valley. The role played by the people of Swat for peace is remarkable," he added.
Since the Taliban took control of Afghanistan, Pakistan has increasingly complained of attacks across the border from Afghanistan, an issue that has become a source of diplomatic tension.
Talks between the two sides began in October 2021 to seek a political solution to the issue. The talks that were held at the request of the Afghan Taliban led to a one-month ceasefire in November. However, the truce could not last long as differences emerged soon.
The ongoing peace talks between the TTP and Pakistan government reached a stalemate as the outlawed group refused to give in on its demand for the reversal of the merger of the erstwhile Federally Administered Tribal Areas (FATA) with the Khyber-Pakhtunkhwa province.
Despite a series of meetings between the two sides in recent weeks to break the impasse, there has also been a stalemate over the issue of TTP laying down arms in case of a peace deal.
Source: Times Of India
Please click the following URL to read the text of the original story:
https://timesofindia.indiatimes.com/world/pakistan/pakistan-army-eye-tougher-stance-against-ttp-after-talks-fail/articleshow/93798190.cms
--------
Malaysia Supports Rohingya Struggle to Return to Myanmar: Foreign Minister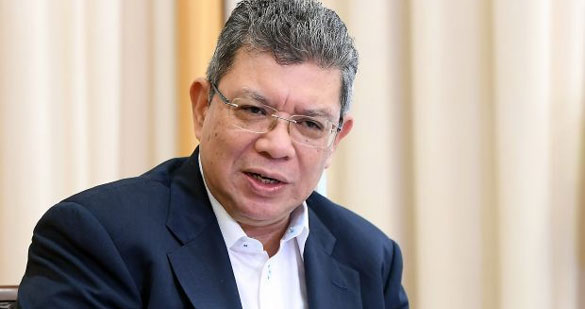 Foreign Minister Datuk Seri Saifuddin Abdullah
-----
27 Aug 2022
KUANTAN: Malaysia supports the struggle of the Rohingya community to return to Myanmar as citizens of that country, said Foreign Minister Datuk Seri Saifuddin Abdullah (pic).
He said the international community should also not forget the plight of the Rohingya, as more than a million were now refugees in Bangladesh, while 150,000 are in Malaysia and some in several other countries.
"They are denied citizenship and we support their efforts and struggle to become citizens like everyone else in Myanmar, besides supporting several efforts to bring those who are guilty to justice.
"These efforts should be jointly supported by the international community, especially ASEAN, because this is a big issue in the Myanmar conflict," he said at a press conference in conjunction with the Familiarisation Visit Programme for Diplomatic Corps here, on Friday (Aug 26) night.
Malaysia, said Saifuddin also supports the efforts of the Rohingya who want to work together with the National Unity Government (NUG) and Myanmar's National Unity Consultative Council (NUCC) to restore 'normal life' and uphold democracy in Myanmar.
Saifuddin who is also the Member of Parliament for Indera Mahkota informed that he had participated in several events organised by the Rohingya community via video conference on Thursday, which is the fifth anniversary of the 'genocide' killing of the Rohingya population living in Rakhine State, Myanmar that occurred in 2017.
In addition to Gambia's initiative to bring the issue of devastating cruelty against the Rohingya to the International Court of Justice (ICJ), Saifuddin said the legal process is also being initiated in Argentina by Rohingya activists.
A mass exodus of the Rohingya began on Aug 25, 2017 after the Myanmar army launched an operation against the Muslim minority, killing, raping and torturing Rohingya men, women, and children. – Bernama
Source: The Star
Please click the following URL to read the text of the original story:
https://www.thestar.com.my/news/nation/2022/08/27/malaysia-supports-rohingya-struggle-to-return-to-myanmar-says-saifuddin
--------
India
IIM Bangalore Faculty Stunned, Deeply Anguished On Remission of Bilkis Bano Gang Rape And Mass Murder Convicts
Basant Kumar Mohanty | New Delhi
27.08.22
Over 50 faculty members and staff of IIM Bangalore have said they are "stunned and deeply anguished" by the remission granted to the 11 life convicts in the Bilkis Bano gang rape and mass murder case and appealed to the Supreme Court to "respond most urgently" to her "right to live without fear and in peace".
In a letter addressed to the Chief Justice of India, the 54 signatories said they were writing in their personal capacity and expressed "solidarity with Bilkis and her fight for justice".
The Supreme Court is hearing a challenge to the Gujarat government's grant of remission to the 11 convicts, who were serving a life term for gang-raping Bilkis and killing seven members of her family, including her three-year-old daughter, during the 2002 Gujarat riots.
In the letter to the CJI, the 54 signatories said: "The crimes committed by the eleven men granted remission were no ordinary crimes. They were accused and convicted of gang rape and murders of the most depraved and inhumane kind. The Supreme Court itself upheld their conviction in 2008.
"Bilkis Bano, who survived to tell the tale, fought for justice for over seventeen years. This remission is not only a denial of justice but also presents a real and immediate danger to Bilkis Bano and her family. The sympathetic treatment these convicted men have received is shocking. What kind of a nation are we turning into if Bilkis Bano is left to defend herself while her violators are given a hero's welcome?
"We are stunned and deeply anguished by this act of the Government of Gujarat. We look to our legal system and courts to deliver on the promise we as a nation 'have solemnly resolved', 'to secure to all its citizens: justice, liberty, equality and fraternity'. The horrors that Bilkis Bano underwent in 2002 should not be experienced by any woman anywhere. This remission is bound to embolden perpetrators of such heinous crimes while simultaneously extinguishing the hope of millions of Indians who look up to the courts to deliver justice.
Source: Telegraph India
Please click the following URL to read the full text of the original story:
https://www.telegraphindia.com/india/what-are-we-turning-into-iim-bangalore-faculty-on-remission/cid/1882718
--------
Quran does not say mosque needed in every nook and corner: Kerala HC
26th August 2022
Kochi: The Kerala High Court on Friday denied permission to construct a mosque in a locality that has many mosques, observing that the state already has a large number of religious structures and their ratio to the population is very high.
Justice P.V. Kunhikrishnan opined that Kerala, that is termed as "God's own country", is crammed full of religious places.
"Because of the peculiar geographical situation of Kerala, it is known as 'God's own country'. But we are exhausted with religious places and prayer halls and we are not in a position to allow any new religious places and prayer halls except in the rarest of rare cases," he said.
The court observed that even though mosques are important to the Muslim community, it is not necessary, as per the Holy Quran, that there be a mosque in every nook and cranny.
"The verses of the Holy Quran clearly highlight the importance of the mosque to the Muslim community. But it is not stated in the above verses of the Holy Quran that a mosque is necessary for every nook and corner…. It is not stated in the 'Hadis' or in the Holy Quran that the mosque is to be situated adjacent to the house of every Muslim community member. Distance is not the criteria, but reaching the mosque is important," it said.
The court also referred to a study on religious structures, based on the 2011 Census, which it termed as "alarming" as it said that Kerala has 10 times the number of religious structures as villages and 3.5 times the number of hospitals.
"Kerala is exhausted with religious institutions and prayer halls… If every devotee … Hindu, Christian, Muslim, Jew, Parsi, etc. starts to construct religious places and prayer halls near their residence, the state will face serious consequence including communal disharmony. In this case, the intelligence report and the police report says that if the present conversion of the commercial building to a religious prayer hall is allowed, there is chance for communal disharmony. It is a sensitive issue," it noted.
In the instant case, since 36 mosques were existing within the vicinity in question, the court held that there was no need of another mosque in that vicinity because the adherents of Islam can go to other nearby mosques, especially considering the fact that most citizens have access to some kind of vehicle or public transportation.
"It is true that Article 26(a) of the Constitution of India states that subject to the public order, morality and health, every religious denomination or any section thereof shall have the right to establish and maintain institutions for religious and charitable purposes. That does not mean that they can construct religious places in every nook and corner of the country. Kerala is a very small state," it said.
Justice Kunhikrishnan also referred to a movie song by acclaimed poet, late Vayalar Ramavarma which speaks of how man created religions, religion created God, and together they divided the world and humanity.
The verdict was given on a petition seeking to change a commercial building to a Muslim place of worship so as to enable Muslims in the vicinity to access a mosque to offer prayers.
The District Collector considered the request and denied it, based on reports of the district police chief who noted that there are about 36 mosques situated within 5 kilometre radius from the existing commercial building of the petitioner.
This prompted the petitioner to approach the High Court.
The court went through the 'The Manual of guidelines to prevent and control communal disturbance and to promote communal harmony' issued by the state, via a Government Order, and found that even for a change of occupancy, the permission from district authorities is necessary.
In the present case, the court found no reason to interfere with the decision of the state authorities and dismissed the petition.
It then asked to issue the following directions to the state government and police authorities, including, that the Kerala Chief Secretary and the state police chief shall issue necessary orders/circulars directing all the officers concerned to see that there is no illegal functioning of any religious places and prayer halls without obtaining permission from the competent authorities as per the Manual of Guidelines.
If any such religious place or prayer hall is functioning without necessary permission, they should take necessary steps to close down the same forthwith, it said.
Source: Siasat Daily
Please click the following URL to read the full text of the original story:
https://www.siasat.com/quran-does-not-say-mosque-needed-in-every-nook-and-corner-kerala-hc-2399162/
--------
Srinagar: Mirwaiz Umar Farooq exposes 'no house arrest' lie
Muzaffar Raina | Srinagar
27.08.22
Moderate Hurriyat chief Mirwaiz Umar Farooq was on Friday allegedly barred from stepping out of his home to address his first sermon at Srinagar's Jama Masjid in years, calling into question lieutenant governor Manoj Sinha's public claim that he was a free man.
A large contingent of police and paramilitary forces prevented the separatist leader, allegedly under house arrest for over three years, from leaving his home at Nagin in Srinagar. The government has persistently denied his house arrest, as it had done in the case of several other top politicians in the past.
A large crowd waited for Mirwaiz Farooq at the mosque and many of them were seen waving placards reading "Stop Telling Lies, Release Mirwaiz". There was heavy deployment of forces around the mosque.
Sinha had recently told a foreign channel that the Mirwaiz was not under house arrest but had apparently locked himself in.
Mirwaiz Farooq was among thousands of politicians and activists who were arrested or put under house arrest following the August 5, 2019, scrapping of Jammu and Kashmir's special status. But he alone allegedly remains under house arrest.
Videos on Friday showed Mirwaiz Farooq arguing with police officers as he urged them to let him visit Jama Masjid, where he is the chief cleric. He is heard telling them that his basic human rights and religious freedoms are being violated and that he has not been informed about the charges.
"There has been a statement at the highest level. It is not by police or bureaucrat but by Mr Governor, who has said it very responsibly. People are waiting for me but why are you stopping me?" the mirwaiz is seen telling the police.
"If I am a free man, then why such restrictions? You (government) claim people are enjoying (after the 2019 dilution of Article 370). If they are happy, let me join in their happiness," Mirwaiz Farooq adds, sarcastically.
The Hurriyat leader, dressed in his traditional religious attire, is seen reminding the cops of how he was prevented from visiting the graves of his near ones who died in the past three years.
In an interview to BBC Hindi Service last week, Sinha was asked why Mirwaiz Farooq continued to be under house arrest.
"If you look back, certain incidents happened, including the unfortunate killing of his father (in 1990). We keep police around (his residence) so that he is secure. He should himself decide what he wants. From our side, he is neither under house arrest nor arrested," the lieutenant governor said.
Over the next few days, several journalists who tried to visit the Mirwaiz's home for interviews were stopped by security forces from going in.
On Thursday, the organising committee of Jama Masjid announced that Mirwaiz Farooq would address the Friday gathering, apparently to expose Sinha's claims.
In 2020, the issue of house arrest, deemed illegal, had reached the Supreme Court where the government claimed that Congress leader Saifuddin Soz was not under such detention.
The next day, Soz was heckled by policemen as he tried to speak to the media from behind the barbed wires around his home, purportedly to call out the alleged bluff of the government.
Srinagar's Jama Masjid, seen as ground zero of Kahsmir's azaadi (freedom) struggle, was shut for months for Friday prayers after the 2019 scrapping of special status. There were protests at the mosque this April with pro-azaadi slogans being raised.
Source: Telegraph India
Please click the following URL to read the full text of the original story:
https://www.telegraphindia.com/india/mirwaiz-umar-farooq-exposes-no-house-arrest-lie/cid/1882705
--------
Delhi Police deny permission to comedian Munawar Faruqui's show
Aug 27, 2022
NEW DELHI: The Delhi Police have denied permission to stand-up comedian Munawar Faruqui's show which is scheduled to take place on August 28 in the national capital.
The permission was denied after the local central district police wrote a report stating that "the show will affect communal harmony in the area".
The joint commissioner of police, licensing, OP Mishra told ANI that the permission had been denied as it can have an effect on the communal harmony in the region.
The Vishwa Hindu Parishad (VHP) had on August 25 written to the Delhi Police commissioner Sanjay Arora to cancel Faruqui's show.
In its letter, the VHP alleged that "Communal tension arose in Bhagyanagar because of Munawar's jokes on Hindu Gods."
The VHP letter further said that if the show was not cancelled members of the VHP and Bajrang Dal will hold protests.
Last Saturday, Munawar Faruqui hosted a standup comedy show in Hyderabad, amidst tight security.
Source: Times Of India
Please click the following URL to read the full text of the original story:
https://timesofindia.indiatimes.com/city/delhi/delhi-police-deny-permission-to-comedian-munawar-faruquis-show/articleshow/93811241.cms
--------
Conversion case: Madras High Court grants bail to Muslim youth
AUGUST 27, 2022
The Coimbatore police had booked him on the charge of planning to murder an elderly man who objected to his son's conversion to Islam
The Madras High Court on Friday granted bail to a Muslim youth, under judicial custody since March 7, observing that there were no reasonable grounds for believing that he had conspired to kill a Hindu elderly man who had opposed his son's conversion to Islam to marry a woman of that faith.
The court said that by no stretch of imagination could such an accusation be termed a terrorist act as defined under the Unlawful Activities (Prevention) Act, 1967.
Allowing an appeal against a Sessions Court's refusal to grant bail, Justices S. Vaidyanathan and A.D. Jagadish Chandira wrote, "Taking into consideration the facts and circumstances of the case... and on a perusal of the case diary, this court is of the opinion that the allegations against the appellant (Sadam Hussain of Coimbatore) do not fall within the definition of 'terrorist act' and there are no reasonable grounds for believing that the accusation is prima facie true."
Pointing out that the Selvapuram police in Coimbatore city had arrested the youth on the basis of his alleged confession after he was picked up for questioning during a vehicle check at the junction of Indira Nagar and Amul Nagar First Street, the judges said, "There was no complaint from any person, and nobody was injured in this case... The provisions of the Unlawful Activities (Prevention) Act have been included only in order to deny/delay the appellant from getting bail."
They also took note of the submission of R. Karthikeyan, Special Public Prosecutor for the National Investigation Agency, that the Coimbatore police had sent a proposal asking the NIA to take up the investigation in the case, but the agency refused to do so. They concurred with S.M.A. Jinnah, counsel for the appellant, that the two motives attributed by the prosecution, for the appellant having planned to kill Kumaresan of Indira Nagar, were contradictory to each other.
It was the prosecution's case that the intention of the appellant was also to warn people against marrying those professing faith in Islam and get them converted. If the motive was to kill Kumaresan just because he objected to his son's conversion to Islam, the modus operandi would have been to keep the operation a secret. On the other hand, if the motive was to warn people against attempting to convert Muslims, the offence would have been committed openly.
"A logical analysis would reveal that both the limbs of motive travel vice versa and they cannot be meeting at any point," the judges said. They also said the police had initially booked the appellant only under the provisions of the Indian Penal Code. Later, the provisions of the Arms Act were included after reported recovery of three bill hooks on the basis of the confession of the co-accused who were part of Indian Muslim Development Association, a self-styled body for promotion of the religion.
Source: The Hindu
Please click the following URL to read the full text of the original story:
https://www.thehindu.com/news/national/tamil-nadu/hc-grants-bail-to-muslim-youth-holding-that-the-charge-against-him-cannot-be-termed-a-terrorist-act/article65815481.ece
--------
Indian security agencies on high alert after Uzbek bomber revelations
Aug 27, 2022
By Shishir Gupta
The national security agencies are on high alert as pan-Islamic terrorist organizations like Islamic State and Al Qaida are trying to radicalize Muslims within and outside India to target the country in the name of blasphemy.
The security agencies are not alone in this effort as other friendly countries like US, Jordan, Russia, UAE, and Saudi Arabia are sharing footprints of Islamic radicalization in cyber-space and encrypted communications with New Delhi to prevent any untoward incident in hinterland India.
Investigations into the detention of Islamic State suicide bomber Mashrabkon Azamov by Russian Federal Security Service, or FSB, has revealed that there was one more Kyrgyzstan national who was trained to target India by Islamists in Turkey along with the detained Uzbek national. It is learnt that the Kyrgyz national returned to his country from Moscow, which was the route to India being used by the two attackers. While the Indian security agencies are still awaiting the interrogation report of 30-year-old Azamov, they have sent a list of specific questions to their Russian counterparts so that the attacker could be interrogated on those lines. Indian security agencies are also in touch with their Uzbek and Kyrgyz counterparts to seek permission to join investigations.
While the plan to attack India was foiled by the Russian agency, the Jordanian intelligence alerted their Indian counterparts towards the online radicalization of engineering student Meer Anaas Ali, resident of Ambur Town in Tamil Nadu, by the Islamic State. The third-year engineering student was being brainwashed by the Islamic State online radicalizers to punish India for insulting the Prophet. The student was arrested on July 31 July by the Tamil Nadu police and is currently remanded in judicial custody. According to local police, Anaas had links with the ultra-conservative Wahhabi proscribed outfit and was communicating with his online handlers using social media platforms like Telegram and Instagram. He was tasked by his Islamic State handlers to target non-Muslims and kill an important personality to instill fear among the communities and polarize them on religious lines.
Source: Hindustan Times
Please click the following URL to read the full text of the original story:
https://www.hindustantimes.com/india-news/security-agencies-alert-after-uzbek-bomber-revelations-101661569295378.html
--------
About 120 terrorists waiting across LOC to enter J&K: GOC 19 Division
Aug 27, 2022
SRINAGAR: Indian forces have tightened the security grid along the LoC following intelligence reports that about 120 armed terrorists were assembled at Pakistani "launch pads" across the border and waiting for an opportune time to enter J&K, GOC of the Army's 19 Infantry Division Major General Ajay Chandpuri said in Baramulla on Friday.
He told reporters in the north Kashmir town that the forces guarding the border have upped surveillance and stakeout with frequent patrols and modern stealth equipment to foil any cross-border "infiltration" attempt.
He attributed Thursday's killing of three terrorists in the Uri sector to the watchfulness of the forces. The GOC said the confiscation of an M16 rifle from a slain terrorist is an "unusual" development that the Army will examine. Terrorists are generally known to carry AK-47s, but American weapons may have passed hands as the Taliban captured power after last year's US troop withdrawal from the war-torn country.
Source: Times Of India
Please click the following URL to read the full text of the original story:
https://timesofindia.indiatimes.com/india/about-120-terrorists-waiting-across-loc-to-enter-jk-goc-19-division/articleshow/93807712.cms
--------
Europe
'Ball in Iran's court' on nuclear deal: France's Macron
26 August, 2022
French President Emmanuel Macron said on Friday the ball was in Iran's court to revive a nuclear deal with world powers, and that the offer on the table, even if it would not resolve all differences, was better than no offer at all.
Iran received Washington's response to an EU-drafted final offer for salvaging the 2015 deal, the foreign ministry in Tehran said on Wednesday, giving no firm indication of how close remaining gaps were to being narrowed.
After 16 months of indirect US-Iran talks, with EU officials shuttling between the sides, EU foreign policy chief Josep Borrell said on August 8 the bloc had laid down its "final text."
Iran responded last week with "additional views and considerations" while calling on the United States to show flexibility to resolve three remaining issues.
Macron held talks on Thursday with Rafael Grossi, head of UN atomic watchdog the International Atomic Energy Agency (IAEA), whose organization inspects Iran's nuclear program and investigates its possible past activities.
"We have been very careful to ensure the balance of a serious accord has been met," Macron told reporters during a visit to Algeria. "The ball is now in Iran's court."
He said Paris would back the IAEA to ensure outstanding issues were not impacted by political pressure.
Iran has sought for months to link the issue of an investigation into uranium traces to the talks on reviving the deal. The IAEA has always said they are separate.
"I think that this accord if it's concluded in the terms presented today is useful and is better than no agreement," Macron said.
Source: Al Arabiya
Please click the following URL to read the full text of the original story:
https://english.alarabiya.net/News/middle-east/2022/08/26/-Ball-in-Iran-s-court-on-nuclear-deal-France-s-Macron
--------
Germany to return stolen bronze artefacts to Nigeria
26.08.2022
BERLIN
Germany has signed an agreement with Nigeria to return ownership of over 500 looted Benin bronze artifacts.
The deal signed by the Foundation of Prussian Cultural Heritage and Nigeria's National Commission for Museums and Monuments on Thursday will see almost a third of the artifacts remain in German museums on loan, while the rest will be returned to Nigeria starting later this year.
"This represents the future concerning artefacts issue; a future of collaboration among museums, a future of according respect and dignity to the legitimate requests of other nations and traditional institutions," said Abba Isa Tijani, director general of Nigeria's National Commission for Museums and Monuments.
German Culture Minister Claudia Roth echoed similar views, adding that "further agreements to return such collections will follow over the coming months."
"This return will serve as an example for all museums in Germany which hold collections from colonial contexts," she said.
The pieces are sophisticated plaques and sculptures made of bronze, an important genre of art dating back to the 13th century.
The artifacts were stolen from the Kingdom of Benin, located in modern-day Nigeria, by British soldiers in 1897 and ended up in museums all over Europe. Thousands of objects were also shipped to London as war booty and sold.
For decades, European countries have been under pressure from campaigners and former colonies to return looted artifacts.
Some experts estimate that 80-90% of Africa's cultural heritage is currently in European museums.
Berlin's Humboldt Forum has been at the center of a debate surrounding the colonial-era items – some 20,000 African and Asian artifacts – in its exhibition halls.
Source: Anadolu Agency
Please click the following URL to read the full text of the original story:
https://www.aa.com.tr/en/africa/germany-to-return-stolen-bronze-artifacts-to-nigeria/2670039
--------
South Asia
China Supports UNSC Travel Ban Exemptions for Islamic Emirate Leaders
Aug 27, 2022
China hopes that the UN Security Council will extend travel ban exemption for the leaders of the Islamic Emirate in a bid for the international community to remain engaged in Afghanistan.
Talking to reporters at the Security Council Media Stakeout, the Chinese Ambassador at the UNSC, Zhang Jun, said that the humanitarian situation is critical in Afghanistan.
"We cannot say that we want the Afghanistan government to do something but meanwhile we don't give them any chance to have access to the international community. We cut off their linkage with other countries, so that is not reasonable, I said," the Chinese envoy Zhang Jun said.
The Islamic Emirate said that imposing pressure and restrictions on Afghanistan is not a solution.
"The time to impose restrictions is passed—it had no result. Over the past 20 years, the restrictions extended even to bombardments. It was negotiations and engagement that changed the situation and saved Afghanistan and released the Americans from major fighting. The door for negotiations from our side is still open and they should not use a heavy hand," Islamic Emirate's spokesman Zabiullah Mujahid said.
Analysts said that disputes between West and East caused the disagreement over the travel ban exemption of the Islamic Emirate's leader.
"The lack of extension of the travel ban exemption for the leaders of the Islamic Emirate is due to strong disagreements between the West, led by the US, and the East, led by Russia and China. This shows that Afghanistan has become a center of rivalry between West and East once again after 20 years," said Noorullah Raghi, an international relations analyst.
"If the Taliban don't reconsider their policy as soon as possible and don't lift restrictions on women's rights, rights of citizens, political inclusion, society and cultural matters, Afghanistan will be driven to isolation with each day passing," said Wali Frozan, an international relations analyst.
Source: Tolo News
Please click the following URL to read the full text of the original story:
https://tolonews.com/afghanistan-179564
--------
Islamic Emirate Not against Women's Education: Head of the Emirate's Political Office
Aug 27, 2022
The head of the Islamic Emirate's political office, Suhail Shaheen, said that the Islamic Emirate is not against the education of women and that the "picture is not as it is portrayed by our opponents."
Talking to FOX News, Shaheen said millions of girls are studying in primary schools all over Afghanistan.
"We have never said we are against the education of women. It is a universal right for all. So, secondly, the picture is not as it is portrayed by our opponents. Right now, there are 450,000 students of private and public universities all over Afghanistan. And there are millions of girls studying in primary schools," he said.
Female students above grade six have been deprived of school for more than one year.
"When we talk about the rights of women in Afghanistan, the discussion is beyond half of the Afghan population," said Farah Mustafavi, a human rights defender.
"Undoubtedly, the return of girls back to school is the first wish but this is not the only wish of the people of Afghanistan of the Afghan government and international community," said Mohsina Sabor, a human rights defender.
The European Union's special envoy for Afghanistan, Tomas Niklasson, commented on the opening of girls' schools:
"Sometimes I wonder whether we talk too much about schools for girls as if it were the only human rights concern, and as if Afghans should be satisfied once the Taliban addressed that. But then I realise that until they do, other rights will also not be respected. It is Grade One," Niklasson tweeted.
This comes as the female students have once again called on the Islamic Emirate to reopen their schools.
"A society without educated humans that includes men and women cannot improve and we have the right to improve and develop our society," said Tamana, a student.
"We call on the international community to put pressure on the Taliban to start the schools above grade six," said Wizha, a student.
Source: Tolo News
Please click the following URL to read the full text of the original story:
https://tolonews.com/afghanistan-179563
--------
Ahead of Hasina visit, India-Bangladesh finalise text of Kushiyara water MoU
Aug 27, 2022
NEW DELHI: Ahead of Bangladesh PM Sheikh Hasina's visit, the Indian government on Friday said that the two countries have finalised the text of the MoU on interim sharing of Kushiyara river water. This followed the 38th meeting of the ministerial-level Joint Rivers Commission (JRC) of India and Bangladesh here this week.
The meeting was significant as it was held after a long gap of 12 years, though technical interactions under the framework of JRC have continued in the intervening period, according to the Indian government. The meeting was preceded by water resources secretary-level interaction on Tuesday (August 23).
Discussions during this meeting were held on a number of ongoing bilateral issues of mutual interest, including sharing of water of common rivers, sharing of flood data, addressing river pollution, conducting joint studies on sedimentation management, river bank protection works, etc.
"Both sides also welcomed finalization of the design and location of water intake point on the Feni river to meet the drinking water needs of Sabroom town in Tripura as per the October 2019 India -Bangladesh MoU on this subject," said the ministry of external affairs (MEA).
Source: Times Of India
Please click the following URL to read the full text of the original story:
https://timesofindia.indiatimes.com/world/south-asia/ahead-of-hasina-visit-india-bangladesh-finalise-text-of-kushiyara-water-mou/articleshow/93808530.cms
--------
Amnesty calls out Taliban for its atrocities on Afghans, says country at brink of irreversible ruin
26 August, 2022
Kabul [Afghanistan], August 26 (ANI): Amnesty International in a recent report has called out the Taliban to provide women and girls in Afghanistan the right to work and get an education, as well as participate in politics and society as the human rights of the community are being stripped since the country fell in the Taliban's hands.
According to a petition filed by Amnesty International, the Taliban began a new era of human rights abuse after taking over on 15 August 2021 in Afghanistan and now, a year later the country is on the brink of irreversible ruin.
"Not only the Taliban de-facto authorities have broken their promise of protecting Afghan people's rights, especially women's rights, but they have also resumed the cycle of violence and committed a litany of human rights abuses and violations with full impunity," the petition read.
Afghan residents including artists, journalists and religious minorities, are also having a rough time as the ruling officials of the country continue to snatch away the basic rights of the citizens.
Meanwhile, an Afghan member of the organization Samira Hamidi said that in the past years, there had been a lack of respect for the rights of Afghan residents, particularly those of women, artists, journalists, and minorities.
"With this petition, we seek to put pressure on the Taliban to end human rights violence and pressure on the international community to hold (the Islamic Emirate) accountable for human rights violations," she said, as Khaama Press quoted.
Supporting the petition, Farah Mustafawi, another women's rights activist, said "the United Nations can force the Taliban to abide by international law."
"Any action taken to protect women's rights in this circumstance would be helpful, provided it is not temporary, it will increase the unity among the human rights defenders, and it would support women's internal protests," said Maryam Arween, another activist.
However, responding to the petition, the Taliban said the organization's report is far from the truth and the current leadership has respected human rights, especially women's rights, within the framework of Islamic Sharia.
"All of these reports are false," said Bilal Karimi, deputy spokesman of the Islamic Emirate. "Since the Islamic Emirate took control, Afghanistan has preserved its two decades of human rights."
In earlier statements, Amnesty International has urged the Islamic Emirate to provide women and girls in Afghanistan the right to work and get an education as well as participate in politics and society. according to Khaama Press.
Taliban has suspended the secondary education of girls and enforced a strict form of Hijab.
They also provide no opportunities for Afghan women to participate in political and public life, to fit the pattern of absolute gender segregation that is aimed at making women invisible in society.
Notably, Afghan women are staring at a bleak future due to a number of restrictions imposed by the Taliban governing aspects of their lives they are no longer allowed to travel unless accompanied by men related to them and are being curtailed from wearing make-up as well as their reproductive rights.
Source: The Print
Please click the following URL to read the full text of the original story:
https://theprint.in/world/amnesty-calls-out-taliban-for-its-atrocities-on-afghans-says-country-at-brink-of-irreversible-ruin/1100657/
--------
Pakistan
Imran Khan calls himself 'very dangerous' amid terrorism charges
26 August, 2022
Islamabad [Pakistan], August 26 (ANI): Former Pakistani Prime Minister Imran Khan, who is currently facing terrorism charges, went bombastic on the ruling government with his words and warned the ruling coalition saying, "I am very dangerous."
This threat by the Pakistan Tehreek-e-Insaf (PTI) Chairman Imran Khan came when he was speaking to the media at the anti-terrorism court in Islamabad where he was present in regards to the extenstion of his pre-arrest bail which the court granted till September 1.
"I am very dangerous", said Imran Khan, reported The New International. Though he made a furious commentary over the troubled situation, Imran Khan avoided answering many questions which were being asked by the reporters.
PTI chairman Imran Khan has said the people who are taking decisions or finalizing them should think about the country. A terrorism case was filed against Imran Khan for giving threatening remarks about a woman additional sessions judge.
The court accepted the pre-arrest bail till September 1 against surety bonds worth Rs 100,000. The PTI head had moved his bail petition through his lawyer Dr Babar Awan and Ali Bukhari, Advocate.
When reporters emphasized Imran Khan made a statement about the situation, Imran only uttered one sentence, "I am very dangerous."
Afterwards, he said, "They are trying to arrest the head of the largest party of the country in this case." He contended that Pakistan was being mocked all over the world at this time. He accused the government of trying to score a "technical knockout" against him.
Meanwhile, the police on Thursday registered a terrorism case against Interior Minister Rana Sanaullah after he threatened the government officials to kill their children and said that Pakistan's court and its judiciary will not help them.
The case was filed by a citizen in the Industrial Area Police Station of Gujrat. The police registered a case of terrorism and interference in government matters against Sanaullah, reported Geo News.
According to the first information report (FIR), the interior minister threatened the government officials to kill their children and said that Pakistan's court and its judiciary will not help them.
The FIR added that Sanaullah said they [government] will surround those judges who are going to promote PTI's agenda, reported Geo News.
"Rana Sanaullah's statement was to terrorise the judiciary, chief secretary and other government officials and to not let them do their job so that they are unable to fulfil their judicial commitments," stated the report citing an old video of the PML-N leader.
The FIR mentioned that the minister's statement has caused fear and terror among the judiciary, authorities, police, bureaucracy and the nation, reported Geo News.
Soon after the news came out, Pakistan Muslim League Quaid (PML-Q) senior leader Moonis Elahi said that the interior minister will be arrested soon, reported Geo News.
"You make false cases against Imran Khan, now the Pakistani nation has registered a true case against you," he wrote on Twitter.
The PML-Q was referencing the case registered against Pakistan Tehreek-e-Insaf (PTI) Chairman Imran Khan, last week, for threatening an additional sessions judge and senior police officers of the Islamabad Police at a rally in the federal capital's F-9 Park.
Source: The Print
Please click the following URL to read the full text of the original story:
https://theprint.in/world/imran-khan-calls-himself-very-dangerous-amid-terrorism-charges/1101621/
--------
Awami Workers Party to hold protest against Pakistan government over constitutional amendment
26 August, 2022
Gilgit-Baltistan [PoK], August 26 (ANI): The Awami Workers Party and Awami Workers Party of Gilgit-Baltistan will hold a joint conference in Islamabad on August 27 to register their protest against the Pakistan Government's "conspiracy" of capturing all the resources of Pakistan-occupied Kashmir (PoK) through its constitutional amendment.
Earlier, the Pakistani government passed the 15th Constitutional Amendment bill to the Interim Constitution of PoK, which envisaged the establishment of a separate election commission for local bodies (LB).
The amendment was tabled by the government on August 13, 2022, with the backing of the Opposition Pakistan People's Party (PPP) and Pakistan Muslim League-Nawaz (PML-N).
PoK Awami Workers Party Chairperson Nisar Shah Advocate and Awami Workers Party GB leader comrade Baba Jan after a meeting recently announced that they will launch an all-out resistance movement against Pakistani rulers' plot of occupying PoK and Gilgit Baltistan directly under the cover of tourism policy and constitutional amendments, Islam Khabar reported.
Both of the party's leaders said that presently PoK and GB are passing through the worst kind of tyrannical period in history. The identity of people of the both regions will come to an end if Pakistan's conspiracy of occupying these areas succeeds.
PoK and GB will be in the grip of a neo-colonial system. People of these areas will have to put up a strong fight against this slavery. They warned that if their people do not resist the repressive acts of the Pakistani government, their coming generations will always remain victims of subjugation and suppression.
According to the publication, the crime ratio in the Jhelum valley has increased almost by 100 per cent. Incidents of murders, thefts and extortion are happening daily in the valley. A large number of people have disappeared in the last couple of years.
A large number of people have disappeared in the last couple of years. The incidents of ghastly murders in the last 2-3 months have terrorized the whole area as such incidents have never happened in the past, reported Islam Khabar.
People of Jhelum Valley are highly disappointed and terrorized and they alleged that the government and police have failed to improve the situation, which rather had gone bad to worse due to PoK Premier Tanveer Ilyas and his ministers' concentrating on political developments in Islamabad.
Meanwhile, PoK courts are also being accused of prolonging the cases and granting bail to the accused in most of the cases.
The people of Jhelum Valley said that their area has been converted into a slaughterhouse. There is great anarchy and mismanagement in Hattian Bala, Chinari, Chakothi, Leepa and Chikkar. They warned that if the government didn't pay heed to their grievances in the context of the deteriorating situation in Jhelum valley, the situation can become grave.
In addition to increasing activities of criminals and Islamists in Jhelum Valley, Islamists and their leaders are active in Rawalakot and Bagh in the guise of relief operations for flood affectees.
In Mirpur district too, the situation is explosive and volatile because of sectarian tension between Sunnis and Shias in the context of mourning procession by Shiites.
According to the publication, not only the PoK government but the media is also avoiding highlighting the tension between the two communities.
Last month, Sardar Tanveer Ilyas' government of PoK organized a tourism festival in Jhelum Valley but it miserably failed to achieve the required targets, according to Islam Khabar.
Source: The Print
Please click the following URL to read the full text of the original story:
https://theprint.in/world/awami-workers-party-to-hold-protest-against-pakistan-government-over-constitutional-amendment/1102148/
--------
Govt slams PTI for 'jeopardising IMF deal'
Mubarak Zeb Khan
August 27, 2022
ISLAMABAD: The coalition government on Friday took exception to PTI's "attempts to jeopardise the IMF loan programme" just days ahead of the Fund's board meeting on Monday, with Finance Minister Miftah Ismail making an impassioned appeal to shun politics at a time when unprecedented floods have wreaked havoc on every nook and cranny of the country.
In a joint statement, the ruling parties criticised the Khyber Pakhtunkhwa government for "playing politics" after it allegedly refused to implement the terms of the IMF agreement in a letter as part of "a ploy to plunge Pakistan into a flood of economic crisis".
The late-night statement was part of a series of events emerging out of the letter written on Friday by KP Finance Minister Taimur Khan Jhagra to his federal counterpart Miftah Ismail.
In the letter, Mr Jhagra informed Mr Ismail that his KP administration might find it difficult to run a provincial surplus this year in view of flood-related damages.
Ensuring surpluses by provinces this fiscal year is a key requirement previously agreed upon to revive the IMF programme.
Mr Jhagra said running a surplus would be "next to impossible" if the federal government didn't resolve certain issues, such as budget allocations for ex-Fata, monthly transfers of net hydel profits as per agreed terms, immediately reviving the National Finance Commission award, etc.
Reacting to the letter in his second presser of the day late in the night, Finance Minister Ismail criticised what he called PTI's "atte­mpts to sabotage the IMF deal".
Addressing the press conference alongside Information Minister Marriyum Aurangzeb, the finance minister said throwing a spanner in the works at this stage might destroy Pakistan's economy.
He regretted that the PTI was "doing politics" at a time when rain-induced floods have affected millions of families across the country. "If you can't stop politics even at this time, let the country go to default," he thundered.
However, Mr Ismail hoped the matter would be settled when he meets Mr Jhagra on Monday. "Taimur Jhagra is an honourable man," he said, adding the KP minister had told him that he hadn't forwarded the letter to the IMF, an allegation earlier doing the rounds on the media. "I hope the IMF will approve the programme on Monday," he said.
Mr Ismail also slammed PTI leaders and former ministers Fawad Chaudhry and Shaukat Tarin for suggesting that Punjab and KP governments would not cooperate with the federal government over the IMF programme.
Earlier in the press conference, Miftah Ismail said the government would provide 1.15 million flood-hit families with Rs25,000 cash assistance each in the next week.
Relief to power users
Meanwhile, the government announced on Friday that it would provide relief to the consumers using up to 200 units of electricity in 24 hours and constituted a high-level committee to address their complaints.
The announcement by the prime minister came following the severe countrywide criticism of his government's decision to raise the power tariff multiplying the miseries of the masses.
In another press conference earlier in the day, Mr Ismail said decisions about the increase in electricity tariff as well as petroleum products were taken with the approval of the prime minister.
Prime Minister Shehbaz Sharif also directed the officials of power distribution companies (Discos) to work round the clock for correcting the bills. He directed that holidays of the Discos staff be cancelled for immediate completion of this task and a report in this regard be submitted to him.
Mr Sharif said banks should also be directed to remain open on holidays to receive the payment of electricity bills.
The correction of the bills of 16.6 million consumers is being done as per the relief given in the fuel price adjustment (FCA).
At the press conference, Miftah Ismail said the government was also weighing options to provide further relief to the people burdened by high electricity bills. The committee will deliberate what relief can be given to the power consumers using between 200 and 300 units per month, he added.
The finance minister said the increase in power tariff was in line with the conditions of the International Monetary Fund and expensive electricity generation combined with higher temperatures in May.
"Our anticipated charges were Rs6 per unit, but actual charges were around Rs100 because coal became very expensive and gas prices were the highest on record. May was very hot," he said, adding that there was a day when the electricity demand rose beyond 30,000 megawatts.
"We generated 25,000MW which was the maximum we can. We have informed the IMF about the removal of FCA on those using less than 200 units," the minister said, adding this would cost the national exchequer Rs20-21 billion.
The corrected bills will be sent to the consumers soon, while the amount already paid would be adjusted in the bill for the month of September.
The last date for the payment of bills is now Aug 31.
IMF bailout package
The finance minister said the IMF executive board would meet on the night between Aug 29 and 30 and approve the loan tranche for Pakistan. He said Pakistan had fulfilled all the requirements of IMF and would receive the next tranche after the board meeting.
He refuted rumours that the government was planning to sell Roosevelt Hotel in New York, which is owned by Pakistan International Airlines, or the airline itself, to Qatar. There have been no talks in this regard, he added.
The Gulf country was primarily interested in leasing Pakistan's airports for long-term and managing them, constructing terminals at ports, LNG plants and large-scale solar farms, he said, adding that Qatar may also invest in the stock market.
The minister welcomed Qatar's announcement of investing $3bn in Pakistan, saying that with this amount, Pakistan had collected $5bn in funding compared to the IMF's demand of $4bn.
Responding to criticism by PML-N leader Abid Sher Ali for his "anti-people policies", Mr Ismail said the country needed $40bn to deal with its current account deficit and debt repayments.
Source: Dawn
Please click the following URL to read the full text of the original story:
https://www.dawn.com/news/1707003/govt-slams-pti-for-jeopardising-imf-deal
--------
'Misleading and incorrect': Nawaz dissociates himself from 'negative comments' about PM Shehbaz
August 26, 2022
PML-N supremo Nawaz Sharif has dissociated himself from "negative comments" about his younger brother and incumbent Prime Minister Shehbaz Sharif, expressing hope that the premier would steer the country out of the present-day's challenging circumstances.
"The negative comments attributed to me about PM Shahbaz Sharif are misleading and incorrect," Nawaz said in a late-night tweet on Thursday, without elaborating on what comments he was referring to.
The former prime minister added that he remained hopeful that "sincere and tireless efforts by SS (Shehbaz Sharif) under the most challenging circumstances will bear fruit and he will steer the country out of the mess created by Imran Khan".
Nawaz's clarification comes amid indications of an internal rift within the party.
Signs of the purported friction were visible as early as May, less than two months into a PML-N coalition coming to power following the ouster of former prime minister Imran Khan through a no-confidence vote.
PML-N Vice President Maryam Nawaz, who was once seen as the party supremo's heir apparent, had openly endorsed at a May 19 rally in Sargodha Imran's demand for fresh elections while the new coalition setup was struggling in the face of an economic crisis.
The new regime, since the start of its term, was presented with grave economic challenges and had been under pressure to make a hard choice between going for early elections or taking tough decisions to save the country from default at the cost of losing political capital.
Editorial: To be or not to be
At the Sargodha rally, Maryam had been of the view that it was wiser to opt for fresh elections than burden the masses with price hikes.
"Nawaz Sharif is listening to my speech in London. He will say goodbye to the government but not pass on the economic burden to the people of Pakistan," she had said.
Maryam's remarks had come a day after the ruling coalition decided to complete its term, which ends in August 2023.
More recently, there were reports of Nawaz being upset over the PML-N's loss in the crucial by-polls on 20 seats of the Punjab Assembly — a defeat that paved the way for his party to lose the country's most populous province to the PTI.
According to a Dawn report, Shehbaz's son and Punjab's embattled chief minister at the time Hamza Shehbaz left for London earlier this month to reportedly give an explanation to Nawaz for the PML-N's loss in the by-polls and him losing the CM's office to Parvez Elahi, the joint candidate of the PTI-PML-Q alliance.
"Hamza will have to satisfy his uncle for his poor performance being the CM and his father's flawed strategy in the face of Khan's aggressive campaign during the by-polls," a PML-N insider told Dawn.
Conjecture about rifts in the PML-N found further ground after the Shehbaz government announced yet another increase in the price of petrol on August 15.
Following the raise, Maryam tweeted that Nawaz had strongly opposed the decision and even said he couldn't burden the people further and that he was not in favour of the decision.
A day later, a Dawn editorial said: "It is unfortunate, then, that his (Finance Minister Miftah Ismail) main opposition has come not from the PTI but from a camp within his own party that remains beholden to the ideas of former finance minister Ishaq Dar.
"It seems that Dar has the ear of party supremo Nawaz Sharif and that he has been filling it with some troubling opinions about how the economy really ought to be managed. The Nawaz camp's hostility towards Ismail also seems to flow from Dar's well-known contempt for his younger counterpart."
And it was as recent as yesterday that another PML-N leader, Abid Sher Ali, criticised Ismail for his "anti-people" policies, urging him to think of the masses who were "agonised" because of inflated electricity bills and poverty.
Addressing a press conference alongside party leader Talal Chaudhry in Faisalabad, he said, "I have appealed to Mian Nawaz Sharif to intervene and get it (increase in electricity prices) reversed."
Source: Dawn
Please click the following URL to read the full text of the original story:
https://www.dawn.com/news/1706885/misleading-and-incorrect-nawaz-dissociates-himself-from-negative-comments-about-pm-shehbaz
--------
US says it backs 'democratic' order in Pakistan after Imran Khan charged
August 27, 2022
WASHINGTON: The United States said Thursday that it backed democratic principles in Pakistan after former prime minister Imran Khan, an outspoken critic of Washington, was slapped with charges.
"We support the peaceful upholding of democratic, constitutional and legal principles," State Department spokesman Vedant Patel told reporters.
"The United States values our longstanding cooperation with Pakistan and has always viewed a prosperous and democratic Pakistan as critical to US interests," he said.
He declined to weigh in more specifically on charges against Imran Khan, who was ousted in a parliamentary vote in April but hopes to stage a comeback in elections.
Imran Khan has staged rallies to rail against his successor, Shehbaz Sharif, and has alleged a conspiracy against him orchestrated by the United States, allegations repeatedly dismissed in Washington as baseless.
Imran Khan was granted interim bail after being slapped with charges by an anti-terror court over comments against a magistrate over the detention of an official in the former prime minister's party.
A couple of days ago, the United States had also declined to comment on the terrorism-related charges against Imran Khan, saying it does not side with a political party and it is an internal matter of Pakistan.
US State Department spokesperson Ned Price had said that the country was "of course" aware of the reports about the charges. But he said this is a matter of the Pakistani legal and judicial system.
"It is not directly a matter for the United States, and that's because we don't have a position on one political candidate or party versus any other political candidate or party."
Source: Pakistan Today
Please click the following URL to read the full text of the original story:
https://www.pakistantoday.com.pk/2022/08/27/us-says-backs-democratic-order-in-pakistan-after-imran-khan-charged/
--------
Punjab lodges terrorism case against Sanaullah for 'threatening judiciary, officials'
August 26, 2022
LAHORE: The Punjab government on Thursday registered a terrorism case against Interior Minister Rana Sanaullah for allegedly threatening judiciary and government officials in his speeches delivered on April 15, 2021 and January 29, 2022.
The FIR was registered at Gujrat Industrial Area Police Station on the complaint of a citizen namely Sheikh Shekaz Aslam, under Section 7 of the Anti-Terrorism Act (punishment for acts of terrorism), and sections 353 (assault or criminal force to deter public servant from discharge of his duty), 186 (obstructing public servant in discharge of public functions), 189 (threat of injury to public servant) and 506 (punishment for criminal intimidation) of the Pakistan Penal Code.
The complaint stated that Rana Sanaullah, during his speeches on April 15, 2021 and January 29, 2022, had threatened to stop the judiciary from doing its job and kill children of the Punjab police officials.
The FIR also reproduced his remarks, which according to it were aired on Geo News programme Naya Pakistan recently.
"The purpose of Sanaullah's statements was to terrorise the judiciary, chief secretary, commissioner and people of the country," the FIR said. "His aim was to stop the officials from working and prevent them from fulfilling their lawful responsibilities."
It added that the minister's speeches had created fear in the judiciary, bureaucracy, police, administration and the nation. Furthermore, it was pleaded in the FIR that Sanaullah should be probed for his comments and be punished "to create an example for other citizens speaking against government officials".
The development was also shared by Punjab Home Minister Hashim Dogar on Twitter. "Today, the police have registered an FIR (first information report) at the Industrial Area police station in Gujrat for threatening the honourable judiciary and government officials," he said.
"The allegations are very serious and action will be taken according to the Constitution and law," Dogar added.
Separately, he told Dawn.com that the minister would also soon be arrested.
PML-Q leader Moonis Elahi also took to social media with the news saying that Sanaullah made a "false case" against PTI chief Imran Khan. "Now the people have made a true case against you," he said, adding that the minister would soon be arrested.
Source: Pakistan Today
Please click the following URL to read the full text of the original story:
https://www.pakistantoday.com.pk/2022/08/26/punjab-lodges-terrorism-case-against-sanaullah-for-threatening-judiciary-officials/
--------
Southeast Asia
Pundits: Right-veering PAS a handful even for Umno, Bersatu as Malay ruling parties hunker down for GE15
By Shahrin Aizat Noorshahrizam
27 Aug 2022
KUALA LUMPUR, Aug 27 — The racial rhetoric revived by PAS this week is likely to damage its tenuous ties with Umno and Bersatu as all three Malay Muslim ruling parties prepare for the 15th general election, three political analysts told Malay Mail.
Azmi Hassan, a senior fellow at the Nusantara Academy for Strategic Research, said the Islamist PAS is not doing itself any favours by blaming non-Muslims and non-Bumiputera for corruption and demanding the government ban foreign artistes from holding international concerts here, especially when its political allies have been advocating harmony for multicultural Malaysia.
"The ministers and the deputy ministers statements do not bode very well with their capabilities to help the government as they did not show any finesse or expertise to govern on a federal level.
"So it does not matter whether they have Umno or Bersatu, it still doesn't help them. Compared to Bersatu or Umno ministers, I think PAS is currently way behind in terms of credibility," he said.
He was referring to PAS government officials rallying behind their party president Tan Sri Abdul Hadi Awang, who said non-Muslims and non-Bumiputera were the "roots of corruption" in the country.
PAS Youth chief Ahmad Fadhli Shaari followed up the provocative statement a few days later by warning the government of a nationwide "resistance" unless it promises to cancel all scheduled international concerts that go against Muslim values.
The demand was made after American singer-songwriter Billie Eilish's sold-out debut performance before a 25,000-strong crowd at the Bukit Jalil Stadium, which was not the first to draw PAS' disapproval.
Universiti Malaysia Sabah political analyst Lee Kuok Tiung said PAS' hardline stance could even be seen as a liability going into GE15 for its Perikatan Nasional (PN) coalition partner Bersatu and theoretical ally Umno under the flagging Muafakat Nasional banner.
"Of course PAS wishes to collaborate with certain political coalitions to go stronger in GE15 but I believe any political coalition that wishes to team up with PAS need to consider that PAS is an Islamist party and their political ideology might be suited to certain seats only," he said.
He said that Bersatu — the youngest Malay party out of the three — would need to strike a deal with the ruling coalitions in Borneo Malaysia to have a chance to reclaim Putrajaya without the Umno-led Barisan Nasional.
"Bersatu will prioritise the relationship with Sabah and Sarawak, but most probably they'll continue working together with PAS for GE15 because they need to win seats in the peninsula," Lee said.
The Bersatu-led Gabungan Rakyat Sabah controls the north Borneo state while Parti Pesaka Bumiputera Bersatu leads the Gabungan Parti Sarawak coalition in the southern Borneo state.
Both coalitions have been vocal in condemning PAS' racially inflammatory rhetoric with one Sarawak deputy minister even demanding Hadi be sacked as the prime minister's special envoy to the Middle East and blacklisted for life from entering Sarawak.
But Universiti Malaya socio-political analyst Awang Azman Pawi said that PAS will need to rein in its Islamist conservatism if it wants to win over non-Malay voters in the peninsula.
Awang Azman pointed out that PN is not wholly Muslim or Malay as there is still the multiracial Parti Gerakan Rakyat Malaysia as a component partner, even though the latter party failed to win a single seat in Election 2018.
"The relationship between PAS and Bersatu will definitely become cold because now PN still needs the support from non-Malay voters. So this situation might increase the tension between both parties.
"Not just that, the relationship between Gerakan also will definitely worsen," he said.
Bersatu associate wing chief Chong Fat Full has condemned Hadi's corruption remark as outrageous and not reflective of Malayisia.
The associate wing comprising non-Muslims does not have any voting power within Bersatu but is tasked with recruiting non-Muslim support for general elections.
Universiti Kebangsaan Malaysia political analyst Kartini Aboo Talib offered a dissenting view.
She pointed out that PAS has managed to survive all these decades despite adverse politics and has managed to build up strong grassroots support.
She said that it is Bersatu that needs to lean on PAS if PN is to capture Putrajaya in GE15 and not the other way around.
"PAS knows that it has hardcore supporters. PAS can strategically manoeuvre for an alliance with other parties to form a mixed government should PAS win more than 17 seats," Kartini said, providing a possible outcome if the Islamist party were to forgo PN and contest in GE15 solo.
The five-member PN coalition is celebrating its second anniversary with a convention at the Malaysia Agro Exposition Park in Serdang, Selangor today.
The component parties are Bersatu, PAS, Gerakan and Sabah-based entities Parti Progresif Sabah and Parti Solidariti Tanah Airku.
Source: Malay Mail
Please click the following URL to read the full text of the original story:
https://www.malaymail.com/news/malaysia/2022/08/27/pundits-right-veering-pas-a-handful-even-for-umno-bersatu-as-malay-ruling-parties-hunker-down-for-ge15/24928
--------
Police report lodged over 'leaked Rosmah judgment'
August 27, 2022
PETALING JAYA: The chief registrar's office of the Federal Court has lodged a police report over an alleged leak of a court ruling in Rosmah Mansor's corruption trial involving a Sarawak solar project worth RM1.25 billion.
In a statement, it said that the alleged leak was a deliberate attempt to compromise the integrity of the court's operation and administration of justice.
"Thus, a police report has been lodged in relation to the reports on the website in question," it said, referring to a document said to be a copy of a judgment delivering a guilty verdict against Rosmah. The report with the alleged leaked document was posted by the Malaysia Today website run by fugitive blogger Raja Petra Kamarudin.
Yesterday, the police urged the public to lodge reports related to an alleged leak of Rosmah's court ruling on her corruption trial involving the Sarawak solar project.
Kuala Lumpur police chief Azmi Abu Kassim said as of yesterday, no reports had been made and any investigation would only begin once a report is lodged, Sinar Harian reported.
The purported leak came less than a week after another leak allegedly of the Federal Court ruling of Rosmah's husband Najib Razak's SRC International case appeal ahead of the decision by the apex court on Aug 23.
Rosmah was charged with three counts of corruption linked to the RM1.25 billion Sarawak rural schools' solar energy project.
She is accused of soliciting RM187.5 million through her former aide Rizal Mansor, as an inducement to help a company secure the solar project, and of receiving bribes amounting to RM5 million on Dec 20, 2016.
Source: Free Malaysia Today
Please click the following URL to read the full text of the original story:
https://www.freemalaysiatoday.com/category/nation/2022/08/27/police-report-lodged-over-leaked-rosmah-judgment/
--------
PM Ismail Sabri: Jihad against inflation showing positive results
27 Aug 2022
BERA, Aug 27 — Prime Minister Datuk Seri Ismail Sabri Yaakob today said the Special Task Force on Jihad against Inflation, created to help Malaysians deal with the rising cost of living, is beginning to show positive results.
He said the establishment of the special task force had succeeded in controlling the price hike and guaranteeing adequate supply of goods, especially chicken and bottled cooking oil.
"The government continues to implement various initiatives to help the people face the cost of living challenge and inflation crisis that is affecting the whole world.
"The government expands and rebrands the Keluarga Malaysia Sales Programme (PJKM) to the Keluarga Malaysia Cheap Sale Programme (JMKM) involving 600 state constituencies across the country and 13 parliamentary constituencies in the Federal Territories," he said.
Ismail Sabri said this when launching the national-level Retail Sector Digitalisation Initiative (ReDI) Programme and the rebranding of JMKM programme here today.
The JMKM programme that starts in the third week of this month until December offers essential items up to 20 per cent below the local market price.
Source: Malay Mail
Please click the following URL to read the full text of the original story:
https://www.malaymail.com/news/malaysia/2022/08/27/pm-ismail-sabri-jihad-against-inflation-showing-positive-results/25045
--------
Arab World
Kurdish forces arrest suspected ISIS extremists in sweep of Syria's al-Hol camp
26 August, 2022
Kurdish forces said Friday they had arrested dozens of suspects at a camp in Syria housing relatives of ISIS members as part of a crackdown on extremists.
Al-Hol is the largest camp for displaced people who fled after ISIS was dislodged from its last scrap of Syrian territory in 2019 by Kurdish-led forces backed by a US-led coalition.
It is still home to more than 56,000 people, mostly Syrians and Iraqis but also including other foreigners linked to the extremists.
The camp located in northeastern Syria has grown increasingly volatile this year, with at least 26 people murdered, according to the United Nations.
The sweep launched on Thursday "aims to arrest IS operatives in the camp who are behind terrorist attacks," said Siyemend Ali of the People's Protection Units (YPG), a Kurdish group.
So far at least 27 suspects had been detained, he said from al-Hol.
"Our forces began to dismantle empty tents used by IS during attacks and started registering the names of residents... and collecting their fingerprints," said Ali.
Kurdish security forces were heavily deployed in the camp on Friday, AFP correspondents said.
They mounted black armored vehicles and restricted the movement of people to carry out the operation, they added.
Women and children were patted down by security forces who ushered them to special rooms to get their fingerprints.
The Kurdish-led Syrian Democratic Forces announced the start of the operation to clear al-Hol on Thursday.
In a statement, the SDF called al-Hol a "hot bed" for ISIS terrorists and their supporters, arguing it was a fertile ground for the group to gain new recruits.
The operation followed earlier campaigns launched in al-Hol to flush extremist fighters out of the camp, it added.
The IS group's self-declared governate, established from 2014, once stretched across vast parts of Syria and Iraq and administered millions of inhabitants.
Source: Al Arabiya
Please click the following URL to read the full text of the original story:
https://english.alarabiya.net/News/middle-east/2022/08/26/Kurdish-forces-arrest-suspected-ISIS-extremists-in-sweep-of-al-Hol-camp
--------
Iraq's Sadrists refile call for judiciary to suspend parliament amid political crisis
26 August, 2022
Populist Shia cleric Muqtada al-Sadr's camp on Friday refiled a petition for Iraq's judiciary to suspend parliament to clear the way for fresh elections amid a months-long political deadlock.
A source within the judiciary said it would give its response on Tuesday to the second such motion within a month submitted by the Sadrists.
At weekly Friday prayers near parliament attended by thousands of al-Sadr supporters, an aide to the cleric urged the justice system to pay heed to his calls.
"I will give you some advice," Mohaned al-Mussawi, a Sadr loyalist, said in a sermon on Friday. "We expect the judiciary to confirm the (people's) rights and give hope to the people."
"We will not abandon our rights," he added.
The judiciary already said last Sunday that it lacks the authority to dissolve parliament as demanded by al-Sadr, who is engaged in a standoff with Shia political rivals.
Followers of al-Sadr, in defiance of the rival pro-Iran Coordination Framework, have for weeks been staging a sit-in outside Iraq's parliament, after initially storming the legislature's interior.
On Tuesday, the Sadrists also pitched tents outside the gates of the judicial body's headquarters in Baghdad for several hours.
The judiciary, in its ruling on Sunday, said "the Supreme Judicial Council has no jurisdiction to dissolve parliament," citing "the principle of a separation of powers."
Under the constitution, parliament can only be dissolved by an absolute majority vote in the house, following a request by one-third of deputies or by the prime minister with the approval of the president.
Source: Al Arabiya
Please click the following URL to read the full text of the original story:
https://english.alarabiya.net/News/middle-east/2022/08/26/Iraq-s-Sadrists-refile-call-for-judiciary-to-suspend-parliament-amid-political-crisis
--------
Turkish forces neutralize 6 PKK/YPG terrorists in northern Syria
Diyar Guldogan
26.08.2022
Turkish forces "neutralized" six PKK/YPG terrorists in northern Syria, the Turkish National Defense Ministry said on Friday.
The terrorists were targeted in Türkiye's Euphrates Shield anti-terrorism operation zone, the ministry said on Twitter.
Turkish authorities use the term "neutralize" to imply the terrorists in question surrendered or were killed or captured.
Since 2016, Ankara has launched a trio of successful anti-terror operations across its border in northern Syria to prevent the formation of a terror corridor and enable the peaceful settlement of residents: Euphrates Shield (2016), Olive Branch (2018), and Peace Spring (2019).
Source: Anadolu Agency
Please click the following URL to read the full text of the original story:
https://www.aa.com.tr/en/middle-east/turkish-forces-neutralize-6-pkk-ypg-terrorists-in-northern-syria/2670069
--------
Russian forces: Syria intercepted nearly half of Israeli projectiles during recent strike
26 August 2022
Russian forces stationed in Syria say the Arab country's air defenses managed to intercept nearly half of incoming Israeli projectiles during a recent attack by the occupying regime against a western Syrian city.
The Thursday attack saw four Israeli warplanes blitzing a "research center" in the city of Maysaf, Russia's ITAR-TASS news agency reported, citing the Russian servicemen as saying on Friday.
The aircraft launched a total of four cruise missiles and 16 guided aerial bombs against the facility, they added.
Using Russian-made anti-aircraft weapons, Syrian soldiers shot down two missiles and seven guided bombs, the report added, quoting a senior Russian officer.
The Israeli aerial assault took place at 19:15 local time (16:15 GMT) on Thursday, the official Syrian Arab News Agency (SANA) reported, adding that two civilians had been injured in the attack.
The attack "[also] caused some material damages and [led to eruption of] a blaze…," the report added.
Syria and the Israeli regime are technically at war due to the latter's 1967-to-present occupation of Syria's Golan Heights.
Israel maintains a significant military presence in the territory, which it uses as one of its launchpads for its attacks against Syrian soil.
Source: Press TV
Please click the following URL to read the full text of the original story:
https://www.presstv.ir/Detail/2022/08/26/688099/Syria-Israel-Russia-attack-Maysaf
--------
Mideast
Islamic Jihad looks to Hezbollah after disastrous Gaza war
August 26, 2022
Iran nuclear deal timeline
As both Washington and Tehran inch toward a return to the Joint Comprehensive Plan of Action (JCPOA), the Iran nuclear deal, the spotlight will soon turn to the International Atomic Energy Agency (IAEA) to resolve an investigation into Iran's past nuclear weapons research.
Iran's position on the investigation is "nothing to see here" and Tehran wants the file closed and detached from the JCPOA. IAEA Director General Rafael Mariano Grossi told CNN this week that "so far, Iran has not given us the technically credible explanations that we need to explain the origin of many traces of uranium." In other words, the investigation will continue.
For Iran, there is precedent in separating the files. In 2015, the IAEA resolved an eerily similar concern into the past military dimensions of Iran's nuclear program, allowing implementation of the JCPOA to proceed.
Here are three dates to note in the weeks ahead as benchmarks for progress toward an agreement:
Sept. 12-16, IAEA Board of Governors meeting (Vienna): If the IAEA and Iran can work out an agreement in the in the next three weeks, it could be announced here.
Sept. 20-27, UN General Assembly "High Level" Debate (New York): World leaders, including US President Joe Biden and Iran President Ebrahim Raisi, will both be in New York (assuming Raisi gets a visa; Elizabeth Hagedorn has the story). Expect more frantic diplomacy on the sidelines of the session and talk of a possible Biden-Raisi meeting, even if it's a long shot.
Nov. 8, US legislative elections: If there is a return to the JCPOA, US law requires that it be submitted to the Congress for a 30-day review period. While Congress can't block an agreement, as Hagedorn explains, a debate close to elections could be ill-timed for Biden and congressional Democrats. Virtually all Republicans and even some Democrats, most notably Senate Foreign Relations Committee Chairman Robert Menendez of New Jersey, oppose reentering the agreement.
PIJ looks for an assist from Hezbollah
Palestinian Islamic Jihad leader Ziyad al-Nakhalah met with Hezbollah leader Hassan Nasrallah met on Aug. 24 in Lebanon, looking for guidance as PIJ seeks to recover its tattered standing after a costly three-day war with Israel earlier this month.
Nasrallah, Iran's top ally in Lebanon, is calling for unity among Gaza's Islamist resistance factions after Hamas sat out the conflict, as Adam Lucente reports.
Hamas, the Arabic acronym for the Islamic Resistance Movement, governs the Gaza strip. PIJ is ideologically aligned with Hamas, but holds no formal political office or role. The two groups coordinate on their operations and actions toward Israel. Both the United States and Israel consider Hamas and PIJ terrorist organizations.
The costs for PIJ go beyond the battlefield to its already shaky standing in Gaza, which is ruled by Hamas.
The spark came on Aug. 2, when Israeli forces arrested one of PIJ's leaders, Bassam Al-Saadi, at the Jenin refugee camp. PIJ decided to retaliate from Gaza, not the West Bank. From Aug. 5 to 7, PIJ fired 1,100 rockets and mortars into Israel and the IDF carried out 147 air strikes against targets in Gaza in response. According to the United Nations, 47 Palestinians were killed, among them 12 PIJ fighters, with 360 wounded. Palestinian deaths included 15 children and four women, according to the Palestinian Ministry of Health in Gaza. Among the Palestinians wounded, 151 were children and 56 women.
The Associated Press, based on its own investigation and an Israeli military assessment, reported that 14 of the Palestinians killed, including some of the children, came as a result of errant PIJ missiles rather than Israeli airstrikes.
According to the Palestinian Ministry of Health, the PIJ missile killed seven Gazans, including four children, and injured 21.
That a PIJ missile killed innocent Palestinians, including children, undermined the group's claim as a leader of the "resistance" to Israel. Some Palestinians have called for an investigation into the incident, but most criticism stayed under the radar, as our correspondent reports from Gaza, fearing retribution from PIJ or Hamas. The Hamas media office warned journalists against adopting the Israeli narrative of events.
Israel claimed a "strategic victory" in the war by keeping Hamas out of the fighting, as Ben Caspit reports.
Hamas and Islamic Jihad, which historically have coordinated their actions against Israel, claim all is fine between them, despite reports to the contrary.
Hamas political bureau member Mahmoud al-Zahar told Al-Monitor's Ahmed Melhem, "Israel has failed miserably in achieving this rift. If there was a dispute between the two movements, this would have been [officially] reported by the media or in the statements of officials. On the contrary, Hamas leaders participated in funeral gatherings of Islamic Jihad leaders and gave speeches emphasizing the unity of the resistance. The two movements only disagreed on the timing of the battle against Israel."
Meanwhile, Palestinian activists, journalists and media institutions claim they have been the target of a coordinated campaign by Israel to close down and restrict their social media accounts in the weeks following the war, as Taghreed Ali reports.
Amany Mahmoud reports from Gaza that PIJ is claiming Israel reneged on the terms of the cease-fire, but few are taking notice.
As long as Hamas isn't interested in picking up the fight, PIJ is likely to keep its powder dry, at least in Gaza.
Since the cease-fire, Israel announced that it was increasing the number of work permits for Gazans in Israel from 14,000 to 20,000, including as many as 500 permits for women, as Mai Abu Hasaneen reports from Gaza.
The wages earned in Israel can be five times more than in Gaza, where unemployment is was 46.9% last year.
Whatever differences Hamas and PIJ may have about the last war in Gaza, they agree that their most promising future franchise may be in the West Bank.
Source: Al Monitor
Please click the following URL to read the full text of the original story:
https://www.al-monitor.com/originals/2022/08/islamic-jihad-looks-hezbollah-after-disastrous-gaza-war
--------
FM: Iran Very Serious about Safeguards Issues
2022-August-26
"The Iranian government is following two paths at the same time, making efforts to render the sanctions ineffective and bring about economic prosperity and development in the country without focusing merely on the JCPOA," Amir Abdollahian told a meeting of Iranian nationals at the Tanzanian city of Dar es Salaam.
"The reason as to why this policy was initially adopted is because assuming that our agreement reaches a final point in a few days or a few weeks, the secondary sanctions will be removed but the primary sanctions will remain in place within the framework of the JCPOA," he added.
The Iranian foreign minister underscored the Iranian administration's determination to continue the sustainable economic development program with a view to neutralizing the sanctions.
Amir Abdollahian said the administration has followed the path of negotiations in the past months and the talks have reached a point where "we have received a response from the American side to our written proposals through the European Union's coordinator".
Amir Abdollahian arrived in Tanzania early on Thursday on the second leg of his three-nation tour. The top diplomat wrapped up a visit to Mali and is scheduled to travel to Zanzibar.
Source: Fars News Agency
Please click the following URL to read the full text of the original story:
https://www.farsnews.ir/en/news/14010604000269/FM-Iran-Very-Seris-ab-Safegards-Isses
--------
Iran Strongly Criticizes UN Conference for Refusing to Urge Israeli Regime to Join NPT Treay
2022-August-26
The Iranian foreign minister made the remarks in a telephone conversation with UN Secretary-General Antonio Guterres.
During the phone call, Amir Abdollahian lamented that the NPT conference's President-designate Gustavo Zlauvinen had, unlike the conference's previous editions, omitted to press the occupying regime of Israel to become a signatory to the treaty.
He pointed out that by leaving out all criticism of the Israeli regime, Zlauvinen had set all of the previous conferences' achievements aside, and said, "This is not acceptable by us at all.
The Tenth Review Conference of the Parties to the NPT began on August 1 and is slated to wrap up on Friday.
The UN chief, for his part, said he would address the Islamic Republic's concerns about the Israeli regime's refusal to join the NPT.
Israel, which pursues a policy of deliberate ambiguity about its nuclear weapons program, is estimated to possess 200 to 400 nuclear warheads in its arsenal, making it the sole possessor of non-conventional arms in the Middle East region.
The illegitimate entity has, however, refused to either allow inspections of its military nuclear facilities by the International Atomic Energy Agency (IAEA) or sign the NPT.
Source: Fars News Agency
Please click the following URL to read the full text of the original story:
https://www.farsnews.ir/en/news/14010604000526/Iran-Srngly-Criicizes-UN-Cnference-fr-Refsing-Urge-Israeli-Regime-
--------
Iran, Qatar Vow to Broaden Mutual Cooperation
2022-August-26
During the phone talk, Amir Abdollahian and Sheikh Mohammed explored avenues for bolstering and reinvigoating mutual cooperation various areas.
During the telephone conversation, the top Iranian and Qatari diplomats discussed the latest developments about the ongoing talks in Vienna aimed at removing anti-Iran sanctions.
The two sides also discussed and exchanged views about some bilateral and regional issues of interest between Tehran and Doha.
Iran and the five remaining parties to the nuclear deal have held several rounds of negotiations since April last year to restore the agreement, which was unilaterally abandoned by Donald Trump in May 2018.
In quitting the agreement, Trump restored sanctions on Iran as part of what he called the "maximum pressure" campaign against the country. Those sanctions are being enforced to this day by the Biden administration, even though it has repeatedly acknowledged that the policy has been a mistake and a failure.
Iranian officials say the ball is in the US' court, and the Biden administration should assure Tehran that it will not repeat Trump's past mistakes.
Source: Fars News Agency
Please click the following URL to read the full text of the original story:
https://www.farsnews.ir/en/news/14010604000351/Iran-Qaar-Vw-Braden-Mal-Cperain
--------
Turkey dismisses concerns over a US sanctions warning
26 August, 2022
Turkey's finance minister said on Friday it is "meaningless" for local businesspeople to be concerned by a letter sent by Washington to a Turkish business group that warned of sanctions if companies establish relations with penalized Russians.
NATO-member Turkey has sought to strike a balance between Moscow and Kyiv by criticizing Russia's invasion and sending arms to Ukraine, while opposing the Western sanctions and continuing trade, tourism and investment with Russia.
Some Turkish firms have purchased or sought to buy Russian assets from Western partners pulling back, while others maintain large assets in the country. Ankara has repeated that Western sanctions will not be circumvented in Turkey.
The US Treasury warned both the country's largest business group TUSIAD and the finance ministry this month that Russian entities and individuals were attempting to use Turkey to bypass Western sanctions.
"It is meaningless for a letter relayed to Turkish business groups to create concern in our business circles. We are pleased to see that the United States, our ally and trade partner, is inviting its businesses to invest in our economy," Nebati said in a tweet.
"Separately, we are determined to improve our economic and commercial relations with our neighbors especially in the areas of tourism and various sectors within a framework that is not subject to sanctions," he said.
All actors in Turkey's economy are tied to free market principles and are working to obtain a bigger share of global trade, Nebati added.
Turkey, which has close ties and Black Sea borders with both Russia and Ukraine, has said sanctioning Russia would have hurt its already strained economy and argued that it is focused on mediation efforts between the sides.
One benefit for Turkey has been a jump beyond pre-pandemic levels in foreign visitors last month, thanks largely to Russian visitors with little other option due to Western flight restrictions.
Source: Al Arabiya
Please click the following URL to read the full text of the original story:
https://english.alarabiya.net/News/middle-east/2022/08/26/Turkey-dismisses-concerns-over-a-US-sanctions-warning-
--------
'Extreme tension' in Israeli jails as Palestinian prisoners protest abuses
Qais Abu Samra
26.08.2022
RAMALLAH, Palestine
There is "extreme tension" in Israeli prisons amid a growing standoff between officials and Palestinian detainees, a Palestinian NGO said on Friday.
Palestinian prisoners in various Israeli jails kicked off a series of protests this week against persistent mistreatment by officials.
Israeli authorities have responded with even harsher steps, including "doubled isolation and removal of electrical devices" from jail cells, according to the Palestinian Prisoner Society.
Additional personnel have also been called in at different prisons, the group said in a statement.
In retaliation, Palestinians have decided to disband all their different "factions" in Israeli jails from Sunday, forcing officials to deal with each prisoner separately.
Throughout this week, detainees have refused to take part in daily security checks, returned their meals, and organized sit-ins in prison yards.
They accuse Israeli authorities of reneging on understandings reached after previous protests in March.
Palestinians cite arbitrary transfer of detainees, particularly female prisoners, as one of the abuses by Israeli officials.
According to Palestinian figures, there are nearly 4,550 Palestinian detainees in Israeli jails, including 175 minors and 27 female detainees, along with 670 detainees held under Israeli administrative detention without charge or trial.
Source: Anadolu Agency
Please click the following URL to read the full text of the original story:
https://www.aa.com.tr/en/middle-east/extreme-tension-in-israeli-jails-as-palestinian-prisoners-protest-abuses/2669992
--------
Iran-IAEA standoff last major hurdle in reviving nuclear deal
Syed Zafar Mehdi
26.08.2022
TEHRAN, Iran
After more than a year of indirect talks marked by frequent interludes, Iran and the US see an agreement aimed at salvaging the 2015 nuclear deal as closer than ever.
On Wednesday, Washington responded to Tehran's comments on a draft proposal by the European Union that was submitted right after the latest round of talks in Austria's capital by top EU diplomat Josep Borrell.
Borrell termed Iran's response "reasonable," and reports suggest that the US' response to Iran's comments, which is currently being reviewed in Tehran, could help in clinching the deal.
While disagreements between Iran and the US appear to be narrowing, including on key sticking points, the standoff between Tehran and the International Atomic Energy Agency (IAEA), the UN's nuclear watchdog, is now emerging as a roadblock.
"Give us the necessary answers, people and places so we can clarify the many things needed for clarification," IAEA Director General Rafael Grossi said Monday.
Grossi – who has made multiple trips to Iran since taking office in December 2019 – said Iran must answer the IAEA over uranium traces found at previously "undeclared sites" as part of the Nuclear Non-Proliferation Treaty (NPT) safeguards agreement.
"Dropping probes is not something the IAEA does or will ever do without a proper process. The key to this lies in a very simple thing: Will Iran cooperate with us?" he told CNN.
A day later, Sayed Mohammad Marandi, an adviser to Iran's nuclear negotiating team, took to Twitter to declare that Iran's nuclear program "will not be dismantled" and the IAEA probe must be dropped.
"No deal will be implemented before the IAEA Board of Directors permanently closes the false accusations file," he wrote, referring to a resolution passed by the watchdog against Iran in June.
On Wednesday, Mohammad Eslami, the head of Iran's Atomic Energy Organization, refuted reports that Iran has dropped its demand to shelve the probe as the parties to the nuclear deal gear up for a major breakthrough.
"We don't expect the director general of the agency (Grossi) to make statements that are exactly what the Zionist regime (Israel) wants," Eslami told local media, echoing a claim made by many Iranian officials that the UN nuclear watchdog works "under the influence" of Israel.
IAEA-Iran standoff
The marathon negotiations between Iran and the P4+1 countries (Russia, China, the UK, France plus Germany) in Vienna since April last year have run parallel to the standoff between Tehran and the IAEA.
But tensions escalated after an anti-Iran resolution at the IAEA Board of Governors meeting in June, which prompted calls in Tehran for reduced cooperation with the UN watchdog.
The resolution, which followed the IAEA's quarterly report which criticized Iran for non-compliance with the NPT safeguards agreement, urged Tehran to fully cooperate with the UN watchdog body and give IAEA inspectors access to three "undeclared sites."
Iran's Foreign Ministry at the time termed it a "miscalculated and ill-advised" move and warned of a "firm and proportionate" response. Eslami said the UN nuclear body was "taken hostage" by Israel.
As the parties to the 2015 accord race to the finish line, the standoff between Iran and the IAEA threatens to play spoilsport, with both sides unwilling to budge from their respective positions.
"Almost 16 months after the talks began, Iran and the US, with the mediation of the European Union, are close to reviving the 2015 nuclear deal, but that doesn't mean all gaps have been plugged," Humayoun Zamaani, a Tehran-based strategic affairs analyst, told Anadolu Agency.
"Besides some issues that still need to be ironed out between Tehran and Washington, which I hope will take place in the coming days as the two sides discuss the EU draft proposal, the standoff between Iran and the UN nuclear agency needs to be resolved without further dilly-dallying," he said.
Deal or no deal?
Iran has significantly ramped up its uranium enrichment activities from 3.67% stipulated under the 2015 nuclear deal to nearly 60% in response to the US withdrawal from the deal in 2018.
This has raised concerns in the West about possible military dimensions (PMD) of Iran's nuclear program, putting Tehran and the UN nuclear agency on a collision course.
Nour News, affiliated with Iran's top security body, on Tuesday criticized Grossi for "not seeing Iran's goodwill" and "acting on the basis of reports" provided by Israel.
"With the continuation of this approach, the IAEA's Rafael Grossi alongside 'the Zionist regime' have turned into main obstacles to finalizing talks," the agency stated, insisting on resolving the PMD case.
On the other hand, Israeli Prime Minister Yair Lapid has expressed concern that the US and other parties are going to offer more concessions to Iran to reach a deal in Vienna.
Abolfazl Amouei, a senior lawmaker and member of the Iranian parliament's foreign policy and national security committee, told Anadolu Agency that Iran is seeking a "beneficial and sustainable agreement" that will be "challenged" if issues between Iran and the IAEA are not resolved.
"Since the (UN nuclear) agency can disrupt the implementation of the agreement and Iran's benefits from it by making unsubstantiated claims, Iran insists that these remaining issues (between the two sides) be resolved before the implementation of the agreement," he asserted.
Source: Anadolu Agency
Please click the following URL to read the full text of the original story:
https://www.aa.com.tr/en/middle-east/iran-iaea-standoff-last-major-hurdle-in-reviving-nuclear-deal/2669796
--------
Dozens of Palestinians injured as Israeli forces attack anti-settlement protesters
26 August 2022
Israeli forces have attacked anti-settlement protesters in several areas of the occupied West Bank, injuring dozens of Palestinians.
The troops attacked protesters in several towns and villages near Qalqilia and Nablus. During anti-regime protests in the town of Kafr Qaddum, the Israeli forces fired rubber bullets at demonstrators, injuring dozens of Palestinians, including Palestine TV journalist Anal al-Jadaa.
Local sources said the Israeli troops also fired tear gas at anti-settlement protesters.
Residents of Kafr Qaddum and neighboring villages have been staging weekly marches since 2011 to protest against Israeli expansionism and illegal Israeli settlement activities.
In a separate attack against anti-settlement protesters in the village of Beit Dajan, in the east of the occupied West Bank city of Nablus, several Palestinians were tear-gassed, sources confirmed.
Ahmad Jibril, director of the ambulance service with the Red Crescent in Nablus, told WAFA news agency on Friday that at least 18 Palestinians suffered from suffocation due to inhaling tear gas bombs.
The town of Beita in southeast of Nablus was also the scene of Israeli violence against Palestinian protesters.
Also in the city of Deir al-Balah in the Gaza Strip, Israeli forces opened fire at Palestinian shepherds from military towers, forcing them to leave the area, WAFA reported.
Israeli forces have recently stepped up deadly violence against Palestinians killing dozens of them over the past months.
The Tel Aviv regime faces growing resistance over its land grab policy and demolition drive as anti-settlement sentiments run high in the occupied territories.
Between 600,000 and 750,000 Israelis occupy over 250 illegal settlements that have been built across the West Bank since the 1967 occupation.
Source: Press TV
Please click the following URL to read the full text of the original story:
https://www.presstv.ir/Detail/2022/08/26/688091/Israeli-atrocities-against-anti-settler-protesters-in-West-Bank-injures-several-Palestinians
--------
Africa
UN slams movement restrictions in 'security ops' around Sirte
26 August, 2022
The United Nations' Libya mission warned Friday that armed groups in the sensitive region of Sirte were preventing civilians from accessing vital services.
"UNSMIL is following closely reports of restrictions on freedom of movement of civilians as part of security operations in Qasr Bouhadi," about 20 kilometers (12 miles) from Sirte city.
Libyan media have reported arrest campaigns targeting the Gadadfa, the tribe of former Libyan President Muammar Gaddafi, whose fall and killing in a 2011 revolt plunged the country into more than a decade of turmoil.
UNSMIL said it had "received worrying reports that these restrictions are preventing access by civilians to hospitals, schools, shops, and other essential facilities."
It said civilian freedom of movement should be restored and called "for the release of all arbitrarily detained individuals."
Libya has seen two years of relative peace since the last major combat between eastern and western camps ended with a ceasefire in mid-2020 along a line from Sirte to the city of Jufra.
But this year a new struggle has emerged between a Tripoli-based interim government and another administration appointed by the eastern-based parliament which has so far failed to take up office in the western capital.
The parliament-backed government of former interior minister Fathi Bashagha is backed by Libyan General Khalifa Haftar who controls much of the country's east up to Sirte.
Source: Al Arabiya
Please click the following URL to read the full text of the original story:
https://english.alarabiya.net/News/north-africa/2022/08/26/UN-slams-movement-restrictions-in-security-ops-around-Sirte
--------
Somalia seeking more support to join regional bloc
Hamza Kyeyune
27.08.2022
KAMPALA, Uganda
The Horn of Africa nation of Somalia recently renewed its bid to join the East African Community (EAC), an intergovernmental seven-nation bloc it has been seeking membership in for over 50 years.
The bloc rejected Somalia's application over a decade ago, in March 2012, citing sporadic conflicts and weak institutions, but with the admission of equally troubled South Sudan in 2016, Mogadishu now has high hopes.
Over a half-century ago, attempts to get Somalia into the EAC at the group's 1967 inception failed, as at the time it was agitating for a "Greater Somalia" and making territorial demands of its neighbors.
It was seeking both Kenya's North Eastern Province and Ethiopia's Ogaden Province to join its territory.
Currently, the EAC is made up of Uganda, Kenya, Tanzania, Rwanda, Burundi, South Sudan, and Congo.
In 2017, Somalia again applied to join the EAC but has faced resistance from both Kenya and Tanzania, based on security concerns.
Concerns
Somalia and Kenya, which share a long border, have as many differences as they have characteristics in common, along with flareups and good relations.
They share similar populations, businesses, and trade.
But Kenya has faced countless terror attacks from the al-Shabaab terrorist group from across Somalia's border. The two countries also have a maritime territorial water dispute at the International Court of Justice.
Experts say public opinion in Tanzania, which lies southeast of both countries, is more skeptical than Kenya's about Somalia joining the EAC.
"It appears contradictory that Tanzania agreed to an EAC expansion in South Sudan but not Somalia, probably because Juba has substantial oil reserves," Kibuuka Muhammad, a political analyst at Kampala International University, told Anadolu Agency.
Ugandan President Yoweri Museveni, however, said that Somalia has all the qualifications necessary to join the EAC, including sharing a border with one of another EAC member state and being a democratic country with a private sector-led economy. He pledged earlier this month to back Somalia's bid to join EAC.
Uganda has contributed to the relative stability in Somalia since 2007, although the trade volume between the two countries remains low.
Somalia, which as the second-longest coastline in Africa and the continent's easternmost point at Cape Ras-Hafun, it not as dependent on neighboring countries for imports as landlocked South Sudan.
Türkiye, China, India, Oman, and Kenya are the main sources of Somalia's imports, while Oman is its main export market.
Landlocked South Sudan imports heavily from neighboring EAC countries, with Uganda and Kenya as the main sources.
Rebecca Kadaga, Uganda's minister for East African Community Affairs, told Anadolu Agency that Somalia has been doing business with EAC member states, which lays the basis for its bid to join the inter-governmental bloc.
She said if the bloc verifies that Somalia has fulfilled conditions for membership, it will definitely be allowed to join.
Overcoming hurdles
Anisa Osman Dirie, an African Union administrator of Somali origin, said Somali should overcome its hurdles to join the EAC, urging unity, peace and friendly coexistence, adding that Mogadishu should take leadership of regional bodies.
"Somalia is not without internationally recognized learned intellectuals who could lead these regional and international bodies. Their knowledge and experience are abundantly available," she said.
"The missing bridge is a coordinated strategy to create this awareness. Granted, the collapse of the political system in Somalia stunned the world, but that doesn't mean that viable patriotic visionary leaders don't exist. They do abundantly exist but most of them are victims of the problem they haven't created."
She continued: "It is therefore necessary that whoever wishes for Somalia to go out of the present instability to support its access to EAC membership and leadership, as well as other intergovernmental organizations like the Intergovernmental Authority on Development (IGAD), UN, and the African Union or different commissions, (as) this would set the agenda for Somalia's state-building struggle."
Amina Hersi, a Somali businesswoman who runs several businesses in Uganda, told Anadolu Agency that joining the EAC reduces the cost of doing business, provides a huge market that all member states can exploit, and contributes to the integration and growth of economies.
Under the 1999 EAC Treaty, if Somalia joins the bloc, the country would have visa-free entry to EAC countries and be eligible for East African passports, as well as the tax-free access to EAC markets .
Source: Anadolu Agency
Please click the following URL to read the full text of the original story:
https://www.aa.com.tr/en/africa/somalia-seeking-more-support-to-join-regional-bloc/2670463
--------
Rival Libyan groups deploy forces on outskirts of Tripoli
Walid Abdullah
26.08.2022
TRIPOLI, Libya
The outskirts of Libya's capital Tripoli has witnessed in recent days a military build-up of rival forces who are jostling for power.
One group is affiliated with Libyan Prime Minister Abdul Hamid Dbeibeh and the other is loyal to Fathi Bashagha, who was appointed by the Tobruk-based parliament as prime minister in March.
A military source in Dbeibeh's government told Anadolu Agency on Thursday that forces were deployed to the southern areas of Tripoli in anticipation of possible attacks by the forces loyal to Bashagha.
The source added that the aim of the military deployment in the southern neighborhoods of Tripoli is to protect the civilians.
On Wednesday, Bashagha sent a letter to Dbeibeh requesting him to hand power.
Observers say Bashagha's letter is a prelude before any possible military action by his forces which were deployed in several areas near Tripoli.
Oil-rich Libya has remained in turmoil since 2011 when longtime ruler Muammar Gaddafi was ousted after four decades in power.
The situation has worsened since March when the Tobruk-based House of Representatives appointed a new government led by former Interior Minister Fathi Bashagha.
Source: Anadolu Agency
Please click the following URL to read the full text of the original story:
https://www.aa.com.tr/en/africa/rival-libyan-groups-deploy-forces-on-outskirts-of-tripoli/2670184
--------
South Sudan diplomat recalled from US over 'alleged rape'
26 August, 2022
South Sudan's foreign ministry said it has recalled a US-based diplomat after "an alleged rape incident" in New York City, suspending the official until an ongoing investigation is completed.
"It is with regret that our diplomat was involved in an alleged rape incident with... (a) New York City resident," the ministry said in a statement published on the government's official Twitter page late Thursday.
"The diplomat in question is now back in South Sudan and has been suspended from his duties, awaiting the outcome of this investigation," the statement said.
"Sexual misconduct in any shape or form is heinous and wholly unacceptable," it said, adding that "a specialized committee" was examining the case.
The statement did not elaborate on the allegations, but US media reports said the diplomat was accused of forcibly entering the victim's Manhattan apartment and raping her on Sunday.
Police initially took him into custody before releasing him hours later after he invoked diplomatic immunity.
The US State Department said Wednesday that it was "aware of the incident... involving a diplomat accredited to the UN."
"We take these allegations very seriously and are working closely with the New York Police Department and the Mayor's Office of International Affairs," State Department spokesman Vedant Patel said, without offering further details.
In March, the UN accused members of South Sudan's government of committing human rights violations "amounting to war crimes" in the country's southwest, urging investigations against dozens of individuals, including for sexual violence and abuses against children.
Source: Al Arabiya
Please click the following URL to read the full text of the original story:
https://english.alarabiya.net/News/middle-east/2022/08/26/South-Sudan-diplomat-recalled-from-US-over-alleged-rape-
--------
Airstrike reported in capital of rebel-held Ethiopian state amid renewed fighting
Addis Getachew
26.08.2022
An airstrike allegedly hitting buildings has been reported in the capital of the rebel-held Tigray region in northern Ethiopia on Friday, according to local reports.
Collapsed buildings and medical personnel attending to injured people in the city of Mekele were shown in a report by Tigray TV, the broadcaster of the Tigray People's Liberation Front (TPLF), which has been engaged in armed conflict with the Ethiopian government since November 2020.
The government has so far neither confirmed nor denied the strike, which came a day after both sides declared that a five-month cease-fire had been broken.
Both the government and rebels traded blame for initiating a military escalation along the administrative border between the Amhara and Tigray state that ended the truce.
An earlier statement issued by the Government Communication Service said Ethiopian forces would conduct surgical operations targeting military training centers and arms depots in Tigray.
The government has expressed readiness to engage in talks with the rebels in the past several months without any pre-conditions as long as they are held under the sole mediation of the African Union.
But, the Tigray rebels rejected the African Union as a mediator, recommending that talks be held with Kenyan outgoing President Uhuru Kenyatta acting as a mediator.
Thousands, mostly civilians, have been killed and millions displaced since the conflict began, with the UN blaming both sides for the deaths.
The UN has warned that Tigray "stands on the edge of a humanitarian disaster," with more than 40% of the region's estimated 6 million people in need of emergency assistance.
Source: Anadolu Agency
Please click the following URL to read the full text of the original story:
https://www.aa.com.tr/en/africa/airstrike-reported-in-capital-of-rebel-held-ethiopian-state-amid-renewed-fighting/2670131
--------
North America
New Mexico Man, Herman Leyvoune Wilson, Accused Of Planning Islamic State Training Centre
By Andrew Hay
August 27, 2022
Aug 26 (Reuters) - A New Mexico man was charged with attempting to set up a training centre for people wishing to fight for Islamic State, the Department of Justice said on Friday.
A federal grand jury on Aug. 23 charged Herman Leyvoune Wilson, 45, of Albuquerque, with trying to provide material support to a designated foreign terrorist organization by setting up an "Islamic State Center" in New Mexico, according to a DOJ statement.
The center aimed to teach Islamic State ideology, provide training in "tactical maneuvers and martial arts," and serve as a safe haven for individuals preparing to travel and fight on behalf of the group in the United States and abroad, the statement said.
Wilson, also known as Bilal Mu'Min Abdullah, helped run an online platform that promoted Islamic State recruitment and discussed attacks in the United States and overseas, the statement said.
Devon Fooks, a federal public defender representing Wilson, did not immediately respond to a request for comment.
Two men sentenced in July for providing support to Islamic State said Wilson brought them into the group, prosecutors said.
Kristopher Matthews, 36, of South Carolina and Jaylyn Molina, 24, of Texas said Wilson radicalized them to "ISIS ideology," the statement said.
Separately, Awais Chudhary, 22, of New York on Friday pleaded guilty to planning a knife attack in the Queens borough on behalf of Islamic State, the Department of Justice said in a statement.
Source: Reuters
Please click the following URL to read the full text of the original story:
https://www.reuters.com/legal/new-mexico-man-accused-planning-islamic-state-training-center-2022-08-26/?rpc=401&
--------
US insisted on failed nation-building, Western model in Afghanistan: Former CENTCOM commander
Vakkas Doğantekin
27.08.2022
Frank McKenzie, a former top general who led US Central Command from 2019 to April 2022, has said that Washington engaged in failed nation-building in Afghanistan and insisted on a Western model for the country which was wrong.
"We began to engage in nation-building operations and maybe some of that was necessary in a narrower sense to protect our interests but the broader things we did probably ultimately in the long term didn't help us. They diffused our efforts," McKenzie told NBC News on Friday.
"I don't know that Afghanistan is governable or sustainable with a Western model. I know that Afghanistan is governable and sustainable from an Afghan model. But we paid too little attention to Afghan realities on the ground," he said.
McKenzie said that overlooking the Afghan reality was costly and was a "hubris on our part, and on the international community."
He went on to say that he was "proud of" American men and women on the ground on the day of the controversial withdrawal from Afghanistan, when Afghans died trying to hold on to the plane. He said that the fact it was a highly politicized event was "regrettable."
McKenzie admitted that getting Afghan allies out of the country is a very "slow" process but did not promise anything on that "moral obligation."
The top general agreed that Afghanistan was a bipartisan failure for four US administrations in two decades and added that it was a combination of "military and diplomatic failures."
Stressing that the war-torn country is still a breeding ground for threats to the US, he said it is still too early to say what is going to happen in Afghanistan. Extremist groups protected by the Taliban will pose new dangers for future US leadership, he said.
The US declared the completion of the Afghanistan pullout Aug, 30, 2021, ending the 20-year war.
Pakistan was right
He said the Taliban always had a haven in Pakistan and the US was never able to resolve that in the two decades of the conflict or come to an agreement with Pakistan on the issue.
Source: Anadolu Agency
Please click the following URL to read the full text of the original story:
https://www.aa.com.tr/en/americas/us-insisted-on-failed-nation-building-western-model-in-afghanistan-former-centcom-commander/2670413
--------
Arab Americans can improve their image by telling their own stories, Egyptian-American actor says
RAY HANANIA
August 26, 2022
Chicago -- Amr El-Bayoumi began his life as a successful but overworked lawyer on the East Coast when he was asked by friends to fly to Los Angeles to enjoy a party with other law firm colleagues.
El-Bayoumi had booked a flight on American Airlines 77 to travel to LA, but as he prepared to leave his mother intervened, complaining about him working too hard, losing weight and not taking care of his health. That evening, on Sept. 10, 2001, El-Bayoumi cancelled his flight, saving his life.
He is also working on producing his own movie short about the experience called "CloseCall," which tells the story of his close escape. Leaving from Washington DC for Los Angeles, American Airlines Flight 77 was intentionally crashed by hijackers into the US Pentagon on Sept. 11, 2001, killing 64 passengers and crew, and 125 Pentagon employees.
"Me as an Egyptian-American Muslim almost died on 9/11 had it not been for my mom, thankfully. I had been working as a lawyer, completely burnt out, and I was going to fly to visit a friend in LA," El-Bayoumi said during an interview with Arab News on the Ray Hanania Radio show on Wednesday.
"But my mom saw me after having lost a lot of weight, not sleeping and the usual lawyer stuff. And I told her, 'I am going to visit Jim tomorrow' and she said, 'No you are not.' She stopped me there and said you are not going. And the next morning was 9/11. So that plane I was supposed to go on was American Airlines Flight 77. That is the seed of my film called 'CloseCall'."
El-Bayoumi said that it was the reason why he left the legal industry to become an actor, although he has had to carefully accept and reject roles; he said that he will not perpetuate anti-Arab or anti-Muslim stereotypes.
"There are two kinds of issues to identify. There is representation of Arab artists in mainstream roles, which is something that we are seeing more of. It is increasing but not nearly as much as it should be, such as Rami Malek playing the lead singer in Queen. And the other part is how Arabs are portrayed as characters, Arabs or Muslims . . . Really what we are seeing is a very narrow representation of Arabs and Muslims when they do appear as characters in mainstream film and TV. And that typically is in the context of terrorism," El- Bayoumi said.
"We lose on all fronts. We are represented in a narrow box as ugly or brutal or lesser or savage or violent terrorists. And when it comes to our own stories, 'Gods of Egypt' and 'Aladdin' recently, which got some press about how the producers regret not casting Arab actors. We don't get to play those roles or we are absent."
Citing recent studies, El-Bayoumi said: "Between 2017 and 2019 only 1.6 percent of almost 9,000 speaking characters were Muslim compared to the world population of 24 percent. Either we are missing, or we don't tell our own stories, or we are in this box of the ugly terrorists. So, I have encountered that several times and I have seen an evolution of this ugly terrorist character, just this bloodthirsty, 'I want to destroy Western civilization.' And I have also noticed a feeble attempt at humanizing or showing balance, where the main character is a bloodthirsty Taliban guy bent on destroying the entire world violently but he has a soft spot for his daughter."
El-Bayoumi said that he has turned down many acting roles based on violence and terrorism and "ugly stereotypes . . . layers of racism . . . and the one-dimensional Arab stereotypes" that Hollywood tries to script for movies involving Arabs and Muslims.
It was a struggle at first, El-Bayoumi conceded, but his acting career grew. He studied acting in London and then moved to New York where he did some work on TV series, and then to Los Angeles. He now lives between Washington D.C. and New York City, where he pursues acting roles that meet his vision while developing his own scripts and stories.
El-Bayoumi is performing in the new 10-episode Apple series "Dear Edward," a story about a falafel truck driver. The character is based on The New York Times best-selling novel by Ann Napolitano, which explores the life of a 12-year-old boy who survives a devastating commercial plane crash that kills every other passenger on the flight, including members of his family.
He has also appeared in several TV productions, including the popular NBC Series "Law & Order," the CBS Series "The Code," and in "El Mahal" (The Store), a film that has won multiple awards, including best foreign language short at the Marina Del Rey Film Festival.
El-Bayoumi said that he is comfortable in acting, noting his path was paved by many Egyptian actors who led the way in defining powerful Hollywood film images. Among the most famous are Omar Sharif, Sayed Badreya, Rami Malek and Ahmad Ahmad, who is also the country's leading Arab-American comedian.
He said that Arab Americans can redefine how they are portrayed and stereotyped in Hollywood, which casts them in narrow roles contextualized by violence and terrorism, by telling their own stories and changing the context in which Arabs and Muslims are portrayed.
"My problem with that fundamentally is that the context remains violence and terrorism. And with the 7,000 different kinds of narratives, it still comes back to that context. I refuse to reinforce in the viewers' mind that it is just an inherent Arab or Muslim trait. It is absurd. It is ludicrous. No one people have this kind of trait. It is how it is portrayed and then how people are taught to hate," he said.
"I welcome the chance to be able to expose these issues and to offer my support to fellow Arabs and Muslims who want to become artists. Maybe because I was a lawyer for 20 years and becoming an actor is really to me such a pleasure, I go out of my way to support anyone, especially Arabs and Muslims that are interested in being artists and being involved and writing their own stories. That is really my ultimate message to younger and older generations. We have to tell our own stories. We can't wait for Hollywood. It's a business."
Source: Arab News
Please click the following URL to read the full text of the original story:
https://www.arabnews.com/node/2150851/world
--------
Pro-Palestine activists rally in Minnesota, demand US divest from Israel
26 August 2022
Pro-Palestine activists have rallied in Saint Paul, the state capital of Minnesota in the US, protesting against the state's support for Israel and demanding it divests from the occupation regime.
The protesters, who gathered outside the governor's mansion, called on Minnesota's State Board of Investment (SBI) to sell off its shares in Israeli corporations.
The protest action, which was initiated by the Anti-War Committee (AWC), came just a day before the August meeting of the Minnesota SBI in order to raise awareness of the state of Minnesota's large holdings in a variety of Israeli companies, most notably Elbit Systems, which is a weapons manufacturing and cybersecurity firm.
Minnesota's SBI currently owns 10,396 shares in Elbit Systems, which are worth $1,170,705 at current market value.
Several petitions have been gathered showing signatures of over 1000 Minnesotans demanding that their taxpayer dollars no longer be used to bankroll Israeli apartheid.
At Wednesday's SBI meeting, Meredith Aby-Kierstaad of the AWC told the board: "For years, when peace activists, Palestine solidarity activists, and related groups have called upon to divest from Israel, you have used the excuse of 'fiduciary responsibility.'"
The development comes on the heels of several military raids conducted by Israeli forces against seven civil society organizations (CSOs) in Palestine last week.
Explaining about the targeted humanitarian organizations, the AWC representative Erin Stene said "these seven humanitarian groups advocate for Palestinian women, children and farmers; document human rights offenses, and strengthen democracy."
"In pillaging and outlawing these organizations, Israel is frantically trying to dismantle Palestinian society," Stene noted, condemning the Israeli raids on these organizations.
"By investing the pension funds of Minnesotans in Israel bonds, banks, and companies, the Minnesota State Board of Investments is complicit in Israel's cowardly assault on and oppression of the Palestinian people," she added.
Meanwhile, Jess Sundin of the Twin Cities Coalition for Justice 4 Jamar – which is a US community group dedicated to the fight for justice for those who have been harmed by police - brought attention to the program of "deadly exchange" between the US government and Israel.
"If Black lives really do matter in 21st century America, then the 'deadly exchange' programs with Israel should be brought to an end without delay," Sundin said, referring to a bilateral program between the US and Israel, which brings together police, ICE, border patrol, and FBI from the US with soldiers, police, border agents, etc. from Israel.
"I'm talking about the direct training of thousands of police forces, including hundreds from here in Minnesota, by the Israeli occupation forces," Sundin added.
In a website established to protest against the so-called US-Israeli police partnership program, it reads: "In these programs, 'worst practices' are shared to promote and extend discriminatory and repressive policing in both countries. These include racial profiling, massive spying and surveillance, deportation and detention, and attacks on human rights defenders."
The US has supported the Israeli regime for decades, burying its head in the sand every time the regime commits atrocities against Palestinians.
Source: Press TV
Please click the following URL to read the full text of the original story:
https://www.presstv.ir/Detail/2022/08/26/688084/Activists-rally-in-Minnesota,-demand-US-divest-from-Israel
--------
US ran disinformation campaign against Iran, Russia and China, research reveals
26 August 2022
Recent research has revealed details of what appears to have been long-running US disinformation campaigns aimed at Iran, Russia, and China on social media platforms, as well as the use of dozens of fake accounts to propagate pro-Western narratives.
According to a study carried out by researchers from the Stanford Internet Observatory and the research company Graphika, the pro-US covert influence operations ran for almost five years and used "deceptive tactics" to shape public opinion in the Middle East and Central Asia.
The accounts behind the operations often posed as news outlets or took on the personas of people who didn't exist, posting content in at least seven languages, including Farsi, Russian, Arabic, and Urdu.
In some cases, the accounts shared news articles from Washington-funded media outlets, including Voice of America and Radio Free Europe, and links to websites run by the US military.
Meta, which owns Facebook, Instagram, and WhatsApp, said the "country of origin" of the accounts was the United States, while Twitter said the "presumptive countries of origin" for the accounts were the United States and Britain, according to the report.
The report added that Twitter and Meta removed dozens of fake accounts in July and August as they were pushing the deceptive pro-US influence campaign.
The other platforms that were used in the operations were Telegram, Google's YouTube, and the Russian social media networks VKontakte and Odnoklassniki.
YouTube said it had terminated several channels posting in Arabic, Farsi, and Russian to promote US foreign affairs, including channels linked to a US consulting firm.
The researchers said the accounts tailored their language and messaging to different regions.
A set of 21 Twitter accounts, six Instagram accounts, five Facebook profiles, and two Facebook pages targeted Iranian audiences between November 2020 and June 2022, according to the report.
It disclosed that some of the personas used profile pictures that were likely created using artificial intelligence.
Many tried to present themselves as real people by interspersing Iranian poetry and photos of Persian food between political messages.
On Facebook and Instagram, dozens of posts also negatively compared opportunities for Iranian women with those for women abroad.
Moreover, 12 Twitter accounts, 10 Facebook pages, 15 Facebook profiles, and 10 Instagram accounts were created between June 2020 and March 2022 to focus on Central Asia.
Those accounts then published posts in bitter criticism of Russia's military campaign in Ukraine and cheered on pro-Ukrainian protests in Central Asian countries.
Another group of accounts focused on the Middle East, applauding US activities in Iraq and pointing to interactions between American troops and Syrian children to justify Washington's occupation of Syrian territories and the looting of the Arab country's natural resources.
According to the report, none of the propaganda campaigns reached a large audience.
Most of the posts and tweets received a "handful" of likes or retweets, researchers noted, and only 19 percent of the covert accounts that were identified had over 1,000 followers.
Source: Press TV
Please click the following URL to read the full text of the original story:
https://www.presstv.ir/Detail/2022/08/26/688064/US-ran-disinformation-campaign-against-Iran,-Russia-and-China,-researchers-say
--------
URL: https://newageislam.com/islamic-world-news/upanishads-advaita-gita-sanskrit-islamic-sunni/d/127817
New Age Islam, Islam Online, Islamic Website, African Muslim News, Arab World News, South Asia News, Indian Muslim News, World Muslim News, Women in Islam, Islamic Feminism, Arab Women, Women In Arab, Islamophobia in America, Muslim Women in West, Islam Women and Feminism