New Age Islam News Bureau
28 October 2022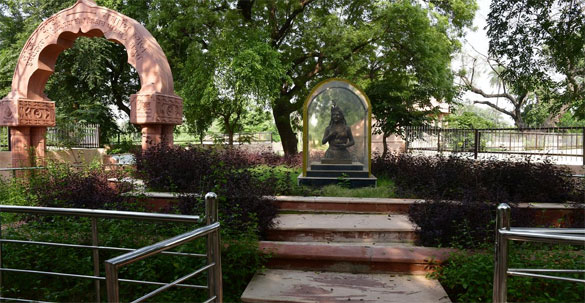 The Samadhi of Taj Bibi at Mahavan in Uttar Pradesh. File | Photo Credit: R.V. Moorthy
-----
• Human Rights Watch Says Hundreds Massacred in Mali by Islamic State Jihadists
• Regression in Afghan Women and Girls' Rights Is 'Unprecedented', Says UN Special Rapporteur
• ISIS Claims Responsibility for Gun Attack on Pilgrims at Shia Shrine in Iran
• Pope Francis Commends Muslim Council of Elders' Peace Promotion Efforts By Promoting Dialogue Between Religions And Cultures
India
• Right-Wing Group Sri Ram Sene Seeks Withdrawal of Loudspeaker Licence To Mosques In Karnataka
• No Changes Should Be Made to Muslim Personal Law In Conflict With Islamic Law, Says Indian Union Women's League
• Congress demands white paper from Modi government on 'plight of Kashmiri Pandits'
• Submit proof of 'deletion of Muslim, Yadav voters' names' claim, EC tells Akhilesh
• Making sense of a political outreach to Pasmanda Muslims
--------
North America
• UN expert urges international probe of Iran 'brutality' amid protests
• US, Israel Made Concessions To Lebanon Due To Fear Of War: Amos Hochstein
• US orders family members of gov't employees to depart Abuja, Nigeria
• Russia's use of Iranian drones in Ukraine 'appalling': Blinken
--------
South Asia
• Attack on Taliban Vehicle Carrying Military Employees Kills Five in Afghanistan, Islamic State Claims Responsibility
• 2 Dead as Loaded Truck Overturns in Central Afghanistan
• Russia's Putin Warns of Terrorist Cells in Afghan Borders
--------
Mideast
• Israelis fearful as UN commission set to probe apartheid charges against Israel
• Protesters Condemn UK Meddling in Iran's Domestic Affairs
• Iranian Military Chiefs Pledge Retaliation to Shiraz Terror Attack
• Iranian Human Right Chief Lashes out at West for Supporting Terrorists
• Ex-Israeli Prime Minister Naftali Bennett's Brother Seeks to Do Business with Saudi Arabia
• Two Palestinians killed by Israeli forces in West Bank: Palestinian health ministry
• Disillusioned Palestinian Voters May Shape Israeli Election
• Iran places Mahsa Amini's family under house arrest: Report
• Iran summons German envoy, accusing Berlin of meddling in its internal affairs
--------
Europe
• Presence of PKK terrorist group in front of Council of Europe disturbs Turks in France
• Australia begins repatriating wives and children of Islamic State fighters
• Turkey's defence company Baykar to build Ukraine plant in two years: CEO
--------
Arab World
• Iraqi Parliament Approves Premiership of Mohammed Shia Al-Sudani
• Saudi Arabia, China Foreign Affairs Ministers Discuss Expansion Of Ties
• Head to Sharjah to See the Qur'an by Female Scribe In 1844AD, And Other Rare Manuscripts
• Lebanon's Hezbollah ends 'exceptional' mobilization against Israel
• Four pro-Iranian fighters killed in Israeli strikes near Damascus: War monitor
• Saudi energy minister discusses oil market stability with French counterpart
• Global survey identifies critical accessibility barriers, tech needs in education
• Saudi anime expo opens, promising top art, music and cosplay
• US theft of resources: American military forces smuggle wheat crops, crude oil from northeast Syria to Iraq's Kurdistan
--------
Africa
• South Africa Responds to US Terror Alert, Assures Citizens Of Safety
• Jordan's PM reshuffles cabinet, 11 new ministers announced
• Museveni's son boasts he'll be Uganda's next president
• Over 1,400 candidates apply for parliamentary elections in Tunisia
--------
Pakistan
• Minorities Enjoy Complete Religious Freedom In Pakistan: Minister Inter-Faith Harmony
• In A First, ISI Chief, Lt Gen Nadeem Ahmed Anjum Attends Presser to Counter Imran's Anti-Army Tirade
• 'If institutions apolitical, why hold a press conference': Imran raises questions on ISPR presser
• No convictions in 96pc of journalist killings in Pakistan: report
• Army claims PTI offered Bajwa 'indefinite extension' in return for trust vote help
• Slain journalist Arshad Sharif laid to rest at Islamabad's H-11 graveyard
• KP govt claims CM has nothing to do with 'threat alert' for Arshad Sharif
• Islamabad police told not to directly fire teargas shells at long march protesters
• ECC okays Rs31bn supplementary grant to defence ministry
• Ministers discuss energy sector in first Saudi-Pakistani steering committee meeting
--------
Southeast Asia
• Avoid Turning Mosques into Political Arena - Kelantan Islamic Religious Council
• Syed Saddiq to know fate over graft charges tomorrow
• Next govt must curtail Bar Council's politicking, says Zaid
• Court rejects Najib's bid to attend Parliament
Compiled by New Age Islam News Bureau
URL: https://newageislam.com/islamic-world-news/devotees-raskhan-taj-bibi-bhagwan-krishna/d/128292
--------
U.P. Promotes Tombs of Muslim Devotees of Sri Krishna, Raskhan and Taj Bibi, for Tourism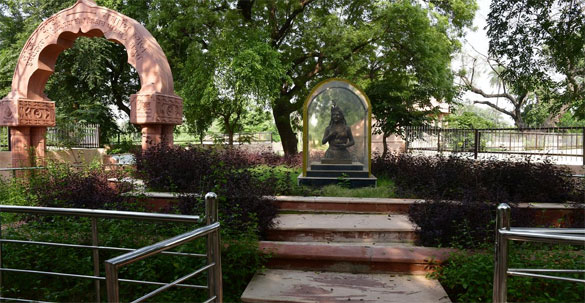 The Samadhi of Taj Bibi at Mahavan in Uttar Pradesh. File | Photo Credit: R.V. Moorthy
-----
Sreeparna Chakrabarty
OCTOBER 28, 2022
Forgotten for long, the State tourism department has redeveloped the tombs of Raskhan and Taj Bibi as a tourist complex with an open air theatre
Amid the forested lanes of Gokul in Mathura are the once forgotten tombs of Raskhan and Taj Bibi, arguably the two most famous Muslim devotees of Lord Krishna. With the Uttar Pradesh Government focused on creating Krishna Janmabhoomi as a major pilgrim tourist destination in the State, the redevelopment of these burial sites has been prioritised. A 14-acre complex has been developed around the two hitherto neglected tombs.
A senior State Tourism Ministry official, who did not wish to be named, told The Hindu that the decision had been taken "keeping in mind the discussion around communal amity in the country nowadays". "Here are two widely respected Muslim devotees of Krishna and poets of repute. We wanted them to be rediscovered," the source said.
Raskhan or Syed Ibrahim Khan was a 16th century Sufi Muslim poet born either in Amroha or Hardoi in Uttar Pradesh. He became a follower of Krishna and spent his life in Vrindavan.
Taj Bibi, also known as the 'Mughal Mirabai', was the daughter of a Muslim nobleman, appointed by the Mughals to protect the Gokul area. According to a publication of the State-run Braj Teerth Vikas Parishad: "Taj Bibi wrote poetry during the Mughal time when the ruling class belonged to the Muslim religion. She had shown great courage by giving up recitation of Kalma Quran and announcing that she was a Hindu devotee."
The official said the tomb complex was proposed to Uttar Pradesh Chief Minister Yogi Adityanath as one of the first pilgrim tourist sites to be developed in the Braj (Mathura-Vrindavan) area, and the CM was "excited" about the project, for which funds were released immediately.
Mr. Adityanath visited the site after its completion, as has Mathura MP Hema Malini.
The complex includes an open air theatre, a film centre, and a food court. The open air theatre, which can host around 500 people, holds shows on the lives and works of Raskhan and Taj Bibi. The film studio has the capacity to host 50 visitors.
The administration is screening a special documentary on Ras Khan six-seven times daily. The complex receives around 2,000-3,000 visitors each day.
"The total cost of the project was around ₹10 crore," Pankaj Verma, Deputy CEO, Braj Teerth Vikas Parishad, said. The Parishad is dedicated to the redevelopment of the Braj region as a pilgrimage destination.
According to local officials, apart from the increase in tourist footfalls, the area itself has been resuscitated as it had become a haven for drug addicts and petty criminals. Taj Bibi's mausoleum, which had been in a state of complete ruin, had been encroached upon.
Officials said there may be many more such historically important sites in Braj, which have to be redeveloped by providing better infrastructure for tourists.
"In the Mathura-Vrindavan area, the Banke-Bihari temple alone sees a tourist footfall of around 2.72 crore pilgrims each year. If we provide the required infrastructure to visitors, we can encourage them to stay back for night halts too. This would be a big boost to the local economy and job creation as well," Shailja Kant Mishra, Vice Chairperson, Braj Teerth Vikas Parishad, said.
Source: The Hindu
Please click the following URL to read the text of the original story:
https://www.thehindu.com/news/national/other-states/uttar-pradesh-promotes-the-tombs-of-muslim-devotees-of-krishna-as-a-tourist-attraction/article66062053.ece
--------
Human Rights Watch Says Hundreds Massacred in Mali by Islamic State Jihadists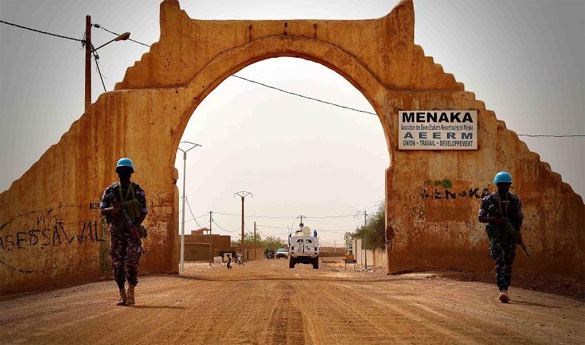 United Nations police patrol Ménaka region in northeast Mali on June 13, 2021. © 2021 MINUSMA/Gema Cortes
-----
OCTOBER 28, 2022
Armed groups affiliated with the Islamic State group have massacred hundreds of people in northeast Mali this year, Human Rights Watch (HRW) said Thursday, adding the state was not doing enough to protect civilians.
Tens of thousands of villagers from the Menaka and Gao regions have fled their homes after losing their livestock and belongings in attacks since March, the rights group said in a report.
The abuses have largely targeted the Daoussahak people, a Tuareg tribe, according to the watchdog.
It said large swathes of Malian territory have come under the control of groups affiliated with the Islamic State in the Greater Sahara (ISGS).
"Islamist armed groups in northeast Mali have carried out terrifying and seemingly coordinated attacks on villages, massacring civilians, looting homes, and destroying property," Jehanne Henry, HRW's senior Africa adviser, said in the report.
"The Malian government needs to do more to protect villagers at particular risk of attack and provide them greater assistance."
The assertion contradicts claims by Mali's ruling junta, which seized power in 2020, that it has turned a corner in the fight against the insurgency that has wracked the country since 2012 — and put jihadist groups on the run in recent months.
The rights watchdog described attacks in 13 locations, all with similar modus operandi.
In Inkalafane, in the Menaka region, "a large group of armed men arrived in an armed vehicle and riding motorcycles" on March 28. They killed 35 civilians, the report said, citing a 55-year-old shepherd who escaped the attack.
The security situation in the Menaka and Gao regions has deteriorated considerably since March.
HRW noted that the outbreak of violence eight months ago coincided with the withdrawal of French troops from Mali.
The UN peacekeeping mission in Mali, MINUSMA, "should continue to ramp up its patrolling, deterrence flights, and interactions with the affected communities," the report said.
MINUSMA has previously complained that the junta is limiting its operations.
Source: The Defense Post
Please click the following URL to read the text of the original story:
https://www.thedefensepost.com/2022/10/28/hundreds-massacred-mali-islamic-state/
--------
Regression in Afghan Women and Girls' Rights Is 'Unprecedented', Says UN Special Rapporteur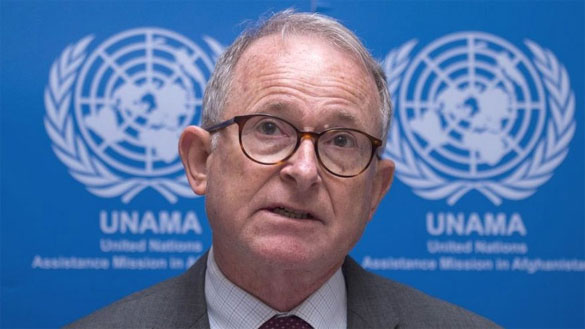 The UN special rapporteur on the situation of human rights in Afghanistan, Richard Bennett
-----
By Saqalain Eqbal
27 Oct 2022
The UN special rapporteur on the situation of human rights in Afghanistan, Richard Bennett, said that severe restrictions and barriers have been put in place in Afghanistan intended to render women "invisible" in society, a setback "unprecedented" in the country's history.
The current deterioration in the rights of Afghan women and girls, according to Bennett, is unprecedented in the history of Afghanistan as it fits the pattern of gender segregation, he stated during a press conference in New York.
He claimed that when compared to the achievements and gains of the previous 20 years, the fall is worse than what Afghan women and girls went through in 1996, the year the Taliban initially took power.
According to Bennett, the Taliban in Afghanistan impose numerous restrictions on women and girls. With restrictions on their freedom of movement and expression, most women no longer have access to employment opportunities, and the UN rapporteur noted that women's civic and political roles have diminished and disappeared completely.
"There are many restrictions and severe barriers for women and girls who are excluded largely from employment, political and public life with limits on freedom of movement, association, expression and it fits the pattern of gender segregation aimed at making women invisible," Bennett said.
The UN rapporteur's visit included stops in Kabul, Bamyan, and Panjshir, and it occurred shortly after the Kabul attack on the Kaaj education center that killed 54 female students and injured 114 others.
Bennett added that there were many obvious examples of discrimination against minorities like Hazaras, Shiites, Sufis, Sikhs, and Hindus in Afghanistan.
According to some statistics, more than three million girls have been denied access to education for 402 days, making Afghanistan the only country where girls are prohibited from attending school past the sixth grade.
Bennett added that he visited Bamyan province in central Afghanistan where some schools were open to girls in grades six and up, but the Taliban governor totally ignored this decision of the people. Bennett used this illustration to demonstrate how the Taliban's political structure is complex and fragmented.
The UN Special Rapporteur confirmed the deplorable situation of human rights in Panjshir province in northern Afghanistan, where the armed resistance against the Taliban continues. He continued by saying that Panjshir is now under strict military control by the Taliban, the situation there is unique compared to elsewhere in Afghanistan, and the media is not permitted to report from this province.
In addition, Bennett emphasized his concern about the media, claiming that it was not permitted to report the attack on the Kaaj school in Afghanistan as it occurred. The Taliban forbade media from visiting the scene of the tragedy and the nearby hospitals.
The UN special rapporteur, who has 30 years of experience advocating for human rights, urged the international media to pay more attention to the situation in Afghanistan. With only two reporters present at his press conference at the UN headquarters, Bennett deservingly criticized the media and the international community for being disheartened.
Source: Khaama Press
Please click the following URL to read the text of the original story:
https://www.khaama.com/regression-in-afghan-women-and-girls-rights-is-unprecedented-says-bennett-37642/
--------
ISIS Claims Responsibility for Gun Attack on Pilgrims at Shia Shrine In Iran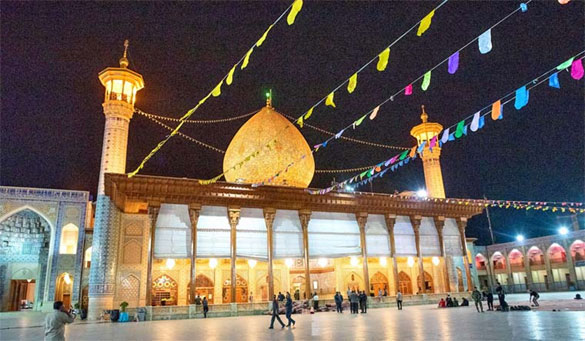 A general view of the Shah Cheragh Shrine after an attack in Shiraz, Iran October 26, 2022 | Reuters
-----
October 27, 2022
A gunman, on Wednesday, opened fire on worshippers of a Shia shrine-- Shah Cheragh. At least 20 were killed and dozens of others were wounded.
The radical Sunni Muslim jihadist group Islamic State, via Telegram channels, claimed responsibility for the attack.
The semi-official Tasnim news agency reported that the attackers were in a car as they shot at pilgrims and staff at the entrance to the shrine. Two of the three terrorists have been arrested. The police are on the lookout for the third person.
"This crime will definitely not go unanswered, and the security and law enforcement forces will teach a lesson to those who designed and carried out the attack," Iranian President Ebrahim Raisi said, DW reported.
The governor of Fars province told CNN, "the terrorist first targeted the servant and guard of the shrine and intended to attack the congregational evening prayers, but one of the servants shut the door on him."
The attack took place on the same day riot police fired at protesters who had come out against the custodial death of 22-year-old Mahsa Amini for failing to adhere to the country's conservative dress code. The riot police also used tear gas at protesters, who had gathered at Amini's home town of Saqqez, a city in the Kurdistan province to mark 40 days following Amini's death.
Source: The Week
Please click the following URL to read the text of the original story:
https://www.theweek.in/news/world/2022/10/27/isis-claims-responsibility-for-gun-attack-on-pilgrims-at-shia-shrine-in-iran.html
--------
Pope Francis Commends Muslim Council of Elders' Peace Promotion Efforts By Promoting Dialogue Between Religions And Cultures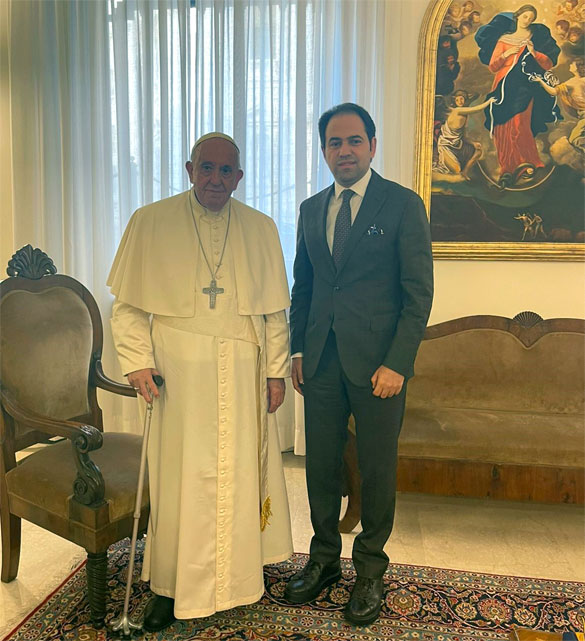 Photo: Emirate News Agency WAM
-----
October 28, 2022
Abu Dhabi: Pope Francis of the Catholic Church has received Mohamed Abdel Salam, Secretary-General of the Muslim Council of Elders (MCE), in the Vatican.
The Pope stressed the importance of continuing to work to promote dialogue between religions and cultures for peace and human coexistence, expressing his appreciation for the role of the MCE in this regard.
For his part, the MCE Secretary-General, Mohamed Abdel Salam, expressed the appreciation of the Council and its Chairman, Prof. Ahmed El-Tayyeb, Grand Imam of Al-Azhar and MCE Chairman, for Pope Francis' efforts to consolidate brotherhood and coexistence among all human beings, as well as his constant calling for peace and promoting the culture of interaction.
At the end of the meeting, the MCE Secretary-General presented the Pope with the shield of the Muslim Council of Elders, which has three words: "Peace, coexistence and human brotherhood."
The Pope congratulated Abdel Salam on his new mission as Secretary-General of the MCE, wishing him success.
Abu Dhabi-based Council
The Abu Dhabi-based MCE is an independent institution concerned with promoting peace in Muslim and non-Muslim societies and spreading the values of dialogue, tolerance, coexistence and human brotherhood.
The council includes a group of the nation's wise men and scholars who are known for their moderation.
Source: Gulf News
Please click the following URL to read the text of the original story:
https://gulfnews.com/world/pope-francis-commends-muslim-council-of-elders-peace-promotion-efforts-1.1666917606710
--------
India
Right-Wing Group Sri Ram Sene Seeks Withdrawal Of Loudspeaker Licence To Mosques In Karnataka
Oct 28, 2022
By Arun Dev
Days after the Karnataka government issued 10,889 licences to use loudspeakers at various mosques across the state, pro-Hindu group Sri Ram Sene demanded that the permission to be withdrawn, claiming it is against the Supreme Court order.
Three thousand Hindu temples and 1,400 churches have also been permitted the same.
On October 21, the BJP government permitted 10,889 mosques in the state to use loudspeakers. The police department has issued licenses as per guidelines in this regard. A total of 17,850 applications were submitted from mosques, temples, and churches for the use of loudspeakers. Three thousand Hindu temples and 1,400 churches have also been permitted the same. The license has been given for two years. The government has collected ₹450 as the fee.
Objecting to the move, Sri Ram Sene chief, Pramod Muthalik, questioned the government decision to issue licence to the mosques. "The government has issued permission to use loudspeakers at 3,000 temples, 14,000 churches, and over 10,000 mosques. Today, noise pollution is happening due to mosques and not temples. How can the government permit over 10,000 mosques?" questioned Muthalik.
The Sri Ram Sene chief also accused the mosques of using 4 to 8 loudspeakers per mosque.
"The Supreme Court guidelines say loudspeakers can be only used between 6 am to 10 pm, but still several mosques are using loudspeakers for azaan from 4 am. Moreover, at every mosque, they use 4 to 8 loudspeakers, causing difficulties for educational institutes, hospitals and others. They use these loudspeakers five times a day," the Sri Ram Sene chief said.
On May 10, the Karnataka government had asked all users of "sound-producing instruments" to obtain written permission from authorities within 15 days, as part of a broad set of directions to regulate the use of loudspeakers in the state, in the wake of azaan versus Hanuman Chalisa row.
The circular was issued by an under-secretary to the government following a note sent by state chief secretary P Ravi Kumar to additional chief secretary Jawaid Akhtar, department of forest, ecology and environment, to tackle the issue.
The circular, which comes into effect immediately, stated: "All existing users of loud speakers/ public address system and sound producing instruments shall obtain written permission from the Designated Authority within 15 days."
The circular comes when some right-wing organisations have threatened to intensify their campaign to play the Hanuman Chalisa outside mosques that play azaan (call for prayers) through loudspeakers.
"Those who do not obtain permission, should voluntarily remove loud speakers/public address system and sound-producing instruments or else the same shall be removed by the designated authority within 15 days from the deadline given," the circular added.
The circular comes when some right-wing organisations have threatened to intensify their campaign to play the Hanuman Chalisa outside mosques that play azaan (call for prayers) through loudspeakers.
Citing the Supreme Court ruling dated July 18, 2005, and October 28, 2005, regarding the implementation of the Noise Pollution (Regulation and Control) Rules, 2000, the circular said the loudspeaker or the public address system should not be used except after obtaining permission from the designated authority.
The issuing of the licences was however delayed and the 15-day deadline was not completed by the police department.
"Even after a month, no permits have been issued for the use of loudspeakers in the city as the process of identifying and issuing the permissions was finalised. After much delay, the process was completed last week," said the police.
Responding to the government decision, BJP national general secretary CT Ravi said the government followed the rule of law in issuing the licences. "There is a Supreme Court order on the use of loudspeakers. Even after these licences are issued, police will have to enforce the decibels level and make sure it is under the limits," he said.
Karnataka Waqf Board chairman N K Mohammed Shafi Saadi said Muslim scholars in the state would take an appropriate decision on azaan by adhering to the Supreme Court judgement.
Source: Hindustan Times
Please click the following URL to read the full text of the original story:
https://www.hindustantimes.com/india-news/rightwing-group-seeks-withdrawal-of-loudspeaker-licence-to-mosques-101666897344484.html
--------
No Changes Should Be Made to Muslim Personal Law In Conflict With Islamic Law, Says Indian Union Women's League
OCTOBER 27, 2022
Noorbina Rasheed submits memorandum to Parliamentary Standing Committee
Indian Union Women's League (IUWL) national general secretary P.K. Noorbina Rasheed has requested the Department-related Parliamentary Standing Committee on Personnel, Public Grievances, Law and Justice constituted to review personal laws in the country that no changes be made to the Muslim personal law that will be in conflict with Islamic Law (Sharia law).
In a memorandum addressed to Deputy Secretary Goutam Kumar attached to the Rajya Sabha Secretariat, the IUWL leader said Muslim personal law was enacted and maintained to enable Muslims to follow the verdicts of the Holy Quran. Personal laws were enacted in compliance with the Indian Constitution for a certain class or group of people based on religion, faith, and belief.
In India, everyone belongs to different castes and religions and have their own faiths and belief systems based on religious scriptures. As far as Muslims are concerned, their faiths and belief systems are based on the Holy Quran and Sunnah, Ms. Rasheed said.
The Department-related Parliamentary Standing Committee on Personnel, Public Grievances, Law and Justice chaired by Sushil Kumar Modi has identified the subject 'Review of Personal Laws' for detailed examination. To have a wider consultation, the Committee has decided to invite memoranda containing views and suggestions from stakeholders interested in the subject.
Upon examination, the Committee will recommend to the government various reforms, statutory and otherwise, required in personal and family laws followed by different religious and social groups of the country. Those interested should send their views and suggestions in form of a memorandum to the Committee addressed to Goutam Kumar, Deputy Secretary, Rajya Sabha Secretariat (phone 011-2303 5187) to rsmemocpers@sansad.nic.in
Source: The Hindu
Please click the following URL to read the full text of the original story:
https://www.thehindu.com/news/national/kerala/no-changes-should-be-made-to-muslim-personal-law-in-conflict-with-islamic-law-says-iuwl/article66061279.ece
--------
Congress demands white paper from Modi government on 'plight of Kashmiri Pandits'
Oct 27, 2022
NEW DELHI: The Congress on Thursday attacked the BJP over the alleged exodus of Kashmiri Pandits from south Kashmir's Shopian district and demanded that the Modi government release a white paper on the plight of the minority community during its eight-year rule. The opposition party also hit out at the BJP-led Centre over the targeted killings of Kashmiri Pandits in Jammu and Kashmir and said the government must apologise for it.
As terrorists carried out a number of targeted killings recently, 10 Kashmiri Pandit families left their village, Choudharygund, in Shopian out of fear and reached Jammu, according to residents.
Members of the minority community, who have since been camping in Jammu, ruled out any plan to return to the Valley.
However, authorities in Shopian have attempted to put on a brave face by claiming no exodus of Kashmiri Pandits has taken place from the district.
Addressing a press conference at the AICC headquarters here, Congress' media department head Pawan Khera said that when the first migration of Kashmiri Pandits took place in 1989, V P Singh's government was in office with the BJP's support.
"In 1986, when the first riot against Kashmiri Pandits took place, Rajiv Gandhi's government was in office at the Centre. Kashmiri Pandits walked from the national stadium to Rajiv Gandhi's office, he heard them and Ghulam Mohammad Shah's government was brought down," Khera said.
The BJP only talks of zero tolerance but what it actually means was shown by Rajiv Gandhi, he claimed.
Slamming the Centre, Khera said 70 ministers of the government are carrying out an outreach programme in Kashmir and asked if any of them visited a camp of Kashmiri Pandits.
"What is this outreach when you cannot reach out to the Kashmiri Pandits living in the camps there," he asked.
Citing an order, the Congress leader also alleged that Kashmiri Pandit employees are being "threatened" to return to work against their wishes.
There have been 30 targeted killings of Kashmiri Pandits from January to October this year, he claimed.
"We demand a white paper from the Modi government on the plight of Kashmiri Pandits. In the last eight years, all that has been done and not been done by this government should come out in that white paper," Khera said.
"You (the government) will have to answer for the 80 killings. How is this normal, answer this," he added.
Asked about Union Minister Kiren Rijiju's article titled '75th Anniversary of Five Nehruvian Blunders on Kashmir', Khera said those leaders of the BJP who are students of "WhatsApp nursery" need to revisit their history classes.
"If all that they are saying is true, how is it that during the Manmohan Singh era targeted killings stopped and 75 per cent of the people would participate in the democratic process of elections in the state? We would be happy to get the answer to that," he said.
The BJP leaders have no idea of contemporary history of the country, he said.
It is very easy to blame Jawaharlal Nehru for this, Indira Gandhi for something else, PV Narasimha Rao for something else and Manmohan Singh for the rest, Khera said.
"Give us answers. You have been in power for eight years. What has been your achievement in those years in Jammu and Kashmir? You cannot hold elections. You cannot protect Kashmiri Pandits. Is that your achievement? You must apologise for what happened in 1989, you must apologise for what is happening now," he said, attacking the BJP-led Centre.
Kashmiri Pandit Puran Krishan Bhat was gunned down by terrorists outside his ancestral house in Shopian's Choudharygund village on October 15.
Source: Times Of India
Please click the following URL to read the full text of the original story:
https://timesofindia.indiatimes.com/india/congress-demands-white-paper-from-modi-government-on-plight-of-kashmiri-pandits/articleshow/95120704.cms
--------
Submit proof of 'deletion of Muslim, Yadav voters' names' claim, EC tells Akhilesh
27th October 2022
New Delhi: The Election Commission of India (ECI) has asked Samajwadi Party President Akhilesh Yadav to submit documentary proof to substantiate his allegation that the poll panel had deliberately deleted the names of around 20,000 voters belonging to the Yadav and Muslim communities from the electoral rolls in almost all the 403 Assembly constituencies of Uttar Pradesh at the behest of the BJP and its aides.
Stating that the law doesn't provide for electoral roll based on caste or religion, the poll panel noted that the Representation of People Act, 1950 and the Representation of People Act, 1951 envisage various provisions aimed at ensuring purity of electoral registration, revision and final roll and provisions for penalties and criminal liabilities for undue interference, including false declaration knowingly and promoting enmity between classes.
Sources said that since Yadav's statement regarding alleged mass deletion of names, that too of a particular group of voters, is extremely serious and has far-reaching implications on the integrity of the poll process, the EC has asked the Samajwadi Party leader to submit documentary proof based on which he levelled the allegation.
Taking due cognisance of the statement reportedly made by Yadav while addressing the media recently and considering his stature as a seasoned politician and an ex-Chief Minister of Uttar Pradesh, the EC has asked Yadav to furnish details to the Commission by November 10, so that necessary action can be taken, said sources in the poll panel.
As per EC sources, Yadav has been asked to submit Assembly-wise data of deletion of names, including names and numbers of alleged wrongful deletions, supporting evidence or documents of such electors whose names have allegedly been deleted.
Source: Siasat Daily
Please click the following URL to read the full text of the original story:
https://www.siasat.com/submit-proof-of-deletion-of-muslim-yadav-voters-names-claim-ec-tells-akhilesh-2443820/
--------
Making sense of a political outreach to Pasmanda Muslims
Tariq Mansoor
OCTOBER 27, 2022
The BJP's move to reach out to Pasmanda Muslims could signal the first serious attempt by the party to locate the minority community in its arc
There has been a considerable churn within the Indian Muslim community in response to Prime Minister Narendra Modi's appeal to the Bharatiya Janata Party (BJP) to make an outreach to deprived minority groups such as Pasmanda Muslims, especially in Uttar Pradesh. The BJP president, J.P. Nadda, has directed party cadres to organise programmes for Pasmanda Muslims to accord them sneh (affection) and samman (respect).
Sceptics see it as an electoral tactic to fragment the social unity of Muslims and ameliorate the vote base of the BJP. However, considering that the BJP has triumphed in the past two general elections and multiple State elections without the electoral support of Muslims, this narrative seems off the mark. Whatever may be the motivation, it does signal an inflection point in the outlook of the BJP vis-à-vis India's largest minority — as a first serious attempt by the BJP to locate Muslims in its arc.
Deconstructing an identity
This development has spotlighted the identity of Pasmanda Muslims and issues related to social justice and stratification within the Muslim community. It is true that the caste system, as has traditionally existed among the Hindus, is not acknowledged under Islam. Yet, it has been assimilated in the cultural life of Muslims owing to their centuries' old coexistence with Hindus. The distinctiveness of Indian Muslims lies in their 'lived reality', having more socio-cultural affinity with Hindus than with Muslims in foreign lands.
The Indian Muslim community can be stratified along three lines — Ashrafs (elite class), Ajlaf (backward class) and Arzal (most backward class). According to estimates, Ashrafs constitute 15%-20% of the Muslim population. Pasmanda, literally meaning 'those left out' or 'marginalised', is a collective expression for Ajlaf and Arzal — who constitute the remaining 80%-85%. The norm of hereditary occupational specialisation, as a feature of the Indian caste system, is mirrored in the occupational profile of Pasmanda Muslims — barbers, weavers, potters, faqirs, bidi workers, etc. They are predominantly low-wage workers employed in the unorganised sector marked by pitiful work conditions. So, 'Pasmanda' is not a caste but a class which is representative of backward and subjugated castes within the Muslim community.
PM's outreach serves multiple purposes
Political parties have not been mindful of this internal stratification within Muslims — with an emphasis only on religion as the basis for their inclusion. This has worked to the advantage of the Muslim elites or Ashrafs, who, despite being numerically inferior to the Pasmandas, have cornered most of the 'Muslim representation' in various political parties. The Ashraf-driven Muslim politics has over-emphasised sentimental issues such as Muslim personal law, Babri Masjid, etc., thereby subverting the bread and butter issues which resonate more with the Pasmandas.
So, what drives the Prime Minister's Pasmanda outreach? It is but quite natural for a political party to have electoral considerations underpinning its outreach to social groups. However, the Prime Minister's and the BJP's desire to accommodate Pasmanda Muslims should be seen as serving multiple purposes.
First, it highlights the anomalies of political under-representation of deprived groups in the Muslim community intra se. Second, it brings issues related to their development to the forefront vis-à-vis issues of pure sentiments. This is in line with the Prime Minister's address to the Muslim community at the centenary celebrations of Aligarh Muslim University (AMU) in December 2020, where he laid out the essentials of empowerment — women's education, economic independence, entrepreneurship and employment — and played down the compulsions of ideological differences. He said, "The country is progressing on a path where none can be left behind because of religion." Third, it fits in with the Prime Minister's resolve of ' sabka saath, sabka vikas, sabka vishwas, sabka prayas'. Lastly, it suggests an acknowledgement within the BJP that accommodation of religious diversity should be an important consideration for a national party in a political democracy such as India.
As beneficiaries
Further, the BJP government has been highlighting that its various welfare schemes are benefiting all sections without discrimination. Be it funding the unfunded under the Pradhan Mantri Jan-Dhan Yojana or distribution of cooking gas under Pradhan Mantri Ujjwala Yojana, faces or identities of beneficiaries are irrelevant. The Pasmandas, an economically marginalised class, form a specific category of beneficiaries under these schemes. In fact, unofficial figures of the Ujjwala Yojana in Uttar Pradesh show that economically backward Muslims have benefited in a proportion greater than their population.
Source: The Hindu
Please click the following URL to read the full text of the original story:
https://www.thehindu.com/opinion/op-ed/making-sense-of-a-political-outreach-to-pasmanda-muslims/article66057879.ece
--------
North America
UN expert urges international probe of Iran 'brutality' amid protests
27 October, 2022
The UN special rapporteur on human rights in Iran denounced on Thursday the "brutality" of Tehran's regime and called for an international mechanism to investigate scores of deaths since the start of recent protests.
Protests have gripped Iran since Mahsa Amini, a 22-year-old of Kurdish origin, died on September 16, three days after her arrest in Tehran by the notorious morality police for allegedly breaching the Islamic dress code for women.
"Iran is in turmoil in part as a consequence of the killing" of Amini, Javaid Rehman told a press conference, describing her as "a victim of state brutality and state repression."
"Protesters are seeking justice," he said.
Underscoring an "absence of any domestic channels of accountability," Rehman called for the international community to set up an international investigative mechanism aimed at ensuring that Iran answers "for what has happened since the death of Jina Mahsa Amini."
"Clearly there has been a lot of brutality," he said, adding that "a minimum of 250 people who have been killed by the state since the wave of these protests started" in mid-September, including more than 25 children.
He said, however, that the figure was "very conservative" and that there was "no doubt" many more people had been killed.
Source: Al Arabiya
Please click the following URL to read the full text of the original story:
https://english.alarabiya.net/News/middle-east/2022/10/27/UN-expert-urges-international-probe-of-Iran-brutality-amid-protests
--------
US, Israel made concessions to Lebanon due to fear of war: Amos Hochstein
28 October 2022
The US mediator in the Lebanon-Israeli regime maritime borders demarcation deal has admitted that the reason for the concessions made by the United States and Israel in favor of Lebanon was the fear of war.
In an interview on Thursday, Amos Hochstein noted that "War was a real threat and that if it happened, all oil and gas fields and international trade in the Mediterranean Sea and most importantly the flow of energy resources between the [Persian] Gulf and Europe would be disrupted."
Lebanon on Thursday formally signed a sea border deal with Israel that would demarcate its southern maritime border. The final paperwork was submitted to the United Nations in Naqura, South Lebanon, concluding a long path of indirect negotiations of 12 years with the Israeli regime.
On a related note, well-informed sources told al-Binaa newspaper that had it not been for the threat made by Hezbollah, which fortified the official Lebanese position, the Israeli regime would have started the extraction in Karish according to the plan and disregarded all understandings.
In an interview with Al-Hurra in mid-June, Hochstein said that Lebanon has to "stop thinking" about being right regarding the indirect maritime border talks. He claimed that Lebanon has "nothing," in a clear message to Lebanese negotiators to accept the US-Israeli provisions.
However, a day ahead of Hochstein's arrival in Lebanon, Lebanese President Michel Aoun underscored that it is out of the question to waive Lebanon's rights to invest its gas and oil wealth, expressing firm rejection of Israeli threats.
On the same day, Speaker Nabih Berri met Hochstein and also affirmed Lebanon's right to invest in its oil wealth, noting that this right is unanimously agreed upon by all the Lebanese.
Lebanon's Hezbollah resistance group assured multiple times that the Arab country was the only negotiator and decision-maker in terms of the deal and that the role of the resistance is to support the Lebanese government's decisions.
Earlier in June, Hezbollah Secretary General Seyed Hassan Nasrallah asserted that the movement is committed to defending Lebanon's maritime wealth, warning that all options were on the table. On July 2, Hezbollah launched three drones toward Karish field, in a clear message to Tel Aviv about the group's seriousness in dealing with the maritime issue.
Two weeks later, Nasrallah warned the Israeli regime it will be prevented from extracting gas and oil if Lebanon is not allowed to extract its own riches and issued his well-known "beyond Karish" equation.
"Write down the new equation: Karish, what's beyond Karish and what's beyond, beyond Karish, and we are following up on all fields, wells and platforms across Palestine," he said, implying that no Israeli target is out of Hezbollah's precision missiles reach.
On Thursday, following the signing of the maritime deal, Nasrallah described the deal as "a great victory to Lebanon," adding that it is neither an international accord nor a Lebanese recognition of the Israeli apartheid regime.
Source: Press TV
Please click the following URL to read the full text of the original story:
https://www.presstv.ir/Detail/2022/10/28/691721/US-Israel-concessions-Lebanon-fear-war-US-mediator
--------
US orders family members of gov't employees to depart Abuja, Nigeria
Servet Günerigök
28.10.2022
WASHINGTON
The State Deprtment on Thursday ordered the departure of family members of US government employees from Nigeria's capital Abuja, citing a heightened risk of terrorist attacks.
The order comes two days after the department asked non-emergency US government employees and family members to leave the city.
In its travel advisory, it warned Americans to reconsider traveling to Nigeria due to crime, terrorism, civil unrest, kidnapping and maritime crime.
The US embassy in Abuja is only able to provide emergency assistance to US citizens in the city and the consulate in Lagos is providing all routine and emergency services to US citizens in Nigeria, according to the department.
Source: Anadolu Agency
Please click the following URL to read the full text of the original story:
https://www.aa.com.tr/en/americas/us-orders-family-members-of-gov-t-employees-to-depart-abuja-nigeria/2722900
--------
Russia's use of Iranian drones in Ukraine 'appalling': Blinken
October 27, 2022
OTTAWA: Russia's use of Iranian drones in Ukraine is "appalling," US Secretary of State Antony Blinken said Thursday, adding that the United States and allies would seek to block such shipments.
Russia has used the drones to "kill Ukrainian civilians and destroy the infrastructure they rely on for electricity, for water, for heat. It's appalling," Blinken said during a visit to Ottawa.
"Canada and the United States will keep working with our allies and partners to expose, to deter and to counter Iran's provision of these weapons," he vowed.
Kyiv and its Western allies have repeatedly accused Moscow of using Iranian-made drones in attacks on Ukraine in recent weeks.
Ukraine has said around 400 Iranian drones have already been used against the civilian population of Ukraine, and Moscow has ordered around 2,000.
Tehran has rejected the allegation, its Foreign Minister Hossein Amir-Abdollahian saying this week: "We have not supplied Russia with any weapons or drones for use in the war against Ukraine."
"If... it becomes clear to us that Russia has used Iranian drones in the war against Ukraine, we will definitely not be indifferent about this issue," he added.
The United States, alongside Britain and the European Union, have already imposed sanctions on Iran over the issue of drones.
Source: Arab News
Please click the following URL to read the full text of the original story:
https://www.arabnews.com/node/2189311/world
--------
South Asia
Attack on Taliban vehicle carrying military employees kills five in Afghanistan, Islamic State claims responsibility
OCTOBER 27, 2022
Unknown armed men attacked a vehicle carrying medical personnel of a Taliban military unit
An attack on a vehicle in western Afghanistan killed five medical personnel employed by Taliban security forces on Thursday, a defence ministry spokesperson said.
The Islamic State claimed responsibility for the attack, according to the militant group's channel on Telegram.
Taliban Ministry of Defence spokesperson Enayatullah Khowrazmi said several employees were also injured in the attack.
"This morning, unknown armed men attacked a vehicle carrying medical personnel of the 207th Al-Farooq Army Corps," said Khowrazmi, referring to a Taliban military unit headquartered in the western province of Herat.
Since taking over the country in 2021, the Taliban say they have focussed on restoring security to the war-torn nation.
However, in recent months a number of attacks have taken place and the United Nations has said security is deteriorating.
In the western city of Herat, a large blast hit near a mosque in September, killing 18 people including a pro-Taliban cleric and in July, an attack on a Al-Farooq 207 Corps vehicle killed two security force members.
Several attacks have also taken place in Kabul, including an explosion this month that hit a mosque in the vicinity of the heavily fortified interior ministry compound, killing four people and wounding 25.
Source: The Hindu
Please click the following URL to read the full text of the original story:
https://www.thehindu.com/news/international/attack-on-taliban-vehicle-carrying-military-employees-kills-five-in-afghanistan/article66060742.ece
--------
2 Dead as Loaded Truck Overturns in Central Afghanistan
By Saqalain Eqbal
27 Oct 2022
Two people were reported dead and three more injured as a result of a road accident in Bamyan province in central Afghanistan, according to local Taliban officials.
The spokesperson of the Taliban governor for Bamyan province, Abdul Saboor Farzan Saighani, said that the traffic accident took place on Tuesday night, October 25, in the provincial capital of Bamyan.
A Mazda truck that was traveling from the Yakawlang No. 1 district toward Bamyan city swerved off the road and overturned in the Kotal Shahidan area, the governor of Bamyan's spokesman added.
The provinces have recently reported a high number of traffic accident cases. Two vehicles on the Balkh-Jawzjan highway in northern Afghanistan collided, resulting in the fatalities of 4 people and severe injuries of 3 others.
This traffic accident took place on Wednesday, October 27, where two cars were said to have been driving at high speeds.
Photos of the crash showed that both vehicles have sustained significant damage, with their windows cracked and their wheels rammed inside.
Source: Khaama Press
Please click the following URL to read the full text of the original story:
https://www.khaama.com/2-dead-as-loaded-truck-overturns-in-central-afghanistan-76742/
--------
Russia's Putin Warns of Terrorist Cells in Afghan Borders
By Saqalain Eqbal
27 Oct 2022
Vladimir Putin, the president of Russia, warned of the concentration of militant groups on Afghanistan's borders as well as their attempts to infiltrate Central Asia and set up clandestine terrorist cells.
Putin reportedly warned of the development of terrorist groups on the Afghan border and their infiltration into the Commonwealth Independent States during a speech at the Commonwealth Council of Heads of Security and Special Services on Wednesday, October 26.
"The concentration of militant groups in Afghanistan, especially at the border with Central Asian states, certainly creates a potential risk of an invasion in the region," the Russian president stated.
Putin asserts that attempts to stage a color revolution and spark armed conflicts pose a threat to the safety of all Commonwealth Independent States members. Russian President Vladimir Putin has issued a warning against large crowds congregating in squares and other public areas.
He underlined the continued collaboration of the council's member states and added that terrorists would travel along migration routes and must be found and destroyed before they could form a clandestine cell.
This comes as ISIS terrorist group has claimed responsibility for a recent attack in Iran that killed 11 and injured 27, while the Iranian officials had said that ISIS threats were entirely neutralized. However, with the return of the Taliban in Afghanistan, it appears that these risks have resurfaced in Iran.
Source: Khaama Press
Please click the following URL to read the full text of the original story:
https://www.khaama.com/russias-putin-warns-of-terrorist-cells-in-afghan-borders-03743/
--------
Mideast
Israelis fearful as UN commission set to probe apartheid charges against Israel
28 October 2022
The UN Independent International Commission of Inquiry on the Occupied Palestinian Territory says it will investigate apartheid charges against Israel, stoking serious fears among Israeli authorities that the probe would recognize the regime as apartheid due to its ongoing atrocities against Palestinians.
The three members of the commission said during a briefing at the United Nations in New York on Thursday that future reports will investigate apartheid by Israel.
They said the investigation had so far focused on the "root causes" of the conflict, which they ascribe to Israel's presence in the West Bank.
Navi Pillay, a former UN human rights chief who chairs the commission, called apartheid "a manifestation of the occupation."
"We're focusing on the root cause which is the occupation and part of it lies in apartheid," Pillay said.
"We will be coming to that. That's the beauty of this open-ended mandate, it gives us the scope," she added.
Commission member Miloon Kothari also said the open-ended nature of the probe allowed it to examine the apartheid charge.
"We will get to it because we have many years and issues to look at," he said.
"We think a comprehensive approach is necessary, so we have to look at issues of settler colonialism," Kothari said.
"Apartheid itself is a very useful paradigm, so we have a slightly different approach but we will definitely get to it," he added.
The UN Human Rights Council, Human Rights Watch and other international human rights organizations have accused Israel of apartheid in the past two years.
Earlier this year, reports emerged that the Israeli Foreign Ministry was planning a campaign to head off accusations of apartheid by the commission.
A leaked cable reportedly revealed Israeli officials were concerned about the damage the commission's first report could do if it referred to Israel as an "apartheid" regime.
The commission presented its latest report to the UN General Assembly on Thursday.
The 28-page report condemns Israel for violating international law by making its control over the West Bank permanent and by annexing Palestinian-owned land in occupied al-Quds and the West Bank as well as Syrian land in the Golan Heights.
It also slams Israel for discriminatory policies against Arab citizens, stealing natural resources, and gender-based violence against Palestinian women.
In March 2021, former International Criminal Court (ICC) Chief Prosecutor Fatou Bensouda announced in a statement the launch of a war crimes investigation in the Palestinian territories, which have been under Israeli occupation since 1967.
The probe is expected to include the 2014 Israeli military onslaught against the Gaza Strip, the "Great March of Return" demonstrations in 2018, and the Israeli settlement expansion across Palestinian lands, including East al-Quds.
Bensouda said at the time that her inquiry would be conducted "independently, impartially and objectively, without fear or favor."
Last year, the Israeli advocacy group B'Tselem said Israel is an "apartheid regime" that systematically oppresses the Palestinians via military occupation and racist laws.
US daily Patriot-News said American politicians must explain to the people why more than $4 billion of taxpayer money is given annually to support apartheid Israel.
Source: Press TV
Please click the following URL to read the full text of the original story:
https://www.presstv.ir/Detail/2022/10/28/691715/UN-commission-investigate-apartheid-charges-against-Israel
--------
Protesters Condemn UK Meddling in Iran's Domestic Affairs
2022-October-27
Holding placards and chanting slogans against the British government, the demonstrators protested against London's hostile policy towards Tehran.
They asked the Iranian authorities to retaliate the UK government's actions and other nations that interfere in Tehran's affairs.
"The Iranian nation will never forget that half of Iran's 20 million population died during the World War II due to food hoarding for British soldiers. Furthermore, the plundering of the Iranian nation's assets during the Qajar and Pahlavi eras will not be erased from the memory of the Iranian nation," the protesters announced in a statement.
Iranian demonstrators reminded the UK government that its actions are "an example of a crime against humanity".
They stated that the British government has participated in a military attack on Iraq and Afghanistan and killed civilians, including children, and "Britain is known to Iranians and the whole world for its history of colonization and exploitation".
"Although the UK no longer has the capabilities to directly attack Iran, it continues to express its hostility against the Iranian nation through other methods. Today, London-based Persian language news networks has become a center for those who aspire to disintegrate Iran," Iranian protesters sressed.
They urged the UK to stop meddling in Iran's affairs, "Otherwise, the Iranian people will give London a crushing and tooth-breaking response."
Last week, Iran imposed sanctions on several British individuals and organizations for their role in supporting terrorism, promoting and instigating terrorism, violence and hate-mongering and violation of human rights. Tehran announced the embargoes as a "tit for tat" move against the sanctions that have been imposed by some European countries on Iran.
The sanctioned entities include Britain's National Cyber Security Centre, Government Communications Headquarters (GCHQ), Volant Media UK Ltd, Global Media Group, DMA Media, BBC Persian and Iran International TV networks.
The sanctions are imposed on the British entities "due to their intentional actions in supporting terrorism and terrorist groups, promoting and inciting terrorism, violence, and hatred, and violating human rights", the statement read.
The measures by the listed entities have led to "riots, violence, and terrorist acts" against the Iranian nation, the foreign ministry noted.
The Iranian Foreign Ministry also stated that it holds the UK government to account for supporting terrorists and human rights violators who are "organizing and inciting riots and terrorist acts" in Iran from UK soil.
Protests erupted in several cities across Iran over the death of Mahsa Amini, a 22-year-old Iranian woman who fainted at a police station in mid-September and days later was pronounced dead at a hospital. The demonstrations soon turned violent. A special committee has been established to investigate different aspects of her tragic death.
Iranian officials blame Western countries for orchestrating the riots to destabilize the country.
Supreme Leader of the Islamic Revolution Ayatollah Seyed Ali Khamenei severely censured the deadly riots, saying they were orchestrated in advance by the United States and the Israeli regime.
"I state it clearly that these developments were planned by America, the Zionist regime and their acolytes. Their main problem is with a strong and independent Iran and the country's progress. The Iranian nation proved to be fairly strong during recent events and will bravely come onto the scene wherever necessary in the future," he added.
In recent days, Iranian officials have blamed the United States, the European Unions, and several Western states for meddling in Iran's internal affairs over the death of Mahsa. They advised the US and its allies against "opportunism and instrumentalization of the issue of human rights" by misusing the incident.
Source: Fars News Agency
Please click the following URL to read the full text of the original story:
https://www.farsnews.ir/en/news/14010805000631/Presers-Cndemn-UK-Meddling-in-Iran's-Dmesic-Affairs
--------
Iranian Military Chiefs Pledge Retaliation to Shiraz Terror Attack
2022-October-27
The top military officials have warned the foes that their hostile actions and crimes will badly backfire on them.
Maj. Gen. Baqeri on Thursday extended condolences to the bereaved families of the martyrs of the Shah Cheragh terrorist attack, and said that "the plot has been devised and directed by the vicious Western-Hebrew-Arabic triangle".
"The internal and foreign perpetrators and masterminds behind the terror attack will soon be caught by the security and intelligence forces of the Islamic Republic, and they will be punished for their disgraceful deeds," the senior commander warned.
Maj. Gen. Salami also condemned the barbaric crime and sinister action at Shah Cheragh holy shrine, and expressed his condolences on the martyrdom of Iranian pilgrims in the terror attack on Wednesday.
The top commander delivered a stern warning to the sponsors of the horrific crime, stressing that the Iranian nation will eventually bring them to justice.
"This horrific crime showed that the enemies of the dignity, power and progress of Iran have not stopped committing any crime to achieve their malicious goals and wishes and are ready to kill and shed the blood of defenseless men, women and children even during prayers and thanking Almighty God time in the shrine of Ahl Al-Bayt of great Prophet (PBUH)," he said.
Salami warned the perpetrators and their supporters that the wrath of anger and revenge of the Iranian nation will burn down "the camp of Satan", and will finally punish them severely for their heinous acts.
Source: Fars News Agency
Please click the following URL to read the full text of the original story:
https://www.farsnews.ir/en/news/14010805000524/Iranian-Miliary-Chiefs-Pledge-Realiain-Shiraz-Terrr-Aack
--------
Iranian Human Right Chief Lashes out at West for Supporting Terrorists
2022-October-27
"Terrorists continue to target innocent Iranian civilians," Qaribabadi wrote on his Twitter account on Thursday.
"Over 17,000 people have been assassinated in Iran in four decades," he added.
"Based in the US and Europe, the terrorists enjoy their unwavering backing. Why are the human rights mechanisms silent about the deadly Shiraz terrorist attack?" the official said.
At least 15 people were martyred and 19 wounded in a terrorist attack in the Southern Iranian city of Shiraz. Report suggested that the terrorist who attacked the Shah Cheragh holy shrine is not an Iranian citizen. Tehran warns that the masterminds of the attack will face crushing retaliation.
Back in August, Qaribabadi blamed the Western countries for their double-standard policies on terrorism, and described his nation as the biggest victim of terrorism.
"It is necessary for those countries who are faced with the phenomenon of terrorism to engage in serious cooperation in order to fight this ominous scourge. Due to common terrorist threats posed to Iran and Turkey, the two countries need to bolster cooperation in fighting terrorism," he noted.
Gharibabadi also criticized Western countries' double standards in dealing with terrorism, stressing, "On the one hand, they accuse Iran of violating human rights, but on the other, they martyr 17,000 innocent Iranian citizens through terrorism or violate the rights of millions of Iranians through imposition of unilateral sanctions and jeopardize their right to life."
Iran calls terrorism and extremism as result of the inefficiency of the current international situation, and stresses it wants a world free from violence and extremism.
Source: Fars News Agency
Please click the following URL to read the full text of the original story:
https://www.farsnews.ir/en/news/14010805000320/Iranian-Hman-Righ-Chief-Lashes-a-Wes-fr-Sppring-Terrriss
--------
Ex-Israeli Prime Minister Naftali Bennett's Brother Seeks to Do Business with Saudi Arabia
28 October 2022
An Israeli entrepreneur, who is a former naval officer on an Israeli submarine, is looking forward to selling electric trucks to the Saudis, in a new deal that reflects the unofficial normalization of relations between Saudi Arabia and Israel.
Asher Bennett, the brother of the former Prime Minister Naftali Bennett and the founder of the London-based e-truck maker Tevva Motors, is another Israeli entrepreneur in the growing stream of those seeking business in Saudi Arabia which still resists acknowledging diplomatic ties but functions on the basis of its friendly unofficial policies towards the Israeli regime.
"There's a lot of interest in the [Persian] Gulf for our technologies, so I'm here from time to time," Bennett said on the second day of the Future Investment Initiative conference.
In an interview at the King Abdulaziz Convention Center, the site of the conference in the Saudi capital, the Israeli entrepreneur said he was invited to Saudi Arabia last year and the trip was an eye-opener to him.
As Saudi Arabia is setting new environmental standards to reduce reliance on fossil fuels, Bennett thinks this is the perfect chance for him to do business with the kingdom.
Like Bennett, who has American parents, many Israelis are dual citizens and face few restrictions on entering the Arab country. In other cases, Saudi officials have granted special visas to admit Israelis, particularly tech executives, without a second nationality.
Bennett, 53, said he developed an interest in e-vehicles through his service as a naval officer on an Israeli submarine, which was propelled by batteries attached to a large electric motor.
At least four Israelis were invited to speak at this week's conference, including Samer Haj Yehia, chairman of Bank Leumi and an Arab citizen of Israel, and US-born Jonathan Medved, founder and CEO of the venture capital investing platform OurCrowd.
On Thursday, the final day of the conference, Jonathan Medved, chief executive of online venture investing platform OurCrowd, was direct in his speech saying in a panel that included two Saudis: "We're proudly from a little country just down the road called Israel."
Medved said it was becoming normal for Israeli companies to operate in the kingdom, comparing the development to the fall of the Iron Curtain separating Western Europe and the Soviet bloc and predicting that political detente would follow the commercial opening.
Saudi Arabia's crown prince and de facto leader Mohammad bin Salman has in the past expressed admiration for Israel's tech industry and said he sees the Israeli regime as a "potential ally."
Israeli companies are increasingly being allowed to operate in the Saudi kingdom despite the fact that Riyadh has not joined the 2020 Abraham Accords, which normalized diplomatic relations between Israel and the United Arab Emirates, Bahrain, Morocco and Sudan, some of which are Saudi Arabia's key Arab allies in the region.
In 2020, following Israel's then-premier Benjamin Netanyahu's visit to Riyadh where he met with Mohammad bin Salman, Riyadh granted permission to Israeli airlines to use its airspace, hours before the first Israeli flight to the UAE was set to take off.
Source: Press TV
Please click the following URL to read the full text of the original story:
https://www.presstv.ir/Detail/2022/10/28/691714/Israeli-entrepreneur-seeks-business-with-Saudi-Arabia
--------
Two Palestinians killed by Israeli forces in West Bank: Palestinian health ministry
28 October, 2022
Two Palestinians were killed Friday by Israeli forces in the occupied West Bank, the Palestinian health ministry said.
The ministry announced the death of Imad Abu Rashid, 47, who "was killed by the Israeli occupation, after being shot in the abdomen, chest and head".
In a later statement, it announced the death of Ramzi Sami Zabara, 35, "from a critical wound by the occupation (Israeli) bullets in the heart, in Nablus".
The Israeli army said in a statement it had received information "regarding a shooting attack from a moving vehicle" on a military target near Nablus.
"Soldiers conducting routine activity in the area identified two suspicious vehicles and responded with live fire towards them, hits were identified," it added, without specifying whether any fatalities had occurred.
Local sources told AFP that the two men, who hailed from Askar camp near Nablus, were members of the Palestinian Security Forces and were killed during an armed clash with the Israeli army at Huwara, south of Nablus.
The incident is the latest in a deadly week in Nablus, where Israeli forces have conducted regular raids and imposed tight restrictions on movement.
On Tuesday, five Palestinians were killed in an Israeli operation in the city targeting a nascent militant group called "The Lions' Den".
The group is a loose coalition of fighters that emerged in recent months, in parallel with a sharp rise in Israeli raids on the northern West Bank.
Source: Al Arabiya
Please click the following URL to read the full text of the original story:
https://english.alarabiya.net/News/middle-east/2022/10/28/Two-Palestinians-killed-by-Israeli-forces-West-Bank-Palestinian-health-ministry
--------
Disillusioned Palestinian voters may shape Israeli election
28 October, 2022
Disillusionment with politics among Palestinian citizens could help determine next week's election in Israel where former premier Benjamin Netanyahu is bidding to return to power, just a year after an Arab party joined an Israeli government for the first time.
With polls showing the conservative former leader still unsure of a majority, Arab parties could help form an anti-Netanyahu bloc and decide the government if the turnout among Palestinian voters is high enough.
For all the latest headlines follow our Google News channel online or via the app.
But, a week before the Nov. 1 ballot, some polls suggested the participation rate among Palestinian voters could fall to historic lows, with one survey showing only 42 percent sure of casting a ballot.
Other polls, meanwhile, indicate Palestinian turnout could rise slightly from last year's 44.6 percent to as much as 50 percent - still well below the 67.4 percent national rate in last year's election.
Arabs in Israel account for a fifth of its 9 million people and most are descendants of Palestinians who remained within the newly founded state after the 1948 war. They have long debated their place in the nation's politics, balancing their Palestinian heritage with their Israeli citizenship.
Some citizens identify as Palestinian, despite their Israeli citizenship, while others prefer to be called Arab citizens of Israel, because they want to emphasize equal rights with Jewish Israelis.
With prospects for the creation of an independent Palestinian state as distant as they have ever been, the rise of the United Arab List (UAL) - known by its Hebrew acronym Ra'am - has shifted the debate in Arab Israeli politics.
The Arab Muslim party won 4 lawmakers in Israel's 120-member parliament at elections last year and broke with tradition by joining a broad coalition government.
Abandoning nationalist rhetoric, the party focused instead on combating organized crime and improving planning and infrastructure in Arab areas, which opinion polls show are top priorities for Palestinian citizens in Israel.
According to Yousef Makladeh, founder and director of the Statnet Research Institute, the UAL's gamble to break the taboo of joining a government paid off. Opinion polls he conducted show that more than 70 percent of eligible Palestinian voters now support an Arab party participating in a coalition, whether they intend to vote themselves or not.
Crami Amer, a 47-year-old electrical engineer and resident of Kufr Qasem, a city in central Israel bordering the occupied West Bank, said he will vote for UAL.
"They are being practical and are thinking of new ways to support our people and advance our society," Amer said.
But, even after finally taking a seat at the ruling table, many Palestinians in Israel say they've lost hope in their ability to affect change as an Arab minority in a Jewish state.
Makladeh, the pollster, said the most repeated phrase during interviews with 200 Palestinian citizens in Israel for a recent poll was: "We are voting for nothing." Tuesday's election will be Israel's fifth in less than four years.
Source: Al Arabiya
Please click the following URL to read the full text of the original story:
https://english.alarabiya.net/News/middle-east/2022/10/28/Disillusioned-Palestinian-voters-may-shape-Israeli-election
--------
Iran places Mahsa Amini's family under house arrest: Report
27 October, 2022
Iranian authorities have placed Mahsa Amini's family members under house arrest, Al Arabiya reported on Thursday.
"We hold the Iranian authorities responsible for the killing of Mahsa Amini at the hands of the security forces," Irfan Murtazai, a cousin of Amini confirmed in a call with Al Arabiya.
Protests took place in Amini's hometown of Saqqez and other parts of Iran on Wednesday to mark 40 days since she died in police custody, videos shared on social media showed.
Iranian security forces reportedly opened fire at people who gathered at the cemetery where Mahsa Amini is buried, a witness told Reuters.
Demonstrations have swept across Iran since September 16 when 22-year-old Amini died three days after collapsing in police custody.
The demonstrations have become one of the boldest challenges to the Islamic Republic's clerical leadership since the 1979 Iranian Revolution with protesters calling for regime change.
Source: Al Arabiya
Please click the following URL to read the full text of the original story:
https://english.alarabiya.net/News/middle-east/2022/10/27/Iran-places-Mahsa-Amini-s-family-under-house-arrest-Report
--------
Iran summons German envoy, accusing Berlin of meddling in its internal affairs
Haydar Sahin
28.10.2022
Iran summoned Germany's ambassador Thursday over "meddlesome" remarks by a number of German officials concerning the ongoing unrest in the country.
In his meeting with Hans-Udo Muzel, Iranian Deputy Foreign Minister Ali Bagheri Kani said the stances taken by German officials including Foreign Minister Annalena Baerbock were unacceptable and irresponsible and had provoked riots in the country, the Foreign Ministry said in a statement.
"The deputy foreign minister for political affairs touched on the comments by some German officials that provoked rioting and law-breaking in Iran, describing such irresponsible stances as a breach of the rules and principles of international law and incompatible with the tradition of the long relations between the two countries, saying they are unacceptable," it added.
Mahsa Amini, 22, died in mysterious circumstances last month after being detained by the country's morality police for wearing "inappropriate dress."
Angry protests which first broke out in the city of Sanandaj in western Iran later spread across the country.
Wednesday marked 40 days since her death and saw fresh protests in several cities, including the capital Tehran, amid heavy deployments of police on the streets.
Source: Anadolu Agency
Please click the following URL to read the full text of the original story:
https://www.aa.com.tr/en/middle-east/iran-summons-german-envoy-accusing-berlin-of-meddling-in-its-internal-affairs/2722908
--------
Europe
Presence of PKK terrorist group in front of Council of Europe disturbs Turks in France
Omer Tugrul Cam
27.10.2022
The presence of the PKK protesting in front of the Council of Europe in Strasbourg, France is disturbing locals with roots in Türkiye, where the PKK is known as a terrorist group that has killed tens of thousands of people.
For years, PKK members and their supporters have been protesting about 100 meters (about 330 feet) from the entrance of the Council of Europe building, even though the group is also recognized as a terrorist organization by the European Union, which France is part of.
The sit-in protests by PKK members, who unfurl banners of the terrorist group, and pictures of its terrorist leader Abdullah Ocalan, have been going on for a dozen years.
Hundreds of members of the group coming from European countries such as Germany, Belgium, the Netherlands, or other cities in France, make a scene and sometimes resort to violence during Council of Europe sessions.
In years past, many PKK members tried to break into the Council of Europe or the nearby European Court of Human Rights building and also clashed with the Strasbourg police. Some of the PKK members who damaged the buildings were arrested. But to date no PKK members have faced serious punishment for these actions.
Locals Turks disturbed
Turks living France expressed their discomfort and uneasiness about the presence of the murderous terrorist group in the country.
Speaking to Anadolu Agency, Ali Gedikoglu, head of the Strasbourg-based humanitarian NGO COJEP International, voiced his displeasure about this situation.
"We are disturbed by the campaign that this structure, which is an extension of the terrorist organization, has been conducting in Strasbourg for years to influence the public, especially Council of Europe deputies and decision-makers."
Saying that the PKK is trying to spread propaganda to the French public, which is being victimized, Gedikoglu said that they are also working to warn the public about this.
The PKK is listed as a terrorist organization by Türkiye, the European Union, and the US, and is responsible for the deaths of 40,000 people, including women, children, and infants.
Though recognized as a terror group, the PKK openly maintains a dangerous foothold in Europe, including in such areas as human trafficking, drugs, and organized crime. Turkish officials have long complained to European countries that PKK terrorists are free to walk the streets of European cities, and militants can stage pro-terrorist protests without the police ever challenging them.
PKK activities should be banned in Europe
Turks living in France stress that any activity of the PKK should be banned throughout Europe.
Gurhan Ay, a press officer for Strasbourg-based NGO Organization Racism Islamophobia Watch (ORIW), also underlined this.
Complaining that they brought up the issue many times before local leaders in Strasbourg, but nothing changed, Ay added: "This is unfortunately a reflection of the hypocritical behavior of Europe."
Zekeriya Sahin, who has been a journalist in France for years, said they have known about the terrorist organization's activities in Strasbourg for years and that European countries apply double standards when it comes to the PKK.
Stating that PKK members try to create the impression that the terrorist group is innocent and victimized, Sahin stressed: "Actually, we're telling people that this is not so."
Strasbourg, Council of Europe remain silent
Anadolu Agency efforts to get a response to the issue from the mayor and other officials of Strasbourg were fruitless.
Source: Anadolu Agency
Please click the following URL to read the full text of the original story:
https://www.aa.com.tr/en/europe/presence-of-pkk-terrorist-group-in-front-of-council-of-europe-disturbs-turks-in-france/2722321
--------
Australia begins repatriating wives and children of Islamic State fighters
28 Oct 2022
SYDNEY, Oct 28 ― Australian relatives of dead or jailed Islamic State fighters are en route to Sydney, local media reported today, as the country begins the controversial repatriation of dozens of Australian women and children from Syrian refugee camps.
Australia first rescued eight children and grandchildren of two dead Islamic State fighters from a Syrian refugee camp in 2019, but has held off repatriating any others until now.
The four women and 13 children left the al-Roj refugee camp in northern Syria yesterday afternoon and crossed the border into Iraq to board a flight home, the Sydney Morning Herald and state broadcaster ABC reported.
A spokesperson for Home Affairs Minister Clare O'Neil declined to comment, citing the sensitive nature of the issue.
Local media reported some women may be charged with terrorism offences or for entering Syria illegally.
Prime Minister Anthony Albanese said today that the government would act in line with advice from national security agencies.
"We'll continue to act on national security advice which is what we have done up to this point... we will always act in a way that keeps Australia safe," he said.
The decision is controversial in Australia and Opposition Leader Peter Dutton on Friday said the move was not in the country's best interest, "particularly where they've been mixing with people who hate our country, hate our way of life."
Source: Malay Mail
Please click the following URL to read the full text of the original story:
https://www.malaymail.com/news/world/2022/10/28/australia-begins-repatriating-wives-and-children-of-islamic-state-fighters/36048
--------
Turkey's defence company Baykar to build Ukraine plant in two years: CEO
28 October, 2022
Turkish defense company Baykar is planning to complete the construction of its manufacturing plant in Ukraine in two years, its chief executive said on Thursday, after the company became highly renowned for their drones' success in thwarting Russian forces.
The aerial drones supplied to Ukraine by Baykar were instrumental in Ukraine's defense against Russian amour and anti-aircraft systems in the first few weeks of the Russian invasion.
For all the latest headlines follow our Google News channel online or via the app.
Its Bayraktar TB2 drone gained so much prominence with the public that Ukrainians composed a song about it and some allies launched unprecedented, crowdfunded campaigns to buy more.
As part of an agreement between Turkey and Ukraine, signed just before Russia's February 24 invasion, Baykar had agreed to build its second manufacturing plant in Ukraine.
CEO Haluk Bayraktar told Reuters on Thursday that plans were moving ahead despite some obstacles created by Russia's invasion. "Our plan is moving ahead," the chief executive said on the sidelines of the SAHA defense expo in Istanbul.
"Right now we have architectural design. The detailed design phase is finished. And we will move ahead with construction actually... within two years we would like to finish it."
Ukraine figures prominently in Baykar's supply chain, especially with the new heavy-lifter drone Akinci and unmanned fighter jet Kizilelma, or Golden Apple, currently under development. Both use Ukrainian engines from Motor Sich and from Ivchenko-Progress.
Expanding orders
Deployment of the company's Bayraktar TB2 drone has been a major factor influencing conflicts from Syria to Azerbaijan and Ukraine, pushing Baykar into the global spotlight and transforming it into a major manufacturer and exporter.
The battle-proven TB2 drone is being sold to 24 countries including NATO member Poland, while the company signed deals with five countries for exports of its much larger sibling Akinci.
While the TB2 can lift off with up to 150 kg (330 pounds) of missiles or equipment, Akinci, first delivered to Turkish armed forces last year, can fly much higher and take off with 10 times the weight.
The expanding order book is expected to net around $1 billion in export revenues this year, Bayraktar said, about 50% higher than last year's $650 million, with a further 50% growth expected in 2023.
Though Baykar is not the only military drone developer in Turkey, the TB2 has figured so prominently in conflicts that it now spearheads Turkey's global defense export push. Last year the company made up a fifth of Turkey's $3.2 billion in defense exports, according to data from Turkish Exporters Assembly.
The company will invest the revenues for expansion of production lines, Bayraktar said. "Our production capacity with TB2, we do 20 units per month. For 2023 our target is to do minimum 30 (units) a month," he said.
Space technologies
Research and development on the fast drone fighter jet Kizilelma, which analysts say represents significant expansion of capabilities for slow moving reconnaissance and missile carrying drones, will pick up as well, Bayraktar said.
Kizielma will be capable of taking off from and landing on short-runway aircraft carriers, with a maiden flight expected in the next few months.
The TB3, a short-runway-capable version of the TB2, is expected to finish its testing phase by the end of 2023, Bayraktar said.
The company is also expanding its focus to space technologies to complement its unmanned vehicle system. "We are now investing in space technologies... Not well established segments, but new areas where you can bring new innovative solutions," Bayraktar said.
Source: Al Arabiya
Please click the following URL to read the full text of the original story:
https://english.alarabiya.net/News/middle-east/2022/10/28/Turkey-s-defense-company-Baykar-to-build-Ukraine-plant-in-in-two-years-CEO
--------
Arab World
Iraqi parliament approves premiership of Mohammed Shia al-Sudani
October 28, 2022
BAGHDAD: Iraqi lawmakers approved a new government yesterday ending more than a year of deadlock, but still faces many challenges.
Prime minister Mohammed Shia al-Sudani, 52, who previously served as Iraq's human rights minister as well as minister of labour and social affairs, will head the new government.
Sudani's picks for 21 ministries passed during a parliament vote on the Cabinet.
He named the former head of the state-run South Gas Co (SGC) Hayan Abdul Ghani as oil minister, Taif Sami as finance minister, and kept Fuad Hussein as foreign minister for a second term.
Sudani vowed to reform the economy, fight corruption, improve deteriorating public services, and combat poverty and unemployment among other things.
He also promised to amend the election law within three months and hold early parliamentary elections within a year.
"The epidemic of corruption that has affected all aspects of life is more deadly than the corona pandemic and has been the cause of many economic problems, weakening the state's authority, increasing poverty, unemployment, and poor public services," Sudani said in his speech in parliament ahead of the vote.
Sudani is the nominee of the largest parliamentary bloc known as the Coordination Framework, an alliance of Iran-aligned factions. He took over from former prime minister Mustafa al-Kadhimi, who had been leading a caretaker government, after anti-government protesters took to the streets in their thousands in 2019, demanding jobs and the departure of Iraq's ruling elite.
They accuse the political class that took over after the 2003 US invasion that toppled Saddam Hussein of corruption that has driven the country into dysfunction and economic ruin.
Yesterday's vote comes a year after an election in which populist Shi'ite Muslim cleric Moqtada al-Sadr was the biggest winner but failed to rally support to form a government.
Sadr withdrew his 73 lawmakers in August and said he would quit politics, prompting the worst violence in Baghdad for years when his loyalists stormed government buildings and fought rival Shi'ite groups, most of them backed by Iran and with armed wings.
Sadr, who has not declared his next move, has a track record of radical action, including fighting US forces, quitting cabinets, and protesting against governments.
Many fear protests by his supporters. Sadr appeared to oppose Sudani's candidacy because he is an ally of former prime minister Nouri al-Maliki.
The year-long political paralysis has left Iraq without a budget for 2022, holding up spending on much-needed infrastructure projects and economic reform.
Iraqis say the situation is exacerbating a lack of services and jobs even as Baghdad earns record oil income because of high crude prices and has seen no major wars since the defeat of the Islamic State five years ago.
Source: Free Malaysia Today
Please click the following URL to read the full text of the original story:
https://www.freemalaysiatoday.com/category/world/2022/10/28/iraqi-parliament-approves-premiership-of-mohammed-shia-al-sudani/
--------
Saudi Arabia, China foreign affairs ministers discuss expansion of ties
28 October, 2022
Saudi Arabia and China discussed ways to expand bilateral relations in a meeting between the foreign ministers of the two countries.
Saudi Arabia's Minister of Foreign Affairs Prince Faisal bin Farhan chaired the virtual meeting with his Chinese counterpart Wang Yi, the Kingdom's Foreign Ministry said in a statement.
The meeting was held as part of the fourth edition of the Political and Foreign Affairs Committee under the China-Saudi High-Level Joint Committee.
The ministers reportedly signed off on the "executive work program of the Political Affairs Committee."
Deputy Foreign Minister Walid al-Khuraji and Undersecretary at the Ministry for Political Affairs Dr. Saud al-Sati was also present during the meeting.
China's state news agency Xinhua reported on Thursday that the country "appreciates Saudi Arabia's pursuing of an independent energy policy and making active efforts to maintain the stability of the international energy market."
The remarks come after OPEC+, the producer group comprising the Organization of the Petroleum Exporting Countries (OPEC) plus allies including Russia, announced oil output cuts after weeks of lobbying by US officials against such a move.
The US accused Saudi Arabia of kowtowing to Moscow, which objects to a Western cap on the price of Russian oil in response to its invasion of Ukraine.
Saudi Arabia maintains that the OPEC+ decision was "purely economic."
"China stands ready to step up communication and coordination with Saudi Arabia on hotspot issues in the Middle East, jointly safeguard regional peace and stability, and strengthen coordination with Saudi Arabia on multilateral platforms such as the United Nations, BRICS, the Shanghai Cooperation Organization and the G20," Xinhua reported after the two foreign ministers spoke.
The latest interaction follows a call between Saudi Arabia's Minister of Energy Prince Abdulaziz bin Salman and China's National Energy Administrator Zhang Jianhua, earlier this week.
The duo discussed global energy security and agreed to work together to support the stability of the international oil market.
They also highlighted the importance of "long-term and reliable" oil supply to stabilize a dynamic global market that is currently facing "complex and changeable international situations," according to a Saudi Press Agency report.
Source: Al Arabiya
Please click the following URL to read the full text of the original story:
https://english.alarabiya.net/News/gulf/2022/10/28/Saudi-Arabia-China-foreign-affairs-ministers-discuss-expansion-of-ties
--------
Head to Sharjah to see the Qur'an by female scribe in 1844AD, and other rare manuscripts
October 28, 2022
Sharjah: Sharjah Museums Authority will be showcasing a number of rare Qur'an manuscripts and Islamic calligraphy from the Hamid Jafar Quran Collection between Oct. 31 and March 19, 2023 at Sharjah Museum of Islamic Civilisation.
The exhibition "Sacred Words, Timeless Calligraphy: Highlights of Exceptional Calligraphy from the Hamid Jafar Qur'an Collection," will feature a number of exquisite manuscripts that will be displayed for the first time ever.
Businessman Hamid Jafar began the collection with a vision of presenting Islam's influence as a unifying force and a source of inspiration in disparate cultures from Andalusia and the Maghreb through to the Near East to South East Asia and China.
Over 40 years, he has added numerous works spanning fourteen centuries of Islamic civilisation tracing back to the dawn of Islam.
The highlights
The manuscripts on view will include a magnificent Qur'an by female scribe Sharifah Wahidah Yaqutah, dated 1844AD, and a 1.7m-high page of the Baysunqur Qur'an that dates back to 1400AD and a folio from one of the oldest and largest surviving Qur'an manuscripts from the "Tashkent Qur'an" which dates back to the second century AH/ 8th century AD.
The exhibition reflects Sharjah Museums Authority's focus on celebrating Islamic culture and heritage, and offers museum visitors insights into the origins and history of Islamic calligraphy while also shedding light on its development through copying and preserving Quran manuscripts during a period spanning 14 centuries.
Source: Gulf News
Please click the following URL to read the full text of the original story:
https://gulfnews.com/uae/head-to-sharjah-to-see-the-quran-by-female-scribe-in-1844ad-and-other-rare-manuscripts-1.91542593
--------
Lebanon's Hezbollah ends 'exceptional' mobilization against Israel
27 October, 2022
Lebanon's Hezbollah will end an "exceptional" mobilization against Israel after threatening to attack for months, its leader Hassan Nasrallah said Thursday after Lebanon and Israel struck a maritime border deal.
"All the exceptional and special measures and mobilization carried out by the resistance for several months are now declared over," Nasrallah said in a televised speech, calling the agreement a "great victory for Lebanon."
"Our mission is complete," Nasrallah said, adding that the deal "is not an international treaty and it is not a recognition of Israel."
On July 2, Israel said it had downed three drones launched by Hezbollah that were headed toward the border offshore field of Karish which was partly claimed by Lebanon.
Nasrallah had warned Israel against reaching for the reserves before a deal was finalized.
The agreement between the countries, which are still technically at war, was applauded by world leaders including US President Joe Biden.
It was signed separately on Thursday by Lebanon's President Michel Aoun in Beirut and by Israel's Prime Minister Yair Lapid in Jerusalem, and went into effect after the papers were delivered to mediators.
Earlier in the day Lapid had claimed that the deal meant Lebanon de facto "recognizes the State of Israel, in a written agreement."
Aoun had retorted that the deal had no "political implications."
The United States-mediated deal is set to unlock potential off-shore gas resources for Lebanon, at a time when the country is reeling from three years of grueling economic crisis.
Source: Al Arabiya
Please click the following URL to read the full text of the original story:
https://english.alarabiya.net/News/middle-east/2022/10/27/Lebanon-s-Hezbollah-ends-exceptional-mobilization-against-Israel
--------
Four pro-Iranian fighters killed in Israeli strikes near Damascus: War monitor
27 October, 2022
Four pro-Iranian fighters were killed early Thursday during Israeli strikes on several positions near Damascus, a war monitor said, in the third such attack in less than a week.
Israel has carried out hundreds of airstrikes on Syrian territory since civil war broke out there in 2011, targeting government positions as well as allied Iran-backed forces and Hezbollah fighters.
Explosions were heard in the Syrian capital in the night of Wednesday to Thursday, an AFP correspondent reported.
"At around 00:30 am, the Israeli enemy carried out an aerial aggression from the direction of the occupied Palestinian territories targeting several positions in the vicinity of Damascus," the Syrian defense ministry had said in a statement.
Syria's air defense intercepted several missiles, the ministry added.
It did not provide any details on the targets and said that the strikes caused material damage.
The Israeli strikes targeted "weapons and ammunition depots and bases housing Iranian-backed groups a few kilometers from Damascus International Airport," the Syrian Observatory for Human Rights monitor said.
The UK-based war monitor, which relies on a wide network of sources in Syria, later said that four pro-Iran fighters, including one Syrian, were killed during the strikes.
On Monday, Israel struck the vicinity of Damascus, wounding one soldier, after a strike three days earlier targeted Syrian military sites near the airport.
Source: Al Arabiya
Please click the following URL to read the full text of the original story:
https://english.alarabiya.net/News/middle-east/2022/10/27/Four-pro-Iranian-fighters-killed-in-Israeli-strikes-near-Damascus-War-monitor
--------
Saudi energy minister discusses oil market stability with French counterpart
28 October, 2022
Saudi Arabia's Energy Minister Prince Abdulaziz bin Salman held discussions on supporting and increasing the stability of the international oil market with his French counterpart, the official state news agency SPA reported Friday.
In a virtual meeting with France's Minister for Energy Transition, Agnes Pannier-Runacher, Prince Abdulaziz discussed continuing close communication and strengthening cooperation to address emerging risks and challenges, SPA reported.
SPA added that in the meetings the ministers "stressed the need to increase the stability of the international oil market, to continue close communication, and to strengthen co-operation o address emerging risks and challenges.
Both sides confirmed they would strengthen the bilateral relations between the two countries and highlighted the need to ensure "secure and reliable supplies of energy in to global markets."
Source: Al Arabiya
Please click the following URL to read the full text of the original story:
https://english.alarabiya.net/News/gulf/2022/10/28/Saudi-energy-minister-discusses-oil-market-stability-with-French-counterpart
--------
Global survey identifies critical accessibility barriers, tech needs in education
27 October, 2022
A recent global study has revealed that student expectations following the COVID-19 pandemic do not fully align with what university leaders are envisioning for the future, indicating an opportunity for higher education institutions to make adjustments to the learner experience in support of better outcomes.
"As universities continue to drive digital transformation, they're faced with new hurdles around everything from course delivery and support services to accessibility and how they equip their students and staff with technology," said Jim Milton, Chairman and CEO at Anthology, a leading provider of education solutions that support the entire learner lifecycle.
Anthology offers the largest EdTech ecosystem on a global scale for education, recently combining with Blackboard to support more than 150 million users in 80 countries.
Milton recently announced in Dubai the results of its 2022 global research study 'Comparing Global University Mindsets and Student Expectations.' The study surveyed more than 5,000 higher education leaders and current students from countries around the world, including the US, Australia, Brazil, Colombia, India, Japan, Spain, Saudi Arabia, South Africa and the United Kingdom.
The survey targeted student respondents who are currently enrolled at a higher education institution pursuing a degree or diploma. University leader respondents are currently senior leaders (Dean, Provost, Rector, etc.) at a higher education institution. In total, 2,572 current university leaders and 2,725 students completed the survey.
"We believe that technology plays a vital role in shaping the future of higher education across the globe, and results from this study validate that viewpoint as leaders consider the impact of technology and data on the overall student experience," he said.
Blackboard merged with Anthology last year to become one company, formalizing the promise of a new era in education.
With Blackboard and Anthology together, the combination brings the most comprehensive and modern EdTech ecosystem at a global scale for education.
The two-day Anthology Together Middle East 2022 (ATME) held in Dubai was the first conference as a combined company created to gather leaders and experts in education from across the Middle East and Africa to better understand the needs of this next generation of learners,
Session topics spanned student success through digital and blended learning, academic adoption, online assessment and feedback, data analytics and protection, accessibility, inclusive learning — all with a nuanced focus on the MEA region and supplemented with use cases.
"We believe that technology plays a vital role in shaping the future of higher education across the globe, and results from this study validate that viewpoint as leaders consider the impact of technology and data on the overall student experience," the Anthology CEO said.
Lack of technology access
Outside the pandemic, the economy continues to have the most significant impact on learners across all regions (73 percent), followed by a lack of access to technology (35 percent). Lack of technology access was significantly higher in the Middle East and Africa (MEA) region, where 54 percent of students indicated this was a challenge.
University leaders in most regions are largely in sync with these challenges but only 30 percent of higher education leaders in the Middle East and Africa felt that technology access was a concern for their students, indicating a discrepancy between their perception and the student experience.
Hybrid Instruction for the future
More than 80 percent of students globally now prefer that at least some of their courses or instructional meetings take place online. Leaders are moving their universities in the right direction, with more than a third (38 percent) indicating that a mix of online and in-person course delivery would be the model at their institution by 2025, increasing from 16 percent currently.
Nearly a quarter of North American leaders (24 percent) stated that courses would still be offered in an entirely in-person format by 2025 – a significantly higher percentage than any other region.
The highest percentage of students interested in fully asynchronous courses were from North America, representing the largest gap compared to student preferences for how courses are offered.
Investing in holistic tech
Learners globally want – and expect – technology to be more prevalent in their higher education experience and university leaders agree, with 60 percent stating that their university currently lacks the appropriate digital learning tools to help students succeed.
While only 26 percent of university leaders have significantly increased the number of digital learning tools utilized over the past two years, more than half are considering additional investments in technology moving forward.
Source: Al Arabiya
Please click the following URL to read the full text of the original story:
https://english.alarabiya.net/features/2022/10/27/Global-survey-identifies-critical-accessibility-barriers-tech-needs-in-education
--------
Saudi anime expo opens, promising top art, music and cosplay
RAHAF JAMBI
October 28, 2022
RIYADH: The Saudi Anime Expo kicked off here on Thursday as part of Riyadh Season, with organizers promising a feast of live performances and the best of the Japanese genre's art and music.
Those who were present at the opening ceremony included Japan's Ambassador Fumio Iwai, Saudi Entertainment Authority CEO Faisal Bafarat, Manga Production CEO Dr. Essam Bukhari, Groundworks CEO Yasuhiro Kamimura, and Shueisha Inc. General Manager Takanori Asada.
Bafarat said this year's event has over 30 experiences for fans. "This expo is evidence of the diversity of content in Riyadh Season and we cater to all interests."
He said Saudi Arabia has a longstanding relationship with anime culture, having attracted people of all ages. "After the success of the expo in 2019, we worked on several partnerships with the Japanese side, and the Anime Expo in 2022 is the result of this cooperation and partnership," Bafarat said.
The three-day exhibition will allow fans to interact with their favorite characters, attend live performances by celebrities, and have discussions with producers and voice actors. There will also be local and international cosplay competitions, and screenings of the latest anime films.
Groundworks' Kamimura told Arab News: "This is the first time I've participated in an event in Saudi Arabia, and I am very happy and surprised by the size of the expo. I participated in many anime exhibitions in the world, but for the first time, I saw this great variety in the same place and of such high quality. I am happy with the number of Saudis who love Japanese business."
Source: Arab News
Please click the following URL to read the full text of the original story:
https://www.arabnews.com/node/2189631/saudi-arabia
--------
US theft of resources: American military forces smuggle wheat crops, crude oil from northeast Syria to Iraq's Kurdistan
27 October 2022
As part of the US military's systematic smuggling of basic commodities out of Syria, a convoy of nearly two dozen US military trucks and tankers has carried tons of grain and crude oil from the northeastern province of Hasakah to the semi-autonomous Kurdistan region in northern Iraq.
Local sources, requesting anonymity, told Syria's official news agency SANA that 22 military vehicles loaded with wheat crops and crude oil from the Jazira Region rumbled through al-Waleed border crossing in al-Ya'rubiyah region and entered the Iraqi territories on Wednesday.
The US military has for long stationed its forces and equipment in northeastern Syria, with the Pentagon claiming that the deployment is aimed at preventing the oilfields in the area from falling into the hands of Daesh terrorists.
Damascus, however, maintains the deployment is meant to plunder the country's natural resources. Former US president Donald Trump admitted on several occasions that American forces were in the Arab country for its oil wealth.
On September 21, China called on the United States to stop plundering Syria's resources and respect the sovereignty and territorial integrity of the Arab country.
"We call on the United States to respect Syria's sovereignty and territorial integrity, unilaterally lift sanctions, and end the theft of Syria's national resources," China's Foreign Ministry spokesman Wang Wenbin told a news briefing.
Russia: HTS militants preparing false-flag chemical attack in Syria's Idlib
Meanwhile, Russia's Defense Ministry has warned that members of the Takfiri Hayat Tahrir al-Sham (HTS) terrorist outfit are planning to stage yet another false-flag chemical attack against civilians in the northwestern province of Idlib to implicate Syrian government forces.
The deputy head of the Russian Reconciliation Center for Syria, Major General Oleg Yegorov, said the center has received information that Hayat Tahrir al-Sham terrorists intend to use shells containing toxic materials against ordinary people, and then accuse Syrian government troops of assaults on civilian infrastructure and residential areas.
This is while Syria surrendered its stockpile of chemical weapons in 2014 to a joint mission led by the United States and the Organization for the Prohibition of Chemical Weapons (OPCW), which oversaw the destruction of the weaponry. It has also consistently denied using chemical weapons.
Back in April 2018, the United States, Britain, and France carried out a string of airstrikes against Syria over a suspected chemical weapons attack on the city of Douma, located about 10 kilometers northeast of the capital Damascus.
That alleged attack was reported by the so-called White Helmets group, which published videos showing them purportedly treating survivors.
Washington and its allies blamed Damascus for the Douma attack, an allegation strongly rejected by the Syrian government.
Source: Press TV
Please click the following URL to read the full text of the original story:
https://www.presstv.ir/Detail/2022/10/27/691676/US-military-forces-smuggle-wheat-crops,-crude-oil-from-northeast-Syria-to-Iraq-again--Report
--------
Africa
South Africa responds to US terror alert, assures citizens of safety
Hassan Isilow
27.10.2022
South Africa has assured its citizens of safety after the US Embassy issued a terror alert on Wednesday.
In a statement, the South African presidency said that the alert "is part of the US government's standard communication to its citizens.''
"It is the responsibility of the South African security forces to ensure that all people within our country feel safe," the statement said.
On Wednesday, the US Embassy issued an alert saying it has received information that terrorists may be planning to conduct an attack targeting large gatherings of people at an unspecified location in the greater Sandton area of Johannesburg on Oct. 29.
Sandton is South Africa's richest suburb frequented by some of the wealthiest and most influential people in the country.
The US said it did not have further information regarding the timing, method, or target of the potential attack but advised embassy staff to avoid crowds of people and other large public gatherings in Sandton during the weekend.
"Law enforcement agencies continue to monitor for any threats to our citizens, our nation and our sovereignty," the South African presidency said.
It further stated that threats are assessed continuously and are acted upon to ensure the safety of all.
Source: Anadolu Agency
Please click the following URL to read the full text of the original story:
https://www.aa.com.tr/en/africa/south-africa-responds-to-us-terror-alert-assures-citizens-of-safety/2722159
--------
Jordan's PM reshuffles cabinet, 11 new ministers announced
27 October, 2022
Jordan's Prime Minister Bisher al Khasawneh announced a cabinet reshuffle on Thursday.
The British-educated former veteran diplomat and palace aide was appointed two years ago to restore public trust over the handling of COVID-19 and deliver prosperity.
The finance, foreign and interior ministers were kept in place in the reshuffle, which changed nearly a third of cabinet ministers overall. Of 11 new ministers, three are women.
Khasawneh has sought to accelerate reforms pushed by King Abdullah to help the oil importing country reverse a decade of sluggish growth hovering at around two percent that was worsened by the pandemic and conflict in neighboring Iraq and Syria.
The government last summer unveiled a plan to attract over $40 billion of investments over the next 10 years. It said it was committed to implementing free market reforms.
The Royal Decree approved the appointment of the following ministers:
Nasser Shraideh as Deputy Prime Minister for Economic Affairs and Minister of State for Public Sector Modernization
Wajih Azaizeh as Minister of Political and Parliamentary Affairs
Ahmad Maher Abul Samen as Minister of Public Works and Housing and Minister of Transport
Azmi Mahafzah as Minister of Education and Minister of Higher Education and Scientific Research
Yousef Shamali as Minister of Industry, Trade, and Supply and Minister of Labour
Faisal Shboul as Minister of Government Communications
Wafaa Bani Mustafa as Minister of Social Development
Kholoud Saqqaf as Minister of Investment
Nancy Namrouqa as Minister of State for Legal Affairs
Zeina Toukan as Minister of Planning and International Cooperation.
Source: Al Arabiya
Please click the following URL to read the full text of the original story:
https://english.alarabiya.net/News/middle-east/2022/10/27/Jordan-s-PM-reshuffles-cabinet-11-new-ministers-announced
--------
Museveni's son boasts he'll be Uganda's next president
27 October, 2022
The controversial son of Uganda's veteran leader Yoweri Museveni for the first time Thursday publicly declared his ambition to become president of the East African country.
Observers have long considered that Muhoozi Kainerugaba, who recently became embroiled in a diplomatic spat with Kenya over a threat on Twitter to invade Nairobi, was being groomed for the top job.
"The only way I can repay my great mother is by being President of Uganda! And I shall definitely do it!!" the powerful 48-year-old general tweeted.
Although Kainerugaba has in the past denied claims he intends to succeed his 78-year-old father – one of Africa's longest-serving leaders – he has enjoyed a rapid rise through Uganda's army ranks.
After the social media row, Museveni had sought to rein in his wayward only son by telling him to stay off Twitter when it comes to affairs of state and to stick to subjects like sport.
But a defiant Kainerugaba has continued to post on a variety of issues, tweeting last week: "I am an adult and NO ONE will ban me from anything!"
Museveni had apologized to Kenya in early October after Kainerugaba, among other remarks, suggested it would take his troops two weeks to capture Nairobi.
Museveni nevertheless defended his son as a "very good general," after promoting him to the rank despite stripping him of his role as leader of Uganda's land forces.
To many Ugandans, Kainerugaba's position as heir apparent has been obvious with his dizzying climb through the military, but the government has in the past taken a harsh line against anyone discussing the matter.
In 2013, police shut two independent newspapers and two radio stations for 10 days after they published a leaked confidential memo by a senior general alleging that Museveni was grooming Kainerugaba to succeed him.
Kainerugaba's comments on sensitive foreign policy matters have often caused diplomatic headaches for Uganda.
Source: Al Arabiya
Please click the following URL to read the full text of the original story:
https://english.alarabiya.net/News/world/2022/10/27/Museveni-s-son-boasts-he-ll-be-Uganda-s-next-president-
--------
Over 1,400 candidates apply for parliamentary elections in Tunisia
Adel Thabeti
28.10.2022
TUNIS, Tunisia
A total of 1,429 candidates have applied to contest Tunisia's parliamentary elections scheduled to be held on Dec. 17, the country's election commission said.
Faroukh Bouasker, head of the Independent High Authority for Elections, said in a televised interview that the deadline for receiving applications from candidates ended on Thursday.
The representation of women candidates stands at 15%, he added.
After the vetting process, the final list of candidates will be announced on Nov. 2, he said.
This September Tunisian President Kais Saied amended the elections law so that voters choose individuals instead of the party.
Source: Anadolu Agency
Please click the following URL to read the full text of the original story:
https://www.aa.com.tr/en/middle-east/over-1-400-candidates-apply-for-parliamentary-elections-in-tunisia/2723146
--------
Pakistan
Minorities Enjoy Complete Religious Freedom In Pakistan: Minister Inter-Faith Harmony
October 28, 2022
Federal Minister for Religious Affairs and Inter-Faith Harmony, Mufti Abdul Shakoor here on Thursday said that the minority communities were enjoying complete religious freedom in Pakistan and could freely observe their religious rituals without any fear. The Minister expressed these views as chief guest while addressing a conference titled 'Inter-faith harmony and present day requirements' organized by the Federal Ministry of Religious Affairs and Interfaith Harmony, at a local hotel.
"There are no restrictions on minorities regarding practicing of their religious obligations at churches, temples, Gurdwaras and others respective worships places," he said, adding that Islam was the religion of peace, brotherhood and emphasizes on mutual coexistence and showing respect to others' believes. He said Islam prohibits all kinds of violence including militancy, extremism and torture and those killing innocent people have no religion.
Source: Pak Observer
Please click the following URL to read the full text of the original story:
https://pakobserver.net/minorities-enjoy-complete-religious-freedom-in-pakistan-shakoor/
--------
In A First, ISI Chief, Lt Gen Nadeem Ahmed Anjum Attends Presser to Counter Imran's Anti-Army Tirade
Oct 28, 2022
ISLAMABAD: The chief of Pakistan's ISI Thursday broke with a decades-long tradition of silence in public to appear at a presser alongside the head of the army's media wing and counter former PM Imran Khan's alleged anti-military narrative ahead of his long march from Lahore to Islamabad, starting Friday.
"I know you are shocked to see me among you, and I can understand your surprise," Lt Gen Nadeem Ahmed Anjum began amid a frisson of excitement coursing through the gathering.
"But today is a different day; I am not here for myself but for my institution, whose soldiers and officers sacrifice their lives every day for this country. I broke my silence because I saw the country and our institutions facing threats due to the lies that were being perpetuated and accepted by the youth," he said.
Lt Gen Anjum, whose appointment as ISI chief in place of Lt Gen Faiz Hameed in October last year had been resisted by the erstwhile Imran-led government, claimed that army chief Gen Qamar Javed Bajwa received "a lucrative offer" in March for an extended stint if he helped the former PM beat the then opposition's no-confidence motion against him. "It (the offer) was made in front of me. He (Gen Bajwa) rejected it because he wanted the institution (the army) to move forward from a controversial to a constitutional role," the ISI chief said.
Without naming Imran, he said that while everyone had the right to an opinion, it was intriguing that Gen Bajwa was being branded "a traitor" by the very person who had praised him.
"If you (Imran) see him as a traitor, then why do you meet him through the back door? Don't do this. It's a big contradiction between your words and your actions," Lt Gen Anjum said
The ISI chief said that words like "neutral, jaanwar (animal), Mir Jafar and Mir Sadiq" were being used against Gen Bajwa and the army just because the institution had refused to bend to "his unconstitutional and illegal acts".
Never before in Pakistan's chequered history had an ISI chief appeared in public to directly address the media on any issue.
Military spokesperson Lt Gen Babar Iftikhar said the facts behind Imran's claim about a foreign conspiracy behind his ouster and Pakistani journalist Arshad Sharif's killing in Kenya needed to be determined. "Since Arshad was an investigative journalist, he had looked into the so-called conspiracy when it surfaced," he said. "It has to be determined who exactly benefited from his killing."
Gen Iftikhar claimed that on August 5, the Khyber Pakhtunkhwa (provincial) government of Imran's Pakistan Tehreek-i-Insaf issued a "threat alert" on the instructions of CM Mahmood Khan, saying a splinter group of the Tehreek-i-Taliban Pakistan was looking to target the journalist.
"No information was shared with the institutions that provided them the information," Iftikhar said, adding it proved the alert had been issued with the objective of getting Arshad to leave the country.
Source: Times Of India
Please click the following URL to read the full text of the original story:
https://timesofindia.indiatimes.com/world/pakistan/in-a-first-isi-chief-attends-presser-to-counter-imrans-anti-army-tirade/articleshow/95130438.cms
--------
'If institutions apolitical, why hold a press conference': Imran raises questions on ISPR presser
October 27, 2022
PTI Chairman Imran Khan on Thursday raised questions on the unprecedented press conference held by Inter-Services Intelligence (ISI) chief Lt Gen Nadeem Ahmed Anjum and Inter-Services Public Relations (ISPR) DG Lt Gen Babar Iftikhar earlier today, saying that if institutions were apolitical what was the purpose of holding a "political presser".
In an interview with journalist Amir Mateen aired on 92 News, the former premier said that today's press conference was "unprecedented" and "never heard of".
"Either there should be some issue that concerns them, like security, but they held a political press conference so I don't understand this. Could the defence or interior minister or prime minister not have done this? What was their [the institutions'] job in holding the press conference?"
The PTI chief then went on to say that if he started giving answers "it will cause a lot of damage to the country".
"Ever since I was removed from the government, I tried my best to prevent any harm to the country and army from my side. I know that if I say anything about the establishment it will impact the army.
"But when they do a press conference like this […] and if I start responding […] it will directly go on our army and I don't want to hurt them in any way. This is why I always try my criticism to be constructive and beneficial," Imran said.
He continued that he had been criticising "dirty harry" — who according to him has been recently posted in Islamabad — for the torture inflicted on Azam Swati and Shahbaz Gill.
"Our effort is to criticise them. With these actions that you're doing, who is hurting? The country is being hurt, and what is happening because of these acts?"
Talking about "backdoor talks", Imran said that before the no-confidence vote, he was aware of the "conspiracy" being hatched to topple his government.
"I very publicly said again and again that I had told Gen Bajwa that if at this time this conspiracy succeeds it will have a direct impact and loss on the economy.
"I warned and said that there were talks of an extension here. I told him that if they're offering you [an extension], then we can do the same," Imran said.
"To say that I was making deals in closed rooms […] what would I achieve from a deal? I said do this for Pakistan. But they didn't stop the conspiracy and look what happened."
Elaborating on the "deal", Imran said that the meeting took place at the President's House. "And in it, one thing was said […] what I have said publicly several times […] that except for elections there is no other way."
Talking about the murder of journalist Arshad Sharif, Imran said that everyone knew "attempts were made to silence him".
"Look at his programme, then who was in danger because of him […] look at his tweets. This is not hidden. Why did the public come out like this for his funeral? People knew him and his truth.
"Arshad Sharif's truth will never be hidden. He sent a letter to the Islamabad High Court and President Arif Alvi saying that his life is in danger. He said the same to me and I advised him to leave the country. But he was so brave he didn't want to go," the PTI chief added.
On PTI leader Faisal Vawda's press conference yesterday, Imran said he had seen many close people in his life change and show a different side during testing times.
"I was very saddened by what he did and I was not expecting it. This was done on request. I know on whose request this was done — dirty harry's request."
In a surprise media talk on Wednesday night, Vawda had alleged that blood would be shed and bodies would fall during the PTI long march — slated to commence from Lahore on Friday, October 28.
During the interview today, Imran alleged that "dirty harry" was very close to Vawda and he had "no doubt" that "all this drama about bloodshed [in the long march]" was done at the shadowy figure's request.
No unconstitutional demands made in backdoor talks: Umar
Earlier in the day, PTI leader Asad Umar had said that his party chief never made any unconstitutional demands in "back door talks".
In a media talk flanked by fellow party leaders Shah Mahmood Qureshi, Fawad Chaudhry, Shireen Mazari and Hammad Azhar, Umar said that the matters discussed behind closed doors were no "secret".
"Imran Khan has discussed them in rallies and press conferences. The demands have been in front of the public since forever."
Umar passed these comments in an apparent response to Lt Gen Anjum. In the press conference earlier today, the DG ISI — seemingly talking about Imran — had said that while citizens had the right to their opinion, why did "you praise him [the army chief] so much in the past if he was a traitor?"
"If you see him as a traitor, then why do you meet him through the back door? […] Don't do this where you meet quietly at night through the back door and express your unconstitutional wishes but call [the army chief] a traitor in broad daylight. That's a big contradiction between your words and your actions," he had said.
Lt Gen Anjum also made the revelation that in March, Chief of Army Staff General Qamar Javed Bajwa was given a "lucrative offer" for an extension in his tenure. "It was made in front of me. He rejected it because he wanted the institution to move forward from a controversial role to a constitutional role."
In the media talk in Lahore later in the day, Umar said that Imran owned both the army and the country. "But will Imran Khan agree with every decision taken by the army? Are there actions or decisions that he criticises? Absolutely. This is his constitutional right."
You may not agree with the criticism but in Imran Khan's point of view, these are all things that if followed, would lead to the betterment of the army and the country, he said.
Umar also clarified that Imran had never said anything that would weaken the army. "So these things said should be reviewed […] maybe there is a need for consideration."
Meanwhile, in response to a question, he confirmed meetings on an extension for Gen Bajwa. However, he added that if such talks behind closed doors were brought out into the open then "who knows what talks [Imran Khan] will start bringing out."
PTI long march to be 'peaceful and within limits of the law': Qureshi
At the beginning of the media talk today, PTI leader Shah Mahmood Qureshi said that two press conferences were held in the last few hours and both had "further complicated matters".
"We think a new Pandora's box has been opened," he said, pointing that a prominent thread in the press conference held by the military's top brass today was that the institutions had decided to stay apolitical.
"This was always our wish […] according to the Constitution, every institution has a role and if every institution remains and works within its role then it will be easier and no difficulties will be created."
Talking about Vawda, Qureshi said that all of PTI's rallies in the past had been peaceful. "During our May 25 caravan, the government inflicted violence on us and we couldn't even fully defend ourselves.
"Our policy is very clear that our march is peaceful and will be within the limits of the law and will respect the Constitutional needs," the former minister asserted.
Qureshi said that his presser was an attempt to spread fear among people. "Immediately after the announcement of the march, we received information that the people were enthusiastic and had started preparing for it.
"To lead them astray and create fear amongst them, this was a weak effort which failed," Qureshi said, highlighting that live coverage was given to Vawda even by the state television.
He then called on people to participate in the long march, promising that it will be peaceful.
Qureshi continued that it was being said that PTI was trying to spur political instability. "We did not create political instability, instead, we are representing its solution, we think political instability has arrived and are presenting a democratic solution — elections."
The PTI leader added that PTI had always respected institutions and defended them.
"To give the perception that we want to damage the sanctity of institution is contrary to reality. Imran Khan has had a stance and said again and again that a strong army is the need of Pakistan," he said.
However, in an answer to a question from media persons, Qureshi said that if the military was apolitical, it "should not have held this press conference at all."
'If the cypher is untrue, why hasn't it been probed?': Fawad
Separately, Fawad Chaudhry said that along with the respect of the institutions, it was also important to respect the people's choices.
Since the day of the no-confidence vote, the people of Pakistan have shown, not once but twice, who they want as the leader of the country.
"The press briefing held by the ISPR today, to be honest, I was shocked. See, if Rana Sanaullah or Khawaja Asif hold a press conference, we can respond to them. But press conferences held by institutions […] there is a certain level of respect attached to them. We can't respond to them," he said.
Chaudhry went on that military heads' demand regarding an investigation in the cypher — which Imran has touted as evidence of a foreign conspiracy to oust his government — was fair, adding that PTI had been demanding a probe into it since the first day.
"The Supreme Court should tell us. The president wrote a letter for an investigation into the cypher. The question is that even if the cypher is untrue, why hasn't it been probed?
"We want a powerful commission to be formed and the same should be done in the case of slain journalist Arshad Sharif," Chaudhry added.
'DG ISPR's presser completely untruthful': Mazari
Meanwhile, former human rights minister Shireen Mazari said she was "very saddened" by the DG ISPR's press conference and termed it as a totally "untruthful statement".
She questioned how the DG ISPR had deduced that Arshad Sharif was under no threat, given that he was "brutally murdered" eventually.
Mazari said Sharif had told her that he was being targeted by assassins and there was a bounty on his head.
Source: Dawn
Please click the following URL to read the full text of the original story:
https://www.dawn.com/news/1717178/if-institutions-apolitical-why-hold-a-press-conference-imran-raises-questions-on-ispr-presser
--------
No convictions in 96pc of journalist killings in Pakistan: report
Ikram Junaidi
October 28, 2022
ISLAMABAD: There have been no convictions in 96pc of murder cases of journalists in Pakistan between 2012 and 2022, according to Freedom Network's Annual Impunity 2022 report released on Thursday.
The report "The killing fields: no justice for Pakistan's murdered journalists" was launched ahead of the International Day to End Impunity for Crimes against Journalists, which falls on November 2.
The research was framed in the context of the 10-year anniversary of the 2012 United Nations Plan of Action on the Safety of Journalists and the Issue of Impunity, which Pakistan had first endorsed in October 2013 and later committed to implementing in the Protection of Journalists and Media Professionals Act 2021.
According to the report, 53 Pakistani journalists were killed between 2012 and 2022 but the perpetrators were convicted in only two out of these 53 cases.
Says 53 journalists killed between 2012 and 2022 but the perpetrators were convicted in only two cases
In the remaining 96pc of the cases, the criminal justice system failed to deliver justice for the slain journalists and their bereaved families.
"This open-ended impunity for crimes against journalists and media in Pakistan is taking an ugliest shape and latest killing of under-threat journalist Arshad Sharif in Kenya reminds us how stronger perpetrators of crime and press freedom predators are getting," Iqbal Khattak, Executive Director of Freedom Network, reacted to the report findings.
The report stated that "due to poor investigation, the police fail to produce challans in many cases, killing the chances of justice at an early stage of the legal system" and "due to the poor quality of prosecution, most cases never complete the trial process in the courts."
Mr Khattak said the report's findings indicated that even though Pakistan legislated exclusively on the safety of journalists at the federal level and in Sindh province, the journalists remained unsafe.
The report is based on data collected from the families of the journalists killed as well as from their news colleagues, local press clubs and unions of journalists.
Most dangerous regions
Of the 53 journalists murdered for their work in Pakistan between 2012 and 2022, the highest fatalities were in Sindh (16, or 30pc of the total) followed by Punjab (14, or 26pc of the total).
Worst enemies of journalists
Unidentified persons constituted the biggest suspected threat actor to journalists in Pakistan during 2012-2022 with 15 of the 53 journalists (or 28pc) murdered in the reporting period being targeted by them, according to the family members or colleagues of the victims.
Organised crime and militant groups were the second and third most suspected perpetrators of journalist killings, respectively.
Source: Dawn
Please click the following URL to read the full text of the original story:
https://www.dawn.com/news/1717278/no-convictions-in-96pc-of-journalist-killings-in-pakistan-report
--------
Army claims PTI offered Bajwa 'indefinite extension' in return for trust vote help
October 27, 2022
ISLAMABAD: Pakistan Tehreek-i-Insaf (PTI), struggling to secure its government in the face of a looming vote of no-confidence brought by the Pakistan Democratic Movement (PDM) alliance, in March offered the army chief "an indefinite extension" apparently in return for help in surviving it, claimed Lt. Gen. Nadeem Anjum, chief of the Inter-Services Intelligence (ISI) agency, on Thursday.
In an unprecedented, explosive and rather strongly-worded press conference, his first since assuming office in October last year, the spy chief — who was accompanied by Lt. Gen. Babar Iftikhar, the director general of Inter-Services Public Relations (ISPR) — spoke at length, often candidly, on issues ranging from the diplomatic cypher at the heart of Khan's ouster, to the protest march, and to the cold-blooded assassination of journalist Arshad Sharif in Kenya.
Talking about the "lucrative offer" of extension, Gen. Anjum claimed the offer to the army chief was "made in front of me. He [Gen. Bajwa] rejected it because he wanted the institution to move forward from a controversial role to a constitutional role."
Taking a thinly-veiled jibe at the PTI chairman Gen. Anjum said the former prime minister met the army chief in the night and then called him a "traitor" the morning.
"If the commander-in-chief [of Pakistan Army] is a traitor then why did you meet him behind the curtain? Meeting [him] is your [constitutional] right but it cannot be possible that you meet at night and call [him] a traitor," he said.
Gen. Iftikhar opened the press conference, saying the purpose of his talk was to shed light on Sharif's killing and the "circumstances surrounding it".
"This presser," he said, "is being held in the context of presenting facts so that 'facts, fiction and opinion' can be differentiated". Shehbaz Sharif, who just returned from a state visit to Saudi Arabia, had been "specially informed" about the sensitivity of the press conference, he added.
The chief military spokesperson said there was a need to examine how "a false narrative has been made and people have been misled" on the assassination.
"Institutions, leadership, and even the army chief himself have been accused without a reason to create an extraordinary chaotic situation," said Gen. Iftikhar.
He said Sharif's death was a "very tragic incident" and called the journalist an "icon in the field of journalism, a naval officer's son and a martyr's brother and a serving officer's brother-in-law".
His programmes will be seen as a role model for journalists, he added.
Gen. Iftikhar shared the government of Khyber Pakhtunkhwa issued a threat alert for Sharif on August 5 on "special directive of Chief Minister Mahmood Khan". This shows the threat alert was issued with the aim to force Sharif to leave the country, he claimed.
"Salman Iqbal [ARY News boss] told [executive vice president at the station] Ammad Yousuf after Shahbaz Gill's arrest to send Sharif out of the country," he said, adding that the ARY Group boss must "be brought back to Pakistan" and made part of the investigations into the death of the journalist.
"We all should wait for the formation of an inquiry commission. Have confidence in your institutions. We have been washing the mistakes of the past with blood for the last 20 years. We can make mistakes but we can't be traitors or conspirers," said the military spokesperson.
Gen. Iftikhar also confirmed the military has requested the government to conduct a high-level probe into the killing of Sharif.
POLITICS BEING PLAYED WITH CYPHER
"Since Arshad was an investigative journalist, he also looked into the cypher issue when it surfaced," shared the general. He also highlighted the journalist had also interviewed the then-prime minister Khan on the issue, adding that at the time, it was claimed that he was shown the confidential diplomatic document.
"Facts linked with the cypher and Arshad Sharif's death need to be found. So there is no ambiguity left in this regard," said the director-general of ISPR.
He said that the facts linked with the cypher and Sharif's death need to be found, so there is no ambiguity.
Disclosing how the cypher issue began, Gen. Iftikhar said the army chief had discussed it with Khan on March 11 after which the latter had termed it to be "not a big issue".
"It was surprising for us when on March 27 a piece of paper was waved and an attempt was made to build a narrative that was far from reality."
He said that several facts had come to light regarding the cypher revealing the "baseless and unfounded" narrative surrounding it. The ISPR informed the National Security Committee (NSC) that no proof was found regarding the conspiracy against the PTI government, he said.
The ISI also did not find any evidence regarding the conspiracy, he added. "This is all part of the record. We wanted to bring this to the public. And we left the decision to the then-government."
However, this did not happen and more rumours were spread to gain political mileage, he said, adding that the Pakistan Army was also targeted.
At this time, Sharif and other journalists were fed a particular narrative and an attempt was made to defame Pakistan and the country's institutions across the world, he said.
Source: Pakistan Today
Please click the following URL to read the full text of the original story:
https://www.pakistantoday.com.pk/2022/10/27/army-claims-pti-offered-bajwa-indefinite-extension-in-return-for-trust-vote-help/
--------
Slain journalist Arshad Sharif laid to rest at Islamabad's H-11 graveyard
Shakeel Qarar | Abdullah Momand | Fahad Chaudhry
October 27, 2022
Slain journalist Arshad Sharif — who was shot dead amid mysterious circumstances in Kenya on Sunday last week — was laid to rest at the H-11 graveyard in Islamabad on Thursday with hundreds of people in attendance.
A large contingent of police was deployed at the graveyard where journalists and members of the civil society reached in huge numbers. During Sharif's burial, slogans of "Allahu Akbar" were chanted.
Afterwards, personnel of the Pakistan Army paid tribute to the journalist and a garland from Chief of Army Staff Qamar Javed Bajwa was laid at his grave.
Earlier, Sharif's funeral prayers were offered at Shah Faisal Mosque. A large number of journalists, politicians and civil society members including Azam Swati, Shibli Faraz, Murad Saeed, Faisal Karim Kundi, Kashif Abbasi, Waseem Badami and Sami Ibrahim attended the funeral prayers in the capital.
Dawn's correspondent at the site estimated that nearly 20,000 people attended the funeral while thousands others gathered outside the Faisal Mosque.
Meanwhile, an AFP report, citing police personnel deployed at the scene, said the mosque drew up to 40,000 mourners, with people spilling into the gardens and surrounding streets.
Supporters of the PTI made up a large proportion of the crowd, waving flags and shouting "Arshad, your blood will bring revolution", the report said.
"Arshad Sharif sacrificed his life to expose the faces of the corrupt and we should not let that sacrifice be for nothing," Muhammad Iqbal, a 35-year-old shopkeeper and PTI supporter who had travelled from the neighbouring garrison city of Rawalpindi, said while speaking to AFP.
After prayers, coffin bearers struggled to push through the crowd to a waiting ambulance for onward passage to a graveyard.
Separately, funeral prayers in absentia were also held in Lahore.
According to a security order issued by Islamabad police, security around Shah Faisal Mosque was beefed up ahead of the funeral, with the deployment of 3,792 security personnel. These include six inspectors and 1,010 police constables.
The security arrangements will be overseen by three superintendents of police and five assistant superintendents of police/deputy superintendents of police, the order said.
Sindh police personnel, numbering 204, and 2,500 Frontier Corps personnel have also been deputed to assist Islamabad police, the order said.
The killing
Sharif was shot dead in Kenya allegedly by the local police on Sunday night, with an official police statement later expressing "regrets on the unfortunate incident" and saying an investigation was underway.
Initially, the Kenyan media quoted the local police as saying Sharif was shot dead by police in a case of "mistaken identity".
However, reports from the Kenyan media later reconstructed the events surrounding the killing, stating that an occupant in Sharif's car at the time of his killing was believed to have shot at paramilitary General Service Unit (GSU) officers.
"They were stopped by GSU officers who, according to the police, were responding to reports that a stolen vehicle had been sighted in the area," a report by Nation Media Group said.
The report noted contradictory versions of police that earlier claimed Sharif and his brother defied orders at a checkpoint but later alleged that Sharif's brother "shot at" one officer and injured him. It quoted police as saying that the incident prompted police to shoot back.
Sharif's body arrived in Pakistan yesterday (Wednesday). A post-mortem was later conducted at the Pakistan Institute of Medical Sciences in Islamabad.
Probe into the killing
On Tuesday, Prime Minister Shehbaz Sharif announced that a judicial commission would be formed to probe the journalist's killing.
Moreover, the government has also constituted a team to probe the killing. Initially, a three-member body, comprising Federal Investigation Agency (FIA) director Athar Wahid, Intelligence Bur­eau (IB) deputy director general Omar Shahid Hamid and Lt Col Saad Ahmed of Inter-Services Intelligence (ISI) was formed. Later, the team's size was cut from three to two with the exclusion of the ISI official.
The team will travel to Kenya immediately and Pakistan's High Commission in Nairobi will facilitate the visit of the committee members, according to a notification issued by the Foreign Office.
Source: Dawn
Please click the following URL to read the full text of the original story:
https://www.dawn.com/news/1717166/journalist-arshad-sharifs-funeral-prayers-offered-at-shah-faisal-mosque-in-islamabad
--------
KP govt claims CM has nothing to do with 'threat alert' for Arshad Sharif
Manzoor Ali
October 28, 2022
PESHAWAR: The Khyber Pakhtunkhwa government on Thursday claimed that provincial Chief Minister Mahmood Khan had nothing to do with the issuance of a letter by the counter-terrorism department regarding threats to the life of senior TV anchorperson Arshad Sharif.
A 'threat alert' regarding the plans of a splinter group of the outlawed Tehreek-i-Taliban Pakistan to target Mr Arshad earlier in August this year has put the spotlight on CTD advisory as director-general of the Inter-Services Public Relations Major-General Iftikhar Babar told a presser on Thursday said the CTD letter in question was issued on the directives of CM Mahmood Khan.
In a video statement, spokesman for the provincial government Barrister Mohammad Ali Saif said the CTD was front-line entity of the provincial government and issuing alerts regarding terrorist threats and crackdown on terrorism were its mandate.
"Our Chief Minister [Mahmood Khan] has nothing to do with the issuance of CTD threat alerts," he said.
Says issuance of such letters CTD's 'routine activity'
Mr Saif said the issuance of such alert was a 'routine activity' for the CTD.
He said the Intelligence Bureau, CTD and other agencies also issued threat alerts.
The spokesman insisted that as far as Arshad Sharif was concerned, the journalist and his family were getting threats.
"We are not saying this and rather, the [slain] journalist's own statements suggested so," he said.
Mr Saif said had the CTD's threat alert been false, Mr Arshad would have not been killed in Kenya.
Regarding the use of the Bacha Khan Airport, Peshawar, by Mr Arshad to leave Pakistan, he said airports and other organisations overseeing them were in the control of the federal government.
He said the centre had the administrative control of the Federal Investigation Agency, Anti-Narcotics Force and Customs.
The spokesman said if the federal government had any objection about Mr Arshad's departure from the country, it could have easily stopped him.
"The Peshawar airport is an international airport and anyone can travel from it," he said.
Regarding official protocol for the slain journalist in Peshawar, he said the provincial government usually provided the services of protocol officers to important personalities, including senior journalist, on request.
He added that protocol officers facilitated those persons until their arrival at the airport and that the matters inside the airport fell in the domain of the federal authorities.
Earlier in the day, the ISPR and ISI directors general told a news conference that the KP government issued a 'threat alert' letter on Aug 5 on the directives of Chief Minister Mahmood Khan declaring a TTP splinter group was 'looking to target Arshad Sharif'.
"No such information was shared with the relevant institutions,"Lt-Gen Iftikhar said adding that the conduct showed the threat alert was issued with the aim to force Mr Arshad to leave the country.
"There were reports that he (Arshad Sharif) did not want to leave the country but he kept being reminded that he faced a threat to his life. On Aug 10, he left Peshawar airport thorough EK-637 for Dubai. He was provided a complete protocol by the KP government," he said, adding that the journalist was escorted by KP officers to the airport.
On August 5, the CTD KP had issued the 'threat alert' about a TTP splinter group planning to target the slain journalist.
The alert said it had been learnt through some reliable sources that a splinter group of TTP in its meeting held in the Sur Karez, Spin Boldak, Afghanistan, had discussed to target anchorperson Arshad Sharif in future.
"For executing their plan, terrorists have finalized to conduct reconnaissance of the target and to locate him at the suitable place, more probably at Rawalpindi and its adjoining areas," it said.
Source: Dawn
Please click the following URL to read the full text of the original story:
https://www.dawn.com/news/1717258/kp-govt-claims-cm-has-nothing-to-do-with-threat-alert-for-arshad-sharif
--------
Islamabad police told not to directly fire teargas shells at long march protesters
Munawer Azeem
October 28, 2022
ISLAMABAD: Islamabad police have issued instructions to its officers pertaining to the code of conduct during the Pakistan Tehreek-i-Insaf (PTI) long march expected to reach the federal capital on October 4.
According to the instructions, officers deployed at the frontline will be wearing anti-riot gear whereas those without proper gear will be posted outside the reach of the protesters. Similarly, the police personnel deployed to counter the long march will not be armed with weapons and would only be allowed to carry batons.
They have been told to avoid the upper parts of the body when hitting protesters in case of baton charge and use their shields effectively in case of stone-pelting by the protesters.
According to the instructions, the SSP Headquarters will responsible to ensure the supply of anti-riot gears and logistic support to force deployed to control the law and order situation in light of the long march.
Safe City authority asked to provide drone cameras to record protest
Meanwhile, Dawn has learned that thousands of long-range teargas shells available with the capital police can "seriously injure" people or in some cases even cause deaths if fired directly at protesters. The police officials have been told to avoid firing these shells at protests directly. The police have arranged 50,050 shells, half of them long-range, and 616 guns to shell protesters with teargas.
Moreover, instructions are also issued to SSP Headquarters to equip each Armed Personnel Carrier (APC) with 500 long-range teargas shells and 500 short-range teargas shells. The SSP has also been instructed that at least 100 handcuffs should be provided to each prison van.
The officials and officers are also asked to avoid talking over religious and political issues with each other, especially expressing their sentiments towards religious and political parties.
The supervisory officers and in-charges were told to make sure that all personnel wear anti-riot gear and that all the personnel should carry water bottles, handkerchiefs, and salt.
The police teams have also been told to arrange screwdrivers for rubber bullets guns in case empty cartridges get stuck in the chamber.
The director general of Safe City Authority was asked to issue drone cameras along with operators to 11 Superintendents of the Police whereas all supervisory officers and in-charges are asked to be equipped with video cameras to make videos of the protest.
SDPOs and SHOs are asked to maintain law and order and collect information from their respective jurisdiction respectively, as per the officials. The SSP Security is responsible for the security of sensitive installations, including the Diplomatic Enclave, Presidency, PM House, Foreign Office, Nadra Headquarters, State Bank of Pakistan, Parliament House, Parliament Lodges, Cabinet Blocks, Pak Secretariat, Judges Enclave, Ministers' Colony, Supreme Court, PTV, Radio Pakistan, and Election Commission of Pakistan, the officers said.
The AIG Special Branch is asked to collect information and in this regard and deploy officials in plainclothes, they said, adding that the bomb disposal squad will also be tasked to scan sites of deployment.
Source: Dawn
Please click the following URL to read the full text of the original story:
https://www.dawn.com/news/1717274/islamabad-police-told-not-to-directly-fire-teargas-shells-at-long-march-protesters
--------
ECC okays Rs31bn supplementary grant to defence ministry
Khaleeq Kiani
October 28, 2022
ISLAMABAD: The Econ­o­mic Coordination Commi­ttee (ECC) of the cabinet on Thursday approved a Rs31 billion supplementary grant to the defence ministry and cleared an out-of-court settlement with three "non-performing and defaulter" oil and gas companies over 11 exploration and concession blocks to push for new domestic hydrocarbon finds.
In a meeting presided over by Finance Minister Ish­aq Dar, the committee also approved payment of monthly salaries to the remaining employees of the defunct Pakistan Steel Mills (PSM) throughout the year and allowed the transfer of the working interest of Eni — an Italian multinational ene­rgy company — in Pakis­tan to a little-known firm on the guarantee of Hubco.
An official statement said the ECC approved technical supplementary grants of Rs30.89bn in favour of the defence division for unspecified expenses and Rs1bn for the Ministry of Housing and Works.
The meeting also approved a summary of the petroleum division to revive petroleum exploration blocks that were revoked by the division because of "non-performance of work commitment and non-payment of financial obligations" of the three local companies — Dewan Petroleum, Petroleum Exploration Limited (PEL) and Oil and Gas Investment Limited (OGIL).
The government earlier terminated licences to Dewan and PEL on five exploration blocks each and another of OGIL for default in terms of non-completion of their committed exploration activities and non-payment of rental and other dues. The companies, however, secured stay orders from various courts.
The petroleum division told the ECC that in all the 11 blocks, status quo orders were passed by the respective civil courts and Islamabad and Sindh high courts. The litigants approached the government and showed interest in exploring the awarded blocks.
The petroleum division then claimed that the litigation timeframe was always unpredictable and even if a case was decided at one forum, a higher forum was available up to the Supreme Court until a final decision was reached.
"Hence, litigations over these revoked blocks may be long drawn and it can take substantial time to conclude," it said, arguing that this would not only result in depriving the exploration and production (E&P) sector of investing in these areas but also deprive the country of benefits from the expected local oil and gas discoveries and reserves.
Such discoveries could contribute towards minimising the energy deficit of the country and thus save foreign exchange. Therefore, the petroleum division said it had developed a framework to revive revoked licences through an out-of-court settlement. The ECC approved the proposed framework.
The ECC also approved a summary for amendments to the Import Policy Order 2022 to allow the import of the Holy Quran subject to a no-objection (NOC) certificate from the relevant federal or provincial authority as required by Lahore and Balochistan high courts to ensure error-free printing, publishing, recording and import of Quran.
The meeting also approved another summary of the commerce ministry seeking an amendment to an ECC's earlier decision made on July 25 for correcting records, minutes and notification to apply regionally competitive rates of electricity and gas for export sectors. Under the corrections, the rate is Rs19.99 per unit of electricity with effect from Aug 1 and $9 per unit of regasified liquefied natural gas with effect from July 1.
The ECC also allowed the grant of the development and production lease to the Pakistan Petroleum Limited (PPL) for 15 years with effect from Jan 15, 2022 over the Kandhkot mining lease area on existing gas price and subject to the condition that the PPL would pay all the financial obligations under the Petroleum Policy 2012.
The Kandhkot discovery was made by PPL in 1959. The government granted the mining lease over the Kandhkot gas field for a period of 30 years in 1962, which was renewed for another 30 years in 1992.
The ECC also approved a change of effective control from Eni ULX Limited, Eni UK Limited and Eni Oil Holdings B.V. in respect of its subsidiary companies — Eni Pakistan Limited, Eni Pakistan (AEP) Limited and Eni Pakistan (M) Limited, respectively — to the Prime International Oil and Gas Company Limited (PIOGCL).
The approval is subject to the condition that the PIOGCL shall be liable to the government for all the minimum work commitments and financial obligations and the government's revenue would not be adversely affected after this change of effective control.
It was reported that Hubco would own the PIOGCL with a 50 per cent share in Eni's working interests in Pakistan while the remaining half of shareholding would be owned by Eni's employee buyout (EBO) group.
It was reported that the former employees of the outgoing multinational had the technical strength and, with Hubco's financial support, would be well suited to run the operations. Hubco agreed to provide the guarantee for fiscal obligations.
The ECC also approved a 25.6pc increase in the maximum retail price of paracetamol plain and extra (both 500mg) tablets to Rs2.35 and Rs2.75 apiece, respectively, and 12pc increase in liquid paracetamol price to Rs117.6 per bottle.
Source: Dawn
Please click the following URL to read the full text of the original story:
https://www.dawn.com/news/1717279/ecc-okays-rs31bn-supplementary-grant-to-defence-ministry
--------
Ministers discuss energy sector in first Saudi-Pakistani steering committee meeting
28 October, 2022
Saudi Arabia's Energy Minister Prince Abdulaziz bin Salman and Pakistan's Finance Minister Ishaq Dar discussed cooperation in the energy sector as they held the first meeting of the Saudi-Pakistani Steering Committee of the Economic Pillar, the official Saudi Press Agency (SPA) reported on Friday.
The Saudi-Pakistani Supreme Coordination Council is co-chaired by Saudi Arabia's Crown Prince Mohammed bin Salman and Pakistan's Prime Minister Shehbaz Sharif.
In a statement, Prince Abdulaziz confirmed that the Kingdom considers Pakistan an important partner in its development plans and programs and that the two countries are striving, through the work of this Subcommittee, to promote areas of cooperation, find new partnership opportunities, and create initiatives of mutual benefit and interest to both counties and their peoples.
Prince Abdulaziz commended the strong and historic relations between Saudi Arabia and Pakistan, confirming that the Saudi-Pakistani cooperation and joint projects are on the right track.
"Prince Abdulaziz pointed to the cooperation in energy, under which many topics are currently being discussed, such as cooperation in the oil industry and supply, petrochemicals, electricity, renewable energy, industry, transport, and many other potential opportunities," SPA reported.
Source: Al Arabiya
Please click the following URL to read the full text of the original story:
https://english.alarabiya.net/News/gulf/2022/10/28/Ministers-discuss-energy-sector-in-first-meeting-of-Saudi-Pakistani-steering-committe
--------
Southeast Asia
Avoid Turning Mosques into Political Arena - Kelantan Islamic Religious Council
27-10- 2022
KOTA BHARU: The Kelantan Islamic Religious and Malay Customs Council (MAIK) has reminded all mosque officials not to be involved in any campaign or activity involving political parties.
Its president, Tengku Tan Sri Mohamad Rizam Tengku Abdul Aziz, said that all imams in all mosques state-wide should prevent mosques from being used as political arenas and places for campaigning when the 15th general election is underway.
"A directive has already been issued by MAIK on Oct 11, in relation to the delay in issuing special permission to religious speakers in mosques in the cities, districts and mukim throughout Kelantan, with the aim of preventing mosques from becoming campaign venues for certain groups to deliver their agenda.
"I would like to remind mosque officials that it is necessary to ensure that only speakers who have religious teaching credentials from MAIK are allowed to deliver lectures in mosques, as stated in Section 91 of the MAIK Enactment," he told reporters after meeting 610 imams at the Sultan Ismail Petra Silver Jubilee Islamic Complex hall, here today.
He said that this includes delivering sermons, which meant that only mosque officials and appointed preachers were allowed to deliver them, to avoid the sacred pulpit being turned into a 'campaign arena' for the purposes of personal interests and certain groups.
Source: The Sun Daily
Please click the following URL to read the full text of the original story:
https://www.thesundaily.my/local/ge15-avoid-turning-mosques-into-political-arena-maik-NF10044900
--------
Syed Saddiq to know fate over graft charges tomorrow
October 27, 2022
KUALA LUMPUR: The High Court here will deliver its decision tomorrow on whether Syed Saddiq Syed Abdul Rahman will be acquitted or ordered to enter his defence on charges of abetting in criminal breach of trust (CBT), misappropriation of assets and money laundering.
Syed Saddiq, 29, was charged as the then Bersatu Youth wing chief entrusted with control of its funds with abetting the wing's former assistant treasurer, Rafiq Hakim, with CBT of RM1 million at CIMB Bank Bhd on Jalan Stesen Sentral 2 here on March 6, 2020.
The charge, framed under Section 406 of the Penal Code, provides for a jail sentence of up to 10 years with whipping and a possible fine, upon conviction.
He was also charged under Section 403 of the Penal Code with misusing RM120,000 from the bank account belonging to Armada Bumi Bersatu Enterprise for himself by causing Rafiq to dispose of the money at Malayan Banking Bhd at Taman Pandan Jaya here between April 8 and 21, 2018.
He faces a jail term of up to five years and whipping, and is liable for a fine, if found guilty.
The Muda president and former Muar MP was also charged with two counts of money-laundering, involving two transactions of RM50,000 each believed to be proceeds from unlawful activities, transferred from his Maybank Islamic Bhd account into his Amanah Saham Bumiputera account at a bank in Taman Perling, Johor Bahru, on June 16 and 19, 2018.
The charges were framed under Section 4(1)(b) of the Anti-Money Laundering, Anti-Terrorism Financing and Proceeds of Unlawful Activities Act 2001, which provides for a jail sentence of up to 15 years and liable for a fine of not less than five times the sum or value of the proceeds of the unlawful activity, upon conviction.
The case, which began on June 21, is being heard by justice Azhar Abdul Hamid.
The prosecution closed its case on Sept 27 after calling 30 witnesses. They included Syed Saddiq's parents, Shariffah Mahani Syed Abdul Aziz and Syed Abdul Rahman Abdullah Asagoff, Rafiq and Malaysian Anti-Corruption Commission investigating officers Nurul Hidayah Kamarudin, Syahmeizy Sulong and Asbi Munip.
Source: Free Malaysia Today
Please click the following URL to read the full text of the original story:
https://www.freemalaysiatoday.com/category/nation/2022/10/27/syed-saddiq-to-know-fate-over-graft-charges-tomorrow/
--------
Next govt must curtail Bar Council's politicking, says Zaid
October 27, 2022
PETALING JAYA: Former law minister Zaid Ibrahim has called on the government to amend the laws governing the legal profession to prevent lawyers from using the Bar Council to engage in political activity.
"As (former Singapore prime minister) Lee Kuan Yew once said, those who want to engage in politics should enter the political arena. Do not use professional bodies (for such purposes)," Zaid said in a video posted on Facebook.
He was reacting to a press statement issued by Bar president Karen Cheah on Tuesday.
Cheah had confirmed that the Bar Council declined an invitation extended by a task force set up by the government to take part in an inquiry into the contents of a book written by former Pakatan Harapan (PH) attorney-general (AG) Tommy Thomas.
The 800-page report was finalised and presented to the Cabinet last month. It was declassified by the government and released to the public on Friday.
In its report, the task force identified potential criminal offences and wrongdoings by Thomas and former PH prime minister Dr Mahathir Mohamad, including in relation to the appointment of judges.
"Once again, the Bar Council is showing its political stripes," Zaid said.
"They are questioning the validity of the report by the special task force, claiming that, having been set up by the government and not pursuant to a royal commission, the task force's impartiality was doubtful."
He said Cheah's criticism of caretaker Prime Minister Ismail Sabri Yaakob's decision to declassify the report was reflective of politicking on the part of the Bar Council.
"This is the attitude of the Bar Council, which should be in favour of transparency. They ought to support declassification, but will not do so due to their political stance," he said.
"This is why I suggest that the next government – which hopefully will be a Barisan Nasional government – comes down hard on the Bar Council. Enough of them using that body as a political vehicle."
Zaid, who is a member of the Bar, called out the council for hiding behind its statutory duty to further the cause of justice.
"For the sake of those three words, they think they can comment on anything, object to anything," he said.
"That is the guise under which they stray time and again into the political arena.
"There are many other matters that the Bar Council ought to address, particularly, improving the professionalism, quality and welfare of its members, which they have failed to give due attention to."
Source: Free Malaysia Today
Please click the following URL to read the full text of the original story:
https://www.freemalaysiatoday.com/category/nation/2022/10/27/next-govt-must-curtail-bar-councils-politicking-says-zaid/
--------
Court rejects Najib's bid to attend Parliament
Ho Kit Yen
October 27, 2022
KUALA LUMPUR: Former prime minister Najib Razak's bid to commence a legal challenge against the prisons department's refusal for him to attend the Dewan Rakyat has been denied by the High Court here.
"There is no more Parliament for him (Najib) to attend," said Justice Ahmad Kamal Shahid this morning.
"It is clear that with the dissolution of Parliament, its term has ended. The applicant (Najib) is no longer the (Pekan) MP."
Najib had filed his bid on Oct 5 to commence judicial review proceedings against the government for refusing to let him attend the Dewan Rakyat meeting scheduled from Oct 3 to Nov 29.
However, all sittings of the lower house were vacated after Parliament was dissolved on Oct 10
Najib wanted the court to set aside the prisons department's decision at the end of last month to refuse him permission to attend the sittings for security reasons.
He had also sought to revoke the department's decision to refuse him access to his officers for purposes of parliamentary, legislative and constituency work.
Kamal said he had taken note of the fact that the Dewan Rakyat's dissolution had been gazetted and that a general election would be held on Nov 19 when new MPs would be elected.
"There is no possibility for him (Najib) to become an MP again. He is now a prisoner and the law forbids a convicted person from contesting unless and until a (royal) pardon is given to quash his conviction (in the SRC International corruption case)," he said.
The court made no order as to costs.
Source: Free Malaysia Today
Please click the following URL to read the full text of the original story:
https://www.freemalaysiatoday.com/category/nation/2022/10/27/court-rejects-najibs-bid-to-attend-parliament/
--------
URL: https://newageislam.com/islamic-world-news/devotees-raskhan-taj-bibi-bhagwan-krishna/d/128292
New Age Islam, Islam Online, Islamic Website, African Muslim News, Arab World News, South Asia News, Indian Muslim News, World Muslim News, Women in Islam, Islamic Feminism, Arab Women, Women In Arab, Islamophobia in America, Muslim Women in West, Islam Women and Feminism