07 February 2021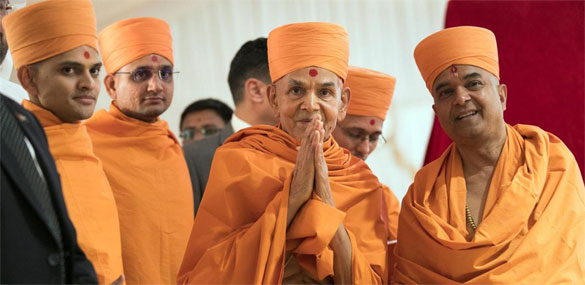 His Holiness Mahant Swami Maharaj, the spiritual leader of BAPS Swaminarayan Sanstha. The UAE's first traditional Hindu temple is set to welcome worshippers from 2022 Reem Mohammed / The National
-----
• United Arab Emirates Founded On The Principles Of Tolerance And Peaceful Coexistence, Home To 76 Non-Muslim Places Of Worship
• Plea For Removal Of Mathura's 17th-Century Shahi Idgah Mosque: Court Issues Notices
• CAIR Sues US State For Not Allowing Imam Into Execution Chamber
• Muslim Scholars Union Condemns Ongoing Bloodshed, Calls for End to War in Afghanistan
• Pearl Case Accused Moved To New Premises
• Diplomatic Corps Accredited In Azerbaijan Visit Armenian-Destroyed Mosque In Liberated Zangilan at Performed Namaz
• Iran Says US Ending Saudi Support Does Not Solve Yemen War
• Johor Police Receive 16 Reports Against Tommy Thomas
• British Science Teacher Charged For Terrorism Threats Against Zimbabwe
Arab World
• United Arab Emirates Founded On The Principles Of Tolerance And Peaceful Coexistence, Home To 76 Non-Muslim Places Of Worship
• Egyptian MPs Criticise US Congressman Tom Malinowski For Supporting Muslim Brotherhood
• Saudi aid agency, WHO join hands to improve Yemen's public health system
• Saudi authorities halt public sales of birds, scrap
---------
India
• Plea For Removal Of Mathura's 17th-Century Shahi Idgah Mosque: Court Issues Notices
• Muzaffarnagar's Muslims And Jats Set Aside 2013 the Communal Divide
• West Bengal assembly elections: Why getting Muslims votes could be tough for Mamata Banerjee
-------
North America
• CAIR Sues US State For Not Allowing Imam Into Execution Chamber
• IRC's David Miliband Responds To Decision To Remove Ansar Allah In Yemen From The U.S. Government's List Of Foreign Terrorist Organizations
• Robert Saleh is the NFL's first Muslim head coach
• Biden Rescinds Trump's Muslim Ban, Pledges To Accept More Refugees
• UN: Coronavirus increases threat of IS, Al Qaeda conflicts in Iraq, Syria, Afghanistan
---------
South Asia
• Muslim Scholars Union Condemns Ongoing Bloodshed, Calls for End to War in Afghanistan
• Gov't Security Officials: Taliban Not Committed To Peace, Abandoned Peace Talks
• Biden ordered a thorough review of SIV visa scheme
• Corrupt Senators get three years of jail time
• 3 dead, 5 wounded in series of IED blasts in Kabul
• Coup in Myanmar: Military imposes internet blackout
--------
Pakistan
• Pearl Case Accused Moved To New Premises
• Opposition terms Senate poll ordinance bid to 'dictate' court
• No backdoor deal struck with Zardari, claims Shibli
• Ignoring viable options, ministry chooses park land in Islamabad to set up observatory
• OIC's unified message to India critical for Kashmir issue: FM
• Combing operations against those behind bomb attacks planned
-------
Europe
• Diplomatic Corps Accredited In Azerbaijan Visit Armenian-Destroyed Mosque In Liberated Zangilan at Performed Namaz
• Covid-19 Vaccination Clinic At East London Mosque
• German Vlogger Christian Betzmann accepts Islam
• 'No religious reason' to refuse Covid vaccine offer - Leeds Imam Qari Asim
• England: Forty MPs Urge Closure Of Police Master's Course In Bahrain After Human Rights Abuse
--------
Mideast
• Iran Says US Ending Saudi Support Does Not Solve Yemen War
• West Fails To Act Against Rising Anti-Islam Sentiment: Erdoğan
• Group of Air Force staff to meet with Imam Khamenei
• Iran-based dissidents urge Biden to keep sanctions on Islamic Republic
• Opening Of Expansion Project For Maqam Of Imam Al-Mahdi In Karbala
• Iran, Syria urge to accelerate establishment of joint bank
--------
Southeast Asia
• Johor Police Receive 16 Reports Against Tommy Thomas
• Christian Federation urges churches to pray for 'enforced disappearance' victims on 4th anniversary of missing pastor Raymond Koh
• Report: Annuar Musa rubbishes Dr M's claim that Umno, PAS, Bersatu to split post GE15
--------
Africa
• British Science Teacher Charged For Terrorism Threats Against Zimbabwe
• Ganduje Orders Demolition Of Structures Around Residence Of Islamic Cleric
• How Troops Overran Terrorist Camps, Killed 60 Insurgents in North-east
Compiled by New Age Islam News Bureau
URL: https://www.newageislam.com/islamic-world-news/united-arab-emirates-founded-principles/d/124244
------
United Arab Emirates Founded On The Principles Of Tolerance And Peaceful Coexistence, Home To 76 Non-Muslim Places Of Worship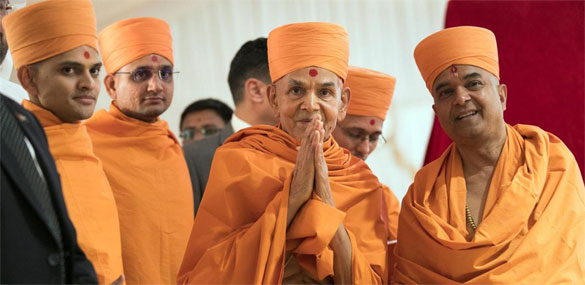 His Holiness Mahant Swami Maharaj, the spiritual leader of BAPS Swaminarayan Sanstha. The UAE's first traditional Hindu temple is set to welcome worshippers from 2022 Reem Mohammed / The National
-----
Staff Reporter
February 6, 2021
The UAE, which was founded on the principles of tolerance and peaceful coexistence, is home to 76 places of worship for non-Muslims.
DON'T MISS: Video: UAE temple stone works feature camels
According to a report in Arabic daily Al Ittihad, these include the following:
The first church in Abu Dhabi city, it is built on the Corniche. It has been serving as a leading centre for the followers of the Catholic community in Abu Dhabi since 1965.
It was initially founded on the Corniche in Abu Dhabi in 1968. It was relocated to the Mushrif area in 1984.
The late Sheikh Zayed bin Sultan Al Nahyan laid its foundation stone in the Khalidiya area in 1970. It was relocated to the Mushrif area in 1982.
It was built in the Mushrif area in 1984 to serve the Coptic Orthodox community in the emirate.
Evangelicals are among the oldest religious groups in the UAE. The Abu Dhabi Government specified a plot of land in the Mushrif area for the Evangelical community of Protestant Christians to build a church in 1994.
It opened in Al Ain in 1996. It maintains a camp for prayer and contemplation during the holy month of Ramadan.
The President, His Highness Sheikh Khalifa bin Zayed Al Nahyan, in 2004, granted a plot of land for the Syriac community in Al Ain. It was officially opened in 2010.
The Syriacs residing in Abu Dhabi began practising their religious rituals as guests at St. Andrews Church until the late Sheikh Zayed bin Sultan Al Nahyan granted them a plot of land to build a church. They moved to their new church in the Mussafah area in 2006.
In 2006, His Highness Sheikh Mohamed bin Zayed Al Nahyan, Crown Prince of Abu Dhabi and Deputy Supreme Commander of the UAE Armed Forces, granted a plot of land in the Mussafah area for the members of the community to build a church. It is the first church for this sect in the Middle East and the Arabian Gulf.
The Mar Thoma Church in Al Khurair, Al Ain, is based on a plot of land granted by the UAE Government in 2006.
The Virgin Mary Catholic Church was opened in 1970.
The church was opened in the Mezyad area in 2010.
This church was opened in Al Ain in 1968 for serving the Syriac Orthodox community. In 2010, His Highness Sheikh Mohamed bin Zayed Al Nahyan, Crown Prince of Abu Dhabi and Deputy Supreme Commander of the UAE Armed Forces, granted them a plot of land for building a church in Al Khurair, Al Ain.
The Greek Orthodox clergymen began sponsoring Orthodox families in the 1980s. The Evangelical Church in Abu Dhabi hosted the rituals and the priest's residence. In 2011, the President, His Highness Sheikh Khalifa bin Zayed Al Nahyan, allocated them a plot of land in the Mussafah area in Abu Dhabi. The cathedral was opened in 2018 for serving the Greek Orthodox Christians in the emirate.
The Christian Association Church in Mussafah was built in 2011 on a plot of land provided by the Abu Dhabi Government for serving the Protestant community.
The Armenian Church was opened 20 years ago in Sharjah. In the early 1980s, Catholicos Kishishian, head of the Armenian Church, visited the UAE, following which a plot of land was allocated for the Armenian community in the Mussafah area. It was officially opened in 2014.
A plot of land was allocated for the temple in 2015. The temple is expected to be completed by 2023.
St. Paul's Church was inaugurated in the Mussafah area, Abu Dhabi, in 2015.
Dubai is home to 11 churches, seven of which are in Bur Dubai, and four in Jebel Ali. The Catholic Church of Saint Mary in the Oud Metha is one of the oldest churches in Dubai, dating back to over 51 years.
The Yarmouk Complex in the Yarmouk area in Sharjah includes 15 churches serving more than 170 different nationalities.
https://www.khaleejtimes.com/news/uae-home-to-76-non-muslim-places-of-worship
--------
Plea For Removal Of Mathura's 17th-Century Shahi Idgah Mosque: Court Issues Notices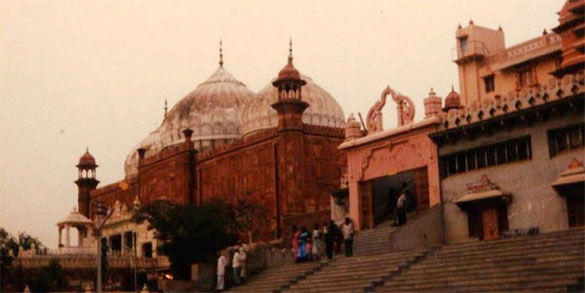 Shahi Idgah Masjid in Mathura. (Photo: Creative Commons)
------
07th February 2021
By PTI
MAGTHURA: A Mathura court has issued notices to the Shahi Idgah Masjid management committee and others, seeking their stands on a fresh plea for the removal of a 17th-century mosque from near the birthplace of Lord Krishna in the Katra Keshav Dev temple complex here.
Additional District and Sessions Judge Dev Kant Shukla on Saturday issued notices after admitting the plea, ruling that the suit is "maintainable and hence admissible" for detailed hearing, District Government Counsel (Civil) Sanjai Gaur said.
After admitting the civil suit, the court also issued notices to three other respondents -- the president of Sunni Waqf Board, Lucknow and the managing trustees of Sri Krishna Janmabhumi Trust Katra Keshav Dev temple and Sri Krishna Seva Sansthan, Katra Keshav Dev temple.
The court sought the stands of the four respondents to the new plea by March 8, the next date of hearing, DGC Gaur said.
The fresh plea has been filed by priest Pawan Kumar Shastri of the old Keshav Dev temple on behalf of the temple's deity, Thakur Keshav Dev Ji Maharaj Virajman.
'Sevayat' Shastri has made three demands in his plea, firstly claiming the right to manage the entire 13.37 acres land of the Katra Keshav Dev temple complex, including the land on which the Shahi Idgah mosque stands.
He sought the right to manage the entire temple complex claiming that his ancestors have been serving as priests of the deity for decades and he has inherited the right from them as the temple's real 'sevayat' (priest).
Shastri has also demanded the annulment of a 1967 ruling of Mathura court which has ratified a land deal between the Shri Krishna Janmasthan Seva Sansthan and Shahi Idgah Management Committee, allowing the existence of the mosque near the temple.
In his third plea, Shastri has demanded a court direction to the Shahi Masjid Idgah's management committee and Lucknow's Sunni Waqf Board's president to remove the mosque from its current location.
One suit, filed by advocate Mahendra Pratap Singh on behalf of five plaintiffs, has been admitted for the hearing by the court.
The admissibility of two others, filed respectively by advocate Hari Shankar Jain for Sri Krishna Virajman through the deity's "next friend" Ranjana Agnihotri and others and advocate Shailendra Singh for Hindu Army chief Manish Yadav, are yet to be decided, DGC (Civil) Gaur said.
https://www.newindianexpress.com/nation/2021/feb/07/plea-for-removal-of-mathuras-shahi-idgah-mosque-court-issues-notices-2260793.html
--------
CAIR Sues US State For Not Allowing Imam Into Execution Chamber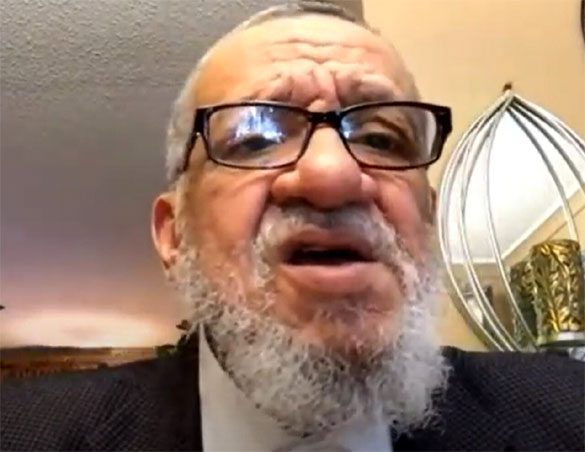 Yusef Maisonet, an imam who voluntarily leads Muslim services at Holman Correctional Facility in Atmore, has been seeking permission to spiritually advise Death Row inmates at the time of their executions.
------
By MEE staff
5 February 2021
An American Muslim civil rights group filed a federal lawsuit on behalf of an imam who was denied the right to accompany a Muslim death row inmate during his execution two years ago.
The Council on American-Islamic Relations (CAIR) announced on Thursday that it filed a lawsuit in the US District Court for the Southern District of Alabama asking for a policy to allow imams to accompany death row inmates at their executions.
The lawsuit comes two years after Imam Yousef Maisonet, a Muslim religious leader in Alabama, requested to be at the side of death row inmate Domineque Hakim Ray - who was sentenced to death for the 1995 rape and murder of a 15-year-old girl.
At the time, Maisonet was denied by prison officials because he was not an employee of the correctional facility. Instead, the Department of Corrections said they would provide a Christian prison chaplain to be present.
"The chaplain told me, 'Well, I'm gonna be in the chamber'. I told him, 'Well look, he's not a Christian, he's Muslim and I should be the one that should be in there'," Maisonet said during a news conference held on Thursday.
'We are hopeful that the state of Alabama will either come to its senses, or a federal court will intervene to move beyond these exclusions of religious leaders'
Maisonet continued to challenge the prison, and a federal appeals court granted Ray a stay of execution to determine whether the prison had violated the first amendment of the US Constitution by favouring one religion over another.
Despite this, the Supreme Court ruled in favour of going forward with the execution without the presence of any religious figure - Christian or Muslim - and Maisonet watched Ray's execution from a separate room.
"I was able to observe the execution, but it was hard to see a Muslim die with the state of Alabama denying him his rights, to die with his religious beliefs," Maisonet said.
In federal prisons, unlike state facilities, inmates on death row are allowed access to faith leaders from the religion they practice, and those individuals are allowed access to the inmates all the way up to the execution, Gadeir Abbas, senior litigation attorney at CAIR, noted during a news conference on Thursday.
Abbas said the case was "about the religious liberty of imams to carry out their religious beliefs and tending to those that society has decided to kill".
"That's what this lawsuit is about, and we are hopeful that the state of Alabama will either come to its senses, or a federal court will intervene to move beyond these exclusions of religious leaders."
https://www.middleeasteye.net/news/us-muslim-rights-group-files-lawsuit-over-religious-rights-executed-muslim-inmate
--------
Muslim Scholars Union Condemns Ongoing Bloodshed, Calls for End to War in Afghanistan
2021-02-06
Kabul (BNA) The International Union for Muslim Scholars on Wednesday called for all Muslim scholars to work to end the conflict in Afghanistan and ensure the safety of its people.
In a statement issued by the IUMS, they said they call "on all scholars and intellectuals to strive for an end to the bloodshed, and to achieve stability and safety for the Afghan people."
The IUMS also strongly condemned and denounced the systematic targeting of scholars and intellectuals in Afghanistan and they urged all religious scholars and intellectuals to make efforts to help stop the bloodshed, and to achieve stability, security and safety for the Afghan people.
They said the ongoing targeting of religious scholars "has dire consequences for the future of Afghanistan as well as for the region."
The IUMS also stated that the violence and killing of innocent civilians is forbidden by Islamic laws, customs and international laws.
The organization emphasized it "condemns all acts of violence, assassination and terrorism against religious scholars, intellectuals, opinion-holders and dissidents.
against the Afghan people, and an insult to Islam and Muslims. "The Union emphasizes the prohibition of aggression and murder," stating it is against Islam.
The statement comes just days after the Afghan Republic's religious delegation of the peace talks team met with IUMS leaders in Qatar, including its leader Ahmad Al-Raissouni.
Following the meeting on Sunday, the Republic's team said in a series of tweets that the IUMS leaders had said the Afghan war lacks religious legitimacy, and it is important to seek a political solution to the crisis. IUMS called for an immediate ceasefire and called it a religious obligation.
According to IUMS war in Afghanistan is based on 'political differences' and the role of neighboring countries in the peace process is fundamental.
https://bakhtarnews.af/muslim-scholars-union-condemns-ongoing-bloodshed-calls-for-end-to-war/
--------
Pearl case accused moved to new premises
Staff Reporter
February 7, 2021
KARACHI: The Sindh government on Saturday moved Ahmed Omar Saeed Sheikh, the prime accused in the 2002 killing of American journalist Daniel Pearl, and his four associates from jail to a newly-built facility inside the prison, sources privy to the development said.
The move came in line with the Supreme Court's orders last week that authorities must move Sheikh from a death cell in the Karachi Central Prison to a government rest house.
"All the suspects have been moved to the newly-built rest house inside the prison," said a source, citing a notification issued by the Sindh home department. "They would be allowed to see their families at the rest house though they would not enjoy any internet and telephone facility. The families of the suspects have also been offered space in Qasr-e-Naz" — a federal government owned building in the city.
The apex court had also directed the authorities to ensure complete security of the rest house, and allowed Sheikh's family access to him from 8am to 5pm, while hearing a petition filed by the accused against his detention despite the high court's orders. The SC had taken up an appeal moved by the Sindh government against the Sindh High Court's Dec 24, 2020, order declaring illegal the provincial government's June 29, 2020, notification of placing all accused on the Fourth Schedule of the Anti-Terrorist Act of 1997 pursuant to Section 11-EE with an observation that none of the accused was "enemy alien" as contemplated under Article 10(9) of the Constitution and as such their detention under this provision was found to be illegal.
https://www.dawn.com/news/1605942/pearl-case-accused-moved-to-new-premises
---------
Diplomatic Corps Accredited In Azerbaijan Visit Armenian-Destroyed Mosque In Liberated Zangilan at Performed Namaz
6 February 2021
Trend:
The diplomatic corps accredited in Azerbaijan, together with Assistant to the President of Azerbaijan, Head of the Foreign Policy Affairs Department of the Presidential Administration Hikmat Hajiyev, Assistant to the First Vice President of Azerbaijan Elchin Amirbayov, and other officials got acquainted with the Armenian-destroyed mosque in Azerbaijani Zangilan liberated from occupation, Trend reports.
Hajiyev talked on the history of the mosque and the way it was destroyed during the occupation of these lands by Armenia, highlighting the fact that Armenians used the religious sites to keep pigs, horses and other domestic animals.
He noted that during the occupation, Armenians brought foreigners to the Zangilan to carry out illegal settlement here, which is one of the war crimes.
Hajiyev said that the reconstruction of the destroyed areas has already began and the concept of smart cities will be introduced here in the reconstruction process, adding that Azerbaijan would be happy to see its foreign partners take part in this process.
https://en.trend.az/azerbaijan/politics/3376755.html
--------
Iran Says US Ending Saudi Support Does Not Solve Yemen War
Agence France-Presse
February 07, 2021
Tehran: Iran's foreign ministry said Saturday the US decision to end military support to a Saudi-led military coalition can help fix 'past mistakes', but falls short of a solution to Yemen's six-year war.
US President Joe Biden had announced on Thursday that Washington was terminating all offensive support for Saudi Arabia in the war, including related arms sales to Riyadh, in stark contrast to former president Donald Trump's line.
Regional rivals Saudi Arabia and Iran are on opposing sides of Yemen's conflict, with the former backing an internationally recognised government and the latter supporting the Huthi rebels.
"Ending the support for and not selling weapons to Saudi Arabia's coalition, if not a political maneuvre, can be a step towards fixing past mistakes," Iran's foreign ministry spokesman Saeed Khatibzadeh said in a statement.
"Iran supports any efforts by the global community to support Yemen and end support of the aggressor," he said, while adding that the US move will "not solve Yemen's problem on its own".
Khatibzadeh said the "air, sea and land blockade" of Yemen and the "military attacks by aggressor countries led by Saudi Arabia" must end as well.
The war in Yemen has killed tens of thousands and displaced millions, triggering what the United Nations calls the world's worst humanitarian disaster.
The Iran-allied Huthis seized Yemen's capital Sanaa and much of north in 2014, sparking a Saudi-led intervention the following year
https://www.ndtv.com/world-news/iran-says-us-ending-saudi-support-does-not-solve-yemen-war-2364801
--------
Johor police receive 16 reports against Tommy Thomas
06 Feb 2021
by Firdaus Latif
JOHOR BAHRU, Feb 6 — Johor police have received 16 reports against Tan Sri Tommy Thomas over his recently published book My Story: Justice in the Wilderness.
State Police chief Datuk Ayob Khan Mydin Pitchay said they began receiving reports from various parties against the former attorney-general from the first day the issue came to light.
"We will begin investigations under Section 500 and Section 203A of the Penal Code and Section 8 of the Official Secrets Act 1972," he told Bernama when contacted today.
Thomas, who served as attorney-general from June 2018 to February last year, sparked controversy as his 500-page book published on Jan 30 is alleged to have twisted the country's history and insulted the Attorney-General's Chambers.
Various parties have urged the government to ban the book, including Johor Umno Youth, who lodged a police report at the Johor Bahru Selatan police district headquarters today.
https://www.malaymail.com/news/malaysia/2021/02/06/johor-police-receive-16-reports-against-tommy-thomas/1947597
--------
British science teacher charged for terrorism threats against Zimbabwe
by Staff reporter
07-02-2021
A Zimbabwean-born British science teacher and opposition political activist has been indicted on four charges of inciting terrorism after allegedly urging his Facebook followers to stage a violent uprising against President Emmerson Mnangagwa's government.
William Chinyanga, 50, was arraigned following his arrest last year over videos he is said to have posted in December 2019, instigating people back in Zimbabwe to burn down petrol stations and businesses.
Chinyanga, based in Archway, North London, appeared for his preliminary hearing before a judge in Old Bailey on Friday, The Daily Mail reported.
In a Saturday Twitter post, for which he was counseled by one follower that he was likely violating his bail conditions, Chinyanga appeared undaunted, suggesting the use of force to topple despots was acceptable.
"There are two ways of removing dictators, military attack by NATO, or economic static by civilians. [as national lockdown, Arab uprising, Siege] The unworkable ways are imposing sanctions and elections. Ma10 (sic)," Chinyanga wrote.
Prosecutors charge that in a video titled 'The Roadmap to Zimbabwean Freedom', the defendant called on viewers to torch buses, petrol stations, fuel tankers, and buildings to exert political pressure, the British newspaper said.
The court also heard that Chinyanga, who only spoke to confirm his identity, is a campaigner for political change in his home country.
Chinyanga's trial will commence provisionally on January 10, 2022, with a further preparatory hearing on May 28, it was reported.
https://bulawayo24.com/index-id-news-sc-national-byo-199024.html
-------
Arab World
Egyptian MPs criticise US Congressman Tom Malinowski for supporting Muslim Brotherhood
Gamal Essam El-Din
6 Feb 2021
Head of Egyptian parliament's Human Rights Committee Tarek Radwan sharply criticized US Congressman Tom Malinowski for his support of Muslim Brotherhood activists and political Islam movements.
In a statement issued on Saturday, Radwan said the attempts being exerted by Tom Malinowski - a Democratic party member of the House of Representatives - to open the doors of the US Congress before members of Muslim Brotherhood are totally rejected. "Malinowski has recently announced the formation of the so-called Egypt Human Rights Caucus, and wants to use this forum to allow members of the Muslim Brotherhood to hold hearing sessions and conferences inside the US congress on the situation of human rights in Egypt," said Radwan, adding that "the step is a dangerous development because it represents a violation of the UN Charter which states that no country has the right to directly or indirectly interfere into the internal and external affairs of any other country."
Radwan said US Congressman Tom Malinowski's attempts will imply helping the terrorist group (Muslim Brotherhood) deceive American policymakers and public opinion in terms of introducing its members and officials as political activists defending human and civilian rights. "But Congress member Malinowski should know that this is a dangerous game because when you open the door of the Congress for a group with an Islamist Jihadist and violent ideology you will cause harm to America's national security itself," added Radwan, arguing that "playing games with political Islam movements, and the Muslim Brotherhood in particular, will only hurt American national security." "Let me ask US congressmen and politicians to draw lessons from the wars in Afghanistan, Somalia, Iraq and Libya, because in these countries, America supported Islamist jihadists and political Islam movements in one way or another and at the end this caused big harm to the United States and Western countries in the form of the proliferation of terrorist movements and threats around the world," said Radwan.
According to Radwan, it is the duty of Egyptian parliamentarians who represent all classes of the Egyptian society to issue initiatives to the US Capitol Hill, cautioning US Congressmen like Tom Malinowsky against forging contacts with political Islam and jihadist movements. "It is very dangerous to forge contacts with such malicious movements because in this way you help them infiltrate the American society and pose a threat to American national security itself," said Radwan, also emphasising that "political Islam movements are a big danger to the stability and security of Egypt and other Arab countries which designated Muslim Brotherhood a terrorist organization."
In Radwan's words: "all in the US and the West should recall that the Muslim Brotherhood is the mother of all Islamist terrorist organizations like Hasm, the Army of Islam, IS, Al-Qaeda and Ansar Beit Al-Maqdis, that all of these were designated terrorist organisations by the United States and most Western countries and that all of these were born from the womb of Muslim Brotherhood."
A lot of Egyptian MPs have recently criticised the decision of two US Congressmen – Tom Malinowski and Don Beyer to form "the Egypt Human Rights Caucus". Deputy Parliament Speaker Mohamed Abul-Enein said the formation of such a caucus represents a direct intervention into the internal affairs of Egypt.
Ashraf Rashad, the Spokesman of the Parliamentary majority of the Mostaqbal Watan party, said "Egyptian MPs could ask the US administration to release the former US President Donald Trump supporters who protested before the US Congress (Capitol Hill) on 6 January simply because this is against the right of organising demonstrations," said Rashad. "But we don't like to interfere into the affairs of other countries and we urge US congressmen to focus on America's internal problems rather than intervening into the affairs of other countries," he added.
The two Democratic party US members of the House of Representatives Malinowski and Beyer announced on 25 January the formation of the so-called "the Egypt Human Rights Caucus" to mark the 10th anniversary of the Egyptian revolution.
Rep Beyer said "Egypt remains a key ally, but its human rights record – including the years-long detention of my constituent Aya Hijazi – remains a major concern, and we must stand up to demand better of our closest allies."
Tom Malinowski said "the Egypt Human Rights caucus will reflect and help shape the growing consensus in Congress that we need to rebalance our relationship with this important country."
Both Members of Congress Malinowski and Beyer previously served in the US State Department. Malinowski, a Democrat representing New Jersey, was a Former Assistant Secretary of State for Democracy, Human Rights and Labour under the administration of Former US President Barack Obama.
http://english.ahram.org.eg/NewsContent/1/64/402470/Egypt/Politics-/Egyptian-MPs-criticise-US-Congressman-Tom-Malinows.aspx
--------
Saudi aid agency, WHO join hands to improve Yemen's public health system
CALINE MALEK
February 07, 2021
DUBAI: Millions of Yemenis will receive essential healthcare this year thanks to a new initiative taken by the World Health Organization (WHO) in partnership with the King Salman Humanitarian Aid and Relief Center (KSrelief).
The $20.5 million program, which will support the delivery of essential health services, is part of a broader $46 million deal between the two agencies covering projects on COVID-19 preparedness and response, nutrition, water and environmental sanitation services.
"Thanks to this new generous contribution from KSrelief, this initiative will contribute to providing essential health services to the Yemeni population while working with relevant stakeholders on rebuilding the health system in Yemen," Adham Ismail, the WHO's representative in Yemen, told Arab News.
"This new support is timely and particularly welcome as funding streams for humanitarian operations in Yemen, including the health sector, have decreased due to the COVID-19 pandemic."
The initiative, which grew out of an agreement signed in Sept. 2020, will provide the Yemen Health Cluster with help in the form of information management, emergency operation centers and running costs for its coordination offices. Up to 5.1 million people are expected to benefit from the improvements.
The WHO says critical support will be provided for the Minimum Service Package (MSP), with a particular focus on 15 hospitals located in priority districts, to improve the Yemeni population's access to secondary care.
The MSP includes, but is not limited to, reproductive and maternal health, strengthening preparedness capacity and improving the capacity of health staff and pre-hospital and referral care. Up to 1.8 million people stand to benefit.
The campaign is expected to continue throughout the year, with WHO Yemen maintaining regular contact with KSrelief officials to consider the next steps.
"KSrelief is considered by the WHO as a strategic partner in Yemen and globally," Ismail said. "This is because they play an instrumental role in increasing access for disadvantaged Yemenis to quality health services while working with health authorities and partners on developing the health system in general."
In a recent interview with Arab News, Abdullah Al-Rabeeah, supervisor-general of KSrelief, said the agency has allocated "most of its aid to the brothers in Yemen," and that 575 projects have been implemented there at a cost of nearly $3.5 billion. Landmine clearance and the rehabilitation of child soldiers recruited by the Iran-backed Houthi militia have been particular priorities.
Continuous support from KSrelief has allowed the WHO to provide lifesaving medicines, including treatment for patients with chronic, life-threatening conditions, such as kidney failure. The partnership has also supported child immunization and maternity programs.
Yemen is bearing witness to the world's worst humanitarian crisis. Some 24.3 million people — roughly 80 percent of the population — now require some form of humanitarian assistance or protection. "The health system is on the brink of collapse," the WHO said.
"More than 17.9 million people (out of the total population of 30 million) needed healthcare services in 2020. At the same time, only half of the health facilities are fully functioning, and those that remain open lack qualified health staff, essential medicines, and medical equipment like masks and gloves, as well as oxygen and other necessary supplies."
On Dec. 29, 2020, KSrelief concluded its fifth medical campaign as part of the Saudi volunteer program for heart disease and cardiac surgery in Yemen, with the participation of 11 specialists.
For the past three years, Yemen has witnessed a rise in cholera, diphtheria, dengue and malaria. The COVID-19 pandemic has further complicated the situation and significantly impacted the health system in terms of the utilization and access to health services.
"Additionally, COVID-19 has impacted supply chains, as evident from the increased supply costs, demand and supply gaps, significant delays and increased transportation costs," Ismail said.
"Thanks to the generous and continuous support from KSrelief, we have been able to help preserve the health system in Yemen and provide essential health services to the population. We look forward to strengthening our multifaceted partnership with KSrelief, including with regards to our nutrition program and the COVID-19 response."
The WHO and KSrelief have now announced a new partnership, aimed at offering free treatment to more than 23,400 severely malnourished children under the age of five in 90 targeted therapeutic feeding centers across Yemen.
With funding worth $5.5 million, the project aims to fight child malnutrition by sustaining essential nutrition services and enhancing access to life-saving interventions for the most vulnerable.
Water, sanitation and hygiene kits will be provided to support the children and their caregivers, who will also receive nutrition counselling, benefitting more than 46,800 people.
The project targets all governorates classified at levels 3 (crisis) and 4 (emergency), according to the 2019 Integrated Food Security Phase Classification (IPC).
Priority will be given to 226 districts identified at high risk by the Nutrition Cluster, based on the latest evidence and the IPC findings for 2020, because of their pronounced food insecurity, high population density, and vulnerable internally displaced and refugee populations.
The project will also rehabilitate 45 out of the 90 therapeutic feeding centers while establishing 13 new centers to enhance access to treatment and health services in districts where acute malnutrition is a public health concern. A total of 1,400 health workers will be trained in the field.
"Thanks to the generous contributions of KSrelief, WHO will be able to provide these children with much needed, often life-saving assistance," Ismail said. "The timely support is particularly welcome as Yemen faces unprecedented child malnutrition."
The support aims to benefit over 4.5 million children under five in the coming years.
https://www.arabnews.com/node/1805056/saudi-arabia
--------
Saudi authorities halt public sales of birds, scrap
SPA
February 07, 2021
MAKKAH: The municipality of Makkah closed down the sale of birds and scrap at public auctions on Saturday as part of precautionary measures to curb the spread of the coronavirus, the Saudi Press Agency reported on Saturday.
The move by the municipality, represented by sub-municipalities and associated municipalities, was undertaken in cooperation with security agencies and to implement the directives of Makkah Mayor Mohammed Abdullah Al-Quwaihis.
The director general of municipal affairs, Abdullah Al-Zaidi, said that the decision to close down the auctions was to stop the spread of COVID-19.
He said that the sub-municipalities' monitoring groups were carrying out field trips to street markets to ensure the implementation of precautionary measures and regulations.
Al-Zaidi said that the sub-municipality was intensifying its inspection of all enterprises, and called on citizens and expats to report violations by calling 940 or via the municipality's social media platforms.
https://www.arabnews.com/node/1805031/saudi-arabia
--------
India
Muzaffarnagar's Muslims And Jats Set Aside 2013 the Communal Divide
Sandeep Rai
Feb 6, 2021
Muzaffarnagar/Meerut: Eight years ago, three deaths and a Mahapanchayat had set off a chain of events that led to three weeks of riots in Muzaffarnagar. The communal divide it created ran deep.
In the villages of Muzaffarnagar, many Muslims and Jats are putting the bloody history behind them to come together for the farmers' protest. "It is time to move on," said Asad Zama, a lawyer who was witness to the riots. "Both communities shape the politics of western UP. Together, we can do a lot."
In 2013, Muslim members of the Bharatiya Kisan Union (BKU), led by founding member Ghulam Mohammad Jola, had walked out of the outfit. BKU chief Naresh Tikait and his brother, Rakesh, spokesperson of the outfit, had allegedly attended the mahapanchayat where inflammatory speeches had been made before Muzaffarnagar descended into riots. The Tikait brothers were booked for inciting communal violence and Jola, holding BKU accountable, quit.
Recently at another mahapanchayat, Jola shared the stage with Naresh and embraced him. It was a day after Rakesh's teary-eyed appeal from the Ghazipur border, which led to waves of farmers joining the protests at Delhi borders again. Jola, who had been a close aide to the Tikait brothers' father and influential farmer leader Mahender, struck a note of reconciliation.
"Eight years have passed. Both Jats and Muslims have seen the losses that came with drifting apart, both politically and structurally. Now, we are together. The Muzaffarnagar mahapanchayat was the beginning. I am hopeful that this camaraderie will endure and help build bridges among people," he said.
It is an uneasy truce but one they are firm on. "It's a good start. The pressing matter is farmers' welfare, irrespective of faith," said Ashok Balyan, a Muzaffarnagar-based farmer leader. "We are the biggest farmer communities of western UP. We are all affected. Coming together with a sense of brotherhood is good for the both of us," said Sharanvir Deshwal, another farmer leader.
Some, however, felt it was too soon to read too much into what is essentially an act of solidarity. "The divide that was created in 2013 has been deep. It will take time for the scars to heal," Ashok said. "Coming together does not mean a political union. It is out of necessity." Rizwan Ahmad, an activist and riot victim who now lives in Shamli, was also sceptical.
https://timesofindia.indiatimes.com/city/meerut/divided-by-riots-united-by-stir-muzaffarnagars-muslims-jats-set-aside-2013-divide-for-farm-protests/articleshowprint/80712203.cms
--------
West Bengal assembly elections: Why getting Muslims votes could be tough for Mamata Banerjee
Kumar Shakti Shekhar
Feb 6, 2021
NEW DELHI: With Pirzada Abbas Siddiqui-led Indian Secular Front (ISF) and All India Majlis-e-Ittehadul Muslimeen (AIMIM) chief Asaduddin Owaisi courting the Muslims, West Bengal chief minister Mamata Banerjee-led Trinamool Banerjee (TMC) faces a major risk of losing the decisive votes of the community in the forthcoming assembly elections.
The challenge to the TMC had already become serious with Owaisi announcing his plans to contest the upcoming state polls on a sizeable number of seats. The threat has become graver with the Congress planning to forge an alliance with ISF now.
Muslims constitute 30 per cent of the West Bengal population and their votes are decisive on 100-110 of the 294 assembly seats, situated mostly in the districts of Kolkata, Murshidabad, Malda and Dinajpur. Mamata-led TMC had retained office in 2016 by winning 204 assembly constituencies with the crucial help of these Muslim-dominated seats.
Ever since Mamata Banerjee came to office in her first stint in 2011, she has been wooing the Muslims by announcing several sops for them.
For instance, her TMC government gave a monthly stipend of upto Rs 2,500 to about 60,000 imams and muezzins, distributed bicycles to girl students enrolled in madrassas, extended scholarships to Muslim students of Class I to X, offered reservation to Muslim OBCs and has declared Urdu as the second language in the Muslim-populated districts.
Besides these, her government had banned a TV serial scripted by activist Taslima Nasreen in December 2013 after Muslim fundamentalists objected to it.
Due to her Muslim appeasement, she is often taunted by being called "Mumtaz Begum".
After winning five seats - all in the Muslim-dominated Seemanchal region - in last year's Bihar assembly elections, the AIMIM has announced to seriously contest the West Bengal polls. This has rattled Mamata Banerjee.
Without naming AIMIM, she alleged that it was the B-team of the BJP. She has gone on record to say that to divide the Muslim votes, the BJP is spending crores of rupees to bring in a party from Hyderabad. "The plan is that BJP will eat into Hindu votes, and this Hyderabad party will eat into Muslim votes… In recent Bihar elections, they did the same thing. This party is a B-team of the BJP," she said.
Owaisi had hit back saying Muslims voters were not Banerjee "jagir" (personal property). "Never was a man born who can buy Asaduddin Owaisi with money," the Lok Sabha MP from Hyderabad said.
Not just the TMC and AIMIM but now the Congress has also decided to work towards garnering the Muslim votes in alliance with ISF. On February 4, the West Bengal unit of the Congress sought party president Sonia Gandhi's approval for initiating negotiations with Pirzada Abbas Siddiqui and form a grand alliance for the assembly elections.
Senior state Congress leader Abdul Mannan, who is also the leader of opposition in the assembly, wrote a letter to Sonia Gandhi and said he has already started "unofficial dialogue" with ISF and WBPCC president Adhir Chowdhury has visited Siddiqui of Furfura Sharif shrine.
"The addition of ISF in the Left-Congress alliance may be a game changer in the ensuing assembly elections... I have started unofficial dialogue with the ISF and the PCC president visited Siddiqui's place recently. He has discussed the issue with me and is seeking my help because of my personal relation with Pirzada Siddiqui's family since decades," Mannan said.
He claimed that CPM politburo member Md Salim has also started discussions with Siddiqui. Mannan further said, "He (Siddiqui) is popular for his oratory skills among Muslims, as well as dalits and tribals," and added that lakhs of people gather at his meetings in minority, tribal and dalit areas.
Stating that 30 per cent of the population in the state are Muslims, he said of them 90 per cent are Bengali-speaking and are the traditional vote bank of the Congress.
The Muslim cleric, the fourth-generation descendant of Sufi saint Hazrat Abu Bakr Siddiqui, heads the popular shrine of Furfura Sharif in Hooghly district. He has called the Congress move a "positive development". The 34-year-old Pirzada said, "It is a positive development. But it is too early for us to comment on the issue. .. Let us see how things unfold."
The Pirzada, who became the first religious leader in West Bengal to take the plunge into politics, wishes to be the kingmaker after the assembly polls.
Siddiqui has lashed out at Mamata government and alleged that it had done "more harm than good" for the Muslims by creating a Hindu-Muslim divide.
Not to be left behind, the BJP is also making some efforts to win the confidence of the Muslims. It has held Muslim conferences ahead of the the 2018 Bengal Panchayat elections. It gave tickets to more than 850 candidates from the Muslim community, in which 27 had won. It fielded six Muslim candidstes in the 2016 assembly elections though no one won.
With the race for Muslim votes becoming more challenging, Mamata Banerjee faces a challenge in the forthcoming assembly elections.
https://timesofindia.indiatimes.com/india/west-bengal-assembly-elections-why-getting-muslims-votes-could-be-tough-for-mamata-banerjee/articleshowprint/80725522.cms
-------
North America
IRC's David Miliband responds to decision to remove Ansar Allah in Yemen from the U.S. government's list of foreign terrorist organizations
February 6, 2021
David Miliband
President and CEO of the International Rescue Committee, said, "This is a further, vital, correct decision to bring hope to Yemen's crisis-stricken population. The designation of Ansar Allah would have done nothing to tackle terrorism, and everything to make humanitarian aid and commercial traffic impossible. The next steps are to raise aid flows, negotiate a permanent ceasefire, and get the diplomatic process moving to establish a sustainable political settlement."
https://www.rescue.org/press-release/ircs-david-miliband-responds-decision-remove-ansar-allah-yemen-us-governments-list
--------
Robert Saleh is the NFL's first Muslim head coach
February 5, 2021
By Joseph Hammond
(RNS) — Robert Saleh was announced as head coach of the New York Jets under a five-year contract earlier this month. He is the first Muslim to become coach of an NFL team and takes over a team that finished with a dismal 2-14 record in its most recent season.
Saleh's rise to become the first NFL coach of Muslim heritage includes a 10-year career in coaching roles with various NFL and college football teams. Saleh was most recently the defensive coordinator for the San Francisco 49ers, who won the NFC Championship in 2020 before losing to the Kansas City Chiefs in Super Bowl LIV.
In Saleh's hometown of Dearborn, Michigan, the Islamic faith and American football have a unique synergy. The town is often described as the largest Arab community outside of the Middle East, many of whom moved to the area in the early 20th century. When Saleh graduated from Fordson High School in 1997, at least one member of his extended Lebanese American family had been in attendance since 1961.
The school is also noteworthy for being a public school with a majority-Muslim population. A 2011 NPR report noted that 90% of the school's population was Muslim. The cafeteria serves halal food to accommodate its students' religious needs. During the period in which Saleh attended the school, Lebanese Americans made up a plurality of the Arab student population. In his freshman year, the school won its fourth state football championship. A 2006 ESPN article estimated that 99% of the varsity football team was Muslim. Fordson players often use Arabic to gain tactical advantage on the playing field.
Fordson was the subject of the 2011 documentary "Fordson: Faith, Fasting, Football," which caught the attention of then-Secretary of State Hillary Clinton.
After high school, Saleh played tight end at Northern Michigan University from 1997 to 2000. He earned a bachelor's degree in finance. Then, the Sept. 11 terrorist attacks happened. His brother, who was working in one of the towers at the time, barely escaped. His brother's close brush with death in a relatively stable job made Saleh reconsider his purpose in life, and he decided to refocus on football this time as a coach, according to an interview Saleh did with Sports Illustrated in 2017.
From 2002 to 2005, he worked as a defensive assistant with four different universities, including Michigan State University and briefer stints at Central Michigan University and the University of Georgia. In 2005, he accepted a position as an intern working with the NFL's Houston Texans' defense and eventually rose to assistant linebacker coach with the Texans.
He subsequently moved to the Seattle Seahawks, where he joined the defensive coaching staff in 2011 and contributed to a Super Bowl win in 2013. From 2014 to 2016 he was the linebacker coach for the Jacksonville Jaguars. It was from that position that he was recruited to the San Francisco 49ers in 2017. According to the aforementioned interview with Sports Illustrated, Saleh said that though he tries to practice fasting during the month of Ramadan, the NFL schedule can make observance difficult.
Saleh's rise has been a rapid one. At 42 years old, he is relatively young for an NFL head coach (with 20 of the 32 head coaches in the NFL being over the age of 60). If he succeeds during his five-year contract with the New York Jets, he could have a long career.
Saleh is also the third Lebanese American and third Arab American to become an NFL head coach after Abe Gibron of the Chicago Bears and Rich Kotite, a former head coach of the Philadelphia Eagles and New York Jets.
https://religionnews.com/2021/02/05/robert-saleh-is-the-nfls-first-muslim-head-coach/
--------
Biden rescinds Trump's Muslim ban, pledges to accept more refugees
7 February 2021
ANCHAL VOHRA
American President Joe Biden rescinded his predecessor's controversial travel restrictions on 13 countries on his first day in office. Legal experts and human rights activists had described it as Trump's "Muslim ban".
"On day one, I'll end Trump's unconstitutional Muslim ban," Biden had said during his election campaign. "My administration will look like America with Muslim Americans serving at every level."
In 2017, in a series of executive orders, Donald Trump imposed a ban on the entry of immigrants from seven Muslim majority nations including Iran, Libya, Syria, and Yemen.
But the ban was seen as discriminatory as it singled out people on the basis of religion. It caused outrage and led to court cases. The first two versions of the ban were struck down and then Trump added Venezuela, North Korea, Nigeria, Myanmar, and several other countries just so it could be pushed it through the legal system.
Whilst American courts debated the ban, tens of thousands of families were forced to live apart. Many of these people had valid US visas to travel and yet their flights were cancelled and plans suspended. Hundreds of refugees could not get to the safety that they had been promised and political dissidents from the Middle East who had fled persecution in their countries were coerced to live in shantytowns or temporary tenements in countries like Lebanon and Turkey.
In 2018, America's Supreme Court deemed it essential for America's national security, to avoid terror attacks. Critics disagreed and questioned the narrative. Trump and his Islamophobic backers had given the rationale that had immigration authorities denied visas to 19 foreign nationals who crashed the airplanes into the twin towers and the Pentagon, the attack that killed 3,000 Americans could have been avoided.
But activists rubbished the claim. They said that Saudi Arabia, the country where most of these 19 men came from, was not on the list of banned countries. They concluded that the ban was meant to cash in on Islamophobia, even exacerbate it, rather than avoid future attacks on American soil.
Biden's team held the view that prohibiting Muslims from entering America was "morally wrong" and that there was no evidence to suggest it made the US more secure.
As Biden repealed the ban many are asking if the US should apologise to the people who suffered unnecessarily because of Trump's misguided and xenophobic policy. Others are demanding the US pass a No-Ban Act that prevents any future US president from imposing travel restrictions based on religion or ethnicity.
Trump has unleashed a "maximum pressure" campaign against Iran to weaken the Iranian government on behalf of its allies in the Gulf as well as Israel. But critics believe that the ban impacted many of those Iranians who harboured a soft spot for the US and advocated for western-style democracy in their country. According to a research project at Georgetown University, Iranians witnessed a decrease of 79% in visas between Oct 2015 and September 2019.
The exemptions inserted by the courts were rarely granted. Anyone who was undergoing "undue hardship" such as war; or those whose entry could be in America's national interest, such as dissidents who subscribed to the same values as those propagated by the US; and those who did not present any threat to American security, such as parents of those already settled in the US, separated children and ill family members; could potentially exercise the waiver. According to Georgetown university's research project, however, 74% of the applicants who sought the waiver between December 2017 and April 2020 were turned down.
While Biden has repealed the ban, America's reputation as a torchbearer of human rights has taken a beating. Experts say Biden has won the elections but since a large part of the country also voted for Trump, the right-wing in the US is well and flourishing and might return to power with similar policies.
Meanwhile, if it is some consolation, in his first big speech on America's foreign policy, President Joe Biden emphasised the US as a nation of immigrants and pledged to accept more refugees. He said he would increase the numbers to 125,000 a year while under Trump it had been just 15,000.
To start with, the Biden administration faces a huge backlog of those whose visas had been cleared before Trump came to power. Immigration experts said it could take years before all those manage to get in.
https://www.orfonline.org/expert-speak/biden-rescinds-trumps-muslim-ban-pledges-to-accept-more-refugees/?amp
-------
UN: Coronavirus increases threat of IS, Al Qaeda conflicts in Iraq, Syria, Afghanistan
Source : ABNA24
February 7, 2021
The coronavirus pandemic has increased the threat that extremist factions, including the so-called Islamic State (IS) and Al Qaeda, pose in conflict areas like Iraq, Syria and Afghanistan, UN experts claimed in a new report.
The document suggested that Daesh will try "to end its marginalization from the news" with a new wave of violence as the terrorist group calls on supporters to spend less time on social media, SPUTNIK reported.
"ISIS [Daesh] has enjoyed a captive audience, with so many people facing [COVID-19] restrictions on movement and spending more time online. Threats may have accumulated during this period that remains undetected but could manifest in due course", the survey warned.
Referring to sub-Saharan Africa, the report argued that the coronavirus pandemic "has weakened the hand of governments in conflict zones more than it has inhibited terrorist groups, and its long-term impact on economies, government resources, and allocations for international cooperation risks aggravating the [terrorist] threat further."
While stressing the ongoing resilience of militant groups, the document, however, points out a spate of significant setbacks that have disrupted their combat capability. The report recalled that al-Qaeda has lost a lot of key leaders, whereas Daesh is seeking to revive its clout in Iraq or Syria, which is unlikely to take place in the immediate future.
In July 2020, the Daily Mail cited Assistant Professor Michael Krona of Malmo University in Sweden as saying that social media had turned into a "happy hunting ground" for Daesh to groom the terrorist group's followers amid the ongoing COVID-19 pandemic.
Krona added that historically, Daesh is known to use "its time and resources in the shadows of the media to recruit and build support under the radar"
The report said IS poses a lower risk to "non-conflict zones" such as Europe but added that as restrictions to contain the coronavirus' spread ease, "a rash of pre-planned attacks may occur".
IS spokesperson Abu Hamza al-Qurashi in October called on supporters "to spend less time on social media and more effort on high-impact attacks, jail-breaks and other operational activity".
The UN report added that the group continues to promote the "divine punishment of arrogance and unbelief" narrative regarding the pandemic.
Though members within the group previously suggested using contagious members to weaponise the virus and infect their enemies, this ploy "has not progressed as a practical proposition", it said.
Iraq's Counter-Terrorism Service launched a new anti-IS operation last month dubbed "Revenge of the Martyrs", responding to a double IS attack in a crowded market in Baghdad in which at least 32 were killed and 110 wounded.
https://en.abna24.com/news//un-coronavirus-increases-threat-of-is-al-qaeda-conflicts-in-iraq-syria-afghanistan_1112911.html
--------
South Asia
Gov't security officials: Taliban not committed to peace, abandoned peace talks
By Khaama Press
07 Feb 2021
National Security Advisor, Hamdullah Mohib, in a press conference on Saturday said, that has no intention of honoring the peace, they want the Republic system to collapse so that they could take full control of the system.
"Taliban's intention is clear. Taliban do not want peace; their bosses won't allow them to make peace. It is a fact that they want permanent instability in Afghanistan," Mohib was qouted by Tolonews.
"Taliban are an aggressive force and controlled by others. They want to destroy Afghanistan, they just want complete power and nothing else," added Mohib.
"The Taliban want power and are ready to destroy Afghanistan to gain it," adding that "If the Taliban do not want peace, we must defend our people. President Ghani is committed to peace; But the Taliban are the main obstacle to the peace process."
He said, "Anyone who is thinking of collapsing the system will not get what he/she wants. We will not allow them to collapse the system and carry out their nefarious goals here."
Meanwhile, deputy defense and interior ministers, said that Afghan forces would defend Afghanistan and won't allow anyone to take control of it.
"Taliban leadership is in Doha, and are not aware of the war situation in Afghanistan. They are killing Afghans illegitimately," said Massoud Andarabi, the interior minister.
"As you see the NSA visited many corps and we brought reforms in our institutions, it means we want peace. If the Taliban want war we are ready," said Shah Mahmood Miakhel, deputy defense minister.
"The Taliban have just started fighting in Kandahar, But they have no soldiers and have asked for people from other provinces. The defense and security forces have inflicted heavy casualties on them," MoI Minister Andarabi said.
Andarabi added, if the Taliban has no commitment to peace, ANDSF forces are fully prepared for the battle.
https://www.khaama.com/govt-security-officials-taliban-not-committed-to-peace-violence-reduction-22332/
--------
Biden ordered a thorough review of SIV visa scheme
By Khaama Press
07 Feb 2021
US President Joe Biden ordered a review of the Special Immigrant Visa (SIV) program for Afghan and Iraqi translators who helped the American troops in the two countries.
American President, Joe Biden gave the order to a thorough review of the Special Immigrant Visa program for Afghan and Iraqi translators who helped the American during their operations in both of the countries.
In an executive order on Friday said that the practices would be reviewed in the relation sections to ensure United states kept its promise in expansion of the visa scheme.
This program will enhance the access for translators, who are under the threat of prosecution or in danger.
This review will also help women and children who are victims of gender-based discrimination or sexual orientations
Rep. Mike Waltz, R-Fla., a combat veteran who works closely with SIV requests, expressed his happiness and welcomed the executive order.
"It just sends such an important signal if you stand with us and you stand against extremism, we'll be there for you. We will honor that commitment." Rep Mike said.
Approximately 17,000 Afghans who worked besides American have applied for resettlement in the United States, some applicants were devasted, frustrated, and even emotionally broken when decisions on their visas took more time to get processed.
https://www.khaama.com/biden-ordered-a-thorough-review-of-siv-visa-scheme-2233322/
--------
Corrupt Senators get three years of jail time
By Khaama Press
06 Feb 2021
Three members of the Meshrano Jirga, the Upper House of Parliament, were sentenced to 10 years and one month in prison each by the primary court of the Anti-Corruption Justice Center on charges of accepting $40,000 in bribe money from customs officials in Balkh, the Attorney General's Office (AGO) said on Saturday.
Three detained Meshrano Jirga (Upper House) of parliament members were sentenced to 10 years and one month in jail by the primary court of Anti-Corruption Justice Center, Attorney General's office stated, they reportedly were detained on charges of accepting $40,000 in bribes from custom officials.
Senators Mohammad Azim Qoyash, Liyaqatullah Babakarkhil, and Anwar Bashliq were previously accused of asking $60,000, and in December 2020 they were arrested for accepting $40,000 in bribes.
According to AGO, the primary court of the Anti-Corruption Justice Center decided on seven criminal counts against the senators, these senators were each fined $40,000.
These senators were members of the economy committee of the Senate, who traveled to Balkh to assess security and economic situation, especially had traveled to monitor the province's custom office.
This comes as former Herat mayor, Ghulam Hazrat Mushfiq, and six other people were sentenced to prison for six years and were fined $75,000 each.
https://www.khaama.com/corrupt-senators-get-three-years-of-jail-time-5544436/
--------
3 dead, 5 wounded in series of IED blasts in Kabul
By Khaama Press
06 Feb 202
A second explosion happened in the Khairkhana area of PD11 in the center of Afghanistan in Kabul city.
Ferdaws Faramarz, spokesman for the police headquarters said Saturday, that the explosion took place at around 10:41 a.m. this morning in Has-e-Awal of Khairkhana.
According to Faramarz, a Ranger type vehicle was targeted by a magnetic IED, which left one person dead.
The series of IED blasts in one day for every day in Kabul has worried the public and spread fear.
This comes on the heels of the first explosion that occurred at around 9:40 a.m. at a shop in Bagh-e-Qazi area of western Kabul city.
The blast type is reportedly unknown, following the incident people and security forces were busy helping the wounded when the second blast on the same spot occurred in which two people including an Afghan Hindu were killed, and further five more people including Two Afghan Hindus were injured.
No group or individual has claimed responsibility for both of the incidents.
https://www.khaama.com/3-dead-5-wounded-in-series-of-ied-blasts-in-kabul-445544/
--------
Coup in Myanmar: Military imposes internet blackout
February 07, 2021
Agencies
Myanmar saw its largest anti-coup protests yet yesterday with young demonstrators spilling on to the streets to denounce the country's new military regime, despite a nationwide internet blackout aimed at stifling a growing chorus of popular dissent.
Soon before nearly all lines of communication in and out of the country went dark, an Australian advisor to ousted civilian leader Aung San Suu Kyi told media he had been detained.
The shutdown did not stop thousands of demonstrators from gathering across Myanmar's largest city yesterday, beginning on a road near Yangon University where many flashed the three-finger salute that has come to symbolise resistance to the army takeover.
"Down with the military dictatorship!" crowds yelled, many donning red headbands -- the colour associated with Suu Kyi's National League for Democracy party.
At least two other groups of demonstrators marched south to downtown Yangon's Sule Pagoda, carrying posters of Suu Kyi and president Win Myint to call for their release.
All were out to condemn dawn raids that brought a sudden halt to the country's 10-year experiment with democracy on Monday, just as lawmakers elected in national polls last November were due to sit in parliament for the first time.
Army chief Min Aung Hlaing seized power alleging voter fraud, although the electoral commission says it has found no evidence of widespread irregularities in the November vote.
The junta announced a one-year state of emergency and has promised to hand over power after new elections, without giving a timeframe.
Nobel Peace laureate Suu Kyi, 75, has been charged with illegally importing six walkie-talkies, while ousted President Win Myint is accused of flouting COVID-19 restrictions. Neither has been seen since the coup. Their lawyer said they were being held in their homes.
Australian professor Sean Turnell became the latest figure associated with Suu Kyi -- and the first confirmed foreign national -- to be detained.
"I'm just being detained at the moment, and perhaps charged with something. I don't know what that would be," Turnell, a longtime economic advisor to the Nobel laureate, told the BBC.
Online calls to protest the army takeover have prompted bold displays of defiance, including the nightly deafening clamour of people around the country banging pots and pans -- a practice traditionally associated with driving out evil.
A civil disobedience movement has been building in Myanmar all week, with doctors and teachers among those refusing to work. Every night people bang pots and pans in a show of anger.
The coup has sparked international outrage, with the United States considering sanctions against the generals and the UN Security Council calling for the release of all detainees.
It has also deepened tensions between the United States and China, which has close links to Myanmar's military. Secretary of State Antony Blinken pressed top Chinese diplomat Yang Jiechi in a phone call on Friday to condemn the coup, the State Department said.
UN Secretary General Antonio Guterres said a special envoy to the country had made "first contact" with Myanmar's deputy military commander to urge the junta to return power to the civilian government.
State media in Myanmar reported Saturday that officials had spoken with diplomats the previous day to respond to the international outcry.
As protests gathered steam, the junta ordered telecom networks to freeze users out of access to Facebook, arguably the country's main mode of communication.
"We strongly urge the authorities to order the unblocking of all social media services," a Facebook representative said. "The people of Myanmar need access to important information and to be able to communicate with their loved ones."
The platform had hosted a rapidly growing "Civil Disobedience Movement" forum calling for strikes at civil service offices and hospitals.
The military widened its efforts to stifle dissent on Friday when it demanded new blocks on other social media services including Twitter.
Norway-based Telenor yesterday said it had complied with an order instructing telecoms to shut down the country's entire mobile data network.
Some internet-savvy users had managed to circumvent the social media block with VPN services but by midday online traffic had slowed to a standstill.
"An expanded internet shutdown will put them at greater risk of more egregious human rights violations at the hands of the military," she added.
The United Nations human rights office said on Twitter that "internet and communication services must be fully restored to ensure freedom of expression and access to information."
https://www.thedailystar.net/frontpage/news/coup-myanmar-military-imposes-internet-blackout-2040273
--------
Pakistan
Opposition terms Senate poll ordinance bid to 'dictate' court
Staff Reporter
February 7, 2021
ISLAMABAD: Opposition parties on Saturday rejected the Elections (Amendment) Ordinance 2021 and termed it an attempt by the government to "pressurise" the Supreme Court to decide the presidential reference seeking open Senate vote in its favour.
The country's two major political parties — the Pakistan Muslim League-Nawaz (PML-N) and the Pakistan Peoples Party (PPP) — declared the move "illegal and unconstitutional", saying the constitution could not be amended through an ordinance.
Talking to Dawn on Saturday, PML-N secretary general Ahsan Iqbal said after plunging the country into an administrative chaos, the ruling Pakistan Tehreek-i-Insaf (PTI) was now putting the country into a constitutional mess.
He said by introducing the constitution amendment bill in the National Assembly only a few days ago, the government had admitted that it required a constitution amendment if it wanted to hold the Senate elections through an open vote.
"This is a mockery of democracy and it will go in the annuls of legal history [of the country] that a conditional ordinance was issued linking its implementation with a favourable decision by the Supreme Court," he said. "It is tantamount to forcing the Supreme Court to decide the reference in the government's favour.
"We believe that after this flagrant violation of the constitution and the law, the Supreme Court should send the reference back to the government and should not become a victim of the political trap which the government has laid for it," he said.
Replying to a question, Mr Iqbal said the PML-N would consult its legal experts over the option to challenge the promulgation of the ordinance in the court.
Deputy spokesman for the Pakistan Democratic Movement (PDM) Hafiz Hamdullah said in a statement the promulgation of the ordinance was a violation of Article 226 of the Constitution and an attempt to "dictate" the Supreme Court. He said the ordinance was also an expression of no trust in the judiciary.
He said the "incompetent government" was trying to impose its decisions through ordinances. He asked the court to refer the matter related to the Senate elections back to parliament.
Earlier, speaking at a news conference, PPP chairman Bilawal Bhutto-Zardari rejected the government's move to promulgate the ordinance and alleged that Prime Minister Imran Khan wanted to "rig" the coming Senate elections and make them controversial.
The PPP chairman said a constitution amendment could not be introduced through an ordinance. He questioned the logic behind the government's move, saying when the presidential reference was still in the Supreme Court, what the point was behind taking this step? "Are you [PTI] trying to put pressure on the apex court? Or are you feeling [pressure] from the [PDM] and trying to influence the country's institutions?" he asked.
"If the government wanted to bring a constitution amendment why did it not contact political parties in the assembly to evolve a consensus on the issue?" he asked.
The PPP chairman said the issue of open Senate vote came under discussion at a meeting of the PDM a couple of days ago and all the parties believed that "open ballot can only be a part of a comprehensive electoral reforms package and that can only and only be passed through the parliament and no other institution has a role in legislation."
Responding to questions, he said holding a long march was a democratic way to protest. He said it was clearly written in the action plan of the PDM that the option of no-confidence motion would be used against the government.
The PPP chairman said the PDM had decided to jointly contest the Senate elections and it must be making some difference "this is why Imran Khan is worried."
He said dislodging the "puppet government" was only a short-term goal of the PDM struggle whereas the long-term goals included getting rid of the establishment's interference in politics and correcting the whole system by bringing all the institutions within their constitutional jurisdictions.
Mr Bhutto-Zardari denied that there was any contradiction in the PPP's stance regarding the PDM's strategy. He said there were few parties in the PDM which had called for a boycott of the Senate polls. However, all the parties later realised that by doing so, they would provide an opportunity to the PTI to get a super majority in the Senate.
He recalled that when the PPP had boycotted the 1985 elections, the 8th Constitution Amendment was passed by the parliament and then it took them over 25 years to bring the constitution back to its original form and during this movement, her mother Benazir Bhutto even lost her life.
The PPP chairman said he had trust in his party's lawmakers and they would never disappoint him. He said the PDM had decided not to hold dialogue with the establishment.
Meanwhile, PML-N vice-president Maryam Nawaz called on PDM chief Maulana Fazlur Rehman at the latter's residence to discuss the strategy for the coming Senate elections and the plans to hold the long march for which the PDM has set the date of March 26.
Sources said the two leaders discussed various options regarding the duration of the long march and the place for the possible sit-in. The sources said the two leaders also discussed the option of challenging the Senate election ordinance in the court.
https://www.dawn.com/news/1605957/opposition-terms-senate-poll-ordinance-bid-to-dictate-court
--------
No backdoor deal struck with Zardari, claims Shibli
Mansoor Malik
February 7, 2021
LAHORE: Federal Information Minister Shibli Faraz has categorically denied that the Pakistan Tehreek-i-Insaf government has struck a 'backdoor deal' with former president and Pakistan Peoples Party (PPP) co-chairman Asif Ali Zardari, claiming that any such deal is "against the basic philosophy of the party".
The minister was replying to questions of media persons at a Sundas Foundation event here on Saturday in the backdrop of grant of post-arrest bail to Mr Zardari on medical grounds in 'suspicious money transactions' case.
Chiding the Pakistan Muslim League-Nawaz (PML-N) for what he called its "pressure tactics" to get a clean chit for its leadership in corruption cases, Mr Faraz said the PPP could not go hand-in-hand with the PML-N to help it out in achieving its 'goals'.
He said the PDM parties had been going off scot-free after committing "wrongdoings" in the past, but now they had been pitched against Prime Minister Imran Khan and getting any relief without returning the "looted public wealth" would be next to impossible.
About Bilawal Bhutto-Zardari's claim that Imran Khan would no more be the prime minister when the Senate elections approached, Mr Faraz sarcastically said many a date given by the PPP chairman had passed and would continue passing "quietly" in future as well.
To a question whether the PML-Q had been able to "blackmail" Imran Khan as its leadership had suddenly started praising the prime minister, the minister said the PML-Q was an ally of the PTI government and knew all political matters well. "We believe that the government is moving ahead because the PTI's allies are supporting it and agree with its working," Mr Faraz said.
With regard to the PTI government's eagerness to go for 'open' Senate voting, Mr Faraz said the whole nation should understand that the government was talking about transparency in the upper house polls and eradicating the ill of buying and selling of votes. "Do those opposing the PTI government's endeavour to hold the Senate elections in a transparent manner want that the sale and purchase of parliamentarians continue like in the past," he asked. He said the prime minister had already told the nation that the party had removed its 20 parliamentarians who had sold their conscience by taking bribe in 2018 Senate elections.
Recalling that the opposition parties had signed a Charter of Democracy (CoD) supporting the cause of open vote to eradicate sale and purchase of the parliamentarians, he said that he was perplexed why these parties were now opposing the method for the Senate elections. "What I can understand is that the opposition parties only believe in money to buy anyone. They did all their politics [that way] and bought the conscience of the people with heaps of money," he alleged.
He said the PTI government had already brought a constitutional amendment bill to the National Assembly seeking open Senate vote and seen who opposed it. "Those opposing the open Senate vote have [only] exposed their [own] hypocritical politics," he said and sought the media's support in "exposing" those elements who were not agreeing to transparency that actually needed no discussion.
Answering a question, Mr Faraz said the PTI government's senior leadership was in contact with the Tehreek-i-Labbaik with regard to its Feb 16 deadline (for severing diplomatic ties with France over blasphemous caricatures) and hoped that the matter would amicably be resolved soon.
Responding to a question about the state-of-affairs in the state-run PTV and Pakistan Radio, the information minister said the government was reorganising these entities to restore the dignity of these vibrant organisations and show results within six months or a year. "When a boat meant for 10 passengers will be burdened with 300 passengers, it is bound to sink," he used the analogy to explain the situation of these organisations.
To another question about the passage of the Media Workers' Welfare Bill in the Senate, Mr Faraz said the PTI government firmly believed in offering pay and other protections to the journalist community across the country through a powerful regulator. "We will soon get more numbers in the Senate and re-present the bill within the prescribed time period," he assured the journalists.
https://www.dawn.com/news/1605945/no-backdoor-deal-struck-with-zardari-claims-shibli
--------
Ignoring viable options, ministry chooses park land in Islamabad to set up observatory
Kashif Abbasi
February 7, 2021
ISLAMABAD: With the Ministry of Science and Technology all set to establish an observatory and space museum in Shakarparian Hills, several voices of dissent have emerged over the site earmarked for the facility.
"Public places and parks are already shrinking, therefore there is no logic behind establishing the observatory in a park. This step will be tantamount to encroachment," says Dr Pervez Hoodbhoy, renowned scholar and nuclear physicist.
According to the ministry's summary - approved by the public parks' custodian, Capital Development Authority - 50x47 area (261.11 square yards) had been proposed for the project under which space/planetarium/observatory will be set up in Shakarparian Hills Park, subject to the approval of the federal government.
However, while selecting the site, the ministry ignored several acres of vacant government land and other high altitude areas. Even public-sector universities like Quaid-i-Azam University, International Islamic University and National University of Science and Technology had vacant land to their disposal.
According to the ministry, the observatory and space museum will not only resolve the moonsighting issue but also provide astronomers the opportunity to study the cosmos and celestial bodies.
Earlier, the Ministry of Science and Technology (MoST) wanted to execute the project within the boundary of the Pakistan Monument, but the idea was opposed by the monument's architect, Arif Masood, who advised the ministry against it.
Talking to Dawn, Arif Masood said he had suggested the ministry to utilise the space where the dysfunctional fountain was located in Shakarparian Park.
"We selected the park site due to two reasons - the area is relatively on a high altitude and a large number of students and people visit the park. The project will enable students and researchers as well as the general public to observe the moon and other celestial bodies," said Dr Tariq Masood, former joint secretary of the Ministry of Science and Technology, who is looking after the project.
A few days ago, Mr Masood rejoined his parent organisation (model college) ahead of his retirement but, according to him, he was still looking after the project on volunteer basis on behalf of the ministry.
He said the observatory and museum would be set up at the site of an out-of-order fountain and it would not disturb the public in the park.
Dr Hoodbhoy however objects to the arguments of the ministry on setting up of an observatory and space museum in Shakarparian public park.
"What does high altitude mean; will they [ministry officials] be close to the moon after setting up the observatory in Shakarparian," he asked, saying that instead of selecting a park for this purpose, the project should be undertaken on the building of Pakistan Science Foundation.
He argues that the mandate of Pakistan Science Foundation was to popularise science, and through this project it should promote science.
The Ministry of Science and Technology, on the other hand, believes that the site where the observatory and space museum would be set up was ideal both for moonsighting and public education.
Dr Fazeel Mahmood Khan, associate professor of space science at the Institute of Space Technology, who is providing technical assistance to ministry, also defended the site.
"We adopted two prone strategies: one, the site is at a high altitude and ideal for moonsighting, and second, it is a public place and will help create awareness among students and visitors about space," he said.
Others disagree. Former dean at QAU Dr Wiqar Ali Shah, who is also an alumni of Oxford University, said in the West, even the royal families could not dare use public parks for any other purpose.
"Earlier, we had heard F-9 Park was going to be mortgaged by the government and now we have come to know that an observatory and museum were being set up in Shakarparian Hills Park...this is unfortunate," he said. Another renowned educationist Prof Fateh Mohammad Malik also deplored the setting up of an observatory in the park.
CDA Director Regional Planning Abdul Haq Brohi, meanwhile, said the civic agency gave principle approval to the observatory on the request of the Ministry of Science and Technology.
https://www.dawn.com/news/1605876/ignoring-viable-options-ministry-chooses-park-land-in-islamabad-to-set-up-observatory
--------
OIC's unified message to India critical for Kashmir issue: FM
APP
February 7, 2021
ISLAMABAD: Foreign Minister Shah Mahmood Qureshi on Saturday said that a unified political message to India from the Organisation of Islamic Cooperation (OIC) would be critical to help rescind Indian unilateral actions, end human rights abuses and seek peaceful settlement of Kashmir dispute.
The foreign minister, in a video message at the ambassadorial meeting of the OIC Contact Group on Jammu and Kashmir held in New York, said the steadfast and resolute support of the OIC was a source of great strength to the Kashmiri people in their just and legitimate struggle for their inalienable right to self-determination.
The OIC should forcefully demand India to rescind its illegal and unilateral actions in occupied Kashmir; halt its egregious human rights violations, and provide access to human rights organisations, including the UN fact finding mission and OIC Independent Permanent Human Rights Commission, he said.
The foreign minister also sought the OIC's role to seek a peaceful settlement of the Jammu and Kashmir dispute in accordance with the United Nations Security Council's resolutions and wishes of the Kashmiri people. He hoped that the Contact Group meeting would help identify action-oriented and practical steps to this end.
He said during its 47th session in Niamey last November, the OIC Council of Foreign Ministers (CFM) mandated the Contact Group on Jammu and Kashmir to meet regularly and to continue highlighting the Kashmir issue.
It was gratifying that the New York Chapter of the Contact Group is playing a prominent role in this collective effort, he said and lauded Azerbaijan, Niger, Saudi Arabia and Turkey for solidarity with the oppressed people of Jammu and Kashmir.
https://www.dawn.com/news/1605943/oics-unified-message-to-india-critical-for-kashmir-issue-fm
-------
Combing operations against those behind bomb attacks planned
Saleem Shahid
February 7, 2021
QUETTA: A meeting presided over by Balochistan Chief Secretary Fazeel Asghar has decided to launch intelligence-based combing operations in the province to arrest elements involved in two bomb blasts which targeted rallies organised to mark Kashmir Solidarity Day in Quetta and Sibi recently.
The meeting also reviewed the overall law and order situation in the province and decided to take strict security measures against anti-peace elements.
Additional Chief Secretary Home Hafiz Abdul Basit, Inspector General of Balochistan Police Tahir Hussain Rai, Commissioner of Quetta division Asfandyar Kakar, the Quetta's CCPO, Quetta Deputy Commissioner retired Major Aurangzeb Badini and other security officials attended the meeting.
The two bomb blasts in the rallies in Quetta and Sibi claimed two lives and left over 20 people, including three police officials, injured.
It was decided that special steps would be taken for arrest of elements involved in the blasts. It was also decided that actions would be taken against those officials who showed negligence in their duties.
The chief secretary directed law enforcement and intelligence agencies to make close coordination and increase cooperation so that violent activities could be stopped in the province.
Stressing the need for intelligence-based operations, he said special measures should be taken to find hideouts of anti-peace elements.
The chief minister expressed dismay over the unfortunate incidents of bomb blasts.
https://www.dawn.com/news/1605940/combing-operations-against-those-behind-bomb-attacks-planned
--------
Europe
Covid-19 vaccination clinic at East London Mosque
07-02-2021
A Covid-19 vaccination clinic, run by local GPs, has been set up at East London Mosque as part of the ongoing efforts to encourage eligible residents to get their jab.
The pilot clinic, run by AT Medics, is a local partnership between GPs from Whitechapel Health Centre, East London Mosque and the council. Those being vaccinated are within the first four priority cohorts, as set out in national guidance from ministers and advised by the JCVI, and they have pre-booked appointments made through the council's new vaccine helpline. The helpline takes queries from residents but also calls and books in eligible residents who have not yet taken up the offer of vaccination.
The GP team have already vaccinated thousands of patients at the local Cable Street Surgery in the past two weeks. They are experienced in rapidly setting up effective vaccination services and employ bilingual staff in order to meet the needs of communities in Tower Hamlets.
Partners are working together to give the facts about the vaccine to build trust in our communities explaining that it is safe and effective, there are no animal or egg products, that it is vegan, halal and kosher friendly, and that the vaccine is the best form of protection from Covid-19 and our best chance to return to a normal way of life.
Hundreds of eligible men and women will be vaccinated in Saturday's pilot at the London Muslim Centre which is part of East London Mosque in Whitechapel. The pilot could be replicated elsewhere to make vaccinations as accessible as possible to London's communities, in what is the biggest vaccination programme in NHS history.
"Getting vaccinated is vital to keeping our community safe from Covid-19. With dangerous misinformation circulating about the vaccine it is grassroots initiatives like this which will help to build confidence and reduce vaccine hesitancy.
"I want to thank the East London Mosque, local GPs and our council staff for their work to make today possible. I hope seeing friends and neighbours get their vaccine helps to encourage more people to get their jab as soon as they are eligible. It's safe and will save lives."
"We are privileged to be partnering with East London Mosque to deliver vaccinations in the community. As local GPs, we've been very close to the challenges of patient vaccination up take in Tower Hamlets, and whilst we've already vaccinated over 6,000 local people in the past two weeks, we hope this initiative will encourage many more patients to come forward when invited."
"In consultation with Islamic scholars and medical professionals, we firmly believe that vaccination is the best way to combat the pandemic and return to our normal way of life. In Islam, preservation of life is of the utmost importance, so we want to do our part to reassure those who are hesitant about vaccination. We stand with the NHS, AT Medics and Tower Hamlets Council in this partnership to help our communities."
"The NHS, working in partnership with councils, community and faith groups and volunteers, has already vaccinated thousands of people in north east London – providing safe and effective protection against this devastating virus for those most at risk.
"We are delighted that our communities are wholeheartedly supporting the vaccination programme in initiatives such as this session at the East London Mosque, and we are working with other groups to do the same.
"We encourage everyone to have the jab when offered but please continue to follow government guidelines to reduce transmission and help save lives."
https://www.towerhamlets.gov.uk/News_events/2021/February-2021/Covid-19-vaccination-clinic-at-East-London-Mosque.aspx
--------
German Vlogger Christian Betzmann accepts Islam
Web Desk
February 6, 2021
Famous German content writer and travel Vlogger Christian Betzmann has announced that he has accepted Islam, saying this is a religion of 'peace'.
"I started this channel last December and spend almost 1 year in Pakistan. During this time I met sooo many incredible people and learned a lot about the religion and the lifestyle", he said.
"Growing up in Europe the word Islam was always connected with negativity, war, terrorism and to be completely honest I was never a religious person before so I didn't really care what people thought back then. My best childhood friends were Muslims and deep inside we are all human beings in the same simulation we call life," Betzmann further said.
About Islam, he said "The Islam is the religion of peace and I felt a deeper connection and something I want to experience and explore deeper for myself."
https://www.thenews.com.pk/latest/785957-german-vlogger-christian-betzmann-accepts-islam
-------
'No religious reason' to refuse Covid vaccine offer - Leeds Imam Qari Asim
By Georgina Morris
6th February 202
Qari Asim, Imam at the Makkah Mosque, yesterday helped with the largest vaccination programme in the history of the NHS as more jabs were administered at Craven Road Medical Practice to people in priority groups.
Mr Asim, who also chairs the Mosques and Imams National Advisory Board, said: "Like all faith leaders, I want to stress that taking the vaccine is a vital part of the solution to break the cycles of lockdown and be with our loved ones again. There is no religious reason for you not to take the vaccine.
"It is our ethical duty to protect ourselves and others from potential harm. By taking the vaccine, you will be protecting yourselves and fellow community members from being infected by deadly coronavirus."
By joining the volunteering effort at the surgery in Woodhouse, Mr Asim hopes to inspire others to volunteer as well as encouraging people to make sure they attend their vaccination appointment when invited.
"It is really important that we all contribute to the effort to fight this cruel pandemic that has impacted every single one of us," he said. "By having the vaccine when you are invited, you will be playing your part in protecting lives.
"Equally, if you can volunteer at any of the vaccination sites, please do take up the opportunity; by volunteering, you will be helping the NHS and your community."
With millions of vaccines now being delivered across the country, local organisations in the city are continuing to stress the importance of getting protected once invited to do so.
Council leader Judith Blake said on Wednesday that Leeds was on course to reach the "major achievement" this week of having delivered first doses to more than 100,000 people.
But concerns have been raised about hesitancy shown towards getting vaccinated by some younger frontline workers and in some Black and Minority Ethnic (BAME) communities.
The city's public health director, Victoria Eaton, has warned the risk of further outbreaks in the future would be greater in areas of Leeds with very low levels of vaccination uptake.
At the same time, a reminder has been issued that even after having a vaccine, people need to continue to follow the Covid-19 guidance to keep themselves and others safe.
Providing people with more easy-to-access information on the vaccine programme and its progress is among the requests being made through our A Shot In The Arm campaign.
Led by the Yorkshire Evening Post and sister titles across JPIMedia, it also asks for further reassurance for local communities and urges Prime Minister Boris Johnson to deploy the country's network of 11,000 pharmacies to ensure that every citizen is only a short walk away from a vaccination centre.
During his afternoon of volunteering, Mr Asim worked alongside staff and others volunteers at Woodsley Primary Care Network - a network of GP practices working together to run the vaccination service from Craven Road Medical Practice.
Local volunteers are supporting the work of vaccinators in a range of roles. These include meet and greet, marshals and car park supervisors.
He added: "This has been a real partnership approach involving the NHS, Leeds City Council and our community and faith groups. Volunteering today gives me the chance to contribute in a small way."
The support for the programme shown by Mr Asim to date has been welcomed by Dr Jason Broch, a GP and Clinical Chairperson for NHS Leeds Clinical Commissioning Group.
Dr Broch said: "He has already produced videos, a blog and a sermon to help people from the Muslim faith understand why they should get vaccinated when invited to do so. I am delighted that we could welcome him to one of our vaccination services in the city."
Reminding people about the process for getting vaccinated, he added: "When you're eligible to have the vaccine, you will be contacted and invited to book an appointment. Please do not contact your GP practice or any other NHS service – the NHS will contact you."
https://www.yorkshireeveningpost.co.uk/health/coronavirus/no-religious-reason-refuse-covid-vaccine-offer-leeds-imam-qari-asim-3126268
--------
England: Forty MPs urge closure of police master's course in Bahrain after human rights abuse
Source : The Guardian
February 6, 2021
Forty cross-party MPs and peers have urged the University of Huddersfield to close a master's course it runs at the Royal Academy of Policing in Bahrain, after allegations that political dissidents were being tortured in the same building.
The MPs, led by Ian Blackford, the Westminster leader of the Scottish National Party, have written to Huddersfield's vice-chancellor, Bob Cryan, saying the university is at risk of "indirect implication in human rights abuse" by running an MSc in security science solely for officers of the academy.
Huddersfield will not say how much it is being paid for the course, which was inaugurated by Prince Andrew in April 2018 when he was the university's chancellor. It says the course is in line with UK government policy and will bring about improvements in Bahrain.
However, the Bahrain Institute for Rights and Democracy campaign group (Bird) has collected testimonies from 13 individuals arrested for political activism, who say officers abused them during interrogations in the academy where the Huddersfield course is based. Some report being electrocuted and beatings to their genitals. Four have reported sexual abuse.
This week's letter, signed by MPs including Layla Moran, the Lib Dem spokesperson for foreign affairs, and John Cryer, chair of the parliamentary Labour party, says Ali Mohamed Hakeem al-Arab, 24, who was executed in Bahrain in July 2019 despite a human rights outcry, was tortured at the academy.
A Bahraini doctor now working in the NHS was granted asylum in the UK last year on the basis of his testimony about being tortured at the policing academy. Speaking out for the first time the doctor, who is treating Covid patients at a British hospital, says: "The academy is not a place of learning. It is a place of torture and human rights violation. The UK government must put restrictions on a British university training in such a place."
The doctor, who asked to remain anonymous for fear of reprisals against his relatives in Bahrain, said he was one of more than 200 suspected activists arrested and taken to Jau prison, across the road from the academy, after political protests in May 2017. He said he was taken with other inmates to the academy on seven occasions to be interrogated and tortured, often through the night.
"I told the Home Office in my application for asylum that an officer said to me 'See that water bottle we gave you to drink? You don't deserve to drink it'. That water bottle was then used to rape me. They kept kicking me on my balls. They have a device which provokes electric shocks.... All of these things happened in the academy."
He said officers threatened to rape his mother and sisters to try to make him confess to taking part in protests and to giving medical treatment to protesters.
Sayed Ahmed Alwadaei, Bird's director of advocacy, escaped Bahrain after being tortured by police, and has evidence that his brother-in-law and cousin have since been tortured at the academy. He is concerned that Huddersfield's MSc, which includes modules on forensics and terrorism, will allow officers at the academy to conceal evidence of torture. "The course provides this academy, which prisoners call a torture hub, with legitimacy. The partnership with this British university is a way of laundering their image," he says.
Huddersfield University said: "The delivery of this course is in line with the mission advocated by the UK government's Department of International Trade." It quoted Lord Ahmad, minister for South Asia and the Commonwealth, who said last year that the UK was committed to supporting Bahrain-led reform and that "disengaging or criticising from the sidelines is less likely to deliver the positive reform that Bahrain and the international community seek".
However, the Liberal democrat peer Lord Scriven, who signed this week's letter, said the university had failed to provide any evidence of improvements.
"I'm from Huddersfield. It's where all my family live and I feel very proud of it. This stain of blood on the local university which is carrying out a so-called academic course in a regime where human rights are being severely questioned really worries me," he says.
Scriven says he wrote to Huddersfield's vice-chancellor about his concerns but says he received only a "standard reply". He felt this way of dealing with it was a "pompous and unethical" response. "I would go so far as to say he doesn't care about what is happening there," he says.
Ahmed al-Qassab, a Bahrainian student of HR management at Huddersfield who was granted asylum in the UK in 2018 on the basis of his testimony about being tortured by police in Bahrain, has also written urging Cryan to abandon the course.
He says: "Anybody familiar with the Bahraini regime knows that they are not interested in educating their police force or improving standards. They are seeking new ways to cover up their violations and clean up their violent reputation. When I was granted asylum in the UK, I finally began to feel safe after years spent living in fear. Finding out my university is training the very people who tortured me has made me feel unsafe again."
https://en.abna24.com/news//england-forty-mps-urge-closure-of-police-master%e2%80%99s-course-in-bahrain-after-human-rights-abuse_1112539.html
--------
Mideast
West fails to act against rising anti-Islam sentiment: Erdoğan
BY DAILY SABAH
FEB 06, 2021
President Recep Tayyip Erdoğan said Saturday that Western countries insist on not taking measures against growing anti-Islam sentiment.
"Muslims are being taken under pressure with projects such as European Islam, French Islam, Austrian Islam," Erdoğan said.
The president noted that attacks on Muslims' sacred values have been disregarded by Western governments under the pretext of freedom of expression.
Erdoğan added that Turkish institutions should take action on issues related to Muslims and Turks in these countries.
Some European countries, particularly France, have embraced a hostile stance against Muslims in recent years.
In January, a special commission in the French National Assembly approved the "charter of republican values" of Islam that was introduced last year by President Emmanuel Macron as part of the fight against "separatism."
The bill was announced on Oct. 2 by Macron, who claimed that law was needed in order to fight so-called Islamic "separatism," prompting criticism and rejection from the Muslim community.
The bill is expected to be submitted to the National Assembly in February. The draft law is being criticized because it targets the Muslim community and imposes restrictions on almost every aspect of their lives. It provides for intervening in mosques and the associations responsible for the administration of mosques, as well as controlling the finances of associations and nongovernmental organizations (NGOs) belonging to Muslims.
France engaged in a bitter feud with Muslim countries last year, including Turkey, over the statements and policies made by top French officials following the republication of offensive caricatures of the Prophet Muhammad. Muslims across the world denounced satirical French magazine Charlie Hebdo's decision to republish cartoons, citing disrespect toward Muslims and the Prophet Muhammad.
Austria tried to impose a similar bill; however, the government revised the controversial "anti-terror" law, using the phrase "religiously motivated extremism" instead of "political Islam," after negative reactions from the public.
https://www.dailysabah.com/politics/west-fails-to-act-against-rising-anti-islam-sentiment-erdogan/news
---------
Group of Air Force staff to meet with Imam Khamenei
Source : IRNA
February 7, 2021
A group of commanders, pilots, and staff of Iran's Army Air Force will meet with Supreme Leader of the Islamic Revolution Ayatollah Seyyed Ali Khamenei on Sunday.
The meeting will be held in Imam Khomeini Hussainia on the occasion of the anniversary of the historical allegiance with Imam Khomeini (aka Homafaran Allegiance) on February 8, 1979.
With regards to the COVID-19 pandemic, the event will be held with full implementation of health protocols.
https://en.abna24.com/news//group-of-air-force-staff-to-meet-with-imam-khamenei_1112902.html
---------
Iran-based dissidents urge Biden to keep sanctions on Islamic Republic
By BENJAMIN WEINTHAL
FEBRUARY 6, 2021
Iran-based dissidents, many of whom have been persecuted by the clerical regime, sent a letter to US President Joe Biden urging his administration to continue the robust sanctions campaign against the Islamic Republic.
The letter was dated February 1, and stated as part of its requests: "Recognition of the majority of the Iranian people's aspiration and interest for a Secular Democratic Constitution over the survival of the Islamic Republic Theocracy; Maintaining maximum political, diplomatic, and financial pressure on the regime; Advocacy for human rights in Iran and release of all political prisoners and those imprisoned for their personal views; Supporting the Iranian's determination in seeking a secular democratic government through a non-violent, free, and fair referendum."
The dissidents wrote that the regime used the benefits of sanctions relief from the Iran nuclear deal, formally known as the Joint Comprehensive Plan of Action, to spend "billions of dollars gained from the Iran nuclear deal on exporting its totalitarian ideology by providing funds to terrorist networks, developing missile technology as offensive leverage to dominate the Persian Gulf and beyond, and causing chaos in the Middle East."
The letter continued that the "Iranian people for a long time have been expressing their discontentment with Islamic Republic Government and their determination for a fundamental change. The nationwide protests in the Winter of 2017-2018 and in November 2019 are the latest affirmation of the Iranians resolve in establishing a democratic rule of law."
According to a Reuters investigation, the regime's security forces suppressed the 2019 protests against the regime, leading to more the murders of more than 1500 Iranians. The letter stated that the Iranian regime authorities "arrested more than ten thousand innocent people" during the peaceful demonstrations.
The US government-run news outlet Voice of America reported that "The Iranian dissidents who wrote to Biden include 11 of the 28 activists who signed 2019 letters urging the resignation of Iranian Supreme Leader Ayatollah Ali Khamenei and the replacement of Iran's Islamist constitution with a democratic one. Most of the signatories of the 2019 letters were arrested for doing so."
VOA added that at least 21 of the 38 signatories of the new letter to Biden have been arrested or imprisoned in Iran for peaceful political and social activism."
The Simon Wiesenthal Center told The Jerusalem Post that it "admires [the] courage of Iranian Citizens signing this letter to President Biden and Secretary of State Blinken. They have put their lives on the line. We pray our leaders will heed their pleas."
According to the letter, "The signatories represent a sample of the cross-section of Iranians. The Declaration has the support of millions of Iranians demanding the resignation of Ayatollah Ali Khamenei (under the Islamic Republic Theocratic Constitution) and the elimination of the Islamic Republic Constitution in favor of a non-violent transition to a secular Democratic Constitution through an organized referendum under the supervision of the United Nations and other appropriate international organizations."
The dissidents argued that the Islamic Republic is close to collapse and "the theocracy in Iran has lost its legitimacy with its people. In March 2020, the absolute majority of people in Iran demonstrated the lack of legitimacy of the Islamic Republic by boycotting the parliamentary elections. The events in Iran in conjunction with the signing of the Abraham Accords signals a significant geopolitical shift in the Middle East."
https://www.jpost.com/middle-east/iran-news/iran-based-dissidents-urge-biden-to-keep-sanctions-on-islamic-republic-658066
--------
Opening of expansion project for Maqam of Imam al-Mahdi in Karbala
Source : Al-Kafeel News
February 6, 2021
This Thursday morning (21 Jumada II 1442 AH) corresponding to (February 4, 2021), the al-Abbas's (p) holy shrine inaugurated the expansion project of the Maqam of Imam al-Mahdi (may God hasten his holy reappearance), coinciding with the auspicious birth anniversary of Lady Fatima az-Zahra (peace be upon her).
The inauguration was attended by His Eminence Sayed Ahmad al-Safi, the Secretary-General of the al-Abbas's (p) Holy Shrine and his deputy, a number of members of the board of directors and heads of its departments, and the authorized director of the executing company.
This is the first expansion that this Maqam has witnessed since its construction about three centuries ago, with touches that combined tradition and originality, in harmony with the architecture of the al-Abbas's (p) holy shrine, and in harmony with the sanctity and spirituality of this holy place.
The head of the engineering projects department at the al-Abbas's (p) holy shrine, Eng. Dea' Majeed al-Sa'egh, spoke to the Al-Kafeel Network about this project, saying: "The project has been implemented by the Ardh al-Quds Company according to the technical and design specifications prepared for it. And because the site of the Maqam cannot be specially expanded from its three sides, the expansion was carried out from the side of the Hussayniyah River, which is its western side, by using concrete pillars on which the bridges were placed upon which these halls were built, without cutting, blocking or changing the course of the river. The expanded area is estimated at (1200) square meters and it is connected to the Maqam through special outlets and doors, and included:
A hall for women on an area of (490) square meters.
A hall for men on an area of (310) square meters.
A hall for the servants of the Maqam on an area of (150) square meters.
- Service facilities on an area of approximately 250 square meters.
The floors and walls of these halls were clad with alabaster, and their ceilings were made of artistically cut glass, with exquisite inscriptions, decorations and inscriptions.
- Creating a main entrance to the Maqam that includes a large gate in the middle of its old entrance from the outside, topped by a "Taremah" with a width of more than four meters, and on either side of it are other pillars in the form of Iwans, which were covered with the streaky Kashi Karbalai.
- The construction of a clock tower on the roof of the Maqam in the middle of the front façade of its main entrance, becoming one of its prominent signs, with a design similar to the clock of the sanctuary of Aba al-Fadl al-Abbas (peace be upon him).
- Cladding the exterior façades of the Maqam with streaky and ordinary Kashi Karbalai, with Islamic inscriptions and motifs.
- Providing the Maqam with modern and advanced systems, such as lighting, alarm, extinguishing, communications, surveillance, and others.
- Construction of a bridge with a width of (7 meters) and a length (22 meters) as an aid to the pre-existing bridge, in a manner that ensures a smooth movement of visitors without crowding."
https://en.abna24.com/news//opening-of-expansion-project-for-maqam-of-imam-al-mahdi-in-karbala-photos_1112541.html
--------
Iran, Syria urge to accelerate establishment of joint bank
Daijiworld
Feb 07 2021
Damscus, Feb 7 (IANS): Iran and Syria have called for accelerating the establishment of a joint bank to boost bilateral trade, it was reported.
"In order to increase economic exchanges, it has been proposed that we establish a joint bank to support economic activities," Xinhua news agency quoted of the Iran-Syria Joint Chamber of Commerce Keyvan Kashefi as saying at a meeting with Syrian officials in Damascus on Saturday.
The implementation of a free trade agreement and the reduction or elimination of customs tariffs can be instrumental in the increase of mutual trade exchanges, Kashefi was quoted as saying.
"Syria is one of our main trade markets and export destinations... We have common interests with this country in various fields, which can support our economic relations," he said.
Earlier, Kashefi said that the annual value of Iran's trade with Syria could reach $1 billion by the end of current Iranian calendar year which will start on March 20.
They stressed their interest in increasing cooperation with Iran and proposed ways to develop the two countries' trade relations.
It was announced on December 26, 2020, that Iran and Syria had plans to establish a joint bank to facilitate trade cooperation.
https://www.daijiworld.com/news/newsDisplay?newsID=799113
--------
Southeast Asia
Christian Federation urges churches to pray for 'enforced disappearance' victims on 4th anniversary of missing pastor Raymond Koh
BY KEERTAN AYAMANY
06 Feb 2021
KUALA LUMPUR, Feb 6 — Christian Federation of Malaysia chairman Archbishop Julian Leow Beng Kim today called on all churches in Malaysia to pray for pastor Raymond Koh for the next two weekends to mark the 4th anniversary of the mysterious abduction of Pastor Raymond Koh.
Leow in a statement today, also urged Christians to pray for other victims of "enforced disappearances", namely social activist Amri Che Mat, and pastor Joshua Hilmy together with his wife Ruth Sitepu — all of whom disappeared in 2016.
"For the next two weekends — February 6 to 7 and February 13 to 14 — we ask all churches to remember and pray for Pastor Raymond, Amri Che Mat, Joshua Hilmy, Ruth Sitepu and their families. May they know that we stand in solidarity with them on their continuous journey of uncertainty.
"Covid-19 has forced us to experience this pain of separation from family and friends for almost a year now. Some of us have not hugged or seen our loved ones since the pandemic started. We have, however, some measure of comfort in knowing where they are and the assurance that they are safe," he said.
Leow stressed that all four missing cases are a national human rights issue that the country should endeavour to solve in order to lessen the suffering of the victim's families.
In 2019, Malaysia's Human Rights Commission (Suhakam) had concluded that the police's Special Branch was responsible for the disappearances of Amri and Koh.
At the time, Inspector-General of Police (IGP) Abdul Hamid Bador criticised Suhakam for causing a negative outlook of the police, while former prime minister Tun Dr Mahathir Mohamad promised renewed investigations to begin later that year.
https://www.malaymail.com/news/malaysia/2021/02/06/christian-federation-urges-churches-to-pray-for-enforced-disappearance-vict/1947550
-------
Report: Annuar Musa rubbishes Dr M's claim that Umno, PAS, Bersatu to split post GE15
By EMMANUEL SANTA MARIA CHIN
06 Feb 2021
KUALA LUMPUR, Feb 6 — Umno's Tan Sri Annuar Musa today rubbished assertions of former prime minister Tun Dr Mahathir Mohamad that PAS, Umno, and Parti Pribumi Bersatu Malaysia (Bersatu) remains a fragile bloc and would break apart post GE15.
The Ketereh MP, in denying those claims, explained that forming new coalitions always requires a continuous effort and commitment to streamline their political objectives.
He likened this to his tenure as Umno and Barisan Nasional secretary-general when his party were negotiating the terms and conditions of their charter with Islamist party PAS.
"The prediction of Tun (Dr Mahathir) that the coalition is fragile is not very accurate because it can be said that a fairly stable understanding has been formed between Umno and PAS even though there are still some complications between Umno and Bersatu.
"Even in Umno, we are still looking at various opinions. I am confident that Umno can manage differences of opinion and most importantly Umno can have a formula and strategy to win the next GE.
This was in response to Dr Mahathir who had recently claimed that the pact between the three dominant Malay parties was only made to further each party's political objectives under the pretence of uniting behind the Malay-Muslim agenda.
Denying the claims further, Annuar was quoted saying that such tensions between the three parties are currently a non-starter as they have yet to pen an official agreement uniting the trio.
"What binds is the Perikatan Nasional government, so I expect the Umno leadership to continue discussions and negotiations until a formula is reached.
Annuar said that negotiations between parties have yet to reach the stage of figuring out seats to contest in elections, adding the green light from the party's top leadership to initiate talks between Umno and Bersatu was only given last week.
"As far as I know, the distribution of seats between Umno and Bersatu has never been made and there has been no specific discussion between Umno and Bersatu. Unofficially, I dare to state that both parties have their own wish lists and I also dare to state that the differences are there but not too difficult to be resolved.
"Among them are that Bersatu can understand that Umno will contest in more seats because they have more strongholds where they can win seats. Secondly, it has been agreed that Umno will contest using the BN logo and Bersatu using the PN logo," he was quoted saying.
https://www.malaymail.com/news/malaysia/2021/02/06/report-annuar-musa-rubbishes-dr-ms-claim-that-umno-pas-bersatu-to-split-pos/1947555
-------
Africa
Annuar Musa rubbishes Dr M's claim that Umno, PAS, Bersatu to split post GE15
By EMMANUEL SANTA MARIA CHIN
06 Feb 2021
KUALA LUMPUR, Feb 6 — Umno's Tan Sri Annuar Musa today rubbished assertions of former prime minister Tun Dr Mahathir Mohamad that PAS, Umno, and Parti Pribumi Bersatu Malaysia (Bersatu) remains a fragile bloc and would break apart post GE15.
The Ketereh MP, in denying those claims, explained that forming new coalitions always requires a continuous effort and commitment to streamline their political objectives.
He likened this to his tenure as Umno and Barisan Nasional secretary-general when his party were negotiating the terms and conditions of their charter with Islamist party PAS.
"The prediction of Tun (Dr Mahathir) that the coalition is fragile is not very accurate because it can be said that a fairly stable understanding has been formed between Umno and PAS even though there are still some complications between Umno and Bersatu.
"Even in Umno, we are still looking at various opinions. I am confident that Umno can manage differences of opinion and most importantly Umno can have a formula and strategy to win the next GE.
This was in response to Dr Mahathir who had recently claimed that the pact between the three dominant Malay parties was only made to further each party's political objectives under the pretence of uniting behind the Malay-Muslim agenda.
Denying the claims further, Annuar was quoted saying that such tensions between the three parties are currently a non-starter as they have yet to pen an official agreement uniting the trio.
"What binds is the Perikatan Nasional government, so I expect the Umno leadership to continue discussions and negotiations until a formula is reached.
Annuar said that negotiations between parties have yet to reach the stage of figuring out seats to contest in elections, adding the green light from the party's top leadership to initiate talks between Umno and Bersatu was only given last week.
"As far as I know, the distribution of seats between Umno and Bersatu has never been made and there has been no specific discussion between Umno and Bersatu. Unofficially, I dare to state that both parties have their own wish lists and I also dare to state that the differences are there but not too difficult to be resolved.
"Among them are that Bersatu can understand that Umno will contest in more seats because they have more strongholds where they can win seats. Secondly, it has been agreed that Umno will contest using the BN logo and Bersatu using the PN logo," he was quoted saying.
https://www.malaymail.com/news/malaysia/2021/02/06/report-annuar-musa-rubbishes-dr-ms-claim-that-umno-pas-bersatu-to-split-pos/1947555
-------
How Troops Overran Terrorist Camps, Killed 60 Insurgents in North-east
February 7, 2021
Chuks Okocha
Troops backed by the Air Task Force of Operation Lafiya Dole, at the weekend, overran some terrorist camps in the North-east, killing over 60 insurgents. Coming after a recent visit to Borno State by the new service chiefs, the soldiers might have been buoyed by the visit.
The battle with the insurgents, however, triggered an exodus of refugees from four local government areas of Borno into Yobe State.
But the Northern Elders Forum (NEF), yesterday, called for the arrest and prosecution of any Fulani herdsman that broke the law. And the Christian Association of Nigeria (CAN) advised the federal government to seek assistance from the United States and Israel in the fight against insurgency.
Nigerian troops, backed by jets, took control of several camps of ISIS-linked jihadists, with two senior commanders escaping after several other ranking militants were killed, two military sources told AFP.
The troops overran Islamic State's West Africa Province (ISWAP) camps in an area straddling Yobe and Borno states in the North-east after a month-long military operation, the sources said.
The operations were on-going when President Muhammadu Buhari replaced his four top military commanders after months of pressure over his government's failure to end the over a decade-long Islamist insurgency in the country.
The jihadists have been in control of the area since 2013, when they seized it and established a strong presence especially, in the Talala area, which became the second largest ISWAP camp outside the group's Lake Chad stronghold.
Last month, troops took over Talala after a fierce battle in which six soldiers were killed by a suicide bomber, who detonated his explosive-laden vehicle among troops, military sources told AFP.
"It was a tough battle," said the second source on the Dole raid, noting, "The route leading to Dole was mined by the terrorists and troops accessed it on foot, engaging the terrorists in fierce battle with air support."
Escaping fighters were believed to have fled to Lake Chad, which straddles Nigeria, Chad, Niger and Cameroon, where the group maintains camps on the islands dotting the freshwater lake, said the two military officers.
In another front, troops reclaimed five camps from the jihadists in Kidari, Argude, Takwala, Chowalta and Galdekore villages, where the jihadists used suicide bombers to try to stave off troops advance.
"We lost some soldiers and several were injured in the suicide attack but the soldiers managed to subdue the terrorists," said the second source, without giving details of the casualties.
Meanwhile, the Theatre Commander of Operation Lafiya Dole, Major General Faruk Yahaya, urged Nigerian troops to sustain the military offensive against Boko Haram fighters, in the North-east.
Visiting the troops after they killed no fewer than 60 Boko Haram terrorists in a weeklong operation codenamed, Tura Takai Bango, Yahaya made the call during his operational tour of military formations to commend troops fighting in Bama axis, Pulka, thrusting into deep Boko Haram and ISWAP camps and enclaves in Sambisa Forest.
The Northern Elders Forum (NEF) said it was not against the arrest and prosecution of herdsmen that violated the laws of the land or engaged in kidnapping and banditry, saying anyone caught in crime should be treated as a criminal. The group, however, said the arrest and prosecution of errant herdsmen should follow due process.
In an interview with THISDAY, spokesperson of NEF, Dr. Hakeem Baba Ahmed, cautioned against allowing ethnic militias to assume the role of law enforcement agencies, because it might lead to anarchy. Ahmed, who said the increased agitation in the country was evidence of failure in governance, called on well meaning Nigerians to speak against the growing insecurity.
The NEF spokesman stated, "The Fulani man or woman, like every Nigerian, deserves to be protected. They deserve the protection of the state. They deserve the protection of the community. People, who are living peacefully, people, who are living within the law, people who have not broken the law should not be harassed, should not be attacked, should not be intimidated, not just about the Fulani or not, but any Nigerian."
He said any Nigerian, irrespective of tribe or religion, deserved the protection of the state, adding, "We must be free to live anywhere in the country. If the state is unable to protect the Fulani and the community that they're living with and known to them for decades, then, they should come back home where maybe they will be safer."
Ahmed said, "But we are not asking anybody to leave where he or she is to come home. We are saying Nigerians should be protected wherever they are. Be them Fulani or Effik or Itsekiri, or Igbo or Yoruba, everybody needs to be protected."
He argued that nobody was above the law, stating that the Fulani, like any other Nigerian that commits an offence, should be arrested and prosecuted.
He said,"They should be arrested. We know that there are criminal Fulani elements among the Fulani people just as is the case among other ethnic tribes. We know that in the North, like in any part of the country, there are also the bad eggs.
"Our position is that they should be arrested, tried under the law of the country. The Nigerian state must not allow anybody to get away with criminal activities – whether they are Fulani or Yoruba or Igbo. Nobody should be seen to be above the law and this is important.
According to him, "The immediate thing is that we want all Nigerians with responsibility to speak up, to come now. We need to assure people that Nigeria is safe for everybody. We need to stop all this terrible rhetoric that is tearing everybody and community apart. We need assurances that they are safe, whether you are at home or in somebody's home. Nigeria must be protected.
"Second, we need to look at why we have this kind of quarrel now, when we have been living in the past peacefully. This is a country that accommodates all of us and provides for all our needs. Why are we fighting over pieces of land; fighting each other as if we are just strangers.
"We have lived with each other for hundreds of years. Something is wrong, something is wrong with the country. Something is not working well. We need to sit down and look at what is wrong this year. People are saying they don't want a particular tribe of Nigerians living in their country. We have the police. We have the constitution. We have laws, something is wrong.
"What is the problem? We need to know? Is it that the Nigerian state is failing us or we failed to resolve those problems that come out every once in a while? Whether it is between the same ethnic groups or different ethnic groups that have been living in the past, the Nigerian state has the capacity to provide resolution, to enforce the law, to deal with violations of the law.
"Unfortunately, in the last few years, something is wrong or has gone wrong or is it that Nigerians have failed to deal with the people that are taking the laws in their own hands? What you are seeing happening now is the reflection of the failure of the Nigerian state.
"We are assuming powers that are not ours. It is the government that should deal with criminals whether they are Fulani or not. Why are communities now exercising that rights of the state by exercising that power to eject people?"
On whether a sovereign national conference was the answer to the problems facing Nigeria, Ahmed declared, "I don't know about sovereign conference. What we recommended so many times and we are still recommending is that Nigerians should sit and discuss with or without government's approval to discuss what is wrong with Nigeria.
"We don't need the approval of the federal government to sit down and discuss and right now, I am telling you we are actually reaching out to each other from the North to the East and South, we have a forum where we talk and we are reaching out to elders and leaders, who are responsible to try and bring down the temperature.
"We are in a very dangerous state and we do not need the approval or the consent of the government to discuss what is wrong with Nigeria, but if we can do that with government, that is even better because the government has law behind it, the agencies behind it to assist Nigeria to be a little bit more secure where we live."
The Christian Association of Nigeria (CAN) Saturday asked the President Muhammadu Buhari government to seek help from Israel, United States and other countries in the fight against insurgency, banditry, kidnapping and other violent crimes in the country. The apex Christian body said the idea had become necessary because the country appeared overwhelmed by the continuous security challenges.
President of CAN, Dr. Samson Ayokunle, made the call in Abuja during the inauguration of the new national chairman of CAN's Youth Wing (YOWICAN), Belusochukwu Enwere.
The CAN president, who was represented by Assistant General Secretary of the association, Apostle Biodun Sanyaolu, said, "It is very obvious that Nigeria needs assistance. I'm not President Muhammadu Buhari, but I'm sure that he will be worried as well. He should be willing to seek help from anywhere, because insecurity has reached a worrying point where nobody is safe.
"We need help. Let me use the opportunity to tell the president to reach out to Israel, United States and other countries that could be of help to Nigeria. The problem of insecurity is becoming overwhelming.
"The insecurity, banditry, and kidnapping are against the human race. We are seriously worried in CAN, because we are affected by the security challenges in Nigeria."
Ayokunle said the CAN leadership had spoken against the security challenges many times and it did appear that it was too overwhelming to the present government.
"We will continue to pray for the government, because there is lack of security everywhere – from Adamawa to Lagos, Sokoto to Enugu – the highway is not safe.
"Even when you're in your house, you're not safe. We are seriously worried. The onus is on the government to protect the people. And the first assignment of the government is to protect everybody, including the government officials, because they too are not safe.
"The governors are not safe. You know what happened in Katsina, the home state of the president. I'm sure the president, too, will be worried as much as we are."
https://www.thisdaylive.com/index.php/2021/02/07/how-troops-overran-terrorist-camps-killed-60-insurgents-in-north-east/
--------
URL: https://www.newageislam.com/islamic-world-news/united-arab-emirates-founded-principles/d/124244
New Age Islam, Islam Online, Islamic Website, African Muslim News, Arab World News, South Asia News, Indian Muslim News, World Muslim News, Women in Islam, Islamic Feminism, Arab Women, Women In Arab, Islamophobia in America, Muslim Women in West, Islam Women and Feminism