New Age Islam News Bureau
13 May 2018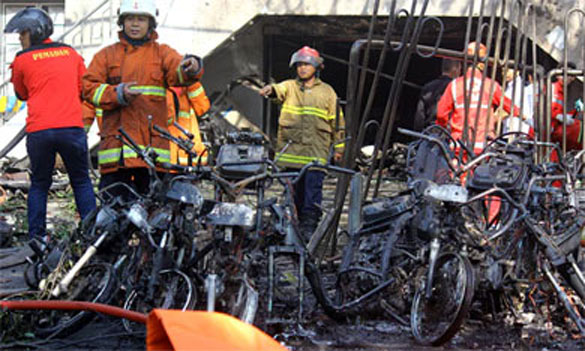 Firefighters clear debris outside the Pentecostal church in Surabaya. Photograph: Antara Foto/Reuters
----
• Unfriend India and America: Hafiz Saeed
• Indonesia Church Attacks: At Least Nine Dead After Bombs Target Sunday Masses
• Installing CCTV Cameras 'Un-Islamic': Darul Uloom
• Kabul Hails Ulema Declaration, Urges Muslim World's Help
Pakistan
• Unfriend India and America: Hafiz Saeed
• Hafiz Saeed Offers Funeral Prayer in Absentia of Kashmiri Terrorists
• Why Pakistanis who attacked Mumbai were allowed to cross border and kill people? asks Nawaz Sharif
• Saudi Grand Mufti Gives Special Shield to Head of the Pakistan Ulema Council
• Nawaz Sharif admits Pakistani terrorists carried out 26/11 attacks
• Pakistan can no longer remain subservient to US: Siraj
• Terror can't stop PML-N campaign
--------
Southeast Asia
• Indonesia Church Attacks: At Least Nine Dead After Bombs Target Sunday Masses
• Indonesia Links Deadly Church Attacks to Local ISIS-Inspired Group
• Khalid Samad: We won't use govt-owned media for Pakatan propaganda
• Mahathir bars predecessor from leaving Malaysia amid probe
• Malaysia police raid complex linked to ex-PM Najib
--------
India
• Installing CCTV Cameras 'Un-Islamic': Darul Uloom
• LeT Commanders Call for 'Jihad' In Kashmir
• Hizbul Mujahideen Module Busted, 4 Arrested In Jammu and Kashmir
• We must cooperate to eliminate cross border terrorism: MJ Akbar
• Parties advocating ceasefire playing politics over Ramzan: Jitendra Singh
• 'Nawaz Sharif did nothing to complete 26/11 trial'
• J&K police lodge FIR over abusive tweet about Kashmiri Muslims
--------
South Asia
• Kabul Hails Ulema Declaration, Urges Muslim World's Help
• 20 Militants Killed In Fresh Afghan Operations
• 'I hope people will re-elect AL for continued national development'
• Bahrami visits Tehran on invitation of Iranian military officials
• Myanmar's Military Clashes with Ethnic Militants, 19 Killed
--------
Arab World
• Takfiri Militants Hand Over Israeli-Made Munitions to Syrian Troops
• Forced Recruitment by Kurds Reported Again In Northeastern Syria
'• Egypt's Muslim Brotherhood ready for dialogue'
• Syria fight against IS in Damascus stalls, dozens dead
• More Civilians Killed in US Airstrike in Northeastern Syria
• ISIL Retreating from More Positions under Syrian Army Attack in Southern Damascus
• Turkish Army Sends New Military Convoy to Northwestern Syria
• Syrian Armed Forces Repel Terrorists' Heavy Offensive in Idlib Province
• Four Hashd al-Sha'abi fighters killed in bomb attack in central Iraq amid ongoing voting
--------
Mideast
• Ayatollah Khamenei: Scientific Progress in Islamic World Is Essential
• Yemeni President Praises Arab Coalition's Support for Legitimacy in Yemen
• Stop funding pro-Iranian militias, White House tells Qatar
• Saudi Arabia Using US-Supplied Cluster Bombs against Yemenis: Journalist
• Lebanese Speaker: Israel, US Unable to Bear Consequences of War
• Istanbul workshop spotlights global Muslim diaspora
• Israel closes Gaza border goods-crossing damaged after protests
• Eleven Iranians among dead in Israeli strikes on Syria this week
• Israel doubling troop deployments ahead of US embassy opening
• Yemeni forces launch ballistic missile against Saudi base in Jizan: Report
--------
North America
• Men-Only Event at US Mosque Sparks Backlash
• US Nuclear Expert Resigns After Trump Violates Iran Deal
• Radicalism: The Real Shock Was the Reaction of the Americans...
--------
Africa
• South Africa: Murder of Shi'a Muslim in Mosque Condemned By All Muslims
• Polisario Member Leads Terrorist Group Responsible for Killing US, Nigerian Soldiers in Sahel
• El Ghriba offers rare example of religious tolerance for Muslims, Christians and Jews
--------
Europe
• Hundreds of People Rally Against Israel in London
• One killed in Paris 'Islamic State' knife attack
• Swedish National Football Team Player Embraces Islam
• Terror probe launched after deadly Paris knife attack
Compiled by New Age Islam News Bureau
URL: https://www.newageislam.com/islamic-world-news/unfriend-india-america-hafiz-saeed/d/115228
--------
Unfriend India and America: Hafiz Saeed
ANI | Updated: May 13, 2018
NEW DELHI: Accusing Pakistan of pursuing weak foreign policies, Jamaat-ud-Dawa chief and LeT founder Hafiz Saeed has called on Pakistan to break the ties with both India and the United States.
"Modi Ki Dosti Chordh Do, America Ki Naukri Chordh Do (unfriend Modi and stop working for America)," Hafiz was heard saying during a public rally.
"The weakness lies in Islamabad," Saeed said, "as the administration is not making its policies clear on Kashmir under pressure. They should engage Kashmiris in an effective manner to meet their right to self-determination."
Uncle Sam is a donor and you are eating his dimes !!!!! do not antagonize him any further !!!!!
N Renganathan
A Pakistan-based cyber analyst, Zechariah shared a video of Saeed speaking at a rally and captioned it as, "#Video: The statement of Indian Army chief #BipinRawan regarding #Kashmiris shows how much India is frustrated. Such kind of statements can't suppress the freedom voice of Kashmiris. #Azadi will surely happen to #Kashmir. #HafizSaeed #JuD @adgpi @SushmaSwaraj @MehboobaMufti."
"Predicting a time of anarchy in India, right thinking Muslims should take Jihad to its logical conclusion," Hafiz said in the video. "Mujahideen will be united." (ANI)
Source: https://timesofindia.indiatimes.com/india/unfriend-india-and-america-hafiz-saeed/articleshow/64146102.cms
--------
Indonesia church attacks: at least nine dead after bombs target Sunday masses
13 May 2018
At least nine people have been killed and 40 others injured in bomb attacks, including a suicide blast, targeting churches in Indonesia's second biggest city, Surabaya.
The attacks in the predominantly Muslim country came days after police ended a riot and hostage-taking at a detention center near Jakarta that left five dead and five injured.
"There have been three attacks at three churches," Frans Barung Mangera, a spokesman for East Java police said.
The blasts all occurred within 10 minutes of each other, police said, with the first explosion at 7.30am (0030 GMT).
Police only gave details of the attack on Santa Maria catholic church. There have been no claims of responsibility.
Nine people were reported to have been killed and Mangera said at least 40 were being treated in hospital.
"There is one location where we can't enter yet," Mangera told reporters near the scene of one of the bombings.
Television footage showed one church where the yard in front appeared engulfed in fire, with thick, black smoke billowing up. A large blast was heard hours after the attacks, which Mangera said was a bomb disposal squad "securing" a remaining device.
Indonesia is home to significant numbers of Christians, Hindus and Buddhists but there are concerns over rising intolerance.
Extremists have mounted a series of attacks against Christians and other minorities in recent years.
Indonesian police shot and wounded a man who attacked a church congregation in Sleman town with a sword during Sunday Mass in February. The radical Islamist, who had wanted to fight with the Islamic State group in Syria, injured four people.
https://www.theguardian.com/world/2018/may/13/deaths-bomb-attacks-churches-indonesia-surabaya
Suicide attacks violate Islamic principles, say influential Muslim scholars
Muslim scholars have declared that violent extremism and terrorism, including suicide attacks, are against Islamic principles, in an effort to convince the Taliban to lay down its weapons.
Seventy prominent Muslim scholars from Afghanistan, Pakistan and Indonesia issued the fatwa, during a conference discussion on ways to achieve peace and stability in Afghanistan.
Indonesian President Joko Widodo, who opened the one-day meeting in Bogor, stressed the commitment of his nation to helping build peace in the war-torn country.
Mr Jokowi said the conference was part of Indonesia's efforts to encourage the role of Islamic clerics, or ulema, in promoting peace in Afghanistan.
"Through the voice of ulema, mainly from Afghanistan, Pakistan and Indonesia, presumably the spirit of brotherhood for peace in Afghanistan can be strengthened," Mr Jokowi said. "Ulema are the agent of peace ... they have the power to form the face of peaceful people."
In a joint declaration, the scholars said Islam was a religion of peace and denounced all kinds of violent extremism and terrorism.
"We reaffirm that violence and terrorism cannot and should not be associated with any religion, nationality, civilisation or ethnic group, as violent extremism and terrorism in all its forms and manifestation including violence against civilians and suicide attacks are against the holy principles of Islam," the declaration said.
The Taliban urged Islamic clerics to boycott the conference and warned Afghan clerics: "Do not afford an opportunity to the invading infidels in Afghanistan to misuse your name and participation in this conference as means of attaining their malicious objective."
The conference at the presidential palace in Bogor, a West Java city on the outskirts of Jakarta, was organised by the Indonesian Ulema Council.
https://www.independent.co.uk/news/world/suicide-attacks-violate-islam-muslim-scholars-indonesia-ulema-a8348336.html
--------
Installing CCTV Cameras 'Un-Islamic': Darul Uloom
May 13, 2018
MUZAFFARNAGAR: In another controversial edict, Darul Uloom Deoband said that it is un-Islamic to install CCTV cameras.
In response to a query made by a Maharashtra-based Muslim if it was okay to install CCTV cameras in a shop or a place where there is movement of a lot of people, a three-cleric panel of the fatwa department of the world-renowned Islamic seminary, said, "There are many other ways to ensure safety of a commercial establishment or a home. In Shariat, it is un-Islamic to shoot a picture. Consequently, even the CCTV is un-Islamic."
The edict came in response to a question asked by Abdulla Majid, a businessman from Maharashtra.
Several controversial fatwas have been issued by the Deoband ulemas in 2018. Earlier, one fatwa issued by them stated that women wearing designer and body-hugging burqa is 'haraam' and not allowed in Islam at all. A bench of muftis had after religious celebrations issued a fatwa on the issue stating, 'Veil and burqa are supposed to protect a woman from prying eyes. So, a woman wearing a designer burqa or body-hugging outfit is strictly not allowed in Islam."
In yet another development, Deoband ulemas had criticised 15-year-old Alia Khan of Meerut for reciting Bhagwad Gita slokas at a contest organised by the state government in Lucknow. She won a prize at the contest.
After that, they issued another controversial fatwa, in which the seminary asked Muslim families to avoid marrying men or women working in banks as the money earned through interest is illegitimate in the eyes of Islam.
https://timesofindia.indiatimes.com/city/meerut/installing-cctv-cameras-un-islamic-darul-uloom/articleshow/64141356.cms
--------
Kabul hails ulema declaration, urges Muslim world's help
ByJaved Hamim Kakar
May 12, 2018
KABUL (Pajhwok): The unity government in Kabul has welcomed the Ulema Conference's joint statement issued in Indonesia, urging clerics from across the Muslim world to play their role in eradicating violence, extremism and terrorism in war-torn Afghanistan.
A statement from Presidential Palace said the Ulema termed peace in Afghanistan a "Divine Order" and explained the importance of peace in light and spirit of religious teachings.
The statement added the government of Afghanistan endorses "the ulema's stance, their explanation and joint statement and wants the clerics of Islamic world to play their role in eradicating violence, extremism and terrorism in Afghanistan."
"The Afghan government considers the role of ulema as vital in restoring peace and stability in Afghanistan and thanks all those including the President of Indonesia for participating in the conference", the statement said.
It added being an order from Allah and a major demand of the Afghans, the Afghan government always preferred peace and always invited ulema, influential people, elders, civil society activists, women's rights activists to work for honorable peace and stability.
In its declaration, the ulema conference supported the Afghanistan reconciliation process and asked the warring sides to join direct talks.
It is worth mentioning the Taliban had been invited to the conference, but the group not only rejected the invitation but also showed opposition to the move.
https://www.pajhwok.com/en/2018/05/12/kabul-hails-ulema-declaration-urges-muslim-world's-help
--------
Pakistan
Hafiz Saeed offers funeral prayer in absentia of Kashmiri terrorists
May 13, 2018
LAHORE: Mumbai attack mastermind and Jamaat-ud-Dawah chief Hafiz Saeed led a funeral prayer in absentia of the Kashmiri terrorists killed recently.
Saeed led the prayers yesterday at the JuD headquarters in Chauburji Lahore which apparently has been taken over by the Punjab government a few months ago. He also led a rally outside the JuD headquarters to express solidarity with the Kashmiris.
Interestingly, Saeed has offered Prime Minister Shahid Khaqan Abbasi and ousted premier Nawaz Sharif "relief" if they quit their friendship with the Indian prime minister.
"If the prime minister (Abbasi) and former prime minister (Sharif) want to rid of the problems they are facing today they first will have to quit their friendship with Indian prime minister (Narendra) Modi and slavery of the United States," he said.
Saeed further said Islamabad should stop making lame excuse regarding extending support to the Kashmiris and tell the people about its limitations. He said the Kashmiri struggle has entered into the 'decisive' phase.
The JuD is believed to be the front organisation for the LeT which is responsible for carrying out the Mumbai attack that killed 166 people. It has been declared as a foreign terrorist organisation by the US in June 2014.
The US Department of the Treasury has designated Saeed as a Specially Designated Global Terrorist, and the US, since 2012, has offered a USD 10 million reward for information that brings Saeed to justice.
https://timesofindia.indiatimes.com/world/pakistan/hafiz-saeed-offers-funeral-prayer-in-absentia-of-kashmiri-terrorists/articleshow/64143708.cms
--------
Why Pakistanis who attacked Mumbai were allowed to cross border and kill people? asks Nawaz Sharif
Omer Farooq Khan
May 12, 2018
ISLAMABAD: Former Pakistan prime minister Nawaz Sharif has for the first time publicly admitted that Pakistani terrorists were involved in the 26/11 attacks while questioning why Ajmal Kasab and nine others "were allowed to cross the border" to carry out the carnage in Mumbai in 2008.
"It's absolutely unacceptable (not acting against non-state actors who carry out terror attacks in India). This is exactly what we are struggling for. President Putin has said it. President Xi has said it," Sharif said, in an interview to leading daily The Dawn.
The former prime minister focused on the complicity of Pakistan in the 26/11 terror assault on India's financial capital by side-stepping a question on what according to him was the reason for his ouster from public office. He steered the conversation towards foreign policy and national security. "Militant organisations are active. Call them non-state actors, should we allow them to cross the border and kill 150 people in Mumbai? Explain it to me. Why can't we complete the trial?" the former PM said, referring to Mumbai attacks-related trials which have been stalled in the anti-terrorism court in the garrison city of Rawalpindi.
Although he chose to describe Kasab and others as " non-state actors", he also seemed to acknowledge the complicity of government agencies in letting the Lashkar terrorists reach Mumbai. Kasab and his fellow Lashkar jehadis had set out from Karachi after they were rigorously trained by Lashkar handlers who included at least two serving officers of Pakistan Army.
Sharif also stressed that the country had "isolated" itself in the international community by not acting against terror organisations. "We have isolated ourselves. Despite giving sacrifices, our narrative is not being accepted. Afghanistan's narrative is being accepted, but ours is not. We must look into it," Sharif said.
A top Pakistan Muslim League-Nawaz (PML-N) stalwart told TOI that when Sharif became PM for the third time in 2013, he was determined to minimize Army's role in Pakistan's foreign affairs but had to give up at every step due to the pressure exerted from hidden quarters, a euphemism for the military establishment.
Keeping the portfolio of foreign minister with himself, the PM was determined to run an independent foreign policy, free from the clutches of the establishment. "But it didn't work and it backfired," Sharif's close aide said.
According to political analyst Fasihur Rehman, Sharif's foreign policy approach was not compatible with the perspective of the establishment, particularly his undisputed desire to establish cordial relations with India.
Full report at:
https://timesofindia.indiatimes.com/world/pakistan/why-pakistanis-who-attacked-mumbai-were-allowed-to-cross-border-and-kill-people-asks-nawaz-sharif/articleshow/64141639.cms
--------
Saudi Grand Mufti Gives Special Shield to Head of the Pakistan Ulema Council
May 12, 2018
ISLAMABAD: Saudi Arabia's grand mufti, Sheikh Abdul Aziz Al-Asheikh, has given a special shield to a Pakistani cleric for his service to Muslim unity, and to the defence and protection of the Two Holy Mosques in the Kingdom.
Hafiz Tahir Ashrafi, head of the Pakistan Ulema Council, met with Al-Asheikh in Makkah, thanked him for the shield, and vowed to continue his services for Muslims.
On April 23, the council hosted religious scholars in the city of Lahore, and declared King Salman the "Islamic World's Personality of the Year 2017." The scholars expressed solidarity with Saudi Arabia, the king and crown prince.
http://www.arabnews.com/node/1301401/world
--------
Nawaz Sharif admits Pakistani terrorists carried out 26/11 attacks
Omer Farooq Khan
May 13, 2018
ISLAMABAD: Former Pakistan Prime Minister Nawaz Sharif has for the first time publicly admitted that Pakistani terrorists were involved in the 26/11 attacks, while questioning why Ajmal Kasab and nine others "were allowed to cross the border" to carry out the carnage in Mumbai in 2008.
"It's absolutely unacceptable (not acting against non-state actors who carry out terror attacks in India). This is exactly what we are struggling against. President Putin has said it. President Xi has said it," the ex-PM said in an interview to Pakistan's leading English daily Dawn.
The former PM focused on the complicity of Pakistan in the 26/11 terror assault on India's financial capital by sidestepping a question on what according to him was the reason for his ouster from public office. He steered the conversation towards foreign policy and national security. "Militant organisations are active. Call them non-state actors, but should we allow them to cross the border and kill 150 people in Mumbai? Explain it to me. Why can't we complete the trial?" he asked, referring to the Mumbai attacks-related trials which have been stalled in the anti-terrorism court in Rawalpindi. Although he chose to describe Kasab and others as "non-state actors", he also seemed to acknowledge the complicity of government agencies in letting the Lashkar-e-Taiba terrorists reach Mumbai.
Kasab and his fellow Lashkar jihadis had set out from Karachi after they were rigorously trained by Lashkar handlers, which included at least two serving officers of the Pakistan army. Sharif also stressed that the country had "isolated" itself in the international community by not acting against terror organisations.
"We have isolated ourselves. Despite giving sacrifices, our narrative is not being accepted. Afghanistan's narrative is being accepted, but ours is not. We must look into it," Sharif said.
Full report at:
https://timesofindia.indiatimes.com/world/pakistan/nawaz-sharif-admits-pakistani-terrorists-carried-out-26/11-attacks/articleshow/64142674.cms
--------
Pakistan can no longer remain subservient to US: Siraj
May 13, 2018
QUETTA: Jamat-i-Islami (JI) emir Sirajul Haq said on Saturday he supported Pakistan's decision to restrict movement of US diplomats in the country, but stressed that relations between the two countries must proceed on an equal footing and with mutual respect.
Speaking at a press conference here, the JI leader termed the United States untrustworthy, saying that Pakistan could no longer remain subservient to it.
JI's provincial emir Maulana Abdul Haq Hashmi, former Balochistan Assembly speaker Matiullah Agha, Allama Jumma Asadi, Maulana Anwarul Haq Haqqani and other members of the Muttahida Majlis-i-Amal were present on the occasion.
Senator Haq said there had been zero improvement in the law and order situation in Quetta, despite government expenditure of billions of rupees on attempts to improve the security situation of the provincial capital.
He deplored that people were being killed in the name of religion, sect and cast.
"Unfortunately 23 people were killed during recent incidents of violence in the provincial capital, but the provincial government remained silent and didn't take any preventive action against terrorists," he said.
The JI chief said Balochistan was rich with natural resources, lamenting that successive governments in the country did not use these resources for the development of the province and betterment of its people.
"All government departments are on the edge of bankruptcy... while the chief justice of Pakistan is taking steps to revamp certain aspects it is the whole system that needs to be revamped."
Commenting on the escalating rift between state institutions, Senator Haq said there was a need for dialogue among all institutions because the current situation was bound to have adverse impacts on the national economy.
Full report at:
https://www.dawn.com/news/1407364/pakistan-can-no-longer-remain-subservient-to-us-siraj
--------
Terror can't stop PML-N campaign
May 13, 2018
LAHORE - Advisor to the Prime Minister on National History and Literary Heritage (NH&LH), Irfan Siddiqui has said that the acts of terrorism and extremism are condemnable but they can't stop Awami Raabta campaign of Pakistan Muslim League-Nawaz (PML-N) and election.
Talking to media persons after inquiring health of Minister for Interior, Ahsan Iqbal in a hospital of Lahore on Saturday, Irfan Siddiqui said that in time elections are indispensable for continuity of democracy in the country and no such activity will be allowed to delay or stop elections. He said that the government, civil society, national institutions, media and different segments of society have to work jointly to root out terrorism from the country. The Advisor to PM on NH&LH said that Ahsan Iqbal would be shifted from hospital to home within one or two days and he looked courageous and committed and saying, "Allah has given him a new life." "Ahsan Iqbal said if he gets such a life for thousands times, he will devote it for national cause and betterment of the people of his country," Irfan Siddiqui said.
https://nation.com.pk/13-May-2018/terror-can-t-stop-pml-n-campaign
--------
Southeast Asia
Indonesia links deadly church attacks to local ISIS-inspired group
13 May 2018
A series of attacks in Indonesia by suicide bombers on churches in the city of Surabaya were suspected to be carried out by the ISIS-inspired group Jemaah Ansharut Daulah (JAD), a spokesman for the country's intelligence agency said on Sunday.
Wawan Purwanto, communication director at the agency, also told Metro TV that the attacks were likely to be linked to a deadly prison hostage incident at a jail near Jakarta involving Islamist militants last week.
Asked who he thought were the brains behind the attacks, Purwano said: "Still the old group JAD, who has planned this for sometime."
https://english.alarabiya.net/en/News/world/2018/05/13/Indonesia-links-deadly-church-attacks-to-local-ISIS-inspired-group.html
--------
Khalid Samad: We won't use govt-owned media for Pakatan propaganda
Sheith Khidhir Bin Abu Bakar
May 13, 2018
PETALING JAYA: Government owned media organisations can look forward to freedom from control of the new ruling regime, according to Amanah communications director Khalid Samad.
Speaking to FMT, he said the Pakatan Harapan government would not use such organisations to spread party propaganda.
In Pakatan's pursuit of its agenda to free the media, he said, it would ensure "a clear separation between party propaganda machinery and mainstream media".
He also said the government would consider introducing more TV channels.
On Amanah's part, he added, the party would address the controversy around a shariah law requiring a person to have officially recognised credentials before he could expound on Islamic teachings.
Khalid, who is beginning his third term as Shah Alam MP, was last year found guilty by a shariah court for "teaching Islam" without credentials. He was fined RM2,900, which disqualified him from serving as an MP. But he appealed the decision and the fine was reduced to below RM2,000, the threshshold for disqualification.
Khalid acknowledged the complications Pakatan would face in addressing the issue, noting that shariah laws are enacted by state governments instead of the federal government.
"What Amanah, as part of the federal government, may look at is how we can use government-owned media to get the ball rolling by having TV shows where not only ustads but professionals in various fields, such as engineers and lawyers, talk about their religion."
He said the idea was to cultivate a culture in which Muslims would be free to discuss and debate on matters regarding their faith.
Full report at:
http://www.freemalaysiatoday.com/category/nation/2018/05/13/khalid-samad-we-wont-use-govt-owned-media-for-pakatan-propaganda/
--------
Mahathir bars predecessor from leaving Malaysia amid probe
13 May 2018
KUALA LUMPUR, Malaysia (AP) - Malaysia's new leader, Mahathir Mohamad, said he barred his scandal-tainted predecessor and his wife from leaving the country to prevent them from fleeing from possible prosecution over a massive corruption scandal.
A leaked flight manifesto showed that Najib Razak and his wife Rosmah Mansor were planning to leave on a private jet Saturday to Indonesia's capital, Jakarta, fueling rumors that he was bolting the country days after a shocking electoral defeat that ended his coalition's 60-year grip on power.
"There are a lot of complaints against him, all of which have to be investigated," Mahathir told a news conference. "We have to act quickly because we don't want to be saddled with extradition from other countries."
Mahathir said the investigations would take some time because investigators need to contact authorities in other countries and gather evidence. He has said Najib will "face the consequences" if any wrongdoing is found.
Najib said on social media that he was planning to take a short vacation to spend time with his family. The Immigration Department, which initially said there was no travel ban, later issued a statement that the former prime minister and his wife were blacklisted from leaving Malaysia.
Mahathir confirmed that he prevented Najib from departing. He said there was sufficient evidence to investigate Najib over the corruption scandal involving the 1MDB state fund that's being investigated in the United States and other countries. U.S. investigators say Najib's associates stole and laundered $4.5 billion from the fund, with some $700 million landing in Najib's bank account and around $30 million used to buy jewelry for his wife. Najib has denied any wrongdoing.
Najib responded swiftly, saying he respects the Immigration Department's ruling and will remain in the country with his family. He also said he was committed to "facilitating a smooth transfer of power."
Later Saturday, Najib told a news conference that he was stepping down as president of the United Malays National Organization and as chairman of the National Front coalition to take responsibility for Wednesday's election debacle. The announcement came after strong calls emerged from the UMNO, the linchpin of the coalition, for Najib to resign.
Najib, 64, said his deputy, Ahmad Zahid Hamidi, would take over as UMNO president.
"We accept the people's verdict with an open heart," Najib said. "Maybe this will be an opportunity for us to fix our weaknesses and shortcomings, although these are more a matter of perception than reality. God willing, UMNO will continue to live."
The National Front, which has ruled Malaysia since independence from Britain, won only 79 of the 222 parliamentary seats, losing power to Mahathir's four-party alliance amid public anger over the 1MDB scandal and a rising cost of living.
It was a remarkable comeback for the 92-year-old Mahathir, who was prime minister for 22 years until his retirement in 2003. Angered over the 1MDB scandal, Mahathir had teamed up with former foes, including jailed opposition icon Anwar Ibrahim, to oust Najib.
Mahathir said Malaysia's king had agreed to pardon Anwar, who was jailed in 2015 for sodomy in a conviction that he said was politically motivated. Anwar's daughter Nurul Izzah told The Associated Press that her father, whose sentence ends June 8, would be released on Tuesday.
Also Saturday, Mahathir appointed Lim Guan Eng, an ethnic Chinese, as finance minister, the first ethnic minority to be appointed to the powerful post in 44 years.
Since 1974, the finance minister had been a Muslim Malay. The appointment of Lim, a chartered accountant who led the wealthy northern state of Penang since 2008, reflects reforms pledged by Mahathir's alliance to heal racial divisions in the country blamed on decades-old preferential policies.
Mahathir also named former Deputy Prime Minister Muhyiddin Yassin as home affairs minister and Mohamad Sabu as defense minister. All three appointees are party leaders in his alliance.
Full report at:
http://www.dailymail.co.uk/wires/ap/article-5722605/Mahathir-bars-predecessor-leaving-Malaysia-amid-probe.html
--------
Malaysia police raid complex linked to ex-PM Najib
May 13, 2018
Malaysian security forces have raided an apartment complex in Kuala Lumpur linked to former prime minister Najib Razak to search for confidential state documents that may have been illegally delivered to the site.
Dozens of police officers and plainclothes law-enforcement officers carried out the swoop at Pavilion Residences on Saturday after receiving a report that government vehicles with the logo of the department of the prime minister and cabinet on Thursday delivered 50 boxes of Birkin designer handbags — apparently for Najib's wife, Rosmah Mansor — to the apartment complex, where Najib's relatives reside.
It was not clear what was in the boxes. The Birkin designer handbags would cost $200,000 each.
But officers taking part in the raid said they were primarily looking for documents that could be vital for investigations into Najib's administration.
"We are looking for government documents that may have been illegally taken," a senior police officer who requested anonymity said. "The government is worried they could be sensitive and important [documents], and could be taken out of the country."
Najib, who is accused of misappropriating billions of dollars through his pet project state fund 1Malaysia Development Berhad (1MDB), had earlier said he was going abroad for a week, but was barred from leaving the country.
An alliance of political parties led by Mahathir Mohamad scored a stunning election victory on Wednesday, ousting Najib.
Meanwhile, jailed Malaysian leader Anwar Ibrahim will be released on Tuesday, the veteran politician's daughter, Nurul Izzah, told media.
Mahathir, now the prime minister, said this week that all efforts were being made to release Anwar, a former foe, immediately and secure a full royal pardon for him from the country's monarch.
Full report at:
http://www.presstv.com/Detail/2018/05/13/561529/Malaysia-Najib-police-raid-Mahatir
--------
India
LeT commanders call for 'jihad' in Kashmir
May 12, 2018
Commanders of the banned Lashkar-e-Taiba (LeT) outfit held a special meeting in Peshawar recently and called for a 'jihad' in Kashmir.
LeT's former operational commander in Kashmir, Abu Akasha, reportedly interacted with cadres who have recently completed their training.
He said, "All those cadres, who have already completed, 'Daura Lashkar' must present themselves for launching into J&K".
Akasha also asked district in-charges to contact all such cadres who have already attained training and are not in contact with office bearers of the organization.
He said, "Many such cadres, who have attained training have lost contact with the organization; it is the duty of the office-bearers to locate the lost trained cadres and get them back to main frunctioning of the organisation".
Headed by Mumbai terror attack mastermind Hafiz Saeed, the Lashkar-e-Taiba is responsible for carrying out several attacks in the Kashmir valley. It runs several training camps across Pakistan and Pakistan occupied Kashmir (PoK) and enjoy the support of Pakistan Army and the ISI.
Another commander of LeT, Aris Hammad, focused on 'Jihad' and the need to defend Islam from what he called infidel powers.
While showing a map of Kashmir, he tried to raise public sentiments. He mentioned that their people (LeT cadres) are in Kashmir and embracing 'martyrdom'.
He said, "Kashmir is linked to Pakistan's stability and integrity. Kashmir's freedom is necessary for completion of Pakistan. All Islamic countries of Middle East and other regions have high hopes on Pakistan as only Pakistan can defend itself at its own. It is a nuclear and jihadi power".
"Pakistan's security is directly linked to Kashmir. Pakistan depends on waters flowing through Kashmir and is called jugular vein", added Hammad.
He confirmed that the LeT is regularly sending militants across the border to create disturbances in the Kashmir valley.
"Since the beginning of 2017, during the period of one and a half year there has been regular launching of 'Mujahideen' (of LeT) into the Valley and it is matter of pride that not even a single 'Mujahid' got killed at LoC", said Hammad.
Despite global condemnation to its support to terrorism, Pakistan continues to harbor these militants who openly do rallies and mislead the people about their wrongdoings.
http://www.business-standard.com/article/news-ani/let-commanders-call-for-jihad-in-kashmir-118051200478_1.html
--------
Hizbul Mujahideen Module Busted, 4 Arrested In Jammu And Kashmir
May 12, 2018
JAMMU: Security forces today claimed to have busted a Hizbul Mujahideen module involved in hawala transactions by arresting four people, including a former militant, in Rajouri district of Jammu and Kashmir.
Acting on a tip-off, a joint team of police and army personnel intercepted a car at Kallar village along Rajouri-Jammu road and arrested the four, a police official said.
One of the four is a local from Rajouri. The rest are residents of south Kashmir's Shopian district, he said.
He identified them as former Harkat-ul-Mujahideen terrorist Aijaz Ahmad, Mohammad Arif, Sajad Ahmad Malla and Khursheed Ahmad Thokar.
The official said the four people were working for terror outfit Hizbul Mujahideen.
Ahmad had surrendered to security forces in 2005 and underwent two-year detention under the Public Safety Act. Malla too was detained under the PSA for months in 2016, the official told PTI.
The preliminary questioning of the four revealed they had come to Rajouri to collect money on the directions of Zeenat-ul-Islam, who took over as the leader of Hizbul Mujahideen after the killing of its commander Sadam Paddar last week, he said.
"Arif used to collect hawala money for the outfit and used to send it to Kashmir," he said, adding that Malla was in contact with Hizbul's finance head Khursheed Ahmad, who is based in Pakistan-occupied Kashmir.
The contact between the two was established by Paddar.
Full report at:
https://www.ndtv.com/india-news/hizbul-mujahideen-module-busted-4-arrested-in-jammu-and-kashmir-1851336
--------
We must cooperate to eliminate cross border terrorism: MJ Akbar
May 12, 2018
Let me thank the Government of Tajikistan, the United Nations, the Organisation for Security and Cooperation in Europe, and the European Union for organising this conference on terrorism. Such has been the rise of this viral menace to our lives and values that this gathering would be considered necessary almost anywhere on the map. But Dushanbe carries a special relevance. Tajikistan has successfully fought, defeated and reversed the brutal tide of terrorism, and it did so during what I would describe as the most dangerous of decades, the 1990s.
It was a time when powerful interests, often backed by a state, mobilised to train and arm groups like Taliban, Al Qaeda and affiliates to spread havoc across targeted regions. Tajikistan, facing its own challenge, subdued the so-called United Tajikistan Opposition, among which was Islamic Rebirth Party of Tajikistan (IRPT). We must recognise and acknowledge the meaning of that achievement. Tajikistan thereby prevented a contamination that could have, perhaps would have, infected the whole of Central Asia, and linked with ideological partners upto the Caspian and Black seas, and into Levant and Iraq. I am not being fanciful. History teaches us a stern lesson: when things go wrong, they can spin viciously out of control.
We must congratulate the leadership of President Emomali Rahmon, the valour of his security forces, and the spirit of the Tajik people, who made enormous sacrifices to prevent a critical challenge from becoming an unmanageable catastrophe.
Equally, we must recognise that while a great battle was won two decades ago, the war is not over. New groups have appeared on the vanguard. A vortex of this global conflict remains Afghanistan, whose people display, daily, the courage of heroes, in incident after relentless incident, as they fight against adversaries in a merciless war of attrition, enemies who get succour and sanctuary from neighbourhood mentors. The world must stand by those who are defending the world with their blood.
The long war against terrorism must be fought along three dimensions. The first is familiar; the battlefield, I can add with confidence that the security and intelligence services of every right-minded government are engaged in this field to the best of their abilities.
The second dimension is more subtle. This is the battlefield within the mind, where seeds of radicalisation are being planted with profuse abandon by misleaders posing as leaders. We have to answer these advocates of suicide missions and champions of chaos with the courage of our convictions. Evasion, compromise or even a muffled voice only feeds into false justifications for terrorism. Let me offer an example, once again from the experience of our hosts, who have, displayed exemplary clarity in their thinking and conduct.
Tajikistan has banned the Islamic Rebirth Party of Tajikistan (IRPT) as a terrorist organisation, without ifs and buts. Let me scale this decision into a dialectic response. What do the ideologues of this party mean by 'rebirth'? As a Muslim I believe in the birth of Islam, because the birth came from God. This fake rebirth is the work of misguided men. God made Islam a message of peace. These malevolent men have turned Islam into an instrument of war. God made Islam into a faith of pluralism: the Holy Quran says, "La qum deen o qumwa il ya deen" [Your faith for you, and my faith for me]. The rebirth misleaders have distorted faith into a reason for oppression against people of other faiths.
The third dimension is economic. The central aspiration of the young in the 21st century is equitable prosperity. If there cannot be economic equality, there must at the very least be economic equity. This is a defining answer to radicalisation; phrased in the words of Prime Minister Narendra Modi as "Sab ka saath, sab ka vikaas" [Together we stay, together we prosper]. This philosophy applies to our external policy as well. We fight terrorism in Afghanistan in many ways — but chief among them is people-oriented development. Our assistance to Afghanistan is over three billion dollars and includes, at the moment, 116 new projects in 31 provinces.
There are no short cuts. Terrorists and their sponsors attract the economically vulnerable into their suicide factories through lies, distortion, illusion and what I have described in an essay as the 'romance of regression'.
We in India face and blunt the threat of radicalisation through our shared cultural ethos and an abiding commitment to equality of faith and equitable economic opportunity. In India, every morning begins with the azaan, followed by the temple bells of a mandir, followed by the recitation of the Guru Granth Sahib in a gurdwara, followed, on a Sunday, by the peal of church bells. And because it is India, it is audible.
Full report at:
http://www.business-standard.com/article/current-affairs/we-must-cooperate-to-eliminate-cross-border-terrorism-mj-akbar-118051200715_1.html
--------
Parties advocating ceasefire playing politics over Ramzan: Jitendra Singh
May 12, 2018
JAMMU: Parties advocating a unilateral ceasefire by the Centre in Jammu and Kashmir are playing politics over Ramzan, Union Minister Jitendra Singh today said and asserted that the government had a consistent policy with regard to Pakistan and terrorism.
"I want to ask a question to those who are suggesting a unilateral ceasefire whether they are true followers of Islam? As long as we understand Islam and Holy Quran, those who observe fast it is imperative for them not to indulge in any type of violence or harm anyone.
"Instead of advising them (militants), suggesting others means that you are not faithful to Ramzan but you are playing politics over it," Singh told reporters here.
On May 9, Chief Minister Mehbooba Mufti said the Centre should consider a unilateral ceasefire in the state starting from Ramzan in mid May till the completion of the Amarnath Yatra in August.
She made the remarks after chairing an all-party meeting, which was convened to discuss the present situation in Kashmir Valley, especially after a tourist from Chennai was killed in stone pelting on May 7.
"Everyone (all parties) agreed that we should appeal to the Centre to consider a ceasefire like the unilateral ceasefire in (former PM Atal Bihari) Vajpayee's time during Ramzan (later this month) till Amarnath Yatra and Eid," she had told reporters.
The Jammu and Kashmir unit of the BJP, which is sharing power with Mufti's PDP, opposed her call for a unilateral ceasefire claiming such a step was not at all in "national interest".
"An opinion came up during the discussion for a unilateral ceasefire on the lines of one declared by the Atal Bihari Vajpayee government. We have a strong view...Unilateral ceasefire in the present situation is not in national interest at all," BJP state unit's chief spokesperson Sunil Sethi earlier said.
Sethi said that militants were demoralised due to the Army's action and a unilateral ceasefire would ease pressure and allow them to re-energise.
Union Minister Singh asked why those advocating unilateral ceasefire on the pretext of Ramzan had not advised the terrorists.
"They (terrorists) are observing fast and in the Holy Quran they are directed not to indulge in any act of violence or harm anyone during fasting. They need to make understand this," he said.
He said ceasefire wa never one-sided. "If the other side makes a mercy plea, then it makes a sense," he said.
Singh said the Centre had not received any proposal with regard to a ceasefire from the state government so far.
"It is their personal view (ceasefire during Ramzan) and there are people who make statements to address their constituencies. Home Minister Rajnath Singh has made it clear that there is no such proposal," he said.
On Mufti's repeated plea for resumption of dialogue with Pakistan, he said it was the prerogative of the Centre.
Full report at:
https://timesofindia.indiatimes.com/india/parties-advocating-ceasefire-playing-politics-over-ramzan-jitendra-singh/articleshow/64136404.cms
--------
'Nawaz Sharif did nothing to complete 26/11 trial'
May 13, 2018
MUMBAI: Special public prosecutor in 2008 Mumbai attacks case Ujjwal Nikam said on Saturday that PML-N leader Nawaz Sharif's admission about Pakistan's involvement in the terror plot proved that he was aware of the conspiracy behind the assault but made no efforts for completion of 26/11-related cases in Pakistan during his tenure as PM.
Questioning Sharif for not making efforts for completion of the trial in Pakistan, Nikam said, "The only logical answer is that he was helpless because his government was influenced and was working only under the wishes of Pakistan army and ISI. This disclosure of Sharif would definitely embarrass Pakistan army and ISI on the international platform."
Full report at:
https://timesofindia.indiatimes.com/india/nawaz-sharif-did-nothing-to-complete-26/11-trial/articleshow/64142574.cms
--------
J&K police lodge FIR over abusive tweet about Kashmiri Muslims
May 12, 2018
SRINAGAR: The police on Saturday lodged an FIR against a Twitter user over abusive tweets about Kashmiri Muslims and asked the social media service for more details.
"Police in Kashmir took cognizance of the matter after it found the posts were abusive and attract offences covered under law," a police spokesman said.
He said an FIR has been registered at Kothi Bagh police station.
Police have also asked Twitter India to provide details of the Twitter user so that he is made to face the law, the spokesman added.
Sources said the case has been registered against Ashish Kaul, who works with the India branch of an international management consultancy service.
posts drew strong criticism from several other Twitter users with some asking the company to sack him.
Full report at:
https://timesofindia.indiatimes.com/india/jk-police-lodge-fir-over-abusive-tweet-about-kashmiri-muslims/articleshow/64138895.cms
--------
South Asia
20 militants killed in fresh Afghan operations
May 13, 2018
MAIMANA - At least 20 militants were killed and 12 others injured during military operations in the northern Faryab province on Friday, an army official said Saturday. "Afghan army launched military operations in Garziwan district of Faryab province on Friday, killing at least 20 militants including a local commander, and injuring 12 others," Spokesman for 209 Army Corps in northern provinces Mohammad Hanif Rezai told Xinhua. During the operations, the army seized huge quantity of weapons and ammunitions, he said without mentioning the possible casualties on the army side. Taliban militants have yet to make comments.
https://nation.com.pk/13-May-2018/20-militants-killed-in-fresh-afghan-operations
--------
'I hope people will re-elect AL for continued national development'
May 13th, 2018
In an exclusive interview with Dhaka Tribune's Fazlur Rahman Raju, Awami League presidium member and former civil aviation minister, Lt Col (retd) Muhammad Faruk Khan, talked about the next general election and the relationship between the ruling party and Islamic political parties
What do you think about the BNP's claim that it will not contest the election without Khaleda Zia?
The BNP always tries to manipulate democracy. We saw the party took advantage of the democratic system when it was in power from 2001 to 2006. BNP leaders know they cannot win the election as they are isolated from the people. I have never seen any political activities of the BNP that could attract votes.
BNP leaders think they can get the people's sympathy by using Khaleda Zia's name. That's why they are saying the BNP will not participate in the elections without her. But I still hope the BNP will take part in the upcoming polls [with or without Khaleda].
How will the Awami League attract young voters in the next election?
We are trying to build a digital Bangladesh. During our nine years in office, we undertook many developments projects and have always been trying to create job opportunities for young people. No other government did that.
I hope young people will again vote for the Awami League to build a prosperous country imbued with the spirit of the Liberation War.
Do you think that at present the young generation does not like to join politics?
I do not think so. Before the Liberation War, a lot of young people joined politics as the country was not independent. They used to join politics to do something for the country. But the scenario has changed.
Since Bangladesh has become a developing country, young people are getting involved in various sectors, particularly the knowledge-based ones. They are contributing to the country's development through their work and that is why they are mostly staying out of politics.
We see a lot of businessmen joining politics. Do you think it is bad for politics?
Not entirely. It is true that a number of businessmen have joined politics without any previous experience in the field. However, a large number of businessmen who were involved in student politics, are also entering the field.
If any businessman wants to work for the country and the people, then there is no problem if they join politics. But we have to ensure that these businessmen-cum-politicians cannot harm our country or take illegal business facilities by misusing political power.
The Awami League is on good terms with the Islamic parties. Do you think this harms the ruling party's secular image?
We believe in the spirit of the Liberation War, the ideology of Bangabandhu of a secular Bangladesh, and democracy. We have no problem maintaining good ties with Islamic parties who believe in the spirit of the Liberation War and democracy.
Our discussion with the Hefazat-e-Islam was knowledge-based and did not centre on politics. We talked about modernizing the Qawmi madrasa education system. After that discussion, we established an Arabic University to modernize the Qawmi education system. We did not lose our secular identity [despite our good ties with Islamist parties] but instead, we encouraged them to follow the spirit of the Liberation War and secular Bangladesh.
Do you think Bangladesh can solve the Rohingya refugee crisis?
There is not a single example in the history of the world where any refugee problem has been solved. But we were able to sit with Myanmar within six months to resolvethe problem after the crackdown on the Rohingya people started.
Full report at:
https://www.dhakatribune.com/bangladesh/politics/2018/05/13/people-will-re-elect-al-continued-national-development
--------
Bahrami visits Tehran on invitation of Iranian military officials
May 13 2018
The Minister of Defense Gen. Tariq Shah Bahrami has visited Iran on an official invitation of the Iranian military officials.
The Ministry of Defense (MoD) said Gen. Bahrami will hold talks regarding the fight against terrorism and drugs smuggling as well as other bilateral issues during visit to the country.
MoD further added that Gen. Bahrami left for Iran after receiving a formal invitation from the Iranian military leadership.
The visit by Gen. Bahrami to Iran takes place as the country is accused of supporting the certain insurgent groups in Afghanistan.
The Afghan defense officials had earlier said that the country has supported the Taliban group on certain occasions.
The coalition forces officials had also said earlier that apart from Moscow and Pakistan, Iran is also supporting the Taliban group in Afghanistan.
"Iran's desire for influence in Afghanistan remains strong. Iran seeks increased influence in Afghanistan through government partnerships, bilateral trade, and cultural and religious ties," Pentagon stated in its report regarding Afghanistan late last year.
The report also adds that Iran provides some support to the Taliban and publicly justifies its relationship with the Taliban as a means to combat the spread of ISIS-K in Afghanistan.
Full report at:
https://www.khaama.com/bahrami-visits-tehran-on-invitation-of-iranian-military-officials-05139/
--------
Myanmar's military clashes with ethnic militants, 19 killed
May 12, 2018
At least 19 people, most of them civilians, have been killed in a fresh round of fighting between the military and ethnic militants in Myanmar's troubled northern regions.
An official with Myanmar's military said on Saturday that two dozen people had been wounded in the skirmishes that broke out outside the town of Muse in Shan State on the road to Lashio.
Government spokesman Zaw Htay said all but four of those killed were civilians, adding that one police officer and three state-backed militia members were killed by "terrorists" who had attacked joint military and militia posts and a casino earlier in the day. Htay rejected the attacks were meant to vindicate ethnic rights.
"It is just a destructive terrorist attack," said Htay, adding, "The attack to target innocent people is not asking for ethnic rights."
The Ta'ang National Liberation Army, or TNLA, claimed the attacks that sparked the fighting. It said the attack was a response to the government's heavy crackdown in Shan as well as in the neighboring state of Kachin.
"We fight because of heavy fighting in our region and the serious offensive in Kachin state," TNLA spokesman Major Mai Aik Kyaw said. He challenged the government on the number of civilian casualties, saying it was much lower.
"We feel sorry for civilian deaths. We are sorry. But it's hard to say how they were killed during the fighting," said Kyaw, adding that he believed some residents had fled over the border to China.
Myanmar's commander-in-chief said in a post on his page that members of the Kachin Independence Army, or KIA, also contributed to the attack in Shan on Saturday. The commander said military columns were in pursuit of the "terrorist insurgents."
Full report at:
http://www.presstv.com/Detail/2018/05/12/561469/Myanmar-Shan-
--------
Arab World
Takfiri militants hand over Israeli-made munitions to Syrian troops
May 12, 2018
Foreign-sponsored Takfiri militants have handed over large quantities of munitions and explosive devices, some of them Israeli-made, before their evacuation from towns south of the Syrian capital Damascus to the country's north.
Syria's official news agency SANA reported on Saturday that the extremists gave away their weapons as they left Yelda, Babila and Beit Sahem towns for northern Syria as part of a process to declare southern Damascus free from terrorism.
There were 60mm, 80mm and 120mm mortar shells, 14.5mm and 23mm PK machine guns, sniper rifles, rocket-propelled grenades, improvised explosive devices and Israeli-made landmines among the weapons.
This comes as Syrian government forces have on numerous occasions found considerable amounts of foreign-made munitions, including Israeli-made ones, from terrorists' hideouts across the war-ravaged Arab country.
The Arabic service of Russia's Sputnik news agency reported on May 4 that Syrian army troopers had launched a clean-up operation in the southern part of Homs, located 162 kilometers north of the capital Damascus, and uncovered a huge cache of Israeli-made munitions, including chemical warfare and digital equipment, meant to be distributed among anti-government extremist groups.
On April 3, Syrian troops carried out operations in the villages of al-Salihiyah, al-Dweir, al-Kishma and Sabikhan in the country's eastern province of Dayr al-Zawr near the border with Iraq, and discovered Israeli-built chemical substances, explosive materials and weapons there.
Syrian soldiers also uncovered several artillery shells produced by some members of NATO.
An unnamed Syrian military source said many rocket-propelled grenades were found inside the Daesh arms cache in Salihiyah, while the depot in Dweir contained rocket launchers as well as mortar shells of different kinds.
In September 2016, Israeli legislator Akram Hasoon accused the Tel Aviv regime of directly providing military assistance to members of the Jabhat Fateh al-Sham Takfiri terrorist group, formerly known as al-Nusra Front, in the Israeli-occupied Golan Heights.
Hasoon, in a post published on his Facebook page, said the extremists were shelling the Druze village of Khadr under the generous support and protection of Israel's minister of military affairs Avigdor Lieberman.
He wrote that Israel had offered advanced technological equipment to Jabhat Fateh al-Sham militants in order to give them the upper hand in clashes with Syrian government forces.
http://www.presstv.com/Detail/2018/05/12/561496/Takfiri-militants-hand-over-Israelimade-munitions-to-Syrian-troops
--------
Forced Recruitment by Kurds Reported again in Northeastern Syria
May 12, 2018
The sources in Northeastern Raqqa reported that the Kurdish fighters detained almost 75 young civilians in al-Tabaqa city under the forced-recruitment plan.
The sources said that the Kurdish militia plan to dispatch the young men to the battlefront, adding that fighting has been reported between people and the Kurds.
In the meantime, clashes have been reported between Arab tribes and Kurdish fighters after the latter moved to capture several young men from al-Wahab tribe.
Local sources in Hasaka also reported that the Kurdish militias have captured a number of civilians in the town of Ra'as al-Ein in Northwestern Hasaka under the the same forced recruitment plan.
Local sources in Manbij reported earlier this month that the executive council affiliated to the Syrian Democratic Forces (SDF) implemented plans to forcefully recruit forces from the young people in the town and its suburbs.
Based on the plan, if the young people in the region refrain from joining the SDF on their own will, they will be forcefully recruited and will be fined.
Meantime, reports from Raqqa city also said that the Kurdish forces attacked the village of Zanar in Northern Raqqa to detain the defected members who had earlier been forcefully recruited.
Also, in Hasaka city, the SDF forces detained a number of civilians in al-Aziziyeh neighborhood.
Full report at:
http://en.farsnews.com/newstext.aspx?nn=13970222000740
--------
'Egypt's Muslim Brotherhood ready for dialogue'
12.05.2018
The international relations representative of Egypt's Muslim Brotherhood, known as Ikhwan, on Saturday said the brotherhood is ready for dialogue with Egyptian President Abdel Fattah al-Sisi to find a political solution in the wake of the 2013 military coup.
"We are ready and open to deal with anyone. This does not mean we have to surrender," Yusuf Neda told Anadolu Agency in Campione d'Italia near the Swiss-Italian border.
"I will never stop making peace," Neda said.
Stressing the importance of finding a solution in Egypt following the coup, Neda said: "If you want to settle things, every Egyptian must sacrifice."
Full report at:
https://www.aa.com.tr/en/middle-east/egypt-s-muslim-brotherhood-ready-for-dialogue/1143406
--------
Syria fight against IS in Damascus stalls, dozens dead
May 12, 2018
At least 86 pro-regime fighters were killed in Syria over the past week in battles against the Islamic State group as regime forces push to clear militants from their last stronghold in Damascus, a monitor said on Saturday.
The militants have lost 57 fighters in the clashes in the Hajar al-Aswad district on the outskirts of Damascus since May 5, according to the Britain-based Syrian Observatory for Human Rights (SOHR).
Since mid-April, forces loyal to Syrian President Bashar al-Assad have pounded IS in its last Damascus bastion.
Retaking the area, which includes Hajar al-Aswad and the Palestinian refugee camp of Yarmuk, would place the regime in full control of the capital and its surroundings for the first time since 2012.
"The clashes continue. Despite its firepower, the regime has been unable to achieve any significant advance on the ground for a week," Observatory director Rami Abdel Rahman said.
"IS is entrenched in tunnels and underground shelters and it has been conducting counter-attacks since Saturday."
At least 203 pro-government fighters have been killed along with 159 IS militants since April 19, according to the Observatory.
Government forces have retaken 60 per cent of Hajar al-Aswad, but militants still control 80 per cent of Yarmuk, the monitor said.
Once a thriving district home to some 160,000 Palestinians and Syrians, Yarmuk's population has fallen to just a few hundred people.
The regime continued to pound the area with air strikes and artillery fire on Saturday, the Observatory said.
IS has been expelled from most of the country since it declared a "caliphate" across large swathes of Syria and neighbouring Iraq in 2014.
But it still holds around five per cent of Syrian territory, in eastern and central desert holdouts and on the edge of Damascus.
Full report at:
https://nation.com.pk/12-May-2018/syria-fight-against-is-in-damascus-stalls-dozens-dead-monitor
--------
More Civilians Killed in US Airstrike in Northeastern Syria
May 12, 2018
The fighter jets bombed the village of al-Hamadi in Southeastern Hasaka, killing eight civilians, including children and women, and injuring several more.
Some of the injured are in critical health conditions, local sources reported.
In a similar development in late April, the sources said that the warplanes bombed the town of Hajin in Eastern Deir Ezzur, leaving 3 civilians dead and 9 more wounded.
The sources said that most of the victims were children and women, adding that some of the injured are in critical conditions.
http://en.farsnews.com/newstext.aspx?nn=13970222001100
--------
ISIL Retreating from More Positions under Syrian Army Attack in Southern Damascus
May 12, 2018
The army men engaged again in fierce clashes with the ISIL North of Hajar al-Aswad in Southern Damascus, taking control over several buildings, including Education Development Centers.
Also, other units of the army managed to advance against ISIL in several flanks in a region North of Hajar al-Aswad that is connected to Yarmouk Camp and captured several buildings Southeast of the 30th streets.
In the meantime, the army's artillery and missile units and aircraft pounded ISIL's positions and movements in Hajar al-Aswad and Yarmouk Camp.
Earlier reports said that the army troops continued their mop-up operation in the newly-freed Yalda, Bebeila and Beit Saham regions in the Southern part of Damascus province and discovered a large depot of terrorists' arms and ammunition, including Israeli weapons.
The army men continued mop-up operation in Yalda, Bebeila and Beit Saham, seizing a large cache of weapons in terrorists' positions.
The Israeli-manufactured mines, bombs, ammunition, rockets, RPG, machineguns and artillery and mortar shells were discovered among the weapons and munitions seized from the terrorists.
Full report at:
http://en.farsnews.com/newstext.aspx?nn=13970222000847
--------
Turkish Army Sends New Military Convoy to Northwestern Syria
May 12, 2018
The Turkish convoy, including a military delegation, that was accompanied by terrorists entered Jisr al-Shughour region in Western Idlib.
There were several vehicles and a large volume of military equipment in the Turkish convoy.
Also, field sources reported that the Turkish delegation embarked on visiting Bedama and al-Najiyeh settlements in Western Idlib, adding that the army plans to set up a new truce monitoring point in the region.
In the meantime, local sources reported that the Russian and Syrian fighter jets pounded the positions of al-Turkistani terrorist group in Jisr al-Shughour region, inflicting major losses on the militants.
Also, a military analyst said that the Turkish troops plan to occupy Idlib and arrival of Ankara forces in Western Idlib is aimed at preventing the Syrian Army troops from carrying out anti-terrorism operation against Tahrir al-Sham Hay'at (the Levant Liberation Board or the Al-Nusra Front) and other units of al-Turkistani group.
Sources said on Thursday that a monitoring team from Turkey entered al-Karakat region near Qala'at al-Maziq in Western Hama.
Also a military convoy was deployed in regions in Western and Northern Hama to the town of Kafr Naboudeh.
The sources added that the convoy consisted of 15 military vehicles, noting that it moved from Idlib-Sheikhoun road to al-Karakat region and Qala'at al-Maziq in Western Hama and the villages and towns of Northern Hama to Kafr Naboudeh.
Full report at:
http://en.farsnews.com/newstext.aspx?nn=13970222000672
--------
Syrian Armed Forces Repel Terrorists' Heavy Offensive in Idlib Province
May 12, 2018
The NDF in Fua'a and Kafraya, North-East of Idlib city, that are under the terrorist groups' siege exchanged heavy fire with the Al-Nusra in al-Sawaqiyeh farms, and managed to fend off the Al-Nusra offensive after killing or wounding a number of militants.
Also, the army aircraft pounded the strongholds and movements of the Al-Nusra in al-Sawaqiyeh farms and other areas near the town of Taftnaz in Northeastern Idlib and in Ram Hamdan settlement North of Hamdan region.
In the meantime, other air force warplanes launched a heavy bombing on terrorists' positions in the village of al-Arba'een in Northern Hama and in Tal (hill) al-Waset in Northwestern Hama, inflicting major casualties on the militants.
In a similar development on Friday, the Russian Air Force carried out a fresh round of combat flights over terrorist-held regions in Idlib province, inflicting major losses on the militants.
The Russian warplanes bombed terrorists' positions heavily, specifically the positions of Tahrir al-Sham Hay'at (the Levant Liberation Board or the Al-Nusra Front) near the towns of Naqir and Ma'ar Zita in Southern Idlib.
Full report at:
http://en.farsnews.com/newstext.aspx?nn=13970222000573
--------
Four Hashd al-Sha'abi fighters killed in bomb attack in central Iraq amid ongoing voting
May 12, 2018
At least four members of the pro-government Popular Mobilization Units have lost their lives and three others sustained injuries when a bomb went off in Iraq's central province of Salahuddin as voting is underway across the country to elect the next parliament.
Colonel Mohammed al-Jubouri, a provincial police source, said the explosion took place on Saturday as voluntary fighters, better known by the Arabic name Hashd al-Sha'abi, were securing roads leading to polling centers in Mes'hag district, located some 50 kilometers north of the provincial capital Tikrit.
The development came a day after a joint force from Iraqi army forces and Hashd al-Sha'abi fighters raided a hideout of Daesh Takfiri terrorists in Rufai'at area, situated some 80 kilometers southwest of Tikrit, killing six bombers wearing explosive belts.
The Iraqi forces carried out the operation following intelligence reports that a group of Daesh terrorists were preparing to attack polling stations in several parts of the province during Saturday's elections.
Parliamentary polls kicked off at 7:00 a.m. local time (0400 GMT) as voters lined up to cast their ballots.
Prime Minister Haider al-Abadi hailed the elections as an important popular achievement after defeating Daesh and a step towards unifying Iraq.
"This election is decisive for Iraq's future, so the voters should actively participate in the voting," he told state-run al-Iraqiya television network after casting his ballot at Karradah polling station in the capital Baghdad.
President Fuad al-Masum also cast his vote at a polling station inside Royal Tulip al-Rasheed Hotel in Baghdad's heavily-fortified Green Zone.
"This is an important day in Iraq's history," Vice President Nouri al-Maliki, head of the State of Law Coalition, told reporters as he cast his vote.
Roughly 24.5 million voters are eligible to take part in the elections, with initial results expected in three days.
About 7,000 candidates from dozens of political alliances are vying for seats in the 329-member parliament.
The 8,959 polling stations across Iraq will close at 6:00 p.m. local time (1500 GMT).
On December 9, 2017, Abadi declared the end of military operations against Daesh in Iraq.
Full report at:
http://www.presstv.com/Detail/2018/05/12/561465/Four-Hashd-Shaabi-fighters-killed-in-bomb-attack-in-central-Iraq-as-electors-vote
--------
Mideast
Ayatollah Khamenei: Scientific progress in Islamic world is essential
May 12, 2018
During a speech at the Congress on the Role of Shia Islam in the Emergence and Promotion of Islamic Sciences, Ayatollah Khamenei said, "Today, 'awareness' has been created in the world of Islam which has laid the grounds for more tendency towards Islam and heralded a better future in spite of the Westerners' efforts to deny it."
He added that any move that helps mutual understanding among various Islamic groups and sects is a good deed.
Pointing to efforts being made to fuel confrontation among Muslims, he said, "In such a situation, any action that helps Muslims know strengths of each other and also help them converge will result in integrity of the Islamic community."
The Leader added it is of paramount importance to prevent any division among the Islamic sects.
Elsewhere, Ayatollah Khamenei said lack of scientific advances is the main reason behind domination of the West over Muslims.
"After centuries of scientific stagnation, the Western world could increase its wealth and political, military and scientific power and at the end create the current situation in the Islamic countries through colonization," the Leader regretted.
"This situation should be changed by the scientific advances of Islamic countries, and the world of Islam can be once again at the top of the civilization," Ayatollah Khamenei suggested.
The Leader went on to say that Iran is on the path to scientific progress and this can serve as a successful example for other Muslim nations.
"According to reports by international scientific centers, the speed of scientific progress in Iran has been 13 times higher than the global average during the past years," he explained.
He added that unlike the Westerners, Iran is ready to transfer its scientific knowledge to other Islamic nations.
Elsewhere, the Leader said, "Today, the youths in the world have many questions and seek their answer within the framework of Islam. So, scientific move in the world of Islam should be expedited and the Islamic community should reach highest level of science and civilization to prevent the enemies of Islam and the U.S. to give orders to heads of the Islamic countries."
http://www.tehrantimes.com/news/423482/Ayatollah-Khamenei-Scientific-progress-in-Islamic-world-is-essential
--------
Yemeni president praises Arab coalition's support for legitimacy in Yemen
May 13, 2018
DUBAI: Yemeni President Abed Rabbo Mansour Hadi praised the Arab coalition's constant support for the legitimacy in Yemen and for the Yemeni people, Saudi state-news agency SPA reported.
He also commended the coalition's successes in fighting off the Iran-backed Houthi militia.
This came during phone conversations with the Commander of the First Commander of the axis of Bab Al-Mandab, Brig. Gen. Abdul Ghani Subaihi, and Commander of the Third Brigade, Brig. Gen. Mahmoud Ahmed Sawli.
The president was briefed on the field progress made by the Yemeni army in the battles in the provinces of Taiz and Hodeidah.
President Hadi called on his people to unite and stand by the army and the popular resistance and support them by all means to continue their military operations aimed at liberating Yemen from the Houthis.
Full report at:
http://www.arabnews.com/node/1301676/middle-east
--------
Stop funding pro-Iranian militias, White House tells Qatar
12 May 2018
Qatar has been told by the Trump administration to stop financial assistance to pro-Iranian militias in the Middle East after Doha's dealings with these groups came out in the open.
According to a report in the UK daily Telegraph, American officials are concerned about Doha's connections to "a number of Iranian-sponsored militias," whom Washington views as terrorist organizations.
The new concerns were being voiced by the Americans after emails that originated from top Qatari government officials to groups such as Hezbollah in southern Lebanon, and to Iran's Revolutionary Guard, were unearthed.
The Telegraph report goes on to say that the emails and other incriminating documents have been seen by the newspaper and points to the friendly ties that Qatari officials had with Qasem Soleimani, the prominent head of of the Iranian Quds Force, and the Hezbollah chief Hassan Nasrallah.
The documents of these secret talks between Qatari officials and those heading terror groups in the region proves that Doha "paid hundreds of millions of dollars" in ransom payments to secure the release of hostages held by Shia militias in southern Iraq.
After US President Donald Trump pulled out of the nuclear deal with Iran , the US administration is now following it up and telling Qatar to review its Iran ties, "as well as its ties with Iranian-sponsored terrorist groups."
Cordial ties
"What these emails show is that a number of senior Qatari government officials have developed cordial relations with senior figures in Iran's Revolutionary Guard, as well as a number of Iranian-sponsored terrorist organizations," said a senior US security official.
"At a time when the US government is trying to persuade Iran to end its support for terror groups in the Middle East, we do not believe it is helpful that Qatar continues to have ties with such organizations."
With the American air base Al Udaid that is at the heart of its anti-ISIS campaign based in Qatar as well as the latter being an ally in the war on terror, it was inconceivable that the Trump admini9stration would look the other way when it came to dealing with Doha.
The Qatari explanation is that the communications were necessitated by the urgent "need to secure the release of members of the Qatari royal family who were kidnapped while on a hunting expedition in southern Iraq."
Full report at:
https://english.alarabiya.net/en/News/gulf/2018/05/12/Stop-funding-pro-Iranian-militias-White-House-tells-Qatar.html
--------
Saudi Arabia using US-supplied cluster bombs against Yemenis: Journalist
May 12, 2018
A Yemeni journalist says Saudi Arabia is using US-manufactured cluster bombs in its deadly airstrikes targeting civilians in the impoverished country.
Speaking on a live TV program on Friday, Hasan al-Buhaiiti displayed the fragments of a US-made bomb that had been dropped by a Saudi jet on the Hamdan district of Yemen's west-central Sana'a province on Thursday.
At least six people, including two children, had been killed in the Saudi air raid.
Buhaiiti said local children had found the yellow-colored bombs at the site of the Saudi strike.
He also condemned US complicity in the Saudi-led war on Yemen, saying Washington provides fuel for Saudi warplanes and supplies logistics and weapons to the Riyadh regime.
"And I want to ask the US ambassador to the United Nations, who is supplying these bombs to the Saudi coalition? We don't have these bombs in Yemen," he said.
"The only country that is actually using these bombs on Yemen, and the only country that has a blockade on Yemen, the only fighter jets that are in the sky of Yemen, they are Saudi fighter jets that are fueled by US jets. All the coordinates, all of the satellite images, all the logistics supplies are coming from the United States," he added.
The Yemeni journalist further noted that the US is just caring about the type of the Yemeni missiles, which are used "only to defend Yemen."
"The Americans only care about money, about how much they want to get from the Saudi-led coalition, how much oil they can get. And they exchange the Saudi oil just for money, to give these bombs to the Saudis so that they could drop them on civilians. So, I would like to see the United States will explain how come these bombs are in Yemeni villages," Buhaiiti pointed out.
Separately on Friday, the UN warned that April had been the deadliest month this year so far amid a "sharp" increase in Yemeni civilian casualties.
Saudi Arabia and its allies launched a war on Yemen in March 2015 in support of Yemen's former Riyadh-friendly government and against the Houthi Ansarullah movement
The military campaign has killed and injured over 600,000 civilians, according to the Yemeni Ministry of Human Rights.
Saudi Arabia has also imposed a blockade on Yemen, which has halted humanitarian deliveries of food and medicine to the conflict-ridden state.
Several Western countries, the US and the UK in particular, are accused of being complicit in the aggression as they supply the Riyadh regime with advanced weapons and military equipment.
Full report at:
http://www.presstv.com/Detail/2018/05/12/561436/Saudi-Arabia-Yemen-cluster-bombs
--------
Lebanese Speaker: Israel, US Unable to Bear Consequences of War
May 12, 2018
The senior Lebanese politician said the retaliation to repeated Israeli airstrikes in Syria was a "very strong warning" to Tel Aviv, adding that the Damascus response has achieved a "balance of horror" with Israel.
Berri warned that the Syrian retaliation targeted the occupied Golan Heights, but next time it will be deep in Israel.
Speaking to the Associated Press on Friday, the Speaker stated that Israel and the US cannot bear the consequences of a wide-scale regional war.
"There are American interests in Syria and if there is a larger war, I don't think even the American President can bear the consequences," he stressed.
The Israeli army claimed Thursday it hit dozens of Iranian military bases in Syria overnight in responce to attack from within Syrian territory. But, according to battlefield reports, the Syrian Army has intercepted tens of incoming Israeli missiles, and then, reciprocated the assault with a barrage of rocket attacks on military centers in the occupied Golan Heights.
The Syrian Army Command also said its air defense systems have managed to intercept and destroy the biggest part of Israeli rockets fired at military bases in the Arab country.
The Syrian Army Spokesman reaffirmed "the alertness of the army and readiness to defend the sovereignty of the homeland against any aggression", stressing that attempts to support terrorism would prove futile.
Earlier, the Russian Defense Ministry stated that some 28 Israeli aircraft fired around 60 air-to-surface rockets in a massive overnight strike in Syria on Thursday morning, adding that Syrian air defense systems managed to intercept more than half of the missiles.
Israeli forces bombed the Syrian territory for two hours between 1:45 am and 3:45 am local time on Thursday, according to reports.
The Russian military said in a statement that "28 Israeli F-15 and F-16 planes" were involved in the assault, while "Syrian air-defense systems shot down more than half of the rockets as they repelled the Israeli attack".
Tel Aviv said 20 rockets were fired into the Golan Heights early Thursday, and acknowledged that its well-known Iron Dome has only shot down 4 projectiles.
Israel Defense Forces (IDF) Spokesman, Lt Col Jonathan Conricus, told reporters that "several but not all" of the rockets were intercepted by Israeli defences, as minutes past midnight, approximately 20 projectiles were fired towards the line of IDF positions in the Golan Heights.
The military admitted that "Israel's Iron Dome missile defence system brought down four of the rockets".
Other sources mentioned 50 to 68 rockets were fired at Israeli targets after midnight in reprisal for earlier missile attacks on Syria.
The United States, Britain and France have also carried out a string of missile airstrikes against Syria in mid-April over a suspected chemical attack against the town of Douma in Eastern Damascus.
Israel has seized the Golan Heights from Syria during the 1967 Six-Day War and continued to occupy two-thirds of the strategically-important territory ever since. The Tel Aviv regime has built tens of illegal settlements in the area since its occupation and has used the region to carry out a number of military operations against the Syrian government.
The Tel Aviv regime has launched sporadic attacks against various targets on Syrian soil over the past few years, in assaults slammed by Damascus as attempts to boost terrorist groups who have been suffering heavy defeats in battle against Syrian government forces.
Full report at:
http://en.farsnews.com/newstext.aspx?nn=13970222001131
--------
Istanbul workshop spotlights global Muslim diaspora
By Tansel Parlak
Scholars, experts, and officials gathered in Istanbul on Saturday to discuss a landmark new report on the global Muslim diaspora at a workshop called "Muslim Diaspora: Expectations, Global Peace and Challenges for Prosperity".
Attended by various authorities on the diaspora from North Africa, Asia, and the Middle East along with international organizations and NGO representatives, the workshop aimed to obtain detailed and objective data about Muslim communities dwelling in non-Muslim countries.
Musa Kulaklikaya, head of the Statistical Economic and Social Research and Training Centre for Islamic Countries (SESRIC), which co-organized the workshop, told Anadolu Agency that their main aim was to create an atlas of the global Muslim diaspora.
"We assessed a number of aspects such as population, financial conditions, education level, cultural status, participation in politics, sociological image, integration to the environment, and loyalty," he said.
Saying that the workshop allowed Muslims in the diaspora to express themselves, he added:
"Given that these people are part of the community and citizens, there will be no global peace if we can't secure integration. Should both sides put prejudices aside, the contribution of Muslims to foreign countries will be higher. When given the opportunity, Muslims improve society.
"People build up the places they migrated to and improve trade. Scientists contribute to science, doctors bring their vocational skills. In the U.K. alone, there are some 10 Muslim mayors. There are numerous Muslim ministers in different countries, and many lawmakers."
Kulaklikaya said they carried out surveys in Germany, Britain, and France for the Muslim diaspora report, in addition to roundtable meetings with academics, policymakers and Muslim NGOs.
-Discrimination
Kulaklikaya lamented that, according to the report results, they witnessed the same results in all three countries: Muslims are subjected to discrimination. "In terms of enjoying religious life, expressing identity, freedom and rights, Muslims in Britain are in better condition," he said, adding that there was still unfairness.
"Another aim of the workshop is to create an opportunity for cooperation between diaspora institutions in Islamic countries. We want a mechanism to exchange views," he explained.
Sayit Yusuf, vice president of the Presidency for Turks Abroad and Related Communities (YBT), the other event organizer, spotlighted the rising hostility towards Islam and discrimination in Europe and called on Islamic countries to cooperate.
Full report at:
https://www.aa.com.tr/en/middle-east/istanbul-workshop-spotlights-global-muslim-diaspora/1143395
--------
Israel closes Gaza border goods-crossing damaged after protests
12 May 2018
Israeli and Palestinian officials confirmed that only goods-crossing between Gaza and Israel was closed until further notice on Saturday after it was damaged during protests.
The Israeli army said the Palestinian side of Kerem Shalom crossing in southern Gaza was badly damaged by dozens of demonstrators late Friday during a day of protests along the border, adding that the Israeli side of the crossing, several hundred meters away, was not breached.
In a statement Israel said "The crossing will remain closed until the damages caused by the riots are repaired and will reopen in accordance with a situation assessment" adding that the fuel terminal at the crossing had been rendered "totally unusable".
It accused the protesters of being "under the auspices of Hamas", the Islamist group that runs the Gaza strip, without providing evidence.
On the other hand, The Palestinian body in charge of coordination at the crossing confirmed the closure.
Kerem Shalom is the only crossing open to transport goods into and out of Gaza, including fuel and food.
A separate people crossing in northern Gaza remains open.
Meanwhile, Egypt opened its border crossing with Gaza- the only one not with Israel - for four days Saturday.
Full report at:
https://english.alarabiya.net/en/News/middle-east/2018/05/12/Violent-Palestinian-protests-close-the-only-Gaza-Israel-goods-crossing.html
--------
Eleven Iranians among dead in Israeli strikes on Syria this week
12 May 2018
At least 11 Iranians were among those killed in Israeli strikes on Syria this week, a monitor said Saturday.
"At least 27 pro-regime fighters were killed" in Thursday's strikes, said Rami Abdel Rahman, director of the Britain-based Syrian Observatory for Human Rights.
He said "six Syrian soldiers and 21 foreign fighters, including 11 Iranians" were among the dead.
That updates the monitor's initial toll of 23, which did not specify the number of Iranians.
"The new report is due to the death of wounded or missing persons whose deaths have been confirmed," Abdel Rahman said.
Israel says it struck dozens of Iranian targets inside Syria early on Thursday in response to a salvo of rockets allegedly fired by Iranian forces into the Israeli-occupied Golan Heights.
Israeli Prime Minister Benjamin Netanyahu said Iran had "crossed a red line" and that Israel's bombardment against targets in Syria was "a consequence".
Israel has long warned it will not accept Iran entrenching itself militarily in neighboring Syria, where the Islamic Republic backs Assad's regime in the country's seven-year civil war.
Israeli forces have been blamed for a series of recent strikes inside Syria that have killed Iranians, though it has not acknowledged those raids.
Full report at:
https://english.alarabiya.net/en/News/middle-east/2018/05/12/Eleven-Iranians-among-dead-in-Israel-strikes-on-Syria-Thursday.html
--------
Israel doubling troop deployments ahead of US embassy opening
May 12, 2018
The Israeli military has announced that it will be doubling the number of forces around the Gaza Strip and in occupied West Bank territories ahead of the controversial opening of a US embassy in Jerusalem al-Quds.
An Israeli army spokesperson on Saturday said that three additional infantry brigades will be deployed ahead of the embassy's opening, two surrounding the Gaza Strip and one in the West Bank.
He added that the fresh additions will be nearly twice as many as the number of troops currently deployed.
The spokesperson noted that the number of troops in Jerusalem will not change, as responding to protests is the responsibility of the police.
US President Donald Trump has announced that he will not be taking part in the opening ceremony in al-Quds on Monday, but his daughter Ivanka and son-in-law Jared Kushner will be present.
Hundreds of thousands of Palestinians are expected to hold massive protests along the fence between the Gaza Strip and the occupied territories on the day of the US embassy relocation. The rally, which will cap several weeks of deadly protests in the coastal enclave, coincides with the 70th anniversary of Nakba Day (Day of Catastrophe), when Israel was created in 1948.
At least 52 unarmed Palestinian protesters have been killed by Israeli live fire since the protests began on March 30.
Earlier in the day, thousands of protesters in Jordan, Turkey and Indonesia staged rallies to condemn the US decision to relocate its Israeli embassy from Tel Aviv to Jerusalem.
Diplomats from many countries have reportedly declined to attend a reception ceremony for the embassy relocation ceremony in the occupied Jerusalem al-Quds in a show of anger at President Donald Trump's recognition of the city as Israel's capital. The reception ceremony is scheduled to be held a day before the official relocation on Monday.
The Israeli Haaretz newspaper reported that only 30 out of 86 foreign envoys serving in Israel had accepted Tel Aviv's invitation to the Sunday reception. Prime Minister Benjamin Netanyahu had invited the entire foreign diplomatic corps to the event.
Last December, Trump announced his decision to recognize Jerusalem al-Quds as Israel's so-called capital and relocate the US embassy from Tel Aviv to Jerusalem al-Quds, breaking with decades of American policy.
His decision infuriated the Palestinians, who declared that Washington could no longer play a role as a mediator in the so-called Middle East peace process. It also sparked outrage across the Muslim world and even among Washington's Arab allies.
On December 21, the United Nations General Assembly voted overwhelmingly in favor of a resolution that calls on the US to withdraw its controversial recognition of Jerusalem al-Quds as the Israeli capital.
Full report at:
http://www.presstv.com/Detail/2018/05/12/561513/israel-palestine-embassy-us-troops
--------
Yemeni forces launch ballistic missile against Saudi base in Jizan: Report
May 12, 2018
Yemeni army forces, backed by allied fighters from Popular Committees, have fired a short-range domestically-manufactured ballistic missile at a Saudi military base in the kingdom's southwestern region of Jizan, in retaliation for the Saudi regime's campaign against the impoverished country, Yemeni media report.
Yemen's official Saba news agency, citing an unnamed military official, said that the short-range Badr-1 ballistic missile was launched on Friday evening against the al-Darb military camp, adding that the projectile had hit the designated target in the region with great precision.
There were no immediate reports on the number of possible causalities and the extent of damage caused.
Saudi sources, however, claimed to have intercepted the incoming Yemeni missile.
Saudi Arabia often claims that it intercepts incoming Yemeni missiles, but a close study of evidence by The New York Times last year clearly suggested that in one of the most high-profile of such Yemeni missile attacks, the projectile, launched deep into Saudi territory, had in fact landed unimpeded, bypassing American-made Patriot missiles and potentially other defenses used by Riyadh. Saudi Arabia claimed that it had foiled that attack, which targeted the Riyadh airport.
Saudi Arabia and its allies launched the war on Yemen in March 2015 in support of the country's former Riyadh-friendly government. The Yemeni Ministry of Human Rights announced in a statement on March 25 that the Saudi-led war had left 600,000 civilians dead and injured until then.
In one of the deadliest air raids, Saudi warplanes last month targeted a wedding ceremony in Hajjah several times, killing almost 50 people and wounding 55 others. Saudi jets also carried out raids on the ambulances transporting the casualties to local hospitals.
The Saudi-led countries engaged in the war on Yemen have also blockaded the already-impoverished country.
Full report at:
http://www.presstv.com/Detail/2018/05/12/561478/Yemen-Saudi-Arabia-missile-Jizan
--------
North America
Men-only event at US mosque sparks backlash
May 13, 2018
A small Muslim community in upstate New York has been thrust into a debate on the place of women after one of their members made a call for change on social media.
For the Hudson Islamic Center, 29 April was a momentous day.
After more than 20 years praying in another building's basement, they were ready to begin work on a space of their own.
While they had acquired land in 2007, the community had spent years collecting funds for construction. Now with contributions from the working-class families that made up their community and a commitment from a New York City Muslim builder to take payment in phases, the time had come to build a mosque.
On the bright Sunday morning, the community gathered for the groundbreaking ceremony. Local dignitaries were invited, speeches were made and the $1.5m project - a three-floor structure with two minarets and a dome - was unveiled.
Missing from the picture, however, were the women from the community, many of whom had been actively involved in fundraising.
A local Muslim woman, Jabin Ahmed Ruhii, took to Facebook to express her frustration.
"Although the invitation letter said, 'dear brothers and sisters' - the men were explicitly told that women are not a part of this gathering," she wrote.
Ruhii, 24, called the exclusion "discrimination against women and young girls".
"Islam is for everyone, not just those with a particular reproductive organ," Ruhii wrote. "The women in this community have always served the Islamic Center with whatever resources they have, without ever having been welcomed by our fellow Muslim brothers.
She said women would "continue to support" the centre "regardless of whether they are welcomed or not".
"But I for one will not remain silent."
The reaction was swift.
Ruhii says she was accused of denigrating the community and even hurting the chances of the mosque being built. Male members in her family were taunted, her mother was "cold-shouldered" by her co-workers, she says.
But she also says there was strong support from women who lauded her for raising her voice.
The president of the Islamic Center, Abdul Hannan, says the lack of women at the ground breaking was a "miscommunication".
"No discrimination is allowed in our mosque or religious ceremonies."
Hannan says there wasn't enough space for women and because of security concerns not all community members were invited.
However, a few city officials who were invited and spoke at the event were women.
"If it was good enough for non-Muslim women, I'm sure it would have been fine for Muslim women," says Ruhii.
Most of the committee members are first-generation Bangladeshis who migrated to the US, she says, and they run the centre as they would back home.
"They don't see the importance of involving women and youth in the committee,"
The Hudson Islamic Center's constitution bars women from running for committee elections. As a result, there's no representation of women on the management board.
A week after the Facebook post, she and a few others were invited by the centre's management committee to discuss the issue.
"We told them the women in your community do not feel accepted," Ruhii says. "You haven't opened the doors for us."
But Hannan believes things are fine following that meeting.
"She realised that she needed to talk to us instead of posting her thoughts on Facebook," he says.
"I can't say what she did was right or wrong, but we explained to her and she understood."
The committee has promised an event in the near future where everyone will be invited. The centre will also "try to do our best to amend the constitution to allow women to contest committee elections" Hannan says.
Ruhii describes the meeting as "tense but respectful" and says Hannan made an effort to diffuse the situation. But she still thinks she did the right thing by posting on Facebook - her post shook up the community and the mosque. If it wasn't for that, she says, there wouldn't have been any conversation.
These issues are not unique to the Hudson Muslim community.
While many mosques in America now allow women to pray with men in the same room in segregated areas, there's a large number where that's not the case.
Many studies have also reported a generational divide within the community, as young Muslims feel that the Islam of their parents doesn't directly address the issues they face in America.
"She helped open a dialogue within the community," says Atia Begh, who grew up in the area and participated in the meeting over the phone.
While the committee said the space was open to them, she says young people and women don't feel that way.
"It's like inviting someone to your home but not making them feel welcome," she says.
"Some of them were also concerned that in this age of growing Islamophobia, highlighting this incident will hamper the fund-raising for the mosque, but we don't feel that way," she says.
Instead, Begh says, the younger generation can be an asset in terms of fundraising and building bridges with the wider community.
Imam Suhaib Webb, recently listed as one of the 25 most influential Muslims in America by CNN, says what Ruhii did was "commendable".
Webb says community members should remember women in the Prophet's community went to the mosque and they were consulted and engaged.
"There's actually a chapter in the Quran that's named "She Who Argued" - and it's not stated in a derogatory manner," he says.
But he cautions against thinking about this debate solely as a generational issue.
"What's needed is a robust conversation within communities - the mosques are most successful when they listen better," he says.
For Hudson's Muslim community, that process may have just begun.
http://www.bbc.com/news/world-us-canada-44062685
--------
US Nuclear Expert Resigns After Trump Violates Iran Deal
May 12, 2018
A top American nuclear expert has handed his resignation to President Donald Trump after Washington's unilateral withdrawal from the Iran nuclear agreement this week.
Richard Johnson, the assistant coordinator for Iran nuclear issues at the Office of Nuclear Implementation, stepped down without giving an explanation.
Johnson had worked as a non-proliferation officer in the US State Department since 2006.
He had been involved in Washington's weeks-long negotiations with the United Kingdom, France and Germany, during which the European governments, strived to salvage the agreement.
In an email circulated to his colleagues and staff, Johnson has described the Iran deal "an extraordinary achievement."
"I am proud to have played a small part in this work, particularly the extraordinary achievement of implementing the [deal] with Iran," he wrote.
The landmark deal, officially known as the Joint Comprehensive Plan of Action (JCPOA), signed between Iran and the P5+1 group of countries — the US, UK, France, China, Russia and Germany — in 2015.
Under the agreement, Tehran undertook to put limits on its nuclear program in exchange for the removal of nuclear-related sanctions imposed against Iran.
Trump, who has consistently described the deal as "the worst and most one-sided transaction Washington has ever entered into," eventually announced on Tuesday that he pulls out the US from the accord. He also announced a re-imposition and strengthening of sanctions against Iran.
Laura Kennedy, a former ambassador and a board member of the Center for Arms Control and Non-Proliferation, wrote in a Twitter message that "Johnson is among the best and the brightest."
"His departure from the [US government] is part of the huge, worldwide collateral damage that is being wrought by Trump's violation of the Iran deal," she wrote.
A US official also described Johnson's resignation a "big loss" for the government.
The report of Johnson's resignation came a day after the United Nations' top nuclear inspector unexpectedly stepped down without giving any explanation.
The International Atomic Energy Agency (IAEA) announced late Friday that Tero Varjoranta had stepped down.
Varjoranta had been a deputy director general of the IAEA and head of its Department of Safeguards, which verifies countries' compliance with the nuclear Non-Proliferation Treaty, since October 2013.
Full report at:
http://www.presstv.com/Detail/2018/05/12/561500/USIran-dealnuclearRichard-JohnsonIran-deal
--------
Radicalism: The Real Shock Was the Reaction of the Americans...
by Majid Rafizadeh
May 12, 2018
"Soon," said the letter, "America Will Be Ours".
"Ours?"
The writer, it became clear, was an extremist Muslim in the U.S. who claimed to be a reputable religious preacher. With each new word, concern grew.
He pointed out, throughout the letter, the "sinful" ways of the West: dancing, drinking, dating...
He expressed disgust that most women did not wear the hijab or participate in prayer five times a day. Then he got straight to the point: "Ours," he explained, represented Muslims like him.
The sentiment is hardly a new one. A person hears similar proclamations from many Muslim extremists throughout the years. The real shock was not letter but the reaction of many Americans after seeing it.
Such a thing, they said, could never happen. The writer's words were "just bluster," nothing to be taken seriously. Most surprisingly, they stated -- honestly -- that Muslims who speak of such intentions do not really mean what they say, so these threats should not be cause for concern.
The history of the two nations where I grew up -- Iran and Syria -- taught all of us there a big lesson about living in this kind of ignorance: the reality of how quickly a nation can be consumed by the philosophies of a religious state. An authoritarian and malicious regime, as exists now in Iran -- the world's leading sponsor of terrorism and brutal even to its own people -- is something we cannot forget.
In a few centuries, in Syria, where more than 90% percent of the population were Christians, and in Iran where an overwhelming majority of citizens were Zoroastrians, the demography drastically shifted to majority-Muslim. Neither nation could have anticipated such a change.
While many may underestimate the radical preacher's claims that "Soon, America Will Be Ours", for extremist Muslims these beliefs are strongly and deeply rooted.
Many extremists believe that their religious desire -- for a "Muslim takeover of the White House, a directive from Muhammad himself " -- is coming true in the US. Religiously speaking, for these Muslims, ruling America is Allah's (God's) word, a sacred promise is coming to fruition.
A recent survey and demographic research released by the Pew Research Center found that Muslims will soon overtake members of other religions, including Jews, as the second-largest religious group in the United States.
This issue should not be taken lightly. What does being the second-largest religion in a country mean? Voters impact local and national politics, swing domestic elections, elect more representatives from the same religious affiliation, are influential enough to determine who the next president of the United States may be, and change the laws of the land. All it takes is a subtle shift in power for the entire society, political system and culture of a nation to be changed.
The number of Muslims in the US has increased by 40% in just five years -- between 2010-2015 -- while in the same period the non-Muslim population of the US has grown by only five percent. This means that the Muslim population is growing almost eight times faster than the non-Muslim population in the US.
As an adult, in the Muslim world, I came to hear verses and hadiths frequently used by extremists and carved into their minds. To them, these are the true instructions and predictions of the most powerful being. Those Muslims strongly believe that these verses and hadiths (sayings of Muhammad) will come true because they are issued by Allah (God) or by his messenger, Muhammad. Allah, for instance, says in the Qur'an Chapter (9:33) sūrat al-tawbah (The Repentance):
"It is he (Allah) who has sent his Messenger with guidance and the religion of truth (Islam), in order for it to be dominant over all other religions, even though the Mushrikoon (disbelievers) hate it."
A popular hadith is:
"Verily Allah has shown me the eastern and western part of the earth, and I saw the authority of my Ummah (nation) dominate all that I saw"
Some extremist Muslims believe that Allah and Muhammad predicted that they would rule over America even before America was discovered by Europeans. As a certain radical Muslim activist said on ABC news, "Indeed, we believe that one day, the flag of Islam will fly over the White House." He quoted a saying of Muhammad, from the Muslim scholar Al-Tabarani in the 10th-century. "The final hour," he said, "will not come until Muslims conquer the White House."
Many extremists also insist that Muslims do not need to be the majority in a country in order to take over the government: "A small portion of Muslims will rise and conquer the White House."
In the belief of fundamentalist Muslims, it is the obligation of every Muslim to pave the way for Islam to dominate America. They are encouraged to use various methods to ensure that this occurs -- these include force, violence and waging jihad (holy war).
Any action taken for the purpose of accomplishing that goal is applauded by Muslim extremists worldwide. Islamists and Islamist states, for instance, heavily praised, and quoted Louis Farrakhan when he predicted that, "God will destroy America at the hands of the Muslims. God will not give Japan or Europe the honor of bringing down the United States; this is an honor God will bestow upon Muslims."
There is historical proof of great nations succumbing to the ideals of extreme and determined radical groupsy. History has often taught hard lessons to powerful nations. Before one dismisses the danger America faces, take the time to learn about the past and just how easily and swiftly irreversible changes can happen: Russia in 1917, Germany 1933, Egypt in 1952, Iran in 1979, and so forth. Do not underestimate the ability of radical Islam to take over your government and impose Sharia law throughout this once free nation.
Full report at:
https://www.gatestoneinstitute.org/12258/radicalism-islamists-us
--------
Africa
South Africa: Murder of Shi'a Muslim in mosque condemned by all Muslims
12th May 2018
By Ahmed J Versi
London, (The Muslim News): One person was murdered and two seriously injured in an apparent sectarian attack in a mosque in South Africa on Thursday afternoon.
The attack on the Shi'a Muslims was condemned by the Sunni organisations. "We vehemently condemn the heinous attack on the Imam Hussain Mosque as well as the senseless crime committed against three innocent individuals," said Shaykh Isgaak Taliep, Secretary General of Muslim Judicial Council.
Deceased Abbas Mohammedali Essop's wife, Sakina after the funeral said, "I can't explain the peace I am currently feeling.. his sacrifice is not in vain.. each and every Muslim group in South Africa has united for him."
Three attackers entered Imam Hussain Masjid after midday prayers in Ottawa, Verulam, north of Durban, in KwaZulu-Natal, stabbed the resident alim (scholar), Sheikh Ali Nchinyani and caretaker, Mohammad Ali. The Sheikh jumped out of a second-floor window of the mosque to escape.
Abbas Mohammedali Essop was at work when he heard noises from the mosque. His wife, Sakina, said "Abbas saw caretaker of the mosque stabbed in the stomach shouting for help. Abbas went to help; two of the attackers held him, the third one slit his throat."
Paramedics stabilised the injured men on scene before transporting them to hospital. One of the injured men, Abbas, succumbed to his injuries and died shortly after arriving at hospital.
Abbas was buried on Friday. Sakina, after the burial, said she felt at peace as Abbas's "sacrifice was not in vain."
This is her statement: "Slms all.. just came back from my husband's janaza and I can't explain the peace I am currently feeling.. his sacrifice is not in vain.. each and every Muslim group in South Africa has united for him.. the Sunnis had their khutbah [Friday sermons] dedicated to Imam Hussain mosque.. Abbas' funeral was attended by people from all over the world.. he has news coverage in all papers and channels in South Africa and internationally and because of him.. Muslims are actually beginning to unite.. he lived up to his name and defended his mosque just like his namesake and he had such a beautiful smile on his face.. and so much noor [spiritual light].. he looked like he was having the sweetest dream.. Inshallah his Imams and Bibi Fatima and Hz Abbas will be waiting for him with open arms.. please remember us all in your duas."
Sakina added on her face book that the murder was not about "RELIGION, COLOUR, OR CREED…no living being should be treated in such a manner…It is about HUMANITY…. Would Rasulullah Salallahu Alaihi Wasalam be pleased with us today? When Rasulullah Salallahu Alaihi Wasalam was sent to us HE was sent for MANKIND not just Muslims! Today we have lost a loved one, though what is consolation for us is that he is SHAHEED (A Martyr) he has given his life in the path of ALLAH Ta'Aalah and most definitely lived up to his name Muhammad ABBAS.
"To the merciless, my Brother Abbas leaves behind an 80yr old father, 70yr old mother, a young wife and 2 beautiful daughters (2yrs and 5yrs). Have a heart and think of what these individuals are going through instead of spreading rumours and hatred make Dua that these perpetrators are caught and taken to task! In'Shaa'ALLAHU Ta'Aalah Ameen."
Abbas's brother, Zainulaberdeen Essop, said his brother "is not dead to us, he is a martyr. Alhamdulillah. Our family are the pioneers of the mosque going back almost 21 years."
Sheikh Ali said at the press conference that the attack "was a terrorist attack, there is no doubt about it. It definitely had a religious motive. They were no robbers. They strictly wanted to kill us. One of the suspect said, 'I will kill you.' If I hadn't fought back I would have been killed… A person who dies protecting others the same way as this brother Abbas did, who ran from across the street towards the mosque to help the brother who was being attacked" is a martyr.
One of Sheikh Ali's teachers who used to be the resident alim of the mosque, Sheikh Nuru Mohammad, told The Muslim News that it was a "terrible news, it is very bad. I am shocked that this has happened in South Africa."
Muslim organisations condemned the attacks and the killing.
The Claremont Main Road Masjid (CMRM), based in Cape Town, condemned the attack as "barbaric". Imam Dr Rashied Omar, of CMRM said, "We offer our deep condolences to the family of those killed, and the congregants of this mosque who no doubt are now reeling in shock and fear. The mosque was known to be a Shi'a mosque, and at this stage the incident appears to be an anti-Shi'a attack."
"CMRM has for the past five years been sounding the alarm about the growing threat of anti-Shi'a sectarianism creeping into our local community. We are appalled at the prospect of this now being a reality.
"It is now most important and urgent for Muslims in South Africa to take a stand and speak out loudly against sectarianism, specifically anti-Shi'a sectarianism."
South African Muslims can in no way allow themselves to go down the path of hatred, intolerance, violence, and brutal attacks on Shi'a Muslims as has been the case in several other parts of the world."
Security firm, Reaction Unit South Africa, said the attackers threw a petrol bomb inside the mosque before fleeing the scene in a vehicle with no registration plates.
The suspects fled in a white Hyundai Getz in the direction of Phoenix.
Police are now looking for a group of three men wearing half balaclavas.
The motive for the attack is not yet known.
Abbas is survived by his wife, Sakina, and two children, 5-year-old Aliya and 20 month old Abida. Zainulaberdeen said Abbas "was their everything. Abbas used to wake up at 6:00 am with his daughter, and walked in the garden every morning for 5 years. When he returned from his workshop in the evenings, he would bring her to listen to the birds at sunset."
http://muslimnews.co.uk/news/human-rights/south-africa-murder-shia-muslim-mosque-condemned-muslims/
--------
Polisario Member Leads Terrorist Group Responsible for Killing US, Nigerian Soldiers in Sahel
May 12, 2018
"The group that claimed responsibility for the killing of four US and four Nigerian soldiers in Western Niger last October is led by Polisario member Adnan Abu Walid al-Sahrawi, a well-known figure in regional jihadist circles," the voice of America reported.
"Al-Sahrawi is a longtime veteran of the West African sub-region with deep networks in Mali," said Jacob Zenn, fellow of African and Eurasian Affairs for the Jamestown Foundation in Washington and a consultant on countering violent extremism.
Al-Sahrawi who was battle hardened within the ranks of the Polisario under the protection of its ally Algeria was a senior leader in groups of multiple ethnicities that engage in both terrorist attacks and criminal activity, Jacob Zenn said.
"Al-Sahrawi also used to be a leader in Al-Qaida in the Islamic Maghreb (AQIM), where he became associated with Mokhtar Belmokhtar, the one-eyed Algerian leader of the group," he said.
The Polisario member was in 2011 one of the extremists who came together to form the Movement for Oneness and Jihad in West Africa, MUJAO, one of the jihadist groups that seized control of northern Mali for several months in 2012.
In 2015, Al-Sahrawi issued a bay'a, or pledge of allegiance, to Abu Bakr al-Baghdadi, the overall leader of the Islamic State militant network.
According to Zenn, al-Sahrawi still has connections to many of the AQIM sub-groups in Mali because of his experiences. But his loyalty is to the Islamic State.
Al-Sahrawi involvement is but the three that hides the forest. Morocco has been warning of an ongoing connivance between Polisario and terrorist groups in the Sahel.
The disenchanted youth in the Polisairo-run camps are lured by the lucrative activities offered by terrorist networks that also engage in trafficking and criminal activities.
Full report at:
http://northafricapost.com/23603-polisario-member-leads-terrorist-group-responsible-killing-us-nigerian-soldiers-sahel.html
--------
El Ghriba offers rare example of religious tolerance for Muslims, Christians and Jews
13/05/2018
The island of Djerba is just off Tunisia's southern shore, 294km from Tripoli. Yet the peace that prevails in Djerba is as far from the mayhem of the Libyan capital as can be imagined. So is the very peaceful relationship maintained by the approximately 1,000 Jews who live there with their Muslim neighbours.
Even more unusual in a Middle East where wounded identities clash daily, often unleashing bloody mayhem, millions of refugees and failed states, the annual pilgrimage to El Ghriba involves the happy mingling of Jews and Muslims.
It was the case again this year, as citizens of Djerba came to share the celebration of the annual festival with their Jewish neighbours.
El Ghriba synagogue was, legend says, founded after the destruction of King Solomon's temple in 586BC. It is more likely, however, that it was founded after the second destruction of the temple in Jerusalem in 70AD. A Jewish necropolis in Gammarth, near Carthage, attests to the presence of Jews in Tunisia half a millennium before Christ in what was then the thriving capital of a Phoenician empire which spanned the western Mediterranean. The Talmud mentions several Carthaginian rabbis.
Persecution against the Jews and other Christian minorities followed the legalisation of Christianity by the Roman Empire by the edict of Milan in 313 and Byzantine rule in North Africa in the sixth century. During the 1,400 years of Muslim rule in Tunisia and more broadly in North Africa, relations between Jews and Muslims seesawed but never were Jews treated with the callousness shown to them by European Christians in the 13th century or during the 20th century.
Indeed, during the second world war, when the Germans occupied Tunisia, from November 1942-April 1943, many Tunisian Arab Muslims took an active part in saving Jews, by hiding them, as did Khaled Abdul-Wahab in his olive oil processing plant in Mahdia or dressed up as farmhands as other big landowners did.
Abdul-Wahab was the first Arab to be nominated to recognition at the Yad Vashem memorial in Jerusalem as one of the Righteous Among the Nations — non-Jewish individuals who helped Jews escape the murderous policy of the Nazis. Hundreds of others in Tunisia and neighbouring Algeria should be recognised for saving countless Jews from the clutches of the German Army or French Vichy officials.
Among this year's Jewish pilgrims, from France, Israel and many European countries, many were astonished to hear those stories from the second world war.
Senior Ashkenazi rabbis said they were surprised to hear about the behaviour of Djerba's inhabitants, mostly Muslims, towards their Jewish peers, notably during the months during which German troops occupied the country.
The synagogue built just more than a century ago, lies a few kilometres outside the major town of Houmt Souk in Hara Sghira. The nearby Jewish village of Hara Kebira, where most of the island's Jews live, boasts a school for Jewish girls and one for Jewish boys.
As for the synagogue, it stands on the site of a much older building. A synagogue has been there since the fourth or sixth century. One of the legends associated with its founding claims that either a stone or a door from King Solomon's temple or the second temple is incorporated in the building, linking the Jewish diaspora to "the sole sanctuary of Judaism," Jerusalem.
In modern times, local Tunisian Jews are distinguished by their dress. They are few compared to the 105,000 who lived in Tunisia before independence from France in 1956 but are a reminder of the days when religion was less instrumentalised by politicians, when people considered themselves Tunisian before being Jews, Muslims or Christians.
Among the 5,000 pilgrims to El Ghriba, many were Muslim inhabitants of Djerba who shared the festivities of their Jewish neighbours. Young Tunisian Jews walked arm in arm with their Muslim friends. Such scenes will do little to change relations between the Israelis and Palestinians or between Muslims and Jews more broadly but they offer a flicker of hope for the future.
Inside the synagogue, which offers a lavish exercise in blues, people mingled, talking in Hebrew, Arabic, French and English. Rabbis from London and Paris, some born in Djerba, exchanged news and views. In one corner, older men drank boukha, the traditional Jewish Tunisian alcohol distilled from figs to bless the pilgrims. Boukha traditionally accompanies kemia, the local equivalent of what is known today as "tapas."
In a building across the narrow street, a large crowd sang old Tunisian songs accompanied by an orchestra and traditional Tunisian dishes could be bought. By any standards of the Mediterranean of 2018, this was an extraordinary scene.
Set against the country's history it was not. During the second world war, the Tunisian ruler Moncef Bey did all he could to shelter Tunisian Jews from the laws of Vichy France and the Germans while the nationalist leader, who became Tunisia's first president after independence, Habib Bourguiba, would have no truck with Marshal Petain or Benito Mussolini.
Bourguiba gave women equal rights in 1956, decades before women won theirs in Italy or Spain. One of his successors, President Beji Caid Essebsi, recently put forward proposals to reform the country's inheritance laws, which according to traditional Islamic jurisprudence give men twice the share of women.
"Inheritance is a matter for mankind that God left to the diligence of man," Caid Essebsi said, adding that updating religion-based laws would not mean abandoning religion as "democracy goes hand in hand with respect for Islam."
Full report at:
https://thearabweekly.com/el-ghriba-offers-rare-example-religious-tolerance-muslims-christians-and-jews
--------
Europe
Hundreds of people rally against Israel in London
May 12, 2018
Hundreds of people have gathered in front of Israel's embassy in London to protest 70 years of the occupation of Palestinian territories by the Israeli regime, calling on the government of Prime Minister Theresa May to stand up for the Palestinians.
Protesters, wearing masks of May and US President Donald Trump, were chanting "Stand up for Gaza" and "Stop the Killing," in front of Israel's embassy on Friday.
Holding Palestinian flags and banners, they were also chanting "Free Palestine," "Freedom Now," and "End Occupation."
Lindsey German, an activist from Stop the War campaign told reporters that "all of us here in Britain have a duty to stand up for the Palestinians, particularly in light of the role of our government."
Hugh Lanning, chair of the Palestine Solidarity Campaign, said the government of May needs to "stop making platitudes and to start taking sanctions against the Israeli government."
Protesters were met by a small group of people carrying Israeli flags near the embassy in South Kensington High Street.
The rally was held ahead of the 70th anniversary of the Nakba Day (Day of the Catastrophe), which is officially marked every year on May 15, one day after the Israeli regime came into existence in 1948 and caused the displacement of some 750,000 Palestinians.
More than 7 million Palestinian refugees are currently living in exile, the countries; Jordan, Lebanon, Syria with many others being settled in refugee camps in the occupied West Bank and Gaza Strip.
http://www.presstv.com/Detail/2018/05/12/561479/LondonrallyNakba-DayIsraelpalestine
--------
One killed in Paris 'Islamic State' knife attack
May 13, 2018
A knifeman has killed one person and wounded four in a suspected terror attack in central Paris, French officials say.
The attacker was then shot dead by police in the Opéra district. Witnesses say they heard him shout "Allah Akbar".
So-called Islamic State (IS) later said one of its "soldiers" had carried out the attack on Saturday evening.
Judicial sources told French media that the attacker was a man born in 1997 in Chechnya.
The sources said his parents had been held for questioning.
Interior Minister Gérard Collomb said the victim of the attack was a 29-year-old man, but gave no further details.
French President Emmanuel Macron tweeted (in French): "France has once again paid in blood, but will not give an inch to the enemies of freedom."
How did the events unfold?
The attacker began stabbing passers-by at about 21:00 local time (19:00 GMT) on the rue Monsigny.
Eyewitnesses described him as a young man with brown hair and a beard, dressed in black tracksuit trousers.
The man tried to enter several bars and restaurants but was blocked by people inside. Police arrived at the scene within minutes.
They first tried to stop the assailant with a stun-gun before shooting him dead.
An eyewitness, named as Gloria, told AFP news agency: "We didn't know what was going on, we were quickly moved inside the bar, I went outside and I saw a man lying on the floor."
Jonathan, a waiter at a local restaurant, told AFP: "I saw him with a knife in his hand. He looked crazy."
He said a woman the attacker had stabbed ran into into the restaurant bleeding. The assailant tried to follow her inside, but was fended off and finally fled.
Two of the wounded in the attack are in a serious condition but do not have life-threatening injuries.
Later in the evening the IS group said it was behind the attack, in a brief statement posted on its news outlet.
How did French authorities react?
The anti-terrorism unit of the Paris prosecutor's office has launched an investigation.
Prime Minister Edouard Philippe said police were on the scene five minutes after an emergency call and the attacker was killed "less than nine minutes later".
Mr Collomb praised police for their "cool response". He said his first thoughts were "with the victims of this heinous act".
"I want to tell them that all Parisians are on their side," she added.
How has France been countering security threats?
France has been on high alert following a series of attacks. More than 230 people have been killed by IS-inspired jihadists in the past three years.
The deadliest violence occurred on 13 November 2015, when gunmen and suicide bombers struck various venues in Paris almost simultaneously - killing a total 130 people.
After winning last year's elections, President Macron pledged that fighting Islamist terrorism would be his top foreign policy priority.
Full report at:
http://www.bbc.com/news/world-europe-44096595
--------
Swedish National Football Team Player Embraces Islam
May 12, 2018
Years of thorough research about Islam have proved fruitful for 19-year-old keeper Anderson, who came to accept prophet Muhammed peace be upon him as Allah's messenger and announce her religious conversion to the public.
In an interview with National Swedish newspaper Expressen, Andersson expressed devotion to her new faith, saying that she is proud to be a Muslim despite the hate she received from certain people: "They are full of prejudice against me… I was also exposed to hatred," she said.
Anderson said that her friend introduced her to Islam when she was 15 years old. Ever since, she started to learn more about the religion, which helped her see it with new eyes: "I discovered that there were so many nice things that attracted me. I then began to attend religious events, and went to the mosque," she added.
Anderson maintained that after her conversion to Islam she realized how "beautiful" a religion it is, and that she is now preparing to do her first Ramadan fast.
According to Muslim Council of Sweden, around 350,000 citizens are registered Muslims, including nominal Muslims and those from Muslim background. Meanwhile, a 2009 US report revealed that around 450,000 to 500,000 Muslims live in Sweden.
According to a Pew Research Center survey released in 2015, there are 1.8 billion Muslims in the world, making up 24 percent of world population.
Full report at:
https://www.moroccoworldnews.com/2018/05/246255/swedish-football-player-embraces-islam/
--------
Terror probe launched after deadly Paris knife attack
MAY 13, 2018
A knifeman shouting "Allahu akbar" was shot dead by police in central Paris late Saturday after he killed one person and injured four others, sparking a terror probe and panic on the streets of France's capital.
The attack took place near the city's main opera house in an area full of bars, restaurants and theatres which were brimming on a weekend night.
Witnesses described scenes of panic as Parisians realised another potential terror attack was underway in a country already reeling from a string of jihadist assaults in the last three years that have killed more than 245 people.
"I was taking orders and I saw a young woman trying to get into the restaurant in panic," Jonathan, a waiter at a Korean restaurant, told AFP. The woman was bleeding and the attacker appeared behind her. He said a young man tried to fend off the assailant who then fled.
"The attacker entered a shopping street, I saw him with a knife in his hand," he said. "He looked crazy".
Milan, 19, said he saw "several people in distress" including a woman with wounds to her neck and leg.
"Firemen were giving her first aid. I heard two, three shots and a policeman told me that the man had been overpowered."
In a tweet French President Emmanuel Macron said: "France once again pays the price of blood."
Prosecutors cited witnesses as saying the man shouted "Allahu akbar" (God is greatest) as he went on the rampage, and added that a terror investigation had been launched.
– Wounded out of danger –
The Islamic State group claimed responsibility, according to the SITE monitoring group, but provided no corroborating proof to back the claim.
"The executor of the stabbing operation in the city of Paris is a soldier of the Islamic State and the operation was carried out in response to the calls to target the coalition states," a "security source" told IS's official Amaq news agency, according to SITE.
Two of those wounded were rushed to hospital in a serious condition but Interior Minister Gerard Collomb later told reporters all the victims were out of danger and would survive their injuries.
"I have just seen the person who was most seriously injured, she is better, she is saved," he said.
French Prime Minister Edouard Philippe said police were on the scene "within five minutes" of the attack and that some nine minutes later the assailant was dead, he added.
"The speed of the response obviously avoided a heavier toll," he said.
A police source told AFP one officer tried to restrain the attacker with a taser but when that failed a colleague shot the man dead.
– Scenes of panic –
The attack took place on Rue Monsigny in the second arrondissement, an area that lies between the main opera house and the Louvre museum, two major tourist attractions. A large area was cordoned off where police, fire and rescue vehicles converged.
Shocked tourists and residents looked on from behind the security perimeter.
"I was on the cafe terrace, I heard three, four shots, it happened very fast," said 47-year-old Gloria.
"The bartenders told us to come inside very quickly. Then I went out to see what was going on, and then I saw a man on the ground," she added.
One witness, who gave her first name Maxine, said panic spread as word got out that an attack was taking place.
"We saw someone coming out of a building who said he saw the assailant slaughter someone, so people took refuge in the bar," she said.
France has suffered a series of major Islamist attacks including the massacre at the satirical newspaper Charlie Hebdo, the November 2015 attacks that killed 130 in Paris, and the 2016 Bastille Day truck attack in Nice that killed more than 80.
There have also been a string of less deadly but frequent attacks by lone wolf jihadists wielding knives or guns. Most of the attacks have either been claimed by the Islamic State group or been carried out in their name.
A state of emergency put in place just after the 2015 Paris attacks was lifted in October when Macron's centrist government passed a new law boosting the powers of security forces.
French far-right leader Marine Le Pen called for greater security measures after Saturday's attack.
Full report at:
https://dailytimes.com.pk/239495/terror-probe-launched-after-deadly-paris-knife-attack/
--------
URL: https://www.newageislam.com/islamic-world-news/unfriend-india-america-hafiz-saeed/d/115228
New Age Islam, Islam Online, Islamic Website, African Muslim News, Arab World News, South Asia News, Indian Muslim News, World Muslim News, Women in Islam, Islamic Feminism, Arab Women, Women In Arab, Islamophobia in America, Muslim Women in West, Islam Women and Feminism