New Age Islam News Bureau
11 Nov 2018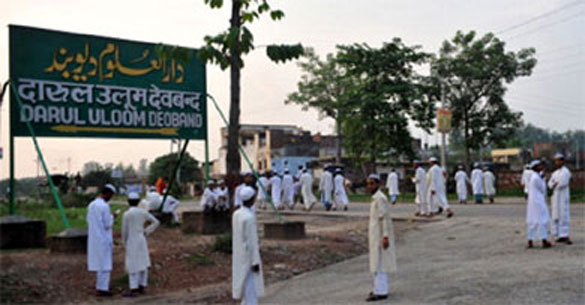 • Uncles Carrying Brides to Doli Can Lead to Lust': Darul Uloom's Latest Fatwa
• Allah's Law Flawless, Witnesses and Adjudicators Can Err: Mufti Rafi Usmani
• 'New Malaysia' But Same Old Mentality Against Shias, Other Muslims, Says Activist
• Peace, Sanctions Can't Go Side By Side, Taliban Tell Moscow Moot
• Turkey Gave Khashoggi Tapes to European Nations: Erdogan
India
• Uncles Carrying Brides to Doli Can Lead to Lust': Darul Uloom's Latest Fatwa
• Pakistan Must Do Some Soul Searching on India's Legitimate Concerns: Omar Abdullah
• Indian officials attend Afghan peace meeting in Russia
• Bihar: 82 YO Muslim Man Burned Alive During Dussehra, yet No FIR Filed
• Two Hizbul militants killed in Kashmir encounter
• Pakistan-China bonhomie reaffirms India's rise
• NIA set to probe 3 Kashmiri students for alleged terror links
--------
Pakistan
• Allah's Law Flawless, Witnesses and Adjudicators Can Err: Mufti Rafi Usmani
• Aasia Bibi Case: JuD Says It Believes In Legal Recourse
• TLP: Pakistan's Hardline Islamist Party Calling The Shots
• Punjab suffered Rs260m loss during three-day TLP protests
• 80pc of Pakistan's poor live in rural areas, says World Bank report
• Poverty reduction initiative within days: Imran
• US gives $1m for older refugees, their hosts in Balochistan, KP
• Qureshi denies US offered to free Aafia for Raymond, Afridi's release
• Samiul Haq murder case: Three suspects arrested
--------
Southeast Asia
• 'New Malaysia' But Same Old Mentality Against Shias, Other Muslims, Says Activist
• Ideologies Contrary To True Islamic Teachings Should Be Curbed, Sabah CM Says
• The silver lining from Malaysia's UPR
• Identity politics still an obsession, says researcher
• Students irate over broken PTPTN pledge, insist Pakatan deliver
--------
South Asia
• Peace, Sanctions Can't Go Side By Side, Taliban Tell Moscow Moot
• Myanmar Denies Border Shooting As Rohingya Repatriation Date Nears
• EC: Jamaat-affiliated persons can go to polls as independents
• National mobilization needed to pass through ongoing war: Ghani
• Germany hands over 1000 body armor vests to Kabul police
• Bangladesh general election on December 23 despite Zia's arrest
• Facebook's Link To The Rohingya Muslims
--------
Mideast
• Turkey Gave Khashoggi Tapes to European Nations: Erdogan
• Yemeni Minister of Information Defects from Houthi Coup Government
• Yemeni army takes Hodeidah's main hospital from Houthis
• 'I'm choking' were last heard from Khashoggi: Daily Sabah editor
• Another Palestinian dies of Israel-inflicted wounds in West Bank
• 15 PKK militants 'neutralized' in northern Iraq: Turkey
• Hundreds killed in clashes in Yemen's Hodeida in last 10 days
--------
North America
• US Accuses China Of Repressing Religious Groups Like Christians, Tibetans And Uighur Muslims
• Trump To Macron: Saudi Arabia Cornerstone Of Stability In Region
• Muslim Community Denied Right to Use House in Crawley as Place of Worship
• US to continue backing Saudi-led war in Yemen: Analyst
• Saudi scholar urges US to review ties with Saudi Arabia
--------
Africa
• Somali-Born Melbourne Knife Attacker Was Inspired By ISIS, Police Say
• Daesh Could Be Recruiting In South Africa: Experts
• Nigeria: residents flee homes after Boko Haram raid
• US airstrikes fail to weaken al-Shabaab's grip on Somalia
• Red Cross plans security talks after attack by suspected Al-Shabaab
• Death toll rises to 50 from terrorist attacks in Somalia
--------
Arab World
• Bahrain Jails More Activists Ahead Of Elections This Month
• Hezbollah To Retaliate Against Israeli Aggression On Lebanon: Nasrallah
• Jihadists kill 8 Syria troops near truce zone
• Turkey-Backed Militants Sustain Casualties in Clashes with Kurds in Northern Syria
• Terrorists Preparing for Main Battle against Syrian Army in Demilitarized Zone
• Syria protests to UN over coalition air strike in east
• Lebanon's President vows to find solution over government impasse
• Syria demands international mechanism to investigate US-led coalition's crimes
• Top Houthi 'minister' flees Yemen, seeks refuge in Saudi Arabia
• Freed Daesh captive says son died in her lap from militant gunfire
--------
Europe
• Bourke Street Attack: Scott Morrison Slammed For Islam Remarks
• Albania bans 52 Greeks after 'extremism' at funeral
• Turkish President meets world leaders in Paris
Compiled by New Age Islam News Bureau
URL: https://www.newageislam.com/islamic-world-news/uncles-carrying-brides-doli-lead/d/116847
--------
Uncles Carrying Brides to Doli Can Lead to Lust': Darul Uloom's Latest Fatwa
November 11, 2018
New Delhi: The tradition of carrying a bride to her doli (palanquin) by the male members of her maternal family can lead to 'birth of lust', world-renowned Islamic seminary Darul Uloom Deoband has ruled.
According to a report in Times of India, the seminary's fatwa department has taken a strong exception to the ceremony in which the maternal uncle lifts and carries newlywed niece to the 'doli'.
"Relations between a woman and her maternal uncle are very sacred. A man cannot lift his fully grown niece, it is certainly not acceptable in the eyes of Muslim law. There is always a danger of destruction of such relationship if this activity leads to the birth of lust in either of the two," a bench of high-ranking clerics said while branding it as an "un-Islamic practice".
It recommended, "It is always better that the young woman walks towards 'doli' or her mother escorts her."
The report stated that the fatwa (edict) was issued in a reply to a Muzaffarnagar-based man. The bench further said that the practice of 'lal khat' prevalent in Muslim weddings was a foreign concept borrowed from "non-Islamic belief".
'Lal khat' is a decorated invitation card that a woman's family sends to the groom's side, inviting them for 'nikah' at a pre-decided venue. The bench was quoted as saying: "Instead, it should be a normal letter or postcard or intimation by phone call. This activity must be abandoned completely."
Besides, the department also said that jewellery which has images embossed on them is un-Islamic."If the jewellery a bride is wearing does not have any image embossed on it, it is acceptable," the seminary said. Clerics have welcomed the fatwa and appealed to all Muslims to follow it religiously.
Known for its controversial edicts, Darul Uloom had earlier this week issued a fatwa against Muslim women for applying nail polish and cutting nails. They had also issued an order against shaving and waxing, and even reportedly asked individuals to not do jobs in banks as it was un-Islamic.
https://www.news18.com/news/india/uncles-carrying-brides-to-doli-can-give-birth-to-lust-darul-uloom-reasons-out-in-latest-fatwa-1935487.html
--------
Allah's Law Flawless, Witnesses and Adjudicators Can Err: Mufti Rafi Usmani
November 11, 2018
KARACHI: Religious scholar Mufti Rafi Usmani has said Aasia Bibi's departure from Pakistan before the Supreme Court verdict on the review petition will result in a mayhem across the country.
In an open letter to the nation on Saturday, the scholar cautioned the people of Pakistan against becoming emotional to the extent that they resort to unlawful actions.
Referring to the immense love and respect for the Holy Prophet (PBUH) in the hearts of the people, the scholar said Islamic faith is not complete without love for the Holy Prophet (PBUH). It says Pakistan is passing through a turbulent time when various crises are rising one after another, and the current issue of blasphemy has created a wave of extreme anger among the faithful because they cannot compromise over love for Prophet Muhammad (Peace Be Upon Him).
The love for Prophet Muhammad (Peace Be Upon Him) is the corner stone of the faith and every Muslim would sacrifice everything for that.
According to Mufti Usmani, the Supreme Court has thoroughly examined the evidence before acquitting Asia Bibi. The apex court based its judgment on the available evidence and also cited various religious references in the judgment, he said, adding the SC judgment has raised some issues that are worthy of consideration by the Ulema and experts of Islamic Jurisprudence. A thief's hands cannot be cut off without going through all the several strict conditions and restrictions attached to the law in Islam.
There is a critical decree in the Islamic Jurisprudence to save the person from the ultimate punishment or "Hadd" where the circumstances allow that concession. Dilating further, he said a mere suspicion of theft does not qualify for the extreme punishment of cutting the hands. He said the value of the stolen property and the place it is stolen from and most critically a clear, unambiguous and non contradictory evidence by two people is pivotal to reach a judgment. He said the Sharia Law consider the case and its circumstances of the crime very minutely and allows benefit of doubt to the criminal where possible. While quoting principles of Islamic Jurisprudence and citing various conditions and circumstance of the law for theft, the letter says every thief cannot be awarded the extreme punishment.
Mufti Taqi Usmani said during Gen Zia's tenure, when the Hadd Law was being drafted it was suggested to adopt extreme care so mockery is not made out of the Islamic Laws. The Shariat or the Islamic Jurisprudence upholds the principle of benefit of doubt that goes to the accused. The Supreme Court, Mufti Usmani says has very elaborately discussed the strength of evidence and the contradictions of the witnesses both in the light of the Islamic Laws and those of the country. They have also concluded that there is a reason to give benefit of doubt to the accused based on the quality of evidence. He maintained that Allah's law was flawless. But, he added, adjudicators and witnesses are fallible, and any error by witnesses can create doubts about the evidence of crime. Therefore, according to Islamic jurisprudence, benefit of doubt would go the accused, causing release or reduction in punishment.
Mufti Usmani said he does not doubt the love the honourable judges have for the Holy Prophet (PBUH). They have expressed their love for the Prophet (PBUH) by expressing their readiness to sacrifice their lives for his honour, he added.
Mufti Usmani said the Shariat forbids against any extreme act to enforce the Islamic Jurisprudence besides it also warns against miscarriage of justice. Considering judges' fallibility, it is reasonable that the Supreme Court's larger bench considers the review petition minutely. The verdict of the bench considering the review petition would be final and has to be accepted wholeheartedly in accordance with Shariah.
https://www.thenews.com.pk/print/392528-mufti-rafi-usmani-s-open-letter-allah-s-law-flawless-witnesses-and-adjudicators-can-err
--------
'New Malaysia' But Same Old Mentality Against Shias, Other Muslims, Says Activist
November 11, 2018
PETALING JAYA: Vocal Muslim activist Dr Ahmad Farouk Musa says Muslim bureaucrats in post-Barisan Nasional Malaysia have still not changed their ways, as they continue to demonise and clamp down on religious minorities, especially those from the Shia school of thought which is labelled "deviant" by local Islamic authorities.
Farouk, whose outfit Islamic Renaissance Front (IRF) have frequently spoken out against Islamic enforcement agencies, said while the Pakatan Harapan government did well in terms of weeding out corruption and reviving the economy, Islamic administration still suffered from the same weaknesses.
He said Shia Muslims, for example, continue to be demonised through the weekly Friday sermons as well as raids on their gatherings.
He said it has come to the stage that Muslims, who do not subscribe to the official interpretation, have it worse when compared to non-Muslims.
"If you say that Christians are restricted from erecting crosses on their buildings or that their right to express their faith in open spaces are curbed, then the Shias and Ahmadi Muslims have it much worse," he told FMT on the sidelines of a forum on religious extremism and minorities yesterday.
Farouk said the government has yet to be firm in dealing with the demonisation of Shia Muslims, adding that they have the same constitutional rights to practise their faith.
"Under the constitution, every person has the right to profess and practise his religion. So it's wrong and unconstitutional to restrict Shia Muslims from practising their faith," he said.
"We live in the 21st century. If we think our faith is the most correct faith, why are we so afraid to let other people practise their beliefs?" he asked.
He urged PH not to go down the previous administration's path of "double-speak" in religious matters.
He said such was the case when the Najib Razak administration was promoting moderation on the international stage but at the same time bankrolling right-wing religious groups.
"This government must not fall into the same habit," said Farouk.
Farouk said the current state of affairs is the result of a gradual perversion of the constitution, despite its "secular, plural and democratic" foundations.
He said the "new Malaysia" should now move away from a "right-wing and supremacist" narrative to one that is based on universal human rights.
Farouk said he still does not think such a new narrative could come from politicians.
"It is we the people who must fight for this. We cannot rely on politicians who care more for their own self-interests."
https://www.freemalaysiatoday.com/category/nation/2018/11/11/new-malaysia-but-same-old-mentality-against-shias-other-muslims-says-activist/
--------
Peace, sanctions can't go side by side, Taliban tell Moscow moot
Tahir Khan
NOVEMBER 11, 2018
Afghan Taliban have called for some preliminary steps before the beginning of the peace talks, which they describe as essential for peace and parts of confidence building measures.
Head of the Taliban political office in Qatar, Sher Abbas Stanekzai, read out a long statement in the multi-nation conference in Moscow on Friday that listed CBMs including removal of sanctions list, release of detainees, formally opening of the office and stopping of what they called "poisonous propaganda," against the insurgents.
"Peace negotiations and sanctions list are two contradictory concepts and can't go side by side. It is therefore required that these baseless sanctions and reward lists, that are used as a pressure tool for their interests, should be finished so that representatives of the Islamic Emirate are able to participate in peace talks in different places without any hurdle," the Taliban leader told the Moscow-format consultations.
Most of the Taliban leaders are still on the UN Security Council's sanctions list, which also include the five senior Taliban leaders who were freed from the Guantanamo Bay detention centre in 2014 and are now part of the political office in Qatar. But they cannot travel out of Qatar because of the international travel ban. Stanekzai called for formally opening of their office in Qatar that was closed in 2013 days after its opening over criticism by then Afghan president Hamid Karzai.
Karzai was the first to raise objections at the Taliban office on the plea that the insurgents hoisted white flag on the office and used the plaque of the Islamic Emirate. Taliban used the flag and the Islamic Emirate during their 1996-2001 rule. The former president had also concerns the US may corner him by direct contact with the Taliban office.
"Venue for negotiations and a communication site in the shape of an office is necessary for peace. At present, the Islamic Emirate of Afghanistan has no open and formal address as a venue for negotiations which is a preliminary requirement," the Taliban chief negotiators informed officials from 11 countries including Kabul's ambassador to Russia Abdul Qayyum Kochai and members of the government-nominated members of the High Peace Council.
Stanekzai argued that regular peace meetings could only be held in a state of availability of an office, adding the office is also required to issue peace related press releases, respond to questions of people as a responsible entity and remove national and international concerns.
Sources earlier told Daily Times that Taliban have also raised the issue of the office with the top American peace envoy Zalmay Khlilzad, who met the Taliban political envoys in Qatar in the first week of October to explore ways for political solution to the conflict.
Khalilzad has embarked on four nation visit as part of his initiative which will take him to Afghanistan, Pakistan, UAE and Qatar. He is most likely to hold another meeting with the Taliban political representatives, who are now joined by five senior leaders in a major step to move towards formal negotiations. The Taliban leader also called for the release of their detainees as the arrest and detention of the Taliban are "actions that are against peace".
"America and its protectorate regime have detained tens of thousands of Afghans and Mujahidin in their secret and open prisons and are ill treating them against all the laws," he said and called for the release of all the Taliban prisoners. The Taliban leaders; however, did not refer to the Afghan security men and several foreigners, who are in the Taliban custody. He also called for an agreement on the establishment of an Afghan inclusive independent Islamic System that is acceptable to Afghans and reflects Islamic and Afghan values. The Taliban leader insisted on the appointment of guarantees for the peace process as without this, the provisions of the peace agreements could not be properly implemented.
"Therefore, the United Nations, major powers, members of the Islamic Conference and facilitating countries must guarantee implementations of the agreements," he said.
The Taliban official also called for a new constitution as he claimed the current constitution of "Kabul Administration is not reliable, because it has been copied from the West and has been imposed on Afghanistan's Muslim society under the shadow of occupation."
https://dailytimes.com.pk/320805/peace-sanctions-cant-go-side-by-side-taliban-tell-moscow-moot/
--------
Turkey gave Khashoggi tapes to European nations: Erdogan
NOVEMBER 11, 2018
Turkey has shared recordings linked to the murder last month of journalist Jamal Khashoggi with Riyadh, Washington and other capitals, President Recep Tayyip Erdogan said Saturday.
"We gave them the recordings, we gave them to Saudi Arabia, we gave them to Washington, to the Germans, to the French, to the British," he said in a televised speech.
"They listened to the conversations which took place here, they know," he said, but added that they were not accompanied by any written documents.
Erdogan gave no details of the tapes' specific content in his televised address.
Khashoggi was last seen entering the consulate on October 2 to obtain documents for his forthcoming marriage.
After repeated denials, Saudi Arabia finally admitted the 59-year-old had been murdered at the mission in a "rogue" operation.
Turkish pro-government daily Sabah earlier Saturday reported Khashoggi's killers poured the remains of the insider-turned-critic of Riyadh down the drain after dissolving him in acid.
Samples taken from the consulate drains showed traces of acid, Sabah said without quoting sources for its story.
Erdogan, who was heading to France to attend commemorations marking the 100th anniversary of the end of World War I, has accused the "highest levels" of the Saudi government of ordering the hit.
Some officials have pointed the finger at the all-powerful Crown Prince Mohammed bin Salman and some analysts say Ankara is keen to have the heir sidelined from the nexus of power in Riyadh.
Erdogan has not accused the prince but has said he does "not believe for a second" that King Salman ordered the crime.
Some Turkish media and officials had said for weeks that Ankara possessed an audio recording of the murder and had shared it with CIA head Gina Haspel when she visited Turkey late last month.
But the existence of such a recording had not been officially confirmed.
Dissolved in acid
Khashoggi's body has not been found, more than a month after the Washington Post columnist was killed.
Yasin Aktay, an advisor to Erdogan, suggested last week that the body may have been dissolved.
The Istanbul prosecutor found on October 31 that Khashoggi had been killed and dismembered.
Erdogan has demanded greater cooperation from Riyadh in investigating the affair amid distrust between the two nations after the Saudis' initial denials that Khashoggi was dead.
The Turkish leader insisted Saturday that the 15-member Saudi delegation sent to the consulate "know very well the murderer or murderers."
"The Saudi authorities should succeed in revealing that by making them speak," Erdogan added.
Ankara has been demanding, to date without success, the extradition of those involved in the killing.
Before heading to France, Erdogan said he had prior to his news conference spoken by telephone to US President Donald Trump and would meet with the US leader in Paris "if we find the opportunity."
Trump and Erdogan have previously spoken by phone on the case of Khashoggi, who went into US exile last year after openly criticising Prince Mohammed's growing crackdown on dissent.
With Riyadh a key regional ally, Washington has to date given the Saudi heir the benefit of the doubt on the affair while demanding answers.
https://dailytimes.com.pk/320695/turkey-gave-khashoggi-tapes-to-european-nations-erdogan/
--------
India
Pakistan must do some soul searching on India's legitimate concerns: Omar Abdullah
November 11, 2018
Prime Minister Imran Khan-led Pakistan government must to do some soul searching on India's legitimate concerns to make way for a process of engagement on Kashmir, National Conference leader Omar Abdullah has said.
The senior Kashmiri politician said that while a one-off summit-based approach is not the answer, any hopes of a proper dialogue on the issue, "insulated from forces that are inimical to a dialogue on both sides of the border", would have to wait to be realised at the end of India's general election cycle in May 2019.
"While we are going through our election process, I think Pakistan needs to do a bit of soul searching in terms of addressing legitimate concerns that India has," he said.
The former Jammu and Kashmir chief minister, who was in London to participate in an event organised by the International Institute for Strategic Studies (IISS) around changing the narratives within the India-Pakistan bilateral context, said the Pakistan government's decisions such as letting Lashkar-e-Taiba founder Hafiz Saeed "roam free" had proved a setback to the much-needed confidence building measures.
"The recent decision of the Imran Khan government to release 20 stamps on Kashmir does not help, when instead of confidence building measures we have steps that break confidence,"Abdullah said on the sidelines of the event in London on Friday.
The release of some 20 postal stamps, glorifying Kashmiri militant Burhan Wani and others, by Pakistan was one of the reasons India cited to call of a proposed meeting between External Affairs Minister Sushma Swaraj and her Pakistani counterpart Shah Mehmood Qureshi in New York in September.
"Pakistan is our neighbour; whatever concerns we have with Pakistan, we have accepted that war is not an option. So, the only option available to us is talks. We need to resolve our differences through dialogue. But for that, at some stage, Pakistan will also have to take India's concerns on board," he said.
Abdullah also lamented the "vast gap" between the Government of India and its representative in Jammu and Kashmir – Governor Satya Pal Malik, and the youth of J&K, which needs to be narrowed urgently.
He said: "The youth of Jammu and Kashmir are perhaps more alienated today than they have been since the early 1990s; when educated youngsters and people with secure jobs are joining the ranks of militancy. And that's a very worrying sign.
"At the moment, it is about hoping that some smaller corrective measures can be taken now to reduce the levels of alienation, with a higher degree of engagement once we are through with this election cycle."
AS Dulat, former Intelligence Bureau (IB) Special Director and former Research and Analysis Wing (RAW) chief who was among the participants at the IISS event, also expressed hope that dialogue would be re-initiated between India and Pakistan soon.
"We should talk and never stop talking. I remain optimistic on a solution in Kashmir," said Dulat, who pointed to former Pakistan President Pervez Musharraf's four-point formula dating back to 2006 as a "good starting point".
"If that agreement had been worked out between (Gen Pervez) Musharraf and Dr Manmohan Singh, my assessment is that we would have had at least 15 years of peace in Kashmir," he said.
Congress party spokesperson Manish Tewari explained that the aim of the London event was to explore the building blocks of a narrative which can correct perceptions that India and Pakistan have about each other.
"There is a feeling that confidence building measures and the creation of a positive narrative have to precede conflict resolution. It is a step by step process and every incremental step would then add up to a whole," he said.
Other speakers at the event, including Pakistan-based 'The News' daily Editor Aamir Ghauri, proposed exchange programmes for Indian and Pakistani journalists and a freer flow of people on both sides of the border to foster greater understanding.
https://indianexpress.com/article/india/pakistan-must-do-some-soul-searching-on-india-legitimate-concerns-omar-abdullah-5441116/
--------
Indian officials attend Afghan peace meeting in Russia
Nov 10, 2018
The Taliban listed four conditions for beginning peace talks at a meeting hosted by the Russian government even as the opposition criticised India's perceived shift from a policy of not engaging directly with the Afghan insurgent group.
India participated in the second meeting under the "Moscow format" on Friday at a "non-official level" – its representatives were retired ambassadors TCA Raghavan and Amar Sinha – and the Taliban sent a five-member delegation, led by Muhammad Abbas Stanikzai, from its "political office" in Qatar.
According to a transcript of the speech delivered by the Taliban delegation, the group raised four conditions to begin peace talks – removal from sanctions, release of all detained Taliban cadres, formal opening of an office and the stopping of what it described as "poisonous propaganda" against the group, including allegations of its involvement in attacks on students and civilians.
The panel said the group does "not allow anyone to use the soil of Afghanistan against other countries", including neighbours. It contended that "establishing an Islamic system in conformity with the faith of its people can't be considered terrorism".
India and Afghanistan, working in close coordination, decided to participate in Friday's meeting at a "non-official" level. The external affairs ministry said its participation was "consistent" with its policy of backing Afghan-led and Afghan-owned process for peace. "Where did we say there will be talks with the Taliban?...We just said we will be participating in a meeting on Afghanistan, hosted by Russia," said external affairs ministry spokesperson Raveesh Kumar.
Full report at:
https://www.hindustantimes.com/india-news/indian-officials-attend-afghan-peace-meeting-in-russia/story-OpOARDeXGisiEcvk4ehO7N.html
--------
Bihar: 82 YO Muslim man burned alive during Dussehra, yet no FIR filed
Nov 10, 2018
Sitamarhi: Bloodthirsty people filled with hatred and fury sees no age or even humanity before they subject innocent lives to brutal treatment.
Little did this 82-year-old Muslim in Bihar's Sitamarhi region knew he would fall prey to such a brutal horrendous crime on his way back home after visiting his sister.
This innocent man identified as Zainul Ansari was punished for simply being at the wrong place at the wrong time and so far no action was taken or an FIR has been filed yet even after his burnt body with arms and legs charred was found just hours later on October 20.
Ansari's family said he was caught by a frenzied mob and was subjected to the brutal killing, Indian Express reports.
According to reports, some stone pelters damaged a Durga idol which was being taken for immersion and Ansari happened to be returning to his home 7 km away after visiting his sister but did not pay attention to warnings from locals who said there was a mob out there.
"No one will harm an old man," Ansari told the people warning him.
But when his burnt body was found the officers in the region quickly took action to prevent further violence in Sitamarhi, which is 170 km away from Patna.
Internet was shut down in the region and Ansari's body was sent to SKM College and Hospital in Muzaffarpur.
And then days after video clips and pictures of a body set aflame on a road went viral on social media- the questions remained unanswered.
The post-mortem report stated "shock due to antemortem burn injury," but the Police has not yet made any arrests.
Sitamarhi Superintendent of Police Vikas Barman said: "Zainul Ansari could have been attacked when he was returning. a sudden sporadic momentary emotional outburst. He was beaten up and died. We will look into how his body was charred. Though we have not lodged a separate case in Zainul's death, we have filed a case of serious rioting in which murder section is also added for recovery of a body against unknown accused."
The Sitamarhi police said they have filed over six FIRs for Dussehra violence and also arrested 38 people but none specifically for Ansari murder.
"We have not yet identified anyone, nor have we found involvement of any kind of group," said the officer.
Ansari's youngest son Mohammed Ashraf who reached Sitamarhi after reports and the clips reached him said: "Though most parts of the body being shown in the footage looked charred, I could still identify my father through his half-burnt face."
"I accompanied my elder brother to SP and DM (district magistrate) to show video footages and confirmed that it was their father's body. The police denied credentials of the footages. By that time, we had lodged a missing complaint report at Riga police station under which my village comes," said Ashraf who is also a tailor like his elder brother Mohammed Akhlaq Ansari, both earning a living as tailors in Surat.
Elder Akhlaq said there was no way to confirm the death of his father as the Internet was suspended.
Elder brother Akhlaq when asked said: "My aunt Shaleema Khatoon, whom my father had visited at Rajopatti, also confirmed that my father had left home at around 12 noon on October 20, which coincided with the timing of violence. We met the town police station officers but got no confirmation. It was only on October 23 we learnt that the post-mortem was being conducted at Sadar Hospital of Sitamarhi. But we soon learnt that the body was sent to SKM College and Hospital, Muzaffarpur, some 70 km away from this town."
"The district administration arranged two buses for us to reach Muzaffarpur but with clear instruction to conduct the burial at Muzaffarpur. They feared a communal backlash, and we agreed to their order," said the younger son.
He added: "The police are now telling us they have been studying video footages to identify the accused. They had been dismissive of similar footages earlier. But we want them to arrested immediately. We have not named anyone but they have to be punished."
The two sons said the post mortem report mentioned the aged of "unidentified body as 35". "I have asked for a correction. They have promised to correct it."
The post-mortem report from Sadar Hospital confirmed burn injuries: "…internal injuries and charred burn were found. Antemortem charred burn and deep burn were present all over the body. Lower jaw was completely charred and part of bone that is skull were absent. Both lower limbs were completely charred and bone below knee joint were exposed. Both arms were completely burnt…. The deceased died due to shock of antemortem burn injury. The injuries were caused due to flame of fire".
SP Barman said: "Since we found an unidentified body, the age and identity of the victim are not mentioned in the post-mortem report. But we will request the doctors who conducted the post-mortem to give their opinion on the age of the body. We have also sent the victim's body sample for DNA report. Once the report comes, the identity of the victim would be mentioned."
Full report at:
https://www.siasat.com/news/bihar-82-yo-muslim-man-burned-alive-during-dussehra-yet-no-fir-filed-1430590/
--------
Two Hizbul militants killed in Kashmir encounter
by Adil Akhzer
November 11, 2018
Two Hizb-ul-Mujahideen militants were killed in an encounter with security forces in south Kashmir's Pulwama district on Saturday morning.
According to a statement by a state police spokesperson, a cordon and search operation was launched in Tikken area of Pulwama in the early hours of Saturday following inputs on militants' presence in the area. "As the search operation was on, terrorists, who were hiding, fired on the search party. The fire was retaliated, leading to an encounter," the spokesperson said.
Bodies of the militants killed in the encounter were recovered from the encounter site, the police said. They were identified as Liaqat Munir Wani and Wajid Ul Islam. Liaqat's father Munir Ahmad Wani was also a militant, and, according to family members, was killed in 1998 when Liaqat was two years old.
Mentioning that the duo came from Pulwama district, the police spokesperson said both were involved in a series of "terror attacks on security establishments and many other civilian atrocities in the area." "Arms and ammunition, including AK and INSAS rifles, and other incriminating materials were recovered from the site of encounter. The INSAS rifle seized from the encounter site was the same which earlier terrorists had snatched from Murran, Pulwama," according to the police statement.
Police officials said Wani had joined militancy in 2017, and Islam in May this year.
Full report at:
https://indianexpress.com/article/india/two-hizbul-militants-killed-in-kashmir-encounter-5440798/
--------
Pakistan-China bonhomie reaffirms India's rise
Nov 11, 2018
Shishir Gupta
The joint statement issued after Pakistan Prime Minister Imran Khan's four-day visit to meet his "Iron Brothers" in Beijing is most instructive as it inadvertently acknowledges the rise of India as a global power and willy-nilly reduces Islamabad to, at best, a client state.
The line — "both sides dismissed the growing negative propaganda against China Pakistan Economic Corridor (CPEC) and expressed determination to safeguard the CPEC projects from all threats" — is directly pointed at India and so is big brother's support for "Pakistan's efforts for improvement of Pakistan-India relations and for settlement of outstanding disputes — read Kashmir — between two countries".
On its part, Pakistan, which is self-proclaimed leader of Muslims, in the statement has upheld "one-China policy and supports all efforts made by Chinese government to realise national reunification", a euphemism for turning a blind eye towards Beijing's decades-long repression in Xinjiang and Tibet. All this leads us to examine the relationship between these two all weather iron brothers, where Beijing goes to the extent of vetoing UN designation of a global jihadist like Jaish-e-Mohammed (JeM) chief Masood Azhar and blocks India's legitimate entry into Nuclear Suppliers Group with a Pakistan entry condition.
Fact is that Islamabad's supping with Islamists targeting India and Afghanistan is not hidden from Chinese intelligence but the Peoples Liberation Army (PLA) sees Pakistan as a low-cost weapon to checkmate India with Afghanistan as a bonus.
Beijing watchers believe there is a split between Chinese intelligence and PLA over Pakistan's role in exporting terror to India but that the generals prevail when it comes to Islamabad's use for containment of India.
Time and again Chinese officials have privately shared with their Indian counterparts, their knowledge about the existence of terror training camps in Pakistan occupied Kashmir (PoK).
But this fact is glossed over by Beijing as its gets relief in Xinjiang with Pakistan blocking jihadist movement across the Wakhan corridor and preventing them from joining hands with their militant Uighur brothers fighting against Chinese repression.
Repression in Xinjiang virtually coincides with the rise of militancy in Kashmir in 1991 but finds little global attention as rampaging Communist party cadre backed by PLA subsume local culture and religion in both Xinjiang and Tibet through what is euphemistically called re-education of the masses.
Militancy in Xinjiang, however, cannot be swept under the carpet as a few hundreds to a few thousands from there joined the so called Islamic State in Syria in support of ultra conservative Wahabbi Islam.
The reason why China allows Pakistan to take the lead in Afghanistan affairs despite knowing all the brutal facts of Islamabad nurturing Taliban, is to buffer the militancy in Xinjiang.
While Pakistan may think its relationship with China is all milk and honey, Beijing clearly sees Islamabad as a weapon to degrade India and a mere portal to access the Arabian Sea through Gwadar just as it uses Myanmar to access the Indian Ocean through Kyaukpyu port and possibly make India vulnerable in its rapid growing North-Eastern states.
Containment of India through a pincer move is understandable as China's worst case scenario is India and the US joining hands to counter PLA aggression South China Sea and Indo-Pacific region with the choking of the Malacca Straits as a potential flash point.
After the 73-day Indian Army-PLA standoff at Doklam, the Chinese leadership has started looking at India with respect with its paramount leader Xi Jinping taking the final call on decisions in respect of New Delhi rather than leaving this to the mandarins in the foreign ministry or PLA headquarters.
Prime Minister Narendra Modi has also made it clear to President Xi Jinping that while India will not do anything to destabilise Beijing, it will not play second fiddle to anyone in the world when it comes to protecting national interests.
While India's ties with the US are ever growing with a bipartisan consensus, they are not at the cost of Russia even though PM Modi knows the growing synergy between Moscow and Beijing. Fact is that Indian and US interests converge in Afghanistan, Indian Ocean, Middle-East and the Far East much to the chagrin of China, which despite all aggression has a constant two-front hostility nightmare.
Full report at:
https://www.hindustantimes.com/opinion/pakistan-china-bonhomie-reaffirms-india-s-rise/story-mqcmGu4zSZ076tFmyHWXgO.html
--------
NIA set to probe 3 Kashmiri students for alleged terror links
Nov 10, 2018
CHANDIGARH: The Punjab government has decided to hand over to the NIA a case involving three Kashmiri students who were arrested for their alleged association with a terror outfit.
The students- Zahid Gulzar, Mohd. Idriss Shah and Yusuf Rafiq Bhatt- were arrested from an engineering college in Jalandhar last month and two weapons, including an assault rifle, and explosives were seized from them.
Police had said they were associated with Kashmir-based terror outfit Ansar Ghazwat-ul-Hind (AGH).
The AGH reportedly has links with the Jaish-e-Mohammed (JeM) and is headed by Zakir Rashid Bhatt alias Zakir Mussa, who masterminded and guided attacks on the Maqsudan police station in Jalandhar on September 14, they had said.
The decision to hand over the case to the National Investigation Agency (NIA) was taken after discussions on the issue between the state government and the Home Ministry, Punjab director general of police (DGP) Suresh Arora said in an release Saturday.
It said the decision came in the wake of "the inter-state and international ramifications of the case".
The students were arrested in a joint operation by the Punjab Police and the Jammu and Kashmir Police's Special Operations Group (SoG) from the hostel of CT Institute of Engineering Management and Technology in Shahpur on the outskirts of Jalandhar.
Two weapons, including an assault rifle, were also seized from them along with explosives, police had said.
Initial investigations had revealed that the students were allegedly associated with terror outfit AGH, they had said.
The decision to hand over the investigations to the NIA was aimed at ensuring speedy and more effective probe into the matter, the DGP said
"The state government was also of the view that the growing attempts by Pakistan-based ISI and terror outfits and elements based abroad to revive terrorism in Punjab required strong and concerted efforts by the national agency which has the mandate to investigate all over the country and even abroad," Arora said in the release.
The Punjab Police, he said, would extend all support and help to the NIA to ensure that the investigations are completed, and the nexus of terrorist outfits and elements based in India and abroad is identified and broken at the earliest.
The release said while deciding to hand over the case to the NIA, the state and central government also took note of a separate case in which two Kashmiri students were arrested by the Punjab Police on November 5 in connection with the Maqsudan police station incident.
This is indicative of the efforts by Pakistan spy agency Inter-Services Intelligence (ISI) to expand the arc of militancy on India's western border, Arora said.
He also underlined the need to unravel the entire conspiracy and network built by these outfits and individuals in Punjab and Jammu and Kashmir.
The DGP said the state police is keeping a close eye to pre-empt any further incidents of targeting police stations and officers in Punjab.
Full report at:
https://timesofindia.indiatimes.com/india/nia-set-to-probe-case-related-to-3-kashmiri-students-having-terror-links/articleshow/66572075.cms
--------
Pakistan
Aasia Bibi case: JuD says it believes in legal recourse
November 11, 2018
LAHORE: The Jamaatud Dawa (JuD) has some reservations over the Aasia Bibi issue but it also has respect for the national institutions including the judiciary and that's why it did not join the recent protest.
Explaining the low profile of the JuD in the otherwise violent protests by religiopolitical parties, party spokesman Ahmed Nadeem told Dawn that the party issued protest call for Friday last two days after the court decision was announced. But as the protests started going violent, the JuD decided to restrict itself to Friday sermons instead of coming on the roads.
"The day the decision was announced, the party consultative body was already in meeting. It discussed the decision threadbare and consulted senior lawyers on the issue. After the consultation, the party thought that it was legal mistake and can only be rectified through legal process. After all, the trial court sentenced her to death after a long trial. Later, the Lahore High Court upheld the sentence. Now the Supreme Court has set her free, giving her the benefit of the doubt.
"The JuD was of the opinion that the quantum of the benefit of the doubt (whether it was reasonable or not) can only be judged by lawyers and only they could plead it before court. So, instead of taking to the street, the party decided to wait for exhaustion of the legal process. That is precisely why the JuD chief was the first to demand a review petition. Others (Mufti Munib, Sirajul Haq et al) followed him the next day," says Mr Nadeem.
Substantiating his claim of non-violence being party philosophy, Mr Nadeem said the party kept its cool even when the government took over its charity organisations. It only challenged the decision in court. It did not go violent when its leader Hafiz Muhammad Saeed was arrested in January this year and the party chief himself had directed his men to stay peaceful and concentrate on Kashmir Day. "It only goes to prove that the party respects the legal process and will wait for its exhaustion," he said and added: "It was very much part of a day-long (Friday) peaceful protest but went quiet when protests turned violent."
https://www.dawn.com/news/1444845/aasia-bibi-case-jud-says-it-believes-in-legal-recourse
--------
TLP: Pakistan's hardline Islamist party calling the shots
Nov 10, 2018
ISLAMABAD: They have called for the assassination of Pakistan's Supreme Court judges, demanded a mutiny in the armed forces and have vowed to wipe out the Netherlands with nuclear weapons.
In just a few years, the Tehreek-e-Labaik Pakistan party (TLP) -- or the Movement at the Service of the Prophet -- has become one of the most powerful groups in Pakistan, dictating terms to successive governments and paralysing the country at will with violent protests.
Led by firebrand cleric Khadim Hussain Rizvi, the far-right religious party has weaponised the ultra-sensitive blasphemy issue in the Muslimmajority nation, sparking fears that the TLP is radicalising the country's heartland and opening a dangerous new chapter in Pakistan's brutal confrontation with extremism.
Here's a rundown of why the group is so powerful and how they have been able to harness the extraordinarily inflammatory charge of blasphemy to increase their following across Pakistan.
The TLP began as a faction demanding the release of Mumtaz Qadri -- a bodyguard who gunned down Punjab governor Salman Taseer in Islamabad in 2011.
Qadri later cited Taseer's calls for reforming the country's blasphemy laws as his motive and was hanged in 2016.
The TLP formed an official political party -- earning more than two million votes and two provincial seats in this year's general election, in what analysts called a "surprisingly" rapid rise.
By making blasphemy the party's central -- and arguably only -- talking point, the TLP have positioned themselves as the protectors of Islam, effectively painting their foes as enemies of the religion.
"They have presented themselves as the sole flag bearers of the blasphemy issue," said columnist Khurshid Nadeem. "Violence is a currency which sells in today's times... they have proved that they can also kill and be killed for their cause."
The TLP entered the national consciousness in 2017 when supporters blockaded the capital Islamabad with violent protests for several weeks, over changes made to the oath taken by parliamentarians, which the group deemed blasphemous. At least seven died in the violence.
The protests succeeded in forcing the resignation of the country's federal law minister in a military-brokered agreement that saw the TLP virtually absolved of any wrongdoing.
Since then, they have strong-armed Prime Minister Imran Khan's newly minted dministration into firing an economics adviser for belonging to the persecuted Ahmadi religious minority.
The group was also linked with an assassination attempt on former interior minister Ahsan Iqbal in May, although it distanced itself from the incident.
Its leader Rizvi reportedly told journalists that if he took power in the nuclear-armed country he would "wipe Holland off the face of the earth", over cartoons of the Prophet Mohammed published there.
The TLP flexed its muscles again last week, when hours after the country's Supreme Court quashed the blasphemy conviction of Asia Bibi, a Christian woman, its followers flooded the country's streets, causing gridlock.
It called for the assassination of the court's judges, and a "mutiny" in the armed forces.
Khan initially issued a searing rebuke of the group, but his administration appeared to backtrack days later by striking a deal.
"For Pakistani politicians, it's easier to defy the courts than it is a violent mob that claims to be Islam's true representatives," said Omar Waraich from Amnesty International, adding that the government "didn't want to be cast as irreligious."
Following Bibi's release on Wednesday, the TLP accused the government of reneging on the agreement and vowed to return to the streets if she was allowed to leave the country.
Fears of the TLP stem from the group's rising popularity in country's Punjab heartland and their ability to enforce their will on governments with little or no official backlash.
Whereas previous extremist movements like the Pakistan Taliban belonged to the minority Deobandi sect, the TLP's roots in the country's mainstream religious branch of Barelvi Islam -- traditionally thought of as Sufi moderates -- has alarmed observers.
"They are radicalising the people... particularly they are focusing on Punjab and Sindh provinces and have already radicalised a big portion of the society there," security analyst Amir Rana told AFP.
Pakistan security forces remain hesitant to clamp down on religious groups, fearing any heavy-handed move could spark a violent backlash similar to the insurrection spurred by a military crackdown on Islamabad's Red Mosque in 2007.
Full report at:
https://timesofindia.indiatimes.com/world/pakistan/tlp-pakistans-hardline-islamist-party-calling-the-shots/articleshow/66567048.cms
--------
Punjab suffered Rs260m loss during three-day TLP protests
Nov 11, 2018
ISLAMABAD: The Punjab government on Saturday submitted a report regarding the losses suffered during the protests by hard-line Tehreek-e-Labbaik Pakistan (TLP) following the Supreme Court's decision to acquit Christian woman Aasia Bibi in Pakistan's most high-profile blasphemy last week.
According to the report, public and private property worth Rs260 million was damaged during the three-day protests by TLP activists.
The protests began on Oct 31, when the SC announced the decision to acquit Aasia and lasted till Nov 2 when the government signed an agreement with the protesters.
The protesters blocked multiple roads across the country and set fire to vehicles at certain locations.
The government then initiated a countrywide crackdown against those involved in vandalism and arson during the protests. Approximately 1,800 individuals were arrested and charged under the Anti-Terrorism Act (ATA). However, the government later announced that it would not make any further arrests and even exonerated TLP from the violent incidents.
On Nov 6, Chief Justice of Pakistan (CJP) Mian Saqib Nisar took notice of the vandalism during the protests.
He directed the federal and the provincial governments to submit a report on the destruction of public and private property during the protests.
Full report at:
https://www.pakistantoday.com.pk/2018/11/10/punjab-suffered-rs260m-loss-during-three-day-tlp-protests/
--------
80pc of Pakistan's poor live in rural areas, says World Bank report
Amin Ahmed
November 11, 2018
ISLAMABAD: Rural areas in Pakistan remain much poorer than urban areas and are far more disadvantaged in all respects of service delivery, and the present conditions show the decline in poverty has not reduced the urban-rural gap by much.
According to a World Bank report titled 'State of Water Supply, Sanitation and Poverty in Pakistan', Balochistan has by far the highest rural poverty rate, with more than 62 per cent of its rural population living below the poverty line. However, the gap between rural and urban poverty is the widest in Sindh at almost 30 percentage points. In contrast, the urban-rural gap in Punjab and Khyber-Pakhtunkhwa was 13 and 15 percentage points, respectively.
The report said that the poverty head count rate in rural Pakistan was twice as much in urban areas — 36pc versus 18pc — and the gap had remained virtually unchanged since 2001-02. Combined with the slow pace of urbanisation — only about 35pc of the country's population lived in urban areas in 2014 — this gap indicated that 80pc of Pakistan's poor continued to live in rural areas.
Rural households, it said, faced a substantial disadvantage in virtually all aspects of service delivery. Nationally, the rural net enrolment rate was 13 percentage points lower for primary school and 11 percentage points lower for middle school than in urban areas. For girls, these gaps stood at 17 and 14 percentage points, respectively. The rural female literacy rate, at 28pc, was also less than half of that in urban areas.
According to the report, rural children are 8.5 percentage points less likely than urban children to have adequate immunisation by three years of age, and rural women are 10 percentage points less likely to receive prenatal care, 28 percentage points less likely to give birth in a facility or hospital, and 12 percentage points less likely to receive postnatal care. Rural households are also far less likely to have access to key utilities. They are 15 percentage points less likely to have an electricity connection and 63 percentage points less likely to have a natural gas connection than urban households.
The report noted that districts varied widely in poverty, with the richest district Abbottabad at a headcount rate of 5.8pc and the poorest district — Washuk in Balochistan — at 72.5pc. Much of this variation reflected differences in poverty across provinces. The vast majority of the 40 poorest districts were in Balochistan, followed by Sindh.
However, the report added, only three districts each in Punjab and Khyber-Pakhtunkhwa fell in this set, and they were not among the poorest in the group. Not a single district in Balochistan was among the richest 40, and only Karachi and Hyderabad in Sindh fell in this set. The divide between Khyber-Pakhtunkhwa and Punjab in the north and Sindh and Balochistan in the south was apparent and quite stark.
It also found that districts that include large cities like Lahore, Rawalpindi, Faisalabad, Gujranwala, Sargodha, Sialkot, Multan, and Bahawalpur had much greater within-district inequality than other districts.
Taking population into account, a large share of Pakistan's poor lived in well-off districts in Punjab and Sindh, particularly Karachi, Faisalabad, and Lahore, it said.
Full report at:
https://www.dawn.com/news/1444874/80pc-of-pakistans-poor-live-in-rural-areas-says-world-bank-report
--------
Poverty reduction initiative within days: Imran
Mansoor Malik
November 11, 2018
LAHORE: Prime Minis­ter Imran Khan has hinted at launching the first-of-its-kind mega poverty alleviation venture within seven to 10 days to bring people out of abject poverty in the country.
"The poverty alleviation package will be the most important component in the PTI government's 100-day performance to be unveiled before the people of Pakistan within the next few days," Mr Khan said.
He said it would be a coordinated effort of all the state organs already working on the project. "All the relevant state organs will work under one umbrella," he said.
Acknowledging the advice and guidance of China, the prime minister said, "We have learnt from our China visit how they did the historic job of bringing 700 million people out of poverty in just three decades."
Laying the foundation stone for the first shelter home Panah Gah near the railway station, the prime minister said it would be the first step towards transforming Pakistan into a welfare state. "A journey of a thousand miles begins with a single step," he quoted a Chinese proverb.
Later, the prime minister tweeted: "Today, I laid foundation for first of five shelters for the homeless in Lahore and one in Rawalpindi to be followed by shelters in other cities. We are committed to building a social net for our poor citizens so everyone has a shelter over his/her head and access to health and education."
Mr Khan said the Panah Gah project would benefit the homeless and needy. The visitors would be offered quality food to be provided by philanthropists. "Such people were never taken care of in previous governments," he lamented. He said the other shelters would be established at Icchra, Chauburji, Data Darbar and Shahdara.
He said the financial crisis that was looming large in the country did not allow the government to focus on projects like shelter homes in its first two-and-a-half months. "Now, the country is out of the financial crisis as it is in a position to pay off the loan and interest instalments," he asserted.
Emphasising that the Panah Gah projects will be made centres of excellence, the prime minister said that a board of governors (BoG) would oversee the maintenance and functioning of these centres. "The BoG will finalise the policy for the shelter homes," he added.
The prime minister said that he would recommend names for the board of governors. He said he had met several such philanthropists and people of high calibre during his two-decade experience of running the Shaukat Khanum cancer hospital.
Acknowledging that Chief Minister Usman Buzdar is a humble person who is well aware of the miseries of the poor, the prime minister said Mr Buzdar picked his point well on establishing the shelters and immediately located five sites in Lahore and started work on the project within no time. He also acknowledged the diligence and passion of LDA Director General Amina Imran Khan in executing the welfare project. Mr Khan said the chief minister's selection had invited fiery comments and reservations from within the party. He asserted that Mr Buzdar would come out as a star performer like his selected boys in cricket — Wasim Akram and Inzamamul Haq. Looking towards Buzdar sitting on the stage, Mr Khan said, "Another Wasim Akram will emerge from Punjab'.
The prime minister said he had also asked the Khyber Pakhtunkhwa chief minister to find locations to establish shelter homes in Peshawar. Similarly, he said, the Sindh governor had also been instructed and the chief minister would be asked to work on establishing shelter homes in Karachi and other big cities in the province.
Answering a question about the government stance on the release of Aasia Bibi, the prime minister said, "A government always stands with Supreme Court decisions to help the country to move forward". The rule of law depends upon accepting the decisions of the Supreme Court, he added.
PM's Punjab Initiatives
The prime minister later chaired a meeting to review the `Prime Minister's Punjab Initiatives' at the Chief Minister Secretariat.
Mr Khan stressed that the Punjab government should find out some innovative ways of governance.
Full report at:
https://www.dawn.com/news/1444884/poverty-reduction-initiative-within-days-imran
--------
US gives $1m for older refugees, their hosts in Balochistan, KP
November 11, 2018
ISLAMABAD: The United States has donated $1 million to the World Health Organisation (WHO) to address the health and protection needs of older Afghan refugees and host communities in Balochistan and Khyber Pakhtunkhwa (KP).
The donation from the US Department of State's Bureau of Population and Refugees and Migration will fund WHO's protecting rights of older people with disabilities project, which focuses on people aged 60 or above with disabilities, chronic diseases, psychosocial disorders and trauma and who are survivors of gender-based violence among Afghan refugees and host populations in the country.
This is the second time that the US Bureau of Population and Refugees and Migration has funded a WHO project in Pakistan. In 2010, WHO received $4m for the health cluster response to the internally displaced people crisis in KP.
The project will be implemented over 12 months and will target 4,771 beneficiaries in six districts. It will also target 240 healthcare providers at public health sector facilities in refugee villages and camps, focusing on training and capacity-building activities to make primary healthcare services age-friendly and disability-sensitive.
The project also aims to create an enabling environment through community-based interventions and behavioural change communication campaigns, as well as establishing community-protection committees and self-help groups for older men and women with disabilities to strengthen social reintegration of target populations, refugees and host communities.
Furthermore, the project will look into the revitalisation of existing social and community health networks to establish robust referral mechanisms for target populations to multiple services, including healthcare, psychosocial support and protection services.
"This generous donation will enable WHO to directly and immediately address the unmet needs of older Afghan refugees in Pakistan," said Dr Nima Saeed Abid, acting WHO representative in Pakistan.
Full report at:
https://www.dawn.com/news/1444872/us-gives-1m-for-older-refugees-their-hosts-in-balochistan-kp
--------
Qureshi denies US offered to free Aafia for Raymond, Afridi's release
November 11, 2018
MULTAN: Foreign Minister Shah Mahmood Qureshi on Saturday denied the reports that the US offered to release Aafia Siddiqi in exchange for freeing Raymond Davis (in the past) and Shakeel Afridi.
Talking to the media here on Saturday, the foreign minister said Aafia Siddiqi was the "daughter of the nation" and it was his desire that she should return to the country.
"Efforts to bring her (Ms Aafia) back are under way at the diplomatic level. However, the government will not indulge in any such bargain," he said.
He said the efforts were being made to unite all the forces of region as "we want the issue of Afghanistan be resolved peacefully."
"We want peace and stability in Afghanistan and will support every step which will bring betterment there," he added.
He said the PTI government had nothing to do with the NAB cases as these were lodged before the party came into power.
Mr Qureshi claimed the PPP would support the PTI government for the creation of new province (in south Punjab) unconditionally.
He said the petroleum prices would decline soon and there would also be betterment in regional affairs.
Full report at:
https://www.dawn.com/news/1444852/qureshi-denies-us-offered-to-free-aafia-for-raymond-afridis-release
--------
Samiul Haq murder case: Three suspects arrested
Nov 11, 2018
Police have arrested three persons for their alleged involvement in the murder of Jamiat Ulema-e-Islam-Sami (JUI-S) chief Maulana Samiul Haq, a private media outlet reported Saturday.
According to reports, the three suspects were apprehended through geo fencing.
All three held persons have been shifted to an undisclosed location for further investigation.
Full report at:
https://www.pakistantoday.com.pk/2018/11/11/samiul-haq-murder-case-three-suspects-arrested/
--------
Southeast Asia
Ideologies contrary to true Islamic teachings should be curbed, Sabah CM says
10 November 2018
SEMPORNA, Nov 10 — The spread of ideologies contrary to the true teachings of Islam in Sabah should be dealt with amicably, to strengthen peace and harmony in the state.
Chief Minister Datuk Seri Mohd Shafie Apdal said to that end, Muslim preachers should carry out their responsibilities well, to avoid the state from being embroiled in upheavals such as those plaguing certain countries in the Middle East.
"I'm worried if there are too many sects or teachings here, it will affect our unity, it will not bring good," he said.
He said this during the 1440H/2018 Semporna District-level Ma'al Hijrah celebration here today.
Mohd Shafie said it was the differences between the beliefs and schools of thought that were not according to the true teachings of Islam that caused rifts among Muslims.
"We need to take heed of what has happened out there so that it (the situation) does not repeat here. We need to respect each other and help others," he said.
Hence, he said, the multiracial society in the state should cultivate unity, regardless of religion, status and rank, as well as promote love and mutual respect to create a life of peace and harmony.
During the event, Mohd Shafie also presented donations to 90 recipients, comprising single mothers, senior citizens, poor students and orphans. — Bernama
https://www.malaymail.com/s/1692131/ideologies-contrary-to-true-islamic-teachings-should-be-curbed-sabah-cm-say
--------
The silver lining from Malaysia's UPR
11 November 2018
By Zurairi AR
Nov 11 — THE last time Malaysia had its Universal Periodic Review (UPR) by the United Nations, it was a bad time to cover human rights issues.
What more to be a human rights defender.
In 2013, the previous administration was vehemently against "human rightism". Human rights defenders were vilified.
The Coalition of Malaysian NGOs to the UPR Process (Comango) was outlawed -- using the flimsy excuse that most of the NGOs allied to it were not legally registered with the Registrar of Societies.
The decision was never officially rescinded by Putrajaya. It is as if Comango was never wronged.
The Islamist lobby had gone all out against Comango, trying to paint it as the biggest threat to Muslims here with wacky ideas such as equality, civil liberties, and fundamental rights.
It was vicious, it was ugly.
This time around for the country's third UPR, the ugliness was at least kept under the floorboards as the Islamist lobby has either lost its lustre, or is being kept in check by a more politically and civically aware, "woke" young generation.
So it was rather tranquil.
The performance of the Malaysian delegation in 2013 was dismal, to say the least. Perhaps abhorrent is more accurate, with bald-faced lies and double-speak such as claiming civil society was consulted, and downplaying the situation of the Orang Asal.
Federal Islamic agency Jakim had then denied there was discrimination against women under Shariah laws.
The delegates this year seemed more polished, perhaps reflecting the new unapologetic mandate of human rights carried by the new administration.
Many observers confessed they were anticipating another session where Jakim would again reveal to the rest of the world the kind of Islam that is being prescribed here.
Jakim director-general Mohamad Nordin Ibrahim had last week posted that the agency would send a representative, his deputy handling the policy portfolio Hakimah Mohd Yusoff, as part of the delegation -- expecting to help Putrajaya answer when it is grilled on female genital mutilation (FGM), child marriage, and the LGBT.
But unlike last time, no Jakim representative stood up to answer the questions and recommendations mooted by Malaysia's peers, or at least attempt to do so.
Instead, we had a disappointing representative from the Ministry of Women, Children, and Community Development addressing FGM and the LGBT; by refusing to accept that "female circumcision" and FGM are essentially a subset of the other, and merely citing Article 8(2) of the Federal Constitution as the sole argument that there is no discrimination against the LGBT.
The issue of child marriage was deftly handled by Ministry of Foreign Affairs' secretary-general Ramlan Ibrahim who clarified that Putrajaya is already in the process of raising the minimum age to 18.
There are several possibilities why Jakim was not involved in the replies.
Perhaps after the last UPR, the delegation realised how much of a liability Jakim is and decided that the image of the country may be spared from humiliation by excluding it.
Or perhaps, there is the dreadful possibility Putrajaya has taken the strategy of double-speak, attempting to dazzle the international community, but implementing the opposite towards Malaysians.
This strategy of course will not be new, as it was employed extensively by former prime minister Najib Razak to give the illusion of a moderate Muslim country that could serve as a role model to its peers, when the reality was much harsher for minorities and Muslims alike.
If this were the case, we can at least comfort ourselves with the fact that whatever pledges Putrajaya has made publicly on the global stage, we can hold them to it. And we should continue our vigilance to ensure that the country does not go in the wrong direction.
But a more hopeful possibility is that Jakim's stance may no longer matter when it comes to accepting universal human rights, and formulating policies related to them.
None of the answers carried the usual flavour of Jakim and the Islamist lobby. There were no excuses about how child marriage can be valid under Shariah laws and there should not be a blanket ban, as it offers a way for young Malays to avoid sex out of wedlock.
The previous excuse that FGM in Malaysia is part of a religious obligation has been replaced instead by claim that it is a cultural tradition.
And not mentioned was Jakim's current stance to rehabilitate the LGBT in order to "bring them back to the right path", through conversion therapy masked as religious rituals.
By citing Article 8(2) that states "there shall be no discrimination against citizens on the ground only of religion, race, descent, place of birth or gender", Putrajaya virtually concedes that the provision applies to sexual and gender minorities as well, which should set some sort of precedence when it comes to moral arguments.
Putrajaya made a bold claim during the UPR that it would not sideline the recommendations made by its peers, and will annually meet civil society on how best to achieve them -- before reviewing them twice a year, including greater role for the Human Rights Commission of Malaysia (Suhakam).
Full report at:
https://www.malaymail.com/s/1692094/the-silver-lining-from-malaysias-upr
--------
Identity politics still an obsession, says researcher
November 11, 2018
PETALING JAYA: Identity politics is so deeply entrenched in Malaysia that race and religion become a bigger priority to many Malays despite concerns over bread and butter issues, says a researcher concerned with ethnic relations and religious harmony.
Dina Zaman from Iman Research said this was among findings during the research outfit's conversations with many Malays in the peninsula, when they were asked on what it meant to them to be a Malay and Muslim.
Dina thinks that it is an unhealthy trend when identity politics has a great influence.
But she said the fact that Malays, including the younger generation, have a lot to say about what's going on in the country, indicating they are not short of ideas and also "not as passive as people think".
Since 2016, Iman has been conducting focus group discussions with Malay youths on how they view non-Malays.
This year, much of their concerns were about bread and butter issues.
Yet, a big concern among many Malays they spoke to revolved around issues of race, such as the large numbers of non-Malay ministers in the Pakatan Harapan government.
"These fears could stem from years of indoctrination and identity politics of race and religion," she told FMT on the sidelines of a forum to discuss religious extremism and minority rights in Malaysia.
She warned that if left unchecked, such sentiments could lead to mistrust among the communities.
Dina said there are expectations that the PH government will move away from identity politics.
Full report at:
https://www.freemalaysiatoday.com/category/nation/2018/11/11/identity-politics-still-an-obsession-says-researcher/
--------
Students irate over broken PTPTN pledge, insist Pakatan deliver
10 November 2018
KUALA LUMPUR, Nov 11 — A US documentary on Malaysia's 1MDB corruption scandal premiered at the 2018 DOC NYC festival yesterday.
Like the Billion Dollar Whale book, however, The Kleptocrats puts added emphasis on the role of fugitive financier Low Taek Jho in the corruption scandal spanning at least 10 countries.
It tracks Low's movements as he crisscrosses the world between Malaysia and Hollywood, playing up his lavish lifestyle that led to his playboy image.
Directors Sam Hobkinson and Havana Marking also included interviews with Malaysian personalities such as MP Tony Pua and Maria Chin Abdullah to help convey the damage the scandal wrought on Malaysia.
The documentary is jointly produced by Rubber Ducky Productions and Roast Beef Productions.
Full report at:
https://www.malaymail.com/s/1692136/kleptocrats-documentary-on-1mdb-scandal-opens-at-ny-fest
--------
South Asia
Myanmar denies border shooting as Rohingya repatriation date nears
November 10, 2018
YANGON: Myanmar on Saturday denied allegations of a cross-border shooting that raised tensions with Bangladesh ahead of a scheduled start date for the repatriation of Rohingya refugees.
The fresh diplomatic row started after a Bangladesh border guard official said that a 15-year-old Rohingya refugee was shot in the elbow on November 4 while grazing cows after multiple rounds were fired from a security post across the demarcation line.
Bangladesh summoned Myanmar's ambassador to lodge a protest but Aung San Suu Kyi's government says it has looked into the allegation and denies it ever happened.
"The Myanmar ambassador promptly contacted the responsible officials from the Myanmar Border Guard, who confirmed that no shooting incident had taken place," the Ministry of Foreign Affairs, which is overseen by Suu Kyi, said in a statement late Saturday. Myanmar says it was involved in coordinated patrols at the time of the alleged incident with Bangladeshi forces along the Naf River that separates the two countries, and that none of their counterparts mentioned the claim.
"A formal protest through diplomatic channels based on dubious reports, as took place in this case, does not serve any useful purpose," the ministry added.
The contentious back and forth highlights the delicacy surrounding a planned start to the first official repatriation of Rohingya Muslims to Myanmar, which is supposed to start November 15 with over 2,000 people at a rate of 150 daily.
Some 720,000 Rohingya fled their homes in Myanmar to take refuge in Bangladesh following a sweeping and bloody crackdown on the Muslim minority in August 2017.
United Nations investigators say Myanmar's military should be investigated for genocide as a result of the campaign, which witnesses say included scorched earth tactics, rape and murder.
Myanmar and Bangladesh agreed to repatriate Rohingya expelled in the recent military campaign, but they fear returning to a country without guarantees of citizenship, safety and basic rights.
Northern Rakhine has been undergoing massive redevelopment in their absence and Rohingya advocates say the process amounts to an effort to erase their history for good.
The UN, which has been granted access to parts of Myanmar's northern Rakhine state where most Rohingya used to live, says conditions are not right for the stateless minority to return.
A total of 42 aid agencies and NGOS said this week that Rohingya in the camps in Bangladesh were "terrified" about the prospect of coming back.
https://www.freemalaysiatoday.com/category/world/2018/11/10/myanmar-denies-border-shooting-as-rohingya-repatriation-date-nears/
--------
EC: Jamaat-affiliated persons can go to polls as independents
November 9th, 2018
The High Court on Aug 1, 2013 declared Jamaat's registration by the Election Commission void and illegal, barring it from contesting in the 2014 elections.
A top official of the Election Commission has opined that persons affiliated with the political party Jamaat-e-Islami, which has lost its registration, can participate in the upcoming election as independent candidates.
Candidates from other unregistered parties can also run as independents, EC Secretary Helaluddin Ahmed told reporters on Friday at the EC Secretariat.
"Even they can run with the symbol of any registered party, provided that they get nomination from that party," he said.
"A registered party can give anyone their nomination," he said.
"So if the registered party wants, they can give their nomination to the members of an unregistered party as well," Helaluddin added.
Five years after the High Court ruled that the Jamaat-e-Islami's status as a political party be revoked, the Election Commission has executed the orders in a gazette on October 29 this year.
The gazette got delayed because of the delay in getting the full verdict, according to Election Commission sources. The commission could not publish the gazette until now also because an appeal against the High Court orders was being heard, they said.
The EC started registering the political parties for the first time during the 2006-07 military-controlled caretaker government before the 2008 elections.
Jamaat, which had representation in parliament, got registered along with 37 other parties at the time.
A total of 25 people, including Bangladesh Tariqat Federation's Secretary General Syed Rezaul Haque Chandpuri, Jaker Party's Secretary General Munshi Abdul Latif and Sammilita Islami Jote's President Ziaul Hasan, moved the court challenging Jamaat's registration in January, 2009.
The petition asked for orders to cancel Jamaat's registration by the EC for the party's failure to meet RPO conditions.
Before the 10th parliamentary elections, the High Court on Aug 1, 2013 declared Jamaat's registration by the EC void and illegal, barring it from contesting in the 2014 elections.
The 20-party BNP-Jamaat alliance boycotted the elections as well demanding a nonpartisan government during polls.
Though barred from contesting in general elections, several Jamaat-backed candidates took part in local government elections, but not on party tickets.
Full report at:
https://www.dhakatribune.com/bangladesh/election/2018/11/09/ec-jamaat-affiliated-persons-can-go-to-polls-as-independents
--------
National mobilization needed to pass through ongoing war: Ghani
Nov 11 2018
President Mohammad Ashraf Ghani has said the conflict in Afghanistan has complex dimensions and a national mobilization is needed to pass through the ongoing war.
The Office of the President, ARG Palace, said President Ghani made the remarks during a meeting with the representatives of various sects of Bamyan province on Saturday.
He said the ongoing conflict has complex dimensions as the enemies do not adhere to any principle.
President Ghani further added that security in Bamyan is vital for the government and therefore special operations would increase in the neighboring provinces of Bamyan.
He said a national mobilization is needed to pass through the ongoing war and called on national to prepare for a national mobilization.
In regards to the demands of Bamyan residents regarding security, President Ghni said he has signed a decree for the establishment of a special unit of the intelligence forces which will soon start operations.
Full report at:
https://www.khaama.com/national-mobilization-needed-to-pass-through-ongoing-war-ghani-02717/
--------
Germany hands over 1000 body armor vests to Kabul police
Nov 10 2018
The government of Germany handed over one thousand body armor vests to the Afghan National Police (ANP) forces in Kabul.
The Kabul Police Commandment in a statement said the body armor vests were handed over to Kabul Police during a ceremony organized in the Police Commandment of Kabul on Thursday.
The statement further added that the body armor vests were handed over as part of Germany's ongoing support to the Afghan Police forces.
The Deputy Ambassador of Germany to Kabul and a representative of Germany's police had also participated in the ceremony.
Kabul Police Chief Gen. Syed Mohammad Roshandil welcomed the delivery of one thousand body armor vests to the police forces and said the new aid will further help in protection of police personnel.
Full report at:
https://www.khaama.com/germany-hands-over-1000-body-armor-vests-to-kabul-police-02714/
--------
Bangladesh general election on December 23 despite Zia's arrest
8 Nov 2018
Authorities in Bangladesh have said they will hold a "free and fair" national election on December 23 despite bitter wrangling between the government and the opposition.
Bangladesh's Election Commission announced on Thursday that the election will take place despite the imprisonment of the leader of the main opposition party and the banning of its chief partner, Jamaat-e-Islami.
"A favourable situation prevails in the country to hold a free and fair election," Chief Election Commissioner Nurul Huda said in an address aired by state-run television and radio stations.
Huda said he hoped all parties will participate in the election, in which Prime Minister Sheikh Hasina is seeking re-election.
The opposition has expressed fears that the election will not be democratic and has threatened protests.
Hasina's archrival and opposition leader Khaleda Zia, who is in jail on corruption charges, is likely to be banned from contesting.
The Election Commission announced that the candidates must file nominations by November 19, leaving Zia virtually no time to appeal.
Opposition in disarray
On Wednesday, the ruling Awami League party rejected an opposition demand for a caretaker government ahead of the election, saying it was "unconstitutional".
The Bangladesh Nationalist Party (BNP) says a caretaker government is essential for free and fair polls.
It is still not clear whether the BNP would contest the election. The party boycotted the 2014 polls, which were marred by deadly violence and labelled by international observers as "flawed".
The BNP alleges over 500 of its supporters have been killed and nearly 750 abducted by the police and thrown in jails since 2014.
In recent months, the BNP's strength was further weakened after Zia was convicted and sentenced to seven and 10 years in jail in two separate cases of corruption.
Her eldest son and heir apparent, Tarique Rahman, who lives in exile in London, was also sentenced to life in prison over a 2004 grenade attack targeting Hasina.
It will be Bangladesh's 11th general election since it gained independence from Pakistan through a bloody war in 1971.
'Authoritarian rule'
Hasina's government has earned global plaudits for letting in hundreds of thousands of Rohingya refugees who fled persecution in Myanmar.
However, critics have decried her increasingly "authoritarian rule", the government's handling of student protests this year and its crackdown on free speech.
Full report at:
https://www.aljazeera.com/news/2018/11/bangladesh-general-election-december-23-zia-arrest-181108141104246.html
--------
Facebook's Link To The Rohingya Muslims
November 10, 2018
Americans hear about what the United Nations calls the continuing genocide of Rohingya Muslims in Myanmar and may think it's tragic and outrageous, but wonder: what has it got to do with us?
Myanmar called the million or more Rohingya who lived there "illegal immigrants" in the Rakhine state that has a Buddhist majority. Rohingya have lived in Myanmar for centuries. But they are not considered citizens.
Myanmar's military began forced removals of the Rohingya last year, and more than 700,000 are now in crowded camps, vulnerable to starvation, murder, rape and disease.
This week, Facebook released a report from Business for Social Responsibility that showed how the company's social media platform has been used to incite violence against the Rohingya. At least 25,000 people have been killed.
Myanmar isn't widely wired for the Internet. The regime is dominated by generals who try to suppress news, and have jailed reporters. But people in Myanmar have cellphones. Facebook says about 20 million people in the country use Facebook to connect with each other.
But, many of them have also read malicious messages aimed at the Rohingya and truly fake news, including a false and inflammatory chain letter that said Rohingya Muslims planned to attack Buddhists. Many of those lies and distortions came from sham accounts run by Myanmar's military. They reeled in eyeballs with posts about pop music, gossip and graphic photos, then delivered phony and explosive stories.
Alex Warofka of the company conceded the report and says, "We weren't doing enough to help prevent our platform from being used to foment division and incite offline violence. We agree that we can and should do more."
The company pledged to hire 100 moderators in Myanmar, who speak local languages, to detect racist posts and fallacious reports.
One hundred people to monitor messages from 20 million people? Maybe that's why Amnesty International sounded unimpressed and tweeted, "This report shows that Facebook did too little too late to stop murderous incitement & misinformation."
Full report at:
https://www.npr.org/2018/11/10/666414249/opinion-facebooks-link-to-the-rohingya-muslims
--------
Mideast
Yemeni minister of information defects from Houthi coup government
10 November 2018
An official source at the Yemeni embassy in Riyadh confirmed to Al Arabiya English that Yemeni Minister of Information Abdulsalam Jaber has defected from the Houthi militias and joined the ranks of the internationally-recognized legitimate government.
Jaber is said to have been in the Saudi capital of Riyadh since two days ago and is set to hold a morning press conference at 10 am local time on Sunday, the source confirmed.
The press conference will address many questions, including details of Houthi crimes against Yemenis, and prisoners and violations of their rights, and his role within the coup. Among the questions he is set to answer is whether as minister he was simply a used a puppet figure by the Houthis.
The source added that Jaber was part of the Southern Movement and is one of the sons of Dalea, who lived in Beirut for seven years, and supervised research centers and classrooms for Iran, the Houthi m militias and the Hezbollah group.
"Abdul Salam was only a tool that had no value, and all he did was to be present through social media platforms," the source said.
The source added that Jaber is the third minister from the Houthi militias to have defected from their ranks so far.
The sources added that dissidents not all Yemeni dissidents come to Saudi Arabia, with some choosing to go to Cairo, while others have preferred to travel outside the Arab countries to avoid assassination attempts or prosecution at the hands of Houthis.
https://english.alarabiya.net/en/News/gulf/2018/11/10/Houthi-information-minister-breaks-rank-will-reveal-reasons-at-press-conference-.html
--------
Yemeni army takes Hodeidah's main hospital from Houthis
10 November 2018
The Yemeni army forces have taken the main hospital in the strategic Red Sea port city of Hodeidah from the Houthi militias, government military officials said on Saturday.
The May 22 Hospital lies in the east of the city, a key aid conduit.
On Thursday, the Yemeni army backed by Arab coalition air strikes entered the city pushing towards the port and using bulldozers to remove concrete road blocks installed by the Houthis.
Officials said pro-government forces of President Abedrabbo Mansour Hadi supported by the coalition took over the hospital on Friday evening.
Amnesty International had accused the Houthis on Thursday of "deliberate militarization" of the facility after they stationed fighters on its roof.
A medical source told AFP on Wednesday that the Houthi militias forced staff out of the hospital and set up sniper positions.
Nearly 80 percent of Yemen's commercial imports and practically all UN-supervised humanitarian aid pass through Hodeidah's port.
The Houthis have controlled Hodeidah since 2014 when they overran the capital Sanaa and swept through much of the rest of the country, triggering an intervention by the Arab coalition in support of the legitimate government.
Full report at:
https://english.alarabiya.net/en/News/gulf/2018/11/10/Yemeni-army-take-Hodeida-s-main-hospital-from-Houthi-militia.html
--------
'I'm choking' were last heard from Khashoggi: Daily Sabah editor
Nov 10, 2018
A senior Turkish journalist has revealed bits from a secret audio tape that was allegedly recorded from the brutal assassination of dissident journalist Jamal Khashoggi at the Saudi consulate in Istanbul, saying the slain man begged for his life before he died at the hand of killers.
Nazif Karaman, head of investigation department at the Daily Sabah, a Turkish newspaper, said Saturday that people who killed Khashoggi put a bag on his head to strangle and suffocate him.
"I'm choking, put this bag away from my head, I'm scared of claustrophobia," Khashoggi said before he died, according to Karaman who shared the information with the Qatari-based news channel Al Jazeera.
Karaman based his account of the brutal killing on an audio tape that Turkish authorities say can prove Khashogi's assassination in the Consulate on October 2 was pre-mediated. Turkish president Recep Tayyip Erdogan said Saturday that Ankara had shared the audio with Saudi officials as well as intelligence services from four Western countries.
In his interview with the Al Jazeera, Karaman, who is believed to be close to the Turkish government, said the strangulation of Khashoggi lasted for seven minutes.
He also cited information from Turkish intelligence officials, saying that the 15-member Saudi hit squad that had traveled to Istanbul to kill Khashoggi in the kingdom's consulate spent 15 minutes to dismember Khashoggi's body after he was killed.
The killers, he said, stretched plastic bags in the room where Khashoggi was murdered to prevent his blood from spreading on the floor. Salah al-Tabiki, a member of the team that had been introduced in media reports as a forensic expert, then chopped Khashoggi's body into five parts to allow other people to stuff them in five large bags. The bags were then transferred to a car belonging to the Consulate to transport them to the outside of the diplomatic mission.
Karaman did not elaborate on how the Saudi assassination team managed to dispose of Khashoggi's body, a question that remains unsolved in Turkey's investigation. He said, however, that the Saudi team had traveled to Turkey with some special "tools and equipment", adding that the pictures and details of the gadgets will be published by Daily Sabah in the coming days.
Full report at:
https://www.presstv.com/Detail/2018/11/10/579670/Khashoggi-assassination-audio-tape-details
--------
Another Palestinian dies of Israel-inflicted wounds in West Bank
Nov 10, 2018
A Palestinian man has died of wounds he received from Israeli live fire during an anti-occupation protest in the occupied West Bank.
In a statement, the Palestinian Health Ministry said Mohammed Shreyteh, 28, died in hospital in the city of Ramallah on Saturday.
Shreyteh had been shot in the head during clashes on October 26.
Another Palestinian man, identified as Othman Ahmad Ladadweh, was also killed during protests in the village of al-Mazraa al-Gharbiya. The health ministry in the West Bank said at the time that he was hit with live ammunition, with the bullet piercing organs in his lower abdomen.
Palestinians across the West Bank often stage demonstrations against Israel's decades-long occupation that frequently lead to clashes with Israeli troops.
Since 2015, the occupied territories have been the scene of heightened tensions due to Israeli measures which Palestinians view as a bid to change the status of the al-Aqsa Mosque compound in Jerusalem al-Quds.
Full report at:
https://www.presstv.com/Detail/2018/11/10/579655/West-Bank-Israel-Mohammed-Shreyteh-Othman-Ahmad-Ladadweh-Gaza
--------
15 PKK militants 'neutralized' in northern Iraq: Turkey
Nov 10, 2018
Turkey's military has claimed to have "neutralized" 15 militants of the Kurdistan Workers' Party (PKK) after striking the group's hideouts and armories in Iraq.
"Fifteen armed members of the separatist terror organisation, who were in preparations for an attack to military bases, were neutralized," said the Turkish Armed Forces (TAF) in a statement after the Friday operation.
The airstrikes targeted Gara, Zap and Avasin-Basyan regions of northeastern Iraq, near the Turkish border. The Zap area, along with other locations in the mountainous Qandil area, is known to be Kurdish separatist strongholds.
The Turkish military generally uses the term "neutralize" to signify that the militants were killed, captured or surrendered.
Turkey, along with the European Union and the United States, has declared the PKK a terrorist group and banned it. The militant group has been seeking an autonomous Kurdish region since 1984.
A shaky ceasefire between the PKK and the Turkish government collapsed in July 2015. Attacks on Turkish security forces have soared ever since and PKK militants regularly clash with Turkish forces in the Kurdish-dominated southeast of Turkey attached to northern Iraq.
Over the past few months, Turkish ground and air forces have been carrying out operations against PKK positions in the country as well as in northern Iraq and neighboring Syria.
Full report at:
https://www.presstv.com/Detail/2018/11/10/579637/turkey-PKK-Iraq
--------
Hundreds killed in clashes in Yemen's Hodeida in last 10 days
November 11, 2018
HODEIDA, Yemen: At least 61 combatants have been killed in clashes in Yemen's Hodeida, medics and a military source said Sunday, and dozens of wounded taken to hospitals outside the city.
Medics in the Red Sea city reported 43 Houthi militia and nine pro-government fighters killed in clashes over the past 24 hours. Medics at a hospital in government-held Mokha, south of Hodeida, said another nine loyalist fighters were killed. A government military source confirmed the toll.
Dozens of wounded militia were transferred to hospitals in the provinces of Sanaa and Ibb, further inland, a source at the Hodeida military hospital told AFP.
The pro-government alliance, led by Saudi Arabia and the United Arab Emirates, is pushing to seize Hodeida from the Iran-backed Houthi militia.
More than 400 fighters have been killed in 10 days of clashes in Hodeida, a city on Yemen's Red Sea coastline that is home to the country's most valuable port.
Full report at:
http://www.arabnews.com/node/1402831/middle-east
--------
North America
US accuses China of repressing religious groups like Christians, Tibetans and Uighur Muslims
November 10, 2018
The United States on Friday accused China of repressing religious groups like Christians, Tibetans and Uighur Muslims living in that country.
US Secretary of State Mike Pompeo and Defence Secretary James Mattis raised the issue with their visiting counterparts, Minister of National Defence Gen Wei Fenghe and Chinese Communist Party Office of Foreign Affairs Director Yang Jiechi, in Washington.
The visiting Chinese leadership, however, denied the allegations and asked the Trump administration to stop interfering in China's internal affairs.
"I stated the United States and the international communities will continue to express our concerns with respect to China's repression of religious groups and Christian, Buddhists and 800,000 to possibly millions of Muslims that have been denied their freedoms," Pompeo said at a joint news conference here along with Mattis and the two Chinese leaders.
Yang immediately denied the US allegations.
"China respects human rights, as other countries must do the same. As President Xi Jinping points out, there is always room for improvement on human rights," he said.
Asserting that in China, people have the freedom to believe or not believe in religion, he said they are all Chinese citizens. "Their human rights have been fully respected and protected. It is our hope that the United States could respect the fact," Yang said.
"All in all, China and the United States should step up communication on the basis of mutual respect, and work to handle well its own affairs," Yang said.
Responding to a question on allegations of rights violations against Tibetans and Muslim Uighurs, Pompeo said the US is unequivocal when it comes to human rights. "We ask every country, China included," he said.
"We have discussions to make sure that they treat the people of their nations with the respect and dignity that every human being is entitled to, and when it comes to religious minorities in China, we had a conversation about how it is that we hope the Chinese will treat their religious minorities, and our concerns with respect to that," Pompeo said.
Yang said matters related to Xinjiang province are China's internal affairs and foreign countries have no right to interfere.
The Chinese government attaches great importance to social and economic development in Xinjiang and it has taken a host of measures to promote stability, development, unity and people's well-being, he said.
"At the same time, within the confines of law, the government has taken steps to crack down on ethnic separatist activities and violent terrorist crimes to safeguard national security and life and property of the people. These measures have paid off," Yang said.
"Right now, Xinjiang enjoys social stability. Its economy is growing with a strong momentum, and ethnic groups are existing with each other in harmony," Yang said.
"We hoped that the United States could respect the fact and look at relevant matters in an objective light, and stop interfering in China's internal affairs," he said.
"In Tibet, ethnic minorities are having good relations, and their rights and interests are protected. A lot of foreign people have been to Tibet and Xinjiang. Facts are facts," Yang said.
https://www.indiatvnews.com/news/world-us-accuses-china-of-repressing-religious-groups-like-christians-tibetans-and-uighur-muslims-481259
--------
Trump to Macron: Saudi Arabia cornerstone of stability in region
10 November 2018
A French presidential source revealed on Saturday that US President Donald Trump assured French President Emmanuel Macron that Saudi Arabia is the cornerstone of stability in the region.
Both President have met on Saturday in the Elysee Palace in Paris, ahead of the commemorations marking the 100th anniversary of the November 11, 1918 armistice, ending World War I.
The French presidential source further said that president Trump confirmed to president Macron during their meeting, his refusal to endanger Saudi Arabia's stability.
The source explained, according to Al Arabiya news channel's correspondent that Trump's position on Saudi Arabia is very firm and clear as he said that "this country (Saudi Arabia) is the cornerstone of the region and a partner of America and should not be subjected to any instability."
As for the US re-imposed sanctions on Iran, the French source revealed that president Trump assured his French counterpart of the effectiveness of these sanctions.
The source also said that president Trump has called for a new agreement to ensure that Iran does not obtain nuclear weapons.
As for the Yemeni crisis, the French Presidential source said that both presidents will push to lay the foundations for a political solution in Yemen.
Full report at:
https://english.alarabiya.net/en/News/gulf/2018/11/10/Trump-assures-Macron-Saudi-Arabia-is-cornerstone-of-stability-in-region.html
--------
Muslim Community Denied Right to Use House in Crawley as Place of Worship
By Karen Dunn
Nov 11, 2018
An application asking to change the use of Stafford House, in Bonnetts Lane, Crawley, was before Horsham District Council's planning committee on Tuesday (November 6).
It included proposals to extend the house and link it to a two-storey meeting hall, which would be built on the same site.
The committee had refused an almost identical application in January, with concerns raised about traffic and the impact the plans would have on neighbouring homes.
With officers recommending this latest application also be refused, they were accused of being 'hell bent on refusing this development on grounds that just don't hold water'.
The accusation was made by Simon Brett, agent for the applicant, who told the meeting that a letter had been circulated, encouraging objections 'on grounds that it is for a mosque', which he felt was 'verging on racist'.
His words were given short shrift by the committee's vice-chairman Liz Kitchen (Con, Rusper & Colgate), who said: "I'd like to make it absolutely clear at the beginning of this, as I did at the last meeting, that my objection to this has got nothing to do with what the use is for. It has everything to do with traffic movement."
A report put before the meeting explained that, for the past five years, the Shia community had been renting community and leisure centres in Crawley when hosting events, and was in need of a dedicated place of education and worship.
It added: "While there are other mosques within Crawley, these are used by Sunni Muslims who, although celebrating the same events within the Islamic calendar, do not undertake prayers and meetings together."
Dr Andleeb Khan, a GP at the Courtyard Surgery, in Horsham, gave a heartfelt account of problems with her mother's funeral, brought about because the Shia imam was not allowed into the Sunni mosques to conduct the service.
The meeting was told that the application would not only provide a flat for the imam, but also a preparation room where bodies would be ceremonially washed and prepared prior to burial.
While there was sympathy from the committee, it was pointed out that none of the religious issues were planning matters.
Peter Burgess (Con, Holbrook West) said: "I've got the deepest sympathy with the applicant's need for a place of worship and listened with some considerable distress to some of the unfortunate events that it's led to.
Full report at:
https://www.theargus.co.uk/news/17215598.muslim-community-denied-right-to-use-house-as-place-of-worship/
--------
US to continue backing Saudi-led war in Yemen: Analyst
Nov 10, 2018
The United States will continue to back the Saudi-led coalition waging war of aggression against the people of Yemen, American journalist and political analyst Stephen Lendman says.
Media reported this week that the Saudi-led coalition waging war on Yemen had requested a cessation of joint military operations with US forces.
"The idea that the US will stop refueling Saudi warplanes is a bunch of baloney," Lendman said in an interview with Press TV on Saturday.
Lendman told the Iranian broadcaster that despite the news the war in Yemen would be escalating to a new level.
"The war is not ending. It is escalating," he said, adding, "The naked aggression on Yemen would continue."
The author said that the war was being run by the Americans and the Saudi-led forces were proxies. "The US is actively engaged in the war. It is a US war, not a Saudi war. The Saudis and UAE are US proxies."
Lendman said harming the Yemeni people was part of the strategy," adding that, the whole aggression – "including not treating diseases, including starving them, including murdering them, including attacking residential neighborhood, hospitals, schools, mosques, agricultural land, market places" -- was orchestrated by the US, the UK, and France.
Lendman said the three countries were the main arms suppliers to Saudi Arabia and the UAE. Washington, London and Paris' pursuit is weapons sales and perpetual war, Lendman said.
Lendman said the Saudi-led war and atrocities in Yemen would continue going on for one main reason: "America does not want to end it."
Full report at:
https://www.presstv.com/Detail/2018/11/10/579664/US-Saudiled-aggression-Yemen
--------
Saudi scholar urges US to review ties with Saudi Arabia
10.11.2018
A Saudi scholar urged the U.S. to reconsider its support for Saudi Arabia after the murder of a Washington Post columnist Jamal Khashoggi.
In an article titled "Why the U.S. Can't Control MBS [Mohammad bin Salman]" for the Foreign Affair Magazine, Madawi Al-Rasheed, a visiting professor at the Middle East Centre of the London School of Economics, wrote: "The United States could start by making its support for MbS conditional on his recognition of people's freedoms and the rule of law.
"This would help restrain a young power-grabbing prince who has so far displayed zero respect for the international community and has severely violated diplomatic trust, especially with Turkey," Al-Rasheed added.
Khashoggi, a Saudi national and columnist for The Washington Post, was killed Oct. 2 inside the Saudi Consulate in Istanbul.
After weeks of denying involvement, the kingdom admitted Khashoggi had been killed at the consulate but claimed the Saudi royal family had no prior knowledge of a plot to murder him.
So far, 18 people, including security officers, have been arrested in Saudi Arabia in connection with the murder.
Last week, Turkish prosecutors announced preliminary findings that said Khashoggi was strangled to death in a premeditated killing soon after he entered the consulate.
The Istanbul Chief Public Prosecutor's Office said Khashoggi's body was disposed of after being dismembered.
Saudi authorities have so far claimed no knowledge of the whereabouts of his remains.
"The new Saudi totalitarianism, which requires complete subservience and loyalty to the crown prince, has culminated in the scandal of Khashoggi's murder," Al-Rasheed wrote.
"But if Khashoggi's murder ends in nothing but business as usual from the United States, this will not be the last horrific act we see.
Full report at:
https://www.aa.com.tr/en/americas/saudi-scholar-urges-us-to-review-ties-with-saudi-arabia/1307431
--------
Africa
Somali-born Melbourne knife attacker was inspired by ISIS, police say
10 November 2018
A Somali-born man who set fire to a truck laden with gas cylinders in the center of Melbourne and fatally stabbed one person was inspired by ISIS but did not have direct links with the group, Australian police said on Saturday.
Police identified the man responsible for Friday's attack as 30-year-old Hassan Khalif Shire Ali and said he was radicalized and inspired by the militant group's propaganda. He was shot by police and died in hospital.
Police said Shire Ali's Australian passport was cancelled in 2015 after an intelligence report he planned to travel to Syria, but an assessment was made that while he had radical views, he posed no threat to national security.
ISIS had claimed responsibility for the attack, which came two days before Remembrance Day, marking 100 years since the end of World War One, without providing any evidence.
"I think it is fair to say he (Shire Ali) was inspired. He was radicalized," Australian Federal Police Acting Deputy Commissioner Ian McCartney told reporters in Melbourne.
"We're not saying there was direct contact. We're saying it was more from an inspiration perspective."
Prime Minister Scott Morrison said the national terrorism advisory remained at "probable", the midpoint of a five-tier system, and told reporters in Sydney that radical Islam was the issue.
"I need to call it out. Radical, violent, extremist Islam that opposes our very way of life. I am the first to protect religious freedom in this country, but that also means I must be the first to call out religious extremism," he said.
Rush hour attack
Friday's attack began just before the evening rush hour and lasted only minutes. Shire Ali stabbed bystanders and attacked police while his utility truck carrying barbecue gas cylinders burned on busy Bourke Street.
The cylinders did not explode and the fire was put out in 10 minutes, by which point the attack was over, though not before one man was fatally stabbed.
Police said he was a 74-year-old man who worked in the city, but did not release his name. Local media identified him as a restaurant owner.
"This shouldn't happen in a city like Melbourne," one witness who had returned to the scene on Saturday told Reuters, crying. "I just want to forget it," she said.
Video posted to Twitter and broadcast on television showed Shire Ali swinging a knife at two police officers, while the truck burned in the background, before he collapsed when one shot him in the chest.
Victoria state police said counter-terrorism investigators were searching two properties in suburban Melbourne in connection with the attack, but there was no immediate word on what the searches yielded.
At one, a modest one-storey brick house on the city's western fringe, armed officers wearing masks stood guard outside.
Bourke Street also reopened on Saturday morning, and a Reuters reporter said there was an increased police presence in the area.
A staunch US ally, Australia has been on alert for such violence after a Sydney cafe siege in 2014, and its intelligence agencies have stepped up scrutiny. Victoria Police Commissioner Graham Ashton said there was no warning of the latest attack.
He said there was no longer a threat to the public, but that security would be boosted at horse races and Remembrance Day memorials over the weekend.
https://english.alarabiya.net/en/News/world/2018/11/10/Somali-born-Melbourne-knife-attacker-inspired-by-ISIS-police-say.html
--------
Daesh could be recruiting in South Africa: Experts
10.11.2018
By Hassan Isilow
JOHANNESBURG
Experts expressed fear that Daesh might be recruiting in South Africa after prosecutors accused 11 men recently arrested in the city of Durban of having links to the terror group.
Willem Els, a researcher at the Institute for Security Studies (ISS), told Anadolu Agency past and present incidents point to the group's intentions.
"In 2016, a young girl from Cape Town was taken off a flight heading to Turkey where she was going to transit to Syria and join the group (Daesh)," said Els.
He said as number of recent events in Durban show Daesh could be actively recruiting fighters to join them in the Middle East.
A court in South Africa last month heard 11 men accused of attacking a Shia mosque and placing explosives in multiple shopping malls in the coastal city of Durban who were inspired by Daesh teachings.
State prosecutors told a court in Verulam they found eight Daesh flags and newsletters at the home of one of the suspects during a police raid.
Prosecutors alleged one of the men had a manual on how to make bombs and carry out assassinations.
The men, arrested in late September, are accused of stabbing three people at a mosque in Verulam in May, killing one.
They also reportedly placed explosives at major stores in shopping malls in Durban in June and August in hopes of extorting money from owners.
Another security expert, who spoke on condition of anonymity, agrees Daesh might be recruiting fighters but he does not think it is planning to attack South Africa – a country with a 3 percent Muslim population in nation of 55 million.
"South Africa has a policy of tolerance and non-interference in affairs of other nations which makes it everybody's friend and a non-target," he said, but warned such a position could make the country a hub for terrorist groups to find sanctuary.
Speaking at a conference in Johannesburg this week, Jasmine Opperman, a security expert said South Africa is not on the radar of countries Daesh would want to attack, but it is vulnerable to the group's propaganda.
Daesh uses the Internet and newsletters to disseminate its propaganda, wooing fighters and sympathizers.
In 2015, a group of South Africans who went to Daesh-held territories in Syria returned despite authorities being aware of their return. They were not arrested.
But Ibrahim Vawda, a researcher with the Johannesburg-based Media Review Network (MRN), says he does not believe reports claiming Daesh is recruiting fighters in the country.
"South African Muslims don't support ISIS (Daesh) at all. What we are hearing is a mere speculation," he told Anadolu Agency.
Vawda said the arrested men should be viewed as innocent until they are proven guilty by the court.
Two Muslim brothers arrested in Johannesburg in 2016 are still in prison, yet authorities have failed to produce any evidence against them, he said.
Full report at:
https://www.aa.com.tr/en/africa/daesh-could-be-recruiting-in-south-africa-experts/1307631
--------
Nigeria: residents flee homes after Boko Haram raid
11.11.2018
By Olarewaju Kola
MAIDUGURI, Nigeria
Boko Haram raided and burnt a remote community near Nigeria's northeast Maiduguri, Borno provincial capital, forcing scores of residents to flee their homes.
The insurgents attacked Bale Shuwa, a settlement few kilometers away from the city center on Saturday night.
Residents said the insurgents fired several gun shots into the community and set houses on fire. The military immediately responded and the cross-fire forced scores of residents living around the area at the city outskirts to flee their homes.
"I fled my home with my family because the situation was tense. I was afraidn that anything could happen as Boko Haram and military exchanged gunshots," Aliyu Mahmud, a resident told Anadolu Agency in Maiduguri.
The attack came barely an hour after a major shake up in the army which led to the removal of the commander of the military counter-insurgency and terrorism operation in the troubled northeast region, Maj. Gen. Abba Dikko.
General Dikko, who was deployed to the northeast late July, has now been replaced by Gen. Benson Akinroluyo, former General Commanding Officer (GOC) of an army division in Nigeria's northeast central area.
Boko Haram has stepped up attacks on communities and military bases in recent times despite claims by army chief, Lt. Gen. Tukur Buratai that the insurgents were "spent forces." There have been series of attacks around the Lake Chad area with a few casualties from the military.
Full report at:
https://www.aa.com.tr/en/africa/nigeria-residents-flee-homes-after-boko-haram-raid/1308045
--------
US airstrikes fail to weaken al-Shabaab's grip on Somalia
11 Nov 2018
An unprecedented number of US airstrikes against al-Shabaab in Somalia have caused significant casualties without seriously weakening the Islamic extremist group, research suggests.
The US has conducted 29 airstrikes in Somalia against al-Shabaab this year. In 2017, the US conducted 27 strikes against the al-Qaida affiliate, which has fought for almost a decade to impose its rigorous version of Islamic law on the country. Four further strikes last year were directed at a small group of fighters loyal to Islamic State in the east African country.
Some strikes against al-Shabaab have inflicted considerable casualties, with at least 60 recruits dying in an attack on a training camp in Mudug province in the centre of the country last month. But research published last week has suggested that although the overall number of attacks by the extremists has declined slightly, al-Shabaab is adapting to the increasingly lethal air campaign.
Analysts at the Mogadishu-based Hiraal Institute found that the group is conducting fewer massed attacks on government bases but the numbers of strikes against government offices and businesses that refuse to pay its taxes has increased markedly.
The Hiraal Institute report said: "There was a more than a twofold increase in bombings, suggesting that al-Shabaab made a conscious decision to switch to bombings as its primary source of targeting the Somali government and its allies as an efficient attack method that does not expose its men to attacks."
On Friday, a triple bombing in Mogadishu killed dozens. The attack targeted hotels that had not paid protection money, security sources in the Somali capital said.
Many experts say the struggle against the insurgency has reached a stalemate. Hussein Sheikh Ali, the executive director of the Hiraal Institute and a former national security adviser, said: "Al-Shabab are definitely not getting stronger but the government is not getting stronger either.
"The US has been very active and hitting very serious targets but holding territory is very difficult."
It is clear that al-Shabaab is under pressure. The group has been extorting huge sums from starving communities and forcibly recruiting hundreds of children as soldiers and suicide bombers. This has been revealed in intelligence documents, transcripts of interrogations with defectors and interviews conducted by the Guardian, which also show that swaths of central and southern Somalia are controlled by the extremists.
Most international analysts agree that the conflict is deadlocked. Bill Roggio, of the Long War Journal, a specialist counter-terrorism website, wrote last month: "Sustained attacks demonstrate that al-Shabaab retains the ability to launch conventional offensives, in addition to its terrorist attack capability.
The US military maintains that airstrikes "reduce al-Shabaab's ability to plot future attacks, disrupt its leadership networks and degrade its freedom of manoeuvre within the region".
A deep humanitarian crisis is ongoing in Somalia. Rising insecurity and conflict has caused further displacement in the Lower Shabelle region, the UN said.
More than 34,000 people have fled the area since the beginning of August, joining thousands more who fled earlier due to conflict, drought and floods. The majority were women and children.
Overall, 2.6 million people are displaced in Somalia and relief programmes remain critically underfunded.
Full report at:
https://www.theguardian.com/world/2018/nov/11/us-airstrikes-fail-to-weaken-al-shabaab-grip-on-somalia
--------
Red Cross plans security talks after attack by suspected Al-Shabaab
NOVEMBER 10 2018
The Kenya Red Cross Society (KRCS) is contemplating meeting pastoralist communities and other parties to discuss insecurity, following an attack in Garissa County.
KRCS volunteer Ifran Adan was shot and wounded on Saturday morning after suspected Al-Shabaab fighters opened gunfire on a vehicle in Ruqa.
JOINT EFFORT
Two other staff members - Mohamed Faud and Daniel Jilo (driver) - were not shot but they suffered minor injuries as the driver sped off.
Mr Hassan Musa, the KRCS regional coordinator, said they will not be discouraged but that community discussions will help prevent such attacks.
"Although we may not be the target, we shall meet the community and other stakeholders to see how to tackle the insecurity issue together," he told journalists at Tawfique Hospital in Malindi, Kilifi County, where the casualties were taken.
Ms Adan was shot at about 9am as the group travelled to Ijara from Masalani to asses the organisation's projects.
Speaking to the press at the hospital where she was admitted, she said they heard gunshots from a bush and realised she was shot after the driver sped off.
"The only thing that came to mind was our safety. I never imagined such could happen to us," she said.
GUNSHOTS
Mr Jilo said he reversed and sped off after hearing the gunshots.
"I had driven about one and a half kilometers after dropping three passengers along Masalani-Ijara road when we heard the shots," he said.
"I reversed and heard another gunshot from a different assailant."
Mr Jilo said he later picked the three passengers and drove to Masalani before the vehicle broke down.
Full report at:
https://www.nation.co.ke/news/Red-Cross-undeterred-after-Garissa-shooting/1056-4845742-ih70a0z/index.html
--------
Death toll rises to 50 from terrorist attacks in Somalia
November 11, 2018
MOGADISHU - The number of people who perished in the triple terrorist attacks in Mogadishu on Friday has risen to 50 while 58 others are nursing injuries in various city hospitals, police and medical sources said on Saturday. "More bodies were found under the rubble and the death toll now stands at 50 people. We don't know if there are other people still under the rubble but we are trying our best to recover those missing," a police officer who requested anonymity told Xinhua. The city's main hospital Madina received majority of the dead and injured from the blasts which rocked the central business district area Friday. "We received 32 injured people while several others including the dead were booked in other hospitals," said Mohamed Yusuf, director of Madina Hospital. Three huge blasts went off around KM 4 Junction Friday afternoon which the militant group al-Shabab said was targeting Sahafi hotel which is popular with politicians and was once a safe haven for journalists covering the Somali civil war.
The owner of the Sahafi hotel identified as Abdifatah Abdirashid was among those killed. Abdirashid had inherited the hotel from his father who was killed in a similar attack in 2015.
Pictures from the scene showed mangled wrecks of vehicles which were plying the route.
The UN and other foreign countries have condemned the attacks which came barely a month after Somalia marked one year since the October 14, 2017 truck bombing which claimed over 500 lives.
Meanwhile, the African Union Mission in Somalia (AMISOM) has condemned the bombings on Sahafi Hotel and CID headquarters in the restive capital, Mogadishu.
In a statement issued in Mogadishu on Saturday, the AU mission vowed to intensify its joint operations with the Somali government to degrade terrorists and other militant groups.
"AMISOM also calls on the public to remain vigilant and work with the security forces in preventing future senseless attacks by terrorists and restoring lasting peace in Somalia," it said.
Full report at:
https://nation.com.pk/11-Nov-2018/death-toll-rises-to-50-from-terrorist-attacks-in-somalia
--------
Arab World
Bahrain jails more activists ahead of elections this month
Nov 11, 2018
Bahrain has given jail terms, ranging from three to 10 years, to six more anti-regime activists a week after sentencing opposition leader Sheikh Ali Salman and two of his colleagues to life in prison.
One of the convicts received a 10-year sentence, while two others were sentenced to five years each, and another to a three-year jail term, Bahrain's Lulu TV reported.
The criminal court which issued the sentences on Saturday convicted them of "receiving financial aid from terrorist groups."
Last Sunday, a Bahraini court sentenced three senior opposition members, including prominent Shia cleric Sheikh Ali Salman, to life imprisonment after overturning a previous acquittal.
They were charged with spying for Qatar in what Amnesty International called a "travesty of justice."
Salman is already serving a four-year prison term for inciting hatred and insulting the interior ministry, after his arrest in 2015.
He was the secretary general of Bahrain's largest opposition party, the al-Wefaq National Islamic Society (Waad). Courts in Bahrain, where the US Navy's Fifth Fleet is based, dissolved Waad last year, accusing it of helping to foster violence and terrorism.
Bahrain has barred members of dissolved opposition groups from running in parliamentary elections due to be held later this month.
The Al Khalifah regime has maintained a heavy-handed crackdown on protests since the tiny Persian Gulf island was hit by an anti-regime uprising in 2011.
Saudi Arabia and the United Arab Emirates have been helping Manama in the crackdown. So far scores of demonstrators have been killed and hundreds of others are in jails.
They have used numerous tactics, ranging from serious abuse to stripping dissidents of their citizenship, including the country's most prominent Shia cleric Ayatollah Sheikh Isa Qassim.
https://www.presstv.com/Detail/2018/11/11/579686/Bahrain-court-jail-terms-activists
--------
Hezbollah to retaliate against Israeli aggression on Lebanon: Nasrallah
Nov 10, 2018
The secretary general of Lebanon's Hezbollah resistance movement says his fellow fighters will not hesitate to respond proportionately to any Israeli act of aggression against the Arab country.
"We will retaliate against any attack on Lebanon. We will not accept any enemy aggression against our country," Sayyed Hassan Nasrallah said as he addressed his supporters via a televised speech broadcast live from the Lebanese capital Beirut on Saturday afternoon.
He also praised sacrifices made by resistance fighters, stressing that their heroic actions had helped Hezbollah score glorious victories.
"Our martyrs' blood protected our land, so did the 'Golden Formula' and Hezbollah's missile capabilities. Our strength point is missile power because the Lebanese army is forbidden from acquiring state-of-the-art missiles and military hardware," Nasrallah pointed out.
The Hezbollah chief then censured attempts by certain regional states to normalize diplomatic relations with the Israeli regime.
"Dear Palestinians, don't grieve at normalization bids! What had been going on behind the scenes for long is now taking place blatantly and unashamedly. The current normalization attempts will put an end to Arab hypocrisy, and will tear off the masks of deceivers and hypocrites," Nasrallah said.
He further noted that demonstrations in the Israeli-besieged Gaza Strip, which are dubbed "The Great March of Return" and demand the right to return for the Palestinians driven out of their homeland, filled our hearts with hope that Palestinians would not give in to pressure at all.
"Had the Syrian people and government not withstood pressure by Tel Aviv, we would have been witness to (Israeli Prime Minister Benjamin) Netanyahu marching in Damascus," Nasrallah said.
The Hezbollah secretary general also lauded Iran's stance vis-à-vis the Palestinian issue, stating that sanctions against the Islamic Republic will have no effect on the movement.
He also criticized the international community for its outcry over the murder of prominent Saudi dissident journalist Jamal Khashoggi, who was killed after visiting the kingdom's consulate in Turkey's largest city of Istanbul on October 2, while turning a blind eye to Saudi crimes and atrocities in neighboring Yemen.
The Hezbollah chief also described a demand by US President Donald Trump's administration for a ceasefire in Yemen as a hoax, stating that doubts surrounded the timing of such a call.
He called upon Yemeni people to remain patient and persevere as they are very close to victory.
Nasrallah strongly condemned the recent life sentence handed down to prominent Bahraini Shia cleric and opposition leader Sheikh Ali Salman, saying the Appeals Court's decision to overturn his acquittal proved the ruling Al Khalifah regime was oppressive. Turning to the formation of a new national unity government in Lebanon, he said Hezbollah was right to demand 10 ministerial shares, and that its share of six ministers in the next Lebanese administration did not reflect its parliamentary, political and popular size.
Nasrallah then underlined that the six "independent" Sunni lawmakers, who were insisting on being represented in the next government, had prevented the transformation of the political stalemate in Lebanon into a sectarian crisis.
Full report at:
https://www.presstv.com/Detail/2018/11/10/579646/Hezbollah-will-retaliate-against-Israeli-aggression-on-Lebanon-Nasrallah
--------
Jihadists kill 8 Syria troops near truce zone
November 11, 2018
Beirut - Jihadists have killed at least eight Syrian government troops near a planned buffer zone around the country's last major rebel bastion, a monitor said on Saturday.
The Syrian Observatory for Human Rights said the attack took place late on Friday in the north of Hama province near the planned buffer zone around rebel-held territory in neighbouring Idlib. The attack was led by fighters of Hayat Tahrir al-Sham, an alliance led by Syria's former Al-Qaeda branch which is the dominant force in Idlib, the Britain-based monitoring group said. "An assault by HTS targeted a Syrian regime position on the outskirts of the de-militarised zone" and was followed by clashes in which eight regime forces were killed, Observatory chief Rami Abdel Rahman told AFP. Two jihadists also died. The de-militarised zone was announced by rebel backer Ankara and Damascus ally Moscow in September to separate government troops from rebel fighters in Idlib and adjacent areas. Under the deal, the rebels were supposed to have removed all heavy weapons from the buffer zone by October 10 but skirmishes have continued to pit regime forces against jihadists and other insurgents on the ground.
Rebel factions have said they withdrew their heavy weapons from the zone but HTS and other hardline groups have refused to pull out their fighters.
The deadly jihadist assault came hours after government troops killed 23 fighters of a formerly US-backed rebel group inside the planned buffer zone.
Idlib and some adjacent areas are the last major rebel bastion in Syria, where the Russian-backed government has in recent months retaken much of the territory it had lost since the civil war erupted.
It had threatened an assault on rebel territory around Idlib, which is home to some three million people, but the truce deal struck by Russia and Turkey averted it.
Aid organisations had warned that a fully-fledged offensive on Idlib could spark the worst humanitarian catastrophe of the civil war so far.
Full report at:
https://nation.com.pk/11-Nov-2018/jihadists-kill-8-syria-troops-near-truce-zone
--------
Turkey-Backed Militants Sustain Casualties in Clashes with Kurds in Northern Syria
Nov 10, 2018
Hawar news reported that the Kurdish units targeted a position of Faylaq al-Sham in the village of al-Mohammadiyah in Jandaris region in Northwestern Aleppo, killing 5 gunmen of Fayalq and Military Police, both affiliated to the Turkish Army, and injuring 6 more.
It further added that other Kurdish units attacked a position of Sultan Murad militants in Central Afrin, killing 3 and wounding 4 more severely.
Hawar news reported on Thursday that infighting among terrorists of Ahrar al-Sharqiyeh and other elements of Jeish al-Islam intensified in al-Sanaeh district and Kaveh square in Central Afrin in Western Aleppo when they disagreed over their share of people's plundered properties.
Tens of terrorists were killed and wounded from both sides, the news outlet said.
Hawar news also reported heavy clashes among Ankara-backed militants on the road to Amara village in Mubata region and Joqeh village in the Center of Afrin as well as clashes on Qatal Jundo road.
Meantime, all shops and businesses were closes and people refrained from leaving their houses.
Full report at:
http://en.farsnews.com/newstext.aspx?nn=13970819000796
--------
Terrorists Preparing for Main Battle against Syrian Army in Demilitarized Zone
Nov 10, 2018
The Arabic-language website of Sputnik quoted residents of the town of Jisr al-Shughour in the demilitarized zone in Western Idlib as disclosing that Tahrir al-Sham and Turkistani Islamic Party have staged a parade with their tanks, cannons and heavy machineguns.
It went on to say that over 500 terrorists took part in the military parade that covered Jisr al-Shughour and several villages and small towns in the region.
The report said that Jaber Ali Basha, a commander of Ahrar al-Sham affiliated to the National Liberation Front, called on the other terrorist groups to prepare and join a heavy attack on the army in Idlib province.
Sputnik reported on Friday that Tahrir al-Sham and Turkistani party transferred a total sum of 4 cylinders of chlorine gas from a warehouse of Tahrir al-Sham near Jisr al-Shughour hospital to the small towns of al-Ziyarah and al-Mansourah in al-Ghaab Plain in Northwestern Hama that is in the demilitarized zone mentioned in Sochi Agreement.
It further said that the poisonous gas cargos were delivered to al-Turkistani and Liwa Soqour al-Ghaab militants affiliated to the National Liberation Front, adding that terrorists are preparing to launch a false-flag chemical attack to accuse the Syria Army of kicking off such attacks against militants in Northern and Northwestern Hama in coming days.
Full report at:
http://en.farsnews.com/newstext.aspx?nn=13970819000713
--------
Syria protests to UN over coalition air strike in east
10 November 2018
The Syrian government has protested to the United Nations about an air strike by the US-led coalition against ISIS extremist group which it said killed 26 civilians in Hajin in the eastern Deir al-Zor region, state media reported on Saturday.
Asked about reports of air strikes in that area on Friday, the coalition's spokesman said it had "successfully struck and destroyed an ISIS observation post and staging area in Hajin, void of civilians at the time".
The Syrian Observatory for Human Rights said 41 people, including 17 children, had been killed in two waves of coalition air strikes on Friday in Hajin and the nearby village of al-Shafa on the eastern bank of the Euphrates River.
It said the casualties were mostly Iraqi and family members of ISIS fighters.
The coalition is supporting the Kurdish-led Syrian Democratic Forces in an attempt to defeat ISIS in the area it controls near the border with Iraq.
Syrian state media said the foreign ministry had written to the UN secretary general and the president of the security council about "the crime" in Hajin.
Full report at:
https://english.alarabiya.net/en/News/middle-east/2018/11/10/Syria-protests-to-UN-over-coalition-air-strike-in-east.html
--------
Lebanon's President vows to find solution over government impasse
10 November 2018
Lebanese President Michel Aoun said on Saturday that a solution would be found to a political row that has blocked the formation of a new national unity government for more than six months since a general election in May.
The country is in dire need of a government able to implement economic reforms that the International Monetary Fund (IMF) says are necessary.
The last sticking point surrounds Sunni Muslim representation in the country's cabinet where the 30 seats must be allocated along sectarian lines.
The dominant Shiite Muslim group Hezbollah says one of its Sunni allies must be represented in the government to reflect the gains they made in the election.
But Prime Minister-designate Saad al-Hariri, who is Lebanon's main Sunni politician and enjoys Western backing, has ruled out allocating any of his cabinet seats to them.
The Hezbollah-allied Sunnis are also known for their close ties to the Syrian government of President Bashar al-Assad.
Aoun said no effort would be spared to resolve the problem.
"The matter requires bravery and patience to reach the end, but we will find the solution because waiting is a waste of time," a statement from the presidency cited Aoun as saying in a meeting with the head of the Melkite Greek Catholic Church.
A statement from Hezbollah on Saturday said the group's leader, Sayyed Hassan Nasrallah, had met with Aoun's son-in-law a close advisor and outgoing foreign minister Gebran Bassil to discuss the formation of a government and efforts "to resolve the complications".
Bassil heads the Free Patriotic Movement, the party established by Aoun.
Druze leader Walid Jumblatt on Friday voiced fears for Lebanon's currency if the deadlock continues.
While politicians have often warned of the risk of an economic crisis in Lebanon, public expressions of concern for the currency are rare. Lebanon is experiencing stagnant economic growth and has the world's third largest public debt to GDP ratio.
Full report at:
https://english.alarabiya.net/en/News/middle-east/2018/11/10/Lebanon-s-President-vows-to-find-solution-over-government-impasse.html
--------
Syria demands international mechanism to investigate US-led coalition's crimes
Nov 10, 2018
The Syrian government has demanded an independent and international mechanism to investigate the crimes being perpetrated against civilians by the US-led coalition purportedly fighting the Daesh Takfiri terrorist group.
The Syrian Ministry of Foreign Affairs and Expatriates, in two separate letters addressed to United Nations Secretary General Antonio Guterres and the rotating president of the UN Security Council Ma Zhaoxu on Saturday, stated that the Friday airstrikes by the US-led coalition against the eastern town of Hajin near the Iraqi border, which claimed the lives of at least 26 local civilians, including 14 children, once again exposed Washington's false claims of combating terrorism and revealed that the military alliance had no respect whatsoever for the lives of innocent people and international law.
The letters added that the US-led coalition's goals were to kill as many Syrian people as possible, further destroy Syria's infrastructure, undermine the country's future, sovereignty and territorial integrity, and hinder a political settlement of the ongoing crisis.
"All these attempts constitute a blatant violation of all United Nations Security Council resolutions on Syria," the Syrian foreign ministry said.
"Whilst the United States and its allies continue to commit war crimes and crimes against humanity, the Security Council has maintained an awkward silence and failed to take any measure to stop these misdeeds," it pointed out.
The Syrian foreign ministry highlighted that the Damascus government had on several occasions pointed to the US-led coalition's systematically barbaric attacks against innocent civilians, and its use of internationally banned weapons, including white phosphorus bombs.
The ministry then called on the UN Security Council to shoulder its responsibilities, and propose an independent and international mechanism to help stop the coalition's crimes, investigate them and punish their perpetrators.
The US-led coalition has been conducting airstrikes against what are said to be Daesh targets inside Syria since September 2014 without any authorization from the Damascus government or a UN mandate.
Full report at:
https://www.presstv.com/Detail/2018/11/10/579652/Syria-demands-international-mechanism-to-investigation-USled-coalition-crimes
--------
Top Houthi 'minister' flees Yemen, seeks refuge in Saudi Arabia
November 10, 2018
JEDDAH: The Houthi militia "information minister" has fled Yemen and sought refuge in Saudi Arabia, his counterpart in the Yemeni government said on Saturday.
Abdul-Salam Ali Gaber is the most senior member of the Houthi regime to defect since war broke out in 2014. He arrived in Saudi Arabia with his family after they fled Sanaa, the Yemeni capital, said Yemen's Information Minister Moammer Al-Iryani.
Meanwhile, Yemeni government forces backed by the Saudi-led coalition took control of the main hospital in Hodeidah on Saturday as they continued the offensive to recapture the Red Sea port city from the Houthis.
Amnesty International had accused the Houthis of "deliberate militarization" of the hospital after they deployed snipers on its roof.
Fierce battles raged in the city's east between the Houthis and government forces backed by airstrikes and helicopters. "The battles here are turning into street fighting," a government official said.
The Saudi-led coalition said on Saturday it no longer required US inflight refueling for its warplanes in Yemen. "The Kingdom and the coalition have increased their capability to independently conduct inflight refueling," the coalition said.
Full report at:
http://www.arabnews.com/node/1402336/middle-east
--------
Freed Daesh captive says son died in her lap from militant gunfire
November 10, 2018
DAMASCUS: A Syrian woman captured by Daesh said her eight-year-old son died in her lap after the extremists shot him and his cousin during a military operation to liberate them more than 100 days after they were kidnapped.
Najwa Abu Ammar, 35, was kidnapped with her two sons and daughter and nearly two dozen others in July from southern Sweida province in a bloody attack on their villages in which the militants killed over 200 people.
When a military operation began to liberate them on Thursday, the children panicked during the gunfire, she said.
Her son Rafaat and his 13-year-old cousin Qusay ran and the militants fired at them.
"We were in the open air at the bottom of a valley as the clashes raged between the army and gunmen," she said.
"When my son tried to run away, they (Daesh militants) shot him. He was in my lap when he died."
His cousin Qusay bled to death after nearly five hours, Abu Ammar said.
""I am very very sad," she said in a telephone interview through a crackling line from her remote village of Shbiki. "I am tired."
A large funeral procession for the two children set out on Saturday from the national hospital in Sweida to their village, about 30 km to the east.
"What is the sin of those innocent children, who should now be in their classrooms," Monzer Al-Shoufi, a resident of Sweida who took part in the procession, told AP by telephone.
The family of Abu Ammar suffered another loss in the kidnapping — Rafaat's grandmother was killed on the day of the abductions.
Nashaat Abu Ammar, Rafaat's father, said his mother was among those kidnapped by the militants, who forced the elderly, sick woman to walk about 4 km. When she failed to continue, they shot her dead.
Bombings
The rare attacks in the province populated mainly by minority Druze included several suicide bombings. The violence on July 25 devastated the community and shattered the region's calm. At least 216 people were killed and the militants walked away with the captives.
Nashaat Abu Ammar said about 20 of those killed were close relatives and 60 others were related.
Najwa Abu Ammar said the captors held the group in different hideouts, including a camp and a cave, and once kept them in a moving car for over 12 hours, the captives not knowing where they were headed.
The militants fed them sporadically and beat and insulted the children. They didn't torture them, Abu Ammar said, but started threatening to kill them as time passed.
At least two women and one man died in captivity, including a woman who was shot by the extremists to pressure authorities in negotiations for the captives' release.
Abu Ammar's husband said she looked frail.
"Sometimes they fed us once every two days and other times twice every day," Abu Ammar said, adding that it was mostly just olive oil, thyme and jam.
"They held us first in a camp then a cave and kept moving us from one place to the other," she said.
Abu Ammar said she didn't know about the killed hostages until they were liberated.
Broad offensive
Six other hostages, two women and four children, had been freed in an exchange with the regime in October. Negotiations were expected to free the remaining hostages but talks failed and Syrian troops launched a broad offensive against Daesh in southern Syria.
Separately, a war monitoring group and pro-Assad media accused the US-led coalition of killing over two dozen civilians in airstrikes in Hajjin, a town in southeastern Syria near the border with Iraq, Daesh's last stronghold.
Spokesman Col. Sean Ryan told AP in an email that the US-led coalition "successfully struck (and) destroyed" a Daesh observation post and staging area in Hajjin "void of civilians at the time."
Ryan said the coalition team in charge of tracking civilians reviews claims of civilian casualties they see in media reports.
The Britain-based Syrian Observatory for Human Rights said at least 26 people, believed to be members of Daesh families, were killed in Hajjin and another seven were killed in Shafaa in airstrikes on Friday.
The Observatory said the dead were mostly women and children and were mostly Iraqis.
Syria's state news agency reported 26 killed, quoting locals.
The Daesh group posted a rare video from inside Hajjin showing badly destroyed homes, bodies protruding from under rubble and dust still rising from some buildings.
The US-led coalition and local allies have been battling Daesh on the eastern banks of the Euphrates River.
Full report at:
http://www.arabnews.com/node/1402631/middle-east
--------
Europe
Bourke Street attack: Scott Morrison slammed for Islam remarks
NOVEMBER 10, 2018
Prime Minister Scott Morrison has been slammed for his remarks singling out radical Islam in the wake of the Bourke Street terror attack.
Labor MP and counter-terrorism expert Anne Aly said the PM's response to the events in Melbourne was ignorant and "politically desperate", after he called Islamic extremism the greatest threat to Australia's national security.
"There is no country that is immune to the threat of terrorism," Dr Aly told Sky News.
"I don't care how politically desperate you are, now is not the right time to divide the community."
At a press conference yesterday, Mr Morrison said he could not speak of Friday's attack in Melbourne, which left an innocent man dead, two others stabbed and a car bomb driven into the CBD, without naming the threat of "radical, violent, extremist Islam" behind it.
Somalian-born terrorist Khalif Shire Ali, 30, had links to Islamic State and had been radicalised, according to police.
"Here in Australia, we would be kidding ourselves if we did not call out the fact that the greatest threat of religious extremism in this country is the radical and dangerous ideology of extremist Islam," Mr Morrision said.
But Dr Aly, a Professorial Fellow and former Associate Professor at Curtin University, said Mr Morrison needed to do "a little bit of terrorism 101 … and know what he's talking about before he starts dividing communities and pointing fingers at radical Islam."
"Yes, violent jihadism has been the predominant aspect of the religious wave of terrorism (of) the last 40 years or so (but) is it the biggest threat here in Australia in terms of violence and victims of violence? The biggest victims of violence in Australia aren't victims of violent terrorism, they are victims of domestic violence.
"When we look at all forms of violence, violence perpetrated by violent jihadists — or radical Islam as the Prime Minister wants to put it — pales in comparison to the number of women who are being killed every week in domestic and partner violence."
Dr Aly said Mr Morrison had also missed an important distinction between cognitive extremism and behavioural extremism.
"Now every researcher, every academic, every practitioner and every person in law enforcement knows that being extreme doesn't always necessarily lead to violence," she said.
"In fact we have many case of people have become violent but have not shown a process of extremism or radicalisation. We also have examples of people who are extreme, who we may consider holding extreme beliefs, extreme world views who have never become violent."
Mr Morrison yesterday told Australians to "keep being yourselves, keep being Australians,"
while urging Islamic religious leaders to protect their communities to ensure "dangerous teachings and ideologies" didn't spread in Australia.
"They must be proactive, they must be alert and they must call this out in their communities," he said, adding the government and wider community needed to work respectfully with them.
But Dr Aly said singling out Muslim leaders to do more was a cheap political shot.
"The Prime Minister is coming out and doing these three-word slogans and these shorthand platitudes and making these comments that the Muslim community needs to do more … they are doing more," she said.
"They do more every time there is a terrorist attack. Time to change tact … instead of using the same old political lines to make a political point and politicise a very, very tragic event."
Australian Federal Police yesterday revealed Shire Ali was known to authorities for his extremist views, and had had his passport cancelled in 2015 following an attempt to travel to Syria. But he was not considered a national security threat went unmonitored after that time.
AFP national manager of counter-terrorism Ian McCartney admitted the Bourke Street attack had come as a wake-up call to authorities.
"The event yesterday for us is a reality check, even with the fall of the Caliphate … the threat continues to be real," he said.
Beloved restranteur Sisto Malaspina, co-owner of Melbourne's iconic Pellegrino's espresso bar, stabbed to death just a few hundred metres from the premises after trying to assist Shire Ali when he stepped out of a burning car on Bourke Street on Friday afternoon.
Two others were also stabbed before Shire Ali was filmed lunging wildly at police with a knife. He was shot by a junior officer and later died in hospital.
https://www.theaustralian.com.au/national-affairs/bourke-street-attack-scott-morrison-slammed-for-islam-remarks/news-story/ba44bbfaffc6d9cf9662547308f8740d
--------
Albania bans 52 Greeks after 'extremism' at funeral
November 11, 2018
Tirana - Tirana has banned 52 Greek nationals from entering the country over what it labelled their "extremist" behaviour at the funeral of an ethnic Greek man killed by Albanian police, an official said late Friday.
The 52 were banned as their "intolerable manifestation of extremism harms Albania's sovereignty, national and public security," deputy interior minister Aleksander Lleshaj told reporters. In Athens, the Greek foreign ministry said it expected "meaningful clarifications" over the move.
"At this sensitive moment we expect the Albanian side to desist from actions and statements that further charge the atmosphere in our bilateral relations," the ministry said in a statement. The 52 were among hundreds of people, many from Greece, who attended the funeral of Konstantinos Katsifas on Thursday.
The 35-year-old, who had both Greek and Albanian passports, was killed during a shootout with police in Bularat, a village in southeastern Albania, on October 28.
During the funeral, many mourners, carrying white-and-blue Greek flags, chanted "Konstantinos, you are alive and leading us!"
"Bularat is Greek!" and "Blood is calling us, set Albanians on fire!"
Tirana described Katsifas as a Greek "extremist" who had fired a Kalashnikov in the air in the centre of the village, near a ceremony being held to commemorate Greek soldiers who fought in World War II.
A 30-minute shootout ensued after police tried to apprehend him.
Greece said the loss of life was "unacceptable" and requested a full investigation, while some Greek nationalist groups have protested against the killing, firebombing an Albanian tourism office in Athens.
"In every country ... it is very well known what happens if one stands against police," Albanian Foreign Minister Ditmir Bushati said in a statement Friday.
He said the "extremism manifested during the funeral in Bularat ... harms the friendship between the two people."
The treatment of Albania's ethnic Greeks has long strained bilateral relations.
The size of the ethnic Greek minority in Albania, concentrated in the south, is disputed. A 2011 census put it at 25,000 out of an overall population of 2.8 million.
Some 600,000 Albanians have also emigrated to Greece since the fall of communism almost 30 years ago.
Full report at:
https://nation.com.pk/11-Nov-2018/albania-bans-52-greeks-after-extremism-at-funeral
--------
Turkish President meets world leaders in Paris
11.11.2018
By Ilkay Guder
PARIS
President Recep Tayyip Erdogan on Saturday attended a dinner hosted by his French counterpart Emmanuel Macron at Paris' Orsay Museum.
Macron's dinner was attended by heads of states, governments and international institutions and their spouses who came to the French capital to join in events marking the centenary of the end of World War I.
During the dinner, Erdogan met Macron, German Chancellor Angela Merkel and Qatari Emir Sheikh Tamim bin Hamad Al-Thani.
Erdogan talked with Macron and his wife Brigitte as well as Merkel.
He also talked with Serbian President Aleksandar Vucic, Bosniak member of the tripartite Presidency of Bosnia and Herzegovina Bakir Izzetbegovic, Libyan Prime Minister Fayez al-Sarraj and Lebanese Prime Minister Saad Hariri.
Full report at:
https://www.aa.com.tr/en/europe/turkish-president-meets-world-leaders-in-paris/1308084
--------
URL: https://www.newageislam.com/islamic-world-news/uncles-carrying-brides-doli-lead/d/116847
New Age Islam, Islam Online, Islamic Website, African Muslim News, Arab World News, South Asia News, Indian Muslim News, World Muslim News, Women in Islam, Islamic Feminism, Arab Women, Women In Arab, Islamophobia in America, Muslim Women in West, Islam Women and Feminism