New Age Islam News Bureau
28 Dec 2014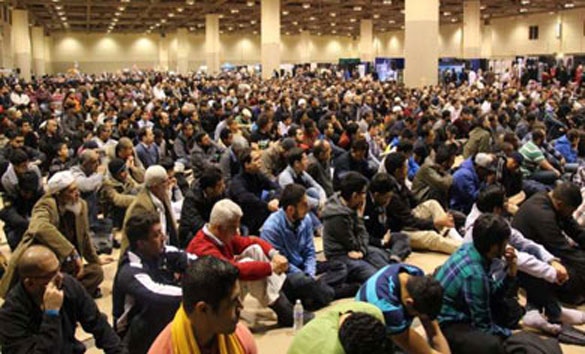 Thousands of Muslims from across the world are attending the Islamic conference in Toronto
------------
Europe
• UN, EU's Calls to Halt Executions Rejected by Pakistan
• UN Hails Young Saudi Generation
• Germany needs immigration, finance minister says after anti-asylum rallies
• NATO ends its Afghan war, but insurgency on the rise
• Switzerland Waqf conf. advises Europe endowment body
Arab World
• ISIS Boy 'Suicide Bomber' Surrenders In Iraq
• Dubious Websites Incite Saudis to Join Terrorists
• Shiite Clerics: Don't Keep Mum on KSA Killings
• ISIS loses ground to Kurds in Syria's Kobane
• Purists Alarmed At Increasing Popularity of Franco-Arabic
• Syria ready to discuss Russia plan to end crisis
• Daunting lack of cybercrime awareness recorded in Saudi Arabia
• Al-Azhar expels 51 students over Brotherhood protests
Africa
• Boko Haram Terrorists Kill 30 in Cameroon
• Car Bomb Hits Diplomatic Security Building in Libyan Capital
• Libya's official government conducts air strikes on Misrata
• Morocco jails 10 in cases linked to 'terrorism'
• Al-Shabab militant Zakariya Hersi 'surrenders'
South Asia
• 22 Insurgents Killed Across Afghanistan
• Taliban Commander Including 6 Killed In Drone Strike
• Tribal elder among 2 killed in Laghman explosion
• Massive attacks foiled, 5 Militants arrested in Kandahar
• HT Imam: AL never resorts to violence despite being repeatedly attacked
Mideast
• Hamas Chief Lauds Turkey as 'Source of Power' For Muslims
• Anti-Arab Group Poses Legal, Political Dilemma for Israel
• Islamists, Kurdish groups clash in Turkey, three killed
• Senior Iranian military adviser killed in Iraq
• Tehran heats up arms race with 'suicide' drone
• Leader's Top Military Aide Warns of Enemies' Soft War against Iranian Nation
Southeast Asia
• Malaysia Sends Three Military Vessels, Aircraft to Search for Missing Air Asia Plane
• Indonesia: Missing AirAsia plane's fuel tanks empty by now
• Philippine government, leftist rebels to restart peace talks next year
India
• Idea of a 'Homogeneous' Nation Is Problematic: Vice President
• 2014: Names of Osama, ISIS surfaced in Delhi courts
Pakistan
• Restoration of Peace in Pakistan Biggest National Issue: Jamaa -e-Islami
• Man from Ahmadi Religious Minority Killed after Muslim Leader Calls Them 'Enemy'
• Licensed Arms Being Used In Targeted Killings, Terror Attacks
• Military courts formed to save democracy, eliminate terrorism: Rashid
• ATCs too busy trying 'terrorists' like Imran Khan, Tahir ul Qadri
• Police arrest four suspected militants, defuse bomb in Quetta
• MQM outlines proposals for counter-terrorism policy
• Murderers of Benazir will be tried in military courts: Shah
• 195 suspects including 7 terrorists, 13 Afghan nationals arrested
North America
• Muslims Seeking Knowledge At Islamic Convention In Toronto
• Mccain Meets Barzani, Commends Peshmerga Efforts Against Isis
• California Man Suspected Of Vandalizing Islamic Centre
• Pakistani officials displeased at Homeland's portrayal of Pakistan
• NASA pictures show Holy Land in festive season
Compiled by New Age Islam News Bureau
URL: https://www.newageislam.com/islamic-world-news/new-age-islam-news-bureau/un,-eu's-calls-to-halt-executions-rejected-by-pakistan/d/100729
----------
Europe
UN, EU's Calls to Halt Executions Rejected by Pakistan
28 Dec, 2014
ISLAMABAD: The government rejected calls by the United Nations and the European Union to revive moratorium on execution of convicts, noting that capital punishment for terrorists did not violate international law.
"Pakistan respects the international community, but the country is passing through extraordinary circumstances, which demand extraordinary measures to be taken," a government spokesman said while referring to UN Secretary General Ban Ki-moon's conversation with Prime Minister Nawaz Sharif in which the UN chief called for halting executions.
The spokesman said that a "peaceful Pakistan is in the best interest of the world".
Meanwhile, Foreign Office Spokesperson Tasnim Aslam said in a twitter posting: "Pakistan is cognisant of its obligations under UN Human Rights Conventions/Covena­nts. Execution of terrorists violates no international law."
"The Secretary-General spoke on the phone with H.E. Mr Muhammad Nawaz Sharif, Prime Minister of Pakistan, on 25 December 2014... While fully recognising the difficult circumstances, the Secretary-General urged the Government of Pakistan to stop the executions of convicts and re-impose the moratorium on the death penalty," a statement from Mr Ban's office had said.
Read: UN urges Pakistan to halt executions
Mr Sharif had during the conversation assured Mr Ban that all legal norms would be respected while handing down sentences to terrorists and during the execution of the sentences.
The government had earlier this week announced that it was setting up military courts for speedy prosecution of terrorism cases.
The government had lifted the moratorium on executions in the aftermath of Peshawar school carnage. So far six people, convicted of attacks on GHQ and former president Pervez Musharraf, have been executed.
Pakistan has some 8,000 death-row inmates awaiting execution. But the government says that moratorium has only been lifted in terrorism cases.
The number of those convicted in terrorism-related offences is about 170.
The European Union too had called for halting executions.
"We believe that the death penalty is not an effective tool in the fight against terrorism. The EU Delegation regrets the decision of the Government of Pakistan to lift the moratorium on executions, which had been in place since 2008," a statement by the EU Delegation to Pakistan had said.
"The EU remains opposed to the death penalty in all circumstances. We hope that the moratorium will be re-established at the earliest," the EU statement had said.
http://www.dawn.com/news/1153574/un-eus-calls-to-halt-executions-rejected
----------
UN Hails Young Saudi Generation
28 Dec, 2014
Several volunteers of Princess Al-Anood Center for Youth Development (Warif) were honoured for their "extraordinary" voluntary services at a function jointly held by Warif and the UN Development Program (UNDP).
Warif, which works to instil a culture of volunteerism among Saudi youth, gathered its selected volunteers, both male and female, recently at the UN House in the diplomatic quarter to honour them as also to acknowledge their valuable contribution toward the society.
Warif volunteers who came here from across the Kingdom to share their valuable experience with each other expressed great excitement about their volunteerism efforts.
Speaking to Arab News on the sideline of the program, Moath Alhawas, a volunteer from Al-Ahsa, said: "A volunteer acts with the spirit of giving care and at the same time encourages others to follow the example that he or she sets. I am glad that I have been honoured for my work."
While urging other youth of his age to involve themselves in good moral behaviour and ethical treatment, he said: "If you try it, you will feel better by extending all sorts of help to others."
Bedour Almaouash, who was acknowledged for his acts of watering plants and feeding birds, said that every act of volunteerism carries weight. "We just need to be humble and do whatever good work we can do."
While talking about her volunteering work at the university level by extending cooperation to new-comers and fellow class mates, Lubna Alsamari said that volunteerism is founded on the high value of the collective efforts of individuals to strengthen social fabric and strengthen civic sense among the people.
Earlier, Khosina Abu Naji shared his valuable experience on corporate volunteering. Other volunteers who were honoured on the occasion included Sara Alfahaad in the individual volunteer category, Osman Khojali for distributing hot drinks during winter to workers and labourers, Majid Alrabizi for his Najran experience in volunteering and Munira Alsarri for her volunteering work in Al-Qassim.
Warif and UNDP hailed their voluntary services and described the young generation as the bright future of the Kingdom. Notably, Warif has the mandate of empowering the youth to fully participate in development of their communities through volunteerism, which is deeply rooted in national and traditional norms.
Warif has sought the UNDP's support to provide assistance in building its individual and institutional capacities, as well as in identifying new youth volunteerism niches in the Kingdom.
http://www.arabnews.com/saudi-arabia/news/680801
----------
Germany needs immigration, finance minister says after anti-asylum rallies
28 Dec, 2014
German Finance Minister Wolfgang Schaeuble said on Saturday that immigration is good for the country and politicians must explain better that everyone stands to gain from it, in response to the rise of a new movement opposing an influx of Muslim immigrants.
The number of asylum seekers in Germany, many from Syria, has more than doubled this year to around 200,000, and net immigration is at its highest level in two decades.
Many Germans are concerned about the related costs and worry about refugees taking jobs.
The sudden emergence of grass-roots movement PEGIDA, or Patriotic Europeans Against the Islamization of the West, which last week held a 17,500-strong anti-immigrant rally in the eastern city of Dresden, has forced lawmakers to respond.
"The world is more open and immigration helps everyone. Just as we used millions of refugees and expellees after World War Two to rebuild .. so we need immigration today," Schaeuble told Bild Online when asked about the popularity of PEGIDA.
Immigration has shot up the political agenda in Germany. Some members of Chancellor Angela Merkel's conservative bloc are worried that they risk losing support if they do not respond to peoples' fears.
Voters have already punished governments in several other European countries, including Britain and Sweden, for failing to address the highly charged issue of immigration.
"Of course we have to live together with immigrants. That will change our day-to-day life but won't make it worse, but will mostly improve it," added Schaeuble, a member of Merkel's Christian Democrats (CDU).
Immigration is a particularly sensitive subject in Germany due to its Nazi past. Germany's asylum rules are among the most liberal in the world.
Schaeuble said politicians must get better at explaining the changes in daily life, and he echoed comments made by President Joachim Gauck this week saying people should not be afraid.
"People are right to fear Islamist terrorism. But not Islam," he said.
http://english.alarabiya.net/en/News/world/2014/12/27/Germany-needs-immigration-FinMin-says-after-anti-asylum-rallies.html
----------
NATO ends its Afghan war, but insurgency on the rise
28 Dec, 2014
KABUL: NATO will hold a ceremony in Kabul later Sunday formally ending its war in Afghanistan, officials said, after 13 years of conflict that have left the country in the grip of worsening insurgent violence.
The event was arranged in secret due to the threat of Taleban strikes in the Afghan capital, which has been hit by repeated suicide bombings and gun attacks over recent years.
On January 1, the US-led International Security Assistance Force (ISAF) combat mission, which has suffered 3,485 military deaths since 2001, will be replaced by a NATO "training and support" mission.
About 12,500 foreign troops staying in Afghanistan will not be involved in direct fighting, but will assist the Afghan army and police in the battle against the Taleban, who ruled from 1996 until 2001.
When numbers peaked in 2011, about 130,000 troops from 50 nations were part of the NATO military alliance.
A NATO official said US General John Campbell, the ISAF commander, would lead Sunday afternoon's ceremony at the force's headquarters in Kabul.
No other details were released for security reasons.
"In just a few days, our combat mission in Afghanistan will be over," US President Barack Obama said in his Christmas Day address. "Our longest war will come to a responsible end."
Sunday's ceremony completes the gradual handover of responsiblity to the 350,000-strong Afghan forces, who have been in charge of nationwide security since the middle of last year.
But recent bloodshed has undermined claims that the insurgency is weakening and has highlighted fears that the international intervention has failed as Afghanistan faces spiralling violence.
The United Nations says that civilian casualties hit a record high in 2014, jumping by 19 percent with 3,188 civilians killed by the end of November.
Afghan's police and army have also suffered a grim death toll on the battlefield, with fatalities soaring to more than 4,600 in the first 10 months of 2014 — far higher than all ISAF deaths since 2001.
'Absolute failure'
"The US and NATO mission was an absolute failure as today's ceremony shows," Taleban spokesman Zabihullah Mujahid told AFP.
"They are fleeing from Afghanistan. They have not reached their goals in defeating the Afghan mujahideen, but they are keeping some forces here to reach their vicious aims."
US commanders insist Afghan security forces can hold the line against the Taleban despite concerns of a repeat of Iraq, where an American-trained army virtually collapsed in the face of a jihadist onslaught.
Since 2001, billions of dollars of aid have been spent in Afghanistan on new schools, hospitals, roads and promoting women's rights, but corruption has been endemic and progress limited even in the cities.
This year's presidential election, which was meant to be the flagship legacy of the development effort, was marred by fraud and a prolonged stand-off between the two poll rivals that fanned further unrest.
Ashraf Ghani eventually emerged as the new president in a power-sharing deal with Abdullah Abdullah.
But their "unity government" has failed to appoint any new ministers three months after taking power.
Ghani hopes to bring peace to Afghanistan after decades of conflict, saying he is open to talks with any insurgent group.
Hamid Karzai, president from 2001 until 2014, opened preliminary contacts with the Taleban but they collapsed acrimoniously last year.
US troops in Afghanistan will be halved by the end of next year, before being reduced to an embassy protection presence by the end of 2016.
The US will continue to provide some air support for the Afghan military, and may extend operations if required to prevent rapid Taleban advances.
One rocket landed on Saturday inside Bagram, the largest ISAF air base, causing no casualties. The Taleban claimed responsibility for the attack.
Recent Taleban targets in Kabul have included foreign guesthouses, diplomatic convoys and Afghan army buses.
http://www.arabnews.com/world/news/680941
----------
Switzerland Waqf conf. advises Europe endowment body
28 Dec, 2014
GENEVA: A conference held here to ponder over the role of waqf (religious endowment) in helping Muslim minorities in the West has recommended the creation of a European endowment authority.
The conference, which wound up in La Chaux-de-Fonds in Switzerland on Friday, also suggested the setting up of a charitable consultation agency and compilation of a list of Islamic endowments in Europe, Kuwaiti Ministry of Awqaf and Islamic Affairs Researcher Jarrah Al-Zaid told KUNA.
Underscoring the significance of the outcomes of the event, Al-Zaid said such recommendations would be subject to intensive deliberations by the Kuwaiti Waqf Secretariat since it reflects the role of Islamic endowments in helping Muslim minorities in the West.
A joint European-Gulf investment committee was also recommended during the religious event in order to compile a strategic document promoting waqf projects, he added.
The conferees also called for setting up a follow-up committee that would monitor the implementation of outcomes and resolutions produced during the gathering, the Kuwaiti waqf researcher pointed out.
The conference, which kicked off in Switzerland on December 24, mainly aimed at tossing around ideas and exchanging experiences on waqf and its benefits for Muslims everywhere but especially for Muslim minorities in Europe, he concluded. (KUNA)
http://nvonews.com/switzerland-waqf-conf-advises-europe-endowment-body/
----------
Arab World
ISIS Boy 'Suicide Bomber' Surrenders In Iraq
28 Dec, 2014
A 14-year-old Syrian boy, clad in a vest lined with explosives, turned himself in to Iraqi authorities as he defected from the Islamic State of Iraq and Syria militant group, the New York Times reported.
Usaid Barbo walked up to a Shiite mosque in Baghdad's neighbourhood of Baiya that he had been ordered to target in a suicide attack.
"I opened up my jacket and said, 'I have a suicide vest, but I don't want to blow myself up,'" he said in an interview with the New York Times conducted in a secret Iraqi intelligence site where he is currently held.
As chaos erupted, plainclothes security officials removed the vest off of him as other officers scrambled to keep people at bay.
Barbo was recruited by ISIS in a mosque in his war-torn hometown of Manbij, near Aleppo, which was overrun by the militant group.
"They seduced us to join the caliphate," he said as he explained that he joined the group willingly because he "believed in Islam."
Full report at:
http://english.alarabiya.net/en/perspective/features/2014/12/27/Young-ISIS-suicide-bomber-surrenders-in-Iraq.html
----------
Dubious websites incite Saudis to join terrorists
28 Dec, 2014
Terrorists are increasingly resorting to the Internet to lure young men to their organizations, sources told local media on Saturday.
They said terrorists do not only offend their home country, but often leave their families behind with little or no ways to sustain themselves.
In some cases, youth choose to escape to places of unrest, breaking the Kingdom's laws, which prevents participation in terrorist organizations in conflict zones, such as Iraq and Syria.
The Kingdom has responded to the growing problem by issuing a royal decree that prohibits attempts to mobilize young men from joining the terror groups in conflict zones.
Authorities, monitoring the social media, have found that terror organizations often receive inquiries about religious and social issues.
Abdulmunim Al-Mashooh, an official at the Ministry of Islamic Affairs, reiterated that the Kingdom does not support any website promoting terror.
http://www.arabnews.com/featured/news/680881
----------
Shiite Clerics: Don't Keep Mum on KSA Killings
28 Dec, 2014
Leading Shiite clerics called on people in Saudi Arabia not to remain silent on the recent killing of pro-democracy activists by Riyadh regime forces in the Eastern Province.
Sheikh Abdul Karim al-Habil and Seyyed Hashem al-Shakhs condemned the atrocities and stressed that actions must be taken to prevent the recurrence of such incidents, press tv reported.
"We should not stand watching as if we do not care about anything. All of us from every class or community should try our best to put an end to that tragedy," said Sheikh al-Habil.
Al-Shakhs, for his part, said, "Shedding innocent blood, killing children and scaring people is not acceptable in any country, especially in the Islamic countries, according to our religion and principles."
Full report at:
http://english.farsnews.com/newstext.aspx?nn=13931007000699
----------
ISIS loses ground to Kurds in Syria's Kobane
28 Dec, 2014
ISIS militant group has lost ground in the Syrian border town of Kobane, where Kurdish fighters now control more than 60 percent of territory, a monitoring group said Saturday.
The strategically located town on the border with Turkey has become a major symbol of resistance against ISIS, which has seized large parts of Syria and Iraq, committing widespread atrocities.
The jihadists launched a major offensive in mid-September to try to capture Kobane, and at one point controlled more than half of the town, known in Arabic as Ain al-Arab.
But supported by U.S.-led air strikes and reinforced by Kurds from Iraq, "Kurdish forces now control more than 60 percent of the city," said Rami Abdel Rahman, director of the Britain-based Syrian Observatory for Human Rights.
Full report at:
http://english.alarabiya.net/en/News/middle-east/2014/12/27/ISIS-loses-ground-to-Kurds-in-Syria-s-Kobane-.html
----------
Purists Alarmed At Increasing Popularity of Franco-Arabic
28 Dec, 2014
Franco-Arabic, the popular language of communication for conversations and chats on social media sites is increasingly being seen as a threat to the Arabic language, culture and identity.
While the language is commonly used in Egypt and several other Arab countries, it faces resistance from lovers of Arab identity and culture with campaigns such as "Write Arabic" and 'Enough Franco."
A heady cocktail of Arabic and English written in the Latin script, Franco-Arabic or Franco has gained huge popularity among the youth who relate to it because of its symbols which they can adopt to Arabic. So for example, the symbol '3' is used to represent the Arabic letter 'Ayn,' 5 for the letter 'kha,' 7 for 'Ha' and 8 for 'Ghain'.
Full report at:
http://www.arabnews.com/art-culture/news/679926
----------
Syria ready to discuss Russia plan to end crisis
28 Dec, 2014
BEIRUT: Syria said it is willing to participate in "preliminary consultations" in Moscow aimed at restarting peace talks next year to end its civil war.
"Syria is ready to participate in preliminary consultations in Moscow in order to meet the aspirations of Syrians to find a way out of crisis," state television said, quoting a source at the Syrian Foreign Ministry.
Meanwhile, the Islamic State has lost ground in the Syrian border town of Kobani, where Kurdish fighters now control more than 60 percent of territory, a monitoring group said.
The strategically located town on the border with Turkey has become a major symbol of resistance against IS, which has seized large parts of Syria and Iraq, committing widespread atrocities.
Full report at:
http://www.arabnews.com/middle-east/news/680781
----------
Daunting lack of cybercrime awareness recorded in Saudi Arabia
28 Dec, 2014
Ask someone about cybercrimes in the country and the answer will likely be a blank stare. Despite an estimated $550 to $735 million in losses to Gulf Cooperation Council (GCC) countries, awareness on cybercrimes remains dismally low and experts are saying people need to be aware of regulations for combatting cybercrimes, what their rights are when surfing the Internet and how they can protect themselves so they don't fall victim to a cybercrime, al-Riyadh daily reported.
In this regard, there is a significant role to be shouldered by telecommunication companies and service operators in the Kingdom in order to create awareness on the risks of cybercrimes and the misuse of telecommunication and information technology services.
This is aside from providing users with the necessary knowledge on using technology and acquainting them with preventive measures.
Users should also be provided with information on the official authority that can be contacted when they fall victim to a cybercrime.
Full report at:
http://english.alarabiya.net/en/media/digital/2014/12/27/Daunting-lack-of-cybercrime-awareness-in-Saudi-Arabia-.html
----------
Al-Azhar expels 51 students over Brotherhood protests
28 Dec, 2014
Al-Azhar University, Egypt's largest Islamic educational institute, expelled on Sunday 51 students for involvement in pro-Muslim Brotherhood protests.
The university's deputy head, Tawfeeq Noureddin, told Ahram Online that investigations showed the students had violated university rules.
Investigations by the university administration and the public prosecution found that the students were involved in violence and riots on campus, university president Abdel-Hay Azab said in a statement reported by state news agency MENA.
Al-Azhar University has witnessed a wave of protests and violent clashes between anti-government students and security forces since the ouster of Islamist president Mohamed Morsi in July 2013.
Thousands of students have been arrested and tried in accordance with a controversial protest law, while dozens of others have been expelled for their involvement in protests in the past few months after the Supreme Council of Universities said it would expel students and staff members involved in violence.
http://english.ahram.org.eg/NewsContent/1/64/118989/Egypt/Politics-/AlAzhar-expels--students-over-Brotherhood-protests.aspx
---------
Africa
Boko Haram Terrorists Kill 30 in Cameroon
28 Dec, 2014
Boko Haram Takfiri militants killed around 30 people in Cameroon, an official said.
"We do not yet have all the facts, but our divisional officers and security officials are filling us in," Regional Governor Mijiyawa Bakary said, adding that the victims were civilians, Sputniknews reported.
The militants attacked Mbaljuel, a village in the North of the country, bordering Nigeria.
Boko Haram terrorist group is blamed for over 10,000 deaths over the last five years.
http://english.farsnews.com/newstext.aspx?nn=13931007000574
----------
Car bomb hits diplomatic security building in Libyan capital
28 Dec, 2014
A car bomb exploded outside the diplomatic security building in Tripoli but caused no casualties, a Libyan official said, with the Islamic State of Iraq and Syria (ISIS) group claiming responsibility.
Colonel Mubarak Abu Dhaheer, who heads the security department in charge of protecting diplomatic missions, said the blast in central Tripoli caused some damage to the building but that no one was hurt.
"This is a criminal act aimed at undermining security and stability and at targeting policemen tasked with guarding diplomatic missions," said Abu Dhaheer.
ISIS said it carried out the bombing, according to the U.S.-based monitoring group SITE Intelligence.
"The provincial division of the ISIS for Tripoli, Libya, claimed a car bombing at the diplomatic security building in the capital, and provided a photo of the blast," SITE said.
Three years after dictator Muammar Qaddafi was toppled and killed in a NATO-backed revolt, Libya is awash with weapons and powerful militias, and run by rival governments and parliaments.
Full report at:
http://english.alarabiya.net/en/News/middle-east/2014/12/27/Car-bomb-hits-diplomatic-security-building-in-Libyan-capital-.html
----------
Libya's official government conducts air strikes on Misrata
28 Dec, 2014
Forces loyal to Libya's recognised government staged air strikes on targets in Misrata on Sunday in the first such attacks on the city allied to an armed group that seized the capital in the summer, officials and residents said.
The North African country, a major oil producer, has been engulfed in fighting between the two sides, each with its own government and parliament.
The internationally recognised Prime Minister Abdullah al-Thinni has been forced to run a rump state in the east since a group known as Libya Dawn took control of Tripoli in August, setting up a rival government and parliament.
Mohamed El Hejazi, spokesman for armed forces loyal to Thinni, said his air force had attacked Misrata's port, an air force academy near the airport and Libya's biggest steel plant, which is located in the western city.
Full report at:
http://english.ahram.org.eg/NewsContent/2/8/118995/World/Region/Libyas-official-government-conducts-air-strikes-on.aspx
----------
Morocco jails 10 in cases linked to 'terrorism'
28 Dec, 2014
A Moroccan court specialising in cases related to "terrorism" has sentenced 10 people to jail terms, including some accused of recruiting fighters for Syria and Iraq, official media said Saturday.
Three defendants accused of plotting to "carry out acts of terror" were given the longest sentence of five years each, the official MAP news agency said.
It did not identify those convicted, but said that one had fought in the ranks of the jihadist Islamic State group and had been wounded in the leg.
Among the other defendants jailed by the court was a minor sentenced given six months for "praising terrorist acts", the agency said.
Full report at:
http://english.ahram.org.eg/NewsContent/2/8/118945/World/Region/Morocco-jails--in-cases-linked-to-terrorism.aspx
---------
Al-Shabab militant Zakariya Hersi 'surrenders'
28 Dec, 2014
A top al-Shabab militant, Zakariya Ahmed Ismail Hersi, has given himself up, Somali officials say.
Mr Hersi, a leading figure in the militant group's intelligence wing, surrendered to police in the Gedo region, they add.
In June 2012, the US state department offered $3m (£1.9m, 2.5m euros) for information leading to his capture.
It comes three months after al-Shabab leader Ahmed Abdi Godane was killed in a US air strike.
A Somali intelligence officer, quoted by the Associated Press news agency, suggested Mr Hersi may have surrendered because of a dispute with al-Shabab members loyal to the former leader.
Full report at:
http://www.dhakatribune.com/world/2014/dec/28/al-shabab-militant-zakariya-ahmed-ismail-hersi-surrenders#sthash.fOJCz4dG.dpuf
----------
South Asia
22 Insurgents Killed Across Afghanistan
Dec 28 2014
Interior ministry of Afghanistan says to have killed 22 insurgents during clearance operations across the country.
A statement issued by the ministry states that seven insurgents sustained injuries in confrontation with Afghan National Security Forces while three of them arrested.
The statement issued Sunday morning adds that the operations were conducted in past 24 hours in Kundunz, Kandahar, Uruzgan, Ghazni, Khost and Kapisa provinces.
Afghan National Police (ANP) was also assisted by Afghan National Army (ANA) and National Directorate of Security (NDS) personnel in these operations, the statement says.
According to the statement security forces also seized different types of weapons and ammunitions and defused three IEDs in Baghlan and Kandahar provinces.
Improvised Explosive Device or IED is considered one of the biggest threats not only to government forces but also to the civilians.
UNAMA has expressed deepest concern regarding IEDs threatening civilian lives in Afghanistan beside the ground engagements.
http://www.khaama.com/22-insurgents-killed-across-the-country-2615
----------
Taliban commander including 6 killed in Drone strike
Dec 28 2014
A US drone strike has killed six Taliban insurgents in Chaparhar district of eastern Nangarhar province.
Hazrat Hussain Mashriqiwal, spokesman for the provincial police headquarters says Nawab, a Taliban commander in the area was among the ones killed.
He said that the attack took place in Trili area of the district last night.
Mashriqiwal added that there were no civilian casualties in the strike.
http://www.khaama.com/taliban-commander-including-6-killed-in-drone-strike-2614
----------
Tribal elder among 2 killed in Laghman explosion
Dec 28 2014
A relatively heavy blast rocked Alingar district in eastern Laghman province of Afghanistna on Sunday afternoon, leaving two people dead and two others wounded.
Provincial governor spokesman, Sarhadi Zwak, said the incident took place after an Improvised Explosive Device (IED) went off inside a shop.
Zwak further added that the target of the explosion was a local tribal elder who was killed following the blast along with another civilian.
According to Zwak, the deceased tribal elder was identified as Niaz Mohammad.
Laghman is among the relatively volatile provinces in eastern Afghanistan where anti-government armed militants are
actively operating in a number of its districts.
http://www.khaama.com/explosion-reported-in-laghman-province-casualties-feared-9184
----------
Massive attacks foiled, 5 Militants arrested in Kandahar
Dec 28 2014
Police seized two Zaranj Rickshaws and a motorcycle full of explosives in southern Kandahar province late Saturday.
Kandahar media office says insurgents planned to carry out massive attacks in Kanhdar but there plans have been blocked.
Five insurgents were arrested in connection with the explosives in Sozikar area of Dand district.
According to Kandahar Media Center, Muhibullah a Taliban commander is among the five arrested.
Kandahar Media Center adds that in another action police seized 45 Improvised Explosive Devices (IEDs) in Maiwand district of the province.
Kandahar is amongst the province where Taliban insurgents have strong presence.
http://www.khaama.com/massive-attacks-foiled-5-militants-arrested-in-kandahar-2616
----------
HT Imam: AL never resorts to violence despite being repeatedly attacked
28 Dec, 2014
Prime Minister Sheikh Hasina's Political Adviser, HT Imam yesterday said the ruling Awami League had never resorted to violence out of vendetta though it was attacked many times by the Jamaat-e-Islami.
"The owners of many business institutions nowadays are anti-liberation. They collect money from people in the name of Islam and then they use it against us," HT Imam alleged.
He said these while addressing the launching event of 1971 Genocide – Torture Index Granthamala as the chief guest. Organised by 1971 Genocide – Torture Archive and Museum Trust, the event was held at the Women's Voluntary Association (WVA) auditorium in the capital's Dhanmondi area.
Criticising Dhaka-based British journalist David Bergman, he said it was audacious for a foreign citizen to use mobile phone to capture photos inside the court room.
He later praised the initiative of launching the book series on the liberation war of 1971 and emphasised on translating the book into English for international recognition.
Full report at:
http://www.dhakatribune.com/politics/2014/dec/28/ht-imam-al-never-resorts-violence-despite-being-repeatedly-attacked
--------
Mideast
Hamas chief lauds Turkey as 'source of power' for Muslims
28 Dec, 2014
Hamas chief Khaled Meshaal praised Turkey as a "source of power" for all Muslims in gratitude to Turkey's leaders for supporting the Palestinian cause.
"A democratic, stable and developed Turkey is a source of power for all Muslims," Meshaal said in an address to the ruling Justice and Development Party (AKP) annual congress in the conservative central Anatolian city of Konya.
Meshaal said a "strong Turkey means a strong Jerusalem, a strong Palestine," voicing hopes to "liberate Palestine and Jerusalem," according to the state-run Anatolia news agency.
His brief address was interrupted repeatedly by cheering crowds in the hall waving Turkish and Palestinian flags and chanting: "Allahu Akbar (God is greatest)" and "Down with Israel!"
The Hamas chief often shows up at the ruling party's events. He also attended the AKP's congress in 2012 when President Recep Tayyip Erdogan was serving as prime minister.
Current Prime Minister Ahmet Davutoglu, in his speech said Turkey's red flag featuring a crescent with a star was a "symbol of the innocent in the world."
"God is witness ... we will make this red flag a symbol of the innocent. This red flag will fly side by side with the flags of Palestine, free Syria and all other innocents' flags anywhere in the world," he told the congress.
Turkey's leaders, in particular Erdogan, are known for their angry outbursts at Israel. A staunch supporter of the Palestinian cause, Erdogan has often blasted the Jewish state over its military assaults on the Gaza Strip, which is ruled by Hamas.
http://english.alarabiya.net/en/News/middle-east/2014/12/27/Hamas-chief-lauds-Turkey-as-source-of-power-for-Muslims.html
----------
Anti-Arab group poses legal, political dilemma for Israel
28 December 2014
A far-right Israeli group that agitates against Arabs in the name of religion and national security is forcing the Jewish state into a legal and political balancing act as it tries to contain sectarian violence.
Among their activities, Lehava activists yelling "Death to the Arabs" picketed the wedding in August of a Muslim to a Jewish woman who converted to Islam. Now three members have been charged with an arson attack on a cross-faith school in Jerusalem last month.
Communal tension has been rising following last summer's Gaza war, in which more than 2,000 Palestinians died, and feuding over access to Jerusalem's holiest site. This has spilled over into Palestinian street attacks on Jews, including the killing of four rabbis and a Druze policeman at a synagogue.
Illustrating the risk of sectarian violence, a Palestinian youth was burned to death in July by Israeli assailants in alleged revenge for the killing of three Jewish teens by militants in the West Bank.
Full report at:
http://english.alarabiya.net/en/perspective/analysis/2014/12/28/Anti-Arab-group-poses-legal-political-dilemma-for-Israel.html
----------
Islamists, Kurdish groups clash in Turkey, three killed
28 Dec, 2014
Three people were killed Saturday in clashes between Kurdish rebels and a rival Kurdish Islamist group in southeast Turkey near the Syrian border, a local governor's office said.
The initial death toll given was two but the local governor's office in the southeastern city of Sanliurfa later said one of the three injured died in hospital, Agence France-Presse reported.
Tensions have escalated in the town of Cizre since Friday night when the Sunni Muslim Huda-Par group attacked tents belonging to rebels of the outlawed Kurdistan Workers' Party (PKK), a security source told Agence-France Presse.
The two deaths were attributed by Dogan news agency to be the father of a leader of the Islamist party and a 19-year old Kurdish youth.
Huda-Par is known to be the political extension of Turkish Hezbollah and has long been hostile to the PKK -- which has fought Turkish security forces in a three-decade insurgency for Kurdish self-rule.
Full report at:
http://english.alarabiya.net/en/News/middle-east/2014/12/27/Islamists-Kurdish-groups-clash-in-Turkey-two-killed-.html
----------
Tehran heats up arms race with 'suicide' drone
28 Dec, 2014
TEHRAN: Iran's army said it has deployed a suicide drone for the first time in massive ongoing military drills near the strategic Strait of Hormuz at the entrance to the Arabian Gulf.
Gen. Ahmad Reza Pourdastan, the army's chief commander of ground forces, described the unmanned aircraft as a "mobile bomb," according to state media, which said the aerial device is designed to strike air, ground and naval targets.
He did not provide the name of the drone. The conservative Kayhan daily referred to it as the Yasir, while an online news website called it the Raad. Officials could not be reached for comment.
The Yasir drone, first unveiled last year, can fly for up to 10 hours and carry out 360-degree imaging, officials said at the time. Western military analysts say the Yasir is a modified version of the American ScanEagle drone. Iran said in December 2012 that it had seized at least three Boeing-designed ScanEagle drones after they allegedly violated its airspace over the Gulf.
Full report at:
http://www.arabnews.com/featured/news/680891
----------
Leader's Top Military Aide Warns of Enemies' Soft War against Iranian Nation
28 Dec, 2014
Senior Military Aide to the Iranian Supreme Leader Major General Yahya Rahim Safavi warned the nation that one of the most important threats posed to the country is the soft war launched by internal and foreign enemies.
"National unity and integrity are among the factors which lead the country towards victory and the designers of soft war are seeking to attain their goals in the Islamic Republic of Iran by weakening the Supreme Leader and Velayat Faqih (top religious leadership)'s position, creating distance between the elites and the society, decreasing popularity rate of the Armed Forces among the people, disturbing political unity and national integrity and creating distrust among the people, officials and the national media," Safavi said in Tehran on Sunday.
He called on the Iranian people, specially the youth and students, to keep vigilant against internal and foreign plots, strengthen their unity and use the clever ideas of the political, cultural and academic elites so as to help the Islamic Revolution to attain its goals.
In relevant remarks in June, Commander of Iran's Basij (volunteer) Force Brigadier General Mohammad Reza Naqdi underlined the high preparedness of the Islamic Republic's Armed Forces, saying that Iran's defensive capabilities and readiness had pushed the enemy to resort to soft war.
Full report at:
http://english.farsnews.com/newstext.aspx?nn=13931007001137
----------
Southeast Asia
Malaysia Sends Three Military Vessels, Aircraft to Search for Missing Air Asia Plane
28 Dec, 2014
KUALA LUMPUR, Dec 28 — Malaysia has deployed three military vessels and a C130 military aircraft to aid Indonesia in the on-going search-and-rescue operation for its missing Air Asia flight QZ8501, Transport Minister Datuk Seri Dr Liow Tiong Lai said today.
He said the vessels are currently enroute to the Bangka-Belitung islands, following unconfirmed reports of a jet said to have gone down in the waters there.
"We are assisting the Indonesian government. This is a request to us… we have deployed our assets there," Liow said at a news conference here which was also broadcast live by satellite news channel, Astro Awani.
"Speculations that the plane has been found is untrue...we are still searching for the plane," he added, stressing that Indonesia would be leading the mission, while Malaysia and Singapore will assist them in the search-and-rescue-mission.
Singapore's Civil Aviation Authority also offered its planes and ships to help Indonesia search for the missing plane.
"We have offered our planes and ships to assist in the search, and received confirmation from the Indonesian authorities this afternoon at 1430 hours to accept our offer, requesting for one C130 (military aircraft) for now. We have already launched it to assist with the search and locate efforts," it said in a statement.
Indonesia's National Search and Rescue Agency (Basarnas) has already sent a team down to its Bangka-Belitung Islands.
Full report at:
http://www.themalaymailonline.com/malaysia/article/malaysia-to-aid-indonesia-sends-3-military-vessels-to-search-for-missing-ai
----------
Indonesia: Missing AirAsia plane's fuel tanks empty by now
28 Dec, 2014
KUALA LUMPUR, Dec 28 — The missing Indonesia AirAsia Flight QZ8501 would have ran out of fuel by now if it is still flying, an Indonesian official confirmed today.
Joko Murjatmodjo said the plane carrying 155 passengers and seven crew members on board did not carry enough fuel to last beyond a four hour 30 minute flight.
"If we are talking about fuel, at this moment, the fuel - if it is still flying – is already finished," the director of Indonesia's Air Transport in the Ministry of Transportation said in a press conference that was carried in a live broadcast by Astro Awani.
Joko calculated this based on the plane's flight of over one hours before the Indonesian air traffic control lost contact with it at 6.17am (Indonesian time), adding that the plane had since then been missing for around three hours.
The plane departed from Indonesia's Surabaya at 5.20am and was initially due to arrive at 8.30am at Singapore.
Full report at:
http://www.themalaymailonline.com/malaysia/article/indonesia-missing-airasia-planes-fuel-tanks-empty-by-now#sthash.fZZ9PHyF.dpuf
----------
Philippine government, leftist rebels to restart peace talks next year
28 Dec, 2014
MANILA: After having forged peace with the secessionist Moro Islamic Liberation Front (MILF) in March this year, the government of Philippine President Benigno Aquino III may reopen formal peace negotiations with the Communist Party of the Philippines (CPP) early next year.
Both Jose Maria Sison, CPP founder and consultant of the National Democratic Front (NDF), and Teresita Deles, presidential adviser on the peace process, have confirmed back-channel negotiations to restart the stalled talks.
On Friday, in his video message on Facebook, Sison said that formal talks between the NDF and the Aquino government may resume in the second half of January next year.
The NDF, based in Utrecht, the Netherlands, is the political arm of the CPP which is negotiating with the Philippine government while the New People's Army (NPA) is the armed wing or guerrilla unit of the CPP. The NDF is headed by Luis Jalandoni, a former Roman Catholic priest. Both Sison and Jalandoni are living in exile in the Netherlands.
Deles also confirmed that both parties are amenable to returning to the negotiating table to end more than four decades of the insurgency.
Full report at:
http://www.dailytimes.com.pk/region/28-Dec-2014/philippine-government-leftist-rebels-to-restart-peace-talks-next-year
----------
India
Idea of a 'Homogeneous' Nation Is Problematic: Vice President
PTI | Dec 28, 2014,
NEW DELHI: Amid the raging controversy over Sangh Parivar's Hindutva agenda, Vice President Hamid Ansari on Sunday cautioned against connecting faith and history and propagating a "homogeneous" national identity when there are over 4,600 communities in the country.
The Vice President said the idea of a homogeneous nation is problematic.
"Our 4,635 communities, according to the Anthropological Survey of India, is a terse reminder about the care that needs to be taken while putting together the profile of a national identity," Ansari said while inaugurating the 75th session of Indian History Congress.
"The global scene in modern times has been replete with complexities and tensions of what has been called the national question. We live in a world of nation states but the idea of a homogeneous nation state is clearly problematic. Diversity is identifiable even in the most homogeneous of societies today," he said.
Full report at:
http://timesofindia.indiatimes.com/india/Idea-of-a-homogeneous-nation-is-problematic-Hamid-Ansari/articleshow/45667964.cms
----------
2014: Names of Osama, ISIS surfaced in Delhi courts
28 Dec, 2014
NEW DELHI: Startling facts revealed by probe agencies on plots hatched by banned outfits made headlines in 2014 in Delhi courts which noted that Osama bin Laden was still the driving force for terror groups following footsteps of ISIS to create situation like Iraq and Syria.
A tug of war was also witnessed between a federal agency and Delhi Police's anti-terror wing over the custody of Tehseen Akhtar and Zia-ur-Rehman alias Waqas, top operatives of Indian Mujahideen (IM).
Amid this lone incident which consumed considerable time of the court, terror-related cases focused around IM which carried out strings of strikes since 2007 and a charge sheet quoting confessional statement of IM co-founder Yasin Bhatkal disclosed that terrorists draw inspiration from Laden and al Qaeda for bringing youth to carry out jihad.
The National Investigation Agency (NIA), which was entrusted with major terror cases, disclosed in the court that Pakistan's intelligence agency ISI was "regularly" funding IM in its nefarious designs and the banned outfit was following ISIS' footsteps to create a situation in India similar to the one prevailing in Iraq and Syria.
Full report at:
http://timesofindia.indiatimes.com/india/2014-Names-of-Osama-ISIS-surfaced-in-Delhi-courts/articleshow/45657314.cms
----------
Pakistan
Restoration of peace in Pakistan biggest national issue: Jamaa -e-Islami
28 Dec, 2014
LAHORE – Jamaa -e-Islami (JI) chief Sirajul Haq has said that restoration of peace in Pakistan is the biggest national issue and suggested that all the parties should stage a National Peace March to stress the point.
Addressing a luncheon hosted by JI in the honour of families of the Christians working at Mansoora, he said that the solution of all the problems faced by Pakistan including terrorism, lies in the enforcement of the Islamic system as an Islamic government was responsible for the protection of the life, property and honour of all its citizens including the minorities.
The JI chief said that the political parties had accepted the setting up of military courts only under special circumstances which was however not an ideal situation. He said that all the political and religious parties had given a mandate to the government for taking extreme steps for uprooting terrorism and restoration of peace and now responsibility falls on government to take necessary measures to achieve the task.
Full report at:
http://www.dailytimes.com.pk/national/27-Dec-2014/restoration-of-peace-in-pakistan-biggest-national-issue-siraj
----------
Man from Ahmadi religious minority killed after Muslim leader calls them 'enemy'
28 Dec, 2014
(Reuters) - Gunmen in eastern Pakistan shot dead a member of the Ahmadi religious minority on Saturday, an Ahmadi spokesman said, five days after a Muslim leader denounced Ahmadis on a popular Pakistani television talk show.
Luqman Ahmad Shehzad was shot in the back of the head near Bhiri Shah Rehman village, a small community of Ahmadis in the Gujranwala district, said Saleem ud Din, the spokesman.
He is the eleventh person killed for being Ahmadi in Pakistan this year. Ahmadis consider themselves Muslim but believe that a prophet came after the Prophet Mohammed, who in Islam is revered as the last of God's messengers.
In 1984, a Pakistani law declared them non-Muslims and made it possible to jail Ahmadis for "posing as a Muslim" or "offending a Muslim's feelings".
They are often denounced by Muslim leaders and targeted by violent extremists. Some clerics promise that killing Ahmadis earns the killer a place in heaven and distribute leaflets listing their home addresses.
On Monday, Muslim leader Syed Arif Shah Owaisi appeared on a popular morning television show hosted by Pakistani host Aamir Liaquat Hussain.
"This enemy is a common enemy and is an enemy of all of Pakistan. And this enemy is the sect of Qadiyani," Owaisi said, using a derogatory term for Ahmadis. "They are the ones blaspheming against the holy prophet. All us Muslims should recognize that enemy."
Blasphemy is punishable by death in Pakistan. Scores of people have been lynched after being accused of blasphemy.
Saturday's killing was the second time Hussain's show has hosted religious leaders denouncing Ahmadis. In 2008, he hosted scholars who called for the Ahmadis to be killed. Within a day, two prominent Ahmadis had been shot dead.
Hussain was not immediately available for comment.
http://www.reuters.com/article/2014/12/27/us-pakistan-ahmadis-idUSKBN0K50GF20141227
----------
Licensed arms being used in targeted killings, terror attacks
28 Dec, 2014
KARACHI: Police investigators have found growing use of licensed arms in targeted killings and terror attacks in the city in recent months, including the June 2014 brazen attack on Karachi airport that had shaken the country's security administration and caused a huge death toll and financial loss, it emerged on Saturday.
The officials arrived at this conclusion during the course of investigations into the airport attack leading to the arrest of four Al Qaeda and Tehreek-i-Taliban Pakistan suspects in October.
"It all began with forensic and legal examinations of the pieces of evidence found at the attack site," said an official while sharing findings of the airport attack investigation with Dawn.
Full report at:
http://www.dawn.com/news/1153526/licensed-arms-being-used-in-targeted-killings-terror-attacks
----------
Military courts formed to save democracy, eliminate terrorism: Rashid
28 Dec, 2014
ISLAMABAD - Federal Minister for Information and Broad Casting Pervaiz Rashid said on Sunday that in the past military courts were formed to end democracy, however, this time their purpose was to save democracy and eliminate terrorism.
In a statement, he said that there were elements in Pakistan who wanted to impose their agenda by the barrel of a gun which was unacceptable. He said that if fear was exhibited at this time, terrorists would turn Pakistan into a graveyard. "We have to save our future generations from these animals," he said. He said that democracy and terrorism are the two opposites. He said that peace in Kabul was as important as peace in Islamabad.
He said that both countries would fight terrorism together as peace was a common asset of this region. He said that Prime Minister Nawaz Sharif played an important role in bringing Afghanistan to a common thinking with Pakistan against terrorism. He expressed the hope that Pakistan Tehreek-e-Insaf Chairman Imran Khan would return to the parliament and would work with the government to strengthen democracy.
http://www.dailytimes.com.pk/national/28-Dec-2014/military-courts-formed-to-save-democracy-eliminate-terrorism-rashid
-------
ATCs too busy trying 'terrorists' like Imran Khan, Tahirul Qadri
28 Dec, 2014
ISLAMABAD: At least 10 cases pending with the anti-terrorism courts (ATCs) of the twin cities are against 'terrorists' such as PTI chief Imran Khan, Dr Tahirul Qadri and a host of other politicians and members of parliament.
Court officials told Dawn that the total caseload of the ATCs in Rawalpindi and Islamabad is 130. But of these, only 20 cases – a mere 15 per cent – deal with actual incidents of terrorism.
Ninety cases are currently pending before the two Rawalpindi ATCs, of which 12 are related to incidents of terrorism, while two are registered against politicians. The rest of the cases, court officials say, are related to crimes such as kidnapping, aerial firing, manhandling of government officials and other matters.
Full report at:
http://www.dawn.com/news/1153618/atcs-too-busy-trying-terrorists-like-imran-khan-tahirul-qadri
----------
Police arrest four suspected militants, defuse bomb in Quetta
28 Dec, 2014
QUETTA: Frontier Corps and Police arrested four suspected militants including a key commander from Sariab road area of Quetta, the capital of Balochistan province on Sunday morning.
Imran Qureshi, a senior police officer told Dawn that FC and police conducted a joint operation in Sariab road area of Quetta and arrested four militants of a banned militant organisation.
Security forces also recovered arms from the possession of the militants and were later moved to an undisclosed location for interrogation, Qureshi said. The militants were involved in acts of targeted killings, kidnappings and other saboteur activities, he added.
Police and FC faced no resistance during the raid.
Full report at:
http://www.dawn.com/news/1153648/police-arrest-four-suspected-militants-defuse-bomb-in-quetta
----------
MQM outlines proposals for counter-terrorism policy
28 Dec, 2014
KARACHI: The Muttahida Qaumi Movement (MQM) has unveiled its recommendations on the national counter-terrorism policy in which it has stressed the need for formulating and enforcing protection programmes for judges and witnesses as soon as possible.
Speaking at a press conference at the party's headquarters on Saturday, MQM's leaders and lawmakers said military courts were not a permanent solution to control terrorism and militancy in the country. "The government will have to modernise the policing system and take effective measures to protect judges and witnesses," said Senator Farogh Naseem.
Senior lawmaker Farooq Sattar said establishing and evolving effective local governments, community policing and neighbourhood watch and ward were necessary to make any counter-terrorism policy successful.
Full report at:
http://www.dawn.com/news/1153580/mqm-outlines-proposals-for-counter-terrorism-policy
----------
Murderers of Benazir will be tried in military courts: Shah
28 Dec, 2014
SUKKUR: Opposition leader in the National Assembly Syed Khursheed Shah on Saturday said that the killers of Benazir Bhutto would be tried in military courts.
Paying rich tribute to Benazir Bhutto, the opposition leader said, "Let there be no doubt that the nation is enjoying the fruit of democracy because Benazir Bhutto struggled for the rule of law and true democracy in the country. We would continue to follow the ideals of Benazir Bhutto."
Full report at:
http://www.dailytimes.com.pk/national/28-Dec-2014/murderers-of-benazir-will-be-tried-in-military-courts-shah
----------
195 suspects including 7 terrorists, 13 Afghan nationals arrested
28 Dec, 2014
FAISALABAD/NOWSHERA/SWABI - In country wide search operation against terrorists, the security forces arrested 195 suspects, including seven terrorists and 13 Afghan nationals.
The police also recovered hand grenades, explosives, other heavy ammunition and Afghan sims from their custody. According to details, police and intelligence agencies in a joint search operation in Nowshera, arrested 31 suspects, including 13 illegal Afghan nationals and recovered arms and Afghan sims from their custody. More than fifty suspected persons were arrested in Kalu Khan, Shamlo and Barki areas of Swabi from the refugees camps.
In Quetta, police and FC in a search operation in Saryab area arrested four members of a terrorist organisation including their commander. In Faisalabad, police searched the Afghan abadis around central jail and arrested 32 suspects. Police arrested more than seventy suspects from Mianwali's Datta Khel, Muslim colony areas during search operation. In Sindh, police arrested three terrorists who were planning terrorist activity.
Police recovered four kilograms of explosives and five hand bombs from their custody. Similar search operations are being carried out by police with the help of other law enforcement agencies across the country to rid Pakistan of the menace of terrorism.
http://www.dailytimes.com.pk/national/28-Dec-2014/195-suspects-including-7-terrorists-13-afghan-nationals-arrested
----------
North America
Muslims seeking knowledge at Islamic Convention in Toronto
World Bulletin / News Desk
28 December 2014
The North American continents second largest Islamic organisation RIS (Reviving the Islamic Spirit) Convention 2014 has brought together thousands of Muslims from around the globe, which has begun at the Toronto Metrol Convention Centre in Toronto Canada and will end on the 28th December.
With thousands of people congregating at the centre, it is also playing host to many Muslim foundations, associations and companies from different Muslim cultures. From Mauritania there is Abdullah bin Bayyah, from USA Huseyin Nasr, Malcolm X's daughter Shabazz, Muhammed Ninowy, Munir El-Kasim, Hamza Yusuf and Zahir Mahmoud from the UK, as well as well known artists, including Sami Yusuf who will give a concert on the last day.
The Metro Convention Centers hall caters for the visitors from the early hours in the morning until the late hours, with conferences throughout the day. To make it easy for the visitors, one level has been modified to provide child care. To meet the food needs, a kitchen has been provided giving different foods from every culture.
Full report at:
http://www.worldbulletin.net/headlines/151738/muslims-seeking-knowledge-at-islamic-convention-in-toronto
------------
McCain meets Barzani, commends Peshmerga efforts against ISIS
28 December 2014
In a meeting with Kurdish President Massoud Barzani on Saturday, U.S. Senator John McCain commended the efforts of Kurdish Peshmerga forces in their fight against the Islamic State of Iraq and Syria (ISIS) militant group, Erbil-based Bas News website reported.
"Courageous and capable people are leading the fight against ISIS militants and that's why the Kurds have become a trusted ally to the entire world", the Republican senator was quoted as saying by Bas News.
McCain also met with Kurdish Prime Minister Nechirvan Barzani and Peshmerga commanders during his visit.
The Kurdish president stressed to McCain and his delegation the threat posed by ISIS on the region and U.S. interests, adding that international efforts are needed to stop the militant group.
Full report at:
http://english.alarabiya.net/en/News/middle-east/2014/12/28/McCain-meets-Barzani-commends-Peshmerga-efforts-against-ISIS.html
----------
California man suspected of vandalizing Islamic center
28 December 2014
A 28-year-old man has been arrested on suspicion of vandalizing the Islamic Cultural Center of Fresno on Christmas day, causing investigators at first to suspect a hate crime, police said Saturday.
But relatives of the 28-year-old suspect, Asif Mohammad Khan, said that schizophrenia - and not hatred - led to the unfortunate incident. "It is a case of mental illness," said his sister, Samia Khan. "There's no question about that."
Asif Mohammad Khan has been booked into jail on charges including felony vandalism for more than $10,000 in damage done Thursday to the Islamic Cultural Center and a nearby medical office.
In the search for a suspect, Fresno Police Chief Jerry Dyer had said that the broken windows and bleach poured on an American flag inside the Islamic center appeared to be a hate crime. On Saturday, Dyer said that investigators interviewed Khan, and their theory has changed. "It was obviously not as we thought," said Dyer, adding that police will let FBI agents decide whether hate-crime charges are warranted.
Full report at:
http://english.alarabiya.net/en/News/world/2014/12/28/California-man-suspected-of-vandalizing-Islamic-center.html
----------
Pakistani officials displeased at Homeland's portrayal of Pakistan
28 Dec, 2014
Receiving much criticism regarding the portrayal of Pakistan from the local audience, Showtime's espionage show Homeland has now also managed to upset the diplomats who believe that the country has been shown as a "hellhole", reported New York Post.
Pakistan Embassy spokesperson Nadeem Hotiana showed his disapproval by complaining to the directors, who chose to ignore his views.
Starring Claire Danes as Carrie Mathison, the show which ended its Season Four last Sunday was binge-watched by the officials who paid close attention to the details portrayed in the show, making a list of all the loopholes.
Speaking to New York Post, Hotiana said, "Maligning a country that has been a close partner and ally of the US... is a disservice not only to the security interests of the US but also to the people of the US."
Full report at:
http://www.dawn.com/news/1153646/pakistani-officials-displeased-at-homelands-portrayal-of-pakistan
-------
NASA pictures show Holy Land in festive season
28 December 2014
As the International Space Station (ISS) hovered over Palestine, an astronaut took a chance and snapped photos of the Holy Land during the festive season from outer space on Christmas morning.
Shared by the ISS's official Facebook page, NASA astronaut Barry Wilmore's photos clearly show the Occupied West Bank, the Gaza Strip, the Dead Sea and Israel.
The Facebook post with the pictures has been liked more than 30,000 times as of Sunday.
"Astronaut Barry Wilmore woke up early on Christmas to reflect upon the beauty of the Earth and snap some images to share with the world," the ISS said.
Astronauts onboard the station also sent out their season's greetings in a video uploaded by NASA's YouTube channel.
In the video, Wilmore hovers in zero gravity next to fellow astronaut Terry Virts as they wish people back on earth happy holidays.
According to the NASA website, Wilmore, a Captain in the U.S. Navy was scheduled to assume command of the station in November 2014.
http://english.alarabiya.net/en/variety/2014/12/28/NASA-pictures-show-Holy-Land-in-festive-season.html
----------
URL: https://www.newageislam.com/islamic-world-news/new-age-islam-news-bureau/un,-eu's-calls-to-halt-executions-rejected-by-pakistan/d/100729