New Age Islam News Bureau
23 Apr 2020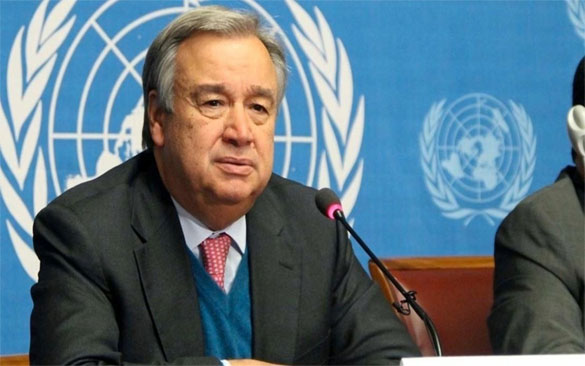 • UN Chief Extends Wishes to Muslims Over Beginning Of Ramadan
• Minister Names 101 From Palghar, Says No Muslim In List
• Doctors Criticise Decision to Open Pakistan Mosques For Ramadan During Coronavirus Pandemic
• No Iftar Market on Streets During Ramadan: IGP, Bangladesh
• Indonesian Islamic Groups Call on Muslims To Observe Ramadan At Home
• Agreements with Israel, US Completely Cancelled If West Bank Annexed: Abbas
• Muslims In Seychelles To Adapt Ramadan Rituals to Health Needs Of COVID-19 Era
• "Lockdown Should Not Ruin Ramadan" Say Muslim Leaders Who Are Using New Technology To Observe A Historic Ritual
• Ramadan Is A Time for Giving But Coronavirus Is Seeing More Australian Muslims Seeking Help
• On Occasion of Ramadan, Ministry of Health, NCEMA Direct Local Economic Departments to • Explore Possibility of Re-Opening Commercial Centres with Precautions
--------
North America
• UN Chief Extends Wishes to Muslims Over Beginning Of Ramadan
• US Rejected EU Call to Allow Economic Aid to Iran To Fight COVID-19: Top EU Diplomat
• Advice for Muslims observing Ramadan during COVID-19 restrictions
• Usama bin Laden wanted to kill Obama so 'totally unprepared' Biden would be president, declassified docs show
• 'This is what it feels like:' NJ Muslim candidate, media figure recounts death threat
• With the mosques closed, Ramadan takes place at home
------
India
• Minister Names 101 From Palghar, Says No Muslim In List
• Palghar Lynching: 'They Couldn't Blame Muslims, So Now It's Communists'
• Coronavirus in India: No mass prayers, iftar party at mosques during Ramazan in Bhubaneswar
• Mumbai Man Held for Rejecting Delivery from Muslim Agent
------
Pakistan
• Doctors Criticise Decision to Open Pakistan Mosques For Ramadan During Coronavirus Pandemic
• Islamic Development Bank Prepares $2.3b Package for Member Countries
• Mufti Muneeb to pray at home during Ramadan
• Shah Allah Ditta partially sealed
• Additional Commissioner Revenue for Ensuring SOPs in Mosques During Ramazan
• 7 cases of COVID-19 Madrisa-e- Babul Islam sealed in F-7 Markaz
-----
South Asia
• No Iftar Market on Streets During Ramadan: IGP, Bangladesh
• Clinton prevented the killing of Osama bin Laden in Afghanistan: Ex-CIA agents
• Clashes in Doshi district cut electricity supply to Kabul and other provinces
• 4 Taliban militants killed while making a bomb inside a mosque in Ghazni
• More than 40 Taliban militants killed, wounded in Kandahar clashes
• 11 security personnel lost their lives, 19 wounded in Taliban attacks in Sar-e Pul
-----
Southeast Asia
• Indonesian Islamic Groups Call on Muslims To Observe Ramadan At Home
• Ramadan starts early in Maluku villages, people flock to mosques
• "Duyog Ramadan" goes high-tech due to virus
• Indonesia's Ramadan travel ban to reduce weak Asian gasoline demand further: traders
• 'It doesn't feel like Hari Raya': Malaysia's Ramadan vendors fret over slow sales amid COVID-19
• Virus warnings for Ramadan as some pandemic shutdowns ease
-----
Mideast
• Agreements with Israel, US Completely Cancelled If West Bank Annexed: Abbas
• Israel Orders Halt to Construction of Mosque, Removal of Residential Tent
• İstanbul Mosque Turned into Food Bank to Tackle Coronavirus Crisis: Report
• Iran, Turkey stress preserving bilateral trade ties under coronavirus pandemic guidelines
• FMs of Iran, Russia, Turkey stress consultations within Astana process as best solution to Syria crisis
• Coronavirus in Iran: Daily infections drop by 53 percent in past 18 days
• Rouhani says Iran embraces any initiative putting regional nations at helm of managing own affairs
-----
Europe
• Muslims In Seychelles To Adapt Ramadan Rituals to Health Needs Of COVID-19 Era
• "Lockdown Should Not Ruin Ramadan" Say Muslim Leaders Who Are Using New Technology To Observe A Historic Ritual
• Immunologist Believes Muslims Should Break the Rules Because Of The Coronavirus Epidemic
• Muslims to observe Ramadan from homes amid virus restrictions
• Aylesbury Mosque's pledge to community during unique Ramadan
-----
Australia
• Ramadan Is A Time for Giving But Coronavirus Is Seeing More Australian Muslims Seeking Help
• Scott Morrison urges Australia's Muslims to obey coronavirus restrictions during Ramadan
-------
Arab world
• On Occasion of Ramadan, Ministry of Health, NCEMA Direct Local Economic Departments to Explore Possibility of Re-Opening Commercial Centres with Precautions
• Coronavirus: Organization of Islamic Cooperation backs Saudi plan for Two Holy Mosque
• Aspetar launches 'Healthy Ramadan' campaign
• Everything you need to know about the UAE's first Sharia-approved loto
• The spirit of Ramadan shines despite worldwide lockdowns
• Egypt's central bank to raise cash withdrawal limit during Ramadan
• Dubai Islamic Affairs cancels all permits for Ramadan tents amid coronavirus
• Islamic minister launches online Ramadan lecture series
• Coronavirus: Qatar tally at 7,141 cases, 10 deaths, Cabinet announces Ramadan rules
-----
Africa
• Observe Social Distancing While Seeking Ramadan Moon, NSCIA Advises Muslims
• Muslim groups to challenge lockdown regulations in court
• We're grateful for lifting the lockdown – Chief Imam to Akufo-Addo
• Morocco's Markets Have Sufficient Supplies, Prices for All Ramadan Needs
• Ramadan: Search for moon after sunset on Thursday – NSCIA tells Nigerian Muslims
• Coronavirus: Kano relaxes lockdown for Ramadan shopping
Compiled by New Age Islam News Bureau
URL; https://www.newageislam.com/islamic-world-news/un-chief-extends-wishes-muslims/d/121653
------
UN Chief extends wishes to muslims over beginning of Ramadan
23/04/2020
NEW YORK, April 23 -- UN Secretary-General Antonio Guterres on Wednesday extended his "warmest wishes" as Muslims around the world begin observing the holy month of Ramadan, reported Xinhua news agency.
This Ramadan will be very different as many community activities will be affected by the COVID-19 pandemic. Meanwhile, many people in conflict zones will once again be tragically marking this month with war and insecurity all around, he said in a video message.
Guterres repeated his March 23 call for an immediate global cease-fire to focus on the fight against the coronavirus. "I repeat that appeal today, recalling the words of the Holy Quran: 'and if they incline to peace, then incline to it.'"
Ramadan is also about supporting the most vulnerable, said Guterres. "I thank governments and people throughout the Muslim world who live by their faith, supporting those fleeing conflict in the best Islamic tradition of hospitality and generosity – a remarkable lesson in this world where so many doors have been closed to those in need of protection, even before COVID-19."
https://www.bernama.com/en/world/news.php?id=1834974
------
Minister names 101 from Palghar, says no Muslim in list
Apr 23, 2020
MUMBAI: Home minister Anil Deshmukh took to social media on Wednesday to release the names of 101 of the 110 people arrested in connection with last Thursday's lynching of two sadhus and their driver in a tribal village of Palghar district near here.
"There is not a single Muslim name in the list. So people should stop giving this unfortunate and unpardonable incident a communal colour," Deshmukh said.
Dehsmukh said that in the original video, people could be heard saying "oye bas" (you stop) and it was doctored by someone to sound like "Shoeb bas".
Deshmukh said the incident at Gadakchinchale village happened after rumours about child lifters were spread and everything would be investigated by the special IG of the CID.
While the opposition BJP in the state demanded a CBI inquiry a few days ago, now a lawyer from Delhi, A A Srivastava, has filed a PIL before the Bombay high court demanding a CBI or sppecial investigation team inquiry.
The National Human Rights Commission issued a notice to the state police chief saying the "incident is apparently indicative of negligence by public servants". It sought a detailed report within four weeks, including action taken against the culprits, and relief, if any, granted to the family of the three men.
https://timesofindia.indiatimes.com/city/mumbai/minister-names-101-from-palghar-says-no-muslim-in-list/articleshowprint/75312668.cms
-----
Doctors criticise decision to open Pakistan mosques for Ramadan during coronavirus pandemic
6 HOURS AGO
Doctors in Pakistan are urging their government to reverse a decision allowing prayer congregations at mosques during Ramadan, warning the spread of coronavirus could spiral out of control.
The decision came three days after clerics said such limitations were not acceptable and after several clashes between police and worshippers.
Prime Minister Imran Khan defended the decision on Wednesday saying "Ramadan is a month of worship, people want to go to mosques".
"Do we forcefully tell them to not go to mosques? And if they go, will the police put worshippers in jail? This does not happen in an independent society," he said, according to local media.
"Unfortunately, our rulers have made a wrong decision; our clerics have shown a non-serious attitude," Dr Qaiser Sajjad, secretary general of the Pakistan Medical Association said.
The doctors said a 20-point standard operating procedure for mosques agreed between the government and religious leaders was not practical or implementable.
Another doctor at the news conference, Dr Saad Niaz, said coronavirus facilities in Karachi, Pakistan's largest city, had already reached maximum capacity.
At this rate, Dr Niaz added, medical facilities will face great difficulties in coming days and patients will have to be denied admission because there will be no beds.
In a statement distributed at the news conference, doctors called for strict enforcement of lockdowns, urging businesses to bear with the hardships for a few more weeks until the virus can be brought under control.
I have personal reasons, but none of this man's hypocritical statements have ever angered me more than this one. #CoronaInPakistan #StayHome
Pakistan, the world's second most populous Muslim country after Indonesia, has reported more than 10,000 cases of the coronavirus, including 212 deaths. Both the government and experts say the peak for infections is expected to hit in May.
Last week, Pakistan extended a nationwide lockdown for two weeks, but eased restrictions on some activities, including key industrial production and mosques.
https://www.sbs.com.au/news/doctors-criticise-decision-to-open-pakistan-mosques-for-ramadan-during-coronavirus-pandemic
-----
No Iftar Market on Streets During Ramadan: IGP, Bangladesh
April 22, 2020
Inspector General of Police Benazir Ahmed today said they would not allow anyone to cook and sell iftar items on the streets and footpaths during the upcoming month of Ramadan, in order to avoid public gathering and spread of coronavirus.
Police will also be alerted so that there is no mass gathering in the name of iftar distribution anywhere, the IGP said during a video conference with top police officials of different units across the country.
The directives came at a time when gathering at kitchen markets has become a major concern for authorities since the countrywide shutdown began last month.
Police officials said only brick and mortar restaurants will be allowed to sell iftar items on a limited scale since some essential offices are still open and many city dwellers have no cooking facilities.
Moudud Hawlader, officer-in-charge of Chawk Bazar Police Station said they would strictly follow the directive and the traditional iftar market in Chawk Bazar will remain closed this year, considering the present situation.
In the video conference, the IGP also directed to strengthen market monitoring to keep prices of daily essentials and provide assistance to ensure uninterrupted food supply.
The police chief said they would not allow irregularities in relief distribution and asked police to coordinate work with the local administration.
He also directed force members to facilitate the workers engaged in paddy harvesting but asked to bolster steps to stop unnecessary public movement.
He encouraged the public to take police assistance during private relief distribution and to provide relief to the houses of the poor people at night to avoid gathering.
He also asked unit chiefs to ensure the best treatment for police infected with Covid-19 while performing duties and to regularly enquire about colleagues in quarantine or isolation.
Benazir also alerted police about the rise of militant groups and the spread of fake news and rumours during the crisis.
https://www.thedailystar.net/coronavirus-live-update-no-iftar-market-on-streets-during-ramadan-2020-1895755
-----
Indonesian Islamic groups call on Muslims to observe Ramadan at home
2 HOURS AGO
JAKARTA (THE JAKARTA POST/ASIA NEWS NETWORK) - Nahdlatul Ulama (NU) and Muhammadiyah, Indonesia's largest Islamic organisations, have called on Indonesian Muslims to observe the fasting month of Ramadan at home to contain the spread of the Covid-19, which has shown no sign of abating.
During Ramadan, which begins on Friday (April 24), Muslims refrain from eating, drinking and partaking in other corporeal pleasures from dawn till dusk. But Ramadan represents much more than just fasting for Muslims worldwide, including in Indonesia.
It is the largest and longest religious observance of the faith professed by more than 80 per cent of the country's population and is a time for many communal activities, including tarawih (mass night prayers), bukber (iftar group meals) with families and colleagues, sahur (predawn meals) on the street, as well as family visits to the graves of relatives.
However, Muslims have been instructed to forgo these traditions to flatten the curve of Covid-19 contagion. As of Wednesday evening, the country had confirmed 7,418 cases of the virus and 635 deaths. With Greater Jakarta under partial lockdown, Muslims in the area have been ordered to stay home and have been prohibited from taking part in activities involving more than five people, including prayers.
On Wednesday, Jakarta Governor Anies Baswedan announced that he would extend the partial lockdown, which was supposed to end on Thursday, until May 22.
To ensure that Muslims follow the rules, NU and Muhammadiyah have issued religious fatwas advising them to refrain from performing mass prayers.
"(At-home prayer) is an endeavour that is justified by Islamic and scientific considerations to prevent the spread of an outbreak. Do not think that we are under normal conditions. The fact is that this is an emergency situation," Muhammadiyah chairman Haedar Nasir said in a written statement on Wednesday.
NU executive Robikin Emhas echoed a similar sentiment, saying that "breaking the chain" of Covid-19 infection should be a collective effort.
"Certain types of worship commonly performed in mosques should be done at home or in accordance with health procedures established by the government or local authorities," he said.
The call to prayer, he added, could still be recited and broadcast from mosques, but it was meant only to announce the time of prayer and should not be taken as encouragement to go to mosques.
Islamic groups have launched intensive campaigns urging Muslims living in Covid-19 red zones to suspend mass prayers. Muhammadiyah, for instance, promoted the hashtag #RamadandiRumah (Ramadan at home) on Wednesday to encourage Muslims to worship at home.
The Religious Affairs Ministry has issued a letter outlining prayer and worship guidelines for Muslims during this year's Ramadan to "protect Muslims in Indonesia from the risk of contracting the disease". The letter instructs Indonesian Muslims to perform tarawih and tadarus (Quran recitations) at home and not to participate in bukber or sahur gatherings in public. The nuzulul quran (Quran revelation day) commemoration, which usually takes place in mosques, will also be cancelled.
It is unclear, however, if all Muslims, particularly in areas where partial lockdowns are not officially in place, will follow the fatwas or the instructions issued by the ministry, which are directed at all Muslims in Indonesia.
The Aceh Ulema Council (MPU), for instance, has announced that it will allow people to perform daily mass prayers and tarawih despite the outbreak. MPU deputy chairman Faisal Ali defended the decision, saying the council was only allowing mass prayers in areas where the spread of Covid-19 was contained.
"People who live in areas where Covid-19 is under control may perform daily prayers, as well as tarawih and Idul Fitri prayers at mosques while limiting their durations," Mr Faisal said on Tuesday as quoted by tribunnews.com. He said people residing in red zones should not perform group prayers. Critics have questioned Indonesia's ability to reliably detect clusters of the virus and determine red zones with such limited testing capacity. As of Wednesday, Indonesia had tested 184 people per 1 million, a testing rate significantly lower than that of many other countries.
A village in Magetan, East Java-home to Al Fatah Pesantren (Islamic boarding school) and its more than 20,000 santri (Islamic boarding school students)-is currently under quarantine after 43 of its santri tested positive for Covid-19 in Malaysia. The incident has shocked many as East Java Governor Khofifah Indar Parawansa had recently praised Magetan for its successful efforts to contain the virus.
As thousands of people have already left Greater Jakarta, the epicentre of the country's Covid-19 outbreak, to celebrate Idul Fitri in their hometowns, the country - in the absence of widespread testing - is depending on voluntary social distancing to contain the spread of the disease.
https://www.straitstimes.com/asia/se-asia/indonesian-islamic-groups-call-on-muslims-to-observe-ramadan-at-home
----
Agreements with Israel, US completely cancelled if West Bank annexed: Abbas
23 April 2020
Palestinian President Mahmoud Abbas says the Palestinian Authority's agreements with Israel and the United States will be "completely cancelled" if Israel annexes the occupied West Bank.
"We have informed the relevant international parties, including the American and the Israeli governments, that we will not stand hand-cuffed if Israel announces the annexation of any part of our land," Abbas said on Palestine TV on Wednesday.
Abbas has on numerous occasions warned that the PA may cancel existing agreements with the Israeli regime if it pushes ahead with the so-called "deal of the century".
Palestinian President Mahmoud Abbas says the plan proposed by the US for the Middle East is in breach of UN resolutions and Palestinian sovereignty.
The proposal, however, largely meets Israel's demands in the decades-old conflict while creating a Palestinian state with limited control over its own security and borders.
Among numerous controversial terms, it designates Jerusalem al-Quds as "Israel's undivided capital" and allows the regime to annex settlements in the occupied West Bank and the Jordan Valley.
Hamas says Israeli coalitions and alliances should give Palestinians an incentive to form a unified national strategy against Tel Aviv.
Palestinian groups have firmly rejected the joint Israeli-American initiative as a further impingement upon their rights, and have called for the formation of a unified stance against the Israeli occupation.
https://www.presstv.com/Detail/2020/04/23/623675/Palestinian-authority-west-bank-israel-annex-
-----
Muslims in Seychelles to adapt Ramadan rituals to health needs of COVID-19 era
April 23, 2020
(Seychelles News Agency) - Weekly Friday prayers during the religious period of Ramadan this year are likely to be aired either on radio or television to allow the Muslim community in Seychelles to stay connected while observing restrictions in place due to the COVID-19 pandemic.
The vice-chairman of the National Muslim Council of Seychelles, Ibrahim Afif, told SNA on Monday that "we have asked for permission and in principle, there are no objections," for the prayers to be aired on Seychelles Broadcasting Corporation (SBC).
"We shall be doing it just like the Catholic and Anglican churches have been doing. We will have our sermons broadcast for 15 minutes on Fridays at 1 p.m. on SBC," he said.
Ramadan -- a month of fasting, spiritual reflection, self-improvement, and heightened devotion and worship -- will start at sundown on Thursday, April 23 and end at sundown on Saturday, May 23 with Eid al-Fitr festivities.
In its guideline for safe Ramadan practices in the context of COVID-19, the World Health Organisation (WHO) recommended that "any decision to restrict, modify, postpone, cancel, or proceed with holding a mass gathering should be based on a standardised risk assessment exercise."
"If he says no congregation prayers, there will be no congregation prayers. If he says no gathering of people, there shall be no gathering of people, but we shall be fasting as fasting does not require you to be meeting anybody," said Afif.
During Ramadan, believers fast from dawn to dusk each day. In the evening, after sunset, believers gather around a family or community meal -- iftar -- to break the day's fast. This year, members of the community will see a difference in the way prayers and meals are held.
Bilal Arrisol, a Muslim, told SNA that "during Ramadan, we go to the mosque to pray more frequently and more people also come to the mosque, so the situation is not really in our favour."
"On my side, I will be following Ramadan with my family, as we usually do as there is no Mosque around Anse Boileau. For the foreigners who work in Seychelles and usually go to the mosque, this will be of great disadvantage. It will be of great disadvantage to the whole community as well when it comes to Friday prayer, which usually brings most of the community together," said Arisol.
http://www.seychellesnewsagency.com/articles/category/2/articles/12778/Muslims+in+Seychelles+to+adapt+Ramadan+rituals+to+health+needs+of+COVID-+era
----
"Lockdown should not ruin Ramadan" say Muslim leaders who are using new technology to observe a historic ritual
By Emma Ryan
23rd April 2020
The month of Ramadan is one of the busiest in the Muslim calendar and can see thousands of people gathering in mosques at the city at any one time to observe a tradition that is thought to have originated in the 14th century.
But with mosques closed due to the coronavirus outbreak, the acts of prayer and fasting - core values of Ramadan - cannot be carried out in the usual way.
However, leaders at mosques across the city are looking at other ways to keep in touch with their communities, observe the rituals - and the social distancing guidelines set out by the government.
Qari Asim is the Imam at the Makkah Mosque, near Hyde Park, and said his role was to encourage the Muslim community to look at the positive aspects of Ramadan during lockdown.
The early days of Islam did not see hundreds of people attending Iftars (the evening meal where Muslims end their daily Ramadan fast at sunset) or daily prayers as there wasn't the physical means to gather in the same place. The lockdown and extra time at home is also a means of reinforcing the meaning of Ramadan, added Mr Asim.
He said: "Ramadan is about retreating from the material aspects of life and turning to God with full devotion. In a way, this isolation and confinement in our houses is that spacial solitude. My message is, it is not cancelled and lockdown should not ruin Ramadan."
At the Makkah Mosque, there will be a daily video, whether on Facebook or YouTube and Iftar will be done online so worshippers can break the fast together - albeit virtually. For the older members of the Makkah Mosque, who may not be online, they can still listen to the prayers and services via the mosque radio transmitter system if it was already installed in their homes.
It is hoped that more people in the community can also be reached because interaction is online, and the money households would have spent on organising grand Iftars is being encouraged to be put to better use such as foodbanks or by buying food for the vulnerable, NHS or keyworkers. "One of the objectives of Ramadan is to enhance empathy and this is a way to do that", added Mr Asim.
From being a face to face mosque with thousands attending, Leeds Grand Mosque has had to embrace technology at a rapid rate as it is now the only means of communication with a congregation that can sometimes be as many at 3,000.
The website and facebook page are being utilised more than ever to get information, events, prayers and messages across and, as worshipppers and their families embark upon the month of Ramadan, they are also learning new ways to get together.
Dr Ihab Ibrahim is the mosque chairman and he said the usual practice of meeting for prayers and Iftar would attract as many as 700 people three times a week and EID celebrations, which are also potentially in doubt, would see between 2,000 and 3,000 attending.
He told the Yorkshire Evening Post: "One of the things about Ramadan is the social side and that aspect is not happening anymore. We were an active mosque and did a lot of things."
In recent weeks the mosque has started a "Love in a Box" project for the vulnerable or isolating members of the community - Muslim and non Muslim - where a volunteer will keep in touch with that person by phone call or email or do shopping and deliver it to the house.
Dr Ibrahim added: "We have an active facebook page, we have more than 8,500 subscribers, and a lot of events go on there. Every now and then there might be a live event but it was not all of them. In this situation it has forced us to go more online and be more active with technology. It was not easy to start with but we learnt as we went along.
"We are hearing of virtual initiatives that are run by organisations and live Iftars and breaking the fast and having that vibe of being together. I think it is happening here. Families are meeting a lot more online through facebook, Zoom or Skype for Iftar so they can feel that moment and break the fast together. That is our only platform now."
Ramadan is the ninth month of the Islamic calendar observed by Muslims worldwide as a month of fasting, prayer, reflection and community.
The common practice is to fast from dawn to sunset and Ramadan is a time of spiritual reflection, self-improvement, and heightened devotion and worship. Muslims are expected to put more effort into following the teachings of Islam.
Thank you for reading this story on our website. These are challenging times but the team at the Yorkshire Evening Post need your support more than ever in the weeks ahead.
While I have your attention, I also have an important request to make of you. In order for us to continue to provide high quality and trusted local news on this free-to-read site, I am asking you - wherever possible and providing it is safe for you to do so - to also please purchase a copy of our newspaper.
Inevitably falling advertising revenues will start to have an impact on local newspapers and the way we continue to work during this period of uncertainty. So the support of our readers has never been more important as we try to make sure that we keep you connected with the city you live in during this time. But being your eyes and ears comes at a price. We need your support more than ever to buy our newspapers during this crisis.
Our team of trusted reporters are working incredibly hard behind the scenes - from kitchen tables and spare bedrooms - to look at how we can do this and your continued support to the YEP will help to protect its viability in the days and weeks ahead.
https://www.yorkshireeveningpost.co.uk/news/people/lockdown-should-not-ruin-ramadan-say-muslim-leaders-who-are-using-new-technology-observe-historic-ritual-2546504
----
Ramadan is a time for giving but coronavirus is seeing more Australian Muslims seeking help
12 HOURS AGO
BY ESSAM AL-GHALIB
At the Lakemba Travel Centre, in Sydney's west, a sign on the door reads 'Closed until further notice'.
The centre has been in business for 30 years and says it has arranged more than 100,000 tourism packages to Mecca in Saudi Arabia.
The impact of coronavirus is made all the more difficult as Muslims prepare to mark the holy month of Ramadan, which begins in Australia on Friday.
"We cannot pray together we cannot do anything. We are sociable people, especially during Ramadan, so we are very disappointed," Mr Yassine says.
As businesses continue to suffer a decline in customers and more and more workers lose their jobs, charitable organisation the National Zakat Foundation Australia (NZF), which supports Australian Muslims in need, has told SBS News it is fielding a huge increase in requests for help.
Since the COVID-19 pandemic began, the Lakemba-based charity says it has seen a 56 per cent increase in the number of requests for assistance and CEO Ismail Davids says he expects that to only increase.
"I expect that this Ramadan there will be a 200 to 300 per cent increase in requests for financial assistance. Ramadan is the month that we fundraise, but no one knows how this Ramadan is going to be."
The NZF collects Zakat, a charitable payment Muslims are expected to make as part of one of the five pillars of Islam. Those who are able, are expected to donate two-and-a-half per cent of their total savings and wealth each year to those in need.
The funds used by the NZF to assist others amount to $150,000 to $200,000 per month, Mr Davids says, and requests for support are mounting.
This month the NZF received a request for aid from one Muslim man who had his passport confiscated by his landlord for being three months behind in his rent.
"Also, a few days ago there was a Muslim brother who had died and his family did not have the funds to bury him and he stayed in the morgue for two weeks. When his family contacted the NZF, they were in a lot of pain, so we paid for his funeral and burial."
"It will be a time when the traditional extended family Iftars and congregational prayers will not be occurring as usual; ANIC acknowledges how difficult this is," it read.
"Despite these challenges, we ask the Muslim community to navigate through the holy month of Ramadan with patience and strength and to always keep in mind, the spiritual purpose of this holy time."
For Mr Yassine at the travel agents, who is caught between his clients and the airlines and hotels, he wants to assure his customers he is here to help, but his hands are tied.
"A lot of money was paid to travel agencies that was paid to airlines and hotels before the pandemic. Now that money is being held by them," he says.
"Many people have lost their jobs and want that money back before Ramadan so they can survive, but I do not have it. The airlines and hotels do."
https://www.sbs.com.au/news/ramadan-is-a-time-for-giving-but-coronavirus-is-seeing-more-australian-muslims-seeking-help
------
On occasion of Ramadan, Ministry of Health, NCEMA direct local economic departments to explore possibility of re-opening commercial centres with precautions
23-04-2020
ABU DHABI, 23rd April, 2020 (WAM) -- The Ministry of Health and Prevention, MoHAP, and the National Emergency Crisis and Disasters Management Authority, NCEMA, have directed local economic departments to study the possibility of re-opening commercial centres in consultation with their partners in the private sector, provided that all relevant precautionary and preventive measures will be pursued.
In a statement today, MoHAP and NCEMA said that the proposed study will take into consideration addressing the needs of the public as well as the national economy while ensuring the public health and the safety and well-being of the society.
http://wam.ae/en/details/1395302838450
----
North America
US rejected EU call to allow economic aid to Iran to fight COVID-19: Top EU diplomat
22 April 2020
The European Union has censured the United States for refusing to ease sanctions on the Islamic Republic and blocking an International Monetary Fund (IMF) loan to Iran to help it fight the COVID-19 pandemic.
"We supported first to soften the sanctions and second, the request by Iran to the International Monetary Fund for financial help," EU foreign policy chief Josep Borrell told a virtual news conference after a video conference of EU foreign ministers on Wednesday.
"I regret that the Americans are, at this stage, opposing the International Monetary Fund from taking this decision. From a humanitarian point of view, this request should have been accepted," he added.
Last month, Iran asked the IMF for $5 billion in emergency funding to assist its measures seeking to counter the spread of the coronavirus.
Iran has asked the International Monetary Fund (IMF) for $5 billion in emergency funding to combat the spread of a coronavirus pandemic
Citing IMF Managing Director Kristalina Georgieva, Iranian Foreign Minister Mohammad Javad Zarif said in March that countries affected by the coronavirus pandemic were entitled to the emergency funding.
IMF's @KGeorgieva has stated that countries affected by #COVID19 will be supported via Rapid Financial Instrument. Our Central Bank requested access to this facility immediately.
The development comes as Washington has sought to wage a so-called "maximum pressure" campaign against Tehran by imposing crippling sanctions on the country after withdrawing from the 2015 multilateral nuclear deal with Iran in 2018.
The sanctions target much-need humanitarian aid and related finances despite an International Court of Justice ruling banning Washington's aid-related sanctions against Iran in 2018.
https://www.presstv.com/Detail/2020/04/22/623669/iran-eu-us-coronavirus-imf-loan-sanctions
----
Advice for Muslims observing Ramadan during COVID-19 restrictions
23/04/2020
Derbyshire Constabulary would like to acknowledge Ramadan, a very special and blessed month which contains innumerable virtues and rewards for Muslims.
This year the holy month begins during the evening of Thursday, 23 April or Friday, 24 April (depending on the moonsighting) and will end during the evening of Saturday, 23 May or Sunday, 24 May (determined by moonsighting).
We understand that COVID -19 and the government's restrictions will have an impact on those observing Ramadan, not least as Mosques will not be open for usual prayers.
Whilst the Muslim Council of Britain has issued guidance which can be found here, we have also been speaking to Mr Nazir Hussain of the Derby Jamia Mosque, who gave the following guidance to Muslims observing Ramadan this year:
Unless circumstances change (which they will not until at least Thursday, 7 May) everyone is reminded to abide by government guidance and remain at home during Ramadan. This includes refraining from attending community and family gatherings such as Iftar (breaking fast).
Mr Hussain added: "This is a testing time for all communities and as Ramadan approaches we think of all those that have been affected by the COVID-19 pandamic.
"We urge all Muslims to continue to observe Ramadan but to do so within the government's guidelines in order to save lives, protect the NHS and all our families."
Inspector Keith Chambers, who is in charge of policing in the west of the city of Derby that has a large Muslim community, said: "Lots of my colleagues will be observing Ramadan along with the rest of the Muslim community of Derbyshire.
"We acknowledge this sacred time and ask that it is observed within the government guidance in order to keep all in the community safe and to protect the NHS as they deal with this pandemic.
"My officers have been policing the restrictions since the start of the lockdown and will continue to do so using an approach of engage, explain, encourage and enforce and this will be the same throughout Ramadan.
"The current restrictions are in place until Thursday, 7 May and of course we will re-assess the guidance given then in respect of Ramadan as and when things change at that point."
https://www.derbyshire.police.uk/news/derbyshire/news/news/forcewide/2020/april/advice-for-muslims-observing-ramadan-during-covid-restrictions/
-----
Usama bin Laden wanted to kill Obama so 'totally unprepared' Biden would be president, declassified docs show
5 hours ago
Usama bin Laden wanted to assassinate then-President Barack Obama so that the "totally unprepared" Joe Biden would take over as president and plunge the United States "into a crisis," according to documents seized from bin Laden's Pakistan compound when he was killed in May 2011.
The secretive documents, first reported in 2012 by The Washington Post, outlined a plan to take out Obama and top U.S. military commander David Petraeus as they traveled by plane.
"The reason for concentrating on them is that Obama is the head of infidelity and killing him automatically will make [Vice President] Biden take over the presidency," bin Laden wrote to a top deputy. "Biden is totally unprepared for that post, which will lead the U.S. into a crisis. As for Petraeus, he is the man of the hour ... and killing him would alter the war's path" in Afghanistan.
"Please ask brother Ilyas to send me the steps he has taken into that work," bin Laden wrote to the top lieutenant, Atiyah Abd al-Rahman. Kashmiri wouldn't get too far along in the plot, however; he was killed in 2011 in a U.S. drone strike shortly after bin Laden himself was shot to death by U.S. special forces.
For his part, Biden has sent mixed signals on his role in bin Laden's death, as explained at length in a timeline by The Washington Examiner's Jerry Dunleavy. In late April 2011, Obama gathered together a team that included Biden before making a final decision on whether to strike at bin Laden's suspected compound.
In January 2012, Biden revealed he had opposed to the raid, and claimed that "every single person in that room hedged their bet" except for CIA Director Leon Panetta, who supported striking the compound.
"Mr. President, my suggestion is, don't go," Biden said he told his boss, as reported by The New York Times. "We have to do two more things to see if he's there.'"
Obama himself verified Biden's opposition to the plan, telling Mitt Romney in a 2012 presidential debate, "Even some in my own party, including my current vice president, had the same critique as you did."
On CBS's "60 Minutes" in Oct. 2015, Biden tried to clear up the confusion, and insisted everything he said had been "accurate."
"In order to give the president the leeway he needed, I said, 'Mr. President, there's one more thing we can do.' … One more pass to see if it was bin Laden. I said, 'You should do that, and there'd still be time to have the raid, but that's what I would do," Biden said.
SEAL Team Six ultimately landed at bin Laden's compound in two MH-60 Black Hawks, killed the terror leader and seized a fateful cache of valuable intelligence.
https://www.foxnews.com/politics/osama-bin-laden-wanted-to-kill-obama-so-biden-would-be-president-declassified-docs-show
------
'This is what it feels like:' NJ Muslim candidate, media figure recounts death threat
April 22, 2020
The founder of the popular website MuslimGirl.com, who's running for a U.S. Congress seat in central New Jersey, received a call Tuesday night threatening to kill her and her family, a violent and obscenity-laced exchange that she shared online.
Amani al-Khatahtbeh posted a recording on Twitter in which the unknown caller states her parents' address and then promises: "I will [expletive] kill them and I will torture them."
He pelts al-Khatahtbeh with racial slurs, calls her an "ugly Arab Muslim" and "terrorist" and threatens to force-feed her and her family pork and vodka, during the tirade, which lasted for more than 2 minutes.
Al-Khatahtbeh, who is running in the Democratic primary for New Jersey's 6th congressional district, said she decided to share the recording so people can get a sense of the hate that Muslims and minorities face.
"This isn't my first death threat and I hesitated to share it, but it's necessary to see the common experience of Muslims & minorities when hate is normalized by political leaders," she wrote on Twitter. "This is what it feels like."
The New Jersey chapter of the Council on American-Islamic Relations said the reported call was not surprising "at a time in which our nation is facing an alarming rise in xenophobia, Islamophobia and racism."
"The chilling death threat exemplifies how Muslim candidates are especially targeted during election cycles," said Selaedin Maksut, director of CAIR-NJ in a statement. "We know Islamophobia follows election cycles and is often exacerbated and amplified by the negative rhetoric of political leaders."
CAIR-NJ called on state law enforcement authorities and the FBI to investigate. A spokeswoman in the FBI's Newark office said she could not confirm nor deny the existence of an investigation due to agency policy. New Brunswick police were not immediately available for comment.
Al-Khatahtbeh is founder and editor-in-chief of MuslimGirl.com, an online magazine for Muslim women. She is running in the 6th district primary against U.S. Rep. Frank Pallone and is the first Muslim woman in New Jersey to seek federal office.
https://www.northjersey.com/story/news/new-jersey/2020/04/22/muslimgirl-founder-congressional-candidate-shares-racist-death-threat/3005319001/
-----
With the mosques closed, Ramadan takes place at home
22/04/2020
São Paulo – Mosques in Brazil and the world over are closed for the quarantine. Staying home to avoid infection by the novel coronavirus is the most important thing Muslims can do right now, even as the month of Ramadan kicks off next Thursday (23). Fasting from sunup to sundown is one of the pillars of Islam. Muslims are instructed to pray and break their fasts at home. The meals that mosques usually offer this time of year will be staple food kits delivered to people's doors.
Federation of Muslim Associations in Brazil (Fambras) president Ali Zoghbi explains that this year's schedule has been completely changed, but the fasting and prayers will go on as usual for people, whether they live by themselves or with their families.
He said the decision to prevent crowds of any kind was made unanimously by Muslim religious authorities. "Islam prioritizes people's physical integrity, so the recommendation is to keep mosques closed, and anyone with a health condition of any kind is not supposed to fast," Zoghbi told ANBA.
People who have coronavirus or any other illness are not required to perform the fast, which they can make up for once they have recovered, or by donating food to families in need. Travelers, pregnant women, lactating women, children and the elderly are exonerated from fasting as well. You can find out everything you need to know about Ramadan in this article (those fasting must not even drink water).
According to Zoghbi, solidarity and prayer both multiply during the holy month. "Being close with one's creator is very important during this time. People are required to perform five mandatory prayers, and additional prayers are advised during Ramadan. In line with what science tells us, we must pray by ourselves, in our homes," he said.
Praying together is always beneficial and positive, Zoghbi said, since it is an important moment of social interaction. "However, praying alone with our families at home is all we can do right now. There are pros and cons to this. agora. This pandemic is reeducating us on how we view the world, and it will influence everything we will be. This is a moment of faith that calls for more mercy, more patience in what is recommended to us. We will not be the same once this pandemic is over," he said.
Regarding charity, the said the decision was made to donate food kits because having the Iftar – or breaking of the fast – at mosques would cause people to gather. "The food kits and food items are being donated while taking every necessary step for protection, by a small number of volunteers, taking care not to put people at risk, with delivery logistics," he said.
Fambras has had its Iftar Solidário (the Iftar of Solidarity) project for over a decade now, and it includes the breaking of the fast for Muslims and non-Muslims alike. "This year we're donating chicken and beef and food kits to various organizations. We are getting food inside people's homes, using Fambras' own resources," said Zoghbi. Some 3,000 kits will be distributed across Brazil.
Zoghbi mused on Ramadan and the quarantine. "Ramadan is also about personal transformation through reflection. Social distancing can help us gain the clarity to reassess and reevaluate our habits, to reconsider where we are going, to repent for harmful attitudes towards ourselves and others, and to ask forgiveness for our sins. It is about purification so that a new phase in life can begin, and so that we can live fuller, happier lives."
Egypt's Abu Bakr Ibrahim is the sheikh at São Paulo's São Miguel Mosque (pictured above), and the head of sheikhs for Egypt's Awqaf Ministry in Brazil. He moved to the country two and a half years ago, and he told ANBA how technology can help keep the community united during the ninth holy month of Islam.
"Ramadan is the month of visiting, so this is one is going to be a bit harder. The mosques are closed and gatherings are prohibited, but we can stay in touch with the people we love through social media, apps or even the phone. Let us fraternize in a different way, one that is also heartwarming," said Bakr.
The sheikh is communicating with Muslims via WhatsApp, Facebook videos, and live streams. "Sheikhs can reach out to their communities by teaching lessons and having online praying sessions on Facebook and Instagram, so they can advise Muslims," he said. Bakr advises the community to find out what method of communication is being used by their mosque of choice.
"Look at your mosque's socials. There are many ways to communicate with people. the mosque is important, but if we can't go, we need to see what's most important and beneficial to the community," he said.
Victória Fares is a 23-year-old Medical student who frequents the Misericórdia Mosque in the southern São Paulo neighborhood of Santo Amaro. "There are four of us at home: my parents, my brother and me. During Ramadan, however, it's usually us plus two childhood friends," she told ANBA. Her father is a second-generation Lebanese immigrant; her mother was born in Lebanon.
For Fares, Ramadan is about unity, and an eagerly anticipated month for Muslims. The Covid-19 pandemic wrought changes to the daily routine at her home, especially when it comes to personal hygiene.
"The Salat [the five daily prayers] and the Iftar [breaking of the fast] will basically work the same way. It will be the six of us – my family and our friends –, while taking every step to protect ourselves. Not much will change at home, except for the fact that we won't all go do the Salat Isha and the Taraweeh [prayer at the mosque]. Still, I can only thank Allah for everything, and even if we go through a few changes, Allah has to make things easier. I'm eager for it to begin," she said.
Hiba Altabakh of Syria is a Dentistry student in Palhoça, Santa Catarina. Married to a Syrian man, she moved to Brazil three years ago. Hiba is not attending college at this time, but she does have online classes. During Ramadan, she'll be able to watch the lessons at the time that suits her best, so that she can do her fast.
"The thing that changed Ramadan for me was when I made the move to Brazil; the quarantine hasn't changed things much. Back in Damascus I had my family, I have four sisters and a brother. Mine's a really big family, and I lost that by moving," she told ANBA.
Altabakh claims that she's the only Muslim in her college, and that she doesn't know any other Muslim Arabs in the city besides her and her husband. So far there's only a prayer room in Palhoça, but she said two mosques are in construction. "But it doesn't matter, I care about my inner peace more," she said.
Altabakh said her husband is still going out to work, and he will not have different work hours during Ramadan, because his employers are Brazilian. She will be home alone for Iftar. "I must break the fast around 6 pm. I'm not sure if I'll call my family because of the time zone," she said. Syria is six hours ahead of Brasília time.
"Fasting teaches us patience and control. I do get the urge to eat, and no one will see it if I do, but I can't, because I have priorities in life. This is a time to be closer to God, a really cool experience, I really like it. Our most important relationship in life is with God, rather than with people," she said.
Hajj, the pilgrimage to Mecca, is slated for July 28 to August 2 this year. Saudi authorities haven't cancelled it yet, but the Umrah, or the non-Hajj pilgrimage, is already out of the question, since the holy sites are closed and foreigners are not being allowed in the country. Would-be pilgrims are not advised to schedule their Hajj trip for the time being, because the event may be cancelled at any minute
https://anba.com.br/en/with-the-mosques-closed-ramadan-takes-place-at-home/
------
India
Palghar lynching: 'They couldn't blame Muslims, so now it's Communists'
By SYED FIRDAUS ASHRAF
April 23, 2020
Days after Maharashtra witnessed the horrific mob lynching of three men in Palghar district, a political slugfest has erupted between political parties including the Congress, Bharatiya Janata Party and Communist Party of India-Marxist.
Two sadhus and their driver, proceeding from Nashik to Surat in Gujarat, were cornered and lynched by a large mob outside Gadchinchle village in Palghar district on April 16 in the presence of police personnel amid rumours that they were robbers or child kidnappers.
Soon a political twist was given to the ghastly incident when a whispering campaign emerged online about the assailants being Muslim.
With the Maharashtra government moving quickly to nip the canard in the bud, and stating that not one of those arrested was Muslim, the campaign turned to the fact that Palghar was a stronghold of Marxists and hinted darkly at the Marxist-Christian nexus being behind the murders.
Bharatiya Janata Party Spokesperson Dr Sambit Patra tweeted: 'It was in the Dahanu assembly constituency in Maharashtra's Palghar district where the killing of saints took place. This region is the stronghold of the CPI-M. The MLA here is also from the Communist party. NCP also has an alliance with CPI-M in the region. This murder is the work of Marxist goons and hence the entire Left brigade is silent.'
The Communist Party of India-Marxist has threatened to file a defamation suit against Dr Patra and BJP leader Sunil Deodhar for their allegations of Marxist involvement.
Dr Ashok Dhawale, president of the All India Kisan Sabha and a member of the CPI-M's central committee, has been actively working in the Dahanu-Palghar area for 30 years.
"Not a single person from the CPI-M is mentioned in the FIR. There are five main accused... We have found that some of these people are politically inclined towards the BJP. Three of them are definitely supporters of the BJP," Dr Dhawale tells Rediff.com's Syed Firdaus Ashraf.
They did not have a permit to go to Surat. Had they got the permit during the lockdown they would have gone to Surat by the National Highway.
To escape the police, these sadhus went through deserted roads. They were stopped by a forest guard. They told him they were going to a funeral so he let them go.
Now, the police of Nagar-Haveli should have kept them in their chowkie and let them go back in the morning. But the police sent them back.
Prior to this lynching, on April 14, an Adivasi doctor had gone to a village called Sarni, and was attacked. He had gone in the night to help with medicines, but because of these rumours he too was attacked.
There are two versions. The first version is that there were only four policemen at the spot and they could have fired in the air, but they did not do so. Now an inquiry will reveal what happened.
Firstly, some people tried to communalise this incident in a very disgusting manner. And they are clearly from rhe BJP as they are putting up all kinds of posts on social media.
They eventually realised there is not a single Muslim in that village where the sadhus (were lynched) so the Hindu-Muslim angle can't work.
Second, this area comes under the Dahanu assembly constituency. This is a base of the Communist Party of India-Marxist for the last 75 years ever since Comrade Godavari Parulekar, a very legendary leader, started the revolt of the Warli Adivasi tribe in 1945.
Now, Comrade Vinod Nikolai is the sitting MLA of our party. We have won this seat from 1978, 9 out of 10 times. We only lost once, in 2014.
Therefore, they started this whole campaign on social media that all the people who killed the sadhus were CPI-M men and NCP (Nationalist Congress Party) members. In that area both parties are in alliance.
The climax was when Sambit Patra and Sunil Deodhar in their social media posts said that this is a CPI-M stronghold and therefore the killers are of the CPI-M. This is absolutely nonsensical logic.
When you have a village which is controlled by the BJP, who are the people likely to be the people to perpetrate the attack? You get the point.
We have found that some of these people are politically inclined towards the BJP. Three of them are definitely supporters of the BJP.
Right wing Web sites allege the Kashtakari Sanghatana is behind the attack. They allege the Dahanu-Palghar belt is full of Christian missionaries and the CPI-M network.
A lot of rumour-mongering was going on for the last 8 to 10 days in the Palghar-Dahanu area. And the rumours were that the Muslims were coming to that area in different garb -- in the garb of sadhus or doctors.
They will then spit in wells and spread coronavirus disease. And if not that, they will kidnap children for kidneys. These rumours were going on very strong in that district.
https://www.rediff.com/news/interview/they-couldnt-blame-muslims-so-now-its-communists/20200423.htm
----
Coronavirus in India: No mass prayers, iftar party at mosques during Ramazan in Bhubaneswar
April 23, 2020
Mohammad Suffian
In the wake of the novel coronavirus pandemic, there will be no mass prayer and Iftar party at any mosque in Bhubaneswar during the holy month of Ramzan beginning Friday or Saturday.
On Wednesday, the Commissionerate Police had held a meeting with Masjid chief's in Bhubaneswar where it was decided that no mass prayer, namaaz or special daily prayers (Tarabih) will be offered during Ramazan in any mosque in the state capital.
The namaaz will only be performed inside houses and social distancing norms should be followed. Besides, people have also been advised to celebrate 'iftar' in the same manner.
Bhubaneswar DCP Anup Sahu told India Today TV: "Discussions were held with presidents of all Masjids in Bhubaneswar. They have assured that no mass gathering will take place in mosques for prayers. No 'iftaar' party will be held during Ramazan. Those who remain in mosques [imam] will only perform prayers there [2-3 persons] maintaining social distance guidelines."
Police officials have advised the Muslim community leaders to ask people not to venture outside unnecessarily and remain indoors during Ramazan for prayers.
Md Shahnawaz, the president Unit-3 Mosque, told India Today TV: "A meeting was called by the Commisionerate Police. I thanked the police on their consistent efforts in managing the coronavirus crisis in Odisha. For the Ramzan starting from April 25, it was agreed that all prayers shall be performed at homes without outsiders joining. I have requested all our Muslim brothers to seriously abide by the government advisories and police guidelines."
Cuttack MLA Mohammed Moqueem said: "We have appealed to community members to follow guidelines issued by the government and offer their Namaaz from home during Ramadan and to support the government in the fight against Covid-19 pandemic."
The holy month of Ramzan begins from April 24 or 25. Ramzan is special to devout Muslims, who observe daily fasting (Roza) for a month and offer special daily prayers (Tarabih). The time of morning 'Sehri' and 'Iftar' in the evening is decided by the city's mufti during Ramzan.
Ramzan begins this year when the entire country is in lockdown and the mosques are closed due to novel coronavirus outbreak. If some mosques are open, they are not seeing many Muslims coming in to pray, as most of them are staying indoors and praying at home in this critical time.
https://www.indiatoday.in/india/story/coronavirus-india-no-mass-prayers-iftar-party-mosque-during-ramazan-in-bhubaneswar-1669983-2020-04-23
-----
Mumbai man held for rejecting delivery from Muslim agent
Apr 23, 2020
MUMBAI: A 51-year-old Mira Road resident was arrested on Wednesday from his Srushti Complex home after he allegedly refused to accept groceries from a Muslim delivery boy. He was produced before the Thane sessions court and remanded in judicial custody.
The incident occurred on Tuesday, when the 32-year-old delivery boy, a resident of Naya Nagar, was delivering groceries ordered online. "I have been risking my life and delivering essential goods to homes," the delivery boy said. "And to think that in these tough times too, people want to focus on religion is shocking and saddening." He said he was wearing a mask and gloves at the time.
The police registered a case under IPC section 295 (a) (deliberate and malicious acts intended to outrage religious feelings of any class by insulting its religion or religious beliefs). Around 9.40 am on Tuesday, the delivery boy was standing with the delivery at the gate of Srushti Complex and called the customer—the arrested man's wife—as there were entry restrictions due to the lockdown imposed to fight Covid-19 in Mira-Bhayander.
As the woman went through the list of items, her husband asked the delivery boy his name. On learning that the delivery boy was from a different community, the man told his wife to return the order.
The delivery boy was shocked and recorded the rest of the conversation on his mobile phone. The man allegedly told the delivery boy that he did not want to order from a person of the minority community.
The delivery boy, who has been working for the online grocery portal for over a year, narrated the incident to his family, who advised him to approach the police.
He said that his family, including children, were worried for him because of the coronavirus, but he still was among the few who had agreed to do his job. He said that he has been delivering parcels to many homes during the lockdown and had never faced such discrimination, adding that he would continue doing his job.
https://timesofindia.indiatimes.com/city/mumbai/city-man-held-for-rejecting-delivery-from-muslim-agent/articleshowprint/75306948.cms
----
Pakistan
Islamic Development Bank prepares $2.3b package for member countries
By Our Correspondent
April 23, 2020
ISLAMABAD: The Islamic Development Bank (IsDB) Group board has approved $2.3 billion 'Strategic Preparedness and Response Package' for the IsDB member countries to mitigate and recover from the impact of the Covid-19 pandemic in the short, medium, and long-term, announced IsDB President Dr Bandar M H Hajjar. He added that this will be achieved through a holistic approach aimed to accommodate priorities beyond the immediate and emergency response.
During a video call with Minister for Economic Affairs Makhdoom Khusro Bakhtiar, the president assured the bank's full support for the people and the government of Pakistan to mitigate the negative impacts of Covid-19.
He informed that International Islamic Trade Finance Corporation (ITFC) has been directed to immediately finalise $500 million for import of oil and LNG, and an amount of $150 million has been allocated to alleviate the pandemic impact.
The minister appreciated the IsDB Group for giving special priority to Pakistan. He also underlined the need of the member countries and applauded the bank's response to lessen the Covid-19 pandemic affects. The technical teams from both sides have already outlined the initial assessment for Covid-19 related financing.
https://tribune.com.pk/story/2204607/2-islamic-development-bank-prepares-2-3b-package-member-countries/
----
Mufti Muneeb to pray at home during Ramadan
April 22, 2020
KARACHI-Chairman of Ruet-e-Hilal Committee Mufti Muneeb-ur-Rehman has said that he is offering prayers at home and will continue to do so during Ramadan.
According to details, Mufti Muneeb-ur-Rehman has urged religious scholars to follow 20-point agenda agreed between ulema and the government.
Last week government, after a consultative meeting of Ulema chaired by President Arif Alvi in Islamabad on April 18, granted conditional permission for congregational prayers and Taraweeh during Ramadan.
Government and religious scholars of all school of thoughts agreed on 20 points strategy for congregational prayers in Ramadan amid coronavirus outbreak in the country.
However, Mufti Muneeb on April 14 announced to open mosques despite lockdown and said that coronavirus lockdown did not apply on mosques and mosques will remain opened with precautionary measures.
https://nation.com.pk/23-Apr-2020/mufti-muneeb-to-pray-at-home-during-ramadan
-----
Shah Allah Ditta partially sealed
April 23, 2020
ISLAMABAD -The Islamabad city district administration has sealed Shah Allah Ditta area partially after reports of confirmed cases of Coronavirus there.
District Magistrate Islamabad issued a notification in this regard on Wednesday. It said, "On the recommendations of district health officer and recent confirmed reports of individuals infected with Novel Coronavirus residing in DeraLumberdar Syed ZakiHaiderNaqvi and surrounding vicinity, Shah Allah Ditta, Islamabad is hereby sealed." It further said that the step has been taken in larger public interest and to prevent wide spread outbreak of COVID-19. There have been several coronavirus cases from the area.
https://nation.com.pk/23-Apr-2020/shah-allah-ditta-partially-sealed
-----
Additional Commissioner Revenue For Ensuring SOPs In Mosques During Ramazan
April 23, 2020
LAHORE - A special meeting chaired by Additional Commissioner Revenue (ACR) Asghar Joiya was held on Wednesday at Town Hall, to ensure social distance in mosques during the month of Ramazan. A spokesperson of the department said that the ACR directed the administration to strictly implement the SOPs for mosques issued by the government. He said that no mosque would be allowed to violate social distance.
https://nation.com.pk/23-Apr-2020/acr-for-ensuring-sops-in-mosques-during-ramazan
-----
7 cases of COVID-19 Madrisa-e- Babul Islam sealed in F-7 Markaz
April 23, 2020
Islamabad : Seven new cases of COVID-19 were tested positive in 'Madras-e-Babul Islam' in F-7 Markaz here on Wednesday.
City District Administration of Islamabad sealed Madras-e-Babul Islam in F-7 Markaz (Super Market) following the confirmation of seven cases of COVID-19.
Following the death of Khateeb Madras-e-Babul Islam, his family and kins were tested for Covid-19, among whom seven suspects of Covid-19 were tested positive here on Wednesday.
ICT Administration taking prompt action sealed Madras-e-Babul Islam in F-7 Markaz, Super Market and also sealed the adjacent streets and roads of the seminary.
Meanwhile, all the families and staff residing in Madras-e-Babul Islam and others in touch with this family have been put in Quarantine.
Deputy Commissioner Islamabad, Hamza Shafqat stated that other relatives and family friends of 'Khateeb' Madras-e-Babul Islam will be tested also.
Earlier, more than four to five streets in sector G-6 were sealed free days back after confirmation of COVID-19 positive.
https://www.thenews.com.pk/print/648389-7-cases-of-covid-19-madrisa-e-babul-islam-sealed-in-f-7-markaz
------
South Asia
Clinton prevented the killing of Osama bin Laden in Afghanistan: Ex-CIA agents
23 Apr 2020
The former agents of the Central Intelligence Agency have revealed that the former President Bill Clinton prevented the killing of Al-Qaeda Network founder Osama bin Laden in Afghanistan.
Bob Grenier, the former CIA station chief based in Islamabad, discussed the revelation in the newshowtime documentary, The Lonest War which was released on Tuesday.
He further explained that CIA was permitted to engage in "lethal activity" against the terrorist leader but could not perform a strike with the explicit purpose of killing him.
"We were being asked to remove this threat to the United States essentially with one hand tied behind our backs," Grenier added.
Grenier also added that CIA had a specific opportunity to eliminate bin Laden using intelligence sourced from tribal networks in Afghanistan.
"Our tribal contacts came to us, and they said, 'Look, he's in this location now. When he leaves, he's going to have to go through this particular crossroads.' And so what they proposed was to bury a huge cache of explosives underneath those crossroads so that when his convoy came through, they could simply blow it up," Grenier recounted.
This comes as Clinton had signed an order which would prevent the CIA from organizing a kill operation against al Qaeda leader Osama bin Laden.
Clinton had earlier acknowledged that he was in a position to kill bin Laden but claimed that doing so would have resulted in the deaths of hundreds of people in the Afghan city of Kandahar.
https://www.khaama.com/clinton-prevented-the-killing-of-osama-bin-laden-in-afghanistan-ex-cia-agents-04709/
-----
Clashes in Doshi district cut electricity supply to Kabul and other provinces
23 Apr 2020
Clashes in Doshi district of northern Baghlan province cut the supply of electricity to capital Kabul and other provinces, the State Utility Firm said.
Da Afghanistan Breshna Sherkat in a statement said the impact of a bullet severed the transmission line in Pul-e Gazan area of Doshi district which was used to transmit electricity from Uzbekistan to Kabul and other provinces.
Meanwhile, the Da Afghanistan Breshna Sherkat said the firm has deployed technical personnel in the area which is busy reconstructing the severed transmission line.
According to Da Afghanistan Breshna Sherkat, the transmission of imported electricty to Kabul and other provinces is expected to resume by Thursday evening.
https://www.khaama.com/clashes-in-doshi-district-cut-electricity-supply-to-kabul-and-other-provinces-04712/
----
4 Taliban militants killed while making a bomb inside a mosque in Ghazni
23 Apr 2020
A premature explosion killed four Taliban militants who were busy making a bomb inside a mosque in South-eastern Ghazni province.
The provincial government in a statement said the militants were busy making a bomb when the explosion took place, leaving at least four militants dead.
The anti-government armed militants including Taliban militants frequently use improvised explosive devices to target the security forces and government personnel.
However, majority of such attacks inflict casualties or ordinary civilians while such attacks often kill or injure the militants, specifically when the explosives go off prematurely.
https://www.khaama.com/4-taliban-militants-killed-while-making-a-bomb-inside-a-mosque-in-ghazni-04711/
-----
More than 40 Taliban militants killed, wounded in Kandahar clashes
23 Apr 2020
The Afghan forces killed at least 28 Taliban militants during separate clashes in southern Kandahar province of Afghanistan, the security officials said.
Gen. Tadin Khan, the Police Chief of Kandahar, said the Taliban militants attacked security posts in Sargo area of Spin Boldak district.
He said the Afghan forces effectively responded to the attack, killing at least 16 Taliban militants and wounding at least 9 others.
Gen. Tadin Khan further added that the security forces killed 12 Taliban militants and wounded at least 7 others during a similar clash in Mirazar area of Zherai dsitrict.
https://www.khaama.com/more-than-40-taliban-militants-killed-wounded-in-kandahar-clashes-04710/
----
11 security personnel lost their lives, 19 wounded in Taliban attacks in Sar-e Pul
22 Apr 2020
The Taliban militants launched attacks in two districts of northern Sar-e Pul province which claimed the lives of at least 11 security personnel.
Provincial governor's spokesperson Zabiullah Amani confirmed the incident and said the Taliban militants attacked the security posts in Sancharak and Suzma Qala districts on Tuesday night.
According to Amani, clashes between Taliban militants and security personnel continued until early hours of Wednesday morning during which at least 19 security personnel also sustained injuries.
He also added that the majority of the security personnel killed or wounded during the clashes, were members of the Afghan Local Police (ALP) forces.
Meanwhile, Amani said the Taliban militants also sustained casualties during the clashes but did not elaborate further regarding the exact number.
https://www.khaama.com/11-security-personnel-lost-their-lives-19-wounded-in-taliban-attacks-in-sar-e-pul-04708/
-----
Southeast Asia
Ramadan starts early in Maluku villages, people flock to mosques
April 23, 2020
While the majority of Muslims in Indonesia are waiting for a formal government announcement on the start of Ramadan, some Muslims in Maluku started fasting on Wednesday, performing their first tarawih (Ramadan night prayers) of the holy month on Tuesday.
The fasting month started early on Wednesday in a number of villages in Maluku, including Wakal, Hila and Tengah-Tengah in Central Maluku regency, as well as Dai and some villages in Pulau Panjang district in East Seram regency.
Hundreds of villagers in Maluku flocked to local mosques to perform tarawih, despite the government's ban on congregational prayers at mosques due to the outbreak.
Some mosques were so crowded in Wakal and Tengah-tengah that not all worshippers could be accommodated, forcing some to pray in the mosques' courtyards.
Indonesian Ulema Council (MUI) secretary-general Anwar Abbas said he was not against some communities starting the fasting month early but said they should pay attention to the safety of the people in the midst of the pandemic.
"But if the coronavirus outbreak has started in their areas, they shouldn't gather to prevent the high possibility of being infected," Anwar told The Jakarta Post on Wednesday.
The Religious Affairs Ministry previously issued a circular on prayer guidance during this year's Ramadan and Idul Fitri, advising that tarawih be performed individually or in congregation with those living in their homes.
The circular also stipulates the prohibition of other mass gatherings that are traditionally held during the month, such as sahur (predawn meal) "on the road" events and calls for minimizing physical contact during zakat (alms) collection.
The country's second-largest Islamic organization, Muhammadiyah, which has also issued a circular advising Muslims to perform tarawih and Idul Fitri prayers at home, has set the start of Ramadan for Friday.
Meanwhile, Nahdlatul Ulama (NU), the country's largest Muslim organization, has yet to stipulate the fasting schedule, as it will determine the start of Ramadan by observing the new moon on Thursday.
In Maluku, while some Muslims started fasting on Wednesday, others will start on Thursday, Friday or Monday, depending on local consensus.
In Leihitu district in Central Maluku regency, for example, Kaitetu, Seith and Negeri Lima villages will start Ramadan on Thursday, while the other eight villages will start on Friday.
In the meantime, Muslim villagers in Kabauw and Rohomoni villages in Pulau Haruku district, Central Maluku regency, will start fasting on Monday.
Maluku, which confirmed its first positive COVID-19 case on March 22, has recorded 17 cases with no fatalities as of Wednesday.
https://www.thejakartapost.com/news/2020/04/23/ramadan-starts-early-in-maluku-villages-people-flock-to-mosques.html
----
"Duyog Ramadan" goes high-tech due to virus
By FROILAN GALLARDO
APRIL 23, 2020
CAGAYAN DE ORO CITY (MindaNews / 23 April) — In a time where physical distancing is a must due to the COVID-19 pandemic, Duyog Ramadan will have to depend on mobile and online technology, a leader of the Catholic church here said.
The Darul Ifta has declared the Ramadan starts on Friday (April 24), and ends either on May 23 or May 24. The National Commission on Muslim Filipinos will inform the Office of the President of the final date before a proclamation is made.
Monsignor Rey Monsanto of the Cagayan de Oro Archdiocese and head of the interfaith group here said Christians who wish to join Muslims in prayer during the Holy Month of Ramadan will have to content themselves with sending messages of support via texts and social media.
"We used to wait outside their mosques every evening as soon they break the fast. Now it's no longer possible to do that," Monsanto said.
Aleem Saad Amate of the United Imam of the Philippines said many of the Islamic traditions like congregational prayers in mosques and masjids have been set aside because of the pandemic.
He said imams and Muslim scholars in Lanao del Norte and Cagayan de Oro also planned to watch for the crescent moon on Wednesday night, the sighting of which marks the start of the holy month.
"It (moonsighting) used to be by the lake in Lanao but authorities are very strict in observing curfew hours so it's not possible to look for the moon there," he said.
Duyog Ramadan traces its roots to the initiatives of the late Bishop Bienvenido Tudtud of the Prelature of Marawi in the 1970s. As an interfaith movement, it aims to foster peaceful coexistence and respect for each other's cultures and religious beliefs and traditions.
https://www.mindanews.com/top-stories/2020/04/duyog-ramadan-goes-high-tech-due-to-virus/
-----
Indonesia's Ramadan travel ban to reduce weak Asian gasoline demand further: traders
23 Apr 2020
Singapore — A nationwide ban by Indonesia, the region's largest buyer of gasoline, on seasonal travel for Ramadan will significantly add to downward momentum in the already bearish motor fuel market, industry sources said this week.
Register Now Indonesian President Joko Widodo announced the ban Tuesday as the country acts to curb the spread of COVID-19. Ramadan, which this year runs April 23-May 23, is peak driving season in Indonesia as city workers return to their home towns to mark the occasion with family.
Indonesia's gasoline imports in April 2019 prior to Ramadan surged 27.56% month on month to 12.236 million barrels. Buoyed by the increased buying, the FOB Singapore 92 RON gasoline crack against front-month ICE Brent crude futures averaged $7.25/b in April 2019, up from $5.79/b the month before, S&P Global Platts data showed.
The same spread has averaged minus $9.15/b since the start of April this year, down from 57 cents/b in March, and the driving ban imposed this year means the demand outlook for Asian gasoline is grim.
"All the news is mostly bad news. With Indonesia out of the picture, it means that the oversupply has nowhere to go," a Singapore-based source said.
Even prior to the ban, Indonesia's fuel consumption was reported to have fallen 16% to 113 million liters/day in early April from 134 million liters/day in mid-March, Fajriyah Usman, spokeswoman for state-owned giant Pertamina, said at the time.
The slump in demand has prompted the company to cut run rates at several facilities, with the 260,000 b/d Balikpapan and 50,700 b/d Sungai Pakning refineries gradually reducing operations and taking their crude distillation units offline and the 133,700 b/d Plaju refinery reducing production gradually, Platts reported earlier.
Gasoline stocks remain ample at above 22 days consumption, and Pertamina has been heard seeking vessels for offshore storage for gasoline and other refined products, sources said.
https://www.spglobal.com/platts/en/market-insights/latest-news/oil/042320-indonesias-ramadan-travel-ban-to-reduce-weak-asian-gasoline-demand-further-traders
-----
'It doesn't feel like Hari Raya': Malaysia's Ramadan vendors fret over slow sales amid COVID-19
23 Apr 2020
SINGAPORE: Nor Fatiha Rahamat typically bakes Hari Raya cookies and cakes before selling them at Ramadan bazaars in Johor. It is a crucial source of income for her to fund her family's daily expenses.
However this year, with Malaysia still in the fight against COVID-19, Nor Fatiha told CNA that the situation is far off from business-as-usual.
"It's vastly different this year. I've been taking orders since the start of the year but over the last month, 90 per cent of my customers have cancelled," said the owner of Tia Cake House, which is based in Johor Bahru.
Nor Fatiha bakes Hari Raya cookies for a living. However, there is uncertainty on whether Hari Raya visiting will carry on in 2020, so her businesses have been impacted. (Photo: Nor Fatiha Rahamat)
Nor Fatiha said the main reason for the cancellations is nationwide uncertainty over what Ramadan bazaar vendors can or cannot do during the fasting month.
Ramadan bazaars are an important staple for Malaysians, where people typically head to groups of street vendors and purchase food for breaking fast as well as clothing for the Hari Raya Aidilfitri celebrations.
Earlier this month, the government said it will not allow any sort of bazaars, including e-bazaars and drive-throughs during the fasting month.
Yet, she has encountered difficulties delivering her orders to customers, especially those living in other states. Malaysia's Movement Control Order (MCO), which will end on Apr 28, restricts movement of people across state lines.
"For those who order my cakes and cookies, I will personally make the deliveries. However, they must be staying within 15km from my place because we do not want to break any laws," said Nor Fatiha.
Meanwhile, Sidek Azman, who usually sells Ramly burgers at bazaars in the northeastern state of Terengganu, told CNA that he is struggling to get a reasonable number of orders in order to cover his business costs.
"Many people in Terengganu live in rural areas ... In previous years, they would come down in droves to the physical bazaars and buy burgers for breaking fast. They prefer it that way," said the 49-year-old.
"They prefer to see the product being made (in their presence) before buying. Selling Ramly burgers is all about the smell of meat being sizzled. It's just not the same selling online and making deliveries."
Aiman Mohammad Faizal, who manages Aqil Naufal shops which sells baju kurung for Hari Raya, said he used to operate in Melaka bazaars. But he is now trying to strike it out in online marketplaces across different states.
When interviewed by CNA, he noted that it is tough to sell online because customers are not able to try the clothes to check for size and fit.
Despite the challenges, he said: "We want to take this opportunity to expand our business to the whole of Malaysia. God willing, if there is nothing to stop us, we will find a way to deliver them to our customers."
Azad Mahbob, who typically sells printed t-shirts at Melaka's Ramadan bazaar near Dataran Pahlawan, told CNA that this year, he has produced shirts with COVID-19-themed designs and will be sending them to customers across the country.
Azad said the t-shirts are meant to commemorate the dedication of Malaysia's frontliners in the country's fight against COVID-19. Moreover, some of the T-shirts have messages to persuade Malaysians to stay at home, and adhere to the MCO.
"I saw how the frontliners worked so hard to fight COVID-19. So I designed these t-shirts to motivate and encourage them," said Azad.
"At the same time, I also wanted to propagate the government's message to adhere to the MCO. Hence, I also designed t-shirts with messages such as 'stay at home' and 'adhere to the lockdown'," he added.
Azad told CNA orders for his shirts have been very encouraging, with both members of the public and frontliners buying from him. He also said that the delivery process has been smooth because he uses postal services to deliver the shirts.
"Malaysians want to honour the sacrifices of our frontliners. And buying t-shirts like these is one way to spread the message," he said.
https://www.channelnewsasia.com/news/asia/malaysia-covid19-ramadan-bazaar-online-snacks-clothing-12661112
----
Virus warnings for Ramadan as some pandemic shutdowns ease
23 April 2020
BANGKOK (AP) - The world inched toward a new phase in the coronavirus crisis on Thursday, as some countries like Vietnam and New Zealand with few new cases moved toward ending their shutdowns while others like Singapore and Japan were tightening measures to prevent a surge in infections.
Like the U.S., many countries are moving from crisis mode to figuring out how to live with the virus by modifying pre-pandemic routines with precautions, more testing and containment of flare-ups, mindful of the potential for future waves of the virus.
Authorities in the capital of Indonesia, the world´s most populous Muslim majority nation, extended to May 22 strict disease-fighting restrictions with the approach of Ramadan, which begins with the new moon this week.
With traditional, communal meals for the poor, large fast-breaking dinners with family and friends and cultural events after sunset canceled, the world's 1.8 billion Muslims find themselves cut off from much of what makes the month special.
Pakistan Prime Minister Imran Khan bowed to the country´s religious clerics, refusing to close mosques despite an appeal from the Pakistan Medical Association warning such gatherings are like a petri dish for the spread of the virus in a country that has a fragile health care system.
U.N. Secretary-General Antonio Guterres urged Muslims to "focus on our common enemy - the virus," and repeated an earlier appeal for an immediate cease-fire for all conflicts. In a separate message, he urged countries to provide equitable help to all, saying the pandemic was "a human crisis that is fast becoming a human rights crisis."
Some leaders are using the crisis as a pretext for repressive measures, Guterres said. "The message is clear: People - and their rights - must be front and center," he said.
The United Nations has warned that tens of millions of people risk starvation as the coronavirus pandemic, a plague of locusts in Africa and other disruptions prevent food from reaching the world's most vulnerable populations in places like Yemen and South Sudan.
A report released Wednesday estimated that at least 135 million people are at acute risk of starvation due to conflicts and other factors. The report was compiled before shutdowns, border closures and freezes on transport activities began disrupting food supplies.
In response, the EU pledged 20 billion euros ($22 billion) for helping bridge such disruptions to provide help to vulnerable communities globally.
While some parts of the world are just beginning to grapple with the pandemic, in China authorities reported no new deaths and just 10 new cases on Thursday. The number of people hospitalized dropped to 959, with 63 considered serious cases.
China has reopened many businesses. Middle and high school seniors preparing for exams are returning to classes. But a ban on foreign arrivals and strict quarantine measures remain in place to prevent an influx of new cases from abroad or fresh infections among those thought to have recovered or who had no symptoms but could still be spreading the virus.
Neighboring Vietnam, which moved quickly to close its borders and trace coronavirus cases, has reported no new cases in the past three days and is preparing to loosen restrictions.
"I feel blessed that we can feel safe and life is getting back to normal. I´m proud of the country," Nguyen Thi Thuy said after reopening her coffee shop for the first time in nearly a month.
One of her first customers, Nguyen Ngoc Tri, said the lockdown was "frustrating." But he added, "everyone has to sacrifice and do their part for the safety of the community."
New Zealand, which announced just three new cases of the coronavirus on Thursday, remained on strict lockdown, with 1,451 confirmed cases and 16 deaths, but was preparing to ease limits next week.
Singapore has been reporting hundreds of new cases daily, exceeding 10,000 in total, with the vast majority of new infections traced to crowded migrant worker dormitories.
Japanese officials said more crew members on a cruise ship docked in Nagasaki have tested positive, raising the total on board to 48. The Italian-operated Costa Atlantica has been docked since late January for repairs and maintenance and has no passengers. Officials planned to test all the remaining crew by Friday. They also are investigating how the virus got on board since the crew has stayed on the ship since mid-March.
The coronavirus has infected more than 2.6 million people and killed about 183,000, including more than 45,000 in the United States, according to a tally compiled by John Hopkins University from official government figures.
The true numbers are undoubtedly far higher, since testing is limited and counting methods vary. Most people infected suffer from only mild or moderate symptoms and survive.
But the crushing death toll has left many people cautious and they may need weeks, or even months, to regain confidence and resume normal activities. Future waves of outbreaks could reverse any gains in the interim, Dr. Robert Blendon, a Harvard professor of health policy and political analysis, said.
As President Donald Trump shifts to what White House officials call a new chapter in the response, officials face a challenge in reassuring the public while ensuring enough precautions are taken as communities emerge from shutdowns to prevent fresh onslaughts of cases.
https://www.dailymail.co.uk/wires/ap/article-8248101/Virus-warnings-Ramadan-pandemic-shutdowns-ease.html
----
Mideast
Israel Orders Halt to Construction of Mosque, Removal of Residential Tent
April 22, 2020
The Israeli military, on Monday, ordered a halt on the construction of a 2 story mosque, being built on an area of 250 square meters, in the Palestinian village of Kardala in the northern Jordan Valley, according to the head of Kardala village council..
Ghassan Fuqaha, told Palestinian WAFA news Agency that Israeli forces informed the village council that construction of the mosque, which consists of cement blocks, must be halted until May 4, claiming the building was built without a permit.
Israeli forces invaded the village of Twaneh, in Masafer Yatta in the southern occupied West Bank and ordered a local Palestinian resident to remove his residential tent, according to a local activist.
Activist, Fouad Imour, told WAFA that troops instructed Jamal Ribie to remove his tent, which is home for 6 people. The reason provided for removal was that the resident had not received prior permission from occupation authorities.
Article 49 of the Fourth Geneva Convention states that; "Individual or mass forcible transfers, as well as deportations of protected persons from occupied territory to the territory of the Occupying Power or to that of any other country, occupied or not, are prohibited, regardless of their motive."
https://imemc.org/article/israel-orders-halt-to-construction-of-mosque-and-removal-of-residential-tent/?utm_source=rss&utm_medium=rss&utm_campaign=israel-orders-halt-to-construction-of-mosque-and-removal-of-residential-tent
----
İstanbul mosque turned into food bank to tackle coronavirus crisis: report
April 23, 2020
Located in İstanbul's Sarıyer district, the Dedeman mosque, closed like all places of worship in Turkey, has been transformed by its young imam, Abdülsamet Çakır.
"After prayers were suspended, I had the idea of reviving the mosque by allowing well-off people to help those in need," Çakır, 33, told AFP.
Posters on the mosque's windows call for those who can to drop off non-perishable food items and for those in need to come and help themselves.
Çakır said the initiative was inspired by the "sadaka taşı" tradition, a stone with a hole in it that contained charity items for the poor.
Over 2,200 people have died due to COVID-19 in Turkey, which counts nearly 100,000 confirmed cases of coronavirus. Half the cases are in İstanbul.
https://www.turkishminute.com/2020/04/23/istanbul-mosque-turned-into-food-bank-to-tackle-coronavirus-crisis-report/
------
Iran, Turkey stress preserving bilateral trade ties under coronavirus pandemic guidelines
23 April 2020
Iran and Turkey have called for maintaining bilateral trade relations while sticking to the health guidelines issued to rein in a new coronavirus pandemic, which has hit the two neighbors hard.
In a telephone conversation with his Turkish counterpart, Recep Tayyip Erdogan, on Wednesday, Iranian President Hassan Rouhani highlighted the Islamic Republic's precious achievements in the fight against the outbreak, saying the officials from the two neighbors should interact with each other and share their experiences in this regard.
He also underlined the importance of continued Tehran-Ankara trade ties and enhanced contacts between the two countries' economic sectors while observing all sanitary protocols.
"Iran and Turkey have proved that they have stood together in times of hardship and difficulty, and today, we should likewise help each other by forging closer cooperation," he said.
Turkey has been hit the hardest by the coronavirus in the Middle East with more than 98,670 confirmed cases and 2,376 deaths.
Iran has reported almost 86,000 infections and a death toll of 5,391, while illegal US sanctions are impeding the country's battle against the highly contagious virus.
Tehran has requested a $5-billion emergency loan from the International Monetary Fund (IMF) to rein in COVID-19, but the US — which dominates the IMF — has blocked the loan.
Elsewhere in his comments, Rouhani referred to the US's sabotage attempts at the IMF as part of its pressure campaign and oppressive sanctions against the Iranian nation.
On the Syria peace efforts, he underscored the significance of three-way consultations among Iranian, Russian and Turkish authorities to implement the agreements reached within the framework of the Astana peace process on the Syria conflict.
"We should all make efforts to help the people of Syria and other regional nations enjoy stability, and I hope that, with the trio's hard work, we will witness full security and peace in all countries and nations in the region," he added.
Erdogan, for his part, expressed his opposition to the US sanctions against Iran and expressed hope that the international community will put up resistance in the face of American pressure.
Iran and Turkey, as two friendly and brotherly countries, will pass through these difficult times through cooperation, he ensured.
The Turkish president also hailed the Iranian government and nation's "valuable" virus fight despite the problems they are facing, noting that trade between the two countries should continue in accordance with health guidelines and that officials must work toward that aim.
https://www.presstv.com/Detail/2020/04/23/623685/Iran-Rouhani-Turkey-Erdogan-trade-coronavirus
----
FMs of Iran, Russia, Turkey stress consultations within Astana process as best solution to Syria crisis
22 April 2020
The Iranian, Turkish and Russian foreign ministers have emphasized the need to continue consultations and coordination among the three guarantors of the Astana process as the most effective format for the settlement of the crisis in Syria.
The trilateral meeting between Iran's Mohammad Javad Zarif, Russia's Sergei Lavrov and Turkey's Mevlut Cavusoglu was held via teleconference on Wednesday to discuss the latest developments in Syria and the region.
The three top diplomats conferred on a range of issues, including the situation in the militant-held province of Idlib in northwestern Syria, the Syria Constitutional Committee, the need for the lifting of unilateral sanctions amid the coronavirus pandemic, the humanitarian situation in Syria and repatriation of refugees to the Arab country.
They stressed that Syria's independence, national sovereignty and territorial integrity must be safeguarded while emphasizing on the need to distinguish terrorists from opposition groups as the battle against militants would continue across the country.
In the meeting, the top Iranito diplomat, who earlier this week paid a visit to Syria where he held talks with President Bashar al-Assad and his counterpart Walid al-Muallem, touched on the latest developments in Idlib and reaffirmed the need to protect the war-torn country's sovereignty while keeping anti-terror battles.
Zarif pointed to his recent consultations with United Nations special envoy for Syria Geir Pedersen and praised his efforts to facilitate intra-Syria talks within the framework of the Constitutional Committee. He also stressed the need for protecting the Committee's independence and preventing any foreign interference in its activities.
Pointing to the ongoing coronavirus pandemic, Zarif said unilateral sanctions were seriously hampering Iran's fight against the virus, and said the international community and the United Nations should shoulder the responsibility to help the removal of unilateral embargoes, alleviate the sufferings of the Syrian people and address the status of refugees in camps occupied by the US.
He also called for the immediate repatriation of Syrian refugees to their homeland and the importance to deliver humanitarian aid to the Syrian people.
The Iranian foreign minister also condemned Israel's constant acts of aggression against Syrian territory as violation of the Arab country's sovereignty and international law and a threat to regional security.
The Iranian, Russian and Turkish foreign ministers also emphasized the need for proceeding with trilateral consultations at all levels and holding the sixth summit of the Astana Process in Iran after the normalization of situation created by the coronavirus outbreak.
Turkey — along with Russia and Iran — entered two frameworks of Syria-focused negotiations that resulted into two agreements.
A first deal was signed in Kazakhstan's capital Nur Sultan, formerly called Astana, arranging for the creation of de-escalation zones across Syria, including in parts of Idlib. The second one that came about in the Russian resort city of Sochi allowed Ankara to bring in a small number of forces to man the observation posts to reinforce de-escalation.
Ankara has, however, been found in default of both the deals by failing to separate terrorists from what it calls "moderate" opposition groups in the Idlib zone and by sending thousands of troops and heavy military hardware into the province in an unprecedented incursion to back the militants.
https://www.presstv.com/Detail/2020/04/22/623658/Syria-Astana-process-Iran-Russia-Idlib
-----
Coronavirus in Iran: Daily infections drop by 53 percent in past 18 days
22 April 2020
Iran's health minister says the rate of daily coronavirus infections across the country has decreased by over 50 percent in the past 18 days.
Saeed Namaki said on Wednesday that the country has managed to reduce the number of daily infections by 53 percent during the past 18 days, when the first meeting of the health ministers of the WHO Eastern Mediterranean countries was held.
He added that in the same period, the death toll due to the COVID-19 disease, caused by coronavirus, has also reduced by 30 percent.
He added, however, that in the same period, the total number of confirmed infections has hit over 84,000 from 50,468 as of April 20.
Namaki made the remarks during a videoconference also attended by the secretary general of the World Health Organization, the head of the WHO Regional Office for the Eastern Mediterranean, and health ministers of the forum member states.
Iran's President Rouhani says Spain and other fellow European Union states should fulfill their duties and stand up to illegal US policies amid the global battle against a coronavirus pandemic.
Earlier on Wednesday, Kianoush Jahanpour, the head of public relations and information center of the Iranian Ministry of Health, said a total of 1,194 people have been diagnosed with COVID-19 during the past 24 hours.
The death toll also remains in double digits as 94 fatalities reported since Tuesday, pushing the overall tally to nearly 5,391 so far.
The Iranian health official said the gradual downward trend in cases of the new coronavirus across the country has been maintained.
"We are in the phase of managing the disease and the trend of controlling COVID-19 disease has been maintained," Jahanpour said, but stressed the need for people to observe social distancing and abide by hygienic guidelines to help the country achieve a better handling of the deadly virus.
https://www.presstv.com/Detail/2020/04/22/623651/Iran-coronavirus-health-ministry-Saeed-Namaki-
-----
Rouhani says Iran embraces any initiative putting regional nations at helm of managing own affairs
22 April 2020
President Hassan Rouhani says Iran supports any initiative that puts regional countries at the helm of managing woes arising in the region.
Speaking during a phone conversation with Oman's Sultan Haitham bin Tariq Al Said on Wednesday, Rouhani praised the Muscat government's support for Iran's peace initiative to promote security in the Persian Gulf region, dubbed Hormuz Peace Endeavor (HOPE).
"We are fully ready to act in line with this initiative and any other initiative that would put regional countries in charge of handling crises in the region," he added.
He added that the strategic Hormuz Strait has been enjoying peace and stability throughout history in light of good relations between Iran and Oman.
"We have always made endeavor to prevent war and bloodshed in the region and we need to keep up efforts until the war in Yemen that has caused destruction and famine is brought to a halt," he added.
Rouhani said regional stability could not be achieved without cordial relations among the nations in the region, and said his administration supports good ties with neighboring countries, including Oman under the country's new leadership.
Highlighting a rise in the volume of trade exchanges between Iran and Oman over the past few months, Rouhani also called for the further expansion of ties in all sectors.
He also stressed immediate implementation of the agreements between the two countries, including Iran's gas exports and Oman's investment in the southeastern Iranian port city of Chabahar.
Elsewhere in his remarks, Rouhani also touched on the global coronavirus pandemic and called for collective cooperation among all counties to stem the spread of the deadly virus, which has claimed more than 179,000 lives as of Wednesday.
He also said that Iran was ready to share its experience in the fight against the virus with Oman and render any assistance to the Muscat government in this regard.
In Iran, a total of 85,996 people are confirmed to have contracted the COVID-19 disease caused by coronavirus, of which 5,391 have lost their lives. But a total of 63,113 have recovered, according to the latest figures released by the Iranian Health Ministry on Wednesday.
The Omani Sultan, for his part, described Tehran-Muscat relations as very good, amicable and historical, and assured Iran that the ties would continue as before.
He also underlined the need for the promotion of bilateral relations at all levels and the implementation of the agreements already inked between the two states.
He also threw his country's weight behind Iran's efforts to contribute to security in the region, including in the Strait of Hormuz.
Last year, Rouhani unveiled Iran's peace initiative aimed at promoting peace, stability, progress and prosperity of the Persian Gulf littoral states.
Addressing the 74th session of the United Nations General Assembly on September 25, 2019, Rouhani said that the "coalition of hope" aims to promote peace, stability, progress and prosperity of littoral states and help achieve mutual understanding and establish peaceful and friendly relations among them.
Iran says the US is not welcome in the region and must leave it as neighbors not outsiders can themselves ensure the security of the Persian Gulf.
"This initiative entails different sectors such as cooperation in providing collective energy security, freedom of navigation and free flow of oil and other [energy] resources from and to the countries off the Strait of Hormuz and beyond that," he added.
The Islamic Revolution Guards Corps (IRGC) recently warned off a flotilla of US warships in the Persian Gulf as they were trying to approach the Iranian territorial waters.
In a video released on Sunday, a personnel of the IRGC Navy warns the vessels to stop inspecting and detaining Iranian fishing or commercial ships in the Persian Gulf and the Sea of Oman.
He also warns them that they would face consequences according to the laws of the Islamic Republic of Iran if they ignore this notice.
Back in January 2016, the IRGC announced that 10 US Marines, who had drifted into the country's territorial waters in the Persian Gulf and had been taken into Iranian custody, had been released after Americans apologized for the incident.
This image grab shows US Marines whose boats were seized by the IRGC forces in the Persian Gulf after trespassing on Iran's territorial waters in January 2016. (Via IRIB)
The two US Navy crafts carrying the Marines had drifted three miles into the waters surrounding the Farsi Island in the Persian Gulf. The trespassing reportedly occurred because of technical problems with the navigation systems of the American vessels.
https://www.presstv.com/Detail/2020/04/22/623650/Iran-United-States-confrontation-US-boat-vessel-Rouhani-Trump-Oman-coronavirus-
-----
Europe
Immunologist believes Muslims should break the rules because of the Coronavirus epidemic
22. APRIL 2020
Dry mucous membranes increase the risk of viral infections. That's why immunologist Anne Spurkland believes that Muslims should drink water during their fasting month of Ramadan.
During Ramadan, many of Norway's 200,000 Muslims will refrain from food and drink from sunrise to sunset, which in practice amounts to 17 hours.
To NRK, Spurkland says she thinks the Coronavirus epidemic is so severe that normal rules should not be followed. She warns that dry mucous membranes increase the risk of viral infections and that it is believed that this also applies to the Coronavirus.
The Muslim Dialogue Network believes that it is not possible to relax the rules of fasting, but that it is up to each individual to decide whether one is healthy enough to fast.
Islamic Council Norway tells the channel that Spurkland's advice is not scientifically proven to work against Coronavirus infection and that they have consulted with several experts before the month of fasting.
"We take into account the infection control rules and see how it goes," says information officer Yasir Ahmed in the Islamic Council.
https://norwaytoday.info/news/immunologist-believes-muslims-should-break-the-rules-because-of-the-coronavirus-epidemic/
----
Muslims to observe Ramadan from homes amid virus restrictions
23 Apr 2020
By Cillian Sherlock
For millions of Muslims around the world, the outbreak of Covid-19 will have a significant impact on the observance of Ramadan.
Ramadan, which marks the month of the Islamic calendar's lunar cycle in which the Koran was said to be revealed, is a period of fasting, charity, prayer, and engagement with the community.
Restrictions on travel and mass gatherings mean many Muslims will not be able to visit their local mosque or friends and family.
Shaykh Dr Umar al-Qadri, from the Irish Muslim Peace and Integration Council (IMPIC), said it does not mean Ramadan is suspended, and that it will still be observed from homes.
"People have the choice to either pray with their family at home or join a virtual prayer online. Because we're all already in isolation and Ramadan is a period of reflection and contemplation, it is actually suitable timing," Dr al-Qadri said.
Guidelines from the Islamic Centre of Ireland and the IMPIC say Muslims are strongly encouraged to adhere to decisions taken by Irish authorities regarding social distancing and staying at home.
Dr al-Qadri said that gathering with people outside of your home for iftar meals would not only be in breach of public health guidance, but would also be "un-Islamic".
One of the major implications for Muslims during the pandemic is the closure of mosques and the subsequent suspension of Friday prayers.
The Islamic Centre of Ireland guidelines for when mosques are closed state that every attempt should be made to perform daily prayers in congregation with every member of the home.
It is a traditional interpretation of the Koran that the practice of Friday prayer at home is invalid due to a physical separation with the Imam, and that it is not in line with historical practice.
While this is a minority view, he said these are unprecedented times and iinterpretations have adapted with technology in the past, for example with PA systems.
"In Islam, pork is forbidden. But suppose a person is starving and he has pork in front of him. It becomes compulsory for him to save his life and eat that. Therefore, states of necessity change rulings," he added.
Opponents of the online Friday prayer believe it may have lasting implications after the re-opening of mosques such as reduced attendance, but Dr al-Qadri said his fatwa will become invalid when mosques reopen.
The aforementioned guidelines also state that anyone uncomfortable with joining an online Friday prayer can instead listen to the Khutbah and continue with their normal daily prayers at home.
In the event restrictions are eased, Dr al-Qadri said he hoped the Islamic Centre of Ireland could offer an Eid prayer outdoors in accordance with social distancing measures, HSE guidelines, and local authority consultations.
In a statement online, the Islamic Cultural Centre of Ireland in Clonskeagh has also urged Irish Muslims to be careful and "take all precautionary actions and abide by the instructions issued by health authorities".
Elsewhere in the world, the Muslim Council of Britain has asked residents to pray at home, share Ramadan digitally, and follow social distancing rules by sharing iftar with family over video chat rather than in person.
More than 300 people have been arrested in Niger and authorities fear violence after several cities saw riots over anti-coronavirus lockdowns banning collective prayers.
Indonesia has banned the mass exodus for Eid al-Fitr, which sees residents leaving cities to visit their families, while the governor of Jakarta has extended restrictions on public gatherings for the month of Ramadan.
Saudi Arabia eased curfew restrictions but has halted year-round pilgrimages to Mecca and extended the suspension of prayers in the mosques at Mecca and Medina.
Clerics in Bangladesh have criticised the government's attempts to restrict the number of worshippers allowed in mosques. Pakistan continues to allow congregations at mosques.
The United Arab Emirates has urged Muslims not to congregate for prayers, and said medical workers treating Covid-19 patients are exempt from fasting.
https://www.rte.ie/news/coronavirus/2020/0423/1134199-ramadan-covid-19/
-----
Aylesbury Mosque's pledge to community during unique Ramadan
23rd April 2020.
As Ramadan begins, Aylesbury's Mosque say they are going to try and do their best to fulfil their duty to the community.
Usually, daily prayers and meetings would happen together but that can't be right now, but prayers will be broadcast into homes instead.
Remember your neighbours, look after the needy - share you food, blessings are within that portion that has the most eating from it and if its plenty for two then its enough for three.
Look to your family first and find those eligible for Zakat (giving to charity) then look to your community. The keen eyed and amongst us can tell from a persons parched lips that he is in need of a drink the best will offer him one, he never had to ask.
Places of worship were of course told to close as part of the coronavirus lockdown and last week's extension covers the first two weeks of Ramadan.
https://www.mix96.co.uk/news/local/3087968/aylesbury-mosques-pledge-to-community-during-unique-ramadan/
-----
Australia
Scott Morrison urges Australia's Muslims to obey coronavirus restrictions during Ramadan
7 HOURS AGO
BY CLAUDIA FARHART
Prime Minister Scott Morrison has urged members of Australia's Muslim community to maintain social distancing protocols ahead of the holy month of Ramadan, which begins on Friday.
In a prerecorded video distributed on Thursday, Mr Morrison acknowledged the unprecedented restrictions imposed to curb the spread of coronavirus would prove challenging for those trying to observe Ramadan.
"The holy month of Ramadan is a time of special devotion for Muslims across the world. It's a time of fasting and prayer, as well as reflection and renewal. However, this year will be very different as we all experience a global health crisis," he said.
"Today, the world is more in need than ever of the hope and strength of spirit that faith imparts. So I encourage all of you in the Muslim community to stay strong."
"Just as Easter was a difficult time for many families across the state, including my own, where people abandoned what they normally do, I say to our friends in the Muslim community: please, please respect the restrictions during this time," Ms Berejiklian said.
"I know, for many of you, the holy month of Ramadan will have special significance, because it is a month about sacrifice and family, and this year more than ever that sacrifice will really test everybody."
But, despite the significant fall in the number of new cases, the premier said gatherings between families would still pose a risk of spreading the virus.
"I know it's so difficult for you, but even having members of extended families going to households of other extended family members is a high risk of spreading the virus - we just cannot allow it to happen," Ms Berejiklian said.
"Please know you're not alone, these are the types of restrictions everyone around the world is having to face and, especially during this time, we don't want to see those closest to you get the virus because they haven't stuck to the rules."
Muslims observing Ramadan fast during daylight hours and would usually gather with friends and family each evening to break their fast over a meal known as Iftar.
The month would also usually see the community congregate in mosques to pray together, which is also no longer permitted under Australia's social distancing restrictions.
https://www.sbs.com.au/news/scott-morrison-urges-australia-s-muslims-to-obey-coronavirus-restrictions-during-ramadan
-----
Arab world
Coronavirus: Organization of Islamic Cooperation backs Saudi plan for Two Holy Mosque
22 April 2020
The Organization of Islamic Cooperation (OIC) supported on Wednesday Saudi Arabia's measures with regards to the Two Holy Mosques to contain the spread of the coronavirus, according to the final communique of the virtual meeting held on Wednesday of the OIC members' foreign ministers on the coronavirus pandemic.
The body of 57-member states also stressed the importance of the Kingdom's timely decision to suspend Umrah and visits to the Prophet's Mosque.
Saudi Arabia had halted on February 27 entry for individuals seeking to perform Umrah pilgrimage in Mecca or visiting the Prophet's Mosque in Medina, five days before the first coronavirus case was detected in the Kingdom on March 2, a Saudi national who was coming back from Iran through Bahrain.
The Kingdom also announced on March 4 stopping its nationals and residents from visiting Mecca to perform Umrah or visiting the Prophet's Mosque in Medina to prevent the spread of coronavirus.
Also, on March 20, Saudi Arabia's authorities halted entering and praying in the outer courtyards of the Two Holy Mosques in Mecca and Medina.
And for the duration of the holy month of Ramadan, which starts this weekend, King Salman bin Abdulaziz Al Saud approved on April 22 performing a reduced version of Taraweeh prayers in the Two Holy Mosques in Mecca and Medina, with the continued suspension of entry of worshipers.
The President General of the General Presidency of the Two Holy Mosques' Affairs, Sheikh Dr. Abdulrahman bin Abdulaziz Al-Sudais, had announced on Tuesday that group Taraweeh prayers will be performed in the Two Holy Mosques, but only limited to the authority's employees and workers, and will be shortened to five Tasleemat (i.e. 10 Rak'ahs).
"The Meeting calls upon all member states and the OIC institutions to display their solidarity with the African OIC countries against the COVID-19 pandemic, which are in a vulnerable and disadvantaged situation due to their scarce means in healthcare sector, in order to answer their urgent needs such as medical and good supplies, and economic and financial assistance," the OIC communique stated.
"No country alone can deal with the damage and multiple challenges presented by the novel coronavirus."
https://english.alarabiya.net/en/coronavirus/2020/04/23/Organization-of-Islamic-Cooperation-supports-coronavirus-measures-in-Two-Holy-Mosques.html
-----
Aspetar launches 'Healthy Ramadan' campaign
23 Apr 2020
The Peninsula
Aspetar, Orthopedic and Sports Medicine Hospital, has launched a new version of its "Healthy Ramadan" campaign for the tenth year in a row, which coincides this year with the special circumstances witnessed by the world due to the COVID-19 pandemic outbreak.
The updated campaign ranges from medical tips, guidance to athletes and the entire community in a creative way, to several exercises that can be carried out during the month.
Aspetar's Ramadan campaign aims to increase awareness about the importance of adopting an active and healthy lifestyle on social media platforms through an evidence-based research and studies carried out by Aspetar experts in many areas such as; nutrition, exercise, fitness, psychology, oral and dental health.
This year's campaign features an interactive design that enables the public to interact with it through tips provided on Instagram's "Story" feature, accompanied by questions addressed to the audiences throughout the holy month. Also, various videos will broadcast on other social media platforms such as YouTube and Facebook.
Speaking about the campaign, Khaled Ali Al Mawlawi (pictured), Aspetar's Chief Administrative Officer, said: "The Healthy Ramadan Campaign is a good tradition that we have been following for a decade, and under the current circumstances that require everyone to stay at home, we have considered expanding the campaign of the athletes to all members of the community, we are using the outcome of Aspetar's pioneers in research and sports medicine , who have spent years studying the effects of fasting on sports, and on public health for the benefit of the public."
Launched annually by Aspetar during the Holy month, Aspetar's campaign aims to introduce the hospital's experience during the fasting month. Experts specialised in the fields of nutrition, psychology, research, exercise medicine, dentistry and other specialties are presenting briefly many important advices provided in an innovative yet simple way.
The messages also touch on how to eat Healthy, sleeping patterns, the ideal bedtime, the optimal time for exercise and tips on oral and dental health. Aspetar will also offer a range of exercises that can be done at home, to encourage fitness and healthy habits during the stay at home period.
To serve the community, Aspetar, through its leading role in sports medicine and exercise science, offers health education through various methods to reach the largest audience, based on reliable and evidence-based scientific research.
It is worth mentioning that in previous years Aspetar has presented awareness campaigns in the Holy month of Ramadan. "Healthy Ramadan", The stories and video series are all available through Aspetar's YouTube, Facebook, Twitter and Instagram channels. The campaign follows the success of Aspetar's innovative awareness initiatives such as 'Ask the Doctor' and 'Beat the Heat'…, which aim to promote healthy living among both recreational and professional athletes.
https://thepeninsulaqatar.com/article/23/04/2020/Aspetar-launches-Healthy-Ramadan-campaign
-----
Everything you need to know about the UAE's first Sharia-approved loto
April 23, 2020
Ashley Hammond
Dubai: Emirates Loto – the UAE's first fatwa-approved loto – crowned its first winner with Dh350,000 this week and heads into a jackpot of Dh40 million this Saturday. But what makes it compliant with Sharia law?
Gulf News spoke to Emirates Loto CEO Paul Sebestyen, who explained, "Emirates Loto is not a lottery, we are basically a collectables scheme. Within that sale of collectables people have the option to participate in a mega draw once a week."
For Dh35 you can buy a card with an iconic image of the UAE on it, and a new set of eight cards are printed every quarter making them in effect limited edition.
When you buy a card you have the option to enter a draw, where picking six balls from 49 and having six called out will land you the jackpot. Five out of six makes you a second tier winner able to win up to a Dh1 million, four out of six gets you Dh300, and three out of six earns you free entry into next week's draw.
This week there was no jackpot winner, but one second tier winner who won Dh350,000. Forty two people got four out of six and 1,200 got three out of six.
If no-one wins the jackpot it rolls into next week and the potential winnings increase. Last week the jackpot was Dh35 million and this week it is Dh40 million.
The draw – every Saturday - is audited, taped and monitored as per international best practice with a government representative on hand. There are even three machines and three sets of balls to be randomly selected to ensure everything is above board.
"It's like when you buy certain products at your local supermarket and they enter you into a draw," Sebestyen explained. "The only difference is we have a weekly live draw and we are totally digital. You can purchase your collectable from in one of 19,000 locations around the UAE or online and choose to have it delivered and donate the cost of its price to charity. You can purchase it to enter the draw or just to collect.
"We have a fatwa out of Abu Dhabi and as a business we adhere to Sharia principles. The idea of selling collectables with the option for purchases to enter you into a mega draw is what makes it Sharia principled and fatwa-approved," added Sebestyen, who said people could buy as many collectables as they wanted per week, before adding that online purchases were monitored "because we want to be socially responsible."
Like the National Lottery in the UK, which has for decades funded forgotten arts and sports related fields in Britain with grants, and is largely attributed for helping the country obtain so many medals at the 2012 Olympics, Sebestyen said Emirates Loto would also have a positive effect on the community.
"Unlike your local supermarket draw, we are in the business of changing lives for people in communities in need," said Sebestyen. "We provide funding for government CSR initiatives and as a private business our major focus is on providing funding for charities and organisations.
"I think, especially now, if you look at the way the world has changed with the economy and the drop in oil prices with all things going on related to coronavirus, such funding for charities and organisations for meals and training is really needed and we are hoping to contribute millions to these charities."
"We are a private business organisation and although we have government licence we are not a government entity," replied Sebestyen, who brings with him 35-years experience in the field from his native US.
And could this open the door to other markets that have previously been closed to the concept of lotos, like for instance Saudi Arabia?
"For us right now we are primarily concentrated here in the UAE and this is where we want to concentrate our efforts and create funds for the local environment, but naturally as we are digital, people can log on from anywhere in the world."
https://gulfnews.com/uae/everything-you-need-to-know-about-the-uaes-first-sharia-approved-loto-1.71127889
----
The spirit of Ramadan shines despite worldwide lockdowns
April 23, 2020
This year, Ramadan is ushered in under extraordinary circumstances never witnessed before: half of humanity is remaining indoors, and places of worship, including mosques, remain closed in much of the world. And yet Ramadan can provide the spiritual support needed as we face the Covid-19 pandemic, reminding us to count our blessings and elevating the virtue of patience. At a time when Muslims cannot gather to pray at their local mosque, or visit the holy sites of Islam, the spirit of Ramadan and worship provides solace during a challenging period.
The challenges of Ramadan this year offer us an opportunity to reflect upon what is truly essential in our lives, and to cherish the things and the people we may have taken for granted prior to the pandemic.
The coming month is also a golden opportunity to remember what Ramadan is really about. It is a time for Muslims to steel themselves, to further their spiritual practice and to learn humility and compassion by putting themselves in the shoes of those who cannot afford to eat three meals per day. It is a time for the wider community to be reminded of the value of these qualities too.
One of the most cherished traditions during the holy month, in which Muslims are called upon to undertake a daily fast, is the ritual of iftar, in which family and friends gather in the evening to break the fast together. It is an occasion in which spirituality intermingles with lighter social moments. During this time, worshipers often read passages from the Quran to deepen their understanding of Islam. Muslims take the time to relax together during suhoor, the final meal before starting the next day's fast.
New television series are also released every Ramadan throughout the Middle East, with new episodes airing daily after iftar. This year, several of these series – including some of the most iconic – have been postponed.
This Ramadan will be particularly challenging for Muslim essential workers. In recognition of their outstanding efforts, the Emirates Fatwa Council has issued a ruling permitting front-line medical staff to refrain from fasting.
Eating out, watching TV with family and friends, praying together – these communal moments can no longer take place in the same way in the age of physical distancing. But Muslims around the world are finding creative ways to celebrate with loved ones without putting them at risk.
In the UK, for instance, the Ramadan Tent Project is set to host the country's largest virtual Iftar, uniting millions through Facebook and Zoom, a digital video conferencing application. Others elsewhere can do the same, and spend quality time with friends and family around the world, perhaps watching their favourite series or praying together. Muslims and non-Muslims alike can now visit some of Islam's holiest sites from the comfort of their homes. The holy Kaaba in neighbouring Saudi Arabia and Al Aqsa mosque in Jerusalem are both open for virtual tours. This is an unprecedented opportunity for anyone in the world to experience Islamic heritage and to share in the intimacy of Ramadan from their own home.
Reflection, generosity and patience are essential pillars of Ramadan that are much needed at this time
Among the most important of its traditions, Ramadan is a month of compassion and giving to the poor in their time of need. Measures to fight the coronavirus pandemic have taken a toll on the global economy, leaving many people out of work or struggling to make ends meet on reduced salaries. In the spirit of giving, Sheikh Mohammed bin Rashid Al Maktoum, Vice President and Prime Minister of the UAE and Ruler of Dubai, has announced a 10 million meals campaign, to be launched this Ramadan. He described the move as a "human and societal priority" in a time of crisis. So let us remember those in need this Ramadan, and contribute to alleviating their suffering as much as we can.
While much remains uncertain at this time, what we do know is that reflection, generosity and patience are essential pillars of Ramadan that are much needed at this time.
https://www.thenational.ae/opinion/editorial/the-spirit-of-ramadan-shines-despite-worldwide-lockdowns-1.1009734
------
Egypt's central bank to raise cash withdrawal limit during Ramadan
Apr 23, 2020
Egypt's central bank will raise the daily limit of cash that can be withdrawn from ATMs to 20,000 Egyptian pounds ($1,270) from 5,000 pounds, it said in a statement on Wednesday.
On 29 March, the Egyptian central bank approved new limits for cash deposits and withdrawals for individuals and enterprises as part of its preventive procedures against the coronavirus pandemic and to avoid overcrowding, particularly during payroll and pension disbursement.
Additional 65 patients – including two foreigners – fully recovered and were discharged from isolation hospitals and quarantine facilities, bringing the total number of recoveries from the coronavirus so far to 935, the ministry said.
Egypt's Finance Ministry has collected custom fees on shipments released from Port Said and Ain Sokhna customs worth 768.12 million Egyptian pounds ($48.7 million) in March, with total VAT and other fees amounting to 3.31 billion pounds ($209.9 million).
According to a report by the customs authority, the imports released in March included wheat, legumes, corn, air conditioning spare parts, fridges, timber, fabric, yarn, electronic spare parts, mobile phone accessories, and toys, Ahram Online reported on Tuesday.
Egypt has lifted a quarantine imposed on Al-Mutamadia village in Kerdasa city, Giza on Tuesday after the end of the 14-day isolation period imposed by the municipal authorities in coordination with the Ministry of Health, according to local media reports.
The village was placed under total lockdown on 7 April due to the increased numbers of coronavirus cases detected among local residents, Ahram Online reported.
As a precautionary measure, Egypt recently sealed off several villages and families in different spots across the country where many coronavirus cases had been detected.
The step came among a set of strict measures imposed by the state to contain the spread of the deadly virus, including suspending schools and universities, closing all houses of worship, and halting air traffic.
Egypt reported its highest daily increase in coronavirus cases yet on Monday with 189 new infections, bringing the total number of confirmed cases to 3,333, the health ministry said.
Egypt is teaming up with international organisations to mitigate the impact of the coronavirus pandemic on all sectors and to ensure food security, International Cooperation Minister Rania Al-Mashat told Ahram Online on Tuesday.
The Egyptian minister has also urged international institutions to play a role in providing specialised technical support and financing for middle income and low income countries, besides asserting the importance of alleviating debt burdens for these countries.
She made the comments during a high-level virtual panel organised by the International Fund for Agricultural Development (IFAD) on Tuesday to discuss the importance of international developmental cooperation to face the coronavirus pandemic's repercussions on the agricultural sector and on food security.
They included ten ministers and ten deputy ministers, as well as representatives from the United Nations' World Food Programme (WFP) and World Health Organization (WHO).
Al-Mashat said Egypt took early steps to contain the outbreak, and President Abdel Fattah al-Sisi had decided to allocate 100 billion pounds to a comprehensive plan to face the socio-economic implications of the pandemic.
"The ministry of health also took several measures in this regard, and the Central Bank of Egypt (CBE) adopted parallel procedures, including decreasing interest rates by 3 percent. The crisis also drove structural reform relating to social protection, unofficial labour and financial inclusiveness," said Al-Mashat.
She pointed out that Egypt's government also has appropriated allocations for farmers to secure their sound management of agricultural crops through digitalisation, which will ensure farmers' knowledge of food safety standards in order to protect Egypt's exports of fresh products and to ensure securing strategic commodities such as wheat.
Al-Mashat stressed that the efforts dedicated to combating the pandemic have not caused the drive to achieve the Sustainable Development Goals to be overlooked, clarifying that the ministry has presented a new international development partnership narrative based on three pillars, people at the core, projects in action and purpose as the drive, which aims to achieve sustainable development as a priority in all sectors.
On the agricultural sector, the minister said that the Egypt's government collaborated with international institutions which are concerned with food security, including IFAD, WFP and WHO, in order to conduct a quick assessment of priority requirements in support of farmers as well as to maintain food security for citizens.
"Those institutions determine their operations in Egypt based on the latter's priority needs, in collaboration with the Egypt's ministries of international cooperation, agriculture, social solidarity and local development, in addition to different governorates across Egypt," she said.
Concerning regional coordination, Al-Mashat noted that Egypt was highly interested in regional integration, especially in light of its assets in the field of agriculture and its commodity market, its progress across Africa during its presidency of the African Union last year and its efforts to become a regional hub for the management of agricultural development activities in the region, which would, in turn, enhance regional cooperation.
Further, she shed light on cooperation taking place between Egypt and IFAD, especially as IFAD has opened a semi-regional office in Cairo recently, as Egypt is IFAD's largest country of operations in the Far and Near East and North Africa.
She indicated that the regional office expedited IFAD's response to the Egyptian government's priorities of inclusive agricultural development, especially in the most vulnerable areas, which has positively reflected on agricultural projects in Egypt.
"This will also support Egypt's move to become a regional hub for agricultural development management in the region, in light of the volume of cooperation between Egypt and IFAD, which has reached $1.1 billion over 14 projects, with seven million rural citizens benefiting from these projects," said the minister.
Egypt said it began production from two deepwater gas wells in the Mediterranean with output of 390 million cubic feet of gas and 1,400 barrels of gas condensate per day, Ahram Online reported on Tuesday.
The first well, Zohr-17, began production at the mammoth Zohr gas field after the completion of the digging in the field's southern region, the petroleum ministry said in a statement on Tuesday.
Digging the new well, at a depth of 5,300 meters, and getting it online is part of an ambitious plan to develop Zohr — the largest gas field in the Mediterranean discovered by Italy's Eni in 2015, it added.
With Tuesday's announcement, the total number of wells in the field has risen to 15, with ten wells in the northern area and five in the southern.
Petrobel, a joint venture between Eni and the state-owned Egyptian General Petroleum Corporation (EGPC), started production from the second well, Baltim South West-7, in the Nile Delta at a maximum capacity of 140 million cubic feet of gas per day and 1,300 barrels of gas condensate daily. Digging was completed in a record time of two and a half months, the ministry said.
"This affirms the continued success of the plan to develop and produce gas from the Baltim South West region and reach targeted production capacities within a short period from the beginning of production in September," the ministry said.
Output from the Baltim South West field, discovered by Eni in 2016, hit the targeted 500 million cubic feet of gas per day in seven months after the digging of only four wells instead of a planned six, the ministry added.
The field, located 12 kilometers off Egypt's Mediterranean coast, has a potential capacity of 1 trillion cubic feet (tcf) of gas, Eni said last year.
Eni, through its subsidiary IEOC, holds a 50 percent stake in the Baltim South development lease and British Petroleum (BP) holds the remaining 50 percent. The project is operated by Petrobel.
https://en.amwalalghad.com/egypt-starts-output-from-two-gas-wells-in-mediterranean/
------
Dubai Islamic Affairs cancels all permits for Ramadan tents amid coronavirus
22 April 2020
The Islamic Affairs and Charitable Activities Department (IACAD) in Dubai announced on Wednesday the cancellation of all permits for Ramadan tents for the year 2020, in line with the government's efforts to contain the spread of the coronavirus.
"All permits for Ramadan tents will be canceled for this year, and it is strictly forbidden to bring meals – breaking fasts – to the courtyards of mosques in order to prevent gatherings," IACAD said.
Ramadan tents are gatherings organized by individuals or organizations where either a specific group of people, such as the employees of a company, or the public is invited to attend in the evening for sharing of Iftar meals (the meal Muslims eat after breaking their fast).
The holy fasting month of Ramadan comes this year amidst extraordinary circumstances where most of the world is under lockdown and practicing social distancing in order to flatten the curve of the coronavirus which has infected more than 2.47 million people and claimed the lives of over 169,000.
Dubai extended last Friday the 24-hour lockdown for another week as the authorities continue the national sterilization program. Dubai police also tightened restrictions on the movement permits.
The IACAD had announced on Monday the extension of the closure of Dubai's mosques until further notice. The decision came in coordination with the National Crisis and Emergency Management Authority and the General Authority of Islamic Affairs and Endowments as part of the country's efforts to contain the spread of the coronavirus.
https://english.alarabiya.net/en/coronavirus/2020/04/23/Dubai-Islamic-Affairs-cancels-all-permits-for-Ramadan-tents-amid-coronavirus.html
-----
Islamic minister launches online Ramadan lecture series
Updated 23 April
RIYADH: Saudi Minister of Islamic Affairs, Dawah and Guidance Sheikh Abdullatif Al-Asheikh announced a Ramadan program on Wednesday, which is organized by the ministry's office in the Northern Borders region.
The program will start on the third day of Ramadan and offer a range of educational and dawah lectures shared on the ministry's social media accounts. The lectures focus on topics including the etiquette and rules of fasting, the virtues of the month of Ramadan, and the importance of worshipping God throughout the month.
"We launch this Ramadan program, in which a group of distinguished officials, sheikhs and scholars participate, as part of the ministry's role in providing knowledge and dawah, the Muslims' role in investing in this Holy Month through good deeds, and to fulfill the directives of the Saudi leadership," Al-Asheikh said. This program is just one of the programs organized by the ministry during Ramadan through its branches in the Kingdom's regions. This is part of the ministry's dawah duty and indicative of its desire to promote the noble values and teachings of moderate Islam."
He thanked the director general and the staff of the ministry's Northern Borders branch for their efforts in organizing the program. He also mentioned that it is an example of integration between the government and the private sector, in line with Saudi Vision 2030.
The program will commence on Sunday with a lecture entitled "Ramadan and the Purification of Souls" by the Deputy Minister of Islamic affairs, Dawah and Guidance Dr. Yusuf bin Mohammed bin Saeed. A number of scholars and sheikhs will contribute to the lecture series, including Dr. Abdulsalam Al-Suleiman, member of the Council of Senior Scholars and the Standing Committee for Scholarly Research and Fatwa, and Sheikh Hussein Al-Asheikh, the imam and preacher of the Prophet's Mosque.
The program also includes a competition, open to participants from inside and outside the Kingdom, with a prize fund of more than SR50,000. For more information on the competition, visit: mr.moia.gov.sa.
https://www.arabnews.com/node/1663471/saudi-arabia
-----
Coronavirus: Qatar tally at 7,141 cases, 10 deaths, Cabinet announces Ramadan rules
22 April 2020
Qatar reported on Wednesday 608 new confirmed coronavirus cases, the recovery of 75 people and the death of a 55-year-old resident, raising the total tally up to 7,141 confirmed cases, 689 recovered patients and 10 dead, according to the ministry of health.
"Most of the new cases recorded are for expatriate workers who have been subject to quarantine after it was found that they were in contact with confirmed cases, while some new cases are for citizens and residents who had contact with positive COVID-19 cases within their families," the ministry said.
The official working hours during Ramadan will be as follows: For the government sector, four hours, from 9 a.m. to 1:00 p.m. and for the private sector, six hours, from 9 a.m. to 3 p.m.
Stores of foodstuffs, pharmacies, restaurants taking deliveries and the contracting sector are excluded from the application of this decision. The Ministry of Commerce and Industry will determine the other necessary activities exempted from this decision.
Employees and workers in the government and private sectors whose work requires providing services to the public are obliged to wear masks while carrying out their duties and tasks, and clients are required to wear masks.
Shoppers are obligated to wear masks before they enter food stores and during shopping, and those responsible for those shops must take the necessary measures not to allow the entry of shoppers who do not comply with this decision.
Workers in the contracting sector are obligated to wear masks while carrying out their duties and tasks, and officials in this sector should provide those masks and adhere to the established precautionary measures.
For people who do not comply with the rule, they could face penalties of imprisonment for a period not exceeding three years and a fine not exceeding 200,000 riyals ($54.9) or one of these two penalties.
https://english.alarabiya.net/en/coronavirus/2020/04/22/Coronavirus-Qatar-tally-at-7-141-cases-10-deaths-Cabinet-announces-Ramadan-rules.html
-----
Africa
Observe social distancing while seeking Ramadan moon, NSCIA advises Muslims
23 April 2020
By Shakirah Adunola
The Nigerian Supreme Council for Islamic Affairs has called on Muslims to observe social distancing when searching for the moon in respect of this year's Ramadan.
The council's Deputy Secretary-General, Prof. Salisu Shehu, in a statement quoted the President-General and Sultan of Sokoto, Alhaji Muhammad Sa'ad Abubakar, as urging Muslim Ummah to look out for the crescent of Ramadan 1441 AH immediately after sunset today.
The statement read in part: "Consequent upon the advice of the National Moon Sighting Committee, the President-General enjoins the Nigerian Muslim Ummah to search for the crescent of Ramadan 1441 AH immediately after sunset on Thursday, April 23, 2020, which is equivalent to 29th Sha'aban 1441 AH.
"If the crescent is sighted by Muslims of impeccable character on the said evening, then His Eminence would declare Friday, April 24, 2020 as the first day of Ramadan 1441 AH. If, however, the crescent is not sighted that day, then, Saturday, April 25, 2020 automatically becomes the first of Ramadan, 1441 AH.
"At the same time, His Eminence also directs Muslim Ummah to practise social distancing when looking out for the crescent and specifically advises that people should look for the crescent at their residences without going out in groups."
https://guardian.ng/news/observe-social-distancing-while-seeking-ramadan-moon-nscia-advises-muslims/
-----
Muslim groups to challenge lockdown regulations in court
2020-04-23
Azarrah Karrim
A group of Muslim leaders and entities are set to head to the Gauteng High Court in Pretoria in a bid to declare certain parts of the lockdown regulations unconstitutional as it prohibits prayers, specifically the Muslim daily prayers, in places of worship.
On Thursday, Muhammed Bin Hassim Mohomed, Anas Mohammed Chotia and the As-Saadiqeen Islamic Centre will argue the lockdown regulations should be amended to allow places of worship to remain open during the lockdown under certain conditions.
They would also ask for magistrates to oversee the process to allow for congregational prayer, preparation and distribution of meals and testing for Covid-19, according to court papers.
This, they said, would be done while also regulating the number of congregants, enforcing physical distancing and using sanitisers and other hygiene measures, among other things.
"The real questions we will ask the court is to consider whether a complete and total shutdown of mosques and other places of worship is the appropriate measure required to contain Covid-19 in the context of prayer and worship.
"Prayer and worship … bring a level of calm to the community, it brings a level of hope to the community and it significantly enhances our society's ability to deal with the crisis from a mental and spiritual perspective," the court papers read.
It added currently, regulations prohibited them from practicing their religion, freedom of movement and association and impact on their dignity.
"It is a violation of Islamic law as contained in the Holy Quran to forcefully close mosques to prevent any worship from taking place, even in the context of the pandemic."
However, the United Ulama Council of South Africa (UUCSA) - the amicus curiae in the case - has a different view, saying the application "ignores that the entire country is called upon to make sacrifices".
Mohammad Tauha Karaan, a scholar of Islamic studies and board member of the UUCSA, said the application disregarded general health risks to society during the pandemic.
Karaan added to adhere to lockdown regulations would also be to adhere to the objectives of Islamic law because the Quran spoke about human life and the preservation of life.
"Islam views the value of human life and dignity as all-encompassing because the cluster of environmental, political, cultural, social and economic rights is inextricably linked to human dignity," he said.
"In addition, Islamic tradition mandates that the views of the scientists, epidemiologists and medical experts who have knowledge of [in this case] the Covid-19 pandemic ought to be given primacy," Karaan added.
Prayers happen five times per day - no matter what day it is - and there are also a significant number of churches, synagogues, temples and similar places of worship.
This would make the implementation of these measures in every one of these places of worship "burdensome, impractical and insufficient", Karaan said.
"There is no limitation on freedom of religion or belief. The applicants and adherents to other faiths can continue, as I and numerous other adherents in South Africa and around the world are doing, to adhere to the tenets of their respective faiths and carry out their daily prayers without significant hindrance at home," Karaan said.
https://www.news24.com/SouthAfrica/News/muslim-groups-to-challenge-lockdown-regulations-in-court-20200423
-----
We're grateful for lifting the lockdown – Chief Imam to Akufo-Addo
Yesterday at 7:42 PM
Speaking on behalf of the Chief Imam, Sheikh Aremeyaw Shaibu, his spokesperson, said that "we have also observed how you have been reviewing the various measures in order to contain and also curtail the further spread of the disease, up to the very strict restrictions you have taken, including those you have already mentioned like closing of our borders, restricting meetings of religious gatherings. It was so difficult for you to take but you have done it."
According to him, "We are happy, even including the final lifting of the lock down in order to allow movement of people across. We are grateful to you".
The Chief Imam made known on Wednesday, 22nd April, 2020, when President Akufo-Addo held a meeting with leaders of the Muslim community to brief them on the rationale behind the lifting of the partial lockdown of Accra, Tema, Kumasi and Kasoa, and also to explain further the measures being taken by Government to combat the pandemic.
Placing on record their commendation for "the able leadership that you have exhibited, obvious for everyone to see, since this very disturbing phenomenon raised its head in our country", Sheikh Shaibu noted that "we have had no alternative but to accept and adhere to the directives you gave us, especially those that have to do with the restrictions on meetings."
He noted further that, in complying to the President's directives, The Chief Imam organized a press conference, with the support of leaders of the Muslim sects, to inform and further direct what Muslims should also do to effect and adhere to the directives given by the President.
"As you have already observed yourself, we are happy that Muslims all over the country also adhered to the directions that were given. Apart from the initial difficulties we had with a few of the Imams, who probably did not understand the import of the whole directives and encouragements, we can say with all confidence that all the Imams are adhering to the directives, and no Mosque is administering the Jumah prayer," Sheikh Aremeyaw Shuaib added.
With Ramadan approaching, to be followed by Eid, the spokesperson to the Chief Imam noted that "our religion is a flexible religion, it is moderate and it contextualizes issues. So, whatever the situation is, with the views that will come up from here, if we have to continue, we will follow you."
He continued, "We have observed the empathy on your face anytime you come up to speak, I could read from your face the difficulty with which you speak to us and I am sure it is the same case for many of us who are here. We will never leave you. You are assured of our support."
On behalf of the Chief Imam, and on behalf of the leaders of the Muslim Groups gathered, a request was made to the President "for us to have a live broadcast of our call to prayer during the breaking of the fast, so that they can hear the sound of the call to prayer. It will give them some satisfaction."
Additionally, with Muslims missing the teachings of the Quran, he also appealed to the President to inquire into possibility of a nationwide telecast of the Chief Imam's daily broadcast from 12pm to 1pm each day of the Ramadan.
"It will be something of joy for many of the Muslims. It will also make them feel like they are getting what they missed in one way or the other. It is also strategic because it gives us the opportunity to continue the education, on continuous washing of hands, avoiding assemblies that will aid the transmission of the disease, issues of sanitation which we will need to continue with or without COVID-19," he added.
https://www.pulse.com.gh/news/local/were-grateful-for-lifting-the-lockdown-chief-imam-to-akufo-addo/k6wd297
-----
Morocco's Markets Have Sufficient Supplies, Prices for All Ramadan Needs
By Safaa Kasraoui -
Apr 22, 2020
Rabat – Morocco's markets are prepared to meet all consumer needs expected during the holy month of Ramadan and the following months, according to the Interministerial Committee for Monitoring Supply, Prices, and Quality Control Operations.
The members of the committee convene on a weekly basis to review the monitoring assessment of national markets during the COVID-19 crisis.
The committee confirmed after meeting on April 20 that Moroccan markets have sufficient stock of all goods for the coming months and reiterated that the prices of the majority of products remain stable.
Since the outbreak of COVID-19 in Morocco on March 2, the government has been reassuring the public that all necessary goods will be available at stable prices throughout Ramadan despite the ongoing pandemic.
In addition to legumes and vegetables, the Ministry of Agriculture emphasized that all animal by-products, including milk, meat, and eggs, will be available in sufficient quantities during Ramadan.
The ministry's goal is to ensure the continuity of production to ensure the national market supply of all necessary products throughout the holy month.
https://www.moroccoworldnews.com/2020/04/300339/moroccos-markets-have-sufficient-supplies-prices-for-all-ramadan-needs/
-----
Ramadan: Search for moon after sunset on Thursday – NSCIA tells Nigerian Muslims
April 22, 2020
By Musliudeen Adebayo
The Nigerian Supreme Council for Islamic Affairs (NSCIA), under the leadership of its President-General and Sultan of Sokoto, Alhaji Muhammad Sa'ad Abubakar, has enjoined Muslims in the country to search for the crescent of Ramadan 1441 AH immediately after sunset on Thursday, April 23, 2020, which is equivalent to 29th Sha'aban 1441 AH.
The council enjoins all Muslims to be prayerful unto Allah, especially in the Month (Ramadan), to help our nation and the world in general and our leaders, in particular, to be able to overcome the current COVID-19 pandemic.
It felicitates with the entire Muslim Ummah on the auspicious occasion of the forthcoming Ramadan, 1441 A.H.
The council in a statement made available to DAILY POST by Professor Salisu Shehu, Deputy Secretary-General NSCIA prays that Allah spare our lives to this and many more Ramadans on the surface of the earth and give us the ability to carry out good deeds as much as possible because of the multiplicity of its virtues and the blessings of Allah in the Month.
The council noted that if the moon is sighted on Thursday, Ramadan fast would commence on Friday but if not then Ramadan fast would commence on Saturday.
"Consequent upon the advice of the National Moon Sighting Committee (NMSC), the President-General enjoins the Nigerian Muslim Ummah to search for the crescent of Ramadan 1441 AH immediately after sunset on Thursday, April 23, 2020, which is equivalent to 29th Sha'aban 1441 AH.
"If the crescent is sighted by Muslims of impeccable character on the said evening, then His Eminence would declare Friday, April 24, 2020 as the first day of Ramadan 1441 AH. If, however, the crescent is not sighted that day, then, Saturday, April 25, 2020, automatically becomes the first of Ramadan, 1441 AH.
"At the same time, His Eminence also directs the Muslim Ummah to practice social distancing when looking out for the crescent and specifically advises that people should look for the crescent at their residences without going out in groups.
"The Council hereby enjoins the Muslims all over the Country to be on the lookout for the announcement of His Eminence, the President-General of NSCIA, on the commencement of the 1441 AH Ramadan fast.
https://dailypost.ng/2020/04/22/ramadan-search-for-moon-after-sunset-on-thursday-nscia-tells-nigerian-muslims/
----
Coronavirus: Kano relaxes lockdown for Ramadan shopping
April 22, 2020
By Muhammad Bukar
The Kano State Government has relaxed its week-long lockdown from 6 am to 12 pm on Thursday only.
Speaking at a maiden press briefing, the Chairman State Taskforce on COVID-19, who is also the State Deputy Governor of the state, Nasiru Yusuf Gawuna, said the decision to relax the curfew was necessary to allow people make Ramadan shopping.
He, however, said that after tomorrow (Thursday) the lockdwon would continue till the state finds a remedy to the rising coronavirus cases, which stand at 73 at the moment.
Similarly, the deputy governor said the state has extended indefinitely the closure of schools in the state until further notice.
https://dailypost.ng/2020/04/22/coronavirus-kano-relaxes-lockdown-for-ramadan-shopping/
----
URL: https://www.newageislam.com/islamic-world-news/un-chief-extends-wishes-muslims/d/121653
New Age Islam, Islam Online, Islamic Website, African Muslim News, Arab World News, South Asia News, Indian Muslim News, World Muslim News, Women in Islam, Islamic Feminism, Arab Women, Women In Arab, Islamophobia in America, Muslim Women in West, Islam Women and Feminism