New Age Islam News Bureau
22 September 2020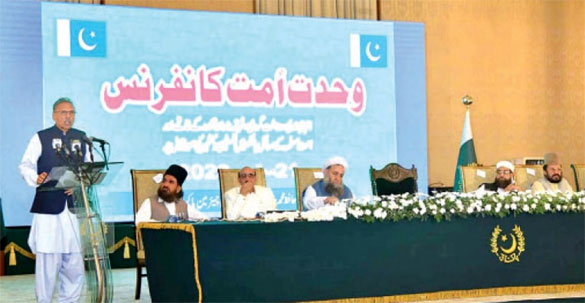 President Dr Arif Alvi speaks at the Wahadat-i-Ummat Conference at the Presidency on Monday. Allama Arif Wahidi, Allama Ziaullah Shah Bukhari, Allama Hafiz Tahir Mehmood Ashrafi, Religious Affairs Minister Pir Noorul Haq Qadri, AJK President Sardar Masood and Pir Naqeebur Rehman are also pictured. — APP
------
• Pak Hindus Converted to Islam: Rights Activist, member of the National Assembly, a Hindu, Expressed Ignorance About the Incident
• Bangladesh Muslim Man Labelled as Christian, Ostracized Over Notre Dame College Studentship
• Xinjiang Government Confirms Huge Birth Rate Drop but Denies Forced Sterilization of Women
• Trump Decisions to Repeat 9/11, Says Former US Security Advisor, H.R McMaster
• Sudan Ready to Normalize Israel Ties in Return For $3bn: Report
• Israel's Continuous Overflights in Violation of UNSC Resolution, Lebanon's Sovereignty: UNIFIL
• US, Israel Source of All Acts of Evil in World: Yemen's Ansarullah Leader
Pakistan
• Ulema Of All Islamic Sects of Pakistan Declared Terrorism, Extremism, Sectarian Violence In Name Of Religion as Anti-Islam
• Bill Against Sexual Abuse of Women to Be Tabled In Next NA Session: PM's Aide
• Govt terms Nawaz's speech 'anti-Pakistan'
• Consensus on GB's Provisional Status as Province
• Opposition Leaders Told Not to Drag Military into Politics
• SC restrains extradition of terror suspect to US
--------
India
• Pak Hindus Converted to Islam: Rights Activist, member of the National Assembly, a Hindu, Expressed Ignorance About the Incident
• Pakistan An Epicentre of Terrorism, Which Hails Them as Martyrs and Persecutes Its Ethnic and Religious Minorities: India at UN
• NIA raids several locations in Jammu and Kashmir in ex-DSP Davinder Singh case
• One terrorist killed by security forces in J&K's Budgam encounter
• '385 Pakistanis Among 409 To Get Citizenship'
• Terror, pelting cases see drop post 370 move
• India summons Pak high commission official over abduction of minor Sikh girl
• NIA detains 2 from airport in Kerala's Thiruvananthapuram for suspected extremist links: Report
--------
South Asia
• Bangladesh Muslim Man Labelled as Christian, Ostracized Over Notre Dame College Studentship
• Afghanistan Making Efforts to End the Long-Fought War, Peace Process Not A 'Drama Series', Ghani Says
• A Peace Day Tweet, 98 Civilians Killed Amid Doha Talks
• Dozens of Afghan soldiers have been killed in clashes with Taliban since peace talks began
--------
Southeast Asia
• Xinjiang Government Confirms Huge Birth Rate Drop but Denies Forced Sterilization of Women
• Perak Sultan Calls for Wider Acceptance of Fatwas Among Muslim Community
• Top Court Grants Sisters In Islam Leave To Continue Challenge Against Selangor Law Allowing Shariah courts to decide on judicial reviews
• No more 'balik China' slurs since Muhyiddin became PM, SAPP president says
--------
North America
• Trump Decisions to Repeat 9/11, Says Former US Security Advisor, H.R McMaster
• Leaked Docs: US Branches of Deutsche Bank Suspected of Facilitating Funds to Daesh In Iraq
• US goes it alone after UN rejects demand to restore Iran sanctions
• Trump's anti-Iran agenda not only illegal, it's also harebrained
--------
Africa
• Sudan Ready to Normalize Israel Ties in Return For $3bn: Report
• Tunisia's coastguards pick up 246 migrants at sea in a single night
• Kenya: Al-Shabaab Militant Jailed for Attack on U.S. Base in Kenya
• Somalia: Al-Shabab attacks intensify as election looms
• Boko Haram Terrorists Kill Three Persons In Borno Communities
--------
Europe
• Israel's Continuous Overflights in Violation of UNSC Resolution, Lebanon's Sovereignty: UNIFIL
• Calls for expired Swedish school permits to be axed after ISIS school exploits loophole
• Irish terrorists in Hezbollah weapons sting met with Iranian embassy officials
• Observers Remain Sceptical as Uzbek Government Says Religious Extremism Rising
--------
Mideast
• US, Israel Source of All Acts of Evil in World: Yemen's Ansarullah Leader
• Iraqi Baath Documents Reveal Pahlavi Regime's Collaboration with Saddam in Bombing Iranian Cities
• IRGC Aerospace Force Commander Downplays US "Hollow" Threats against Iran
• Iran's Deputy Judiciary Chief: Israel Not to Show Mercy to Arab States
• After UAE-Israel deal, Tel Aviv's defense minister jets to US to ensure military edge
• Hamas sets 2-month deadline for Israel to end Gaza siege
• After Algeria opposition to normalization with Israel, Palestinian factions urge Arab rulers to follow suit
--------
Arab world
• Form Cabinet, Or Lebanon Will Go to Hell, President Aoun Warns
• 60 US trucks loaded with military equipment enter Syria's Hasakah: SANA
Compiled by New Age Islam News Bureau
URL: https://www.newageislam.com/islamic-world-news/ulema-all-islamic-sects-pakistan/d/122918
--------
Ulema Of All Islamic Sects of Pakistan Declared Terrorism, Extremism, Sectarian Violence In Name Of Religion as Anti-Islam
Kalbe Ali
22 Sep 2020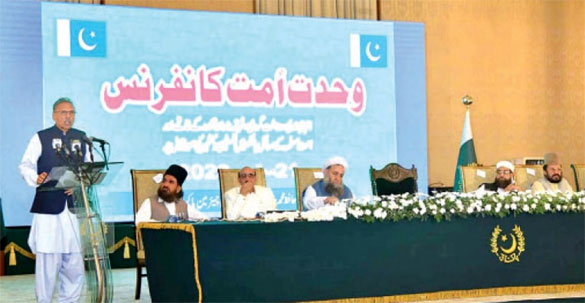 President Dr Arif Alvi speaks at the Wahadat-i-Ummat Conference at the Presidency on Monday. Allama Arif Wahidi, Allama Ziaullah Shah Bukhari, Allama Hafiz Tahir Mehmood Ashrafi, Religious Affairs Minister Pir Noorul Haq Qadri, AJK President Sardar Masood and Pir Naqeebur Rehman are also pictured. — APP
------
ISLAMABAD: Religious leaders from various Islamic sects said they would disassociate from those in their ranks who make derogatory comments about religious figures, or fan hatred and sectarianism in the country.
They made the decision at the Wahdat-i-Ummat Conference held at the Presidency, chaired by President Dr Arif Alvi.
"We should keep check not to take ideological differences to the level of confrontations and bilateral anarchy," Dr Alvi said.
The conference was organised by the Pakistan Ulema Council (PUC) to counter extremist rhetoric in recent days. Clerics who participated said they were not connected to banned organisations and elements fanning sectarianism and religious violence in the country.
Addressing the conference, Dr Alvi said no one should make derogatory comments and remarks about religious figures.
Say will disassociate from those making derogatory comments about religious figures, fanning hatred and sectarianism in country
He said people with different religious beliefs and sects live in Pakistan.
He added that this Muharram, there were some unpleasant incidents by individuals with the objective to cause anarchy and chaos, and the government has ensured prompt action against them.
"I assure you all that proper legal action will be taken against all these elements who bid to fan religious anarchy in the country and these conspiring elements will not be allowed to make chaos and religious anarchy in the country and interfaith harmony and brotherhood will be ensured," he said.
Dr Alvi also spoke about Kashmir and Palestine, saying world peace was connected to peace and stability in these regions.
We hope that the Organisation of Islamic Cooperation headed by the Kingdom of Saudi Arabia will play a more effective and proactive role on the issues of Palestine and Kashmir, he said.
Dr Alvi also praised the joint declaration issued by the conference, saying it was a positive note for the unity of Muslims and the eradication of extremism, terrorism and sectarian violence in Pakistan.
The conference was attended by around 200 religious leaders and scholars from various sects, as well as envoys of Arab and European countries and government ministers.
Speakers at the conference demanded that the government handle derogatory comments about religious figures according to the National Action Plan and take action against elements fanning sectarianism, violence and hatred through social media.
Key points of the declaration included that terrorism, extremism, sectarian violence and killings in the name of religion were against Islam and Shariah.
It said that the leaders of religious sects and schools of thought should unanimously disassociate themselves from those involved in sectarian violence, terrorism and extremism.
Scholars, orators and clerics will not make derogatory remarks about religious figures in public sermons and no sect should support or endorse any person who does so, it added.
The declaration said that no Muslim sect should be declared 'infidel' and no non-Muslim or Muslim should be declared 'worthy of killing'.
It said the people of Pakistan and the believers of all religions and sects will live according to the rights defined in the Constitution.
Non-Muslims live in Pakistan with the Muslim majority population, and it is the government's responsibility to ensure that the holy sites and places of worship of religious minorities are protected, it said.
It also demanded that the government implement the National Action Plan without discrimination and that legislation and consultations should be ensured as a priority on the unanimously approved draft of the Paigham-i-Pakistan project.
The declaration also said that action should be taken against those issuing irresponsible religious decrees — known as fatwas — that are against the teachings of Quran and Sunnah.
https://www.dawn.com/news/1580925/ulema-vow-not-to-take-differences-to-level-of-confrontation
--------
Pak Hindus Converted to Islam: Rights Activist, member of the National Assembly, a Hindu, Expressed Ignorance About the Incident
Sep 22, 2020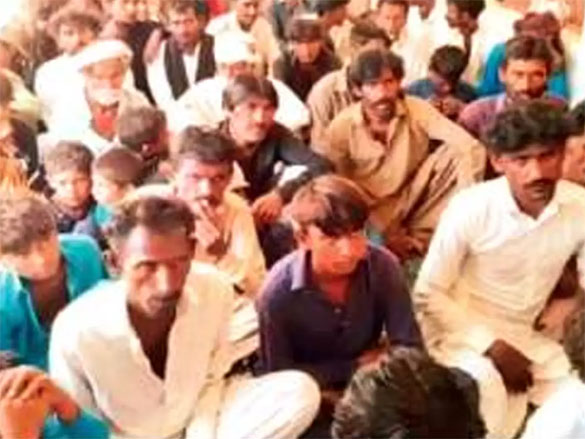 Photo of alleged mass conversion event held in Sindh, Pakistan
-----
Amritsar: A Pakistani rights activist Rahat Austin has claimed that as many as 171 Hindu in Sindh province were converted to Islam on Sunday.
Rahat told TOI on Monday that the conversion of Hindu men, women and children was done at a mass conversion ceremony held at madarsa Ahsan-ul-Taleem, Sanghar in Sindh province of Pakistan. A former member of Islamic Ideology Council Noor Ahmad Tashar converted them to Islam, he claimed.
However, Pakistan Muslim League (Nawaz) leader and member of the National Assembly (MNA) Kheal Das Kohistani, a Hindu, expressed ignorance about the incident, while MNA and patron in chief of Pakistan Hindu Council Ramesh Kumar Vankwani did not pick the phone despite repeated attempts.
Sources here informed that all the Hindus, who were converted to Islam on various allurements, were from Bhil community, which is considered as most vulnerable and marginalised community among the minority communities of Pakistan.
Earlier in June, over a hundred Hindus were converted to Islam in Badin district of Sindh province.
Pakistan Tehreek-e-Insaf (PTI)'s Hindu MNA Lal Chand Malhi said he had also heard the same in the social media but did not confirm the incident.
https://timesofindia.indiatimes.com/city/amritsar/171-pak-hindus-converted-to-islam-rights-activist/articleshow/78244562.cms
--------
Bangladesh Muslim Man Labelled As Christian, Ostracized Over Notre Dame College Studentship
September 22nd, 2020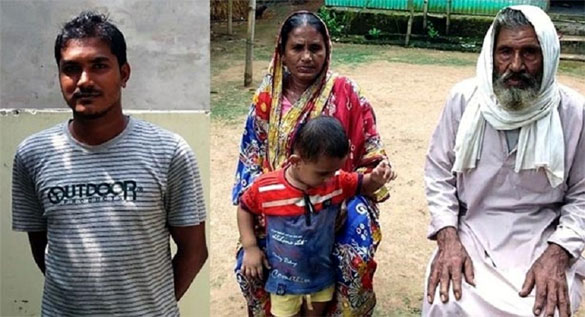 Jewel Khan, left Dhaka Tribune
-----
The victim Jewel Khan is a resident of Torafpur Pathaliapara village of Mirzapur upazila in Tangail
Some influential locals have ostracized a family of a Muslim meritorious student in Tangail's Mirzapur upazila accusing him of a Christian and an atheist as he studied in Notre Dame College in Dhaka, an institution administered by the Congregation of Holy Cross, Society of Priests.
The victim Jewel Khan, a resident of Torafpur Pathaliapara village of Mirzapur upazila, passed Higher Secondary School Certificate (SSC) Examination from Notre Dame College. He obtained a Bachelor of Arts (BA) and a Masters of Arts (MA) in Bangla from Dhaka University.
According to sources, Jewel Khan's family has been in a longstanding dispute with a neighbour named Shariful Islam, son of Abdur Rashid Khan of Torafpur Pathaliapara village of Mirzapur upazila, over the boundaries of their home.
As a sequel to this enmity, on May 1, Shariful along with a gang of his cohorts- Abdul Baset Miah, Ramjan Ali, Abdul Latif, Tarikul Islam and Litu Anam- carried out an attack on Jewel's family.
At one point, they accused Jewel Khan of being Christian as he studied in Notre Dame College. Shariful and his gang also claimed those who study in Notre Dame College and Dhaka University are Christian and atheist.
Labelling Jewel a Christian and an atheist, Shariful and his gang ostracized Jewel Khan and his family. They even threatened the locals not to contact with the family members.
Since then, Jewel's family are not allowed to take part in social activities and religious ceremonies in the village. The family was barred from slaughtering animals during last Eid-ul-Azha.
Jewel mother Amena Begum alleged: "Shariful and his gang are harassing my family by implicating us in a false case although they attacked us."
Mahmudul Hasan, a health worker from Torafpur village, said:J"ewel's family does not respect anyone in the society. Moreover, Jewel's father does not care about the mosque, even the family do not pay donation at mosque. That is why the elders of the society have decided to ostracized them."
Regarding the matter, Mirzapur police station Officer-in-Charge (investigation) Giasuddin, said: "I have heard that some influential locals of the village labeled Jewel Khan as a Christian as he studied in Notre Dame College.
Besides, Mirzapur police station Officer-in-Charge (OC) Sayedur Rahman, said: "Some influential locals threatened to expel Jewel's family from society. The matter is very inhumane. We have investigated the matter and found it true. We will take actions." https://www.dhakatribune.com/bangladesh/nation/2020/09/22/muslim-man-labelled-as-christian-ostracized-over-notre-dame-college-studentship
--------
Xinjiang government confirms huge birth rate drop but denies forced sterilization of women
Sep 22, 2020
Chinese officials have recently confirmed that there has been a birth rate drop in Xinjiang following allegations that the government was forcing Uyghur Muslim women within the region to take birth control or undergo sterilization procedures. The birth rate dropped by almost a third in 2018 when compared to the previous year. However, Chinese authorities have denied all allegations of forced sterilization and genocide. The documented campaign against the Uyghur Muslim minority population gained traction in the news cycle and drew attention from several global human rights organizations.
In July, CNN published an article documenting the abuse campaign by China targeting the minority women, who belong to a larger group of more than 10 million Uyghur minorities. Alongside claims of mass sterilization, up to 2 million Uyghurs and other Chinese ethnic minorities were reportedly placed in mass detention centers, according to the US State Department, where they were subject to abuse and indoctrination. China has claimed that the detention centers offer vocational training as part of a de-radicalization program that is voluntary.
https://www.oodaloop.com/briefs/2020/09/21/xinjiang-government-confirms-huge-birth-rate-drop-but-denies-forced-sterilization-of-women/
--------
Trump Decisions to Repeat 9/11, Says Former US Security Advisor, H.R McMaster
By Mohammad Haroon Alim
Sep 22, 2020
Former US National Security Advisor, H.R McMaster said US-backed peace talks in Afghanistan are doomed to end in "failure" and warned the risk of another 9/11 is high.
"In many ways more at risk today than we were on Sept. 10, 2001," McMaster told USA Today.
Trump's Decisions would endanger Afghanistan, the world, and particularly the United States, he added
Trump had made a big mistake by establishing a peace process and withdrawing troops from Afghanistan, McMaster told in his exclusive interview.
He said, the absence of enough pressure would not make the peace process a success, and that it would pose a greater threat not only to Afghanistan but also to the region and the world.
He previously indicated at his interview with CBS that President Trump has joined forces with the Taliban against the Afghan government.
https://www.khaama.com/mccmaster-trumps-decisions-to-repeat-9-11-987654/
--------
Sudan ready to normalize Israel ties in return for $3bn: Report
21 September 2020
Sudan is apparently prepared to join the UAE and Bahrain in normalizing relations with the Israeli regime in return for over $3 billion in economic aid, a new report reveals.
A "decisive" meeting is to be held in Abu Dhabi on Monday on a possible normalization agreement between Sudan and Israel, a report by the American news website Axios revealed late Sunday.
According to Sudanese sources cited by Axios, an announcement on a normalization agreement with Israel similar to the ones struck with the UAE and Bahrain could be made within days should Washington and Abu Dhabi accommodate Khartoum's request.
What Sudan demands is more than $3 billion in humanitarian assistance and direct budgetary aid in order to deal with an economic crisis and fallout from devastating floods, as well as a commitment by the US and the UAE to providing Sudan with economic aid over the next three years.
In addition to economic aid, the Sudanese government wants the Trump administration to remove Sudan from the State Department's state sponsors of terrorism list. This issue is indirectly connected to the normalization deal with Israel.
The Monday talks are to be attended by the White House National Security Council's senior director for Middle Eastern Affairs Directorate, Brig. Gen. Miguel Correa, Emirati national security adviser Tahnoun bin Zayed, and members of the civilian and military branches of the Sudanese government, mainly the chief of staff to Prime Minister Abdalla Hamdok and Minister of Justice Nasredeen Abdulbari, who is also a US citizen.
Correa was the American official involved in the efforts to draft the Israel-UAE agreement, and Tahnoun bin Zayed is also in charge of the UAE's talks with Tel Aviv.
Axios says Israel is following Monday's meeting very closely. Since the meeting between Israeli Prime Minister Netanyahu and the chairman of the Sudanese Sovereignty Council Lt. Gen. Abdel Fattah al-Burhan last February in Uganda, both countries continued quiet talks on the possibility of normalization.
The issue of normalization between Sudan and Israel was raised last Tuesday in a meeting in Washington between Netanyahu and Secretary of State Mike Pompeo.
The Monday meeting is to be held on the sidelines of Burhan's trip to Abu Dhabi. However, Burhan only represents the military faction of the Sudanese government. The civilian faction and Prime Minister Hamdok had reservations about the move for a long time out of concern for domestic protests.
The United Arab Emirates and Bahrain signed controversial normalization agreements with Israel at the White House last week amid outrage across Palestine and elsewhere throughout the Muslim world at the Arab regimes' sheer betrayal of the Palestinian cause.
The deals were signed between Emirati and Bahraini Foreign Ministers, Sheikh Abdullah bin Zayed Al Nahyan and Abdullatif bin Rashid Al Zayani, and Israel's Prime Minister Benjamin Netanyahu. US President Donald Trump also penned his blessing into the accords.
With the US-brokered deals, the UAE and Bahrain have become only the third and fourth Arab states to ever normalize their relations with Israel after Egypt and Jordan.
https://www.presstv.com/Detail/2020/09/21/634644/Sudan-ties-nornalization-israel-us-uae-aid
--------
Israel's continuous overflights in violation of UNSC resolution, Lebanon's sovereignty: UNIFIL
22 September 2020
The United Nations Interim Force in Lebanon (UNIFIL) has censured the Israeli regime's incessant military flights over Beirut and the southern sector of the Arab country, stating that such practices are in flagrant violation of a UN Security Council resolution and infringe upon Lebanon's sovereignty.
In a statement to Lebanon's state-run National News Agency on Monday, Major General Stefano Del Col, the head of the UN mission, reported a rise in the number of Israeli violations of Lebanese airspace in recent days and said he had asked Tel Aviv to stop such moves.
"The continuous overflights in the Lebanese airspace constitute a violation of UN Security Council Resolution 1701 and Lebanese sovereignty, and have previously been condemned by the Security Council," he said.
Such relentless violations, the UN official added, "lead to an escalation of tensions and can lead to incidents that threaten the cessation of hostilities between Lebanon and Israel. They also go against our goals and undermine our efforts to reduce tensions and create a stable security environment in south Lebanon."
The Lebanese army and the Hezbollah resistance movement have, in recent months, brought down several intruding Israeli spy drones.
Earlier in the day, the Lebanese army announced in a statement that Israeli military aircraft had crossed into Lebanon's skies and flown over different parts of the Arab country nine times.
The statement read that the aircraft entered Lebanon's airspace at around 00:25 a.m. local time on Monday (2125 GMT Sunday) and left at around 20:50 p.m. They hovered over southern Lebanon, Beirut and its suburbs as well as Baabda and Aliya districts.
On September 10, Lebanese military forces intercepted and targeted an Israeli unmanned aerial vehicle as it was on a reconnaissance mission in the skies over the southern part of the country.
The Lebanese army said the drone had been shot down 200 meters away from the Blue Line, which separates Lebanon from the Israeli-occupied territories.
Israel's military, however, alleged that one of its drones had fallen inside Lebanon during "operational activity" along the frontier.
Lebanon's government, the Hezbollah resistance movement and the UNIFIL have repeatedly condemned Israel's overflights, saying they are in clear violation of UN Security Council Resolution 1701 and the country's sovereignty.
The resolution, which brokered a ceasefire in the war Israel launched against Lebanon in 2006, calls on Tel Aviv to respect Beirut's sovereignty and territorial integrity.
Tensions have been running high between Israel and Hezbollah since July 20, when Tel Aviv killed Hezbollah member Ali Kamel Mohsen in an airstrike in Syria.
The Israeli military has placed its forces near the Lebanese and Syrian borders on high alert after Hezbollah promised retaliation.
Israeli forces shelled the Lebanese village of Habaria in late July to stop an alleged Hezbollah offensive, but the Lebanese movement dismissed the allegation, calling it the result of tension and confusion among Israeli forces.
Last month, a leading US news website said the recent developments have "shed light on Israel's impossible situation" along the Lebanese border.
According to Business Insider, Hezbollah has established a high level of deterrence in southern Lebanon, where as many as "150,000 rockets and missiles" are pointed at Israel.
https://www.presstv.com/Detail/2020/09/22/634722/Israel-continuous-overflights-in-violation-of-UNSC-resolution-Lebanon-sovereignty-UN
--------
US, Israel source of all acts of evil in world: Yemen's Ansarullah leader
21 September 2020
The leader of Yemen's Houthi Ansarullah movement has censured the United States and Israel over their fiendish policies and conspiracies against world nations, saying Washington and Tel Aviv are the main source of all evil acts across the globe.
"The policies of the US and Israel have only caused crises and wars across the world. We (the Yemeni people) are confronting the sources of evil and aggression in order to secure peace in our country," Abdul-Malik al-Houthi said in a televised speech broadcast live from the Yemeni capital of Sana'a on Monday afternoon.
He highlighted that Washington has been seeking to sow seeds of discord within the Yemeni nation, and to create sectarian rift in the country.
Houthi said that US statesmen had set their sights on Yemen long before the September 21 Revolution – the 2014 popular uprising that toppled the Saudi-backed Hadi's government -- as the Arab country enjoys a fairly strategic location and has large reserves of natural resources.
"Enemy plots have deprived Yemeni people of revenues of the country's natural resources. The previous government [of former president, Abd Rabbuh Mansur Hadi] collaborated with the US in order to plunder Yemen's resources," the Ansarullah chief further pointed out.
"The US pursued colonial policies during the previous Yemeni government," he said, adding, previous US Ambassador to Yemen Matthew H. Tueller used to meddle in the work of all Yemeni state institutions and ministries.
Houthi noted that the September 21 Revolution was deeply rooted in the Yemeni people's demand for reforms and change and said, "After the revolution, the US realized that Yemen is not an easy prey, and is never akin to Saudi Arabia and the United Arab Emirates to be exploited to the fullest."
The Ansarullah chief underlined that Saudi Arabia and its allies have miserably failed to force Yemeni people into abandoning their revolutionary spirit after more than four years of devastating military campaign and crippling siege.
"The Saudi-led coalition of aggression has perpetrated the most heinous crimes against Yemeni people over the past years. Saudi Arabia has failed to wrest control over Yemen despite US' generous support for its vicious onslaught," Houthi said.
Commenting on recent US-brokered normalizations deals between Israel and two Arab states of UAE and Bahrain, Houthi said the US has been taking advantage of Saudi Arabia and the UAE to advance its agendas in the Middle East region, saying all actions of the Riyadh, Abu Dhabi and Manama regimes are meant to serve the interests of Washington and the Tel Aviv regime.
"Palestinians are not left alone in the face of the recent agreements by some Arab states to normalize ties with Israel. The UAE and Bahrain simply brought to light their illegitimate and clandestine relations with the Zionist regime," Houthi said.
"The US, Saudi Arabia and their regional allies have all paid heavy price only to safeguard the interests of Israel in the region," he noted.
Houthi concluded, "Peace, independence and dignity can only be achieved through deterrence, and not by means of complete surrender."
Israeli Prime Minister Benjamin Netanyahu signed agreements with Emirati Foreign Minister Sheikh Abdullah bin Zayed Al Nahyan and Bahrain's Foreign Minister Abdullatif Al Zayani in a US-brokered event hosted by Trump at the White House on September 15.
Palestinians, who seek an independent state in the occupied West Bank and Gaza, with East Jerusalem as its capital view the deals as a betrayal of their cause.
Palestinian President Mahmoud Abbas protested the normalization deals with Israel, saying they will be fruitless as long as the United States and the Israeli regime do not recognize the rights of the Palestinian nation and refuse to resolve the issue of Palestinian refugees.
He reiterated that there will be no peace, security or stability for anyone in the region unless the Israeli regime ended its occupation of Palestinian land, and Palestinians could restore their full rights as stipulated in international resolutions.
https://www.presstv.com/Detail/2020/09/21/634685/US-Israel-are-sources-of-evil-in-world-not-peace-Yemen-Ansarullah-leader
--------
Pakistan
Bill against sexual abuse of women to be tabled in next NA session: PM's aide
22 Sep 2020
ISLAMABAD: The government will introduce two important bills in the next session of the National Assembly — one related to removal of camp offices of the president and the prime minister and the other against sexual abuse of women and children.
Both bills were discussed by Prime Minister Imran Khan during a meeting with his Adviser on Parliamentary Affairs Dr Babar Awan on Monday.
Talking to Dawn after the meeting, Dr Awan said the prime minister was keen to introduce a law against sexual abuse of women and children and stressed the need for protecting the victims by giving exemplary punishment to the rapists.
The law is being introduced against the backdrop of a recent tragic incident in which a woman was reportedly raped by two persons on motorway near Lahore. One of the accused has reportedly been arrested while the other is still at large.
On Sept 14, Prime Minister Khan had called for public hanging of those involved in sexual abuse of women and children and said that habitual rapists should be "chemically or physically" castrated so that they could not commit such crimes in future.
In an interview with a private TV channel, the prime minister had said that habitual sex offenders should be registered and they should remain under a vigilant eye of police. "Those who rape women and children should be hanged publically and their castration should be carried out through surgery," the prime minister had said. "They [rapists] should be given exemplary punishment. In my opinion, they should be hanged at the Chowk (square)," he added.
Babar Awan said that in the second bill it had been proposed that there would be no camp offices of the president and the prime minister in the country and they would have only one official residence. He said both bills would be introduced in the next session of the National Assembly.
Meanwhile, media reported that Prime Minister Khan discussed with his spokespersons the opposition's multi-party conference (MPC) and gave them guidelines how to nullify the opposition's narrative. He was of the view that the government should give a robust and comprehensive response to the opposition's allegations and decisions made at the MPC on Sunday.
However, Babar Awan said the prime minister did not discuss the opposition's MPC during his meeting with Mr Khan. "In fact the MPC and ex-prime minister Nawaz Sharif's speech are being discussed in India, not in Pakistan," he added.
https://www.dawn.com/news/1580986/bill-against-sexual-abuse-of-women-to-be-tabled-in-next-na-session-pms-aide
--------
Govt terms Nawaz's speech 'anti-Pakistan'
Syed Irfan Raza
22 Sep 2020
ISLAMABAD: The government on Monday termed the speech of former premier Nawaz Sharif at the opposition's multiparty conference (PMC) "anti-Pakistan" and said Prime Minister Imran Khan was leading the country and the army was assisting him in important national affairs.
At a joint press conference, a day after the MPC, senior federal ministers Shah Mehmood Qure­shi, Asad Umar, Fawad Chaudhry and Shibli Faraz, while responding to the opposition leaders' spe­e­ches and their decision to launch a three-phased anti-government movement from next month, said the opposition, especially Pakis­tan Muslim League-Nawaz (PML-N), had pleased "anti-Pakistan forces" by levelling allegations against national institutions like the army, National Accountability Bureau (NAB) and Election Commission of Pakistan (ECP).
"Nawaz Sharif promoted the agenda of anti-Pakistan forces as Indian media gave top slot to Nawaz's remarks with headlines 'Nawaz has declared a war against Pakistan Army'," Minister for Planning and Development Asad Umar said.
He said that in the current set-up, the army and civilian leadership were working together to solve the country's problems, and there was "no doubt that the leadership is with Prime Minister Imran Khan [and] he makes the decisions".
Accuses opposition of pleasing enemies by levelling allegations against national institutions
"If this is not disturbed and if cracks are not developed, the opposition and enemy forces think that Pakistan will not be stopped on the way to progress," he added.
Mr Umar said the prime minister had stated at the start of his government's tenure that "the opposition has everything at stake ... and when accountability moves forward they will all get together", adding that Sunday's MPC was a manifestation of the premier's "words coming true".
He said the opposition hoped that "the economic recession they left behind would be enough to oust the government", but the Pakistan Tehreek-i-Insaf government brought the country out of the economic crisis.
"Then came the global coronavirus crisis. If you look at the initial days, these [opposition] leaders had a lot of enthusiasm [and] some came running back from Lon­don in the hopes that destruction and devastation would befall Pakistan, and [they] would make that the basis of finishing the government. What I found entertaining in yesterday's speech was that the people who did not leave a single thing to criticise in Pakistan, did not mention corona or Covid," he said, adding that international bodies were praising Pakistan's response to the pandemic.
Mr Umar accused the opposition of "doing politics" on legislation related to the Financial Action Task Force (FATF) which, he said, had "nothing to do with a political party or person and is only for keeping us out of the [FATF] blacklist". He said the opposition had tried to directly "blackmail" the government on the FATF bills to obtain an NRO-like concession.
"But even in that they were defeated. They can't even control 200 members in the Senate and National Assembly, so their panic reached another level," he said, adding that the passage of the anti-money laundering law had also panicked the opposition members because "their own properties are now in danger".
The minister said the armed forces had through operations ended terrorism in districts of the former Federally Administered Tribal Areas, while the security situation in Karachi also improved and a development package was announced for the city. Prime Minister Imran also called for a development package to be announced for Balochistan, he added.
Referring to Nawaz Sharif's speech, he said Indian news outlets were all reporting that "he has returned to politics...and how? by attacking the army."
Foreign Minister Shah Mehmood Qureshi, in response to Mr Sharif's remarks, asked the opposition not to drag national institutions into politics. "It is not good for the country, it is not in Pakistan's interest," he said.
The PML-N supreme leader, while addressing the opposition's MPC via video link from London, had alleged that there was "a state above the state in the country". Breaking his over two-year-long silence, Mr Sharif declared that the opposition's struggle was not against Prime Minister Khan but against "those who had imposed such an incapable person" upon the nation through a manipulated electoral process.
Mr Qureshi said the opposition's MPC was a "bundle of lies" and the happiest one on the event was India. He said the opposition had given a call for rallies and demonstrations in January next year without realising that the threat of Covod-19 was not over and experts believed that a second wave of the deadly disease could come again in winter.
Talking about the opposition's defeat in the recent joint session of parliament in which the government had managed to get passed eight bills, including three FATF-related laws, Mr Qureshi said the opposition had to look into its own ranks as to who was with it and who was not.
Information Minister Shibli Faraz said Prime Minister Khan had allowed the regulators to let media air live speech of Nawaz Sharif. He said the PML-N supremo had in his speech raised suspicions about the election process because his party was unable to garner votes in the 2018 elections and because he was "not used to a free and fair election".
"Nawaz Sharif came into power three times after winning elections but all these elections were right, but the one in which he lost [2018 elections] was unfair," Mr Faraz said, adding that when things were according to their [opposition leaders] plan, they were okay, but when things turned against them they were wrong.
He said the opposition leaders were not helping democracy but trying to derail it only for their personal interests, adding that they pointed an accusing finger at the election system but did nothing to make electoral reforms in the country when they were in power. "The country has given you a lot so don't make the election and democracy controversial," he added.
The information minister said Mr Sharif in his address on Sunday looked quite healthy and fresh contrary to the latter's claim that he was ill and staying in London for his medical treatment.
Minister for Science and Technology Fawad Chaudhry said the country's judiciary had given unprecedented relief to Nawaz Sharif but the latter also lashed out at the judiciary in his speech.
He said the government knew that Nawaz Sharif would not return to the country when he was going to the United Kingdom for medical treatment and that was the reason he was asked to submit Rs7 billion as surety bond. "But it was the judiciary who relaxed it, allowing Nawaz Sharif to leave the country," he added.
https://www.dawn.com/news/1580983/govt-terms-nawazs-speech-anti-pakistan
--------
Consensus on GB's provisional status as province
Amir Wasim
22 Sep 2020
ISLAMABAD: In a significant development amid political tensions in the country, the government and the opposition almost reached a consensus on granting "provisional provincial status" to strategically-located Gilgit-Baltistan (GB) while agreeing to hold consultations on the issue after the elections of its legislative assembly later this year, it emerged on Monday.
According to sources, the government and the opposition had discussed the move prior to the meeting of the political leadership with the army chief.
The sources said the issue was discussed in a meeting between a government team comprising Foreign Minister Shah Mehmood Qureshi and Planning and Development Minister Asad Umar with leader of the opposition and Pakistan Muslim League-Nawaz president Shahbaz Sharif and Pakistan Peoples Party chairman Bilawal Bhutto-Zardari.
Sindh Chief Minister Syed Murad Ali Shah and PML-N's secretary general Ahsan Iqbal were also present in the meeting, which was held in Islamabad a few weeks back.
Opposition says any move before election in the area will be considered pre-poll rigging
When contacted, Mr Iqbal said the government had only informed them that the plan was on its agenda, but no further discussions were held on the issue.
Asked about his party position on the issue, the PML-N secretary general said they believed the people of GB should have their constitutional rights without affecting the country's stance on the Kashmir dispute and it was also mentioned in their party's manifesto.
However, the elections on 24 general seats of the GB Legislative Assembly, which were earlier scheduled for August 18, were postponed due to Covid-19 situation. The five-year term of the previous assembly had ended on June 24, bringing an end to the five-year rule of the PML-N.
The opposition parties had already warned the federal government against any move to interfere in the elections in GB terming it a sensitive matter and the warning was also mentioned in the 26-point declaration issued at the conclusion of the opposition's Sept 20 multiparty conference.
Speaking at a news conference in July, PML-N leaders had stated that any attempt to rig the GB elections would be against the national interest and national security of the country. "The interest of Pakistan lies in free, fair and transparent elections in GB. Pakistan cannot afford to have any political controversy or dispute in GB which has already become a flashpoint in the region and many countries are eyeing it to get benefit," he had stated before adding that he wanted to give a message to the national institutions so that free, fair and transparent elections were held in GB. "The federal government should refrain from horse-trading and interference [in the polls]," he had remarked.
Mr Iqbal said GB had acquired great significance in the region due to the China-Pakistan Economic Corridor (CPEC) that was now a "jugular vein" for the country. GB was a "sensitive area" and a flashpoint in the region as the enemies were looking for excuses to spoil the law and order situation.
Earlier when Railways Minister Sheikh Rashid Ahmed claimed that the leaders of the Pakistan Muslim League-Nawaz (PML-N) and the Pakistan Peoples Party (PPP) had assured Chief of the Army Staff (COAS) Gen Qamar Javed Bajwa in a recent meeting that they would support the move to grant "provisional provincial status" to Gilgit-Baltistan, the leaders of both the opposition parties said that an understanding had been reached at the meeting that the issue would be taken up and discussed after the elections in GB.
Talking to Dawn, the railways minister, who had divulged the details of the meeting of the leaders of key political parties with the army chief, said Gen Bajwa had left it on the country's political leadership to decide the timing of the implementation of the decision about change in the GB's constitutional status.
"It is up to you to decide whether you want to make it (GB) a province after the elections or before the elections," the railways minister quoted the army chief as telling the political leadership including those of the major opposition parties.
A senior opposition member, while talking to Dawn on condition of anonymity, said the opposition had categorically told the government and the army chief that any such move before the elections would be considered a 'pre-poll rigging' and that they would also have to look into its ramifications as it should not disturb the country's stance on the Kashmir dispute.
PPP vice president Sherry Rehman talking to a private TV channel said changing the constitutional status of GB was a "sensitive matter" as India always made Pakistan a target of criticism on the issue. She said that in the meeting with the army chief, she had expressed her regret that the meeting was not taking place at the Prime Minister House or his chamber.
She recalled that Prime Minister Imran Khan had not even bothered to attend a briefing on the Kashmir issue last year and the army chief had himself then briefed them on the situation when the premier preferred to stay in his adjacent chamber in the Parliament House instead of attending the briefing that had been convened after the India's controversial act of changing the constitutional status of the Occupied Kashmir through an amendment to their constitution in August last year.
Ms Rehman said she had heard it on media that there was a move to grant a provincial status to GB, which was wrong, as they had only talked about granting it "provisional provincial status".
Another key government minister, who is privy to the development, told Dawn that it was on the request of the opposition parties that the government had agreed to initiate the process of consultations on the proposal to convert the GB into a province after the elections in the area, as the opposition believed that if such a move was initiated now then the PTI could take political advantage of it in the upcoming elections.
"We could have taken advantage in the elections but this is not an issue to do politics. This is a big decision having international ramifications and we do not want to send a message that the nation is divided on it," the minister said, terming the opposition's request "fair enough".
https://www.dawn.com/news/1580980/consensus-on-gbs-provisional-status-as-province
--------
Opposition leaders told not to drag military into politics
Baqir Sajjad Syed
22 Sep 2020
ISLAMABAD: Army Chief Gen Qamar Bajwa and head of the Inter-Services Int­elligence Lt Gen Faiz Hameed had in a meeting with key opposition figures days before their multiparty conference cou­n­selled them to refrain from dragging the military into political issues, government ministers and opposition leaders disclosed on Monday.
The September 16 meeting was attended by about 15 opposition figures including Leader of the Opposition in the National Assembly Shah­baz Sharif, Pakistan Peoples Party chairman Bil­a­wal Bhutto-Zardari, Jamaat-i-Islami emir Sirajul Haq, ANP's Amir Haider Hoti, JUI-F's Asad Mahmood, PML-N leaders Khawaja Asif and Ahsan Iqbal, PPP's Senator Sherry Rehman and few government ministers.
According to the ground rules set for the session, the meeting was not to be publicly disclosed, some of the opposition leaders, who attended it, said.
Railways Minister Sheikh Rashid, while confirming the meeting and its participants in a conversation with Dawn, said it was held to discuss the impending changes in the constitutional status of Gilgit-Baltistan. However, the opposition used this opportunity to flag its concerns about other matters, especially the military's alleged interference in politics and allegations of persecution of its leaders on the pretext of accountability.
Mr Rashid was one of the ministers who attended the meeting.
The timing of the meeting and its disclosure was linked by the onlookers to the opposition's multiparty conference held here on Sunday in which former prime minister Mian Nawaz Sharif bitterly criticised the army, saying there was "a state above the state in the country".
Criticism by other opposition leaders was, in comparison to Mr Sharif's remarks, relatively subtle. A 26-point declaration issued at the end of the meeting, however, contained assertions about ending "establishment's interference in politics" and "no role of armed forces and intelligence agencies" in future elections.
Mr Rashid said the army chief clearly told the participants of the meeting that the Army was not in any manner linked to the political processes and had no involvement in matters concerning election reforms and accountability.
The army chief, however, said the military only responds to calls for assistance by the elected civilian government and it would continue doing so irrespective of who is in office.
Gen Bajwa reportedly categorically conveyed that no one would be allowed to create chaos in the country.
In remarks addressed to JUI-F chief Fazlur Rehman's son Asad Mahmood, Gen Bajwa, Mr Rashid said, it's an irony that the same parliament is kosher for Mr Rehman for contesting presidential elections, but it is otherwise unacceptable to him.
The allegations of a political witch hunt in the name of accountability was raised by PML-N's Ahsan Iqbal.
Responding to him, the army chief said that NAB chief and election commissioner were picked up by political leaders represented in parliament, therefore they needed to be careful in choosing people for such important positions.
A participant, speaking on condition of anonymity said, NAB's actions had scared the bureaucracy, which is the reason why officials are not taking crucial decisions. Gen Bajwa too had purportedly pointed out that bureaucracy was not delivering.
PML-N remained mum about the participation of its leaders in the meeting.
PPP said it would issue a formal comment on the meeting on Tuesday through its spokesperson Senator Farhatullah Babar. However, Senator Sherry Rehman, participating in a TV talk show, said her party's chairman talked about the status of Gilgit-Baltistan and its upcoming elections. She said Mr Bhutto-Zardari stressed on the need for fair and free elections in GB, because of the sensitivities attached to the region.
Senator Rehman denied her party took up its reservations about the accountability process.
On Monday, Gen Bajwa met Prime Minister Imran Khan. However, the Prime Minister Office did not issue any media statement on the meeting.
https://www.dawn.com/news/1580984/opposition-leaders-told-not-to-drag-military-into-politics
--------
SC restrains extradition of terror suspect to US
22 Sep 2020
ISLAMABAD: The Supreme Court on Monday sought details about exchange of accused people under the extradition treaties signed with different countries, including the United States.
A two-judge SC bench headed by Justice Mushir Alam issued the directives while hearing a case of Talha Haroon, an American of Pakistan origin accused of planning a number of terrorist attacks in New York in 2016.
The Supreme Court also restrained extradition of the accused to the US till a final decision on the case and asked Attorney General Khalid Jawed Khan to assist the court in the matter. The court also asked the Foreign Office to depute the relevant officers along with complete record highlighting the number of people extradited to different countries.
Justice Qazi Amin Ahmed, another member of the SC bench, wondered on the basis of what evidence the accused should be extradited to the US, saying Pakistan was a sovereign state. However, he added, the US could take away whoever it wanted without any agreement.
According to the investigation carried out by the US Federal Bureau of Investigation (FBI), Talha Haroon was in Pakistan in April 2016 and planned multiple terrorist attacks in New York City. The FBI claimed that with the support of the militant Islamic State group, he wanted to carry out Paris-style attacks in New York in June 2016.
The FBI said the suspects "identified multiple potential targets of their plot to launch terrorist attacks in New York City". One of the targets was the New York City subway, besides Times Square and a concert hall, it added.
In August, the Islamabad High Court had paved the way for extradition of a Pakistani-American terror suspect by relaxing tough conditions set for his handing over to the US authorities.
https://www.dawn.com/news/1580977/sc-restrains-extradition-of-terror-suspect-to-us
--------
India
Pakistan An Epicentre of Terrorism, Which Hails Them as Martyrs and Persecutes Its Ethnic and Religious Minorities: India at UN
Sep 22, 2020
UNITED NATIONS: In a scathing attack on Pakistan, India has said that if there is an "unfinished agenda" at the UN, it is that of tackling the scourge of terrorism and the country, a globally-recognised epicentre of the menace, which harbours and trains terrorists and hails them as martyrs.
Exercising India's right to reply on Monday, First Secretary in the country's Permanent Mission to the UN Vidisha Maitra said: "Pakistan is a country which is globally recognised as the epicentre of terrorism, which by its own admission harbours and trains terrorists, and hails them as martyrs and consistently persecutes its ethnic and religious minorities".
She was referring to Pakistan Prime Minister Imran Khan's remarks in the country's Parliament where he had termed former al-Qaeda chief Osama bin Laden as a "martyr".
"We reject the malicious reference made to the Union Territory of Jammu and Kashmir, which is an integral part of India. If there is an item that is unfinished on the agenda of the UN, it is that of tackling the scourge of terrorism," Maitra said.
As the UN member states marked 75 years of the United Nations in the shadow of the Covid-19 pandemic, Pakistan's Foreign Minister Shah Mahmood Qureshi on Monday raked up the issue of Jammu and Kashmir during his address to the high-level meeting on the commemoration of the 75th anniversary of the world organisation.
Qureshi said Jammu and Kashmir and Palestine were the UN's "most glaring and long-standing disputes" and the people of Jammu and Kashmir still await the fulfillment of the commitment made to them by the UN to grant them their "right to self-determination."
With Pakistan yet again raising the Kashmir issue at a UN platform, Maitra said India had hoped that during this solemn commemoration of a shared global milestone, the General Assembly would be "spared another repetition of the baseless falsehoods that have now become a trademark of Pakistan's interventions on such platforms".
"However, for a nation that is bereft of milestones, one can only expect a stonewalled and stymied approach to reason, diplomacy and dialogue.
"What we heard today is the never-ending fabricated narrative presented by the Pakistani representative about the internal affairs of India," she said.
Strongly rejecting the malicious reference made to Jammu and Kashmir, Maitra said Pakistan "will do well to turn its attention inwards to immediately addressing these pressing concerns instead of diverting attention from them by misusing the UN platforms."
https://timesofindia.indiatimes.com/india/pak-globally-recognised-epicenter-of-terrorism-india-at-un/articleshow/78247704.cms
--------
NIA raids several locations in Jammu and Kashmir in ex-DSP Davinder Singh case
Sep 22, 2020
NEW DELHI/ SRINAGAR: Tightening its noose in the suspended deputy superintendent (DSP) Davinder Singh and Hizbul Mujahideen terrorist Naveed Babu case, the national investigation agency (NIA) on Tuesday carried out searches at several locations in Jammu and Kashmir's Baramulla district.
An NIA official privy to the development told IANS, "NIA is conducting raids in different parts of Baramulla in HM commander Naveed Babu-Davinder Singh DSP case."
The NIA sources in Srinagar said that the anti-terror probe agency teams along with police raided the house of Rasool Waza in Waza Mohalla Raypora Phalhalan.
According to the source, Waza is a retired government employee of the state health department.
The source said that one of his sons, Farooq Ahmad, a government employee in the health department, and another son,Mushtaq Ahmad Waza, crossed the LoC for illegal arms/ammunition training in 1993 and have not returned till date.
The development comes almost three months after the NIA filed a chargesheet against six persons, including suspended Jammu and Kashmir deputy superintendent of police, in a special NIA court in Jammu.
The NIA has named Naveed Mushtaq alias Naveed Babu, Irfan Shafi Mir, Rafi Rather, Tanveer Ahmad Wani, and Syed Irfan in its chargesheet, besides Davinder Singh.
The suspended police officer is lodged in the Kathua jail at Hiranagar in the Jammu division. He was arrested by the police on January 11 on the Jammu-Srinagar national highway while transporting two HM terrorists - Naveed Babu and Rafi Ahmad Rather - and a law school dropout Irfan Shafi Mir to Jammu.
Naveed's brother Irfan was arrested on January 23 for his 'role' in the conspiracy while Wani came under the scanner for allegedly giving money to Naveed, a former special police Officer of Jammu and Kashmir who had joined the terrorist ranks.
After the arrest of Singh, initial investigations were done by the Jammu and Kashmir police before the case was handed over to the NIA.
Police had said that the two terrorists and the lawyer had planned to travel to Pakistan.
The NIA had earlier claimed that its probe revealed that the accused were part of a deep-rooted conspiracy hatched by the Hizbul and Pakistani state to commit violent acts and to wage war against India.
"The investigation has revealed that Pakistan-based leadership of the Hizbul, namely Syed Salahuddin, Amir Khan, Khursheed Alam, Nazar Mehmood, and others, along with the Pakistani establishment is extending support to the cadres and commanders of the terror outfit based in Jammu and Kashmir.
"The probe also revealed that accused Irfan Shafi Mir aka 'advocate' not only met Hizbul leadership in Pakistan but also met Umar Cheema, Ahshan Chaudhary, Sohail Abbas, and others of the inter-services intelligence of Pakistan. He was tasked to identify and activate the new 'hawala' channels for the transfer of money to sustain terror activities in the Kashmir valley," a NIA spokesperson had earlier said.
The NIA had also claimed that its investigation revealed that certain officials of the Pakistan high commission in New Delhi were in constant touch with Mir alias Advocate, who was provided with funds to organise seminars in Jammu and Kashmir to mobilise the masses against the government of India.
Mir allegedly used to receive instructions and money from the Pakistan high commission, and he facilitated the visa applications of a number of Kashmiris for their Pakistan visits.
Even Davinder Singh was said to be in touch with certain high commission officials through secure social media platforms.
Investigation revealed that he was "being groomed by the Pakistani officials for obtaining sensitive information".
Singh was posted with the anti-hijacking wing of the Jammu and Kashmir police in Srinagar, and was part of the security staff that had received a group of foreign diplomats who visited Kashmir.
On June 19, a Delhi court had granted bail to Davinder Singh in a terror case after the Delhi police failed to file a chargesheet against him and co-accused within the stipulated time.
https://timesofindia.indiatimes.com/india/nia-raids-several-locations-in-jammu-and-kashmir-in-ex-dsp-davinder-singh-case/articleshow/78248478.cms
--------
One terrorist killed by security forces in J&K's Budgam encounter
Sep 22, 2020
BUDGAM: One unidentified terrorist has been neutralised by the security forces in an ongoing encounter in Chrar-i-Sharief area of Budgam on Tuesday.
Notably, the gun battle between the terrorists and the security personnel started on Monday evening.
More details in this regard are awaited.
The Kashmir zone police had tweeted yesterday stating, "En
https://timesofindia.indiatimes.com/india/one-terrorist-killed-by-security-forces-in-jks-budgam-encounter/articleshow/78247743.cms
--------
'385 Pakistanis among 409 to get citizenship'
Sep 22, 2020
NEW DELHI: As many as 385 Pakistanis, six Bangladeshis, 5 US nationals and 3 Malaysians were among the 409 foreigners granted Indian citizenship until September 17 this year, the government told Rajya Sabha on Monday.
Among the countries whose nationals became Indian citizens in 2020 are Indonesia (2); and Afghanistan, Sri Lanka, Nepal, UK, Tanzania, Iran and Switzerland (all one each). Junior home minister Nityanand Rai said a total 2,729 foreigners were granted Indian citizenship since 2017. Most of these were from Pakistan, with 2,120 Pakistani were granted Indian citizenship between 2017 and September 17 this year.
https://timesofindia.indiatimes.com/india/385-pakistanis-among-409-to-get-citizenship/articleshow/78246177.cms
--------
Terror, pelting cases see drop post 370 move
Sep 22, 2020
NEW DELHI: Terrorist incidents in J&K fell by 53% and stone-pelting cases by 56% during the 393 days between nullification of Article 370 on August 5, 2019 and August 31, 2020, as compared to the same period spanning from July 7, 2018 to August 4, 2019, the home ministry told RS on Monday.
In reply to question, junior home minister G Kishan Reddy said 206 terrorist incidents were recorded and 310 stone pelting cases registered in J&K between August 5, 2019 and August 31, 2020, down from 443 terrorist incidents and 703 stone pelting cases between July 7, 2018 and August 4, 2019.
https://timesofindia.indiatimes.com/india/terror-pelting-cases-see-drop-post-370-move/articleshow/78246015.cms
--------
India summons Pak high commission official over abduction of minor Sikh girl
Sep 22, 2020
NEW DELHI: India on Monday summoned a senior Pakistan high commission official and lodged a strong protest over the abduction of the minor daughter of Pritam Singh, granthi of Gurdwara Panja Sahib. According to agency reports, the incident occurred recently in Attock district's Hassanabdal town, which is home to the Gurdwara Panja Sahib.
"This has been going on for years where the Sikh community has been subjected to violence in Pakistan. Girls have been abducted and are subjected to forcible conversions. The whole country must be involved in this fight," said MS Sirsa, who heads Delhi Sikh Gurdwara Management Committee, whose members protested outside the Pakistan mission on Monday.
https://timesofindia.indiatimes.com/india/india-summons-pak-high-commission-official-over-abduction-of-minor-sikh-girl/articleshow/78246045.cms
--------
NIA detains 2 from airport in Kerala's Thiruvananthapuram for suspected extremist links: Report
Edited by Meenakshi Ray
Sep 22, 2020
The National Investigation Agency (NIA) has detained two men from the international airport in Kerala's Thiruvananthapuram after a three-hour interrogation on Monday night, days after three al Qaeda operatives were arrested from the state, a report said on Tuesday.
HT's sister publication, Hindustan, cited sources saying that NIA detained the two men after they arrived Thiruvananthapuram from Saudi Arabia. Hindustan reported one of these two men is associated with Lashkar-e-Taiba (LeT) and the other belongs to Indian Mujahideen. One of them is Gul Nawaz from Uttar Pradesh and the other Shuhaib belongs to Kannur in Kerala, it reported. Both of the men have been detained in connection with the serial blasts in Bengaluru in 2008 and a lookout notice was also issued against them in connection with the case.
They were interrogated for nearly three hours by several investigative agencies, including intelligence agency RAW, after they returned from Riyadh, it added. They will first be taken to Kochi, Hindustan reported citing sources, after which Shuhaib will be taken to Bengaluru while Gul Nawaz will be taken to Delhi.
On September 19, NIA had said it had busted an al Qaeda module and arrested three terrorists from Ernakulam in Kerala and six from Murshidabad in West Bengal, who were allegedly planning to carry out major terror strikes in India at the direction of their Pakistan-based handler.
The suspects were planning attacks at several locations, including Delhi-NCR, Kochi and Mumbai, and they were about to leave for Kashmir to receive a consignment of weapons, which was likely to arrive from Pakistan, the officials added.
Under the scanner for some time, the nine men were arrested after the agency learnt that they acquired large quantities of weapons, country-made firearms, locally fabricated body armour, jihadi literature, and literature used for making explosives.
https://www.hindustantimes.com/india-news/nia-detains-2-from-airport-in-kerala-s-thiruvananthapuram-for-suspected-extremist-links-report/story-ICDdQndYv8jFArQAxuncCI.html
--------
South Asia
Afghanistan Making Efforts to End the Long-Fought War, Peace Process Not A 'Drama Series', Ghani Says
By Mohammad Arif Sheva
22 Sep 2020
KABUL, Afghanistan – On the occasion of International Day of Peace, Afghan President Ashraf Ghani on Monday said peace is possible only through a political settlement, adding the government is making efforts to end the long-fought war in the country.
Ghani exclaimed the Afghan negotiators are representing the country and should be supported without interference.
"No one should interfere in the negotiations. Our delegation should be fully supported so that they represent the Islamic Republic of Afghanistan with power," he said as quoted by TOLOnews. "This is not a drama series… This is the story of the Afghan people."
Meanwhile, Chairman of the High Council for National Reconciliation Abdullah Abdullah stressed the need for using the current opportunity for ending the war in the country, warning the possible consequences of a failure in the process.
"We should keep unity among ourselves for peace. If we lose this process, we will lose the chance for a real peace even if it is possible," Abdullah said.
"While the people of #Afghanistan are yearning for an end to war & demanding a dignified & inclusive peace, I call on all compatriots to take bold steps, as required per our holy religion of Islam, to safeguard civilians, lay down arms & seek a just settlement," he further said in a tweet later that day.
On September 12, the Afghan and Taliban negotiators held an opening session to officially begin the long-awaited talks in Qatari capital Doha, but has been struggling since then to form an agenda that could lead through the process.
https://www.khaama.com/peace-process-not-a-drama-series-ghani-says/
--------
A Peace Day Tweet, 98 Civilians Killed Amid Doha Talks
By Mohammad Haroon Alim
21 Sep 2020
Tariq Aryan, Photo Source: Social Media
Interior Ministry spokesman Tariq Arian tweeted today (International Peace Day), that over the past two weeks, 98 civilians have been killed and 330 others wounded in various Taliban attacks.
He added, the Taliban had carried out offensive attacks in different provinces over the past weeks, killing 98 civilians, including women and children, and wounding 330 others.
According to Tariq, the Taliban carried attacks in 24 provinces, mostly in Takhar and Nangarhar provinces.
This comes at a time that Intra-Afghan talks for establishing peace have started in Doha, but the Taliban has intensified their attacks over various parts of Afghanistan which negatively affected civilians.
https://www.khaama.com/a-peace-day-tweet-98-civilians-killed-amid-doha-talks-976543/
--------
Dozens of Afghan soldiers have been killed in clashes with Taliban since peace talks began
21 September 2020
At least 57 members of Afghanistan's security forces have lost their lives and dozens of others sustained injuries in clashes with the Taliban militants across the country over the past week, amid long-awaited peace talks between the two sides.
Sayed Mohammad Sadat, the deputy governor of the central Afghan province of Uruzgan, said Sunday night was the bloodiest clash in the week as 24 members of the security forces were killed in a Taliban attack on checkpoints.
Clashes and casualties were also reported in the provinces of Takhar, Helmand, Kapisa, Balkh, Maidan Wardak and Kunduz, provincial officials told Reuters.
Monir Ahmad Farhad, a spokesman for the Balkh provincial governor, said the Taliban took hostage three members of Afghanistan's intelligence organization, the National Directorate of Security, in the northern province.
Meanwhile, Afghan Interior Ministry spokesman Tariq Arian said Taliban attacks had killed nearly 100 civilians and injured 230 others in the past two weeks across 24 provinces.
Afghanistan sees the recent bloodshed against the backdrop of peace talks that commenced in the Qatari capital of Doha on September 12 following months of delay over a contentious prisoner swap between the two sides.
The negotiations are the result of a deal between the Taliban and the United States signed in February, which also paved the way for the withdrawal of all foreign forces by May next year.
Under the deal with Washington, the Taliban agreed to stop their attacks on US-led foreign forces in return for the US withdrawal of troops from Afghanistan and a prisoner swap with the government.
The Afghan government was a party neither to the negotiations nor to the deal, but it has been acting in accordance with its terms, including by agreeing to free the Taliban prisoners.
Official data shows that bombings and other assaults by the Taliban have surged by 70 percent since the militant group signed the February deal.
The United States invaded Afghanistan and toppled the Taliban-run government in 2001 on the pretext of fighting terrorism following the September 11 attacks in New York.
American forces have since remained bogged down in Afghanistan through the presidencies of George W. Bush, Barack Obama, and now Donald Trump.
About 2,400 US soldiers have been killed, along with unknown numbers of Afghan troops and Taliban militants. More than 100,000 Afghans have been killed or injured since 2009, when the UN Assistance Mission in Afghanistan began documenting casualties.
https://www.presstv.com/Detail/2020/09/21/634706/Afghan-security-forces-Taliban
--------
Southeast Asia
Perak Sultan calls for wider acceptance of fatwas among Muslim community
22 Sep 2020
SEPANG, Sept 22 — The Sultan of Perak, Sultan Nazrin Shah, said today all fatwa must be accepted positively as they can strengthen the ummah's faith, and they should not be regarded as restrictive and oppressive.
He said the institution of the mufti should provide ample time for consultation, including holding discussions with the various stakeholders when addressing new issues without precedence to ensure that facts can be analysed in depth and comprehensively before the fatwa are issued.
"Bear in mind that more ummah have been exposed to more open educational resources, are highly intelligent, curious, engage in critical thinking, do comparative research and reference and don't accept anything easily without being convinced.
"Advances in communication technology have changed the role, response and acceptance of fatwa in modern society. In the Internet era, there has been an emergence of many websites containing various fatwa, which can be referred to as an alternative source (to obtain fatwa)," he said when opening the Multaqa of the Fatwa Councils of Malaysia here.
Sultan Nazrin said the matter of fatwa does not end at the stage of issuing the fatwa, instead the mechanism of dissemination and explanation must be implemented via an effective communication plan so that the fatwa can be understood, accepted and appreciated.
Sultan Nazrin Shah said the institution of mufti should be sensitive pertaining to the realities of the environment of society and country consisting of various religions, ethnic groups, cultures and political ideologies to ensure that the fatwa issued does not instigate polemics and controversy and create negative perceptions of Islam.
"Stay firm in the interpretation based on the teachings of Islam and remain neutral from any political affiliation and don't encourage any attempt to allow ends justify the means, even if the directive come from any party with authority.
Sultan Nazrin said the institution of mufti needs a mechanism and approach to address the challenges of today's world to remain as a respectable and credible source of religious reference.
"In the context of Malaysia, a fatwa represents a view of Islamic law, aimed at providing clarification and enlightenment on matters relating to Islam, issued by a certified mufti after obtaining the consent of the Ruler in their respective states.
He added that fatwa plays an important role in addressing issues related to the legitimacy of religion, faith-related disputes and political criticism.
In this era, he said, the issuance of fatwa requires the capacity to conduct research based on the current reality so that the fatwa is able to deal with the latest ideas, technologies, demands and developments.
These include banking, finance and insurance, online trading and transactions, enterprises and commerce, education, medicine, artificial intelligence, science and technology, social services, media networks and open skies, pollution and global warming.
He added that the ongoing developments require a mind shift when evaluating and assessing an issue so that the fatwa issued is able to demonstrate that Islamic law remains relevant and continues to defend the well-being of Muslims and improve their lives. — Bernama
https://www.malaymail.com/news/malaysia/2020/09/22/perak-sultan-calls-for-wider-acceptance-of-fatwas-among-muslim-community/1905479
--------
Top court grants Sisters in Islam leave to continue challenge against Selangor law allowing Shariah courts to decide on judicial reviews
22 Sep 2020
BY IDA LIM
PUTRAJAYA, Sept 22 ― The Federal Court today allowed Sisters in Islam (SIS) to proceed with its hearing to seek for a court declaration to invalidate a Selangor state law which enables Shariah courts to carry out judicial review of decisions made by its state religious authorities.
Federal Court judge Datuk Zabariah Mohd Yusof decided to grant leave for SIS to pursue its legal challenge at the Federal Court via Article 4(4) of the Federal Constitution.
"I have read the written submission and the application. This is my decision. I am allowing paragraph 1.1, because I consider it is within Article 4(4) and Article 4(3)," the judge said.
Under Article 4(3) and Article 4(4) of the Federal Constitution, the validity of laws that are made by Parliament or any state legislature can be challenged on the basis that either Parliament or the state legislature has no power to make such laws, but with the requirement that a Federal Court judge grants leave before such court proceedings can start.
In paragraph 1.1 of its application, SIS had sought for leave to start court proceedings to seek a declaration that Section 66A of the Administration of the Religion of Islam (State of Selangor) Enactment 2003 is invalid on the ground that it makes provision regarding matters which the Selangor state legislature has no power to make laws on, and that Section 66A is therefore null and void.
Today was the Federal Court's hearing of the application by SIS Forum (Malaysia) Bhd for leave to initiate its challenge against Section 66A, with the Selangor state government named as the respondent.
The Section 66A provision in the Selangor state law enables the Shariah courts in Selangor to carry out the judicial review function: "The Syariah High Court, may, in the interest of justice, on the application of any person, have the jurisdiction to grant permission and hear the application for judicial review on the decision made by the Majlis or committees carrying out the functions under this Enactment."
https://www.malaymail.com/news/malaysia/2020/09/22/sisters-in-islam-wins-leave-to-continue-challenge-against-selangor-law-allo/1905516
--------
No more 'balik China' slurs since Muhyiddin became PM, SAPP president says
22 Sep 2020
BY SOO WERN JUN
KUALA LUMPUR, Sept 22 ― A former Sabah chief minister has suggested that ever since Tan Sri Muhyiddin Yassin took office as prime minister, there has been no anti-ethnic Chinese slurs such as "Cina balik China" (Chinese go back to China), or labeling them as "Communists".
Datuk Seri Yong Teck Lee, who was the state's two-term chief minister, from May 1996 to May 1998, told Malay daily Utusan Malaysia that inter-ethnic relations have improved during Perikatan Nasional (PN) took over Putrajaya.
"The relationship between races is recovering. Just like it was during the 1980s and 1990s. In Peninsular Malaysia the situation is beginning to improve," he told the daily.
Instead, Yong attributed previous racial slurs to DAP being part of the federal government, saying such attacks were reaction towards the Pakatan Harapan component's "provocations".
"Human beings when provoked, surely there are reactions. That is why there are remarks such as 'Cina komunis', 'Cina balik China' and accusing the Chinese of their desire to control the country," he reportedly said, but did not elaborate how DAP had provoked the public.
Yong who is Sabah Progressive Party (SAPP) president, also claimed that there is now a sense of calm among the Chinese community, basing it on his observations.
He also accused Parti Warisan Sabah of playing with dangerous sentiments, by focusing on the theme of "unity" for its president Datuk Seri Mohd Shafie Apdal during the Sabah state election.
"It is a dangerous sentiment. Unity meant that the people of all race and religion are united.
"There are no racial issues in Sabah. Sarawak too has no issues. I think in Semenanjung think there are no issues too," he reportedly said.
When asked on plans to secure ethnic Chinese votes for Parti Pribumi Bersatu Malaysia, Yong said Muhyiddin, who is party president, has a good image in Sabah.
"The prime minister's image is good. We know that in the city, there are Chinese voters who still side with the Opposition. Although they are strong DAP and Warisan supporters, they have very good response towards Muhyiddin.
"Whether it is neutral or positive, when we tell them that Muhyiddin is with PN they immediately draw a smile," Yong was quoted saying.
Last month, SAPP confirmed that it has joined PN.
For the Sabah election, PN is part of Gabungan Rakyat Sabah (GRS) together with Barisan Nasional (BN) and local Sabah Opposition parties, that was cobbled together to jointly challenge the ruling Warisan Plus pact.
https://www.malaymail.com/news/malaysia/2020/09/22/no-more-balik-china-slurs-since-muhyiddin-became-pm-sapp-president-says/1905522
--------
North America
Leaked docs: US branches of Deutsche Bank suspected of facilitating funds to Daesh in Iraq
21 September 2020
Leaked reports have revealed that the US branches of Deutsche Bank are suspected of facilitating money transfer to Daesh in Iraq at the height of the group's terror campaign.
The Daesh terrorist group launched a campaign of bloodshed and destruction against Iraq in 2014, seizing more than 121 bank branches, before its expulsion in late 2017.
Despite the terrorists' control over some financial institutions, some banks, including Deutsche Bank and particularly its US branches, continued to allow money transfers to be sent to the Arab country.
Classified financial reports submitted by banks all over the world to the Financial Crimes Enforcement Network of the US Treasury Department (FinCen), which were leaked to the Buzzfeed news site and in turn shared with the International Consortium of Investigative Journalists, revealed suspicious money transfers of at least $4 billion flagged by Deutsche Bank's US branches and Bank of America, to a number of Iraqi banks between June 15, 2014 and June 30, 2015.
According to the Middle East Monitor, the suspicious activity reports (SARs) filed by the two banks did not specify which Iraqi bank branches were involved, but "such transfers could be the proceeds of the illegal oil and gas trade", a primary source of funding for the terrorist group.
Gruesome violence plagued the northern and western parts of Iraq when Daesh terrorists launched an offensive in June 2014, and took control of portions of the Iraqi territory, including Mosul, the second largest city of Iraq and the provincial capital of Nineveh.
The militants committed heinous crimes against all ethnic and religious communities in Iraq, including Shias, Sunnis, Kurds, and Christians.
On December 9, 2017, then-prime minister Haider al-Abadi declared victory over Daesh.
https://www.presstv.com/Detail/2020/09/21/634665/Deutsche-Bank-funds-Daesh-Iraq
--------
US goes it alone after UN rejects demand to restore Iran sanctions
21 September 2020
The United States has imposed new unilateral sanctions against Iran after it failed to garner support for its anti-Iran move at the United Nations.
US Secretary of State Mike Pompeo, flanked by some other members of the administration of President Donald Trump, announced the sanctions on Monday, a day after Washington unilaterally declared that all UN sanctions against Tehran were re-instated.
Pompeo said the new sanctions target Iran's Defense Ministry and the country's Atomic Energy Organization.
He also said that President Trump has issued an executive order "that is a new and powerful tool to enforce the UN arms embargo."
Pompeo also told reporters the US had imposed new sanctions on Venezuelan President Nicolas Maduro for working with Tehran.
"For nearly two years ... officials in Tehran have worked with the illegitimate regime in Venezuela to flout the UN arms embargo," he said. "Our actions today are a warning that should be heard worldwide," he added.
US 'has now restored UN sanctions on Iran': Trump
Later on Monday, President Donald Trump said that he was imposing sanctions on Iranians demanded enforcement by US allies, who have roundly rejected his demand.
"The United States has now restored UN sanctions on Iran," Trump said in a statement.
"My actions today send a clear message to the Iranian regime and those in the international community who refuse to stand up to Iran," he added.
Speaking before a leading US think tank, Iranian Foreign Minister Mohammad Javad Zarif said that the latest US move would have no "significant impact" on his country.
"The United States has exerted all the pressure it could on Iran, it has. It had hoped that these sanctions will bring our population to the knees. It didn't," Zarif told the Council on Foreign Relations on Monday.
"We have made it very clear that every member state in the United Nations has a responsibility to enforce the sanctions," Pompeo told reporters when asked about European opposition.
"That certainly includes the United Kingdom, France and Germany."
Treasury Secretary Steven Mnuchin, appearing with Pompeo, also announced separate sanctions on the Atomic Energy Organization of Iran.
The new sanctions came just a day after Washington unilaterally declared that all UN sanctions against Iran were re-instated under a mechanism within the 2015 nuclear deal, officially known as the Joint Comprehensive Plan of Action (JCPOA).
Pompeo announced on Saturday that all UN sanctions against Iran were "back in effect" under the "snapback" provision in the JCPOA.
The claim came 30 days after Pompeo notified the UN Security Council of what he called Iran's "significant non-performance" with its obligations under the JCPOA – from which Trump withdrew in May 2018.
Following Pompeo's announcement, the three European signatories to the JCPOA said in a statement that the US claim has no legal effect.
The United Nations secretary-general, for his part, said "uncertainty" prevents him from taking any action on a US declaration that all UN sanctions have been reinstated against Iran.
Iran's president said the Islamic Republic will never give in to US bullying following Pompeo's announcement.
Addressing a cabinet session on Sunday, Hassan Rouhani said that America's so-called "maximum pressure" on the Iranian nation in political and legal sectors has led to Washington's "maximum isolation."
Iran has been under a series of economic sanctions imposed by the United States since 2018, when President Donald Trump withdrew the US from the Iran deal.
The Trump administration has unleashed its "toughest ever" sanctions to bring Iran's economy to its knees, but it keeps humming and is getting back on its feet.
For the first time in ten months, last week a US aircraft carrier sailed through the Strait of Hormuz and entered into the waters of the Persian Gulf, after Washington threatened to illegally extend an expiring arms embargo on Iran.
The US 5th Fleet said in a statement on Friday that the strike group led by the USS Nimitz and including two guided-missile cruisers and a guided-missile destroyer sailed into the Persian Gulf to operate and train with US partners.
The Nimitz strike group includes the USS Princeton and USS Philippine Sea, both guided-missile cruisers, and the guided-missile destroyer USS Sterett.
The United States regularly sends aircraft carrier groups into the Persian Gulf. But the Nimitz strike group is the first carrier to operate in the Persian Gulf since USS Abraham Lincoln (CVN-72) made the Strait of Hormuz transit in November 2019.
This came just days after Pompeo threatened to enforce an arms embargo and "UN" sanctions against Iran, despite nearly the entire UN Security Council saying Washington does not have the grounds to do so.
https://www.presstv.com/Detail/2020/09/21/634684/US-goes-it-alone-after-UN-rejects-demand-to-restore-Iran-sanctions
--------
Trump's anti-Iran agenda not only illegal, it's also harebrained
20 September 2020
By Stephen Lendman
On issues relating to the JCPOA Iran nuclear deal, SC Res. 2231 arming it — making it binding international and US constitutional law — and the upcoming expiring UN arms embargo on the country next month, the Trump regime is isolated on the world stage.
His anti-Iran agenda is not only illegal, it's harebrained — making him and his regime a laughingstock internationally.
The trouble with geopolitical know-nothing Trump on Iran and other nations threatening no one on the US target list for regime are hardliners he lets direct his regime's foreign policy — notably Pompeo.
Giving new meaning to the ugly American, a militant thug masquerading as chief Trump regime diplomat, he never met a country not controlled by the US he didn't want smashed.
He's especially hostile toward China and Iran because everything he throws at them fails.
According to the CIA-connected Washington Post, he pushed Trump "for aggressive action against Iran…culminating in (his recklessly dangerous) decision to approve the killing of (Iranian Quds Force) commander, Maj. Gen. Qassem Soleimani" — a redoubtable anti-terrorism freedom fighter, beloved by the Iranian people and Arab street.
In retaliation for killing him in cold blood by the Pentagon, Iran fired ballistic missiles at two US bases in Iraq, causing significant damage and scores of injuries, clear testimony to its military capabilities.
On Friday, Iranian IRGC commander General Hossein Salami slammed Trump's threat of military action against the country.
Salami vowed "decisive, serious and real revenge" for Soleimani's assassination, saying the following:
"We will hit the people who, directly and indirectly, played a role in the martyrdom of the great man," adding:
US military facilities are monitored throughout the region, targets chosen to be struck if necessary.
He mocked the Trump regime's vow to impose and enforce snapback sanctions and an arms embargo on Iran, saying no bullets will be fired even if he pulls the trigger.
On Sunday in defiance of SC Res. 2231, the Trump regime arrogantly, illegally, and unilaterally imposed JCPOA related snapback sanctions on Iran despite world community opposition.
Except for the US and Dominican Republic it controls, other Security Council member states oppose the Trump regime's action, including China, Russia, Britain, France and Germany.
No longer a JCPOA signatory after abandoning the landmark agreement in May 2018, actions taken by the US related to the deal have no legal validity.
By letter to the Security Council on Friday, Britain, France and Germany said sanctions relief on Iran remains in force.
"We have worked tirelessly to preserve the nuclear agreement and remain committed to do so," the letter stated.
According to an unnamed European diplomat quoted by AFP, "this (Trump regime) action will have no legal foundation."
Therefore, it "cannot have legal consequences."
Another unnamed Western diplomat said "I don't see anything happening. It would be just a statement. It's like pulling a trigger and no bullet coming out."
One more unnamed diplomat expressed strong opposition to the Trump regime's move, adding:
"Russia and China are sitting, happy, eating popcorn, watching (this) huge destabilizing fallout" between the US and its European allies.
Days earlier, Pompeo arrogantly said the Trump regime will "do all the things we need to do to make sure that those sanctions are enforced (sic)," adding:
"We are going to act in a way — and we have acted in a way — that will prevent Iran from being able to purchase Chinese tanks and Russian air defense systems."
"We expect every nation to comply with" Washington's unlawful anti-Iran policies.
In the coming days, Trump intends issuing an executive order that threatens sanctions on nations unwilling to observe his regime's unlawful policies toward Iran.
In the coming weeks, it'll be known which ones illegally bend to his will on Iran and who'll observe binding SC Res. 2231 international law that affirmed the JCPOA.
According to European Council on Foreign Relations associate fellow Richard Gowan, when Trump addresses the UN General Assembly on September 22, he may "announc(e) some sort of financial penalty on the (world body) because of his dissatisfaction over the snapback process" and expiring arms embargo on Iran.
Weeks ahead of his reelection bid on November 3, does he have a September and/or October surprise or two in mind— perhaps on Iran and/or China?
Stephen Lendman, born in 1934 in Boston, started writing on major world and national issues began in summer 2005. In early 2007, radio hosting followed. Lendman now hosts the Progressive Radio News Hour on the Progressive Radio Network three times weekly. Distinguished guests are featured. Listen live or archived. Major world and national issues are discussed. Lendman is a 2008 Project Censored winner and 2011 Mexican Journalists Club international journalism award recipient.
https://www.presstv.com/Detail/2020/09/20/634609/Trump%E2%80%99s-anti-Iran-agenda-not-only-illegal,-it%E2%80%99s-harebrained
--------
Africa
Tunisia's coastguards pick up 246 migrants at sea in a single night
21 September 2020
Tunisia said Monday that naval patrols had intercepted 19 boats carrying a total of 246 people seeking to cross from the North African nation to Europe overnight Saturday to Sunday alone.
The vast majority of those stopped were Tunisians, the interior ministry said, with just 29 people coming from other countries.
Thousands regularly risk the dangerous crossing from North Africa's coasts to reach Europe.
For Tunisia, a small Mediterranean country with a population of around 11 million, the number of people attempting the crossing dropped sharply from a peak in 2011.
For all the latest headlines, follow our Google News channel online or via the app.
But it began rising again in 2017, driven in part by the struggling economy and deep inequalities in the country, almost a decade after a revolution that many hoped would bring change.
Tunisia is currently battling high unemployment and political instability, and restrictions to stem the spread of the novel coronavirus have hit its economy hard.
Over 8,580 people have been stopped trying to cross the Mediterranean from the country's coasts so far this year, three-quarters of them Tunisians, according to interior ministry figures.
Many seek to make landfall in Italy, which has been struggling to deal with daily arrivals of hundreds of people to its southern shores, and last month announced plans to repatriate Tunisian migrants.
https://english.alarabiya.net/en/News/north-africa/2020/09/21/Tunisia-s-coastguards-pick-up-246-migrants-at-sea-in-a-single-night
--------
Kenya: Al-Shabaab Militant Jailed for Attack On U.S. Base in Kenya
17 SEPTEMBER 2020
A military court in Somalia has sentenced a militant Islamist to life in prison for his role in a deadly attack on a US base in Kenya.
Farhan Mohamud Hassan was also convicted of being a member of al-Shabab, an al-Qaeda affiliate headquartered in Somalia.
Its fighters cross the border into Kenya to carry out attacks.
A US soldier and two contractors were killed in January's attack on the base in the coastal region of Lamu.
It was the first attack by al-Shabab on US forces in Kenya, which has troops in the 20,000-strong Africa Union force battling the militants in Somalia.
The US often carries out airstrikes in Somalia to target al-Shabab.
Hassan added that he joined al-Shabab in 2010 and took part in many attacks in southern Somalia.
https://allafrica.com/stories/202009180277.html?utm_source=iterable&utm_medium=email&utm_campaign=1541669_
--------
Somalia: Al-Shabab attacks intensify as election looms
Khadar Hared
18.09.2020
More than a dozen attacks by the Islamist militant group al-Shabab were recorded in Somalia this week, with civilians and military officers among the casualties. The upsurge in violence comes despite ongoing airstrikes by the US military on the group.
The attacks come as Somalis prepare to go to the polls for a staggered general election. The process is due to start with legislative elections on November 1 and culminate in a presidential election by the beginning of 2021.
The dates were announced on Thursday following the resolution of a drawn-out dispute over the electoral model between the federal government in Mogadishu and the leaders of regional states. After a series of talks, the two sides reached a consensus on an indirect election similar to that held in 2016.
Some of the leaders had pushed for universal suffrage, last in force in the country half a century ago. Somalis who have sought refuge abroad in the face of drought, famine and al-Shabab attacks and counterattacks had also hoped to return home to cast their ballots in a one-person, one-vote election.
An election amid insecurity
The legislative election will see 101 electoral delegates vote in the members of parliament, who will then elect the president. President Mohamed Abdullahi Farmajo's mandate expires in February.
Political analysts predict a highly contested election and the kind of political bickering that for months held up the decision on the electoral model. The elections offer hope to a country that is recovering from around 30 years of civil war.
Security analysts are meanwhile warning that the vote is likely to take place against the backdrop of renewed insecurity. The recent stalled military operations in the war on al-Shabab have allowed the militants to regroup and launch significant attacks, according to analysts.
On August 16, at least 15 people were killed when al-Shabab militants attacked a hotel in the Lido beach area of Mogadishu.
Targeted killings — part of the group's modus operandi — have also increased. On September 11, a lone al-Shabab suicide bomber killed Shafi Rabbi Kahin, a senior Chamber of Commerce official in the southern state of Jubaland. Scores of people were injured in the attack. US troops based in the country have also been affected in the latest wave of attacks. A US military service member was injured in a car bombing at a military base operated jointly by Somali and African Union peacekeepers (AMISOM) and US military forces in the small town of Jannay Abdalla near Kismayo.
US airstrikes continue
In April, torrential rains and flash floods displaced tens of thousands of people across Somalia. The destructive weather also contributed to the heightened al-Shabab activities, according to Hussein Sheikh Ali, a former national security adviser and founder of the Mogadishu-based security think tank Hiraal Institute.
"There was also the absence of countermeasures deployed by the allies, in this case," Sheikh Ali told DW. "That, coupled with the rains and logistics that are inadequate for asymmetric warfare, has made it possible for al-Shabab to intensify its operations," he said. Somalia's war on al-Shabab is supported by African Union forces and the US military.
US military air raids targeting key al-Shabab militants and bases have continued. On August 25, the US Air Force said it had eliminated a senior al-Shabab militant identified as Abdulkadir Commando during an airstrike near the southern town of Sakow. Commando had reportedly held numerous positions within al-Shabab and recently served as a senior commander.
In a statement issued at the time, the commander of the US Africa Command (AFRICOM), Army General Stephen Townsend, said the airstrikes and targeted operations are critical to downgrading al-Shabab's capability to spread chaos and violence in Somalia and beyond.
"The country is entering an uncertain election period due to no agreed model so far, which would further increase security vulnerabilities for al-Shabab to exploit and cause great suffering to the population," General Townsend said. Military operations should continue to keep the pressure on al-Shabab, he added.
Bent on thwarting the upcoming election
In recent months, the militant group beefed up its intelligence-gathering activities, with moles planted at government institutions. A year ago, a blind woman staff member of the former mayor of Mogadishu, Abdirahman Osman, came under suspicion when he was targeted in a suicide bombing.
Abdirahman Mohamud Turyare, the former director of the National Intelligence and Security Agency, believes that al-Shabab is exploiting the fragility of the institutions of government. The militants also want "to show that the situation is still out of control as part of a plan to thwart the election."
"Because of the increased attacks, our forces themselves are affected by the transition period because our government institutions have been dysfunctional for a long time," Mohamud Turyare told DW. "We know that al-Shabab is now collecting more taxes. We know that they are recruiting more militia. We know that they are forcing nomads to bring capital and young people to fight for them."
In the run-up to the elections, lawmakers are concerned about their safety. In various towns, militants have killed dozens of former election delegates.
"It's easy to be killed and targeted," MP Abdi Ali told DW. "An indirect election will bring a security risk. Al-Shabab militants will easily target the people selected for casting the votes," Ali said. However, Ali thinks a direct election would pose fewer security challenges.
https://www.dw.com/en/somalia-al-shabab-attacks-intensify-as-election-looms/a-54980396?utm_source=iterable&utm_medium=email&utm_campaign=1541669_
--------
Boko Haram Terrorists Kill Three Persons In Borno Communities
SEP 18, 2020
Gunmen suspected to be Boko Haram terrorists have attacked two villages in Borno, killing no fewer than three persons while others were injured.
SaharaReporters gathered that the insurgents attacked Gareri and Kuwami communities both in Magumeri Local Government Area.
Magumeri is North and about 40km drive from Maiduguri, the state capital, which had witnessed series of Boko Haram attacks.
Residents said many of them escaped to the bush to avoid being abducted during the attacks.
"Two people were killed at Gareri while one person was killed by the gunmen in Kuwani," a security source told SaharaReporters.
http://saharareporters.com/2020/09/18/boko-haram-terrorists-kill-three-persons-borno-communities?utm_source=iterable&utm_medium=email&utm_campaign=1541669_
--------
Europe
Calls for expired Swedish school permits to be axed after ISIS school exploits loophole
Nicky Harley
Sep 18, 2020
Politicians in Sweden are calling for tougher measures on school permits after a controversial school with links to the Muslim Brotherhood exploited a loophole.
The Romosseskolan school, which runs Muslim independent schools, sparked controversy when it announced it was expanding into an education building that was shut down after allegedly employing former ISIS fighters as teachers.
Earlier this year it was accused of gender segregation in lessons and faced criticism over its policy of not allowing pupils a choice over whether they attended prayer sessions.
It had been awarded a permit in 2015 prior to these incidents to create a new school which expired in 2017.
However, it has been allowed to use the permit as school officials believed they would fail in a court bid to reject the continued use of it as they claim they had not made the timetable for its use clear.
Sweden's Liberal party school policy spokesman Roger Haddad is now calling for an overhaul of the system which bans the use of old permits and takes the school governance into account.
The principal of the Romosseskolan school, Abdirizak Waberi, is also the former president of the Federation of Islamic Organisations, which is believed to be the European arm of the Muslim Brotherhood.
"The Liberals propose to make it easier to close schools," Mr Haddad said.
"We will continue to demand political changes and a sharper reaction from the Swedish Schools Inspectorate."
He is calling for a new law to impose "tighter" restrictions and give the schools inspectorate tougher powers.
"In the case of an application to conduct school activities, the Swedish Schools Inspectorate conducts an ownership and management review," he told Expressen.
"But it is focused on the board, on ownership, on the company's composition and on its finances. The examination does not include the school principal or the principal, and we believe that it should do so.
"Such a law would not only be applicable in the permit examination, but also if there are later shortcomings in school activities."
The Romosseskolan school plans to open a new school in the former state-funded Islamic Vetenskapsskolan school in Gothenburg, which was closed last year after it was accused of hiring ISIS fighters as teachers after their return from Syria.
In 2018 it had successfully appealed in court against a decision by the inspectorate to reject its request to open a school in the city of Boras.
Officials had argued that the school would increase segregation and would counteract the initiatives it had introduced to improve integration.
There are still radicalisation concerns in Gothenburg, where the new school will be located, as more than one third of Sweden's ISIS fighters originated from the area.
In February Swedish authorities gave a warning that Islamic extremists were still focusing on the city.
The Vetenskapsskolan school was closed in December and had its permit withdrawn over radicalisation concerns.
It was claimed that one member of the school's new board had shared ISIS propaganda online and four former ISIS fighters allegedly taught in the school, along with another man who had been accused of soliciting funds for terrorism.
https://www.thenational.ae/world/calls-for-expired-swedish-school-permits-to-be-axed-after-isis-school-exploits-loophole-1.1079648?utm_source=iterable&utm_medium=email&utm_campaign=1541669_
--------
Irish terrorists in Hezbollah weapons sting met with Iranian embassy officials
Thomas Harding
Sep 18, 2020
Members of an Irish group arrested on terrorist charges after seeking arms from Hezbollah met with officials at Iran's Dublin Embassy, security sources told The National.
Former members of the Provisional IRA reactivated Hezbollah contacts to obtain finance and weapons for the New IRA (NIRA).
The Irish terrorists have been seeking advanced bomb-making technology developed in Iran and Lebanon that would allow them to penetrate police armoured vehicles in Northern Ireland, intelligence sources said.
Nine members of the NIRA, including two women, were arrested last moth after a long-running undercover operation run by MI5, the British security service.
Among those who appeared in court after the arrests was Dr Issam Hijjawi Bassalat, a Palestinian, who was held on remand by a court and charged with a count of preparatory acts of terrorism. He reportedly travelled to a NIRA meeting, where he was alleged to have briefed the accused about the situation in Palestine.
Security sources said that at least two people now in custody were at a commemoration ceremony in the embassy following the assassination of Iranian general Qassem Suleimani who was killed by a US drone strike in January.
"It appears that they were forging the links between the New IRA, Iran and Hezbollah," said an intelligence source. "No weapons from Hezbollah had been received although they were on the verge of concluding some form of agreement, but now the whole thing has been shattered."
It is understood the embassy event also commemorated the death of the IRA hunger striker Bobby Sands, who has a street named after him in Tehran.
Following Suleimani's death, the political wing of NIRA, Saoradh, put out a statement saying they were "outraged at the murder".
There are warnings of a bombing campaign in Europe by Hezbollah after US intelligence disclosed that caches of ammonium nitrate had been hidden in several countries including France, Italy and Spain.
"Going into an Iranian embassy just shows that the links are strong because that's not been done on a whim," said Doug Beattie, an Ulster Unionist politician. "It's a deliberate move to show that the New IRA have allegiance to the Iranian regime and Hezbollah and that's of great concern. It's clear that without a shadow of a doubt that the links between the new IRA and Hezbollah are increasing. They are getting ever more sophisticated in their technologies and passing on their bomb-making technology.
Mr Beattie, a decorated former British soldier who served in Iraq and Afghanistan, said if the political situation in Northern Ireland deteriorated over Brexit or Covid there was a real fear that experienced former Provisional IRA members might join NIRA.
There was also a concern that contacts with Hezbollah might improve NIRA's ability to detonate bombs by remote control or other methods. "There is higher level of sophistication that NIRA might be looking bring in from Hezbollah and that is a serious danger to police."
MI5 moved in on the terrorist group after it was established the NIRA was close to securing weapons from Hezbollah following a visit to Lebanon in 2018 by the Irish dissidents.
Much of the information was gathered from covert bugging devices placed behind a private bar set up at a house in Scotland used by the undercover agent after taking the NIRA members to Celtic football matches in Glasgow.
Former police detective superintendent Dr Bill Duff, an intelligence analyst, spoke of shipping containers being used to bring in weapons and explosives from the Middle East. "If Iran or Hezbollah were to load up a container with AK47s and plastic explosives in say, Karachi, bound for Dublin via several other container hubs then it is possible that it will get through."
He added that while the dissident republicans were "mad, desperate and pathetic people" that did not "make them any less dangerous because if they manage to establish links with groups like Hezbollah who will certainly be inclined to support them".
Colin Breen, a former police officer and author, said that it appeared the Hezbollah connection had been made by "old campaigners" of the Provisional IRA.
"They are making connections with Hezbollah for arms and cash but also because Hezbollah has international status as a terrorist group and that's a status the New IRA don't have."
In the past, the IRA received weapons and other support from the Palestine Liberation Organisation, Libya, the Colombian insurgents FARC and Basque terrorist group ETA.
https://www.thenational.ae/world/europe/irish-terrorists-in-hezbollah-weapons-sting-met-with-iranian-embassy-officials-1.1079651?utm_source=iterable&utm_medium=email&utm_campaign=1541669_
--------
Observers Remain Skeptical as Uzbek Government Says Religious Extremism Rising
By Asim Kashgarian
September 20, 2020
WASHINGTON - Uzbekistan's State Security Service says there is a revival of religious extremist activities in the Central Asian country, but the government's history of alleging extremism accusations to target political opposition has led some observers to view the warning with suspicion.
The country's security body in recent months has announced several operations against extremist activities, including an operation on September 8 in the capital, Tashkent. Six Uzbek citizens were detained for allegedly distributing material on Telegram, the encrypted messaging app, to "call for and encourage going to Syria to join the ranks of an international terrorist organization."
Uzbekistan has a population of nearly 33 million, with about 94% identifying as Muslims, according to the country's Ministry of Foreign Affairs. Of the remaining population, 3.5% of the population identifies as Russian Orthodox. The remaining roughly 3% includes small communities of Catholics, ethnic Korean Christians, other denominations of Christian faith, Buddhists, Baha'is, members of the International Society of Krishna Consciousness, and atheists.
Like some of its neighboring countries, which gained independence from the Soviet Union in the early 1990s, Uzbekistan has been accused by rights organizations of restricting basic religious practices. The Uzbek government, however, says freedom of religion is guaranteed through its constitution and that its measures are merely to separate religion from the state, as well as uproot violent extremism that has been a threat for decades.
Uzbek officials have not disclosed the number of people arrested in recent sweeps. According to the country's interior ministry, they mostly involved adherents of banned Islamist groups, Hizb ut-Tahrir and Jihodchilar.
Banned groups
Hizb ut-Tahrir, or Party of Liberation, is an international pan-Islamist movement founded in 1953 by Taqiuddin al-Nabhani in Jerusalem with the aims of restoring the Islamic caliphate system. Despite its rejection of violence to establish a caliphate, individuals affiliated with the group have been linked to several attacks in different countries.
Almost nothing is known about Jihodchilar, meaning "Jihadists," a group banned by the Uzbek government in 2016. Some regional experts and rights groups have questioned its existence and claimed it was invented by authorities to afflict dissenters under the guise of fighting extremism.
"Uzbekistan has very broad and vague definitions of 'extremism,' 'extremist activity,' or 'extremist materials' in the Counter-Extremism Act," said Vladislav Lobanov, a Berlin-based senior research assistant for Human Rights Watch.
Lobanov said that despite some reforms and occasional presidential pardons of prisoners, arrests on extremism charges have continued under Shavkat Mirziyoyev who became president in 2016. Those who practice their faith outside strict state controls become targets for authorities.
"Many promising reforms continue to exist only on paper. The government still has a lot of work to do in the direction of 'a new era of free society,' including to create an independent judiciary, allow independent human rights groups to register and operate, end forced labor, allow opposition parties to contest elections, and stop censorship. These are still dreams for Uzbekistan," Lobanov said.
VOA was not able to reach Uzbekistan's interior and foreign ministries for comment.
Mirziyoyev, a former prime minister, became president following the death of President Islam Karimov and vowed significant reforms, including pardoning "sincerely repentant" religious prisoners and abolishing blacklists of individuals suspected of participating in extremist religious organizations.
Last month, Mirziyoyev ordered the release of more than 1,500 "persons serving a sentence of imprisonment who sincerely repented of their deeds and firmly embarked on the path of correction," including 113 political and Muslim religious prisoners, according to a government statement.
A long way to go
As part of Mirziyoyev's amnesty for religious prisoners, some members of the outlawed Hizb ut-Tahrir group were also released. However, authorities arrested them again later on charges of "conspiring with Hizb ut-Tahrir to spread the ideas and literature of the group among the population, and to expand the ranks of the organization," according to a government statement.
While Mirziyoyev's progress is welcomed by rights watchdogs, they say the country still has a long way to go to allow basic freedom of expression. The U.N. Human Rights Committee in April said it was concerned that the Uzbek government was still using the country's legislation to unduly restrict freedom of religion, expression, assembly and association.
Steve Swerdlow, a human rights lawyer and an associate professor of human rights at the University of Southern California, said that the government's criminal code, through strict limits on basic religious practices, has had "a strong chilling effect" on the progress of civil society in Uzbekistan. The criminal articles, he claimed, were violating the country's international human rights obligations.
"President Karimov used them for a quarter century to go after both political and religious opponents, and while used less often now, they are still on the books and still applied periodically under the current president," Swerdlow said, adding that the country's repressive measures against extremism likely have adverse effects.
"If the government really wants to fight extremism, it can do so more effectively by creating an environment where human rights organizations are able to more freely register and where journalists can perform their work without fear of harassment or intimidation. Civil society is one of the most important bulwarks against violent extremism and this is an area where the government must do more to see that reforms indeed take place," he said.
While the 2019 U.S. Report on International Religious Freedom recognized the Uzbek government for making "substantial progress in improving respect for religious freedom," the country still remains on the State Department's Special Watch List for "having engaged in or tolerated severe violations of religious freedom."
https://www.voanews.com/extremism-watch/observers-remain-skeptical-uzbek-government-says-religious-extremism-rising?utm_source=iterable&utm_medium=email&utm_campaign=1541669_
--------
Mideast
Iraqi Baath Documents Reveal Pahlavi Regime's Collaboration with Saddam in Bombing Iranian Cities
Sep 21, 2020
The Arabic-language al-Ittijah news channel reported that the family members of Mohammad Reza Pahlavi, the former Shah of Iran, who fled the country after the Islamic Revolution made attempts to help Saddam win the imposed war against Iran in cooperation with former head of Savak (secret police, domestic security and intelligence service in Iran during the reign of the Pahlavi dynasty) Teimour Bakhtiar.
It added that the documents show that certain military equipment, including the US and French fighter jets, which had been purchased during the Shah era in Iran were supplied to Saddam to bomb the Iranian cities with the agreement of Mohammad Reza's wife, Farah Pahlavi.
The weapons had been ordered by the Shah when he was still in power and had been rerouted for delivery to Iraq at the request of the Pahlavi family after the revolution when they were in exile.
Led by the Founder of the Revolution, Imam Khomeini, Iranians confronted the forces of US-proxy Mohammad-Reza Pahlavi in late 1977 to end his oppressive, cruel and autocratic rule over the country.
By December 1978, millions of Iranians would take to the streets in protest against the policies of the Shah on a regular basis.
Grand Ayatollah Ruhollah Khomeini returned from exile to Iran to be received by millions of cheering crowds after the departure of the Shah in mid-January 1979. Two weeks later, the country saw the victory of the Islamic Revolution.
The final collapse of the Shah's regime came on February 11 when the military renounced its loyalty to the Shah and joined the revolutionary forces.
Two years later, Saddam Hussein started an 8-year-long war on the newly established Islamic Republic of Iran.
https://en.farsnews.ir/newstext.aspx?nn=13990631000874
--------
IRGC Aerospace Force Commander Downplays US "Hollow" Threats against Iran
Sep 21, 2020
"Trump has been tested in confrontation against Iran in the past; they have repeated these meaningless words several times and like the past that they had declared a decision to target 52 points in Iran and we saw how they didn't, they cannot do any damn thing this time either," General Hajizadeh told reporters in Tehran on Monday.
He also underlined Iran's self-sufficiency in manufacturing different types of weapons and military equipment, saying that after the removal of the UN arms embargos, the country will be able to export its products.
In relevant comments on Saturday, IRGC Commander Major General Hossein Salami warned the US officials that any attack on Iran would trigger destruction of all Washington interests and bases in the region.
"If the Americans want to fight against us, they should be in the region. They cannot fight against us from outside the region and when they are deployed in the region, they are within the range of our bullets everywhere and we are able to set fire to all their interests and bases in the region and occupy them. We can swipe the region," General Salami said in an interview with the state TV on Saturday night.
General Salami also referred to the assassination of former IRGC Quds Force Commander Lieutenant General Qassem Soleimani, and said that when the US assassinated Iran's great General Soleimani, the whole world protested at their terror attack.
He noted that the harsh revenge of the Iranian nation is yet to be fulfilled and this will be materialized only in the form of the annihilation of the hegemonic powers.
Referring to the outstanding and brilliant character of martyred general Soleimani, he outlined his unrivaled role in fortifying the wave of resistance and defeating the US, Britain and Israeli regime's policies.
General Salami said that his martyrdom indeed injected a new life into the body of resistance in a way that youngsters all across the Islamic world are now after revenging his assassination.
He also pointed to the US President's recent threats to strike Iran "1000 times greater in force" following a false report by the US media on alleged Iran plan to assassinate a US diplomat.
General Salami said that Iran is serious about taking Martyr Soleimani's revenge as it will target those behind the assassination, but reiterated that Tehran will act fairly in taking this revenge and would not target those that have not been involved in the attack.
"Iran will target those who have had a direct or indirect role in the martyrdom of Lieutenant General Soleimani," he stressed, reminding that the US ambassador to South Africa neither has been involved in the attack nor is a counterweight for the martyred Iranian General.
Referring to the Iranian forces' January attack on the US airbase in Ein Al-Assad in Iraq just few days after the assassination of General Soleimani, the commander said the IRGC proved that it is not afraid of the US.
Through such attack in retaliation for the assassination of top IRGC commander, the Iranian nation imposed its will on the enemy, General Salami said, stressing that the Islamic Republic was not after taking a toll in the missile strike since the soldiers deployed at the base had not been involved in the terror attack.
"The US political system should pay for General Soleimani's martyrdom because Washington hegemony should be shattered," he noted.
Meanwhile, killing of several soldiers or an ambassador in a part of the world is no justice, he said, stressing that there is no US official as important and worthy as General Soleimani.
However, the US should know that it will taste tough revenge, he warned, stating that the US officials have been caught in a dilemma, and will be defeated whether they leave the region or stay here.
When the IRGC targeted their airbases in Anbar, it had already prepared hundreds of missiles that no power, including the US forces, could resist against to reciprocate any US response to the Ein al-Assad attack, he concluded.
All IRGC members as well as Basij forces are ready to sacrifice themselves for the great nation of Iran and will defend the dignity, prosperity, security and peace of the nation to the last drop of their blood, he said.
Iran is not intimated by any bluffs and threats and will do the necessary things if sees its rights in the nuclear deal are violated, IRGC commander said.
He highlighted that the Iranian nation can curb political, economic and psychological pressures, adding that the enemies want to intimidate and create fear in Iranians whereas if the US opts for pulling the trigger, no bullets will certainly come out because America is absolutely isolated and Iran will strongly defend itself as this is a matter of politics and the Americans will certainly fail in this arena, too.
The commander also pointed to the US futile efforts to extend arms embargo on Iran, and said the US as a superpower has undoubtedly lost its political influence.
Even the Europeans did not follow the US [policies], and this shows that Washington is on its way to collapse, he added.
"The animosity of hegemonic powers against Iran was due to the fact that victory of the Islamic revolution in the country put their interests in danger," General Salami added.
The IRGC commander also referred to the normalization deals underway between some Arab states and the Zionist regime, saying that such moves only add to the hatred of the regional nations for the Israeli regime.
The normalization deals which served as part of the election campaign by Donald Trump put ropes around the necks of some Arab states in the absolute absence of Palestinians, he added.
General Salami had also on Saturday morning warned that Iran is resolved to retaliate for the US assassination of General Soleimani, and said that all collaborators in the terrorist act are potential targets.
"Mr. Trump, Do not doubt about our revenge because it is completely destined and serious," General Salami said, addressing IRGC commanders and officials in Tehran.
Iran will take revenge in a fair manner, he added, noting, "This is why we did not target your soldiers at Ein al Assad."
"We will target those who have had a direct or indirect role in the martyrdom of Lieutenant General Qassem Soleimani," General Salami said.
"Do you think that we will target a female ambassador in ransom for the blood of our martyr," asked Salami, referring to US media allegations that Iran had plotted to assassinate US ambassador to South Africa in revenge for the assassination of General Soleimani.
"Americans should know that we will target anyone who has had a role in the cowardly assassination of General Soleimani and this is a serious warning," he said.
"You are threatening us with an attack 1000-times greater in force, while being stranded in your internal problems, but when we targeted Ain al Asad, we were assuming that you would respond and had then made hundreds of missiles ready to destroy targets in case you would respond," General Salami said.
He underlined that the US is given a crushing retaliation if it even damages "one hair" of an Iranian national.
"These are serious warnings. We do not engage in a war of words, but we leave everything to the field of action," General Salami said.
He added that today the US has lost its past military power and has been isolated in the world.
In relevant remarks last Tuesday, Iranian Government Spokesman Ali Rabiyee said the US has made the biggest strategic mistake by assassinating General Soleimani, and underlined once again that Tehran will give a strong response to the terror attack.
"The assassination of our martyred General who was the General of peace in the region and symbol of fight against terrorism is a stain (on the face of the US) that cannot be cleaned," Rabiyee told reporters in a press conference in Tehran.
He referred to the recent remarks by US President Donald Trump on his twitter page that has threatened to strike Iran "1000 times greater in magnitude" following a false report of the American media on alleged Iran plan to assassinate a US diplomat, and said, "I regret that the president of a country which claims to be able to manage the world and establish global order makes rapid, ordered and distorted opinion based on such a weak basis."
"The US has made its biggest strategic mistake and it cannot conceal its crime through such moves. Anyway, any strategic mistake by the US will face Iran's firm response," Rabiyee said.
Iran last Monday strongly rejected a report released by the US media claiming that the country was weighing plans to kill the American ambassador to South Africa to take revenge for Washington's assassination of General Soleimeni.
"Such baseless remarks are part of the Trump administration's counter-intelligence campaign against Iran. The US regime's resort to allegations and lies against Iran on the threshold of the US presidential election and concurrent with its pressures to use the UN Security Council mechanisms with the aim of increasing pressure on the Iranian nation was predictable," Foreign Ministry Spokesman Saeed Khatibzadeh said.
He also blasted the US media for releasing an ordered, biased and targeted report against Iran, advising the American officials to give up resorting to repeated and worn-out methods to spread an anti-Iran atmosphere on the international scene.
Khatibzadeh described Iran as a responsible member of the international society which has proved its commitment to the international diplomatic principles and norms, saying that it is the US and the current regime in the White House that has implemented tens of assassination plots and military interventions in other countries in recent years, an instance of which was the assassination of General Soleimani in Iraq.
"As repeatedly said before, the Islamic Republic of Iran will continue legally pursuing the criminal and cowardly assassination of General Soleimani internationally at all levels and will neither forgive nor forget the terrorist act," he stressed.
His remarks came in response to a report by Politico citing the US officials as claiming that the "Iranian government is weighing an assassination attempt against the American ambassador to South Africa" in retaliation for the assassination of General Soleimeni.
Meantime, a spokesman for South Africa's Foreign Ministry said the US official's allegation took Pretoria by surprise.
"We only became aware of this report this morning," Lunga Ngqengelele said by phone on Monday.
Department of International Relations and Cooperation Minister Naledi Pandor may issue a statement later, he added.
Lieutenant General Soleimani was assassinated in a US drone strike on Baghdad International Airport in Iraq on January 3.
The airstrike also martyred Deputy Commander of Iraq's Popular Mobilization Forces (PMF) Abu Mahdi al-Muhandis. The two were martyred in an American airstrike that targeted their vehicle on the road to the airport.
Five Iranian and five Iraqi military men were martyred by the missiles fired by the US drone at Baghdad International Airport.
On January 8, the IRGC Aerospace Force started heavy ballistic missile attacks on US Ein Al-Assad airbase in Southwestern Iraq near the border with Syria and a US operated airbase in Erbil in retaliation for the US assassination of General Soleimani.
Ein Al-Assad is an airbase with a 4km runway at 188m altitude from sea levels, which is the main and the largest US airbase in Iraq. Early reports said the radar systems and missile defense shields in Ein Al-Assad failed to operate and intercept the Iranian missiles. Unofficial reports said the US army's central radar systems at Ein Al-Assad had been jammed by electronic warfare.
The second IRGC reprisal attack targeted a US military base near Erbil airport in Iraqi Kurdistan Region in the second leg of "Martyr Soleimani" reprisal operation.
Iraq said the attacks had not taken any toll from its army men stationed at these two bases. The US army had blocked entrance into Ein Al-Assad to everyone, including the Iraqi army.
It was the first direct attack on the US army ever since world war two.
The IRGC officials said none of the missiles had been intercepted.
Meantime, Iran announced in late June that it had issued arrest warrants for 36 officials of the US and other countries who have been involved in the assassination of the martyred General Soleimani.
"36 individuals who have been involved or ordered the assassination of Hajj Qassem, including the political and military officials of the US and other governments, have been identified and arrest warrants have been issued for them by the judiciary officials and red alerts have also been issued for them via the Interpol," Prosecutor-General of Tehran Ali Alqasi Mehr said.
He said that the prosecuted individuals are accused of murder and terrorist action, adding that US President Donald Trump stands at the top of the list and will be prosecuted as soon as he stands down presidency after his term ends.
https://en.farsnews.ir/newstext.aspx?nn=13990631000625
--------
Iran's Deputy Judiciary Chief: Israel Not to Show Mercy to Arab States
Sep 21, 2020
"You will soon become a bait for the hegemonic policies of the occupier regime and then the US and Europe will not help you," Baqeri said on Monday, addressing the UAE and Bahrain which have normalized relations with Israel.
He added that once Israel starts striking these Arab states, they will approach Iran shamefully.
Baqeri reminded of former Iraqi dictator Saddam Hussein who took assistance from the regional Arab countries to invade Iran, but once Saddam used their possibilities, he attacked the same Arab states.
US President Donald Trump tweeted the news of the Israel-Bahrain normalization deal earlier this month after he spoke by phone to Bahrain's King Hamad bin Isa Al Khalifa and Israeli Prime Minister Benjamin Netanyahu.
Following the announcement at the White House, Palestinian officials condemned the Israel-Bahrain normalization deal announced by US President Donald Trump as another "stab in the back" by an Arab state.
The accord to normalize diplomatic ties between Israel and Bahrain came one month after the United Arab Emirates (UAE) agreed to normalize ties with Israel under a US-brokered deal.
On August 13, President Trump announced a deal brokered by his government between Israel and the UAE which he said would lead to full normalization of ties between the two.
Critics see the deal as the latest attempt by Trump to save his presidential campaign against the Democrat Joe Biden.
In relevant remarks earlier in September, Iranian Government Spokesman Ali Rabiyee said normalization of ties with Israel is a strategic mistake, stressing that any kind of insecurity in the region will be seen from now on by Tehran as to be the outcome of this compromise deal.
"It is a strategic mistake to normalize ties with Israel and the responsibility for all the consequences of the action falls on the Bahraini government and any government that has compromised," Rabiyee said.
"Iran considers the Zionist regime's interference in the region as a threat," he noted.
"The oppressed people of Palestine and Muslims who have lived with the Palestinian cause will not allow any normalization of relations," the spokesman continued.
https://en.farsnews.ir/newstext.aspx?nn=13990631000809
--------
After UAE-Israel deal, Tel Aviv's defense minister jets to US to ensure military edge
21 September 2020
Israeli Defense Minister Benny Gantz headed to Washington on Monday for talks with his US counterpart on maintaining Israel's qualitative military edge in the Middle East following its historic normalization agreement with the United Arab Emirates.
Since the agreement was announced last month, the UAE has made no secret about its desire to acquire F-35 warplanes and other advanced US-made weaponry. Israel is the only US ally in the Middle East to possess the stealth fighter jet.
For all the latest headlines, follow our Google News channel online or via the app.
Israeli Prime Minister Benjamin Netanyahu initially said he opposed the sale of the planes to any other nation in the region, even an Arab country at peace with Israel. But since then, he has softened his line, signaling he will trust the US to honor its commitment to ensure Israel's military edge in the region, even if the UAE obtains F-35s.
Gantz's office said he would meet with US Defense Secretary Mark Esper and other top Pentagon officials. It said the trip would include "meetings to discuss maintaining Israel's qualitative edge, international policy vis-a-vis Iran and strategy for stopping its expansion and entrenchment in the Middle East, as well as discussion on defense cooperation and procurement."
Gantz, a former chief of staff of the Israeli military, has had cool relations with Netanyahu since the two rivals formed their coalition government in May. Gantz was not informed about the deal with the UAE until after it was reached.
President Donald Trump has said he is fine with selling the aircraft to the UAE and that the request is under review.
https://english.alarabiya.net/en/News/middle-east/2020/09/22/After-UAE-Israel-deal-Tel-Aviv-s-defense-minister-jets-to-US-to-ensure-military-edge
--------
Hamas sets 2-month deadline for Israel to end Gaza siege
21 September 2020
The Palestinian resistance movement Hamas has set a deadline of two months for Israel to end more than 12 years of its siege on the Gaza Strip.
Khalil al-Hayya, a member of the political bureau of Hamas, said Israel has blocked humanitarian assistance from entering Gaza over the past few months of the coronavirus pandemic.
If Israel does not end the siege willingly, he warned, Hamas is militarily capable of forcing Israelis into shelters.
UN Special Coordinator for the Middle East Peace Process Nickolay Mladenov visited Gaza on September 16 and held talks with Hamas officials regarding the Israeli blockade.
Ismail Haniyeh, the head of the political bureau of Hamas, has said the movement and the people in Gaza are determined to confront the unjust blockade until it is lifted entirely.
Hamas has already turned down a $15-billion development aid offer conditioned on disarming.
Haniyeh says the hefty offer has been made in the context of US President Donald Trump's highly provocative 'peace' plan, which would allocate billions to Gaza for development if implemented.
Trump had given Tel Aviv the green light to annex large parts of the West Bank and Jordan Valley in his self-proclaimed "deal of the century," which was unveiled in January with the aim of legitimizing Israel's occupation and re-drawing the Middle East map.
The scheme has drawn global condemnation. Still, Israeli Prime Minister Benjamin Netanyahu says he is determined to carry on with it.
Trump's plan largely gives in to Israel's demands while carving out a Palestinian state with limited control over its own security and borders, enshrining the occupied Jerusalem al-Quds as Israel's "capital."
Gaza has been under an inhumane Israeli land, air and sea siege since 2007 and witnessed three wars since 2008. Israeli forces conduct regular air raids on Palestinians in Gaza under the pretext of hitting Hamas targets.
https://www.presstv.com/Detail/2020/09/21/634695/Hamas-Gaza-deadline
--------
After Algeria opposition to normalization with Israel, Palestinian factions urge Arab rulers to follow suit
21 September 2020
Palestinian factions have praised Algerian President Abdelmadjid Tebboune for his government's strong opposition to any bids aimed at establishing ties with Israel, calling on Arab rulers to follow suit and reject normalization.
The factions, in a joint statement released on Monday, lauded Algeria's stance as "the authentic Arab position that embraces and supports the Palestinian cause," the Arabic-language al-Mayadeen television news network reported.
On Sunday, Tebboune strongly criticized the United Arab Emirates and Bahrain over signing normalization agreements with the Tel Aviv regime at the White House last week.
The Algerian president emphasized that his country will never be part of an agreement to normalize relations with the Tel Aviv regime.
Tebboune further noted that the Palestinian cause was and remains "sacred" for all Algerians.
Palestinians, who seek an independent state in the occupied West Bank and Gaza, with East Jerusalem as its capital view the normalization deals with Israel as a betrayal of their cause.
Palestinian President Mahmoud Abbas protested the agreements last Tuesday, saying they will be fruitless as long as the United States and the Israeli regime do not recognize the rights of the Palestinian nation and refuse to resolve the issue of Palestinian refugees.
He reiterated that there will be no peace, security or stability for anyone in the region unless the Israeli regime ended its occupation of Palestinian land, and Palestinians could restore their full rights as stipulated in international resolutions.
Abbas also warned against attempts to bypass the Palestinian people, emphasizing that the US administration and the Tel Aviv regime bear full responsibility for serious repercussions of such bids.
'UAE seeks to rob Jordan of al-Aqsa Mosque guardianship'
Meanwhile, a senior official with the Palestinian Hamas resistance movement has warned that the UAE is planning to rob Jordan of the guardianship of al-Aqsa Mosque in the occupied Old City of Jerusalem al-Quds, and then pass it over to Saudi Arabia.
Sheikh Kamal al-Khatib, deputy head of the Islamic Movement in Israel, said
on Monday that the UAE's plans go beyond investment on real estate sector in Jerusalem al-Quds, and aggressively seek to deprive Jordan of its guardianship of the sacred site and grant Saudi Arabia the right.
In doing so, Saudi Crown Prince Mohammed bin Salman's dream of becoming the custodian of both the Two Holy Mosques as well as al-Aqsa Mosque will come true, he added.
Khatib added that Emirati investors had tried to acquire pieces of land north of al-Aqsa Mosque and close to Bab Huta neighborhood back in 2018, noting that the plan was under close supervision of UAE's National Security Advisor Tahnoun bin Zayed Al Nahyan.
The high-ranking Hamas official went on to say that Emirati rulers have all trampled on ethical values.
"They are playing the role of a slave, who performs whatever he is required to do as the slave dreads his master, because of the whip," Khatib commented.
"The UAE wants to bypass Palestinians regarding the right of sovereignty over al-Aqsa Mosque. Our people will not allow Emiratis, Bahrainis and Saudis to make regular visits to al-Quds because they are outsiders," the senior Hamas official said.
https://www.presstv.com/Detail/2020/09/21/634679/Palestinian-factions-urge-Arab-rulers-not-to-count-on-US-Israeli-hegemony-reject-normalization
--------
Arab world
Form cabinet, or Lebanon will go to hell, President Aoun warns
21 September 2020
President Michel Aoun has warned that Lebanon will go to 'hell' unless a desperately-needed government is formed in the country, where positions have hardened among rival political factions, more than a month after a gigantic explosion devastated the Beirut port.
"We are today facing a government formation crisis, which should not have happened because the events that await Lebanon do not allow a minute to be wasted," Aoun said in a televised address on Monday.
Lebanon is grappling with an economic crisis.
On August 4, further complications emerged. At least 190 people were killed and almost 6,500 others were injured when 2,750 tons of ammonium nitrate, a highly explosive fertilizer, went up in smoke at the Beirut port.
Up to 300,000 people were also left homeless and much of the downtown areas of the city suffered major damage.
The colossal blast, which marked the worst threat to Lebanon's stability since the 1975-90 civil war, triggered thousands-strong rallies, violent at times, against the government of then Prime Minister Hasan Diab, who had formed his cabinet in January in a bid to combat alleged corruption and mismanagement, and to revive the collapsed economy.
Diab, whose cabinet had been formed following months of a power vacuum in Lebanon, ultimately announced his resignation on August 10 under the brunt of mounting public outrage over the Beirut explosion.
On August 31, Aoun called on the country's Ambassador to Germany Mostafa Adib, 48, to form a new government. Despite his efforts, the prime minister-designate has not yet managed to form his cabinet primarily due to intense rivalry among parliamentary blocs.
When, after his speech, asked about where Lebanon would be headed if there was no agreement on a cabinet, Aoun replied "of course, to hell."
In response to another question asking whether his remarks meant there was no hope of agreeing a government, he said, "No, there might be a miracle."
"With the hardening of positions there does not appear to be any solution on the horizon, because all the proposed solutions amount to a 'victor and a vanquished.'"
Lebanon's prime minister-designate calls on all to help form overdue cabinet
Separately on Monday, Prime Minister-designate Mostafa Adib urged competing political parties and factions to step up and help him in forming an independent cabinet to save the country.
"Any further delay will exacerbate and deepen the crisis," Adib further said in a statement.
"The Lebanese people's woes... require the cooperation of all sides to facilitate forming a crisis government" of independents, he added.
https://www.presstv.com/Detail/2020/09/21/634675/cabinet-Lebanon-hell-Aoun
--------
60 US trucks loaded with military equipment enter Syria's Hasakah: SANA
21 September 2020
A US convoy of 60 trucks, loaded with military and logistic reinforcement, has arrived in Syria's northeastern province of Hasakah.
Local sources told Syria's official news agency SANA that the convoy entered Hasakah on Sunday evening, in an apparent push to support the Kurdish-led Syrian Democratic Forces (SDF).
The convoy, coming from Iraq, was heading toward bases run by the US military in the oil-rich province.
Since late October 2019, the United States has been redeploying troops to the oilfields controlled by Kurdish forces in eastern Syria, in a reversal of President Donald Trump's earlier order to withdraw all troops from the country.
The Pentagon alleges that the move aims to "protect" the fields and facilities from possible attacks by the Daesh Takfiri terrorists, but Trump has said Washington sought economic interests in controlling the oilfields.
On July 30 and during his testimony to the Senate Foreign Relations Committee, US Secretary of State Mike Pompeo confirmed for the first time that an American oil company would begin work in the SDF-controlled northeastern Syria.
A US-led military coalition has been bombarding what it claimed was positions of Daesh inside Syria since September 2014 without any authorization from the Damascus government or a UN mandate.
The strikes have on many occasions resulted in civilian casualties and failed to fulfill their declared aim of countering terrorism.
The White House has long been providing the SDF with arms and militant training, calling them a key partner in the purported fight against Daesh. Many observers, however, see the support in the context of Washington's plans to carve out a foothold in Syria.
The presence of US forces in eastern Syria has particularly irked civilians, and local residents have on several occasions stopped American military convoys entering the region.
Syria says Washington is plundering its oil.
In early August, Damascus condemned an oil agreement signed between the SDF and an American company. It said the contract was null and void with no legal effect.
Such support has also angered Washington's NATO ally, Turkey, which views militants from the Kurdish People's Protection Units (YPG) – the backbone of the SDF – as a terrorist organization tied to the homegrown Kurdistan Workers' Party (PKK).
https://www.presstv.com/Detail/2020/09/21/634680/US-trucks-Syria-Hasakah
--------
URL: https://www.newageislam.com/islamic-world-news/ulema-all-islamic-sects-pakistan/d/122918
New Age Islam, Islam Online, Islamic Website, African Muslim News, Arab World News, South Asia News, Indian Muslim News, World Muslim News, Women in Islam, Islamic Feminism, Arab Women, Women In Arab, Islamophobia in America, Muslim Women in West, Islam Women and Feminism