New Age Islam News Bureau
17 Jul 2020
• OIC Chief Urges Muslims In the West to Integrate into Their Societies
• Saudi Arabia Calls on UN To Outline Plan to Defeat Growing Islamophobia
• Social Media Activists Slam Google, Apple for Removing Palestine From World Map
• Bangladesh: Father Supports IS Bride's Legal Battle in Britain
• ShariahCompliant Islamic Streaming Service Nurflix To Launch In Malaysia Soon
• Jordan 'Dissolves' Muslim Brotherhood Group in Court Ruling: Reports
• Biden To Speak to The Nation's Largest Muslim American PAC
---------
India
• Ukrainian Teenager Detained for Tablighi Jamaat Event at Nizamuddin Remembers His Mother and the Sea
• Just OneMuslim Ministerin All the Union Council of Ministers Which Comprises 57
• In Gold Smuggling Case Report To NIA, Kerala Cops Point To 'Terror Angle'
• Cargo vessel sent to Agartala via Bangladesh after 55 years
• Infiltration foiled along LoC in Keran sector, 1 terrorist killed: Army
• 'Didn't get free access to Kulbhushan Jadhav': India slams Pakistan
• J&K: Three JeM militants killed in encounter with security forces in Kulgam
--------
Arab World
• OIC ChiefUrgesMuslims In the West to Integrate into Their Societies
• Saudi Arabia Calls on UN To Outline Plan to Defeat Growing Islamophobia
• Arab Media Calls Erdogan Hypocrite, Says He Supports Extremism On Hagia Sophia Move
• Saudi Music Fans Weigh In On The 'New Normal' For Concerts
• Saudi Arabia Adds Six People And Entities To Terrorism Blacklist Over Daesh Support
• Top Lebanese Church Official Slams Hezbollah For Sidelining The State
• Explosion targets another US logistic convoy in Iraq: Local media
• Top Lebanese Maronite cleric slams Hezbollah for taking part in regional wars
--------
Mideast
• Social Media Activists Slam Google, Apple for Removing Palestine From World Map
• Iran Proposes Mediation between Azerbaijan, Armenia over Border Clashes
• Commander Underlines Iranian Ground Force's Equipment with Hi-Tech Weapons
• Iran, Afghanistan to Accelerate Implementation of Joint Agreements
• Iran security forces fire tear gas to disperse Behbahan protesters
• Iranian journalist Masih Alinejad's brother sentenced to 8 years in prison: Lawyer
• Yemeni government rejects latest UN peace plan draft
• Yemeni tribes reject Saudi compensation, seek revenge for Jawf bloodshed
• Israel compiles list of officials who could face arrest over ICC probe
--------
South Asia
• Bangladesh: Father Supports IS Bride's Legal Battle in Britain
• Nearly 20 civilians killed, wounded in clashes between Afghan and Pakistani forces
• U.S. forces launched multiple drone strikes in 3 provinces: Taliban
• Afghan Official: Pakistani Mortars Kill 4 Afghan Civilians
--------
Southeast Asia
• ShariahCompliant Islamic Streaming Service Nurflix To Launch In Malaysia Soon
• Man Gets 26 Months' Jail for Insulting Islam, Prophet Muhammadby the Kuala Lumpur Sessions Court
• Malaysiakini Trial Comes Amid Malaysia's Press Freedom Decline
• Dr M claims Pakatan's administration ended the moment Bersatu left coalition
• Selangor Sultan okays larger congregation during daily, Friday prayers at mosques, suraus
--------
Africa
• Jordan 'Dissolves' Muslim Brotherhood Group in Court Ruling: Reports
• Muslims opt out of Ekiti government's reopening of churches, mosques
• Cameroon Rejects Evidence of Forcing Civilians to Fight Boko Haram
• New Insights into How Communities Resist Boko Haram
--------
North America
• Biden To Speak to The Nation's Largest Muslim American PAC
• Senior US general reveals: Taliban not honouring deal
• For the first time, Trump administration uses terrorism charges against an alleged MS-13 leader
• US maintains Libya policy, condemns all foreign intervention: State Department
--------
Europe
• US Says Europe Not Doing Enough To Stop Libya Fighting
• Europe issues alert to passenger airlines about flying in Iranian airspace
• New clashes dash hopes of end to fighting on Azerbaijan-Armenia border
• Police in Germany conduct raids on suspected Islamists in Berlin
• Russia denounces Western bids to politicize humanitarian aid deliveries to Syria
--------
Pakistan
• Maulana Tariq Jamil Praises Chaudhrys For Service to Islam
• Imran Khan Govt Bans PUBG Citing 'Anti-Islam Material'
• ECP starts survey on gender gap in voter registration in KP
• UN Blacklists Pakistan Taliban Terror Group's Leader
• US, Pakistan sign accord on child abduction
• Pakistani, Indonesian Muslim groups hail Turkey's Hagia Sophia move
Compiled by New Age Islam News Bureau
URL: https://www.newageislam.com/islamic-world-news/ukrainian-teenager-detained-tablighi-jamaat/d/122398
--------
Ukrainian Teenager Detained for Tablighi Jamaat Event at Nizamuddin Remembers His Mother and the Sea
Soumya Pillai and Prawesh Lama
Jul 17, 2020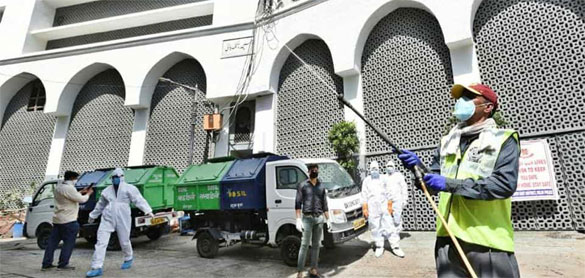 The Markaz building at Nizamuddin, where the Tablighi Jamaat congregation was held in March. (HT Archive)
----
Among the 900 foreigners detained in March and April from across the city for allegedly spreading the coronavirus disease (Covid-19) and defying government orders on large gatherings by attending a congregation of the Tablighi Jamaat, an Islamic missionary group, is a 16-year-old boy from Ukraine.
The teenager, who turned 16 in January in India, is being held in a south Delhi facility along with 200 others who participated in the congregation at the Markaz headquarters of the group in New Delhi's Nizamuddin Basti. The cases of the participants are being heard in different courts.
Frequently wiping the sweat on his brow and shifting uneasily in the humid climate he is yet to get used to, the boy said he's been in India for seven months. Coming from a country known for its cold and snowy winters, he said he's finding it difficult to adjust to the scorching heat and humidity of the Indian capital.
After a trip to Nepal and Aurangabad, the boy, accompanied by his father, had moved into the Nizamuddin Markaz on March 22, just days before the country went into a complete lockdown for Covid-19.
A three-month trip that was supposed to have been a post-exam vacation ended up stretching into an almost five-month detention. Though not officially charged by police, his passport was seized, and he was lodged with his father at quarantine detention centres since being evacuated from the Markaz on March 31.
Following a Delhi high court order on May 28, the foreign attendees at the Markaz congregation -- after their release from quarantine centres – were housed in different court-approved facilities across the city.
The 16-year-old is lodged at a school turned into a temporary detention facility in Jamia Nagar, where the detained attendees sleep in classrooms turned into sleeping spaces.
"We were supposed to return in May. I was to join a new school in September, but I cannot do that now. I miss my mother and my family. I was enjoying my visit to the country. This was my first time. I do not know why I am not allowed to return," he said.
Trapped in the national capital since March, the teenager has also learnt Hindi words such as "Sathi (friend)" and "Nahi (no)". When asked if he had tested positive for Covid-19, he replied: "Nahi."
He is the only minor at the facility that is mostly housing senior citizens and couples. The teenager spends most of his time browsing the internet and playing mobile games alone in empty classrooms. His days are spent joining the adults in the centre in offering prayers or catching up with their experiences in the country.
"I miss my mother, even though I speak to her and my two elder brothers over video call. It is not the same as being there with them. I am not sure when I will be able to be with them but I miss them and can't wait to go back," he said, recalling how he had always been pampered, being the youngest child of the family.
The teenager's father, Fazluddin, a businessman in Ukraine, said they had come to India on December 20 and visited Nepal, and Aurangabad in Maharashtra. It was his second visit to the country. For his son, it was the first.
"We came to the Markaz on March 22. We were not preaching. We visited religious places as part of our learning experience. On March 31, we had no symptoms but were taken by the government officials to the quarantine centre in Tughlakabad. We were given a room, where we stayed for around one-and-a-half months. We did not face any problems at the centre, though. It is unfortunate that he is trapped here with me," Fazluddin said, adding that he and his son had tested negative for the coronavirus disease.
Aslam Masuri, who helps the foreigners at the centre, said: "This is no age for a child to be trapped in a foreign country and unable to return home. We are adults and can manage the stress. For a boy of his age, he has suffered enough. His case should be considered and he should be sent back immediately. The only solace in all this is that he is at least with his father."
When contacted, Delhi Commission for Protection of Child Rights (DCPCR) member Roop Sudesh Vimal said that the commission had not been informed that a minor had also been moved to the quarantine centre along with those taken into custody in the Markaz case.
"We will take cognizance and see if the authorities followed all protocols in the case of this minor," said Vimal.
At the centre, other attendees said that the two are always together. "He always walks behind his father. He is a shy boy," one of the foreigners said.
Stuck in the city for the last seven months and scared of a lengthy trial that could prolong their stay, the teenager's father last week pled guilty and agreed to a plea bargain. He has been convicted and let off with a fine of Rs 5,000 and simple imprisonment of five days(already undergone in quarantine). The court convicted him under the Foreigners Act, Epidemic Diseases Act and Disaster Management Act.
HT contacted the Ukraine embassy and also emailed a questionnaire to the mission seeking its response to the minor's case, but it elicited no reply until Thursday night. An official at the embassy, who did not want to be named, said: "We are helping our nationals stranded in the country and provided all assistance. We do not want to make any official comment on the legal aspect of the cases because of the diplomatic ties of the country."
Commenting on the minor being lodged in quarantine for around two months, a senior Delhi government official said that the administration had followed the Centre's orders while sending foreigners from the Markaz to the quarantine centres.
Fazluddin said he and his son were now waiting for the government's order to leave the country. He said they would have to spend another 14 days in quarantine after reaching home but wouldn't mind that .
"I long for the sea. If I was home during the summer, I would have been out swimming with my friends. I cannot see any sea here," the teenager said in response to what he misses the most about home.
https://www.hindustantimes.com/india-news/i-miss-my-family-long-for-the-sea-ukrainian-minor-stuck-in-india-for-7-months/story-rQP6D0jH1Ld9OlF2lGyrMN.html
--------
OIC Chief Urges Muslims In the West to Integrate into Their Societies
July 17, 2020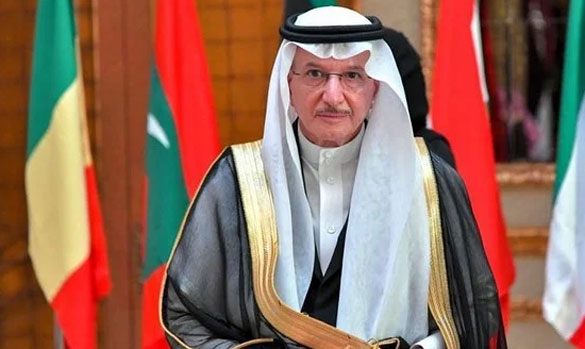 The secretary-general of the Organization of Islamic Cooperation (OIC) Dr. Yousef bin Ahmed Al-Othaimeen. (SPA)
----
JEDDAH: The secretary-general of the Organization of Islamic Cooperation (OIC), Dr. Yousef bin Ahmed Al-Othaimeen, has called on Muslims groups and communities living in non-Muslim countries to improve their integration into their societies, abide by their countries' laws and stick to the peaceful ways and official and legal channels to solve any problems.
At the virtual media forum of the Union of OIC News Agencies (UNA), Al-Othaimeen urged Muslims to take part in the advancement of science and development of culture, be good citizens and avoid the tendency to isolate themselves from wider society or impose their opinions and beliefs on others.
https://www.arabnews.com/node/1705736/saudi-arabia
--------
Saudi Arabia calls on UN to outline plan to defeat growing Islamophobia
17 July 2020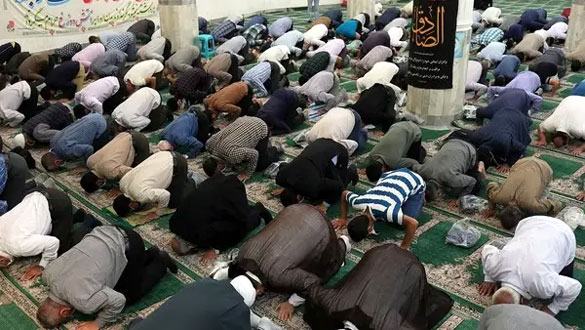 Muslims attend Friday prayers in Iran. (File photo: Reuters)
-----
Saudi Arabia's human rights representative at the United Nations has called on the organization to work to oppose growing Islamophobia across the world.
Mishaal Al-Balawi, the head of human rights section of Saudi Arabia's delegation to the United Nations Human Rights Council (UNHRC), called on the UN to oppose growing Islamophobia as well as other forms of contemporary discrimination.
Al-Balawi's comments were addressed at E. TendayiAchiume, the UN Special Rapporteur tasked with formulating the organization's response to contemporary forms of racism, racial discrimination, xenophobia and related intolerance.
For all the latest headlines follow our Google News channel online or via the app
As well as highlighting the spread of Islamophobia, Al-Balawi also highlighted the role of the internet in facilitating broader discrimination.
"The internet is an open space for practicing racism, racial discrimination and xenophobia. It requires efforts to find solutions to make it a safe and accurately balanced space between respecting freedom of opinion and expression and combating racism and racial discrimination," he said.
Al-Balawi pointed to cyberlaws in the Kingdom that make it illegal to promote racial, religious or national discrimination online.
Saudi Arabia's Anti-Cyber Crime Law was enacted in 2007 and allows prosectuors to sentence offenders to imprisonment for up to a year and fines of up to 500,000 Saudi riyals ($136,000).
https://english.alarabiya.net/en/News/gulf/2020/07/17/Saudi-Arabia-calls-on-UN-to-outline-plan-to-defeat-growing-Islamophobia.html
--------
Social media activists slam Google, Apple for removing Palestine from world map
16 July 2020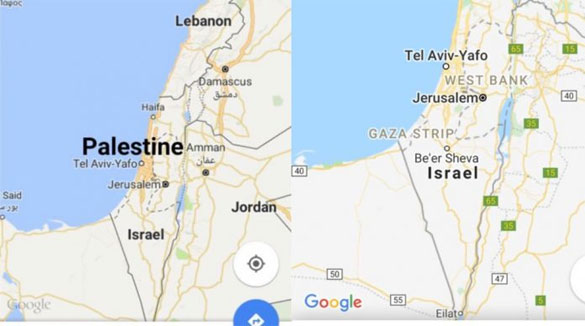 Google and Apple have officially removed Palestine from their world maps and replaced it with Israel in a highly provocative move that has enraged Palestinians and social media activists supporting the cause of Palestine.
The besieged Gaza Strip and the occupied West Bank are mentioned and marked on Google maps, but since Tuesday, the US-based multinational technology company has removed the name of Palestine from all of its maps, simply considering the two regions as parts of Israel.
The move by Google and also by Apple in deleting Palestine from their world maps prompted Palestinians and others to support the two hashtags of #FreePalestine and #standwithpalestine on Twitter and other social media to express their strong dissent against the offensive move.
The two hashtags are now receiving countless comments and retweets.
US President Donald Trump has given Tel Aviv the green light to annex large parts of the West Bank and Jordan Valley in his self-proclaimed "deal of the century," which was unveiled in January with the aim of legitimizing Israel's occupation and re-drawing the Middle East map.
Israeli prime minister Benjamin Netanyahu had announced that he would definitely begin cabinet-level discussions for annexation on July 1, in accordance with Trump's plan.
However, Netanyahu's much-publicized land grab plan, without clarifications, failed to be launched on the set date amid widening differences within the Israeli ruling coalition and against the backdrop of massive international opposition to the highly provocative attempt.
The delay came after crest-fallen Netanyahu failed to get the green light for the move both from his key coalition partner Benny Gantz, who has been refusing to endorse Netanyahu's scheme, and the US.
The Israeli premier, who had publicly voiced full-throated support of Trump's plan, also said that he would continue discussions with Washington over the scheme "in the coming days."
Experts say there is evidence emerging that Netanyahu's desired roadmap for annexing more Palestinian lands is at odds with the plan articulated by Trump.
Israel's unilateral annexation moves have faced a near unanimous opposition from the international community, including the European Union (EU).
Trump's scheme largely gives in to Israel's demands while creating a Palestinian state with limited control over its own security and borders, enshrining the occupied Jerusalem al-Quds as Israel's "capital" and allowing the regime to annex settlements in the West Bank and the Jordan Valley.
According to the so-called peace plan, the future Palestinian state will consist of scattered lands linked together via bridges and tunnels.
https://www.presstv.com/Detail/2020/07/16/629750/Palestine-Google-world-maps-Israel-hashtags-Trump
--------
Bangladesh: Father Supports IS Bride's Legal Battle in Britain
2020-07-16
The Bangladeshi father of a now stateless woman stuck in a Syrian refugee camp, after she joined the Islamic State group as a teen, welcomed a British court's ruling that she could return to fight for her U.K. citizenship, which was revoked on national security grounds.
Shamima Begum was 15 when she traveled to Raqqa, the capital of the Islamic State's so-called caliphate, along with two friends in 2015. While there, she married a Dutch fighter with IS and converted to Islam.
"I am pleased with the court's decision. My daughter will face trial if she committed the offenses, I have nothing to say about that," her father, Ahmed Ali, told BenarNews by phone on Thursday from his home in Sunamganj, a district in northeastern Bangladesh, as he reacted to a decision by the Court of Appeal in England earlier in the day.
"I think she deserves the legal right to defend herself in the court."
Ali said he wanted to travel to the England to support his daughter.
"I will fly to London if I get a ticket," he said, adding that tickets were scarce.
"My daughter made a mistake. Correction of such a mistake is very difficult. Which parents want their children to go the wrong way?" he said.
Ali, a Bangladeshi, first went to London in 1975.
"I have not taken British citizenship due to my family problem. I live both in London and Bangladesh and my wife is a British national," he said.
Shamima Begum, who was born in Britain, ended up in a refugee camp in Syria following the March 2019 collapse of IS by U.S.-backed and Kurdish-led Syrian Democratic Forces.
Earlier this year, the Special Immigration Appeal Commission (SIAC) ruled that the British government's decision last year to revoke Begum's citizenship was lawful.
On Thursday in London, a three-judge panel of the Court of Appeal agreed unanimously that she be permitted to return so her appeal would be fair.
"The Court acknowledges that there are national security concerns about Ms. Begum but the Court reaches the conclusion … that, notwithstanding those concerns, the only way in which she can have a fair and effective appeal before SIAC is for Ms. Begum to be permitted to come into the U.K. to pursue that appeal," the court said in its six-page ruling.
Begum's case came to light last year through an interview she gave to BBC News from a Syrian refugee camp.
In the TV interview, Begum, then 19, pleaded to British authorities to allow her to return to the country of her birth. But she was criticized for making comments during the interview, where she seemed to justify an IS-linked suicide bombing that killed 23 people at a concert hall in Manchester in May 2017.
After the BBC interview, Britain's Home Office announced that it was stripping Begum of her citizenship and barring her from returning to the country.
Not welcome
Meanwhile on Thursday, Bangladesh government officials said Begum was not welcome in their country.
"Shamima has never been a Bangladeshi citizen. Her mother is a British national. We have nothing to say about Shamima and her family," Home Minister Asaduzzaman Khan Kamal told BenarNews.
"But what I can assure you is that she would not be allowed to enter Bangladesh. Even if she comes to Bangladesh, she would face a terrorism charge under the anti-terrorism law because she is an IS militant," he said.
Foreign Minister A.K. Abdul Momen agreed that Bangladesh should not allow Begum to enter the country.
Bangladesh's former law minister, on the other hand, made a case for her being welcomed in.
Shafique Ahmed, a member of the ruling Awami League who served as the law minister, said Begum would be eligible for Bangladeshi citizenship because of her father.
"Bangladesh does not revoke the Bangladeshi citizenship if any of its nationals accepts British citizenship," he told BenarNews.
"The British laws do not allow a person to be stateless. Shamima should be tried for her offense, but this is unacceptable that a country would cancel its citizenship of a person and ask them to adopt citizenship of another country," Ahmed said.
https://www.benarnews.org/english/news/bengali/citizen-appeal-07162020180120.html
--------
Shariah Compliant Islamic Streaming Service Nurflix To Launch In Malaysia Soon
16 Jul 2020
BY MELANIE CHALIL
PETALING JAYA, July 16 — Just when you thought the streaming industry couldn't be more saturated than it already is, there's a new player in town named Nurflix.
And the upcoming streaming platform will focus entirely on Islamic creative content that's Shariah-compliant.
According to tech site Amanz, the streaming platform owned by Sutera Hijau Ventures Bhd is set to launch with a slew of exclusive content to be made available to viewers from October this year.
So far, 12 titles have been announced and the company has allocated RM40 million to develop its content.
Some of the titles announced at a recent launch include KembaraMahsyar, The Call, Abdullah and The Khadijahs, all of which are written by and featuring well-known talents in the local television and film industry.
In the meantime, Nurflix will also be introducing classifications for viewers such as general viewing, women, men and children.
Nurflix.tv chief executive officer Syah Mohamed said he expects the faith-driven streaming platform to produce 1,000 exclusive content in the next five years.
Nurflix will begin beta testing in October through December and is expected to officially launch in January 2021.
The streaming site will be available free of charge for the three-month period and all interested viewers need to do is subscribe to the platform to gain access.
"As we are in the midst of launching Nurflix.tv, subscribe today and be the among the first to watch 12 original contents (sic) for free from October 2020 until the end of year 2020," a message on the main page said.
"Your subscription is our success, so tell your friends and family to Be Part Of Us and together we will make this happen!"
According to its main page, Nurflix will be showing drama series, feature films, documentaries and more.
Nurflix's entry into the market has also been circulating on social media with many comparing the Islamic streaming platform's moniker to streaming juggernaut Netflix.
Some Twitter users even took the opportunity to follow-up on Aflix, another homegrown streaming platform that made headlines last year after the National Film Development Corporation Malaysia (Finas) called for authorities to censor Netflix.
Aflix, which claimed to work closely with Finas was marketed as the first "ethical" entertainment platform in Malaysia.
https://www.malaymail.com/news/showbiz/2020/07/16/shariah-compliant-islamic-streaming-service-nurflix-to-launch-in-malaysia-s/1885183
--------
Jordan 'dissolves' Muslim Brotherhood group in court ruling: Reports
16 July 2020
A Jordanian court has ruled to "dissolve" the Muslim Brotherhood in the country, according to media reports.
The Jordanian Court of Cassation voted on Wednesday that dissolved the Muslim Brotherhood because it had not corrected its legal status in line with Jordanian law, reported regional media outlets.
The decision reportedly came after the organization filed a lawsuit against a breakaway group, the Muslim Brotherhood Society (MBS), and the government's Department of Lands and Survey.
The now-dissolved organization requested that a transfer of real estate and land to the MBS, which was given legal status in 2015, be nullified.
However, the court rejected the law suit and said the Brotherhood was dissolved.
This is big news with potential strategic consequences: Jordan's Court of Cassation dissolves Muslim Brotherhood https://t.co/QQUZuGKBcU
— NAMEA Geopol (@NAMEAGroup) July 16, 2020
According to the Counter Extremism Project, the Muslim Brotherhood in Jordan split in 2015, between the "reformist" MBS and the older Muslim Brotherhood Group.
Since then, the two factions have vied for influence in the country.
The decision to dissolve the older branch comes ahead of parliamentary elections in the country, with Independent Arabia suggesting it could affect who runs for parliament.
The parliamentary party the Islamic Action Front is linked to the older Muslim Brotherhood group and won 10 of the 130 seats in 2016. Members of the MBS ran under the National Congress Party ticket in 2016 but did not win any seats, according to the Counter Extremism Report.
Sheikh Hamza Mansur, head of the organisation's ruling council, said the group would appeal against Wednesday's ruling, acording to AFP.
"The Muslim Brotherhood ... is a model of moderation and an important element in strengthening national unity, so dissolving it is not in the national interest," he told AFP.
https://english.alarabiya.net/en/News/middle-east/2020/07/16/Jordan-dissolves-Muslim-Brotherhood-group-in-court-ruling-Reports.html
--------
Biden To Speak To The Nation's Largest Muslim American PAC
By David Weigel
July 16, 2020
Joe Biden will address the nation's largest Muslim American PAC on Monday, as the presumptive Democratic presidential nominee continues to reach out to groups he didn't court during the primary.
Emgage Action, the political arm of a 14-year-old Muslim outreach organization, will host Biden at its Million Muslim Votes Summit, held online. The conference comes 11 months after just two then-Democratic presidential candidates, Sen. Bernie Sanders (I-Vt.) and former HUD secretary Julián Castro, attended the Islamic Society of North America's convention. Emgage had criticized the two dozen Democrats, like Biden, who found somewhere else to be.
"Muslim American communities are organizing like never before to maximize our voter turnout, and to ensure that our voices are represented," Wa'elAlzayat, the chief executive of Emgage Action, said in a statement. "The Million Muslim Votes Summit is the culmination of this work, and it is with great honor that Vice President Joe Biden is partnering with Emgage Action to engage with Muslim American communities and help galvanize us towards the polls this upcoming November."
Biden would be the first Democratic nominee to address the group, which has active chapters in the swing states of Florida, Michigan and Pennsylvania. He was criticized for skipping last year's Islamic conference, and Emgage would go on to endorse Sanders for president. It backed Biden only after Sanders ended his campaign three months ago, saying it could "envision our voices being represented through his presidency."
"Muslims have been demonized and terrorized by Trump, so I can't imagine too many voting for him," said Sanders campaign manager Faiz Shakir, the first Muslim to hold that role for a presidential candidate. "But to win their votes, you do need to put in effort. Biden is smart to actively appeal to this constituency, as they could be difference makers in battleground states." There are hundreds of thousands of Muslims eligible to vote in Emgage's targeted swing states, as well as California, Illinois and Virginia.
While Emgage was founded before the 2008 election — it was initially called Emerge, a name later taken by a group that trains female Democratic candidates — it has only recently held large conferences. Hillary Clinton did not appear at any Emgage evens in 2016, and Barack Obama was often cautious about outreach to Muslim voters, as conspiracy theories about his own faith swirled through the electorate.
Biden has dealt more confidently with Muslim voters, condemning Trump USAID official Mark Kevin Lloyd as "Islamophobic" after some of his anti-Islam online messages were uncovered and pledging to end the Trump administration's ban on travel to the United States from some majority-Muslim countries "on day one."
"Joe Biden is proud to stand with Emgage during one of the most challenging moments for Muslim Americans in recent history under Donald Trump's presidency," said Farooq Mitha, Biden's senior adviser on Muslim American engagement. "Now is the time for us to come together to fight for our Constitution, civil rights, a just immigration system, and a better future for all of us."
Since securing the nomination in April, Biden has made moves toward activists who were skeptical of him during the primary. While the youth-driven, climate-focused Sunrise Movement endorsed Sanders and protested Biden, the former vice president brought the group's co-founder, Varshini Prakash, onto his campaign's climate working group. Biden opted not to do an interview with AdyBarkan, a Medicare-for-all activist with ALS, during the primary. He gave Barkan an interview this month, and got the activist's endorsement.
President Trump has replaced his campaign manager, dropping Brad Parscale for longtime political aide Bill Stepien as polls show him falling further behind Joe Biden. Republicans are also scaling back next month's convention in Jacksonville, Fla.,
Trump's attacks on mail voting are turning Republicans off absentee ballots. Rules on voting changed quickly in many states for the primaries, but the battle for how Americans will vote in the general election is just heating up. Barring a landslide, we may not have a result in the presidential election on Nov. 3. See what elections are coming up and which have moved.
Who do you think Joe Biden's VP pick should be?
https://www.washingtonpost.com/politics/2020/07/16/biden-speak-nations-largest-muslim-american-pac/
--------
India
Just One Muslim Minister in All the Union Council of Ministers Which Comprises 57
July 16, 2020
In the Indian union council of ministers, there are 24 ministers of cabinet rank (including the prime minister). There are nine ministers of state with independent charge. And there are an additional 24 ministers of state.
In all the union council of ministers comprises 57 people. It is not a club, but were it to be considered a club, it would be the most exclusive and the most powerful club in the country.
By varying estimates, Muslims comprise between 15-20% of the country's population. Guess how many Muslims are in the union council of ministers? Just one. Mukhtar Abbas Naqvi, the cabinet minister for minority affairs. So basically, a Muslim in charge of other Muslims.
The founding father of the country gave his life so that India remains a secular state, in which all thrived, irrespective of creed. Everybody even today worships at the altar of the founding father, but few follow his lead. He has become just a face on a currency note. Funny, he was not at all about money, but we honour him with money.
One Muslim minister out of 57 in the council represents just 1.8% of the total. Why is there such little representation in the council?
One could argue that there are three kinds of ministers in India. One is the kind that is seen to be close to PM Modi. In this category might fall S Jaishankar and Nirmala Sitharaman. The other is the type that is perceived to be close to the RSS. In this bucket might fall Nitin Gadkari and Rajnath Singh. And the third is of the kind close to both Modi and the RSS. Amit Shah might typify this kind.
Modi's inner circle has for long not included many Muslims, although he has tried hard to repair his personal standing with the community. One convert to his cause was Zafar Sareshwala, a member of the strict Tablighi Jamaat. Sareshwala did yeoman service to Modi to prove that the latter was not ant-Muslim.
From his utterances, it seems that Sareshwala has aspired to a union ministry, but he has scoffed at the ministry for minority affairs. It is possible that Modi has offered him a berth, but if has, so far Sareshwala has declined. Perhaps the offer was not to his liking. In any case, Sareshwala's loyalty towards Modi has waned in recent times.
Modi is perceived to be close to the Dawoodi Bohra community, which is a sect within Shia Islam. But Modi has not seen it fit to pluck a talented person from that community.
The divide between the RSS and the Muslims is strong and clear. There is just an unbridgeable chasm between their two worldviews. To expect then that the RSS would send a Muslim minister to the council is like expecting the impossible.
Modi has selected many ministers from the bureaucracy (S Jaishankar, Hardeep Singh Puri, RK Singh) and even from the army (VK Singh). Are they no capable Muslim bureaucrats and army officers in India? What about the retired general, Syed Hasnain? Would he not make a great defence minister?
Just like Hasnain, there must be countless capable Muslims in so many fields throughout the country. Criticize it all you must, but the Congress is a big tent party, giving some of the most plum jobs to minorities, including Muslims. Why is the BJP lacking in this regard?
Modi is the leader of the whole country, and acts as such. The one field where he is lacking is Muslim representation in his council of ministers. He had a couple more earlier, Najma Heptulla and MJ Akbar, but even when they were there, there were only three Muslim faces (adding Naqvi to the mix) in the council. That had made for about 5% of the entire council.
Modi just needs to look at what is happening in the UK and Canada. As the population of South Asians expands in these countries, the number of South Asian faces in the ranks of their ministers increases by the day.
India on the other hand resembles the United States, where despite blacks being about 15% of the population, there is only one black member in Trump's cabinet, and that is Ben Carson, who is saddled with the relatively inconsequential department of housing and urban development.
But Modi is no Trump. Modi is an inclusive leader. Why is he not including more Muslims to his ministry? Muslims need to feel included in today's India. Their alienation from the mainstream is quite clear. One way for the prime minister to rectify that would be to expand his government to include many more Muslim faces.
That will give young Muslims something to aspire to. It could then become a virtuous cycle. People like Hasnain and even Sareshwala should not be wasted. The founding father's ideals must be respected in letter and spirit.
https://timesofindia.indiatimes.com/blogs/strategic-insights/why-so-few-muslims-in-the-union-cabinet/
--------
In gold smuggling case report to NIA, Kerala cops point to 'terror angle'
Neeraj Chauhan
Jul 17, 2020
The Kerala police have sent a report to the National Investigation Agency (NIA) and asked it to investigate the "terror angle" in all major gold smuggling cases in the state, two officials aware of the matter said.
The Kerala police suspect that some smugglers and hawala operators have terror links, one of the two officials told HT. Hawala transactions worth over Rs 1,000 crore annually on an average, have been taking place in the state, he added.
The request comes as the NIA took charge of the probe of the seizure of 30 kg of 24-carat gold from Thiruvananthapuram airport on July 5. An attempt was made to smuggle the gold through diplomatic baggage, which according to the Vienna Convention, is not checked by Customs officials.
"Since NIA is investigating the Thiruvananthapuram gold smuggling case under the Unlawful Activities Prevention Act (UAPA), it might want to look at other cases and their link," a Kerala police officer told HT over the phone, requesting anonymity. "We have given a report to the Centre and NIA on our cases. More reports are being prepared on similar activities."
On July 10, the NIA filed a First Information Report (FIR) against four persons: P Sarith Kumar, who was arrested by Customs officials on July 5, and three others, Swapna Suresh, Sandip Nair and Fazil Fareed, an alleged smuggler from Ernakulum but based in the United Arab Emirates (UAE), and charged them under the Unlawful Activities Prevention Act (UAPA). On July 15, it added one more name to the FIR, an alleged gold smuggler named KT Ramees.
A team arrested Suresh and Nair who have been sent to judicial custody till July 21. They are currently being interrogated by the investigation agency.
The NIA has also approached Interpol for a blue notice against Fareed. A blue notice is issued for additional information about a person's identity, location, or activities in relation to a crime.
The agency found that Fareed forged the UAE seal and emblem to ensure diplomatic protection for the baggage.
On Wednesday, Kerala chief minister Pinarayi Vijayan's former principal secretary M Sivasankar was grilled in connection with the smuggling case.
NIA last week said gold smuggling into India from offshore locations threatens the country's economic stability, national security and amounts to terrorism as per UAPA's Section 15. In a statement, it added the fresh smuggling case has national and international linkages. NIA cited its initial probe and added it has revealed that the proceeds of smuggled gold could be used for financing terrorism in India.
Apart from NIA and Customs, Research and Analysis Wing and Intelligence Bureau are also coordinating with the agencies to unearth the gold smuggling and hawala networks in Kerala, a second official said in Delhi.
The Customs department has arrested 12 people in relation to gold smuggling and detained four since this case came to light.
https://www.hindustantimes.com/india-news/in-report-to-nia-kerala-cops-point-to-terror-angle/story-Dm4SyQzWBiZtlt9o7MwDyH.html
--------
Cargo vessel sent to Agartala via Bangladesh after 55 years
Jul 17, 2020
NEW DELHI: After a gap of 55 years, a container ship was flagged off from Kolkata carrying TMT steel bars and pulses to Agartala via Chattogram (Chittagong) port in Bangladesh on Thursday, reports Dipak Dash.
This is the first time after 1965 that Bangladesh is allowing its ports to be used as transit for cargo movement from any part of India to northeastern states. The shipping ministry said two TEUs (twenty-foot equivalent unit) carrying TMT steel bars are destined for West Tripura district and two TEUs carrying pulses is heading for Karimganj in Assam. After reaching Chattogram, the consignment will move to Agartala on Bangladeshi trucks.
The road ministry has given a permission for Bangladeshi trucks transporting goods from Chittagong port to West Tripura district. The ministry has also started preparing a standard operating procedure for movement of passenger and cargo vehicles among the neighbouring countries.
https://timesofindia.indiatimes.com/india/cargo-vessel-sent-to-agartala-via-bangladesh-after-55-years/articleshow/77009677.cms
--------
Infiltration foiled along LoC in Keran sector, 1 terrorist killed: Army
Jul 16, 2020
SRINAGAR: One terrorist was killed and some arms and ammunition recovered from his possession when Army troops on Thursday fired at infiltrators along the Line of Control (LoC) in Keran sector, in Kupwara district.
Colonel Devender Anand, spokesman of the Army, said troops noticed three people in suspicious circumstances at the LoC in Keran sector and opened fire. While two of the infiltrators escaped, one was killed, Anand said.
https://timesofindia.indiatimes.com/india/infiltration-foiled-along-loc-in-keran-sector-1-terrorist-killed-army/articleshow/77007274.cms
--------
'Didn't get free access to Kulbhushan Jadhav': India slams Pakistan
Rezaul H Laskar
Jul 17, 2020
A meeting between Indian officials and Kulbhushan Jadhav on Thursday ended inconclusively, with New Delhi accusing Islamabad of breaching its assurance of providing unimpeded access to the former naval officer sentenced to death in Pakistan for alleged involvement in espionage.
Pakistan provided consular access to Jadhav for only the second time since he was detained in March 2016. But when two Indian consular officials went to meet him, they found Pakistani officials with "an intimidating demeanour" near Jadhav and a camera being used to record the conversation, the ministry of external affairs (MEA) said.
The Indian officials met Jadhav to discuss filing a review petition in Islamabad high court against his death sentence by the deadline of July 20, and required privacy to talk about the matter.
"The consular officers could not engage Jadhav on his legal rights and were prevented from obtaining his written consent for arranging his legal representation," MEA spokesperson Anurag Srivastava said.
"In the light of these circumstances, the Indian consular officers came to the conclusion that the consular access being offered by Pakistan was neither meaningful nor credible. After lodging a protest, they left the venue."
Srivastava said India had taken up Pakistan's offer of consular access only after receiving an assurance regarding "unimpeded, unhindered and unconditional access".
Thursday's developments added another twist to the case of Jadhav, 50, as only four days remain under an ordinance promulgated by the Pakistan government to file a review petition in the Islamabad high court.
Srivastava said India made more than 12 requests for consular access to Jadhav over the past year. "This consular access is of utmost importance, as it is the basis for a process of effective review and reconsideration ordered by the International Court of Justice (ICJ) in July 2019 of the conviction and sentence of Jadhav by a Pakistani military tribunal," he said.
The Pakistani ordinance, promulgated ostensibly to comply with ICJ's order, envisages an Indian consular official filing the review petition. Any conversation between Jadhav and the consular officials "must necessarily take place in privacy and without the presence of any Pakistani official or recording by Pakistan", Srivastava said.
It was evident Jadhav had been "intimidated repeatedly in the past, including in being made to express his alleged disinclination to seek a review", he added.
India's latest request for consular access included several conditions — Pakistan was asked to ensure the meeting was held in an "atmosphere free from fear of retribution", without the presence of any Pakistani official, and without any video and audio recording.
"After extensive discussions, the Pakistan side conveyed that they were ready to organise consular access on July 16. We were assured this consular access would be unimpeded, unhindered and unconditional," Srivastava said.
"Regrettably, however, neither the environment nor the arrangements of the meeting were in accordance with the assurances of Pakistan," he added. Jadhav was "visibly under stress" and indicated this to the Indian officials.
Srivastava described Pakistan's approach as "obstructive and insincere". He added, "It has not only violated its assurance to the ICJ to fully implement the 2019 judgment, but also failed to act in accordance with its own ordinance."
External affairs minister S Jaishanakr apprised Jadhav's family of the developments even as the Indian side reiterated its commitment to ensure his safe return to India.
Consular access to Jadhav was first provided in September 2019, while his mother and wife had been allowed to meet him in December 2017.
Pakistan on Thursday reiterated its accusations that Jadhav was arrested in Balochistan province on March 3, 2016, and had "confessed" to his involvement in terror activities. India has already dismissed such charges and said he was kidnapped by Pakistani intelligence operatives from Iran's Chabahar port, where he was running a business.
ICJ ruled in July 2019 that Pakistan had violated Jadhav's rights under the Vienna Convention, and stayed his execution while calling on Islamabad to take all steps for an "effective review and reconsideration" of his sentence, including "enacting appropriate legislation".
https://www.hindustantimes.com/india-news/didn-t-get-free-access-to-jadhav-india-slams-pak/story-1TeCpZjEoyWBx9hQAIfnkL.html
--------
J&K: Three JeM militants killed in encounter with security forces in Kulgam
July 17, 2020
Three JeM militants were killed in a gunbattle with security forces in South Kashmir's Kulgam district on Friday morning. Three army personnel were also injured in the operation.
Police officials said that an encounter broke in Nagnad-Chimmer area of Kulgam district after a joint cordon and search operation was launched by security forces in the area on Friday morning
"Another #unidentified #terrorist killed (total 03). #Incriminating materials including #arms & #ammunition recovered. Search going on," Kashmir Police zone said on Twitter.
A senior police officer told The Indian Express that the slain militants belong to JeM outfit and their identification is yet to be done. The officer said that three army personnel were also injured in the operation.
According to the army, joint Operation was launched today early morning on police inputs. "Cordon was laid and contact established. Firefight ensued," said an army official.
https://indianexpress.com/article/india/jk-kulgam-encounter-jem-militants-killed-indian-army-6509967/
--------
Arab World
Arab media calls Erdogan hypocrite, says he supports extremism on Hagia Sophia move
16 July 2020
Arab media commentators have labeled Turkish President Recep Tayyip Erdogan a hypocrite and said his recent decision to convert the Hagia Sophia from a cultural site and museum back into a mosque plays into the hands of extremists.
The reconversion of the sixth century church into a mosque has widely been seen as an attempt by Erdogan to appeal to his nationalist and religious base. The president, who is losing popularity abroad for Ankara's involvement in Libya and is facing an economic downturn exacerbated by the coronavirus, has been unapologetic and says critics are attacking Turkey's sovereignty.
But Arab writers and academics have condemned the move, accusing Erdogan of hypocrisy based on his stance on other religious sites and suggesting he was appealing to extremists in the region. Western writers have similarily criticized the move.
Initial reactinos to the decision pointed out differences in Erdogan's rhetoric in English and Arabic, suggesting that he was framing the move in different ways to different audiences for political gain.
Appealing to extremists, Muslim Brotherhood
Arab media commentators suggested that Erdogan was appealing to extremist groups by stoking religious tensions.
"What the current Turkish government is doing under President Recep Tayyip Erdogan against the Arab world is a reflection of old Ottoman habits, rooted either in imperial dreams or the intention to economically drain states that have come under the sway of the Turkish Republic. It does so by taking advantage of the ideology of extremist groups and instigating intra-Arab conflicts, by arousing religious emotions that incite violence," wrote Talal al-Torifi in an op-ed originally published in the regional Asharq al-Awsat media outlet.
Erdogan's ruling Justice and Development Party (AKP) supports the Muslim Brotherhood, granting members of the organization asylum in the past and allowing the organization and activist groups associated with the Brotherhood to operate in Turkey. The Muslim Brotherhood is considered a terrorist organization by the United Arab Emirates, Saudi Arabia, Egypt, and Bahrain.
Al-Torifi added that the actions of the Turkish government that have a religious dimension "attempt to bolster support for its positions and portray it as a bastion of Islam."
He furthered his argument saying that Islamic law and traditions says that Muslims should "live with others while respecting their religious rituals, places of worship and religious feelings."
The caliphs who came after the Prophet Mohammed adopted a tolerant view whereby churches were protected and were not allowed to be occupied, demolished, nor taken away, al-Torifi wrote citing the Caliph Omar bin Khattab.
Erdogan accused of hypocrisy
Another Arab commentator called out Erdogan's hypocrisy in the decision to convert the religious site from a museum to a mosque, pointing to his opposition to Spain's decision to turn a mosque into a cathedral.
Dr. Ziad al-Drees, former Saudi permanent representative to UNESCO, argued in an article published in Saudi Okaz newspaper that the Turkish stance is hypocritical after Turkey stood against Spain's decision to turn the Great Mosque of Cordoba into a cathedral.
"I was in UNESCO at that time as a witness to Turkey's move to support the statement issued by the Islamic World Educational, Scientific, and Cultural Organization (ICESCO) that aimed to combat the Spanish decision to convert the Mosque of Cordoba into a cathedral. How will I as an individual criminalize the Spanish decision and support the Turkish decision [to convert Hagia Sofia into a mosque]?" said Dr. al-Drees.
The Great Mosque of Cordoba was first thought to be a Roman temple that was converted to a church by Visigoths who seized the city in 572 A.D. When the Umayyads – the first Islamic dynasty – arrived, the religious site was then converted to a mosque.
Western countries that voiced condemnation of Turkey's decision should equally be asked if they also condemned the Spanish position on the Great Mosque of Cordoba and expressed their "'humanitarian' stance" toward this "shared cultural symbol of humanity," he argued.
Erdogan defended the move saying the country had exercised its sovereign right in converting it back to a mosque, saying the first Muslim prayers would be held on July 24. Erdogan has been accused of trying to undermine Turkey's history of secularism and democracy in public appeals to religious populism.
"Turkey is a country where religion and nationalism intersect, so that many of the staunchly anti-Erdogan camp would back the principle of Turkish sovereignty over the monument," Louis Fishman, a professor at Brooklyn College, told the Washington Post. "Upholding that prerogative absolutely would trump the debate of whether Hagia Sophia should be a museum or a mosque."
History of Hagia Sophia
Inside the holy site, Christian emblems remain from the building's tenure as a cathedral, but Turkish officials have said they will not be removed and the site will remain open for Muslim and non-Muslims alike.
The Hagia Sophia, a 1,500 year-old religious complex, was built as an Eastern Orthodox cathedral in the sixth century A.D., and was briefly a Roman Catholic church before being converted to a mosque in 1453 when Mehmed II conquered the city for the Ottomans. It served as a worship place for Muslims until 1934 when Kemal Ataturk, the founder of modern, secular Turkey made it a museum. In 1985, UNESCO declared the place of worship a heritage site.
There are five Byzantine churches by the name Hagia Sophia, which means Holy Wisdom in Greek, in Turkey. Over the last decade, four of these churches have been converted to mosques.
Calls for the Hagia Sophia to be returned to a mosque or cathedral began to gain traction in 2005.
Reaction from the rest of the world
UNESCO, alongside other religious groups and nations, condemned the move and their statement expressed concern that Turkey may modify the site in ways that threaten its state of conservation and has urged Turkey not to act without discussing its plans first.
Director-General of UNESCO Audrey Azoulay said: "[The Hagia Sophia] is an architectural masterpiece and a unique testimony to interactions between Europe and Asia over the centuries. Its status as a museum reflects the universal nature of its heritage, and makes it a powerful symbol for dialogue."
While UNESCO can publicly shame Turkey for its decision, it has no authority to enforce its regulations, EvangelosKyriakidis, director of the Chicago-based Heritage Management Organization, told Smithsonian Magazine.
The Pope said he was "very saddened" by Erdogan's decision and Nobel-prize winning Turkish author Orhan Pamuk told BBC news that the decree may adversely affect Turkish people's pride in their country's status as a secular Muslim nation.
The head of Eastern Orthodox Church, Greece, and the Church in Russia, which is home to the world's largest Orthodox Christian community, have all condemned the move. Greece said the move would have repercussions on relations between the two countries, as well as on Turkey's ties with the European Union.
Meanwhile, the US State Department said it was "disappointed" with the move.
https://english.alarabiya.net/en/features/2020/07/16/Arab-media-calls-Erdogan-hypocrite-says-he-supports-extremism-after-move-to-convert-.html
--------
Saudi music fans weigh in on the 'new normal' for concerts
HALA TASHKANDI
July 17, 2020
RIYADH: As the coronavirus pandemic disrupts routines and lifestyles across the globe, and the collective desire for normal life increases, many have turned to the healing power of music to help them make it through these tough times.
The global music industry, which took a significant blow this year in the face of mass cancellations of tours, concerts and events, is fighting back by offering a new way of enjoying music and connecting with other people through online concerts and livestreams.
From rap to opera, hip-hop to classical, Arabic to Korean, English to instrumental, both small-scale and limited performances of single artists to massive multi-stage offerings such as the Global Citizen concert and MDL Beast Freqways, musicians are using the power of livestream to bring people together.
Livestream concerts are not a new phenomenon, especially in Saudi Arabia. "Up until two or so years ago, when we started having concerts in Saudi Arabia, we had to watch all of our favorite artists from home anyway," said Arabic music fan Faisal Alsuwaidan. "Before that, we would either watch our favorite artists on TV, or find streams of their concerts online, on YouTube or something."
Sara Alsaif, a "huge" pop music fan, said that before the pandemic she used to find traveling to attend concerts "an absolute necessity."
"Generally at least once a year, one of my favorite musicians will be playing in Dubai. I build my whole year around those trips, and I have a special budget for them. I've seen Jason Derulo, The 1975, the Backstreet Boys, so many great concerts I wouldn't have been able to otherwise," she said.
But with travel still strictly limited and international borders closed, fans of both Arabic and foreign music remain rooted in place, with large-scale events with big crowds unlikely to make a comeback any time soon.
However, the unexpected benefits of being forced to take concerts online have made themselves clear for a variety of reasons, causing both members of the industry and the fans themselves to rethink their idea of what a concert has to be.
Saudi fan Abdulrahman Alammar told Arab News that his favorite band, The Wonder Years, was unlikely to ever visit Saudi Arabia, as they are a relatively small indie group from America whose success outside of the US is limited. However, the moment he heard that they were having a livestream show, he bought a ticket.
"It's been my dream to attend one of their shows for more than 10 years now. I finally got a chance to see them performing live, and it was everything I hoped for — even if I was watching them through a screen," he said. However he did get to enjoy a vital part of the experience regardless of the circumstances ­— connecting with fans after the show.
"The livestream had a chat box we all used to comment on the songs, ask questions, and connect with each other. When fans found out it was my first concert of theirs they all sent welcoming messages and invited me to join their Discord (online chatroom platform) server. After the show we all hung out and chatted for hours. It felt just like being at a real show," he said.
House music fan Rana Al-Salem told Arab News that MDL Beast's 12-hour livestream event, Freqways, was exactly the sort of thing
she had been hoping for during
the pandemic.
"I avoided going to the first event (Soundstorm) at the end of last year because I didn't want to deal with the crowds, and it was so far away from where I live. But the livestream meant I could enjoy all the performances at home, safe, isolated, and comfortable in my pajamas instead of having to dress up for it," she said.
The question that remains is: Once the pandemic is over, will online concerts become the new norm? Alsuwaidan does not think so. He considers himself lucky to have attended a few shows in Saudi Arabia before the lockdown began, and says that going back to watching concerts on a screen does not hold quite the same
appeal anymore.
"I can't wait to be able to go to concerts again in person. The energy of live shows is unreal, nothing else can compare," he said.
Al-Salem says that while she does not believe that online shows will become the new default, she hopes they remain an option for people like her who would prefer to view shows at home in private.
"Personally, I don't know if I can ever be 100 percent comfortable traveling after this pandemic. Unless they find a cure or a vaccine, I don't think I would want to put myself at risk like that," she said.
Alammar says that his dream of attending his favorite band's show remains very much alive, and that he intends to capitalize on an opportunity to see them live if he finds one.
"When all this is over, I'm attending their first comeback show; I don't care where it is. This pandemic is really making me think about how unpredictable life is and how we have to fight for the things we want," he said.
https://www.arabnews.com/node/1705771/saudi-arabia
--------
Saudi Arabia adds six people and entities to terrorism blacklist over Daesh support
July 15, 2020
RIYADH: Saudi Arabia added six names and entities to its terrorism blacklist for providing Daesh with financial support, Saudi Press Agency (SPA) reported on Wednesday.
The list was established in consultation with the US and Gulf neighbors who are part of the Terrorist Financing Targeting Center (TFTC).
Several money transfer businesses were added to the list including Al-Haram Exchange, Tawasul Company, and Al-Khalidi Exchange.
These businesses have played a vital role in transferring funds to support Syria-based Daesh fighters and have provided hundreds of thousands of dollars of liquidity to its terrorist leadership, according to the TFTC.
The Kingdom also designated Abd Al-Rahman Ali Husayn Al-Ahmad Al-Rawi, who was selected by Daesh in 2017 to serve as a senior financial facilitator.
He was one of a few individuals who provided the terrorist organization significant financial facilitation into and out of Syria.
These entities and Al-Rawi have provided a critical financial and logistical lifeline to Daesh, its branches, and its global facilitation networks.
An Afghanistan-based organization and its director who facilitated the transfer of funds for and to support the activities of Daesh's branch in Afghanistan under the auspices of charitable were also added to the list.
Nejaat Social Welfare Organization and its director Sayed Habib Ahmad Khan were designated as key Daesh financial facilitators.
Since it was founded in 2017, the TFTC has issued five rounds of joint designations against over 60 terrorist individuals and entities around the world.
These designations targeted a wide range of terrorist organizations including Daesh and its affiliates, Al-Qaeda, Iran's Islamic Revolutionary Guard Corps, Lebanon's Hezbollah and the Taliban.
https://www.arabnews.com/node/1705136/saudi-arabia
--------
Top Lebanese church official slams Hezbollah for sidelining the state
16 July 2020
Hezbollah sidelines the Lebanese state and "declares war and peace where it chooses," the leader of the Maronite church said in an interview Thursday, in the latest of a string of tirades against the Iran-backed group.
"It [Hezbollah] helped precipitate war in Syria, Iraq and Yemen," Maronite Patriarch Bechara Rai told Vatican News.
For all the latest headlines follow our Google News channel online or via the app.
Rai, who has criticized Hezbollah and its allies on multiple occasions in recent weeks, said there was a "sort of control" from Hezbollah on the Lebanese government and the country's policies as a result of its participation in regional wars.
He blamed Hezbollah's actions and rampant corruption in the country for the unprecedented socioeconomic crisis that Lebanon is currently experiencing.
Rai called for Lebanon to adopt and commit to a neutrality policy, without having enemies in the "East or the West."
"Today, for the sake of Lebanon and all Lebanese without any exceptions, there is no solution other than neutrality," he added.
Adopting a neutrality policy, Rai said, would take Lebanon out from under the control of "any of Lebanese side."
The United States, European Union, and other Gulf states would not help Lebanon because they refused to offer any form of aid to a government they considered controlled by Hezbollah.
Days after he criticized Hezbollah and its allies for isolating Lebanon from its "brothers and friends," Rai told President Michel Aoun on Wednesday that all Lebanese sides should pledge allegiance to Lebanon.
During two consecutive church sermons last week and the week before, Rai indirectly spoke out against Hezbollah and the Free Patriotic Movement, calling for Lebanon to implement a policy of dissociation and neutrality.
https://english.alarabiya.net/en/News/middle-east/2020/07/16/Top-Lebanese-church-official-slams-Hezbollah-for-sidelining-the-state.html
--------
Explosion targets another US logistic convoy in Iraq: Local media
16 July 2020
An explosion has targeted a US logistic convoy carrying logistic supplies in Iraq's north-central province of Salahuddin, the second such incident in less than a week.
Citing Iraqi tribal sources, the Lebanese Arabic-language al-Mayadeen television news network reported that the US logistic convoy was attacked near Makshifiyah area on Wednesday.
According to Iraq's Saberin News, the resistance group Ashab al-Kahf has claimed responsibility for the blast.
"We confirm the destruction of a large logistical support convoy with its materials in Salahuddin," the group said in statement.
It is not immediately clear if any casualties were incurred.
A similar incident occurred on Saturday when a US logistic convoy was targeted on the road between Samawah and Diwaniyah, south of the Iraqi capital of Baghdad.
Local media said at least three vehicles of the convoy were destroyed or damaged in the attack, for which the newly formed Iraqi group, SarayaThawrat al-Eshreen al-Thaniya, claimed responsibility.
Anti-US sentiments have been running high in Iraq since Washington assassinated top Iranian commander Qassem Soleimani and the second-in-command of the Iraqi popular mobilization units, Abu Mahdi al-Muhandis, in January.
Following the attack, Iraqi lawmakers unanimously approved a bill on January 5, demanding the withdrawal of all foreign troops.
Baghdad and Washington are currently in talks over the withdrawal of American troops.
Iraqi resistance groups have vowed to take up arms against US forces if Washington fails to comply with the parliamentary order.
https://www.presstv.com/Detail/2020/07/16/629724/Iraq-US-convoy-explosion-Salahuddin-Makshifiyah
--------
Top Lebanese Maronite cleric slams Hezbollah for taking part in regional wars
July 17, 2020
CAIRO: Lebanon's leading Christian cleric has ramped up his condemnation of Hezbollah saying it has always sidelined the Lebanese state at times of war.
The head of the Lebanese Maronite Christian Church Bechara Rai told Vatican News that the Iran-backed militant group has taken part in wars in countries such as Syria, Yemen and Iraq.
His remarks are the latest in a string criticism of the heavily armed Hezbollah over its support for Iran in conflicts with Arab states.
Rai said there was a "sort of control from Hezbollah on the Lebanese government and the country's policies" with its role in regional wars. "Lebanon does not want this."
Rai said Hezbollah's interventions have "created a political crisis that contributed to a severe economic and living crisis in the country."
"Lebanon is a civil state that operates between the state and religion. Today, for the sake of Lebanon and all Lebanese without any exceptions, there is no solution other than neutrality," he added.
Lebanon is mired in an economic and political crisis that has left the economy close to collapse.
Hezbollah backs the government of Prime Minister Hassan Diab, but its support has alienated Beirut from countries in the region and the West.
The group is considered a terrorist organisation in the US, Europe and other countries.
https://www.arabnews.com/node/1705671/middle-east
--------
Mideast
Iran Proposes Mediation between Azerbaijan, Armenia over Border Clashes
Jul 16, 2020
Foreign Ministry Spokesman Seyed Abbas Mousavi expressed regret over the recent clashes between Azerbaijan and Armenia over the Karabakh issue, and said, "Peaceful solutions, bilateral talks and mediation should be taken to settle the differences and the Islamic Republic of Iran is ready to act as a mediator between the two countries to resolve the differences whenever the two sides want."
He expressed the hope that tensions would decrease between the two countries in the next few days, noting that the Iranian foreign ministry is in contact with the Armenian and Azeri officials on the issue.
"We believe that the region can bear no more differences and clashes," Mousavi said.
Conflict in the Nagorno-Karabakh region began following the breakdown of the Soviet Union in the late 1980s and lasted till approximately 1994, with both Armenia and Azerbaijan claiming this strategic territory. At that time, the enclave of Nagorno-Karabakh had held a referendum boycotted by Azerbaijan where the people chose independence over joining either of the two countries.
Fighting between the two sides broke out over the weekend involving tanks and artillery. On Wednesday, however, defence officials from both countries said there had been no fresh fighting overnight.
Both sides accuse each other of shelling civilian areas on the border between Tavush in North-Eastern Armenia and the Tovuz district in Azerbaijan.
At least 11 Azeri soldiers and one Azeri civilian were killed, according to Azerbaijan. Armenia has reported that four of its soldiers have died, including two officers.
https://en.farsnews.ir/newstext.aspx?nn=13990426000637
--------
Commander Underlines Iranian Ground Force's Equipment with Hi-Tech Weapons
Jul 16, 2020
"Today, we have taken great steps in achieving our goal of equipping ourselves with smart, pinpoint, digital and electronic weapons," General Heidari said, addressing a meeting on Wednesday.
He referred the guidelines of the Leader of the Islamic Republic Ayatollah Seyed Ali Khamenei on the necessity of increasing and upgrading the Iranian army's strength and mobility for countering possible wars, and asserted that "by changing its structure and organization, the Army Ground Forces of the Islamic Republic of Iran has been able to meet the current operational needs in order to be ready to face any possible threats in any way".
The commander continued to say that all of the developments that have taken place in order to increase the mobility, agility and combat capability of the forces have been done by relying on domestic industries and with diligent efforts made by Iranian specialists as well as believing in the principle of self-sufficiency.
General Heidari noted that "in the future, wars would be based on making an impact, not destruction", adding that "today, we have taken great steps in achieving our goals of equipping ourselves with smart, pinpoint, digital and electronic weapons to counter the possible threats to the country".
In relevant remarks in May, General Heidari announced plans to boost production of different military equipment in the new year (started on March 20).
"We will have a desirable leap in area of military parts [production] in the Year of Surge in Production and we have put good plans on agenda for developing robots, helicopters, anti-armor and anti-missile equipment, quadcopters, drones and different types of border monitoring sensors," General Heidari said.
He added that Iran has gained self-sufficiency in production of defensive weapons and equipment, noting that the Ground Force has made desirable success in production of hand-thrown drones and their maintenance.
The Iranian Army has in recent years made double efforts to increase its defensive and combat power.
General Heidari had also announced in February that the Army's Airborne Unit has boosted the range of missiles fired by helicopters.
"Today, the range of Army Airborne Unit's missiles has increased to a very desirable level and we have achieved self-sufficiency in the field of night-vision systems and we can fly over night and destroy targets," General Heidari said.
He described the Iranian Army's Airborne Unit as the biggest helicopter fleet in the Middle-East.
https://en.farsnews.ir/newstext.aspx?nn=13990426000155
--------
Iran, Afghanistan to Accelerate Implementation of Joint Agreements
Jul 16, 2020
Iranian Deputy Foreign Minister for Political Affairs Abbas Araqchi and Afghan Acting Minister of Finance Abdul HadiArghandiwal in a meeting discussed ways to accelerate implementation of economic approvals between the two countries.
Araqchi and Arghandiwal emphasized the facilities of economic cooperation, joint planning, and cooperation development between the two countries.
Araqchi is also due to meet with other Afghan officials on Thursday and attend a meeting on at the Institute for Strategic Studies in Afghanistan.
Heading a high-ranking delegation, Araqchi travelled to Kabul on Wednesday to follow up the agreements reached during Afghanistan's Acting Minister of Foreign Affairs Mohammad Hanif Atmar's visit to Tehran last month.
At the conclusion of his visit to Iran on June 21-22, Atamar and Iran's Foreign Minister Mohammad Javad Zarif issued a joint statement, defining the road for bilateral cooperation in various fields, including common border security.
https://en.farsnews.ir/newstext.aspx?nn=13990426000581
--------
Iran security forces fire tear gas to disperse Behbahan protesters
17 July 2020
Anti-government protests broke out in at least two Iranian cities on Thursday, according to reports and videos on social media.
The protests initially broke out in Behbahan, a city in the oil-rich province of Khuzestan in southwest Iran.
For all the latest headlines follow our Google News channel online or via the app.
Protesters chanted against the regime and its foreign policy as well as against the Basij, the paramilitary arm of the Islamic Revolutionary Guard Corps (IRGC), according to videos circulating on social media.
The protests follow a Twitter campaign Iranians had launched on Tuesday against the Iranian judiciary's decision to uphold the death sentences of three protesters who were arrested and sentenced to death following the anti-government protests in November 2019.
Iranians in and out of Iran used a Persian-language hashtag that read "do not execute" which became a global trending topic with over four million tweets.
"Not Gaza, Not Lebanon, I give my life for Iran," protesters are heard chanting in one video in reference to Tehran's support for Palestinian group Hamas in Gaza and Hezbollah in Lebanon.
This is a popular chant Iranians have used in protests over the years – notably during the 2009, 2017, and most recently November 2019 protests – to criticize Tehran's foreign policies and funding of its network of proxies in the Middle East.
Protesters were also heard chanting "we don't want a clerical regime," "clerics must get lost," and "fear not, fear not, we are in this together."
Another video from Behbahan showed security forces firing tear gas to disperse protesters.
"The Basij are honourless," protesters are heard chanting in another video, as security forces look on.
At the same time, cybersecurity NGO Netblocks said Iranian authorities have imposed restrictions on the internet in the province of Khuzestan where Behbahan is located from 10 p.m. local time.
"Real-time network data show total and partial disruptions varying by provider amid anti-government protests," NetBlocks said.
During the November 2019 protests, Iran almost completely shut off access to the internet across the country for days.
Protests also broke out in the city of Shiraz on Thursday, according to reports on social media.
Earlier on Thursday, Iranians on social media shared videos on social media showing a heavy presence of security forces in several cities including the capital Tehran.
Iranian activists on social media have called for more protests on Friday.
https://english.alarabiya.net/en/News/middle-east/2020/07/17/Iran-security-forces-fire-tear-gas-to-disperse-Behbahan-protesters.html
--------
Iranian journalist Masih Alinejad's brother sentenced to 8 years in prison: Lawyer
16 July 2020
Iran has sentenced the brother of exiled Iranian journalist Masih Alinejad to eight years in prison, according to his lawyer. Alinejad says her brother is being punished for resisting pressures from the regime to publicly denounce her.
Alinejad's brother, Alireza Alinejad, was arrested at his home in Tehran in September 2019.
For all the latest headlines follow our Google News channel online or via the app.
He has been sentenced to eight years in prison on charges of "conspiring to act against national security," "insulting the Supreme Leader," and spreading "propaganda against the regime," his lawyer said on Twitter on Wednesday.
Masih Alinejad, a US-based journalist and an outspoken critic of the Iranian regime, says authorities are punishing her brother for refusing to denounce her on state TV as well as for refusing to cooperate with Iran's security apparatus in order to "kidnap" and bring her back to Iran.
"My brother Alireza's crimes are the following: loving his sister, refusing to disown me on state TV, and refusing to cooperate with the Revolutionary Guards' plot to lure me to Turkey and kidnap me to Iran," Alinejad tweeted.
"My brother is innocent and he is taken hostage by the Islamic Republic of Iran to punish me for my activities. Hostage-taking is in the DNA of this brutal regime," she added.
Iranian journalists and activists abroad often complain that authorities attempt to pressure them by harassing their relatives inside the country.
In November 2019, London-based news channel Iran International said families of its staff in Iran were subject to harassment from the Ministry of Intelligence due to the channel's coverage of the country's anti-government protests at the time.
Many Iranians came out in support of Alinejad on social media.
"Eight years in prison [for Alireza Alinejad] because his sister's activism displeases the regime and because he refuses to condemn her," Iranian journalist Shahed Alavi tweeted on Wednesday.
"Iran's government imprisoned, abused, and exiled journalist Masih Alinejad, but she persisted in her civil rights advocacy. Consequently, they took her innocent brother Ali hostage, to coerce him to turn on her," Karim Sadjadpour, a senior fellow at the Carnegie Endowment for International Peace, tweeted. "When he refused, they've now given him an 8-year prison sentence."
https://english.alarabiya.net/en/News/middle-east/2020/07/16/Iranian-journalist-Masih-Alinejad-s-brother-sentenced-to-8-years-in-prison-Lawyer.html
--------
Yemeni government rejects latest UN peace plan draft
July 17, 2020
AL-MUKALLA: The internationally recognized government of Yemen claims that the latest draft of a peace plan submitted by the UN Special Envoy for Yemen Martin Griffiths is biased toward the Iran-backed Houthis and "undermines" the government's legitimacy, three government officials told Arab News on Thursday.
"The proposal suggests accepting the current situation and the changes on the ground including Houthis as an armed group," one Cabinet minister, speaking on condition of anonymity, told Arab News. The minister said the main "bone of contention" is "three references that the UN envoy wants to convince everyone are irrelevant" — namely the GCC Initiative, the outcomes of the National Dialogue Conference, and Security Council Resolution 2216.
Another government official said the latest draft of the peace plan includes a nationwide truce and demands that the government pays public servants. The official said that the government believes those items contradict the "three references" that oblige the Houthis to hand over their weapons, leave Sana'a and other areas under their control, and allow the government to return to the capital.
"The plan gives legitimacy to the coup that Houthis plotted in late 2014. The fait-accompli policy cannot give international legitimacy to the putschists," the second government official said. The government also believes that the Houthis should share the cost of paying government salaries, claiming the Iran-backed militia has taken large sums of money from seaports, banks and telecom companies.
A third senior government official told Arab News that the Houthis should be required to stop executing their opponents and seizing their properties in Sanaa, to release detainees, and to open Sanaa airport and Hodeida port.
"The problem is that the UN Yemen envoy is sometimes not a mediator. He supports the demand of the Houthis," the third official said.
Yemen's Foreign Minister Mohammed Al-Hadrami said on Wednesday that the government rejected the latest draft of the peace plan and would abide by the previous draft, which did not include the controversial points.
Griffiths refutes the government's accusations, saying the proposed peace plan asks all parties to cease hostilities and immediately engage in talks based on the three references, which he described in an interview with UN News as "the only way to break with the violence of the past and end this conflict comprehensively and sustainably."
Griffiths recognized that major issues between the two sides remain, but said: "There are always points of convergence that a mediation process can build on. Yemen is no different. We will continue to work with the parties to find a consensual path forward to achieve these mutual goals and pave the way for bringing this conflict to a sustainable end."
Without specifically naming the Houthis, Griffiths called for rebels to immediately halt offensives in the provinces of Jawf and Marib. "The continued assault on Marib is unacceptable. I am afraid this assault could seriously undermine the prospects of peace in Yemen," he said.
Several previous rounds of peace talks between the government and Houthis in Geneva, Biel and Kuwait have failed. The government insists that the Houthis must disarm before they can share power, while the Houthis wish to discuss power-sharing and other political arrangements before withdrawing from cities under their control.
Houthi missiles
The provincial office of the Ministry of Human Rights in Marib said in a statement that 244 ballistic missiles and Katyusha rockets fired by the Houthis since early 2015 have killed 251 civilians — including 25 children and 12 women — and wounded 438 others, including 47 children and eight women.
https://www.arabnews.com/node/1705786/middle-east
--------
Yemeni tribes reject Saudi compensation, seek revenge for Jawf bloodshed
17 July 2020
Yemeni tribes in the northern province of al-Jawf have rejected a financial offer from the Saudi-led coalition to compensate for the recent deadly airstrikes that claimed over two dozen civilian lives, saying the only thing that would calm them down is revenge.
In yet another act of aggression on the impoverished country, airstrikes by the Saudi-led military alliance on Wednesday targeted a residential area in the al-Hazm district of al-Jawf Province, leaving 25 people, including women and children, dead and several others injured.
The casualties took place at a wedding ceremony that belonged to the Yemeni tribe of Bani Nouf in the al-Hazm district.
Saudi-led warplanes had earlier in the day launched five airstrikes against the al-Aqsha' area in the same district, with local media reports falling short of providing the exact number of possible casualties.
The Arabic-language al-Khabar al-Yemeni news website reported on Thursday that the elders of the al-Jawf tribes, in their meetings and contacts with the Bani Nuf tribe, had thrown their support behind tribal revenge for the recent casualties, underlining that an attack on Bani Nouf tribe would be an attack on all the tribes in al-Jawf.
The news website also said the Saudi-led coalition had dispatched a number of representatives to the tribes in al-Jawf to pay reparations to and appease them but they had refused to accept the financial compensation for the atrocity.
Martin Griffiths, the United Nations special envoy for Yemen, called on Thursday for a transparent investigation into the Saudi-led coalition's airstrikes in al-Jawf and described the attacks on Yemeni civilians as reprehensible.
Since March 2015, Saudi Arabia has been conducting a bloody military aggression in Yemen with help from its regional allies, and using arms supplied by its Western backers. The aim of the war has been to bring Yemen's former president, Abd Rabbuh Mansur Hadi, back to power and defeat the Houthi Ansarullah movement.
The ongoing war has killed tens of thousands of Yemenis and pushed the entire country close to the brink of famine. The brutal military intervention has also taken a heavy toll on the country's infrastructure, destroying hospitals, schools, and factories.
The COVID-19 pandemic is also raging unchecked in the war-torn country.
https://www.presstv.com/Detail/2020/07/17/629802/Yemeni-tribes-Jawf-bloodshed-Saudi-compensation
--------
Israel compiles list of officials who could face arrest over ICC probe
16 July 2020
Israeli authorities have compiled a top secret list of hundreds of military and intelligence officials, who could be arrested abroad if the International Criminal Court (ICC) in The Hague opens an investigation into their war crimes in the occupied Palestinian territories.
The list thus far consists of between 200 to 300 people, some of whom are not aware of their inclusion, for abuses and war crimes committed in the West Bank, the Gaza Strip and East Jerusalem al-Quds, Haaretz newspaper reported on Thursday.
The list is secret as the Tel Aviv regime fears that the ICC could perceive the list of names as an official Israeli admission of the officials' involvement in the incidents under investigation.
The roster includes some of Israel's top officials, especially those involved in the 2014 military onslaught on the besieged Gaza Strip.
Among them would be Prime Minister Benjamin Netanyahu, minister of military affairs Benny Gantz, former minister of military affairs and current opposition MK Moshe Ya'alon, and the chief of the general staff of the Israeli army, Aviv Kohavi.
Former ministers of military affairs Avigdor Liberman and Naftali Bennett, along with former and current heads of the Shin Bet security service, Yoram Cohen and Nadav Argaman respectively, and some lower-ranking officers are also on the list.
A three-judge panel at the ICC is set to rule in the coming days or weeks on whether to approve a request by the court's chief prosecutor, Fatou Bensouda, to launch an investigation into war crimes perpetrated in the occupied Palestinian land.
In early July 2014, Israel waged a war on the Gaza Strip. The 50-day military aggression, which ended on August 26, 2014, killed nearly 2,200 Palestinians, including 577 children. Over 11,100 others – including 3,374 children, 2,088 women and 410 elderly people – were also wounded in the war.
Israel has long argued that the ICC has no jurisdiction over the case.
In recent months, Israel has also encouraged the administration of US President Donald Trump to sanction the ICC in the hope that this would deter the court from the war crimes investigation.
Last month, Trump announced sanctions against ICC officials investigating abuses by Americans and Israeli officials, stressing that court had no "jurisdiction over personnel of the United States and certain of its allies."
"The ICC is already threatening Israel with an investigation of so-called war crimes committed by its forces and personnel in the West Bank and in the Gaza Strip," US Secretary of State Mike Pompeo said in a brief statement on June 11.
"It's clear the ICC is only putting Israel in its crosshairs for nakedly political purposes," he added.
Israeli officials have long feared arrest for abuses while traveling to countries that have a legal remit to prosecute foreign war criminals.
Back in 2016, British police summoned former Israeli foreign minister Tzipi Livni for questioning during a visit to the United Kingdom over the Tel Aviv regime's war crimes during Israel's 2008-2009 war in Gaza.
Livni, however, managed to obtain emergency diplomatic immunity and avoided summons to be questioned.
https://www.presstv.com/Detail/2020/07/16/629763/Israel-compiles-list-of-officials-who-could-face-arrest-over-ICC-probe
--------
South Asia
Nearly 20 civilians killed, wounded in clashes between Afghan and Pakistani forces
17 Jul 2020
At least 20 Afghan civilians were killed or wounded during a clash between the Afghan and Pakistani forces in eastern Kunar province of Afghanistan.
A source in the provincial government confirmed that that 8 civilians lost their lives and at least 11 others sustained injurires during the clash between Afghan and Pakistani forces in Sarkanoo district.
The source further added that the Pakistani forces fired several mortar rounds on Sarkano district after attempting to establish security posts inside the Afghan soil which the Afghan forces prevented.
Fareed Dehqan, a spokesperson for the provincial police headquarters confirmed the incident and said the Pakistani forces fired multiple rounds of mortars on bordering regions in Nawapas area.
The clahsbetweentthe two sides reportedly continued for several hours.
The Afghan and Pakistani authorities have not formally commented regarding the incident so far.
https://www.khaama.com/nearly-20-civilians-killed-wounded-in-clashes-between-afghan-and-pakistani-forces-08964/
--------
U.S. forces launched multiple drone strikes in 3 provinces: Taliban
17 Jul 2020
The Taliban group has claimed that the U.S. forces based in Afghanistan carried out multiple drone strikes in three provinces of Afghanistan.
"The American forces, today, committed a violation of the Agreement by launching several drone strikes in non-combat zones in Helmand, Ghazni and Zabul provinces. It is unacceptable to the Islamic Emirate and condemns it," Suhail Shaheen, a spokesperson for the political office of Taliban said late on Thursday.
The drone strikes, if confirmed, follow an unprecedented violence led by the Taliban group during the recent months.
The United States and Taliban signed a peace deal late in the month of February of this year in a bid to pave the way for intra-Afghan talks aimed at ending the ongoing violence.
However, the Afghan officials say the Taliban not only reduced their violence by increased their attacks against the Afghan forces and civilians following the signing of peace deal.
https://www.khaama.com/u-s-forces-launched-multiple-drone-strikes-in-3-provinces-taliban-08965/
--------
Afghan Official: Pakistani Mortars Kill 4 Afghan Civilians
July 15, 2020
KABUL, Afghanistan — Several mortar shells fired by Pakistani troops landed in a border village in eastern Afghanistan on Wednesday, killing four civilians and wounding nine others, an Afghan provincial spokesman said.
In Pakistan, police accused Afghan forces of initiating an exchange of fire a day earlier.
Abdul Ghani Musamem, spokesman for the governor of Afghanistan's Kunar province, said Afghan forces returned fire Wednesday.
A lawmaker from Kunar, Wazhma Safi, said if Pakistan continued to fire over the border, the issue would be discussed at the diplomatic level. She said she believes Taliban insurgents, backed by Pakistan, were behind the attack on Afghan soil.
Safi's comments come as a fresh round of peace negotiations between the Afghan government and the Taliban are expected this month in Doha, Qatar which were delayed due to postponement of a prisoner exchange between the sides.
Under the Feb. 29 signing of a U.S.-Taliban peace deal, the Afghan government is to release 5,000 Taliban prisoners and the Taliban are to release 1,000 Afghan national defense and security personnel.
So far, the government has freed 4,015 and the Taliban has freed 669, according to the Afghan government.
In Pakistan, Mamoond district police chief Shahzada Kaukab said a rocket fired from Afghan forces struck a home in the district Tuesday, wounding a woman and damaging her home. He said Pakistani troops returned fire but exercised restraint to avoid any escalation.
The Pakistani and Afghan governments often accuse each other of initiating fire in the border region, where militant groups are often interlinked on both sides of the border.
Mamoond district was once a haven for local militants and Taliban insurgents. Pakistan says the army has cleared the area in recent years, although violence persists. Militants who were not killed have mostly fled across the rugged mountains into neighboring Afghanistan.
Pakistan and Afghanistan share a 2,500-kilometer (1,550-mile) border known as the Durand Line, which Pakistan considers to be an international border.
Afghanistan rejects the colonial-era border created in 1893. In 2017, Pakistan said it had started building a fence along the border as part of efforts aimed at curbing militancy. But the move sparked condemnation in Kabul.
Meanwhile, German Foreign Minister Heiko Maas in a phone conversation with Afghan's foreign minister offered to host intra-Afghan peace talks if both sides agree, said ministry spokesman Gran Hewad.
https://www.nytimes.com/aponline/2020/07/15/world/asia/ap-as-afghanistan-pakistan.html?utm_source=iterable&utm_medium=email&utm_campaign=1364515_
--------
Southeast Asia
Man Gets 26 Months' Jail For Insulting Islam, Prophet Muhammad by the Kuala Lumpur Sessions Court
17 Jul 2020
KUALA LUMPUR, July 17 — A man was sentenced to 26 months' jail by the Sessions Court here today after he was found guilty on two counts of insulting Prophet Muhammad, Islam and PAS president Datuk Seri Abdul Hadi Awang on Facebook last year.
Judge MM Edwin Paramjothy imposed a 26-month jail term for the first charge and a six-month term for the second charge on Danny Antoni, 29, and ordered the sentences to run concurrently from the date of his arrest on March 6, 2019.
In his judgment, Edwin said the crime of insulting one's religion was committed not only against the person it was directed at but also against the values and functions that the particular religion represents.
"The question in every case is whether the words used are of such a nature that they will bring about the substantive evils that the legislature has enacted laws to prevent.
"Though freedom of expression secures the freedom to criticise, this right does not grant individuals the right to insult. The law protects freedom of religion through the enactment or strengthening of national frameworks and legislation to prevent the vilification of religions and the negative stereotyping of religious groups," he said.
Edwin added that religion is something personal and especially dear to the ones professing it, and it is undeniable that in the instant case, the accused's inappropriate, irresponsible and provocative posting based on race and religion had transgressed the parameters of free speech guaranteed under the Federal Constitution.
Furthermore, he said, the posting was highly inflammatory and emotive, drawing much prejudice against the religion of Islam.
"When viewed objectively, one will be able to conclude that such words or postings are not an essential part of any exposition of ideas and have such slight social value. Any benefit derived from the posting is outweighed by the social interest, order and peace. The words by their very utterance inflict injury and tend to incite an immediate breach of peace," he said.
Danny was charged with using the Facebook account of Danny A'antonio Jr to post an insulting statement against Prophet Muhammad and Islam which could threaten harmony between Muslims and non-Muslims, at 1.21am on Jan 9, 2019 under Section 298A (1) (a) of the Penal Code, which provides for a maximum jail term of five years.
He was also charged with committing the same offence against Abdul Hadi at the same place, date and time under Section 233 (1)(a) of the Communications and Multimedia Act 1998, punishable under Section 233(3), which provides for a maximum fine of RM50,000 or imprisonment of up to one year or both.
Both postings were read at the Cyber Crime and Multimedia Investigation Division, Commercial Crime Investigation Department, Bukit Aman Police headquarters, Menara KPJ here at 10 am on March 4, 2019.
Deputy public prosecutor JulailaJamaludin prosecuted while Danny was unrepresented. — AFP
https://www.malaymail.com/news/malaysia/2020/07/17/man-gets-26-months-jail-for-insulting-islam-prophet-muhammad/1885419
--------
Malaysiakini Trial Comes Amid Malaysia's Press Freedom Decline
By Eric Neugeboren
July 16, 2020
WASHINGTON - A series of arrests and interrogations of journalists in Malaysia signals a rapid deterioration of conditions for media freedom in the country.
This month, the Malaysian attorney general filed contempt of court proceedings against Steven Gan, the editor-in-chief of the news organization Malaysiakini. And on July 10, authorities interrogated journalists over a documentary about migrant workers and COVID-19.
The events mark a significant retreat for Malaysia, which in the past two years made one of the biggest improvements of any country in press freedom as measured by the monitoring group Reporters Without Borders (RSF).
Gan's trial, which began on July 13, came after five readers left comments critical of the country's judiciary on a Malaysiakini article about the reopening of a court following a lockdown for the coronavirus.
Gan has maintained that the publication erased the comments within minutes of being contacted by Malaysian authorities.
The panel of judges hearing the case said they will issue their findings at a later date. If found guilty, Gan could face a jail term as well as a fine.
"The case is actually totally baseless," Daniel Bastard, Asia-Pacific director at Reporters Without Borders (RSF), told VOA. "It's a clear attempt to intimidate journalists."
Australian journalists
The court case came days after Malaysian police interrogated six Australian journalists in a separate case. They were working in Malaysia for the Qatari network Al Jazeera. The journalists broadcast a 25-minute documentary on July 3 that detailed dangers for Malaysian migrant workers during the pandemic lockdown.
National Police Chief Abdul Hamid Bador told reporters the documentary contained elements that could be investigated for sedition, defamation and violation of Malaysia's Communications and Multimedia Act. He maintained that the reporters were "witnesses, not suspects" in the investigation.
In a statement last week, Al Jazeera pushed back on authorities' claims that the documentary was misleading.
"Malaysian officials have criticized the documentary as being inaccurate, misleading and unfair," the statement read. "In a world in which the media face increasing threats, Al Jazeera calls for media freedom and the right to report freely without intimidation."
The Australia-based group Alliance for Journalists' Freedom said in a statement that the Al Jazeera case "appears to be following an increasingly worrying trend in Malaysia in which the government targets uncomfortable journalism."
Decline in press freedom
Malaysia is at a crossroads in its treatment of the press. Following the first change in government in six decades in 2018, Prime Minister Mahathir Mohamad immediately ushered in reforms that included quashing a "fake news" bill that could have targeted journalists.
During the reformist government's rule, a group of Malaysian media organizations — led by Malaysiakini — campaigned for a self-regulatory council that would help improve press freedom in the country, Gan said.
Malaysia subsequently moved up 22 places in RSF's 2020 World Press Freedom Index to No. 101 — the biggest improvement among all 180 rated countries. The Paris-based organization wrote that the "the general environment for journalists is much more relaxed, self-censorship has declined dramatically and the print media are now offering a fuller and more balanced range of viewpoints."
"Malaysia really took a very encouraging move in terms of press freedom," Bastard said. 
The trend now is reversed. In February, the reformist coalition government collapsed when defectors joined forces with the lead party of the previous government. On March 1, the country's Minister of Home Affairs, Muhyiddin Yassin, took over as prime minister. At the same time, the media council, and other efforts to ensure protections for journalists, were pushed aside, Gan said.
Within weeks of the new government's emergence, Gan was summoned to the Home Ministry — a first for Malaysiakini, which was founded in 1999. At the meeting, Malaysian officials raised concerns with several of the publication's reports, Gan said.
"I knew that it was the beginning of a change," Gan said of his initial reaction to the meeting.
Many of Malaysia's laws permitting suppression of the press remain, Bastard said, which was something the media council had hoped to repeal.
"[The laws] can be easily instrumentalized by the government to intimidate journalists, threaten them for arrest, things like that," Bastard said. 
VOA reported in June that at least eight people had been charged or brought in for questioning for social media posts critical of the new government.
Gan remains hopeful that press freedom will be restored, but he said for that to happen, Malaysia would likely need another reformist government.
Around the time the publication was founded "there was tremendous fear on the streets." Now, more than 20 years later, "people feel empowered" to speak out and seek information — thanks to publications like Malaysiakini.
"I'm hopeful this is what Malaysians want," Gan said. "I always say press freedom is like a tube of toothpaste — when it's out, it's really hard to pull it back in again."
https://www.voanews.com/press-freedom/malaysiakini-trial-comes-amid-malaysias-press-freedom-decline
--------
Dr M claims Pakatan's administration ended the moment Bersatu left coalition
17 Jul 2020
BY AZRIL ANNUAR
KUALA LUMPUR, July 17 — Langkawi MP Tun Dr Mahathir Mohamad claimed that his resignation as prime minister was only a "formality" as the Pakatan Harapan (PH) coalition had ceased to be the government the moment Bersatu abandoned them.
In his blog today titled My Resignation, the former premier said that this automatically triggered the end of the PH Cabinet.
"Strictly speaking, when Bersatu left PH, PH ceased to be the Government. This meant that all members of the Cabinet lost their ministerial positions. This included me. I had lost my position as prime minister. Resigning was only a formality," said Dr Mahathir.
The 95-year-old politician implied that the end of the PH administration was the brainchild of his former protégé turned nemesis Pekan MP and former Umno president Datuk Seri Najib Razak who had also proposed to set up a Malay-Muslim administration with PAS.
For this plan to succeed, Najib needed more Malay support and for Bersatu to leave PH while allying itself with PAS and Umno.
Dr Mahathir then accused Bersatu secretary-general and Home Minister Datuk Seri Hamzah Zainuddin of being part of the conspiracy to oust DAP and overthrow the PH administration.
Apparently, Hamzah's role was to obtain Umno support for Bersatu and Dr Mahathir, who was supposed to lead the "unholy coalition", which he refused.
"Hamzah Zainuddin worked to get Umno members to support me, as I was to be the prime minister in this new coalition. He got even Najib to sign. I opposed this move. But Muhyiddin supported the idea. Majority in Bersatu supported Muhyiddin.
"I refused to be PM of the Umno/PAS/Bersatu government because it meant I would be working with Umno and Najib, the people I had condemned and defeated in the 14th GE. I would actually be resuscitating Umno and make it a part of the government.
"I would be betraying the people who supported me in the election. I would also be reneging on my promises to the other parties in the PH coalition. I just could not accept the suggestion that I should be the prime minister of this unholy coalition," said Dr Mahathir.
He then added that Bersatu president Tan Sri Muhyiddin Yassin was willing to accept the cooperation with Umno and PAS, hence he decided to leave the group.
https://www.malaymail.com/news/malaysia/2020/07/17/dr-m-claims-pakatans-administration-ended-the-moment-bersatu-left-coalition/1885421
--------
Selangor Sultan okays larger congregation during daily, Friday prayers at mosques, suraus
17 Jul 2020
SHAH ALAM, July 17 — Sultan Selangor Sultan Sharafuddin Idris Shah has consented to increasing the number of worshippers performing daily and Friday prayers in mosques and surau in the state in accordance with the capacity of the actual space, effective today.
Selangor Islamic Religious Department (Jais) director MohdShahzihan Ahmad said this includes surau which have been given special permission by the Selangor Islamic Religious Council (Mais) to conduct Friday prayers subject to the implementation of the 1.5-metre social distancing.
"For Friday prayers, the congregation must go through the process of registration and wait for their turn as previously specified.
"A more efficient system is being drawn up to make it easier for the public to register and get feedback regarding their participation in the Friday prayers," he said in a statement today.
MohdShahzihan said the number of worshippers allowed to pray in the mosque and surau are is subject to the capacity of the actual size after observing social distancing of 1.5 metres.
However, he said women worshippers were still not allowed to pray in a congregation except at Masjid Diraja Tengku Ampuan Jemaah, Bukit Jelutong, and Masjid Diraja Raja Haji Fi Sabilillah, Cyberjaya.
MohdShahzihan also advised worshippers to perform their ablution at home, wear masks, bring their own prayer mats, and stay healthy.
He added that JAIS will also form a special committee to monitor the standard operating procedure (SOP) in mosques or surau, as well as compliance by the worshippers.
"Stern action will be taken for any non-compliance with the SOP, and JAIS will not hesitate to withdraw the permission in order to protect the safety and well-being of the congregation and image of Islam," he said. — Bernama
https://www.malaymail.com/news/malaysia/2020/07/17/selangor-sultan-okays-larger-congregation-during-daily-friday-prayers-at-mo/1885375
--------
Africa
Muslims opt out of Ekiti government's reopening of churches, mosques
17 July 2020
As the religious centres reopen for operations today in Ekiti State after three and half months of closure amid COVID-19 pandemic, the Nigerian Supreme Council for Islamic Affairs (NSCIA), Ekiti chapter, has suspended reopening of all major mosques across the state.
The state governor, Dr. Kayode Fayemi, had recently announced that all churches and mosques operating in Ekiti State could commence operation on July 17, 2020, after acquiring a certificate of fitness before commencing worshipping.
But a statement signed by the President, NSCIA, Ekiti State Chapter, Alhaji YaqubuSanni, yesterday, said the suspension of activities in mosques was taken because all the safety protocols could not be met within the time-frame stipulated by the government.
"Muslims in the government committee on reopening of worship centres and health officers educated members on how to guard themselves against COVID-19 and conditions to be met before the reopening of mosques in the state.
"After reviewing the guidelines, it was agreed that the conditions for reopening of mosques as discussed could not be met within the stipulated time-frame, that is between now and July 17, 2020.
"Hence, it was resolved that the Muslims in Ekiti State would hold on for a while in preparations to meet the conditions laid down," Sanni said.
The NSCIA, however, lauded the state government for the steps taken to safeguard the lives of worshippers in Ekiti State against the pandemic.
Meanwhile, the government said only religious centres with coronavirus prevention facilities would be allowed to resume activities, while certificates of compliance must be received from the ministry to authenticate their readiness to reopen.
The Commissioner for the Environment, Mr. Gbenga Agbeyo, who stated this in Ado-Ekiti, yesterday, insisted that no religious centre would be allowed to resume without complying with the stipulated guidelines to curb the spread of the deadly coronavirus.
He said that all the churches and mosques must comply with the COVID-19 safety protocols, saying that provision of requisite facilities remains the pre-requisite for reopening.
Agbeyo, who debunked the rumour of payment of N2,000 for issuance of certificate after fumigation, said: "The ministry had met with the leadership of the religious bodies, including Christian Association of Nigeria (CAN) and they have agreed to bear the cost of fumigating their premises themselves as certificates will be issued at no cost."
https://guardian.ng/news/muslims-opt-out-of-ekiti-governments-reopening-of-churches-mosques/
--------
Cameroon Rejects Evidence of Forcing Civilians to Fight Boko Haram
By Moki Edwin Kindzeka
July 16, 2020
YAOUNDE - Cameroon has rejected a Human Rights Watch report that says its military forces civilians to serve on guard duty against Boko Haram militants. The rights group says Cameroon's military has abused villagers along the border with Nigeria who refused to join militias.
Governor of Cameroon's Far North Region Midjiyawa Bakari insists that members of military-organized civilian militias are all volunteers.
Speaking via a messaging application from the region's capital, Maroua, he said the state encourages the militias to keep a watch out for Boko Haram.
He said President Paul Biya asked all Cameroonians to help stop Boko Haram terrorism by denouncing suspects and strange visitors in their communities. Bakari said people who join militia groups are volunteers who have agreed to collaborate with the military and government by sharing information on any potential attack.
Last week, Human Rights Watch reported that the military in the northern border town of Mozogo was forcing civilians to perform night guard duty against Boko Haram terrorists.
The report said soldiers beat and threatened the poorly equipped and untrained civilians who refused to keep guard.
Many civilians who were scared of doing night duty fled, the report stated.
Human Rights Watch Central Africa researcher Ilaria Allegrozzi said fighting Boko Haram is the job of the military – not civilians.
"We ask the Cameroonians authorities to immediately stop forcing civilians to perform night guard duties. We ask them to investigate the abuses that we have uncovered including the beatings, the threats and the forced labor and hold those responsible to account. It is not the job of the ordinary people to protect their town from Boko Haaram. It is the security forces who should do so," said Allegrozzi.
Bakari denied that civilians who join the militias were poorly equipped, and said they receive what he described as great assistance.
But, 37-year-old cattle rancher BoubaNouvadjava said the military forced him to join an under-equipped militia without guns in the northern town of Kolofata.
He spoke via a messaging application from Kolofata.
He said they have bow and arrows to intervene when possible and have been given telephones to call the military if the attackers are heavily armed.
Independent researcher on Boko Haram, ToumanOussmaila, said the militias need to be properly trained and armed.
He said very often the government gives the militias flashlights, telephones, and boots but then leaves them to fend for themselves. There is a credibility and morality crisis among civilians who join the militias, said Oussmaila, because they are forced. Some militia members can be accidentally killed by the military, he said, because they do not know how to communicate with the troops. The militias, said Oussmaila, lack basic self-defense training.
Cameroon authorities say Boko Haram last year was targeting the militias because they were a barrier to the Islamists' small-scale attacks on schools and markets.
Governor Bakari said that in 2019, the regional government gave a half-million dollars' worth of food and an unspecified amount of money to support the militias.
He pledged to give $1 million more to the militias by the end of this year.
https://www.voanews.com/africa/cameroon-rejects-evidence-forcing-civilians-fight-boko-haram
--------
New Insights Into How Communities Resist Boko Haram
July 17, 2020
By Akinola Olojo*
Communities affected by violent extremism are frequently considered to have risk factors linked to socio-economic deprivation, bad governance and religious radicalisation. These factors prevail across the whole of northern Nigeria, and in the north-eastern Bauchi and Gombe states.
However, despite Boko Haram's factions being active in this zone, Bauchi and Gombe haven't experienced the levels of violent extremism that other states in the same area have in the past decade. Field research conducted by the Institute for Security Studies (ISS) examined the factors that have helped Bauchi and Gombe resist Boko Haram.
Although religion is exploited by Boko Haram, the group's doctrines take on their 'rationality' from the wider socio-economic context where the mismanagement of limited resources by a ruling class is conducive to a crisis. At the time of Boko Haram's resurgence in 2010, Bauchi was among the top 10 Nigerian states in absolute poverty and Gombe was the third poorest state in the country in terms of absolute poverty.
From 2012 onward, some Boko Haram attacks occurred in Bauchi and Gombe. Banks and police stations were attacked and a limited presence of extremists was reported in the forests of Darazo, Ningi and Ganjuwa local government areas of Bauchi. In Gombe, the group attacked a prison, police stations and places of worship. Localities such as Nafada, Akko and Funakaye were affected. Risk factors exist in both states, but triggered only limited problems.
The ISS study identified four factors that enabled resilience to Boko Haram in Bauchi and Gombe. First, a combination of geography and ethnicity help explain the limited spread of the crisis in the two states. They share borders with the three states worst hit by extremism – Adamawa, Borno and Yobe. However, Bauchi and Gombe aren't geographically close enough to experience the full spectrum of violence carried out by insurgents traversing Nigeria's borders with Cameroon, Chad and Niger.
For years Boko Haram has taken advantage of various informal points of exit from Nigeria into neighbouring countries and vice versa. In Bauchi and Gombe, they don't have such escape routes. They may use temporary hideouts in parts of the Sambisa Forest that extend to Bauchi. However, the sanctuary that Sambisa offers closer to Borno is more conducive to the group's attack-and-retreat tactics.
Furthermore the major ethnic group from which Boko Haram has drawn members is the Kanuri. They're mainly based in Borno, with very few in Bauchi and Gombe. Although most Kanuris oppose Boko Haram, the group could still exploit their language, religion and territory. The Kanuri heartland thus provided the space and local networks, fishing unions, market groups and farming communities for Boko Haram's recruitment and mobilisation.
A second factor relates to traditional leaders in Bauchi and Gombe. In addition to the formal state structure, both states – like most in northern Nigeria – have an emirate comprising districts, wards and villages. Traditional leaders endorse community policing organised by vigilante and hunter groups, while district, ward and village heads oversee security in their respective spheres of influence.
The Yamaltu Security Committee for example was formed in the Yamaltu-Deba locality in Gombe, supported by the local government area chairperson and the traditional leadership. Similar committees were formed in Funakaye where residents experienced a Boko Haram attack. Traditional leaders also organised periodic ethnic group meetings where informants were nominated to oversee strategic locations in communities.
Religious leaders and organisations constitute a third factor. In a struggle where winning hearts and minds is paramount, the involvement of community actors familiar with the doctrinal elements required to deconstruct a terror group's ideology is crucial.
Mass rejection of Boko Haram owes something to the involvement of Islamic clerics who have spoken out against the group. A repercussion of this was the assassination of clerics across northern Nigeria between 2010 and 2013. In Bauchi, Sheikh Dahiru Usman Bauchi, a prominent Tijaniyya (Sufi brotherhood) scholar, publicly discredited Boko Haram and escaped multiple attacks by the group.
Sensitisation efforts by organisations such as Jama'atuIzalatuBid'ahWaIkamatu Sunna (JIBWIS) and Jama'atuNasrul Islam were also helpful. JIBWIS embarked on a ward-to-ward proselytisation of counter-narratives.
Vigilante groups are a fourth factor. In Gombe, police-vigilante collaboration was effective especially in the 2014-15 period when Boko Haram's activities peaked. Vigilante groups such as Yan Banga helped identify Boko Haram members in local government areas such as Kwami and Dukku, where an attack occurred in early 2015.
Other community groups that have defended residents include local hunters referred to as Yan Baka. Following an attack by Boko Haram in the Katagum locality in Bauchi, youth groups emerged in self-defence against insurgents. Community members mobilised through vigilante groups and worked with security agencies, reporting suspicious people and sharing valuable information.
There are discernible policy lessons from the Bauchi and Gombe contexts. However, while both states challenge the usual theories linking risk factors and violent extremism, they remain susceptible to risk factors. Levels of structural violence still exist in both states, together with intolerance and discrimination expressed along ethno-religious lines. State governments, in coordination with local administrations, must stimulate dormant sectors like agriculture while targeting the youth demographic.
Traditional institutions are an indispensable part of a society's resilience framework. Their historical origins enable them to convey the depth of legitimacy communities need to be able to mobilise. These institutions, along with district, ward and village authorities, should strengthen existing coordination in communities.
The ideological component of terrorism is as much a threat as the violence it inspires. Religious leaders and organisations should continue to provide counter-messages against the ideology of Boko Haram and its factions.
The unconventional nature of the struggle against terror groups can benefit from the contribution of community-based groups, such as vigilante organisations. However, these organisations need clearly defined roles within a rule of law framework that enables them to complement state security agencies where relevant.
https://www.eurasiareview.com/17072020-new-insights-into-how-communities-resist-boko-haram-analysis/
--------
North America
Senior US general reveals: Taliban not honouring deal
16 July 2020
A top US general says the Taliban militant group in Afghanistan has so far failed to honor its commitments under a deal with the United States, contrasting other US officials who have indicated the agreement is moving ahead smoothly.
Marine General Frank McKenzie, the commander of the US Central Command, made the comment in an interview with Voice of America (VOA) a day after a meeting to discuss the Afghan peace process with President Ashraf Ghani in Kabul on Tuesday.
"We expected to see a reduction in violence," McKenzie said. "While the Taliban have been scrupulous about not attacking US or coalition forces, in fact, the violence against the Afghans is higher than it's been in quite a while. It's one of the highest, most violent periods of the war that we see to date."
The US signed the deal with the Taliban in February. Under the agreement, the US is supposed to withdraw its forces from Afghanistan, and the Taliban are supposed to refrain from attacking international occupying forces. The militants did not make a pledge to avoid attacking Afghan forces and civilians.
Official data shows Taliban bombings and other assaults have increased 70 percent since then. The United Nations (UN) has also warned of an alarming rise in violence against civilians in Afghanistan.
The Afghan government, which was not a party to the deal, has had reservations implementing a provision of the agreement that calls on Kabul to release Taliban prisoners in exchange for its security personnel taken captive by the militants. The government is required to increase many more prisoners than the Taliban, and Kabul does not wish to free some of those inmates who have been involved in highly violent attacks.
The comments by McKenzie, the US general, came only days after the US's chief negotiator with the Taliban, Zalmay Khalilzad, said the deal was entering the "next phase," indicating that implementation had been smooth.
Stressing that intra-Afghan dialog should start soon, McKenzie said, "That's really the next critical thing that needs to happen in order to move forward because what's going to happen is that the Afghans have got to talk to each to determine how they're going to formulate a plan forward."
McKenzie also said Washington needed to ensure that the Taliban would not host al-Qaida and Daesh terrorist groups in Afghanistan, which would potentially allow them to carry out attacks on the United States.
"Right now, it is simply unclear to me that the Taliban has taken any positive steps in that… in those areas," he said.
The US and a number of its allies invaded Afghanistan to topple a Taliban regime in 2001, accusing it of harboring the al-Qaeda terrorist group. The militants now control or hold influence over more Afghan territory than at any point since that time.
https://www.presstv.com/Detail/2020/07/16/629731/Afghanistan-US-Taliban-deal-McKenzie
--------
For the first time, Trump administration uses terrorism charges against an alleged MS-13 leader
By Rachel Weiner
July 16, 2020
The Justice Department has charged an alleged leader in MS-13 as a terrorist, part of a string of new charges against members of the Salvadoran gang implicated in over a dozen murders.
Armando EliuMelgar Diaz, 30, oversaw 20 gang cliques in 13 states, including New York, California, Maryland and Virginia, according to prosecutors in the Eastern District of Virginia. He lived on and off in Virginia starting in 2003 but has stayed in El Salvador since 2016, according to prosecutors.
"We're using 'terrorism,' which gives us extra strength," President Trump said in remarks at the White House on Wednesday. "We've done a great job with MS-13, but now we're stepping it up even to a higher level."
Melgar Diaz is in custody facing criminal charges in El Salvador, with no indication he will soon be extradited. But the Justice Department simultaneously announced 21 arrests in New York and Nevada involving MS-13 and the decision to seek the death penalty against an alleged leader in the gang who was arrested in 2017.
The charges against Melgar Diaz focus on the years 2016 to 2018, when prosecutors say he took profits from cocaine dealing in the D.C. suburbs and oversaw murders and kidnappings across the country as well as gun and drug smuggling from Mexico to El Salvador. Among the murders he authorized, according to the indictment, was the slaying of a 14-year-old girl in Houston believed to have cooperated with law enforcement. From May 2017 on, according to the indictment, he gained his leadership role in the gang, which put him in charge of one of three American "programs."
While incredibly violent, MS-13 makes little money compared with other drug-dealing gangs. According to prosecutors, Melgar Diaz received about $800 a month from the East Coast cliques he oversaw, which he wired through relatives and friends in El Salvador not affiliated with the gang.
MS-13 "is not driven by commercial interests," Attorney General William P. Barr said at the White House on Wednesday, but is a "death cult."
While the gang tends to be loosely organized, with teenage members cycling through different cliques, the indictment says Melgar Diaz at one point engaged in a census of members. And he weighed in on specific disputes, allegedly decreeing in 2018 that a recalcitrant young Virginia associate be given a "light beating" and "kicking" with no damage to his face. He was also involved in Salvadoran politics, directing gang members to vote for a particular party in local elections, according to prosecutors.
The Justice Department is already preparing for a death-penalty trial in federal court in Alexandria against an alleged MS-13 leader accused of involvement in the slaying of two teenage boys.
Trump frequently invokes the danger of MS-13 and his combative response as a rationale for his reelection; he did so Tuesday in a Rose Garden speech, saying that Democratic candidate Joe Biden would not deport members "in prison for rape, murder, lots of other things."
Biden has said he would halt deportations for 100 days and then focus on criminals convicted of felonies.
MS-13, short for Mara Salvatrucha, was founded in Los Angeles in the 1980s but became an international menace after many members were deported to Central America in the 1990s.
Trump has said he is "very seriously" considering labeling Mexican drug cartels as Foreign Terrorist Organizations (FTOs). And the U.S. government has accused Venezuelan President Nicolás Maduro of engaging in narcoterrorism. But MS-13 is not designated as an FTO.
The eight charges against Melgar Diaz are all of conspiring to commit crimes, including narcoterrorism and terrorism financing.
https://www.washingtonpost.com/local/public-safety/for-the-first-time-trump-administration-uses-terrorism-charges-against-ms-13/2020/07/15/7079dd70-c6d3-11ea-a99f-3bbdffb1af38_story.html?utm_source=iterable&utm_medium=email&utm_campaign=1364515_
--------
US maintains Libya policy, condemns all foreign intervention: State Department
16 July 2020
Washington's policy toward Libya has not changed and the United States continues to oppose "all foreign military interference in Libya," a State Department spokesperson said Thursday.
"Finalizing an immediate ceasefire under the UN-led 5+5 military talks is imperative, as is respect for the UN arms embargo by all parties," the spokesperson told Al Arabiya.
For all the latest headlines follow our Google News channel online or via the app.
Tensions in Libya have escalated in recent months, specifically between Egypt and Turkey. Egypt is backing the Libyan National Army (LNA), commanded by Gen. Khalifa Haftar and Turkey has sent mercenaries and fighters to help the Government of National Accord (GNA), led by Fayez al-Serraj.
On Thursday, Egyptian President Abdel Fattah al-Sisi said his country would not stand idle. "As soon as Egypt interferes in Libya, the military scene will change quickly and decisively," al-Sisi added, according to the presidency.16 July 2020Text size A AA
Washington's policy toward Libya has not changed and the United States continues to oppose "all foreign military interference in Libya," a State Department spokesperson said Thursday.
"Finalizing an immediate ceasefire under the UN-led 5+5 military talks is imperative, as is respect for the UN arms embargo by all parties," the spokesperson told Al Arabiya.
For all the latest headlines follow our Google News channel online or via the app.
Tensions in Libya have escalated in recent months, specifically between Egypt and Turkey. Egypt is backing the Libyan National Army (LNA), commanded by Gen. Khalifa Haftar and Turkey has sent mercenaries and fighters to help the Government of National Accord (GNA), led by Fayez al-Serraj.
On Thursday, Egyptian President Abdel Fattah al-Sisi said his country would not stand idle. "As soon as Egypt interferes in Libya, the military scene will change quickly and decisively," al-Sisi added, according to the presidency.
The statement also said tribal leaders meeting al-Sisi in Cairo had authorized the president and Egypt's army to intervene in their country "to protect Libyan sovereignty."
Asked about Egyptian and Turkish intervention, the State Department official said that the US opposed all foreign military interference in Libya.
RUSSIA
As for Russia's military interference in the Libyan war, "particularly the Russian Ministry of Defense surrogates Wagner Group fighting alongside and in support of LNA forces – is documented and poses a security threat to Europe and the region."
The UN has previously said that Russia's Wagner company had more than 1,000 mercenaries in Libya and the US military says Moscow has sent fighter jets to support them.
"Russia's military activities in Libya exacerbate social and political rifts and increase the potential for mass casualties, including civilians, with destabilizing consequences for the region, including NATO's southern flank," the State Department official said.
On Wednesday, the US Africa Command (AFRICOM) said it had "clear evidence that Russian employed, state-sponsored Wagner Group laid landmines and improvised explosive devices (IEDs) in and around Tripoli, further violating the United Nations arms embargo and endangering the lives of innocent Libyans."
Although Russia has denied using mercenaries abroad, Russian private military contractors have clandestinely fought in support of Russian forces in Syria and Ukraine, Reuters and other media have previously reported. The contractors are recruited by the Wagner Group, whose members are mostly ex-service personnel.
The State Department official said, "Ultimately, the Libyan people must resolve this crisis through UN-facilitated political negotiations, aimed toward national elections."
https://english.alarabiya.net/en/News/north-africa/2020/07/16/US-maintains-Libya-policy-condemns-all-foreign-intervention-State-Department.html
--------
Europe
US says Europe not doing enough to stop Libya fighting
17.07.2020
European nations are not doing enough to check Russian and allied activities in Libya, the US's senior diplomat for the Middle East said Thursday.
Addressing the German Marshall Fund during a virtual discussion, David Schenker said while European capitals are "proud" of their efforts to enforce a UN arms blockade on the North African country they have been limited to stopping shipments from Turkey.
"The only interdictions that they are doing is of Turkish military material that they're sending to Libya. Nobody is interdicting Russian aircraft, nobody is interdicting Emirati aircraft, nobody is interdicting the Egyptians," Schenker said of European nations, according to Reuters.
"They could at least, if they were serious, I think, call them out - call out all parties of the conflict when they violate the arms embargo," he added.
Libya has been mired in strife since NATO-led operations led to the overthrow of former strongman Muammar Gadaffi in 2011.
The country's new government was founded four years later in 2015 under a UN-led agreement, but efforts for a long-term political settlement have so far failed due to a military offensive by renegade general Khalifa Haftar's forces.
Since April 2019, Haftar's forces have launched attacks on the Libyan capital of Tripoli and other parts of northwestern Libya, resulting in more than 1,000 deaths, including civilians. Haftar has the support of the United Arab Emirates, Egypt and Russia while the UN-recognized government is backed by Turkey.
The Libyan government has recently achieved significant victories against Haftar, pushing his forces out of Tripoli and the strategic city of Tarhuna.
US Africa Command said this week it believes the Wagner Group, a Russian private military firm, has deployed some 2,000 personnel to Libya to bolster Haftar.
Schenker reportedly said that among the myriad things Europe could be doing to end the conflict in Libya is sanctioning the Wagner Group, warning "If they aren't going to take out a more robust role, then this thing is going to drag on."
https://www.aa.com.tr/en/africa/us-says-europe-not-doing-enough-to-stop-libya-fighting/1913257
--------
New clashes dash hopes of end to fighting on Azerbaijan-Armenia border
July 16, 2020
YEREVAN, Armenia: New clashes erupted Thursday on the border between Azerbaijan and Armenia following a day-long lull, dashing hopes of a rapid end to a flare-up in fighting.
At least 16 people on both sides have been killed since clashes erupted on Sunday between the ex-Soviet republics, who have been locked for decades in a conflict over Azerbaijan's southwestern separatist region of Nagorny Karabakh.
Ethnic Armenian separatists seized the territory in a 1990s war that claimed 30,000 lives, though the recent fighting broke out on a section of the two countries' shared border far from Karabakh.
The fighting is centered on the northern regions of Tovuz in Azerbaijan and Tavush in Armenia, and local villagers told AFP they feared for their lives.
"An artillery shell hit our yard, 10 meters from the house," resident ShainAbiyev said in the Azerbaijani village of DondarQuscu near the border.
"Fortunately my family was not at home, but if they had been in the house there would have been a tragedy."
The clashes broke out on Sunday, with the two sides exchanging artillery and mortar fire for three days until a pause on Wednesday after international calls for restraint.
The two countries' defense ministries said shelling had resumed in the early hours of Thursday, with both sides blaming each other.
Armenian defense ministry spokeswoman SushanStepanyan said Azerbaijani forces were "shelling Armenian villages with mortars and howitzers" in Tavush.
Armenian forces responded and "destroyed the enemy's tank and artillery positions from which they were shelling Armenian villages," Stepanyan said.
"We are in control of the situation," Armenian Prime Minister NikolPashinyan told a cabinet meeting, saying there were "killed and wounded among the enemy" but "no losses among our servicemen or civilians."
The defense ministry in Baku blamed Armenian forces for the renewed fighting, saying in a statement that clashes started in the north after "Armenians shelled Azerbaijani villages with large-calibre weapons."
The fighting that broke out last week has prompted calls for an immediate de-escalation from the United States, the European Union and regional powerbroker Russia. Turkey has spoken out in support of its ally Azerbaijan.
Eleven Azerbaijani troops and one civilian have been killed in the clashes, as well as four Armenian soldiers, according to the two countries.
The last time major fighting erupted between the two was in April 2016, with days of fierce combat in Karabakh that claimed more than 100 lives.
It is unclear what ignited this summer's flare-up, but analysts say it could have been a small incident like a cross-border shooting that quickly escalated.
Olesya Vartanyan, senior South Caucasus analyst for the International Crisis Group, said a major confrontation would draw in big regional players.
"Any direct attack at the territory of Armenia or Azerbaijan can provoke — with a high probability — an intervention of one of the regional powers, particularly Turkey or Russia," she told AFP.
But she said it seemed unlikely the crisis would escalate, as neither side has territorial claims on northern border areas and the fighting had not spread to Karabakh itself.
Talks to resolve the Karabakh dispute — one of the worst conflicts to emerge from the 1991 collapse of the Soviet Union — have been largely stalled since a 1994 cease-fire agreement.
France, Russia and the United States have mediated peace efforts as the "Minsk Group," but the last big push for a peace deal collapsed in 2010.
Flush from years of oil revenues, energy-rich Azerbaijan has invested heavily in its military and repeatedly vowed to retake Karabakh by force. The Turkic-speaking country is firmly backed by main ally Ankara.
Armenia has said it will defend Karabakh, which has declared its independence but relies heavily on Yerevan.
Moscow is also a key military ally of Armenia and has a base in the country, though it has supplied both Baku and Yerevan with sophisticated weapons.
https://www.arabnews.com/node/1705476/world
--------
Police in Germany conduct raids on suspected Islamists in Berlin
15.07.2020
Investigators from Berlin's Office of Criminal Investigation (LKA) are executing 20 search warrants against 12 suspects from the Islamist scene, Berlin's public prosecutor's office said on Wednesday.
A total of 450 officers and police officials were deployed in the operation, a police spokesperson said, adding that more details about the raids would be made public later on Wednesday.
There was a "series of accusations" against the alleged extremists who are suspected of financing terror, including threatening behavior and fraud, said spokesperson Martin Steltner.
In all, 19 properties were searched in the districts of Reinickendorf, Charlottenburg-Wilmersdorf, Friedrichshain-Kreuzberg and Tempelhof-Schöneberg.
The raids were carried out mostly on apartments and storage rooms, the spokesperson added. A car with Hamburg license plates was also examined. No one was arrested in the operation.
Germany's Police Trade Union welcomed the raids as an example of the result of meticulous investigative work. It is no secret that cash flows from criminal gangs in "our money-laundering paradise" to fund terrorist organizations, the union's regional deputy head Thomas Spaniel said, according to the German news agency dpa.
Last year, the domestic intelligence agency for the state of Berlin counted 2,170 Islamists in the city, 180 more than the previous year.
https://www.dw.com/en/germany-police-raids-islamists/a-54181293?utm_source=iterable&utm_medium=email&utm_campaign=1364515_
--------
Russia denounces Western bids to politicize humanitarian aid deliveries to Syria
16 July 2020
Russia has strongly condemned efforts by a number of Western countries to politicize delivery of humanitarian aid to Syria for the sake of their own interests, saying such efforts violate the Arab country's sovereignty and territorial integrity.
"The situation in Syria has been changing radically six years after authorization for a mechanism to bring life-saving humanitarian aid into Syria due to the fact that the Syrian government has regained control over large parts of the country and effectively contributes to aid delivery to local residents. Russia, therefore, considers it futile to extend the temporary and urgent cross-border mechanism for humanitarian aid delivery into Syria infinitely," said a statement late on Wednesday by the Russian Foreign Ministry, Syria's official news agency SANA reported.
The statement added that deliberations seen during the June 11 session of the United Nations Security Council clearly revealed the discrepancy among some Western states concerning respect for principles of the international humanitarian law and highlighted their attempts to exploit the humanitarian aid mechanism as well as unilateral coercive measures aimed at increasing the sufferings of Syrian people.
The Russian Foreign Ministry finally hoped that the cross-border mechanism would not be politicized, and that humanitarian aids are delivered to all Syrians in coordination with the Damascus government.
Separately, Russian Permanent Envoy to the United Nations Office in Geneva Gennady Gatilov told Russian-language daily broadsheet newspaper Izvestia that "the Americans and their allies actively seek to take advantage of the mechanism for humanitarian aid delivery into Syria in order to achieve their own political goals there."
"The goal is, in fact, to undermine the country's sovereignty and territorial integrity, particularly through creating political and economic preferences for areas not controlled by Damascus. It is well known that militants from anti-government groups are in charge there," Gatilov noted.
"By pursuing such a policy, the West clearly seeks to continue providing support to militants active in areas that the legitimate [Syrian] government doesn't control, with an eye on annexing these territories. Illegal and unilateral sanctions are also being used as a tool to achieve this goal since they continue to worsen the living conditions of Syrians," the diplomat underlined.
Gatilov emphasized that Russia would steadily oppose such a politicized agenda, which is against the UN Charter.
On Monday, Russia's Permanent Representative to the United Nations VassilyNebenzia condemned the exploitation of the cross-border mechanism for aid deliveries to Syria by some members of the UN Security Council, and their disregard for the sovereignty and territorial integrity of the country.
"Terrorist organizations positioned in Idlib use the humanitarian aid as a tool to exert pressure on civilian residents, and gain advantages. There is direct and indirect evidence for that," SANA quoted Nebenzia as saying in a statement carried by Russian RIA Novosti news agency at the time.
He added, "Moreover, some foreign parties exploit the mechanism of the cross-border aid deliveries to Syria in a way that threatens secession of a number of areas from the rest of the country."
https://www.presstv.com/Detail/2020/07/16/629748/Russia-denounces-Western-bids-to-politicize-humanitarian-aid-deliveries-to-Syria
--------
Pakistan
Maulana Tariq Jamil praises Chaudhrys for service to Islam
July 17, 2020
LAHORE: Religious scholar Maulana Tariq Jamil called on PML-Q President Ch Shujaat Hussain and Punjab Assembly Speaker Pervaiz Elahi Thursday.
He inquired after Ch Shujaat and also prayed for his long life and country's security. During the meeting, provincial Minerals Minister Hafiz Ammar Yasir and Rasikh Elahi were also present.
Appreciating services of Chaudhrys for Islam and their role in supporting Tableeghi Jamaat, Maulana Tariq Jamil said you have performed "Farz-e-Kifaya" on behalf of the Muslim Ummah, Allah has chosen your family for service to Islam.
He paid tributes to Pervaiz Elahi for measures of Tahuffuz-e-Namoos-e-Risalat and Tahuffuz-e-Namoos-e-Sahaba and prior approval of Mutahidda Ulema Board for publication of religious books in the Punjab Assembly. Maulana Tariq Jamil also appreciated Hafiz Ammar Yasir for presenting resolutions regarding Tahuffuz-e-Namoos-e-Risalat and Tahuffuz-e-Namoos-e-Sahaba in the Punjab Assembly.
https://www.thenews.com.pk/print/687958-maulana-tariq-jamil-praises-chaudhrys-for-service-to-islam
--------
Imran Khan Govt Bans PUBG Citing 'Anti-Islam Material'
NAILA INAYAT
16 July, 2020
Pakistan Prime Minister Imran Khan has managed to alienate a large part of his constituency — the youth. The PTI government has banned Player Unknown's Battlegrounds, or PUBG, an online multiplayer video game, saying that it was addictive, a waste of time and was posing a negative impact on the psychological and physical wellbeing of the youngsters. Calls to lift the ban have been on ever since with many PUBG players and supporters now threatening to sit on dharnas on the Sindh-Punjab border.
If religious ideology, morality and waste of time are the yardsticks to ban one game, then the Imran Khan government might as well shut down the entire digital space. For no one wholly complies to the standards set by the regulator, Pakistan Telecommunication Authority (PTA). It is safe to say that morality lies in the eyes of the regulator.
The Islamabad High Court, which is hearing a petition challenging the ban, was told by the PTA that PUBG contained some "explicit scenes" and "anti-Islam material". The same charge could apply to TikTok, which is facing a ban petition of its own.
This is not the first time that Pakistan has banned a video game. In 2013, war-themed games Call of Duty and Medal of Honor were removed from store shelves for showing Pakistan as a safe haven for terrorists. According to the shop owners, these games showed Pakistani intelligence agencies as supporting al-Qaeda and other jihadi organisations. Valkyrie Drive: Bhikkhuni was banned because of its sexual content and glorification of gay romance in 2017.
The thumb rule
PUBG had been in hot waters in Pakistan for a while. There have been at least three reports of death by suicide, which the PTA cited as one of the reasons while banning the game. The young men who died, according to their families, were PUBG addicts who couldn't take the pressure of not "completing a mission" and hence took their own lives.
So some action against the game was forthcoming, and anyone aware of Pakistan's history of dealing with a situation it can't handle would have easily guessed that banning the game was going to be the Imran Khan government's first response. The festival of Basant, in which people fly kites, continues to be banned in Pakistan since 2005, when the Supreme Court, in a bid to prevent loss of lives from the chemical-laced strings, gave the order. The Punjab government had announced it was lifting the ban in 2019 but it withdrew its decision even before it could come into effect.
Not surprisingly then, banning PUBG was easier than regulating its consumption or addressing issues around mental health. But here's the irony: the same Imran Khan government had argued against total lockdown to fight the coronavirus pandemic by saying that just because traffic accidents cause deaths doesn't mean we should ban cars.
Out of touch with reality
So what will Pakistan achieve from banning PUBG, other than angering the youth? Just like how citizens lost their livelihoods after the ban on Basant, the decision to ban PUBG will similarly disrupt many people's lives. PUBG, beyond being an addiction for a few, is a source of entertainment for the youth locked in their homes for the past four months due to the coronavirus pandemic.
It is also clear that the Imran Khan government doesn't realise how big the e-sports or digital gaming industry is. For instance, PUBG Mobile was the highest-earning game worldwide in May 2020, making more than $226 million. Similarly, gamers in Pakistan want the government to support them so that they could develop "games like PUBG". There are professionals who are looking for ventures to invest. But then Pakistan doesn't want PUBG even for entertainment purposes.
Pakistan often boasts about having the largest population of youth, yet it fails to take them on board when making decisions that directly impact them. Just like the rest of the affairs of the country, those deciding the fate of PUBG have no stake in the gaming industry.
Angering the youth
As protests against PUBG as well as TikTok continue, Pakistan's younger population is taking the battle royale to social media, with hashtags such as #UnBanPUBGPakistan and #PUBGKaJawabDou.
The promise of Digital Pakistan, of making the country a technological superpower won't come true if the Imran Khan government doesn't give a second thought before angering the community on whose shoulders lies the responsibility of fulfilling that promise: the youth. So what if the game is not played on a field, like the sport prime minister used to professionally play in his younger days? Pakistan's team Freestyle deserves every support to win the PUBG Mobile World League 2020 (East Season Zero).
After all, we have been asked to believe that real national leadership is found after winning a world tournament. Case in point: the 1992 Cricket World Cup.
https://theprint.in/opinion/letter-from-pakistan/imran-khan-govt-bans-pubg-citing-anti-islam-material-his-youth-base-wont-have-any-of-it/461844/
--------
ECP starts survey on gender gap in voter registration in KP
17 Jul, 2020
PESHAWAR: The Election Commission of Pakistan on Thursday started door-to-door pilot survey to know the reasons and reduce gender gap in voter registration.
Presiding over a meeting of the gender and discipline electoral working group here, provincial election commissioner Sharifullah said that accurate registration of voters and preparation of voter lists was the first and important phase for transparency of elections.
The meeting was attended by representatives of various non-government organisations, according to a press release.
According to him, there is a difference of 12.7 million in the voter lists of both the genders across the country.
MrSharifullah said that other departments and civil society organisations should also help in preparation of accurate voter lists. He said that the gender affairs and electoral roles wing of ECP had identified 229 census block codes (CBCs) in 21 tehsils across the country having a significant gender gap in the voter registration.
He said training workshops for district election commissioners, assistant registration officers and verifying officers were arranged by the ECP to conduct the survey, said MrSharifullah, adding the data to be collected during the survey would be compared with that of Nadra, Pakistan Bureau of Statistics and Electoral Rolls.
The provincial election commissioner said the pilot project would continue till August 31.
He said a number of localities were identified in five districts, including Mardan, Upper Dir, Mansehra, Bannu, and Khyber, that had huge difference in the voter lists on the basis of gender.
He said as per schedule, preparations would be completed till July 25, 2020, to finalise initial voter lists till August 20. The process of correction of voter lists and delimitations would continue till Oct 13, he added.
https://www.dawn.com/news/1569407/ecp-starts-survey-on-gender-gap-in-voter-registration-in-kp
--------
UN blacklists Pakistan Taliban terror group's leader
Jul 17, 2020
UNITED NATIONS: The Tehrik-e-Taliban Pakistan (TTP) terror group's leader Noor WaliMehsud has been designated as a global terrorist by the UN for participating in the financing, planning and perpetrating acts on behalf of and in support of entities associated with al-Qaida.
The UN Security Council's 1267 ISIL and al-Qaida Sanctions Committee added Mehsud, 42, to the ISIL (Da'esh) and al-Qaida Sanctions List on Thursday, subjecting the Pakistani national to an assets freeze, travel ban and arms embargo.
The Sanctions Committee said that Mehsud was listed for "participating in the financing, planning, facilitating, or perpetrating of acts or activities by, in conjunction with, under the name of, on behalf of, or in support of" entities associated with al-Qaida.
In June 2018, Mehsud was named the leader of Tehrik-e-Taliban Pakistan, following the death of former TTP leader Maulana Fazlullah.
The TTP was blacklisted by the UN on July 29, 2011 for its association with al-Qaida.
"Under Noor Wali's leadership, TTP has claimed responsibility for numerous deadly terrorist attacks across Pakistan, including an attack targeting Pakistani security forces in North Waziristan in July 2019 and a bomb attack against Pakistani soldiers in Khyber Pakhtunkhwa in August 2019," the Sanctions Committee said.
The group had claimed responsibility for an attempted bombing in Times Square on May 1, 2010, and in April 2010 it had launched a multi-pronged assault against the United States Consulate in Peshawar, killing at least six Pakistanis and wounding 20 others, the committee added.
The US State Department's Bureau of South and Central Asian Affairs (SCA) said in a tweet that it welcomes the addition of Mehsud by the UN to the ISIL and al-Qaida sanctions list.
"TTP is responsible for many deadly terrorist attacks in Pakistan. The United States domestically designated Noor Wali as a terrorist in September 2019," it said in the tweet.
Blacklisting by the Security Council entails that all states are required to freeze without delay the funds and other financial assets or economic resources of designated individuals and entities.
They are also required to prevent the entry into or transit through their territories by the designated individuals and prevent the direct or indirect supply, sale and transfer from their territories or by their nationals outside their territories, or using their flag vessels or aircraft, of arms and related materiel of all types, spare parts, and technical advice, assistance, or training related to military activities, to designated individuals and entities.
https://timesofindia.indiatimes.com/world/pakistan/un-blacklists-pakistan-taliban-terror-groups-leader/articleshow/77010806.cms
--------
US, Pakistan sign accord on child abduction
Anwar Iqbal
17 Jul, 2020
WASHINGTON: The United States and Pakistan have signed a legal framework to prevent international child abduction, the State Department announced on Thursday.
International parental child abduction is the removal or retention of a child outside their country of habitual residence in breach of another parent or guardian's custody rights. The UN and human rights organisations regard this as child abuse and an extreme form of parental alienation.
According to the US National Centre for Missing and Exploited Children (NCMEC), nearly 800,000 children are reported missing each year. That is more than 2,000 a day. The NCMEC says that 203,000 children are kidnapped each year by family members.
An official statement issued in Washington said that on July 1, the United States accepted Pakistan's accession to the 1980 Hague Convention on the Civil Aspects of International Child Abduction.
The convention is a multilateral treaty that establishes proceedings for the prompt return of children who have been wrongfully removed or kept away from their home country.
Currently, there are 98 contracting states to the Hague Convention.
The Convention will enter into force between the United States and Pakistan on Oct 1, and will put in place an internationally recognised legal framework to resolve cases of parental child abduction between the two countries.
"As partners, we will enhance our shared commitment to protecting children and open a new chapter in the vibrant US-Pakistan relationship," the official US statement said.
The convention provides a mechanism under civil law in either country for parents seeking the return of children who have been wrongfully removed from or retained outside of their country of habitual residence in violation of custodial rights.
https://www.dawn.com/news/1569440/us-pakistan-sign-accord-on-child-abduction
--------
Pakistani, Indonesian Muslim groups hail Turkey's Hagia Sophia move
15.07.2020
Political parties and religious groups in two largest Muslim nations, Pakistan and Indonesia, appreciated Turkey's decision to turn Hagia Sophia back into a mosque.
In a letter addressed to the Turkey's president, chief of Pakistan's Jamaat-e-Islami party Siraj ul Haq said the news of opening Hagia Sophia for Muslim prayers after 86 years "warmed hearts of Muslims all around the world and particularly in Pakistan."
"Accept our heartiest greetings over the major decision which has reversed the injustice committed decades back," Haq said in his letter to Recep Tayyip Erdogan.
After centuries of service as a church under the Byzantine Empire, Hagia Sophia was converted into a mosque by Ottoman Sultan Mehmed II following his conquest of Istanbul in 1453.
In 1935, Hagia Sophia was converted into a museum.
"The Hagia Sophia is amanat [depositation] of Fatih Sultan Mehmet and who better than President Erdogan can take care of such a huge responsibility," Haq added.
Recalling the Indian top court's verdict last year on the historical Babri mosque, Haq said that at a time when Muslim-majority Turkey is taking the lead in preserving heritage of Muslims and non-Muslims alike, in India, a neighbor of Pakistan, "the Hindu nationalist government has once again attacked centuries-old Babri Masjid and demolished it to construct a Hindu temple."
Babri Masjid was constructed by Zahir-uddin Babur, an ethnic Turk and his Mughal empire ruled over South Asia for nearly 300 years.
"Likewise, Hindu fascists are eyeing thousands of other mosques in India which are under threat. They have already begun demographic change in Indian-occupied Kashmir which is a Muslim-majority region," he added.
Decision welcomed by Indonesian Muslim groups
On Friday, a top Turkish court annulled a 1934 Cabinet decree, which had turned Istanbul's Hagia Sophia from a mosque into a museum.
This verdict by the country's Council of State paved the way for its use again as a mosque after 85 years.
It ruled that the architectural gem had been owned by a foundation established by Mehmed II, and presented to the community as a mosque -- a status that cannot be legally changed.
"Legal decisions through open and impartial litigation must be respected," said RobikinEmhas, head of Executive Council of Nahdlatul Ulama, Indonesia's largest Muslim organization, told Anadolu Agency.
Responding to diverse reactions from the international community, Emhas said every decision of a judicial institution in any country would not satisfy all parties, but "this move must be respected."
Muhammadiyah, the country's oldest Muslim organization, also welcomed Turkey's decision on Hagia Sophia.
Wahid Ridwan, the body's secretary for international relations and cooperation, said the reopening of Hagia Shopia as a mosque is the full right of Turkish government and people.
"The change in status was carried out in a legal and bureaucratic process as a democratic country, so it does not need to be contested internationally since it had gone through a very accountable process," he told Anadolu Agency.
Ridwan said this step portrayed tolerance and development of world civilization in the harmony of religions.
"The pressure will not change the stance of government and people of Turkey. The West must understand that their view of Islam is very narrow," he said.
He added that criticism over the decision is unnecessary as Turkey will open the complex to visitors of all religions.
Meanwhile, SurahmanHidayat, a member of parliament from the Prosperous Justice Party, said the decision was Turkey's sovereign rights and it needs to be respected.
"Everyone must respect the Turkish legal system and authority, its internal sovereignty and long history of the nation," he told Anadolu Agency.
He highlighted that the historical building was presented to the community as a mosque by Fatih Sultan Mehmed II.
He added that changing the status of Hagia Sophia to a mosque means it will be open every day for visitors and everyone can enter the complex.
Ahmad Baidowi, a deputy from the United Development Party, said the return of Hagia Sophia as a mosque is Turkey's sovereignty.
"Turkey has its own authority as a country," Baidowi told Anadolu Agency.
He said that Indonesia, as a country that adheres to free and active foreign policy, fully respects Turkey's decision.
"It was ruled by the court and it was changed from a museum, not from other religion's house of worship, so it is not a big problem," he added.
Turkish President Recep Tayyip Erdogan said the historical complex will be ready for worship for Friday prayers on July 24.
https://www.aa.com.tr/en/asia-pacific/pakistani-indonesian-muslim-groups-hail-turkeys-hagia-sophia-move/1910920
--------
URL: https://www.newageislam.com/islamic-world-news/ukrainian-teenager-detained-tablighi-jamaat/d/122398
New Age Islam, Islam Online, Islamic Website, African Muslim News, Arab World News, South Asia News, Indian Muslim News, World Muslim News, Women in Islam, Islamic Feminism, Arab Women, Women In Arab, Islamophobia in America, Muslim Women in West, Islam Women and Feminism