New Age Islam News Bureau
8 Dec 2016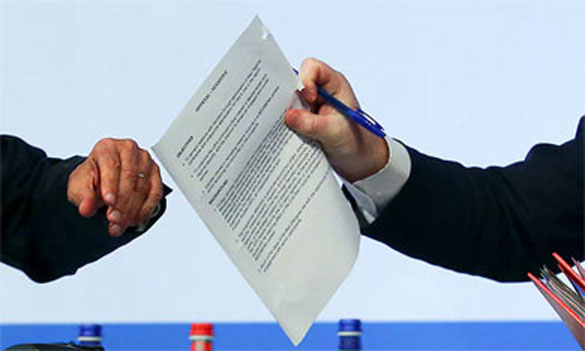 UK Foreign secretary holds the document marked sensitive. Photograph: Alessandro Bianchi/Reuters
------
• UK Foreign Secretary Accuses Saudi Arabia of 'Twisting and Abusing' Islam
• Europe Must Remain A Safe Place for #Muslim Reformers
• Trump: Russia, US Can Be Allies in ISIL Fight
• ISIS Launches 'Agony Uncle' Radio Show for Jihadists
• Shariah-Enforcement Manifesto of Jamiat Ulema-e-Islam -F
Europe
• UK Foreign Secretary Accuses Saudi Arabia of 'Twisting and Abusing' Islam
• Europe Must Remain A Safe Place for #Muslim Reformers
• BBC Slammed over IS Sympathiser's Role on Show about British Muslims
• Fears Russia aiding Taliban after weapons seized and 'secret talks' in Moscow
• Spain nabs fake police ring of Pakistanis, Iranians
• Report: 1,500 European militants returned from Mideast
• Egypt Welcomes Prospect of Warmer U.S.-Russia Ties under Trump
• Russia kills ISIS leader in Dagestan
--------
North America
• Trump: Russia, US Can Be Allies in ISIL Fight
• Obama Admits US Can't Defeat Taliban, End Violence in Afghanistan
• Surveillance of Muslims traumatized my family. With Trump I'm afraid it'll get worse
• US Muslim kindergartner assaulted by teacher
• Muslim group denounces Edmonton LRT incident as 'hate crime' calling it 'absolutely horrifying'
--------
Arab World
• ISIS Launches 'Agony Uncle' Radio Show for Jihadists
• Terrorists in Eastern Aleppo Force Children to Fight
• Syrian Troops Enter Aleppo's Old City, Poised For War's Biggest Victory
• 64 Syrian Civilians Killed in US-Led Airstrikes in Northern Syria, Turkish Shooting in 2 Days
• Britain will help Gulf 'push back' against Iran aggression: May
• Bahrainis protest against May's visit amid Al Khalifah crackdown
• Aleppo win huge step toward ending Syria war: Assad
• More Terrorists Surrender to Army in Eastern Aleppo
• Homs: Army Launches Special Operations to Cut ISIL's Supply Routes
• Abdullah Al-Muhaysini Leading Attacks on Idlib Residential Areas
• Syrian Army Comes One Step Closer to Aleppo Liberation
• Syrian Army Inflicts Major Losses on Terrorists in Sweida, Dara'a Provinces
• Syria: Russian Air Force Launches Heavy Airstrikes on ISIL's Centers in Deir Ezzur
--------
Pakistan
• Shariah-Enforcement Manifesto of Jamiat Ulema-e-Islam -F
• JUI-F, JI to Protest against Forced Religious Conversion Bill Tomorrow
• Jacobabad blast mastermind, four terrorists held
• Remains of PK-661 crash victims to be sent for DNA testing
• Five terrorists of banned outfit arrested in Barkhan
• Peshawar's Rafia first Pakistani, Asian woman to become BDU member
• Pakistan an important trading partner of Saudi Arabia: Ambassador
• Case against Altaf awaits interior minister's nod
--------
Africa
• Shiite Islamic Group Reportedly Killed Clerics, Attacked Zaria Emir
• Somalia: Puntland Forces Recapture Qandala from Islamic Militants
• Borno elders to Buhari: Don't make IMN new Boko Haram
• Foreign forces invade al-Shabaab base in lethal attack
• ISIL loses last hold in Libya, US says
• IS-linked group ousted from Somalia town
• Turkey: Erdogan's macabre dance in Africa
• Proposed National Board for Islamic Affairs: Northern CAN, JNI disagree
--------
India
• Sufism Seems To Be Reviving In Hyderabad
• Pakistan media quotes Sartaj Aziz: Insufficient proof against Jadhav; its government denies
• Uri 'Terror Guides' Are Class 10 Pakistani Kids Who Strayed Across, Say Family, School
• Havildar falls for Pakistan honeytrap on Facebook, faces court martial
• J-K: Encounter on between militants and security forces in Arwani
• Terrorists may use uninhabited islands as safe haven: Parliamentary panel
• NIA to probe terror attack on Nagrota army base
--------
Southeast Asia
• IS Will Exploit Rohingya Crisis If Not Resolved, Malaysian Military Chief Tells Myanmar
• Brunei, M'sia, Indonesia Rated Region's Worst Violators of Rights, Religious Freedom
• China Pushes Back on Michael Flynn's 'Radical Islamist' Remarks
• Muslim genocide row: Myanmar bans workers from going to Malaysia
• Malaysia's softer approach to radicals reaping rewards
• Dr Yaacob says Muslim/Malay group must respect diversity
• Sign human rights treaties to show developed status, Putrajaya told
• Indonesia raises Rohingya concerns with Suu Kyi: Retno
--------
South Asia
• In Afghan Province, Government Woos Allies against Islamic State
• Huji Hideout Busted In Chittagong, 3 Arrested
• India approves MoU with Afghanistan on Space Technology Cooperation
• Foreigner ISIS recruiter killed in East of Afghanistan
• Bagram suicide attack toll rises to 5 as another US soldier dies of wounds
• NATO's commitments to Afghanistan's security is strong and steadfast: Stoltenberg
• First phase of Dar-ul-Aman Palace restoration completed
--------
Mideast
• Yemen's Army Regain Control of Areas in Shabwah
• Israeli troops shoot dead Palestinian in West Bank over alleged stabbing attack
• Turkish soldier killed in bomb attack in Syria
• Yemen to UN: 'The road map is a dangerous step'
• ​Shell deal with Iran seen as message to US
• Supervisory board approves measures against US anti-Iran bill
• Israel bucks, Palestinians embrace France conference
Compiled by New Age Islam News Bureau
URL: https://www.newageislam.com/islamic-world-news/new-age-islam-news-bureau/uk-foreign-secretary-accuses-saudi-arabia-of--twisting-and-abusing--islam/d/109324
--------
UK Foreign Secretary Accuses Saudi Arabia of 'Twisting and Abusing' Islam
7 December 2016
Boris Johnson accused Saudi Arabia of abusing Islam and acting as a puppeteer in proxy wars throughout the Middle East, in remarks that flout a longstanding Foreign Office convention not to criticise the UK's allies in public.
The foreign secretary told a conference in Rome last week that the behaviour of Saudi Arabia, and also Iran, was a tragedy, adding that there was an absence of visionary leadership in the region that was willing to reach out across the Sunni-Shia divide.
At the event, Johnson said: "There are politicians who are twisting and abusing religion and different strains of the same religion in order to further their own political objectives. That's one of the biggest political problems in the whole region. And the tragedy for me – and that's why you have these proxy wars being fought the whole time in that area – is that there is not strong enough leadership in the countries themselves."
The foreign secretary then identified Saudi Arabia and Iran specifically, saying: "That's why you've got the Saudis, Iran, everybody, moving in, and puppeteering and playing proxy wars."
Johnson's criticism of Saudi Arabia came as Theresa May returned from a prestigious two-day visit to the Gulf in which she lauded both the Saudi royal family for its visionary leadership, and the value of the 100-year-old alliance with the UK.
Foreign Office ministers, aware of Saudi sensitivity to criticism and the strategic importance of the Gulf relationship, usually soft-pedal and focus on their path to reform.
However, since becoming foreign secretary, Johnson has repeatedly landed himself in trouble. He has been accused of committing a string of gaffes and some people argue his tendency to speak frankly loses the UK allies.
Members of the Saudi royal family, along with Qatar and Turkey, have frequently been accused of regarding the civil war in Syria as a contest between a largely Sunni-led opposition and an Iranian Shia-led militia. But government ministers working alongside the Gulf states in Syria do not describe the Syrian opposition as "puppets".
The British defence industry is also heavily dependent on arms contracts with the Gulf states, and the Royal Navy has established a major naval base in Manama, the capital of Bahrain.
Johnson is due to visit the region this weekend, when he will have to explain why he thinks the Gulf states are abusing Islam for political ends.
Speaking at the Med 2 conference in Rome last week, Johnson rounded on the quality of political leadership in the Middle East, saying: "There are not enough big characters, big people, men or women, who are willing to reach out beyond their Sunni or Shia or whatever group to the other side and bring people together and to develop a national story again. That is what's lacking. And that's the tragedy."
The Foreign Office said on Wednesday that Johnson had expressed his strong support for Saudi Arabia on the BBC's Andrew Marr Show at the weekend, and said his criticism of the lack of leaders willing to reach out across religious divides was a reference to the lack of such leaders inside conflict zones – such as Yemen and Syria.
A spokesman for the Foreign Secretary said: "As the foreign secretary made very clear on Sunday, we are allies with Saudi Arabia and support them in their efforts to secure their borders and protect their people. Any suggestion to the contrary is wrong and misinterpreting the facts."
At the conference, Johnson unfavourably compared the quality of Middle Eastern leadership with the current efforts being made by Turkish and Greek Cypriots to end the stalemate over the status of the island.
"I've just come from Cyprus where I have seen one example of how this can happen," he said. "It's not there yet. It is still very difficult. But you have two leaders, from the Greek community and the Turkish community, who are trying and they are taking risks, each is taking risks with its own community, to try to bring that island together. I see that in Cyprus and I have to tell you I don't see it anywhere else in the region."
He added: "It's a tragedy to watch it. We need to have some way of encouraging visionary leadership in that area. People who can tell a story that brings people together from different factions and different religious groups into one nation. That's what is missing."
Ministers have defended the Saudi role in combatting an Iranian-backed Houthi rebellion in Yemen. The war has led to widespread famine, thousands of deaths and brutality on all sides.
Foreign Office lawyers have insisted there is no evidence that the Saudi air campaign against the Houthis means there is "a serious risk" international humanitarian law will be breached, and as a result no UK government licences to sell arms to Saudi should be withdrawn.
Johnson's remarks in Rome came in response to a claim made by the secretary general of the Arab League, Ahmed Aboul Gheit, that Sunni-Shia division was wrongly being used "to serve national policies and objectives". Aboul Gheit said: "Religion was being used as an instrument of politics. That should not be."
At the same conference, Johnson brandished a document marked sensitive which showed the civil service had briefed him that he was to express an interest in replicating the Helsinki east-west peace process for the Middle East, but not to make any commitment to the proposal. It also told him the chief value of the conference lay in meeting other senior politicians.
Downing Street was furious last month when a snatch photograph revealed detailed notes made by a Conservative party aide about a meeting attended by the Brexit minister, David Davis, appearing to reveal details of the government's EU exit strategy.
By comparison, Johnson's briefing notes are relatively bland, but it shows ministers are still struggling with the requirement to retain confidentiality.
https://www.theguardian.com/politics/2016/dec/07/boris-johnson-accuses-saudi-arabia-of-twisting-and-abusing-islam
--------
Europe Must Remain A Safe Place for #Muslim Reformers
December 7, 2016
Liberal democracy is in a parlous state. In America, Donald Trump is making his mark even before he enters the Oval Office. In Europe – despite heartening news from Austria – demagogues have the wind in their sails, writes Shada Islam.
Meanwhile, free-thinking, liberal Muslim thought leaders and reformers are struggling to live and work in peace at home. Muslim-majority nations are either ruled by nasty autocrats, military strongmen or flawed and fragile democrats. In many places, to speak up is to find yourself dead or in prison. If you are lucky, you can go into exile – but perhaps not for long.
Escape routes to the West are closing fast. Islam-bashing has become the favourite sport not just of Trump but also of populist parties across Europe. Rants against Islam unite members of the 'populist international' on both sides of the Atlantic. As the far right looks set to perform well in elections in many Western countries in the coming months, expect the anti-Islam vitriol to get nastier.
Europe should indeed focus on keeping out Muslim extremists. But it must not ignore the plight of Muslim reformers who are caught between the devil and the deep blue sea. Speak up at home, and they are likely to be branded 'kafir' (unbeliever). Head for shelter abroad, and they turn into potential troublemakers or even terrorists.
"Space for freedom of expression has been shrinking in the Muslim world," says Surin Pitsuwan, Thailand's former foreign minister and a much-respected former secretary-general of the Association of South East Asian Nations (ASEAN).
"Muslim intellectuals cannot pursue their examination of laws and principles at home… they have to do that outside the Muslim world," he told a World Forum for Muslim Democrats meeting in Tokyo last month. "Academics have to migrate in ORDER to do their job. Muslim democrats feel the space for exercising their role is being limited… they cannot visualize their future."
The Muslim world is suffering from a severe democratic deficit. Muslims long for freedom, the rule of law and representative government, said Nurul Izzah Anwar. She is Vice-President of the People's Justice Party of Malaysia, which was set up by her father, Malaysian opposition politician Anwar Ibrahim (who is still in jail).
"There is confusion about how Muslims relate to democracy and to the challenge of facing extremism," said Nurul Izzah. Muslims have to deal simultaneously with "fanatic ideologies and kleptocratic regimes".
For many Muslims also, the struggle centres on efforts to reclaim their religion from the stranglehold of Saudi-based Wahhabist interpretations of Islam.
"It's a fight that is long and difficult. Wahhabism is a dirty word in Indonesia. It is considered to be primitive," said Indonesian scholar of Islam Azyumardi Azra. Unlike other countries, Indonesia is not dependent on MONEY from Saudi Arabia, he said. "Our flowery Islam is embedded in our local culture."
Yet for all its traditional tolerance and openness, Indonesia faces the challenge of protecting its minorities. Indonesian police has opened a criminal investigation into Jakarta Governor Basuki Tjahaja Purnama, better known as 'Ahok', for alleged blasphemy.
Ahok, a Christian, is the first member of Indonesia's ethnic Chinese community to be elected as the capital's governor. The investigation shows the authorities are "more worried about hardline religious groups than respecting and protecting human rights for all," according to Rafendi Djamin, Amnesty International's Director for Southeast Asia and the Pacific.
What happens in Indonesia is particularly relevant given the country's reputation as a role-model for other Muslim countries.
Muslim reformers and intellectuals could once find shelter and asylum in the West. And while many have benefited from such protection and continue to do so, extremists in the United States and Europe are making clear that Islam is their new enemy.
As the extremists gain traction, the welcome for Muslims will wear even thinner in Europe. As former Egyptian Member of Parliament Abdul Mawgoud Dardery told the conference, "We feel betrayed by the US and Europe".
Tragically, such betrayals are likely to become the norm. The US President-elect is likely to side with fellow 'strongmen' in the Muslim world. Europe's populists can be expected to be just as indifferent to the plight of Muslim human rights defenders and democrats.
But Europe must keep its DOORS open to those in the Muslim world who want change, reform and democracy. As Surin underlined, "Muslim democrats have to face a dual challenge: we have to fight extremism in our midst and Islamophobia outside".
https://www.eureporter.co/world/2016/12/07/europe-must-remain-a-safe-place-for-muslim-reformers/
--------
Trump: Russia, US can be allies in ISIL fight
08 December 2016
Russia can help the U.S. fight ISIL, President-elect Donald Trump told Time magazine in an interview published Wednesday.
Trump has been criticized for his praise of Russia and President Vladimir Putin but he told the magazine cooperation with Moscow could benefit the U.S. in the Middle East.
"Why not get along with Russia? And they can help us fight ISIS, which is both costly in lives and costly in MONEY. And they're effective and smart," Trump said while using an alternative name for the terror group.
The president-elect was named the magazine's Person of the Year on Wednesday and he dismissed claims Russia interfered with the Nov. 8 presidential election. "That became a laughing point, not a talking point, a laughing point. Any time I do something, they say 'oh, Russia interfered.'"
After his victory, Trump visited President Barack Obama at the White House, and found "there was good chemistry" with his predecessor, although there are "different VIEWS" between the two leaders.
Trump has promised to be stricter on immigration than Obama and is adamant about building a wall along the U.S.-Mexico border.
"We're going to have strong borders ...we're not going to have illegals coming in. But we're going to have people coming in, but we're also going to have them coming in based to a certain extent on merit," he said.
Trump reiterated that he would prevent American companies from moving abroad, noting he wants to get a list of companies that have announced they will leave the U.S.
"I can call them myself -- five minutes apiece, they won't be leaving," he said.
He asked not to be judged from Jan. 20 when he will take office, but said he hopes he would be evaluated from his election victory Nov. 8 onwards.
"Because the stock market has had a tremendous bounce. And people are seeing very good things for business in this country. So I think we're going to have a lot of victories," he said.
Wall Street indexes have increased significantly and broken all-time records since the election.
The Dow has jumped 6.6 percent in the past month, the S&P is up 4.5 percent and the Nasdaq has gained 3.6 percent.
http://www.worldbulletin.net/america-canada/181363/trump-taps-china-ambassador-consults-obama
--------
ISIS Launches 'Agony Uncle' Radio Show for Jihadists
DECEMBER 07, 2016
The Islamic State's radio station has reportedly launched an 'Agony Uncle' phone-in show where terrorists and the terror group's sympathisers can get answers to their personal problems.
Al-Bayan, which broadcasts in Iraqi territories controlled by the militant organisation, recently launched the programme that translates as 'Fatwas Over the Airwaves' programme in which clerics provide answers to questions presented to them on a variety of topics concerning Islamic law, according to the Middle East Media Research Institute (MEMRI).
In the show, clerics take on the role as an 'Agony Uncle' where they answer questions submitted by militants whilst referring to aspects of Islamic law.
Many questions have to do with women and issues specific to them.
Can women watch IS videos?
One such question asked during the show was whether it is permissible for women to watch ISIS videos.
"It is easy to understand why the question came up: The videos' extremely violent content is likely seen by many in conservative Muslim circles as inappropriate for women. It appears, though, that the person who asked the question and the scholar who issue the ruling are concerned with issues of modesty stemming from women watching videos featuring men," MEMRI said.
The exact date on which the 'fatwa' was broadcast on Al-Bayan is not known, it said.
If devoid of temptation, it is ok
The response to the question, according to MEMRI, was "Some of the scholars have tended not to permit women to look at male strangers at all, and some of them have tended to prohibit women from looking at male strangers if this was out of desire or at a time or place ripe for temptation."
"However, if the looking is devoid of these things, it is permissible [according to the second group of scholars], and this is the correct stance to which the textual proofs point," the transcript of the answer said.
"Since women were ordered to conceal themselves from men, and men were not ordered to do this, therefore it is fundamentally permissible for the Muslim women to watch Islamic State videos, even if they contain sermons, military preparation, or combat by the men of the Islamic State," it said.
http://www.thehindu.com/news/international/IS-launches-%E2%80%98Agony-Uncle%E2%80%99-radio-show-for-jihadists/article16772461.ece
--------
Shariah-Enforcement Manifesto of Jamiat Ulema-e-Islam -F
December 08, 2016
SADIQABAD: As Pakistan came into being in the name of Islam, Shariah-enforcement in the country is manifesto of Jamiat Ulema-e-Islam and the party has been struggling for the purpose since the time of its foundation. The local JUI-F leaders said while addressing a meeting of the party's consultative council at Jamia Rashidia here the other day. On the occasion, JUI-F tehsil amir Qari Shahihd Rahimi said that the party workers are sparing no effort to make Pegham-e-Islam conference successful which is going to be held in RY Khan on Dec 15
The party leaders are also working hard for the purpose and visiting administrative units of the party across the country. "People from across the country will attend this historic conference which will be proved a milestone in delivering true message of the party," he claimed.
JUI-F leader Maulana Abdul Samad, secretary general Hafiz Saeed Mustafa, city ameer Maulana Abdullah Rabbani, Allama Zubair Farooqi, Mufti Younus and Abu Bakr Farooqi were also attended the meeting.
http://nation.com.pk/national/08-Dec-2016/shariah-enforcement-manifesto-of-jui-f
--------
Europe
BBC slammed over IS sympathiser's role on show about British Muslims
Dec 8, 2016
The BBC was today accused of "totally inappropriate" conduct over its decision to feature a notorious extremist who has expressed support for Islamic State beheadings in a new programme on British Muslims to be broadcast next week.
Anthony Small, 35, a former boxer and associate of jailed extremist cleric Anjem Choudary, will appear as one of 10 housemates in a documentary called Muslims Like Us showing over two nights on BBC2.
The corporation has described the programme — likened to a Muslim version of Big Brother — as a "social experiment" to display facets of the religion's British followers.
It has defended its decision to include Small, who was cleared at the Old Bailey last year of plotting to travel to Syria to fight with IS, on the grounds that his VIEWS "exist within the Muslim community" and should be addressed. But a counter-extremism think tank, the Henry Jackson Society, today condemned his appearance and said it would undermine attempts to portray more moderate Muslim opinion.
Deputy director Davis Lewin said: "It is totally inappropriate for the BBC to put anybody who has expressed support for Islamic State on our screens in this context and one must ask why such views have to be included in a welcome effort to showcase the diversity of Muslim opinion in Britain."
Small, 35, who now calls himself Abdul Haqq, has appeared alongside Choudary and other extremists several times and once released a video in which he claimed the beheading of American journalist James Foley in 2014 was a form of provoked "retaliation" against the "United Snakes of America".
He also appeared in another video saying he had no sympathy for the son of murdered soldier Lee Rigby. On another occasion he was pictured sitting with Choudary and three other men at a Muslims Against Crusaders press conference in 2011. One was Siddhartha Dhar, since identified as an IS executioner in Syria.
Small, a convicted fraudster, was acquitted last year of disseminating terrorist publications, supporting a proscribed group, and conspiring to possess false identity documents.
Prosecutors claimed Small, a former British and Commonwealth champion, put boxing gloves and a championship belt on EBAY to raise money to get to Syria. Two of his associates, found in the back of a lorry in Dover, pleaded guilty to possessing false documents.
The new BBC programme will see 10 Muslims, including Small, placed in a house together to debate their divergent views. Another counter-extremism organisation, the Quilliam Foundation, has also criticised the BBC's decision to include him, saying he has "extremely fringe" views.
A BBC spokeswoman defended the programme, to be shown at 9pm next Monday and Tuesday, and said Small's VIEWS would be "robustly challenged and debated" on it.
She said: "Muslims Like Us aims to explore a full range of attitudes and beliefs in the British Muslim community today.
"The contributors were selected to provide an insight into a cross SECTION of opinions and practices.
"The views of Abdul Haq, and the other contributors, are robustly challenged and debated amongst the group as well as by the film makers throughout the series."
http://www.standard.co.uk/news/uk/bbc-slammed-over-is-sympathiser-s-role-on-show-about-british-muslims-a3414486.html
--------
Fears Russia aiding Taliban after weapons seized and 'secret talks' in Moscow
8th December 2016
US and Afghan officials have accused Russia of holding secret talks with the Islamic terror group in Moscow and Tajikistan.
Seizures of new "Russian-made" guns and mysterious cross-border flights by unidentified helicopters have also been reported.
The Kremlin has admitted "limited" contacts with the insurgents – who are allied to al-Qaida.
But the Taliban claims Russia has OFFERED them "political and moral" support.
The Taliban seized power in Afghanistan after an alliance of Islamic rebel fighters – known as the Mujahadeen – kicked out the Russian backed Communist government.
The Mujahadeen – which included Osama bin Laden and other al-Qaida leaders – was provided with weapons and funding by the CIA.
Now Russia might be funding its successor to topple the US-backed government.
General John Nicholson, the TOP US commander in Afghanistan, said Russia was a "malign influence" in the country.
Full report at:
http://www.dailystar.co.uk/news/latest-news/568544/russia-taliban-secret-talks-moscow-weapons-afghanistan-government-us-nato-ww3-world-war-3
--------
Spain nabs fake police ring of Pakistanis, Iranians
December 08, 2016
BARCELONA (AFP): Spanish police said Wednesday they had smashed a criminal gang of Iranians and Pakistanis who preyed on tourists in Barcelona by posing as police, just days after dismantling a similar ring in Madrid.
The gang would stop tourists near HOTELS and Barcelona's airport and ask to see identification or perform searches and would then grab cash, watches, smartphones and other valuables and quickly flee, Catalonia's regional police force said in a statement. The ring also stopped cars with foreign licence plates on highways near Barcelona and then robbed the occupants of the vehicles said the force, the Mossos d'Esquadra. Police arrested eight suspected members of the ring, all Iranian and Pakistani nationals, last week in Badalona, a Barcelona suburb, and Valencia. The suspects - six men, a woman and a minor - are believed to have taken part in 40 robberies. Among the loot recovered during the arrests were several luxury watches, 5,000 euros in cash and a "huge amount" of electronic devices.
Full report at:
http://nation.com.pk/international/08-Dec-2016/spain-nabs-fake-police-ring-of-pakistanis-iranians
--------
Report: 1,500 European militants returned from Mideast
7 December 2016
Around a third of the estimated 5,000 European militants who went to Syria and Iraq have returned to Europe, and some may have orders to attack, an EU report warned Wednesday.
Up to 2,500 fighters from Europe remained on the battlefield but their massive return in the short term seemed unlikely, according to the report seen by AFP.
Belgium expressed concern last month that militants were increasingly returning to Europe as US-backed coalition forces drive ISIS from territory in Syria and Iraq.
The report said between 15 to 20 percent of the Europeans have died on the battlefield, around 30 to 35 percent have returned and 50 percent remain in the battle theatre, which amounted to between 2,000 and 2,500 Europeans.
As many as 1,750 may have returned, based on the percentages listed in the report which EU counter-terrorism coordinator Gilles de Kerchove will present to EU interior ministers on Friday.
The report said there were two types of "foreign terrorist fighters" returning.
"Those in the majority that will drift back, and those who will be sent back on specific missions, which are of most concern," the report warned.
It said even some European women and children born or raised in the so-called caliphate declared by ISIS in Iraq and Syria could pose a security threat as they may have been radicalized.
Full report at:
https://english.alarabiya.net/en/News/world/2016/12/07/Report-1-500-European-militants-returned-from-Mideast.html
--------
Egypt Welcomes Prospect of Warmer U.S.-Russia Ties Under Trump
By JAY SOLOMON
Dec. 8, 2016
WASHINGTON—Egypt is urging closer cooperation between the U.S. and Russia in confronting terrorism in the Middle East—particularly in Syria—as Donald Trump prepares to become president next month, Egypt's foreign minister said in an interview.
"We can't discount the IMPORTANCE of Russia as a major international player," Foreign Minister Sameh Shoukry said in an interview in Washington. "We can only deal with the realities of greater involvement by Russia militarily in Syria; its physical presence."
Mr. Shoukry was on a visit to the U.S., and last week met with Vice President-elect Mike Pence to discuss the future of the U.S.-Egyptian alliance.
"We have always advocated the IMPORTANCE of the U.S.-Russia dialogue and understanding on the way forward [in Syria]. There were times when it was close to happening," he said.
Egyptian President Abdel Fattah Al Sisi was among the first Arab leaders to engage directly with Mr. Trump, meeting with the businessman-turned-politician in New York even before his election victory last month.
Mr. Shoukry said his government seeks to strengthen its relationship with the U.S. under the Trump administration. He said he hoped there would be a unified understanding on the threat posed by Islamist movements to Middle Eastern stability.
"There's always been a concentration on the IMPORTANCE of Egypt and the reliance on the strategic relationship," Mr. Shoukry said of his meetings with Messrs. Trump and Pence. "Egypt is the beacon in the area that contradicts the narrative of the terrorist organizations."
Throughout his campaign, Mr. Trump, signaled he would pursue a major shift in U.S. policy toward Syria, voicing a desire to work more closely with Russian President Vladimir Putin. The president-elect repeatedly criticized the Obama administration's support for rebel militias that want to overthrow President Bashar al-Assad, arguing that could strengthen Islamic State.
Egypt is among a number of Arab and Middle Eastern states reaching out to the Kremlin as a leading player in their region after decades of Russian withdrawal following the end of the Cold War.
Russia launched air operations in Syria last year to bolster President Assad's regime, intensifying the air campaign in recent months.
Cairo has had a rocky relationship with Washington over the past decade. Former Egyptian strongman Hosni Mubarak butted heads with George W. Bush's administration's over democracy and human rights. The Obama administration cut back on military and financial aid after Mr. Sisi, as commander of the Egyptian military, seized power from Islamist president Mohammed Morsi in 2013.
Mr. Sisi was subsequently elected president in 2014 and has pursued a crackdown on Mr. Morsi's political movement, the Muslim Brotherhood, in which thousands have been arrested.
The Obama administration has restored most military assistance to Egypt over the past 18 months, including attack helicopters used in counterterrorism operations. But relations between the historic allies have remained tense.
Full report at:
http://www.wsj.com/articles/egypt-welcomes-prospect-of-warmer-u-s-russia-ties-under-trump-1481185790
--------
Russia kills ISIS leader in Dagestan
December 7, 2016
Russia has dealt a strong blow to ISIS' presence in the country by killing the "emir" of Dagestan.
A warlord suspected of being behind multiple terror attacks in the North Caucasus and four of his accomplices have been killed in a police operation in Dagestan, local police said Sunday.
The five were killed late Saturday on the outskirts of the regional capital, Makhachkala, in a gun battle with security forces, police spokeswoman Fatina Ubaydatova said.
Russian state television showed special and armored VEHICLES taking up positions to surround a two-story house nestled at the foot of mountains that flank Makhachkala to the west.
The regional office of the Russian Investigative Committee identified one of the five as 35-year old Rustam Aselderov, the "emir" of the Islamic State (ISIS) group in the region, who was wanted for his suspected role in several attacks, including a double bombing in 2013 on a bus and at a train station in southern Russia that killed a total of 34 people.
Dagestan, a predominantly Muslim province on the western shore of the Caspian Sea, has become the epicenter of an Islamic insurgency following two separatist wars in neighboring Chechnya. Despite government efforts to clamp down on the insurgency, shootouts and bombings are routine.
Full report at:
https://worldisraelnews.com/russia-kills-isis-leader-dagestan/
--------
North America
Obama admits US can't defeat Taliban, end violence in Afghanistan
December 08, 2016
WASHINGTON - US media has reported that President Barack Obama admitted in an address on Tuesday that the United States could not wipe out the Taliban militant group in Afghanistan, but could help it end years of instability by supporting the government in Kabul.
In his final speech on national security as commander in chief of the US Armed forces Obama said despite U.S efforts, the situation in the war-plagued country remains unstable, the president said.
"I don't want to paint too rosy a picture. The situation in Afghanistan is still tough. War has been a part of life in Afghanistan for over 30 years. The U.S cannot eliminate the Taliban or end violence in that country," Obama said before U.S soldiers at MacDill Air Force Base in Florida.
"But what we can do is deny al-Qaeda a safe haven and what we can do is support the Afghans who want a better future, which is why we ave not only worked with our military but we backed a unity government in Kabul," he added.
Barack Obama defended his efforts to fight terrorism at home and abroad in his final major speech on national security before leaving office. Obama's speech comes just six weeks before he turns over the keys of the White House to Donald Trump, who has pledged to reverse course on many of his policies.
"Adhering to the rule of law is not a weakness," Obama said during his speech in Tampa, Florida, alluding to Trump's tough talk on terrorism that helped propel him to victory last month. "In the long term, it is our greatest strength."
Obama warned that terrorist groups want to "scare us into changing the nature of who we are and our democracy." But he said the only way they can "destroy our way of life" is "if we lose track of who we are and the values that this nation was founded upon."
The president spoke at MacDill Air Force Base in Tampa, home to US Central Command and Special Operations Command. Those groups have been crucial to Obama's fight against groups like al-Qaeda and the Islamic State in Iraq and Syria (ISIS).
Obama insisted his approach of relying on special operators and "a network of partners," which include Western allies and local fighters, is "breaking the back of" ISIS. Instead of launching a large-scale ground war, the president argued his campaign "has been relentless, it has been sustainable, it has been multilateral."
Obama called on his successor to complete the process of closing the detention center at Guantanamo Bay and maintain his administration's ban on torture, both areas where Trump has indicated he'll change course.
On the torture ban, Obama said no adviser ever "told me that doing so has cost us good intelligence."
And he cautioned against re-framing the terrorist fight as a conflict with Islam, as Trump and some of his advisers have done. "If we act like this is a war between the United States and Islam, we're not just going to lose more Americans to terrorist attacks," Obama said. "But we'll also lose sight of the very principles we claim to defend."
Obama acknowledged that the situation in Afghanistan is not perfect, but that the fight is now almost entirely being waged by Afghan forces, not by Americans. White House aides say Obama had been planning the speech for months, but the stakes rose when Trump won the election last month.
Obama on Tuesday sought to outline a battle plan against terrorist groups for an incoming commander in chief with no government or military experience.
His remarks could also been seen as an attempt to pressure Trump to abandon some of his strident positions on foreign policy and national security, but it's unclear whether his words will persuade Trump to change course.
The two men have spoken privately a number of times since the election, and Trump has indicated openness to Obama's arguments on healthcare and climate change.
But Trump has pledged a far more aggressive approach than Obama on terrorism.
Trump has called for the use of torture against terror suspects, advocated a ban on Muslim immigration and questioned the United States' involvement in NATO, although he's tweaked some of those positions after his election.
He also said he would resume placing terror suspects at Guantanamo, which Obama called a "blot on our national honour."
Retired Marine Gen James Mattis, Trump's pick for defence secretary, is expected to support sending more troops to the Middle East to fight terrorist groups.
Throughout the campaign, Trump often touted his support from military service members, and pre-election polls showed him with an advantage over Hillary Clinton, the Democratic nominee.
Aside from Obama's criticism of Congress for not passing a war authorization against ISIS, the president received only tepid applause for most of his remarks from the men and women in uniform at the base on Tuesday.
The White House cast the speech as a chance to sum up Obama's national security agenda after eight years in the White House.
Obama touted his successes, including winding down the Iraq and Afghanistan wars and authorizing the mission to kill Osama bin Laden. But he also lamented the fact he'll become the first president to serve two full terms on a wartime footing.
Critics have said Obama has not done enough to counter the threat ISIS poses to the homeland or to curtail the civil war in Syria.
Unlike previous wars, Obama warned the fight against terrorism will be a long one that might not produce "a clearly defined victory."
"So rather than offer false promises - that we can eliminate terrorism by dropping more bombs, or deploying more and more troops or fencing ourselves offer the rest of the world - we have to take a long view of the terrorist threat," Obama said.
"We have to pursue a smart strategy that can be sustained."
Obama's speech drew criticism from Republicans, including his 2008 presidential campaign opponent, Senator John McCain of Arizona. "President Obama's speech was nothing more than a feeble attempt to evade the harsh judgment of history," Mr McCain said. "But to the American people, our emboldened enemies, and our dispirited allies, his legacy on counterterrorism is unmistakably clear: a disastrous withdrawal from Iraq, the terrorist rampage of ISIL, an indecisive approach to the war in Afghanistan that has empowered the Taliban, and an indifferent approach to the carnage in Syria on which our terrorist enemies have thrived. No rhetorical conceit will alter history's verdict."
http://nation.com.pk/international/08-Dec-2016/obama-admits-us-can-t-defeat-taliban-end-violence-in-afghanistan
--------
Surveillance of Muslims traumatized my family. With Trump I'm afraid it'll get worse.
Dec 7, 2016
When I was 13, two FBI agents knocked on my family's DOOR. They asked for my younger sister, at the time a 7-year-old in second grade at the school down the street from our home in New Jersey. My older sister, herself a teenager, fielded their questions, as my Pakistani parents, whose first language is Urdu, couldn't fully comprehend what the agents were asking. They told us that my sister's school had called the FBI to report that my sister may have placed anthrax in a permission slip for a field trip. A teacher assistant's home had been locked down and scoured by Hazmat teams.
It was a few weeks after the October 2001 anthrax scare, so we knew enough to understand the charge being leveled at us. The agents began with a few questions about our politics and the mosques we attended. They eventually asked my sister to bring her BACKPACK, which she did. She held it open for them, crying, unsure what was happening. They proceeded to question her alone in the kitchen. I stood in the next room, crying. My mother was hysterical. Our family had just moved into the predominantly white suburb, a world apart from the working-class immigrant neighborhood I grew up in. Just a few weeks earlier, several kids on our street launched into a lengthy screed about me being "a fucking terrorist foreigner."
Of course it wasn't anthrax; it was pink SandArt, the kind you might find in any second grader's backpack. The next day, my sister returned to class and pretended everything was fine, as if the school had never accused our family of bioterrorism.
When I was 19, I attended a Friday khutbah, or sermon, at my university, a large state college in Texas. After the service, an unfamiliar man in a SUIT took the podium. He identified himself as an attorney with the local chapter of the American Civil Liberties Union. He said that recently, the FBI had begun to interview Muslim students on campus on suspicions of engagement with foreign terrorists. He told us how to engage a federal agent, how to avoid entrapment, how to handle an interrogation. He shared his business card and promised to represent us if we ever called.
A few weeks later, my friends were interviewed and investigations began at neighboring colleges. It was unclear whether the university was complicit in the investigation; the prospect of the administration sharing information about the Muslim Student Association with law enforcement made me feel no institution was safe. Many stopped attending services and meetings. Eight years later, I still carried that business card, faded and crumpled, in my WALLET. I believed it to be my sole source of protection. I threw it out earlier this year, naively assuming I no longer needed to be afraid of my own federal government.
Why Muslims like me are afraid of the Trump administration
In the weeks since Donald Trump won the presidential election, I've realized that most Americans have no idea what I'm afraid of as an American Muslim. The prevailing narrative about our fears is centered on immigration, either in the form of restrictions on refugees or registries for recent immigrants. But like most American Muslims, I'm neither a recent immigrant, nor a refugee. I'm a second-generation Pakistani American living in Washington, DC. I'm frightened by both proposals and deeply concerned for the members of my community and family that will be affected. But I'm equally frightened for my personal safety from law enforcement. I'm genuinely afraid of being reported, interrogated, and arrested on the basis of my religious identity.
My fears are not unfounded; it is not the first time the state and bigots emboldened by it have been mobilized against my community. For most of my adult life, I assumed stories like mine about Bush-era scrutiny of American Muslims were known by those outside our community. After all, it wasn't a new phenomenon; state surveillance of American Muslims stretched as far back as the FBI's pursuit of black Muslims during the 1950s. I assumed Americans understood the far-reaching consequences of criminalizing a religious identity: mistrust, fear, loss of civil liberties, loss of livelihood, suppression of civic and religious organizations. I'm afraid I was wrong. I now recognize it's important to convey exactly what I'm afraid of, so that you might be able help.
Being routinely suspected of terrorism and investigated by law enforcement is an alarmingly normal part of the lives of many American Muslims. Almost all of my young adult Muslim friends have experienced it. I grew up hearing about friends and family being interrogated and harassed by law enforcement, non-citizen community members going missing (i.e., quietly detained, held for questioning, and eventually deported), and police scoping our congregations. There was never any recourse. Rather, we suppressed these stories for fear of attracting additional suspicion.
I can't begin to explain how deeply these instances affected my sense of belonging, safety, and trust. I could write many more paragraphs about bullying, physical threats, and verbal abuse my family and I endured at the hands of hateful bigots. These incidences have remained a regular and painful presence in my life, regardless of where I've called home.
THANKFULLY others have written about the traumatic legacy of state surveillance of Muslims in college campuses and neighborhoods. Researchers have published studies on the health implications of individual, interpersonal, and structural anti-Muslim discrimination. As a doctoral student in health policy, the reality of these findings are especially resonant.
Bush-era surveillance was terrible. I'm scared the Trump era will go even further.
A decade and a half since the FBI came to our DOOR, I'm again deeply afraid of what's ahead. Earlier this month, while canvassing for Hillary Clinton in Pennsylvania, a man told my wife that he was a Trump supporter, and that we ought to keep walking lest he blow up our car. A day after the election, a group of men in a truck draped in Trump flags drove around my younger sister's college campus in Texas, my alma mater, hurling expletives at Muslim women.
Full report at:
http://www.vox.com/first-person/2016/12/7/13855268/trump-muslims-surveillance
--------
US Muslim kindergartner assaulted by teacher
07.12.2016
The country's largest Muslim civil rights organization urged an investigation Wednesday into alleged assaults by a teacher on a Muslim kindergarten student in Charlotte, North Carolina.
The Muslim student suffered "relentless bullying and harassment" at the hands of other students and the teacher since the beginning of the school year in September at David Cox Road Elementary School, Maha Sayed, a civil rights lawyer for the Council on American-Islamic Relations (CAIR) wrote to the school board.
Sayed said the teacher would "routinely single out" the student from his classmates and require him to carry a heavy backpack throughout the day that contained a large textbook and HEADPHONES, causing the child to develop "significant back pain".
"[The teacher] would also treat [the student] harshly and reportedly called him 'bad Muslim boy' on multiple occasions," Sayed wrote.
In the most recent incident on Nov. 16, the teacher "reportedly approached [the student] … grabbed him by the neck and began choking him. [Another teacher] then separated the two and began consoling [the student] who was crying and extremely shaken," Sayed said.
CAIR noted that provisions of the Civil Rights Act of 1964 and the Equal Protection Clause of the Fourteenth Amendment both create a legal duty to provide a safe, nondiscriminatory learning environment for all students.
Full report at:
http://aa.com.tr/en/americas/us-muslim-kindergartner-assaulted-by-teacher/701550
--------
Muslim group denounces Edmonton LRT incident as 'hate crime' calling it 'absolutely horrifying'
DECEMBER 07, 2016
The national organization representing Canadian Muslims is calling on Edmonton police to lay hate crime charges against a man after two Muslim WOMEN were threatened with a noose on a city LRT platform.
Amira Elghaway, communications director for the National Council of Canadian Muslims, said the incident on Nov. 8 at the University LRT Station was "absolutely horrifying."
CELLPHONEvideo shot by one of two young women shows a man pulling a rope from his pocket and tying it into a noose before dangling it from his hand while threatening them, saying "This is for you." He then proceeded to sing the Canadian national anthem.
"For an individual to specifically be walking around with a noose looking for that opportunity to basically instil fear in someone or people is rather troubling," Elghaway said.
On Tuesday, the Edmonton police hate crimes unit said it had a suspect in custody.
"A vast majority of Canadians do not support these racist or anti-Muslim acts but unfortunately it's the few that, with one act, can send out a very scary message to the community," said Elghaway.
"That's why hate crimes are so dangerous in our society because they are not just targeting an individual, they are targeting an entire community.
"It's a minority of people acting out of ignorance and malice ... but this is a public safety issue and it concerns everyone."
Faisal Suri Khan, president of the Alberta Muslim Public Affairs Council, said the incident was "disturbing" and "unCanadian."
"This is hatred and beyond," Khan said.
Full report at:
http://www.torontosun.com/2016/12/07/muslim-group-denounces-edmonton-lrt-incident-as-hate-crime-calling-it-absolutely-horrifying
--------
Arab World
Terrorists in Eastern Aleppo Force Children to Fight
Dec 07, 2016
According to the sources, the militants force the under-15 teenagers to take up weapons and help them in launching attacks and resisting against the Syrian army units and their allies in Eastern Aleppo.
They added that the children who refrain from cooperation are tortured and beaten or their houses and properties of their families and relatives are looted by the militants on false charges, including cooperation and spying for the Syrian army.
A children Rights organization said last week that deteriorated situation in Aleppo and ongoing hostilities resulted in almost 100,000 children being trapped in the militant-controlled Eastern part of Aleppo.
Informed sources said in September that the ISIL and other terrorist groups had continued to recruit fresh kids in terrorist-held regions to prepare them for conducting suicide attacks across war-hit Syria.
"There are scores of videos showing that hundreds of very young militants have been fighting against government forces in Syria's battlefields," the sources said.
A Russian website also said that employing children as fighters in battlefield has been atop the agenda of terrorist groups since escalation of clashes in Syria.
ISIL and Fatah al-Sham (the newly-formed al-Qaeda-affiliated terrorist group previously known as the al-Nusra Front) have used different methods to attract children to join their military forces.
Terrorist groups set up at least seven military training camps for children in the first six months of their control over Idlib province.
Jeish al-Fatah's religious leader Abdullah al-Moheiseni's representatives were going village by village in Idlib to encourage families to send their children to military camps justifying the targeted parents with this sentence that "your children will plead you before the God in the other world".
Terrorist groups meantime spent a lot of MONEY to persuade parents in Idlib and even Aleppo province to join military camps and operations in Syria.
Most of the child-fighters have been attracted by Fatah al-Sham and Ahrar al-Sham.
http://en.farsnews.com/newstext.aspx?nn=13950917001458
--------
Syrian troops enter Aleppo's Old City, poised for war's biggest victory
December 07, 2016
Syria's army and allies pushed into rebel-held parts of Aleppo's Old City on Tuesday, a monitoring group said, looking closer than ever to achieving their most important victory of the five-year-old civil war by driving rebels out of their last urban stronghold.
A rebel official said they would never abandon Aleppo, after reports that U.S. and Russian diplomats were preparing to discuss the surrender and evacuation of insurgents from territory they have held for years.
Russian Foreign Minister Sergei Lavrov said talks with the United States on a rebel withdrawal would begin in Geneva as soon as Tuesday evening or Wednesday morning. But sources familiar with the plans later told Reuters no talks would take place this week in the Swiss city.
The rebels, who controlled large parts of eastern Aleppo for nearly five years, have lost around two thirds of their territory in the city over the past two weeks.
Government forces entered rebel-held parts of the Old City late on Tuesday, the British-based Syrian Observatory for Human Rights monitoring group reported. A rebel official denied they had entered but said the army and its allies were trying to enter and battles continued.
A military source said troops were "advancing in that direction".
The government now appears closer to victory in the city than at any point since 2012, the year after rebels took up arms to overthrow President Bashar al-Assad in a war that has killed hundreds of thousands of people, made more than half of Syrians homeless and created the world's worst refugee crisis.
The Syrian Foreign Ministry said it would now accept no truce in Aleppo, should any outside parties try to negotiate one. Russia and China vetoed a U.N. Security Council resolution on Monday calling for a week-long ceasefire. Moscow said rebels used such pauses in the past to reinforce.
Tens of thousands of civilians are still trapped in rebel-held districts of Aleppo, reduced to a few kilometers (miles) across. The United Nations, whose staff are restricted to government-controlled areas of the city, on Tuesday described "a very disastrous situation in eastern Aleppo".
"There has been heavy shelling on us, there are massacres (of civilians), there's no electricity and little internet access," said Abu Youssef, a resident of one of the areas still held by the fighters.
Damascus and Moscow have been calling on rebels to withdraw from the city, disarm and accept safe passage out, a procedure that has been carried out in other areas where rebels abandoned besieged territory in recent months. Moscow wants negotiations with Washington to facilitate such an evacuation.
But despite Lavrov's announcement of a meeting in Geneva, a U.S. official said firm plans for talks had never been set, though Washington was still working to reopen negotiations.
"We're not going to negotiate this publicly," the official said on condition of anonymity.
Rebels have told U.S. officials they will not withdraw, and said there had been no more formal contact with Washington on the topic since last week.
"The Americans asked if we wanted to leave or to stay ... we said this is our city, and we will defend it," Zakaria Malahifji, a Turkey-based official for the Fastaqim rebel group, told Reuters on Tuesday.
The Cold War-era superpowers have backed opposing sides in the war, but Russia has intervened far more openly and decisively, joining Iran as well as Iraqi and Lebanese Shi'ite groups to back Assad.
Some of the groups fighting in eastern Aleppo have received support in a U.S.-backed military aid program to rebels deemed moderate by the West. However, this has been minimal compared to massive Russian air support to aid Assad's government, which has turned the tide of the war in his favor over the past year.
The army said it had taken over areas to the east of the Old City including al-Shaar, Marja and Karm al-Qaterji, bringing them closer to cutting off another pocket of rebel control.
The Syrian Observatory for Human Rights said al-Shaar and some other areas had been taken, but did not immediately confirm the takeover of all the areas announced by the army. A Turkey-based rebel official denied al-Shaar had been taken but said fighting continued in the neighborhood.
Outside of Aleppo, the government and its allies are also putting severe pressure on remaining rebel redoubts. The Observatory said a heavy Syrian and Russian aerial bombardment in the last three days in the mostly rebel-held Idlib province to the southwest had killed more than 100 people.
WINTER IS COMING
The rebels' loss of the eastern half of Aleppo, Syria's largest city before the war, would be the biggest victory of the conflict so far for Assad, securing his grip on all Syria's main cities.
It would also be a success for President Vladimir Putin who intervened to save Moscow's ally in September 2015 with air strikes, and for Shi'ite Iran, whose elite Islamic Republic Guard Corps has suffered casualties fighting for Assad.
U.N. official Jens Laerke said: "Winter is approaching, it's already getting very, very cold so that has come up as a priority need ... Food is running out, the little food that is available is being sold at extremely inflated prices."
While rebels have said they will not leave, one opposition official, who declined to be identified, conceded they may have no alternative for the sake of civilians who have been under siege for five months and faced relentless government assaults.
Insurgents, meanwhile, have fought back ferociously inside Aleppo. Some of the fighting took place on Monday within a kilometer (half a mile) of the ancient citadel, a large fortress built on a mound, and around the historic Old City.
Full report at:
http://nation.com.pk/international/07-Dec-2016/syrian-troops-enter-aleppo-s-old-city-poised-for-war-s-biggest-victory
--------
64 Syrian Civilians Killed in US-Led Airstrikes in Northern Syria, Turkish Shooting in 2 Days
Dec 07, 2016
Over 15 civilians were killed and many more were injured in the US-led air raids in Jarnia district in Western Raqqa on Monday.
On Tuesday, the coalition warplanes pounded several houses in Kharba Hadleh village, killing over 10 civilians.
The US-led airstrikes on al-Abareh village in Northern Raqqa left four civilians dead and seven others wounded.
The coalition fighter jets also pounded the town of al-Tabaqa in Southern Raqqa which left three civilians dead.
Meantime, al-Fakhih village became the target of the US-led coalition.
Meantime, earlier reports said today that Turkish gendarmes had killed several Syrian civilians, including a woman, as they attempted to sneak into Turkey from Syria.
Six men and one woman were trying to cross the border into Turkey at three different regions, but they were shot dead by Turkish gendarmes.
The London-based Syrian Observatory for Human Rights (SOHR) announced that 31 children and 15 WOMENhave been among the 163 civilians killed by the Turkish gendarmes as they attempted to cross into Turkey since the beginning of 2016.
Full report at:
http://en.farsnews.com/newstext.aspx?nn=13950917001536
--------
Britain will help Gulf 'push back' against Iran aggression: May
December 08, 2016
DUBAI - Britain will help Gulf states "push back" against aggressive regional actions by Iran, Prime Minister Theresa May told the Gulf Cooperation Council in Bahrain on Wednesday in a televised address.
Iran's alleged "interference" in the region is a central preoccupation of the six-nation Gulf Cooperation Council whose most powerful member is Saudi Arabia.
The Gulf monarchies and Tehran are at odds over a range of issues including the wars in Syria and Yemen.
"We must... continue to confront state actors whose influence fuels instability in the region," May told Gulf leaders at their annual summit. "So I want to assure you that I am clear-eyed about the threat that Iran poses to the Gulf and to the wider Middle East."
She added: "We must... work together to push back against Iran's aggressive regional actions." May said she wanted a "strategic partnership" to help boost security in Gulf countries, including defence investment and military training in Bahrain and Jordan.
The prime minister also spoke about discussions to improve trade ties with Gulf countries as Britain prepares to leave the European Union after a shock referendum vote in June to quit the bloc.
"I want these talks to pave the way for an ambitious trade arrangement" after Brexit, she said in Bahrain, which was a British protectorate for 100 years and gained full independence in 1971.
May is the latest foreign leader to address the GCC as the Gulf deepens ties with major powers beyond longtime ally the United States.
Britain, too, is seeking "stronger global ties" before Brexit, finance minister Philip Hammond said on Wednesday.
In May last year, France's President Francois Hollande became the first Western head of state to attend a GCC summit since the bloc's creation in 1981.
Full report at:
http://nation.com.pk/international/08-Dec-2016/britain-will-help-gulf-push-back-against-iran-aggression-may
--------
Bahrainis protest against May's visit amid Al Khalifah crackdown
Dec 8, 2016
Bahrainis have rallied to voice their anger at a visit by British Prime Minister Theresa May to the tiny Persian Gulf kingdom which has been cracking down on pro-democracy protests for years.
The demonstrators took to the streets in the island village of Sitra on Wednesday evening to condemn London's support for the Manama regime, stomping on a Union Jack.
Skirmishes broke out when regime forces intervened, and fired tear gas canisters to disperse the crowd.
May arrived in Manama on Monday to meet the leaders of the Persian Gulf Cooperation Council (GCC), which is formed by Saudi Arabia, Kuwait, the United Arab Emirates, Qatar, Bahrain, and Oman.
She was welcomed by Bahrain's Prime Minister Prince Khalifah bin Salman Al Khalifah upon her arrival in the country.
Prior to her visit to Bahrain, May indicated reluctance to address the Al Khalifah regime's heavy-handed crackdown on the popular uprising in the country.
She took a cautious line on the issue, saying that human rights abuses should not affect London's trade policy.
"No doubt there will be some people in the UK who say we shouldn't seek stronger trade and security ties with these countries because of their record on human rights," May said.
"But we don't uphold our values and human rights by turning our back on this issue," the British prime minister continued.
Full report at:
http://www.presstv.ir/Detail/2016/12/08/496944/Bahrain-protest-visit-Britain-Theresa-May-Al-Khalifah-regime-crackdown-human-rights-activists-dissent
--------
Aleppo win huge step toward ending Syria war: Assad
Dec 7, 2016
Syrian President Bashar al-Assad says victory in the battle for the city of Aleppo will be "a huge step" in bringing the war in Syria to an end.
Assad said the full liberation of Aleppo in northwestern Syria would DEAL a huge blow to the regional and international supporters of militant groups, al-Mayadeen television station said, citing an interview with al-Watan newspaper expected to be published on Thursday.
"It's true that Aleppo will be a win for us, but let's be realistic, it won't mean the end of the war in Syria," Assad said.
"But it will be a huge step towards this end."
The Syrian president said in response to a question about the possibility of a ceasefire in Aleppo that such a possibility was "practically non-existent, of course."
"The Americans in particular are insisting on demanding a truce, because their terrorist agents are now in a difficult situation," Assad said.
Washington would have no more trump cards to show if Aleppo is liberated, the Syrian president stated.
Full report at:
http://www.presstv.ir/Detail/2016/12/07/496908/Syria-Assad-Aleppo-victory
--------
More Terrorists Surrender to Army in Eastern Aleppo
Dec 08, 2016
The Russian Center for Ceasefire in Syria announced that 66 terrorists laid down their arms and were granted amnesty by the Syrian government.
According to the report, over 1,224 civilian people also left the militants-controlled regions in Eastern Aleppo towards the government-controlled areas.
The Russian center also reported that the number of liberated districts by the Syrian army in Eastern Aleppo has reached 50, adding that demining operations have started in the urban regions of Aleppo.
Also, reports said on Wednesday that one hundred more terrorists laid down arms and turned themselves in to the Syrian Army after they were left alone by a large number of their comrades who surrendered the Old Aleppo quarter to the government troops and left Eastern Aleppo.
Full report at:
http://en.farsnews.com/newstext.aspx?nn=13950918000254
--------
Homs: Army Launches Special Operations to Cut ISIL's Supply Routes
Dec 08, 2016
A field source said that the Syrian army has seized back control of Sawame al-Haboub region East of Tadmur and Arak gas field and is now only a few hundred meters away from Khanifis power plant.
The source added that the Syrian army continues operations towards Toynan company in Eastern Tadmur to establish the biggest security RING around the city.
According to the reports, the Syrian army units' operations near Tadmur have started and they will cover two pivots; first from al-Sukri district towards Khanifis; and then towards al-Sukhnah city in the Eastern parts of Homs which hosts one of the most important ISIL training centers in the region.
A military source said that operations towards al-Sukhnah are carried out to cut the IMPORTANT supply routes, adding that by retaking control over al-Sukhnah, the ISIL terrorists' move through the old roads between Raqqa and Jordan and Iraq will be impossible.
He said that liberation of al-Sukhnah would pave the ground for the army and its allies' advance towards Deir Ezzur city from the Western side and meantime, the Syrian forces can reach al-Tabaqa region in Southern Raqqa through al-Sukhnah road.
Homs Governor General disclosed on Sunday that the Syrian army troops and popular forces are ready to strike ISIL's defense lines in Eastern Homs to cut off terrorists' communication lines from Deir Ezzur to Raqqa.
Talal Barazi said that fierce clashes are now underway between the pro-government forces and ISIL terrorists in Eastern Homs as army units are advancing towards al-Sukhnah region East of the ancient city of Palmyra.
He further added that the army soldiers and popular forces have engaged in heavy fighting with ISIL East of al-Sha'er gas field and to the East of the villages of Jubb al-Jarrah and al-Mas'oudiyeh.
Full report at:
http://en.farsnews.com/newstext.aspx?nn=13950918000297
--------
Abdullah Al-Muhaysini Leading Attacks on Idlib Residential Areas
Dec 07, 2016
Sham Times quoted field and local sources as saying on Wednesday that al-Muhaysini has been seen between Brouma farms and al-Savaqiyeh region, adding that the attacks against the Foua'a and Kafraya residential areas are a morale-boost measure for the terrorists who have experienced continued defeats throughout the country in the last several months.
They added that the terrorists deployed in Idlib province rest assured that the clashes in Aleppo would end with their comrades' defeat and, hence, declined to take part in Aleppo war for the fear of losing their military and human resources.
The terrorist groups intensified their missile and mortar attacks on residential areas in the besieged towns of Foua'a and Kafraya on Wednesday to admittedly compensate for their comrades' defeats in Aleppo.
The terrorists attacked the civilian population in the two Shiite-populated towns of Foua'a and Kafraya with over 600 mortar shells and missiles, including Grad missiles, over the past three days, killing over 24 civilians and injuring dozens more.
The terrorists' rocket attacks also left many houses and a field hospital flattened.
The attacks were launched from the nearby towns of Binish, Savaqiyeh region, Taftnaz as well as Brouma farms West of Kafraya as well as the town of Ma'ar Tamsarin just to the North of Foua'a and Kafraya.
The terrorists also destroyed a field hospital in Foua'a depriving the wounded civilians from vital medical services.
The attacks came as Jeish al-Fatah terrorists in a recent video put on display their missile attacks on Foua'a and Kafraya, and warned that if the Syrian army continues its siege of Aleppo and its surrounding areas, they will considerably increase their missile and mortar attacks on the Shiite-populated towns.
The routine shootings of terrorist groups' snipers on civilians in Foua'a and Kafraya in addition to the spread of dangerous diseases have made life harder in the two small besieged towns in Northern Idlib.
The terrorists have kept a tight siege on the two towns for more three years now, while they have also stationed snipers to target any civilian who wants to seek help from outside or disobeys the militants' rules.
Many residents of Foua'a and Kafraya, SPECIALLY children, are suffering infectious diseases, including shingles disease, with no access to drugs to treat or even soothe their pains.
The snipers are hunting down innocent civilians, including women and children, adding to the pains of the residents of these two regions amid international mum on the terrorists' crimes.
Local people in the two besieged towns of Foua'a and Kafraya complained in June of acute shortage of food, water and hygiene, warning of a major humanitarian catastrophe.
"It is one and a half years that Idlib province has collapsed and the two Shiite-populated towns of Foua'a and Kafraya are surrounded by terrorists," Abdol Latif Azal, one of the residents of Foua'a, wrote in a letter to FNA.
Full report at:
http://en.farsnews.com/newstext.aspx?nn=13950917001526
--------
Syrian Army Comes One Step Closer to Aleppo Liberation
Dec 07, 2016
The sources said that the army men and popular forces are on the verge of driving terrorist out of the entire neighborhoods of Aleppo city after their victories against militants in the Northeastern districts and recapture of a major part of the districts in the Southeast.
"Terrorists are now trapped in a small area after pulling back forces from the districts in on the Eastern sides of the Citadel of Aleppo and the entire Old Aleppo quarter," they added.
"Terrorists are now retreating towards the neighborhoods of al-Kalasa, Bostan al-Qasr (Bustan al-Kaser), al-Ansari, al-Mash'had, al-Sukri, al-Salehin, Karam al-Da'ada, al-Nezha and a small part of Sheikh Saeed that have remained thus far under their control," the sources went on to say.
In the meantime, the Syrian army managed to open the road between Aleppo city and the International Airport after purging terrorists from the Western side of the airport.
Meantime, one hundred more terrorists laid down arms and turned themselves in to the Syrian Army after they were left alone by a large number of their comrades who surrendered the Old Aleppo quarter to the government troops and left Eastern Aleppo last night.
A 100-member group of militants from the Jeish al-Fatah coalition gave up fight and surrendered themselves to the army on Wednesday in areas South of the Old Aleppo quarter in Southeastern Aleppo.
Full report at:
http://en.farsnews.com/newstext.aspx?nn=13950917001260
--------
Syrian Army Inflicts Major Losses on Terrorists in Sweida, Dara'a Provinces
Dec 07, 2016
The army soldiers targeted the gatherings and movements of ISIL terrorists in al-Qassr village, some 40 km Northeast of Sweida city, leaving a number of terrorists dead or injured and destroying two military VEHICLES.
In the meantime, army units destroyed a position, two VEHICLES and two machinegun-equipped positions of Fatah al-Sham in al-Nazeheen camp in Dara'a al-Balad district.
Also, the Syrian army inflicted heavy losses on the terrorists in Sweida and Dara'a provinces on Thursday.
The army units hit hard a gathering of a terrorist group in al-Qassr village in the Northeastern part of Sweida province, killing several terrorists and injuring many others in heavy fighting last week.
Meantime, other army units carried out a special operation targeting al-Nusra Front (recently changed name to Fatah al-Sham) terrorists in al-Nazeheen Military Camp in Dara'a al-Balad area, which resulted in the destruction of a terrorists' concentration center to the West of the Camp's park, killing a number of terrorists.
The army also killed and injured terrorists who were vandalizing and demolishing houses in the surroundings of the power company and al-Rifa'i facility in the Western part of al-Nazeheen Camp, South of Seida Carpets building, and Bosra Square, in addition to destroying two fortified positions of the terrorists North of the Camp and near al-Karak reservoir.
Also an army unit bombarded fortifications of the terrorist groups in the surrounding areas of the bridge of al-Ghariyeh al-Gharbiyeh village in the Northeastern part of Dara'a city, killing all the terrorists deployed there.
Full report at:
http://en.farsnews.com/newstext.aspx?nn=13950917001377
--------
Syria: Russian Air Force Launches Heavy Airstrikes on ISIL's Centers in Deir Ezzur
Dec 07, 2016
The warplanes targeted ISIL's defense lines in Thardah mountain, killing or wounding several militants.
In the meantime, the Russian aircraft carried out a powerful assault at the Thayyem Oilfields and Power Station, destroying two technical TRUCKS armed with anti-aircraft machine guns, killing and wounding more than 20 militants.
In relevant developments in the province on Thursday, the ISIL's military VEHICLES were destroyed in al-Thardah mountainous region and its surrounding areas in the Syrian airstrikes.
The Syrian army soldiers also clashed with the ISIL terrorists along the Eastern wall of Deir Ezzur Military Airport.
Full report at:
http://en.farsnews.com/newstext.aspx?nn=13950917001312
--------
Pakistan
JUI-F, JI to Protest against Forced Religious Conversion Bill Tomorrow
December 08, 2016
KARACHI - The Jamiat-e-Ulema Islam-Fazal (JUI-F) and Jamaat-e-Islami has announced to hold protest on Friday across the province to condemn passage of the forced religious conversion bill in Sindh Assembly.
The decision was made during a meeting between JUI-Fazal leader Rashid Mehmood Somroo and JI Sindh Chief Dr Miraj-ul-Haq during a meeting held at Quba Auditorium Karachi here on Wednesday.
Talking to the media men after the meeting, both the religious parties' leaders termed the passing of the forced religious conversion bill in Sindh Assembly against the constitution and Islam. They further called the PPP led Provincial government withdraw the bill immediately and announced both the parties were agreed to observe Friday as protest day against the passage of bill.
JI Leaders including Mumtaz Hussain, Muhammad Hussain Mehnati, Hafiz Nasirullah Aziz, JUI-F Qari Mohammad Usman, Abdul Hakeem Abid and others were also present on the occasion.
It is pertinent to mention here that the bill states that no person shall be deemed to have changed their religion until they attain the age of maturity, which is 18 years.
http://nation.com.pk/karachi/08-Dec-2016/jui-f-ji-to-protest-against-bill-tomorrow
--------
Jacobabad blast mastermind, four terrorists held
December 08, 2016
SHIKARPUR - Police claimed to have arrested four terrorists during a raid in Qazi Patti area in the limits of Khanpur police on Wednesday morning.
The arrested terrorists were identified as Qari Sanaullah, mastermind of Jacobabad suicide blast in last year, his facilitators Riaz Brohi, Rasheed Brohi and Muneer Brohi.
Following the directives of Shikarpur SSP Umar Tufail, police party headed by Khanpur SHO Ayub Dogar raided Qazi Patti area and arrested the above said terrorists. Qari Sanaullah was mastermind for committing the suicide bomb blast on the mourning procession during Muharram in Jacobabad last year, which took 27 lives and 23 got wounded.
Full report at:
Four TT pistols and 300 bullets were also recovered from them, police claimed.
http://nation.com.pk/karachi/08-Dec-2016/jacobabad-blast-mastermind-four-terrorists-held
--------
Remains of PK-661 crash victims to be sent for DNA testing
Dec 08, 2016
DNA testing will be used to identify the 48 charred victims of the plane crash in the mountainous north of Pakistan, authorities said Thursday, as the country mourned one of the worst aviation disasters in its history.
The Pakistan International Airlines (PIA) flight crashed into a hillside after one of its two turboprop engines failed while travelling from the city of Chitral to the capital, and burst into flames killing everyone on board.
"The dead bodies will be taken to Islamabad in helicopters ... for DNA testing and identification," Muhammad Abbas, a hospital official at Ayub Medical Complex in the northern garrison town of Abbottabad, told AFP.
"Not one body was intact," he said.
Three helicopters provided by the army will be flown in from Abbottabad to Islamabad to assist with the rescue operation, the Inter-Services Public Relations said.
The helicopters will be used to shift the victims' remains to the Pakistan Istitute of Medical Sciences in Islamabad and the Combined Military Hospital in Rawalpindi.
Rescuers, including hundreds of villagers, had overnight pulled charred and smoking remains from the wreckage of the aircraft, parts of which were found hundreds of metres away from the main site in Abbottabad district of Khyber Pakhtunkhwa province.
An AFP reporter at the site near the village of Saddha Batolni said part of the plane remained on fire more than five hours after the crash.
Also read: Pakistani airlines: Unsafe at any altitude
"The bodies were burnt so badly we could not recognise whether they were women or men," a villager in his thirties, who declined to give his name, told AFP.
"We put into sacks whatever we could find... and carried them down to the ambulance."
Six of the victims had already been identified through fingerprints, according to Ali Baz, another official at the Ayub Medical Complex.
Details of the identified passengers were pasted on the wall outside the mortuary.
The aircraft issued a Mayday call at 4:14 pm (1114 GMT) Wednesday before losing radar contact and crashing.
Explore: ATR aircraft are 'very safe': experts
PIA chairman Azam Saigol said the nine-year-old plane was deemed to be "technically sound" when it last underwent a detailed inspection in October.
"Our focus now is to retrieve all the dead bodies," he added, vowing a full investigation into Flight PK661.
Full report at:
http://www.dawn.com/news/1301219/remains-of-pk-661-crash-victims-to-be-sent-for-dna-testing
--------
Five terrorists of banned outfit arrested in Barkhan
December 08, 2016
BARKHAN - The security personnel arrested five terrorists of a banned outfit besides recovering weapons and explosives during a crackdown here on Wednesday. FC spokesman said the paramilitary troops and sensitive agencies personnel conducted joint operation against the extremists in Karmi area of district Barkhan. The LEAs after minor resistance apprehended five commanders of a defunct organisation and recovered rocket launchers, eight rockets, two three-knot-three rifles, five fuses, SMGs, hundreds of rounds and explosives from the possession of the nabbed extremist commanders.
http://nation.com.pk/national/08-Dec-2016/five-terrorists-of-banned-outfit-arrested-in-barkhan
--------
Peshawar's Rafia first Pakistani, Asian woman to become BDU member
December 07, 2016
PESHAWAR: Khyber Pakhtunkhwa's Rafia Qaseem Baig has become the first Pakistani and Asian woman to become a member of the Bomb Disposal Unit (BDU).
29-year-old Rafia joined police force seven years ago and will now be working in BDU after completing her 15-day training.
Along with 31 other male members, she will be taught about the types of bombs, their identification and ways to defuse them in Nowshera's School of Explosive Handling.
While talking to the media on Wednesday, Rafia recalled the bomb blast that happened near a Sessions Court.
Full report at:
http://nation.com.pk/national/07-Dec-2016/peshawar-s-rafia-first-pakistani-asian-woman-to-become-bdu-member
--------
Pakistan an important trading partner of Saudi Arabia: Ambassador
December 07, 2016
Islamabad : A delegation of Islamabad Chamber of Commerce and Industry (ICCI) led by President Khalid Iqbal Malik called on Abdullah Marzouq Al-Zahrani, Ambassador of Saudi Arabia in his office and discussed ways & means for further enhancing bilateral trade and economic relations between Pakistan and Saudi Arabia.
Khalid Malik, Senior Vice President, Tahir Ayub, Vice President Islamabad Chamber of Commerce and Industry and Amin-ur-Rehman were also in the delegation. Abdur Rehman, Commercial Attaché of Saudi Embassy was also present at the occasion.
Addressing the delegation, Abdullah Marzouq Al-Zahrani, Ambassador of Saudi Arabia said that his country considered Pakistan an important trading partner and wanted to further enhance import of many products from it. He said Pakistani businessmen could promote trade volume with Saudi Arabia by improving the quality of their products.
Full report at:
http://nation.com.pk/national/07-Dec-2016/pakistan-an-important-trading-partner-of-saudi-arabia-ambassador
--------
Case against Altaf awaits interior minister's nod
December 08, 2016
LAHORE - A case against the self-exiled MQM-London chief Altaf Hussain on sedition charge will be registered only after Interior Minister Ch Nisar gives a go-ahead, the interior secretary informed the Lahore High Court yesterday.
During the hearing of various petitions against Mr Hussain, the interior secretary said that since the interior minister was indisposed, he could not seek instructions from him. The court rejected the explanation.
A number of petitions have been filed after the MQM-London chief's insulting remarks against Pakistan.
Justice Syed Mazaaher Ali Akbar Naqvi, said that the 'black sheep' speaking against Pakistan must be taken to task. He also directed the government to submit a clear reply on the petitions.
If the reply is not possible, submit a letter from some prince, the judge said in a light vein, clearly referring to the Qatari prince's letter produced by the prime minister's lawyers in the Panama papers case. Those present in the courtroom burst into laughter on the remark.
Further proceedings have been adjourned for two weeks.
EXAMINATION ALLOWED
The LHC yesterday directed the University of Health Sciences to let 200 plus students of the Sahara Medical College (SMC) appear in the supplementary examination.
The order was passed when the lawyer of the petitioner-college argued that SMC had been registered and its students were allowed to appear in regular examinations on LHC's instructions. But the PMDC and UHS victimize the SMC on one pretext or the other.
Since the SMC's petition bore fruit, the matter stood disposed of.
MISSING CHILDREN CASE
The Punjab government informed the Supreme Court yesterday that reports about the smuggling and removal of organs of the missing children were totally baseless. Ninety percent of the missing children have been recovered and efforts were also being made to recover the remaining ones, Advocate General Shakilur Rehman said.
A two-judge bench led by Justice Mian Saquib Nisar is hearing the case.
Further proceedings were adjourned sine die.
Full report at:
http://nation.com.pk/lahore/08-Dec-2016/case-against-altaf-awaits-interior-minister-s-nod
--------
Africa
Shiite Islamic Group Reportedly Killed Clerics, Attacked Zaria Emir
Dec 8, 2016
Just days after the Shiite Islamic Movement of Nigeria was declared a terrorist group by the Kaduna state government, more revelations have emerged about the activities of its members led by Ibraheem El-Zakzaky who is still in detention.
The Muslim Rights Concern (MURIC) has revealed that the group actually carried out the assassination of some Islamic clerics and attacked the Emir of Zaria, Shehu Idris.
Before the group clashed with the Nigerian Army, it reportedly held Zaria almost under control with the government accusing its leader of creating another country inside Nigeria.
In a statement titled: 'MURIC is neither pro-Shiite nor anti-Rufai', issued on Wednesday, December 7, Ishaq Akintola, the director of the Islamic rights group, said: "Well-meaning Nigerians, particularly from the north where the impact of the group has been felt most, have sincerely intervened and thrown more LIGHT on the activities and status of the IMN.
"Fresh information has revealed IMN's attack on the Emir of Zaria, its alleged involvement in the assassination of some Muslim clerics, its lack of respect for constituted authority, its posturing as a government within a government, its alleged possession of arms, etc.
"In the face of these fresh facts, we are obliged to incorporate the opinions of our members who are up-North. This is necessary in ORDER to carry them along. Who feels it knows it. Those who live very close to the IMN must know IMN better.
"Even while we are not holding brief for the authors of the allegations, MURIC wishes to state clearly, categorically and unequivocally that at no point in time had we been pro-Shiite.
"Neither do we share any doctrinal identity with IMN. Our interest lies in the maintenance of peace in the Nigerian society and the need to avoid creating another monster like Boko Haram.
"MURIC is as worried as every other Islamic organization about the doctrinal differences and heretic inclinations of Shiism.
"But sectarian differences are not limited to Islam. Above all, we are gravely concerned about the self-imposed isolationist disposition of IMN in relation with mainstream Islam in Nigeria.
"We are equally nonplussed by the group's refusal to recognize officially installed leaders. These are big and questionable minuses for IMN.
"In the LIGHT of the above, we affirm that MURIC remains committed to the goals and aspirations of mainstream Islamdom which has been pursuing peaceful coexistence, neighbourliness, tolerance, love, forgiveness and, above all, sacrifice for our great country, Nigeria under the umbrella of the Nigerian Supreme Council for Islamic Affairs (NSCIA)."
Daily Post reports that MURIC urged the Shiite group members to retrace their footsteps in character and doctrine.
MURIC added that the IMN needs better image laundering in Kaduna state and the north in general."
Advising that efforts must be made to avoid turning IMN into another terror machine like the Boko Haram, Akintola said: "Nonetheless, we stand by our word of caution. Everything possible must be done to avoid turning IMN into another terror machine.
"What we need in Nigeria to get out of the current recession is peace. We also need peace for economic growth and political stability. We cannot afford another Boko Haram.
"As we round up, we appeal to Governor El-Rufai to ignore IMN's unnecessary verbal war against his administration, avoid further bloody crackdown on the group and concentrate on the good work he has been doing in governance.
"We call on the Federal Government to investigate the serious allegation of possession of arms leveled against IMN. This will rest the controversy surrounding the labeling of IMN as an insurgent group once and for all."
https://www.naij.com/1076014-just-shiite-islamic-group-assassinated-muslim-clerics-attacked-emir-zaria.html
--------
Somalia: Puntland Forces Recapture Qandala From Islamic Militants
7 DECEMBER 2016
Puntland state forces have wrested full control of the Qandala coastal town of Bari region following days of battle with pro-Islamic state militants, according to the sources.
Yusuf Mohamed, the governor of Bari region has confirmed the seizure of Qandala. He said Puntland troops attacked the city from sea and land before seizing it from ISIL fighters.
He added that the regional forces have inflicted heavy loses of life on ISIS militants during the military operation in Qandala town, which is located some 75Km east of Bosaso city.
Full report at:
http://allafrica.com/stories/201612070695.html
--------
Borno elders to Buhari: Don't make IMN new Boko Haram
Dec 8 2016
Kaduna State Government's recent branding of the Shi'ite group, Islamic Movement of Nigeria (IMN) as insurgents is similar to what happened in Borno State back in 2009, leading to the rise of Boko Haram and President Muhammadu Buhari should move quickly to avert a similar occurrence, the Borno Elders Forum said in Maiduguri yesterday.
A statement signed by its chairman, Ambassador Usman Gaji Galtimari after the forum's meeting, said the elders were "deeply concerned that a dark history appears to be repeating itself and given our most horrifying experiences in the North-East, we as elders owe you and our country the shared responsibility of pointing at potential danger and advising on ways to averting it."
Yesterday's statement was the second by the Borno Elders since last December's deadly clashes in Zaria, Kaduna State, between the Army and IMN members, which led to the death of more than three hundred persons. The Forum is an umbrella body of Borno elders irrespective of religion and ethnicity and was a major voice during the search for a solution to the Boko Haram crisis.
The statement titled, An appeal to President Muhammadu Buhari to intervene in the Kaduna-Shi'ite crisis, said, "The Borno Elders Forum (BEF) is constrained to write through the public medium to appeal to you to promptly intervene and amicably resolve the brewing religious stand-off in Kaduna State. From what we read and heard in the print and ELECTRONIC
image: http://cdncache-a.akamaihd.net/items/it/img/arrow-10x10.png
media, the Islamic Movement of Nigeria has been branded as an insurgency group and therefore outlawed. We see what is happening in Kaduna State as similar to what happened in Borno State back in 2009 leading to a sorry state of affairs in the State.
"For the record Mr. President, the Borno Elders Forum has no interest whatsoever in the existence or otherwise of Islamic Movement of Nigeria. However, we are deeply concerned that a dark history appears to be repeating itself and given our most horrifying experiences in the North-East, we as elders owe you and our country the shared responsibility of pointing at potential danger and advising on ways to averting it."
A retired TOP
image: http://cdncache-a.akamaihd.net/items/it/img/arrow-10x10.png
security official told Daily Trust in Maiduguri yesterday that the Borno elders' stance was due to many remarkable similarities between events leading to the Boko Haram insurgency and developing events in Kaduna State involving IMN. He said, "I did not see this in the Borno Elders Forum's statement but there is this serious concern that though the issues are different, there are many similarities in the sense that both the Zaria and Maiduguri clashes started with disagreements over right of way. Both clashes involved religious groups and armed security officials. Both disagreements led to violence resulting in INJURIES
image: http://cdncache-a.akamaihd.net/items/it/img/arrow-10x10.png
and deaths. In both cases governments at the state and federal levels neither showed empathy for victims of the religious groups nor tried to seek peaceful resolution. Both incidents resulted in arrest of the leaders, Mohammed Yusuf of Boko Haram and Sheikh Ibrahim El-Zakzaky of IMN. In both cases, the governments of Borno and Kaduna states pulled down the headquarters buildings and houses of followers of the two groups.
"In both cases too, state governments outlawed the groups, through a State Assembly law in Full report at:
http://www.dailytrust.com.ng/news/general/borno-elders-to-buhari-don-t-make-imn-new-boko-haram/175046.html
--------
Foreign forces invade al-Shabaab base in lethal attack
Dec 8, 2016
- A number of al-Shabaab militants were left running helter-skelter after a foreign force believed to be US troops launched a helicopter attack like a scene in a movie
Foreign warplanes are reported to have raided an al-Shabaab camp identified as Ibrahim Ali Berre located about 190KM north-west of Mogadishu, Somalia.
Reports suggest that the operation by the attack helicopters was carried out by US soldiers who help AMISOM forces including the Kenya Defence Forces in the battle against al-Shabaab.
Sources say that the terror group's middle level commanders and other fleeing fighters were then arrested by ground forces after the deadly air assault.
Other than the US, KDF has also been launching aerial attacks targeting al-Shabaab camps which have left many casualties including the neutralization of key leaders in the militia group.
Full report at:
https://www.tuko.co.ke/223854-foreign-forces-invade-al-shabaab-base-lethal-attack.html
--------
ISIL loses last hold in Libya, US says
08 December 2016
The Libyan Government of National Accord is about to claim victory against ISIL in Sirte as the militant group lost its last hold in the country, the U.S. military said Wednesday.
ISIL militants have resisted Libyan forces in an area of a few blocks on the Mediterranean coast of Sirte – the hometown of slain Libyan leader Col. Muammar Gaddafi.
"We saw some ISIL fighters come out of there last night and surrender and Misrata militias are now going through there doing back clearing. Looking for IEDs [improvised explosive devices]," Pentagon spokesman Navy Capt. Jeff Davis said.
He said nine fighters and 10 WOMEN and children accompanying them surrendered. Davis believes hundreds of fighters remain active in the area but acknowledged he did not know whether any ISIL fighters are hiding in the city to launch suicide attacks.
He said ISIL no longer controls any residential area in Libya but he did not rule out a possible ISIL presence in the country's deserts.
Since May, Libyan forces have tried to retake Sirte from ISIL, which captured the city in early 2015.
Full report at:
http://www.worldbulletin.net/africa/181372/isil-loses-last-hold-in-libya-us-says
--------
IS-linked group ousted from Somalia town
December 08, 2016
MOGADISHU:- The government of Somalia's northern Puntland region said Wednesday it had retaken control of a small port town from jihadists who have declared allegiance to the Islamic State group. "Puntland forces have secured control of Qandala and the armed militants have fled, now the situation is quite calm and everything is under control," said Yusuf Mohamed Waceys, a regional governorxf. The militants - led by former Shabaab cleric Abdiqadir Mumin - switched allegiance from Al Qaeda to IS last year but have so far failed to gather much support.-AFP
Full report at:
http://nation.com.pk/international/08-Dec-2016/is-linked-group-ousted-from-somalia-town
--------
Turkey: Erdogan's macabre dance in Africa
Dec 8, 2016
This is indeed a fascinating topic and a product of great research work. I decided to undertake in this research work to put in public space a motive expressed by the Turkish President, Recep Erdogan to extend his clampdown on Hizmet movement affiliated institutions as he has done in Turkey in the aftermath of the failed July 15th Coup. And with sheer disregard for the sovereignty of other countries, especially in Africa.
For a start, it is pertinent to shed light on the Hizmet movement and its activities. The Hizmet movement is a civic initiative rooted in the teachings of internationally respected Islamic scholar and writer Fethullah Gülen. It is a faith-inspired, non-political, cultural and educational movement whose basic principles stem from Islam's universal values, such as love of the creation, sympathy for the fellow human, compassion, and altruism. Fethullah Gülen describes it as "a movement of people united around high human values".
Three thrust anchors their activities globally, and these are love, tolerance, and peaceful co-existence. And what do they do essentially? Its members build schools and hospitals and they also engage in inter-faith works and charity. That is the Hizmet movement for you and nothing more.
Since 2013, there has been a demonization of the movement by President Recep Erdogan. For him, the Hizmet movement must be decimated, the schools and hospitals belonging to members of the movement be either confiscated or close down. This much he has done in Turkey in the aftermath of the coup attempt which he flatly accused Fethullah Gulen as the mastermind. But without any tangible evidence.
He made a request to the government of United States of America for Fethullah Gulen to be extradited, but his request was turned down for lacking in evidence. Fethullah Gulen has been living a reclusive life in a remote settlement in the United States of American since 1999. Those in the know of his activities says the 75-year-old cleric has been managing his failing health and out of circulation on the advice of his doctors. Fr. Thomas Michel, a former Secretary for Interreligious Dialogue for the Society of Jesus stated in one of his articles on the failed coup that "For those who know Gülen personally or have had contact with the open-hearted and idealistic members of the movement, claims of subversive "terrorism" seem incongruous."
But the Erdogan regime in Turkey would hear none of that. It has lost count of the number of schools, universities, media houses and hospitals belonging to Hizmet movement participants that have been closed down. So much so that international civil society organizations like Amnesty International and others have cautioned the Turkish authorities, and also, questioned the motives behind the unjustifiable clampdown on private investments.
President Erdogan hasn't relented in his desire to decimate the Hizmet movement and its affiliated institutions. And one of his point of call is to African countries because he thinks African leaders can be influenced easily or hoodwinked to replicate his line of action towards the Hizmet movement affiliated institutions in their countries. As a prelude to his request, Erdogan visited African countries including Nigeria in the months preceding the coup attempt and the motive was clear. He wanted the countries where Hizmet movement participants have investments to be closed. But the response he received wasn't pleasant from most of the countries.
Alas, the failed coup provided that opportunity for him to further advance his agenda. And he reached out to almost all the African countries again, thinking this time around he has a more justifiable reason for the failed coup attempt. For the case of Nigeria, it sparked outrage from the intellectual community, religious community and civil society organizations. He wanted schools and hospital to be closed. But the Nigerian government was emphatic in its response "this is an internal matter, and we have our rules and regulations. Besides, there ought to be evidence to back your claims." And the rest is history.
Obviously disappointed, President Erdogan went for low-hanging fruits in Sudan, Somalia, and Guinea Conakry. I say low-hanging fruits because the countries mentioned above to an extent depend on financial aids from Turkey. In the case of Somalia, where it has spearheaded international reconstruction efforts after decades of war and instability, that closing the institutions was not a difficult decision.
In Kenya, Turkish authorities have pressurized the country to close down academic institutions even before the coup, but this request was turned down. In the case of Germany, the response the Turkish government was what it ought to get and an example to other countries where such demands have been made. Mr. Winfried Kretschmann, premier of Baden-Wuerttemberg, said
"I think it is not on at all for a foreign state to interfere in our internal affairs. We are responsible for these institutions and no one else. We will judge these schools with our discretion, and we are aware of nothing negative about these establishments."
The Indonesian experience is also worthy of mention. Cabinet secretary Pramono Anung said. "Indonesia is a democratic country and will always prioritize democratic and active politics. Indonesia's internal affairs remain Indonesia's responsibility that includes anyone who has officially received the recognition of the Indonesian government. They will be governed by Indonesian law." Same was the case in Tanzania Uganda and other countries.
The government of Turkey has gone ahead to establish a foundation called Maarif Foundation. The Maarif Foundation is a subsidiary of the Turkish government that was created by President Erdogan to take over the schools and institutions owned by members of the Hizmet movement in an attempt to extend his clampdown and purges outside the shores of Turkey.
The Maarif Foundation is currently reaching out to almost all African countries for these institutions to be transferred to them. And if such request isn't forthcoming, he resorts to propaganda in the form of issuing a press statement on what hasn't been agreed or discussed, ostensibly to influence the countries or create a false impression.
Recently, the President of the republic of Benin, Mr. Patrice Talon visited Turkey on a one-day state visit. After the visit, President Erdogan held a press conference saying that the President of Benin Republic has agreed to nationalize the schools and institutions belonging to Hizmet movement participants in Benin Republic and handover them to Maarif foundation to manage. Whereas this wasn't the case, as the relevant authorities haven't issued any statement to that effect.
Full report at:
https://www.thecable.ng/turkey-erdogans-macabre-dance-africa
--------
Proposed National Board for Islamic Affairs: Northern CAN, JNI disagree
DECEMBER 8, 2016
By Luka Binniyat ABUJA— More reactions, yesterday, trailed plans by the Minister of Education, Adamu Adamu, to get the Federal Executive Council, FEC, to approve the proposed National Board for Islamic Affairs, as the Christian Association of Nigeria, CAN, in 19 northern states and Jamatu Nasri-Islam, JNI, expressed divergent VIEWS on the issue. Also reacting, Christians under the aegis of Fulani Christian Foundation Network of Nigeria, said government should equally establish a similar board for them in the country, while Southern Kaduna Peoples Union, SOKAPU, said there were already too many government-sponsored Islamic bodies in Nigeria. Speaking on the issue, yesterday, Public Relations Officer of CAN in the 19 northern states, Rev. Joseph Hayab, said: "It is a pity that at this time when Nigerians are saddled with all kinds of pains and some of us are pushing for reconciliation among the two main religions, government would come up with a matter that will further polarise this country than unite it. "For God's sake, this minister knows that as soon as he brings in that kind of memo, it's NATURAL that non Muslims will kick against this board for the simple reason that we are a secular state. "It would be like Christians also asking for Board of Greek and Christian Affairs or Board of Latin or French and Christian Affairs. "CAN in 19 northern states thinks that this is divisive and diversionary from the failures of government to alleviate the problems of ordinary people."
Full report at:
http://www.vanguardngr.com/2016/12/proposed-national-board-islamic-affairs-northern-can-jni-disagree/
--------
India
Sufism Seems To Be Reviving In Hyderabad
Nikhila Henry
DECEMBER 06, 2016
Sufism seems to be reviving in the city thanks to groups that promote arts and the tradition. The city was a sought after destination for Sufi artistes this year, with four concerts having been held in Hyderabad and surrounding areas.
The first in line was the mehfil near Chowmahalla Palace in February. The next three followed shortly — in June, August, and September. The artists had come from Karnataka, Kerala, and West Bengal, bringing to the city a taste of varied traditions of Sufism from different parts of the country.
Positive trait
In fact, a teeming young crowd had attended the meets, organisers revealed. While 120 people attended the first mehfil of Dervishes, the second had 300 and the last had a crowd of 400 persons. The growing numbers is a positive trait, said observers. "After the decline of the Nizam's rule, there were very few patrons for Sufism. And the number of groups had gone down too.
The city itself had just a few families practising Sufi traditions," said Md. Amanullah Sheikh, who researched on Sufism in Telangana.
For the city which always had a rich tradition of Sufism, the revival was only predictable, experts said.
The coming year is expected to see a meet of three Sufi groups from Karnataka, Maharashtra, and Uttar Pradesh.
From the singing tradition to trance, the Sufi practices have reached takers across the world.
But, according to those who strongly believe in the tradition, the practices cannot be consumed devoid of the root religion, Islam. "The youth have always been attracted to the tradition, but so far it is only a synthetic version of Sufi performances that have drawn the attention of the mainstream.
The point is to revive the tradition that's rooted very much in Islam," said Jalaluddin Bukhari, a Sufi practitioner and leader who is based out of Karnataka.
Revivalists
The revivalists of the tradition have been flying to different locations across the country where mehfils are held. While this includes the most famous among them, Ajmer, even smaller and lesser known places which still uphold the tradition were visited by enthusiasts. "There are localities even in north Kerala and central Karnataka which have followers and singers of the tradition. And all of them are practising Muslims," Mr. Bukhari said.
The youth have always been attracted to the tradition, but so far it is only a synthetic version of Sufi performances that have drawn the attention of the mainstream.
http://www.thehindu.com/todays-paper/tp-national/tp-telangana/article16766516.ece
--------
Pakistan media quotes Sartaj Aziz: Insufficient proof against Jadhav; its government denies
by Shubhajit Roy
December 8, 2016
The Pakistani media reported Wednesday that Sartaj Aziz, Advisor on Foreign Affairs to the Pakistan Prime Minister, admitted that the government was presented with "insufficient evidence" on alleged Indian spy Kulbhushan Jadhav who is under detention.
Hours later, the Pakistan foreign ministry said the statement attributed to Aziz was "absolutely incorrect".
Indian government sources said they were yet to check the authenticity of the statement, although it was in line with the Indian point of view. "The Pakistan Senate is not in session," a government source told The Indian Express.
Aziz was in Amritsar on December 3-4 for the Heart of Asia Conference which was addressed, among others, by Prime Minister Narendra Modi and Afghanistan President Ashraf Ghani.
Geo TV and Dawn reported that Aziz, while briefing the Senate about Pak-India relations and skirmishes along the LoC, said the dossier on Jadhav contained mere statements. "It did not have any conclusive evidence," he was quoted saying.
"What the dossier contained was not enough. Now it is up to the concerned authorities how long they take to give us more matter on the agent," Aziz told the Senate, the report said.
Jadhav, who was reportedly arrested in Balochistan on his entry from Iran, was accused by Pakistan of planning "subversive activities" in the country. The Pakistan Army had also released a "confessional video" of Jadhav who said he was a serving Indian Navy officer.
India has acknowledged Jadhav as a retired Navy officer, but denied the allegation that he was in any way connected to the government.
Full report at:
http://indianexpress.com/article/india/kulbhushan-jadhav-insufficient-evidence-india-spy-pakistan-sartaj-aziz-4416073/
--------
Uri 'terror guides' are Class 10 Pakistani kids who strayed across, say family, school
December 8, 2016
TWO Pakistanis arrested by the Army on charges of facilitating the attack on the 12 Infantry Brigade's headquarters in Uri are Class 10 students who strayed across the Line of Control (LoC), the family of one and the principal of his school have told The Indian Express. The Ministry of External Affairs said the two had confessed to facilitating the "infiltration of a group of four Jaish-e-Muhammad cadre who carried out the Uri army camp attack." Faisal Husain Awan, a resident of Potha Jandgran near the village of Koomi Kote in Pakistan-occupied Kashmir, and his school-friend Ahsan Khursheed, from Khilayana Khurd in Muzaffarabad's Hattian Bala tehsil, were arrested on September 21, three days after the attack which claimed the lives of 19 soldiers. Both these villages are an hour's walk from the LoC near Uri.
Ghulam Mustafa Tabassum, Faisal Awan's brother and a Lahore-based physician, says the two were at home on September 17, the date GPS data recovered from the terrorists by the National Investigation Agency and published by this newspaper last week, shows the Uri terrorists crossing the Line of Control.
"I don't want any controversy or recrimination," says Tabassum, "which is why I hadn't contacted the media. I am his older brother, and I am supposed to protect him. I do not know what to do. I can only hope someone powerful in India reads our story and sends these boys home."
Basharat Husain, the principal of the the Shaheen Model School in Muzaffarabad, said Awan was a science student who had just graduated from Class IX with a first division.
The official marks-sheet shows Awan secured 328 out of a possible 525. Husain described Awan as "a model student, respectful and friendly."
"For the six hours he was in school each day," Basharat Husain said, "his behaviour was exemplary."
Both boys, according to school documents provided by Husain, were 16 years old which — if these documents are authentic — makes them juveniles under Indian law and entitled to special protections, irrespective of their nationality.
"I did not know the two were friends," Husain said, "but it is not surprising, given that they were in the same school, and from similar backgrounds."
The Army, which on September 24 said the two were "Pakistan-occupied Kashmir nationals who have been working for Jaish-e-Muhammad terror outfit" said, in an e-mail response to the The Indian Express, that this determination was based on what it described as "spot interrogation." However, the e-mail did not answer whether the Army had obtained the ages of the two while arresting them. The Army referred this newspaper to the NIA.
An NIA spokesperson said the agency "is in the process of analysing the available evidence in the case before we submit the Final Report to the court." He said "the age (of) the two arrested persons was recorded as per statements given by them after their arrest," but did not specifically state if they were known to minors.
However, sources said that no evidence had been found to support the contention that the two were linked, in any way, to the Uri attack.
The attack, significantly, has since been attributed to the Lashkar-e-Taiba — not, as initially claimed, the Jaish-e-Muhammad — with the Muridke-based terrorist group holding funeral rites for one of the attackers. NIA sources also told this newspaper that cipher-matrixes recovered from the attackers tallied with those used in other Lashkar attacks.
The two, NIA sources said, offered several varying accounts to interrogators, one to a woman doctor working for the Central Reserve Police Force that they had participated in the attack itself, providing details of how incendiary substances were used to set the tents at the 12 Brigade on fire. In an October 3 statement, the NIA claimed Awan identified one of the four slain terrorists who attacked the 12 Brigade headquarters as Hafiz Ahmad, who he said was the son of Feroze, in the village of Dharbang, west of Murree.
"Further interrogation of the two men is being done," the NIA said. New Delhi had accused the two teenagers of participating in the attack in a dossier handed over to Pakistan's High Commissioner in New Delhi Abdul Basit.
Zeero Begum, Faisal Awan's mother, has been in shock since news of his arrest broke, Tabassum said. "She wakes up suddenly, crying and asking us to find out how he is. She imagines what he must be going through; how he must be; what he is eating; if he is sleeping. It is very hard on her, because Faisal, being the youngest in the family, is loved the most."
Gul Akbar, Awan's father, was a carpenter, but is now too aged to work, Tabassum said. Ahsan Khurshid's mother, Tabassum said, has not spoken at all since she learned of his arrest. His father, a cook, works in Saudi Arabia.
The Indian Express tracked down Awan's family using records he provided to Indian investigators to locate his brother in Lahore. The interviews were conducted both in person, and through voice-over-internet services.
Distraught, Tabassum, a graduate of a medical school in Cuba where he studied on a Pakistan government scholarship, has spent most of the past two months attempting without success to piece together how his younger brother ended up in an Indian jail at the end of his visit home for the Eid-ul-Adha holidays.
Faisal Awan, Tabassum says, had elected not to go to school on September 20, waking up late. In the afternoon, he says, Awan decided to head to the nearby Pir Kanth shrine. The boys, he says, may have lost their way while attempting to take a shortcut, and ended up across the Line of Control.
Full report at:
http://indianexpress.com/article/india/uri-terror-attack-guides-pakistani-children-pakistan-4416088/
--------
Havildar falls for Pakistan honeytrap on Facebook, faces court martial
December 8, 2016
A havildar of an artillery regiment is facing a General Court-Martial (GCM) after the Military Intelligence nabbed him for providing classified military information to a Pakistani agent posing as a woman on Facebook and Whatsapp social media platforms. Havildar Sanjay Kumar Yadav of 10 Medium Artillery Regiment, which is part of the Jhansi-based 31 Armoured Division, has been attached in 654 EME Battalion under 54 Infantry Division (RAPID) in Secunderabad for the court martial proceedings. Highly placed sources inform that the trial formally began on November 11.
Here's What Railway Minister Suresh Prabhu Has Proposed To Boost Earnings Of Indian Railways
The Commanding Officer of an infantry battalion has been appointed the presiding officer of the court martial with six other Army officers as members. The GCM is currently examining an officer of the Military Intelligence who is believed to have exposed the espionage racket.
Senior officers familiar with the case said that the intelligence branch got a tip-off that the Havildar was in constant touch with a woman on Facebook as well as Whatsapp. Since there are strict instructions regarding using social media platforms, the Army authorities started keeping an eye on his activities and later it was found that some unaccounted cash was also deposited in his bank account.
"We learnt that a Pakistani agent was posing as a woman and indulging in sexually explicit chat with this jawan which included exchange of photographs. Further investigation revealed that an amount of Rs 1,38,000 had been deposited in his account in Bank of Baroda over a period of time from unknown sources and that the first such deposit was for an amount of Rs 8,000," said an officer who did not want to be named. It is believed that the havildar was in touch with the Pakistani agent for a period of around nine months before he was detected.
Among the information that the havildar is accused of having passed on is the location of various units and the names and official appointments of certain officers in key positions. Sources in Army say that the involvement of other Army personnel in this case could not be ruled out though for the present there is only a confessional statement by the accused which is helping in his prosecution.
There have been several instances in the recent past in which serving military personnel have been found to have passed on sensitive information after falling for honeytraps on Facebook. Two Indian Air Force personnel were arrested in Bathinda and Pathankot in 2014 and 2015, respectively, after it was found that they were in touch with Pakistani agents who posed as women and lured them through fake profiles.
Full report at:
http://indianexpress.com/article/india/havildar-falls-for-pakistan-honeytrap-on-facebook-faces-court-martial-4416130/
--------
J-K: Encounter on between militants and security forces in Arwani
Dec 08, 2016
An encounter is ongoing between security forces and trapped militants in Arwani area of south Kashmir's Anantnag district, police said on Thursday morning.
"A fire-fight is raging on in Arwani. Nothing can be said yet about the number of militants trapped there," Anantnag superintendent of police Zubair Khan told HT.
Although local media reports said that civilians tried to break the cordon and clashed with security forces, but an official at the police control room, Anantnag, said there were no clashes.
Full report at:
http://www.hindustantimes.com/india-news/j-k-encounter-on-between-militants-and-security-forces-in-arwani/story-1pvoPkkIvDeNwiDcrhDBrO.html
--------
Terrorists may use uninhabited islands as safe haven: Parliamentary panel
Dec 07, 2016
A parliamentary panel has cautioned the government and security agencies about possible use of uninhabited islands in seas being used as safe haven by terrorists.
In its report, the parliamentary standing committee on home affairs said that terrorist may use new modus operandi and unconventional methods to launch terror strikes in India by using the uninhabited islands.
In its submission, the home ministry said that threats from terror group Lashkar-e-Taiba to India's coastal security have been shared with agencies concerned from time-to-time.
Inputs such as poaching by Myanmmar fishermen and Rohingya Muslims fleeing Myanmmar by sea and its likely impact on the security of Andaman and Nicobar Islands have also been shared.
The committee mentioned that marine police should be watchful in thwarting any incursions by foreigners in any island.
The home ministry has informed the panel about the three tier coastal security ring provided by marine police, Coast Guard and the Indian Navy.
It has also mentioned a number of measures, including deployment of ships and aircraft for patrolling.
The home ministry conveyed that a chain of radars and a network of Automatic Identification System covering the country's coastline is being operationalised for round the clock surveillance.
The parliamentary committee said despite 26/11 Mumbai terror attack, 187 minor ports in the country still lack standard security cover.
The committee strongly recommended that regular security audit should be carried out at minor ports along with major ports.
Full report at:
http://www.hindustantimes.com/india-news/terrorists-may-use-uninhabited-islands-as-safe-haven-parliamentary-panel/story-lj7RRz3VxuqRarPPsy7d8N.html
--------
NIA to probe terror attack on Nagrota army base
December 7, 2016
New Delhi: The NIA on Wednesday registered a case in connection with the November 29 terror attack on an army base in Nagrota in Jammu and Kashmir, in which seven Indian soldiers, including two officers, were killed.
The National Investigation Agency (NIA) registered the case at its police station in Delhi following instructions from the Union Home Ministry.
The case has been filed for offences under Sections 120B, 121, 307 of the Ranbir Penal Code or RPC and Sections 7, 27 of the Arms Act, 1958.
The case was earlier filed at the Nagrota police station against unidentified terrorists, who had entered the army camp near the Baleeni Bridge, some 15 km from Jammu city.
"The case at the Nagrota police station was registered on the basis of information received at the police station that on November 29, some heavily armed unknown terrorists, on the directions of their foreign handlers, had entered the Army Camp at Nagrota, near the Baleeni Bridge, and started indiscriminate firing on the army personnel with the intention to kill them," the NIA said in a statement.
Full report at:
http://www.siasat.com/news/nia-probe-terror-attack-nagrota-army-base-1081699/
--------
Southeast Asia
IS will exploit Rohingya crisis if not resolved, Malaysian military chief tells Myanmar
December 8, 2016
KUALA LUMPUR, Dec 8 ― Malaysia's Chief of Defence Forces General Tan Sri Zulkifeli Mohd Zin has urged the Myanmar government to resolve the Rohingya crisis before it is exploited by militant group Islamic State (IS) as fodder for its own agenda.
Zulkifli told Myanmar armed forces general Ming Aung Hhaing this and Myanmar President U Htin Kyan during his visit there on Monday, according to a statement from Malaysia's armed forces released today.
"General Tan Sri Zulkifeli Mohd Zin told General Ming Aung Hlaing that if it is not handled well and with wisdom, it could create a situation which will be exploited by Daesh (IS) to expand its influence and power in South-East Asian region.
"The same view was conveyed when General Tan Sri Zulkifeli Mohd Zin met with Myanmar President U Htin Kyan on the same day," the statement said.
The statement said that Zukifli's visit to Myanmar was part of his farewell tour to Asean member states before his retirement.
Zulkifli also stressed that Asean cooperation was needed to tackle the IS threat.
Two terror experts from the International Centre for Political Violence and Terrorism Research at the S. Rajaratnam School of International Studies in Singapore's Nanyang Technological University have also warned that the Rohingya crisis might pose a larger militant threat to Southeast Asia unless Myanmar improves its responses to the ethnic situation.
In their joint commentary in the Singapore Straits Times today, Jasminder Singh and Muhammad Haziq Jani said that the Myanmar government's treatment of the Rohingya community is being turned into a rallying cry for jihad by Islamist radicals in Indonesia and Malaysia.
The Myanmar government has suspended sending workers to Malaysia following a diplomatic strain between the two countries over the plight of Rohingyas in the Rakhine state in Myanmar.
According to Myanmar Times, the Ministry of Labour, Immigration and Population released a statement yesterday announcing the suspension of workers to Malaysia, which was confirmed by the Myanmar Overseas Employment Agencies Federation (MOEAF).
MOEAF central executive committee member U Myat Thu reportedly said that Malaysian companies will face "difficulties" following the suspension.
The diplomatic ties between both countries have been strained over the past week when Malaysian government leaders openly criticised the treatment of the ethnic Rohingyas in Myanmar.
This is following a recent spate of violence which saw 90 people dead and thousands flee to neighbouring Bangladesh.
The Rohingya, seen by Myanmar as illegal immigrants, are allegedly being persecuted by the Buddhists in the state and also by the military.
Thousands of them were stranded at sea last year in a major refugee crisis after several Asean countries refused to take them. Malaysia eventually allowed some of them into the country.
Last Sunday, Prime Minister Datuk Seri Najib Razak participated in a rally that protested against the treatment of Rohingyas, which also demanded immediate action from the Myanmar government.
Myanmar had previously warned Malaysia not to interfere in its "internal affairs" according to the Asean charter.
http://www.themalaymailonline.com/malaysia/article/is-will-exploit-rohingya-crisis-if-not-resolved-malaysian-military-chief-te
--------
Brunei, M'sia, Indonesia rated region's worst violators of rights, religious freedom
By A. Azim Idris
8th December 2016
MUSLIM-MAJORITY Brunei, Malaysia, and Indonesia have been listed as the region's worst freedom of thought defenders in a 2016 report released by the International Humanist Ethical Union (IHEU).
The Freedom of Thought Report published on Tuesday rated the three as countries where "grave violations" of rights and the treatment of the non-religious occur. "Grave violations" is the last on a list of five categories, and is the worst rating to be given to the countries surveyed. The other categories are "free and equal", followed by "mostly equal"; "systemic discrimination"; and "severe discrimination".
The report noted that both Brunei and Malaysia have threatened the death sentence for apostasy, while Indonesia enforces lengthy prison terms for those convicted of "criticising" religion.
Brunei is found to be declining in the report's rankings, following its gradual implementation of a new Sharia penal code and the support for the death penalty for apostates by the country's Grand Mufti.
Brunei's new Sharia penal code, which was adopted in 2013, has been "deeply damaging" toward the right to freedom of thought in the country and contains a range of provisions that restrict the right to freedom of thought, conscience and religion, the report said.
The IHEU cited as examples harsh penalties for Muslim men who failed to perform Friday prayers or those who did not observe Ramadan, and expanded restrictions on the rights of individuals or the freedom to express opinions about religious belief.
In fact, it noted, under the Sharia law, adherents are prohibited completely from speaking freely about religious belief, and non-belief.
"Future phases of the law will include more severe penalties, including the death penalty for blasphemy, mocking the Prophet Muhammad or verses of the Quran and Hadith, or declaring oneself a prophet or a non-Muslim," the report noted.
Articles 213, 214 and 215 of the revised penal code, the report pointed out, criminalises printing, disseminating, IMPORTING, broadcasting, and distributing of publications deemed contrary to Sharia by Muslims and non-Muslims.
Non-Muslims in Brunei are also barred from uttering the word 'Allah', the Arabic word for God, even though Bruneian Christians use the term to describe their God.
In Malaysia, the report found the rights of the non-religious to be on the decline, including freedom of thought and expression, which it says are under "serious assault".
Although it has yet to be fully enforced and despite contradicting the Federal Constitution, the Kelantan and Terengganu state governments passed hudud enactments on corporal and capital punishments in 1993 and 2002, respectively, which among others made apostasy an offence punishable by death, the report claimed.
"Despite their long-standing NATURE, no one has been convicted under these Sharia laws and, according to a 1993 statement by the Attorney General, the rulings could not be enforced without a constitutional amendment," it said.
The Constitution defines all ethnic Malays as Muslim and severely restricts what kind of Islam may be practiced in the country, the report noted.
"This effectively prohibits the conversion of Muslims, since Sharia courts seldom grant such requests and can impose penalties (such as enforced "rehabilitation") on "apostates"."
SEE ALSO: Islam in Malaysia: When religion infiltrates the government
Similar to Brunei, Malaysia's government has also banned on the use of the word "Allah" by non-Muslims in Malay-language Bibles and other Christian publications in the peninsular following a court ruling upheld on October 2014.
"The full scope of the 'ban' on the use of 'Allah' by non-Muslims remains unclear, with some officials saying it is limited to the Catholic Herald, which was the subject of the case," the report on Malaysia said.
"… however the precedent and basis of the judgment appear to have wider implications. The case has proved a high-profile, ongoing source of tension between religious communities."
In the case of Indonesia, home to world's largest Muslim population, the report said the country has shown some RENEWED hope for reform" under newly elected president Joko "Jokowi" Widodo.
Full report at:
https://asiancorrespondent.com/2016/12/brunei-msia-indonesia-rated-regions-worst-violators-rights-religious-freedom/
--------
China Pushes Back on Michael Flynn's 'Radical Islamist' Remarks
By EDWARD WONG
DEC. 7, 2016
A Chinese Foreign Ministry spokesman pushed back on Wednesday against assertions by Lt. Gen. Michael T. Flynn, who is President-elect Donald J. Trump's choice for national security adviser, that China was allied with "radical Islamists."
The spokesman, Lu Kang, was asked at a regularly scheduled news conference in Beijing about Mr. Flynn's accusations, which were made in a book released in July that he wrote with a co-author, "The Field of Fight: How We Can Win the Global War Against Radical Islam and Its Allies."
"I hope everyone who takes a responsible attitude and is devoted to safeguarding China-U.S. relations and boosting China-U.S. cooperation can base their opinions on facts when taking a position," Mr. Lu said. "Only in this way can mutual trust be enhanced."
Mr. Flynn has said the United States must lead a global campaign against "radical Islam." He has on occasion pushed conspiracy theories. For example, after the attack on the American diplomatic compound in Benghazi, Libya, in 2012, he kept asking intelligence officers working under him at the Defense Intelligence Agency in the Pentagon to look for involvement by Iran in the assault. There was no evidence of any ties to Iran.
In his book, Mr. Flynn mentions China and North Korea a half-dozen times.
In one passage, he wrote, "The war is on. We face a working coalition that extends from North Korea and China to Russia, Iran, Syria, Cuba, Bolivia, Venezuela and Nicaragua. We are under attack, not only from nation-states directly, but also from Al Qaeda, Hezbollah, ISIS and countless other terrorist groups."
Full report at:
http://www.nytimes.com/2016/12/07/world/asia/michael-flynn-trump-china-islamists.html
--------
Muslim genocide row: Myanmar bans workers from going to Malaysia
December 8, 2016
Yangon: Myanmar has banned workers from going to Muslim-majority Malaysia as relations sour between the neighbours over a bloody military crackdown on the Buddhist country's Rohingya minority.
The move came after Malaysian Prime Minister Najib Razak lashed out at Myanmar's de facto leader Aung San Suu Kyi for allowing "genocide" on her watch during a rally Sunday in Kuala Lumpur that drew thousands of people.
The crowds were protesting against a military crackdown in Myanmar's western Rakhine state that has pushed more than 20,000 Rohingya muslims into Bangladesh.
Survivors have told AFP horrifying stories of gang rape, torture and murder at the hands of Myanmar security forces, while dozens have died trying to cross the river that separates the two countries.
Buddhist-majority Myanmar has long discriminated against the stateless Rohingya and the recent crisis has galvanised protests in Muslim countries around the region, including Malaysia.
"We want to tell Aung San Suu Kyi, enough is enough. We must and we will defend Muslims and Islam," Najib said at Sunday's 5,000-strong rally.
"The world cannot sit and watch genocide taking place."
A Malaysian government minister has also called for a review of Myanmar's membership in the regional Asean bloc.
Myanmar officials have denied the allegations of abuse and Suu Kyi has told the international community to stop stoking the "fires of resentment".
Myanmar's immigration ministry on Tuesday said it had ceased issuing new licences for its nationals to work in wealthier Malaysia — for years a TOP DESTINATION for migrant labour.
"Myanmar has temporarily stopped sending workers to Malaysia from December 6 because of the current situation in Malaysia," it said in a statement, without elaborating.
Full report at:
http://www.siasat.com/news/muslim-genocide-row-myanmar-bans-workers-going-malaysia-1081844/
--------
Malaysia's softer approach to radicals reaping rewards
December 8, 2016
SINGAPORE, Dec 8 — Mindful of how a hardline approach could backfire and create a new generation of extremists, Malaysia has taken a softer approach towards the deradicalisation of Islamic militants — and the move has paid off, said Datuk Nur Jazlan, the country's Deputy Home Minister.
In an interview with TODAY, he disclosed that counselling, spiritual guidance and vocational training are among the underpinnings of Malaysia's successful approach to deradicalising the militants.
"A (purely) hard approach in the fight against terrorism would not really work," he said. "In fact, it will breed a new generation of radical Muslims."
Malaysia's approach, he said, encompasses legal and rehabilitative measures as well as a public awareness programme on the dangers of militancy.
Besides enacting counter-terrorism laws, the Muslim-majority country has also roped in religious authorities, the media, educational institutions, civil society organisations, community leaders and the public in its fight against terrorism.
Counter-terrorism experts have said the approach is very similar to Britain's "united front" in its fight against the Communist insurgency in the 1940s, which involved both security forces and the public.
Over the past decade, the South-east Asian nation has deradicalised some 240 detainees. Malaysian Deputy Prime Minister Datuk Seri Dr Ahmad Zahid Hamidi said last month that the programme has had a success rate of 97.5 per cent.
Although the detainees are housed in the country's prisons, they are separated from other prisoners to stem any attempts at radicalising others, said Nur Jazlan.
Once there, he said the detainees are assessed by experts including counsellors and psychiatrists on the level of their radicalisation before being put on the programme, where a large part is focused on religious talks and spiritual guidance by clerics, with the aim of countering misinterpretations of Islamic teachings.
Detainees are placed in groups based on the severity of their extremist views. "Each session is conducted over four to seven days for groups of up to 10 detainees. Separately, family members will also be given counselling and educated on religious values," he said.
The involvement of families is also an important element of the rehabilitation programme, said Mr Nur Jazlan, as it can be used as a mechanism to drive home the point that their actions can severely affect their loved ones.
"This helps them to be more accepting of the programme and let go of their radicalised beliefs."
The programme also addresses a common stumbling block to detainees rejoining society: Their employability. Detainees get vocational training — such as electrical and handicraft making skills — to help them find work.
Nur Jazlan said detainees who go through the programme are constantly assessed by the prison's authorities, Islamic counsellors and psychiatrists to ascertain their progress before they can be released. However, for security reasons, he could not elaborate further.
Once released, they are still subjected to constant monitoring by the authorities, Nur Jazlan said, adding: "This include monitoring their online activities."
Malaysia has been on high alert since early this year after the Islamic State (IS) terror group staged a gun-and-bomb assault in Jakarta in January. The country has also been identified by the militant group as being a high-priority target.
In June, IS supporters launched a grenade attack on a nightclub in Selangor that injured eight people. That was the first attack by IS in Malaysia, marking a breakthrough by the terrorist group after numerous plots were thwarted by the authorities.
To date, 255 people, including 112 this year alone, have been detained in Malaysia for involvement in activities related to terrorism.
Ahmad El-Muhammady, a lecturer with the International Islamic University who has interviewed militant detainees, said hardcore militants who refused to renounce their beliefs account mostly for the programme's failure rate of 2.5 per cent.
"It is hard for them to abandon their beliefs even after going through the programme. It could also be the wrong type of people were sent to counsel them — for example, an older detainee may not be receptive towards a younger counsellor or psychiatrist," he told TODAY.
Ahmad, who has been a panel member of the Malaysian police's special rehabilitation programme for militant detainees since 2011, felt the deradicalisation programme could be further improved by incorporating psychological aspects.
"To be more effective we need more psychologists to understand the detainees' state of mind and what motivates them to get into militancy," he said, adding that although the programme has some psychologists, it is still more religious-based.
Analysts note that there are more common points than differences in Malaysia's and Singapore's deradicalisation programmes.
Both countries place a strong emphasis on counselling sessions with detainees and follow-up meetings and monitoring after their release, said Romain Quivooij, an associate research fellow at the S Rajaratnam School of International Studies (RSIS). Still, he said, a hard approach to combat terrorism is indispensable and necessary.
"The problem is twofold: First, how to combine the hard and the soft approaches to achieve the greatest levels of success? Second, how to make sure that the hard approach will not be excessive and counter-productive, which would ultimately play into the objectives of terrorist groups?" he said.
Dr Rohan Gunaratna, who heads the International Centre for Political Violence and Terrorism Research at Nanyang Technological University's RSIS, noted that both Malaysia and Singapore's deradicalisation programmes are among the most successful in the region due to their "structured" nature.
Malaysia and Singapore, he said, have elements of community engagement, a key factor that prevents recidivism. These include having dedicated entities to provide religious counselling. In Singapore, it is done by the Religious Rehabilitation Group (RRG), a voluntary group made up of Islamic scholars and teachers in Singapore.
Full report at:
http://www.themalaymailonline.com/malaysia/article/malaysias-softer-approach-to-radicals-reaping-rewards
--------
Dr Yaacob says Muslim/Malay group must respect diversity
Nur Asyiqin Mohamad Salleh
Dec 07, 2016
At the biennial meeting to discuss the administration of Muslim issues in the region, he said that a country's development can be hampered without social cohesion.
The meeting was held in Kuala Lumpur, with ministers from Brunei, Indonesia, Malaysia and Singapore.
Dr Yaacob noted that the Malay/Muslim community has long been seen as a group that is open and accepting of diversity.
"I agree that as challenges grow more complex today, it has become harder for us to balance the varying views and interests in a pluralistic society," he said, speaking in Malay.
"But as a mature community, we must keep striving to instil respect for diversity."
His remarks come amid a wave of rising extremism and divisiveness in the region.
He noted that social cohesion does not come naturally - it needs constant tending.
In Singapore, it took a deep commitment and continued efforts to foster understanding among the various communities. But such harmony can come under attack.
"Various acts of terror in the name of religion can give rise to misunderstandings and anxiety," said Dr Yaacob, who is also Minister for Communications and Information, and Minister-in-charge of Cyber Security.
"Comments on social media too may trigger unease and threaten this unity."
He called for the rejection of views that belittle the culture of other communities, saying they not only sow discord, but refuse to acknowledge the differences among communities.
"If you don't know, you can't love.
"That's why we should build bridges of understanding to strengthen social cohesion," he added.
Full report at:
http://www.tnp.sg/news/singapore/dr-yaacob-says-muslimmalay-group-must-respect-diversity
--------
Sign human rights treaties to show developed status, Putrajaya told
BY A. RUBAN
December 8, 2016
KUALA LUMPUR, Dec 8 ― The federal government should speed up signing eight core treaties to show its commitment to uphold human rights for all, Tan Sri Hasmy Agam the immediate past chairman of the Human Rights Commission of Malaysia (Suhakam) said today. He added that such treaties were hallmarks of a fully-developed nation.
"By 2020 or I would say it has already started now, Malaysia is going to be judged in terms of human rights and how the country fair in this aspect," he said at Suhakam's forum here in conjunction with World Human Rights Day, which falls on December 10.
During the forum discussion earlier, it was highlighted that while Malaysia subscribes to the philosophy, concepts and norms provided by the universal declaration of human rights, it has yet to ink eight treaties, which are:
― International Covenant on Civil and Political Rights (ICCPR)
― International Covenant on Economic, Social and Cultural Rights (ICESCR)
― International Convention on the Elimination of All Forms of Racial Discrimination (ICERD)
― Convention Against Torture and other Cruel, Inhuman, or Degrading Treatment or Punishment (CAT)
― International Covenant on Civil and Political Rights (ICCPR)
― International Convention on the Protection of the Rights of all Migrant Workers and Members of their Families (ICMW)
― International Convention for the Protection of All Persons from Enforced Disappearance (CPED)
― Convention on the Rights of Persons with Disabilities (CRPD).
Full report at:
http://www.themalaymailonline.com/malaysia/article/sign-human-rights-treaties-to-show-developed-status-putrajaya-told
--------
Indonesia raises Rohingya concerns with Suu Kyi: Retno
December 8, 2016
Indonesia remains one of the few actors able to speak frankly to Myanmar about the escalation of violence in Rakhine state, amid the latter nation's souring relations with another regional neighbor.
"Once again I conveyed Indonesia's concerns to State Counsellor Daw Aung San Suu Kyi regarding the situation in Rakhine state," Foreign Minister Retno LP Marsudi said after her meeting with Myanmar's de facto leader in Naypyidaw, late on Tuesday.
Suu Kyi hosted a dinner and talked with Retno at her residence in the Myanmar capital after extending an invitation to Indonesia to openly discuss the situation in Rakhine state, the region where the persecuted Muslim Rohingya mostly reside.
Myanmar has been on the defense ever since the outbreak of violence in northern Rakhine.
Turmoil erupted following a spate of attacks on police posts near the frontier with Bangladesh on Oct. 9 by Rohingya militants, which left nine officers dead. Myanmar authorities hit back with a crackdown placing Rakhine under military lockdown and displacing thousands of people.
One report by London-based Burma Human Rights Network (BHRN) states that at least 30,000 people in Rakhine have been internally displaced, while ongoing violence has led to shortages of food and aid for more than 70,000 people in the area.
ASEAN remains tight-lipped on the situation, even though delegates are expected to meet for a round of informal talks over recent developments on regional peace, security and stability, a diplomatic source said.
Indonesia's measured advances and disdain for megaphone diplomacy has apparently won the confidence of the Myanmar government.
Retno and Suu Kyi openly discussed the developments in Rakhine state, said Foreign Ministry spokesman Arrmanatha Nasir.
"The Indonesian Foreign Minister emphasized how IMPORTANT it was for security and stability to be swiftly achieved so that efforts in inclusive development can continue in Rakhine state," he said in a statement.
Retno also conveyed her hopes that the Myanmar government would continue to uphold human rights for all the people of Rakhine, including the Muslim minority, as well as the IMPORTANCE of allowing access to humanitarian aid.
While Myanmar authorities could not be reached for comment, Arrmanatha claimed that Suu Kyi responded positively to the minister's comments.
He also said that the former rights activist conveyed her utmost appreciation for Indonesia's support for her country, including humanitarian aid sent into the troubled state following the Oct. 9 incident.
Jakarta's continued support has been INSTRUMENTAL in bringing Myanmar closer to becoming a democracy, with the ASEAN chairmanship in 2013 underpinning Naypyidaw's ongoing transition.
Full report at:
http://www.thejakartapost.com/news/2016/12/08/indonesia-raises-rohingya-concerns-with-suu-kyi-retno.html
--------
South Asia
In Afghan Province, Government Woos Allies Against Islamic State
Dec 08, 2016
Wama, Afghanistan. Afghan authorities are appealing to local elders in the remote eastern province of Nuristan to help prevent militants loyal to Islamic State from expanding into new territory.
The initiative comes as fighters and their families, scattered in recent months by US and Afghan air strikes and SPECIAL forces ground operations, seek new safe havens.
The mountainous and thickly forested province bordering Pakistan is seen by Afghan authorities as a potential new base for the self-proclaimed offshoot of Islamic State, whose desire to stoke sectarian tensions was underlined this year in a series of high-profile attacks.
With Afghan armed forces and their NATO allies already struggling to cope with the Taliban insurgency across much of the country, the prospect of an expanding Islamic State group has alarmed authorities and the US military.
The group, generally known as Daesh in Afghanistan, has so far been largely confined to the eastern province of Nangarhar to the south of Nuristan. There is has clashed with other militant movements including the Taliban, who reject it.
Afghan intelligence officials say an intense campaign of air strikes and raids by Afghan and US special forces in recent months also pushed many Islamic State fighters out of Nangarhar and into neighboring Kunar province, which borders Nuristan.
To prevent them moving further north, security officials said they had provided weapons, ammunition and other support to villages in Nuristan, while also tapping the province's particular culture to try to create a barrier against outsiders.
Hafez Abdul Qayum, the provincial governor, has held several meetings with local elders, who enjoy significant powers in a province where central government is weak.
On one recent trip, after a two-hour CAR journey along mountainous dirt roads, he and his entourage walked the final few hundred meters to the meeting place out of respect for local tradition.
There he sat down with elders young and old, many of them wearing round, woollen "pakul" hats and sporting beards dyed orange, to share a lengthy meal of seared goat meat and urge his hosts to oppose the new threat.
"Whether it is Taliban or Daesh, they both are the biggest misguided people and destroyers of our religious values," Qayum, himself from Nuristan, told elders in Wama district, close to Pech Valley in Kunar where Islamic State fighters have settled.
"Dear brothers, fighting against this menace is our biggest priority."
"Valley of Death"
Such outreach is not unusual in a country where the word of traditional leaders often counts for more than directives from central government.
And Nuristan, a province whose name means "the land of LIGHT" in Persian, has a history of repelling outsiders, including the Taliban and al Qaeda, by refusing them food and shelter and engaging in combat if necessary.
But Afghanistan's security forces see Islamic State as a fresh menace, because by targeting the minority Shi'ite community it risks making a dangerous insurgency led by the Taliban even harder to contain.
Last month, more than 30 people died in a suicide bombing claimed by Islamic State at a Shi'ite mosque in Kabul.
Nuristan is seen as a NATURAL buffer, with its singular culture, rugged mountain ranges and lack of paved roads or electricity.
Known as "Kafiristan," or "land of infidels," before its people were CONVERTED to Islam in the 19th century, it has an economy partly based on barter and local languages and dialects unrelated to the main languages of Afghanistan, Pashto and Dari.
That has made it difficult for the central government to exert control, and only a few thousand lightly armed police and one army unit are stationed there.
The real power in Nuristan is widely considered to be the "Qaomi Shura," or local elders' council.
"If they say to someone 'die', that person dies. This is the power of the council," said a senior government official in the provincial capital Parun.
If elders can be persuaded not to allow Islamic State to settle, security officials believe they will have a better chance of stopping its fighters from crossing from Pech Valley, where the Taliban and al Qaeda are also established.
Officials say Islamic State fighters from different countries have found sanctuary in a part of Kunar that includes an area known by U.S. troops as "The Valley of Death", where they have lost dozens of soldiers.
Al Qaeda's presence was underlined in October, when a US airstrike killed Farouq al-Qatari, the movement's TOPcommander in the east.
So far, Islamic State's presence is contained, as it finds its place in an area hotly contested by other militant groups, and locals have been warned against giving help. But it has the potential to grow.
"They moved in with their families some months ago and only appear in mosques and do not roam around very often," said one official in Kunar, who spoke on condition of anonymity because he is not authorized to speak to the media.
"They are trying to win local support and recruit young boys, the same method they used when they emerged in Nangarhar."
"We don't want misery"
The United States, which has a counterterrorism operation in Afghanistan distinct from the NATO-led Resolute Support training mission, calls Islamic State there "operationally emergent," well able to ORDER deadly high-profile attacks on civilian targets but posing a limited military threat.
Regular drone strikes and SPECIAL forces operations have hit it hard this year.
General John Nicholson, the top US commander in Afghanistan, has said that Islamic State suffered heavy casualties, with 12 top leaders killed and two dozen command and control facilities destroyed.
From nine districts, it now had sanctuary in only three.
However, Afghan officials fear the Islamic State offshoot, which they say is made up partly of extremists from neighboring Pakistan, could grow if fighters are pushed out of Iraq and Syria.
Although Nuristan has been historically peaceful, fighting has been going on for weeks in one district, with villagers and policemen repelling Taliban attacks.
An unstable environment could allow militant groups to establish themselves in places where they would typically be shunned, officials fear.
Afghan officials also worry that religious affiliations could push some people in Nuristan to help Islamic State fighters by providing food or shelter.
In Wama district, most residents are moderate Salafi followers, sharing an ideology similar to Wahhabism, the school of Sunni Islam from which Islamic State draws its religious ideology.
Taliban insurgents mainly follow the Hanafi school of Sunni Islam.
So far, locals have been quick to reassure visiting officials that such links will not influence them, possibly aware that Islamic State militants are likely to attract air and ground operations by Afghan and Western forces.
"Here there is no place for Taliban or Daesh fighters. We don't want destruction and misery for our people," said Sheikh Gul Mohammad, an influential tribal figure.
http://jakartaglobe.id/international/afghan-province-government-woos-allies-islamic-state/
--------
Huji hideout busted in Chittagong, 3 arrested
December 08, 2016
Three suspected members of banned militant outfit Harkat-ul-Jihad-al-Islami Bangladesh (HujiB) have been arrested from a house in the port city's Akbar Shah area.
RAB busted the hideout at Mukim Talukder para on Thursday morning and arrested Hafej Abujar Gifari, Nure Alam and Ehtesham Ahmed.
Pistols, magazines, bullets, explosives, IEDs, knives and jihadi books were seized from the room where the militants had been staying for the last few days.
RAB Legal and Media Wing Director Mufti Mahmud Khan said the militants burned their electronic devices during the raid.
"The arrestees are close associates of Huji leader Mufti Mainul, who was heavily influenced by AQIS ideology," Khan said.
Huji, which had been inactive for "a long time", was trying to raise its head again, the RAB official added.
Full report at:
http://www.dhakatribune.com/bangladesh/2016/12/08/rab-busts-militant-den-chittagong-arrests-huji-members/
--------
India approves MoU with Afghanistan on Space Technology Cooperation
Dec 08 2016
The Indian Prime Minister Narendra Modi has given his ex-post facto approval to the MoU between India and Afghanistan on cooperation in the peaceful uses of outer space during the Union Cabinet meeting, it has been reported.
According to the local media reports, the MoU envisages cooperation between the two countries for application of space technologies in education, agriculture, weather forecasting, telecommunications, rural health, sanitation, urban development, resource mapping navigation, remote sensing and any other areas mutually agreed upon.
The benefits of the MoU according to local media are development of space sector in Afghanistan and making it self-reliant in space sector Burnish India's credentials as a nation with advanced space technology which can assist other countries.
Deepen bilateral ties and mutual understanding and trust between both countries, according to MoU.
Full report at:
http://www.khaama.com/india-approves-mou-with-afghanistan-on-space-technology-cooperation-02441
--------
Foreigner ISIS recruiter killed in East of Afghanistan
Dec 08 2016
A foreigner militant recruiting for the Islamic State of Iraq and Syria (ISIS) terrorist group was killed during an operation of the Afghan security forces in eastern Nangarhar province.
According to the local security officials, the ISIS commander, identified as Aziz, was killed during an operation of the counter-terrorism forces in Khogyani district.
The officials further added that Aziz was in charge of a group of at least 10 ISIS loyalist and was actively recruiting for the terror group in Afghanistan.
The Afghan security forces seized some weapons, ammunition and other military kits during the operation, the officials added.
The anti-government armed militant groups including the loyalists of the terror group have not commented regarding the report so far.
This comes as the Ministry of Defense (MoD) said Tuesday that a commander of the terror group was killed during an operation in the restive Achin district.
Earlier, another commander of the terror group was killed in a US DRONE strike in the same district, the officials added.
Full report at:
http://www.khaama.com/foreigner-isis-recruiter-killed-in-east-of-afghanistan-02439
--------
Bagram suicide attack toll rises to 5 as another US soldier dies of wounds
Dec 08 2016
The death toll from a deadly suicide attack in Bagram airfield has increased to 5 as another US soldier succumbed to INJURIES he sustained in the attack.
The Department of Defense announced Wednesday that "Sgt. First Class Allan E. Brown, 46, of Takoma Park, Maryland, died Dec. 6 at Walter Reed National Medical Center, Bethesda, Maryland, of injuries sustained from an improvised explosive device in Bagram, Afghanistan, that occurred on Nov. 12."
According to DoD, the soldier was assigned to Headquarters and Headquarters Company, 1st SPECIAL Troops Battalion, 1st Sustainment Brigade, 1st Cavalry Division, Fort Hood, Texas.
The Defense Department further added that Sgt. John W. Perry, 30, of Stockton, California, and Pfc. Tyler R. Iubelt, 20, of Tamaroa, Illinois, were earlier killed in the attack.
The two others killed on the day of the attack were US contractors and at least 17 others including 16 US soldiers and another soldier from Poland were wounded.
Full report at:
http://www.khaama.com/bagram-suicide-attack-toll-rises-to-5-as-another-us-soldier-dies-of-wounds-02438
--------
NATO's commitments to Afghanistan's security is strong and steadfast: Stoltenberg
Dec 08 2016
The NATO Secretary Jens Stoltenberg said Wednesday that the alliance's commitments to Afghanistan's security is strong and steadfast.
Speaking after the conclusion of the meeting of North Atlantic Council with Resolute Support operational partner nations, Stoltenberg said "We have just finished a meeting on Afghanistan with our Resolute Support partners. And our commitments to Afghanistan's security is strong and steadfast. At our Warsaw Summit, we agreed to sustain Resolute Support beyond 2016, to continue national funding of the Afghan Security Forces through 2020, and to work on our long-term political partnership and practical cooperation with Afghanistan."
Stoltenberg further added "Today we reviewed the security situation in Afghanistan and we reaffirmed our mutual commitments. The situation in Afghanistan is and will remain difficult and tough. The Afghan Security Forces have taken many casualties, but they are defending the Afghan people with determination and courage and combating the enemy across the country. This year alone there have been eight major attempts to seize cities, all have failed. NATO will continue to train, advise and assist the Afghan forces through our Resolute Support Mission. Because we know that training local forces to fight terrorism and stabilise their country is the best way to project stability beyond our borders. This is part of the broad international support for Afghanistan. At the Brussels Conference in October, the international community committed a further fifteen billion dollars through 2020."
He said "Minister Rabbani expressed Afghanistan's appreciation for the continued support from the international community and he BRIEFED us on his country's ongoing reforms, which are linked to that support. It is essential that Afghanistan continues to pursue reforms and improve governance, to fight corruption, protect human rights and advance the peace process. This matters for the stability of Afghanistan and for our own security."
Full report at:
http://www.khaama.com/natos-commitments-to-afghanistans-security-is-strong-and-steadfast-stoltenberg-02437
--------
First phase of Dar-ul-Aman Palace restoration completed
Dec 08 2016
The first phase of the restoration work of the historic Dar-ul-Aman Palace has been completed as President Mohammad Ashraf Ghani said he is hopeful that the restoration work completes as soon as possible.
Hailing the speedy work being done for the restoration of the Palace, President Ghani said he is hopeful that the Palace is restored soon so that the historic Palace can be used for the hospitality of the high level foreign guest.
He was speaking during the 5th high council meeting of the urban development organized in the Palace.
President Ghani further added that the Palace will also be turned into a national museum once the restoration is completed.
The Minister of Urban Development and Housing Syed Sadat Mansoor Naderi said the first phase of the restoration work which included scaffolding and cleaning has been completed.
Minister Naderi further added that the female engineers and workers also contributed for the completion of the first phase of the restoration work.
Full report at:
http://www.khaama.com/first-phase-of-dar-ul-aman-palace-restoration-completed-02440
--------
Mideast
Yemen's army regain control of areas in Shabwah
8 December 2016
A Yemeni military official said that in the past two days, the army and popular resistance forces have regained control of posts which Houthis and forces loyal to ousted president Ali Abdullah Saleh were in control of in the governorate of Shabwah.
Ahmad al-Qili, the commander of Al-Hazm brigade, said the army is advancing in the areas of al-Saq and al-Safha adding that it also blocked the Bayhan path which linked between Shabwah and Marib and which the Houthi militias used to smuggle weapons and drugs.
Meanwhile, the army's engineering teams said they removed 600 mines which rebels had planted around the city of Bayhan in the Shabwah governorate.
https://english.alarabiya.net/en/News/middle-east/2016/12/08/Yemeni-army-forces-regain-control-of-areas-in-Shabwah.html
--------
Israeli troops shoot dead Palestinian in West Bank over alleged stabbing attack
Dec 8, 2016
Israeli forces have shot dead another Palestinian north of the occupied West Bank, claiming that he was trying to carry out a stabbing attack on their soldiers.
The 18-year-old man was gunned down near a military checkpoint, south of Nablus on Thursday.
The Israeli army claimed that its forces opened fire at the young man as he was trying to stab them with a knife.
Thursday's killing brings to 266 the number of Palestinians killed by the Israeli troops in the so-called stabbing attacks since October 2015.
In recent months, Israeli forces have shot and killed a large number of Palestinians across the occupied territories, alleging that they sought to carry out attacks against Israelis.
International rights groups have long been criticizing the regime for its policy of shoot-to-kill, which they say has led to numerous deaths. Many of those killed by Israeli troops at the scene of attacks did not pose serious threats, according to the rights groups.
The developments come at a time of heightened tensions between Israeli forces and Palestinian protesters.
Full report at:
http://www.presstv.ir/Detail/2016/12/08/496967/Israel-Palestine-stabbbing-attack-Nablus
--------
Yemen to UN: 'The road map is a dangerous step'
7 December 2016
The Yemeni mission to the United Nations refused on Tuesday the road map proposed by the special envoy Ould Cheikh Ahmed, aimed at ending the war. The mission stated that his plan would be set a "dangerous international precedent" as it would legitimize the rebel-led coup against the internationally recognized government of Yemen.
The Yemeni mission addressed a letter to the UN Security Council, describing the plan as an incitement to legitimize the rebellion and the rebels' agenda.
The letter included a list of the steps required before any political solution could be reached, including the abstention from involving the ousted Saleh and leader of Houthi militias, Abdulmalik al-Houthi in Yemen's political arena. It also stipulated that they both needed to leave the country with their families to any country they choose for at least 10 years.
Full report at:
https://english.alarabiya.net/en/News/middle-east/2016/12/07/Yemen-to-UN-The-road-map-is-a-dangerous-step-.html
--------
Shell deal with Iran seen as message to US
Dec 8, 2016
Iran on Wednesday awarded a basic agreement to global energy giant Royal Dutch Shell to study three mega oil and gas projects – an agreement that was hailed in Tehran for not only its technical and economic benefits for Iran but also the political message that it sent to the world and specifically the United States.
Under a Memorandum of Understanding (MoU) that was signed between Shell and the National Iranian Oil Company (NIOC), the Dutch/British company was tasked with studying the development of South Azadegan and Yadavaran oil fields as well as Kish gas field.
Shell could accordingly win separate DEALS over the development of the fields upon NIOC's approval of the results of its studies and once it succeeds in subsequent project negotiations.
South Azadegan was discovered in 2001 and was described at the time as the world's biggest oil find in decades. It has recoverable reserves of about 2 billion barrels. Located in a former theater of Iran-Iraq war (1980-88), South Azadegan is believed to be connected with Iraq's supergiant Majnoon oil field which has recoverable reserves of 13 billion barrels which was also being developed by Shell and is now producing 200,000 barrels per day (bpd) of oil for Iraq.
Yadavaran – which was once described as the crown JEWEL of Iran's oil projects – has recoverable reserves of 3 billion barrels.
South Azadegan and Yadavaran are located in Iran's southwestern oil-rich province of Khouzestan and already have an early production of 40,000 bpd and 85,000 bpd, respectively. Both are expected to boost Iran's oil production capacity by above 600,000 bpd significantly once fully developed within the next three years.
Kish gas field is located in the Persian Gulf island of Kish and is considered as the country's second biggest gas field after South Pars. With a reservoir of 70 trillion cubic feet, Iran plans to use Kish output to feed a pipeline to Oman where a section of the supplies will be turned into liquefied natural gas (LNG) for EXPORTS to international markets.
Hans Nijkamp, the head of the department for Iran affairs at Royal Dutch Shell, told reporters that the NIOC over South Azadegan, Yadavaran and Kish projects marked a new chapter in relations between Shell and Iran.
Nijkamp also praised what he described as "Iran's exceptional performance" to keep its oil sector afloat in face of multiple years of sanctions.
The global oil market was eager to see Iran's return, he emphasized, adding that Iran's progress specifically over the production of NATURAL gas is praiseworthy.
Nijkamp further said Shell was determined to enter into a long-term cooperation with Iran, stressing that this could have significant positive impacts for both sides.
The MoU that the NIOC signed with Shell came on the hills of several similar agreements signed with other international energy giants including Total, Schlumberger and DNO. The surge in awards of energy DEALS to companies is already seen in Tehran as a result of the success of President Hassan Rouhani to lift sanctions against Iran through the implementation of a nuclear agreement with the so-called P5+1 – the five permanent members of the Security Council plus Germany.
Iran's Persian-language newspaper Taadol hailed the MoU with Shell as what could safeguard the Iran-P5+1 nuclear agreement – the Joint Comprehensive Plan of Action (JCPOA). This was a reference to concerns that US President-elect Donald Trump would materialize his campaign threats against the JCPOA.
Full report at:
http://www.presstv.ir/Detail/2016/12/08/496964/Shell-deal-with-Iran-seen-as-message-to-US
--------
Supervisory board approves measures against US anti-Iran bill
Dec 7, 2016
A supervisory committee tasked with monitoring the implementation of Iran's nuclear agreement has ratified measures in response to a recent US Senate vote on a piece of anti-Iran legislation, denouncing the move as a breach of the accord.
Members of the committee, headed by Iranian President Hassan Rouhani, took part in a Wednesday session, during which they described as unjustified the US behavior regarding its commitments under the nuclear DEAL, known as the Joint Comprehensive Plan of Action (JCPOA).
On December 1, the US Senate voted 99-0 to extend the Iran Sanctions Act (ISA) for a decade after it cleared the House of Representatives 419-1 in late November.
First adopted in 1996 to punish investments in Iran over its nuclear program, the ISA now needs US President Barack Obama's approval to be turned into law.
Referring to the US Senate vote, the committee members said that the sanctions bill was in blatant violation of the JCPOA.
They also studied retaliatory measures and approved them in case of possible future violations, stressing that the Islamic Republic would closely monitor the US government's moves and react proportionately.
Full report at:
http://www.presstv.ir/Detail/2016/12/07/496898/Iran-US-ISA-JCPOA
--------
Israel bucks, Palestinians embrace France conference
Dec 8, 2016
Israel has rejected outright a French proposal for a multilateral conference aimed at reviving talks with the Palestinians, who have welcomed the prospect.
France had gathered world's foreign ministers in June to discuss the potential relaunch of the process in the absence of Israelis and Palestinians. This time, it has been pushing to hold a conference with their inclusion that would be followed by a meeting between Palestinian President Mahmoud Abbas and Israeli Prime Minister Benjamin Netanyahu.
Netanyahu, however, asserted on Wednesday that he would only meet with Abbas if Paris abandoned the initiative for the conference.
"Netanyahu told [French President Francois] Hollande that if there will not be an international conference in Paris, he will come to meet Abu Mazen (Abbas) for direct talks without preconditions," the Israeli premier said in a statement.
"Israel will not participate in an international conference that will not contribute to achieving peace," it added.
French Foreign Minister Jean-Marc Ayrault, however, said, "We are determined more than ever to do everything to implement our initiative. The sooner the better."
Abbas' spokesman Nabil Abu Rudeineh said the Palestinians welcomed "any French effort to salvage the faltering political process."
Previous talks between the two sides have invariably foundered on Israel's insistence on expanding illegal settlements on occupied Palestinian land.
Netanyahu's hardline Likud party has, meanwhile, forwarded a hugely-controversial proposed legislation to the Knesset, the Israeli parliament, that would legalize some 4,000 settler units built on private Palestinian land in the occupied West Bank upon ratification by the lawmakers.
Full report at:
http://www.presstv.ir/Detail/2016/12/08/496933/Israel-France-Palestinian-Hollande-Netanyahu-Ayrault
--------
URL: https://www.newageislam.com/islamic-world-news/new-age-islam-news-bureau/uk-foreign-secretary-accuses-saudi-arabia-of--twisting-and-abusing--islam/d/109324
New Age Islam, Islam Online, Islamic Website, African Muslim News, Arab World News, South Asia News, Indian Muslim News, World Muslim News, Womens in Islam, Islamic Feminism, Arab Women, Womens In Arab, Islamphobia in America, Muslim Women in West, Islam Women and Feminism, Moderate Islam, Moderate Muslims, Progressive Islam, Progressive Muslims, Liberal Islam