New Age Islam News Bureau
20 Jul 2020
• Hagia Sophia Mosaics Will Be Covered with Curtains During Prayers — Turkish Presidential Spokesman
• 'Nations with Islamophobia Can't Protest Hagia Sofia Move': Malaysian Politician
• Shamima Begum Betrayed Britain And She Should Face Charges of High Treason
• This Bakrid Many Muslims Will Take Just One Share in A Cattle, Donate Rest of The Money to The Poor and Deserving
• 'Don't Redeem the Taliban', Afghan Social Media Users Ask World Before Peace Talks
• Anti-Pakistan Protest Held Outside 10 Downing Street to Demand Justice for Baloch Victims
--------
Arab world
• UAE's Amal Spacecraft Rockets Toward Mars in Arab World First
• Syria's Parliamentary Elections A 'Farce' Say Exiled Opposition Figures
• Egypt's lawmakers to vote on deploying troops to Libya
• Jurisprudence conference highlights role of scholars in times of crisis
• Five dead, 85 wounded in car bomb attack in Syria's Azaz: Reports
• Turkey detains niece of Syrian Kurdish politician Saleh Muslim: Family
--------
Mideast
• Hagia Sophia Mosaics Will Be Covered with Curtains During Prayers — Turkish Presidential Spokesman
• 'Hagia Sophia Move Shows Will of Muslim Country'
• Iran suspends execution of three men convicted over deadly protests
• Turkish police detain dozens of suspected Daesh members in Istanbul
• Iran sentences three Kurdish citizens to prison for burning Soleimani banner
--------
Southeast Asia
• 'Nations with Islamophobia Can't Protest Hagia Sofia Move': Malaysian Politician
• Chinese Ambassador to UK Dismisses 'False' Concentration Camp Claims and Insists Uighur Muslims Live In 'Peace and Harmony'
• Abim Welcomes Efforts To Uphold Malay Language, Calls To Discontinue Teaching Of Science And Math In English
• PM denies Putrajaya will recognise UEC, says cert partially accepted since 2012
--------
Europe
• Shamima Begum Betrayed Britain And She Should Face Charges of High Treason
• UK Accuses China Of 'Gross' Human Rights Abuses Against Uighurs
• France, Italy, Germany threaten foreign countries with sanctions over Libya arms
• Russia holds military drills in southwest amid clashes between Azerbaijan and Armenia
--------
India
• This Bakrid Many Muslims Will Take Just One Share in A Cattle, Donate Rest of The Money to The Poor and Deserving
• MEA Cites Afghanistan Sikh's Case to Switch Gears On CAA
• Delhi: 19th Century Mosque, Mubarak Begum, Damaged by Lightning
• Gujarat: Godhra Mosque A Covid Centre Now
• Pak shells forward areas along LoC in J&K's Rajouri
• Ahead of Eid, J&K L-G appeals to people to follow social distancing
• 3 militants killed in J&K encounter
--------
South Asia
• 'Don't Redeem the Taliban', Afghan Social Media Users Ask World Before Peace Talks
• Kidnapped Sikh community leader in Afghanistan released: MEA
• Afghan forces destroy 20 underground tunnels of Taliban in Helmand
• Karzai met with Abdullah to discuss ongoing efforts aimed at bolstering peace process
--------
Pakistan
• Anti-Pakistan Protest Held Outside 10 Downing Street to Demand Justice for Baloch Victims
• Surging attacks by Baloch separatists increase risks, costs of BRI projects in Pakistan: Report
• Pakistan reaffirms support to Kashmiris' struggle
• Testing not the only way to gauge decline in cases: Zafar
• Population in Pakistan continues to grow rapidly: report
• Six 'militants' of banned Baloch outfit held
--------
Africa
• Sudanese Forces Arrest 160 'Mercenaries' En-Route ToLibya
• Over 100-Armed Cars Head Towards Libya's Bani Walid Town: Reports
• Libyan vehicles attempting to infiltrate Tunisia, says Tunisian defense minister
• Iran linking with Somalia's al-Shabab to funnel weapons to Houthis: Foreign Policy
• Mali opposition rejects mediation offer, demands President Keita must resign
• 'Bandits' kill 23 Nigerian troops in northwest: Security sources
• Nigerian troops kill 8 senior Boko Haram members
--------
North America
• US Set to Start Another Middle East War At Behest Of Israel, Biden Won't Change That: Analyst
• US, Saudi Arabia doing utmost to 'split Iraq away from Iran': Analyst
• Pentagon: 3,800 Syrian rebels in Libya sent by Turkey
Compiled by New Age Islam News Bureau
URL: https://www.newageislam.com/islamic-world-news/uaes-amal-spacecraft-rockets-toward/d/122421
--------
UAE's Amal spacecraft rockets toward Mars in Arab world first
July 19, 2020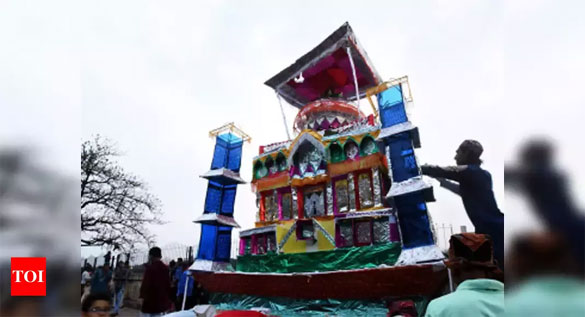 TOKYO: A United Arab Emirates spacecraft rocketed away Monday on a seven-month journey to Mars, kicking off the Arab world's first interplanetary mission.
The liftoff of the Mars orbiter named Amal, or Hope, from Japan marked the start of a rush to fly to Earth's neighbor that includes attempts by China and the United States.
The UAE said its Amal was functioning after launch as it heads toward Mars.
Omran Sharaf, the project director of Emirates Mars Mission, told journalists in Dubai about an hour and a half after the liftoff that the probe was sending signals. Sharaf said his team now would examine the data, but everything appeared good for now.
People cheered and clapped, with one woman offering a celebratory cry common for weddings.
Hope is set to reach Mars in February 2021, the year the UAE celebrates 50 years since the country's formation.
It blasted off from the Tanegashima Space Center on a small southern Japanese island aboard a Mitsubishi Heavy Industries' H-IIA rocket, on time at 6:58 a.m. (2158 GMT Sunday) into the blue sky. Mitsubishi said the probe has been successfully separated from the rocket and is now on its solo journey. The launch had been delayed for five days because of stormy weather.
At Mohammed bin Rashid Space Center in Dubai, Emirati men in their traditional white kandora robes and women in their black abayas watched transfixed as the rocket lifted off. As its stages separated, a cheer went out from a group of Emirati men seated on the floor. They began clapping, one using his face mask due to the coronavirus pandemic to wipe away a tear.
"It was great to see everything going according to schedule today. It looks like things are all on track. It's a huge step in terms of space exploration to have a nation like the UAE taking that giant leap to send a spacecraft to Mars," Astronomer Fred Watson said.
"Being on route to a planet like Mars is an exceptional achievement."
A newcomer in space development, the UAE has successfully put three Earth observation satellites into orbit. Two were developed by South Korea and launched by Russia, and a third — its own — was launched by Japan.
A successful Hope mission to Mars would be a major step for the oil-dependent economy seeking a future in space, coming less than a year after the launch of the first UAE astronaut, Hazzaa Ali Almansoori. He spent over a week at the International Space Station last fall.
The UAE has set a goal to build a human colony on Mars by 2117.
"It sends a very strong message to the Arab youth that if the UAE is able to reach Mars in less than 50 years, they could do much more," Omran Sharaf, the project director of Emirates Mars Mission, told The Associated Press on Sunday as his colleagues prepared for the launch.
The Emiratis involved in the program also acknowledged it represented a step forward for the Arab world, the home of mathematicians and scientists for centuries before the wars and chaos that have gripped wide swathes of it in recent times.
"So the region has been going through tough times in the past decades, if not centuries," Sharaf said. "Now we have the case of the UAE, a country that's moving forward with its plans, looking at the future and the future of region also."
For its first Mars mission, the UAE chose partners instead of doing it all on its own.
"Developing a spacecraft is not easy even if there is ample funding," said JunyaTerazono, an astronomer at Aizu University.
Emirati scientists worked with researchers at the University of Colorado Boulder, University of California, Berkeley and Arizona State University. The spacecraft was assembled at Boulder and transported to Japan as the two countries looked to expand their ties with the rich and politically stable Middle Eastern nation.
The Hope Probe is ready to launch into space in a few hours..
The Amal spacecraft, along with its launch, cost $200 million, according to Omran Sharaf, the UAE project manager. Operation costs at Mars have yet to be divulged.
Amal, about the size of a small car, carries three instruments to study the upper atmosphere and monitor climate change while circling the red planet for at least two years. It is set to follow up on NASA's Maven orbiter sent to Mars in 2014 to study how it went from a warm, wet world that may have harbored microbial life during its first billion years, to the cold, barren place of today.
Hope also plans to send back images of weather changes.
Japan, a US ally, has already long collaborated in defense and space technology.
Resource-poor Japan has traditionally kept friendly ties with Middle Eastern countries. In recent years, Japan has increasingly stepped up trade and defense ties with the UAE, and now seeks to expand its space business.
Two other Mars missions are planned in the coming days by the US and China. The US plans to send a rover named Perseverance to search for signs of ancient life and collect rock and soil samples for return to Earth. Liftoff is targeted for July 30. China aims to explore Mars with an orbiter and rover to study the planet's surface, and search for water and ice. This launch is set for around July 23.
Japan has its own Mars mission planned in 2024.
Japan Aerospace Exploration Agency, or JAXA, plans to send a spacecraft to the Martian moon Phobos to collect samples to bring back to Earth in 2029.
https://www.arabnews.com/node/1706991/middle-east
--------
Hagia Sophia mosaics will be covered with curtains during prayers — Turkish presidential spokesman
July 19, 2020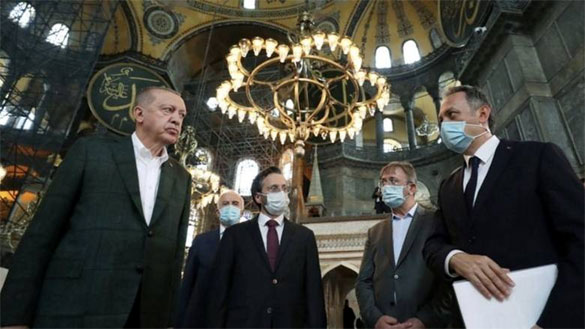 Outside prayers, Hagia Sophia will be open to all visitors and tourists and all mosaics will be uncovered, authorities have said.
----
ISTANBUL: Mosaics depicting Christian figures in Istanbul's ancient Hagia Sophia will be covered with curtains during Muslim prayers, Turkish presidential spokesman Ibrahim Kalin said on Sunday, as work to prepare the building for use as a mosque continues.
Authorities had said last week that the mosaics would be concealed with either curtains or lasers when the first prayers are held next Friday.
In a move that sparked sparked international criticism and concern, President Tayyip Erdogan declared Hagia Sophia open to Muslim worship earlier this month following a court ruling that said the building's conversion to a museum in 1934 was unlawful.
Hagia Sophia dates back to the sixth century and has a history as both a church and a mosque before it was turned into a museum.
In an interview with broadcaster NTV, Kalin said some mosaics of Mary and Gabriel that are positioned in the direction of Qiblah, where Muslims face during prayer, would be covered with curtains.
He said other mosaics of Jesus and other Christian figures did not pose an obstacle for Muslim prayers because they are not located in the direction of Qiblah. But he did not say whether they would remain uncovered at all times.
Outside prayers, Hagia Sophia will be open to all visitors and tourists and all mosaics will be uncovered, authorities have said.
Erdogan visited the mosque earlier on Sunday to inspect the progress in preparing the building.
https://www.arabnews.com/node/1707086/middle-east
--------
'Nations With Islamophobia Can't Protest Hagia Sofia Move': Malaysian Politician
Omer Faruk Yildiz
19.07.2020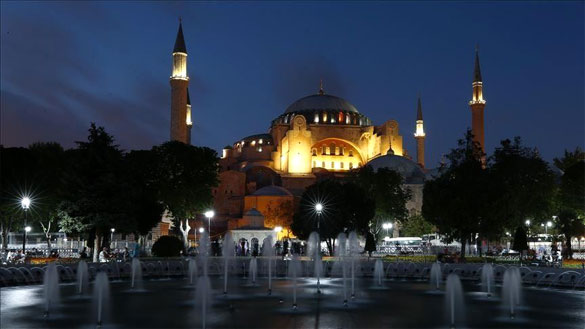 Hagia Sophia
-----
Western countries still plagued by Islamophobia have no place protesting Turkey restoring Hagia Sophia to its historic status as a mosque, said a leading Malaysian politician on Sunday.
"These countries remained silent while Israel was planning to demolish al-Aqsa Mosque in Jerusalem. Now they are protesting Hagia Sophia functioning as a church," said Abdul Hadi Awang, Malaysia's special envoy to the Middle East and leader of the Malaysian Islamic Party (PAS).
Palestinian have long said Israeli excavation work around the flashpoint site points to their plans to demolish the mosque and rebuild the Third Temple there.
In a written statement, Hadi said that after the conquest of Istanbul, Hagia Sophia served as the city's main mosque for nearly 500 years
Abdul Hadi said that other distinguished Istanbul mosques such as the Blue Mosque, Sehzade, Suleymaniye, and Rustem Pasha were also inspired by Hagia Sophia.
On July 10, a top Turkish court annulled a 1934 Cabinet decree which turned Hagia Sophia into a museum, restoring its status as a mosque after an 85-year hiatus.
The architectural marvel in the heart of Istanbul was a church in the Byzantine era but was converted into a mosque in 1453 after the Ottoman conquest of the city.
https://www.aa.com.tr/en/world/nations-with-islamophobia-cant-protest-hsofia-move/1915178
--------
Shamima Begum betrayed Britain and she should face charges of high treason
DANIEL HANNAN
19 July 2020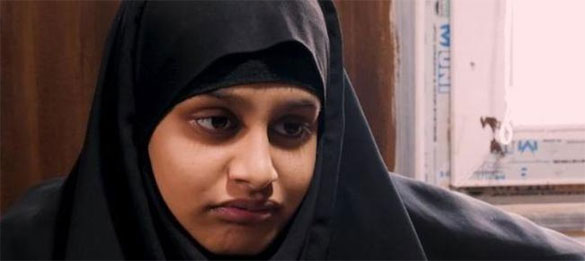 Shamima Begum
-----
Shamima Begum is an unlovely creature: dim, cruel and self-pitying. We should be sparing in our use of the word "evil", but it is hard to think of how else to describe someone who, watching videos of Islamic State militants beheading civilians, felt a tug of attraction. The jihadists' atrocities were well-documented when the then 15-year-old Begum left Bethnal Green to join them. She must have known that they raped and enslaved non-Muslim women, that they executed aid workers, that they tortured children....
https://www.telegraph.co.uk/news/2020/07/19/shamima-begum-betrayed-britain-should-face-charges-high-treason/
--------
This Bakrid Many Muslims Will Take Just One Share in A Cattle, Donate Rest of The Money to The Poor and Deserving
Jul 19, 2020
MUMBAI: In view of the new guidelines which make giving animal sacrifice on EidulAdha or Bakrid festival very difficult amid Covid-19 pandemic, many Muslims in the state will not sacrifice goats or sheep but will take share in a cattle (bull or buffalo) preferably out of the state. Bakrid falls on August 1.
The guidelines Released on Friday said that no mandis or livestock markets will be allowed and people can buy cattle or goats online. "It will be very difficult to buy cattle or goats as there are no mandis and cattle are not reaching the Deonar abattoir. If it is not possible to give Qurbani of goats and sheep here, people should do it outside the state where no such strict rules are enforced. By taking share in a cattle-bulls or buffaloes-they can save money which can be used to help poor relatives or others facing financial crisis," said Maulana Burhanuddin Qasmi, director, MarkazulMaarif, a think tank at Jogeshwari.
According to the rules, meat of a sacrificed cattle (bull, buffalo) can be equally shared by seven people while Qurbani of a goat or a sheep is valid for just one person.
Meanwhile, Hyderabad-based Jamia Nizamia, one of the oldest Islamic institutions in the country, has issued a fatwa saying that, in case giving Qurbani is extremely difficult, the equivalent amount of the animal, can be donated to the poor and deserving people in the community. This fatwa is being hailed widely.
"The fatwa clears the confusion that Muslims can utilize the money meant to buy cattle for Qurbani for charity if giving Qurbani is not possible or very difficult," said Mazher Hussein, executive director, Confederation of Voluntary Association (COVA). Hussein has issued an appeal saying that, instead of buying a goat or sheep in these hard times, Muslims should take one hissa (share) in bulls or buffaloes. While a sheep will cost Rs 9000, one hissa in a bull will cost just Rs 3000. "They can prepare ration kits worth Rs 3000 and distribute them among teachers who have not been paid for months. This ration can take care of these teachers for at least two months," said Hussein.
Maulana Mahmood Daryabadi of All India Ulema Council maintained that donating money to the needy cannot be alternative to qurbani. However, he too maintained that, in case of sacrificing cattle becoming extremely difficult at one place, people should try to arrange Qurbani at another place where restrictions are not so tough.
https://timesofindia.indiatimes.com/city/mumbai/this-bakrid-many-muslims-will-take-just-one-share-in-a-cattle-donate-rest-of-the-money-to-the-poor-and-deserving/articleshow/77051696.cms
--------
'Don't redeem the Taliban', Afghan social media users ask world before peace talks
Jul 20, 2020
KABUL: Afghans shared accounts of violence linked to the Taliban on social media with the hashtag phrase 'don't redeem the Taliban' as anxiety grows as the United States withdraws troops and attempts to usher peace talks with the militant group.
The accounts of alleged violence and human rights abuses with the hashtag phrase in Dari meaning 'don't redeem the Taliban' have been shared more than 100,000 times on Twitter.
Kabul-based Twitter user Ejaz Malikzada, 26, said the message had gained traction as Afghan social media users sought to remind foreign powers not to sacrifice achievements on human rights made in the last few decades.
"By participating in this hashtag I want to tell those foreigners who insist on starting peace talks in Afghanistan, they have ignored or forgotten the crimes and violence committed by the Taliban against Afghan people," he said.
Though millions of Afghans have no access to Twitter, for many, social media movements allow people to voice their concerns and share their grief from remote parts of the country.
The Taliban has carried out attacks that have killed thousands of civilians around the country as they waged an insurgency since their ouster from power.
The Taliban claimed responsibility for a number of attacks this month, the most recent last week when a car bomb exploded at a government compound.
During their 1996-2001 rule they enforced their strict interpretation of Islamic law under which women were barred from education or leaving the house without a male relative.
The group say they have changed their approach to women's rights and operations by government and foreign forces have also killed many civilians.
But many Afghans and human rights activists remain sceptical, saying they are concerned that impending U.S.-brokered peace talks, aimed at ending more than 18 years of war, will not include adequate protection of human rights if the insurgent group returns to a role in formal power.
Taliban spokesman Suhail Shaheen said he suspected the social media campaign was due to 'anti-peace elements' and that "no legitimate rights will be lost" during peace talks.
https://timesofindia.indiatimes.com/world/south-asia/dont-redeem-the-taliban-afghan-social-media-users-ask-world-before-peace-talks/articleshow/77058944.cms
--------
Anti-Pakistan protest held outside 10 Downing Street to demand justice for Baloch victims
Jul 20, 2020
LONDON : A massive protest was organised by Bramsh solidarity committee against the killings of Baloch women in Balochistan at the hands of death squads and Pakistani paramilitary forces in Balochistan province of Pakistan on Sunday.
The protesters raised slogans against the ever-increasing human rights violations in Balochistan and against the Harnai incident where Pakistan army killed the family of Qaisar Chalgarri including, his 9 years old daughter Naz Bibi.
Hakeem Baloch, President of Baloch National Movement UK Zone, said, "Baloch community in the United Kingdom strongly condemn Pakistan military action in Balochistan and it's death squads."
Abdullah Baloch Leader of Balochistan Raji Zrumbesh Said, "Pakistan unleashed its death squads to create havoc and terror in Balochistan. They want to frighten the whole Baloch community by killing innocent Baloch women and attacking houses so people feel insecure."
A large number of political activists, intellectuals, women and children in Balochistan province are victims of enforced disappearances by the security agencies. Many of them are languishing in detention centres whereas mutilated bodies of some of these abducted Baloch are found in isolated places.
A large number of Baloch, who have taken asylum in Europe and other parts of the world, continue to hold protests to raise the support of the international community and pressurize Pakistan and its security agencies to stop human rights violations in Balochistan.
https://timesofindia.indiatimes.com/world/pakistan/anti-pakistan-protest-held-outside-10-downing-street-to-demand-justice-for-baloch-victims/articleshow/77058994.cms
--------
Arab world
Syria's parliamentary elections a 'farce' say exiled opposition figures
19 July 2020
Syria's exiled opposition has called parliamentary polls Sunday in government-held areas of the war-torn country a "farce" as millions abroad and in opposition-held territory are not taking part.
President Bashar al-Assad's Baath party and its allies are expected to take most of parliament's 250 seats in the third such polls to be held since the civil war started nine years ago.
"The regime has not known (real) elections since it seized power 50 years ago," said senior opposition figure Nasr al-Hariri, referring to the date Assad's father Hafez al-Assad became president.
"Everything called an election has been a farce under security and military grip... to form a sham parliament for the regime to use to pass legislation to serve the gang in power," he said.
"All that has changed today is that half the Syrian people have been forced to flee," he told AFP.
The conflict has killed more than 380,000 people and displaced millions more from their homes since starting in 2011 with the brutal repression of anti-government protests.
Sunday's vote comes as most of Syria's political opposition is in exile, and millions of Syrians living abroad after fleeing the violence are ineligible to vote.
Endless rounds of UN-sponsored peace talks between the government and the opposition in exile have failed to stop the conflict, and have been overtaken in recent years by a parallel negotiations track led by regime ally Russia and opposition-backer Turkey.
Opposition figure ObeidaNahhas said on Saturday that the elections were a "blatant charade" that had been ongoing for 50 years.
"The length of the era of dictatorship and tyranny has produced a situation -- that does not reflect the opinion of the popular majority...that has emptied elections of their true democratic meaning," he said.
https://english.alarabiya.net/en/News/middle-east/2020/07/19/Syria-s-parliamentary-elections-a-farce-say-exiled-opposition-figures.html
--------
Egypt's lawmakers to vote on deploying troops to Libya
July 20, 2020
CAIRO: Egypt's parliament is to vote Monday to authorize the president to deploy troops to neighboring Libya if Turkey-backed forces there, allied with the UN-supported government in Tripoli, move to retake the strategic coastal city of Sirte.
An Egyptian intervention would further destabilize oil-rich Libya, and put two US allies — Turkey and Egypt — in possible direct confrontation.
The vote was initially scheduled for Sunday but was moved to Monday in a closed session, according to lawmaker Mustafa Bakry. The House of Representative, packed with supporters of President Abdel-Fattah El-Sisi, is highly likely to vote in favor of sending troops to Libya.
Libya was plunged into chaos when a NATO-backed uprising in 2011 toppled longtime dictator Muammar Qaddafi who was later killed. The country is now split between a government in the east, allied with military commander Khalifa Haftar, and one in Tripoli, in the west, supported by the United Nations.
The conflict has escalated into a regional proxy war fueled by foreign powers pouring weapons and mercenaries into the country.
The US has grown increasingly concerned about Moscow's growing influence in Libya, where hundreds of Russian mercenaries have backed an attempt by Haftar's forces to capture Tripoli.
Egypt's state-run Al-Ahram daily reported on Sunday that the vote in Parliament was intended to mandate El-Sisi to "intervene militarily in Libya to help defend the western neighbor against Turkish aggression."
Last week, El-Sisi hosted dozens of tribal leaders loyal to Haftar in Cairo, where he repeated that Egypt will "not stand idly by in the face of moves that pose a direct threat to security."
Libya's east-based parliament also urged El-Sisi to send troops.
Haftar's forces launched an offensive to take Tripoli from the UN-supported government in April last year but their campaign — which had stalemated after reaching the outskirts of the Libyan capital — suffered a blow last month when the Tripoli-allied forces, with Turkish support, pushed them back and gained the upper hand in the fighting.
The Tripoli forces retook the capital's airport, all main entrance and exit points to the city and a string of key towns in the region. They pushed on eastward, vowing to also retake Sirte, which Haftar took earlier this year.
Capturing the city, Qaddafi's birthplace, would open the door for the Turkish-backed forces to advance even farther eastward and potentially take vital oil installations, terminals and fields now under Haftar's control.
https://www.arabnews.com/node/1707321/middle-east
--------
Jurisprudence conference highlights role of scholars in times of crisis
July 20, 2020
JEDDAH: Leading Muslim scholars, muftis and academics have discussed the urgency of addressing legal religious issues in the wake of the COVID-19 pandemic days before the Hajj pilgrimage is set to begin.
An international conference organized by the Muslim World League and the Fatwa Council of the UAE gathered Muslim scholars and academics from across the Islamic world to discuss their role in mobilizing community efforts in emergencies and crises.
The conference, "Emergency Jurisprudence: Parameters for Post-COVID-19 Pandemic," held with the participation of the Organization of Islamic Cooperation, included jurisprudents, jurisprudence institutions, academics and thinkers from around the world.
Sheikh Nahyan bin Mubarak Al-Nahyan, minister of tolerance in the UAE, said that the role of Shariah (Islamic religious law) was a guide to public social order, a bastion of social safety and security.
It guided the lives of Muslims and served to protect individual and community interests as the COVID-19 pandemic has had unprecedented affect on all spheres of life including relations between nations and peoples, man and God, and individuals as well.
"Bearing responsibility, determination, perseverance and joint action all go hand in hand on the right path toward achieving success," Al-Nahyan said.
"We are also emphasizing the role of the Ummah (Muslim community) scholars in mobilizing the community's efforts to face emergencies and crises, and you focus specifically on the fact that scientific method and human progress are essential bases to confront this pandemic."
He added that their role was an important call for regional and international cooperation to overcome problems and preserve public health.
Sheikh Al-Nahyan said that the conference was expected to lead to a number of sound fatwas, and to set out mentoring programs that would allow Muslim societies to be able to deal with the effects of the pandemic.
It would guide Muslims toward better managing their lives in accordance with a rational Islamic approach and to come up with suitable proposals in the areas of worship, beliefs and dealings, as well as finding means to achieve success in managing this crisis at the economic, health and social levels.
Sheikh Mohammed bin Abdul Karim Al-Issa, secretary-general of the Muslim World League and chairman of the Association of Muslim Scholars, said that the aim of the conference was to provide answers to urgent questions and outstanding issues in the context of a scientific inconsistency that affected the general public and the jurisprudence affected by the COVID-19 pandemic.
He noted that scholars of the Muslim Nation addressing the developments post COVID-19 through the forum would be able to produce clear legal rulings on various issues based on evidence, while carrying out their legal responsibility.
Commenting on Saudi Arabia's limiting of pilgrims to perform this year's Hajj, Chairman of the UAE Fatwa Council Sheikh Abdullah bin Bayyah said that "the decision to give priority to local pilgrims and limit the number of foreign pilgrims is in the best interest of Muslims who might risk contracting the virus which could spread of the continuous spread of the pandemic."
He commended the Kingdom's efforts in protecting Muslims' lives and placing their safety and welfare first.
Sheikh Noor-Ul-HaqQadri, the Pakistani Minister of Religious Affairs, said that Muslims acted on the basis of the fatwa of scholars and jurists, even more so since the outbreak of the pandemic. He praised the manner in which Muslims and institutions alike took it on themselves to issue and follow fatwas that added great value to the development of Islamic jurisprudence in the wake of such a pandemic.
The pandemic has provided many scholars with insight and knowledge to better educate and issue fatwas.
"The pandemic has showed the urgent need to get out of the narrow interpretation of the religious discourse with disregard to the jurisprudence of purposes and outcomes, while taking into consideration the diversity of time and place, the various conditions of people and the latest developments," said Prof. Mohamed Mokhtar Gomaa, Egypt's Minister of Awqaf.
https://www.arabnews.com/node/1707146/saudi-arabia
--------
Five dead, 85 wounded in car bomb attack in Syria's Azaz: Reports
19 July 2020
A car bomb attack in northwestern Syria's Azaz region killed five people and wounded 85 others, Turkey's state-owned Anadolu agency said on Sunday.
The incident took place in the village of Siccu, across the border from Turkey's southern province of Kilis, Anadolu said.
It said 15 of the wounded had been brought to a hospital in Turkey and that some were in critical condition.
Azaz has been under the control of rebels backed by Turkey since Ankara's first incursion into Syria in 2016, in an operation that aimed to drive away ISIS militants and the Syrian Kurdish YPG militia from its border with Syria.
Ankara regards the US-backed YPG as a terrorist organization. The operation ended in 2017.
For all the latest headlines follow our Google News channel online or via the app.
In another development, Syria held a parliamentary election on Sunday, gripped by a collapsing economy and new US sanctions after President Bashar al-Assad clawed back control of most of the country.
People voted across government territory at more than 7,000 polling stations, including for the first time in former opposition bastions that the army has recaptured over the last two years.
Assad's opponents denounced the vote as a farce, nearly a decade into a war that has killed hundreds of thousands of people and made millions refugees.
https://english.alarabiya.net/en/News/middle-east/2020/07/19/Five-dead-85-wounded-in-car-bomb-attack-in-Syria-s-Azaz-Reports.html
--------
Turkey detains niece of Syrian Kurdish politician Saleh Muslim: Family
20 July 2020
Turkey has detained the niece of an influential Syrian Kurdish politician, himself wanted by Ankara, the family said Sunday.
Dalia Mahmoud Muslim is a niece of Saleh Muslim, who is close to Syria's semi-autonomous Kurdish administration.
She was "handed over to the Turkish authorities and their intelligence services" after travelling to neighboring Iraq's Kurdish region six months ago for medical treatment, her father Mahmoud Muslim said.
Writing on Facebook, he said his daughter had been preparing to return to Syria and that her apparent transfer to Turkish custody had "surprised" the family.
For all the latest headlines follow our Google News channel online or via the app.
The Iraqi Kurdish authorities shoulder "responsibility for her kidnapping or handing her over to Turkish intelligence," he said, adding that any words attributed to her were "false" and obtained "under pressure."
Official Turkish Anadolu had on Saturday reported a different version of her detention. Citing security sources, it said that she had "handed herself in" to Turkish security forces on July 15 in a southern province of Turkey.
Saleh Muslim was himself briefly detained in Prague in 2018 and Turkey demanded he be extradited, on the basis of an arrest warrant Ankara issued two years earlier in connection with an attack in Ankara that killed 29 people in February 2016.
He denied any link to the attack, and was released.
The Kurds established their semi-autonomous administration in the vast stretches of northeastern Syria that border Turkey during the ongoing civil war.
The administration is viewed with hostility by Turkey, which sees the main Syrian Kurdish militia, the YPG, as "terrorists" and an offshoot of the outlawed Kurdistan Workers' Party (PKK).
The PKK has waged a three-decade insurgency inside Turkey.
Dalia Muslim's father says she belongs to the YPG's female contingent.
Saleh Muslim was long co-chair of the Democratic Union Party (PYD), the YPG's political arm.
https://english.alarabiya.net/en/News/middle-east/2020/07/20/Turkey-detains-niece-of-Syrian-Kurdish-politician-Saleh-Muslim-Family-.html
--------
Mideast
'Hagia Sophia move shows will of Muslim country'
Riyaz ul Khaliq
18.07.2020
ANKARA
Turkey's decision to re-open Hagia Sophia as a mosque shows its ability "to assert its sovereignty and will", said speakers at a virtual seminar on Saturday.
"Turkey has been siding with legitimate voices of the people and governments in the region," said Sami Al-Arian, an expert on global affairs.
Last week, a top Turkish court annulled the 1934 Cabinet decree, which turned Hagia Sophia to a museum, restoring its status as a mosque.
The architectural marvel in the heart of Istanbul was a church in the Byzantine era. It was converted into a mosque in 1453 after the Ottoman conquest of the city.
The discussion, The Hagia Sofia Decision and its Geo-political Implications, was hosted by Istanbul-based Center for Islam and Global Affairs (CIGA).
Al-Arian, director of the center, said: "Conversion of Hagia Sophia into a museum was about the evolution of a strong secular Turkish state and partly appeasement of the West."
He noted 400 churches and synagogues have been restored in Turkey with support of the state.
"When the Spanish Inquisition happened towards the end of the 15th century, this is the hypocrisy we see today, that hundreds and hundreds of mosques and religious buildings [were converted] into Catholic churches and buildings and no one is talking about it," said Al-Arian.
"Greece did not have a single mosque even though there were Muslims all through its history -- they [Greek Muslims] would be denied a single house of worship until recently."
'Unanimous support'
Yasin Aktay, a senior advisor to the Turkish government, said there was unanimous support to re-opening of Hagia Sophia for Muslim prayer.
"This shows how Hagia Sophia [had] a common value for people in Turkey," said Aktay.
"We are now in a new Turkey… this decision is not against any religion and transforming Hagia Sophia [in 1934] was an exceptional one," he said. "A museum is no way closer to a religious place but there are many common features between a church and a mosque."
"There is no reason to worry about Hagia Sophia; all its historic and cultural aspects will be protected," said Aktay, who is also a political scientist.
Aktay said during their conquests "Ottomans did not destroy any religious place… they could have converted all [non-Muslim] religious places into mosques, but they did not."
'Turkey helping Palestinians'
Addressing his nation last week, Turkey's President Recep Tayyip Erdogan termed the move on Hagia Sophia as a "harbinger of the liberation of Al-Aqsa Mosque" in Jerusalem.
Referring to that, Al-Arian said Erdogan has been "at the forefront for the fight on Jerusalem and Palestine".
"It has not just been supporting in words but all through its actions," he said.
Al-Arian, who lived in the US for over four decades before moving to Turkey in 2015, said: "Hundreds of Catholic churches were closed in West; many were sold because nobody maintained them and [in many circumstances] it were Muslims who bought churches just to maintain them as houses of worship."
Responding to criticism from some quarters in Muslim community in the West, Al-Arian said: "Post 9/11, many so-called Muslim leaders have turned their back on interests of Muslims in the West. They have been appealing to the most Islamophobic and anti-Muslim sentiments."
Ruling out any comparison with the Babri Mosque in India, Al-Arian said "the situations are completely different."
"We are not talking about a group of people who have been persecuted, who have been targeted, kicked out and burnt like what happened in India," he said, referring to the 16th century mosque in India which was demolished to build a Hindu temple in its place.
"Hagia Sophia was a mosque in 1934 and no question was asked when it was converted into a museum; there was no party that asked that they wanted to make it a church," he said.
https://www.aa.com.tr/en/turkey/hagia-sophia-move-shows-will-of-muslim-country/1915074
--------
Iran suspends execution of three men convicted over deadly protests
20 Jul, 2020
TEHRAN: Iran has halted the execution of three people linked to deadly November protests sparked by a hike in petrol prices, one of the accused men's lawyers said on Sunday.
"We conveyed a request (for a retrial) to the supreme court and they have accepted it. We hope the verdict will be overturned," Babak Paknia said over the phone.
Iran's judiciary said last week that a court had upheld the death sentence for the three.
It said evidence had been found on their phones of the three setting alight banks, buses and public buildings in November.
The three are Amirho­ssein Moradi, 26 and working at a mobile phone retailer, Said Tamjidi, a 28-year-old student, and Mohammad Rajabi, also 26.
"We are very hopeful that the verdicts will be overturned... considering that one of the judges at the supreme court had opposed the verdicts before," the four lawyers representing the accused said in a statement published by state news agency IRNA.
Numerous calls had spread online since the verdict was announced using the hashtag "Don'tExecute" for a halt to executions in the country.
Judiciary spokesman Gholamhossein Esmaili said at the time that the verdict could still change over "extraordinary proceedings", pointing to a legal clause that could trigger a retrial if deemed necessary by the chief justice.
The demonstrations erupted on November 15 after authorities more than doubled fuel prices overnight, exacerbating economic hardship in the sanctions-hit country.
They rocked a handful of cities before spreading to at least 100 urban centres across the Islamic republic.
Petrol pumps were torched, police stations attacked and shops looted, before security forces stepped in amid a near-total internet blackout.
A senior Iranian lawmaker said in June that 230 were killed and thousands injured during the protests.
Authorities had for months refused to provide casualty figures, rejecting tolls given by foreign media and human rights groups as "lies".
London-based rights group Amnesty Interna­tional has put the number of deaths at 304, and a group of independent UN rights experts said in December that 400 including at least 12 children could have been killed, based on unconfirmed reports.
Rights activists claimed the death sentences were aimed at intimidating future protesters.
https://www.dawn.com/news/1570069/iran-suspends-execution-of-three-men-convicted-over-deadly-protests
--------
Turkish police detain dozens of suspected Daesh members in Istanbul
July 20, 2020
AhlulBayt News Agency (ABNA): Turkish police have arrested at least 27 suspected members of the Daesh Takfiri terrorist group in a counter-terrorism operation in Istanbul.
Media reports cited Turkish police sources as saying on Sunday that the operation targeted addresses in 15 districts of Istanbul after police learned that those arrested were ordered to carry out an attack in retaliation for social media posts with "blasphemous content."
In recent years, the Daesh terrorists have carried out a series of gun and bomb attacks in Turkey.
On January 1, 2017, the terrorists attacked a nightclub in Istanbul and killed 39 people.
Back in October 2015, twin bombings targeted a pro-Kurdish peace rally in the capital, Ankara, killing 103 people and injuring more than 500. The government blamed Daesh. In another attack, the terrorist group launched a bomb attack that killed a dozen people in the city's historic heart in 2016.
Turkey has stepped up anti-terror operations against Daesh terrorist network inside the country in recent years, arresting many suspected terrorists and busting several terror cells across the country.
Turkey has said that it would surely send captured Western members of Daesh back to their countries of origin even if those countries have stripped them of citizenship.
Extremists from across Europe joined Daesh in droves in 2014, when the Takfiri terror group launched its campaign of death and destruction in Iraq and Syria.
Back then, many European leaders ignored repeated warnings that the terrorists could return home one day and that they would be a serious security challenge across the continent.
They instead allowed their nationals to join the Takfiri terror outfit in the hope that they would help topple Syrian President Bashar Assad.
The terror group, which once held large swaths of land in Syria and Iraq, has lost all of the urban areas it had overrun in both Arab countries, thanks to counter-terror operations carried out by the Syrian and Iraqi armies.
The Daesh remnants have conducted sporadic attacks against government troops and civilians alike in the war-torn countries.
https://en.abna24.com/news//turkish-police-detain-dozens-of-suspected-daesh-members-in-istanbul_1056332.html
--------
Iran sentences three Kurdish citizens to prison for burning Soleimani banner
19 July 2020
Iran has sentenced three Kurdish citizens to a total of 16 years in prison for burning a banner of slain Islamic Revolutionary Guard Corps (IRGC) commander Qassem Soleimani in January, according to an Iranian Kurdish rights group.
For all the latest headlines follow our Google News channel online or via the app
Twenty-year-old Arman Hosseinzadeh and 19-year-olds Milad Hosseini and Bahman Rahimi have been sentenced to a total of 16 years and seven months in prison on charges of "propaganda against the regime by burning Soleimani banners" and membership in an Iranian Kurdish opposition group, rights group Hengaw, which reports on human rights violations in Iran's Kurdish-populated areas, said on Saturday.
A 17-year-old was also arrested alongside the other three but his sentence has not yet been announced.
The four were arrested days after Soleimani – the overseas arms of the Islamic IRGC – was killed in a US airstrike at Baghdad's international airport on January 3.
On January 22, Iranian police said it arrested a minor for ripping up a poster of Soleimani.
Several videos emerged online in January showing Iranians ripping up and setting fire to images and posters of Soleimani amid the anti-government protests that followed Iran's belated admission to downing a Ukrainian passenger plane.
Iran admitted to downing the plane after vehemently denying responsibility for several days triggering angry protests in several cities.
https://english.alarabiya.net/en/News/middle-east/2020/07/19/Iran-sentences-three-Kurdish-citizens-to-prison-for-burning-Soleimani-banner.html
--------
Southeast Asia
Chinese Ambassador To UK Dismisses 'False' Concentration Camp Claims And Insists Uighur Muslims Live In 'Peace And Harmony'
19 July 2020
China's ambassador to the UK today insisted Uighur Muslims live in 'peace and harmony' despite being confronted with video appearing to show shackled prisoners being herded onto trains.
Appearing on the Andrew Marr Show, Liu Xiaoming denied reports that China is carrying out a programme of sterilisation of Uighur women in the western Xinjiang region.
Reports have accused China of attempting to reduce the Uighur population through forced sterilisation, but Mr Liu insisted this is not 'Government policy.'
Experts estimate that more than one million Uighurs and other minorities have been rounded up into a network of internment camps in total.
But Mr Liu suggested video footage, believed to be from Xinjiang, showing men, kneeling and blindfolded waiting to be led onto trains was 'fake'.
He added the images could be 'transfers of prisoners,' as he insisted 'I don't know where you got this video tape from.'
'There is no so-called massive forced sterilisation among Uighur people in China,' he said. 'It is totally against the truth.'
However, Mr Liu admitted he couldn't 'rule out single cases for any country,' adding: 'There is no such concentration camp in Xinjiang.'
He went on to insist the Uighur population, which has reportedly increased in numbers in the last 40 years, enjoy a 'peaceful, harmonious coexistence with other ethnic groups' in Xinjiang.
Confronted by Marr about the footage, Mr Liu said: 'Let me tell you this, the so-called Western intelligence making these false accusations against China, they say one million Uighur has been persecuted, you know how much population Xinjiang has?
'Forty years ago it was five million, now it is 11 million people and people say we have ethnic cleansing, but the population has doubled in 40 years.'
Marr questioned his data, adding: 'According to your own local Government statistics, the population in Uighur jurisdictions in that area has fallen by 84 per cent between 2015 and 2018.'
Mr Liu replied: 'That's not right. I gave you this figure as the Chinese ambassador. In the past 40 years, the Uighur population increased, the population in Xinjiang increased to double. The population doubled.
'So there is no so-called restriction of the population, no so-called forced abortions and so on.'
The ambassador went on to claim he can 'easily refute' accusations of forced sterilisation, insisting these are made by a 'small group of anti-Chinese people working against the interests of China.'
'People can enjoy a harmonious life, Uighur people enjoy a harmonious life, peaceful, harmonious coexistence with other ethnic groups,' he said.
Mr Liu also rejected claims China was pursuing a policy of aggressive nationalisation, saying it was Western powers which were trying to foment a new cold war.
'It's Western countries, headed by United States, they started this so called new cold war on China,' he said.
'They have the sanctions, they have these smearing, name calling, take what happened with the coronavirus.
'They still keep calling China virus, Wuhan virus. Totally wrong.
'But we have to make a response. We do not provoke but once we were provoked we have to make response.'
It comes as Britain accused Beijing of 'gross, egregious human rights abuses' over its 'deeply troubling' treatment of ethnic and religious minorities in Xinjiang.
Dominic Raab said the reports of forced sterilisations and mass detentions in the predominantly Muslim region required international attention.
'It is clear that there are gross, egregious human rights abuses going on... it is deeply, deeply troubling,' he told the BBC.
'The reports and the human aspects of it... are reminiscent of something we have not seen for a long, long time, and this is from a leading member of the international community that wants to be taken seriously.
'We want a positive relationship [with China], but we cannot see behaviour like that and not call it out,' Raab added.
His comments come as tensions between London and China are rising over a host of issues.
Britain on Tuesday bowed to sustained pressure from Washington and ordered the phased removal of Chinese telecoms giant Huawei from its 5G network despite warnings of retaliation from Beijing.
The two sides have also clashed over Beijing's imposition of a controversial national security law in Hong Kong.
The US earlier this month slapped sanctions on senior Chinese officials, as it demanded an end to the 'horrific' abuses against Uighurs and other Turkic Muslims in Xinjiang.
Beijing swiftly responded with counter measures in one of the latest episodes in deteriorating US-China relations.
Raab said he will update British lawmakers on Monday on the UK government's next steps regarding Beijing's draconian new law in Hong Kong.
That will include announcing the outcome of a review of extradition arrangements with the former colonial territory.
However, China's ambassador to London warned it will make a 'resolute response' if Britain follows the US in sanctioning Chinese officials for the alleged abuses.
'We never believe in unilateral sanctions, we believe the UN has the authority to impose sanctions,' Liu Xiaoming told the BBC.
'If the UK government goes that far to impose sanctions on any individuals in China, China will certainly make resolute response to it.'
Liu said he did not want to see 'tit-for-tat' diplomatic skirmishes between Britain and Beijing, as was happening with the US.
'I think [the] UK should have its own independent foreign policy rather than dance to the tune of the Americans like what happened to Huawei,' he added.
https://www.dailymail.co.uk/news/article-8538355/Chinese-ambassador-insists-Uighur-Muslims-live-peace-harmony.html
------
Abim welcomes efforts to uphold Malay language, calls to discontinue teaching of science and math in English
19 Jul 2020
KUALA LUMPUR, July 19 — The Muslim Youth Movement of Malaysia (Abim) welcomes efforts to amend the Dewan Bahasa dan Pustaka (DBP) Act 1959 (Revised 1978, Amendment and Extension 1995) to empower the use of the Malay language in the country.
Its president Muhammad Faizal Abdul Aziz said Abim supports any effort to consolidate laws on the use of the national language, to ensure the correct use of the language.
"As we already know, language is an important medium to strengthen the role of institutions and be able to uphold the language, literature and knowledge among the people," he said in a statement here, today.
Muhammad Faisal was referring to the draft amendment of Section 2 of the National Language Act 1963/67 (Act 32), which will give DBP the authority to enforce laws relating to the use of the Malay language, which has been prepared since early 2019.
Meanwhile, in another statement, he said Abim fully supports the government's decision not to proceed with the Teaching and Learning of Science and Mathematics in English (PPSMI), and at the same time called for the Dual Language Programme (DLP) to be abolished.
The government should revert to the national language policy in national education, which has been sidelined due to the implementation of DLP, he said.
"The implementation of the DLP will not only continue the failure of PPSMI which has been proven through academic studies but is also a form of victimisation of students, parents and teachers.
"Giving the autonomy to schools, parents and teachers to choose between DLP/ PPSMI and the Upholding the Malay Language and Strengthening Command of English Language (MBMMBI) policy does not make any sense and at the same time is against the mission to uphold the Malay language," he added.
Abim urges the Education Ministry to return back to focus on efforts to strengthen the English language by upgrading and revising the learning modules in schools.
On July 15, Senior Education Minister Dr RadziJidin said the ministry has no plans to reintroduce PPSMI in schools. — Bernama
https://www.malaymail.com/news/malaysia/2020/07/19/abim-welcomes-efforts-to-uphold-malay-language-calls-to-discontinue-teachin/1885986
--------
PM denies Putrajaya will recognise UEC, says cert partially accepted since 2012
19 Jul 2020
BY DANIAL DZULKIFLY
KUALA LUMPUR, July 19 — Prime Minister Tan Sri Muhyiddin Yassin has denied today saying Putrajaya will recognise the Unified Examination Certificate (UEC) following a meeting with Federation of Chinese Associations Malaysia (Hua Zong) recently.
A statement by the Prime Minister's Office said the UEC must follow the National Education Policy if it wishes for an end towards the conflict in the future.
"The prime minister said the UEC has received partial recognition after the government in the past accepted UEC graduates into the bachelor's degree teacher training programme (PISMP)," it said.
Muhyiddin said in 2012, the government had accepted UEC graduates to enrol in the PISMP for Chinese Language, provided they pass the Sijil Pelajaran Malaysia (SPM) certificate and scored with honours in Malay Language.
In 2012, Muhyiddin himself was then education minister under the Barisan Nasional administration.
Last week, Hua Zong had claimed that Muhyiddin said he hopes the UEC will be recognised in the future and was willing to negotiate with the Chinese civil society groups on the issue.
Under the Pakatan Harapan administration, a UEC Policy Task Force (PPDUEC) was established to gauge major stakeholders and look into issues of recognising the certificate.
The task force consisted of Eddin Khoo, United Chinese School Committees' Association of Malaysia (Dong Zong) deputy president Datuk Tan Yew Sing who is also Malaysia-China Chamber of Commerce president, and Muslim Islamic Youth Movement of Malaysia president Mohamad Raimi Abdul Rahim.
It was reported that the taskforce's final report was ready to be submitted early this year but was put on hold following SimpangRenggam MP Maszlee Malik's resignation as education minister.
Now under the Perikatan Nasional administration, many quarters are also asking for the government to recognise the UEC.
UEC is a standardised test for Chinese independent high school students, which is not regulated by the Ministry of Education, that was introduced in 1975.
In Malaysia, the issue has been politicised by certain quarters that claim UEC is an obstacle to achieving national unity, especially in education.
UEC is accepted in certain private colleges in Malaysia and countries such as Singapore, Australia and the United Kingdom.
Currently, five states — Penang, Melaka, Sabah, Sarawak and Selangor — have announced that they recognise UEC though the students also need to take the Malaysia Education Certificate (SPM) examinations as well.
https://www.malaymail.com/news/malaysia/2020/07/19/pm-denies-putrajaya-will-recognise-uec-says-cert-partially-accepted-since-2/1885859
--------
Europe
UK accuses China of 'gross' human rights abuses against Uighurs
19 July 2020
UK Foreign Secretary Dominic Raab has accused China of "gross and egregious" human rights abuses against its Uighur population and said sanctions against those responsible cannot be ruled out.
Reports of forced sterilisation and wider persecution of the Muslim group were "reminiscent of something not seen for a long time", he told the BBC.
The UK would work with its allies to take appropriate action, he insisted.
China's UK ambassador said talk of concentration camps was "fake".
Liu Xiaoming told the BBC's Andrew Marr that the Uighurs received the same treatment under the law as other ethnic groups in his country.
Shown drone footage that appears to show Uighurs being blindfolded and led to trains, and which has been authenticated by Australian security services, he said he "did not know" what the video was showing and "sometimes you have a transfer of prisoners, in any country".
"There is no such concentration camps in Xinjiang," he added. "There's a lot of fake accusations against China."
It is believed that up to a million Uighur people have been detained over the past few years in what the Chinese state defines as "re-education camps".
China previously denied the existence of the camps, before defending them as a necessary measure against terrorism, following separatist violence in the Xinjiang region.
The authorities have recently been accused of forcing women to be sterilised or fitted with contraceptive devices in an apparent attempt to limit the population, prompting calls for the UN to investigate.
'Deeply troubling'
Asked whether the treatment of the Uighurs met the legal definition of genocide, Mr Raab said the international community had to be "careful" before making such claims.
But he said: "Whatever the legal label, it is clear that gross, egregious human rights abuses are going on.
According to recent research by the Victims of Communism Memorial Foundation, the rate of population growth in the two largest Uighur prefectures in Xinjiang fell by more than 80% between 2013 and 2018.
China does not accept the findings and pressed on the figures, China's ambassador to the UK Liu Xiaoming said that the Uighur population in Xinjiang stood at four to five million 40 years ago and had now grown to 11 million.
''People say we have ethnic cleansing, but the population has doubled,'' he added.
Demographic research, which draws on Chinese official data and media reports, doesn't go back as far as 40 years.
But it suggests there was a rapid rise in the growth rate of the population in Xinjiang between 2005 and 2015, followed by a sharp fall over subsequent years.
"It is deeply, deeply troubling and the reports on the human aspect of this - from forced sterilisation to the education camps - are reminiscent of something we have not seen for a very long time.
"We want a positive relationship with China but we can't see behaviour like that and not call it out."
There are growing calls for the UK to impose sanctions, such as asset freezes and travel bans, on Chinese officials responsible for the persecution of the Uighurs.
A petition backing the move has amassed more than 100,000 signatures, meaning it will be considered for debate in Parliament.
The UK recently took action against senior generals in Myanmar who orchestrated the campaign of violence against the Rohingya and against North Korean bodies behind forced labour camps.
Mr Raab said this showed that the UK was prepared to take action unilaterally, as well as through bodies like the UN, but it was "not as simple as deciding you can willy nilly sanction X or Y".
"You have to, as we have done with the Rohingya and North Korea, build up an evidence base and that takes a long time to do because you have got to identify accurately and responsibly those involved," he said.
BBC News diplomatic correspondent James Landale said: "The risk for Britain is that it gets caught in the crossfire between Washington and Beijing.
"The price for defending human rights could be less trade with China - and that could prove costly in a post-Covid economic downturn."
Conservative MPs are also pressing for action against senior officials in the Hong Kong government following the imposition of a new security law which the UK says violates international agreements protecting freedoms.
The foreign secretary is due to update Parliament on Monday on the UK's response, amid speculation it will scrap the UK's existing extradition treaty with the former British colony.
'Tit-for-tat'
Speaking on The Andrew Marr Show, the Chinese ambassador said if the UK - which has also offered residency rights to three million Hong Kongers eligible for British passports - targeted its officials, his country could retaliate.
"If the UK goes that far to impose sanctions on any individuals in China, China will certainly make a resolute response to it," he said.
He dismissed claims of "ethnic cleansing" of the Uighurs as baseless, saying they "enjoy peaceful, harmonious coexistence with other ethnic groups of people".
He said figures suggesting population growth in Uighur areas had fallen by 84% between 2015 and 2018 were "not correct", claiming the number of Uighurs in the whole of Xinjiang had "doubled" over the past four decades.
"There is no so-called pervasive, massive forced sterilisation among Uighur people in China," he added. "Government policy is strongly opposed to this kind of practice."
While he "cannot rule out single cases" of sterilisation, he insisted "we treat every ethnic group as equal".
https://www.bbc.com/news/uk-politics-53463403
--------
France, Italy, Germany threaten foreign countries with sanctions over Libya arms
18 July 2020
France, Italy and Germany are "ready to consider" imposing sanctions on foreign powers that violate an arms embargo in Libya, a joint statement by the EU countries' leaders said Saturday.
"We ... urge all foreign actors to end their increasing interference and to fully respect the arms embargo established by the United Nations Security Council," the statement said.
For all the latest headlines follow our Google News channel online or via the app.
"We are ready to consider the possible use of sanctions should breaches to the embargo at sea, on land or in the air continue and look forward to the proposals the EU High Representative/Vice President will make to this end," it added.
https://english.alarabiya.net/en/News/north-africa/2020/07/18/France-Italy-Germany-threaten-foreign-countries-with-sanctions-over-Libya-arms.html
--------
Russia holds military drills in southwest amid clashes between Azerbaijan and Armenia
18 July 2020
Russia is holding military exercises to test its combat readiness amid clashes between its ally Azerbaijan and Armenian forces, Russia's defense minister told his Azeri counterpart on Saturday.
The Defense Ministry described the exercises as a routine check of the army's capacity to ensure security in Russia's southwestern region and denied any links between the training and the fighting taking place in the Caucasus region, south of Russia.
More than a dozen Armenian and Azeri soldiers have been killed in recent days in clashes between the two former Soviet republics which have long been at odds over Azerbaijan's breakaway, mainly ethnic Armenian region of Nagorno-Karabakh.
For all the latest headlines follow our Google News channel online or via the app.
Russia, which has a military base in Armenia, has urged the two sides to cease fire and show restraint. The Kremlin has said Moscow is ready to act as a mediator.
Russian Defense Minister Sergei Shoigu and Azerbaijan's Sakir Hasanov discussed the clashes in a phone call on Saturday.
The drills involve around 150,000 troops and 400 aircraft, according to the defense ministry.
The two sides accuse each other of shelling military targets and villages, and Azerbaijan has warned Armenia it could strike the Metzamor nuclear power station if its Mingechavir reservoir or other strategic outlets were hit.
Armenian Prime Minister NikolPashinyan said on Saturday Azerbaijan posed a threat to his country and global security, saying the threat to attack one of its nuclear power stations amounted to "a threat to commit terrorism."
Russia considers Armenia to be a strategic partner in the South Caucasus region and supplies it with weapons.
"I categorically deny any link between the activities held by the armed forces of the Russian Federation and the escalation on the Armenian-Azeri border," deputy defense minister Alexander Fomin said in a separate statement, quoted by Russian news agencies.
https://english.alarabiya.net/en/News/world/2020/07/18/Russia-holds-military-drills-in-southwest-amid-clashes-between-Azerbaijan-and-Armenia.html
--------
India
MEA cites Afghanistan Sikh's case to switch gears on CAA
Jul 20, 2020
NEW DELHI: Until a few months ago, the MEA was trying to calm tempers and apprehensions among neighbouring countries like Bangladesh and Afghanistan ab- out the Citizenship Amendment Act (CAA). On Friday, the foreign office indicated that persecuted Hindus and Sikhs in Afghanistan could use the CAA to take Indian citizenship and move to India for their safety.
This came as India conveyed its gratitude to the Afghan government for securing the release of Sikh leader Nidan Singh Sachdeva, who had been kidnapped in Chamkani district of Paktia province on 22 June. In a statement, the MEA spokesperson said, "In a recent decision, India has decided to facilitate the return of Afghan Hindu and Sikh community members facing security threats in Afghanistan to India." This is the first time the Indian government has openly pointed to the CAA as a route to citizenship for minorities in neighbouring countries.
After Parliament passed an amendment to the Citizenship Act in December 2019, India faced a barrage of protests from Bangladesh, Pakistan and Afghanistan, along with many Indians who felt the amendment was discriminatory, and linked to the National Register of Citizens (NRC). The Afghanistan embassy in New Delhi actually gave out special identity cards to Afghan Sikhs residing in India who, they said, could use the cards for passports etc. According to some estimates, there are over 1,000 Sikhs and Hindus in Afghanistan who have been targeted by Taliban and other Islamist groups — the March 25 attack on a Kabul gurdwara which killed 25 was one example.
In recent months, the government has highlighted ill-treatment of Hindu minorities in Pakistan as well, in a reminder to those that are opposed to it that this was why the CAA had been passed in the first place.
While groups as diverse as Taliban and ISKP are seen to be targeting Hindu and Sikh minorities, the Indian government believes they are being instigated by Pakistan. The MEA said, "The targeting and persecution of minority community members by terrorists at the behest of their external supporters remains a matter of grave concern." These events in India's neighbourhood will not cease, but they will provide greater justification for the passage of the CAA by the Modi government.
https://timesofindia.indiatimes.com/india/mea-cites-afghanistan-sikhs-case-to-switch-gears-on-caa/articleshow/77057257.cms
--------
Delhi: 19th Century Mosque, Mubarak Begum, Damaged by Lightning
by Somya Lakhani
July 20, 2020
Masjid Mubarak Begum, a striking structure in Old Delhi built in the early 19th Century by a courtesan, suffered considerable damage early Sunday morning due to torrential rain and lightning.
Of the three domes on the red sandstone mosque, the one in the centre broke and turned to rubble. The naib muezzin of the mosque, Zahid, told The Indian Express, "Around 6.45 am, I was standing outside the mosque and it was pouring heavily. Suddenly lightning struck, and the dome in the centre just broke. There were two-three devotees inside too. No one was hurt. We have locked it up and will submit an application for restoration to the Delhi Waqf Board on Monday."
Himal Akhtar, member, Delhi Waqf Board, said that "an architect and junior engineer will be deployed Monday for inspection. We will conserve the mosque on a priority basis."
The Delhi chapter of Archaeological Survey of India (ASI) said that the mosque doesn't come under their jurisdiction.
It was in 1822 that Mubarak Begum, the senior-most partner of Sir David Ochterlony — the British resident of the Mughal Court — built the mosque in Hauz Qazi chowk, said author Rana Safvi.
"It was built by Mubarak Begum, who was a courtesan, and the senior-most wife of Sir David Ochterlony. It was built on the first floor and there were shops underneath it. This was usually the case with mosques built in busy bazaars as the ground floor was for shops. There are more such mosques in Delhi," said city chronicler and author Sohail Hashmi.
Hashmi said that "living monuments" such as old mosques and temples where prayers happen are "not protected by the ASI". He said, "This needs to change as these are heritage structures which are being neglected. Proper maintenance is needed which bodies like ASI can do."
https://indianexpress.com/article/cities/delhi/delhi-19th-century-mosque-damaged-by-lightning-6514109/
--------
Gujarat: Godhra mosque a Covid centre now
Jul 20, 2020
VADODARA: For so long, since the time of the pandemic outbreak, the second biggest mosque in Godhra had been offering prayers for Covid-19 patients. However, it has now taken its services a step ahead and turned one of its floor into a care centre for Covid patients.
Opened last week, this facility is already facilitating treatment to nine positive patients from different communities.
The ground floor of Aadam mosque, which was designed to accommodate female haj pilgrims, has now been converted into a designated Covid-19 care centre. The decision by the mosque's managing trust was inspired by the rise in the number of cases in the region.
"Godhra Muslim Samaj, our maulvis and a group of Muslim doctors had sought permission from the district collector and chief district health officer for a 50-bed facility. We got approval for a 32 beds and started the facility on July 11. Of these 32 beds, 16 are for patients to be kept in isolation while the other 16 are for positive patients," said a doctor.
"We had bought hospital furniture from a hospital in Ahmedabad which was closing down," said Abdul Kadir Hayaat, mosque's managing trustee.
https://timesofindia.indiatimes.com/city/vadodara/godhra-mosque-turns-one-floor-into-covid-care-unit/articleshow/77057301.cms
--------
Pak shells forward areas along LoC in J&K's Rajouri
Jul 19, 2020
JAMMU: Pakistan army resorted to unprovoked firing and shelling on forward areas along the Line of Control (LoC) in Rajouri district of Jammu and Kashmir Sunday evening, a defence spokesman said.
Indian Army retaliated befittingly and the cross-border shelling between the two sides in Sunderbani sector was continuing when the last reporters were received, he said.
"At about 7.15 pm, Pakistan initiated the unprovoked ceasefire violation by firing with small arms and intense shelling with mortars in Sunderbani sector (Rajouri)," the spokesman said.
However, he said there was no immediate report of any casualty on the Indian side.
The latest ceasefire violation comes close on the heels of the killing of three civilians -- a couple and their son -- in Pakistani shelling along the LoC in Poonch district Friday night.
https://timesofindia.indiatimes.com/india/pak-shells-forward-areas-along-loc-in-jks-rajouri/articleshow/77054380.cms
--------
Ahead of Eid, J&K L-G appeals to people to follow social distancing
by Bashaarat Masood
July 20, 2020
Ahead of Eid, Jammu and Kashmir's Lt Governor G C Murmu on Sunday appealed to people to maintain distance during the "upcoming festival".
"Only you can save yourself from this infection. As such it is necessary that when you go to public places, please use masks and follow the guidelines of social distancing. In this situation, if we don't follow it, the possibility of the fast spread of infection would increase," he said in a video statement issued by the government. "As such I would like to appeal to all of you, support the administration and follow all the rules and maintain distance in the upcoming festival".
The Kashmir Valley would celebrate Eid on August 1.
The Lt Governor said the Covid-19 cases in Kashmir have seen a surge after the government relaxed lockdown restrictions. "To a large extent, we had been keeping corona pandemic under control in J&K but after the un-locking started, from the last 15 days, positive cases have started to increase," he said. "In this situation, I would like to appeal to you all that with economic development, it is also the responsibility of all to safeguard life as well… There is the important role of the citizens (in it)".
He said the government has "opened some areas" as economic activity is important.
https://indianexpress.com/article/india/ahead-of-eid-jk-l-g-appeals-to-people-to-follow-social-distancing-6513938/
--------
3 militants killed in J&K encounter
July 19, 2020
Three militants were killed in a gunbattle in South Kashmir's Shopian district on Saturday, according to J&K Police.
Army launched an operation in Amshipora village of Shopian based on a specific input about the presence of militants in the area, police said.
"During search, terrorists fired upon Army personnel and the encounter started. Later on, police and CRPF also joined (the operation). During the encounter, three unidentified terrorists were killed," police said in a statement on Saturday.
According to police, three bodies were retrieved from the site of the encounter. "The identification and affiliation of the killed terrorists is being ascertained," police said.
Police said the bodies have been sent to Baramulla for last rites after conducting medico-legal formalities, including collection of DNA.
https://indianexpress.com/article/india/3-militants-killed-in-jk-encounter-6512706/
--------
South Asia
Kidnapped Sikh community leader in Afghanistan released: MEA
Jul 18, 2020
NEW DELHI: Nidan Singh Sachdeva, a Sikh community leader of Afghanistan who was kidnapped in Paktia province last month, was released from captivity on Saturday, the Ministry of External Affairs said.
"We convey our appreciation to the government of Afghanistan and tribal elders from the area, whose efforts secured the return of Nidan Singh," it said.
In a statement, the MEA said the "targeting and persecution" of minority community members by terrorists at the behest of their external supporters remains a matter of grave concern.
"In a recent decision, India has decided to facilitate the return of Afghan Hindu and Sikh community members facing security threats in Afghanistan to India," it said.
Sachdeva, a leader of the Hindu and Sikh Community of Afghanistan, was kidnapped in Chamkani district of Paktia province on June 22.
https://timesofindia.indiatimes.com/world/south-asia/kidnapped-sikh-community-leader-in-afghanistan-released-mea/articleshow/77043469.cms
--------
Afghan forces destroy 20 underground tunnels of Taliban in Helmand
20 Jul 2020
The Afghan National and Security Forces destroyed at least 20 underground tunnels of the Taliban group during an operation in southern Helmand province.
The Special Operations Corps in a statement said the Taliban militants were looking to launch attacks in Sarband and Deh Adam Khan areas of Greshk district on Sunday.
The statement further added that the Special Forces defused Taliban's plan to launch attacks and wounded at least 4 militants during the operations.
The statement further added that the Special Forces also discovered defused at least 12 improvised explosive devices during the operations.
The Special Forces also discovered 20 underground tunnels dug by Taliban militants and detonated them, the Special Operations Corps added.
The Taliban group has not commented in this regard so far.
https://www.khaama.com/afghan-forces-destroy-20-underground-tunnels-of-taliban-in-helmand-08969/
--------
Karzai met with Abdullah to discuss ongoing efforts aimed at bolstering peace process
20 Jul 2020
The former Afghan President Hamid Karzai met with Abdullah Abdullah, the Chairman of the High Peace Council, to discuss ongoing efforts aimed at bolstering the peace process.
The Office of the Former President in a statement said Karzai met with Abdullah on Sunday.
The statement further added that the two side discussed ongoing efforts aimed at supporting the process, including the further implementation of prisoners exchange, immediate launch of peace talks and implementation of peace agreement.
The U.S. and Taliban representatives signed a peace deal late in February this year with the release of prisoners being one of the key points for the launch of intra-Afghan talks.
Both the Afghan government and Taliban have so far released hundreds of prisoners to help the peace process.
However, there are concerns that the recent wave of violence led by Taliban could derail the ongoing peace efforts.
https://www.khaama.com/karzai-met-with-abdullah-to-discuss-ongoing-efforts-aimed-at-bolstering-peace-process-08968/
--------
Pakistan
Surging attacks by Baloch separatists increase risks, costs of BRI projects in Pakistan: Report
Jul 19, 2020
BEIJING: A surge in the deadly attacks by Baloch separatists in Pakistan has sent the risks and costs of China's ambitious Belt and Road projects soaring while Beijing's interests at the strategic Gwadar port on the Arabia Sea were caught up in the proxy war between Islamabad and Tehran, according to a media report.
Security risks and costs of the $60 billion China-Pakistan Economic Corridor (CPEC) are rising amid a resurgence of the deadly attacks by separatists in the troubled Balochistan province, home to the Chinese-operated port of Gwadar, a report in Hong Kong-based South China Morning Post said.
The Belt and Road Initiative (BRI) aims to link Southeast Asia, Central Asia, the Gulf region, Africa and Europe with a network of land and sea route. The CPEC is the flagship project of President Xi Jinping's ambitious BRI.
In the third such attack since May, militants opened fire on a patrolling paramilitary convoy in Panjgur district on Tuesday, killing three soldiers and wounding eight others, including an army colonel. Militant ethnic Baloch factions have also recently expanded their range of operations to adjoining Sindh province and its provincial capital Karachi, according to the report.
Beijing's stakes in Sindh are as high as they are in Balochistan, it said.
China's state-owned enterprises run container terminals at Karachi port and have invested in nuclear and coal power projects established both under the umbrella of the CPEC and in partnership with local corporations, it said.
On June 29, four militants were killed by police commandos when they tried to shoot their way into the Karachi Stock Exchange, which is 40 per cent owned by a consortium of three Chinese bourses.
"Baloch groups have not only intensified their attacks but also expanded the outreach of their terrorist violence beyond Balochistan, but it is hard to predict whether this trend will persist," Mohammad Amir Rana, director of the Pakistan Institute for Peace Studies, an Islamabad-based think tank, told the Post.
He said Baloch insurgent factions had historically preferred to conduct low-intensity attacks, while their high-intensity attacks had tended to come in waves lasting "only for a few weeks".
Rana said the CPEC projects and Chinese personnel remained well protected by the dedicated 13,700-strong Special Security Division, led by a two-star Pakistani army general, established in 2017.
"Only low-intensity attacks have been reported around the CPEC project sites, but the financial cost of the security [to Pakistan] is high," he said.
Beijing's political risks are also escalating because of a renewed wave of public anger in many parts of Balochistan against human rights abuses by Pakistani troops deployed to crush the low-intensity insurgency in the province, the report said.
In June, Akhtar Mengal, leader of the Balochistan National Party-Mengal, parted ways with the ruling coalition led by Pakistani Prime Minister Imran Khan's party, citing the government's failure to bring a halt to state-enforced disappearances.
In a subsequent interview with the BBC's Urdu-language service, Mengal said more than 1,500 Baloch had "disappeared" since Prime Minister Khan took office in 2018 and claimed that he had personally secured the release of nearly 500 people from the custody of the security forces.
Because of the political and security situation in Balochistan, China's CPEC investments in the province have hitherto been limited to the development of the Gwadar Port and a road linking it to the coastal highway to Karachi.
The port is not yet fully operational and only recently handled its Afghan transhipment cargo. The city continues to suffer severe power and water shortages, the report said.
Also, Chinese geopolitical interests at Gwadar, the Arabian Sea outlet of the corridor running overland from Xinjiang, have become caught up in a web of espionage and proxy warfare involving Pakistan and Iran, it said.
Both have accused each other of allying with each other's nemeses, India and Saudi Arabia respectively, to support cross-border attacks, it said.
Iran is highly suspicious of Pakistan and its relationship with arch-rival Saudi Arabia, especially since Riyadh was invited in late 2018 to establish a $10 billion oil refinery and storage facility at Gwadar.
"The Iranians feel that Pakistan is not doing enough to secure the border on its side," said Seyed Mohammed Marandi, a professor of English literature and oriental studies at the University of Tehran and renowned political commentator.
"A lot of Saudi money has gone to extremist groups in this region and the Saudis have funded these [Jaish ul-Adl] terrorists," he told the Post.
Similarly, Pakistan is deeply concerned about India's involvement at Iran's Chabahar Port, which is competing with Gwadar for transit cargoes heading to landlocked Afghanistan.
Politicians have warned that popular resentment towards federal government policies in Balochistan is dangerously close to igniting a wider uprising, it said.
Pakistan's former president Asif Ali Zardari last month said the state needed "to be more careful in Balochistan".
Journalist Kiyya Baloch said Chinese security concerns would continue to drag on the pace at which CPEC projects in Gwadar have been developed.
"Despite increasing diplomatic engagement, it is highly unlikely Beijing will make any significant further investment in Gwadar until security is improved," Baloch said.
https://timesofindia.indiatimes.com/world/pakistan/surging-attacks-by-baloch-separatists-increase-risks-costs-of-bri-projects-in-pakistan-report/articleshow/77051071.cms
--------
Pakistan reaffirms support to Kashmiris' struggle
Syed Irfan Raza
20 Jul, 2020
ISLAMABAD: Prime Minister Imran Khan on Sunday reaffirmed Pakis­tan's support to the people of Indian-Occupied Jammu and Kashmir (IOJK) in their struggle for self-determination.
On the occasion of the Accession to Pakistan Day, not only the government but opposition leaders also expressed solidarity and support to the people of occupied Kashmir.
"Kashmiris' right of self-determination is recognised by the United Nations Security Council as well as international laws. We will continue to fight for justice for Kashmiris as they struggle against the brutal & illegal actions of the Hindutva Supremacist Indian government in IOJK," the prime minister said in a tweet.
"Today we commemorate the historic occasion of Youm-i-Ilhaq-i-Pakistan, when Kashmiris passed a resolution for accession to Pakistan," he said. "We reaffirm our commitment to the Kashmiri people and stand with them in their struggle for self-determination."
President Dr ArifAlvi said, in a message, the time was not far away when the sacrifices of the people of the IOJK would come to fruition and they would accede to Pakistan.
In his message to the nation on Kashmir's Accession to Pakistan Day, observed on July 19 every year, the president said the day was meant to reiterate the resolve of the Kashmiri people to get deliverance from the Indian oppression and accede to Pakistan.
The day is observed to commemorate the unanimous adoption of a resolution by the Kashmiri leaders for Kashmir's accession to Pakistan during a meeting of the All Jammu and Kashmir Muslim Conference in the AabiGuzar area of Srinagar on July 19, 1947.
The president said India had been illegally occupying the IOJK and making Kashmir people subject to inhuman torture.
He said Pakistan had been highlighting Indian cruelties in held Kashmir at every international forum and even voices were being raised globally against human rights abuses in IOJK.
The president said India had been violating the UN Security Council's resolutions recognising the Kashmiris' right to self-determination. Indian government's actions to change the demography of the territory were also the violations of these resolutions, he added.
The president urged the international community to play its role for implementation of the UN resolutions.
Foreign Minister Shah Mahmood Qureshi said July 19 marked the day when "true representatives of Jammu and Kashmir adopted a historic resolution for accession to Pakistan".
"Despite decades of Indian occupation, resolve of the Kashmiris and their immutable bond [with Pakistan] stands strong," he said in a statement, adding that the country "reaffirms unwavering support to the Kashmiris in their just struggle for freedom".
Pakistan Muslim League-Nawaz chief and Leader of Opposition in the National Assembly Shahbaz Sharif said the world "must know that no other people have suffered as much as the Kashmiris have for demanding their UN-sanctioned right to self-determination". "Every Pakistani was, is and will continue standing with the Kashmiris during their legal, democratic and democratic struggle," he said in a message.
"Kashmiri belongs to the Kashmiris just as Palestine belongs to the Palestinians and England belongs to the English," he said, adding that the freedom of Kashmir and India's failure to suppress the Kashmiris was an undeniable writing on the wall.
Mr Sharif said the Kashmiris and Pakistanis shared the same destiny and that was why Quaid-i-Azam had declared Kashmir jugular vein of Pakistan. "Indian oppression and brutality cannot force the Kashmiris to surrender their right to their motherland as the Kashmiris have been guarding their commitment to the accession to Pakistan resolution with unimaginable sacrifices till this day," he added.
Pakistan Peoples Party (PPP) chairman Bilawal Bhutto-Zardari hoped in his message that Indian illegal occupation of Kashmir would end soon. "Indian government has broken all previous records of tyranny and barbarity to suppress freedom movement of the Kashmiris," he said.
He said Indian barbarity would further strengthen the struggle and commitment of the Kashmiris and India was destined to destruction and humiliation.
Talking about the response of international world, Mr Bhutto-Zardari said the world community was not fulfilling its duty and demanded that Kashmir issue should be resolved in the light of UN resolutions.
PPP vice president Senator Sherry Rehman said neither the Kashmiris wanted to become a part of India in 1947, when Pakistan came into being, nor now. "Observance of Accession to Pakistan Day in Kashmir even after 73 years is an open proof of that," she added.
Minister for Human Rights Shireen Mazari paid tribute to the Kashmiri people's courage, saying "generation after generation of the Kashmiri men, women and children have confronted and resisted Indian occupation, brutality and incarceration".
Addressing a seminar at National Press Club in Islamabad, Special Parliamentary Committee on Kashmir Chairman Shehryar Khan Afridi said Pakistan continued to provide political and diplomatic support to the people of the occupied valley.
He said India was violating international laws in the valley, adding that the world must take notice of it and warn Delhi about the implications of its actions in the region. He urged the United Nations to take notice of Indian atrocities in the occupied valley.
Mr Afridi said he would visit the Line of Control on EidulAzha as he had done on EidulFitr.
On August 5 last year, the Indian government repealed Article 370 of its constitution, stripping occupied Kashmir of its special status. It also divided occupied Jammu and Kashmir into two union territories; one Jammu and Kashmir and the other the Buddhist-dominated high altitude region of Ladakh. The bifurcation of the territory came into effect on October 31 last year.
A strict lockdown and communication blackout has been in place in occupied Kashmir since then, with only partial relief.
In April, amid the ongoing coronavirus lockdown, the Indian government notified new domicile laws for occupied Kashmir, making an unspecified number of outsiders eligible for residency and jobs.
As many as 25,000 non-locals have been granted domicile certificates in Muslim-majority Jammu and Kashmir since May 18, which local politicians believe is the beginning of a move to change the demographic profile of the region.
https://www.dawn.com/news/1570073/pakistan-reaffirms-support-to-kashmiris-struggle
--------
Testing not the only way to gauge decline in cases: Zafar
Ikram Junaidi
20 Jul, 2020
ISLAMABAD: Special Assistant to the Prime Minister Dr Zafar Mirza has said that when all the trends regarding the novel coronavirus in Pakistan are showing improvement, one must not assess everything through less number of tests being conducted across the country.
"I believe we should not put everything on number of tests. We have passed from spike in mid-June. The testing is a factor, but it should be considered that the number of suspects has been reduced. We have collected data from hospitals and majority of them, apart from a few in Sindh, have told us that less number of people have been visiting hospitals," said the PM's aide on health affairs while talking to Dawn.
Of the 264,593 cases reported since the outbreak of the highly contagious virus in the country, 204,276 patients have fully recovered, indicating that active cases have dropped to 60,317. The country reported 1,777 cases and 47 deaths during the past 24 hours, taking the national tally of cases to 264,593 and death toll to 5,591.
However, the government has been facing criticism from opposition parties for a significant drop in number of daily tests, despite the death of more than 2,200 patients since June 20. The government had increased the number of daily tests to 34,000 last month, but the number of tests per day suddenly fell in the last week of June and on July 18 around 18,000 tests were conducted across the country, triggering scepticism about the actual tally of cases.
Talking to Dawn, the PM's aide said there was no reason to doubt that the spread of the virus had slowed down when all indicators such as number of admitted patients in hospitals and those on oxygenated beds and ventilators had declined. He said even number of deaths had declined.
However, he added, it was correct that a discussion was under way to ascertain whether it was "premature optimism" or "permanent decline" in cases.
"Last week we considered that why the number of tests was reduced as there was no issue regarding capacity of tests. The reply was that the number of suspects has reduced at hospitals and private labs. Though we had a consensus that the number of tests should be increased it was also observed that around 40 to 50 per cent tests are being done through contact tracing policy which is called tracing, testing and quarantine (TTQ). The number of tests would have been further reduced if we lacked TTQ policy [under which all the contacts of patients are tested]," he said.
The PM's aide said that a combination of nine factors turned around the situation in Pakistan. "We started lockdown much earlier on 13th March and it is still going on as restaurants, wedding halls, educational institutions, etc are still closed. The sectors that have been opened are being monitored and fines are imposed for violations. Moreover, contact tracing was improved through TTQ policy which was introduced on April 24. Wearing of mask has been declared mandatory and we are focusing on hygiene," he said.
Dr Mirza said the immunity level, change in nature of virus as well as temperature could be some of the reasons behind the reduction in cases, but there was no doubt that patients' management had also improved. "Initially healthcare workers were not aware that how they should deal with the patients and avoid chances of spread of virus, as the disease was new for everyone, but now patient management has been improved and they have learnt that what works and what does not," the PM's aide said.
"I believe that the NCOC has performed marvellously due to which coordination among the federal and provincial governments has improved. Moreover, we gathered data on a daily bases and tried to devise strategies as per situation due to which the situation improved. I also believe that an X-factor arises in pandemics due to which diseases are controlled," he said.
Asked why cases were increasing in India where the situation has become out of control with around 30,000 cases being confirmed daily, Dr Mirza said India was much more complex, bigger and more diverse country as compared to Pakistan. "India started lockdown bit late and then suddenly withdrew it due to which their situation worsened. How­ever, we had strategy and we successful implemented it," he said.
While talking to Dawn, federal Minister for Plann­ing, Development and Spec­ial Initiatives Asad Umar said that Covid-19 cases had been on the decline, the disease could spread again over EidulAzha as people might not follow the health guideline for shopping.
"I am not worried about Eid prayers as people follow the SOPs during prayers. I fear that the people may not follow the SOPs at cattle markets and in others markets during Eid shopping as they did the same on the occasion of Eid-ul-Fitr," he said.
Mr Umar said he would suggest the masses to opt for 'collective sacrifice'.
https://www.dawn.com/news/1570074/testing-not-the-only-way-to-gauge-decline-in-cases-zafar
--------
Population in Pakistan continues to grow rapidly: report
Anwar Iqbal
20 Jul, 2020
WASHINGTON: Pakistan's total population is estimated at 220.9 million and it is growing rapidly with an annual fertility rate of 3.6 children per couple, says a world population report.
The 2020 World Population Data Sheet — released by the US Population Reference Bureau, Washington — also estimates that the world today has a total of 7.8 billion inhabitants.
Referring to the Covid-19 crisis, the report warns that "population density in urban areas, household size, and population aging contribute to our vulnerability to pandemics".
Also read: Why the Covid-19 crisis is an urban crisis
The report places South Asia among the fastest growing regions in the world and within the region, it marks Afghanistan and Pakistan as the fastest growing populations. Afghan-istan has a faster growth rate than Pakistan, 4.5 per couple. But because of high death rates and low life expectancy, the country's total population is still 38.9m.
At Pakistan's growth rate — 3.6 — a population doubles in 19.4 years. A country needs to bring its growth rate down to 2 per cent a year to reduce its population. The replacement fertility rate is 2.1, the average number of children a couple needs to have to replace themselves.
Bangladesh's total population in 2020 is estimated at 169.8m, with an annual growth rate of 2.3.
With a total of 1.424bn people, China still has the largest population in the world but has been able to reduce its fertility rate to 1.5. China's population is projected to decrease by 2050.
With 1.4bn people, India has the second largest population in the world but has reduced its fertility rate to 2.2.
The United States has a total of 329.9m inhabitants and between 2020 and 2050 its population is projected to increase, but at a much slower pace than recent decades. The US has an annual fertility rate of 1.7, which forces it to allow immigrants to strengthen its work force.
In 91 countries and territories — nearly 45 per cent of the world's population — total fertility rates are below replacement level.
Middle Africa is the youngest region where 46 per cent of the population is under the age of 15 years. Southern Europe is the world's oldest region with 23 per cent of the population aged 65 or above.
Asia is the world's most populous region and its overall population is projected to increase by 15 per cent — from 4.6bn in 2020 to 5.3bn in 2050.
However, the pattern of future population change varies within the region from a 3 per cent decline in East Asia to a 38 per cent increase in Western Asia. Asia's total fertility rate is below replacement level at 2.0.
https://www.dawn.com/news/1570070/population-in-pakistan-continues-to-grow-rapidly-report
--------
Six 'militants' of banned Baloch outfit held
20 Jul, 2020
KARACHI: Police claimed to have arrested six members of a little known Baloch insurgent group, which they said was operating from Afghan soil and being supported by Indian intelligence agency RAW.
Speaking at a press conference, SSP-West Fida Husain Janwari said that the held suspects were planning a terror attack in Karachi.
Acting on a tip-off, the police held six suspects, identified as Sher Khan, Karim Bux, alias Bagal, Dilshad, Mooran Khan alias Molu, Dur Khan and Amir Bux.
The held suspects were affiliated with a banned outfit, the Baloch RaagiAajoiSangar.
"The [group] is being operated from Afghanistan and funded by Indian RAW," said the official.
The police claimed to have recovered six bombs, five grenades, three Kalashnikovs and a large quantity of ammunition from their custody.
During initial investigations, the held suspects disclosed that they were planning a 'major terror act' in the metropolis.
"They were involved in deadly attacks on the army, Frontier Corps and Levies personnel's caravans in Balochistan," said the officer.
The group is being supported by RAW which has been training and funding it, he added. "A strong network of the suspects is being run from Afghanistan," he said.
https://www.dawn.com/news/1570053/six-militants-of-banned-baloch-outfit-held
--------
Africa
Sudanese forces arrest 160 'mercenaries' en-route to Libya
19 July 2020
Sudanese forces arrested around 160 people on the border with Libya who were en-route to the war-torn neighboring country to work as "mercenaries", a state-linked paramilitary group said Sunday.
"The joint security forces stationed at the Sudanese-Libyan border arrested 160 people who were going to work as mercenaries to fight in Libya, including two foreigners," Sudan's Rapid Support Forces (RSF) said in a statement.
The RSF is led by Mohamed Hamdan Dagalo, a leading member of Sudan's transitional ruling council.
For all the latest headlines follow our Google News channel online or via the app.
"Sending Sudanese to fight in Libya as mercenaries is unacceptable," said General Jaddo Hamdan, the RSF's commander in North Darfur state.
"We have been monitoring and securing the border with Libya to combat illegal migration, human trafficking and all cross-border criminal enterprises," he added.
Sudan is currently undergoing a fragile democratic transition after massive protests last year prompted the military to topple long-time autocrat Omar al-Bashir.
In January, a United Nations panel of experts said many Arabs from Sudan's conflict-wracked region of Darfur and neighboring Chad were fighting as "individual mercenaries" in Libya.
The panel said they belonged to the same tribes that made up a majority of RSF personnel, but said there was no "credible evidence" that the RSF itself had deployed in Libya.
The UN experts' report also said several Darfuri armed groups operating in Libya "have participated in various clashes and military operations alongside Libyan warring parties."
Sudan's Darfur region itself remains scarred by war after a rebellion in the early 2000s against al-Bashir was brutally suppressed.
Libya has turned into a regional proxy-war in recent years, amid chaos following the 2011 uprising that toppled and killed dictator Moamer Gaddafi.
Since 2015, a power struggle has pitted Tripoli-based Government of National Accord (GNA) against the Libyan National Army (LNA) headed by General Khalifa Haftar, based in the east of the country.
Last month, Khartoum arrested 122 people including eight children in western Darfur who were allegedly intending to serve as mercenaries in Libya's civil war.
In an interview with AFP in June, Sudan's then foreign minister Asma Abdalla denied that Sudanese forces were involved in the conflict in Libya.
https://english.alarabiya.net/en/News/middle-east/2020/07/19/Sudan-forces-arrest-160-mercenaries-en-route-to-Libya.html
--------
Over 100-Armed Cars Head Towards Libya's Bani Walid Town: Reports
18 July 2020
More than 100 armed cars passed through the Libyan town of Tarhunah towards the town of Bani Walid, southwest of Tripoli, an Al Arabiya correspondent said on Saturday.
No further details have been provided yet.
For all the latest headlines follow our Google News channel online or via the app.
The latest development comes after it the US Defense Department's inspector general concluded in a new report that Turkey sent between 3,500 and 3,800 paid Syrian fighters to Libya over the first three months of the year. The new report is the first to detail Turkish deployments that helped change the course of Libya's war.
The report comes as the conflict in oil-rich Libya has escalated into a regional proxy war fueled by foreign powers pouring weapons and mercenaries into the country. The US military has grown increasingly concerned about Russia's growing influence in Libya, where hundreds of Russian mercenaries backed a campaign to capture the capital, Tripoli, in the country's west.
France, Italy and Germany also said on Saturday that they are "ready to consider" imposing sanctions on foreign powers that violate an arms embargo in Libya, a joint statement by the EU countries' leaders said Saturday.
https://english.alarabiya.net/en/News/north-africa/2020/07/18/Over-100-armed-cars-head-towards-Libya-s-Bani-Walid-town.html
--------
Libyan vehicles attempting to infiltrate Tunisia, says Tunisian defense minister
18 July 2020
Tunisia has intercepted four vehicles trying to infiltrate the country from the Libyan border, said the Tunisian defense minister according to reports on Saturday.
The Tunisian government would not allow the country to be infiltrated by militants from Libya, which is currently mired in civil war, Al Arabiya sources reported.
Tunisia faces a political crisis of its own after Prime Minister Elyes Fakhfakh retired abruptly on Wednesday.
The country now faces a there a new round of government formation talks followed by an election if they fail.
Tunisia has been hit by an economic crisis and the impact of the coronavirus pandemic.
https://english.alarabiya.net/en/News/north-africa/2020/07/18/Libyan-militants-attempting-to-infiltrate-Tunisia-says-Tunisian-defense-minister.html
--------
Iran linking with Somalia's al-Shabab to funnel weapons to Houthis: Foreign Policy
19 July 2020
Iran has established relations with and is using al-Shabab militant group in Somalia to attack US and other foreign forces in the country and in the region, a Foreign Policy article said on Friday citing Somali government and security officials.
Iran has a proxy network in Somalia and uses facilitators to provide support to "violent extremist organizations" to counter the influence of the US and the Gulf states, the article said.
For all the latest headlines follow our Google News channel online or via the app.
Iran, which has established its proxy network in Somalia using financial incentives, uses the country to funnel weapons to the Houthi militia in Yemen and to transit weapons to other countries in Africa such as Kenya, Tanzania, South Sudan, Mozambique, and Central African Republic, the article said.
Iran is present in Somalia through the Islamic Revolutionary Guard Corps (IRGC), the article said, adding that the IRGC's overseas arm, the Quds Force, has established ties with "extremist groups and criminal networks."
The Quds Force uses these networks to smuggle Iranian oil into Somalia and later sell it at cheap prices across Africa to subvert US sanctions, the article said citing Somali police and finance ministry officials.
Some of the earnings are used to support militants in Yemen and Somalia, the article added.
Iran has provided al-Shabab with financial and material support and "may have paid bounties to militants to attack US forces in Somalia and the region," the article said citing a military official involved in operations against al-Shabab in south-central Somalia.
Iranian money and weapons may have been used in 2019 and 2020 al-Shabab attacks on US military bases in Somalia and northern Kenya, as well as the European Union military convoy in Mogadishu, the article said citing Somali defense ministry and security officials.
Security forces involved in operations against al-Shabab in south-central Somalia discovered weapons as well as bomb-making materials and chemicals from Iran, the article said. These officials claim that al-Shabab attacks since 2017 have become more lethal and attribute the group's increased capabilities to foreign-sourced weapons, with the majority coming from Iran and Yemen, added the article.
On January 5, two days after the former head of the Quds Force Qassem Soleimani was killed in a US airstrike in Baghdad, al-Shabab launched an attack on a military base used by US and Kenyan forces in coastal Lamu that killed one American soldier and two contractors.
Al-Shabab did not say its attack was linked to Soleimani's killing, but the timing of the attack and al-Shabab's "history of opportunistic strikes suggests that the two events may have been linked," the article said.
Iran and Russia have been cooperating over the past two years to push the US out of Somalia, the article said citing a Somali military official.
The article suggested the US government uses sanctions to target individuals or groups in Somalia and the region facilitating Iranian proxy activities in Somalia in order to reduce al-Shabab's access to financial and material support from countries like Iran.
The US can also use sanctions to go after individuals and groups engaging with sanctioned elements of the Iranian regime, the article added.
The US should also increase military, security, and economic assistance to Somalia in order to counter the Iranian and Russian presence in the country, the article said.
https://english.alarabiya.net/en/News/middle-east/2020/07/19/Iran-linking-with-Somalia-s-al-Shabab-to-funnel-weapons-to-Houthis-Foreign-Policy.html
--------
Mali opposition rejects mediation offer, demands President Keita must resign
18 July 2020
Mali's opposition alliance has rejected a plan proposed by international mediators to defuse tensions, sticking to its demand that President Ibrahim Boubacar Keita must resign.
The rejection was the latest setback in efforts to end Mali's political standoff that has spiraled into violent clashes which have left 11 people dead.
In a statement late Friday after several meetings with a delegation from the 15-nation ECOWAS bloc, the June 5 Movement said the president's departure had been a "red line" for the mediators.
For all the latest headlines follow our Google News channel online or via the app.
It said this ignored the risk Keita "poses to the very existence of Mali as a nation, republic and democracy."
The June 5 Movement has triggered a show-down with the government over its unflinching demands that Keita resign for perceived failures in tackling the dire economy and Mali's eight-year extremist conflict.
After several anti-Keita protests last month, the latest rally on July 10 turned violent and deepened the political impasse.
Three days of clashes between protesters and security forces left 11 dead and 158 injured, according to an official tally – in the bloodiest bout of political unrest in years.
The ECOWAS mediation team led by former Nigerian president Goodluck Jonathan has been in Mali since Wednesday, meeting the parties in a bid to defuse the crisis.
On the agenda were discussions about the March-April parliamentary election, the disputed outcome of which many analysts say is the root of the crisis.
Mali's constitutional court in April tossed out about 30 results from the elections in a decision that handed seats to members of Keita's party, triggering protests.
But the mediators' compromise offer is substantially similar to an earlier offer made by Keita, which the opposition has already rejected.
The mediating team proposed that Keita remain president, for example, but that new judges be appointed to the constitutional court so that it could revisit its decision on the parliamentary election.
A "new government of national unity" should also be formed, mediators said.
Jonathan, from the ECOWAS team, told reporters Saturday that negotiations had not failed and that meetings would continue.
He added that the ECOWAS team would issue a statement on Saturday or Sunday.
One of the June 5 Movement's leaders, ChoguelMaiga, said late Friday that the mediators' proposals had "reduced our entire struggle to electoral issues."
In the statement issued Friday, the opposition movement said it was insisting the president quit based on his "proven inability to turn Mali around" and the loss of territory, among other issues.
Swathes of Mali lie outside of government control because of an extremist insurgency that began in the north in 2012, before spreading to the center, as well as into Burkina Faso and Niger.
The conflict has claimed thousands of lives and driven hundreds of thousands from their homes.
With the latest political crisis, Mali's allies and neighbors are keen to avoid the fragile Sahel nation of some 20 million people sliding into chaos.
https://english.alarabiya.net/en/News/world/2020/07/18/Mali-opposition-rejects-mediation-offer-demands-President-Keita-must-resign.html
--------
'Bandits' kill 23 Nigerian troops in northwest: Security sources
19 July 2020
At least 23 Nigerian troops were killed when they were ambushed by a gang of so-called "bandits" in a remote village in the northwest of the country, security sources said Sunday.
The gang opened fire Saturday on the soldiers who were on foot in a forested part of the Jibia district in Katsina state, the sources said, speaking on condition of anonymity.
"The bodies of 23 soldiers have been accounted for while some are still missing," a military source said.
In the past, the armed gangs, known locally as "bandits", have been involved in cattle rustling and kidnappings, but a number of experts have recently warned that they could be forging ties with extremist groups in the region.
One militia member said the toll could be "higher than 23", as the search for missing soldiers was underway.
Also on Saturday in the same area, five children were killed and six others injured when a bomb accidentally exploded, a spokesman for Katsina State police said.
It was not clear whether the explosive had been left by the bandits, the statement said.
Katsina State, where President Muhammadu Buhari originates from and where the vast majority of the population lives in extreme poverty, has become increasingly volatile in recent years.
The Nigerian army regularly raids the forests where the armed groups hide, but the number of soldiers is insufficient and villagers organize themselves into civilian militia.
In May, the International Crisis Group, an NGO, warned that the armed gangs could be developing links with extremist groups such as Islamic State in West Africa Province (ISWAP), which is already very powerful in northwest Nigeria.
The "bandits" have killed around 8,000 people since 2011 and forced more than 200,000 to flee their homes, according to an estimate by Brussels-based ICG.
https://www.presstv.com/Detail/2020/07/19/629989/Nigeria-bandits-kill-troops-katsina
--------
Nigerian troops kill 8 senior Boko Haram members
Adam Abu-bashal
20.07.2020
Nigerian troops killed at least eight senior members of Boko Haram in country's northeast, an official said on Sunday.
John Enenche, spokesman for the Nigerian Defense Ministry, told reporters an airstrike targeted Boko Haram in the Goski village of Borno province.
Enenche said the shelters used by Boko Haram and logistic materials were also destroyed during the operation.
Boko Haram launched a bloody insurgency in 2009 in northeastern Nigeria but later spread its atrocities to neighboring Niger, Chad and Cameroon, prompting a military response.
More than 30,000 people have been killed and nearly 3 million displaced in a decade of Boko Haram's violence in Nigeria, according to the UN Office for the Coordination of Humanitarian Affairs.
Violence committed by Boko Haram has affected some 26 million people in the Lake Chad region and displaced 2.6 million others, according to the UN Refugee Agency.
https://www.aa.com.tr/en/africa/nigerian-troops-kill-8-senior-boko-haram-members/1915888
--------
North America
US set to start another Middle East war at behest of Israel, Biden won't change that: Analyst
19 July 2020
The United States is on course to initiate another war in the Middle East at the behest of Israel, and the outcome of the November presidential election is unlikely to lessen that risk, says political analyst Mark Dankof.
"It's very apparent that the Trump administration is itching for a war with Iran, chiefly at the behest of Israel. This is not simply me saying this but even Business Insider admits that Israel has been behind these recent explosions in Iran and these recent activities on Iranian borders that have involved terrorism," Dankof, a former Senate candidate, said in an interview.
"And all of this is a prelude to what they believe will be a successful attempt to provoke a war with Iran, while Trump is still in office," he added.
Dankof said he believed the risk of war will not be reduced if Joe Biden, the presumptive Democratic nominee, wins the election.
"Ron Kampeas of the Jewish Telegraphic Agency underscores the fact that despite the attempts of some so-called progressive Democrats to lessen American support for Zionism and for these wars in the Middle East, that the Democratic platform remains unchanged in regard to a total commitment to Israel," he said.
The analyst said the administration of President Donald Trump has been paving the way for conflict with Iran, citing such contentious moves as the unilateral withdrawal from the 2015 nuclear deal, tightening of economic sanctions, engagement in cyber warfare and the assassination of top Iranian military commander General Qassem Soleimani.
"And it's very clear that this snowball headed down the hill toward war is unlikely to be stopped by anyone at this juncture," he noted.
"Despite the best attempts by some of these so-called progressives to pull the United States back from some of this interventionist militarism, nonetheless this neo-globalist, neo-Zionist, neo-interventionist faction in the Democratic Party seems to be as strong as ever, chiefly because of all of the Jewish money," he pointed out.
"Well over 50% of the money going into the Democratic Party is coming from Jewish sources," the analyst added.
"So when you look at this whole situation of the neoconservative Zionist hijacking of most of the American right that is typified by what has happened with Donald Trump certainly in the Republican Party, or you're looking at the Biden-Clinton-Obama wing of the Democratic Party, with its commitment to Zionism and to ongoing American militarism and interventionism abroad I see no hope that any of this can be stopped at this particular juncture," Dankof said.
"This is all a part of a plan that involves the igniting of a wider war in the Middle East for Zionist interests and secondarily for multinational corporations who of course are trying to steal other people's natural resources," he further noted.
https://www.presstv.com/Detail/2020/07/19/629953/US-war-middle-east-behest-Israel
--------
US, Saudi Arabia doing utmost to 'split Iraq away from Iran': Analyst
19 July 2020
The United States and Saudi Arabia are doing their utmost to drive a wedge between Iraq and Iran, turning the former into an "American vassal state," according to a former US diplomat in the Arab kingdom.
Iraqi Prime Minister Mustafa al-KadhimiKadhimi plans to travel to Iran, Saudi Arabia and the US next week with the declared aim of discussing cooperation in various fields.
This will be Kadhimi's first foreign tour since becoming prime minister on May 7, after the Iraqi parliament approved a new government following nearly six months of political wrangling and protests demanding economic reforms.
"In my view, the trip of the new Iraqi prime minister to meet with Iranian officials and then going to Saudi Arabia and then later on to the United States on the surface looks good. It looks like good diplomacy. But on the other hand, I don't think you can read too much into this beyond the fact that the United States and Saudi Arabia are doing their best to split Iraq away from Iran," Michael Springmann, a Washington-based author and former US diplomat in Saudi Arabia, told Press TV in a phone interview on Saturday.
"I think the whole operation is designed to weaken Iraq, to turn Iraq into more of an American vassal state than it's been in the past, at least in the last few months, there's been evidence of Iraq being sick and tired of being occupied by the American armed forces and wanting to maintain the sovereignty of their country.... So I think the whole thing is going to be counterproductive and will not produce any effects whatsoever, if it comes to that," he underlined.
Kadhimi after 'balance' in ties
Kevin Barrett, an author, journalist and radio host with a Ph.D. in Islamic and Arabic Studies, also told Press TV that the Iraqi premier intended to create a "balance" in political and economic relations between Baghdad, Washington and Riyadh.
"I assume that what he's trying to do is to achieve a kind of balance and try to get the Americans and the Saudis to back off a bit from their bad behavior, and in return, giving them a little bit of an entry in economic projects and so on like that. At least that's probably what he's trying to do with the Saudis but whether that will work is an open question," Barrett said.
"In the US case, they're trying to maintain the hold of this completely illegal occupation that was created not to stabilize Iraq, but rather to destabilize Iraq to take down the achievements of the very dubious dictator Saddam Hussein who at least had largely eliminated corruption except for within his own family, and he had succeeded in building a modern infrastructure for Iraq," he added.
Washington and Riyadh have long been the main beneficiaries of mayhem in Iraq, where they have sought to bolster remnants of Daesh alongside other terrorist outfits.
Unrest and insecurity serves the US goal to extend and justify its protracted military stay in Iraq, which is staunchly opposed by the Iraqi people. Saudi Arabia, on the other hand, sees Takfiri groups as its best hope to wield influence in Iraq and prevent the empowerment of real stakeholders in the country.
Iraqi lawmakers unanimously approved a bill on January 5, demanding the withdrawal of all foreign military forces led by the United States from the country.
The vote followed the assassination of Lieutenant General Qassem Soleimani, the commander of the Quds Force of the Islamic Revolution Guards Corps, along with the deputy head of the Popular Mobilization Units (PMU), Abu Mahdi al-Muhandis, and their companions in a US airstrike authorized by President Donald Trump near Baghdad International Airport two days earlier.
Later on January 9, former Iraqi prime minister, Adel Abdul-Mahdi, called on the United States to dispatch a delegation to Baghdad tasked with formulating a withdrawal plan.
Iraqi resistance groups have vowed to take up arms against US forces if Washington fails to comply with the parliamentary order calling for the expulsion of US troops.
The US has so far refused to withdraw its troops, with Trump threatening to seize Iraq's oil money held in bank accounts in the United States.
https://www.presstv.com/Detail/2020/07/19/629970/Mustafa-al-Kadhimi-visit-US-Saudi-Arabia-Iran-American-vassal-state
--------
Pentagon: 3,800 Syrian rebels in Libya sent by Turkey
July 20, 2020
AhlulBayt News Agency (ABNA): A new Pentagon report said that Turkey sent between 3,500 and 3,800 Syrian mercenaries to Libya during the first three months of this year.
The report on anti-terrorism operations in Africa told the Pentagon, from which the Associated Press quoted excerpts, that Turkey provided funds and offered citizenship to thousands of rebels in exchange for participating in the conflict in Libya alongside forces loyal to the Government of National Accord (GNA) in Tripoli.
The report pointed out that the Syrian mercenaries were not found to have links with terrorist organizations such as ISIS and Al Qaeda, and that financial rewards are most likely the main motives behind heading to Libya, not ideological or political considerations.
The report includes the period up to the end of last March, but it is likely that the reinforcements coming from Turkey have played a role in the progress of the GNA forces last May near the capital Tripoli.
According to the report, 300 Syrian rebels arrived in Libya at the end of last April, and Turkey published an "unknown number" of Turkish soldiers in Libya during the first months of the year.
The report also claimed that hundreds of mercenaries, including Syrians, were sent to Libya by Russia, whose numbers are estimated at between 800 and 2,500.
According to the Pentagon, Russia and the Syrian government have agreed to send between 300 and 400 former combatants in the Syrian opposition from Quneitra to Libya, according to unnamed sources.
In May, the Pentagon accused Russia of sending 14 aircraft to Libya to support the Libyan National Army (LNA) and its leader, Field Marshal Khalifa Haftar.
It should be noted that the Kremlin denied sending Russian soldiers to Libya, as well as the authenticity of reports about the presence of Russians in Libya, where the press spokesman for the Russian presidency said that "there are no Russian soldiers in Russia or any organized groups of citizens of Russia."
https://en.abna24.com/news//pentagon-3800-syrian-rebels-in-libya-sent-by-turkey_1056329.html
--------
URL: https://www.newageislam.com/islamic-world-news/uaes-amal-spacecraft-rockets-toward/d/122421
New Age Islam, Islam Online, Islamic Website, African Muslim News, Arab World News, South Asia News, Indian Muslim News, World Muslim News, Women in Islam, Islamic Feminism, Arab Women, Women In Arab, Islamophobia in America, Muslim Women in West, Islam Women and Feminism