New Age Islam News Bureau
08 November 2020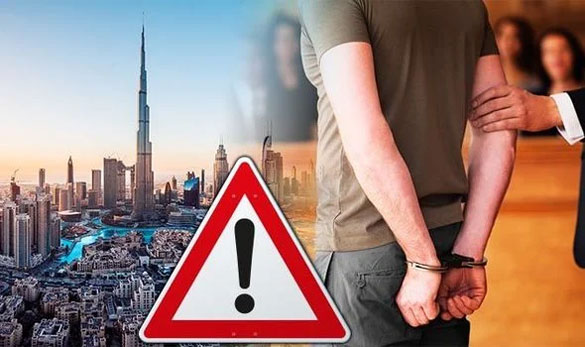 • UAE Relaxes Islamic Laws On Extramarital Sex And Alcohol, Outlaws 'Honour Killings'
• US 'Muslim Ban' Set To End 'On Day One' Of Biden Presidency
• Greek Muslim Figure Slams Insulting Holy Prophet In France
• China Could Face Greater Terrorism Threat As US 'Delists' East Turkestan Islamic Movement, Experts Say
• Tanzim-e-Islami Ameer: Peace Linked To Enforcement Of Islam
• Expert In Urdu Poetry, Punjab Finance Minister, Manpreet Singh Badal, Leaves A Mark In Bihar's Muslim Seats
• Ads Showing 'Borat' Wearing 'Allah' Ring Anger Paris Muslims
Arab World
• UAE Relaxes Islamic Laws On Extramarital Sex And Alcohol, Outlaws 'Honour Killings'
• Al Sagr, Insurance Company In Saudi Arabia, Assigns SRB For Sharia Compliance, To Drive Growth
• Muslims' culturally rooted love for Prophet manifests in his birthday commemorations
• 'Islam' is not in crisis, liberalism is
• Rab'allah demands US troops exit from Iraq
---------
North America
• US 'Muslim Ban' Set To End 'On Day One' Of Biden Presidency
• US to seek PKK's removal from Syria in new alliance with Turkey: Jeffrey
• Joe Biden elected 46th president of United States
• CAIR Congratulates President-Elect Joe Biden, Vows to Hold Biden Administration • Accountable on Muslim Inclusion, Civil Rights, Racial Equality and Just Foreign Policy
-------
Europe
• Greek Muslim Figure Slams Insulting Holy Prophet In France
• Mosque Maulana In Veiled Criticism Of Blackburn Representatives
• German mosque receives Islamophobic letter
• Catholic and Orthodox Church stand side by side with a Mosque in Bosanska Krupa
-------
South Asia
• China Could Face Greater Terrorism Threat As US 'Delists' East Turkestan Islamic Movement, Experts Say
• Afghan Gov't Believes U.S.-Afghan Ties Remain Intact Even after Trump Defeat
• Al-Sunni Discusses With UN General Assembly Latest Developments In Libya
• Scores Busted over Drug Trafficking across Afghanistan
• Saleh: We have 'Observed Head of Pakistani Visa Merchants'
------
Pakistan
• Tanzim-e-Islami Ameer: Peace Linked To Enforcement Of Islam
• World should respect feelings of Muslims, says Basharat
• Sheikh Rasheed asks Sindh govt to do its share of work to revive KCR
----------
India
• Expert In Urdu Poetry, Punjab Finance Minister, Manpreet Singh Badal, Leaves A Mark In Bihar's Muslim Seats
• Muslim League MLA arrested in alleged gold jewellery cheating case in Kerala
-------
Mideast
• Ads Showing 'Borat' Wearing 'Allah' Ring Anger Paris Muslims
• Imam Khamenei: Political, Civil, Decline Of US Regime Definite
• Top Shia Scholar 'Allama Raja Nasir': Destabilizing Pakistan Harmful For Entire Region
• Iran reacts to US election result with guarded optimism
• Bolivian president: La Paz keen on promoting ties with Tehran
-------
Africa
• Strike Pushing Students Into Crime – Islamic Cleric Begs ASUU
• Buhari to Biden: We want your support in the war against Boko Haram
• Zulum Likens Destruction of Lagos Assets to Extremist Attack on N'East
-------
Southeast Asia
• Be Careful With Comments Which Are Disrespectful, Offensive And Lewd, Brunei Imams Urge
• Muhyiddin congratulates Biden, says the voters have decisively chosen
Compiled by New Age Islam News Bureau
URL: https://www.newageislam.com/islamic-world-news/uae-relaxes-islamic-laws-extramarital/d/123409
------
UAE Relaxes Islamic Laws On Extramarital Sex And Alcohol, Outlaws 'Honour Killings'
Bel Trew
08-11-2020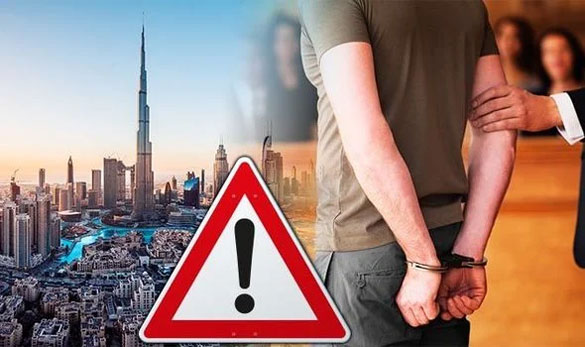 The United Arab Emirates has announced a massive overhaul of its restrictive Islamic laws, including allowing unmarried couples to cohabit, decriminalising drinking without a licence, and toughening previously lenient penalties for perpetrators of so-called "honour killings".
The relaxation of the state's grip on personal freedoms reflects a seismic shift in the country, which is aiming to reposition itself as a major international player and destination for tourists, investors and businessmen, after years of foreigners falling foul of its restrictive legislation.
The reforms will also boost the country's economic and social standing and "consolidate the UAE's principles of tolerance", state-run WAM news agency reported.
It comes after Abu Dhabi signed a US-brokered deal to recognise and build diplomatic ties with Israel, in a move that will likely bring a flood of new tourists and investment as direct flights between the two countries start next month.
The new changes were announced in a government statement carried by WAM with further details given in state-linked paper The National.
They were met with praise on social media, with several users tweeting "welcome to the 20th century" and urging the country to go one step further and decriminalise homosexuality.
Some of the major changes include the decriminalisation of suicide and attempted suicide, which is forbidden in Islamic law. In the past, those who survived a suicide attempt could be prosecuted and at one point would have faced up to six months in jail and a fine of more than the equivalent of £1,000 – although that was downgraded last year and instances of it happening were rare.
According to The National, the amendments will not only decriminalise this but will also ensure that "good Samaritans" who come to the aid of someone in distress cannot be held accountable for injury or death.
In a move to better "protect women's rights", the government said it had also decided to get rid of laws defending "honour crimes", a widely criticised tribal custom in which a male relative may receive lenient punishment or completely evade prosecution for assaulting a woman seen as dishonouring a family.
The punishment for a crime committed to eradicate a woman's "shame" for promiscuity or disobeying religious and cultural strictures will now be the same for any other kind of assault.
Further changes were introduced to make life more palatable for expatriates, who outnumber Emirati citizens by nearly nine to one.
Under the amendments, foreigners will refer to the legal rules of their own country when it comes to issues including marriage, divorce and inheritances, avoiding strict Islamic Sharia courts where, for example, women typically inherit less than their male relatives.
Although alcohol is widely available in bars and clubs within some of the UAE's luxurious coastal cities, like Dubai, previous laws meant that individuals had to obtain a government-issued licence to purchase, transport or store alcohol at home, or face upwards of six months in jail and hefty fines.
The changes scrap penalties for alcohol consumption, sale and possession for those over 21 years of age. They will apparently even allow Muslims who have been barred from obtaining licences to drink alcoholic beverages freely. It is unclear if this will be applied to emirates like Sharjah that are entirely alcohol-free.
The final change will allow unmarried couples to cohabit for the first time. Until now, even unrelated flatmates were not permitted to share a home in the Emirates and could face up to a year in prison and deportation.
While these are big changes for the UAE, which follows traditional Islamic values, they do not include changes to other behaviour deemed illegal or unacceptable, such as public displaces of affection or acts of homosexuality.
https://www.independent.co.uk/news/world/middle-east/uae-islamic-law-tolerance-drinking-b1672921.html
---------
US 'Muslim Ban' Set To End 'On Day One' Of Biden Presidency
Yuri Gripas
8 Nov 2020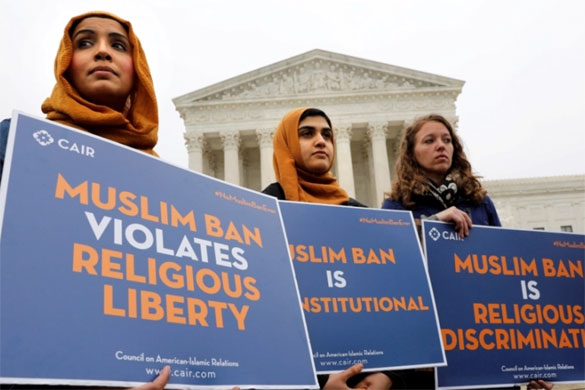 Protesters gather outside the US Supreme Court against President Donald Trump's travel ban on people from Muslim-majority countries in Washington, DC in 2018 [Yuri Gripas/Reuters]
------
On the first day of his presidency, president-elect Joe Biden intends to rescind Donald Trump's travel bans on travellers from 13 countries, most either majority-Muslim or African nations.
Shortly after taking office in 2017, Trump issued an executive order that banned travellers from seven majority-Muslim nations from entering the United States.
The Trump administration reworked the order several times amid legal challenges and the Supreme Court upheld a version of it in 2018. The countries subject to entry restrictions have changed over the years.
The bans could be easily undone as they were issued by executive order and presidential proclamation, according to policy experts, but lawsuits from conservatives could delay the process.
"As president, I'll work with you to rip the poison of hate from our society to honour your contributions and seek your ideas. My administration will look like America with Muslim Americans serving at every level," he said.
Trump imposed the travel restrictions – often referred to by critics as the "Muslim ban" – through a series of executive orders singling out Iran, Libya, Somalia, Syria and Yemen, triggering criticism that it amounted to unlawful religious discrimination.
Trump then expanded the ban to include Venezuela and North Korea and later added Nigeria, Sudan, Myanmar and three other countries to the list.
"Muslim communities are the first to feel Donald Trump's assault on Black and brown communities in this country, with his vile Muslim ban. That fight was the opening barrage in what has been nearly four years of constant pressure and insults," Biden said.
The Council on American-Islamic Relations (CAIR), the US's largest Muslim civil rights and advocacy organisation, congratulated Biden on his victory on Saturday and said it would hold him to his election promises.
"President-elect Biden has pledged to end the Muslim Ban on his first day in office, include Muslims at every level of his administration and address issues of racial and religious discrimination," said Nihad Awad, CAIR's national executive director.
"We plan to join other American Muslim leaders and organisations in ensuring that the Biden administration fulfils these promises. We also plan to continue holding our government accountable when it errs."
During the election campaign, Trump accused Biden of wanting to "end all travel bans, including from jihadist regions", and implied his challenger would allow "people that are going to come in and blow up our cities, do things".
https://www.aljazeera.com/news/2020/11/8/us-muslim-ban-set-to-end-on-day-one-of-biden-presidency
----------
Greek Muslim Figure Slams Insulting Holy Prophet In France
Source: IQNA
November 8, 2020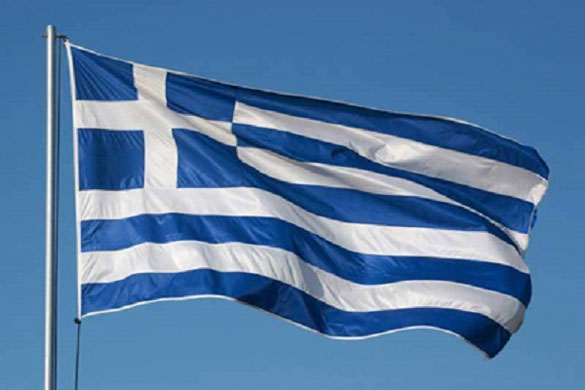 The head of Pomak Muslims in Greece condemned insulting the Holy Prophet (PBUH) in France.
In a telephone conversation with the Iranian Cultural Attaché in Greece, Sheikh Ahmed Imam also condemned French President Emmanuel Macron's support for the act of desecration.
He said republication of insulting cartoons of Prophet Muhammad (PBUH) by a French magazine in the name of freedom of speech was not acceptable.
Sheikh Ahmed Imam stressed that freedom of speech has nothing to do with insulting the sanctities of a religion.
He further called for a global campaign to condemn insults to the Holy Prophet (PBUH).
Pomaks are Bulgarian-speaking Muslims inhabiting Bulgaria, northeastern Greece and northwestern Turkey.
French satirical magazine Charlie Hebdo reprinted offensive caricatures of the Prophet Muhammad (PBUH) last month. The cartoons were originally published by the Danish newspaper Jyllands-Posten in 2005, and then republished by Charlie Hebdo in 2006.
Charlie Hebdo's measure drew strong criticism from Muslim countries who called it an Islamophobic act, despite which French President Emmanuel Macron refused to condemn the measure, citing freedom of expression and claiming that it was not right for a political leader to get involved in editorial matters.
https://en.abna24.com/news//greek-muslim-figure-slams-insulting-holy-prophet-in-france_1084238.html
-----------
China could face greater terrorism threat as US 'delists' East Turkestan Islamic Movement, experts say
Laura Zhou
7 Nov, 2020
China could face a greater terrorism threat as a result of the US removing the East Turkestan Islamic Movement (ETIM), which Beijing has repeatedly blamed for violent acts in Xinjiang and elsewhere, from its list of terror groups, observers say.
The US state department announced the ruling on Friday, with a spokesperson saying the group was delisted "because, for more than a decade, there has been no credible evidence that ETIM continues to exist".
Raffaello Pantucci, a senior associate fellow with the Royal United Services Institute for Defence and Security Studies in London, said that regardless of the US decision, the ETIM would remain a terror group in Beijing's eyes, but the ruling could put further strain on the two nations' already troubled relationship.
"As long as the US prescribed the [ETIM as a] terrorist organisation it meant the US and China could look at counterterrorism cooperation as a possible point of engagement," he said.
The inclusion of the ETIM on the terror list was widely seen as Washington trying to win Beijing's support for its then president George W Bush's so-called war on terror.
The ETIM, which is still listed as a terror group by the United Nations, claimed responsibility for two attacks on government officials in Xinjiang in 2011, while Beijing blamed it for the 2013 car bomb attack in Tiananmen Square, in which five people were killed, and other attacks in Xinjiang.
Rohan Gunaratna, a professor of security studies at Nanyang Technological University in Singapore, said the US was wrong to delist the ETIM as the move could put China and Chinese people living abroad at risk.
Besides the UN, the European Union, Britain and Turkey all classify the ETIM as a terror group, which according to Gunaratna means the potential security threat extends far beyond China's borders.
"The ETIM is not a group operating in Xinjiang," he said. "It is operating in Asia, in the Gulf, in the Middle East and in North America.
"If the ETIM is removed from the list, it will organise itself outside China and attack Chinese targets abroad, including Chinese organisations, Chinese tourists, Chinese airlines."
The UN Security Council said in a report in July that the ETIM controlled between 1,100 and 3,500 fighters, most of them in the city of Jisr al-Shughur in northwest Syria, with about 500 in Badakhshan, a province in northeast Afghanistan that shares a 90km (56 mile) border with Xinjiang.
China has instigated sweeping counterterrorism measures in Xinjiang, including setting up mass internment facilities, which it claims offer "vocational education and training" to stop Muslims being drawn into extremist groups but which have been roundly criticised by national governments and human rights groups.
Yue Gang, a military commentator in Beijing, said that in the wake of the US decision on the ETIM China might seek to increase its counterterrorism activities with its neighbours, like Afghanistan, and other nations.
"After years of crackdown, the progress of counterterrorism in Xinjiang has been apparent," he said. "The potential threat is outside China, like Europe, the Middle East and Central Asia, where China should work hard to win the support of local governments."
https://www.scmp.com/news/china/diplomacy/article/3108910/china-could-face-greater-terrorism-threat-us-delists-east
---------
Tanzim-e-Islami Ameer: Peace Linked To Enforcement Of Islam
Our Correspondent
November 7, 2020
LAHORE: Tanzim-e-Islami (TI) Ameer Shujauddin Sheikh has said that if we want to make the world a cradle of peace the system revealed to the Holy Prophet (PBUH) by Allah Almighty would have to be established on a global scale.
In a statement on Friday, he said the US presidential election clearly revealed the concavity and futility of the American system. He noted that the appalling spectacle of hatred and hostilities in the recent US elections put all those who advocated the modern Western democracy as the so-called "pinnacle of the civilisation and progress" to absolute shame. He remarked that all man-made government systems had failed miserably to deliver.
https://www.thenews.com.pk/print/740207-peace-linked-to-enforcement-of-islam
----------
Expert In Urdu Poetry, Punjab Finance Minister, Manpreet Singh Badal, Leaves A Mark In Bihar's Muslim Seats
CHITLEEN K SETHI
7 November, 2020
Chandigarh: Impressed by his mastery over Urdu, the Bihar Congress had got the Punjab Finance Minister Manpreet Singh Badal to campaign for it, especially in the Muslim-dominated areas of the state.
Back in Punjab after a 10-day hectic round of campaigning in over a dozen constituencies of Seemanchal (Eastern Bihar), Manpreet is confident change is in the air. "The writing is on the wall," he told ThePrint Saturday. Polling for the last phase of elections ended today. Results will be out Tuesday.
Known for his choice of Urdu couplets that interspersed his budget speeches, the five-time MLA is not just an expert in the Urdu poetry but has also read the Quran and is familiar with the Hadees and Sunnat. His knowledge of the Muslim culture and ethos was evident through his campaign.
"The invocation of Allah is almost similar to how we start a speech in Punjab with WaheGuru ji ka khalsa WaheGuru ji ki fateh," he says. "It's like making the beginning auspicious. What was interesting is that it always invoked a surprised delight from the crowd. I think they didn't expect a Sardarji from Punjab to start speaking of things written in the Quran and the Hadees."
"I only quoted Punjabi poets and only inquilabi (revolutionary) poetry. In political speeches one tries to use couplets that are otherwise known — like the aam faham sher, which people would relate to," he explains. "And yet a single couplet or poem is equivalent to half an hour of speech. It engages the people and draws them into what you are saying."
One of the more commonly used couplets in his speeches was Iqbal's: "Khuda ne aaj tak us qaum ki halat nahin badli, Na ho jisko khayal aap apni halat ke badalne ka."
And another of Faiz Ahmed Faiz: "Aye Khak Nashino Uth Baitho Woh Waqt Qareb Aa Pohcha Hai, Jab Takht Girae Jaein Ge Jab Taj Uchale Jaeinge, Ab Tut Girein Gi Zanjirein Ab Zindano Ki Kher Nahi, Jo Darya Jhom Ke Uthein Hein Tinkon Se Na Taale Jaein Ge."
Manpreet was accompanied by well-known Urdu poet Imran Pratapgarhi during his campaign. "Imran is hugely popular in that area and is a very good poet. He sings his poetry and is a crowd puller like no other," says Manpreet.
"Democracy is relatively new to India. If there was anybody who had a licence to speak up before that, it was the poet. They could do it even in the presence of royalty," he says. "The art of public speaking has relied majorly on the poets and this has been true not only of India but also the Greek and Roman cultures."
"Whether I spoke in Urdu or in Hindi the one common factor that evoked strong emotional response from the public was that despite being one of the most fortunate states in the country in terms of land, its fertility, its people, their labour, they continued to live in abject poverty. This is because of their political leadership," he says.
https://theprint.in/politics/expert-in-urdu-poetry-punjab-finance-minister-leaves-a-mark-in-bihars-muslim-seats/539229/
----------
Ads Showing 'Borat' Wearing 'Allah' Ring Anger Paris Muslims
By CNAAN LIPHSHIZ
7 November 2020
JTA — A billboard showing Sacha Baron Cohen lying seductively while wearing little more than a ring featuring the word Allah in Arabic is riling up Muslim bus drivers in France.
The ads are a promotion for the Jewish actor's new film, the sequel to "Borat," and they come amid a spate of jihadist attacks spurred in part by representations of Islam and at a time of rising tensions around the French government's controversial crackdown on radical Islam.
Among the attacks in recent weeks, a teenager from Chechnya who lived in France as a refugee beheaded a history teacher, Samuel Paty, because Paty had shown his student caricatures of Mohammed from the Charlie Hebdo magazine. In 2015, two jihadists murdered 12 people at the magazine's headquarters over the caricatures; days later, their accomplice murdered four Jews at a kosher store.
Bus drivers are protesting the ad, which is part of the film's international promotion by Amazon and shows a ring that Borat frequently wears. One driver on Twitter posted a video calling the poster "unbelievable" and offensive and promising to remove it. He did not show his face in the video or identify himself.
Other drivers have shared the video in solidarity, according to Le Parisien, in a social media push that bears a resemblance to the one that appears to have inspired Paty's alleged murdered to target him.
In addition, an unusual number of vandalism cases was observed in Paris region buses since the ads went up, according to the France 3 network. And some transportation officials fear that the billboard may have provoked the torching of an RATP bus in the northwestern suburb of Sartrouville on October 31, Le Figaro reported. Two unidentified men hurled firebombs at the bus, destroying it beyond repair.
The regional bus operator that handles advertising and employs some drivers said it would not remove the Borat ads. But some companies that provide services to the central operator said they would take the ad down.
"A technical error has occurred. This billboard should never have appeared on our buses," a spokesperson for one operator serving areas south of Paris told the Actu news site. "It was deemed incompatible with the image that we want for our network, which serves multiple ethnic neighbourhoods."
https://www.timesofisrael.com/ads-showing-borat-wearing-allah-ring-and-little-else-anger-paris-muslims/
----------
Arab World
Al Sagr, Insurance Company In Saudi Arabia, Assigns SRB For Sharia Compliance, To Drive Growth
MANAMA
08-11-2020
Al Sagr, one of the leading insurance players in Saudi Arabia, has assigned Shariyah Review Bureau (SRB) to drive growth with Sharia compliance.
Sarran AbuSaq, CEO at Al Sagr, said: "We are writing the next chapter of our insurance business. The intended transformation with Sharia compliance is to make Al Sagr an enterprise-wide agile company rather being a traditional risk taker. This includes creating new options to Islamic insurers, clients and businesses whilst being complementary to our existing customers."
"Our mandate continues to be to provide attractive and diverse insurance opportunities for our clients which also meet the broader needs of Al Sagr's long term growth and development," he added.
Commenting on the assignment of Shariyah Review Bureau, AbuSaq explained: "Assigning an experienced Sharia advisory firm like them is a significant commitment from our end. With their regional footprint and cooperative insurance track record in the Kingdom, we believe that our sophisticated and tailored insurance offerings and high customer service level approach will be immensely valuable to corporate clients, providing and giving them the backing and certainty of Sharia compliance that they need in today's challenging market conditions."
As part of its work, Shariyah Review Bureau (SRB) will set-up the Sharia Committee, review all insurance products and related documents and enable the transformation by studying key business functions including re-insurance, claims and investments in light of Sharia principles. It will now manage the ongoing Sharia compliance of Al Sagr through periodical Sharia audits and supervisory reviews.
Yasser S Dahlawi, Founder and CEO of SRB, said: "What makes SRB unique is our ability to facilitate Sharia supervisory actions like product assessment, screening, Sharia Board administration and independent Sharia audits on a single platform. This approach helps improve the Sharia compliance process and enables our clients to reduce cost, improve transparency in reviews and certification and enhance the experience for Shari audit and reporting."
"Relieving Al Sagr's workforce of Sharia supervisory related administrative tasks will help them grow, develop and compete more effectively in today's economy," he added.
http://www.tradearabia.com/news/BANK_374855.html
----------
Muslims' culturally rooted love for Prophet manifests in his birthday commemorations
RUBA OBAID
November 07, 2020
JEDDAH: More than 2 billion Muslims in the world, regardless of sect or group, believe that loving the Prophet Muhammad (PBUH) is a fundamental Islamic tenet, an innate feeling of closeness celebrated annually in his birth month.
With Saudi Arabia recently lifting the ban on visiting the Prophet's Mosque in Madinah, coinciding with the Prophet's birth month, a sense of calm has been restored to the millions who want to come to pray in one of Islam's holiest mosques.
For Muslims everywhere, the prophet is the most influential man in the world, a man possessing the highest moral excellence even before he became prophet. Different sources show that he was well-respected even by those who rejected his message.
The most obvious manifestations of Muslims' love for the Prophet are the Mawlid celebrations, where Muslims commemorate the Prophet's birth in a spiritual atmosphere. It is the expression of their love for the Prophet, a very special occasion that was adopted by Muslims two-and-a-half centuries after his death.
The Prophet's birthday is fixed by tradition as the 12th day of the month of Rabi Al-Awwal—the third month of the Islamic calendar. It is said that he was born in 570 in Makkah and died in 632 in Madinah, where he had been forced go with his adherents in 622.
In the Hijaz region of western Saudi Arabia, many people consider Rabi Al-Awwal a month of celebration, so they take part in various charitable activities throughout the month, distributing food to the poor and donating money to local organizations. However, special attention is dedicated to the 12th night, the Mawlid.
It is a simple celebration where we gather to hear of his Sira (Life) and listen to Madh (Praise) that has been written for him, which has many sources in poetry and prose.
It is written in Ibn Kathir: "The Night of the Prophet's birth is a magnificent, noble, blessed and holy night, a night of bliss for the believers, pure, radiant with lights and of immeasurable price."
"It is a simple celebration where we gather to hear of his Sira (Life) and listen to Madh (Praise) that has been written for him, which has many sources in poetry and prose," Usama Al-Kubaisi told Arab News. "Since it is boring to read a prose text in a group of people, we collectively read poetry, recite prayers to the Prophet and remember his moral characteristics and the blessing of his message."
There is no one way or one text used in these celebrations. Mawlid authorship is diverse and gathers different schools of thoughts, including Sufi, Shaf'i, Hanafi and even Hanbali. Texts usually tell his story of his life in detail, from his birth through all events in his life until his death, mentioning his looks, morals and noble deeds to remember him and follow his example.
Some of the best known texts read during Mawlids in Saudi Arabia are those by Al-Sakhawi, Al-Barzanji, and Al-Qawuqji, which describe the Prophet's characteristics and features.
"In Islam, we have the philosophy of dhikr or remembrance, it is a remedy to human's deep-rooted forgetfulness. Therefore, we always need something to make us remember, draw attention back to ourselves, wonder about our truth, and look at what actually occupies our hearts and minds, our hopes and our goals. Occasions such as Mawlid play a similar role in a Muslim's life," Al-Kubaisi said.
Dhikr is at the heart of Islam and is practiced to build divine connection at different levels. Al-Kubaisi compares the Mawlid's value for a Muslim's life to the obligatory five daily prayers. However, the Mawlid is an annual reminder.
Although some people question the religious validity of such celebrations, Ibn Taymiyya, one of the most well-respected Islamic scholars, said the celebration of Mawlid "is good and in it there is a great reward," as it motivates people to follow the Prophet's perfect example.
"In Saudi Arabia, Mawlid is celebrated mostly by Sufis or admirers of the Sufi practice in the Kingdom but is not limited to them. However, it is not accepted by the Salafis." Fadhel, from Jeddah, said.
"Some well-known families in Hijaz celebrate it and hold annual gatherings such as in the house of the scholar Muhammad Alawi Al-Maliki, in Makkah."
Fadhel who grew up as a Salafi, went on a long journey studying the different Islamic schools before he finally believed in the permissibility of Mawlid celebrations as it promotes love, kindness, and compassion. He now invites his friends to join these meetings every year.
He said that Mawlid is a better experience in a large gathering. However, it is possible for a person to celebrate it on their own or with the family by practicing any form of worship or expression of joy on that day, such as reading the Prophet's life, popular poems about him, saying prayers to him and making donations or distributing sweets.
"It is not limited to men — women also celebrate it doing the same activities," said Fadhel, "Families can set up their own celebrations, where both men and women gather to read and recite together," as a display of happiness and lawful merriment.
Yaman Fattouh, from Madinah, belongs to a family with a Sufi heritage. He grew up with Mawlid gatherings from a young age, "I was lucky to have such a childhood growing up with the Prophet's stories and serving people who gathered to remember his noble character, which has surely influenced my life beautifully."
He explained that although the word Mawlid refers to the day when the Prophet was born, it also refers to the celebration which used to take place several times a year in Madinah, especially during Hajj and Umrah seasons, in which pilgrims also took part.
"There were various places and mosques that used to carry out such activities, and pilgrims from different Arab and Muslim countries would also join in — groups from Egypt, Morocco, and Syria would also share their Mawlid style and singing," Fattouh said.
This rich heritage of genuine love for Prophet Muhammad takes the form of many types of celebration, whether they are religious events or even social occasions around Arab countries.
Some Muslims even developed an etiquette of gestures that has no religious foundation but is a sign of respect and love. For instance, some would stand when the name of the Prophet is mentioned, while others will place their hand on their hearts and lower their heads.
This culture of love toward the symbol of Islam is found in almost all aspects of its followers' lives. It revolves around him, his names exists in all of their rituals, prayers, traditions and supplication, and the more they remember him and abide by his example the closer they will be to him in paradise.
https://www.arabnews.com/node/1759781/saudi-arabia
---------
'Islam' is not in crisis, liberalism is
Asad Dandia
7 Nov 2020
Earlier this month, French President Emmanuel Macron declared in an address to the nation that "Islam is a religion that is in crisis today all over the world". In the same speech, he unveiled a political programme for strengthening laïcité, France's unique iteration of secularism that stringently restricts religion in the public sphere. Since then, a brutal decapitation of a schoolteacher, the vicious stabbing of two Muslim women and diplomatic spats have reignited global anxieties about the entanglement between Islam and laïcité.
Much has been written about France's weaponisation of laïcité to discriminate against Muslims and on the history of French liberalism as a rationale for the brutal colonisation of millions of peoples across Asia and Africa – what it called its "mission civilisatrice" (civilising mission). This violence is as much part of French history as its revolutionary triad of liberté, égalité, and fraternité (liberty, equality and fraternity).
It is only the latter, however, that is ever mentioned as France's contribution to modernity. There is seldom a reckoning with the dark underbelly of liberalism, and the unparalleled violence that was, and continues to be, meted out to its historic Others. But Muslims – having borne the brunt of French (and other) colonialism, imperialism and racist violence – know it all too well. Indeed, for many, Macron's call for an "Islam of the Enlightenment" is viewed as the latest development in that history.
When I first read Macron's remarks about Islam in crisis, the immediate question that occurred to me was: Who is this "Islam" and has anyone checked up on them? The truth is that the trope of "Islam" as Enlightenment liberalism's oppositional foil has been discussed so much that it need not be examined here. Let us, however, take Macron's statement descriptively: Is Islam in crisis? To answer that question, we would have to begin with defining the terms.
If by "Islam", Macron means Muslim minorities in North America and Western Europe, then on the contrary, there has never been a more exciting time to be Muslim. In fact, it is precisely in "the West" – which Macron and his predecessors have long positioned as the antithesis of "Islam" – where some of the richest discourses among Muslims are emerging.
The advent of mass literacy, mass migration and information technology (including social media) have collectively facilitated a vibrant cultural and intellectual transformation among Muslims in the Global North, the likes of which preceding generations could never have imagined. Never have more Muslims been so actively engaged in creatively studying, interpreting, contesting and embodying their tradition as they are today.
Muslim women are bringing to the fore their subjectivities to assert their agency and challenge traditional authority in exegesis, ethics, politics and more, without the need for white liberal saviours. Black Muslims and Muslims of African descent, whose long history of resistance in the Americas is well-documented, are at the forefront of social justice organising, calling on people to think more capaciously about imagining a world beyond policing, prisons and the carceral logics of nation-states.
The growing body of scholarly literature on Islam in the English language, be it in academic settings or in normative confessional settings (with the two often cross-pollinating one another) – led by Muslims – further bears witness to the flourishing of Islam in the West. It is safe to say that English, once a language of Empire, reclaimed by its subjects and their descendants and now globalised, is as much an "Islamic" language as are Persian or Malay.
In the immediate aftermath of 9/11, Muslims – particularly in the United States – were compelled to position themselves as loyal patriots committed to the myths of American exceptionalism in order to avoid being suspected of being a fifth column. For a long time, Muslims sought a "seat at the table" to demonstrate this loyalty.
Today, Muslim communities are spending less time seeking a seat at the table and more time building tables of their own, without having to pander to power. They are articulating a consciousness with an acute awareness of the various structures of Islamophobic violence that have in large part been responsible for shaping their global dispossession, subjugation, surveillance and more. And yes, that includes challenging the state violence exerted by places like the US and France.
Like other traditions that challenge the hegemony of the dominating global order of racial capitalism and white supremacy, be it Black, Indigenous, Marxist or feminist traditions – all of which intersect and inform each other – the Islamic tradition has carved its place as one that has its own critiques to offer, drawing from a 1,400-year heritage spanning from the Americas to Morocco to Indonesia. I would argue this is a testament to the richness and vibrancy of the Muslim community than to its stagnation or backwardness.
There is no doubt that the "Muslim world" (in quotes because the category is not without its problematics) is struggling. The aftermath of the Arab Spring has thus far had mixed results, most devastating in Syria, Libya and Yemen. The Israeli occupation of Palestine and the Indian occupation of Kashmir continue unabated. Right-wing nationalist movements have either overtaken or are gaining ground in Turkey and Pakistan.
Dissidents continue to be imprisoned in Iran. The Gulf Arab monarchies marshal a façade of social liberalisation that is overshadowed by the quashing of political rights. Iraq and Afghanistan remain entangled in myriad power struggles amid the fallout of America's forever wars. The Balkans are seeing a revival of the same exclusionary nativism that led to the Bosnian genocide. Meanwhile, Rohingya Muslims in Myanmar and Uighur Muslims in Xinjiang face genocide in the present day.
While many of these crises overlap, each of them is also the consequence of particular historical circumstances that demand rigorous analyses which are beyond the purview of this essay. Even a cursory glance at the factors that shaped them makes it very clear that these crises can hardly be boxed into a totalising discourse about "Islam in crisis" – a discourse which serves as nothing more than a cover to avoid grappling with the very complicated histories that brought the "Muslim world" to where it is today.
What is overlooked is that despite all of this, the spirit of the Arab Spring is alive and well and has extended to Iraq, Algeria, Sudan and Lebanon in the last year. Palestinians and Kashmiris maintain their decades-long struggles for justice and rights against ostensibly liberal democracies. Women's and minority-led movements in Turkey, Pakistan and Iran continue to galvanise against discrimination, patriarchy and state violence.
Gulf Arab dissidents refuse to toe the line of their autocrats by raising their voices against repression. Muslims of India mobilised the largest mass-led demonstrations asserting their rights. Uighur activists refuse to be silent even as the world turns a blind eye to their pain.
For all of the above, justice is a question of when, not if. Against all odds, Muslim populations and their allies continue to show that when the world brings its worst, they offer their best. In the face of Pharaoh, Muslims become a Moses.
What is also overlooked is the role of liberal American and French governments in sustaining the very illiberal systems of oppression they claim to oppose. The US and France are staunch allies of Israel, India, Egypt and the Gulf Arab states, all of whom continue to enjoy uncritical American and European patronage and weapons; even Iran, an avowed enemy of the West, paradoxically benefits when America's crippling sanctions and threats to its sovereignty allow Iranian leaders to shore up national legitimacy.
We ought to interrogate the kind of liberalism where American and French warplanes and corporations can permeate borders in one direction while refugees are kept out from the other; where the advancement of this liberalism depends on the entrenchment of illiberal regimes and policies; where what was previously colonial exploitation by imperial metropoles is now translated into postcolonial extortion, sanctions and threats via international institutions and corporations.
When the world at large is witnessing an unprecedented surge in far-right movements, the breakdown of governing institutions, skyrocketing inequalities and impending climate catastrophe, it astonishes that one could suggest that Muslims or "Islam" are uniquely in crisis. We would do better to understand that our challenges are interconnected, and to suggest that "Islam" is the sole – or even a meaningful – unit of analysis or explanatory factor for crisis is tenuous at best.
It is in fact liberalism – the political philosophy birthed out of the Enlightenment which marshalled freedom, equality, and autonomy – that is in crisis. Its ideals are hardly exclusively of European provenance, being as they are present in numerous non-European traditions, but it is Europe's stream that dominates the global terrain today.
From the left, liberalism is charged with being founded upon violent and racist dispossession of its historic Others and birthing the system of global inequality that exists today. Its staunchest critics from this side include American philosopher Cornel West and Indian writer Pankaj Mishra. These critics argue that the "chickens have come home to roost" for liberal states, as the violence they wrought upon the world's masses has now exposed their cracks, which can no longer be veiled by the veneer of equality and freedom, which were conditional to begin with.
While critics from the left may cherish the freedoms of liberalism with the aim of transcending them through political economy, liberalism's critics from the right – such as American scholars Patrick Deneen and Adrian Vermeule – castigate its very foundations. They view it as an atomising and suffocating ideology that untethers human beings from any sense of community or social commitment to one another. While the left and right may disagree on the solutions, both know that the time for liberalism's reckoning has come. Even American political scientist Francis Fukuyama, patron-saint of liberalism, is sounding the alarm bells.
And yet as the doomsday clock continues to tick, the champions of liberalism cannot but try to vindicate the formula that brought crisis upon the world in the first place. And while they view the freedom offered by liberalism solely as the fruits of their own labour, they take no accountability for the illiberalism that was needed to sustain it. They ascribe liberalism's successes – freedom, equality, autonomy – exclusively to themselves while attributing its failures – centuries of exploitation resulting in global inequality and climate catastrophe – to "all of us".
As British anthropologist Talal Asad has noted, "I find it a remarkable irony, incidentally, that up to about the end of the Second World War, if not later, European (or Christian) civilization was triumphantly declared to be the creator of the modern world but that now, confronted with a menacing future, it is more common to hear people talk about humanity's self-destruction – as though the peasants and working classes of the world had the same responsibility for that future as the industrialists, politicians, military careerists, bankers, and arms manufacturers."
The wretched of the Earth, as anti-colonial philosopher Frantz Fanon called them, are never given credit for liberalism's fruits but are made accountable for its poisons. Why?
Macron can rest assured that Islam will be all right; that Muslims have overcome many a crisis and will overcome many more. As for those of us who are concerned for humanity at large, now is the time to think deeply together, to lean in to one another, and to listen with a spirit of openness and empathy as we face the global crises that threaten Muslims and non-Muslims alike.
https://www.aljazeera.com/opinions/2020/11/7/islam-is-not-in-crisis-liberalism-is/
---------
Rab'allah demands US troops exit from Iraq
Rab'allah
2020-11-07
Shafaq News / Shafaq News Agency reporter stated that tens of demonstrators who call themselves Rab'allah, demanded on Saturday the withdrawal of foreign forces from Iraq, and carried pictures of Khomeini, Khamenei, Soleimani and Al-Muhandis in Baghdad.
The demonstrators chanted slogans against the United States of America, denouncing the presence of American forces in Iraqi lands.
https://shafaq.com/en/Iraq-News/Rab-allah-demands-US-troops-exit-from-Iraq#
----------
North America
US to seek PKK's removal from Syria in new alliance with Turkey: Jeffrey
Source : PressTV
November 8, 2020
The Trump administration is reportedly seeking to diminish and eventually eliminate the presence in Syria of the Kurdistan Workers' Party (PKK), citing the group's terrorist ties, in a bid to forge new collaboration in Syria with Turkey, which also illegally occupies the terror-ravaged Arab state.
"We want to see the PKK cadre leave Syria," said Washington's Special Representative for Syria Engagement Ambassador James Jeffrey during an interview with the Western-funded and Jordan-based Syria Direct news outlet, as cited in a Friday report by Middle East Monitor.
The US official went on to acknowledge that PKK's presence in Syria "is a major reason why there is tension with Turkey in the northeast," further insisting that "we want to reduce that tension."
Elaborating on Washington's objectives for the move, Jeffrey claimed the primary reason was that "in all other areas other than the northeast, we have very close coordination with Turkey on the Syrian situation."
The development came as the occupying US military had allied itself with PKK-linked Kurdish militant groups such as the Peoples' Protection Units (YPG) and the Syrian Democratic Forces (SDF), arming and assisting them in their persisting efforts to topple the Syrian government of President Bashar al-Assad and undermine the presence of his strategic allies such as Iran and Russia.
Turkey, however, persistently opposed to the US alliance with the Kurdish militants due to their affiliation with the PKK, a designated terrorist group and Kurdish separatist movement which has carried out numerous terror attacks in Turkey over the decades.
Jeffrey further claimed that Washington was thus seeking to calm Ankara's fears of a strengthened PKK, while assuring its NATO ally that the US aims to encourage and help build a "civilian administration" in northeastern Syria instead of a solely military one.
"There has to be a civilian administration because, as you know, the [Syrian] regime retreated from that area back in 2013," he proclaimed.
The American diplomat also reiterated the need for what he referred to as a "political solution to the Syrian crisis that reflects the will of the UN Security Council Resolution 2254."
While insisting that such a political solution "is absolutely necessary," he slammed Russia and the Damascus government for refusing to work out a long-term deal with opposition forces, many of which were engaged in terrorist acts to topple President Assad while receiving support and funds from Israel-allied Western governments and despotic Arab regimes in the region.
Jeffrey further insisted that US foreign policy against the Syrian government will not change in case Joe Biden from the Democratic Party succeeds the hawkish President Donald Trump despite speculations to the contrary.
Dismissing such speculations, Jeffrey also emphasized that Washington's current policy "will continue" and that "I see no change in our troop presence, I see no change in our sanctions policy, I see no change in our demand that Iran leave Syria, be it with a Biden administration or Trump one."
The Syrian government has denounced in the strongest terms the agreement inked to plunder the country's natural resources, including Syrian oil and gas, with the sponsorship of the administration of US President Donald Trump.
https://en.abna24.com/news//us-to-seek-pkks-removal-from-syria-in-new-alliance-with-turkey-jeffrey_1084223.html
---------
Joe Biden elected 46th president of United States
Source : PressTV
November 8, 2020
Joe Biden becomes president-elect of the United States after winning the pivotal state of Pennsylvania, according to projections by several news networks.
The former vice president took in the Keystone State's 20 electoral votes to win the 2020 presidential election, NBC News and CNN reported on Saturday.
The victory in Pennsylvania put Biden past the 270 electoral votes needed to win the White House and defeat President Donald Trump, who had held a wide lead over the his Democratic challenger on the night of the election.
However, as election officials counted mail-in ballots, a method of voting more widely used by the Democrats during the coronavirus pandemic, the race shifted dramatically in Biden's favor.
In a statement, the president-elect said he was "honored and humbled" by the win and that it was time for the US to unite. "With the campaign over, it's time to put the anger and the harsh rhetoric behind us and come together as a nation."
Biden, who ran on a message of uniting the nation, has pledged to govern all Americans, not just the Democratic base. But analysts say even with that promise, the divisions will not disappear anytime soon.
He won the presidency on the back of a diverse coalition of younger voters, older voters, African Americans, and white college-educated voters, particularly women.
With his third run for the White House — after unsuccessful bids in 1988 and 2008, and after serving as vice president to former President Barack Obama-- Biden has capped a career in politics that began with a victory in a 1972 Senate race in Delaware.
The victory in Pennsylvania was a fitting end to a bitter race given that Biden was born in the state and had launched his campaign with rallies in Pittsburgh and Philadelphia. The former vice president also visited his childhood home in Scranton on Election Day.
Biden, 78, will become the oldest US president when he is sworn in on January 20 in the midst of the worst public health crisis in a century, the deepest economic recession since the 1930s and a national reckoning with racism.
Senator Kamala Harris, who was Biden's running mate, has also made history, becoming the first female, first Black and first Asian American vice president.
The injection of Harris, the daughter of an Indian mother and Jamaican father, to the race on August 11 helped rally minority voters and keep them engaged in the political process.
In addition to the projected electoral victory, Biden has also garnered more popular votes than Trump, setting a record for the most votes for any candidate in US history.
With 92 percent of the expected votes across the US counted, Biden led Trump 50.5 percent to 47.7 percent in the popular vote, a contrast to Trump who won the White House despite losing the popular vote to Hillary Clinton in 2016.
However, the triumph was not the landslide many Biden supporters had hoped for. Biden lost a number of battleground states where he had invested time and resources, most notably Florida.
In recent days, Biden's advisers and allies have moved rapidly with a transition plan, discussing how to fill critical White House and agency posts.
Cabinet positions for a Biden White House will possibly be announced as early as next week, The New York Times reported, citing sources familiar with the discussions.
The president-elect is expected to focus on filling key White House roles first, including chief of staff. Ron Klain, who served as Biden's chief of staff when he was vice president, is reportedly a favorite for the role.
The ongoing discussions have been guided heavily by Biden's desire to assemble what would be "the most diverse cabinet in history."
Biden's election will condemn Trump, who has had a longstanding obsession with winning, to the ranks of the one-term presidents in America. The last president who lost a reelection bid was Republican George H.W. Bush, who lost to Democrat Bill Clinton in 1992.
He has repeatedly and falsely declared victory, including in critical battleground states where vote counting is still underway and Biden is the projected winner.
In a statement released after the race was called, Trump said, "We all know why Joe Biden is rushing to falsely pose as the winner, and why his media allies are trying so hard to help him: they don't want the truth to be exposed."
"The simple fact is this election is far from over. Joe Biden has not been certified as the winner of any states, let alone any of the highly contested states headed for mandatory recounts, or states where our campaign has valid and legitimate legal challenges that could determine the ultimate victor," he added.
The president insisted that his team would launch a prosecution in court to "ensure election laws are fully upheld and the rightful winner is seated."
The Trump campaign has already filed multiple lawsuits --several of which have been thrown out -- as part of a coordinated effort to call the validity of the election into question.
The campaign has reportedly reached out to supporters for contributions to help cover the costs of legal challenges brought by Trump.
"We need your help to ensure we have the resources to protect the results and keep fighting even after Election Day," the campaign said in a statement on its website.
Both the Trump and Biden campaigns have recruited the best lawyers in the country to go to a potentially lengthy legal battle over the results of the election.
https://en.abna24.com/news//joe-biden-elected-46th-president-of-united-states_1084220.html
----------
CAIR Congratulates President-Elect Joe Biden, Vows to Hold Biden Administration Accountable on Muslim Inclusion, Civil Rights, Racial Equality and Just Foreign Policy
Ibrahim Hooper
November 7, 2020
The Council on American-Islamic Relations (CAIR), the nation's largest Muslim civil rights and advocacy organization CAIR, today congratulated President-elect Biden on his victory and encouraged the incoming administration to promote civil rights, racial equality, a just foreign policy, and the inclusion of American Muslims in diverse government roles.
"CAIR congratulates President-Elect Joe Biden on his electoral victory, and for building an inclusive election campaign focused on the unity of our nation.
"President-elect Biden has pledged to end the Muslim Ban on his first day in office, include Muslims at every level of his administration and address issues of racial and religious discrimination.
"We plan to join other American Muslim leaders and organizations in ensuring that the Biden administration fulfills these promises. We also plan to continue holding our government accountable when it errs."
Awad said the American Muslim community is a key resource for state and national policy-makers, and is urging Congress and President-elect Biden to enact and implement the following civil rights reforms:
Ending bigoted and discriminatory immigration policies such as the Muslim and Africa travel bans, the Visa Waiver Program Improvement and Terrorist Travel Prevention Act of 2015, "extreme vetting programs", and the detainment of asylum seekers;
Mandating state and local law enforcement to report use-of-force incidents to a federal database as a condition of receiving federal funding and requiring equal treatment of the American Muslim community by federal law enforcement and the criminal justice system;
Defending Constitutional rights in schools, the workplace, and elsewhere by supporting the adoption of new policy strategies to address religious-based bullying in schools by state and federal departments of education, and protecting Middle Eastern studies courses and Palestinian student activists from the Department of Education's attempts to suppress free speech on college campuses;
Supporting faith-based initiatives by ensuring American Muslims equal access to federal and state aid available to those impacted by COVID-19, requesting HHS provide more funding to American Muslim clinics, and providing greater capital access for faith-based communities, including American Muslims;
Establishing equity in federal government hiring practices, including the overhaul of vetting systems that rely on biased Islamophobic resources and the promotion of Muslim-American ideas and employment;
Ending the national security overreach by reforming the unconstitutional Terrorist Screening Database, rejecting new domestic terrorism statutes, and defunding DHS anti-radicalization initiatives biased toward the Muslim community, including the Targeted Violence and Terrorism Prevention grant program, and its predecessor, the Countering Violent Extremism grant program.
CAIR is America's largest Muslim civil liberties and advocacy organization. Its mission is to protect civil rights, enhance understanding of Islam, promote justice, and empower American Muslims.
La misión de CAIR es proteger las libertades civiles, mejorar la comprensión del Islam, promover la justicia, y empoderar a los musulmanes en los Estados Unidos.
https://www.cair.com/press_releases/cair-congratulates-president-elect-joe-biden-vows-to-biden-administration-accountable-on-muslim-inclusion-civil-rights-racial-equality-and-just-foreign-policy/
---------
Europe
Mosque maulana in veiled criticism of Blackburn representatives
By Asian Image reporter
7th November 2020
Maulana Suhail Manya from Masjide Tauheedul Islam, one of Blackburn largest mosques, sent a message in both Urdu and English to worshippers on the eve of the second lockdown.
The comments have been described as 'Trumpesque' and causing 'unnecessary disunity' in the middle of a pandemic.
Religious buildings can stay open but only for individual prayers and no congregations are permitted. Madressas have also closed and classes have been switched to online sessions.
In a long message where he talks about the government restrictions Maulana Suhail asked whether 'representatives had the right intentions' and asked 'whose agenda they were following'.
On madressas closing Maulana Suhail is heard saying, "Face to face learning for eight hours in schools can continue but face to face learning in our madressas for 2 and half hours cannot continue. We are not going to oppose it. It should be challenged. But there are avenues and ways of challenging.
"And this is my question. Those organisations that claim to represent us the Muslim ummah at every given opportunity they stand before cameras and they give their statements for them to be printed in the newspapers. Whose agenda are they following?
"Do they have the interests of our children at heart? Why is it they are not being represented? Or their interests and our interests cannot be represented in a better manner."
"Particularly why is one small community which is a minority in the United Kingdom affected by these restrictions in comparison to the other community.
"Why are they so gravely affected by these restrictions affected in comparison to the other community? And think about your representation. Those claiming to represent me and you. Who are they representing? Whose interests do they have at heart? Who are they colluding with? Who are they meeting with? How are they making decisions?
"When you come to the bottom of that you will come to realise that the people they are colluding with and sitting with they are not of the same imaan, faith as us."
He ends with, "So a few points, May Allah protect the masjid, May Allah protect the madressa, May Allah protect the Muslims, May Allah protect the non-Muslims."
The comments were lambasted on social media with some users saying he was criticising unpaid workers and representatives who are trying their best in testing times.
Asif Mahmud, said, "In these challenging times, it's unwise and unhelpful to add further anxiety and division within minority groups.
"Minority groups are already facing economic and social issues which are acute and such 'speeches' are designed to undermine the hard work volunteer and representative groups are engaging in for no personal reward.
"Comments like 'whose agenda are they following' or 'colluding with people who don't have same imaan, faith as us', are 'Trumpesque'.
"I am really disappointed that someone in this position is comfortable making such statements when what we need now is unity and understanding. Many us want to hold representatives to account but this seems to me to ask questions of 'intentions' of hard-working people in these testing times.
"Instead of making these such accusations, we should be encouraging people to work together for the betterment of the wider community."
Earlier in the speech Maulana Suhail asks worshippers to attend the mosque but asks people to keep to all the government rules and regulations.
He is heard saying, "As we know the government has announced a second lockdown and this announcement was made last week and there were certain restrictions brought into place.
"From these restrictions the one pertaining to the masjid is very simple. As of tomorrow (November 5) morning congregational prayers (namaz with Jamaat) is not permitted. Only individual prayers are permitted. So how we did through lockdown that is how the imam and the muezzin will continue to do their salah (prayer).
"But we as the Muslim community will continue to come to the masjid because there is no restriction. We will come to the masjid at the time of salah. We will do our individual prayers and inshallah Allah will reward us as if we perform salah with jamaat (congregation).
"Because we are compelled to follow the law of the land our intention and our wish to perform salah with jamaat. But because the law does not allow us we will perform salah on our own.
"We will come to the masjid at the time of fajr. We will come at the time of Zuhr, at the time of Asr, at the time of magrib, at the time of Isha because coming and going from the masjid is Mubarak. It is blessed and we are blessed.
"Because Allah allows us to come towards his house five times a day. This must continue and it must continue with more vigour. It must continue with more energy. It must continue with more vibrance. It must continue with more love. It must continue with more dedication because we as a Muslim community have a responsibility to Allah and to our children.
"So, the masjid will remain open throughout the day as per normal and we will not restrict that in any way. There is only one restriction that is namaz with congregation. But as I have said there is no government that rewards us for coming to the masjid."
https://www.asianimage.co.uk/news/18854900.mosque-maulana-veiled-criticism-blackburn-representatives/
----------
German mosque receives Islamophobic letter
Source : Anadolu
November 7, 2020
A mosque in the German town of Hufingen on Friday received an Islamophobic letter.
The letter sent to Aqsa Mosque said: "Islam belongs to neither Germany nor Europe" and "We'll erase Islam and Islamism from Germany," according to the Turkish-Muslim umbrella group DITIB.
Hakan Tasdemir, head of DITIB in Hufingen, said the letter had left them saddened and deeply concerned.
He added that the mosque has been operational since 1996 and it was the first such incident they have reported.
Tasdemir went on to say they have informed the authorities and an investigation has been launched.
https://en.abna24.com/news//german-mosque-receives-islamophobic-letter_1084023.html
---------
Catholic and Orthodox Church stand side by side with a Mosque in Bosanska Krupa
NOVEMBER 7, 2020
Bosanska Krupa is a town in northwestern Bosnia and Herzegovina, on the Una river. It is located 30 km (19 mi) northeast from Bihać (350 km away from Sarajevo).
Bosanska Krupa is located on the border within the Federation of Bosnia and Herzegovina adjacent to the municipalities of Bužim, Cazin, Bihać, Bosanski Petrovac, Sanski Most, and Krupa na Uni. The last mentioned municipality is part of the Republika Srpska and was part of the Bosanska Krupa municipality before the Bosnian War, but after the Dayton Agreement, it became a separate municipality.
There are several people who were born in Bosanska Krupa but are now famous for their writing, talent or paintings. Namely those are: Branko Ćopić writer, Armin Halitović politician, Džemaludin Čaušević religious leader (imam), Elvis Mešić, soccer player and Kosta Hakman, painter.
Much of the old city is intact and in typical Bosnian fashion, a Catholic and Orthodox church stand side by side with a mosque. The most attractive parts of town are the rivers and the source of the Krusnica. It's a paradise for anglers and walkers. In Krupa, fishing is second only to rafting and canoeing. Large carp and trout can be found in both rivers, but the Krusnica River seems to be the place for bigger catches.
Krusnica Spring is home to a diverse world of fish with carp, trout, greyling, pike and chub. The local fishing association can guide visiting anglers to the hot spots and arrange for a license. There was once an artist colony here and many works are displayed in the Town Gallery. Most of the paintings capture the old-style bridges and the unique little islands with natural beaches in the middle of the river. These islands are ideal for camping and bonfires. Even on the hottest days the river makes the evenings cool and sometimes chilly. Of the rafting routes 22km go through Krupa in the Una Canyon to Ostrozac. Fishing competitions are also held in this part of the canyon.
sarajevotimes.com/catholic-and-orthodox-church-stand-side-by-side-with-a-mosque-in-bosanska-krupa-2/
http://www.sarajevotimes.com/catholic-and-orthodox-church-stand-side-by-side-with-a-mosque-in-bosanska-krupa-2/
---------
South Asia
Afghan Gov't Believes U.S.-Afghan Ties Remain Intact Even after Trump Defeat
By Mohammad Arif Sheva
08 Nov 2020
KABUL, Afghanistan – Afghan government believes the diplomatic relationship between the United States and Afghanistan will remain intact even after Donald Trump loses the presidential seat to democrat Joe Biden, saying their strategic partnership stands on "mutual interest'.
"The foundation of our partnership over the past nineteen years has always been based on the understanding that the two governments and the people have on their common interests," said Presidential Spokesman Sediq Sediqqi, as quoted by TOLOnews.
While the government remains positive about it diplomatic ties with America, critique suggests Biden's victory will bring changes in the US policy towards Afghan peace process, affecting greatly the February accord signed between Trump and the Taliban on troops withdrawal.
"He [Biden] is also in support of withdrawing American troops from Afghanistan, but his approach can be a different one regarding this issue." said Shinkai Karokhel, an Afghan MP.
"There is a hope that Biden will hear more about this [troops withdrawal], especially the plans that are supposed to be shared by the US army and the US intelligence," he added.
Meanwhile, Ali Akbar Qasimi, another MP believes Biden might review certain polices, but it will not "change" it in "great context".
However, it remains unclear whether there will be a significant shift in the US policy towards Afghanistan after the announcement for the winner of US presidential elections.­­­
WASHINGTON, United States – Democrat Joe Biden became the 46th president of the United States on Saturday, defeating Donald Trump following a ballot controversy that lead to legal actions.
His victory came days after Trump campaign challenged vote counts in the key states of Wisconsin, Georgia, Pennsylvania and Michigan, claiming to be ahead in the US presidential election. But Biden crossed the winning threshold of 270 Electoral College votes with a win in Pennsylvania.
Biden, 77, staked his candidacy less on any distinctive political ideology than on galvanizing a broad coalition of voters around the notion that Trump posed an existential threat to American democracy, as local media reported.
"With the campaign over, it's time to put the anger and the harsh rhetoric behind us and come together as a nation," he said. "There's nothing we can't do if we do it together."
Meanwhile, Democrat Kamala Harris made history as the first Black woman to become vice president, an achievement that comes as the U.S. faces a reckoning on racial justice.
Biden's victory made Trump the first one-term president since Republican George H.W. Bush in 1992.
https://www.khaama.com/govt-believes-u-s-afghan-ties-remain-intact-even-after-trump-defeat-34534/
----------
Al-Sunni discusses with UN General Assembly latest developments in Libya
November 07, 2020
by: LibyaMohammed
Libya's Permanent Representative to the United Nations, Taher Al-Sunni, has discussed with the President of the UN General Assembly for the 75th session, Volkan Bozkir, the latest Libyan developments in the current situation, hoping to support Libya to restore its stability.
This came during a meeting held on Thursday, at the United Nations headquarters in New York, according to the Media Office of the Permanent Mission of Libya to the UN.
The Media Office added that Al-Sunni, as a vice president of the UN General Assembly, discussed with Bozkir a number of issues related to the work of committees and councils of the General Assembly, the United Nations reforms, and the following up of the achievement of the 2030 Sustainable Development Goals.
Bozkir also reviewed the priorities of his plans to implement in this session, including fighting the Coronavirus pandemic.
https://www.libyaobserver.ly/inbrief/al-sunni-discusses-un-general-assembly-latest-developments-libya
---------
Scores Busted over Drug Trafficking across Afghanistan
By Mohammad Arif Sheva
08 Nov 2020
Afghanistan – Counter Narcotic Police of Afghanistan (CNPA) arrested at least nine suspects charged with drug trafficking, after security police carried several operations through northern provinces of the country, said the Ministry of Interior Affairs in a statement Sunday.
"Nine drug traffickers arrested & 33kg of illicit drugs confiscated during several separate Counter-Narcotics operations carried out by CNPA in Kabul, Badakhshan & Kunduz provinces," said MoIA in a tweet.
Officials did not provide further details on the identity of the suspects but said their cases have been referred to "related departments" for investigation.
"The arrestees' files have been referred for further investigation to the related departments," the MoIA added.
The arrest came at a time local security departments throughout Afghanistan are given "shoot" order following concern over growing insecurities, including arm robberies and kidnapping.
https://www.khaama.com/scores-busted-over-drug-trafficking-across-afghanistan-345345/
---------
Saleh: We have 'Observed Head of Pakistani Visa Merchants'
By Mohammad Haroon Alim
08 Nov 2020
Amrullah Saleh at home in Kabul on Monday, a day after he narrowly escaped an attack.Credit…Jim Huylebroek for The New York Times
Amrullah Saleh, the First Vice president, said a group of Pakistani visa merchants had approached him out of fear of the previous announcement and had called for a visit to respond.
Saleh wrote on his Facebook page that he had spoken to the Pakistani embassy and asked them how many visas could be issued in a day.
He said he had submitted a draft to the Ministry of Foreign Affairs under which Pakistani visas would be issued to the people.
Saleh also said that one of the commissioners from a group of six merchants has approached him out of fear of yesterday's announcement and is scheduled to meet him Sunday.
The group has been selling Pakistani free visas to the public for years in a disgraceful manner, Saleh added.
For a few days, people will still have difficulty getting Pakistani visas, but soon they will hear the good news.
Earlier, Saleh posted, "we know which visa circles turned free visas into commissioning business… On average, about $ 100,000 a day is extorted from the general public by six illegal merchants through selling the free visas.
https://www.khaama.com/saleh-we-have-observed-the-head-of-pakistani-visa-merchants-6876786/
----------
Pakistan
World should respect feelings of Muslims, says Basharat
Our Staff Reporter
November 07, 2020
LAHORE - Punjab Law Minister Raja Basharat has said that various special events will be held at divisional and district level across Punjab to celebrate Shan-i-Rehmatul-lil-Aalameen (Peace Be Upon Him) Week in a befitting manner. He said this while presiding over a meeting held at Civil Secretariat on Friday to review the progress of arrangements for Shan-i-Rehmatul-lil-Aalameen (Peace Be Upon Him) Week celebrations. The Minister said, "Through these special programmes, we want to send a message to the world, especially President of France, that Muslims love their beloved Holy Prophet Hazrat Muhammad (Peace Be Upon Him) more than their lives and anything, so the world should respect the feelings of Muslims."
He said that the Shan-i-Rehmatul-lil-Aalameen (Peace Be Upon Him) Week would be made successful in all respects.
It was decided in the meeting that various special programmes would be organized throughout the week under the auspices of the Information and Culture department of Punjab, including lectures, Naat and Mehfil-i-Milad, Naat poetry recitals and special broadcasts. Seerat-un-Nabi (Peace Be Upon Him) conference and Ulema and Mashaykh convention will be organized by the Auqaf department.
https://nation.com.pk/07-Nov-2020/world-should-respect-feelings-of-muslims-says-basharat
---------
Sheikh Rasheed asks Sindh govt to do its share of work to revive KCR
Shazia Hasan
08 Nov 2020
KARACHI: Federal Minister for Railways Sheikh Rasheed Ahmed has said that Pakistan Railways is now looking towards the Sindh government to do its share of the work regarding the Karachi Circular Railway (KCR) because PR has done its bit already.
Addressing a press conference at his camp office here on Adam Road on Saturday, he said that 14 kilometres of the KCR track from the City Railway Station to Orangi Town had been cleared.
He also said that 15 of the 40 KCR train coaches were ready. "Pakistan Railways will have readied all 40 of them by the time the Sindh government builds the over and underpasses," he said.
"Tijori Heights [an under-construction residential project] is one of these encroachments, too. We are talking to the people who are encroaching railways land. Hopefully, something can be worked out," he said.
He added that all PR pensioners who have not seen their pension in six years will soon be paid pension regularly, and it will be equivalent to grade-16 employee pension.
Another announcement made by him was that the PR wanted to have a track from Peshawar to Jalalabad. "That way trade can happen from Karachi to Jalalabad, Afghanistan," he said.
He said that he had given five freight trains to the private sector and seeing how well they were running them he intended giving then 12 more.
"When they are running them successfully and Pakistan Railways is running them at a loss, then of course I will give their operations in the hands of the private sector," he justified.
Commenting on the political scene, Sheikh Rasheed said that in his entire political career he had never seen politicians give more importance to "judo and karate" instead of talks.
He also said that the Pakistan Peoples Party would not go with the Pakistan Muslim League-Nawaz. "Bilawal is being quite responsible. And he has made it clear that the PDM [Pakistan Democratic Movement] is not against the army," he said.
Finally, he said that he was sure that Imran Khan would complete five years as prime minister.
"I know this already and it will also become clear to you by February 20, 2021," he said.
https://www.dawn.com/news/1589145/sheikh-rasheed-asks-sindh-govt-to-do-its-share-of-work-to-revive-kcr
-----------
India
Muslim League MLA arrested in alleged gold jewellery cheating case in Kerala
HT Correspondent
Nov 07, 2020
The Kerala police on Saturday arrested Muslim League legislator from north Kerala M C Kamaruddin in connection with an alleged gold investment cheating case. He was the chairman of Fashion Gold, a chain of jewellery shops started with the help of local funding. The jewellery chain closed four months back after accumulated loss leaving many investors in the lurch.
More than 110 cases were filed against the promoters and investors blamed the mismanagement and misappropriation of funds for the loss. According to the police, investors have lost between Rs 30 to Rs 50 crore. When the case cropped up two months back, the Muslim League had asked the legislator to take up immediate steps to repay money to investors but he sought more time. The party is likely to action against him.
Many opposition leaders said the arrest was a politically motivated to distract attention from the issues the government was facing. Chief Minister Pinarayi Vijayan's principal secretary M Sivasankar was arrested in connection with gold smuggling case and the CPI(M) state secretary's son Bineesh Kodiyeri was detained in Bengaluru last week in a money laundering case related to a drug bust.
Opposition leaders said Kamaruddin was arrested when he was trying to settle the issue. The Muslim League was in the forefront of attack against the CM and his cabinet colleague K T Jaleel in the gold smuggling case.
https://www.hindustantimes.com/india-news/muslim-league-mla-arrested-in-alleged-gold-jewellery-cheating-case-in-kerala/story-AsUQFAsY8wvw3kqbcCJ3qJ.html
---------
Mideast
Imam Khamenei: Political, civil, decline of US regime definite
Source : Mehr
November 8, 2020
Leader of Islamic Revolution said that the situation in the US and what they themselves say about their elections is a spectacle.
In a tweet on Saturday, Leader of the Islamic Revolution Ayatollah Seyyed Ali Khamenei wrote, "The situation in the US & what they themselves say about their elections is a spectacle! This is an example of the ugly face of liberal democracy in the US. Regardless of the outcome, one thing is absolutely clear, the definite political, civil, & moral decline of the US regime."
After days of vote-counting, US media outlets projected Joe Biden as the winner of the Presidential Election on Saturday. This is while incumbent President Donald Trump has rejected Biden's claim of victory, noting that the "election is far from over". The Trump campaign has vowed to pursue several lawsuits in some states, noting that there has been extensive voter fraud in the country.
https://en.abna24.com/news//imam-khamenei-political-civil-decline-of-us-regime-definite_1084221.html
----------
Top Shia scholar 'Allama Raja Nasir': Destabilizing Pakistan harmful for entire region
Source : Pak Shiite News
November 7, 2020
Senior Pakistani Shia religious scholar, Allama Raja Nasir, says destabilizing the country harmful for entire region, let alone Pakistan itself.
He expressed these views, while addressing Rehmatan Lil Aalameen Wahdat Conference (Unity Week) held under the aegis of MWM and Milli Yakjehti Council in Islamabad on Wednesday.
Majlis-e-Wahdat-e-Muslimeen Pakistan secretary general Allama Raja Nasir Abbas Jafari said conspiracies are being hatched to destabilize Pakistan.
But he warned that destabilizing Pakistan would harm and endanger the entire region. However, he emphasised the need for unity of Muslims to defeat conspiracy that aims to divide them on sectarian basis.
He termed Eid Miladul Nabi (PBUH) or birth anniversary of Prophet Mohammad (PPBUH) as the biggest Eid.
He called pride that God made us Ummah of His last Prophet (PBUH), the most infallible and the most perfect role model for humanity.
MWM Pakistan leader lauded role of Milli Yakjehti Council that gather all schools of thought. He said they would hold a research conference on Prophet Mohammad (PBUH) from the platform of the MYC.
He praised MYC role against French insulting and blasphemous caricatures and assured MYC of all out support and cooperation.
Allama Raja Nasir also spoke on current global and regional developments. He said that United States was facing defeat in Afghanistan and Middle East.
He said the U.S.-led Western bloc is trying hard to stop shift in balance of power in Asia and particularly in South Asia.
https://en.abna24.com/news//top-shia-scholar-allama-raja-nasir-destabilizing-pakistan-harmful-for-entire-region_1083942.html
---------
Iran reacts to US election result with guarded optimism
News Service
November 08, 2020
The announcement Saturday that Democratic challenger Joe Biden beat incumbent Republican Donald Trump in the hotly contested US presidential election has drawn mixed reactions in Iran.
Soon after US media declared Biden the winner, Iran's Supreme Leader Ali Khamenei took to Twitter to downplay its effect on US policy toward Iran and the region.
"Regardless of the outcome, one thing is absolutely clear: the definite political, civil, moral decline of the US regime," he wrote.
Iran's envoy to Azerbaijan and former Foreign Ministry spokesman, Syed Abbas Mousavi, issued a statement that emphasized Biden's policy will be similar to his predecessors.
While Iran's official stance remains that there is no difference between Trump or Biden, there is guarded optimism that things could change under the incoming president if he revives the 2015 Iran nuclear deal.
Earlier Saturday, President Hassan Rouhani, while hailing what he termed "Iranian nation's resistance" against the Trump administration's "maximum pressure campaign" against Iran, said he hopes the new government in Washington will turn the page.
"We hope that the next US administration learns from the three-year experience and returns to its commitments," he said, an apparent reference to Trump's exit from the nuclear deal in May 2018.
In a reconciliatory tone, indicating Tehran was willing to talk, Rouhani expressed hope that the US will "understand that they have been incorrect" in policies toward Iran.
Deputy Foreign Minister Abbas Aragchi also made similar comments that asserted "new approaches" may develop in Washington's policies if Biden comes to power.
He said Iran will "adopt appropriate methods and solutions" in accordance with the shift in Washington's policies toward Iran but cautioned that Tehran will also "counter any threat."
On the possibility of Biden returning to the 2015 Iran nuclear deal negotiated during his tenure as US vice president, Aragchi said "it is still too early to comment on it."
The 2020 US presidential election has generated tremendous interest in Iran's media and intelligentsia, with some calling it the "most consequential US election for Iranians" in four decades.
Tensions between Iran and the US have escalated since 2018 when Trump announced a unilateral withdrawal from the nuclear deal, followed by reinstatement of sanctions.
Iranians are cautiously optimistic that Biden would return to the deal and relax sanctions.
With Biden leading the race, Iran's forex market responded positively Friday. The national currency, the rial, gained significantly against foreign currencies, including the dollar.
The dollar lost more than 9% Saturday, dropping 23,000 rials to 247,000 rials, as Biden edged past Trump to victory.
https://www.yenisafak.com/en/news/iran-reacts-to-us-election-result-with-guarded-optimism-3553623
---------
Bolivian president: La Paz keen on promoting ties with Tehran
Nov 8, 2020,
Journalist ID: 2374
Arce appreciated Zarif's participation in his inauguration ceremony.
Earlier, Zarif in a Twitter message said: "Just arrived in La Paz, to celebrate with Bolivians the fruits of their struggle to restore their democracy."
"And honored to participate in the inauguration of President Arce on Sun. Great to witness the joy people exhibit celebrating their restoration of liberty & democracy," he added.
Meanwhile, President Hassan Rouhani earlier said the recent elections in Bolivia were not only a consolidation of the foundations of democracy but also a magnificent display of justice by the great Bolivian nation.
He further expressed Iran's readiness to restore bilateral relations and expand cooperation with Bolivia in all areas.
https://en.irna.ir/news/84102382/Bolivian-president-La-Paz-keen-on-promoting-ties-with-Tehran
---------
Africa
Strike pushing students into crime – Islamic cleric begs ASUU
By Fikayo Olowolagba
November 7, 2020
A prominent Islamic Scholar in Kano State, Sheikh Abdulwahab Gadon-Kaya, has begged the Federal Government and the Academic Staff Union of Universities (ASUU) to find a lasting solution to the ongoing strike.
The Islamic Scholar made the appeal during a Town Hall meeting tagged 'Struggle: In Defense of Nigerian Public Universities' on Saturday in the state.
The cleric noted that there was the need for the urgent reopening of the Universities because the seven-month-old strike had caused a lot of issues,
He noted that the strike has pushed many students into committing different crimes, especially robbery, drug abuse and girls roaming the streets.
Gadon-Kaya also asked the Federal Government to look into the demands of the lecturers and help the students return to school, adding that affected children are of the masses.
"ASUU should also seriously look into the issue by softening your demands so that government can be able to meet up with them."
He also appealed to the National Assembly to intervene on the issue so that the strike could be called off, NAN reports.
Responding, the Kano Zonal Coordinator of ASUU, Prof. Mahmud Lawal said the meeting was to engage the public and create better awareness on why the Union was on strike.
Lawal mentioned that the union on many occasions softened its demands and had agreements with the government, but many of them were not respected by the government.
https://dailypost.ng/2020/11/07/strike-pushing-students-into-crime-islamic-cleric-begs-asuu/
---------
Buhari to Biden: We want your support in the war against Boko Haram
by Ayodele Oluwafemi
November 07 2020
Biden was projected as the winner of the 2020 presidential election after results from Pennsylvania meant his lead was now unassailable by President Donald Trump.
In his congratulatory message, Buhari said Biden was coming "at a time of uncertainty and fear in world affairs".
"With your election, we look forward to greater cooperation between Nigeria and the United States, especially at economic, diplomatic and political levels, including the war against terrorism," Buhari said in a press statement issued by his media office.
Nigeria has been fighting Boko Haram terrorism since 2009, with tens of thousands killed and about 2.3 million displaced.
Buhari urged Biden to deploy his "vast experience" in tackling the negative consequences of nationalist politics on world affairs which have created divisions, conflicts and uncertainties.
He said Biden should "introduce greater engagement with Africa" on the basis of "reciprocal respects and shared interests".
"Your election is a significant reminder that democracy is the best form of government because it offers the people the opportunity to change their government by peaceful means," he said, adding that "the most powerful group are not the politicians, but voters who can decide the fate of the politicians at the polling booth.
"I am thrilled by the fact that you are an experienced politician who had served as Congressman for 40 years and a Vice President for eight years. This is a remarkable track record that gives us hope that you will add value to the presidency and world affairs."
https://www.thecable.ng/buhari-to-biden-we-want-your-support-in-the-war-against-boko-haram
---------
Zulum Likens Destruction of Lagos Assets to Extremist Attack on N'East
November 8, 2020
Segun James
Borno State Governor, Prof. Babagana Zulum yesterday likened the destruction of key assets of Lagos State during #EndSARS protest to organised attack the Boko Haram insurgents unleashed on public utilities in the Northeast.
He said this during a visit to the State House, Marina to commiserate with Lagos State Governor, Mr. Babajide Sanwo-Olu and the people of the state over the attack.
Zulum was accompanied by his immediate past predecessor, Senator Kashim Shettima; Senator representing Borno North, Abubakar Kyari, Borno Commissioner for Finance, Alhaji Adamu Lawan and Special Adviser on Intern-Governmental Affairs, Hon. Tukur Mohammed, Mr. Ahmed Ali Ahmed.
After watching the ugly images of the destroyed assets, Zulum described the attack as "mind-boggling", saying violence was deliberately contrived to hurt Lagosians.
Zulum said the proportion of the destruction was too much for Lagos to bear, stressing that the cost of rebuilding the state would bring about discomfort to residents and citizens whose businesses are tied to the peace in Lagos.
He said: "We are here on behalf of governors from the entire Northeast region and its people to commiserate with the people of Lagos and their governor over the recent unfortunate incident of violence happened in Lagos, which left wanton destruction of both the public and private properties.
"While we strongly condemn any form of brutality by the police in any part of the country, we also condemn what has happened in Lagos. The destruction was engineered to hurt this blooming state and its economy.
"We condemn the excesses of the youths who took to violence to express their grievances. There was no need for the violence when the authorities had already conceded to their demands," Zulum explained.
Zulum likened the destruction of key assets of Lagos State to the manner with which Boko Haram carried out attacks on public utilities, noting that it could take years for Lagos to fully recover from the wreckage.
He urged young people across the country and in Lagos to always use non-violent means to express their grievances, pointing out that destroying infrastructure meant to serve the public shouldn't be an option in public protest.
He also advised those bent on staging another round of protest to allow the wound left by the destruction and looting of properties to heal.
He said governors had been working with the federal government to ensure victims of police brutality get justice and compensation.
Sanwo-Olu said the attacks had not weaned away Lagos' ability to turn around its misfortune to opportunities, hinting that the state would come out stronger and better.
Sanwo-Olu particularly expressed appreciation to his Borno counterpart for identifying with Lagos, despite being faced by security challenges.
https://www.thisdaylive.com/index.php/2020/11/08/zulum-likens-destruction-of-lagos-assets-to-extremist-attack-on-neast/
----------
Southeast Asia
Be Careful With Comments Which Are Disrespectful, Offensive And Lewd, Brunei Imams Urge
Azlan Othman
November 7, 2020
The unwelcome nature of sexual harassment was addressed in the Friday sermon yesterday, including the lingering effects on the victims, regardless of gender.
"Comments or jokes which are disrespectful, offensive and lewd are considered verbal abuse if they cause the victims to feel uncomfortable, distressed and annoyed," said Imams while delivering the sermon.
"Among the behaviours which fall within the definition of sexual harassment are verbal harassment through the sending or posting of explicit messages, images, videos and reading materials through social media; and physical encounters such as touching, patting, pinching, holding and unnecessary proximity.
"It also includes non-verbal cues such as glancing, staring, gazing, hand gestures and body language."
The sermon urged Muslims to guard their speech and to refrain from acts which can affect their relationships with family, friends, neighbours and colleagues.
"If injustice and evil acts were being perpetrated, then we, as Muslims, are required to put a stop to them," said Imams.
"This corresponds to the concept of Amar Ma'ruf Nahimunkar (doing good deeds and prohibiting wrong) to prevent the incidences of sexual acts which leave a negative impact on the victims.
"Sexual harassment is undoubtedly a violation of the principles of Maqasid Syariah (objective of Islamic law), especially in safeguarding the soul and the spirit. Our faith strictly prohibits any form of sexual misconduct, because it is related to one's soul, dignity and honour.
"Allah the Almighty taught us to be respectful and compassionate towards other. Therefore, let us all maintain good manners, ethics and behaviour so that our relationships and mahabbah (love) will remain strong and steadfast for always."
https://borneobulletin.com.bn/2020/11/be-careful-with-words-actions-imams-urge-2/
----------
Muhyiddin congratulates Biden, says the voters have decisively chosen
BY YISWAREE PALANSAMY
08 Nov 2020
KUALA LUMPUR, Nov 8 — Prime Minister Tan Sri Muhyiddin Yassin today congratulated his US counterpart Joseph Robinette Biden Jr, on the latter's triumph as the 46th US President.
In a statement today, Muhyiddin said that the US electorates have decisively made their choice known, adding that Malaysia has been closely following developments of the polling.
Biden is projected to win the tightly contested 2020 US Presidential Election, where he took on former reality television star and the 45th US President, Donald John Trump.
"I extend my heartfelt congratulations to the Democratic presidential nominee, former Vice President Joe Biden, on his historic victory in the 2020 US Presidential elections. Malaysia has closely followed the electoral process in the US, with much anticipation.
"The American voters have decided decisively in endorsing Mr. Biden as the 46th President of the United States for his leadership and vision. As a fast growing developing country, Malaysia attaches great importance to its relations with the United States," the statement read.
Muhyiddin said that the US-Malaysia Comprehensive Partnership continues to be an overarching framework for pro-active, multifaceted and mutually beneficial collaboration between the two countries, and looks forward to strengthening the partnership further with the US, led by Biden, as the international community seeks to address the many global challenges, including the disastrous impacts of the Covid-19 pandemic.
"I wish President-Elect Joe Biden great success in his presidency, and look forward to meeting him personally when an opportunity arises," Muhyiddin added.
https://www.malaymail.com/news/malaysia/2020/11/08/muhyiddin-congratulates-biden-says-the-voters-have-decisively-chosen/1920507
---------
URL: https://www.newageislam.com/islamic-world-news/uae-relaxes-islamic-laws-extramarital/d/123409
New Age Islam, Islam Online, Islamic Website, African Muslim News, Arab World News, South Asia News, Indian Muslim News, World Muslim News, Women in Islam, Islamic Feminism, Arab Women, Women In Arab, Islamophobia in America, Muslim Women in West, Islam Women and Feminism