New Age Islam News Bureau
26 Jun 2018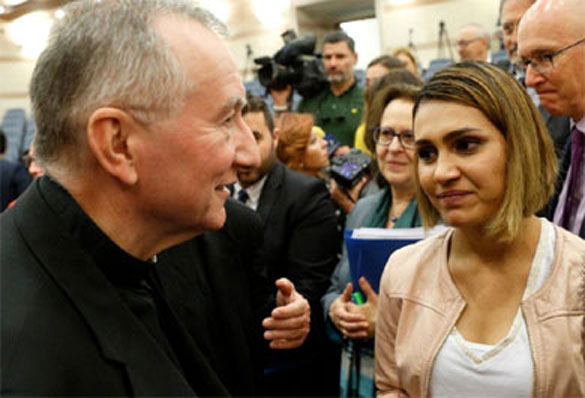 Cardinal Pietro Parolin, Vatican secretary of state, talks with Salwa Khalaf Rasho, a human rights activist who escaped Islamic State captivity, at the conclusion of a symposium on religious freedom presented by the U.S. Embassy to the Holy See in Rome June 25. (CNS/Paul Haring)
----
• UAE Fatwa Council to Preach Islam's Moderate Values
• Turkey Will Spread Islamic Terrorism Like Saudi Arabia Once Did
• Rashtriya Shia Samaj of Shia Muslims Vows To Support BJP In 2019
• New Cardinal Warns Of 'Gradual Erosion' Of Religious Freedom in Pakistan
• The United States Cannot Afford to Pick a Side in the Shia-Sunni Fight
• Time to Rein In Little Napoleons, Say Critics of Muslim Bureaucracy
Arab World
• UAE Fatwa Council to Preach Islam's Moderate Values
• Iraqi Court Hands Death Sentences To Six Daesh Militants over Bloody Bombing
• Families flee as regime, Russia pummel Syria's south
• US Likely to End Deployment in Al-Tanf Base in Eastern Syria
• Popular Resistance Force Formed in Northern Syria to Face Foreign Occupiers
• Terrorists Suffer Heavy Casualties in Clashes with Syrian Army in Sweida Province
• Iraq makes arrests in kidnapping of security men by ISIS
-------
Mideast
• Turkey Will Spread Islamic Terrorism Like Saudi Arabia Once Did
• Erdogan Vows To Continue Capturing Syrian Territories
• Yemen Army Advances in Saada as 8 Hezbollah Militant Killed In Battle
• Israeli missiles 'target Hezbollah depots' in vicinity of Damascus Airport
• Iran urges intl. action to halt Saudi offensive in Yemen
• Nine Yemeni civilians killed, nearly 20 injured as Saudi jets hit Amran
-------
India
• Rashtriya Shia Samaj of Shia Muslims Vows To Support BJP In 2019
• Vice President Cautions against Intolerance In The Name Of Cow, Love Jihad
• India Launches Blistering Attack on Pakistan at UN for Its Comment on PoK
• India turns heat on Maldives as Chinese dragon spews fire in Indian Ocean
• Modi Govt Can Only Divide Hindus, Muslims, Can't Resolve Kashmir: Former Union Minister
• What About Dalit Quota in Aligarh Muslim University, Asks Yogi Adityanath
• Muslim-Hindu Couple Performs Puja at Almora Temple
• Probe gives clean chit to cops in SIMI encounter
-------
South Asia
• New Cardinal Warns Of 'Gradual Erosion' Of Religious Freedom in Pakistan
• Tensions Simmer Between Myanmar's Military and Civilian Leaders
• Taliban militants reject fresh calls for extending June ceasefire in Afghanistan
• Drone Strikes Target ISIS-K Hideouts in Nangarhar Leaving At Least 6 Dead
• EU penalises Myanmar generals for Rohingya violations
• Myanmar sacks top general involved in Rohingya crackdown
-------
North America
• The United States Cannot Afford to Pick a Side in the Shia-Sunni Fight
• EU, Canada Sanction Myanmar Military over Rohingya Abuses
• US says it stands firmly with Saudi partners against border threats
• Taliban Calls Islamic Scholars Conferences A US Process
• Anti-Islam Statements Should Disqualify Trump's Pick for U.N. Migration Post
• US seen backing away from Syria de-escalation enforcement
• Javier Solana refused visa waiver to US because of Iran trip
-------
Southeast Asia
• Time to Rein In Little Napoleons, Say Critics of Muslim Bureaucracy
• China Step Ups Surveillance with Flock of Robotic Doves in Muslim-Majority Xinjiang: Report
• Indonesia participates in moderate Islam conference in Iraq
• Malaysia mosque bans tourists after 'dance' goes viral
• Next, Putrajaya council to meet conservative and liberal Muslims
• Malaysia's Anwar Ibrahim says Erdogan's win in Turkey 'a victory for the Islamic world'
-------
Europe
• How Islamic Immigration Is Fuelling a Political Earthquake in Europe
• French far-right group arrested over alleged plot to attack Muslims
• Italy calls for refugee centres south of Libya
• Merkel vows to work 'constructively' with Erdogan
-------
Pakistan
• This Is the New Era of Kashmir and Modi Can't Stop It from Becoming Independent: Hafiz Saeed
• Handing Over Country to the Corrupt Tantamount To Committing Suicide: JI
• Pakistan may be placed in FATF's 'grey list' for financially aiding terrorism: Report
• Pakistani ambassador to US stresses need to promote bilateral trade
• Lacked experience in 2013 elections, 2018 will be a win for PTI: Imran Khan
• Bilawal to announce PPP's election manifesto this week
-------
Africa
• Violent Clashes Between Muslim Cattle Herders and Christian Farmers in Nigeria Leave '86 Killed'
• MURIC Rubbishes Christian Elders over Attack on Buhari Govt
• Boko Haram: Troops nab terrorists' fuel suppliers
• Libyan coastguard picks up 1,000 migrants in one day, recovers several bodies
• Libya to restart exports after 'full control' of oil crescent
• Haftar hands captured Libyan oil terminals to eastern administration
Compiled by New Age Islam News Bureau
URL: https://www.newageislam.com/islamic-world-news/uae-fatwa-council-preach-islams/d/115649
-------
UAE Fatwa Council to Preach Islam's Moderate Values
June 25, 2018
Abu Dhabi: The newly-established UAE Fatwa Council will regulate religious Fatwas, ensure preaching of the true moderate values of Islam and combat extremism and radicalisation, scholars said on Monday.
Dr Mohammad Matar Al Ka'abi, chairman of the Abu Dhabi's General Authority of Islamic Affairs and Endowments, said that UAE Fatwa Council will ensure alignment of fatwas (Islamic rulings) in the country and ensures preaching of moderate Islam.
"Unifying and regulating fatwa practices in the UAE will prevent personal or improvised Fatwas and rebut extremist and terrorist Fatwas, in keeping with the leading role played by the UAE in combating terrorism and radicalisation," said Dr Al Ka'abi.
The UAE Cabinet on Sunday set up the UAE Fatwa Council — a single authority — to regulate fatwas and ensure preaching of the true moderate values of Islam.
The new council will be the sole reference and will ensure the alignment of all issued fatwas in the country, according to Emirates News Agency WAM.
The council will be the official reference for fatwas in the UAE and will work to unify efforts, visions and objectives to regulate the work of government agencies, institutions and individuals regarding Fatwas.
The UAE has become the first Arab country to enact a law that criminalises the belittling of religions and all forms of discrimination on the grounds of religion, caste, creed, doctrine, race, colour or ethnic origin.
The council shall be entitled to issue general fatwas on various issues or at the request of governmental institutions or individuals, and to train muftis (Islamic scholars) to develop and foster their skills.
The council will be also tasked with publishing Islamic studies and researches related to various development fields and overseeing the fatwa centre at the General Authority for Islamic Affairs and Endowments.
The Council will supervise the fatwas issued by the concerned authorities after coordination with them and will represent the UAE in all conferences, forums and international jurisprudence councils related to the fatwa affairs and other relevant jurisdictions.
Dr Al Ka'abi said the council will also ensure that religious scholars advocate moderate Islam and eliminate any source of conflict among existing and future fatwas.
"The Fatwa Council will issue Islamic rulings on various issues at the request of government entities, institutions or the general public, resorting to a defined system to issue, announce and archive rulings," Dr Al Ka'abi said.
Dr Ahmad Al Qubaisi, a leading scholar, said manned by trusted muftis and scholars who are known for their moderate and tolerant approach as well as high academic qualifications, the council will succeed in winning the public's trust and become a reliable point of reference for all their religious queries.
Dr Al Qubaisi said the new council will protect and regulate the issuing of fatwas to reduce the huge number of religious edicts affecting the lives of millions of Muslims.
"The council will limit fatwas by scholars as not all of them are qualified to issue them. Setting up a sole fatwa authority is necessary because many individuals have started bypassing the authority of official religious bodies and have issued fatwas that cause disputes and dissent among Muslims," Dr Al Qubaisi said.
Dr Al Qubaisi added religious fatwas are meant to offer a jurisprudential point of view, clarifying all its relevant terminologies, principles and objectives. Such a task can only be carried out by scholars who are well-versed in Islamic Fiqh (jurisprudence).
High-profile scholars
The UAE Fatwa Council is chaired by Shaikh Abdullah Bin Bayyah, chairman of the Forum for Promoting Peace in Muslim Societies and vice-president of the International Union of Muslim Scholars, Mauritania.
Shaikh Bin Bayyah is a Mauritanian professor of Islamic studies at the King Abdul Aziz University in Jeddah, Saudi Arabia. He is a specialist in all four traditional Sunni schools, with an emphasis on the Maliki one.
Bin Bayyah, who worked alongside Shaikh Zayed in his noble cause for helping the needy around the world and also accompanied him to many Arab summits and global events, was the first Minister for Islamic Affairs and Education in Mauritania. He also assumed the ministerial portfolios of Justice and State for Human Resources — with the position of Deputy Prime Minister.
Bin Bayyah was a member of the cabinet and the permanent committee of the ruling Mauritanian People's Party from 1970-1978.
The council will feature high-profile scholars in the country including Omar Habtoor Dhibi from the General Authority for Islamic Affairs and Endowments, Ahmad Abdul Aziz Al Haddad from the Department of Islamic Affairs and Charitable Activities in Dubai, Salem Mohammad Al Doubi from Sharjah Department of Islamic Affairs, Shamma Yousuf Mohammad Al Dhaheri from the General Authority of Islamic Affairs and Endowments, Ibrahim Obaid Ali Al Ali from Umm Al Quwain Court, Abdullah Mohammad Ahmad Al Ansari from the General Authority of Islamic Affairs and Endowments and Ahmad Mohammad Ahmad Yousuf Al Shehhi from the General Authority of Islamic Affairs and Endowments.
https://gulfnews.com/news/uae/government/uae-fatwa-council-to-preach-islam-s-moderate-values-1.2242138
-------
Turkey Will Spread Islamic Terrorism Like Saudi Arabia Once Did
June 25, 2018
President Recep Tayyip Erdogan has declared victory in an election which independent observers say was neither free nor fair. Under Turkey's new executive presidency, Erdogan can rule by decree. Then again, he has been able to do so for almost two years, since he declared a state of emergency in the wake of a coup attempt which very well may have been Turkey's equivalent of the Reichstag fire. Those who support continued U.S.-Turkey partnership say either that the United States has invested too much in its ties to Turkey to walk away because of disgust with one man or they point to Turkey's strategic value.
These concerns miss the point, however: The partnership between Washington and Ankara was never arbitrary; it rested on shared values. The values the Turkish government now holds, however, are the antithesis of American democratic and liberal values. Erdogan has cracked down on free press, imprisons opponents, and engages in hostage diplomacy. He unapologetically supports Islamist terrorist groups and threatens to betray U.S. military technology to Russia. NATO, meanwhile, is an alliance of joint defense. The whole is greater than the sum of the parts. When one member is threatened, the others rally to its defence; they do not engage in a bidding war for loyalty, as Erdogan openly does with Washington and Moscow.
The real problem with Turkey is not its relationship with the United States, however, but rather its relations with the world.
Consider the case of Saudi Arabia: It grew tremendously wealthy in the 1970s on the back of the petrodollar and used that money to spread its intolerant and extreme vision of Islam around the world. The Sept. 11 attacks perpetrated by Saudi hijackers and financed in part by Saudi royals was simply the tip of the iceberg. Saudi money, Saudi nongovernmental organizations, and Saudi-funded mosques are responsible for hundreds of thousands, if not more, deaths in conflicts from Paris to the Philippines and from Syria to Somalia.
That began to change not in the aftermath of the attacks on New York and Washington, but rather when al Qaeda terrorists attacked inside Saudi Arabia itself. The Saudis quickly understood the blowback they risked. After all, al Qaeda essentially followed a theological exegesis and worldview taught in Saudi textbooks. The kingdom could no longer ensure its own security by ensuring that its militants focused their efforts on conflicts beyond its borders.
It is uncertain if Saudi Crown Prince Muhammad bin Salman will be successful with his reforms and, if not, radicalism could return with a vengeance. That said, there is optimism not only in Washington, but across the Islamic world and in Riyadh itself that bin Salman is serious about righting past wrongs and beginning to unravel the radicalism which his kingdom and his relatives once supported. The irony here, however, is that as Saudi Arabia pulls back from its past role as the number one financier of religious radicalism, Turkey may take its place.
Erdogan is the product of a religious education in Turkey and joined a movement more attuned to the Muslim Brotherhood than traditional Turkish Islam. As he has consolidated power, he has sought to privilege this Salafi vision and fundamentally change Turkish society. After all, when Erdogan has promised "to raise a religious generation," he means one that adheres only to his vision. He has sought to force Alevi students to undertake religious education with Sunni teachers, and he has lifted age and time restrictions on supplemental Quran schools often taught by teachers from oil-rich Gulf emirates like Qatar. He had replaced the traditionally technocratic banking board with Turkish alum who learned their trade working in Islamic banking in Saudi Arabia. And he has undertaken an unprecedented mosque construction program which he then staffs with those who amplify his vision. The whole dispute with exiled theologian Fethullah Gulen? That has more to do with a conflict between Erdogan's more Salafi exegesis and Gulen's more traditionalist, Turkish Sufi vision than political and financial competition.
While Erdogan has laid the groundwork for a new Islamist vision in Turkey, his ambitions go beyond. He sees Turkey as leader of the Islamic world.
In 2004, he pushed successfully for a Turk to lead the Organization of Islamic Cooperation. And he has pushed the Diyanet, the institutionalization of Islam in Turkey, not only to take a more international role, but to take a more Islamist one as well.
Indeed, European security services increasingly see the Diyanet and the imams it funds and produces to be a security threat in much the same way that graduates of Saudi-funded religious seminaries were once viewed. Austria is closing Turkey-funded mosques and expelling Turkey-sponsored imams. Germany and the Netherlands are also investigating Turkey and Turkey-sponsored imams for illegal activities on their soil. Turkey's diplomats and imams increasingly pose a security threat in the Balkans, where they work to radicalize Muslim populations in Bosnia, Macedonia, and Kosovo. About 90 percent of the Islamic State's foreign fighters traversed Turkey.
Had Erdogan sought to control his border, ISIS would never have seized the territory it did. While Erdogan has justified his incursion into the Afrin district in Syria as necessary for counterterrorism, he has allowed radical Syrian Islamist groups to fill the vacuum left by largely secular Kurds ethnically cleansed from the region. Turkey is also reaching out and using its imams to proselytize a more radical vision among Muslims in Africa; a leaked phone call suggests it may even have supplied arms to Boko Haram. Turkey's new Islamist drive also determines its growing relationship with Sudan, Qatar, and the Hamas-run administration of the Gaza Strip.
Erdogan's vision is clear. His goal was never simply consolidation of absolute power over Turkey, but rather to lead a worldwide transformation of Islam and become leader of the Islamic world. For Erdogan, phase one is complete, but phase two of his program is just beginning. He may not have the money Saudi Arabia once did, but he has picked up the baton dropped by Saudi Arabia as it seeks a new direction. Alas, it increasingly appears that Turkey, as Erdogan's vassal, will become the new engine for instability just as the old one responsible for so much destruction sputters out.
https://www.aei.org/publication/turkey-will-spread-islamic-terrorism-like-saudi-arabia-once-did/
-------
Rashtriya Shia Samaj of Shia Muslims Vows To Support BJP In 2019
June 25, 2018
Shia community under the banner of RSS (Rashtriya Shia Samaj) has decided to support Narendra Modi as BJP's Prime Ministerial candidate for the 2019 Lok Sabha polls.
"Shia muslims will be supporting Narendra Modi as the Prime Ministerial candidate of the BJP for the 2019 Lok Sabha polls. We are also in favour of the construction of the Ram temple at Ayodhya," Shias' RSS head Bukkal Nawab, who is also a BJP MLC told PTI.
"Shia community will unitedly support the BJP to ensure Modiji becomes PM once again after 2019 elections," he said, adding no other political party except the BJP cared for Shia Muslims, who form about 18 per cent of the Muslim population.
Dwelling upon the Shias' reasons for supporting the BJP, Nawab said, "It was former PM Atal Bihari Vajpayee, who helped lifting a 20-year-old ban on Shia processions in the state capital".
He added that various Shia leaders like Union minister Muktar Abbas Naqvi, state minister Mohsin Raza, National Commission of Minorities Chairman Syed Ghayorul Hasan Rizvi, UP Minority Commission Chairman Haider Abbas have been given respectable positions by the BJP government.
He alleged that in previous regimes of the BSP and the SP in the state, Shia Muslims were subjected to "harassment" and he himself was put in jail by the Mayawati government.
"In SP regime, its leader Mohammad Azam Khan did all possible things to repress the Shia community. Going by the treatment meted out to the community in the past by various political parties, the Shia community has decided to support Modi this time and ensure the BJP's victory," he said.
Rashtriya Shia Samaj or RSS was conceptualised in 2016 and different public-oriented programmes were started under its banner last year.
On one of the 'Bada Mangal' day (a Tuesday observed as the day of worship to Lord Hanuman), RSS organises a large-scale bhandara (community feast) besides engaging in activities, which it claims, was for betterment and welfare of the people.
About the abbreviation RSS, which is generally associated with the Hindu nationalist group, Nawab said it is in a different 'avtar' here.
After formation of the BJP government in the state in 2017, Nawab, who was a Samajwadi Party MLC resigned to pave way for Chief Minister Yogi Adityanath and deputy chief ministers Keshav Prasad Maurya and Dinesh Sharma to enter the state Legislative Council.
He later joined BJP and was given a legislative council ticket by the party in April and is now a BJP MLC.
All India Shia Personal Law Board spokesman Maulana Yasoob Abbas when asked about the Shias' RSS support to the BJP, told PTI, "I am not aware of the development as I am out of station. We will sit and discuss it before reaching any decision as it is a very sensitive issue.
https://www.indiatvnews.com/news/india-rashrtiya-shia-samaj-rss-decides-to-support-narendra-modi-for-2019-polls-449312
-------
New cardinal warns of 'gradual erosion' of religious freedom in Pakistan
Jun 25, 2018
ROME — A Pakistani archbishop has warned about the "gradual erosion" of religious freedom in his country, saying the nation's caretaker government has not been able to control vigilantism undertaken by religious extremists.
Karachi Cardinal-designate Joseph Coutts, who will become Pakistan's first cardinal in 24 years during a Vatican ceremony June 28, said a law in his Muslim-majority country meant to prevent blasphemy against Islam is "being very easily misused."
"It's causing a lot of problems right now," said Coutts, speaking at June 25 event on religious freedom co-hosted by the U.S. embassy to the Holy See, Aid to the Church in Need, and the Sant'Egidio Community. "People are being killed ... just because of an accusation."
"Our government is not strong enough to control the kind of extremism that has developed in the country," he said. "It is enough to accuse someone of blasphemy ... and you're finished."
Coutts, who has led the Catholic community in Pakistan's largest city since 2012, is one of 14 prelates Francis has chosen to elevate to cardinal this week. Pakistan's last cardinal was Joseph Cordeiro, one of Coutts' predecessors in Karachi, who died in 1994.
The June 25 event, titled "Defending International Religious Freedom: Partnership and Action," highlighted a number of faith communities in different parts of the world that have suffered violence.
One of the speakers at the conference was a Yazidi from northern Iraq, who escaped enslavement by the so-called Islamic State and is now living in Germany. Another was an activist who has worked to help some 700,000 Rohingya Muslims now living in Bangladesh after suffering persecution in Myanmar.
The U.S. ambassador to the Holy See, Callista Gingrich, opened the event by citing nearly a dozen examples of religious persecution around the world and said it is "a dangerous time to be a person of faith."
"All of us gathered here today understand that religious liberty and tolerance are bulwarks against the forces of extremism," said Gingrich. "History has shown that governments and societies that champion religious liberty are safer, more prosperous, and secure."
Cardinal Pietro Parolin, the Vatican's Secretary of State, closed the conference by encouraging global governments to raise awareness about the persecution of religious minorities.
Parolin outlined seven elements he called "essential" to protecting minority groups, including "positive collaboration" between religious communities and governments, the "great duty to condemn abuse of religious belief and sentiment to justify terrorism" and educational efforts "to prevent radicalization that leads to extremism."
Salwa Rasho, a Yazidi woman who was enslaved by the Islamic State group for eight months, called on participants to discover the fate of some 3,000 Yazidis still in the group's captivity.
Rasho also asked for the global community to bring areas inhabited by religious minorities in Iraq and Syria under international protection, to set up a United Nations investigation into the Islamic State's crimes and to open borders to Yazidi refugees.
"If this action is not taken, our existence, identity and culture will be wiped out — fulfilling the aim of the Islamic State," she said.
'The tough part lies in the days ahead'
Coutts said that in Pakistan it is not only Christians who face unfair accusations of breaking the country's blasphemy law, but also Shia Muslims. Pakistan is estimated to be 97 percent Muslim, with 95 percent of those Muslims identifying as Sunni.
"We are suffering as Christians, but our Muslim brethren are also suffering," he said.
Pakistan has had blasphemy laws since its time as a British colony, but the laws were expanded in the 1980s under the military government of Muhammad Zia-ul-Haq. Critics say the laws, which prohibit defiling the Koran or the name of the prophet Mohammed, unfairly target minorities and have led to instances of mob violence.
Coutts said the violence is carried out by those with "extremist thinking largely based on emotions." He shared one example of a threat he received after he was invited by Muslim friends to visit their madrassa around Christmastime one year.
He said that some days later he and some of the Muslims received hand-written notes, warning them: "Stop all this rubbish or we'll pull out your tongues."
"What can you do with people like this?" he asked. "This is the reality. I think we've got to look for the answers but I don't know the answers."
In a brief interview with some journalists after the June 25 event, Coutts said he had been surprised by Francis' decision to make him a cardinal. The archbishop said he learned of his appointment when a parish priest offered congratulations to him.
"Of course there's great joy but there's also great responsibility and I don't know how I will be able to live up to it," said Coutts. "That's the big thing. It's nice to receive all the congratulations at this stage, but the tough part lies in the days ahead."
https://www.ncronline.org/news/justice/new-cardinal-warns-gradual-erosion-religious-freedom-pakistan
-------
The United States Cannot Afford to Pick a Side in the Shia-Sunni Fight
June 25, 2018
The President of the United States has decided that the best approach to Iran is to speak loudly and carry a big stick—in the hopes that relentless pressure on Iran will either lead to regime change or the country abandoning its contentious foreign policies. Such saber-rattling will more likely enfeeble American power within the region and set U.S. policy on track for yet another dangerous conflict in the Middle East. Just as importantly, increasing tensions with Iran also bode poorly for sectarian de-escalation in the Muslim world. This is because the Shia view American policies without a balance between regional Sunni and Shia actors.
Under Trump, America is going all in with the pro-confrontation camp led by Saudi Arabia and the United Arab Emirates (UAE). The United States has reversed President Obama's policies to take a balanced approach towards Iran and other transnational Shia groups. This shift has included pulling out of the Iran nuclear deal, which has only further deepened the sectarian battle lines in the region. While Trump's strategy is standard combative neocon policy at face value—i.e., ideologically driven opposition to Iran rather than realpolitik—it has also acquired a partisan, sectarian edge with rhetoric and policies that appear as if the United States is taking sides in sectarian conflicts in the Islamic world.
The administration's narrow focus will provoke precisely what the Trump White House aims to prevent—a more cohesive regional Shia movement under Iran's protection and aggrieved Shia supportive of countering U.S. influence in the region. In other words, the current U.S. course is narrowing policy discussions both within individual Shia organizations as well as across transnational Shia alliances by closing the door to pro-U.S. policy alternatives. Trump's policies are causing a consolidation of a shared anti-American security outlook that unites the various groups found across the Shia world.
In October of last year, the White House argued that past U.S. policy was incorrect because it "consistently prioritized the immediate threat of Sunni extremist organizations over the longer-term threat of Iranian-backed militancy." This statement alluded to and conflated diverse and indigenous Arab Shia forces with Iran and indirectly to groups like ISIS and al-Qaeda. Additionally, Previous Secretary of State Rex Tillerson called for "Iranian militias that are in Iraq...to go home," prompting a frosty response from Iraqi Prime Minister Haider al-Abadi especially since the rhetoric replicated sectarian language which equated all Arab Shia with the Iranian ethnic identity. These policies together create the perception that the United States has taken a side against the Shia in the struggles ongoing in the region.
Prior American administrations recognized that the path to regional peace requires a non-sectarian approach. However, Trump's coupling of Iran regime change policy with a regional outlook echoing sectarian rhetoric threatens to upend this fragile understanding. The Bush administration was careful to label Islam as a "religion of peace," and worked with previous Iraqi Prime Minister Nouri al-Maliki despite his pro-Iranian sympathies. The Obama administration also practiced a pragmatic agnosticism as to its regional partners, as evident in its attempt to thaw U.S.-Iranian relations and its insistence that Saudi Arabia and Iran "learn to share the Gulf."
When the United States now focuses on Iran as the region's only "bad state actor"—and no doubt serious concerns and differences remain—America gives carte-blanche to countries such as Saudi Arabia. United States indifference to Saudi Arabia's Wahhabi ideology; its intervention in Yemen; its meddling in Lebanon; the crackdown on pro-democracy protesters in Bahrain as well as on its own sizable Shia minority; and the perceived support of militant groups in Iraq and Syria has only further tarnished America in mainstream Shia opinion. This will disadvantage long-term American strategic interests by failing to approach Iran and other Shia-led movements with practical shared concerns in the Middle East and instead incentivizing them to act as a spoiler against American interests in the region.
While many Shia movements may have differences of opinion with Iran, as long as the Trump presidency uncritically supports Saudi Arabia and the threat of military conflict with Iran remains on the horizon, it is unlikely that any popular Shia group will side with the United States. Shia anxious at the prospect of rising sectarian discrimination and U.S. aggressiveness will throw their weight behind Iran and regional Shia political movements. This further consolidates Iran's position as the center of the Shia world and its long-standing partnership with various Shia transnational movements throughout the Middle East such as the Lebanese Hezbollah, many of Iraq's Popular Mobilization Forces (PMF), and Yemen's Ansarallah (the Houthis) all of whom are engaged in critical regional hotspots.
Such sentiments also apply to Iraq's notoriously independent Shia clerical institutions (the "marja'iyya") led by Ayatollah Ali al-Sistani, whose reported rejection of overtures by Saudi Crown Prince Mohammad bin Salman are a clear indication of the deep gulf which exists between the two sides. A willingness to work with al-Sistani and Iraq's moderate clergy who wish for Iraq to have an independent middle path is a necessary prerequisite to meaningful bilateral relations. For instance, in the past, Sistani has effectively vetoed American policy during critical junctures.
From a historical and structural perspective, many of the armed Shia movements allied with Iran, such as Hezbollah and factions of the Iraqi PMF, do not do so purely on sectarian affinity but rather see Iran as a partner in their grievances against a regional security architecture which has long excluded the Shia. These groups are the product of war and instability and have received support from Iran to organize and effectively assert themselves locally. As long as war and brinkmanship are still on the horizon, it is unlikely that the region's Shia will meaningfully disassociate themselves from Iran. Further, most of the region's Shia have long-standing historical ties and affinity to Iran as a site of pilgrimage, learning, and shared cultural-religious values. Moreover, differences of opinion do not mean that all Shia will accept the Saudi line on Iran. For instance, in Iraq, the cleric Muqtada al-Sadr was widely perceived to be close to the Saudis and UAE, yet he also nonetheless announced a coalition with the Iran-allied Fatah PMF front. And in Lebanon, Hezbollah and its allies made the strongest electoral showing and are formally intertwined with the Lebanese state.
If the United States wishes to cooperate with leading political parties and states of Iraq and Lebanon, it must consider mainstream Shia concerns and undertake a balanced approach with regional powers. Otherwise, America will seem biased towards Wahhabi or Salafi currents which are tied to the Persian Gulf monarchies that have been at the forefront of lauding the administration's policies towards Iran. This will disadvantage potential cooperation with moderate Shia forces such as al-Sistani. Furthermore, American bias in favor of Sunnis will increase tensions with regional powers such as Turkey and Qatar which have recently gravitated closer to Iran in an effort balance against Saudi Arabia. Another example includes Kuwait and Oman also striking a balanced tone for similar reasons. The United States would do well to observe and emulate this delicate balancing act.
http://nationalinterest.org/feature/the-united-states-cannot-afford-pick-side-the-shia-sunni-26403
-------
Time to rein in little Napoleons, say critics of Muslim bureaucracy
June 26, 2018
KUALA LUMPUR: Calls have been renewed for closer supervision of the country's Islamic authorities; in the wake of the recent arrest of vocal lawyer Siti Kasim which critics say has tarnished the new government's image.
Two prominent Muslims who have had run-ins with Malaysia's religious bureaucracy in the past said the episode last weekend showed it was time the Pakatan Harapan (PH) government reined in government Islamic agencies.
Dr Ahmad Farouk Musa, whose group Islamic Renaissance Front (IRF) has frequently spoken out against the repression of Muslims by Islamic agencies, questioned the swift manner in which police had acted on the complaint reportedly lodged with the Selangor Islamic Department (Jais), accusing Siti of "abducting" a client who had sought refuge in her house.
"Her arrest only proves that the little Napoleons in Jais still think they are living in the era of the old repressive regime," Farouk told FMT.
He questioned if the same level of "efficiency" was shown by police in the case of Umno division leader Jamal Yunos, who vanished without signing his bail papers soon after he was charged last month.
"The swift action of the police only showed that they can act swiftly when cajoled by the religious authorities but are incompetent when handling issues like Jamal disappearing right under their very eyes," he said.
Lawyers and activists have slammed the arrest of Siti, who was accused of kidnapping 24-year-old Anis Nur Izzaty Ruslan, whom Siti claimed was abused by her mother.
Anis had sought refuge in Siti's house but was picked up by police after a complaint lodged by her mother with Jais, claiming that her daughter's faith was under threat.
During her detention at the Kajang district police headquarters, Anis was heard denying that Siti had kidnapped her.
Siti was arrested late on Saturday after she confronted police officers, demanding an explanation for their intrusion of her house.
Rule of law
Academic and novelist Faizal Musa, better known by his pen name Faisal Tehrani, said Siti's arrest only strengthened the argument for the government to rein in Islamic agencies as well as the police.
"Only with clear supervision of the enforcement agencies can we rid the nation of corruption, right the wrongs and restore public confidence," Faisal said.
Faisal, who has known Siti for five years, said he regarded her as the symbol of "rule of law".
"She has defended the marginalised communities, including the Orang Asli and transgenders.
"On issues of religious minorities such as the Ahmadis and Shias, she has been vocal at public forums," said Faisal, whose seven published works are still under a ban imposed by the previous government over claims that they contain Shia Muslim undertones. Shia Islam, the dominant school of thought in several parts of the Middle East, is frowned upon by Malaysia's religious authorities who label it deviant.
Farouk meanwhile questioned what he called the "indifference" shown by the minister in charge of women's affairs, Dr Wan Azizah Wan Ismail, who is also the deputy prime minister.
Hours after Siti's arrest made news headlines, Wan Azizah reportedly said she was unaware of the incident, and that it was a matter for the police to settle.
"Her silence is deafening," said Farouk, referring to Wan Azizah.
"This will definitely embolden the religious bigots in Jais and the likes to behave like mafia, which has been their trademark."
He said Siti may have come across to some as "loud and unconventional", but that did not justify an intrusion of her privacy in the middle of the night.
"What wrong did Siti do? Giving shelter to her client who sought her help was considered a crime? Why must the police arrest Siti for abduction when the client voluntarily sought Siti's protection?" he asked.
http://www.freemalaysiatoday.com/category/nation/2018/06/26/time-to-rein-in-little-napoleons-say-critics-of-muslim-bureaucracy/
-------
Arab World
Iraqi court hands death sentences to six Daesh militants over bloody bombing
Jun 25, 2018
A court in Iraq has handed down death sentences to six members of the foreign-sponsored Takfiri Daesh terrorist group over their involvement in a bomb attack in the country's southern province of Dhi Qar, which claimed the lives of dozens of civilians and left many more injured last September.
A security source, speaking on condition of anonymity, told Arabic-language al-Ghad Press news agency that the criminal court in Dhi Qar issued the verdicts on Sunday, noting that all convicts were Iraqi nationals.
At least 60 people were killed and dozens more wounded in two gun-and-car bomb attacks near the city of Nassiriyah on September 14, 2017.
The attacks started with unidentified assailants opening fire inside a restaurant on the main highway that links the capital Baghdad with the southern provinces.
Shortly afterwards, an explosives-laden car targeted a security checkpoint in the same area.
The Daesh terrorist group later claimed responsibility for the attacks.
Yahya al-Nassiri, the province's governor, said the majority of the victims were Iranian pilgrims who were inside the restaurant.
On December 9, 2017, Iraq's Prime Minister Haider al-Abadi declared the end of military operations against Daesh in the Arab country.
Seven months later, Abadi formally declared victory over Daesh extremists in Mosul, which served as the terrorists' main urban stronghold in the conflict-ridden Arab country.
In the run-up to Mosul's liberation, Iraqi army soldiers and volunteer Hashd al-Sha'abi fighters had made sweeping gains against Daesh.
The Iraqi forces took control of eastern Mosul in January 2017 after 100 days of fighting, and launched the battle in the west on February 19 last year.
Daesh began a terror campaign in Iraq in 2014, overrunning vast swathes in lightning attacks.
http://www.presstv.com/Detail/2018/06/25/566041/Iraqi-court-hands-death-sentences-to-six-Daesh-militants-over-bloody-bombing
-------
Families flee as regime, Russia pummel Syria's south
June 25, 2018
Syria's government ramped up its bombardment of the southern city of Daraa on Monday, forcing dozens of families to flee an expected assault on the cradle of a seven-year uprising.
After a string of wins elsewhere in the country, President Bashar al-Assad has set his sights on recapturing the country's strategic south, which borders Jordan and the Israeli-occupied Golan Heights.
His forces have been battering rebel-held towns in Daraa province for nearly a week, leaving at least 28 civilians dead, according to the Syrian Observatory for Human Rights.
They then turned to the provincial capital of the same name, launching air strikes and barrel bombs on opposition-held districts in the early hours of Monday.
More than 55 surface-to-surface missiles slammed into those neighbourhoods after midnight, followed by four barrel bombs, the Britain-based Observatory said.
"It is the first time they drop barrel bombs on Daraa city in more than a year," said monitor chief Rami Abdel Rahman.
The city was struck again around noon, this time with air strikes by Syria's ally Russia, which has helped Assad's troops recapture swathes of territory since 2015.
The attacks prompted dozens of terrified families to stream out of Daraa city.
Many set out in the dead of night to seek shelter in olive groves on the city limits, AFP's correspondent there said.
Leaving on foot or by motorbike, they took refuge in small shacks or tents among the trees.
"We don't know what happened. We were sleeping with the children when all of a sudden, we heard heavy shelling," said Ahmad al-Musalima, 31.
"The kids started shaking in fear," he said.
He and his family fled overnight, joining an estimated 20,000 people displaced by the past week's escalating violence, according to the Observatory.
Divide and conquer
"We left the house and didn't know where to go. We headed towards the plain with the kids crying and heavy shelling overhead," Musalima told AFP.
Syrian rebels hold the western half of Daraa city and most of the surrounding province, as well most of the adjacent governorate of Quneitra to the west.
That territory roughly forms a horseshoe, whose bottom curve borders Jordan and includes a military base held by rebels since 2014.
Syrian troops meanwhile hold Daraa city's eastern half and nearly all the adjacent province of Sweida.
Frontlines had been relatively quiet for nearly a year under a "de-escalation" deal agreed in July 2017 by Russia, the US, and Jordan.
But now, the regime and its Russian allies are pursuing a divide-and-conquer strategy against rebels.
On Monday, Russian bombing raids hit the military base near the border with Jordan, said the Observatory.
Ousting rebels from it would divide the opposition horseshoe into a western and eastern section.
Russian strikes and 20 regime barrel bombs on Monday also hit the key town of Basr al-Harir in Daraa's eastern countryside, rocked by clashes for nearly a week.
"Capturing the town would allow troops to divide rebel territory to smaller pockets," Abdel Rahman said.
The heavy strikes on Daraa's eastern countryside forced rescue workers to stop operations in the town of Al-Laja.
"The civil defence teams have not been able to reach targeted areas because of the intense bombing," the local civil defence centre said in an online statement.
US holds back
The United Nations has warned that the renewed hostilities could put 750,000 lives at risk and urged all sides to respect last year's de-escalation agreement.
"Any humanitarian crisis in south Syria must be averted first by sparing civilians the pains of fighting, and second, be responded to swiftly from inside and outside Syria," said Ali al-Zaatari, UN humanitarian coordinator in Syria.
Jordan said on Sunday it could not absorb a new wave of refugees across its border.
In an effort to avoid a bloody onslaught, Russia is leading negotiations with Syria, Jordan, Israel, and the US in a bid to reach a settlement.
The uptick in violence could be tied to those talks, said Sam Heller of the International Crisis Group.
"It seems the air strikes have two aims: exerting pressure in order to get negotiations, either international or local, and paving the way for a wider attack in case the negotiations don't make progress," he told AFP.
Full report at:
https://nation.com.pk/25-Jun-2018/families-flee-as-regime-russia-pummel-syrias-south
-------
US Likely to End Deployment in Al-Tanf Base in Eastern Syria
Jun 25, 2018
The Russian-language Svobodnaya Pressa newspaper wrote on Monday that al-Tanf base in Eastern Syria in which the US and its allies trained militants for fight against the Damascus government is likely to shut down operation soon.
It added that the Syrian army has surrounded the regions near the base after its recent advances in Southern Homs.
Meantime, Endir Omriq, a Turkish analyst, said that the US will likely end deployment of its forces at the base soon given the presence of the Syrian army forces in the nearby regions.
"The Americans have understood that the base has lost its value and its continued operation will not benefit them anymore," he added.
In a relevant report earlier this month, media sources reported that the US occupying forces are attempting to open different ways to transfer terrorists between al-Tanf, Deir Ezzur and Homs by contacting the tribes in Eastern Syria for cooperation.
The Arabic website of Sputnik news agency quoted tribal sources in Eastern Syria as saying that the US forces transfer the ISIL terrorists from the desert region bordering Iraq to al-Tanf through al-Sukhneh in Homs.
Meantime, one of the prominent tribal leaders in Eastern Syria revealed that Mohannad al-Tala, a US proxy and commander of the so-called New Syrian Forces group in the US base in al-Tanf, has contacted the Syrian tribes, calling on them to open a passage for the terrorists to leave al-Tanf for Deir Ezzur to reach al-Omar oil field.
He added that the US forces fear uprisings by the people in Eastern Syria, noting that one of their goals to approach the tribes is to keep deployment in the region as Washington attempts to win the cooperation of the tribes in Manbij, Hasaka and Deir Ezzur have all failed.
Meantime, the US-backed Syrian Democratic Forces (SDF) has freed its militant inmates and sent them to the battlefield to attack al-Tanf-Sukhneh road in Homs and open a passageway and the Jordan road to al-Tanf.
Full report at:
http://en.farsnews.com/newstext.aspx?nn=13970404001027
-------
Popular Resistance Force Formed in Northern Syria to Face Foreign Occupiers
Jun 25, 2018
The sources said that people from all walks of life, including Arab tribes, Kurds, Turkmen and other races have embarked on forming a popular resistance force in Manbij to face occupiers after the US and Turkish troops' deployment and intervention in the region.
"The popular resistance force declared in a statement that it will confront any secessionist move and will never allow foreign occupiers, including Americans, French and Turkish forces to stay in the region," the sources added.
The Kurdish-language Hawar news reported last week that thousands of civilians in Manbij took to the streets and gathered in al-Batlah square at the Eastern entrance of the town.
Hawar news went on to say that the popular uprising further spread across the Central parts of the town, adding that the demonstrators condemned the agreement endorsed by the American and Turkish armies over the town.
Full report at:
http://en.farsnews.com/newstext.aspx?nn=13970404000690
-------
Terrorists Suffer Heavy Casualties in Clashes with Syrian Army in Sweida Province
Jun 25, 2018
The army men fended off a heavy attack by Tahrir al-Sham and other terrorist allies at a checkpoint in Southwestern Sweida.
In the meantime, the Arabic-language website of Sputnik quoted the Russian Reconciliation Center for Syria as reporting that the army men, backed up by the Russian Air Force, managed to repel Tahrir's attack on the towns and settlements in de-escalation zones in Southern Syria.
The center further said that a sum of 70 terrorists were killed and 17 military vehicles were damaged in the failed attack.
On Sunday, the army men, backed up by artillery units and Air Force, engaged in a tough battle with ISIL in the depth of Eastern Badiyeh of Sweida and captured several points 5 km East of Khirbet al-Habariyeh near Arz al-Kara'a region.
Other units of the army managed to advance against terrorists 2 km in Northeastern direction of Qabr al-Sheikh near al-Zalaf Dam and liberated several regions.
Full report at:
http://en.farsnews.com/newstext.aspx?nn=13970404000593
-------
Iraq makes arrests in kidnapping of security men by ISIS
25 June 2018
Iraq's security forces said on Monday they had made arrests related to the kidnapping and holding hostage of six of their members by ISIS militants.
The militants had kidnapped six men and on Saturday threatened to kill them in three days unless the government released Sunni Muslim female prisoners.
In a video released by the group, the six men identify themselves as members of the police or the Popular Mobilization Unit militias, an umbrella grouping of mostly Shiite Iran-backed militias that fought with government forces against ISIS and nominally report to Prime Minister Haider al-Abadi.
They were kidnapped on the highway connecting Baghdad to Iraq's north, a road that has seen an uptick in attacks by the ISIS in recent weeks.
Abadi met security and intelligence leaders on Sunday and ordered the formation of a special force to secure roads and protect travelers, the security forces said in a statement.
"This force was able to arrest elements from the terrorism and crime gangs that are related to the recent kidnapping incident on the road to Kirkuk province recently," it said.
Full report at:
https://english.alarabiya.net/en/News/middle-east/2018/06/25/Iraq-makes-arrests-in-kidnapping-of-security-men-by-ISIS.html
-------
Mideast
Erdogan vows to continue capturing Syrian territories
Jun 25, 2018
President Recep Tayyip Erdogan has vowed to continue Turkey's military operations in Syria and "liberate Syrian lands" after claiming victory in presidential and parliamentary elections on Sunday.
"These results show we will continue to liberate Syrian lands and open the way for our guests in our country to return home safely," Erdogan said in an election victory speech on Monday, referring to the Syrian refugees.
Turkish troops and their allied militants seized Syria's western enclave of Afrin in March before turning their attention to Manbij where the US has set up a military base to support the Kurdish militants who control the city.
Turkish authorities have indicated to move deeper into other areas inside Syria as part of Ankara's purported campaign to secure borders with the Arab country.
Addressing supporters outside his ruling AK party headquarters in Ankara, Erdogan vowed that Turkey would act more decisively against terrorist organizations.
Turkey has been opening new military fronts in Syria. Earlier this year, it launched the ongoing "Olive Branch" offensive against purported positions of the US-backed YPG militants in Afrin.
Last Monday, Turkish troops reached the outskirts of Manbij after striking a deal with the US to remove Washington-backed Kurdish militants from the area.
Turkey began its military intervention in Syria without permission from the Syrian government.
On Sunday, President Bashar al-Assad said the Syrian army will regain control of the country's north by force if US- and Turkey-backed militants there refuse to surrender.
Assad was speaking after Damascus said it rejected the presence of Turkish and US forces around Manbij, a day after soldiers of the two countries began patrolling the area.
"We have chosen two paths: the first and most important one is reconciliation... The second path is to attack terrorists if they don't surrender and refuse to make peace," Assad said in an interview with Russian television channel NTV.
"We will fight with them and return control by force. It is certainly not the best option for us, but it's the only way to get control of the country," said Assad, responding to a question about the northern part of Syria where militant groups backed by Turkey hold some territory.
http://www.presstv.com/Detail/2018/06/25/566019/Turkey-Erdogan-Syrian-territories
-------
Yemen army advances in Saada as 8 Hezbollah militant killed in battle
25 June 2018
The Arab Coalition in Yemen said operations in Saada and Hodeidah are ongoing, adding that the Houthi militias suffered great losses in Maran in Saada.
The coalition said 41 militiamen were targeted, and their vehicles and equipment were destroyed, noting that among those killed were eight members of the terrorist Lebanese Hezbollah militia, one commander and seven fighters.
Meanwhile, national army forces fought fierce battles against the Houthis in some of Hodeidah's neighborhoods. The army is getting close to the center of Hodeidah in the biggest attack since the operation to liberate Hodeidah was launched.
Military sources said there were fierce battles near the University of Hodeidah, three kilometers west of the city's downtown on the coastal road which links the airport with the port.
The Houthis are deploying more fighters in the city and continue to set sandbags in Al-Rabsa street near the University of Hodeidah.
Full report at:
https://english.alarabiya.net/en/News/gulf/2018/06/25/8-Hezbollah-members-killed-in-Yemen-as-army-operations-continue-in-Saada-Hodeidah.html
-------
Israeli missiles 'target Hezbollah depots' in vicinity of Damascus Airport
26 June 2018
Syrian state media said early Tuesday that two Israeli missiles struck near Damascus International Airport, without adding any details.
In a report in the early hours of Tuesday, Syria's state news agency said "two Israeli missiles came down near Damascus international airport".
The head of monitoring group Syrian Observatory for Human Rights, Rami Abdel Rahman, also told AFP that "the Israeli missiles hit arms depots for Hezbollah near the airport".
He said the air strike took place at 1:00 am local time "without causing huge explosions" even though they hit the weapons stores.
The observatory added that the Syrian air defense "failed to intercept the missiles".
Israel has warned of a growing Iranian military presence in neighboring Syria, which it sees as a threat to its safety.
Its military has been carrying out strikes on Iranian and Iran-affiliated targets in Syria, with a US official saying it was Israeli forces that carried out a deadly strike against an Iraqi paramilitary base in eastern Syria on June 17.
Israeli seized a large swathe of the Golan Heights from Syria in the 1967 Six-Day War and later annexed it, in a move never recognized by the international community.
Full report at:
https://english.alarabiya.net/en/News/middle-east/2018/06/26/Israeli-missiles-fall-in-the-vicinity-of-Damascus-Airport-Syrian-TV-reports.html
-------
Iran urges intl. action to halt Saudi offensive in Yemen
Jun 25, 2018
Iran has urged the international community to intervene and stop the Saudi war on Yemen, where an ongoing offensive against the Mediterranean port of Hudaydah has put the country on the brink of famine.
Foreign Ministry spokesman Bahram Qassemi told reporters in Tehran Monday that Iran is in contact with the regional and European governments in order to find a way to send relief aid and other humanitarian assistance to Yemen.
"The international community should understand the Yemeni people's difficult conditions and the international organizations and the UN should make enough effort to end the aggression against the oppressed Yemeni people," he said.
Hudaydah is a lifeline for the majority of Yemen's population because it is where most of the international humanitarian aid arrives for distribution, including among about eight million people who are at risk of starvation.
The Saudi war and its blockade have left 22 million people in need of humanitarian aid. It has created the world's largest food emergency and led to a cholera outbreak that is thought to have killed 2,290 people.
Qassemi said Iran has been trying "to relay the voice of the aggrieved people and the victims of the tragedy of the Saudi aggression" to the world and "looking for a mechanism to stop the aggression and provide for possible shipment of humanitarian aid" to Yemen.
Saudi Arabia and its allies have been attacking Yemen since 2015. The invasion, which seeks to restore power to Yemen's former Saudi-backed regime, has killed and injured more than 600,000 people, according to Yemen's Health Ministry.
EU-US trade war
Qassemi also commented on US tariffs on European steel and aluminum, which have prompted Europe to respond by imposing additional tariffs on more than $3 billion worth of American exports to the continent.
"Today, we are witnessing numerous complexities in the United States' ties with other countries and international organizations," he said.
Asked if the reciprocal measures had any influences on the Islamic Republic, the official said it was yet early for the country to comment on their potential effects.
Tehran, he said, had to wait and see if the US behavior would change Europe's relations with other countries.
ICJ to hear Iran case against US
The spokesman said the International Court of Justice (ICJ) was to hold a hearing in October on a case launched by Iran against the United States.
Last June, Iran filed the lawsuit, demanding compensation over the seizure of the country's assets by the US Supreme Court.
On April 20, 2017, the court had ruled that about $2 billion in frozen Iranian assets had to be turned over to American families of people killed in the 1983 bombing of a US Marine Corps barracks in the Lebanese capital of Beirut and other attacks blamed on Iran.
Tehran has long rejected allegations of involvement in the Beirut bombing or any other attack.
"After the hearing, we should see where the process of the complaint will lead to," Qassemi said.
Full report at:
http://www.presstv.com/Detail/2018/06/25/566028/Iran-Yemen-United-Nations-Foreign-Ministry-Qassemi-Europe-United-States-International-Court-of-Justice-asset-freeze
-------
Nine Yemeni civilians killed, nearly 20 injured as Saudi jets hit Amran
Jun 25, 2018
At least nine civilians, mostly women and children have lost their lives when Saudi fighter jets carried out a string of airstrikes against a residential area in Yemen's northwestern province of Amran as the Riyadh regime presses ahead with its devastating campaign against the conflict-plagued country.
Yemen's Arabic-language al-Masirah television network, citing officials, said that 20 civilian also sustained injuries after Saudi warplanes bombed houses in the al-Barid neighborhood of Amran city early on Monday.
Severe damage was reported as Saudi jets also pounded a military barracks and communication building in the city.
On Saturday, at least six civilian were killed when Saudi Arabia conducted aerial assaults against an educational complex in the Kitaf wa al-Boqe'e district of Yemen's northwestern province of Sa'ada.
On June 13, the invaders launched a major offensive to take the Houthi-held Hudaydah, a densely-populated city and the war-torn country's most vital port, which is the entry point for 70 percent of the impoverished country's imports. The offensive, however, failed to achieve its goal, thanks to firm resistance mounted by Yemeni troops and Houthi fighters in defense of the city.
Mohammad Abdulsalam, a spokesman for Yemen's Houthi Ansarullah, has warned the United States and its allies against providing a cover for Saudi Arabia's atrocities in Yemen.
The warning came as Several Western countries, the US and the UK in particular, are accused of being complicit in the aggression as they supply the Riyadh regime with advanced weapons and military equipment as well as logistical and intelligence assistance.
The Houthi movement, which is a significant aid to the Yemeni army in defending the country against the invading forces, has been running state affairs in the absence of an effective administration during the past three years.
Saudi Arabia and its allies launched the war on Yemen in March 2015 to reinstall a former Saudi-backed regime and crush the Houthi movement.
The Yemeni Ministry of Human Rights announced in a statement on March 25 that the war had left 600,000 civilians dead and injured until then. The war and an accompanying blockade have also caused famine across Yemen.
Full report at:
http://www.presstv.com/Detail/2018/06/25/566085/Saudi-Yemen-alMasirah-Amran-city-Saada
-------
India
Vice President cautions against intolerance in the name of cow, Love Jihad
Jun 25th 2018
Vice President M Venkaiah Naidu cautioned against practising intolerance in the name of cow protection, Love Jihad and eating habits, saying such actions spoil the name of the country
Vice President M. Venkaiah Naidu on Monday cautioned against practising intolerance in the name of cow protection, Love Jihad and eating habits, saying such actions spoil the name of the country and people can't take law into their hands."We need to guard against intolerance on the part of certain misguided citizens. We have been occasionally witnessing such words and deeds of intolerance by some citizens in the name of so-called cow protection, Love Jihad, eating habits, watching films."Such incidents lead us to the point that individual freedoms can be in full play only when every citizen respects such freedoms of fellow citizens. Post-Emergency, the State apparatus would think twice before riding roughshod over the liberties and freedoms of citizens. But it is enlightened citizens who would enable fuller manifestation of such liberties and freedoms," Naidu said.The Vice President said such actions of individual intolerance spoil the name of the country. "You cannot take the right to hang anyone. One has to be tolerant of the views of others while one must also be tolerant of the verdict of the people. Dissent also has a place. Freedom must be valued and rights of citizen should be guarded."He also referred to the debate over nationalism and patriotism and wondered why some people had problem with even saying "Bharat Mata ki Jai". The expression is not merely geographical and love for the land but it is love for all opinions, religions, communities and people.Naidu said India was secular not because of political parties but it was in the DNA of people and added that democracy and secularism were there in the Indian civilization through ages.He asserted that the core Indian values and ethos have no place for intolerance due to which all major religions of the world flourish in India.
https://www.nationalheraldindia.com/india/vice-president-cautions-against-intolerance-in-the-name-of-cow-love-jihad
-------
India launches blistering attack on Pakistan at UN for its comment on PoK
Jun 26, 2018
NEW DELHI: No amount of "empty rhetoric" by Pakistan will change the reality that Jammu and Kashmir is part of India, said New Delhi's representative at the United Nations General Assembly (UNGA) today.
India's blistering attack on its belligerent neighbour came following comments earlier this month by Pakistan on the status of Pakistan-occupied-Kashmir (PoK). Pakistan had said that the reference to PoK in a recent UN report on alleged rights violations + should in no way be construed to create a "false sense of equivalence" with Kashmir.
India today made known that if anyone was deluded about reality it is Pakistan.
"One delegation has yet again misused the platform to make an unwarranted reference to the Indian state of Jammu & Kashmir. J&K is an integral and inalienable part of India. No amount of empty rhetoric by Pakistan will change this reality," said India's Sandeep Kumar Bayyapu, first secretary, while exercising the right to reply, about Pakistan's June 14 comments.
Pakistan's comments about PoK came after the UN on June 14 released the first-ever report on alleged human rights violations in both Kashmir and PoK.
India called the UN report "fallacious, tendentious and motivated" and added that it violated India's sovereignty and territorial integrity.
Pakistan, on the other hand, used the report to again raise the Kashmir issue on an international forum - as is its wont - and said that the report's reference to the Pakistan-administered part of Kashmir, including Gilgit-Baltistan, "should in no way be construed to create a false sense of equivalence" with rights violations in Kashmir.
Full report at:
https://timesofindia.indiatimes.com/india/india-launches-blistering-attack-on-pakistan-at-un-for-its-comment-on-pok/articleshow/64742176.cms
-------
India turns heat on Maldives as Chinese dragon spews fire in Indian Ocean
June 25, 2018
India has turned heat on Maldives, a country shifting its alignment at a fast pace with China. With uncertainty growing in Maldives and President Yameen Abdul Gayoom openly taking anti-India stance, New Delhi has decided to curtail the supply of vegetables - potatoes, onions -- and other essential articles -- rice, flour, eggs, pulses and sugar - to the island nation in the Indian Ocean.
This follows a series of face-offs between the two countries. Maldives recently considerably reduced the number of visas to Indian workers prompting Kerala Chief Minister Pinarayi Vijayan raise the issue with the Centre. Maldives also asked India to take back the two helicopters gifted to the country's disaster management agency by India. Maldives told India to remove the helicopters from its atolls by June end.
Earlier in the first week of June, a Maldivian ruling party MP Ahmed Nihan complained that he was sent back from Chennai airport by Indian authorities after asking a few questions over his diplomatic passport. Ahmed Nihan claimed that he was visiting India for medical consultation and treatment.
India's shift in policy towards Maldives comes in the backdrop of growing Chinese influence in the country. President Yameen has openly favoured China over India. On domestic front, Maldives is facing political chaos that China seems to relish but which has left India deeply concerned.
Maldives today
Maldives is back to its authoritarian days. All Opposition leaders of any considerable influence have been either put behind the bars on various charges or forced to flee the country. Backed by an authoritarian communist regime of China, President Yameen Abdul Gayoom will be seeking virtual unopposed re-election in the September general elections. Yameen has been pushing India to the margins of Maldives affairs as China enlarges its footprints in the island nation.
Among those sent to jail in Maldives is President Yameen's half brother and long-time dictator president of the country Moumoon Abdul Gayoom for attempting a coup. Former president Mohamed Nasheed, who sought military intervention from India, is living in exile - shuttling between Britain and Sri Lanka. Chief Justice of Maldives Abdulla Saeed has also been sentenced to jail for obstructing justice.
From British colony to Chinese satellite
Maldives got independence from Britain in 1965 and three years later, it decided to be a republic in a referendum. Its first president Ibrahim Nasir ruled for 10 years during which the British retreat continued which saw tourism and fish export-based economy failing. Facing an anti-government campaign, Nasir fled to Singapore with millions of dollars from Maldives treasury.
Moumoon Gayoom became the president in 1978. He practically led a single-party (Maldivian People's Party) rule surviving at least three coup attempts in 1980, 1983 and 1988. Indian forces saved the day for Gayoom in the last coup attempt. That also settled the governance debate in Maldives politics for the next 20 years.
With Gayoom becoming more autocratic, Opposition parties found favours with people. Gayoom agredd to multi-party general elections in 2008, which journalist-turned-activist Mohamed Nasheed of Maldivian Democratic Party won.
Nasheed brought widespread taxation reforms and launched a range of social welfare schemes. But during his tenure, hardline Islamic sentiment grew in the country. Protests were held against the government and repeated coup attempts were made.
A frustrated Nasheed resigned from the office of president. His vice-president succeeded him for a year. Nasheed was arrested and tried for various charges including terrorism. In 2013 elections, Nasheed again won the popular vote but the Supreme Court annulled it. In the re-rerun, Gayoom's pro-China half-brother Yameen won the elections.
Yameen and China in Maldives
Yameen defended radical Islam in Maldives by dismissing the concerns as anti-West campaign. He developed close ties with Saudi Arabia and Pakistan while opening the gates for the Chinese. In April, Pakistan and not Yameen government announced at Pakistani military would guard exclusive exonomic zone of Maldives, which signed a free trade treaty with China in December, 2017.
Till 2015, Maldives largely maintained a positive balance of payments with China. But in three years' time, Maldives owes 70 per cent of its debt to China, which is arm twisting the country to fall in its line of geostrategic game.
Maldivian economy is deep in debt, which is roughly equal to 40 per cent of its GDP. The International Monetary Fund (IMF) has predicted that by 2021, the debt-GDP ratio would cross 51 per cent. China views the failing economy of Maldives as an opportunity to get hold of the country.
China is currently building an eight billion dollar airport after Maldives cancelled a deal originally signed with an Indian firm, a 4 billion bridge, a residential colony on an inhabited island and supplying men and machines to the Indian Ocean country.
Why should India worry?
During the ongoing political crisis, Maldives sent its emissaries to "friends" Saudi Arabia, Pakistan and China before contacting India, the traditionally most influential neighbour of the country. Only two years ago, India had saved the country from going thirsty after receiving a late night SOS from Male following a mega electricity failure causing acute drinking water shortage.
President Nasheed's anti-India stand has been more pronounced since India expressed its dismay over subversion of democratic institutions in the country after the Supreme Court verdict in February. The court had ordered the release and retrial of Nasheed and other prisoners calling their sentences politically motivated.
But Yameen responded by declaring a state of emergency and had Abdulla Saeed, another Supreme Court judge, Ali Hameed, and Gayoom arrested. The remaining three Supreme Court judges overturned their previous judgment. India and a host of other nations expressed concerns. But China continued to support Yameen.
Full report at:
https://www.indiatoday.in/world/story/india-turns-heat-on-maldives-as-chinese-dragon-spews-fire-in-indian-ocean-1269024-2018-06-25
-------
Modi Govt Can Only Divide Hindus, Muslims, Can't Resolve Kashmir: Former Union Minister
June 26, 2018
Taking a dig at the Narendra Modi government, former Union Minister Arun Shourie on Monday said that it was a "one-trick horse" with no policy either on Kashmir or Pakistan.
"There is no government and no policy regarding Kashmir or Pakistan or even the banks ... What we have is a one-trick horse that only knows how to divide the Hindus and Muslims of this country," he said at the launch of the book "Kashmir: Glimpses of History..." penned by senior Congress leader Saifuddin Soz.
Terming the Modi government as "event-oriented and election-oriented", Shourie said that the focus was on organising events and winning elections with little heed to policy or governance.
He also took a dig at the much publicised surgical strike against Pakistan and termed it as "farzical" (fake) strike.
Commenting on the Kashmir unrest, the former Union Minister said the situation has been hurting the whole country and not just the Kashmiris and people should realise that fact.
On the Centre's newly-declared "all out action" stance on Kashmir, Shourie said that what he understood of it was there would be "more aggressive target killings of individuals" but stressed that it would not be wise to use "foolish force" against the people.
He said there was no alternative to the talks and with "everyone" in the Valley including the Hurriyat.
"If you say Hurriyat is being controlled by Pakistan, I think that is precisely the reason we must talk to them. We have to wean away the Hurriyat from Pakistan and talks are the only way to do it. So keep talking and keep talking to everyone," Shourie said.
He said that the security agencies need to identify the emerging leadership in Hurriyat and engage them.
Contending that the real problem with Kashmir and the northeast has been in the way the Centre has dealt with these states, he said: "You engage a sub-contractor and tell them, 'I give you money and keep running the semblance of the government there'. But the money is not reaching the common man on the ground. They are not getting the basic facilities of roads, water, hospitals, schools. Where is the money going? It means the officials and the politicians in these troubled states are cornering it."
On the issue of Kashmiris demanding "greater autonomy", Shourie demanded to know as to what they meant by the term.
"What is autonomy? Be specific. In the light of example given above of the money not reaching the common people, I think you need greater supervision, not less of it (in the name of autonomy)," he said.
Shourie said that a lynching of a Muslim in the Indian mainland in the name of the cow was a "thunderclap" in Kashmir that has the effect of alienating the Kashmiris by forcing them to think of themselves as Muslims being persecuted by the Hindus.
"You are pushing the Kashmiris to think themselves as just Musalmans, that too, of the Wahhabi kind, which they certainly are not. The Kashmiris celebrate their syncretic culture," he said.
Shourie also observed that falling on history would make the forward movement difficult on the issue.
Earlier, clarifying on his controversial "Independence" made recently remarks, Soz said that things were being wrongly attributed to him and that he knows for a fact that "azadi" was not an option.
"Let's leave the extremes and come to the middle," Soz said vis-a-vis the solution to the Kashmir issue, adding that "small minds" in the governments and the security apparatus have not let the Indian establishment embrace the Kashmiris or trust them.
Full report at:
https://www.business-standard.com/article/current-affairs/modi-govt-can-only-divide-hindus-muslims-can-t-resolve-kashmir-shourie-118062600004_1.html
-------
What About Dalit Quota In Aligarh Muslim University, Asks Yogi Adityanath
June 25, 2018
KANNAUJ: Uttar Pradesh Chief Minister Yogi Adityanath weighed in on the debate on whether the Aligarh Muslim University and Jamia Millia Islamia should have Dalit quota, questioning if the Banaras Hindu University can stick to the reservation policy, why can't minority-run institutions do the same. The Chief Minister's words come in the backdrop of several attacks on Dalits and Congress accusations that the BJP government does not do enough to protect the community. Several Dalit lawmakers from the BJP have raised similar allegations.
Barely three months ago, huge protests were held by Dalits across the country against the BJP-led Central government. At least four people had died in Uttar Pradesh.
Without naming the Congress, at a public meeting in Kannauj on Sunday, Yogi Adityanath said, "One question should be raised for all those who are saying that Dalits are being humiliated... when would they ask for reservation for our Dalit brothers in Aligarh Muslim University and Jamia Millia Islamia?"
"If the BHU can give it (reservation) to Dalits and backwards then why not in Aligarh Muslim University?" he said.
The politically loaded AMU quota issue was raised by the BJP's ideological mentor Rashtriya Swayamsevak Sangh ahead of the 2017 assembly elections in Uttar Pradesh. RSS joint general secretary Krishna Gopal said the varsity was committing a "big crime" by not implementing quota.
AMU spokesperson Shafey Kidwai said the current policy does not allow reservation on basis of religion. "Admissions were given on the basis of internal and external candidates. Internal is the one who has passed Class 12 from here. And the rest, 50%, is for external candidates... Now the case is in Supreme Court," he said.
The quota issue of Aligarh Muslim University went to the Supreme Court after an Allahabad High Court verdict of 2005 held the university as non-minority institution. Not just the AMU, but the Banaras Hindu University had approached the top court seeking the restoration of 50 per cent institutional preference quota, in post-graduate medical courses.
In April 2016, the NDA government told the Supreme Court that it would withdraw the appeal filed by the erstwhile UPA government, challenging the Allahabad High Court order.
In March this year, the Central government filed a revised affidavit in the Delhi High Court, opposing an order of the National Commission for Minority Educational Institutions that declared Jamia Millia Islamia as a religious minority institution.
Full report at:
https://www.ndtv.com/india-news/what-about-dalit-quota-in-aligarh-muslim-university-asks-yogi-adityanath-1872816
-------
Muslim-Hindu couple performs puja at Almora temple
Jun 25, 2018
Belying claims that temples are generally off limits for non-Hindus to worship, on Saturday a Muslim-Hindu couple not only visited the world famous Jageshwar temple in Almora but also performed puja at the altar of Lord Shiva.
The couple hailing from New Delhi performed the puja at the temple which was facilitated by priest Hemant Bhatt who is also associated with Vishwa Hindu Parishad (VHP).
According to Bhagwan Bhatt, manager of the Jageshwar Temple Committee, Mukhtar Ali, who works for the Rayja Sabha news channel, had come to the temple on Saturday. "His identity was revealed only when he mentioned his name while submitting a token money of Rs 500 for the puja, after which he was given the acknowledgment receipt," Bhatt told The Tribune.
Mahima Sharma, wife of Mukhtar Ali, said they have been visiting temples, gurdwaras and churches often. "Whenever we visit these places of worship, we pray that peace may prevail and pray for the good of humanity," said Mahima. The couple had gone to shoot the world famous temples as part of their work assignment.
Full report at:
http://www.tribuneindia.com/news/uttarakhand/muslim-hindu-couple-performs-puja-at-almora-temple/610538.html
-------
Probe gives clean chit to cops in SIMI encounter
Jun 26, 2018
BHOPAL: The one-man judicial commission inquiring the encounter killing of eight SIMI suspects on Bhopal's outskirts on October 31, 2016, has justified the use of force by police as "reasonable and inevitable".
It advises bringing the jails department under home department for better coordination. The eight accused, who were facing trial in terror cases, had broken out of Bhopal central jail on the night of October 30 after cutting the throat of a guard.
They were gunned down on a hillock on the outskirts of Bhopal eight hours later. The government set up a judicial commission, under retired high court judge SK Pandey, to probe the jailbreak and the encounter.
The final report was tabled in the Assembly by minister Lal Singh Arya on Monday. The probe concludes that circumstances under which the eight undertrials escaped justified the use the force. The report says that the SIMI suspects fired on police, who retaliated.
Full report at:
https://timesofindia.indiatimes.com/india/probe-on-killing-of-8-simi-men-gives-clean-chit-to-mp-police/articleshow/64740171.cms
-------
South Asia
Tensions simmer between Myanmar's military and civilian leaders
June 26, 2018
The new United Nations Special Envoy for Myanmar, Swiss diplomat Christine Schraner Burgener, appears to have eased tensions between civilian leader Aung San Suu Kyi and military chief Min Aung Hlaing.
Ucanews.com has verified reports that the U.N. involvement headed-off, for the time being at least, a further deterioration in the relationship that threatens to reach crisis proportions.
Schraner Burgener arrived in Myanmar on June 12 for a visit that included talks with national and community leaders as well as a trip to troubled Rakhine State as part of a regional tour including neighboring Bangladesh.
Suu Kyi has been privately critical of the military's handling of the ongoing turmoil in Rakhine amid the fleeing of up to 800,000 ethnic-Rohingya Muslims to Bangladesh since August 2017.
However, she has avoided making such criticism publicly despite international pressure on her to condemn brutal military human rights' abuses.
The military has for several months been mulling the case for imposition of a state of emergency in Rakhine that would give it sweeping powers over the entire state, including about 130,000 Rohingyas in internment camps.
Suu Kyi and Senior General Min have had great difficulty working together under power sharing established under a military-written 2008 Constitution.
This gives the military, which for decades ruled the nation, ministerial control over defense, police and the budget.
As well, it is guaranteed at least 25 percent of all seats in the country's national and state legislatures.
The relationship between General Min and Suu Kyi, according to people familiar with the situation, had collapsed to the point where until last week the pair had not met for about a year.
The frosty relations underscored the fragility of the nation's return to democracy under Suu Kyi's National League for Democracy (NLD) following 2015 elections.
The U.N.'s Schraner Burgener, who brought General Min and Suu Kyi together as part of her visit, brokered a deal to include a foreigner in a three-member commission to investigate the Rakhine upheaval.
The military had opposed outside involvement in the probe, but the agreed compromise provides for an outside commission member to be a non-Muslim from within the Association of South East Asian Nations (ASEAN).
The U.N. envoy said credible fact-finding was needed to hold accountable those responsible for the violence.
Schraner Burgener comes to the job with strong regional credentials.
She was Switzerland's ambassador to Thailand from 2009 to 2015 and her husband, Christoph Burgener, is a former Swiss ambassador to Myanmar.
"Christine [Schraner Burgener] is smart, charming and thinks issues through and is one of the most impressive diplomats I have met," one former envoy to several Southeast Asian nations told ucanews.com.
"Unlike some of her predecessors, she knows Myanmar very, very well."
The divide
It may take until the next generation of leaders in Myanmar, on both sides, to resolve the military/civilian divide.
The NLD held its annual conference over the June 23-24 weekend, however, Suu Kyi and President Win Myint did not attend as they are prevented by the Constitution from engaging in party political activities.
This brought to further prominence Dr. Zaw Myint Maung, a pediatrician before entering politics, who is the party's No. 2 vice chairman and also the Mandalay region chief minister.
The party gathering came at a time of growing discussion on who might in future succeed 73-year-old Suu Kyi, who as State Counsellor effectively leads the government.
In the aftermath of the conference it was Zaw who reiterated the NLD's commitment to constitutional reform and ending debilitating internal ethnic conflicts.
Failure to achieve peace would threaten consolidation of democracy in Myanmar, Zaw warned.
He stressed a need for constitutional change to bring the important Ministry of Home Affairs, which has responsibility for police accused of suppressing peaceful dissent, under direct government control.
As the home affairs minister is currently appointed by the armed forces, it was difficult to address important national tasks, Zaw said.
https://www.ucanews.com/news/tensions-simmer-between-myanmars-military-and-civilian-leaders/82662
-------
Taliban militants reject fresh calls for extending June ceasefire in Afghanistan
Jun 25, 2018
The Afghanistan's Taliban militant group has rejected pleas by the country's elders and activists for an extension of this month's ceasefire between Kabul and the militants, saying the requests amounted to a call for surrender to foreign troops.
"They are not speaking about the occupation or the withdrawal of foreigners. Their objective is that we lay down our weapons and accept the regime imposed by the invaders," said Taliban spokesman Zabihullah Mujahid in a statement on Monday.
He also rejected the peace "slogans" and strongly called on civil society activists and others not to join movements he accused of playing into the hands of the United States and other foreign countries, allied with Washington, the Taliban seeks to drive out of the country.
On June 9, Taliban announced in a statement that it had agreed to a week-long truce deal proposed by the Afghan government, saying that foreign forces would be excluded from the ceasefire and operations would resume against them.
Taliban militants themselves, however, announced a three-day truce of their own starting on June 15, saying on June 17 that they would not extend it, a day after Afghan President Mohammad Ashraf Ghani announced the extension of the week-long period of truce with the militant group until an unspecified time.
Last week, a relatively small group of peace marchers arrived in Kabul after traveling a 700-kilometer trek on foot from the southern province of Helmand earlier this month, chanting, "We want peace!" and "Stop fighting!"
"Tribal elders may not be able to bring about peace and create a ceasefire to the whole country but they can for their own districts and they will," said Dawlat Wazir, an elder in Jani Khil district in the eastern province of Paktia, where elders held a meeting that drew hundreds of people at the weekend, calling on Kabul and Taliban militants to stop fighting in their area.
"We are so fed up with operations by government forces in our areas that trigger fighting for days," said Malek Sakhto, one of the elders behind the meeting, adding, "We're pleading with the government and the Taliban to agree on a ceasefire and stop killing each other and civilians."
After announcing their refusal to extend the truce on June 17, Taliban militants attacked security forces in numerous districts of eastern and southern Afghanistan.
Taliban's five-year rule over at least three quarters of Afghanistan came to an end when the US and its allies invaded the country on October 7, 2001 as part of Washington's so-called war on terror. Despite the presence of foreign troops across the country, Taliban has been involved in widespread militancy, killing thousands of civilians as well as Afghan security forces and displacing tens of thousands of people across the country ever since.
Full report at:
http://www.presstv.com/Detail/2018/06/25/566077/Afghanistan-Taliban-ceasefire-extension-elders-US
-------
Drone strikes target ISIS-K hideouts in Nangarhar leaving at least 6 dead
Jun 25 2018
The US forces targeted the hideouts of the Islamic State of Iraq and Syria Khurasan (ISIS-K) in eastern Nangarhar province of Afghanistan amid ongoing operations against the terror group in this province.
The provincial government media office said the airstrikes were carried out in the vicinity of Haska Mina district, leaving at least six militants dead.
According to a statement released by the provincial government, the US forces unmanned aerial vehicles targeted key ISIS-K compounds in Gorgori and Chongi area of the district.
In the meantime, the Afghan forces conducted an operation in Pira Khel area of Khogyani district and confiscated four rockets, one Dshk heavy machine gun, a communication device set, one magnetic bomb, and some munitions and explosives.
The Afghan forces also discovered and defused an improvised explosive device planted by the militants in Bati Kot district, the provincial government said.
This comes as the provincial government had earlier said that a deadly clash has taken place among the local public uprising forces and militants affiliated with the Islamic State of Iraq and Syria Khurasan (ISIS-K) in eastern Nangarhar province of Afghanistan.
The provincial government media office in a statement said the clash erupted after the local public uprising forces stormed into the hideouts of the terror group in Morchal area.
The statement further added that the clash left at least eight ISIS-K militants dead while three others were arrested.
Full report at:
https://www.khaama.com/drone-strikes-target-isis-k-hideouts-in-nangarhar-leaving-at-least-6-dead-05434/
-------
EU penalises Myanmar generals for Rohingya violations
June 25, 2018
The European Union imposed sanctions on seven senior military officials from Myanmar on Monday, including the general in charge of an operation accused of driving nearly 700,000 Rohingya Muslims to flee to Bangladesh.
The seven face asset freezes and are banned from travelling to the EU, after the bloc extended an arms embargo and prohibited any training of, or cooperation with Myanmar's armed forces.
The sanctions, first reported by Reuters in April, also mark a shift in diplomacy by the EU, which suspended its restrictive measures on the Southeast Asian country in 2012 to support its partial shift to democratic governance in recent years.
But the plight of the Rohingya Muslims in Rakhine State, which the United Nations denounced as ethnic cleansing by the military, has soured relations. Yangon rejects all accusations of wrongdoing.
Last December, the United States imposed sanctions in response to the crackdown on the Rohingya minority in Rakhine. These included sanctions on Major General Maung Maung Soe, who was transferred late last year from his post as the head of Western Command in Rakhine, where Myanmar's military launched a sweeping counter-insurgency operation in August.
"He is responsible for the atrocities and serious human rights violations committed against (the) Rohingya population in Rakhine State by the Western Command during that period," the EU said in a statement.
Thant Zin Oo, the commander of the Eighth Security Police Battalion, was also sanctioned. The EU accused him of "serious human rights violations (that) include unlawful killings and systematic burning of Rohingya houses and buildings."
Five other senior military staff were named, all generals.
Canada also sanctioned senior military officials in February, when Reuters also reported on events in the village of Inn Din where 10 Rohingya Muslim men and boys were hacked to death by Rakhine Buddhist villagers or shot by security force members.
Full report at:
https://www.thedailystar.net/rohingya-crisis/eu-european-union-penalises-myanmar-generals-rohingya-violations-1595188
-------
Myanmar sacks top general involved in Rohingya crackdown
June 26, 2018
YANGON: Myanmar's military said it sacked a top general who was named in fresh EU sanctions against security officials accused of serious rights violations in the Rohingya crisis, including killings and sexual violence.
Myanmar is accused of waging a crackdown in Rakhine state that forced 700,000 to flee that the UN and major western powers have said amounts to "ethnic cleansing."
Its leaders have come under fire for taking little punitive action against the military, which has maintained its troops were responding to attacks by Rohingya militants.
But the military said late Monday in a Facebook post that Major General Maung Maung Soe, the former head of the western command in Rakhine, had been "purged" for poor performance.
The announcement came after the EU said he was among seven security officials hit with travel bans and asset freezes, but Myanmar did not link his sacking to the new sanctions.
The Facebook post said Maung Maung Soe was first reassigned last November, and that his removal from his position in the western command was to "inspect his responsibility over his weakness while working for Rakhine state stability."
Maung Maung Soe was also the target of US sanctions last year over the Rohingya crisis.
The statement added that Lt. Gen. Aung Kyaw Zaw — commander of the bureau of special operations and also on the EU list — was permitted to resign in May for health reasons and "weakness in serving duty."
Canada said Monday it was also imposing sanctions against the same seven figures named by the European Union.
The EU said the individuals were targeted because of their "involvement in or association with atrocities and serious human rights violations committed against the Rohingya population in Rakhine state in the second half of 2017."
"These violations include unlawful killings, sexual violence and the systematic burning of Rohingya houses and buildings."
Most Rohingya refugees have settled in squalid camps in neighboring Bangladesh and say they are too afraid to return to Myanmar though both countries have signed a repatriation deal.
Many refugees say they will not return without a basic guarantee of protection.
The United Nations signed a deal with Myanmar this month to allow its agencies to assess conditions on the ground in Rakhine state, which they say are not yet ripe for a safe and voluntary return.
Full report at:
http://www.arabnews.com/node/1328171/world
-------
North America
EU, Canada sanction Myanmar military over Rohingya abuses
June 26, 2018
OTTAWA - Canada on Monday announced sanctions in coordination with the European Union against seven senior Myanmar officials over the Rohingya crisis, accusing them of human rights violations including killings and sexual violence.
"Today, the European Union and Canada have announced sanctions against some of the key military leaders who were involved in atrocities and human rights violations in Rakhine State, including sexual and gender-based violence," Foreign Minister Chrystia Freeland said in a statement.
"Canada and the international community cannot be silent. This is ethnic cleansing. These are crimes against humanity," she said.
The Myanmar officials - five army generals, a border guard commander and a police commander - face travel bans and asset freezes for their role in the crisis.
Myanmar's military has forced some 700,000 Rohingya Muslims out of Rakhine and across the border to Bangladesh since August 2017, in a brutal crackdown which UN officials say amounts to ethnic cleansing of the minority. The Buddhist-majority country has branded the Rohingya as illegal immigrants.
After a period of thawing relations with Myanmar after the country's military junta ceded power in 2011, the Rohingya crisis has seen the EU and Canada take a harder line - with blacklisting the officials the toughest step taken so far by Brussels and Ottawa. The EU on Monday hit seven top Myanmar security officials with sanctions over the Rohingya crisis, accusing them of serious human rights violations including killings and sexual violence.
Some 700,000 members of the beleaguered Muslim minority have fled a military crackdown in the country's northern Rakhine state since August last year, a process the UN and major western powers have said amounts to "ethnic cleansing".
EU foreign ministers meeting in Luxembourg hit five army generals, a border guard commander and a police commander with travel bans and asset freezes for their role in the crisis.
"The individuals subject to sanctions are Myanmar/Burma army (Tatmadaw), border guard and police officials, listed because of their involvement in or association with atrocities and serious human rights violations committed against the Rohingya population in Rakhine State in the second half of 2017," the EU said in a statement.
"These violations include unlawful killings, sexual violence and the systematic burning of Rohingya houses and buildings."
After a period of thawing relations with Myanmar after the country's military junta ceded power in 2011, the Rohingya crisis has seen the EU take a harder line and blacklisting the officials is the toughest step taken so far by Brussels.
Britain, Myanmar's former colonial ruler which has taken the lead in preparing EU sanctions, said Monday's listing would send a signal to military top brass that the world was watching and those responsible for abuses would be held to account.
"These sanctions are a direct response to the appalling violence, including sexual violence, that took place in Rakhine last year. The individuals listed were responsible for units that have been identified as the perpetrators of this violence," junior foreign minister Mark Field said in a statement.
https://nation.com.pk/26-Jun-2018/eu-canada-sanction-myanmar-military-over-rohingya-abuses
-------
US says it stands firmly with Saudi partners against border threats
25 June 2018
The United States has said it stands firmly with Saudi Arabia in defending their borders against continued threats from Houthi missiles, US State Department Spokesperson Heather Nauert said.
"The United States strongly condemns yesterday's Houthi missile launch directed at Riyadh. These actions only exacerbate the conflict in Yemen and deepen mistrust. We stand firmly with our Saudi partners in defending their borders against these continued threats. We continue to urge all parties to work with UN Special Envoy Martin Griffiths toward a political settlement and an end to the conflict in Yemen," a statement released by Nauert read.
Full report at:
https://english.alarabiya.net/en/News/gulf/2018/06/25/US-says-it-stands-firmly-with-Saudi-partners-against-border-threats.html
-------
Taliban calls Islamic Scholars conferences a US process
Jun 26, 2018
KABUL, Afghanistan: The Afghan Taliban has denounced the so-called Islamic Scholars conferences in Asia and the Middle East as an "American process" and urged clerics to reject the gatherings.
The Taliban says in a statement Tuesday the US first gathered religious scholars for a conference in Indonesia in May, and have since organized similar conferences in Kabul, Islamabad, Pakistan and Saudi Arabia.
No date has been set for a conference in Saudi Arabia.
The Taliban consider the conferences to be anti-Islamic and led by the US, the group said in the statement. It says the US is using them to seek justification for its "military occupation" of Afghanistan.
Full report at:
http://www.arabnews.com/node/1328211/world
-------
Anti-Islam statements should disqualify Trump's pick for U.N. migration post
By Eric Schwartz
June 25, 2018
In a conference hall in Geneva on Friday, the world's governments will send a fateful message about their views of prejudice against the world's nearly 2 billion Muslims. On that date, the International Organization for Migration (IOM) — consisting of 169 member governments — is scheduled to elect its new director general. The individual nominated by the Trump administration, Ken Isaacs, has an unfortunate record of bigoted statements against Islam.
The facts are not in dispute. As The Post and others have reported, Isaacs has in recent years repeatedly posted statements online reflecting the view that Islam is a religion that is inherently violent and inextricably linked to terrorism.
After the July 2016 terrorist attack in Nice, in which a Tunisian resident of France drove a truck through crowds celebrating Bastille Day and killed 86 people, Isaacs tweeted that "Islam is not peaceful." In September of that year, he tweeted that "Islam is 7th Century violence and bullying." In a June 2017 tweet, he commented on a CNN International report quoting the bishop of Southwark Cathedral in London after terrorists killed eight people in that city. According to CNN, the bishop stated that the attack and the killings were "not what the Muslim faith asks people to do." Isaacs responded, "Bishop, if you read the Quran you will know 'this' is exactly what the Muslim faith instructs the faithful to do." And in Twitter replies to expressions of sorrow about the 2016 Orlando nightclub terrorist attack, he simply tweeted the hashtag #Islam.
There are more such tweets from Isaacs, as well as retweets of other condemnations of Islam for acts violence and terrorism, all of which fuel prejudice against Muslims.
The statements are appalling by themselves, but more so given the important position Isaacs is seeking. The director general of IOM oversees an institution that is playing a key role in meeting the growing challenges of global migration. With an annual budget of more than $1 billion and an international staff, IOM provides a broad menu of critical services both to governments and people on the move. This includes assistance to newly resettled refugees, voluntary repatriation of vulnerable migrants to countries of origin, shelter for individuals displaced by conflict, and programs to prevent human trafficking, among dozens of other valuable initiatives.
My concern about this issue is reinforced by my personal experiences with this important organization. As a former National Security Council official, as U.N. deputy envoy for tsunami recovery between 2005 and 2007, and as assistant secretary of state for population, refugees and migration between 2009 and 2011, I witnessed firsthand critical IOM work on refugee resettlement and on an array of international shelter, health-care and other assistance initiatives.
IOM is very active in countries that are majority-Muslim, and Isaacs has understandably apologized for his unfortunate statements. There is no reason to doubt the sincerity of his apology, and we should welcome his renunciation of such noxious comments. Moreover, Isaacs, who has already had a long career in humanitarian service, will no doubt continue to make contributions to the field.
But he should not be elected to lead the world's most important international migration agency. For that position, his regrettable statements must be disqualifying.
Imagine, for instance, had a candidate for this position made a similar succession of disparaging remarks about Jews, Catholics, evangelical Christians or any other religious group. Would anyone seriously suggest that such statements should not present a bar from assuming such an important office as director general of IOM? Of course not, because electing such an individual would be disrespectful, dispiriting and demoralizing to the victims of such expressions of bias.
Two other credible candidates, from Portugal and Costa Rica, provide real alternatives for IOM leadership, and one or the other should be chosen.
Some IOM members may be concerned that defeat of the American candidate could put at risk financial support from the United States, which provides the organization with about one-third of its budget. Such an aid cut would be unfortunate and disruptive, but such fears should not guide decision-making on such a fundamental issue of principle.
Full report at:
https://www.washingtonpost.com/news/global-opinions/wp/2018/06/25/anti-islam-statements-should-disqualify-trumps-pick-for-u-n-migration-post/
-------
Javier Solana refused visa waiver to US because of Iran trip
Jun 25, 2018
Javier Solana, a former secretary general of the NATO military alliance and foreign policy chief of the European Union, has been refused a visa waiver to enter the US because of his trip to Iran in 2013.
Solana, who played a central role in negotiations over Iran's nuclear program when he was the EU's foreign policy chief, said on Monday that his renewal application on the Electronic System for Travel Authorization (ESTA) had been rejected for the first time.
ESTA is an automated system that determines the eligibility of visitors to travel to the United States under the Visa Waiver Program.
The Spanish-born politician and physicist had been due to speak at an event at the Brookings Institution, a Washington-based think tank.
Solana, 75, said that he considered the issue "to be more bureaucratic than political."
"It's a bit of a mean decision," Solana told Spain's Antena 3 TV channel. "I don't think it's good because some people have to visit these countries to keep negotiations alive."
"I'll see what I can do to fix this. It's a computer – an algorithm – and if you've been in Iran lately, they take you out of the system. It's like you don't exist visa-wise, because you can't visit the country."
Solana, who received his US doctorate in physics in 1971 from the University of Virginia, said he would apply for a US visa instead, a more cumbersome and expensive process. "I need to go because I need to work there and I'm a professor at various universities," he said.
Solana, who has also served as Spain's foreign minister, said he had been invited to Iran in 2013 to attend the inauguration ceremony of Iranian President Hassan Rouhani. Solana had no official government post at that time.
The US Visa Waiver Program allows people from 38 high-income countries, namely EU states, Australia, Japan and South Korea, to travel to the US without applying for a visa.
However, in 2015, the administration of former US President Barack Obama signed a law that would require foreign citizens eligible for the waiver program to obtain a US visa if they had traveled to Iran, Iraq, Syria, Libya, Sudan, Somalia and Yemen after March 1, 2011.
Such travelers are required to go through the full vetting process required to get a visa, including an in-person interview at a US Embassy or Consulate.
But visa waivers can also be granted on a case-by-case basis for those who have traveled to Iran as government representatives, journalists or aid workers.
The rule predates US President Donald Trump's controversial travel ban on five Muslim-majority countries and North Korea.
Full report at:
http://www.presstv.com/Detail/2018/06/25/566054/Javier-Solana-US-visa-Iran
-------
Southeast Asia
China step ups surveillance with flock of robotic doves in Muslim-majority Xinjiang: Report
June 25, 2018
Beijing, Jun 25 (PTI) China has deployed a flock of high-tech drones disguised to look like birds to step up surveillance levels in the troubled Muslim-majority Xinjiang region, according to a media report.
More than 30 military and government agencies have deployed the birdlike drones and other devices in at least five provinces in recent years, Hong Kong-based South China Morning Post reported.
Each drone is designed to move like a bird with flapping wings and carries on board a small camera that will beam images back to its controllers.
One part of the country that has seen the new technology used extensively is the Xinjiang Uygur autonomous region in China's far west, which borders Mongolia, Russia, Kazakhstan, Kyrgyzstan, Tajikistan, Afghanistan, Pakistan and India, the report said.
Resource-rich Xinjiang, bordering Pakistan-occupied Kashmir and Afghanistan, is on the boil for years following unrest among Uyghur Muslims over the increasing settlements of majority Han Chinese from other provinces.
It has witnessed some of the deadliest terror attacks in recent years which also spread to other parts of China. The attacks were officially blamed on the East Turkistan Islamic Movement (ETIM), a banned militant group linked to the al-Qaeda.
According to reports, the area is home to a large Muslim population and the Chinese government views this area as a "hotbed of separatism". As a result, the region and its people have been subjected to heavy surveillance from the central government.
"The new 'spy birds' programme, code-named 'Dove', is being led by Song Bifeng, a professor at Northwestern Polytechnical University in Xian, capital of northwestern China's Shaanxi province," the report said.
Sources have told the site that the drone programme is currently still only small-scale, but it could be developed to meet demand in both the civilian and the military sectors.
Unlike unmanned aerial vehicles with fixed wings or rotor blades, the new drones actually mimic the flapping action of a bird's wings to climb, dive and turn in the air.
Another researcher involved in the Dove project said the aim was to develop a new generation of drones with biologically inspired engineering that could evade human detection and even radar.
China is not alone in developing robotic birds, the report said.
In 2013, the US Army bought more than 30 drones from Florida-based Prioria Robotics that were designed to look like birds of prey, it said.
Their likeness to raptors was only cosmetic, however, as they were propelled by turbofans and their wings did not move. PTI AMS AKJ AMS AMS
https://www.indiatoday.in/pti-feed/story/china-step-ups-surveillance-with-flock-of-robotic-doves-in-muslim-majority-xinjiang-report-1269327-2018-06-25
-------
Indonesia participates in moderate Islam conference in Iraq
Jun 26, 2018
Jakarta (ANTARA News) - Indonesia is participating in the International Conference on Moderate Islam organized by the Sunni Waqf Council of the Republic of Iraq on June 25-27, 2018, in Iraq.
According to a press release received by ANTARA here on Monday, the Indonesian delegation left for Baghdad on Sunday (June 24).
The Indonesian delegation comprised Muchlis M. Hanafi, head of the delegation, representing Religious Affairs Minister Lukman Hakim Saifuddin; Muhyiddin Junaidi from the Indonesian Ulema Council; Ikhwanul Kiram Masyhuri, an alumni of Al Azhar; Saiful Mustafa from the Islami State University in Malang, East Java; Fathir H. Hambali, an academician; Auliya Khasanofa from Muhammadiyah; and Thobib Al Asyhar from the Ministry of Religious Affairs.
"I represent Minister of Religious Affairs Lukman Hakim Saifuddin as the head of the delegation," Hanafi noted.
According to Hanafi, the Indonesian government has committed to supporting Iraq`s rebuilding efforts, both in political and economic fields.
"We hope the future would be more intense, especially in developing moderate religious understanding," he emphasized.
At the conference, Hanafi will deliver a speech on a world without the armed group ISIS.
According to Hanafi, after the defeat of ISIS in Iraq and Syria, several countries in Europe, Africa, and Asia are now being haunted by the return of ISIS fighters to their home countries.
Being pressed in Iraq and Syria, he believes that ISIS cells will spread to some countries with extreme radical thinking and expertise in strategizing.
"It is not possible that they transfer their thoughts and expertise to extremists at the local level," he noted.
In that context, Hanafi asserted the need for international cooperation in countering terrorism and extremism to prevent the emergence of a "new" ISIS.
The cooperation should at least aim to minimize ISIS` negative impacts and limit its spread, he added
In addition, he highlighted the need to make attempts to clear misunderstandings of some basic concepts of Islam, especially those that have been misinterpreted to justify extremism and terrorism.
"Islamic countries should strengthen relations and join hands to counter such ideologies and fortify the younger generation not to fall into radical thinking," he stated.
Full report at:
https://en.antaranews.com/news/116300/indonesia-participates-in-moderate-islam-conference-in-iraq
-------
Malaysia mosque bans tourists after 'dance' goes viral
Jun 25, 2018
KUALA LUMPUR: A Malaysian mosque has banned tourists after a video of two female visitors in skimpy outfits dancing in front of the Muslim holy site went viral online.
The pair, of East Asian appearance and believed to be foreigners, were filmed doing the dance in skimpy shorts and tops exposing their mid-riffs on a wall outside the main mosque in the city of Kota Kinabalu, a popular site for visitors and tour groups.
Residents and local Muslim groups were incensed by the risque moves outside the holy site on Borneo island, which is renowned for its huge blue and gold dome and ornate minarets.
An outraged onlooker can be heard in the video saying: "Why don't they just fall off the wall?"
Mosque chairman Jamal Sakaran at the weekend slammed "the unacceptable behaviour by foreign tourists" and announced a temporary halt to any tourists visiting the mosque in Sabah state, adding the move was to preserve the sanctity of Islam.
The nationality of the women involved was not clear.
State tourism minister Christina Liew told The Star newspaper legal action would not be taken against the pair as they were likely unaware of the severity of their actions. But authorities wanted to track them down to explain "that something they deemed as 'fun' was actually disrespectful and not right in Sabah".
Large numbers of tourists -- both local and foreign -- visit the mosque, often during a brief stop in Kota Kinabalu before heading into the jungles of Sabah to see the jungle-clad state's abundance of wildlife.
Tourists can usually visit mosques in Muslim-majority Malaysia, where most practise a moderate form of Islam, but are advised to wear modest clothing.
Full report at:
https://timesofindia.indiatimes.com/world/rest-of-world/malaysia-mosque-bans-tourists-after-dance-goes-viral/articleshow/64735292.cms
-------
Next, Putrajaya council to meet conservative and liberal Muslims
June 26, 2018
KUALA LUMPUR: Putrajaya's top advisory council has invited at least three muftis as well as independent Muslim scholars, academics and activists, believed to be part of its feedback gathering process to hear views on the future of the administration of Islam under the new government.
A source close to the five-member Council of Eminent Persons said those called include leaders of conservative Islamic groups as well as "more liberal and left-leaning" prominent Muslims.
"They are academics, NGO heads, ulama and authors. They come from contrasting backgrounds," the source told FMT.
Calls for reforms of Islamic institutions have been renewed in the wake of the arrest of Siti Kasim, the human rights lawyer who is among the most vocal critics of Islamic bureaucracy in the country.
Over the years, Muslim leaders have questioned state Islamic authorities as well as the federal-controlled Department of Islamic Development or Jakim, over what is perceived as their penchant to impose a more rigid form of Islam in the country.
Influential government religious officers have also been blamed for a spate of controversial religious rulings as well as the banning of hundreds of books over the years on the topic of Islam.
Jakim has also come under the microscope, and leaders in both Barisan Nasional and Pakatan Harapan (PH) have called for its dismantling, saying its powers are against the constitutional provision that matters of Islam come under the purview of state rulers.
Earlier this year, veteran politician and Umno presidential hopeful Tengku Razaleigh Hamzah blamed the formation of Jakim on what he said was a race between Umno and PAS over who was more Islamic.
Full report at:
http://www.freemalaysiatoday.com/category/nation/2018/06/26/next-putrajaya-council-to-meet-conservative-and-liberal-muslims/
-------
Malaysia's Anwar Ibrahim says Erdogan's win in Turkey 'a victory for the Islamic world'
JUN 25, 2018
PETALING JAYA (THE STAR/ASIA NEWS NETWORK) - Malaysian politician Anwar Ibrahim has hailed Turkish President Recep Tayyip Erdogan's electoral win as a "victory for the Islamic world".
In a letter congratulating Mr Erdogan on winning a second term in the presidential election held over the weekend, Datuk Seri Anwar said Turkey's progress and its place in the world would be more assured under Erdogan's "dynamic stewardship".
"I am also convinced that your victory is also a victory for the Islamic world in portraying a modern and progressive face of Islam that embraces change while not compromising on the values of our faith and the fundamental teachings of the Holy Prophet," he said.
Mr Anwar, who is de-facto leader of Parti Keadilan Rakyat - a member of Malaysia's ruling alliance Pakatan Harapan - also congratulated the people of Turkey for their peaceful participation in the democratic process.
"I am convinced that your commitment to democracy, the continued betterment of the Turkish people, the promotion of peace and the eradication of subversive elements which were key election promises by the AK party contributed greatly to your victory this second time around," he added.
Mr Anwar visited Mr Erdogan in Turkey last week.
Under Mr Erdogan, the Turkish government has either taken over or shut down media organisations, while thousands of people have been detained since a coup attempt in 2016.
Mr Erdogan will assume major new powers under Turkey's new constitution, among them the power to directly appoint top public officials and to intervene in the country's judiciary.
His critics say this would place too much power in the executive, undermining the checks and balances needed for a properly functioning democracy.
Mr Erdogan however argues that he needs this kind of authority to address the country's economic woes and to defeat Kurdish rebels.
Meanwhile, Mr Anwar said Mr Erdogan's declaration of "one nation, one flag, one country, one state" in his victory speech is the true mark of a statesman in bringing together opposing sides after a hard-fought election.
"As you know, we here in Malaysia too are going through an unprecedented chapter in our nation's history following the victory of my coalition party for the first time.
"Closing ranks and uniting different factions is our first task in taking our nation forward.
Full report at:
https://www.straitstimes.com/asia/se-asia/malaysias-anwar-says-erdogans-win-in-turkey-a-victory-for-the-islamic-world
-------
Europe
How Islamic Immigration Is Fuelling a Political Earthquake in Europe
06-25-2018
STOCKHOLM, Sweden – Immigration from the Islamic world is causing a political earthquake in Europe and threatens the political future of its chief architect, German Chancellor Angela Merkel. Now the 'rebellion' against the European Union's immigration policy is spreading.
More than 4 in 10 Germans now want Chancellor Angela Merkel to resign. Her coalition government could collapse if she can't get an EU agreement restricting the number of migrants entering Germany.
President Trump tweeted: "The people of Germany are turning against their leadership" over migration.
Trump was mocked for also tweeting that Germany's crime rate is up when official figures show that it's at a 30 year low. But statistics show violent crime in Germany is up and it's because of migrants.
A new study says almost 1,000 Europeans have been injured or killed in terrorist attacks involving migrants since 2014. And Germany has been targeted with terror plots more than any other European nation, by a wide margin.
The rebellion against the EU's migrant policy has now spread to Italy.
Italy's new hardline Interior Minister Matteo Salvini says, "If someone in Europe thinks that Italy should continue to be a landing point and a refugee camp, they are mistaken."
Four of the immigration rebels, the Czech Republic, Slovakia, Hungary, and Poland, refused to participate in an EU summit on immigration.
The 'rebellion' has also spread to the grassroots in Sweden, where one poll shows the anti-immigration Sweden Democrats with a clear lead heading toward September elections, with some asking if Sweden is about to have its "Trump moment."
Sweden's refugee policy has imported crime, terrorism, and a lot of refugees that experts say are uneducated and unemployable. And on top of it, now Swedish citizens have to pay for it.
Swedish security expert Magnuss Norell with the Washington Institute for Near East Policy says, "If you live in Stockholm you never see this. You can choose not to see it. But in smaller communities, smaller cities, you can't avoid it. And that is where the change will come."
And change is coming…to a number of nations in Europe.
http://www1.cbn.com/cbnnews/politics/2018/june/bias-or-no-bias-jeff-sessions-addresses-the-cloud-hanging-over-the-fbi
-------
French far-right group arrested over alleged plot to attack Muslims
Jun 26, 2018
A group linked to France's radical far-right have been arrested on suspicion of planning an attack on Muslims.
Ten people were arrested over the weekend across France, including in the region of Paris and the island of Corsica.
Their potential targets included radical imams, Islamist prison inmates who had been released or veiled women chosen at random, French daily newspaper Le Parisien reported.
Several firearms were discovered during the raids and some of the suspects had made grenades and explosives, the paper said.
The suspects are reportedly aged between 32 and 69, and include a retired policeman who is suspected of leading the ultra-right group.
A source close to the investigation said the suspects had an "ill-defined plan to commit a violent act targeting people of the Muslim faith," the Agence France Presse news agency reported.
Another said they aimed to attack "targets linked to radical Islam."
French interior minister, Gerard Collomb, thanked the country's intelligence agency with a tweet, saying it watched "over every day the protection of the French against any violent action, wherever it comes from."
Nikita Malik, director of the centre on radicalisation and terrorism at the Henry Jackson Society, said the alleged plots appeared to have some aspects of vigilantism, but cautioned against giving the groups any credibility.
She told The Independent the reported targets appeared to have been selected because "they are visibly Muslim in the way they dress".
This made them "easy targets," she said, adding: "It seems to be quite random."
Far-right groups are often driven by conspiracy theories "muddled with random facts they put in to put credibility to a wider narrative of white genocide and neo-Nazism," she said.
The methods used in far-right attacks often parallel those conducted by Islamist groups, for example the use of vehicles, knives and acid, she added.
"The themes and grievances that extremist groups use are very common. Even though they oppose each other, the methods they use are very common," she said. "They use low-tech for high impact. Particularly when they're operating in gangs, the resources at their disposal are often household resources or easy to obtain, in order to get the most leverage and coverage on the attack.
"Targeting veiled women is a very common thing that happens when we look at anti-Muslim hatred following an Islamist terror attack."
There was a similar wave of arrests in October 2017, in which the suspected targets were believed to be refugees and mosques.
Last year, a far-right terrorist targeted Muslims in a van attack outside the Finsbury Park Mosque in London, leaving one dead and 12 people injured.
Full report at:
https://www.independent.co.uk/news/world/europe/french-far-right-arrests-muslim-attack-plot-imams-prison-inmates-veiled-women-a8415456.html
-------
Italy calls for refugee centres south of Libya
Jun 25, 2018
Italy's far-right Interior Minister Matteo Salvini has called on a visit to Tripoli for processing centers to be set up south of Libya's borders as a way to block attempts by refugees to cross the Mediterranean.
"On Thursday in Brussels, we will jointly support with Libyan authorities the setting up of reception and identification centers south of Libya, on the external border of Libya, to help Libya as well as Italy block migration," he said, referring to an EU summit this week.
Salvini, addressing a news conference alongside Ahmed Maiteeq, deputy premier of Libya's Government of National Accord (GNA), did not specify which African countries should host the centers.
Maiteeq said Libya "categorically refuses" to set up such camps on its own territory and that his country would invite European nations bordering the Mediterranean to a summit on migration and refugees to be held in Tripoli in September.
Salvini also held talks on his brief visit with the GNA chief, Fayez al-Sarraj, and the interior minister, Abdessalam Ashour.
Italy, on the frontline of Europe's refugee crisis, has turned away rescue vessels, with its new populist government demanding greater solidarity from reluctant fellow EU states.
Salvini, who was the first member of the new government to visit Libya, on Sunday bluntly told foreign charities to stop rescuing refugees off the North African coast.
In an interview published Monday with the newspaper La Repubblica, Libya's Maiteeq said he hoped to work with the Italian government on the crisis.
"The cooperation between Italy and Libya is crucial," he said, adding that the arrival of refugees was also "a major problem" for his country.
"Traffickers who bring migrants to Italy are dangerous criminal groups for us, who prevent Libya from taking a step toward a difficult normalization."
"All of Europe must think of structural measures to take in African countries to stop migrants."
Full report at:
http://www.presstv.com/Detail/2018/06/25/566046/Italy-Matteo-Salvini-refugees-Libya-Mediterranean-Sea-camps-migration
-------
Merkel vows to work 'constructively' with Erdogan
25 June 2018
Germany vowed on Monday to move forward in working constructively with the new government of Turkey, following President Recep Tayyip Erdogan's historic election win on Sunday.
Speaking at a news conference in Berlin, Chancellor Angela Merkel's spokesman said, they have taken note of the preliminary results, which showed that President Erdogan won an absolute majority in the presidential election.
"We are looking forward to continuing a constructive, beneficial working relationship between German and Turkish governments," Steffen Seibert said.
He also noted that Chancellor Merkel would congratulate Turkish President Erdogan at an appropriate time.
Early Monday morning, Turkey's Supreme Election Council announced that Erdogan won an absolute majority in the presidential election.
With 99.6 percent of the ballot boxes opened, Erdogan is leading with 52.58 percent of the vote, while his closest rival Muharrem Ince lags behind at 30.64 percent.
Full report at:
http://www.worldbulletin.net/europe/203439/merkel-vows-to-work-constructively-with-erdogan
-------
Pakistan
This Is the New Era of Kashmir and Modi Can't Stop It from Becoming Independent: Hafiz Saeed
Jun 25, 2018
Mumbai terror attack mastermind and founder of Lashkar-e-Taiba terror outfit Hafiz Saeed has openly championed the need for violence in the Kashmir Valley.
Addressing his supporters at the Gaddafi Stadium in Lahore, Hafiz said, "A new era has begun and with God's wishes Kashmir will be an independent state, there has been a lot of bloodshed in Kashmir, and God almighty is watching, he will deliver his verdict, because all the decisions come from the Heaven and not from Washington. The decisions of that come from the heaven get cemented on the world and Kashmir will be freed".Saeed's Lashkar-e-Taiba is behind a majority of the terror attacks in the Kashmir Valley. The outfit is also behind provoking local Kashmiri youth to pelt stones on security forces.
Working as a proxy of Pakistan's Inter-Services Intelligence (ISI), Saeed takes every opportunity to praise stone-pelters and Kashmiri militants."I remember those who have lost their lives and those spirited individuals who use stones against the Indian Army's bullets and `Allah is watching. Even when they are dying they still speak of the unity of Pakistan and Kashmir. This is the new era of Kashmir, and this (Indian Prime Minister) Modi cannot stop it. Because when it comes to the will of God, every decision and verdict will flow from the heavens above", said Saeed in his address. Hafiz Saeed is now making an all out effort to ensure that the Jamaat-ud-Dawa secures seats in the National Assembly of Pakistan.
His son and son-in-law are among 265 candidates fielded by Jamaat-ud-Dawa for national and provincial assembly seats across Pakistan in the July 25 general election, with the banned group's political wing vowing to make the country a 'citadel of Islam'. "We want to make Pakistan an independent state of Allah, and protect all our Muslim brothers, and we are preparing that, we the only Islamic Nuclear state in the world be capable of leading the entire Muslim world", said Saeed in his public address.
"Everyone must be united in this country, communalism must also be ended and to ensure we stand firmly on the mission given to us by our Prophet. I want to prepare everyone and make people more aware about different things and the harder we work the faster the third era of the Muslim World will begin", added Saeed, who is still roaming freely despite having several terror charges.
http://www.dnaindia.com/india/report-this-is-the-new-era-of-kashmir-and-modi-can-t-stop-it-from-becoming-independent-hafiz-saeed-2629074
-------
Handing over country to the corrupt tantamount to committing suicide: JI
JUNE 26, 2018
LAHORE: Jamaat-e-Islami chief Senator Sirajul Haq has said that handing over country to the corrupt people knowingly is tantamount to committing suicide.
Addressing a gathering at the opening ceremony of the central election office at his hometown in Miskini, Haq said that the country was facing threats from both internal and external enemies. He said corrupt and dishonest people were a great challenge to Pakistan's solidarity and existence, adding that these people had destroyed the national institutions, the country's politics and the democratic system on the behest of international forces. He said that in the current situation, unity among the religious parties was the need of the hour.
The JI chief said that KP was the worst-hit province because of lawlessness ad terrorism but the federal government did not provide any relief to the people there.However, he said, the people were now fully aware and they would bring about a change through their vote.
The JI chief said that only an honest and competent leadership can turn Pakistan into a true Islamic welfare state, adding that the MMA's election manifesto was the best possible agenda for the purpose. He said the solution of the country's problemslies in the Islamic system, adding that the introduction of Shariah laws would send a wave of satisfaction and happiness all over the country.
He said after coming into power, the MMA would abolish the interest-based system and introduce the system of Zakat and Ushr. The indirect taxes would be abolished and instead a just system of direct taxes would be introduced under which the poor would not be burdened with undue taxes, he added.
Haq said the MMA would ensure equitable distribution of national resources and provision of basic facilities of health and education to the common man at their doorstep.
Meanwhile, Secretary General Liaqat Baloch said that after coming to power, the MMA would raise the living standard of the lower sections of the society, including government servants, industrial workers and farmers.
Addressing corner meetings in his constituency NA-130, he said that the wages of the factory workers would be fixed in the light of the inflation level and the industrial and farm workers would be made shareholders in the production.He said the country's economy was linked with agriculture but the feudal lords and capitalists had been exploiting the farmers and had made the life of the farm workers and peasants miserable.
Full report at:
https://dailytimes.com.pk/258156/handing-over-country-to-the-corrupt-tantamount-to-committing-suicide-ji/
-------
Pakistan may be placed in FATF's 'grey list' for financially aiding terrorism: Report
Jun 25, 2018
ISLAMABAD: Pakistan could be placed on the blacklist of countries that financially aid terrorism, media reports said on Monday as Islamabad fielded its interim finance minister Shamshad Akhtar to defend the country in Paris where the Financial Action Task Force is meeting.
The FATF is an inter-governmental body established in 1989 to combat money laundering, terrorist financing and other related threats to the integrity of the international financial system.
Currently placed on the FATF'S 'grey list', Pakistan has been scrambling in recent months to avoid being added to a list of countries deemed non-compliant with anti-money laundering and terrorist financing regulations by the FATF, a measure that officials here fear could hurt its economy, which is already under strain.
In February, Pakistan narrowly escaped placement, but a senior official of the FATF confirmed that it will be placed on the FATF's watch-list in June, the Express Tribune reported.
Pakistan was previously on the grey list from 2012 to 2015.
The FATF will decide after a six-day meeting whether Pakistan should be placed on the blacklist of countries that financially aid terrorism, the report said.
Caretaker finance minister Akhtar arrived in Paris earlier today along with senior officials of the financial monitoring unit to fight Pakistan's case before the FATF, Geo TV reported.
Ahead of the July 25 general elections in Pakistan, the country is being governed by a caretaker government led by former Pakistan Chief Justice Nasir-ul Mulk.
The Pakistani delegation will inform the FATF of the action plan drafted by the government to avoid sanctions, the report said.
Amid increasing global pressure to move decisively against proscribed organisations, Pakistan reviewed its new draft action plan for submission to global bodies working on curbing money laundering and terror financing.
The action plan was reviewed just two days before the filing of comments to the observations raised by the Asia Pacific Group (APG) on money laundering, the Express Tribune report said.
The APG and the FATF's recommendations to curb money laundering and terror-financing were first discussed in a federal Cabinet meeting. The proposed action plan was then reviewed in a meeting chaired by Akhtar.
Ahead of the latest meeting, Pakistan took steps in keeping with FATF regulations. On June 20, the Securities and Exchange Commission of Pakistan issued the Anti Money Laundering and Countering Financing of Terrorism Regulations 2018, in compliance with FATF recommendations.
Full report at:
https://timesofindia.indiatimes.com/world/pakistan/pakistan-may-be-placed-in-fatfs-grey-list-for-financially-aiding-terrorism-report/articleshow/64737827.cms
-------
Pakistani ambassador to US stresses need to promote bilateral trade
Jun 26, 2018
ISLAMABAD: Newly-appointed Pakistan's Ambassador to the United States (US) Ali Jehangir Siddiqui has emphasised the need to promote bilateral trade between the two countries.
He expressed these views while presiding over a day-long conference of Pakistan's Consuls General and Commercial Counsellors in the US at Washington.
Matters related to consular facilitation, bilateral trade and investment, and outreach to Pakistani-American community for promoting the ties were discussed.
The ambassador was briefed on the recent improvement brought in the consular services. Applauding the steps taken by the embassy and the consulates general, Ambassador Ali Jehangir Siddiqui asked the concerned officers to further improve areas of consular services based on the feedback received from the community.
He directed the trade representatives to focus on untapped sectors on both sides for enhancing commercial ties between the two countries.
https://www.pakistantoday.com.pk/2018/06/25/pakistani-ambassador-to-us-stresses-need-to-promote-bilateral-trade/
-------
Lacked experience in 2013 elections, 2018 will be a win for PTI: Imran Khan
JUNE 26, 2018
KARACHI: In an interview with a state TV channel, Pakistan Tehreek-e-Insaaf (PTI) chairman Imran Khan on Monday said that his party could not do well in 2013 elections due to lack of experience.
Khan told the media that his party aims to contest 2018 elections with full preparations.
He further stated that the party has issued tickets for 232 National Assembly (NA) constituencies.
The party chairman claimed that he always fights to end corruption, adding that lowest rate of corruption was recorded in Khyber Pakhtunkhwa (KPK) province during his tenure.
While talking about PTI's performance in KPK, Khan stated that apart from upgrading the existing hospitals, the government established 15 new hospitals in the province.
Full report at:
https://dailytimes.com.pk/258398/lacked-experience-in-2013-elections-2018-will-be-a-win-for-pti-imran-khan/
-------
Bilawal to announce PPP's election manifesto this week
JUNE 25, 2018
KARACHI: Pakistan People's Party (PPP) has finalised its menifesto for the upcoming general elections, said a statemenet issued by the party.
PPP Chairman Bilawal Bhutto Zardari would announce the menifesto in a press conference this week.
Bilawal has envisaged many steps and programmes for the people of Pakistan in the coming manifesto, the statement read.
The menifesto would address the propblems of Pakistanis said Senator Mustafa Nawaz Khokhar, a spokesman for the party chairman.
This is the PPP's 10th manifesto during the last five decades, said Khokhar adding party founder Zulfikar Ali Bhutto had unveiled the first manifesto for the general elections 1970.
Full report at:
https://dailytimes.com.pk/257987/bilawal-to-announce-ppps-election-menifesto-this-week/
-------
Africa
Violent clashes between Muslim cattle herders and Christian farmers in Nigeria leave '86 killed'
Jun 26, 2018
Scores are dead after vicious weekend clashes in central Nigeria between mostly Muslim cattle herders and Christian farmers, with one report citing police saying 86 people were killed.
The growing conflict by some accounts has become deadlier than Nigeria's Boko Haram extremist insurgency.
Dramatic footage from Jos showed angry people waving machetes and sticks and shouting at passing security forces as they weaved around overturned and burning vehicles. Smoke rose in the distance. Women and children clutching overstuffed bags piled into the back of trucks, seeking a way out.
President Muhammadu Buhari warned against reprisal attacks after the "deeply unfortunate killings across a number of communities" in central Plateau State as the military and police tried to end the bloodshed, saying "no efforts will be spared" to find the attackers.
Nigeria's government has not announced a death toll. The independent Channels Television cited a Plateau State police spokesman, Mathias Tyopev, as saying 86 people had been killed, with at least 50 houses destroyed.
"Please remain calm," said the Plateau State governor, Simon Bako Lalong, as a helicopter whirred overhead. "It is very, very, unfortunate that an incident is happening again like this."
The deadly clashes between herders and farmers in central Nigeria are a growing security concern in Africa's most populous country, which is roughly split between Muslims in the north and Christians in the south.
The threat from Boko Haram, which continues to carry out attacks in the northeast, has been cited as one cause of the growing tensions as herders — also feeling the effects of climate change — are forced south into more populated farming communities in search of safe grazing.
The widespread security issues pose a major challenge to Buhari, a Muslim former military ruler who won office in a democratic transfer of power in 2015, as elections approach next year.
While few details emerged immediately of the latest killings, Nigerians on social media shared a growing sense that something awful had occurred for hours on Sunday.
Earlier in the day, the Plateau State governor announced a 6pm to 6am curfew after saying he had woken up to the "shocking news" of the attacks. He said the curfew affects the communities of Jos South, Riyom and Barkin Ladi "and is in effect until further notice".
"Observe the curfew, observe the curfew, and I will still remind them to observe the curfew," he said.
https://www.independent.co.uk/news/world/africa/nigeria-muslim-cattle-herders-christian-farmers-violent-clashes-dead-a8416016.html
-------
MURIC rubbishes Christian elders over attack on Buhari govt
June 25, 2018
By Wale Odunsi
The Muslim Rights Concern (MURIC) has lambasted the National Christian Elders Forum (NCEF) under the chairmanship of Solomon Asemota.
NCEF had warned that with the spate of killings in Nigeria, there may be no Christians in the next 25 years.
The group also accused the Buhari administration of honoring Chief M. K. O. Abiola, Baba Gana Kingibe and Chief Gani Fawehinmi "ostensibly to swell the ranks of Muslims in the roll call of these awards."
NCEF further alleged that, "EFCC is becoming the prosecuting arm of the Jama'atu Nasril Islam (JNI)"; that "the 1975 coup (and other preceding coups), were jihad, promoted for the Islamization of Nigeria for Sharia to replace democracy"; that "the current Federal Government in Nigeria is openly pursuing an anti-Christian agenda that has resulted in countless murders of Christians…" and that "The present generation of Christians in Nigeria may cease to exist in 25 years from now (2043), beginning from 2018" due to incessant killings.
But in a reaction on Monday signed by the director of the organization, Professor Ishaq Akintola, MURIC held that it could not resist laughing at these allegations.
"They are all baseless, unfounded and ridiculous. They exist only in the figment of NCEF's imagination. These allegations are symptomatic of intellectual poverty and desertification of thinking faculty. NCEF is reliving Don Quixote. MURIC is laughing in Latin."
"We are constrained to ask if we need to conduct an all-encompassing examination of medical fitness for religious leaders in Nigeria. How can anyone just jump to the conclusion that the present administration which merely yielded to persistent agitations over the June 12 saga was engaging in jihad because all the June 12 awardees are Muslims.
"NCEF has deliberately and most wickedly twisted a coincidence to whip up gymnastic religiousity. The group also goofed by saying that Abiola was not a Sunni Muslim. How much of Abiola's Islam do they know? This claim amounts to desecration of the dead."
"How could there be a connection between the Jama'atu Nasril Islam (JNI) and EFCC?" It querried. "Was it not Obasanjo who established the EFCC? The last time we checked, Obasanjo had not made up his mind to become a Muslim. NCEF's imagination is running wild. Nigerians should not be surprised if by tomorrow NCEF claims that the Saudi king is plotting to become the next American president in order to Islamise the whole West.
"If Nigerian Muslims have never claimed that the January 15, 1966 coup was an attempt at Christianising the country, how can NCEF, in its rational moment (which of course is very rare), claim that the 1975 coup was a jihad?"
Akintola argued that facts on ground also rubbish NCEF's allegation that the Buhari administration is pursuing an anti-Christian agenda. According to him, "Christians have more cabinet positions in this regime. Christians and Muslims have 18 ministers each but both the Secretary to the Government of the Federation as well as the Head of Service are Christians. This gives Christians 20 positions while Muslims remain 18. Yet Muslims have not started complaining. NCEF needs to check its mathematical expertise. 18 cannot be higher than 20. NCEF's vituperations are portraying Nigerian Christians in bad light and that is to say the least."
The Islamic group also contends that the large number of Muslim casualties in the ongoing killings has belied NCEF's claim of the killing of Christians.
"It has been established beyond any reasonable doubt that more Muslims have fallen victims and the number of Internally Displaced Persons (IDPs) which has risen above 1.5 million Muslims has further cemented this position. Therefore, NCEF is merely crying wolf where none exists with its allegation that the present generation of Christians in Nigeria may cease to exist in 25 years from now.
"One of the most wicked claims of NCEF is that only Christians are being haunted and jailed by EFCC. Col. Sambo Dasuki has been in detention for almost three years. Did NCEF hear of any claim from JNI or from the Nigerian Supreme Council for Islamic Affairs (NSCIA) that a Muslim is being persecuted? What of the former governors of Niger and Jigawa states? Are they not Muslims and have they not fallen under EFCC axe?
"These allegations are as ridiculous as saying that Buhari is Islamising the Green Eagles and that was why he strategically placed Ahmed Musa in Iceland's eighteen to score two goals for Nigeria in the ongoing World Cup in Russia. NCEF pontifications can also be likened to declaring that although his predecessor returned a meager N50 million in seven years, Professor Ishaq Oloyede as JAMB registrar returned a mind-boggling N7.8 billion naira to the Federal Government (FG) in order to Islamise the Joint Admissions and Matriculations Board (JAMB). Not to be left out of the Islamisation race, Hameed Ali fetched FG a record N1 trillion from Customs in 2017 alone."
MURIC said it could not help wondering why NCEF must demonise performers. "Why must excellence be sacrificed on the altar of mediocrity? Who stopped Obasanjo from Christianising Nigeria by giving us light instead of darkness for our $26 billion? Why didn't Jonathan Christianise this country by treating stealing as corruption?"
Full report at:
http://dailypost.ng/2018/06/25/muric-rubbishes-christian-elders-attack-buhari-govt/
-------
Boko Haram: Troops nab terrorists' fuel suppliers
June 25, 2018
By Wale Odunsi
Troops of 301 Artillery Regiment (General Support) have arrested 2 suspected Boko Haram fuel suppliers in Nafada, Gombe State.
The 2 suspects are one Mohammed Adamu Zika, a driver and Bukar Adamu Haji, an assistant station manager in one of the fuel stations in Gombe State while another accomplice is at large.
Brigadier General, Director Army Public Relations, Texas Chukwu, in a statement on Monday, said efforts to get him arrested has been intensified by the troops.
"The two suspects are currently undergoing interrogation and will be handed over to the appropriate authority for prosecution", the statement added.
"It would be recalled that all fuel stations within Nafada general area were warned against selling large quantities of fuel to motorists.
Full report at:
http://dailypost.ng/2018/06/25/boko-haram-troops-nab-terrorists-fuel-suppliers/
-------
Libyan coastguard picks up 1,000 migrants in one day, recovers several bodies
25 June 2018
Libyan coastguards picked up 948 African migrants on inflatable boats in several operations and also recovered 10 bodies on Sunday, officials and a witness at a naval base said.
The operations brings the number, since last week, of mainly African migrants trying to head to Italy but brought back to Libya to almost 2,000.
The western coast of Libya is the main departure point for thousands of migrants fleeing wars and poverty and trying to reach Europe.
The number of crossings has dropped sharply since July 2017 when an armed group expelled human traffickers from a smuggling hub after an Italy-backed deal.
"The coastguards picked up illegal migrants in different groups. The first group is 97 on one inflatable boat and the second group is 361 migrants on two inflatable boats," Naval forces spokesman Ayoub Qassem told Reuters.
"The second group was taken to Khums town," Qassem said, adding that the two groups included 110 women and 70 children.
A witness watching the arrival of another coastguard ship at Tripoli's Abu Sittah naval base said a third group included 490 migrants picked up off Qarabulli town. Among them were 75 women and 20 children.
Libya plunged into chaos following the NATO-backed uprising that toppled Muammar Qaddafi in 2011, with many armed groups and two administrations vying for power.
Most migrants try to head across the Mediterranean toward Italy, hoping they will be picked up by ships run by aid groups and taken there, although many drown before they are rescued.
Earlier this month, Italy's interior minister Matteo Salvini vowed to no longer let charity ships offload rescued migrants in Italy, leaving one ship stranded at sea for several days with more than 600 migrants until Spain offered them safe harbor.
Full report at:
https://english.alarabiya.net/en/News/middle-east/2018/06/25/In-election-victory-speech-Erdogan-says-Turkey-will-advance-in-Syria.html
-------
Libya to restart exports after 'full control' of oil crescent
25 June 2018
Military strongman Khalifa Haftar's forces announced Monday their "full control" of Libya's oil crescent after driving out a rival militia, as authorities said normal exports were set to resume.
"Mopping up operations for enemy holdouts" have been completed, said Khalifa al-Abidi, spokesman for Haftar's self-styled Libyan National Army.
Military commander General Ahmed Salem, in a video posted by the LNA, said the fields and oil installations in eastern Libya were back under the force's "full control".
The LNA already announced last Thursday that it had recaptured two key oil ports, a week after they were seized by armed groups led by militia leader Ibrahim Jadhran, although military operations in the area were unfinished.
On Sunday, a delegation from the National Oil Corporation, which said the violence had slashed oil production by almost half and cost billions of dollars in losses, inspected the Ras Lanuf oil terminal.
"Specialists are currently determining when operations may resume and will update the Libyan people and market in due course," the NOC said in a statement.
"Despite the severity of the fire damage to storage tanks 2 and 12, tanks 5 and 6 were saved thanks to the exemplary work of personnel on site."
Medics have said 16 LNA members were killed in clashes, but the number of dead on the other side was unknown.
Libya has been wracked by conflict since the 2011 ouster and killing of longtime dictator Muammar Qaddafi in a NATO-backed uprising, with rival governments and militias competing for authority and control of key infrastructure.
Full report at:
https://english.alarabiya.net/en/News/north-africa/2018/06/25/Libya-to-restart-exports-after-full-control-of-oil-crescent.html
-------
Haftar hands captured Libyan oil terminals to eastern administration
June 25, 2018
BENGHAZI: Libyan commander Khalifa Haftar will transfer control of oil ports recently recaptured by his forces to the administration in eastern Libya he supports, a spokesman for the field marshal said Monday.
Haftar's announcement came just hours after his Libyan National Army said it had regained "full control" of the country's oil crescent after driving a rival militia out of the area.
"All the oil installations controlled by (Haftar's) Libyan National Army are being handed over to the National Oil Corporation dependent on the provisional eastern government and that is headed by Faraj Al-Hassi," spokesman Ahmad Al-Mesmari said.
Haftar supports an administration based in Libya's east that opposes the internationally recognized government in Tripoli.
The LNA already announced last Thursday that it had recaptured the Ras Lanuf and Al-Sidra terminals, a week after they were seized by armed groups led by militia leader Ibrahim Jadhran, although military operations in the area were unfinished.
Jadhran's Petroleum Facilities Guard controlled the two key oil ports for years following the 2011 NATO-backed removal of Muammar Qaddafi — but they were eventually forced out by the LNA in September 2016.
The spokesman Mesmari said oil revenues from the four terminals now under LNA control would be handled by the administration in the east supported by Haftar.
Haftar made the decision after realizing "rival armed groups are financed by oil revenues secured by the LNA," Mesmari said, referring to Jadhran's forces.
Up until now, the terminals have been managed by the National Oil Company tied to Libya's internationally recognized government based in Tripoli.
The NOC is chaired by Mustafa Sanalla, who represented Libya last week at an OPEC meeting in Vienna.
Clashes between Jadhran's forces and the LNA in the oil crescent pushed the NOC on June 14 to suspend exports from terminals in the area, warning of billions of dollars in losses.
After visiting the Ras Lanuf terminal on Sunday, the NOC said violence had slashed oil production by almost half and cost billions of dollars in losses.
Libya's economy relies heavily on oil, with production at 1.6 million barrels per day under Qaddafi.
Full report at:
http://www.arabnews.com/node/1327916/middle-east
-------
URL: https://www.newageislam.com/islamic-world-news/uae-fatwa-council-preach-islams/d/115649
New Age Islam, Islam Online, Islamic Website, African Muslim News, Arab World News, South Asia News, Indian Muslim News, World Muslim News, Women in Islam, Islamic Feminism, Arab Women, Women In Arab, Islamophobia in America, Muslim Women in West, Islam Women and Feminism