New Age Islam News Bureau
3 Aug 2013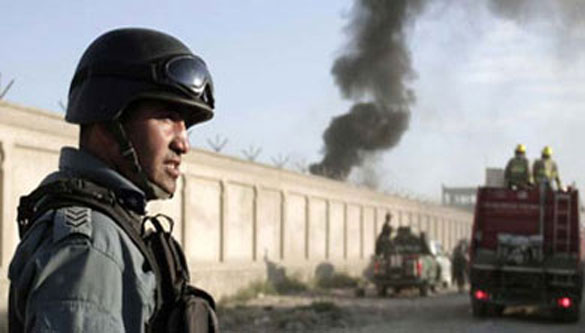 Photo: Twenty Two Police, 76 Taliban Killed In Afghan Battle
--------
South Asia
• Twenty Two Police, 76 Taliban Killed In Afghan Battle
• Nasheed urges India to relax visa rules for Maldives
• Recent violence makes Lanka Muslims insecure
• BNP against political party ban: acting secretary
• PM blames BNP-Jamaat for 'poor results'
• Blast near Indian consulate in Afghanistan kills 8 children
India
• Shia-Sunni violence continues in Lucknow old city
• Protest in Tonk against 'targeted' police action inside mosque
• Batla House Verdict Is Perverse and a Mockery of Justice: Jamia Teachers Solidarity Association
• Pak nationals using Indian IDs; probe ordered
• In India, Ramzan observances not only for Muslims
• Salman Khurshid hopes new Pak president would initiate positive steps towards India
• CPI (M) calls for resumption of Indo-Pak dialogue
• J&K Police claim seized drug was meant for Hizb ul militant
Arab World
• Al-Qaeda leader tells Morsi supporters democracy not the way
• Egypt's ElBaradei calls for talks with Brotherhood
• Hezbollah man alleges plot to kill Saudi envoy to Nigeria
• Rebels seize arms depot near Damascus: activists
• Hezbollah-affiliated Sunni sheikh 'attacked' in Sidon
• Nasrallah slams fears of 'Shiite expansion'
• Hezbollah, Hamas agree to disagree on Syria at high-level Beirut meeting
• Syrian opposition, UN to cooperate in probe of chemical arms allegations
• Volunteers put up longest Iftar trail at Grand Mosque
• Saudi courts sentenced 300 money launderers last year
Mideast
• Non-alcoholic beer is taking off among Muslim consumers
• Turk invents Muslim prayer mat to remedy knee strain
• Draft bill to toughen sexual abuse penalties in Turkey
• 179 detained Morsi supporters go on hunger strike
• Nearly 300,000 Muslims throng Al-Aqsa compound
• Two killed, 5 hurt as rival factions in Yemen Army clash
• Hassan Rouhani officially takes over as Iran president
• Humanitarian assistance convoy prevented from passing aid to northern Syria
• Turkey chides US for backing Egypt rulers
North America
• US grabs wallet-sized bomb detector created by Indian scientist
• White House: Obama orders 'all appropriate steps' over al-Qaeda threat
• Kerry backs Egypt army, irks Brotherhood
• McCain calls Dempsey's warning against attack on Syria 'disingenuous'
• Bureau Investigation Finds Fresh Evidence of CIA Drone Strikes on Rescuers
• Pakistani agencies vigilant against terrorists, US told
Pakistan
• Tahir-ul-Qadri regrets gradual extinction of Islamic values
• Counter-terror drive: Military, KPK not on same page
• Two Shia religious leaders shot dead
• Eight, including five policemen, killed in Karachi violence
• $44m Pakistan-China optic fibre project
• Nothing wrong in my words about judiciary: Imran
• Jamiat Ulema-e-Islam-Fazl out to oust Khyber Pakhtunkhwa govt
• Pakistan to submit entry for Oscar award after 50 years
• Pakistani authorities say ban on YouTube can't be lifted
Africa
• Tunisian forces dismantle explosive in latest 'terrorist' bomb scare
• Prisoners escape as gunmen attack Libya police transport
• Senior Libyan policeman wounded by car bomb
Southeast Asia
• Putrajaya exposes ignorance with anti-Shia campaign, says Hadi
• Nine Rohingya Asylum Seekers Flee Aceh Detention
• A humane approach to Shia refugees
Europe
• Investigate Egypt torture by Morsi loyalists: Amnesty
• Amnesty reminiscent of Saudi generosity during Gulf War
• U.N. warns of plight of women, children in Syria's Homs
• Border measures for Syrians stricter: UNHCR
• UN official for probe into Syrian soldiers' 'execution'
Compiled by New Age Islam News Bureau
URL: https://www.newageislam.com/islamic-world-news/new-age-islam-news-bureau/twenty-two-police,-76-taliban-killed-in-afghan-battle/d/12883
----------
South Asia
Twenty Two Police, 76 Taliban Killed In Afghan Battle
Aug 3rd 2013
JALALABAD: More than 20 Afghan policemen and dozens of Taliban insurgents were killed on Friday when hundreds of fighters ambushed a police and military convoy in eastern Afghanistan, officials said.
The five-hour battle in the Sherzad district of Nangarhar province occurred after the convoy was attacked as it returned from an operation to rescue a politician being threatened by the Taliban.
"It was an intense battle and insurgents used heavy and light weapons to attack the convoy of our security forces in Sherzad district," Nangarhar deputy police chief Masoom Khan Hashemi told AFP.
"We lost 22 of our brave policemen, but the militants have been taught a lesson of our strength, their attack was completely repelled and 60 of their fighters were killed," Hashemi said, adding a further 16 insurgents were killed during the rescue of the politician.
The account was confirmed by provincial spokesman Ahmadzia Abdulzai.
"The military and police launched a successful operation in the district killing 16 Taliban. On their way back they were ambushed in which 60 Taliban were killed. Unfortunately 22 policemen were also martyred in the fighting," he said.
The Taliban, who have been waging a bloody decade-long insurgency against the Western-backed Kabul government, claimed only five of their fighters and 84 government soldiers were killed in the battle.
With the US-led coalition due to withdraw its 100,000 combat troops by the end of 2014, the Afghan police and army are increasingly taking responsibility for tackling the insurgency that erupted after the Taliban were ousted in 2001.
The Taliban insurgents in the meantime have stepped up their attacks in areas where foreign troops have withdrawn or are in the process of withdrawing.
Afghanistan's 350,000-strong security forces are suffering a steep rise in casualties as the Nato combat mission winds down and Afghan authorities try to impose stability ahead of the presidential election due in April.
The vote, which will chose a successor to long-time leader President Hamid Karzai, is seen as a key test of whether the US-led international military intervention in Afghanistan has been a success.
The long war has become increasingly unpopular in the US and other coalition countries such as Britain and Germany, with national leaders now hoping their troops can withdraw rapidly after a credible Afghan government takes power.
"If the election goes well and produces a result that is widely accepted in the country, most other of Afghanistan's challenges are going to be satisfactorily met," US special envoy James Dobbins said in Kabul on Friday.
"The election is the most important item on Afghanistan's agenda and it's the most important item on the US's agenda even though we are just observers."
Karzai, who came to power soon after the Taliban were ousted, has repeatedly said that he will leave office in line with the constitution and has vowed to work towards a fair election of a new president.
http://dawn.com/news/1033641/twenty-two-police-76-taliban-killed-in-afghan-battle
----------
Nasheed urges India to relax visa rules for Maldives
Aug 3rd 2013
Former president Mohamed Nasheed on Thursday urged neighbours India to relax the process of granting visa for Maldivians traveling to India for medical treatment.
During his ongoing visit to India, Nasheed had met India's external affairs minister Salman Khurshid and highlighted the difficulties faced by Maldivians in obtaining Indian medical visa. He had also requested for more scholarship opportunities for Maldivian students from India.
The opposition presidential candidate had also met Indian finance minister P. Chidhambaram on Thursday and discussed ways of obtaining financial assistance as budget support to revive Maldives' flailing economy. He also noted the obstacles to development caused by the difficulties faced in obtaining construction gravel from India.
After the meetings, Nasheed was hopeful that the Indian government will heed his requests.
The Maldives government had prematurely terminated the contract with GMR and expropriated the airport end of last year sparking a diplomatic row with India which had threatened the long standing relations between the two countries.
Shortly after the termination of the GMR contract, India had tightened the free on arrival visa granted to Maldivians by warning that Maldivians travelling to India for purposes other than tourism on a tourist visa could face deportation.
http://www.haveeru.com.mv/news/50339
----------
Recent violence makes Lanka Muslims insecure
ABU AHMED
Aug 3rd 2013
Organized attacks on Muslims in Sri Lanka, which began almost two years ago, continue unabated while the government remains indifferent. In the absence of any official attempts to put an end to these assaults, worried Muslims are thinking of taking to streets to highlight their grievances. Muslims all over the world are closely monitoring developments in the island state fearing it could become another Myanmar.
There is growing feeling within the Muslim community in Sri Lanka is that though these attacks although look isolated, they are well organized and coordinated with ulterior motives.
However, Sri Lanka, which has just emerged after a 30-year-old ethnic war cannot afford another catastrophe. Muslims suspect that militant Buddhist monks are attacking, looting, plundering and killing Muslims as part of their well-planned strategy and are least bothered about its fallout on the country.
The precarious situation prompted former Information Minister Imtiaz Bakeer Markar to ask the government: "What are we waiting for? Are we waiting for a calamity to happen? Isn't it time to drive sense into Buddhist extremists who are pushing the country toward yet another disaster?"
In a recent interview with a Sinhala weekly, Markar, a politician loved and respected by Muslims and Sinhalese alike, emphasized the need for immediate government action to stop these attacks, warning that failure to do so will inevitably lead to a catastrophe.
The besieged Muslim community that constitutes about 10 percent of the island's population is made to believe that the government's refusal to bring these extremists to book is like patronizing them. So far all appeals from the Muslim community and the mainstream Sinhalese community to stop this hooliganism have fallen on deaf ears.
Muslim politicians in general, sandwiched between their desire to cling onto their positions to enjoy perks and their obligations toward their community, betrayed the community and sold their souls. Divided into many splinter groups they have been cleverly exploited as tools to serve the government's interests. This is the reason why Muslim parliamentarians are not taken seriously by the government and the Muslim community as well.
The question is that if Tamil National Alliance, TNA, parliamentarian M.A Sumanthiran could accuse the government of being behind attacks on Muslims what is preventing the Muslim parliamentarians from opening their mouths.
Shameful state of affairs was such that while Sumanthiran accused the government of being behind the attacks on Muslims and had done nothing to protect Muslims, Muslim parliamentarian Faizar Musthapha defended the government claiming that it was "Bodu Bala Sena which was responsible for these attacks."
However the prevailing view among Muslims is that "How BBS could function as a government within the government and openly violate laws, harass and humiliate Muslims without the government's connivance." The attacks on Muslims, which began with the destruction of a Muslim shrine at Anuradhapura under the watchful eyes of the police around two years ago, have now become almost a regular incident in one form or other.
Last month a group of Buddhist extremists went on a protest march from Kataragama to Temple Trees to submit a memorandum asking President Mahinda Rajapaksa to ban animal slaughter. Is there any need for a provocative march, aimed at whipping up anti-Muslim sentiments?
Days later, on June 30 night, a Buddha statue was secretly placed at Azhar Vidyalayam playground in Batticaloa district. This has been the only playground for students at Azhar Vidyalayam and Shaduliya Vidyalayam. A complaint was lodged at Valaichenai police followed by filing a case in a court, which in its June 25 2013 verdict, stated that the playground belongs to the school. Defying the court verdict, the temple authorities placed a Buddha statute in the center of the playground. No one was taken to custody so far.
Ten days later Arafa Mosque in Mahiyangana was desecrated in one of most barbarous manners on July 11, 2013. The tragedy is that this happening in a country known as the land of Dhammadipa, known for its 2500-year old Buddhism, Buddhist culture and ancient civilization? Even the aborigines Veddhas never stooped to this low level of barbarism. Do the perpetrators understand the damage they are causing worldwide to the image of the mainstream Sinhala Buddhists?
In a statement to the media, Sri Lanka Muslim Congress leader and Justice Minister Rauf Hakeem had this to state: "The Mahiyangana Mosque has been targeted for over a week, in what appears to be the latest in an organized series of attacks carried out on mosques and the hate campaign against the Muslims in Sri Lanka by extremist Buddhist groups for many months. Such acts of intolerance especially during the holy month of Ramadan hurt the sentiments of Muslims in the country contributing to further polarization of communities. On an earlier occasion when the mosque came under attack by extremists, evidently, no preventive measure had been taken. The government's impervious attitude to such rising crimes and inaction in curbing such mounting hate campaign will be dangerously read as that of stimulating religious violence."
http://www.arabnews.com/news/459817
----------
BNP against political party ban: acting secretary
Aug 3rd 2013
BNP acting secretary general Mirza Fakhrul Islam Alamgir has said his party does not support banning any political party.
"The government is making all out efforts to ban the opposition parties," alleged the BNP spokesperson on Friday, a day after the High Court declared the registration of the Jamaat-e-Islami with the Election Commission illegal.
"Politics should be faced politically," he said at a programme held at the Jatiya Press Club in the capital.
The city unit of the main opposition party organised the programme protesting the death of Jasimuddin, a BNP leader of Ward No. 58, who was shot dead by unidentified assailants at Hazaribagh in the capital on July 29.
Mirza Fakhrul however did not make any comment about the HC verdict that on Thursday declared illegal the registration of Jamaat, a key partner in the BNP-led 18-party opposition alliance, as a political party.
He said the ruling Awami League would not be able come back to power if the BNP takes part in the upcoming parliamentary elections.
"Knowing its (Awami League) inevitable defeat, the government wants to hold the election keeping the BNP outside the polls," Mirza Fakhrul alleged.
http://www.thedailystar.net/beta2/news/govt-out-to-ban-opposition-fakhrul/
----------
PM blames BNP-Jamaat for 'poor results'
Aug 3rd 2013
Prime Minister Sheikh Hasina on Saturday blamed the opposition parties for the "poor and unexpected results" in the Higher Secondary Certificate (HSC) and equivalent examinations.
"Hartal and other political unrest conducted by the BNP and Jamaat-e-Islami during the examination days caused the poor results," Abul Kalam Azad, press secretary to the premier, told The Daily Star quoting Hasina.
Full report at:
http://www.thedailystar.net/beta2/news/pm-blames-bnp-jamaat-for-poor-results/
----------
Blast near Indian consulate in Afghanistan kills 8 children
PTI | Aug 3, 2013
PESHAWAR/NEW DELHI: Suicide bombers on Saturday detonated explosives-packed vehicle near the Indian consulate in Afghanistan's Jalalabad city, bordering Pakistan, killing at least eight children and wounding 21 others.
Confirming the blast by suicide bombers in front of the consulate, official sources in New Delhi said, "all Indians are safe and there was no major damage to the consulate."
"The situation is still very fluid," sources said. Nangarhar province police chief Gen Sharif Amin said the car bomb was set off near a mosque leading to the Indian consulate in the provincial capital Jalalabad.
Full report at:
http://timesofindia.indiatimes.com/world/south-asia/Blast-near-Indian-consulate-in-Afghanistan-kills-8-children/articleshow/21573501.cms
----------
India
Shia-Sunni violence continues in Lucknow old city
Aug 3rd 2013
Violence continued unabated in several parts of the old city here for the third day on Friday, with several people injured in clashes between Shias and Sunnis.
Members of the two sects clashed near the Husainabad Clock Tower and Satkhanda in the Husainabad area after the Alvida (last Friday of the Islamic holy month of Ramzan) prayers.
Bombs hurled
Eyewitness accounts said the two groups threw bricks at each other. Several rounds were reportedly fired and crude bombs hurled. Clashes were also reported from Raniganj, Iqbal Nagar, Muftiganj, Dargah Hazrat Abbas and Top Darwaza.
The police, meanwhile, were accused of being a mute witness to the violence despite their huge presence. Three companies of the Rapid Action Force and 15 companies of the Provincial Armed Constabulary have been deployed in the old city since Wednesday, when clashes first broke out.
Procession attacked
On that day, bricks were hurled at a procession taken out by Shias, allegedly by Sunnis, at the Bazar Khala and Haiderganj crossing. In the ensuing rioting, several shops were torched and vehicles damaged. No arrests have been made yet.
http://www.thehindu.com/news/national/other-states/sectarian-violence-continues-in-lucknow-old-city/article4982727.ece
----------
Protest in Tonk against 'targeted' police action inside mosque
Aug 3rd 2013
Sit-in against Rajasthan government's "indifference"
Members of the Rajasthan Muslim Forum and other organisations staged a dharna here on Friday to protest against the "targeted" police action on community members earlier this month in Tonk, about 90 km from here.
The Muslim Forum, the People's Union for Civil Liberties (PUCL), the Rajasthan Sadbhavana Manch and the Dalit Adhikar Manch staged a sit-in against the government's "indifference" and demanded justice for the victims of the violence.
A delegation of citizens met Rajasthan Chief Secretary C.K. Matthew last week and gave him a copy of an independent fact-finding team's report on the incident of July 12, when the police and special task force fired teargas shells and lath charged Muslims praying inside the Chhawni Mosque.
Full report at:
http://www.thehindu.com/news/national/other-states/protest-in-tonk-against-targeted-police-action-inside-mosque/article4982162.ece
----------
Batla House Verdict Is Perverse and a Mockery of Justice: Jamia Teachers Solidarity Association
By Jamia Teachers Solidarity Association
Aug 3rd 2013
New Delhi (Press Release) : Calling the verdict by a Delhi court holding Shahzad Ahmad guilty of murder and many other offences in controversial Batla House encounter case as "perverse and a mockery of justice" , the Jamia Teachers Solidarity Association (JTSA) has expressed shock over the flagrant violation of settled principles of criminal jurisprudence in the case.
Releasing analysis of the judgment entitled "Beyond Reasonable Doubt? The Conviction of Shahzad Ahmad", here on Wednesday, Manisha Sethi, President of JTSA, said that the judgment assumes the facts that were required to have been examined by the court as to whether the prosecution had proved them or not, and projects these assumptions as "findings".
Full report at:
http://www.countercurrents.org/jtsa010813.htm
-------
Pak nationals using Indian IDs; probe ordered
August 03, 2013
Taking strong note of reports of some Pakistanis in Ballia availing facilities at par with Indian nationals and getting voter I-cards made in their names, the district administration has ordered a thorough probe.
"There is a report of eight Pakistani nationals who are living in Ballia on long-term visa and their visas have to be renewed every year. The district administration has got a complaint that these Pakistanis have got ration cards and voter I-cards made in their names, and are availing facilities at par with Indian nationals", District Magistrate (DM) Sunil Kumar Srivastava said.
Full report at:
http://www.hindustantimes.com/India-news/UttarPradesh/Pak-nationals-using-Indian-IDs-probe-ordered/Article1-1102733.aspx
---------
In India, Ramzan observances not only for Muslims
By Akhtar Ali
Aug 3rd 2013
In a striking demonstration of communal harmony and friendship, some members of India's majority Hindu community are observing roza (fast) during Ramzan.
For nine years now, Sudha Agarwal has been observing the annual month-long fast. A resident of the northern Hindu holy town of Ayodhya, she said she began observing roza after becoming close to Muslim neighbours and religious leaders.
"After my Muslim friends introduced me to some religious leaders at some Muslim shrines in this region, I used to visit them regularly to listen to their religious discourses and was impressed by the teachings of Islam. I wanted to follow some of the Muslim rituals and I chose roza," the Hindu housewife told Khabar South Asia.
Full report at:
http://khabarsouthasia.com/en_GB/articles/apwi/articles/features/2013/08/02/feature-02
----------
Salman Khurshid hopes new Pak president would initiate positive steps towards India
PTI | Aug 3, 2013
FARRUKHABAD, UP: External affairs minister Salman Khurshid on Saturday hoped that the newly elected Pakistan president would initiate positive steps to understand the pain and concern among Indians for his country.
"Mamnoon Hussain is from Agra and knows what the people of both the country want and I hope that he would initiate positive steps for understanding the frustration, pain and concern of Indian people towards Pakistan", Khurshid who was here on a two day tour of his parliamentary constituency said when mediapersons referred to the Pakistani president's Indian roots.
Full report at:
http://timesofindia.indiatimes.com/india/Salman-Khurshid-hopes-new-Pak-president-would-initiate-positive-steps-towards-India/articleshow/21573470.cms
----------
CPI (M) calls for resumption of Indo-Pak dialogue
Aug 3rd 2013
Calling for the resumption of structured dialogue between India and Pakistan to resolve all outstanding issues, Jammu and Kashmir unit of CPI(M) on Saturday said both the countries should appreciate the phenomenal societal change across the border and shed the old ways of thinking.
"Now the time has come that rigidities must be replaced with bonhomie and both the governments should realise urgency of this commitment and make serious efforts to move forward and revamp the stalled peace process," the CPI(M) State Secretary M.Y. Tarigami said in a statement after addressing a party convention at Khanbal in south Kashmir's Anantnag district.
Full report at:
http://www.thehindu.com/news/national/other-states/cpim-calls-for-resumption-of-indopak-dialogue/article4985242.ece
----------
J&K Police claim seized drug was meant for Hizbul militant
AHMED ALI FAYYAZ
Aug 3rd 2013
While claiming that the Rs. 10 crore worth cocaine consignment, seized from a truck across the LoC in Baramulla district, had been smuggled in for Hizbul Mujahideen, the Jammu and Kashmir Police have arrested an alleged operative of the militant outfit from the capital city on Friday.
The North Kashmir Deputy Inspector General of Police J.P. Singh confirmed the Baramulla Police operation and told The Hindu that one Shehzad was picked up from Fruit Mandi area of Srinagar. "Driver of the seized truck Abdul Ahad of Mawar, Handwara, revealed during sustained questioning that the cocaine consignment was for Hizbul Mujahideen's Shehzad. We got him to Srinagar to call Shehzad to Parimpora. As soon as Shehzad reached the given spot, we took him into custody", DIG Singh said.
Full report at:
http://www.thehindu.com/news/national/jk-police-claim-seized-drug-was-meant-for-hizbul-militant/article4984854.ece
----------
Arab World
Al-Qaeda leader tells Morsi supporters democracy not the way
August 03, 2013
ABU DHABI: Al Qaeda leader Ayman al-Zawahri urged Egypt's Muslim Brotherhood and its supporters to abandon democracy and seek to govern through the full implementation of Islamic law.
In a 15-minute recording posted on Islamist websites on Saturday, Zawahri also criticised Islamists who had formed political parties in Egypt and supported the Egyptian military in ousting former Egyptian President Mohamed Morsi.
"I give this piece of advice to whoever supported Morsi and I tell them first we have to admit that legitimacy doesn't lie in elections and democracy but it lies in Sharia," Zawahri said.
"Sharia is not electing Mursi president of a republic, a president of a secular and nationalistic state," he added.
The recording, posted two days after U.S. Secretary of State John Kerry gave his seal of approval to Egypt's new leaders saying that they had restored democracy, also lashed out against U.S. policy and the Egyptian army.
Full report at:
http://www.dailystar.com.lb/News/Middle-East/2013/Aug-03/226150-al-qaeda-leader-tells-morsi-supporters-democracy-not-the-way.ashx#ixzz2awXsZpdS
----------
Egypt's ElBaradei calls for talks with Brotherhood
Aug 3rd 2013
WASHINGTON: Egypt's interim vice president Mohamed ElBaradei has called for a halt to violence followed by talks with the Muslim Brotherhood and other backers of ousted president Muhammad Mursi.
His comments, in an interview with the Washington Post, were published Friday as Mursi supporters staged fresh rallies in Egypt in defiance of government orders that their protest camps be broken up.
"What we need to do right now number one, of course, is to make sure that we stop the violence," said ElBaradei, a secular Nobel Peace laureate and former UN nuclear negotiator.
Full report at:
http://www.arabnews.com/news/460009
----------
Hezbollah man alleges plot to kill Saudi envoy to Nigeria
Aug 3rd 2013
A Lebanese suspect with alleged links to Hezbollah and on trial in Nigeria for terrorism offenses told a court on Friday he was aware of a plot to assassinate Saudi Arabia's ambassador in Abuja.
The alleged plot, which had not previously been made public, came up during questioning of the defendant during the trial of him and two other Lebanese in high court in the Nigerian capital.
Full report at:
http://www.arabnews.com/news/460082
----------
Rebels seize arms depot near Damascus: activists
August 03, 2013
BEIRUT: Rebels battling President Bashar al-Assad's regime captured an arms and ammunition dump in the Qalamun area near Damascus early on Saturday, a monitoring watchdog said.
The Syrian Observatory for Human Rights said several groups, including the jihadist Al-Nusra Front, were behind the capture of the depot of anti-tank weapons and rockets.
"Liwa al-Islam, Al-Nusra Front, Al-Tawhid battalion, the Maghaweer (rebel commando force) and the Qalamun Martyrs' battalion... captured an ammunitions depot near the village of Qaldun in the Qalamun area" northeast of the capital, the Britain-based Observatory said.
They seized "anti-tank weapons and ground-to-ground Grad missiles, as well as a variety of other ammunition, after clashes overnight from Friday to Saturday", it said.
Full report at:
http://www.dailystar.com.lb/News/Middle-East/2013/Aug-03/226158-rebels-seize-arms-depot-near-damascus-activists.ashx#ixzz2awXn5JK6
----------
Hezbollah-affiliated Sunni sheikh 'attacked' in Sidon
August 03, 2013
SIDON, Lebanon: A Sunni sheikh in Sidon said Friday he was the victim of an assault, as attacks on religious figures affiliated with Hezbollah and the Syrian regime have increased in the last few months.
In the most recent attack, Sheikh Khodr Kabsh claimed that two men assaulted him overnight Friday and fled the scene.
Kabsh claimed that two men beat him and verbally abused him while he was getting into his car at the Qalaa Bariyeh neighborhood of Sidon.
Kabsh, a Hezbollah-affiliated Sunni sheikh, said the two men fled and disappeared into Riad al-Solh Street. An Army unit cordoned off the area and launched a manhunt for the attackers.
Full report at:
http://www.dailystar.com.lb/News/Lebanon-News/2013/Aug-03/226089-hezbollah-affiliated-sunni-sheikh-attacked-in-sidon.ashx#ixzz2awYMvVo5
----------
Nasrallah slams fears of 'Shiite expansion'
August 03, 2013
BEIRUT: Hezbollah's leader Sayyed Hasan Nasrallah dismissed Friday in a rare public appearance claims of "Shiite expansion" in the region as a ploy to divert attention from Israel, warning that the idea was serving to fuel domestic political disputes.
Nasrallah, who spoke at the Sayyed al-Shuhada Complex in Beirut's southern suburb to commemorate Al-Quds Day, also held responsible parties financing Takfiri groups fighting in different countries for the violence that came in their wake.
"There are those in the Arab world backed by the U.S. who oppose prioritizing the demise of Israel and push nations toward another priority by inventing reasons for another war against what they call Shiite expansion," Nasrallah said.
Full report at:
http://www.dailystar.com.lb/News/Lebanon-News/2013/Aug-03/226140-nasrallah-slams-fears-of-shiite-expansion.ashx#ixzz2awYRkaJy
----------
Hezbollah, Hamas agree to disagree on Syria at high-level Beirut meeting
August 03, 2013
BEIRUT: A high-level meeting grouping Hezbollah, Hamas and Islamic Jihad was held in Beirut late last month, another sign that tense relations between resistance groups are thawing.
A senior Palestinian source told The Daily Star Friday that the meeting brought together Hezbollah chief Sayyed Hasan Nasrallah, Ramadan Shallah, the secretary-general of Islamic Jihad, and Musa Abu Marzouq, the deputy head of Hamas' politburo.
The source, who spoke on condition of anonymity, said the attendees discussed developments in Lebanon, Palestine and other Arab countries.
The three men agreed to take measures to prevent any attempts to foment Sunni-Shiite strife in Lebanon and avoid dragging Palestinian factions in Lebanon into domestic conflicts.
Full report at:
http://www.dailystar.com.lb/News/Lebanon-News/2013/Aug-03/226143-hezbollah-hamas-agree-to-disagree-on-syria-at-high-level-beirut-meeting.ashx#ixzz2awZ8GmVc
----------
Syria opposition 'deeply concerned' for Italian priest
August 03, 2013
BEIRUT: Syria's main opposition group called Saturday for the immediate release of an Italian Jesuit priest who went to negotiate with jihadists and who is feared to have been taken prisoner.
The National Coalition said it "expresses its deep concern over the disappearance of Father Paolo (Dall'Oglio) over four days ago in Raqa and calls for the disclosure of any information that could help identify his location and ensure his safety."
"We urge all parties involved in the disappearance of Father Paolo to immediately come forward and release him," it added.
The opposition's statement comes a day after the Syrian Observatory for Human Rights raised fears that Dall'Oglio has been taken prisoner by jihadists in Raqa, Syria's only provincial capital to have fallen out of regime control.
Full report at:
http://www.dailystar.com.lb/News/Middle-East/2013/Aug-03/226157-syria-opposition-deeply-concerned-for-italian-priest.ashx#ixzz2awY8FNvW
----------
Volunteers put up longest iftar trail at Grand Mosque
Aug 3rd 2013
More than 1,300 volunteers work daily during the holy month of Ramadan to serve food on a plastic trail extending 4 kilometers along the ground of the Grand Mosque in Makkah.
The table is always full of coffee and dates to feed the crowds of pilgrims and visitors from inside and outside the Kingdom.
The administration at the Grand Mosque has also offered around 100,000 kg of de-pulped dates distributed inside 1,922,160 containers, with coffee on the side.
Full report at:
http://www.arabnews.com/news/460081
----------
Saudi courts sentenced 300 money launderers last year
Aug 3rd 2013
RIYADH – Courts in the Kingdom looked into 300 money-laundering cases last year, Alsharq newspaper reported Friday quoting Justice Ministry sources.
In Jazan alone, the courts reviewed 75 cases while in Abha there were 65 cases.
Riyadh and Jeddah courts handed down sentences in 37 cases whereas in the Eastern Province courts looked into 32 cases. Courts in other parts of the Kingdom looked into an average of two cases last year. The sources said defendants who are found guilty of money laundering are sentenced to a maximum of 10 years in prison and a SR5 million fine while their ill-gotten wealth is be confiscated.
Full report at:
http://www.saudigazette.com.sa/index.cfm?method=home.regcon&contentid=20130803175768
----------
Mideast
Non-alcoholic beer is taking off among Muslim consumers
Aug 3rd 2013
DEDICATED drinkers may struggle to see the point of non-alcoholic beer, but it is growing in popularity around the world. Last year 2.2 billion litres was downed, 80% more than five years earlier. In the rich world it is mainly consumed by a health-conscious minority. But in the Middle East, which now accounts for almost a third of worldwide sales, the target market is the teetotal majority. In 2012 Iranians quaffed nearly four times as much as in 2007. Consumers in Saudi Arabia, Egypt and the United Arab Emirates also have a growing taste for it (though across the region, alcoholic beer still outsells it).
Delster, brewed by an Iranian company, Behnoush, turned alcohol-free in the wake of the 1979 Islamic revolution. After Hamas, an Islamist movement, won a landslide election victory in Gaza in 2005, a Palestinian brewer, Taybeh, launched an alcohol-free "Halal"version of its ale. Its label is green, the colour of Islam.
Full report at:
http://www.economist.com/news/business/21582531-non-alcoholic-beer-taking-among-muslim-consumers-sin-free-ale
----------
Turk invents Muslim prayer mat to remedy knee strain
3 August 2013
A Turkish man living in Germany has invented a Muslim prayer mat that takes the strain off the knees which, he said Friday, he hoped to now sell worldwide.
At first sight, the rug looks like other prayer mats, but it is designed with special cushioning for under the knees, feet and forehead, said Adnan Pirisan, 50, who himself suffered from painful joints.
Apart from saying the padding is a special kind of foam that "doesn't get damaged", he declined during a telephone interview with AFP to reveal its composition. "Production secret," he said.
Full report at:
http://english.alarabiya.net/en/variety/2013/08/03/Turk-invents-Muslim-prayer-mat-to-remedy-knee-strain-.html
-------
Draft bill to toughen sexual abuse penalties in Turkey
3 August 2013
The Turkish government has completed its work on legal regulations that will increase the penalty for sex-related crimes, paving the way for the chemical castration of suspects convicted of child abuse.
Parents who force their children into marriage will face between one and three years in prison with the new regulations, which will also increase the penalties for sexual abuse committed in the digital environment or mobile phones.
Full report at:
http://www.hurriyetdailynews.com/draft-bill-to-toughen-sexual-abuse-penalties-in-turkey.aspx?pageID=238&nID=51868&NewsCatID=338
-------
179 detained Morsi supporters go on hunger strike
3 August 2013
Some 179 detained supporters of deposed president Mohamed Morsi have gone on hunger strike, lawyer Ali Kamal said late Friday.
The Muslim Brotherhood lawyer said Morsi supporters who are detained in a Cairo prison have announced a hunger strike in protest at "ill treatment." They claim that other prisoners in the jail are being incited to attack them.
On Saturday, Mostafa Baz, assistant minister of interior for the prison service sector, denied the news. He said there aren't any hunger strikes in any of the country's prisons.
Many pro-Morsi demonstrators were arrested in the wake of recent clashes. Egypt's general prosecution opened investigations into two major incidents last month.
Full report at:
http://english.ahram.org.eg/NewsContent/1/64/78167/Egypt/Politics-/-detained-Morsi-supporters-go-on-hunger-strike.aspx
-----------
Nearly 300,000 Muslims throng Al-Aqsa compound
Aug 3rd 2013
JERUSALEM: More than 170,000 Muslims prayed outside Jerusalem's Al-Aqsa mosque on Friday, as the holy month of Ramadan entered its final full week, police said.
The faithful turned out in droves to prostrate themselves in the vast Al-Aqsa compound within the walled Old City, police spokeswoman Luba Samri said.
Muslim religious authorities, however, told AFP the number was 300,000.
The compound, a flashpoint because of its significance to both Muslims and Jews, is several hundred metres (thousands of feet) long and wide and houses the Al-Aqsa and Dome of the Rock mosques.
Full report at:
http://www.arabnews.com/news/460044
----------
Two killed, 5 hurt as rival factions in Yemen Army clash
Aug 3rd 2013
SANAA: At least two people died and five were wounded in clashes between soldiers once loyal to Yemen's ousted president Ali Abdullah Saleh and a rival army faction in Sanaa on Friday, police and medical sources said.
Hundreds of members of Yemen's now dissolved elite Republican Guard gathered on a parade ground near the presidential palace in the capital to protest against what they say is neglect by the new leadership.
Full report at:
http://www.arabnews.com/news/460057
----------
Hassan Rouhani officially takes over as Iran president
Aug 3rd 2013
Hassan Rouhani is set to officially replace Mahmoud Ahmadinejad as president of Iran.
Mr Rouhani's election will be endorsed by the country's Supreme Leader Ayatollah Ali Khamenei at a ceremony in the capital, Tehran.
The cleric, who won the presidential poll in June, has promised reform and to end Iran's international isolation.
While his term officially starts on Saturday, his public inauguration will take place on Sunday.
The 64-year-old is a former nuclear negotiator for Iran and was an Islamic activist before the country's 1979 Revolution.
Full report at:
http://www.bbc.co.uk/news/world-middle-east-23557673
---------
Humanitarian assistance convoy prevented from passing aid to northern Syria
3 August 2013
A Turkish border gate with Syria was not opened for a humanitarian assistance convoy destined for northern Syria as a lawmaker claims that it was related to its problematic Kurdish policy
Despite assurances by several officials and relevant administrative bodies, including Deputy Prime Minister Beşir Atalay, the Şenyurt border gate in the southern province of Mardin was not opened on Aug. 2 for a humanitarian assistance convoy destined for Rojava (the Kurdish name for the Syrian Kurdish enclaves in northern part of the country). The refusal to open the gate prompted a member of Parliament to claim that it was related to its problematic Kurdish policy.
Full report at:
http://www.hurriyetdailynews.com/israel-palestinian-talks-to-resume-this-month-israels-negotiator-livni.aspx?pageID=238&nID=51955&NewsCatID=352
-------
Turkey chides US for backing Egypt rulers
3 August 2013
Turkish Deputy Prime Minister Bekir Bozdağ has rebuked U.S. Secretary of State John Kerry's for his remarks on Egypt in which he said the military had not taken over but was instead "restoring democracy."
"Kerry said the Egyptian army is restoring democracy and the government is civilian. Can you believe or laugh at this?" Bozdağ wrote on this Twitter account on Aug. 2.
Kerry said millions of people asked the military to intervene because they were afraid the country would descend into violence. "And the military did not take over, to the best of our judgment, so far. To run the country, there's a civilian government. In effect, they were restoring democracy," he said.
Full report at:
http://www.hurriyetdailynews.com/turkey-chides-us-for-backing-egypt-rulers.aspx?pageID=238&nID=51937&NewsCatID=338
-------
North America
US grabs wallet-sized bomb detector created by Indian scientist
August 03, 2013
When Reny Roy was assigned a project 15 years ago, she had no idea it would one day get a Washington DC debut as India's first defense technology transfer to the United States.
The project headed by Roy, a scientist at DRDO's explosives lab in Pune, led to the creation of Explosive Detection Kit (EDK), which makes it easy to detect all kinds of explosive, especially those used by terrorists.
The kit was launched in Washington on Friday for production and sale in the US and other countries in the region, by Crowe and Company, a South Carolina firm.
It is currently undergoing tests by US military and other security agencies but may soon be headed for use by coalition forces in Afghanistan through a non-profit.
Full report at:
http://www.hindustantimes.com/world-news/americas/US-grabs-wallet-sized-bomb-detector-created-by-Indian-scientist/Article1-1102661.aspx
----------
White House: Obama orders 'all appropriate steps' over al-Qaeda threat
3 August 2013
"All appropriate steps" shall be taken to protect Americans in response to a threat of an al-Qaeda attack, ordered President Barack Obama, in a statement reported late on Friday.
A White House official said the president "will continue to be updated on a regular basis" on the threat and related developments
"The president is being updated on a potential threat occurring in or emanating from the Arabian Peninsula," the official said on condition of anonymity.
Full report at:
http://english.alarabiya.net/en/News/world/2013/08/03/Obama-orders-all-appropriate-steps-over-al-Qaeda-threat-.html
-------
Kerry backs Egypt army, irks Brotherhood
Saumya Pant, TNN | Aug 3, 2013
CAIRO: In strongest endorsement yet by US to Egypt's new army-installed government, secretary of state John F Kerry was quoted as saying that the military had been "restoring democracy" when it drove Islamist President Mohamed Morsi from office last month.
The Muslim Brotherhood decried the comments by Kerry and said their supporters would carry on with protests calling for Morsi's reinstatement. While speaking to a Pakistani TV station on Thursday, secretary of state John Kerry said the army "did not take over". "The military was asked to intervene by millions and millions of people, all of whom were afraid of a descendance into chaos, into violence," he said.
Full report at:
http://timesofindia.indiatimes.com/world/middle-east/Kerry-backs-Egypt-army-irks-Brotherhood/articleshow/21566710.cms
-------
McCain calls Dempsey's warning against attack on Syria 'disingenuous'
August 03, 2013
WASHINGTON – Sen. John McCain criticized military brass on Wednesday for allegedly overstating the costs and requirements of US military action in Syria.
Specifically calling Gen. Martin Dempsey, chairman of the Joint Chiefs of Staff, "disingenuous," McCain claimed that limited, strategic strikes against key assets of Syrian President Bashar Assad would be much more manageable than the army – and the administration of US President Barack Obama – have let on.
Full report at:
http://www.jpost.com/Syria-Crisis/McCain-calls-Dempseys-warning-against-attack-on-Syria-disingenuous-321858
-----------
Bureau Investigation Finds Fresh Evidence of CIA Drone Strikes on Rescuers
Chris Woods with additional reporting by Mushtaq Yusufzai
Aug 3rd 2013
A field investigation by the Bureau of Investigative Journalism in Pakistan's tribal areas appears to confirm that the Central Intelligence Agency (CIA) last year briefly revived the controversial tactic of deliberately targeting rescuers at the scene of a previous drone strike. The tactic has previously been labelled a possible war crime by two UN investigators.
The Bureau's new study focused mainly on strikes around a single village in North Waziristan – attacks that were aimed at one of al Qaeda's few remaining senior figures, Yahya al-Libi. He was finally killed by a CIA drone strike on June 4 2012.
Full report at:
http://www.commondreams.org/headline/2013/08/01-4
----------
Pakistani agencies vigilant against terrorists, US told
Aug 3rd 2013
ISLAMABAD, Aug 2: Responding to US concerns about cross-border militancy, the Foreign Office said on Friday that the country's law-enforcement agencies were vigilant against terrorists and were not allowing them to use its soil against other countries.
"The law-enforcement authorities and the people of Pakistan have rendered huge sacrifices. We have also achieved significant successes against terrorists. It has been our policy not to allow the territory of Pakistan to be used against any other country. Whenever our law-enforcement authorities come across terrorists, action is taken," said Foreign Office spokesman Aizaz Chaudhry at the weekly media briefing which was dominated by questions about the visit of US Secretary of State John Kerry to Islamabad.
Full report at:
http://dawn.com/news/1033732/pakistani-agencies-vigilant-against-terrorists-us-told
----------
Pakistan
Tahir-ul-Qadri regrets gradual extinction of Islamic values
Aug 3rd 2013
LAHORE: It is regrettable that hooligans, rascals and law breakers have become heads of markets and traders and the Islamic values are becoming extinct by the day, said Dr Muhammad Tahir-ul-Qadri on Thursday.
Addressing thousands of residents of Aitkaf City on the second day at Jamia al-Minhaj here, Dr Muhammad Tahir-ul-Qadri said: When the looters, thieves, corrupt and dishonest elements are installed in the high positions of power; when the trusts begin to be entrusted to the incompetent and morally bankrupt people; when the majority of those sitting in judicial offices happen to be dishonest and incompetent; when the religious decrees begin to be sold in return for paltry sums of money; when power begins to be transferred from one generation of rascals and plunders to another; when the masses start electing the rapists, drinkers and character-less people; and when all parties forge consensus on corruption, Allah's Torment envelops such a society.
Full report at:
http://www.thenews.com.pk/Todays-News-5-193784-Qadri-regrets-gradual-extinction-of-Islamic-values
----------
Counter-terror drive: Military, KPK not on same page
August 03, 2013
ISLAMABAD - The military establishment and Khyber Pakhtunkhwa government are not on the same page on the counter-terror arrangements in the province, in an underlined indication that security situation in the province may keep posing challenges in the wake of apparent reluctance from both the sides to shoulder responsibility while passing the buck to each other.
In their background interactions with journalists, the security officials sound vocal in shifting the blame of continued security lapses' spree to the KPK government, saying some provincial government functionaries were opposing the anti-terror drive and were creating hurdles in the conduct of related operations by the security agencies.
Full report at:
http://www.nation.com.pk/pakistan-news-newspaper-daily-english-online/editors-picks/03-Aug-2013/counter-terror-drive-military-kpk-not-on-same-page
---------
Two Shia religious leaders shot dead
August 03, 2013
RAHIM YAR KHAN/NAWABSHAH - BILAL HABIB/ONLINE - Former Tehreek-e-Jafferia leader and Shia Ulema Council Bahawalpur Divisional President Sheikh Manzoor Hussain and his son were murdered near their home before Juma prayers here on Friday.
Sheikh Manzoor Hussain, 62, and his son Haider Manzoor left their residence in a car at Umer Block of Abbasia Town to offer Juma prayers and participate in a rally when four unidentified persons on two motorcycles intercepted them and opened fire. As a result, Sheikh Manzoor died on the spot while his son Haider expired on his way to hospital.
Full report at:
http://www.nation.com.pk/pakistan-news-newspaper-daily-english-online/national/03-Aug-2013/two-religious-leaders-shot-dead
---------
Eight, including five policemen, killed in Karachi violence
Aug 3rd 2013
KARACHI: At least eight people, including five policemen, were killed in different incidents of violence in Karachi.
Unknown motorcycle-riding gunmen opened fire targeting a police mobile deployed for duty at the bridge linking Shah Faisal colony area of the city with the Korangi Industrial Area.
Three policemen were killed on the spot whereas another law enforcer succumbed to his wounds while under going treatment at a hospital, according to rescue officials.
All victims were shifted to the Jinnah Hospital.
Full report at:
http://dawn.com/news/1033825/eight-including-five-policemen-killed-in-karachi-violence
----------
$44m Pakistan-China optic fibre project
Aug 3rd 2013
BEIJING: Pakistan will greatly benefit in terms of security and revenue from the Pak-China optic fibre project, a source at the Chinese telecom firm Huawei said.
The agreement to lay optic fibre between the two sides was signed during Prime Minister Nawaz Sharif official visit to China in early July and Huawei has been assigned the task in this regard.
Talking to APP, the source said that based on the requirements and plan in contract, it prepares a plan to implement it section wise.
The optic fibre will be laid between Rawalpindi to Khunjarab, a distance of 820 KM, the source said.
Full report at:
http://dawn.com/news/1033788/44m-pakistan-china-optic-fibre-project
----------
Nothing wrong in my words about judiciary: Imran
August 03, 2013
ISLAMABAD - PTI chief Imran Khan has said he still stands by his words about judiciary and will not extend apology nor will back track from his stand point no matter if he is sent to jail or declared ineligible to hold membership of the National Assembly.
Talking to mediamen outside the Supreme Court building, his residence and expressing his views on a private TV channel programme on Friday, Imran said apology is offered at the time when some wrong doing is committed. "I have not said anything wrong which constitutes contempt of court. It is beyond comprehension as to why contempt of court notice has been issued to me," he remarked.
Full report at:
http://www.nation.com.pk/pakistan-news-newspaper-daily-english-online/editors-picks/03-Aug-2013/nothing-wrong-in-my-words-about-judiciary-imran
---------
Jamiat Ulema-e-Islam-Fazl out to oust Khyber Pakhtunkhwa govt
August 03, 2013
ISLAMABAD - Jamiat Ulema-e-Islam-Fazl (JUI-F) chief Maulana Fazlur Rehman is in action again, convincing Prime Minister Nawaz Sharif to support him in toppling the PTI government in Khyber Pakhtunkhwa (KPK).
In his well-conceived plan, the JUI-F chief is trying to push Prime Minister Nawaz Sharif to give a deadline to the KPK government to control terrorism in the province, failing which the provincial government will be ousted through a joint no-confidence motion. "Maulana conveyed his game plan to Nawaz Sharif to topple the PTI government with the support of PML-N during his recent parleys with the prime minister regarding the presidential poll," sources in JUI-F shared with The Nation.
Full report at:
http://www.nation.com.pk/pakistan-news-newspaper-daily-english-online/national/03-Aug-2013/maulana-out-to-oust-kpk-govt
---------
Pakistan to submit entry for Oscar award after 50 years
August 03, 2013
Pakistan will submit an entry for the foreign language film category of the Oscar awards after a gap of five decades though a committee has not yet chosen the movie.
Chairing the committee is Sharmeen Obaid-Chinoy, who became Pakistan's first Oscar winner for co-directing the 2011 documentary 'Saving Face', which was about the survivors of acid attacks.
Other members of the panel are writer Mohsin Hamid ('The Reluctant Fundamentalist'), director Mehreen Jabbar ('Ramchand Pakistani'), actor Rahat Kazmi, filmmaker Akifa Mian, Samina Peerzada and arts academic Framji Minwalla, Variety reported.
Full report at:
http://www.hindustantimes.com/world-news/pakistan/Pakistan-to-submit-entry-for-Oscar-award-after-50-years/Article1-1102654.aspx
----------
Pakistani authorities say ban on YouTube can't be lifted
Aug 3rd 2013
Peshawar: Pakistani authorities have told a court that the ban on YouTube cannot be lifted until a mechanism is put in place to permanently block blasphemous contents on the popular video-sharing website.
The federal Information Technology Ministry conveyed its position to a division bench of the Peshawar High Court on Thursday. The court was hearing a petition filed by lawyer Mina Muhibbulah Kakakhel, who challenged the nearly year-old ban on YouTube.
YouTube was blocked in September 2012 by former premier Raja Pervez Ashraf after clips from the anti-Islam film 'Innocence Of Muslims' were posted on the site, triggering violent protests across the country.
Full report at:
http://www.asianage.com/international/pakistani-authorities-say-ban-youtube-cant-be-lifted-056
----------
Africa
Tunisian forces dismantle explosive in latest 'terrorist' bomb scare
3 August 2013
Tunisian security forces dismantled a bomb found near the home of a military colonel on Friday, witnesses said, the third bomb scare to be reported in the same day.
Security forces have declined to officially comment on the incident, but some said privately that Islamist militants appear to be launching an intensified campaign against Tunisian security forces.
"I think the terrorists are trying to send a message to the army and security forces," a policeman near the site of the dismantled bomb said. "We've received the message and we're going to defend our nation from them, and they will not succeed."
Full report at:
http://english.alarabiya.net/en/News/middle-east/2013/08/03/Tunisian-forces-dismantle-explosive-in-latest-bomb-scare.html
-------
Prisoners escape as gunmen attack Libya police transport
August 03, 2013
TRIPOLI: Eighteen prisoners have escaped during an attack on a Libyan police vehicle taking them back to prison from a courthouse in the capital, a police spokesman said on Friday.
Thursday's attack is the latest in a string of incidents plaguing Libya and comes after more than 1,200 inmates escaped during a prison riot last week in the restive eastern city of Benghazi.
Full report at:
http://www.dailystar.com.lb/News/Middle-East/2013/Aug-03/226116-prisoners-escape-as-gunmen-attack-libya-police-transport.ashx#ixzz2awZODots
---------
Senior Libyan policeman wounded by car bomb
August 03, 2013
A senior police officer was gravely wounded in an overnight bombing in Libya's restive city of Benghazi, a security official said on Saturday.
"Colonel Faouzi al-Oujli was critically injured when an explosive device placed in his car went off," said the eastern city's security spokesman, Colonel Mohamed al-Hijazi.
He said the officer had been returning to Benghazi from the southern city of Sabha to visit his family when the blast happened.
Full report at:
http://www.hindustantimes.com/world-news/Africa/Senior-Libyan-policeman-wounded-by-car-bomb/Article1-1102707.aspx
---------
Southeast Asia
Putrajaya exposes ignorance with anti-Shia campaign, says Hadi
Aug 3rd 2013
Putrajaya's campaign against Shia Islam has only exposed its deep ignorance about tolerable age-old differences within Islam, says PAS president Datuk Seri Abdul Hadi Awang .
In his first public comments about the anti-Shia campaign, Abdul Hadi warned against politicising the issue or branding Shia as deviant Muslims.
"Discussions on the Shia issue should be the realm of the academia, and the government must act based on knowledge and not politicise the issue," he was quoted as saying in the PAS organ Harakah Daily today.
There have been allegations that several top PAS leaders are secretly Shia but the Islamist party has denied it. Malaysian Muslims follow the Sunni branch of Islam.
Harakah said Hadi's comments came after a campaign led by Islamic bureaucrats and several Wahhabi-influenced Muslim spokesmen from Umno, using Malay-language dailies to vilify Shia Muslims.
Full report at:
http://www.themalaysianinsider.com/malaysia/article/putrajaya-exposes-ignorance-with-anti-Shia-campaign-says-hadi
----------
A humane approach to Shia refugees
Mimi Dwi Hartono
August 03 2013
Hundreds of Shiite victims from Sampang hope to be allowed to immediately return to their hometown before Idul Fitri. After more than a year in temporary shelters in Sampang, they moved to the apartments in Sidoarjo. As the Shia group was forcibly evicted from their homes, their rights should be respected, protected and fulfilled.
The policy of the government is to return them to their hometowns. However, it is still waiting for the right moment for both groups to be ready to reconcile. Steps for reconciliation should be implemented by inviting participation of the two opposing groups. Reconciliation should be formulated based on the victims and the community, do not be elitist and not grounded.
Full report at:
http://www.thejakartapost.com/news/2013/08/03/a-humane-approach-shia-refugees.html
----------
Europe
Investigate Egypt torture by Morsi loyalists: Amnesty
AFP | Aug 3, 2013
"Evidence, including testimonies from survivors, indicates that supporters of deposed President Mohamed Morsi tortured individuals from a rival political camp," the group said in a statement.
It said opponents of the Islamist leader reported being "captured, beaten, subjected to electric shocks or stabbed by individuals loyal to the former President."
"Allegations that torture is being carried out by individuals are extremely serious and must be investigated as a matter of urgency," said Hassiba Hadj Sahraoui, the group's deputy director for the Middle East and North Africa.
Full report at:
http://timesofindia.indiatimes.com/world/middle-east/Investigate-Egypt-torture-by-Morsi-loyalists-Amnesty/articleshow/21565673.cms
-------
Amnesty reminiscent of Saudi generosity during Gulf War
Aug 3rd 2013
Longtime residents have likened the extension of the grace period for illegal expatriate workers to leave or correct their status to the generosity of the Saudi government in the 1990s when Iraq invaded Kuwait.
The events that unfolded after Aug. 2, 1990, eventually led to the Gulf War.
Friday coincided with the 23rd anniversary of the Iraqi invasion and in a special report, Arab News recalls the impact of the war on residents and the Saudi government's benevolence toward its neighboring Gulf country.
Full report at:
http://www.arabnews.com/news/460062
----------
U.N. warns of plight of women, children in Syria's Homs
August 03, 2013
BEIRUT: The UN sounded the alarm Saturday about the plight of women and children in Syria's Homs, urging all parties in the conflict to enable access to some 400,000 trapped civilians.
"The situation of women and children in the Syrian city of Homs is rapidly deteriorating," UNICEF said in a statement, adding that "new checkpoints are preventing more supplies from entering" the neighbourhood of Al-Waer.
"Cannot all those involved agree that the innocent women and children in Homs, and across Syria, should be spared all possible suffering?" UNICEF's Executive Director Anthony Lake asked.
Full report at:
http://www.dailystar.com.lb/News/Middle-East/2013/Aug-03/226154-un-warns-of-plight-of-women-children-in-syrias-homs.ashx#ixzz2awYCx49M
----------
Border measures for Syrians stricter: UNHCR
August 03, 2013
BEIRUT: The government is imposing stricter controls along Lebanon's border with Syria, according to the U.N. High Commissioner for Refugees, but will allow in vulnerable refugees fleeing for humanitarian reasons. A security source told The Daily Star that an attempt to limit the refugee influx was behind the new measures.
According to the UNHCR's Friday update on the refugee situation, the government has indicated to the agency that existing entry requirements will be enforced more strictly at border crossings.
Full report at:
http://www.dailystar.com.lb/News/Lebanon-News/2013/Aug-03/226141-border-measures-for-syrians-stricter-unhcr.ashx#ixzz2awZDf1KG
----------
UN official for probe into Syrian soldiers' 'execution'
2013-08-03
UNITED NATIONS: UN High Commissioner for Human Rights Navi Pillay has urged an independent investigation into whether war crimes had been committed when armed opposition groups in Syria allegedly executed captured soldiers in the northern province of Aleppo last month.
"Based on the analysis by my team to date, we believe armed opposition groups in one incident—documented by a video—executed at least 30 individuals, the majority of whom appeared to be soldiers," the High Commissioner said in a statement issued by her office on Friday.
Full report at:
http://dawn.com/news/1033799/un-official-for-probe-into-syrian-soldiers-execution
----------
URL: https://www.newageislam.com/islamic-world-news/new-age-islam-news-bureau/twenty-two-police,-76-taliban-killed-in-afghan-battle/d/12883