New Age Islam News Bureau
22 Dec 2013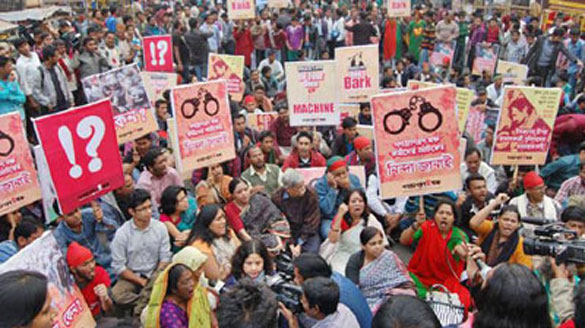 This file photo shows Ganajagaran activists hold a rally at Shahbagh on Friday
-------------
Central Asia
• Turkmenistan: Imams, Police and Intelligence Services Ban Bibles and Christian Songs
Arab World
• 12 Killed in Attacks against Church in Southern Syria
• Bombing near Shiite town's school in Syria kills 6
• Lawsuit to dissolve Egypt's Brotherhood, Salafist parties adjourned
• Egyptian Social Democratic Party will vote 'Yes' in constitution referendum
• Arab League slams US proposal to let IDF guard West Bank
• Salafist Front to boycott constitutional referendum
• Arab League supports idea of forming international committee to investigate details of Arafat's death
Pakistan
• No room for religious discrimination in Govt policies: PM
• Terrorist attacks will not be tolerated: Army Chief
• US diplomats are given considerations over and beyond the law: Husain Haqqani
• Operation in Waziristan: Govt must take nation into confidence, says Imran
South Asia
• Bangladesh: Ganajagaran Mancha for cutting off ties with Pakistan
• PM To Khaleda Zia: Boycott Jamaat, Reach Compromise
• 'No Hefazat rally in capital': State Minister
• Jatiya Sangsad Speaker: Pakistan's resolution unacceptable
• Six people slaughtered in Dhaka
• PM slams Khaleda for silence on Pak resolution
• Maldives hosts 7th SAARC Speakers and Parliamentarians Conference
• Refugees, trade discussed at Pak-Afghan meeting
Africa
• Suicide bomber blasts Libya checkpoint, killing seven
• South Sudan fighting reopens ethnic divide
• Over 1,000 protest in Niger against French nuclear firm Areva
• South Sudan rebel Riek Machar 'controls key state'
• 'Nation's survival' depends on disarmament: Central African Republic president
Europe
• Torture Victims Have "Well-Founded Claim" That UK Complicit In Their Abuse, Says High Court
• Ban Ki-moon calls for end to hostilities in South Sudan
• Indian peacekeepers prevented more casualties in South Sudan: UN
• Bulgarian court rejects mosque return request
• NATO, Afghanistan start talks on post-2014 mission pact
India
• Talk on "Education, Reforms and National integration" by Sultan Shahin
• Muzaffarnagar riot victims should return home, not play into the hands of rioters: Rahul Gandhi
• Two suspected LeT operatives sent to police custody till Jan 3
North America
• Afghan war will be over next year: Obama
• Who in Whitehall approved 'gloves-off' interrogation after 9/11?
• NSA, GCHQ spied on Israel, Germany, UN and others - new Snowden leaks
• Obama warns South Sudan after US military personnel wounded
Mideast
• Turkish cleric Gulen curses purge of police command
• Al Qaeda apologises for deadly Yemen hospital attack
• Israel calls alleged U.S. wiretapping 'unacceptable'
Southeast Asia
• Malaysia: Najib, Rosmah Told To Stop Playing Lord and Lady Games
• Governor Jokowi drafts Halal decree to tap into Sharia tourism
Compiled by New Age Islam News Bureau
URL: https://www.newageislam.com/islamic-world-news/new-age-islam-news-bureau/turkmenistan--imams,-police-and-intelligence-services-ban-bibles-and-christian-songs/d/34955
----------
Central Asia
Turkmenistan: Imams, Police and Intelligence Services Ban Bibles and Christian Songs
Dec 22, 2013
Ashgabat (Asia News/F18) - Police and Secret Service agents in Dashoguz , a city in the north of Turkmenistan , have carried out a raid against a group of believers of the "Church of the Light of the East" , a local Protestant community . Special forces raided two houses of prayer, and confiscated religious materials including Bibles . An official of the Department of Religious Affairs, who is also an imam at the local mosque , turned to the pastor of the Pentecostal community stating that his faith " is wrong" and warned him to convert to Islam . "Christianity is a mistake - added the Muslim leader - it's not a religion, but a myth."
The police also threatened a Turkmen believer to 15 days in prison and deportation. To a group practicing hymns for Sunday service, the officers stated that " the songs of praise to God are banned here".
The Norwegian Forum 18 news website , committed to documenting violations of religious freedom in Central Asia , reports that the number and scope of fines against individuals and communities who want to exercise their right to religious freedom has increased. The restrictions on the practice of faith is even targeting Muslims - the vast majority in the country - with the state that continues to limit the number of visas granted to the faithful who wish to go on a pilgrimage to Mecca.
The community of Eastern Pentecostal Church of Light has obtained official registration in April 2005 and was one of the first state recognized realities that was not Muslim or Russian Orthodox to be able to worship outside of the capital Ashgabat . However, in recent weeks, the faithful have been the subject of repeated raids by the authorities and the secret police, with threats of arrests and the seizure of religious materials . During one of these operations in a private home, the agents claimed that " it is forbidden to sing hymns to God ," and without identifying themselves , they have seized the book of songs and brought the members of the community in for "investigations " .
Meanwhile, an increasing number of people are being incarcerated for crimes of opinion and defense of religious freedom. News has emerged in recent days of a Jehovah's Witness being sentenced to to 18 months' imprisonment. Suhrab Rahmanberdiyyev, who has just turned 18 is the ninth conscientious objector to end up in prison, where he was beaten and abused because he refused to declare himself a Muslim and convert to Islam.
http://www.asianews.it/news-en/Ashgabat-,-imams,-police-and-intelligence-services-ban-Bibles-and-Christian-songs-29874.html
-------------
Arab World
12 Killed in Attacks against Church in Southern Syria
Dec 22, 2013
TEHRAN (FNA)- Syria's armed rebels fired multiple mortar shells on a church in Syria's Southern province of Daraa, killing 12 people and injuring many others.
The shells landed at the old Church in Daraa while the Church volunteers were distributing charity aid to locals, Al-Ekhbarieh TV reported.
The incident came as the Syrian Christians, who make up 10 percent in the country's population, have felt the pain of the protracted crisis, as their population has been subject to attacks by the radical rebels. The latest incident took place earlier this month, when radical jihadists fully controlled Syria's Christian town of Maaloula, North of the capital Damascus.
Gregory III Laham, Patriarch of the Church of Antioch and all East, told Xinhua in an interview that Syria's long-term crisis has displaced more than 450,000 Christian Syrians and killed more than a thousand of them.
Earlier on Saturday, five people were killed in a mortar attack against the Hamadanyeh district of the Northern province of Aleppo, according to the mainstream media.
http://english.farsnews.com/newstext.aspx?nn=13921001000439
---------
Bombing near Shiite town's school in Syria kills 6
Dec 22, 2013
A suicide bomber detonated his explosive-laden car near a primary school in a Syrian Shiite town, killing at least six people Sunday, activists and state media reported.
The blast occurred outside a compound of schools in the town of Umm al-Amed in the eastern province of Homs, an official from the governor's office said. He said the blast destroyed a series of buildings, and that rescue operations were continuing in the area.
The official spoke on condition of anonymity because he wasn't allowed to speak to journalists.
Rami Abdurrahman of the British-based Syrian Observatory for Human Rights said at least six people, including children, were killed in the blast. He said he couldn't confirm how many children.
The governor's office official said at least 10 people died in the blast, including five students. It wasn't possible to immediately reconcile the conflicting death tolls. The Observatory obtains its information from a network of activists on the ground.
The bombing underscores how Syria's civil war, now in its third year, has become increasingly sectarian.
Syria's rebels are mainly Sunni, with hard-line Muslim brigades emerging as the most powerful fighting groups. Shiites and other Syrian minority groups have either stayed neutral or sided with President Bashar Assad, fearing for their future should the uprising prevail. All have killed civilians.
http://english.ahram.org.eg/NewsContent/2/8/89743/World/Region/Bombing-near-Shiite-towns-school-in-Syria-kills-.aspx
----------
Lawsuit to dissolve Egypt's Brotherhood, Salafist parties adjourned
Dec 22, 2013
An Egyptian administrative court postponed Saturday a lawsuit demanding the dissolution of the Muslim Brotherhood's Freedom and Justice Party and the conservative Salafist Nour Party to 15 March 2014 pending the recommendation of the State Commissioners Authority, a body that advises the government on legal issues.
Lawyer Gamal Ibrahim filed the suit in the wake of the ouster of Muslim Brotherhood leader and Islamist president Mohamed Morsi in July, demanding the dissolution of the two parties on grounds that they were founded "on a religious basis, which violates the law and the constitution."
Egypt's Nour Party, a former ideological ally of the embattled Brotherhood, supported the post-Morsi political roadmap declared by army chief Abdel-Fattah El-Sisi when he announced Morsi's ouster.
Nour Party has officially announced it will campaign for a Yes vote in January's upcoming referendum on the amended 2012 constitution, prepared by the 50-Member Committee appointed by Interim President Adly Mansour.
In a separate lawsuit in September, a Cairo court ordered a ban on Muslim Brotherhood's activities amid a sustained crackdown on the Islamist group and its supporters since Morsi's ouster.
http://english.ahram.org.eg/NewsContent/1/64/89678/Egypt/Politics-/Lawsuit-to-dissolve-Egypts-Brotherhood,-Salafist-p.aspx
----------
Egyptian Social Democratic Party will vote 'Yes' in constitution referendum
Dec 22, 2013
The Egyptian Social Democratic Party's high council decided Saturday to give its approval for the draft constitution after an internal vote where 75 percent of members agreed on a Yes vote.
High council members agreed on writing a petition on articles in the draft constitution they don't approve of. These include provisions allowing for military trails of civilians, among others. The petition will also demand that the new protest law be altered.
The controversial new protest law requires protest organisers to inform authorities three days in advance of staging demonstrations, and imposes heavy jail terms and fines on individials who break the law. Activists Alaa Abdel-Fattah, Ahmed Maher, Ahmed Douma and Mohamed Adel are currently detained and face trial on charges of violating the law.
The party is scheduled to hold a press conference Sunday to announce that it will vote for the constitution. The press conference will also shed light on the circumstances surrounding the voting of the 50-Member Committee tasked with amending the 2012 Constitution.
Mohamed Abu-Ghar, head of the party and a member of the constitution drafting committee, said in a TV interview last week that the wording of the text was changed after the committee had approved the final draft.
In the interview, Abul-Ghar said the issue was brought to his attention two days after the final vote, when the Supreme Council of the Armed Forces invited the panel to dinner, distributing a "neater" version of the constitution that was to be submitted to the interim president and that also included the expression "civilian government" instead of "civilian rule."
"We were almost leaving, so no one opened the draft except Bishop Antonious [who] made a fuss about it, and we were all shocked," Abul-Ghar said, explaining that committee head Amr Moussa brushed off their concerns, but they still "left unhappy with what happened."
Abul-Ghar was invited to report the issue and make it public.
"But honestly, the majority of us did not want to make a fuss out of it," he said. "So as not to affect the positive voting on the constitution."
A national referendum on the constitution is scheduled for 14-15 January.
http://english.ahram.org.eg/NewsContent/1/64/89734/Egypt/Politics-/Egyptian-Social-Democratic-Party-will-vote-Yes-in-.aspx
----------
Arab League slams US proposal to let IDF guard West Bank
December 22, 2013
The Arab League has rejected a US security plan that would involve Israel's military presence on the border between the West Bank and Jordan for 10 years. The plan was proposed by the US Secretary of State as a part of Israeli-Palestinian talks.
The League's Secretary-General Nabil Elaraby has said there could be "not one" Israeli soldier in the territory of a future Palestine, speaking at an emergency meeting in Cairo, called at the request of Palestinian President Mahmoud Abbas.
The United States has recently presented "some thoughts" on security arrangements, according to Secretary of State John Kerry, one of which reportedly was a proposal that the Israeli Defense Force remains in the Jordan Valley for 10 years after the establishment of a future Palestinian state.
Full report at:
http://rt.com/news/arab-league-israel-palestine-622/
-----------
Salafist Front to boycott constitutional referendum
Dec 22, 2013
The Salafist Front has announced that it will boycott the national referendum on the draft constitution due next month -- a move that puts it at odds with the Salafist Call and its political arm, the Nour Party.
One of the largest Salafist associations in the Middle East, the front released a statement on Saturday saying that the amendments made to the national charter by the outgoing 50-member committee do not express the will of all Egyptians.
It also said that all political arrangements that followed the ouster of former Islamist president Mohamed Morsi are "illegitimate and punishable."
The Salafist Call, another leading Salafist group, has taken the opposite stance. The group and its Nour Party have publically called for a yes vote in the January referendum on the charter.
Full report at:
http://english.ahram.org.eg/NewsContent/1/64/89701/Egypt/Politics-/Salafist-Front-to-boycott-constitutional-referendu.aspx
----------
Arab League supports idea of forming international committee to investigate details of Arafat's death
Dec 22, 2013
The League of Arab States (LAS) called for the formation of an international committee to investigate the details of the death of Palestinian leader Yasser Arafat.
At an extraordinary meeting of the LAS Council on Saturday the foreign ministers of the LAS states supported an idea, which Palestinian Authority President Mahmoud Abbas had voiced to form a committee that will conduct an independent investigation of Arafat's death under the aegis of the United Nations Organisation.
Yasser Arafat died on November 11, 2004 at the age of 75 at the military hospital Percy in a neighbourhood of Paris. According to the official theory of French doctors, the Palestinian leader died of massive hemorrhagic stroke.
Full report at:
http://voiceofrussia.com/news/2013_12_22/Arab-League-supports-idea-of-forming-international-committee-to-investigate-details-of-Arafat-s-death-2221/
----------
Pakistan
No room for religious discrimination in Govt policies: PM
APP
2013-12-21
LAHORE: Prime Minister Nawaz Sharif Saturday said that the government was ensuring to provide equal opportunities to citizens regardless of their religious association.
He said "the prevailing crises in Pakistan have hit us equally. Terrorism has not affected the believers of any particular religion. Poverty and illiteracy do not strike on basis of religion".
The Prime Minister was addressing a ceremony held in connection with the Christmas celebrations at the Governor House.
The event was attended by Governor Punjab Chaudhry Ghulam Sarwar, federal and Punjab Cabinet members and religious leaders of Christian, Hindu and Sikh communities.
The Prime Minister congratulated the Christian community ahead of the Christmas celebrations.
Full report at:
http://www.dawn.com/news/1075501/no-room-for-religious-discrimination-in-govt-policies-pm
----------
Terrorist attacks will not be tolerated: Army Chief
December 21, 2013
PESHAWAR: Two days after the army went on a retaliatory blitz in North Waziristan where a checkpost had been attacked by a truck bomb, Chief of the Army Staff (COAS) General Raheel Sharif on Saturday reaffirmed that the military will not tolerate terror attacks and effective response will be given to them.
According to a statement from the Inter-Services Public Relations (ISPR), the media arm of the military, Gen Sharif paid a visit to the Corps Headquarters in Peshawar on Saturday.
The COAS assured army's full support to the government's ongoing peace process. He appreciated the resolve displayed by the officers and men who fought against terrorism and brought stability to the militancy hit areas.
Full report at:
http://tribune.com.pk/story/648753/terrorist-attacks-will-not-be-tolerated-army-chief-general-raheel-sharif/
----------
US diplomats are given considerations over and beyond the law: Husain Haqqani
TNN | Dec 22, 2013
WASHINGTON: Husain Haqqani, former Pakistan ambassador to the United States, has castigated US prosecutor Preet Bharara and state department officials who signed off on the arrest of Devyani Khobragade for failing to be sensitive to the international dimension of an alleged domestic crime. "The arrest and mistreatment of an Indian consul in New York is particularly galling considering how American diplomats are extended considerations over and beyond the law in most countries," Haqqani wrote in The Daily Beast.
Describing Khobragade's arrest for allegedly paying her maid less than the amount stated on the maid's employment visa, Haqqani said that Bharara had displayed an "over-exuberance straight out of an episode of Law and Order". The diplomatic tiff was neither about rule of law nor about diplomatic immunity, he said, but about courtesy for representatives of foreign governments.
Full report at:
http://timesofindia.indiatimes.com/world/us/US-diplomats-are-given-considerations-over-and-beyond-the-law-Husain-Haqqani/articleshow/27744211.cms
--------
Operation in Waziristan?: Govt must take nation into confidence, says Imran
December 22, 2013
ISLAMABAD: Pakistan Tehreek-e-Insaf (PTI) on Saturday demanded that the government must inform the nation if it intended to start a military operation in North Waziristan Agency (NWA).
"If the military has intended to respond with an attack, it should at least have cleared the area of women and children before bombing Mir Ali through helicopter gunships and artillery," said the PTI Chairman Imran Khan.
In an official statement on Saturday, Imran repeated his condemnation of the attack against the military personnel in NWA which led to the martyrdom of five soldiers.
He said civilians – especially women and children – were already the victims of drone attacks and now a military action was causing more suffering to those, who were not responsible for this war.
Full report at:
http://tribune.com.pk/story/648983/operation-in-waziristan-govt-must-take-nation-into-confidence-says-imran/
----------
South Asia
Bangladesh: Ganajagaran Mancha for cutting off ties with Pakistan
Dec 22, 2013
Ganajagaran Mancha submitted a memorandum to the foreign ministry on Sunday afternoon demanding cutting of diplomatic ties with Pakistan. They also handed over a note of protest to the home ministry on Sunday condemning the recent police action that took place during one of their demonstrations. Mancha spokesperson Imran H Sarker handed over the note of protest to the ministry's Additional Secretary Main Uddin Khandaker in the afternoon. After handing over the note of protest, Imran H Sarkar briefed journalists in front of the secretariat. He said they demanded action against the police members who launched the assault on the activists.
Full report at:
http://www.dhakatribune.com/bangladesh/2013/dec/22/mancha-submit-memo-against-police#sthash.4CFgJ52E.dpuf
----------
PM To Khaleda Zia: Boycott Jamaat, Reach Compromise
Emran Hossain Shaikh
Dec 22, 2013
Prime Minister Sheikh Hasina called the main opposition BNP Chairperson Khaleda Zia to boycott Jamaat and come forward for a compromise for holding fresh elections.
The prime minister made the urge while addressing a discussion in the capital on Saturday afternoon.
Full report at:
http://www.dhakatribune.com/politics/2013/dec/21/pm-come-compromise-boycotting-jamaat#sthash.vuNrPMSJ.dpuf
----------
'No Hefazat rally in capital': State Minister
Dec 22, 2013
State Minister for Law Advocate Quamr ul Islam said the Hefazat-e-Islam would not be allowed to hold any rallies on December 24.
He made the statement during a meeting at the party's offices in Bangabandhu Avenue on Sunday afternoon.
"People have witnessed their [Hefazat] ferocity during their previous rally. They will not be allowed to do so this time," said Quamr ul.
He added: "BNP, Jamaat and Hefazat are all the same. They want to incite anarchy under the guise of a rally."
Full report at:
http://www.dhakatribune.com/bangladesh/2013/dec/22/quamrul-hefazatwon%E2%80%99t-be-allowed-rally#sthash.kVakNWPB.dpuf
----------
Jatiya Sangsad Speaker: Pakistan's resolution unacceptable
Kamran Reza Chowdhury
Dec 22, 2013
Jatiya Sangsad Speaker Dr Shirin Sharmin Chowdhury called the resolution adopted by Pakistan parliament on war convicted Jamaat leader Abdul Quader Molla execution "unacceptable" and "unexpected".
She made the comment while speaking to journalists after a function held at the National Museum auditorium in the capital on Sunday.
"The war crimes verdict was executed following all legal procedures. There is no scope for any country or quarter to condemn (the execution) and it is unacceptable and unexpected", Sharmin said.
Full report at:
http://www.dhakatribune.com/bangladesh/2013/dec/22/speaker-pakistan%E2%80%99s-resolution-molla-unacceptable#sthash.n1VKj1yU.dpuf
----------
Six people slaughtered in Dhaka
Dec 22, 2013
Six people have been slaughtered by miscreants at a house in capital Dhaka in Bangladesh on Saturday evening.
The deceased have been identified as Lutfur Rahman Faruk (55) known as Pir sahib, Manir Hosain (30), bank official, Manju (35), care taker of the house, and Rasel (24), Mujibur Rahman (30) and Shahin (29) are followers of Lutfur Rahman Faruk.
Ilyas Sharif, Deputy Commissioner of Dhaka Metropolitan Police, confirmed the recovery of six bodies on Saturday evening from the first floor of the house of Gopibag, eastern part of Dhaka.
Full report at:
http://www.worldbulletin.net/?aType=haber&ArticleID=125446
----------
PM slams Khaleda for silence on Pak resolution
Emran Hossain Shaikh
Dec 22, 2013
She says it grieves Khaleda to speak against Pakistan
Prime Minister Sheikh Hasina yesterday slammed Khaleda Zia for not protesting the resolution adopted in Pakistan parliament condemning the execution of war criminal Abdul Quader Molla.
"Get ready to face people when they will ask for a clarification from you on your silence on the issue," said Hasina, at a discussion at the Agriculture Institute auditorium in the capital.
"She [Khaleda] said she would take to the streets. First come to streets. You have to explain to people why you tried to save Quader Molla."
Full report at:
http://www.dhakatribune.com/politics/2013/dec/22/pm-slams-khaleda-silence-pak-resolution#sthash.F9MaW40E.dpuf
----------
Maldives hosts 7th SAARC Speakers and Parliamentarians Conference
By Zaheena Rasheed | December 22nd, 2013
The Maldives is hosting the 7th Conference of the Association of SAARC Speakers and Parliamentarians (ASSP) at Bandos Island Resort and Spa.
President Abdulla Yameen Abdul Gayoom inaugurated the three-day conference yesterday evening, and reiterated the Maldives' commitment to furthering regional cooperation.
Calling on SAARC to be more relevant and responsive, Yameen said: ""To keep abreast with the expectations of our peoples, we need to increase the relevance of SAARC, both as a tool for multilateral cooperation among our Member States, as well as in global politics and in international trade," Yameen said.
Full report at:
http://minivannews.com/politics/maldives-hosts-7th-saarc-speakers-and-parliamentarians-conference-73834
----------
Refugees, trade discussed at Pak-Afghan meeting
December 22, 2013
The provincial government will provide the best possible facilities to Afghan refugees and hopes the Afghan government will, in turn, help provide them education at refugee camps. This was said by Khyber-Pakhtunkhwa (K-P) Chief Minister Pervez Khattak during a meeting with Afghan Consul General Syed Muhammad Ibrahimkhel on Saturday.
Ibrahimkhel thanked the provincial government for facilitating the stay of millions of refugees despite internal problems and said Afghan refugees too were benefitting from good governance in the province.
Full report at:
http://tribune.com.pk/story/648813/common-quandary-refugees-trade-discussed-at-pak-afghan-meeting/
----------
Africa
Suicide bomber blasts Libya checkpoint, killing seven
AFP
2013-12-22
BENGHAZI: A suicide bomber rammed an explosives-laden vehicle into a security checkpoint outside eastern Libya's restive city of Benghazi overnight, killing at least seven people, witnesses and security sources said Sunday.
The blast left body parts strewn around the area, said Moetez al-Agouri, a police officer at the post, and the death toll was likely to rise.
"Seven bodies among the victims have been identified but some other bodies were torn to pieces by the explosion," said Agouri, who was working at the checkpoint at the time but escaped injury.
Eight people including civilians were wounded in the attack on the checkpoint 50 kilometres east of Benghazi and were taken to hospital in the nearby town of Tokra, Agouri said.
A witness told AFP the explosion had left a large crater in the ground.
The security post's chief, Fraj al-Abdelli, who was wounded in the attack, said the checkpoint had received several threats since arresting four people in November who were carrying weapons, explosives, money and a hit-list.
Full report at:
http://www.dawn.com/news/1075695/suicide-bomber-blasts-libya-checkpoint-killing-seven
----------
South Sudan fighting reopens ethnic divide
Dec 22, 2013
Brutal fighting in South Sudan has reopened deep-rooted ethnic divisions, forcing tens of thousands of terrified residents to seek shelter at UN bases or flee in fear of attacks.
"I am afraid," said Susan Nakiden, who still has bitter memories of the more two decades of civil war that paved the way to the young nation's independence two years ago, when she was forced to flee her home.
"I just can't imagine being forced to become refugees again," said the mother of three, shocked by a week of violence that has already claimed hundreds of lives.
United Nations peacekeepers are currently sheltering over 35,000 civilians in various bases across the country, many belonging to the minority ethnic group in their respective areas.
South Sudanese are made up of over 60 different tribes, with the Dinka and then the Nuer the two main groups, although both of those groups are themselves split into several branches.
President Salva Kiir -- from the majority Dinka people -- has accused his former deputy Riek Machar -- from the Nuer tribe, of launching a failed coup bid, claims Machar has denied.
Human Rights Watch says that witnesses report South Sudanese soldiers and rebels have executed people based on their ethnicity.
Full report at:
http://english.ahram.org.eg/NewsContent/2/8/89683/World/Region/South-Sudan-fighting-reopens-ethnic-divide.aspx
----------
Over 1,000 protest in Niger against French nuclear firm Areva
Dec 22, 2013
More than 1,000 demonstrators marched in the Niger capital Niamey on Saturday to protest against their country's "unbalanced" partnership with nuclear firm Areva as the French giant negotiates a new uranium mining agreement with the government.
The protesters, including students, rights activists and politicians, chanted "Down with Areva!" and "No to a win-lose contract" as they made their way from the parliament building to the Areva offices, where they were held back by a police cordon.
Areva's contract to extract uranium in the west African country expires on December 31, after more than four decades of mining at two sites on the southern edge of the Sahara, with a third under development.
Full report at:
http://english.ahram.org.eg/NewsContent/2/9/89705/World/International/Over-,-protest-in-Niger-against-French-nuclear-fir.aspx
----------
South Sudan rebel Riek Machar 'controls key state'
Dec 22, 2013
Former South Sudan Vice-President Riek Machar has said rebel troops have captured the key oil-producing state of Unity and control much of the country.
Mr Machar also confirmed to the BBC that the forces fighting the government were under his command.
The country has been in turmoil since President Salva Kiir accused Mr Machar a week ago of attempting a coup.
The BBC's former Sudan correspondent James Copnall says the situation now looks very much like civil war.
At least 500 people have been killed since the fighting began with the government struggling to keep control of the capital, Juba.
Full report at:
http://www.bbc.co.uk/news/world-africa-25480178
----------
'Nation's survival' depends on disarmament: Central African Republic president
AFP | Dec 22, 2013
BANGUI, Central African Republic: Central African president Michel Djotodia on Saturday urged Muslim fighters backing him and the Christian vigilantes they oppose to lay down their arms, the day after 30 more people were killed in continuing violence.
The predominantly Christian country's first Muslim president — who holds the post on an interim basis after seizing power in a March coup — also renewed an offer of talks with the Christian "anti-balaka" vigilantes.
"I reiterate my entire availabilty to discuss with all those who have taken up arms, rightly or wrongly, so that we will finally all be disarmed without exception," he told a news conference.
Full report at:
http://timesofindia.indiatimes.com/world/rest-of-world/Nations-survival-depends-on-disarmament-Central-African-Republic-president/articleshow/27744953.cms
-----------
Europe
Torture Victims Have "Well-Founded Claim" That UK Complicit In Their Abuse, Says High Court
December 22, 2013
LONDON - A High Court judge has today expressed his "concern" over a case brought by an anti-Gaddafi dissident and his wife who were kidnapped and forcibly sent to Libya in a 2004 "extraordinary rendition" operation orchestrated by MI6.
Mr Justice Simon described the case, brought by Abdel-Hakim Belhaj and his wife Fatima Boudchar as "what appears to be a potentially well-founded claim that the UK authorities were directly implicated in the extra-ordinary rendition of the Claimants." Although he ruled in favour of the British Government's argument that the case should not be heard for fear of damaging relations with the US, he expressed his "concern" that such a case might not be determined in a UK court, adding that "Parliamentary oversight and criminal investigations are not adequate substitutes for access to, and a decision by, the Court."
The High Court judge's comments come a day after retired judge Sir Peter Gibson produced a report which found that "the United Kingdom may have been inappropriately involved in some renditions."
Full report at:
http://www.commondreams.org/newswire/2013/12/20-0
------------
Ban Ki-moon calls for end to hostilities in South Sudan
December 22, 2013
United Nations Secretary General Ban Ki-moon demanded an end to growing civil conflict in South Sudan and called on all parties Sunday to negotiate a political solution to the crisis.
"I demand that all political, military and militia leaders stop hostilities and end the violence against civilians," he said.
"They're responsible to the people of South Sudan to end the crisis and find a political means of addressing their differences." Mr. Ban urged South Sudan President Salva Kiir and opposition leaders including former vice president Riek Machar to negotiate "to find a political way out of this crisis." "I call on them to do everything in their power to ensure that their followers share the message loud and clear that continued violence, ethnic and otherwise, is completely unacceptable and pose a dangerous threat to the future of your country," he said.
Full report at:
http://www.thehindu.com/news/international/world/ban-kimoon-calls-for-end-to-hostilities-in-south-sudan/article5489527.ece
----------
Indian peacekeepers prevented more casualties in South Sudan: UN
PTI | Dec 22, 2013
UNITED NATIONS: The bravery of 43 Indian peacekeepers stationed at a UN base in South Sudan, which was attacked by about 2,000 rebels this week, prevented more casualties, a top UN official said as she lauded the dedication shown by Indian troops in peacekeeping missions.
Two Indian soldiers, warrant officers Dharmesh Sangwan and Kumar Pal Singh, were killed in the December 19 attack on the UN base in the Jonglei state town of Akobo in South Sudan.
A third soldier Indian Battalion Warrant Officer Mondal Shabul was wounded in the chest during the attack and was flown to Malakal where he was reported to be in stable condition.
The UN Mission in South Sudan (UNMISS) held a memorial ceremony in Juba yesterday for the two Indian Battalion peacekeepers killed in the attack.
Full report at:
http://timesofindia.indiatimes.com/india/Indian-peacekeepers-prevented-more-casualties-in-South-Sudan-UN/articleshow/27748233.cms
----------
Bulgarian court rejects mosque return request
World Bulletin / News Desk
Dec 22, 2013
The case requesting the return of Hamza Bey mosque to the head of the Bulgarian Islamic Affairs has been rejected by the Stara Zagora country court in Bulgaria.
This was one of the many cases that head of the Bulgarian Islamic Affairs has opened against the Bulgarian government for the foundation properties that were seized during the communist era.
The Hamza Bey mosque, which was built in 1409, is the only remaining Ottoman landmark in Stara Zagora. It has remained closed since the communist period.
Full report at:
http://www.worldbulletin.net/?aType=haber&ArticleID=125300
----------
NATO, Afghanistan start talks on post-2014 mission pact
Dec 22, 2013
NATO and Afghan officials started work on Saturday on drawing up a framework for the alliance to stay on after 2014 despite the fact that a separate pact with the United States, which contributes the bulk of the forces, has still not been signed.
President Hamid Karzai last month defied a consensus in Afghanistan's grand assembly in favour of the security agreement with the United States, and said he would not sign unless certain conditions were met, and even then, not until after April elections.
But with the clock ticking on the current 49-nation mission ending before 2015, NATO and US officials have said they must have agreements in place very soon to govern what happens afterward or risk being forced to withdraw all of the 84,000 soldiers, 60,000 of whom are American.
Full report at:
http://voiceofrussia.com/news/2013_12_22/NATO-Afghanistan-start-talks-on-post-2014-mission-pact-2453/
----------
India
Talk on "Education, Reforms and National integration" by Sultan Shahin
December 17, 2013
Dnyaneshwar Mulay Educations society(DMES) has organised a talk on 'Muslim : Education, Reforms and National integration' by Sultan Shahin as a part of its monthly lecture series ' Towards Light' on Saturday December 14 at 6 pm at SM Joshi Foundation Hall, at Navi Peth, Pune.
Source: DNA
-------------
Muzaffarnagar riot victims should return home, not play into the hands of rioters: Rahul Gandhi
PTI | Dec 22, 2013
MALAKPUR: Congress vice-president Rahul Gandhi on Sunday asked victims of Muzaffarnagar riots living in relief camps here to go back to their homes, saying those engineering communal riots want them to remain in the camps as such a situation "benefits" them.
Gandhi's closely guarded visit to relief camps of Muzaffarnagar riot victims began early in the morning from Muslim-dominated Malakpur in UP's Shamli district where he held interactions with community members.
"Those who engineer communal riots want that you should not go back. This benefits them. They want to keep you away from your villages. I know it is difficult and there is also fear there but we have to think beyond. This will not be good in the long run.
"The message goes out that you will not go back to your villages. Those fanning communal riots precisely want this to happen," he told the riot victims.
However, there were clear voices from the riot victims that they do not want to go back to their homes as they fear they would be attacked again.
Full report at:
http://timesofindia.indiatimes.com/india/Muzaffarnagar-riot-victims-should-return-home-not-play-into-the-hands-of-rioters-Rahul-Gandhi/articleshow/27748968.cms
----------
Two suspected LeT operatives sent to police custody till Jan 3
Dec 22, 2013
Two suspected operatives of banned terror outfit Lashkar-e-Taiba (LeT), arrested for allegedly conspiring to carry out terror strikes in Delhi, were on Saturday remanded in police custody till January 3 by a court in New Delhi.
Rashid and Shahid, both aged 28, were produced before the court after expiry of their police remand and special cell of Delhi Police sought extension of their custody by 13 days, contending that they are required for further interrogation to unearth the entire conspiracy.
The police claimed in the court that these accused were in touch with Pakistan-based LeT commander Javed Baluchi through mobile phones and were conspiring to carry out terror attacks in the national capital.
Full report at:
http://www.thehindu.com/news/national/other-states/two-suspected-let-operatives-sent-to-police-custody-till-jan-3/article5486948.ece
---------
North America
Afghan war will be over next year: Obama
ANWAR IQBAL
2013-12-22
WASHINGTON: In his end of the year news conference, US President Barack Obama promised his nation that the war in Afghanistan will be over in 2014, although his administration will remain vigilant to America's security needs.
But the latest opinion poll shows that this's not fast enough for the American public who want Mr Obama to pull US troops out of Afghanistan even faster than he is already doing.
And the US media reported on Saturday that President Obama is prepared to extend a Dec 31 deadline for concluding a security deal with Afghanistan for allowing some American troops to stay after 2014 as well.
"By the end of next year, the war in Afghanistan will be over, just as we've ended our war in Iraq, and we'll continue to bring our troops home," said Mr Obama. "And, as always, we will remain vigilant to protect our homeland and our personnel overseas from terrorist attacks."
The latest opinion survey by the Associated Press and GfK Poll shows that 57 per cent Americans now believe that going to war in Afghanistan after the 2001 terror attacks was probably the "wrong thing to do." And 53pc say the pace of the planned withdrawal is too slow, 34pc say the pace is just about right and 10pc say it's too fast.
Full report at:
http://www.dawn.com/news/1075601/afghan-war-will-be-over-next-year-obama
----------
Who in Whitehall approved 'gloves-off' interrogation after 9/11?
December 22, 2013
In February 1991, during the Gulf war, I found myself standing on the Saudi-Kuwait border, watching British infantrymen taking in Iraqi prisoners who were slipping across no-man's land in their twos and threes, desperate to surrender. The British were well prepared: there were large stockpiles of bottled water, tents and waiting vehicles.
Occasionally something went wrong, there were misunderstandings - especially at dawn or dusk - and people were hurt, but, by and large, what I witnessed was a humanitarian operation. The Iraqis were brought under shelter, rehydrated, given time to smoke, and then moved on. It was touching to see the care that some of the young British troops took when handling their enemies; conscripts who were bedraggled and terror-stricken after weeks of air bombardment.
Full report at:
http://www.nation.com.pk/international/22-Dec-2013/who-in-whitehall-approved-gloves-off-interrogation-after-9-11
----------
NSA, GCHQ spied on Israel, Germany, UN and others - new Snowden leaks
Dec 22, 2013
Leaders in Israel — one of America's closest allies—have for years been targeted in a surveillance operation waged by the United States' National Security Agency, or NSA, according to files leaked by Edward Snowden.
Those documents reportedly also contain information suggesting that heads of international charities, foreign energy companies, United Nations officials and the vice president of the European Commission were targeted as well by either British or American spies.
The New York Times, the Guardian and Der Spiegel all reported on Friday that classified documents supplied to them by the former intelligence contractor contain details about, among other programs, a NSA operation that set its sights on the email account belonging to the office of an Israeli prime minister.
Full report at:
http://rt.com/usa/nsa-spies-israel-un-565/
--------
Obama warns South Sudan after US military personnel wounded
AFP | Dec 22, 2013
JUBA: US President Barack Obama warned the leaders of South Sudan against a military coup Saturday after four US servicemen were wounded in an attack on their aircraft in the increasingly unstable country.
"Any effort to seize power through the use of military force will result in the end of longstanding support from the United States and the international community," the White House said in a statement.
Obama stressed that the South Sudanese leaders "have a responsibility to support our efforts to secure American personnel and citizens in Juba and Bor," the capital and a rebel-held flashpoint town in the African nation.
Full report at:
http://timesofindia.indiatimes.com/world/rest-of-world/Obama-warns-South-Sudan-after-US-military-personnel-wounded/articleshow/27746002.cms
--------
Mideast
Turkish cleric Gulen curses purge of police command
Dec 22, 2013
ANKARA – Influential Turkish Islamic cleric Fethullah Gulen has cursed those responsible for a purge of police officers involved in a corruption investigation, in his first comments on the case that has struck at the heart of the ruling elite.
Gulen's words, invoking God's punishment, raise the stakes in a crisis seen as the biggest challenge to Prime Minister Tayyip Erdogan in 11 years.
Erdogan has called the detention of scores of people seen as close to the government a "dirty operation" aimed at undermining his rule.
Full report at:
http://www.saudigazette.com.sa/index.cfm?method=home.regcon&contentid=20131222190219
----------
Al Qaeda apologises for deadly Yemen hospital attack
AFP
2013-12-22
SANAA: A deadly Al Qaeda attack this month on a Yemeni defence ministry hospital was a mistake and the militant network is ready to pay blood money, a top commander has said.
The brazen daylight attack on the defence ministry complex on December 5 left 56 people dead, including patients and foreign medics from the Philippines, Germany, Vietnam and India.
Al Qaeda in the Arabian Peninsula (AQAP) has already claimed responsibility for the attack and late Saturday its military chief said in an online video the assault on the hospital had not been authorised.
"The attack was on the ministry of defence, it was not on the hospital,"said AQAP military commander Qassem al-Rimi.
Rimi said the militants were told to stay away from the hospital and a prayer hall in the sprawling defence ministry complex, but that one lone jihadist disobeyed orders.
"We told them (jihadists) to be cautious, not to enter the prayer place or the hospital. Eight of our brothers were cautious, and one did not. May Allah forgive him and have mercy on him," said Rimi.
Full report at:
http://www.dawn.com/news/1075696/al-qaeda-apologises-for-deadly-yemen-hospital-attack
----------
Israel calls alleged U.S. wiretapping 'unacceptable'
December 22, 2013
Israel on Sunday described the reported U.S. wiretapping of the country's premier as "unacceptable" amid renewed calls for the release of Jewish spy Jonathan Pollard, currently serving a life sentence in an American prison.
"We have of late exceptional intelligence relations with the U.S. and the British, it's almost one intelligence community," Israeli Intelligence Minister Yuval Steinitz said.
"Under such conditions I think it is unacceptable," Mr. Steinitz said while reacting to a New York Times report that secret documents revealed by NSA whistleblower Edward Snowden showed that U.S. and British intelligence had tapped the communications of then Israeli premier Ehud Olmert and Defence Minister Ehud Barak during 2008-11.
"We do not spy on the president of the U.S. or the White House. The rules have been made clear. We have made certain commitments on the matter and we honour them," said Mr. Steinitz.
Full report at:
http://www.thehindu.com/news/international/world/israel-calls-alleged-us-wiretapping-unacceptable/article5489923.ece
------------
Southeast Asia
Malaysia: Najib, Rosmah Told To Stop Playing Lord and Lady Games
Dec 22, 2013
KUALA LUMPUR - The Home Ministry has explained that a political weekly, The Heat, was suspended because it failed to keep the authorities informed of changes in its ownership and of its purpose of being a business magazine.
However, critics were unconvinced by the late clarification, pointing to the public-listed entities that own The Star and NST dailies as "classic cases that refute Zahid's excuses for Najib and Rosmah."
"It looks more like Home Minister Zahid Hamidi is trying to grab any excuses he can lay his hands on because he must be in very hot soup over this fiasco. For example, shareholdings change on a daily basis for listed companies. Very often nominees firms are also used, so how does Zahid explain NST which is controlled by Umno and The Star which is controlled by MCA," Eddie Lee, a PKR veteran told Malaysia Chronicle.
Full report at:
http://www.malaysia-chronicle.com/index.php?option=com_k2&view=item&id=203291:home-ministrys-the-heat-explanation-panned-najib-rosmah-told-to-stop-playing-lord-lady-games&Itemid=2#ixzz2pCn6SriG
----------
Governor Jokowi drafts Halal decree to tap into Sharia tourism
Dec 22, 2013
In a bid to tap into Sharia tourism, Governor Joko "Jokowi" Widodo is preparing a gubernatorial decree (Pergub) on halal certification.
The certification will not be compulsory but hotels, restaurants and catering businesses will be encouraged to obtain one.
"The decree [...] is optional. Sharia tourism is a global trend and it's ironic that we, the largest Muslim majority country in the world, are not capturing this opportunity," Jakarta Tourism and Culture Agency head Arie Budhiman told reporters in Jakarta on Tuesday, adding that the gubernatorial decree would be issued early next year.
Full report at:
http://www.thejakartapost.com/news/2013/12/20/jokowi-drafts-halal-decree.html
---------
URL: https://www.newageislam.com/islamic-world-news/new-age-islam-news-bureau/turkmenistan--imams,-police-and-intelligence-services-ban-bibles-and-christian-songs/d/34955