New Age Islam News Bureau
4 Jun 2014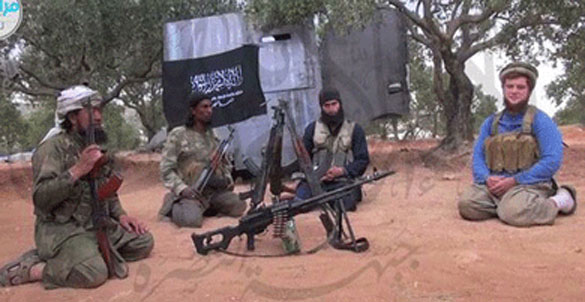 Photo: Syrian Jihadists Using Twitter To Recruit Foreign Fighters
-----------
Mideast
• Turkey's Religious Body Urges Muslim World to 'Update Itself' And 'Engage in Self-Criticism'
• Kurdistan Workers' Party similar to Boko Haram as both abduct children, says MHP
• Palestinian PM reassures EU over new government
• Council of wise men to manage President Erdoğan's Turkey: Report
Africa
• 10 Nigerian generals guilty of arming Boko Haram
• Central African Republic bans phone text messages
• Kenya dismisses report of 'White Widow' sighting
• Kenya: Alarm over Rising Gender-Based Violence
• Libya's Haftar survives 'assassination bid'
South Asia
• 25 Militants Killed, 16 Others Injured In Afghan Army Operations
• Explosion leaves 4 Afghan policemen dead in Helmand
• Two Afghan soldiers martyred in IED attack
• Nasheed proposes constitution change to parliamentary system
• Top terrorist held in Chittagong
• Testimony against Jamaat leader Azhar ends
Southeast Asia
• Uphill Task for Muslim Woman to Renounce Islam, Say Lawyers
• Behind Church Closures, the Spectre of Intolerance
• Jais ready to help Muslim woman on religious status, says Khalid
Europe
• PM Sounds Alarm Over 800 Made-In-France Jihadists
• El-Sisi will 'do everything' for democracy, prosperous Egypt: UN chief
• Racism and Islam row debate at Northern Ireland Assembly
• Islamic hate preacher praises terrorist group which kidnapped Nigerian schoolgirls
• Russian Envoy to UN: Russia Willing to Back Humanitarian Initiatives on Syria
North America
• Tourists Say 9/11 Museum's Al Qaeda Film Unfairly Portrays Islam
• US: Palestinian unity government not backed by Hamas
• Presidential election in Syria is a disgrace, says US
• US says looking forward to working with Egypt's Sisi
Arab World
• Syrian Jihadists Using Twitter To Recruit Foreign Fighters
• Syrian FM: Political Solution to End War 'Begins Today'
• Islamic Engineers Hold Global Meet In Makkah
• Suicide attack kills eight in Baghdad
• Suicide Attack Kills Anti-ISIL Leader, Iraqi Officers in Anbar
• Terrorist Attacks Claim Lives of 4 Citizens in Damascus, Its Countryside
• From the barracks to Egypt's presidency: El-Sisi's journey towards Ittihadiya
• ISIL Terrorists Kidnap Dozens of Kurdish Students in Syria's Aleppo
• Arabs mostly give Obama negative 2014 report card
India
• Jamaat e Islami Hind holds sessions to explore post-poll scenario
• AMU boy Wasiqur Rahman is Bihar MBBS topper
Pakistan
• Cross-border militant attacks kill four soldiers in Bajaur
• 'Efforts afoot to bring ailing Altaf back home'
• Two military officers among five killed in blast near Rawalpindi
• Karachi in lockdown after Altaf arrested in London
• Altaf's arrest a sensitive matter: Zardari
Compiled by New Age Islam News Bureau
URL: https://www.newageislam.com/islamic-world-news/new-age-islam-news-bureau/turkey's-religious-body-urges-muslim-world-to-'update-itself'-and-'engage-in-self-criticism'/d/87356
---------
Mideast
Turkey's Religious Body Urges Muslim World to 'Update Itself' And 'Engage in Self-Criticism'
Jun 4, 2014
The deputy chairman of Turkey's Religious Affairs Directorate (Diyanet) has urged Muslim societies to "update themselves" and "engage in self-criticism," in a message penned to mark the 90th anniversary of the directorate's establishment.
"The current process that the Islamic world is passing through is heart-rending. The Islamic world, which is passing through a heavy test, has social, economic and administrative problems because it has not taken the necessary precautions to take responsibility," Deputy Chairman Mehmet Emin Özafşar said.
"The Islamic world is paying the price for being late in social, economic, administrative and scientific terms," Özafşar said, adding that it was "mentally in the past but living today, [leading to] the global pressure of the global system."
He also expressed his opinion that adopting democratic regimes and protecting freedom of expression was one of the most serious dilemmas for Muslim societies, saying "freedom of religion and religious education has not been updated."
The deputy chairman said other civilizations had also played a role in the Muslim world's problems, but it was "normal through the course of history for nations and societies to be in competition."
"It is not true to always find the other side guilty and ignore the Islamic world's own faults … Today, if we look at all events in our region, we can say that they stem from our own internal dynamics. The main reason behind conflicts in the Islamic world is that Islamic societies have failed to update themselves," Özafşar said.
Concluding his speech, he referred to British sociologist Anthony Giddens, stating that the speed of change was so fast that "new instruments and new approaches" must be sought.
"In order to express the beauties of Islam with those new instruments and approaches, we need to use both the language of the media and the language of art," Özafşar said.
http://www.hurriyetdailynews.com/turkeys-religious-body-urges-muslim-world-to-update-itself-.aspx?pageID=238&nID=67355&NewsCatID=393
----------
Kurdistan Workers' Party similar to Boko Haram as both abduct children, says MHP
Jun 4, 2014
Nationalist Movement Party (MHP) leader Devlet Bahçeli has said that the terrorist Kurdistan Workers' Party (PKK) is like the fundamentalist terrorist group Boko Haram because both organizations abduct children to achieve their goals.
Bahçeli criticized the settlement process, which has been carried out between the Turkish government and the terrorist PKK to resolve the decades-long Kurdish conflict. He said the process has strengthened the PKK's hand and said: "Just like Boko Haram, the PKK is kidnapping children. All these terror groups are [being] used by global powers."
Boko Haram is an armed Islamist group founded in 2002 and based in the northern states of Nigeria. The group aims to overthrow the Nigerian government and make Nigeria an Islamic state. On April 14 over 200 girls, most of them between the ages of 16 and 18, were abducted from the Government Girls Secondary School in Chibok, northeastern Nigeria. Boko Haram claimed responsibility for the abduction.
Speaking at a party meeting in Parliament on Tuesday, Bahçeli said the government assumed that the PKK's terrorist acts could be stopped through talks with the organization, but the outcome has been a failure. He said it is also far from generating a solution to the terrorism issue in Turkey.
"The settlement process contributed to the PKK's consolidation of its militants, as recent abductions of children who are under 18 has proved. The rights and legitimate demands of the mothers who stage protests against the PKK for abducting their children should be given greater respect. Children are going to elementary or high school and they are being kidnapped by the PKK as part of the group's effort to force them to fight against security forces," he said.
Criticizing the Justice and Development Party (AK Party) government for engaging in negotiations with PKK leader Abdullah Öcalan, Bahçeli said: "Internal peace and the feeling of brotherhood are harmed through the talks. The talks have no purpose other than strengthening the terrorist organization."
Bahçeli also criticized Sirnak Governor Hasan Ipek, who praised Öcalan in a recent speech. The governor said Öcalan contributed a great deal to the settlement process. But the opposition considers the process a form of bargaining with the terrorist group, saying that the governor's comment was shameful.
Speaking about the governor, Bahçeli said: "Some unashamedly expressed their appreciation for the supposed settlement process and for the imprisoned Öcalan, who is kept [in prison] on Imrali Island and who is also a murderer." He said the governor was not a real man.
Slamming the PKK's increasingly violent acts in south-eastern Turkey, Bahçeli noted that the members of the PKK are blocking roads and stopping the occupants of cars for ID checks. He said they are also setting construction equipment on fire.
"In recent clashes with the terrorists, dozens of security forces were injured. An appropriate governmental authority cannot be [found] in the region. Governors and the district governors aren't doing their job," he added.
"Some governors who support the AK Party are competing to see who can be the most villainous. The governor who praised Öcalan is still in charge. If the members of the PKK are appreciated and rewarded, then what should we say about those soldiers who died for their country? And some other members of the AK Party beg the PKK to put an end to their violent activities. Turkey's unitary structure is receiving fatal blows and its territorial integrity is under threat. The PKK no longer feels any fear. Every place in Turkey has turned into the Kandil Mountains, where the terrorists nest, because a government does not exist to stop these brutalities."
Commenting on the presidential election to be held on Aug. 10, Bahçeli asserted that Erdogan will not become president. His march toward the Çankaya presidential palace will fail, the MHP leader vowed, adding: "The prime minister is tired of politics. He has no vision regarding the governing of Turkey. He insults and defames anyone who is against him. March's local elections marked a countdown toward the end of his political career. Aug. 10 [the presidential election] will be a second blow to Erdogan because he will fail to become the next president."
http://www.todayszaman.com/news-349493-pkk-similar-to-boko-haram-as-both-abduct-children-says-bahceli.html
----------
Palestinian PM reassures EU over new government
Jun 4, 2014
Palestinian prime minister Rami Hamdallah assured European diplomats Tuesday that his new unity government would respect past agreements with Israel, after chairing the cabinet's first meeting.
"Hamdallah stressed that the government is committed to all international agreements signed by the Palestine Liberation Organisation... international political initiatives and peaceful solutions," his office said.
Hamdallah was briefing EU representatives to the Palestinian territories on his new government, telling them also that his cabinet would focus on service provision and resolving pressing water issues in the Gaza Strip.
He later gave UN peace envoy Robert Serry the same assurances, adding that the government's "main mission is to prepare for free and democratic elections," a separate statement said.
The premier chaired first meeting of the interim government, which aims to hold elections within six months, a day after the 17-member cabinet was sworn in before president Mahmud Abbas.
"The main subject the government discussed was how to reunite the institutions in the West Bank and Gaza," he told reporters in the West Bank city of Ramallah after the meeting.
"Employees were asked to return to work," he said, referring to people from Abbas's Fatah party who worked in Gaza-based government ministries before the Islamist Hamas movement forcibly took over the territory in 2007, splitting the Palestinian territories into two separate camps.
The unity government was sworn in after a landmark reconciliation deal in April with the Islamist movement Hamas.
Despite the alliance with Hamas, which does not recognise Israel and is pledged to its destruction, Abbas has said the government would abide by the principles of the Middle East Quartet.
"The government is committed to the principle of the two states on the border of 1967. The government is also committed to recognising the State of Israel, renouncing violence and honouring the signed agreements," he said on Monday.
"As we have stated in the past, we will continue with security coordination with Israel as this protects our people's interests."
John Gatt-Rutter, the EU representative to the Palestinian territories, assured Hamdallah of the support of the 28-nation bloc for his new government, said the Palestinian leader's office.
Washington has agreed to work with the new government, prompting a furious reaction from Israel, which had urged the international community not to rush into recognising the new entity.
http://english.ahram.org.eg/NewsContent/2/8/102833/World/Region/Palestinian-PM-reassures-EU-over-new-government.aspx
----------
Council of wise men to manage President Erdoğan's Turkey: Report
Jun 4, 2014
On the first anniversary of nationwide protests that shook Turkish Prime Minster Tayyip Erdoğan's rule, barely a thousand anti-government demonstrators marched in Istanbul on May 31.
Outnumbered by riot police, they were soon sent scurrying into side streets by tear gas and water cannon.
Their scant numbers were an illustration of Erdoğan's tightening grip on power despite a year punctuated by street protests, international criticism of his response and allegations of government corruption.
Erdoğan, an aide told Turkish television the same day, would remain in power until 2023, having won a presidential election that will be held in August. Changes to the constitution would bestow greater powers on the presidency, the aide predicted.
Interviews with those close to him reveal more detail about the shape of a future Erdoğan presidency.
A "council of wise men" - made up partly of close allies in his current cabinet - would help oversee top government business, senior officials told Reuters, effectively relegating some ministries to technical and bureaucratic roles.
"They will work with Erdoğan on important subjects in the presidential palace. You could call them wise men, an advisory council, a shadow cabinet," one senior figure in the ruling Justice and Development Party (AKP) said, with energy policy, the Kurdish peace process and elements of foreign policy likely to be among them. "The presidency's weight will be felt more in decisions."
Erdoğan has yet to announce his candidacy in the August vote but has made no secret of his ambition to run. Those around him say the decision is made.
The results of municipal polls on March 30, when the AKP won 43 percent of the national vote, suggest a majority in the first round could be within his reach, especially if he secures the support of the Kurdish minority.
"There is no longer a question mark," a senior official from Erdoğan's AKP told Reuters. "Barring an extraordinary situation, Erdoğan will announce his candidacy and we expect him to win in the first round."
Pliant Prime Minister
Erdoğan may not yet have engineered the full presidential system he wants for Turkey, but he has made clear that the direct nature of August's vote - previous presidents were appointed by parliament - will enable him to exercise stronger powers than incumbent President Abdullah Gül.
Gül's role has been largely ceremonial. Under the current constitution, presidents have the authority to appoint the prime minister, convene and chair cabinet meetings, and head the national security council and the state supervisory council, which audits public bodies.
"There are many dormant powers that a President Erdoğan could use," said Jonathan Friedman, Turkey analyst at London-based global risk consultancy Control Risks.
"Policy in the AK Party has long been made by Erdoğan and a small coterie of advisers ... This will continue from (the presidency) - and is why having a pliant successor as prime minister to coordinate MPs and pass laws is key."
Erdoğan is barred from standing for a fourth term as prime minister by AKP rules, which stipulate members of parliament who have served three terms must subsequently be out of office for one.
The regulation, which Erdoğan has made clear he is opposed to changing, will also exclude 73 MPs from candidacy in the 2015 parliamentary election, pointing to a significant cabinet reshuffle and major overhaul of the AKP ranks.
Senior party officials said Erdoğan was keen to select a prime minister and new head of the AKP who would be unencumbered by the three-term limit and able to hold the post for two terms, with current Foreign Minister Ahmet Davutoğlu and Deputy Prime Minister Emrullah Isler among the favorites.
Another long-mooted possibility - that Gül would succeed Erdoğan as prime minister - now appears unlikely after Gül in April appeared to rule out such a move, saying it would not be "appropriate" for democracy.
Some senior deputies facing a term outside parliamentary office were likely to be among Erdoğan's "council of wise men", including Justice Minister Bekir Bozdag, Energy Minister Taner Yıldız and deputy Prime Ministers Bülent Arınç and Beşir Atalay
"Ultimately it is Erdoğan who will have the final word in all decisions like this," a senior party official said.
Polarized
Residents in some areas hung out of windows banging pots and pans - a traditional sign of protest - as demonstrators chanting for Erdoğan to resign were chased by riot police on May 31, but much of the energy has gone from a protest movement which, a year ago, sustained week after week of street demonstrations.
Erdoğan has variously dismissed the protesters as vandals, terrorists and anarchists and his party's strong showing in the March polls has reinforced the sense that his rise, despite polarizing the country ever further, is unstoppable.
His rhetoric plays on a schism in Turkish society between a western-facing, largely secular segment of the population suspicious of his conservative Islamic ideals and a pious, working-class mass who see him as a hero for returning religious values to public life and driving a decade of growth.
It is a strategy, his opponents say, which sees him deliberately appeal to only the half of the population while ignoring the rest.
Yet even Erdoğan's critics acknowledge that he has overseen Turkey's transformation from a financial backwater into one of the world's most dynamic economies, a record which means that a narrow majority of voters - as well as investors - have kept giving him the benefit of the doubt.
"One of the greatest fears is that the government will make populist policies, which will grossly affect growth, but they haven't done that yet," said an Ankara-based diplomat, asking not to be identified so as to speak more freely.
"Erdoğan is a smart man, he can turn the bleakest situations to his advantage. He is only focused on the 50 percent. His only point of reference is to stay in power," he said.
"He's as pragmatic as you can get."
http://www.hurriyetdailynews.com/council-of-wise-men-to-manage-president-erdogans-turkey-report.aspx?pageID=238&nID=67379&NewsCatID=338
----------
Africa
10 Nigerian generals guilty of arming Boko Haram
Jun 4, 2014
Ten generals and five other senior military officers were found guilty in courts-martial of providing arms and information to Boko Haram extremists, a leading Nigerian newspaper reported on Tuesday.
The news follows months of allegations from politicians and soldiers who have said that some senior officers were helping the Islamic extremists and that some rank-and-file soldiers even fight alongside the insurgents and then return to army camps.
They have said that information provided by army officers has helped insurgents in ambushing military convoys and in attacks on army barracks and outposts in their north-eastern stronghold.
Leadership newspaper quoted one officer saying that four other officers, in addition to the 15, were found guilty of "being disloyal and for working for the members of the sect."
Defence Ministry spokesman Maj. Gen. Chris Olukolade did not immediately respond to requests for comment on Tuesday. Last week, he denied that senior military officers were being investigated for helping Boko Haram and sabotaging a year-old offensive to curb the 5-year-old uprising that has killed thousands.
Full report at:
http://www.thehindu.com/news/international/10-nigerian-generals-guilty-of-arming-boko-haram/article6078859.ece
---------
Central African Republic bans phone text messages
Jun 4, 2014
The authorities in the Central African Republic (CAR) have banned the use of mobile phone text messages.
The move is aimed at helping to restore security after more than a year of deadly ethnic and religious violence.
The ban comes after days of violent demonstrations in the capital, Bangui, and a mass text campaign calling for a general strike.
The protesters want the transitional government that came to power in January to resign.
The CAR conflict began last year as mainly Muslim Seleka rebels, led by Michel Djotodia, seized power in the majority Christian country.
Mr Djotodia resigned as president in January under diplomatic pressure, but a interim government and French and African peacekeepers have failed to stop the violence between Christian and Muslim militia groups.
Full report at:
http://www.bbc.com/news/world-africa-27700537
--------
Kenya dismisses report of 'White Widow' sighting
Jun 4, 2014
NAIROBI: Kenyan officials dismissed a report that British terror suspect Samantha Lewthwaite, known as the "White Widow," had been inadvertently helped to leave the coastal resort island of Lamu.
According to the Standard newspaper, a "mysterious" white woman who may have been Lewthwaite was allegedly offered a police escort in April to visit a Kenyan army base in Somalia before disappearing.
"These are wild allegations, which are not true," Lamu County police commander Leonard Omollo told AFP, explaining that the woman who was escorted had been identified as a Spanish tourist.
Full report at:
http://www.arabnews.com/news/581421
----------
Kenya: Alarm Over Rising Gender-Based Violence
Jun 4, 2014
Nairobi — A new report by the Nairobi Women's Hospital Gender Violence Recovery Centre has raised concerns over the rising cases of gender-based violence in Kenya and the isolation of men in efforts to address it.
Speaking during a media briefing on the '1 million Fathers Movement' campaign, FEMNET Regional Programme Associate Alberta Wambua said there were 1,864 cases reported with sexual violence cases taking the lead at 84 percent and physical violence accounting for 16 percent of the cases.
"Three percent of the cases were sodomy, sexual violence associated with robberies and abductions was 14 percent. Sexual violence perpetrated by fathers - 17 percent, sexual violence associated with drugging - 10 percent," she explained in the presentation of the 2013-2014 Gender Based Violence (GBV) report.
Full report at:
http://allafrica.com/stories/201406031805.html?aa_source=sptlgt-grid
---------
Libya's Haftar survives 'assassination bid'
4 June 2014
Libya's General Khalifa Haftar survived a suicide attack on his residence in the eastern city of Benghazi on Wednesday, military officials said.
Haftar has been leading an offensive against Islamist militias in the country.
The Associated Press reported that the bomber drove up to his residence and detonated his explosives-laden vehicle when guards stopped him at the compound's gate.
Officials, who spoke to the Associated Press on condition of anonymity, said Haftar was unharmed in the explosion.
Full report at:
http://english.alarabiya.net/en/News/middle-east/2014/06/04/Suicide-bomber-kills-three-at-Libya-ex-general-base-.html
---------
South Asia
25 Militants Killed, 16 Others Injured In Afghan Army Operations
Jun 4, 2014
At least 25 anti-government militants were killed in military operations conducted by the Afghan national army (ANA) soldiers.
Defense Ministry Spokesman Gen. Zahir Azimi said Wednesday that the operations were conducted during the past 24 hours in various provinces, Khaama Press reported.
Gen. Azimi further added that 16 militants were also injured and another militant was arrested during the operations.
Afghan national army soldiers also confiscated various types of weapons and explosives including 2 suicide bombing vests during the operations, Azimi said.
Azimi also added that a motorcycle along with 20 kg of explosives and 28 improvised explosive devices (IEDs) were also seized during the operations.
He did not disclose further information regarding the casualties of Afghan national army soldiers during the operations.
The anti-government armed militant groups have not commented regarding the report so far.
http://english.farsnews.com/newstext.aspx?nn=13930314000220
---------
Explosion leaves 4 Afghan policemen dead in Helmand
Jun 04 2014
At least four Afghan policemen were martyred following an improvised explosive device (IED) explosion in southern Helmand province of Afghanistan.
Provincial governor spokesman, Omar Zwak, sid the incident took place late Tuesday in Sangin district.
Zwak further added that the vehicle of the Afghan policemen struck with the improvised explosive device (IED), leaving 4 policemen dead and another one injured.
He said the victims of the incident were members of the public order police forces.
No group including the Taliban militants has so far claimed responsibility behind the incident.
Taliban militants and other insurgent groups frequently use improvised explosive device (IED) as the weapon of their choice to target Afghan and coalition security forces.
http://www.khaama.com/explosion-leaves-4-afghan-policemen-dead-in-helmand-8210
----------
Two Afghan soldiers martyred in IED attack
Jun 04 2014
At least two Afghan national army soldiers were martyred following an improvised explosive device (IED) explosion.
Defense ministry officials said the two Afghan soldiers were martyred in the past 24 hours.
The officials did not disclose further information regarding the exact location of the incident where the two Afghan soldiers martyred.
The anti-government armed militant groups frequently use improvised explosive device (IED) to target Afghan and coalition security forces.
Improvised explosive device (IED) attacks are also the major contributor to civilian casualties in Afghanistan, as civilians are mostly targeted in roadside bombings.
According to United Nations, 34 percent of 2,959 civilian deaths in Afghanistan in 2013 were due to improvised explosive device (IED) attacks carried out by anti-government armed militant groups.
http://www.khaama.com/two-afghan-soldiers-martyred-in-ied-attack-8209
---------
Nasheed proposes constitution change to parliamentary system
By Ahmed Rilwan | June 3rd, 2014
The Maldives constitution may have to be amended to address issues arising from the dissolution of the ruling Progressive Coalition, opposition leader and former President Mohamed Nasheed told diplomats in Colombo.
The split between Progressive Party of Maldives (PPM) and the Jumhooree Party (JP) has resulted in a government lacking popular support and will ultimately harm the Maldivian public, he said.
Nasheed called for amending the system of governance from a presidential system to a parliamentary system. He has long argued coalitions could only work in a parliamentary system of government.
Full report at:
http://minivannews.com/politics/nasheed-proposes-constitutional-change-to-parliamentary-system-86407
---------
Top terrorist held in Chittagong
Jun 4, 2014
The arrested, Md Faridul Islam alias Faridya, is accused in 17 cases including charges of murder, arms, drug, robbery, mugging and extortion
Detective Branch (DB) of Chittagong Metropolitan Police (CMP) arrested a wanted criminal from the city's Chawkbazar area on Monday night for allegedly deceiving people by identifying himself as DB personnel.
The arrested, Md Faridul Islam alias Faridya, 40, is the son of Nurul Islam, of the city's Bakalia, and is accused in 17 cases including charges of murder, arms, drug, robbery, mugging and extortion that were lodged with different police stations in Chittagong from 1996 to 2014, said DB sources.
Full report at:
http://www.dhakatribune.com/law-rights/2014/jun/04/top-terrorist-held-chittagong#sthash.LKKcqRD6.dpuf
---------
Testimony against Jamaat leader Azhar ends
Udisa Islam
Jun 4, 2014
The prosecution yesterday ended the charge framing hearing against Jamaat-e-Islami Assistant Secretary General ATM Azharul Islam on charges of crimes against humaniy during the 1971 Liberation War.
The three-member ICT led by ATM Fazle Kabir also fixed June 15 to hear the investigation officer's testimony as the prosecution requested for some preparation time.
As the 18th prosecution witness Azab Uddin Mia testified before the court in the case filed against Azhar.
SM Idris Ali, investigation officer of the case, seized the 1971 news reports published in the Daily Sangram and the Azad from the Bangla Academy library in the presence of Azab.
After his deposition, defence counsel Abdus Sobhan Tarafder questioned Azab.
Meanwhile, the tribunal accepted the prosecution's plea as the additional document.
On September 13, 1971, the Daily Sangram published a report titled "Mejbahuddin killed by miscreants in Rangpur," which was based on statements of the then president of Islami Chhatra Shangha's Rangpur district unit, and Azhar Islam, president of the party's Rangpur city unit.
Full report at:
http://www.dhakatribune.com/law-rights/2014/jun/04/testimony-against-jamaat-leader-azhar-ends#sthash.l9DLs4uu.dpuf
---------
Southeast Asia
Uphill Task for Muslim Woman To Renounce Islam, Say Lawyers
Jun 4, 2014
The factory worker whose wedding at a Hindu temple was raided by the Selangor Islamic authorities will have an uphill task in obtaining a certificate of renunciation from the Shariah Court because of red tape, lawyers and an interfaith group said today.
Responding to the predicament faced by Zarinah Abdul Majid, they said a Federal Court ruling had clearly stated that a Muslim who wanted to renounce Islam must get the certificate from the religious court before other documentation could be completed.
They added that Shariah courts in the past issued certificates but the applicant had to endure time-consuming bureaucracy.
The Malaysian Consultative Council of Buddhism, Christianity, Hinduism, Sikhism and Taoism (MCCBCHST), however, felt the woman's remedy was in the High Court.
Zarinah was arrested by the Selangor Islamic Religious Department (Jais) when she got married according to Hindu rites in a temple in Petaling Jaya on Sunday.
She was taken away by enforcement officers from the religious department, who were accompanied by policemen, after Zarinah's husband tied the "thali" around her neck, an act signifying they were married.
Full report at:
http://www.themalaysianinsider.com/malaysia/article/uphill-battle-for-hindu-bride-to-be-to-renounce-islam-say-lawyers-and-non-m#sthash.IswZyif0.dpuf
----------
Behind Church Closures, the Specter of Intolerance
Jun 4, 2014
Church officials in Cianjur, West Java, have reported local authorities to the national human rights commission for forcing shut seven churches there, the latest targets of a controversial government decree on how houses of worship may be set up.
"We are reporting the Cianjur district administration to Komnas HAM [the National Commission for Human Rights] over their forceful closure of seven churches in Cianjur," Oferlin Hia, the chairman of the Association of Churches in Cianjur, said on Monday.
"We just want to demand the protection of our rights as citizens," he added. "Clearly, the state has neglected our right to worship freely."
The affected churches are the Indonesian Pentecostal Church of Cianjur (GPdI); the Pentecostal Movement Church; the New Covenant Christian Church; the Bethlehem Pentecostal Movement Church; the Indonesia Bethel Church (GBI); the Full Gospel International Church; and the Assemblies of God Church (GSJA).
Full report at:
http://www.thejakartaglobe.com/news/behind-church-closures-specter-intolerance/
----------
Jais ready to help Muslim woman on religious status, says Khalid
Jun 4, 2014
The Selangor Islamic Religious Department (Jais) is ready to help a practicing Hindu who is registered as a Muslim to solve her religious status, Tan Sri Abdul Khalid Ibrahim today.
The Selangor Menteri Besar said the matter was decided in the state executive council meeting in Shah Alam today after it heard an explanation from a Jais official over the department's controversial raid of a Hindu wedding ceremony last Sunday.
Jais interrupted a Hindu wedding ceremony at a temple in Petaling Jaya on Sunday after receiving reports that 32-year-old bride Zarinah Abdul Majid could be a Muslim.
Checks on Zarinah's MyKad showed that she was Muslim and Jais officers took her away for questioning.
Full report at:
http://www.themalaysianinsider.com/malaysia/article/jais-ready-to-help-muslim-woman-on-religious-status-says-khalid#sthash.AMuKCI4K.dpuf
----------
Europe
PM Sounds Alarm Over 800 Made-In-France Jihadists
Jun 4, 2014
PARIS: France increased its estimate of the number of its nationals embroiled in Syria's civil war to more than 800 and warned that they pose an unprecedented security threat.
The warning, from Prime Minister Manuel Valls, followed the weekend arrest of Medhi Nemmouche, a French jihadist suspected of carrying out last week's Brussels Jewish Museum killings after spending a year fighting in Syria.
Valls told BFMTV that the numbers of French citizens or residents who have taken part in the fighting in Syria or were planning to do so now exceeds 800, including some 30 who have died in the conflict.
"We have never before faced a challenge of this kind," Valls said. "It is without any doubt the most serious threat we face.
"We have to ensure the surveillance of hundreds and hundreds of French or European individuals who are today fighting in Syria."
Nemmouche was arrested in Marseille on Friday carrying weapons similar to those used in the Brussels attack and a camera containing a short film in which he appears to claim responsibility for the assassin-style shooting.
Full report at:
http://www.arabnews.com/news/581326
----------
El-Sisi will 'do everything' for democracy, prosperous Egypt: UN chief
Jun 4, 2014
United Nations chief Ban Ki-moon said on Tuesday he trusts that Egypt's president-elect Abdel-Fattah El-Sisi will do everything possible to support the Egyptian people's aspirations for a "stable, democratic and prosperous Egypt."
In a statement issued by the UN Secretary-General's spokesperson, Ban asserted the UN's commitment to remain fully engaged in supporting Egypt.
"The Secretary-General notes that democracy is inextricably linked with the three pillars of the United Nations -- peace and security, development and human rights -- and urges Egyptian authorities to strengthen democratic institutions and practices," the statement noted.
Full report at:
http://english.ahram.org.eg/NewsContent/1/64/102886/Egypt/Politics-/ElSisi-will-do-everything-for-democracy,-prosperou.aspx
----------
Racism and Islam row debate at Northern Ireland Assembly
Jun 4, 2014
The Northern Ireland Assembly is currently debating the rise in racist attacks in Belfast and the ongoing political furore surrounding anti-Islamic comments.
A motion from Sinn Fein is calling on political parties to offer leadership in opposing racist discrimination and attacks.
It comes after a number of ethnic minorities were subjected to race attacks in recent weeks, and an ongoing controversy surrounding anti-Islamic comments, as well as Alliance MLA Anna Lo saying she will quit politics because of racism.
The controversy began last month when Pastor James McConnell held a church service during which he said he did not trust Muslims.
Full report at:
http://www.belfasttelegraph.co.uk/news/local-national/northern-ireland/live-racism-and-islam-row-debate-at-northern-ireland-assembly-30325953.html
----------
Islamic hate preacher praises terrorist group which kidnapped Nigerian schoolgirls
04 June, 2014
An Islamic hate preacher was tonight being investigated by police after a video showed him praising the terrorists who kidnapped more than 300 Nigerian schoolgirls.
Mizanur Rahman, 31, of Palmers Green, north London, claimed in his recorded rant posted online that killing non-Muslims was 'not necessarily a bad thing' - and praised terror group Boko Haram.
He said in the video: 'People want to make it out as though history began on the day these girls were taken from - sorry I should say these women - were taken from this high school in Nigeria.
'They didn't do to these girls what the Nigerian government had been doing to the Muslims all these years. 'They didn't rape anybody. They didn't torture. They didn't murder any of these girls.'
Full report at:
http://www.dailymail.co.uk/news/article-2642913/Police-probe-Islamic-preacher-praised-terrorist-group-Boko-Haram-kidnapped-Nigerian-schoolgirls.html#ixzz33iN7nMn1
---------------
Russian Envoy to UN: Russia Willing to Back Humanitarian Initiatives on Syria
Jun 4, 2014
Moscow is prepared to support any proposals aimed at improving the humanitarian situation in Syria, Russian Permanent Representative at the UN Vitaly Churkin said, adding that the situations in Syria and in Ukraine are different.
"I don't see any similarity. The situations are absolutely different," Churkin told journalists on Tuesday, Voice of Russia reported.
Moscow expects that the situation in Ukraine will be settled soon enough and that no force will be used there, he said.
"Humanitarian corridors may also be used in Syria. Russia would welcome anything that may be useful and would really be done for improving the humanitarian situation in Syria," he said.
Churkin also noted that possible negative effects of a new humanitarian resolution on Syria should be evaluated before discussing it. "We look at this situation in a comprehensive way: if you adopt the approach proposed, not only would Syria have to renounce sovereignty over its borders but the neighboring countries would also have to do so," Churkin stated.
Full report at:
http://english.farsnews.com/newstext.aspx?nn=13930314000138
----------
North America
Tourists Say 9/11 Museum's Al Qaeda Film Unfairly Portrays Islam
Jun 4, 2014
For months preceding the National September 11 Memorial Museum's grand opening in May, a seven-minute film to be installed at the museum, titled "The Rise of al Qaeda," had provoked strong condemnation from Muslim advocates for its references to Islam.
Such concerns were mostly dismissed by museum officials, who said they were "satisfied" with the film's "objective" message.
But less than two weeks into the museum's opening, the New York Times reports tourists are echoing clergy members' concerns over language in the film -- one that critics say misrepresents terrorism and Islam as one.
22-year-old Adrian Cabreros, who was visiting from San Francisco, told the Times the film "kind of gives Islam a bad vibe."
"I think they should have talked about Islam more, just so people understand that there is a difference between Islam and people who do terrorist attacks but who also happen to be Islamic," Cabreros told the Times while visiting from San Francisco. "They just sort of said that the people from Al Qaeda wanted to have a more Islamic state, but it was hard to distinguish, to separate Islam itself."
Full report at:
http://www.huffingtonpost.com/2014/06/02/911-museum-video-islam-muslims-al-qaeda_n_5432625.html
---------
US: Palestinian unity government not backed by Hamas
Jun 4, 2014
Despite Israeli accusation that US is sanctioning terrorism, the US insists that interim gov't ministers not affiliated with the terrorist organization.
Following the Israeli outcry against the United States' sanctioning of terrorism in their stated intention to establish ties with the Fatah-Hamas unity government, the US reiterated its position on the matter and insisted that the technocratic members of the interim Palestinian government were not affiliated with Hamas.
"No members of Hamas and no ministers affiliated with Hamas are part of this government," said US State Department spokesperson Marie Harf in a press briefing on Tuesday night.
"Most of the key cabinet positions, including the prime minister, the two deputy prime ministers, and the finance minister, are the same as in the prior government," she added. "They are all technocrats unaffiliated with any political party and are responsible for facilitating new elections."
Full report at:
http://www.jpost.com/Diplomacy-and-Politics/US-Unity-government-not-backed-by-Hamas-355278
----------
Presidential election in Syria is a disgrace, says US
Jun 4, 2014
The United States has said that the presidential election in Syria is a disgrace and its president Bashar al-Assad lost his credibility which he had before the elections. Polls for the Syrian presidential elections were held on Tuesday.
"Today's presidential election in Syria is a disgrace. Bashar al-Assad has no more credibility today than he did yesterday," the State Department Deputy Spokesperson, Marie Harf, told reporters at her daily news conference on Tuesday.
"Elections should be an opportunity for the people of a free society to be consulted and to play an important role in choosing their leaders. Instead, such a process was inconceivable today in Syria, where the regime continued to reject the courageous calls for freedom and dignity that started more than three years ago," she said.
Full report at:
http://indianexpress.com/article/world/middle-east-africa/presidential-election-in-syria-is-a-disgrace-says-us/
---------
US says looking forward to working with Egypt's Sisi
Jun 4, 2014
he United States said today it looks forward to working with the government of Egyptian president-elect Abdel Fattah al-Sisi, while urging him to carry out human rights reforms.
President Barack Obama will speak with the former army chief in the coming days, the White House said in a statement.
Washington looked forward to working with Sisi "to advance our strategic partnership and the many interests shared by the United States and Egypt," it said.
Sisi took a sweeping 96.9% of the vote in an election held nearly a year after he toppled president Mohamed Morsi, whose Islamist allies boycotted the polls.
The United States firmly refrained from calling the change of government a coup. That assessment would have forced it under US law to stop providing Egypt with billions in annual aid.
Full report at:
http://www.themalaysianinsider.com/world/article/us-looks-forward-to-working-with-egypts-sisi-says-white-house#sthash.QlWjNyuK.dpuf
---------
Arab World
Syrian jihadists using Twitter to recruit foreign fighters
Jun 4, 2014
Gaziantep, Turkey (CNN) -- It starts with a tweet. The recruit has been slowly and carefully chosen from his local community -- perhaps at a mosque, or gym, or cafe -- by an al Qaeda recruiter, aiming to send a Westerner to fight alongside radicals in Syria.
According to a defector from the ranks of the Islamic State in Iraq and Syria (ISIS) -- whose stronghold in the Syrian town of Raqqa punishes smokers and insists women wear a veil -- the jihadist group runs a series of internet welcome chat groups to begin the process of indoctrinating and filtering potential recruits from outside Syria.
The defector agreed to an interview with CNN but wanted to hide his identity, but his story was ratified by a witness and his extensive knowledge of life inside Syria under the ISIS. He fled Syria when two of his relatives were killed in the violence, and is now hiding in Turkey. He said that European recruits were more sought after and treated in a different class by the recruiters.
Full report at:
http://www.cnn.com/2014/06/03/world/meast/syria-defector-recruits-westerners/
---------
Syrian FM: Political Solution to End War 'Begins Today'
Jun 4, 2014
Syrian Foreign Minister Walid al-Muallem said the landmark presidential election held despite the war in Syria would end the three-year conflict in his country.
Al-Muallema says a political solution for the ongoing conflict in his country "begins today", Al-Alam reported.
He made the remarks at a polling station in the Prime Minister's residence in Damascus on Tuesday.
"Today the Syrian nation will decide who they want and only the Syrian nation can legitimize the next leader," al-Muallem said, adding, "The aggressive states demonstrated that they failed and are stuck at an impasse. Today, Syria begins to take the route of a political solution."
His remarks come as millions of Syrians are casting their ballots to choose a president for the next seven years, amid tight security.
Full report at:
http://english.farsnews.com/newstext.aspx?nn=13930314000084
---------
Islamic Engineers Hold Global Meet In Makkah
Jun 4, 2014
Experts and heads of the 21-member Federation of Engineering Institutions of Islamic Countries (FEIIC) met in Makkah recently.
The meeting was significant in view of the massive developmental projects currently being undertaken in the Kingdom's key cities, asserted Ghazi Saeed Alabasi, secretary-general of the Saudi Council of Engineers (SCE).
"The participants in the meeting discussed the standardization and adoption process of professional accreditation systems in the Kingdom and in the other participants' respective countries," Alabasi said.
A team of experts from Malaysia, Jordan, Egypt, Pakistan and Saudi Arabia was formed under a project called "Engineering Qualification, Accreditation and Professional System (EQAPS)," explained the secretary-general.
He noted that the meeting also came as part of a series of meetings initiated for the purpose of standardizing the accreditation system in Islamic countries to help engineering graduates attain recognition.
Full report at:
http://www.arabnews.com/news/581651
---------
Suicide attack kills eight in Baghdad
Jun 4, 2014
BAGHDAD: A suicide attack west of the capital, Baghdad, has killed eight people, including two women and wounded 14, Iraqi officials told AP on Wednesday.
A police officer said that the bomber blew himself up the previous night among a group of anti-militant Sunni militiamen outside the city of Ramadi.
The militiamen were patrolling a camp for families who had fled the months-long fighting in Ramadi between militants from an Al Qaeda spin-off group and government forces allied with Sunni tribal fighters.
It was unclear if the bomber had come from the camp or followed the militiamen into it.
The police officer says: "Two militiamen, three guards and three women died in the explosion."
Full report at:
http://www.dawn.com/news/1110531/suicide-attack-kills-eight-in-baghdad
---------
Suicide Attack Kills Anti-ISIL Leader, Iraqi Officers in Anbar
Jun 4, 2014
One of the leaders of Iraq's pro-government tribal fighters was killed late on Tuesday among 18 other by three suicide attacks in western Anbar province's capital of Ramadi.
bomb attack (archive)Mohammad Khamis Abu Risha was touring a checkpoint manned by his fighters in Ramadi when a suicide bomber hugged him, said one of his men. Four of Abu Risha's bodyguards were killed in the blast, the source added.
"He used to routinely visit us to give us directions and duties.... Tonight we were waiting for him at our checkpoint," said the militant, who asked not to be identified for security reasons. "But we suddenly heard an explosion in the preceding checkpoint. We rushed to the scene and he was killed. His body was mutilated beyond recognition."
http://www.almanar.com.lb/english/adetails.php?eid=154779&cid=23&fromval=1&frid=23&seccatid=24&s1=1
---------
Terrorist Attacks Claim Lives of 4 Citizens in Damascus, Its Countryside
Jun 4, 2014
Four Syrian citizens were killed and 29 others were injured in militants' mortar attacks on Damascus and its countryside.
A source at the Police Command told SANA on Tuesday that a mortar shell fell on al-Abbassiyeen area, claiming the lives of two citizens, one of them was a woman.
The source added that another woman was killed and 5 others were injured by a shell landed in the area surrounding the Ministry of Finance.
It pointed out that another citizen was killed and 3 others were injured by a mortar shell fell on al-Salehiyeh Market, causing material damage to the site.
http://english.farsnews.com/newstext.aspx?nn=13930314000090
---------
From the barracks to Egypt's presidency: El-Sisi's journey towards Ittihadiya
Jun 4, 2014
Egypt's Presidential Elections Commission (PEC) announced on Tuesday that former military chief Abdel-Fattah El-Sisi is Egypt's new president after winning a landslide victory in the presidential race which was held on 26-28 May.
El-Sisi garnered a record of nearly 24 million votes – or almost 97 percent – while his sole contender, the leftist politician Hamdeen Sabahi, collected 755,000 votes or 3 percent of the tally. In 2012, Mohamed Morsi got 13 million votes to become Egpt's first president after Jan 25 revolution.
This resounding victory comes on the heels of two years full of twists and turns in the life of the general.
Although El-Sisi had long been a leading member of the military's highest circles, it wasn't until about two years ago, in August 2012, that he began to gain broader public attention, when he was appointed defence minister by then-president Mohamed Morsi.
Full report at:
http://english.ahram.org.eg/NewsContent/1/64/102828/Egypt/Politics-/-From-the-barracks-to-Egypts-presidency-ElSisis-jo.aspx
---------
ISIL Terrorists Kidnap Dozens of Kurdish Students in Syria's Aleppo
Jun 4, 2014
Al-Qaeda-linked terrorists kidnapped dozens of Kurdish students in Aleppo province in Northern Syria.
The Kurd students were kidnapped by the so-called Islamic State of Iraq and the Levant (ISIL), near the city of Manbij while they were on their way to a school in a nearby city to take part in their final examinations, F ars News Agency reported.
The young students are currently being held in a detention center in the ISIL-held city of Manbij, North of Aleppo.
The Assembly of Kurdish Lawyers expressed in a statement their concern about the fate of the kidnapped students, appealing to the civil forces in Manbij area, the political councils of the Syrian opposition, the Syrian Red Crescent as well as international and local commissions of human rights organizations to intervene in order to release the students.
Full report at:
http://www.almanar.com.lb/english/adetails.php?eid=154724&cid=23&fromval=1&frid=23&seccatid=20&s1=1
---------
Arabs mostly give Obama negative 2014 report card
4 June 2014
Arabs believe the Obama administration has little commitment to a Palestinian state, should not intervene militarily in Syria and mostly failed to support Egypt's interim leaders, a new poll released Tuesday showed.
Five years after President Barack Obama's landmark speech in Cairo aimed at resetting ties with the Arab world, the poll revealed that while support for Obama, which had fallen in recent years, is on the rise again among most Arabs it still remains below an average of 50 percent.
Zogby Research Services polled about 7,000 people across six nations as well as the Palestinian territories in May for its annual survey, focusing on some of the most pressing issues facing the Arab world in 2014, including the negotiations to rein in Iran's nuclear program, which most broadly supported.
Full report at:
http://english.alarabiya.net/en/perspective/features/2014/06/04/Arabs-mostly-give-Obama-negative-2014-report-card.html
---------
India
Jamaat e Islami Hind holds sessions to explore post-poll scenario
Jun 4, 2014
Mumbai: Despite several attempts to the contrary, NDA received a thumping majority in the recent elections and has been successful in forming a stable Government at the Centre. Sensing the apprehension and sense of dejection among the Muslims, Jamaat e Islami Hind, Mira Road organized a special lecture tonight to present an expert analysis and provide the roadmap ahead.
Social activist Muhammad Aslam Gazi, Secretary JIH Maharashtra (National Issues) reassured the gathering that going by the vote share of the winning party it becomes clear that a very small minority wanted them in power. Moreover, their verdict was for development, not hindutva. Development was used as eyewash and a false propaganda tool to lure the youth and educated class. The division of secular votes also propelled the NDA in lead position. On a positive note, he pointed out that the NDA has fallen short of the ¾ mark in Parliament, which is required to overhaul the Constitution.
As for the roadmap, he laid down the following points:
1. Muslims should cooperate with secular Hindus to keep fascist forces away henceforth.
2. Secular parties should be convinced to help and support each other, so that their votes are not divided.
3. A strict watch needs to be kept on the Government's moves and actions.
4. Counter the fascist propaganda of development by means of statistics and proofs.
5. Utilize the large sum of Zakat collected every year in concerted efforts of community development and reforms.
Full report at:
http://twocircles.net/2014jun03/jih_holds_sessions_explore_postpoll_scenario.html?utm_source=feedburner&utm_medium=email&utm_campaign=Feed%3A+Twocirclesnet-IndianMuslim+%28TwoCircles.net+-+Indian+Muslim+News%29#.U4-ihHJdU4U
---------
AMU boy Wasiqur Rahman is Bihar MBBS topper
Jun 4, 2014
Aligarh: A feather added into the cap of prestigious Aligarh Muslim University (AMU), Aligarh as Wasiqur Rahman became the topper of Bihar Medical Exam conducted by Bihar Combined Entrance Competitive Examination Board (BCECEB).
A resident of Muzaffarpur district in Bihar, Wasiqur has passed out 10+2 examination in 2014 with 91 percent marks from Aligarh Muslim University.
Wasiqur has made the Alig fraternity proud in the country as well as abroad with his achievement.
At the meantime, Wasiqur has emerged as a role model for the M.B.B.S aspiring students from the state of Bihar and AMU.
Full report at:
http://www.ummid.com/news/2014/June/03.06.2014/amu-boy-mbbs-topper.html
---------
Pakistan
Cross-border militant attacks kill four soldiers in Bajaur
Jun 4, 2014
PESHAWAR: At least four soldiers were killed and four others injured Wednesday when militants from the Afghan side of the border attacked a military post in Bajaur tribal region, military officials said.
The military's media wing, the Inter-Services Public Relations (ISPR), confirmed that the attack took place on Manozangal and Moukha top checkposts and was repulsed by security forces.
"In Bajaur region during the early morning today, terrorists from across the border fired on Pakistani border posts," said a military source. "Four soldiers were martyred and four are injured.
Sources said this was the third cross-border attack by militants since May 25.
"This is the third incident of cross-border attacks and firing since May 25 from Afghanistan," said one source.
Moreover, intelligence sources suspect that Tehrik-i-Taliban Pakistan (TTP) chief Mullah Fazlullah-led militants based in Kunar and Nuristan along with factions based in Bajaur and Mohmand tribal areas may be involved in the cross-border attacks along with what they described as foreign elements.
Full report at:
http://www.dawn.com/news/1110515/cross-border-militant-attacks-kill-four-soldiers-in-bajaur
---------
'Efforts afoot to bring ailing Altaf back home'
Jun 4, 2014
LONDON/KARACHI – Nadeem Nusrat – one of the members of the Coordination Committee of the Muttahida Qaumi Movement (MQM) – has said that Altaf Hussain is ailing and efforts are being made to bring him back home.
It should be mentioned here that following the arrest of Altaf Hussain by Britain's Scotland Yard Police, protest demonstrations are in progress in different parts of Sindh province including Karachi. The MQM's supporters hit the streets to express solidarity with Altaf Hussain.
But, Nusrat urged the masses to maintain their calm, adding there was no charge at all under which Altaf Hussain was confined. "We have, thus far, told as much that British police seeks to interrogate Altaf Hussain; but, he was not formally arrested under any offence or charge," he asserted.
Full report at:
http://www.dailytimes.com.pk/national/04-Jun-2014/efforts-afoot-to-bring-ailing-altaf-back-home
---------
Two military officers among five killed in blast near Rawalpindi
Jun 4, 2014
RAWALPINDI: Two military officers were killed on Wednesday when a suicide bomber hit their twin cabin vehicle on Fateh Jang road near Rawalpindi, Director-General Inter-Services Public Relations (ISPR) Asim Bajwa said.
Zahir Shah and Arshad, both Lieutenant-Colonels were killed in the blast, Bajwa said on micro-blogging website Twitter.
Three civilians also died in the attack.
The attack was carried out when the officers were on their way to a military installation near Fateh Jang at 9: 20 am, military sources told Dawn.
Initial reports said the blast was carried out by a suicide bomber.
Military helicopters were called in at the spot soon after the attack to move the dead and injured to a hospital.
Full report at:
http://www.dawn.com/news/1110516/two-military-officers-among-five-killed-in-blast-near-rawalpindi
---------
Karachi in lockdown after Altaf arrested in London
Jun 4, 2014
KARACHI/ISLAMABAD: MQM chief Altaf Hussain was arrested in London Tuesday on suspicion of money-laundering as thousands of people in his home city of Karachi staged a sit-in calling for his release.Hussain's arrest, confirmed by Muttahida Qaumi Movement (MQM) officials in London, has sparked fears of a major backlash there.British police said only that a 60-year-old man had been detained at a residential address in northwest London on suspicion of money-laundering, and that officers were searching the building.A spokesman said the man was escorted to a pre-arranged hospital appointment during the day and remained in custody late on Tuesday.A few hours later, the MQM announced a major protest and said they would block the city's main MA Jinnah thoroughfare until Hussain's release."Everyone should come to endorse his or her love and solidarity to Altaf Hussain," said Haider Abbas Rizvi, a senior party official.Around 4,000 people had reached the Numaish Chowrangi intersection by 8:00 pm according to an AFP reporter at the scene, with many more expected to join them.Panic had earlier gripped the sprawling metropolis of 20 million soon after local television broadcast the news. Angry protesters torched at least a dozen vehicles, according to officials.Many residents rushed to stock up on groceries in anticipation of a prolonged shutdown, while office workers left for home early, clogging up roads."All shops and markets are shut. Even small cigarette shops are closed," Mohammad Moosa, a resident of Karachi, told Reuters. Full report at:
http://www.dailytimes.com.pk/national/04-Jun-2014/karachi-in-lockdown-after-altaf-arrested-in-london
---------
Altaf's arrest a sensitive matter: Zardari
June 04, 2014
ISLAMABAD - Former President Asif Ali Zardari on Tuesday said that the arrest of Altaf Hussain is a sensitive matter because he is a leader of a mainstream political party of Pakistan. "The UK is known for its rule of law as well as its traditions of protecting human rights," said the co-chairman PPP in a statement. Demanding complete justice, he said that process needs to be done in a transparent manner, protecting Hussain's fundamental rights to life, dignity and fair trial as well as fulfilling all international laws of human rights.
http://www.nation.com.pk/national/04-Jun-2014/altaf-s-arrest-a-sensitive-matter-zardari
---------
URL: https://www.newageislam.com/islamic-world-news/new-age-islam-news-bureau/turkey's-religious-body-urges-muslim-world-to-'update-itself'-and-'engage-in-self-criticism'/d/87356