New Age Islam News Bureau
17 Aug 2018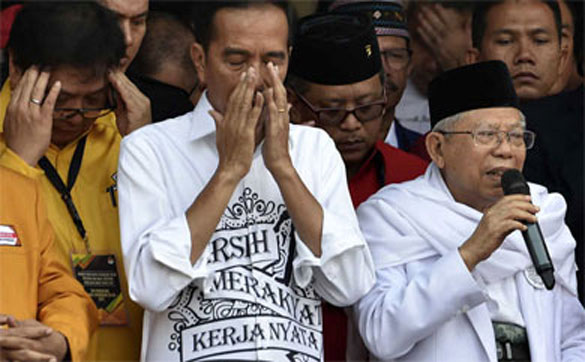 President Joko 'Jokowi' Widodo and Ma'ruf Amin. (Antara Photo/Puspa Perwitasari)
------
• Malaysia PM Mahathir's Approval Rating At 71% But Concern Over Race And Religion Growing: Survey
• Fazl Calls On Zardari to Bridge Differences between Opposition Parties
• Khalid Bin Salman: We Won't Allow Houthis To Become Another Hezbollah
• UP Cleric Stops Children from Singing National Anthem, Held
--------
Arab World
• Turkey Using Civilians as Human Shield for Terrorists in Idlib
• 30 Ankara-Backed Militants Killed, Wounded in Afrin
• Syria's president, wife visit militant tunnel turned into art gallery
• Saudi Minister Abdullatif Al-Sheikh: Muslim Brotherhood Harmed Islam
• Egypt court releases satirical blogger Islam Refeai on bail
• Tens of Civilians Kidnapped by Turkish Army in Afrin
• Dozens of Terrorists Killed, Wounded in Explosions, Infighting in Idlib
• Saudi Arabia contributes $100 mln to Global Coalition fighting ISIS
• Several terrorists killed in Iraqi air raids on Daesh positions in Syria
Southeast Asia
• In just 100 days, Pakatan government makes itself felt in the region
--------
Pakistan
• Fazl Calls On Zardari to Bridge Differences between Opposition Parties
• FO Rejects Charges Pakistanis Aided Taliban in Ghazni
• Alliance unravels as PPP refuses to vote for Shahbaz
• IHC advises PTI to open its accounts to public scrutiny
• FC foils terror bid, arrests four suspects in Balochistan
• Army chief confirms death sentences to 15 terrorists
• UN hails Pakistan for 'extensive' counter-terrorist operations
--------
Mideast
• Khalid Bin Salman: We Won't Allow Houthis To Become Another Hezbollah
• Israeli Defense Minister and Qatari Envoy Met Secretly To Discuss Gaza
• Pompeo forms 'Iran Action Group' for post-nuke deal policy
• UNRWA schools to open on time despite US freeze
• Gaza massacre probe: Human rights advocates accuse Israeli military of whitewash
--------
India
• UP Cleric Stops Children from Singing National Anthem, Held
• Hindu Mahasabha Sets Up 'First Hindu Court' After AIMPLB's Proposal To Open 'Shariat Courts' In All Districts
• Want to help India, Pakistan open talks, says Saudi envoy
• Imran Khan, Sheikh Hasina pay tribute to Vajpayee
--------
Europe
• Qatar: France's Generous Financer of Mosques
• Birmingham Mosques Attacked With Catapults during Evening Prayers
• Building Relationships and Sharing Christ in Predominantly Muslim Dearborn
• Russia says Syria base attacked by 'sophisticated' drones
• UK: Conservative party targets Muslim peer
--------
South Asia
• Gunmen Launch Attack on Intelligence Training Centre In Kabul
• B'desh Detains Dozens in Student Protest Crackdown
• 7 suicide bombers arrested by the NDS operatives in Jalalabad city
• Taliban militants suffer heavy casualties in US airstrikes in Helmand
• Murders leave Rohingya camps gripped by fear
--------
Africa
• Somalia: Compromised Police to Blame for Al Shabaab Attacks, Says Mandera MP
• Displaced Muslim teens learn computer skills at Catholic mission
• In heart of West Africa, Burkina Faso faces rising extremism
• Nigeria disputes UN's claim of ransom payment to terrorists
• Al-Shabaab militants blamed for wave of killings in Somalia
--------
North America
• GOP Congressman Appears On Anti-Muslim Radio Show
• Time for Trump to join Arab states, apply pressure on Qatar
• US threatens more Turkey sanctions if pastor not freed
• Further Taliban assaults likely in weeks ahead — US Defense chief Mattis
• US unveils action group to run policy on 'malign' Iran
Compiled by New Age Islam News Bureau
URL: https://www.newageislam.com/islamic-world-news/turkey-using-civilians-human-shield/d/116136
--------
Turkey Using Civilians as Human Shield for Terrorists in Idlib
Aug 16, 2018
The Arabic-language website of Sputnik news agency reported on Thursday that the safe corridor which was due to open in Abu Zohour region in Southeastern Idlib for the civilians' passage from the terrorist-occupied regions remained closed after Turkey showed a green light to the militants to attack it.
It added that the Syrian army's decision was called off after the Turkish officers held a meeting with commanders of the terrorist groups in Hama and Idlib near the town of Murak in Northern Hama, forcing civilians to remain in their homes.
Based on the report, the Turkish army has also declared that it will block any military operations in the province and protect the regions occupied by al-Nusra Front (Tahrir al-Sham Hay'at or the Levant Liberation Board), the ISIL, Horas al-Din and other terrorist groups.
Meantime, a Syrian field source said that the decision was called off after intelligence showed Turkey's green light for the ISIL and al-Nusra's suicide attacks against the passageway, adding that Ankara is trying to prevent military operations in the region by using civilians as human shield to protect the terrorists.
The Russia-run Sputnik news agency reported on Wednesday that the Russian and Syrian forces were making final coordination on a major offensive against terrorists in Idlib.
The Arabic-language website of Sputnik quoted a military source as saying that the Russian and Syrian armies have been coordinating to launch the long-waited assault in Idlib, adding that a vast joint reconnaissance operation has been underway by Russian and Syrian experts in the last few days as the zero hour is arriving for the operation in Northwestern Syria.
The Arabic Sputnik further said that monitoring movements and gatherings of terrorists in the villages and towns in Southeastern Idlib has been among the joint reconnaissance operation conducted by the Russian and Syrian forces.
In the meantime, the Syrian army artillery units shelled heavily the positions of Tahrir al-Sham Hay'at (the Levant Liberation Board or the Al-Nusra Front) in the region, destroying their bases and positions, the website added.
http://en.farsnews.com/newstext.aspx?nn=13970525000353
--------
Human Rights Watch Concerned About Jokowi's Running Mate Choice
August 12, 2018
Jakarta. President Joko "Jokowi" Widodo's choice of Ma'ruf Amin as running mate in next year's election has been criticized by Human Rights Watch.
"[The choice] raises questions about Jokowi's commitment to improve human rights protection for all Indonesians," the New York-based organization said in a statement issued on Friday (10/08).
The organization said Ma'ruf has played a pivotal role in fueling discrimination against religious and gender minorities in Indonesia.
Ma'ruf, 75, is highly respected among traditional Muslims in Indonesia, and has been chairman of the Indonesian Ulema Council (MUI) since 2015.
MUI is the country's top Muslim clerical body, comprising of all registered Muslim organizations, including Nahdlatul Ulama (NU) and Muhammadiyah. The council serves as a central authority, which issues fatwas and provides recommendations on the issuance of halal certificates.
Ma'ruf is also the supreme leader of NU, in 1971-1982 was a lawmaker with the United Development Party (PPP), and in 1997-2004 with the National Awakening Party (PKB).
According to Human Rights Watch, Ma'ruf has helped draft and issue discriminatory fatwas against religious minorities, including Ahmadis and Shias, and the LGBT community.
Jokowi said Ma'ruf was chosen because of his religious authority.
"I think we complement each other, in terms of nationalism and religion," the president said on Thursday.
Ma'ruf was one of the key expert witnesses in a controversial blasphemy trial which sent former Jakarta Governor Basuki "Ahok" Tjahaja Purnama to prison last year. He also signed an MUI document stating that Ahok had committed blasphemy.
"Ma'ruf Amin has already shown he has no hesitation in putting vulnerable minorities at risk," said Phelim Kine, Human Rights Watch deputy director of Asia Division.
During his first presidential race in 2014, Jokowi promised to address pressing human rights issues and resolve past rights violations.
"Jokowi will need to prove that he values his obligation to defend the rights and dignity of all the Indonesian people above pandering to extreme intolerance for short term political gain," Kine said.
http://jakartaglobe.id/news/human-rights-watch-concerned-jokowis-running-mate-choice/
--------
Fazl calls on Zardari to bridge differences between opposition parties
Aug 17, 2018
Jamiat Ulema-e-Islam-Fazl (JUI-F) chief Maulana Fazlur Rehman called on Pakistan People's Party (PPP) Co-chairman and ex-president Asif Ali Zardari to bridge differences between the opposition parties ahead of the election of prime minister in National Assembly, media reports said.
The meeting took place at Zardari House on Thursday where both leaders discussed PPP's decision of remaining politically inactive in the PM election. According to reports, the PPP lawmakers will attend the NA session on Friday, but refrain from taking part in the PM election process.
The PPP lawmakers will vote neither for PML-N President Shehbaz Sharif nor PTI Chairman Imran for the PM slot.
The National Assembly will elect the country's 22nd prime minister on Friday. Both the nomination papers of Imran Khan and Shehbaz Sharif were accepted on Thursday.
Speaking to reporters prior to the PPP meeting, Khursheed Shah said his party had reservations over Shehbaz being the candidate for prime minister. Shah stressed that if the PML-N does not change its PM candidate then the PPP will decide accordingly.
"We have told PML-N of our reservations, we are working on [resolving it]. [But] if they don't change their candidate then we will [make our own] decision," he said.
PML-N leader Khawaja Saad Rafique claimed that the PPP backtracked upon former president Asif Ali Zardari's orders.
He said that earlier the PPP had agreed upon the PML-N candidate's name. "We don't blame Zardari sb for anything and are aware of his troubles," said the former federal minister.
https://www.pakistantoday.com.pk/2018/08/17/fazl-calls-on-zardari-to-bridge-differences-between-opposition-parties/
--------
Khalid bin Salman: We won't allow Houthis to become another Hezbollah
16 August 2018
Saudi Arabia's ambassador to the US Prince Khalid bin Salman said on Thursday that the Kingdom won't allow the Houthi militias to be another Hezbollah, in reference to Lebanese pro-Iranian militia, stressing that this is what the Islamic Republic of Iran is seeking.
Prince Khalid said, in a series of tweets with videos showing evidence about Hezbollah support for the Houthis, that the Iranian regime, in addition to providing the Houthis with weapons and missiles, is also supporting them with experts from Hezbollah to train them in order to continue their war against the Yemeni people.
The Ambassador further added that "Their presence in Yemen confirms the Iranian regime has subcontracted the Houthi militia to be another one of its proxies; Hezbollah. It proves the regime's proxies work in tandem to undermine regional stability and prolong the suffering of the Yemeni people."
Prince Khalid added that a previous operation launched by a special unit in the Arab coalition, revealed evidence that Hezbollah is operative in Yemen, advising the Houthis to use deception tactics, such as using water tanks to store weapons, and smuggling fighters through civilian vehicles, endangering the lives of Yemeni civilians.
https://english.alarabiya.net/en/News/gulf/2018/08/17/Saudi-Arabia-contributes-100-mln-to-Global-Coalition-fighting-ISIS.html
--------
UP Cleric Stops Children from Singing National Anthem, Held
Aug 17, 2018
GORAKHPUR: A Muslim cleric has been arrested in Uttar Pradesh's Maharajganj for stopping children in a madrassa from singing the National Anthem. The incident occurred after flag hoisting at Arabia Ahle Sunnat Anware Taiba Girls' College under Koluhi police station on Independence Day.
A teacher at the madrassa protested the cleric's action, shot a video of the incident and put it on social media. As the video went viral, a resident complained to the police. Subsequently, a case was registered against cleric Mohammad Junaid Ansari and two unidentified persons. Ansari was arrested and sent to jail. The case against Ansari and the two unidentified persons was filed under sedition charges, criminal law amendment Act, IT Act and for insult to national honour.
According to the police, Ansari was an outsider at the madrassa. After flag hoisting by principal Faizlurrehman, Ansari came up and stopped children from singing the National Anthem.
In the video, he can be seen asking children to refrain from singing Jana Gana Mana. He even tells them that singing it is not allowed in Islam. The principal does not contest Ansari's claims. Science teacher Sunil Mani Tripathi, who shot the video, can be heard protesting against Ansari's action.
Koluhi ASP Ashutosh Tripathi said the case had been filed on the complaint of one Umesh Yadav. While Ansari had been arrested, investigations into the role of the other two were on, he added. District minority officer Prabhat Kumar, who was asked by DM Amar Nath Upadhyay to investigate the case, said: "Ansari was not associated with the madrassa. After the incident, the National Anthem was sung.
https://timesofindia.indiatimes.com/india/up-cleric-stops-children-from-singing-national-anthem-held/articleshow/65432430.cms
--------
Arab World
30 Ankara-Backed Militants Killed, Wounded in Afrin
Aug 16, 2018
The Kurdish-language Hawar news website quoted the Kurdish units as saying on Thursday that they had detonated two roadside bombs on the way of a convoy of the Turkish army and Ferqat al-Hamzeh terrorist group in Trendeh road.
They added that 10 Turkish army forces and affiliated militants were killed and over 20 others were injured in the operations.
After the attack, the reconnaissance drones of the Turkish army flew over the region for 6 hours.
Afrin is still the scene of clashes between the Kurdish forces and the Turkish army despite being occupied for several months by Ankara.
Last week, Hawar news had reported that a number of Turkish soldiers and Ankara-backed militants, including a senior commander, were killed in the Kurdish militia attacks in Afrin region in Northwestern Aleppo.
It added that Abdul Razaq al-Bokour, a commander of Ankara-backed militants, was killed in the Kurdish units' bomb attack on the Turkish troops and allied militants in Mobata region in Afrin.
"The Kurdish militias' operation against the Turkish troops and allied militants has been codenamed as Olive Rage," it said.
In the meantime, a bomb-laden motorcycle went off on a road to Kafr Jinah in Shera region that is usually patrolled by the Turkish forces and allied militants, killing a Turkish soldier and injuring a militant.
http://en.farsnews.com/newstext.aspx?nn=13970525000310
--------
Syria's president, wife visit militant tunnel turned into art gallery
Aug 16, 2018
Syrian President Bashar al-Assad and his wife, Asma al-Assad, have made a surprise visit to an underground tunnel in the liberated town of Jobar, which was previously used by terrorists, but later turned into a small art gallery.
According to a report on Thursday by the official SANA news agency, President Assad and Syria's first lady toured "one of the tunnels of death" dug by the Takfiri terrorists in Jobar, a town on the eastern suburbs of the capital, Damascus.
Following Jobar's liberation by the Syrian army, a group of artists decorated one of those tunnels with sculptures and carvings.
The carvings depict the sacrifices of the national Syrian army in its counterterrorism battles as well as the ancient and modern history of Syria.
During the visit, Assad hailed the artists for their initiative, saying that destruction, darkness and death are the culture of terrorists, while construction, light, life and art are "our own, " SANA said.
"Every sculpture on these walls reminds us of the heroes of the Syrian Arab Army who fought valiantly to liberate this holy soil, which is mixed with the blood of our martyrs and wounded," the Syrian leader added.
It took 25 days for the artists to turn the tunnel, which had been dug under a school at a depth of nine meters, into a museum by cleansing the place of the remnants of terrorists.
Full report at:
https://www.presstv.com/Detail/2018/08/16/571383/Syria-Assad-Wife-Tunnel
--------
Saudi minister Abdullatif Al-Sheikh: Muslim Brotherhood harmed Islam
16 August 2018
Saudi minister of Islamic Affairs, Call and Guidance Abdullatif bin Abdulaziz al-Sheikh stressed that Muslim Brotherhood inflicted injustice and harmed Islam and Muslims, as it is a proof of destruction and devastation in some of the neighboring countries.
In a press conference he held in Mina after a tour checking preparations for Hajj performance, the minister said: "The Muslim Brotherhood tried to enter Saudi Arabia to ignite sedition, but God protected us, as citizens could sense and knew the evil advocates who mislead people. Our scholars united with the leadership and the citizens, and we were able to move beyond that stage to stability and maintain unity."
Al-Sheikh added: "We have suffered in the past from some of the advocates of the call "Dawah" who took the platforms in some places, and passed on extremist ideas, as well as the radical proposal contrary to the Quran and Sunna, inciting people and harming them."
The Saudi minister stressed that no one can politicize the Hajj and take it away from its Sharia'a goals and Saudi Arabia won't allow that.
Al-Sheikh added that every Muslim should defend this holy land and that what Saudi is doing for the Two Holy Mosques and other holy sites is heartwarming.
He said that the attack on Saudi Arabia is an attack on Islam and the correct doctrine, explaining that those who deny the Kingdom's efforts to serve the guests of GOD, are either a hateful enemy or someone ignorant.
Full report at:
https://english.alarabiya.net/en/News/gulf/2018/08/16/Saudi-minister-Abdullatif-Al-Sheikh-Muslim-Brotherhood-harmed-Islam-.html
--------
Egypt court releases satirical blogger Islam Refeai on bail
16 Aug 2018
A Cairo Criminal court upheld on Thursday the decision to release satirical blogger Islam Refeai on bail pending investigation.
Refeai was released by the court on EGP 2000 bail on Wednesday but the prosecution appealed the decision.
A video editor known in the Egyptian social media as "Khorm or 7orm", Refeai is popular for his (+18) satirical posts.
He was arrested in November 2017 by security forces and charged with spreading false news and joining the banned Muslim Brotherhood.
http://english.ahram.org.eg/NewsContent/1/64/309779/Egypt/Politics-/Egypt-court-releases-satirical-blogger-Islam-Refea.aspx
--------
Tens of Civilians Kidnapped by Turkish Army in Afrin
Aug 16, 2018
The Kurdish-language Hawar news quoted local sources in Afrin in Northern Aleppo as saying on Thursday that the Turkish army and militants supported by Ankara have kidnapped over 20 residents of Afrin, including women and the elderly, in Rajou and Shara regions in the past two days.
They added that the kidnapped people have been taken to unknown places, noting that the terrorists receive huge amounts of money up to 15mln lira to free them.
The sources said that the Ankara-backed militants still continue plundering civilian properties, adding that they have so far stolen 300 bulldozers, 220 vehicles and thousands of motorcycles of Afrin residents.
The report said the Turkish army forces and Ahrar al-Sharqiyeh terrorists have also set fire to the farms in the village of Khalalka in Bolboleh region.
In a relevant development in Afrin earlier today, Hawar news quoted the Kurdish units as saying that they had detonated two roadside bombs on the way of a convoy of the Turkish army and Ferqat al-Hamzeh terrorist group in Trendeh road.
They added that 10 Turkish army forces and affiliated militants were killed and over 20 others were injured in the operations.
After the attack, the reconnaissance drones of the Turkish army flew over the region for 6 hours.
Full report at:
http://en.farsnews.com/newstext.aspx?nn=13970525000639
--------
Dozens of Terrorists Killed, Wounded in Explosions, Infighting in Idlib
Aug 16, 2018
Field sources in Northern Syria reported on Thursday that several massive explosions occurred in Tahrir al-Sham's weapons and ammunition caches near al-Mohafez Palace in Idlib city.
They added that after the explosions, severe infighting also erupted among the terrorist groups in the city, noting that tens of militants were killed and wounded in the clashes.
The cause of the huge explosions is still unidentified.
Also reports from Eastern Idlib said that two bombs were detonated by unknown assailants in one of Tahrir al-Sham's checkpoints on Saraqib-Taftnaz road, killing and wounding 8 terrorists.
In a relevant development on Sunday, over 40 terrorists of Tahrir al-Sham as well as a number of civilians were killed in a huge blast at the terrorist group's arms depot in Idlib province.
A huge explosion at a large depot of arms and ammunition of Tahrir a-Sham in the town of Sarmada near Bab al-Hawa border-crossing with Turkey destroyed fully two large six-story buildings in the region, killing 40 terrorists and an unspecified number of civilians. Dozens more have also been wounded in the explosion.
Local sources said that the death toll will rise as a number of people are still under the debris.
There is yet no further report on the cause of the incident.
Full report at:
http://en.farsnews.com/newstext.aspx?nn=13970525000582
--------
Saudi Arabia contributes $100 mln to Global Coalition fighting ISIS
17 August 2018
Saudi Arabia has contributed $100 million to the Global Coalition to Defeat ISIS, more specifically supporting stabilization projects in areas liberated from the terrorist group in northeast Syria.
This is the largest contribution to the coalition to date for these areas in specific, and it is an implementation of the pledge made by Saudi Foreign Minister Adel Al Jubeir during the July 12, 2018 Global Coalition Ministerial Conference in Brussels, which was hosted by US Secretary of State Mike Pompeo.
This substantial contribution will play a critical role in the coalition's efforts to revitalize communities such as Raqqa, that have been devastated by ISIS terrorists.
The funds will focus on projects to restore livelihoods and essential services in the areas of health, agriculture, electricity, water, education, transportation (key roads and bridges), and rubble removal.
In accordance with the Saudi Arabia's contributions to date, this additional $100 million will help facilitate the return of displaced Syrians, and help ensure that ISIS does not reemerge to threaten Syria, its neighbors, or plan attacks against the international community.
This contribution is a continuum of the Kingdom's efforts in the coalition, including, but not limited to, co-leading the Counter Finance Working Group and serving as a key member of the Communications and Stabilization Working Groups, as well as, flying the second highest number of missions in Syria after the United States.
The contribution represents the kingdom's close partnership with the US and the Global Coalition to Defeat ISIS, which aims to promote a shared responsibility among all coalition partners to face regional threats together.
Full report at:
https://english.alarabiya.net/en/News/gulf/2018/08/17/Saudi-Arabia-contributes-100-mln-to-Global-Coalition-fighting-ISIS.html
--------
Several terrorists killed in Iraqi air raids on Daesh positions in Syria
Aug 16, 2018
The Iraqi Air Force has attacked the "operations room" of Daesh in neighboring Syria, killing several militants plotting to carry out a terrorist operation in Iraq in coming days, the Iraqi Interior Ministry has announced.
According to the Interior Ministry's Security Media Center, the air raids completely destroyed a Daesh task force working on a plan to launch a terrorist attack inside the Iraqi territory and target civilians using suicide vests within the next few days.
Several terrorists were killed in the "successful" airstrikes carried out by the Iraqi F-16 fighter jets on Thursday, the ministry's statement said.
The airstrikes came a month after the Iraqi artillery fire killed a Daesh ringleader and several other militants in an attack against the Takfiris' positions in the Syrian border region of Sousa.
Since last year, the Iraqi military has been conducting air raids on Daesh positions in Syria with the approval of the Syrian government.
Baghdad has already announced it is working closely with the government of Syrian President Bashar al-Assad to monitor and target terrorist positions.
Back in April, Iraqi Prime Minister Haider al-Abadi announced that his country's security forces would chase down Daesh militants in the entire region, not just in Iraq.
The Iraqi airstrikes are reportedly launched based on the intelligence retrieved from the security coordination committee formed between Iraq, Syria, Iran, and Russia years ago.
Full report at:
https://www.presstv.com/Detail/2018/08/16/571399/Iraq-airstrike-Daesh-Syria
--------
Southeast Asia
Malaysia PM Mahathir's approval rating at 71% but concern over race and religion growing: Survey
15 Aug 2018
KUALA LUMPUR: Malaysians have given Prime Minister Mahathir Mohamad a 71 per cent approval rating, but concern about ethnic and religious issues has risen since his election in May, an opinion poll showed on Wednesday (Aug 15).
The survey conducted in August by the independent pollster Merdeka Center is the first since Mahathir won the election with promises of fighting corruption and reforming institutions.
Mahathir's return from retirement - he had stepped down in 2003 after 22 years in power - inspired many Malaysians to vote for change and end the decade-long rule of Mahathir's former protege, Najib Razak.
The Merdeka Center said 71 per cent of the 1,160 voters surveyed for the Aug 7-14 poll said they were satisfied with Mahathir's performance in his first 100 days in office.
It said 56 per cent were satisfied with the overall performance of the ruling Pakatan Harapan (PH) coalition in fulfilling its election promises, and 55 per cent said they believed the country was headed in the right direction.
Those numbers were down slightly from a survey taken shortly after the new government was formed in May, indicating that post-election euphoria was dissipating, Merdeka said.
"Nonetheless, the present positive numbers underpin the general satisfaction expressed by voters on the performance of the new government on a number of issues since taking power in May 2018," Merdeka said in a statement.
The state of the economy remained a key issue, with only 48 per cent saying they were satisfied with how the new government intended to promote economic growth.
About 55 per cent said they were dissatisfied with government measures to address the rising cost of living.
The survey also suggested Malaysians are more worried about ethnic issues and religious rights. Some 21 per cent cited those issues as a concern in August, up from 12 per cent in April.
Race and religion have always been sensitive issues in multi-ethnic Malaysia, where most members of the ethnic Malay majority are Muslim, while the members of the ethnic Chinese and Indian minorities are mainly Buddhist, Christian or Hindu.
Some groups representing Malays have said their rights are being eroded under the new government, and criticised recent appointments of non-Muslims to key posts.
Thousands of people attended a rally in the capital Kuala Lumpur last month to call for better protection of Malay rights.
About 44 to 45 per cent of Malays in the survey said they were dissatisfied with government efforts to protect the position of Islam, the poll said.
Full report at:
https://www.channelnewsasia.com/news/asia/mahathir-mohamad-approval-rating-71-percent-survey-10620004
--------
In just 100 days, Pakatan government makes itself felt in the region
17 August 2018
KUALA LUMPUR, Aug 17 — Pakatan Harapan's (PH) win in the May 9 polls came as a surprise to the region, transforming Malaysia from a democracy pariah to a reform darling almost overnight.
Countries that previously played nice with Datuk Seri Najib Razak expecting his incumbency to continue beyond the polls were left disappointed as he was replaced by the man previously dubbed "recalcitrant": Tun Dr Mahathir Mohamad.
Perhaps nobody felt the change in government as much as our neighbours across the Causeway, where the People's Action Party (PAP) has enjoyed uninterrupted rule for nearly six decades — just like Barisan Nasional did, before it was knocked out in the polls.
Would the regime change galvanise Singapore's Opposition to achieve a similar result in its next general election, due by January 2021? Surely this question has been on the minds of the status quo ever since news broke that PH got its simple majority.
It took only 10 days for Singapore Prime Minister Lee Hsien Loong to visit Prime Minister Dr Mahathir in Putrajaya, although Lee later was quoted saying that it was merely a "courtesy call" with no substantial issues discussed.
But just as many had compared the current situation with Dr Mahathir and his then nemesis, Lee Sr — Lee Kuan Yew — Putrajaya has managed to ruffle Singapore's feathers on more than one occasion in its first 100 days.
In June, Dr Mahathir hinted that the decades-old water concession agreement between the countries would be revisited as it was "lopsided", only to downplay the topic later as "not urgent" after Singapore swiftly responded by urging Malaysia to fully comply with the 1962 deal.
But then just earlier this week, he suggested again that he was considering raising the price by more than 10 times to reflect the rising cost of living.
Dr Mahathir had also cancelled the long-anticipated Kuala Lumpur-Singapore High Speed Rail project, then said Putrajaya was merely deliberating the issue at this point. Again, it was "not urgent", he said.
In May, Dr Mahathir said Malaysia was "rethinking" its recent challenge to the 2008 Pedra Branca judgement, noting that Malaysia wanted to enlarge Middle Rocks, which consisted of two clusters of rocks one kilometre south of Pedra Branca, so as to "form a small island."
The "tremors" have yet to subside for Singapore.
Dr Mahathir has also incurred ire from China-based companies for placing at least US$20 billion-worth of projects on ice; including the East Coast Rail Link and two gas pipeline projects.
And yet, he has not written China off, as he heads there today with an impressive entourage of influential ministers — seeking to walk his talk of appreciating China's One Belt One Road policy.
If anything, Putrajaya seems to be hedging both China and United States in an inconspicuous proxy war of influence, and the more obvious trade war. Dr Mahathir has made clear his distaste for Donald Trump, calling him "mystifying" and "mercurial."
"This is the cause of all tension, where you have people trying to be leaders of the world. We should be equal partners," he was quoted saying in June.
But Putrajaya itself can also be mystifying.
Even until now, Putrajaya still does not plan on giving up controversial televangelist Dr Zakir Naik, a fugitive in the administrative capital itself, despite India wanting him for ties to terrorism.
It was also absent from aiding close neighbour Thailand during the Tham Luang cave rescue in June and July.
PH has now finalised its full Cabinet, with Datuk Saifuddin Abdullah an excellent choice in heading the foreign affairs portfolio. His track record as deputy minister, and passionate advocacy for human rights and a moderate strain of Islam speak for themselves.
In July, Saifuddin said Malaysia's foreign policies would largely stay status quo, but he also unashamedly pledged to push Putrajaya to ratify the remaining six international human rights conventions — among others on racial discrimination, political rights, migrant workers, and enforced disappearance.
So far, Indonesia seems to be Malaysia's "best friend" in the region. The two have not only collaborated to return fugitive Datuk Jamal Md Yunos and Jho Low's superyacht Equanimity, but also mulled over an Asean car project.
As Indonesia heads to its presidential election, Malaysia may well take away an important lesson as part of its "bromance" with Indonesia. President Joko Widodo was said to have been forced to choose Islamic scholar Ma'ruf Amin as his running mate, after his former No. 2 Basuki "Ahok" Tjahaja Purnama fell to Islamic hardliners and went to prison.
Full report at:
https://www.malaymail.com/s/1663312/in-just-100-days-pakatan-government-makes-itself-felt-in-the-region
--------
Pakistan
FO rejects charges Pakistanis aided Taliban in Ghazni
August 17, 2018
ISLAMABAD: The Foreign Office rejected on Thursday allegations that Pakistani citizens had supported the Taliban attack on Afghanistan's city of Ghazni recently.
"We have not received any evidence to back up these spurious accusations and reject these baseless allegations," FO spokesman Dr Muhammad Faisal said, rejecting allegations made by Afghan officials and others.
Last Friday, some 1,000 Taliban fighters stormed the city of Ghazni and retreated five days later.
Afghan defence minister Tariq Shah Bahrami had earlier this week said that Ghazni attack had been carried out by Taliban with the support of external elements, including Pakistanis.
Moreover, The New York Times had reported that Afghan officials had claimed the Taliban were aided by foreign fighters, including Pakistanis and Chechens, and even some Al Qaeda affiliates.
The FO spokesman said that Pakistan was fencing the border with Afghanistan with the objective of restricting cross-border movement of both "men and material" as part of its counterterrorism efforts.
He expressed the hope that the border fencing would help achieve long-term regional stability and improve relations between Afghanistan and Pakistan.
Dr Faisal disclosed that Pakistan and Afghanistan, under a new framework for bilateral relations, were negotiating "a time bound" repatriation plan for Afghan refugees.
"An Afghan delegation from the Ministry of Refu­gee and Repatriation will visit Islamabad shortly for consultations," he added.
UN inquiry in Kashmir
The spokesman urged India to allow the UN Commission of Inquiry to probe human rights violations by Occupation troops in India-held Kashmir.
The United Nations High Commissioner for Human Rights had recommended a Commission of Inquiry – the highest level UN probe to ascertain facts about massive atrocities being committed by Indian troops against Kashmiris demanding freedom from Indian occupation.
https://www.dawn.com/news/1427500/fo-rejects-charges-pakistanis-aided-taliban-in-ghazni
--------
Alliance unravels as PPP refuses to vote for Shahbaz
Amir Wasim
August 17, 2018
ISLAMABAD: The opposition alliance has fallen apart before even taking off after the Pakistan Peoples Party (PPP) decided to "abstain" from today's vote in the National Assembly for the office of prime minister due to refusal of the Pakistan Muslim League-Nawaz (PML-N) to replace its candidate, making the contest a one-sided affair.
Besides the PPP, the one-man Jamaat-i-Islami (JI) — which had contested the July 25 elections from the platform of Muttahida Majlis-i-Amal (MMA) with four other religious parties — has also decided to stay away from the election for PM office on Friday (today). This is despite the fact that the Jamiat Ulema-i-Islam (JUI-F) — the main component of the MMA — is insisting that they should vote for PML-N nominee Shahbaz Sharif in line with the decision taken at the multi-party conference held in Islam­abad earlier this month.
See: Unity with a dash of disunity: the hallmark of the Grand Opposition Alliance
Sources told Dawn that using backdoor channels, the PML-N contacted the PPP leadership many times throughout the day on Thursday, asking it to review its decision in the larger interest of the opposition's unity, but the PPP refused to reverse its decision.
A PPP spokesman, Senator Mustafa Nawaz Khokhar, said the party after a meeting had decided that its members would vote for neither Shahbaz Sharif nor Imran Khan.
"Since the PML-N has paid no heed to our request to reconsider its position, it is our final decision that we will abstain (from the vote)", Mr Khokhar said.
The PPP meeting was presided over by its chief Asif Zardari and attended by Syed Khursheed Shah, Qamar Zaman Kaira, Sherry Rehman, Chaudhry Manzoor, Faisal Karim Kundi and Mr Khokhar, besides others.
Another PPP leader and office-bearer said the party members would participate in the assembly proceedings, but would not use their right of vote.
He disclosed that there "is a division within the party over the issue, but the leaders from Punjab have forced the leadership to stick to its earlier stance of not giving vote to former chief minister of the province Shahbaz Sharif because of his 'insulting remarks' in public meetings about Mr Zardari.
The PPP leader said his party had told the PML-N that the former was ready to vote for the latter's nominee other than Shahbaz Sharif, but the N-League was insisting on Mr Sharif's candidature. "Therefore, the PPP has been left with no option but to stay away from the voting."
He said the PML-N should appreciate the fact that the PPP had not fielded its own candidate against Shahbaz Sharif.
Another senior leader of the PPP, who remained involved in the talks with the PML-N, said most of the PPP members believed that Shahbaz Sharif should at least have shown the courtesy of coming to Asif Zardari and Bilawal Bhutto-Zardari during the inaugural session of the NA or the election of the speaker and deputy speaker to shake hands with them as a goodwill gesture. He said both Shahbaz Sharif and Imran Khan in the past had used objectionable language against the PPP leadership, but the PTI chief at least took the initiative and greeted both Mr Zardari and Mr Bhutto-Zardari.
The PPP leader was of the view that Shahbaz Sharif was set to become leader of opposition in the lower house, and he should know that he was required to take all opposition parties along.
Sources in the PPP said the PML-N leaders had offered that Shahbaz Sharif would come to Mr Zardari in the house for a handshake, but they wanted a "guarantee" that Mr Zardari would not cause any embarrassment for Mr Sharif by turning his back to him. The sources said the PPP leaders told the PML-N men that Mr Zardari was not a "discourteous man".
In another development, JUI-F chief Maulana Fazlur Rehman called on Asif Zardari apparently in an attempt to pursue the PPP to reconsider its decision of abstaining from prime minister's election.
At a time when some PML-N leaders were trying to mend ways with the PPP, Rana Sanaullah aggravated the situation when he made a statement that Asif Zardari was doing all this due to some "compulsions."
Talking to a TV channel, MNA Sanaullah said Mr Zardari was facing the present situation due to his "own weaknesses."
When contacted, the PML-N's Mushahid Hussain Sayed claimed that in the MPC all the parties had agreed on a formula that the PPP would field the candidate for the office of the speaker and the MMA for the deputy speaker while the PML-N had been authorised to nominate anyone as the candidate for the office of the prime minister against Imran Khan.
"It was a party-specific decision and not person-specific," Mr Sayed said, adding if the PPP would not fulfil its commitment, definitely the trust deficit between them would increase.
He said the PML-N had fulfilled its commitment by voting for Khursheed Shah and Asad Mehmood in the elections for the offices of the speaker and the deputy speaker.
"If they want to take a U-turn, it's up to them but breaking up of the opposition's alliance will be a disappointment for the nation," the PML-N leader added.
He said the grand opposition alliance was formed to ensure fair and free elections in the country, but if the PPP stuck to its stance, the alliance would collapse.
The PML-N was earlier irked by the PPP's decision to abstain from taking part in the protest staged by the former during the election of the NA speaker and deputy speaker.
Talking to Dawn, the JI's Liaquat Baloch said their Shura had also decided to abstain from PM's elections. He said the JI, which had only one MNA out of the 15 MMA members, had informed the Alliance leadership about its decision.
Responding to a question, he blamed both the PPP and the PML-N for betraying the opposition alliance and not fulfilling their commitment. He said that a meeting of the parliamentary committee of the MMA would be held on Friday.
Meanwhile, the PTI seems to be in a comfortable position and Imran Khan is likely to get more than the required 172 votes in the 342-member lower house of the Parliament.
The PTI's nominees for the offices of the speaker and deputy speaker had secured 176 and 183 votes, respectively.
The parties which have either already announced their support to the PTI or are expected to vote for its nominees are the MQM with seven seats; PML-Q and BAP with five seats each; BNP (four seats); GDA (three); and Awami Muslim League and Jamhoori Watan Party (with one seat each). Besides them, nine independents have joined the PTI. Four independents who have decided to maintain their independent status are also expected to vote for the PTI. So Imran Khan could even get 180 votes.
Full report at:
https://www.dawn.com/news/1427507/alliance-unravels-as-ppp-refuses-to-vote-for-shahbaz
--------
IHC advises PTI to open its accounts to public scrutiny
August 17, 2018
ISLAMABAD: The Islamabad High Court on Thursday advised the Pakistan Tehreek-i-Insaf (PTI) not to shy away from accountability and open its accounts to public scrutiny.
An IHC division bench comprising Justice Athar Minallah and Justice Miangul Hassan Aurangzeb, which had taken up an appeal filed by the PTI against the order of the Election Commission of Pakistan (ECP) in the party's foreign funding case, observed: "Political parties should be open and transparent."
Justice Minallah said the affairs of all political parties should be clean and transparent, wondering why the PTI was afraid of accountability if its affairs were transparent in connection with the foreign funding issue.
"How is it prejudicial to any political party if any citizen seeks scrutiny of funds? If prejudice is caused then it is fine but otherwise it should be welcomed," the judge said, adding that the PTI trusted the ECP in other matters, except for the decision in the foreign funding case.
PTI chairman Imran Khan, through his counsel Anwar Mansoor Khan Kamal, had challenged the ECP decision to constitute a committee for the scrutiny of PTI's accounts in the foreign funding case. He argued that the ECP was neither a court nor a tribunal, but a constitutional and supervisory body.
Mr Khan said his party was ready to go for scrutiny, but the ECP was listening to only one petitioner — Akber S. Babar, a founding member of the PTI — and not allowing the party to say anything in the scrutiny process.
The counsel said the committee was not calling the PTI at all and allegedly doing scrutiny with Mr Babar. He argued that the ECP could not declare Mr Babar a member of the party and that was why he was present before the IHC. In addition, he said, information might be obtained but "harassment" could not be allowed.
"How is it harassment if a person points out something?" Justice Minallah asked. He said things could either be correct or incorrect and added that the ECP being a regulator took decisions and political parties should be open to such applications.
Justice Minallah remarked that by removing one person [Babar] from the process, "we would be setting a very bad example". Also, he said, "I fail to understand why a political party is resisting. If he is declared not a member of a political party yet he is a citizen. It [scrutiny] should be encouraged. That's accountability."
He said the PTI could always challenge the committee's report.
Subsequently, the court issued notices to Mr Babar and the ECP and adjourned the hearing for a date to be fixed by the registrar office.
In its petition, the PTI had referred to an IHC order issued on Sept 7 last year and said the court had ruled that "Election Commission of Pakistan shall not share the details of source of foreign funding of PTI with any other individuals, including respondent No 2 [Akbar] till final decision of this petition".
In addition, it said, Mr Akbar did not come with clean hand because he approached the ECP after his expulsion from the party and "[Akbar] is not free from malice, ill will and just aimed to harass the petitioner".
The petitioner argued that the impugned order was based on mala fide intension and was not passed in a transparent manner. It said Mr Khan had in compliance with the IHC order submitted all documents to the ECP.
Full report at:
https://www.dawn.com/news/1427503/ihc-advises-pti-to-open-its-accounts-to-public-scrutiny
--------
FC foils terror bid, arrests four suspects in Balochistan
Aug 17, 2018
QUETTA: Frontier Corps (FC) foiled a terror bid by seizing ammunition under Radd-ul-Fasaad Operation in Kuhlu and Sanjavi area of Balochistan on Thursday.
According to the FC spokesman, acting on a tip-off, FC personnel carried search operations at respective areas and apprehended four suspects along with their ammunition.
Ammunition including 12.7 mm shells, RPG7, two LMGs, three Kalashnikovs, fuses of IED, detonators, explosive devices, communication devices, and thousands of rounds of bullets was recovered from their hideouts during the operation.
The FC spokesman further said that the recovered ammunition would be utilised for foiling other such activities in the province. Further investigation is underway.
https://www.pakistantoday.com.pk/2018/08/16/fc-foils-terror-bid-arrests-four-suspects-in-balochistan/
--------
Army chief confirms death sentences to 15 terrorists
Aug 17, 2018
RAWALPINDI: Chief of Army Staff (COAS) General Qamar Javed Bajwa on Thursday approved death sentences awarded to 15 terrorists involved in attacking the country's law enforcement agencies and civilians, said a press release issued by the media cell of Pakistan Army.
Inter-Services Public Relations (ISPR) said these terrorists when tried by special military courts were found involved in the killings of 45 people including four civilians, 41 armed forces/Frontier Constabulary/ Police Officials and injuring 103 others.
Arms and explosives were also recovered from their possession. Six other convicts have also been awarded life imprisonment, the ISPR added.
The list issued by the ISPR is as follows:
Khiwal Muhammad S/O Babo Rahman. The convict was a member of a proscribed organization. He was involved in attacking Armed Forces of Pakistan, which resulted in the death of Captain Bilal Kamran, Havildar Yousaf Khan along with 4 soldiers and injuries to 39 others. The convict confessed his offence before the Judicial Magistrate and the trial court. He was awarded death sentence.
Saddam Ullah S/O Sher Nawab Khan. The convict was a member of a proscribed organization. He was involved in attacking Armed Forces/ Law Enforcement Agencies of Pakistan, which resulted in the death of Havildar Ghulam Yasin, Havildar Syed Ali Ahmed Shah, Havildar Muhammad Ali along with 14 soldiers and injuries to 39 others. The convict confessed his offence before the Judicial Magistrate and the trial court. He was awarded death sentence.
Izhar S/O Bakhat Buland, Jan Bacha S/O Bacha Rawan, Sharafat Ali S/O Muhammad Amin and Habibullah S/O Ghulam Ahad. All the convicts were members of a proscribed organization. They were involved in killing of innocent civilians, destruction of an educational institution and attacking Armed Forces/ Law Enforcement Agencies of Pakistan, which resulted in death of civilian Siraj Ud Din, civilian Shah Nazar, Naib Subedar Muhammad Hanif, Havildar Muhammad Ilyas, Havildar Muhammad Naseer, Havildar Muhammad Qayyum along with 5 soldiers and injuries to 12 others. They were also found in possession of firearms and explosives. These convicts admitted their offences before the Magistrate and the trial court. They were awarded death sentence.
Said Ullah S/O Awal Jan, Zar Muhammad S/O Sakhi Mar Jan and Alif Khan S/O Sardar Khan. All the convicts were members of a proscribed organization. They were involved in attacking Law Enforcement Agencies of Pakistan, which resulted in the death of Naib Subedar Gul Tayaz along with a soldier and injuries to 2 others. They were also found in possession of firearms and explosives. These convicts admitted their offences before the Magistrate and the trial court. They were awarded death sentence.
Mujahid S/O Yar Wali. The convict was a member of a proscribed organization. He was involved in the destruction of Government Boys and Girls Primary Schools, Sheikhmal Khel (Khyber Agency). He was also involved in causing the death of a soldier and injuries to 2 others. The convict confessed his offences before the Judicial Magistrate and the trial court. He was awarded death sentence.
Tariq Ali S/O Bawar Shah. The convict was a member of a proscribed organization. He was involved in attacking Law Enforcement Agencies of Pakistan, which resulted in the death of Sub Inspector Umer Khayam along with 3 police officials and injuries to 6 others. He was also found in possession of a firearm. The convict confessed his offences before the Judicial Magistrate and the trial court. He was awarded death sentence.
Israr Ahmed S/O Taj Muhammad. The convict was a member of a proscribed organization. He was involved in the killing of Police Constable Ijaz Ahmed, Mst Zarmina and injuries to 2 other civilians. He was also found in possession of fire-arm. The convict confessed his offences before the Judicial Magistrate and the trial court. He was awarded death sentence.
Kaleem Ullah S/O Hayat Ullah. The convict was a member of a proscribed organization. He was involved in causing the death of civilian Jibraheel and attacking Armed Forces of Pakistan, which resulted in injuries to a soldier. He was also found in possession of firearm. The convict confessed his offences before the Judicial Magistrate and the trial court. He was awarded death sentence.
Muhammad Rehman S/O Sher Ramzan. The convict was a member of a proscribed organization. He was involved in causing the death of Naik Ahmed Wafa by slaughtering him with a knife. He also kidnapped 2 soldiers for ransom. The convict confessed his offences before the Judicial Magistrate and the trial court. He was awarded death sentence.
Full report at:
https://www.pakistantoday.com.pk/2018/08/16/army-chief-confirms-death-sentences-to-15-terrorists/
--------
UN hails Pakistan for 'extensive' counter-terrorist operations
AUGUST 17, 2018
UNITED NATIONS: A United Nations report has praised Pakistan's 'extensive' counterterrorist operations, saying they have led to reduction in the number of terrorists and terrorist training facilities as well as in the quantity of locally available explosive material in the formerly Federally Administered Tribal Areas (FATA).
The 22nd report of the Analytical Support and Sanctions Monitoring Team, which was submitted to the UN Security Council Al Qaeda Sanctions Committee, also said some of the terrorists were displaced across the border into Afghanistan.
The sanctions monitoring team submits independent reports every six months to the Security Council on the Islamic State, Al Qaeda and associated individuals, groups, undertakings and entities.
It said Al Qaeda, which still maintains a presence in South Asia, is closely allied with the Taliban. It adapts to the local environment and is trying to embed itself into local struggles and communities.
"According to one member state, although IS (Da'ish) poses an immediate threat, Al Qaeda is the 'intellectually stronger group' and remains a longer-term threat. Some members of the Al-Qaeda core, including Aiman al-Zawahiri and Hamza bin Laden, are reported to be in the Afghanistan-Pakistan border areas," the report said. Other members of the Al Qaeda core may leave for more secure areas, it said.
The report said that between 20,000 and 30,000 Islamic State fighters remain in Iraq and Syria and among those there is still a significant component of the many thousands of active foreign terrorist fighters.
One Member State reported that some recent plots detected and prevented in Europe had originated from IS in Afghanistan.
"In addition to establishing a presence across Afghanistan, ISIL also attempts to have an impact on other countries in the region.
Al Qaeda in the Indian Subcontinent (AQIS), the terror group's newest affiliate, is ideologically inclined to carry out attacks inside India but its capability is believed to be low and is relatively isolated owing to increased security measures in the region," the report said, adding that according to Member States, the strength of AQIS in Afghanistan is estimated at several hundred people located in Laghman, Paktika, Kandahar, Ghazni and Zabul provinces.
The report said that AQIS is "relatively isolated owing to increased security measures within the wider region, but the group continues to seek security gaps for opportunistic attacks".
"In Afghanistan, IS persistently tried to expand its presence, despite pressure from the Afghan National Defence and Security Forces, the US-led international coalition and the Taliban," it added.
ISIL currently has its main presence in the eastern provinces of Kunar, Nangarhar and Nuristan, and is also active in Jowzjan, Faryab, Sari Pul and Badakhshan provinces in the north. The group has the intention to expand into Ghazni, Kunduz, Laghman, Logar and Uruzgan provinces.
In Kabul, Herat and Jalalabad, IS already has sleeper cells and has committed disruptive, high-profile attacks, including against both government and Taliban targets during the Eidul Fitr ceasefire, it added.
The report noted that ISIL has between 3,500 and 4,000 members in Afghanistan, including between 600 and 1,000 in northern Afghanistan (with both numbers on the increase).
Full report at:
https://dailytimes.com.pk/284609/un-hails-pakistan-for-extensive-counter-terrorist-operations/
--------
Mideast

Israeli Defense Minister and Qatari envoy met secretly to discuss Gaza
16 August 2018
On Thursday, Israeli Channel 10 TV revealed that a secret meeting between Israeli Defense Minister Avigdor Lieberman and Qatar's envoy to Palestine Mohamad al-Ammadi took place in Cyprus regarding Gaza.
The Israeli channel said that the meeting between the Qatari envoy and Lieberman in Cyprus, was held secretly on June 22, and discussed the arrangements for the Gaza Strip and funding from Doha.
According to the channel, Lieberman was on a business trip to Cyprus during which al-Ammadi arrived on the island, and the two held a quick meeting to discuss the cease-fire and a truce between Hamas and Israel.
Al-Ammadi offered Lieberman several Qatari proposals to improve the humanitarian situation in Gaza Strip.
The two sides also discussed the issue of Israeli prisoners and missing Hamas militants.
Reports indicated that Israel rejected proposals for mediation with Hamas through Qatar, preferring to rely on the Egyptian role and other parties.
https://english.alarabiya.net/en/News/middle-east/2018/08/17/Israeli-Defense-Minister-and-Qatari-envoy-met-secretly-to-discuss-Gaza.html
--------
Pompeo forms 'Iran Action Group' for post-nuke deal policy
16 August 2018
US Secretary of State Mike Pompeo is forming a dedicated group to coordinate and run US policy toward Iran as the Trump administration moves ahead with efforts to force changes in the Islamic Republic's behavior after withdrawing from the Iran nuclear deal.
The State Department said Pompeo will announce the creation of the Iran Action Group on Thursday.
Officials said the group will be headed by Brian Hook, who is currently the State Department's director of policy planning. Hook led the Trump administration's ultimately unsuccessful attempt to negotiate changes to the nuclear deal with European allies before the president decided in May to pull out of the accord.
Since withdrawing, the administration has re-imposed sanctions that were eased under the deal and has steadily ramped up pressure on Iran to try to get it to stop what it describes as "malign activities" in the region. In addition to its nuclear and missile programs, the administration has repeatedly criticized Iran for supporting Syrian President Bashar Assad, Shiite rebels in Yemen and anti-Israel groups. It has also in recent weeks stepped up criticism of Iran's human rights record and is working with other nations to curb their imports of Iranian oil.
The administration is warning Iran's oil customers that they will face US sanctions in November unless they significantly reduce their imports with an eye on eliminating them entirely. It has also told businesses and governments in Europe that they may also be subject to penalties if they violate, ignore or attempt to subvert the re-imposed US sanctions.
In his new job, Hook is to oversee implementation of the administration's entire Iran policy, the officials said. Pompeo and other officials have denied that the administration is seeking to foment regime change in Iran and maintain they only want to see the government change course. Pompeo created a similar group dedicated to working on North Korea policy while he was director of the CIA.
Full report at:
https://english.alarabiya.net/en/News/middle-east/2018/08/16/Pompeo-forms-Iran-Action-Group-for-post-nuke-deal-policy.html
--------
UNRWA schools to open on time despite US freeze
16 August 2018
Hundreds of UN-run schools for Palestinian refugees will open on time after fresh funding temporarily staved off a financial crisis triggered by a US contributions freeze, the United Nations said on Thursday.
The UN agency for Palestinian refugees said all 711 schools it runs for 526,000 pupils in the Palestinian territories, Jordan, Lebanon and Syria would open for the coming school year.
There had been warnings from UN chief Antonio Guterres and others that the schools might not be able to open due to funding shortages provoked by US President Donald Trump's decision to withhold aid to the Palestinians.
The UN Relief and Works Agency for Palestine refugees (UNRWA) said it had mobilized an additional $238 million since the start of the year, but added that it currently only had enough cash to keep its services operating through September.
"We need a further $217 million to ensure that our schools not only open but can be run until the end of the year," the agency said in a statement.
The schools are due to open over a staggered time period between August 29 and September 2.
UNRWA has faced a $300 million freeze in funding from the United States as Trump demands changes to the agency and seeks to pressure the Palestinians to return to the negotiating table.
Other countries have since provided additional contributions but UNRWA says it is not enough.
The agency provides services to more than three million Palestinian refugees and their descendants across the Middle East and employs more than 20,000 people, the vast majority Palestinians.
Last month, UNRWA announced it was cutting more than 250 jobs in the Palestinian territories due to the funding crisis.
UNRWA was set up after the 1948 war that accompanied the creation of Israel, during which more than 700,000 Palestinians fled or were expelled from their homes.
Israel argues the agency is biased against it and perpetuates the Israeli-Palestinian conflict.
Full report at:
https://english.alarabiya.net/en/News/middle-east/2018/08/16/UN-UNRWA-Palestinian-schools-to-open-on-time-despite-US-freeze.html
--------
Gaza massacre probe: Human rights advocates accuse Israeli military of whitewash
August 17, 2018
JERUSALEM: The Israeli military said its investigation into one of the bloodiest incidents of the 2014 war in the Gaza Strip found no criminal wrongdoing by Israeli forces and there were no grounds to prosecute any troops.
The announcement drew condemnations from Palestinians and human rights advocates, who accused the military of a whitewash.
The investigation focused on an Aug. 1, 2014, battle in the southern Gaza town of Rafah that erupted after an Israeli military officer was feared abducted by Palestinian militants during a cease-fire. Over 110 Palestinians were killed in daylong fighting, and Palestinian witnesses had complained of heavy and indiscriminate shelling by Israeli forces.
Following what it called a comprehensive investigation, the army said its military advocate general (MAG) determined "a criminal investigation is not warranted into the incidents that occurred during the fighting."
Fearing a soldier had fallen into enemy hands, Israel invoked its "Hannibal" procedure — a protocol that allowed the heavy use of force to prevent the capture of a comrade. Israeli forces attacked the area with artillery fire, tanks shells and airstrikes. At the time, Palestinian residents described a terrifying ordeal as they fled their homes and searched for cover amid heavy shelling of their neighborhood, located on the outskirts of the city. Human rights groups identified 121 people killed and accused Israel of committing war crimes by allegedly using disproportionate or indiscriminate force and failing to distinguish between civilians and combatants.
The Israeli investigation identified over 110 dead — including 42 militants and up to 72 civilians who were "unintentionally killed." In one instance, it said 16 civilians were killed in an airstrike on a family home that was targeted due to faulty intelligence.
But it said all of its actions had "clear and legitimate military purposes" and found no evidence that attacks were indiscriminate, aimed at civilians or motivated by revenge.
"The MAG did not find that the actions of the IDF forces that were examined raised grounds for a reasonable suspicion of criminal misconduct," it said.
"The MAG found that the IDF's policy with respect to the use of firepower during the fighting — whether by tanks, by artillery and mortars, or from the air — accorded with Israeli domestic law and international law requirements."
The "Hannibal" directive was canceled by the military in 2016 following heavy criticism. Last year, the military introduced a revised version.
Human rights groups have accused the Israeli military of ignoring or covering up wrongdoing in its investigations over the years. B'Tselem, a leading Israeli human rights group, condemned the latest findings.
"The military advocate general proves again that no matter how high the number of Palestinians killed is, nor how arbitrary the circumstances of their killing by the military was, the Israeli whitewash mechanism he heads will find a way to bury the facts," it said.
Wael Al-Namla, who lost three family members that day, said the army's findings were "crazy." Al-Namla, as well as his toddler son, both lost legs in the shelling as well.
"They were bombing us from the ground and air randomly. They did not just violate the human rights, they forgot that there were humans in Rafah," he said.
"I want an independent international investigation that can guarantee my rights."
The 2014 war was the third and most devastating round of fighting between Israel and Gaza's Hamas rulers. Over 2,200 Palestinians were killed, including hundreds of civilians, and widespread damage was inflicted on Gaza's infrastructure. During the 50-day war, 73 people were killed on the Israeli side and continued rocket fire on Israeli cities disrupted life throughout large parts of the country.
Full report at:
http://www.arabnews.com/node/1357781/middle-east
--------
India
Hindu Mahasabha sets up 'first Hindu court' after AIMPLB's proposal to open 'Shariat courts' in all districts
Aug 16, 2018
Meerut: The Akhil Bharatiya Hindu Mahasabha on Thursday said it has established the 'first Hindu court' in reaction to a Muslim body's plan to open 'Shariat courts' in all districts.
National vice-president Ashok Sharma of the Mahasabha said the 'Hindu court' was established on Wednesday on India's Independence Day with Aligarh resident Pooja Shakun Pandey as its first judge.
He said the 'Hindu courts' would resolve family and other civil disputes amongst Hindus through amicable settlements.
Sharma said the 'court' has been established as Prime Minister Narendra Modi and Uttar Pradesh Chief Minister Yogi Adityanath have continuously ignored the issue of 'Shariat courts.'
He said the Mahasabha had earlier written to them demanding the closure of 'Shariat courts' as India can have only one Constitution and a single judicial system.
The Mahasabha had asked the government to ban the 'Shariat courts', but as its letters got no replies, it opened the 'first Hindu court' on 15 August, he said.
The All India Muslim Personal Law Board (AIMPLB), the highest decision making body on Muslim affairs, earlier on 8 July had said it planned to open 'Shariat courts' in all districts to resolve issues in line with Islamic laws.
Sharma said the Mahasabha would set up five more 'Hindu courts' at Aligarh, Hathras, Mathura, Firozabad and Shikohabad on 15 November, the day Mahatma Gandhi's assassin Nathuram Godse was hanged.
He said the organisation planned to establish altogether 15 'Hindu courts' in the country at the earliest.
Full report at:
https://www.firstpost.com/india/hindu-mahasabha-sets-up-first-hindu-court-after-aimplbs-proposal-to-open-shariat-courts-in-all-districts-4980891.html
--------
Want to help India, Pakistan open talks, says Saudi envoy
Aug 16, 2018
Saudi Arabia hopes India and Pakistan will resume peace talks and will be happy to help the process but only if it is asked to do so, Saudi ambassador Saud bin Mohammed al-Sati said on Thursday.
He said he had noted the "reference that the Prime Minister-elect of Pakistan, Imran Khan, made regarding India — that if India takes one step, we will take two". It was encouraging, he said, that this was followed by Prime Minister Narendra Modi's phone call to Khan to congratulate him on his electoral success.
"These were very positive. Pakistan is a strong partner of Saudi Arabia and India is our strategic partner and we hope that dialogue will be resumed between the two countries," he said. "If we can and if we are asked to help, we will be very happy to help," he added.
During an interview, al-Sati spoke on a wide range of issues, including bilateral security cooperation and Iran's alleged meddling in Afghanistan.
Referring to the arrest of a suspected Lashkar-e-Taiba operative at the New Delhi airport after his deportation from Saudi Arabia on August 5, the envoy said there is "excellent" cooperation between the two sides to counter extremism and terror financing. "There is no outstanding issue in terms of security cooperation…there is zero terror financing (from Saudi Arabia) and we don't allow any (illegal) money transfers to any organizations worldwide and particularly to India," he said.
Asked what action Saudi Arabia will take if controversial preacher Zakir Naik, whose extradition has been sought from Malaysia, returned to the kingdom, al-Sati said he would not go into hypothetical matters.
"All I can say is Zakir Naik is an Indian national who visited Saudi Arabia like any other Indian national and left... he is not in the kingdom anymore. We don't intervene in other countries' matters," he said.
While backing efforts to reconcile with Taliban elements that give up violence in Afghanistan, al-Sati said his country hosted a conference of 'ulema' that encouraged national reconciliation to end instability and war.
"Afghani national reconciliation is very important for the political process to succeed. The main principle here is denouncing terrorism and putting aside weapons to come to the political process and working with other Afghan groups to reconcile," he said.
However, the envoy criticised Iran's intervention in Afghanistan, including the recruitment of Afghan Shias and "training them and sending them to areas of conflict" such as Syria. He said there were also reports of Iran recruiting from among Afghan refugees and sending them to countries such as Syria, Iraq and Yemen.
Full report at:
https://www.hindustantimes.com/india-news/want-to-help-india-pakistan-open-talks-says-saudi-envoy/story-ukGqopTDCDl9uDaikTJHJL.html
--------
Imran Khan, Sheikh Hasina pay tribute to Vajpayee
Aug 16, 2018
NEW DELHI: As former Prime Minister Atal Bihari Vajpayee passed away on Thursday, leaders from across the world joined in to express their sorrow over his demise.
Pakistan PM-designate and PTI chief Imran Khan called Vajpayee a "tall political personality" of the subcontinent. Condoling the former PM's death, Khan said, "Atal Bihari Vajpayee was a tall political personality of the subcontinent. His attempts for the betterment of India-Pakistan relationship will always be remembered. Mr Vajpayee, even as a foreign minister, took responsibility of improving India-Pakistan ties."
Calling him the "most famous son of India", Bangladesh Prime Minister Sheikh Hasina said that Vajpayee will be remembered for contributing towards good governance and highlighting issues of people.
"Deeply shocked at sad demise of former PM of India Atal Bihari Vajpayee, one of the most famous sons of India. He'll be remembered for contributing towards good governance and highlighting issues affecting common people of India as well as regional peace and prosperity," she said.
Remembering the former PM as Bangladesh's friend, she said, "He was our friend and highly respected in Bangladesh. As a token of recognition for his invaluable contribution to our Liberation War in 1971, Bangladesh government conferred on him Bangladesh Liberation War Honour. Today is a day of great sadness for all of us in Bangladesh.
"On behalf of government and people of Bangladesh and on my own behalf, I express our heartfelt sympathy and condolences to the government and the mourning people of India, and to the members of the bereaved family. We pray for the eternal peace of his soul," the Bangladesh PM said.
The 93-year-old former PM was admitted AIIMS on June 11 with kidney tract infection, chest congestion and his urine output being on the lower side and passed away at 5:05 pm on Thursday.
Full report at:
https://timesofindia.indiatimes.com/world/pakistan/imran-khan-sheikh-hasina-pay-tribute-to-vajpayee/articleshow/65430497.cms
--------
Europe
Qatar: France's Generous Financer of Mosques
by Giulio Meotti
August 15, 2018
Qatari activism in France should greatly worry those who care about the stability of European democracies. For years, Qatar has been the focus of many claims about its Islamic fundamentalism and its alleged support for the Muslim Brotherhood, Iran, ISIS, elements of al-Qaeda, Hamas, the Taliban and other Islamic extremists.
Qatar's emir, Tamim bin Hamad al Thani, recently provided solid proof that France is a privileged field of projection for his country, which, for more than a year, has had a severe boycott imposed on it by its Gulf neighbors. A July meeting in Paris between the Emir of Qatar and French President Emmanuel Macron was the third held in just a few months. Contracts worth more than 12 billion euros have already been signed, making Qatar the third largest French customer in the Gulf after Saudi Arabia and the United Arab Emirates. Qatar, however, casts its shadow not only over the French economy.
Money from Qatar finances many of the "mega-mosques" in France. These are large structures with minarets -- not the improvised mosques that have sprung up in garages, storefronts and cultural centers. The Great Mosque of Poitiers, for instance, sits in the vicinity of the site of the Battle of Tours (also known as the Battle of Poitiers), where Charles Martel, ruler of the Franks, stopped the advancing Muslim army of Abdul al-Rahman in the year 732.
The imam of Poitiers today, Boubaker El-Hadj Amor, announced that the mosque, with a prayer hall for 700 faithful and a minaret of 22 meters, was made possible thanks to money from the organization "Qatar Charity." In a video, the imam of Poitiers admits to having benefited from Qatari funds to continue the mosque's construction, interrupted for several years due to lack of funding from local believers. "What we have built is thanks to Allah and with the help of the 'Qatar Charity' organization", the imam said.
According to the newspaper Libération:
"[W]e are currently witnessing a relative muzzling of the historical partners of Islam in France, Morocco and Algeria. Although they remain opulent donors, maintain close links with the first generations of immigrants and have locked up key positions within the French Council of the Muslim Faith (CFCM), these two countries see their influence diminishing among the youngest [generation]."
...
"... Qatar operates an insidious, but consensual, entryism, within the Union of Islamic Organizations of France (UOIF), France's representative of the [Muslim] Brotherhood."
"Through the UOIF, Qatar's idea was to take control of Islam in France", says Georges Malbrounot, a reporter at Le Figaro and co-author of the book "Nos très chers émirs" ("Our dear Emirs") about the relations between France and Qatar.
One mosque largely financed by Qatari money is the Assalam Mosque in Nantes.
With its 17-meter-high minaret, large dome rising 14 meters and exterior illumination at night, the Assalam mosque "illuminates the city of Nantes." The mosque apparently answers a real need for the Muslims of the city. The faithful used to pray in the Arrahma Mosque and the El Forqane Mosque (formerly the Saint-Christophe Christian chapel, before it was transformed into an Islamic prayer hall), but Muslim community leaders say they were too small for the community's needs.
Qatari money is also flowing into Mulhouse, an Alsatian city, where Qatar Charity helped to build the An Nour Center, which includes a large mosque -- "one of the most impressive in Europe". The Qatari media described the project:
"The centre is strategically located in the border region of France, Germany and Switzerland, where Muslims constitute more than 20 percent of the total population of the city of 256,000 people. More than 150,000 people from the three countries will benefit from the project".
In Marseille, Qatari money is also financing the future Great Mosque of Marseille that will accommodate between 10,000 and 14,000 worshipers -- in a city that already hosts "about 70 mosques and official prayer rooms," according to the Regional Council of the Muslim Faith. The government of Qatar, in addition, has given millions of euros to the Grand Mosque in Paris.
Among the Persian Gulf states, Qatar now seems to be preeminent in creating Islamic history in France. Bernard Godard, who for years served as a consultant on Islam for the Ministry of the Interior, said: "It cannot be said that Islam in France is financed mainly by Saudi Arabia. It contributes a little but much less than countries such as Qatar or Kuwait". The French scholar, Bérengère Bonte, last year wrote a book entitled, The French Republic of Qatar ("La République française du Qatar").
Qatar has also reportedly helped finance the Saint-Denis campus of the European Institute of Human Sciences (IESH). This private "Muslim University" offers Arabic language and theology courses to post-graduate Muslim students. In fifteen years, its enrollment has grown from 180 students to almost 1,500.
Qatar is, as well, behind France's first state-funded Muslim faith school, the Lycée-Collège Averroès. The school was at the center of a dust-up a few years ago when one of its teachers resigned after writing that the school was "a hotbed of anti-Semitism and was 'promoting Islamism' to pupils". The school is financed by government funding, tuition fees, and donations from the Muslim community. But when it became necessary to buy a new building and renovate it, for 2.5 million euros, the Saudi Arabia Development Bank agreed to pay 250,000 euros, and the NGO Qatar Charity 800,000. According to the newspaper Libération:
"But when it became necessary to buy a new building and renovate it, for 2.5 million euros, the Saudi Arabia Development Bank agreed to pay 250,000 euros, and the NGO Qatar Charity 800,000."
Then there is what is known as "the Great Mosque of Saint-Denis," located in the Paris suburb of Saint-Denis, which has a high concentration of Muslim immigrants. Ahmed Jamaleddine, treasurer of the Amal association, which is behind the construction of the mosque, says: "We have funds from abroad... Everything is transparent: it comes from the faithful of Saudi Arabia and Qatar."
Saint-Denis also happens to be home to a famous Cathedral, the Basilica of Saint-Denis -- which contains the royal necropolis where many of France's kings are buried, including Charles Martel, noted earlier, who stopped the advance of the Muslim army in 732.
The Emir of Qatar appears to have a far greater grasp of French history than many French do. Qatar is a country of which democracies would do well to be wary.
https://www.gatestoneinstitute.org/12800/qatar-france-mosques
--------
Birmingham mosques attacked with catapults during evening prayers
Aug 17, 2018
Muslim groups in the UK have condemned catapult attacks on two mosques in the city of Birmingham, which smashed several windows during evening prayers.
The Masjid Qamarul Islam mosque and the nearby Al-Hijrah mosque were hit with large ball bearings fired from a heavy-duty catapult on Wednesday.
Armed police officers were "deployed as a precaution", local police said on Twitter.
On Thursday, police said they had opened an investigation into the attacks, which are being treated as hate crimes, adding that extra officers would be deployed in the area.
"Whilst we don't fully know the motives yet, these ball bearings are the size of marbles - [and have the] potential to kill," said the Birmingham-based Bahu Trust, which runs several British mosques.
Hate crime monitor Tell MAMA UK said it "strongly condemns the catapult attacks" on the mosques.
The attacks came after a 29-year-old man from Birmingham was arrested on suspicion of terrorism after crashing his car into security barriers at the British parliament in London on Tuesday.
Naveed Sadiq, who prays at Al-Hijrah mosque, told Sky News broadcaster he felt the attacks were probably "connected" to what happened in London.
Last month, Tell MAMA said that there appeared to be a pattern of a spike in Islamophobic incidents following attacks in Britain and abroad.
Full report at:
https://www.aljazeera.com/news/2018/08/birmingham-mosques-attacked-catapults-evening-prayers-180816152532366.html
--------
Building Relationships and Sharing Christ in Predominantly Muslim Dearborn
08-16-2018
DEARBORN, Michigan – The city of Dearborn, Michigan, recently made headlines after one of its residents was captured in Syria, accused of working for ISIS for three years.
Dearborn has a large Muslim population, but this recent news doesn't reflect the good that's happening there.
CBN News spoke with one Christian pastor in the heart of Dearborn who says the call of God has his congregation right where it's supposed to be.
Dearborn is known for being home of the Ford Motor Company; it's also home to one of the largest Muslim populations in the country. Drive around town, and it's like you're transported to the Middle East.
In fact, nearly half of Dearborn's population is Muslim. Out of the 90,000 residents, approximately 40,000 practice Islam. Eighty percent are Shia Muslims, mainly from Lebanon and Iraq; 20 percent are Sunnis, mainly from Yemen.
"That makes this area the largest concentration of Arab Shia Muslims in the United States, and that mosque behind us is actually a Shia mosque," said John Koski, a pastor, and a man who views himself as a Christian missionary to Muslims in the area. "It's definitely the largest Shia mosque in the United States."
The mosque he's referring to is known as the Islamic Center of America.
Springwells Church
Koski is the associate pastor at Springwells Church, an Assembly of God congregation led by Pastor Trey Hancock and his wife, Becky.
The church sits less than 10 minutes away from the Islamic Center of America, in the heart of a neighborhood that's 97 percent Muslim.
"Jesus said, 'I want you here.' So we're here," Hancock said. "And what better place in the whole wide world to find people that don't know Jesus, that need him and need what Jesus has to offer."
"Right here; we're not making it hard for them to come to the Lord," he continued.
The church began meeting in the Hancocks' home in 2000, more than a decade after the pastor and his family first arrived in Dearborn to minister to Muslims. Hancock says he heard the call of God while in Dearborn receiving cultural training.
"And just walking and just praying, got down to about right here, right here at this very spot, and the Lord spoke to me and said, 'If you're going to learn about these people, you've got to live with them,'" he explained to CBN News while standing in a neighborhood on the city's south side.
"And I thought, 'Whoa! That didn't come from me,'" he said. "I knew who that was; it was really clear; it was really distinct, and it was a prompting from the Holy Spirit. And I said, 'Okay, Lord.'"
Thriving Ministry
That step of faith has led to a thriving ministry. In addition to Sunday services, church outreach includes drama presentations, a wrestling club and English as a second language classes which include learning Bible verses in Arabic and English.
"I think it's very effective because we're really building relationships," Koski said. "We're ministering to their felt needs, and one of the biggest needs is to learn English as a second language."
Koski and others, like Paul Schindlbeck, also take their ministry door-to-door.
"You said this speaks of the truth of Jesus?" one curious neighbor asked Schindlbeck about a book he carried.
"Yeah, it speaks about who Jesus was," Schindlbeck replied.
"Who Jesus was?" the neighbor asked.
"Yeah, yeah," Schindlbeck answered.
"...I'm going to read it...," the neighbor decided.
Diane Berry serves through a Christian Tae Kwon Do ministry known as Full Force Ministries. The former Muslim says Springwells is making a difference.
"It's God. It's all God," she said. "It has to be and the supernatural protection as well, you think about it. And we're welcomed here by most because it's a serving church."
Muslims Accepting Jesus Christ
Hancock is overjoyed when Muslims accept Jesus.
"It lights my fire, man," he said. "When they say yes to Jesus, it's an amazing thing. It's an amazing thing, especially after they get baptized because that's when they're saying to the world, 'I belong to Jesus.'"
Although rewarding, ministering in Dearborn takes a lot of work. Koski says it takes 30 Gospel presentations for the average Muslim to accept Christ. And that's not the only tough part.
In ministering in this area, spiritual warfare is definitely involved. For example, Hancock says in the last decade, more than a dozen churches in the Dearborn area have been sold to Muslims and turned into mosques.
On one former church now known as the American Muslim Center, the cross has been removed from the steeple. On another, an Islamic House of Wisdom sign has actually been placed over the cross on the steeple.
Not the Enemy
Still, Hancock knows the Muslims who purchase the churches are not the enemy.
"I'm not fighting 'them', 'cause I want them to come to Jesus," he explained.
The pastor looks forward to the day he learns many Muslims have responded to the Gospel message through his ministry.
"I hope when I stand in front of the Lord that there are thousands standing behind me that I had no idea that were listening," Hancock shared.
The Secret Believers
He believes there are more former Muslims in Dearborn who "believe in Jesus than can say so because they're afraid of each other."
And to the secret believer, Hancock has a message:
Full report at:
https://www1.cbn.com/cbnnews/us/2018/august/the-media-can-dish-it-out-but-they-sure-cant-take-it
--------
Russia says Syria base attacked by 'sophisticated' drones
Aug 17, 2018
Russia says drones used to attack its Hmeimim airbase in Syria are too sophisticated to have been assembled by terrorists and that experts believe terrorists use foreign help to launch the raids which have increased.
Russia's Defense Ministry spokesman Major General Igor Konashenkov said Thursday that drones downed by Hmeimim air defense assets appeared primitive but had a range of 100 kilometers and used advanced technologies.
The drones, equipped with explosive devices, navigation gadgets and control systems, could not have been assembled by militants "without any outside help", he said.
Experts who have analyzed the downed UAVs have reached the conclusion that the assembling work is based on "a clear instruction developed by specialists", Konashenkov said.
Terrorists, he said, have also launched the attacks based on a clear line of expert directions.
According to Konashenkov, Russian air defense assets have over the past month successfully downed 45 drones during attacks on the Hmeimim airbase located in Syria's Latakia.
The attacks were launched by Idlib-based militants and the number of such attacks has recently increased.
The Hmeimim airbase is the hub of Russian operations in the Arab country and the largest base in Syria run by foreign troops.
Full report at:
https://www.presstv.com/Detail/2018/08/17/571410/Russia-Idlib-drone-Syria
--------

UK: Conservative party targets Muslim peer
16.08.2018
By Muhammad Mussa
LONDON
Lord Mohamed Sheikh said Thursday calls for him to be expelled from the Conservative party over an attendance at a Palestinian rights conference are motivated by Islamophobia and his criticism of Boris Johnson.
Lord Sheikh, a senior Conservative member of the House of Lords, has come under criticism from Tory MPs for attending the same event that Jeremy Corbyn attended in Tunisia in 2014.
The complaint, headed by Tory MPs Zac Goldsmith and Robert Halfon, said that Sheikh was in breach of the party's code of conduct, with Goldsmith saying in a statement on Twitter that Sheikh should be "immediately expelled".
Speaking to the BBC's Today program, Sheikh said: "I think the complaints against me are politically motivated, I think the complaint against me is totally trivial and I think these people, whoever are trying to complain against me, are perhaps doing this because I have talked about what Boris Johnson has said being wrong."
The senior Muslim peer has been a vocal critic of former Foreign Secretary Boris Johnson and his Islamophobic remarks concerning the niqab and the burka and has repeatedly called for his suspension and a full disciplinary investigation into the derogatory remarks.
Goldsmith, on the other hand, is an ardent supporter of Johnson and has defended the remarks the former foreign secretary made in the Daily Telegraph in which he compared Muslim women who wear the niqab and the burka to "letterboxes" and "bank robbers".
Sheikh also pointed out to the Islamophobic mayoral campaign Goldsmith ran against the current mayor, Sadiq Khan, in 2016 in which he linked Khan to religious extremists and exploited anti-Muslim sentiment to gain support. The campaign backfired against Goldsmith and he received widespread condemnation from within his party and throughout the country.
"I was very surprised about the fact that Zac Goldsmith has made the complaint. When Zac Goldsmith was standing for mayor at the election, he made some unsavory remarks about Sadiq Khan and that campaign backfired and I feel Zac Goldsmith should have learnt following his failure to be elected mayor of London," Sheikh said.
Sheikh said that he had been invited by the Tunisian government to attend the Palestinian rights conference in 2014 where he spoke on the Arab Spring and illegal settlements in Palestine, rejecting claims he had met with members of Hamas.
"I did not meet any members of Hamas," he said, adding: "I was not aware that there were people there who had extreme views. I am totally against extremism, I am totally against any form of terrorism."
Jeremy Corbyn, the leader of the opposition Labour Party, has also been criticized for attending a wreath-laying ceremony for Palestinians killed in an Israeli airstrike in Tunisia in 1985.
Critics in the government and the media have portrayed Corbyn laying a wreath on the graves of members of the Black September terrorist group. Labour and Corbyn have repeatedly rejected this claim and said that he was attending a ceremony that commemorated Palestinians killed in the airstrike.
Labour has officially filed a complaint to the U.K. press regulator, Ipso, about the false and misleading coverage by several British newspapers on the event that took place in 2014.
Sheikh has denied being an antisemitic and argued that he was being targeted simply because he is a Muslim and that he is standing up to Islamophobia and bigotry from within his party.
The Muslim peer is a member of the all party parliamentary group on anti-semitism and has worked to promote cohesion among Britain's multicultural communities.
Full report at:
https://www.aa.com.tr/en/europe/uk-conservative-party-targets-muslim-peer/1233607
--------
South Asia
Gunmen launch attack on intelligence training centre in Kabul
August 16, 2018
Gunmen attacked an intelligence training centre in Kabul on Thursday, officials said, as families buried loved ones killed by a suicide bomber a day earlier in the war-weary Afghan capital.
The attack on the training facility was the latest incident in a blood-soaked week that saw militants deliver crippling blows to government forces across Afghanistan.
"Clashes are ongoing and the area is cordoned off by the Afghan security forces," said Kabul police spokesman Hashmat Stanikzai.
The firefight erupted near a training centre overseen by the National Security Directorate — Afghanistan's intelligence agency — with the gunmen holed up in a construction site near residential buildings, an official at the scene said.
Live television footage showed humvees patrolling the empty streets while gunfire echoed and a helicopter circling above.
Commandos were also deployed to the scene to help contain the fighting, according to another security official.
There was no immediate claim of responsibility for the incident.
Bloody week
The attack comes just hours after a suicide bomber detonated explosives inside an education centre in a predominantly Shia area of western Kabul, where students were studying for college entrance exams, killing at least 37 people.
The attack was claimed by the Islamic State (IS) group on Thursday via their Amaq propaganda service, as families of the dead held a mass funeral where mourners wept and clutched the wooden coffins.
An industrial-sized digger helped soften the arid ground for the fresh graves as men removed rocks from the soil with pickaxes.
Mourners decried the unrelenting bloodshed, while others dismissed murmurings of possible ceasefires and peace negotiations between the government and the Taliban, even though the attack was claimed by IS.
"Death to your ceasefire and death to your ghost peace talks," cried one of the funeral attendees. "They are killing our educated people and everyday they are killing us."
The surge in violence comes just weeks after Afghans marked an unprecedented country-wide ceasefire between the Taliban and government forces in June, giving some temporary relief to civilians.
The brief respite sparked hopes the truce could clear the way for talks to end the nearly 17-year-old conflict.
However the devastating attacks across the country in recent days have led many to question how such negotiations could move ahead.
"Everyday we are witnessing deadly attacks in Kabul and other major cities. So, I believe the Taliban do not believe in peace talks," said shopkeeper Shahenshah Shahin in Kabul.
Analysts have suggested the Taliban may be trying to shore up its position before any potential negotiations by proving they can hit government installations at will.
"The Taliban will try to have an upper hand during talks, so we can't rule out more attacks until a ceasefire," said Taliban expert Rahimullah Yusufzai.
"It's the fighting season and the Taliban will want to rack up victories before winter."
While it has been months since The Taliban have claimed a major attack in Kabul, the group has been conducting blistering attacks on security forces across Afghanistan, including a massive, days-long onslaught on the eastern city of Ghazni during the past week.
Afghan forces appeared to have finally pushed Taliban fighters from the strategic provincial capital, as the UN warned that reports suggested up to 150 civilians might have been killed in the fighting.
Militant attacks and suicide bombings were the leading causes of civilian deaths in the first half of 2018, a recent UN report showed.
Small pockets of Ghazni began opening up to humanitarian aid on Thursday, while partial mobile service returned after telecommunications infrastructure and government buildings were destroyed during the onslaught.
https://nation.com.pk/16-Aug-2018/gunmen-launch-attack-on-intelligence-training-centre-in-kabul
--------

B'desh detains dozens in student protest crackdown
August 17, 2018
DHAKA - Bangladesh police said Thursday they have arrested nearly 100 people as they step up a crackdown after student protests that paralysed the capital.
Dhaka and other cities were brought to a standstill for more than a week by tens of thousands of students demanding better safety measures after two teenagers were killed by a speeding bus. Police in Dhaka said they have detained 97 people "for violence and incitement in the social media" during the demonstrations that began on July 29.
The moves have sparked fear among activists, protest leader Bin Yamin Mollah told AFP "Everyone is in a panic," he said. "Almost all the students who have led the protests have gone into hiding."
"Many students who posted about the protests have either changed their Facebook accounts or removed their posts. Even yesterday two students were arrested for their Facebook posts.
Teachers are being harassed for supporting the protests," he said.
The detentions include acclaimed photographer Shahidul Alam and actress Quazi Nawshaba Ahmed, who were held over comments made on Facebook during the protests.
Writer Pinaki Bhattacharya, a high-profile critic of Prime Minister Sheikh Hasina, has not been seen since intelligence officers asked him to report to their headquarters on August 5, his father told AFP.
On Wednesday police arrested a 22-year-old student leader Lutfun Nahar Luma at a remote hideout.
Dhaka police's cyber crime chief said Monday that officers have investigated about 1,000 Facebook accounts they say spread rumours during the unrest.
Rights groups have criticised the crackdown and the violence used to end the protests. About 1,000 people were injured in police action and attacks by pro-government groups on students and journalists.
On Wednesday, Human Rights Watch said the arrests have created "an atmosphere of fear, putting a serious chill on free speech".
Full report at:
https://nation.com.pk/17-Aug-2018/b-desh-detains-dozens-in-student-protest-crackdown
--------
7 suicide bombers arrested by the NDS operatives in Jalalabad city
Aug 16 2018
The Afghan Intelligence, National Directorate of Security (NDS), operatives have arrested a group of seven suicide bombers during an operation in Nangarhar province.
Provincial governor's spokesman Ataullah Khogyani confirmed that the suicide bombers were arrested from the vicinity of Jalalabd city.
He did not disclose further information in this regard with the anti-government armed militants yet to comment regarding the report.
In the meantime, the provincial government media office, in a statement said the Afghan forces have discovered and destroyed a vehicle-borne improvised explosive device in Surkh Rod district.
The statement further added that the car bomb was discovered late on Wednesday night Kakarak area of the district.
According to the provincial government, the militants were looking to detonate the car bomb in the vicinity of Jalalabad city, either to target the Independence Day or Eid celebrations.
Nangarhar has been among the relatively calm provinces since the fall of the Taliban regime in 2001 but the anti-government armed militants have been attempting to expand their foothold in this province during the recent years.
Full report at:
https://www.khaama.com/7-suicide-bombers-arrested-by-the-nds-operatives-in-jalalabad-city-05741/
--------
Taliban militants suffer heavy casualties in US airstrikes in Helmand
Aug 16 2018
The Taliban militants have suffered heavy casualties during the airstrikes conducted by the US forces in southern Helmand province of Afghanistan.
The provincial government media office in a statement said the US forces carried out airstrikes targeting Taliban militants in Nad Ali district.
The statement further added that the airstrike was carried out in the vicinity of Chah Anjir area of the district, leaving at least 13 militants dead.
According to another report, the US forces carried out an airstrike targeting the militants in Tarikh Nawar area as they were attempting to carry out attacks on Afghan security posts, the provincial government said.
At least 14 militants were killed and 7 others were wounded during the same airstrikes, the provincial government added in its statement.
Helmand is among the relatively volatile provinces in South of Afghanistan where the anti-government armed militants are actively operating in some of its districts and often carry out terrorist related activities.
Full report at:
https://www.khaama.com/taliban-militants-suffer-heavy-casualties-in-us-airstrikes-in-helmand-05740/
--------
Murders leave Rohingya camps gripped by fear
August 17, 2018
COX'S BAZAR, Bangladesh: A spate of bloody killings is fueling unease in the Rohingya camps on the Bangladesh-Myanmar border, where overstretched police are struggling to protect nearly a million traumatized refugees from violent gangs.
Just 1,000 police officers guard the labyrinthine shanties that make up the giant camps and authorities want to more than double the force in the wake of the murders.
Three respected community leaders are among those slain in what police suspect is a power struggle between Rohingya gangs in the refugee slums in camps around Cox's Bazar.
One, Arifullah, was stabbed 25 times on a busy road in June and left in a pool of blood. The other two were killed in their shacks just days apart by masked assailants.
Police in the crime-ridden Cox's Bazar district are investigating 21 refugee murders, many in recent months, which they blame on score-settling and turf wars.
Many in Kutupalong, the world's biggest refugee camp, and others nearby, say the unchecked violence leaves Rohingya families at the mercy of criminals.
"When the gangs come into the camps, people call the police. But they only arrive after the criminals are gone," said 16-year-old Runa Akter, whose father disappeared in July with a relative who was later found dead.
Police only filed a case after her uncle's body was found, she said.
"We are scared. We are especially worried about my brother, because there have been threats to kidnap and kill him," the anxious teenager said. "I don't want to lose anyone else in my family."
A police investigator, SM Atiq Ullah, said no suspects had been identified so far.
Criminals have long preyed on the Rohingya camps however.
Police say refugees with ties to Bangladeshi drug and human trafficking networks have sold Rohingya girls into sex and recruited mules to courier methamphetamine.
The scourge has intensified since an army crackdown in Buddhist-dominated Myanmar drove nearly 700,000 of the stateless Muslim minority into Bangladesh last year.
Hundreds of Rohingya refugees have been arrested since the August influx for rape, drug offenses, human trafficking and weapons possession, among other crimes.
Afruzul Haque Tutul, a senior police officer who until mid-August was deputy chief of Cox's Bazar, said gangs cashing in on the human misery were extorting "huge money" from new refugees desperate for land, shelter and food.
Internal feuds over territory quickly turn deadly.
Among the bodies was Arifullah, one of the "mahjis" or community leaders tasked with overseeing day-to-day camp affairs.
As an English speaker, he met with dignitaries and liaised closely with police — a position of power Tutul says could have irked rivals.
Arifullah's wife blamed Rohingya militants for the death of her husband who was surrounded and stabbed by a group of men.
She said that Arifullah was a "big critic" of the Arakan Rohingya Salvation Army (ARSA), the shadowy group whose attacks in Myanmar sparked the military reprisals.
Bangladesh denies the militants have a foothold in the camps and the group distanced itself from crime in a rare January statement issued after two mahjis were murdered.
"It is very challenging, and sometimes threatening, being a mahji," said Arifullah's right-hand man, Abdur Rahim, who took over four days after his friend's killing.
Just a day earlier, a mahji in a neighboring camp was savagely beaten by a mob but there were not enough police to deter violence, he said in his bamboo office in Balukhali camp.
Tutul said patrols had been increased but forces were spread thin. Some 1,500 additional officers had been requested from Dhaka, he added.
"Definitely it's a huge task. We are trying our best to control the area," he said.
As the body count climbed, Bangladesh's Daily Star newspaper in July printed an editorial declaring it "amateurish to hope that less than 3,000 police would be enough" to guard one million desperate people.
The murders and other unexplained crimes have eroded trust in law enforcement and underscored gaps in policing.
On one recent visit, AFP reporters saw a police unit armed with shotguns and sticks patrol a camp near where two men were found dead in July.
But a community leader, who requested anonymity, said: "There are no police after midnight. Even during the day, during their shifts, they often stay in their posts."
Few officers speak the Rohingya language, further hampering inquiries. Fear has kept mouths shut.
"That is why Rohingyas do not come forward. They are scared. In your town, if criminals or terrorists or robbers were there, definitely you will be scared," Tutul said.
Aid groups are installing floodlights to improve safety, especially for women, and police checkposts are planned for vulnerable areas of the dense slums.
Full report at:
http://www.arabnews.com/node/1357826/world
--------
Africa
Somalia: Compromised Police to Blame for Al Shabaab Attacks, Says Mandera MP
15 AUGUST 2018
Mandera South MP Adan Kullow has accused police officers of taking bribes and permitting terrorists to carry out attacks in Kenya.
Al Shabaab terrorists have staged many attacks in Mandera and other counties where they target both police and civilians.
They use explosives, that are planted in roads, and guns with which they kill or injure their victims. They also destroy communications masts.
Kullow alleged on Wednesday that security personnel along the Kenya-Somalia border are compromised and that this has also resulted in radicalisation through teachings at mosques.
Regarding an attack early this week, that left three dead and two others critically injured, Kullow said KDF soldiers took more than 12 hours to respond. In that incident, a vehicle ran over a landmine believed to have been planted by al Shabaab militants.
"There's laxity along the Kenya-Somalia border. Security officers take bribes ... they have been compromised," the MP told reporters after visiting the victims. He did not give evidence.
"Security apparatus around here are enough but officers are not doing enough. They should team up [and assist each other] when such disasters happen," he added.
Earlier on Wednesday, Linda Boni Operation director Joseph Kanyiri accused residents of terror hotspots in Lamu, Tana River and Garissa of "hiding" terrorists.
Kanyiri said the locals alert al Shabaab militants on the movement of security officers whereas others hide terrorists when officers embark on searches.
He cited recent terror attacks in the region and blamed them on information leaked to the militants.
Speaking in Mandera's Elwak town, acting deputy county commissioner Paul Kemei asked residents to alert security agents about any kind of danger.
He noted this will enable police to prevent attacks and arrest criminals before offences are committed.
Mandera South sub-county sits on the part of the border where the government is constructing a wall to separate the two countries.
In 2013, the government deployed the military to Mandera to disarm people who armed themselves, fearing police would not end the insecurity menace.
The county is under a 6 am to 6 pm curfew that came to force last year.
https://allafrica.com/stories/201808160179.html
--------
Displaced Muslim teens learn computer skills at Catholic mission
Aug 17, 2018
Bangassou, Central African Republic - As an IT specialist, Djamaladine Mahamat Salet is used to providing solutions to complex problems.
When he discovered there were no high-school classes for the displaced children in his community, he decided to start teaching them basic computer skills.
The big challenge was that he would have to do so without electricity, an internet connection, and no laptops.
"These children are stuck here due to this conflict," said 38-year-old Salet. "I am trying to prepare these students so that when they can finally go on to university, they will thrive."
To deal with the lack of power, Salet, who is also a displaced person, rigged a car battery to solar panels to generate a steady supply for the students.
Central African Republic (CAR), an impoverished nation of around 4.6 million, has been mired in conflict since 2013, when the Seleka - a predominantly Muslim coalition of rebels - overthrew the government of Francois Bozize.
A group called the Anti-balaka, which is made up mostly of Christian fighters, formed to counter the Seleka and during the ongoing fighting both sides have committed atrocities.
Salet is one of around 1,600 displaced Muslims who have been sheltering at the Catholic mission in Bangassou since May 2017, when Anti-balaka fighters waged a campaign of violence against the local Muslim community.
More than 100 Muslims, including Salet's 63-year-old father, were killed before Portuguese troops from MINUSCA, the United Nations' peacekeeping force in CAR, were able to intervene and escort the survivors to safety.
The years of conflict have taken a heavy toll on the country's education system.
Since 2017, the United Nations has documented more than 85 cases - with 24 incidents so far in 2018 - of attacks, looting, or occupation of schools by armed groups.
More than 350 schools have been closed due to the surge in violence.
According to UNICEF, a third of children in CAR are unable to attend school, and fewer than 50 percent complete their primary education.
Of those who do, only about half go on to continue their studies after the primary level. The latest figures indicate there are around 272,000 internally displaced children in CAR and that nearly 116,000 of them are not in school.
"As a result of persisting violence, children and youth are exposed to all sorts of abuse and exploitation [such as] enrolment in armed groups, criminal and banditry acts, sexual exploitation and abuse, child marriage and early pregnancies," explained Christine Muhigana, UNICEF's country representative in the CAR.
"We are very concerned about the lasting impact this crisis is having on children. We have a whole generation growing up traumatised, without proper education, without healthcare and constantly exposed to the most horrific violence," she said.
At Petit Seminaire Saint Louis, the settlement for internally displaced persons (IDPs) in Bangassou, Salet saw how the conflict affected children.
Morale was particularly low among the 108 high-school-age students.
"All the gunfire affects children, it unsettles them," said Salet. "That's one reason I decided to open this [computer lab]. To help take their minds off the conflict and put them more at ease."
Salet says he approached several aid agencies to ask for support, but none agreed to take part. In the end, he turned to his community for help.
By late 2017, Salet managed to borrow four laptops from displaced families and construct a small computer lab from leftover wood, tarpaulins and mesh wire and powers them with the solar panels he rigged to the car batteries.
In December 2017, classes began with Salet teaching four two-hour sessions each day, Monday to Friday, with 10 students in each class. The lab is even open Saturdays for children who want extra learning time.
Seventeen-year-old Oussna Abdraman has been studying with Salet for almost three months, during which she has learned Microsoft Word, Excel, Windows, general computer functions and how to use the internet.
"Without going to a regular school, we feel like we are losing out on the opportunity to learn. We feel like we have only a low level of education."
The computer classes, she said, have helped to lift their spirits.
Abdraman would eventually like to work at a bank.
"Inshallah (God willing), I will be able to go on and study at university. I would like to continue studying computers and get a degree in economics," she said. "Knowing computer skills … it will help me with research and help me in everyday subjects like biology or history," she added.
Like other teenagers at the settlement, Abdraman longs to resume something resembling a normal life. "We feel very bad having to stay here, because there is no freedom of movement. There is also a lack of food, and we have to sleep on the ground. It's not comfortable," she said.
It remains unclear when Bangassou's Muslims will be able to return to their homes and rebuild. Most houses and businesses owned by Muslims were destroyed and looted during the events of last year.
Bishop Juan Jose Aguirre Munos, who oversees Bangassou's Catholic mission, said there is still "a climate of mistrust" between the religious communities, but that both sides are gradually beginning to accept each other.
"Some activities paralysed because of this crisis have resumed, for example, the central market is open every day. All political, civil, military and religious leaders are working for the return of peace and social cohesion, living together and returning displaced people to their homes," the bishop said.
Ali Idriss, chief of Muslim IDPs at Petit Seminaire Saint Louis, said that safety remains a concern and that rebuilding their lives and businesses will prove difficult without outside support.
"We have nothing. We all lost our houses. People have taken over the land in some places and built new homes," he said. "We want to go home. We have the will to do so, but the situation is still very difficult. There is no security."
Yvon Walaka, spokesman for the local so-called "self-defence group", which is made up of former Anti-balaka fighters, tried to paint a different picture of the situation.
He said that the Muslims sheltering on the church grounds can return to their land when they hand over any firearms in their possession to MINUSCA, as he claims the former Anti-balaka fighters have done.
"You don't see us carrying guns. You don't hear anyone shooting in the air. We want peace," he claimed.
Back at the IDP settlement, Salet says that a divided population must find common ground in order to live in harmony.
Full report at:
https://www.aljazeera.com/indepth/features/displaced-muslim-teens-learn-computer-skills-catholic-mission-180815214654000.html
--------
In heart of West Africa, Burkina Faso faces rising extremism
Aug. 15, 2018
OUAGADOUGOU, Burkina Faso (AP) — The extremists approached the shepherd and made their intentions clear: They were seizing only the cattle owned by the deputy mayor of Burkina Faso's rural commune of Deou and leaving the others alone.
And they had a message, deputy mayor Moustapha Sawadogo said: "All officials should leave the Sahel or face death."
Islamic extremism has penetrated this West African nation, with its arid north becoming a sanctuary for fighters from Mali and Niger. Local young men who are frustrated by poverty and alleged abuses by soldiers during counterterror efforts are becoming radicalized.
"They live with us and know our movements," said Sawadogo, who has lived in Burkina Faso's Sahel region for more than two decades. "For the moment, the area belongs to them. They have seized it."
The once-peaceful Burkina Faso, in the heart of West Africa, is finding itself uncomfortably at the center of a battle between extremists and regional counterterror effort for which it is relatively unprepared. Larger neighbors Mali and Niger for years have fought extremist groups pledging allegiance to al-Qaida and the Islamic State organization.
Now with the extremist threat spilling across the borders to Burkina Faso, the country has signed up with a new regional counterterror force, the G5 Sahel. Military spending jumped 24 percent from 2016 to 2017, according to the Stockholm International Peace Research Institute. The fight has strained security forces and frightened tens of thousands of students out of schools.
When the first extremist attacks hit Burkina Faso's west in 2015 they bore the signature of the Al-Mourabitoun movement, a branch of Mali-based extremists that Burkina Faso authorities said had received support from Burkinabes. Then a homegrown jihadist group began to form and attacks became more brazen.
The capital, Ouagadougou, was hit for the first time in January 2016, with extremists targeting a cafe popular with foreigners, killing at least 30 people. Then in August 2017, 18 people were killed in an attack on a Turkish restaurant in the capital. And an attack in March targeted the military's headquarters and the French Embassy, killing eight soldiers.
A well-known local preacher emerged as a key threat in 2015 when his men killed 12 soldiers in their barracks in the rural commune of Baraboule. Ibrahim Malam Dicko "became so radical that he and his men started condemning the way we practice weddings, baby baptisms or namings," said the Emir of Djibo, Aboubacar Dicko, the highest religious and community leader in Soum province in the Sahel region.
Dicko's followers went from village to village banning such ceremonies, calling them "anti-Islam." They would kill those who refused to follow them or who were suspected of providing information to the security forces, deputy mayor Sawadogo said.
The followers also reached out to young unemployed men who felt abandoned by the central government.
"They are not jihadis, religiously speaking, but frustration leads them to seek weapons and now they hope to find their lost self-esteem," Sawadogo said. "They found in jihadism the way to easily get weapons, a motorbike and to resemble what they used to be" when they had cattle, he said. Droughts in recent years have caused many in northern Burkina Faso to lose cattle and crops.
"We urgently need jobs but the government just comes with some cosmetic projects ... It is not enough," the Emir of Djibo said. The millions of dollars put into the government's Sahel Emergency Program, launched a year ago to address poverty in the drought-hit region, have yet to deliver results.
In July, Burkina Faso's security minister for the first time released the names of 146 citizens wanted for aiding and participating in extremist activities, including some well-known local councilmen and traders. So far, only three have been arrested.
Rights groups worry that a heavy-handed approach in counterterror operations has pushed some young men into joining the extremists. In May, Human Rights Watch said security forces were implicated in at least 14 alleged summary executions and four other men died of alleged severe mistreatment in custody.
As extremists find a stronger local following they have increased attacks on security forces and officials. In recent months, the prefect of Oursi and the mayor of Koutougou, both rural communes in Soum province, have been killed.
On Saturday, five gendarmes and one civilian were killed when their vehicle hit an explosive device between the rural communes of Boungou and Ougarou in the far east.
Attacks on schools and abductions of teachers have forced the closure of more than 200 schools, mainly in Soum province, while more than 20,000 students could not take final exams this year.
The governor of the eastern region has warned that some young men who had left for Mali are now back and seeking to launch a katiba, or brigade.
Full report at:
http://www.whig.com/article/20180815/AP/308159965#//
--------
Nigeria disputes UN's claim of ransom payment to terrorists
17 August 2018
The Nigerian government Thursday denied that it paid ransom to a Boko Haram splinter group Islamic State West Africa Province (ISWAP) to secure the release of the Dapchi schoolgirls.
The girls were kidnapped from their school on February 18. One of the girls, Leah Sharibu, is yet to be released for refusing to convert to Islam, other freed girls said.
The Nigerian government said on March 21 that negotiations through a back-channel led to the release of the girls and a boy. But a recent report published by the United Nations said the government lied.
"The girls were released around 3:00 am through back-channel efforts and with the help of some friends of the country," said Nigeria's Information minister Lai Mohammed in March.
To free the girls, Mohammed said the only demand made by the insurgents was a temporary ceasefire.
The United Nations, however, said in a recent report submitted to the Security Council Committee that the Nigerian government paid "large ransom" to ISWAP.
"In Nigeria, 111 schoolgirls from the town of Dapchi were kidnapped on 18 February 2018 and released by ISWAP on 21 March 2018 in exchange for a large ransom payment," the UN said in the report.
But the Nigerian government said there was no basis for the world body to make such a conclusion. Mohammed doubled down on his earlier position, saying the UN's claim was a "mere conjecture".
"It is not enough to say that Nigeria paid a ransom, little or huge," Mohammed said in a statement on Thursday.
Full report at:
https://guardian.ng/news/nigeria-disputes-uns-claim-of-ransom-payment-to-terrorists/
--------
Al-Shabaab militants blamed for wave of killings in Somalia
Aug 17, 2018
has once again gripped Somalia after recent attacks perpetrated by Islamist militant group al-Shabaab.
According to the United Nations Human Rights Council, 44 individuals who took part in the country's last general elections were killed for their role in the formation of the current Somali government
Those targeted include clan elders and electoral delegates who picked representatives of the current 275-member parliament. Fifteen of them were targeted in the run to the presidential poll in February last year, with 29 other targeted after the election of the Somali president.
Al-Shabaab has been named as the main culprit in most killings – with the UN Human Rights Council now calling on state and non-state actors to ensure the protection of human rights.
Due to that threat, an electoral college was constituted made up of 14,000 delegates.
51 representatives picked by clan elders helped elect each of the 275 federal parliamentarians who later voted for a president last year – in one of the most competitive polls in Somalia history.
Al-Shabaab has waged war in the horn of African region for over a decade, killing tens of thousands and displacing millions others.
The displacements have created a refugee and humanitarian crisis in Somalia, causing suffering to millions of Somalis. This was even made worse by a drought that hit the country in 2016/17, causing famine and malnutrition across the country.
The UN however hopes that regional and international efforts to pacify Somalia will bear fruits before the next election, which will be conducted in three years.
Full report at:
https://africa.cgtn.com/2018/08/16/al-shabaab-militants-blamed-for-wave-of-killings-in-somalia/
--------
North America
GOP congressman appears on anti-Muslim radio show
August 16, 2018
A Florida congressman has made three appearances on a radio show hosted by two people who regularly espouse fringe anti-Muslim comments.
Republican Rep. Brian Mast appeared on the Right Side Patriots radio program on Tuesday, an online show hosted by conservative commentators Diane Sori and Craig Andresen who proudly describe themselves as anti-Muslim.
The appearance was Mast's first as a sitting congressman after he previously appeared in 2015 and 2016 as a congressional candidate, according to recaps of the show. Audio of the previous shows is not online.
Neither Mast, nor the hosts, made any anti-Muslim comments in Tuesday's interview, which touched on his background and run for Congress. Sori and Mast mentioned they sat at the same table at a dinner hosted by former Republican Rep. Allen West of Florida. The segment following Mast's appearance accused Muslim-American political candidates of committing "ballot box jihad."
"It's also important for people to remember whether they like to hear it or not," said Sori. "We are at war with Islam. Plain and simple. I cannot say it enough. Islam is not a religion and we are at war with Islam -- not radical Islam, all Islam."
Mast's spokesman, Brian Stewart, defended the interview in a statement to CNN's KFile, saying Mast talked to all reporters.
"Congressman Mast talks to many reporters about the issues that are most important to his constituents like clean water, support for veterans and community safety -- just as he did in this interview -- and just like every reporter doesn't agree with his positions, he doesn't agree with every statement ever made by the reporters that he talks to," Stewart wrote in an email.
Sori and Andresen have separate websites for their radio program. The main page of Sori's website prominently features a long article by her on her belief that Islam is a cult and not a religion. Conspiratorial and anti-Muslim comments are a main theme of her blog
Andresen also regularly writes anti-Muslim comments and conspiracies such as a theory that former President Barack Obama is a secret Muslim whose real father was an Indonesian man.
https://edition.cnn.com/2018/08/16/politics/brian-mast-anti-muslim-radio-show/index.html
--------
Time for Trump to join Arab states, apply pressure on Qatar
16 August 2018
Nawaf Obaid, commissioner for International Justice and Accountability, said that the US has the leverage it needs to pressure Qatar to stop supporting terrorist groups such as the Muslim Brotherhood (MB) and weaken the state's ties with Iran, stressing on the bad consequences of the continuity of such Qatari policies on the region and on the US itself, in an article published by Foreign Policy, an American news publication, on Wednesday.
Obaid discusses the fluctuation in Donald Trump's position on the diplomatic crisis between Qatar and its neighbors.
"Beyond its ties to that country (Iran), Qatar's support for the Muslim Brotherhood is at least as troubling, if not more so," he writes.
Obaid discusses cases in which the MB have caused chaos in the region and internationally, referring to the belief of their murder of Hisham Barakat and their seemingly close relationship with al-Qaeda and ISIS.
"Qatar's social and political scene—its schools, media, financial endowments, and especially foreign policy—are all aligned to varying degrees with the Brotherhood's ideology," Obaid writes.
He went further explaining the policies' similarities between the state and the group mentioning: Qatar's pledging of $250 million to Hamas, Qatar sending billions to the Egyptian government to secure and sustain the MB's presidential candidate, Mohamed Morsi, and Qatar's funding of the Nusra Front and Ansar al-Sharia in Syria and Libya respectively.
"Qatar's engagement with the Muslim Brotherhood goes beyond the Middle East. In recent years, it has been accused of giving more than $175 million to Brotherhood-linked groups in Denmark, France, Italy, and the United Kingdom," said Obaid, author of Bad Faith, a book on the failure of the Muslim Brotherhood in the Arab World that is yet to be published.
For the United States, too, such "revolutionary political activism" represents a profound danger. If the Brotherhood's long-term objective really were to build a fundamentalist Islamic society free of Western influence, that would be devastating to the United States' strategic posture and standing in the Middle East and the wider Muslim world.
Full report at:
https://english.alarabiya.net/en/features/2018/08/16/Nawaf-Obaid-Trump-will-regret-changing-his-mind-about-Qatar-.html
--------
US threatens more Turkey sanctions if pastor not freed
16 August 2018
Treasury Secretary Steve Mnuchin on Thursday said that the United States would levy more sanctions on the troubled Turkish economy if Ankara does not release an American pastor.
"We have put sanctions on several of their cabinet members," Mnuchin told President Donald Trump in a cabinet meeting attended by the press. "We have more that we are planning to do if they don't release him quickly."
Trump prefaced Mnuchin's remarks by saying that Turkey had not been a very good friend.
Referring to imprisoned pastor Andrew Brunson, Trump said "they have a great Christian pastor there, he's a very innocent man."
A Turkish court on Wednesday rejected a new appeal to free US pastor Andrew Brunson, whose detention has sparked a major row between Turkey and the United States, local media reported.
Full report at:
https://english.alarabiya.net/en/News/world/2018/08/16/US-threatens-more-turkey-sanctions-if-pastor-not-freed.html
--------
Further Taliban assaults likely in weeks ahead — US Defense chief Mattis
August 17, 2018
BOGOTA, Colombia: The Taliban is likely to keep up its recent surge of violence in advance of scheduled parliamentary elections in October but Western-backed Afghan defenses will not break, US Defense Secretary Jim Mattis said Thursday.
In his most detailed comments on the Taliban's assault on the eastern city of Ghazni since it began Aug. 10, Mattis said the Taliban had six objectives in and around the city and failed to seize any of them. He would not specify the six sites.
In Ghazni, provincial police chief Farid Mashal said Thursday that roads were being cleared of mines planted by Taliban who temporarily held entire neighborhoods of the city that they had besieged. The fighting continued for five days with more than 100 members of the Afghan National Security forces killed and 20 civilians. Scores of Taliban were also killed, according to Afghan officials.
Mattis said some Taliban fighters were still holed up in houses in the city "trying to get resupplied." He said businesses are reopening, and overall, "it's much more stable" in Ghazni, showing that the Taliban have fallen short.
"They have not endeared themselves, obviously, to the population of Ghazni," Mattis said. "They use terror. They use bombs because they can't win with ballots."
The Taliban operation followed a familiar pattern, Mattis said in remarks to reporters flying with him Thursday evening to Bogota, Colombia, where he was winding up a weeklong tour of South America.
The insurgents likely were trying to gain leverage in advance of an expected cease fire offer by Afghan President Ashraf Ghani, he said. And they likely were hoping to sow fear in advance of the October elections, he added.
"They achieved a degree of disquiet," he said, but nothing more.
"So, we'll continue to see this sort of thing," he said, even though the Taliban lack the strength to hold territory they seize for brief periods. "They will never hold against the Afghan army."
The Afghan war has been stalemated for years. The Taliban lack the popular support to prevail, although they benefit from sanctuary in Pakistan. Afghan government forces, on the other hand, are too weak to decisively break the insurgents even as they develop under US and NATO training and advising.
Mattis has said he believes the Afghan security forces are gaining momentum and can wear down the Taliban to the point where the insurgents would choose to talk peace. So far that approach has not produced a breakthrough.
Full report at:
http://www.arabnews.com/node/1357851/world
--------
US unveils action group to run policy on 'malign' Iran
August 16, 2018
WASHINGTON/JEDDAH: US Secretary of State Mike Pompeo has named Brian Hook as the new 'special representative' for Iran, who will head up an 'Iran Action Group.'
Pompeo declared he is forming the dedicated group to coordinate and run US policy toward Iran as the Donald Trump administration moves ahead with efforts to force changes in the country's behavior after withdrawing from the Iran nuclear deal.
Officials said the group will be headed by Brian Hook, who is currently the State Department's director of policy planning. Hook led the Trump administration's ultimately unsuccessful attempt to negotiate changes to the nuclear deal with European allies before the president decided in May to pull out of the accord.
Since withdrawing, the administration has re-imposed sanctions that were eased under the deal and has steadily ramped up pressure on Iran to try to get it to stop what it describes as "malign activities" in the region.
In addition to its nuclear and missile programs, the administration has repeatedly criticized Iran for supporting Syrian President Bashar Assad, Shiite rebels in Yemen and anti-Israel groups. It has also in recent weeks stepped up criticism of Iran's human rights record and is working with other nations to curb their imports of Iranian oil.
The administration is warning Iran's oil customers that they will face US sanctions in November unless they significantly reduce their imports with an eye on eliminating them entirely.
It has also told businesses and governments in Europe that they may also be subject to penalties if they violate, ignore or attempt to subvert the re-imposed US sanctions.
In his new job, Hook is to oversee implementation of the administration's entire Iran policy, the officials said. Pompeo and other officials have denied that the administration is seeking to foment regime change in Iran and maintain they only want to see the government change course. Pompeo created a similar group dedicated to working on North Korea policy while he was director of the CIA.
Hook is expected to be replaced as policy planning chief by Kiron Skinner, a foreign policy academic and adviser to several Republican presidential candidates who served on President Donald Trump's national security transition team and very briefly at the State Department after Trump took office, according to the officials who were not authorized to publicly discuss personnel matters and spoke on condition of anonymity.
Meanwhile, two leading German firms are the latest to pull out of projects in Iran as the sanctions take a toll on foreign investment. Rail operator Deutsche Bahn and Deutsche Telekom said they would end their involvement because firms investing in Iran will be barred from doing business with the US. Oil firm Total, and carmakers PSA, Renault and Daimler have said they will also withdraw.
Harvard scholar and Iranian-affairs expert Majid Rafizadeh said the regime in Tehran is in deep trouble at home as the sanctions, which came into effect last week, are working.
"More companies and firms are halting their business deals with Iran," he said. "Foreign investors are also withdrawing. This is significant due to the fact that many foreign investors have invested billions of dollars in Iran's debt market as Tehran's economy is cash-strapped.
"On the surface, Iran's leaders are brushing aside the sanctions as trivial, but Tehran is significantly wary as the sanctions are affecting its economy negatively. If the Iranian regime does not alter its destructive behavior, the sanctions will cripple its economy."
Full report at:
http://www.arabnews.com/node/1357646/world
--------
URL: https://www.newageislam.com/islamic-world-news/turkey-using-civilians-human-shield/d/116136
New Age Islam, Islam Online, Islamic Website, African Muslim News, Arab World News, South Asia News, Indian Muslim News, World Muslim News, Women in Islam, Islamic Feminism, Arab Women, Women In Arab, Islamophobia in America, Muslim Women in West, Islam Women and Feminism