New Age Islam News Bureau
28 March 2013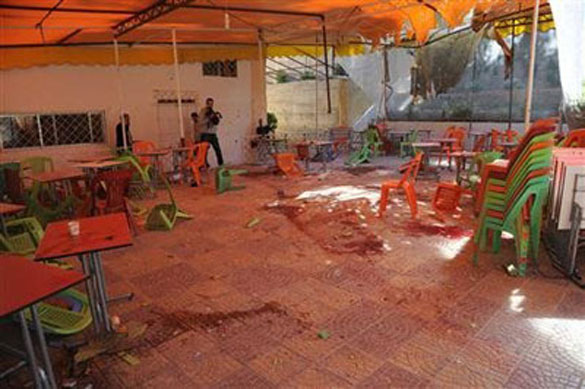 Africa
• Tunisians Raise Alarm on Fatwa Encouraging 'Sexual Jihad'
• Nigeria: Ethnic Clashes Leave 27 Dead
• Tunisia to set up cells to combat Al-Qaeda threat
• As Neoliberal Order Wreaks Havoc, World Social Forum Gathers in Tunisia
• Islamist leader threatens to oust Tunisian prime minister
• 63 soldiers, 600 Islamists dead since January: Malian army
Arab World
• Saudi Prosecutor Demands Death Penalty for Shiite Cleric
• Mortar Attack Kills 12 Students in Damascus University: State TV
• Syrian opposition opens first embassy in Qatar
• Jordan Should Charge or Free 'Devil Worshippers': Human Rights Watch
• Saudi Preacher charged with instigating unrest in Eastern Province
• Egyptian Coptic Christians Must Be Protected From Sectarian Violence
• Saudi Arabia executes, crucifies Yemeni for sodomy and murder
• 374 people embrace Islam in a month: Islamic Education Foundation in Riyadh
• Egyptian sentenced to death for killing Copts
• Egypt court overrules Morsi on sacking prosecutor general
• Expats in Saudi Arab alarmed as raids target illegals
• UAE to boost ties with global humanitarian institutions
• Assad Sends Letter to Emerging Powers Seeking Help to End Syrian War
India
• Centre cleared Liyaqat's name under policy for rehabilitation
• Had it been a Muslim instead of Sanjay Dutt would Katju seek pardon: Janata Dal (U)
• Saudi Malayalis jittery as Nitaqat (ranges or zones) deadline ends today
• Chandy writes to PM on new Saudi law
• Report awaited in Chamel Singh death case, says Pak
• Restrictions on movement of Mirwaiz lifted
• Seven Indians killed in Saudi godown fire
• Last date to apply for Haj pilgrimage extended to March 30
Pakistan
• Amazing Somersault: Najam Sethi Vows To Protect Islamic Ideology of Pakistan
• ISAF Operation: NATO forces kill 25 Pakistani Taliban
• Pakistan says war on terror has cost nearly 50,000 lives there since 9/11
• Shadow of fear on Holi celebrations in Pakistan
• Proud of Kargil operation, says Musharraf
• Interior ministry's assessment: Militants determined to sabotage elections
• Kabul 'overreacted' to small incident: Pakistan
• CEC meets Baloch leaders, reviews law and order
• 2000kg explosive seized in Balochistan
• Shia official killed in Peshawar
• Blasphemy accused denied bail for a fourth time
South Asia
• Lack of international cooperation could force MDP to militancy: MP
• Four children killed in Afghan-coalition operation: police
• Myanmar's '969' crusade breeds anti-Muslim malice
• UN envoy to Afghanistan calls on Taliban to join peace process
• Ready to work for peace without Pakistan: Kabul
• Resist move against democracy, Bangladesh PM tells armed forces
• On this day in '71, 600 people were killed at Nishbetganj, Bangladesh
• Shahbag poised for second wave of protests
• Houses of three Hindu families attacked for skipping AL meeting
• Afghan army scraps Pakistan trip
• Maldives Parliament to probe Sheikh Hussain's "false preaching" over draft penal code
• Hopes of Taliban deal hit by Afghan-Pakistan dispute
Mideast Asia
• Iran court sentences 6 men to death for rape
• Freedom of expression 'under attack' in Turkey
• Ex-Prisoners Bring Taste of West Bank to Gaza
• Turkey Foreign Ministry Denies Forcibly Deporting Syria Refugees
• Israel reopens Gaza border crossings
Europe
• Displaced Somalis abused and raped - Human Rights Watch
• Bangladesh on the track to graduate from LDC list: UN chief
• UN Gives DR Congo One Week to Act against 'Rape' Troops
• Saddam Hussein's Italian lawyer was a fraud, British court rules
• French soldier held in Toulouse terror probe
• Russia seeks to underpin Afghan security after NATO pullout
• Kyrgyzstan convicts ex-leader's son Maxim Bakiyev
• UN Ban Ki-moon: Mali needs 11,000 peacekeepers
• Britain faced three attacks similar to 9/11
• Syrian opposition's Arab League seat 'illegal': Russia
• United States Watching Handling of Myanmar Violence
Southeast Asia
• Proposed New Criminal Law Threatens Indonesia's Unity in Diversity
• Malaysian Prime Minister Uses Public Humiliation to Fight Graft
• Jakarta Man Lights Body on Fire after Co-Worker Rejects His Love
• Three soldiers killed in attack by suspected militants in southern Thailand
• Thailand begins peace talks with Muslim insurgents
• Filling a Niche for Islamic Banking
North America
• Striking Guantanamo prisoners say water denied
• US Never Planned to Pull Out Troops in Afghanistan by 2014, Says Top Commander
• CAIR-Ohio Files Muslim Workers' Bias Complaints against DHL Subsidiary
• Jewish conspiracy remarks were product of "twisted mind": Lord Nazir
• Who shot bin Laden? Media feud among Navy SEALs
Compiled by New Age Islam News Bureau
Photo: Mortar Attack Kills 12 Students in Damascus University: State TV
URL: https://newageislam.com/islamic-world-news/new-age-islam-news-bureau/tunisians-raise-alarm-on-fatwa-encouraging--sexual-jihad-/d/10928
--------------
Africa
Tunisians Raise Alarm on Fatwa Encouraging 'Sexual Jihad'
By: Mohammad Yassin al-Jalassi
27 March 2013
Tunisia witnessed controversy yesterday [March 26] regarding a fatwa that permits "sexual jihad" in Syria. Tunisian Minister of Religious Affairs Noureddine al-Khadimi rejected "sexual jihad" Fatwas, saying that the Tunisian people and state institutions are not obligated to adhere to them. Khadimi's statements follow reports that Tunisian teenagers have headed to Syria in response to this fatwa.
The minister stated that these Fatwas have been rejected since they are "new terms that are foreign to the country." He said that Fatwas must be based on scientific, methodological and objective references. He also noted that any Fatwas issued at home or abroad "only obligate those who issue them, not the Tunisian people or state institutions."
The minister's statements came after the spread of an anonymous "sexual jihad" fatwa on the Internet calling on young women to support [opposition] fighters in Syria [by providing sexual services]. According to media reports and Mujahideen who returned to Tunisia after participating in jihad in Syria, 13 Tunisian girls headed to the battlefield in response to the "sexual jihad" fatwa.
News websites and social networks in Tunisia circulated a fatwa attributed to Sheikh M. A., in which he calls upon "Muslim women" to perform jihad through sex. However, sources close to the sheikh denied that he had issued the fatwa, stressing that anyone who circulates or believes it is insane.
It is noteworthy that this fatwa had gained much attention on pro-Syrian regime websites, the goal of which may be to tarnish the image of the Islamic fighters.
Regardless of whether the fatwa is true or false, it seems to have resonated among at least 13 Tunisian girls. A few days ago, Tunisian newspapers said that a young Tunisian man divorced his wife, and that they both headed to Syria almost a month ago to "allow her to engage in sexual jihad with the Mujahideen" there.
Although this fatwa was not issued by a Tunisian cleric or a religious institution — whether official or civil — it did not prevent a number of Tunisian girls from travelling to Syria to perform "sexual jihad." According to analysts, the reason is that Tunisian youth are greatly influenced by Salafist sheikhs living abroad.
Two weeks ago, a video was widely circulated on the internet and social websites in Tunisia. It shows the parents of a veiled girl called Rahmah saying that they did not find their daughter — who was not even 18 years old — at home in the morning, and later learned that she had headed to Syria to carry out "sexual jihad." The family of Rahmah — who later returned to her family, which have ever since intentionally kept her out of sight — said that their daughter is not a religious fanatic, but was influenced by her fellow students who are known for their affiliation with the jihadist Salafist current. They said that these fellow students may have brainwashed her and convinced her to travel to Syria "to support the Mujahideen there."
Al-Hadi Yahmad, a researcher on the affairs of Islamic groups, told Al-Hayat that "the issue of sexual jihad was initially attributed to a Saudi sheikh who denied it, and this fatwa is abnormal and not endorsed by religious scholars." He added that this fatwa — had it indeed been issued — may involve Syrian girls living in Syria, who can "support the mujahideen by marrying them for a few hours."
http://www.al-monitor.com/pulse/culture/2013/03/tunisia-girls-syria-sexual-jihad.html#ixzz2Opg6vee3
--------------
Nigeria: Ethnic Clashes Leave 27 Dead
March 28, 2013
Clashes between rival ethnic groups in central Nigeria killed at least 27 people on Wednesday, witnesses said, in a region straddling the country's largely Christian south and mostly Muslim north that is prone to civil unrest. Witnesses said armed Fulani herdsmen attacked the villages of Da Jak and Attakar in Plateau State in the early hours, spraying residents with automatic gunfire and setting houses on fire. The military declined to comment, but a Plateau State legislator, Daniel Dem, said dozens had been killed.
http://www.nytimes.com/2013/03/28/world/africa/nigeria-ethnic-clashes-leave-27-dead.html?ref=africa
----------
Tunisia to set up cells to combat Al-Qaeda threat
27 March 2013
TUNIS: Tunisia announced yesterday it was setting up crisis cells to combat "terrorist activity," after the United States warned that Al-Qaeda was seeking to establish a base in the country.
"We have launched the creation of crisis cells to monitor terrorist activities on the border (with Libya and Algeria) and in the interior, faced with the rise of the militant movement and the existence of recruitment networks," Interior Minister Lotfi Ben Jeddou told Parliament.
He said those cells would be under the control of Tunisia's Supreme Security Council and would also gather information on networks enrolling young Tunisians to fight in Syria.
He was speaking after General Carter Ham, head of US Africa Command (Africom), warned during a brief visit of the growing threat to Tunisia posed by Al-Qaeda in the Islamic Maghreb (AQIM), the group's north African franchise.
"It is very clear to me that Al-Qaeda intends to establish a presence in Tunisia," he told Tunisian radio late on Tuesday, after meeting Ben Jeddou, Prime Minister Ali Larayedh and the army chief of staff.
Ham said he was "convinced the government is committed to doing everything it can to prevent AQIM... from gaining a foothold in Tunisia."
The Tunisian government has warned in recent months of militants linked to the Al-Qaeda, infiltrating Tunisia's borders and trafficking weapons, notably to northern Mali.
http://www.arabnews.com/news/446219
-----------
As Neoliberal Order Wreaks Havoc, World Social Forum Gathers in Tunisia
Climate crises, austerity, and the policies of the elite to be challenged by call for 'dignity' at World Social Forum
Mar 28, 2013
- Jon Queally, staff writer
In a world witnessing revolutions in mid-stride, flourishing climate crises, and the reign of austerity economics, tens of thousands of people from all over the globe are gathering in Tunisia for the 2013 World Social Forum to confront the contemporary situation with their consistent call: "another world is possible."
This year, WSF participants come together under the banner of "dignity" and seek a way to push back against the neoliberal establishment that refuses to loosen its grip despite the calamity their chosen policies have unleashed in recent years.
Full report at:
http://www.commondreams.org/headline/2013/03/26-0
--------------
Islamist leader threatens to oust Tunisian prime minister
Reuters | Mar 28, 2013
TUNIS: The fugitive leader of a radical Islamist group threatened on Wednesday to overthrow Tunisia's government, one day after the prime minister accused him of smuggling weapons into the North African country.
Saif-Allah Benahssine, leader of radical Islamists Ansar al-Sharia, said in a statement on its web page that he would topple Prime Minister Ali Larayedh and throw him into the "dustbin of history" if the government interfered with the group.
Larayedh told French daily Le Monde on Tuesday that Benahssine, whose Salafist organisation wants to impose a puritanical form of Islam, was responsible for smuggling in weapons seized by security forces.
Full report at:
http://timesofindia.indiatimes.com/world/rest-of-world/Islamist-leader-threatens-to-oust-Tunisian-prime-minister/articleshow/19250393.cms
--------------
63 soldiers, 600 Islamists dead since January: Malian army
AFP | Mar 27, 2013
BAMAKO: The Malian army said on Wednesday that 63 of its troops and 600 rebels had died since the launch of French-led operations two months ago to take back the north from hardline Islamist groups.
The announcement by the military came as UN leader Ban Ki-moon said up to 11,200 troops could be needed for a peacekeeping mission in the troubled west African nation.
In a surprise intervention, France sent troops to Mali in January to prevent an advance on the capital Bamako by al-Qaida-linked fighters who overran northern Mali a year ago, taking advantage of a vacuum left after a coup.
Full report at:
http://timesofindia.indiatimes.com/world/rest-of-world/63-soldiers-600-Islamists-dead-since-January-Malian-army/articleshow/19246266.cms
--------------
Arab World
Saudi Prosecutor Demands Death Penalty for Shiite Cleric
March 27, 2013
Riyadh. A Saudi Arabian prosecutor has demanded the death penalty for a Shiite Muslim cleric whose arrest last summer led to deadly protests in the Sunni-ruled kingdom, local media reported on Wednesday.
Sheikh Nimr al-Nimr, long seen as a radical leader in the Shiite minority, appeared in court on Monday for the first time since his arrest in July, the Saudi Gazette reported.
The prosecutor, accusing him of "aiding terrorists" and instigating unrest, said he was guilty of "waging war on God", a crime in Sharia, or Islamic law, that automatically carries the death penalty, al-Riyadh daily reported.
Saudi Arabia has no written legal code and judges have wide discretion to deliver verdicts based on their interpretation of Sharia and without reference to precedent.
Tension is already running high over this month's arrest of 16 Shiites accused of spying for Riyadh's regional rival Iran. Tehran has denied spying in the kingdom and Shiite community leaders have said they do not believe the charges.
Full report at:
http://www.thejakartaglobe.com/international/saudi-prosecutor-demands-death-penalty-for-shiite-cleric/582386
--------------
Mortar Attack Kills 12 Students in Damascus University: State TV
March 28, 2013
BEIRUT (Reuters) - Twelve Syrian students were killed on Thursday when rebel mortar bombs landed on the canteen of Damascus University's College of Architecture, state-run media said.
Al-Ikhbariya television showed images of doctors pumping the chests of at least two young men and blood splattered on the floor of what appeared to be an outdoor canteen.
(Reporting by Oliver Holmes; Editing by Louise Ireland)
http://www.nytimes.com/reuters/2013/03/28/world/middleeast/28reuters-syria-crisis-
-------------
Syrian opposition opens first embassy in Qatar
2013/03/28
DOHA: A Syrian opposition bloc recognised by the Arab League as the sole representative for Syria opened its first embassy in Qatar on Wednesday in a diplomatic blow to President Bashar al-Assad.
But opposition leader Moaz Alkhatib, who took Syria's seat at an Arab summit in Doha on Tuesday, used the ribbon-cutting ceremony to voice his frustration with world powers for failing to do more to help in the two-year-old struggle to topple Assad.
"There is an international willingness for the revolution not to triumph," he told reporters at the embassy, which was festooned with balloons in the red, green, white and black of Syria's national flag.
Full report at:
http://www.dailytimes.com.pk/default.asp?page=2013\03\28\story_28-3-2013_pg7_17
--------------
Jordan Should Charge or Free 'Devil Worshippers': Human Rights Watch
March 27, 2013
Amman. Human Rights Watch urged Jordan on Wednesday to charge or release five university students detained earlier this month for allegedly desecrating the Koran and engaging in "devil worship."
The students, from Al al--Bayt University in north-eastern Jordan, deny the accusations and have neither been charged nor taken before a judge. They were assaulted by a crowd of other students before their arrest on March 12, the rights watchdog said on its website.
"Jordanian authorities should release the five students and take steps to protect them from further attack," said Eric Goldstein, deputy Middle East director at HRW.
Full report at:
http://www.thejakartaglobe.com/international/jordan-should-charge-or-free-devil-worshippers-hrw/582365
--------------
Saudi Preacher charged with instigating unrest in Eastern Province
28 March 2013
Prominent preacher Sheikh Nimr Al-Nimr was charged with instigating unrest and seeking the help of foreigners to meddle in the affairs of the Kingdom. The court panel delayed the hearing until a lawyer is appointed.
Al-Nimr was arrested in July 2012 for claiming the Saudi Arabian government discriminated against members of the Shiite community in the Kingdom.
Full report at:
http://www.arabnews.com/news/446317
--------------
Egypt: Coptic Christians Must Be Protected From Sectarian Violence
27 MARCH 2013
A rise in tensions between religious communities in the town of Wasta, about one hundred kilometres south of Cairo, in recent weeks highlights the failure of the Egyptian authorities to protect Egypt's Coptic Christians, the largest religious minority in the country.
Tensions were sparked in February when a local Muslim young woman was reported "missing" and members of her family and local Salafis - Sunni Muslims who advocate a return to what they consider to be Islam's fundamental principles as practiced by the first Muslims - blamed the Mar-Girgis Church, claiming they had influenced the woman to convert to Christianity - an allegation the Church denies.
Full report at:
http://allafrica.com/stories/201303271606.html
--------------
Saudi Arabia executes, crucifies Yemeni for sodomy and murder
AFP | Mar 27, 2013
RIYADH: Saudi authorities on Wednesday beheaded a Yemeni man and then crucified his body after he was convicted of murdering a Pakistani national, the kingdom's interior ministry announced.
"The Yemeni citizen Mohammed Rashad Khairi Hussein killed a Pakistani, Pashteh Sayed Khan, after he committed sodomy with him," said a statement carried by state news agency SPA
The Yemeni was also convicted of carrying out a series of attacks and robberies.
Full report at:
http://timesofindia.indiatimes.com/world/middle-east/Saudi-Arabia-executes-crucifies-Yemeni-for-sodomy-and-murder/articleshow/19246372.cms
--------------
374 people embrace Islam in a month: Islamic Education Foundation in Riyadh
28 March 2013
New converts — 154 men and 220 women — from various nationalities embraced Islam last month, according to a report of the Islamic Education Foundation (IEF) in Riyadh.
The IEF used various means to take the message of Islam to non-Muslims, like lectures, seminars and the distribution of books, tapes and fliers. It also sends its preachers to residential areas and work places where non-Muslims are found in large numbers.
Over the past 20 years, more than 20,000 expatriates embraced Islam since the establishment of the IEF branch in 1993.
Full report at:
http://www.arabnews.com/news/446309
--------------
Egyptian sentenced to death for killing Copts
27 March 2013
CAIRO: A Muslim man has been sentenced to death in Egypt for killing two people in a dispute with Christians in a southern town, state media said, in a case that underlines sectarian tensions in the country.
Incidents of Christian-Muslim violence have increased in Egypt, an overwhelmingly Muslim nation, since the toppling of former President Hosni Mubarak in 2011. His overthrow gave freer rein to hard-liners repressed under his rule.
Full report at:
http://www.arabnews.com/news/446126
--------------
Egypt court overrules Morsi on sacking prosecutor general
Reuters | Mar 27, 2013
CAIRO: An Egyptian appeals court on Wednesday ordered the ministry of justice to reinstate the prosecutor general sacked by President Mohamed Morsi in November, cancelling his decision to appoint a new one, the court judge said.
Morsi' decision to replace Abdel Maguid Mahmoud with Talaat Ibrahim drew criticism from the president's opponents, who said the move had exceeded his powers.
"The court ruled that the president's decision to sack Judge Abdel Maguid Mahmoud is void and orders the minister of justice to reinstate him," judge Sana Khalil said. The appeal was lodged by Mahmoud.
http://timesofindia.indiatimes.com/world/middle-east/Egypt-court-overrules-Morsi-on-sacking-prosecutor-general/articleshow/19240950.cms
--------------
Expats in Saudi Arab alarmed as raids target illegals
28 March 2013
Labour authorities, supported by police, have stepped up a major campaign to drive out illegal workers as well as those involved in cover-up businesses in different parts of the Kingdom. The move has triggered shock waves among expatriates, especially those who are not working for their sponsors.
Police have reportedly arrested a large number of expatriates for violating Iqama and labour regulations during the past week, sources told Arab News.
Many shops and firms have been closed down in Riyadh, Jeddah and Dammam as they either did not have enough workers under their sponsorship or fear punitive action.
Full report at:
http://www.arabnews.com/news/446325
--------------
UAE to boost ties with global humanitarian institutions
28 March 2013
The UAE Minister of International Cooperation and Development, Sheikha Lubna bint Khalid, has said that her ministry will work as an umbrella that will seek to improve the UAE's relations with the rest of the world and that it will act as the UAE's medium into effectively coordinating the efforts of humanitarian institutions.
Her remarks came during the concluding ceremony of the Dubai International Humanitarian Aid and Development Conference and Exhibition (DIHAD 2013) yesterday. The conference, which was inaugurated by Princess Haya bint Al Hussein, UN Messenger of Peace and Chairperson of the International Humanitarian City, has witnessed extensive discussions by a large number of researchers, academics and social workers from 66 countries.
Full report at:
http://www.arabnews.com/news/446240
--------
Assad Sends Letter to Emerging Powers Seeking Help to End Syrian War
By RICK GLADSTONE and HALA DROUBI
March 28, 2013
President Bashar al-Assad of Syria beseeched a five-nation group of emerging powers on Wednesday to help halt the Syrian conflict, one day after the Arab League moved to further isolate Mr. Assad by ceremoniously filling his government's vacant seat with the opposition coalition that has sworn to topple him.
In a letter addressed to the leaders of Brazil, Russia, India, China and South Africa — the so-called BRICS group of developing nations, which convened a summit meeting in Durban, South Africa — Mr. Assad framed his request as a plea for assistance in the fight of good against evil. He depicted the opposition forces as terrorists bent on destroying Syria with help from a conspiracy of hostile Arab and Western countries.
Full report at:
http://www.nytimes.com/2013/03/28/world/middleeast/syrias-
-------------
India
Centre cleared Liyaqat's name under policy for rehabilitation
By Abhishek Bhalla in New Delhi
Mar 28, 2013
WITH the National Investigation Agency ( NIA) all set to probe Liyaqat Ali Shah's antecedents, new facts indicating that he was entering India via the Nepal border to surrender have emerged.
It appears his surrender was cleared by the Centre after receiving a recommendation from the Jammu and Kashmir government in 2012. With new facts coming to light, his arrest by the Delhi Police near the Indo- Nepal border in Gorakhpur, Uttar Pradesh has come as a huge embarrassment not just to the Delhi Police, but also the home ministry.
After his family applied for rehabilitation in February 2011, the Jammu and Kashmir government had sent the details to central intelligence agencies for clearance along with the applications of other former militants who were in Pakistan occupied Kashmir ( PoK).
Full report at: Mail Today
-----------
Had it been a Muslim instead of Sanjay Dutt would Katju seek pardon: Janata Dal (U)
Mar 28 2013
New Delhi : With Press Council of India Chairman Justice Markandey Katju making a pitch for pardoning actor Sanjay Dutt, Janata Dal (United) today said he should not act like a spokesperson of a political party.
JD(U) Secretary General K C Tyagi also said that there should not be any political interference in the legal processes.
"It would be good if Katju remains as the chief of PCI instead of becoming the spokesperson of any party. He has been giving his opinion on everything right from Bihar to Sanjay Dutt," he said.
Full report at:
http://www.indianexpress.com/news/had-it-been-a-muslim-instead-of-sanjay-dutt-would-katju-seek-pardon-janata-dal-(u)/1094395/
---------
Saudi Malayalis jittery as Nitaqat (ranges or zones) deadline ends today
K. P. M. BASHEER
Mar 28, 2013
Tens of thousands of Malayali workers in Saudi Arabia are on the edge as the deadline for the Saudisation programme called Nitaqat ends on Wednesday (March 27).
They face the prospect of being forced to wind up and leave on their own or face deportation, should the Saudi government stick to its plan of Saudisation. Nearly 20 lakh expatriate workers, the largest chunk being Indians, would have to leave Saudi Arabia as the firms, companies, and businesses they work for have failed to comply with the Nitaqat programme. Nitaqat (meaning ranges or zones) is a programme of the Saudi Labour Ministry to create job opportunities for its nationals by replacing a small percentage of the foreign workforce with Saudi youths.
Full report at:
http://www.thehindu.com/news/national/kerala/saudi-malayalis-jittery-as-nitaqat-deadline-ends-today/article4551294.ece
--------------
Chandy writes to PM on new Saudi law
March 28, 2013
Chief Minister Oommen Chandy on Thursday urged Prime Minister Manmohan Singh to seek a liberal approach by Saudi Arabia in the implementation of the Nitaquat law.
In a letter to the Prime Minister, the Chief Minister noted an appeal to the Saudi authorities to give more time before enforcement of Nitaquat would give a breathing space for expatriates and avoid immediate repercussions.
Full report at:
http://www.thehindu.com/news/chandy-writes-to-pm-on-new-saudi-law/article4558147.ece
-----------
Report awaited in Chamel Singh death case, says Pak
ANITA JOSHUA
March 28, 2013
Amid reports in the Pakistani media that Indian prisoner Chamel Singh had been tortured to death, the Ministry of Foreign Affairs on Thursday said efforts were on to ascertain the facts and the post-mortem report was awaited.
Responding to a query on Chamel Singh's death in Lahore Central Jail in mid-January and the Indian demand for the post-mortem report, Foreign Office spokesman Aizaz Ahmad Chaudhry said: "We are in touch with the Interior Ministry, Home Department of Punjab and Punjab Government. We are trying to ascertain the facts and have asked for the report of the post-mortem which was attended by representatives of the Indian High Commission. As soon as we have the results, we will respond to these requests."
Full report at:
http://www.thehindu.com/news/international/south-asia/report-awaited-in-chamel-singh-death-case-says-pak/article4558048.ece
-----------
Restrictions on movement of Mirwaiz lifted
March 28, 2013
Restrictions on the movement of Hurriyat Conference chairman Mirwaiz Umer Farooq have been lifted after he filed a writ petition in the Jammu and Kashmir
High Court here against his house arrest.
"The restrictions on Mirwiaz were lifted late last night after he (Mirwaiz) filed a writ petition in the High Court through his counsels against his continued house arrest since he came from Delhi," a spokesman of Hurriyat Conference said.
Full report at:
http://www.hindustantimes.com/India-news/srinagar/Restrictions-on-movement-of-Mirwaiz-lifted/Article1-1033632.aspx
-----------
Seven Indians killed in Saudi godown fire
Mar 28, 2013
Seven Indians, six of them Keralites, were killed in a fire in a furniture godown run by a Malayali at Gafara, 10 km from Hail town, in Saudi Arabia on Tuesday morning.
Five of the dead — Siddeek Adhikarath, 42; Satyakumar, 22, alias Kuttan; Lalu Pathiripadam, 40; Jaisal Puthanpeedika, 24; and Zainul Abideen — belonged to Malappuram district. The sixth Malayali is Shiju Varkey from Mananthavady in Wayanad.
Zainul Abideen was from Koottilangadi, Jaisal from Chungathara and Siddeek from Moothedam. Satyakumar and Lalu were from Edakkara.
Full report at:
http://www.thehindu.com/news/national/kerala/seven-indians-killed-in-saudi-godown-fire/article4552031.ece
--------------
Last date to apply for Haj pilgrimage extended to March 30
PTI | Mar 28, 2013
DEHRADUN: The last date for submission of applications for this year's Haj pilgrimage has been extended from March 20 to March 30.
People aspiring to go on Haj pilgrimage can now submit their applications latest by March 30 instead of March 20, Uttarakhand Haj Committee chief Haji Rao Sher Muhammad said here today.
The date has been extended for the convenience of Haj pilgrims, he said, adding that the process for issuing passports to the applicants has also been simplified.
They are being issued passports on the very day their police verification reports are being received, the state Haj committee chief said.
Full report at:
http://timesofindia.indiatimes.com/india/Last-date-to-apply-for-Haj-pilgrimage-extended-to-March-30/articleshow/19258479.cms
---------
Pakistan
Amazing Somersault: Najam Sethi Vows To Protect Islamic Ideology of Pakistan
Usman Manzoor
March 28, 2013
ISLAMABAD: Compromising his lifelong secular vision about Pakistan, the caretaker chief minister Punjab, Najam Sethi, Wednesday vowed under oath that he would strive to preserve the Islamic ideology of Pakistan. He also acknowledged, under oath, that this Islamic ideology was the basis for the creation of Pakistan.
Only recently he had written in an article that Quaid-i-Azam Muhammad Ali Jinnah was a man of liberal views and that the imposition of Objectives Resolution upon the citizens should be given a second thought.
Najam Sethi while taking oath as caretaker CM swore that he would bear true faith and allegiance to Pakistan. He further promised: "That, as a chief minister (or minister) of the government of the province of Punjab, I will discharge my duties, and perform my functions, honestly, to the best of my ability, faithfully in accordance with the Constitution of the Islamic Republic of Pakistan and the law, and always in the interest of the sovereignty, integrity, solidarity, well-being and prosperity of Pakistan:
"That I will strive to preserve the Islamic ideology which is the basis for the creation of Pakistan;
"That I will not allow my personal interest to influence my official conduct or my official decisions;
"That I will preserve, protect and defend the Constitution of the Islamic Republic of Pakistan;
"That, in all circumstances, I will do right to all manner of people, according to law, without fear or favour, affection or ill- will;
"And that I will not directly or indirectly communicate or reveal to any person any matter which shall be brought under my consideration or shall become known to me as chief minister except as may be required for the due discharge of my duties as chief minister or as may be specially permitted by the chief minister. May Allah Almighty help and guide me (A'meen)."
http://www.thenews.com.pk/Todays-News-2-167895-Sethi-vows-to-protect-Islamic-ideology-of-Pakistan
--------------
ISAF Operation: NATO forces kill 25 Pakistani Taliban
March 28, 2013
QUETTA: More than 25 Pakistani Taliban, mostly from Balochistan, were killed in a NATO operation under ISAF command in Afghanistan close to the Pakistani border.
According to credible information coming from the site of the clashes, NATO forces engaged Taliban near Lakhai settlement of Afghanistan overlooking Chagai district of Balochistan.
The bodies of fallen Taliban were brought to a local seminary in Chagai from where they were being dispatched to their respective hometowns, a source in Chagai said. The local people identified the bodies, he said.
Full report at:
http://tribune.com.pk/story/527659/isaf-operation-nato-forces-kill-25-pakistani-taliban/
-----------
Pakistan says war on terror has cost nearly 50,000 lives there since 9/11
By Shaun Waterman
March 27, 2013
Pakistan's spy agencies told the country's Supreme Court that the war on terror there has cost 49,000 lives since the Sept. 11 suicide hijacking attacks in 2001, Pakistani media reported Wednesday.
The agencies' report to the court, a rare on-the-record statement from Islamabad's usually ultra secretive intelligence establishment, also accuses Afghanistan of collaborating with the Pakistani Taliban, or TTP — the first time Islamabad has levelled such charges, according to the Express-Tribune newspaper.
Full report at:
http://www.washingtontimes.com/news/2013/mar/27/heavy-price-pakistan-says-war-terror-has-cost-near/?utm_source=RSS_Feed&utm_medium=RSS
--------------
Shadow of fear on Holi celebrations in Pakistan
Yudhvir Rana, TNN | Mar 27, 2013
AMRITSAR: The burning of nearly 200 houses of minority Christian community in Lahore on March 9 has instilled fear among Hindus in Pakistan and they are wary of celebrating Holi.
Pakistan Hindu Seva Welfare Trust (PHSWT) president Sanjesh S Dhanja spoke to TOI over phone from Karachi, saying, "There is a fear (among Hindus), but we are sure the administration will make all the security arrangements for the festival." Hindu leaders and community members have begun candlelight prayer meetings in almost all the temples of Karachi.
Full report at:
http://timesofindia.indiatimes.com/india/Shadow-of-fear-on-Holi-celebrations-in-Pakistan/articleshow/19232884.cms
--------------
Proud of Kargil operation, says Musharraf
ANITA JOSHUA
Mar 28, 2013
The former military ruler of Pakistan, General (retd.)Pervez Musharraf, on Wednesday said he was "proud" of the Kargil operation and blamed the political class for squandering away a military victory.
At a press conference in Karachi — his first since returning from self-imposed exile on Sunday — he asserted that "a military victory was turned into a political defeat."
Gen. Musharraf's defence of the Kargil operation drew flak instantly from within Pakistan and elsewhere on the social media. At the same time, some Pakistanis sought to drive home the point that Indians held the former Army chief in greater esteem that his own fellow nationals.
Full report at:
http://www.thehindu.com/news/international/south-asia/proud-of-kargil-operation-says-musharraf/article4554799.ece
--------------
Interior ministry's assessment: Militants determined to sabotage elections
2013/03/28
ISLAMABAD: The Ministry of Interior has warned of a massive terrorist threat in the coming elections.
A presentation made during a meeting between officials of the ministry and Election Commission of Pakistan (ECP) to discuss security issues revealed that the banned Jandullah organisation, in coordination with Lashkar-i-Jhangvi (LJ) and Tehreek-i-Taliban Pakistan (TTP), was planning to carry out large-scale terrorist attacks in Balochistan, with Nushki and Quetta as their particular targets.
Full report at:
http://dawn.com/2013/03/28/interior-ministrys-assessment-militants-determined-to-sabotage-elections/
--------------
Kabul 'overreacted' to small incident: Pakistan
2013/03/28
ISLAMABAD: Pakistan on Thursday accused Afghanistan of overreacting after Kabul cancelled a military visit to protest against cross-border firing, in the latest sign of worsening relations.
"We believe that Afghanistan overreacted to a small incident," foreign ministry spokesman Aizaz Ahmed Chaudhry told AFP.
The Pakistani army invited 11 Afghan officers to take part in a military exercise in the southwestern city of Quetta, but the Afghan government called their visit off because of "unacceptable Pakistani artillery shelling".
The governor of the eastern Afghan province of Kunar, Fazlulah Wahidi, told AFP that up to 50 rockets fired from Pakistan damaged property on Monday and Tuesday.
Full report at:
http://dawn.com/2013/03/28/kabul-overreacted-to-small-incident-pakistan/
--------------
CEC meets Baloch leaders, reviews law and order
2013/03/28
QUETTA: The Election Commission of Pakistan (ECP) on Thursday met leaders of Baloch nationalist parties in Quetta to convince them for participation in the upcoming general elections, DawnNews reported
Chief Election Commissioner Fakhruddin G Ebrahim is on a visit to Balochistan to review law and order situation amid threats by insurgents and militant organisations.
Earlier in a meeting, Fakhruddin G Ebrahim briefed the Interior Secretary, Inspector General (IG) and Frontier Corps personnel over the maintenance of law and order in the province during the upcoming general elections.
Full report at:
http://dawn.com/2013/03/28/ecp-review-balochistans-law-and-order-situation/
--------------
2000kg explosive seized in Balochistan
2013/03/28
QUETTA: The city police foiled a massive terrorism plan in Balochistan and seized a truck full of explosives. DIG (Investigation) Mobeen Ahmed told media that acting on a tip-off by the secret agencies, police searched a truck at Nawabi Gate near Kuchlak and found 80 sacks filled with potassium chloride, which weighed two thousand kilogrammes. The police official further said that seizure of such a huge quantity of explosives ahead of elections is a great success on the part of police. The driver of the truck is said to belong to Qila Abdullah. A case has been lodged against the detained men and they were being interrogated.
http://www.dailytimes.com.pk/default.asp?page=2013\03\28\story_28-3-2013_pg7_7
--------------
Shia official killed in Peshawar
2013/03/28
PESHAWAR: A senior federal government official was gunned down on Wednesday, in what police said an incident of sectarian killing in Peshawar. "Unidentified gunmen opened fire on a WAPDA vehicle carrying Town 2 SDO Khawaja Imran in the Gulbahar area," a police official told Daily Times. Gulbahar police said the WAPDA official was targeted because he belonged to Shia sect. "Khawaja Imran died on the spot," the police official said. The killed government official's son was also injured who was under treatment in the city's oldest hospital, according to police.
http://www.dailytimes.com.pk/default.asp?page=2013\03\28\story_28-3-2013_pg7_8
--------------
Blasphemy accused denied bail for a fourth time
By Rana Yasif
March 28, 2013
LAHORE: Additional District and Sessions Judge Shaukat Kamal Dar on Wednesday dismissed the post-arrest bail petition of a man accused of blasphemy who had already been denied bail three times.
Abdul Shakoor alias Baba Sahib allegedly instructed a follower of his late father, Ghafoor Shah, to recite the kalma but with the Holy Prophet Muhammad's (peace be upon him) name substituted with his father's name. Shakoor is the mutawali, or caretaker, of his father's shrine.
Full report at:
http://tribune.com.pk/story/527459/blasphemy-accused-denied-bail-for-a-fourth-time/
-----------
South Asia
Lack of international cooperation could force MDP to militancy: MP
By Minivan News | March 26th, 2013
Following high-level visits by the Commonwealth and United States Embassy this week, a Maldivian Democratic Party (MDP) MP claimed the party will resort to militancy if the international community does not do more to help restore democracy in the Maldives.
The United States Ambassador to Sri Lanka and the Maldives, Michele J Sison arrived in the capital Male' today (March 26). Earlier this week (March 24), the Canadian Special Envoy for the Commonwealth, Senator Hugh Segal met with the Maldives parliamentary Committee on Government Oversight.
Parliament Oversight Committee Chairperson and MDP MP Ali Waheed implored the international community to take immediate, decisive actions to help restore democracy in the Maldives.
He explained militant and radical forces – which included presidential candidates – within the Maldives were becoming more powerful.
Full report at:
http://minivannews.com/politics/lack-of-international-cooperation-could-force-mdp-to-militancy-mp-ali-waheed-55209
--------------
Four children killed in Afghan-coalition operation: police
2013/03/28
KABUL: Afghan and international special forces staged a night raid in the country's restive east, with police on Wednesday saying five civilians died in the operation, four of them children. While the defence ministry said there had been no civilian deaths in the overnight operation in Logar province, Reuters television footage taken in the village, Sejewand, showed the bodies of at least three children. Afghan President Hamid Karzai has previously criticised special forces raids in Afghan villages, particularly those in which civilians are killed. An Interior Ministry statement said 23 Taliban fighters were killed and 26 captured during the fighting in Sejewand. Logar police official Rais Khan Seddiq said the operation was undertaken by Afghan commandos, assisted by international special forces, in order to rescue two Afghan soldiers captured the previous day by the Taliban. "Two civilians were killed and three were wounded," Seddiq said, adding that those wounded had later died. Four of the dead were children, he said.
http://www.dailytimes.com.pk/default.asp?page=2013\03\28\story_28-3-2013_pg7_4
--------------
Myanmar's '969' crusade breeds anti-Muslim malice
By Patrick Winn
March 28, 2013
YANGON and MANDALAY, Myanmar — To untrained eyes, the symbol that has suddenly appeared on shop windows across Myanmar appears benign: a patchwork of pastel hues overlaid with the numerals 969.
But to Muslims living in overwhelmingly Buddhist Myanmar, the emblem can carry a chilling message: stay out of my store and don't send any sneaky Buddhists in here to shop on your behalf.
In the aftermath of central Myanmar's recent anti-Muslim riots — a killing and arson spree that left blackened corpses in the streets — authorities have vowed to track down and punish instigators.
Full report at:
http://www.minnpost.com/global-post/2013/03/myanmar-s-969-crusade-breeds-anti-muslim-malice
--------------
UN envoy to Afghanistan calls on Taliban to join peace process
AFP | Mar 27, 2013
KABUL: The UN envoy to Afghanistan called on the Taliban today to join peace efforts as the bulk of Nato combat troops prepare to leave the country by the end of next year.
"My message to the insurgency is basically a sort of long-term message: you are Afghans, you care, I assume, about your country, you care about peaceful stable future of the country," Jan Kubis told a news conference.
The withdrawal and next year's presidential election, when president Hamid Karzai will step down after 13 years in power, have lent urgency to the search for a negotiated settlement to end Afghanistan's decades of conflict.
Full report at:
http://timesofindia.indiatimes.com/world/south-asia/UN-envoy-to-Afghanistan-calls-on-Taliban-to-join-peace-process/articleshow/19244770.cms
--------------
Ready to work for peace without Pakistan: Kabul
2013/03/28
KABUL: Afghanistan is shocked by Pakistan's 'complacency' in the nascent Afghan peace process and is ready to work without Islamabad's help on reconciliation, Deputy Foreign Minister Jawed Ludin told Reuters on Wednesday.
It was the first time Afghanistan has suggested the possibility of going it alone without its neighbour. Regional power Pakistan is seen as critical to stabilising Afghanistan because of its long ties to insurgent groups. Ludin also said the government would look to senior Taliban figures recently handed over by the United States in Bagram prison to urge militants to pursue peace. He did not elaborate.
Full report at:
http://www.dailytimes.com.pk/default.asp?page=2013\03\28\story_28-3-2013_pg1_7
--------------
Resist move against democracy, Bangladesh PM tells armed forces
Mar 28 2013
Prime Minister on Thursday asked the armed forces to employ all their strength to resist any move against the country's constitution and democracy.
Reminding the forces of previous moves by vested quarters to jeopardise democracy, the premier asked the forces to remain fully obedient to the country's constitution and democratically elected government.
"You have to ensure that no undemocratic force can again capture state using the armed forces," Hasina said while addressing the armed forces officers at the Senakunja in the Dhaka Cantonment.
Full report at:
http://www.thedailystar.net/beta2/news/protect-democracy-pm-asks-army/
--------------
On this days in '71, 600 people were killed at Nishbetganj, Bangladesh
MEHEDY HASAN, RANGPUR
Mar 28 2013
The people of Rangpur will observe the 43rd anniversary of 'Nishbetganj massacre day' today.
On this day in 1971, around 600 freedom-loving people sacrificed their lives at Nishbetganj on the outskirts of Rangpur city, while making a desperate attempt to free Rangpur Cantonment from the Pakistan occupation forces.
That day, thousands of freedom-loving people including Bangalees as well as Santals, Orangs and other ethnic peoples equipped with indigenous weapons like spears, cleavers, clubs, and bows and arrows started moving towards the cantonment, said Mosaddek Hossain Bablu, commander of Rangpur district unit of Muktijoddha Sangsad, and a few witnesses of the incident.
Full report at:
http://www.thedailystar.net/beta2/news/on-this-days-in-71-600-people-were-killed-at-nishbetganj/
--------------
Shahbag poised for second wave of protests
Caesar Mandal, TNN | Mar 27, 2013
KOLKATA: The protesters are returning to Shahbag Square.
Bangladesh's cradle of protests seethed again on Tuesday as the country marked its 42nd independence day, which was also the deadline set by activists to ban the fundamentalist Jamaat-e-Islami. But with the Sheikh Hasina government yet to respond, activists at Shahbag were preparing to launch the second phase of the movement demanding death for 1971 war criminals, many of whom are senior leaders of the Jamaat.
Full report at:
http://timesofindia.indiatimes.com/world/south-asia/Shahbag-poised-for-second-wave-of-protests/articleshow/19230848.cms
--------------
Houses of three Hindu families attacked for skipping AL meeting
Mar 28 2013
A group of people allegedly belonging to the ruling Awami League (AL) vandalised eight houses of three Hindu families at Doyarampur village in Kumarkhali upazila on Tuesday night for not attending an AL meeting at the upazila headquarters.
A case was filed with Kumarkhali Police Station in this connection and police arrested two of the attackers, Abdur Rashid and Ibrahim Hossain, of the same village early yesterday, said Mofiz Uddin Ahmed, superintendent of police, Kushtia.
Shamsuzzaman Arun, Kumarkhali municipality mayor and also general secretary of AL upazila unit, said the arrestees are AL activists.
Full report at:
http://www.thedailystar.net/beta2/news/houses-of-three-hindu-families-attacked-for-skipping-al-meeting/
--------------
Afghan army scraps Pakistan trip
2013/03/28
KABUL: Afghanistan on Wednesday cancelled a planned army visit to Pakistan to protest against alleged cross border shelling, in a sign of worsening relations between the troubled neighbours. The Pakistani army invited 11 Afghan officers to take part in a military exercise and drill in Quetta, the Afghan ministry of foreign affairs said. "This visit will no longer take place due to the resumption of unacceptable Pakistani artillery shelling against different parts of Kunar province," it said in a statement. Kunar provincial governor Fazlulah Wahidi told AFP that up to 50 rockets were fired from the Pakistani side of the border.
http://www.dailytimes.com.pk/default.asp?page=2013\03\28\story_28-3-2013_pg1_8
--------------
Maldives Parliament to probe Sheikh Hussain's "false preaching" over draft penal code
By Mohamed Naahee | March 27th, 2013
Parliament's committee responsible for drafting the new penal code has slammed the "false preaching" of the Chair of Adhaalath Party's Scholars Council Sheikh Ilyas Hussain over the bill.
In a sermon given on Friday evening at the Furugaan Mosque, under the title "Purpose of Islamic Sharia", Sheikh Ilyas declared that the new penal code does not recognise fornication with mutual consent as an offence, said committee's member MP Nazim Rashaad.
Full report at:
http://minivannews.com/politics/parliament-committee-to-probe-sheikh-ilyas-hussain%E2%80%99s-false-preaching-over-draft-penal-code-55241
------------
Hopes of Taliban deal hit by Afghan-Pakistan dispute
March 28, 2013
KABUL: Recriminations between Afghanistan and Pakistan on Thursday undermined hopes that a recent thaw in cross-border relations could help bring Taliban militants to the peace table.
Western officials believe Pakistan, which backed Afghanistan's 1996-2001 Taliban regime, has a crucial role to play in efforts to negotiate a political settlement with the extremists and end more than a decade of war.
Relations had recently improved, building up to a three-way summit hosted by Britain last month as part of efforts to end the conflict in Afghanistan.
But a confidence-building visit by 11 Afghan officers to take part in a military exercise in the Pakistani city of Quetta was called off by Kabul over reported firing across the border from Pakistan.
Full report at:
http://tribune.com.pk/story/527764/hopes-of-taliban-deal-hit-by-afghan-pakistan-dispute/
-----------
Mideast Asia
Iran court sentences 6 men to death for rape
AP | Mar 26, 2013
TEHRAN: Iran's semi-official Fars News Agency says a local court in southwestern Iran has sentenced six men to death on charges of rape.
Today's report by Fars quotes the deputy prosecutor of Khouzestan province, Abdol Hamid Amanat Behbahan, as saying the six men were sentenced to death in a town called Shoushtar.
The verdicts will be carried out if upheld by the Supreme Court. The defenders can appeal the verdicts. The official did not specify when the sentence was issued.
http://timesofindia.indiatimes.com/world/middle-east/Iran-court-sentences-6-men-to-death-for-rape/articleshow/19224140.cms
--------------
Freedom of expression 'under attack' in Turkey
28 March 2013
ANKARA: Amnesty International criticized yesterday European Union hopeful Turkey's dismal record on freedom of expression and called for legislative reforms to bring "abuses to an end."
"Freedom of expression is under attack in Turkey," the London-based group said.
"Hundreds of abusive criminal prosecutions are brought every year against political activists, human rights defenders, journalists, lawyers and others," it added.
"These prosecutions represent one of the most deeply entrenched human rights problems in Turkey today."
Turkey is under fire from rights groups for its escalating crackdown especially on the media, with critics saying its draconian laws are putting a record number of journalists behind bars.
Full report at:
http://www.arabnews.com/news/446242
----------
Ex-Prisoners Bring Taste of West Bank to Gaza
By FARES AKRAM
March 28, 2013
GAZA — Nader Abu Turki first gained a reputation as a confectioner while serving time as a prisoner in Israel.
Having worked in a dessert shop in the West Bank before his arrest in 2002, he began recreating kenafeh — a treat popular with Palestinians, traditionally made with stretchy white cheese and topped with crispy, syrup-soaked noodles or an orange-hued pastry — while in prison. But he had to make do with the more basic ingredients available behind bars: plain yellow cheese and breadcrumbs.
Full report at:
http://www.nytimes.com/2013/03/28/world/middleeast/ex-palestinian-prisoners-bring- ------------
Turkey Foreign Ministry Denies Forcibly Deporting Syria Refugees
March 28, 2013
ANKARA (Reuters) - Turkey's foreign ministry denied forcibly deporting Syrian refugees from a camp on the border after Wednesday's clashes with Turkish military police, and said about 50-60 had returned to Syria voluntarily.
"Some people have returned since last night, the numbers are closer to 50 or 60, and yes some of these may have been involved in the provocations from yesterday but they returned of their own free will," foreign ministry spokesman Levent Gumrukcu said on Thursday.
(Reporting by Jonathon Burch; Writing by Nick Tattersall; Editing by Louise Ireland)
http://www.nytimes.com/reuters/2013/03/28/world/europe/28reuters-syria-crisis-turkey-refugees.html?ref=world&gwh=2B459F19E12F6439D7C575F0529661D6
----------
Israel reopens Gaza border crossings
March 28, 2013
srael has fully reopened the Gaza border crossings that were closed following militant rocket fire during President Barack Obama's visit to the region last week.
The rockets fired into a southern Israeli city had caused damage but no injuries. The attack prompted Israel to close its only border crossing for commercial goods with the coastal territory and to restrict its only civilian crossing to humanitarian cases only. It also limited the stretch of the sea where Gaza fishermen were allowed to fish.
The Israeli military said on Thursday it has reopened the commercial crossing and is now allowing Palestinians with entry permits to cross into Israel through the civilian crossing. It says the fishing restrictions were still in place.
Israel has imposed restrictions on Gaza for breaches of a November truce.
http://www.thehindu.com/news/international/world/israel-reopens-gaza-border-crossings/article4557617.ece
-----------
Europe
Displaced Somalis abused and raped - Human Rights Watch
March 28, 2013
Internally displaced people in Somalia are suffering sexual violence and other forms of abuse, reports the Human Rights Watch (HRW) campaign group.
The abuse takes place at the hands of armed groups, including government forces, it says.
In the report, women who fled famine and conflict describe being gang-raped in camps in the capital, Mogadishu.
Managers of the camps - often allied to militias - siphon off food and other aid, the HRW report says.
HRW says that even though the new Somali government which came to power in September last year has made some impressive statements, it has done very little to change the situation on the ground.
Full report at:
http://www.bbc.co.uk/news/world-africa-21949122
----------
Bangladesh on the track to graduate from LDC list: UN chief
Mar 28, 2013
Given the remarkable progress made by the country in several key areas of development, Bangladesh is on the track to graduate from the ranks of the least developed countries, the UN Secretary General, Ban Ki-moon, has said.
"People of Bangladesh have many reasons to feel positive about their future," Mr. Ban said in his remarks yesterday at the special meeting of the UN General Assembly to pay tribute to the memory of the late Bangladesh President Zillur Rahman, who died recently.
"Bangladesh is setting an example on building resilience and disaster preparedness. It is a leader on sustainable development and in seeing great progress in achieving the Millennium Development Goals," he said.
Full report at:
http://www.thehindu.com/news/international/south-asia/bangladesh-on-the-track-to-graduate-from-ldc-list-un-chief/article4553966.ece
--------------
UN Gives DR Congo One Week to Act Against 'Rape' Troops
March 28, 2013
The United Nations on Wednesday gave Democratic Republic of Congo a final one-week deadline to take action against two army battalions accused of carrying out at least 126 rapes, diplomats said.
UN peacekeeping chief Herve Ladsous delivered the ultimatum at a meeting with DR Congo Foreign Minister Raymond Tshibanda on Wednesday at UN headquarters, diplomats said.
The meeting was held as the UN Security Council prepares to vote Thursday on a resolution setting up an intervention brigade to help the army combat rebel groups in eastern DR Congo.
"The Congo government has been told that the army's actions cannot be accepted and there will be serious repercussions," a UN diplomat said.
Full report at:
http://www.thejakartaglobe.com/world/un-gives-dr-congo-one-week-to-act-against-rape-troops/582488
--------------
Saddam Hussein's Italian lawyer was a fraud, British court rules
March 28, 2013
LONDON: An Italian "lawyer" whose notorious clients included late Iraqi dictator Saddam Hussein was found guilty by a British court on Wednesday of tricking people into believing he was a genuine legal professional.
Giovanni di Stefano, 57, was convicted at London's Southwark Crown Court of 25 charges including deception, fraud and money laundering between 2004 and 2012.
The court heard that Di Stefano, who was dubbed "the devil's advocate" by the British press for his track history of taking on notorious clients, did not actually have any legal qualifications.
Full report at:
http://tribune.com.pk/story/527720/saddam-husseins-italian-lawyer-was-a-fraud-british-court-rules/
-----------
French soldier held in Toulouse terror probe
28 March 2013
PARIS: A serving French soldier was arrested yesterday for questioning in connection with a hunt for accomplices of Mohamed Merah, the gunman who killed seven people in south-western France last year.
The soldier was picked up at his barracks in the southern town of Castres yesterday morning, police sources said. His arrest follows the detention for questioning late Tuesday of two other men.
Three of Merah's victims were French paratroopers, whom he said he had targeted because of France's involvement in the NATO intervention in Afghanistan.
France's prosecutor's office says three people were arrested in southern France as part of the inquiry into last March's Toulouse terror attacks.
Full report at:
http://www.arabnews.com/news/446303
--------------
Russia seeks to underpin Afghan security after NATO pullout
2013/03/28
MOSCOW: Russia wants to play a role in keeping Afghanistan stable after the withdrawal of most NATO combat troops by maintaining government military hardware on Afghan soil, a senior military official said on Wednesday.
In a meeting with foreign military attaches in Moscow, Sergei Koshelev underscored that Russia is worried about threats to its security after the pullout of most foreign forces from Afghanistan, which borders ex-Soviet states in Central Asia.
"We cannot fail to be concerned by the danger of the restoration of a regime on Afghan territory that would foster the spread of terrorism, drug trafficking and instability," said Koshelev, the Russian military's point man for foreign ties.
Full report at:
http://www.dailytimes.com.pk/default.asp?page=2013\03\28\story_28-3-2013_pg7_18
-----------
Kyrgyzstan convicts ex-leader's son Maxim Bakiyev
March 28, 2013
Maxim Bakiyev - the son of ousted Kyrgyz President Kurmanbek Bakiyev - has been sentenced in absentia to 25 years in jail for corruption.
A Kyrgyz court found him guilty of signing agreements that lost the country hundreds of millions of dollars while his father was in power.
Maxim Bakiyev is in the UK, where he was arrested and granted bail last year on separate fraud charges in the US.
Full report at:
http://www.bbc.co.uk/news/world-asia-21958401
----------
UN Ban Ki-moon: Mali needs 11,000 peacekeepers
March 28, 2013
About 11,000 peacekeepers may be needed in Mali to help curb threats posed by militant Islamists, UN chief Ban Ki-moon has said.
The peacekeepers may have to be backed up by a second force that will focus on combat operations, he said.
France sent troops to Mali in January to wrest control of the north from militant Islamists.
It aims to start withdrawing its 4,000-strong force next month and hand over to an African force.
French troops, backed by Malian and Chadian forces, have been attacking the militants in desert and mountain hide-outs after they fled the major northern cities, including Timbuktu and Gao.
Full report at:
http://www.bbc.co.uk/news/world-africa-21952036
----------
Britain faced three attacks similar to 9/11
Kounteya Sinha, TNN | Mar 28, 2013
LONDON: UK revealed on Wednesday that terrorists tried to carry out attacks similar to 9/11 three times on British soil since 2009.
According to the British home office, terrorist groups continue to target civilian aircraft and have tried to do so on at least three recent occasions: in December 2009, October 2010 and April 2012. Britain however managed to successfully thwart them.
Globally, in 2011, over 10,000 terrorist attacks occurred in 70 countries, causing almost 45,000 casualties and over 12,500 fatalities.
Full report at:
http://timesofindia.indiatimes.com/world/uk/Britain-faced-three-attacks-similar-to-9/11/articleshow/19250197.cms
--------------
Syrian opposition's Arab League seat 'illegal': Russia
AFP | Mar 27, 2013
MOSCOW: Russia on Wednesday called the Arab League's decision to award Syria's seat at the organisation to the anti-regime National Coalition "illegal and indefensible".
"In terms of international law, the League's decision on Syria is illegal and indefensible because the government of the Syrian Arab Republic was and is the legitimate representative member-state at the United Nations," the Russian foreign ministry said in a statement.
Syrian opposition chief Ahmed Moaz al-Khatib took Syria's seat at the League on Tuesday as Arab leaders gathered in Doha for their annual summit. The move sparked a furious reaction from Damascus.
Full report at:
http://timesofindia.indiatimes.com/world/middle-east/Syrian-oppositions-Arab-League-seat-illegal-Russia/articleshow/19243575.cms
--------------
United States Watching Handling of Myanmar Violence
March 28, 2013
The United States is closely monitoring how Myanmar leaders quell a wave of sectarian violence, urging the country to respect human rights in ending the bloodshed, an official said on Wednesday.
Buddhist-Muslim violence has left 40 people dead in the past week, presenting the Southeast Asian nation with one of its most serious challenges since the ruling junta ceded power to a reformist government two years ago.
President Thein Sein, a former general, has declared a state of emergency and sent out troops to restore order. There was also a show of military force at an annual military parade on Wednesday, joined for the first time by opposition leader Aung San Suu Kyi.
Full report at:
http://www.thejakartaglobe.com/international/united-states-watching-handling-of-myanmar-violence/582482
--------------
Southeast Asia
Proposed New Criminal Law Threatens Indonesia's Unity in Diversity
Yohanes Sulaiman | March 28, 2013
The proposed criminal law that is currently being discussed in the parliament is, to put it bluntly, a disaster in the making. While there have been a lot of discussions concerning the controversial parts of the laws, such as the article that threatens to put single people engaging in premarital sex in jail, there is surprisingly little discussion on the nature of the proposed law itself which, should it be implemented, could wreak havoc on legal certainty and worse, create a more divided society, threatening the unity of the state itself by possibly stoking the issue of ethno-nationalism.
Full report at:
http://www.thejakartaglobe.com/opinion/proposed-new-criminal-law-threatens-indonesias-unity-in-diversity/582480
--------------
Malaysian Prime Minister Uses Public Humiliation to Fight Graft
Barry Porter & Manirajan Ramasam | March 27, 2013
Malaysia's government is using public humiliation in its war on graft as Prime Minister Najib Razak seeks to show voters that he's getting tough on corruption ahead of an election that may be held within weeks.
An online gallery shows the names and photographs of more than 1,000 convicted offenders, including former Selangor state Chief Minister Mohamad Khir Toyo, who was sentenced to a year in jail in 2011.
Najib, 59, is trying to bolster his graft-fighting credentials to counter criticism from the opposition that companies from power producers to toll-road operators have unfairly benefited from their ties to a government that has ruled Malaysia since independence from Britain in 1957.
Full report at:
http://www.thejakartaglobe.com/seasia/malaysian-prime-minister-uses-public-humiliation-to-fight-graft/582275
--------------
Jakarta Man Lights Body on Fire After Co-Worker Rejects His Love
SP/Fana F.S. Putra | March 28, 2013
A 30-year-old man has died after setting himself on fire in his East Jakarta office after a married co-worker rejected his affection, Cipayung Police said on Thursday.
Mochamad Zikra, who worked in the finance department of Indah Cargo Logistic in Setu, East Jakarta, doused himself in some 20 liters of fuel in his office on Wednesday evening at 5:30. He then lit himself on fire and attempted to drag 26-year-old Santi Diosaka Gumelar, a co-worker who he claimed to be in love with, into the blaze.
Full report at:
http://www.thejakartaglobe.com/news/jakarta-man-lights-body-on-fire-after-co-worker-rejects-his-love/582485
--------------
Three soldiers killed in attack by suspected militants in southern Thailand
AP | Mar 28, 2013
HAT YAI, THAILAND: Suspected militants have killed three soldiers in a roadside attack in Thailand's insurgency-plagued south. The attack came just hours before peace talks between Thai officials and Muslim insurgents were to begin in neighbouring Malaysia.
Police Col. Suchart Sa-eed says militants detonated an improvised bomb and opened fire at soldiers who were on foot patrol Thursday in Cho Airong district in Narathiwat province.
He says five soldiers were also wounded in the ambush.
Authorities say the attack took place in a village that is home to a key leader of the Muslim separatist group taking part in talks with the Thai government.
More than 5,000 people have been killed in Thailand's three southernmost provinces since an insurgency erupted in 2004.
http://timesofindia.indiatimes.com/world/south-asia/Three-soldiers-killed-in-attack-in-southern-Thailand/articleshow/19252537.cms
--------------
Thailand begins peace talks with Muslim insurgents
March 28, 2013
Thailand is holding peace talks with Muslim insurgents aimed at curbing violence in the south.
Government officials are meeting representatives of the Barisan Revolusi Nasional (BRN) rebel group in the Malaysian capital, Kuala Lumpur.
The talks follow a deal reached in February with the group, which is one of several operating in the area.
More than 5,000 people have been killed since a separatist insurgency reignited in the Muslim-majority region in 2004.
Full report at:
http://www.bbc.co.uk/news/world-asia-21963399
------------
Filling a Niche for Islamic Banking
By KRISTIANO ANG
March 28, 2013
KUALA LUMPUR, Malaysia — When Fabiola Nava Carrera told her friends that she was going to pursue a master of business administration degree in Islamic finance at a Malaysian university, they were taken aback.
"I was very interested in going there to see what was going on, because I knew nothing about Asian and Islamic culture," said Ms. Carrera, a 27-year-old Mexican who had previously worked in international trade. "But my friends in Mexico couldn't believe that I wanted to go to Malaysia, because they thought that it would be too dangerous or that the culture would be too different."
Full report at:
http://www.nytimes.com/2013/03/27/education/filling-a-niche-for-islamic-
------------
North America
Striking Guantanamo prisoners say water denied
Associated Press
Thu Mar 28 2013
Miami : Prisoners taking part in an expanding hunger strike at Guantanamo Bay have leveled new complaints about their military jailers as a team from the International Committee of the Red Cross made a fact-finding trip to the US base in Cuba.
In an emergency motion filed with a federal court in Washington, lawyers say guards have refused to provide drinking water to hunger strikers and kept camp temperature
"extremely frigid," to thwart the protest. A spokesman for the detention center denied the allegations.
"The reality is that these men are slowly withering away and we as a country need to take immediate action," said Mari Newman, a human rights lawyer based in Denver, who was among those who submitted the motion.
Full report at:
http://www.indianexpress.com/news/striking-guantanamo-prisoners-say-water-denied/1094256/
--------------
US Never Planned to Pull Out Troops in Afghanistan by 2014, Says Top Commander
General John Allen said 'zero option' was never on the table; expect conflict well after 2014
- Jacob Chamberlain, staff writer
Mar 28, 2013
The U.S. has never been serious about a so-called "zero option" in Afghanistan, a plan that would take all American troops out of the country by a 2014 deadline, according to the recently retired U.S. commander in Afghanistan, General John Allen.
Allen stated at a meeting at the Brookings Institution in Washington on Monday that reports of a "zero option" plan were untrue, that he was never asked to produce a report on the so-called "zero option", and that he expects the U.S. and its allies to remain in Afghanistan for a long time, the Guardian reports.
Full report at:
http://www.commondreams.org/headline/2013/03/26-1
--------------
CAIR-Ohio Files Muslim Workers' Bias Complaints against DHL Subsidiary
3/26/2013
(Columbus, Ohio, 3/26/2013) - The Columbus, Ohio chapter of the Council on American-Islamic Relations (CAIR-Columbus) announced today that it has filed discrimination complaints with the Equal Employment Opportunity Commission (EEOC) against Exel, Inc., a subsidiary of DHL, on behalf of 18 Muslim employees who were allegedly fired for praying in the workplace.
The Muslim employees reported to CAIR-Columbus that they had asked the company several times for prayer accommodations, including adjusting break times or taking their prayer breaks without pay, but the company repeatedly denied any of the accommodations proposed by the employees. One manager allegedly told the employees they should pray in the bathroom so they wouldn't be seen praying. Other managers told them to "obey the rules or get fired."
Full report at:
--------------
Jewish conspiracy remarks were product of "twisted mind": Lord Nazir
March 28, 2013
Pakistan-born Muslim Lord Nazir Ahmed has said that the Jewish conspiracy comments he made earlier on a Pakistani TV channel were the product of a "twisted mind" and he could not believe the video when he saw it later, reported Huffington Post on Thursday.
Lord Nazir took responsibility for his comments stating they were "completely wrong" and "unacceptable", and also apologised to the Jewish community, to the judiciary and the newspaper owners, the report added.
In an interview to Huffington Post, Lord Nazir said that he had "the greatest respect" for the Jewish community and was "not anti-Semitic".
Full report at:
http://tribune.com.pk/story/527759/jewish-conspiracy-remarks-were-product-of-twisted-mind-lord-nazir/
-----------
Who shot bin Laden? Media feud among Navy SEALs
AFP | Mar 28, 2013
WASHINGTON: A new version of the events surrounding the killing of Osama bin Laden was unveiled sharply contradicting earlier claims by a Navy SEAL who said he pulled the trigger.
Esquire magazine published a long interview in February with a man identified only as "the shooter" who said he had shot the al-Qaida leader twice in the head on the night of the May 1, 2011 raid on his Pakistan hideout.
The commando said he had been alone when he entered bin Laden's third floor room in his Abbottabad hideout.
But CNN national security analyst Peter Bergen, an al-Qaida expert, dismissed that account as completely false.
Full report at:
http://timesofindia.indiatimes.com/world/us/Who-shot-bin-Laden-Media-feud-among-Navy-SEALs/articleshow/19255821.cms
---------
URL: https://newageislam.com/islamic-world-news/new-age-islam-news-bureau/tunisians-raise-alarm-on-fatwa-encouraging--sexual-jihad-/d/10928