New Age Islam News Bureau
24 Jan 2013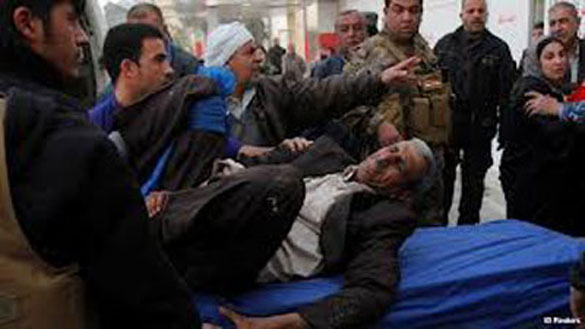 Africa
• Tunis Sufis Say It Is "Just the Beginning"; "Wahhabis" Will Go After Roman Shrines Next
• Attackers behead five in restive northeast Nigeria
• 23 Year-Old Nigerian Sentenced to Death for Drug Trafficking in Malaysia
• African forces boost Mali offensive, concern over abuses
• Nigerian leader says Boko Haram could threaten other nations
• Mali conflict: Troops accused of 'summary executions'
• In Amenas attack brings global jihad home to Algeria
• Mali Islamist rebel group splits, splinter ready for talks
Arab World
• Suicide Bombing at Shia mosque kills 42 in Iraq
• Grand Mufti of Lebanon blasts politicians for scheming to uphold 'fake democracy'
• Madrasa for imparting Islamic knowledge to expat students in Jeddah
• Teachings of Prophet discussed in Dubai on the occasion of 12th of Rabi Al Awwal
• Syrian rebels urged to protect religious sites
• Syria calls 'million man prayers' for the re-establishment of security
• Egyptian Protesters Clash with Security Forces
• Uprising anniversary widens opposition-Islamist gap
• Manama keen on reinforcing ties with NATO
• Philippines to host award ceremony for AGFUND's 2013 International Prize
• Aleppo bears brunt of attacks
India
• Muslim Groups Reject Shinde's "Hindu Terror" Comment
• Nothing wrong in Shinde's Hindu terror comment: Narayanasamy
• Muslim, Hindu groups unhappy with Jaipur Lit-Fest for different reasons
• Imam masterminded bus burning in Hyderabad: police
• 'Suspected Hizb ul spy was hiring cadre for Pak terror outfit'
• IMF chief refers to Delhi gang rape victim at WEF speech
• Petition in HC alleging Amitabh Bachchan of 'derogatory' remarks against Quran
• Hyderabad MP Asaduddin Owaisi gets bail
• MIM leaders attack Congress over Asad, Akbar arrest
• Pakistan activists demand action against authorities for Indian national's death
• Body of Indian prisoner who was beaten to death in Pak jail still lying in hospital
• India-Pakistan water talks likely to be held in March
• Do not politicise Jaipur Literature Festival: Rajasthan C M
• Britain not to meddle in Kashmir issue
• India will continue to press for extradition of Headley: Govt
Pakistan
• Pakistani Taliban vow to attack "BJP-backed terror camps in Kashmir"
• Pakistan's first anti-blasphemy television film premiered
• Controlling teenagers: Worried parents make DHA ban Shisha
• Pakistani Kashmir PM terms nuclear warning as "pressure tactic"
• Warnings to pluck and try Qadri ended sit-in, Malik tells NA
• Pakistan Judiciary is fully independent: Governor
• Security agencies holding 700 over terror links: Attorney General
• Eid Milad: Mobile services to be suspended in Lahore
• 1 killed, 2 injured in Karachi hand grenade attack
• Balochistan: WFP gives medical equipment worth Rs16.2m
• Pak SC to probe graft official's death
• Interior Minister and PPP Secy helped Tauqir Sadiq escape, NAB tells SC
Southeast Asia
• Police Charge 27 Suspects over Sumbawa Riot for pelting stones on Hindu Temples
• Bibles in Jelutong case don't contain 'Allah', Penang cops say
• Displaced Sampang Shiites cry foul to President's aide
Mideast Asia
• Palestinians warn new Israeli government over settlements
• Ex-TV host gains big in Israel polls, set to play vital role
• Abbas to Invite Israeli Politicians to Talk Peace
• Iran proposes Cairo as venue for nuclear talks
• Turkish nationalists attack German soldiers
• 'Silent' Israeli middle class asserts itself in the election
• Netanyahu scrambles to keep PM's job
• Turkish community accuses toy manufacturer of racism over Star Wars mosque toy
South Asia
• Hasina defends $1b defence purchase from Russia
• "We have been off the streets for some time – now we are back": Maldivian Democratic Party
• Committee to investigate arrest of minors
• Charge framing in Zia trust graft case deferred till Mar 3
• Tribunal asks for Mubarak charges Feb 12
• Sunk in gloom, they bury their near and dear ones, killed in a fire in Bahrain
• Japanese government presses Algeria for answers on victims
Europe
• Syrian rebels destroy religious sites of Alawite sect: H R W
• Tunisia draft charter lacking on rights: HRW
• UN chief commends king for Shoura appointments
• Julian Assange derides upcoming film on Wikileaks as ''propaganda'' for war against Iran
• Italy envoy: Assad in way of Syria peace
• Putin offers to host international conference on Syrian refugees
North America
• McDonald's settles $700,000 suit over Islamic diet in US
• US protests 'State of Palestine' placard in UN
• Clinton says will use social media to fight Qaeda
• US condemns deadly terror attack at Iraq mosque
• Emotional Clinton angrily denies Benghazi cover-up
• Ghost of Pakistani beheadings surfaces as US asks 30-35 years for Headley
• Maximum sentence unlikely for Headley
• US, Pakistan are moving out of tense phase
Compiled by New Age Islam News Bureau
Photo: Suicide Bombing at Shia mosque kills 42 in Iraq
URL: https://newageislam.com/islamic-world-news/new-age-islam-news-bureau/tunis-sufis-say-it-is-"just-the-beginning";-"wahhabis"-will-go-after-roman-shrines-next/d/10134
------------
Africa
Tunis Sufis Say It Is "Just the Beginning"; "Wahhabis" Will Go After Roman Shrines Next
Salafists blamed after Sufi shrine is torched
Sufi leader says it is "just the beginning", and that "Wahhabis" will go after Roman sites next
January 23, 2013
Tunis: Sufis said on Wednesday that another one of their shrines in Tunisia has been torched, pinning the blame on foreign-backed Salafist ultra-conservative Muslims.
In the 35th such attack in seven months, unidentified assailants on Tuesday night hurled Molotov cocktails at the Sidi Ahmad Uwerfelli shrine in Akuda, 140 kilometres south of Tunis.
"The people behind all the attacks are Wahhabis," a Salafist branch of Islam rooted in Saudi Arabia, Mazen Sherif, the deputy head of a Sufi union set up to counter the attacks, told a press conference in Tunis.
"This is just the beginning. They will go on to destroy the [Roman] sites in Carthage, Al Jem and Duga. Then they will force men to grow beards and women to wear the hijab," he said.
According to his union, which urged Tunisia's Islamist-led government to take effective action, such attacks are financed from abroad.
http://gulfnews.com/news/region/tunisia/salafists-blamed-after-sufi-shrine-is-torched-1.1136917
------------
Attackers behead five in restive northeast Nigeria
Jan 23, 2013
MAIDUGURI (NIGERIA): Attackers beheaded five people on Wednesday in the restive north-eastern Nigerian city of Maiduguri, which has been hard hit by violence blamed on Islamist extremist group Boko Haram, residents said.
"I saw the five decapitated bodies before they were taken away by soldiers from the (military task force)," one resident told AFP.
http://timesofindia.indiatimes.com/world/rest-of-world/Attackers-behead-five-in-restive-northeast-Nigeria/articleshow/18153228.cms
------------
23 Year-Old Nigerian Student Sentenced to Death for Drug Trafficking in Malaysia
24 January 2013
A 23 year-old Nigerian student of a private college in Kuala Lumpur, Malaysia was sentenced to death by hanging after he was found guilty of trafficking in 16,936gm of cannabis two years ago.
As reported by NewStraitsTimes, the Judicial Commissioner Mohd Zaki Abdul Wahab ruled that the prosecution had proved its case beyond reasonable doubt against John Amaechi Eze.
In his judgment, Zaki said the accused claimed he was waiting to board an express bus at a restaurant in front of the Lye Huat Garden hall when he was arrested by police. However, he said the court did not believe his claim that he did not own the luggage when witnesses had testified that he was with the luggage all the time.
His sentencing has elicited a range of reactions and warnings to Nigerians against trafficking drugs in countries where the stated penalty for such an offence is the death sentence.
A Nigerian blogger, Ola, who lives in Malaysia and blogs at www.madameaproko.blogspot.com shared this experience of living in Malaysia after the sentencing and warned against trafficking drugs. It is quite an interesting read:
Now, for anyone harboring thoughts of trafficking drugs to this country, this is what you get. It beats me why someone would risk their life, by taking banned substance to this racist shit hole called Malaysia, because when issued a visa, it is clearly stated that the punishment for drug trafficking in Malaysia is death.
To be fair and honest to Malaysia, there are some very nice and wonderful people out there, but they are greatly outnumbered by the bigots among them. I live and study in Malaysia and I've observed a bias pattern in judicial procedures and policing as regards drug trafficking and crime prevention.
My assertions are based on my day to day experience and observation as a resident. I have no statistical analysis of the Nigerian population living in Malaysia neither do I have the exact figures or nationality of the number of cases prosecuted by the Malaysian judiciary.
From the Nigerian side, The easterners (Igbos) out-number other ethnic groups within the Nigerian community here. That's why most Nigerians you meet are from the east. A lot (of) Nigerians you meet are not in Malaysia to study, though they are enrolled in one college or another, they are semi-illiterates or outright illiterates, very lousy, brash and arrogant (for reasons I don't understand). Then we have the stranded group who were duped by travel agents into thinking the pasture in Malaysia is greener.
In short, You meet criminals of all shapes, size and age. They just sleep, eat, wake up, and hope the next Maga pays. They are so much, you'll think all Nigerians living in Malaysia are criminals, but we have bright students doing well and graduating in Malaysian Universities, we have gainfully employed graduates trained by Malaysians themselves (few) and business men and women doing legitimate business exporting goods to and from Nigeria (also few compared to the population of the Nigerian community). But the Yahoo boys and drug traffickers are so high in number it seems they've all relocated from Nigeria to Malaysia. Conditions here favour them.
Basic infrastructure is great here compared to what we have in Nigeria. 24 hours electricity, running water, well laid roads, affordable high speed internet, compact 3/4 bedroom apartment, affordable furniture, little or no scrutiny on international remittance etc. Malaysia is a Yahoo Boy's paradise. Though, most foreigners especially new comers call them (Malaysians) lazy and stupid (I still don't get the rationale behind that).
On the Malaysian side, you'll meet the Malay Supremacist. A Muslim, religious bigot, loud, aggressive and assertive. He (male and female) hates Jews and despises Christians. He wants to protect the "sanctity" of Islam, State resources are at his disposal. His opinion and interest supercedes that of others. His ancestors are the first settlers in Peninsular Malaysia. His interpretation of the Islamic text dictates and guides the Muslim community and some times the whole nation. His favourite question when he meets you for the first time in class or anywhere is "Are you Muslim?". He runs the country and he knows it.
Then we have the Chinese Chauvinist, a business tycoon/ hard working student. Drives flashy cars, he believes his race is the best. He is rich and he has read stories of Nigerians using Malaysian girls as drug mules, black/chemical money stories; he has meet or read of stranded Nigerians who loiter around Kuala-Lumpur begging for money (these stranded guys don't shower, so they stink). He cringes when you happen to be in the same elevator, crosses to the other side of the road when you are walking towards each other and always thinks you need something from him any time you try to talk to him. He has held on to so many Nigerian horrible stories and thinks every Nigerian is like that.
Then, we have the Angry Indian, always pissed and mean-mugging you. He has been discriminated against so much that even his language is not included in the country's ATM machine (LMAO). He is always trying to pick fights with you and the first comment he makes is "THIS IS MY COUNTRY!". He'll smash his crash helmet on you at the slightest provocation or stab you. He also reads of atrocities committed by Nigerians and sees you as a threat.
So, living in Malaysia has made me a racism connoisseur of sought. In fact, I have become so sensitive that I believe I can tell if an individual is racist within a few seconds of being around them. There are people in Malaysia whose sole purpose in life is just to ruin your day. Racism in Malaysia is perfect. It is subtle when it needs to be and brass when necessary.
As a foreigner you might be misled into thinking Malaysia is a boring place and no one gives a damn about you, so you can do what ever you like and get away with it. No, you are seriously mistaken. Malaysia sometimes feels like the North-Korea we watch on T.V. Some citizens are very nosy and they watch and observe every move you make. I read a news article some weeks ago that says about 80% of Police personnel don't do normal Policing but rather, spy and gather intelligence.
So, my point is this. Malaysia is a tightly controlled society where the authorities decide what business prospers, whether legal or illegal. Elements within the police control the drug trade, the distributors are under their command and they arrest them when it's politically needed to unite the country against a common enemy. We hear of stories of Iranian and Arab drug traffickers who are quietly deported and warned never to return to Malaysia but other nationalities are shown off as trophy in front of news men who broadcast and publish sensational news headlines.
South-east Asian countries are united against drug trafficking and they hold meetings regularly to discuss new strategies on deterrent, Death (rolls eyes). So, it baffles me why people still take the risks John Amaechi Eze was sentenced on January 22; a British Grand mother Lindsay Sandiford was also sentenced to death on the same day in Indonesia. In the year 2008, two Nigerians were executed in Indonesia and one in Singapore.
Nigerians, please stop trying to bring drugs into Malaysia.
http://www.bellanaija.com/2013/01/23/23-year-old-nigerian-student-sentenced-to-death-
------------
African forces boost Mali offensive, concern over abuses
Jan 24 2013
Bamako: African forces moved towards Mali's centre today, as the European Union joined a chorus of concern over summary killings and abuses in the offensive on Al Qaeda-linked groups.
The first troops from a UN-mandated African force aimed at replacing the French mission have "already started to move towards central towns," Foreign Minister Laurent Fabius said in Paris.
He said 1,000 troops from West African countries and Chad had already arrived in Mali, which has been split in two since April.
Full report at:
http://www.indianexpress.com/news/african-forces-boost-mali-offensive-concern-over-abuses/1064295/
-----------
Nigerian leader says Boko Haram could threaten other nations
January 24, 2013
LAGOS: Nigerian President Goodluck Jonathan said Wednesday that Islamist extremist group Boko Haram would pose a threat to other African nations if not contained, while also pledging support for Mali.
Jonathan, speaking in an interview with CNN, however did not offer details while denying the Boko Haram insurgency was spurred by deep poverty in Nigeria's mainly Muslim north and refuting widespread reports of major military abuses.
Full report at:
http://www.dailystar.com.lb/News/International/2013/Jan-24/203558-nigerian-leader-says-boko-haram-could-threaten-oth.ashx#ixzz2IskZtnWR
------------
Mali conflict: Troops accused of 'summary executions'
24 January 2013
Mali's army has carried out a "series of summary executions" as it fights to recapture the Islamist-controlled north, a rights group has said.
The International Federation for Human Rights (FIDH) said some people were killed simply because they did not have identity documents.
A Malian army officer was quoted as denying the allegations.
Meanwhile, the UN says 7,100 civilians have fled to neighbouring states since 10 January to escape fighting.
Full report at:
http://www.bbc.co.uk/news/world-africa-21166537
------------
In Amenas attack brings global jihad home to Algeria
January 24, 2013
By Myra MacDonald
LONDON: A photo circulating on jihadi online forums says it all: a plane flying into the Eiffel Tower with September 11 written in Arabic in red letters alongside.
The French military intervention in Mali and an Islamist militant attack on the In Amenas gas plant in Algeria in which at least 38 workers died have re-energised international jihad.
These events also closed a loop which many thought had frayed over recent years linking North African insurgents with Al-Qaeda's central leadership and ideology.
Full report at:
http://www.dailystar.com.lb/News/Middle-East/2013/Jan-24/203559-in-amenas-attack-brings-global-jihad-home-to-alger.ashx#ixzz2IskK0HZ5
------------
Mali Islamist rebel group splits, splinter ready for talks
Jan 24, 2013
BAMAKO: Mali's Islamist Andar Dine (Defenders of the Faith) rebel group, which holds swathes of the country's vast desert north, has split and the breakaway faction said on Thursday it was ready for peace talks.
The newly-formed Islamic Movement for Azawad said in a statement that it "rejected all forms of extremism and terrorism and was committed to fighting them", adding that it wanted a "peaceful solution" to the Mali crisis.
http://timesofindia.indiatimes.com/world/rest-of-world/Mali-Islamist-rebel-group-splits-splinter-ready-for-talks/articleshow/18164304.cms
------------
Arab World
Suicide Bombing at Shia mosque kills 42 in Iraq
24 January 2013
A suicide bomber made his way into a Shia mosque north of Baghdad and blew himself up in the middle of a packed funeral on Wednesday, killing 42 people and leaving corpses scattered across the floor.
The attack, the deadliest in six months, is likely to heighten tensions as Iraq grapples with a political crisis and more than a month of protests in Sunni-majority areas that have hardened opposition to Shia Prime Minister Nuri al-Maliki.
Full report at:
http://www.thedailystar.net/newDesign/news-details.php?nid=266474
------------
Grand Mufti of Lebanon blasts politicians for scheming to uphold 'fake democracy'
January 24, 2013
BEIRUT: Grand Mufti Sheikh Mohammad Rashid Qabbani slammed politicians across the country's political divide Wednesday, saying that both the March 14 and March 8 coalitions are working to maintain Lebanon's failing political system.
"The dictatorship of the politicians, the zuama [leaders] and the political parties continues to bless the sharp divisions between the members of this nation so that they [political leaders] can exploit them for political gains through lies and deceit," Qabbani said.
Full report at:
http://www.dailystar.com.lb/News/Politics/2013/Jan-24/203516-qabbani-blasts-politicians-for-scheming-to-uphold-.ashx#ixzz2IskUZhLK
------------
Madrasa for imparting Islamic knowledge to expat students in Jeddah
24 January 2013
An international Islamic school (madrasa), named Al-Huda Learning Centre, has been established in Jeddah's Aziziya district for the purpose of imparting Islamic knowledge to school going expatriate children.
The new madrasa, where teaching will be in English medium, is run by All-India Islahi Centre, Jeddah, a Dawah organization of expatriates from different Indian states, said Akbar Batcha, president of AIIC and former chairman of the Indian School Managing Committee.
Full report at:
http://www.arabnews.com/aiic-plans-madrassa-expat-students
------------
Teachings of Prophet discussed in Dubai on the occasion of 12th of Rabi Al Awwal
Ahmed Shaaban / 24 January 2013
The Department of Islamic Affairs and Charitable Activities (DIACA) in Dubai on Tuesday evening celebrated the birth anniversary of Prophet Muhammad (peace be upon him) at the Shaikh Rashid bin Saeed Al Maktoum Mosque.
The celebration saw a large number of attendees who were very keen to be part of the holy occasion and refresh their memories about the story, characteristics and teachings of the Prophet (PBUH). In accordance with the circular issued by the Ministry of Labour, today is the official holiday to mark Milad Al Nabi. In his speech, Dr Omar Al Khatib, Assistant Director-General of the department, hoped the occasion would be a turning point for Muslims to unite and brave all common challenges.
Full report at:
http://www.khaleejtimes.com/kt-article-display-
-------------
Syrian rebels urged to protect religious sites
24 January 2013
BEIRUT — Rebel groups in Syria appeared to have deliberately destroyed or allowed the looting of minority religious sites in the north in November and December 2012, Human Rights Watch said on Wednesday.
"The destruction of religious sites is furthering sectarian fears and compounding the tragedies of the country, with tens of thousands killed," said Sarah Leah Whitson, Middle East director at the New York-based HRW.
Full report at:
http://www.khaleejtimes.com/kt-article-display-
-------------
Syria calls 'million man prayers' for the re-establishment of security
24 January 2013
Syrian authorities have called for "million man prayers" at mosques on Friday to appeal for the re-establishment of security in the country, ravaged by 22 months of bloodshed, a minister said.
"Prayers will be held after Friday services in Syria's mosques with the appeal for a return to security and safety in the homeland," Minister of Religious Endowments Mohammed Abdel Settar said in a statement.
Full report at:
http://www.khaleejtimes.com/kt-article-display-
-------------
Egyptian Protesters Clash With Security Forces
Jan 24 2013
CAIRO (AP) — Witnesses say Egyptian riot police firing tear gas have clashed with dozens of protesters who were trying to tear down a cement wall built to prevent demonstrators from reaching parliament and the Cabinet building.
The violence in central Cairo Thursday comes on eve of the second anniversary of Egypt's Jan. 25 uprising, which toppled longtime authoritarian president Hosni Mubarak in 2011.
Full report at:
http://www.nytimes.com/aponline/2013/01/24/world/middleeast/ap-ml-
-------------
Uprising anniversary widens opposition-Islamist gap
By Ramadan Al Sherbin
January 23, 2013
Cairo: A day before the second anniversary of the uprising that deposed Hosni Mubarak, Egypt's mostly secular opposition and powerful Islamists appeared two worlds apart. Eighteen days of mass protests starting January 25, 2011 against the Mubarak regime were an event of rare cohesion among all Egyptians – Muslims, Christians, secularists, Islamists and leftists. Not any more.
Full report at:
http://gulfnews.com/news/region/egypt/uprising-anniversary-widens-opposition-islamist-gap-1.1136766
------------
Manama keen on reinforcing ties with Nato
January 23, 2013
Manama: Bahrain is keen to improve its relations and cooperation with the North Atlantic Treaty Organisation, King Hamad Bin Eisa Al Khalifa has said.
Receiving a delegation from Nato's Parliament Assembly Sub-Committee on Transatlantic Defence and Security Cooperation, King Hamad said that Bahrain, a major non-Nato ally, wanted to boost ties with the alliance and to exchange expertise in areas that reinforced security, stability and peace in the region and the world, Bahrain News Agency (BNA) reported.
Full report at:
http://gulfnews.com/news/gulf/bahrain/manama-keen-on-reinforcing-ties-with-nato-1.1136492
------------
Philippines to host award ceremony for AGFUND's 2013 International Prize
24 January 2013
Prince Talal bin Abdul Aziz, president of the Arab Gulf Program for Development (AGFUND), has announced that Manila, the capital of the Republic of the Philippines, will host the 2013 award ceremony of the AGFUND International Prize on Feb. 27.
According to a source from AGFUND, projects competing for the prize award were in the fields of "developing remote and rural communities through ICT and youth empowerment." Speaking on the occasion, Nasser Al-Kahtani, executive director of AGFUND, declared that the government of Philippines has highly commended Prince Talal's developmental and humanitarian efforts through AGFUND and the other institutions he sponsors and welcomed the decision to hold the ceremony in Manila.
Full report at:
http://www.arabnews.com/manila-host-award-ceremony-agfund%E2%80%99s-2013-international-prize
------------
Aleppo bears brunt of attacks
24 January 2013
DAMASCUS: Fighting raged in several Syrian flashpoints yesterday.
The Syrian Observatory for Human Rights said six members of one family were killed in a dawn missile attack on the village of Abu Taltal in Aleppo province.
In a video released by activists, the bodies of the three children, a boy and two small girls, can be seen lying on blankets on a hospital bed.
Full report at:
http://www.arabnews.com/aleppo-bears-brunt-attacks
---------
India
Muslim Groups Reject Shinde's "Hindu Terror" Comment
MOHAMMAD ALI
Jan 24, 2013
Muslim groups have rejected Union Home Minister Sushilkumar Shinde's comment on "Hindu terrorism" on the pretext that terror should not be associated with any specific religion or community. While they demanded that the "threat" of extremist Hindutva be taken seriously and cases of "Hindutva terror" be probed and acted upon, they refused to accept existence of home-grown terror or that of terror modules like Indian Mujahideen (IM).
During the Congress Party's Chintan Shivir in Jaipur recently Mr. Shinde had claimed that the Bharatiya Janata Party and the Rashtriya Swayamsevak Sangh were inciting "Hindu terrorism".
In a statement on Wednesday, Jamiat Ulema-i-Hind (JUH) general secretary Maulana Mahmood Madani said the JUH and Indian Muslims rejected the term "Hindu terror" as it was not proper to associate any religion or community with terrorism. "We are of the belief that terrorism has no religion and community."
At a Press conference, the Welfare Party of India (WPI) criticised the Congress Government for "playing politics" with the minority community by merely giving statements and "ignoring leads and evidences which suggest serious involvement of Hindutva groups in acts of terror".
Muslims killed, Muslims arrested
Referring to the statement of Union Home Secretary R. K. Singh, WPI vice-president Dr. Zafarul Islam Khan said: "The investigating agencies are on the record saying that Hindutva activists are behind terror blasts like Samjhauta Express, Mecca Masjid and Ajmer Dargah Sharif blasts. But the irony is that during these blasts, those who were killed were Muslims and those arrested were also Muslims."
"Instead of perusing and connecting the dots about evidences on Hindutva connection, the investigating agencies tortured innocent Muslim youths, some of whom have still not got bail," he added, while demanding that a high powered judicial committee to probe all terror cases since 1991 be constituted.
Deal with the ideology
SQR Ilyas of the WPI argued that "the fact that so many Muslim youths are being acquitted in the terror cases shows that the actual culprits are being allowed to go scot free. We want the Government to act not only against the Hindutva activists but also deal with the ideology which inspires them."
Does Indian Mujahideen exist?
Refusing to accept the version of the investigating agencies about the involvement of IM in terror blasts, Mr. Ilyas said: "We don't have reasons to believe that IM exists. The agencies have failed to come up with any substantial evidence proving IM's existence. We do not know if it actually exists or is somebody's figment of imagination."
Sultan Shahin, editor of NewAgeIslam.com, a website which advocates reforms in Muslims, disagreed with the community leaders and argued: "Even though the Government needs to take threat of Hindutva extremism more seriously but that should not take our attention away from increasing radicalisation of the Muslim youth happening at a major scale. I must say that if our Home Minister says that IM exists then I do not have any reason to disbelieve him. It is high time the minority community should come out of conspiracy theories and denial mode."
http://www.thehindu.com/todays-paper/tp-national/tp-newdelhi/muslim-groups-reject-shindes-hindu-terror-comment-say-terrorism-has-no-religion/article4338558.ece
-----------
Nothing wrong in Shinde's Hindu terror comment: Narayanasamy
Jan 24, 2013
NEW DELHI: There was nothing wrong in union home minister Sushilkumar Shinde's statement on "Hindu terror", his colleague V Narayanasamy said Thursday while describing as unwarranted the Bharatiya Janata Party's (BJP) protests on the issue.
"People who were arrested in the Malegaon incident and the Samjhauta Express blast were found to be members of some of the Hindu fundamentalist groups and it was in that context the home minister said this. I don't see any kind of objection to any part of his statement," Narayanasamy told reporters.
Full report at:
http://timesofindia.indiatimes.com/india/Nothing-wrong-in-Shindes-Hindu-terror-comment-Narayanasamy/articleshow/18164575.cms
-----------
Muslim, Hindu groups unhappy with Jaipur Lit-Fest for different reasons
VAIJU NARAVANE & MOHAMMED IQBAL
Jan 24, 2013
We will not allow a bunch of extremists to hold us to ransom, says Jaipur festival producer
The 2013 edition of the Jaipur Literature Festival is likely to cause waves again, with Islamic groups protesting against authors who last year read from Salman Rushdie's banned novel The Satanic Verses, and Hindu groups threatening to disrupt proceedings because of the presence of several Pakistani authors. The Chinese too are likely to be upset by the presence of the Dalai Lama, who will address a meeting today.
Full report at:
http://www.thehindu.com/todays-paper/muslim-hindu-groups-unhappy-with-jaipur-litfest/article4338257.ece
-----------
Imam masterminded bus burning in Hyderabad: police
Jan 24, 2013
A group of 15 persons, including an Imam of a mosque, were allegedly responsible for the RTC bus burning incident at Kalapather near the Mir Alam filter bed on the night of January 21 (Monday), the police claimed.
While the Imam of Masjid-e-Badar, Syed Dastagiri, and seven others were arrested, a hunt was on for the other accused, South Zone DCP Tarun Joshi said at a press conference on Wednesday.
Full report at:
http://www.thehindu.com/news/cities/Hyderabad/imam-masterminded-bus-burning-in-hyderabad-police/article4339420.ece
-----------
'Suspected Hizb ul spy was hiring cadre for Pak terror outfit'
Debasish Panigrahi, Hindustan Times
January 24, 2013
Faroquee Ahmed Gulam Hasan Naiku, the J&K resident who was arrested on Tuesday for allegedly spying for Pakistan-based terror outfit Hizb ul Mujahideen, had been recruiting fresh cadre for the terror group in the Valley since the past four years, the police said on Wednesday.
Crime branch sources privy to Naiku's interrogation said the 37-year-old had recruited more than six youngsters, who are now engaged in espionage. Naiku himself used to do spy work before he fled the Valley in 2008.
Full report at:
http://www.hindustantimes.com/India-news/mumbai/Suspected-Hizbul-spy-was-hiring-cadre-for-Pak-terror-outfit/Article1-998951.aspx
------------
IMF chief refers to Delhi gang rape victim at WEF speech
Jan 24 2013
Davos : IMF chief Christine Lagarde today invoked the Delhi gangrape incident during a speech at the World Economic Forum while emphasising that expectations of Indian women on gender equity must be met.
She also remembered the young Pakistani victim Malala Yousafzai while addressing the gathering at the annual WEF meeting.
Full report at:
http://www.indianexpress.com/news/imf-chief-christine-lagarde-refers-to-delhi-gangrape-victim-at-wef-spe.../1064175/
------------
Petition in HC alleging Amitabh Bachchan of 'derogatory' remarks against Quran
Jan 23 2013
Allahabad: A petition was today filed in the Allahabad High Court accusing Bollywood superstar Amitabh Bachchan of having made a "derogatory" remark, "with malicious intention", about a Holy book in a more than a year-old episode of the TV quiz show "Kaun Banega Crorepati".
The petition was filed by Mudassir Ullah Khan, a resident of Jhansi, who has taken exception to the use of the phrase "racha gaya" (composed) in the context of the Holy book by Bachchan in the episode aired on 28.09.2011.
Full report at:
http://www.indianexpress.com/news/petition-in-hc-alleging-amitabh-bachchan-made-derogatory-remarks-a.../1063765/
------------
Hyderabad MP Asaduddin Owaisi gets bail
Jan 24, 2013
SANGAREDDY(AP): A local court granted bail to MIM chief and Hyderabad MP AsaduddinOwaisi in connection with a 2005 case against him for allegedly obstructing the then Medak district collector and other officials from discharging their duties.
Asaduddin was earlier sent in judicial remand till February 2 and lodged in the Medak district jail at Kandi, six kms from Sangareddy.
Full report at:
http://timesofindia.indiatimes.com/india/Hyderabad-MP-Asaduddin-Owaisi-gets-bail/articleshow/18165149.cms
-----------
MIM leaders attack Congress over Asad, Akbar arrest
Jan 24, 2013
The MIM Karimnagar district unit leaders launched a scathing attack on the Congress government stating that false cases are being registered against their party chief and MP Asaduddin Owaisi and legislator Akbaruddin Owaisi.
Talking to newsmen here on Wednesday, MIM district president Syed Wahaj Uddin alleged that the government was purposefully bringing out old cases and forcing Asaduddin Owaisi to remain in jail, without providing bail. "Why the government and the police had remained silent for over eight years after registering a case and are now arresting them after the party withdrew support to the Congress party", he quipped.
Full report at:
http://www.thehindu.com/todays-paper/tp-national/tp-andhrapradesh/mim-leaders-attack-congress-over-asad-akbar-arrest/article4338963.ece
-----------
Pakistan activists demand action against authorities for Indian national's death
Jan 24 2013
Amritsar: Human rights activists in Pakistan, and particularly in Lahore, are demanding action against jail authorities for the merciless thrashing and subsequent death in hospital of an Indian national.
Chhamel Singh, aged 40, died in Lahore's Jinnah Hospital after being mercilessly thrashed by authorities in the city's Kot Lakhpat Rai Jail.
Full report at:
http://www.indianexpress.com/news/rights-activists-demand-action-against-authorities-for-indian-national.../1064254/
------------
Body of Indian prisoner who was beaten to death in Pak jail still lying in hospital
Jan 24, 2013
AMRITSAR: Seven days on and the body of Indian prisoner Chamel Singh who was beaten to death in Pakistan's Kot Lakhpat jail is still lying in the Jinnah Hospital, Lahore and Pakistan authorities have made no arrangement to send back the body to his relatives in India.
The incident has raised serious question mark on the safety of other Indian prisoners in Pakistan jails.
Full report at:
http://timesofindia.indiatimes.com/india/Body-of-Indian-prisoner-who-was-beaten-to-death-in-Pak-jail-still-lying-in-hospital/articleshow/18164452.cms
------------
India-Pakistan water talks likely to be held in March
Jan 23, 2013
NEW DELHI: As tension over ceasefire violations shows signs of dissipating, India has proposed that the next round of talks between water resources secretaries is held in March. The government earlier wanted the talks to be held in end-January, but was forced to propose fresh dates because of the impending retirement of its water resources secretary D V Singh.
Full report at:
http://timesofindia.indiatimes.com/india/India-Pakistan-water-talks-likely-to-be-held-in-March/articleshow/18152961.cms
------------
Do not politicise Jaipur Literature Festival: Rajasthan C M
Jan 24, 2013
JAIPUR: Rajasthan chief minister Ashok Gehlot said on Thursday that the issue of Pakistani authors' visit to the Jaipur Literature Festival should not be "politicised".
"Whatever (the ceasefire violations on the LoC) the Pakistani army did was condemnable. It was condemned by India and the citizens (of the country). But the visit of Pakistani authors to the literary festival should not be politicised," Gehlot told reporters at Diggi Palace after the inauguration of the five-day event.
Full report at:
http://timesofindia.indiatimes.com/india/Do-not-politicise-Jaipur-Literature-Festival-Ashok-Gehlot-says/articleshow/18164522.cms
-----------
Britain not to meddle in Kashmir issue
Jan 24, 2013
LONDON: Britain has ruled out any third party intervention in resolving the Kashmir issue saying that it was for India and Pakistan to find a lasting resolution which takes into account the wishes of the Kashmiri people.
A strong plea by Lord Nazir Ahmed, who was born in PoK, in the House of Lords on Wednesday night in favour of a plebiscite in Jammu and Kashmir elicited no support from the government.
Full report at:
http://timesofindia.indiatimes.com/india/Britain-not-to-meddle-in-Kashmir-issue/articleshow/18164483.cms
----------
India will continue to press for extradition of Headley: Govt
NEW DELHI, JAN 24:
India will continue to press for the extradition of Lashkar-e-Taiba terrorist David Headley and hopes to get access to his accomplice Tahawwur Hussain Rana.
New Delhi's request for access to Headley's wife Shazia Gilani, his girlfriend Portia Peter and one more female friend is yet to be acceded by Washington.
Full report at:
http://www.thehindubusinessline.com/news/india-will-continue-to-press-for-extradition-of-headley-govt/article4340231.ece
----------------
Pakistan
Pakistani Taliban vow to attack "BJP-backed terror camps in Kashmir"
24 January 2013
PESHAWAR: Pakistani Taliban have said the UN bodies and the United States should stop the "BJP-sponsored state terrorism in Kashmir," otherwise the TTP has the ability to strike inside Indian-administered Kashmir.
Speaking to Dawn.Com on Wednesday, the TTP spokesman Ehsanullah Ehsan said that the Indian Home Minister's statement regarding BJP-backed terrors camps is an open confession that Hindu extremists are being patronized under the state's authority for killing innocent Kashmiri Muslims.
Full report at:
http://dawn.com/2013/01/23/pakistani-taliban-vow-to-attack-bjp-backed-terror-camps-in-kashmir/
------------
Pakistan's first anti-blasphemy telefilm premiered
By Kashif Hussain
24 January 2013
LAHORE: A private production house has launched the first Pakistani anti-blasphemy tele-film named 'Ujalay Janoon Kay' to build the original image of Islam and Prophet Muhammad (PBUH), as well as to counter European caricatures and views of western personalities, like Salman Rushadi and Terry John.
Renowned TV drama director Hafeez Tahir has directed the film, while Mukhtar Alam is its writer and producer. The film has two songs and some historical facts, which had not been explained properly in society on any screen before.
Full report at:
http://www.dailytimes.com.pk/default.asp?page=2013\01\24\story_24-1-2013_pg7_22
------------
Controlling teenagers: Worried parents make DHA ban shisha
January 24, 2013
KARACHI: Smokers in Defence will most likely head to cafes in Clifton following the ban on the use of shisha.
The Defence Housing Authority (DHA) warned all café owners that their trade licences will be suspended if they violate the ban. The restriction that came into force on Monday has unnerved the owners of nearly 50 cafés who claim their customers are now heading to cafes situated outside DHA.
Full report at:
http://tribune.com.pk/story/498126/controlling-teenagers-worried-parents-make-dha-ban-shisha/
------------
Pakistani Kashmir PM terms nuclear warning as "pressure tactic"
24 January 2013
SRINAGAR: Prime Minister of Pakistani-administered Kashmir Chaudhry Abdul Majeed on Wednesday dismissed the public advisory, telling residents to prepare for nuclear war by building basement shelters, as a pressure tactic.
"India cannot impose even conventional war on Pakistan, and if it does, each and every child of Kashmir will fight shoulder-to-shoulder with the Pakistan armed forces against India," said Majeed.
Full report at:
http://dawn.com/2013/01/23/pakistani-kashmir-pm-terms-nuclear-warning-as-pressure-tactic/
------------
Warnings to pluck and try Qadri ended sit-in, Malik tells NA
24 January 2013
ISLAMABAD: If one were to believe what Interior Minister Rehman Malik boastfully told a fired-up National Assembly on Wednesday, it were his warnings to Dr Tahirul Qadri like plucking him from a bullet-proof refuge and registering a treason case against him, rather than any concessions, that broke the political cleric's defiance to end a dreadful march on Islamabad last week.
Full report at:
http://dawn.com/2013/01/24/warnings-to-pluck-and-try-qadri-ended-sit-in-malik-tells-na/
------------
Pakistan Judiciary is fully independent: Governor
24 January 2013
KARACHI: Sindh Governor Dr Ishratul Ebad Khan on Wednesday said the judiciary in Pakistan was fully independent, strong and well supported by the masses.
The Supreme Court of Pakistan has been playing a leading role and has given a new dimension to judiciary and its verdicts. That, nothing can harm the country having an independent judiciary, the governor said.
Full report at:
http://www.dailytimes.com.pk/default.asp?page=2013\01\24\story_24-1-2013_pg12_1
------------
Security agencies holding 700 over terror links: Attorney General
January 24, 2013
ISLAMABAD: Attorney General Irfan Qadir on Thursday disclosed for the first time that security agencies are holding at least 700 people indefinitely without trial in connection with the "war on terror".
Qadir told the Supreme Court the suspects were arrested in the semi-autonomous north-western tribal belt, where the army has been fighting militants for around a decade.
He said none of the suspects could be freed until the end of operations in the tribal belt, and declined to say how long they had been in custody.
Full report at:
http://tribune.com.pk/story/498488/security-agencies-holding-700-over-terror-links-irfan-qadir/
------------
Eid Milad: Mobile services to be suspended in Lahore
January 24, 2013
LAHORE: Mobile services will remain suspended in Lahore from 8am to 8pm on Friday on account of Eid Miladun Nabi, reported Express News on Thursday.
The service suspension will begin at Minar-e-Pakistan and surrounding areas from tonight. SP Security Abdul Ghaffar Qaiserani has written a letter to Punjab government in this regard.
Full report at:
http://tribune.com.pk/story/498499/eid-milad-mobile-services-to-be-suspended-in-lahore/
------------
1 killed, 2 injured in Karachi hand grenade attack
January 24, 2013
KARACHI: One person was killed while two sustained injuries in a hand grenade attack in the Manghopir area of Karachi, Express News reported on Thursday.
The attackers, riding a motorbike, threw a grenade at a house and escaped, injuring three.
The victims were taken to Jinnah hospital where one succumbed to his injuries.
Full report at:
http://tribune.com.pk/story/498485/1-killed-2-injured-in-karachi-hand-grenade-attack/
------------
Balochistan: WFP gives medical equipment worth Rs16.2m
January 24, 2013
QUETTA: The United Nations World Food Programme (WFP) on Wednesday handed over medical equipment worth Rs16.2 million to the health department in Balochistan.
During a ceremony, Dr Masood Qadir Nosherwani, Director General Health Services received the equipment from Jean-Luc Siblot, the WFP representative in Pakistan.
Full report at:
http://tribune.com.pk/story/498350/balochistan-wfp-gives-medical-equipment-worth-rs16-2m/
------------
Interior Minister and PPP Secy helped Tauqir Sadiq escape, NAB tells SC
24 January 2013
ISLAMABAD: The Supreme Court on Thursday ordered the National Accountability Bureau (NAB) to file references against Interior Minister Rehman Malik, Pakistan People's Party (PPP) Secretary General Jehangir Badar and all those involved in former chairman Oil and gas Regulatory Authority (Ogra) Tauqir Sadiq's escape from the country, DawnNews reported.
A two-member-bench of the apex court comprising of Justice Khilji Arif Hussain and Justice Jawwad S. Khwaja resumed hearing the case pertaining to the implementation of the court's order to arrest the former Ogra chief.
Full report at:
http://dawn.com/2013/01/24/sc-expresses-outrage-at-non-arrest-of-tauqir-sadiq/
------------
Southeast Asia
Police Charge 27 Suspects over Sumbawa Riot for pelting stones on Hindu Temples
Farouk Arnaz | January 24, 2013
The National Police have charged 27 people over a riot on Tuesday in the Sumbawa district in West Nusa Tenggara, where hundreds of people vandalized homes, set buildings alight and pelted Hindu temples in the area.
The suspects, who were charged with Criminal Code Article 170 for a joint attack, were part of a group of 90 people who were originally detained by police.
Full report at:
http://www.thejakartaglobe.com/home/police-charge-27-suspects-over-sumbawa-riot/567366
------------
Bibles in Jelutong case don't contain 'Allah', Penang cops say
24 January 2013
KUALA LUMPUR, Jan 24 ― Penang police have confirmed that the bibles allegedly distributed to Muslim students in Jelutong recently were all printed in English and do not contain the word "Allah" as previously claimed.
Sinar Harian Online reported today that at least five copies of the bibles were handed over to the police in the case and none held any translation from English to Bahasa Malaysia or Jawi script.
Full report at:
http://www.themalaysianinsider.com/malaysia/article/bibles-in-jelutong-case-dont-contain-allah-penang-cops-say/
--------
Displaced Sampang Shiites cry foul to President's aide
January 24 2013
Representatives of displaced Shia adherents from Sampang, East Java, met with presidential advisor on human rights Albert Hasibuan on Wednesday to convey their grievances after being "abandoned" by the Sampang regental administration at a poorly equipped shelter.
"The displaced persons from the Sampang brawl are currently in very poor condition. Access to basic needs such as clean water is very difficult. They have been neglected for months and their condition continues to worsen," Mujtahid Hashemy, an activist from the Universalia Legal Aid Foundation who served as the spokesman of the Sampang group, told journalists after meeting with Albert. "We really hope that President Susilo Bambang Yudhoyono will take immediate action," he added.
Full report at:
http://www.thejakartapost.com/news/2013/01/24/displaced-sampang-shiites-cry-foul-sby-aide.html
------------
Mideast Asia
Palestinians warn new Israeli government over settlements
Jan 24, 2013
UNITED NATIONS: The Palestinians will launch an International Criminal Court case if the new Israeli government allows settlements in occupied areas near Jerusalem, the Palestinian foreign minister said.
Foreign minister Riyad al-Malki said allowing Jewish settlers into the so-called E1 zone east of Jerusalem would be "trespassing the red lines".
The Palestinians are "absolutely not going to tolerate any construction in that particular area," Malki told reporters after addressing a UN Security Council meeting on the Middle East conflict.
Full report at:
http://timesofindia.indiatimes.com/world/middle-east/Palestinians-warn-new-Israeli-government-over-settlements/articleshow/18159607.cms
------------
Ex-TV host gains big in Israel polls, set to play vital role
By ISABEL KERSHNER
Jan 24, 2013
RAMATGAN: With his good looks and suave manner, Yair Lapid had long been a celebrity and symbol of success here, building a strong following as a prominent journalist and the host of a popular television show.
But by the time the polls closed here on Tuesday, it was clear that Lapid had reinvented himself as one of the most powerful political leaders in the country, leveraging his celebrity and a populist message that resonated.
Full report at:
http://timesofindia.indiatimes.com/world/middle-east/Ex-TV-host-gains-big-in-polls-set-to-play-vital-role/articleshow/18159916.cms
----------------
Abbas to Invite Israeli Politicians to Talk Peace
Jan 24 2013
RAMALLAH, West Bank (AP) — A senior Palestinian official says the Palestinian president will invite Israeli lawmakers to the West Bank for talks in a bid to make sure peacemaking is on the new government's agenda.
The overture is meant to capitalize on the unexpected strength of moderates in Israel's incoming parliament.
Full report at:
http://www.nytimes.com/aponline/2013/01/24/world/middleeast/ap-ml-israel-
-----------
Iran proposes Cairo as venue for nuclear talks
24 January 2013
TEHRAN: Iran has proposed Cairo as a venue for restarting talks with the US and other world powers over its controversial nuclear program, the country's foreign minister said yesterday.
Ali Akbar Salehi's announcement was the latest indication of Tehran's willingness to go back into the negotiations in hopes of wresting concessions from the West over stepped-up sanctions that have crippled the Iranian economy.
Full report at:
http://www.arabnews.com/iran-proposes-cairo-venue-nuclear-talks
------------
Turkish nationalists attack German soldiers
January 24, 2013
ANKARA: Turkish nationalists attacked five German soldiers who recently arrived in Turkey to operate two batteries of Patriot surface-to-air missiles as part of Nato mission, officials said Wednesday.
Protesters from the Turkish Youth Union (TGB), a nationalist splinter group, attacked the troops as they shopped in a market in the southern town of Iskenderun, Lieutenant Colonel Frank Sarak from the German military said.
Full report at:
http://tribune.com.pk/story/498383/splinter-group-turkish-nationalists-attack-german-soldiers/
------------
'Silent' Israeli middle class asserts itself
ATUL ANEJA
24 January 2013
Results push Prime Minister Netanyahu on the defensive
Israel's young middle class voters have asserted themselves by positioning to advantage a centrist party and a charismatic leader, who is set to shape the national agenda — earlier dominated by aging politicians from the Right and the Left.
Full report at:
http://www.thehindu.com/news/international/silent-israeli-middle-class-asserts-itself/article4336798.ece
------------
Netanyahu scrambles to keep PM's job
Jan 24, 2013
JERUSALEM: A weakened Prime Minister Benjamin Netanyahu scrambled on Wednesday to keep his job by extending his hand to a new centrist party that advocates a more earnest push on peacemaking with Palestinians and whose surprisingly strong showing broadsided him with a stunning election deadlock.
The results defied forecasts that Israel's next government would veer sharply to the right at a time when the country faces mounting international isolation, growing economic problems and regional turbulence.
Full report at:
http://timesofindia.indiatimes.com/world/middle-east/Netanyahu-scrambles-to-keep-PMs-job/articleshow/18159893.cms
------------
Turkish community accuses toy manufacturer of racism over Star Wars mosque toy
Jan 24 2013
London: The Turkish community has accused popular toy manufacturer Lego of promoting racism through a Star Wars toy that allegedly depicts a mosque.
Members of the Turkish Cultural Community of Austria had claimed that toy, a Jabba's Palace model from Lego's Star Wars range, is offensive because it resembles the Hagia Sophia Mosque in Istanbul, the Daily Mail reports.
Full report at:
http://www.indianexpress.com/news/turkish-community-accuses-lego-of-racism-over-star-wars-mosque-toy/1064326/
-----------
South Asia
Hasina defends $1b defence purchase from Russia
24 January 2013
Strongly defending the $1 billion defence purchase from Russia, Prime Minister Sheikh Hasina yesterday said the government was modernising the armed forces in the light of "the country's defence policy".
"The defence policy was formulated in 1974 at the instruction of the father of the nation and in light of the policy, the "Forces Goal 2030" was prepared, and in light of that the armed forces is being reconstituted and modernised," she told a press conference at the Prime Minister's Office yesterday.
Full report at:
http://www.thedailystar.net/newDesign/news-details.php?nid=266426
------------
"We have been off the streets for some time – now we are back": Maldivian Democratic Party By Luke Powell | January 23rd, 2013
Maldivian Democratic Party (MDP) supporters marched through Male' on Tuesday (January 22) for the first time in several months to protest against the current coalition government.
The protest was the first large-scale march through the city since the Freedom of Assembly Bill was ratified by President Mohamed Waheed Hassan Manik earlier this month. The party claimed over three thousand attended.
MDP Spokesman Hamid Abdul Ghafoor told Minivan News that the party plans to hold more assemblies and protests in next coming months around Male'.
Full report at:
http://minivannews.com/politics/we-have-been-off-the-streets-for-some-time-now-we-are-back-mdp-51656
------------
Committee to visit Maafushi Prison and Villingili orphanage to investigate arrest of minors
By Ahmed Nazeer | January 23rd, 2013
Parliament's National Security Committee will visit Maafushi prison and the Villingili to complete their investigation into the arrest of two minors from the Villingili orphanage.
Speaking at a press conference held last night at the committee meeting room, chair of the committee, Maldivian Democratic Party (MDP) MP 'Reeko' Moosa Manik, said the committee's decision followed questioning of the Ministry of Gender Family and Human Rights, the Human Rights Commission of the Maldives (HRCM), the Department of Penitentiary and Rehabilitation Services (DPRS) and the Villingili Orphanage.
Full report at:
http://minivannews.com/society/committee-to-visit-maafushi-prison-and-villingili-orphanage-to-investigate-arrest-of-minors-51633
------------
Charge framing in Zia trust graft case deferred till Mar 3
24 January 2013
A Dhaka court on Thursday deferred until March 3 the hearing on charge framing against BNP Chairperson Khaleda Zia and five others in connection with Zia Orphanage Trust graft case.
Anti-Corruption Commission filed the case with Ramna Police Station on July 3 in 2009 for embezzling over Tk 2.10 crore by forming the 'fake' trust.
Full report at:
http://www.thedailystar.net/newDesign/latest_news.php?nid=44261
------------
Tribunal asks for Mobarak charges Feb 12
24 January 2013
International Crimes Tribunal-1 on Thursday asked prosecution to submit formal charges against Mobarak Hossain before it on February 12 for his alleged crimes against humanity committed during the country's Liberation War in 1971.
Mobarak was the organising secretary of a union unit of Awami League in Akhaura upazila of Brahmanbaria for 16 years.
As the tribunal started its day's proceeding around 10:40am, Prosecutor Sahidur Rahman told the court that the investigation agency, probing the war crimes allegations against the suspects, has already submitted its investigation report to the prosecution, but they need some time to scrutinise it before submission, he said.
Full report at:
http://www.thedailystar.net/newDesign/latest_news.php?nid=44258
------------
'Truthful declaration' not enough to give the true facts
24 January 2013
Boro farmers in eight northern districts remain highly vulnerable to cheating by seed suppliers as authorities accept the traders' 'truthful declaration', regardless of whether the seeds undergo field and laboratory tests.
The government authorities rely on such declaration due to shortage of manpower and logistics for proper monitoring of seed markets across the country.
Full report at:
http://www.thedailystar.net/newDesign/news-details.php?nid=266386
------------
Sunk in gloom, they bury their near and dear ones, killed in a fire in Bahrain
24 January 2013
Thirteen Bangladeshi workers, killed in a fire in Bahrain on January 11, were buried at their respective villages in Nabinagar upazila of Brahmanbaria, Patiya and Boalkhali upazilas of Chittagong, Kachua and Chandpur Sadar upazilas of Chandpur, Sonaimuri upazila of Noakhali and Sadar upazila of Comilla yesterday.
A pall of gloom descended on the areas on arrival of the bodies on Tuesday night and yesterday morning. A flight of Emirates Airlines EK 838, carrying the bodies from Bahrain, landed at Hazrat Shahjalal International Airport at 6:35pm on Tuesday.
Full report at:
http://www.thedailystar.net/newDesign/news-details.php?nid=266387
------------
Japanese government presses Algeria for answers on victims
24 January 2013
ALGIERS: A senior Japanese government figure was in Algeria yesterday to meet the prime minister as Tokyo sought to learn why at least seven of its citizens died when militants overran a desert gas plant.
Senior Vice Foreign Minister Shunichi Suzuki arrived in Algiers aboard a government jet that is set to repatriate the bodies of those known to have been killed in the hostage crisis, as well as seven Japanese who survived.
Full report at:
http://www.arabnews.com/japanese-government-presses-algeria-answers-victims
------------
Europe
Syrian rebels destroy religious sites of Alawite sect: H R W
23 January 2013
Rebels in Syria have burned and looted the religious sites of minorities, Human Rights Watch said on Wednesday, as the longest and deadliest of the Arab Spring revolts becomes increasingly sectarian.
The 22-month-old rebellion against President Bashar al-Assad started as a peaceful protest movement but has turned into civil war, pitting mostly Sunni Muslim rebels against a state security and military establishment dominated by Assad's minority Alawite sect, an offshoot of Shi'ite Islam.
Full report at:
http://www.khaleejtimes.com/kt-article-display-
-------------
Tunisia draft charter lacking on rights: HRW
24 January 2013
TUNIS: Tunisia's draft constitution still lacks full provision for human rights despite making some progress, Human Rights Watch said yesterday in a letter to the National Constituent Assembly.
The US-based watchdog said that it wrote urging the interim Parliament to "amend those articles of the second draft of the constitution that risk undermining human rights."
Such articles include "a broad formulation of permissible limitations on rights and freedoms, weak guarantees for the independence of the judiciary, immunity for the head of state, and discrimination based on religion," it said. Tunisia's assembly made the second draft of the new constitution public on Dec. 14, but it is still being negotiated between the ruling Ennahda party and its allies and the opposition.
Full report at:
http://www.arabnews.com/tunisia-draft-charter-lacking-rights-hrw-0
------------
UN chief commends king for Shoura appointments
24 January 2013
The third Arab Economic and Social Development Summit is an opportunity to respond to the legitimate calls for progress, freedom and dignity coming from the citizens of Arab countries, Ban Ki-moon, secretary-general of the United Nations, said in a message conveyed to the conference secretariat Tuesday.
The message was delivered by Rima Khalaf, executive secretary of UN Economic and Social Commission for Western Asia.
Full report at:
http://www.arabnews.com/un-chief-commends-king-shoura-appointments
------------
Julian Assange derides upcoming film on Wikileaks as ''propaganda'' for war against Iran
Jan 24 2013
Sydney : Controversial website Wikileaks founder Julian Assange has labelled an upcoming film about his website as ''propaganda'' to start a war with Iran. Assange said that the unreleased film, titled "The Fifth Estate", starring Benedict Cumberbatch, is an attack against Iran, which can be seen in the opening scene, set in a military complex in Tehran, showing that Iran was working on an atomic weapon, reports News.com.au.
Full report at:
http://www.indianexpress.com/news/julian-assange-derides-upcoming-film-on-wikileaks-as-propaganda.../1064267/
------------
Italy envoy: Assad in way of Syria peace
January 24, 2013
By Mirella Hodeib
BAABDA, Lebanon: Italian Ambassador Giuseppe Morabito argued Wednesday that Syrian President Bashar Assad's refusal to abandon power remains the main obstacle to solving the protracted crisis in Lebanon's biggest neighbor.
The Italian envoy to Beirut also said he believes Lebanon should not be left to face the influx of refugees alone.
"Lebanon, among its neighbors, is the weakest and has received a lot of people in a very short period of time," Morabito told The Daily Star in an interview. "We cannot leave Lebanon to face this crisis alone."
Full report at:
http://www.dailystar.com.lb/News/Politics/2013/Jan-24/203530-italy-envoy-assad-in-way-of-syria-peace.ashx#ixzz2IskRfBwM
------------
Putin offers to host international conference on Syrian refugees
January 24, 2013
BEIRUT: Russian President Vladimir Putin offered Wednesday to host a conference on efforts to help Lebanon and other countries cope with the vast wave of refugees fleeing the conflict in Syria.
Putin said Russia was also prepared to provide tents, medication and other humanitarian aid, during talks with President Michel Sleiman at the Russian president's residence outside Moscow.
"We will do our utmost to ... sponsor the organization of an international conference on the refugee problem," Putin said.
Full report at:
http://www.dailystar.com.lb/News/Politics/2013/Jan-24/203551-putin-offers-to-host-international-conference-on-s.ashx#ixzz2IskO9kZQ
--------------
North America
McDonald's settles $700,000 suit over Islamic diet in US
January 22, 2013
McDonald's and one of its franchise owners agreed to pay $700,000 to members of the Muslim community to settle allegations a Detroit-area restaurant falsely advertised its food as being prepared according to Islamic dietary law.
McDonald's and Finley's Management Co. agreed Friday to the tentative settlement, with that money to be shared by Dearborn Heights resident Ahmed Ahmed, a Detroit health clinic, the Arab American National Museum in Dearborn and lawyers.
Full report at:
http://www.foxnews.com/us/2013/01/22/mcdonald-settles-700000-suit-over-islamic-diet-in-us/#ixzz2IsJfuXQ4
------------
US protests 'State of Palestine' placard in UN
Jan 24 2013
United Nations : US Ambassador Susan Rice objected Wednesday to the Palestinians' latest bid to capitalize on their upgraded U.N. status when their foreign minister spoke at the Security Council while seated behind a nameplate that read ``State of Palestine.''
It was the first Palestinian address to the Security Council since the U.N. General Assembly voted overwhelmingly on Nov. 29 to upgrade the Palestinians from U.N. observer to non-voting member state.
Full report at:
http://www.indianexpress.com/news/us-protests-state-of-palestine-placard-in-un/1064145/
------------
Clinton says will use social media to fight Qaeda
January 24, 2013
US secretary of state Hillary Clinton promised Wednesday that the United States would use the internet and social media in its fight against al Qaeda and other extremist Islamist groups.
The outgoing top diplomat said the US state department had "started two organizations to deal with countering violent extremism" on the internet, and would use tools such as Twitter to combat online anti-Americanism.
Full report at:
http://www.hindustantimes.com/world-news/northamerica/Clinton-says-will-use-social-media-to-fight-Qaeda/Article1-998968.aspx
------------
US condemns deadly terror attack at Iraq mosque
24 January 2013
The United States on Wednesday denounced a deadly suicide attack at a Shia mosque in northern Iraq, and said it proved 'terrorists are willing to target all Iraqis, regardless of their religion.'
The attack, the deadliest in six months, is likely to heighten tensions in Iraq which is grappling with more than a month of protests in Sunni-majority areas, amid demands that Shia Prime Minister Nuri Al Maliki stand down.
Full report at:
http://www.khaleejtimes.com/kt-article-display-
------------
Emotional Clinton angrily denies Benghazi cover-up
January 24, 2013
A fiery Secretary of State Hillary Clinton on Wednesday angrily dismissed Republican charges of a cover-up over the deadly Benghazi attack and warned the world needs to combat rising extremism. Combative and at times emotional, Clinton gave no ground to congressional critics still seeking to determine why the administration at first blamed the September 11 assault on a protest outside the US mission in eastern Libya.
Full report at:
http://www.hindustantimes.com/world-news/Americas/Emotional-Clinton-angrily-denies-Benghazi-cover-up/Article1-998963.aspx
------------
Ghost of Pakistani beheadings surfaces as US asks 30-35 years for Headley
Jan 24, 2013
WASHINGTON: The ghost of Pakistani beheadings surfaced again on Tuesday during the US government's seeking of a 30-35 year jail term for David Headley, the Pakistani-origin terrorist who did the groundwork for the Mumbai terrorist attack that killed 166 people.
A US government position paper on sentencing factors filed in a Chicago court described vividly how Pakistani terrorist mastermind Ilyas Kashmiri encouraged Headley to decapitate hostages during an attack on a Danish newspaper that was to follow the Mumbai carnage.
Full report at:
http://timesofindia.indiatimes.com/world/us/Ghost-of-Pakistani-beheadings-surfaces-as-US-asks-30-35-years-for-Headley/articleshow/18158007.cms
------------
Maximum sentence unlikely for Headley
NARAYAN LAKSHMAN
24 January 2013
Even as the U.S. seemed to be readying itself to let prime accused in the 2008 Mumbai terror attacks case off with a prison sentence of no more than 35 years, government lawyers reiterated that as per the plea bargain granted to him, there would be no question of extraditing him to India.
Touching on this subject in a 20-page position paper — in possession of The Hindu — Chicago-based U.S. Attorney Gary Shapiro said Headley had cooperated by answering questions "without restriction from Indian law enforcement over the course of seven full days, and the expects his cooperation to extend well into the future".
Full report at:
http://www.thehindu.com/news/international/maximum-sentence-unlikely-for-headley/article4337391.ece
------------
US, Pakistan are moving out of tense phase
24 January 2013
WASHINGTON: The United States and Pakistan are moving away from the tense phase that marred their relations last year, according to a senior US commander in Afghanistan.
At a Pentagon briefing, Lt Gen. James Terry, Deputy Commander of the US Forces in Afghanistan, also said on Wednesday that after 2014, the United States would focus on providing `right resources' to the Afghans so that they could hold territory from insurgents.
The United States plans to withdraw most of its troops from Afghanistan by December 2014 but plans to maintain a small but effective force there if Kabul grants legal immunity to those deployed in the country.
Full report at:
http://dawn.com/2013/01/24/us-pakistan-are-moving-out-of-tense-phase/
------------
URL: https://newageislam.com/islamic-world-news/new-age-islam-news-bureau/tunis-sufis-say-it-is-"just-the-beginning";-"wahhabis"-will-go-after-roman-shrines-next/d/10134