New Age Islam News Bureau
3 Apr 2014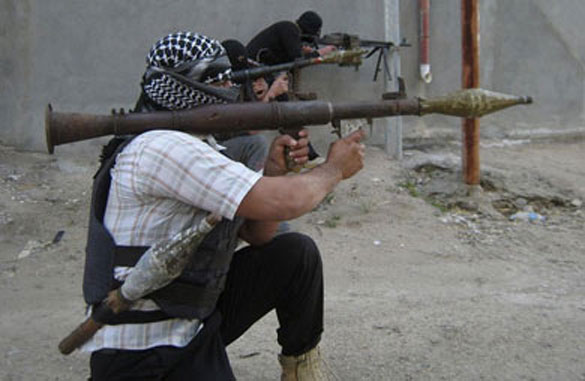 Masked Sunni gunmen take their positions as they hold their weapons during a patrol in the city of Fallujah. (File photo: Reuters)
---------------
Pakistan
• TTP Now Warns Karachi Shrines' Admin to End Such Sort of Sufism
• Musharraf survives assassination attempt as he returns home from hospital
• Target killing claims three lives in Quetta
• At least 23 Afghan mortar shells fired into North Waziristan
• Ceasefire not extended; War to begin again: Ameer of Mohmand TTP Chapter
• Pakistan not to allow use of its soil against Afghanistan: Sharif
• Pakistan frees 16 Taliban prisoners to revive peace talks
• UK vows support to arrest terrorism: Chaudhry Nisar Ali Khan
• Psychological problems on the rise in Pakistan
Mideast
• Israel demolishes makeshift Bedouin homes near Al-Quds
• 5 killed in fresh sectarian clashes in Yemen
• Palestinians describe hostile meeting with Israelis, Kerry says talks at 'critical' stage
• Twitter still blocked despite Turkish court ruling
• Turkey provides $500,000 to Iraq's Anbar province
Europe
• UK: Authorities Worried About Muslim Indoctrination in Schools
• Azerbaijan: A modern Muslim nation openly defies stereotypes, befriends Israel
• Romani people and Arab Muslims are the most targeted of Racism in France
• NATO, Russia dispute over Crimea disrupts cooperation in Afghanistan
• Cleric Omar Bakri 'on the run' in Lebanon
• Greek official criticizes proposed Athens mosque referendum
North America
• U.S. sends Apache attack helicopters to help Iraq against Sunni onslaught
• Iraq Veteran at Fort Hood Kills 3 and Himself
• FBI: Terror plot suspect planned mosque attack to launch insurgency
• Forum Highlights Youth Voices on Growing Up Muslim
• Twitter, US hail Turkish Constitutional Court ruling to unblock access
Arab World
• Top Al-Qaeda ideologue of Saudi Kingdom gets death sentence
• Iraq forces kill dozens of militants near Baghdad
• 12 Azeri jihadists reported killed in Syria
• Mortar shelling kills 6 in Syrian capital
• Chief of Syrian Revolutionaries Front says al Qaeda is 'not our problem'
• Muslim Brotherhood urges Britain not to yield to foreign 'pressure' over review
• Iraq's Al Qaida teams with Syrian forces to fight off rival Sunni rebel operation
• Muhajireen Army releases video of Syrian training camp of foreign fighters
• Egypt calls for international cooperation against terrorism
• Qatar is part of UAE: Dubai security official
• Iraq agrees to foreign monitors for parliamentary polls
• Assad: Russia creating multi-polar world
Africa
• Central African Republic: Massacres in Remote Villages
• Libya reaches deal with rebels to end oilfield control
• US, Algeria vow to work together to fight terrorism
South Asia
• Chinese Buddhist temple forms 'anti-terrorist' squad
• Bangladesh Independent MP Rustam Ali Faraji demands mosque in parliament complex
• Jamaat-e-Islami Nayeb-e-Ameer Maulana Subhan's trial for 1971 crimes begins
India
• Kashmiri separatists to meet Pak envoy separately
• Engineering student emerges as IM suspect
• Pak's new envoy seeks to base ties on trust
Southeast Asia
• Indonesia military worries over Asia arms race, territorial tensions
• Filipino militants kidnap 2 people in Malaysia
• Khalid should act decisively on Bible issue, says DAP lawmaker
• Blood money spares Indonesian maid from Saudi execution
• Bill Gates to donate to Indonesian health care
Compiled by New Age Islam News Bureau
URL: https://newageislam.com/islamic-world-news/new-age-islam-news-bureau/ttp-now-warns-karachi-shrines'-admin-to-end-such-sort-of-sufism/d/66400
------------
Pakistan
TTP Now Warns Karachi Shrines' Admin to End Such Sort of Sufism
April 03, 2014
KARACHI - Outlawed Tehreek-e-Taliban Pakistan is ruling the roost in the City as it has now warned the shrines to end such religious exercise in Karachi.
According to details, with the end of ceasefire between the government and TTP, militants started violent activities across the City.
TTP operatives carrying highly sophisticated weapons are roaming in the City. They warned the managements of the shrines and 'Astaanas' to end such sort of Sufism. Gunmen calling themselves operatives of TTP reached at a shrine situated in Gulshan-e-Maimar area known as Mashood Ahmed Raza Khan Qadri Astaana and warned the management to leave the area.
Faizan Qadri, member of the management, when contacted said the gunmen on two double cabin vehicles carrying Kalashnikovs and other sort of weapons reached and warned of dire consequences if the exercise of Sufism would continue in future.
SSP West Iran Baloch when contacted declined to know any such threat and physical movement of TTP militants. Interestingly, the police control room of the same police district west had ran a message on the police helpline number 15, ahead of the threat complaint by Faizan Qadri. Qadri, in his statement to the police, said there were gunmen who asked them to shut down the shrine and 'Astaana' and leave the area.
It is worth mentioning here that TTP militants have already attacked the shrines in various areas of the City and killing several people.
http://www.nation.com.pk/karachi/03-Apr-2014/ttp-now-warns-karachi-shrines-admin
---------
Musharraf survives assassination attempt as he returns home from hospital
April 3, 2014
ISLAMABAD: Former president Pervez Musharraf narrowly escaped an assassination attempt as a bomb went off shortly before his convoy was due to pass early Thursday, police said.
The former military ruler was on his way to Chak Shahzad farmhouse from the Armed Forces Institute of Cardiology, where he has been staying since January 2, when the bomb went off.
Nobody was injured and there have so far been no claims of responsibility.
"Four kilogrammes of explosive material – planted in a pipeline under a bridge – exploded around 20 minutes before the former president was supposed to cross the spot," senior police official Liaqat Niazi said.
The blast occurred at the Faizabad interchange, which lies at the boundary of the twin cities, and destroyed a footpath around two metres wide.
Niazi said the former president was then taken home via an alternative route.
Muhammad Naeem, a spokesman for the Islamabad police, confirmed the incident, saying a bomb disposal squad had cleared the area after the blast.
"Nobody was injured in the blast," he said, adding Musharraf was the intended target.
On March 31, the Special Court had formally charged Musharraf for imposing emergency rule in the country in 2007. The former army chief had appeared before the three-judge bench and had rejected all charges against him.
Read about the five charges levelled against Musharraf here.
Explosives planted
This is the fifth time that explosive material was found from places close to either the former army chief's accommodation or his travel route.
• On January 1, explosives with three electronic circuits and remote control were found on the route scheduled to be taken to Special Court by the former president. The police had said 1kg of explosives was planted near the Chak Shehzad traffic signal on Park Road.
• On December 30, 2013 five packets each containing 0.5kg explosives were found near Musharraf's farmhouse in the jurisdiction of the Bani Gala police station.
• On December 24, the day Musharraf was to appear before a specially-constituted court that is hearing a treason trial against him, a five-kilo Improvised Explosive Device was found in a briefcase along the route the former dictator would have taken to reach the court. Musharraf failed to show up for that hearing citing security concerns. A detonator was also found in one of the packets, police said, citing the Bomb Disposal Squad which was called to the spot after police were alerted.
• On April 23, 2013, an explosive-laden car was found outside the farmhouse. The police had claimed the car was meant to target the former president's convoy on his return from an anti-terrorism court from Rawalpindi.
http://tribune.com.pk/story/690809/musharraf-survives-assassination-attempt-as-he-returns-home-from-hospital/
------------
Target killing claims three lives in Quetta
April 03, 2014
QUETTA - Unidentified assailants shot dead three people and injured two women in Quetta's Satellite Town on Wednesday, officials said. The targeted killings pose a huge threat in the neighbourhood.
As the attackers on motorbikes opened fire on a car, three people onboard died on the spot, while two women were wounded.
The killers sped away unchallenged. Security forces reached the scene after some time. Rescue teams shifted the deceased and wounded to the Civil Hospital Quetta. The condition of one woman was reported critical.
Security forces cordon off the area and started search for the attackers.
More than 30 people - including nationals and religious clerics of a neighbourhing country - have so far been killed in Satellite Town and Pashtunabad neighbourhood where most Afghan refugees have taken shelter.
No group has claimed responsibility for the Wednesday attack.
BLAST KILLS TWO
At least two people were killed on Wednesday in a powerful bomb blast near the Pakistan-Afghanistan border crossing at Chaman.
The explosion occurred near Wesh area on the Afghan side of the border, injuring over a dozen other people.
Nature of the blast was not clear. However, officials suspected it could be a suicide attack near Afghan checkpost.
The strength of the blast smashed window panes and glasses of nearby shops and houses in the Pakistani area.
Security was beefed up on the Pakistani side and the border crossing was shut down for all kind of traffic. "We have tightened security following the blast on the Afghan side," Pakistani security officials said.
http://www.nation.com.pk/national/03-Apr-2014/target-killing-claims-three-lives-in-quetta
------------
At least 23 Afghan mortar shells fired into North Waziristan
2014-04-03
NORTH WAZIRISTAN: At least 23 mortar shells fired from Afghanistan fell into North Waziristan on Thursday, DawnNews reported.
The mortar shells landed into Ghulam Khan and Bagi Dar areas of North Waziristan.
No casualties or loss of life was reported due to the targeted areas being uninhabited.
Earlier last week, six mortar shells fired from Afghanistan fell into North Waziristan's Ghulam Khan Tehsil area. No casualties or loss of life was reported.
North Waziristan is of one of Pakistan's tribal areas along the border with Afghanistan. Pakistan and Afghanistan regularly trade allegations of cross-border shelling from both sides of the border.
https://www.dawn.com/news/1097491/at-least-23-afghan-mortar-shells-fired-into-north-waziristan
------------
Ceasefire not extended; War to begin again: Ameer of Mohmand TTP Chapter
April 03, 2014
Islamabad: It has been announced by Umar Khalid Khurasani, the Ameer of the Mohmand Agency chapter of the Tehrik e Taliban Pakistan (TTP) that the time period of ceasefire would not be extended. He said the war will start again now. He added that the Government violated the commitments during the ceasefire. Forces and all influencial sectors in the country want to wage war, he said. He also commented: Musharraf's issue would not be resolved by removing his name from the ECL. While commenting on T20 World Cup he said, Pakistan lost the match since Allah left the nation to sulk.
http://www.nation.com.pk/national/02-Apr-2014/ceasefire-not-extented-war-to-begin-again-khalid-umer-khursani
------------
Pakistan not to allow use of its soil against Afghanistan: Sharif
Apr 03 2014
Pakistan's Prime Minister Nawaz once again reiterated Islamabad's commitment to prevent the use of Pakistani soil against Afghanistan.
Sharif shared Islamabad's commitment with United Kingdom's National Security Adviser Kim Darroch on Wednesday.
"Our soil will not be used against Afghanistan and we support the democratic process in Afghanistan," Sharif quoted by local media agencies said.
The remark by Pakistan's Prime Ministers comes as Afghan officials accuse Islamabad for supporting the anti-government insurgent groups.
Full report at:
http://www.khaama.com/pakistan-not-to-allow-use-of-its-soil-against-afghanistan-sharif-2942
------------
Pakistan frees 16 Taliban prisoners to revive peace talks
World Bulletin/News Desk
April 03, 2014
Pakistan has freed at least sixteen Taliban prisoners with the approval of Prime Minister Nawaz Sharif, officials said on Thursday, in a move designed to invigorate a shaky peace process with the group.
The Pakistani Taliban called a one-month ceasefire on March 1 but said this week they would not extend the truce because the government was not serious about meeting their demands.
The demands include releasing 800 prisoners the group describes as innocent family members and withdrawing the army from parts of the semi-autonomous tribal areas along the border with Afghanistan.
The political agent of South Waziristan, the highest government official in the northwestern tribal region, confirmed the government has started releasing non-combatant prisoners to boost reconcilliation efforts.
Full report at:
http://www.worldbulletin.net/headlines/132767/pakistan-frees-16-taliban-prisoners-to-revive-peace-talks
------------
UK vows support to arrest terrorism: Chaudhry Nisar Ali Khan
April 03, 2014
ISLAMABAD - British National Security Advisor, Sir Kim Darroch, met Federal Minister for Interior Chaudhry Nisar Ali Khan here Wednesday. UK's High Commissioner to Pakistan, Philip Barton, was also present during the meeting.
The minister said that Pakistan has adopted a holistic regional approach by following a non-partisan policy in Afghanistan as well as improving relations with India.
He said that Pakistan and Afghanistan have to work together, with the support of international community, for ensuring peace and stability in the post-2014 Afghanistan.
Talking about the Pakistan-UK relations, Nisar said these ties are special and this government is committed to further strengthening them in all fields particularly in sectors like counter-terrorism, human trafficking, transnational crime and capacity building of security agencies.
He said the government has initiated the dialogue process with the Taliban with an earnest desire to bring peace in the country. He said there should not only be peace within but also peace without and no area of Pakistan would be allowed to be used for exporting terrorism. He said it is the policy of the government that the soil of Pakistan should not be used for exporting terrorism abroad.
Full report at:
http://www.nation.com.pk/islamabad/03-Apr-2014/uk-vows-support-to-arrest-terrorism
------------
Psychological problems on the rise in Pakistan
2014-04-03
LAHORE: Punjab Education Minister Rana Mashhood Ahmed Khan has said the proposed provincial Higher Education Commission is being established to fund institutions of higher learning and transform them into centres of excellence.
The minister was speaking at the inaugural session of a two-day international conference on "Clinical Psychology outside the Clinic" organised by PU Centre for Clinical Psychology (CCP) in collaboration with the Pakistan Association of Clinical Psychologists (PACP) here on Wednesday.
He said the Punjab government for the first time was going to develop a roadmap for higher education in which all relevant stakeholders were being involved.
Full report at:
https://www.dawn.com/news/1097404/psychological-problems-on-the-rise-in-pakistan
------------
Mideast
Israel demolishes makeshift Bedouin homes near Al-Quds
World Bulletin / News Desk
April 03, 2014
Israeli bulldozers backed by army forces on Thursday demolished a number structures, including makeshift homes, owned by two Palestinian Bedouin families in the Jabal Baba area of Al-Eizariya town, 2km east of Al-Quds (occupied East Jerusalem).
"The Israeli army demolished the structures without prior warning on the pretext that they had been built without permission," Hani Halbieyeh, spokesman for the Popular Resistance Committee, told Anadolu Agency.
According to Halbieyeh, Israeli authorities razed two makeshift homes belong to Mahmoud Ibrahim Jahalin, 44, and Kayed Salim Jahaleen, 50, along with four tents for raising chickens.
Local Bedouin tribesmen accuse Israel of seeking to evict them from their traditional homes in the area to make way for a planned separation barrier that would cut the towns of Abu Dees, Eizariya and Swahreh off from Al-Quds.
Full report at:
http://www.worldbulletin.net/todays-news/132775/israel-demolishes-makeshift-bedouin-homes-near-al-quds
------------
5 killed in fresh sectarian clashes in Yemen
World Bulletin / News Desk
April 03, 2014
Five people were killed and six injured in Thursday clashes between Shiite Houthis and Salafist fighters in Yemen's northern Dhamar province, eyewitnesses said.
Four Salafists and one Houthi woman were killed in the clashes, according to witnesses, who said injuries had been sustained on both sides.
In January, deadly clashes broke out in the same district when a group of Houthis wrote slogans on a Salafist mosque.
Full report at:
http://www.worldbulletin.net/todays-news/132779/5-killed-in-fresh-sectarian-clashes-in-yemen
------------
Palestinians describe hostile meeting with Israelis, Kerry says talks at 'critical' stage
April 03, 2014
While Palestinian sources described an acrimonious meeting with Israeli negotiators early Thursday morning, US Secretary of State John Kerry said that the talks had "made progress" in narrowing some questions that arose over the last few days.
Speaking during a state visit to Algeria, Kerry said the talks were at a "critical stage" and that gaps remain between the sides that "will have to be closed and closed fairly soon."
He put the onus of closing the deal on Israeli and Palestinian leaders themselves. He urged Israelis and Palestinians to "find the compromise that is critical to be able to move forward."
Kerry claimed that the disagreement between Israelis and Palestinians was "not over the fundamental substance of a final status agreement, it's over process that would get you there."
Full report at:
http://www.jpost.com/Diplomacy-and-Politics/Palestinian-sources-describe-acrimonious-talks-with-Israel-Kerry-says-progress-made-347399
------------
Twitter still blocked despite Turkish court ruling
April 3, 2014
A government official said the telecommunication authorities' legal teams were examining the high court decision.
A block on access to Twitter remained in place in Turkey on Thursday despite a high court ruling against the ban.
Turkey's Constitutional Court ruled late Wednesday that the two-week-old ban violates the right to free expression and demanded that access be restored. The decision was published in the Official Gazette early on Thursday and the Ankara Bar Association said the decision was binding and had immediate effect.
Still, as of Thursday morning Twitter remained blocked, raising questions on whether the government would flout the ruling.
Full report at:
http://www.thehindu.com/news/international/world/twitter-still-blocked-despite-turkish-court-ruling/article5866958.ece
---------
Turkey provides $500,000 to Iraq's Anbar province
April 03, 2014
urkey has offered $500,000 in humanitarian assistance to Iraq's Anbar province, where 66,000 people have been displaced during the last three months of fighting, according to a statement from the Turkish Ministry of Foreign Affairs (MFA).
Since last December, the Sunni-majority province of Anbar has been under attack by militants from the Islamic State of Iraq and the Levant rebels ( ISIL) which Baghdad claims are linked to Al-Qaeda.
Full report at:
http://www.worldbulletin.net/news/132776/turkey-provides-500000-to-iraqs-anbar-province
----------
Europe
UK: Authorities Worried About Muslim Indoctrination in Schools
April 03, 2014
Authorities in Birmingham, United Kingdom have become concerned over attempts by extremists to indoctrinate students into Muslim beliefs at 12 state-run schools. Local MP Khalid Mahmood has been vocal in his concern that radicals are pushing the extreme form of Islam on students.
The story became news last month, when a letter was sent to authorities describing a plot to take over the Birmingham schools by extremists. They would then run the school according to Sharia Law and ensure that teachers and school officials were part of their belief system. The process has already begun, according to some reports. In some of the schools, non-Muslim teachers have already been removed from classes, and foods served in the cafeteria are required to adhere to Islamic dietary laws. Sex education classes have been abolished as well. It is even reported that the headmaster at Saltley School was forced out of his job by Muslim extremists.
Full report at:
http://guardianlv.com/2014/04/united-kingdom-authorities-worried-about-muslim-indoctrination-in-schools/
------------
Azerbaijan: A modern Muslim nation openly defies stereotypes, befriends Israel
By Norma Zager/JNS.org
April 03, 2014
Those of the mindset that religions are inherently at war with one another must have a difficult time reconciling the friendship between the State of Israel and the Republic of Azerbaijan. Yet, in the real world, it makes perfect sense.
Muslim countries that use Islam—a traditionally peaceful religion with a rich tradition—as a weapon to stifle religious freedoms are indeed abundant, so what is different about Azerbaijan?
Azerbaijan is a moderate, progressive, and democratic majority-Muslim nation that suffers the same slings and arrows as Israel regularly does from its militant neighbors, who suppress and murder those who oppose their extremist views.
Full report at:
http://www.jns.org/latest-articles/2014/4/2/azerbaijan-a-modern-muslim-nation-openly-defies-stereotypes-befriends-israel#.Uz3_-KhdUqM
------------
Romani people and Arab Muslims are the most targeted of Racism in France
World Bulletin / News Desk
April 03, 2014
Racism has increased among French people according to an annual report by the French National Consultative Commission on Human Rights (CNCDH) on the fight against racism, anti-Semitism and xenophobia.
The report released Tuesday said 35 percent of surveyed French people acknowledged being racist comparing to 29 percent in 2012. Nine percent among them said they are "quite racist", and 26 percent said they are "a little racist".
Romani people and Arab Muslims are the most targeted by racist behaviours, with eighty-seven of surveyed believing that Muslim and Roma people "are separate groups in French society".
Full report at:
http://www.worldbulletin.net/headlines/132751/report-racism-becoming-more-widespread-in-france
--------
NATO, Russia dispute over Crimea disrupts cooperation in Afghanistan
April 03, 2014
NATO's decision to suspend cooperation with Russia will affect their cooperation in countering the flow of Afghan opium and keeping Afghan military helicopters flying, a NATO official said on Wednesday.
NATO Secretary-General Anders Fogh Rasmussen said on Tuesday that the alliance was suspending military and civilian cooperation with Moscow after its forces occupied Ukraine's Crimea region.
Rasmussen said then that he expected Russia's cooperation with NATO in Afghanistan - on training counter-narcotics personnel, maintenance of Afghan air force helicopters and a transit route out of the war-torn country to continue. However, a senior alliance official said on Wednesday that the counter-narcotics and helicopter programmes would in fact be affected.
Full report at:
http://www.nation.com.pk/international/03-Apr-2014/nato-russia-dispute-over-crimea-disrupts-cooperation-in-afghanistan
------------
Cleric Omar Bakri 'on the run' in Lebanon
Apr 3, 2014
Omar Bakri Mohammad is on the run in Lebanon, officials say, after his house was raided as part of an operation to end the sectarian violence in Tripoli.
The Sunni Muslim cleric is among 200 individuals wanted in connection with their alleged role in clashes that have left 30 people dead in recent weeks.
Before disappearing, Mr Bakri dismissed the authorities' claims as "unjust".
He settled in Tripoli after leaving the UK, where he lived for 20 years, in 2005 and being banned from returning.
Mr Bakri was often accused of links with al-Qaeda, which he denied.
Crackdown
The Lebanese authorities said the cleric, who was born in Syria and also holds Lebanese nationality, was wanted on charges relating to endangering national security.
He is being sought by security forces in Tripoli as they crack down on those involved in the deadly clashes between the Sunni majority and minority Alawite community in the northern city, reports the BBC's Jim Muir in Beirut.
Full report at:
lhttp://www.bbc.com/news/world-middle-east-26847794
-----------
Greek official criticizes proposed Athens mosque referendum
World Bulletin / News Desk
April 03, 2014
A proposal for holding a referendum on the building of a mosque in Athens will damage Greece's international reputation, a senior Greek official said Thursday.
In a written statement Yorgos Kalacis from the Ministry of Education and Religious Affairs, criticized the proposal from Aris Spiliotopoilos, the New Democracy Party's candidate for mayor of Athens at May's local elections.
Greek parliament approved a plan in 2011 to build a mosque in Athens, after demands from thousands of Muslim residents.
Athens has been criticized by human rights groups such as Amnesty International for being the only European Union capital without a mosque.
http://www.worldbulletin.net/todays-news/132788/greek-official-criticizes-proposed-athens-mosque-referendum
------------
North America
U.S. sends Apache attack helicopters to help Iraq against Sunni onslaught
Special to WorldTribune.com
April 03, 2014
WASHINGTON — The United States plans to send advanced attack helicopters to help Iraq quell the Sunni revolt.
The administration of President Barack Obama has approved the lease of six AH-64 Apache attack helicopters for the Iraqi military.
The Defense Security Cooperation Agency said the project included training for Iraqi pilots in missions against Al Qaida and its Sunni allies in the Anbar province.
"The proposed sale supports the strategic interests of the United States by providing Iraq with a critical capability to protect itself from terrorist and conventional threats," the Pentagon agency said on Jan. 27.
"This will allow Iraqi Security Forces to begin training on the operation and maintenance of six leased U.S. Apache helicopters in preparation of their receipt of new-build aircraft."
Officials said the deal, valued at $1.37 billion, would result in the deployment of nearly 100 U.S. military and contractors to train and maintain the Apaches. They said the Apaches were expected to arrive in Iraq imminently as part of an effort to recapture such Anbar cities as Falluja and Ramadi.
Full report at:
http://www.worldtribune.com/2014/04/02/u-s-sends-in-team-with-apache-attack-helicopters-to-help-iraq-against-sunni-onslaught/
------------
Iraq Veteran at Fort Hood Kills 3 and Himself
April 03, 2014
KILLEEN, Tex. — A soldier who was being evaluated for post-traumatic stress disorder opened fire at Fort Hood on Wednesday, killing three people and wounding 16 before killing himself, the authorities said. The shooting set off a huge police response and shut down the sprawling Army base, the same facility where a deadly rampage by an officer resulted in 13 deaths in 2009.
Fort Hood's commanding general said the gunman, an Army specialist who had served in Iraq and was being treated for behavioral and mental health issues, had died of a self-inflicted gunshot wound. The commander, Lt. Gen. Mark A. Milley, told reporters that the soldier's motive remained unclear, but that the shooting did not appear to be related to terrorism.
A Pentagon official said the suspected gunman was Army Specialist Ivan Lopez. General Milley, while not identifying Specialist Lopez by name, said the gunman had served four months in Iraq in 2011 and was being evaluated for post-traumatic stress disorder, but had not yet been diagnosed with the condition. There were indications that he had self-reported a traumatic brain injury when he returned from Iraq, General Milley said.
Full report at:
http://www.nytimes.com/2014/04/03/us/gunshots-reported-at-fort-hood.html?hpw&rref=us&_r=0
------------
FBI: Terror plot suspect planned mosque attack to launch insurgency
April 03, 2014
The FBI contends Robert Talbot Jr. was ready to launch his nationwide insurgent movement in the Houston area by robbing an armoured car and killing a Texas state trooper, then spraying a mosque with machine-gun fire and travelling to the nation's capital for more bloodshed.
FBI special agent Renee Cline testified that Talbot "wanted to go to a mosque on Friday and take women, children, men and shoot them," Cline said, adding that he planned to hit during a prayer session when there would be the most people.
These were among new details of the case against Talbot and the alleged hatred simmering within him that emerged Tuesday during a federal court hearing.
"I cannot take someone who doesn't understand what war/battle is like ... that can not handle seeing body parts flying everywhere," Talbot allegedly wrote in an online chat in which authorities contend he sought recruits for his American Insurgent Movement.
Full report at:
http://www.chron.com/news/houston-texas/houston/article/Judge-denies-temporary-release-of-man-accused-in-5367722.php
------------
Forum Highlights Youth Voices on Growing Up Muslim
April 03, 2014
SAN FRANCISCO – There are a quarter million Muslims living in the Bay Area, and nearly half of them are under the age of 35. Many describe an intense personal and spiritual struggle as they look to reconcile their faith with the mainstream of American society.
These young Muslims are the face of American Islam in the 21st century, and yet their stories are rarely heard.
"I prayed five times a day, fasted on occasion and went on Hajj [pilgrimage]," said Omar Raza, who is 16 and a student at Averroes High School in Fremont, the Bay Area's first Islamic high school. The son of Pakistani immigrants, Raza did these things "because my parents told me to. I never questioned them."
Full report at:
http://newamericamedia.org/2014/04/growing-up-muslim.php
------------
Twitter, US hail Turkish Constitutional Court ruling to unblock access
April 03, 2014
Twitter has hailed a Constitutional Court ruling stating the Turkish government's decision to block access to the website violated the rights of users.
"We welcome this Constitutional Court ruling, and hope to have Twitter access restored in Turkey soon," the social network tweeted both in English and in Turkish via its official account a few hours after the ruling on April 2.
The U.S. Department of State also welcomed the court ruling, urging Turkey to implement it without the shortest delay.
"If there has been a court decision, we think it needs to be implemented quickly, as quickly as possible," said Department of State Deputy Spokesperson Marie Harf during the daily press briefing.
Full report at:
http://www.hurriyetdailynews.com/twitter-us-hail-turkish-constitutional-court-ruling-to-unblock-access.aspx?pageID=238&nID=64490&NewsCatID=339
------------
Arab World
Top Al-Qaeda ideologue of Saudi Kingdom gets death sentence
April 03, 2014
RIYADH — The Special Penal Court on Wednesday awarded death sentence to a top Al-Qaeda ideologue in the Kingdom. Fifteen others were given various prison terms between one year and 20 years and were barred from travelling abroad for equal periods.
The ideologue, who was not named in the Saudi Press Agency (SPA) report, was arrested from a resort in Abha. Bombs and a submachine gun were found in his possession. According to the charges levelled against him, the ideologue considered it permissible to kill security men and considered the state as that of infidels.
Other charges against him included praising terror operations in Al-Olayya, Al-Khobar and in eastern Riyadh and describing them as a holy war. He also wrote several publications on Takfiri theories, carrying out blasts, sabotage and evil deeds in the Kingdom. During court sessions, the ideologue not only supported terror activities but pledged to carry them out upon his release from jail.
Full report at:
http://www.saudigazette.com.sa/index.cfm?method=home.regcon&contentid=20140403200753
------------
Iraq forces kill dozens of militants near Baghdad
April 03, 2014
Iraqi soldiers killed more than 40 militants in clashes near Baghdad on Thursday as anti-government fighters edged close to the capital just weeks before national parliamentary elections.
The firefight was the latest in a surge in bloodshed over the past year, amid fears insurgents could seek to destabilise the April 30 polls by upping the pace of attacks with violence already at its worst since 2008.
The bloodshed comes with campaigning underway ahead of the elections, Iraq's first since March 2010, which the UN's special envoy has warned will be "highly divisive".
On Thursday morning, militants attacked an army camp in Yusifiyah, just southwest of the capital, the interior ministry said in a statement.
More than 40 insurgents died in the ensuing firefight, with one army officer also killed.
"Iraqi security forces confronted a failed attempt by Daash gang members to break into a military camp," the statement said, referring to the Arabic abbreviation for the powerful Islamic State of Iraq and the Levant jihadist group.
Full report at:
http://english.ahram.org.eg/NewsContent/2/8/98224/World/Region/Iraq-forces-kill-dozens-of-militants-near-Baghdad.aspx
------------
12 Azeri jihadists reported killed in Syria
April 03, 2014
Azeri news outlets are reporting that 12 jihadists from Azerbaijan have been killed in Syria, according to From Chechnya to Syria, a website that provides "News & Analysis of Russian-speaking Foreign Fighters In Syria."
The Azeri reports aren't based only on rumours; individuals are named. One of them, Nijat Ashurli, "was [the] commander of one of the divisions of the group Jaish al Muhajireen wal Ansar," a group also known as the Army of Emigrants and Supporters, or Muhajireen Army. This group is led by a Chechen and includes many fighters from the Caucasus and elsewhere in Russia.
Other Azeri jihadists mentioned in the reports fought alongside the Al Nusrah Front for the People of the Levant, al Qaeda's official branch in Syria, or the Islamic State of Iraq and the Sham, the al Qaeda splinter group.
Full report at:
http://www.longwarjournal.org/threat-matrix/archives/2014/04/12_azeri_jihadists_reported_ki.php#ixzz2xsIpWTyz
------------
Mortar shelling kills 6 in Syrian capital
April 3, 2014
Syria's state media and an activist group say several mortar shells have struck the capital, Damascus, and its suburbs, killing at least six people.
State TV says the deadliest among Thursday's attacks occurred in the suburb of Harasta, where six children were killed and eight were wounded.
State news agency SANA says five people were wounded when a mortar shell struck the upscale central neighborhood of Maliki.
Full report at:
http://www.thehindu.com/news/international/world/mortar-shelling-kills-6-in-syrian-capital/article5867202.ece
---------
Chief of Syrian Revolutionaries Front says al Qaeda is 'not our problem'
April 3, 2014
April 03, 2014
Jamal Maarouf, the head of the Western-backed Syrian Revolutionaries Front, said he refuses to fight al Qaeda as it is "not our problem," and admitted to fighting alongside the al Qaeda branch as well as providing weapons to the group. His admission comes in a stunning article excerpted below from The Independent, which interviewed Maarouf in Syria:
Speaking from a safe house on the outskirts of the Turkish town of Antakya, Jamal Maarouf, the leader of the Syrian Revolutionary Front (SRF) told The Independent that the fight against al-Qa'ida was "not our problem" and admitted his fighters conduct joint operations with Jabhat al-Nusra - the official al-Qa'ida branch in Syria.
Full report at:
http://www.longwarjournal.org/threat-matrix/archives/2014/04/chief_of_syrian_revolutionary.php#ixzz2xsJ35ygb
------------
Muslim Brotherhood urges Britain not to yield to foreign 'pressure' over review
By REUTERS
April 03, 2014
DUBAI - The Muslim Brotherhood has urged Britain not to bow to foreign pressure in conducting a review of the group over concerns about possible links to violence, following its designation by Egypt and Saudi Arabia as a terrorist organization.
In a statement, the movement said that it would "openly engage" with the review ordered by Prime Minister David Cameron but it would challenge in the British courts "any improper attempt to restrict its activity".
The Brotherhood, a movement whose affiliated groups have deep roots in many Arab and Islamic states, said it was concerned that Britain's ambassador to Saudi Arabia, John Jenkins, would be leading the review, the statement issued late on Wednesday said.
Full report at:
http://www.jpost.com/International/Muslim-Brotherhood-urges-Britain-not-to-yield-to-foreign-pressure-over-review-347385
------------
Iraq's Al Qaida teams with Syrian forces to fight off rival Sunni rebel operation
April 03, 2014
NICOSIA — Al Qaida's Islamic State of Iraq and the Levant is fighting to stop a Sunni rebel offensive in Syria.
Opposition sources said ISIL has launched a major attack on Islamist militias amid an offensive against the regime of President Bashar Assad in the coastal Syrian province of Latakia.
Syrian troops celebrate on March 31 after they recaptured a key position in coastal Latakia province.
Syrian troops celebrate on March 31 after they recaptured a key position in coastal Latakia province.
The sources said ISIL operations focused on its Al Qaida rival, Nusra Front for the Defense of the Levant.
Full report at:
http://www.worldtribune.com/2014/04/02/iraqs-al-qaida-teams-with-assad-forces-to-fight-off-rival-sunni-rebel-group/
------------
Egypt calls for international cooperation against terrorism
April 03, 2014
The Egyptian presidency has called on the international community to take a "clear stance" against terrorism, a day after three bombs exploded at Cairo University.
"[The international community] must take clear a stance, through full cooperation, to drain the sources of terrorism," read the statement.
Three bombs exploded outside Cairo University on Wednesday. A fourth was defused.
The first two explosions killed a senior policeman and injured nine officers.
"These dark forces are not targeting the guardians of the nation -- the army and the police – they are targeting Cairo University and its students," added the statement.
Full report at:
http://english.ahram.org.eg/NewsContent/1/64/98183/Egypt/Politics-/Egypt-calls-for-international-cooperation-against-.aspx
------------
Qatar is part of UAE: Dubai security official
April 03, 2014
A top Dubai security official, General Dahi Khalfan, has claimed Qatar as forming part of the United Arab Emirates, adding a new dimension to a dispute with Doha.
"Qatar is an integral part of the UAE," the outspoken Khalfan, a longtime critic of the Doha-backed Muslim Brotherhood, wrote on Twitter on Monday, demanding his country "reclaim" Qatar.
"We must put up signs on our borders with Qatar stating: 'You are now entering the UAE's eighth emirate,'" said Khalfan.
The UAE is a seven-member federation.
Leading up to the region's independence from Britain, Qatar and Bahrain in 1968 joined the Trucial States, as the UAE was then known, but their union fell apart three years later.
The Emirates, Saudi Arabia and Bahrain last month withdrew their envoys to Doha, accusing it of meddling in their internal affairs by supporting Islamists.
Full report at:
http://english.ahram.org.eg/NewsContent/2/8/98057/World/Region/Qatar-is-part-of-UAE-Dubai-security-official.aspx
----------
Iraq agrees to foreign monitors for parliamentary polls
April 3, 2014
Iraq's electoral commission has approved applications from 667 foreign observers to monitor the country's parliamentary elections on April 30.
"The commission will continue to accredit international observers because their role is important to ensure that the election process is more transparent and fair," Sirbest Mustafa, the commission's head, said Thursday.
Full report at:
http://www.thehindu.com/news/international/world/iraq-agrees-to-foreign-monitors-for-parliamentary-polls/article5866993.ece
---------
Muhajireen Army releases video of Syrian training camp of foreign fighters
April 03, 2014
Jaish al Muhajireen wal Ansar (Army of Emigrants and Supporters, or Muhajireen Army), a group of foreign fighters led by commanders from the Caucasus, has released video of a training camp in Syria. The video includes footage of a bomb-making class.
Russian text at the beginning of the video states that the camp is located in the "Provence of Aleppo" and the video was recorded in "March 2014."
The video, which was published on YouTube on March 31 by Akhbar Sham, a Russian-language website that promotes the Muhajireen Army, shows the group's fighters training for various attacks against the Syrian military. The video was also promoted by Kavkaz Centre, a propaganda arm of the al Qaeda-linked Islamic Caucasus Emirate.
Shortly after the video was published, YouTube removed it for "a violation of YouTube's policy on depiction of harmful activities."
Full report at:
http://www.longwarjournal.org/archives/2014/04/muhajireen_army_rele.php#ixzz2xsIwLOFs
------------
Assad: Russia creating multi-polar world
April 03, 2014
Syrian President Bashar Assad told members of a Russian delegation on Wednesday that their country is playing an important role by creating a "multi-polar world."
The delegation of the Russian Imperial Orthodox Palestine Society, headed by Sergei Stepashin, passed on a message from President Vladimir Putin to Assad. In it Putin expressed his country's determination to support Syria in various fields during its "war against international terrorism," which is being supported by some Western and regional countries, SANA – the Syrian Arab News Agency reported.
Full report at:
http://www.jpost.com/Middle-East/Assad-Russia-creating-multi-polar-world-347351
------------
Africa
Central African Republic: Massacres in Remote Villages
April 03, 2014
Anti-balaka fighters killed at least 72 Muslim men and boys, some as young as nine, in two recent attacks in southwestern Central African Republic. The assaults, on February 1 and 5, 2014, were in the village of Guen, in a region where abuses have been rampant, but not widely reported. Human Rights Watch interviewed survivors who had fled to a nearby village.
In a separate attack in the southwest, armed Seleka fighters, supported by Peuhl cattle herders, killed 19 people on February 22 in the village of Yakongo, 30 kilometers from Guen. Both villages are near a main road between the larger towns of Boda and Carnot. Although French and African Union (AU) peacekeeping forces are deployed in those larger towns, they do not regularly patrol the road between them. Minimal help is being sent to villages in the region to prevent attacks on civilians.
Full report at:
http://www.eurasiareview.com/03042014-central-african-republic-massacres-in-remote-villages/
------------
Libya reaches deal with rebels to end oilfield control
World Bulletin / News Desk
April 03, 2014
The Libyan government has reached an initial agreement with rebels to end their control of oilfields in eastern Libya, an official said Wednesday.
"We have concluded an initial deal with the rebels to end their control of the oilfields," interim finance minister Maragie Gheith told Anadolu Agency.
"We have reached an agreement on some points," added Gheith, who led a government delegation in the talks with the rebels.
The minister, however, declined to give more details about the content of the agreement, only saying that the "oilfields crisis will be solved within days".
Meanwhile, rebel spokesman Ali al-Hasi said that the government delegation has accepted some demands of the rebels.
Full report at:
http://www.worldbulletin.net/headlines/132733/libya-reaches-deal-with-rebels-to-end-oilfield-control
------------
US, Algeria vow to work together to fight terrorism
April 03, 2014
The United States and Algeria Thursday pledged to work together to battle terrorism, as US Secretary of State John Kerry paid his first visit to the north African nation.
"Algeria which has paid a heavy toll to terrorism, will never bow in front of this scourge," Algerian Foreign Minister Ramtane Lamamra said at the opening of strategic talks between the two countries.
"Terrorism knows no boundaries, has no creed, no religion and targets all nations," he added.
Jihadist violence has plagued the vast Sahel-Sahara region since the 2011 overthrow of Libyan dictator Muammar Gaddafi, prompting a French-led military intervention in Algeria's southern neighbour Mali in January last year after Al-Qaeda-linked groups seized control of the country's north.
Full report at:
http://english.ahram.org.eg/NewsContent/2/8/98207/World/Region/US,-Algeria-vow-to-work-together-to-fight-terroris.aspx
----------
South Asia
Chinese Buddhist temple forms 'anti-terrorist' squad
By REUTERS
April 03, 2014
BEIJING - Nervous about a repeat of last month's deadly knife attack at a Chinese train station, a well-known Buddhist temple in eastern China has drafted some of its monks into a new "anti-terrorist" squad, state media said on Thursday.
The team at the 1,700-year-old Lingyin Temple in the tourist city of Hangzhou is made up of 20 monks and more than 20 security guards, the official Xinhua news agency quoted the temple's Buddhist Master Jueheng as saying.
The squad's members are equipped with shields, pepper spray and batons. It is the first time a Chinese temple has set up such a team, Xinhua said.
"The squad members practice Buddhism in the day and take part in training exercises at night," Jueheng said, adding police helped with the training.
"We set up the squad to guard against violence and terrorist attacks in a bid to protect the safety of visitors and Buddhism believers."
Full report at:
http://www.jpost.com/International/Chinese-Buddhist-temple-forms-anti-terrorist-squad-347420
------------
Bangladesh Independent MP Rustam Ali Faraji demands mosque in parliament complex
April 03, 2014
Independent MP Rustam Ali Faraji yesterday demanded that a mosque be built on the parliament premises for lawmakers, officials and others to offer Jum'a prayers on Friday.
During an unscheduled discussion, he requested Deputy Speaker Fazle Rabbi Miah, who was in chair, to take steps in this regard.
The deputy speaker expressed solidarity with the demand from religious point of view. But he doubted whether it would be possible to set up the mosque considering the parliament complex's architectural design.
The parliament's main building has a huge space for offering prayers. But there is no Jame mosque inside the compound.
Full report at:
http://www.dhakatribune.com/bangladesh/2014/apr/03/faraji-demands-mosque-parliament-complex#sthash.NG7z8kIv.dpuf
------------
Jamaat-e-Islami Nayeb-e-Ameer Maulana Subhan's trial for 1971 crimes begins
April 03, 2014
The trial of Jamaat-e-Islami Nayeb-e-Ameer Maulana Abdus Subhan began at the war crimes tribunal yesterday with the prosecution's opening statement in the case, nearly two months after his indictment.
Prosecutors Zead-al-Malum, Sultan Mahmud Simon and Rezia Sultana Chaman read out the 80-page opening statement. After that, the International Crimes Tribunal 2 set April 7 for the first prosecution witness.
The acting chief Pabna unit Jamaat during the 1971 Liberation War, Subhan is facing nine charges of crimes against humanity. The prosecution said he was liable for individual and as well as superior responsibility in the crimes.
The prosecution said: "Subhan led and in some cases accompanied the anti-liberation forces in and around Pabna in committing atrocities from April 11, 1971. He was the secretary of Pabna unit Peace Committee that was formed in the month of May, 1971."
Full report at:
http://www.dhakatribune.com/law-rights/2014/apr/03/maulana-subhan%E2%80%99s-trial-1971-crimes-begins#sthash.LHmRlXzB.dpuf
---------
India
Kashmiri separatists to meet Pak envoy separately
M Saleem Pandit,TNN | Apr 3, 2014
SRINAGAR: Kashmiri separatists, including Mirwaiz Umar Farooq and Syed Ali Shah Geelani, would meet Pakistan high commissioner Abdul Basit separately in New Delhi on Thursday.
Sources said they are likely to discuss the situation in Kashmir and press for Pakistan's "intensive efforts" to resolve the Kashmir issue.
The separatists were among hundreds of people, including diplomats, invited for Basit's introductory dinner in New Delhi on Wednesday.
"I told them Kashmir is a political issue which needs to be resolved politically. I said Kashmir problem is like festering sore in the subcontinent and there should be trilateral talks between India, Pakistan and the Kashmiri leadership for a permanent solution to this problem," Mirwaiz said after attending the dinner at the Pakistan high commission.
Full report at:
http://timesofindia.indiatimes.com/india/Kashmiri-separatists-to-meet-Pak-envoy-separately/articleshow/33155709.cms
--------
Engineering student emerges as IM suspect
PRAVEEN SWAMI
Apr 3, 2014
He was going places this year: Mohammad Maroof Nirban was near the end of his Bachelors course in computer engineering, had won a placement with Wipro, and was hoping that Tata Consultancy Services would top Wipro's offer at a campus recruitment fair later this year.
Then, the journey took a strange turn — leading Nirban into the Delhi Police net, facing allegations that he was a key figure in a jihadist cell linked to the Indian Mujahideen (IM).
Nirban's family and friends say the allegations are untrue but investigators insist he is the face of a disturbing new wave of jihadist recruitments.
The story, as investigation records accessed by The Hindu narrate, is deeply enmeshed with the newest of things, the Internet, and the oldest of things, India's tragic history of communal violence.
Full report at:
http://www.thehindu.com/news/national/engineering-student-emerges-as-im-suspect/article5864455.ece
--------
Pak's new envoy seeks to base ties on trust
Apr 3, 2014
NEW DELHI: Pakistan is looking to change the bilateral narrative with India — from one of conflict to that of cooperation and mutual trust — Pakistan's new high commissioner to India Abdul Basit said.
Basit officially took over as high commissioner on Wednesday after he presented his credentials to President Pranab Mukherjee.
"The high commissioner said that Prime Minister (Nawaz Sharif) was resolved to changing the bilateral narrative of conflict into a one underpinned by cooperation, mutual interest and mutual trust," the Pakistan high commission said in a statement.
"He said Pakistan hoped that the next government would move quickly and resolutely to engage fruitfully with Pakistan as desired by the people on both sides of the border and the LoC," it added.
Full report at:
http://timesofindia.indiatimes.com/india/Paks-new-envoy-seeks-to-base-ties-on-trust/articleshow/33156740.cms
--------
Southeast Asia
Indonesia military worries over Asia arms race, territorial tensions
April 03, 2014
Indonesia's military is concerned that a rebalancing of power in the Asia-Pacific is driving an arms race in the region and that increasingly tetchy territorial disputes could trigger conflict, its armed forces chief said.
In an interview with Reuters, military commander Moeldoko did not single out China for criticism, but his comments are the latest from regional officials that suggest there are growing fears over China's assertiveness and military modernisation.
"We are definitely worried because there is a trend happening in the region right now and that is an arms race, between ASEAN (the Association of Southeast Asian Nations) countries themselves and between major powers," he said late on Wednesday.
According to IHS Jane's, a defence publisher, the Asia-Pacific region is the only part of the world to see military spending grow steadily since 2008.
Full report at:
http://english.ahram.org.eg/NewsContent/2/9/98179/World/International/Indonesia-military-worries-over-Asia-arms-race,-te.aspx
------------
Filipino militants kidnap 2 people in Malaysia
April 03, 2014
Eileen Ng and Jim Gomez, The Associated Press, Kuala Lumpur, Malaysia | World | Thu, April 03 201
Suspected Filipino insurgents seized a Chinese tourist and a hotel receptionist from a dive resort in eastern Malaysia and then fled in a speed boat, Malaysian and Philippine officials said Thursday.
The kidnapping late Wednesday underscored the persistent security threats in Sabah state, a popular tourist destination a short boat ride from the southern Philippines, which has long been home to a dangerous mix of Muslim militants and kidnap gangs.
Six men armed with pistols raided the Singamata Reef Resort, according to a police report. It said the Chinese victim was a 28-year-old woman from Shanghai, while the receptionist was a 40-year-old female Philippine citizen.
Full report at:
http://www.thejakartapost.com/news/2014/04/03/filipino-militants-kidnap-2-people-malaysia.html
------------
Khalid should act decisively on Bible issue, says DAP lawmaker
BY LEE SHI-IAN
APRIL 03, 2014
A DAP lawmaker has told the Selangor Menteri Besar to not abdicate his responsibility over the seizure of bibles by the Selangor Islamic Religious Department (Jais), but to find a solution to the contentious issue that has upset Christians nationwide.
Ong Kian Ming (pic) today said that Tan Sri Abdul Khalid Ibrahim should show the hallmark of a genuine reformer, instead of passing the buck on the issue.
Ong was referring to Khalid's statement yesterday that the Bible Society of Malaysia (BSM) should write directly to the Attorney-General to request for the confiscated bibles to be returned.
Full report at:
http://www.themalaysianinsider.com/malaysia/article/khalid-should-act-decisively-on-bible-issue-says-dap-lawmaker
------------
Blood money spares Indonesian maid from Saudi execution
Apr 3, 2014
Indonesia will pay $1.8m (£1m) in blood money to prevent an Indonesian maid being executed in Saudi Arabia.
The maid, known as Satinah, was due to be beheaded in the next few days after being found guilty of murdering her female employer seven years ago.
A campaign in Indonesia by the 41-year-old's family and supporters had raised some of the money needed to compensate the victim's family.
The Indonesian government has now decided to provide the rest.
Execution due
Satinah hit her female boss, Nura al-Garib, in September 2007. Her employer fell into a coma and died later in hospital.
Full report at:
http://www.bbc.com/news/world-asia-pacific-26872447
-----------
Bill Gates to donate to Indonesian health care
April 03 2014
World philanthropist and Microsoft founder Bill Gates will collaborate with the Tahir Foundation and other Indonesian conglomerates on a special sustainable healthcare program, a senior minister said Wednesday.
"The government appreciates the initiative and believes that the Gates and Tahir foundations will run it transparently and with accountability," Coordinating People's Welfare Minister Agung Laksono told a press conference.
Agung said the collaboration would establish the Indonesian Health Fund, which was a charity pool that business people and philanthropists across the country could donate to.
The minister revealed that Gates was scheduled to visit Jakarta, Indonesia, on April 5, to sign a memorandum of understanding (MoU) on the program with Dato Sri Tahir, founder of the Tahir Foundation, and eight other conglomerates.
Full report at:
http://www.thejakartapost.com/news/2014/04/03/bill-gates-donate-indonesian-health-care.html
------------
URL: https://newageislam.com/islamic-world-news/new-age-islam-news-bureau/ttp-now-warns-karachi-shrines'-admin-to-end-such-sort-of-sufism/d/66400