New Age Islam News Bureau
19 May 2014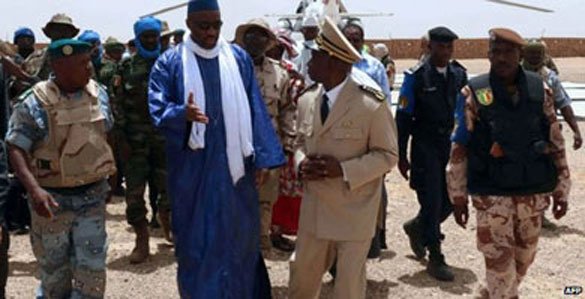 Prime Minister Moussa Mara (centre) said that Mali was "at war" with the separatists
-------------
Pakistan
• TTP Chief Asks Government and Armed Forces to Accept Allah's Writ
• Mullah Fazlullah Mobilises Suicide Bombers to Face 'Evil Forces'
• JUI-S chief Maulana Sami ul Haq decries invitation to Modi
• Modi's victory exposes 'Indian secularism' Hafiz Saeed
• Jamaat-i-Islami chief asks Sharif to impose Sharia
• IHC issues notices to Geo, ARY, Amjad Sabri in blasphemy case
• Khyber Pakhtunkhwa CM wants another APC 'if Taliban talks are impossible'
• Fata Christians write to CJ for getting rights
• US FBI agent is on special mission in Pakistan: Lawyers
Arab World
• Saudi Arabia used cluster bombs against Houthi Shiites
• Local Syrians Revolt against ISIL Militants in Aleppo Town
• Syria: Army Kills Tens of Militants in Daraa
• 10 killed in separate Baghdad attacks
• At least 162,000 killed in Syria conflict, says monitoring group
• Cairo court acquits 169 Morsi loyalists
• Maliki likely frontrunner in Iraq election results
• Egyptians will revolt if next president follows in Mubarak's steps: Sabahi
Africa
• Libya army orders Islamist-led militias to capital
• Mali 'at war with terrorists' after 36 die in clashes: PM
• Somaliland Marks 'Independence,' Urges Recognition
• Libya's general Haftar: 'outlaw' battling Benghazi Islamists
• Car bomb in north Nigerian city of Kano kills 4
• Mali sends troops to retake town from Tuaregs
India
• Afghanistan and India accused for destabilizing Pakistan
• Azam Khan says Muslims contributed to Modi's victory, proved they are secular
• India's Jaipur Foot for disabled Afghans
North America
• Muslim leaders ask for equal billing with Jewish holiday on Montgomery calendar
• Questions raised over £1million pay-out to former Guantanamo detainee, Feroz Abbasi
• US should test Iran on Syria
South Asia
• Xinjiang separatist group behind train station attack, fingers pointed at Pak
• Afghan senate orders probe into refugees' recruitments for Syria
• 2 Jamaat men held with 10 crude bombs
• Senior Taliban leader arrested in Logar province
• Three Afghan soldiers martyred in IED attack
• Witness: Azhar aided Pakistani Army in atrocities
• JS watchdog: Delhi never changes its foreign policy following change of government
Europe
• Muhajireen Army commander calls for Muslims to wage jihad in the Ukraine
• Muslim and Christian religious leaders say family, school key for education
• West calls on African nations to work together to defeat Boko Haram
• British Muslim NGO slams plans to strip citizenship of terror suspects
• Spanish firms wooed to take part in $800bn KSA projects
• France offers to help China find hostages taken by Boko Haram
• Hundreds more Syrian refugees could die at sea as Europe does little to help
Bosnia's segregated schools
Southeast Asia
• No extremism at UiTM seminar, says Isma
• Images of scalded Filipino maid in Riyadh go viral
• Ex-Sultanah of Johor gives seven reasons why divorce ruling should be reversed
Mideast
• Gazans make handprint Palestinian flag
• Iran urges Iraq to extradite exiled dissidents
• Gunmen kill two Yemen soldiers
• Israel slaps Sheikh Raed Salah with suspended jail term
Compiled by New Age Islam News Bureau
URL: https://newageislam.com/islamic-world-news/ttp-chief-asks-government-armed/d/87085
----------
Pakistan
TTP Chief asks Government and Armed forces to accept Allah's writ
May 19, 2014
ISLAMABAD- Chief of outlawed Tehereek-e-Taliban Pakistan (TTP), Mullah Fazlullah today called upon the Government, the Armed forces and the Intelligence agents to akin to the Taliban will have to accept writ of Allah Almighty.
In a video message released by the TTP Chapter of Darra Adam Khel, the TTP chief did not comment over the peace talks with the government. He had however been opposed to the talks in the past. His statement came out at a time when there is a deadlock of peace talks between the government and the Taliban. Talking to BBC, spokesperson of the Taliban in Darra Adam Khel also claimed the seven minutes video message is a fresh statement of TTP Chief.
In the video, Mullah Fazlullah was welcomed by armed militants when he came down from a mountainous area and he recorded his message. Mullah Fazlullah asked his suicide bombers to be ready against tanks and artilleries of inimical forces. Those who have received this message should disseminate to other suicide bombers who are not in a direct contact. He vowed enforcement of Shariah and will continue his efforts in this connection.
http://www.nation.com.pk/national/18-May-2014/ttp-chief-asks-government-and-armed-forces-to-accept-allah-s-writ
----------
Mullah Fazlullah Mobilises Suicide Bombers to Face 'Evil Forces'
May 19, 2014
MOHMAND AGENCY/PESHAWAR - At a time when talks between the government and the Taliban are suspended, TTP chief Mullah Fazlullah has directed the outlawed organisation's Fidayeen (suicide bombers) to get ready to face the tanks and guns of what he called 'evil forces'.
He said this in a brief video message released during his visit to Darra Adamkhel. The TTP chief said the suicide bombers who have received his message should convey the same to others who were not present on the occasion. A TTP spokesman told a BBC correspondent that it was a policy statement on behalf of the Taliban chief.
Talks between the government and the TTP have been suspended for the past several weeks and most of the political circles are not much optimistic about their resumption or any positive outcome. However, the TTP leader did not say anything about the talks.
Fazlullah said that like Taliban the Pakistan government, the armed forces and the intelligence agencies would also have to accept writ of Allah Almighty. He said enforcement of Sharia was the mission of his life and he would continue his struggle for the purpose.
Meanwhile, at least one security personnel was killed and eleven others wounded in two different blasts targeting security forces in Mohmand and Bajaur agencies on Sunday.
Personnel of Khasadar Force was killed and three others injured in bomb explosions in Mohmand Agency.
According to details, a roadside bomb planted by miscreants went off when a vehicle of Khasada Force was passing through Chamarkand locality in Safi tehsil of Mohmand Agency.
Resultantly, one Khasadar Force personnel was killed while FC man along with two civilians sustained injuries in the explosion. The injured were rushed to agency headquarters hospital where their condition was stated to be stable.
Soon after the explosion, security forces rushed to the blast site, cordoned off the area and launched a search operation. At least 11 suspects were apprehended.
Separately, at least seven people including seven personnel of Levies Force and a woman sustained injuries in a bomb blast in Tehsil Khar of Bajaur Agency on Sunday.
It was around 10am when a roadside bomb planted by miscreants exploded with a bang apparently targeting a vehicle of Levies Forces that was on way from Nawagai to Khar, the agency headquarters of Bajaur Agency.
The bomb was detonated with a remote-controlled device. It exploded at Shakari area, situated at a distance of some 10 kilometers from Khar. Subsequently, Subidar Gulzar Khan along with five other personnel of the force and a passerby woman sustained injuries. The injured were shifted to agency headquarters hospital.
One of the injured is stated to be in critical condition. Besides, the levies vehicle also damaged. Soon after the blast the nearby bazaars closed. Peshawar-Bajaur Road was also blocked for all sort of traffic.
The Levies personnel and FC men cordoned off the area. The political administration launched a search operation. However, no arrest was made till filing of this report.
Tehreek-e-Taliban Pakistan (TTP) Mohmand chapter chief Omar Khalid Khorasani has claimed the responsibility of twin bomb attacks on security forces in Mohmand and Bajaur agencies.
Khorasani tweeted from his official account, "Tehreek-e-Taliban Pakistan Mohmand Agency claims the responsibility of two different remote-controlled bomb blasts took place in MND agency in which two security forces men were killed and 5 others were injured".
The Taliban faction said that TTP Mohmand Agency had the intention to carry on attacks.
http://www.nation.com.pk/national/19-May-2014/fazlullah-mobilises-bombers
----------
JUI-S chief Maulana Samiul Haq decries invitation to Modi
May 19, 2014
SIALKOT: JUI-S chief Maulana Samiul Haq has said Prime Minister Nawaz Sharif has shown undue haste in inviting Indian prime minister-elect Narindar Modi to visit Pakistan.
Speaking at a press conference at Daska's Darul Aloom Medina here on Sunday, he alleged Modi had killed thousands of Indian Muslims therefore Nawaz Sharif should have thought twice before inviting him to the country.
Maulana Sami expressed hope about resumption of talks between the government and the (outlawed) Tehreek-i-Taliban Pakistan, saying the state was sincere in solving the burning issue of terrorism.
"I think the disgruntled elements in the Taliban have agreed to resume peace talks with the government," he said. He reiterated some elements were trying to derail the peace process to pave the way for operation in tribal areas.
The JUI-S chief said operation was no solution to the problem and negotiation was the only way to bring about peace. Efforts to restore peace would continue and the government and the army should encourage these, he said. The Taliban, he said, did not violate the truce.
He urged all the national institutions to focus on the one-point agenda of establishing durable peace, saying the Taliban were fighting to save Pakistan and Afghanistan from conspiracies of India. Pakistan should improve its relations with all neighbours, he said.
KHWAJA ASIF: Federal Minister for Water and Power Khwaja Muhammad Asif has stressed the need to promote politics of tolerance in the country.
Speaking to newsmen at his residence, he urged the politicians to shun conflicts and short-term interests. He said PTI chief Imran Khan was doing the politics of conflicts by raising the ante about alleged rigging in the 2013 general elections.
"Both Imran Khan and Pervez Musharraf do politics through the social media," he remarked.
http://www.dawn.com/news/1107252/sami-decries-invitation-to-modi
----------
Modi's victory exposes 'Indian secularism' Hafiz Saeed
May 19, 2014
ISLAMABAD- The Ameer of Jamaat-ud-Dawa Pakistan, Professor Hafiz Muhammad Saeed has said that BJP's Nirender Modi's victory in Indian elections had exposed the façade of 'Indian secularism'.
Addressing the today seminar regarding "solidarity of Pakistan," he said that Muslim-Hindu riots had again intensified, immediately after the victory of Modi, warning that any further attempts to ban cow-slaughter and conversion of mosques into Hindu temples would be strongly resisted by 300 million Muslims of India.
"Recent genocide in Indian Assam was also the act of these very fanatic, bigoted prejudiced miscreants, bent on fanning religious and sectarian riots in India," he accused.
He also stressed on rejenuvation of Pakistan theory, in order to pull out of quagmire of piled-up crisis, including Balochistan's secessionist movements. He also welcomed the recent statement of COAS that Kashmir was the jugular vein of Pakistan; while he also welcomed the historical boycott of Indian elections by Indian occupied Kashmir.
He also lambasted segments of society who expressed their fears of Pakistan's weakening over adopting Islamic tenets, and said that the bigoted West held Pakistan responsible for its defeat in Afghanistan.
http://www.nation.com.pk/national/18-May-2014/modi-s-victory-exposes-indian-secularism-hafiz-saeed
----------
Jamaat-i-Islami chief asks Sharif to impose Sharia
May 19, 2014
ISLAMABAD: Rejecting the current mechanism in place for the appointment of the chief election commissioner (CEC), the chief of the opposition party Jamaat-i-Islami (JI) on Sunday said that all political parties represented in the parliament must be involved in the process.
Addressing his first public meeting in Islamabad since his elevation to the party's top post, Sirajul Haq lashed out at former CEC Fakhruddin G. Ebrahim for his alleged failure to curb rigging in the 2013 elections and said the Election Commission of Pakistan (ECP) did not fulfil its responsibility.
Haq claimed that most of the people in parliament today would be in Adiala Jail if articles 62 and 63 – dealing with the qualifications of members of parliament – were fully implemented in the country.
Full report at:
http://www.dawn.com/news/1107208/ji-chief-asks-sharif-to-impose-sharia
----------
IHC issues notices to Geo, ARY, Amjad Sabri in blasphemy case
May 19, 2014
ISLAMABAD- The Islamabad High Court today during the hearing over a blasphemy petition filed by the Shuhada Foundation issued notices to all those party to the case.
The court while adjourning the hearing over the petition to an unspecified date, issued notices to Federal Information Secretary, chief executive of ARY, anchors Mubashir Lucman, Nida Yasir and Shaisata Lodhi, Amjad Sabri Qawwal, poet Aqeel Mohsin Naqvi, chairman of Pakistan Electronic Media Regulatory Authority (Pemra) and Council of Islamic Ideology (CII) and Chairman Cable Operators Association of Pakistan.
In his petition, advocate Tariq Asad said that the issue of alleged blasphemy in a Geo morning show was being highlighted only to target the Geo group, and what occurred in the morning show had been carried out by other media houses but no action was taken against them. He requested the court to take action against other channels who had engaged in the same activity as Geo. Advocate Asad said that he was not specifically in favour of Geo and had also filed petitions against the group in the past, adding that he only sought to curb any wrongdoing.
Full report at:
http://www.nation.com.pk/national/19-May-2014/ihc-issues-notices-to-geo-ary-amjad-sabri-in-blasphemy-case
----------
Khyber Pakhtunkhwa CM wants another APC 'if Taliban talks are impossible'
May 19, 2014
LAHORE: Khyber Pakhtunkhwa Chief Minister Pervaiz Khattak wants the federal government convene another all-party conference (APC) if it cannot implement the unanimous decision of giving peace a chance through talks with the Taliban.
"The APC had authorised the government to hold dialogue with the Taliban. If for some reason it is unable to act in accordance with the decision, it should gather all the political parties to discuss the options it has been left with," Khattak told a questioner at a press conference here on Sunday. He was on a visit to the Punjab capital for 'building image' of the PTI government in Khyber Pakhtunkhwa.
Full report at:
http://www.dawn.com/news/1107260/kp-cm-wants-another-apc-if-taliban-talks-are-impossible
----------
Fata Christians write to CJ for getting rights
May 19, 2014
LANDI KOTAL: Christians living in different parts of the Federally Administered Tribal Areas (Fata) have demanded of the Supreme Court and Peshawar High Court (PHC) chief justices to help ensure provision of the basic rights to them.
Christian Awareness and Development Society (CADS), Fata, argued in a letter it has sent to the chief justices of the Supreme Court and PHC that 'though Article 25 (1) of the Constitution declares them as equal citizens of Pakistan, they are being denied their basic human and constitutional rights despite living for almost 100 years in different parts of Fata'. Copies of the letter have also been sent to heads of the major political parties, members of Senate and National Assembly and the federal minorities' ministry.
Full report at:
http://www.dawn.com/news/1107281/fata-christians-write-to-cj-for-getting-rights
--------
US FBI agent is on special mission in Pakistan: Lawyers
May 19, 2014
KARACHI- US citizen Joel Cox's lawyer told the court today that his client was on a special mission in Pakistan and he was permitted to carry arms.
According to reports, Joel Cox was presented before the Malir Judicial Magistrate under strict security measures. He is charged with possession of illegal arms. Joel Cox's lawyer, Barrister Zahid said that his client was on a special mission in Pakistan and he was allowed to carry arms with him besides any misuse of the arms hasn't been proved.
Full report at:
http://www.nation.com.pk/national/19-May-2014/us-fbi-agent-is-on-special-mission-in-pakistan-lawyers
----------
Arab World
Saudi Arabia used cluster bombs against Houthi Shiites
May 19, 2014
Saudi Arabia has reportedly used cluster bombs against the Houthis in northern Yemen in 2009, a new report has said.
A documentary report by US television network HBO said Saudi forces dropped bombs on areas in Yemen's northern province of Sa'ada, adding that the bombs are still claiming civilians' lives.
The report noted that shells which were marked with a model type, CBU-52B/B, and labels that read "US AIR FORCE" were found in Sa'ada.
IHS Jane's, a defense and security analysis firm, said the Saudis used European Tornado IDS and American-made F-15S aircraft in the fighting, the report added.
"Most of the planes they used to drop the cluster bombs were Tornadoes," Hamoud Gabish, the deputy director of al-Hayyat humanitarian organization, said of a series of attacks that, by his estimate, resulted in bombs being dropped on 164 locations in Sa'ada.
In addition to Saudi Arabia, Gabish held the US and UK accountable for the bombings and their aftermath.
Full report at:
http://abna.ir/english/service/middle-east-west-asia/archive/2014/05/19/609651/story.html
----------
Local Syrians Revolt against ISIL Militants in Aleppo Town
May 19 2014
Notorious Takfiri insurgents in Syria known as 'Islamic State of Iraq and the Levant (ISIL) faced a citywide revolt by residents of the Northern Aleppo town of Manbij, amid reports of a harsh crackdown on the locals by the terrorist group.
Activists from the town, one of the largest in the Northern province under the control of the Al-Qaeda splinter group, said that a general strike was at least "80 percent" successful, as merchants in Manbij shut down their shops and businesses, Lebanon-based Daily Star reported Monday.
Full report at:
http://english.farsnews.com/newstext.aspx?nn=13930229000622
--------------
Syria: Army Kills Tens of Militants in Daraa
May 19 2014
A large number of militants have been killed in fierce clashes with the Syrian army in Daraa province in the Southern parts of the country, informed sources said on Monday.
The militant groups also admitted that the Syrian army has killed, at least, 100 of their forces in Daraa.
Meantime, the Jordanian Salafi Movement announced that a large number of Salafi forces have been killed in fierce clashes with the army in Syria.
On Sunday, a military source said that Syrian army units have killed and wounded a large number of militants, including eight terrorist ringleaders, in al-Bahhar cemetery, al-Jumrok al-Kadeem and Journalists Building in Daraa al-Balad.
Ammar Abu Sareyya, the leader of the so-called Liwaa al-Tawheed terrorist group has been identified among the dead.
Full report at:
http://english.farsnews.com/newstext.aspx?nn=13930229000658
-----------
10 killed in separate Baghdad attacks
World Bulletin / News Desk
May 19, 2014
At least 10 people were killed and 11 others injured on Monday in separate attacks in the Iraqi capital Baghdad, a security source said.
Three people were killed and five others injured when a roadside bomb exploded in the predominantly Sunni Ghazaliya district of Baghdad, said the source, speaking on the condition of anonymity.
Full report at:
http://www.worldbulletin.net/todays-news/136702/10-killed-in-baghdad-attacks
----------
At least 162,000 killed in Syria conflict, says monitoring group
19 May 2014
At least 162,000 people have been killed in Syria's three-year-old conflict, a monitoring group said on Monday, and thousands more are missing after being captured by President Bashar al-Assad's forces and rebels trying to overthrow him.
The pro-opposition, British-based Syrian Observatory for Human Rights said losses among fighters on the government side were higher than those among pro-rebel groups, and estimated that at least 54,000 civilians had been killed since the conflict began.
It estimated 62,800 deaths among the army, pro-Assad Syrian militia, Lebanese Hezbollah fighters and other foreign Shiite gunmen.
That compared with 42,700 people who had died on the rebel side, including fighters from al-Qaeda's Nusra Front, other Islamist brigades, and soldiers who defected from Assad's army.
Full report at:
http://english.alarabiya.net/en/News/middle-east/2014/05/19/At-least-162-000-killed-in-Syria-conflict-say-monitoring-group.html
----------
Cairo court acquits 169 Morsi loyalists
May 19, 2014
The Misdemeanours Court in Cairo's Bab El-Shareya district acquitted 169 loyalists of ousted president Mohamed Morsi on Monday.
The acquitted were accused of rioting, assembling and disturbing traffic during the aftermath of the violent dispersal of the pro-Morsi Rabaa Al-Adaweya sit-in in August of last year which left hundreds dead.
Security forces have cracked down on the Muslim Brotherhood and Morsi loyalists following the Islamist president's ouster last July, with thousands detained, including the Brotherhood's top leadership, on a variety of charges.
http://english.ahram.org.eg/NewsContent/1/64/101692/Egypt/Politics-/Cairo-court-acquits--Morsi-loyalists-.aspx
----------
Maliki likely frontrunner in Iraq election results
19 May 2014
Election results due Monday are expected to put Nouri al-Maliki in the driver's seat to remain Iraq's prime minister for a third term despite vocal opposition and markedly worsening security.
The tallies from the April 30 general election, delayed for weeks due to a litany of complaints according to the electoral commission, are likely to show Maliki's bloc won the most seats in parliament but fell short of a majority.
That would mean the incumbent, who hails from Iraq's Shiite majority, would require the support of Sunni Arab and Kurdish parties.
But many of these have refused to countenance another term for Maliki, who they accuse of consolidating power and being to blame for a protracted surge in unrest.
Iraq's electoral commission is expected to release the results, which remain subject to challenge, at 1200 GMT.
Full report at:
http://english.alarabiya.net/en/News/middle-east/2014/05/19/Maliki-likely-frontrunner-in-Iraq-election-results.html
----------
Egyptians will revolt if next president follows in Mubarak's steps: Sabahi
May 19, 2014
Presidential hopeful Hamdeen Sabahi has warned of a revolt by the Egyptian people should their new president disregard their demands.
"Egyptians will revolt if the policies of the Hosni Mubarak regime – which have impoverished Egyptians, plundered the country's resources and weakened its [global] position – are maintained," his campaign team quoted him as saying in a statement on Sunday.
The statement added that Sabahi's remarks, which he made during an interview with Egypt's independent daily Al-Shorouk, were misinterpreted by several media outlets.
"Any regime that does not pay heed to the Egyptians' demands will see the same fate as Mubarak's and [his successor] Mohamed Morsi's," Sabahi said.
Full report at:
http://english.ahram.org.eg/NewsContent/1/64/101667/Egypt/Politics-/Egyptians-will-revolt-if-next-president-follows-in.aspx
----------
Africa
Libya army orders Islamist-led militias to capital
May 19, 2014
Libya's army chief has ordered the deployment of Islamist-led militias to the capital, a day after the storming of the parliament building in Tripoli by a renegade general's troops.
Monday's development paves way for a possible showdown between the militias — which hail from Libya's western and central regions — and the anti-Islamist troops allied with Gen. Khalifa Hifter who staged the parliament attack Sunday and said they suspended the Islamist-dominated house, blaming it for empowering Islamic extremists.
According to a statement posted on the official Facebook page of Libya's Chief of Staff media office, Nouri Abu Sahmain signed an order to "Libya's Central Shield" — an umbrella group of powerful militias — to confront "attempts to take over power" in Tripoli.
http://english.ahram.org.eg/NewsContent/2/8/101694/World/Region/Libya-army-orders-Islamistled-militias-to-capital.aspx
----------
Mali 'at war with terrorists' after 36 die in clashes: PM
May 19, 2014
Mali's Prime Minister Moussa Mara said Sunday the country was "at war" with terrorists in the northern city of Kidal after clashes between separatist militants and the Malian army left 36 dead.
Eight soldiers and 28 insurgents were killed in fighting on Saturday outside the regional governor's offices during a visit by Mara to the desert town, the government said, adding that around 30 civil servants were being held hostage.
"The terrorists have declared war on Mali, so Mali is at war against these terrorists. We will mobilise the resources to fight this war," Mara told AFP by telephone.
Kidal, 1,500 kilometres (900 miles) northeast of the capital Bamako, was the scene of anti-government protests by several hundred people on Friday and Saturday who demonstrated at the regional airport against the visit.
Full report at:
http://english.ahram.org.eg/NewsContent/2/9/101641/World/International/Mali-at-war-with-terrorists-after--die-in-clashes-.aspx
---------
Somaliland Marks 'Independence,' Urges Recognition
World Bulletin / News Desk
May 19, 2014
Breakaway Somaliland on Sunday marked 23 years since declaring independence from Somalia, urging recognition by the African Union and the international community.
"The African Union should no longer put off recognizing Somaliland as an independent country and full member," President Ahmed Mohammed Silanyo said in his speech to mark the day.
Somaliland and Somalia united in 1960 after independence from Britain and Italy respectively.
But Somaliland broke away in 1991 after the overthrow of Siad Barre and the flare up of the civil war.
Somalia has refused to recognize Somaliland as independent.
Somaliland's self-declared independence has also not been recognized by the international community.
Full report at:
http://www.worldbulletin.net/headlines/136667/somaliland-marks-independence-urges-recognition
----------
Libya's general Haftar: 'outlaw' battling Benghazi Islamists
May 19, 2014
Rogue Libyan general Khalifa Haftar, who was readying an offensive against Islamist groups in the country's restive east Sunday, is a former rebel commander accused by Tripoli of staging a coup.
Haftar unleashed his so-called National Army on Friday against groups he called "terrorists" in Benghazi, Libya's second city and the hotbed of an Islamist militancy, killing at least 79 people and wounding 141 others.
The attack, backed by warplanes and helicopters, sparked outrage. Tripoli denounced the 71-year-old as an "outlaw" seeking to take advantage of the unrest in the country to mount a coup.
Full report at:
http://english.ahram.org.eg/NewsContent/2/8/101645/World/Region/Libyas-general-Haftar-outlaw-battling-Benghazi-Isl.aspx
----------
Car bomb in north Nigerian city of Kano kills 4
May 19, 2014
A car bomb exploded in the Christian neighbourhood of Nigeria's second most populous and mainly Muslim city of Kano killing at least four people, police said. Five people were wounded.
Police Superintendent Aderenle Shinaba said the car exploded on Sunday night before the bomber reached his target of the busy restaurants and bars lining Gold Coast Street, indicating the casualties could have been much higher. It was unclear if the bomber was among them.
The Sabon Gari Christian quarter is a popular area where people dine, play games, dance and drink alcohol late into the night all anathema to the Islamic extremists blamed for previous attacks in the neighbourhood.
Full report at:
http://www.thehindu.com/news/international/world/car-bomb-in-north-nigerian-city-of-kano-kills-4/article6024316.ece
----------
Mali sends troops to retake town from Tuaregs
World Bulletin/News Desk
May 19, 2014
Mali sent in troops on Sunday to retake Kidal from Tuaregs after six government workers and two civilians were murdered, according to the United Nations, during an attack on the regional governor's office.
At least eight soldiers were also killed and around 30 civil servants captured by rebels during clashes that broke out while Prime Minister Moussa Mara was on a visit to the northern town.
A spokesman for Tuaregs denied that anyone had been murdered inside the government building.
Gunfire had already broken out before Mara's arrival early on Saturday and he was forced to take shelter in an army base.
Full report at:
http://www.worldbulletin.net/headlines/136663/mali-sends-troops-to-retake-town-from-tuaregs
----------
India
Afghanistan and India accused for destabilizing Pakistan
May 19 2014
The Pakistani officials accused Afghan intelligence – National Directorate of Security (NDS) for setting up insurgent camps to destabilize Balochistan province.
Mir Sarfaraz Bugti, Balochistan's Home Minister also accused India for trying to carry out terrorist activities to weaken Pakistan.
Bugti quoted by Pakistan's Dawn News claimed that the Afghan intelligence agencies had set up at least 34 insurgents to destabilize Pakistan.
The remarks by Balochistan's HOme Minister followed after Pakistani security forces confiscated a truck laden with weapons, ammunition and explsoives in Balochistan near the Pak-Afghan border region.
Full report at:
http://www.khaama.com/afghanistan-and-india-accused-for-destabilizing-pakistan-8112
----------
Azam Khan says Muslims contributed to Modi's victory, proved they are secular
May 19, 2014
Suggesting that Muslims have contributed to Narendra Modi's victory in the 2014 Lok Sabha elections, SP leader Azam Khan, who had indulged in a vitriolic attack on the BJP leader, said they had proved that they were a "secular" community.
"Narendra Modi's victory in the Lok Sabha polls has amply proved that Indian Muslims were and are secular," he told reporters here on Sunday evening.
The UP Minister, however, said that the Muslims were lured by "false promises" made by BJP even as he defended Chief Minister Akhilesh Yadav and SP supremo Mulayam Yadav and blamed UPA's policies for the party's drubbing in the state.
"Since the Muslim electorate did not have a political agenda to defeat anybody, they were trapped into believing false promises and supported such a political establishment (BJP)," he said.
Full report at:
http://indianexpress.com/article/india/politics/azam-khan-says-muslims-contributed-to-modis-victory-proved-they-are-secular/
----------
India's Jaipur Foot for disabled Afghans
May 19, 2014
An Indian organisation, specialising in prosthetic legs, will supply artificial limbs free of cost to 1,000 physically-challenged Afghan nationals in the war-torn country.
Jaipur Foot has signed an agreement with the Afghanistan government to supply 1,000 prosthetic legs to terror attack victims and polio sufferers.
"The Indian organisation has agreed to provide the limbs free of cost," said Amina Afzali, Minister of Work, Social Affairs, Martyred, and Disabled in Afghanistan.
"Jaipur Foot will manufacture limbs for those who have lost their legs to roadside bombings, terrorist attacks or polio," Afzali was quoted as saying by Pajhwok Afghan News agency.
Afzali hoped the assistance would further consolidate relations between the two countries.
An agreement to the effect was inked between Afzali and DR Mehta, founder and patron-in-chief of Jaipur Foot.
Full report at:
http://www.thehindu.com/news/international/south-asia/indias-jaipur-foot-for-disabled-afghans/article6023448.ece
----------
North America
Muslim leaders ask for equal billing with Jewish holiday on Montgomery calendar
May 19, 2014
Muslim community leaders in Montgomery County this week asked that the Islamic holy day of Eid al-Adha be given equal billing as the Jewish holiday of Yom Kippur on Montgomery's 2015-2016 school calendar.
They described the issue as symbolic but important.
In 2015, both holidays will fall on Wednesday, Sept. 23, but a calendar draft does not give them the same weight. Yom Kippur — for which county schools will be closed — is listed beside the date. The Muslim holiday is included in a parenthetical notation: Eid al-Adha also falls on this date.
Muslim leader Saqib Ali asked at a school board meeting this week that the calendar be changed to say: Yom Kippur/Eid al-Adha.
"We need to see equal treatment," Ali told the board. "Here is a case where, on a piece of paper — this is strictly a symbolic issue — but on this day when schools are closed, even on this day, the Jewish holidays are given sort of precedence or elevated."
Full report at:
http://www.washingtonpost.com/local/education/muslim-leaders-seek-equal-billing-with-jewish-holiday-on-montgomery-school-calendar/2014/05/18/4b8db16a-dae6-11e3-bda1-9b46b2066796_story.html
-----------
Questions raised over £1million pay-out to former Guantanamo detainee, Feroz Abbasi
May 19, 2014
Taxpayers paid £1million to a suspected terrorist accused of going to al-Qaeda training camps and planning attacks on American and Jewish targets.
Feroz Abbasi was one of 16 men held at Guantanamo Bay who were paid a total of £20million compensation by the UK to settle claims of complicity in their rendition and detention.
U.S. forces captured the 34-year-old from Croydon, South London, in Afghanistan and held him in a series of secret prisons until finally releasing him from Guantanamo in 2005.
It has now emerged that an al-Qaeda 'super brass' told officials in 2004 that Abbasi had been helped travel to Afghanistan by extremist cleric Abu Hamza 'to receive jihad training'.
The revelations, contained in documents relating to Hamza's trial in the U.S., have prompted questions over the decision to pay compensation to Abbasi when there were claims he was at the heart of an Islamic terrorist group.
Full report at:
http://www.dailymail.co.uk/news/article-2631784/Questions-raised-1million-pay-former-Guantanamo-detainee-Al-Qaeda-supergrass-told-U-S-Feroz-Abbasi-sent-Afghanistan-jihad-training.html#ixzz32CSNHbKr
----------
US should test Iran on Syria
May 19 2014
US Secretary of State John Kerry said on May 15 that "the grave humanitarian crisis is growing more dire by the day" in Syria and promised new efforts to get aid to besieged Syrians, including alternatives to working through Damascus.
His remarks came two days after Lakhdar Brahimi, the Joint United Nations-League of Arab States special representative for Syria, resigned from his post, saying he was "very, very sad to leave Syria in such a bad state."
The urgency of Syria's crisis might compel Kerry to pick up Iran's signals on Syria, and to consider the precedent of localized cease-fires, such as the one negotiated in Homs this month by Syrian government officials, opposition leaders, and Iranian, Russian and UN diplomats, as discussed in this column last week.
Full report at:
http://www.al-monitor.com/pulse/originals/2014/05/week-in-review-united-states-test-iran-syria.html#ixzz32DXIG1Sb
----------
South Asia
Xinjiang separatist group behind train station attack, fingers pointed at Pak
Press Trust of India | Beijing | May 19, 2014
Blaming the East Turkistan Islamic Movement (ETIM) for the recent suicide attack at a railway station in troubled Xinjiang province, Chinese investigators on Sunday said that the assault was planned abroad, even as an article in the state media pointed fingers at Pakistan.
The ETIM, stated to be an al-Qaeda backed militant group, was behind the attack in which three people were killed and 79 others were injured at a train station in Urumqi, capital of Xinjiang province last month, state-run Xinhua news agency reported.
According to the region's information department, the attack was planned by ETIM member Ismail Yusup outside China.
"On April 22, he ordered 10 partners in Xinjiang to prepare to strike," it said.
Xinhua story did not name any particular country, but an article in the state-run Global Times' online edition said that the group directed attacks from Pakistan's tribal areas.
Full report at:
http://indianexpress.com/article/world/asia/xinjiang-separatist-group-behind-train-station-attack-say-china-police-fingers-pointed-at-pak/
----------
Afghan senate orders probe into refugees' recruitments for Syria
May 19, 2014
KABUL – Lawmakers in the Senate, upper house of the Afghan parliament ordered investigation into the alleged recruitment of Afghan refugees by the Iranian security forces to fight in Syria, an Afghan news service reported on Monday.
Senate Chairman Fazal Hadi Muslimyar asked the Afghan government to seek clarification from Iran in this regard. He said that the poor Afghan refugees were recruited and sent to fight in Syria where they were killed and the government of Afghanistan should resolve the issue.
Full report at:
http://www.dailytimes.com.pk/region/19-May-2014/afghan-senate-orders-probe-into-recruitments-for-syria
----------
2 Jamaat men held with 10 crude bombs
May 19, 2014
Police in a drive on Saturday night arrested two local leaders, including an ameer of the upazila unit of Jamaat-e-Islami, from Bazratek area in Bholahat upazila and seized 10 crude bombs from their possession.
The arrestees are Golam Kabir, 42, ameer of Bholahat upazila unit and Shamsuzzaman Alkes, 45, both teachers of Mushribhuja Shamsur Rahman Dakhil Madrasa of the upazila.
A police team intercepted Kabir and Alkes in the area around 9:30pm, while they were returning from Mushribhuja by a motorcycle and arrested the two with the bombs.
http://www.thedailystar.net/country/2-jamaat-men-held-with-10-crude-bombs-24744
----------
Senior Taliban leader arrested in Logar province
May 19 2014
A senior Taliban leader was arrested by Afghan security forces in eastern Logar province of Afghanistan.
The interior ministry of Afghanistan following a statement said Mullah Abdullah was arrested from Pul-e-Alam city early Monday morning.
The statement further added that Mullah Abdullah was a key Taliban leader in Logar province and he was arrested during an operation by Afghan national army and Afghan national police forces.
Full report at:
http://www.khaama.com/senior-taliban-leader-arrested-in-logar-province-8110
----------
Three Afghan soldiers martyred in IED attack
May 19 2014
At least three Afghan national army soldiers were martyred following improvised explosive device (IED) attack.
Defense ministry spokesman, Gen. Zahir Azimi said the three Afghan national army soldiers were martyred following IED explosion in the past 24 hours.
Azimi did not disclose further information regarding the exact location of the incident where the three of Afghan soldiers martyred.
In the meantime, Azimi said at least four militants were killed during military operations in eastern Ghazni province of Afghanistan.
Full report at:
http://www.khaama.com/three-afghan-soldiers-martyred-in-ied-attack-8109
----------
Witness: Azhar aided Pakistani Army in atrocities
May 19, 2014
The witness said he had met his father after a month when they were in Jalpaiguri in India
A new prosecution witness against Jamaat leader ATM Azharul Islam, the alleged al-Badr commander of Rangpur during the 1971 Liberation War, yesterday claimed that the accused had masterminded the atrocities in the district.
Lawyer Rathish Chandra Bhowmick told the International Crimes Tribunal 1 that his father Dinesh Chandra Bhowmick, a homeopathy physician, and an uncle had been abducted in front of his eyes. But they somehow managed to escape a firing squad.
The witness claimed that his father had seen 10 others at the Rangpur Cantonment including Moharram, Khurram, Dulal, Khitish Halder, income tax officer ABY Mahfuz Gorge, Durgadas Adhikari and his son Uttam Adhikari. They were later killed at Dakhiganj Shashan (cremation ground).
Full report at:
http://www.dhakatribune.com/law-rights/2014/may/19/witness-azhar-aided-pakistani-army-atrocities#sthash.dbLUiqxw.dpuf
----------
JS watchdog: Delhi never changes its foreign policy following change of government
May 19, 2014
A parliamentary watchdog said yesterday that the government will not be uncomfortable with the new Indian regime as the latter never changes their foreign policy after a power changeover.
The first meeting of the parliamentary standing committee on the foreign ministry yesterday discussed the recent Indian general election results and some related issues.
"For the last 62 years India has never changed its foreign policy overnight after a new government came to power and that is why it will not create any problems for us; there is nothing to be scared of," said Muhammad Faruk Khan, who is a committee member and also a former commerce minister.
Emerging out of the meeting he said the committee had just discussed the Indian polls, and nothing else.
"The BNP thinks that the change in the regime of India will benefit them greatly but this notion is completely wrong," Faruk quoted the other members as saying.
Full report at:
http://www.dhakatribune.com/foreign-affairs/2014/may/19/js-watchdog-delhi-never-changes-its-foreign-policy-following-change-gove#sthash.U7aoApdq.dpuf
---------
Europe
Muhajireen Army commander calls for Muslims to wage jihad in the Ukraine
May 19, 2014
The deputy leader of an al Qaeda-allied jihadist group that is led by commanders from the Caucasus and other former Soviet republics has called for Ukrainian Muslims to wage jihad against the Russia government.
Abdul Karim Krymsky, the deputy emir of Jaish al Muhajireen wal Ansar (the Army of the Emigrants and Helpers, or Muhajireen Army), said that Crimean Tatars and Ukrainian Muslims should "start on the path of jihad." Krymsky made the statement in a video in which he appeared with Salahuddin Shishani (the Chechen), the emir of the Muhajireen Army.
The video was obtained and partially translated by From Chechnya to Syria, a website that tracks fighters from the Caucasus and Central Asia who are waging jihad in Syria. The video was first published on May 13 by Akhbar Sham, a Russian-language website that promotes the Muhajireen Army.
Full report at:
http://www.longwarjournal.org/archives/2014/05/muhajireen_army_comm.php##ixzz32CTHZE62
----------
Muslim and Christian religious leaders say family, school key for education
May 19, 2014
Muslim and Christian religious leaders who met recently in Amman, Jordan have jointly affirmed that the fundamental institutions for the education of children and youth remain the family and the school.
Participants at the two-day meeting proposed a "Cultural Decalogue" for those involved in education worldwide to promote the transmission of religious and moral values to the young generations, the Vatican said in a May 15 statement.
The colloquium was held under the joint patronage of Jordanian Prince El Hassan bin Talal, founder and president of the Royal Institute for Interfaith Studies, and Cardinal Jean-Louis Tauran, president of the Vatican's Pontifical Council for Interreligious Dialogue.
The theme of the May 13-14 gathering was "Meeting Current Challenges through Education."
It came shortly before of the first visit of Pope Francis to the Holy Land and the Middle East, at the end of May.
Full report at:
http://www.ecumenicalnews.com/article/muslim-and-christian-religious-leaders-say-family-school-key-for-education-24827
----------
West calls on African nations to work together to defeat Boko Haram
May 19, 2014
Nigeria, Britain, France, the United States and four other West African countries have agreed to pool intelligence and co-ordinate action to resist Boko Haram's reign of terror in northern Nigeria and neighbouring states.
At the Paris summit yesterday, Britain offered to "embed" military advisers in Nigeria to help combat Boko Haram, the extremist Islamist group that seized 276 schoolgirls a month ago. Meanwhile, President Idriss Déby of Chad said that Nigeria's neighbours were ready to "launch a war, a total war on Boko Haram".
President Goodluck Jonathan of Nigeria said that the group was no longer just a "local problem", but was "acting clearly as an al-Qa'ida operation".
No specific plan was announced to find the more than 200 schoolgirls, seized at a boarding school in north-east Nigeria. President François Hollande, who hosted the summit, ruled out Western troops being deployed on the ground.
Full report at:
http://www.independent.co.uk/news/world/africa/nigeria-schoolgirls-kidnap-west-calls-on-african-nations-to-work-together-to-defeat-boko-haram-9391325.html
----------
British Muslim NGO slams plans to strip citizenship of terror suspects
World Bulletin / News Desk
May 19, 2014
The Muslim Public Affairs Committee (MPAC) in the United Kingdom have slammed Home Minister Theresa May for her plans to introduce new measures that would enable the UK to strip anyone considered to be a threat to the country of their citizenship.
The measures, which could potentially leave those who have their citizenship taken away stateless, was condemned as being 'wholly draconian' and 'a violation of human rights' that must be opposed.
Fearing that the measures could make citizenship a privilage rather than a right, MPAC encouraged British Muslims to write to their MPs to challenge the move.
MPAC said: 'The persistent trend, year after year, our governments has sought out new means to conceal prosecutions from the public, prevent open scrutiny, critic and accountability of those decision and those who make them.'
Full report at:
http://www.worldbulletin.net/muslim-world/136591/british-muslim-ngo-slams-plans-to-strip-citizenship-of-terror-suspects
----------
Spanish firms wooed to take part in $800bn KSA projects
May 19, 2014
Crown Prince Salman, deputy premier and minister of defense, held talks here Sunday with King Juan Carlos of Spain on major regional and international issues and ways of strengthening bilateral relations.
The meeting was attended by Deputy Crown Prince Muqrin, Interior Minister Prince Mohammed bin Naif, State Minister Prince Mohammed bin Salman and other high-ranking officials. Prince Salman hosted a luncheon in honor of Juan Carlos and his accompanying delegation.
King Juan Carlos later met with officials of the Spanish company responsible for the 400-km Haramain Railway.
Juan Carlos also held talks with Abdul Rahman Al-Zamil, president of the Council of Saudi Chambers and Abdullah Al-Rasheed, president of the Saudi-Spanish Business Council, in the presence of Commerce and Industry Minister Tawfiq Al-Rabiah.
Full report at:
http://www.arabnews.com/news/573086
----------
France offers to help China find hostages taken by Boko Haram
May 19, 2014
France's foreign minister offered China his country's help on Sunday in locating 10 workers feared kidnapped by Boko Haram militants, as African leaders joined forces to fight the terrorist group.
"We have already told our Chinese friends that we were at their disposal in helping them find their citizens," Laurent Fabius said on a visit to the Chinese capital, where he will meet Prime Minister Li Keqiang on Monday.
The Chinese road workers were apparently taken from their camp in a night-time attack in northern Cameroon on Friday night. They were likely taken back across the border into Nigeria, a police source said Sunday.
Full report at:
http://english.alarabiya.net/en/News/africa/2014/05/18/France-offers-china-help-with-by-Boko-Haram-hostages-.html
----------
Hundreds more Syrian refugees could die at sea as Europe does little to help
May 19, 2014
"Pathetically few" nations in Europe have stepped forward to offer a safe haven to desperate Syrian refugees, the European Union's Home Affairs chief has told The Independent, raising the risk that many more could die at sea as they instead embark on perilous journeys to seek sanctuary.
Her warning came as the EU's border agency, Frontex, reported a leap in the number of people detected entering Europe illegally this year, with Syrians making up the largest proportion. Up to half a million people are also believed to be massing in Libya and preparing to cross the Mediterranean, a route which claimed more than 700 lives last year.
Yet despite promises of action from EU leaders, who last October were united in their shock after at least 350 migrants died off the Italian coast, there are few signs that this summer will be different. Instead, agencies trying to save lives are having to contend with shrinking budgets, a political vacuum in Libya and xenophobic rhetoric from far-right parties which has seeped into government refugee policy.
Full report at:
http://www.independent.co.uk/news/world/middle-east/syria-conflict-hundreds-more-desperate-refugees-could-die-at-sea-as-europe-does-little-to-help-9380519.html
----------
Bosnia's segregated schools
May 19, 2014
ZEPCE, BOSNIA AND HERZEGOVINA — Kristina Lovric is 17 years old and lives in a country with one of the highest concentrations of Muslims in Europe, but until recently she had never taken a course with a Muslim. Lovric, who is Catholic, enters the front door of her white stucco high school and turns right to go to class. Muslim students walk through the same door and turn left.
The arrangement is called "two schools one roof," and it's one of the troubling inheritances of the 1992-1995 Bosnian war. As Catholics and Muslims in this town began to recover and rebuild after the conflict, they started to live separate lives, and an entire generation of children has been educated in uneasy parallel. Students are not only physically separated from one another, but are taught in separate languages and study from separate history, literature, and geography textbooks. Today, there are more than 50 divided public schools in Bosnia and Herzegovina, a small country the size of West Virginia.
Full report at:
http://www.bostonglobe.com/ideas/2014/05/17/bosnia-segregated-schools/P9Z30b1IZRTQz1C0d6jNTJ/story.html
----------
Southeast Asia
No extremism at UiTM seminar, says Isma
May 19, 2014
Seminars aimed at enlightening Muslims on the "untruths" of other religions are not extreme and in fact aligned with Islam, Isma said today in a rebuttal against former Perlis mufti Datuk Dr Mohd Asri Zainul Abidin (pic).
Responding to Asri's comments on Universiti Teknologi Mara (UiTM)'s Christian-bashing seminar, Isma Ulama Council chairman Professor Dr Aznan Hasan said it was the responsibility of the country's leaders to ensure the rakyat's faith was in line with sharia.
"What is wrong in organising the seminar in UiTM with the goal of explaining to the target (Muslim students and others) about these (Christianisation) efforts, the problem with these efforts and how to face them?
"Isn't that what we should be doing anyway, according to the maqasid sharaq (sharia principles)?"
Full report at:
http://www.themalaysianinsider.com/malaysia/article/no-extremism-at-uitm-seminar-says-isma
----------
Images of scalded Filipino maid in Riyadh go viral
May 19, 2014
Images of a young female OFW with severe burns to her back after allegedly having boiling water poured on her by her employer has shocked the Filipino community in the Kingdom.
Her case was brought to the attention of both the Philippine Embassy and the Department of Foreign Affairs (DFA) with a request to report the incident to police authorities and the Saudi Foreign Ministry.
One of her relatives, who introduced himself as "Talib," told Arab News that the victim arrived in Riyadh only two months ago to work as a domestic helper, but apparently faced communication problems with her employer since she can neither understand Arabic nor English.
Full report at:
http://www.arabnews.com/news/573131
----------
Ex-Sultanah of Johor gives seven reasons why divorce ruling should be reversed
May 19, 2014
The former Sultanah of Johor has listed seven grounds why the Shariah Court of Appeal should reverse the ruling by the Shariah High Court that the late Sultan Iskandar Sultan Ismail had divorced her.
Malaysiankini reported that Tuanku Zanariah Tunku Ahmad's (pic) counsel Afshah Ariffin was currently making submissions before the bench after the highest religious court in the state had in March allowed the Johor Islamic Council to be a party to the suit.
The news portal had obtained a copy of the grounds of appeal which stated:
1. The Shariah High Court was wrong in accepting the evidence from former menteri besar Tan Sri Abdul Ghani Othman and Johor royal committee chairman Tengku Osman Tunku Temenggong Ahmad through a statutory declaration when they were not parties in the divorce application. In addition, the late sultan was not a party in the proceeding as he had already passed away.
Full report at:
http://www.themalaysianinsider.com/malaysia/article/ex-sultanah-of-johor-gives-seven-reasons-why-divorce-ruling-should-be-rever
----------
Mideast
Gazans make handprint Palestinian flag
World Bulletin/News Desk
May 19, 2014
A group of young Palestinian on Sunday drew the flag of their country with their own handprints in the Gaza Strip to mark the 66th anniversary of the Palestinian Nakba.
"We drew the flag of Palestine with our own handprints to show that this flag will be raised one day on the territories we were forced to leave in 1948," Basma Zakout, one of the young Palestinians, told Anadolu Agency.
"We are sending a message to the world that the Palestinian people are still alive and won't forget the land usurped by Jewish gangs," she added.
On Thursday, thousands of Palestinians in the occupied West Bank and Gaza Strip commemorated the 66th anniversary of Nakba when thousands of Palestinians were driven from their land to make way for the nascent Israeli state.
Full report at:
http://www.worldbulletin.net/headlines/136648/gazans-make-handprint-palestinian-flag-photo
---------
Iran urges Iraq to extradite exiled dissidents
May 19, 2014
Iran's judiciary chief Ayatollah Sadeq Larijani has called on his Iraqi counterpart to extradite exiled Iranian opposition members so that they could stand a "fair trial" in Tehran, media reported Sunday.
Iraq hosts an estimated 3,000 members of the People's Mujahedeen Organisation of Iran (PMOI) who are living in exile in Iraq and based in a former military camp near Baghdad airport.
"Considering that PMOI members are criminals who have assassinated more than 17,000 Iranians, one of our requests to Iraq's justice chief is to extradite them to Iran, so that they could be held accountable for their crimes," Larijani said, according to Fars news agency.
"Most of these people have confessed to their crimes and we expect our friend and brother country to extradite them within the legal framework, so that they would be tried fairly," Larijani added.
Full report at:
http://english.alarabiya.net/en/News/middle-east/2014/05/18/Iran-urges-Iraq-to-extradite-exiled-dissidents-.html
----------
Gunmen kill two Yemen soldiers
May 19, 2014
Gunmen killed two soldiers in an ambush on an army patrol in southeastern Yemen on Monday, a security official said.
"Unknown gunmen opened fire at a military vehicle killing two soldiers," the source said. The attack took place at the entrance to Shehr, a coastal town in Hadramawt province.
The assailants fled, he said.
The ambush coincided with an army operation launched 29 April against suspected Al-Qaeda militants, centred on Abyan and Shabwa in the south and the central province of Baida.
Full report at:
http://english.ahram.org.eg/NewsContent/2/8/101682/World/Region/Gunmen-kill-two-Yemen-soldiers.aspx
----------
Israel slaps Sheikh Raed Salah with suspended jail term
World Bulletin / News Desk
May 19, 2014
An Israeli court on Monday slapped Sheikh Raed Salah, leader of the Islamic Movement inside Israel, with a suspended six-month jail term and a $2600 fine for "obstructing the work" of Israeli police in 2011.
Official movement spokesperson Zahi Nujidat said Salah could actually be put in jail if Israel levels similar charges against him in the days to come.
Salah's case dates back to April 16, 2011, when he was traveling to the occupied West Bank from Jordan after performing the umra (the minor pilgrimage) in Saudi Arabia.
Israeli police at the Karameh Border Crossing wanted to strip-search Salah's wife, but the Islamist leader objected, calling the measure "humiliating," according to the Islamic Movement's website.
Full report at:
http://www.worldbulletin.net/headlines/136696/israel-slaps-raed-salah-with-suspended-jail-term
----------
URL: https://newageislam.com/islamic-world-news/ttp-chief-asks-government-armed/d/87085