Age Islam News Bureau
21 May 2017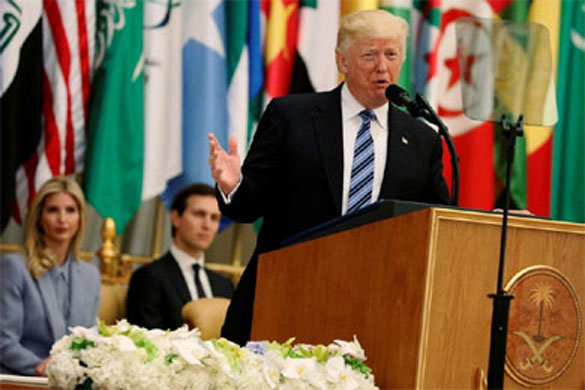 American President Donald Trump in Saudi Arabia
-----
• Trump Turns Politically Correct in Saudi Arabia
• Ready to Bring In Legislation to Stop Triple Talaq: Centre
• Hezbollah Says 'Arab Islamic American Summit' Sign of Resistance Front's Victory
North America
• Trump Turns Politically Correct in Saudi Arabia
• Trump to Reach Out to Muslim World after Harsh Campaign Rhetoric
• 16-Year-Old Teen Spat On In the US by Classmate Who Tries To Pull Off Her Hijab
• Trump to tell Muslim leaders 'this is not a battle between different faiths'
--------
India
• Ready to Bring In Legislation to Stop Triple Talaq: Centre
• Two Infiltrators, Two Soldiers Killed In J&K
• Pak's review bid in Jadhav case untenable, a populist ploy: Harish Salve
• NIA quizzes 3 Hurriyat leaders
• Indian national arrested in Pakistan
--------
Mideast
• Hezbollah Says 'Arab Islamic American Summit' Sign of Resistance Front's Victory
• High Turnout in Polls Proves Iranians' Fondness for Islamic Establishment: Velayati
• Bahraini regime court gives top Shia cleric suspended jail term
• Tayyip Erdogan prepares to regain leadership of party he founded
• Ramadan charity drive aims to raise $850,000 for the needy
--------
Arab World
• Twenty Islamic State Members Killed Sneaking Into Mosul Bridge
• "Euphrates Wrath" Operation Forces Attack the Last Areas of Presence Of The IS In Syria
• 2 Suspected Islamic State Extremists Killed In Turkey Raid
• Suspected Islamic State members killed in Ankara raid
• Most dangerous driving time in UAE during Ramadan revealed
--------
Europe
• UK Varsity Removes Muslim Prayer Space Ahead Of Ramadan
--------
Pakistan
• Pakistan Army to 'Jointly Fight Jadhav Case with Govt' In ICJ: National Assembly Speaker
• PM leaves for Saudi Arabia to attend US-Arab-Islamic Summit
• Iran fires mortar shells into Pakistan
--------
Africa
• Nigerian Troops Battle Boko Haram in Lake Chad Area
• President of the Republic of Benin: Arab-Islamic-US Summit very important because it comes at the right time and place
--------
South Asia
• Taliban Raid Kills 20 Policemen in Southern Afghanistan
--------
Southeast Asia
• With Ramadan, Kaamatan coming, price caps imposed on controlled items in Labuan
Compiled by New Age Islam News Bureau
URL: https://www.newageislam.com/islamic-world-news/trump-turns-politically-correct-saudi/d/111226
--------
Trump Turns Politically Correct in Saudi Arabia
MAY 21, 2017
The president says wildly offensive things when the objects of his derision aren't around, but crumples when he actually meets them.
Donald Trump appears to have envisioned his speech on Sunday in Riyadh as an answer to Barack Obama's 2009 address in Cairo. And reading the two side by side is illuminating. The speeches differ in many ways, but none more striking than this: Trump's speech was far more politically correct.
"Political correctness," as it is used in common parlance, means avoiding hard truths so as not to offend the people around you. And Trump made his hostility to political correctness a centerpiece of his campaign. Nowhere was this more evident than in his discussion of "radical Islam." Again and again, Trump blamed America's vulnerability to jihadist terrorism on President Obama and Hillary Clinton's refusal honestly to speak about the pathologies of Muslims and Islam. At a Wisconsin town hall in March of last year, CNN's Anderson Cooper asked, "Do you trust Muslims in America?" Trump responded, "We have a problem, and we can try and be very politically correct and pretend we don't have a problem, but, Anderson, we have a major, major problem." In June, in defending his proposed ban on Muslim immigration to the United States, Trump declared that, "The current politically correct response cripples our ability to talk and to think and act clearly" to keep America safe from terrorism.
Trump's Speech on Islam, Annotated
But for all the pillorying Obama received for supposedly whitewashing the problems of the Islamic world, his Cairo speech actually addressed them quite bluntly. Speaking at Egypt's prestigious Cairo University, Obama condemned Holocaust denial in Muslim countries, calling it "baseless, ignorant, and hateful." He denounced people who "threaten Israel with destruction" and "repeat vile stereotypes about Jews." He highlighted the oppression of women in Muslim lands, declaring that "a woman who is denied an education is denied equality. And it is no coincidence that countries where women are well-educated are far more likely to be prosperous." He referenced the Middle East's economic failures, arguing that "no development strategy can be based only upon what comes out of the ground, nor can it be sustained while young people are out of work." And in a clear challenge to his host, Egyptian dictator Hosni Mubarak, he insisted that "all people yearn for certain things: the ability to speak your mind and have a say in how you are governed; confidence in the rule of law and the equal administration of justice; government that is transparent and doesn't steal from the people; the freedom to live as you choose. Those are not just American ideas, they are human rights, and that is why we will support them everywhere."
Compare that to Trump, who said virtually nothing that caused his hosts any discomfort. Trump criticized terrorist groups like ISIS for their "persecution of Jews," and he condemned Iran for pledging "the destruction of Israel." But since ISIS and Iran are Riyadh's most bitter foes, those condemnations won't have bothered the Saudi monarchs at all. Unlike Obama, Trump avoided the broader problem of anti-Semitism and Holocaust denial in Islamic countries, a problem in which his Saudi hosts are deeply complicit. Nor did he even hint at the fact that Saudi Arabia still does not recognize Israel.
Source: https://www.theatlantic.com/international/archive/2017/05/trump-saudi-arabia-islam/527547/
--------
Ready to bring in legislation to stop triple talaq: Centre
PTI | May 21, 2017
BENGALURU: The Centre on Sunday said it would bring in a legislation to stop the triple talaq, if necessary, "but after allowing the Muslim community to reach a positive conclusion following internal deliberations."
"The government has made the stand very clear saying that we want this (triple talaq) to end."
"If necessary, the (Central) government will bring in a legislation, but after allowing the community to reach a positive conclusion after internal deliberations," Union Minister for Urban Development M Venkaiah Naidu told reporters after inaugurating the statue of Dr M S Ramaiah here.
Dr Ramaiah was an industrialist and philanthropist, who in 1962 founded the Gokula Education Foundation here, which, in turn, established numerous institutes of higher learning including the M S Ramaiah Medical College, noted for its collaborative Child Response Unit that aids children who are victims of sexual abuse.
Naidu said Muslims, like Hindus who have put to an end so many social evils, should come forward and move towards ending triple talaq, which was against the interests of women.
"Dowry, sati, child marriage - all of these, the society came forward and finally decisions were made (to end these social evils)."
The Muslim women also have taken legal course and the matter is being heard in the Supreme Court, he said.
Naidu said the issue is of gender discrimination and gender justice, and so, the community should give proper response to it.
http://timesofindia.indiatimes.com/india/ready-to-bring-in-legislation-to-stop-triple-talaq-centre/articleshow/58775232.cms
--------
Hezbollah Says 'Arab Islamic American Summit' Sign of Resistance Front's Victory
May, 21, 2017
TEHRAN (Tasnim) – A senior official at the Lebanese Hezbollah Resistance Movement Hezbollah slammed an upcoming summit meeting between the US and a number of Arab states in Riyadh, describing the event as an indication of the Resistance Front's victory across the region.
The so-called "Arab Islamic American Summit", scheduled to be held in the Saudi capital, shows that Washington and its allies have failed to achieve their goals, the head of Hezbollah's Executive Council, Seyed Hashem Safieddine, said in a statement, Lebanese media reported on Sunday.
He added that holding such a summit also demonstrates the Resistance Axis' upper-hand over Takfiri militants and their regional and foreign backers all across the region.
The remarks by the senior Hezbollah official came after US President Donald Trump arrived in Riyadh on Saturday morning on the first leg of a nine-day overseas tour.
Saying that the situation in the region will continue to get worse and worse for the US and its allies following the summit, Safieddine emphasized that enemies would not be able to strike fear into Hezbollah and the Resistance Front.
The US can no longer afford to formulate schemes for Iraq, Syria, Palestine and the entire region, let alone lead Iran into a cul-de-sac and eliminate Hezbollah, he added.
Trump is scheduled to outline his vision for US-Muslim relations to an audience of more than 50 leaders of Muslim countries attending the "Arab Islamic American Summit" on Sunday.
During his speech, however, he is expected to hail the Saudi government as a strong Muslim ally and a partner in the fight against extremism.
This reeks of hypocrisy as the Saudi-backed clerics openly preach and practice Wahhabism, a radical ideology that inspires terrorists around the world. Daesh (ISIL) and other terrorist groups take advantage of Wahhabism to declare people of other faiths "infidels," a justification for their execution.
Trump will make stops next week in the Occupied Palestine and in Italy.
https://www.tasnimnews.com/en/news/2017/05/21/1415577/hezbollah-says-arab-islamic-american-summit-sign-of-resistance-front-s-victory
-----------
North America
Trump to Reach Out to Muslim World After Harsh Campaign Rhetoric
By PETER BAKER and MICHAEL D. SHEARMAY 21, 2017
RIYADH, Saudi Arabia — During last year's campaign, President Trump said he thought that "Islam hates us," and, intentionally or not, he gave many Muslims the impression that it was mutual.
He called for "a total and complete shutdown of Muslims entering the United States." He engaged in a charged exchange with the Muslim-American father of a soldier killed in Iraq. And he assailed those who did not acknowledge Islam's role in terrorism by using the phrase "radical Islamic terrorism."
So when Mr. Trump takes the stage on the second day of an inaugural overseas trip as president to deliver what aides are calling his centerpiece speech here in the country that hosts Islam's two holiest sites, he faces the challenge of reconciling his past rhetoric with his ambition of rebuilding relations with the Muslim world.
In effect, he will be addressing not just the leaders gathered in the Saudi capital, but also the broader population of 1.8 billion Muslims around the world.
In the days leading up to the speech, aides have been suggesting that he would pivot from the harsher language of his presidential campaign even as he condemns extremism and appeals to Muslim leaders to do more to combat it.
Lt. Gen. H.R. McMaster, the president's national security adviser, who has pushed Mr. Trump to stop using the phrase "radical Islamic terrorism," hinted that the president may not use it in the speech on Sunday.
"The president will call it whatever he wants to call it," General McMaster said in an interview with "This Week" to be broadcast on ABC News. "But I think it's important that, whatever we call it, we recognize that these are not religious people and, in fact, these enemies of all civilizations, what they want to do is to cloak their criminal behavior under this false idea of some kind of religious war."
General McMaster's framing of the issue was closer in spirit to the way Presidents George W. Bush and Barack Obama defined it than the way Mr. Trump did as a candidate. Both of his predecessors argued that terrorists had perverted Islam, which they described as essentially a religion of peace.
During last year's campaign, Mr. Obama dismissed Mr. Trump's use of the phrase as "yapping" that would "fall into the trap of painting all Muslims with a broad brush and imply that we are at war with an entire religion," thus "doing the terrorists' work for them."
Mr. Trump refused to back down, saying that "anyone who cannot name our enemy is not fit to lead this country." He used the phrase again in his inaugural address in January. Even after General McMaster told his national security staff that the phrase was problematic and should not be used, the president cited it again days later in an address to a joint session of Congress, a move seen as a rebuke of his own national security adviser.
Still, General McMaster said Mr. Trump has been listening to the Muslim leaders he has been meeting since becoming president and understands their views better. "This is learning," he said.
Mr. Trump signed executive orders shortly after taking office to temporarily ban visitors from several predominantly Muslim countries, but those orders were blocked by the courts. While his administration is appealing, the president has made little mention of them lately. The page on his campaign site calling for the "total and complete shutdown" of Muslim immigration has been taken down.
Some advisers who advocated stronger action and language about what they call the Islamic threat have either left the administration or have faded in influence: Michael T. Flynn was fired as national security adviser for other reasons, while Stephen K. Bannon, the president's chief strategist, and Sebastian Gorka, a White House aide, are said to have less sway.
The Trump administration and Saudi Arabia announced on Sunday that they would create a joint Terrorist Financing Targeting Center to formalize longstanding cooperation and search for new ways to cut off sources of money for radical groups. Mr. Trump also planned to tour the new Global Center for Combating Extremist Ideology in Riyadh.
At a news conference on Saturday, Secretary of State Rex W. Tillerson said Mr. Trump will use his speech to urge Muslim leaders to do more to counter online recruitment and terrorist financing.
"We have to defeat ISIS on the battlefield, but we really have to defeat ISIS in the cyberspace," Mr. Tillerson told reporters, using the acronym for the Islamic State group.
"This is their recruiting tool," he added. "This is how they message to lone wolves around the world. And this center is going to concentrate heavily on how to enter that space from the standpoint of experts that live in this part of the world and understand how to message to those who might be influenced by radical messaging."
Mr. Trump's speech will cap a frenetic, whirlwind day of diplomacy. He was meeting individually with the leaders of five Arab states — Bahrain, Egypt, Kuwait, Oman and Qatar — and then collectively with the leaders of the Gulf Cooperation Council. He will then gather with dozens of leaders from around the Muslim world.
Arab leaders who had soured on Mr. Obama after eight years, complaining that he lectured them without taking a decisive enough leadership role in the region, were enthusiastic about Mr. Trump's arrival despite his past comments about their religion.
Mr. Trump met first with King Hamad bin Isa al-Khalifa of Bahrain, a largely Shiite country led by a Sunni monarchy. The tiny island nation, which serves as home to the United States Navy's Fifth Fleet, has taken harsh measures in recent years to contain a persistent unrest.
Mr. Trump told the king that it was "a great honor to be with you" and that there "has been a little strain but there won't be strain with this administration." He added that the two countries have "many of the same things in common."
The king noted that the two nations have had 120 years of relations "based on a very good foundation of mutual understanding and strategy that we all have worked with, led to a great stability in the region."
In March, the country's Parliament approved a constitutional change allowing military courts to try civilians, a decision that human rights activists called a move toward martial law.
Not only did the Trump administration not object publicly; it also signaled shortly afterward that it would lift all human rights conditions on a major sale of F-16 fighter jets and other arms to Bahrain. Mr. Trump has suggested he will not make human rights an obstacle to strong relations with countries that he perceives to be American allies, saying that any such issues should be worked out in private, which he considers more effective.
He has pointed to the recent release of an Egyptian-American aid worker from Egypt after he hosted that country's strongman president, Abdel Fattah el-Sisi, at the White House. Mr. Trump thanked Mr. Sisi for that on Sunday during their meeting in Riyadh and said he hoped to visit Egypt soon.
"Egypt is secure and stable and is going very well with the cooperation of the United States," Mr. Sisi said.
Mr. Sisi then added of the American president: "You are a unique personality that is capable of doing the impossible."
"I agree!" Mr. Trump responded cheerily, as laughter rolled through the room.
Mr. Trump emphasized security ties in his meetings. "One of the things that we will discuss is the purchase of lots of beautiful military equipment because nobody makes it like the United States," he told the emir of Qatar. "And for us, that means jobs and it also means, frankly, great security back here, which we want."
https://www.nytimes.com/2017/05/21/world/middleeast/trump-saudi-arabia-islam-speech.html?_r=0
-----------
16-Year-Old Teen Spat On In the US by Classmate Who Tries To Pull Off Her Hijab
05/21/17
A 16-year-old Muslim girl was spat upon and abused by her classmate who even tried to pull her hijab off in a city school in the US.
The 15-year-old boy was on an elevator with the victim inside the High School for Law Enforcement and Public Safety in Jamaica in the New York City when he called her a "Muslim b---h!" and spit on her, police said.
He then tugged on her hijab in an attempt to rip it off her head, they said.
The girl then told school officials, who reported the incident to police.
Police questioned the teen and charged him with aggravated harassment and disorderly conduct, New York Daily reported.
He will be charged as a juvenile and so his name was not released. The victim was rattled but not physically harmed, police said.
"This incident is troubling, and this type of behaviour has no place in our schools," Department of Education spokeswoman Toya Holness said.
"We are providing the school with additional support to ensure appropriate follow-up action is taken," Holness added.
Full report at:
http://www.outlookindia.com/newswire/story/muslim-bh-16-year-old-teen-spat-on-in-the-us-by-classmate-who-tries-to-pull-off-her-hijab/969649
-----------
Trump to tell Muslim leaders 'this is not a battle between different faiths'
Sunday, May 21, 2017
Donald Trump is to offer a message of peace in his address to Muslim leaders today.
Speaking in Saudi Arabia, the US Presidens to say "this is not a battle between different faiths" in his headline speech on Islam, according to AFP.
Trump will also say that every terrorist murder "should be an insult to every person of faith" and the problem can only be overcome "if everyone in this room does their fair share."
While America is "prepared to stand" with the Arab world against this common enemy, Trump will say that "the nations of the Middle East cannot wait for American power to crush this enemy for them.
"The nations of the Middle East will have to decide what kind of future they want for themselves, for themselves, for their countries, and for their children.
"This is not a battle between different faiths, different sects, or different civilisations... this is a battle between good and evil."
Full report at:
http://talkradio.co.uk/news/trump-tell-muslim-leaders-not-battle-between-different-faiths-17052114029#rYFAoCLfPbtOAt6d.99
-----------
India
Two infiltrators, two soldiers killed in J&K
M Saleem Pandit | TNN | May 21, 2017
SRINAGAR: Two soldiers were martyred and two terrorists were killed in crossfire on Saturday evening in Jammu and Kashmir's Kupwara district during an infiltration bid.
Sources told TOI that the encounter was triggered after the Army spotted suspicious movement along the Naugam sector of the Line of Control (LoC).
Four to five terrorists were trying to cross over to the Indian side. "The militants fired at soldiers. In the exchange of fire two soldiers and two militants and two soldiers also lost their lives," a source said.
http://timesofindia.indiatimes.com/india/two-infiltrators-two-soldiers-killed-in-jk/articleshow/58770190.cms
-----------
Pak's review bid in Jadhav case untenable, a populist ploy: Harish Salve
Dhananjay Mahapatra | TNN | May 21, 2017
Pakistan's attempt to seek a review is a mere populist ploy to please domestic audience, Salve said.
He said India could also establish that the denial of consular access to Jadhav could have seriously impeded his legal defence.
Harish Salve (left) is India's lead counsel in the Kulbhushan Jadhav case. (Courtesy: Twitter/CIJ_ICJ)Harish Salve (left) is India's lead counsel in the Kulbhushan Jadhav case. (Courtesy: Twitter/CIJ_ICJ)
NEW DELHI: India's lead counsel Harish Salve said on Saturday that Pakistan's attempt to seek a review of the International Court of Justice's interim stay on Kulbhushan Jadhav's execution is a mere populist ploy to please domestic audience and is untenable under international law.
Speaking to TOI from London, Salve said, "There is no appeal or review procedure provided under the ICJ statute or rules against the orders already passed by it. India had pressed for provisional measures citing urgency to save Jadhav on the ground that Pakistan had grossly and continuously violated the mandate of Vienna Convention on Consular Access. The ICJ had heard Pakistan in detail before accepting India's plea."
India was also able to convince the ICJ that there was an impending danger to Jadhav's life after a military court sentenced him to death on the charges of spying, Salve said.
Salve added, "ICJ has lot of other work to do too. Once it has given a detailed hearing to both sides and arrived at a decision on provisional measures, it would naturally, at its convenience and depending on its work exigencies, proceed in due course to hear India's plea and Pakistan's counter. Till the final hearing followed by final decision of ICJ becomes a reality, the provisional measures asking Pakistan to hold its hand on execution of Jadhav will remain in force."
He said India had provided robust proof of continuous violation of VCCA by Pakistan in repeatedly denying India consular access to Jadhav, when he was in detention, when he was put to trial and even after he was convicted and condemned. "Pakistan had cited the 2008 bilateral treaty to step around its obligations under VCCA, which was rejected by the ICJ," he said.
He said India could also establish that the denial of consular access to Jadhav could have seriously impeded his legal defence.
ICJ took this seriously and sought an assurance from Pakistan about non-execution of Jadhav, he said, adding Pakistan attempted to step around this question from ICJ by citing that till 150 days from the death sentence, Pakistani law permitted Jadhav to seek clemency. Salve said ICJ viewed this as no assurance against possible execution of Jadhav.
Full report at:
http://timesofindia.indiatimes.com/india/paks-review-bid-in-jadhav-case-untenable-a-populist-ploy-harish-salve/articleshow/58769745.cms
-----------
NIA quizzes 3 Hurriyat leaders
M Saleem Pandit | TNN | May 21, 2017
SRINAGAR: The National Investigation Agency (NIA) questioned three Hurriyat leaders on Saturday to investigate the role of Pakistan-based terrorist organisations in fuelling unrest in the Kashmir valley.
Sources said that the NIA team questioned Nayeem Khan, Farooq Ahmed Dar alias 'Bitta Karate' and Gazi Javed Baba, who had featured in a news channel sting operation where they allegedly confessed that Lashkar provides funds to Hurriyat to carry out subversive activities in Kashmir.
Full report at:
http://timesofindia.indiatimes.com/india/nia-quizzes-3-hurriyat-leaders/articleshow/58770283.cms
-----------
Indian national arrested in Pakistan
May 21, 2017
NEW DELHI: An Indian national was arrested in Islamabad, allegedly over incomplete travel documents, news agency ANI reported on Sunday.
The Indian national, whose name has not been disclosed, was arrested from the F-8 area of Pakistan's capital for not having complete travel documentation, Samaa TV reported. A case has been filed under Article 14 of the Foreign Act and the man has been transferred to jail on judicial remand.
The arrest comes days after the International Court of Justice (ICJ) stayed the death sentence awarded to former Indian Navy officer Kulbhushan Jadhav by a Pakistani military court on charges of espionage and subversive acts.
Full report at:
http://timesofindia.indiatimes.com/india/indian-national-arrested-in-pakistan/articleshow/58774867.cms
-----------
Mideast
High Turnout in Polls Proves Iranians' Fondness for Islamic Establishment: Velayati
May, 21, 2017
TEHRAN (Tasnim) – Head of the Strategic Research Center of Iran's Expediency Council Ali Akbar Velayati praised the people's massive presence in the country's recent elections and said the more than 70-percent participation proved that Iranians are still interested in their Islamic Revolution.
Speaking to the Islamic Republic of Iran Broadcasting (IRIB) on Saturday night, Velayati said the main factor behind the Islamic Republic's power is the massive presence of the people in various scenes, ranging from the "Sacred Defense" during the 1980-1988 Iraqi imposed war on Iran to different political areas.
The higher than 70-percent turnout and participation of Iranian expatriates living in more than 100 countries in the polls indicate that the people are still interested in the Islamic Establishment four decades after the victory of the Islamic Revolution, he said.
The official further emphasized that even Western scholars and thinkers have acknowledged the democracy in Iran, adding that "the epic participation of the people" in the elections was the country's main response to the enemies.
Iranians headed to the polls as soon as the stations opened on Friday to elect the country's 8th president.
Incumbent President Hassan Rouhani emerged victorious and secured a second term by winning 57 percent of the votes.
More than 56,400,000 Iranian people were eligible to vote. With the participation of more than 41 million voters, the turnout stood at 73 percent.
Full report at:
https://www.tasnimnews.com/en/news/2017/05/21/1415780/high-turnout-in-polls-proves-iranians-fondness-for-islamic-establishment-velayati
-----------
Bahraini regime court gives top Shia cleric suspended jail term
Sun May 21, 2017
A court in Bahrain has sentenced distinguished Shia cleric Sheikh Isa Qassim to one year in prison, suspended for three years, and ordered him to pay a fine.
The court issued the ruling on Sunday against Qassim, the spiritual leader of Bahrain's dissolved opposition bloc the al-Wefaq National Islamic Society, Bahrain's al-Wasat newspaper reported.
Qassim had his citizenship revoked last June over accusations that he used his position to serve foreign interests and promote sectarianism and violence. The cleric has denied the allegations.
The report said the Bahraini court had also ordered Qassim to pay a fine of 100,000 Bahraini dinars (over $265,000).
The court further ruled to confiscate Qassim's properties worth 3 million Bahraini dinars (almost $8 million) and two of his homes.
Additionally, Hussain al-Qassab and Mirza al-Dirazi, the cleric office's staffers, were sentenced to one-year imprisonment.
Thousands of Bahrainis took to the streets on Sunday to denounce the ruling against the Shia cleric.
In a statement, the al-Wefaq National Islamic Society accused the Bahraini regime of having dragged the country into a new crisis, eliminating all possible political opportunities and depriving most citizens of their right to security, stability and justice.
It also called on the international community to help guarantee stability and contribute to a comprehensive democratic political process meant to bring Bahrain out of crisis and reflect the popular will.
People protest in the village of Diraz, where Sheikh isa Qassim's home is situated, to denounce the court ruling against Sheikh Isa Qassim on May 21, 2017.
This photo shows tires burning in the Bahraini city of Jidhafs as people take to the streets to denounce the ruling against Shia cleric Isa Qassim on May 21, 2017.
Numerous demonstrations have been held to condemn the persecution of the top Bahraini figure over the past months.
Since the revocation of Qassim's nationality, more than 80 Shia clergymen have been interrogated in Bahrain and at least nine convicted over exercising their right to freedom of assembly and expression.
The Manama regime has set up barriers around the village of Diraz, where Qassim's home is situated, only allowing locals to pass.
Friday prayers have also been banned in the largest Shia mosque in Bahrain where Sheikh Qassim preached.
Full report at:
http://www.presstv.com/Detail/2017/05/21/522659/Bahrain-Isa-Qassim
-----------
Tayyip Erdogan prepares to regain leadership of party he founded
Reuters | May 21, 2017
ANKARA: President Tayyip Erdogan pledged his commitment to leading Turkey's ruling AK Party (AKP) as he prepared to be elected on Sunday as the first Turk in nearly 70 years to serve simultaneously as head of state and of a political party.
"We were separated, but today we are together again," he told a crowd of applauding supporters outside the sports hall in the capital Ankara, where the party congress was being held amid tight security.
"We will work hard," he added before entering the arena, where thousands of party faithful cheered and waved AKP flags.
Erdogan, who founded the Islamist-rooted AKP in 2001 and led it to victory in an election a year later, was forced to surrender leadership nearly three years ago when he was elected president, a position traditionally above party politics.
That changed with last month's referendum, in which Turks narrowly backed a constitutional change to create an executive presidential system that would give Erdogan sweeping new powers and allow the head of state to be a party member or leader.
He is the first president to lead a party since Ismet Inonu, who succeeded modern Turkey's founder, Mustafa Kemal Ataturk, and was head of state until 1950. He replaces Binali Yildirim, who is set to remain as prime minister until elections in 2019.
Such sweeping political changes, Erdogan says, are vital to ensure stability in Turkey as it battles Kurdish and Islamist militants and after an attempted coup last year that Ankara attributed to supporters of U.S.-based cleric Fethullah Gulen.
On the eve of Sunday's AKP congress Turkish police killed two suspected Islamic State militants in a clash during a raid on an apartment in Ankara, state-run Anadolu news agency reported. The two men killed were believed to be planning an attack, the agency said.
Opposition parties, which want the referendum annulled because of alleged irregularities, say the reforms push Turkey towards one-man rule. Some of Turkey's NATO allies and the European Union, which it aspires to join, have also expressed concern.
Erdogan's return to the party coincides with growing foreign policy challenges and tensions with NATO allies.
Full report at:
http://timesofindia.indiatimes.com/world/middle-east/tayyip-erdogan-prepares-to-regain-leadership-of-party-he-founded/articleshow/58774317.cms
-----------
Ramadan charity drive aims to raise $850,000 for the needy
May 21, 2017
SINGAPORE - An annual charity drive for the Muslim holy month of Ramadan was officially launched at Joo Chiat Complex on Sunday (May 21) afternoon.
The Tabung Amal Aidilfitri (TAA) Trust Fund, a collaboration among 17 Malay/Muslim organisations, installed two donation boxes at the shopping centre in Geylang Serai.
TAA has set a fundraising target of $850,000 for this year's campaign, which runs until June 30 and has the theme "Meringankan Beban, Membina Harapan" (Lightening the Load, Building Hope).
TAA Trust Fund executive committee head Muhammad Harmizan Abdul Hamid said: "TAA, as a body that focuses on providing assistance in the month of Ramadan, can continue to play a role to give hope to recipients of TAA and thus ease the burden on them."
The fund disburses its collection by direct debit to its beneficiaries at the end of Ramadan.
Mr Harmizan also said that TAA is looking into partnerships with other agencies that can give needy beneficiaries assistance year-round.
Last year, TAA raised almost $800,000 for its roughly 3,000 beneficiaries - a record sum for the fund. Out of that, $135,195 came from the donation boxes at Joo Chiat Complex.
In all, TAA will have around 70 donation boxes islandwide, and is also collecting money through appeal letters, telepoll calls and Friday collections at mosques.
The Joo Chiat Complex Traders Association, which has around 60 members, will take part in the fundraising campaign again this year. It has been doing so for the last eight year.
Miss Tan Sai Ngin, 57, who runs Kim Textiles & Garments at Joo Chiat Complex said in Mandarin: "We give according to our ability... People of all religions can give."
In addition to donating to the fund, shopkeepers also help to keep an eye on the donation boxes, such as storing it under lock and key in their premises after hours.
Full report at:
http://www.straitstimes.com/singapore/ramadan-charity-drive-aims-to-raise-850000-for-the-needy
-----------
Arab World
Twenty Islamic State members killed sneaking into Mosul bridge
May 21, 2017
Mosul (IraqiNews.com) Twenty Islamic State members were killed trying to reach an old bridge in Mosul, an officer was quoted saying Sunday as security operations near a total recapture of the group's largest stronghold in Iraq.
Brig. Gen. Mohamed Jubouri, from the Iraqi Joint Operations Command, said the twenty militants killed included senior leaders of Arab nationalities as well as Western nationals. They were bound to a security deployment near the Old Bridge, said the officer.
On Saturday, Iraqi forces recaptured the 17 Tamuz (July 17th) district, Islamic State's largest entrenchment in western Mosul and the first district the group took over in Mosul in 2014.
The JOC said last week it controls 89.5 percent of western Mosul and had killed more than 16000 militants since operations launched in October to retake the city. Some generals had predicted to liberate the city before the end of May.
Iraqi troops' primary and final target is the Old City, an ancient neighborhood impassable for Iraqi security vehicles where hundreds of thousands of civilians are believed to be held by the extremist group as human shields.
Iraqi troops took up a new axis of operations earlier this month, aiming at the Old City from the northwest rather than from the south.
http://www.iraqinews.com/iraq-war/twenty-islamic-state-members-killed-sneaking-mosul-bridge/
-----------
"Euphrates Wrath" Operation Forces Attack the Last Areas Of Presence Of The IS In Syria
21/05/2017
Al-Raqqah Province, the Syrian Observatory for Human Rights:
The Syrian Observatory for Human Rights learned that the operation forces of "Euphrates Wrath" and having managed to reach the villages located in the outskirts of al-Raqqah city which is the stronghold of the "Islamic State" organization in Syria, and after being able to advance in villages to the east of this line of advancement, are still continuing their operations towards the eastern countryside of al-Raqqa, where the Syrian Observatory learned that violent clashes are taking place between the Syria Democratic Forces and the Syrian Elite Forces supported by the International Coalition and US Special Forces against members of the "Islamic State" organization, after an attack by the first mentioned on villages in the eastern countryside of al-Raqqa, where the sources confirmed to the observatory that the clashes are taking place between both parties in the vicinity and outskirts of the villages of Hamrat al-Nasser "Hamrat Jmasa" and Hamrat Blasem, which are the last remaining villages under the control of the organization in the eastern countryside of al-Raqqa, and if they were controlled by the forces of the "Euphrates Wrath" then these forces would have been imposed full control of the eastern countryside which is to the north of Euphrates River from the administrative border of al-Raqqah city until about 3 km east of the city.
http://www.syriahr.com/en/?p=66883
-----------
2 Suspected Islamic State Extremists Killed In Turkey Raid
21/05/2017
ISTANBUL (AP) -- Turkey's state-run news agency says two people suspected of being members of the Islamic State group have been killed in an Ankara police operation.
Ankara's governor told the Anadolu news agency Sunday the suspects may have been planning an attack on Turkey's capital. Police recovered weapons and explosives in the raid. Governor Ercan Topaca said the two men, in their 20s, have not been identified yet.
The nighttime police operation was conducted after a man from Azerbaijan, thought to be an IS member, was detained in Istanbul. The unnamed suspect allegedly drove the two men to Ankara.
Full report at:
http://hosted.ap.org/dynamic/stories/E/EU_TURKEY_ISLAMIC_STATE?SITE=AP&SECTION=HOME&TEMPLATE=DEFAULT&CTIME=2017-05-21-04-14-45
-----------
Suspected Islamic State members killed in Ankara raid
Sunday, 21 May 2017
Turkish police have killed two suspected members of the so-called Islamic State militant group believed to have been planning an attack in in Ankara.
The two were killed during a police operation on their residence in the Etimesgut district of Ankara after a gunfight with officers, state-run news agency Anadolu quoted regional governor Ercan Topaca as saying.
The raid was launched on the basis of testimony from a suspected Azerbaijani IS member who was detained by Istanbul police after allegedly driving the two men to Ankara.
"This [police] operation was quickly planned after this suspect said they and the two others he left in Ankara were Daesh [an alternative name for IS] members and planning an attack," Mr Topaca said.
He said police opened fire after the two suspects themselves fired on the security forces.
After "neutralising" the two men, guns and hand grenades were found, Mr Topaca said.
Although the identities and nationalities of the two men have yet to be confirmed, Mr Topaca said they believed they were aged between 25 and 30.
"We believe they were planning an attack likely in the next few days. The weapons, explosives were effective and powerful," he said.
During the past 18 months, Turkey has been hit by a wave of attacks blamed on IS and Kurdish militants, killing hundreds in cities like Istanbul, Ankara and the southeastern city of Gaziantep.
The raid comes nearly six months after an IS gunman killed 39 people in attack on the elite Reina nightclub during New Year celebrations in Istanbul.
Full report at:
https://www.rte.ie/news/2017/0521/876788-turkey-islamic-state/
-----------
Most dangerous driving time in UAE during Ramadan revealed
May 21, 2017
ABU DHABI // Motorists are being warned to "expect the unexpected" when behind the wheel this Ramadan as the number of tired, hungry and fasting drivers on the road increases the risk of accidents.
A survey of 1,835 accidents reported last year during the month of Ramadan found the majority of crashes took place in the late morning rush hour between 11am and noon, as companies allow Muslim staff to work irregular hours.
The survey by RoadSafetyUAE, QIC Insured and Gargash Insurance Brokers, also found that between 9am and 10am on a Wednesday was the most dangerous time to be on the road while Sundays were the safest day for drivers.
More than a third of the accidents (39 per cent) were caused by Indian drivers. The figure for Pakistanis was 15 per cent, Emirati 11 per cent, Egyptian 11 per cent, Jordanian 4 per cent, and others 25 per cent.
Men were significantly more accident-prone (82 per cent) than women (18 per cent). Thirty-one per cent of insurance claims were made by drivers aged 40 and above. These were over-proportionally more involved in traffic accidents than drivers aged 18 and 24, who accounted for 8 per cent of claims in Ramadan.
"As always, and even more so during Ramadan, drivers should be very attentive to their environment and basically drive with a mindset of 'others being illogical' in the sense that you should expect unexpected lane changes and abrupt braking," said Frederik Bisbjerg, executive vice president of Qatar Insurance Company Insured.
"Drive with the philosophy that it's better showing up five minutes later than not showing up at all. We cannot say if the accidents were caused by drivers being tired as they rarely state this as a cause for the accident.
"The main cause of accidents are distracted driving, primarily by drivers being on their phones," he said.
Thomas Edelmann, managing director of Road Safety UAE, said motorists should be aware of their own limitations, watch out for others and drive defensively. They should plan and manage their time to avoid the need to rush and drive over the speed limit and always wear a seat belt.
Full report at:
http://www.thenational.ae/uae/transport/most-dangerous-driving-time-in-uae-during-ramadan-revealed
-----------
Europe
UK varsity removes Muslim prayer space ahead of Ramadan
Sun, 21 May 2017
Ahead of Ramadan, a top UK university has decided to remove prayer space available on campus for Muslims, citing a "lack of space" during exam season as the reason behind its move.
The only daily prayer space available on campus of the University of East Anglia (UEA) is to be permanently removed and replaced with a corridor to the university Library, Independent reported.
Muslim students at the university were told that their Friday prayer space was to be taken away due to a "lack of space" during exam season, the paper said.
Students yesterday took part in a public prayer session in the main university square in peaceful protest against the move.
A spokesperson from the UEA Islamic Society said: "We are shocked and appalled that the University, who re-located us...
on the condition that they would investigate a permanent solution which they have failed to produce, would take away our only prayer spaces during exam period and before Ramadan".
Over the past few years, Muslim students at the university have used a lecture theatre for prayer and worship.
The larger Friday worship sessions take place at a separate location by the Blackdale student residences.
Both arrangements were set up as a temporary solution while the university discussed plans for a permanent prayer space.
From Sunday, however, the Muslim student community are to be left with no designated prayer space, a move students say they had not been invited to discuss.
UEA's Student Union has accused the university of discrimination, failing its duties under the Equality Act.
Union spokesperson for welfare, community and diversity, Jo Swo, was quoted as saying by the report that the situation had caused "a tremendous amount of anxiety and inconvenience for Muslim students as it has made them feel observed and treated like an inconvenience to the University".
UEA has begun dramatic plans for expansion over the next few years, pledging to recruit up to 3,000 new students by 2030 a rise of 20 per cent.
A UEA spokesperson said the Vice Chancellor would be meeting with students imminently to discuss the matter.
In a statement, the university said: "As part of a 2 million pound investment in new library study spaces and the complete refurbishment of the University's main lecture theatres the use of a prayer facility near Lecture Theatre 2 will be temporarily unavailable for safety reasons during the building works".
(This article has not been edited by DNA's editorial team and is auto-generated from an agency feed.)
http://www.dnaindia.com/education/report-uk-varsity-removes-muslim-prayer-space-ahead-of-ramadan-2445909
-----------
Pakistan
Pakistan Army to 'Jointly Fight Jadhav Case with Govt' In ICJ: National Assembly Speaker
Shailaja Neelakantan | TIMESOFINDIA.COM | Updated: May 21, 2017
NEW DELHI: First, a Pakistan military court tried, convicted and sentenced Kulbhushan Jadhav+ , and now it appears the country's powerful army will "jointly fight" the Indian national's case with its government in the International Court of Justice (ICJ), Pakistan state radio reported a top ruling politician as saying.
What the politician meant by "jointly" wasn't explained in Radio Pakistan's article.
Of course, it is by no means a secret that the Pakistan military has, arguably, an equal say as the civilian government in national matters there. What's striking, though, is that a ruling party politician made this statement publicly, that too at a time when tensions are running high between the Nawaz Sharif civilian government and the Pakistan army.
Pakistan has seen military rule via coups as many as three times since 1947.
"Speaker National Assembly Sardar Ayaz Sadiq says the government and Pakistan Army will jointly fight the case of Indian spy Kulbhushan Jadhav" in the ICJ, reported Radio Pakistan quoting a speech the politician made yesterday.
In fact, it wasn't state media alone that reported this. Pakistan's The Nation newspaper, said to be close to the establishment - that could mean the civilian government or the army - also reported Sadiq as saying the same thing about the military joining the ICJ case.
"It is time to be united," Sadiq said in an address to his parliamentary constituency yesterday. And it was clear from the context that he was talking about the civilian government and the army being "united".
Referring to Jadhav, whom Sadiq called a terrorist, he said politics shouldn't be played "on the issue of a terrorist". He also criticized what he described as a "trend" of harming the national interest for the sake of scoring political gains.
"Anything said by the politicians must always safeguard the national interests," he said. "We have already suffered much in the past" because of "this trend of causing damage to the national interest in order to protect the personal" interest of some, said Sadiq.
"He (Sadiq) said legal points should be discussed but there should be no politics on the issue of Kulbhushan Jadhav," wrote Radio Pakistan in its report.
Two days after India filed a plea at the ICJ requesting it grant a temporary stay on Pakistan executing Jadhav, Pakistan's army chief Qamar Bajwa met with Sharif.
"If the ICJ requests Pakistan anything about Jadhav, then the government of Pakistan will respond to it at an appropriate level," said Pakistan army spokesman Major General Asif Ghafoor, after that meeting with Sharif.
What he didn't say, at least not explicitly, was that the the army would get directly involved, although now it appears clear that's what he likely meant.
Pakistan says it arrested Jadhav last year from Balochistan, while India says Pakistan kidnapped the former naval officer from Iran, where he'd gone to conduct business. Last month, a Pakistani military court sentenced Jadhav to death.
India took the case to the ICJ asking for a stay on that execution, anchoring its arguments on the fact that Pakistan violated the Vienna Convention.
Last week, the ICJ stayed Jadhav's execution pending its verdict in the case.
http://timesofindia.indiatimes.com/india/pakistan-army-to-jointly-fight-jadhav-case-with-govt-in-icj-says-countrys-national-assembly-speaker/articleshow/58772318.cms
-----------
PM leaves for Saudi Arabia to attend US-Arab-Islamic Summit
MAY 21ST, 2017
ISLAMABAD: Prime Minister Muhammad Nawaz Sharif left here Sunday on a three-day visit to the Kingdom of Saudi Arabia to participate in the first trilateral US-Arab-Islamic Summit, being held at Riyadh.
The Prime Minister, who is participating in the Summit at the invitation of King Salman bin Abdul Aziz, is accompanied by his Advisor on Foreign Affairs Sartaj Aziz and First Lady Begum Kulsoom Nawaz.
In addition to King Salman and US President Donald J. Trump, 55 Heads of State and Government from the Muslim world have been invited to participate in the Summit.
The Summit in Riyadh will provide an opportunity for the participating countries to discuss how to overcome the menace of terrorism and extremism across the world. The Summit is expected to delink 'terrorism' from any particular religion, culture, civilization or region.
In his address at the Summit, Prime Minister Muhammad Nawaz Sharif will focus on Islam's message of peace, tolerance and unity. He will highlight the great sacrifices and major successes achieved by Pakistan in defeating the scourge of terrorism and extremism in the region.
Full report at:
http://www.brecorder.com/2017/05/21/349659/pm-leaves-for-saudi-arabia-to-attend-us-arab-islamic-summit/
-----------
Iran fires mortar shells into Pakistan
May 21, 2017
ISLAMABAD: Mortar shells were fired into Pakistan's territory from across the Iranian border, reports Samaa TV.
Pakistan shares a 900 kilometre long porous border with Iran and the two countries had in 2014 decided to boost intelligence coordination to wipe out terrorists from the border region.
Work on the Rs 20 million Pakistan Gate in Taftan along the Pak-Iran border was completed in 2016.
This border crossing point is the oldest trade route to Iran and Europe and thousands of foreigners and locals travelling to Europe and Iran by road each year use this crossing point.
Recently, the ties between the two neighbours got stressed after ten Iranian border guards were killed at Mirjaveh on the Sistan-Baluchistan border by the Pakistan-based Sunni terror outfit, Jaish al-Adl or "The Army of Justice".
Full report at:
http://timesofindia.indiatimes.com/world/pakistan/iran-fires-mortar-shells-into-pakistan/articleshow/58774181.cms
-----------
Africa
Nigerian troops battle Boko Haram in Lake Chad area
AP | May 21, 2017
MAIDUGURI, Nigeria: Nigerian troops fought Boko Haram in the Lake Chad area on Saturday, killing 13 of the Islamic extremists and arresting 10 others, including 6 women believed to have helped smuggle supplies to the insurgents, said an army spokesperson.
Soldiers of the of 8 Task Force Battalion spent 72 hours clearing the location where the Boko Haram fighters were hiding, said battalion spokesman Col. Timothy Antigha. Many other Boko Haram fighters were wounded by gunfire, he said.
The troops, operating in the Chikun Gudu, Tumbuma Karami and Tumbuma Baba areas recovered three AK 47 rifles and one pump-action rifle, assorted rifle magazines and 306 rounds of ammunition, a tool box, a freezer and a Toyota truck, he said.
In a related development, army troops, acting on a tip off, rounded up 10 suspected Boko Haram smugglers, he said. The suspects, six females and four males, are being investigated to determine the extent of their involvement with Boko Haram, he said.
Since the army regained control of most of the Sambisa Forest area in northeastern Nigeria from Boko Haram in December 2016, Nigerian troops have pursued the extremist fighters in areas where they have fled.
Boko Haram's violent campaign to seize Nigerian territory to enforce strict Islamic Shariah rule is responsible for the deaths of thousands and has displaced about 3 million people, mostly women and children, since 2009. Thousands have been kidnapped by Boko Haram, including nearly 300 schoolgirls in Chibok in 2015.
Joyous scenes occurred in the capital, Abuja, Saturday when 82 newly freed Chibok schoolgirls were reunited with their families. Nigeria's government negotiated with Boko Haram, with help from Swiss officials and the International Committee of the Red Cross, to secure the freedom of the young women from Chibok in return for the release of five extremist commanders.
http://timesofindia.indiatimes.com/world/rest-of-world/nigerian-troops-battle-boko-haram-in-lake-chad-area/articleshow/58774750.cms
-----------
President of the Republic of Benin: Arab-Islamic-US Summit very important because it comes at the right time and place
2017-05-21
President Patrice Talon of Benin described the Arab-Islamic-US Summit to be held tomorrow in Riyadh as a very important summit because it is a summit that has come at the right time and place.
Full report at:
https://www.google.co.in/search?q=benin+country&oq=benin+country&aqs=chrome.0.0l6.4922j0j4&sourceid=chrome&ie=UTF-8
-----------
South Asia
Taliban raid kills 20 policemen in southern Afghanistan
AFP | May 21, 2017
KANDAHAR, Afghanistan: Taliban fighters stormed multiple security outposts in southern Afghanistan early Sunday, killing at least 20 policemen, officials said.
"This morning, a group of Taliban fighters armed with heavy and light weapons launched coordinated attacks on several police checkpoints in Shah Joy district of Zabul province, killing 20 policemen," provincial governor Bismillah Afghanmal told AFP.
http://timesofindia.indiatimes.com/world/south-asia/taliban-raid-kills-20-policemen-in-southern-afghanistan/articleshow/58772659.cms
-----------
Southeast Asia
With Ramadan, Kaamatan coming, price caps imposed on controlled items in Labuan
May 21, 2017
LABUAN: With Ramadan and Kaamatan approaching, the Domestic Trade, Cooperatives and Consumerism Ministry (KPDNKK), Labuan branch, has launched the first ever Ramadan Price Control Scheme and Kaamatan Price Control Scheme to avoid indiscriminate hike in prices of goods.
It announced the price caps for 10 controlled items in conjunction with the Ramadan month and 13 items for the Kaamatan Festival.
Its director Arun Fazhillah Hamdan said the Ramadan Price Control Scheme would run from May 22 to 31, and the scheme for Kaamatan, which falls on May 30, from May 25 to 31.
"The Ramadan Price Control Scheme is the first ever held from this year, as we have heard many complaints from consumers during the previous Ramadan on indiscriminate hike in prices of goods," he told Bernama, today.
The controlled items (for Ramadan) are groundnuts with the wholesale and retail prices set at RM8 and RM9 per kg respectively, green beans (RM7.50/RM8.50), chicken eggs grade A (RM0.40/RM0.42 each), chicken eggs grade B (RM0.39/RM0.41), chicken eggs grade C (RM0.38/RM0.40), whole coconut (RM1.30), grated coconut (retail price at RM6 per kg), coarse grain white refined sugar (RM2.87/RM2.95), fine grain white refined sugar (RM2.95/RM3.05) and wheat flour (retail price at RM1.35 per kg).
"This will enable consumers to obtain the necessary items during the fasting month at reasonable prices, check excessive price hikes and reduce the burden of cost of living," he said.
The controlled items in conjunction with the Kaamatan Festival are live chicken (wholesale price RM6/retail price RM6.60 per kg), standard chicken (RM8.80/RM9.80), super chicken (RM9.30/RM10.30), chicken wings (RM10/RM11), chicken eggs grade A (RM0.40/RM0.42 each), chicken eggs grade B (RM0.39/RM0.41), chicken eggs grade C (RM0.38/RM0.40), imported beef [India] (RM20/RM21 per kg), shallots [India] (RM5.60/RM6.50), garlic [China] (RM14/RM15), pork [stomach] (RM21/RM23), pork [meat and fat] (RM18/RM20) and live pigs (RM9.80 per kg).
Arun Fazhillah said the prices were set after consulting the traders, retailers, farmers, consumers and other relevant stakeholders.
He said the schemes would be enforced under the Price Control and Anti-Profiteering Act and individuals selling the items above the price ceiling could be penalised with a fine of up to RM100,000 and a compound not exceeding RM50,000.
For companies, the fine is up to RM500,000 and the compound up to RM250,000 for the same offence.
"I wish to remind all traders to obey these instructions and be ethical in conducting their business, and the consumers to be responsible and to know their rights," Arun Fazhillah said.
-- BERNAMA
http://english.astroawani.com/malaysia-news/ramadan-kaamatan-coming-price-caps-imposed-controlled-items-labuan-143455
-----------
URL: https://www.newageislam.com/islamic-world-news/trump-turns-politically-correct-saudi/d/111226
New Age Islam, Islam Online, Islamic Website, African Muslim News, Arab World News, South Asia News, Indian Muslim News, World Muslim News, Women in Islam, Islamic Feminism, Arab Women, Women In Arab, Islamophobia in America, Muslim Women in West, Islam Women and Feminism