New Age Islam News Bureau
11 Feb 2017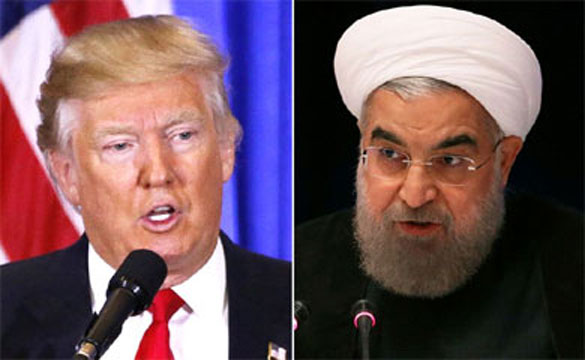 Trump and Rouhani. (photo credit:REUTERS)
-----
• Trump to Iran's Rowhani: You Better Be Careful
• UNSC Members Should Follow Rules: China on Masood Azhar
• Majorities in These 8 European Countries Would Back a Muslim Ban like Trump's
• Saudi Islamic Leader Warns Over 'False News' On Web and Social Media
• Abu Dhabi Module Recruited Nine Indians for Islamic State, Sent Some to Syria: NIA Probe
Mideast
• Trump to Iran's Rowhani: You Better Be Careful
• Iran's Rouhani Warns US against 'Threatening Language'
• Jund Al-Aqsa Abducts over 100 Rival Ajnad al-Sham Terrorist Rivals in Hama Province
• Military Expert: Syrian Army Not to Allow Turkish Army, Kurds to Seize Control of Al-Bab
• Yemen loyalists retake historic Red Sea coastal town
• Erdogan approves bill on constitutional reforms, paving way for referendum
--------
South Asia
• UNSC Members Should Follow Rules: China on Masood Azhar
• Kabul Endorses NATO's Call for Additional Troops
• Afghan military would support more foreign troops, official says
• Explosion in defense ministry in Kabul, no casualties reported
• Dostum blocking arrest of his 9 guards over alleged sexual abuse of Ishchi
--------
Arab World
• Saudi Islamic Leader Warns Over 'False News' On Web and Social Media
• Suicide Bombing Kills Four, Wounds 15 in Eastern Mosul Restaurant
• Raqqa: ISIL's Bomb Expert Kills Terrorist Group's Security Members in Suicide Attack
• Syrian dissident says war 'over' as states cut aid to rebels
• Remove Iraq from travel ban list, PM tells Trump
• Damascus: Tens of Militants Surrender to Syrian Army in Homs
• Iraqi forces foil ISIS bid to sneak across Tigris River
• CIA honors Saudi Crown Prince for efforts against terrorism
• Syria: Army Liberates 40 Towns, Villages, Farms East of Aleppo Province
• Leader's Top Military Aide: Foreign Enemies Unable to Beat Iran
--------
Europe
• Majorities in These 8 European Countries Would Back a Muslim Ban like Trump's
• Anti-Muslim Poster Clouds Swiss Citizenship Vote
• UK drops misconduct claims over Iraq, Afghan wars
• Four arrested in southern France for planning Paris attack: police
• France thwarts attack, arrests ISIS supporting teen
• Dramatic upsets in French elections change top choice for many Jews
• British Muslim organisations "disappointed" with Owen Jones over Trump stance
• Muslim teacher who didn't get job at Berlin school because of headscarf wins €9K compensation
--------
India
• Abu Dhabi Module Recruited Nine Indians for Islamic State, Sent Some to Syria: NIA Probe
• Amid UP Assembly Elections, Aligarh Muslim University Continues To Search for a Voice
• 74 missing defence personnel believed to be in Pakistani custody: Govt
• Tej Bahadur has 17% Pakistani friends on Facebook: Centre
• Uttar Pradesh polls: Imam asks people to vote for SP-Congress alliance
--------
Africa
• Money from the Middle East Fuelling Tensions in the Horn of Africa
• 'Muslim Brotherhood' plotting deadly attacks in Nigeria, govt. warns
• U.S. expresses objection to Palestinian as U.N. envoy to Libya
• Morocco, Driving Force of South-South Cooperation in Africa
--------
Pakistan
• Nation Proud Of Forces' Sacrifices in War against Terrorism: Nisar
• Six Terrorists Killed In Karachi Encounter: Rao Anwaar
• Bill aiming to protect Christians, other minority groups in Pakistan may soon be law
• Data centre to tackle money laundering, terror financing
• Iranian border forces fire mortar shells into Pakistani territory
--------
Southeast Asia
• Islamic State Links to Philippine Militants 'Very Strong': Minister
• Thousands gathered at Jakarta mosque urged to vote for Muslim governor
• Indonesia urges 'significant steps' on Rohingya Muslims issue
--------
North America
• Hundreds of Immigrants Arrested In 'Routine' US Enforcement Surge
• Assad Says US Troops Welcome in Syria to Fight 'Terrorism'
• Khizr Khan Asks Latinos to Join Fight against Donald Trump
• Gere faults Trump for blurring meaning of 'refugee' and 'terrorist'
• 'Death to America': Thousands rally in Iran celebrating Islamic Revolution
• Muslim hockey player's trip to the U.S. comes with lots of baggage
• Trump travel ban affects not just Muslims
Compiled by New Age Islam News Bureau
URL: https://www.newageislam.com/islamic-world-news/new-age-islam-news-bureau/trump-to-iran's-rowhani--you-better-be-careful/d/110046
--------
Trump to Iran's Rowhani: You Better Be Careful
11 February 2017
Donald Trump dialed up the rhetoric against Iran on Friday, warning the country's president he "better be careful" about his words.
The war-of-words between Tehran and Washington escalated as President Hassan Rowhani and Trump traded threats and warnings.
Rowhani told a crowd of hundreds of thousands marking the anniversary of the 1979 Islamic revolution that "the Iranian people must be spoken to with respect."
"Iranians will make those using threatening language against this nation regret it," he said.
"Anyone threatening Iran's government and armed forces should know that our nation is vigilant."
Trump was asked about the remarks later, responding that "he better be careful."
The US president has toughened the rhetoric against Iran considerably since coming to office.
He has also introduced sanctions after an Iranian missile test.
Many in Trump's inner circle want to see a harder line against Tehran, but have so far shied away from killing a deal that saw Iran get sanctions relief in exchange for curbing its nuclear program.
Trump on Feb. 2 put Iran "on notice" over charges that Tehran violated a nuclear deal with the West by test-firing a ballistic missile, taking an aggressive posture toward Iran that could raise tensions in the region.
Trump made the comments about Rowhani while flying on the presidential jet carrying him and Japanese Prime Minister Shinzo Abe for a weekend at Trump's Mar-a-Lago retreat in Palm Beach, Florida.
https://english.alarabiya.net/en/News/middle-east/2017/02/11/Trump-to-Iran-s-Rowhani-Better-be-careful.html
--------
UNSC members should follow rules: China on Masood Azhar
11-Feb-17
BEIJING: Reacting guardedly to India's diplomatic protests over its move to block US resolution to list Jaish-e-Mohammad leader Masood Azhar as a terrorist, China on Friday hoped all members of the UN Security Council who are part of the anti-terrorism committee would follow rules.
"Will check on reports of India's diplomatic protest," Chinese Foreign Ministry spokesman Lu Kang told a media briefing when asked about yesterday's demarche by India over China putting a technical hold on UNSC Resolution 1267 (1999).
Lu said China already reiterated its stand on its technical hold two days ago.
"China is a responsible member of the UNSC as well as a subsidiary organ. China has always been acting in accordance with UNSC resolutions and rules of procedure of its subsidiary organs. We hope that all members of the Security Council and its affiliation would follow the rules of the procedures," he said.
On February 8, Lu defended China's move to block a US attempt to list Azhar in the UN, saying that the "conditions" had not yet been met for Beijing to back the move. He said Beijing resorted to this move to allow the "relevant parties" to reach a consensus.
"Last year the UN Security Council... discussed the issue regarding listing Masood in the sanctions list. There were different views with no consensus reached," Lu said.
"As for the submission once again by relevant countries to list him on the sanctions list, I would say the conditions are not yet met for the committee to reach a decision," he said.
This is the second year China has blocked attempts to bring about a UN ban on Azhar.
India moved for UN ban against him in March last year, accusing him of masterminding the Pathankot terrorist attack.
Security officials interrogated Azhar and his associates after the attack, and said they found no evidence linking him to it. Jaish-e-Mohammad has already been blacklisted by the 15-nation Security Council, but not Azhar.
China first blocked the move for six months followed by three months' technical hold, which ended on December 31 last year. The US along with the UK and France approached the committee again for the ban and Beijing once again put a six months' technical hold on it. The hold can further be extended by three months. During this period, it can be, anytime, converted into a block, thereby, ending the life of the proposal.
Reacting to China's move to block the ban proposal, India's foreign ministry said, "We've been informed of this development and the matter has been taken up with the Chinese government."
http://dailytimes.com.pk/world/11-Feb-17/unsc-members-should-follow-rules-china-on-masood-azhar
--------
Majorities in These 8 European Countries Would Back a Muslim Ban like Trump's
02/10/2017
Immigrants are bearing the brunt of rising anti-Muslim sentiment in Europe.
A new survey released by London-based policy think-tank Chatham House found that majorities in eight European countries support the idea of instituting a ban on migration from Muslim-majority countries.
Chatham House, which is unaffiliated with any political body, surveyed nationally representative samples of the adult populations in Austria, Belgium, France, Germany, Greece, Hungary, Italy, Poland, Spain and the UK. The institute asked a total of 10,195 respondents across the 10 countries whether they agreed or disagreed with the statement: "All further migration from mainly Muslim countries should be stopped."
The results revealed that majorities in all but two of the countries agreed with the statement, but the size of the majority varied.
In Poland, 71 percent of respondents were in favor of blocking migration from Muslim-majority countries, compared to 51 percent in Italy. Sixty-five percent of respondents in Austria, 61 percent in France and 53 percent in Germany agreed.
Large minorities in the United Kingdom and Spain ― 47 percent and 41 percent, respectively ― also agreed with the statement. An average of 55 percent of respondents across the 10 countries supported instituting a ban.
The percentage of respondents that disagreed did not surpass 32 percent in any of the countries.
"Our results are striking and sobering," the researchers wrote in a press release. "They suggest that public opposition to any further migration from predominantly Muslim states is by no means confined to Trump's electorate in the U.S. but is fairly widespread."
The researchers noted that opposition to Muslim immigration tends to be higher among retired and older respondents.
All 10 countries are currently members of the European Union, though the UK recently voted to begin the process of leaving. Several of the countries where majorities were in favor of blocking Muslim migration, including France and Belgium, have experienced terrorist attacks perpetrated by self-described Muslims in recent years. But across the European Union, ethno-nationalist and separatist groups have been responsible for three to four times more terror attacks than Muslims in recent years, according to Europol.
The polls seem to get lost on those who ascribe to Islamophobic attitudes. After President Donald Trump signed an executive order to block visas for people from seven Muslim-majority countries, an analysis by Cato Institute revealed that no fatal terror attacks had been committed by immigrants from the seven countries in over 40 years.
Chatham House's poll was conducted between December 12, 2016 and January 11 of this year ― several weeks before Trump signed the order but during a time when the president was floating the idea.
Americans have been wary of Trump's order, and a federal judge recently suspended it. The U.S. Court of Appeals for the 9th Circuit upheld the suspension Thursday afternoon.
Leaders in Germany, Italy and the UK spoke out against Trump's order in the days after he signed it. But an influx of refugees has helped give rise to far-right, anti-migrant and anti-Muslim sentiment in many European countries, where citizens also tend to wildly overestimate the size of their country's existing Muslim population.
A poll conducted by IpsosMORI late last year found that many in western European countries, as well as in the U.S. and Canada, overestimate how big their country's Muslim population is. Respondents in France estimated the country's Muslim population was more than four times the actual size. In the U.S., the poll revealed, respondents believed the population of Muslim Americans was 17 times the actual size.
But Engy Abdelkader, a Georgetown University researcher on religion and law, rejects the notion that anti-Muslim sentiment is solely a political issue.
"Threats and acts of anti-Muslim violence in a number of European contexts increasingly demonstrate more than a simple sense of dissatisfaction with political, social, or economic challenges," Abdelkader wrote in an analysis on European Islamophobia. "Rather, they reveal a sense of increasing hatred toward Muslims as a people."
http://www.huffingtonpost.com/entry/european-countries-trump-muslim-ban_us_589cbeb0e4b0c1284f2b4841
--------
Saudi Islamic Leader Warns Over 'False News' On Web and Social Media
Feb 11, 2017
RIYADH: A senior Saudi religious leader on Friday warned over online "false news", bolstering Islamic scholars' concern about the internet in a kingdom where social media are widely used.
The comments during weekly prayers by Abdul Rahman al-Sudais, the imam of Makkah's Grand Mosque, followed criticism of online practices a week earlier by another Saudi religious leader.
Sudais said that "when an incident happens" people rush to the web and social media which exaggerate the matter.
"So many incidents that would have been better forgotten," he said, but instead lead to the spread of "lies and deceit awakening evil and fitnah (temptation), and spreading rumours and false news".
In the comments, cited by the official Saudi Press Agency, he called those who succumb to this social media phenomenon "Kharajites".
Worldwide concern has risen over false or "fake news" - which is fabricated - because of its potential to shape public opinion via the internet.
At the weekly Grand Mosque prayers on February 3, Sheikh Saud al-Shiraim said social media have led to "strange practices" such as the use of "fingertips instead of minds" to think.
"The nature of social media has given rise to strange practices contradicting morals, customs and norms," he said.
Saudi Arabia bans alcohol, public cinemas and theatres. Unrelated men and women are usually segregated at restaurants and other public venues. But there are pressures for social change.
As part of wide-ranging social and economic reforms to diversify the country's oil-dependent economy, a new entertainment authority has begun to slowly introduce foreign shows, music and other events seen by limited audiences.
Saudi Arabia's highest-ranking cleric, Grand Mufti Abdulaziz al-Sheikh, warned in early January of the "depravity" of cinemas and music concerts, saying they corrupted morals.
http://nation.com.pk/international/11-Feb-2017/saudi-islamic-leader-warns-over-false-news
--------
Abu Dhabi module recruited nine Indians for Islamic State, sent some to Syria: NIA probe
by Johnson T A
February 11, 2017
AN ABU Dhabi module of the Islamic State — comprising three Indian youths — recruited eight men from Tamil Nadu and one from Telangana, and even sent some of them to Syria to join the IS, a probe by the National Investigation Agency has revealed. The NIA registered a case a fortnight ago regarding the recruitment "of nine persons — eight hailing from Tamil Nadu and one from Telangana, and some other unknown persons, with the intention to further the activities of Daesh/ISIS, a banned terrorist organisation in India".
Delhi High Court Directs BSF Jawan Tej Bahadur Yadav's Wife Be Allowed To Meet Him Over Weekend
According to NIA case records, a criminal conspiracy was hatched "in Chennai and other parts of the country by forming a terrorist gang which raised and received funds, organised camps, recruited and trained some persons, and facilitated their travel to Syria, to join ISIS".
The Abu Dhabi module was busted in January 2016 following the arrest and deportation of the three Indians from the UAE: Adnan Hussain from Karnataka, Mohammed Farhan from Maharashtra and Sheikh Azhar Al Islam from Kashmir.
The records show they were accused by the NIA of being "involved in a conspiracy to identify, motivate, radicalise, recruit and train Indian citizens located both in India and other countries for planning and executing terrorist attacks in India and in other friendly countries".
Adnan Hussain, 34, an accountant from Bhatkal town who had been working in the UAE since 2012, had emerged on the radar of police after he was found to have transferred funds to the account of Abdul Basith, a youth from Hyderabad who had been recruited to join the IS by Indian recruiters Sultan Armar and Shafi Armar.
Adnan Hussain, alias Adnan Damudi, transferred funds to an account linked to Basith to enable him to travel to Syria along with four others recruited from Hyderabad but the trip came to an abrupt end after the families of the youths got wind of their plan and sought help to bring them back.
The tracking of Damudi's online and offline activities showed that he was influencing youths on radical Islam and was in touch with the Armar brothers from Bhatkal. Sultan Armar was reported by IS-linked websites to have been killed in Kobane in Syria in March 2015. His brother Shafi's name has subsequently emerged in multiple investigations as the main online recruiter, motivator and plotter for IS activities in India. The brothers were originally part of the core group of the Indian Mujahideen terror outfit before breaking away and swearing allegiance to IS.
Adnan Damudi, while working in the UAE, was involved with Shafi Armar in managing two pro-IS media websites run by Al Isabah media and Ansar ul Tawheed, a breakaway group of the Indian Mujahideen, investigations have found. NIA investigations of the activities of Damudi and the two others of the Abu Dhabi module have revealed that several people had been recruited for IS activities in south India by the module with some also travelling to Syria.
An NIA investigation last year of a pan-India IS module called the Junood ul Khilafa fil Hind — created by Shafi Armar through online and offline recruitments — had revealed that Armar and a Hyderabad youth Mohammed Nafees Khan alias Fatima Khan alias Abu Zarrar alias Akram, 21, designated as a local IS leader, helped two men from Hyderabad travel to Syria in 2015. The two men — one from Muradnagar and the other from Golconda — went to Syria via Turkey and Singapore, respectively, the investigations found. http://indianexpress.com/article/india/abu-dhabi-module-recruited-nine-indians-for-islamic-state-sent-some-to-syria-nia-probe-4518611/
--------
Mideast
Iran's Rouhani warns US against 'threatening language'
11-Feb-17
TEHRAN: Millions of Iranians marched on the anniversary of the 1979 Islamic revolution Friday in what the president described as a response to the new US administration and a rejection of "threatening language".
President Rouhani joined hundreds of thousands at an anniversary march through the capital, one of dozens of such events around the country.
"This turnout is a response to false remarks by the new rulers in the White House and the people are telling the world through their presence that the Iranian people must be spoken to with respect," Rouhani said.
"Iranians wwill make those using threatening language against this nation regret it.
"Anyone threatening Iran's government and armed forces should know that our nation is vigilant."
US President Donald Trump has taken an increasingly strident line towards Iran since taking office last month, warning that it was "playing with fire" and "on notice".
Last week, he imposed sanctions on Iran over a January 29 ballistic missile test and officials warned more might follow.
Last weekend, new Pentagon chief James Mattis described Iran as "the single biggest state sponsor of terrorism in the world."
Placards bearing slogans against Trump were brandished by the marchers as they weaved their way through the streets of the capital in the wintry fog to the Azadi Square.
One placard showed a caricature of Trump being punched by a hand wearing a bracelet of the Iranian flag.
"Thanks Trump for revealing true face of the US," said another placard echoing comments made by supreme leader Ayatollah Ali Khamenei in a speech this week.
"Iranians are not scared of threats," said another, bearing the faces of Trump, British Prime Minister Theresa May and her Israeli counterpart Benjamin Netanyahu.
The US and Britain have long been derided by the regime as the "great Satan" and the "little Satan". Iran does not accept Israel's right to exist.
The rhetoric had been toned down after a July 2015 nuclear deal between Iran and world powers including the United States.
But at Friday's marches, the traditional "Down with America" slogans were everywhere. Some marchers made a distinction between the American people and the Trump administration and carried placards thanking those who had opposed the president's controversial visa ban on the citizens of Iran and six other predominantly Muslim countries.
"Down with US regime, long live American people," said one placard in English. "Thanks American people for supporting Muslims," said another.
"American people are welcome and invited to visit Iran," said a third. Trump has made no secret of his opposition to the nuclear deal agreed by his predecessor Barack Obama under which Iran agreed to tight controls in return for the lifting of international sanctions.
He said Iranians "don't appreciate how 'kind' President Obama was to them," in one tweet.
Iranian Foreign Minister Mohammad Javad Zarif, who negotiated the nuclear deal, was among the top officials who attended the Tehran march alongside Rouhani.
Also present was Major General Ghasem Suleimani, head of the foreign operations arm of the elite Revolutionary Guards. Iran's leading reformist, former president Mohammad Khatami whose two terms of office, from 1997 to 2005, saw a rapprochement with the West, was absent.
http://dailytimes.com.pk/world/11-Feb-17/-irans-rouhani-warns-us-against-threatening-language
--------
Jund Al-Aqsa Abducts Over 100 Rival Ajnad al-Sham Terrorist Rivals in Hama Province
Feb 10, 2017
At least 100 Ajnad al-Sham terrorists have been kidnapped by Jund al-Aqsa in Kafr Zita after several hours of clashes between the two rival terrorist groups, the Arabic-language media outlets reported.
The Ajnad al-Sham terrorists' military hardware also sustained heavy losses in Jund al-Aqsa's attacks on their military positions.
Jund al-Aqsa also launched several fierce attacks on the groups supported by the Free Syrian Army (FSA) in Hamamiyat and Tayebeh al-Imam and captured several of their military bases.
A source close to the terrorist groups declared that Jund al-Aqsa is trying to form a government like the ISIL and al-Nusra Front (recently renamed to Fatah al-Sham).
In a relevant development on Thursday, Field sources in Northern Hama reported that the terrorist groups stationed in the region have engaged in fierce infighting, resorting to armed clashes.
According to the sources, Jund al-Aqsa terrorists attacked the Free Syrian Army bases in the Northern parts of Kafr Zita city and detained a number of its members.
Also, the terrorist group launched offensive against Jibhat al-Hamamiyat militants, detaining all its members and seizing all their weapons.
Jund al-Aqsa militants also set up outposts in Khan Sheikhoun-Rakaya road and they are on alert now, the sources said.
Jund al-Aqsa militants also took control of Jeish al-Nasr's positions in Kafr Zita in Northern Hama and deployed its forces in the region, detaining several members of Jeish al-Nasr and seizing their weapons and equipment.
Sources close to the terrorists said that the situation in Hama is worrying and Jeish al-Nasr has evacuated its forces from Taybat al-Imam city.
Certain sources affiliated to Liwa al-Aqsa- Jund al-Aqsa branch - also said that a number of Ahrar al-Sham and Heyat al-Tahrir al-Sham have been sent to the countryside of Hama city to fight against Jund al-Aqsa.
In a relevant development in Idlib on Wednesday, the al-Nusra Front (recently renamed to Fatah al-Sham Front) engaged in a fresh round of clashes with Ahrar al-Sham and other Turkey-backed terrorist groups, widening gaps amongst rival terrorists in Northwestern Syria.
Full report at:
http://en.farsnews.com/newstext.aspx?nn=13951122000473
--------
Military Expert: Syrian Army Not to Allow Turkish Army, Kurds to Seize Control of Al-Bab
Feb 10, 2017
"The Syrian army will not allow the Euphrates Shield or Kurdish fighters to take control of al-Bab region in Northern Aleppo," Syrian Military Expert Mohammad Kamal al-Jafa said Friday.
He said that the countries supporting the ISIL terrorist group have failed to take any military or political measure to protect al-Bab city or block the advances of the Syrian army.
Al-Jafa reiterated that the Syrian army and their allies backed by the Russian air force are ready to enter al-Bab, adding that the Syrian army will impose control over the city after capturing it or the Russian envoys with representatives from the Syrian government and opposition groups might be sent to al-Bab to establish a local council with the help of Russia and after reaching an agreement with the Turkish government.
The Syrian army and its military operations in the Northern and Eastern parts of Aleppo province will wrap up the case with al-Bab and put an end to the water crisis of the city of Aleppo that runs through al-Bab.
In a relevant development on Thursday, the Syrian Army troops continued their advances against ISIL in the Eastern parts Aleppo, driving terrorists out of another town and several more farms near the town of al-Bab.
The army soldiers engaged in intense battle with ISIL South of al-Bab and seized control of several farms near the newly-liberated town of Deir Qaq.
The army men further moved towards the town of al-Shamawiyeh and pushed ISIL out of the town.
Full report at:
http://en.farsnews.com/newstext.aspx?nn=13951122000391
--------
Yemen loyalists retake historic Red Sea coastal town
11-Feb-17
ADEN: Yemeni government forces took full control of the Red Sea coastal town of Mokha on Friday after weeks of deadly fighting with Shiite rebels and their allies, a spokesman said.
Before the 19th Century, Mokha was Yemen's main port and export hub for coffee grown in the highlands and its historical symbolism meant it was fiercely fought over.
"We have done with the Battle of Mokha," armed forces spokesman Mohammed al-Naqib told AFP, adding that the rebels had been forced to flee the town.
Another loyalist military source confirmed that government forces were in "full control".
The rebels had put up fierce resistance in the town. Twenty-four rebels and eight loyalist troops were killed in fighting on Wednesday alone.
Tens of thousands of civilians were trapped in the fighting. Many of them had sought refuge in Mokha after fleeing their homes in towns to the south as government forces pushed up the coast.
The UN humanitarian coordinator in Yemen, Jamie McGoldrick, said late last month that "scores of civilians" had been killed or wounded by shelling and sniper fire around Mokha or by air strikes carried out in support of government forces by a Saudi-led coalition.
He said most services in the town had ground to a halt, including the mains water supply.
Government forces had already taken Mokha's docks earlier this month but there was heavy fighting in other parts of the town before the rebels withdrew north towards the main Red Sea port city of Hodeida, which they still control.
"We now preparing for the second phase of the battle for the coast, which is to advance towards Hodeida," the loyalist armed forces spokesman said.
Before the government launched its offensive on January 7, the rebels controlled virtually all of Yemen's 450 kilometre (280 miles) Red Sea coastline.
But with the support of the Saudi-led coalition, the loyalists have made their biggest advances in months in heavy fighting that has seen more than 400 combatants killed.
Despite nearly two years of coalition air and ground support, government forces had previously been almost entirely confined to the south and areas along the Saudi border.
The rebels hold the capital Sanaa and most of the northern and central highlands as well as the coast around Hodeida.
The coalition has enforced an air and sea blockade of rebel-held territory that prevented the rebels making any use of Mokha's small docks.
All deliveries of basic goods are under UN supervision and those by sea pass through Hodeida making the port city vital to the rebels.
Late last month, the rebels carried out a rare seaborne attack on a Saudi frigate on patrol in the Red Sea, killing two sailors.
Full report at:
http://dailytimes.com.pk/world/11-Feb-17/yemen-loyalists-retake-historic-red-sea-coastal-town
--------
Erdogan approves bill on constitutional reforms, paving way for referendum
Feb 10, 2017
Turkish President Recep Tayyip Erdogan has approved a bill that would change the country's political system into a presidential one if such a change is approved in a referendum.
Erdogan approved the bill on Friday, paving the way for Turkey's electoral board to arrange the referendum.
Meanwhile, Deputy Prime Minister Numan Kurtulmus announced that the referendum "is planned to take place on April 16."
"God willing, Turkey will start a new era on the evening of April 16," Kurtulmus said.
The Turkish parliament had ratified the bill on the constitutional reforms last month.
If the constitutional reforms are approved in the referendum, Erdogan will be granted the power to appoint government ministers and senior officials, reassume the leadership of the ruling AK party, and govern until 2029.
Binali Yildirim, the Turkish prime minister and the leader of the ruling AK Party, arrives for a debate the proposed constitutional changes at the Turkish Parliament, in Ankara, January 12, 2017. (Photo by AFP)
Currently, the president is the head of the Turkish state, but executive powers are concentrated in the hands of the country's prime minister.
The president will also be given the authority to dissolve parliament, declare states of emergency, issue decrees, and appoint half of the members in the country's highest judicial body.
Full report at:
http://www.presstv.ir/Detail/2017/02/10/509932/Turkey-Erdogan-approval-constitutional-reform-bill
--------
South Asia
Kabul endorses NATO's call for additional troops
11-Feb-17
KABUL: Kabul on Friday endorsed US General John Nicholson's call for thousands of additional troops in Afghanistan to stave off the Taliban, ahead of what is expected to be another intense fighting season.
Afghan forces, beset by record casualties, desertions, have been struggling to rein in the Taliban since US-led NATO troops ended their combat mission in December 2014.
Thousands of extra coalition troops were needed to break the war out of a stalemate, Nicholson, the top US commander in Afghanistan, told the US Congress on Thursday, in what could be President Donald Trump's first major test of military strategy.
"We welcome the proposal of deploying thousands of additional troops to Afghanistan to effectively train and advise Afghan forces," Dawlat Waziri, the Defence Ministry spokesman in Kabul, told AFP.
Full report at:
http://dailytimes.com.pk/islamabad/11-Feb-17/kabul-endorses-natos-call-for-additional-troops
--------
Afghan military would support more foreign troops, official says
Feb 11, 2017
KABUL: The Afghan Defence Ministry welcomed on Friday suggestions by the commander of international forces in Afghanistan that more troops were needed to train Afghan security forces, who are battling to hold back a growing Taliban-led insurgency.
General John Nicholson, the commander of US and international troops in Afghanistan, told the Senate Armed Services Committee in Washington on Thursday he did not have enough troops to adequately advise Afghan forces on the ground.
Nicholson told lawmakers the NATO-led force in Afghanistan had enough troops to carry out counterterrorism missions but had "a shortfall of a few thousand" for its major role of advising Afghan security forces.
His comments came just as US President Donald Trump and his Afghan counterpart Ashraf Ghani spoke by phone for the first time since Trump's inauguration last month. The two leaders discussed security, counter-terrorism cooperation and economic development, officials said.
Afghan defense ministry spokesman Dawlat Waziri said more international troops would be a "good step" towards countering militant groups in Afghanistan.
"The Afghan defense ministry supports any decision taken between the Afghan and American governments," he said. "This is a joint battle against terrorism and we support any possible way to tackle terrorism in the country."
The focus of the NATO-led mission in Afghanistan has narrowed considerably to training Afghan forces and conducting counter-terrorism missions since a significant drawdown under former US President Barack Obama.
About 8,400 US troops remain in Afghanistan, well down from their peak of about 100,000 in 2011.
Full report at:
http://nation.com.pk/international/10-Feb-2017/afghan-military-would-support-more-foreign-troops-official-says
--------
Explosion in defense ministry in Kabul, no casualties reported
Feb 11 2017
An explosion took place inside the Ministry of Defense compound earlier today but no casualties were reported.
The Ministry of Defense (MoD) confirmed the incident and said a magnetic bomb planted in a Ford Ranger vehicle went off in the vicinity of the ministry compound
MoD further added that the incident did not result into any death or injury to the ministry personnel or security forces.
No group has so far claimed responsibility behind the incident.
This comes as the anti-government armed militants have stepped up the magnetic bombing in key cities of the country, mainly planting the bombs in government officials vehicles.
Numerous other incidents involving magnetic bombing in civilian vehicles have also been reported in Kabul city during the recent months.
The militants also occasionally carry out major attacks and bombings in the city.
Full report at:
http://www.khaama.com/explosion-in-defense-ministry-in-kabul-no-casualties-reported-02853
--------
Dostum blocking arrest of his 9 guards over alleged sexual abuse of Ishchi
Feb 11 2017
The Vice President General Abdul Rashid Dostum is blocking the arrest of his bodyguards over the alleged sexual abuse of rival Ahmad Ishchi.
The arrest warrants for Gen. Dostum's security guards were issued by the Attorney General of Afghanistan late last month.
The then presidential Haroon Chakhansuri had said the government will take practical steps for the apprehension of Dostum's security guards as the judicial institutions and ministry of interior continue to their work regarding the allegations.
Chakhansuri further added that the Attorney General has more authorities to take further steps if the nine security guards of General Dostum were not arrested.
This comes as the Office of the Vice President had earlier said it would cooperate with a government investigation, saying the accusations by the rivals are baseless efforts to defame Gen. Dostum.
Full report at:
http://www.khaama.com/dostum-blocking-arrest-of-his-9-guards-over-alleged-sexual-abuse-of-ishchi-02852
--------
Arab World
Suicide bombing kills four, wounds 15 in eastern Mosul restaurant
Feb 11, 2017
A suicide bomber believed to belong to Islamic State blew himself up inside a restaurant in eastern Mosul at lunchtime on Friday, killing at least four people and wounding 15, a medical source in the northern Iraqi city said.
The Sayidati al-Jamila ("My Fair Lady") restaurant is in al-Zuhour, one of the districts recently retaken from the militant group by US-backed Iraqi forces.
The offensive that started in October to capture Mosul from Islamic State paused last month after Iraqi forces took all the districts lying east of the Tigris river that bisects the city.
Full report at:
http://nation.com.pk/international/10-Feb-2017/suicide-bombing-kills-four-wounds-15-in-eastern-mosul-restaurant
--------
Raqqa: ISIL's Bomb Expert Kills Terrorist Group's Security Members in Suicide Attack
Feb 10, 2017
Abu al-Bara Tunnisi, ISIL's bomb and explosives expert, committed a suicide attack on the ISIL security officials, killing at least three of them.
Informed sources confirmed that the ISIL security officials intended to arrest al-Tunnisi for escaping from the ISIL-controlled areas when he detonated himself.
On Monday, local sources in Northeastern Syria disclosed that ISIL has decided to use the terrorist group's administrative staff in the battlefronts after a large number of its members escaped Raqqa.
The sources said that ISIL has been faced with severe shortage of fighters and have found no way to overcome the problem but dispatching its administrative personnel to the battlefronts, after its field forces fled the ISIL-held regions in groups.
Full report at:
http://en.farsnews.com/newstext.aspx?nn=13951122000519
--------
Syrian dissident says war 'over' as states cut aid to rebels
Feb 11, 2017
A prominent Syrian dissident said on Friday he believed the country's war was effectively over, as foreign governments have cut support to rebels fighting to overthrow President Bashar al-Assad.
Louay Hussein said Russian-backed diplomacy had "launched a new path" towards ending the conflict, which is nearing its sixth anniversary having killed hundreds of thousands of people and shattered Syria into a patchwork of territories controlled by different armed groups.
"The armed conflict for the state is over," said Hussein, 57, a longtime pillar of Syria's internal Damascus-based opposition, seen by critics as aligned with the government.
He stayed in Damascus when the revolt against Assad erupted in 2011, but finally fled in 2015, saying he feared the government would harm him. He had been detained several times.
"There are no longer foreign states saying they support certain groups to topple the regime by force. We are going back towards a political struggle," he said.
Hussein, who now lives in Madrid, was speaking during a visit to Beirut to launch a new political alliance that he hopes will be invited to U.N.-backed peace talks later this month.
The diplomatic landscape has seen major changes in recent months, including an apparent shift in Turkish priorities towards fighting Islamic State and Kurdish militia instead of backing rebels against Assad.
Turkey is cooperating with Russia, Assad's most powerful ally, co-sponsoring a ceasefire and helping Moscow revive peace talks.
Turkey has been a major sponsor of rebel groups fighting in northern Syria under the Free Syrian Army (FSA) banner. These groups suffered their biggest defeat of the war in December when they were driven from Aleppo by the government with decisive help from the Russian air force and Iranian-backed militias.
Some FSA groups are now fighting alongside the Turkish army in a campaign against Islamic State in northern Syria.
Rebel groups have also received support from Gulf Arab states and the United States. While U.S. President Donald Trump has yet to spell out his policy on Syria, he has previously indicated he could cut support to rebels.
Hussein said "Aleppo was not just one battle, it represented the war", which he said had been lost by the rebels.
Full report at:
http://nation.com.pk/international/11-Feb-2017/syrian-dissident-says-war-over-as-states-cut-aid-to-rebels
--------
Remove Iraq from travel ban list, PM tells Trump
Feb 11, 2017
BAGHDAD: Iraqi Prime Minister Haider al-Abadi asked US President Donald Trump in a phone call to remove his country from a contentious travel ban list, a statement said on Friday.
Iraq is one of seven Muslim-majority countries whose citizens are barred from entering the United States for 90 days under an executive order the newly sworn in US president signed on January 27.
The ban was suspended by a lower court a week later and a federal appeals court on Thursday refused to reinstate it but Trump vowed to continue the legal battle for his order to stand.
"The prime minister stressed the importance of a review of the decision on the right of Iraqis to travel to the United States," Abadi's office said in a statement after the phone call.
Abadi urged Trump to "lift Iraq from the list of countries mentioned in the executive order," the statement said.
The statement said: "Mr Trump stressed the importance of coordination to find a solution to this issue as soon as possible and that he will direct the US State Department in this regard."
Full report at:
http://nation.com.pk/international/11-Feb-2017/remove-iraq-from-travel-ban-list-pm-tells-trump
--------
Damascus: Tens of Militants Surrender to Syrian Army in Homs
Feb 10, 2017
At least 82 militants in al-Holeh and its surrounding areas in Homs province handed over their weapons to Damascus officials stationed there.
The 82 militants passed through al-Samalil passage designated by the Syrian government and surrendered themselves.
The militants had previously called for government pardoning, so the relevant officials granted them amnesty after seizing their arms.
The militants delivered their weapons to the army in a peaceful environment.
In a relevant development earlier this month, tens of militants in Western Ghouta region in Damascus handed over their arms to the Syrian Army troops and received government amnesty.
Full report at:
The militants delivered their weapons to the army in a peaceful environment.
http://en.farsnews.com/newstext.aspx?nn=13951122000585
--------
Iraqi forces foil ISIS bid to sneak across Tigris River
10 February 2017
Military sources reported that Iraqi forces busted on Thursday new ISIS elements who tried to infiltrate the Tigris River through boats from the right west coast to the left liberated coast of Mosul. The sources confirmed the deaths of a number of ISIS fighters in the failed infiltration operation.
Furthermore, the international coalition fighter jets and Iraqi artillery forces targeted ISIS sites in the right coast in preparation for the launch of the last stage of the liberalization of Mosul, in order to drain the capabilities of extremists fighting there.
A car bomb
Full report at:
https://english.alarabiya.net/en/News/middle-east/2017/02/10/ISIS-bid-to-sneak-across-the-Tigris-River-busted-by-Iraqi-forces-.html
--------
CIA honors Saudi Crown Prince for efforts against terrorism
10 February 2017
The Saudi Crown Prince Mohammed bin Nayef bin Abdulaziz al-Saud, Deputy Prime Minister and Minister of Interior, received a medal on Friday from the CIA for his distinct intelligence-related counter-terrorism work and his contributions to ensure international peace and security.
The medal, named after George Tenet, was handed to him by CIA Director Micheal Pompeo after the Crown Prince received him in Riyadh on Friday in the presence of Deputy Crown Prince Mohammad bin Salman al-Saud, Deputy Prime Minister and Minister of Defense.
The Crown Prince said in a press statement after receiving the medal that he appreciated the CIA honor, stressing that his efforts were guided by the leaders of Saudi Arabia headed by King Salman bin Abdulaziz al-Saud, as well as the efforts of the Kingdom's security forces.
With regards to terrorism in the region, the Crown Prince said all religions are separate from the beliefs and actions of extremist groups, noting that religious, political and social groups who have used religion as a tool throughout history do not reflect the absolute truths about the religion which it is affiliated to, or attributes its actions to.
He said Saudi Arabia has played a key role in the fight against terrorism and condemns all forms and manifestations of terrorism. "We, God willing, continue to confront terrorism and extremism everywhere, and with thanks to God we have managed to thwart many terrorist plots from occurring," he said.
The Crown Prince also stressed that the fight against terrorism is a shared international responsibility that requires international efforts at all levels to confront it militarily and intellectually, as well as financially. This must be done within the framework of international law and the principles of the United Nations.
Full report at:
https://english.alarabiya.net/en/News/gulf/2017/02/10/CIA-awards-Saudi-Crown-Prince-for-efforts-against-terrorism-.html
--------
Syria: Army Liberates 40 Towns, Villages, Farms East of Aleppo Province
Feb 10, 2017
"At least 40 towns, villages and their surrounding farms were seized back in the Eastern part of Aleppo province," a military source said on Friday.
The source said that the Syrian government troops are advancing towards al-Bab region from three directions and the ISIL terrorists who are in al-Bab, al-Tadef, Bazaeh and Deir Hafer will not be granted a safe passage to retreat once the Syrian army tightens its siege of al-Bab in the South.
He pointed to the importance of the battle for liberating al-Bab region, and said, "The al-Bab region has become is of paramount importance for all warring sides in Syria because the strategic and geographical status of al-Bab has turned the city into an important supply and logistical route in Syria."
In relevant remarks earlier on Friday, a senior military expert underlined that the Syrian army will not let the Turkish army or Kurdish forces to win control of the strategic city of al-Bab in Northern Aleppo province.
"The Syrian army will not allow the Euphrates Shield or Kurdish fighters to take control of al-Bab region in Northern Aleppo," Syrian Military Expert Mohammad Kamal al-Jafa said.
He said that the countries supporting the ISIL terrorist group have failed to take any military or political measure to protect al-Bab city or block the advances of the Syrian army.
Al-Jafa reiterated that the Syrian army and their allies backed by the Russian air force are ready to enter al-Bab, adding that the Syrian army will impose control over the city after capturing it or the Russian envoys with representatives from the Syrian government and opposition groups might be sent to al-Bab to establish a local council with the help of Russia and after reaching an agreement with the Turkish government.
The Syrian army and its military operations in the Northern and Eastern parts of Aleppo province will wrap up the case with al-Bab and put an end to the water crisis of the city of Aleppo that runs through al-Bab.
Also on Thursday, the Syrian Army troops continued their advances against ISIL in the Eastern parts Aleppo, driving terrorists out of another town and several more farms near the town of al-Bab.
The army soldiers engaged in intense battle with ISIL South of al-Bab and seized control of several farms near the newly-liberated town of Deir Qaq.
The army men further moved towards the town of al-Shamawiyeh and pushed ISIL out of the town.
Full report at:
http://en.farsnews.com/newstext.aspx?nn=13951122000642
--------
Leader's Top Military Aide: Foreign Enemies Unable to Beat Iran
Feb 10, 2017
"Foreign and trans-regional enemies, specially the triangle of the American, Zionist and British devils and their regional servants, cannot pose a serious military threat to us.......as the Iranian nation and the Islamic establishment has grown powerful enough to defend Iran's national interests and security and return any any kind of possible aggression with an unimaginable strike at the enemies of Islam and Iran," General Rahim Safavi told people in the Southwestern city of Ahwaz on Friday.
Yet, Rahim Safavi, who was addressing people at the end of the February 10th rallies marking the 38th anniversary of the victory of the Islamic Revolution, underlined that Tehran would never underestimate its enemies and will always continue to boost its domestic power and capability in all aspects of military, economy and culture.
Millions of Iranians from all walks of life are out in the streets and squares all over the country to express their support for the cause, aspirations and ideals of the Islamic Revolution.
In Tehran, demonstrators will congregate at the Azadi Square, Tehran's main square and the site of major national rallies over the past four decades.
In addition to the annual theme of renewing support for the revolution and Islamic establishment, this year ralliers are also due to express solidarity with the regional nations' revolution against their tyrant rulers as well as their campaign against Takfiri terrorism.
Yet, what has made this year's rallies even more important is the call by the Iranian Supreme Leader, Ayatollah Seyed Ali Khamenei, on people to give a crushing response to the recent threats of US President Donald Trump by staging massive rallies even larger than ever.
Trump claimed on Sunday that Iran "lost respect" for the US in the wake of the 2015 nuclear deal signed between Tehran and the world powers, and that it now feels "emboldened" by the agreement.
He repeated Obama's catch-phrase "all options are still on the table" to imply that the threat of the adoption of military action against Iran is still alive, but a day later the US president took back his word, stressing that he did not mean to threaten Tehran militarily.
Also early Thursday, Trump echoed his national security adviser Michael Flynn's comments a day earlier that Iran is now formally "on notice" for firing a ballistic missile.
"Iran has been formally PUT ON NOTICE for firing a ballistic missile. Should have been thankful for the terrible deal the U.S. made with them!" he tweeted, without providing any other details.
Full report at:
http://en.farsnews.com/newstext.aspx?nn=13951122000635
--------
Europe
Anti-Muslim poster clouds Swiss citizenship vote
Feb 10, 2017
GENEVA: The woman's shadowed eyes stare out from a black niqab with the poster's tagline urging Swiss voters to reject "uncontrolled naturalisation."
But critics of the campaign image distributed across the country ahead of Sunday's referendum say the poster is really just a brazen appeal to those worried about more Muslims becoming Swiss.
"That is exactly what they are trying to (do)", said Pius Walker, who heads the Zurich-based advertising agency Walker AG.
"It is a very, very frightening thing that is going on here."
The issue in Sunday's vote, the latest in Switzerland's direct democracy system, is whether the grandchildren of immigrants should be able to benefit from an expedited citizenship process.
The government as well a majority of lawmakers and political parties support the proposal.
They argue that children born in Switzerland, who have a grandparent who was also born in the country or had a residency card, should be able to skip a few steps in the arduous process of securing a Swiss passport.
According to a migration department study, an estimated 25,000 people currently qualify as third generation immigrants, nearly 60 percent of whom are Italian.
But in campaigning against the measure, the rightwing nationalist Swiss People's Party (SVP) has made clear that Italians were not its primary concern.
"In one or two generations, who will these third generation foreigners be?" SVP lawmaker Jean-Luc Addor wrote in an opinion piece on the party's website.
"They will be born of the Arab Spring, they will be from sub-Saharan Africa, the Horn of Africa, Syria or Afghanistan," he warned.
The SVP is not officially responsible for the niqab poster.
It was commissioned by the Committee Against Facilitated Citizenship, which is backed by many senior SVP members, including Addor, the committee's co-chair.
And SVP members are no strangers to campaigns denounced as discriminatory, notably a successful 2009 initiative to outlaw the construction of new mosque minarets.
Campaigns demonising Muslims are expected from the SVP, but they are not "deemed acceptable" by the Swiss political mainstream, said Sophie Guignard of the Institute of Political Science at the University of Bern.
For most politicians and journalists, the niqab poster amounts to "a violent attack against Muslims," Guignard told AFP.
But that does not mean it won't work.
The latest polls from the gfs.bern institute show 66 percent of people support easier citizenship for third-generation immigrants, with 31 percent against and three percent undecided.
Polls from the news company Tamedia have it closer, with 55 percent in favour and 44 percent against.
The "No" side has however gained about 10 points since polling opened.
http://timesofindia.indiatimes.com/world/europe/anti-muslim-poster-clouds-swiss-citizenship-vote/articleshow/57082448.cms
--------
UK drops misconduct claims over Iraq, Afghan wars
Feb 11, 2017
LONDON: Britain is dismissing hundreds of allegations of misconduct by its soldiers in Afghanistan and Iraq, the defence ministry said on Friday, following an investigation that uncovered spurious claims.
The Iraq Historic Allegations Team (IHAT), which was set up in 2010 and is dealing with hundreds of cases, will be shut down in the summer and 20 of its cases will be handed over to the Royal Navy police. This follows an investigation that led to campaigning lawyer Phil Shiner, who had brought many of the claims, being struck off earlier this month.
The announcement was made by Defence Minister Michael Fallon, who also said that 90 percent of the 675 current misconduct allegations involving British troops in Afghanistan were being dismissed. "This will be a relief for our soldiers who have had allegations hanging over them for too long," Fallon said in televised remarks.
"Now we are taking action to stop such abuse of our legal system from happening again," he said.
Full report at:
http://nation.com.pk/international/11-Feb-2017/uk-drops-misconduct-claims-over-iraq-afghan-wars
--------
Four arrested in southern France for planning Paris attack: police
Feb 11, 2017
Four people have been arrested in and around the southern French city of Montpellier on suspicion of planning an imminent terrorist attack in France, the interior ministry said on Friday.
Police and judicial sources said those in custody included a 20-year-old man and his 16-year-old girlfriend, both known to authorities for connections with radical Islam, and said the attack had been due to take place in Paris.
Police found TATP explosives and other bomb-making materials in the man's home, the sources said. The interior ministry confirmed that explosives had been found.
France, which will hold the first round of a presidential election in just over 10 weeks time, remains on high alert over possible Islamist militant attacks.
More than 230 people have died in a series of assaults since the beginning of 2015, and the country has been under a state of emergency rules since November the same year.
"The initial indications are that an imminent attack on French soil has been thwarted," Interior Minister Bruno Le Roux said in the statement.
The government has said it foiled 17 attacks during 2016. In July, 86 people were killed when a man deliberately drove a truck into a crowd in the city of Nice.
On Friday in the riviera city, a makeshift memorial was being dismantled ahead of a carnival that was due to begin on Saturday.
Separately on Friday, a top French judicial body ruled as unconstitutional a law that aimed to catch would-be Islamist attackers.
The law, which bans people from regularly consulting jihadist websites that urge "acts of terrorism", was brought in last June.
Full report at:
http://nation.com.pk/international/10-Feb-2017/four-arrested-in-southern-france-for-planning-paris-attack-police
--------
France thwarts attack, arrests ISIS supporting teen
10 February 2017
Anti-terrorism forces arrested four people Friday in southern France, including a 16-year-old girl, and uncovered a makeshift laboratory with the explosive TATP and other ingredients for fabricating a bomb. France's top security official said the raid thwarted an "imminent attack."
A police official said the teen had pledged loyalty to the ISIS group in a recent video.
The prosecutor's office said around 70 grams (2.5 ounces) of TATP were seized in the Montpellier-area home of a 20-year-old man, along with a liter each of acetone, oxygenated water and sulfuric acid. TATP, which can be made from readily available materials, was used in the deadly November 2015 attacks in Paris and the March 2016 attack in Brussels carried out by Islamic State extremists.
Two other men were arrested, a 33-year-old and a 26-year-old, along with the teenage girl, according to the prosecutor's office, which handles terrorism investigations in France.
The police official, speaking on condition of anonymity to discuss the investigation, said one of the suspects was believed to be planning a suicide attack but that the investigation had not yet uncovered a specific target.
He said person in the group had tried to reach Syria in 2015 and was known to intelligence services. The group - notably the girl - attracted new attention with their social media postings, he said.
Full report at:
https://english.alarabiya.net/en/News/world/2017/02/10/France-thwarts-attack-arrests-ISIS-supporting-teen.html
--------
Dramatic upsets in French elections change top choice for many Jews
BY CNAAN LIPHSHIZ
February 9, 2017
With old favorites knocked out of France's presidential race and the far-right National Front party making worrying gains, many Jews are joining fellow voters in supporting Emmanuel Macron, the 39-year-old independent politician and surprising front-runner.
A banker who is 18 years younger than the average age of past presidents in France, Macron's candidacy was widely regarded as doomed only two weeks ago. No one coming from outside one of the country's main parties has ever been elected president there.
But fears over growing radicalization in society and recent upsets within the political establishment have made Macron the best bet among centrists, including many Jews.
"Macron is becoming a very strong candidate with the potential of occupying a very large electorate, and his popularity is considerable among French Jews," said Richard Prasquier, chairman of the France branch of a Zionist group, Keren Hayesod, and a former leader of the CRIF umbrella of French Jewish communities. "It's astounding."
From fourth and fifth place in the polls, Macron has swept past former Prime Minister Francois Fillon of the center-right Republicans party, as well as Benoit Hamon of the ruling Socialists. Macron never has held elected office, but he served as a Cabinet minister under Francois Hollande, a Socialist. He also was a senior finance official under the conservative Nicolas Sarkozy.
Macron's good looks, profound understanding of the economy, social media skills, and unassuming style have not hurt his campaign. He has won over many voters who worry about radical Islam by vowing to act tough whenever radical Islam conflicts with French laws — but he has courted liberals by promising not to harass Muslims who abide by those laws.
His bipartisan agenda against polarization really has struck a chord.
"Left wing, right wing — it no longer means anything," Macron declared in a campaign speech on Saturday in Lyon.
"Do you need to be left wing to be moved by Francois Mitterrand's great speeches on Europe? Do you need to be right wing to feel pride at Jacques Chirac's speech at Vel D'Hiv?" — a reference to a famous 1995 address in which the then-president accepted the French state's responsibility for the fate of thousands of Jews during World War II.
Pundits attribute Macron's meteoric rise in no small part to his rivals' problems, including the radical policies of Hamon and the alleged corruption of Fillon.
On the left, the Socialists chose Hamon, who objects to suggestions that radical Islam poses a problem in France. He has also promised to pay each citizen a basic salary of $800 without explaining how to pay for it and not increase the country's approximately $2 trillion debt.
A former mayor of the predominantly Muslim Paris suburb of Trappes, Hamon handily defeated Prime Minister Manuel Valls in the primaries, which ended last month.
Valls, a hard-liner whose passionate defense of Jews and French secular values endeared him to some voters, was detested by many others for supporting a ban on the full-body burkini bathing suit favored by devout Muslim women, as well as for his association with Hollande's deeply unpopular presidency.
"Valls appealed to the Jewish electorate in a way no other candidate did," Gilbert Werndorfer, a French-Jewish writer and editor from Paris, said.
Valls is married to a Jewish woman and is the only French prime minister known to have publicly called anti-Zionism a form of Jew-hatred. "I would've voted Valls, but I will most certainly not vote for the Socialists now because I cannot vote for Hamon," Werndorfer said.
In addition to many centrists' concerns about Hamon's economic policies and his "ambiguity on jihad," as Valls termed it, Jewish voters specifically were shocked when Hamon said the Socialist Party should criticize Israel and make pro-Palestinian gestures to appeal to Muslim votes.
Supporting a unilateral declaration of statehood by the Palestinians was the Socialist Party's "best way to recoup our electorate in the suburbs and the neighborhoods" — code for Muslim voters — "who did not support the pro-Israeli position taken by President Francois Hollande," Hamon told Le Parisien in 2014.
No candidate is expected to obtain a majority in the first round of balloting. In the February 4 compilation of major polls by BFM TV, Hamon was seen as winning 16.5 percent of the vote. He is not expected to make the second and final round on May 8. "Much like the leader of Labour in Britain, Hamon is practically unelectable," Prasquier said.
Hamon's rival on the right, Fillon of the Republicans, is doing only slightly better with 19.5 percent, trailing Macron by 3 points. But Fillon's candidacy is in jeopardy amid reports that his wife drew a salary for a no-show job as a parliamentary aide. The claims have prompted a criminal investigation to determine whether she was paid without actually working.
While his vows to act tough on radical Islam have earned Fillon a certain following, he antagonized Muslims and Jews when he said in November that Muslims must be forced to integrate the same way that Jews were, suggesting that Jews were disloyal to the state after gaining their emancipation in the 18th century.
His words, which Fillon has not retracted, deeply offended members of the deeply patriotic Jewish community of France, where a daily prayer is recited in synagogues for the well-being of the republic.
Even before Fillon's controversial remark on Jews and Muslims, he was unpopular among many French liberal Jews. Whereas Sarkozy appealed to many French Jews with a pro-Israel agenda, most still feel at home left of the Republicans, Werndorfer said. "I don't think anyone from my family votes for the right," he added.
But a growing number of French citizens, including Jews, nonetheless are voting right wing — including for Marine Le Pen of the far-right National Front party founded by her father, the Holocaust denier and anti-Semite Jean-Marie Le Pen. National Front is ahead in most polls with more than 25 percent, and for the first time under Marine Le Pen may make it to the second round.
Full report at:
http://jewishstandard.timesofisrael.com/dramatic-upsets-in-french-elections-change-top-choice-for-many-jews/
--------
British Muslim organisations "disappointed" with Owen Jones over Trump stance
02/10/2017
Several high-profile Muslim organisations have expressed their disappointment at journalist Owen Jones' decision to boycott their anti-Trump demonstration last week.
Working with campaigners fighting racism and Islamophobia, leading British Muslim bodies including the Muslim Council of Britain, Muslim Engagement and Development and the Muslim Association of Britain called a demonstration to protest Donald Trump's widely condemned 'Muslim ban'.
Tens of thousands took to the streets on Saturday to show solidarity with the Muslim community, and more specifically with those affected by the controversial travel ban.
Among them at the large rally in the capital were Birmingham peace activist Salma Yaqoob, who spoke on the main stage alongside fellow Muslim activists Waqar Azmi (Remembering Srebrenica) and Maz Saleem. They were supported by Stop the War's Lindsey German and Labour party leader Jeremy Corbyn, as an array of speakers challenged Donald Trump's policies.
Similar protests took place in towns and cities across the country, including in Birmingham where hundreds showed up to condemn the new US President's "racist" and "xenophobic" policies.
However, Guardian journalist Owen Jones publicly boycotted the demonstration, attributing his stance to the "leading role of the SWP in it". The claim was dismissed by organisers as "divisive", "sectarian" and "misleading."
Human rights campaigner Maz Saleem, whose father Mohammed Saleem was murdered by neo-Nazi Pavlo Lapshyn in Birmingham in 2013, described Jones' claims as "outrageous" and "hypocritical".
In a joint statement published in The Independent yesterday, prominent Muslim organisers wrote:
"On 4 February, over 40,000 people marched in central London against Donald Trump's 'Muslim Ban'. This was the first of such demonstrations that was led and called by British Muslim organisations and institutions.
"As British Muslims, we are outraged at Donald Trump's attempt to ban people from seven predominately Muslim countries entering the USA. Although the international protest movement won a victory on Saturday morning when the US appeal court refused to reinstate the ban, this is not the end to the Trump administration's Islamophobic rhetoric and policies.
"The demonstration was organised by the Muslim Council of Britain, Muslim Association of Britain, Muslim Engagement and Development (MEND) in partnership with the Stop the War Coalition, Stand up to Racism, the People's Assembly Against Austerity; and supported by Friends of Al-Aqsa and CND.
Full report at:
https://iambirmingham.co.uk/2017/02/10/british-muslim-organisations-disappointed-with-owen-jones-over-trump-stance/
--------
Muslim teacher who didn't get job at Berlin school because of headscarf wins €9K compensation
10 Feb, 2017
A Muslim teacher who wasn't hired by a Berlin school because she was wearing a headscarf will receive €8,680 (US$9,250) in compensation for discrimination, a German court has ruled.
The labor court in the federal state of Berlin-Brandenburg concluded on Thursday that by wearing the headscarf the woman wouldn't have posed a threat to the school or its discipline, DPA reported.
According to Judge Renate Schaude, the fact that during her job interview the applicant was asked whether she wanted to teach children wearing a headscarf was an indication of discrimination, Kieler Nachrichten reported.
The defendant had appealed a court ruling which had rejected her complaint last year.
According to Berlin's so-called 'neutrality law,' policemen, teachers and judicial employees on duty should not wear religious clothing. However, Judge Schaude referred to a 2015 ruling by Germany's Federal Constitutional Court, which stated that headscarf bans in the western state of North Rhine-Westphalia violated religious freedom.
Dirk Behrendt of the Green party (Buendnis 90/Die Gruenen) welcomed the verdict.
"This is a good day for anti-discrimination in Berlin," he said. "The verdict is the beginning of the end of the Neutrality Act."
Full report at:
https://www.rt.com/news/376961-muslim-berlin-discrimination-headscarf/
--------
India
Amid UP assembly elections, Aligarh Muslim University continues to search for a voice
by Karan Prashant Saxena
February 11, 2017
In poll-bound Uttar Pradesh, students of Aligarh Muslim University discuss politics sipping evening tea with snacks inside a small hostel room. On asking whether AMU has produced significant voices over the years in the political arena, the discussion bounces off from names such as former Union Minister Arif Mohammed Khan to Samajwadi Party leader Azam Khan. Faisal Hassan, who is pursuing PhD from Department of Psychology in AMU, said, "AMU has not produced a strong national voice. We need to groom and harness student leadership which could voice our collective concerns at all levels, irrespective of gender, sects or other factors."
His roommate, who did not wish to be named, disagreed, "Any voice can be made into a national voice with the help of media. Local leaders such as Abdul Hafiz Gandhi, who passed out from AMU, is not given attention. It would be unfair to assert that the university has failed to produce voices when media keeps them out of limelight."
Aligarh Muslim University, which was established over a century ago by Sir Syed Ahmed Khan as Muhammadan Anglo Oriental College to impart modern education to Muslims, boasts of producing alumni like Hasrat Mohani, Ali Brothers, Raja Mahendra Pratap, who played an important role in the freedom struggle. But over the years, the University has not been able to exert the same influence over the political affairs of the country.
"Role of AMU students, teachers or alumni was immense during the freedom struggle. They were involved in political mobilization. But after partition, the institution became stigmatized," Dr. Mohd. Aftab Alam, Assistant Professor, Department of Political Science, AMU said. "There are some instances where you find some ex-student union leader contesting elections for Lok Sabha, or state assembly. But as such, AMU is not participating in the political process."
Role of Student Union Body at AMU
The Student Union at AMU stays away from national-level politics. The candidates do not associate themselves with any particular political party during student union elections. "It is in Aligarh's consciousness that we should not let it become a playground for political interest. In fact, if any candidate is branded with a political party, or is rumoured to have a political affiliation, the candidate is not voted to power," Akhtarul Wasey, AMU alum and current VC of Maulana Azad University, Jodhpur said.
up elections, up elections 2017, up elections today, uttar pradesh elections saturday, up elections phase 1, uttar pradesh elections, uttar pradesh assembly elections 2017, uttar pradesh elections result, uttar pradesh assembly elections 2017, aligarh muslim university, amu, aligarh muslim university student union, amu politics, india news Faisal Hassan believes that Aligarh Muslim University has been unable to produce strong national voice. (Express photo)
Nadim Asrar, AMUSU President, 1999, said the situation has left the student body "without teeth". "AMU is no longer a credible voice during elections because it is not politicised. The student body is left without teeth, or higher understanding of politics. While JNU nurtures Kanhaiya Kumar, AMU fails to do the same with its student leaders."
Professor Alam believes that the participation of political parties will lead to excess of money power in the student elections but agrees most students interested in politics look for quick success rather than working for the community, after passing out from the university. "Particularly for quick success, they wish to avoid ground level participation in politics as they feel they are already late entrants into politics. It is a demerit. Muslim voice emerges not from AMU but from other parts such as JNU or Hyderabad," he said.
AMU's struggle coincides with Muslims struggle
Criticising the media for its 'negative portrayal' of the university, Faisal asks why the positive aspect about the university is not reported. "Times Higher Education gave AMU the second best ranked university in the country. We have our own riding club, a beautiful campus and we give quality education at feasible rates. Why is the media always reporting on the controversies?"
Professor Arshi Khan, who teaches Political Science and International Affairs at AMU, said the vernacular press in Aligarh is highly managed and there is "misinformation" and "disinformation" of facts. "Misinformation means all the good things about the university is kept hidden. Disinformation means fabricating false information about the university," he said.
Addressing concern that forces in the country are working towards exclusion of Muslim voices, Professor Khan said Muslims in India are not democratically integrated with the nation. "AMU does not get degrees of grant that BHU receives. It happens because of politics of exclusivism. There has been a problem with democratic integration of Muslims in India. Muslims are highly excluded from decision-making. This exclusion automatically leads to discrimination and prejudices," he said.
Adding another reason for the failure of Muslim voters to mobilise themselves in the state, Nadim Asrar said the few Muslim voices in the leadership have failed to connect with the Muslim voters. "Muslim elites have continued to pursue politics of emotions and identity politics. But these issues lack conviction with Muslim population at ground level. No leader has done anything to address concerns laid out by Sachar Committee report," he said.
Agreeing with Asrar, Professor Khan, describes the trend as a "violation of democratic principle". "In India, there is no civic political mobilisation process- which happens on common issues of common people such as road, education, health, infrastructure etc. Instead, we have a political mobilisation using caste, religion or identity factor- such as Ram Janmabhoomi, Gau Bachao or Muslim personal law," he said.
Professor Khan holds the exclusion of Muslims in India responsible for weak "political bargaining power" of Muslims. "The exclusion of Muslims in India permanently reduces their political bargaining power that make democracy competitive. BSP made political bargaining with BJP, Ram Vilas Paswan made pacts with BJP, but we cannot seek any political bargains," he said.
Asmer Beg, Professor of Political Science at AMU, who conducted poll surveys for CSDS in Uttar Pradesh, said personal factors play a role in the voting patterns of people rather than communal reasons. "A lot of people in Aligarh might vote for Vivek Bansal, including the Muslim population, since he is known around in the area. Similarly, people might vote for Independent candidate Zameerullah Khan as well, since he has been the sitting MLA here for two terms and has done good work," he said.
Faisal said Akhilesh government has failed to fulfill its poll promise of giving 18% reservations to Muslim students at AMU. "All we want is for people to have better lives which can happen through education. Instead we are reminded of our "hanging" minority status. If the same government comes to power in the state, who knows if the issue will be addressed this time or not," he said.
http://indianexpress.com/elections/uttar-pradesh-assembly-elections-2017/amid-up-assembly-elections-aligarh-muslim-university-continues-to-search-for-a-voice-4518735/
--------
74 missing defence personnel believed to be in Pakistani custody: Govt
Feb 9, 2017
NEW DELHI: 74 missing defence personnel (MDP) are believed to be in Pakistan's custody but whose presence has not been acknowledged so far by that country, the government said today.
Minister of State for External Affairs V K Singh said the government has raised the matter with the Pakistan government on numerous occasions, including at high levels.
"As per available information, there are 74 MDP that are believed to be in Pakistan's custody but whose presence has not been acknowledged so far by Pakistan...
"A committee of kin of MDP visited jails in Pakistan in 2007 but could not find evidence of their presence. However, government continues to raise this matter with the government there," the minister said in a written reply in Rajya Sabha.
Full report at:
http://timesofindia.indiatimes.com/india/74-missing-defence-personnel-believed-to-be-in-pakistani-custody-govt/articleshow/57059657.cms
--------
Tej Bahadur has 17% Pakistani friends on Facebook: Centre
Neeraj Chauhan
Feb 10, 2017
NEW DELHI: Irked with continuous allegations of Constable Tej Bahadur Yadav and his family, terming them "baseless", the government on Friday claimed that that the disgruntled Jawan's friend list on Facebook has about 17 percent Pakistanis, which points fingers at his conduct while working for a border guarding force.
The government sources say that most of these Pakistani Facebook friends were there in his friends' list much before he posted a video alleging bad quality food served by the Border Security Force.
Officials said that Tej Bahadur Yadav has over 3,000 Facebook friends, many from different countries including Bangladesh and others apart from Pakistan. A lot of people were added to his friends' list after he raised the issue of bad quality food, which created uproar in the government, central paramilitary forces and general public. More than 1.2 lakh people also follow his Facebook account, especially after he took on the largest border guarding force.
"He was posted in a sensitive border post in Jammu and Kashmir and this kind of friend list talks a lot about his conduct in a disciplined force. His act has damaged the reputation of BSF with not an iota of truth in it," said a senior government functionary in the North Block.
The BSF also aggressively replied to his wife's allegations of her husband missing and that she was not in touch with him. BSF said that Tej Bahadur Yadav was in Samba battalion of BSF in Jammu and Kashmir and was not under any custody or arrest.
BSF officials also said that Tej Bahadur was in regular touch with his family. "He last spoke to his son, wife and brother between 6.40 pm and 6.46 pm on Thursday. Every day, he has been talking to his family over phone. The allegations of his family are a bundle of lies," said a senior BSF officer.
Full report at:
http://timesofindia.indiatimes.com/india/tej-bahadur-has-17-pakistani-friends-on-facebook-centre/articleshow/57087440.cms
--------
Uttar Pradesh polls: Imam asks people to vote for SP-Congress alliance
February 10, 2017
A day before the first phase Assembly election begins in Uttar Pradesh tomorrow, Imam of Tipu Sultan Mosque Syed Mohammad Nurur Rahman Barkati today appealed to the people to support the SP-Congress alliance, accusing the BJP and the RSS of trying to win the election through their "dirty politics". "Election in Uttar Pradesh is very important and I appeal to all my Muslim and secular Hindu brothers and sisters in UP not to cast a single vote to the BJP," Barkati told reporters here at the Tipu Sultan mosque.
Watch What Else Is Making News
Uttar Pradesh Assembly Elections 2017: Here's What Voters Say Ahead Of First Phase Polling
Describing the RSS and the BJP as the 'enemy' of the Muslims, the Imam said that the "people must not forget that the RSS and the BJP had demolished the Babri Masjid in Ayodhya".
The Imam also said that the Modi government's decision for demonetisation was the "biggest international scam" and drew comparison between US President Donald Trump and Narendra Modi.
Full report at:
http://indianexpress.com/article/india/uttar-pradesh-polls-imam-asks-people-to-vote-for-sp-congress-alliance-4518056/
--------
Africa
Money from the Middle East fuelling tensions in the Horn of Africa
10 February 2017
Relations between the Horn of Africa and the Arabian Peninsula go back centuries, with trade playing a key component in binding their people together. Religion has also played a part. The expansion of Wahhabism – the interpretation of Islam propagated by Saudi Arabia – has been funded by the massive oil wealth of the kingdom.
Mosques, Koranic schools and Imams have been provided with support over many years. Gradually this authoritarian form of Islam began to take hold in the Horn. While some embraced it, others didn't.
Somalia is an example. While most Somalis practised a moderate form of Suffi Islam, the Islamic fundamentalists of al-Shabaab didn't. Soon after taking control of parts of central and southern Somalia in 2009 they began imposing a much more severe form of the faith. Mosques were destroyed and the shrines of revered Suffi leaders were desecrated.
The export of faith has been followed by arms. Today the Saudis and their allies in the United Arab Emirates are exerting increasing military influence in the region.
But Saudi Arabia and other Arabian gulf states aren't the only Muslim countries that have sought influence in the region. Iran, for example, has also been an active player. In the case of Eritrea, a struggle for influence between Riyadh and Tehran has played out over the past few years. This has also been true in neighbouring Somaliland and the semi-autonomous Somali region of Puntland.
These are troubled times in the Horn of Africa. The instability that's resulted from Islamic fundamentalism, of which al-Shabaab are the best known proponents, have left the region open to outside influences. The French have traditionally had a base in Djibouti, but they have now been joined by the Americans and the Chinese.
The growing Arab military, political and religious influence is only the latest example of an external force taking hold in the region.
New powerful forces in the region
The Eritreans had been close to Iran and supported their Houthi allies in the Yemeni conflict. This was of deep concern to the Saudis, who are locked in conflict with Tehran. This is a battle for influence that pits Iranian Shias against Saudi Sunnis. Eritrea is just one of the fields on which it's being played out.
As a US cable leaked to Wikileaks put it in 2010, the Saudi ambassador to Eritrea is concerned about Iranian influence, says Iran has supplied materiel to the Eritrean navy, and recently ran into an Iranian delegation visiting Asmara. He claims Yemeni Houthi rebels were present in Eritrea in 2009 (but is not sure if they still are), and reported that the Isaias regime this week arrested six Eritrean employees of the Saudi embassy.
Since then Eritrea has switched sides. Eritrean President, Isaias Afwerki paid a state visit to Saudi Arabia in April 2015. Not long afterwards Eritrea signed a 30-year lease on the port of Assab with the Saudis and their allies in the Emirates. The port has become a base from which to prosecute the war in Yemen. The United Nations reported that 400 Eritrean troops were now in Yemen supporting the Saudi alliance.
They are a powerful force in the region, projecting an Arab influence as far as Madagascar and the Seychelles.
The United Arab Emirates has constructed a major base in Assab – complete with tanks, helicopters and barracks. In November 2016 it was reported that a squadron of nine UAE Mirage fighter planes were deployed to Eritrea from where they could attack Houthi targets on the other side of the Red Sea. In return the Gulf states agreed to modernise Asmara International Airport, increase fuel supplies to Eritrea and provide President Isaias with further funding.
Since then the United Arab Emirates has announced its intention to increase its military presence in the Horn. In January it signed an agreement to manage the Somaliland port of Berbera for 30 years. It also sought permission to have a naval base, Somaliland foreign minister Sa'ad Ali Shire told reporters.
It's true that the United Arab Emirates has submitted a formal request seeking permission to open a military base in Somaliland
The UAE are also active in the neighbouring Puntland. They have been paying for and training anti-piracy forces for years, while also financing and training its intelligence services.
They are a powerful force in the region, projecting an Arab influence as far as Madagascar and the Seychelles. It's not surprising that the United Arab Emirates was labelled "Little Sparta" by General James Mattis – now President Donald Trump's Secretary of Defence.
Ethiopian concerns
These are worrying times for the Ethiopian foreign ministry. Once the dominant force in the region, its influence over the Horn is now in question.
To its north the Eritreans remain implacable foes, as they have been since the border war of 1998-2000 that left these neighbours in a cold no-war, no-peace confrontation.
Addis Ababa is concerned that Eritrea's hand has become stronger in recent years. Its mining sector is looking increasingly attractive with Canadian based firms now joined by Australian and Chinese companies.
Asmara's role in the ongoing war in Yemen has allowed Eritrea to escape diplomatic isolation. The government in Asmara is now benefiting from funds and weapons, despite UN sanctions designed to prevent this from taking place.
To Ethiopia's west lies Sudan, which is also now involved in the war in Yemen, providing troops to the Saudi and United Arab Emirates backed government. These ties are said to have been cemented after the Saudis pumped a billion dollars into the Sudanese central bank. In return the Sudanese turned their backs on their former Iranian allies.
To Ethiopia's east the situation in Somalia is also of concern. No Ethiopian minister can forget the invasion of the Ogaden under President Siad Barre in 1977, when Somalia attempted to re-capture the lands lost to their neighbours during the expansionist policies of Emperor Menelik II in the nineteenth century. Siad Barre may be long gone but Ethiopian policy since the invasion has been to keep Somalia as weak and fragmented as possible.
Ethiopia has intervened repeatedly in Somalia to hold al-Shabaab at bay as well as to maintain the security of its eastern region. Addis Ababa's policy of encouraging the inherent fragmentary tendencies of the Somalis has paid dividends: the country is now a federation of states and regions. Some of these only nominally recognise the authority of the government in Mogadishu. Somaliland, in the north is close to being recognised as an independent nation. Others, like Jubaland along the Kenyan border, are under Nairobi's
http://www.sabc.co.za/news/a/c8ad0880400462438ceccc7076b1cf18/Money-from-the-Middle-East-fuelling-tensions-in-the-Horn-of-Africa-20170210
--------
'Muslim Brotherhood' plotting deadly attacks in Nigeria, govt. warns
February 10, 2017
The Federal Government has alerted citizens to the plan by a Boko Haram affiliate, Muslim Brotherhood Cell in Kogi State, to acquire bomb-making chemicals and high-calibre weapons to perpetrate acts of terror, including attacks on banks, arms depots and prisons.
In a statement issued in Abuja on Friday, the Minister of Information and Culture, Lai Mohammed, said intelligence showed that the cell was making frantic efforts to advance its IED-making capability through the acquisition of chemicals like Sodium Oxide (for producing improvised detonators), Potassium Chlorate (alternative to ammonium nitrate used for producing IEDs) and Aluminium Powder (a fuel source for amplifying explosions).
"One Usman, an IED apprentice, left the cell some time back to join Islamic State in Libya. The new desire to acquire IED precursor chemicals could suggest that Usman or other persons may have returned
from Libya and have acquired IED-making skills intended to increase the activities of the group," he said.
The Minister said intelligence also revealed that the group was making serious efforts to acquire sophisticated arms, including shoulder-fired rocket launchers.
Earlier on Friday, gunmen attacked a police station at Eika community in Okehi Local Government Area of Kogi state, killing two policemen and a detainee.
The News Agency of Nigeria reported that the bandits invaded the police station at about 1 a.m. and opened fire on policemen on duty, killing them, alongside a detainee.
The heavily armed hoodlums, said to be about 10, later set the station ablaze and proceeded to the house of Sadiq Obomi, Chairman, Eika Community Development Association, and killed him.
Full report at:
http://www.premiumtimesng.com/news/headlines/223128-muslim-brotherhood-plotting-deadly-attacks-nigeria-govt-warns.html
--------
U.S. expresses objection to Palestinian as U.N. envoy to Libya
Feb 11, 2017
The United States objected on Friday to United Nations Secretary-General Antonio Guterres' choice of former Palestinian prime minister Salam Fayyad as the body's new representative to Libya.
It was unclear whether the objection, expressed in a statement by Nikki Haley, the United States ambassador to the United Nations, Haley, had ended Fayyad's candidacy.
The United States wields significant influence as one of the five permanent members of the U.N. Security Council.
No one was immediately available from the secretary-general's office for comment.
"The United States was disappointed to see a letter indicating the intention to appoint the former Palestinian Authority Prime Minister to lead the UN Mission in Libya," Haley said in her statement.
"For too long the U.N. has been unfairly biased in favor of the Palestinian Authority to the detriment of our allies in Israel," she said.
Haley added that the United States "does not currently recognize a Palestinian state or support the signal this appointment would send within the United Nation."
The U.S. ambassador said Washington encouraged Israel and the Palestinians "to come together directly on a solution" to end their conflict.
Full report at:
http://nation.com.pk/international/11-Feb-2017/u-s-expresses-objection-to-palestinian-as-u-n-envoy-to-libya
--------
Morocco, Driving Force of South-South Cooperation in Africa
Ezzoubeir JabraneBy Ezzoubeir Jabrane
February 10, 2017
The African continent, long regarded by foreign powers as a gold deposit to be mined or an oil field to be drained, has continued to succumb to such exploitation under promises of "development." South-African social activist and Nobel Prize winner Desmond Tutu's statement that "Europe became rich because it exploited Africa; and the Africans know that," is more relevant today than it ever was.
Accordingly, today's Africans are more watchful and vigilant about whom they deal with and what kinds of agreements they sign. It is within this collective attitude of suspicion that Morocco has successfully extended its influence in Africa and regain its position in the African Union.
African countries, east and west, are quite certain that Morocco seeks to give with one hand and take with the other. However, Morocco's initiative for South-South Cooperation in the continent was preceded by a thorough need-analysis that examined the economic components that are critical to the countries involved. The gas pipeline project linking Nigeria with Morocco, the fertilizer plants in Nigeria and Ethiopia, and the agreements related to banking, agriculture, and fisheries with Madagascar, among others, are all in vital sectors in these countries.
In its campaign to regain its membership in the African Union, which it gave up in reaction to the body's 1984 recognition of the so-called SADR, Morocco put a long-term plan to action in the beginning of the third millennium, the preparation of which had already started in the early 90's when Morocco signed cooperation agreements with a number of African nations. The plan focused on economics and encouraged Moroccan firms to operate in African countries, doubling the volume of Morocco's economic transactions by reaching out to West African countries.
This approach has hastened a large number of Moroccan firms to invest in over 23 African countries, including those in the banking sector (BMCE, Attijariwafa Bank and Banque Populaire), real estate (Addoha and Alliances Développement Immobilier), the insurance sector, the telecom industry, and industrial and mining companies (OCP, Managem Group). In addition, a huge chunk of the Morocco's direct investment went to vital sectors in these countries. While it is true that Morocco's chief economic partners remain the European Union and the US, Morocco has allocated a significant part of the kingdom's investments to African.
Moreover, the Moroccan Monarch's recent tour of East Africa for the first time since his coronation in 1999 is quite significant. It conveyed the message that Morocco extends its hand not only to West Africa, or French-speaking Africa, but to the whole continent. Numerous agreements with Rwanda, Tanzania, and Ethiopia have followed from this tour in the fields of agriculture, industry and infrastructure.
Full report at:
https://www.moroccoworldnews.com/2017/02/207815/morocco-driving-force-of-south-south-cooperation-in-africa/
--------
Pakistan
Nation proud of forces' sacrifices in war against terrorism: Nisar
February 11, 2017
Kharian
Minister for Interior and Narcotics Control, Chaudhry Nisar Ali Khan on Friday said wars are not fought with weapons alone but passion and firm belief is a pre-requisite.
The Minister, who visited National Counter Terrorism Centre (NCTC) here to witness graduation ceremony of 9th National Integrated Counter Terrorism Course, said 'Forces are dedicated and committed to the noble cause of defence of motherland.'
In his speech, Ch Nisar said war against terrorism is difficult but Pakistan has gained numerous achievements because of sincere efforts and sacrifices rendered by the army, civil armed forces, police and intelligence agencies. 'We have to take forward these achievements,' he added.
Ch Nisar said the peace, achieved through efforts of Armed Forces is an example for entire world, adding that the nation is proud of Pakistan Armed Forces and those who sacrificed their precious lives for the defence of motherland.
He said Pakistan was not only facing an external danger but also an internal threat from 'hidden' enemies who serve anti-Pakistan elements to create chaos in name of religion.
Ch. Nisar said, 'we can never forget sacrifices of our martyrs who laid down their lives to bring peace in the country.'
The Minister said Pakistan had come into existence in name of Islam and no power can derail it from path of peace and progress.
He lauded professional capabilities of personnel who have completed their training and said they have been assigned a noble task of defending the motherland. The personnel have a firm belief that they would perform their duties with passion and honesty, he added.
Ch. Nisar witnessed a demonstration given by trained personnel at the Centre to effectively deal with terrorism. Around 400 personnel from Rangers, Frontier Constabulary (FC), Islamabad and Gilgit Baltistan Police have been trained at the Centre.
Besides personnel from Pakistan's Law Enforcement Agencies (LEAs), personnel from friendly countries are also imparted training at the Centre. Earlier, upon his arrival the Centre, Commander Central Command, Lt. General Umar Farooq Durrani and Inspector General Training and Evaluation, Lt General Hadayat-ur-Rahman welcomed the Minister.
The Minister was briefed about standard of training being imparted to improve performance of personnel.
The Centre provides training to LEAs personnel on modern ground to deal with terrorism. The Centre has been providing training since 2014 and so far more than 4200 personnel have completed training.—APP
http://pakobserver.net/nation-proud-of-forces-sacrifices-in-war-against-terrorism-nisar/
--------
Six Terrorists Killed In Karachi Encounter: Rao Anwaar
February 10, 2017
KARACHI: Six terrorists were killed in an encounter with police in Karachi, yesterday. The suspects opened fire on police team.
Full report at:
Anwaar said the suspects were involved in attacks on police personnel.
http://nation.com.pk/karachi/10-Feb-2017/six-terrorists-killed-in-karachi-encounter-rao-anwaar
--------
Bill aiming to protect Christians, other minority groups in Pakistan may soon be law
February 10, 2017
A new bill passed by the Pakistani Parliament earlier this week seeks to protect religious minorities, including Christians, from being killed in mob lynchings or endure forced conversions to Islam and forced marriages to Muslim husbands.
THE WEEK IN PICTURES
The bill, Criminal Laws (Amendment) Act 2016, is set to become law, pending presidential signature, Premier reported.
The amendments seek to increase maximum jail sentence for inciting sectarian violence, to outlaw mass lynchings, and to punish forced conversions and forced marriages of minor girls or women, something which Christians have suffered from for many years.
CHURCH-SPONSORED BOY SCOUT TROOPS WON'T BE FORCED INTO TRANSGENDER MEMBERSHIP POLICY
As Wilson Chowdhry, chairman of the British Pakistani Christian Association, told The Christian Post, however, there is skepticism that the new set of laws are not "simply lip service."
"There are already laws that could be implemented in cases of mob violence but they are rarely enacted, and when done so fail, due to frightened witnesses absenting themselves from court," he said.
Full report at:
http://www.foxnews.com/world/2017/02/10/bill-aiming-to-protect-christians-other-minority-groups-in-pakistan-may-soon-be-law.html
--------
Data centre to tackle money laundering, terror financing
KAZIM ALAM
Feb 11, 2017
KARACHI: The State Bank of Pakistan on Friday inaugurated a high-tech data centre which will help the Financial Monitoring Unit (FMU) in tracking down money laundering and terrorism financing.
The FMU is the financial intelligence unit of the finance ministry tasked with fighting money laundering and terror financing.
Established with the financial assistance of the UK Department for International Development, the data centre will host a specialist analytical suite of software (goAML) developed by the United Nations Office on Drugs and Crime (UNODC).
Won't detect money laundering taking place through illegal channels: SBP official
According to Shabbar Zaidi, a chartered accountant and former provincial finance minister, overvaluation and a lack of genuineness in financial transactions alert authorities to the possibility of money laundering.
The data centre will enable the FMU to automate the collection and analyse suspicious financial transactions being received from banks, exchange companies and other reporting entities in Pakistan. Moreover, the integrated system will enhance the FMU's capability of disseminating financial intelligence to designated law enforcement agencies.
Speaking to Dawn, SBP Director Abid Qamar said the data centre would detect money laundering that was currently being done through formal banking channels. It was not meant for controlling money laundering that was taking place thro­ugh illegal channels, such as physical movement of currency notes acr­oss international borders, he added.
Mr Qamar said the extent of money laundering could not be determined right now. "We will have sufficient data in terms of the number of suspicious transactions and convictions in due course," he added.
Full report at:
http://www.dawn.com/news/1314123/data-centre-to-tackle-money-laundering-terror-financing
--------
Iranian border forces fire mortar shells into Pakistani territory
SYED ALI SHAH
Feb 11, 2017
Iranian forces fired four mortar shells across the border into Balochistan's Panjgur district on Friday, a member of the local administration told DawnNews.
Deputy Commissioner Panjgur Habibur Rehman claimed Iranian forces fired four mortar shells into Panjgur's Parom area 'without any justification and provocation'.
"We have not received any report about any human loss", he added.
Security was tightened in the province in the aftermath of the shelling. More security personnel have been sent into the area to guard the border, the deputy commissioner said.
Panic prevailed among the residents of Parom following the shelling, and officials in Panjgur lodged a protest with the Iranian border chief with regards to border violations.
Pakistan has accused Iranian forces of violating its territorial integrity and has lodged protests with Iran in this regard several times in the last few years.
Pakistan shares a 900 kilometre long porous border with Iran and the two countries had in 2014 decided to boost intelligence coordination to wipe out terrorists from the border region.
Full report at:
http://www.dawn.com/news/1313973/iranian-border-forces-fire-mortar-shells-into-pakistani-territory
--------
Southeast Asia
Islamic State Links to Philippine Militants 'Very Strong': Minister
Feb 11, 2017
Manila. The Philippines is certain of "very strong" links between Islamic State and home-grown militants and is concerned about regional repercussions from tension between China and the new US administration, Manila's defense minister said on Thursday (09/02).
Intelligence from various sources had shown Muslim rebels in the southern Philippines had been communicating with Islamic State, and funds were being transferred via mechanisms commonly used by Filipino workers in the Middle East, Defense Secretary Delfin Lorenzana told Reuters.
"Before, what we suspected was the ISIS group would come here but now we are certain that the connections are very strong between home-grown terrorists here and ISIS in the Middle East," he said in an interview, referring to Islamic State.
"Also there's quite an amount of money being sent here from the Middle East."
He said communications via social media, telephone and text messages had been intercepted and funds were being transferred that were difficult to detect due to the large numbers of Filipinos who regularly remit income from places like Saudi Arabia and the smaller Gulf states.
He said there was no indication governments of those countries were involved.
The Philippines did not consider ties with longtime ally the United States to be strained, he said, despite President Rodrigo Duterte's fierce rebukes of Washington.
Some statements about China by advisers to US President Donald Trump were "very troubling," he said, adding that an Enhanced Defense Cooperation Agreement (EDCA) with the United States would make US troops based temporarily in the Philippines "magnets for retaliation" if things turned hostile.
Caught in the middle
"We are concerned if war breaks out and it is near us we will be involved whether we like it or not," he said, adding that if a conflict looked likely, the Philippines would consider scrapping the EDCA, to avoid a repeat of World War Two, when his country was badly affected.
There were no signs of any new Chinese reclamation in the Spratly Islands in the South China Sea, he said, and he had been given assurances repeatedly by China's ambassador that it would not do any dredging in the disputed Scarborough Shoal.
Despite warming ties with Beijing, the Philippines still "would like to know more the thinking of China" regarding its end-game in building artificial islands equipped with military hardware, he said.
The Philippines was in no rush to pressure China to abide by last year's ruling by the Permanent Court of Arbitration, which largely rejected Beijing's claims in the South China Sea.
After the Philippines won the award, the United States had wanted it to push China to comply, Lorenzana said, but it had offered no guarantees of support.
"If we assert our right, our award, it was never going to do any good for us," he said. "Would the Americans have backed us?"
He said internal security threats were growing and his ministry would next year request a doubling of its budget, or more, to address them.
The army's involvement in Duterte's war on drugs, following his decision to suspend police from the campaign, would be limited to assisting the Philippine Drug Enforcement Agency (PDEA) on a case-by-case basis in hostile situations.
"They go there if they are asked by PDEA and they need firepower, then we will assist, that's our job, that's all," he said.
http://jakartaglobe.id/international/islamic-state-links-to-philippine-militants-very-strong-minister/
--------
Thousands gathered at Jakarta mosque urged to vote for Muslim governor
11 Feb 2017
JAKARTA: Thousands of Indonesians gathered on Saturday at a mosque in central Jakarta, where religious leaders urged them to support a Muslim candidate during next week's contentious election to select the capital's governor.
Millions of Jakarta residents head to the polls on Wednesday to pick the next governor of the sprawling city, in a contest analysts say has shaped as a proxy fight ahead of a presidential election in 2019.
Indonesia has the world's largest Muslim population but recognises six religions and is home to hundreds of ethnic groups and adherents of traditional beliefs.
In Jakarta, the Christian and ethnic Chinese incumbent, Basuki Tjahaja Purnama, faces two Muslim contenders - Agus Harimurti Yudhoyono, the son of former president Susilo Bambang Yudhoyono, and former education minister Anies Baswedan.
Purnama is in the extraordinary situation of campaigning for election while he is on trial for blasphemy, making weekly court appearances to defend himself against charges of insulting the Muslim holy book, the Koran.
"On Feb. 15, we are happy to vote for a Muslim leader," one speaker, Maulana Kamal Yusuf, told a crowd of men and women in white robes who had poured into the vast Istiqlal mosque from the early hours for mass prayers.
"Jakarta will be led by a Muslim leader who submits to the will of Allah," he added, urging his listeners to choose Yudhoyono or Baswedan. "Jakarta will be a religious city."
Security around the mosque was tight, with armed military and police officers standing guard.
Saturday is the last day before a 'quiet period' in which candidates and their supporters are barred from canvassing for votes.
Yusuf also asked his audience to support Habib Rizieq, the head of hardline Muslim group Islamic Defenders Front (FPI), who has been reported to the police for allegedly insulting the state ideology, Pancasila, and state symbols.
The allegations against Rizieq "go against justice," a senior official of the group has previously said.
Full report at:
http://www.channelnewsasia.com/news/asiapacific/thousands-gathered-at-jakarta-mosque-urged-to-vote-for-muslim-go/3510926.html
--------
Indonesia urges 'significant steps' on Rohingya Muslims issue
10 February 2017
Myanmar should take significant steps to achieve peace in Rakhine state, Indonesia's foreign minister said Friday, warning that the bloody crackdown on the country's Muslim Rohingya minority could lead to instability across South East Asia.
Hundreds of Rohingya are thought to have been killed during a brutal campaign by Myanmar security forces in Rakhine to find militants accused of carrying out deadly raids on police border posts.
Almost 70,000 have fled to Bangladesh since "clearance operations" began four months ago, bringing horrific stories of mass rape, murder, torture and arson.
Myanmar's four-month military crackdown on Rohingya Muslims has is likely to have killed hundreds of people, the UN said in a report released in early February
+3
Myanmar's four-month military crackdown on Rohingya Muslims has is likely to have killed hundreds of people, the UN said in a report released in early February
Indonesia, the world's largest Muslim-majority nation, joined a chorus of concern Friday calling for an end to the crisis.
"I would like to once again reiterate the importance for the government of Myanmar to take significant steps to create an enabling environment for peace and reconciliation to take place," said foreign minister Retno Marsudi on a visit to Singapore.
"Indonesia shares the concern of the international community on the humanitarian and security situation in Rakhine state."
The plight of the Rohingya, a stateless group denied citizenship in Buddhist-majority Myanmar and reviled as illegal immigrants from Bangladesh, has become a lightning rod for anger across the Muslim world.
Myanmar also drew criticism from Malaysia on the issue last month, in a rare spat between Southeast Asian neighbours.
Prime Minister Najib Razak said Myanmar's treatment of the Rohingya was a "stain" on the 10-member Southeast Asian regional bloc ASEAN, and warned that Islamist extremists may exploit the crisis.
Full report at:
http://www.dailymail.co.uk/wires/afp/article-4211234/Indonesia-urges-significant-steps-Rohingya-Muslims-issue.html
--------
North America
Hundreds of immigrants arrested in 'routine' US enforcement surge
February 11, 2017
The enforcement actions took place in Atlanta, New York, Chicago, Los Angeles and surrounding areas
US federal immigration agents arrested hundreds of undocumented immigrants in at least four states this week in what officials on Friday called routine enforcement actions.
Reports of immigration sweeps this week sparked concern among immigration advocates and families, coming on the heels of President Donald Trump's executive order barring refugees and immigrants from seven majority-Muslim nations. That order is currently on hold.
"The fear coursing through immigrant homes and the native-born Americans who love immigrants as friends and family is palpable," Ali Noorani, executive director of the National Immigration Forum, said in a statement. "Reports of raids in immigrant communities are a grave concern."
The enforcement actions took place in Atlanta, New York, Chicago, Los Angeles and surrounding areas, said David Marin, director of enforcement and removal for the Los Angeles field office of US Immigration and Customs Enforcement.
Only five of 161 people arrested in Southern California would not have been enforcement priorities under the Obama administration, he said.
The agency did not release a total number of detainees. The Atlanta office, which covers three states, arrested 200 people, Bryan Cox, a spokesman for the office, said. The 161 arrests in the Los Angeles area were made in a region that included seven highly populated counties, Marin said.
Marin called the five-day operation an "enforcement surge."
In a conference call with reporters, he said that such actions were routine, pointing to one last summer in Los Angeles under former President Barack Obama.
"The rash of these recent reports about ICE checkpoints and random sweeps, that's all false and that's dangerous and irresponsible," Marin said. "Reports like that create a panic."
He said that of the people arrested in Southern California, only 10 did not have criminal records. Of those, five had prior deportation orders.
Michael Kagan, a professor of immigration law at the University of Nevada at Las Vegas, said immigration advocates are concerned that the arrests could signal the beginning of more aggressive enforcement and increased deportations under Trump.
"It sounds as if the majority are people who would have been priorities under Obama as well," Kagan said in a telephone interview. "But the others may indicate the first edge of a new wave of arrests and deportations."
Trump recently broadened the categories of people who could be targeted for immigration enforcement to anyone who had been charged with a crime, removing an Obama-era exception for people convicted of traffic misdemeanours, Kagan said.
http://www.dhakatribune.com/world/north-america/2017/02/11/hundreds-immigrants-arrested-routine-us-enforcement-surge/
--------
Assad Says US Troops Welcome in Syria to Fight 'Terrorism'
Feb 10, 2017
Syrian President Bashar Assad said in an interview released on Friday that the United States is welcome to join the battle against "terrorists" in Syria — as long as it is in cooperation with his government and respects the country's sovereignty.
Speaking with Yahoo News, Assad said he has not had any communication — direct or indirect — with President Donald Trump or any official form the new U.S. administration.
But the Syrian leader appeared to make a gesture to the new U.S. president in the interview, saying he welcomes Trump's declaration that he will make it a priority to fight terrorism — a goal Assad said he also shares.
However, Assad's government has labelled all armed opposition to his rule — including the U.S.-backed rebels — as "terrorists."
"We agree about this priority," Assad said of Trump. "That's our position in Syria, the priority is to fight terrorism."
Syria's six-year civil war has killed more than 300,000 people and displaced half the country's population. The country is shattered and the chaos has enabled the rise of the Islamic State group, which in a 2014 blitz seized a third of both Syria and neighboring Iraq. The extremist group, responsible also for several deadly attacks around the world, has declared an Islamic caliphate on the territory it controls.
Assad also told Yahoo News that his country would welcome U.S. "participation" in the fight against terrorism but it has to be in cooperation with the Syrian government.
Assad's comment ignored the U.S.-led international coalition, which has been targeting the Islamic State group and al-Qaida's affiliate in Syria with airstrikes since September 2014. The U.S. also has advisers in Syria along with predominantly Kurdish fighters north of the country who are fighting against the Islamic State.
"If you want to start genuinely, as United States ... it must be through the Syrian government," Assad said. "We are here, we are the Syrians, we own this country as Syrians, nobody else, nobody would understand it like us."
"So, you cannot defeat the terrorism without cooperation with the people and the government" of Syria, he added.
The Syrian government has always blamed the U.S. for backing opposition fighters trying to remove Assad from power. The rebels formed a serious threat to the Syrian leader until 2015, when Russia joined Syria's war backing Assad's forces and turned the balance of power in his favor.
"We invited the Russians, and the Russians were genuine regarding this issue. If the Americans are genuine, of course they are welcome, like any other country that wants to defeat and to fight with the terrorists. Of course, with no hesitation we can say that," Assad said in English.
But when asked if he wants American troops to come to Syria to help with the fight against the Islamic State group, Assad said that sending troops is not enough — a genuine political position on respecting Syria's sovereignty and unity is also needed.
"All these factors would lead to trust, where you can send your troops. That's what happened with the Russians; they didn't only send their troops," Assad added.
Assad would not comment on Trump's move to bar Syrian refugees and people from seven majority-Muslim countries from entering the U.S., calling it an "American sovereignty" issue.
But he appeared to offer some veiled support at last, saying that there are "definitely terrorists" among the millions of Syrians seeking refuge in the West, though it doesn't have to be a "significant" number.
Excerpts of Assad's comments were aired on Thursday while the full interview with Yahoo News ran on Friday.
The Syrian president also blasted a report released this week by Amnesty International in which the group said as many as 13,000 prisoners were hanged in over four years in one of Syria's prisons and later buried in mass graves.
"It's always biased and politicized, and it's a shame for such an organization to publish a report without a shred of evidence," Assad said.
He also rejected an initiative that calls for creating "safe zones" in Syria for refugees, an idea also been floated by Trump as a substitute for resettling Syrian refugees in the U.S. and elsewhere.
Full report at:
http://abcnews.go.com/International/wireStory/syrias-assad-syrian-refugees-terrorists-45396389
--------
Khizr Khan Asks Latinos to Join Fight Against Donald Trump
February 11, 2017
The only solution to such suffering is unity, Khizr Khan told Efe news on Friday during an interview in Miami in reference to Trump's recent anti-immigration measures.
The Pakistani-American lawyer urged the Latino community to remain hopeful, strong and united, to join forces with other communities, assuring them "you are not alone".
In his first week in office, Trump had signed executive orders ending safeguards for undocumented immigrants in the country and banning the entry of travellers and refugees from seven Muslim-majority countries, among other measures affecting both the Muslim and Latin communities.
Khan said that while Trump will cause "difficulties", he believed the President will not succeed, based on his firm belief in the US judicial and legislative system.
The activist said while he felt heartened by the appeals court decision from Thursday striking down Trump's travel ban on citizens from Muslim nations, he was worried such orders (as Trump's) can be detrimental for US security.
Explaining, he said that US Army personnel deployed in Muslim countries now face much less cooperation from the Muslim community and "we need more cooperation to defeat terrorism".
Khan, who became famous for his moving speech against discrimination of Muslims during the 2016 Democratic National Convention, stressed the Democratic Party maintains its identity and "faith in good values".
Saying the election loss had led the Democratic Party to undergo a restructuring, he said they are now moving together towards a common agenda for consensus in the entire country.
Full report at:
http://www.siasat.com/news/khizr-khan-asks-latinos-join-fight-donald-trump-1129417/
--------
Gere faults Trump for blurring meaning of 'refugee' and 'terrorist'
Feb 11, 2017
Actor and activist Richard Gere said on Friday that U.S. President Donald Trump has managed to merge the meaning of the words "refugee" and "terrorist" in the minds of many Americans.
Gere also told a news conference at the Berlin Film Festival just before the world premiere of his new film "The Dinner" that he found it discouraging to see term "refugee" go through such a dispiriting change of meaning in the United States.
"The most horrible thing that Trump has done is conflated two words – refugee and terrorist," Gere, 67, told more than 100 journalists. "It means the same thing in the U.S. now. That's what he's accomplished to a large segment of our population."
Trump ordered a travel ban on refugees and citizens from seven Muslim-majority countries on Jan. 27. A U.S. appeal court in San Francisco refused to reinstate a temporary ban on the order. Trump criticized the court decision.
"A 'refugee' used to be someone that we had empathy for ...someone we wanted to help who we wanted to give refuge to," Gere said.
"...Now we're afraid of them and this ...is the biggest crime in itself: conflating these two ideas."
Gere met Chancellor Angela Merkel this week while in Berlin for the festival. She told Trump in a phone call two weeks ago the global fight against terrorism was no excuse for banning people from Muslim-majority countries.
In the film "The Dinner", Gere plays a famous politician who meets his wife and his brother at a hip restaurant to discuss a horrible crime committed by their sons.
In an interview with Reuters before the news conference, Gere said he was encouraged by protests in the United States against Trump's policies.
"I am essentially an optimist so I am seeing this as an opportunity for people to show up the day after he was inaugurated," Gere said. "There were millions of people in the streets in New York. It wasn't angry demonstrations. It was positive demonstrations that were kind of a unity of purpose."
Full report at:
http://nation.com.pk/international/11-Feb-2017/gere-faults-trump-for-blurring-meaning-of-refugee-and-terrorist
--------
'Death to America': Thousands rally in Iran celebrating Islamic Revolution
10 Feb, 2017
Hundreds of thousands of Iranians have taken to the streets of Tehran to celebrate the anniversary of the Islamic Revolution and denounce US President Donald Trump's recent statements regarding the Muslim state.
On the anniversary of Iran's 1979 Islamic Revolution, which saw the ousting of the former US-backed House of Pahlavi, a flood of protesters headed towards Tehran's Azadi (Freedom) Square with Iranian flags, celebrating the rule of the current clerical establishment.
Footage showed people trampling on pictures of Trump in a central Tehran street, where marchers carried banners reading: "Thanks Mr. Trump for showing the real face of America." The crowd was also seen burning US and Israeli flags. Israel is Washington's main ally in the region, while Iran has been supporting Palestinians in their dispute with Israel. Chanting out provocative slogans and burning flags are common practices at mass demonstrations in Iran.
However, some Iranians held banners that said "Down with the US regime, Long live US people" and "Americans are welcome to visit Iran," showing gratitude to the demonstrators who took to the streets of America to protest Trump's executive order barring entry to the citizens of seven Muslim countries, including Iran. Yesterday, a US Court of Appeals upheld an injunction blocking enforcement of the ban, but the case will likely continue to be appealed all the way up to the Supreme Court.
The protest comes after Iran's most powerful authority, Supreme Leader Ayatollah Ali Khamenei, called on Iranians earlier this week to demonstrate against the US to show Iran was not frightened of their "threats."
"[Trump] says 'You should be afraid of me.' No! The Iranian people will respond to his words on February 10 and will show their stance against such threats," Khamenei said on Tuesday.
Last week Fox News published an interview with Donald Trump, in which he said "they [Iran] have total disregard for our country, they're the number one terrorist state, they're sending money all over the place and weapons," referring to accusations frequently coming from the West that Tehran is supporting various Shiite rebel groups in the Middle East, including the Lebanese Hezbollah, the Palestinian group Hamas and the Houthis in Yemen.
Full report at:
https://www.rt.com/news/376941-iran-trump-notice-protests/
--------
Muslim hockey player's trip to the U.S. comes with lots of baggage
FEBRUARY 10, 2017
BY HANNAH ALLAM
It sounds like a fairytale: A young woman with remarkable hockey skills is discovered at an ice rink in Abu Dhabi and flown across the world for a practice session with her favorite team, the Washington Capitals.
But Fatima Al Ali's dream trip involved a lot of baggage. The 27-year-old Emirati hockey phenom's visit this week made clear the awkward position of Muslims in today's United States. Her few hours at the Capitals rink were covered by at least six TV crews, their cameras trained on the spectacle of a headscarf-wearing woman from a desert island looking so at home on the ice.
Beyond the exotification, Al Ali was an ambassador for the NHL's "Hockey Is for Everyone" campaign at a time when that slogan is complicated. Had she been born in Syria or Iraq or Yemen, she might not have made the event because of President Donald Trump's now-frozen travel ban affecting seven Muslim-majority nations. That political backdrop – coupled with the irresistible visual of hijab and hockey stick – turned what might've been a small photo op into a media frenzy.
Put bluntly, the cameras were there because Al Ali is Muslim, but public relations managers handling her visit didn't want her venturing into religious or political talk. And they really didn't want any questions about Trump's contested travel ban, as a TV reporter found out when she broached the issue and was later chastised by an organizer.
"I'm not happy about it," Al Ali said of Trump's executive order, before a handler quickly shut down the interview and whisked her away.
Several Muslim tropes swirled around Al Ali's visit. There's the stereotype of the oppressed Muslim woman, which positions Al Ali as extraordinary because she's in a rough, male-dominated sport. There's the travel ban and the general vilification of Muslims, which position Al Ali as an antidote to the negative press. Then there's the so-called "hijab fetish," a fascination with the veil that reduces smart, independent women to the fabric over their hair.
At the center of this maelstrom was an athlete who just wanted to do her thing.
Al Ali wore a grimace as she sat with her little brother in the stands, their every move caught by the cameramen, who filmed them nonstop from all angles. But her face changed the second it was time to glide onto the ice and hit some pucks with her hero, the Russian superstar Alex Ovechkin, captain of the Capitals and among the leading goal scorers in NHL history.
The self-consciousness melted away as Al Ali smiled and laughed with the players, seemingly oblivious to the videographers and reporters who by then had trudged onto the ice in their street shoes for better views. She looked tiny next to the gargantuan Ovechkin, who at one point sprinted to the locker room and returned with an autographed hockey stick for Al Ali to keep as a souvenir.
The pained expression returned when it came time for Al Ali to submit to a string of one-on-one interviews the Capitals PR team had arranged. In her four minutes with McClatchy, she described her brother as her No. 1 supporter, said the trip was even better than she'd dreamed and talked about how it felt to have female athletes across the Middle East find inspiration in her success as a groundbreaking sports photographer and, now, as a hockey player and coach.
"It's overwhelming to be able to move your passion and love of the game to others," Al Ali said.
Full report at:
http://www.newsobserver.com/news/nation-world/national/article132060839.html
--------
Trump travel ban affects not just Muslims
FEB 11, 2017
Arvind Jayaram
United States President Donald Trump's executive order barring refugees from entering the US for 120 days, a 90-day ban on travellers from seven Muslim-majority countries and an indefinite ban on refugees from Syria had been seen by some as a ban targeting Muslims.
That perception seems to be borne out by data showing that Muslim refugees from the seven countries - Somalia, Sudan, Libya, Iraq, Iran, Syria and Yemen - will be disproportionately hit by the ban.
A total of 38,901 Muslim refugees entered the US in the 2016 fiscal year, accounting for 45.7 per cent of the total refugee inflows that year. This was the highest number of Muslim refugees allowed into the US in any recorded year.
Refugees from the seven affected countries - before a US district judge halted the ban last Friday in a move now being challenged by the Trump administration - accounted for 79.4 per cent of the inflows. Syria, Somalia and Iraq alone accounted for 75 per cent of the Muslim refugees who entered the US in 2016.
If the Trump administration succeeds in getting the ban reinstated, it is likely that the Muslim refugee intake in the US would fall by a commensurate level.
Nevertheless, while Muslims make up the largest religious group affected by the immigration order, large numbers of Christians and people of other religious beliefs will also be hurt by the controversial move.
The number of Christian refugees entering the US was almost at the same level as Muslims in 2016, at 37,521. Accounting for 44.1 per cent of the refugees, it was the first time since 2006 that Christians represented a smaller proportion of the refugee population entering the US than Muslims. But Christian refugees from the seven countries affected by the ban accounted for only 11.4 per cent of the total number of Christian refugees entering the US in the 2016 fiscal year.
Also, the argument that Mr Trump has imposed a ban targeting Muslims does not hold up in the case of Iran. The number of Christians and people of other beliefs entering the US as refugees from Iran has consistently exceeded the number of Muslims over the past seven years.
In fact, data shows that the US had been restricting the inflow of refugees in the years before 2016, when President Barack Obama, in the last year of his term, decided to increase the intake.
The US humanitarian response to the war in Syria and Iraq, for instance, has been muted, as evidenced by the number of refugees allowed into the country from Syria.
In 2010, a year before civil war broke out in Syria, the US admitted 73,311 refugees from across the globe. But in 2011, the number fell by 23 per cent. It subsequently rose to 69,926 by 2013 and stayed more or less at that level for the next two years before hitting a 17-year high of 84,995 in 2016.
Full report at:
http://www.straitstimes.com/world/united-states/trump-travel-ban-affects-not-just-muslims
--------
URL: https://www.newageislam.com/islamic-world-news/new-age-islam-news-bureau/trump-to-iran's-rowhani--you-better-be-careful/d/110046
New Age Islam, Islam Online, Islamic Website, African Muslim News, Arab World News, South Asia News, Indian Muslim News, World Muslim News, Womens in Islam, Islamic Feminism, Arab Women, Womens In Arab, Islamphobia in America, Muslim Women in West, Islam Women and Feminism, Moderate Islam, Moderate Muslims, Progressive Islam, Progressive Muslims, Liberal Islam