New Age Islam News Bureau
21 Aug 2019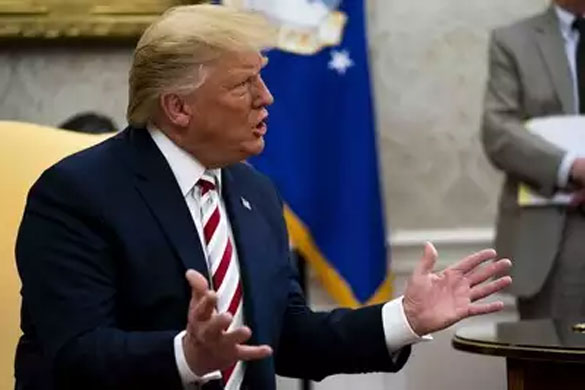 • Trump offers to mediate between India and Pakistan again as Kashmir situation 'explosive' and 'complicated, 'religious differences in the region, millions of people who want to be ruled by others … maybe on both sides'
• Virginia Imam Advocates Overthrowing 'Weak' Arab States, Prays For Mujahideen
• UK Backed China's Move to Issue Statement over Kashmir at UNSC
• Why Sikhs Are Helping Kashmiris Reach Home Safely
• Pakistan Says It Will Take Kashmir Issue to the International Court Of Justice
• Penang Mufti: Zakir Naik Only Presents the Truth
• Police Investigate Blasphemy Accusations against Popular Islamic Preacher
• Moderate Islamists Make New Power Quest In Tunisia
• China Envoy Warns Of Re-Emergence of Daesh, Other Takfiri Outfits In Syria
• As Taliban Talk Peace, ISIS Is Ready to Play the Spoiler in Afghanistan
North America
• Trump offers to mediate between India and Pakistan again as Kashmir situation 'explosive' and 'complicated, 'religious differences in the region, millions of people who want to be ruled by others … maybe on both sides'

• Washington 'ready' to conclude talks with Taliban: US envoy
• US Secretary of State Pompeo says ISIS strong in some areas: CBS
• US to punish anyone who 'touches or supports' Iran-run tanker: Pompeo
• Trump describes US military role in Afghanistan as 'ridiculous' police force
• Pompeo warns of 'new turmoil' if UN arms embargo on Iran lifted in 2020
• US urges Syrian regime, allies to halt Idlib attacks
--------
Europe
• Virginia Imam Advocates Overthrowing 'Weak' Arab States, Prays For Mujahideen
• UK Backed China's Move To Issue Statement Over Kashmir At UNSC
• Detention of Muslims at UK Ports and Airports 'Structural Islamophobia'
• Islamist Terror Plots In Europe Declining, But Schemes Getting More 'Creative,' Analysis Says
• Romania, a beacon of coexistence for Muslims in Eastern Europe
• Will France foil Muslim Brotherhood's plan to take over?
• NZ lawmakers urged to drop restrictions on Africa, Middle East refugees
--------
India
• Why Sikhs Are Helping Kashmiris Reach Home Safely
• Masjid built over 10th century temple: Counsel for Ram Lalla
• NIA transfers 3 officers after bribe charges in terror case
• 2,300 held in Kashmir, says international news agency, citing officers, records
• NRC process in Assam an internal matter, India tells Bangladesh
• First encounter in Jammu & Kashmir since abrogation of Article 370
• Yemen's govt-in-exile calls for assistance from India
• Ayodhya hearing: Writings on recovered slab point to Vishnu temple at Babri site, SC told
• Bihar Govt to Repair, Rebuild All Registered Madrasas In State
• Indian State on high alert amid reports of terrorists' intrusion from Afghanistan
--------
Pakistan
• Pakistan Says It Will Take Kashmir Issue to the International Court Of Justice
• Court moved to quash FIRs against Hafiz Saeed, others
• Maryam Nawaz's remand extended for 14 days
• Three reviews to determine Pakistan's place on FATF list
• Bill seeking to create new provinces referred to NA speaker
• NAB to seek extension in physical remand of Maryam, Hamza
• Qureshi telephones French FM to discuss Kashmir dispute
• MBS telephones Imran, discusses Kashmir situation
• Pak-Afghan track-II dialogue begins in Islamabad today
--------
Southeast Asia
• Penang Mufti: Zakir Naik Only Presents the Truth
• Police Investigate Blasphemy Accusations against Popular Islamic Preacher
• Selangor Umno wants unilateral conversion Bill tabled at next sitting
• China warns on ISIS revival in Syria
--------
Africa
• Moderate Islamists Make New Power Quest In Tunisia
• Under Pressure, IS Militants in Somalia Look to Ethiopia
• Somali forces kill 20 al-Shabab militants in southern region
• At least 10 Burkina Faso soldiers killed in militant attack
• Sudan forms sovereign council to lead transition: Spokesman
• Nigeria: Decade of B.Haram terror killed 37 aid workers
--------
Arab World
• China Envoy Warns Of Re-Emergence of Daesh, Other Takfiri Outfits In Syria
• Iraqi police destroy three Islamic State hotbeds in Diyala
• Egypt court hands out 6 death sentences on terror charges
• Al-Nujaba Movement Underlines Failure of US Scenarios against Hashd Al-Shaabi
• Syrians facing forced removal from Istanbul given temporary reprieve
• Bahraini political prisoners thrown into solitary as regime seeks to quash hunger strike
• Egypt says security forces kill 11 militants in Sinai
--------
South Asia
• As Taliban Talk Peace, ISIS Is Ready to Play the Spoiler in Afghanistan
• Taliban Trolls Could Adopt New Terrorist Tactics in the Wake of America's Peace Plan
• No complete withdrawal from Afghanistan: Donald Trump
• Rohingya Muslims Say They Don't Want to Return to Myanmar
• Afghan Special Forces arrest ISIS militants in Paghman district of Kabul
• 12 Taliban militants killed, wounded in Special Forces night raids in Kapisa
• Afghan Special Forces kill, detain 16 Taliban militants in Logar
• Airstrike kills top Taliban leaders including the group's intelligence chief in Wardak
• Afghans restore art shattered by Taliban as peace deal nears
• Bangladesh prepares for Rohingya repatriations
--------
Mideast
• UAE Minister Says Confronting Houthi Coup Priority in Yemen
• Turkey says it will not move military observation post in Syria
• UN envoy condemns Houthi attack on Saudi civilian infrastructure
• Arab Coalition strikes Houthi targets in Yemen's Sanaa
• Turkey provides clear, support to terrorists in Syria's Idlib: Assad
• Omar: US must reconsider billions of dollars of aid to Israel
Compiled by New Age Islam News Bureau
URL: https://www.newageislam.com/islamic-world-news/trump-offers-mediate-again-kashmir/d/119527
--------
Trump offers to mediate between India and Pakistan again as Kashmir situation 'explosive' and 'complicated, 'religious differences in the region, millions of people who want to be ruled by others … maybe on both sides'
Aug 21, 2019
WASHINGTON: Describing the situation in Kashmir as "explosive" and "complicated" on account of religious differences in the region, US President Donald Trump on Tuesday said he "will do the best I can to mediate or do something" to defuse the crisis between Pakistan and India.
"Kashmir's a very complicated place. You have the Hindus, and you have the Muslims, and I wouldn't say they get along so great. And that's what you have right now," Trump told reporters in the White House, offering a pared down explanation of a crisis he himself described as complicated.
The US President said he would be meeting India's Prime Minister Narendra Modi over the weekend at the G7 summit in Biarritz, France and suggested the issue may feature in their discussions.
"We are helping the situation. There are tremendous problems between those two countries and I will do the best I can to mediate or do something. It is a complicated situation. A lot has to do with religion. Religion is a complicated subject," Trump said.
The US President's remarks followed telephonic conversations he had, first with Pakistan's prime minister Imran Khan, then with Prime Minister Modi, and back again with Khan, over the past four days.
While Khan has repeatedly sought his intervention and mediation in the crisis and attempted to leverage Washington's need for Pakistan for the US exit from Afghanistan, Modi conveyed to him that Khan's intemperate tweets on Sunday had befouled the atmosphere and bilateral talks between India and Pakistan would be considered only if he dialed down the rhetoric and rolled up and prosecuted the terror networks in Pakistan that launched repeated attacks on India.
Subsequent to that conversation, Trump phoned Khan a second time to ask him to moderate his rhetoric and avoid escalating conflict with India over the Kashmir issue, according to the White House. The US President also appears to have accepted India's stand that effecting constitutional, legislative, and administrative changes in Jammu and Kashmir was a purely internal domestic decision and Pakistan has no locus standi in the matter.
At a separate briefing, a senior US administration official told reporters that while the US recognized that what India had done is an internal matter, "it obviously has repercussions outside of India's borders." The Trump administration, while staying with the bilateral course that New Delhi insists on, would urge India to address the human rights situation, including moving quickly to release detainees to restore basic freedoms, and to implement what the Prime Minister laid out in his own address of a return to political normalcy.
The United States, most major world powers barring China, and a range of smaller countries, including Gulf and Islamic countries, have broadly accepted New Delhi's stand that revocation of Article 370 and related changes in Jammu and Kashmir are India's internal matter and backed New Delhi's position that any talks between India and Pakistan has to be in a bilateral sphere as envisaged in agreements between the two countries. Although US official hew to this line, Trump frequently strays into mediation territory, leaving the US officialdom to finesse his offer or pick up the pieces.
Trump appeared to have gotten some sort of briefing in recent days on the Kashmir issue centering on religion. "Well they have been having these talks for hundreds of years. You have millions of people who want to be ruled by others …maybe on both sides…and you have two countries that haven't gotten along well for a long time," he said with typical vagueness as he talked about the issue in response to a question during a media photo-op with visiting President of Romania Klaus Iohannis
"Frankly, it is a very explosive situation….I spoke to Prime Minister Khan and Prime Minister Modi...they are friends of mine and they are both great people…they love their countries. Kashmir is a very tough situation. This has been going on for decades….the shooting….I don't mean rifles.. major shooting of howitzers and heavy weapons," he rambled on.
https://timesofindia.indiatimes.com/india/kashmir-situation-explosive-and-complicated-trump-says-offering-to-mediate-again/articleshow/70762845.cms
--------
Virginia imam advocates overthrowing 'weak' Arab states, prays for mujahideen
August 20, 2019
Egyptian American Imam Shaker Elsayed of the Dar Al-Hijrah Islamic Center in Fairfax County, Va., where Anwar Al-Awlaki served as imam in September 2001, criticized Arab regimes in a Friday sermon earlier this month for imitating the West and "scavenging" like an "unwanted dog at the dinner table."
The Arab regimes were working with Israel to erase Palestine, he said, and were weak—fighting over trivial issues like borders and resources.
Elsayed went on to say that all powers that interfere with the Arabs' aspirations for glory must be removed by any means possible, and added: "We cannot continue to have peace with repressive regimes. … We have to remove the source of our misery, [which is] these governments."
He cited an Arab poem that says that the door to freedom is stained with the blood of the hands that have knocked on it, and he said that the Arabs need people who are willing to "take initiative" and be "ingenious" like the Palestinians in Gaza and like the Afghans in the 1980s.
Imam Elsayed concluded with a prayer asking Allah to grant victory to the mujahideen throughout the world.
The sermon was uploaded to the Dar Al-Hijrah Islamic Center's YouTube channel. It was the ninth installment of a series of talks titled "The Crisis of Our Ummah."
In the past, Imam Elsayed has been the subject of criticism and censure for anti-Semitic statements and for statements that have been in support of jihad and female genital mutilation (see MEMRI TV Clips No. 5989, No. 6043, No. 6057 and No. 6378).
According to the Dar Al-Hijrah Islamic Center's website, Imam Elsayed is the secretary-general of the Muslim American Society (MAS), which has also recently been the subject of criticism surrounding a pro-jihad children's event at a MAS-affiliated school in Philadelphia (see MEMRI TV Clip No. 7194).
https://www.jns.org/virginia-imam-calls-to-overthrow-weak-arab-regimes-prays-for-mujahideen/
--------
UK backed China's move to issue statement over Kashmir at UNSC
Rezaul H Laskar and Prasun Sonwalkar
Aug 21, 2019
China's efforts to issue a statement following last week's informal consultations on the Kashmir issue at the UN Security Council were backed by the UK, causing consternation in India and other countries, people familiar with developments said on Tuesday. Though an attempt by Pakistan and China to have an open and formal meeting of the Security Council was rebuffed by members of the body, the council agreed to hold "closed consultations" on the Kashmir issue on August 16. This was the first time the council took up the "India-Pakistan Question" – the UN's term for the Kashmir issue – since 1971.
The rare closed-door consultations on Kashmir by the UNSC, taken up in the wake of India's revocation of the special status for Jammu and Kashmir earlier this month, ended without any outcome or a statement from the powerful 15-nation UN organ last week.
The people cited above, including officials of two Western countries, said the UK had taken the line during informal consultations before the August 16 meeting that there should be some form of statement following the "closed consultations". This was in line with China's position, they said.
Some of the UN Security Council's 15 members, especially the US, France and the Dominican Republic, attempted to block even the informal meeting and also opposed any statement.
During the informal consultations ahead of the August 16 meeting, the British side argued there should be some sort of "public product", the people said.
The British side further argued that without any statement, Pakistan and China could make more efforts to convene a formal meeting of the UN Security Council that would have recorded minutes and an official statement, the people added.
The UK's stand took India and other countries, including those who were attempting to block the informal consultations, by surprise.
Referring to the issue, a British government functionary said on Tuesday: "I can confirm we did not take sides in the debate [within the UN Security Council] and did not side with China against India."
The functionary reiterated the UK's position that the Kashmir issue should be bilaterally settled by India and Pakistan: "As you know, our longstanding position is that it is for India and Pakistan to find a lasting political solution on Kashmir."
Besides the "closed consultations" at the UN Security Council, there has been concern in New Delhi over London's handling of violence during a protest outside the Indian mission in the British capital on August 15. India has conveyed its concerns in this regard to the UK through diplomatic channels.
Images of the large-scale protest by anti-India elements showed members of the Indian community were targeted with eggs and bottles filled with water. Window panes of the India mission were shattered and the building suffered damage as police initially struggled to maintain order.
The violence was described by Indian quarters in London as "very worrying, unfair and unacceptable" as it amounted to almost a siege of the high commission and "just short" of the building being stormed by protestors.
There has also been concern in Indian quarters about British authorities allowing such a protest and the Foreign Office denying the violence by describing the demonstration as "overwhelmingly peaceful" when London mayor Sadiq Khan had already condemned the violence.
https://www.hindustantimes.com/india-news/after-unsc-meet-uk-backed-china-s-move-on-statement/story-OrAwKNWMybBm7t2Rbrq8eM.html
--------
Why Sikhs are helping Kashmiris reach home safely
August 19, 2019
Corrected Update: (Monday, August 19): 32 Kashmiri girls studying in Pune panicked when they lost communication with their families post abrogation of Article 370 shutdown in Kashmir. The girls reportedly approached the Sangat (United Sikh Mission) --not the Sikh Gurudwara committee as reported in the media yesterday --for help in going back to their homes. It was the Sangat (not the Pune Gurudwara committee) who booked the girls on a flight to Delhi. Not only that, they picked them from their hostels PGs etc and ensured their safe departure. At Delhi, other Sewadars took over. The girls were sent to Srinagar, a few sewadars accompanied the girls on the flight.They personally ensured that each girl was escorted to her home safely across Kashmir. Wahe Guru, Wahe Guru ਵਾਹਿਗੁਰੂ (Pronounced like "Wha-hay guroo") !
We have all witnessed the humanitarian work done by Sikhs all over the world. From serving langar during floods in India, to feeding the Rohingya refugees, the principle of "Sewa" (service) is the essence of Sikhism. On August 10, 2019, 3 Sikh activists helped raise funds and escort 32 female Kashmiri students from Pune to their homes across Baramullah, Badgam, Shopian, Srinagar and Kupwara districts, when due to restrictions imposed on J&K during the abrogation of Article 370, the students lost touch with their families and wanted to return to them.
A sustained helping hand by Sikhs
Earlier this year, after the tragic Pulwama terror attack, angry mobs threatened the safety of Kashmiri students across the country. Sikh volunteers and organizations rose up to protect the Kashmiris, standing guard outside hostels, and helping Kashmiris travel safely back home. Khalsa Aid organized buses to evacuate more than 300 Kashmiri students to Jammu. Local Gurudwaras opened their doors and offered food and shelter to Kashmiris. Social media witnessed hundreds of Kashmiris thanking the Sikhs and offering them free services and hospitality.
A tradition of stepping up to protect
Sikhs model this tradition of standing up for all communities after the countless examples of secular and syncretic practices of their Gurus. The most heart-wrenching story is of Guru Teg Bahadur Ji's sacrifice for Kashmiri Pandits in 1675. Guru Teg Bahadur Ji is the ninth Guru of Sikhs. When the Kashmiri Pandits felt their religion was being threatened under the Mughal rule, a delegation of 500 Kashmiri Pandits approached Guru Teg Bahadur Ji for help and guidance.
With words of encouragement and bravery from his then nine-year old son, Guru Gobind Singh Ji (the tenth and last living Guru), Guru Teg Bahadur Ji told the Pandits he would travel to Delhi and take a stand for them. The Guru was arrested and brought to Delhi as a prisoner, he was subjected to torture to convince him to convert, but he refused saying, "For me, there is only one religion – of God – and whosoever belongs to it, be he a Hindu or a Muslim, him I own and he owns me. I neither convert others by force, nor submit to force, to change my faith."
He refused to give up on his stance and defence of not just Sikhs but Kashmiri Pandits as well and was ultimately executed on November 11, 1675. He is honoured with the affectionate title of "Hind-di-Chadar" or the Shield of India because of his exemplary fortitude. In today's world, scarred by religious fanaticism and intolerance Guru Teg Bahadur ji is truly a hero to be revered and emulated.
Why Sikhs serve humanity, not religion
When Sikh volunteers and organizations Khalsa Aid and United Sikhs stepped up to help the Rohingya refugees in 2017, providing emergency relief supplies – clothes, water, food, jaggery and vegetables to the Rohingyas, many people questioned why Sikhs were helping Muslims when they had a history of being persecuted by some Mughal rulers. But once we delve into the history and teachings of the Sikh Gurus, we understand the service spirit of Sikhs is not limited by religious identity, economic differences, caste, or language. As the religious book Guru Granth Sahib says, "Nanak naam chardi kalaa, tere bhaane sarbat da bhalaa" (Nanak, with you name, comes prosperity, and with your blessings, may there be peace for all). The phrase "Sarbat da bhalaa" ends the daily prayer of Sikhs, inspiring them to wish peace and prosperity on every being on earth.
The Gurus left Sikhs with a legacy of sacrifice and compassion for everyone, irrespective of religion, and this is a legacy they protect fiercely. This is why Sikh volunteers can be seen helping out during natural disasters, communal tensions, war, or even serving water during summer months to parched commuters.
Sikhs in Kashmir
As Indians grapple with the new reality of Jammu & Kashmir, we must remember the Kashmiri Sikhs who have persevered in the valley, living in close proximity with their Muslim neighbours. Despite being subjected to unprecedented violence in in March, 2000, the reason and perpetrators shrouded in mystery, most Kashmiri Sikhs still reside on their ancestral land in Kashmir due to a combination of economic and sentimental factors. As the future of Kashmir unfolds, we pray that the spirit of brotherhood prevails and the Sikh community can continue to live and preach communal harmony. They may be a micro-minority in the area being only 2% of the population, but their concerns and voices are important and should be heard.
https://www.sabrangindia.in/article/why-sikhs-are-helping-kashmiris-reach-home-safely
--------
Pakistan Says It Will Take Kashmir Issue To The International Court Of Justice
Aug 20, 2019
WASHINGTON/ISLAMABAD: Pakistan announced on Tuesday that it would take its "Kashmir dispute" to the International Court of Justice despite the debacle surrounding its efforts to draw international mediation into the issue.
Firdous Ashiq Awan, Special Assistant to Pakistan's Prime Minister Imran Khan confirmed to reporters following a cabinet meeting in Islamabad that an in-principle approval had been granted by the cabinet to take the issue to the world court, the Dawn newspaper reported, quoting her saying "the case will be presented with a focus on the violation of human rights and genocide in occupied Kashmir." A panel of lawyers of international repute would be engaged to pursue the case on behalf of Pakistan at the United Nations' top court, she added.
The move appeared to be aimed at defusing domestic pressure in Pakistan to do something about the Kashmir issue rather than reaching any conclusive outcome since the court has limited jurisdiction and its decisions are largely advisory. In fact, states have standing to bring a compulsory claim against another state only with the consent of the responding state, leading Awan to clarify to the Pakistani media right off the bat that a ruling of the court would become binding only if both countries agreed before-hand.
Pakistan has typically fared poorly each time it has gone in for international intervention or arbitration, whether it is at the World Bank or ICJ or the UN. It most recently suffered a setback in the Kulbhushan Jadhav case where the ICJ by a 15-1 margin directed it to suspend the death sentence of the incarcerated Indian businessman who Pakistan accused of being an Indian spy. It was also rebuffed at the United States Security Council where no country other than China came to its support to put India in the dock over developments in Jammu and Kashmir.
In fact, some experts reckon that Islamabad could be jeopardizing its stranglehold on Pakistan Occupied Kashmir (POK) if it goes to the ICJ since the erstwhile state of Jammu and Kashmir acceded to India and Pakistan's invaded and annexed the part it subsequently called "Azad Kashmir." Pakistan is also in violation of UN resolutions that ask it to first vacate the area it has occupied before any referendum can be considered. In fact, Pakistan has ceded part of the erstwhile state to China.
All this is seen as making the Pakistani case weak, while questioning Islamabad's locus standi in the constitutional changes India has brought about in the erstwhile state. In fact, some experts said the ICJ may not have the jurisdiction to take up the Kashmir issue between India and Pakistan due to a 1974 declaration by India that would keep the court out of cases to do with internal issues or matters between India and Commonwealth nations. "Another Pakistani failure in progress. A legal petition dead on arrival," tweeted Lawrence Sellin, a regional expert who served in Afghanistan and who has been critical of Pakistan's policies in the region.
Some reports though suggested Pakistan may restrict its approach to ICJ to only India's alleged human rights violation in Kashmir to avoid any legal jeopardy. But even here, experts reckon there will be jurisdictional issues. Apparently, India had declared in a case Islamabad had brought before it over the destruction of a Pakistan aircraft that the court had no jurisdiction under Art 36(2) of ICJ statute.
https://timesofindia.indiatimes.com/world/pakistan/pakistan-says-it-will-take-kashmir-issue-to-icj/articleshow/70759469.cms
--------
Penang Mufti: Zakir Naik only presents the truth
By Audrey Dermawan
August 20, 2019
PENANG: Penang Mufti Datuk Seri Dr Wan Salim Wan Mohd Noor has urged the people, especially the non-Muslims, to stop accusing controversial Muslim preacher Dr Zakir Naik as being an "extremist" or "slanderer".
Describing Zakir as someone "very open", Wan Salim said the former was willing to engage in a dialogue with anyone scientifically and rationally.
"It is because of his excellent grasp in comparing religious knowledge and his arguments in upholding Islamic greatness, he is viewed as enemy by those who can't face up to him.
"As such, I hope those who have a skewed view towards (Dr) Zakir, could change their attitude towards him and stop accusing him of many things," he said in a statement today.
Earlier today, Zakir apologised to the non-Muslims for hurting them on his recent remarks, which he said was "taken out of context".
He said although he had clarified his stance to the police, he felt he owed an apology to everyone who felt hurt because of this "misunderstanding".
Zakir, who had been accused of causing racial discord in the country, added that he was against racism and was concerned about the episode as it has brought harm to the image of Islam.
Police had called in Zakir to record his statement last Friday and yesterday over his alleged racist remarks.
He is being probed under Section 504 of the Penal Code for intentional insult with intent to provoke a breach of the peace.
The preacher, who is a Malaysian permanent resident, is alleged to have made controversial remarks against Malaysian Hindus and Malaysian Chinese during a talk in Kota Baru on Aug 8, prompting calls for him to be deported back to India.
Elaborating, Wan Salim said every Malaysian citizen is aware that Islam is the official religion as enshrined in the Federal Constitution.
"In line with this, Islam should be given more space compared to others to be portrayed so that the people fully understand the religion and its teachings through preaching, including to the non-Muslims.
"They should accept the preaching with good intention which is, among others, aimed at getting rid of the phobia and prejudice towards the religion.
"They should also know that Islam does not force anyone to accept the religion as clearly stated in the al-Quran and Hadis," he added.
https://www.nst.com.my/news/nation/2019/08/514405/penang-mufti-zakir-naik-only-presents-truth
--------
Police Investigate Blasphemy Accusations Against Popular Islamic Preacher
BY: FAROUK ARNAZ & NUR YASMIN
AUGUST 20, 2019
Jakarta. The police have begun to look into blasphemy charges against Islamic cleric Abdul Somad, who has been accused of insulting the Christian symbol of the cross, and confirmed that they will soon summon the popular preacher for questioning.
Several Christian organizations have pressed blasphemy charges against the preacher to the police, including the Indonesian Christian Student Movement (GMKI), who reported Somad to the National Police's Criminal Investigation Agency in Jakarta.
Chief Comr. Rickynaldo Chairul from the National Police said they will summon the cleric after studying the case in detail. The police will also try to find the person who uploaded the video showing Somad making negative comments about the cross.
"If what he or she did broke the electronic transaction law, we will hand over the case to the cyber team. But if not, this kind of case is usually processed by the general crimes directorate... [we are] still waiting for that decision," Rickynaldo said at the National Police headquarters on Tuesday.
Vice President Jusuf Kalla has called Somad out and asked him to explain his statements in the video.
"He needs to clarify what happened... according to procedure," Kalla said in Jakarta on Tuesday.
Somad is facing a series of blasphemy charges after a video went viral showing him telling a crowd in a mosque that the Christian crucifix is the dwelling place of an "infidel jinn."
"A woman asked me once, 'Why do I get the chills whenever I think about a crucifix?' Because there is an infidel jinn in the crucifix, because of the statue [of Christ] on it [...]. That's why we should never worship a statue," Somad said in the video.
Other than the GMKI, other organizations that have reported Somad to the police include Meo Brigade, a Christian organization based in East Nusa Tenggara, and Batak-Christian organization Horas Bangso Batak.
https://jakartaglobe.id/context/police-investigate-blasphemy-accusations-against-popular-islamic-preacher
--------
Moderate Islamists make new power quest in Tunisia
AUGUST 21, 2019
Tarek Amara
TUNIS (Reuters) - Tunisia's moderate Islamists are hoping the genial Beethoven fan they have nominated to run in next month's presidential elections will break the mould in the Arab world by turning success at the ballot box into uncontested rule.
Abdelfattah Mourou is a lawyer who has distanced himself from the more socially conservative positions of his Ennahda party in the past, has friendly relations with opponents and is known for a jokey manner.
His aim, he says, is to unite Tunisians via the election to be held on Sept 15 in which he will face 25 other candidates, including prominent secularists such as Prime Minister Youssef Chahed, his Defence Minister Abdelkarim Zbidi and a TV tycoon.
"If I am elected I will be president of all Tunisians, not president for Ennahda supporters," Mourou, 71, told reporters when he submitted his application earlier this month.
Ennahda won the first free parliamentary elections after the Arab Spring pro-democracy uprisings of 2011, but did not stand in the presidential poll after protests by secularists like those against Egypt's freely elected Muslim Brotherhood, which was subsequently banned.
Mourou, kept under police surveillance during the 24-year rule of Zine El Abidine Ben Ali, has a good chance of surviving the first round of the election because the secularist vote is split, analysts say.
If he wins the second round he would become a standout, elected Sunni Islamist president in North Africa and the Middle East, where many longtime rulers style themselves as bulwarks against radical Islamism. Whether that would happen is less clear in a country with no reliable opinion polls.
Some Tunisians are wary, recalling a 2013 reception Mourou gave to visiting Islamist preacher Wagdy Ghoneim, who was excluded from the United Kingdom in 2009 for "seeking to foment, justify or glory terrorist violence". Mourou later apologized, saying he did not realize the full extent of his views.
"Mourou is like a chameleon; his positions change every day like the rest of the Islamists," said Mouna ben Salem, a student in Tunis, capital of the former French colony, where the key tourism sector is recovering from 2015 militant attacks.
Ennadha officials say the party has shown its true colors in its readiness to seek political consensus and is entitled to compete in polls for the president, who deals only with foreign and defense policy in Tunisia's nascent democracy.
Mourou was not immediately available for comment, but he regularly displays moderate credentials, attending annual gatherings of Jews at the ancient Ghriba synagogue, for instance, where he speaks about religious coexistence.
ODE TO JOY
Tunisia, where the Arab Spring uprising began, is more secular than the rest of the region: its elites study in Europe and women enjoy more rights. Ennahda has sought to distance itself from other Islamist movements such as the puritanical Wahabi sect of Saudi Arabia and the Muslim Brotherhood.
Campaigning does not begin until Sept 1 and Mourou has said little since he was nominated.
He left the party in 1991 after it failed to clearly condemn an attack by Islamists on a bureau of Ben Ali's party and returned in 2012. Two years later, he helped make the power-sharing deal with the secularists.
"He is able, and can convince anyone," said a man named Mohamed who was trying to persuade friends at a cafe that Mourou was the best choice. "He is also a statesman, can bring Tunisians together and work with opponents. We need to see a face that resembles us in power."
A 2011 online video shows Mourou, in his traditional Tunisian robe, singing Beethoven's 9th symphony, Ode to Joy, in perfect German; at the funeral of former secular President Beji Caid Essebsi, whose death precipitated the election, he showed his respect by walking 15 km (9 miles) behind the procession.
"Mourou is certainly the most palatable candidate Ennahda could offer up to the secularists," said Sharan Grewal, a visiting fellow at the Center for Middle East Policy at Brookings.
The only country where the Arab Spring brought democracy rather than a crackdown, civil war or partial steps, Tunisia has had nine governments since 2011 as political infighting and protests against austerity measures bring down coalitions.
Despite avoiding top positions since 2014, Ennahda remains the largest party, with grassroot networks even in small towns, in contrast to secular parties, which have repeatedly split.
"NONE OF THEM IS ANGRY"
To allay fears, Ennahda has rebranded itself as a party of Muslim democrats analogous to the Christian Democrats of German Chancellor Angela Merkel. It agreed to a new constitution in 2014 which guarantees fundamental and religious freedoms.
But critics say Mourou and other Ennahda officials hold contradictory positions on the role of Islam in society.
"The problem today is that Ennahda trying to hide the conservative face and promote the modernist one," said Zied Lakhdar, a leftist from the liberal Popular Front party who took part in protests against Ennahda in 2013.
Mourou has kept his statements on equality in inheritance vague, saying on local radio last year: "I distributed what I have for my children during my life.. none of them is angry."
Ennahda has criticized the U.S. decision to move its embassy in Israel to Jerusalem, but given Tunisia's close ties with Europe and the United States, Mourou would be likely to continue a pro-Western course. Thousands of Tunisians live in France alone.
Analysts said Ennahda, which is Arabic for Renaissance, needs to enter the unexpected presidential vote to motivate its supporters for a parliamentary election just three weeks later.
Party official Imed Khmiri said there was nothing to fear from a possible double victory as the party would continue its policy of power sharing.
MORE PROTESTS?
Some Tunisians argue that Ennahda's quest for power risks bringing back the ideological polarization that caused tension in 2013, even though the party says it seeks to avoid this.
"If the Islamist electoral base takes to the streets to campaign for their candidate, the country could return partly to the 2012 and 2013 climate," journalist Zied Krichen wrote in the Maghreb newspaper, predicting secularist protests in response.
The liberal camp has four main candidates: Chahed, in office since 2016, Zbidi, a civilian defense minister valued by many as being above party politics, Mehdi Jomaa, a former prime minister and Nabil Karoui, a business tycoon.
Having a presidential election before the parliamentary one may make it harder for Ennahda to form the alliances needed to form a stable government, said Max Gallien, a political scientist working on the politics and economics of North Africa.
The struggling economy is at the top of many voters' priorities and Ennahda and other secularists support market-oriented reforms urged on Tunisia by the International Monetary Fund but strongly resisted by unions and the population.
And Karoui, backed by his Nesma TV station, has positioned himself as champion of the poor in the neglected hinterland outside the capital — Ennahda's strongholds.
https://www.reuters.com/article/us-tunisia-election-islamists/moderate-islamists-make-new-power-quest-in-tunisia-idUSKCN1VB0GS?il=0
--------
China envoy warns of re-emergence of Daesh, other Takfiri outfits in Syria
Aug 20, 2019
As Syria edges closer to final victory over foreign-backed terrorists, a senior Chinese diplomat warns that terror outfits could still re-emerge in the Arab country, calling for a continued and concrete fight against the Takfiri terrorists, most of whom remain holed up in embattled Idlib Province.
"There is now a danger of terrorist organizations like ISIS (Daesh) being revived, we see some signs in some of the places," China's Special Envoy for Syria Xie Xiaoyan told reporters after meeting with UN Special Envoy for the Arab country Geir Pedersen in Geneva on Tuesday, Reuters reported.
"So the fight against terrorism needs to be continued. They need to be finished," he added. "The international community should pay attention to the early warning."
The Chinese diplomat pointed to the situation in Idlib Province, the last major militant stronghold in Syria, stressing that anti-terrorism efforts in Syria's northwestern regions "should not be relaxed given the large number of terrorists and extremists still gathering" in the province, the Xinhua news agency cited him as saying.
In parallel with those battles, he added, all parties should actively work to promote a political solution to the crisis gripping Syria while respecting the Arab nation's sovereignty, independence and territorial integrity.
The meeting comes as Syrian government forces have been making fresh gains in the southern parts of Idlib and nearby Hama Province as they move to rid the foreign-backed militants of their last major bastion in the Arab country.
In January, the UN estimated that there were 20,000 terrorists in Idlib associated with so-called Hayat Tahrir al-Sham, which is a coalition of different factions of terror outfits largely composed of the al-Qaeda-inspired Jabhat Fateh al-Sham Takfiri terrorist group, formerly known as al-Nusra Front.
Daesh is no longer in control of any urban bastions in Syria and its sporadic presence in the Arabic country is quickly shirking against advancing government troops.
Beijing's special envoy for Syria further urged the international community to pay due attention to the Arab country's economic reconstruction and help Syrians return to normal life.
Beijing has long called for an end to the ongoing war in Syria through diplomatic approaches.
Chinese State Councilor Wang Yi said in June that Beijing will continue to support Damascus to safeguard its national sovereignty and territorial integrity and continue its fight against terrorism.
China has also voiced its readiness, on several occasions, to stand by Syria in reconstruction efforts.
https://www.presstv.com/Detail/2019/08/20/604049/Xie-Xiaoyan-Geir-Pedersen-Geneva-Syria-Iraq-Daesh-Uighurs
--------
As Taliban Talk Peace, ISIS Is Ready to Play the Spoiler in Afghanistan
By Mujib Mashal
Aug. 20, 2019
KABUL, Afghanistan — Even as the United States and the Taliban seem close to a deal on an American troop withdrawal, the Islamic State in Afghanistan is making clear that it stands to inherit the role of violent spoiler if any peace agreement is reached.
That message was punctuated on Saturday by a suicide bomber who killed 63 wedding celebrants in Kabul, mostly from the country's Shiite minority, in an attack that the Islamic State attributed to one of its loyalists from Pakistan. It was among the most devastating attacks in Afghanistan claimed by the Islamic State in the five years since it first established a beachhead in the eastern part of the country.
The bombing was a painful reminder of the immediate threat posed by the militants: that they can slip through tight security in the capital and cause the kind of carnage that devastates a vulnerable community, while cranking up pressure on a government already on the edge.
But the Islamic State also poses a longer-term danger that the United States military and Afghan officials worry about: It has positioned itself to gain in the event of a peace deal with the Taliban. The Islamic State is set to grow if an extreme layer of insurgents breaks away from the Taliban to keep fighting, and it is likely to thrive if a hastily managed American military withdrawal leaves chaos behind.
"This is a replacement for the Taliban," said Abdul Rahim Muslimdost, an Islamist cleric who has been jailed in Pakistan and in the American detention camp at Guantánamo Bay.
In an interview with The New York Times, Mr. Muslimdost explained how he helped create the Islamic State chapter in Afghanistan — mostly, he said, from former Pakistani and Afghan Taliban members. He said he had since dissociated himself from it, contending that it had been infiltrated by Pakistan's military and intelligence services.
That view is shared by some Afghanistan security officials. They have consistently portrayed the Islamic State as the continuation of what they describe as Pakistan's policy of "strategic depth," in which it exerts influence in Afghanistan through militant proxies.
The Taliban, whose leadership operates out of Pakistan, had long been seen as that country's main source of leverage in Afghanistan. But even though international pressure has led Pakistan to support the peace process with the Taliban, Afghan officials accuse the country's military establishment of investing in the Islamic State's local chapter to maintain its influence.
They say there is overlap between the support networks in Afghanistan and Pakistan that enable the Islamic State's suicide bombings and the ones that helped the Taliban's most lethal arm, the Haqqani network, carry out urban attacks for years.
"The responsibility of all these attacks — which are carried out with same tactics as the Taliban — goes to the Taliban," said Massoud Andarabi, Afghanistan's interior minister, even after the Islamic State claimed responsibility for the wedding bombing on Saturday.
"It is the Taliban who have created the networks that make possible such terrorist attacks in our cities, and now they claim responsibility when they want for an attack and not when they don't," Mr. Andarabi said.
American officials who have monitored the Islamic State's development say there is no evidence that its chapter in Afghanistan gets support from Pakistan's military establishment. Pakistani officials have also rejected the accusation, saying the military has backed away from its policy of nurturing militant groups. Islamic State affiliates have tried to carry out attacks in Pakistan, but with less frequency, as better security measures are in place there.
One American official acknowledged that there might be some modest overlap between the Islamic State and the Taliban, but described it as mostly being among low-ranking profiteers, not decision makers or trainers.
Sher Mohammad Karimi, a retired former chief of the Afghan Army, said it was worrying that Afghan officials and their American allies seemed to disagree about the extent of the Islamic State threat, and its source, at such a desperate time.
"It is a fact that Pakistan wants a weak government in Afghanistan so it can fulfill its strategic goals," Mr. Karimi said. "But defending this country is our responsibility, and we should well prepare our forces."
Different parts of the American government disagree over whether the local Islamic State chapter has either the capability or the ambition to strike the United States directly. But they agree that the group poses a threat that the United States needs to watch by maintaining counterterrorism units in Afghanistan, so that attacks like Al Qaeda's strikes in 2001 cannot be repeated.
Two critics of the United States in the region, Russia and Iran, claim that the Islamic State here is being nurtured by the Americans in order to destabilize everything around it.
Since it was formed around 2014, the Islamic State's Afghan chapter has been steeped in a long history of militancy in the region, a legacy of the C.I.A.'s use of Islamic jihadists, the mujahedeen, in its effort to defeat the Soviet Union in Afghanistan in the 1980s.
Mr. Muslimdost, the cleric who helped to found the Islamic State cell, was part of the mujahedeen effort. And his complex personal history epitomizes the legacy of perpetual insurgency and violence surrounding Afghanistan.
Abdul Rahim Muslimdost
During the 1980s, he ran a library and published an Arabic magazine in the Pakistani city of Peshawar, a transit stop for the Arab fighters, including Osama bin Laden, who were coming to fight the Soviets in Afghanistan.
After the United States invaded Afghanistan in 2001 to destroy Mr. bin Laden's new group, Al Qaeda, Mr. Muslimdost was among the hundreds of militants sent to Guantánamo, where he spent three years. He says that he had no formal role with the Taliban, and that Pakistan had wrongfully handed him over to the Americans.
After he was released from Guantánamo, Mr. Muslimdost wrote a book that was critical of Pakistan, in which he also described a dream about the formation of a global caliphate. The book landed him in a Pakistani prison.
When he came out, he allied with, and sought protection from, Pakistani militants who were fighting the state.
In the Islamic State's 2014 declaration of a caliphate from Iraq, Mr. Muslimdost said he saw the opportunity for the fulfillment of a lifelong dream: that the Muslim world would unite under one government.
But right away, disagreements plagued the group he helped to form. He wanted to fight in Pakistan, but other members had already established the base in eastern Afghanistan that they still hold.
Mr. Muslimdost said he realized that the group was out of his hands — infiltrated, he said, by elements of Pakistan's intelligence agency, in order to push what was left of the militancy in Pakistan across the border. That infiltration intensified as the United States kept killing the group's original leaders with drone strikes, he said.
Today, the Islamic State is active or present in nearly two dozen districts along the border with Pakistan, despite strong pressure from the American and Afghan militaries. The Afghan intelligence agency says it has also broken up Islamic State cells inside the capital, operating in universities and recruiting among the city's educated elite.
It is possible that concerns about the Islamic State could become a catalyst in the search for a deal with the Taliban. The two militant groups have fought many turf battles, and American officials say that in talks, the Taliban have said they do not want Afghanistan to become another Syria or Iraq.
But there is also widespread anxiety that the Islamic State has positioned itself for the fracturing of the Taliban in the event of a peace deal. Mr. Muslimdost agrees with that assessment, seeing Pakistan at work behind the scenes.
"Remember my words," Mr. Muslimdost said. "If there is a settlement with the Taliban, and they become part of the government, Pakistan has the replacement for them ready already. They will continue this war in Afghanistan in the name of the Islamic State."
Fahim Abed contributed reporting.
https://www.nytimes.com/2019/08/20/world/asia/isis-afghanistan-peace.html
--------
North America
Washington 'ready' to conclude talks with Taliban: US envoy
21 August 2019
Washington is "ready" to conclude Afghanistan peace talks with the Taliban, US envoy Zalmay Khalilzad said Tuesday.
"Back on the road again. First stop Doha where we will try and close on remaining issues. We're ready. Let's see if the Taliban are as well," Khalilzad tweeted.
https://english.alarabiya.net/en/News/world/2019/08/21/Washington-ready-to-conclude-talks-with-Taliban-US-envoy.html
--------
US Secretary of State Pompeo says ISIS strong in some areas: CBS
20 August 2019
US Secretary of State Mike Pompeo acknowledged on Tuesday that ISIS militants are gaining strength in some areas but said the terrorist group's capacity to conduct attacks has been diminished.
"It's complicated. There are certainly places where ISIS is more powerful today than they were three or four years ago," Pompeo said in an interview with CBS "This Morning." But he said the group's self-proclaimed caliphate is gone and its attack capability has been made much more difficult.
Full report at:
https://english.alarabiya.net/en/News/middle-east/2019/08/20/US-Secretary-of-State-Pompeo-says-ISIS-strong-in-some-areas-CBS.html
--------
US to punish anyone who 'touches or supports' Iran-run tanker: Pompeo
Aug 21, 2019
US Secretary of State Mike Pompeo warns that anyone who "touches or supports" an Iran-operated supertanker, previously called the Grace 1, will be punished with US sanctions.
"We have made clear that anyone who touches it, anyone who supports it, anyone who allows a ship to dock is at risk of receiving sanctions from the United States," Pompeo told reporters at the United Nations on Tuesday.
"If that ship again heads to Syria, we will take every action we can consistent with those sanctions to prevent that."
Britain's naval forces seized the Grace 1 and its cargo of 2.1 million barrels of oil in the Strait of Gibraltar on July 4 under the pretext that the vessel might be carrying crude oil to Syria in violation of EU sanctions on Damascus.
Iran says the UK's reason for confiscation is not valid because Tehran is not a member of the EU and therefore its sanctions do not apply to the country. Moreover, the tanker was never headed to Syria, according to Iranian officials.
The tanker, which has been renamed the Adrian Darya 1, left anchorage off Gibraltar on Sunday after being released.
According to reports, the vessel was heading to Greece after the release.
"The vessel is cruising at low speed and there is still no formal announcement that it will arrive at Kalamata. The Merchant Marine Ministry is monitoring the matter along with Greece's Foreign Ministry," a Greek Shipping Ministry spokesman said on Tuesday.
Since Gibraltar released the tanker on Thursday, Washington had launched a flurry of efforts to keep the tanker from leaving.
On Friday, the US Department of Justice unveiled a warrant for the seizure of the supertanker. Iran, however, has warned the US against trying to seize the vessel again.
Many reports, including from Gibraltar, along with later statements from Spanish Foreign Minister Josep Borrell, have shown that the tanker's seizure had been ordered by Washington.
The tanker seizure took place as the US had pledged to reduce Iran's oil exports to "zero" as part of sanctions that it reinstated after leaving a multilateral 2015 nuclear deal with Iran last year.
Full report at:
https://www.presstv.com/Detail/2019/08/21/604076/US-Iran-Grace-1-tanker
--------
Trump describes US military role in Afghanistan as 'ridiculous' police force
Aug 21, 2019
US President Donald Trump said on Tuesday the US military role in Afghanistan has basically turned into a "ridiculous" police force in a sign that he is open to a US troop drawdown there after 18 years of war.
Trump was briefed on Friday by top national security aides on a peace plan being negotiated by US envoy Zalmay Khalilzad with leaders of the Afghanistan government and the Taliban.
"We're having good discussions. We'll see what happens. It's 18 years. We're not really fighting. We're almost a police force over there. We're not supposed to be a police force," he said.
Some 14,000 US troops remain engaged in America's longest war, training and advising Afghan security forces and conducting counterinsurgency operations against militant groups such as al Qaeda and Islamic State's local affiliate.
A pullout has raised fears within the US military and among some lawmakers that Afghanistan could plunge into a new civil war that could see a return of Taliban rule and give al Qaeda and other militants a sanctuary in which to expand and plot new attacks on US and allied targets.
Khalilzad was traveling on Tuesday to resume talks with the Taliban in Doha, Qatar, "as part of an overall effort to facilitate a peace process that ends the conflict in Afghanistan," the State Department said in a statement.
Khalilzad will consult with leaders of the Afghan government in Kabul and encourage negotiations between the two sides, it said.
Trump, inheriting a war begun by then-President George W. Bush in response to the Sept. 11, 2001, attacks, expressed a willingness to remove some of the US troops there but said some are needed to make sure the United States has intelligence assets on the ground.
"We're bringing some of our troops back but we have to have a presence," he said.
He reiterated that he could end the war quickly but "I'm not looking to kill 10 million Afghans because that's what would have to happen."
"But it's a war that's been going on almost 19 years and frankly it's ridiculous. But with that being said, it's a dangerous place and we have to always keep an eye on it," he said.
Trump said the Taliban would like to stop fighting the Americans but that it is not clear the Taliban can be trusted.
"The conversations are going well. But in the end, it will be about what's delivered on the ground, whether that's from the Afghan government, other Afghans that aren't inside the Afghan government, the Taliban," Secretary of State Mike Pompeo said on Tuesday in an interview with CNBC.
Full report at:
https://www.presstv.com/Detail/2019/08/21/604075/US-President-Donald-Trump-Afghanistan-military-role-ridiculous-police-force
--------
Pompeo warns of 'new turmoil' if UN arms embargo on Iran lifted in 2020
August 21, 2019
UNITED NATIONS: US Secretary of State Mike Pompeo pushed the international community on Tuesday to work out how to stop Iran from being "unshackled to create new turmoil" when a United Nations arms embargo on the country and a travel ban on the head of Iran's elite Quds Force expire in October 2020.
Speaking at a UN Security Council meeting on Middle East peace and security challenges, Pompeo called for greater cooperation in the region to produce "fresh thinking to solve old problems," citing problems including the Libyan and Syrian conflicts and a rift between several Gulf states and Qatar.
He also singled out Iran. Tensions between Tehran and Washington have risen since President Donald Trump's administration last year quit an international deal to curb Iran's nuclear ambitions and began to ratchet up sanctions.
"Since the US declared our intention to bring all Iranian oil purchases to zero in April, the Ayatollah has gone all-in on a campaign of extortion diplomacy," he said, calling out Iran for breaching caps imposed by the 2015 nuclear deal, test-firing a ballistic missile and seizing tankers in the Strait of Hormuz.
Under the Iran nuclear deal, a UN arms embargo on the country and a travel ban on Quds Force commander Qasem Soleimani are due to expire next year. The Quds Force is the overseas arm of Iran's Revolutionary Guards (IRGC).
Pompeo said the US State Department had put a clock on its website that was counting down to the removal of the measures.
"The international community will have plenty of time to see how long it has until Iran is unshackled to create new turmoil, and figure out what it must do to prevent this from happening," he said.
Iran's UN ambassador, Majid Takht Ravanchi, accused the United States of causing insecurity and instability with its military presence and "unbridled flow of American weaponry into this region, which has turned it into a powder keg."
"While we are not seeking confrontation, we cannot and will not remain indifferent to the violation of our sovereignty. Therefore, in order to secure our borders and interests, we will vigorously exercise our inherent right to self-defense," he told the Security Council.
Council action unlikely
At a Security Council meeting in December, Pompeo urged the 15-member body to prevent Iran from working on ballistic missiles capable of delivering nuclear weapons, carrying out test launches and establish "inspection and interdiction measures, in ports and on the high seas, to thwart Iran's continuing efforts to circumvent arms restrictions."
The council has not, and is unlikely to take any action on Iran. European powers have been scrambling to salvage the nuclear deal, while diplomats say Russia and China — which are council veto powers along with the United States, France and Britain — are likely to shield Iran from any action.
The US special envoy for Iran, Brian Hook, signaled earlier on Tuesday that the United States would not try to trigger a return of all international sanctions on Iran through a dispute resolution process agreed under the nuclear deal and enshrined in a 2015 UN Security Council resolution.
Although the United States quit the nuclear deal, some diplomats have questioned whether Washington might still spark a so-called snapback of sanctions on Tehran at the Security Council because the UN resolution still names it as a party to the deal.
Full report at:
http://www.arabnews.com/node/1543016/middle-east
--------
US urges Syrian regime, allies to halt Idlib attacks
Michael Hernandez
20.08.2019
WASHINGTON
The U.S. called on the Syrian regime and its allied forces Monday to immediately halt all hostilities in northwestern Syria's Idlib province after an airstrike on a Turkish convoy killed three civilians and injured 12 others.
"The Assad regime and its allies must return to the ceasefire in #Idlib now," State Department spokeswoman Morgan Ortagus said on Twitter.
"Today's reckless airstrike on a Turkish convoy follows ongoing vicious attacks against civilians, humanitarian workers, and infrastructure. We condemn this violence and it must end."
Earlier Monday, a troop transfer to Idlib was initiated by the Turkish military to ensure the safety of an observation post, to keep supply routes open and prevent civilian casualties in the region, according to Turkey's Defense Ministry.
The ministry strongly condemned the airstrike, saying it "violates existing agreements, cooperation and dialogue with Russia".
Turkey and Russia agreed last September to turn Idlib into a de-escalation zone where acts of aggression are expressly prohibited.
The Syrian regime and its allies, however, have consistently broken the terms of the ceasefire, launching frequent attacks inside the area.
The de-escalation zone is currently inhabited by about four million civilians, including hundreds of thousands of people displaced by regime forces from cities and towns throughout the war-weary country.
Full report at:
https://www.aa.com.tr/en/americas/us-urges-syrian-regime-allies-to-halt-idlib-attacks/1560048
--------
Europe
Detention of Muslims at UK ports and airports 'structural Islamophobia'
Dan Sabbagh
20 Aug 2019
Muslims are being detained at ports and airports for up to six hours by law enforcement using controversial counter-terrorism powers so disproportionately that the practice has become Islamophobic, according to human rights group Cage.
The organisation added there is growing anecdotal evidence that Muslim women are being forced to remove their headscarves when stopped, even though the rate that such stops lead to a conviction is 0.007%, according to Cage's analysis of 420,000 incidences.
Cage said it had made a compliant to the policing regulator, the Independent Office for Police Conduct, on behalf of 10 people, and had written to MPs on the all-party group on British Muslims to spell out the extent of its concerns with so-called schedule 7 stops.
In the letter, Adnan Siddiqui, the director of Cage, said that tens of thousands of people were being subject to "suspicionless stops" and that "the practice is a manifestation of structural Islamophobia, which is experienced as harassment".
One Briton, Omer, who asked only to be identified by his first name, told the Guardian he had been stopped 40 times when returning to the UK since 2005 but has never been convicted of any offence.
Omer said: "I get stopped 95% of the time, coming back from Belgium, France and Italy." He said he had become so fed up with being repeatedly questioned he often used one-word answers to reply.
A former medical professional, Omer was stopped at Heathrow returning from Lahore, Pakistan, after a flight in which he had helped a teenager having a fit. But on leaving the plane he was nevertheless questioned. "This is a law that is almost impossible to beat."
Schedule 7 of the Terrorism Act 2000 allows people to be detained at the border for up to six hours if law enforcement is concerned they could be engaged in terrorist activities. Detainees have no right to silence, must surrender their phones, computers and passwords and provide fingerprints and DNA on request.
One of Cage's complaints is that the Home Office does not respond to freedom of information requests breaking down the number of people stopped by their religion. But a study conducted by Cambridge University researchers in 2014 concluded 88% of those stopped were Muslim.
Cage has compiled a dossier summarising its complaints about schedule 7, which is partly based on a string of case studies it has compiled. Siddiqui said that the organisation had noticed that recently "a number of Muslim women had been asked to remove their hijab at a schedule 7 stop".
In his letter to the MPs, Cage's director added: "This request seems not to correlate with any appropriate investigation in relation to any form of terrorism, but seems to be a form of humiliation which can amount to a breach of equalities legislation."
A woman returning from Mecca was stopped and held at an airport for five hours, according to the Cage dossier, despite having felt unwell on the plane. She was separated from her husband and son, asked for fingerprints, a DNA sample, her luggage was searched and her phone taken.
The woman asked what she thought about the 2017 Westminster terror attack, and wars in Syria and Yemen. "I said I didn't agree with killing innocent people," she recalled, before being released, having been told "you have complied with the laws".
Muslims stopped say that questions frequently focus on their religious beliefs, and they are asked if they pray frequently, if they fast and if they have been to Mecca.
"The whole thing is done in such a way as to make you feel that you are doing something wrong for simply practising Islam," said a filmmaker who had previously worked for aid organisations in Syria but on this occasion was travelling to Amsterdam via Dover.
Muhammad Rabbani, Cage's international director, said: "The discrimination faced by Muslim travellers highlights how embedded Islamophobia is in schedule 7, and in broader counter-terrorism powers. Officers routinely ask intrusive questions about religion and practice, which amounts to a modern-day inquisition."
Figures relating to the use of schedule 7 only date back to 2010, but show there have been 419,472 stops since then. In the year to March 2019, 11,151 stops were conducted, down from 85,557 in the year to March 2010.
David Miranda, the partner of former Guardian journalist Glenn Greenwald, was controversially detained at Heathrow airport under the counter-terrorism power in 2013 for carrying files relating to information obtained by US whistleblower Edward Snowden.
A Home Office spokesperson said: "The use of Schedule 7 is vital to the police in their work to combat terrorism and the authors of this report are clearly misrepresenting facts to fit their own predetermined conclusions."
https://www.theguardian.com/news/2019/aug/20/detention-of-muslims-at-uk-ports-and-airports-structural-islamophobia
--------
Islamist Terror Plots In Europe Declining, But Schemes Getting More 'Creative,' Analysis Says
Aug 21, 2019
Despite being driven from its former Iraq and Syria strongholds six months ago, ISIS continues to find ways to wreak havoc across the Middle East, remaining an innovative -- if less strategically successful -- terror force.
According to a new report from The Heritage Foundation, "The Post-Caliphate Terror Threat in Europe – and the Need for Continuing U.S. Assistance," ISIS' territorial defeat can be directly equated with the decline in attacks; but, the author also notes, the threat landscape has changed.
"America's strategy has worked: It took almost four-and-a-half years, but the Islamic State's self-proclaimed caliphate in Syria and Iraq has been dismantled. Yet the threat from ISIS is far from over," the report, authored by Heritage National Security and Foreign Policy fellow Rob Simcox, states. "Increased focus is now being placed instead on the danger that ISIS is likely to pose as an insurgency."
The total number of attacks on European soil has declined since 2014, the year ISIS emerged and undertook a stunning campaign that won it large swaths of territory across Iraq and Syria.
In 2014, Europe was targeted with 16 Islamist attacks and plots, the number rising to 44 in 2015 and then up to 84 in 2016 – the height of ISIS' influence before major efforts were undertaken by numerous world powers to force the terrorists from their operations base. In 2017, the attacks in Europe decreased slightly to 78 attacks and plots, followed by 41 in 2018 and, so far in 2019, just 16.
The report credits improved intelligence sharing and the destruction of the so-called caliphate for disrupting the group's ability to consistently export terror to Europe.
"Removing ISIS from its caliphate appears to have had positive consequences for European security: As of mid-June 2019, there has not been a major, coordinated attack in Europe since fall 2017. However, more unsophisticated Islamist operations continue, with 21 injured and three killed in four separate attacks so far this year," the report says. "Yet there was evidence that terrorists and terror suspects were getting even more creative with their European plots in 2018, and the threat picture was growing more diverse."
The report underscores the three chemical, biological, radiological or nuclear terror plots in Europe in 2018 -- despite none in the previous four years. All involved ricin, with one plot also involving anthrax.
"Also striking was an arrest made in the U.K. in the summer of 2018 to prevent an alleged plan to deploy drones as part of a broader Islamist plot," Simcox continued. "Another unusual plot saw multiple attempts to derail trains in Germany. An Iraqi refugee and his associates are suspected of placing steel rope and cement blocks on train lines carrying high-speed trains."
The "Post-Caliphate Terror Threat" also acknowledges that several hundred fighters who fled Europe to join ISIS during its bloody reign were never caught, and, as the caliphate began to collapse, smugglers transported ISIS fighters, both foreign and local, and their families to Turkey, where they were ordered to lie low.
Some chose to enter (or re-enter) Europe, exploiting well-traveled migrant routes, the report states, noting that "European security officials have speculated that a host of other countries— ranging from Afghanistan to the Maldives—could serve as potential bases where foreign fighters can lie low after the loss of the caliphate."
Simcox also stressed the importance of the U.S. remaining deeply engaged in the counterterrorism effort, and working closely with European partners to stay on top of emerging threats. But Simcox cautioned the "U.S. should also certainly not be making public proclamations of defeating ISIS, which is a very premature statement and only invites complacency."
As for Europe, there's still a lot of work ahead, according to the report.
Full report at:
https://www.foxnews.com/world/isis-islamist-terror-plots-europe-decline
--------
Romania, a beacon of coexistence for Muslims in Eastern Europe
by Maxim Edwards
Aug 21, 2019
Constanta, Romania - The Grand Mosque of Constanta in southeast Romania has a hulking minaret nearly 50 metres high overlooking the Black Sea.
It was constructed as a symbol of gratitude to the city's Muslim community on the orders of King Carol I in 1910.
Much has since changed in Romania, but that sentiment remains.
Constanta lies in Dobruja, an ethnically diverse region split between Romania and Bulgaria, where the River Danube meets the sea.
Ottoman Turks invaded the region in the late 15th century and subsequently expanded further into Romania.
Several centuries of Turkish rule followed, bringing settlers from across the empire.
Northern Dobruja came under Romanian control only in 1878, after the young kingdom defeated the ailing Ottoman Empire with assistance from Russia.
Some of the region's Muslims left for Turkey, but others stayed on; their descendants now form the backbone of Romania's Muslim community of about 64,000 people, roughly 0.34 percent of the country's population.
Compared with other countries in Eastern Europe, Romanian Muslims say their experience has largely been one of peaceful coexistence.
"When Muslims here were still the majority in the 1870s, the Muslim mayor of the town of Medgidia appealed to the authorities in [Romania's capital] Bucharest for money to build a church for the local Christians," said Murat Iusuf, who has been Romania's Chief Mufti since 2005, speaking to Al Jazeera from his office in Constanta.
"Records of the meeting include transcripts of the mayor's broken Romanian. But a common language was found; it's a good example of Dobruja's history."
About 26,000 ethnic Turks, 20,000 ethnic Tatars, and an undetermined number of Muslim Roma - who generally declare as Turks in censuses - form the country's diverse Muslim community.
Turks and Tatars speak related Turkic languages and the two communities have a high rate of intermarriage.
However, some Tatars are trying, amicably, to assert their distinctiveness, highlighting their history as descendants of Tatars who fled the Crimean Peninsula after its annexation by Russia in 1783.
The Tatar Community Center in the suburbs of Constanta makes that point loud and clear; its walls are covered with Crimean Tatar flags and paintings of Khans who once ruled their ancestral homeland.
"In the last 10 years, people have become more curious about their history. Turks come from the southern shores of the Black Sea and Tatars from the North," said Dincer Geafer, chairman of the Ismail Gaspirali Tatar youth organisation and a local politician from the Tatar-Turkish Muslim Democratic Union.
This new awareness has surfaced politically; when Russia annexed Crimea again in 2014, local Tatars protested outside Russia's consulate.
Recent years have also seen the growth of a 10,000-strong Muslim community in Bucharest, comprising foreign citizens and converts.
They attend the Carol-Hunchiar Mosque on a leafy side-street in the capital, where 78-year-old Osman Aziz serves as the imam.
He remembers Romanian Islam under socialism.
From 1960 to 1962, Aziz was the imam at Ada Kaleh, an island fortress in the Danube populated by Turks, which remained Turkish territory well into the 20th century.
When the island was submerged after the construction of a dam in 1970, Aziz unsuccessfully campaigned to reconstruct the famous mosque.
For now, a more modest concrete one, under construction in the yard outside, will have to suffice.
"In any case, we managed to keep the faith alive," he said.
Although prayer was discouraged under communism, Romania's Muslims did not face the same level of repression as in other Eastern Bloc countries.
"Nicolae Ceausescu had good relations with several Muslim-majority states, from Iran to Lebanon and Libya; the mufti accompanied him when he visited them," said Iusuf, adding that students and workers from some of those "brotherly socialist states" eventually moved to Romania.
But Daniyar Cogahmet, an imam in the Dobromir area near the Bulgarian border, said many mosques were sparsely attended back then, especially by young people.
Muslims were free to practice their faith, he explained, but rural poverty saw many leave villages - a reality which affected Romanians of all backgrounds.
"Because of the common language, Turks and Tatars used to go to Turkey to do odd jobs," said Cogahmet.
By 2007, when Romania joined the European Union, that migration pattern had changed.
"Now everybody wants to go to Germany, and there are plenty of Turks there," said Cogahmet.
Constantin Voicu sits in his thriving vegetable garden in the village of Lespezi, Constanta, known in Turkish as Tekkekoy.
The 83-year-old told Al Jazeera how grateful his ancestors were to move here.
The poor Christian peasants from Transylvania had been given 10 hectares of fertile land after the annexation of the region.
It was a bid to resettle the land with loyal Christians, but any grudges are in the past.
"I'm no historian, just a simple man who knows things," said the pensioner, "but people know and like their [Muslim] neighbours and they don't believe everything they see on TV."
Romanian Muslims appear to have largely been spared the Islamophobic vitriol seen in neighbouring countries at the height of the refugee crisis in 2015.
But that year, while there were no rallies against refugees from Muslim-majority countries, protests did erupt over plans to construct a large Turkish-funded mosque in Bucharest, which was ultimately shelved in 2018.
"The presence of Muslims in Romania remains ... a marginal issue on the political and public agenda," concluded the authors of the 2017 European Islamophobia Report. "Much of society's anger in recent years has been directed towards corruption and the 'deep state' rather than poor migrants or Muslims," said Cristian Pirvulescu, a political scientist at the National School of Political Studies and Public Administration in Bucharest.
In 2017, Romania nearly got its first female Muslim prime minister when the Social Democratic Party nominated Sevil Shhaideh, a politician of Tatar descent who was serving as deputy prime minister at the time.
"You might find anti-Islamic discourse among some nationalist intellectuals, but if you stop ten ordinary people on the street here, you won't hear it," said journalist Vlad Stoiescu, who coordinates Sa Fie Lumina, an online magazine about religion in Romania.
"The Muslims in Dobruja are well integrated - Romanians are accustomed to their presence and so are they to the Romanians.
Full report at:
https://www.aljazeera.com/indepth/features/romania-beacon-coexistence-muslims-eastern-europe-190819101957640.html
--------
Will France foil Muslim Brotherhood's plan to take over?
By Hanan Fayed
Aug. 20, 2019
CAIRO - 20 August 2019: Another report has come out reiterating the Muslim Brotherhood's ambitious world project, this time from France. French Muslims find themselves surrounded by the MB whenever they want to connect to their religion, in many cases leading them astray - an extremist path that hurts those Muslims, the French people at large and Islam itself. In early August, the Investigative Journal published an in-depth piece by Pakistani journalist Taha Siddiqui, who revealed that every bit of Islam in France, from local mosques, NGOs, to representation before the authorities is monopolized by the group.
By entrenching their rule in Muslim-majority states and establishing an outreach among Muslim communities in the west, the Islamic group was closer than ever to its goal in the aftermath of the Arab Spring. They were dealt a massive blow in Egypt when their regime was overthrown in 2013, infuriating Qatar and Turkey who back themselves with with the the most driven and widespread Islamist group worldwide after decades of dedication since inception in 1928 in Egypt, the very country that ousted them and executed their beloved theorist, Sayyid Qutb, who until this day inspires the deadliest terrorist organizations, such as al-Qaeda, the Islamic Jihad and the Islamic State.
The MB has existed in France for decades, but since the heavy financial and political support the group has enjoyed for many years now, France has witnessed a spate of Islamist violence, prompting the authorities to counter the radicalization spiral instead of leaving the matter to foreign powers.
Siddiqui sets the Muslims of France (MDF) as an example of the face of the MB in France. Established in 1983, it boasts 1,600 members and over 600 affiliated NGOs. It was once called the Union of Islamic Organisations of France, but reinvented itself in 2017 to be MDF after , the UAE designated it as a terrorist organization due to its strong links to the MB.
The MB itself is designated terrorist in UAE, Saudi Arabia and Egypt. The Trump administration did not follow suit because "the criteria for designating a terrorist organization are not a good fit for the Muslim Brotherhood, which is less a coherent body than a loose-knit movement with chapters in different countries," Siddiqui reports.
That may be the case with the MB, but that also leaves countries designating every emerging violent Islamist group as terrorist, one after another that crumbled, changed its name or whose members joined another group, while all those groups are essentially affiliated to the MB and continue to reinvent themselves based on the MB ideology on the theoretical aspect, at least.
As Siddiqui puts it, the Mb denies violence but many members and offshoots have created terrorist organizations or committed terrorist acts, most notably Ayman al-Zawahiri, al-Qaeda's second leader.
The Investigative Journal interviews Mohamed Louizi, a former MDF associate, who revealed that the group is still linked to MB and is also a "hub for spreading Islamic radicalization in France," as well as l'Association France Plurielle (Pluralist France).
French Islamist figure Anouar Kbibech was a leader of Pluralist France, went on to become the head of the French Council of the Muslim Faith (CFCM), which is recognized by the French state itself. Louizi told the Investigative Journal that Kbibech also believes in the MB ideology and heading a state-sponsored organization like CFCM indicates the depth of the MB infiltration in France though group's supporters.
Louizi says the MB also controls many mosques in France, to the extent of "banning" him from his local mosque.
"[A]nd then Qatar came into the picture, and starting pumping money into mdf in via Qatar Charity, as also proven by the recent book – Qatar Papers – How the State Finances Islam in France and Europe," Louizi adds.
French journalists Georges Malbrunot and Christian Chesnot, investigate the Qatari funding of Muslim Brotherhood affiliated organizations in Europe in Qatar Papers, providing cheques, official documents and testimonials, according to the Investigative Journal.
Turkey also plays a significant role in supporting the MB across Europe. Foreign imams in France are numerous, as opposed to France born imams who presumably understand young French Muslims more. Some 151 imams have been sent by Turkey 120 by Algeria, and 30 by Morocco, the Investigative Journal reports the French Interior Ministry as saying.
"The French President wants to ensure that there is no foreign funding within the Muslim organizations operating in France. He has also suggested training clerics/Imams at home rather than abroad and wants more transparency with the issue of collecting charity from French Muslims," The Investigative Journal says.
The MB is notorious for collecting charity for its own purposes.
A research paper by Rim-Sarah Alouane for the Brookings Institution, resonates Louizi and Qatar Papers. The MB "is also a major motivator for radical Islam in France and they have been operating through local affiliates including the MDF," the Investigative Journal quotes Alouane as saying. She explains that the French government finally recognized that leaving the management of Islam to foreign powers jeopardizes its national security.
On France's actions towards the issue, journalist and activist Zineb el-Rhazoui told the Investigative Journal "the French government needs to apply the law. No religious place can host a political meeting and many of these NGOs are violating that."
Rhazoui and a team of volunteers try to help the government by collecting information on radical speeches by Muslim thinkers in France, according to the report.
As expected, the speeches, according to Rhazoui, are dominated by the ideas of the MB founder, Hassan al-Banna and its major preacher, Yusuf al-Qaradawi, an Egyptian who lives in Qatar. Even though Qaradawi is banned from entering France, his books are widespread in the European country, through the MDF, for example, the report writer Siddiqui says.
Head of the Muslim Association for a French Islam, an NGO set to compete with the numerous MB counterparts, Hakim El Karoui, told Siddiqui "[t]hese organizations that had links with the Muslim Brotherhood had a public message of integration but they also have a secret agenda which goes against integration."
Full report at:
https://www.egypttoday.com/Article/2/74030/Will-France-foil-Muslim-Brotherhood%E2%80%99s-plan-to-take-over
--------
NZ lawmakers urged to drop restrictions on Africa, Middle East refugees
21 August 2019
Human rights advocates urged New Zealand lawmakers on Wednesday to drop restrictions on the intake of Middle Eastern and African refugees, saying the policy undermines the character of a nation praised for its response to deadly mosque attacks this year.
New Zealand currently has a tight quota on the numbers of refugees it takes from the region, including a requirement they have family in the island nation.
The restrictions were introduced by the previous center-right government in 2010, due to cost and security concerns, as it focused on an intake from the Asian region.
"We believe this regulation is unfair ... (and) completely undermines the humanitarian character of our refugee quota," Carsten Bockemuehl, advocacy lead at World Vision, told a parliamentary committee considering a petition filed by the organization.
Pressure on Prime Minister Jacinda Ardern's center-left government to drop the restrictions has been growing since the attacks on two mosques in Christchurch in March, in which refugees from Syria and Somalia were among the 51 killed and dozens wounded.
Ardern's support of the Muslim community in the wake of the attacks was praised around the world.
Ardern and Immigration Minister Iain Lees-Galloway did not respond immediately to requests for comment. Lees-Galloway has said the restrictions were discriminatory and that the government would reconsider them.
The cross-party parliamentary committee has the power to decide whether to report the petition to the legislature. If it does so, the government would be required to respond within two months.
The current policy does not apply to people who apply for asylum in New Zealand, although the isolated island nation has few asylum seekers compared to other developed nations.
The government has already announced plans to increase the number of refugees it takes each year, referred by the United Nations, by 500 to 1,500 from next year.
Guled Mire, a Somalia-born community advocate who arrived in New Zealand from a refugee camp in Kenya aged six with his mother and eight siblings, told the committee he wanted the removal of "racist and discriminatory refugee policy settings".
Full report at:
https://english.alarabiya.net/en/News/world/2019/08/21/NZ-lawmakers-urged-to-drop-restrictions-on-Africa-Middle-East-refugees.html
--------
India
Masjid built over 10th century temple: Counsel for Ram Lalla
Aug 21, 2019
NEW DELHI: Deity Ram Lalla's counsel C S Vaidyanathan told the Supreme Court on Tuesday that there was not even an iota of doubt about the fact that Babri Masjid was built in 1528 over a huge, 10th century Hindu temple, either over its ruins or after its demolition.
Arguing before a constitution bench of Chief Justice Ranjan Gogoi and Justices S A Bobde, D Y Chandrachud, Ashok Bhushan and S Abdul Nazeer, the counsel read out a report of the Archaeological Survey of India, which said after digging 90 trenches around the demolished structure and examining the yield of stones, bricks and carved pillars from the excavation that a "massive structure" existed just below the disputed structure.
The ASI report before the HC had said, "Viewing in totality and taking into account the archaeological evidence of a massive structure just below the disputed structure and evidence of continuity in structural phases from the 10th century onwards up to the construction of the disputed structure along with the yield of stone and decorated bricks as well as mutilated sculptures of divine couples and carved architectural members including foliage patterns, 'amalaka', 'kapotapali' doorjamb with semi-circular pilaster, broken octagonal shaft of black schist pillar, lotus motif, circular shrine having 'pranala' (waterchute) in the north, 50 pillar bases in association of the huge structure, are indicative of remains which are distinctive features found associated with the temples of north India."
Vaidyanathan said for centuries, people from across the country went on pilgrimage to Ayodhya to worship Ram Janmabhoomi and they continued to do so even after the disputed structure was built over the temple.
"This leaves no doubt whatsoever that a temple pre-existed the mosque and people, despite construction of the mosque, continued to worship the place as Ram Janmabhoomi," he added.
He said demolition of the disputed structure on December 6, 1992, revealed the temple slabs used for construction of the mosque. Broken pieces of these slabs with inscriptions in Sanskrit, which has been translated since then, also pointed to a temple pre-existing the mosque, the counsel said.
The counsel said for centuries, people from across the country went on pilgrimage to Ayodhya to worship Ram Janmabhoomi and they continued to do so even after the disputed structure was built over the temple.
https://timesofindia.indiatimes.com/india/masjid-built-over-10th-century-temple-counsel-for-ram-lalla/articleshow/70762727.cms
--------
NIA transfers 3 officers after bribe charges in terror case
Aug 21, 2019
NEW DELHI: NIA has transferred three officers, including a SP, after a businessman alleged they had demanded a bribe of Rs 2 crore for not naming him in a terror case relating to Falah-i-Insaniyat Foundation. The Pakistan-based charity is run by 26/11 Mumbai attacks mastermind Hafiz Mohammad Saeed.
"A complaint of misconduct was received (in this matter) by NIA. An inquiry into the allegations is being conducted by a DIG-rank officer. In the meantime, three concerned officials have been transferred out to ensure a fair probe," an NIA spokesperson confirmed on Tuesday.
The SP, who was absorbed in the NIA cadre, has been involved in investigation of key cases like Samjhauta and Ajmer Sharif blasts. Two others include anASI and a fingerprint expert who have been repatriated to BSF and NCRB respectively.
Depending on findings of the DIG-led inquiry, NIA and home ministry will take a call on whether any action must be taken against the said officers.
The Delhi NCR-based businessman had complained to NIA a month ago against the SP and two junior officers investigating the Falah-i-Insaniyat Foundation (FIF) case.
The probe found that FIF chief Hafiz Saeed along with deputy FIF chief Shahid Mahmood had hatched a conspiracy around 2012 to create sympathisers/sleeper cells and logistic base in Delhi and Haryana under the garb of religious work. Shahid Mahmood tasked his associates namely Mohammad Kamran, a Pakistani national based in Dubai, for re-routing funds from Pakistan to Dubai and further to India through hawala channels. Shahid Mehmood further tasked Mohammad Kamran to identify such persons in India who could be given this fund in the garb of charity with the real aim being to create LeT bases and motivate sympathisers.
Full report at:
https://timesofindia.indiatimes.com/india/nia-transfers-3-officers-after-bribe-charges-in-terror-case/articleshow/70762721.cms
--------
2,300 held in Kashmir, says international news agency, citing officers, records
Aug 21, 2019
SRINAGAR: At least 2,300 people, mostly young male protesters, have been detained in Kashmir since the revocation of its special status, according to high-ranking Jammu and Kashmir police officials and police arrest statistics reviewed by Associated Press.
Those arrested include anti-India protesters as well as Kashmiri leaders who have been held in jails and other makeshift holding facilities, according to the police officials, who have access to all police records but spoke on the condition of anonymity.
Despite the clampdown, Kashmiris have staged near-daily protests since the August 5 order. Police officials said about 300 protests and clashes have taken place in recent weeks. One of the officers said most of the arrests have been in Srinagar. The official spokesman, Rohit Kansal, has repeatedly refused to divulge any details about arrests and detentions, saying only that they have been made to prevent anti-India protests and clashes in the region.
Nearly 100 people have been arrested under the Public Safety Act, the arrest statistics showed. The law permits detaining people for up to two years without trial. At least 70 civilians and 20 police and soldiers have been treated for injuries sustained in the clashes at three hospitals in Srinagar, the officers said. Moses Dhinakaran, a spokesman for the CRPF, which now holds jurisdiction in Kashmir, said he didn't know how many people had been detained because his agency has "no direct role in detention".
Families crowded outside police stations waiting for a turn to appeal for the release of their sons, husbands and other relatives on Tuesday. At least three dozen men and women along with their children sat on the street outside a police station in Srinagar waiting to hear about some 22 young men and teenage boys who they said had been detained by police and paramilitary soldiers in a nocturnal raid in one neighborhood.
Ali Mohammed Rah said police and soldiers burst into his home and dragged his two teenage sons, age 14 and 16, from their beds. "They forced their entry, trained their guns at us while ordering us not to raise any alarm," Rah said. "My heart-patient wife pleaded with them to let our boys go but they whisked them away. My wife collapsed and is now in hospital," he said.
A young woman, Ulfat, still recovering from her first childbirth, said her husband was arrested at their home around 2 am. "Who will provide our family with food and medicine? Where should I go with my baby?" she said with her newborn daughter in her lap. Raj Begum said her 24-year-old son was taken away barefoot and in shorts. "Soldiers hit me with a wooden plank as I tried to resist my son's arrest," she said. Her husband, Abdul Aziz, opened a bag containing shoes and clothes for their son. "Can they at least take these clothes?" he said.
Kansal declined questions about specific cases of arrest and detention.
In the Soura area of Srinagar, residents have barricaded the neighbourhood by digging trenches, laying barbed wire, and erecting steel poles and corrugated tin sheets to stop raids by police and soldiers. The residents, carrying axes and sticks, take turns on night patrol. They have also distributed stones at street corners for residents to use to defend against raids. The neighbourhood has seen some of the biggest protests and clashes in the last two weeks.
Full report at:
https://timesofindia.indiatimes.com/india/2300-held-in-kashmir-says-international-news-agency-citing-officers-records/articleshow/70762676.cms
--------
NRC process in Assam an internal matter, India tells Bangladesh
Aug 21, 2019
NEW DELHI: India described the NRC process in Assam as an "internal matter", as foreign minister S Jaishankar told his Bangladeshi counterpart A K Abdul Momen that in India's neighbourhood policy, the India-Bangladesh relationship was a model for others. Jaishankar's remarks came ahead of the publication of the final list of the NRC in Assam on August 31.
On his first visit to Dhaka after taking over as external affairs minister, Jaishankar met Bangladesh Prime Minister Sheikh Hasina this morning as the two sides prepared the ground for a visit by Sheikh Hasina to India in October.
There will be no change in the Teesta river water sharing issue, Jaishankar clarified to his Bangladesh hosts. However, "we look forward to making progress to find mutually acceptable formulas to share water from our 54 shared rivers. We are ready to make a start wherever possible." he said, in essence taking forward Mamata Banerjee's proposal.
On the Rohingya issue, Jaishankar preferred to look at it from the humanitarian aspect, though Bangladesh is increasingly confronting the issue from the perspective of terrorism and radicalisation. Jaishankar said, India "reaffirm our readiness to provide more assistance to the displaced persons in Bangladesh and to improve socio-economic conditions in Rakhine State."
Speaking to the media after bilateral discussions, Jaishankar said "Our ties have actually transcended a strategic partnership and we are honoured to be a leading development partner of Bangladesh. We would like to offer all possible support to realize Bangladesh's development agenda." Continuing, he said, "We believe that when it comes to security, this improved partnership against crime, extremism and terrorist groups is of direct benefit to the people of both countries. In terms of connectivity, the increased connectivity in air, sea, waterways and surface transport generates growth and income for both sides. We would like to step up this partnership and realize all the potentials of connectivity. "
Full report at:
https://timesofindia.indiatimes.com/india/nrc-process-in-assam-an-internal-matter-india-tells-bangladesh/articleshow/70762668.cms
--------
First encounter in Jammu & Kashmir since abrogation of Article 370
Aug 21, 2019
An SPO of Jammu and Kashmir police was killed while another cop was injured in an encounter with terrorists in Baramulla district on Tuesday night.
Cops also gunned down a terrorist during the encounter whose identity is yet to be established. The martyred SPO has been identified by the police as Billal.The police said the injured sub-inspector, Amardeep Parihar, has been admitted to a hospital for treatment.
The gun battle between security forces and armed militants, which had begun on Tuesday evening, had continued into the night.At 5:30 a.m. on Wednesday, the Jammu and Kashmir police tweeted that the encounter was over.
"Encounter is over. One terrorist killed. Identity being ascertained. Arms and ammunition recovered. Our colleague SPO Billal attained martyrdom. SI Amardeep Parihar injured in the incident is being treated at Army Hospital," stated the police in the tweet.
Security agencies were involved in heavy exchange of gunfire with the terrorists in the encounter. The firing had begun with the militants at around 5 p.m. in Old Baramullah and the area was cordoned off for the public.
This was the first encounter between security forces and terrorists ever since the Union government abrogated special category status to Jammu and Kashmir on August 5 by reading down Article 370 of the Indian Constitution.
Full report at:
https://www.hindustantimes.com/india-news/first-encounter-in-jammu-kashmir-since-abrogation-of-article-370/story-eT8Yn3MEGobjAlT6QPhtxJ.html
--------
Yemen's govt-in-exile calls for assistance from India
by Srinath Rao
August 21, 2019
The exiled government of Yemen has sought assistance from India after armed rebels staged a coup last week and took over government buildings in the temporary capital of Aden.
"We want India to open its eyes to this crisis and intervene in a way that it sees fit. We would like the Government of India to respond to this situation in the same manner that it would if someone tried to divide India," Yahya Yahya Ghobar, Consul General of Yemen in Mumbai, told The Indian Express.
Yemen is the center of what the UN has termed "the worst man-made humanitarian crisis" in the world. After Iran-backed Houthi rebels captured capital Sana'a in 2015, President Abdrabuh Mansour Hadi and his ministers fled to Saudi Arabia.
The Yemen government then appealed to Saudi Arabia and the UAE to help it regain control over the country. However, in recent months, cracks have emerged in the military coalition led by the two kingdoms.
Full report at:
https://indianexpress.com/article/india/yemens-govt-in-exile-calls-for-assistance-from-india-5922052/
--------
Ayodhya hearing: Writings on recovered slab point to Vishnu temple at Babri site, SC told
by Ananthakrishnan G
August 21, 2019
Inscriptions on a stone slab "recovered" from the rubble of the demolished Babri Masjid in Ayodhya pointed to the existence of a 12th century Vishnu temple at the site of Babri Masjid, the counsel for Ramlalla told the Supreme Court on Tuesday.
Senior counsel C S Vaidyanathan, appearing for the deity, told a five-judge Constitution Bench headed by Chief Justice of India Ranjan Gogoi that the Sunni Wakf Board and others on the mosque side had disputed recovery of the slab but had not questioned its authenticity. He was responding to a query from the bench, also comprising Justices S A Bobde, D Y Chandrachud, Ashok Bhushan and S Abdul Nazeer. The bench is hearing appeals against the September 30, 2010 judgment of Allahabad High Court.
Justice Chandrachud drew the counsel's attention to the HC judgment linking the disputed site to the 12th century and sought to know how this was done.
Vaidyanathan replied that the slab was 115 cm long and 55 cm wide. The inscription on it was in classical Sanskrit and, as deciphered by epigraph expert K V Ramesh, spoke about the existence of a Vishnu Hari temple at the site in Ayodhya, which was the capital of Saketamandala kingdom ruled by King Govindachandra, the counsel said.
The temple was constructed in the 12th century, he said.
On doubts being raised about the recovery of the slab, Vaidyanathan said this was because the witness to the recovery was a reporter, Ashok Chandra Chatterjee, who worked with Panchajanya magazine, and others had doubted his statement by contending that the magazine was run by an organisation affiliated to the RSS.
The mosque side, Vaidyanathan submitted, had taken the stand that the recovery was doubtful. According to them, the slab was available in some museum and had been planted at the site, he added.
"Even assuming it was found in museum, it points to the existence of a temple…there is intrinsic evidence in the inscription about the existence of the temple in Ayodhya," he said.
The bench then wanted to know whether any question was put to the witnesses — Ramesh and Chatterjee — regarding the authenticity of the inscriptions. Vaidyanathan replied that there was "no dispute with regard to authenticity of the inscription, correctness of the translation, or summary of contents".
He referred to photographs of Babri Masjid taken in 1950 and said the particular slab was on the western wall but not very clearly visible, as it was stuck between other slabs.
According to the reporter's statement, he was at the spot when the mosque was demolished on December 6, 1992, and had seen the slab being recovered from the rubble. This slab was then moved to Ramkathakunj, and subsequently the police took custody, the counsel said, quoting him.
Vaidyanathan also referred to the testimony of some witnesses, including Muslims, to establish his case.
Full report at:
https://indianexpress.com/article/india/ayodhya-hearing-writings-on-recovered-slab-point-to-vishnu-temple-at-babri-site-sc-told-5921828/
--------
Bihar govt to repair, rebuild all registered madrasas in state
by Santosh Singh
August 21, 2019
The Bihar government has decided to repair and rebuild madarsas in a phased manner, incorporating new facilities such as libraries, hostels and science labs.
Bihar currently has 2,549 recognised madaras which get an annual grant from the state government.
This is the first time that any government in the state has taken up task of repairing and rebuilding madarsas. All construction and repair work were earlier undertaken by madarsa committees with the help of the government grant.
Minority Welfare Department Principal Secretary Amir Subhani last week held a meeting with Bihar State Madarsa Board chairman Abdul Quiyum Ansari and officials of the Building Construction and Public Health and Engineering Departments. Ansari later told reporters, "The government has given go-ahead to the much awaited plan. A committee has been formed."
Though the state madarsa board will be the nodal agency, the Building Construction Dep-artment is the executing agency.
In the first phase, Rs 25 crore has been sanctioned for repairing and rebuilding over 25 madarsas in Aurangabad, Nalanda and Darbhanga. Other districts have been asked to send proposals through district minority welfare officers with a written undertaking that the land where the madarsa sending the proposal is situated is not under any litigation.
A minority welfare department official said the work would be done in a phased manner, depending on approval of proposals. "As of now, it would be difficult to assess how many madarsas need to send proposals but the number might run in several hundreds," the official said.
The Nitish Kumar government is already running over half a dozen schemes for minorities, including vocational training programmes, and giving scholarships to Muslim students. The government also has a scheme to give interest-free loan to Muslim students. The government has also recently announced to open hostels for gifted minority students.
In 2017, the government had decided to provide infrastructure funds to madarsas. However, the scheme could not be implemented.
Full report at:
https://indianexpress.com/article/india/bihar-govt-to-repair-rebuild-all-registered-madrasas-in-state-5921822/
--------
Indian State on high alert amid reports of terrorists' intrusion from Afghanistan
20 Aug 2019
A group of four terrorists have reportedly intruded into the Madhya Pradesh State of India putting the state on high alert, it has been reported.
The security forces launched extensive searches in several districts of the State late on Monday after receiving intelligence reports regarding the intrusion.
The authorities have released the sketch of one of the suspects which they circulated in all police stations, outposts and check-points.
The suspect is believed to be from Kunar province of Afghanistan, one of the eastern provinces located along the Durand Line close to the tribal regions of Pakistan.
Militants linked with Taliban, ISIS, Haqqani network, al-Qaeda and other terrorist outlets are active in some restive parts of Kunar province.
Full report at:
https://www.khaama.com/indian-state-on-high-alert-amid-reports-of-terrorists-intrusion-from-afghanistan-03710/
--------
Pakistan
Court moved to quash FIRs against Hafiz Saeed, others
Aug 21, 2019
LAHORE: A lawyer has approached the Lahore High Court (LHC) for the quashing of the first information reports (FIR) against Jamaatud Dawa (JuD) chief Hafiz Muhammad Saeed and 65 others.
The petition, moved by a top JuD leader, Malik Zafar Iqbal, is scheduled to be heard on August 22. The federal government, Punjab government and the regional headquarter of the Counter-Terrorism Department (CTD) have been made party in the plea.
According to the petition, the FIRs registered were "without lawful authority and of no legal effect". It further stated that the property under question was for a mosque and was being used for the said purpose.
The petition said that the property "is not and has not ever (sic) been used for terror financing as there is no tangible evidence on record to support such bold (sic) allegations", adding: "Therefore, the 23 FIRs listed were without lawful authority."
In addition to it, the plea said that the FIRs, describing the petitioner [Iqbal] as the head of the proscribed militant outfit Lashkar-e-Taiba, were "factually and legally incorrect".
Earlier on July 3, the top leadership of the outlawed JuD, including Hafiz Saeed and Abdul Rehman Makki, were booked in nearly two dozen cases under the Anti-Terrorism Act, 1997.
https://www.pakistantoday.com.pk/2019/08/20/court-moved-to-quash-firs-against-hafiz-saeed-others/
--------
Maryam Nawaz's remand extended for 14 days
August 21, 2019
Lahore: An Accountability Court on Wednesday extended physical remand of Pakistan Muslim League-Nawaz (PMLN) Vice President Maryam Nawaz and her cousin Yousuf Abbas for 14 more days.
They were presented before the court by the National Accountability Bureau (NAB) that sought extension in the remand.
The court asked the NAB to present the accused on September 4 after expiry of their physical remand.
Maryam Nawaz and Abbas were taken into custody in connection with an inquiry into Chaudhry Sugar Mills case.
https://www.thenews.com.pk/latest/515372-maryam-nawazs-remand-extended-for-14-days
--------
Three reviews to determine Pakistan's place on FATF list
Khaleeq Kiani
August 21, 2019
ISLAMABAD: Three separate evaluations currently in progress will determine Pakistan's possible exit from the grey list of the Financial Action Task Force (FATF) by the mid of October.
A senior government official told Dawn that Asia-Pacific Group — the regional affiliate of the FATF — was currently conducting in Canberra (Australia) five-year mutual evaluation of Pakistan's progress on upgrading its systems in all areas of financial and insurance services and sectors.
This round is not directly linked to Pakistan's performance on its highest level commitments with the FATF on money laundering and terror-financing, but its assessment report can indirectly impact the country's position to move out of the grey list. The assessments, represented from Pakistan by State Bank of Pakistan Governor Baqir Reza, will conclude on Aug 23.
Pakistan has submitted its compliance report on 27-point action plan committed with the FATF to the APG, which is reviewing its compliance on about seven areas mostly relating to financial and insurance services and facilities as part of an ongoing five-year review cycle. These areas cover safeguards against money laundering and terror financing by banned outfits and non-government entities through banking and non-banking jurisdictions, capital markets, corporate and non-corporate sectors like chartered accountancy, financial advisory services, cost and management accountancy firm, jewellers and similar related services.
The official explained that the five-year review by the APG, which had been under way for nearly two years, would conclude on Aug 23. As part of this process, he added, the countries were given future targets in view of changing technologies, practices and latest techniques and scopes.
This will be followed by another round of mutual evaluations by the APG starting September 5 in Bangkok (Thailand) that would become a key basis of Pakistan's final review by the FATF at its plenary and working group meetings scheduled for Oct 13-18 in Paris.
The Paris plenary will also take up a separate assessment by the United States Treasury Department regarding Pakistan's compliance with global commitments against money laundering and terror financing.
The official said the US had taken a supportive stance towards Pakistan in recent months following engagements at the highest political and collaborative approach towards Afghan peace process. He said at least five consultants engaged by the World Bank, the US authorities and other international agencies were helping the key stakeholders, including Securities and Exchange Commission of Pakistan (SECP), National Counter-Terrorism Authority (NACTA), State Bank of Pakistan (SBP) and Federal Board of Revenue (FBR), to take actions and formulate reports keeping in mind the international perspective and come up to the FATF standards.
During a recent visit, a US delegation led by Ambassador Alice G. Wells, Acting Assistant Secretary of State for the Bureau of South and Central Asian Affairs, had also advised Pakistan to show tangible actions against banned organisations and their leaderships to pacify more countries towards supporting its case to move out of the FATF grey list.
Full report at:
https://www.dawn.com/news/1500711/three-reviews-to-determine-pakistans-place-on-fatf-list
--------
Bill seeking to create new provinces referred to NA speaker
Malik Asad
August 21, 2019
ISLAMABAD: The Standing Committee of the National Assembly on Law and Justice has referred a bill seeking to create Southern Punjab, Bahawalpur and Hazara provinces to the speaker for constitution of a parliamentary committee to fine-tune the proposed legislation.
The committee analysed the Constitution (Amendment) Bill, 2019 (Amendment in Articles 1, 51, 59, 106, 175A and 218) moved by Murtaza Javed Abbasi and Ali Khan Jadoon.
After a heated debate, the committee's chairman, Riaz Fatyana, ruled that the NA speaker would be requested to constitute a 10-12-member parliamentary committee to examine the bill and develop consensus among the stakeholders.
When Mr Abbasi pointed out that a similar bill moved by Rana Sanaullah was pending and requested Mr Fatyana to issue Mr Sanaullah's production orders, Mr Attaullah of the Pakistan Tehreek-i-Insaf asked Mr Abbasi to concentrate on his bill only.
In response, Mr Abbasi threatened to boycott the proceedings in protest. Mr Fatyana, however, intervened and said that the committee did not receive any application from Mr Sanaullah. He advised Mr Abbasi to move an application duly signed by Mr Sanaullah so that the committee could act in accordance with the law.
The committee considered the Legal Practitioners and Bar Councils (Amendment) Bill, 2018, moved by Aliya Kamran. After detailed deliberations, the committee recommended that the bill could be passed by the assembly.
The committee also considered the Child Marriage Restraint (Amendment) Bill, 2019, and after detailed deliberations, it recommended that the bill moved by Dr Ramesh Kumar Vankwani might be deferred till the next meeting, scheduled to be held on Aug 21, with the recommendation that a representative of the human rights ministry should attend it.
The committee considered the Constitution (Amendment) Bill, 2019 (Amendment in Articles 51, 76 and 106) and after detailed deliberations it recommended that the bill moved by Kishwer Zehra might be passed by the assembly.
Full report at:
https://www.dawn.com/news/1500723/bill-seeking-to-create-new-provinces-referred-to-na-speaker
--------
NAB to seek extension in physical remand of Maryam, Hamza
Aug 21, 2019
LAHORE: The National Accountability Bureau (NAB) on Tuesday said that they will seek an extension in the physical remand of Pakistan Muslim League-Nawaz (PML-N) leaders Maryam Nawaz, Hamza Shahbaz and Yousaf Abbas.
Reportedly, the request will be moved by NAB Prosecutor Hafiz Asadullah Awan on Wednesday during the court hearing on completion of the current physical remand.
Full report at:
https://www.pakistantoday.com.pk/2019/08/21/nab-to-seek-extension-in-physical-remand-of-maryam-hamza/
--------
Qureshi telephones French FM to discuss Kashmir dispute
Aug 21, 2019
ISLAMABAD: Foreign Minister Shah Mahmood Qureshi on Tuesday phoned his French counterpart to discuss the ongoing situation in Kashmir.
During the telephonic conversation, the atrocities being committed by Indian forces came under discussion.
Qureshi said that India's action to revoke the status of Kashmir can imperil the peace in the whole region which can eventually push both countries into war.
"A new human disaster is going to take place in occupied Kashmir, and Indian forces are given free hand to initiate it," he said.
French Foreign Minister assured Qureshi that during the official tour of PM Modi to France, this issue will be discussed in detail.
Full report at:
https://www.pakistantoday.com.pk/2019/08/20/qureshi-telephones-french-fm-to-discuss-kashmir-dispute/
--------
MBS telephones Imran, discusses Kashmir situation
Aug 21, 2019
Saudi Crown Prince Muhammad Bin Salman (MBS) telephoned Prime Minister Imran Khan and discussed the current situation of occupied Jammu and Kashmir.
As per details, PM Khan apprised the Saudi crown prince of the recent scenario in the occupied valley.
Both leaders also discussed the entire regional situation during the call.
Earlier on Aug 7, PM Khan had a telephonic conversation with MBS and told him about the worsening situation in the held valley amid Modi government's move to strip it (IoK) of its special status on Aug 5.
Since August 4, an unprecedented communications blockade and a strict curfew have been imposed in the occupied territory, cutting the region from the rest of the world and preventing contact within Kashmir and with the outside world for the 16th consecutive day on Tuesday.
Full report at:
https://www.pakistantoday.com.pk/2019/08/20/mbs-telephones-imran-discusses-kashmir-situation/
--------
Pak-Afghan track-II dialogue begins in Islamabad today
Tahir Khan
AUGUST 21, 2019
Pakistan and Afghanistan will begin a four-day track-II dialogue in Islamabad today (Wednesday) to explore ways for improvement in relations between the two neighbouring countries, organisers say.
The dialogue known as "Beyond Boundaries" is being organised by the Islamabad-based think tank Centre for Research and Security Studies (CRSS) and Afghanistan's Organisation for Economic Studies and Peace (OESP), the CRSS head Imtiaz Gul said.
The delegates will also meet Pakistani officials and visit universities for interaction with the teachers and students in Islamabad besides bilateral discussions on key issues including the US-Taliban peace talks, Pakistan-Afghan relations, problems of the Afghan refugees, students, trade, transit and also visa issues.
Gul said a 13-member Afghan delegation, leading by former member of the parliament Khalid Pashtoon, arrived in Islamabad and both sides held informal discussion Tuesday night at a reception. Formal meeting will start at a local hotel on Wednesday.
The delegates will discuss the impact on Pak-Afghan relations of Afghan President Ashraf Ghani's successful visit to Pakistan in June this year.
Pakistani Prime Minister Imran Khan and Ghani had agreed that the relationship of equality and cooperation can be developed through systematic mechanisms for political, trade, energy and peace and prosperity cooperation.
A joint statement will be issued at the conclusion of the dialogue with recommendations how to improve relations and increase cooperation between the neighbouring countries in different fields.
The "Pak-Afghan Track 1.5/II Beyond Boundaries" fifth meeting of the Pakistan Afghanistan Joint Committee (PAJC), is being held at a time when there are signs of improvement in Pak-Afghan relations and Taliban and the US are closer to a peace deal.
The delegates will be deliberating on the developments critical to Afghanistan Peace Process, the ongoing US-Taliban Doha Peace Talks, Quadrilateral Process including Pakistan, US, Russia and China, Prime Minister Imran Khan's visit to US and Afghan peace process. The presidential elections in Afghanistan will be discussed as an opportunity for integration or a spoiler?
Both sides will share views how the Torkham border opening for 24/7 will impact bilateral and transit trade with regard to increase in volume and addressing the longstanding demands of traders of both countries.
Prime Minister Imran Khan has decided to keep the Torkham border crossing for 24 hours to increase bilateral trade and also facilitate the cross-border movement. Pakistan has almost completed preparations on its side of the border and expects Afghan officials will take similar measures on their sides to formally operationalise round-the-clock opening of the major crossing point.
Refugees will be another key topic during the discussions and participants will discuss as to how the recent extension by Pakistan in the stay of Afghan refugees till June 2020 will help dignified return, rehabilitation and resettlement of refugees in Afghanistan?
The delegates will have review if the Pakistan Funded Projects in Afghanistan including the recent successful completion of Jinnah Hospital in Kabul and Nayab Amanullah Hospital in Logar Province helped improving the Afghan public perception about Pakistan?
The visiting delegation from Afghanistan included Adviser to the Office of Afghan Chief Executive Officer on Trade Mozammil Shinwari, former Nangarhar governor Saleem Khan Kunduzi, Member of Parliament (Kunduz) Eng. Kamal Safi, Member of Parliament (Kandahar), Ms. Gul Ahmad Kamin, Senator and Member of Afghanistan Cricket Board, Ms. Gulali Noor Safi, former Governor Nanagarhar Province, Saleem Khan Kunduzi, former Deputy Minister of Defence, Maj Gen (r) Afzal Aman, Member of Peace Council, and former Taliban Government's Permanent Representative to UN Abdul Hakeem Mujahid, Member of High Peace Council, former MP Elay Ershad , former Deputy Minister Ms. Fawzia Ehsani and senior Journalist Ariana Television Network News Waris Hasrat.
Pakistani delegates: Parliamentary Secretary for Foreign Affairs and Member of National Assembly Andaleeb Abbas, Member of National Assembly, PML-N, Mehnaz Akber Aziz, Member of National Assembly, PTI, and Chairman Standing Committee on Energy Imran Khattak, former IG Police and Federal Tax Ombudsman, Dr. Shoaib Suddle, former Defence Secretary Lt. Gen. (retd) Asif Yasin, former DG ISPR and Pakistan's Ambassador to Ukraine Maj Gen (r) Athar Abbas, former Ambassador Asif Durrani, former ambassador Mian Sanaullah, former ambassador Seema Ilahi Baloch, Chairperson and Associate Dean IBA, and Member of Foreign Affairs Advisory Council, Huma Baqai and journalists Rehman Azhar, Hasan Khan and Tahir Khan.
Meanwhile, US envoy Khalilzad embarked on a visit to Qatar and Afghanistan on Tuesday for the crucial round of talks with the Taliban.
A Taliban source said the US envoy is scheduled to reach Qatar today (Wednesday) to start a new round of talks with the Taliban in a couple of days.
Full report at:
https://dailytimes.com.pk/451120/pak-afghan-track-ii-dialogue-begins-in-islamabad-today/
--------
Southeast Asia
Selangor Umno wants unilateral conversion Bill tabled at next sitting
20 August 2019
BY SHAZWAN MUSTAFA KAMAL
KUALA LUMPUR, Aug 20 — Selangor Umno said today it will push for the amendment to the Islamic Religious Administration Enactment (State of Selangor) to allow unilateral child conversions to be tabled in the state legislative assembly sitting in November.
Malaysiakini quoted Selangor Umno chief Mat Nadzari Ahmad Dahlan as saying that its five state lawmakers are ready to support Selangor Menteri Besar Amirudin Shari on the matter.
"If possible, we hope the Bill can be tabled in the upcoming sitting and freedom will be given to our assemblymen (to support it) because we have no problem supporting the mentri besar to ensure the Bill is passed," he reportedly said, adding that there would be "deviant" parties who will object to the Bill.
Amirudin has said the Bill allowing for the unilateral conversion of minors could still be tabled at the next state legislative assembly sitting, despite conflicting views on the issue.
Tensions have built up within Selangor Pakatan Harapan (PH) as it was said there is a split among the ruling coalition's state lawmakers over the proposed amendment which would allow the unilateral conversion of minors to Islam.
It is understood that Amirudin had planned to push through an amendment to a state enactment, which currently says that individuals below 18 must obtain the consent of both "mother and father" before converting to Islam.
The planned amendment will see a change of this wording to "mother or father"; meaning that one parent will get to decide the conversion of a minor.
Amirudin was handpicked by Datuk Seri Azmin Ali, who was Selangor mentri besar from 2015 to 2018, to succeed him after PH took power following the 14th general election last May.
https://www.malaymail.com/news/malaysia/2019/08/20/selangor-umno-wants-unilateral-conversion-bill-tabled-in-next-sitting/1782529
--------
China warns on ISIS revival in Syria
20 August 2019
China's Syria envoy said Tuesday that "terrorist organizations" including ISIS are being revived in the war-ravaged country, urging the international community not to ignore the "early warning" signs.
Xie Xiaoyan, Beijing's pointman for the Syrian conflict, made the comments after meeting in Geneva with the UN Special Envoy for Syria, Geir O. Pedersen.
"There is now a danger of terrorist organizations like ISIS being revived," Xie told reporters,
"The international community should pay attention."
ISIS overran large parts of Syria and Iraq in 2014, proclaiming a "caliphate" there, but offensives in both countries reclaimed the territory.
Xie's Geneva visit came as concern mounts over a possible major offensive by President Bashar al-Assad's forces on Idlib, a jihadist-run area in the northwest which is the last major opposition stronghold in Syria.
The UN has warned that an assault on Idlib could trigger a humanitarian catastrophe.
Idlib has for several years served as a reception zone for those escaping government advances elsewhere in the country, who now number in their hundreds of thousands.
Today they have nowhere to run in case of a full assault on Idlib.
Asked about Beijing's position on a prospective of such an assault and the humanitarian fallout, Xie described the issue as "very complicated".
"We all know that this is the last stronghold of some of the terrorist organizations... so this is an issue that needs to be dealt with," he said.
"The fight against terrorism is not finished yet."
Full report at:
https://english.alarabiya.net/en/News/world/2019/08/20/China-warns-on-ISIS-revival-in-Syria.html
--------
Africa
Under Pressure, IS Militants in Somalia Look to Ethiopia
By Harun Maruf
August 19, 2019
Islamic State militants in Somalia say they will release jihadist materials in Amharic — a step unmistakably aimed at winning recruits in restive, neighboring Ethiopia.
The announcement came in the form of a three-minute video released last month by pro-Islamic State sites and endorsed by the official IS media. The video posted the words to one of Islamic State's best-known chants in Amharic and promised IS will release more materials in the language, one of the two most-spoken tongues in Ethiopia.
Matt Bryden, an Africa analyst with Kenya-based Sahan Research, believes Islamic State — also known as ISIS — is reaching out to Ethiopia's Muslim community in an attempt to take advantage of ongoing ethnic and political unrest in Africa's second most populous nation.
"I think ISIS sees in Ethiopia a potential opportunity. We know the group has been expanding its influences and its activities across Africa quite aggressively — so far with small results in much of the continent but they are persisting," Bryden told VOA's Somali service.
He says Ethiopia's unrest may be worsening despite political reforms enacted by Prime Minster Abiy Ahmed, including the release of thousands of political prisoners and the signing of a peace treaty with longtime foe Eritrea.
"There are many groups that are disaffected and disgruntled by the way the transition is unfolding," Bryden said. "Where there are communities with grievances, where violence is becoming increasingly the norm, there are opportunities for the extremist groups to recruit, to attract followers and perhaps to establish presence, and I would expect ISIS is trying to do all of those things."
Pro-Islamic State militants emerged in Somalia in October 2015 after a small group of fighters from militant group al-Shabab broke away and pledged allegiance to IS emir Abu Bakr Al-Baghdadi.
Since then, the group has maintained a presence in northeast Somalia and around Mogadishu, even while facing a relentless offensive from both al-Shabab and the Somali government.
Experts say the Amharic video indicates that Islamic State in Somalia has members from Ethiopia. In December 2017, IS Somalia released a video featuring a jihadist from Ethiopia speaking in Amharic. IS identified the jihadist as Abu Zubayr Al-Habash. It was not clear what his position was.
This year, IS issued another video announcing that Al-Habash has died, without indicating the cause of death.
Harun Maruf
✔
@HarunMaruf
Pro-Islamic State militants in Somalia reported the death of an Ethiopian jihadist among their ranks, but the group didn't say when/how he died. Abu Zubayr Al-Habash appeared in IS video in Dec 2017 threatening attacks on public places in Somalia.
(Left - new photo. R-old photo)
View image on TwitterView image on Twitter
63
9:22 AM - Feb 4, 2019
Twitter Ads info and privacy
50 people are talking about this
A former IS Somalia member who spoke exclusively to VOA Somali says the group has about eight Ethiopians among its estimated 300 members.
The Ethiopian prime minister's office has not responded to multiple requests for comment.
https://www.voanews.com/africa/under-pressure-militants-somalia-look-ethiopia
--------
Somali forces kill 20 al-Shabab militants in southern region
2019-08-19
MOGADISHU, Aug. 19 (Xinhua) -- Somali special forces (Danab) killed 20 al-Shabab militants in counter-offensive in southern Somali region of Lower Shabelle on Sunday night, officials said on Monday.
Odawa Yusuf Rage, the commander of Somali infantry division said the militants launched an attack on Somali army base in Bariire town in Lower Shabelle region but the forces fought them back bravely and inflicted severe casualties.
"The confrontation was fierce but our forces repelled the militants, killing 20 of them and injured more than 30 others," Rage said, adding that the forces were on alert to counter any attempts by the militants.
Locals reported seeing bodies on the streets following the clashes. "We were shocked by the sounds of heavy gun fire last night and in the morning we saw many bodies in the streets near the army base," Guled Adow, a resident told Xinhua by phone.
On Aug. 14, the militants drove suicide car bombs on the army's base in Awdheegle town in the same region in which the government said it killed 7 al-Shabab militants and injured 10 others.
The militant group reportedly deployed hundreds of its fighters to Lower Shabelle region after losing control of Bariire, Sabiid, Caanole and Awdheegle towns this year.
Full report at:
http://www.xinhuanet.com/english/2019-08/19/c_138321045.htm
--------
At least 10 Burkina Faso soldiers killed in militant attack
AUGUST 19, 2019
OUAGADOUGOU (Reuters) - Unidentified militants killed at least 10 soldiers and wounded many others in an attack on a military unit in northern Burkina Faso on Monday, the army said.
Burkina Faso has been overrun by Islamist violence this year that armed forces have been unable to contain. Hundreds of civilians have died and more than 150,000 have fled as the influence of jihadist groups with links to al Qaeda and Islamic State spreads across the Sahel region.
Monday's attack occurred in the early hours of the morning in Koutougou in Soum province, an army statement said, without providing much further detail.
"In reaction to this barbaric attack, a vast air and land search operation is seeking to neutralise the many assailants," the statement said.
Once a pocket of calm in the Sahel, Burkina has suffered a spillover of Islamist violence from its neighbors, including the kind of ethnic attacks that have destabilized Mali in recent years.
Full report at:
https://www.reuters.com/article/us-burkina-security/at-least-10-burkina-faso-soldiers-killed-in-militant-attack-idUSKCN1V91L8
--------
Sudan forms sovereign council to lead transition: Spokesman
20 August 2019
Sudan's generals and opposition alliance on Tuesday formed a sovereign council that will head the country during its three-year transition to civilian rule, a spokesman said.
The sovereign council will be led by Lieutenant General Abdel Fattah al-Burhan, who is the head of the Transitional Military Council (TMC).
The line-up of the 11-member council was announced by a spokesman for the TMC, which had taken charge after former President Omar al-Bashir was forced from power in April.
https://english.alarabiya.net/en/News/middle-east/2019/08/20/Sudan-forms-11-member-sovereign-council-to-lead-transition.html
--------
Nigeria: Decade of B.Haram terror killed 37 aid workers
Olarewaju Kola
20.08.2019
MAIDUGURI, Nigeria
A total of 37 aid workers have been killed in Nigerian's volatile northeast region since the crisis there began a decade ago, said the United Nations on Tuesday.
"Recent data indicates that the conflict has claimed the lives of 35,000 civilians" since the Boko Haram terrorist insurgency broke out in July 2009, said Eve Sabbagh of the UN Office for the Coordination of Humanitarian Affairs (UN-OCHA) in Abuja, Nigeria's capital, in a statement marking World Humanitarian Day.
Dozens of local and foreign humanitarian workers gathered in the nation's capital on Tuesday to remember their fallen colleagues and demand more protection.
Edward Kallon, the chief of humanitarian coordination in the country, said many of the aid workers have been risking their lives "working tirelessly to extend helping hands" to those affected by the violence in the country's northeast region.
He said protecting humanitarian workers and their families is a must.
Full report at:
https://www.aa.com.tr/en/africa/nigeria-decade-of-bharam-terror-killed-37-aid-workers/1560811
--------
Arab World
Iraqi police destroy three Islamic State hotbeds in Diyala
by Mohammed Ebraheem
Aug 19, 2019
Kirkuk (IraqiNews.com) – The Iraqi Interior Ministry has announced that three hotbeds of the Islamic State terrorist group were destroyed during a security operation in the oil-rich province of Kirkuk.
"Federal police forces, acting on intelligence information, destroyed three Islamic State hideouts in Valley Shaybah in Kirkuk province," Maj. Gen. Saad Maan, the ministry spokesman, said in a press statement.
"The hideouts contained 15 explosive charges, two magazines and foodstuffs," the statement read.
Kirkuk officials previously urged reinforcing military troops in the south and west of the province, as the region still has Islamic State members who escaped during liberation of Hawija to remote areas.
In October 2017, former prime minister Haider al-Abadi declared that Iraqi troops recaptured Hawija, a main town held by Islamic State in the country. Iraqi forces, backed by a U.S.-led coalition and paramilitary troops, have been fighting since October 2016 to retake territories Islamic State occupied in 2014.
https://www.iraqinews.com/iraq-war/iraqi-police-destroy-three-islamic-state-hotbeds-in-diyala/
--------
Egypt court hands out 6 death sentences on terror charges
August 19, 2019
CAIRO — An Egyptian court has sentenced six people to death on terror charges for carrying out attacks that killed at least three people, including a policeman, on the outskirts of the capital.
Giza criminal court on Monday also sentenced 41 defendants, including 28 in absentia, to life in prison on similar charges, including possession of weapons and explosives. Another seven defendants received 15 years, and one got three years. The court acquitted 14 others.
The verdict can be appealed.
The charges stem from two different attacks in 2013 and 2015 in the town of Kerdasa, located near the famed Giza Pyramids.
Full report at:
https://www.washingtonpost.com/world/middle_east/egypt-court-hands-out-6-death-sentences-on-terror-charges/2019/08/19/9e296ee2-c298-11e9-8bf7-cde2d9e09055_story.html?noredirect=on
--------
Al-Nujaba Movement Underlines Failure of US Scenarios against Hashd Al-Shaabi
Aug 20, 2019
"The US has made use of every means to target Hashd al-Shaabi, but Hashd al-Shaabi has been able to defuse the US projects since 2014 powerfully and rapidly in cooperation with its brothers in the security forces," member of al-Nijaba's political council Foras al-Yasser was quoted as saying by the Arabic-language al-Ma'aloumeh news website on Tuesday.
He said that the US plots to take control of regions near Syria or Jordan to meet its interests and target the resistance groups have failed, and vowed that "Washington will face more failures in the next few days".
A senior member of the Iraqi parliament's Security and Defense Committee had revealed in July the US plot to assassinate top commanders of Hashd al-Shaabi in collaboration with the former Ba'ath party officers.
Karim al-Aliwi told the Arabic-language al-Ma'aloumeh news agency that in addition to the Ba'ath party officers, the US has also missioned the terrorist groups under its support to assassinate Hashd al-Shaabi commanders, adding that the US so-called mistaken bombing against Hashd al-Shaabi is another way to kill the Iraqi commanders.
He added that the US targets Iraqi popular forces based on precise intelligence and data provided by the Ba'ath party commanders, saying that Washington aims to annihilate Hashd al-Shaabi as the only obstacle to attain its goals in Iraq.
A prominent Iraqi security expert warned last month that members of the dissolved Ba'ath party were collecting intel for the US in Western Iraq, mainly through spying on Hashd al-Shaabi forces.
Al-Ma'aloumeh news website quoted Moa'ayed al-Ali as saying on Tuesday that members of Ba'ath party had infiltrated into the Iraqi security bodies in Western Iraq.
He added that they collected intelligence on security units and Hashd al-Shaabi in Iraq and relay the intel to the US forces.
Full report at:
https://en.farsnews.com/newstext.aspx?nn=13980529000360
--------
Syrians facing forced removal from Istanbul given temporary reprieve
21 August 2019
Turkey has extended to Oct. 30 its deadline for Syrian refugees not registered in Istanbul to leave the city or face forced removal, Interior Minister Suleyman Soylu said on Tuesday.
Istanbul's governor said last month that Syrians who had registered in other provinces of Turkey must return to those provinces by Aug. 20. The number of Syrians in Istanbul, a city of some 15 million, has swelled, with over half a million living in Turkey's largest city.
In a televised interview with broadcaster Haberturk late on Tuesday, Soylu said the deadline had been extended until Oct. 30 and that those leaving Istanbul would be allowed to relocate and register in any other province, except the southern province of Antalya, which he said was also not admitting more Syrian migrants.
Students and their families, as well as those with officially registered jobs in Istanbul, would be exempted from the need to relocate, he said.
Turkey hosts more than 3.6 million Syrians, the largest population of Syrians displaced by an eight-year war.
Soylu said a total of around 347,000 Syrians had returned to their country so far. Turkey has determined locations outside its borders to host a possible immigration wave from Syria's Idlib province, he added.
A series of truces brokered via Russian-Turkish talks has failed to end fighting in the northwestern Idlib province, where Ankara has a dozen military positions.
The northwest is the last big stronghold of opposition to President Bashar al-Assad, whose military has been waging an offensive in the area since the end of April with Russian help.
Full report at:
https://english.alarabiya.net/en/News/middle-east/2019/08/21/-Syrians-facing-forced-removal-from-Istanbul-given-temporary-reprieve.html
--------
Bahraini political prisoners thrown into solitary as regime seeks to quash hunger strike
Aug 20, 2019
Bahraini prison officials have placed nearly two dozen imprisoned anti-regime dissidents into solitary confinement as the ruling Al Khalifah regime struggles to crush a mass hunger strike involving hundreds of protesting inmates.
Zainab al-Khamees, a member of the Bahrain Human Rights Society, wrote in a post published on her Twitter page that police officers, clad in full riot gear, had raided a ward inside notorious Jau Prison, rounding up at least 20 prisoners on accusations of inciting the action. They then threw the inmates into solitary confinement.
Other inmates were told to end their hunger strike or face water and air cuts. The threats come as temperatures tend to exceed 48°C in the country during summer.
On Monday, Amnesty International said more than 450 inmates from Jau Prison and Dry Dock Detention Center had gone on a mass hunger strike to express their grave resentment over dire prison conditions, including ill-treatment, the glass barrier separating them from their families during visits, arbitrary searches and confiscation of their belongings.
Amnesty Bahrain
@aibahrain
Over 450 #Bahrain-i prisoners in #Jaw and Dry Dock prisons joined a mass #hungerstrike this week in protest of dire #prison conditions including ill-treatment, the glass barrier during family visits, arbitrary searches and confiscation of belongings. #BahrainPrisonersStrike
13
7:20 PM - Aug 19, 2019
Twitter Ads info and privacy
46 people are talking about this
The action came after fifteen political prisoners started on August 15 an open hunger strike following two full years of systematic isolation in Jau Prison.
The dissidents are imprisoned along with other inmates, who don't share their language, religion, traditions or culture. They are also charged with different crimes.
The European Center for Democracy and Human Rights (ECDHR) expressed solidarity with the hunger-striking inmates in a post published on its Twitter page, demanding the release of all imprisoned dissidents.
ECDHR
@ECDHRbxl
ECDHR in #Bruxelles stands in solidarity with #Bahraini #PoliticalPrisoners who declared a #HungerStrike in protest of the poor prison conditions. We call for the release of all political prisoners in #Bahrain #HumanRightsViolations
#إضراب_سجناء_البحرين #BahrainPrisonersStrike
Embedded video
47
8:30 PM - Aug 19, 2019
Twitter Ads info and privacy
55 people are talking about this
The Americans for Democracy and Human Rights in Bahrain (ADHRB) has also expressed solidarity with the prisoners.
Thousands of anti-regime protesters have held demonstrations in Bahrain on an almost daily basis ever since a popular uprising began in the country in mid-February 2011.
They are demanding that the Al Khalifah regime relinquish power and allow a just system representing all Bahrainis to be established. Manama has gone to great lengths to clamp down on any sign of dissent. On March 14, 2011, troops from Saudi Arabia and the United Arab Emirates were deployed to assist Bahrain in its crackdown.
On March 5, 2017, Bahrain's parliament approved the trial of civilians at military tribunals in a measure blasted by human rights campaigners as being tantamount to imposition of an undeclared martial law countrywide.
Full report at:
https://www.presstv.com/Detail/2019/08/20/604030/Bahraini-political-prisoners-thrown-into-solitary-as-regime-seeks-to-quash-hunger-strike
--------
Egypt says security forces kill 11 militants in Sinai
August 20, 2019
CAIRO: Egyptian security forces killed 11 Islamist militants from a local affiliate of the Daesh group based in the restive North Sinai region, the interior ministry said Tuesday.
The militants, armed with weapons and explosives, were killed in a shootout during a raid on their hideout near a police station in the provincial capital El-Arish, the ministry said in a statement.
According to intelligence from the national security department, the militants used the hideout as "a base to launch their hostile operations," it added.
Egypt has for years been fighting an insurgency in North Sinai, which escalated following the military's 2013 ouster of Islamist president Muhammad Mursi following mass protests.
Since then, hundreds of police officers and soldiers have been killed in extremist attacks.
In February 2018, the army launched a nationwide operation against the militants, focusing mainly on North Sinai.
Some 650 militants and around 45 soldiers have been killed since, according to a tally based on statements by the armed forces.
No independently verified death toll is available and the region is largely cut off to journalists.
Full report at:
http://www.arabnews.com/node/1542711/middle-east
--------
South Asia
Taliban Trolls Could Adopt New Terrorist Tactics in the Wake of America's Peace Plan
August 19, 2019
by Robin Simcox
President Donald Trump wants out of Afghanistan by 2020. He may get his wish. Zalmay Khalilzad, the U.S. Special Representative to Afghanistan, has been negotiating with the Taliban for a nearly a year and is hopeful that the next round of talks will produce a "lasting and honorable" peace agreement.
While peace would be wonderful, the United States should not be too hasty in reaching a deal. Two of the Trump administration's top counterterrorism priorities—defeating ISIS and preventing Afghanistan from once more becoming a hub of global terror—are sometimes viewed as separate objectives. In fact, they are part of the same fight—and that fight is complicated.
For starters, Al Qaeda and the Taliban aren't the only extremist groups operating in Afghanistan. More than twenty foreign terrorist organizations or organizations that have provided support to terrorists are active there. One of the worst is the Islamic State-Khorasan (ISIS-K), which is an Afghan affiliate of the Islamic State.
When the organization was formed in January 2015, Abu Bakr al-Baghdadi hand-picked Hafiz Saeed Khan to lead it. Khan was joined by Abdul Rauf, a former Guantanamo Bay detainee and member of the Taliban, who defected to al-Baghdadi's cause.
This leadership team did not last long. Both Rauf and Khan were killed in drone strikes; Rauf died in February 2015 and Khan died in July 2016. Yet the group was able to expand nonetheless. According to the United Nations, ISIS-K has the largest foreign fighter component of all the ISIS affiliates. Its troops, drawn from North Africa and Europe, the North Caucasus and South and Central Asia, now number between 2,500 and 5,000.
ISIS-K's targets have included NATO personnel, Shia worshippers, and the Taliban. According to the Special Inspector General for Afghanistan Reconstruction, the group is responsible for one fifth of all civilian casualties in Afghanistan.
ISIS-K largely operates in eastern Afghanistan, primarily in the Nangarhar and Kunar provinces, which are close to the border of Pakistan. Yet it also reportedly has a presence in neighboring provinces of Nuristan and Laghman, as well as the capital city of Kabul, where it has launched attacks.
Now, there are fears ISIS-K has broadened its ambitions. It has claimed attacks in neighboring Pakistan, and Marine Gen. Frank McKenzie, the head of U.S. Central Command, recently stated that ISIS-K "has aspirations to attack the United States." A U.S. intelligence official based in Afghanistan characterized this summer's attacks in Kabul as "practice runs" for operations in the United States and Europe, which this official described as "just a matter of time." He also called ISIS-K "the most near-term threat to our homelands from Afghanistan."
That threat may have already turned to action in Europe. In April 2017, an Uzbek called Rakhmat Akilov began mowing down civilians on the streets of Stockholm, Sweden. Akilov said he carried out his attack in order to "build a caliphate according to Prophet Muhammad's prophecies."
Prior to his attack, Akliov was in contact with a fellow Tajik called Abu Osama Noraki. Akilov identified Noraki as an ISIS emir. Noraki is suspected of recruiting Tajiks to the cause via the smartphone walkie-talkie app Zello.
True, it has not all been smooth sailing for ISIS-K. A UN assessment this July concluded that, "in 2019, ISIL-K suffered military setbacks and the intensity of its attacks lessened compared with previous periods." ISIS was also weakened by a military skirmish with the Taliban in the summer of 2018 in the province of Jowzjan in the country's north. This was erroneously claimed by the Pentagon to be a victory for Afghan security forces.
The good guys, too, have recorded some victories over ISIS-K. According to the Long War Journal, the United States has successfully targeted four ISIS-K emirs since July 2016. The latest was Abu Saad Orakzai, who was killed during an August 2018 airstrike in the Nangarhar Province.
Despite this, ISIS-K presents an ongoing regional and, potentially, transnational threat. As it has grown in manpower (from hundreds at its founding to thousands today), it has expanded the territory it controls in Kunar. It operates in rugged, highly advantageous terrain and is aggressively recruiting from university campuses.
Perhaps, once the United States withdraws, the Taliban will crush ISIS-K as part of a campaign to expand its influence in Afghanistan even further. When speaking as head of U.S. Central Command, Army Gen. Joseph L. Votel noted that "ISIS-K is not a popular insurgency in Afghanistan. Everybody is against them." Perhaps its presence in Afghanistan will prove to be fleeting.
Yet several observers have pointed out that if the United States does negotiate a durable peace settlement in Afghanistan, then it is possible that some of the most hardcore Taliban elements that want to carry on fighting may be drawn to the transnational jihadism of ISIS-K.
Either way, any deal negotiated in Afghanistan must allow the United States to retain the ability to carry out counterterrorism operations there. After almost two decades of fighting, America's desire to wind down its efforts is understandable. Yet, as it does so, it cannot ignore the emergence of a group that aspires to inflict the kind of suffering on the United States that led it into Afghanistan in the first place.
https://nationalinterest.org/blog/middle-east-watch/taliban-trolls-could-adopt-new-terrorist-tactics-wake-americas-peace-plan
--------
No complete withdrawal from Afghanistan: Donald Trump
Aug 21, 2019
WASHINGTON: President Donald Trump has indicated that there will not be complete withdrawal of American forces from Afghanistan, stating the US have to "have a presence" in the war-torn country.
"We will always have intelligence, and we'll always have somebody there," Trump told reporters at his Oval Office on Tuesday.
He was responding to questions on the ongoing peace talks with the Taliban in Afghanistan. Trump said he would like to look at various alternatives.
"One of the alternatives is going on right now. We're talking about a plan — I don't know whether or not the plan is going to be acceptable to me. Maybe it's not going to be acceptable to them. But we are talking. We have good talks going, and we'll see what happens.This is more than other Presidents have done," he said.
"We have brought it down. We are bringing some of our troops back. But we have to have a presence," Trump said ruling out a complete withdrawal of troops from Afghanistan.
He was asked, "Could we be back to where we were pre-9/11 with the Taliban in complete and total control of Afghanistan?"
"Well, that's what we have to watch," Trump responded.
And if the Taliban were "really right" in what they're saying, they would stop that from happening, because they could stop that from happening very easily.
Trump said, right now, the US is negotiating with the Afghan government and with the Taliban. "We will see what happens from it, what's coming from it," he said.
"The Taliban would like to stop fighting us...They've lost a lot. But we'll see what happens," he said.
Afghanistan, he said is a tough place.
"The Soviet Union became Russia because of Afghanistan. That's what happened. Very simple. They became Russia because of Afghanistan. Somebody would say, Oh, well, would Russia go in? I said, If they want, let them. I think they tried that before, however. Didn't work out too well," he told the reporters.
Trump said the US is looking at different things and options in Afghanistan.
"We've been there for 18 years. It's ridiculous. We have taken it down a notch. We're at about 13,000 people right now. NATO has some troops there too, by the way. We are having good discussions. We'll see what happens," he said.
The United States, he said, is not really fighting. It is almost more of a police force over there. "It's been so many years. We are like a police force. We are not supposed to be a police force," he added.
Trump reiterated that this war is not be nuclear. "We could win that war in a week if we wanted to fight it. But I'm not looking to kill 10 million people. I'm not looking to kill 10 million Afghans, because that's what would have to happen, and I'm not looking to do that," he said.
Full report at:
https://timesofindia.indiatimes.com/world/us/no-complete-withdrawal-from-afghanistan-donald-trump/articleshow/70763983.cms
--------
Rohingya Muslims Say They Don't Want to Return to Myanmar
August 20, 2019
COX'S BAZAR, BANGLADESH - Few Muslim Rohingya refugees in Bangladesh have responded to plans for their repatriation to Myanmar, and all who did said they don't want to go back, officials from the U.N. refugee agency and Bangladesh's government said Tuesday.
Bangladesh's refugee commissioner, Abul Kalam, said only 21 families out of 1,056 selected for repatriation starting Thursday were willing to be interviewed by officials about whether they wish to return. He said all the families said they would not go back.
He said the mood in the sprawling camps in Cox's Bazar where about 1 million Rohingya refugees are sheltered was calm and cordial.
"There has been no chaos like in the past. They have gone to the officials for the interviews and talked freely. This is very positive, they now understand the situation better," he said.
"We have tomorrow, I am hopeful that many other families will face the interviews," he said.
Louise Donovan, a spokeswoman for UNHCR, said in an email that a second interview would be conducted with refugees who agree to go back in "intention surveys" like the ones conducted Tuesday.
Some Rohingya interviewed Tuesday said they would not return unless Myanmar gives them citizenship. Myanmar has refused to recognize them as citizens, even though many of their families have lived there for generations, and insists on calling them Bengalis.
"We want a guarantee of citizenship first and they must call us Rohingya, then we can go," said Ruhul Amin, head of a nine-member family. "We can't go without our rights."
Myanmar has verified that the selected families, comprised of 3,450 people, came to Bangladesh following attacks led by Myanmar's military.
On Friday, a Myanmar Cabinet minister said both Myanmar and Bangladesh had agreed to start the repatriation and had sought help from the UNHCR.
Last year, a similar attempt by the UNHCR and the two countries failed, with no refugees wanting to return voluntarily, a condition Bangladesh said it would follow under an agreement with Myanmar.
Myanmar's military in August 2017 launched a harsh counterinsurgency campaign in response to an attack by a Rohingya insurgent group. The army operation led to an exodus of more than 700,000 Rohingya to Bangladesh and accusations that security forces committed mass rapes, killings and burned thousands of homes.
A U.N.-established Independent International Fact-Finding Mission on Myanmar last year recommended the prosecution of Myanmar's top military commanders on charges of genocide, war crimes and crimes against humanity. Myanmar has rejected the report and any suggestion its forces did anything wrong.
Full report at:
https://www.voanews.com/south-central-asia/rohingya-muslims-say-they-dont-want-return-myanmar
--------
Afghan Special Forces arrest ISIS militants in Paghman district of Kabul
20 Aug 2019
The Afghan Special Forces arrested two militants affiliated with the Islamic State of Iraq and Syria (ISIS) terrorist in Kabul.
The Special Operations Corps said in a statement that the Special Forces arrested the two ISIS militants in Paghman district.
This comes as the Special Forces had earlier arrested an ISIS militant during a similar raid in Deh Sabz district of Kabul.
The military officials said Monday that the Special Forces arrested an ISIS-K militant during a patrol in Deh Sabz district of Kabul.
The officials further added that the Special Forces also destroyed a small cache of weapons.
Furthermore, the Special Forces arrested a Taliban militant during a separate raid in Mussahi district of Kabul.
Full report at:
https://www.khaama.com/afghan-special-forces-arrest-isis-militants-in-paghman-district-of-kabul-03705/
--------
12 Taliban militants killed, wounded in Special Forces night raids in Kapisa
20 Aug 2019
The Afghan Special Forces conducted night raids in North-eastern Kapisa province killing or wounding at least 12 Taliban militants.
The 201st Silab Corps said in a statement the Special Forces conducted the raids in Nezam Khel and Hajian areas of Nejrab district.
The statement further added that the Special Forces killed 7 Taliban militants and wounded 5 others during the operations.
Furthermore, the 201st Silab Corps said no one else was hurt during the operations.
https://www.khaama.com/12-taliban-militants-killed-wounded-in-special-forces-night-raids-in-kapisa-03704/
--------
Afghan Special Forces kill, detain 16 Taliban militants in Logar
21 Aug 2019
The Afghan Special Forces conducted separate operations in central Logar province killing or detaining at least 16 Taliban militants.
The informed military sources said Wednesday that the Special Forces killed 9 Taliban militants during a raid in Azrah district of Logar.
The sources further added that the Special Forces arrested 5 Taliban militants during a separate operation in Baraki Barak district of Logar.
Furthermore, the Special Forces destroyed a small cache of weapons during the same operation.
The Special Forces conducted a raid in Muhammad Agha district of Loar killing two Taliban fighters. The Special Forces also destroyed a small weapons cache.
Full report at:
https://www.khaama.com/afghan-special-forces-kill-detain-16-taliban-militants-in-logar-03714/
--------
Airstrike kills top Taliban leaders including the group's intelligence chief in Wardak
20 Aug 2019
An airstrike killed two senior Taliban leaders including the group's intelligence chief in Maidan Wardak province.
The 203rd Thunder Corps said in a statement that the security forces targeted the senior Taliban leaders in Pul-e Deh Hayat of Nerkh district.
The statement further added that the airstrike killed 3 militants including the Red Unit commander of Taliban and Hamid, the shadow intelligence chief of the group.
Full report at:
https://www.khaama.com/airstrike-kills-top-taliban-leaders-including-the-groups-intelligence-chief-in-wardak-03711/
--------
Afghans restore art shattered by Taliban as peace deal nears
20 August 2019
The Taliban fighters arrived with hammers and hatred. What they left behind is laid out on tables at the National Museum of Afghanistan, 18 years later: shattered pieces of ancient Buddha figurines, smashed because they were judged to be against Islam.
Museum workers in Kabul have been trying to fit them together again as a nervous country waits for the Taliban and the US to reach a deal on ending America's longest war. The agreement is expected to lead to intra-Afghan talks in which the extremist group would play a role in shaping Afghanistan's future.
As the workers pick with gloved hands through hundreds of neatly arranged shards labeled "ears," ''hands," ''foreheads" and "eyes," that future feels especially fragile.
Few details have emerged from several rounds of US-Taliban negotiations held over the past year, and no one knows what a Taliban return to the capital, Kabul, might look like. The country still sees near-daily attacks not only by the long-established Taliban, who now control about half of Afghanistan, but also from a brutal local affiliate of ISIS.
The Taliban's five-year rule imposed a harsh form of Islamic law, denying girls education, banning music and banishing women to their homes. It ended shortly after the US-led invasion following the Sept. 11, 2001 terror attacks to rout the Taliban, who had harbored al-Qaida and its leader Osama bin Laden.
Sherazuddin Saifi remembers the day the Taliban arrived at the national museum in 2001, a period of cultural rampage in which the world's largest standing Buddha statues in Bamyan province were dynamited, to global horror.
For several days, the Taliban set upon the Kabul museum's trove of artifacts from Afghanistan's millennia-old history as a crossroads of cultures: Greek, Persian, Chinese and other. They selected offending items that showed human forms, even early Islamic ones, shattered them with hammers or smashed them against the floor.
"We could not prevent them. They were breaking all the locks, entering each room and smashing all items into pieces," said Saifi, who is part of the restoration team. "It was heartbreaking and horrific ... they destroyed their own history."
More than 2,500 statues were shattered, parts of them ground into powder. Restoration work could take a decade, Saifi said, but "we really feel happy after we put these pieces together again" and revive their meaning.
Among the objects destroyed were the Hadda figurines, a notable collection of Buddhist sculptures discovered decades ago in eastern Afghanistan, near the present-day city of Jalalabad. Photographs that remain of the intact figurines, and the shards themselves, hint at delicate curls of hair or lip.
The Taliban smashed them into thousands of pieces, many the size of fists or even a coin. Now some of the shattered heads are held together with rubber bands in the workshop, part of a sprawling puzzle that can take days of patient effort to join a single piece to another.
The Hadda figurines are the museum's most visible sign these days of the years-long recovery from the turmoil in Afghanistan that began even before the Taliban, when warlords fought over Kabul in the wake of a Soviet retreat.
Much of the museum's holdings, thousands of pieces, were looted and the building was shelled, though some treasures were hidden in the presidential palace in Kabul and elsewhere. The roof of the room where the Hadda figurines are now being pieced together was destroyed.
The museum's recovery began in earnest in 2004, during the period when the defeated Taliban quietly began to regroup. A few hundred objects have been restored in recent years. Now the museum and the University of Chicago's Oriental Institute are compiling as complete an inventory as possible in the hope of tracking down missing artifacts - and saving a digital record of the collection in case of further threat.
That database is more than 99 percent complete, with more than 135,000 surviving pieces, the Oriental Institute says. For the missing artifacts it hopes to create digital "wanted" posters with their images to post online, "so that these objects can be spotted, and ideally recovered and repatriated."
Experts and advocates of Afghanistan's rich history have expressed dismay that cultural preservation apparently has not been on the agenda in the US-Taliban negotiations, which have been focused on a US troop withdrawal and Taliban guarantees that the country will not be used as a launching pad for global terror attacks.
"If it has been discussed, we are unaware of it, and this is something we have been following closely," said Adam Tiffen, treasurer with the Virginia-based Alliance for the Restoration of Cultural Heritage. The US envoy leading the talks with the Taliban, Zalmay Khalilzad, is the organization's director emeritus.
"If we do not learn from our past we are a fool, I would say," said museum director Mohammad Fahim Rahimi, who is very concerned about the potential Taliban return and is making plans to protect the museum's holdings. "I hope they have learned that this is not against the (law) of Islam, nobody is worshipping these objects, everybody is considering these objects as showing our history."
He urged the Taliban to go to museums in Doha, Qatar, where the group has a political office, and see the artifacts that are preserved there.
"We have achieved a lot in 18 years" since the Taliban were defeated, Rahimi said. "If they are here in power and there is no change in their mentality, it means we are definitely back where we started and whatever we achieved will be gone."
Full report at:
https://english.alarabiya.net/en/features/2019/08/20/Afghans-restore-art-shattered-by-Taliban-as-peace-deal-nears.html
--------
Bangladesh prepares for Rohingya repatriations
SHEHAB SUMON
August 20, 2019
DHAKA: Bangladesh is set to begin Rohingya repatriation on Thursday, with both Dhaka and the UN High Commissioner for Refugees (UNHCR) consulting with around 3,450 refugees who have been cleared to return by the Myanmar government.
"We have agreed to the repatriation of 3,450 people on Aug. 22," said Myint Thu, permanent secretary of Myanmar's Ministry of Foreign Affairs.
On July 30, Bangladesh presented a list of 25,000 Rohingyas to a visiting Myanmarese delegation led by Thu.
From this list, Myanmar verified 3,450 Rohingyas for the first stage of repatriation.
Bangladesh had previously produced another list of 30,000 refugees for verification. But only 8,000 were cleared by the Myanmarese authorities.
A similar repatriation attempt failed on Nov. 15 last year when the Rohigyas refused to return, citing the negative environment in Rakhine.
"We have taken all necessary preparations to start the repatriation process on Aug. 22. Two transit camps near the border are ready to be used in the process, but we are not yet sure whether we need to use them during this new attempt," said Abul Kalam, Bangladesh's refugee relief and repatriation commissioner.
Kalam, the most senior Bangladeshi official on the ground, said that they have improved the security measures at the refugee camps.
"Everything now depends on the decision of the Rohingyas and whether they will agree with the repatriation ideas. Our main concern is to motivate them," Kalam added.
Bangladeshi Foreign Secretary Shahidul Haque said that repatriation is one of the most important agendas for his government and Dhaka would encourage them to return to their homeland.
"If they don't go back, they will be deprived of all rights, not just land rights. For their own interest, I think they should volunteer to go back to their homeland.
"Going back to their own homeland does not mean that we are asking them to forget about the issues of justice and accountability. The process to ensure justice and accountability has already begun and it will continue irrespective of their return," Haque said.
Dhaka has asked UNHCR for assistance in confirming whether the refugees wish to return to Myanmar.
"UNHCR has begun sharing information across all the refugee settlements. Bangladesh, with UNHCR support, has also started to inform the 3,450 refugees that they have been cleared for return to their country by Myanmar," Louise Donovan, UNHCR spokesperson at Cox's Bazar told Arab News.
She added that, in line with standard practice in refugee returns, UNHCR's role is to ascertain voluntariness and ensure that people have the information they need to make informed decisions.
"UNHCR will confidentially meet those who express an interest in returning in order to consult them on their intentions. Those who express a wish to return will be invited for a second interview to ensure the voluntariness of their decision. They will be asked to complete a voluntary repatriation form," Donovan added.
UNHCR's efforts have been hampered by their limited access to Rakhine.
"We will share information on some 70 villages where UNHCR and the UN Development Programme have conducted assessments," she said.
However, according to UNHCR, refugees have received their "own sources of information regarding the situation back home."
Syed Ullah, secretary of the Arakan Rohingya Society for Peace and Human Rights, a Rohingya rights organization at Cox's Bazar told Arab News: "Before any repatriation, the safety of our lives should be ensured. We need the guarantee of citizenship, freedom of movement and recognition as an ethnic minority.
"During last month's discussion with Myint Thu, we all agreed to have further dialogue to resolve the unsettled rights issues of the Rohingyas. Without solving our burning problems, how can we move forward for repatriation?"
Bangladeshi experts welcomed the fresh attempts to conduct repatriations.
Humayun Kabir, former Ambassador to the US, said that there are many differences over the repatriation issue, but there is a need to find "common ground" convenient to both parties.
"It is definitely good news that the repatriation issue has return to the forefront of discussion again. We all welcome it.
Full report at:
http://www.arabnews.com/node/1542906/world
--------
Mideast
UAE Minister Says Confronting Houthi Coup Priority in Yemen
19 August, 2019
United Arab Emirates State Minister for Foreign Affairs Anwar Gargash said on Monday that the priority in Yemen is confronting the coup by the Iran-backed Houthi militias.
"Any decision on Yemen must be the culmination of Yemeni dialogue within the political solution that we all aspire for," he added.
Tensions have been high in Aden after southern separatists seized military camps and other state institutions after four days of clashes with the legitimate government forces.
Saudi Arabia intervened to end the fighting and is set to host a meeting for the rival parties.
https://aawsat.com/english/home/article/1863391/uae-minister-says-confronting-houthi-coup-priority-yemen
--------
Turkey says it will not move military observation post in Syria
20 August 2019
Turkey will not move the military observation post in northwest Syria that a Turkish convoy was trying to reach when it came under attack during an offensive by the Syrian army, Foreign Minister Mevlut Cavusoglu said on Tuesday.
An airstrike on the Turkish military convoy on Monday killed three civilians as it was heading south towards the observation point, Turkey's defense ministry said.
"Right now we don't have an intention such as moving this elsewhere," Cavusoglu told reporters in Ankara. "It will carry on with its mission," he said, adding that necessary security and military measures were being taken.
The observation point was one of 12 set up by Turkey in northwest Syria under an agreement with Russia and Iran aimed at reducing fighting in Syria's northwest. Moscow and Tehran strongly support Syrian President Bashar al-Assad's government, while Turkey backs some rebel fighters in the region.
Cavusoglu said Turkey was in contact with Russia "at every level" following Monday's incident to implement a ceasefire in the Idlib region of northwest Syria.
"We will do whatever is necessary for the security of our own soldiers and observation posts," he added.
Syrian government forces stepped up military operations in the area four months ago. The offensive has killed hundreds of people and forced hundreds of thousands of people to flee towards the Turkish border.
Turkey fears the fighting will trigger a further influx of Syrian refugees, 3.6 million of whom already live in Turkey.
The Turkish Defense Ministry said the convoy which came under attack on Monday had been sent to keep open supply routes and ensure the safety of the observation post, which could become cut off by the latest Syrian army offensive.
Full report at:
https://english.alarabiya.net/en/News/middle-east/2019/08/20/Turkey-says-it-will-not-move-military-observation-post-in-Syria.html
--------
UN envoy condemns Houthi attack on Saudi civilian infrastructure
20 August 2019
The UN's special envoy to Yemen condemned on Tuesday the recent Houthi attack targeting civilian infrastructure in Saudi Arabia, adding that he was concerned regarding the latest developments in the south of Yemen.
I, of course, condemn the continued attacks by Ansarullah targeting civilian infrastructure in Saudi Arabia including the recent extension of that targeting to civilian facilities in the eastern part of the country," Martin Griffiths told the UN Security Council.
The special envoy also warned that further deterioration of the security situation in Aden and other areas could provide fertile ground for a resurgence of al-Qaeda in the Arabian Peninsula and ISIS.
"(It) almost certainly will allow those activities to expand and gather momentum once again as we have seen before, with a terrible impact on the civilian population and prospects for future stability in this key strategic location," he said.
Full report at:
https://english.alarabiya.net/en/News/gulf/2019/08/20/UN-envoy-condemns-Houthi-attack-on-Saudi-civilian-infrastructure.html
--------
Arab Coalition strikes Houthi targets in Yemen's Sanaa
20 August 2019
The Arab Coalition supporting the legitimate government in Yemen launched an attack on Monday against military targets of the pro-Iranian Houthi militias in the capital Sanaa.
The coalition's spokesperson Col. Turki al-Maliki said that it destroyed a number of military targets used by the Houthi terrorist militia to store ballistic missiles, drones and weapons.
He added that the coalition advised civilians to stay away from the targeted areas.
Earlier on Monday and during a press conference in the Saudi capital, Riyadh, al-Maliki said that the Houthis are threatening global oil security by targeting the Shaybah oil field in Saudi Arabia.
Full report at:
https://english.alarabiya.net/en/News/gulf/2019/08/20/Arab-coalition-strikes-Houthi-targets-in-Yemen-s-Sanaa.html
--------
Turkey provides clear, support to terrorists in Syria's Idlib: Assad
Aug 20, 2019
President Bashar al-Assad has censured Turkey over sending a military convoy to Syria's embattled northwestern province of Idlib, stressing that the move clearly shows that the Ankara government is offering generous support to Takfiri terrorists who have lost ground amid government forces' push to retake the last militant-held area in the country.
Speaking in a meeting with a visiting Russian delegation from the ruling United Russia political party in Damascus on Tuesday, Assad said the recent developments in Idlib point to Turkey's clear and unlimited support for the foreign-sponsored extremists.
He added that Syrian army troopers have, nevertheless, succeeded to score victories against terrorists, particularly in Idlib, irrespective of support provided by Western and regional countries to them.
Assad stressed that the territorial gains prove the determination of the Syrian nation and army to continue fighting terrorism until every inch of the Syrian soil is liberated.
Dmitry Sablin, for his part, expressed confidence that the incumbent Damascus government will eventually manage to restore security and stability across Syria.
Sablin added that he has recently toured a number of Syrian provinces, finding life returning to normal more than eight years after the start of the Syria crisis.
On Monday, Syria's official news agency SANA quoted an unnamed source in the Syrian Ministry of Foreign Affairs and Expatriates, denouncing Turkey's move as an act of "aggression."
The source added that the Turkish convoy would not affect "the determination of the Syrian Arab Army to keep hunting the remnants of terrorists" in the town Khan Shaykhoun or elsewhere.
The so-called Syrian Observatory for Human Rights (SOHR) and local sources reported on Tuesday that militants had pulled out of Khan Shaykhun in the southern part of Idlib province and a nearby area in neighboring Hama province.
Full report at:
https://www.presstv.com/Detail/2019/08/20/604064/Turkey-provides-clear-support-to-terrorists-in-Syrias-Idlib-Assad
--------
Omar: US must reconsider billions of dollars of aid to Israel
Aug 20, 2019
Democratic Representative Ilhan Omar has said that billions of dollars of US aid to Israel should be tied to its treatment of Palestinians, urging Washington to reconsider the funds to the Tel Aviv regime which is engaged in oppression of the Palestinian people.
Omar on Monday said that Congress should reconsider the annual US aid allocated to Israel, after the regime banned Muslim Congresswomen Ilhan Omar and Rashida Tlaib from travelling to Jerusalem al-Quds and the occupied West Bank.
"We give Israel more than $3 [billion] in aid every year. This is predicated on them being an important ally in the region and the only democracy in the Middle East. But denying a visit to duly elected members of Congress is not consistent with being an ally, and denying millions of people freedom of movement or expression or self-determination is not consistent with being a democracy," Omar said at the press conference in St. Paul, Minn.
Omar, a member of the House Foreign Affairs Committee, also stated that US aid should be contingent upon Israel's activity in Palestine.
"We must be asking, as Israel's ally, that [Israeli Prime Minister Benjamin] Netanyahu's government stop the expansion of settlements on Palestinian lands and ensure full rights for Palestinians if we are to give them aid," Omar said.
US military aid to Israel has skyrocketed over the past several years while the regime's forces are engaged in blatant human rights violations against Palestinians in Gaza and elsewhere.
The United States and Israel signed an agreement in September 2016 to give Israel $38 billion in military assistance over the next decade, the largest such aid package in US history.
Israel announced on Thursday that it would prevent a visit by Tlaib and Omar, both Democratic members of the US House of Representatives, over their criticism of Israel.
The decision by Israel appears to be an unprecedented move against American members of Congress. Even AIPAC, a pro-Israel lobbying group in Washington, criticized Israel for barring the pair from traveling there.
Omar on Monday expressed gratitude for the "solidarity" from other Democrats who have expressed outrage at Israel's decision to ban her and Tlaib. Representatives Alexandria Ocasio-Cortez (D-N.Y.) and Mark Pocan (D-Wis.) have called for refraining from visiting Israel until all members of Congress can go.
But Omar urged fellow lawmakers to visit Israel to conduct congressional oversight to see what happens with "millions of dollars" the US sends to Israel in aid.
Full report at:
https://www.presstv.com/Detail/2019/08/20/604035/US-must-reconsider-billions-of-dollars-of-aid-to-Israel-Omar-
--------
URL: https://www.newageislam.com/islamic-world-news/trump-offers-mediate-again-kashmir/d/119527
New Age Islam, Islam Online, Islamic Website, African Muslim News, Arab World News, South Asia News, Indian Muslim News, World Muslim News, Women in Islam, Islamic Feminism, Arab Women, Women In Arab, Islamophobia in America, Muslim Women in West, Islam Women and Feminism