New Age Islam News Bureau
12 Aug 2015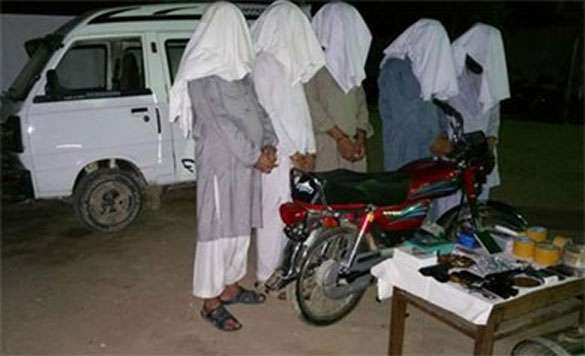 A view of the weapons, ammunition, explosive-laden vehicle and motorcycle along with suspects arrested during intelligence based operations conducted by security forces in Karachi and Hyderabad. — Photo courtesy ispr.gov.pk
---------
Arab World
• Truce Reached Between Hezbollah and Rebels Fighting In Syria
• 50 ISIL Takfiri Terrorists Killed in Anbar
• Saudi Arabia Kills 4 More Yemenis
• Militants kill three Syrians in Idlib despite ceasefire
• Court in Egypt sentences 452 members of Muslim Brotherhood to jail
• Daesh terrorists release 22 Assyrian Christian captives in Syria: Sources
• Coalition lobs 30 more air strikes against ISIS in Syria, Iraq
• S. Arabia rejects Russian calls to work with Assad against IS
• U.S.-led coalition hits rebel arms depot in Syria
• Syrian govt 'committing war crimes' in Ghouta
• Army Repels Terrorist Attack on Sweida Province
• Two arrested in death of Saudi student in US
-----------
Africa
• Suspected Boko Haram Bomb in Nigerian Market Kills About 50
• Buhari to Include Islamic Studies in Public Secondary Schools' Curriculum
• Soldiers and Boko Haram Exchange Gunfire Near Maiduguri
• Libyan PM did not resign, says official
• UN probes peacekeepers rape, murder claims in CAR
• Ford Motors shrugs off Boko Haram, bets on Africa's biggest economy with Nigeria pickup plant
----------
Mideast
• Ansarullah in Full Control of Vast Areas in Southern Yemen
• Victorious Hadi Forces Advance toward Taez
• Turkey launches air strikes on Kurdish targets
• ISIL Preparing to Launch Chemical Attack on Al-Shadadi
• Iran's Zarif, Lebanon's Nasrallah discuss ME crises, nuclear issue
• U.S. denies reaching agreement with Turkey on Syria 'safe zone'
• Israel police quiz Jewish extremist who defends torching churches
• ISIS attacks Syrian rebels near Turkish border
• U.S. urges caution in setting large bond for Palestinian Authority
• IRGC Advisor: US War Rhetoric against Iran Only Good for Internal Use
----------
Pakistan
• Foreign-Sponsored Militant Gang Busted In Karachi, Hyderabad: ISPR
• Two Terrorists Killed In Karachi Police Encounter
• Pakistan to do wonders with Chinese help: Shehbaz
• Minorities Day – NA pays tribute to non-Muslim Pakistanis
• CSF may not be possible beyond 2015: US
• Sindh lawmakers seek enforcement of ban on toy guns
• Military ready to meet all 'security challenges'
• Three intelligence agencies help find 1,000 'criminal' policemen
----------
India
• Why Indian Muslims Can No Longer Be Ignored
• Muslim IAS Academy Opens Door to All Students
• Ceasefire violation: Pakistani troops resort to mortar shelling in Poonch district
• Pakistan protests ceasefire violations by India
• NSA-level talks in danger as Pak army leans on Nawaz Sharif govt
• India wants CPA meet venue to be shifted from Pakistan
• Chabahar port on agenda during Iran mantri's visit
--------
Europe
• French Court to Rule on Pork School Dinners for Jews and Muslims
• KSA Rejects Russian Calls to Work with Assad against IS
• French Muslims Promote Diversity at Schools
• Meet 'Muslim': The Chechen Commander Battling Russia With Some Unlikely Allies
• London mosque offers help, food to needy
• UK: Anjem Choudary Charged With Supporting Islamic State
-----------
South Asia
• Unidentified Gunmen Kidnapped At Least 10 People In Ghazni
• President Ghani: Shah Shaheed Terrorist Attack Orchestrated In Pakistan
• Taliban landmine planter 'wearing women's dress' detained in Paktia, NDS
• Taliban condemns 'horrific' Daesh execution video
• US wants Afghan reconciliation to continue
• Unidentified men want to stop work on Torkham-Jalalabad highway, Pakistani media
• HRW: Protect bloggers, end attempts at muzzling voices
----------
North America
• Muslim Names, Dress Lead to Bullying In US Schools
• Media Ignores Successful Canadian Muslim Stories
• American Muslims Form Organization in Washington, D.C
• Islam is the fastest growing, diverse religion in America: PRC study
-----------
Southeast Asia
• Malaysia: Spotlight on A-G as He Makes Stand on 'Islam vs Human Rights'
• Bank Islam eyes 30% commercial portfolio by year end
• Comments on other issues: Redefinition of Indonesian Islam
• ASEAN is happy with Iran nuclear deal: Indonesian ambassador
Compiled by New Age Islam News Bureau
URL: https://www.newageislam.com/islamic-world-news/new-age-islam-news-bureau/truce-reached-between-hezbollah-and-rebels-fighting-in-syria/d/104246
---------
Arab World
Truce reached between Hezbollah and rebels fighting in Syria
12 August 2015
A 48-hour ceasefire was declared on Wednesday to halt fighting between Syrian insurgents and the army and its Lebanese militant Hezbollah ally in the rebel-held town of Zabadani and two Shiite Muslim villages in Idlib province.
The U.N. envoy for Syria said last month that government airstrikes had caused widespread death and destruction in Zabadani, and expressed concern that civilians were trapped both there and in al-Foua and Kefraya villages.
Sources on both sides of the civil war told Reuters earlier on Wednesday the truce was to begin at 6 a.m. (0300 GMT), and negotiations would continue. The rebel group Ahrar al-Sham had led the negotiations on the insurgents' side.
"A ceasefire began at 6 a.m. today for 48 hours to halt military operations in Zabadani," Hezbollah's al-Manar reported. "It also includes the two villages of al-Foua and Kefraya in the Idlib countryside."
The Syrian Observatory for Human Rights, a Britain-based group that reports on the war, said no fighting had been reported in Zabadani, Kefraya or al-Foua after the ceasefire's agreed start time. "So far there is calm," Rami Abdulrahman, who runs the Observatory, told Reuters.
Hezbollah, an Iranian-backed Shi'ite group with a powerful militia, has been a crucial ally of President Bashar al-Assad in the four-year-old Syrian conflict.
Zabadani, about 45 km northwest of the capital Damascus and about 10 km from the border with Lebanon, has been the focus of a weeks-long offensive by the army and Hezbollah aimed at wresting control of the town from rebels.
The two Shiite villages have been targeted by an insurgent alliance that includes both the Sunni Islamist Ahrar al-Sham and the al Qaeda-linked Nusra Front.
The Observatory said talks would continue on evacuating fighters from Zabadani and sending food aid to Kefraya and al-Foua where thousands of people are under rebel siege.
A source close to Damascus who is familiar with ceasefire agreement said the talks were being held through an intermediary.
"The ceasefire will begin and some (people) who are in critical condition will be evacuated. Talks will discuss further steps," the source said.
The Observatory said negotiations were held between Ahrar al-Sham and Iranian delegations and Hezbollah, but the source who is close to Damascus said the agreement was made between the insurgent group and the Syrian government.
Hezbollah's military role inside Syria has been growing steadily since the start of the conflict in 2011. The Syrian government has described the group as its main ally in the fight against the insurgents battling to topple Assad.
http://english.alarabiya.net/en/News/middle-east/2015/08/12/Two-day-ceasefire-underway-in-Syrian-town-villages.html
-----------
50 ISIL Takfiri Terrorists Killed in Anbar
Aug 12, 2015
According to the Arabic-language Alforat News Agency, the air strikes killed 50 ISIL terrorists, and destroyed 4 vehicles and a rocket launcher belonging to the Takfiri militants in Albu Azim district in Anbar.
The ISIL Takfiri terrorists currently control shrinking swathes of Syria and Iraq. They have threatened all communities, including Shiites, Sunnis, Kurds, Christians, Ezadi Kurds and others, as they continue their atrocities in Iraq.
Senior Iraqi officials have blamed Saudi Arabia, Qatar, and some Persian Gulf Arab states for the growing terrorism in their country.
The ISIL has links with Saudi intelligence and is believed to be indirectly supported by the Israeli regime.
http://english.farsnews.com/newstext.aspx?nn=13940521000589
-----------
Saudi Arabia Kills 4 More Yemenis
Aug 12, 2015
Saudi fighter jets bombed the district of Razih in Sa'ada at least four times, killing a man and a woman and injuring at least two other civilians, reports said Wednesday.
At least one child was also killed in a separate Saudi bombing blitz on the district of Kitaf wa Al Boqe'e in Sa'ada.
Saudi fighter jets also pounded other districts, including Dhaher, in the province and conducted airstrikes in other Yemeni provinces, including al-Jawf and Ma'rib.
Saudi Arabia also targeted Sa'ada as many as 45 times with rockets. In one of the attacks, Saudi forces hit an area in the district of Haydan, killing a woman and injuring at least four other civilians.
Saudi Arabia has been striking Yemen for 140 days now to restore power to fugitive president Mansour Hadi, a close ally of Riyadh.
Hadi stepped down in January and refused to reconsider the decision despite calls by Ansarullah revolutionaries of the Houthi movement.
Despite Riyadh's claims that it is bombing the positions of the Ansarullah fighters, Saudi warplanes are flattening residential areas and civilian infrastructures.
The Monarchy's attacks have so far claimed the lives of at least 5,385 civilians, mostly women and children.
http://english.farsnews.com/newstext.aspx?nn=13940521000293
-----------
Militants kill three Syrians in Idlib despite ceasefire
Aug 12, 2015
Militants fighting against the Syrian government have killed at least three people in the countryside of Syria's northwestern city of Idlib despite the announcement of a ceasefire there.
According to media outlets on Wednesday, Takfiri militants fired rockets on the areas of Fuaa and Kafraya, where a ceasefire had reportedly been announced earlier in the day between the Syrian army as well as Lebanon's resistance movement Hezbollah on the one hand and militants allied to the al-Qaeda-linked al-Nusra Front on the other hand, killing the Syrian civilians.
Dozens of people also sustained injuries in the attack, reports said.
It is not known in which of the two areas the civilians were killed. In addition, no specific militant group has claimed responsibility for the deadly attack, yet.
According to Hezbollah's al-Manar TV, the ceasefire took effect at 03:00GMT on Wednesday in the border town of Zabadani, near the Lebanese border, and in Fuaa and Kafraya in Idlib Province.
"A ceasefire began at 6am today for 48 hours to halt military operations in Zabadani," al-Manar reported, saying, "It also includes the two villages of al-Fuaa and Kafraya in the Idlib countryside."
The development comes as Syria's official news agency SANA said Tuesday that Syrian forces and Hezbollah fighters had made fresh advances north and east of Zabadani, seizing control of at least 11 building blocks from Takfiri militants.
According to sources close to the resistance movement, about a dozen major militants, most of them with the al-Qaeda-linked al-Nusra Front, have also surrendered to Hezbollah.
Syrian forces and Hezbollah fighters have started since more than six weeks ago a joint operation to liberate Zabadani, a strategic town in Syria's Rif Dimashq Province and located just 50 kilometers (31 miles) north of the capital, Damascus. The city has been used by the militants over the past years for transferring forces and weapons into Syria. The allied forces have recaptured major parts of the city, including its main street.
Syria has been fighting against massive foreign-sponsored militancy since early 2011. The conflict has reportedly killed an estimated 240,000 people so far, including nearly 12,000 children.
http://www.presstv.ir/Detail/2015/08/12/424389/Syria-Idlib-Fuaa-Kafraya-Hezbollah-alNusra-Front
-----------
Court in Egypt sentences 452 members of Muslim Brotherhood to jail
Aug 11, 2015
An Egyptian military court has sentenced 452 Muslim Brotherhood members to hefty jail terms over their alleged roles in violent anti-government protests in 2013, Press TV reports.
The military court in Alexandria handed down the sentences to the group, which included former parliamentarians and governors, on Tuesday.
A senior Brotherhood leader, Gamal Heshmat, and 253 other members were sentenced to 25 years or life in jail. The court sentenced the rest of the Brotherhood members to jail terms ranging between three to 15 years.
The defendants were implicated in violent acts including the burning of the Beheira Governorate building, storming a police station in Beheira, and other incidents during anti-government protests in Nile Delta Province, northwest of the capital, Cairo.
Out of the 452, 250 Brotherhood members, including Heshmat, have gone to Turkey, and were sentenced in absentia.
Muslim Brotherhood crackdown
In 2013, the Egyptian army started a systematic crackdown on the supporters of Mohamed Morsi, Egypt's first democratically elected president who was ousted in a military coup in July the same year. Morsi has been detained since.
Since Morsi's overthrow, thousands of anti-government protesters, mostly Brotherhood supporters, have been sentenced to jail by civilian and military courts.
Hundreds of the ex-president's supporters, and Morsi himself, have been sentenced to death.
Hundreds of political detainees have died in Egypt's detention facilities due to medical negligence and torture, as well as the sub-standard conditions in Egypt's prisons and police stations.
Full report at:
http://www.presstv.ir/Detail/2015/08/11/424318/Egypt-court-Muslim-Brotherhood
-----------
Daesh terrorists release 22 Assyrian Christian captives in Syria: Sources
Aug 12, 2015
The Takfiri Daesh (ISIL) terrorist group has released 22 Assyrian Christians whom it had kidnapped in Syria's northeast nearly six months ago, sources say.
The former hostages included 14 women, the Assyrian Observatory for Human Rights, which monitors the fate of the Assyrian Christians in Syria, said on Tuesday, adding that their freedom was "the result of the tireless efforts and negotiations by the Assyrian Church of the East in the city of Hasakah."
Some observers believe, however, that the captives were freed because they may have been a burden on the terror group due to their old age or health issues.
The freed Assyrians were among some 210 members of the Christian minority who were abducted by Daesh in February as it overran the Khabur region in the northeastern Syrian province of Hasakah.
A second monitoring group, the Assyrian Network for Human Rights, said those released were from the villages of Tal Shamiram and Tal Jazira in Khabur.
Full report at:
http://www.presstv.ir/Detail/2015/08/12/424377/ISIL-Syria-Assyrian-terrorist-group-Hasakah
-----------
Coalition lobs 30 more air strikes against ISIS in Syria, Iraq
12 August 2015
The U.S.-led coalition leading air operations against Islamic State launched 30 air strikes against the militant group on Monday, according to the U.S. military said.
Full report at:
http://english.alarabiya.net/en/News/middle-east/2015/08/12/Coalition-lobs-30-more-air-strikes-against-ISIS-in-Syria-Iraq.html
-----------
S. Arabia rejects Russian calls to work with Assad against IS
August 12, 2015
MOSCOW: Saudi Arabia's foreign minister on Tuesday poured cold water on Russian calls to join forces with the Syrian authorities against the self-styled Islamic State, insisting it would never work with President Bashar al Assad.
Moscow -- one of Assad's few remaining allies -- has called for coordination between the Syrian government and members of an international coalition fighting the extremist group, which controls swathes of territory in Syria and Iraq.
But Saudi Foreign Minister Adel al Jubeir insisted there would be no cooperation with the Syrian government after meeting Russian counterpart Sergei Lavrov in Moscow.
"As for a coalition in which Saudi Arabia would participate with the government of Syria, then we need to exclude that. It is not part of our plans," Jubeir said in comments translated into Russian.
"Our position has not changed... there is no place for Assad in the future of Syria," Jubeir said.
Full report at:
http://www.dawn.com/news/1199880/s-arabia-rejects-russian-calls-to-work-with-assad-against-is
-----------
U.S.-led coalition hits rebel arms depot in Syria
12 August 2015
The U.S.-led coalition against ISIS hit a weapons depot belonging to a rebel group allied with Al-Qaeda's Syrian affiliate overnight in northwestern Syria, a monitor said Wednesday.
The strikes killed 10 members of the Jaish al-Sunna group, as well as a child, the Syrian Observatory for Human Rights said.
The raid hit the Atmeh region of Idlib province, home to a large camp for displaced Syrians, but did not strike the camp itself, Observatory director Rami Abdel Rahman said.
"The strikes hit the weapons depot, but there are civilians living nearby," he said.
"Jaish al-Sunna" belongs to the "Army of Conquest alliance" that has captured much of Idlib province from the Syrian government in recent months.
"The Army of Conquest alliance" includes "Al-Nusra Front", which is al-Qaeda's Syrian affiliate, as well as other Islamist rebel forces.
The U.S.-led coalition fighting ISIS began strikes in Syria last September and has rarely expanded its targets beyond the jihadist group.
Full report at:
http://english.alarabiya.net/en/News/middle-east/2015/08/12/Coalition-hits-rebel-arms-depot-in-Syria-.html
-----------
Syrian govt 'committing war crimes' in Ghouta
12 August 2015
At least 27 civilians were killed in Syrian government air strikes on the Eastern Ghouta region near Damascus on Wednesday, a monitoring group said, as a report on regime war crimes was released.
The Syrian Observatory for Human Rights said the raids hit several positions in the opposition-held region following rebel rocket fire on the capital that killed four people.
Syria's government is committing war crimes against besieged residents of Eastern Ghouta outside Damascus, with heavy aerial bombardment compounding the misery created by a regime blockade, an Amnesty International report said on Wednesday.
In the report, the rights group said some 163,000 people in the region were engaged in an "agonizing struggle to survive."
Amnesty highlighted not only regime abuses, but also violations by the Army of Islam rebel group in the region, which it said was reportedly hoarding food, carrying out arbitrary arrests, and launching indiscriminate attacks.
Eastern Ghouta has been under government siege for nearly two years, with regime forces tightening the blockade in recent months.
The restrictions have caused a dire humanitarian situation, with food and medical shortages in the opposition bastion east of the Syrian capital.
In addition to the restrictions on the ground, Eastern Ghouta is regularly subjected to government aerial bombardment.
'Crimes against humanity'
Amnesty said it had evidence of "war crimes" committed by the government in Eastern Ghouta, and that the regime's siege of the area combined with "unlawful killing of its besieged civilians" amounted to "crimes against humanity."
For many in Eastern Ghouta, life "has become a prolonged experience of hardship and suffering," said Said Boumedouha, acting director of Amnesty's Middle East and North Africa program.
Full report at:
http://english.alarabiya.net/en/News/middle-east/2015/08/12/-Syria-regime-s-war-crimes-in-besieged-Ghouta-Amnesty.html
-----------
Army Repels Terrorist Attack on Sweida Province
Aug 12, 2015
The army units thwarted terrorists' attack on Buthina field, 35 kilometers to the Northwest of Sweida city, FNA dispatches from the province said.
The Syrian troops destroyed the terrorists' strongholds and their vehicles equipped with heavy machine guns.
Also in the past 24 hours, the popular committees in Syria along with the army forces killed over 300 terrorists in Kafaria and al-Fouah districts in the Northwestern province of Idlib.
The terrorists were members of Jeish al-Fath group who had sneaked into Idlib province in recent months.
The popular forces also launched a massive offensive against militants' positions in Kafaria and al-Fouah, seized a tank of the Jeish al-Fath terrorist group and held a number of its members captive.
Meantime, the Syrian army and the Lebanese Hezbollah resistance forces on Tuesday regained control of Major buildings in Damascus countryside.
The Syrian army troops, in cooperation with Hezbollah fighters and popular defense groups, regained control over 11 buildings in North and East of al-Zabadani city.
The forces continued to advance towards the city center, and killed tens of terrorists.
Elsewhere, the Syrian army thwarted terrorists' infiltration attempt into the city of Daraa.
A military source said that the army killed and injured hundreds of terrorists, including 5 self-proclaimed leaders, and destroyed their vehicles during the operation.
Full report at:
http://english.farsnews.com/newstext.aspx?nn=13940521000267
-----------
Two arrested in death of Saudi student in US
August 11, 2015
WICHITA, Kansas — Two people were arrested on Sunday in connection with the fatal shooting of a Wichita State University student on campus, police said. The suspects — a 23-year-old man and a 19-year-old woman — were arrested shortly after 4:30 p.m. Sunday, Wichita Deputy Police Chief Hassan Ramzah said, according to The Wichita Eagle newspaper.
The paper indicated that the records show Isaiah Copridge, 23, and Eboni Fingal, 19, have been booked into the Sedgwick County Jail on suspicion of first-degree murder.
Wichita police officers responding to a report of a man down in the parking lot of Fairmount Towers, 2221 N. Hillside, at about 6:30 a.m. Saturday found Rayan Ibrahim Baba, 23, who had been shot several times, Ramzah said.
"This was not a random act," Ramzah said. Baba was acquainted with the two suspects and made arrangements to meet them at Fairmount Towers, where he lived, Ramzah said. He was fatally wounded there in the parking lot.
Baba was a Saudi undergraduate student majoring in electrical engineering, according to Abdulrahman Alotaibi, vice president of the Saudi Student Association at Wichita State.
In a statement, WSU president John Bardo said Baba had enrolled at WSU for the spring semester in the College of Engineering. "Our hearts go out to the loved ones of the deceased," Bardo said in the statement.
"We're very appreciative of the excellent police work leading to the identification of suspects in his death," Bardo said.
"To the best of our knowledge, neither suspect has an affiliation with WSU.
Three days after Baba was murdered by two gunshots sustained in the parking lot on campus at Wichita State University, students studying there from Saudi Arabia are remembering him. Many of the 500 students from the Kingdom who are studying at the university, are still coming to terms with the fact one of their fellow countrymen died while pursuing his dream of being educated in the United States.
Full report at:
http://www.saudigazette.com.sa/index.cfm?method=home.regcon&contentid=20150812253133
-----------
Africa
Suspected Boko Haram bomb in Nigerian market kills about 50
12 August 2015
A bomb attack on a packed market in north-eastern Nigeria bearing the hallmarks of Boko Haram killed about 50 people on Tuesday, sources told the Reuters news agency.
The explosion happened about 1.30pm in the town of Sabon Gari, in Borno state, which is the heartland of the Islamist militant group.
"So far 52 people are injured, 47 dead persons have been removed from the market," Umar Kidda, a member of a civilian vigilante group, told Reuters by telephone.
Kidda, who saw bodies being taken away, said the market had been busy when the explosion occurred.
Related: Obama meets new Nigerian president with praise for anti-extremist agenda
A military source who declined to be named said about 50 people had died.
The US state department strongly condemned what it said was a terrorist attack in Borno.
"While no individual or group has yet claimed responsibility for the attack, it took place in an area where hundreds of people have been killed in recent weeks by suspected members of the terrorist group Boko Haram," it said.
Full report at:
http://www.theguardian.com/world/2015/aug/12/suspected-boko-haram-bomb-in-nigerian-market-kills-about-50
-----------
Buhari to Include Islamic Studies in Public Secondary Schools' Curriculum
By Rafiu Oriyomi
11 August 2015
LAGOS – Nigerian Muslims have hailed President Muhammad Buhari's recommendation of adding Islamic books to public secondary schools' curriculum, adding that such isolated step would not end what they described as longstanding and systemic decimation against Islamic studies in government-funded schools.
"Much as that may be a step in the right direction, there is need for more action. You would be shocked if you know how many schools don't have Islamic Studies teachers in Lagos State, for example," Muslim Teachers Association of Nigeria (MUTAN) told OnIslam.net in an exclusive reaction to Buhari asking federal schools to include two books by a renown late jurist Bashir Sambo in secondary school curriculum.
"At times you find only one teacher taking the subject in a complex of four schools.
"Islamic Religious Studies (IRS) teachers aren't being recruited. The pool of teachers employed by former Governor Lateef Jakande (1983) are retiring without any replacement. So there's need for recruitment of teachers of IRS by states," Muslim Teachers Association added.
At an event recently held in northwestern Kano state, President Buhari, a Sunni Muslim, urged public schools to consider including the Islamic studies for secondary schools by the late Justice Sambo in their curriculum.
He said such books had become essential in the face of declining moral and religious values in the country.
While many Muslims lauded the president's gesture, they argued that a conscious effort must be taken to ensure students are exposed to proper religious teachings in schools by getting more subject teachers for the Islamic religious studies.
Disu Kamor, executive chairman at the Muslim Public Affairs Centre (MPAC) Nigeria, said the president's step represents a powerful step in the right direction for teaching of religious values in public schools but he said this falls short of what is required to bridge the gap already created over the years.
Full report at:
http://www.onislam.net/english/news/africa/491279-buhari-to-include-islamic-studies-in-curriculum.html
-----------
Soldiers And Boko Haram Exchange Gunfire Near Maiduguri
BY SAHARA REPORTERS
AUG 11, 2015
The military has reportedly been exchanging gunfire this evening with Boko Haram terrorists near Maiduguri, the Borno State capital.
Loud explosions continue to ring out near Maiduguri as the military fight with terrorists in Kayamula village of the Jere Local Government Area (LGA).
A resident of the Giwa Barracks area of Maiduguri speaking with SaharaReporters said soldiers ordered everyone to go inside their homes because many were trying to flee the area with their family.
Full report at:
http://saharareporters.com/2015/08/11/soldiers-and-boko-haram-exchange-gunfire-near-maiduguri
-----------
Libyan PM did not resign, says official
12 August 2015
The prime minister of Libya's internationally recognized government, Abdullah al-Thinni, announced his resignation during a live television interview late on Tuesday, although it was later denied.
"If my exit is the solution, then I announce it here"," Thinni said during the talk show, adding that "my resignation will be submitted to the parliament on Sunday."
But when Reuters reached cabinet spokesman Arabi he denied that Thinni will resign. "The prime minister has not resigned officially. He said during the television interview that he would resign if the street demands it."
"A resignation needs to be handed in writing to the House of Representatives, which would accept or reject it," Arabi said.
Full report at:
http://english.alarabiya.net/en/News/middle-east/2015/08/12/Libya-s-prime-minister-announces-resignation.html
-----------
UN probes peacekeepers rape, murder claims in CAR
Aug 12, 2015
The UN mission in the Central African Republic (CAR) has opened a probe into allegations claiming that its peacekeepers committed rape and murder in the crisis-hit nation.
The investigation was opened on Tuesday after Amnesty International accused some UN peacekeepers of raping a 12-year-old girl and the "indiscriminate" killings of a 16-year-old boy and his father, on August 2 and 3, respectively, when peacekeepers were carrying out an operation in the capital Bangui, AFP reported.
"Our evidence strongly suggests that a UN peacekeeper raped a young girl and that other UN peacekeepers indiscriminately killed two civilians," said Amnesty International's Senior Crisis Response Adviser Joanne Mariner in a Tuesday statement calling for launching an independent civilian investigation and suspending those implicated.
UN Secretary General Ban Ki-moon responded to the claims, saying that he was "dismayed and disappointed" by the latest allegations of sexual abuse committed by peacekeepers.
"This is clearly not only not normal, it is not acceptable. The secretary general is considering the situation very seriously," Ban's spokesperson Stephane Dujarric said.
The UN Multidimensional Integrated Stabilization Mission in the CAR, known by its French acronym of MINUSCA, said it was "not aware" of the allegations but was considering the Full report at:
http://www.presstv.ir/Detail/2015/08/12/424335/UN-Central-African-Republic-Amnesty-International-MINUSCA-rape-murder-peacekeepers
-----------
Ford Motors shrugs off Boko Haram, bets on Africa's biggest economy with Nigeria pickup plant
11 AUG 2015
FORD Motor Co. will start assembling its Ranger compact pickup at a new facility in Nigeria this year as the second-largest U.S. automaker seeks to take advantage of demand in Africa's biggest economy.
Ford has formed a partnership with Coscharis Motors Ltd., a local distributor, to build the vehicles from body parts and components imported from South Africa, at a plant about 750 kilometers (466 miles) southwest of the capital Abuja, Jeff Nemeth, the head of Ford's sub-Saharan African operations, said in Johannesburg on Tuesday.
The assembly plant, capable of assembling 5,000 trucks a year, is Ford's second in Africa and will produce vehicles for sale in the Nigerian market.
The country's large population and potential for economic growth, as well as government policies aimed at encouraging industrialisation, make it an an attractive market, Nemeth said in an interview on Tuesday.
Ford will also consider using the Nigerian plant to supply other West African countries, he said. "We're going to have to watch how policy evolves, how free-trade zones evolve," he said. "But we believe that the time is right to enter Nigeria to be on the right strategic footing looking into the future."
Ford sold about 4,000 vehicles in Nigeria last year and is on pace for a similar level in 2015, Nemeth told reporters on Tuesday. The Ranger accounts for about 50% to 60% of the total, he said.
Full report at:
http://mgafrica.com/article/2015-08-11-ford-shrugs-off-boko-haram-bets-on-africas-biggest-economy-with-nigeria-pickup-plant/
----------
Mideast
Ansarullah in Full Control of Vast Areas in Southern Yemen
Aug 12, 2015
"The Syrian army and Ansarullah are in control of vast areas in the Southern parts of Yemen," Hossein al-Houthi told FNA on Wednesday.
He noted that the main reason for the pro-Hadi and Al-Qaeda militants' control over some regions in Southern Yemen is Saudi Arabia's military and logistical support for the terrorists.
Al-Houthi said that the Yemeni army troops and Ansarullah fighters have paralyzed the pro-Hadi and Al-Qaeda fighters in Aden and Lahij provinces.
The clashes between the Ansarullah fighters and the Saudi-backed al-Qaeda terrorists as well as the pro-Hadi militias continue in the Southern parts of the country as Saudi Arabia has been striking Yemen for 140 days now to restore power to fugitive president Mansour Hadi, a close ally of Riyadh. The Saudi-led aggression has so far killed at least 5,385 Yemenis, including hundreds of women and children.
Full report at:
http://english.farsnews.com/newstext.aspx?nn=13940521000628
-----------
Victorious Hadi forces advance toward Taez
12 August 2015
ADEN: Saudi-backed forces loyal to Yemen's President Abed Rabbo Mansour Hadi clashed with the Houthi group inside the city of Ibb on Tuesday, residents said, in their latest significant advance into territory the rebels had held unopposed for months.
The fighters advanced into the central city, home to around 200,000 people, from two surrounding rural areas and set up checkpoints at its entrances. Residents reached by phone reported hearing heavy gunfire.
Loyalists have launched a major counter-offensive in recent weeks and recaptured four southern provinces — Abyan, Aden, Daleh, and Lahj — from Houthis.
Late Monday, they took Loder, the last Houthi-occupied town in Abyan, and were poised to enter the southern Shabwa province.
Military officials said the advance is heading toward third city Taez, southwest of Sanaa.
A Gulf military alliance intervened in late March just as the Iran-allied Houthis entered Aden and appeared poised to capture the region.
The coalition is keen to repel perceived influence by Iran on the Arabian Peninsula.
Yemen's government has been cheered by a series of important victories by southern fighters since Aden was retaken last month with the help of heavy Arab air strikes and weapons deliveries.
Full report at:
http://www.arabnews.com/featured/news/790181
-----------
Turkey launches air strikes on Kurdish targets
11 August 2015
ISTANBUL: Turkish warplanes Tuesday carried out a new wave of air strikes against Kurdish militants in the southeast of the country in retaliation for a day of bloody attacks that left six members of the security forces dead.
The military bombed 17 targets of the outlawed Kurdistan Workers' Party (PKK) in the southeastern Hakkari province, destroying them all, the army said in a statement.
The new wave of strikes carried out overnight came after one of the bloodiest days of attacks in the country since Turkey launched a relentless bombing campaign against PKK targets late last month.
Ankara is pressing a two-pronged "anti-terror" offensive against Daesh in Syria and PKK militants in northern Iraq and southeast Turkey following a wave of attacks in the country.
But, so far, the air strikes have overwhelmingly concentrated on the separatist Kurdish rebels who have responded by tearing up a 2013 cease-fire and waging a bloody campaign against the security forces.
On Monday, four Turkish police officers were killed in a roadside bombing in the southeastern Sirnak province while a Turkish soldier was killed in a rocket attack on a military helicopter.
Meanwhile, in Istanbul a senior police officer in charge of the city's bomb disposal department was killed in clashes that followed a pre-dawn suicide bombing.
While the government blamed the PKK for that attack, it was also claimed by a small leftist group, the People's Defense Units (HSB), on its Twitter feed.
The outlawed Marxist Revolutionary People's Liberation Party-Front (DHKP-C) — which the government has on occasion linked to the PKK — claimed another attack in Istanbul, a shooting on the US consulate, which caused no casualties.
In new violence overnight, a Turkish soldier was killed in a gun attack on a military post in Sirnak, also blamed on the PKK.
According to an AFP toll, 29 members of the security forces have been killed in violence linked to the PKK since the current crisis began.
The European Union and United States, which like Turkey list the PKK as a terror group, have backed Ankara's right to strike against the militants but also indicated a degree of concern about the magnitude of the campaign.
"Our expectation is that Turkey is going to take the necessary steps to prevent any civilian casualties and to act in accordance with international humanitarian law," US State Department Spokesman John Kirby said Monday.
The state-run Anatolia news agency said over the weekend that so far 390 "terrorists" have been killed in the campaign against the PKK.
Full report at:
http://www.arabnews.com/middle-east/news/789731
-----------
ISIL Preparing to Launch Chemical Attack on Al-Shadadi
Aug 12, 2015
"The ISIL militants were unloading plastic barrels of chemical materials from the trucks and they did not allow the civilians to get close to them," informed local sources told FNA on Tuesday.
They noted that ISIL is preparing for a surprise attack on Hasaka city.
Abu Mohammad al-Adnani, the ISIL commander in al-Shadadi, has ordered the foreign ISIL militants to be stationed in their positions near al-Shadadi in preparation for the chemical attack.
In June 2013, Russian journalists, who were in Syria, said there was no doubt that the foreign-backed opposition fighters and terrorists have used chemical weapons in attacks in the vicinity of the Syrian city of Aleppo on March 19, 2013.
These Russian journalists handed over some videos to the United Nation Secretariat. The videos showed the foreign-backed fighters of the opposition forces had used chemical weapons in attacks in the area of the Syrian city of Aleppo.
The report about these videos, which were handed over to the United Nation Secretariat by these Russian journalists were already confirmed by the spokesman for Deputy UN Secretary-General Farhan Haq, Syria News reported.
Full report at:
http://english.farsnews.com/newstext.aspx?nn=13940521000557
-----------
Iran's Zarif, Lebanon's Nasrallah discuss ME crises, nuclear issue
Aug 12, 2015
Iran's Foreign Minister Mohammad Javad Zarif and Seyyed Hassan Nasrallah, the secretary general of the Lebanese resistance movement, Hezbollah, have discussed the latest developments in the Middle East, particularly in Lebanon.
In a Tuesday meeting in the Lebanese capital of Beirut, Zarif and Nasrallah held talks about efforts to find solutions to the current crises in several regional countries.
The two sides also exchanged views on the nuclear agreement reached between Iran and six world powers in the Austrian capital of Vienna in July.
On July 14, Iran and the P5+1 countries - the US, France, Britain, Russia and China plus Germany - finalized the text of the nuclear agreement, dubbed the Joint Comprehensive Plan of Action (JCPOA), in Vienna over Tehran's nuclear program.
The Tuesday meeting was also attended by a delegation accompanying Zarif in his tour of regional states and Iranian Ambassador to Beirut Mohammad Fat'hali.
The Iranian minister said resistance and peaceful coexistence among divine religions play a constructive role in establishing peace and boosting development in the region.
Zarif added that the resistance movement has restored dignity to Lebanon and the region, and has led to respectful coexistence among all Lebanese tribes and groups.
He expressed hope that more consultations and talks would help work out logical solutions to the ongoing problems in the region, particularly in Lebanon.
The top Iranian diplomat also pointed to the conclusion of nuclear talks between Iran and the P5+1 countries and said, "The nuclear agreement will have positive consequences on regional developments."
Full report at:
http://www.presstv.ir/Detail/2015/08/12/424387/Iran-Lebanon-Zarif-Nasrallah-JCPOA
-----------
U.S. denies reaching agreement with Turkey on Syria 'safe zone'
12 August 2015
Turkey said on Tuesday it had agreed with the United States on terms for setting up a "safe zone" inside northern Syria as part of their campaign against ISIS militants, but the U.S. State Department denied there was any such agreement.
The two NATO allies have been working on plans to provide air cover for Syrian rebels and to sweep Islamic State from land along the Turkish border.
CNN Turk quoted Turkish foreign ministry undersecretary Feridun Sinirlioglu as saying the countries had agreed to create a 98 km (61 miles) long and 45 km wide area to be patrolled by members of the opposition Free Syrian Army.
In a later statement, Turkey's foreign ministry quoted Sinirlioglu as saying: "The control and protection of this region cleared of (Islamic State) will be conducted by Syrian opposition forces and the necessary air defence and support for this ... will be provided by the United States and Turkey."
Asked about the report, however, U.S. State Department Mark Toner said: "There's no agreement on some kind of zone."
Toner said he had not seen the Turkish official's remarks and could not address them. "I'm not denying his claims," he added.
"We've been pretty clear from the podium and elsewhere saying there's no zone, no safe haven, we're not talking about that here. What we're talking about is a sustained effort to drive ISIL out of the region," Toner told a news briefing.
ISIL is another name for Islamic State, which has seized large swathes of land in both Syria and Iraq.
Full report at:
http://english.alarabiya.net/en/News/middle-east/2015/08/12/U-S-denies-reaching-agreement-with-Turkey-on-Syria-safe-zone-.html
-----------
Israel police quiz Jewish extremist who defends torching churches
11 August 2015
Israel police questioned Tuesday a Jewish extremist leader who condoned torching churches amid an uproar over recent hate crimes, including the deadly firebombing of a Palestinian home.
Benzi Gopstein, who heads far-right group Lehava, has not been linked to any recent attacks, but his comments regarding churches came at a time of heightened sensitivity over Jewish extremism and drew outrage from Roman Catholic officials.
Police spokeswoman Luba Samri said Gopstein had been called in for questioning "about his comments regarding the burning of churches."
He was later allowed to go free, she added.
During a debate with religious students last week, Gopstein defended the idea of burning churches, invoking a mediaeval Jewish commandment to destroy places of idol-worship, according to a widely broadcast recording of the event.
A formal complaint to Israeli Attorney General Yehuda Weinstein was later filed by the body in charge of Catholic properties in the Holy Land.
In a letter seen by AFP Monday, the Custodian of the Holy Land called for Gopstein to be prosecuted and for Lehava to be outlawed.
Gopstein lawyer Itamar Ben Gvir, speaking on public radio, said "our client has been summoned to interrogation in the wake of pressure from the Vatican."
"I ask myself what the next step will be. Will the pope decide to file charges?"
Gopstein, who lives in the flashpoint West Bank city of Hebron, has previously faced police questioning. He was one of 10 Lehava members detained last year over an arson attack on a Jewish-Arab school in Jerusalem.
Full report at:
http://english.alarabiya.net/en/News/middle-east/2015/08/11/Israel-police-quiz-Jewish-extremist-who-defends-torching-churches.html
-----------
ISIS attacks Syrian rebels near Turkish border
11 August 2015
The Islamic State of Iraq and Syria (ISIS) has launched a new offensive against Syrian rebels north of Aleppo, gaining ground near the Turkish-Syrian border in an area where Turkey and the United States aim to create an area free of the militant group.
Dozens of combatants have been reported killed on both sides during fighting in and around the town of Marea, 20 km (12 miles) south of the border with Turkey, where ISIS suicide attackers detonated four car bombs overnight.
The attack on Marea followed the capture of a nearby rebel-held village, Um Hosh, by ISIS fighters, the Syrian Observatory for Human Rights and a rebel commander said.
The rebel commander said it was the fiercest ISIS attack in the area in several months. "There is fierce fighting," he added, declining to be identified for security reasons. "The situation in northern Aleppo is bad."
The Observatory, a UK-based group that reports on the war using sources on the ground, said at least 25 rebels and eight ISIS fighters were killed in Marea.
Late last month, the United States and Turkey announced their intention to provide air cover for rebels and jointly sweep ISIS from a strip of land near the border.
The envisioned buffer would deny ISIS its last remaining access to the frontier with Turkey after a string of defeats by the Kurdish YPG militia drove it from border positions further east.
Full report at:
http://english.alarabiya.net/en/News/middle-east/2015/08/11/ISIS-attacks-Syrian-rebels-near-Turkish-border.html
-----------
U.S. urges caution in setting large bond for Palestinian Authority
11 August 2015
The Obama administration urged a U.S. judge to "carefully consider" the Palestinian Authority's financial condition in determining the size of any bond it must post to appeal a jury's finding that it supported terrorist attacks in Israel.
The U.S. Department of Justice filed a notice of interest in the lawsuit in Manhattan federal court late on Monday, after 10 American families in February won a $655 million verdict against the Palestine Liberation Organization and Palestinian Authority.
The Justice Department said the government "strongly supports" allowing terrorism victims to vindicate their interests in court.
Deputy Secretary of State Antony Blinken nonetheless asked U.S. District Judge George Daniels to "carefully consider" how requiring a multimillion-dollar bond could affect the Palestinian Authority's viability, given its delicate finances.
The Palestinian Authority's collapse "would undermine several decades of U.S. foreign policy and add a new destabilizing factor to the region, compromising national security," Blinken said.
Kent Yalowitz, the families' lawyer, said he was disappointed by the State Department position. He said that if the Palestinian Authority "has enough money to pay convicted terrorists, it has enough to pay the judgment in this case."
A spokesman for the Palestinian Authority did not immediately respond to a request for comment.
The filing reflected the U.S. government's competing interests in the diplomatically sensitive lawsuit, which has added a new dimension to the Middle East conflict.
Palestinians want to form a state in Gaza, the West Bank and East Jerusalem, lands Israel captured in the 1967 Arab-Israeli war.
Full report at:
http://english.alarabiya.net/en/News/middle-east/2015/08/11/U-S-urges-caution-in-setting-large-bond-for-Palestinian-Authority.html
-----------
ICRC: Yemen 'crumbling' under humanitarian crisis
11 August 2015
Yemen is "crumbling" under a deepening humanitarian crisis after months of civil war, the head of the International Committee of the Red Cross said on Tuesday.
Peter Maurer, the head of the Geneva-based humanitarian organisation, also called for all parties to negotiate a peace deal at the end of a three-day visit to the country on Tuesday. "The humanitarian situation is nothing short of catastrophic," he said.
"Medicines can't get in so patient care is falling apart. Fuel shortages mean equipment doesn't work. This cannot go on. Yemen is crumbling. As a matter of urgency, there must be free movement of goods into and across the country."
Full report at:
http://english.alarabiya.net/en/News/middle-east/2015/08/11/ICRC-Yemen-crumbling-under-humanitarian-crisis.html
-----------
Pakistan
Foreign-sponsored militant gang busted in Karachi, Hyderabad: ISPR
MATEEN HAIDER
August 12, 2015
KARACHI: Security forces busted a foreign-sponsored gang, in intelligence based operations conducted in Karachi and Hyderabad, according to a statement issued by the Inter-Services Public Relations (ISPR) on Wednesday.
The statement added that security forces averted a major terrorist attack which was planned by the gang to sabotage Independence Day celebrations in Karachi.
The apprehended suspects include deputy emir of the Tehreek-i-Taliban Pakistan (TTP) Swat chapter, Bakhat Zaman.
According to details by ISPR, the militant gang has been planning the attack since some time and had prepared an explosive-laden vehicle and motorcycle, which they planned to use on August 14.
Security forces also claimed to have recovered the explosive-laden vehicles along with arms and ammunition from the arrested men.
During interrogation, the suspects confessed that the vehicles were arranged in Karachi and the gang was waiting for suicide bombers to arrive from Afghanistan. They revealed that Bakhat Zaman had traveled to Afghanistan to arranger for the bombers.
Full report at:
http://www.dawn.com/news/1200024/foreign-sponsored-militant-gang-busted-in-karachi-hyderabad-ispr
-----------
Two terrorists killed in Karachi police encounter
August 12, 2015
At least two terrorists died after being injured during an encounter with police on Tuesday.
The police conducted a targeted operation in Manghopir area but came under fire from suspected militants. Two militants were injured in retaliatory firing of the police and they later succumbed to their wounds at a hospital.
http://www.pakistantoday.com.pk/2015/08/12/national/two-terrorists-killed-in-karachi-police-encounter/
-----------
Pakistan to do wonders with Chinese help: Shehbaz
August 12, 2015
The Chinese investment package worth billions of dollars is being used to set up energy and other development projects across the country and these projects will benefit the whole region, said Punjab Chief Minister Shehbaz Sharif while talking to a delegation led by Chinese Peoples Association for Peace and Disarmament Vice President He Jun on Tuesday.
Matters regarding promotion of Pak-China relations and increase in cooperation in various sectors were discussed in the meeting.
The chief minister said that Pakistan and China were bonded together in strong relation of friendship and China had stood by Pakistan in every hour of need, adding that people of Pakistan were proud of their friendship with China.
He said the project of China-Pakistan Economic Corridor (CPEC) is a valuable gift by China for Pakistan and the investment package of $ 46 billion given by China was unprecedented in the history.
"As many as $ 33 billion would be spent on energy projects out of the total package," he elaborated, adding that work was being carried out speedily on 1,320 megawatt coal-based power project in Sahiwal while a 100 megawatt solar project in Quaid-e-Azam Solar Park Bahawalpur had been completed in a record period with the cooperation of China.
Shehbaz said that energy crisis had seriously affected Pakistan's economy and other sectors while China had helped Pakistan at this difficult point of time.
He said that Pakistan would be able to overcome energy crisis with the cooperation of its brotherly neighbour.
Full report at:
http://www.pakistantoday.com.pk/2015/08/12/city/lahore/pakistan-to-do-wonders-with-chinese-help-shehbaz/
-----------
Minorities Day – NA pays tribute to non-Muslim Pakistanis
August 12, 2015
The National Assembly on Tuesday unanimously passed a resolution on Minority Day and paid tribute to their services and sacrifices for the country.
According to the Resolution, "House recognises August 11 as Minorities Day in Pakistan, and on the day; appreciates the pivotal role of minorities (non-Muslim Pakistanis) in nation building; reiterates its commitment to adhere to the principles laid down by Quaid-i-Azam Muhammad Ali Jinnah in his address to the Constituent Assembly in 1947, laying the foundation for a tolerant and progressive Pakistan.
"The house paid tribute to the father of nation Quaid e Azam Muhammad Ali Jinnah for pledging equal rights to minorities in Pakistan.
Full report at:
http://www.pakistantoday.com.pk/2015/08/12/city/islamabad/minorities-day-na-pays-tribute-to-non-muslim-pakistanis/
-----------
CSF may not be possible beyond 2015: US
BAQIR SAJJAD SYED
August 12, 2015
ISLAMABAD: The United States has indicated to Pakistan that further extension in the Coalition Support Fund (CSF) beyond 2015 may not be possible.
The issue about the future of CSF, according to a defence source, was discussed at the 23rd Defence Consultative Group Meeting (DCG)-Interim Progress Review (IPR) held at the defence ministry on Tuesday. Principal Deputy Secretary of Defence Ms Kelly Magsamen led the US delegation comprising officials of the defence and state departments.
Under the CSF arrangement, the US reimbursed Pakistan for operations and maintenance costs incurred in direct support of its operations in Afghanistan. Since 2001, the US has reimbursed $13 billion to Pakistan, which is the largest recipient of the fund.
Know more: Pakistan gets $336m in Coalition Support Fund, foreign reserves climb to $19bn
The arrangement was supposed to end with the completion of the drawdown in December 2014, but the US government through legislation extended the programme for another year. The extended programme, which came with extra conditions, allowed reimbursement of up to $1bn.
At the DCG meeting Pakistan sought its further extension due to continuing challenges. Besides helping in meeting security expenses, the government has been using CSF inflows to narrow down current account deficit.
A source said the US unwillingness to continue the programme was because of its changing priorities as it appeared more focused on the challenges posed by Middle Eastern terror group Daesh.
Speaking at the forum, Defence Secretary retired Lt Gen Alam Khattak emphasised on the importance of Pakistan in the regional security and said: "Pakistan is at the frontline fighting for the stability of the region. … Pakistan's armed forces are committed to flushing terrorists out of the area by continuing operation Zarb-i-Azb."
Full report at:
http://www.dawn.com/news/1199935/csf-may-not-be-possible-beyond-2015-us
-----------
Sindh lawmakers seek enforcement of ban on toy guns
HABIB KHAN GHORI
August 12, 2015
KARACHI: The Sindh Assembly on Tuesday, which was a private members' day, emerged serious in carrying out business in a dignified manner contrary to the expectations of fireworks in the house following the Monday announcement of the Muttahida Qaumi Movement that it would take up resolutions against PPP co-chairman Asif Ali Zardari and Pakistan Tehreek-i-Insaf chief Imran Khan.
During the two-and-a-half-hour sitting, legislators were found more serious in carrying out house business rather than playing to the gallery with the result that the session was able to cover seven items from the agenda.
The house adopted several resolutions, including the one seeking enforcement of a ban on toy guns, which were tabled by MQM lawmakers and endorsed by PPP and PTI legislators.
Among the seven items from the agenda covered during the session was a private bill tabled by PPP lawmakers Syed Faseeh Ahmed Shah and Ikramullah Dharejo regarding The Metropolitan University, Karachi, was introduced, while its consideration was deferred on the plea made by leader of opposition Khwaja Izhar-ul-Hassan and MQM parliamentary party leader Syed Sardar Ahmad to have time for its study.
Another bill, whose notice was given by PML-F lawmaker Mahtab Akbar Rashdi regarding prohibition of corporal punishment, could not be taken up as its mover was not present.
Similarly, the resolution of PML-F legislator Nusrat Bano Sahar Abbasi regarding allocation and release of funds by the multinational oil and gas companies for social development in the region where they were operating could not be taken up for want of her presence.
By another bill, the Gambat Institute of Medical Sciences was christened Pir Abdul Qadir Shah Jeelani Institute of Medical Sciences, Gambat in recognition of the services of Khairpur's social reformer and spiritual leader to the people. This amendment bill was tabled by Pir Syed Fazal Ali Shah Jeelani of PPP and supported by leader of the house Syed Qaim Ali Shah, MQM parliamentary party leader Syed Sardar Ahmad, ministers Manzoor Wasan, Makhdoom Jameel-uz-Zaman and MQM lawmaker Mohammad Saleem Rajput.
Full report at:
http://www.dawn.com/news/1199876/sindh-lawmakers-seek-enforcement-of-ban-on-toy-guns
-----------
Military ready to meet all 'security challenges'
August 12, 2015
ISLAMABAD: The armed forces command said on Tuesday the military was ready to meet all national security challenges.
"The forum reaffirmed the resolve of Armed Forces to respond to entire spectrum of threats in the most befitting manner as per comprehensive security strategy," said an ISPR statement issued at the end of a meeting of the Joint Chiefs of Staff Committee (JCSC) held at the Joint Staff Headquarters.
Chairman of Joint Chiefs of Staff Committee (CJCSC) General Rashad Mahmood presided over the meeting, which was attended by Gen Raheel Sharif, Chief of the Army Staff, Admiral Muhammad Zakaullah, Chief of the Naval Staff, Air Chief Marshal Sohail Aman, Chief of the Air Staff, retired Lt Gen Alam Khattak, defence secretary, and senior officers of the three services.
The Joint Chiefs of Staff Committee is the principal coordination forum of the armed forces and meets every quarter to discuss and review the operational preparedness of the three services.
Full report at:
http://www.dawn.com/news/1199932/military-ready-to-meet-all-security-challenges
-----------
Three intelligence agencies help find 1,000 'criminal' policemen
August 12, 2015
KARACHI: In an ongoing process, the Sindh police with the help of the country's three intelligence agencies have identified some 1,000 policemen, including some senior officers, allegedly involved in criminal acts.
An official privy to the process initiated months ago said that it was aimed at identifying each and every policeman involved in "undesirable acts while serving in the police department".
He explained that the conduct of every policeman was being reviewed to ascertain whether he was involved or associated with any criminal activity. Their past and present affiliations were also being taken into account, the official added.
Maintaining that the police were taking action against the black sheep in the department, Inspector General of Police Ghulam Hyder Jamali told Dawn on Tuesday that very soon those senior police officers who were involved in any illegal or criminal activity would be targeted.
He conceded that only the special branch of the Sindh police but the country's intelligence agencies, including the Inter Services Intelligence and Intelligence Bureau, were also part of the process to compile and review the records of policemen having any criminal history.
"The process is for policemen across Sindh," IGP Jamali said. "Apart from the special branch, which is keeping an eye on police officials' record and activities, we are also being assisted by three federal intelligence agencies in this process under which we have so far identified 1,000 personnel across the province and initiated action against them."
When asked whether Pakistan Rangers, Sindh, had sent a letter to the police authorities for action against certain officers for their alleged involvement in criminal activities, he said the letter was received a few months ago.
Full report at:
http://www.dawn.com/news/1199877/three-intelligence-agencies-help-find-1000-criminal-policemen
-----------
India
Why Indian Muslims can no longer be ignored
SHEHZAD POONAWALLA
12-08-2015
It would perhaps be a revelation for many that the Indian Muslim voter carries influence in over 200 Lok Sabha seats across India where he or she constitutes a minimum of 11 per cent of the popular vote. Yet the share of the Indian Muslim in the political space of India, nationally and regionally, has been negligible so far and continues to decline steadily, leading to a serious question mark on the inclusive nature of our polity and the myopic nature of political strategies, prevalent in all "secular" parties, when it comes to Muslims.
Representation
In the current Lok Sabha for instance, Muslim representation went down to a historic low of 22 seats. Muslims constitute 14.2 per cent as per the 2011 Census so proportionally speaking they should have had 77 seats in the 16th Lok Sabha. Thus, the under-representation rate stands at a whopping 71.42 per cent for Indian Muslims.
Since independence, the highest number of Muslim MPs ever sent to Parliament was 49 in 1980 and even back then Muslims were under-represented. This has been a phenomenon Indian Muslims are contending with since the first General Election in 1952.
Although the BJP did coin a phrase of "Sabka Saath, Sabka Vikas" in the run-up to the 2014 elections, acknowledging the importance of appealing to the minority vote, by making a perceptional shift in its brand of politics, it did not take the extra step of providing due representation to Muslims.
For instance not a single Lok Sabha seat was given to Muslims in Uttar Pradesh by the BJP which accounts for over 3.5 crore Muslims and a lion's share seats in Parliament. Of course, the BJP in the short term was banking on reaping the gains of a covert majoritarian consolidation, post the Muzaffarnagar riots in UP, which did take place as per its game plan. But its failure to meaningfully co-opt Muslims in its power structure can be considered as a lost opportunity from the long term perspective of reinventing itself as a truly representative party. Even when you look at the states, except for the state of Jammu and Kashmir which has a Muslim majority, there has not been a Muslim chief minister in India since 1982!
The last one was AR Antulay from the Congress party who served as the Maharashtra CM between 1980-82. Apart from him, India since independence has had five Muslim chief ministers. Just one of them MOH Farook, managed to complete a five-year term. Political under-representation of Muslims well exceeds 50 per cent in states like Rajasthan, Gujarat, Delhi, Maharashtra, Madhya Pradesh and Tamil Nadu.
Strategy
In the 2014 elections, 1.7 lakh first time voters (FTVs) were added to every parliamentary constituency, of which almost 90,000 are in the age group of 18-22 years. Sixty-four per cent of Muslims, as per the NSSO survey, are below the age of 30 years. In 2010, the media age of Muslims in India was 22 compared to 26 for Hindus and 28 for Christians. As per the latest census, the population of India below 35 years of age is 51.8 per cent. It's quite clear, when you read the above statistics together, that purely in proportional terms, Indian Muslims constitute a larger part of this young, first time voter. Given the rise in voter turn-out across state elections since 2012 and the 2014 General Election, it can be safely concluded that more young Muslims are voting and making their voice heard.
Full report at:
http://www.dailyo.in/politics/indian-muslims-secularism-minority-under-representation-parliament/story/1/5615.html
-----------
Muslim IAS Academy Opens Door to All Students
B. KOLAPPAN
August 12, 2015
The Chennai-based Azhagiya Kadan IAS Academy, launched in 2012 to train minority students, particularly Muslims in Civil Service Examinations, has decided to extend the training programme to students from other religions from the current year.
"We will provide free food, accommodation and training to them. In the case of Muslim students, we are accommodating them in our mosque. For other students, we are considering a suitable place," said Moulana Shamsudeen Qasismi, the founder and chairman of Azhagiya Kadan Charitable Trust and of the academy.
The academy will conduct entrance examination in eight centres — Tirunelveli, Madurai, Tiruchi, Chennai, Vellore, Krishnagiri and Coimbatore — on August 30. Every year the academy offers training to 70 students.
"The only criterion for joining our institute is the student should clear the entrance test and provide proof that his or her family is not able to meet the educational expenses," Mr Shamsudeen said.
The academy is drawing on the faculty from Shankar IAS Academy besides regularly bringing in teachers from Delhi to teach the students. It also meets the travel expenses of students writing examinations and attending interviews apart from arranging accommodation in Delhi.
"A student will be given a maximum of four opportunities to appear in the examination if he or she shows the signs of clearing it," said Mr Shamsudeen.
Full report at:
http://www.thehindu.com/news/cities/chennai/muslim-ias-academy-opens-door-to-all-students/article7528112.ece
-----------
Ceasefire violation: Pakistani troops resort to mortar shelling in Poonch district
By Arun Sharma
Aug 12, 2015
After a brief lull of less than 12 hours, Pakistani troops resumed small arms fire and mortar shelling on the Indian side along the Line of Control at Sawjian and Balakote areas of Poonch district on . Sources said that the firing from across the LoC first came in Sawjian sector around 10.30 am and it spread to Balakote area within the next half an hour. They continued firing throughout night, sources said, adding that the Indian troops retaliated effectively. The continued firing has led to panic among villagers in border areas, but there are no reports of migration so far. Two days ago, they had for the first time since last month, fired 120 mm mortar shells in Shahpur area where three women were among five people injured in high caliber weapon fire by Pakistan during Eid on July 18.
Sources attributed the continued incidents of ceasefire violation by Pakistan to its desperation to push armed terrorists into the state. Ever since Pakistan Prime Minister Nawaz Sharif met his Indian counterpart Narendra Modi at Ufa in Russia last week, there has been escalation along the borders with reports about movement of terrorists pouring in from different places.
Full report at:
http://indianexpress.com/article/india/india-others/ceasefire-violation-pakistani-troops-resort-to-mortar-shelling-in-poonch-district/
-----------
Pakistan protests ceasefire violations by India
August 12, 2015
On a day when India claimed there have been 192 ceasefire violations by Pakistan along the international border in Jammu and Kashmir till July 29 this year, Islamabad retorted by lodging a 'protest' with New Delhi over what it alleged was "unprovoked" violation of ceasefire on August 8 that resulted in the death of a woman. According to a spokesperson of the Ministry of Foreign Affairs, Pakistan, the issue of " unprovoked Ceasefire Violations at LoC", was raised with the Indian Deputy High Commissioner.
Both countries have been embroiled in a war of words over repeated ceasefire violations that have resulted in civilian deaths apart from casualties to the defence personnel. The violations have also cast a shadow on the proposed meeting of the national security advisors of the two sides.
In a written reply to the Lok Sabha, minister of state for Home Affairs Parathibhai Chaudhry said 22 people were injured while 7,110 persons were temporarily affected and 50 houses were damaged on account of ceasefire violations. In 2014 there were 430 ceasefire violations that killed 14 people, including 12 civilians and two BSF personnel, besides affecting 2.08 lakh people, Mr Chaudhary added.
Full report at:
http://www.thehindu.com/news/national/pakistan-protests-ceasefire-violations-by-india/article7529708.ece
-----------
NSA-level talks in danger as Pak army leans on Nawaz Sharif govt
Imtiaz Ahmad
Aug 12, 2015
The all-powerful Pakistan army is heaping pressure on the government not to go ahead with talks between the national security advisers of the two countries that New Delhi proposes to host later this month, sources have said.
While Islamabad is yet to respond to the dates — August 23 and 24 — offered almost two weeks ago by New Delhi for the meeting, its summoning of Indian envoy on Tuesday for alleged ceasefire violations has only added to the uncertainty surrounding the talks that were agreed to when the two Prime Ministers met in the Russian city of Ufa on July 10.
The Pakistan army is known to step up offensive against India — through terror strikes or heavy border firing — to scuttle attempts to improve ties between the two neighbours.
Pakistan was also assessing if going ahead with talks at the present juncture would be beneficial, sources said. When and if they meet, Indian NSA Ajit Doval and his Pakistani counterpart Sartaj Aziz are expected to discuss all issues related to terrorism.
India, said sources in Islamabad, was likely to drive a hard bargain following the recent terror attacks in Gurdaspur and Jammu.
While a Pakistani national was arrested after the Jammu strike on a Border Security Force convoy, the coordinates on the GPS sets recovered from the three militants killed after a day-long siege in Guradspur showed they came from Pakistan.
Read: Pakistan readies 'India terror' dossier for NSA meet next month
Despite Udhampur attack, govt right to continue with NSA talks
Pakistan was likely to raise Indian interference in Balochistan and restive tribal areas, sources in Islamabad said. HT wrote on July 22 that Pakistan was preparing a dossier on India's alleged role in fomenting terror in Balochistan and Aziz might bring it to his meeting with Doval.
Full report at:
http://www.hindustantimes.com/india-news/nsa-level-talks-in-danger-as-pak-army-leans-on-nawaz-sharif-govt/article1-1379094.aspx
-----------
India wants CPA meet venue to be shifted from Pakistan
Aug 12, 2015
Toughening its stand, India has now asked the Commonwealth Parliamentary Association (CPA) to shift the venue of its annual conference from Islamabad, saying Pakistan has lost its right to host the meet by failing to invite the Speaker of the Jammu and Kashmir assembly, violating the body's constitution.
Last week, India had decided to boycott the conference, to be held from September 30 to October 8, to protest against Pakistan not inviting the Jammu and Kashmir assembly Speaker.
Invitations for the conference have been sent to all the other assembly Speakers in India.
In a letter to the Commonwealth Parliamentary Association chairperson, Lok Sabha Speaker Sumitra Mahajan called for an immediate resolution of the matter and asked for an invite to be sent to Jammu and Kashmir, saying that India would boycott the annual conference otherwise.
Referring to a meeting of the Speakers of all states on Friday, she said it was decided to call the CPA chairperson and the executive committee "to use her good offices to immediately resolve the matter" arising out of an "unilateral" decision made by Pakistan, failing which CPA India, including the Union and state branches, would boycott the event.
Full report at:
http://www.hindustantimes.com/india-news/india-wants-cpa-meet-venue-to-be-shifted-from-pakistan/article1-1379088.aspx
-----------
Chabahar port on agenda during Iran mantri's visit
Aug 12, 2015
NEW DELHI: Iran foreign minister Javad Zarif will visit India starting Friday this week in what will be the first visit to the country by an Iranian leader after Tehran's landmark nuclear agreement with the West.
Zarif will not just call on PM Narendra Modi and hold discussions with his counterpart Sushma Swaraj, but also meet Union transport minister Nitin Gadkari to give a leg up to the Chabahar port project which is crucial for India's access to central Asia.
Gadkari had visited Iran in May this year to sign a MoU for development of the project which is expected to become operational by December next year.
"A great potential of cooperation exists between India and Iran. Iran offers access to India through the Chabahar and Bandar Abbas ports and through the north-south corridor to Central Asia, Afghanistan, Russia, the Caucasus region and even Turkey,'' Iran's ambassador to India Gholamreza Ansari told a news agency ahead of the visit.
Full report at:
http://timesofindia.indiatimes.com/india/Chabahar-port-on-agenda-during-Iran-mantris-visit/articleshow/48446569.cms
--------
Europe
French court to rule on pork school dinners for Jews and Muslims
August 12, 2015
Dijon (France) (AFP) - A French court will rule this week on the decision by a right-wing mayor to ban non-pork meals in schools for Muslims and Jews, his lawyer said Tuesday.
Mayor Gilles Platret announced in March that pupils in his town of Chalon-sur-Saone near Dijon in eastern France would no longer be guaranteed a non-pork option at lunchtime from the start of the next school year in September.
It triggered controversy across the country, including within his Republican party, led by former president Nicolas Sarkozy.
Education Minister Najat Vallaud-Belkacem accused Platret of "taking children hostage" with his politics.
A legal complaint was filed by the Muslim Judicial Defence League, whose lawyer, Karim Achoui, said "a child would be extremely traumatised if a pork cutlet was served to him and he was obliged to eat it after he has been repeatedly told from a young age that it's forbidden food."
- 'Integration not assimilation' -
View galleryFrench Education Minister Najat Vallaud-Belkacem has …
French Education Minister Najat Vallaud-Belkacem has accused the major of Chalon-sur-Saone of " …
Another member of the group, Jean-Baptiste Jacquenet-Poillot, said the removing of non-pork options was a breach of France's stringent laws on secularism, which were about "integration, not assimilation".
The mayor's lawyer responded in a statement to the court that the laws on secularism did not oblige authorities to "provide everyone what they need to exercise their religion".
But many see the decision as pandering to anti-immigrant sentiment at a time of heightened tensions over jihadist attacks.
Full report at:
http://news.yahoo.com/french-court-rule-pork-school-dinners-jews-muslims-135130106.html
-----------
KSA rejects Russian calls to work with Assad against IS
August 12, 2015
MOSCOW - Saudi Arabia's foreign minister on Tuesday poured cold water on Russian calls to join forces with the Syrian authorities against Islamic State militants, insisting it was impossible to work with President Bashar al-Assad.
Moscow - one of Assad's few remaining allies - has called for coordination between the Syrian government and members of an international coalition fighting the extremist group, which controls swathes of territory in Syria and Iraq. But Saudi Foreign Minister Adel al-Jubeir insisted there would be no cooperation with the Syrian regime after meeting Russian counterpart Sergei Lavrov in Moscow.
"As for a coalition in which Saudi Arabia would participate with the government of Syria, then we need to exclude that. It is not part of our plans," Jubeir said in comments translated into Russian. "Our position has not changed... there is no place for Assad in the future of Syria," Jubeir said. "We think that Bashar al-Assad is part of the problem, not part of the solution."
Saudi Arabia is already part of a US-led coalition that began an air campaign against IS in Syria last September. Russia supports Assad while Saudi Arabia insists he must quit to help end a four-year conflict that has cost over 240,000 lives.
The two ministers last met in Qatar on August 3 when Lavrov, Jubeir and US Secretary of State John Kerry held a three-way meeting, with Syria topping the agenda. Lavrov said Moscow was not looking to establish a formal alliance against the radical group but warned a failure to cooperate could open the door to the extremists.
He admitted that there remained "persistent differences" between Riyadh and Moscow over how to tackle the Syrian conflict. "The exit of President Assad is part of these differences," Lavrov said.
At least 25 Syrian rebels were killed overnight in an attack by Islamic State group fighters on an insurgent stronghold in Aleppo province, a monitor said on Tuesday. Fighting lasted until dawn on Tuesday in Marea, one of the most significant rebel bastions in the divided province. The town sits on a road linking eastern Aleppo city and the border with Turkey. At least eight IS fighters died, according to the Syrian Observatory for Human Rights, "including four suicide bombers who blew themselves up with explosive belts".
Mamun al-Khatib, director of Shahba, an Aleppo-based activist news network, said in a Facebook post that "an IS cell infiltrated the town of Marea and its fighters bombed and fired upon civilians".
Full report at:
http://nation.com.pk/international/12-Aug-2015/ksa-rejects-russian-calls-to-work-with-assad-against-is
-----------
French Muslims Promote Diversity At Schools
11 August 2015
CAIRO – Promoting liberty and equality in France, a group of Muslim mothers have launched a campaign that aims to fight social apartheid and foster diversity at schools in the European country.
"That is exactly what we are fighting for," Safia, a mother of three, who is among the campaign leaders in the southern town of Montpellier, told the National on Monday, August 10.
"We'd love it if class photographs showed fair-haired or red-headed children side by side with our children."
The 36-year-old mother was talking about the new campaign that aims to end to the "ghettoization" of French schools where every pupil is of immigrations origin.
Called "la mixite'", the initiative calls for adopting secular laws and fostering inclusion to make schools "more French".
In Petit Bard estate, where about 5,000 Muslim families of Moroccan background live, campaigners staged rallies and visited several schools to advocate integration.
They also created a Facebook campaign page and fired off letters to the city hall, the local education authority and France's education minister, Najat Vallaud-Belkacem.
Morocco-born Najat Vallaud-Belkacem is the first woman in French history to hold the office of education minister.
The 36-year-old star took the office as a last step in a brilliant career for the telegenic protegee of President Francois Hollande.
The Muslim mothers hopes that Belkacem, who has been vocal on many aspects of discrimination in French society, will support their case.
"No to the ghetto – yes to la mixité" reads a slogan on a banner.
Applause
The anti-apartheid campaign was applauded by Marie-Françoise Camps, headmistress at the Genevievé-Bon nursery school.
In Montpellier town, moving schools from a more mixed environment has been criticized by Muslim mothers who said that the change confirmed the ghetto status in the country.
"We suddenly realized our children would go all the way from nursery school to the end of secondary school without discovering the cultures of others or the art of different communities living together," said another mother, Fatima.
Calling for diversity, Renaud Calvat, a councilor with responsibility for education, said that parents should be allowed to send their children to any schools of their choice out of Ghettos.
Education department officials admit that "in an unmixed district, schools will also be unmixed."
Full report at:
http://www.onislam.net/english/news/europe/491291-french-muslims-promote-diversity-at-schools-.html
-----------
Meet 'Muslim': The Chechen Commander Battling Russia With Some Unlikely Allies
By Jack Losh
August 11, 2015
The knowledge that the toffee-and-poppy-seed cake had been made by a group of local volunteers was enough to reassure the Chechen militia commander that he would not be poisoned over afternoon tea. "For anything else," he said, handing over a small cardboard box containing a Geiger counter, "I always scan for radiation."
Clad in combat fatigues and sporting an impressive black and white beard, the exile goes by the nom de guerre of "Muslim." Many of his associates were poisoned by the Russian security services, he said, and he was not prepared to meet the same fate. He has survived to reach his mid-40s despite two devastating Chechen wars with Russia in the 1990s, a decade living as a guerrilla in the remote mountains of the North Caucasus, and now 12 months fighting the Kremlin-backed separatists in eastern Ukraine.
The commander's "Sheikh Mansur" battalion — named after an 18th century Chechen resistance fighter — is among three volunteer Islamic battalions fighting alongside Kiev government forces in eastern Ukraine. An unconventional splinter group, it highlights one of the conflict's messier dimensions: Chechen versus Chechen.
Afternoon tea with "Muslim." Photo by Jack Crosbie
On one side are those who fight for Ukraine, said to number around 100. Moscow denies Western accusations that it has sent regular troops into eastern Ukraine but, as far as these Chechens are concerned, this is the same conflict on a different front.
On the other side, several hundred Chechens loyal to strongman Ramzan Kadyrov support the pro-Russia separatists. In 2004, President Vladimir Putin entrusted the young warlord Kadyrov to extinguish the local insurgency in Chechnya and allowed him to rule the previously war-torn state with impunity.
Amid this bitter feud, Muslim's unit offers a further twist. While Western Europeans may typically associate right-wing groups with Islamophobia, the Sheikh Mansur battalion has forged an unlikely alliance with Right Sector, a Ukrainian far-right paramilitary movement. Elsewhere they may have been natural enemies but here, their coalition is born of a shared nemesis and fuelled by a common hatred of Russia.
'We have a common enemy who doesn't care about us or our lands'
Right Sector, estimated to have between 1,000 and 5,000 men, grew during 2014's Euromaidan protests in Kiev from half-a-dozen nationalist fringe groups. Its agenda has long stoked Russian propaganda about Kiev's so-called "invading fascists." The organization refuses to be absorbed into the command structure of Ukraine's armed forces and increasingly poses an internal threat to the country, shown by last month's deadly shootout with police in the western city of Mukachevo or their vociferous calls for the impeachment of President Petro Poroshenko.
The Sheikh Mansur group also fight alongside the Azov Battalion, a pro-Kiev force whose alleged neo-Nazi views led the US to ban American soldiers from training and arming its members. The group denies having an extremist agenda, despite adopting a symbol almost identical to the Wolfsangel emblem associated with Nazi Germany. And Muslim insists Ukraine's disparate militias are fully united.
Full report at:
https://news.vice.com/article/meet-muslim-the-chechen-commander-battling-russia-with-some-unlikely-allies
-----------
London mosque offers help, food to needy
12 August 2015
Inspired by one of the main Islam's principles of charity, a mosque in London offers hot meals and psychological support once a week for those out at heels.
According to Mohammad Ali, the deputy director of the mosque, such an initiative aims "to serve the communities around," within the framework several inter-religious projects.
Located in London Borough of Islington, Finsbury Park Mosque opens its doors for London's homeless once a week to show the true face of Islam. Social workers at the mosque welcome dozens of needy people who come to share worries and hopes.
One of the volunteers said that the homeless are finding the social security they lack on the streets. "The mosque hopes to provide better meals with more regularity," he added.
Ali believes that Muslims should have a role in social integration, so the mosque hosts a number of activities that target both Muslims and non-Muslims.
Although the mosque was often overshadowed by its old links with extremist preacher Abu Hamza, who was sentenced to life in a U.S. prison, now it is the only one in the country to have received the charity commission-endorsed Visible Quality Award for its work in the community.
Full report at:
http://www.worldbulletin.net/europe/163088/london-mosque-offers-help-food-to-needy
-----------
UK: Anjem Choudary Charged With Supporting Islamic State
By Soeren Kern
August 12, 2015
A recent BBC poll found that 45% of British Muslims believe extremist clerics who preach violence against the West are not "out of touch" with mainstream Muslim opinion.
"Allah said very clearly in the Koran 'Don't feel sorry for the non-Muslims.' So as an adult non-Muslim… if he dies in a state of disbelief then he is going to go to the hellfire… so I'm not going to feel sorry for non-Muslims." — Anjem Choudary.
"Under the Shari'ah, the false Gods that people worship instead of Allah will be removed, like democracy, freedom, liberalism, secularism etc." — Anjem Choudary.
"We are Muslims first and Muslim last. Passports are no more than travel documents. If you are born in a barn that doesn't make you a horse!!" — Anjem Choudary.
Choudary urged his followers to quit their jobs and claim unemployment benefits so that they could have more time to plot holy war against non-Muslims. He said Muslims are entitled to welfare payments because they are a form of jizya, a tax imposed on non-Muslims in countries run by Muslims… as a reminder that non-Muslims are permanently inferior and subservient to Muslims.
Choudary says he is not afraid of going to prison, which he describes as a fertile ground for gaining more converts to Islam. "If they arrest me and put me in prison…" he warned, "I will radicalize everyone in prison."
Anjem Choudary, one of the most outspoken and provocative Islamists in Britain today, has been remanded in custody, charged with the terrorism offense of encouraging people to join the Islamic State.
The charge is related to Choudary sending messages to his 32,000 social media followers, allegedly encouraging them to join the Islamic State — the radical Sunni Islamist group that has taken control over large parts of Syria and Iraq, and has threatened to attack targets in Europe and North America.
BIN-OpEd-Experts-300x250(1)
The effort to prosecute Choudary — well known for his relentless efforts to implement Islamic Sharia law in the UK — indicates that the British government intends to follow through on its recent pledge to crack down on radical Islam in the country.
It remains to be seen, however, if Choudary's detention will serve as a deterrent to other Islamists in Britain. A recent BBC poll found that 45% of British Muslims believe extremist clerics who preach violence against the West are not "out of touch" with mainstream Muslim opinion.
Choudary was originally arrested in September 2014 during police raids in London, as part of an ongoing Metropolitan Police investigation into Islamist-related terrorism. He was subsequently released on bail while police continued their investigation.
On August 5, Choudary, 48, and an associate, Mohammed Rahman, 32, appeared at Westminster Magistrates' Court and were charged with repeatedly violating Section 12 of the Terrorism Act 2000 between June 2014 and March 2015.
Full report at:
http://www.breakingisraelnews.com/46720/uk-anjem-choudary-charged-with-supporting-islamic-state-opinion/#cP0vMFCFvDdDFEIl.97
-----------
South Asia
Unidentified gunmen kidnapped at least 10 people in Ghazni
Aug 12 2015
A group of unidentified gunmen have kidnapped at least 10 people in Ghazni province.
Shafiq Nang, spokesman for the governor of Ghazni province said that the incident took place in the jurisdiction of Qara Bagh District at around 10:00 am yesterday.
He said these people were traveling in two 'Saracha' vehicles from Jaghori District to Ghazni city, the provincial capital, when gunmen stopped them and took them to unidentified location.
Nang said that the gunmen initially took 12 people into custody but two of them were later released.
At the meantime, Hasan Raza yousufi, a member of Ghazni's provincial council has said that gunmen have abducted 17 passengers.
He said efforts have been made to secure the release of the hostages but so far there are fruitful results.
Full report at:
http://www.khaama.com/unidentified-gunmen-kidnapped-at-least-10-people-in-ghazni-3744
-----------
President Ghani: Shah Shaheed terrorist attack orchestrated in Pakistan
Aug 12 2015
President Mohammad Ashraf Ghani has said that the terrorist attack in Shah Shaheed area of Kabul that left 15 killed and hundreds of others wounded was orchestrated in Pakistan.
In two separate meetings with envoys of a number of countries in Presidential Palace on Tuesday, President Ghani said that this attack was planned by terrorist groups in Pakistan.
He said after Mullah Mohammad Omar was announced dead, terrorist groups openly organized gatherings in Pakistan and announced 'war' against the government of Afghanistan.
President Ghani further said that Pakistan needs to acknowledge the sincerity of the issue and take strict actions against terrorist groups in its soil.
Full report at:
http://www.khaama.com/president-ghani-shah-shaheed-terrorist-attack-orchestrated-in-pakistan-3743
-----------
Taliban landmine planter 'wearing women's dress' detained in Paktia, NDS
Aug 12 2015
The National Directorate of Security (NDS) – Afghanistan's intelligence agency has arrested a Taliban landmine planter dressed like a women in Paktia province.
A statement issued by NDS on Wednesday states that Nasir alias Khalid S/O Abdul Manan was arrested red hand with the bomb he intended to plant in Spin Qala area of Gardiz city, the provincial capital of Paktia.
According to the statement, Nasir belongs to Bahram Kochi group of Taliban.
The video that is released by NDS shows a man wearing an expansive lady dress, with round skirt.
Full report at:
http://www.khaama.com/taliban-landmine-planter-wearing-womens-dress-detained-in-paktia-nds-3734
-----------
Taliban condemns 'horrific' Daesh execution video
Aug 12 2015
Taliban insurgents have condemned the video released by Daesh purportedly showing the execution of prisoners in a 'brutal' manner, resembling the execution style used by the group's affiliates in Iraq and Syria.
"A horrific video was released yesterday showing kidnappers who associate themselves with Daesh [Isis] brutally martyring several white-bearded tribal elders and villagers with explosives," a statement posted on Taliban website states.
"This offence and other such brutal actions by a few irresponsible ignorant individuals under the guise of Islam and Muslims are intolerable," it adds.
Messages and commentary released with the video claim that it was filmed in eastern Nangarhar province of Afghanistan and those executed were captured after fighting between Daesh, Taliban and government troops.
Full report at:
http://www.khaama.com/taliban-condemns-horrific-daesh-execution-video-3741
-----------
US wants Afghan reconciliation to continue
ANWAR IQBAL
August 12, 2015
WASHINGTON: The United States has launched a major diplomatic offensive to ensure that recent terrorist attacks in Kabul do not affect relations between Pakistan and Afghanistan.
On Monday, US Secretary of State John Kerry spoke with Afghan President Ashraf Ghani and urged him to show restraint.
During the weekend, US National Security Adviser Susan E. Rice telephoned Prime Minister Nawaz Sharif and conveyed a similar message to him. She also spoke with the Afghan president.
At the State Department, spokesman John Kirby stressed the need for continuing the Pakistan-sponsored Afghan reconciliation talks, hoping that recent terrorist attacks in Kabul would not derail the process.
"We certainly want to see a political reconciliation process move forward. We want to see peace. And recent participation in those reconciliation talks as of a few weeks ago was certainly an encouraging sign," he said. "We said at the time that it was very early – just beginning; we want to see this progress."
The recent terrorist attacks, he said, underscored two things – Afghanistan remained a dangerous place and that the Taliban had not renounced the use of violence as a tactic and a terror device.
"We want to see political reconciliation and a safe and prosperous and secure Afghanistan. And again, these attacks underscore that that remains a challenge," he said.
He refused to speculate on the suggestion that the talks indicated a power-struggle between the moderates and extremists within the Taliban movement.
Mr Kirby noted that soon after his election last year, President Ghani reached out to leaders in Pakistan, and they did have some constructive conversations about the shared challenge in that border region.
Full report at:
http://www.dawn.com/news/1199959/us-wants-afghan-reconciliation-to-continue
-----------
Unidentified men want to stop work on Torkham-Jalalabad highway, Pakistani media
Aug 12 2015
Pakistani media reports that unidentified men want to stop construction work on the second route linking Torkham border to Jalalabad, the provincial capital of eastern Nangarhar province of Afghanistan.
The Express Tribune news agency reports that three Pakistani workers were abducted in Nangarhar who have been released with the warning that the work on Torkham-Jalalabad project will stop.
The news agency further states that no one knows who the kidnappers were but a tribal elder who secured their release confirmed that armed men were given assurance that positive response would be given to their demands.
Full report at:
http://www.khaama.com/pakistani-media-says-armed-men-want-to-stop-work-on-torkham-jalalabad-highway-3742
-----------
HRW: Protect bloggers, end attempts at muzzling voices
10 august 12, 2015
Human Rights Watch has urged the Bangladeshi authorities to protect the bloggers and persecute those who are targeting free speech instead of "promoting self-censorship."
In a statement issued on Tuesday, HRW Asia Director Brad Adams said: "Bangladesh authorities should unequivocally declare their commitment to free speech instead of proposing self-censorship."
Read more: Another blogger murdered in Dhaka
The statement came following the brutal murder of another secular blogger Niladri Chakrabarti, who used the pen name Niloy Neel.
Regarding the killing, Brad said: "The August 7 killing is a harrowing reminder of the need for the Bangladesh government to take immediate steps to protect the security of all and end attempts at muzzling independent voices."
Referring to a recent statement by Inspector General of Police AKM Shahidul Hoque, the HRW stated: "Instead of addressing police failure to respond to threats against Chakrabarti or to arrest those responsible for the earlier murders, The IGP warned that hurting religious sentiments is a crime according to our law."
"It's shocking that Bangladesh authorities not only failed to protect the bloggers despite complaints to the police about threats against them, but instead are proposing self-censorship," said Brad Adams. "The government should recall that its duty is to uphold the Constitution and protect people's lives, as well as their religious freedom."
While assuring a speedy investigation, the IGP reportedly recommended: "Those who are free thinkers and writers, I will request them, please make sure that we don't cross the line. Anything that may hurt anyone's religious sentiments or beliefs should not be written."
Take a look: Who was Niloy Neel? Niloy killers bought four SIM cards
Although Prime Minister Sheikh Hasina said there will be a speedy investigation into the blogger murders, she had earlier also promised action against bloggers for "hurting people's religious sentiments," added the statement.
The statement also alleged that the present government has also "targeted free speech, threatening or prosecuting contempt of court cases against civil society activists and journalists, shuttering media houses critical of the government, and arresting human rights defenders who criticise violations by security forces."
Read blogger Asif Mohiuddin's note on Niloy: I am very sorry Niloy
Niloy Neel is the fourth blogger to be murdered in Bangladesh this year for advocating secularism. All four were listed by extremist groups as among 84 bloggers they described as anti-Islamic.
Full report at:
http://www.dhakatribune.com/bangladesh/2015/aug/12/hrw-protect-bloggers-stop-promoting-self-censorship
-----------
North America
Muslim names, dress lead to bullying in US schools
12 August 2015
The experience of being a Muslim student in America's public school system is unique to each young person, according to a study by Mahasin D. Shamsid-Deen, a Muslim teacher.
Three main challenges emerging before Muslim students while attending public school are lunch menu, holidays (Muslim and non-Muslim), acceptance.
Elementary age students seemed to be distressed about school lunch menus. If a parent does not prepare and send a lunch with the student they are faced with the question of what is halal and what is not. Many pork products are hidden in the ingredients.
Cafeteria workers may understand obvious meat products, but may not realize pastry fried in lard, or a marshmallow made from gelatin with an animal base, are not consumable for Muslim students.
Happily, many larger school districts now give detailed menu descriptions so parents and students may make informed decisions about what is available and will be served at lunch. This has been a benefit for students of the general population with allergies and dietary restrictions due to health. San Antonio, Texas school districts for example, have coded menus with specific information about the ingredients.
Their GVP system is easy to understand; G means made with healthy whole grains; V=vegetarian – meatless, but may contain milk or egg and P means this meal contains pork.
Christian Holidays & Celebrations
Elementary aged Muslim students were also the most anxious about holidays and celebrations. This included Muslim celebrations and those sanctioned and observed in their particular school districts. Younger students entering the public school system may not know what to expect even if they have family members of other faiths.
It is a fact that most public school districts 'mask' traditional American holidays with roots in Christian theology with 'secular' terms. For instance, Halloween is renamed 'harvest'; Christmas observances are labeled 'winter' and Easter programs are often termed 'spring'. Muslim students tend not to be drawn into the 'political' correctness of these terms and acknowledge changing the name does not change the focus or even purpose.
Muslim students seem to have a range of feelings about holidays. One young child expressed sadness because the school had isolated him by sending him to the library during the class holiday 'party'. Another was angry that the school marked him absent on Eid day. While some students confessed they feel guilty that they desire to celebrate the holiday, others admit that they celebrate both Muslim and non-Muslim holidays.
Some students shared that they felt nervous and self-conscious when they have to explain or observe Muslim holidays. Older students expressed frustration, especially with gym teachers who don't know how or won't accommodate for them during Ramadan.
However, the presence of students who do not observe Christian holidays has really made school systems examine the reality behind claims of separation of church and state and helped to produce a more inclusive environment sensitive to the diversity of its student body.
In addition, two major school districts New Jersey, and just this year, New York, now observe both Eid celebrations. An additional benefit of school districts including Eid celebrations is that it opens dialogue and understanding of misunderstood and ridiculed Muslim practices of long term fasting and ritual animal slaughter.
Full report at:
http://www.worldbulletin.net/america-canada/163089/muslim-names-dress-lead-to-bullying-in-us-schools
-----------
Media Ignores Successful Canadian Muslim Stories
08 August 2015
CAIRO – As media focuses on the news about "radicalized" Muslim youth, a Huffington Post article has shed some light on stories of successful Canadian Muslims, focusing on the positive contribution Muslim citizens are making to their society and the world.
"The media narrative about Muslims is negative, and it's being reinforced constantly," laments Stephane Perreault, a project coordinator with the Canadian Council of Muslim Women.
Perreault describes some of the council's activities that challenge the stereotype but sadly don't make the news.
One of these contributions is the My Canada project which encourages young Canadian Muslims to talk in workshops and online about what being Canadian means to them, and to become leaders and volunteers in their communities.
In another initiative, the council is providing skills training, in areas like media literacy, to Muslims and non-Muslim youth alike, helping them identify and take on challenges in their own communities, like youth gangs.
"When I talk to media they always want to talk about things like radicalization. I try to slip in information about our activities, but it rarely makes it into the story," says Perreault.
As these stories were absent from media coverage, distorted narrative is hardening Canadian attitudes towards Muslim citizens.
Full report at:
http://www.onislam.net/english/news/americas/491229-media-ignores-successful-canadian-muslim-stories-.html
-----------
American Muslims Form Organization in Washington, D.C.
Aug 12, 2015
WASHINGTON, D.C. — American Muslims in the Washington, D.C. area announced Aug. 5 the formation of the American Muslim Institution, a nonprofit organization to provide reliable information and advice to public and policy makers on Islam and Muslims.
"We need constructive solutions to current and emerging problems emanating from wrong perceptions and misinformation about Islam and Muslims in America," Dr. Islam Siddiqui, Indian American president of the newly-formed institution, stated in a press release.
"Our mission is to work for a world of co-existence through inclusiveness and participation. As a member of a diverse family of faiths, our efforts will be directed towards justice and equality to attain peace for Americans with a firm grounding in commonly held values," Siddiqui added.
Full report at:
http://newamericamedia.org/2015/08/american-muslims-form-organization-in-washington-dc.php
-----------
Islam is the fastest growing, diverse religion in America: PRC study
August 12, 2015
We have already discovered Islam is the fastest growing religion in the world, therefore it shouldn't be much of a surprise that it's among America's most diverse religion, too.
According to a new analysis of data from the 2014 study by the Pew Research Institute , Islam to be among the most diverse religions in America, just behind Seventh Day Adventists, reported Albawaba news agency.
The PRC examined 29 different religious affiliations and include five racial and ethnic groups: Hispanics, as well as non-Hispanic whites, blacks, Asians and a category of mixed-race Americans and other races, Islam is ranked as having the second most diverse group of members, Albawaba news agency quoted as reporting.
PRC categorized their findings on a 10-point scale in the following way: The more diversely populated the religion, the higher the number.
Full report at:
http://www.siasat.com/news/islam-fastest-growing-diverse-religion-america-prc-study-812378/
-----------
Southeast Asia
Malaysia: Spotlight on A-G as He Makes Stand on 'Islam vs Human Rights'
12 August 2015
New Attorney-General Tan Sri Mohamed Apandi Ali will have to make his stand known tomorrow – whether Islamic law takes precedence over human rights – when he appears as intervener in the case of a non-Muslim lawyer fighting for her right to practice Shariah law.
The A-G, who is the chief legal adviser to Putrajaya, is coming in as intervener as constitutional issues are being raised in this case, and he would have to take a position.
The case involved the Federal Territories Islamic Religious Council (MAIWP) who is attempting to stop Victoria Jayaseele Martin from practising Islamic law in the Shariah court.
Three months ago, Federal Counsel Shamsul Bolhassan told the Federal Court that he would take instruction from his superior (A-G) whether to support the stand by the MAIWP.
Lawyer Mohd Hanif Khatri Abdulla, who is appearing for MAIWP said this was a new point of monumental constitutional importance to be raised by the religous authorities to stop Martin from practising in the Shariah court.
A five-man bench led by Chief Justice Tun Arifin Zakaria will hear the case tomorrow.
Apandi, the presiding Court of Appeal judge in the Allah case, which set aside the High Court judgment that allowed the Catholic Church to use the word "Allah" in its weekly newspaper, Herald, had observed that the constitution placed Islam in the third position in the order of precedence.
Basic human rights provisions are in Part 11 of the Malaysian constitution and are confined between Articles 5 and 13.
Apandi said that Islam is the religion of the Federation but other religions may be practised in "peace and harmony".
It is my judgment that the purpose and intention of the insertion of the words 'in peace and harmony' in Article 3 (1) is to protect the sanctity of Islam and also to insulate against any threat faced by the religion," he had said in the ruling.
That ruling was upheld by the Federal Court when it refused to grant leave to appeal by the church.
Apandi was promoted to the Federal Court last year.
Lawyer Edmund Bon (pic, left) said the A-G, as guardian of public interest, should take into consideration the feelings of all Malaysians.
Full report at:
http://www.themalaysianinsider.com/malaysia/article/spotlight-on-a-g-as-he-makes-stand-whether-islam-takes-precedence-over-huma
-----------
Bank Islam eyes 30% commercial portfolio by year end
12 August 2015
Bank Islam Malaysia Bhd, which has a 26% corporate and commercial banking portfolio, is looking to raise the figure to 30% by end-2015 to reduce its dependency on consumer banking from 74% to 70%, as it gears up for a possible merger beyond 2017.
It is looking to further tap the green technology sector, particularly hydropower projects, as well as the infrastructure sector, to up the commercial banking contribution, said managing director Datuk Seri Zukri Samat (pic) after a signing ceremony between Kerian Energy Sdn Bhd and Bank Islam yesterday.
Bank Islam, together with Malaysia Debt Ventures Bhd as co-financier, raised syndicated Islamic financing facilities worth RM121.44 million for Kerian Energy to construct a 14mw mini hydropower plant in Sungai Kerian, Perak.
"We still have quite a lot of room to lend insofar that infrastructure and hydropower projects are concerned. But it all depends on the viability of the project. Green technology is an area promoted by the government and our effort is
basically to support the government's initiatives," Zukri said.
"The infrastructure sector is an area of growth, and highway projects, for example, are generally viable. We are going to participate mainly as a lender or a syndicator," he added.
Zukri noted that the bank intends to focus on organic growth for the time being, even as it looks into the possibility of a merger and acquisition (M&A) beyond 2017, which has always been on the bank's agenda.
Full report at:
http://www.themalaysianinsider.com/business/article/bank-islam-eyes-30-commercial-portfolio-by-year-end
-----------
Comments on other issues: Redefinition of Indonesian Islam
August 12 2015
The founders of Muhammadiyah and Nahdatul Ulama (NU) were the product of late 19th century Islamic encounters with modernity and colonialism. Both the founder of Muhammadiyah, Kyai (revered cleric) Ahmad Dahlan (as Muhammad Darwish is better known), and NU founder Hashim Asyari were well trained under many renowned teachers in Mecca, including those from Jawi or Java. (By Zacky Umam, Berlin)
Your comments:
This was a very interesting article. The role of the Islamic organizations in Indonesia is vitally important not only to Indonesia but to Muslims in the region and beyond.
We look to NU and Muhammadiyah for scholarship and ideas on the major issues confronting the Muslim world.
Full report at:
http://www.thejakartapost.com/news/2015/08/12/comments-other-issues-redefinition-indonesian-islam.html
-----------
ASEAN is happy with Iran nuclear deal: Indonesian ambassador
By Payman Yazdani
August 12, 2015
TEHRAN – The Indonesian ambassador to Tehran says all countries members to the Association of Southeast Asian Nations (ASEAN) have welcomed the nuclear deal between Iran and major powers (the five permanent members of the UN Security Council plus Germany).
"It is the deal that not only Iran and the p5+1 were looking forward but also us in Indonesia and all ASEAN countries are happy to see it," Dian Wirengjurit tells the Tehran Times.
Following is the text of the interview:
A: What is the general view of Asian countries including Indonesia toward Iran now that Tehran and P5+1 have agreed on a comprehensive nuclear deal based on which sanctions are going to be lifted against the Islamic Republic?
A: Certainly what happened in Vienna is a historic achievement, the deal of the P5+1 and Iran; it is the deal that not only Iran and the p5+1 were looking forward but also us in Indonesia and all ASEAN countries are happy to see it. I believe the problems between Iran and P5+1 are not only problems for you but also for the region and affects the whole world economically. I must say something about the lifting of the sanctions. It is also a different thing because the sanctions are not going to be lifted automatically. Iran has to fulfill some obligations in order to see the sanctions lifted.
Q: What are the economic and political attractions for Iran and Indonesia to boost ties?
A: Iran and Indonesia are two countries which have many similarities and commonalities particularly in regard to Islam. Iran and Indonesia are the two biggest Muslim countries in terms of Sunni and Shia. Now that extremists have presented a violent image of Islam, Iran and Indonesia can play a very significant role to introduce the true face of Islam. Islam is not the religion of violence and terrorism. Islam is the religion of peace. Iran and Indonesia can work together to spread this message to the world in political arena. In economic arena I can tell that we need each other. We need your oil, petrochemical products and technology and at the same time you need our paper, palm oil, rubber, tea and coffee. So we need each other, our commodity are complementary. Because of sanctions we cannot make deal between the countries at the maximum capacity, only very small amount. I hope if finally the sanctions will be lifted, we see the flows of your goods to Indonesia and Indonesia's commodity to Iran.
Full report at:
http://www.tehrantimes.com/Index_view.asp?code=248611
-----------
URL: https://www.newageislam.com/islamic-world-news/new-age-islam-news-bureau/truce-reached-between-hezbollah-and-rebels-fighting-in-syria/d/104246