New Age Islam News Bureau
11 Apr 2017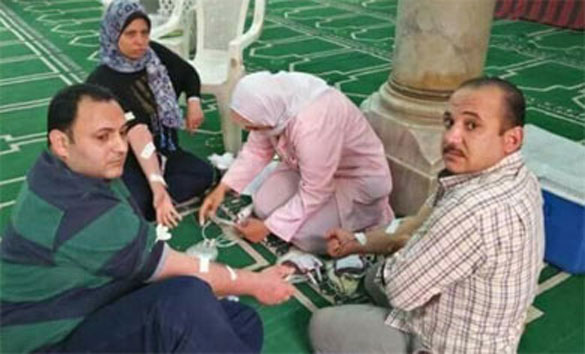 Egyptians donate blood for those injured in Sunday's blast
-----
• Triple Talaq, Polygamy Not Sanctioned By Islam, Centre Tells SC
• Bangladesh President for Checking Misinterpretation of Islam
• Saudi Arabia, Iran Have Radicalised And Divided The Muslim World - Sanusi
• The Danger Of The Word 'Muslim Ummah' In Malaysian Politics
• Muslim Egyptians Donate Blood To Deadly Church Blast Victims
India
• Triple Talaq, Polygamy Not Sanctioned By Islam, Centre Tells SC
• Man Held By Pune ATS Acquitted Of Terror Charges By Karnataka Court
• UP Village That Boasts Of Shiva Temple Made, Managed By Muslims
• New 26/11-like attack by Pak-based terror groups could spark India's fury: Report
• NIA files charge-sheet in Burdwan blast case
--------
South Asia
• Bangladesh President for Checking Misinterpretation of Islam
• Afghan Ulema Angrily Reacts At Maulana Fazal-Ur-Rehman's Remarks
• Taliban leaders and militants suffer casualties in Khalid operation in the North
• Fate of 40,000 Rohingyas from Myanmar to be sealed soon
• Dr Md Ali Bhuiyan: Few bad apples don't make all Muslims terrorists
• Rejection of Mufti Hannan's mercy petition reaches prison
• Ghani copying Trump's stance against media: Kabul Press Club
• 2 anti-corruption judicial centre employees shot dead in Kabul
--------
Africa
• Saudi Arabia, Iran Have Radicalised And Divided The Muslim World - Sanusi
• Trump To Sell Attack Planes To Nigeria For Boko Haram Fight
• 10 killed in two bomb attacks in Somali capital
• 16 civilians killed in fighting in South Sudan
• Militant raid claims six lives in Nigeria's Lagos
• Hungry Somalis weigh daughter's freedom against her siblings' lives
--------
Southeast Asia
• The Danger Of The Word 'Muslim Ummah' In Malaysian Politics
• Indonesia: Gay Men Facing 100 Lashes For Having Sex
• China punishes official for not daring to smoke near Muslims
• Indonesian court adjourns blasphemy trial of Jakarta's Governor Ahok
• Malaysia's PAS members protest Nanyang Siang Pau's 'rude' cartoon
• Student says books on militancy bought from Masjid India
--------
Arab World
• Muslim Egyptians Donate Blood To Deadly Church Blast Victims
• Analyst Blames Turkey, Al-Nusra for Chemical Attack in Syria
• Egypt Police Kill ISIS Militant Suspects In Shootout After Church Attacks
• 'Russia knew Syria chemical attack was coming and attempted a cover-up'
• Saudi Prince Saad bin Faisal passes away
• G7 to send 'clear message' to Russia on Syria
• ISIL Suffers Heavy Casualties in Deir Ezzur
• Terrorists Fail again to Prevail over Syrian Army Positions in Dara'a
• Report: Suspected ISIS cell was planning attacks on US forces in Kuwait
• Saudi Arabia's highest religious body condemns twin Egypt church attacks
• Trump may authorize further Syria attacks: White House
--------
Mideast
• Iran: Young Prisoner Faces Imminent Execution For Insulting The Prophet
• Over 40 Killed Amid Clashes, Airstrikes In Southwest Yemen
• Running for Iran Presidency: A Cleric Involved in the Mass Execution of Political Prisoners
• Iran: Man executed despite severe mental illness
• Iran: Critically-ill prisoner executed despite a massive heart attack
• Palestinian teenage boy shot by Israeli forces succumbs to injuries
• Turkish referendum splits Bulgaria's Turks
--------
Pakistan
• Amjad Sabri's Family Plans To Leave Pakistan Due To 'Security Fears'
• Fear Looms Over Karachi's Afghan Camp As Harassment Complaints Persist
• Pakistan Air Force can tackle any external and internal security threat: PM
• Senators denounce past military interventions
• Two militants hanged in Sahiwal Jail
--------
North America
• Muslim Men Ordered To Stop Using Public URINALS By Preacher Who Claims They Are 'Exposing' Their Willies
• Toronto's Peel District School Board in Muslim prayer row
--------
Europe
• Over 200 People From Germany Fighting IS
• Trump, May and Merkel aim to convince Russia to end Assad support
Compiled by New Age Islam News Bureau
URL: https://www.newageislam.com/islamic-world-news/triple-talaq-polygamy-sanctioned-islam/d/110727
--------
Triple talaq, polygamy not sanctioned by Islam, Centre tells SC
Apr 10, 2017
Triple talaq and polygamy practised by many Muslims are not sanctioned by Islam, the Centre told the Supreme Court on Monday.
Urging the top court to declare these practises unconstitutional, the Centre asserted that they affected the fundamental right of Muslim women to live in dignity and without any security unlike women of other religions in the country.
The arguments are part of Centre's written submissions that would be taken up by a five-judge constitution bench during the ensuing summer vacation. The bench will determine the validity of the practises.
The statement comes a day after Salma Ansari, wife of Vice-President Hamid Ansari, said uttering 'talaq' thrice did not amount to divorce and asked Muslim women to read the Quran thoroughly instead of relying on clerics.
Rebutting the contentions put forth by Islamic organisations, including the All India Muslim Personal Law Board, the Centre said the constitutional protection of freedom of religion guaranteed under Article 25 was not absolute to the community in this regard because the regressive practices violated one's right equality, life and liberty.
"Practices such as polygamy cannot be described as being sanctioned by religion in as much as historically, polygamy prevailed across communities for several centuries including the ancient Greeks and Romans, Hindus, Jews and Zoroastrians. It had less to do with religion and more to do with social norms at the time," the Centre said in its written submissions, drafted by advocate Madhvi Divan.
In the Holy Quran as well, it appears that the prevalent or perhaps even rampant practice of polygamy in pre-Islamic society was sought to be regulated and restricted so as to treat women better.
Gender equality and the dignity of women were non-negotiable and cannot brook compromise. These rights were necessary not only to realise the aspirations of every woman but also for the larger well-being of the society and nation.
"The practices which are under challenge, namely, triple talaq, nikah halala and polygamy are practices which impact the social status and dignity of Muslim women and render them unequal and vulnerable qua men belonging to their own community; women belonging to other communities and also Muslim women outside India. There are unreasonable classifications which arise from practices such as those under challenge in the present petition, which deny to Muslim women the full enjoyment of fundamental rights guaranteed under the Constitution," the Centre stated. Such discrimination based on religion cannot be countenanced in a secular country.
http://www.hindustantimes.com/india-news/triple-talaq-polygamy-not-sanctioned-by-islam-centre-tells-sc/story-Nmfiw9o0Pyni7q02E8jqnN.html
--------
Bangladesh President for Checking Misinterpretation of Islam
April 11, 2017
President Abdul Hamid yesterday stressed the need for addressing the wrong propagation of Islam that helped spread terrorism and militancy worldwide.
"People of Bangladesh consider Islam as a religion of peace and harmony . . . And there is no room for terrorism and militancy in Islam," the President came up with the remark as Vice-President of Masjid al Haram Dr Mohammed Bin Nasser Bin Mohammaed Alkhuzaim and Imam of Masjid an-Nabawi Abdulmehsin Mohammad Al Quasim called on him at Bangabhaban in the capital.
President Abdul Hamid hoped that the initiatives of Saudi Arabia would help combat militancy and terrorism significantly and Bangladesh would provide its all-out support to any steps to establish world peace.
President's press secretary Joynal Abedin told this to newsmen after the meeting.
Welcoming the delegation, the President said this visit is a testimony to excellent bilateral relation which is based on common faith, religion, custom, values and aspirations between the two friendly Muslim countries.
"Bangladesh gives priority to friendly relation between the two brotherly Muslim countries," the President mentioned.
Referring to the contribution of Father of the Nation Bangabandhu Sheikh Mujibur Rahman to the welfare of Islam and Muslims, Abdul Hamid said Bangabandhu established the Islamic Foundation, Bangladesh (IFB) which is now playing a significant role for the welfare of Islam and Muslim Ummah.
Vice President of Masjid al Haram Dr Mohammed Bin Nasser Bin Mohammaed Alkhuzaim lauded different development activities of Bangladesh Government in recent time.
Recalling his previous visit to Bangladesh 20 years back, the vice-president of the Prophet's mosque said that he was really surprised to see the overall progress of the country at present.
He said the country would achieve tremendous success under efficient and dynamic leadership of Prime Minister Sheikh Hasina in line with the dream of Bangabandhu Sheikh Mujibur Rahman.
The Saudi delegation also assured of providing all necessary assistance to the welfare and development of Bangladesh in days ahead.
Religious Affairs Minister Motiur Rahman, Chairman of the Parliamentary Standing Committee on Religious Affairs BH Haroon, MP, Ambassador of KSA to Bangladesh Abdullah HK Al-Mutariri and secretaries and high officials concerned were present.
http://www.thedailystar.net/city/president-checking-misinterpretation-islam-fight-militancy-1389454
--------
Saudi Arabia, Iran Have Radicalised And Divided The Muslim World - Sanusi
11 April 2017
Muhammad Sanusi II, emir of Kano, who is one of the most vocal Islamic voices on the continent, says Saudi Arabia and Iran have "radicalised and divided" the Muslim world.
Sanusi said the world needs a strong state, "not a fragile state", to address the root causes of extremism.
He added that Islamic leadership could come from less conservative countries like Malaysia and Morocco.
"Internationally, Morocco — I'm in Morocco, I'm not a diplomat, what I say is the truth — Morocco has made tremendous progress in terms of redefining and reinterpreting Islamic law in a matter that is consistent with the demands of our time," Sanusi said in Morocco over the weekend.
"Where is the lone star for Muslims today? Everybody is talking about Saudi Arabia and Iran, and both countries, frankly, because of their geopolitical reasons, because of their conflicts and competition for ascendancy, have radicalised and divided the Muslim world.
"And they've held on to very conservative, very intolerant versions of the religion."
He said governments needed to take the training of Islamic scholars into deliberate considerations in order to quell violence across the world.
"Maybe the Muslim world needs to shift its focus, in terms of where leadership has to come from; look at Malaysia, look at Morocco, look at Tunisia, look at Indonesia, why look at Saudi Arabia and Iran!" he said.
"That can only happen from the body of scholars within the different Muslim countries, who will change the discuss and say, 'you know what, this is not your role model. Your role model is not ISIS, your role model is not an Islam that says there is only one true interpretation of religion.
"Or that does not separate what is personal from what is public… Malaysia is a fantastic example of a Muslim country that has been able to live with its religion and also live in the modern world.
"Why can't we be more like Malaysia, more like Morocco? Why do we have to be more like Iran and more like Saudi?"
He said governments need to do more in terms of training religious scholars.
"Train scholars, so that they create the kind of society we want," he said.
http://world.einnews.com/article/375356133/EV_vcIq7wVHjLeK0?lcf=lStp3xk_Z2L_9PSw9O4XFmYYLt5OBoKN7JE3TcEXD9A%3D
--------
The Danger Of The Word 'Muslim Ummah' In Malaysian Politics
By Dr. Azly Rahman
Apr 11, 2017
Folks, I am back. Quite a hiatus.
And in the Malaysian Parliament, what a tabling of Abdul Hadi Awang's motion on the proposed amendments to the Syariah Court (Criminal Jurisdiction) Act 1965 it was, I saw on YouTube. It was a good early morning speech made in Parliament while the roosters and the frogs and the cuckoos in the village were sleeping.
First Hadi Awang made his presentation and then all of a sudden there was no debate. Maybe people were dying for a teh tarik and nasi kandar kaw kaw breakfast that the debate had to be postponed to July. It was then that the opposition roared, "Takut… Takut… Takut…" (loosely translated as "Chicken Out… Chicken Out… Chicken Out…" in gangsta English). The power of the Malaysian power breakfast for champions.
Then I thought, what's going to be the shape of the Malaysian Parliament to come circa 2050. The year of the new slogan for TN50.
At the rate of Parliament having marathon 20-hour sittings till the wee, wee hours of the morning, past midnight, past bedtime, past teh tarik session time, way past futsal, Malaysians are going to have politicians and lawmakers able to work at night and sleep in the day.
The next breed of parliamentarians will come from the children of Dracula, Batman, Night Watchmen, Mat and Minah Rempit Johor, Pontianak, and also members of the Rukun Tetangga – those who are friends of the night. Unless debate sessions that must happen after two in the morning are held in a different time zone – New York City at 1pm daylight saving time.
Cost will be an issue. Unless we use the government's private jet. Maybe the next hudud debate session can be held in Uganda? Or Transylvania – home of Count Dracula?
In tabling the hudud bill, Hadi used the words 'Umat Islam' a lot. Here is why the words are dangerous from a Platonic and Socratic point of view. Or even common-sensically.
'Umat Islam' or the 'Muslim Ummah'?
Dangerous words used liberally and carelessly, isn't it? A universalising third person pronoun used by preachers, Islamic religion teachers, and even by imam and politicians.
'Umat Islam' connotes and denotes the one-dimensional and one-lump-sum thinking of all Muslims – from the believers of the coming of the mythical al Mahdi, of Gog and Magog and the Dajjal, the Taliban, the Boko Haram, al Shabaabs, the IS and of Muslims everywhere in all four corners of the world.
It assumes that all Muslims think the same in all issues and ought to be following the same set of teachings, the Sunnah, the Hadiths, and believing in the same story and the same political ideology of we versus them, of the Muslims vs the Infidels and the we versus the enemies.
Because the idea of an 'ummah' is a millenaristic-supranationalistic concept of global-political implications, PAS and others use it alike to coerce and force other Muslims to agree to whatever that needs to be agreed upon. No room for critical thinking, No room for questions. The 'Umat Islam' must agree because the 'ummah' is even higher in status that the nation state.
Hegemonising, generalising and colonising a word it is. The words 'Umat Islam', used by political parties the species of PAS and the like.
Every Muslim is different. Each does not belong to an 'ummah'. To each Islam his/her own. Not PAS-Islam; an Islam that is failing, holding on to the rhetoric of 'Umat Islam'. Revise your rhetorical device, if you understand what it means.
Remember – Islamic State (IS) used the words 'Islamic State' and al Mahdi and umat Islam successfully. The power of generalising. The power of rhetoric…
Child marriage is okay?
And then related to the path Malaysia is taking towards the Islamic State of IS is the issue of the okay-ness of child marriage as blurted out by some prominent Islamist, okay-ed by many of those who think that marrying a nine-year old is Islamic. So I wrote this on my Facebook page:
Here are my thoughts on a girl's education:
It never ends, formally or informally. A girl must be given all the rights, privileges, and opportunities to achieve the highest level of education, according to her wish and the means available. Marriage should not be a hindrance. If a man feels inferior to his partner's educational level; he will need to get rid of such a feeling and try harder to be at par, taking a different path.
It is not a competition, as life ought to be. It is about equality, equity, and equal opportunity, framed accordingly. But a girl is not for marriage alone. She is for the world to be made a more peaceful, wise, and humane place. For Mother Earth to flourish.
My last words for this column on the ways things are going in Malaysia these days:
From issues manufactured to the nature of bills tabled, to the trivial topics released in the public sphere, the number of distractions have grown – clouding the issues of massive corruption and the selling of the country off to other nations.
This is an old tactic of divide and confuse and conquer, produced in the name of an illusion called democracy and diversity of opinions. And Facebook becomes the arena to diffuse mass anger by still being angry albeit fragmentally.
I hope we come back to our senses. It is better for Hadi and his band of Holier-than-Thou men and women to table a bill on what kind of hudud will be necessary for the billions of ringgit stolen from the country.
Now, that bill will be good for the ummah – Malaysian Muslims and non-Muslims alike. And another bill is to stop dehumanising women and blaming them for rape. Agree?
http://www.eurasiareview.com/10042017-the-danger-of-the-word-muslim-ummah-in-malaysian-politics-oped/
--------
Muslim Egyptians donate blood to deadly church blast victims
9 April 2017
Egyptian men and women rushed to mosques in Tanta to donate blood for people injured in Sunday's deadly blast, which struck the Coptic Christian Church earlier in the day.
Mohammed Ahmad Hassan, a Tanta resident, said loudspeakers were used to call on people in the city to head to mosques and donate blood to help those injured by the attack. The call came bloods stocks at the hospitals were beginning to run out.
And he added said that it seemed a large proportion of those responding were mostly Muslim.
Hassan added that hundreds of blood bags were being delivered to blood banks and the General Hospital where the injured were being treated.
https://english.alarabiya.net/en/News/middle-east/2017/04/09/Muslim-Egyptians-donate-blood-to-deadly-church-blast-victims.html?utm_content=buffer4bef7&utm_medium=social&utm_source=facebook.com&utm_campaign=buffer
--------
India
Man Held By Pune ATS Acquitted Of Terror Charges By Karnataka Court
by Chandan Shantaram Haygunde
April 11, 2017
The additional district and session court in the coastal Karnataka district of Dakshina Kannada convicted three persons and acquitted four accused in a terror case. Those acquitted include religious scholar Maulana Shabbir Gangolli, alias Shabbir Bhatkal, alias Hussain Shabbir Meheruddin Gangolli (34), who was arrested by the Pune unit of Anti-Terrorism Squad (ATS) on December 30, 2008, with 250 counterfeit notes of Rs 100 denomination at a Janawadi mosque in Shivajinagar area. He was alleged to be a member of terror outfit Indian Mujahideen (IM). Resident of Bhatkar in Karnataka, Maulana Shabbir had received education at Nadwath ul Ulema in Lucknow. Along with him, Mangaluru residents Mohammed Ali (64), his son Javed (28), and Mohammed Rafiq (34), who were accused of doing odd jobs for the IM between 2007 and 2008, were also acquitted of terror charges by the court on Monday. Third additional district and sessions judge S H Pushpanjali Devi convicted Sayyed Mohammed Naushad (33), Ahmed Bava (41), and Fakeer Ahmad Bava (44) on charges of terrorism, preparation of bombs and criminal conspiracy in connection with bomb attacks between 2006 and 2008, which had claimed over 200 lives across the country.
The court is scheduled to pronounce the quantum of their sentence on April 12. Six of the seven persons had been arrested in October 2008 in Karnataka, during a crackdown on IM in the wake of bombings in Hyderabad, Jaipur, Ahmadabad and Delhi between September 2007 and 2008. Key leaders of IM — Riyaz Bhatkal, Iqbal Bhatkal and Yasin Bhatkal — allegedly managed to escape from Chikamagalur in October 2008 after news of the raids had reached them. Maulana Shabbir too had allegedly fled, but was nabbed in Pune by the ATS. Meanwhile, an offence was registered against him and others at the Ullal police station in Mangaluru.
In its orders on Monday, the trial court stated that Maulana Shabbir can be released immediately, if no other case is pending against him. His lawyer Arshad Bhatkal said, "There is no case pending against Maulana Shabbir now, he will be freed soon". In 2011, Maulana Shabbir was sentenced to five years of rigorous imprisonment by a Pune court in fake currency seizure case. Earlier, while the probe in fake currency case was on, the ATS booked him on June 14, 2010, under sections of the UAPA, for allegedly supplying jihadi literature to the members of banned SIMI outfit in Pune.
ATS had earlier arrested five alleged SIMI members Feroz Mehbbob Pathan of Ghorpadi Peth, Imtiyaz Babymiyan Shaikh (30), Ayaz Khan (25), both from Bhimpura Camp, Mohammed Bilal Kagzi (27) of Surat and Nadim Mohammed Salim Shaikh of Thane, in this case, in August 2008. About 40 books on "jihad" were seized from the suspects. Later, the ATS had arrested German Bakery blast accused Himayat Baig on January 27, 2011, in this case.
ATS had then informed the court that while studying in Pune, Baig and Maulana Shabbir, along with another Maulana, conducted the religious 'darj' meetings of Muslim youths in Pune at a Masjid on Solapur Road and some other places. ATS alleged that the duo circulated jihadi literature among the youths and had indoctrinated them into jihadi ideology.
However, on December 2, 2016, Inspector Vijay Patil of ATS filed an application seeking their discharge in this case, under section 169 of Criminal Procedure Code (CrPC), as "no sufficient evidence or reasonable grounds of suspicions were found to justify forwarding of said accused persons to the court along with chargesheet". On December 22, the court had ordered release of Baig and Gangawali. Anjum Inamdar, activist of Mulnivasi Muslim Manch in Pune, had started a campaign for release of Maulana Shabbir. "We had demanded release of innocent Muslims like Maulana Shabbir arrested in terror cases. He was falsely implicated in fake currency case by the ATS. He has moved high court against the conviction and hopes to get justice. Seven years of his life are wasted in jail," said Inamdar.
http://indianexpress.com/article/india/man-held-by-pune-ats-acquitted-of-terror-charges-by-karnataka-court-4608325/
--------
UP village that boasts of Shiva temple made, managed by Muslims
Apr 10, 2017
A temple dedicated to Lord Shiva in Mirzapur village of Uttar Pradesh's Aligarh district is not an impressive one and does not follow any unique style of architecture.
What sets it apart is the fact that it was constructed by a Muslim — standing as an epitome of communal harmony in the state where the clamour for the construction of the Ram Mandir in Ayodhya at the disputed site where the Babri Masjid once stood is growing.
A Hindu mob demolished the 16th century Babri Masjid on December 2, 1992, demanding the construction of a temple for Lord Ram, who Hindus believe was born at the site in Ayodhya. The demolition of the mosque sparked some of the deadliest riots in India in which thousands were killed.
The temple in Muslim-dominated Mirzapur, around 12 kilometres from the district headquarters, also stands out because its main priest is also a Muslim.
Constructed in July 2013, it is perhaps the only temple in the state where right from its construction to its upkeep is entirely managed by Muslims.
Babu Khan, the husband of village pradhan Shama Parvin, constructed the temple near the CDF police post with the help of other community members. OP Rana, the then in charge of the police post, also played a vital role in building the temple.
Babu Khan's role is not limited to its construction as he looks after the cleaning and upkeep of the temple and also spends almost 10 hours on the premises every day.
"The temple was constructed to keep alive the Hindu-Muslim unity and communal harmony," Babu Khan insists.
"In our village, both Hindus and Muslims live like brothers. Since we keep helping each other, we thought that constructing a temple for our Hindu brothers would bind us further. Villagers like Aas Mohammad, Abdul Salam and Sher Mohammad have contributed much in its construction," Babu, who despite being a devout Muslim offers water to the Shivling, adds.
"My family, including my wife Shama Parvin, five sons and three daughters, daily help in cleaning the temple and maintaining it," he says.
Abrar Khan, the main priest of the temple, besides performing his duties at the temple also offers his namaaz daily.
"Like the famous Hindi poet Raskhan had faith and belief in Lord Krishna, I have faith in Lord Shiva," Abrar says.
"Hindus and Muslims are like the two eyes and they cannot be separated at all. The politicians exploit both the communities for achieving their vested interests," he rues.
Praising Abrar, Babu Khan says he worships Lord Shiva according to Hindu rituals and traditions and can recite not only the Shiv Purana but also the Ramayana.
"We all have faith in Lord Shiva as much as we have faith and belief in Islam. Here, not a single incident of a communal riot has taken place as we all solve our problems amicably," Shama Parvin told Hindustan Times.
Full report at:
http://www.hindustantimes.com/india-news/up-village-that-boasts-of-shiva-temple-made-managed-by-muslims/story-mc7q9sGaAJL20zNqjWarJN.html
--------
New 26/11-like attack by Pak-based terror groups could spark India's fury: Report
Neeraj Chauhan
Apr 11, 2017
NEW DELHI: In case of another 26/11-type attack by Pak-based terror groups, it would be difficult for India to show restraint, says Brussels-based think-tank International Crisis Group in its recent report while analysing US policy pertaining to terrorism in South Asia.
It says the two main anti-India groups that enjoy considerable patronage in Pakistan - Lashkar-e-Toiba and Jaish-e-Mohammad - also pose grave threat to the US.
"Though neither has formal links to al-Qaida, their fighters rub shoulders with other militants and global jihadis in Afghanistan and Pakistan. The gravest danger they pose for Pakistan and the US+ is another strike on India.
Prime Minister Narendra Modi's response to attacks last year on Indian forces in Kashmir suggests his reaction would be calibrated carefully, and public opinion would weigh only so far on that calculation.
But it would be difficult to show restraint in the event of an attack like the one which killed large numbers of civilians in Mumbai in 2008," it states.
Days after the attack on Army camp in Uri+ in September, Indian soldiers carried out a surgical strike across the LoC+ , destroying several terror launchpads and killing many terrorists.
The report titled 'Counterterrorism Pitfalls: What the US Fight against ISIS and al-Qaeda Should Avoid' states that the main challenge for the US is to persuade Pakistan's military establishment to push the Taliban toward talks and rein in anti-India groups.
"Inducements to military leaders, including strategic dialogue and extra aid in the early years of the Obama administration, did not shift its strategic calculation.
Wielding a larger stick, for which there is some support in Congress, would be a new tactic, though US military leaders would likely have little appetite to exert significant pressure on Pakistani counterparts.
Blank checks in the past, however, have produced at best selective counter-terrorism cooperation," it says. It says the US also needs cooperation of China to press and persuade Pakistan to do more against its militant proxies.
Full report at:
http://timesofindia.indiatimes.com/india/new-26/11-like-attack-could-spark-indias-fury-report/articleshow/58118554.cms
--------
NIA files charge-sheet in Burdwan blast case
Apr 10, 2017
EW DELHI: The National Investigation Agency has filed a chargesheet against three Jamaat-ul Mujahideen Bangladesh (JMB) members, including two Bangladeshi nationals, in its probe in 2014 Burdwan blast conspiracy.
Those chargesheeted include, Mohammed Rubel, a resident of village Boiloshing in Rajshahi (Bangladesh), Jahidul Islam, another resident of Tangail district in Bangladesh, and Sahidul Islam, a native of Barpeta, Assam.
NIA officials said that this is the fourth supplementary chargesheet in connection with the Burdwan blast case.
The accused persons were arrested by STF Kolkata in September last year.
NIA said that the members of JMB, a proscribed terrorist organization in Bangladesh, which was responsible for the Burdwan Blast, were associated in terrorist activities and criminally conspired with other arrested persons as well as absconding co-accused to carry out subversive activities like collection of funds, recruitment of vulnerable Muslim youths into the fold of JMB, imparting training to them and motivating them to make hand-made weapons like bows and arrows, etc., radicalizing them to fight against members of other communities within India as well as waging war against an Asiatic power in alliance with the government of India.
NIA had arrested large number of JMB members in a crackdown in 2014 and 2015.
Full report at:
http://timesofindia.indiatimes.com/india/nia-files-chargesheet-in-burdwan-blast-case/articleshow/58114641.cms
--------
South Asia
Afghan Ulema Angrily Reacts At Maulana Fazal-Ur-Rehman's Remarks
Apr 10 2017
The Ulema Council of Afghanistan angrily reacted at the remarks of a prominent Pakistani religious cleric and politician Maulana Fazal-ur-Rehman who had claimed that the peace in Afghanistan would not be achievable as long as the foreign forces have presence in the country.
However, spokesman for the Afghanistan Ulema Council, Mohammad Qasim Halimi, told RFE/RL that the remarks of Maulana Fazal-ur-Rehman consisted full of enmity and hatred.
He insisted that the remarks by Maulana Fazal follows despite the majority of the foreign forces have left the country.
Halimi further added that the ongoing war in Afghanistan is against the Afghan nation and not against the foreign forces.
According to Halimi, Maulana Fazal has a history in supporting the Taliban against the legitimate government of Afghanistan.
Fazal is a pro-Taliban Pakistani political leader who had endorsed the Taliban extremism in Afghanistan, calling it a legitimate war against the foreign forces.
The remarks by Fazal-ur-Rehman earlier in 2015 followed after a meeting with President Mohammad Ashraf Ghani who visited Pakistan on a two-day state visit shortly after taking office as the new President of Afghanistan.
http://www.khaama.com/afghan-ulemas-angrily-reacts-at-maulana-fazal-ur-rehmans-remarks-02537
--------
Taliban leaders and militants suffer casualties in Khalid operation in the North
Apr 11 2017
A number of the Taliban leaders and militants suffered casualties during the ongoing Khalid operations in northern parts of the country.
The 209th Shaheen Corps of the Afghan National Army (ANA) forces in the North said the militants suffered casualties in Sar-e-Pul and Faryab provinces in the past 24 hours.
According to a statement by 209th Shaheen Corps, at least 16 militants including two local commanders of the group were killed and several others including a local commander of the group were wounded.
The statement further added that a local commander of the Taliban identified as Taj Mohammad was killed along with his 3 fighters during an operation in Sayad district of Sar-e-Pul.
Another Taliban leader identified as Sher Mohammad also famous as Ghazanfar was wounded along with two others.
At least 5 Taliban insurgents including a commander of the group identified as Mullah Rahim were killed in an airstrike in Pashtunkot district of Faryab.
Full report at:
http://www.khaama.com/taliban-leaders-and-militants-suffer-casualties-in-khalid-operation-in-the-north-02540
--------
Fate of 40,000 Rohingyas from Myanmar to be sealed soon
April 11, 2017
The reports come days after New Delhi urged Naypyidaw to contain violence against the Muslims living in the western part of Myanmar bordering Bangladesh.
Sources say the home ministry has taken no official call on their deportation but the fate of around 40,000 Rohingya, who have taken refuge in India, will be sealed soon.
Hundreds died in communal violence between Buddhists and Rohingya in 2012, worsening their plight, and in the last few years thousands from the Muslim community have fled to countries such as India, Thailand, Malaysia and Bangladesh.
POLICE ACTION ON ROHINGYA
Intelligence officials are closely observing the movements of the Rohingya.
Delhi Police's special cell arrested two youths of the community from Kolkata last month who allegedly had links with terrorist groups and were planning to fly to Dubai on fake passports.
MORE ABOUT ROHINGYA
A number of Rohingya are also living in and around the national Capital.
BJD leader Bhartruhari Mahtab claimed in the Lok Sabha last week that 40,000 Rohingya Muslims had illegally entered India from Myanmar and they are being trained as terrorists, creating an "alarming" situation.
"There are too many of them living in the country and are mostly being confused as Bengali. They are vulnerable to getting radicalised and recently they have been behind terrorist activities. There were terror alerts about them in the past but now the government has initiated a check on them," said a senior intelligence officer.
Sources say the identification process will be over soon with the help of state governments.
However, deportation won't be easy as they are spread over large parts and many have got Indian documents now, they added.
GOVERNMENT ON MYANMAR ON ROHINGYA
The government of Myanmar does not officially recognise the Rohingya, regarding them as illegal Bengali immigrants, despite many being able to trace their roots back in Myanmar for generations. Today that many Rohingya Muslims have also been involved in petty crimes.
"They can be a potential threat soon and it is important to identify and act against them before they become a part of the local populace," he said.
This potential threat came to the notice of security agencies in 2013 after the arrest of Lashkar-e-Taiba commander Abdul Karim Tunda who travelled from Pakistan to Bangladesh over the past decade to explore the possibility of recruiting Rohingya youth for terror.
Tunda had promised LeT chief Hafiz Saeed that he will train Rohingya Muslims in making bombs and in motivating them, but only if they carried out a blast in India.
Saeed earlier referred to them as "brothers" and spoke against their persecution in Myanmar.
Full report at:
http://indiatoday.intoday.in/story/rohingya-myanmar-refugees-bangladesh-deportation/1/925828.html
--------
Dr Md Ali Bhuiyan: Few bad apples don't make all Muslims terrorists
April 10, 2017
'I denounce any forms of violence or extremism anywhere in the world'
Dr Mohammad Ali Bhuiyan, a Bangladeshi-American Muslim running for Congress in Georgia, has had his response go viral after a reporter questioned whether he had ever denounced Muslim terror attacks.
In the first round of a debate, panellist Giovanna Drpic of CBS 46 asked Dr Mohammad Ali on the American public's discomfort with electing a Muslim to office, if he had used the term "radical Islam" and whether he had "publically denounced terror attacks by Muslims".
In response, the Bangladeshi-American said: "Well, it's a very interesting race. As you pointed out, I am a Muslim candidate, Mr. Jon Ossoff is an orthodox Jewish candidate, we have Baptists . . . all kinds of religions. None of the other religions are mentioned but I get this question all the time.
"I denounce any forms of violence or extremism anywhere in the world, here, anywhere, by anybody, not just one religion—any religion."
"When the Oklahoma bombing took place, by Timothy McVeigh, it did not make every Christian a terrorist. Similarly, a few Muslim bad apples do not make all Muslims terrorists," Dr Mohammad Ali added.
Full report at:
http://www.dhakatribune.com/bangladesh/foreign-affairs/2017/04/10/md-ali-bhuiyan-bad-apples/
--------
Rejection of Mufti Hannan's mercy petition reaches prison
April 10, 2017
Kashimpur prison authorities have confirmed receiving the official letter of rejection in response to Mufti Hannan's mercy petition to the president. Senior Superintendent of Kashimpur Prison Mizanur Rahman said he received the letter on Monday afternoon. He said: "We will take action as per the penal code." Earlier on Saturday, President Abdul Hamid rejected the clemency
Kashimpur prison authorities have confirmed receiving the official letter of rejection in response to Mufti Hannan's mercy petition to the president.
Senior Superintendent of Kashimpur Prison Mizanur Rahman said he received the letter on Monday afternoon.
He said: "We will take action as per the penal code."
Earlier on Saturday, President Abdul Hamid rejected the clemency plea of the militant leader.
On Sunday, Home Minister Asaduzzaman Khan Kamal said the execution could take place no sooner than three weeks and no later than four weeks after reading out the verdict.
Also Read- President rejects Mufti Hannan's mercy plea
Mufti Hannan was the leader of Harkat-ul Jihad al-Islami Bangladesh (HujiB).
Full report at:
http://www.dhakatribune.com/bangladesh/crime/2017/04/10/mufti-hannans-mercy-prison/
--------
Ghani copying Trump's stance against media: Kabul Press Club
Apr 10 2017
President Mohamamd Ashraf Ghani is under fire for his move in abandoning the journalist of a private TV channel for a question with an Organization supporting open media saying the President is copying President Donald Trump's move in censoring media.
The Kabul Press Club in a statement said the Organization is concerned regarding the move of President Ghani, accusing one of his spokesmen of insulting the reporters.
Fazal is a pro-Taliban Pakistani political leader who had endorsed the Taliban extremism in Afghanistan, calling it a legitimate war against the foreign forces.
The remarks by Fazal-ur-Rehman were followed after a meeting with President Mohammad Ashraf Ghani who visited Pakistan on a two-day state visit shortly after taking office as the new President of Afghanistan.
President Ghani had returned from what appeared to be a successful series of state visits to Australia, Indonesia, and Singapore, inviting the local journalists to brief regarding the outcomes of the tours.
This comes as the freedom of speech was considered as the main achievements of the Afghan government since the fall of the Taliban regime in 2001.
Full report at:
http://www.khaama.com/ghani-copying-trumps-stance-against-media-kabul-press-club-02538
--------
2 anti-corruption judicial center employees shot dead in Kabul
Apr 10 2017
At least two people working with the Anti-Corruption Judicial Center were shot dead by an unknown gunman in capital Kabul.
According to the security officials, the incident took place earlier today after the gunman targeted the two employees in the vicinity of Qamar area of Kabul city.
The officials speaking on the condition of anonymity further added that the two employees were shot dead as they were going to their work place.
The Kabul police commandment confirmed the incident and said investigations are underway regarding the attack.
No group or individual has so far claimed responsibility behind the incident.
This comes as the Anti-Corruption Judicial Center has stepped up efforts to try those involved in major corruption cases in the country.
Full report at:
http://www.khaama.com/2-anti-corruption-judicial-center-employees-shot-dead-in-kabul-02536
--------
Africa
Trump to sell attack planes to Nigeria for Boko Haram fight
Apr 10, 2017
The Trump administration will move forward with the sale of high-tech aircraft to Nigeria for its campaign against Boko Haram Islamic extremists despite concerns over abuses committed by the African nation's security forces, according to U.S. officials.
Congress is expected to receive formal notification within weeks, setting in motion a deal with Nigeria that the Obama administration had planned to approve at the very end of Barack Obama's presidency. The arrangement will call for Nigeria to purchase up to 12 Embraer A-29 Super Tucano aircraft with sophisticated targeting gear for nearly $600 million, one of the officials said.
The officials were not authorized to discuss the terms of the sale publicly and requested anonymity to speak about internal diplomatic conversations.
Though President Donald Trump has made clear his intention to approve the sale of the aircraft, the National Security Council is still working on the issue. Military sales to several other countries are also expected to be approved but are caught up in an ongoing White House review. Nigeria has been trying to buy the aircraft since 2015.
The Nigerian air force has been accused of bombing civilian targets at least three times in recent years. In the worst incident, a fighter jet on Jan. 17 repeatedly bombed a camp at Rann, near the border with Cameroon, where civilians had fled from Boko Haram. Between 100 and 236 civilians and aid workers were killed, according to official and community leaders' counts.
That bombing occurred on the same day the Obama administration intended to officially notify Congress the sale would go forward. Instead, it was abruptly put on hold, according to an individual who worked on the issue during Obama's presidency. Days later, Trump was inaugurated.
Sen. Bob Corker, R-Tenn., the chairman of the Foreign Relations Committee, said this past week that he supported the A-29 deal to Nigeria as well as the sale of U.S.-made fighter jets to Bahrain that had been stripped of human rights caveats imposed by the Obama administration.
Under Obama, the U.S. said Bahrain failed to make promised political and human rights reforms after its Sunni-ruled government crushed Arab Spring protests five years ago.
"We need to deal with human rights issues, but not on weapons sales," Corker said.
The State Department said in a 2016 report that the Nigerian government has taken "few steps to investigate or prosecute officials who committed violations, whether in the security forces or elsewhere in the government, and impunity remained widespread at all levels of government."
Amnesty International has accused Nigeria's military of war crimes and crimes against humanity in the extrajudicial killings of an estimated 8,000 Boko Haram suspects. President Muhammadu Buhari promised to investigate the alleged abuses after he won office in March 2015, but no soldier has been prosecuted and thousands of people remain in illegal military detention. Nigeria's military has denied the allegations.
The A-29 sale would improve the U.S. relationship with Nigeria, Africa's largest consumer market of 170 million people, the continent's biggest economy and its second-largest oil producer. Nigeria also is strategically located on the edge of the Sahel, the largely lawless semi-desert region bridging north and sub-Saharan Africa where experts warn Islamic extremists like the Nigeria-based Boko Haram may expand their reach.
The aircraft deal also would satisfy Trump's priorities to support nations fighting Islamic uprisings, boost U.S. manufacturing and create high-wage jobs at home. The A-29 aircraft, which allow pilots to pinpoint targets at night, are assembled in Jacksonville, Florida.
"It's hard to argue that any country in Africa is more important than Nigeria for the geopolitical and other strategic interests of the U.S.," said J. Peter Pham, vice president of the Atlantic Council in Washington and head of its Africa Center.
Once Congress is officially notified of the sale, lawmakers who want to derail it have 30 days to pass veto-proof legislation. That's a high hurdle given Corker's support. Sen. John McCain, R-Ariz., chairman of the Armed Services Committee, also said he backs the sale.
"We've really got to try to do what we can to contain them," McCain said of Boko Haram.
In Trump's first phone call with Buhari in February, he "assured the Nigerian president of U.S. readiness to cut a new deal in helping Nigeria in terms of military weapons to combat terrorism," according to Buhari's office.
A Feb. 15 White House statement that provided a summary of the call said "President Trump expressed support for the sale of aircraft from the United States to support Nigeria's fight against Boko Haram."
Sen. Ben Cardin of Maryland, the top Democrat on the Foreign Relations Committee, said in mid-February he was "leery" of the sale because of the Nigerian military's impunity. Cardin said this week he's not trying to block the deal.
"Ultimately we hope that the sale goes forward," he said. "But there is progress that needs to be made in protecting the civilian population."
http://abcnews.go.com/Politics/wireStory/us-sell-attack-planes-nigeria-boko-haram-fight-46697894
--------
10 killed in two bomb attacks in Somali capital
Apr 11, 2017
MOGADISHU - A suicide bomber wearing army uniform killed at least nine soldiers at a camp in Somalia's capital on Monday, authorities said, and a government official was killed by a bomb planted in his car.
Al Qaeda-linked insurgent group al Shabaab claimed responsibility for the suicide bombing at the military training camp on the outskirts of Mogadishu.
"An armed suicide bomber with an explosive jacket entered the camp and blew up himself after firing at the soldiers," police officer Nur Hussein said.
A military colonel, asking not to be named, told Reuters: "The suicide bomber blew himself up minutes after the training. At least nine soldiers died and a dozen others were injured. "Some of the injured ones are in serious condition. It is not easy to prevent a militant in military uniform who wants to kill himself."
In another part of the city, a car bomb killed a civil servant, said a spokesman for Mogadishu's mayor, Abdifatah Omar Halane.
On Sunday, an al Shabaab car bomb outside a Mogadishu army base killed at least 15 people.
The group has stepped up its attacks to challenge the new government after President Mohamed Abdullahi Mohamed gave a speech in military uniform declaring "war" on the insurgency.
Full report at:
http://nation.com.pk/international/11-Apr-2017/10-killed-in-two-bomb-attacks-in-somali-capital
--------
16 civilians killed in fighting in South Sudan
Apr 10, 2017
At least 16 civilians have lost their lives and several others sustained injuries in clashes between government troops and armed rebel forces in South Sudan, official reports say.
The United Nations Mission in South Sudan (UNMISS) said in a statement that the fighting had stemmed from a Sunday ambush of the South Sudanese government troops near the country's second largest city of Wau and had led to clashes the following day.
"The Mission mounted two patrols into Wau on Monday and said it had observed the bodies of 16 civilians in a hospital. There were ten people who had been injured," the statement said.
Reports said at least 3,000 residents of Wau, mostly women and children, had sought shelter in a Catholic church, while another 84 took refuge at a UN protection site to escape the killings.
Wau is located in a region that has repeatedly changed hands between government troops and rebels loyal to former vice president Riek Machar since the country plunged into civil war in 2013.
The city is some 650 kilometers from the capital Juba.
UNMISS noted that troops, tanks and equipment from Sudan People's Liberation Army (SPLA) had been deployed to areas controlled by the rebels in the southwestern part of Wau last week.
Full report at:
http://www.presstv.ir/Detail/2017/04/10/517547/South-Sudan-government-troops-rebel
--------
Militant raid claims six lives in Nigeria's Lagos
Apr 10, 2017
Militants in Nigeria have killed six people, including an army captain, four policemen and a civilian, in the country's most populous city of Lagos.
Nigerian police said the fatalities occurred early on Sunday when the gunmen raided a community in Ikorodu area of Lagos and kidnapped residents after looting their homes and shops.
"Around 1:00 a.m. on Sunday, the police received a distress call that a group of militants and kidnappers had entered Owutu-Ishawo in Ikorodu through the thick swampy forest surrounding the area," said Lagos police spokesman, Olarinde Famous-Cole.
"They were reported to have kidnapped some residents. In response, the police and the army immediately mobilized personnel to the area where the kidnapped victims were rescued," he added.
The spokesman noted that Nigeria's police had launched a search operation in the surrounding area to find the attackers.
Hard economic conditions in Nigeria and high inflation rate have severely impacted the lives of people in the African country.
Bomb attack near Maiduguri university
In a separate incident in Nigeria, two female bombers detonated their explosives near a university campus in the country's northeastern state of Borno early on Monday, but the explosion left no casualties.
A spokesman for the National Emergency Management Agency (NEMA) said the bombers had blown up their suicide vests close to the perimeter fence of the University of Maiduguri at around 04:00 a.m. (0300 GMT).
No group or individual has so far claimed responsibility for the attack.
The Monday bombing attack, the second such incident in Maiduguri in less than a week, came two days after two other female bombers detonated their explosives at a mosque in Jiddari Polo district in Maiduguri, injuring four people.
Maiduguri, the capital and the largest city of Borno State, has been the epicenter of Boko Haram's seven-year militancy aimed at toppling the central government in Nigeria.
Borno has taken the brunt of Boko Haram's acts of terror, which started in 2009.
The group has recently regained momentum after it was nearly obliterated months ago by a joint military force made up of Nigerian government forces and troops from neighboring countries.
Full report at:
http://www.presstv.ir/Detail/2017/04/10/517511/Nigeria-Lagos-Ikorodu-militants
--------
Hungry Somalis weigh daughter's freedom against her siblings' lives
Katharine Houreld
Apr 11, 2017
As the village wells dried up and her livestock died in the scorched scrubland of southern Somalia, Abdir Hussein had one last chance to save her family from starvation: the beauty of her 14-year-old daughter, Zeinab.
Last year, an older man offered $1,000 for her dowry, enough to take her extended family to Dollow, a Somali town on the Ethiopian border where international aid agencies are handing out food and water to families fleeing a devastating drought. Zeinab refused.
"I would rather die. It is better that I run into the bush and be eaten by lions," said the slender dark-eyed girl in a high, soft voice. "Then we will stay and starve to death and the animals will eat all of our bones," her mother shot back.
The exchange, related to Reuters by the teenager and her mother, is typical of the choices facing Somali families after two years of poor rains. Crops withered and the white bones of livestock are scattered across the Horn of Africa nation.
The disaster is part of an arc of hunger and violence threatening 20 million people as it stretches across Africa into the Middle East.
It extends from the red soil of Nigeria in the west, where Boko Haram's six-year militant insurgency has forced 2 million people to flee their homes, to Yemen's white deserts in the east, where warring factions block aid while children starve.
Between them lie Somalia's parched sands and the swamps of oil-rich South Sudan, where starving families fleeing three years of civil war survive on water-lily roots.
Parts of South Sudan are already suffering famine, the first in six years.
In Somalia, the United Nations says more than half the 12 million population need aid. A similar drought in 2011, exacerbated by years of civil war, sparked the world's last famine, which killed 260,000 people. Now the country teeters on the brink again.
At the moment, the death toll is still in the hundreds but the numbers will spike if the March-May rains fail. The forecast is not good.
As US President Donald Trump threatens to slash aid budgets, the United Nations says the drought and conflicts in the four countries are fuelling humanity's greatest collective disaster since World War Two.
"We stand at a critical point in history," Undersecretary-General for humanitarian affairs Stephen O'Brien told the Security Council in March. "We are facing the largest humanitarian crisis since the creation of the United Nations."
The United Nations needs $4.4 billion by July, he said. So far it has received $590 million.
THE CHOICE
Missing from the statistics are the heart-wrenching choices families make every day to survive.
Sheltering under the bare branches of a thorn tree as she waited for a cup of flour, one mother who just arrived in Dollow said she had been feeding her younger children while the older ones went hungry.
Another had left her sick 5-year-old son by the side of the road with distant kinsmen as she led children that could still walk towards help. A third woman bid goodbye to her crippled husband and walked through the desert for a week, carrying their toddler, to the place where there was food.
Hussein traded Zeinab's freedom for the lives of her sisters. "I felt so bad," she told Reuters in the ragged dome of sticks, rags and plastic that shelters her and 14 other relatives. "I ended the dreams of my baby. But without the money from the dowry, we would all have died."
Zeinab, whose henna'd hands are also covered with her own inky teenage doodles, wears a tight-fitting headscarf and a long, drab skirt. Underneath are a pair of trousers with a spray of coloured rhinestones at the bottom, and an iron will. She wants to be an English teacher. She wants to finish school. She does not want to be married.
"I want something different to this," she said, as her 2-year-old nephew rolled naked in the sand and his baby brother cried weakly.
Weighed against Zeinab's dreams were the lives of 20 nieces and nephews, the sons and daughters of her three elder sisters, all married young and all widowed or divorced. There was also her careworn older brother, her gap-toothed younger sister and her middle-aged parents.
Once the family had cows and goats and three donkeys that they hired out with carts for transport. But the animals died around them and Zeinab became their only hope of escape.
For a month, she refused, withdrawing into herself and running away when they forgot to lock her in her room. Finally, faced with her family's overwhelming need, Zeinab relented.
"We didn't want to force her," her mother said wearily, worry lines etched into her forehead as her daughter sat stony-faced beside her. "I could not sleep for stress. My eyes were so tired I could not thread a needle."
THE MARRIAGE
The dowry was received, the marriage celebrated, and union consummated. Zeinab stayed three days and ran away.
When her family hired cars to drive them the 40 kilometers to Dollow, Zeinab went with them. She enrolled in the local school, where stick walls topped by corrugated iron sheets serve as classrooms for 10 teachers and around 500 students. Her husband followed.
"He says, if the girl refuses me I must get my money back. Or I will take her by force," Zeinab said quietly. "He sends me messages saying give me the money or I will be with you as your husband."
Her family cannot repay even a fraction of the dowry. Their only assets are their two stained foam mattresses, three cooking pots and the orange tarpaulin that covers their makeshift dome. There is nothing else to sell.
Then Zeinab's English teacher Abdiweli Mohammed Hersi decided to step in. Hersi has seen hundreds of students drop out due to the drought.
One girl left to work as a maid to help feed her family. Her generation was the first where the daughters were sent to school. A boy sickened and died; cholera has exploded throughout Somalia as the bacteria infects dwindling water supplies.
Five girls this year also left for forced or early marriages, Hersi said. Young, reluctant brides are not unheard of in Somalia, but they are less common in good times, he said, at least in Dollow.
Full report at:
http://nation.com.pk/international/11-Apr-2017/hungry-somalis-weigh-daughter-s-freedom-against-her-siblings-lives
--------
Southeast Asia
Indonesia: gay men facing 100 lashes for having sex
11 April 2017
Two gay Indonesian men have been arrested and face 100 lashes in a case that is drawing international attention to the enforcement of controversial new Islamic bylaws in the semi-autonomous Aceh province.
Mobile phone footage, showing vigilantes slapping one of the young men as he sits naked on the ground awaiting arrest by local sharia police, has been shared on social media in the world's largest Muslim-majority country.
Human Rights Watch has demanded their immediate release, saying their possible punishment – a public beating with a stick – constitutes torture.
The sentence has already been meted out for crimes such as adultery, but it is believed this would be the first time Aceh's new statutes concerning religion and morality could be enforced against homosexuality.
Aceh is the only region in Indonesia, a plural democracy, which allows local authorities to maintain parallel laws and police forces based on religious interpretations.
The province, sitting on the northern tip of Sumatra island and holding about 2% of Indonesia's population of 250 million, was granted this special status in 2001 as a compromise with historical separatist movements.
The anti-gay law was passed in 2014 and Human Rights Watch says these new statutes and punishments violate human rights treaties to which Indonesia is a party, and has asked president Joko "Jokowi" Widodo to intervene.
"The agreement which granted Aceh the legitimate right to form its own local bylaws did not allow them to persecute people for their religion or sexuality," said Andreas Harsono, a researcher with Human Rights Watch in Indonesia. "Across Indonesia today, we are seeing rising discrimination in the name of Islam, including against women and LGBT community"
In October, the moderate Jokowi spoke out against increased abuse directed at LGBT persons in Indonesia, and said police must act to defend them.
"However, Jokowi has not backed up that statement with action," said a statement issued by Human Rights Watch on 9 April.
The two men, reportedly aged 20 and 24, were caught on 28 March by unknown men who forcibly entered a home. Local bylaws allow this kind of citizen's arrest and the men are now being held by sharia police.
In the video, one of the men appears distressed and confused. "Brother, please, help me, help me. We are caught." he says into a mobile phone.
https://www.theguardian.com/world/2017/apr/11/indonesia-gay-men-facing-100-lashes-for-having-sex
--------
China punishes official for not daring to smoke near Muslims
Apr 11, 2017
BEIJING (AP) " A local government in China's restive Xinjiang region has punished an official for not smoking in front of Muslim elders, seeing that as a sign he was insufficiently committed to the region's fight against religious extremism.
The state-run Global Times newspaper reported Tuesday that Jelil Matniyaz, Communist Party head of a village in Hotan, was demoted for "not daring" to smoke in front of the religious figures.
The newspaper quoted other local officials as saying that government leaders should push back against rather than comply with religious prohibitions against smoking to demonstrate their "commitment to secularization."
Full report at:
http://www.nzherald.co.nz/world/news/article.cfm?c_id=2&objectid=11836470
--------
Indonesian court adjourns blasphemy trial of Jakarta's Governor Ahok
Apr 11, 2017
An Indonesian court has adjourned the high-profile blasphemy trial of the city's Christian Governor until after a bitterly fought election next week.
Basuki Tjahaja Purnama, or Ahok as he is commonly known, faces up to five years in prison if found guilty of insulting Islam over references he made to the Koran during a campaign speech.
Jakarta's police chief had urged the North Jakarta District Court to delay hearing the prosecutors' sentencing request this morning, arguing it could lead to unrest similar to that seen on the streets of Jakarta last year.
Radical Islamic groups, including the Islamic Defenders Front, argue Muslims should not vote for a non-Muslim leaders and they want Ahok jailed for blasphemy.
Ahok's supporters said the charges against the ethnic Chinese Governor are politically motivated.
Ahok will come up against a Muslim candidate and former education minister, Annies Baswedan, in the second round of the election next Wednesday.
The third candidate, Agus Yudhoyono, the son of the former President Susilo Bambang Yudhoyono, was knocked out in the first round of the election in February.
After the court ruling, Ahok's opponents expressed their disappointment.
Full report at:
http://www.abc.net.au/news/2017-04-11/blasphemy-trial-of-jakarta-governor-ahok-delayed/8434290
--------
Malaysia's PAS members protest Nanyang Siang Pau's 'rude' cartoon
11 Apr 2017
By Sumisha Naidu
KUALA LUMPUR: Around 100 members of the youth wing of the Pan-Malaysian Islamic Party (PAS) and Muslim groups protested outside the office of Chinese daily Nanyang Siang Pau on Tuesday (Apr 11) over a monkey cartoon it recently published.
Titled "Monkey Act", the cartoon is said to have depicted PAS president Abdul Hadi Awang and Parliament speaker Pandikar Amin Mulia as monkeys sitting on the "Act 355" tree, as a group of monkeys fight under it.
The issue containing the cartoon went to print on Apr 8, two days after Hadi Awang presented a controversial bill to strengthen sharia or Islamic courts in Malaysia.
Nanyang Siang Pau has since pulled the cartoon from enanyang.my and issued an apology to the duo. However, their supporters still handed over a memo of protest on Tuesday and want the Home Ministry to take stern action against the newspaper.
In a statement issued on Tuesday afternoon, PAS youth wing vice chairman Khairil Nizam Khirudin reiterated that Nanyang was being "rude, immoral and unethical". He also said it "did not respect the sensitivities of Muslims in Malaysia".
PAS' proposed amendments to the Syariah Courts (Criminal Jurisdiction) Act 1965 seek to increase the limits for punishments that can be imposed on Muslims for certain crimes including premarital sex and adultery, alcohol consumption and apostasy.
Muslim-majority but multi-ethnic Malaysia practises a dual track legal system for certain crimes. The proposed tweaks to the Act have come under fire from non-Malay and non-Muslim parties across the political divide who argue they go against the spirit of the federal constitution and could lead to unequal treatment between Muslims and non-Muslims.
Full report at:
http://www.channelnewsasia.com/news/asiapacific/malaysia-s-pas-members-protest-nanyang-siang-pau-s-rude-cartoon/3668912.html
--------
Student says books on militancy bought from Masjid India
Adam Abu Bakar
April 10, 2017
KUALA LUMPUR: Student Siti Noor Aishah Atam, who is on trial for alleged involvement in terrorist ideology, today acknowledged she had purchased and owned 12 books that supported militant dogmatic movements like the al-Qaeda.
However, she said that she had neither the time to read the publications nor could remember where she had bought all the copies.
"I did not get a chance to read the books but I glanced through them for anything relevant to the topic of my study," she said during a hearing at the High Court here.
She noted that some of the books she purchased at Jalan Masjid India in Kuala Lumpur were marked as being imported and distributed by Fajar Ilmu Baru Enterprise.
Aishah, who was represented by Mohd Kamaruzaman Abd Wahabber, said her main purpose of buying and keeping the books was to help in her master's degree studies on Islamic faith and thought, at Universiti Malaya from 2012 to 2013.
She also said she did not know that her thesis supervisor, Dr Mahmud Ahmad, was involved in militant activity.
Also known as Abu Hanzalah, he is believed to have escaped to the Philippines in 2014 and is among several individuals sought by police for alleged connections with the militant group called Islamic State (IS).
She said she had taken several books from Mahmud and made copies of them for her thesis research as this was a better alternative to repeatedly borrowing them from him.
"I never knew that these books were banned," she said.
The books that were seized from her by the police reportedly carried titles such as "Visi Politik Gerakan Jihad" ("Political Vision of the Jihad Movement"), "Al-Zarqawi – al-Qaida's Second Generation", "Dari Usama Kepada Para Aktivis" ("From Osama to Activists at Large"), "Dari Rahim Ikhwanul Muslimin Ke Pangkuan al-Qaeda" ("From the Womb of the Muslim Brotherhood to the Lap of al-Qaeda") and "Ketika Maslahat Dipertuhankan dan Menjadi Taghut Model Baru" ("When Natural Benefits are Idolised and Become New Models for Crossing the Limits").
She also said she had been under duress and had hoped Mahmud would be her supervisor as she also needed his help to appeal to the university for her thesis.
Aishah said she had herself suggested to Mahmud the title of her thesis, which was the "Implication of tauhid (Oneness of God) on the nation's administration".
"I met Dr Mahmud to discuss the title and the contents that I was expected to work on. I also asked him to be my supervisor," she said.
"And then I received news that Dr Mahmud had left for the Philippines and was suspected of being involved in terrorism.
"After that, I opted to return to my kampung because I became anxious due to my close connection to him."
Aishah was first arrested in March 2015 under section 130J of the Penal Code for allegedly soliciting or giving support to terrorist groups or commissioning of terrorist acts, as well as under the Security Offences (Special Measures) Act 2012 (Sosma).
She was charged in the Kuala Lumpur High Court and pleaded not guilty to owning the 12 books seized by the police.
Full report at:
http://www.freemalaysiatoday.com/category/nation/2017/04/10/student-says-books-on-militancy-bought-from-masjid-india/
--------
Arab World
Analyst Blames Turkey, Al-Nusra for Chemical Attack in Syria
Apr 10, 2017
"Under the conditions that Turkey and the Al-Nusra terrorist group have found themselves under severe impasse in the Syrian developments, they played the Khan Sheikhoun chemical attack scenario to retrieve their lost reputation," Manif Hamidoush told FNA on Monday.
Noting that the Syrian army's advances and victories had created panic and anxiety among the terrorist groups and their supporters, he said that by launching the chemical attack, they wanted to pressure Russia and Iran to change their position on President Bashar al-Assad and the war in Syria.
Syrian opposition claimed last Tuesday forces loyal to President Bashar Assad had used a chemical gas on people in the Northwestern province, killing nearly 80 and injuring 200.
Assad argued his government has no chemical weapons after agreeing to have them destroyed in 2013. He also ruled out having used chemicals against own people.
Full report at:
http://en.farsnews.com/newstext.aspx?nn=13960121001388
--------
Egypt police kill ISIS militant suspects in shootout after church attacks
11 April 2017
Egyptian security forces killed seven suspected ISIS militants in a shootout on Monday as they were meeting to plan attacks on minority Christians, the Interior Ministry said.
The incident in the southern city of Assiut occurred a day after Egypt's cabinet approved a three-month state of emergency in the wake of ISIS-claimed attacks on two Christian Coptic churches that killed at least 44 people.
The seven militants were killed after they opened fire on security forces who approached them as they were meeting to plot further attacks on Christians, the ministry said in a statement. Assiut has a significant Christian population.
Ammunition, weapons, a motorcycle and ISIS books and publications were found at the scene, the statement said.
General-turned-President Abdel Fattah al-Sisi launched the toughest crackdown on Islamists in Egypt's modern history after toppling President Mohamed Mursi of the Muslim Brotherhood in 2013 following protests against his turbulent year in office.
Sunday's bombings targeted Coptic churches in Alexandria and Tanta and marked one of the bloodiest days in recent memory for Egypt's Christian minority, the largest in the Middle East.
Full report at:
https://english.alarabiya.net/en/News/middle-east/2017/04/11/Egyptian-police-kill-seven-suspected-ISIS-militants-in-shootout.html
--------
'Russia knew Syria chemical attack was coming and attempted a cover-up'
11 April 2017
The United States has concluded Russia knew in advance of Syria's chemical weapons attack last week, a senior U.S. official said Monday.
The official said a drone operated by Russians was flying over a hospital as victims of the attack were rushing to get treatment. Hours after the drone left, a Russian-made fighter jet bombed the hospital in what American officials believe was an attempt to cover up the usage of chemical weapons.
The senior official said the U.S. has no proof of Russian involvement in the actual chemical attack in northern Syria.
But the official said the presence of the surveillance drone over the hospital couldn't have been a coincidence, and that Russia must have known the chemical weapons attack was coming and that victims were seeking treatment.
The official, who wasn't authorized to speak publicly on intelligence matters and demanded anonymity, didn't give precise timing for when the drone was in the area, where more than 80 people were killed. The official also didn't provide details for the military and intelligence information that form the basis of what the Pentagon now believes.
Another U.S. official cautioned that no final American determination has been made that Russia knew ahead of time that chemical weapons would be used. That official wasn't authorized to speak about internal administration deliberations and spoke on condition of anonymity.
The allegation of Russian foreknowledge is grave, even by the standards of the currently dismal U.S.-Russian relations.
Although Russia has steadfastly supported Syrian President Bashar Assad's government, and they've coordinated military attacks together, Washington has never previously accused Moscow of complicity in any attack that involved the gassing of innocent civilians, including children. The former Cold War foes even worked together in 2013 to remove and destroy more than 1,300 tons of Syrian chemical weapons and agents.
Until Monday, U.S. officials had said they weren't sure whether Russia or Syria operated the drone. The official said the U.S. is now convinced Russia controlled the drone. The official said it still isn't clear who was flying the jet that bombed the hospital, because the Syrians also fly Russian-made aircraft.
U.S. officials previously have said Russians routinely work with Syrians at the Shayrat air base where the attack is supposed to have originated. U.S. officials say the chemical weapons were stored there and that those elements add to the conclusion that Russia was complicit in the attack.
Full report at:
https://english.alarabiya.net/en/News/middle-east/2017/04/11/Russia-knew-Syrian-gas-attack-was-coming-and-attempted-cover-up-.html
--------
Saudi Prince Saad bin Faisal passes away
Apr 11, 2017
Prince Saad bin Faisal bin Abdulaziz Al Saud of Saudi Arabia has passed away late Monday night, the Royal Court confirmed.
According to the Saudi Press Agency the funeral prayers will be performed at the grand mosque in Makkah after Asr on Tuesday.
http://nation.com.pk/international/11-Apr-2017/saudi-prince-saad-bin-faisal-passes-away
--------
G7 to send 'clear message' to Russia on Syria
Apr 11, 2017
LUCCA, Italy - G7 foreign ministers were on Monday to send a "clear and coordinated message" to Russia over its stance on Syria as Washington ratcheted up the pressure following a suspected chemical attack in the war-torn country.
Britain's Foreign Secretary Boris Johnson set the tone for the meeting, describing Syrian President Bashar al-Assad as "toxic" and saying it was "time for (Russian President) Vladimir Putin to face the truth about the tyrant he is propping up".
Top diplomats from the seven major advanced economies were in Italy for their annual two-day meeting which had initially been expected to focus on talks with new US Secretary of State Rex Tillerson about hotspots like Libya, Iran and Ukraine. But the agenda is now likely to be dominated by last week's suspected chemical weapons attack on a rebel-held Syrian town that killed at least 87 civilians, and the US cruise missiles fired at a Syrian air base in retaliation.
The Kremlin said on Monday that US Secretary of State Rex Tillerson will not meet President Vladimir Putin when he visits Moscow on Wednesday, a move that could point to tensions over a US missile attack on a Syrian air base last week.
Putin's spokesman, Dmitry Peskov, told reporters on Monday that no such meeting was planned, suggesting Tillerson will follow strict diplomatic protocol and only meet his direct counterpart, Russian Foreign Minister Sergei Lavrov.
It was the first time Washington has intervened directly against the regime of Assad, who is fighting a civil war with the backing of Russia and Iran, and the G7 ministers will deliberate the West's next steps. Several rounds of UN-backed peace talks have failed to end the conflict, which has killed more than 320,000 people since March 2011.
The G7 gathering in the Tuscan city of Lucca brought foreign ministers from the United States as well as Britain, Canada, France, Germany, Italy and Japan to the 15th century Ducal Palace.
The ministers, ushered out of the Tuscan sunshine and into the fresco-decorated palace for their first working session, were set to go on a walking tour of the city's historic centre later before a working dinner in the majestic Palazzo Orsetti. Washington's retaliation was slammed by Iran and North Korea and put it on a direct diplomatic collision course with Moscow, where Tillerson heads on Tuesday for talks with Russian counterpart Sergei Lavrov.
The US administration of Donald Trump on Monday scuppered efforts by the Group of Seven industrialised countries to reach a common stance on energy when it asked for more time to work out its policies on climate change.
Trump signed an order in March to undo climate change regulations drawn up under his predecessor Barack Obama, calling into question US support for an international deal to fight global warming.
The order's main target was Obama's Clean Power Plan, requiring states to slash carbon emissions from power plants - a key factor in US ability to meet commitments under a climate change accord reached by nearly 200 countries in Paris in 2015.
The US urged Russia on Sunday to rein in the Syrian regime, warning that any further chemical attacks would be "very damaging" to their relationship and suggesting any peace deal would be difficult with Assad in power.
"We need to make it clear to Putin that the time to back Assad has gone," Johnson said Monday, warning that Putin was "damaging Russia" by supporting Assad.
He called on Moscow to do "everything possible to bring about a political settlement in Syria and work with the rest of the international community to ensure that the shocking events of the last week are never repeated".
Tillerson would "deliver that clear and coordinated message to the Russians", he said.
French Foreign Minister Jean-Marc Ayrault said the pressing task for the G7 was to "find a political solution, a political transition" in Syria, particularly if the West wanted to triumph over the so-called Islamic State (IS).
"The fight against terrorism cannot be effective if we do not link it to resolving the Syrian situation," he said.
Italy has arranged a last-minute meeting on Tuesday between the G7 ministers and their counterparts from Jordan, Qatar, Saudi Arabia, Turkey and the United Arab Emirates.
Italian media said the aim was "to avert a dangerous military escalation".
Japan's Foreign Minister Fumio Kishida said he told Tillerson that Tokyo supports the US in its push to "deter the spread and use of chemical weapons", and discussed the pressing North Korean nuclear threat.
Full report at:
http://nation.com.pk/international/11-Apr-2017/g7-to-send-clear-message-to-russia-on-syria
--------
ISIL Suffers Heavy Casualties in Deir Ezzur
Apr 10, 2017
The artillery and missile units opened heavy fire at the sites and movements of ISIL in the 137th regiment region near the Deir Ezzur airbase and two neighborhoods of al-Sina'ah and al-Huweiqa, killing at least 14 terrorists and wounding several more.
A military source, meantime, said that several vehicles, mortar launders and machineguns of ISIL were destroyed in the army attack in al-Maqaber (cemetery) region South of Deir Ezzur.
In the meantime, the artillery units also pounded the positions of a group of ISIL terrorists in al-Roshdiyeh neighborhood, killing the entire members of the group.
Also, the army aircraft bombed ISIL's movements in al-Thardah mountain and al-Maqaber region, destroying several positons and military vehicles and killing or wounding a number of terrorists.
elevant reports said on Thursday that the Syrian army forces continued military operations to break the ISIL's siege on Deir Ezzur airbase, inflicting almost 50 losses on the terrorists.
The army units regained control of Hilal, Dasham and Milad hills in Deir Ezzur after heavy clashes with the terrorists.
They also targeted the ISIL's positions near al-Maqaber (cemetery) and al-Ma'amel (plants) regions as well as the water treatment station with artillery and missile fire.
Full report at:
http://en.farsnews.com/newstext.aspx?nn=13960121001400
--------
Terrorists Fail again to Prevail over Syrian Army Positions in Dara'a
Apr 10, 2017
The army soldiers engaged in an intense battle with Al-Nusra that attacked government forces' positions in al-Manshiyeh neighborhood from Mo'awiyeh school, fending off their offensive and killing or wounding a number of them.
In the meantime, the army's artillery and missile units opened heavy fire at the movements and gathering centers of Al-Nusra in the neighborhoods of al-Bahar, al-Arbaeen garden, the road to the dam, Northeast of al-Banin school and areas near al-Yarmouk school in Dara'a city, destroying two command posts, three missile launchers, two mortar launchers, a machinegun-equipped position and killing a large number of militants.
Local sources reported, meantime, that the army ambushed a military vehicle of the terrorists on the road connecting al-Qariyeh al-Qarbi to Seida in Eastern Dara'a heading towards al-Manshiyeh neighborhood to back militants there.
Six militants were killed and five more were wounded in the ambush.
Also the army troops, backed up by the country's Air Force, warded off another massive attack of Al-Nusra Front in the Southern city of Dara'a on Sunday, killing over 75 terrorists, including senior commanders.
The army soldiers engaged in tough battle with Al-Nusra Front terrorists that had launched a large-scale attack on government forces' positions in al-Manshiyeh neighborhood with six bomb-laden suicide vehicles, hundreds of explosive gas containers and missiles, killing over 75 terrorists, including suicide attackers and militants from Saudi Arabia and Jordan.
Several senior commanders, including Commander of Majd al-Islam Battalion Mohammad Abazeid nom de guerre Abu Moslem and Salim Mohammad Shatiwi, were among the terrorists killed in the battle.
Full report at:
http://en.farsnews.com/newstext.aspx?nn=13960121001027
--------
Report: Suspected ISIS cell was planning attacks on US forces in Kuwait
10 April 2017
Suspected ISIS militants arrested in Kuwait and the Philippines were planning to carry out bombings against US military forces in Kuwait, the Gulf country's al-Rai newspaper reported on Monday.
The suspects were also plotting a suicide attack on a hussainiya, or Shiite Muslim meeting hall, said al-Rai, which has close ties to the security services.
Philippine security forces arrested a Kuwaiti and a Syrian for suspected links to Islamic State on March 25, three months after they arrived in Manila.
Al-Rai said Kuwaiti security forces also arrested a Syrian chemistry teacher suspected of involvement with the plots.
A spokesman for the US Embassy in Kuwait referred queries to Kuwaiti authorities. Kuwaiti security officials did not immediately respond to a request for comment.
Full report at:
https://english.alarabiya.net/en/News/gulf/2017/04/10/Report-Suspected-ISIS-cell-was-planning-attacks-on-US-forces-in-Kuwait.html
--------
Saudi Arabia's highest religious body condemns twin Egypt church attacks
10 April 2017
Saudi Arabia's highest religious body has condemned the twin church attacks in Egypt claimed by ISIS, saying the bombings represented a "criminal act considered forbidden by Islamic consensus".
The Council of Senior Scholars released their statement on Twitter on Sunday after ISIS attack two churches in Tanta and Alexandria that left at least 44 people dead and 100 others injured.
"These bombings have violated several tenants of Islam; from treachery to sin and aggression," the body said.
"Every Muslim who believes in God and the Last Day judgment is innocent (of these attacks) except those who will carry their sin from deviating in their thought and belief," the body added.
Full report at:
https://english.alarabiya.net/en/News/gulf/2017/04/10/Saudi-Arabia-s-highest-religious-body-twin-Egypt-church-attacks.html
--------
Trump may authorize further Syria attacks: White House
Apr 10, 2017
The White House says the US is open to the possibility of further missile strikes in Syria.
"The sight of people being gassed and blown away by barrel bombs ensures that if we see this kind of action again, we hold open the possibility of future action," said White House spokesman Sean Spicer on Monday.
On Friday, US President Donald Trump ordered the military to carry out a barrage of missile strikes against a Syrian airfield. Spicer noted that the strikes had been carried out in response to "the threat to our national security."
US Ambassador to the UN Nikki Haley has said her country was ready to hit Syria again. On Sunday, British Foreign Secretary Boris Johnson warned that the US could strike Syria again.
Trump said the operation was in response to a suspected chemical attack, which Washington insisted was carried out by Syrian fighter jets operating from the base.
Syria has categorically denied carrying out the gas attack, with the foreign minister stressing that an Idlib airstrike had targeted a depot, where terrorists stored chemical weapons.
Russia knew about Syria chemical attack
Earlier, US Senator John McCain claimed that Russia had cooperated with the government in Damascus in the chemical attack.
"The Russians knew about chemical weapons because they were operating exactly from the same base," he said.
He added that the attack on the Syrian airbase was "in a response of a chemical attack." "I hope that this behavior by Syria, in what clearly is cooperation with Russia and Syria together, will never happen again," he added.
Pentagon: Strike destroyed 20 percent of Syrian air force
Meanwhile, US Defense Secretary Jim Mattis has announced that last week's strike destroyed one-fifth of Syrian President Bashar al-Assad's operational air force.
"The assessment of the Department of Defense is that the strike resulted in the damage or destruction of fuel and ammunition sites, air defense capabilities, and 20 percent of Syria's operational aircraft," he said in a statement.
The Syrian government has lost the ability to refuel or re-arm aircraft at Shayrat airfield and at this point, use of the runway is of idle military interest," he added.
Full report at:
http://www.presstv.ir/Detail/2017/04/10/517550/syria-us-trump-attacks
--------
Mideast
Iran: Young Prisoner Faces Imminent Execution For Insulting The Prophet
April 5, 2017
A young inmate has been sentenced to death by Branch 1 of the Markazi Province penal court, central Iran, for "insulting the Prophet."
Mohammad Nouri is at the risk of imminent execution for his text on an instant messenger app and "insulting Islam". His death sentence was upheld by the Supreme Court in February.
Sina Dehghan, 21, has also been sentenced to death by Iranian authorities in the same case. He was only 19 when he sent the messages and was arrested in October of 2015 by Iran's Revolutionary Guards (IRGC). During his interrogation he was deceived into signing a confession and repented, and his family was allegedly told he will be released if they remained silent about the charges. However, the sentences of the two has now been upheld by the country's Supreme Court.
Sina Dehghan and Mohammad Nuri are being held in Arak Prison, west of Iran. They both repeatedly expressed regret and repentance.
"Iran is believed to execute more people per capita than any other country," according to Amnesty International. There were 289 state executions carried out in Iran in 2014, the majority of which (up to 74 per cent) were for drugs-related offences, the rights organization added.
"The number of executions in the Islamic fundamentalist country is reported to be on the rise and according to the UN, at least 966 people were put to death in the country in 2015.
Iran has attracted widespread condemnation for carrying out executions of minors, despite having signed the UN convention on the rights of the child," according to the Independent.
http://iran-hrm.com/index.php/2017/04/05/iran-young-prisoner-faces-imminent-execution-for-insulting-the-prophet/
--------
Over 40 killed amid clashes, airstrikes in southwest Yemen
Apr 10, 2017
More than 40 Yemenis have been killed in Saudi airstrikes as well as clashes between fighters from the Houthi Ansarullah movement and militiamen loyal to resigned president Abd Rabbuh Mansur Hadi, military and medical officials say.
The officials, speaking on condition of anonymity, said on Monday that the skirmishes and aerial attacks in the Jabal al-Nar area, east of the Red Sea port city of Mukha in Ta'izz Province, had left 17 Houthi fighters dead.
Another 11 Ansarullah members were killed in airstrikes on Kamaran Island and a base in the provincial capital city of Hudaydah.
Unnamed medical sources said ten pro-Hadi militiamen had been also killed and 15 others wounded in the confrontations.
Meanwhile, three civilians lost their lives and two others sustained injuries when a bomb attack targeted the convoy of a military commander.
Yemeni snipers shoot dead four Saudi troopers
Meanwhile, Yemeni soldiers, backed by fighters from Popular Committees, have shot dead a Saudi trooper in the kingdom's southwestern border region of Jizan in retaliation for Riyadh's military campaign against its crisis-hit southern neighbor.
Yemeni forces shot and killed the Saudi trooper in Wadi al-Ma'ayen district on Monday evening, Arabic-language al-Masirah television network reported.
Earlier in the day, Yemeni soldiers and their allies fatally shot a Saudi soldier at al-Farizeh military base in the same Saudi region.
Yemeni snipers also shot dead two soldiers in the al-Makhrouq military base of Najran region, situated 844 kilometers south of the Saudi capital, Riyadh.
Yemenis look at a damaged school, which was bombarded in a Saudi airstrike in the Yemeni port city of Hudaydah, on March 15, 2016, . (Photo by AFP)
Full report at:
http://www.presstv.ir/Detail/2017/04/10/517542/Yemen-Saudi-airstrikes-Hadi-Ansarullah-Hudaydah-Taizz
--------
Running for Iran Presidency: A Cleric Involved in the Mass Execution of Political Prisoners
06 April 2017
Radiozamaneh - Ebrahim Raisi, head of Iran's wealthiest religious institution, an ex-high-ranking official with the judiciary and a hardliner cleric involved with the mass execution of more than 4000 political prisoners has announced his candidacy for the upcoming presidential race.
On 6 April 2017 Solat Mortazavi, a hardliner politician announced that Ebrahim Raisi is registering as a candidate. He plans to unite the Iranian conservative factions known collectively as Osoulgarayan and defeat the current president Hassan Rohani.
If elected on 19 May 2017, he has to resign from all other governmental positions including the powerful position of running Iran's holiest religious institution, the Shrine of 8th Shiite Imam in Mashhad, Khorasan.
A cleric who in 1980 was hired as a prosecutor by the Judiciary when he was only 20, soon gained the trust of Ayatollah Ruhollah Khomeini, the founder of the Islamic Republic of Iran.
In 1980s Khomeini appointed Raisi to a number of judiciary and intelligence committees that were mainly organized for persecution and prosecution of dissidents, ethnic and religious minority groups and political rivals.
In March 2016 when the current IRI leader, Ayatollah Ali Khamenei appointed Ebrahim Raisi to become the head of the Mashhad Shrine, it was hard to track down his record of service from archives of Iranian media. The Iranian public hardly knew Raisi. A shadow political figure all along, nonetheless Raisi was known to families of political prisoners who were executed in 1980s in Iran.
Raisi who in 1988 had been promoted to deputy of Tehran's attorney general was a member of what came to be known as the "the death committee:" a committee appointed by Khomeini who were involved in mass yet very short trials that lead to the execution of over 4000 political prisoners.
However, the killing of the prisoners in 1980s Iran is not necessarily a negative attribute for a prospective candidate in Iranian state's political milieu. Starting March 2017 a determined campaign began in conservative circles, among members of Basij groups and in social media accounts affiliated with the hardliners titled: "Raisi Come!"
The "Raisi Come" campaign argued that given the economic hardships that the Iranian public is experiencing under Rohani's government, Ebrahim Raisi is the figure that can unite the conservative factions and beat Rohani in the re-election bid.
Raisi refused to come, at first, but he started appearing more in the media. In late March he started visiting the poor in Mashhad, showcasing the charitable causes he is involved with to an extent that some analysts argued this a publicity stunt not for presidency but for supreme leadership succession.
In March 2016, Khamenei the current supreme leader, appointed Ebrahim Raisi to be the head of Astan-e Quds Razavi commonly known as the shrine of Imam Reza and all the seminaries, charities, educational and economic institutions affiliated with it. This position although in Khorasan and far from central government in Tehran geographically, is influential religiously, economically and politically. The appointment was a sign of a deep trust between the two men.
It was because of this appointment that analysts started to say that Raisi might have Khamenei's backing as a candidate for the supreme leadership succession – a fight that will be fierce.
As with any other IRI political figure Ebrahim Raisi is connected with a network of clerical kinship starting with his famous hardliner father in law Ayatollah Ahmad Alamolhoda, Mashhad Friday Prayer Imam and a member of Assembly of Experts – a council that ultimately will choose Iran's next supreme leader.
The father in law is supporting his son in law's bid for presidency. He has been a vocal proponent of the "Raisi Come" campaign advocating members of the Assembly of Expert to sign an invitation asking Raisi to run.
Raisi has never served in an electoral position. He has mainly been involved with the Judiciary, serving high ranking positions such as chief deputy for Ayatollah Mahmoud Hashemi Shahroudi and Ayatollah Sadegh Amoli Larijani both of which were serving as the head of Judiciary, both of which are also predicted to be candidates for the leadership succession.
Full report at:
http://hriran.com/en/component/content/article/81-articles/8041-running-for-iran-presidency-a-cleric-involved-in-the-mass-execution-of-political-prisoners.html
--------
Iran: Man executed despite severe mental illness
April 5, 2017
On April 4th a man suffering from mental illnesses was hanged in Tabriz Central Prison, northwest of Iran.
Morovat Abbasi, 40, from the Malekan region of Azarbaijan Province, also northwest of Iran was arrested in 2013. He was found guilty of allegedly murder. A series of medical assessments carried out since then have confirmed his illness.
Abbasi was being held in a psychiatric ward and was recently transferred to ward 9. This is the first execution carried out after the Iranian new year.
Human rights organizations argue that the execution of a person who is severely mentally ill constitutes cruel and unusual punishment. In addition to putting the mentally ill to death, Iran continues to execute people for drug-related charges.
In Isfahan Prison, central Iran, two inmates were transferred to solitary confinement on April 3rd in preparation for their executions.
Hushang Servati and another inmate by the name of Rezayi are both scheduled to be executed for drug-related charges.
Full report at:
http://iran-hrm.com/index.php/2017/04/05/iran-man-executed-despite-severe-mental-illness/
--------
Iran: Critically-ill prisoner executed despite a massive heart attack
April 5, 2017
A death row inmate suffered a heart attack in Isfahan Prison, central Iran, after being transferred to solitary confinement for his execution.
The day after Hushang Servati was transferred to the prison clinic, he was hanged on drug related charges despite his critical health condition in Isfahan Prison, central Iran.
He was sent to the gallows in the past month but his execution was ordered delayed just hours before the scheduled timing. He was transferred to solitary confinement again on April 3th in preparation for his death on drug related charges.
As previously reported Mr. Servati a father of five, has been sentenced to death without a criminal record. He suffered a bad heart attack due to the stress caused by being transferred to solitary confinement.
Full report at:
http://iran-hrm.com/index.php/2017/04/05/iran-critically-ill-prisoner-executed-despite-a-massive-heart-attack/
--------
Palestinian teenage boy shot by Israeli forces succumbs to injuries
Apr 10, 2017
A Palestinian teenage boy shot and critically injured by Israeli military forces near a refugee camp in the central occupied West Bank more than two weeks ago has died of his wounds.
The Palestinian Health Ministry said on Monday that 17-year-old Jassem Mohammed Nakhla succumbed to his injuries at hospital.
The teenager died after being treated for head wounds, the ministry added.
Medical sources said Nakhla had been clinically dead since he was injured, and had been kept on life support.
The incident near the Jelazun Palestinian refugee camp, located seven kilometers north of Ramallah, on March 23 saw Israeli forces shoot dead another Palestinian teenager and seriously wound three more Palestinians, including Nakhla.
The Palestinian ministry at the time identified the slain Palestinian as 17-year-old Muhammad Mahmoud Ibrahim al-Hattab, saying he had been shot in the chest and shoulder.
Sources confirmed that a Palestinian teenage boy had been killed and three others were critically injured after Israeli military forces opened fire on a passenger car in the area.
The Israeli military, however, later alleged in a statement that the teenagers had been throwing petrol bombs at a nearby settlement.
The developments come amid ongoing tensions between Israeli soldiers and Palestinian protesters in the occupied territories.
The occupied Palestinian territories have witnessed tensions ever since Israel imposed restrictions on the entry of Palestinian worshipers into the al-Aqsa Mosque compound in East Jerusalem al-Quds in August 2015.
Full report at:
http://www.presstv.ir/Detail/2017/04/10/517539/Palestine-Israel-Jassem-Jelazun-Palestinian-Mohammed-Nakhla--Jelazun-camp
--------
Turkish referendum splits Bulgaria's Turks
10 April 2017
Turkey's upcoming referendum on expanding the president's powers has sparked deep rifts among ethnic Turks in neighbouring Bulgaria, who find themselves caught in a tug-of-war between Sofia and Ankara.
Many Bulgarians hold dual nationality and have relatives in both countries.
But fears are mounting that a spiralling diplomatic feud, coupled with the rise of anti-immigration nationalists in Bulgaria, could disrupt this peaceful co-existence.
Bulgarian Muslim Shukri Mustafa Hussein says he is worried that the spat could leave him facing an impossible conundrum.
"If the two countries are at odds, then I won't be able to go there nor come back here," said the 72-year-old from a small village in the southern province of Kardzhali, where most ethnic Turks are based.
Tensions first flared when Sofia accused Ankara of "meddling" in last month's election by openly backing a new Turkish minority party, Dost, which recently broke away from Bulgaria's long-established Movement for Rights and Freedoms (MRF).
Although Dost failed to win any parliamentary seats in the March ballot, it gathered an impressive 22 percent to MRF's 43 percent in Kardzhali province.
The Turkish vote on April 16, seeking to grant sweeping powers to President Recep Tayyip Erdogan, has become a key point of contention.
While Dost supports Erdogan's ambitions, the MRF is urging people to vote 'no'.
MRF's long-time leader Ahmed Dogan has lashed out at Erdogan for trying to turn Turkey into "a sultanate".
"Erdogan wants to obtain unlimited power. The referendum is a threat to democracy," the MRF said in a statement on Friday.
Pressure before referendum
"The Turkish referendum and the recent arrival of Bulgarian nationalists have exacerbated the pressure on the Turkish minority" and played into Erdogan's camp, political expert Antonina Jeliazkova told AFP.
A new study conducted among 1,200 Bulgarian Muslims showed that Erdogan's popularity is high and that Turkey is competing in popularity with Germany, also home to a large Bulgarian Muslim community.
According to study author Evgenia Ivanova, the trend goes hand in hand with "Muslims' fear" of the rise of the far-right United Patriots (UP), which came third in the March elections.
The nationalist grouping jumped on Bulgaria's spat with Ankara to boost its support, railing against Erdogan, Muslims and refugees in its election campaign.
Last month, UP supporters blocked key crossing points on the Turkish border to prevent ethnic Turks from returning to Bulgaria to vote in the election.
All this has added to a growing sense of unease and mistrust in Kardzhali's Muslim-populated villages and towns.
Most locals there refuse to speak to journalists.
"People are afraid... We've never been more worried about the rise to power of nationalists in Bulgaria," said the mayor of Dzhebel town, Bahri Recep Omer.
According to the mayor, the anti-Muslim rhetoric is stirring bitter memories of oppression under Bulgaria's communist regime, which forced Turks to adopt Slavic names as part of forced assimilation policies.
After the fall of the Iron Curtain, they got their Arab names back and many received Bulgarian and Turkish citizenship.
For the mayor, who recently switched from MRF to Dost, close ties with Ankara are essential both from a cultural and economic point of view.
"The Turks have suffered a lot during the waves of assimilation and expulsions," he told AFP.
Full report at:
"We have biological links with Turkey but they should not be confused with support for Erdogan," he told AFP.
--------
Pakistan
Amjad Sabri's family plans to leave Pakistan due to 'security fears'
HUFSA CHAUDHRY
Apr 11, 2017
The family of slain qawwal Amjad Sabri is trying to leave the country due to reservations over security.
Azmat Sabri, Amjad's brother, while speaking to Dawn.com, confirmed that the family is "trying to leave Pakistan."
"We feel we are being watched," he said, explaining why his family is relocating. He clarified that the family has received no threats to their life.
"We are trying to settle in London, we have a brother there," he said, adding that the family "would be ready to leave tomorrow if we got the visas."
Speaking to ARY News earlier, Azmat had said: "We feel unsafe here now, even though we have lived here all our lives and love Liaquatabad."
Celebrated qawwal Amjad Sabri, 40, and an associate were travelling in a car in Liaquatabad 10 area, when unidentified gunmen fired at their vehicle, critically injuring him on June 23 last year. The two were shifted to Abbasi Shaheed hospital immediately, where Sabri succumbed to his injuries.
Qari Saifullah Mehsud, spokesperson for the Tehreek-i-Taliban Pakistan Hakimullah Mehsud group, had accepted responsibility for the attack.
https://www.dawn.com/news/1326100/amjad-sabris-family-plans-to-leave-pakistan-due-to-security-fears
--------
Fear looms over Karachi's Afghan Camp as harassment complaints persist
SAHER BALOCH
Apr 11, 2017
KARACHI: Haji Nadir, an Uzbek-Afghan carpet weaver from Afghan Camp in Gadap Town, has switched professions recently.
He had moved his carpet workshop from Northern Bypass to Al-Asif Square, hoping for safety in the heavy Afghan presence, but custom dwindled as the crackdown on refugees increased and he was forced to shut it down.
The carpet weaver now sells vegetables at the New Sabzi Mandi and plans to leave for Kunduz by the end of Ramazan.
Sitting inside a general store in a congested lane of the Afghan Camp, Haji Nadir says he is leaving to "avoid being disrespected in any way".
Despite an extension in the deadline for repatriation and a new policy that requires authorities to document unregistered refugees rather than imprison them, those living at the camp reportedly continue to face harassment at the hands of law enforcement agencies that appear to have missed the memo.
Most of these reports come from West and Central districts, says Sikander Mehmood, an advocate and field manager working with an advocacy group, SHARP.
In the aftermath of an earlier push for repatriation, as many as 150 families of Afghan refugees moved back to Afghanistan over the past five months, Ismat Khan Durrani, a transporter and member of the Afghan community, says. The tales of harassment run parallel.
Mehmood says his organisation has helped release nearly 300 Afghan refugees from prison over the past two months. Of these, he says, 200 were tried under the Foreigner's Act 1946, but most cases were disposed of for want of evidence.
SHARP is an advocacy group and legal aid implementing partner of the United Nations High Commissioner for Refugees (UNHCR). It has legal aid groups across Pakistan, except for Balochistan where another group helps with legal aid for Afghans.
"We appear in court on behalf of the Afghans and present their case. The charge of undocumented Afghans is proven false if they are registered with the UNHCR," adds Mehmood.
Suspicion and arrests
The harassment which the shopkeepers of Afghan descent speak of is obvious at the Al-Asif Square bazaar, where most of the refugees from northern Afghanistan work.
According to Haji Nadir, who now spends most of his time teaching carpet weaving to anyone who wants to learn, police constables mostly arrest shopkeepers over suspicion and leave them "after demanding Rs10,000 to Rs15,000".
According to Ismat Khan, the demand increases depending on the "type of case" a person has been arrested for.
"So, if someone is suspected of killing a police officer or aiding the Taliban they are charged extra thousands [of rupees] to shut the case off."
Mehmood adds that not many people, including some within the authorities, are aware of the new policy which was introduced in February.
"The policy says that undocumented refugees will be documented. Police arrest them on the pretext that the orders of their repatriation are under way and so the illegal ones need to be arrested as they hold a criminal record as well.
"We don't represent the ones with a proven criminal record. But do help those who are registered, hold valid documents and still face harassment," he adds.
Going home
There are up to 90,000 registered Afghans in Karachi, according to Mehmood. "The number of Afghan refugees in Pakistan is approximately 1.3 million, as 400,000 Afghans were repatriated in the last one year," he adds. A stipend fee of $150 per head was initially offered by the UNHCR to each repatriating family.
It was further increased to $200 and then $400 in the last year. Since the Pak-Afghan border opened in April, however, the amount is once again $200 per head, Mehmood says.
Ismat Khan adds that between 50 and 60 refugees leave Pakistan every other day for Kunduz, Herat, Kabul and Kandahar. Also, despite the repatriation and a decrease in the number of Afghan refugees, there are an equal number of undocumented Afghans (approximately 1.3 million) who the government wants to document based on the new policy.
Asked about the increasing cases of harassment in this area, Malir SSP Rao Anwar claims having no knowledge of anyone being harassed.
"No one has ever come to me with a complaint, so I don't know who is being harassed and where."
Full report at:
https://www.dawn.com/news/1326150/fear-looms-over-karachis-afghan-camp-as-harassment-complaints-persist
--------
Pakistan Air Force can tackle any external and internal security threat: PM
April 11, 2017
Lauding the capability of the Pakistan Air Force and its contribution in the war on terror, Prime Minister Nawaz Sharif said that Pakistani forces can counter any threat posed by externally or internally.
While addressing passing out parade at Risaplur Air base, the PM said PAF Risalpur Academy is providing state-of-the-art training to its cadets.
"This is not an ordinary graduation because these cadets now have the responsibility of Pakistan's security and stability," he added.
The premier further said all cadets must use their all energies to secure the country, as the whole nation is standing behind them.
"Pakistani forces have the capability to tackle any internal and external threat and services of PAF in war against terrorism along with military are highly commendable," he said.
On issue of national security the premier said the concept has evolved and idea of conventional war is becoming obsolete.
"Now the war is not only being fought on borders, it is also fought on the domestic front," he said.
Full report at:
http://nation.com.pk/national/11-Apr-2017/pakistan-air-force-can-tackle-any-external-and-internal-security-threat-pm
--------
Senators denounce past military interventions
IFTIKHAR A. KHAN
Apr 11, 2017
ISLAMABAD: As the Senate on Monday marked the passage of the 1973 Constitution, members on both sides of the aisle appeared united in their denunciation of past military interventions, regretting that those who abrogated the "green book" had never been truly punished.
The issue of enforced disappearances and their repercussions was also forcefully raised by members during the discussion to mark Constitution Day.
Examine: The sun has set on Pakistan's military courts — here's why it should never rise again
Taking part in the debate, Pakistan Peoples Party (PPP) Senator Farhatullah Babar said the days of abrogating the Constitution and imposing provisional constitution orders (PCOs) and legal framework orders (LFOs) might be over, but the day when all state institutions willingly accepted the supremacy of the Constitution was still some way down the road.
"Had all state institutions willingly submitted to the Constitution, it would not have been possible for a dictator being tried for treason to escape the law by just barging into a hospital in Rawalpindi, leaving the courts and parliament bewildered," he said, in reference to retired General Pervez Musharraf. He was of the view that the document should be a compulsory subject in academic institutions, particularly in military academies, to inculcate respect for the Constitution.
Farhatullah Babar demands answers over 'disappearance' of Zardari aides
Historically, the mindset of the establishment knew little respect for the Constitution, he said, recalling the Quaid-i-Azam's June 1948 address to officers in Quetta.
The Quaid, he said, had deplored that senior military officers did not fully appreciate the importance of the Constitution and the oath they had taken. The Quaid had then read out the oath to them to emphasise the importance of the words in it, he said.
"There is a mindset that believes that a uniformed person is a greater patriot than a civilian and an elected prime minister is a 'security risk'. Such a mindset does not readily come to terms with the Constitution framed by elected representatives of the people," he said.
On a point of order, Mr Babar, who is also spokesperson for former president Asif Ali Zardari, called attention to the recent disappearances of two Zardari aides and warned of serious consequences of enforced disappearances of people for purely political purposes.
Until recently people were kidnapped and vanished without a trace for their alleged involvement in subversive and anti-state activities, but now a new dimension has been added — making people disappear to settle political scores, he said.
The Constitution dictated that a suspect had to be produced in court within 24 hours, but those who had kidnapped Ishfaq Leghari and Ghulam Qadir Marri had no respect for the Constitution or rule of law and thought themselves above the law, he said.
"If the two are accused of any crime, they should be charged and produced before a court and tried in accordance with the law," he said, demanding that the minister concerned come to the house and make a statement.
Senate Chairman Raza Rabbani asked the senator to raise the issue in the human rights committee, of which Mr Babar is a member.
Pakhtunkhwa Milli Awami Party Senator Usman Kakar regretted that Pakistan had become a security state instead of a welfare state. He lamented that those who violated the Constitution always got off scot-free and were supported by different political parties.
Sardar Azam Khan Moosakhel was the lone senator to have expressd his reservations over the Constitution, saying that regional languages should also be given status of national languages.
Full report at:
https://www.dawn.com/news/1326141/senators-denounce-past-military-interventions
--------
Two militants hanged in Sahiwal Jail
April 11, 2017
Police authorities confirmed that two militants were hanged in Sahiwal jail today, reported Waqt News.
According to reports both militants were involved in several terrorist activities.
Both had been convicted by military courts and had been kept in Sahiwal jail for a long time.
Their dead bodies were handed over to their relatives.
On March 7, execution of terrorists already convicted by the military courts was resumed with five hardcore terrorists sent to the gallows at District Jail Kohat on Wednesday.
According to ISPR, the executed terrorists include Shaukat Ali, Imdad Ullah, Sabir Shah, Khandan and Anwar Ali.
The convicted terrorists were involved in attacks on Pakistan Army and other law enforcement personnel.
All the five terrorists had confessed to their crimes before the military courts.
Execution of these terrorists comes at a time when the government is on the verge of extending the term of the military courts, which came to end earlier this year after lapse of the Sunset Clause.
These courts were established under the 21st constitutional amendment after the 2014 terrorist attack on the Army Public School (APS), Peshawar.
Military's top brass on January 11 lauded the role of military courts for greatly helping in bringing the heightened wave of terrorism down across the country.
According to the ISPR, 274 cases were referred to the military courts.
Full report at:
http://nation.com.pk/national/11-Apr-2017/two-militants-hanged-in-sahiwal-jail
--------
North America
Muslim Men Ordered To Stop Using Public URINALS By Preacher Who Claims They Are 'Exposing' Their Willies
By Maryse Godden
10th April 2017
AN Islamic preacher in Sydney has spoken out against Muslim men who use public urinals because they are "exposing their private parts to others".
Preacher Abdulghani Albaf condemned men for "standing up like animals" and "urinating in front of each other" during a 48-minute long sermon about "death and the interspace".
In the clip, he said: "There are two mentioning, one that mentions when they would urinate that they would do so without, in public, without concealing, hiding themselves or hiding their private parts.
"How often do we see this today? Every public, every male public toilet now has urinals where they just stand up like animals and urinate in front of one another.
"What's worse is we even have Muslims using these urinals."
The religious sermon was reportedly delivered at a male-only prayer room at the Bukhari House Islamic Bookstore at Auburn, Australia.
The book store had been linked to teen gunman Farhad Jabar, who shot and killed unarmed police civilian finance worker Curtis Cheng, outside the New South Wales Police Force headquarters in Parramatta in 2015.
The 15-year-old killer was believed to have spent the final days of Ramadan under the influence of its leaders at the Islamic shop, ABC news reported.
In 2014, the store has also been accused of selling books encouraging illegal and barbaric practices such as female genital mutation (FGM), Daily Telegraph Australia reported.
According to Bukhari House Islamic Bookstore's website, it claims to be the "largest Islamic Bookstore in Australia".
Its website states: "It has grown to not only provide books, but also Islamic Clothing, Islamic Canvases and artwork, dates, Zam Zam water, perfume, Miswaks, anything that can help Muslims in the 21st century live a life closer and truer to the Sunnah of Prophet Muhammad."
It added it has a "decent-sized" prayer room at the "back of the premises, where lectures are given and provide a halal alternative for youth to congregate".
https://www.thesun.co.uk/news/3301544/muslim-men-ordered-stop-using-public-urinals-preacher-exposing/
--------
Toronto's Peel District School Board in Muslim prayer row
Apr 11, 2017
A school board in Ontario has become a flashpoint in the religious accommodation debate over Muslim prayers in school. The board says the matter is settled but detractors say the fight far from over.
Pages torn from a Koran. Cries of "that's a hate group" and "there is no peace in Islam".
In March, a public meeting of one of Canada's largest public school boards descended into chaos over a policy of religious accommodation that has been in place for more than 15 years.
The Peel District School Board says the debate over whether Muslim students can hold voluntary Friday prayer sessions on school grounds is settled and has been for a long time.
They accuse some opponents of whipping up tensions with "deliberate misinformation" and say they are "appalled by the anti-Muslim rhetoric and prejudice we have seen on social media, read in emails, and heard first-hand at our board meetings".
Opponents of the policy say they are not done protesting against a practice they decry as "unequal and unfair".
No right to pray for Muslim pupil in Germany
UK school school facing 'outside prayers' legal row
The controversy began last September when the school board, which serves a diverse population in the Greater Toronto Area, decided to replace an old policy to make things easier for school administrative staff.
They decided to scrap student-written sermons for Friday prayers, which had to be reviewed by school staff, and replace them with six pre-written sermons.
Muslim students and parents were unhappy with the change, complaining it was too restrictive. The board reverted to its old policy in January.
But that debate brought attention to the broader religious accommodation policy that allows for the prayers in the first place.
Under the Ontario Human Rights Code, all school boards in the province are required to reasonably accommodate the faith needs of their students.
Now some parents and other groups are saying that allowing Muslim students to pray on school grounds is taking accommodation a step too far.
It is a debate that has flared up in Canada before, though it is difficult to pin down how many schools across the province have on-campus prayers.
Most of Peel District's 38 secondary schools offer prayers for Muslim students. Many have for years.
Mike Bayer is one of the parents behind the newly formed group Religion Out of Public Schools (Roops).
The group cites a number of concerns with allowing Muslim students to hold prayer sessions in the district's schools, arguing that it allows for the visible segregation of students and creates a space where there is possible unsolicited exposure to religion.
"The separation of church and state is fundamental," he says.
Bayer and other opponents also say they are concerned with gender segregation during the prayer sessions, a key point of contention when a Toronto school made headlines for its Friday prayers in 2011.
The school board says that while gender segregation during the Friday prayers is not condoned, it is sometimes preferred by students. When students are separated by sex, they are encouraged to sit to the left and right of the prayer room instead of having the girls praying at the back of the room, although that practice continues in some schools.
The debate boiled over last month, despite the board shelling out for extra security at recent meetings.
Roops wanted to present a petition to the board on 22 March calling for an immediate end to all religious congregation and faith clubs in the Peel District. The petition has received over 6,200 signatures, a number from other parts of Canada. Several citizens opposed to the Friday prayers were in attendance, and the meeting grew heated.
Christina Dixon, who at the public meeting on a separate issue, recalls "there was a lot of tension in the room" that she did not understand at the time.
"I could tell there were people in the room who were upset and angry and volatile," she says.
One man began tearing pages from the Koran and throwing them on the floor.
She eventually stood up to confront the people she describes as "violent, bigoted voices" - a shouting match captured in a video by Syed Imam, a former student in the district who was at the meeting to show his support for Friday prayers.
Bayer calls the events that evening "unfortunate".
"There were some emotional people that started screaming and shouting," he says.
Security eventually cleared the room. The pages of the Koran were collected by members of the board, and the book was kept in a safe place until it could be transferred to a local imam for disposal.
It is unclear how much opposition to the accommodation comes from parents and how much from groups like Rise Canada, an anti-Islam organisation. Some politicians have distanced themselves from the group over its views.
Rise Canada adviser Ron Banerjee says they were involved with connecting concerned groups opposed to the religious accommodation policy, and that there is broad community support to have the policy scrapped.
He says "we neither support nor condemn" the actions on 22 March and says he does not know if any of the participants were supporters of his group.
"Often when people go to these events they go as individuals," he says.
Banerjee was involved in a similar unsuccessful campaign against Friday prayers in a Toronto school in 2011.
Meanwhile, parent Bayer says the district would be complying with the provincial rights code by simply allowing students to leave school to attend local mosques.
In a statement, Ontario Human Rights Commission's Chief Commissioner Renu Mandhane said that "the most appropriate accommodation will be decided on a case-by-case basis", noting that allowing a student to "participate fully in educational services" is the key consideration.
Imam, now in university, says that of the roughly 250 Muslim students in his high school no more than 15 attended Friday prayers, which lasted about 20 minutes.
He says it was a chance to "get away from the academic dimension of school and take a little breather, meditate together, gives our thanks and appreciation to God".
The religious accommodation would also allow students of other faiths to leave class to pray, though Imam notes that Islam has a Friday congregational prayer duty that falls during school time.
Full report at:
http://www.bbc.com/news/world-us-canada-39508319
--------
Europe
Over 200 people from Germany fighting IS
Apr 11, 2017
BERLIN - More than 200 people have travelled from Germany to fight with Kurdish militias against the Islamic State group in Syria and Iraq, the interior ministry reported Monday.
Sixty-nine of the 204 fighters are German nationals, the ministry added in a statement on the issue which is particularly delicate for German-Turkish relations.
The official data did not include fighters for the peshmerga, the armed forces of Iraq's autonomous Kurdish region.
Among the volunteers who have travelled from Germany since 2013, 102 have returned including 43 German citizens. Three have been killed including one fighter in a Turkish air strike on a Syrian village last November.
The ministry said the exact circumstances of the raid were unclear: "There was no occasion to discuss his death with the Turkish government."
The information was released following a formal query by an MP from the far-left opposition party Die Linke. The MP, Ulla Jelpke, criticised the findings, calling it "scandalous" that Berlin had failed to investigate the death in the Turkish raid.
The German government warns against travel to the areas of heavy fighting in Iraq and Syria.
But it does not actively dissuade the fighters with the Kurdish forces or consider them to be a security risk upon their return "as opposed to those who return from areas under the control of the Islamists in Syria/Iraq", the ministry said.
Hundreds of foreign fighters have fought alongside the Kurds in Syria, of whom at least 25 have been killed, the Syrian Observatory for Human Rights monitor says.
The United States is arming and training the Syrian Democratic Forces (SDF), but questions remain over how much support Washington should give the Kurdish component of the alliance given concerns from Turkey, a NATO partner which views the Kurdish fighters as "terrorists".
Turkey appears to be sidelined as the SDF including Kurdish fighters are laying the groundwork for an assault on the heart of the militants' so-called caliphate.
http://nation.com.pk/international/11-Apr-2017/over-200-people-from-germany-fighting-is
--------
Trump, May and Merkel aim to convince Russia to end Assad support
11 April 2017
US President Donald Trump spoke in separate phone calls on Monday with British Prime Minister Theresa May and German Chancellor Angela Merkel about the US air strike in Syria last week, the White House said in a statement.
May and Merkel expressed support for the US action and agreed with Trump "on the importance of holding Syrian President Bashar al-Assad accountable" for an alleged sarin gas attack that killed scores of civilians, the statement said.
A "window of opportunity" exists to convince Moscow to end its support for Assad, May Trump said in the phone call.
"The prime minister and the president agreed that a window of opportunity now exists in which to persuade Russia that its alliance with Assad is no longer in its strategic interest," a spokeswoman for May's Downing Street office said.
The phone call between the two leaders came after last week's suspected chemical attack on a rebel-held Syrian town that killed at least 87 civilians.
Washington retaliated with an air strike on a Syrian air base, the first time the US has directly intervened against the Assad regime which it has blamed for the attack on civilians.
Britain said it "fully supported" the US strikes and both countries have put pressure on Russia to stop backing the Syrian regime, with British Foreign Minister Boris Johnson cancelling a visit to Moscow scheduled for Monday.
Johnson said his decision came after developments in Syria "changed the situation fundamentally" and that his priority would instead be the meeting of G7 foreign ministers on Monday.
The Italy summit of the seven major advanced economies was expected to be dominated by Syria, ahead of US Secretary of State Rex Tillerson travelling to Moscow on Tuesday for talks with his Russian counterpart Sergei Lavrov.
In their phone call on the eve of Tillerson's visit, Trump and May said it "provides an opportunity to make progress towards a solution which will deliver a lasting political settlement".
The Syrian regime has denied it was behind the April 4 attack in the town of Khan Sheikhoun.
Full report at:
https://english.alarabiya.net/en/News/middle-east/2017/04/11/US-UK-Germany-aim-to-convince-Russia-to-end-Assad-support-.html
--------
URL: https://www.newageislam.com/islamic-world-news/triple-talaq-polygamy-sanctioned-islam/d/110727
New Age Islam, Islam Online, Islamic Website, African Muslim News, Arab World News, South Asia News, Indian Muslim News, World Muslim News, Women in Islam, Islamic Feminism, Arab Women, Women In Arab, Islamophobia in America, Muslim Women in West, Islam Women and Feminism