New Age Islam News Bureau
22 Aug 2017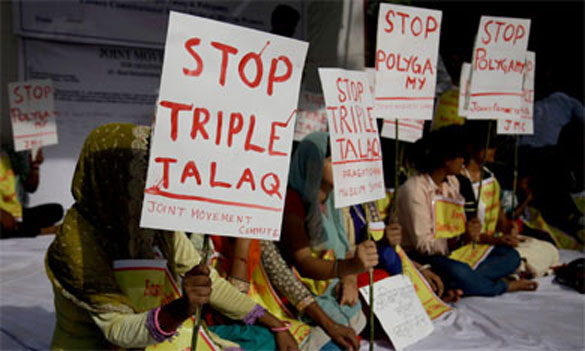 Activists hold placards during a protest against 'triple talaq' in New Delhi. Photograph: Altaf Qadri/AP
-----
• Triple Talaq: India Court Bans Islamic Instant Divorce
• Had It Not Been For Muslims, We Would Have Died: Saints Injured In Utkal Express Derailment
• Hafiz Saeed's Political Outfit Milli Muslim League Announces Creation of Islamic State in Pakistan
• Donald Trump: We Can No Longer Be Silent About Pakistan's Safe Havens
• Taliban Vows Relentless Fight as US Unveils New Strategy for Afghanistan
• Whistle-Blower: S. Arabia Plotting Coup against Qatari Emir
Compiled by New Age Islam News Bureau
For Details and More Headlines from All Regions, Please click, 'More'
India
• Triple Talaq: India Court Bans Islamic Instant Divorce
• Had It Not Been For Muslims, We Would Have Died: Saints Injured In Utkal Express Derailment
• 'Iran, Iraq Clerics Want Babri Dispute Fixed Amicably'
• Indian suicide bomber kills 'number' of PKK fighters in Syria: IS
• To fight terrorism by Pakistan, India should deepen ties with both US & Russia
• IS announces death of chief recruiter for India
• 8 years before NIA, Karnataka CID probed 'love jihad', found no specific instance
--------
Pakistan
• Hafiz Saeed's Political Outfit Milli Muslim League Announces Creation of Islamic State in Pakistan
• 'Change in India's Nuclear Doctrine Could Lead to Security Concerns for Pakistan'
• Christian teenager almost beaten to death in Pakistan 'for burning Quran'
• Pakistani soldiers' fight for freedom at Quaid's call
• Pakis­tan Bar Council slams 'move' to file reference against SC judge
• Army, not govt, restored Karachi's peace: Sheikh Rashid
• Court can order army to arrest Nawaz and sons: PPP
• Only five percent success achieved against terror: Fazl
--------
North America
• Donald Trump: We Can No Longer Be Silent About Pakistan's Safe Havens
• Taliban Dismiss Donald Trump's Afghanistan Strategy As 'Nothing New'
• Toronto must take anti-Muslim attacks more seriously
• The real threat to America comes from Americans
• Anti-Israel Leaders Hosted at State Dept. Seeking to Drive Wedge in U.S.-Israel Alliance
• Religious groups sound alarms as hate crimes appear to be on the rise
--------
South Asia
• Taliban Vows Relentless Fight as US Unveils New Strategy for Afghanistan
• Drone Strike Targets ISIS Hideouts In Nangarhar, Leaving 4 Militants Dead
• Afghan insurgents gaining as Trump tolls out war plan
• Abdullah slams Gulbuddin Hekmayar for his remarks against Ahmad Shah Massoud
• Rising tensions among prominent Afghan political leaders amid deteriorating security
--------
Arab World
• Whistle-Blower: S. Arabia Plotting Coup against Qatari Emir
• Iraqi Army Drives ISIL out of More Key Positions in Tal Afar Region
• Iraqi forces close in on ISIS-held town west of Mosul
• Syrian Army Dispatches More Troops to Badiyeh to Partake in Deir Ezzur Battle
• Lebanese Army Seizes ISIL's Arms Depot, Captures More Heights at Border with Syria
• Syrian Army Retaliates Strongly against Terrorists' Attack on Damascus Int'l Fair
• Saudi Grand Mufti: Doha blocking pilgrim flights 'wrong and dangerous'
• Lebanese-Australian operation foils terror attack on Abu Dhabi bound plane
• Syrian opposition council seeks unified delegation going into Geneva peace talks
• Militants kill Egyptian soldier, policeman in Sinai Peninsula
--------
Europe
• Polish National Security Bureau Chief Ties Terror to Radical Islam
• Britain Takes Steps to Tackle the Scourge of Extremism
• Schizophrenic man 'stabbed train passenger after threat to kill all Muslims'
• Daeshis gathering in Syria's Dayr al-Zawr for last battle: Russia
• Muslim Council of Britain takes aim at The Sun
• Moroccan youths are easy prey for jihadist recruiters
--------
Southeast Asia
• Ethnomusicologist Returns to Indonesia for New Research on Islamic Music
• Jokowi Must Ensure Religious Tolerance Holds At All Levels
• Amid PAS push for Memali RCI, Kit Siang says Hadi should testify
• Hadi's twisted agenda for Malaysia
• RM66b in frozen assets, Muslims advised to prepare 'wasiat' early
--------
Mideast
• Yemeni Army Launches Missile Attacks on 3 Regions in S. Arabia
• Erdogan tells Muslim states to stand together
• Hezbollah using combat drones against Daesh terrorists in Syria
• Joint Turkish-Iranian operation 'always on the agenda': Erdogan
• Abbas threatens to slowly cut funding to Gaza Strip over row with Hamas
• Israel extends detention of Palestinian cleric over al-Aqsa Mosque protests
--------
Africa
• Kenya to Flush Militants Out Of Area near Somali Border
• 12 dead as boat overturns in Nigeria
• Uganda: Muslim Clerics Acquitted of Murdering Sheikhs
• North Africa: Barcelona Investigators Focusing Increasingly on North African Links
Compiled by New Age Islam News Bureau
URL: https://www.newageislam.com/islamic-world-news/triple-talaq-india-court-bans/d/112289
--------
Triple Talaq: India Court Bans Islamic Instant Divorce
India's top court has ruled the practice of instant divorce in Islam unconstitutional, marking a major victory for women's rights activists.
In a 3-2 majority verdict, the court called the practice "un-Islamic".
India is one of a handful of countries where a Muslim man can divorce his wife in minutes by saying the word talaq (divorce) three times.
The landmark court decision came in response to petitions challenging the so-called "triple talaq" custom.
India court reviews instant divorce
Triple talaq: India's Muslim women fight against instant divorce
The cases were filed by five Muslim women who had been divorced in this way and two rights groups.
"Muslim women in India have suffered for the last 70 years. It's a historic day for us, but it doesn't end here. I cannot tell you how much Indian women have supported us, despite their religions," Zakia Soman, an activist from Bharatiya Muslim Mahila Andolan, one of the groups which contested the practice, told reporters.
What is instant divorce?
In recent years, there have been cases in which Muslim men in India have divorced their wives by issuing the so-called triple talaq by letter, telephone and, increasingly, by text message, WhatsApp and Skype. A number of these cases made their way to the courts as women contested the custom.
Yet triple talaq divorce has no mention in Sharia or the Koran, even though the practice has existed for decades.
Islamic scholars say the Koran clearly spells out how to issue a divorce - it has to be spread over three months, allowing a couple time for reflection and reconciliation.
Activists say most Islamic countries, including Pakistan and Bangladesh, have banned triple talaq, but the custom has continued in India, which does not have a uniform set of laws on marriage and divorce that apply to every citizen.
What did the court say?
Three of the judges called the controversial practice "un-Islamic, arbitrary and unconstitutional". One of the judges, Justice Kurien Joseph, said the practice was not an essential part of Islam and enjoyed no protection.
Chief Justice JS Khehar, in a differing opinion, said that personal law could not be touched by a constitutional court of law.
The opposing judgements also recommended that parliament legislate on the issue. However this is not binding and is up to parliament to take up.
'Strong message' - By Geeta Pandey, Editor, India women and social affairs
The judgement is a huge victory for Muslim women. For decades, they have had to live with the threat of instant divorce dangling over their heads like a sword.
Campaigners say over the years thousands of women, especially those from poor families, have been discarded by their husbands in this manner. Many have been rendered destitute, with nowhere to go, or have been forced to return to their parental homes or fend for themselves.
The top court has also sent a very strong message to Muslim clergy. India's Muslim personal law board had called the practice "reprehensible" but said that it was not an issue for the courts and government to interfere in. With this latest ruling, this will no longer be the case.
How are people reacting?
The judgement is being widely hailed as a major victory for Muslim women and women's rights.
The hashtags #TripleTalaq and #SupremeCourt began trending on Twitter India even as the verdict was being announced. The hashtag #Tripletalaq is also trending globally on Twitter.
http://www.bbc.com/news/world-asia-india-41008802
--------
Had it not been for Muslims, we would have died: Saints injured in Utkal Express derailment
Aug 19, 2017
MEERUT: "I remember my head bumping into the seat in front of me, throwing me at least two feet forward. I was in pain and could her screams from all directions. Honestly, if it hadn't been for Muslims in the area who rushed to the spot and pulled us out of the train's coach, we might not have survived," said Bhagwan Das Maharaj, a saint with a saffron cloth tied around his neck. He was travelling with six other ascetics who had boarded the Utkal Express from Morana in Madhya Pradesh and were going to Haridwar to take a holy dip in Ganga.
"They brought us water, khaats and arranged for a private doctor for us. We will never forget this gesture," he added. Three saints from the group were injured and were rushed to Lala Lajpat Rai Memorial (LLRM) Medical College in Meerut for treatment.
"We believe in God and we saw his power soon after the accident. There are times when people politicize Hindu-Muslim ties, but there has always been love between the two communities," said Morni Das, another saint.
Soon after 14 coaches of Haridwar-bound Kalinga Utkal Express derailed near Khatauli in Muzaffarnagar, government and private hospitals in Meerut were put on alert and emergency wards were set up for the accident victims. "There were many women and children in our coach. All of us were chit-chatting and suddenly our coach overturned. Initially, we didn't realize what had happened," said another saint Hakim Das.
Dr Raj Kumar Chaudhary, Meerut's chief medical officer, said, "As many as 23 people have been taken to different hospitals in Meerut and are being given treatment. Also, 26 government ambulances and 26 private ambulances were rushed to the accident site to take the victims to hospitals."
Till the time this report was filed, 23 people were admitted to different hospitals and many more were coming in. PL Sharma district hospital and LLRM Medical College also launched their helpline numbers: +919410609434 and 0121-2604977 respectively.
http://timesofindia.indiatimes.com/city/meerut/had-it-not-been-for-muslims-we-would-have-died-saints-injured-in-utkal-express-derailment/articleshow/60136745.cms?from=mdr
--------
Hafiz Saeed's Political Outfit Milli Muslim League Announces Creation of Islamic State in Pakistan
August 21, 2017
Washington: Milli Muslim League President Saifullah Khalid has announced plans for the creation of an Islamic State in Pakistan and clearly stated that Hafiz Saeed will play a major role in the party.
"We declare our [platform] to be for the change in the ideology of Pakistan,We plan to make Pakistan a real Islamic state. [Because of] a nefarious plan, the country has been put on the road to secularism and liberalism," Khalid said at a party launch in Islamabad recently, the Washington Times reports.
Declaring war on liberal elements in Pakistani society, MML leaders organized various public rallies in major cities on the day the country marked its 70th Independence Day.
Khalid also made it clear that Hafiz Saeed will also play a role in Pakistan politics and his designation by US as global terrorists would be no bar to a top job in the party.
Khalid said "What role he will play in the Milli Muslim League or in Pakistan's ongoing politics will be seen after Allah ensures his release. Once he is released, "we will meet him and ask him what role he would like to play. He is the leader of Pakistan."
This shows how such groups are securing a hold in civil society, a group accused of terrorism is fielding a new mainstream party with the explicit aim to make Pakistan a "real Islamic state."
Saeed has been accused of masterminding 2008 attacks on Mumbai that killed 166 people. The US government declared the group a terrorist organization in 2010 and offered $10 million for information leading to the arrest and conviction of Saeed, who heads JuD, which Washington says is a front for the Pakistan-based militant group Lashkar-e-Taiba (LeT).
The emergence of political outfit by Hafiz like terrorists clearly illustrates Pakistan's deeply ambivalent attitude about terrorism, the Washington Times quotes observers, as saying. Those suspected of terrorism or terrorist links roam freely throughout the country, address public gatherings and appear in television interviews, where they plead their innocence to the public.
http://zeenews.india.com/world/hafiz-saeeds-political-outfit-milli-muslim-league-announces-creation-of-islamic-state-in-pakistan-2034895.html
--------
Donald Trump: We can no longer be silent about Pakistan's safe havens
Aug 22, 2017
WASHINGTON: President Donald Trump warned Pakistan on Monday that Washington will no longer tolerate Pakistan offering "safe havens" to extremists.
"We can no longer be silent about Pakistan's safe havens for terrorist organizations," Trump declared, outlining a new US security strategy in South Asia.
"Pakistan has much to gain from partnering with our effort in Afghanistan. It has much to lose by continuing to harbor criminals and terrorists," Trump said in a prime-time televised address at a military base near Washington.
Going further, Trump suggested that military and other aid to Washington's nuclear-armed ally is at stake if it does not clamp down on extremism.
"We have been paying Pakistan billions and billions of dollars at the same time they are housing the very terrorists that we are fighting+ ," he said.
"That will have to change and that will change immediately," he said.
"It is time for Pakistan to dedicate to civilization and order and peace."
Read this story in Gujarati
More US troops in Afghanistan
Trump opened the door to an increase in US troops in Afghanistan as part of a retooled strategy for the region, overcoming his own doubts about fighting on in America's longest military conflict.
Trump said his new approach was aimed at preventing Afghanistan from becoming a safe haven for Islamist militants bent on attacking the United States.
Trump expanded the US military's authority for American armed forces to target militant and criminal networks. He said that US enemies in Afghanistan "need to know they have nowhere to hide - that no place is beyond the reach of American arms."
"Our troops will fight to win," he added, offering no timetable for how long US forces would need to remain in the country.
The speech came after a months-long review of US policy+ in which he frequently debated the future of US involvement in Afghanistan, where Taliban insurgents have been making territorial gains.
The Republican president overcame his own doubts about the war that began in October 2001 after the September 11 attacks on the United States. He said repeatedly on the campaign trail last year that the war was too costly in lives and money.
"My original instinct was to pull out," he said in his speech, but added he was convinced by his national security advisers to strengthen the US ability to prevent the Taliban from ousting the US-backed government in Kabul.
Trump did not say how many US troops would be sent, but defense secretary James Mattis has plans on the table to send about 4,000 more to add to the 8,400 deployed in Afghanistan currently.
http://timesofindia.indiatimes.com/world/us/donald-trump-we-can-no-longer-be-silent-about-pakistans-safe-havens/articleshow/60167952.cms
--------
Taliban vows relentless fight as US unveils new strategy for Afghanistan
Aug 22 2017
The Taliban group in Afghanistan reacted at the announcement of the new strategy of the United States by President Donald Trump, vowing relentless fight.
Claiming that the country has been occupied by the foreign forces, the group in a statement said Washington was supposed to think about the withdrawal of its forces from Afghanistan rather than opting to continue the war.
The statement further added that the group will continue to its relentless fight as long as the foreign forces have a presence in Afghanistan and the American leaders prefer the strategy of war.
President Trump last night unveiled the new strategy of the United States for Afghanistan and South Asia.
He said his original instinct was to pull out however he said after detailed study of the situation he arrived at three fundamental conclusions.
"First, our nation must seek an honorable and enduring outcome worthy of the tremendous sacrifices that have been made, especially the sacrifices of lives. The men and women who serve our nation in combat deserve a plan for victory. They deserve the tools they need, and the trust they have earned, to fight and to win," he said.
President Trump further added "Second, the consequences of a rapid exit are both predictable and unacceptable. 9/11, the worst terrorist attack in our history, was planned and directed from Afghanistan because that country was ruled by a government that gave comfort and shelter to terrorists. A hasty withdrawal would create a vacuum that terrorists, including ISIS and al Qaeda, would instantly fill, just as happened before September 11th."
He said "Third and finally, I concluded that the security threats we face in Afghanistan and the broader region are immense. Today, 20 U.S.-designated foreign terrorist organizations are active in Afghanistan and Pakistan — the highest concentration in any region anywhere in the world."
http://www.khaama.com/taliban-vows-relentless-fight-as-us-unveils-new-strategy-for-afghanistan-03350
--------
Whistle-Blower: S. Arabia Plotting Coup against Qatari Emir
Aug 21, 2017
The Arabic-language Al-Ahd newspaper quoted Mujtahid as saying that Saudi Crown Prince Mohammed bin Salman has met and talked with one of the Saudi figures of Al Thani family on July 24 to discuss ways for overthrowing the Qatari Emir.
He added that the identity of the Qatari figure wasn't revealed before the Saudi king entrusted Sheikh Abdollah bin Ali Al Thani with the responsibility of affairs related to the Qatari Hajj pilgrims last Wednesday.
A leading Arab daily disclosed on Sunday that Riyadh plans to establish an operations room for the Qatari opposition groups after relations between the two Arab states darkened in the past few months.
According to Rai al-Youm newspaper, Sheikh Abdollah bin Ali Al Thani said that Saudi King Salman has allowed him to form a special operations room aimed at what he called as "giving service to the Qatari people".
He wrote on his twitter page that he had met with King Salman in Tangier in Morocco.
Al Thani said that the operations room will study and meet the demands of the Qatari Hajj pilgrims and citizens in Saudi Arabia and other world states and the Saudi employees will register their names and phone numbers.
According to the newspaper, observers believe that the operations room is most possibly created to pave the ground for the activities of Qatari opposition figures like what was formed for their Syrian counterparts in Jordan and Istanbul.
"Saudi Arabia's approach towards Sheikh Abdollah bin Ali and other Qatari opposition figures who join the operations room will be like a government in exile," they added.
Bahrain, Saudi Arabia, the United Arab Emirates and Egypt cut off diplomatic ties with Qatar early June, and suspended air and sea communication one week after the Arab Islamic American Summit in Riyadh, accusing Doha of supporting terrorist organizations and destabilizing the situation in the Middle East.
Qatar rejected claims by a Saudi-led bloc of countries that it "finances terrorism" and intervenes in their internal affairs.
After more than two weeks, on June 22, the Saudi-led bloc gave Qatar a 10 days to comply with 13 demands, which included shutting down the Al-Jazeera Media Network, closing a Turkish military base and scaling down ties with Iran.
Through Kuwait, which has been acting as intermediary, Qatar officially responded to the new deadline, as Doha stressed that the demands by Saudi Arabia and its allies were impossible to meet.
Foreign Ministers from the bloc of countries boycotting Qatar released a statement, saying Doha's rejection of the demands "proved" its link with terrorism. Top diplomats of the boycotting countries also added that the list of the collective demands was now void and they pledged further political, economic, and legal steps against Qatar.
Qatar had announced that Doha would not meet any of the 13 demands made by Saudi Arabia and its allies, offering instead "a proper condition for a dialogue" to resolve the [Persian] Gulf crisis, accused Saudi Arabia and its regional allies of "demanding that we must surrender our sovereignty as the price for ending the siege".
But Riyadh reiterated that its demands to Qatar to end the stand-off in the [Persian] Gulf were "non-negotiable".
Qatar is supported by Turkey and Iran as Ankara and Tehran have stepped in to provide fresh produce, poultry and dairy products to Doha, while Russia stressed that Moscow would do "everything possible" to help resolve the crisis. The US, UK and other Western countries have also dispatched senior envoys to the region to press both sides to resolve the dispute.
The split among the Arab states erupted after US President Donald Trump visited Riyadh where he accused Iran of "destabilizing interventions" in Arab lands.
http://en.farsnews.com/newstext.aspx?nn=13960530000111
--------
India
'Iran, Iraq clerics want Babri dispute fixed amicably'
Aug 22, 2017
LUCKNOW: UP Shia Central Waqf Board head, Waseeem Rizvi, claimed on Monday that he had been advised by Iranian and Iraqi Shia clerics to find a solution for the Ayodhya dispute through "legal process" and "friendly negotiations".
"I had mailed my questions to Iran's Ayatullah Makarem Shirazi and Syed Ali Fatemy in Iraq stating that a Shia masjid had been constructed after demolishing a temple revered by Hindus as birthplace of their deity. Since then, there has been acrimony between Hindus and Muslims, putting the latter in jeopardy in a country with 80% Hindus," said Rizvi. He claimed while Ayatullah Shirazi said any action that led to "conflict and contention" was not allowed in Islam and suggested to "act through legal process or friendly negotiations", Fatemy advised he could "try and build another mosque at another location".
The waqf board had recently submitted an affidavit in the SC pleading to make them a party in the Ayodhya dispute, stating that the Babri Masjid was built by Mir Baqi, a Shia, in 1528-29. It had also proposed shifting the masjid to a different location. At present, Muslim side is represented by Sunni Waqf Board.
http://timesofindia.indiatimes.com/india/iran-iraq-clerics-want-babri-dispute-fixed-amicably/articleshow/60166731.cms
--------
Indian suicide bomber kills 'number' of PKK fighters in Syria: IS
August 22, 2017
The Islamic State on Monday claimed that an Indian suicide bomber killed a "number" of people in an attack in Syria's north west Raqqa, the de-facto capital of the terror group. In a statement in Arabic via its Amaq propaganda agency, the IS identified the Indian suicide bomber as Abu Yusuf al-Hindi, according to the SITE Intelligence Group, a US-based monitoring firm.
The terror group claimed killing and wounding a "number" of what it described as "Kurdistan Workers' Party (PKK) apostates" in the suicide attack involving the Indian bomber. However, there was no confirmation about the IS claim by the Indian agencies.
Abu Yusuf al-Hindi was the fugitive chief recruiter for the ISIS in the Indian subcontinent and was known as Mohammed Shafi Armar, who had many aliases like 'Chhote Maula' and 'Anjan Bhai'. The 30-year-old was named a 'Specially Designated Global Terrorist' by the US in June, becoming the first Indian leader of the dreaded terror outfit against whom America slammed sanctions. An Interpol Red Corner notice was also pending against him.
Al-Hindi, a native of Bhatkal in Karnataka, was a leader and head recruiter in India for the Foreign Terrorist Organisation (FTO) and Specially Designated Global Terrorist (SDGT) group, ISIS, according to the US State Department. While announcing sanctions, it had said that he cultivated a group of dozens of ISIS sympathisers who are involved in terrorist activities across India, such as plotting attacks, procuring weapons, and identifying locations for terrorist training camps.
He was said to have left for Pakistan along with his elder brother after crackdown on Indian Mujahideen cadres. There have been many reports of him having been dead in a drone attack or crackdown by the allied forces. However, every time intelligence agencies began giving credence to such reports, his name or voice cropped up in intercepts.
Full report at:
http://indianexpress.com/article/india/indian-suicide-bomber-kills-number-of-kurdish-fighters-in-syria-is-4807485/
--------
To fight terrorism by Pakistan, India should deepen ties with both US & Russia
Dipanjan Roy Chaudhury
Aug 22, 2017
NEW DELHI: The parliamentary standing committee on external affairs has recommended that India should "deepen and widen" its engagement with both the United States and Russia to fight terrorism abetted and exported by Pakistan.
"The international community need to realize that the use of terrorism as a state policy by a nuclear-armed Pakistan is not only India's problem, but also a grave global concern," the committee said in its latest report.
The committee, headed by Congress MP and former minister of state for external affairs, Shashi Tharoor, submitted its report on India-Pakistan relations to the Lok Sabha earlier this month.
The panel echoed the government's worries over China's role in building infrastructure in Pakistan-occupied Kashmir.
"It is quite inexplicable that a country so sensitive about sovereignty and territorial integrity has been oblivious about our sovereignty concerns on (the) CPEC (China-Pakistan Economic Corridor)," the report said.
The CPEC is a proposed economic corridor linking Kashgar in Xinxiang in north-western China and a deep sea port at Gwadar in Balochistan in south-western Pakistan. It is proposed to pass through areas India accuses Pakistan of illegally occupying in Kashmir.
"It is worrisome to discern that some of the projects under the CPEC are in Pakistan occupied Kashmir (PoK), a part of the Indian state of Jammu and Kashmir which has been in illegal occupation of Pakistan since 1947," the committee said in the report.
The committee includes MPs of ruling BJP and opposition Congress, Samajwadi Party, Trinamool Congress and Communist Party of India (Marxist).
India has been opposing the CPEC, which is billed as the flagship project under the One-Belt-One-Road initiative.
"We may well be poised for greater Pakistan-China strategic collaboration and should prepare for that eventuality," foreign secretary S Jaishankar said while briefing the parliamentary panel about China-Pakistan engagements, according to people aware of the matter.
The committee also took note of China's persistent policy of blocking India's move to bring Jaish-e-Mohammed chief Masood Azhar and other terrorist leaders based in Pakistan under United Nations sanctions. It recommended that the government should continue its dialogue with its international partners, including China, for bringing the JeM chief under UN sanctions.
The report said that India has not yet decided on stripping Pakistan of the 'Most Favoured Nation' for trade status, although it has been under review since the September 2016 terrorist attack at Uri. It said that the commerce ministry had informed it that no decision had been taken so far on the withdrawal of the MFN status India had granted to Pakistan for bilateral trade.
Full report at:
http://timesofindia.indiatimes.com/india/to-fight-terrorism-by-pakistan-india-should-deepen-ties-with-both-us-russia/articleshow/60169505.cms
--------
IS announces death of chief recruiter for India
Aug 22, 2017
NEW DELHI: Shafi Armar aka Yousuf al-Hindi, the chief recruiter of the so-called Islamic State (IS) in India, is believed to have been killed in Syria, two months after he was named in the list of global terrorists by the US treasury department.
IS released a message on Monday, saying the terrorist group had lost "Indian Al Hindi" along with an Australian fighter, Abu Fahad, during a battle with Kurdistan Workers' Party (PKK). The message was released in Arabic through IS mouthpiece 'Amaq'.
Armar, believed to be in his mid-twenties, was reportedly killed in Raqqa. PKK is believed to be heading the combat module of its USbacked mother organisation Kurdish People's Defence Force (YPG), and considered a vital force fighting IS in Syria. Intelligence sources said there were inputs on Armar's death late on Monday evening, but an official confirmation could not be obtained. If true, this would be a major relief for India as Armar is believed to have radicalised at least three dozen youths in the country. Armar's brother Sultan was killed in a US air strike in Syria last year.
Full report at:
http://timesofindia.indiatimes.com/india/is-announces-death-of-chief-recruiter-for-india/articleshow/60166708.cms
--------
8 years before NIA, Karnataka CID probed 'love jihad', found no specific instance
by Johnson T A
August 22, 2017
AN NIA investigation, based on a Supreme Court order, of whether an inter-religion marriage involving a Muslim boy and a Hindu girl fits into a pattern of what some call "love jihad" will not be the first attempt by a police agency to find out if "love jihad" is for real. In 2009, the Karnataka police CID was asked by a division bench of Karnataka High Court to look into allegations of "love jihad" in the marriage of an 18-year-old girl, Silja Raj, from Chamarajnagar area of Bengaluru with a 24-year-old youth, Asghar Nazar, from Kannur in Kerala.
In an interim CID report filed in the high court on November 13, 2009, Karnataka's then director general of police Ajay Kumar Singh reported that Silja and Asgar's marriage did not involve "love jihad" as alleged in court on behalf of Silja's father C Selvaraj. "There seems to be no prima facie evidence of 'love jihad' in the case of Silja Raj of Karnataka's Chamarajanagar district marrying Asgar of Kannur district of Kerala. Silja Raj has married Asgar out of her own volition," the interim report said.
Based on the report, the court told Silja she was free to go where she wanted. She chose to go with her husband. "There is no 'love jihad'. I went with him of my own," she said, following the high court's verdict in November 2009. With the Silja Raj case settled temporarily, the CID police investigated hundreds of inter-religion marriages that had occurred in Karnataka and in a report dated December 31, 2009, stated that "there is no organised attempt by any group of individuals to entice girls/women belonging to Hindu or Christian religions to marry Muslim boys with the aim of converting them to Islam".
The high court had intervened after the father of the girl, C Selvaraj, had filed a habeas corpus plea. During the course of the arguments, Silja's elopement of August 9, 2009, and subsequent marriage to Asghar was labelled "love jihad". The court was told that many non-Muslim girls were being lured to convert to Islam through "love jihad". Sangh Parivar-affiliated groups Vishwa Hindu Parishad, Bajrang Dal and Hindu Jagaran Vedike were around that time engaged in a campaign against "love jihad". Sri Rama Sene leader Pramod Muttalik had launched a "Beti Bachao Andolan" on the premise that Hindu girls were being forcibly converted to Islam.
The CID tried to obtain reports of specific instances of love jihad in Karnataka from right-wing activists but the outreach evoked little response. "No one has come out with any specific instance of 'love jihad' that has taken place in the state," said the final seven-page report of then DGP (CID) Dr D V Guruprasad. "Many of the girls who have married outside their religion and who could be contacted stated that they were leading a happy life after marriage. They are adults and have got married to persons of other religions fully comprehending the consequences of their action, the most publicised being that of Shilja Raj."
The CID investigation looked at details of police investigations in cases of missing girls from a five-year period (2005-09) and found that 149 Hindu girls who had gone missing during that period had married Muslim men and 10 had married Christian men. Also, 38 Muslim girls and 20 Christian girls had married Hindu boys. One Muslim girl reported as missing had married a Christian boy and 11 Christian girls had married Muslim boys, the CID probe found.
Out of 229 cases involving girls who were reported as missing and later found to be in an inter-religion marriage, conversion had occurred only in 63 cases, the CID probe said. The CID found that as many as 21,890 women had gone missing between 2005-2009 with as many as 2,624 untraced. The CID recommended that the issue of human trafficking required more serious attention than issues like "love jihad".
Full report at:
http://indianexpress.com/article/india/8-years-before-nia-karnataka-cid-probed-love-jihad-found-no-specific-instance-4807667/
--------
Pakistan
'Change in India's nuclear doctrine could lead to security concerns for Pakistan'
August 22, 2017
ISLAMABAD: Experts fear that revision of the nuclear doctrine by India would exacerbate Pakistan's security concerns and undermine South Asia's deterrence-based stability, according to the Centre for International Strategic Studies (CISS).
This was discussed at a talk organised by the think-tank on 'From Counter Value to Counter Force: Change in India's Nuclear Doctrine' to deliberate on the recent debate about the likely shift in India's nuclear posture and its implications for Pakistan as well as regional strategic stability.
The experts, the CISS said, agreed that expansion of nuclear capabilities and revision of posture could have serious security implications for Pakistan. Furthermore, the resulting environment could further reduce the space for dialogue between the two countries.
Statements by Indian officials and scholars have indicated that the Indian government could be considering a revision of its "No-First Use" nuclear doctrine to include the option of pre-emptive strikes. Under the existing doctrine, India could carry out retaliatory strikes against Pakistani cities, but that too could change to include pre-emptive strikes against Pakistani nuclear assets.
"A pre-emptive nuclear strike by India would be very difficult but not impossible due to the acquisition of technology from the US and Israel as well as indigenous development of its nuclear assets," said Dr Christopher Clary, an assistant professor of political science at the University of Albany in New York. According to Dr Clary, India could be playing up the idea of counterforce strike to deter Pakistan by adding credibility to its posture, keep the option of such a strike available to itself in the eventuality of a breakdown in deterrence, pre-empt an imminent attack or bait Pakistan into an arms race for exhausting its limited resources.
Dr Mansoor, a postdoctoral fellow at the Belfer Centre for Science and International Affairs at Harvard University, said that India by expanding its capabilities could be moving towards a possible change in its nuclear posture and realisation of its counterforce targeting aspirations.
Dr Mansoor said that India could be doing this to inflict a decapitating first strike on Pakistan and maintain escalation dominance in case of a conflict. He also highlighted the conventional discrepancies between India and Pakistan.
In his opening remarks, CISS Exec­utive Director Ambassador Ali Sarwar Naqvi highlighted two factors of concern for Pakistan's security — the growing Indo-US cooperation and the ambiguity shrouding the narrative.
Dr Naeem Salik, senior fellow at CISS, claimed that Indian statements about its nuclear doctrine were a typical reflection of India's jingoism.
https://www.dawn.com/news/1353043/change-in-indias-nuclear-doctrine-could-lead-to-security-concerns-for-pakistan
--------
Christian teenager almost beaten to death in Pakistan 'for burning Quran'
Aug 22, 2017
A Christian Pakistani teenager narrowly avoided being beaten to death after being accused of burning a Quran, according to reports.
The 16-year-old had to be rescued by officers after a mob broke into a police station to try and kill him.
Asif Stephen worked collecting recyclables from the shrine of Sundhay Shah, Jhamkay, where it was alleged he stole a copy of the Quran and burned it.
He was detained under the country's blasphemy laws, among the most stringent in the world.
But his family said a rival hawker, Muhammad Nawaz, falsely accused the boy in order to eliminate him as a business rival.
The Quran was found burned in July but earlier this month Mr Nawaz accosted Mr Stephen in a market place and shouted that he had caught the person who burned the Quran, it is said.
"Qari Rana Arshid, who's the pesh imam at a mosque, arrived there and without confirming anything, he too started beating up my son," said Stephen Masih, the teenager's father, to the Express Tribune.
The police arrived at the scene and took Mr Stephen into custody. But the mob, led by the imam, broke into the facility and began to attack the boy further, it is reported.
The police were forced to call for reinforcements to save his life from the crowd.
"The police saved him from the enraged mob," sub-inspector Pervez Iqbal told the newspaper.
"His family should be grateful to the police. The mob surrounded the police station but we pacified the protesters with the help of the notables of the area."
Christians in Pakistan, a deeply conservative majority Muslim country, are common targets for discrimination and violence.
Open Doors, a group which campaigns for the rights of persecuted Christians around the world, has ranked Pakistan as the fourth most dangerous country on earth for members of the religion.
Blasphemy laws are often used against Christians.
"If you are accused of having insulted Islam in any way, your life is in danger," the group said.
Full report at:
http://www.independent.co.uk/news/world/asia/christian-teenager-pakistan-quran-burn-beaten-almost-death-blasphemy-asif-stephen-a7904961.html
--------
Pakistani soldiers' fight for freedom at Quaid's call
Zafar Alam Sarwar
August 22, 2017
"We want freedom and liberty." These five words in his statement to the Manchester Guardian meant that the founder of Pakistan had wanted freedom and independence not only of the sub-continent but also other countries of Asia and Africa from the colonial powers.
He backed Indonesia in its fight for freedom. That's why Indonesians and Pakistanis will never forget August 17 and 14 rooted in world history as their national days respectively. On August 17 in 1945, following the surrender by the Japanese, Ahmed Soekarno and Dr. Hatta proclaimed independence on behalf of the people of Indonesia. And, two years later, on August 14, 1947, the majority of the Muslims inhabiting the sub-continent for centuries achieved independence under the dynamic leadership of Mohammad Ali Jinnah.
The leading freedom fighters of both the countries cherished the same ideals -- liberty, equality and fraternity. If Soekarno spread from the very beginning the doctrine of national unity covering racial, religious and cultural brotherhood, Jinnah advocated unity—first between the Muslims and Hindus and then, realising the need of the hour, among Muslims.
One of the glaring examples of unity of thought, speech and action and the common heritage in terms of culture and faith was the similarity of the mottos of Pakistani and Indonesian leaders.
Soekarno declared they are one people, their motto is Unity in Diversity." Jinnah, who gave the call for unity on March 23, 1940, and one of his close associates, Liaquat Ali Khan, following the Indonesian Proclamation of Independence in 1945, extended staunch support to Indonesian cause of freedom and then its fight for independence, sovereignty and recognition by the world.
One of the notable aspects of the Quaid's advocacy for freedom was his clarion call in 1945 to back the Indonesian effort for Independence. The call was responded whole-heartedly by 600 Muslim soldiers who deserted the colonial forces.
Inspired by the leaders of Pakistan and Indonesia and the spirit of brotherhood, these soldiers responded to Jinnah's call in 1945 to support the Indonesian cause of independence. They considered themselves Pakistanis.
In early 1947, when Pakistan was in the process of its final inception and when the colonial military tribunal instituted at Singapore to hear the case of the deserting Muslim soldiers in Indonesia, pronounced its judgment, declaring those soldiers as "traitors" and awarding them death sentence, Jinnah raised his roaring voice to condemn the colonial atrocities and inhuman decisions.
The Quaid's support emboldened the Indonesian freedom fighters and the sub-continent's Muslim soldiers, with the exception of hardly 10, who were henceforth to be called the Pakistani soldiers and not the British Indian soldiers after the establishment of Pakistan on August 14, 1947.
The Pakistani soldiers fought on all fronts so gallantly and with such valour that Indonesia's enemy was astounded and defeated at with heavy casualties. A large number of these Pakistanis lost their legs in bombardment by the enemy.
Pak soldiers helped the Indonesian forces face the enemy bravely. Most of them were martyred in defending the Republic of Indonesia. Many who survived belonged to Jhelum, Gujar Khan and Rawalpindi.
Full report at:
https://www.thenews.com.pk/print/225078-Pakistani-soldiers-fight-for-freedom-at-Quaids-call
--------
Pakis­tan Bar Council slams 'move' to file reference against SC judge
August 22, 2017
ISLAMABAD: The Pakis­tan Bar Council (PBC) — the top regulatory body of lawyers — on Monday took strong exception to the alleged motivated move by the ruling party to file a reference under Article 209 of the Constitution against Supreme Court judge Justice Asif Saeed Khosa.
In a statement, PBC vice chairman Mohammad Ahsan Bhoon and its Executive Committee chairman Chaudhry Hafeezur Rehman regretted what they called the initial attempt to move the reference allegedly by the secretary to National Assembly Speaker Ayaz Sadiq with the purpose of pressurising the judiciary.
After the news about the filing of the reference broke on Saturday, the speaker's office denied moving any reference before the Supreme Judicial Council against any judge and urged the media to refrain from attributing, mis-stating or exaggerating any motive to the speaker.
"This was an effort by the government to overawe the senior members of the judiciary and to send threatening messages to other judges," Mr Bhoon said while talking to Dawn.
In the statement, the two PBC leaders warned that all those behind the ill-advised move of filing the reference should refrain from targeting the judiciary in an attempt to frustrate the possible outcome of criminal cases being initiated by National Accountability Bureau courts.
'Illegal tactics'
"It is highly condemnable that the ousted prime minister, his children and close family members, instead of facing trial in NAB courts in respect of criminal cases of money laundering against them, have started taking illegal tactics through their cronies to pressurise the judiciary and NAB courts only to sabotage the process of accountability initiated against them as a result of historic judgement of the Supreme Court in the Panama Papers case," they said.
Full report at:
https://www.dawn.com/news/1353037/pakistan-bar-council-slams-move-to-file-reference-against-sc-judge
--------
Army, not govt, restored Karachi's peace: Sheikh Rashid
August 22, 2017
KARACHI: Awami Muslim League president Sheikh Rashid Ahmed has said peace in the metropolis was restored not due to the government's efforts but due to the army and other security agencies.
He said that with the verdict of Panama case, accountability has started in the country and now no one would dare get away with corruption.
Talking to the media at a hotel here on Sunday, he said politicians had started making alliances as elections were approaching fast and he was foreseeing many of them changing their parties.
In reply to a question, he said the political future of Nawaz Sharif was bleak.
https://www.dawn.com/news/1353024/army-not-govt-restored-karachis-peace-sheikh-rashid
--------
Court can order army to arrest Nawaz and sons: PPP
22-Aug-17
ISLAMABAD: Opposition Leader in the National Assembly Khurshid Shah has said that the court has the right to exercise Article 190 over non-compliance, asking the military to arrest former prime minister Nawaz Sharif and his family members.
"Nawaz Sharif is playing a very dangerous game as he and his family members are not appearing before the National Accountability Bureau (NAB) despite being summoned," Shah told reporters in Islamabad on Monday.
"If this continues to happen, the National Accountability Bureau can issue warrants to arrest the Sharif family," Shah said, adding that the court exercising Article 190 could have dangerous consequences.
"Pakistan's constitution and law applies equally on every citizen," the opposition leader said. "It is beyond one's comprehension as to why the government wants confrontation with state institutions."
Regarding former interior minister Chaudhry Nisar's Sunday presser in Islamabad, Shah said it would have had worth if addressed outside the Punjab House.
On Saturday, the NAB requested the Supreme Court to allow members of the Panama Papers Joint Investigation Team (JIT) to record their statements before the anti-graft watchdog as part of its investigations against the Sharif family and others. The request came a day after the ousted prime minister and his sons Hasan Nawaz and Hussain Nawaz refused to appear before the NAB, which has been ordered by the top court to file references against them. In its July 28 judgement, a five-member bench of the apex court unanimously declared that Sharif was not sadiq (truthful) and ameen (trustworthy) and hence not qualified to hold a public office.
http://dailytimes.com.pk/islamabad/22-Aug-17/court-can-order-army-to-arrest-nawaz-and-sons-ppp
--------
Only five percent success achieved against terror: Fazl
August 22, 2017
DERA ISMAIL KHAN - Jamiat Ulema-e-Islam (JUI-F) chief Maulana Fazlur Rehman claimed Monday that the country had achieved only five percent success against terrorism and that too because of religious leaders' efforts.
"Religious leaders and scholars have played a very crucial role in whatever success that has been achieved against militancy and extremism," he told reporters at the Central Eidgah. "But even then, religious leaders are not given credit for their efforts," he lamented. "The government should accept the role played by ulema in countering terrorism in the country." The JUI-F chief said despite many check posts and routine checking, Dera Ismail Khan was being targeted by militants and there was nobody stopping them from killing innocent people. "The role of security forces is very disappointing," he added.
Rehman said the US was changing its policy in Afghanistan and despite conceding its defeat, it was sending more troops there. He added that the situation for Pakistan had also changed now and it should adopt an independent policy. Earlier, he offered fateha for Hafiz Ibad Ullah Farooqi.
http://nation.com.pk/national/22-Aug-2017/only-five-percent-success-achieved-against-terror-fazl
--------
North America
Taliban dismiss Donald Trump's Afghanistan strategy as 'nothing new'
22 August 2017
The Taliban dismissed Donald Trump's strategy for Afghanistan as vague and "nothing new" Tuesday after the US president cleared the way for thousands more American troops to be sent to the war-torn country.
"For now I can tell you there was nothing new in his speech and it was very unclear," Zabiullah Mujahid, a spokesman for the Taliban in Afghanistan, told AFP.
He added that the militants were preparing a formal statement which would be released later.
Trump backtracked from his promise to rapidly end America's longest war in his first formal address to the nation as commander-in-chief late Monday, though he did not offer specifics.
He said he had concluded "the consequences of a rapid exit are both predictable and unacceptable", leaving a vacuum that terrorists "would instantly fill."
A senior Taliban commander told AFP that Trump was just perpetuating the "arrogant behavior" of previous presidents such as George Bush.
"He is just wasting American soldiers. We know how to defend our country. It will not change anything.
"For generations we have fought this war, we are not scared, we are fresh and we will continue this war until our last breath," he told AFP by telephone from an undisclosed location.
He added that the statement proved the current Afghan government "is a US puppet".
The insurgents also signaled their intentions minutes after Trump spoke by claiming the US embassy in Kabul had been the target of a rocket attack late Monday.
The rocket landed in a field in the city's diplomatic quarter, with no casualties reported.
While Trump refused to offer detailed troop numbers, senior White House officials said he had already authorized his defense secretary to deploy up to 3,900 more troops to Afghanistan.
He also lambasted ally Pakistan for offering safe haven to "agents of chaos."
A commander from the Taliban-allied Haqqani network, long believed to have links to Pakistan's shadowy military establishment, told AFP that Trump "has proved it's a Crusade".
"His statement has proved that he wants to eliminate the entire Muslim umma (community)," he said.
Prior to Trump's announcement the Taliban had written an open letter warning him not to send more troops and calling for the complete withdrawal of foreign forces from Afghanistan.
https://english.alarabiya.net/en/News/middle-east/2017/08/22/Taliban-dismiss-Donald-Trump-s-Afghan-strategy-as-nothing-new-.html
--------
Toronto must take anti-Muslim attacks more seriously
AUGUST 21, 2017
Last month, the city of Boston launched a poster campaign encouraging bystanders to intervene if they witnessed Islamophobic harassment. In four simply illustrated steps, bystanders were given the tools to de-escalate potentially dangerous situations at no harm to themselves.
On the poster, a man behaves aggressively towards a Muslim woman on transit. A bystander sits next to her and employs the strategy: engage in conversation with the target of the harassment; discuss a random subject; build a safe space by ignoring the attacker and continue the conversation until the attacker leaves.
The campaign was illustrated by French and Middle-Eastern artist Maeril, who conceived of the idea as part of her co-admin work for the Facebook group The Middle Eastern Feminist. The city's involvement came on the heels of recent charges against a man for allegedly using anti-Muslim slurs against an elderly woman riding transit. Boston recognized its increasing problem of Islamophobia and took action. Should Toronto do the same?
The idea that "it doesn't happen here in Canada" is a myth, and the reality is that anti-Muslim attacks are happening. Toronto could benefit from a campaign that doesn't just raise awareness but encourages action.
In June, Statistics Canada reported that hate crimes against Muslims in the country increased 61 per cent in 2015, and that Toronto, Montreal and Vancouver accounted for 43 per cent of overall police-reported hate crimes. Sabreena Ghaffar-Siddiqui, communications lead with the Canadian Council of Muslim Women Toronto Chapter, believes the number is much higher.
"What we're seeing in terms of hate crime stats is a fraction of what the problem really is," says Ghaffar-Siddiqui, whose organization is currently working on a national poster campaign similar to the one in Boston. "When you look at vulnerable populations like refugees, new immigrants and marginalized people, they have a very complex relationship with authority and the police. Someone who feels that the police are not on their side is not going to the police to report a hate crime.
"There are so many factors [to consider] and once you start kneading these numbers out, you begin to understand why the reports are misleading," she adds. "It's why I say we need a campaign like [Boston's], because the general population doesn't understand how bad the problem really is."
According to Ghaffar-Siddiqui, a Toronto campaign will need to illustrate aggressive examples of Islamophobia while encouraging more direct intervention. That approach is appropriate not only for the escalating types of hate crimes reported, but to acknowledge that Islamophobia isn't a passing incident in the city, or in Canada for that matter. Rather, it is institutionalized and systemic.
Amira Elghawaby, communications director with the National Council of Canadian Muslims (NCCM), says that her organization is working on such a campaign. Slated for a fall launch, the social-media video project is called Say Salaam. With funding from Toronto's Olive Tree Foundation, it will adopt a tailored approach based on the four Ds of bystander intervention, which is advocated when confronting violence against women.
"There are five principles: Discover – try to [ascertain] the situation; Distract – try to distract the person who is perpetrating the violence or harassment," explains Elghawaby. "Direct – be direct with the person and try to tell them that what they're doing is not okay; Delegate – try to get more help from others or make sure that you're calling police; and Delay – wait until the situation has wound down or the perpetrator has left and then provide support to the victim."
While these principles advocate direct engagement with the perpetrator, Elghawaby says her organization plans to workshop scenarios with Muslim and non-Muslim community members to strategize effective, non-confrontational interventions.
"Recently, there was a man who was harassing Muslim women and killed the two bystanders who tried to assist," says Elghawaby, referencing the Portland, Oregon incident in May where assailant Jeremy Joseph Christian stabbed two men to death. "This has real and potentially dangerous outcomes. So, it's very important that whatever is being recommended, safety has to be paramount."
Toronto has seen awareness campaigns addressing Islamophobia in the past. The Ontario Council of Agencies Serving Immigrants (OCASI) led a poster campaign last year featuring, among other exchanges, a white male telling a Muslim woman to "go back to where you came from." She responds: "Where, North York?"
Earlier this year, OCASI teamed with the NCCM for a PSA campaign called Break the Behaviour. In one video, neighbours help a Muslim family clean Islamophobic graffiti scrawled on their garage.
Placed side by side, the two campaigns represent a progression in the type of ads Toronto has seen. OCASI's first campaign highlighted a relatively benign exchange, using humour to raise awareness that the issue of Islamophobia exists; the second struck a serious tone, highlighting how non-Muslim community members can be more direct in their assistance.
But like Ghaffar-Siddiqui, Elghawaby agrees that much stronger messaging is needed to combat the rise in Islamophobic harassment.
Full report at:
https://nowtoronto.com/news/toronto-should-take-anti-muslim-attacks-seriously/
--------
The real threat to America comes from Americans
Aug 22, 2017
This month, a man was arrested in Oklahoma City for trying to detonate 1,000 pounds of explosives in a cargo van parked downtown. The attack, he hoped, would cripple the government and start a revolution. Last October, three men were arrested in Kansas for plotting to bomb an apartment complex and a mosque using four cars laden with explosives.
In these febrile days, where terrorists have sought to wreak fear and chaos from Orlando to Paris, and now Barcelona, you'd expect wall-to-wall coverage on cable news about these foiled plots. Terrorism experts would be wheeled out to opine for hours on all angles, from the explosives used to the profile of the would-be attackers to how and why they were radicalized.
Instead, the two incidents got barely any coverage - some brief news spots here and there and a few mentions online. Ask any Arab-American or Muslim in America why those incidents weren't covered ad nauseam and they'll reply deadpan: Because the would-be attackers were white.
So why has this growing threat not received the same coverage as attacks carried out by Islamist jihadis or Muslim lone wolves? The answer goes to the heart of what every society struggles with: Admitting that it can produce darkness.
The alternative explanation - that the plots were ignored because they failed - doesn't hold water. Just think of the alarmist coverage every time a plot hatched in Yemen targeting the United States is foiled. Nor were these isolated incidents. The FBI just warned that white supremacist groups have already carried out more attacks in the years since 9/11 than any other domestic extremist group and were likely to carry out more.
These attacks happen regularly - and receive barely any media attention. When a mosque in Bloomington, Minnesota, was torn apart by a homemade bomb on Aug. 5, the response was muted. When an Indian man was shot dead in February in a bar in Olathe, Kansas, by a white man who shouted, "Get out of my country," I struggled to find any coverage on American cable television. The BBC was one of the few media outlets to cover the story in any depth.
People prefer to think evil comes from the outside, not from within. White nationalists and supremacists get treated as a curiosity and described as "dapper" even in progressive magazines like Mother Jones (the magazine was mocked and promptly changed the headline). It's much easier to believe that the real threat emanates from people from "over there," who wish Americans harm and threaten their way of life, than to ask hard questions about one's own society and its unresolved issues.
Until last week, there was no liberal-conservative divide here. From Fox News to MSNBC, the approach was the same. This double standard in media coverage and political discourse, which also feeds Islamophobia, has now received more attention in the wake of the events in Charlottesville, Virginia, but it took a horrific car attack that killed a woman and white men brandishing torches chanting "Jews will not replace us" for the threat of domestic terrorism to rise to national attention.
The repeated invocations of those appalled by the Charlottesville violence has been: "We are better than this" or "this is not who we are." It reminds me of friends in the Arab world shaking their heads at the violence meted out by the so-called Islamic State or the many awful suicide attacks of jihadi Islamists across the region. In the Middle East, too, the response of many to these crimes is to create distance from the perpetrators, often by blaming outsiders. The Islamic State is the creation of America, these people might say, or 9/11 was a Mossad plot to make Arabs look bad.
Yet the hard truth is that those who perpetrate terrorism are a product of their societies, even if they're a minority. They're the result of unresolved issues, deep-seated problems that have been glossed over.
Societies in the Arab world have long struggled with this conversation. Only when militants conducted suicide attacks inside Saudi Arabia in 2003 did the kingdom acknowledge that its austere interpretation of Islam had opened the way for some on the fringes to take it to violent extremes. The rise of the Islamic State again brought to the fore the debate about intolerant religious teachings used by radical clerics to whip disenfranchised youth into a frenzy. But only now is the sectarian hate speech favored by some clerics finally being called out forcefully and very publicly in the kingdom.
In the United States, Republicans harangued Democrats during the 2016 presidential campaign for allegedly refusing to use the words "radical Islamic terrorism" to describe the crimes of the Islamic State and other jihadis. Donald Trump apparently needed convincing to condemn Nazis and the Ku Klux Klan after Charlottesville but wasted no time in tweeting about the threat of Islamic terrorism after the Barcelona attack. Understandably, Democrats and many others are wary of using broad terms that could alienate 1.8 billion Muslims, who find their own world wrecked by a minority of radical violent extremists.
But it is also essential to call things by their name. Experts from the region I spoke to disagreed with the term "radical Islamic terrorism," which is too broad, but suggested the more specific term "jihadi Islamists." Hassan Hassan, the co-author of a book about the Islamic State, and Nadia Oweidat, a lecturer on Islamic thought, advised that the best strategy was to address the fact that the Islamic State has drawn inspiration from teachings that are common in the region head-on. Failing to do so, they said, will make it impossible to show how they have subverted those teachings.
In the United States, the focus can't just be on Trump and statues of Confederate leaders but on the reason why the discourse of white supremacy resonates with some and leads them to violence. It's important to realize that these outbreaks of violence are the product of deeply rooted injustices in U.S. society - a double standard baked into American life in which Tamir Rice, a 12-year-old black boy, is shot dead by police for wielding a toy gun while white militiamen armed to the teeth can march unimpeded in Charlottesville. Virginia Gov. Terry McAuliffe pushed back against criticism that the police didn't do enough to stop the bloodshed: "It's easy to criticize.. . . You saw the militia walking down the street. You would have thought they were an army."
After Trump's election, my friend Rabih Alameddine, who fled Lebanon in the 1980s and settled in the United States, wrote an essay titled "Our Part in the Darkness" in reaction to those around him who insisted that "we are better than this."
"We are not better than this. We are this," he argued. "The man was elected president. Ipso facto, America is this, we are this."
Not everyone is this. Not all of America can be reduced to the angry crowd of white men marching in Charlottesville. But from slavery to Japanese internment camps to the voter suppression laws recently popping up all over the country, the United States has had its share of darkness and has not done enough to rid itself of comforting myths that undergird its sense of exceptionalism. America as a shining city on a hill that strives toward progress still appeals and inspires people across the globe; these same people are watching with some trepidation to see how the United States works through this critical moment. Yes, many have loudly denounced racism, hatred, and bigotry, but 67 percent of Republicans also approve of how Trump responded to the events in Charlottesville.
There is perhaps some degree of schadenfreude among Arabs in response to these events. There is a small sense of vindication in realizing that America, which has for so long lectured others about civil rights, democracy, and freedom, has some serious problems of its own that it needs to address.
When the white supremacist Richard Spencer held a press conference just down the road from the White House in November mere days after Trump's victory, during which his followers raised their hands in a Nazi salute, one Saudi tweeted: "America, we need to talk about your radicalization problem."
That conversation about why so many young white men feel angry and disenfranchised has certainly now exploded into public view. At CNN, Jim Sciutto wrote that jihadis and white nationalists are both driven by a "search for identity, sick devotion to a cause, and angry reaction to perceived victimization." And yet the Trump administration has chosen to focus its efforts to counter violent extremism solely on jihadis and ended funding for organizations like Life After Hate, a group that works to deradicalize neo-Nazis.
The singular focus on acts of terrorism by jihadis not only feeds Islamophobia but allows people to ignore the threat of domestic terrorism by white supremacists. But hate is hate, wherever it arises.
"Racism, xenophobia, anti-Semitism & Islamophobia are poisoning our societies," tweeted U.N. Secretary-General António Guterres. "We must stand up against them. Every time. Everywhere."
Full report at:
http://www.chicagotribune.com/news/sns-wp-us-threat-comment-c68bf848-86ac-11e7-a94f-3139abce39f5-20170821-story.html
--------
Anti-Israel Leaders Hosted at State Dept. Seeking to Drive Wedge in U.S.-Israel Alliance
BY: Adam Kredo
August 21, 2017
The State Department's recent hosting of an American Muslim organization known for its anti-Israel stance and support of boycotts of the Jewish state has sparked concern from those close to the Trump administration that these advocacy groups are seeking to drive a wedge into the United States' relationship with Israel, which has hit speed bumps since Rex Tillerson assumed control of America's chief diplomatic agency, according to multiple sources who spoke to the Washington Free Beacon.
The State Department hosted this month leaders from the U.S. Council of Muslim Organizations, which represents a number of organizations including American Muslims for Palestine, or AMP, an organization that promotes "extreme anti-Israel views" and "anti-Zionist" propaganda, according to the Anti-Defamation League, which tracks anti-Israel hate groups.
Representatives from the Council on American-Islamic Relations, Islamic Shura Council of Southern California, Islamic Circle of North America, and Muslim Ummah of North America also attended the meeting.
AMP, which partnered with the terror group Hamas's main U.S. propaganda arm until it was shuttered in 2004, and the other groups met with several State Department officials to discuss the ongoing violence on Israel's holy Temple Mount area, which has been the site of several riots and attacks on Israelis.
The groups were there to promote anti-Israel propaganda blaming Israel for the recent violence that began after Palestinian terrorists killed two Israeli security official stationed at the site, which is home to the Dome of the Rock and al-Aqsa mosques.
The meeting has prompted concern among pro-Israel leaders close to the Trump administration, who say the summit is part of larger effort by anti-Israel organizations to drive a wedge between the Trump administration and Israel at a critical juncture.
The Free Beacon first reported last month that the State Department under Secretary Rex Tillerson has been in "open war" with the White House over a range of key issues, including Israel.
Multiple sources who spoke to the Free Beacon confirmed these fears, pointing to a recent State Department-authored report that blamed Israel for terror attacks and roiled congressional leaders who accused Tillerson's State Department of promoting anti-Israel propaganda.
The recent resignation of White House chief strategist Steve Bannon, who was viewed as one of the administration's most pro-Israel voices, has further stoked these fears among pro-Israel leaders.
Multiple pro-Israel insiders who spoke to the Free Beacon expressed concerns about the State Department's willingness to host an openly anti-Israel group during a time when tensions in the Middle East are running high.
Israeli officials are said to be concerned about the Trump administration's stance on a range of issues, including its policy in Syria and other terror hotspots.
"Everyone knows this is the group funneling money from the Middle East to finance the [Boycott, Sanctions, and Divestment] movement," said one prominent pro-Israel official who would only speak on background so as not to spark further tension with the White House. "They're being investigated by the FBI and the state of Illinois for potential illicit financing activity. I really want to believe in Secretary Tillerson but between his reluctance to confront Iran and now this, it's hard to justify his continuation as secretary of state."
A State Department official confirmed the meeting took place, but would not specify who the American Muslim leaders met with and what exactly was discussed.
"The Department regularly hosts groups representing different constituencies in America to explain USG policy and hear their perspective," the official told the Free Beacon. "The group was interested in U.S. policy on Jerusalem given events on the Temple Mount/Haram al Sharif last month, and met a cross-section of working level officials from different offices in the Department."
Asked if administration officials were aware of the group's anti-Israel views and ties to Hamas, the official said that State Department views Hamas as a terror organization and opposes boycotts of the Jewish state.
Noah Pollak, a political consultant who works with a range of pro-Israel organizations, criticized the State Department for hosting what he described as extremists who reject Israel's right to exist and openly endorse terrorist groups.
"AMP is a front for jihadists, and doesn't try very hard to hide it. Some of its founders were involved with the Holy Land Foundation, a Hamas fundraising front that was the biggest terror finance case in U.S. history," Pollak said. "Its founder called for an 'intifada' here in America. Maybe next time there's a flare-up of Palestinian violence the State Department can cut out the middle man and just meet directly with Hamas."
Other pro-Israel insiders expressed concern over the meeting, but cautioned against putting too much stock in efforts by these Muslim American groups to drive a wedge into the U.S.-Israel relationship.
"Presidential administrations are going to meet with constituents," said the source, a senior official at a large pro-Israel group. "That's what they do. The question is if they believe what they hear, let alone act on it."
Full report at:
http://freebeacon.com/national-security/anti-israel-leaders-hosted-state-dept-seeking-drive-wedge-u-s-israel-alliance/
--------
Religious groups sound alarms as hate crimes appear to be on the rise
Aug. 21, 2017
In one part of the GTA, three schools were plastered with anti-Semitic, anti-Black graffiti. In another, a Muslim woman's car window smashed, with "derogatory" comments spray-painted on her property.
Hate crimes are nothing new, but religious groups are sounding the alarms as they appear to be on the rise.
"We continue to see a trend of a high level of anti-Semitic incidents in Canada going back to 2012," said Aidan Fishman, the interim national director of B'nai Brith Canada's League for Human Rights.
On Sunday, York Regional Police were called to three different Markham schools near Highway 7 and Wooten Way, which had each been vandalized with anti-Semitic and anti-Black graffiti. The messages referenced the KKK and "white power" and also compared the Jewish Star of David symbol to a swastika.
Police believe the same suspects are responsible for all three incidents.
That same day, 28-year-old Matthew Wight was driving his car in Brampton when he unexpectedly stopped in front of the driveway of a home, made a racial slur toward a man standing there and proceeded to attack him, unprovoked.
Peel police charged Wight with assault causing bodily harm in what they called a "hate-motivated crime." The 31-year-old victim was treated for serious facial injuries in hospital.
Two days earlier, Durham police responded to a Pickering home, where a Muslim woman's car window had been smashed and spray-painted with graffiti, along with profane words painted on her driveway. Police are investigating it as a possible hate crime.
"It is believed that speaking with the victim, that it is related to her religion," said Const. George Tudos. "There has been a couple recent incidents within our region. At this point, it's mixed, whether it's against someone's religious background or sexual orientation or colour of skin. Our message is that this is not tolerated within the Durham Region."
Amira Elghawaby, a spokesperson for the National Council of Canadian Muslims, said hate crimes against Muslims across the country show no sign of slowing down.
"Our concern is always quite high. Whenever there is, for instance, a terrorist attack done in the name of Islam, we will notice a spike in what's being reported," Elghawaby said. "I don't want to say that it's the new normal, but it pretty much is the new normal."
There's been an uptick in hate crimes, or at least those that have been reported, over the last eight to10 months, according to Barbara Perry, a professor in the Faculty of Social Science and Humanities at the University of Ontario Institute of Technology.
"It's in the air, the apparent freedom now to express your sentiments, whether it's verbally or whether it's the form of this sort of graffiti and property damage," said Perry, who has written extensively on hate crimes.
She said some incidents are a direct result of one's ideology, while others are perpetrated by "thrill-seeking" teenagers. A third motivator is often the notion of "defending neighbourhoods."
"We refer to it as a 'message crime,'" Perry said. "It is meant to send that same narrative to all members of the community, not just the individual who is targeted, to say that 'you people need to move out of our community, you're not valued.'"
Perry said U.S. President Donald Trump is partly to blame for such views becoming more mainstream in Canada.
"Obviously, Trump has been the latest lightning rod for that and has really enabled the rhetoric and the sentiment and the violence to flourish," she said. "But he's not solely to blame. We have our own history here of Islamophobia and anti-Semitism and homophobia across the board."
Last week, Durham police arrested 57-year-old William Carnahan, responsible for assaulting a 22-year-old Muslim man in Whitby on Aug. 12. The victim had been in a washroom when he was approached by Carnahan, who made several "hate-related threats" before punching him and fleeing on a bicycle.
Elghawaby's organization keeps a running tally of anti-Muslim incidents across Canada. There have already been 57 in 2017, compared to 64 at the end of last year and 59 in 2015.
"We're likely going to outpace last year in terms of what's being reported to NCCM," she said. "It only represents a very small sliver of what's going on as two-thirds of hate crimes are not reported, according to Statistics Canada."
A Statistics Canada report in June showed hate crimes targeting Muslims rose by 60 per cent in 2015. Jews remained the most targeted religious group with 178 incidents that year.
B'nai Brith's annual audit of anti-Semitic incidents showed a record-breaking year in 2016 for anti-Semitism in Canada, with more than 1,700 incidents, a 26 per cent increase over 2015.
"Even though it was record-breaking as a single year, it's part of an elevated trend," Fishman said. "What we're seeing so far in 2017, both in regard to incidents generally and also specifically with regard to vandalism, unfortunately there's no breaking of that trend."
Fishman said it's particularly concerning following white nationalist protests last week in Charlottesville, Va., which prominently featured anti-Semitic chants and signage.
Full report at:
https://www.thestar.com/news/gta/2017/08/21/religious-groups-sound-alarms-as-hate-crimes-appear-to-be-on-the-rise.html
--------
South Asia
Drone strike targets ISIS hideouts in Nangarhar, leaving 4 militants dead
Aug 21 2017
The US forces based in Afghanistan pounded the hideouts of the ISIS militants in eastern Nangarhar province of Afghanistan, leaving at least four militants dead.
The provincial police commandment in a statement said the airstrike was carried out in the vicinity of Achin district.
The statement further added that four ISIS militants were killed and several weapons, ammunitions, and explosives belonging to them were destroyed in the airstrike.
The militants were targeted in an area known as Marghi area, the police commandment added.
The anti-government armed militant groups including the ISIS loyalists have not commented regarding the report so far.
Nangarhar is among the relatively calm provinces in eastern Afghanistan but the anti-government armed militant groups have recently increased their insurgency activities in some parts of the province during the recent years.
Operations led by the Afghan forces in coordination with the US forces based in Afghanistan are under against the ISIS loyalists in this province.
The US forces in Afghanistan last week confirmed that a US soldier was killed and some Afghan and US troops were wounded during the anti-IS operations in eastern Afghanistan.
https://www.khaama.com/drone-strike-targets-isis-hideouts-in-nangarhar-leaving-4-militants-dead-03346
--------
Afghan insurgents gaining as Trump tolls out war plan
August 22, 2017
KABUL - Taliban insurgents overran the government headquarters of a district in northern Afghanistan on Monday, the latest in a string of losses for Kabul, just hours before President Trump was to unveil his long-delayed strategic plan for handling the nearly 16-year war, reported New York Times.
The headquarters in Khamab District in the province of Jawzjan was taken by insurgents on Monday morning, said the spokesman for the Afghan National Army's commando units, Ahmad Jawid Salim, who said Afghan forces planned to recapture it. The Taliban also said on their website that they had taken the district.
It was the sixth place in Afghanistan to fall to the Taliban in the past month — five districts and a strategic valley — even as casualties and armed clashes have risen to their highest levels of the war. On an average day, 31 members of the Afghan national security forces are killed, as well as nine civilians, according to data from a variety of official sources. Taliban casualties are not known.
Such numbers underline the challenge facing Trump as he prepares to address the American public about the war on Monday night. He is expected to announce an increase in the number of United States troops being sent to Afghanistan, in line with previous requests by his generals, who have asked for several thousand more. That would still make the American military presence far smaller than at its peak of 100,000 soldiers under President Barack Obama.
The president is expected to green light the deployment of around 4,000 additional U.S. troops to Afghanistan and put new pressure on nearby Pakistan to stop giving safe haven to terrorists. The US president is considering several possibilities to pressure Pakistan into stepping up the fight against terrorism, including reducing aid, taking away its status as a non-NATO ally, and threatening to name Pakistan as a state sponsor of terrorism.
Taliban now control or dominate 48 of the country's roughly 400 administrative areas, the most they have held since being ousted from power in 2001, based on data provided by the United States military to the Special Inspector General for Afghanistan Reconstruction. The inspector general's last quarterly report to Congress listed 45 such districts, based on data through the end of June, and the Taliban have made a net gain of three districts since then.
http://nation.com.pk/national/22-Aug-2017/afghan-insurgents-gaining-as-trump-tolls-out-war-plan
Taliban cannot win militarily, need to reconcile: US general in Afghanistan
WASHINGTON: The head of U.S. and international forces in Afghanistan said on Monday the United States' future presence in Afghanistan would be based on "conditions and not arbitrary timelines".
"This new strategy means the Taliban cannot win militarily. Now is the time to renounce violence and reconcile," General John Nicholson said in a statement.
Full report at:
http://nation.com.pk/international/22-Aug-2017/taliban-cannot-win-militarily-need-to-reconcile-top-us-general-in-afghanistan
--------
Abdullah slams Gulbuddin Hekmayar for his remarks against Ahmad Shah Massoud
Aug 21 2017
The Chief Executive of the Government of National Unity Abdullah Abdullah slammed the leader of Hezb-e-Islami Gulbuddin Hekmatyar for his remarks against the Jihadi leaders, specifically Ahmad Shah Massoud who has been given the title of national hero.
Speaking during a meeting of the cabinet of ministers, Abdullah said the remarks by Hekmatyar regarding Jihadi leaders have roots in his ego and hatred towards the others.
Abdulalh further added that such remarks will not affect the personality of the prominent Jihadi leaders and their fame, like Ahmad Shah Massoud and Burhanuddin Rabbani, insisting that they were the true defenders of the country.
According to reports, Hekmatyar had accused Massoud of having links with Pakistan's ISI and handing over of Kabul to Taliban during the civil war.
Hekmatyar also accused the former defense minister Bismillah Khan Mohammadi of having role in the massive corruption and questioned the appointment of around 600 army generals only from the northern Panjshir province.
This comes as the chief executive of Jamiat-e-Islami and governor of Balkh province had earlier slammed Hekmatyar for his remarks against Ahmad Shah Massoud and Panjshir, and accused him of sparking tensions and divisions among the people based on geographical locations, skin color, and the languages they speak.
Full report at:
http://www.khaama.com/abdullah-slams-gulbuddin-hekmayar-for-his-remarks-against-ahmad-shah-massoud-03348
--------
Rising tensions among prominent Afghan political leaders amid deteriorating security
Aug 21 2017
The tensions are on the rise among the two prominent political leaders amid deteriorating security situation in the country.
The tensions among Gulbuddin Hekmatyar, the emir of Hezb-e-Islami, and Ata Mohammad Noor, the chief executive of Jamiat-e-Islami intensified during the recent days and particularly after the arrest of Balkh provincial council member Asif Momand.
However, Noor in his latest statement slammed Hekmatyar for his discriminatory remarks regarding the northern Panjshir province and Ahmad Shah Massoud.
Noor further added that Jamiat-e-Islami warmly welcomed the conclusion of a peace deal between the government and Hezb-e-Islami with expectations that the rate violence, suicide attacks, and war would reduce.
The governor of northern Balkh province accused Hekmatyar of sparking tensions and divisions among the people based on geographical locations, skin color, and the languages they speak.
He said the leader of Hezb-e-Islami is strictly following a mission hatched by the foreigners to spark tensions among the people.
The Hezb-e-Islami party has not commented regarding the latest of Noor so far.
Full report at:
http://www.khaama.com/rising-tensions-among-prominent-afghan-political-leaders-amid-deteriorating-security-03347
--------
Arab World
Iraqi Army Drives ISIL out of More Key Positions in Tal Afar Region
Aug 21, 2017
Major General Shaker Jowdat said that the Iraqi forces, supported by Hashd al-Shaabi, imposed control over the strategic villages of Molla Jasem and Abrah Aziz West of Tal Afar, killing 20 terrorists in the clashes.
He further said that the Iraqi forces managed to advance towards al-Kafah, al-Wahda and al-Sa'ad regions, taking control over a network of tunnels used by ISIL as a control and training center.
Jowdat went on to say that the Iraqi pro-government forces drove ISIL out of the village of Mohsen al-Abadi West of Tal Afar and advanced towards the villages of Tarmi and al-Ayaz, adding that the Iraqi forces further engaged in tough battle with ISIL and imposed control over the two villages of Halaweh and Abu Shakeh East of al-Mahlabiyeh.
Relevant reports said on Sunday that the army and Hashd al-Shaabi captured several regions South of the ISIL-held city of Tal Afar and managed to lay siege on the terrorists in the Southern direction of the city.
The Iraqi units and Hashd al-Shaabi won four hills in the Southern direction of Tal Afar and trapped ISIL in a circle of their forces.
Also, the Iraqi pro-government forces took control of the village of Tal al-Saban West of Tal Afar.
In the meantime, the Iraqi Federal Police forces, backed up by Hashd al-Shaabi, liberated Abrah al-Najar, Abrah Hanash, al-Abrah al-Saqirah and al-Abrah al-Kabirah regions in Western direction of Tal Afar.
The Iraqi police also pushed ISIL out of the villages of Qazal Qi'yu and Kasar Mehrab Southeast of Tal Afar.
The Iraqi forces ended their mop-up operation successfully in the villages of Batisheh, al-Alam, Khafajeh, Halbiyeh al-Oliya, Tal al-Masbak and the Southern part of Zambar mountains East of Tal Afar.
The Iraqi forces, meantime, cut off the ISIL's supply line from Tal Afar to al-Mahalbiyeh.
The Arabic-language al-Mayadeen TV reported that five ranking members of the military council of ISIL commanders were in Tal Afar.
http://en.farsnews.com/newstext.aspx?nn=13960530000153
--------
Iraqi forces close in on ISIS-held town west of Mosul
Aug 22, 2017
Iraqi forces have made significant progress as they close in on Tal Afar, a town west of Mosul held by the banned Islamic State (ISIS), the US-led coalition said Monday.
US Army Colonel Ryan Dillon, a coalition spokesman, told The Associated Press that Iraqi forces have retaken 250 square kilometres from the extremist group, though they have not yet pushed into the town itself.
"As we get into the urban areas as we saw in Mosul and Raqqa that's where we'll see the pace slow down, that's where ISIS have placed their defences," he said.
US-backed Iraqi forces drove ISIS from Mosul last month after a gruelling, nine-month campaign to retake the country's second-largest city.
US-allied forces are currently battling IS in the Syrian city of Raqqa, the extremists' de facto capital.
The operation to retake Tal Afar was launched early Sunday. Dillon said most of the territory retaken was in the Kisik junction area to the east of the town.
Tal Afar, about 150 kilometres east of the Syrian border, is in one of the last pockets of ISIS-held territory in Iraq.
Some 49,000 people have fled the Tal Afar district since April, according to the United Nations, sparking concern the displaced will exacerbate the humanitarian crisis that erupted during the Mosul operation.
Full report at:
http://nation.com.pk/international/21-Aug-2017/iraqi-forces-close-in-on-is-held-town-west-of-mosul
--------
Syrian Army Dispatches More Troops to Badiyeh to Partake in Deir Ezzur Battle
Aug 21, 2017
The army has forwarded a 200-member group of the National Defense Forces via the Qamishli airbase in Hasaka province to Badiyeh region to join their comrades' imminent operation to end ISIL's presence in Deir Ezzur.
Relevant reports said on Saturday that the army troops continued to advance against ISIL in the provinces of Raqqa, Hama and Homs and completed the siege on the terrorists in the Central part of the war-hit country.
The source reported that ISIL-held regions covering almost 3,000sq/km of area in Homs and Hama province are now under a full siege imposed by the army forces.
The source further added that the army men managed to advance against ISIL South of the town of Ithriya Northeast of Hama and reached their comrades that stormed ISIL's defense line from their positions North of al-Sha'er region in Eastern Homs and advanced towards Jabal al-Fasedah region in Eastern Hama.
The source went on to say that the army soldier have gained control over all the roads in the Eastern direction of the town of al-Salamiyah in Hama province, adding that ISIL withdrew a large number of its forces before the army gained control over the roads.
The source further said that most of the remaining pockets of ISIL terrorists in Aqayrabat region in Hama province were suicide attackers that were in their positions to carry out suicide raids on the government forces to delay the fall of the town of Aqayrabat to the army.
Full report at:
http://en.farsnews.com/newstext.aspx?nn=13960530000178
--------
Lebanese Army Seizes ISIL's Arms Depot, Captures More Heights at Border with Syria
Aug 21, 2017
The army men, backed up by artillery and missile units, hit ISIL's defense lines and drove them out of Tal (hill) al-Asal, advancing towards al-Keif cave in al-Qa'a and Ra'as Balabak heights.
In the meantime, a field source reported that the army has discovered a depot of ISIL's arms and ammunition, including a number of explosive belts and landmines.
The army's vast and rapid advances have pushed ISIL towards full collapse, forcing the terrorist group to retreat from more positions.
Field sources said earlier today that the army troops managed to push ISIL back from 80sq/km of heights along the border with Syria on the first two days of the Fajr (Dawn of) al-Jaroud operation.
The sources said that the army men continued their operation against ISIL in Arsal, Ra'as Ba'albak and al-Qa'a heights in the two regions of Sahalat Khirbet Davoud and Zohor Wadi al-Tineh and managed to capture almost 30sq/km of land, including Qarani Maqyar Farah region, Zalil Um al-Jama'a heights and Qana al-Hamam.
Meantime, the army managed to seize control over vast regions at the country's border with Syria after the recent advances, they added.
The sources said that the army soldiers have imposed control over 80sq/km of heights at the border with Syria, spreading their rule over a total area of 120sq/km since the Fajr al-Jaroud operation started.
Full report at:
http://en.farsnews.com/newstext.aspx?nn=13960530000188
--------
Syrian Army Retaliates Strongly against Terrorists' Attack on Damascus Int'l Fair
Aug 21, 2017
The mortar and missile units shelled heavily the positions of Faylaq al-Rahman in Jobar region in Eastern Ghouta after the terrorists group killed six civilians in a terrorist attack on the Damascus International Fair.
At least four were killed and four others injured in militants' shelling at the Damascus International Fair, while two more were killed outside the fairground.
The local source said that the shelling took place from Eastern Ghouta on Damascus' outskirts controlled by anti-government militant groups.
The Damascus International Exhibition is taking place from August 17 to 26 in the country's capital was renewed after 6 years after its suspension amid the war in the country. There are official delegations and about 1,300 businessmen from Arab and other countries.
The Russian Defense Ministry announced on Friday that the last moderate armed opposition group in Eastern Ghouta of Damascus accepted the terms of the de-escalation agreement after successful negotiations with the Russian reconciliation committee.
"Representatives of the Defense Ministry of Russia and the Syrian opposition's large grouping Faylaq Al-Rahman have signed an agreement in the city of Geneva, under which the group will join the ceasefire from 21:00 Moscow time in the de-escalation zone of East Ghouta," the ministry said in a statement Friday."Faylaq al-Rahman confirmed their readiness to conduct the irreconcilable struggle against terrorists of the ISIS (Daesh or ISIL) and Al-Nusra Front (Tahrir al-Sham Hay'at or the Levant Liberation Board), and also proposed measures for improving the humanitarian situation in the areas of the de-escalation zone controlled by this group," the Russian defense ministry added.
"Through negotiations, Russia's defense ministry has managed to involve in the ceasefire in the East Ghouta de-escalation zone all of the moderate opposition groups operating there," the defense ministry stressed.
Russia, Iran and Turkey agreed on May 4 to set up four de-escalation zones in Syria.
Under a memorandum signed at the talks in Kazakhstan's capital of Astana, these four zones include the Idlib Province and some areas in the neighboring provinces of Aleppo, Lattakia and Hama, an area North of Homs, the Damascus suburb of Eastern Ghouta, and a couple of provinces in Southern Syria, Dara'a and Quneitra.
Full report at:
http://en.farsnews.com/newstext.aspx?nn=13960530000173
--------
Saudi Grand Mufti: Doha blocking pilgrim flights 'wrong and dangerous'
22 August 2017
RIYADH: Saudi Grand Mufti Sheikh Abdul Aziz Al-Asheikh strongly criticized Doha for its handling of air transport for Qatari pilgrims to perform Hajj.
Al-Asheikh described Doha's prevention of pilgrims from being transported to the Kingdom by air as "wrong and dangerous," Al-Sharq Al-Awsat newspaper reported.
His comments came after Saudi Arabian Airlines said its could not schedule flights to transport Qatari pilgrims from Doha to Jeddah because Qatari authorities failed to grant the required clearance to land, despite the passage of several days since clearance was requested.
Since the start of the boycott by the Anti-Terror Quartet (ATQ), the national airlines of Saudi Arabia, the UAE, Bahrain and Egypt have stopped using Qatari airspace.
The ATQ members have also banned Qatar Airways and affiliated companies from using their airspace. But nine emergency corridors have been designated over high seas for Qatari planes to use.
Full report at:
http://www.arabnews.com/node/1148746/saudi-arabia
--------
Lebanese-Australian operation foils terror attack on Abu Dhabi bound plane
21 August 2017
Lebanese Interior Minister Nuhad al-Mashnouk revealed the involvement of four Lebanese men in an attempt to blow up a UAE-bound passenger plane from Australia to Abu Dhabi last month.
Mashnouk said in a press conference, Monday, that the thwarted suicide attack was coordinated by the Information Division of the Lebanese Homeland Security Authority and their counterparts in Australia.
He confirmed that 400 passengers were aboard the plane, which was heading from Sydney to Abu Dhabi, including 120 Lebanese citizens.
The minister said that four Lebanese brothers were involved in the preparation of the operation. The explosives were discovered after the inspection of a hand bag that was larger than normal.
A meat mincer was found in the bag containing explosives.
The Lebanese minister said that a year ago, the Information Division began tracing one of the four brothers who went to Syria, specifically to Raqqa, the capital of the so called ISIS caliphate.
The suspect, Tariq al-Khayyat, has been identified by Mashnouk as an ISIS leader.
The information division monitored Khayat's contacts with his three brothers and their travels from Australia to Lebanon and vice versa.
The second brother identified as Amer al-Khayat arrived in Lebanon during the Eid al-Fitr holiday in late June while the remaining two brothers, identified as Khaled and Mahmoud al-Khayat, remained in Australia.
Through coordination with the Australian authorities the three brother were under constant surveillance, Mashnouk said.
The Australian federal Police said on July 31 that two Lebanese-Australian fathers and their sons have been arrested.
Australian Federal Police Commissioner Andrew Colvin said that the AFP have disrupted a legitimate and credible attempt to attack an aircraft.
Colvin added that their arrests followed a tip from a 'foreign intelligence agency'.
Australian newspapers cited multiple anonymous sources saying that the plotters were constructing a "non-traditional" explosive device that could have emitted a toxic, sulfur-based gas to kill or immobilize everyone on the aircraft.
Al-Mashnuq said on Monday that Amer al-Khayyat, who was in Lebanon, was the proposed suicide bomber.
Full report at:
https://english.alarabiya.net/en/News/middle-east/2017/08/21/Lebanese-Australian-operation-to-foil-terror-attack-on-Abu-Dhabi-bound-plane.html
--------
Syrian opposition council seeks unified delegation going into Geneva peace talks
21 August 2017
The High Negotiations Committee for the Syrian Oppostion is meeting on Monday in Riyadh, bringing together representatives from Cairo and Moscow, with the aim of leaving as a unified delegation to the upcoming Geneva peace talks.
According to an Al Arabiya correspondent in Riyadh, 15 topics will be negotiated for arriving at a final decision. Similarly, decisions on Bashar al-Assad's circumstance will also be deliberated, since the High Committee insists on seeing him leave.
Discussions on increasing Geneva's delegation are also expected.
Participants
Some of the participants at the meeting include Salem Al Musalat amd Riyad Naasan Agha from the Higher Committee, George Sabra, from the National Coalition for Syrian Revolutionary and Opposition Forces, and Gamal Soliman from the Cairo delegation.
Member of the High Negotiations Committee, George Sabra, had previously expressed in conversation with Al Arabiya's Hadath on Sunday evening, that he hopes for the meeting to achieve positive results and to form an opposition delegation with a unified vision.
Meanwhile, the Syrian opposition had postponed the meeting in Riyadh for present date, Monday, due to delays in the arrival of Moscow's delegation.
Spokesman to the High Committee, Salem al-Musallat, said that the meetings will end on the note of announcing the names of the opposition representatives at the Geneva talks.
Talks on compromise
Full report at:
https://english.alarabiya.net/en/News/middle-east/2017/08/21/Syrian-opposition-a-unified-delegation-and-compromise-on-Assad.html
--------
Militants kill Egyptian soldier, policeman in Sinai Peninsula
Aug 21, 2017
An Egyptian soldier and a policeman have been killed in separate attacks by suspected Takfiri militants in the turbulent north of the Sinai Peninsula, security officials say.
The officials said on Monday that five troops were wounded when their armored vehicle struck a roadside bomb in the border town of Rafah late on Sunday.
The soldiers came under fire immediately after the bomb went off in the violence-wracked region of the North African country.
Separately, a militant sniper killed a policeman on duty at a checkpoint in Sinai's coastal city of el-Arish on Sunday night.
The Egyptian military has been struggling to contain an insurgency by militants in northern Sinai.
At least 26 Egyptian soldiers were killed or wounded on July 7, 2017, in attacks on checkpoints in the Sinai Peninsula.
Militants battling Egyptian security forces in Sinai are led by Velayat Sinai, a local affiliate of the Daesh Takfiri terrorist group.
The extremist group, formerly known as Ansar Beit al-Maqdis, is behind most of the deadly attacks in the volatile region. The group pledged allegiance to Daesh in 2014.
Since its emergence in 2013, Velayat Sinai has killed hundreds of members of Egyptian security forces.
Velayat Sinai later expanded its assaults to target members of Egypt's Coptic Christian community as well as foreigners visiting the country.
Egypt has been suffering from a spike in terrorist attacks targeting civilians in the mainland over the past year.
Full report at:
http://www.presstv.ir/Detail/2017/08/21/532437/Egypt-Sinai-elArish-Rafah-Ansar-Beit-alMaqdis-Daesh
--------
Europe
Polish National Security Bureau chief ties terror to radical Islam
21.08.2017
On Thursday, a van mowed down pedestrians on a popular strip in Barcelona, western Spain, killing 13 and injuring more than 100 others, while an attack in Cambrils, south of Barcelona, saw another death.
Soloch told Polish state broadcaster TVP on Monday that there were ties between the attacks and "at least certain factions of … radical Islam" because "terrorist propaganda ... refers to Islamic religion and is undoubtedly linked with religion".
He added that Islam should not be condemned as a whole, but that links between terror and Islam are "concentrated where there is a Muslim community mainly from Arab countries", and that Muslim communities "integrate poorly" and are a "natural base for those terrorists".
Meanwhile, Poland's Deputy Prime Minister Jarosław Gowin said that a demonstration in support of opening the European Union's borders to immigrants would today be impossible, adding that there has been a shift in the way Western Europe sees the fight against Islamic terrorism.
Gowin, who is also minister for science and higher education, said that politicians from Western European countries increasingly backed Poland's conservative government's stance against the European Union's migration policy.
Soloch told TVP that Poland would be in solidarity with the Europe Union in the fight against terrorism but that it would not take part in Brussels' plan to allocate a quota of migrants from camps in Europe's south to the bloc's member states.
The European Union in 2015 decided to relocate some 160,000 of the hundreds of thousands of migrants in Italy and Greece, but only around 20,000 have been settled. Finland and Malta are the only countries to have met their targets. (vb/str)
http://www.thenews.pl/1/10/Artykul/321828,Polish-National-Security-Bureau-chief-ties-terror-to-radical-Islam
--------
Britain takes steps to tackle the scourge of extremism
August 21, 2017
Peter Hellyer
Following last week's horrific but predictable terror attacks in Europe, there is debate, once again, as to how a tiny minority of European Muslims are manipulated by the siren voices of the advocates of terror.
A variety of explanations have been put forward. Racism, economic disadvantages, alienation from society – all have been suggested. The fact remains, however, that the vast majority of Europe's Muslim communities have fervently condemned each and every one of these gruesome attacks.
It is clear, nonetheless, that, for a variety of reasons, the rejection by Islam of extremism – and, by extension, terrorism – is neither understood nor accepted by those who perpetrate these acts. It is neither racist nor evidence of Islamophobia to suggest that, in the long term, a real solution to the problem must lie within the Muslim communities themselves.
Last week, an initiative was announced in Britain that suggests that leading British Muslims are coming together to tackle the problem.
A report in The Times noted that "Britain's most senior Muslim clerics are planning to set up their first national council to issue religious rulings that promote a progressive interpretation of Islam."
The council, the report says, would be the first central religious authority for British Muslims, "delivering edicts on Islamic doctrine and providing a national voice on social issues," condemning what are described as "regressive cultural practices", such as forced marriages and "honour" killings.
More from Peter Hellyer
Why the UAE needs to invest in environmental research
Our country works quietly to build a better life for people
Religious tolerance is part of the fabric of the UAE
One of the figures behind the proposed council, Qari Azim, chief imam of the Makkah Mosque in Leeds, has noted: "There's a lack of an authoritative public voice to speak out on issues such as terrorism and Islamophobia" and that the new body "must take a progressive stance that is in line with Islamic principles and embedded in a British context."
In an editorial, The Times also noted that, in his recent book, Letters to a Young Muslim, the UAE Ambassador to Moscow, Omar Ghobash, had referred to "a crisis of authority" in Muslim communities, "in which moderates have a responsibility to make sure 'wholesome Islam' prevails over 'a theology of death, destruction and decay'".
Both Mr Azim and Mr Ghobash, the paper said, "understand that it is only from within Islam that this decay can be reversed," concluding that "the long war against Islamist extremism will ultimately be won by modern, moderate Muslims."
Numerous studies have noted that many of Britain's 1,200 mosques are led by people with a limited knowledge of British society and who, therefore, offer teachings greatly at variance with the ways of that society. It is not surprising that conflicts arise. It is, in part, upon those affected by such conflicts that the propagators of extremist views prey.
There are too – and it is naïve to overlook them – differences between the interpretations of how to practice Islam, these often arising out of cultural rather than religious practices. Some argue, for example, that it is mandatory, for religious reasons, for women to wear the hijab. Other, equally devout, Muslims disagree. Is it permissible for a Muslim to extend Christmas greetings to a Christian, or to accept Eid greetings in return? Is there or should there be a freedom to debate or hold alternative views? This and much else related, in general terms, to issues of Islamic jurisprudence, are among topics that the new council might seek to address.
It may take some time for this initiative to gain support, not least because the groups that control many of Britain's mosques may be unwilling to cede any of the power that they currently enjoy to a broader national body. A root-and-branch reform of religious authority within Britain's Muslim community will take longer still.
Full report at:
https://www.thenational.ae/opinion/britain-takes-steps-to-tackle-the-scourge-of-extremism-1.621534
--------
Schizophrenic man 'stabbed train passenger after threat to kill all Muslims'
21 August 2017
A schizophrenic man launched an unprovoked knife attack on a train passenger after yelling "I want to kill all the Muslims", a court has heard.
Adrian Brown, 38, was said to be suffering a severe psychotic episode when he stabbed Muhammed Ali in a London Overground carriage on 12 December.
The intervention of other passengers on the train, which was travelling between Honor Oak Park and Forest Hill, south London, might have saved the victim's life, his trial at Southwark crown court heard.
Brown accepted he carried out the attack but pleaded not guilty to a charge of attempted murder on the grounds of insanity.
Prosecutor Alan Kent QC said: "The defendant was living in a hostel on the morning of December 12, he left that hostel armed with a knife – he was determined to find and kill Muslim men.
"He went to the train station at Honor Oak Park, which isn't very far away from the hostel where he was living. He had with him a knife which he took from the hostel.
"He walked up and down the train threatening passengers, threatening death to Muslims while looking for any Muslim men to stab and kill.
"He saw the victim, Mr Muhammed Ali, who was sitting on the train with his wife. The defendant approached Mr Ali, who was sitting down, and repeatedly stabbed him to his head and his body.
"Other passengers on this train came to Mr Ali's rescue and it would seem it was their bravery coupled with medical attention from a doctor and a nurse who happened to be on a train, that they may well have saved his life through their quick medical intervention."
Ali suffered injuries to his head and torso, as well as a punctured lung.
Jurors will consider whether Brown was insane at the time of the attack. He is also accused of carrying a knife and assault by beating of hostel worker Filipe Dias during an earlier incident, both of which he denies on the grounds of insanity.
The court heard Brown had become agitated over the absence of hot water and set upon Dias, who had previously confiscated knives from him.
Kent said: "He was unhappy about a problem there with the hot water system. But there was something much more serious going on in his head at that time because what he suddenly came out with is 'I'm going to destroy Isis, Isis are the problem'."
He said Dias then came across Brown's path and was grabbed by the throat and shouted at. "As he left the defendant was heard to say: 'I'm going to kill some Muslims'."
When at the station he was heard saying "where are all the Muslims? I am going to kill all the Muslims" before holding a knife to the throat of another woman, who was unhurt, the court heard.
He then spotted the victim, whose wife was wearing a hijab and a burka. He started swearing and shouting at him before repeatedly stabbing him. "He stabbed Mr Ali numerous times, the crown say, clearly in an attempt to kill him."
Brown, of Brockley Rise in south-east London, appeared via video link from Broadmoor hospital during the hearing, wearing a brown tracksuit. It was heard two psychiatrists had determined he was insane at the time of the attack.
Kent said: "He is at Broadmoor hospital where he is being treated. He has a very long history of paranoid schizophrenia – there is no doubt that when he carried out these offences he was suffering a very severe psychotic episode."
Jurors were told by Judge Deborah Taylor they could reach one of three verdicts: not guilty, not guilty by reason of insanity or guilty.
Brown's defence counsel has to prove "on the balance of probabilities" that he was insane at the time, the court heard.
Full report at:
https://www.theguardian.com/uk-news/2017/aug/21/schizophrenic-stabbed-muslim-man-on-train-after-threat
--------
Daeshis gathering in Syria's Dayr al-Zawr for last battle: Russia
Aug 22, 2017
The remaining members of the Daesh terrorist group are gathering in Syria's Dayr al-Zawr province for their last stand, says the Russian Defense Ministry.
"The remaining [terrorist] forces are heading there. According to our data, militants from Mosul [in Iraq] moved there and the most battle-ready units from Raqqah," said spokesman for the Russian General Staff, General Sergey Rudskoy, on Monday.
He noted that despite the fact that most of the terrorists had left Raqqah, the US-backed SDF forces have still not been able to capture the city.
"Syrian government forces supported by Russian Aerospace forces are swiftly pushing from three directions towards Dayr al-Zawr at the moment. The foothold around the city is the last stronghold of terrorists on Syrian soil," he added.
"The defeat of the main forces of the most odious terrorist group, Daesh, which intended to create a so-called 'caliphate,' will be completed with lifting the siege of Dayr al-Zawr," he added.
Rudskoy went on to note that Russian Air Force has considerably increased its operations against Daesh in August, boosting the number of sorties to 60-70 per day as the push for Dayr al-Zawr gains momentum.
"During the past five days, Russian planes made 316 sorties and carried out 819 strikes…All in all, in August, Russian Aerospace forces aviation made 990 sorties, [and] 2,518 airstrikes have been carried out on command posts, positions, stockpiles, transshipment bases and camps. Forty armored vehicles, 106 gun trucks and up to 800 terrorists have been destroyed," noted.
Earlier in the day, the Russian defense ministry announced that its aircraft have eliminated more than 200 Daesh terrorists heading for Dayr al-Zawr.
Daesh controls most of oil-rich Dayr al-Zawr Province, but the terror outfit is under pressure from Syrian forces advancing from the west.
The Syrian soldiers control a pocket of the provincial capital, Dayr al-Zawr, which has been under siege by Daesh for two years.
Full report at:
http://www.presstv.ir/Detail/2017/08/22/532488/daesh-syria-russia-dayr-alzawr
--------
Muslim Council of Britain takes aim at The Sun
22 August 2017
LONDON: The Muslim Council of Britain (MCB) wants better regulation of the UK press following an article in The Sun calling for an answer to "The Muslim Problem."
Writing in the UK's most widely read newspaper, Trevor Kavanagh claimed that Britain had a "Muslim Problem."
This drew widespread comparisons to "The Jewish Problem," an expression used in Nazi Germany.
The British Independent Press Standards Organization received more than 150 complaints about the phrase, and is looking into whether it will take action against The Sun. The MCB is not holding its breath.
"The current press regulator IPSO is unlikely to act as its code doesn't protect groups from discrimination and incitement to hatred," Miqdaad Versi, assistant secretary-general of the MCB, told Arab News. "Even more shocking is that this very same columnist is on the board of the regulator."
Versi said inflammatory language could result in a rise in hate crime against Muslims, and for that reason alone there had to be better deterrence to such articles.
"In the UK there has been a rise in Islamophobia and hate crime, with 40 neo-Nazis currently being investigated for fears they're plotting terrorist attacks against Muslims. In this climate, such a column is not only irresponsible but downright dangerous," he added.
"There's no doubt that we need a regulator willing to act, and journalists willing to stand up to this hatred in the same way they stand up against hatred spread against other minorities."
The Sun has a history of printing articles that many say are anti-Muslim. In 2015 the newspaper, which has more than 5 million weekly readers, was forced to correct a "significantly misleading" front page claiming that one in five British Muslims had sympathy for jihadists.
This was followed by columnist Kelvin MacKenzie attacking Channel 4 newsreader Fatima Manji for wearing a hijab while reporting on the Nice terror attack.
IPSO upheld the 3,000 complaints over the first story, forcing The Sun to publish the regulator's adjudication on page 2 of the paper.
But IPSO rejected complaints in the MacKenzie case. The judgment stated: "He was entitled to express his view that, in the context of a terrorist act which had been carried out ostensibly in the name of Islam, it was inappropriate for a person wearing Islamic dress to present coverage of the story."
Niall Duffy, director of external affairs at IPSO, told Arab News: "That adjudication, while clearly relating to an issue of faith, was about an individual, not a group."
An earlier IPSO judgment on another article published in The Sun, in which Katie Hopkins referred to migrants as "cockroaches," also highlighted that clause 12 of its code referred only to discrimination of individuals rather than groups.
Of that ruling, Duffy said: "Clause 12 is designed to protect identified individuals, and doesn't apply to groups or categories of people. The concerns raised by the complainants that the article discriminated against migrants in general didn't therefore raise a possible breach of clause 12."
IPSO replaced the Press Complaints Commission (PCC), which was heavily criticized in the wake of the Leveson Inquiry set up to probe the culture, practices and ethics of the British press in the wake of the hacking scandal.
Like its predecessor, IPSO has been accused of suffering from a lack of independence, with many saying it is run by the newspapers it is supposed to regulate.
The presence of Kavanagh on IPSO's board would appear to back up that claim. But Duffy said the regulator has always been independent and will continue to be so.
"Kavanagh is a member of IPSO's board. The board has no role in the consideration of individual complaints, which are adjudicated on by the Complaints Committee," Duffy said. "IPSO has already upheld a (past) complaint against Kavanagh."
One group that agrees with the MCB is IMPRESS, an independently funded regulator created in the wake of the Leveson Inquiry. It aims to follow the recommendations of Leveson, something IPSO is accused of not doing.
IMPRESS CEO Jonathan Heawood told Arab News: "There has been widespread debate this week about coverage of Muslims in the press. Unlike (IPSO), the new IMPRESS standards code protects groups vulnerable to discrimination against reporting that incites hatred.
Full report at:
http://www.arabnews.com/node/1148636/media
--------
Moroccan youths are easy prey for jihadist recruiters
Aug 22, 2017
Moroccan youths appear to be easy prey for recruiters from well-developed jihadi networks based in Belgium, Morocco, and Syria. Last week's vehicle ramming attacks by Moroccans in Barcelona and Cambrils killed 14 and wounded 130.
On Monday, the driver of the car used in Barcelona, Younes Abouyaaqoub, was shot dead by police near Subirats, a town west of the city, bringing to eight the number of cell members connected to last week's attacks killed. Four other suspects have been detained.
Perhaps inspired by events in Spain, a Moroccan asylum seeker wielding a knife killed two and wounded six in the Finnish town of Turku on Friday; the perpetrator and four other Moroccans were arrested.
Moroccan jihadis launched their campaign in their homeland in May 2003, killing 33 with multiple suicide bombings in Casablanca. Al-Qaeda-connected Moroccan jihadis made their debut in Europe with the 2004 bombings of commuter trains in Madrid, killing 192 and wounding 1,800.
The man believed to be key figure in the Barcelona operation, Moroccan cleric Abdelbaki Es Satty, befriended one of the Madrid bombers while serving time in a Spanish jail for drug dealing. Es Satty also visited Brussels, a hub of Moroccan radicalism, shortly before the attack, reinforcing the Moroccan connection with deadly operations in Europe.
Seven French and Belgian citizens of Moroccan origin plus two Iraqis staged the shootings and bombings in Paris in November 2015, killing 130 and wounding 368, making it the most deadly attack since Madrid.
Abdelhamid Abaaoud
The mastermind was Belgian-Moroccan Abdelhamid Abaaoud, who had been identified as an instigator of earlier attempted attacks in Belgium and France and had fled to Syria. Abaaoud recruited the Belgian-Moroccan Abdeslam brothers who lived in the radical Brussels district of Molenbeek, and others, for the Paris attack.
The cell that conducted the Paris operation also perpetrated the 2016 bombings at Brussels airport and metro station, killing 32 civilians. Moroccan Najim Laachraoui – an Islamic State bomber trained in Syria – was in charge. He and the Bakraoui brothers died.
Four members of the team were of Moroccan origin, and one was of Syrian-Palestinian background who lived in Sweden, travelled to Brussels, and became a recruiter for Islamic State in the operation.
Hundreds of Moroccans flocked to Syria in 2012 to fight against the government. Many had not been radicalised but responded to the call of popular Qatar-based Egyptian tele-cleric Yusif al-Qaradawi, a Muslim Brotherhood supporter, who argued it was a Muslim's duty to fight against the Damascus regime.
Fighting in Syria
In December 2012, the anti-government "Friends of Syria" – including the US, Britain, France, Germany, Turkey and the Gulf states – held a conference in Marrackech where the expatriate Brotherhood-dominated opposition coalition was dubbed the "legitimate representative of the Syrian people".
This decision legitimised western support for armed factions and the flow of foreign fighters to Syria. Encouraged to get rid of radicals, governments turned a blind eye to those going to Syria. The arrival of fighters coincided with the involvement of al-Qaeda's Jabhat al-Nusra and, in 2013, of Islamic State.
During 2013, Harakat Sham al-Islam, a group composed of Moroccan fighters, was created in Latakia province, Syria by three former prisoners at the US Guantanamo facility. Their primary aim was to train Moroccans so they could return home and fight the regime. In 2016, the group fractured and fighters joined either Nusra or Islamic State.
Full report at:
https://www.irishtimes.com/news/world/europe/moroccan-youths-are-easy-prey-for-jihadist-recruiters-1.3193567
--------
Southeast Asia
Ethnomusicologist returns to Indonesia for new research on Islamic music
by Jennifer L. Williams
August 21, 2017
Anne Rasmussen's connections in Indonesia have helped build the evolution of her research there, and over the years, the way she does it as well.
Rasmussen, William & Mary professor of music and ethnomusicology and William M. and Annie B. Bickers Professor of Middle Eastern Studies, spent the first six months of this year as a Fulbright U.S. Scholar in that nation, traveling extensively in Java and Sumatra.
She was expanding on her earlier work, which took her to the area more than 20 years ago and back several times since, including two full years of living there. Those efforts resulted in her award-winning 2010 book, Women, the Recited Qur'an and Islamic Music in Indonesia, among other works.
Rasmussen's research focuses on female religious authorities and practitioners in Indonesia. The country is notable because it is home to the world's largest Muslim population and also because women play prominent, public roles in what Rasmussen calls "the business of religion."
"The project that I began in the late '90s and about which the book was published in 2010, focuses on women as religious authorities, as religious practitioners and as people who are empowered by their knowledge of religion," Rasmussen said. "Women are valued as teachers and particularly as reciters of the Quran."
The Quran, the holy book of Islam, is experienced not just as a written document but, most importantly, as an oral performance. Recitation of the Quran is done in a lyrical way that is essentially musical. This art, while technically demanding and hard work, is also considered sacred.
Rasmussen, the current president of the Society for Ethnomusicology, spent half of her sabbatical year expanding her network in Indonesia and discovered more performances and opportunities to learn about the religious traditions and practice there than she had time to document.
In addition to interviews and conversations, musical performance is also part of Rasmussen's methodology, and she made herself available to sit in or perform on her oud, a lute, with a wide variety of performers of what Indonesians refer to as Islamic musical arts.
Rasmussen, director of the W&M Middle Eastern Music Ensemble, has been playing, singing, teaching and studying Middle Eastern music for the duration of her career, and, because this music is so closely associated with religious practice in Indonesia, people welcome her performances with enthusiasm. All told, Rasmussen was invited to give 18 public lectures, mostly in academic settings, and 30 musical performances.
"I am interested in expressive culture — music, dance, poetry, ritual," Rasmussen said. "And I am particularly interested in the ways that religion is made manifest in them."
Indonesia has a very rich culture of music, dance, language, visual arts, material arts, textiles and sculpture, and all of the arts find their way into religion, she added.
Women and girls study and recite the Quran in Muslim communities around the world and are authorities in terms of religious knowledge, but Indonesia is different.
"In Indonesia, women are very public in terms of being religious in a performative way that's meant for others to hear and to experience," Rasmussen said. "And that's unique in Indonesia."
One of the reasons that this is interesting in terms of the study of world religion, and particularly of Islam, is that sometimes Indonesia is thought of as on the margins because the center of Islam is considered to be the Middle East, or more specifically, the Arab world, she said.
Rasmussen's latest project focused specifically on Islamic music in Indonesia, honing in on all the different varieties, venues, performers, audiences and reasons it is performed.
She takes into account that Indonesians have to learn to read and pronounce the Quran in Arabic, and some do not know what they are reciting.
"I'm really interested in the way that in Indonesia when they make all this kind of Islamic music, they're often drawing from Arabic musical and rhythmic aesthetics and techniques and combining them with all kinds of local Indonesian musical styles and instruments," she said.
"All of this adds up to a cornucopia of musical styles and genres that are performed throughout Indonesia."
And each event, or style, or musician may be positioned somewhere at the intersection of traditional arts, local religion, contemporary politics and global Islam.
"You can look at music as a reflection of all of these things and ask how that music, the contexts in which it is performed, and the people involved in its performance embody particular kinds of ideas," Rasmussen said.
She arrived in Indonesia the week of the U.S. presidential inauguration in January and discovered that there was a good deal of curiosity and confusion about the results of the election. This year was also a time of Indonesian political tumult and transition, and Rasmussen was able to make a number of observations regarding the reactions of local people to current events and the rise of populism and the tension between religious extremism and local culture in Indonesia. A forthcoming article will explore these topics in more depth.
Gathering information came by way of working her network and accepting just about any invitation that came her way, sometimes by chasing down details on events that were mentioned in passing and wangling an invitation or a ride.
She sat in on performances large and small, sometimes with upwards of about 5,000 attendees, some of which lasted from evening into the wee hours of the next morning. Gatherings where music was performed ranged from formal performances to festivals, competitions to religious services.
Talking to people around the periphery at musical events, as well as taking questions at her various public talks, gave her opportunities to collect information while also sharing her project and ideas with her hosts. Opportunities were frequent as she immersed herself in the experience of communicating on multiple levels.
"The people I meet in Indonesia welcome collaboration," Rasmussen said. "They expect you to share what you've got. And so one of the ways I let people know who I am and what I do is by speaking, teaching, performing and, of course, by singing — singing in Arabic, playing the oud and performing a repertoire of Arab music that is familiar in Indonesia, and which, of course, for them really triggers ideas about spirituality."
http://www.wm.edu/news/stories/2017/ethnomusicologist-returns-to-indonesia-for-new-research-on-islamic-music.php
--------
Jokowi must ensure religious tolerance holds at all levels
BY DEASY SIMANDJUNTAK
AUGUST 21, 2017
In his State of the Nation address last Wednesday, President Joko Widodo, also known as Jokowi, called for the safeguarding of Indonesia's Constitution, which upholds religious freedom and diversity.
Indeed, the government has been doing just that, as shown by its decree to ban any organisation that is deemed to be against Pancasila, the state ideology that promotes diversity, democracy and nationalism.
The decree has been used to ban the hardline Islamist group Hizbut Tahrir Indonesia (HTI).
Yet, a recent incident in East Java shows that the country still has a long way to go when it comes to ensuring religious tolerance across its vast territory.
After protests on social media, a Confucian temple in Tuban was forced this month to cover a 30-metre-tall statue of the third century Chinese General Guan Yu with white tarp.
Protesters also rallied outside East Java's parliament demanding it to be demolished.
The colossus, built on the temple's land and thought to be the tallest in South-east Asia, was unveiled in July by the chairman of Indonesia's legislative body, the People's Consultative Assembly, with the hope that it would attract tourists.
However, critics said that building a large Buddhist statue in the predominantly Muslim Tuban shows insensitivity to the feelings of Muslims.
Some bemoaned that it did not depict an Indonesian hero, that it symbolised Chinese influence in Indonesia and also lacked proper building permits.
This incident highlights three current aspects of religiosity in Indonesia's regions. First, it echoes other objections against symbols (including places of worship) of minority religions. Second, that intolerance is increasingly concealed in talk about "nationalism" and "legal permits". Third, that the majority–minority divide is aggravated by existing laws that impede religious freedom.
'UNISLAMIC' SYMBOLS
Despite having the largest Muslim population in the world, Indonesia has a secular Constitution that promotes pluralism and tolerance.
In the past decade, however, many protests were launched against symbols of minority religions or those that were deemed unIslamic.
In 2010, a large steel statue depicting three women in traditional sarongs was removed from Bekasi, West Java, after hardline Muslims claimed that it symbolised the Christian Holy Trinity.
Between 2010 and 2016, hardliners in Purwakarta, West Java, demolished the statues of Gatotkaca, Semar, Bima and Arjuna, characters of the Hindu Mahabharata that have also inspired traditional, pre-Muslim, Javanese folklores. Perpetrators claimed the statues were "idols" and should be destroyed.
In August 2016, hardliners forced a temple in Tanjung Balai, North Sumatra, to remove a 6m-tall statue of Buddha from its roof. Protesters were concerned that it would become an icon of the town, which is predominantly Muslim.
In 2016, some ulamas in South Kalimantan wanted to remove the statue of a hornbill bird, a species native to Kalimantan (Borneo) island, from a town's gateway.
The species is considered sacred by the Dayak, Kalimantan's main ethnic-group, who are also mostly Christians.
Conservative Islamic hardliners are already pushing back against the government's move to crack down on them. Their strategy is a shrewd one: Equating being Islamic with being nationalistic.
This way, they believe they can get around allegations of being against Pancasila.
An example of this convergence of "nationalism" and Islamism can be seen in the recent Tuban incident. A protester said that the statue did not belong in Indonesia because Guan Yu did not contribute to Indonesia's struggle for independence. Yet another waved a placard that read, "We are not worshippers of idols".
While the former demonstrates nationalism or patriotism, the latter clearly shows intolerance. The prohibition of worshipping icons or effigies is part of the Islamic (and Christian) faith and should not be applied to other religions.
Last December, in a massive rally against former Jakarta governor Basuki Purnama — a Christian Chinese -—the hardline group Islamic Defender Front (FPI) claimed it was preserving the integrity of Indonesia.
The FPI advocates the concept of "unitary state of Indonesia under Sharia Law" that in reality differs from the existing concept of the unitary state based on "unity in diversity" advocated by Pancasila.
However, the FPI seems to get away with this so far due to its seemingly "nationalist" posture and the fact that it does not challenge Pancasila and the unitary state concept.
In this way FPI is different from HTI, who openly opposed such a concept and was banned because of it. HTI is part of a transnational movement promoting a pan-Islamic caliphate. As such, they reject the concept of a democratic individual nation-state.
Aside from "nationalism", hardline groups also use laws to condone their acts of intolerance.
One of these laws is the 2006 Joint Regulation of Minister of Home Affairs and Minister of Religious Affairs on the construction of places of worship.
Under this regulation, those aspiring to build a place of worship must collect 60 signatures of local-residents. In practice, it is difficult for minorities to get the consent of the majority religion to build places of worships. This law aggravates the rift between majority and minority religions.
This law is often used by hardliners to force the closure of places of worship, especially churches, claiming that they do not comply with the law's stipulations, such as the signature rule, or did not receive permission from the local Ministry of Religious Affairs office.
The congregations of two churches in Bogor and Bekasi have been holding their Sunday masses in the open outside the Jakarta Presidential palace since 2012 in protest against the forced closure of their churches.
Meanwhile, local governments seem unable to control the hardline groups and sometimes even court them as political constituents.
While the central government shows it is committed to upholding religious tolerance, it is crucial that the Widodo administration ensures its policies are adopted in equal measure by local officials.
Ultimately, the recent incident in Tuban and episodes of intolerance in other regions highlight the overarching need to protect religious freedom in Indonesia.
Full report at:
http://www.todayonline.com/commentary/jokowi-must-ensure-religious-tolerance-holds-all-levels
--------
Amid PAS push for Memali RCI, Kit Siang says Hadi should testify
August 22, 2017
KUALA LUMPUR, Aug 22 — PAS president Datuk Seri Abdul Hadi Awang should be a witness in a Royal Commission of Inquiry (RCI) on the 1985 Memali tragedy that the Islamist party is pushing for, DAP veteran leader Lim Kit Siang said today.
Lim said Hadi should "appear before the Memali tragedy RCI to testify the impact of Amanat Hadi on the loss of 18 lives in 1985".
The DAP parliamentary leader was referring to an interview with former Inspector-General of Police Tan Sri Abdul Rahim Noor on the Memali tragedy that was published by news portal The Malaysian Insight.
Lim pointed to Abdul Rahim's claim that "the fact that the 'Amanat Hadi' had played a role in causing the Memali incident" would be unavoidable if an RCI was to be held to probe the decades-old tragedy.
Lim then reproduced Hadi's April 7, 1981 speech as then PAS Terengganu chief, with the speech now better known as "Amanat Hadi".
The speech said the opposition against the ruling government's Umno and Barisan Nasional is due to their alleged preservation of laws by "infidels" and "colonialists", adding that such struggle would be jihad and that Muslims would be martyrs if they fight such groups to their deaths.
Lim highlighted that Abdul Rahim had in the interview claimed that the "Amanat Hadi" speech had inspired PAS members, including religious teacher and PAS leader Ibrahim Mahmud who established a militant sect and who later died in the November 19, 1985 incident in Memali.
The Memali incident reportedly saw 18 — including four policemen — killed and a few others injured following a police operation to arrest Ibrahim under the Internal Security Act (ISA) for deviant teachings. Ibrahim is also known as Ibrahim Libya.
PAS had since last week urged the federal government to form an RCI panel to investigate the Memali tragedy.
On Sunday, Deputy Prime Minister Datuk Seri Ahmad Zahid Hamidi said the government is ready to set up such a RCI if there is demand for it, noting that the law must be upheld and those responsible for the Memali incident should be held accountable.
Full report at:
http://www.themalaymailonline.com/malaysia/article/amid-pas-push-for-memali-rci-kit-siang-says-hadi-should-testify#qABje8iswE7OVV0t.97
--------
Hadi's twisted agenda for Malaysia
August 22, 2017
By Dennis Ignatius
PAS president Abdul Hadi bin Awang is once again insisting that all senior positions in the country be held by Muslims as they are the "dominant" force.
Last year, in discussing the appointment of the chief minister of Sarawak, he opined that both Sabah and Sarawak must be ruled only by Muslim bumiputeras.
This time around, he went further, listing out the judiciary, administration, security and defence as places where non-Muslims and non-Malays should be excluded from leadership positions.
And this despite the fact that the overwhelming majority of leadership positions in the country are already in the hands of Malay-Muslims.
Kaffirs not citizens
In the first instance, his remarks are, of course, aimed at the DAP, its stewardship of Penang State and the multiracial opposition coalition which includes the DAP.
To Hadi, it is unacceptable for a non-Muslim party to helm a state government or that it should even aspire to do so.
For this reason, he also castigated other Muslim politicians for working with the DAP, describing them as "ignorant, independent-thinking Muslims who have lost their Islamic and national identity and are playing a role in undermining the concept of dominance."
Clearly, as far as Hadi is concerned, non-Muslims are nothing but 'kaffirs' – inferior and unworthy people who have no business holding high office in a Muslim country, who have no right to decide on any policy or decision that affects Malay-Muslims.
Hadi's concept of dominance is, in fact, an opportunistic merger of Umno's ketuanan Melayu political ideology and PAS' own Wahhabi-inspired religious bigotry which Hadi hopes will endear him to Umno.
Its ultimate goal is the creation of a Malay-Muslim Wahhabi state replete with Sharia law and hudud in which non-Muslims will be tolerated for so long as they accept their inferior status.
One wonders how long Umno itself will be tolerated once PAS comes to power but that's another story.
Public office is about integrity and service
In justifying his extremist position, Hadi made the asinine argument that top positions should be reserved only for the "dominant race" because the "prestige" of the post would be lost if other ethnic or religious communities held the position.
In the first place, high office is not about prestige but about public service, integrity and fealty to the constitution.
A person's racial or religious background is, by itself, no guarantee of honesty and integrity or even competency. After all, we have seen too many examples of hypocrites, crooks and philanderers in high office who make much of their piety, patriotism or racial credentials while robbing the nation blind.
No single ethnic or religious group can claim a monopoly on virtue, wisdom or competence.
The premise that somehow only people from one race or religion can be trusted to rule wisely and uphold the prestige of their office is, therefore, pure racist nonsense, deeply insulting and morally repugnant.
Hadi should revisit the Middle East and other Muslim countries like Pakistan with eyes wide open to see the sheer absurdity of his argument.
Challenging the position of Islam
As usual, to pre-empt criticism of his views, Hadi warned non-Malays not to threaten the position of Islam, the monarchy and Malay-Muslim special rights as this could "jeopardize the good relationship between the Muslims and non-Muslims that had been fostered in the country."
This is nothing but a tired old canard, the last resort of people who lack the intellectual capacity to defend their outrageous ideas.
Non-Malays understand the constitutional position of Islam, the monarchy and the special rights of the Malays, all of which are accepted realities in Malaysia.
What is unacceptable to non-Malays is the constant and unrelenting attempts by people like Hadi to undermine the constitutional rights of non-Malays, reduce them to second-class citizenship or make them out to be enemies of Islam and the Malays.
Like it or not, non-Malays are equally full and rightful citizens of this land. They love their country as much, have worked as hard, sacrificed as much and contributed as substantially as any one else. Malaysia is their home and many have been here for longer than some of the upstarts who were born elsewhere and now have the audacity to call others "pendatang."
People like Hadi may find all this hard to accept but it is, nonetheless, a reality that he has to live with.
And as for good relations between Muslims and non-Muslims, Hadi, who has singlehandedly done so much to destroy trust between the two, is simply not qualified to pontificate on the matter.
Nothing to worry about?
Amazingly, after delivering such an offensive racist tirade against non-Malays, Hadi had the temerity to assure them that they have nothing to worry about because they are "guaranteed justice and rights in accordance to the Quran and the Federal Constitution."
It's not the Quran that non-Muslims worry about but the way that people like Hadi interpret it and use it to justify discrimination against minorities.
It's not the Constitution that we have a problem with but the attempts by people like Hadi to twist and subvert it to support their notions of an extremist Islamic state.
Whatever it is, Hadi should know that non-Malays will never trust the assurances of religious fanatics and extremists like him, not after all he has said and done, not after the way he betrayed the trust of the non-Malays who voted for his party in the last elections.
To put it bluntly, he has zero credibility as far as the majority of non-Malays are concerned.
A defining moment
Clearly, we have come to another defining moment in the history of our nation with two visions competing for primacy: Hadi's vision of a race-based extremist Wahhabi state or Tengku Abdul Rahman's vision of a "democratic state founded upon the principles of liberty and justice and ever seeking the welfare and happiness of its people."
It is heartening that many – both Malay and non-Malay – are speaking out against Hadi's twisted agenda for Malaysia.
More need to take a stand.
The people of Sabah and Sarawak, in particular, must pay special attention to this issue. History and circumstance have endowed them with the influence and power to help determine the future of our nation at the next elections. They should have no illusions that whatever happens in the Peninsula will sooner or later affect them. Hadi has made that clear enough.
Dennis Ignatius is a former ambassador.
Full report at:
http://www.freemalaysiatoday.com/category/opinion/2017/08/22/hadis-twisted-agenda-for-malaysia/
--------
RM66b in frozen assets, Muslims advised to prepare 'wasiat' early
August 21, 2017
KUALA LUMPUR, Aug 21 — Death is the only certainty of life. Thus for Muslims, it is important to prepare their 'wasiat' as early as possible.
A wasiat is a declaration made by a person during his lifetime with respect to his property or benefit thereof, to be carried out for purposes permissible by Islamic law.
"Do not leave this world without a will. If we do not settle our debts with people, even martyrs will not be granted forgiveness (by God)," said the President and CEO of As-Salihin Trustee Bhd, Abdul Aziz Peru Mohamed during an interview with Bernama recently.
He said that when his father died, he had asked those attending the funeral to come and see him if his father had owed them money.
"We do not know when we will go, but we most certainly will. Wasiat makes it easier on our kids, spouse and parents as our wealth and assets would be frozen when we die. It is important that we settle the debts of the dead before sorting out matters for the living," he said during an interview at his office in Kelana Jaya.
Wasiat
Established in 2004, As-Salihin is the first trustee company in Malaysia that focuses in Islamic Estate Planning.
The following is the transcription of the Bernama interview with Abdul Aziz, who has been heading as-Salihin since 2005.
QUESTION: What is meant by a wasiat?
ABDUL AZIZ: Wasiat is a person's instructions before they die. Wasiat will not necessarily trump faraid (the Islamic law that pertains to the division of inheritance). Faraid deals with heirs while wasiat allows 1/3 of the estate to be given to non-heirs after all debts of deceased have been settled. The remaining 2/3 will be divided among faraid heirs.
Wasiat gives the opportunity to the testator (the person who made the will) to give away part of his estate to charities and non-Muslim parents. That is his right of which we will honour.
As-Salihin as a trustee and custodian of wills will manage the will accordingly. We specialise in claims by the children and settling the debts of the testator.
QUESTION: Should spouses make separate wasiat?
ABDUL AZIZ: Yes, because their belongings are separate. The faraid law, however, still needs observed. Fights over inheritance occur due to lack of understanding of the faraid law. With a wasiat, we can state that the inheritance is divided equally among the children. If our children are agreeable to the settlement, then there is no problem. However, if they are not agreeable to it, we have to refer to the faraid law. This is what many do not understand.
HIBAH QUESTION: What is meant by hibah?
ABDUL AZIZ: Hibah is a gift of asset to a beneficiary/heir on the basis of love and humanity and is given unconditionally. A person can give to whomever he wishes, particularly his daughters.
If he wishes to give more to his daughters, he can make hibah through a trust deed. Even if the house is in the testator's name, he can give to the right to the property to his daughter and assign himself as the trustee.
As-Salihin will take over the property with the power of attorney and transfer it to the child (upon death or disability of the testator). As the property is now no longer part of the estate, it is also no longer subjected to the faraid law. Many people have done for their daughters, particularly those who are taking care of their parents.
However, a testator cannot make hibah with an asset that he has not finished paying for. For example, a house that is still under a bank loan cannot be given to another as hibah.
A person can also obtain a takaful (a type of Islamic insurance) as hibah for anyone they will. If their children are still young, they can make a takaful trust for their children's education, marriage or for their wife. This type of hibah is also not subjected to faraid.
Another example is that if someone wanted to give 50 percent of their estate to their wife, there needs to be an agreement letter between the husband and wife called the Declaration of Jointly Acquired Asset.
Misconceptions about wasiat
QUESTION: What are the usual misconceptions that Muslims have about making wasiat?
ABDUL AZIZ: The most common misconception is that people assume that it supersedes faraid. Wasiat is a will made according to Islamic law. If all parties agree to it, then we can follow the will, but we cannot run away from faraid law.
We can change the wasiat at any time but the court only acknowledges the last one made. After ascertaining the assets and debts of the deceased, the court will grant the letter of authority to As-Salihin to manage the assets and debts. It is only after that that the banks and relevant authorities can liquidate the assets of the deceased. After the process is done and debts are paid, the money will be released for distribution.
Without a wasiat, the family would have to gather together and appoint an administrator to take over the whole process, and often this can be difficult process as it would require everyone to be in agreement. There are cases when the appointed administrator refuses to release the inheritance too, so it is imperative that a person makes his wasiat as soon as he can to avoid all these potential issues.
QUESTION: What if the beneficiaries cannot come to an agreement in the way the estate is to be divided and are contesting the documents in the wasiat?
ABDUL AZIZ: If they disagree, then we will resort to faraid.
What is important is the appointment of the administrator.
All beneficiaries must sit together and come to an agreement, and this is when it is important to already have an appointed executor or administrator. Failure to come to an agreement and family disputes are the main reasons that the assets of the deceased remain frozen. That is why there is there are currently RM66 billion in frozen assets.
Managing the assets
QUESTION: How long does it take to settle the issues related to the estate of the disease and when will the beneficiaries receive the liquidated assets?
ABDUL AZIZ: Upon death, we will wait up to three days for the family to assemble so that we can read out the wasiat to them. As-Salihin would then ask for the details of the deceased from the family, including the death certificate and information on assets and liabilities, if there are any.
We would then submit an application to the court for the letter of authority. This may take time, maybe two to three months, especially if the family keeps stalling. Once we receive the letter of authority and there are no issues from among the family of the deceased, we would send the certified true copy documents to the banks, statutory bodies and other relevant bodies.
After all debts and taxes are paid, we would transfer the money into the account of the deceased. Individuals who wish to claim their debt repayment from the deceased would need to furnish us with the proof of debt. We would inform creditors about it by advertising in the newspapers for two months.
After the debts are paid, we would then divide what is left among the beneficiaries. For houses belonging to the deceased, it would take around a year before it can be transferred. As-Salihin would do it via our panel of lawyers.
Full report at:
http://www.themalaymailonline.com/money/article/rm66b-in-frozen-assets-muslims-advised-to-prepare-wasiat-early#YvspKkhjvG5S4EjM.97
--------
Mideast
Yemeni Army Launches Missile Attacks on 3 Regions in S. Arabia
Aug 21, 2017
Al-Masirah news channel quoted a Yemeni military source as saying that his forces have destroyed the Saudi military forces' al-Horam base in Najran with several Katyusha missiles.
Also the artillery units of the army and Ansarullah blew up the Saudi forces' positions and their equipment at al-Bayda hill in Najran as well as the Saudi military men's arms cache in al-Sadis base.
They also smashed the Saudi army's positions in al-Ma'arizeh base in Jazan and Hadiqah al-Rabou'ah base in Asir region.
Saudi Arabia has been striking Yemen since March 2015 to restore power to fugitive president Mansour Hadi, a close ally of Riyadh. The Saudi-led aggression has so far killed at least 14,300 Yemenis, including hundreds of women and children.
Despite Riyadh's claims that it is bombing the positions of the Ansarullah fighters, Saudi bombers are flattening residential areas and civilian infrastructures.
According to several reports, the Saudi-led air campaign against Yemen has driven the impoverished country towards humanitarian disaster, as Saudi Arabia's deadly campaign prevented the patients from travelling abroad for treatment and blocked the entry of medicine into the war-torn country.
The cholera outbreak in Yemen which began in April, has also claimed 2,000 lives and has infected 500,000, as the nation has been suffering from what the World Health Organization (WHO) describes as the "largest epidemic in the world" amid a non-stop bombing campaign led by Saudi Arabia. Also Riyadh's deadly campaign prevented the patients from traveling abroad for treatment and blocked the entry of medicine into the war-torn country.
According to reports, the cholera epidemic in Yemen, which is the subject of a Saudi Arabian war and total embargo, is the largest recorded in modern history.
http://en.farsnews.com/newstext.aspx?nn=13960530000201
--------
Erdogan tells Muslim states to stand together
21.08.2017
Turkish President Recep Tayyip Erdogan on Monday asked Muslim countries to increase cooperation with each other.
He made the remarks during a visit to Jordanian capital Amman, to celebrate the 70th anniversary of diplomatic ties between the countries. He was accompanied by Foreign Minister Mevlut Cavusoglu.
Speaking during a meeting between delegations from both countries at the Al Hussainiah Palace, Erdogan said the Islamic world was going through difficult times.
"We, the Islamic world, are living in difficult times. As Muslims, we must maintain solidarity in the region," Erdogan said.
Earlier on Monday, Erdogan held one-on-one talks with Jordan's King Abdullah II at his palace in Amman, and discussed the situation in Jerusalem and the Palestinian territories.
"I know my brother is concerned about Palestine," Erdogan said, referring to the king.
Jordan is the custodian of the mosque compound in east Jerusalem, the third holiest site for Muslims.
"We will continue to support Jordan's role in preserving Muslim holy sites in Jerusalem," said Erdogan.
He added that Turkey and Jordan would continue to work together to ensure that the sanctity of Al-Aqsa Mosque is not violated.
Abdullah thanked Erdogan for his decisive attitude on the Al-Aqsa incident and support to Jordan.
Last month, Israel imposed fresh security measures at Al-Aqsa following the killing of two police officers at the site.
The measures, including metal detectors and cameras, led to renewed violence between Palestinians and security forces and led to outrage across the Muslim world.
Speaking about his meeting with Erdogan, he said that they had discussed bilateral issues.
Full report at:
http://aa.com.tr/en/politics/erdogan-tells-muslim-states-to-stand-together/890439
--------
Hezbollah using combat drones against Daesh terrorists in Syria
Aug 21, 2017
The Lebanese Hezbollah resistance movement says it has used weaponized unmanned aerial vehicles to strike the positions of the Daesh Takfiri terrorists in the strategic and mountainous region of Qalamoun close to the border with Lebanon.
Hezbollah's media bureau announced in a statement on Monday that it had deployed the drones to hit Daesh positions, bunkers and fortifications in the area, located about 330 kilometers (205 miles) north of the Syrian capital Damascus.
Video footage released by the media unit, seemingly taken from a drone, showed two types of missiles, one of them with a tail fin, cruising towards the ground and subsequent explosions as they struck the designated targets.
Earlier on Monday, Hezbollah's media bureau reported that the Lebanese resistance fighters and Syrian government forces had wrested complete control over Shoubat al-Dowab and Shoubat Beit Shuker heights in the western outskirts of Qalamoun.
It added that Hezbollah fighters and Syrian army soldiers were in control of the strategic Qornat Shoubat Aakko district near al-Jarajir village in Syria's southwestern province of Rif Dimashq.
On Saturday, Hezbollah and the Syrian army launched an operation to purge Qalamoun from Daesh terrorists.
Hezbollah launched a major push on July 21 to clear both sides of Lebanon's border with Syria of "armed terrorists."
In August 2014, the Jabhat Fateh al-Sham and Daesh terrorist groups overran Arsal, killing a number of Lebanese forces. They took 30 soldiers hostage, most of whom have been released.
Since then, Hezbollah and the Lebanese military have been defending Lebanon on the country's northeastern frontier against foreign-backed terrorist groups from neighboring Syria.
Hezbollah fighters have fended off several Daesh attacks inside Lebanon. They have also been providing assistance to Syrian army forces to counter the ongoing foreign-sponsored militancy.
The movement has accused Israel of supporting Takfiri terrorists operating in the Middle East.
Full report at:
http://www.presstv.ir/Detail/2017/08/21/532477/Hezbollah-combat-drone-munitions-Qalamoun-Syria-border-Lebanon
--------
Joint Turkish-Iranian operation 'always on the agenda': Erdogan
Aug 22, 2017
Turkish President Recep Tayyip Erdogan said on Monday that a joint Turkish-Iranian operation against Kurdish militants was "always on the agenda", a week after Tehran's top armed forces commander visited Ankara for rare talks.
Turkey has battled the outlawed Kurdistan Workers' Party (PKK) for decades, while the Iranian security forces have also fought its affiliate, the Party of Free Life of Kurdistan (PJAK). Both groups have rear bases in neighbouring Iraq.
"It is always on the agenda to carry out a joint operation with Iran against those terror organisations which pose a threat," Erdogan told reporters in Istanbul before a trip to Jordan.
His comments came after Iran's Armed Forces chief of staff General Mohammad Hossein Bagheri visited Turkey last week, with the two sides discussing ways to cooperate against the militants.
'Surprise proposal'
During the visit, Iran made a "surprise proposal" to Ankara to launch a joint operation against Kurdish militants in northern Iraq's Kandil and Sinjar regions, the Turkish newspaper Turkiye reported on its front page on Monday.
The newspaper claimed the proposal sparked surprise in Ankara because Turkish officials had long complained that Tehran had left Turkey alone in its fight against the PKK's cadres, financial structuring and political activities.
The PKK is designated as a terror group by Turkey, the European Union and the United States.
Erdogan did not say where the operation would be focused, although the question he was posed related to the Turkiye report on Iraq. He confirmed that the two countries' military chiefs discussed how to work against Kurdish militants.
"The work will continue because you know that the PKK terror organisation has a foot in Iran," he said.
"They always cause harm to Iran and to us. We work because we believe that if the two countries cooperate, we can reach a conclusion in a much shorter period of time," he said.
"I hope that we will get a successful result there," he added, without offering further details on the timing or scope of the operation.
Relations between Turkey and the Republic of Iran have on occasion been tense in the last years. Turkey and Iran lie on opposing sides of the Syrian conflict, with Erdogan seeking the ouster of President Bashar al-Assad to end the war. Tehran, along with Moscow, remain the Syrian leader's key allies and backers.
Erdogan has sometimes lashed out at the rise of "Persian nationalism" in the region, especially concerning the power of Shia militias in Iraq.
'Good agreements'
Consequently, Bagheri's visit, which saw him meet both Erdogan and Turkey's top general Hulusi Akar, was seen as a key moment for bilateral relations.
Bagheri said in comments on Monday that during his visit it was agreed that Turkey would step up the control of its border with Iran.
"The actions of Turkey and Iran complement themselves. We reached good agreements to prevent terrorists passing from one side of the border to the other," he said.
Turkey has already begun building a "security wall" along part of its border with Iran, regional officials said this month, along the lines of a similar barrier on the Syrian border.
Bagheri added that both sides were also united in opposition to a plan by the leadership in Iraq's autonomous Kurdish region to hold a referendum on independence on September 25.
Such geographical changes "could provoke tensions and clashes inside Iraq and would not be limited to that country," Bagheri added.
Full report at:
http://nation.com.pk/international/21-Aug-2017/joint-turkish-iranian-operation-always-on-the-agenda-erdogan
--------
Abbas threatens to slowly cut funding to Gaza Strip over row with Hamas
Aug 21, 2017
Palestinian Authority (PA) President Mahmoud Abbas has threatened to gradually cut financial support to the impoverished Gaza Strip "by 100 percent" until the Palestinian resistance movement Hamas agrees to reconcile with his ruling Fatah Party.
The Palestinian leader made the remarks in a meeting with the Israeli politician Zehava Gal-On, the chairperson of the Israeli left-wing Meretz political party, in the occupied West Bank city of Ramallah on Monday.
"We transfer $1.5 billion a year [to Hamas in Gaza]," Abbas further said, according to a statement released by his office later in the day. He added that he had already slashed 25 percent of that amount.
The Fatah, chaired by Abbas, and Hamas are at loggerheads over a number of issues, which ultimately led to a split in the Palestinian Authority in 2007. A year earlier, Hamas had won parliamentary elections and since June 2007 it has been ruling over the Gaza Strip. During the past decade the movement has refused to reconcile with the Fatah and the row between the two still persists.
The PA has recently been under fire for imposing "punitive measures" against the Gaza Strip to squeeze the Gaza-based Hamas to relinquish control of the enclave. Among a series of stiff economic sanctions over Hamas is the reduction of electricity payments to Gaza, prompting Israel to drastically cut its electricity supply to the coastal sliver to less than four hours a day.
Abbas further warned on Monday that Hamas's purported actions could drive a wedge between Gaza and the West Bank, adding that the absence of reconciliation between the two sides had created distrust in the Palestinian leadership.
The Gaza Strip has been under an Israeli siege since June 2007. The blockade has caused a decline in living standards as well as unprecedented unemployment and poverty there.
Full report at:
http://www.presstv.ir/Detail/2017/08/21/532475/Palestine-PA-Hamas-Abbas-Fatah-Israel-funding-electricity-Gaza-West-Bank
--------
Israel extends detention of Palestinian cleric over al-Aqsa Mosque protests
Aug 21, 2017
The Israeli regime has extended for several more days the detention of Sheikh Raed Salah, a cleric caught up in the developments ensuing from a crackdown on the al-Aqsa Mosque protests.
Salah's lawyer said Monday that Israeli prosecutors had demanded a regime court to renew the cleric's remand until Thursday as charges were being prepared against him.
The 58-year-old cleric (seen below), who is residing in the pre-1967 Israeli-occupied territories, was arrested on August 15 over allegations of supporting terrorism. He was an active advocate of Palestinians who sought the removal of Israel's controversial security measures at the gates of the Haram al-Sharif compound, which is home to the revered al-Aqsa Mosque.
The security measures, which came after the July 14 deadly shooting and killing of two Israeli policemen, sparked some unprecedented protests and sit-in gatherings in occupied East Jerusalem al-Quds, the neighborhood where the al-Aqsa Mosque compound is located.
For around two weeks, worshippers heeded calls from Muslim clerics, including Salah, and refused to pass through metal detectors until the regime was forced to remove them.
People close to Salah said filing charges against the cleric, which the prosecutors said was planned, was a "political intimidation" intended to silent dissent.
Among the allegations Salah is facing is a sermon he gave after the July 14 incident. Khaled Zabarka, the lawyer of the cleric, said Salah was accused of "inciting violence and terrorism" as well as supporting an illegal organization.
Salah served nine months in Israeli jails on similar allegations before he was released in January.
Full report at:
http://www.presstv.ir/Detail/2017/08/21/532467/Israel-Raes-Salah-arrest
--------
Africa
Kenya to flush militants out of area near Somali border
21 August 2017
The Kenyan military on Sunday told residents who live close to Boni forest along the Kenyan coast to vacate the area within 48 hours in preparation for a heavy bombardment planned to wipe out al-Shabaab militants hiding within.
The order was delivered on Sunday by the head of Operation Linda Boni mission (Swahili for Operation Protect Boni) Joseph Kanyiri. He urged the herders, who are most likely to frequent the area, to stay away from the forest.
"We would like to caution herders to stay away from the forest, the Boni forest is part of our operation, we don't want anyone to get caught in the bombing of al-Shabaab hideouts that is imminent, we are giving them 48 hours to vacate with their animals," he said in a news conference in the coastal city of Mombasa.
The warning comes in the wake of numerous al-Shabaab attacks in the area which, in the last two month, have claimed the lives of at least 20 police officers. All the attacks involved roadside bombs.
Al-Shabaab militants have also beheaded at least 10 people from villages in the area during the same period. The latest, in ehich three people were killed, happened on Friday.
The Boni forest lies near the porous Kenya-Somalia border.
http://www.worldbulletin.net/africa/193164/kenya-to-flush-militants-out-of-area-near-somali-border
--------
12 dead as boat overturns in Nigeria
Aug 22, 2017
LAGOS: Twelve people were killed when a passenger boat capsized in Nigeria s commercial hub of Lagos on Sunday, the government said, blaming the accident on overcrowding.
"Three more bodies have now been confirmed," the Lagos State Waterway Authority (LASWA) said in a statement that raised the initial death toll.
"We sympathise with the families of the deceased as 12 lives were lost," it said, adding that four people are in hospital.
The sinking occurred in the waterfront community of Ilashe.
The government blamed the incident on overcrowding and illegal activities of boat operators.
"An unfortunate incident occurred at Ilashe today... arising from overloading of passengers on a banana boat taking off from an illegal jetty which has become a perennial issue of the Lagos state government to rid our waterfront areas of illegal operators," it said.
Full report at:
http://nation.com.pk/international/21-Aug-2017/12-dead-as-boat-overturns-in-nigeria
--------
Uganda: Muslim Clerics Acquitted of Murdering Sheikhs
21 AUGUST 2017
By Anthony Wesaka & Juliet Kigongo
The High Court on Monday acquitted the 14 Muslims of charges of murdering Sheikhs Mustafa Bahiga and Ibrahim Hassan Kirya and other Muslim leaders, about three years ago.
However, a panel of three justices led by Ezekiel Muhanguzi of the International Crimes court Division of the High Court, found guilty six suspects including the leader of Tabliq Sect Sheikh Mohamad Yunus Kamoga of terrorism related activities.
Other found guilty of the terrorism acts were; Sheikh Siraje Kawooya, Sheikh Murta Mudde Bukenya, Sheikh Fahad Kalungi, Kakande Yusufu alias Abdallah and Sekayaja Abdulsalam alias Kassim Mulumba.
The Justices said they will pass their sentence tomorrow at 2:30pm.
Court found out that they committed the terrorism crimes by printing fliers with the names of those targeted to be killed inscribed on them and distributed in mosques, holding meetings in their homes from where they planned the killings, sending of watsap messages with pictures of graves, coffins, bullets to their rival groups.
Full report at:
http://allafrica.com/stories/201708220070.html
--------
North Africa: Barcelona Investigators Focusing Increasingly on North African Links
21 AUGUST 2017
By Jamie Dettmer
A year ago, analysts were expressing confidence during a major conference in London that southern Europe would avoid the kind of large-scale Islamic terror attacks seen in northern European cities like Paris and Brussels.
At a conference at King's College, London, to explore the jihadist threat to Europe, analysts drawn from across the continent highlighted the fact that neither Spain — nor Italy, for that matter, which has also been on the receiving end of vocal Islamic State threats — had seen many volunteers join IS to fight in Syria or Iraq.
They noted neither southern European country has large populations of second-generation Muslim migrants, the most common recruitment pool for IS and rival al-Qaida. And they expressed confidence in the Spanish intelligence services skills, emphasizing the counterterror expertise honed during years of combating violent Basque separatists.
The midweek attack in Barcelona, the worst act of jihadist terrorism in Spain since 2004, when bombers struck commuter trains in Madrid, killing 192 people, is being seen as a wake-up call for the intelligence services — not only of Spain but also of Italy, the one major European country that has so far not suffered a jihadist act of terror.
Recent terror attacks
Counterterror officials in Madrid and Rome say they are perturbed by the increasing number of recent terror attacks across Europe that feature links to North African jihadists. They say they worry about the sophistication of Thursday's attack — even though the plotters failed to pull off a much larger planned onslaught.
Fourteen people were killed in the midweek terror attacks in Spain — 13 in Barcelona and one in the resort town of Cambrils, where a car was driven into a crowd of pedestrians before police shot and killed the five suspects after they left the vehicle.
So far, four men have been arrested as countrywide, anti-terror operations remain underway and police hunt for the driver of the van that rammed pedestrians on Barcelona's historic avenue, Las Ramblas.
Olivier Guitta, managing director of GlobalStrat, a security and geopolitical risk consultancy, said the attack in Spain was different from recent truck attacks in Nice, France, and Berlin, arguing it was "a much more sophisticated plot involving many more people, which is extremely serious and extremely concerning."
Investigations into the backgrounds of the assailants — all but one are of Moroccan descent — are focusing initially on whether any of those involved were fighters who had returned to Europe from Syria, say Spanish counterterror officials, who asked not to be identified by name.
But beyond that, they and their counterparts elsewhere in Europe see an emerging trend of North African links behind the recent spate of terror attacks
Manchester bombing
The suicide bombing earlier this year at a Manchester concert was mounted by British-born Salman Abedi, whose parents are Libyan. He traveled frequently to Tripoli to visit relatives and may have had terrorist training there.
Two of the three London Bridge attackers in June were also from North Africa. Rachid Redouane claimed variously to be Libyan or Moroccan, and Youssef Zaghba was born in Morocco.
It was a Tunisian, whose asylum application had been declined, who drove a truck into a crowded Christmas market in Berlin in December, an act of terrorism that left 12 dead.
Spanish detectives are also following links with North African-origin jihadists in Belgium.
Last April, Spanish counterterror police mounted 12 house searches and arrested four suspects in connection with the jihadist attacks at the airport in Brussels and on a metro station, which left 32 dead in March 2016. Some of the suspects arrived in Belgium six days before those attacks and left shortly afterward.
El Pais newspaper reported that during their stay, they had several telephone conversations with people involved in the attacks. All of them were of Moroccan origin.
"The Belgian judge who is investigating the attack on the Brussels airport found links between those responsible for the attack and Moroccans residing in Catalonia," according to a Spanish official.
Catalan police chief Josep Lluís Trapero said shortly after the arrests that the suspects who were detained all had criminal records, including links to drug and arms trafficking. A Spanish official told VOA several of the Barcelona suspects also have criminal histories.
On Saturday, Italian authorities announced they had deported three people — two Moroccans and a Syrian — suspected of extremist sympathies, raising to 202 the number of suspected jihadists expelled from Italy since January 2015. One of the deportees, a 38-year-old Moroccan, was radicalized while in jail for minor crimes, Italian officials said.
Full report at:
http://allafrica.com/stories/201708210511.html
--------
URL: https://www.newageislam.com/islamic-world-news/triple-talaq-india-court-bans/d/112289
New Age Islam, Islam Online, Islamic Website, African Muslim News, Arab World News, South Asia News, Indian Muslim News, World Muslim News, Women in Islam, Islamic Feminism, Arab Women, Women In Arab, Islamophobia in America, Muslim Women in West, Islam Women and Feminism