New Age Islam News Bureau
30 May 2013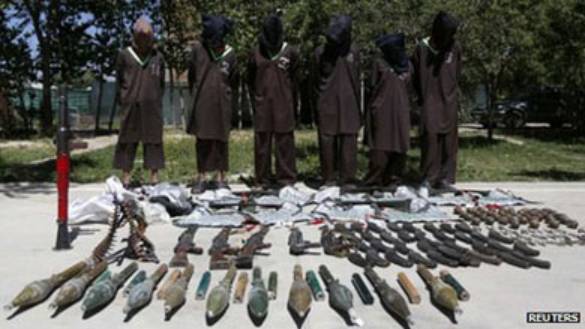 Photo: Insurgents suspected of being from the Haqqani network were presented to the media at the National Directorate of Security headquarters in Kabul
------
Africa
• Tribal clashes kill 64 in Sudan's Darfur: police
• 3 Libyan soldiers killed in Benghazi attack
• Militants threaten 'all West Africa'
Europe
• 200 Islamophobic incidents since Lee Rigby's killing
• U.N. Security Council set to blacklist Syria's Nusra militants
• UK police: Man charged in UK soldier's murder
Mideast
• Iran amends law on stoning for adultery
• Palestinian Refugees Flee Syria to Find Poor Conditions in Lebanese Camps
• Iran seeks tighter control of foreign journalists
• Yemen appeals for funds for Guantanamo prisoners rehab centre
• Israel to build 1,000 new homes in East Jerusalem
Arab World
• Islamist Religious preacher slapped with fine for insulting Egyptian actress
• Egyptian jihadists call for attacks in Shiite countries
• Iraqi officials say 13 dead in wave of bomb blasts
• Iraqi Shiite militia warns of sectarian fighting
• Syria says Bashar Assad will remain president until 2014
• Qatar government backs tighter online media codes
• Anti-Morsi 'Rebel' petition collects over 7 million signatures: Organisers
• Egyptian Islamic Jihad leader discusses Salafi jihadism in Sinai
• Imposing Syria 'No Fly Zone' Would Be Act of War, Warn Critics
• Gulf States to discuss placing Hezbollah on terror list on Sunday
• Lebanese Christian leader says Hezbollah will destroy Lebanon
• Russian missiles have arrived in Syria, President Bashar Assad says
• Syrian opposition won't participate in Geneva talks
• Addicted Iraqi farmer eats live scorpions every day
Pakistan
• Chinese worker cleared of blasphemy in Pakistan
• DNA cannot be primary evidence for rape: Pak Islamic body
• At least 17 militants killed in Khurram tribal region
• JUI-S chief Sami keen to mediate, but clueless about TTP
• Nawaz Sharif urged to bring nationals home from Bangladesh
• Bugti murder case: Musharraf files for pre-arrest bail in ATC
• Nawaz Sharif's first speech as PM to be full of 'surprises'
• Wali ur Rehman: From madrasa teacher to Taliban commander
• Wali ur Rehman buried, say intelligence officials
• Another five fall prey to unabated targeted killing
North America
• Guantanamo Bay prison guard converts to Islam
• CAIR Asks FBI to Probe Georgia Mosque Vandalism Tied to London Attack
• Chechen killed by FBI in Boston probe was 'unarmed': Report
• Canada freezes trade with Iran over nuclear program, human rights
• US demands Hezbollah withdraw from Syria
• Honouring Muslim American Veterans on Memorial Day
• Islamic group calls for inquiry into shooting of associate of Marathon bombing suspect
India
• Vice-President Hamid Ansari asks Muslims to go with the teachings of Quran and Hadith
• CBI summons IB official in Ishrat Jahan encounter
• J&K govt bans Yasin Malik from Doda, Srinagar shuts down in protest
• Every resident of Jammu and Kashmir is not a militant: Omar Abdullah
• Abused by J&K dervish, girls now get threats
• Khalid Mujahid's kin refuse Rs 6L, demand justice
South Asia
• Troops Flood Myanmar Town as Muslims Flee After Riots
• Security services in Maldives authorised to grow beards
• Islam as a political weapon in the Maldives
• Militant attack on Afghan Red Cross office kills one
• Afghanistan's Karzai denounces Taliban for killing countrymen
Southeast Asia
• Pew's Conclusions on Shariah Law in Indonesia Branded 'Potentially Dangerous'
• Indonesia religious award angers rights groups
• Indonesian Minorities wary of mixed signals from court
Compiled by New Age Islam News Bureau
URL: https://newageislam.com/islamic-world-news/new-age-islam-news-bureau/tribal-clashes-kill-64-in-sudan-s-darfur--police/d/11815
-----------
Africa
Tribal clashes kill 64 in Sudan's Darfur: police
At least 64 people killed in clashes between Arab tribes in Darfur region over access to pasture
30 May 2013
Renewed fighting between two rival Arab tribes in Sudan's Darfur region over access to pasture has killed 64 people, police said in a statement late on Wednesday.
Dozens more were wounded in the fighting between the Beni Halba and Gemir tribes, South Darfur police said.
Abkar Altom of the Gemir said: "It's the fifth attack on our tribe by the Beni Halba since March." He said the attacks had killed 94 of his fellow tribesmen and seen 1,200 homes burned.
But a leader of the rival tribe said: "The Beni Halba are only defending their land." As drought has wracked the region, disputes between rival tribes over access to water and pasture have multiplied.
In April, the United Nations said 50,000 people from south-western Darfur had fled to neighbouring Chad because of fighting between two other feuding Arab tribes -- the Misseriya and the Salamat.
The United Nations estimates that in Darfur as a whole 300,000 people have fled fighting in the first five months of this year, more than the total number of people displaced in the past two years.
A total of 1.4 million people were already living in camps in Darfur after fleeing their homes during an uprising that broke out among the region's ethnic minorities against the Arab-dominated regime in Khartoum in 2003.
While the worst of the violence has long passed, rebel-government battles continue, along with fighting between rival rebel factions, tribal disputes, kidnappings and carjackings.
http://english.ahram.org.eg/NewsContent/2/8/72732/World/Region/Tribal-clashes-kill--in-Sudans-Darfur-police.aspx
-----------
3 Libyan soldiers killed in Benghazi attack
29 May 2013
BENGHAZI, Libya: Three Libyan soldiers died in a bomb attack on their patrol in the eastern city of Benghazi, a military spokesman said yesterday, updating an earlier toll.
"An explosive device that was concealed in a rubbish bin blew up near a patrol of the Al-Khandak Brigades," killing one soldier on the spot while the other two later died of their injuries, said Abdullah Al-Shaafi.
Three other soldiers were wounded in the late Tuesday attack, he said.
An earlier toll said one soldier was killed and three were badly wounded when assailants shot at the patrol from a car and then sped away.
Benghazi, the birthplace of the 2011 Libyan revolution, has seen several bombings and attacks against security services and Western diplomatic missions in recent months, highlighting the inability of the authorities to establish effective security in the country.
The attacks have been blamed on militants, like the one last Sept. 11 against the US consulate which killed four Americans, including Ambassador Chris Stevens.
http://www.arabnews.com/news/453306
---------
Militants threaten 'all West Africa'
May 30, 2013
Ghana's President John Dramani Mahama has warned that Islamist militancy poses a threat that could destabilise the whole of West Africa.
Mr Mahama told the BBC that although Ghana had not been directly affected, no country was safe if insurgency was allowed to take hold elsewhere.
He said intervention led by France had helped guarantee stability in Mali, but the conflict there was not yet over.
He also backed the African Union's plan to create a rapid reaction force.
Mr Mahama said there had been a suggestion that it could be funded by a tax on air travel and hotels across the continent.
'Attractive foothold'
In January, French forces spearheaded an operation to drive out al-Qaeda and other allied Islamist groups from northern Mali, where they had seized control in the chaos following a coup last year.
Ghana's leader said the incident showed how the whole Sahel region had "become an attractive foothold for insurgents".
"If we allow that foothold to consolidate, then it could affect the stability of our entire region," Mr Mahama told the BBC's Newsday programme.
Despite regaining territory from Islamist groups in Mali, he said the crisis was not over.
"There is the danger of asymmetric attacks like we saw in Niger the last few days, and so it is a matter that worries all of us in the sub-region," Mr Mahama said.
"And we need to act collectively as a sub-region and a continent and indeed globally to be able to ensure peace and stability."
http://www.bbc.co.uk/news/world-africa-22714242
-----------
Europe
200 Islamophobic incidents since Lee Rigby's killing
Sharp rise in reported cases, including attacks on 10 mosques, raises fears of sustained targeting of Muslim communities
Matthew Taylor and Haroon Siddique
28 May 2013
Fears that Muslim communities across the country are facing a sustained wave of attacks and intimidation have intensified after it emerged that almost 200 Islamophobic incidents had been reported since the murder of British soldier Drummer Lee Rigby in Woolwich, south-east London, last week.
That number includes attacks on 10 mosques and follows a weekend of protests by far-right groups, the largest of which saw hundreds of English Defence League supporters stage a protest outside Downing Street that ended with bottles being thrown and 13 arrests. Four men have been charged with offences including possession of a bladed article, possession of class A drugs and public order offences following the EDL protest and a counter demonstration.
The Tell Mama hotline for recording Islamophobic incidents said 193 incidents had been reported by Monday evening, with more expected to come in. Before the death of Rigby, the service recorded an average of three or four incidents a day.
In Grimsby on Tuesday, two men reported to be former soldiers were remanded in custody at the town's magistrates court after a mosque was petrol bombed. Stuart Harness, 33, and Gavin Humphries, 37, were charged with arson with intent to endanger life. No pleas were entered and the pair are due to appear at Grimsby crown court next month.
The Tell Mama co-ordinator, Fiyaz Mughal, from Faith Matters, said he feared there would be an escalation in attacks on Muslim communities. "These things are cumulative and I do not see an end to this cycle of violence," said Mughal. "There is an underlying Islamophobia in our society and the horrendous events in Woolwich have brought this to the fore and inflamed the situation."
The latest round of Islamophobic attacks came as counter-terrorism police launched an investigation at a prison in east Yorkshire after three Muslim inmates assaulted two prison officers and held one of them hostage.
The police and the Ministry of Justice would not comment on the motive for the attack at Full Sutton prison on Sunday, but a spokeswoman for the north-east counter-terrorism unit said it was leading the investigation "given the potential nature of the incident".
"t will take time to establish the full details," the terrorism unit said. "The motivation behind this incident is for the investigation to establish and is one of a number of lines of inquiry."
Officials said none of the inmates involved were serving time for terrorism-related offences. Michael Spurr, chief executive of the National Offender Management Service, said: "This was a serious incident and my first thought is with the officer who was taken hostage – we will do all we can to help him recover from this experience." Both of the prison officers have been discharged from hospital.
Police were also investigating graffiti daubed on two privately funded war memorials in central London. The word "Islam" was quickly covered up after the graffiti was discovered early on Monday at the RAF Bomber Command memorial in Green Park and the Animals in War memorial in nearby Hyde Park.
Meanwhile, online activists Anonymous announced on Tuesday they were planning to attack the EDL.
The hacking collective that has become known around the world for a series of high-profile hacks and distributed denial-of-service (DDoS) attacks on government, religious and corporate websites, said it was planning to kick off its campaign by publishing details of the far-right group's supporters and donors.
In a statement accompanying the launch of #OpEDL, Anonymous claimed the EDL had attempted to exploit the events in Woolwich to spread division and persecute innocent Muslims.
"[You] have used this as another excuse to further spread your campaign of hate, bigotry, and misinformation. Under the guise of national pride you have instigated crimes against the innocent and incited the subjugation of Muslims," it said.
The statement added: "We will not allow your injustices, your lies, and your stupidity, to further radicalise our youth into fearing and despising their fellow man ... We do not forgive, we do not forget. Expect us !"
A 50-year-old man who was arrested in Welling, south-east London, on Monday on suspicion of conspiracy to murder, in connection with the death of Rigby, has been bailed, the Metropolitan police said night.
http://www.guardian.co.uk/uk/2013/may/28/woolwich-murder-200-islamophobic-incidences
-----------
U.N. Security Council set to blacklist Syria's Nusra militants
29 May 2013
The U.N. Security Council is set to blacklist Syria's Islamist al-Nusra Front on Friday as an alias of al Qaeda in Iraq, a move that will subject the group to sanctions including an arms embargo, travel ban and assets freeze, diplomats said.
It's unlikely members of the Security Council's al-Qaeda sanctions committee will object to the proposal submitted by Britain and France, diplomats said on condition of anonymity. All 15-members of the sanctions committee must agree for Nusra to be listed.
Nusra, one of the most effective forces fighting President Bashar al-Assad, last month pledged allegiance to Qaeda leader Ayman al-Zawahri. The U.S. State Department designated Nusra as a terrorist organization in December.
Full report at:
http://english.alarabiya.net/en/News/middle-east/2013/05/29/U-N-Security-Council-set-to-blacklist-Syria-s-Nusra-militants.html
-----------
UK police: Man charged in UK soldier's murder
AP | May 30, 2013
LONDON: Police have charged a man with murder in the killing of a British soldier in a suspected Islamic extremist attack in broad daylight on a London street.
Michael Adebowale, 22, was charged late on Wednesday by counterterrorism officers and will appear in court on Thursday, police said. He is one of two main suspects in the killing of Lee Rigby, 25, who was struck by a car and stabbed to death last week near his barracks in southeast London's Woolwich district.
Gruesome images that emerged after the attack showed two men wielding bloody knives and meat cleavers. Both men were shot and wounded by police.
Suspect Michael Adebolajo, 28, remains hospitalized in stable condition. Adebowale was discharged from a hospital on Tuesday and taken into custody. Adebowale also was charged with a firearms offense related to possessing a 9.4 mm revolver with the intent "to cause persons to believe that unlawful violence would be used," police said in a statement announcing the charges.
Full report at:
http://timesofindia.indiatimes.com/world/uk/UK-police-Man-charged-in-UK-soldiers-murder/articleshow/20343511.cms
---------
Mideast
Iran amends law on stoning for adultery
30 May 2013
Iran has amended its internationally condemned law on stoning convicted adulterers to death to allow judges to impose a different form of execution, according to the revision seen by AFP on Thursday.
The controversial practice, in which stones are thrown at the partially buried offender, has provoked outcries from human rights organizations, international bodies and Western countries urging Iran to abandon it.
An article of Iran's Islamic new penal code, published earlier this week, states that, "if the possibility of carrying out the (stoning) verdict does not exist," the sentencing judge may order another form of execution pending final approval by the judiciary chief.
The article does not explain what is meant by the possibility of stoning not existing.
In Iran, executions are normally carried out by hanging.
Under Iran's interpretation of Islamic Sharia law in force since its 1979 revolution, adultery is punished by the stoning of convicted adulterers.
Full report at:
http://english.alarabiya.net/en/News/middle-east/2013/05/30/Iran-amends-law-on-stoning-for-adultery-.html
----------
Palestinian Refugees Flee Syria to Find Poor Conditions in Lebanese Camps
By JOSH WOOD
May 30, 2013
BEIRUT — As Syria's civil war has increasingly encroached on Damascus and its environs in the past six months, tens of thousands of Palestinian refugees living in and around the capital have found their lives once more uprooted by conflict.
According to the United Nations, more than 56,000 Palestinians living in Syria, mostly from the Damascus region, have fled into neighboring Lebanon, joining nearly half a million Syrian refugees as well as an already established Palestinian refugee community estimated to be between 260,000 and 400,000 strong.
Full report at:
http://www.nytimes.com/2013/05/30/world/middleeast/palestinian-refugees-flee-syria-to-find-poor-conditions-in-lebanese-camps.html?ref=middleeast&gwh=3786411D2029EE4667523ACCC2292423
-----------
Iran seeks tighter control of foreign journalists
AP | May 29, 2013
TEHRAN, Iran: Iran's culture minister is seeking to tighten rules to supervise visiting foreign journalists.
A Wednesday report by the semi-official Mehr news agency quotes Mohammad Hosseini as saying tighter measures are being sought after an Israeli journalist reported from Tehran about the 2009 presidential election for a European news outlet.
Postelection turmoil in 2009 led the government to restrict access for visiting foreign journalists, many of whom left the country ahead of schedule.
Full report at:
http://timesofindia.indiatimes.com/world/middle-east/Iran-seeks-tighter-control-of-foreign-journalists/articleshow/20333133.cms
-----------
Yemen appeals for funds for Guantanamo prisoners rehab centre
May 30, 2013
SANAA: Yemen's human rights minister appealed to the United States and Gulf Arab countries to help fund a $20 million rehabilitation centre that Sanaa says will stop Yemenis released from Guantanamo Bay prison going back to militant activities.
Washington halted the repatriation of Yemeni prisoners in 2010 after a man trained by al Qaeda-linked militants in Yemen attempted to blow up a US-bound plane in 2009 with a bomb concealed in his underwear.
Full report at:
http://www.dailytimes.com.pk/default.asp?page=2013\05\30\story_30-5-2013_pg4_10
-----------
Israel to build 1,000 new homes in East Jerusalem
30 May 2013
Israel is preparing to build more than 1,000 new settler homes in annexed east Jerusalem as the United States strives to revive dormant Israeli-Palestinian peace talks, an NGO said late Wednesday.
Danny Seidemann, director of Jerusalem settlement watchdog Terrestrial Jerusalem, told AFP that contracts for 300 homes in the northeastern settlement of Ramot were signed and another 797 plots were to be offered for sale in the southern Jerusalem settlement of Gilo, near the West bank city of Jerusalem.
Full report at:
http://english.alarabiya.net/en/News/middle-east/2013/05/30/Israel-to-build-1-000-new-homes-in-East-Jerusalem-.html
-----------
Arab World
Islamist Religious preacher slapped with fine for insulting Egyptian actress
Islamist TV presenter Khaled Abdullah, known for his acid-tongued comments about Egyptian opposition figures, is fined LE10, 000 for insulting Egyptian actress Hala Fakher on live TV
29 May 2013
An Egyptian misdemeanours court on Wednesday slapped controversial preacher Khaled Abdullah with a suspended fine of LE10, 000 for slandering and defaming Egyptian actress Hala Fakher.
Abdulla will only have to pay the fine in the event that he commits a similar infraction within the next three years.
The veteran actress filed the lawsuit against the preacher after he had insulted her during his television programme on the religious Al-Nass channel, and made offensive comments about her in a weekly newspaper.
Full report at:
http://english.ahram.org.eg/NewsContent/1/64/72643/Egypt/Politics-/Religious-preacher-slapped-with-fine-for-insulting.aspx
-----------
Egyptian jihadists call for attacks in Shiite countries
By THOMAS JOSCELYN
May 29, 2013
Twenty Egyptian jihadists have issued a statement calling upon Sunnis to launch attacks in Shiite-led countries in response to the Assad regime's offensive in Qusayr, a city in western Syria near Homs. The chief signatory on the statement is Mohammed al Zawahiri, the younger brother of al Qaeda emir Ayman al Zawahiri.
The statement was released on May 25 by Al Faroq Media, an Egyptian jihadist propaganda outfit that is openly pro-al Qaeda and regularly publishes the younger Zawahiri's messages and videos.
Full report at:
http://www.longwarjournal.org/archives/2013/05/egyptian_jihadists_c.php#ixzz2UlBOckTE
-----------
Iraqi officials say 13 dead in wave of bomb blasts
AP | May 30, 2013
BAGHDAD: Iraqi officials say a series of morning bomb explosions in Iraq has killed at least 13 people and wounded dozens in the latest eruption of violence rattling the country.
Police say most of Thursday's blasts went off in Baghdad. Car bombs killed four in the northeastern Shia neighborhood of Binouq, and three died in a bombing at a market selling spare car parts in central Baghdad.
Full report at:
http://timesofindia.indiatimes.com/world/middle-east/Iraqi-officials-say-13-dead-in-wave-of-bomb-blasts/articleshow/20346570.cms
-----------
Iraqi Shiite militia warns of sectarian fighting
30 May 2013
BAGHDAD: A senior member of an Iraqi Shiite militia that once fought the US military warned yesterday that Iraq is heading toward widespread sectarian bloodletting similar to the kind that once pushed the country to the brink of civil war.
The head of the political bureau of the Asaib Ahl Al-Haq group, Adnan Faihan, also said the militia is preparing to defend itself, but denied the group's involvement in a spate of attacks targeting Iraq's Sunni Arab minority.
Meanwhile, violence in Iraq on Tuesday killed 45 people, after evening attacks raised an earlier toll, the latest in a spate of unrest sparking concerns the country could be sliding back to all-out sectarian war.
Full report at:
http://www.arabnews.com/news/453317
-----------
Syria says Bashar Assad will remain president until 2014
AP | May 30, 2013
BEIRUT: Syria's foreign minister laid out a hard line on Wednesday, saying Bashar Assad will remain president at least until elections in 2014 and might seek another term, conditions that will make it difficult for the opposition to agree to UN-sponsored talks on ending the civil war.
Any deal reached in such talks would have to be put to a referendum, foreign minister Walid al-Moallem added in a TV interview, introducing a new condition that could complicate efforts by the US and Russia to bring both sides together at an international conference in Geneva, possibly next month.
Full report at:
http://timesofindia.indiatimes.com/world/middle-east/Syria-says-Bashar-Assad-will-remain-president-until-2014/articleshow/20344488.cms
-----------
Qatar government backs tighter online media codes
May 30, 2013
Qatar's Government has backed new Internet codes that widen controls over news websites and online commentary after similar clampdowns by other Gulf Arab States.
Western-backed Gulf nations have sharply increased arrests over social media posts on charges that include insulting rulers. Stronger media laws also have been placed in many Gulf countries as officials worry about growing opposition linked to the Arab Spring.
Full report at:
http://www.thehindu.com/news/international/world/qatar-government-backs-tighter-online-media-codes/article4765983.ece
-----------
Anti-Morsi 'Rebel' petition collects over 7 million signatures: Organisers
29 May 2013
Organisers of the anti-Morsi 'Rebel' campaign announced on Wednesday that the movement has succeeded in gathering 7,540,535 signatures in support of its goals.
The campaign, which officially began on 1 May, hopes to collect 15 million signatures by 30 June to register opposition to Egyptian President Mohamed Morsi and his policies and to demand snap presidential elections. The petition will be submitted to the prosecutor-general.
During a press conference on Wednesday held in Cairo, the movement also announced the official launch of its website.
Full report at:
http://english.ahram.org.eg/NewsContent/1/64/72638/Egypt/Politics-/AntiMorsi-Rebel-petition-collects-over--million-si.aspx
-----------
Egyptian Islamic Jihad leader discusses Salafi jihadism in Sinai
By DAVID BARNETT
May 25, 2013
In a recent interview with Asharq al Awsat, Nabil Naim, a leader in Egyptian Islamic Jihad (EIJ) and a former associate of Osama bin Laden and Ayman al Zawahiri, said that the kidnappers of seven Egyptian security personnel, who were released earlier this week, are linked to al Qaeda. Naim also provided information on the Salafi jihadists operating in the Sinai.
According to Naim, Salafi jihadists in the Sinai Peninsula have "sent messages to [al Qaeda emir Ayman] al Zawahiri" noting their desire to establish an al Qaeda branch in Egypt. While Naim did not say whether Zawahiri responded positively, he reiterated his belief that Zawahiri is not as charismatic as bin Laden.
Full report at:
http://www.longwarjournal.org/threat-matrix/archives/2013/05/eij_leader_discusses_salafi_ji.php#ixzz2UlCaucGs
-----------
Imposing Syria 'No Fly Zone' Would Be Act of War, Warn Critics
Peace advocates and policy experts say euphemistic term belies reality that massive bombing campaign would come first
May 29, 2013
According to an "exclusive" report by The Daily Beast on Wednesday, the Obama administration has asked the Pentagon to give further review to a series of US military plans for Syria, including the implementation of a "no fly zone" over the country.
A famous and innocuous-sounding euphemism in military circles, a "no fly zone" demands overt military action which would necessitate a massive bombing campaign focused on wiping out anti-aircraft capabilities, radar installations, and the opposition's own air forces. The fact that creating a "no fly zone" requires such an intense, offensive bombing campaign is often left out of mainstream media reporting in the US.
Full report at:
http://www.commondreams.org/headline/2013/05/29-4
-----------
Gulf states to discuss placing Hezbollah on terror list on Sunday
30 May 2013
Gulf Arab states will consider placing Lebanon's Shiite party Hezbollah, which is openly involved in the Syrian conflict, on their terror list, Al-Rai daily quoted highly placed diplomats on Thursday as saying.
Bahrain will ask foreign ministers of the six-nation Gulf Cooperation Council to discuss "placing Hezbollah on the terror list" at a meeting in Jeddah, Saudi Arabia on Sunday, the newspaper said.
Full report at:
http://english.alarabiya.net/en/News/middle-east/2013/05/30/Gulf-states-may-place-Hezbollah-on-terror-list-report-.html
-----------
Lebanese Christian leader says Hezbollah will destroy Lebanon
29 May 2013
One of Lebanon's Christian leaders, Samir Geagea, accused the Shiite party Hezbollah of attempting to turn Lebanon into a sectarian state in a press conference, held in the country, on Wednesday.
Geagea, who is leader of the Lebanese Forces (LF) party, claimed that "the concept of the Lebanese state doesn't exist in the eyes of Hezbollah" and blamed the party and its leader, Hassan Nasrallah, of paralyzing the country.
Full report at:
http://english.alarabiya.net/en/News/middle-east/2013/05/29/Lebanese-Christian-leader-says-Hezbollah-will-destroy-Lebanon.html
-----------
Russian missiles have arrived in Syria, President Bashar Assad says
AP | May 30, 2013
BEIRUT: The Syrian president has told Lebanon's Hezbollah-owned TV station that Damascus received the first shipment of Russian air defense missiles, according to remarks released on Thursday.
Bashar Assad's comment on the arrival of the long-range S-300 air defense missiles in Syria will further ratchet up tensions in the region and undermine efforts to hold UN-sponsored talks with Syria's warring sides.
Israel's defense chief, Moshe Yaalon, said earlier this week that Russia's plan to supply Syria with the weapons is a threat and that Israel was prepared to use force to stop the delivery.
Full report at:
http://timesofindia.indiatimes.com/world/middle-east/Russian-missiles-have-arrived-in-Syria-President-Bashar-Assad-says/articleshow/20346943.cms
--------
Syrian opposition won't participate in Geneva talks
May 30 2013
"International conference on a political solution to the situation in Syria has no meaning in light of the massacres that are taking place"
Syria's main Western-backed opposition group says it will not participate in U.S.-Russian sponsored peace talks while the regime is carrying out massacres in Syria.
Thursday's announcement came at the end of weeklong opposition talks in Istanbul to try and forge a united view on whether to take part in the peace conference expected to take place in Geneva next month.
Full report at:
http://www.thehindu.com/news/international/world/syrian-opposition-wont-participate-in-geneva-talks/article4766131.ece
----------
Addicted Iraqi farmer eats live scorpions every day
May 30 2013
NEW YORK: If you can't beat them, eat them!
A 34-year-old Iraqi farmer claims that he has been consuming live scorpions every day for the past fifteen years and is addicted to them.
Ismail Jasim Mohammed, a resident of Samarra in Iraq, said he became tired of getting stung by the dangerous creatures.
Full report at:
http://www.indianexpress.com/news/addicted-iraqi-farmer-eats-live-scorpions-every-day/1122805/
-----------
South Asia
Major attack on Afghan capital 'thwarted'
30 May 2013
A potentially devastating attack on the Afghan capital has been foiled and a large amount of weapons recovered, the Afghan intelligence agency has said.
The National Directorate of Security said its forces carried out a raid on a militant hide-out in Kabul.
An insurgent of the Pakistan-based militant Haqqani network was killed and six others arrested, it said.
The network - which has links to al-Qaeda and the Taliban - has carried out a series of high-profile attacks.
Most have been against foreign troops in Afghanistan. The US has long described it as a major threat and last year designated it as a terrorist organisation.
Militant groups including the Taliban have regularly targeted Kabul.
On Friday security forces fought insurgents for hours in the centre of Kabul, after a major explosion shook the city. At least two people and a number of militants were killed.
Huge cache
The National Directorate of Security (NDS) said on Thursday that its forces carried out a raid on a garage in the Khair Khana area of Kabul.
It said that insurgents using it as a hide-out opened fire on security forces during the raid.
The NDS said that it recovered a cache of arms and ammunition from the hide-out, including five vests full of explosives - typically used by suicide attackers, a heavy machine gun, assault rifles and grenades.
NDS officials said the aim of the Haqqani network cell was to carry out sophisticated attacks on government buildings.
They said the attack may have been planned with the help of Pakistan's ISI spy agency because some Pakistani mobile cards were recovered from the hideout.
Pakistan has not responded to the allegations but has routinely denied any involvement in Afghan militancy.
http://www.bbc.co.uk/news/world-asia-22713239
----------
Troops Flood Myanmar Town as Muslims Flee After Riots
By Agence France-Presse
May 30, 2013
Lashio. Troops patrolled the riot-scarred streets of a town in eastern Myanmar on Thursday where hundreds of Muslims fled their homes after a new outbreak of religious violence left at least one dead.
Mobs armed with knives and sticks had roamed the streets of Lashio in Shan state during two previous days of fighting that saw a mosque and orphanage torched as sectarian strife spread to a new part of the country.
Soldiers were out in force as authorities sought to stamp out the bloody violence — the latest in a series of clashes across the country that have proved a major challenge for the reformist government.
Full report at:
http://www.thejakartaglobe.com/international/troops-flood-myanmar-town-as-muslims-flee-after-riots/
-----------
Security services in Maldives authorised to grow beards
By Ahmed Nazeer | May 29th, 2013
Police and Maldives National Defence Force (MNDF) officer uniform regulations have been amended to allow the growing of beards.
Police Commissioner Abdulla Riyaz informed local media that the police management board had decided to allow officers to grow beards as officers had been requesting it.
Riyaz said the regulations had been amended and sent to the Home Ministry to be forwarded to the President's Office, for publication in the government gazette on June 1.
According to the new amendment, police will be allowed to grow their beards up to two centimetres in length.
Full report at:
http://minivannews.com/society/security-services-authorised-to-grow-beards-58720
-----------
Islam as a political weapon in the Maldives
By Minivan News | May 29th, 2013
It is very unfortunate that almost all the political parties except the MDP are using religion as a political tool to keep former president Nasheed from winning the presidential elections this September, writes Dr S Chandrasekharan for the Eurasia Review.
Their main thrust in the election campaign is that all the parties are out to save Islam from Nasheed and his MDP!
It may be recalled that in the famous February 7 coup of 2012, the Islamists along with other recalcitrant elements spearheaded the move to oust a lawfully elected government of Nasheed.
Full report at:
http://minivannews.com/category/news-in-brief
-----------
Militant attack on Afghan Red Cross office kills one
May 29, 2013
Militants on Wednesday launched a two-hour suicide and gun attack on a Red Cross office in Jalalabad city, east Afghanistan, killing at least one guard, officials said. The assault was the latest in a series of high profile, co-ordinated attacks as insurgents pile pressure on the
US-backed government ahead of the withdrawal of 100,000 NATO combat troops by the end of next year.
"A suicide attacker first detonated himself at the gate of the ICRC (International Committee of the Red Cross) compound," Sediq Sediqqi, spokesman for the interior ministry, told AFP.
Full report at:
http://www.hindustantimes.com/world-news/afghanistan/Militant-attack-on-Afghan-Red-Cross-office-kills-one/Article1-1068013.aspx
---------
Afghanistan's Karzai denounces Taliban for killing countrymen
Reuters | May 30, 2013
KABUL: Afghanistan's Taliban are killing Afghans and making a mockery of their claim to be fighting foreign invaders, President Hamid Karzai said on Thursday.
A series of attacks in different parts of the country, including areas long considered largely free of militant violence, is raising worry about the ability of Afghan forces to maintain security after most foreign troops leave.
"It's clear that the fight is not against foreigners, it's for foreigners," Karzai told a news conference at the presidential palace in the capital, Kabul.
Full report at:
http://timesofindia.indiatimes.com/world/middle-east/Afghanistans-Karzai-denounces-Taliban-for-killing-countrymen/articleshow/20349626.cms
---------
Pakistan
Chinese worker cleared of blasphemy in Pakistan
30 May 2013
MUZAFFARABAD: Authorities in Pakistan-administered Kashmir on Thursday cleared a Chinese man accused of committing blasphemy by desecrating a Quran, officials said.
Lee Ping, the administration manager of a Chinese consortium building a major hydropower project, was accused on May 17 of throwing the Islamic holy book on the ground, prompting hundreds of workers to attack his company offices.
Blasphemy is a highly sensitive issue in Pakistan, where 97 per cent of the 180 million population are Muslims. Even unproven allegations can spark a violent and sometimes deadly public response.
Police took Lee into protective custody at a secret location after protests erupted at the company offices near Muzaffarabad, the main town of the disputed Himalayan region, but on Thursday he was cleared.
"Police investigation has cleared the Chinese worker of desecration of Quran charges," cabinet minister Matloob Inqalabi told reporters.
"No such incident of desecration of Quran happened there," he said, adding that action would be taken against the people involved in the violence.
"Police has identified 35 people who were involved in violence at the project on that day. Legal action will be taken against them," said Inqalabi.
But he refused to reveal the whereabouts of the Chinese worker or what would happen to him.
Lee was accused of throwing a copy of the Quran on the ground while moving the belongings of a Pakistani doctor after he had refused to vacate his room for relocation.
Pakistan and China have close relations and Chinese firms and engineers are working in development and energy projects across the country.
http://beta.dawn.com/news/1014932/chinese-worker-cleared-of-blasphemy-in-pakistan
----------
DNA cannot be primary evidence for rape: Pak Islamic body
PTI | May 29, 2013
ISLAMABAD: DNA samples cannot be used as primary evidence in rape cases, an Islamic body that advises the Pakistan government said.
The Council of Islamic Ideology, a constitutional body, ruled that Deoxyribonucleic acid (DNA) sample is not acceptable as primary evidence in case of a rape. However, they can be used as secondary or supporting evidence.
The decision was made at a meeting of the council chaired by Maulana Muhammad Khan Sherani. The council announced that Islamic law and teachings contained procedures to decide cases of rape.
Full report at:
http://timesofindia.indiatimes.com/world/pakistan/DNA-cannot-be-primary-evidence-for-rape-Pak-Islamic-body/articleshow/20334224.cms
-----------
At least 17 militants killed in Kurram tribal region
May 30, 2013
PESHAWAR: At least 17 militants were killed and several others injured when Pakistani jets bombed militant hideouts in the Kurram tribal region during a security forces operation on Thursday, DawnNews reported.
The militants were killed when four insurgent hideouts were destroyed in the action in central Kurram's Tabay area. Moreover, several militants were also injured, official sources told DawnNews.
Full report at:
http://beta.dawn.com/news/1014897/at-least-17-militants-killed-in-kurram-tribal-region
-----------
JUI-S chief Sami keen to mediate, but clueless about TTP
May 30, 2013
AKORA KHATTAK: His back leant on a cushion against the wall, eyes half-closed, he gave some quick lesson to one of the disciples in waiting while another massaged his leg and in-between managed incessant phone calls for him.
A religious scholar who heads the sprawling Darul Uloom Haqqania, on the Grand Trunk Road in Akora Khattak, Maulana Samiul Haq's political stock has suddenly gone up, his eldest son's defeat on a National Assembly seat notwithstanding.
"The Taliban consider me their father", Samiul Haq obviously relishing the talk, continues. "The Afghan Taliban," he hastens to add in the same breath.
Full report at:
http://beta.dawn.com/news/1014886/jui-s-chief-sami-keen-to-mediate-but-clueless-about-ttp
-----------
Nawaz Sharif urged to bring nationals home from Bangladesh
30 May 2013
Pakistan's newly elected Prime Minister Nawaz Sharif has been urged to bring home thousands of nationals from camps in Bangladesh.
The Pakistan Repatriation Council (PRC), which organized a symposium here to mark the 15th anniversary of nuclear tests by Pakistan, issued the proposal among a number of other resolutions adopted at their meeting.
The PRC urged President Asif Zardari and Sharif to reactivate the Rabita Trust and restart the repatriation and rehabilitation of thousands of stranded Pakistanis in Bangladesh. These people have been living in wretched conditions in Bangladesh camps since 1971, the PRC stated.
Full report at:
http://www.arabnews.com/news/453373
-----------
Bugti murder case: Musharraf files for pre-arrest bail in ATC
May 30, 2013
QUETTA: Former military ruler Pervez Musharraf filed a pre-bail arrest plea in the Akbar Bugti murder case in Quetta's anti-terrorist court, DawnNews reported.
The application was filed by Musharraf's counsel and the court was to discuss and rule on the plea on June 6.
Earlier, former interior minister Aftab Sherpao requested the bench to summon Musharraf to appear before the court in the Bugti murder case. A notice was subsequently issued by the ATC to the former army strongman.
Full report at:
http://beta.dawn.com/news/1014901/bugti-murder-case-musharraf-files-for-pre-arrest-bail-in-atc
-----------
Nawaz Sharif's first speech as PM to be full of 'surprises'
May 30, 2013
LAHORE: Prime Minister in waiting Nawaz Sharif will have some surprises in store when he makes his first address after taking oath on June 5, sources privy to the preparations told The Express Tribune.
Pakistan Muslim League-Nawaz's (PML-N) chief presided over a high level party meeting at his residence Jati Umra, Raiwind where the senior leadership of his party helped him draft his speech.
Full report at:
http://tribune.com.pk/story/556351/preparing-for-the-day-nawaz-sharifs-first-speech-as-pm-to-be-full-of-surprises/
-----------
Wali ur Rehman: From madrasa teacher to Taliban commander
May 30, 2013
DI KHAN / MIRAMSHAH: Wali ur Rehman Mehsud, 40, was a member of Malkhel tribe, a sub-clan of the Mehsuds inhibiting Sarokai Manzai area of South Waziristan. He received his early education from a madrasa in Tank district of Khyber-Pakhtunkhwa and then went to Faisalabad district of Punjab where he studied at the Jamia Imdadia seminary.
After a teaching stint at Karama madrasa, in South Waziristan, he joined the Haqqani network – the deadliest of all Afghan Taliban factions. Later when the TTP was founded in 2008, he joined the group and became the spokesperson of its head honcho, Baitullah Mehsud. Among militant circles he's known as Mufti Wali ur Rehman. He is the eldest of six siblings, had three wives and two daughters.
Full report at:
http://tribune.com.pk/story/556397/profile-from-madrassa-teacher-to-taliban-commander/
-----------
Wali ur Rehman buried, say intelligence officials
May 30, 2013
DERA ISMAIL KHAN: Pakistani intelligence officials said the Pakistani Taliban's deputy leader has been buried after his death in a US drone strike.
The killing of Wali ur Rehman has not been confirmed by the White House or the official Pakistani Taliban spokesman. But it would be a major blow to the militant group.
The US had accused Rehman of involvement in a 2009 suicide attack in Afghanistan that killed seven CIA employees.
Full report at:
http://dawn.com/2013/05/30/Wali ur-rehman-buried-say-intelligence-officials/
-----------
Another five fall prey to unabated targeted killing
May 30, 2013
KARACHI: Five people, including two activists of Muttahida Qaumi Movement (MQM), were shot dead in separate incidents of target killings while three law enforcers were wounded in the metropolis on Wednesday.
In the first incident, a unit in charge of Muttahida Qaumi Movement (MQM) was shot dead in a targeted attack in Nazimabad no 6. Police said that victim Sarfaraz Ahmed, 29 was on the way to drop his children at school, when unidentified assailants targeted him and later managed to flee the scene.
Full report at:
http://www.dailytimes.com.pk/default.asp?page=2013\05\30\story_30-5-2013_pg12_13
---------
North America
Guantanamo Bay prison guard converts to Islam
By Kay Campbell | kcampbell@al.com
May 28, 2013
HUNTSVILLE, Alabama -- Terry Holdbrooks Jr., 29, wears the beard of a bald Amish guy, the tattoos of a punk kid, and the twitchy alertness of a military policeman. Take him to a restaurant, and he'll choose the chair with its back against the wall. Take his photo, and he'll prefer to look away from the camera.
Part of that wariness Holdbrooks learned while guarding detainees from 2003 to 2004 at Guantanamo Bay, the U.S. holding tank for military prisoners on the southeastern point of Cuba.
And part of that wariness he developed after he converted to Islam while stationed at Guantanamo. That was after months of midnight conversations with the Muslim detainees, and his conversion prompted several of his fellow soldiers to try several times to talk some "sense" into him so he wouldn't "go over to the enemy," as they put it.
Full report at:
http://www.al.com/living/index.ssf/2013/05/gitmo_guard.html
http://www.cair.com/press-center/american-muslim-news/11910-guantanamo-bay-prison-guard-converts-to-islam-because-of-the-living-faith-of-muslim-detainees.html
----------
CAIR Asks FBI to Probe Georgia Mosque Vandalism Tied to London Attack
29 May 2013
(WASHINGTON, D.C., 5/28/13) -- The Council on American-Islamic Relations (CAIR), the nation's largest Muslim civil rights and advocacy organization, today called on state and federal law enforcement authorities to investigate vandalism targeting a Georgia mosque as a hate crime.
Police in Alpharetta, Ga., are investigating graffiti spray-painted on the sign for the Islamic Center of North Fulton. The graffiti included the phrase "London Justice," an apparent reference to the recent attack on a British soldier in London.
Full report at:
http://www.cair.com/press-center/press-releases/11917-cair-asks-fbi-to-probe-georgia-mosque-vandalism-tied-to-london-attack.html
-----------
Chechen killed by FBI in Boston probe was 'unarmed': Report
AFP | May 30, 2013
WASHINGTON: A Chechen man shot dead by the FBI during questioning on his links to the Boston Marathon bombers was unarmed, Washington Post reported on Wednesday.
Ibragim Todashev, 27, was shot by the FBI in Florida a week ago after he apparently stabbed an agent during questioning on his possible involvement with Tamerlan Tsarnaev in a triple homicide that took place before the Boston attacks, according to the domestic intelligence agency.
Full report at:
http://timesofindia.indiatimes.com/world/us/Chechen-killed-by-FBI-in-Boston-probe-was-unarmed-Report/articleshow/20341741.cms
-----------
Canada freezes trade with Iran over nuclear program, human rights
30 May 2013
Canada will freeze all remaining trade with Iran to protest the Tehran's nuclear ambitions and its human rights record, Foreign Minister John Baird said on Wednesday.
Canada, which has had increasingly poor relations with Iran for more than a decade, had already imposed a series of trade sanctions. In 2012, bilateral trade was worth around Canadian $135million ($130 million).
Baird said Canada was particularly concerned by the failure of the United Nations' nuclear agency this month to persuade Iran to let it resume an investigation into suspected atomic bomb research.
Full report at:
http://english.alarabiya.net/en/News/world/2013/05/30/Canada-freezes-trade-with-Iran-over-nuclear-program-human-rights.html
-----------
US demands Hezbollah withdraw from Syria
Washington demands 'immediate' withdrawal of Hezbollah fighters from Syria, describing their presence in war-torn country as 'extremely dangerous'
30 May 2013
The United States on Wednesday demanded the immediate withdrawal of Lebanese Hezbollah fighters from Syria, saying their active role in combat there was an "extremely dangerous escalation."
"This is an unacceptable and extremely dangerous escalation. We demand that Hezbollah withdraw its fighters from Syria immediately," State Department spokeswoman Jen Psaki said.
Full report at:
http://english.ahram.org.eg/NewsContent/2/8/72696/World/Region/US-demands-Hezbollah-withdraw-from-Syria.aspx
-----------
Honouring Muslim American Veterans on Memorial Day
28 May 2013
Craig Considine, Huffington Post
On May 27th, Americans will celebrate Memorial Day, a day of remembrance for the men and women who have died fighting in the United States armed forces. On this Memorial Day, I want to draw attention to the Muslim Americans who have died in battle for the United States. In doing so I hope to honor the Muslim American community for the sacrifices they have made for their country.
In the spring of 2009 I visited Arlington National Cemetery with Professor Akbar Ahmed to stop by the gravestones of Muslim American soldiers who died fighting in the Iraq War. Colonel Martinez of Washington's Old Guard, a regiment of the United States army, walked us around to see the resting place of several of his "great soldiers," which made feel humbled and thankful to be in the presence of such brave American citizens.
Full report at:
http://www.cair.com/press-center/american-muslim-news/11911-honoring-muslim-american-veterans-on-memorial-day.html
-----------
Islamic group calls for inquiry into shooting of associate of Marathon bombing suspect
05/29/2013
By Wesley Lowery, Globe Staff
The Florida chapter of the Council on American-Islamic Relations called on the Department of Justice Wednesday to investigate the shooting of an associate of Boston Marathon bombing suspect Tamerlan Tsarnaev by an FBI agent, citing news reports that the man was unarmed when he died.
FBI and Justice Department officials could not immediately comment on whether there will be a separate probe into the shooting, but noted that the Justice Department's Civil Right's Division has access to all evidence being collected in the current FBI investigation.
Full report at:
http://www.boston.com/metrodesk/2013/05/29/islamic-group-calls-for-justice-department-probe-into-shooting-marathon-bombing-suspect-associate/ehHJmRdLDI8a1XM5mOeWKO/story.html
--------
India
Vice-President Hamid Ansari asks Muslims to go with the teachings of Quran and Hadith
Two day Muslim educational conference held in Mumbai
New Age Islam News Bureau, May 29, 2013
Mumbai: A two day Muslim educational conference was held in Mumbai University. The conference that has been organised by Maulana Azad Vichar Manch was inaugurated by the Vice-President Hamid Ansari. He said that national progress could not be achieved without taking the Muslims along. Giving references from the Quran and Hadith, Mr Ansari said that education and knowledge were given the utmost importance in Islam but Muslims on the whole ignored the teachings of the Quran and Hadith and as a result, they lagged behind in educational, economic and scientific fields. He observed that though India had achieved great success in the fields of science and economy, the benefits of this progress did not reach all the sections of the society. He stressed on the education of the girl child and on the opening of schools in rural areas.
The chief minister of Maharashtra, Prithvi Raj Chauhan also delivered his speech. He admitted that the budget the state government had passed for the minority was insufficient and so it should be increased. He said that it was hoped that in the forthcoming assembly session a budget of Rs 280 crore would be approved. Mr Chauhan also said that training centres for UPSC exams were opened for the minority students that yielded positive results and for the first time the Muslims of the state achieved considerable success in civil services exam and many Muslims became IAS officers. He hoped that in future Muslim representation in government sector will increase.
On the issue of the Waqf properties, Mr Chauhan said that the government was committed to the protection of the Waqf properties. He said that regional centres had been opened to bring transparency in the working of the Waqf board.
The Minister of Minority Welfare, K. Rahman said that awareness had been seen among Muslims with regard to education but still they were a little complacent on the issue of education. That's why they have lagged behind even the backward castes.
-----------
CBI summons IB official in Ishrat Jahan encounter
DARSHAN DESAI
May 30 2013
IPS officer Rajendra Kumar has been summoned for generating fake IB alerts that the Mumbai girl and four others were on a mission to assassinate Gujarat Chief Minister Narendra Modi.
The Central Bureau of Investigation (CBI), investigating the Ishrat Jahan encounter case, issued summons to senior IPS official Rajendra Kumar from the Intelligence Bureau for generating fake IB alerts that the Mumbai girl and four others were on a mission to assassinate Gujarat Chief Minister Narendra Modi.
On Wednesday, a petition was filed by Shabir Jamal, the brother of Sadiq Jamal, another alleged fake encounter victim in Gujarat, alleging a role by the same IB official in fabricating inputs that Sadiq was out to kill Mr Modi and senior BJP leaders. Sadiq was a scooter mechanic in Saurashtra's Bhavnagar city. The CBI is probing this encounter as well.
Full report at:
http://www.thehindu.com/news/national/other-states/cbi-summons-ib-official-in-ishrat-jahan-encounter/article4766091.ece?homepage=true
-----------
J&K govt bans Yasin Malik from Doda, Srinagar shuts down in protest
May 30, 2013
The Maisuma locality and adjoining parts in Srinagar observed a shutdown on Thursday to protest against the Jammu and Kashmir government's decision not to allow JKLF chairman Mohammad Yasin Malik in the earthquake-affected Doda region of the state and pushing him back to Kashmir.
Shops and other business establishments downed their shutters in Maisuma and Budshah Chowk after Malik's supporters came out on streets in protest, official sources said.
Full report at:
http://www.hindustantimes.com/India-news/srinagar/J-amp-K-govt-bans-Malik-from-Doda-Srinagar-shuts-down-in-protest/Article1-1068276.aspx
-----------
Every resident of Jammu and Kashmir is not a militant: Omar Abdullah
May 29 2013
Srinagar : Seeking the intervention of Union Minister for Human Resource Development M M Pallam Raju, J-K Chief Minister Omar Abdullah on Tuesday said that Kashmir students outside the valley are facing immense hardships.
"Kashmiri students (studying outside) only want a level playing field," Chief Minister said on the foundation stone laying ceremony of the Central University of Kashmir. "They don't want any reservation. They want that they should not be suspected. They want they should not be give step motherly treatment. They want they should not face problems in getting accommodation. They want that they should not have to present themselves at the police stations on August 15 and January 26".
Full report at:
http://www.indianexpress.com/news/every-resident-of-jammu-and-kashmir-is-not-a-militant-omar-abdullah/1122717/
-----------
Abused by J&K dervish, girls now get threats
M Saleem Pandit, TNN | May 30, 2013
SRINAGAR: Five minor girls allegedly sexually exploited by self-styled sufi dervish Gulzar Ahmad Bhat at his shady 'seminary' in Budgam district of Kashmir have reportedly received threatening calls from his followers on their cell phones.
SP Budgam Uttam Chand, who is investigating the case, told ToI that police is unaware of the phone numbers and will take action the moment details of any threatening calls are brought to its notice.
Full report at:
http://timesofindia.indiatimes.com/india/Abused-by-JK-dervish-girls-now-get-threats/articleshow/20340293.cms
-----------
Khalid Mujahid's kin refuse Rs 6L, demand justice
TNN | May 30, 2013
LUCKNOW: The family members of Khalid Mujahid on Wednesday said they had refused to accept the financial aid of Rs 6 lakh announced by the Uttar Pradesh government on Monday. An alleged Harkat-ul- Jehad-e-Islami (HuJI) operative, Khalid Mujahid died in police custody under mysterious circumstances on May 18, while being escorted to Lucknow jail. He was in jail in connection with the serial blasts that rocked the district courts in Lucknow, Varanasi and Faizabad in 2007.
Full report at:
http://timesofindia.indiatimes.com/india/Khalid-Mujahids-kin-refuse-Rs-6L-demand-justice/articleshow/20340547.cms
-----------
Southeast Asia
Pew's Conclusions on Shariah Law in Indonesia Branded 'Potentially Dangerous'
May 30, 2013
A leading Australian research firm has dismissed as "very wrong" and "potentially dangerous" the findings of a US-based think tank that concluded the majority of Indonesian Muslims wanted Shariah to become the law of the land.
Roy Morgan Research, which claims to be the only research organization in the country to "continuously monitor opinions on Shariah-related issues," said in a statement on Wednesday that the findings from the survey released earlier this month by the Pew Research Centre differed substantially from its own findings.
"The trend-line representing those Muslims who believe that 'Islamic Shariah law should be implemented in my area' never reaches the 72 percent reported in the Pew report," the statement said.
Full report at:
http://www.thejakartaglobe.com/news/pews-conclusions-on-shariah-law-branded-potentially-dangerous/
-----------
Indonesia religious award angers rights groups
Peter James Spielmann, The Associated Press, New York
May 30 2013
Indonesia's president is receiving an award for promoting religious freedom from a New York-based foundation, prompting anger from human rights groups that say the country is not doing enough to prevent attacks on religious minorities in the world's most populous Muslim nation.
President Susilo Bambang Yudhoyono, who is in town for United Nations meetings on global development goals, was being honored by Rabbi Arthur Schneier's Appeal of Conscience Foundation on Thursday night.
Full report at:
http://www.thejakartapost.com/news/2013/05/30/indonesia-religious-award-angers-rights-groups.html
-----------
Indonesian Minorities wary of mixed signals from court
Ina Parlina
May 03 2013
While many citizens are enjoying new freedoms, minorities are still persecuted.
The court's past rulings present a mixed picture of how much minorities can hope for from the legal system. Beleaguered religious minorities still face bleak prospects, as the court upheld the Blasphemy Law.
The 1965 law has been used to justify policies favouring the mainstream schools of the nation's five recognized faiths: Balinese Hinduism, Buddhism, Christianity, Confucianism and Islam.
Early indications of the views of several recently inaugurated justices may be bellwethers for future rulings touching on minorities.
Full report at:
http://www.thejakartapost.com/news/2013/05/03/minorities-wary-mixed-signals-court.html
-----------
URL: https://newageislam.com/islamic-world-news/new-age-islam-news-bureau/tribal-clashes-kill-64-in-sudan-s-darfur--police/d/11815