New Age Islam News Bureau
26 Apr 2018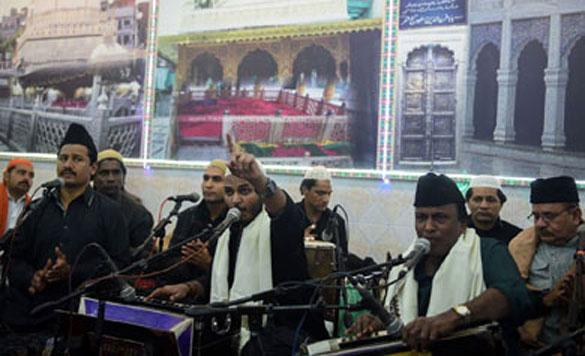 Performers singing Qawwali at a shrine in Islamabad. PHOTO: AFP
----
• Toronto Attack: Right-wingers Point to Islamist Terror Before Police Cite Motive
• Accused of New Anti-Semitism, French Muslims Speak Out
• Muslim Delegation Urges Bengal SEC to Finish Polls Before Ramzan
• Rouhani Calls US Army "Arab States' Mercenary"
• Qawwali Fights to Be Heard In Pakistan after Amjad Sabri's Death
North America
• Toronto Attack: Right-wingers Point to Islamist Terror Before Police Cite Motive
• Conservative Justices Rebut 'Muslim Ban' As Trump's Travel Limits Reach Supreme Court
• Canadian Muslim Charities Lead Fundraising for Toronto Van Attack Victims
• Alt-right uses flimsy evidence to fuel jihad conspiracy theory in Toronto van attack
• Top Trump administration lawyer calls Islam a 'great' country while defending President's 'Muslim ban'
• US court reviews Trump's power to block Muslim immigrants
• US slams Taliban for announcing spring offensive
• Pompeo's nomination for US secretary of state opposed for remarks on Indians, Muslims
--------
Europe
• Accused of New Anti-Semitism, French Muslims Speak Out
• Austria: Islamophobic Attacks against Muslims Increase By 21 Percent
• Certain States Play into Hands of Terrorists by Using Military Force: Russia President
--------
India
• Muslim Delegation Urges Bengal SEC to Finish Polls Before Ramzan
• AMU Students Union Demands Subramanian Swami's Removal Form Rajya Sabha
• Mehbooba Mufti Is a Jihadi Chief Minister: Lawyer of Kathua Rape Accused
• Politician killed in Pulwama terror attack
• How to Have an Honest Conversation In India Anymore, Asks Salman Khurshid
--------
Mideast
• Rouhani Calls US Army "Arab States' Mercenary"
• Intelligence Minister: 300 Terrorist Teams Disbanded in Iran
• Yemenis slam Saudi regime for assassination of political leader
• Palestinian journalist shot at Gaza protest dies of wounds
• EU leader Mogherini says current Iran nuclear deal should be kept
• Israeli minister Lieberman heads to US to discuss Iran 'expansion'
• Yemeni ballistic missile targets Saudi base in Najran
• Turkish FM to attend NATO meeting in Brussels
--------
Pakistan
• Qawwali Fights to Be Heard In Pakistan after Amjad Sabri's Death
• Pakistan Eliminated Terrorism at a Monumental Cost: Dastgir
• Are Pakistani Politicians Worse Than Their Indian and Bangladeshi Counterparts, Asks Islamabad's Interior Minister Ahsan Iqbal
• People of other faith barred from accompanying Sikh pilgrims
• Two terrorists held with suicide vests in KP, FATA operations
• Gen Bajwa rules out having hostile designs towards any country
• Govt-constituted jirga holds first round of talks with PTM
• JUI-F chief links political freedom to peace in FATA
• Security forces arrest terrorists from KP, FATA, Balochistan
--------
Arab World
• US, S. Arabia, Turkey Negotiating on Raqqa Power Transition to Jeish Al-Islam Terrorists
• Ansarullah Vows to Hit Saudi, UAE Kings' Palaces after Assassination of Yemeni Official
• Egypt says three soldiers, 30 extremists killed in restive Sinai
• Saudi Arabia Criticised Over Executions for Drug Offences
• EgyptAir denies reports of 'lowering volume' of on-flight travel prayer
• Syrian Army Imposes Full Control of Eastern Qalamoun
• More Terrorist Commanders Killed in Southern Damascus amid Syrian Army's Advances
• Syrian Army Reinforces Strategic Positions in Hama
• In power for 15 years, Iraq's Shiites split ahead of crucial vote
• Qatari 9/11 suspect says he was tortured on US soil
• Last batch of militants evacuate East Qalamoun: Syrian media
• Houthi militias deny 40 relief ships access to Hodeidah Port — Saudi-led coalition
--------
Africa
• Algerian Controversy over Salafism Puts Government Control of Religion on the Spot
• North Cameroon's Religious Leaders Fight Boko Haram Recruitment
• Death penalty for alleged Mossad spy sentenced in Algeria
• Muslim group condemns killing of priests, others in Benue
• Nigeria: Killings in Benue Not Religious - NASFAT
• Ethiopia: Council Calls for Preservation of Holy Sites, Religious Festivities
• Somalia: Al-Shabaab Militants Ambush UPDF Convoy in Southern Somalia
--------
South Asia
• Press Freedom Report: Media Self-Censorship on Rise in Bangladesh
• Bangladesh begins relocating Rohingya before monsoon
• Video shows capture of top Taliban leader behind deadly Kabul attacks
--------
Southeast Asia
• Islamic Hardliners Suspect Photo of Their Meeting with Jokowi Was Leaked By His Staff
• Indonesia oil well explosion kills 18, injures dozens
• Dropped as GE14 candidate, former Penang PKR exco now religious council head
Compiled by New Age Islam News Bureau
URL: https://www.newageislam.com/islamic-world-news/toronto-attack-right-wingers-point/d/115057
--------
Toronto Attack: Right-wingers Point to Islamist Terror Before Police Cite Motive
26 Apr 2018
Canadian police have yet to identify the motive for the Toronto van attack in which 10 people were killed, but before the dead had even been counted; many rightwing commentators were rushing to depict the attack as Islamist terrorism.
Within minutes of the attack, Faith Goldy, an "alt-right" provocateur, tweeted that she was "en route" to the scene, from where she posted a string of videos suggesting that the attacker was Middle Eastern – despite official statements that he was white.
Goldy was previously a contributor to the far-right outlet Rebel Media, until she was fired for being too cosy with neo-Nazis during her coverage of the Charlottesville protests last year.
Straight after the attack, another Rebel Media contributor, the former Mail Online columnist Katie Hopkins, tweeted that the prime minister, Justin Trudeau, was "complicit" and a called him "terrorist shill".
Similar responses echoed across the far-right corners of the internet: Yasmine Mohammed, who runs anti-Hijab campaigns from her "Confessions of an ex-Muslim" blog, commented: "It's a pretty safe assumption [the attacker] is Muslim."
Police have yet to suggest any possible motivation for the attack, and the alleged perpetrator, Alek Minassian, reportedly has no strong religious affiliations.
But that didn't stop far-right commentators claiming that the attack had been carried out by Islamists.
Infowars's Paul Joseph Watson criticized Toronto's mayor, John Tory, who made a call for community solidarity. "A jihadist has just killed 9 people and the Mayor is already out virtue signalling," Watson tweeted.
Meanwhile, on the Infowars site, Alex Jones released multiple videos under a headline describing the attacker as an "Islamic man" and was already making familiar accusations that authorities were carrying out a cover-up.
Ibrahim Hooper, national communications director for the Council on American-Islamic Relations, said that this model of rightwing coverage had become routine. "Whenever we have an incident like this, the cottage industry of Islam haters try to pin it on Islam and Muslims," he said. "Their goal is to demonize Islam and marginalize Muslims, and they'll seize on anything."
Dan Cassino, a political scientist at Fairleigh Dickinson University who researches conservative media, said: "For commentators like these, coming out before the facts to blame an attack on Muslim is a no-risk proposition. If they're right, they can say that they knew the truth while everyone else was too afraid to call it what it was. If it isn't Islamic terrorism, they can call it a cover-up, and move on. Either way, they're the only ones telling their audience the truth."
As it became clearer that the attacker was not an Islamist, and may in fact have been by a misogynist online subculture, many of the same commentators chose either to double down on their misidentification, or to muddy the waters with conspiracy theories.
Robert Spencer, who runs the "Jihad Watch" website, implied that an imposter had been substituted for the initial attacker, basing his claim entirely on the suspect's hairline in courtroom sketches.
And far from apologizing , Katie Hopkins suggested that the lack of any evidence of jihadist connection was because of a deceptive "Van Attack Comms Plan" that authorities were rolling out.
This rightwing rush to judgment, followed by a spray of exculpatory misinformation, has emerged as a pattern after attacks by single perpetrators. After , many conservative and far-right outlets . Several continued to do so even after he had been identified as a white supporter of Donald Trump.
But however often they are proved to be wrong, rightwing peddlers of such fake news rarely seem to face any consequences – either from the outlets that host them, or their audiences, said Hooper.
"Their audiences want them to spin these conspiracy theories. It's a negative feedback loop."
https://www.theguardian.com/world/2018/apr/25/toronto-van-attack-rightwing-islamist-terrorism-claims
--------
Accused of new anti-Semitism, French Muslims speak out
April 25, 2018
PARIS — French Muslim leaders are rejecting suggestions that the Quran is to blame for resurgent anti-Semitism in France, and are urging imams and non-Muslims to work together to fight extremism.
Thirty mosque rectors and other prominent Muslims published an appeal in Le Monde saying Islam is being "confiscated by criminals."
They were responding to a manifesto signed by actor Gerard Depardieu, former President Nicolas Sarkozy and others blaming Islamic radicalism for a "new anti-Semitism." The manifesto urged Muslims to denounce anti-Jewish and anti-Christian references in the Quran as outdated.
The Muslim leaders acknowledged that some imams have fueled radicalism, and urged all imams to preach peace, notably online.
They also asked non-Muslim leaders, schools and police to "show more discernment" between Islamic extremists who have attacked France in recent years and Islam itself.
https://www.washingtonpost.com/world/europe/accused-of-new-anti-semitism-french-muslims-speak-out/2018/04/25/d3625b18-486a-11e8-8082-105a446d19b8_story.html
--------
Muslim Delegation Urges Bengal SEC to Finish Polls Before Ramzan
Apr 26, 2018
Kolkata: Close on the heels of the Trinamul Congress calling for the completion of the Panchayat elections before Ramzan, a delegation of Muslim organisations echoed the same demand to the West Bengal state election commissioner Amarendra Kumar Singh on Wednesday even as the rural polls' fate hangs in balance with fresh schedule yet to be decided.
One of the delegates also threatened to move the court if the polls are held during the Ramzan.
In the morning, Trinamul Congress MLA from Nalhati in Birbhum Moinuddin Shams visited the state poll panel's office and submitted a memorandum appealing for the rural polls before the Ramzan. He later said, "Ramzan is a holy month for the Muslims. The members of the minority community will face trouble if the polls are scheduled during this month."
Mr Shams added that the West Bengal state election commission should make it clear that the polls would be held before the Ramzan.
Later, Imam of Nakhoda Mosque Maulana Shafique Qasmi led a delegation of various Muslim bodies.
He said, "We met the state election commissioner and appealed to him to make it sure that the polls are not scheduled during the Ramzan. We also requested him that the polls be over before the Ramzan.
He listened to us before saying that he would try his best to not to schedule the new dates during the Ramzan. Our talks were held in a very cordial manner." Meanwhile, the meeting between the state poll panel and the state government did not take place during the day.
http://www.asianage.com/metros/kolkata/260418/muslim-delegation-urges-sec-to-finish-polls-before-ramzan.html
--------
Rouhani Calls US Army "Arab States' Mercenary"
Apr 25, 2018
"You clearly say that your decision to stay and leave depends on others' money; therefore, you are mercenaries of others. Therefore, your army and Armed Forces are after resources to steal and eat. Does this bring you prestige? (You say that) if they pay you, then you will remain in Syria and if they don't, you will leave. (You say that) if you are not here, they will not survive for more than one week. Why can't they survive? We are the guardians of Iraq. The Iraqi nation (itself) is the guardian of Iraq," President Rouhani said, addressing the inauguration of international Tabriz 2018 event in the Northeastern province of East Azarbaijan on Wednesday.
He even underlined Iran's preparedness to protect Saudi Arabia, and said, "The Saudi nation is the guardian of Saudi Arabia. We are ready to help the regional people. Why (do you say that) the region will be annihilated? Incidentally, if you leave forever, full security will be established in the region."
President Rouhani referred to the different wars launched by the US and its allies in the regional states, including Afghanistan, Iraq, Syria and Yemen, in the past decades, asking the US officials to explain about their claims of bringing security to the region.
In relevant remarks on Saturday, Rouhani in a message to his Syrian counterpart Bashar al-Assad underlined his country's continued support for Damascus in the fight against terrorist groups and efforts to reconstruct the war-hit country.
"The Islamic Republic of Iran will remain beside the Syrian government and nation in this (anti-terrorism) fight and will continue its assistance until annihilation of all evil forces and the return of security and stability to the entire Arab Republic of Syria," President Rouhani said in the message on the occasion of the Independence Day in Syria.
"The Islamic Republic of Iran is prepared to stand beside you with all its possibilities to reconstruct Syria as it has been beside the Syrian nation in the fight and confrontation against terrorism," he added.
http://en.farsnews.com/newstext.aspx?nn=13970205000886
--------
Qawwali fights to be heard in Pakistan after Amjad Sabri's death
April 26, 2018
KARACHI: Nearly two years after Pakistan's foremost qawwali singer Amjad Sabri was gunned down in Karachi, the devotional music of Sufi mystical sect is struggling to survive, as fears of sectarianism and modern pressures slowly drown out its powerfully hypnotic strains.
Thousands poured into the streets near Sabri's family home after his death for his funeral, a rare public display of affection in Karachi.
"He was a rockstar of the masses," explained journalist and musician Ali Raj, who studied under Sabri.
His murder was just the latest in a series of blows in recent years to strike at the heart of qawwali, which has thrived in South Asia since the 13th century.
"I am still in shock," Sabri's brother Talha told AFP from his family home adorned with pictures of his superstar sibling, whose fame spanned the subcontinent and beyond.
"Why do they hate qawwali? Why do they hate music?"
Embraced widely as a part of Pakistan's national identity, qawwali has played a key unifying role, with city-dwellers and villagers flocking to Sufi shrines for concerts.
Performances traditionally last hours, with a troupe of musicians interweaving soulful improvisational threads under lyrical, lilting vocal lines to a steady beat of thundering rhythms on dholak and tabla drums and hand clapping, sending fans drifting into trance-like transcendent states.
The genre entered a golden age in the 1970s as singers known as qawwals battled for prestige, with the Sabri Brothers — led by Amjad's father, Ghulam Farid Sabri — and Nusrat Fateh Ali Khan finding audiences around the world.
Following the death of Ghulam, Amjad took the helm and slowly carved out his place as Pakistan's most prominent qawwal, becoming a fixture on national television and radio.
But now musicians worry that his murder — and the fear it sparked — has hastened the decline of qawwali.
At Cafe Noor in Karachi where qawwals have gathered for decades, musicians said business has been falling for years, with fewer shrines willing to host performances.
Sectarian militants have targeted Sufis, a mystical sect of Islam, for years — with the Taliban and increasingly the Islamic State sending suicide bombers to attack shrines over what they see as heretical displays of faith.
Just months after Sabri was killed, IS claimed back-to-back attacks on shrines in the provinces of Balochistan and Sindh that killed more than 100 people combined.
Earlier this month, the military approved death sentences for two militants linked to Sabri's killing.
But questions linger over who ordered the murder — the Pakistani Taliban, or another group — forcing his brother to spend months guarded by elite paramilitary rangers.
Such fears, meanwhile, are not the only factors triggering qawwali's decline.
Inflationary pressures have also kept the qawwals' working-class fanbase from hosting shows. Increasingly only the middle class or elite can afford to pay a qawwali group to perform at parties or weddings.
"In the good old times, even a poor man… would manage to organise qawwali," explained singer Hashim Ali, saying he is now lucky to play four or five shows during religious periods compared to dozens in the past.
The rise of more globalised interpretations of Islam has similarly chipped away at qawwali's popularity, as Muslims in Pakistan increasingly depart from the subcontinent's syncretic religious traditions and look to the Middle East for guidance.
"People access… (qawwali music) as a part of their faith," said Ahmer Naqvi, chief operations officer for Pakistani music app Patari.
"A lot of the younger population is abandoning the ways that the older generations worshipped."
The pressure has compelled more qawwals to try their hand at fusion, or even branch into more financially viable genres such as pop. Only a minority have embraced social media to promote themselves, journalist Raj said.
Increasing conservatism has also hit the genre.
Even before Karachi's Abdullah Shah Ghazi Mazar shrine — famed for hosting performances — was attacked by the Taliban in 2010, organisers had imposed restrictions on shows for years as part of a campaign against qawwali's hashish-smoking fans.
But they face an uphill battle.
"The youth… they don't know what exactly qawwali is," said fan
Muhammad Saeed, 24, citing the popularity of contemporary music at home and from abroad, during a private show in Islamabad.
After 16 years playing by his brother's side, Talha Sabri said he has struggled to find his place on stage until Amjad's own sons are old enough to perform.
"We are under pressure," he said, with his long hair and neatly trimmed beard cutting a stark resemblance to his brother. But even as he fears the possibility of extremists striking again, he refuses to be cowed.
"Regardless of these threats, we have to keep on," he said.
For Sabri's mother Asghari Begum however, the murder of her son marked a turning point for qawwali, ringing the death knell for its future.
Her family previously made it through the tumultuous 1980s, when political parties and gangs battled for turf, turning Karachi's streets into killing fields.
But they were respected then, passing unscathed through the city's numerous pickets. Amjad's death proved things have changed.
"He has gone now," she said. "And the passion of qawwali has gone with him."
https://tribune.com.pk/story/1695557/3-qawwali-fights-heard-pakistan-amjad-sabris-death/
--------
North America
Conservative justices rebut 'Muslim ban' as Trump's travel limits reach Supreme Court
April 25, 2018
The Supreme Court gave President Trump's travel limits a far more favorable hearing Wednesday than it has received in most lower courts, with conservative-leaning justices actively rebutting charges that the latest version of the president's policy is the "Muslim ban" that critics contend.
The case marks the first of Mr. Trump's major policies to squarely reach the justices, and analysts said their ruling will set the tone for how much deference courts give the unorthodox president for the rest of his tenure.
Immigrant rights activists, congressional Democrats and much of the rest of the anti-Trump resistance had been looking to the justices to block Mr. Trump. With Congress controlled by Republicans, they said, it is up to courts to constrain the president.
Some of the court's liberal justices were inclined to agree, but they appeared to be outmatched by the Republican-appointed justices who defended the president's powers and discounted lower courts' findings of anti-Muslim "animus."
"If you look at what was done, it does not look at all like a Muslim ban," declared Justice Samuel A. Alito Jr.
Solicitor General Noel Francisco, arguing the case for Mr. Trump, agreed.
"If it were, it would be the most ineffective Muslim ban that one could possibly imagine," he said, pointing out that Mr. Trump's policy doesn't cover 45 of the world's 50 majority-Muslim countries.
Neal Katyal, a former top litigator for the Obama administration who represented the state of Hawaii, Mr. Trump's opponent in the case, said it wasn't how many Muslims were left out that mattered, but how many were included. He said up to 99 percent of those affected by the travel ban are Muslims.
Even still, he said, Mr. Trump's plans could be legal — had he not left such an extensive record of disparaging comments about Muslims that taint everything he has done in this area. "We wouldn't be here if it weren't for all the different statements," Mr. Katyal told the court.
The policy before the court Wednesday is the third version of the travel ban.
Mr. Trump's original order, issued a week after he took office, was a broad ban on entry from seven majority-Muslim countries identified by Congress and the Obama administration as posing a special danger in terms of travel. That was quickly blocked by the courts.
The president responded months later with a second version that reduced the list to six countries — Iraq was removed — and expanded waivers allowing more people from targeted countries to enter. Lower courts blocked that version, but the justices allowed it to go into partial effect.
Last fall, Mr. Trump announced his third attempt after a global review by his top aides examined other countries' ability to track their own citizens and willingness to cooperate on identifying them when they try to enter the U.S.
That list included Chad, Iran, Libya, North Korea, Somalia, Syria, Venezuela and Yemen. Six of those eight were majority-Muslim, and North Korea and Venezuela were the exceptions. Chad was dropped from the list after its leaders stepped up their information-sharing, leaving the list with seven countries — five majority-Muslim.
Lower courts still said it was illegal, with some judges questioning the president's legal powers and others saying he was still tainted by anti-Muslim "animus" from the campaign.
Both arguments got time Wednesday.
Mr. Francisco told the justices that Congress has granted the president broad powers to block entry of anyone he deems a threat. In that respect, he said, Mr. Trump's ban is broader but fundamentally no different from a Carter administration ban on Iranians or a Reagan administration ban on Cubans.
That claim resonated with Justice Anthony M. Kennedy, a Republican appointee and frequent swing vote. Mr. Trump's opponents had hoped to win him over.
He said Mr. Trump's policy compared favorably with the Carter and Reagan proclamations and offered more detail behind the decision-making.
"This is the most detailed proclamation ever issued in American history," Mr. Francisco confirmed.
Justice Kennedy was also skeptical of Mr. Katyal's demand that the judges play referee on a president's national security decisions.
Justice Elena Kagan, a Democratic appointee to the court, asked the most probing questions of either side, testing the expanse and limits of presidential powers.
She drew laughter when she pondered a hypothetical "out-of-the-box kind of president" who might have deep animus toward a particular group.
She acknowledged that it would be tough to know what he really believed but suggested that he be judged based on what "reasonable observers" would be led to think based on his words.
Mr. Francisco said that could be a problem in other cases, but in this case the worldwide review conducted by Mr. Trump's Cabinet and the recommendations that led to the travel ban prove it's legitimate.
Justice Sonia Sotomayor, though, doubted the thoroughness of the Trump Cabinet's review and wondered about a president who ordered his team to reach a specific conclusion: "They've been told what the outcome of their deliberations must be."
She seemed to be hinting at issues beyond the travel ban, questioning what duties a president's team has under the "unitary executive" theory of presidential power.
Mr. Francisco said they must be prepared to defy the president if that were the case.
"The president's Cabinet, just like all of us here, is duty-bound to protect and defend the Constitution. So I would expect that if any Cabinet member were given that order, that Cabinet member would refuse to comply, or resign, the face of a plainly unconstitutional order," the solicitor general said.
"Here, however, you don't have anything like that," he said. "Rather, you have the Cabinet doing its job through the agencies. … They concluded that the vast majority of the world, including the vast majority of the Muslim world, was just fine, but there were problems with a small number of countries and so imposed pressure, recommended pressure, to help move those countries across the line."
Mr. Katyal said Mr. Trump could have avoided problems with his policy if he had recanted his statements about Muslims.
"I think the president could have easily moved away from all of these statements, you know, but instead they embraced them. That's the difference," he told Chief Justice John G. Roberts Jr.
Mr. Francisco said the president is cleansed once he takes office and begins getting advice from his Cabinet. "That oath marks a fundamental transformation," he said.
The travel ban case, formally known as Trump v. Hawaii, was the final one to be argued in person before the justices for this term. A decision is expected at the end of June.
https://www.washingtontimes.com/news/2018/apr/25/trump-tweets-front-center-scotus-heats-travel-ban/
--------
Canadian Muslim Charities Lead Fundraising for Toronto Van Attack Victims
April 25, 2018
TORONTO (Reuters) - Canadian Muslim charities are leading fundraising efforts to help victims of Monday's van attack in Toronto and their families cope with medical and funeral costs, teaming up with Toronto's city government.
Suspect Alek Minassian, 25, was charged with 10 counts of murder and 13 counts of attempted murder on Tuesday after he plowed a rental van into pedestrians on a crowded Toronto sidewalk.
Charity Canada Zakat had collected more than C$145,000 (about $113,000) as of late morning Wednesday through a GoFundMe campaign, while Islamic Relief Canada, which provides emergency relief following disasters, had received C$6,500 in donations on Launchgood.com, a Muslim fundraising platform.
These charities' efforts were spurred by donor feedback from fundraising following a January 2017 shooting at a Quebec City mosque and are the most high profile since then.
"One donor said 'if this ever happens again, you guys should be out there again, regardless of who the perpetrator is, who the victim is'," said Zaid Al-Rawni, chief executive of Islamic Relief Canada. "That was the main driver for this."
Human Concern International, another Muslim charity, and Islamic Circle of North America's Canadian relief arm are also raising funds, according to their websites.
Most of the charities began the campaigns before the identity of the attacker was confirmed and said social media speculation that he was Muslim had little bearing on their decision to raise funds.
The police have not disclosed the suspect's background, and the attack does not appear to have been motivated by religion. Minassian is an Armenian surname.
Al-Rawni said Islamic Relief Canada will funnel the money into a fund set up by the city of Toronto and Toronto Foundation, a philanthropic organization. Toronto Mayor John Tory said on Tuesday the fund will ensure that donations can be distributed in an orderly fashion.
"My assumption is that because they realized they have the ear of generous community members in the Muslim community, they knew they'd be able to have an impact here," said Julia Howell, a spokeswoman for the Toronto Foundation, adding Victim Services will be among the recipients.
Full report at:
https://www.usnews.com/news/world/articles/2018-04-25/canadian-muslim-charities-lead-fundraising-for-toronto-van-attack-victims
--------
Alt-right uses flimsy evidence to fuel jihad conspiracy theory in Toronto van attack
Graeme Hamilton
April 25, 2018
When a van plowed into pedestrians over a long stretch of Toronto sidewalk Monday, many immediately assumed it was the work of a terrorist following in the tracks of lone-wolf jihadists in Europe and the United States.
A portrait has since emerged of the accused, Alek Minassian, as someone motivated not by radical Islam but more likely by sexual frustration and social awkwardness.
Yet in the darker corners of the web, where conspiracy theories take hold, alt-right voices cling to the flimsiest evidence to suggest Canadian authorities are covering up what was actually an Islamist attack.
On Tuesday afternoon, Robert Spencer of the Jihad Watch web site drew on courtroom sketches to imply that the man who was charged Tuesday was not the same one arrested Monday. The key for him was that the sketches showed the suspect with hair while the man arrested had appeared bald.
"Was Minassian supplied a toupee in court today? . . . Was he wearing a bald wig yesterday? Or are authorities once again not being honest with us?" Spencer wrote.
"Again, I'm not saying that this is necessarily a jihad attack. But as oddities such as these court sketches multiply, we have to wonder what the Canadian authorities are trying to hide. And what else are authorities hiding when jihad attacks occur?"
In an earlier post, Spencer had written that it is "likely that this was not a jihad attack." But after being asked on Twitter Wednesday whether he thought the man arrested and the man in court were different people, he replied, "I have no idea. But something very odd is going on."
The internet provides fertile ground for those inclined to see a jihadi in every corner and a false flag on every ship. American mass shootings from Sandy Hook to Parkland have been fodder for conspiracy theorists, and Canada is not immune.
After the 2017 attack on a Quebec City mosque by a white francophone gunman, Alexandre Bissonnette, a theory stubbornly took hold that there had been a second, Muslim, gunman. Police clarified that the arrest at the scene of a Muslim man was a mix-up – he was a worshipper who had been helping victims and ran off thinking the police officer was the gunman returning. But the Canadian right-wing news site The Rebel repeatedly peddled the theory that there was more to the story. Even today, after Bissonnette pleaded guilty and a courtroom saw security video of the attack, the Rebel site asks, "What are the facts? And can we trust the mainstream media to tell us the truth about such a controversial and sensitive subject?"
The most vocal advocate of the theory that Toronto suffered a jihadi attack has been Alex Jones, whose InfoWars site is a breeding ground for alt-right conspiracy theories. Jones was in the middle of a Periscope live-stream Monday when Minassian's name was first reported. He had been analyzing cell phone video of the arrest, concluding that the suspect spoke with "a classic Middle Eastern accent."
When the name was published, and an associate informed Jones it was a common Armenian surname (less than one per cent of Armenians are Muslim), Jones dismissed the information and said it was an Iranian/Turkish name.
"So, another Islamic truck attack," he concluded. "They'll try to sweep it under the rug, but we won't let it be swept under the rug. The truth will get out."
As more of the truth came out in the following hours, indicating no Islamist connection, Jones stuck to his "Islamic terror attack" narrative. Pronouncing Minassian's first name "Aleek" to make it sound Arabic, he suggested there was something suspicious in the fact that the arresting officer had not killed him: "I'm asking the question, why is this guy not dead? And why haven't we learned his religion?"
On Wednesday afternoon, the fourth most popular item on the InfoWars site was: "Video of Truck Attack: Suspect Has Middle Eastern Accent."
The fomenters of conspiracy theories often rely on the tactic of simply "asking the question," letting their followers fill in the desired answer.
In Canada, a contributor to the Vlad Tepes blog — run by a frequent Rebel contributor who writes there under the name Victor Laszlo – commented Tuesday that the Toronto attacker followed the Islamic State modus operandi to the letter.
"(He) looked like an IS jihadi but our government released the clean cut school photo to push the mental illness narrative, which is patent BULL—-," wrote contributor Eeyore, who is described as a "counter-jihad and freedom of speech activist."
Many alt-right commentators were quick to declare the attack the work of a jihadi, including Rebel and InfoWars contributor Paul Joseph Watson, who accused Toronto Mayor John Tory of "virtue signalling" after "a jihadist has just killed nine people." His Rebel colleague Katie Hopkins, a Brit, tweeted Tuesday morning mocking a message of sympathy from Prime Minister Justin Trudeau and reinforcing the notion that it was an Islamist attack.
"You brought this. You are complicit in it. Politicians like you are terrorist shills," she wrote.
Full report at:
http://nationalpost.com/news/canada/alt-right-uses-flimsy-evidence-to-fuel-jihad-conspiracy-theory-in-toronto-van-attack
--------
Top Trump administration lawyer calls Islam a 'great' country while defending President's 'Muslim ban'
APR 25, 2018
The Trump administration's top attorney made a glaring slipup while arguing before the Supreme Court Wednesday, saying the President considers Islam "one of the great countries of the world."
Solicitor General Noel Francisco mistook the world's second largest religion for a country while arguing in favor of Trump's contentious travel ban, which proposes to bar people from Muslim-majority nations from entering the U.S.
"He has made crystal clear that Muslims in this country are great Americans, and there are many, many Muslim countries who love this country," Francisco said in his closing argument. "And he has praised Islam as one of the great countries of the world."
Francisco's error drew immediate rebuke from critics of Trump's travel ban.
"Overall, it's just another indication of this administration and its view of Islam and the Muslim world," Abed Ayoub, a policy director at the American-Arab Anti-Discrimination Committee, told the Daily News.
Ayoub, who was in the courtroom when Francisco made the comment, said he wasn't shocked by the hiccup.
"It's not surprising," he said. "The way this administration, the way this President has spoken about Muslim countries has been very problematic and that goes all the way back to the campaign."
The five conservative-leaning justices on the Supreme Court signaled during the Wednesday hearing that they will side with Francisco, all but ensuring that the Trump administration will be able to implement the ban.
The court is considering whether Trump can indefinitely keep people out of the country solely based on nationality. It is also looking at whether the ban is deliberately trying to keep Muslims out. A final decision on the matter is expected by late June.
Several lower courts have struck down the ban, concluding that it's deliberately targeting Muslims, thereby violating the Constitution's prohibition against religious bias.
The Trump administration insists the ban is a matter of national security. The current iteration of the ban proposes to bar travelers from Iran, Libya, Somalia, Syria and Yemen.
Justice Elena Kagan, one of the liberal members of the court, challenged Francisco over Trump's own usage of the term "Muslim ban," and posed a hypothetical scenario in which a President is a "vehement anti-Semite," makes vilifying references about Jews and bans Israelis from entering the U.S.
"The question is, what are reasonable observers to think in that context?" Kagan asked.
Full report at:
http://beta.nydailynews.com/news/politics/trump-admin-top-lawyer-calls-islam-great-country-article-1.3954305
--------
US court reviews Trump's power to block Muslim immigrants
April 26, 2018
WASHINGTON - President Donald Trump's effort to ban immigrants from several Muslim-majority countries heads to the Supreme Court Wednesday, which will decide if his argument asserting national security interests was tainted by religious bias.
The case, known as Trump v. Hawaii, will address the president's broad powers to set immigration policy, which the administration says permit Trump's travel ban, one of his hallmark policies since taking office in January 2017.
Legal experts say the court is usually loathe to rule on executive powers.
But the travel ban's focus on Muslim countries has left Trump the target of allegations that it violates constitutional religious protections, which led lower courts, including the federal court in Hawaii, to rule it illegal.
"This case has everything: weighty constitutional issues, complex statutory questions, and a fight over whether there are any real limits on a president's power to control immigration," said Cornell University law professor Stephen Yale-Loehr.
"Whichever way the court rules, the decision will have profound implications for Americans, immigrants, and the president."
One of Trump's first acts upon entering office in January 2017 was to announce a 90 day ban on travelers from Iraq, Syria, Iran, Libya, Somalia, Sudan and Yemen.
The sudden move caused chaos at airports, with people unable to enter despite holding visas, and some families sent back to their homelands. Tens of thousands of legal visas were revoked.
The order was made on national security grounds - purportedly to protect the country from terror attacks - and officials said the time limit would allow for a review and improvement of immigration vetting in those countries. But critics alleged in court, successfully, that it essentially targeted Muslims.
They noted that during the election the previous year Trump repeatedly attacked the Muslim immigrants, whom he said "don't assimilate" and "hate us."
And his campaign website stated that Trump "is calling for a total and complete shutdown of Muslims entering the United States until our country's representatives can figure out what is going on."
Lower courts ruled that Trump's ban was illegal because of what they called an implicit bias against Muslims, violating the US Constitution. The ban was reissued twice, each time with adjustments aiming to get around such rulings. The So-called Version 3.0 in September was open-ended and changed the countries. It included Iran, Yemen, Somalia, Libya, and Syria and added Chad, another predominantly Muslim country.
It also included North Korea and certain officials from Venezuela. Those additions, rights groups said, were cosmetic: North Koreans were already essentially blocked from the United States, and economic sanctions have limited Venezuelan officials from coming.
Lower courts again blocked Version 3.0, but the administration has successfully brought its appeal to the highest court, persuading the court to allow implementation while it reviews the case.
That has made it impossible for family members, businessmen and students from those countries to come to the United States even if they have been cleared by security reviews. Normally the court should review the specifics of just the third travel ban version. But lawyers say it cannot ignore the haphazard issuance of the first two versions and the ties to trump's election promises and anti-Muslim statements.
"The court should take note of the breakdown of internal norms and legal processes within the executive branch that have led to a series of legally unworkable orders in the administration's first year - as well as the president's long public record of animus against the minority groups affected by those policies," said lawyers W. Neil Eggleston and Amanda Elbogen in an analysis on Just Security.
Full report at:
https://nation.com.pk/26-Apr-2018/us-court-reviews-trump-s-power-to-block-muslim-immigrants
--------
US slams Taliban for announcing spring offensive
26 April 2018
The State Department said Wednesday it stands with the people and security forces of Afghanistan after the Taliban announced the start of their spring offensive against American and Afghan troops.
"We have seen the Taliban's announcement of their spring offensive. The announcement affirms the Taliban's responsibility for the insecurity that destroys the lives of thousands of Afghans each year," it said in a press release.
"The United States stands with the Afghan people in response to the Taliban's announcement," it said, adding the U.S. supports the Afghan security forces who are standing against the Taliban and terrorist groups that seek to destroy Afghan society.
Urging the Taliban to end its armed attacks and work constructively for Afghanistan's future, the statement emphasized that more violence will not bring peace and security to the country.
Afghan President Mohammad Ashraf Ghani on Saturday called on the Taliban to take part in forthcoming district and parliamentary elections in the war-ravaged country.
In a blow to potential peace talks, the Taliban on Wednesday announced yet another annual spring offensive dubbed ''Al-Khandaq'' (trench).
Zabihullah Mujahed, the Taliban spokesman, in a social media post cited four main "reasons", one of which was a clear reference to an aerial raid by security forces on a religious school in a Taliban-controlled area of Kunduz province earlier this month that caused multiple civilian casualties and killed scores of top Taliban commanders, according to local media and officials.
Full report at:
http://www.worldbulletin.net/america-canada/201457/us-slams-taliban-for-announcing-spring-offensive
--------
Pompeo's nomination for US secretary of state opposed for remarks on Indians, Muslims
April 26, 2018
The nomination of Mike Pompeo, the CIA Director, for the US secretary of state was today opposed by Democrats as they raked up his remarks on Indians, Muslims and other ethnic minorities.
"These concerns are beyond policy disagreements, which alone are not a basis for rejecting a nominee," Senator Robert Menendez, Ranking Member of the Senate Foreign Relations Committee, said on the Senate floor as Senators debated on the Secretary of State nomination of Pompeo.
Senator Charles Schumer, the Senate Minority Leader, said he asked Pompeo if he would recant what he had said about Muslims and Indian Americans, LGBTQ Americans, and women's rights, now that he was in line to be the US secretary of state and had to deal with countries that might be affected by his remarks.
"Again, he demurred. So, with a clear conscience, I will be voting against Mr Pompeo's nomination. I still believe the president deserves his team, and that disagreements on policy alone are not a sufficient reason to reject a nomination," he said. "But I gave Mr Pompeo the benefit of the doubt and three chances to answer the questions that I thought were extremely important and assuage my broader concerns about his nomination, and [he] did not answer those questions in any way that was satisfying. So, with a clear conscience, I will be voting against his nomination," Schumer said.
Another top Democrat Senator Robert Menendez also raised the issue.
"On our own border, we simply cannot address the threat of drug traffickers or opioids without productive collaboration with Mexico. When the President wants to call Mexicans drug-traffickers and rapists, as our nation's top diplomat who during his confirmation hearing insisted his "record is exquisite with respect to treating people of each and every faith with the dignity they deserve" would Mr Pompeo advise the President not to? Or would it be the Pompeo who once called a political opponent a "turban-topper" prevail?" Menendez said.
"How will he explain this kind of rhetoric to people of myriad different faiths who wear turbans whether millions of Sikhs, Punjabis or Muslims in India, a critically important ally or Orthodox Christians in the Horn of Africa, or tribal leaders in Afghanistan with whom we are trying to build constructive relationships based on values of democracy and human rights?" he asked.
"What impact will his accusations that Muslim leaders in the United States are somehow "complicit" in devastating terrorist attacks have as he engages with Muslim leaders and citizens around the world?" Meneddez added.
He said nearly two billion people in the world adhere to the Muslim faith, many in countries with whom the US has relationships critical to protecting and promoting its security.
Schumer and Menendez were referring to the tweet that Pompeo's campaign made in 2010 against his then Indian-American political opponent Raj Goyale in the Fourth Congressional District of Kansas.
Full report at:
http://www.business-standard.com/article/pti-stories/pompeo-s-nomination-for-us-secretary-of-state-opposed-for-remarks-on-indians-muslims-118042600091_1.html
--------
Europe
Austria: Islamophobic attacks against Muslims increase by 21 percent
25th Apr 2018
By Askin Kiyagan
VIENNA (AA): Racist attacks against Muslims rose in Austria in 2017 when compared to the previous year, according to a report released on Tuesday.
The Documentation and Consultation Center for Muslims in Austria report said in 2017 there were 309 racist attacks against Muslims, a 21 percent increase when compared to 2016.
In 2016, there were 253 documented attacks against Muslims, the report said.
Ninety-eight percent of the attacks against individuals targeted women and 49 percent occurred in open or semi-closed spaces like public transport.
Most attacks took place in October 2017 due to general elections in the country, the report said.
Hate speech was scribbled on the walls of mosques and other Muslim institutes, especially during the Muslim month of Ramadan, which corresponded to May and June last year.
The attacks comprised of 30 percent hate speech, 28 percent verbal attacks against individuals, 19 percent racist writings on the walls, and 11 percent others.
Documentation and Consultation Center for Muslims in Austria is recording attacks against Muslims in the country since 2014. The center also provides consultancy service to victims of the attacks.
http://muslimnews.co.uk/news/islamophobia/austria-islamophobic-attacks-muslims-increase-21-percent/
--------
Certain states play into hands of terrorists by using military force: Russia president
Apr 25, 2018
Russian President Vladimir Putin says certain countries play into the hands of terrorists and endanger regional security by bypassing international law and resorting to military force.
Putin made the remarks in a greeting message to the participants in a security conference in the Black Sea resort city of Sochi on Wednesday.
He stressed that the policy of unilateralism practiced by certain states is hindering efforts to ensure regional and global security.
"Some members of the international community have been increasingly trying to ignore the generally recognized norms and principles of the international law and resort to the use of military force bypassing the UN Security Council and refuse to hold talks as a key tool of resolving international disputes," he said.
"This, in its turn, generates political and social instability and plays into the hands of terrorism, extremism and transnational crime, leading to the escalation of local conflicts and crises," he added.
Earlier this month, the US, Britain and France launched a coordinated missile attack against sites and research facilities near Damascus and Homs with the purported goal of paralyzing the Syrian government's "capability" to produce chemical arms.
The trio blamed the government of Syrian President Bashar al-Assad for a suspected gas attack in the Damascus suburb town of Douma on April 7.
Moscow said it has "irrefutable" evidence that the Douma incident was a "false flag" operation orchestrated by British spy services.
Elsewhere in his message, Putin expressed Russia's readiness to engage in close security cooperation with foreign partners in both multilateral and bilateral formats.
The Russian president further noted that the Sochi conference will provide a good opportunity to discuss the options for countering various threats and challenges to international security.
Full report at:
http://107.189.40.42/Detail/2018/04/25/559646/Russia-Sochi-Vladimir-Putin
--------
India
AMU Students Union Demands Subramanian Swami's Removal Form Rajya Sabha
Anuja Jaiswal
Apr 25, 2018
AGRA: Taking strong exceptions to Senior BJP leader and Rajya Sabha MP Subramanian Swamy's statement dubbing AMU as a "hub of terrorists and extremist ideologies", the Aligarh Muslim University Students Union (AMUSU) has demanded his removal from the upper house and have also threatened to file a defamation case against him.
Accusing the MP of maligning the university's image with his baseless and frivolous remarks, the students' body said that this shows Swami's "divisive mindset".
Swami's remarks came in response to Congress leader Salman Khurshid's controversial comments that "Congress has blood of Muslims on its hands", which he made at a recent interaction in the University.
Talking to TOI, president of AMUSU, Mashkoor Ahmad Usmani said it's ironical that while the President of India Ram Nath Kovind says that people with "Secular" mind live in AMU, Swami was making such statements. "Swami must now clarify whether he disputes President of India's words," he said.
In the memorandum to President of India Ram Nath Kovind, Usmani said that Swami's statement has deeply hurt the sentiments of millions of AMUites who are spread across the world. His statement has affected the secular image of the nation and hence his membership of the upper house should be cancelled. "He is not mentally fit to be a part of it," he said.
It is worth mentioning here that AMU is listed as an institute of national importance and has a proven track record of its immense contribution in nation building and fostering communal harmony.
Former president of students union Faizul Hassan said that AMU is the institute which has produced many political leaders, scientists, historians and educationists and political leaders like Swami were giving such irresponsible and "poisonous" statement.
He said, "He and his ideology can't see the community excel in life." He added that Swami's sole motive of life is to "defame, divide and finish Muslims".
https://timesofindia.indiatimes.com/city/agra/amu-students-union-demand-swamis-removal-form-rajya-sabha/articleshow/63914908.cms
--------
Mehbooba Mufti is a jihadi chief minister: Lawyer of Kathua rape accused
by Arun Sharma
April 26, 2018
The lawyer defending the main accused in the Kathua Bakerwal child's rape and murder calls Chief Minister Mehbooba Mufti a "jihadi chief minister," accuses her of spearheading "an Islamo-fascist communal agenda for demographic change in Jammu's Hindu-dominated areas" and called for, in a speech last month, social and economic boycott of the Gujjars and Bakerwals.
Speaking to The Indian Express, Ankur Sharma said: "Mehbooba Mufti is a jihadi…She gives legal immunity to cow slaughter and bovine smuggling. She refers to them (Gujjars and Bakerwals) as tribals, who are Muslims, and says Section 188 RPC ('disobedience to order') will not be invoked against them…She is spearheading an Islamo-fascist communal agenda wherein demographic change is a reality, where people of one religion are occupying land in Jammu province, which is a Hindu-dominated area."
Sharma represents Sanji Ram, named by the Crime Branch as the mastermind of the rape and murder of the eight-year-old girl with an aim to "dislodge" the nomadic Bakerwal community from the area; as well as Sanji Ram's son Vishal Jangotra; and police official Deepak Khajuria.
Claiming that he has been "receiving calls from Hindu Mahasabha president and Hindu organisations in Maharashtra", Sharma, 31, said he was associated with the Hindu Ekta Manch that has been set up to support the accused in the rape and murder case as "I support their demand for a CBI inquiry".
Calling the Manch a "peaceful and non-violent organisation", he said it had been formed "when people received an Islamic attack", because "Hurriyat-backed (Bakerwal) activists started to give names of one particular community". "There is Islamic about Mehbooba Mufti, there is Islamic about the identity of the victim that has been revealed. There is nothing Hindu about the Hindu Ekta Manch," he said.
Continuing his attack on Mufti, he questioned a meeting held in February where the CM asked officials that tribals living on forest land not be "dislocated" till the government forms a tribal policy, and that eviction be carried out only with permission of the Tribal Affairs Department. "The order came as a tool for those people to use," he said. "Everybody knows that state land, forest land have been encroached upon only by this community… They are coming from outside and capturing hundreds and hundreds of kanals of land."
Sharma accused the tribal communities of "quoting higher prices for purchasing land", backed by "pan-Islamic financial cartels". "People who come from outside who are Muslim are ready to pay more than the market price, double the market price, 1.5 times the market price. There are NGOs who are in league with these pan-Islamic financial cartels headed by the OIC (Organisation of Islamic Countries), whose idea is to spread Islam in the entire world. They pay a subsidy of 40 per cent for purchasing land in Hindu-dominated areas. Earlier it was 25 per cent," he said.
While Gujjars and Bakerwals are State subjects, "they cannot be conspiring against us", Sharma said. "They can live in peace and harmony but we will not allow demographic change to happen… They are innocent people, they are poor people, but they are being slowly poisoned against the Hindus of Jammu."
Sharma also accused the BJP of having "abandoned their political constituency" and said "geopolitics" was the reason for it.
A speech of Sharma at a Hindu Ekta Manch rally in March — called to support the accused — has surfaced where he is heard asking for a boycott of Gujjars and Bakerwals. "We shall take a pledge here and it shall be the agenda of the (Hindu Ekta) Manch also to ensure that we will not sell our land to outsiders," Sharma can be heard saying in Dogri. "They are working under a plan. So you need to think, and the first thing you shall decide is not to sell your land to them. Secondly, you shall stop all those things which strengthen their community here and improve their financial condition, whether it is trade with them, or purchasing milk from them or selling them fodder. You have to stop all these things as there are conspiracies on against you."
Full report at:
http://indianexpress.com/article/india/mehbooba-mufti-is-jihadi-lawyer-of-kathua-rape-accused-5152115/
--------
Politician killed in Pulwama terror attack
Apr 25, 2018
SRINAGAR: Terrorists attacked a political worker, identified as Ghulam Nabi Patel, at Rajpora in Pulwama district of south Kashmir when he was travelling in his vehicle on Wednesday afternoon, killing him on the spot.
Patel was returning from his native village Yader in Pulwama district when he was attacked. Two of his security guards sustained injuries and have been hospitalised, police said.
Both People's Democratic Party (PDP) and Congress condemned the killing, but at the same time "disowned" the activist who was reportedly associated with both parties.
According to sources, Patel was associated with Congress and had contested the 2002 assembly elections from Rajpora constituency with the party's ticket. In 2008, he fought from Rajpora constituency again with a Socialist Democratic Party ticket and lost to PDP candidate Syed Bashir Ahmad. He joined PDP in 2014.
PDP president and chief minister Mehbooba Mufti, however, distanced her party from Patel and described him as a Congress leader even as former finance minister and Rajpora PDP MLA Haseeb Drabu paid homage to the deceased and confirmed that he was affiliated with his party.
Mehbooba posted on Twitter: "Heartfelt condolences to the family of senior Congress leader G. N. Patel who was killed by militants today in Rajpora. Such cowardly acts achieve nothing but leave one more family devastated."
Patel's family expressed "shock" over Mufti's statement. "He (Gulam Nabi Patel) vigorously campaigned for PDP's senior leader Haseeb Drabu," claimed his brother Ali Mohammad. "It has come as a shock and surprise to us that he has been disowned by PDP and the statement of disowning him has come from none other than the party president and chief minister," he added.
J&K Pradesh Congress Committee (JKPCC) vice-president Mohd Anwar Bhat, describing Patel as a well-known PDP activist, condemned the killing and termed it "highly shameful and dastardly act".
Meanwhile, a police constable, identified as Tariq Bhat, went missing with his service rifle (AK-47) on Tuesday evening from his post at Pakherpora in central Kashmir's Budgam district. "He fled with an AK-47 rifle along with ammunition," a senior police officer said. "We are ascertaining the incident and investigations into it has been launched," said SSP Budgam Tejinder Singh.
Full report at:
https://timesofindia.indiatimes.com/india/politician-killed-in-pulwama-terror-attack/articleshow/63916277.cms
--------
How to have an honest conversation in India anymore, asks Salman Khurshid
Apr 26, 2018
Salman Khurshid, senior Congress leader and former Union minister, is in the eye of a storm over remarks attributed to him at an event in the Aligarh Muslim University on Tuesday. He spoke to HT about the statements,and his message to minorities. Edited excerpts:
You are reported to have said that Congress has Muslim blood on its hands. Can you explain what you meant and the context?
I was in Aligarh for the annual day of the BR Ambedkar Hall. I spoke about the university, and about major issues of the day such as triple talaq. One student - an ex-student I later learnt - came forward to ask a question. The format did not allow Q & A, yet I asked him to go ahead. He said there is blood on your clothes because of Babri Masjid and mentioned other riots. I asked him, I have blood? He said your party. I said I am my party, I represent my party, and said that because you said this, does it mean that if someone attacks you tomorrow, I should not come to protect you? I added that 10 years from now, you may not have the courage to ask this question.
I obviously don't believe Congress has blood on its clothes. When someone makes an accusation, you may have a certain way of responding. You can say, even if this is true; what does it mean? This is not a declaration that it is true. Look at the video. Why would I say such a thing? Was I in an election campaign against the Congress party? And I don't even want to get into the semantic difference between blood on my clothes and blood in my hands.
So in the course of answering the question, you did not agree that the party indeed has blood on its hands?
How could I? Why would I then talk about protecting the person? A murderer does not tell a victim that he would like to protect him. A murderer falsely accused of murder can say that. If I say, I may be a murderer, it does not make me a murderer. If people cannot understand this, they really need to go back to school. How do you have an honest conversation in this country anymore?
Let's go back to the larger question he was asking. Do you agree that there has been communal violence -- Babri, Muzaffarnagar -- under Congress?
It is important to look at the good things that a party may have done, too, for a fair assessment. Has Congress done nothing for this country, nothing for Muslims? This is a longer conversation and if I had to comment on it, I would write a book; I would speak at a lecture series; I would speak at party events.
Some interpreted your comments as a signal of discontent against the party because you have not got an adequate role.
I did not make the comments at all, so the question does not arise. This party has given me more than enough; what else can it give me? Till the end of my life, I will be repaying the debt I owe to this party. Why should I have a problem with the party? And I hope and wish the party also never has a problem with me. But I cannot stop thinking. I have had a career in education, in university, and I hope I am considered a little bit of a thinker. I can't switch off my mind.
The best party for me, all my life, is and will be the Congress. But if I say Congress has made no mistakes, it will not come across as honest either. We have made mistakes but we have paid a political price and we have to move on.
My message to the minorities is this - in the process of hurting Congress, you are hurting yourself. You have brought the BJP to power. You now have to decide whether you want to keep it in power or rethink.
The BJP has said your remarks are an acknowledgement of Congress' fake secularism.
Full report at:
https://www.hindustantimes.com/india-news/how-to-have-an-honest-conversation-in-india-anymore-asks-salman-khurshid/story-YAaAdfBDGsREcbOiiRYZ3O.html
--------
Mideast
Intelligence Minister: 300 Terrorist Teams Disbanded in Iran
Apr 25, 2018
"Fortunately, due to the vigilance and efforts of the Iranian security forces, 300 terrorist teams which intended to foment unrests, plant bombs and conduct terrorist acts have been identified and disbanded," Alavi said, addressing a large number of people in the Northwestern city of Maraqeh on Wednesday.
He underlined that despite the fact that the region is in critical conditions, the Iranian military and security forces are always vigilant and ready to confront threats.
Alavi announced last December that his forces had disbanded tens of terrorist teams.
"The enemies want to challenge security in the country," Alavi said, addressing a meeting in Alborz province near Tehran.
He stressed the need for the Iranian security forces to keep vigilant against enemies' plots, and said, "Over 120 terrorist teams which sought to carry out sabotage acts in Iran have been disbanded."
In a relevant development earlier this month, the Iranian border guards repulsed a terrorist attack against a watchtower in the Southeastern province of Sistan and Balouchestan after heavy clashes with the militants.
The public relations department of the Islamic Revolution Guards Corps (IRGC) Ground Force's Quds Base announced in a statement that a terrorist team attacked a Law Enforcement Police Force's watchtower in Mirjaveh region early April 17 from Pakistan to seize its control but they were pushed back by the border guards.
It added that during the clashes, three terrorists were killed and a number of others were wounded or fled the scene.
Meantime, Deputy Border Guards Commander of Sistan and Balouchestan province for Social Affairs Major Abolhassan Ziyayee said that 2 Iranian border guards and 2 Basiji (volunteer) forces were martyred during the clashes with the terrorists.
http://en.farsnews.com/newstext.aspx?nn=13970205001170
--------
Yemenis slam Saudi regime for assassination of political leader
Apr 25, 2018
Yemeni people have held a massive rally in the port city of Hudaydah to condemn the assassination of President of Yemen's Supreme Political Council Saleh al-Samad in a recent Saudi airstrike.
The rally was held after Yemen's Houthi Ansarullah movement confirmed that Samad and six of his companions lost their lives in the airstrike on Hudaydah. The incident happened last Thursday.
Ansarullah leader Abdul-Malik Badreddin al-Houthi in a recent live speech called on the Yemeni people to participate in a massive demonstration, urged by Samad days prior to his death, against the Saudi-led war.
Houthi in a televised address later on Monday pledged that Ansarullah would take revenge on the Saudi kingdom. He also said such crimes against the Yemeni nation would not break the will of the people in defending their country against the so-called military coalition.
"This crime will not break the will of our people and state ... [and] will not pass without accountability," Houthi said, adding, "The forces of this aggression led by Washington and the Saudi regime are legally responsible for such a crime and all its implications."
The Saudi campaign was launched in March 2015 in support of Yemen's former Riyadh-friendly government and against Ansarullah, which has been running state affairs in the absence of an effective administration. The offensive has, however, achieved neither of its goals despite the spending of billions of petrodollars and the enlisting of Saudi Arabia's regional and Western allies.
The protracted war, which has been accompanied by a naval and aerial blockade, has already killed over 12,000 Yemenis, with the United States and Britain providing the bulk of weapons used by Saudi forces and giving coordinates for the airstrikes.
The Yemeni Ministry of Human Rights announced in a statement on March 25 that the Saudi-led war had left 600,000 civilians dead and injured during the past three years.
Almost 2,000 people have died since the outbreak of a Cholera epidemic in April, according to the latest figures provided by the World Health Organization (WHO).
Full report at:
http://107.189.40.42/Detail/2018/04/25/559698/Yemen-Hudaydah-Ansarullah
--------
Palestinian journalist shot at Gaza protest dies of wounds
25 April 2018
A Palestinian journalist shot two weeks ago by Israeli forces on the Gaza border has died, Israeli and Palestinian sources said Wednesday, the second journalist killed in a month of unrest.
Ahmed Abu Hussein, 25, was shot on April 13 while covering protests along the Gaza border for a local radio station.
The Gaza health ministry announced he had died after receiving treatment inside Israel, which the Sheba hospital near Tel Aviv confirmed. His brother Diaa told AFP they were preparing to transfer the body to Gaza for the funeral.
Also, on Monday, a Palestinian wounded by Israeli gunfire in the Gaza Strip has died said the Hamas-controlled territory's health ministry.
Bullet wounds
Abdullah Shamali, 20, died overnight of "bullet wounds to his belly" sustained on Friday in Rafah, near the enclave's border with Israel, a ministry spokesman said.
Shamali was one of five Palestinian demonstrators, including a 15-year-old, killed or fatally wounded in Gaza on Friday.
His death brings to 39 the toll from Israeli fire since the start of "March of Return" protests on March 30.
Tens of thousands of Palestinians in the coastal enclave, wedged between Israel, Egypt and the Mediterranean, have gathered at the border on consecutive Fridays to call for Palestinian refugees to be allowed to return to their former homes now inside Israel.
Some protestors have launched stones or burning tires at Israeli soldiers.
Live ammunition
Israeli forces have responded with live ammunition, wounding hundreds in addition to those killed.
The Israeli army says its forces only open fire in self-defense or to stop protestors attempting to breach the barrier separating the territory from Israel.
More than 440 demonstrators suffered bullet wounds or gas inhalation on Friday, rescuers said.
Full report at:
https://english.alarabiya.net/en/News/middle-east/2018/04/25/Palestinian-journalist-shot-at-Gaza-protest-dies-of-wounds.html
--------
EU leader Mogherini says current Iran nuclear deal should be kept
25 April 2018
EU foreign policy chief Federica Mogherini says the current deal with Iran is working effectively to keep Tehran from developing nuclear weapons and should be preserved for the future.
Mogherini spoke after US President Trump again showed dissatisfaction with the international agreement during a news conference with French President Emmanuel Macron, highlighting a trans-Atlantic rift on the issue.
Macron said the current deal should not be ripped apart without a clear path to the future, and said after talks with Trump that there could be a way to move to a "new agreement," building on the one in place.
Mogherini, speaking in Brussels, said that "on what can happen in the future we will see in the future. But there is one deal, existing, it is working, It needs to be preserved."
https://english.alarabiya.net/en/News/middle-east/2018/04/25/EU-leader-Mogherini-says-current-Iran-nuclear-deal-should-be-kept.html
--------
Israeli minister Lieberman heads to US to discuss Iran 'expansion'
25 April 2018
Israeli Defense Minister Avigdor Lieberman is travelling to the United States for talks Wednesday on countering Iran's "expansion" across the Middle East, especially in Syria, his office said.
During his visit, Lieberman will meet Defense Secretary James Mattis, National Security Adviser John Bolton and members of the Senate, the Israeli foreign ministry said in a statement.
"Discussions will focus on the close security coordination between Israeli and American defense establishments against negative developments resulting from Iranian expansion in the Middle East, with an emphasis on Syria and additional mutual security concerns," it added.
The visit comes ahead of a May 12 deadline US President Donald Trump has set to decide on the fate of a nuclear deal with Iran.
Nuclear deal
Trump has derided the deal as a capitulation to Tehran, saying it is no longer in the US's interest to maintain the sanctions relief granted to Iran by his predecessor Barack Obama in return for controls on its nuclear program.
During a visit to Washington on Tuesday, French President Emmanuel Macron called jointly with Trump for a new nuclear deal with Iran.
Full report at:
https://english.alarabiya.net/en/News/middle-east/2018/04/25/Israeli-minister-Lieberman-heads-to-US-to-discuss-Iran-expansion-.html
--------
Yemeni ballistic missile targets Saudi base in Najran
Apr 26, 2018
Yemeni forces have fired a domestically-manufactured ballistic missile at a military base in Saudi Arabia's southern border region of Najran in retaliation for the Saudi-led military strikes against their country, Yemeni media report.
Yemen's Arabic-language al-Masirah television network reported, citing a military source, that the al-Sadis military base had been targeted with a short-range Zelzal-2 (Earthquake-2) missile on Wednesday evening.
The report said that the projectile targeted a gathering of Saudi soldiers and mercenaries in the base.
There was no immediate word on the exact number of casualties.
Saudi Arabia often claims that it intercepts incoming Yemeni missiles, but a close study of evidence by The New York times last year clearly suggested that in one of the most high-profile of such Yemeni missile attacks, the projectile — launched deep into Saudi territory — had in fact landed unimpeded, bypassing American-made Patriot missiles and potentially other defenses used by Riyadh. Saudi Arabia claimed that it had foiled that attack, which targeted the Riyadh airport.
On Monday, the Yemeni army said that it had launched two domestically-made short-range Badr 1-type missiles at the Saudi Aramco oil facility in the Saudi border province of Jizan. Saudi Arabia claimed — as is its wont — that the country's air defenses had intercepted and destroyed both projectiles over the skies above the region.
Yemeni forces regularly fire ballistic missile at positions inside Saudi Arabia in retaliation for the Riyadh-led military campaign on Yemen.
Additionally on Wednesday evening, the Yemeni forces managed to destroy a Saudi-led coalition tank in Yemen's western coast, al-Masirah said in a separate report.
Meanwhile, Yemen's official Saba news agency, citing an unnamed military official, reported that the sniper unit of Yemen's allied Popular Committees either killed or wounded at least 13 Saudi mercenaries in different localities of the western coast, the northern province of Jawf, and Sirwah district in the central province of Ma'rib.
Earlier on Wednesday, tens of thousands of Yemeni people held a protest rally in the capital, Sana'a, to condemn the assassination of President of Yemen's Supreme Political Council Saleh al-Samad in a recent Saudi airstrike.
The massive demonstration was held after Yemen's Houthi Ansarullah movement confirmed that Samad and six of his companions had lost their lives in the airstrike on Hudaydah last Thursday.
The Saudi-led war began in March 2015 in support of a former Riyadh-friendly Yemeni regime.
The Yemeni Ministry of Human Rights announced in a statement on March 25 that the Saudi-led war had left 600,000 civilians dead and injured until then.
The Saudi-led countries waging war on Yemen have also blockaded the already-impoverished country.
Full report at:
http://107.189.40.42/Detail/2018/04/26/559729/Yemen-Saudi-Arabia-missile-attack-Najran
--------
Turkish FM to attend NATO meeting in Brussels
25 April 2018
Turkish Foreign Minister Mevlut Cavusoglu is set to participate in a meeting of the top diplomats of NATO allies in Brussels on April 27, the Foreign Ministry said on Wednesday.
In a statement, the ministry said Cavusoglu was to "exchange views on the current security environment and review the preparations for the upcoming NATO summit to be held in Brussels" on July 11 and 12.
Cavusoglu is expected to participate in bilateral talks with his counterparts on the sidelines of the meeting, the statement added.
http://www.worldbulletin.net/europe/201435/turkish-fm-to-attend-nato-meeting-in-brussels
--------
Pakistan
Pakistan eliminated terrorism at a monumental cost: Dastgir
April 26, 2018
RAWALPINDI: Federal Minister for Defence Khurram Dastgir said on Wednesday that Pakistan had eliminated terrorism from its soil at a monumental cost in blood of its soldiers and citizens.
"We have suffered economic losses in excess of US $120 billion in our war against terror. Through its elected government and Parliament, Pakistan has adopted a comprehensive National Action Plan to combat terrorism in the non-kinetic realm," according to a press release issued here by Ministry of Defence.
The minister stated this while addressing the 15th Defence Ministers Meeting of the Shanghai Cooperation Organization (SCO) in Beijing.
This was the first assembly of the SCO Defence Ministers after the organisation was expanded in 2017 for the first time to add India and Pakistan as full members.
Chinese State Councilor and Minister for Defence, Gen Wei Fenghe chaired the meeting.
Dastgir headed the Pakistan delegation that included Director General of Joint Staff (DGJS) Lt Gen Zafar Malik, SCO DG, Zahoor Ahmed from Ministry of Foreign Affairs and Brig Ahmed Bilal, Pakistan's Defence Attaché in Beijing.
The minister indicated continuing turmoil in Afghanistan, including the presence of ISIS, as a source of insecurity for its neighbours and for the entire region.
"Serious challenges facing the region include violent extremism, poverty, lack of trans-boundary water management, drug trafficking, refugees, human trafficking, and border controls," said the minister.
He acknowledged the existence of bilateral issues between SCO members, but asserted that these should "never be allowed to impede our collective work".
He encouraged his counterparts to face collective challenges with "courage, harmony and cooperation.
In his first official SCO meeting, the minister signed a communiqué with other participants. The communiqué offered support for the "Shanghai Spirit" of building a shared community with peace and stability, development and prosperity.
Defence ministers from the SCO member states including those from China, Kazakhstan, Kyrgyzstan, Russia, Tajikistan, Uzbekistan and India attended the meeting. Defence Minister of Belarus attended as an Observer.
https://www.pakistantoday.com.pk/2018/04/25/pakistan-eliminated-terrorism-at-a-monumental-cost-dastgir/
--------
Are Pakistani politicians worse than their Indian and Bangladeshi counterparts, asks Islamabad's interior minister Ahsan Iqbal
Apr 26, 2018
Islamabad: Are Pakistani politicians worse than their Indian and Bangladeshi counterparts? This was Pakistan's Interior Minister Ahsan Iqbal's strange query as he attacked Supreme Court Chief Justice Saqib Nisar for allegedly exceeding his brief.
Chief Justice Nisar is under attack ever since the apex court disqualified prime minister Nawaz Sharif last year and ended his political career by barring the three-time premier from holding public office for life.
Sharif had been criticising the judiciary, especially chief justice Nisar, accusing him of imposing the "worst kind of dictatorship" in the country.
Sharif told reporters on Wednesday that suo motu actions of the Chief Justice of Pakistan (CJP) against the federal and provincial governments in the country were nothing less than a "judicial martial law".
Joining hands with Sharif, Ahsan said: "If a judge is patriot, so is a politician."
Ahsan, who is also the minister for planning, development and reforms, said one has to understand that politicians also have self-respect and dignity just as any army official or any judge.
Addressing a seminar on the China-Pakistan Economic Corridor in Islamabad, the interior minister wondered if politicians in Pakistan are worse than their Indian and Bangladeshi counterparts, the Express Tribune reported.
"Look, the chief justice can sit on the bench and say Ahsan Iqbal got a vice-chancellor appointed," thundered Iqbal, referring to Chief Justice Nisar's remarks during a case.
"Mr Chief Justice have a heart. When you are disrespected, we are also disrespected," he was quoted as saying by Geo TV.
"You have no right to name-call people. You must issue me [a] chargesheet. If you have evidence, produce it before me but enough is enough."
Full report at:
https://www.firstpost.com/world/are-pakistani-politicians-worse-than-their-indian-and-bangladeshi-counterparts-asks-islamabads-interior-minister-ahsan-iqbal-4446217.html
--------
People of other faith barred from accompanying Sikh pilgrims
April 26, 2018
LAHORE: Evacuee Trust Property Board (ETPB) on Wednesday barred travellers belonging to non-Sikh faiths from coming along with pilgrims to celebrate their religious festivals in the country.
The ban, imposed by ETPB, implies that Muslim, Hindu and Christian devotees will not be able to enter Pakistan along with Sikh pilgrims, who visit the country in hoards to visit holy sites during Baisakhi and other religious festivals.
Hindu pilgrims will only be able to visit the country on the occasion of their religious festivals, according to the new travel restrictions.
The decision was taken after two Indian citizens went missing during Baisakhi festival. It has also been learnt that there were Christians, Hindus and Muslims among the Sikh pilgrims, who arrived on April 12.
ETPB Deputy Director Imran Gondal said that the lists of Sikh pilgrims from India are sent directly to the interior ministry rather than the board, due to which recognition of the pilgrims becomes a hurdle.
Pakistan's Sikh Gurdwara Parbandhak Committee has also protested over participation of people belonging to other religions in their rituals. India's Shiromani Gurdwara Parbandhak Committee has been clearly asked to send a copy of the list of the Sikh pilgrims to the ETPB.
Meanwhile, Amritsar's Shiromani Gurdwara Parbandhak Committee head Sardar Rajinder Singh said that visa applications of the pilgrims are sent to the federal and state governments and verified by intelligence agencies.
He informed that the committee had sent only 718 pilgrims during the current tour while the other over 1,000 pilgrims came through different small travelling groups.
He also revealed that different groups take Rs1,000 from pilgrims for Pakistan's visa and include names without verification while the committee charges only Rs250 for visa.
Full report at:
https://www.pakistantoday.com.pk/2018/04/26/people-of-other-faith-barred-from-accompanying-sikh-pilgrims/
--------
Two terrorists held with suicide vests in KP, FATA operations
April 26, 2018
RAWALPINDI: The security forces arrested two suicide bombers who came from across the border with suicide vests and communication devices during operations in Khyber Pakhtunkhwa (KP) and Federally Administered Tribal Areas (FATA) on Wednesday.
Inter-Services Public Relations (ISPR) said that intelligence-based operations (IBOs) were conducted in Serai Naurang, Kotka Shah, Goli Khan and Lakki Marwat.
During separate operations, two suicide bombers Nehmatullah and Siddiqullah who came from across the border were arrested with suicide vests and communication devices.
The security forces confiscated the recovered suicide vests, other devices and the nabbed suicide bombers who were shifted to an undisclosed location for further investigation.
https://www.pakistantoday.com.pk/2018/04/25/two-terrorists-held-with-suicide-vests-in-kp-fata-operations/
--------
Gen Bajwa rules out having hostile designs towards any country
April 26, 2018
RAWALPINDI: Chief of Army Staff (COAS) General Qamar Javed Bajwa has said that Pakistan doesn't have any hostile design towards any country and it will keep on working towards a cooperative regional framework based on sovereign equality and mutual progress through connectivity.
A statement issued by Inter-Services Public Relations (ISPR) on Wednesday quoted General Bajwa as saying that "Pakistan welcomes any initiative which can bring peace and stability in Afghanistan and the whole region will benefit from it."
The COAS, on the second day of his visit in Russia, met Chief of General Staff Russian Armed Forces General Valery Vasilevich Gerasimov at the defence ministry in Moscow.
Matters relating to regional security, stability and bilateral security cooperation were discussed, the military's media wing added.
The COAS said that "Pakistan wants to get out of the zero sum dynamics of Cold War era that is still prevalent in South Asia."
Full report at:
https://www.pakistantoday.com.pk/2018/04/25/gen-bajwa-rules-out-having-hostile-designs-towards-any-country/
--------
Govt-constituted jirga holds first round of talks with PTM
BY SHAMIM SHAHID
April 26, 2018
PESHAWAR: In a bid to find out a negotiated settlement to the demands and grievances of the Pashtun Tahaffuz Movement (PTM), the first round of talks with the members of government constituted traditional jirga was held at the residence of tribal MNA Haji Shah Jee Gul Afridi at Shahkas, Jamrud in Khyber Agency on Wednesday.
Manzoor Pashteen headed the PTM delegation comprising Mohsin Dawar whereas the federal government was represented by Minister of State Ghalib Khan Wazir and Pakistan Muslim League Nawaz (PML-N) MNA Dr Ibadullah Khan while the Khyber Pakhtunkhwa (KP) government was represented by Information Minister Shah Farman.
Besides Haji Shah Jee Gul Afridi, leading elders from different tribal agencies were also a part of the preliminary negotiations between the two sides.
After the completion of first round of talks, Mohsin Dawar told Pakistan Today that they would return to the jirga after consulting the terms and conditions discussed for the formal talks with other PTM leaders, adding that it would take a couple of days. He said that Pashteen voiced concerns over propaganda of state organs and high ranking authorities against them and registration of cases and arrest of PTM leaders, adding that outcomes of talks could be disappointing in such circumstances. Upon this, the jirga members and government representatives assured of conveying their complaints to concerned quarters, he added.
Mohsin went on to say that they have made it clear that all PTM demands are according to the constitution. "We are patriotic Pakistanis and are determined to live with honour and dignity like citizens of other parts of the country," he said.
"We didn't seek mercy or relief for those involved in terrorism but only demanded the production of all missing persons before a court of law," the PTM representative said, assuring that they will never create hurdles in the awarding of punishment according to law to those who are found guilty of involvement in acts of terrorism.
MNA Haji Shah Jee Gul Afridi said that he along with other parliamentarians were happy with the constitution of the jirga and were hopeful of its positive results. He said that in the next sitting, the jirga would be broadened to give representation to all the parts and parcels of both FATA and KP.
Dawar also confirmed that they were first contacted by the jirga members on April 18, but they suggested meeting after completion of Lahore rally on April 22.
Earlier, the KP government initiated the negotiation process with PTM through a traditional jirga, comprising elders from Federally Administered Tribal Areas (FATA) and various districts of Malakand Division.
The decision was taken at the KP Apex Committee meeting, which was attended by KP governor, chief minister and Peshawar corps commander.
The apex committee's decision to negotiate with PTM came after Manzoor Pashteen, while addressing a rally at Lahore's Mochi Gate, had said, "Our first demand was the arrest of Rao Anwar and justice for Naqeebullah Mehsud. Our second demand is to put an end to extrajudicial killings and bring the perpetrators to justice so that the thousands of Pashtuns who do not have the basic right to life can have justice."
He had also announced to form a 'Truth and Reconciliation Commission' to address the plight of people of Khyber Pakhtunkhwa and FATA.
Full report at:
https://www.pakistantoday.com.pk/2018/04/25/ptm-govt-constituted-jirga-hold-first-round-of-talks/
--------
JUI-F chief links political freedom to peace in FATA
Rehmat Mehsud
APRIL 26, 2018
MIR ALI: During his visit to FATA after over two decades, Jamiat Ulema-e-Islam-Fazl (JUI-F) Maulana Fazlur Rehman Wednesday told a huge gathering in North Waziristan tribal region that holding a political rally here will usher in an era of political freedom in tribal areas because restrictions on political activities in the past led to extremism and turmoil.
Flanked by Federal Minister for Housing Akram Khan Durani, JUI-F FATA chief Mufti Abdul Shakoor, MNA Jamaluddin from South Waziristan and other party leaders, Fazl urged the military to stop further operations in the region to win the hearts and minds of tribal people.He expressed the optimism that extremists would stop their activities in the tribal region and country because it werethe civilians who suffered the most.
In an indirect reference to his political ally – the PML-N – Fazl said, "All institutions should work within their constitutional limits and never transgress otherwise there will be political complications for the country."Without mentioning Pakistan Tehrik-e-Insaf (PTI), he said there are some 'agents of Jews' within the country who want to climb to the corridors of power in the country. "In the past, there were agents of Englishmen in the country but now there are agents of Jews who tend to spoil our religion, culture and tradition. These tribesmen will protect their rich values at every cost," he added.
The JUI-F chief announced that the sprawling Tablighi Markaz in Miran Shah, the headquarters of North Waziristan Agency, two seminaries and the damaged houses of tribal people should be built without further delay. "I announce that the damaged Tablighi Markaz in will be opened from today," he concluded.
The JUI-F chief was escorted by hundreds of vehicles of party workers and leadersto Mir Ali, a small hamlet in the North Waziristan region, where he addressed a religious conference in Eidak area.
Party worker Malik Saeed Anwar said that Fazl is the first leader of any mainstream political party to visit the tribal region since 1991.
Full report at:
https://dailytimes.com.pk/232531/jui-f-chief-links-political-freedom-to-peace-in-fata/
--------
Security forces arrest terrorists from KP, FATA, Balochistan
April 25, 2018
RAWALPINDI: In a major intelligence effort, security forces Wednesday apprehend two suicide bombers from Sarai Nourang, Kotkashah Gulikhan, Lakki Marwat.
The suicide bombers namely Naimat Ullah, Siddique Ullah had come from across the border and were being traced and tracked by intelligence agencies, said a statement issued here by Inter-Services Public Relations (ISPR).
Suicide jackets and communication equipment were also recovered from them.
In another intelligence-based operation (IBO) in Janjol forest near Dossali, North Wazirstan, a large number of weapons and ammunition including explosives, improvised explosive devices (IEDs), communication equipment and detonators were recovered.
Meanwhile, in Balochistan, security forces apprehend a terrorist near Dalbandin transporting explosive and 400 detonators from Naukundi to Kharan.
Full report at:
https://nation.com.pk/25-Apr-2018/security-forces-arrest-terrorists-from-kp-fata-balochistan
--------
Arab World
US, S. Arabia, Turkey Negotiating on Raqqa Power Transition to Jeish Al-Islam Terrorists
Apr 25, 2018
"The US-led coalition is negotiating with Saudi Arabia and the UAE, while Washington has also started talks with Turkey to hand over Raqqa to the Saudi-backed Jeish al-Islam terrorist group," the Arabic-language al-Hadas News quoted Kurdish sources as saying on Wednesday.
The sources noted that in the second step, the Arab tribes in Deir Ezzur will receive control of the regions on Eastern Euphrates in an operation to be funded by Saudi Arabia and Qatar and backed by the US.
"This is while the Arab forces will quit the Syrian Democratic Forces (SDF) to join the Saudi Pact in Syria," the report added.
"Meantime, an Arab-Kurdish army will be formed to control other Kurdish regions," the sources said.
In a relevant development on Sunday, a Kurdish media outlet reported that the Turkish Army continued sheltering hundreds of militants and their family members in a region in Northwestern Aleppo after the terrorist group left Eastern Ghouta and Eastern Qalamoun for Northern Syria a couple of days ago.
Hawar news reported that the Turkish troops and Ankara-backed militants expelled the entire residents of the village of Bar A'afa in Shera region in Afrin to pave the ground for settling the Eastern Ghouta terrorists in the region.
Hawar news further said that the Ankara forces plan to settle 1,700 militants and their family members who have left the town of al-Dumayr in Eastern Qalamoun in the houses of the locals who have been expelled from Jandaris region in Afrin.
The London-based pro-opposition Syrian Observatory for Human Rights (SOHR) confirmed on Monday that Faylaq al-Rahman Commander Abdul Naser Shamir and several more senior commanders of the terrorist group that had left Eastern Ghouta after sustaining heavy defeats in the fight with the Syrian Army have been relocated in Bolboleh region in the Northern countryside of the town of Afrin near border with Turkey.
The Turkish troops' move in replacing local population with the militant commanders has enraged the local residents.
In the meantime, over 150 families of Eastern Ghouta terrorists recently were settled in residential units in the town of Afrin after the Turkish troops prevented the local population from returning to their houses.
Faylaq al-Rahman is affiliated to the Al-Nusra Front that is backed by Turkey. Yet, the Turkey-backed militants have treated other militant groups like Jeish Al-Islam that are backed by Saudi Arabia differently, forcing them to surrender their weapons and stay in camps.
http://en.farsnews.com/newstext.aspx?nn=13970205000867
--------
Ansarullah Vows to Hit Saudi, UAE Kings' Palaces after Assassination of Yemeni Official
Apr 25, 2018
"The aggressive countries have violated all international laws and war redlines by targeting high-ranking politicians. Assassination of al-Sammad will leave no impact on Yemen but it will make us give a crushing response to the aggressive countries with all our power," Abdolnasser al-Rashedi, a senior Ansarullah member, said on Wednesday.
"Yemen is fully ready to give a response to the aggression and it will fire its missiles at the palaces of those kings whose countries are members of the aggressive coalition. Based on the Yemeni defense ministry's statement, there will be no more safe haven for the Saudi and UAE kings from now on and Yemen will reciprocate their action with a strong response," he added.
Yemen's Ansarullah movement has pledged a crushing response to Saudi Arabia following the assassination of al-Sammad.
The movement has declared three days of mourning for him who was killed in airstrikes on Hudaydah province on Thursday.
Saudi Arabia and its allies launched the war in March 2015 in support of Yemen's former Riyadh-friendly government and against the Ansarullah movement, which is currently running state affairs.
The military campaign has killed and injured over 600,000 civilians, according to the latest figures released by the Yemeni Ministry of Human Rights.
Full report at:
http://en.farsnews.com/newstext.aspx?nn=13970205000686
--------
Egypt says three soldiers, 30 extremists killed in restive Sinai
25 April 2018
Three soldiers and 30 extremists have been killed in the past week in Egypt's Sinai Peninsula where the military is battling ISIS, the army said Wednesday.
Around 200 extremists and at least 33 government troops have now been killed since the launch of a major offensive against the extremists on February 9 dubbed "Sinai 2018," according to official figures.
They include Nasser Abu Zaqul, "the central Sinai commander of the terrorist group," according to the army which announced his death last week.
More than 170 suspected jihadists have been arrested.
Egypt has been hit by significant militant attacks in recent years, especially after the army toppled Islamist president Mohamed Morsi in 2013 following mass protests against his government.
Extremists have killed hundreds of soldiers, policemen and civilians, mainly in the North Sinai but also elsewhere in Egypt.
Full report at:
https://english.alarabiya.net/en/News/middle-east/2018/04/25/Egypt-says-three-soldiers-30-extremists-killed-in-restive-Sinai.html
--------
Saudi Arabia criticised over executions for drug offences
26 Apr 2018
Saudi Arabia has executed 48 people in the past four months, half of them on non-violent drug charges, Human Rights Watch has said.
The US-based group urged the kingdom to improve what it called a "notoriously unfair criminal justice system".
Saudi Arabia has one of the world's highest rates of execution, with suspects convicted of terrorism, homicide, rape, armed robbery and drug trafficking facing the death penalty.
Rights experts have repeatedly raised concerns about the fairness of trials in the kingdom, which is governed under a strict form of Islamic law. The government says the death penalty is a deterrent for further crime.
"It's bad enough that Saudi Arabia executes so many people, but many of them have not committed a violent crime," said HRW's Middle East director Sarah Leah Whitson. "Any plan to limit drug executions needs to include improvements to a justice system that doesn't provide for fair trials."
HRW said Saudi Arabia had carried out nearly 600 executions since the beginning of 2014, more than a third of them in drug cases. Last year nearly 150 people were put to death in the kingdom, where convicts are beheaded using a sword.
Crown Prince Mohammed bin Salman, the next in line to the throne, suggested in a Time magazine interview this month that the kingdom would consider changing the penalty in certain cases except murder from death to life in prison.
Full report at:
https://www.theguardian.com/world/2018/apr/26/saudi-arabia-criticised-over-executions-for-drug-offences
--------
EgyptAir denies reports of 'lowering volume' of on-flight travel prayer
25 April 2018
CAIRO: EgyptAir has denied claims that it has decided to stop playing its pre-flight religious travel prayer, as had been reported by local newspapers.
Some news reports claimed that the Egyptian national carrier had muted the prayer that follows its pre-flight safety information.
The airliner has been at times criticized by some for 'forcing' the prayer on passengers by playing it out loud.
Sources quoted from the company said that it has not banned the onboard prayer but has rather "lowered the volume" at which it plays.
It said the move aims to ensure the comfort of its passengers, and what is consistent with the safety of its aircrafts.
http://www.arabnews.com/node/1291431/middle-east
--------
Syrian Army Imposes Full Control of Eastern Qalamoun
Apr 25, 2018
All the terrorists left Al-Rahibeh, Jairoud and Al-Nasserieh as well as al-Atneh village in Eastern Qalamoun on Wednesday.
Meantime, along with the completion of terrorists' retreat from Eastern Qalamoun, government officials started processing the amnesty applications filed by another group of the militants.
The Syrian army has now imposed full control over the strategic region in Eastern Qalamoun after the terrorists and their families left the area.
In a relevant development earlier on Wednesday, the government troops took full control of al-Rahibeh town in Eastern Qalamoun after 1,500 militants and their families left al-Rahibeh for the cities of Idlib and Jarablus.
Meantime, the residents of al-Rahibieh town hoisted Syria's flags over state-owned buildings and security forces entered the area right after the terrorists' evacuation.
The Syrian army's engineering units also seized tens of bombs left behind by the terrorists.
In a relevant development on Tuesday, the Syrian Army hoisted the country's flag over government buildings in the town of Jayroud after all militants and their family members left Northern Syria.
Hundreds of terrorists and their family members left Jayroud in Eastern Qalamoun for Northern Syria on 16 buses.
The army later hoisted the country's flag over government buildings in Jayroud immediately after terrorists' evacuation completed.
Earlier reports said that a sum of 1,078 terrorists and their family members left Eastern Qalamoun for other militant-held regions in Idlib province via al-Rahibeh passageway on 35 buses.
In the meantime, almost 1,000 militants that had earlier demanded retreat from Eastern Ghouta to Northern Syria changed decision and applied for government amnesty to stay in Damascus province.
Field reports said that more hostile terrorists are pressuring their family members to leave Eastern Qalamoun.
Full report at:
http://en.farsnews.com/newstext.aspx?nn=13970205001372
--------
More Terrorist Commanders Killed in Southern Damascus amid Syrian Army's Advances
Apr 25, 2018
The Syrian army units clashed with the ISIL terrorists in al-Asali region in Southern Damascus and managed to take control of several buildings and farms to the South and North of the region.
The Syrian government troops also advanced in al-Tazamon axis and took control of several districts.
The Syrian air force, missile and artillery units also heavily pounded the terrorists' military positions in Hajr al-Aswad and Yarmouk camp, inflicting heavy losses and casualties on the terrorists.
Also during a series of military operations in Southern Damascus, the army captured a terrorist commander named Vasim Ghanim, field sources said.
Meantime, tens of terrorist commanders, including Soleiman Hamzeh, Abu Samer al-Shalmouneh, commander of Jeish al-Islam, Shadi al-Sa'ad al-Qayadi, commander of Al-Nusra Front and Ali Mansour and Saleh al-Bayati, two ISIL commanders, were killed during the clashes in the same region.
Meantime, the Syrian army also destroyed a security headquarters of Jeish al-Islam, killing a notorious commander of the terrorist group during the mop-up operation in Southern Damascus.
Also, according to the Arabic-language al-Watan newspaper, Sheikh Abu Al-Bara, a senior commander of Jeish al-Islam in Southern Damascus, has been killed in the Syrian army operation near al-Zain East of Hajar al-Aswad.
Several other Jeish al-Islam terrorists were also killed and wounded in the army assault on their positions in Southern Damascus.
Meantime, tens of the ISIL terrorists, including their senior commanders, were killed in the army's air raids and artillery attacks in Damascus province on Wednesday.
Several foreign terrorists from Saudi Arabia, Libya and Jordan were among the terrorists killed in Damascus province.
In a relevant development on Tuesday, the Syrian Army troops and popular Palestinian fighters managed to break through ISIL's strongholds in two key regions in the Southern part of Damascus province.
The pro-government troops, backed up by missile and artillery units, finally broke through the years-old ISIL frontline positions South of Hajar al-Aswad region after days of bombardment with tank fire, artillery shelling and airstrikes.
Field sources said that the army's advances represent a definitive shattering of the ISIL's first line of defense around Southern Damascus, at least in al-Qadam and Hajar al-Aswad regions.
Full report at:
http://en.farsnews.com/newstext.aspx?nn=13970205001179
--------
Syrian Army Reinforces Strategic Positions in Hama
Apr 25, 2018
The government troops have recently strengthened their military positions near al-Zareh power plant, the Arabic-language service of Moscow-bases Sputnik news agency quoted a security source as saying.
The Syrian army deployed a large number of its troops near Jirjisa North of al-Rastan Lake towards al-Rastan town while reinforcing its defense lines with a large number of tanks and other military equipment, the source added.
He noted that since the terrorists' attack on the strategic al-Zareh power plant was fended off, the Syrian army has been closing off all ways of penetration by the terrorist groups in Southern Hama.
Meantime, the Syrian army killed and wounded many terrorists during the repulsion of terrorists' attacks. The army also destroyed several vehicles of the terrorists that intended to pass through waters to reach this region.
In a relevant development on Tuesday, the Syrian Army troops stormed terrorists' positions in Southwestern Hama and seized control over more regions.
The army soldiers struck terrorists' positions West of the town of al-Salamiyah in Southwestern Hama, and pushed militants away from Fahad 7, 8 and 9 regions and al-Hayek Farm.
In the meantime, the Syrian Air Force pounded the positions and movements of the terrorists near the villages of Salim, al-Hamrat, al-Howayer and al-Quneitarat in Northern Homs, killing or wounding a number of terrorists.
Also, the army's artillery units opened heavy fire at militant groups' movements and positions in the towns of al-Qantou and al-Houleh in Northern Homs.
In a similar development on Monday four large command posts of the terrorist groups in Southern Hama came under heavy air raids by the Syrian Air Force and were leveled to the ground.
The fighter jets pounded terrorists' movements and positions in Qantara and al-Satahiyat regions West of the town of al-Salamiyah.
The warplanes further launched a heavy bombing raid on terrorists' positions in Eidoun and al-Satahiyat in Southern Hama and destroyed four large command posts of the militants.
Full report at:
http://en.farsnews.com/newstext.aspx?nn=13970205000769
--------
In power for 15 years, Iraq's Shiites split ahead of crucial vote
25 April 2018
United in their fight against Saddam Hussein's oppression for decades, Iraq's Shiites have become deeply fragmented and disillusioned with their leaders after 15 years in power.
In Iraq's Shiite heartlands, many who once voted blindly along sectarian lines are now turning their ire against the Shiite-led governments they say have failed to repair crumbling infrastructure, provide jobs or end the violence.
The divisions within the community now risk splitting the Shiite vote in a May 12 election, which could complicate and delay the formation of a government, threaten gains against ISIS and let Iran meddle further in Iraq's politics.
In the oil-rich southern province of Basra, 81-year-old retired teacher Mowafaq Abdul Ghani is disappointed with the performance of the Shiite leaders since Saddam fell in 2003.
Saddam's fall
"I've been waiting for Saddam to fall since the 1970s. I've been waiting for you! Why would you do this to us?" he said.
"Look around. The streets are filthy, there are flies everywhere, pot holes at every step. Twenty years ago Basra was terrible but it was better than this," Abdul Ghani said.
In the holy city of Najaf, home to Imam Ali's shrine and Iraq's most revered Shiite cleric, Grand Ayatollah Ali al-Sistani, there was a similar feeling of disillusionment.
At midnight on April 13 when official campaigning began, hordes of party activists plastered campaign posters on every visible surface, in same cases covering pictures honoring those who died fighting ISIS.
"They took down the martyrs and replaced them with thieves," said unemployed 29-year-old Abbas Saad.
Even Sistani seems unhappy with the performance of the politicians, issuing a fatwa recently implicitly calling on Shiites to vote for new blood.
"The tried should not be tried," said the fatwa from Sistani, whose decrees are sacrosanct to millions.
New generation
Under the informal power-sharing arrangement in place since Saddam's fall, the prime minister has always come from the Shiite majority with a Kurdish president and a Sunni speaker.
In the past, while no party has won enough seats to govern alone, there has typically been one Shiite leader with enough support to shape a ruling coalition government.
This time there are three Shiite frontrunners: incumbent Haider al-Abadi who has promoted a more inclusive government, his overtly sectarian predecessor Nuri al-Maliki who failed to inspire unity and Hadi al-Amiri, a military commander close to Iran's powerful Revolutionary Guards seen as a war hero by many.
If no clear winner emerges, Iran could have more of a chance to act as a broker between the Shiite parties and influence who becomes prime minister, while ISIS could capitalize on any power vacuum and exploit Sunni feelings of marginalization.
At a party for university graduates in Najaf, dozens of young people danced under a glittering disco ball and listened to poetry in a packed hall. At the event sponsored by Adnan al-Zurfi, a former governor running on Abadi's Victory Alliance list, the talk was of inclusiveness.
About 60 percent of Iraqis are 27 or younger and many young people in urban areas say they want a secular government, underscoring the split within the Shi'ite voter base.
"I'm against voting based on sect," said student Ali Reda.
Abadi's list, touted by Zurfi as "cross-sectarian", is the only one contesting the election in all of Iraq's 18 provinces.
"The youth care about unemployment, education, and freedoms," he said at a nearby cafe surrounded by young men playing billiards. "The Shiite majority has a responsibility to calm the fears of other communities. We are proposing an inclusive government in which everyone is represented."
Shiite rule
Just an hour away from Najaf in Karbala, the holy city visited by 30 million Shiite pilgrims a year, sharing power with Sunnis and Kurds is not seen as a solution.
"Iraq has a Shiite majority. It is natural that it be ruled by a Shiite," said Muntazer al-Shahrestani, who runs a school for Shiite clerics.
While there has been no census for a long time, US figures from 2003 put the breakdown of the Iraqi population at roughly 48-60 percent Shiite Arabs, 15-22 percent Sunni Arabs, 18 percent Kurds with other groups making up the rest.
Shahrestani said while the rights of minorities should be protected there should be a Shiite government, echoing a popular opinion among religious Shiites.
Many campaign on that sentiment, none more than former prime minister Maliki, who is widely viewed by Sunni and Kurds as sectarian and oppressive.
Full report at:
https://english.alarabiya.net/en/features/2018/04/25/In-power-for-15-years-Iraq-s-Shiites-split-ahead-of-crucial-vote-.html
--------
Qatari 9/11 suspect says he was tortured on US soil
Apr 26, 2018
A former Qatari detainee, accused by the US government of being involved in the planning of the September 11 attacks in 2001, says he had been tortured and abused during 13 years of incarceration on American soil.
Speaking for the first time after his release three years ago, Ali al-Marri said his FBI interrogators would restrain him using duct tape and subjecting him to what he described as "dry-boarding," a torture technique which includes having socks stuffed down the throat.
"I have never experienced death, but I assume this is the nearest thing to dying," he told the ITV News on Wednesday.
"You're suffocating, you can see your life coming out of your face and you cannot even move," he said.
The Qatari man alleged that threats were made to his wife and children while being held in solitary confinement.
"Threatening to sodomize me, threatening to rape my wife, threatening to bring in my kids, that's torture. Threatening to send me to a black site, to become a military lab rat, choking me to near death. This is torture," he said.
The former detainee also said he was subjected to sleep deprivation and forced nudity, among other extreme measures.
Al-Marri, who was in solitary confinement without charge for six years at a naval brig in South Carolina, said he was innocent and wanted his interrogators brought to account.
Al-Marri had traveled to the US with his wife and five children legally on 10 September 2001, the day before the attacks, to attend graduate school in Illinois.
He was initially charged with fraud based on information found on his computer, but the then-president George Bush declared him an "enemy combatant."
Al-Marri has never answered the allegations. In 2009, he pleaded guilty in a civilian court to conspiracy to provide material support to al-Qaida and was jailed for 15 years, a sentence that took into account his previous captivity.
US government documents seen by ITV News said "On 11 March 2004, in response to al-Marri's continuous chanting in Arabic, the lead interrogator wrapped duct tape over al-Marri's mouth on three occasions."
In a statement released to ITV News, the FBI said it "does not engage in torture and we maintain that rapport-building techniques are the most effective means of obtaining accurate information in an interrogation."
Al-Marri was the only al-Qaeda-linked prisoner held outside the infamous Guantanamo Bay prison following the September 11 attacks.
His allegations of torture are supported by detention logs which are set to reignite the controversy over the US handling of al-Qaeda suspects.
US officials assert that the 9/11 attacks were carried out by 19 al-Qaeda terrorists but many experts have raised questions about the official account.
They believe that rogue elements within the US government, such as former Vice President Dick Cheney, orchestrated or at least encouraged the 9/11 attacks in order to accelerate the US war machine and advance the Zionist agenda.
Full report at:
http://107.189.40.42/Detail/2018/04/26/559737/Qatari-national-Ali-alMarri--US-jail-torture-September-11-2001-attacks
--------
Last batch of militants evacuate East Qalamoun: Syrian media
Apr 26, 2018
Law and order has been restored to Syria's East Qalamoun region after the final batch of militants leave the enclave located in the suburbs of the capital Damascus.
Syrian media reported on Wednesday that people from al-Rahiba, Nasiriyah and al-Athma took to the streets to welcome government troops and security forces into their towns following the militants' evacuation.
Some 3,700 militants and their families have left the region since Friday under a deal with the Syrian government.
Elsewhere in the region, security forces continue with their operations aimed at purging the towns of Yarmuk and Hajar al-Aswad of the presence of terrorists.
On Tuesday, the Syrian minister in charge for national reconciliation, Ali Haidar, announced that remaining militants in southern Damascus will not be offered reconciliation deals by the government.
He added that Syrian military operations will continue in the region until the terrorists are eradicated.
As a result of a deal between the Syrian government and militant groups on the withdrawal of militants from the three localities, armed groups and their families have been evacuating Eastern Qalamoun since Saturday, after handing over their weapons and ammunition to the government troops.
On Saturday, Syrian forces established full control over a town northeast of the capital, Damascus, after the militants controlling the area agreed to hand it back to the government.
The withdrawal of Jaish al-Islam militants and their families followed that of their fellows earlier this month from the town of Douma in the Eastern Ghouta suburb of Damascus.
The Syrian army on April 14 declared the liberation of Douma in the Eastern Ghouta countryside of Damascus, after the last pockets of militants from the so-called Jaish al-Islam group and their families left the area.
Full report at:
http://107.189.40.42/Detail/2018/04/26/559718/syria-east-qalamoun-militants
--------
Houthi militias deny 40 relief ships access to Hodeidah Port — Saudi-led coalition
April 25, 2018
RIYADH: The Saudi-led coalition backing Yemen's legitimate government on Wednesday accused Houthi rebels of blocking 40 relief ships from entering the port of Hodeidah.
In a press conference in Riyadh, Col. Turki Al-Maliki, the coalition spokesperson, also said that ridding Yemen of the Houthi militia's number two man, Saleh al-Samad, was an important development.
Al-Maliki said that al-Samad was responsible for threatening Saudi Arabia's peace and and security, disrupting maritime traffic in the Bab Al-Mandab Strait, and the continued suffering of millions of Yemenis.
The rebels, who are backed by Iran, had launched more than 125 ballistic missiles toward Saudi Arabia's territories, most of which had been intercepted by the Kingdom's air defense systems, he said.
Al-Maliki said the Houthis have also launched more than 66,000 projectiles toward the Yemen's border with Saudi Arabia.
Full report at:
http://www.arabnews.com/node/1291506/saudi-arabia
--------
Africa
Algerian controversy over Salafism puts government control of religion on the spot
April 25, 2018
By Dr. James M. Dorsey
A controversy in Algeria over the growing popularity of Saudi-inspired Salafi scholars spotlights the risk governments run in a region in which they strive to control religion in a bid to counter militant strands of Islam, often by touting apolitical, ultra-conservative trends. These efforts are proving difficult to contain within the limits of the government's agenda.
The controversy over Saudi support of Salafi scholars highlights how state control, frequently exercised through degrees of micro-management of weekly Friday prayer sermons, and/or putting clerics on the government payroll as well as supervision of mosques and school textbooks, often backfires. For one, the credibility of government-sponsored Islamic scholars is undermined as they become increasingly viewed as functionaries and parrots of regimes.
It also thrusts into the limelight the slippery slope on which governments play politics with conservative and ultra-conservative religion for opportunistic reasons or as in the case of Turkey in a bid to establish state-controlled Turkish Islam as a global force.
Ultra-conservatism's increasing attractiveness is magnified by the inability of governments to comprehensively police alternative expressions of religion on the Internet and social media as well as halt the popping up of unlicensed mosques and informal study groups.
As a result, Saudi-inspired ultra-conservative as well as militant strands of Islam emerge as the only alternative release valve, particularly in countries that restrict freedom of expression, the media and religion and have failed in their delivery of public goods and services
"Whatever the state does to control the religious realm, it cannot oblige or guarantee that people will rely on official bodies and individuals for their religious guidance. In fact, Algerian youths in particular are disillusioned and have lost confidence in their religious institutions. As such, they may be attracted to other religious voices, especially those offering 'grab and go' solutions to complex issues or a Manichean view of the world," said Algeria scholar Dalia Ghanem-Yazbeck.
The controversy in Algeria further raises questions about definitions of Saudi Crown Prince Mohammed bin Salman's declared effort to return the kingdom to what he termed 'moderate Islam' given that Saudi Arabia played a key role in globally promoting Sunni Muslim ultra-conservatism for almost half a century.
In Saudi Arabia, the jury is still out on Prince Mohammed's approach to moderation. In an ultra-conservative country in which religious leaders were not only popular, but government employees who shared power with the ruling Al Saud family, Prince Mohammed has whipped the religious establishment into subservience and kowtowing to his reforms with little indication that they have had a true change of heart.
Algeria has long seen Saudi-inspired quietist strands of Salafism that preach unreserved obedience to a Muslim ruler as a way of countering expressions of popular discontent and more militant strands of Islam.
"The onset of the 2011 Arab uprisings only increased the utility of quietist Salafists to the state. All the main quietist figures issued calls for Algerians to resist the wave of political contestation rocking the Arab world… This drove a wedge between rulers and ruled, exacerbating social divisions, which would inevitably lead to a rise in insecurity and worsening corruption," said international relations scholar Anouar Boukhars.
A recent study showed that many Algerians were turning on social media to Saudi and Egyptian rather than Algerian religious scholars.
Some Saudi scholars like Sheikh Mohamed al-Arefe, a controversial ultra-conservative, known for his misogynist and anti-Shiite tirades, who ranks among the top 100 global and top 10 Arab social media personalities with 21.6 million followers on Twitter and 24.3 million on Facebook boast a larger following in Algeria than in the kingdom itself.
The study concluded that Mr. Al-Arefe had two million Algerian followers as opposed to 1.3 million Saudis.
Algerian media reports, echoing secular concerns, detailed earlier this year Saudi propagation of a quietist, apolitical yet supremacist and anti-pluralistic form of Islam in the North African country. The media published a letter by a prominent Saudi scholar that appointed three ultra-conservative Algerian clerics as representatives of Salafism.
"While Saudi Arabia tries to promote the image of a country that is ridding itself of its fanatics, it sends to other countries the most radical of its doctrines," asserted independent Algerian newspaper El Watan.
El Watan and other media reproduced a letter written by Saudi Sheikh Hadi Ben Ali Al-Madkhali, a scion of Sheikh Rabia Al-Madkhali, the intellectual father of what French Islam scholar Stephane Lacroix terms a loyalist strand of Salafism that projects the kingdom as the ideal place for those who seek a pure Islam that has not been compromised by non-Muslim cultural practices and secularism.
The letter appoints three prominent Algerian scholars, including Mohamed Ali Ferkous, widely viewed as the spiritual guide of Algerian Madkhalists, as Salafism's representatives in Algeria.
"Madkhalism…(is) perhaps Saudi Arabia's own Trojan Horse," quipped North Africa scholar George Joffe. "State-approved imams in Algeria now find themselves under considerable pressure, in mosques that have been targeted, to adapt their teachings and doctrines to Salafi precept, even if this challenges the authority of the ministry of religious affairs," Mr. Joffe added.
The mixed results of the Algerian government's effort to control and use religion are replicated across the Muslim world.
Pakistan, a country in which ultra-conservatism and militancy has over decades been woven into the fabric of the state and society and that is struggling with political violence against the state as well as minorities, serves as an example of the risks involved in playing politics with religion and state support for non-pluralistic, intolerant and supremacist interpretations of Islam.
Attempting to rollback the fallout of such policies is proving to be a gargantuan task. The Pakistani government earlier this year launched a pilot project in Islamabad to regulate Friday prayer sermons. The problem is that it controls a mere 86 of the city's 1,003 mosques.
Some critics warn that Turkish President Recep Tayyip Erdogan may be taking his country down a road like that of Pakistan. They compare the Turkish leader to former Pakistani ruler General Zia ul-Haq who in the 1980s accelerated Islamization of Pakistani society.
Former Pakistani ambassador to the United States and director of South and Central Asia for the Washington-based Hudson Institute Husain Haqqani asserted that Mr. Erdogan was adopting the "Pakistani formula of mixing hard-line nationalism with religiosity" and pouring money into Islamic schools.
"Erdogan has taken the Pakistani formula of mixing hard-line nationalism with religiosity. Zia imposed Islamic laws by decree, amended the constitution, marginalized secular scholars and leaders, and created institutions for Islamization that have outlasted him. Erdogan is trying to do the same in Turkey," Mr. Haqqani told journalist and columnist Eli Lake.
Mr. Lake argued that Turkey, despite having tacitly supported the Islamic State at one point during the Syrian civil war, Turkey had not yet "sunk" to Pakistan's level of cooperation with Islamic militants in its dispute with India and manoeuvring in Afghanistan.
However, suggesting that Turkey risked becoming another Pakistan, Mr. Lake quoted former US ambassador to Turkey Eric Edelman as saying: "Turkey is not Pakistan yet, but if it continues the trajectory that Erdogan has put it on, there is a prospect it could become like Pakistan."
At the other extreme, Chinese authorities in the north-western province of Xinjiang, home to China's Uyghur Muslim minority, were several months ago shutting down some 100 illegal, underground religious seminaries a month despite creating in the region the world's most repressive surveillance state, according to a Chinese communist party official.
The crackdown involves the banning of religious practices and the teaching of the Uyghur language in schools and the detention of thousands in political re-education camps.
The controversy in Algeria, Mr. Erdogan's embrace of Islam, Pakistan's struggle to come to grips with the fallout of ultra-conservatism, China's efforts to crackdown on religion, anti-government and anti-clergy protests in Iran earlier this year, and examples of societies elsewhere in Asia turning towards intolerance and conservatism as governments employ or repress religion for opportunistic political purposes, suggest that political leaders have learnt little, if anything.
Yet, the lesson is that government control and/or playing with religion seldom produces sustainable results. The lesson is also that repression, including restricting freedoms of expression, media and religion, aggravates problems and benefits ultra-conservatives and militants.
Finally, the lesson is that the solution likely lies in inclusive rather than exclusionary policies and transparent and accountable governments capable of delivering pubic goods and services that ensure that all segments of the population have a stake in society. That lesson is one that governments in Algeria, Pakistan, Saudi Arabia, Turkey and China seemingly prefer to overlook.
https://moderndiplomacy.eu/2018/04/25/algerian-controversy-over-salafism-puts-government-control-of-religion-on-the-spot/
--------
North Cameroon's Religious Leaders Fight Boko Haram Recruitment
April 25, 2018
MORA, CAMEROON —
Religious leaders in Cameroon have been visiting towns along the country's border with Nigeria this week in a bid to curb fresh recruitment efforts by Boko Haram.
Imam Abbo Hamatoukour, who hails from the nearby town of Garoua, is taking part in an outreach program sponsored by both Muslim and Christian preachers.
Hamatoukour said Boko Haram is trying to lure youth with promises that they will go to heaven if they die fighting so-called unbelievers.
He said the country's religious leaders face a daunting task as they try to reinforce the practice of true Islam, which, he added, offers true Muslims the only path to paradise, as stated by the Holy Koran.
He said another challenge is promoting peaceful coexistence between Muslims and members of other faiths.
Local officials and the military say Boko Haram is trying to rebuild its ranks by recruiting in the border area. The terror group has been weakened by the multinational joint task force operating in the Lake Chad basin.
Imams and priests are urging the population, especially the youth, to reject overtures from Boko Haram and to report strangers and suspicious people to the military.
For 26-year-old Hassan Naourma, the outreach has personal significance. He said his brother, who had joined Boko Haram, was killed last November in a raid by the multinational joint task force.
He said the preachers are teaching them how to live together in a community with understanding and tolerance despite the challenges they face.
However, he and other youth said religious education alone is not enough to stop recruitment. The conflict has destroyed the local economy, making employment even harder to find.
Former fighter Ahmadou Buba said he has struggled to survive since he escaped Boko Haram during a military raid in December.
He said he is asking the government to help them by rebuilding their schools, markets and hospitals and providing food and jobs because they returned from the Sambisa forest with nothing.
He said Boko Haram told him they would teach him to be a preacher but instead began training him to fight, so he fled.
Creating jobs
In 2016, Cameroon launched a program to help families displaced by the Boko Haram insurgency, giving each one a pair of goats and attempting to create gardening jobs for youths on its northern border with Nigeria.
Full report at:
https://www.voanews.com/a/north-cameroons-religious-leaders-fight-boko-haram-recruitment/4364290.html
--------
Death penalty for alleged Mossad spy sentenced in Algeria
04/25/2018
Leader of the squad was sentenced to the death penalty, other six members were given 10 year jail sentence
Seven individuals accused of spying on behalf of the Mossad, Israel's secret spy agency, were sentenced on Monday by a criminal court in Algeria, with one of the accused given the death penalty, local media reported on Tuesday.The leader of the squad, a man of Lebanese descent with Liberian citizenship, was charged with seeking "to harm the security of Algeria" and was given the death penalty.The other six members of group, who were said to be of African origin, were given ten year jail sentences and each fined 20 million Algerian dinar.According to Jerusalem Post citing local Algerian media, they were charged with espionage "possession and dissemination of documents that glorified terrorism," and undermining state security.The defendants reportedly pleaded not guilty to their charges.Algeria's Interior Minister Noureddine Bedoui said the exposure of the "international spy ring" working for Israel was clear proof that the Mossad and other foreign entities were trying to undermine the country's security and stability, Ynet reported.In January 2016, security services in Algeria announced they had exposed the aforementioned spy network and subsequently arrested at least 10 agents.
The Algerian incident follows on from gunning down of a Palestinian and Hamas-affiliated engineer, Dr Fadi Mohammad al-Batash, 35, in the Malaysian capital of Kuala Lumpur last week. Hamas, and the Islamic Jihad terrorist group have claimed it to be an assassination carried out by the Mossad.Israel has dismissed claims that the country's spy agency was behind Batash's killing, suggesting instead that his killing was a "settling of accounts" between sparring terrorist factions.Hamas has previously accused the Mossad of assassinating another one of its drone experts -- Mohamed Zouari -- in Tunisia in 2016.The Mossad is believed to have assassinated Palestinian militants and scientists in the past, but rarely confirms such operations.Back in November of last year, Lebanese authorities arrested and raided the home of prominent writer and actor Ziad Itani on charges of "collaborating and communicating with the Israeli enemy."He was detained and eventually confessed to having been "tasked to monitor a group of high-level political figures" and their associates.However, in February of this year, he was released as authorities claimed the the "confession" was extracted under duress and that the security apparatus had received the wrong information.Muslim countries have in the past accused its locals and foreigners of acting as agents on behalf of the Jewish State.
https://www.i24news.tv/en/news/international/middle-east/173165-180425-death-penalty-for-alleged-mossad-spies-sentenced-in-algeria
--------
Muslim group condemns killing of priests, others in Benue
April 26, 2018
By Ameh Comrade Godwin
The Nashirullahi Fathi Society of Nigeria (NASFAT) has condemned the killings in Benue, Taraba and Nassarawa states.
In a statement by the Publicity Secretary of the society, Alhaji Banji Busari, the President regretted that at a time when everyone had heaved a sigh of relief about the successes recorded in ending Boko Haram insurgency, "Nigerians were again jolted with the sad news of the killing of some clergymen and several others, yesterday in Benue State."
He said, "Islam as a religion holds lives so sacred to the extent that its Holy Book decreed that whoever kills a soul is like he has killed the entire mankind (Q5:32).
"While we seek collective efforts of all and sundry to ensure that peace reigns supreme in all parts of our dear country, caution should however be exercised not to ascribe religious colouration into this senseless killing.
Full report at:
http://dailypost.ng/2018/04/26/muslim-group-condemns-killing-priests-others-benue/
--------
Nigeria: Killings in Benue Not Religious - NASFAT
26 APRIL 2018
By Abdullateef Aliyu
Lagos — The Nashirullahi Fathi Society of Nigeria (NASFAT) has condemned the killings in Benue, Taraba and Nassarawa states.
The President of NASFAT, Engr. Kamil Bolarinwa, said in a statement signed by the Publicity Secretary of the society, Alhaji Banji Busari, that at a time when everyone had heaved a sigh of relief about the successes against Boko Haram insurgency, Nigerians were again jolted with the sad news of the killing of some clerics and several others Tuesday in Benue State.
He said, "Islam as a religion holds lives so sacred that its Holy Book decrees that whoever kills a soul is like he has killed the entire mankind (Q5:32). While we seek collective efforts of all and sundry to ensure that peace reigns supreme in all parts of our dear country, caution should however be exercised not to ascribe religious colouration into this senseless killing. Anyone who breaks law and order should be dealt with within the ambit of the law, regardless of his race, tribe or religion. Moreover, the perpetrators have never come out to say they are fighting religious war, nor has any intelligence report pointed in that direction."
http://allafrica.com/stories/201804260124.html
--------
Ethiopia: Council Calls for Preservation of Holy Sites, Religious Festivities
25 APRIL 2018
By Bilal Derso
Ethiopian Islamic Affairs Supreme Council (EIASC) stated that the continuity of the preservation of holy sites and religious festivities should be sustained as they are the foundations on which the peaceful coexistence and tolerance of the peoples of Ethiopia rest upon.
In an exclusive interview with The Ethiopian Herald, EIASC President Sheikh Muhammad- Amin Jemal said that religious festivities have laid the foundations for peace, tolerance and coexistence, besides their religious values.
Beyond serving as places of religious teachings, such festivals will enable the public to discuss about their livelihood and this would help in sustaining the age-old peace of the country, Sheik Muhammad-Amin elaborated.
In this regard, the Supreme Council conducted a recognition and thanksgiving programs in the Dire Sheik Hussein Mosque located in Oromia, Jemeaa King Mosque in Amhara, King Nejashi Mosque in Tigray and other mosques across the country, he indicated.
Furthermore, religious festivities such as Mawlid al-Kesiye, which is celebrated 15 days before Islamic fasting month of Ramadan, could play an important role in fostering religious tolerance, the president added.
Sheikh Muhammed-Amin noted that the presence of followers of other religions at ceremonies shows the significant contribution they could make in sustaining the long-cherished value of mutual existence.
Financed by the Turkish Cooperation and Coordination Agency (TIKA), the restoration of Al-Nejashi Mosque, where tombs of the 16 followers of the Prophet Muhammad rest on, was completed in last year.
Sheikh Muhammad said: "Pilgrims from Turkey and our neighboring countries have shown a growing desire to visit Al-Nejashi Mosque in their way to perform the annual Hajj. The interest is a clear manifestation for Ethiopia getting a proper place among world Muslims." The President said that the Council is partnering with relevant bodies of government to promote and preserve holy sites in the view to attract more domestic and foreign tourists.
Full report at:
http://allafrica.com/stories/201804250581.html
--------
Somalia: Al-Shabaab Militants Ambush UPDF Convoy in Southern Somalia
25 APRIL 2018
Heavily armed Al Shabaab fighters were reported to have attacked a military convoy carrying peacekeepers from Uganda People's Defence Forces (UPDF) in southern Somalia.
The convoy came under ambush assault as it was travelling El-Waregow area, located outside the southern coastal city of Marka, the regional capital of Lower Shabelle province.
Local residents said the UPDF soldiers have engaged in a heavy gunfight with the militants and managed to repulse the surprise attack which inflicted casualties on both sides.
The Militant group has said in a statement that it has burned down three armoured personnel carrier during the attack, a claim that could not be independently verified.
Full report at:
http://allafrica.com/stories/201804250401.html
--------
South Asia
Press freedom report: media self-censorship on rise in Bangladesh
April 25, 2018
Instead of amending this law, the Bangladesh government proposed a new digital security law early this year with "vaguely-worded provisions" that would allow the authorities concerned to clamp down even more on dissent, according to the RWB report
Self-censorship by media outlets is on the rise in Bangladesh due to persistent acts of violence against those who criticize the constitution or Islam, an international press freedom organization warned on Wednesday.
Releasing its 2018 World Press Freedom Index – an annual review of 180 countries and their relationship with the media – Reporters Without Borders (RWB) raised concerns over the "endemic violence" against journalists and media outlets and the "systematic impunity" enjoyed by those responsible.
"In Bangladesh, it is a bad idea to criticize the constitution or Islam, although the country is officially secular," the RWB report said.
Bangladesh failed to improve its position in the index during 2017 and remains in 146th place, behind neighbouring India – who dropped two places to 138th – and Pakistan, who remain in 139th position.
Norway and Sweden held on to the top two places in the list, while the reclusive state of North Korea continues to lie in last position.
"Journalists and bloggers (in Bangladesh) who resist censorship or self-censorship on these subjects risk life imprisonment or the death penalty, while Islamist militants often issue online calls for the murder of outspoken secularist bloggers and writers," RWB said.
"Media self-censorship is also growing in the country as a result of the endemic violence against journalists and media outlets."
The RWB report said at least 25 journalists and several hundred bloggers and Facebook users were prosecuted in Bangladesh in 2017 under the Information and Communication Technology (ICT) Act, which penalizes online content that is regarded as defamatory or blasphemous.
The report criticised the Bangladesh government for proposing a new digital security law early this year with "vaguely-worded provisions" which, it warns, would allow the authorities concerned to clamp down even more on dissent.
Controversial ICT Act
Although the government enacted the ICT Act in 2006 in a bid to check cyber crimes, it has drawn a huge backlash after influential quarters, particularly those linked with the ruling Awami League, were found abusing Section 57 of the statute to harass journalists and rights activists.
Section 57 classes as non-bailable offences any post, image, or video in an electronic format that causes a deterioration in law and order, or which prejudices the image of the state or person, or hurts religious beliefs.
The punishment for a successful conviction ranges from seven to 14 years in prison, and a fine of up to Tk1 crore.
As of August 2017, the Dhaka Tribune found that at least 19 journalists had been sued under the act by leaders, lawmakers and activists of the ruling party, and by other influential people in the 11 years since the act became law.
There has also been a sharp rise in the number of cases being brought each year; according to prosecution sources, three cases were filed in 2013 under the ICT Act, 33 in 2014, 152 in 2015 and 233 in 2016.
The study revealed that over a span of just six months last year, a total of 391 cases were lodged under this act, of which nearly 60% were filed under Section 57.
Around 313 out of 785 people accused in the cases were arrested.
New digital security act
In response to the heavy criticism of the ICT act, the cabinet in January this year approved the draft of Digital Security Act 2018 while keeping the provision for jail terms and fines.
If the draft is passed in parliament, sections 54, 55, 56, 57 and 66 of the ICT Act will be repealed.
However, even if the government repeals the controversial provisions from the ICT Act, Section 19 of the new legislation will still enable law enforcers to conduct searches, arrest and confiscate anyone's property without a warrant, as per the existing Section 57.
Criticism has also been directed at Section 32 of the new act. This allows 14-year jail terms and a maximum fine of Tk20 lakh for those caught secretly recording information inside government, semi-government or autonomous organization's offices.
Reacting to the Cabinet approval, Manjurul Ahsan Bulbul, president of Bangladesh Federal Union of Journalists, said: "If any section of the [proposed] act turns out to be an impediment to the execution of the professional work of journalists, we are against it."
https://www.dhakatribune.com/bangladesh/law-rights/2018/04/25/press-freedom-report-bangladesh-shows-no-progress/
--------
Bangladesh begins relocating Rohingya before monsoon
01 Apr 2018
DHAKA: Bangladesh has begun relocating 100,000 Rohingya refugees to safer ground before the monsoon season for fear of deadly landslides and floods in the congested camps, an official said Sunday (Apr 1).
The UN says about 150,000 refugees in Bangladesh's southeast - where nearly one million Rohingya in total live in shanties on hillsides - are extremely vulnerable to disease and disaster this rainy season.
Humanitarian groups have been racing to reinforce the basic shelters erected hastily by the Rohingya as they fled across the border after a fierce army crackdown on the community in western Myanmar.
Nearly 700,000 refugees have crossed the border since August into the Cox's Bazar region, clearing trees and packing whole hillsides with unstable shanties.
Bangladesh's refugee commissioner Mohammad Abul Kalam said 100,000 refugees living in "priority" areas most at risk from floods and landslides would be relocated before June.
"We have already shifted some 10,000 refugees from different locations to safer settlements," he told AFP.
Bangladesh had allocated roughly 14 sq km of forested land in Cox's Bazar to the newly-arrived Rohingya to build simple shelters.
But the forest is being felled at a rate of four football fields a day, Kalam said.
The refugees, who use the firewood for cooking, have already cleared 5,000 acres of forest, Cox's Bazar deputy district administrator Mahidur Rahman told AFP.
The once lush hillsides have turned barren, exposing the topsoil and leaving them highly vulnerable to landslides during heavy rain, he said.
"Some 200,000 people are vulnerable to landslides," he said.
Monsoon rains wreak havoc every year in Cox's Bazar and the adjacent Chittagong Hill Tracts, a tropical forest zone home to wild elephants.
Last season heavy rain triggered landslides in the tract region, killing 170 people. Experts blamed deforestation for worsening the impact of the mud avalanches.
More than 100 people were killed in landslides in the region in 2012, and two years earlier heavy rain killed around 50.
In the past week UN Secretary General Antonio Guterres has expressed fears the Rohingya were "extremely vulnerable" to the annual storms.
He told reporters he had stressed to Bangladesh that "higher ground is the best place for this kind of relocation".
Dhaka had earlier said about 100,000 refugees from the persecuted Muslim minority would be shifted to an island in the Bay of Bengal where the Bangladesh navy is building accommodation for the refugees.
Full report at:
https://www.channelnewsasia.com/news/asia/bangladesh-begins-relocating-rohingya-before-monsoon-10093742
--------
Video shows capture of top Taliban leader behind deadly Kabul attacks
Apr 26 2018
The coalition forces have released a new video which shows a special night raid by the Afghan and US Special Forces that results into the capture of a top Taliban leader involved in recent deadly Kabul attacks.
Afghan and U.S. SOF conducted a night-time raid targeting a terrorist cell, in Pul-e Alam district, Logar province, Apr. 22, 2018, according to a report by the NATO Special Operations Component Command Afghanistan.
The report further adds that the cell plans, facilitates, and carries out attacks in the Kabul area. The raid resulted in the capture of Ahmad Gul, the cell leader responsible for directing and implementing attacks.
The source also added that Gul is a member of the al-Hamza Martyrdom Battalion, an offshoot of the Taliban that receives direction, funding, and weapons from the Haqqani Network. Gul is the fourth HMB attack facilitator to be killed or captured by Afghan and U.S. SOF since Mar. 1, 2018.
Full report at:
https://www.khaama.com/video-shows-capture-of-top-taliban-leader-behind-deadly-kabul-attacks-04987/
--------
Southeast Asia
Islamic hardliners suspect photo of their meeting with Jokowi was leaked by his staff
Apr. 25, 2018
Despite President Joko Widodo standing strong in the polls while his potential (though still far from certain) 2019 election rival Prabowo Subianto sinks, he will still have to stave off many challenges to ensure his chances at re-election. One of those challenges will almost certain come from the coalition of Islamist hardliner groups associated with the 212 protest movement that helped ensure the defeat of former Jakarta Governor (and former right-hand to Jokowi) Basuki Tjahaja Purnama in the 2017 gubernatorial election and his eventual jailing for blasphemy.
Many have worried that, following Ahok's defeat, the hardliner coalition would exercise outsized influence on Indonesian politics by threatening Jokowi and other politicians with similar protests fueled by smears and conspiracy theories that they were anti-Islam. But after months of infighting and apparent loss of clout, it seems the 212 "alumni" (as they often refer to themselves, in reference to the massive December 2, 2016 anti-Ahok protest) decided to soften their hardline approach to the president by meeting with him on Sunday.
A group of representatives from the main groups in the coalition, including Persaudaraan 212, the National Movement of the Ulema's Fatwa Guards (GNPF) and Islamic Defenders Front (FPI), met with Jokowi on Sunday at the Bogor Palace. However the media was not made aware of the meeting until later when a photo showing the 212 alums walking alongside the president was spread on social media.
One of the Persaudaran 212 representatives, Misbahul Anam, who is also a senior FPI member, said he was shocked at seeing the photo online as all of the 212 alumni had had their mobile phones confiscated during their meeting with the president. He said he suspected that somebody within the palace leaked the photo.
"Our mobile phones were all confiscated, but the photo went viral, which means it came from somebody on the inside," Misbah told CNN Indonesia today.
During a press conference today to explain the previously secret meeting, Misbah said the meeting had been to discuss the government's so-called criminalization of the ulema and 212 activists. But Jokowi described it much differently, saying it was basically a social meeting involving informal discussion, lunch and prayer.
"Regarding my Sunday meeting, almost every day, every week I go to boarding schools to meet the ulema and I invite them to the palace. For what? In order to establish bonds with the scholars, habib, kyai, ustadz from all provinces in the country, in order to establish our brotherhood and to maintain unity among us," Jokowi said yesterday as quoted by Detik.
The fact that the meeting was kept a secret from the media indicates that the usually press-hungry 212 alumni were embarrassed about being seen breaking bread with their proclaimed enemy, and since the meeting was not done for PR purposes to make them look good, it suggests that they were attempting to leverage their increasingly limited political clout to get some sort of favor from Jokowi (perhaps a deal to drop the charges against Rizieq, the fugitive FPI leader, so that he could finally return to Indonesia after his months of hiding in Saudi Arabia – though we're quite sure that isn't going to happen).
https://coconuts.co/jakarta/news/islamic-hardliners-suspect-photo-meeting-jokowi-leaked-staff/
--------
Indonesia oil well explosion kills 18, injures dozens
April 26, 2018
JAKARTA - At least 10 people were killed and 19 injured as an oil well in Indonesia's Aceh province caught fire, an official said on Wednesday.
The incident occurred in Pasir Putih village of Aceh Timur district in Aceh, the northern tip of Sumatra Island in western Indonesia, according to spokesman of national disaster management agency Sutopo Purwo.
Overproduction caused the oil to spill out from the surface of the well and spread around it at around 12:00 a.m. Jakarta time Tuesday (1700 GMT Monday), attracting dozens of villagers to gather and collect it, the spokesman told Xinhua.
"But suddenly, at 1:30 a.m. (Jakarta time, 1830 GMT Monday) fire appeared and engulfed the area around the well. So that those collecting the crude oil could not escape the fires," he told Xinhua in a text message.
The spokesman said the fire was ignited when a worker was carrying out welding on a pipe which will be put into the well.
A display showed that a column of black ash climbed to the sky as the fire remains, said Sutopo.
The fire consumed three houses.
Fire vehicles arrived at the scene in about an hour to help douse the blaze from a well with a depth of about 250 meters, said Sutopo.
The number of casualties as well as evacuees is still being assessed, he said.
The state-owned oil and gas firm, PT Pertamina planned to stop the fire with a special technology, according to him.
Full report at:
https://nation.com.pk/26-Apr-2018/indonesia-oil-well-explosion-kills-18-injures-dozens
--------
Dropped as GE14 candidate, former Penang PKR exco now religious council head
26 April 2018
GEORGE TOWN, April 26 — Former Penang executive councillor Datuk Abdul Malik Abdul Kassim, who was dropped as a PKR GE14 candidate has been appointed as the Majlis Agama Islam Pulau Pinang (MAIPP) president.
The two-term PKR incumbent Batu Maung assemblyman was not picked to defend his seat this general election.
Penang state secretary Datuk Farizan Darus said today Abdul Malik's appointment had been approved by the Yang di-Pertuan Agong.
"His appointment as the MAIPP president is effective from January 1, 2018 until December 31, 2019," he said when making the announcement at the Penang Chief Minister Lim Guan Eng's office in Komtar today.
An engineer, Datuk Ahmad Zakiyuddin Abd Rahman, who is the PKR Pinang Tunggal candidate, was appointed as the Deputy President of MAIPP.
Abdul Malik thanked the state government for nominating him for the position.
The former Islamic religious affairs committee chairman said he will continue to strengthen Islam.
Full report at:
https://www.malaymail.com/s/1624383/dropped-as-ge14-candidate-former-penang-pkr-exco-now-religious-council-head
--------
URL: https://www.newageislam.com/islamic-world-news/toronto-attack-right-wingers-point/d/115057
New Age Islam, Islam Online, Islamic Website, African Muslim News, Arab World News, South Asia News, Indian Muslim News, World Muslim News, Women in Islam, Islamic Feminism, Arab Women, Women In Arab, Islamophobia in America, Muslim Women in West, Islam Women and Feminism