New Age Islam News Bureau
20 Apr 2013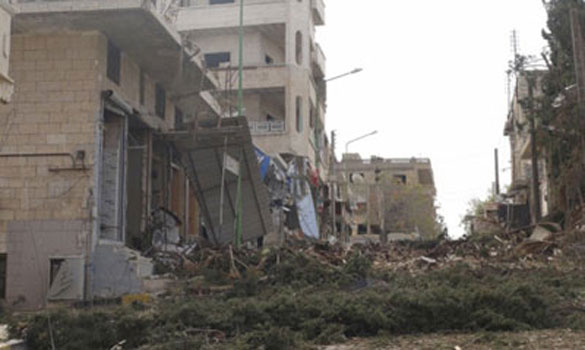 Photo: Damaged buildings after clashes between the Free Syrian Army and pro- regime forces (Photo: Reuters)
----------
North America
• He revered Islam, did not 'understand' Americans, did not like 'bad ideas' in girls
• Rebuking colleagues, NJ rabbi welcomes 'anti-Jihadi' blogger
• US readies new non-lethal military aid for Syria opposition
• Boston suspect's dad says he's a true angel
• 2nd Bombing Suspect Caught After Frenzied Hunt Paralyzes Boston
• Boston bombing: Second suspect in serious condition, being treated in hospital
• Obama vows answers after Boston bombing suspect held
• Uncle of bombing suspects says it shames family
• FBI interviewed Boston bombing suspect in 2011: Source
• Macabre tweet to Boston from terror suspect: 'stay safe'
• Boston bombing: Slain brother aspired to be Olympic boxer
• Boston bombing suspects showed few radical signs
• Shot Boston suspect features 'terror' links on YouTube
Pakistan
• Female suicide bomber kills four in Bajaur Agency: Officials
• Musharraf appears before Pakistani anti-terrorism court: Lawyer
• MWM banks on Shia voters across Sindh to sweep upcoming general elections
• Pakistani pilgrims denied entry to Baghdad
• Only elections solution to Balochistan problems: Nawaz
• UK to work with any govt in Pakistan: Thomson
• Musharraf sent to 14-day judicial custody
Southeast Asia
• Indonesian House Considers Law on Sexual Favours as Bribes
• Bomb Squad Members Deployed to UI Over Student Prank
• Supreme Court Sentences Malaysian Drug Trafficker to Death
Africa
• Morocco death for apostates' fatwa sparks controversy
• Man Charged Over Nigeria Christmas Church Bomb That Killed 37
• Alabama Jihadist Pleads Guilty in Africa Plot
• Sudan: U.N. Peacekeeper Is Killed
Arab World
• At least 82 hurt as Egypt Islamists, rivals clash in Cairo
• Hezbollah: Non-political government unrealistic
• Eight children among nine dead in Syria shelling
• Dozens killed in battle near Damascus: Watchdog
• 'Friends of Syria' meet under pressure to arm rebels
• 'Retribution from Mubarak is a red line': FJP
• Parents say 'Arabish'is harming Arabic
• Heavy clashes in Syria near Lebanon border
• Egypt court cancels Hosni Mubarak detention in one case
India
• 'Indian secularism useful for religious fraternity'
• Delhi has non-military interest in Kabul: PC
• Seeking death for Kodnani attack on Hindus: Sena
• Mufti Sayeed meets PM, impresses need for free, fair polls in J&K
• Pak security agencies take away memory card of mobile phones of Sikh devotees
• NSG man spoke with Pak spy after Hyderabad blasts: Court of Inquiry
• Russian, Israeli mafias exist in Goa: Wikileaks
• Hizbul Mujahideen militant held with arms in J-K
Mideast Asia
• Israel bars Gazans from Bethlehem run
• Hamas in Qatar talks as unity momentum builds
• 'Al-Qaeda' gunmen kill Yemen intelligence officer: security
• Families reject Israeli-Turkish compensation talks
South Asia
• Maldives President calls for more youth, females in future polls
• Bangladesh PM slams Khaleda for 'conspiracy'
• 3 bombs blasted in front of BNP Nayapaltan office
• Bangladeshi worker 'commits suicide' in Saudi Arabia
• Maldives' reserve has dwindled to a critical level, says World Bank
• Study Finds Sharp Rise in Attacks by Taliban
• Singapore hit by bomb hoaxes, 34-year-old man arrested
Europe
• Top U.N. Rights Official Denounces Executions in Iraq as 'Obscene'
• Russia, US to bolster ties after Boston bombings: Kremlin
• Russia's Chechnya Has Seen Decades of War, Terror
• Boston Bombing Suspects Wanted to Fit in, Friends Say
• Canadian Accused in Plot to Help Qaddafi's Son Is Released
• UK Christian organisations call to stop 'human rights violations' in Egypt
• Greece cops arrest 3 for shooting at protesting Bangladesh labourers
Compiled by New Age Islam News Bureau
URL: https://newageislam.com/islamic-world-news/new-age-islam-news-bureau/top-un-rights-official-denounces-executions-in-iraq-as-'obscene'/d/11231
-------------
Top U.N. Rights Official Denounces Executions in Iraq as 'Obscene'
By TIM ARANGO and NICK CUMMING-BRUCE
April 20, 2013
BAGHDAD — With increasing regularity, Iraq's condemned prisoners are rounded from their cells in groups. One by one, they are led down a hallway to an execution chamber where they are hanged, the sound of the trapdoor reverberating through the cells. There is no advance notice, no last meal, no goodbyes.
There were 21 people hanged on Wednesday, 8 earlier this month and 12 more in mid-March. Iraq's justice minister said that at least 9 more had been executed this year.
There are reports that the Justice Ministry plans to execute about 150 in coming days — eclipsing the 129 prisoners executed last year, which was nearly double the 68 people hanged in 2011.
"Executing prisoners in batches like this is obscene," Navi Pillay, the United Nations human rights chief, said in a statement released in Geneva on Friday that was the harshest yet toward an Iraqi government that has drastically increased the number of executions since the withdrawal of American forces at the end of 2011.
"It is like processing animals in a slaughterhouse," added Ms. Pillay, who said she was "appalled" by recent reports that the Justice Ministry planned to execute a large group in the coming days.
Iraq's application of the death penalty is particularly egregious, human rights advocates say, because convictions are often based on confessions induced by torture or the testimony of confidential informants. Ms. Pillay said Iraq's judicial system was "too seriously flawed to warrant even a limited application of the death penalty, let alone dozens of executions at a time."
She continued, "The application of the death penalty in these circumstances is unconscionable, as any miscarriage of justice as a result of capital punishment cannot be undone."
A Justice Ministry spokesman could not be reached Friday evening to comment on Ms. Pillay's statement, but Iraqi officials have defended the government's use of the death penalty as necessary to combat terrorism. The government says that the latest group of prisoners to be hanged were all members of Al Qaeda in Iraq involved in bombings and assassinations, and that it executes only those convicted of terrorism and serious crimes against civilians. The latest executions came amid preparations for local elections this weekend, the first since the withdrawal of United States forces in 2011. The campaign has been marred by a wave of bombings that has caused heavy casualties.
In a statement released this week after the 21 prisoners were executed, Justice Minister Hasan al-Shammari said, "The Ministry of Justice had to carry out the punishment against those killers that have shed innocent Iraqi blood."
He said the ministry would "continue to implement the measures of the judiciary against the terrorist murderers."
In an interview, Izzat al-Shahbandar, a member of Parliament who is a close aide to Prime Minister Nuri Kamal al-Maliki, sharply rebuked Ms. Pillay.
"This statement means nothing to us," Mr. Shahbandar said. "The people that have been executed are criminals. The timing of the executions is up to the judiciary and government authorities, and they don't have the right to interfere in our internal issues."
Referring to the objections by other countries, Mr. Shahbandar said, "Where were they when Saddam was killing hundreds of people each day?"
Then he referred to the tens of thousands of innocent Iraqis killed during the past 10 years and said, "Now the human rights people are shedding their tears." He said the executions were carried out according to international law, and he invited Ms. Pillay to "come and watch some of them."
Ms. Pillay's statement reflected a growing sense of outrage among human rights advocates toward the rise in executions in Iraq, and the harshness of the statement was welcomed by those who have been raising alarms for some time. Amnesty International has said Iraq ranked among the world's top five executioners last year, with China, Iran, Saudi Arabia and the United States.
"I think it's the strongest statement I've ever heard her make about anything," said Erin Evers, a Middle East researcher at Human Rights Watch who has recently interviewed death row inmates in Iraq.
Executions here are carried out in a single location: a prison in the Kadhimiya neighborhood of the capital that is otherwise known for its famous Shiite shrine. Under Saddam Hussein, the prison was known as a place where Iraqis went to disappear, and then Hussein himself was executed there after the American invasion toppled his government. Now, about 1,400 prisoners — including 38 women — sit on death row.
After a conviction, a prisoner can wait years to die — or a couple of weeks if a family member of a victim has political clout — never knowing if each day is the last, rights activists say.
The administration of the death penalty today is particularly inhumane, activists say, not only because of the flaws in the judiciary, but because family members of the condemned are not allowed a last visit. In fact, they are often not even notified after an execution, left to make panicked inquiries when an execution is reported in the news media.
"Someone with a family member on death row is left to wonder, 'Is that my son? Is that my daughter?' " Ms. Evers said.
Tim Arango reported from Baghdad, and Nick Cumming-Bruce from Geneva. Duraid Adnan contributed reporting from Baghdad.
http://www.nytimes.com/2013/04/20/world/middleeast/Iraq-executions.html?ref=world&gwh=C31CDE9D1518F14F339A6E4FBEEE761C
-------------
North America
He revered Islam, did not 'understand' Americans, did not like 'bad ideas' in girls
Apr 20 2013
Boston: Bombing suspect Dzhokhar Tsarnaev posted links to Islamic websites and others calling for Chechen independence on what appear to be his page on a Russian language social networking site.
Abusive comments in Russian and English were flooding on to Tsarnaev's page on VK, a Russian-language social media site, on Friday after he was identified as a suspect in the bombing of the Boston marathon.
Police launched a massive manhunt for Tsarnaev, 19, after killing his elder brother Tamerlan Tsarnaev in a shootout overnight.
On the site, the younger Tsarnaev identifies himself as a 2011 graduate of Cambridge Rindge and Latin School, a public school in Cambridge, Massachusetts.
It says he went to primary school in Makhachkala, capital of Dagestan, a province in Russia that borders
Chechnya, and lists his languages as English, Russian and Chechen.
His "World view" is listed as "Islam" and his "Personal priority" is "career and money".
He has posted links to videos of fighters in the Syrian civil war and to Islamic web pages with titles like "Salamworld, my religion is Islam" and "There is no God but Allah, let that ring out in our hearts".
He also has links to pages calling for independence for Chechnya, a region of Russia that lost its bid for secession after two wars in the 1990s.
The page also reveals a sense of humour around his identity as a member of a minority from southern Russia's restive Caucasus, which includes Chechnya, Dagestan, Ingushetia and other predominately Muslim regions that have seen two decades of unrest since the fall of the Soviet Union.
A video labelled "tormenting my brother" shows a man resembling his (now dead) brother Tamerlan laughing and imitating the accents of different Caucasian ethnic groups.
He has posted his own joke: "A car goes by with a Chechen, a Dagestani and an Ingush inside. Question: who is driving?"
The answer: the police.
Elsewhere on the Internet, a photo essay entitled "Will box for passport" shows the older brother Tamerlan Tsarnaev practising boxing at a gym. The captions identify him as a Chechen heavyweight boxer, in the United States for five years. One caption expresses Tamerlan's hope that if he wins enough fights, he could be selected for the US Olympic team and be naturalized American. "Unless his native Chechnya becomes independent, Tamerlan says he would rather compete for the United States than for Russia."
Another caption quotes him as saying, "I don't have a single American friend." "I don't understand them." Yet another says he "doesn't usually take his shirt off so girls don't get bad ideas", and quotes him, "I am very religious".
But there is also a picture of him with a young woman in training gear, the caption saying, "his girlfriend is half Portuguese, half Italian and converted to Islam: 'She's beautiful, man!'"
http://www.indianexpress.com/news/he-revered-islam-did-not-understand-americans-did-not-like-bad-ideas-in-girls/1105170/
-------------
Rebuking colleagues, NJ rabbi welcomes 'anti-Jihadi' blogger
Pamela Geller invited after L.I. congregation cancels scheduled talk
Debra Rubin
April 16, 2013
In a fiery speech in Edison attended by about 70 supporters, controversial anti-jihadist blogger and author Pamela Geller warned Americans and Jews about a war being waged against Western ideals by Islamist radicals.
Geller had accepted an invitation three days earlier from Rabbi Bernhard Rosenberg to speak April 14 at Congregation Beth-El, after a Long Island synagogue cited security concerns in cancelling her appearance there.
Geller, who runs the blog "Atlas Shrugged," has angered Muslim and Jewish groups alike with her media campaigns, including a series of subway advertisements that called Israel's Muslim opponents "savages."
Rosenberg, the son of Holocaust survivors, said while he did not necessarily agree with all of Geller's statements, he believed they needed to be heard.
"I would never force anyone to hear Ms. Geller, but neither will I stand by while thugs threaten violence merely because they do not like the message being delivered," said Rosenberg. He contrasted his approach to that of "those good-for-nothing lazy rabbis who are afraid to speak and get off their behinds."
In her talk, Geller denounced her critics and the "the left-wing liberal media."
"They call me an anti-Islam and an anti-Muslim bigot because to think I'm right is unthinkable," she said.
Citing passages from the Koran, she said the "jihadi doctrine is in Islam." It is such ideology — including calls for the killing of Jews and other nonbelievers and the doctrine of spreading Islam to other cultures — that sets Islam apart from other religions.
"What you don't see are Christians running around strapping bombs to their bodies and shouting, 'Jesus akbar' or Jewish people shouting, 'Hashem akbar,'" she said. "I do not promote hate; I expose hate."
Geller has been criticized as a hatemonger by the Southern Poverty Law Center and some Jewish groups, including the Anti-Defamation League.
"Essentially, the ADL rejects her organization's message of intolerance, although we defend her right to speak," NJ region director Rabbi Jeffrey Salkin told NJJN. "The ADL believes it is possible to support Israel without engaging in bigoted anti-Muslim and anti-Arab stereotypes."
According to the ADL, Geller has linked Islam to bestiality and pederasty, compared Muslims to Nazis, and asserted that Islam inspired Hitler.
"I wonder how American Jews think healing will happen when we consistently engage in blatant stereotypes and hate speech?" said Salkin, who was not at the Beth-El talk. "When did being anti-Muslim become the pro-Israel badge? When we do that we forget what it means to be a slave in Egypt."
By contrast, Rosenberg praised Geller to the Edison audience. "I need her here. We need her here. America needs her here," he said, drawing rousing applause.
Although four Edison patrol cars and six police officers were stationed outside, Geller's talk did not draw protesters. Inside, no audience members voiced objections during her talk.
However, Edison police are investigating a report that more than 40 pellets were shot into the garage door at Rosenberg's home. Rosenberg also complained that a comment that he perceived as a "death threat" was posted on the JTA Jewish news service website in response to a story about Geller's cancelled talk.
Both Edison Police Chief Thomas Bryan and Middlesex County Prosecutor's Office spokesperson Jim O'Neill told NJJN that an investigation is ongoing. The county becomes involved when an incident is a possible bias crime, but neither would confirm that both the shooting incident and the website threat are under investigation as bias crimes. O'Neill said it would be "inappropriate to comment further at this time."
Rosenberg had announced Geller's appearance at his synagogue on the JTA site. A commenter responded, ambiguously, "Victory for humanity and decency. However, why do I have the feeling this synagogue will be 'attacked' with firebombs and painted with swastika graffiti in the coming weeks."
In 2009, swastikas were spray-painted on the Conservative synagogue hours after Yom Kippur.
In her talk, Geller said that Islamic religious ideology spawned the jihadist movement. She encouraged those present "not to burn the Koran; read the Koran."
"I do the work I do because I love life," said Geller, who said she was driven to action by the terrorist attacks of 9/11. "I am dealing with an ideology that hates life."
She held aloft a placard from her subway campaign, reading, "In any war between the civilized man and the savage, support the civilized man. Defeat Jihad. Support Israel." Geller's organization, the New American Freedom Defense Initiative, placed the ads in subways and buses in New York last year following a successful lawsuit, sparking response ads from Muslim and civil liberties groups.
Geller drew applause when she referred to perpetrators of terrorist attacks in New York, Tel Aviv, and Mumbai as "savages."
Joining Geller was Greg Buckley of Oceanside, NY, whose 21-year-son, Marine Lance Cpl. Greg Buckley Jr., was killed with several other American soldiers in August by an Afghan they were helping to train.
Also speaking was Robert Spencer, director of Jihad Watch, who warned that many Muslim groups in the United States were aligned with the radical Muslim Brotherhood. If they had peaceful aims, he said, they would denounce jihadists.
"But they're not because they're not on our side," said Spencer, who called Geller "a lightning rod because she sounded the alarm on jihad."
Rabbi Robert Wolkoff of Congregation B'nai Tikvah in North Brunswick was introduced in the audience by Rosenberg as "a supporter."
Later, Wolkoff told NJJN that Geller was "not totally wrong."
"Her instincts were very good" about radical Islamists, he said, although he did not believe the label should be applied to all Muslims. He said he spoke in support of Geller's ad campaign in his Yom Kippur sermon, touching off some controversy in the congregation.
Issues raised by Geller, Wolkoff said, needed to be addressed honestly by the Muslim community.
"When was the last time you heard a Muslim clergyman speak about the persecution of Jews, or a Muslim conference to talk about this particular topic?" he asked. "Yet, how many conferences have been held where Jews talk about the treatment of the Palestinians — and I'm not saying we shouldn't. I'm not critical of that, but we're ignoring the reality, which is sort of obvious.
"I applaud Rabbi Rosenberg for bringing her here."
The Great Neck Synagogue in suburban New York cited security concerns in canceling a planned appearance by Geller. Its executive board wrote that it would be "irresponsible" to hold the talk given the "legal liability and potential security exposure."
http://www.njjewishnews.com/article/17089/rebuking-colleagues-nj-rabbi-welcomes-anti-jihadi-blogger#.UW-OHtLfCbs
-------------
US readies new non-lethal military aid for Syria opposition
Reuters | Apr 20, 2013
WASHINGTON: The United States plans to provide about $100 million in new non-lethal aid to the Syrian opposition that could include for the first time battlefield support equipment such as body armor and night-vision goggles, a US official said.
Secretary of State John Kerry is expected to announce the new aid package, which would mark a recalibration of U.S. policy toward rebel groups in the Syrian civil war, at an international conference on Syria that he will attend in Turkey this weekend.
Full report at:
http://timesofindia.indiatimes.com/world/us/US-readies-new-non-lethal-military-aid-for-Syria-opposition/articleshow/19643706.cms
-------------
Boston suspect's dad says he's a true angel
April 20, 2013
BOSTON — Dzhokhar A. Tsarnaev, then a senior at a prestigious school, was awarded a $2,500 scholarship in May 2011 from the city of Cambridge, Massachusetts, to pursue higher education. Now the 19-year-old is on the run, described as "armed and dangerous" and suspected of the Boston Marathon bombing.
Two brothers from the Russian region near Chechnya, one now dead, one alive and at large. After grainy surveillance images of two men in baseball caps were released Thursday by the FBI as an appeal for the public's help in identifying them, a portrait quickly emerged Friday of the young men suspected in the attack.
Full report at:
http://www.saudigazette.com.sa/index.cfm?method=home.regcon&contentid=20130420162154
-------------
2nd Bombing Suspect Caught After Frenzied Hunt Paralyzes Boston
By KATHARINE Q. SEELYE, WILLIAM K. RASHBAUM and MICHAEL COOPER
2013/04/20
BOSTON — The teenage suspect in the Boston Marathon bombings, whose flight from the police after a furious gunfight overnight prompted an intense manhunt that virtually shut down the Boston area all day, was taken into custody Friday night after the police found him in nearby Watertown, Mass., officials said.
The suspect, Dzhokhar A. Tsarnaev, 19, was found hiding in a boat just outside the area where the police had been conducting door-to-door searches all day, the Boston police commissioner, Edward Davis, said at a news conference Friday night.
Full report at:
http://www.nytimes.com/2013/04/20/us/boston-marathon-bombings.html?hp&_r=0
-------------
Boston bombing: Second suspect in serious condition, being treated in hospital
Reuters | Apr 20, 2013
WATERTOWN, Massachusetts: A 19-year-old suspected of carrying out the Boston Marathon bombings with his older brother was captured by police after a day-long manhunt on Friday that closed down the city and turned a working-class suburb into a virtual military zone.
The capture sent waves of relief and jubilation through Boston and the suburb of Watertown, where armored vehicles roamed the streets and helicopters flew overhead through the day. Residents and police officers cheered and clapped when the suspect, Dzhokhar Tsarnaev, was taken alive after a gunfight.
Full report at:
http://timesofindia.indiatimes.com/world/us/Boston-bombing-Second-suspect-in-serious-condition-being-treated-in-hospital/articleshow/19649673.cms
-------------
Obama vows answers after Boston bombing suspect held
AFP | Apr 20, 2013
WASHINGTON: President Barack Obama vowed to find out what turned two young US residents accused of the Boston bombings to violence, after the second suspect was captured alive, ending a week of horror.
Obama said in a late-night on-camera statement that the attacks had failed because Americans refused to be terrorized and heaped praise on police and law enforcement services while remembering the dead and injured.
Full report at:
http://timesofindia.indiatimes.com/world/us/Obama-vows-answers-after-Boston-bombing-suspect-held/articleshow/19644178.cms
-------------
Uncle of bombing suspects says it shames family
AP | Apr 20, 2013
MONTGOMERY VILLAGE, Maryland: An uncle of the Boston Marathon bombing suspects on Friday said the brothers had brought shame to the family and the entire Chechen ethnicity.
Ruslan Tsarni, 42, also told The Associated Press in a telephone interview that he was not completely shocked when he learned that the older brother was named as a suspect in Monday's deadly bombing. "It's not a surprise about him," he said. ``The younger one, that's something else."
Full report at:
http://timesofindia.indiatimes.com/world/us/Uncle-of-bombing-suspects-says-it-shames-family/articleshow/19643870.cms
-------------
FBI interviewed Boston bombing suspect in 2011: Source
Reuters | Apr 20, 2013
WASHINGTON: The FBI in 2011 interviewed the elder of the two brothers who are suspects in Monday's deadly Boston Marathon bombings, acting at the request of an unidentified foreign government, a US law enforcement source said on Friday.
Full report at:
http://timesofindia.indiatimes.com/world/us/FBI-interviewed-Boston-bombing-suspect-in-2011-Source/articleshow/19643842.cms
-------------
Macabre tweet to Boston from terror suspect: 'stay safe'
AFP | Apr 20, 2013
BOSTON: A Monday message on Twitter — "stay safe people" — seemed aimed at soothing Bostonians rattled by deadly terror attacks earlier in the day. But that entreaty was apparently sent by the prime bombing suspect.
With the city of Boston on lockdown for most of Friday and suspect Dzhokhar Tsarnaev still on the loose, attention has focused on the 19-year-old's social media accounts for clues about his life and his potential motivation for apparently setting bombs that killed three people and wounded more than 180.
Full report at:
http://timesofindia.indiatimes.com/world/us/Macabre-tweet-to-Boston-from-terror-suspect-stay-safe/articleshow/19642759.cms
-------------
Boston bombing: Slain brother aspired to be Olympic boxer
PTI | Apr 20, 2013
WASHINGTON: The suspect in the Boston bombings, Tamerlan Tsarnaev, who was shot dead by the police on Thursday, was an aspiring boxer, who hoped to gain American citizenship by being selected in the US Olympic team, a photographer has claimed. Tamerlan, 26, featured in an online photo essay of 15 pictures captured by Johannes Hirn entitled "Will Box for Passport."
Full report at:
http://timesofindia.indiatimes.com/world/us/Boston-bombing-Slain-brother-aspired-to-be-Olympic-boxer/articleshow/19642375.cms
-------------
Boston bombing suspects showed few radical signs
April 19, 2013
The suspects in the Boston Marathon bombings are ethnic Chechen brothers who spent much of their lives away from the breakaway Russian republic and showed few outward signs of radicalism in the United States.
Much is still unknown about Dzhokhar and Tamerlan Tsarnaev, named by a national security official as suspects in the twin bombings that killed three people and wounded 176 on Monday.
Full report at:
http://www.hindustantimes.com/worldsectionpage/chunk-ht-ui-worldsectionpage-
-------------
Shot Boston suspect features 'terror' links on YouTube
April 19, 2013
The Boston Marathon bombings suspect who was killed in a police shootout features a YouTube page listing links to men he identified as "terrorists" and Islamic teachers.
The Russian-language YouTube page of the dead suspect, identified as 26-year-old Tamerlan Tsarnaev, features various links to websites pulled by YouTube as well as to those on Islamic teachings.
Full report at:
http://www.hindustantimes.com/worldsectionpage/chunk-ht-ui-worldsectionpage-
-------------
Pakistan
Female suicide bomber kills four in Bajaur Agency: Officials
April 20, 2013
KHAR: A female suicide bomber blew herself up outside a hospital in a Bajaur Agency Saturday and killed at least four people and wounded four others, officials said.
The attack took place in Khar, the main town of Bajaur tribal district bordering Afghanistan where the military has carried out several offensives against al Qaeda-linked Taliban militants.
"At least four people were killed and four others were wounded in the blast outside the main gate of the hospital," Mohammad Riaz, chief doctor at the government hospital, told AFP.
Local administration official Abdul Haseeb confirmed that it was a female suicide bomber and the casualties.
"It was a female suicide bomber, about 18-20 years old, we have found her legs and head," he said.
Full report at:
http://tribune.com.pk/story/538179/blast-near-bajaur-agency-headquarters-hospital/
-------------
Musharraf appears before Pakistani anti-terrorism court: Lawyer
Reuters | Apr 20, 2013
ISLAMABAD: Former Pakistani president Pervez Musharraf was taken before an anti-terrorism court in Islamabad on Saturday in connection with allegations that he ordered the illegal detention of judges while we has in power, his lawyer said.
Pakistani television showed pictures of Musharraf entering the court in the capital, Islamabad, amid tight security.
Police arrested Musharraf on Friday and took him into custody at a guest house in police headquarters in the city.
http://timesofindia.indiatimes.com/world/pakistan/Musharraf-appears-before-Pakistani-anti-terrorism-court-Lawyer/articleshow/19645937.cms
------------
MWM banks on Shia voters across Sindh to sweep upcoming general elections
April 20, 2013
KARACHI: With the slogan of 'Labaik ya Hussain,' and a tent as their election symbol in the forthcoming general elections, Majlis-e-Wahdat-ul-Muslimeen (MWM) – the leading political group for the Shia community – hopes to put up a tough competition against its political opponents in Karachi.
The party is testing its political strength for the first time with 140 candidates on the National and provincial assembly seats across the country.
In Sindh, the party has designated 40 candidates for seats of both the assemblies, out of which it is contesting on five National Assembly seats and seven Sindh Assembly seats from Karachi.
Full report at:
http://tribune.com.pk/story/537904/votes-of-confidence-mwm-banks-on-shia-voters-across-sindh-to-sweep-upcoming-general-elections/
-------------
Pakistani pilgrims denied entry to Baghdad
April 19, 2013
ISLAMABAD / BAGHDAD: Pakistani pilgrims travelling to the holy cities of Kerbala in Iraq were stranded at the Baghdad airport due to local elections.
Foreign Office spokesman Aizaz Ahmed Chaudhray said on Friday that the Pakistan Embassy in Baghdad is in contact with the relevant authorities in Iraq to resolve the issue.
He said that the pilgrims were denied entry to Iraq because of the provincial governorate elections that are due to be held on April 20.
Full report at:
http://tribune.com.pk/story/537781/stranded-pakistani-pilgrims-denied-entry-to-baghdad/
-------------
Only elections solution to Balochistan problems: Nawaz
April 20, 2013
QUETTA: PML-N chief Nawaz Sharif on Friday reiterated that only elections and strong elected democratic government could steer Balochistan out of all the crises it is facing.
Nawaz called for transparent investigation into the attack on Nawab Sanaullah Zehri and termed it a regrettable act. During his visit to the hometown of Nawab Sanaullah Zehri, the PML-N chief offered his condolences to Nawab Sanaullah Zehri over the loss of lives of his son, brother and nephew at Anjira.
Full report at:
http://www.dailytimes.com.pk/default.asp?page=2013\04\20\story_20-4-2013_pg7_12
-------------
UK to work with any govt in Pakistan: Thomson
April 20, 2013
ISLAMABAD: British High Commissioner Adam Thomson said on Friday that Britain is ready to work with any government that emerges after the upcoming general elections.
He was speaking on the occasion of 87th birthday anniversary of Queen Elizabeth II. "This year is particularly important as the upcoming elections are a crucial milestone in Pakistan's democratic history - the first time in decades that there will have been a democratic transfer of power between one civilian government and another. As a fellow Commonwealth country and friend of Pakistan, we look forward to witnessing elections this year that are credible and acceptable to the Pakistani people and that will bring democratic continuity to this wonderful country," he said. Around 1,000 people attended the red carpet celebrations, including representatives from the Caretaker Government of Pakistan, political parties, the military, members of the diplomatic corps, civil society, the media and business.
Full report at:
http://www.dailytimes.com.pk/default.asp?page=2013\04\20\story_20-4-2013_pg11_2
-------------
Musharraf sent to 14-day judicial custody
PTI | Apr 20, 2013
ISLAMABAD: Facing treason charges, former Pakistani military ruler PervezMusharraf today appeared before an anti-terrorism court here which sent him to 14-day judicial custody but instead of jail he will be detained at his sprawling farmhouse which has been declared a sub-jail.
After spending a night in detention at the police headquarters, 69-year-old Musharraf was produced before Judge Kausar Abbas Zaidi of the anti-terrorism court amid chaotic scenes with lawyers raising slogans against the former President and scuffling with his supporters.
A grim-looking Musharraf walked the short distance from his SUV to the court, surrounded by his bodyguards and dozens of security personnel.
Full report at:
http://timesofindia.indiatimes.com/world/pakistan/Musharraf-sent-to-14-day-judicial-custody/articleshow/19650152.cms
-------------
Southeast Asia
Indonesian House Considers Law on Sexual Favours as Bribes
Carlos Paath & Markus Junianto Sihaloho | April 20, 2013
Lawmaker Ahmad Basarah says he is thankful he has never been offered sexual favors as a bribe.
"Thank God no-one has ever offered that, to tempt me," the Indonesian Democratic Party of Struggle (PDI-P) deputy secretary general said. "How terrifying."
Ahmad, speaking at the House of Representatives on Friday, said he believed there was no specific clause setting out sanctions for offering gratification in the form of sexual favors, but that it was nevertheless illegal.
"If we refer to the Corruption Eradication Commission [KPK] Law, the understanding of gratification is not merely material. A judge may determine that there has been other forms of gratification, sexual gratification, for example," Ahmad explained.
"That was demonstrated by Toto Hutagalung," he said, referring to allegations that Toto, a Bandung businessman, had sought to influence the outcome of a case by arranging sexual favors for a local judge, Setyabudi Tejocahyono.
Full report at:
http://www.thejakartaglobe.com/news/house-considers-law-on-sexual-favors-as-bribes/586946
-------------
Bomb Squad Members Deployed to UI Over Student Prank
Jakarta Globe | April 19, 2013
The Jakarta Police's bomb squad (Gegana) swept the University of Indonesia after some students called in a fake bomb threat on their friend's birthday.
Indonesian news portal Detik.com reported on Friday that 20 members of Gegana were deployed to the Depok, West Java campus after a student reported to school security that he found a suspicious package placed inside his car.
"When I wanted to go home, I noticed my car was unlocked and I saw a suspicious package in the backseat," Nail Renaldi said on Friday.
Full report at:
http://www.thejakartaglobe.com/news/bomb-squad-members-deployed-to-ui-over-student-prank/586872
-------------
Supreme Court Sentences Malaysian Drug Trafficker to Death
Jakarta Globe | April 20, 2013
The Indonesian Supreme Court on Saturday sentenced a Malaysian national to death for the possession of more than 350,000 ecstasy pills and 48.5 kilograms of methamphetamine.
"The court decided to give him the death penalty," Ridwan Mansyur, a spokesman for the Supreme Court, told Indonesian news portal Detik.com on Saturday.
Kweh Teik Choon was arrested by Soekarno-Hatta Airport police in January 2012 at his apartment in Taman Anggrek, West Jakarta, after a tip off by Fitri Ezadi, another Malaysian drug trafficking suspect.
Full report at:
http://www.thejakartaglobe.com/home/supreme-court-sentences-malaysian-drug-trafficker-to-death/587015
-------------
Africa
Morocco death for apostates' fatwa sparks controversy
A fatwa published recently by Morocco's higher council of religious scholars calling for the death penalty for Muslims who renounce their faith sparks fierce debate in the African country
18 Apr 2013
A fatwa published this week by Morocco's higher council of religious scholars (CSO) calling for the death penalty for Muslims who renounce their faith has sparked fierce controversy in the country.
The scholars, who represent official Islam in Morocco, said in their edict, published in Tuesday's edition of Arabic-language daily Akhbar al-Youm, that Muslims who reject their faith "should be condemned to death."
The fatwa, which has provoked strong reactions, dates back to April 2012 when a legal report was being prepared by the government, but it was not published at the time, according to local media.
Full report at:
http://english.ahram.org.eg/NewsContent/2/8/69605/World/Region/Morocco-death-for-apostates-fatwa-sparks-controver.aspx
---------
Man Charged Over Nigeria Christmas Church Bomb That Killed 37
April 20, 2013
ABUJA (Reuters) - Nigerian authorities charged a man on Friday with masterminding a 2011 Christmas Day bomb attack on a Catholic church in the capital that killed 37 people.
Security forces captured Kabiru Sokoto, the main suspect in the attack, in January 2012. He escaped a day later but was recaptured the following month.
In court on Friday he pleaded not guilty to charges of terrorism. Justice Adeniyi Ademola adjourned trial to May 2.
Full report at:
http://www.nytimes.com/reuters/2013/04/19/world/africa/19reuters-nigeria-
-------------
Alabama Jihadist Pleads Guilty in Africa Plot
April 20, 2013
MOBILE, Alabama (Reuters) - Accused jihadist Randy "Rasheed" Wilson pleaded guilty on Friday in U.S. District Court to conspiracy to travel to Africa with another man to support efforts to "maim, murder and kidnap" in the name of Islam.
Clad in a beige prison jumpsuit with his attorney at his side, Wilson quietly answered "Yes, ma'am" when Judge Kristi DuBose asked if he understood the charges against him and that he would be waiving his rights to a trial by pleading guilty.
Assistant U.S. Attorney Christopher Bodnar said Wilson was planning to join a war, or jihad, between Muslims and non-believers. He quoted Wilson as saying: "Either we kill and defeat them or they are going to kill and defeat us."
Full report at:
http://www.nytimes.com/reuters/2013/04/19/world/africa/19reuters-usa-security-
-----------
Sudan: U.N. Peacekeeper Is Killed
April 20, 2013
The United Nations said Friday that a Nigerian peacekeeper in the Sudanese state of East Darfur was shot dead and two others were wounded Friday in an attack by gunmen. The United Nations said it was working with Sudan's government to investigate the attack on the peacekeeping force's site near Muhajeria in East Darfur State. The peacekeeping force was established in 2007 to protect civilians in Darfur. More than 300,000 people have been killed in the Darfur conflict since rebels took up arms against the Sudanese government nearly 10 years ago, accusing it of discrimination and neglect.
http://www.nytimes.com/2013/04/20/world/africa/un-peacekeeper-is-killed-in-sudan.html?ref=africa&gwh=B0619E838320399AC6BA58924F33AAC9
-------------
Arab World
At least 69 people, many of them rebels in battle near Damascus: Watchdog
At least sixty-nine people are killed in a four-day battle between the regime troops and rebels near a town near the Syrian capital Damascus
20 Apr 2013
At least 69 people, many of them rebels, have been killed in a four-day battle pitting Syrian insurgents against government forces in Jdaidet al-Fadl near Damascus, a monitoring group said on Saturday.
"Regime troops are trying to seize total control of the town of Jdaidet al-Fadl" southwest of Damascus, the Syrian Observatory for Human Rights said.
"Sixty-nine people were killed in violence raging there over the past four days," added the Britain-based watchdog, citing activists on the ground, who said many were killed in shelling and also in summary executions by the army.
Full report at:
http://english.ahram.org.eg/NewsContent/2/8/69694/World/Region/Dozens-killed-in-battle-near-Damascus-Watchdog.aspx
-----------
At least 82 hurt as Egypt Islamists, rivals clash in Cairo
AFP | Apr 20, 2013
CAIRO: At least 82 people were hurt on Friday in clashes after opposition activists marched on thousands of Islamists rallying outside a central Cairo court demanding judicial reform, an official said.
The fighting erupted near the iconic Tahrir Square, roughly 0.5 kilometres from where the Islamists had staged their rally, with both sides trading stones.
A few activists on the opposition side fired homemade guns loaded with birdshot at the Islamists, who had taken over a main bridge that crosses the Nile River.
Riot police on foot and in armoured vehicles succeeded by nightfall in creating a cordon between the two sides, but ended up clashing with the opposition activists.
A riot police vehicle on a side street came under fire from birdshot rifles as Islamists ducked for cover behind the armoured vehicle.
Full report at:
http://timesofindia.indiatimes.com/world/middle-east/At-least-82-hurt-as-Egypt-Islamists-rivals-clash-in-Cairo/articleshow/19642398.cms
-------------
Hezbollah: Non-political government unrealistic
April 20, 2013
By Wassim Mroueh, Dana Khraiche
BEIRUT: Efforts to form a new government marked time Friday as Hezbollah reiterated that a non-political government is unrealistic, adding that an all-inclusive Cabinet should be formed to handle the huge tasks ahead.
"A non-political government is unrealistic. There is no one who is not politicized in the country, even the Prime Minister-designate [Tammam Salam] has a political vision," Sheikh Naim Qassem said during a ceremony in Beirut's southern suburbs.
"Therefore, we must think objectively about forming a political government. We call for a national, all-inclusive government."
The Hezbollah official said the new Cabinet should manage the country's affairs and supervise elections in a timely way under an electoral law that has the agreement of political parties.
"These are huge tasks the government must shoulder, whether it's in office for one, two or three months or one, two or three years," Qassem said.
Full report at:
http://dailystar.com.lb/News/Politics/2013/Apr-20/214443-hezbollah-nonpolitical-government-unrealistic.ashx#ixzz2R0cie48U
-----------
Eight children among nine dead in Syria shelling
20 April 2013
A shell fired by the Syrian army hit a pickup truck in the northwestern province of Idlib on Friday killing a woman and eight children, a watchdog said.
"A mother, her four children and four nephews were killed and their bodies torched" in the bombardment of the rebel-held town of Saraqeb, the Syrian Observatory for Human Rights said.
They were among at least 25 civilians who were killed in violence on Friday. Twenty-five rebels also died, according to the Britain-based watchdog and reported by AFP.
Meanwhile, gunmen killed a government official in a Damascus restaurant, Syrian state media and activists reported as regime troops and rebels fought fierce battles near the Lebanese border, killing 18 people in Syria's third largest city of Homs, AP reported.
Full report at:
http://english.alarabiya.net/en/News/middle-east/2013/04/20/-Eight-children-among-nine-dead-in-Syria-shelling.html
-----------
'Friends of Syria' meet under pressure to arm rebels
Saturday, 20 April 2013
The main international backers of Syria's opposition gather in Istanbul on Saturday with the rebels hoping Western and Arab countries will step up their support, the Agence France-Presse reported.
The 11-nation core group of the "Friends of Syria" – including the United States, European nations and Arab countries – will hold talks with key figures in the opposition battling President Bashar al-Assad.
The group has so far struggled to come up with a united strategy to end the violence in Syria, despite fighting that has seen more than 70,000 killed and hundreds of thousands forced from their homes.
Full report at:
http://english.alarabiya.net/en/News/middle-east/2013/04/20/-Friends-of-Syria-meet-under-pressure-to-arm-rebels-.html
-----------
'Retribution from Mubarak is a red line': FJP
FJP media advisor Mourad Ali calls on judges to step down if they cannot ensure justice is done
20 Apr 2013
Freedom and Justice Party (FJP) media avisor Mourad Ali has criticised calls for acquitting ousted president Hosni Mubarak from trial, saying that this is a "red line."
Supporters of the former president and several media figures have been calling for his release.
Mubarak, his former interior minister, Habib El-Adly, and six of the latter's top aides will be retried in connection to the killing of protesters during 18 days of the January 25 Revolution. The first session of the retrial is scheduled to take place 11 May.
Full report at:
http://english.ahram.org.eg/NewsContent/1/64/69695/Egypt/Politics-/Retribution-from-Mubarak-is-a-red-line-FJP.aspx
-----------
Parents say 'Arabish'is harming Arabic
20 April 2013
Writings by youth occupy a wide space on the Internet and Smartphone applications. Often young people communicate through using a common language that mixes Arabic with English words.
These usually combine Arabic letters and their equivalent in English to form words that can only be understood by those who mastered Internet-speak. This language called "Arabizi," was derived from Arabic and English. Others call it "Arabish." This form of language has spread among young people, and is only understood by them.
Parents find it difficult to decipher or understand its meaning. Had they known the language, they would have been able to understand what goes on between their children just by checking their phones.
Full report at:
http://www.arabnews.com/news/448776
-------------
Heavy clashes in Syria near Lebanon border
April 20, 2013
Syria's State-run media and Opposition activists are reporting heavy clashes in the strategic central province of Homs near the border with Lebanon.
The SANA news agency says four key villages — Qadesh, Mansourieh, Saadiyeh and Radwaniyeh — have fallen under Government control on Saturday. The villages are close to the contested town of Qusair.
Full report at:
http://www.thehindu.com/news/international/world/heavy-clashes-in-syria-near-lebanon-border/article4636871.ece
---------
Egypt court cancels Hosni Mubarak detention in one case
AFP | Apr 20, 2013
CAIRO: An Egyptian court cancelled on Saturday a detention order against ousted president Hosni Mubarak pending a corruption trial but he will remain in custody on other charges, his lawyer said.
Mubarak, held in a south Cairo prison, has been charged in three cases, one for overseeing the killings of protesters during the early 2011 uprising against his regime, and two corruption cases.
The court on Saturday cancelled his detention on graft charges, a judicial source said, without giving more details. The charges related to his personal wealth which prosecutors say exceeds what he could have legitimately amassed.
Earlier this month, a court ordered his release on charges of responsibility for the deaths of protesters after the expiration of the maximum temporary detention of two years.
But his lawyer Farid al-Deeb said on Saturday Mubarak remained detained in yet another corruption case.
"There is still another case, and we will deal with it," he said.
Mubarak, 84, who has been under arrest since April 2011 was transferred back from military hospital to prison earlier this week to await trial on May 11 over the protesters' deaths during the uprising.
He was being treated for a heart condition, fractured ribs, fluid in the lungs, depression and high blood pressure, according to his lawyers and official accounts.
http://timesofindia.indiatimes.com/world/middle-east/Egypt-court-cancels-Hosni-Mubarak-detention-in-one-case/articleshow/19651451.cms
----------
India
'Indian secularism useful for religious fraternity'
April 19, 2013
KOCHI, India — Inspired by the Custodian of the Two Holy Mosques King Abdullah's call, International Interfaith Dialogue, an independent platform here, organized a conference here in 2009. It was attended by reputed religious dignitaries and social heads of the southern Indian state of Kerala.
Soon after the recent Interfaith Dialogue Seminar conducted by this platform last month, Oruma, a similar platform of eight professional college students of Kothamangalam, in association with IIDI Kochi conducted another dialogue recently on the subject "Religion & Human Rights." The event was attended by over 300 young participants.
Inaugurating the dialogue, Justice Cyriac Joseph, former judge of the Supreme Court, said "Secularism is conducive to Indian plurality and religious fraternity, the core themes of the national ethos. Fascists are the real pseudo-secularists and they are not only the real enemy of Indian minorities, but the enemy of the true Hinduism," he argued.
The seminar was jointly organized by Oruma (a consortium of students of colleges located at Kothamangalam sub-district) and International Interfaith Dialogue India (IIDI) centralized at Kochi.
Justice Joseph quoted Dr. S. Radhakrishnan, former president of India, in support of his claim: "No group of citizens shall arrogate to itself rights and privileges which it denies to others. No person should suffer any form of disability or discrimination because of his religion but all alike should be free to share to the fullest degree in the common life. This is the basic principle involved in the separation of Church and State. The religious impartiality of the Indian State is not to be confused with secularism or atheism. Secularism as has been defined is in accordance with the ancient religious traditions of India."
To be truly secular, the Indian state had to promote all religions and cultural identities and to build them with the secular interests of the nation. By opting for secularism, the framers of the Indian Constitution chose not only for democracy but also for a harmony among different faiths and for a dialogue among different cultural traditions, Justice Joseph continued.
Justice P.K. Shamsuddin, former judge of Kerala High court and champion of Inter-religious culture in Kerala, who chaired the event, argued that only a real believer can be a real secularist in the true sense of the term.
Full report at:
http://www.saudigazette.com.sa/index.cfm?method=home.regcon&contentid=20130420162123
-------------
Delhi has non-military interest in Kabul: PC
Apr 20 2013
India has non-military interest in Afghanistan and any Pakistani fear in this regard is imaginary, Finance Minister P Chidambaram said on Friday.
"We have a non-military interest in Afghanistan. We have committed a billion dollars to the reconstruction of Afghanistan. We are building Afghanistan's parliament. We're building roads... But we've not sent a single soldier to Afghanistan," Chidambaram told the popular Charlie Rose Show.
He said "yes" when Rose asked if it still scares the Pakistanis to death. "Pakistan's fears are imaginary. As I said we have not sent a single soldier," Chidambaram said.
"Afghanistan is really not our immediate neighbour. It is our neighbour's neighbour. So we recognise that Pakistan has a more than usual interest in Afghanistan. But that is for Pakistan to find a way in which it can evolve or forge a working relationship," he said.
Full report at:
http://www.indianexpress.com/news/delhi-has-nonmilitary-interest-in-kabul-pc/1105010/
----------
Seeking death for Kodnani attack on Hindus: Sena
April 20, 2013
Terming as "a deadly attack on Hindus" the Gujarat government's nod for seeking death penalty for former BJP minister Maya Kodnani and nine others in the 2002 Naroda Patiya massacre case, Shiv Sena on Saturday said Hindus have different expectations from chief minister Narendra Modi.
"There is a feeling that Modi is a protector of Hindus. Seeking death penalty for Kodnani and Bajrangi is a deadly attack on Hindus, who have different expectations from Modi," an editorial in Sena mouthpiece 'Saamana' said.
"It has become a crime to be a Hindu in this country. We are sad that those launching deadly attacks on Hindus are Hindus," the editorial said.
In August last year, a trial court had sentenced Kodnani, once a close Modi aide, to 28 years in jail, while Bajrang Dal leader Babu Bajrangi was ordered to spend the rest of his life in prison. Eight others were awarded 31-year imprisonment, while 22 convicts got 24 years prison term.
As many as 97 people were killed in Naroda Patiya locality of Ahmedabad by a violent mob on February 28, 2002, a day after the Godhra train carnage triggered communal riots in Gujarat.
The Gujarat government had earlier this week decided to file an appeal in the High Court seeking death penalty for Kodnani and others, seven months after the sentence was pronounced, much beyond the stipulated period of three months.
"There can be no two opinions that criminals should be punished. However, when the court has already given a harsh sentence to Kodnani and Bajrangi, what does the Gujarat Government want to show to the world by seeking the death penalty," the editorial said, adding "Godhra riots were a reaction to the burning of the Sabarmati Express."
http://www.hindustantimes.com/India-news/mumbai/Seeking-death-for-Kodnani-attack-on-Hindus-Sena/Article1-1047626.aspx
----------
Mufti Sayeed meets PM, impresses need for free, fair polls in J&K
M Saleem Pandit, TNN | Apr 20, 2013
SRINAGAR: Former chief minister and head of the Peoples Democratic Party Mufti Mohammed Sayeed met Prime Minister Manmohan Singh on Thursday in New Delhi and impressed upon him the need for free and fair elections in the state saying that this could not be achieved during 2008, a statement released by the PDP here on Friday said.
This reaching out to the Congress is being seen as a well-planned move by political observers in the Valley. "Omar's government is bruised with charges of corruption, highhandedness and inaccessibility," a teacher in the political science department of Kashmir University said on conditions of anonymity. "The PDP could potentially gain from the present situation."
Full report at:
http://timesofindia.indiatimes.com/india/Mufti-Mohammed-Sayeed-meets-PM-impresses-need-for-free-fair-polls-in-JK/articleshow/19642497.cms
-------------
Pak security agencies take away memory card of mobile phones of Sikh devotees
Yudhvir Rana, TNN | Apr 19, 2013
ATTARI: Devotees arriving from Pakistan after celebrating Baisakhi blamed Pakistan security agencies of taking away memory cards of their mobile phones , suspecting the young devotees of spying and misbehaving with them as they reached Wagah (Pakistan) on way to India on Friday.
They were also critical of insanitation in Gurdwara Panja Sahib, Hassanabdal. A Jatha of around 1500 devotees arrived India via Sikh Pilgrim Special train at Attari land border. A Sikh devotee Manpreet Singh told TOI 'For the first time Pakistan security agencies took away memory cards of the mobile phones held by most of the young devotees without giving them any reason". He said to keep the memories of their visit , they had clicked photographs of Gurdwara's and other places. Another devotee from Ferozpur Satpal Singh Ghulati said that sleuths of Pak security agencies 'questioned' many young devotees and blamed them of spying. "They also took away memory cards and SIM cards of most of the persons below 35 years of age".
Full report at:
http://timesofindia.indiatimes.com/india/Pak-security-agencies-take-away-memory-card-of-mobile-phones-of-Sikh-devotees/articleshow/19637361.cms
-----------
NSG man spoke with Pak spy after Hyderabad blasts: Court of Inquiry
Apr 20 2013
New Delhi: The National Security Guard has completed the court of inquiry that was ordered after an officer posted with the agency parted with details about the force's deployment after the Hyderabad blasts in February this year to a Pakistani intelligence officer.
The CoI has established that the officer was guilty of speaking to the Pakistani intelligence officer and he has been asked to give further explanations, an official said. The telephone exchange operator, who transferred the call to the concerned officer, has also been asked to give an explanation.
Full report at:
http://www.indianexpress.com/news/nsg-man-spoke-with-pak-spy-after-hyderabad-blasts-court-of-inquiry/1105188/
---------
Russian, Israeli mafias exist in Goa: Wikileaks
Agencies | Apr 20, 2013
PANAJI: While chief minister ManoharParrikar does not believe that Russian and Israeli mafias operate in Goa, Mumbai police are sure of it, Wikileaks has claimed citing a recently declassified US diplomatic cable.
The cable dispatched by Mumbai consul general Paul Folmsbee in 2009 quotes former head of Mumbai crime branch Rakesh Maria saying that trafficking of foreign sex workers to Mumbai is controlled by Israeli and Russian mafia operating from Goa.
"Maria alleged that most trafficking of foreigners to Mumbai is connected to Russian and Israeli mafia operations in Goa, explaining why Mumbai police had not cracked the trafficking ring(s)," Folmsbee's cable numbered 09MUMBAI305 back home to the US administration said.
Maria is currently the head of Maharashtra anti-terrorism squad and was one of the lead investigators in the 26/11 terror strikes in Mumbai.
Earlier this week, Parrikar had assured the Goa legislative assembly that there were no foreign mafias in Goa.
"Russian, German or Israeli mafias are not existing in Goa," said Parrikar, who was responding to a question from Congress legislator Reginaldo Lourenco.
Over the last few years, the assembly has been host to numerous instances when legislators have alleged that foreign mafias have been controlling the sex and narcotics trade in Goa. The cable, however, said that tracking the kingpins of these trafficking cartels was proving to be very difficult for Mumbai police, and that most Indian women who were trafficked abroad were disguised as "classical Indian dancers".
"Maria said that trafficking of Indian women abroad for sex work often takes place under the cover of cultural shows like classical Indian dancers. He said that many Indian women are trafficked to the United Kingdom on visas for cultural dancers, but use the dancing as a front to solicit sex," Folmsbee said, drawing a comparison to dance bars in Mumbai. Dance bars proved to be good recruiting grounds for traffickers as women working there were willing to go abroad to make more money.
http://timesofindia.indiatimes.com/city/goa/Russian-Israeli-mafias-exist-in-Goa-Wikileaks/articleshow/19641687.cms
----------
Hizbul Mujahideen militant held with arms in J-K
April 20, 2013
Two persons, including a Hizbul Mujahideen militant were arrested along with a loaded pistol and two grenades in Kulgam district of south Kashmir on Saturday, police said.
The militant, identified as Imtiyaz Ahmad Bhat, was arrested by a police party during a search operation at Tachloo village of Kulgam, 70 kms from Srinagar, they said.
A pistol, one magazine and two Chinese hand grenades were recovered from the possession of Ahmad Bhat, who is a "C" category militant of the terror outfit.
Ahmad Bhat was arrested after getting specific leads from a moulvi, Yassir Hussain of Saroor village of Kishtwar, who was arrested earlier in the day for suspicious movement in the area.
Further investigations into the matter are underway.
http://www.thehindu.com/news/national/other-states/hizbul-mujahideen-militant-held-with-arms-in-jk/article4637017.ece
----------
Mideast Asia
Israel bars Gazans from Bethlehem run
19 April 2013
JERUSALEM: Israel has refused to grant permission to 26 runners from the Gaza Strip to travel to the West Bank to run in the first Bethlehem marathon on April 21, officials said yesterday.
The race, which begins at the Nativity Church, is the first event of its kind in the West Bank with more than 400 people registered to run, half of whom are Palestinians, organizers say. But a group of runners from the Gaza Strip who signed up for the race, have been denied permission to travel by the COGAT, the Israeli Defense Ministry unit responsible for coordinating civilian affairs with the Palestinians.
According to Gisha, an Israeli watchdog which works to facilitate Palestinian freedom of movement, the group includes Olympic runner Nader Al-Masri and another four people who had registered to run the full 42.2 km and six who signed up for the 21.1 km half marathon.
Among the group is one woman runner and four trainers.
"The request of 26 Gaza residents to take part in the Bethlehem marathon was examined by the relevant authorities and it was decided to reject the request because it does not fall within the determined criteria for crossing from Gaza to the West Bank," a COGAT statement said.
Full report at:
http://www.arabnews.com/news/448608
-------------
Hamas in Qatar talks as unity momentum builds
20 April 2013
DOHA: Leaders of Palestinian movement Hamas met in Qatar yesterday amid renewed impetus for a unity government after the resignation of prime minister Salam Fayad, a Palestinian official told AFP.
Newly re-elected Hamas leader Khaled Mashaal chaired the meeting in his base in exile in Qatar, which was also attended by Hamas leaders from Gaza including its prime minister Ismail Haniyeh.
Momentum has built for reconciliation between Hamas and the Fatah movement of president Mahmoud Abbas since the resignation of Fayad, a US-trained economist whose appointment as premier was never recognized by Hamas.
"The meeting began on Thursday and will continue until Saturday," the official said, requesting anonymity.
Full report at:
http://www.arabnews.com/news/448711
-------------
'Al-Qaeda' gunmen kill Yemen intelligence officer: security
April 20, 2013
SANAA: Suspected Al-Qaeda militants shot dead a Yemeni intelligence officer overnight in Mukalla, capital of the southeastern Hadramawt province, a security official told AFP on Saturday.
"Al-Qaeda gunmen on a motorbike opened fire on the officer Ibrahim Bameshel as we was on his way back home, killing him immediately," the official said, adding that the assailants had fled.
Al-Qaeda militants were driven out of most of their strongholds in Yemen's south last June in an all-out offensive by government forces aided by local "resistance committees".
Full report at:
http://dailystar.com.lb/News/Middle-East/2013/Apr-20/214458-al-qaeda-gunmen-kill-yemen-intelligence-officer-security.ashx#ixzz2R0cc7I5p
-----------
Families reject Israeli-Turkish compensation talks
April 20, 2013
ISTANBUL: Families of the victims of an Israeli raid on an aid flotilla are objecting to compensation talks between Turkey and Israel, saying the Jewish state must first fully lift its blockade of the Gaza Strip.
On Saturday, the relatives of the nine activists killed on board the Gaza-bound ship in 2010 also said they would not drop lawsuits filed against former Israeli military commanders they hold responsible for the deaths.
Full report at:
http://dailystar.com.lb/News/Middle-East/2013/Apr-20/214475-families-reject-israeli-turkish-compensation-talks.ashx#ixzz2R0cfUOu9
------------
South Asia
Maldives President calls for more youth, females in future polls
Apr 20, 2013
President Dr Mohamed Waheed Hassan Manik has called for more youth candidates, especially female candidates, to run in future elections.
The President made this remark while speaking to the people of Kaafu Huraa, as part of his visit to the island on Friday.
Noting that the youth always desires change, the President said that considering the current state of the country, especially those working in the tourism sector want to see a faster progressing Maldives. Stressing the importance of ensuring modern living and a better life for the people, the President said that the services can be delivered at a speedier rate only if the people worked together with the government.
He further said that suggestions and support of the youth was especially important to the government.
Full report at:
http://www.haveeru.com.mv/news/48557
-------------
Bangladesh PM slams Khaleda for 'conspiracy'
April 20, 2013
Prime Minister Sheikh Hasina alleged again on Saturday that BNP Chairperson Khaleda Zia has been trying to stop the war crimes trial by unleashing violence across the country and hatching various conspiracies.
"War crime is a curse for the nation…the Father of the Nation had started the trial of war criminals but Zia (Ziaur Rahman) stopped it after capturing power…now we've resumed the trial after we assumed power, but the leader of the opposition has been trying to block it through violence and conspiracies," she said.
Full report at:
http://www.thedailystar.net/beta2/news/pm-slams-khaleda-for-conspiring-against-war-crimes-trial/
-------------
3 bombs blasted in front of BNP Nayapaltan office
April 20, 2013
At least three homemade bombs were blasted in front of BNP's central office in Nayapaltan of the capital Saturday morning.
None was hurt in the explosion.
Witnesses said a group of people came in front of the party office around 10:00am, chanting slogans against the newly-formed committee of Jatiyatabadi Chhatra Dal (JCD).
They exploded at least three cocktails and left the place, creating panic among locals.
The party supporters who did not get any post in the JCD committee might have blasted the bombs, sources said.
Full report at:
http://www.thedailystar.net/beta2/news/3-bombs-blasted-in-front-of-bnp-nayapaltan-office/
-------------
Bangladeshi worker 'commits suicide' in Saudi Arabia
April 20, 2013
A Bangladeshi worker allegedly committed suicide by jumping off the roof of a two-storey building in Jazan province of Saudi Arabia yesterday, reports Saudi Gazette.
The unidentified man, aged around 50, fell on his head and died on the spot, the report added, quoting Saudi police.
According to Col Awad Al-Qahtani, spokesman for Jazan police, they were investigating the reason behind the suicide.
On contact, Md Emdadul Haque, labour counsellor of the Bangladesh embassy in Riyadh, failed to ascertain the details of the incident.
http://www.thedailystar.net/beta2/news/bangladeshi-worker-commits-suicide-in-saudi-arabia/
-------------
Maldives' reserve has dwindled to a critical level, says World Bank
April 20, 2013
Maldives' reserve has dwindled to a critical level, said the latest South Asia Economic Focus report of the World Bank.
The report, a twice-yearly look at South Asia's economic prospects, said that the region is now more vulnerable because current account balances have widened, foreign direct investment has slowed, and persistently high inflation has limited the ability for central banks to use monetary policy to counter any economic downturn.
Full report at:
http://www.haveeru.com.mv/news/48559
-------------
Study Finds Sharp Rise in Attacks by Taliban
By ROD NORDLAND
April 20, 2013
KABUL, Afghanistan — One of the closest-kept secrets in Afghanistan these days is data about how active the insurgents have become in their spring offensive this year.
No one doubts that the Taliban have stepped up their attacks, but what is less clear is whether they are trying — or able — to mount an all-out attempt to test the Afghan security forces as they begin to take over completely from withdrawing foreign forces. By early summer, Afghan forces plan to be in charge throughout the country, with American and other allies in a supporting role.
Full report at:
http://www.nytimes.com/2013/04/20/world/asia/study-finds-sharp-rise-in-attacks-by-
-------------
Singapore hit by bomb hoaxes, 34-year-old man arrested
AFP | Apr 20, 2013
SINGAPOREL: A 34-year-old man has been arrested in Singapore over an online threat to bomb several locations in the city-state in the aftermath of the Boston Marathon attack, police said Saturday.
The man, whose name and nationality were not disclosed, was arrested on Thursday after posting the threat as a comment on a news article about the deadly bombings in Boston, police said in a statement.
"Preliminary investigations indicated that the suspect had no intention or means to carry out his threats," said the statement.
Local daily The Straits Times reported the man had posted the comment on the Yahoo! Singapore website.
Full report at:
http://timesofindia.indiatimes.com/world/rest-of-world/Singapore-hit-by-bomb-hoaxes-34-year-old-man-arrested/articleshow/19647925.cms
-------------
Europe
Russia, US to bolster ties after Boston bombings: Kremlin
April 20, 2013
MOSCOW — Russia and the United States agreed Saturday to step up cooperation in their fight against terror in the wake of news that two ethnic Chechens were suspected of organizing the deadly Boston Marathon bombings.
The Kremlin said Russian leader Vladimir Putin called US President Barack Obama to once again express his condolences and discuss ways the two sides can work more closely on security in the runup to the 2014 Winter Olympic Games in Sochi.
"Both sides underscored their interest in bolstering the close cooperation of Russian and US special services in the fight against international terrorism," the Kremlin said in a statement.
The White House also issued a statement saying that Obama thanked Putin for the condolences "and praised the close cooperation that the United States has received from Russia on counter-terrorism, including in the wake of the Boston attack."
"The two leaders agreed to continue our cooperation on counter-terrorism and security issues going forward," the White House said.
Full report at:
http://www.saudigazette.com.sa/index.cfm?method=home.regcon&contentid=20130420162192
-------------
Russia's Chechnya Has Seen Decades of War, Terror
April 20, 2013
MAKHACHKALA, Russia (AP) — The two brothers suspected in the Boston Marathon bombings have their ethnic roots in Chechnya, a part of the Caucasus Mountains that has spawned decades of violence — from separatist wars to suicide attacks, blood feuds and hostage sieges.
Authorities have not linked Tamerlan and Dzhokhar Tsarnaev to any insurgent groups, and the Kremlin-backed strongman who now leads Chechnya says the brothers got their inspiration in the U.S., not the troubled region in southern Russia.
"They weren't living here. They were living, studying and growing up in America," Chechen leader Ramzan Kadyrov said in an interview on Russian television. "They have been educated there, not here."
Full report at:
http://www.nytimes.com/aponline/2013/04/19/world/europe/ap-eu-boston-marathon-caucasus.html?ref=europe
-------------
Boston Bombing Suspects Wanted to Fit in, Friends Say
April 20, 2013
(Reuters) - They dressed like typical American teenagers, enjoyed playing sports and strived to fit in after arriving in the United States with their family from the southern Russian province of Dagestan a decade ago.
The schoolmates, teachers and neighbors of Dzhokhar and Tamerlan Tsarnaev said they saw little sign of radicalism - or anything extraordinary - to explain why the ethnic Chechen brothers would allegedly carry out the twin bombings that killed three people and wounded 176 at the Boston Marathon on Monday.
Full report at:
http://www.nytimes.com/reuters/2013/04/20/world/europe/20reuters-usa-explosions-boston-profile.html?ref=europe&gwh=11D78EDA2B1FB35771DD9ECECD25987C
-------------
Canadian Accused in Plot to Help Qaddafi's Son Is Released
By IAN AUSTEN
April 20, 2013
A Canadian woman charged with plotting to smuggle Saadi el-Qaddafi, a son of the former Libyan dictator, Col. Muammar el-Qaddafi, into Mexico was released from a Mexican prison on Friday. The case of the woman, Cynthia Vanier, is linked to actions of senior executives of SNC-Lavalin, an international engineering company based in Montreal that had enjoyed a close relationship with the Qaddafi family. Ms. Vanier, who had traveled to Libya for the company, said she was in Mexico to promote a water project. Her release after 18 months of detention followed an appeal to Mexico's Supreme Court challenging the terms of her arrest. SNC-Lavalin remains the subject of police investigations in Canada and Switzerland, and two of its former executives have been charged with fraud, conspiracy and forgery in Montreal.
http://www.nytimes.com/2013/04/20/world/americas/canadian-accused-in-plot-to-help-qaddafis-son-is-released.html?ref=africa&_r=0&gwh=59440D1B424A84FDF558DDFDDAB40F94
----------
UK Christian organisations call on big powers to put pressure to stop 'human rights violations' in Egypt
Coptic organisations in the UK stage a demonstration in London protesting against "barbaric" human rights violations in Egypt
20 Apr 2013
Demonstrating before the House of Lords, the upper chamber of the UK parliament, Christian protesters have called on the UK and other world powers to put pressure on the Egyptian government to stop what they deem "the persecution of liberal and religious minorities" in Egypt.
The organisers of the demo include Coptic organisations such as United Copts, Christian Solidarity Worldwide, and United Action for Egyptian Christians.
The organisers, however, said they are protesting against all violations of human rights in Egypt.
Full report at:
http://english.ahram.org.eg/NewsContent/1/64/69681/Egypt/Politics-/UK-Christian-organisations-call-on-big-powers-to-p.aspx
-----------
Greece cops arrest 3 for shooting at protesting Bangladesh labourers
Apr 20 2013
Athens : After a two-day manhunt, Greek authorities Friday arrested three strawberry farm foremen accused of shooting and injuring 28 Bangladeshi labourers who were protesting long pay arrears.
The attack, which drew strong condemnation from the government, political parties and labour unions, shocked Greece and highlighted the plight of migrant workers in the financially troubled country where racist crime is on the rise.
Full report at:
http://www.indianexpress.com/news/greece-cops-arrest-3-for-shooting-at-protesting-bangladesh-labourers/1105140/
-----------
URL: https://newageislam.com/islamic-world-news/new-age-islam-news-bureau/top-un-rights-official-denounces-executions-in-iraq-as-'obscene'/d/11231