New Age Islam News Bureau
25 May 2015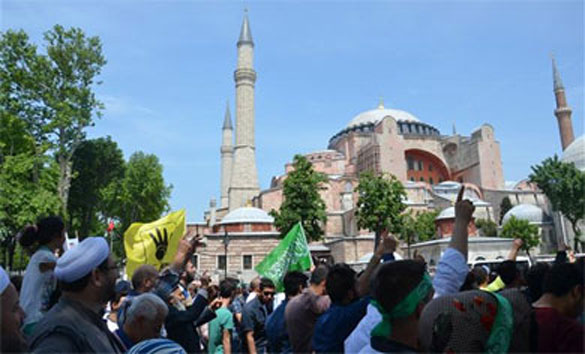 Hundreds Call For Hagia Sophia to Turned Into Mosque in Istanbul Rally, HÜRRİYET Photo
--------
Arab World
• Top Muslim Body, Al-Azhar, Urges Protection of Syria's Palmyra
• Iraqi Forces Strike Back At ISIS Bases and Killed 37 Extremist Fighters
• ISIS executes 16 traders on Iraqi road
• Syria: Army Wins Back 100 Villages from ISIL
• Saudi Arabia Plotting to Assassinate Religious Authorities in Iraq
• Blast in downtown Damascus kills Syria general: Monitor
• Hezbollah vows to expand involvement in Syria's civil war
• Syria regime 'to accept de facto partition' of country
• Iraq plans to retake Ramadi from ISIS 'in days'
• Morsi supporter sentenced to death on terrorism charges
South Asia
• Daish-Taliban Clash Left At Least 20 Killed In Farah
• Pakistan Engaged In an Undeclared War with Afghanistan: Ghani
• Afghan Taliban Leaders Meet Secretly In China: Report
• Two suspected IS members held in Dhaka
• China clamps down on 181 'terror gangs' in west
• Fiqh academy reconstituted without Adhaalath Party scholars
• Migrants Fleeing Country Are 'Mentally Sick' And 'Tarnish' Country's Image: Bangladesh PM
Mideast
• Hundreds Call For Hagia Sophia to Turned Into Mosque in Istanbul Rally
• Iran's HR Official Urges Trial of Al Saud for Crimes against Yemeni Nation
• Fierce fighting engulfs Yemen's Taez and Daleh
• Iran's Qassem Soleimani: U.S. has 'no will' to fight ISIS
• Across the 'Gate of Tears': Yemen refugees flee to Djibouti
• Turkey says agrees deal with US on air support for Syrian rebels
Pakistan
• Pakistan Warns Afghan Taliban to Immediately End "Spring Offensive"
• 3 TTP Terrorists Killed In Clash with Forces
• Fear grips Christian locality in Lahore over alleged blasphemy case
• Tribesmen approaching PHC as Fata Tribunal non-functional
• 'No Point in Buying Arms When There Is Hunger, Illiteracy': Piler Director
• Khawaja Asif slams Indian minister's statement of 'sponsoring terrorism to counter terrorism'
• Sindh CM orders inquiry into manhandling of journalists
• Islam urges peace, love for humanity: Information Minister
North America
• New US Military Guidelines Pave Way for Turbans and Beards
• US: Iraq's 'will to fight' at issue after ISIS takeover of Ramadi
• American Muslims work to dispel myths about Islam
• Canadians may belong to al-Qaida's highly secretive Khorasan faction, report warns
India
• ISI-Run Fake Note Racket on NIA Radar
• Kerala-Based Group Set To Start Modern Teaching at 25 Muslim Schools In UP
• 'Missing' Bangladesh Oppn Leader: Can't take him to Dhaka… don't know how he reached India, says wife
Africa
• Boko Haram 'In Deadly Raid on NE Nigeria Town'
• The Middle-Class Militants behind Tunisia's Museum Attack
• Gunfire heard near mosque, military base in Tunisian capital
• 'Wall' Of Religious Hatred between Christian Majority and Muslims Divides Central African Town
• In Nigeria, terrorist attacks haven't diminished faith
Southeast Asia
• Home Minister: No Jail for Returning Malaysian Students from Syria
• More than 100 grave sites found in Malaysia
• Japanese firms showing interest in Islamic finance, Halal industry, says Najib
Europe
• Jihadi Threat Requires Move into 'Private Space' Of UK Muslims, Says Police Chief
• Many Muslim children believe celebrating Christmas is haram: Scotland Yard commander
• Parents of Dutch jihadists take action against state
• Greece to question Syrian over Turkey-bound bullet haul
Compiled by New Age Islam News Bureau
URL: https://www.newageislam.com/islamic-world-news/new-age-islam-news-bureau/top-muslim-body,-al-azhar,-urges-protection-of-syria-s-palmyra/d/103149
---------------
Arab World
Top Muslim Body, Al-Azhar, Urges Protection of Syria's Palmyra
25 May 2015
Leading Sunni Muslim body Al-Azhar said Sunday the world must unite in a "battle of all humanity" to prevent the Islamic State of Iraq and Syria group from destroying Syria's ancient city of Palmyra.
The appeal came a day after Syria's antiquities director said that ISIS fighters had entered the museum in Palmyra and raised their black flag over the ancient citadel that overlooks the archaeological site.
"Protecting archaeological sites from destruction and plundering is the battle of all of humanity," the Cairo-based Al-Azhar, a prestigious seat of Islamic learning, said in a statement.
"We have to unite our efforts in order to protect one of the most important archaeological cities in the Middle East from being destroyed by Daesh," it said, using an Arabic acronym for ISIS.
Al-Azhar said the international community must take urgent steps to prevent ISIS "from destroying the cultural and archaeological landmarks of the city" as it did in Iraq and other parts of Syria.
ISIS seized Palmyra on Thursday, sparking international concern for the 2,000-year-old UNESCO World Heritage site which is home to colonnaded alleys, elaborately decorated tombs and Greco-Roman ruins.
The militants are notorious for demolishing archaeological treasures since declaring a "caliphate" last year straddling Iraq and Syria.
They triggered outrage this year when they blew up the ancient Assyrian city of Nimrud and smashed artefacts in the Mosul museum, both in Iraq.
Al-Azhar said that Islamic Sharia law forbids the destruction of world heritage sites and artefacts.
https://english.alarabiya.net/en/News/middle-east/2015/05/24/Top-muslim-body-urges-protection-of-Syria-s-Palmyra.html
-----------
Iraqi forces strike back at ISIS bases and killed 37 extremist fighters
25 May 2015
ERBIL, Kurdistan Region – Iraqi security forces have attacked at least nine ISIS bases and killed 37 extremist fighters in two separate operations in Anbar, the Baghdad government said Monday.
"The military operation by security forces under the Baghdad command to recapture Garma is still underway," Iraq's Ministry of Defense announced.
The disputed town of Garma is in a strategic area of Anbar province to the west of the Iraqi capital.
"In their latest offensive in Garma, Iraqi security forces defused 25 planted bombs and three explosive-rigged homes, while destroying at least nine Daesh positions and two armored vehicles," the statement said.
According to the statement, at least two jihadists were killed in Garma. There has no mention of casualties on the Iraqi side.
In a separate statement, Iraqi commander Nasser Ghanem announced Monday that Iraqi security forces launched a successful counterattack on ISIS attack in the town of Baghdadi, killing at least 35 extremists and destroying five of the group's armored vehicles and one military base.
ISIS seized control of Ramadi, Anbar's capital, on May 15, sending Iraqi forces racing out of the city despite the support of US-led airstrikes.
After the capture of Ramadi, ISIS pushed into other areas of Anbar such as the town of Husseiba, some 15km from the provincial capital.
http://rudaw.net/english/middleeast/iraq/250520152
------------
ISIS executes 16 traders on Iraqi road
25 May 2015
The Islamic State of Iraq and Syria (ISIS) group has executed 16 Iraqi traders taking food from the city of Baiji to the government-controlled western city of Haditha, officials said.
"Daesh executed 16 Haditha traders last night," the mayor of the city, Abdelhakim al-Jughaifi, told AFP by phone.
"The victims were transporting mostly food goods, such as vegetables, from Baiji to Haditha," he said.
Baiji, which lies on the Tigris about 200 kilometers north of Baghdad, is under ISIS control.
Haditha, which sits on the Euphrates about 130 kilometers southwest, is the last major city in the province of Anbar still under government control.
"They were stopped at a checkpoint and abducted," the mayor said.
"They then executed them, some by shooting them, others by slitting their throats."
He said Haditha residents found the bodies on the road and were able to bring them back.
A police lieutenant colonel confirmed the 16 executions. The victims were buried on Sunday, several sources said.
Abu Maath al-Jughaifi, a tribal fighter from Haditha, said a paper was found on one of the bodies in which IS said the executions were to avenge the deaths of jihadist fighters during a recent battle near Haditha.
According to government sources, at least 23 IS militants were killed in clashes in Khasfa last week, including two French nationals who drove suicide truck bombs.
Haditha is isolated in Anbar, where IS controls the border with Syria to the west and most of the land to the east, including the provincial capital Ramadi, which they seized on May 17.
According to residents, a bag of 50 kilos of flour fetches $900 in Haditha when it only costs $20 to $30 in Baghdad.
ISIS has allowed some trade to continue between the regions it controls and government areas but drivers generally have to pay a fee.
https://english.alarabiya.net/en/News/middle-east/2015/05/24/ISIS-executes-16-traders-on-Iraqi-road.html
-----------
Syria: Army Wins Back 100 Villages from ISIL
25 May 2015
Syrian army troops seized back control over a vast area of territory with tens of villages as a result of massive operation against ISIL militants in Hasaka province that has just gathered pace.
"The army units regained full control over 100 villages stretching on a vast area of land in Hasaka after clashes with ISIL terrorists," Syrian military sources announced.
"The villages were located in Tal Tamr region and near Abdel Aziz Mountain to the Southwest of Hasaka city," a Kurdish military source told FNA on Sunday.
On Saturday, the Syrian army and the Kurdish Popular Defense Committees gained control over ISIL's most important stronghold in Hasaka province.
The ISIL lost control of the Abdel Aziz Mountain which is located 38 kilometers to the Southwest of Hasaka city.
Gaining control over Abdel Aziz Mountain by the Syrian army and Kurdish fighters means that the Takfiri terrorist group has fully collapsed in Western Hasaka province and also lost control over its supply line that stretches from Al-Shadadi city in Southern Hasaka and Deir Ezzur to Northern Hasaka and Reqqa.
Mount Adel Aziz is of strategic importance because it is located at the center of a crossroad vital for ISIL's supply and troops transfer.
Now the Syrian army and Kurdish fighters have gained an overlook over ISIL's moves in the region, enabling them to plan more precise operations on a wider scale with the better information they gain through monitoring the terrorist group's moves in the region.
The army and the Kurdish troops have launched massive campaign against ISIL's bastions in Hasaka in the last few days.
On Tuesday, the Syrian army and Kurdish fighter seized control over ISIL's second most important military stronghold in the province.
The Syrian troops took control of the town of Rezaza in Hasaka countryside to the Southwest of Hasaka city.
Rezaza which was ISIL's second most important bastion in Hasaka is the third town after Alia and al-Sawameh towns along the Aleppo-Hasaka international highway that the Takfiri terrorists have lost to the Syrian army so far.
http://english.farsnews.com/newstext.aspx?nn=13940303001681
-----------
Saudi Arabia Plotting to Assassinate Religious Authorities in Iraq
25 May 2015
The Saudi spy agency is plotting to assassinate several Muslim religious authorities who are residing in the Iraqi City of Najaf, media reports said on Sunday.
"The Saudi intelligence agency will provide financial and arms backup for ill-famed Sheikh Mahmud al-Sarkhi to pave the way for killing Iraq's top religious figures," Alwaei news reported.
"Saudi Arabia has tried to assassinate several religious authorities in Iraq, including Ayatollah Ali al-Sistani and Sheikh Bashir al-Najafi, but it has failed so far," it said.
In April 2012, al-Sarkhi's followers were involved in clashes with supporters of Ayatollah Sistani.
Full report at:
http://english.farsnews.com/newstext.aspx?nn=13940303001668
-----------
Blast in downtown Damascus kills Syria general: Monitor
25 May 2015
A Syrian brigadier-general was killed in a blast that targeted his car in downtown Damascus, the Syrian Observatory for Human Rights monitor said.
The Britain-based group said "a brigadier general and approximately six people with him were killed in an explosion in the Adawi neighbourhood in the centre of the capital."
The powerful Ahrar al-Sham rebel group posted a video online claiming to show the attack on Brigadier-General Bassem Ali Muhanna's car with an improvised explosive device, in the early hours of Sunday.
A security source said Muhanna was a member of the Republican Guards, an elite unit of the army.
Full report at:
http://english.ahram.org.eg/NewsContent/2/8/131077/World/Region/Blast-in-downtown-Damascus-kills-Syria-general-Mon.aspx
-----------
Hezbollah vows to expand involvement in Syria's civil war
25 May 2015
The leader of the militant Hezbollah group said that the region is facing "unprecedented danger" from extremist groups and vowed his militants will expand their involvement in Syria's civil war in support of government forces.
Sheik Hassan Nasrallah spoke during a ceremony marking the 15th anniversary of Israel's withdrawal from southern Lebanon, vowing to battle Sunni extremists groups such as the the Islamic State of Iraq and Syria (ISIS). and al-Qaada. He said such factions are an "existential threat" to anyone who does not agree with their ideology.
Hezbollah openly joined President Bashar al-Assad's forces in the civil war in 2013 and its fighters have been taking part in a major battle in recent weeks against jihadis in the Qalamoun mountain region that borders Lebanon.
Full report at:
https://english.alarabiya.net/en/News/middle-east/2015/05/24/Hezbollah-vows-to-expand-involvement-in-Syria-s-civil-war.html
-----------
Syria regime 'to accept de facto partition' of country
25 May 2015
Weakened by years of war, Syria's government appears ready for the country's de facto partition, defending strategically important areas and leaving much of the country to rebels and jihadists, experts and diplomats say.
The strategy was in evidence last week with the army's retreat from the ancient central city of Palmyra after an advance by the Islamic State group.
"It is quite understandable that the Syrian army withdraws to protect large cities where much of the population is located," said Waddah Abded Rabbo, director of Syria's Al-Watan newspaper, which is close to the regime.
Full report at:
http://english.ahram.org.eg/NewsContent/2/8/131059/World/Region/Syria-regime-to-accept-de-facto-partition-of-count.aspx
-----------
Iraq plans to retake Ramadi from ISIS 'in days'
25 May 2015
The city of Ramadi could be taken back from Islamic State of Iraq and Syria (ISIS) militants "in days," Iraqi PM Haider al-Abadi said in an interview with the BBC on Monday.
Abadi made the remarks amid an Iraqi army offensive to counterattack ISIS militants who seized the city last week.
"It makes my heart bleed because we lost Ramadi, but I can assure you we can bring it back soon," he said.
The prime minister added that his forces were thrown by ISIS shock tactics.
"They have the will to fight but when they are faced with an onslaught by Daesh [ISIS] from nowhere... with armored trucks packed with explosives, the effect of them is like a small nuclear bomb - it gives a very very bad effect on our forces," he said.
Abadi said Iraq needed more international support as many ISIS fighters were slipping into Iraq from Syria.
Full report at:
https://english.alarabiya.net/en/News/middle-east/2015/05/25/Iraq-s-Abadi-Ramadi-will-be-retaken-from-ISIS-in-days-.html
-----------
Morsi supporter sentenced to death on terrorism charges
25 May 2015
Giza criminal court on Sunday sentenced a supporter of former president Mohamed Morsi to death on terror-related charges.
Anas Soliman Shahin was sentenced in absentia for "joining and funding a terrorist organisation", the Muslim Brotherhood, working with the Hamas movement in Gaza, and using secret tunnels between North Sinai and the Gaza Strip.
The court applied its maximum penalty in absentia until the defendants show up and a retrial starts. According to Egypt's penal code, a defendant is given the stiffest punishment if he/she fails to show up in court during the trial.
Last week, Cairo Criminal Court sought a death penalty for ousted Islamist president Mohamed Morsi and 105 others in the 'Wadi-Natroun jailbreak' case after referring them to the Grand Mufti for a non-binding review. The court's decision is considered a preliminary step before sentencing the defendants to death. The decision drew wide international criticism.
http://english.ahram.org.eg/NewsContent/1/64/131048/Egypt/Politics-/Morsi-supporter-sentenced-to-death-on-terrorism-ch.aspx
-----------
South Asia
Daish-Taliban clash left at least 20 killed in Farah
May 25 2015
A clash between the fighters of the Islamic State or Daish and Taliban left 20 killed from both sides in western Farah province.
Hanif Razai, spokesman for Afghan National Army in Farah province says that gunmen belonging to Daish and Taliban are fighting in Sarkhash Mazar area of Khak-i-Safid District since last night.
He said more than a dozen fighters from Daish and about a dozen others from Taliban have been killed in the clash so far.
Razai added that 12 fighters from Daish including four women have been taken hostages by Taliban.
Full report at:
http://www.khaama.com/daish-taliban-clash-left-27-killed-in-farah-3363
-----------
Pakistan engaged in an undeclared war with Afghanistan: Ghani
May 25 2015
President Mohammad Ashraf Ghani said Sunday that Pakistan is engaged in an undeclared war with Afghanistan while commenting Afghan government's efforts to end the ongoing violence in the country.
He said Afghanistan is in need of reconciliation process in two different phases which includes peace with neighboring Pakistan as the country is engaged in an undeclared war with Afghanistan.
President Ghani made the remarks during a ceremony where Masoom Stanikzai was formally introduced to assume charge as the acting defense minister.
He said the Afghan government and people want a dignified, substantial and endurable peace since the national interests of the country are only guaranteed through a peace achieved with dignity.
Full report at:
http://www.khaama.com/pakistan-engaged-in-an-undeclared-war-with-afghanistan-ghani-1131
-----------
Afghan Taliban leaders meet secretly in China: Report
May 25, 2015
WASHINGTON: An Afghan peace envoy held secret talks with Taliban leaders in China last week which were also attended by Chinese officials and representatives of Pakistan's spy agency ISI, a media report has said.
The meeting being held at the initiative of China, which in recent months has showed willingness to mediated between the Taliban and the Afghan government, was facilitated by the ISI, The Wall Street Journal said.
Such a meeting was held to discuss about the possibility of talks between the Taliban and the elected Afghan government.
Full report at:
http://timesofindia.indiatimes.com/world/south-asia/Afghan-Taliban-leaders-meet-secretly-in-China-Report/articleshow/47412968.cms
-----------
Two suspected IS members held in Dhaka
May 25 2015
Detective Branch (DB) of Police has detained two members of militant group Islamic State in the capital.
The detainees are Aminul Islam Beig, regional coordinator of JMB and also IT head of a multinational company; and JMB member Sakib Bin Kamal, teacher of an English medium school in Dhaka.
Monirul Islam, joint commissioner of Detective Branch of Police the IS members were held in a drive at Lalmatia under Mohammadpur police station on Sunday night.
He said though they are JMB members, they have admitted that they had been collecting members for IS from Bangladesh.
Full report at:
http://www.dhakatribune.com/crime/2015/may/25/two-suspected-members-held-dhaka#sthash.PN14IMAH.dpuf
-----------
China clamps down on 181 'terror gangs' in west
May 25, 2015
BEIJING: China has cracked down on 181 "terror gangs" in its restive far western region of Xinjiang, which has suffered a string of violent attacks, state media reported on Monday.
Resource-rich Xinjiang, strategically located on the borders of central Asia, plays a crucial rule in helping China meet its growing energy needs.
The campaign kicked off after 39 people were killed in a suicide bombing at a market in the regional capital of Urumqi last May, official news agency Xinhua said, citing data from the regional committee of the ruling Communist Party.
Police in Xinjiang busted the gangs, Xinhua reported, adding that 112 suspects surrendered to the police.
Full report at:
http://timesofindia.indiatimes.com/world/china/China-clamps-down-on-181-terror-gangs-in-west/articleshow/47411488.cms
-----------
Fiqh academy reconstituted without Adhaalath Party scholars
May 25 2015
The ministry of Islamic affairs has reconstituted the Fiqh academy and excluded senior members of the Adhaalath Party.
Former members, Sheikh Ilyas Hussain, Sheikh Iyaz Abdul Latheef, and MP Anara Naeem were not included in the reconstituted academy. Ilyas is the president of the Adhaalath Party's religious scholars' council while Iyaz was the vice president of the Fiqh academy.
The religious conservative withdrew its support for the government in March and joined the opposition 'Maldivians against tyranny' coalition.
Former Islamic minister Dr Mohamed Shaheem Ali Saeed meanwhile resigned from the cabinet earlier this month following the detention of Adhaalath Party president Sheikh Imran Abdulla.
Imran was arrested in the wake of the May Day anti-government demonstration and accused of inciting violence. He remains under police custody.
Full report at:
http://minivannews.com/politics/fiqh-academy-reconstituted-without-adhaalath-party-scholars-98638#sthash.bbt3HWbM.dpuf
-----------
Migrants Fleeing Country Are 'Mentally Sick' And 'Tarnish' Country's Image: Bangladesh Prime Minister
May 25, 2015
Prime Minister Sheikh Hasina lashed out Sunday at Bangladeshis trying to flee poverty by making perilous journeys on overcrowded boats in a bid to improve their chances of finding better lives elsewhere. The prime minister said the migrants are "mentally sick" and are "tainting" the image of their country.
"There is sufficient work for them, still they are leaving the country in such disastrous ways," the prime minister said in a statement published by the local state-run news agency, Agence France-Presse reported. It was the first time Hasina has addressed the issue.
Hasina said the migrants need to be punished along with the human trafficking "brokers" who arrange the journeys. Traffickers lure migrants with promises of safe passage to places like Australia, but migrants often wind up stranded and drifting at sea.
Full report at:
http://www.ibtimes.com/migrants-fleeing-country-are-mentally-sick-tarnish-countrys-image-bangladesh-prime-1936338
-----------
Mideast
Hundreds call for Hagia Sophia to turned into mosque in Istanbul rally
May 25 2015
Hundreds of people demanded that the historic Istanbul Hagia Sophia museum be converted into a mosque during a rally in Istanbul on May 24.
People gathered outside Istanbul's Hagia Sophia, in the historical Sultanahmet district, with some carrying signs that read: "Hagia Sophia needs to be reopened as a mosque," and "Let our lives be sacrificed for Islam."
The protest was led by many Turkish nongovernmental organizations, including the Humanitarian Relief Foundation (İHH).
Designed as a Christian basilica in the sixth century by Anthemios of Tralles and Isidorus of Miletus, Hagia Sophia is now a UNESCO World Heritage site.
Hagia Sophia remained a center of Orthodox Christianity until 1453, when the city was conquered by Ottoman Turks under Sultan Mehmed II, known as the Conqueror of Istanbul. After 916 years of service as a church, he ordered Hagia Sophia to become a "victory mosque," symbolizing the Muslim conquest. The mosaics of the church were covered with plaster and were successfully restored in the 20th century.
Hagia Sophia was used as a mosque for 482 years. Following the Ottoman Empire's collapse, it was converted into a museum by republican officials in 1935.
http://www.hurriyetdailynews.com/hundreds-call-for-hagia-sophia-to-turned-into-mosque-in-istanbul-rally----.aspx?pageID=238&nid=82906&NewsCatID=341
-----------
Iran's HR Official Urges Trial of Al Saud for Crimes against Yemeni Nation
25 May 2015
Secretary of Iran's Human Rights Council Mohammad Javad Larijani called for the trial of Saudi leaders in an international tribunal for the horrific crimes they have committed in Yemen.
"The entire Al Saud are responsible for the crimes committed in Yemen and they should be tried," Larijani told reporters in Tehran on Sunday.
He also reiterated that the UK, France and the US that have supplied the Saudi regime with weapons and equipment for the war on the Yemeni people are accomplices to the crime.
Larijani reiterated that the Yemeni nation will win the war against the Saudi aggressors, and said the Yemenis will win the war against the Saudis the same way that people in Southern Lebanon and Gaza gained victory against Israel in the last few years.
Earlier this month, Supreme Leader of the Islamic Revolution Ayatollah Seyed Ali Khamenei underscored that the recent Saudi-led aggression against Yemen has been a strategic mistake, and warned that Riyadh's aggression will backfire on the Al Saud regime soon.
Full report at:
http://english.farsnews.com/newstext.aspx?nn=13940303001611
----------
Fierce fighting engulfs Yemen's Taez and Daleh
25 May 2015
Fierce fighting on Monday between Houthi militias and pro-government forces in Yemen's third city Taez killed and wounded dozens of people, residents and an official said.
The clashes came a day after a U.N. official said a proposed peace conference for the impoverished country had been postponed indefinitely.
Witnesses said the fighting in several districts of Taez on Monday morning sparked panic among residents.
The clashes, which erupted on Sunday and raged overnight, have killed at least 30 Houthis and allied forces, the local official told Agence France-Presse.
He said a provisional toll showed at least five loyalists of exiled President Abedrabbu Mansour Hadi were also killed.
Full report at:
https://english.alarabiya.net/en/News/middle-east/2015/05/25/Fierce-fighting-engulfs-Yemen-s-Taez-Daleh.html
--------
Iran's Qassem Soleimani: U.S. has 'no will' to fight ISIS
25 May 2015
The chief of an elite unit in Iran's Revolutionary Guard has accused the U.S. of having "no will" to stop ISIS after the fall of the Iraqi city of Ramadi, an Iranian newspaper reported Monday.
The comments by Gen. Qassem Soleimani, the head of the Guard's elite Quds unit, come just after U.S. Defense Secretary Ash Carter accused Iraqi forces of lacking the "will to fight" in an interview aired the day before.
It wasn't clear whether Soleimani's remarks came as a direct response to Carter's, though tensions remain high between the two countries amid negotiations over Iran's contested nuclear program.
The report in the daily newspaper Javan, which is seen as close to the Guard, quoted Soleimani as saying the U.S. didn't do a "damn thing" to stop the extremists' advance on Ramadi.
Full report at:
https://english.alarabiya.net/en/News/2015/05/25/Iran-adviser-says-U-S-has-no-will-to-fight-ISIS.html
-----------
Across the 'Gate of Tears': Yemen refugees flee to Djibouti
May 25 2015
SANAA: Dwarfed by warships and giant cargo vessels, the small wooden boats that brave the dangerous crossing between the Horn of Africa and Yemen are a lifeline for the desperate thousands fleeing war.
Each day they come from the Arabian Peninsula to Djibouti, crossing the waters of the Bab al-Mandeb strait — the "Gate of Tears" in Arabic — the key shipping channel of the Gulf of Aden.
Djibouti, a tiny nation of over 800,000 people, is a haven for Yemeni refugees fleeing the air strikes that have devastated their country.
"Nobody wants to help us. Saudi Arabia says no Yemenis. Egypt, no Yemenis. Jordan, no Yemenis," said Nasser Saleh, showing the bullet wounds covering his body.
In late March, a Saudi-led coalition began air strikes against Shiite Huthi rebels, after the insurgents, who are backed by ex-soldiers loyal to Yemen's former president Ali Abdullah Saleh, seized control of large parts of the nation.
Full report at:
http://www.dailytimes.com.pk/region/25-May-2015/across-the-gate-of-tears-yemen-refugees-flee-to-djibouti
-----------
Turkey says agrees deal with US on air support for Syrian rebels
May 25 2015
The United States and Turkey have agreed "in principle" to give air support to some forces from Syria's mainstream opposition, Turkey's foreign minister said, in what if confirmed could mark an expansion of U.S. involvement in the conflict.
There was no immediate comment from U.S. officials on the assertion -- though Washington has so far refrained from committing to enforcing a "safe zone" for Syrian rebels, as it could be seen as a declaration of war on the Syrian state.
The air support would protect Syrian rebel forces who have been trained by a U.S.-led programme on Turkish territory, said minister Mevlüt Çavuşoğlu. The long-delayed scheme is meant to send 15,000 troops back to Syria to fight Islamic State of Iraq and the Levant (ISIL) militants.
Full report at:
http://www.hurriyetdailynews.com/turkey-says-agrees-deal-with-us-on-air-support-for-syrian-rebels.aspx?pageID=238&nID=82912&NewsCatID=510
-----------
Pakistan
Pakistan warns Afghan Taliban to immediately end "Spring Offensive"
May 25 2015
Pakistan has conveyed a straight message to Afghan Taliban to immediately stop their ongoing spring offensive or face consequences.
The Express Tribune, a Pakistani reliable news agency, quotes an unnamed source who is aware of Islamabad's this move saying that Kabul is also in the loop.
"The Afghan authorities have also been in the loop," he is quoted as saying.
The source is further saying that Afghan Taliban could face a joint action by Pakistan and Afghanistan if they do not immediately call off their offensive.
The unprecedented step by Pakistan is taken as reports indicate that Pakistan's spy agency Inter-Services Intelligence (ISI) which is long blamed for supporting militant groups in Afghanistan recently made the arrangements for Afghan Taliban and representatives from Afghan High Peace Council to meet in China and discuss steps for initiating peace talks.
Pakistan is concerned that India's spy agency is using Afghan territory against Pakistan a blame that is turned baseless.
Pakistan's intelligence agency seeks self-style support from the intelligence agency of Afghanistan on counter-terrorism but their promise of responding with same manner is still doubtful to several Afghan leaders and politicians based on its damaged image in Afghanistan.
http://www.khaama.com/pakistan-warns-afghan-taliban-to-immediately-end-spring-offensive-3362
-----------
3 TTP Terrorists Killed In Clash with Forces
May 25 2015
WANA: Three members of banned terrorist outfit Tehreek-e-Taliban Pakistan (TTP) were killed while others managed to escape after a clash with security forces on Sunday.
Security sources said that the clash took place near Pakistan-Afghan border area in South Waziristan Agency.
In the exchange of fire with security forces, three TTP terrorists were killed while their others cohorts managed to flee leaving behind the bodies of their accomplices.
Arms were recovered from the possession of the terrorists killed in the clash. The killed terrorists were stated to be hailing from District Tank of Khyber Pakhtunkhwa.
To flush out TTP terrorists from neighbouring North Waziristan Agency, the Pakistan Army started Operation Zarb-e-Azb on 15 June 2014 in the wake of an attack on Karachi airport.
http://www.dailytimes.com.pk/national/25-May-2015/ttp-terrorists-killed-in-clash-with-forces
-----------
Fear grips Christian locality in Lahore over alleged blasphemy case
May 25, 2015
LAHORE: Fear gripped a Christian locality in Lahore for a second day on Monday, a day after a charged mob of hundreds attempted to attack a church and looted houses over the alleged desecration of the Holy Quran by a member of the locality.
Humayon, the accused, was allegedly seen burning pages of the Holy Quran after which he was handed over to the police.
Following a complaint by Sayed Zeeshanul Haq, police registered an FIR against accused Humayon under section 295-B of Pakistan Penal Code and arrested him.
The complainant, Haq, told The Express Tribune that they spotted Humayon burning pages of Quran. Haq said an owner of a tea stall told him about it and they spotted him and handed him to the police.
Full report at:
http://tribune.com.pk/story/891791/islam-urges-peace-love-for-humanity-says-rashid/
-----------
Tribesmen approaching PHC as Fata Tribunal non-functional
May 25 2015
Hearing a writ petition a few days ago the Peshawar High Court put on notice several administrative secretaries, including the additional chief secretary Fata, asking them to explain the delay in appointments of the chairman and members of the Fata Tribunal, the third and final judicial forum provided under the colonial-era Frontier Crimes Regulation (FCR).
The FATA Tribunal has been non-functional since Jan 26, 2015 when its chairman and two members completed their thee-year term. Since then the chairman and members have not been appointed, forcing the aggrieved persons to approach the PHC, which under Article 247 of the Constitution could not exercise jurisdiction in the Federally Administered Tribal Areas (Fata).
Full report at:
http://www.dawn.com/news/1184049/view-from-the-courtroom-tribesmen-approaching-phc-as-fata-tribunal-non-functional
-----------
'No Point In Buying Arms When There Is Hunger, Illiteracy': Piler Director
May 25 2015
KARACHI: Consider Pakistan as a family. It does not make sense for a father to buy Kalashnikovs when his children have no education and are dying of hunger, said Pakistan Institute of Labour Education and Research (Piler) director Karamat Ali.
He was speaking at a discussion, titled 'Fiscal Allocation for Social Protection: Now is the Time', organised by Piler on Saturday. The event aimed to spread awareness about the allocation and utilisation of funds in social protection institutions ahead of the budget for the 2015-2016 fiscal year.
Pointing to the country's 23 social security institutions, such as Baitul Maal, Citizens Compensation Programme, Benazir Income Support Programme and the Low Cost Housing Programme, he said that all of them combined did not protect even 10 per cent of Pakistan's population.
Full report at:
http://tribune.com.pk/story/891630/a-safety-net-no-point-in-buying-arms-when-there-is-hunger-illiteracy/
-----------
Khawaja Asif slams Indian minister's statement of 'sponsoring terrorism to counter terrorism'
May 25 2015
ISLAMABAD: Defence Minister Khawaja Asif said here on Sunday that his Indian counterpart's recent statement about sponsoring terrorism to counter terrorism had confirmed "our assertions of Indian involvement in terrorist activities on Pakistani soil".
He said the statement of Indian Defence Minister Manohar Parrikar was a blatant admission of sponsoring terrorism in Pakistan.
The Indian minister, he said, had categorically stated that rules would not be followed to quell terrorist activities; instead terrorism would be promoted for the purpose.
"This is the worst kind of declaration by a state functionary of cabinet level which confirms that India is sponsoring terrorism against its neighbours in the name of preventing terrorist activities," the minister said in a statement.
Full report at:
http://www.dawn.com/news/1184095/khawaja-asif-slams-indian-ministers-statement-of-sponsoring-terrorism-to-counter-terrorism
-----------
Sindh CM orders inquiry into manhandling of journalists
May 25 2015
KARACHI: Sindh Chief Minister Syed Qaim Ali Shah on Sunday appointed DIG Traffic Dr Ameer Shaikh to investigate the incident in which journalists had been manhandled by police outside the Sindh High Court building on Saturday and submit a report to him in a week.
The decision was taken during a meeting the chief minister held with reporters and cameramen of private TV channels who had been thrashed by police outside the SHC building where they had gathered to cover the appearance of PPP's estranged leader Dr Zulfiqar Mirza before a court.
The media personnel told the chief minister that they had been manhandled by masked commandos of the Special Security Unit of Sindh Police who were not in uniform.
They requested the chief minister to order an inquiry into the incident and bring those involved to book.
Full report at:
http://www.dawn.com/news/1184089/cm-orders-inquiry-into-manhandling-of-journalists
-----------
North America
New US military guidelines pave way for turbans and beards
May 25 2015
New guidelines by the US military have paved way for service members to perform their duties while wearing religious attire including turbans and skullcaps, the Department of Defense announced.
The guidelines further made allowances for facial hair, body art and other expressions of religious belief.
The ease in the guidelines however, do not apply as blanket permission and requests for dispensation from stated uniform policy are to be reviewed on a case-by-case basis.
Military ranks include thousands of Muslims, Sikhs, Buddhists, Wiccans and members of other religious groups who have protested against the exclusion of religious apparel, claiming that it forced them to choose between their religious beliefs and their desire to serve.
Full report at:
http://tribune.com.pk/story/891879/new-us-military-guidelines-pave-way-for-turbans-and-beards/
------------
US: Iraq's 'will to fight' at issue after ISIS takeover of Ramadi
25 May 2015
WASHINGTON — The Islamic State group's takeover of the Iraqi city of Ramadi shows that Iraqi forces do not have the "will to fight," the US defense secretary says— the harshest assessment yet from a high-ranking Obama administration official about Iraqi fighters.
Iraqi forces outnumbered their opposition in the capital of Anbar province but failed to fight and pulled back from the city in central Iraq, Defense Secretary Ash Carter said on CNN's "State of the Union" TV show, which aired Sunday. The Iraqis left behind large numbers of US-supplied vehicles, including several tanks.
"What apparently happened is the Iraqi forces just showed no will to fight. They were not outnumbered," Carter said. "In fact, they vastly outnumbered the opposing force. That says to me, and I think to most of us, that we have an issue with the will of the Iraqis to fight ISIL and defend themselves."
Full report at:
http://rudaw.net/english/middleeast/iraq/240520153
------------
American Muslims work to dispel myths about Islam
May 25, 2015
When Malika MacDonald watched from afar the devastation caused by unrest in Baltimore's long-struggling neighborhoods, the Boston-based worker with Muslim charity ICNA Relief USA felt compelled to help. Staff and volunteers with the group, which helps disaster victims, came to the city earlier this month and distributed food and hygiene goods to elderly residents living on riot-torn blocks.
On Saturday, MacDonald returned to the city, this time for the annual convention of the Islamic Circle of North America, (ICNA) as an attendee and speaker, but also to continue the charity's work in the city. The annual convention's theme this year — to dispel growing misperceptions about Islam and the Prophet Muhammad — dovetailed with her own work with one of the nation's largest domestic charities, MacDonald said.
Full report at:
http://www.baltimoresun.com/news/maryland/baltimore-city/bs-md-muslim-conference-20150524-story.html
-----------
Canadians may belong to al-Qaida's highly secretive Khorasan faction, intelligence report warns
May 25, 2015
The day after the United States and its Arab allies launched airstrikes in Syria last September, President Barack Obama advised American lawmakers the targets had included "elements of al-Qaida known as the Khorasan Group."
Khorasan was described as a terrorist faction operating in Syria that had been set up by the senior al-Qaida leadership to recruit Westerners, train them and send them back to North America and Europe to conduct bombings.
Its highly secretive membership is said to include Kuwaiti, Saudi and French nationals — and according to a declassified intelligence report obtained by the National Post, federal officials are concerned that some of them are also Canadians.
Full report at:
http://news.nationalpost.com/news/canada/canadians-may-belong-to-al-qaidas-highly-secretive-khorasan-terrorist-faction-intelligence-report-warns
-----------
India
ISI-Run Fake Note Racket on NIA Radar
Neeraj Chauhan,TNN | May 25, 2015
NEW DELHI: Suspecting Pakistan's hand in the recent supply of high quality fake Indian currency notes (FICN) printed on the same paper as the Pakistani rupee, the National Investigation Agency has initiated a probe into a cross-border network of smugglers who work for ISI.
The syndicate was busted earlier this year by Delhi Police's Special Cell with the arrest of kingpin Shahjahan Sheikh alias Tunnu of West Bengal's Malda district along with his two associates and recovery of 'genuine looking' FICN worth Rs 20 Lakh.
It is suspected that the gang worked for men sitting in Pakistan and ISI directly facilitates their operation of smuggling FICN worth crores to Bangladesh and then to Indian states via Indo-Bangla border.
Full report at:
http://timesofindia.indiatimes.com/india/ISI-run-fake-note-racket-on-NIA-radar/articleshow/47410785.cms
---------------
Kerala-based group set to start modern teaching at 25 Muslim schools in UP
May 25, 2015
A Kerala-based organisation is renovating and providing infrastructure to primary schools being run by local Muslim organisations in different districts of Uttar Pradesh where it will commence teaching "of modern subjects on CBSE pattern".
Sunni Yuvajana Sangam (SYS), which had earlier announced to set up schools for Muslim children, has already selected 25 primary schools where studies as per its curriculum will begin from session starting July.
Few of the districts where such primary schools are selected include Bareilly, Badaun, Pilibhit, Shahjahanpur, Moradabad, Sambhal, Bijnor, Amroha, Rampur, Lucknow, Rae Bareli, Sitapur, Unnao, Lakhimpur Kheri, Hardoi and Barabanki.
Dr A P Abdul Hakeem Azhari, member of the supreme council of SYS, has invited nearly 50 Muslim clerics from different districts of UP to attend a meeting in Kerala on May 27 to take a final decision about the commencement of classes at selected schools. "We are beginning the first phase. Future road map for developing these schools will be held during the meeting," Azhari told The Indian Express.
Full report at:
http://indianexpress.com/article/cities/lucknow/kerala-based-group-set-to-start-modern-teaching-at-25-muslim-schools-in-up/
---------------
'Missing' Bangladesh Oppn Leader: Can't take him to Dhaka… don't know how he reached India, says wife
May 25, 2015
Two months after he mysteriously disappeared from Dhaka, Bangladesh Nationalist Party (BNP) spokesman Salahuddin Ahmed re-appeared, just as mysteriously, across the border, in Shillong. According to the police, the 54-year-old former minister was arrested on May 12, after some residents reported a "suspicious" person in the Golf Links area.
On being questioned, Ahmed reportedly identified himself but could not recall how he landed up in Meghalaya.
Speaking to The Indian Express on Sunday, his wife, Hasina Ahmed, said she doesn't know what happened to him after he went missing on March 10, but alleged that he was "not safe" in Bangladesh.
Full report at:
http://indianexpress.com/article/india/india-others/missing-bangladesh-oppn-leader-cant-take-him-to-dhaka-dont-know-how-he-reached-india-says-wife/99/
-----------
Africa
Boko Haram 'in deadly raid on NE Nigeria town'
May 25, 2015
KANO (NIGERIA): Boko Haram fighters killed several people and destroyed dozens of homes in a raid on a town in northeast Nigeria's Borno state, local residents, a vigilante and the military said.
Scores of Islamist militants in trucks and on motorcycles stormed the town of Gubio, 95 kilometres by road north of the state capital, Maiduguri, on Saturday night.
"Boko Haram invaded our town last night and killed many of our people and burnt more than half of the town," resident Babor Kachalla, who fled to Maiduguri following the attack, told AFP yesterday.
"We all fled into the bush amid volleys of bullets and rockets. We lost many people in the attack because the gunmen overpowered the soldiers guarding the town," he added, without specifying a death toll.
Another resident, Adam Kakami, said the attackers, who were dressed in military uniform, withdrew after six hours.
Full report at:
http://timesofindia.indiatimes.com/world/rest-of-world/Boko-Haram-in-deadly-raid-on-NE-Nigeria-town/articleshow/47410799.cms
-----------
The middle-class militants behind Tunisia's museum attack
May 25 2015
SBIBA: One of the young men was a high school literature student who helped his father tend the family olive trees in their isolated farming community near the Algerian border.
The other lived in the capital Tunis, had a taste for fashion and worked as a travel agent.
Jabeur Khachnaoui and Yassine el-Abidi came from stable, middle-class families and were well educated.
On March 18, they came together to attack Tunisia's Bardo Museum, shooting foreign tourists as they filed off buses outside the museum, and then taking more tourists hostage inside.
Over three hours they killed 22 people in all, including French, Italian, Japanese, Russian and Spanish visitors. Security forces eventually stormed the building and shot and killed the hostage-takers.
Full report at:
http://www.dailytimes.com.pk/region/25-May-2015/the-middle-class-militants-behind-tunisia-s-museum-attack
-----------
Gunfire heard near mosque, military base in Tunisian capital
World Bulletin / News Desk
25 May 2015
Gunfire erupted near a mosque and military base in the Tunisian capital Tunis on Monday, and a nearby school was evacuated, state news agency TAP and a security official said.
A Tunisian soldier opened fire on other troops at a military base in the capital on Monday, an army spokesman said, clarifying that the shooting, which prompted the evacuation of a nearby school, was not an external attack.
It was not immediately clear what had triggered the shooting or if there were casualties at the Bouchoucha base.
Details of the incident were still unclear, but Tunisian security forces have been on alert since an attack in March on the Bardo national museum.
http://www.worldbulletin.net/todays-news/159643/gunfire-heard-near-mosque-military-base-in-tunisian-capital
-----------
'Wall' Of Religious Hatred between Christian Majority and Muslims Divides Central African Town
25 May 2015
Boda (Central African Republic) (AFP) - The outbreak of violence that plunged the Central African Republic into chaos in 2013 has left a legacy of suspicion, fear and hatred that still plagues places like the southern mining town of Boda.
"There's an invisible wall. It's as if we're in prison," says Bouburori Bindowo, deputy mayor of the town of around 11,000 people, whose Muslim residents, of whom he is one, live segregated from the often hostile Christian majority.
The violence erupted after the 2013 coup that ousted President Francois Bozize and pushed the country into a conflict that took on an unprecedented religious dimension, pitting sections of Christian and Muslim populations against one another.
Largely Christian "anti-balaka" -- or anti-machete -- militias were formed to avenge atrocities by the mostly Muslim Seleka rebels behind the coup, resulting in waves of killing, rape and pillaging since.
Full report at:
http://news.yahoo.com/wall-religious-hatred-divides-central-african-town-042632901.html
-----------
In Nigeria, Terrorist Attacks Haven't Diminished Faith
25 May 2015
Four of five pastors no longer have a church in which to worship, either because the building has been burned down by terrorist group Boko Haram or because a large-group gathering could invite an attack.
The Church of the Brethren in Nigeria, which is known there as Ekklesiyar Yan'uwa a Nigeria, or EYN, also has had about 3,000 of its members killed by Boko Haram. Many other church members also have fled from their homes and villages to seek safe areas or refugee camps to escape the violence.
But the EYN still seems to be growing and spreading despite the obstacles it faces, said Cliff Kindy of rural North Manchester
"It's like blowing on the seeds of a dandelion," said Kindy, 65, who recently spent more than three months in Nigeria as a disaster relief volunteer.
Full report at:
http://www.news-sentinel.com/article/2015150529915
-----------
Southeast Asia
Home Minister: No Jail for Returning Malaysian Students from Syria
May 25, 2015
KUALA LUMPUR: Malaysian students in Syria need not fear long-term detention upon returning, if they not involved with the Islamic State (IS).
Home Minister Datuk Seri Dr Ahmad Zahid Hamidi reassured Malaysians with a student status in Syria that they could come home, and all they had to do was cooperate with police for questioning.
"The Government, Home Ministry and the police are not that evil to detain them on the long term.
"Police will question them, but they will be free to go once proven that they have had no involvement with militant groups," he said in response to Datuk Johari Abdul (PKR–Sungai Petani) in Parliament Monday.
Full report at:
http://www.thestar.com.my/News/Nation/2015/05/25/zahid-returning-msians-syria-no-jail/
-----------
More than 100 grave sites found in Malaysia
25 May 2015
A total of 139 grave sites and 28 human-trafficking camps have been found in a remote northern Malaysian border region, the country's top police official told reporters Monday.
National Police Chief Khalid Abu Bakar revealed the findings at a press conference a day after the government announced the discovery of camps and graves, the first such sites found in Malaysia since a regional human-trafficking crisis erupted earlier this month.
"(Authorities) found 139 suspected graves. They are not sure how many bodies are inside each grave," Khalid said.
He added that the number and size of the 28 camps found suggested that they may have housed a combined hundreds of people.
The largest could hold up to 300 people, another had a capacity of 100, while the rest could hold about 20 each, he said.
Full report at:
https://english.alarabiya.net/en/News/asia/2015/05/25/More-than-100-grave-sites-found-in-Malaysia.html
----------
Japanese firms showing interest in Islamic finance, halal industry, says Najib
May 25 2015
Japanese businesses, for decades some of the biggest investors in Malaysia, are expressing growing interest in Islamic finance and the halal industry, said Prime Minister Datuk Seri Najib Razak.
He said Malaysia was currently the world's largest sukuk market and also the first country in the world to introduce halal parks or dedicated halal industrial estates.
Since 2010, these have attracted US$2.36 billion (RM8.8 billion) in investments from the United States, Italy, Taiwan and Singapore, Najib said.
"I am pleased to say that more and more businesses in Japan now seem to be aware of the great opportunities available in Malaysia," he said in his address at a roundtable meeting with 34 captains of industries.
Full report at:
http://www.themalaysianinsider.com/malaysia/article/japanese-firms-showing-interest-in-islamic-finance-halal-industry-says-naji#sthash.UCZsHCtq.dpuf
-----------
Europe
Jihadi threat requires move into 'private space' of UK Muslims, says police chief
May 25, 2015
Islamist propaganda is so potent it is influencing children as young as five and should be countered with intensified monitoring to detect the earliest signs of anti-western sentiment, Britain's most senior Muslim police chief has warned.
Scotland Yard commander Mak Chishty said children aged five had voiced opposition to marking Christmas, branding it as "haram" – forbidden by Islam. He also warned that there was no end in sight to the parade of British Muslims, some 700 so far, being lured from their bedrooms to Syria by Islamic State (Isis) propaganda.
In an interview with the Guardian, Chishty said there was now a need for "a move into the private space" of Muslims to spot views that could show the beginning of radicalisation far earlier. He said this could be shown by subtle changes in behaviour, such as shunning certain shops, citing the example of Marks & Spencer, which could be because the store is sometimes mistakenly perceived to be Jewish-owned.
Full report at:
http://www.theguardian.com/world/2015/may/24/jihadi-threat-requires-move-into-private-space-of-uk-muslims-says-police-chief
-----------
Many Muslim children believe celebrating Christmas is haram: Scotland Yard commander
May 25, 2015
LONDON: Britain's most senior Muslim police chief has warned that children as young as five are being influenced by religious propoganda and should be countered with intensified monitoring to detect the earliest signs of anti-western sentiment.
Scotland Yard commander Mak Chishty said children aged five had voiced opposition to marking Christmas, branding it as haram.
He further warned that there was no end in sight to the scores of British Muslims –some 700 so far — being lured to Syria by the Islamic State (IS).
Chisty, in an interview, said that there was now a need for "a move into the private space" of Muslims to detect views that could show the beginning of radicalisation far earlier.
He said this could be shown by subtle changes in behaviour, such as shunning certain shops, citing the example of Marks & Spencer, which could be because the store is sometimes mistakenly perceived to be Jewish-owned.
Full report at:
http://tribune.com.pk/story/891968/children-as-young-as-five-lured-by-is-propoganda-uk-police-chief/
-------------
Parents of Dutch jihadists take action against state
May 25, 2015
A group of Muslim parents is to take legal action against the Dutch state for failing to prevent their teenage children from travelling to fight with Islamic State in Iraq and Syria, where some of them were killed.
It is the first legal case of its kind in the Netherlands and, if successful, could lead to similar claims in other European countries.
The group says that in all the cases it represents, the authorities were warned in advance about the youngsters' intentions but failed to take action, either by taking them into preventive custody or even by confiscating their passports.
At least 10 Dutch jihadists are known to have been killed this year, bringing the total to 30, and there is growing anger in the Netherlands about the lack of an overarching national policy either to prevent them leaving or to assess their mental state when they return.
Full report at:
http://www.irishtimes.com/news/world/europe/parents-of-dutch-jihadists-take-action-against-state-1.2224078
-----------
Greece to question Syrian over Turkey-bound bullet haul
May 25 2015
Greek investigators were to question May 25 a Syrian caught trying to sneak tens of thousands of bullets into Turkey, a police source said.
The 28-year-old man was detained over the weekend at the Kipi customs post in Evros, the northernmost part of Greece, after police foud parcels of bullets concealed in special caches in his car.
The authorities said they were not ruling out the possibility that the ammunition was destined to rebels of the Free Syrian Army.
The suspect's vehicle had Austrian registration plates but he was carrying a fake British driving license, police said.
Evros is a central hub on the route connecting Europe and Asia, where smugglers routinely attempt to pass guns, drugs and migrants, from or into Turkey, which shares 1,300 kilometres (800 miles) of border with Iraq and Syria.
http://www.hurriyetdailynews.com/greece-to-question-syrian-over-turkey-bound-bullet-haul-.aspx?pageID=238&nID=82910&NewsCatID=351
-----------
URL: https://www.newageislam.com/islamic-world-news/new-age-islam-news-bureau/top-muslim-body,-al-azhar,-urges-protection-of-syria-s-palmyra/d/103149