New Age Islam News Bureau
13 Apr 2019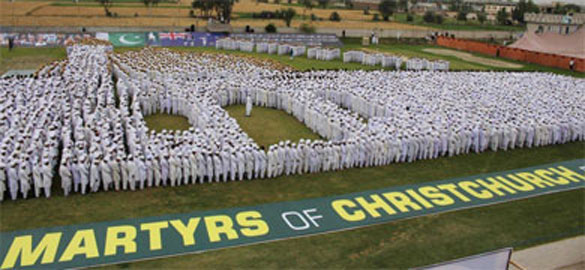 Pakistanis gather to form a human image of the Al Noor mosque.PHOTO: AFP
------
• Thousands of Pakistanis Form Human Chain In Image of Christchurch Mosque
• Suicide Attack on Minority Hazaras in Quetta Leaves 20 Dead, 50 Injured
• Makkah Imam Al-Sudais Highlights Importance of Education in Islam
• Taliban Declare Start of Spring Offensive amid Talks with US
• Tehran's Imam Wears IRGC Uniform during Prayer, Threatens US, Israel
• Tehran Senior Cleric: US Mother of Terrorism in World
• Sudan Protesters Ask Army to Hand over Power Immediately
• Jokowi's Election Fight Shows Indonesia's Islam Identity Crisis
• Trump Warns ICC against Prosecuting Americans, Israelis for War Crimes
• Muslim Man Takes Care of Hindu Temple in Bengaluru, India, Setting An Example Of Communal Harmony
Pakistan
• Thousands of Pakistanis Form Human Chain In Image of Christchurch Mosque
• Suicide Attack on Minority Hazaras in Quetta Leaves 20 Dead, 50 Injured
• Pakistan launches guidelines to implement UNSC 1267 Sanctions in country
• Report sought on action against banned outfits in Balochistan
• UK police complete probe into Altaf's 2016 speech
• 'Militant held for bank heists, murders' claims he joined Jundullah to fight ethnic party
• Two killed, 10 injured in Chaman IED blast
--------
Arab World
• Makkah Imam Al-Sudais Highlights Importance of Education in Islam
• Reports: Tens of Children Die in Syria's Al-Hawl Refugee Camp
• Syria's air defences intercept missiles near city of Hama
• Teenage brides trapped between Daesh and its victors
• Yazidis: Victims of Islamic State's Legacy of Terror
--------
South Asia
• Taliban Declare Start of Spring Offensive amid Talks with US
• Taliban's shadow governor for Helmand succumbs to injuries sustained in an airstrike
• Major Taliban attack repulsed in Shirzad district of Nangarhar
• Taliban's spring offensive announcement has 'propagandist aspect': MoD
--------
Mideast
• Tehran's Imam Wears IRGC Uniform during Prayer, Threatens US, Israel
• Tehran Senior Cleric: US Mother of Terrorism in World
• Mainstream Jewish groups urge Trump to curb Israel's West Bank annexation
• Israeli soldiers kill Gaza teenager during border protest
• US denies entry to Palestinian campaigner Omar Barghouti for Israel boycott
• Israel has no sovereignty over Golan, Lebanon's Auon tells US delegation
--------
Africa
• Sudan Protesters Ask Army to Hand over Power Immediately
• Sudan Military Council to Start Dialogue with Political Groups
• Sudan defence minister steps down as head of transitional military council
• East Libyan warplanes hit Tripoli government positions
• About 1,500 migrants trapped in Tripoli, lives at risk - UNHCR
• As fighting rages in Tripoli, WHO warns of disease outbreaks in Libya
• Saudis gave Libya's Haftar millions of dollars: report
• Sudan and Algeria show why Jamal Khashoggi was right
--------
Southeast Asia
• Jokowi's Election Fight Shows Indonesia's Islam Identity Crisis
• Is Pakatan anti-Malay rights? For Umno and PAS, this narrative will win BN Rantau
--------
North America
• Trump Warns ICC against Prosecuting Americans, Israelis for War Crimes
• Trump under Fire over His Remarks on Congresswoman
• Ilhan Omar drags George W. Bush into 9/11 controversy
• ICC judges reject Afghanistan probe; cite lack of cooperation
• Canada calls for Sudan's military to step aside
• US orders non-emergency personnel out of Sudan
• Sudan's Al Bashir was not a friend of US but few viable options for Washington in aftermath
• US not in Afghanistan to rebuild the nation, says Pompeo
--------
India
• Muslim Man Takes Care of Hindu Temple in Bengaluru, India, Setting An Example Of Communal Harmony
• Mirwaiz for Tripartite Dialogue To Resolve Kashmir
• Encounter between security forces and terrorists underway in J-K's Shopian
• Over 2,200 Sikhs From India Arrive In Pakistan To Celebrate Baisakhi
• Areeb Majeed case: Court issues summons to nodal officers of 5 telecom firms for call records
--------
Europe
• Controversial anti-terrorism law comes into force in the UK
• Turkish minister, French lawmaker clash over Armenia 'genocide' day
• NATO hails Turkey's pivotal role in Middle East
• Turkish opposition slams French move on events of 1915
Compiled by New Age Islam News Bureau
URL: https://www.newageislam.com/islamic-world-news/thousands-pakistanis-form-human-chain/d/118315
--------
Thousands of Pakistanis Form Human Chain In Image of Christchurch Mosque
Apr 13, 2019
JHANG: Thousands of people clad in white gathered in Punjab's Jhang district on Friday to make a human image of Christchurch's Al Noor mosque, where 50 people were killed by a white supremacist four weeks ago.
Drone images showed worshippers standing in formation, their snow-white traditional shalwar kameez and prayer caps in stark contrast to the emerald green of a public field, as a second group formed the words "Islam is peace" nearby.
Huge New Zealand and Pakistani flags were also displayed along with a giant banner which read: "Solidarity with the martyrs of Christchurch from Pakistan."
The tribute was organised by the Muslim Institute, a non-government organisation aimed at promoting peace and stability in the Muslim world, which also released the drone footage.
Brenton Tarrant, a 28-year-old Australian and self-avowed white supremacist, has been charged with 50 counts of murder and 39 of attempted murder after opening fire at the Linwood and Al Noor mosques on March 15.
Nine of the victims were of Pakistani origin. One, Naeem Rashid, was posthumously given an award for bravery by Pakistan after he apparently tried to tackle the gunman before being shot.
Tribute organisers praised the New Zealand government after what had been a "very tough time" for Muslims in the country — especially Prime Minister Jacinda Ardern.
Her response "not only soothed the wounds of Muslims but also assured them that Muslims in their country are safe", Sahibzada Sultan Ahmad Ali, a religious scholar and one of the organisers, told AFP.
"We worked really hard to make this model," one participant, Noor Hassan, told AFP of the tribute. "It was so pleasant that we were ready to stand like this for the whole day," he added.
https://www.pakistantoday.com.pk/2019/04/12/thousands-of-people-in-jhang-form-human-chain-in-image-of-christchurch-mosque/
--------
Suicide attack on minority Hazaras in Quetta leaves 20 dead, 50 injured
Apr 12, 2019
ISLAMABAD: At least 20 people were killed and nearly 50 injured when a bomb aimed at targeting the minority Shia community exploded at a vegetable market in Pakistan's southwestern city of Quetta on Friday.
The explosion occurred as members of the Hazara community, Shia Muslims, were busy buying vegetables and fruit in the morning in Quetta's Hazarganji market, a place that has witnessed similar attacks in the past.
Abdul Razzaq Cheema, Quetta's police chief, said the blast was caused by an improvised explosive device (IED) planted in a sack of potatoes. Later, Balochistan home minister Mir Zia Ullah Langove said at a press conference that it was a suicide bombing.
The Hazara community travels from Hazara Town (the residential area of the community), escorted by a convoy of police and paramilitary forces, to Hazarganji market to buy vegetables. Their movement out of the residential area is restricted due to threats to their lives. "Since they are constantly under threat of attack, we provide them with a security escort," Cheema said.
"Among the dead, eight were Hazaras. At least one Frontier Corps (paramilitary force) soldier deputed for their security was also killed in the attack. Others who lost their lives included shopkeepers, businessmen and people working or residing in the area," Cheema said.
Qadir Nayil, a Hazara community leader, asked the government for better protection. "Once again we were the target, and once again we will have to bury our dear ones," he said, demanding the government punish all those involved in the terrorist attack.
While isolated shootings of Hazaras often take place, a major bomb attack targeting them happened at least after a year.
Images from the blast scene showed burnt human flesh, blood-soaked clothes, damaged vehicles and scattered vegetables and fruits.
The majority of over half a million Hazaras have settled in Quetta, the capital of volatile Balochistan province, Pakistan's mineral-rich and largest province by area, since fleeing Afghanistan to escape violence in their homeland during the past four decades. Islamist militants who operate in the province often target members of the Hazara Shia community in the region.
A separatist insurgency is also on in the restive province with separatist groups of Baloch nationalists demanding autonomy and a greater share in the province's resources. They frequently target security forces and government installations.
Pakistan's National Commission for Human Rights had released a report last year stating that 509 Hazaras were killed and 627 injured in various incidents of terrorism in Quetta from January 2012 to December 2017.
According to members of the community, they refrain from engaging in business or education in other parts of the city because of the risks to their lives.
No group immediately claimed responsibility for the attack. The far-right Ahle Sunnat Wal Jammat and the associated Lashkare-Jhangvi militant group have been involved in sectarian violence in Balochistan in the past.
https://timesofindia.indiatimes.com/world/pakistan/suicide-attack-on-minority-hazaras-in-quetta-leaves-20-dead-50-injured/articleshow/68856496.cms
--------
Makkah Imam Al-Sudais highlights importance of education in Islam
April 12, 2019
ARAR: Sheikh Abdulrahman Al-Sudais, the general president for the affairs of the Two Holy Mosques, has reminded students about "the importance of education in Islam and the challenges faced by the youth."
His lecture at the Northern Borders University in Arar province was broadcast to students in Rafha, Turaif and Al-Uwayqilah provinces.
Al-Sudais stressed the importance of getting information from trusted and truthful sources, and of not believing rumors and falsehoods that seek to distort the image of Islam and the Kingdom. He urged students to "shield themselves against extremism and misleading thoughts, thus protecting the religion, the homeland, its security and its achievements from extremism."
http://www.arabnews.com/node/1481726/saudi-arabia
--------
Taliban declare start of spring offensive amid talks with US
Apr 12, 2019
KABUL (AFGHANISTAN): The Taliban announced on Friday the start of their spring offensive despite talking peace with the United States and ahead of a significant gathering of Afghans meant to discuss resolutions to the protracted war and an eventual withdrawal of American troops from the country.
The insurgents released a lengthy missive in five languages, including English, saying the fighting would continue while foreign forces remain in Afghanistan.
The announcement is something the militant group does every year, even though Taliban attacks never really ceased during the harsh winter months. The insurgents carry out daily attacks targeting Afghan security forces and Nato troops, and inflicting staggering casualties, including among civilians. Most recently, a Taliban attack near the main US air base in Afghanistan killed three Marines on Monday.
The Taliban now hold sway over half the country after a relentless 17-year war, America's longest.
Friday's announcement instructs the Taliban mujahedeen, or holy warriors, to "launch jihadi operations with sincerity and pure intentions," strictly abiding by the Taliban command structure. It also urges fighters to avoid civilian casualties.
The UN's annual report earlier this year said civilian deaths hit a record high last year, blaming the insurgents and other militants, such as the Islamic State group, though it also noted an uptick in civilian casualties from US bombing raids, most often in aid of Afghan troops on the ground.
Still, preparations are underway for Afghan-to-Afghan talks starting next week in Qatar, where the Taliban have a political office.
In Kabul, the Afghan High Peace Council, a government body created years ago to talk peace with anti-government forces, condemned the Taliban announcement, saying it brought into question the insurgents sincerity in seeking a peaceful end to the war.
Atta-u-Rahman Saleim, a council deputy, told The Associated Press over the phone that it undermines the credibility of the Taliban.
"They are insisting on war," he said. "We can see this every day."
US envoy Zalmay Khalilzad, who has escalated efforts to find a peaceful end to the war since his appointment last year, has been urging the Taliban to accept a cease-fire and hold talks directly with the Kabul government, something the insurgents refuse to do. The Taliban, who see the Afghan government as a US puppet, say they will talk to Kabul officials at the upcoming Qatar meeting only as "ordinary Afghans" and not as government representatives.
Meanwhile, Taliban spokesman Zabihullah Mujahid told the AP on Friday that the insurgents banned the International Committee of the Red Cross and the World Health Organization from operating in territory under their control. This is the second time in the past year the insurgents have barred Red Cross workers.
Robin Waubo, a Red Cross official in Kabul, said the organization was putting its activities "on hold" until its representatives can meet with the Taliban to resolve the issue.
"We are going to have a dialogue with them in order to try and begin our work again," Waubo said, warning that thousands of displaced people will be adversely affected by the Taliban decision.
"It is a big issue for us because we have to stop working," he said.
https://timesofindia.indiatimes.com/world/south-asia/taliban-declare-start-of-spring-offensive-amid-talks-with-us/articleshow/68853181.cms
--------
Tehran's Imam wears IRGC uniform during prayer, threatens US, Israel
12 April 2019
The Imam of Tehran Friday prayers, Ayatollah Mohammad Ali Movahedi-Kermani condemned on Friday the United States' move of labelling the Islamic Revolutionary Guard Corps (IRGC) as a foreign terrorist organization.
During his Friday prayer the cleric wore the military uniform of the IRGC in support of the Iranian force, condemning the US decision saying: "All the Iranian people are members in the Revolutionary Guards," the Iranian news agency ISNA reported.
Movahedi-Kermani also threatened Israel, saying that the IRGC missiles are capable to level Israel to the ground, adding that if Iran's Supreme Leader Ayatollah Ali Khamenei decides on that, the Islamic Revolutionary Guard Corps' missiles could destroy Israel.
Tehran's Imam and the former secretary-general of Combatant Clergy Association who is also a member of the Assembly of Experts said US President Donald Trump "took an aggressive and stupid stance" by designating the IRGC a terrorist group.
He said the situation in the Middle East will be more complexed and it will pose a threat to American troops in the region.
On Monday, US President Donald Trump designated Iran's Guards a foreign terrorist organization – an unprecedented step that will raise tensions in the Middle East.
Tehran took retaliatory action by naming the United States Central Command (CENTCOM) as a terrorist organization and the US government as a sponsor of terror.
https://english.alarabiya.net/en/News/middle-east/2019/04/12/Tehran-s-Imam-don-Revolutionary-Guards-uniforms-during-prayer.html
--------
Tehran Senior Cleric: US Mother of Terrorism in World
Apr 12, 2019
Addressing a large and fervent congregation of the people in Tehran on Friday, Ayatollah Movahedi Kermani said, "The US is a mother of terrorism."
He reiterated that the action to designate a part of a country's armed forces as a terrorist organization is against all the international laws and regulations, and described US President Donald Trump as a "fool" who does not know what he is doing.
Ayatllah Movahedi Kermani underlined that many countries in the world have called into question America's move as they think it can complicate the situation in the Middle East, and said, "Even some US analysts have also described the US' move as a dangerous act that would endanger American soldiers' lives."
He reiterated that the Americans themselves know that this was a very stupid action.
"The whole world, especially the nations in the region now know that the US is the mother of terrorism, as America itself and Trump have acknowledged that it was the US which created Taliban and they themselves admit that they are the founder of terrorism," he said.
The senior cleric further said that the whole Iranian nation and political groups, regardless of their political affections, support the IRGC against the US move, warning the US president "not to twist the lion tail as the IRGC can reduce Tel Aviv to rubble by its missiles if the Leader allows them to do so".
His remarks came days after the United States designated the IRGC as a "foreign terrorist organization", marking the first time Washington has formally labelled another country's military a "terrorist group".
Responding to Washington's Monday move, Iran immediately declared the US as "state sponsor of terrorism" and American forces in the region "terrorist groups".
Iran's top security body, the Supreme National Security Council (SNSC), in a statement issued on Monday evening declared the United States a "terrorist government", and blacklisted the "CENTCOM and all its affiliates a terrorist group".
The SNSC - that is headed by President Hassan Rouhani - condemned Washington's move, calling it "an illegal and dangerous action" that poses a "major threat to regional and international peace and security and grossly violates the rules of international law".
The statement further condemned the US decision as "unlawful and unreasonable action" prompted by the Islamic Republic's regional influence and success in fighting against terrorists, and blamed CENTCOM for harming Iran's national security as well as ruining the lives of "innocent Iranian and non-Iranian individuals" to promote the US "aggressive policies" in West Asia (the Middle-East).
"The Islamic Republic of Iran regards this baseless move as a major threat to regional and international peace and security and a blatant violation of the compelling rules of international law and the United Nations Charter," Iran's top security body reiterated.
Earlier, Iranian Foreign Minister Mohammad Javad Zarif had asked Iranian President Rouhani to designate the CENTCOM as a terrorist organization.
Due to the "clear support" US forces in Western Asia lend to terrorist groups, and their own "involvement in terrorist activities", the US military in the region should be put on a list of terrorist groups in the Islamic Republic of Iran, Zarif said in a letter to Rouhani and Iran's Supreme National Security Council.
Also in a tweet on Monday, the Iranian top diplomat slammed the decision by the US administration on labeling the IRGC a "foreign terrorist organization", seeing Trump's close ties with Netanyahu as a main contributor to the gravely wrong move made by the US president ahead of the Tuesday election in Israel.
"A(nother) misguided election-eve gift to Netanyahu. A(nother) dangerous US misadventure in the region," Zarif wrote on Twitter on Monday, referring to the IRGC designation as yet another move by the US president in aid of the Israeli Prime Minister Benjamin Netanyahu after Trump's recent decision to recognize Israel's annexation of the Syrian Golan Height.
The US' Golan Heights decision, which is in obvious contravention of international law, has been met with condemnation by the international community, with the UN and even Washington's Persian Gulf and European allies blasting the move.
Netanyahu welcomed the US decision to label Iran's IRGC a "terrorist organization", rushing to thank his "dear friend" Trump for answering "another important request that serves the interests of our country and the region".
"We will continue to act together in any way against the Iranian regime that threatens the state of Israel, the United States and the peace of the world," the Israeli PM wrote on Twitter.
With Israel's election to take place on Tuesday, the Israeli primer is likely grateful for the latest public show of Trump support for his government. The right-wing Likud party, led by Netanyahu, and Blue and White political alliance, led by former Israeli Defense Forces chief Benny Gantz, who threatens to end Netanyahu's decade-long tenure, are considered the main rivals in the polls to elect members of Knesset (Israel's parliament).
The Israeli regime's traditionally close relationship with the US has grown stronger under Trump. Washington recognized Jerusalem al-Quds as the Israeli "capital" in December 2017 and moved the American embassy from Tel Aviv to the ancient city in May 2018, sparking global condemnations.
Responding to the US hostility towards the IRGC, General Staff of the Iranian Armed Forces declared in a statement on Tuesday that the forces under its command would fight against the US Central Command known as CENTCOM "terrorist group".
"The US administration's move to designate the IRGC as a terrorist group is actually a desperate attempt and retaliation to cap the US failures in the region and of course, it lacks operational value and validity and is practically doomed to failure," the statement said.
The statement referred to the SNSC's reaction to Washington's decision and designation of the CENTCOM as a terrorist group, and said the General Staff of the Iranian Armed Forces would consider the US Army forces under the CENTCOM command as terrorists and "will not spare any efforts to support the IRGC's anti-terrorism measures in the fight against the CENTCOM terrorist group".
http://en.farsnews.com/newstext.aspx?nn=13980123000421
--------
Sudan protesters ask army to hand over power immediately
12 April 2019
The Sudanese protest movement has rejected the military's declaration that it has no ambitions to hold the reins of power for long after ousting the president of 30 years, Omar al-Bashir.
In an online statement, the movement depicted the army's assurances as a "deception" and called for an immediate handover of power to a civilian transitional government.
The statement came shortly after a press conference on Friday in Khartoum by the country's new military rulers.
The Sudanese Professionals Association, which has spearheaded the four months of demonstrations against al-Bashir, denounced the military's statements as a "farce."
It also vowed to "resist" by peaceful means all the extraordinary measures the military has imposed since Thursday's ouster of al-Bashir, including the nighttime curfew and state of emergency.
On Friday, the head of the political committee of the transitional Military Council that overthrew President Omar al-Bashir said that the solution to Sudan's crisis will come from protesters and not the military.
"We are the protectors of the demands of the people and that is by consensus from the political entities," said the political Committee's head, Omar Zeinalabdin.
"We are not greedy for power."
https://english.alarabiya.net/en/News/middle-east/2019/04/12/Sudan-protest-organizers-reject-military-council-s-new-announcement.html
--------
Jokowi's Election Fight Shows Indonesia's Islam Identity Crisis
April 13, 2019
Joko Widodo is one of Indonesia's most devoted crusaders against fake news, and for good reason: It's personal.
The Indonesian president known as Jokowi, who's campaigning for a second five-year term, has sought to keep voters focused on his track record of infrastructure building, tax reform and lower food prices. But social media-driven rumors -- that he isn't a pious Muslim, that he sympathizes with the banned Communist party, that he's of Chinese descent -- are proving difficult to shake in the final days leading up to the April 17 poll.
Under Jokowi, Indonesia has grown into a trillion-dollar economy, inflation has more than halved and he's beaten the target to create 10 million jobs in the first five-year term. But his double-digit lead has narrowed in recent weeks, and religion remains a wild card in his bid to defeat former army commando Prabowo Subianto to head the world's most-populous Muslim-majority country.
Questions of religious identity have become an increasing political issue in Indonesia, which was founded on secular ideals to unite a diverse archipelago stretching across three time zones. While no major policy shifts are expected if Jokowi wins a second term, analysts see the possibility that Indonesia could take steps such as outlawing same-sex relations. Nearby Brunei recently introduced Islamic laws that punish gay sex and adultery by stoning offenders to death.
Ahead of this election, Jokowi sought to bolster his religious credentials by picking Ma'ruf Amin, the country's most senior Islamic cleric, as his running mate. The move was seen as a reaction to the 2017 Jakarta governor election, when a Chinese-Christian political ally of Jokowi lost amid claims he insulted Islam.
Growing Conservatism
While the poisonous atmosphere of 2017 has yet to materialize in the presidential election, Jokowi's opponents are raising questions about his faith in social media and door-to-door campaigns, said Douglas Ramage, managing director of Bower Group Asia in Indonesia.
"The social conservatism propelled by the majority community is here to stay irrespective of who wins the election," Ramage said. "If Jokowi wins, he will have a senior cleric as his vice president and one could expect him to exert some influence on policies that reflect the growing preference for conservatism among Indonesian middle class."
Conservative Islamic groups, who dislike Jokowi's secular policies and his crackdown against terrorist groups, have rallied behind his opponent Prabowo, as Subianto is popularly known. The groups, who demand the adoption of Shariah rules in the secular country, accuse Jokowi's administration of unfairly detaining some Islamic clerics for criticizing the government. Jokowi has dismissed the allegations as baseless, but they threaten to stir tensions.
"I wanted to let the rumors die naturally, but since some people believe them, I have to make a clarification," Jokowi told residents of an Islamic boarding school in Rembang in Central Java on Feb. 1. The president said his record should not be in question: he holds regular meetings with clerics in his office and has declared a national day in honor of Islamic students.
He revisited the issue again on March 23, urging people to combat fake news: "I need to clear the allegations because according to a survey as many as 9 million people believe them."
Jobs Deficit
While the choice of Amin was seen as politically expedient in a country of 263 million people that's roughly 90 percent Muslim, he has struggled to match up the charisma of Prabowo's pick for vice president, Sandiaga Uno, a former private equity tycoon. Prabowo's party was supported by powerful Islamic groups in the 2017 Jakarta governor election.
Still, disaffection with Jokowi stretches beyond questions over his beliefs.
After sweeping into the office on his common-man image and proven administrative skills as the former mayor of the Central Java city of Solo, he's now facing growing dissatisfaction among the middle-class for his failure to lift economic growth to seven percent -- a key promise of his 2014 campaign.
Had he reached that target, it would have created "decent employment," said Muhamad Chatib Basri, a former finance minister. While the national unemployment rate has fallen to a two-decade low, more and more educated youth are finding it difficult to land well-paid jobs, he said.
His priorities on foreign policy have yet to materialize.
"We have few indications as of yet as to how Jokowi's foreign policy might change in a second term," said Aaron Connelly, a research fellow on Southeast Asian politics at the International Institute for Strategic Studies. "I do not think that Jokowi's selection of Ma'ruf Amin will have any affect on Indonesia's relations with countries in the region."
Muslim Indonesians had become more conservative over issues such as standards of dress over the last 20 years, Connelly said. But a recent survey shows "Muslims have also quietly become more tolerant on socio-cultural questions, like whether they are happy to have Christian neighbors or to have a church built in their neighborhood."
Jokowi has taken note of the urban disenchantment and has promised to focus more on providing jobs that can meet the aspirations of the youth.
Still, if he loses, it will likely be because a large number of Muslims opted to vote against Jokowi because top religious figures have been targeted for criticizing the government, said Rizal Ramli, a former minister in Jokowi's cabinet and an outspoken critic of the president's economic policies.
"Prabowo supporters are relentless and very zealous in promoting Jokowi as a disaster for religious voters while promoting Prabowo as a good Muslim who will promote Islamic interests in Indonesia," said Alexander Arifianto, research fellow with the Indonesia Program at the S. Rajaratnam School of International Studies in Singapore. "This election will be a nail biter. It will be very close and either one could win."
https://www.bloomberg.com/news/articles/2019-04-13/jokowi-s-election-fight-shows-indonesia-s-islam-identity-crisis
--------
Trump warns ICC against prosecuting Americans, Israelis for war crimes
Apr 13, 2019
US President Donald Trump has warned the International Criminal Court (ICC) of "swift and vigorous response" if the Hague-based tribunal investigates Americans and Israelis for war crimes.
Trump issued the warning on Friday after ICC judges rejected a request by the court's prosecutor to probe atrocities committed by US forces in Afghanistan.
Trump hailed the unusual ruling as a "major international victory," claiming that the Americans and Israelis should be immune from ICC prosecution.
"Since the creation of the ICC, the United States has consistently declined to join the court because of its broad, unaccountable prosecutorial powers; the threat it poses to American national sovereignty; and other deficiencies that render it illegitimate," he said in a statement.
"Any attempt to target American, Israeli, or allied personnel for prosecution will be met with a swift and vigorous response," he added.
However, Amnesty International denounced the ICC's decision as a "shocking abandonment of victims" that would "weaken the court's already questionable credibility."
Biraj Patnaik, South Asia Director at Amnesty International, stressed that the ruling would be seen as a "craven capitulation to Washington's bullying."
Last month, US Secretary of State Mike Pompeo announced that the US would withdraw or revoke visas for ICC staff who prosecute American troops in Afghanistan as well as their allied personnel, including Israelis.
He also warned about potential economic sanctions "if the ICC does not change its course."
US National Security Adviser John Bolton had also threatened to revoke the visas of ICC personnel if the court pursued charges against members of the US military over crimes in Afghanistan.
Earlier this month, the US revoked ICC prosecutor Fatou Bensouda's visa as part of a crackdown on the ICC.
The ICC has been examining abuses committed by all parties in the Afghan war for more than a decade.
In November 2017, Bensouda sought authorization to open an inquiry into war crimes and crimes against humanity in Afghanistan, including in states where the CIA held prisoners.
The ICC is also investigating Israeli atrocities in the West Bank and Gaza, including the demolition of Palestinian property and eviction of the Palestinians from the West Bank and East Jerusalem al-Quds.
Both the US and Israel are not ICC members.
https://www.presstv.com/Detail/2019/04/13/593293/ICC-Donald-Trump-Israel
--------
Muslim Man Takes Care of Hindu Temple in Bengaluru, India, Setting An Example Of Communal Harmony
April 12, 2019
A 27-year-old Muslim man in India's Bengaluru is being praised for setting an example of communal harmony. The man has been taking care of a temple in Rajaji Nagar for the past three years, ahead of the festival of Ram Navami.
Saddam Hussain, the temple's caretaker, cleans up the premises and said that he finds peace of mind while working in the temple. "I am a Muslim by birth and have been working in the temple from last three years. I feel good and it gives peace of mind. I take care of complete cleaning. No one has ever objected to it," said Hussain.
According to reports in Times Now, as part of the festival, the temple chariot is taken out for a rally across Rajaji Nagar every year and Hussein is responsible for keeping it serviced and maintained.
"He has been working with me at my shop for over 18 years. After I was elected as an office bearer of the temple committee, I gave him the responsibility of cleaning the temple. He comes every year before Ram Navami and cleans the temple," Venkatesh Babu, an office-bearer in the temple said.
Hussain has been appreciated by thousands of devotees who throng the temple.
"There are no issues between Hindus and Muslims in this region. We all live in complete harmony. This all is a political issue but common man lives cordially," added Venkatesh.
https://www.khaleejtimes.com/international/india/this-27-year-old-muslim-man-takes-care-of-hindu-temple-in-india
--------
Pakistan
Pakistan launches guidelines to implement UNSC 1267 Sanctions in country
Apr 12, 2019
ISLAMABAD: Amidst intense global pressure to rein in terror outfits, Pakistan on Friday launched guidelines for implementing the UNSC 1267 Sanctions targeting UN-proscribed individuals and entities in the country.
The guidelines will help meet international obligations against people and groups targeted by the UN, the Foreign Office (FO) said.
Foreign Secretary Tehmina Janjua said Pakistan had to be mindful of fulfilling its international legal obligations, including the implementation of the United Nations Security Council Sanctions.
She expressed hope that the guidelines would assist all stakeholders in better discharging their responsibilities for the effective implementation of the UN Sanctions.
The guidelines were prepared by the National Committee for overseeing implementation of Sanctions against individuals and entities designated by the UN Security Council 1267 Al Qaida/Da'esh Sanctions regime and Security Council 1988 (Taliban Sanctions regime), the FO said.
The guidelines have been formulated in consultation with stakeholders and in compliance with international standards especially the requirements of the UNSC 1267 Sanctions Committee and the Financial Action Task Force (FATF).
Pakistan is under intense global pressure to rein in terrorist outfits operating from its soil after the Pulwama attack.
Tensions between India and Pakistan escalated after a suicide bomber of Pakistan-based terror group Jaish-e-Mohammed (JeM) killed 40 CRPF personnel in Jammu and Kashmir's Pulwama district in February 14.
India launched a counter-terror operation in Balakot. The next day, Pakistan Air Force retaliated and downed a MiG-21 in an aerial combat and captured its pilot, who was handed over to India on March 1.
https://timesofindia.indiatimes.com/world/pakistan/pakistan-launches-guidelines-to-implement-unsc-1267-sanctions-in-country/articleshow/68853110.cms
--------
Report sought on action against banned outfits in Balochistan
Iftikhar A. Khan
April 13, 2019
ISLAMABAD: A Senate panel on Friday sought a report from the interior ministry on the action taken so far against terrorists and banned outfits involved in Hazara killings.
The Senate Standing Committee on Interior met with Senator Rehman Malik in the chair, where members voiced serious concern over the Quetta blast and continued killings of members of the Hazara community.
It was decided that the next meeting would be held in Quetta, specifically on the agenda of the Hazara killings.
The interior ministry was directed to submit a comprehensive report on the Quetta blast and also apprise the committee of the action so far taken against the terrorists and banned outfits involved in Hazara killings. The panel also sought a report about the release of activists of banned outfits in the near past in Balochistan.
Senator Malik said the involvement of the hostile neighbour and other external forces in terrorist activities in Balochistan could not be ruled out as such blasts appeared to be a conspiracy to incite sectarian clashes and destabilise Pakistan.
He said that the Shia Hazara community of Balochistan had been targeted for a long time and it was time to bring an end to their killings by taking fierce action against terrorists and banned outfits. He said that he had already called a special meeting for briefing on implementation of the National Action Plan (NAP). However, at the request of the interior ministry, some more time was given to them for the briefing.
The meeting was attended among others by Senators Azam Khan Swati, Dr Shahzad Wasim, Kalsoom Parveen, Mohammad Javed Abbasi, Asad Ali Khan Junejo, Kauda Babar and Sardar Shafique Tareen.
The additional interior secretary, chairman and DG of Nadra, Sindh police DIG, DPO of Haripur and senior officials from the law and justice ministry also attended the meeting.
Members of the committee, while strongly condemning the Quetta blast, urged the interior ministry to implement NAP in letter and spirit. Senator Sardar Shafiq Tareen said that it was not for the first time that the Hazara community had been targeted, but noted that they were under continuous attacks by the terrorists. "It is shocking that the people of the Hazara community are being escorted by police and FC to the markets and other place. Till when it will go like this," he asked.
Nadra offices overseas
The committee also considered and discussed in detail the matter of opening Nadra offices in Mali, Zimbabwe, Zambia and Mozambique. Senator Rehman Malik directed the interior ministry to order opening of Nadra offices in these countries so that overseas Pakistanis could be facilitated to the maximum. He said that he had received dozens of complaints from Pakistanis residing in Mali, Zimbabwe, Zambia and Mozambique that they were facing unavoidable problems in getting CNIC and registering their children. He said Pakistanis living there had to travel to other adjacent countries for getting their documents.
The Nadra chairman briefed the committee on the feasibility of opening the offices in these countries.
The committee chairman ordered deputing an employee each in embassies to facilitate Pakistani nationals there.
The Nadra chairman assured the committee that the online system would be made easier so that applicants could apply online.
The committee sought opening of more Nadra and passport offices in Balochistan.
Full report at:
https://www.dawn.com/news/1475782/report-sought-on-action-against-banned-outfits-in-balochistan
--------
UK police complete probe into Altaf's 2016 speech
Mohammad Asghar
April 13, 2019
RAWALPINDI: A 12-member British Metropolitan Police team completed on Friday its investigation into the 2016 controversial speech case of MQM-London leader Altaf Hussain.
The British police team came to Pakistan on Sunday to collect evidence and interview the witnesses of the case.
A six-member team of Sindh police officials appeared before the British police's Counter Terrorism Command (S015) as witness and recorded their statements.
The Sindh police officials were called to Islamabad by the Federal Investigation Agency's counterterrorism wing.
The police witnesses who appeared before the British investigators include Abdul Ghaffar, a sub-inspector at the Senior Superintendent of Police (SSP East), Karachi office; Inspector Hameed Khan from the SSP Investigation Officer, South-I Karachi; Deputy Superintendent of Police (DSP) Saddar, Kanwar Asif; Saddar Station House Officer Inspector Peer Shabbir Haider; Saddar police constable Rao Rashid and Constable Qamar Zaman of Artillery Maidan Police Station.
FIA Counter Terrorism Wing (CTW) Director Dr Mazhar ul Haq Kakakhail coordinated with the British police team in completion of their investigation into the case.
The Sindh police officials interviewed by the British police experts were posted in Sadar Circle, Karachi at the time when the MQM leader had made his anti-Pakistan speech in August 2016.
After the MQM leader's speech, the MQM supporters allegedly attacked media outlets near the Karachi Press Club, triggering more violence, including burning of vehicles.
Official sources said the aim of the British CTC team was to collect evidence in the form of a written testimony from key witnesses to the events which took place on August 22, 2016.
Full report at:
https://www.dawn.com/news/1475808/uk-police-complete-probe-into-altafs-2016-speech
--------
'Militant held for bank heists, murders' claims he joined Jundullah to fight ethnic party
Imtiaz Ali
April 13, 2019
KARACHI: A suspected militant linked with banned Jundullah claimed that he had joined the militant outfit because of the workers of an "ethnic" party, who collected protection money from area shopkeepers and had beaten him up several times, it emerged on Friday.
The suspect, Mohammad Ishaq alias Gul, was arrested at the Cantonment Railway Station a day before by the Counter-Terrorism Department.
CTD official Raja Umar Khattab said that the suspect also had religious tendencies as he was one of the neighbours of Atta Rehman alias Naeem Bukhari, the chief of banned Lashkar-i-Jhangvi.
He was arrested for his alleged involvement in bank robberies, kidnapping for ransom and killings of policemen.
According to the contents of an initial probe reviewed by Dawn on Friday, the suspect was born in Paposh Nagar in 1986 and got education up to fourth standard. Later, he started working at a mechanic shop owned by his brother at age 10 and worked there for 12-14 years.
The militant told the investigators that at that time workers of an ethnic party allegedly extracted extortion and they used to beat ordinary people and shopkeepers in Paposh Nagar.
They had also beaten him up three or four times. He said he asked a friend that he could fight against the ethnic activists if he got support from any other organisation.
Trained in Waziristan
He said his friend arranged a meeting between him and Jundullah militant Qasim Toori in 2006. Toori initially hired him as a driver and subsequently sent him to Waziristan for militant training.
He told the interrogators he abandoned the work at the shop. He was married at his native village in Khyber Pakhtunkhwa and started driving a school van there.
He along with three other citizens of Karachi and others mostly hailing from Punjab got training of operating light machine-gun, Kalashnikov, pistol, use of hand grenade for around 20-25 days. Later, Toori brought him back to Karachi.
The militant told the investigators that he along with other members of the outfit were in 2006 arrested by police in Dera Ismail Khan for a scuffle during snap-checking of their vehicle and he had to spend a month in prison. He was released after the policemen with whom he fought with "pardoned" him.
He said as soon as he got out of prison he saw his brother waiting there. He started slapping him and forcibly brought him to Karachi, he added.
Al Qaeda man behind Jundullah
Mr Khattab believed that Al Qaeda leader Hamza Jofi had formed Jundullah in 2003-4 to carry out terrorist attacks in Karachi alone.
Later, they carried out a deadly attack on the Gulistan-i-Jauhar police station where they killed policemen to take their weapons.
"Jundullah was the first militant outfit which used mobile phones to detonate bombs," he said. This outfit had also carried out twin blasts in the city outside a hotel and a culture centre. They had also prepared a vehicle and planted in it 500 litres of a chemical to attack the US consulate general, but it malfunctioned.
The CTD official said that after the attack on the then Karachi corps commander, several members of the outfit were arrested. Subsequently, a new team of Jundullah was established which started carrying out bank robberies and kidnappings for ransom to generate funds.
In one such incident, 12 militants travelling in three cars had looted banks in Saudabad where they gunned down a policeman and a passer-by.
The CTD official pointed out that in 2010 several members of the outfit were arrested for their involvement in the Ashura blast, a bomb attack on the Chehlum procession at the Nursery flyover and a blast outside the Jinnah Postgraduate Medical Centre. However, other Jundullah militants got some of their accomplices released from the City Courts after an encounter.
Khattab believed that after the killing of Hamza Jofi in a drone attack in 2012, the decline of Jundullah had begun and after military courts sentenced Atta Rehman and Qasim Toori to death, the outfit had almost become defunct in Karachi.
Full report at:
https://www.dawn.com/news/1475712/militant-held-for-bank-heists-murders-claims-he-joined-jundullah-to-fight-ethnic-party
--------
Two killed, 10 injured in Chaman IED blast
APRIL 13, 2019
At least two people were killed and 10 others wounded after a blast in Chaman on Friday, police said.
Initial reports suggested that a powerful explosion took place at Palestine Chowk of Mall Road in Chaman.
Unidentified militants had planted an improvised explosive device (IED) on a motorcycle parked on the road. The blast reportedly occurred when Frontier Corps (FC) troops were passing through.
The injured were rushed to the District Headquarters Hospital, where an emergency was imposed. Some of the injured were admitted in a critical condition, according to rescue sources.
Police sources said several shops and motorcycles parked in the area were damaged in the explosion. Mall Road and Trench Road were closed for all traffic following the incident. Police and FC cordoned off the whole area. A fire brigade unit successfully doused the fire erupted following the explosion.
Full report at:
https://dailytimes.com.pk/376177/two-killed-10-injured-in-chaman-ied-blast/
--------
Arab World
Reports: Tens of Children Die in Syria's Al-Hawl Refugee Camp
Apr 12, 2019
At least 82 children have died in al-Hawl refugee camp over the past 20 days due to the worsening of hygienic and healthcare conditions as well as shortage of medicine and foodstuff, the Arabic-language media sources reported.
The sources said that over 240 children have died in al-Hawl Camp since the beginning of 2019.
Earlier, the London-based Syrian Observatory of Human Rights (SOHR) reported that over 73,000 people are living in critical conditions.
In a relevant development earlier this week, Head of the Russian reconciliation center in Syria, Major General Viktor Kupchishin said that between 10 and 20 people, many of them children, die each day in al-Hawl refugee camp.
"According to a female refugee, who managed to flee the Al-Hawl camp on the territory controlled by the US-led coalition, the humanitarian situation in the camp is catastrophic. Between 10 and 20 people die each day, including children," he stated.
"In the past week, due to the lack of medicines, food and unbearable living conditions, seven children died in the camp. The overall number of children, who died in the Al Hawl camp, has risen to 235," he added.
Kupchishin urged international organizations to take measures and alleviate the suffering of people in the camp, one of the biggest in Syrian regions East of the Euphrates river.
Kupchishin pointed out that in order to prevent a humanitarian catastrophe, the Syrian government had provided security guarantees to refugees leaving the US-controlled Tanf zone and set up the Jleb mobile checkpoint. Bus convoys have been sent there to take refugees to their places of permanent residence.
"The Syrian government offers security guarantees to temporarily displaced persons and a simplified procedure to restore their identity documents. Temporary shelters have been prepared," he said.
http://en.farsnews.com/newstext.aspx?nn=13980123000351
--------
Syria's air defences intercept missiles near city of Hama
13 April 2019
Israeli planes targeted a military position near the province of Hama in Syria on Saturday, but Syrian air defenses intercepted and downed some of the rockets, Syrian state television said on Saturday.
Citing military sources, SANA news agency and Syrian state television said that Israeli aircraft had targeted "one of our military positions towards the city of Masyaf."
"The enemy missiles were dealt with and some of them were shot down before reaching their target, resulting in the damage of a few buildings and the injury of three fighters," SANA added.
Full report at:
https://english.alarabiya.net/en/News/middle-east/2019/04/13/Syria-s-air-defenses-intercept-missiles-near-city-of-Hama.html
--------
Teenage brides trapped between Daesh and its victors
April 12, 2019
AL-HOL CAMP/SYRIA: Rawan Aboud tried to escape Daesh after the death of her abusive first husband, a militant killed fighting for the group. She was jailed and forced to marry another fighter. When he died, she finally fled.
Now she is interned with fanatic supporters of the violent militant group she has sought refuge from since the age of 13.
"I married age 12," said the Syrian girl, now 18. "My husband then brought me to Raqqa. He beat me and said I was an apostate for trying to leave."
Thousands of women, especially foreigners who flocked from Europe and North African countries, willingly joined Daesh.
Some remain ardent supporters of its ideology and live in camps they fled to in eastern Syria which are under the control of the US-backed forces that drove Daesh from its final piece of territory last month.
But many like Aboud, married off by conservative Muslim families in Syria, Iraq and Lebanon, had no choice.
Aboud, several Syrians and a Lebanese woman also wed as a child to a man who joined Daesh are now detained alongside its die-hard adherents in a guarded section of Al-Hol camp.
Regarded as suspect by Kurdish-led forces that helped defeat the militants and persecuted by women they are locked up with, they fear they will rot in detention or face death at the hands of their extreme fellow detainees.
Aboud has spent three months at Al-Hol along with more than 60,000 people who fled the battle for Baghouz, the final shred of populated territory that Daesh had held until its defeat there last month.
In an interview with Reuters this month, she wore a green coat, fingerless gloves and eye make-up behind her veil, which she only wears to avoid drawing the attention of Daesh supporters.
She said her husbands were dead, not martyred, as slain militants are usually described by supporters.
"My first husband was killed fighting three years ago, thank God."
Aboud tried to flee Daesh territory and was jailed in its Raqqa stronghold. When the US coalition began bombing the city, her nine-month-old daughter was killed.
Militants moved her and other women from town to town as they retreated, and married her to another fighter who also killed several months ago. She then escaped with her other daughter, now four. They face an uncertain future.
"I want to go to my family in Idlib. But right now I'd settle for just another part of the camp, away from the foreigners. Somewhere I can use a phone," she said.
The security forces that guard Al-Hol have denied her requests to move, she said. "They keep saying tomorrow and asking, why did you marry" a Daesh fighter.
The Kurdish-led Syrian Democratic Forces (SDF) that run the camp did not immediately respond to a request for comment on her detention.
"Because I fled and how I dress, the other women call me an infidel. They throw stones at me. When I queue for water, they say this isn't a line for Syrians."
Amal Susi, the Lebanese woman in the same section of the camp, complained of similar treatment and feared never returning home.
The 20-year-old surrendered herself and her two children in 2017 to the SDF after her husband was killed in Raqqa. Months later she was returned to Daesh territory in a prisoner swap, she said. "It was back to zero," she said.
Her husband took her as a teenager to Syria to live in Daesh's self-declared rule.
Susi is also waiting to be transferred to another section of the camp.
The SDF is struggling to cope with the number of suspected militants and supporters languishing in detention centers and camps while some Western countries refuse to allow their citizens to return.
Full report at:
http://www.arabnews.com/node/1481681/middle-east
--------
Yazidis: Victims of Islamic State's Legacy of Terror
April 12, 2019
In 2014, when Badeeah Hassan "Baazi" Ahmed was kidnapped by Islamic State terrorists from the village of Kocho in Iraq's Sinjar province and taken to Aleppo, Syria, she pretended her baby nephew was her son.
The Yazidi teenager's status as a "married woman" may have initially protected her in IS's sex slave market.
"They called us by name in the evening. They would tell the girls to be prepared. Someone would come in the morning and take them. They took all of them, but left my nephew and me," Ahmed said.
When she was eventually taken by an American named Abu Abdullah al-Ameriki, she was initially expected to cook and clean.
The Yazidis — a Kurdish-speaking minority with its own non-Muslim faith — play an outsized role in IS's legacy of terror. Ahmed's village suffered greatly.
"Evidence suggests that hundreds of villagers from Kojo [Kocho] — men, adolescent boys and women perceived to be past childbearing age — were murdered by ISIL fighters in August 2014, while more than 700 women and children were abducted," according to the United Nations.
Working with the U.N., the Iraqi government began exhuming the first mass grave in Kocho on March 15. Sixty-nine mass graves have been discovered in Sinjar province, where 600,000 Yazidis lived before IS swept through.
But the numbers don't really tell the horrific story the way Ahmed and other Kocho survivors can. Their devastating personal histories are contained in the VOA documentary Hell and Hope.
They are among the relatively few villagers who escaped from IS, and are part of an even smaller group that was taken to Germany in a program called Air Bridge Iraq.
The home ministry of the German state of Baden Wurttemberg brought more than 1,100 Iraqi survivors to Germany, hoping to give them, including some Yazidis, a better life.
"We took only those that couldn't be helped there. If they were in good condition or if their family structure was intact, then of course we said, 'Stay there.' We only took the most severe cases," Dr. Michael Blume, the state's Minorities Division director, told documentary maker Amish Srivastava.
Ahmed's four brothers were killed by IS on the day she was kidnapped, including the father of her nephew, Evin. Her mother placed Evin in Ahmed's care just before being taken away by IS. Her fate is unknown.
Al-Ameriki
Ahmed learned from al-Ameriki that he had been a teacher in the United States. Though he claimed not to have a family, one day she caught him talking to his American wife via Skype.
His family did not stop him from announcing he was going to marry Ahmed.
"I cried and refused. I told him I had a son, and I was married, and this should not happen," Ahmed said. "He told me all the girls would get married, except for the pregnant ones."
When Ahmed claimed to be pregnant, al-Ameriki took her to a doctor.
"After a few days, he told me that I lied. He took me to his room by force and raped me."
A first escape attempt failed when Ahmed and Evin inadvertently sought help at an IS headquarters. They were returned to al-Ameriki, who beat them and separated them for a week. But then, another opportunity arose.
"One evening, he came and asked if we needed anything because he was going to fight a war in Kobani. Later, we broke the door with a hammer and waited until morning, when we went out," Ahmed said.
Dressed in black, they found a pay phone and called Ahmed's relatives, who sent someone to get them.
Five years later in Turbingen, Germany, Ahmed has only recently stopped seeing a psychiatrist every week.
'We will not forget'
Hell and Hope features several stories as heart-rending as Ahmed's.
Salwa Khalaf struggled with suicide:
"They came from time to time to buy some of the girls. Every time they came, we knew that some of our sisters or friends would be taken. ... We held each other's hands, but they separated our hands by hitting us with wood sticks and pulling our hair."
Salina Haji Bashar was forcibly separated from her sister, Lamiya:
"The man who chose Lamiya refused to take me. They left me there. I cried and ran after her, but it did not help. They took her. Lamiya was doing the same, saying, 'I am not leaving without [my] sister.' But they dragged her by her hair [and] closed the door."
Jilan Ismail was 12 when she was kidnapped:
"The sheikh took me to his family for about a week. Whenever he wanted, he came and did what he wanted to do with me in front of his family."
Poignantly, she added, "What he took from me, I am sure I will not get it back."
Yet for these girls, a good life is still possible. They are finding their way in Germany.
Full report at:
https://www.voanews.com/a/yazidis-victims-of-islamic-state-s-legacy-of-terror/4872707.html
--------
South Asia
Taliban's shadow governor for Helmand succumbs to injuries sustained in an airstrike
13 Apr 2019
The Taliban shadow governor for southern Helmand province Sharafuddin Taqi has succumbed to injuries which he had sustained in an airstrike conducted in Musqa Qala district few days back.
The provincial government media office in a statement said credible intelligence information confirm that Sharafuddin Taqi has succumbed to his injuries.
The statement further added Taqi was wounded in an airstrike which was conducted on 1st of April close to Musa Qala market.
At least five militants including the media in charge of the group Hafiz Rashid were killed during the same airstrike, the statement said, adding that Taliban's shadow governor for Kandahar Mohammadzai is currently leading the activities of the group as shadow governor for Helmand.
The anti-government armed militants including Taliban have not commented regarding the death of the group's shadow governor for Helmand so far.
https://www.khaama.com/talibans-shadow-governor-for-helmand-succumbs-to-injuries-sustained-in-an-airstrike-03700/
--------
Major Taliban attack repulsed in Shirzad district of Nangarhar
12 Apr 2019
A major Taliban attack in Shirzad district of Nangarhar province was repulsed late on Friday night leaving at least 27 militants dead, the provincial government announced Saturday.
According to a statement released by media office of Nangarhar, at least 32 militants were also wounded during the clash.
The statement further added that two security personnel also lost their lives in the attack and eight others sustained injuries.
The Ministry of Defense announced late on Friday that heavy clashes are underway between security forces and anti-government armed militants close to Shirzad district administrative compound.
According to a statement released by Ministry of Defense, Taliban militants launched sporadic attacks close to Shirzad district compound at around 7pm local time.
The statement further added that both security forces and Taliban militants have suffered casualties during the clashes.
the Ministry of Defense also added that the armed forces have launched artillery strikes to repulse the attack and clashes between the two sides are still underway.
Reports received from the area suggest that Taliban militants have detonated two Vehicle-borne Improvised Explosive Devices close to Shirzad district compound.
Full report at:
https://www.khaama.com/heavy-clashes-underway-as-taliban-attack-shirzad-district-compound-in-nangarhar-03699/
--------
Taliban's spring offensive announcement has 'propagandist aspect': MoD
12 Apr 2019
The Ministry of Defense of Afghanistan has said the announcement of spring offensive by Taliban group has 'propagandist aspect' emphasizing that the group is attempting to boost the morale of its fighters in a false way after suffering heavy losses and casualties during the recent clashes.
According to a statement released by Ministry of Defense, the Taliban group is relying on propagandas in a bid to boost the morale of its fighters after facing defeats in Arghanjkhwa of Badakhshan, Sancharak of Sar-e-Pul, Moqor of Ghazni, Aab Kamari and Bala Murghab districts of Badghis.
The statement further added that the Afghan armed forces have better fighting capabilities, the Afghan Air Force has been equipped and strengthened in an unprecedented way and have capabilities to execute targeted operations, the size of Afghan police special forces, Afghan intelligence, and Afghan commandos have been doubled and are equipped with developed and sophisticated technologies, and coordination among armed forces has increased in unprecedented way which have resulted into superiority of the Afghan armed forces against the enemies in the battlefield.
This comes as the Taliban militants group announced the launch of Al-Fath spring offensive earlier today.
The group issued a statement claiming that the new spring offensive has been launched considering the political and military presence of foreigners in Afghanistan.
The statement further added that the offensive has been launched in response to Khalid spring offensive which was announced by Taliban at the start of the new Afghan year.
The announcement by Taliban was made amid ongoing efforts to find a political settlement to the ongoing war in Afghanistan.
Full report at:
https://www.khaama.com/talibans-spring-offensive-announcement-has-propagandist-aspect-mod-03698/
--------
Mideast
Mainstream Jewish groups urge Trump to curb Israel's West Bank annexation
Apr 12, 2019
Nine Jewish groups have urged US President Donald Trump to curb the annexation by the Tel Aviv regime of the occupied West Bank, a Palestinian territory sought by his close ally Israeli Prime Minister Benjamin Netanyahu.
In an unprecedented letter written to Trump, the Jewish groups, which included five associated with the Reform and Conservative movements, said, "We respectfully request that you affirm long-standing bipartisan consensus that the two-state solution is the essential path to an Israel existing alongside a future state of Palestine in peace and security."
It also urged Trump to "declare that the United States will not support any Israeli proposals to annex the West Bank, in whole or in part."
A few days before Israel's April 9 election, Netanyahu said he would not shy away from expanding Israel's illegal annexations to cover the West Bank, a land currently accommodated by settlers which Israeli regime occupied in the 1967 Middle East war.
Washington has already recognized Israel's annexation of Syria's Golan Heights.
The Jewish groups warned that the "electoral pledge" will lead to "greater conflict between Israelis and Palestinians, severely undermine, if not entirely eradicate, the successful security coordination" between the Israeli regime and the Palestinian Authority.
The letter, in which mainstream Jewish groups are asking a US president to take steps to restrain an Israeli prime minister, is reportedly unusual, if not unprecedented.
The document, which was released early Friday to the Jewish Telegraphic Agency, also warned that the pledge will "galvanize efforts such as the Boycott, Divestment, and Sanctions movement that are intended to isolate and delegitimize Israel."
The Jewish groups noted that Netanyahu's decision would "create intense divisions" in the US and would undermine support for Israel.
The warning, which comes from the leadership of the two largest religious streams in the US, with a combined membership that would constitute an overwhelming majority of synagogue-going Jewish Americans, is seen as so important.
A spokesman for Palestinian President Mahmoud Abbas said Netanyahu's comments, which many believe have been made to change the tide in his favor in the election that he won, would not affect the illegal nature of the Israeli settlements in the West Bank. Some 400,000 settlers currently live there.
"Any measures and any announcements will not change the facts. Settlements are illegal and they will be removed," said Nabil Abu Rdainah.
https://www.presstv.com/Detail/2019/04/12/593269/Jews-urge-Trump-curb-West-Bank-annexation
--------
Israeli soldiers kill Gaza teenager during border protest
12 April 2019
Israeli troops shot dead a Palestinian teenager taking part in protests along the Gaza border on Friday, Palestinian health officials said, the first fatality since Gazans marked the one-year anniversary of the weekly demonstrations in March.
The Israeli military said about 7,400 Palestinians massed along the frontier, some throwing rocks, and that there were several attempts to approach the fence into Israel.
The Palestinian Health Ministry said a 15-year-old boy died after being shot by Israeli gunfire. An Israeli army spokesman said the troops were responding with riot dispersal means.
Tensions rose after a rocket fired from Gaza wounded seven Israelis north of Tel Aviv on March 25. Israel mounted a wave of air strikes following that attack on targets it said belonged to Hamas, the Islamist group which rules the coastal enclave.
The cross-border violence immediately played into Israel's election campaign, which concluded earlier this week with Prime Minister Benjamin Netanyahu heading toward a record fifth term in office.
But Egyptian mediators intervened to avoid further escalation by persuading Israel to lift restrictions on the movement of goods and people in and out of Gaza and expand the breadth of Mediterranean waters where Gazans can fish.
The protesters are demanding an end to a blockade imposed on Gaza by Israel and Egypt, and want Palestinians to have the right to return to land from which their families fled or were forced to flee during Israel's founding in 1948.
Israel rejects any such return, saying it would eliminate its Jewish majority.
More than 200 Gazans have been killed by Israeli troops since the 'Great March of Return' started on March 30 last year, according to Gaza health officials. An Israeli soldier was also killed by a Palestinian sniper.
Full report at:
https://english.alarabiya.net/en/News/middle-east/2019/04/12/Israeli-soldiers-kill-Gaza-teenager-during-border-protest.html
--------
US denies entry to Palestinian campaigner Omar Barghouti for Israel boycott
12 April 2019
The United States has denied entry to a prominent Palestinian activist who urges boycotting Israel, as a US official on Thursday equated his pressure campaign with anti-Semitism.
Omar Barghouti, a co-founder of the Boycott, Divestment and Sanctions movement, was not allowed to board a plane Wednesday for a speaking tour that was to include Harvard University, New York University and a left-leaning synagogue in Chicago.
"Israel is not merely continuing its decades-old system of military occupation, apartheid, and ethnic cleansing," Barghouti said in a statement. "It is increasingly outsourcing its outrageous, McCarthyite repression to the US and to xenophobic, far-right cohorts across the world," he said.
Barghouti added he had also planned during the trip to attend his US-based daughter's wedding, saying: "I am hurt, but I am not deterred."
The Arab American Institute said that Barghouti had a US visa valid through January 2021 but was informed by airline staff at Tel Aviv's Ben Gurion airport that US authorities had issued instructions denying him the right to travel.
State Department spokesman Robert Palladino said that the United States does not explain individual visa decisions.
But without explaining why Barghouti was rejected, Palladino said: "US law does not authorize the refusal of visas based solely on political statements or views if those statements or views would be legal in the United States."
The BDS movement has infuriated Israel by calling for economic, cultural and academic boycotts of the Jewish state, including not buying products from Jewish settlements in the West Bank, as a way to press Israel to address the plight of Palestinians under occupation.
Elan Carr, the new US envoy to combat anti-Semitism, also said he could not discuss Barghouti's case but branded the BDS movement anti-Semitic.
"An individual has a right to buy or not buy what they please. However, if there is an organized movement to economically strangle the state of Israel, that is anti-Semitic," he told reporters.
While agreeing that criticism of any nation's policies was "entirely proper" in a democracy, Carr said: "If Israel is criticized in a way that no other country in a similar circumstance is criticized, yes, that is anti-Semitism."
President Donald Trump has strongly backed Israel's Prime Minister Benjamin Netanyahu and has accused his Democratic rivals of anti-Semitism for distancing themselves from the right-wing leader.
Full report at:
https://english.alarabiya.net/en/News/middle-east/2019/04/12/US-denies-entry-to-Palestinian-campaigner-Omar-Barghouti-for-Israel-boycott.html
--------
Israel has no sovereignty over Golan, Lebanon's Auon tells US delegation
Apr 12, 2019
Lebanese President Michel Aoun says his country does not recognize Israeli "sovereignty" over the occupied Golan Heights.
During a meeting with a US congressional delegation at the Presidential Palace in Baabda on Friday, Aoun said Beirut's stance regarding the status of Golan is absolute rejection of Israeli "sovereignty" over the territory, especially as part of it includes the Shebaa Farms and Kafrshuba hills.
Earlier, the Lebanese president had condemned US President Donald Trump's recognition of Syria's Golan Heights as "sovereign Israeli territory," saying the measure was in blatant violation of international law.
"This threatens not only the sovereignty of a brotherly country and brotherly nation, but also the sovereignty of the Lebanese state, which possesses land gradually annexed by Israel, particularly in the Shebaa Farms, Kafrshuba hills and the northern section of Ghajar [village]," Aoun said at a joint press conference with his Bulgarian counterpart Rumen Radev in Beirut on April 9.
On March 25, Trumped signed a proclamation, formally recognizing Israel's "sovereignty" over Golan. The announcement came as Israeli Prime Minister Benjamin Netanyahu visited the White House.
The Syrian Ministry of Foreign Affairs and Expatriates, in a statement, called the US decision a "blatant attack on the sovereignty and territorial integrity" of Syria.
"The liberation of the Golan by all available means and its return to the Syrian motherland is an inalienable right," according to the statement carried by Syria's official news agency SANA, which added, "The decision ... makes the United States the main enemy of the Arabs."
The Arab League condemned the move, saying that "Trump's recognition does not change the area's status."
Turkish Foreign Minister Mevlut Cavusoglu said it was impossible for Turkey to accept the US decision.
Full report at:
https://www.presstv.com/Detail/2019/04/12/593243/Lebanon-rejects-Israels-sovereignty-over-occupied-Golan-Heights-Aoun
--------
Africa
Sudan Military Council to start dialogue with political groups
12 April 2019
The solution to Sudan's crisis will come from protesters and not the military, the head of the political committee of the transitional Military Council that overthrew President Omar al-Bashir said on Friday.
In a press conference, Lieutenant General Omar Zeinalabdin, the head of the political committee of the transitional Military Council said: ''We are the protectors of the demands of the people and that is by consensus from the political entities.''
He added: ''We are not greedy for power.''
He said the Military Council plans to hold a dialogue with the protesters who have been camped out outside the ministry of defense.
Zeinalabdin said that those who killed Sudanese protesters will be put on trial.
He also said that the council ''won't force anything on the people,'' and that it wants to create an atmosphere for dialogue.
Zeinalabdin added that the council welcomes dialogue with armed groups to put an end to the crisis.
The Military Council expects a transition period it announced on Thursday to be two years at most, and said it can be as short as one month if it is managed ''without chaos,'' said Zeinalabdin.
Zeinalabdin said that the former ruling National Congress Party of Sudan's ousted President Omar al-Bashir will be allowed to compete in planned elections.
But he said that the Military Council will not extradite al-Bashir, but he could be tried in Sudan.
"We, as a Military Council in our term, will not hand the president over abroad. We may try him, but we will not hand him over," said Omar Zeinalabdin.
The International Criminal Court has issued an arrest warrant for al-Bashir for alleged war crimes.
The head of the transitional Military Council, Defense Minister Mohammed Ahmed Awad Ibn Auf, said on Thursday when announcing the overthrow of Omar al-Bashir that the council would lead a two-year transition before holding elections.
https://english.alarabiya.net/en/News/middle-east/2019/04/12/Sudan-military-council-to-start-dialogue-with-political-groups.html
--------
Sudan defence minister steps down as head of transitional military council
12 April 2019
Sudan's Defense Minister Awad Ibn Auf said on Friday that he is stepping down as head of the Country's transitional military council, a day after former president Omar al-Bashir was overthrown in a coup.
Lieutenant General Abdel Fattah Abdelrahman Burhan will be the new head of the transitional military council, Ibn Auf said in a speech broadcast on state television on Friday.
Ibn Auf said: "I, the head of the military council, announce I am giving up the post," he said, adding he took the decision to preserve the unity of the armed forces.
He also said Chief of Staff Kamal Abdelmarouf al-Mahi was relieved of his position as deputy head of the transitional military council.
Tens of thousands of Sudanese protesters have been rallying in front of the military headquarters in Khartoum, against the military takeover of power after ousting longtime ruler Omar al-Bashir on Thursday.
The Sudanese group spearheading a nationwide protest movement described a decision by the head of a newly formed military council to step down on Friday as a "victory" for the people.
"The stepping down of General Awad Ibn Ouf is a victory of the people's will," the Sudanese Professionals Association said.
Jubilation erupted across the capital in response to the resignation.
Ibn Auf was sworn in as de facto ruler late Thursday after leading the ouster of al-Bashir following months of protests.
Ibn Auf had been defense minister since 2015 before al-Bashir promoted him to first vice president in February as protests against him intensified.
16 dead in Khartoum from 'live fire' in 2 days: Sudan police
Sixteen people have been killed by "live ammunition" in Khartoum during ongoing protests over the past two days, Sudan's police said on Friday.
"Sixteen people died and 20 were wounded by live ammunition" as the capital saw massive gatherings during the past two days, police spokesman General Hashim Abdelrahim told AFP in a text message.
Appeal for financial aid
Meanwhile, Sudan's military council appealed on Friday for financial aid from regional peers to tackle a worsening economic crisis, a day after the ouster of president al-Bashir.
Full report at:
https://english.alarabiya.net/en/News/north-africa/2019/04/12/Sudan-s-new-ruling-military-council-chief-steps-down.html
--------
East Libyan warplanes hit Tripoli government positions
12 April 2019
Eastern Libyan forces bogged down in street battles in a push to seize the capital Tripoli deployed warplanes on Friday to hit several government positions, as more civilians fled fighting.
More than 1,000 people gathered in central Tripoli to demand that Khalifa Haftar stop the advance of his Libyan National Army (LNA) on the coastal city of about 1.2 million people.
Haftar launched the campaign a week ago, in the latest conflict in a cycle of anarchy since the 2011 overthrow of Muammar Gaddafi.
But forces loyal to Prime Minister Fayez al-Serraj's internationally recognized government have so far kept them at bay, with fierce fighting round a disused former airport about 11 km from the center.
On Friday, an LNA warplane bombed the camp of a force allied to Serraj in Zuwara, west of Tripoli towards the Tunisian border, an LNA military source and residents said.
Zuwara is near the Mellitah oil and gas plant, jointly operated by Italy's ENI and state oil firm NOC, which supplies Italy with gas through the Greenstream pipeline.
An LNA warplane also attacked the only partly-functioning airport in Tripoli, Mitiga, where anti-aircraft opened fire in response, witnesses said. The extent of damage and possible casualties in both places was not clear.
A week of battles has killed 75 people - mainly fighters but also 17 civilians - and wounded another 323, according to latest UN tallies. Some 9,500 people have also been forced out of their homes.
As the sound of fighting echoed round their city, residents sought to maintain some normality on Friday.
Some families were eating in cafes next to the fish market where people were stocking up for the weekend.
"We have got used to wars. I fear only in God," said Yamim Ahmed, 20, who works in a fast food restaurant.
More than 1,000 people staged a protest in Martyrs Square in central Tripoli to demand an end to the offensive, witnesses said. The turnout was bigger than last Friday.
Full report at:
https://english.alarabiya.net/en/News/north-africa/2019/04/12/East-Libyan-warplanes-hit-Tripoli-government-positions.html
--------
About 1,500 migrants trapped in Tripoli, lives at risk - UNHCR
12 April 2019
About 1,500 refugees and migrants are trapped in detention centers by the Libyan conflict and the risks to their lives are growing by the hour, the head of the UN refugee agency said on Friday.
"These are people in the most vulnerable and dangerous of circumstances," UN High Commissioner for Refugees Filippo Grandi said in a statement, calling for them to be evacuated.
"They must be urgently brought to safety. Simply put, this is a matter of life or death."
https://english.alarabiya.net/en/News/north-africa/2019/04/12/About-1-500-migrants-trapped-in-Tripoli-lives-at-risk-UNHCR.html
--------
As fighting rages in Tripoli, WHO warns of disease outbreaks in Libya
12 April 2019
The World Health Organization (WHO) said on Friday that it feared outbreaks of infectious diseases due to dirty water and people fleeing fighting nearing Tripoli, where it has about two weeks of emergency supplies for hospitals and health facilities.
After a week of fighting, 75 people have been killed and 323 wounded, including seven civilians killed and 10 wounded, Dr. Syed Jaffar Hussain, WHO representative in Libya, told a Geneva news briefing by telephone from Tripoli.
The WHO has delivered trauma kits and medicines to hospitals, he said. Hussain added: "These supplies will last for two weeks, the acute phase."
Some 9,500 people have fled the fighting but WHO has contingency plans in case "thousands if not hundreds of thousands" are displaced in the acute phase of fighting.
Thousands flee homes
Gunfire and blasts echoed through Libya's capital on Friday, as eastern forces fought troops of the internationally recognized government in southern Tripoli suburbs, forcing thousands of civilians to flee their homes.
The Libyan National Army (LNA) of Khalifa Haftar advanced on the coastal city a week ago in the latest conflict of a cycle of anarchy since the 2011 overthrow of leader Muammar Gaddafi.
Full report at:
https://english.alarabiya.net/en/News/north-africa/2019/04/12/As-fighting-rages-in-Tripoli-WHO-warns-of-disease-outbreaks-in-Libya.html
--------
Saudis gave Libya's Haftar millions of dollars: report
Umar Farooq
12.04.2019
WASHINGTON
Just days prior to Libyan military commander Khalifa Haftar's offensive to seize Tripoli, Saudi Arabia pledged to give tens of millions of dollars for the operation, the Wall Street Journal reported Friday.
The offer came during a visit by Haftar to Saudi Arabia, one of many that the general had with foreign dignitaries in the run up to his military campaign on April 4, according to the newspaper.
During his visit, Haftar met with Saudi Crown Prince Mohammed Bin Salman, Saudi's intelligence chief and interior minister.
Libya has remained beset by turmoil since 2011, when a bloody NATO-backed uprising led to the ouster and death of Muammar Gaddafi after four decades in power.
Since then, Libya's stark political divisions have yielded two rival seats of power: a UN-backed government in Tripoli and a rival government based in the east, in the cities of Bayda and Tobruk, with Haftar in charge.
Foreign powers have cemented the role of the military commander in the future of Libya, despite the U.S. and European Union calling for Haftar to avoid military conflict.
"Haftar would not be a player today without the foreign support he has received," Wolfram Lacher, a Libya expert at the German Institute for International and Security Affairs told the Journal. "The last few months, pretty much everyone jumped on the Haftar train."
The newspaper noted while the U.S. and EU have tried to convince Haftar to avoid conflict, other governments have supported him through supplying weapons and funds, to advance his goal to consolidate power in the country.
"Foreign contacts -- even to encourage peace -- have secured the status of the Libyan warlord," the Journal said.
Haftar accepted the funds from Riyadh, the Journal said citing Saudi officials, with one telling the newspaper, "we were quite generous."
UN Secretary General Antonio Guterres visited Haftar the day after he launched the assault on Tripoli, in the hopes of convincing the commander to abandon operations and help revive a UN-led peace process.
Full report at:
https://www.aa.com.tr/en/africa/saudis-gave-libyas-haftar-millions-of-dollars-report/1450821
--------
Sudan and Algeria show why Jamal Khashoggi was right
April 12
It turns out that the ideas behind the Arab Spring still have some life left in them. As you look at the latest pictures of triumphant popular protests in Algeria and Sudan, spare a thought for the late Jamal Khashoggi. Before his brutal death at the hands of a Saudi hit squad six months ago, the exiled regime critic (and Post Global Opinions columnist) wrote eloquently about the Arab world's longing for democracy.
In his last column for The Post, he bemoaned how the lack of freedom in most of the region's countries left their citizens "either uninformed or misinformed. They are unable to adequately address, much less publicly discuss, matters that affect the region and their day-to-day lives. A state-run narrative dominates the public psyche, and while many do not believe it, a large majority of the population falls victim to this false narrative. Sadly, this situation is unlikely to change."
If Khashoggi were around now, I'm sure he would be happy to admit that he appears to have been wrong about that last part. The euphoria of the demonstrators in Khartoum and Algiers shows that he was right on the larger issue. Many citizens in North Africa and the Middle East are sick of tyranny and long to participate in the shaping of their own societies — contrary to what Khashoggi rightly called the "old racist statement" that "Arabs are not ready for democracy [because they are Arabs]." And it turns out that the popular uprisings of 2010-2011 were not the dead end some have portrayed them to be.
Today's activists know very well that the toughest part comes next. That's partly because they're building on the hard-won experience of their revolutionary predecessors around the region. In both Sudan and Algeria, the military has played a key role in deposing hated dictators. Now the pro-democracy forces there face the tough job of ensuring that the generals don't follow the example of Egypt, where the army at first helped the demonstrators to overthrow Hosni Mubarak — only to later topple a democratically elected government dominated by Islamists and institute a new military dictatorship even harsher than the old one.
Here, too, Khashoggi offered some vital insights. In his youth, he was a fervent Islamist. In his later years, having witnessed the horrors committed by extremists, he tempered his sympathy for religious activism with an awareness of the need to ensure fundamental human rights (including equality for women), freedom of expression and religious tolerance. He knew that many in the Arab world would choose Islamists when given the chance to do so in free elections, and that such a choice ought be honored and respected — yet he also criticized radical Islamists who showed only contempt for democratic values.
That's why he sang the praises of Tunisia, where the Arab Spring revolts began and where democracy has so far managed to survive, not least because the Ennahda Party, the Tunisian Islamists, opted for pragmatism and moderation (including power-sharing with their secular rivals in the first post-revolutionary governments).
Khashoggi realized that a liberal Arab future might well depend on bridging the gap between Islamists and secular democrats. "He was trying to begin a new way to bring different activists together," Ahmed Mefreh, an Egyptian lawyer and dissident, told me recently. "He talked to [members of the Muslim Brotherhood] about their problems after the Arab Spring. He gave advice to liberals about how to connect with Islamists."
Mefreh, who runs the Committee for Justice, a Geneva-based group aimed at defending human rights activists in the Middle East, explained that the Saudi royal family saw this approach as especially threatening. Those like Khashoggi, who can bring together the religious activists and the liberals, "are very dangerous to the dictatorships. Why? Because this is exactly what they're afraid of," he said. "The future belongs to people who can do that. If we can manage that in Egypt, we can change the regime."
Khashoggi was not the only one to see this as a crucial task, Mefreh told me; he was merely one of the best-known. Mefreh cited former Egyptian presidential candidate Abdel Moneim Aboul Fotouh as another example of someone working toward the same end. Aboul Fotouh, an alumnus of the Muslim Brotherhood, generated considerable respect among Egyptian voters for his efforts. Under Egyptian President Abdel Fatah al-Sissi, however, he has spent two stints in jail and has been included on a government terrorism list. There is little evidence that Aboul Fotouh has anything to do with terrorism, but it is clear that this is a man the regime clearly does not take lightly.
Full report at:
https://www.washingtonpost.com/opinions/2019/04/12/jamal-khashoggi-was-right-arabs-still-want-democracy/
--------
Southeast Asia
Is Pakatan anti-Malay rights? For Umno and PAS, this narrative will win BN Rantau
13 April 2019
RANTAU, April 13 ― Riding high on the euphoria of their twin wins in Semenyih and Cameron Highlands, Umno and PAS are working hard to achieve a "hat trick" in Rantau by focusing on the issue of Malay rights, the special status of Islam and the sovereignty of the Malay Rulers.
Since the start of the campaign in Rantau, Umno and PAS have maintained a narrative that all three rights as enshrined under the Federal Constitution are being threatened now that Pakatan Harapan (PH) has taken over the federal government.
These accusations worked during the Semenyih by-election when Barisan Nasional's Zakaria Hanafi won the seat after garnering 19,780 votes with a 1,914 vote majority against PH's Muhammad Aiman Zainali (17,866).
BN hopeful Datuk Seri Mohamad Hasan has intimated that he wants to keep the momentum going by repeatedly emphasising the importance of unity among the Malay community during his daily ceramahs over the past week.
'Three-point plan'
"There is no complex or vague manifestos, just a simple three-point plan to defend the Malay community, to defend Islam and to defend the Malay Sultans and the Yang di-Pertuan Agong.
"That has become the mission of Umno and PAS now and the message is clear and simple for people to see. For those who understand their responsibility towards this obligation, they will know who to vote this Saturday," said a Kampung Bembam resident who only wished to be known as Salleh.
PAS and Umno's top leaders also made constant visits to the semi-urban seat and had played up the recent attempt and subsequent failure of the PH administration to ratify the International Convention on the Elimination of All Forms of Racial Discrimination and the Rome Statute of the International Criminal Court.
Although many voters admitted they were clueless as to the finer details of these two treaties, many Malays here believe they infringed on the special rights of the Malays, Islam and sovereignty of the Malay Rulers.
From Malay Mail's own observation, PH has been unable to counter this narrative, or convince the majority of the Malay Muslim constituents here that the coalition is not against the Malays or the community's rights.
Malays in Rantau make up 55.51 per cent or 11,615 of the 20,926 registered voters.
The rest of the breakdown consists of Chinese (18.46 per cent/3,863 voters), Indians (26 per cent/5,441 voters) and others (0.03 per cent/seven).
PAS support helps Tok Mat
Although PH leaders have accused Mohamad of financial impropriety with regards to his alleged transfer of RM10 million to purchase a property in London in 2007, it has had little effect among Malay voters here.
For local resident Ahmad Shamshul Baharom, 45, an attack on Mohamad's credibility is overshadowed by PAS president Datuk Seri Abdul Hadi Awang's support for the acting Umno president.
"PAS coming to show support can only mean good news for Tok Mat. Now that there is some news about his wealth, the people may not trust him as much but with Hadi around some could be swayed depending on what he has to say," he said.
On Thursday night, the mega ceramah which saw Mohamad and Hadi share a stage was attended by nearly 3,000 people.
Forty-year-old Tarmizi Taufik believes that the support of PAS only adds to Mohamad's popularity as a household name in the state.
"Not much difference if Hadi's here. Tok Mat has plenty of influence and pull here. Been here so long, how to simply forget?
"Dr Streram has a tall order to win. Hadi coming down brings the staunch Muslim supporters out and if they can vote here they may vote Tok Mat's way," he said, referring to PH candidate Dr S. Streram.
Dissenting voices?
However, the alliance with Umno and PAS is not without its own challenges as both parties have been at odds with each other since the latter's departure from BN in 1977.
Earlier this week, Dewan Ulama PAS member Datuk Mahfodz Mohamed had even urged grassroot members of both parties to set their egos aside and work together.
He claimed with the current composition of seats in parliament and the number of state governments in the country being under "DAP control", both Umno and PAS must unite for the betterment of Islam and the Malay community.
The issue of unity, however, still needs time to be properly cemented, said Mat Sapar Mat, a 62-year-old lorry driver from Pendang, Kedah.
Mat Sapar, who is part of the PAS election machinery, came to Rantau along with many other volunteers to help BN's campaign.
"There are still issues as many grassroots members find it excruciatingly painful to vote the 'dacing' symbol,'' he said, referring to the symbol of BN.
"Some members had even tried to distance themselves from the alliance by stating that they are members of Nik Aziz's PAS and not Hadi's," he said, clarifying further that dissenting members prefer to align themselves with PAS's late spiritual leader Datuk Nik Abdul Aziz Nik Mat who had been a staunch critic of Umno and BN.
"But thank god, PAS members understood that they have an obligation to defend Islam and that we cannot afford to stand alone or else be rolled over. For these members, all we need is time," he said.
"We respect and obey our leaders, however, we do not put personalities over our obligation to Islam.
"We want people across the political divide and our new partners in Umno to understand that," he added.
https://www.malaymail.com/news/malaysia/2019/04/13/is-pakatan-anti-malay-rights-for-umno-and-pas-this-narrative-will-win-bn-ra/1742769
--------
North America
Trump under fire over his remarks on Congresswoman
Kasım İleri
13.04.2019
U.S. President Donald Trump is under fire from veteran Democrats in the Senate for his "disgusting" and "shameful" remarks on Democrat Congresswoman Ilhan Omar.
Bernie Sanders and Elizabeth Warren, two Democrat presidential runners, slammed Trump on Twitter.
Earlier on Saturday, Trump tweeted a video and retweeted another person's tweet which targeted the Minnesota representative.
"Ilhan Omar is a leader with strength and courage. She won't back down to Trump's racism and hate, and neither will we. The disgusting and dangerous attacks against her must end," Sanders said.
"The President is inciting violence against a sitting Congresswoman—and an entire group of Americans based on their religion. It's disgusting. It's shameful. And any elected leader who refuses to condemn it shares responsibility for it," Warren said.
Trump criticized the Muslim lawmaker after comments surfaced of her talking about the Islamophobia Muslims faced in the post-Sept. 11 era.
Omar has been facing attacks for comments she made last week about the Sept. 11, 2001 terrorist attacks.
"Far too long we have lived with the discomfort of being a second-class citizen," Omar said at an event for the Council on American-Islamic Relations (CAIR).
"And frankly, I'm tired of it. And every single Muslim in this country should be tired of it. CAIR was founded after 9/11 because they recognized that some people did something, and that all of us were starting to lose access to our civil liberties."
https://www.aa.com.tr/en/americas/trump-under-fire-over-his-remarks-on-congresswoman/1451094
--------
Ilhan Omar drags George W. Bush into 9/11 controversy
April 12, 2019
Rep. Ilhan Omar on Friday refused to let the controversy die over remarks she made that critics said trivialized 9/11, tweeting out a partial comment that President George W. Bush made after the attacks — and bizarrely asking whether he was a Muslim.
"'The people — and the people who knocked these buildings down will hear all of us soon!' President George W. Bush. Was Bush downplaying the terrorist attack? What if he was a Muslim," the Minnesota Democrat tweeted, apparently comparing her words to his and facetiously questioning his faith.
Her latest tone-deaf 9/11-related comment accompanied an article from the Washington Post that attempted to put her original remarks, made at a Council on American-Islamic Relations banquet in California on March 23, into context.
"Here's the truth. For far too long we have lived with the discomfort of being a second-class citizen and, frankly, I'm tired of it, and every single Muslim in this country should be tired of it. CAIR was founded after 9/11 because they recognized that some people did something and that all of us were starting to lose access to our civil liberties," she told the crowd of nearly 500 people.
CAIR was actually founded in 1994; Omar's rep said she misspoke about the date.
And she only partially quoted Bush's famous statement, when he grabbed a megaphone from a firefighter amid the rubble of Ground Zero to address the crowd after some said they couldn't hear his unamplified voice.Enlarge ImageThe April 11 cover of the New York Post
"I can hear you! The rest of the world hears you! And the people who knocked these buildings down will hear all of us soon!" Bush said, in what many called his finest hour in office.
Republicans from the White House to the streets howled in protest over the Somali-American Muslim lawmaker's clueless description of the worst domestic terror attack on US soil as "some people did something."
But Omar and her backers, fellow freshman Reps. Alexandria Ocasio-Cortez of New York and Rashida Tlaib of Michigan, accused her critics of taking her words out of context.
But there has been only crickets from most New York lawmakers, with the exception of Staten Island Democratic Rep. Max Rose, also an Afghan war vet, who rebuked her remarks.
And the article points out that elsewhere in her speech — delivered as hundreds of protesters outside chanted "Burn the Koran," "Ilhan Omar go to hell" and "Shame on you terrorists" — she defended herself against charges that she was too tough on Muslim nations over human rights abuses.
"It doesn't matter if that country is being run by my father, my brother, my sister," she said. "I will still criticize that country because I know every country is capable of living up to its best."
And she concluded her speech — which she gave about a week after the March 15 shootings by a white-nationalist gunman at two New Zealand mosques that left 50 people dead — by praising American ideals.
"I know as an American, as an American member of Congress, I have to make sure I am living up to the ideals of fighting for liberty and justice. Those are very much rooted in the reason why my family came here."
But the GOP's attacks on her continued, with Texas GOP Rep. Dan Crenshaw, an Afghan war vet, leading the way and other backers of President Trump joining in.
Full report at:
https://nypost.com/2019/04/12/ilhan-omar-drags-george-w-bush-into-9-11-controversy/
--------
ICC judges reject Afghanistan probe; cite lack of cooperation
April 12, 2019
BRUSSELS: In a decision decried as "deeply flawed" and a "devastating blow for victims," International Criminal Court judges on Friday rejected a request by the court's prosecutor to open an investigation into war crimes and crimes against humanity in Afghanistan and alleged crimes by US forces linked to the conflict.
In a lengthy written ruling, judges said an investigation "would not serve the interests of justice" because an investigation and prosecution were unlikely to be successful, as those targeted, including the United States, Afghan authorities and the Taliban, are not expected to cooperate, the court said in a statement.
Human Rights Watch slammed the ruling, calling it "a devastating blow for victims who have suffered grave crimes without redress."
In a statement released by the White House, the Trump administration hailed the decision not to investigate US personnel as "a major international victory, not only for these patriots, but for the rule of law."
The ICC decision does acknowledge that the November 2017 request from Prosecutor Fatou Bensouda to open a probe "establishes a reasonable basis to consider that crimes within the ICC jurisdiction have been committed in Afghanistan and that potential cases would be admissible before the Court."
In a written reaction, the court's prosecution office said it "will further analyze the decision and its implications, and consider all available legal remedies."
The decision comes a month after US Secretary of State Mike Pompeo said Washington would revoke or deny visas to ICC staff seeking to investigate alleged war crimes and other abuses committed by US forces in Afghanistan or elsewhere.
Bensouda's US visa already has been revoked.
In a written statement, US Secretary of State Mike Pompeo pointed out that the rejection followed those measures: "I am glad the Court reconsidered its actions."
Rights groups were not.
Patrick Baudouin, president of the International Federation for Human Rights, called the rejection a "dark day for justice" and a "shocking decision, which is based on a deeply flawed reasoning."
Bensouda's request to open an investigation said there is information that members of the US military and intelligence agencies "committed acts of torture, cruel treatment, outrages upon personal dignity, rape and sexual violence against conflict-related detainees in Afghanistan and other locations, principally in the 2003-2004 period."
She also said that the Taliban and other insurgent groups have killed more than 17,000 civilians since 2009, including some 7,000 targeted killings.
She alleged that Afghan security forces have tortured prisoners at government detention centers.
Sima Samar, the chair of Afghanistan's Independent Human Rights Commission who lobbied strongly for the investigation, said the decision was a disappointment for victims.
In a phone interview from Kabul, she told The Associated Press that it risks emboldening the perpetrators of crimes in Afghanistan, who were "at least a little fearful" of facing justice.
"With this decision, people will lose hope of getting justice and they might take revenge, fueling conflict in the country," she said.
The court said in a statement that the shifting Afghan political scene since then, the lack of cooperation that prosecutors have received so far and the likelihood that cooperation would diminish further if a full-blown investigation is opened combine to hamper the chances of a successful investigation and prosecutions.
Judges said the court needs to "use its resources prioritizing activities that would have better chances to succeed," according to an ICC press release.
Human Rights Watch said the ruling establishes a dangerous precedent.
Full report at:
http://www.arabnews.com/node/1481636/world
--------
Canada calls for Sudan's military to step aside
Barry Ellsworth
13.04.2019
Canada added its voice Friday to countries calling for the Sudanese military to step aside and allow a transition to a civilian-run government.
"We echo the statement of the African Union Commission that a military council goes against the principles of the African Union Charter," Global Affairs Canada, the country's foreign ministry, said in a statement.
"A transition to a civilian government is essential."
Defense Minister Awad Ibn Auf, the head of Sudan's transitional military council, announced Friday that following the coup he led to depose leader Omar al-Bashir, he would step down.
But he also picked Lt. Gen. Abdel Fattah Abdelrahman Burhan as his successor, as the Sudanese constitution was suspended. Large demonstrations were held in the streets because people feared the military leaders were too close to Bashir, who has been indicted by the International Criminal Court on charges of war crimes.
The army has said it would stay in power for two years and then allow elections to determine Sudan's future.
But Canada and others said the Sudanese people deserve to have their will served now.
"Canada commends the people of Sudan for their determination to make their voices heard since the beginning of peaceful demonstrations in December 2018," the statement said.
Protests were held against Bashir due to rising prices.
"We call on Sudanese authorities to reverse the suspension of the constitution, lift the state of emergency and to release anyone detained in connection with the demonstrations."
Full report at:
https://www.aa.com.tr/en/americas/canada-calls-for-sudan-s-military-to-step-aside/1451070
--------
US orders non-emergency personnel out of Sudan
Servet Günerigök
12.04.2019
WASHINGTON
The State Department on Thursday ordered the departure of non-emergency U.S. government employees in Sudan following the ouster of longtime President Omar al-Bashir.
In an updated travel advisory, the department said "violent crime such as kidnapping, armed robbery, home invasion and carjacking is common" and warned citizens not to travel to Sudan.
"Terrorist groups in Sudan may harm Westerners and Western interests through suicide operations, bombings, shootings and kidnappings," said the department.
The Sudanese military earlier Thursday announced the removal of al-Bashir, who had ruled Sudan since 1989, and the imposition of a two-year "transitional phase" following mass demonstrations calling for the president to step down.
Defense Minister Awad ibn Auf also announced in a televised statement the imposition of a one-month curfew -- to take effect Thursday evening -- along with a three-month nationwide state of emergency.
The emergency "gives security forces greater arrest and incarceration powers" and authority "to detain and arrest anybody they deem to be undermining public order, including protestors or those suspected of supporting the protests," said the department.
"U.S. government employees must obtain special authorization from the Sudanese government to travel outside of Khartoum," it added.
Ibn Auf further announced the suspension of Sudan's 2005 Constitution and the dissolution of the Sudanese presidency, parliament and council of ministers.
He was sworn in Thursday as chairman of the new Military Transitional Council established to run the country's affairs during the post-Bashir interim phase.
Kamal Abdul-Marouf Al-Mahi, chairman of the Joint Staff Command, was sworn in as deputy chairman.
Sudanese opposition parties and professional associations voiced "total rejection" of what they described as a "military coup".
Full report at:
https://www.aa.com.tr/en/africa/us-orders-non-emergency-personnel-out-of-sudan/1449990
--------
Sudan's Al Bashir was not a friend of US but few viable options for Washington in aftermath
Joyce Karam
April 12, 2019
From the moment he came to power through a military coup in 1989 until his ouster by another coup in Sudan on Thursday, Omar Al Bashir was not a friend of Washington and has at critical moments undermined its interests.
But despite tense relations, the US government faces a new set of challenges as it tries to navigate its way through the tumult in Khartoum after his ousting. Experts argue that a post-Bashir transition that would guarantee "continuity and stability" may be Washington's best bet despite the Trump administration's lavish talk about "democratic elections" and "respect of human rights" in Sudan.
Washington's dilemma in Sudan is now in seeking a civilian transition while at the same time acknowledging its limited leverage and not alienating the military leadership, the most powerful and known stakeholder in the country.
In its statement issued on Thursday, the US State Department refrained from the using the word "coup" in describing the military overthrow of Mr Bashir. Instead, it highlighted an "opportunity [for Sudan] to set itself on a new path - one that must include legitimate democratic elections, respect for human rights, and a civilian-led government."
Brownyn Bruton, Deputy Director of the Africa Centre at the Atlantic Council, is not in the least surprised that Washington has avoided the word "coup" in describing Thursday's events. "Omar Al Bashir was never recognised as a constitutional leader by Washington. He came to power via a coup in 1989, which makes what happened a coup against a coup," Ms Bruton told The National. For the US, she said, "it's a technical issue", and one that relates to not recognising Mr Bashir's power grab in the first place in 1989.
Another reason for the US official language could relate to congressional laws that prohibit funding to countries "whose duly elected leader of government is deposed by decree or military coup." That was behind former President Barack Obama's decision in 2013 not to call the deposing of Mohamed Morsi in Egypt a coup either.
In Sudan, Ms Bruton argued that the US will try to balance its interests "in a way that would guarantee continuity and stability." Despite Washington's tense relations with Mr Bashir, and designating Sudan as state sponsor of terror in 1993 under his leadership, "there was a semi-viable strategy in engaging with the regime to get reforms in the last four years," the expert said. "This strategy may be upended now."
Barack Obama's quiet engagement with Khartoum started in 2015 by loosening some sanctions. In 2017, the Trump administration lifted a 20-year old trade embargo on Sudan, and the US Central Intelligence Agency (CIA) opened an office in the African country. But now, the engagement process is now put to a halt. The US statement said "we have suspended further Joint Review Committee discussions on Phase II" that was scheduled to start in two weeks from now. The process was designed "to expand bilateral ties with Sudan in six key areas", which define US interests in Sudan. They are: severing ties with North Korea, expanding counter-terrorism cooperation, resolving internal conflicts, expanding humanitarian access, protecting human rights, and addressing outstanding legal claims related to victims of terrorism.
The rise of General Awad Ibn Auf as the new interim leader of Sudan was also undesirable news to Washington. Mr Auf was sanctioned by the Treasury department in 2007 for his role in human rights violations. "He is a war criminal and he is no better than Bashir, but the US is lacking other options," Ms Bruton said.
Later on Friday, it was announced that Mr Auf has resigned his position and appointed Lieutenant General Abdel Fattah Al Burhan Abdel-Rahman as his replacement. The resignation came less than 24 hours after Mr Auf took oath.
The lack of alternatives for the US sums up its challenge in Khartoum. "The old regime remains unpalatable but there is no alternative right now, and the military is a known entity," said Ms Bruton. Continuity, stability, and seeing an interim council that has reformers in it, may be the way forward for Washington.
Ms Bruton saw very little likelihood that western powers would intervene on behalf of the protesters, and added "there are questions about the Sudan Professional Association (opposition group), as to who is behind them, and whether it is the Muslim Brotherhood."
The concern with the Trump administration is it "may be lacking the capacity to address Sudan," Ms Bruton said. The US has no ambassador representation in Sudan, and she fears Washington is punching above its weight when it comes to rhetoric.
Full report at:
https://www.thenational.ae/world/the-americas/sudan-s-al-bashir-was-not-a-friend-of-us-but-few-viable-options-for-washington-in-aftermath-1.848218
--------
US not in Afghanistan to rebuild the nation, says Pompeo
Anwar Iqbal
April 12, 2019
US Secretary of State Mike Pompeo has made it clear that the United States is not in Afghanistan to rebuild the nation or teach Afghans how to deal with their women.
The secretary's remarks came during two days of congressional hearings this week on the US State Department's budget proposals.
"Remember, the Afghans will ultimately decide," said the top US diplomat when Senator Jeanne Shaheen, a New Hampshire Democrat, urged him to ensure that the agreement between the US and the Taliban protects the rights of the Afghan women.
"I hope they (Afghan women) will make their voices heard … I hope the women of Afghanistan will demand that of their leadership," he said.
"We want every woman's voice to be heard [...] I hope they'll all do that."
During the two-day discussions, Secretary Pompeo explained the purpose behind talks with the Afghan Taliban. The US is talking to the Afghan Taliban because they control "significant resources" in Afghanistan, he said.
Meanwhile, senior lawmakers explained why Washington must leave the war-ravaged country now. Even those who criticised the administration's Afghan policy said they too wanted a withdrawal but in a more orderly fashion.
Reminding the chief American diplomat that the US has been at war in Afghanistan for 18 years, Senator Rand Paul, a Kentucky Republican, said: "I think even you have admitted there's no military solution to Afghanistan. It's a mess. It's nation-building at its worst. The president, like myself, complains endlessly about the $50 billion we are wasting there every year."
Senator Shaheen questioned the wisdom behind the Trump administration's decision to hold direct talks with the Taliban, pointing out that despite the talks, the insurgents had continued their attacks on both US and Afghan government forces and were also refusing to hold direct talks with Kabul.
US-Taliban talks: As hopes rise of a deal, what comes next?
The US has already held six rounds of talks with the Taliban in Doha, Qatar, and is preparing for the next round later this month, which may also include representatives of the Afghan government as members of a larger Afghan delegation.
"With respect to why we are talking to the Taliban, they control a significant amount of resources. And to get the reconciliation we need, to take down the violence level, the Taliban are going to have a say," Secretary Pompeo said.
"We have extensive daily conversations," the secretary said when the senator asked why the Afghan government was kept out of the talks.
"But they are not on the table," Senator Shaheen interjected.
"To the extent that the negotiations are taking place, they are as much part of the table as anybody else. We are talking with the National Unity Government and speaking with the Taliban," Pompeo responded.
"We are working to get the two of them in the room together. We think we are closer than we have been anytime in the last decade in achieving that. This will ultimately be a resolution that the Afghan people will have to achieve."
Senator Shaheen interrupted him and asked: "Why do we believe the Taliban would be honest with us anymore today than they have been in the last 17 years?"
"Trust, but verify. It will be about actions on the ground," said the secretary while explaining the Trump administration's approach to the talks.
Pompeo acknowledged that "distrust" was a major problem in the Afghan peace process — the distrust between the US and Taliban and in dealings with other actors.
"We understand that there's not only a deep level of distrust with the Taliban, [but] there is a deep level of distrust with many of the actors in the Afghan area. It's a nation that has a sad history with respect to truth-telling and corruption. We have our eyes wide open."
The US, he said, was looking for an agreement that leads to reconciliation and takes down the violence level. The negotiations will get a framework but actions on the ground will ultimately deliver the confidence needed to end this conflict, he added.
Full report at:
https://www.dawn.com/news/1475668
--------
India
Mirwaiz for tripartite dialogue to resolve Kashmir
ABID BASHIR
Apr 13 2019
Kashmir issue is a "legacy of history" and it has to be resolved politically, the Hurriyat Conference (M) chairman Mirwaiz Umar Farooq said on Friday.
Addressing a public gathering at historic Jamia Masjid a day after he returned to Srinagar after facing three-day questioning at the National Investigation Agency headquarters in New Delhi, the Mirwaiz said that he told the probe agency's sleuths that Kashmir issue is a "harsh political reality and it has to be resolved politically".
"I told the NIA team that it's our policy and stand that Kashmir issue has to be resolved by India, Pakistan and the people of Kashmir," Mirwaiz, who is also Kashmir's chief cleric, said.
He said he is not among those "who speak in different tunes in Delhi, Srinagar and Jammu".
"Threats, intimidations and coercion can't force us to change our stand on Kashmir. We represent aspirations, feelings and emotions of the people of Kashmir," he said. "Whether elections are held in India, Pakistan or Kashmir, the basic nature of the Kashmir dispute will remain the same till this issue is not resolved politically".
The Hurriyat chairman alleged that many ploys were adopted to "build pressure on the leadership and force them into submission".
"My house was raided and then I was sent notices one after the other," he said.
Mirwaiz said a "collective decision was taken and all of us (Hurriyat leaders) decided to fly to Delhi to face the NIA".
"A misinformation campaign was launched by Delhi media that I wasn't cooperating with the probe agency," Mirwaiz said.
"During the NIA questioning", Mirwaiz said, "I was asked about various organisations which I head, including AnjumanAuqafJamia, AnjumanNusrat-ul-Islam, DarulKhair, Hurriyat (M) and Awami Action Committee, details of which they had seized during the raid, as well recommendations for Kashmiris for visas to Pakistan and recommendations to medical colleges in Pakistan, about which I apprised them".
Mirwaiz said his life and the Hurriyat's stand are "an open book and there is nothing to hide".
Mirwaiz said that every citizen of India must realise that there is no military solution to the Kashmir issue, "which is purely political and needs a political solution".
"Our stand is not something new. It has been same which MirwaizMoulana Muhammad Yousuf Shah (RA) advocated for Kashmir in 1947 and what my late father MirwaizMoulana Muhammad Farooq floated in a public rally in Srinagar—tripartite dialogue," he said.
He said the pulpit of Jamia Masjid will continue to highlight people's aspirations and issues in the same manner as it has been doing since 1947.
"Our strength is the people of Kashmir. The Kashmir movement is a people's movement and it's not about any organisation, individual or group. I represent people's aspirations," he said. "Kashmir issue is a legacy of history and its historical perspective cannot be ignored".
"It is unfortunate that not only the people of Kashmir, but armed forces of both India and Pakistan are getting consumed in this conflict," he said.
"Wasn't it the Hurriyat that not only strongly advocated a dialogue between India and Pakistan but also engaged itself in talks with both the countries," Mirwaiz said, recalling that the Hurriyat had even "suggested some confidence building measures (CBMs) to the government of India, but there was no forward movement".
Mirwaiz also strongly condemned the killing of a class 7 student at Handwara due to pellets on Thursday, stating that "lethal pellets continue to kill Kashmiri youth".
"How unfortunate it is that despite a United Nations report and the European Union strongly condemning use of pellet guns in Kashmir, forces continue to use pellets to kill Kashmiris," he said. "We haven't forgotten the scars of 2016 in which many people were killed by pellet guns and hundreds rendered blind".
The Hurriyat chairman also termed the national highway closure for two days a week "an autocratic move", stating that ban on civilian vehicles has caused "huge inconvenience to people who have already been pushed to the wall".
https://www.greaterkashmir.com/(X(1)S(hdavedqvlwxklxj1we4fwh45))/news/kashmir/mirwaiz-for-tripartite-dialogue-to-resolve-kashmir/319402.html
--------
Encounter between security forces and terrorists underway in J-K's Shopian
Apr 13, 2019
An encounter broke out Saturday between terrorists and security forces in Shopian district of Jammu and Kashmir, police said.
Based on specific information about the presence of terrorists in Gahand area of Shopian in south Kashmir, security forces launched a cordon and search operation there this morning, a police official said.
He said as the forces were conducting searches, the terrorists fired upon them.
The forces retaliated, ensuing an encounter, the official said, adding the exchange of firing was going on and further details were awaited.
https://www.hindustantimes.com/india-news/encounter-between-security-forces-and-terrorists-underway-in-j-k-s-shopian/story-6kv6w56R1YQG4AKBgm1wMO.html
--------
Over 2,200 Sikhs from India arrive in Pakistan to celebrate Baisakhi
Apr 12, 2019
Over 2,200 Sikh pilgrims from India arrived here on Friday to celebrate Baisakhi festival at Gurdwara Panja Sahib in Hasan Abdal city of Pakistan's Punjab province. The pilgrims, who arrived at Wagah railway station by two special trains, were received by Secretary of the Evacuee Trust Property Board (ETPB) Tariq Khan and Pakistan Gurdwara Parbandhak Committee president Sardar Tara Singh.
The ETPB looks after the holy places of the minority community in the country.
Gurdwara Panja Sahib has a handprint of the founder of Sikhism, Guru Nanak Dev, on a boulder of the shrine.
"A total 2,206 Sikh pilgrims have arrived here from India on two special trains. After immigration they left for Gurdwara Punja Sahib in Hasan Abdal in Attock district, about 40 km from Rawalpindi," ETPB spokesman Amir Hashmi told PTI.
Baisakhi is celebrated to mark the beginning of a new harvest season. Under the framework of the Pakistan-India Protocol on Visits to Religious Shrines of 1974. Every year, a large number of Sikh pilgrims from India visit Pakistan to observe various religious festivals and occasions. He said special security arrangements have been made for them and elite force and rangers are deployed along with them for their security.
Hasmi said the pilgrims will also visit other gurdwaras in Punjab province, including Gurdawa Janamasthan Nankana Sahib, during their 10-day stay here.
They will leave for India on April 21, he added.
Talking to reporters, leader of the Indian delegation Sardar Varmindar Singh Khalsa expressed the hope that the government will issue visas to a large number of Indian Sikh pilgrims on the occasion of 550th birth anniversary of Guru Nanak Dev. "We are anxiously awaiting that occasion and hope the government will issue maximum number of visas to the pilgrims," he said, stressing that people-to-people contact between the two countries would help in improving ties between the neighbours.
Full report at:
https://www.hindustantimes.com/india-news/over-2-200-sikhs-from-india-arrive-in-pakistan-to-celebrate-baisakhi/story-Y8c97gvcihtV7JxUZgaIMK.html
--------
Areeb Majeed case: Court issues summons to nodal officers of 5 telecom firms for call records
April 13, 2019
A special court on Thursday issued summons to nodal officers of five telecom companies following a Bombay High Court order last month directing production of call data records exchanged between officers of the National Investigation Agency and Areeb Majeed's father.
Majeed is facing trial for allegedly travelling to Syria to join terrorist organisation, Islamic State.
In January this year, the special court had rejected Majeed's plea seeking the call records, following which he had filed an appeal before the HC.
In its March 27 order, the HC had set aside the special court's order, directing that summons should be issued to nodal officers of the telecom companies for call records of three NIA officers and an alternate number of Majeed's father, Ejaz.
Majeed had claimed that the records are part of his defence to demonstrate that the entire arrangement of his arrival from Turkey was done by the NIA and he was arrested after his return on November 28, 2014.
The prosecution claims that Majeed had sneaked into the country with an ulterior motive.
Majeed had submitted to the court that he wanted to show that his return was facilitated by the Indian authorities and that officers of the NIA had coordinated with his father between November 20 and November 29, 2014.
Full report at:
https://indianexpress.com/article/india/areeb-majeed-case-national-investigation-agency-nia-maharashtra-court-call-records-5673411/
--------
Europe
Controversial anti-terrorism law comes into force in the UK
April 12, 2019
British citizens travelling to terrorism hotspots will face up to 10 years in prison under a controversial new law that came into force on Friday.
The Counter-Terrorism and Border Security Act 2019 creates a criminal offence of entering a "designated area" overseas, in an effort to boost the authorities' ability to tackle the threat from returning fighters.
Any individual found to have entered or remained in a designated area could face up to 10 years in prison if convicted. The legislation overturns previous laws that required proof of wrong doing – in this case joining or fighting alongside an extremist group – for a conviction to take place.
Home Secretary Sajid Javid said the new laws give the police "the powers they need to disrupt terrorist plots earlier and ensure that those who seek to do us harm face just punishment."
"As we saw in the deadly attacks in London and Manchester in 2017, the threat from terrorism continues to evolve and so must our response, which is why these vital new measures have been introduced," he said.
Britain was hit by five attacks in 2017, and 18 plots were foiled in the last two years.
The bill proposes broader powers for border guards to stop and search individuals on the basis of suspicion and criminalises the viewing of terrorist-linked material online. Exemptions have been made for media professionals and researchers who access this content for professional purposes or for those attending a relative's funeral.
Campaigners for press freedom and human rights watchdogs have raised serious concerns about the broadening of the authorities' ability to intervene on the grounds of tackling "hostile state" activity.
Nine organisations, including Reporters Without Borders and Index on Censorship, have released a joint statement warning that this "vaguely defined" crime will give border guards wide-ranging powers to stop, search and detain suspects, including journalists.
It would be an offence for a journalist not to answer questions or hand over materials, with no protection for confidential sources.
Only about 10 per cent of returnees have been prosecuted over "direct action" in Syria, according to official figures. The government says a significant proportion of those who have come back are no longer of national security concern.
https://www.thenational.ae/world/europe/controversial-anti-terrorism-law-comes-into-force-in-the-uk-1.848091
--------
Turkish minister, French lawmaker clash over Armenia 'genocide' day
13 April 2019
Turkish Foreign Minister Mevlut Cavusoglu clashed on Friday with a French lawmaker over the commemoration of the "Armenian genocide" in a heated exchange that prompted the French delegation to walk out.
Turkey and Armenia are at odds over how to describe treatment of Armenians during the Ottoman era in WWI, with Turkey denying massacres and forced deportations amounted to a genocide.
French President Emmanuel Macron in February announced France would hold a national day on April 24 to commemorate the "Armenian genocide", drawing criticism from Ankara.
During a meeting of the NATO parliamentary assembly in Antalya in southern Turkey on Friday, Turkish parliament chief Mustafa Sentop lashed out at France's decree to establish the commemorative day, accusing Paris of "manipulating history."
He also referenced massacres committed in Algeria when it was still a French colony and in Rwanda whose government accuses Paris of being complicit in the 1994 slaughter there.
Attending the meeting, French lawmaker Sonia Krimi, from Macron's LREM party, criticized Turkish comments saying she was shocked. But that provoked a sharp response from Cavusoglu.
"In terms of genocide and history, France is the last country to be giving lectures to Turkey, and we have not forgotten what happened in Rwanda and Algeria," the minister said.
"You can keep trying to look down on us, but we will keep putting you in your place."
Krimi and the French delegation left the room in protest over Cavusoglu's remarks.
"When the arrogant @MevlutCavusolgu gives you lessons on arrogance and politeness, arrogantly and without any respect," she wrote on Twitter referring to the incident.
Turkey's presidential spokesman Ibrahim Kalin hit back posting on Twitter a story from state news agency Anadolu about "dark stains in French history."
"Neither their colonial past nor their self-centred present guarantees their moral superiority," he wrote.
Full report at:
https://english.alarabiya.net/en/News/world/2019/04/13/Turkish-minister-French-lawmaker-clash-over-Armenia-genocide-day-.html
--------
NATO hails Turkey's pivotal role in Middle East
Erdogan Cagatay Zontur
12.04.2019
A top NATO official on Friday praised Turkey's hospitality towards refugees and hard work in the Middle East.
"I pay tribute particularly to the Turkish role in providing refuge of millions of people who have been displaced by the terror conflict in Syria," Madeleine Moon, head of the NATO Parliament Assembly, told a meeting in the Mediterranean Antalya province. Moon said Turkey "sees itself as a bridge between Europe and Middle East" which gives it a "leading role in promoting security and stability" in the Mideast and North Africa region.
Moon stressed there would be "an international refugee crisis without the remarkable generosity and hospitality which Turkey has shown to the Syrian people."
She also said Turkey is often "at the forefront" of the challenges emerging in the Mideast, adding that NATO shows solidarity with Turkey by providing critical support and assistance.
"I want to take the opportunity to thank the Turkish government and parliament for their contributions to NATO and the NATO Parliamentary Assembly," she added.
Osman Askin Bak, the head of the Turkish delegation to the assembly, said Turkey is the third-biggest country in the region supporting NATO with its personnel numbering nearly 2,000.
Full report at:
https://www.aa.com.tr/en/europe/nato-hails-turkeys-pivotal-role-in-middle-east/1450819
--------
Turkish opposition slams French move on events of 1915
Baris Gundogan
12.04.2019
Turkey's main opposition on Friday criticized France's declaration of April 24 as a day commemorating the 1915 events between Turkey and Armenia.
Declaring April 24 a memorial day is not helpful or acceptable, said Kemal Kilicdaroglu, leader of the Republican People's Party (CHP).
"Solving the problems between Armenia and Turkey is possible through dialogue between them, not through the intervention of a third country crossing the line," he said on Twitter.
Turkey's position on the events of 1915 is that the deaths of Armenians in eastern Anatolia took place when some sided with invading Russians and revolted against Ottoman forces. A subsequent relocation of Armenians resulted in numerous casualties.
Turkey objects to the presentation of the incidents as "genocide" but describes the 1915 events as a tragedy in which both sides suffered casualties.
Full report at:
https://www.aa.com.tr/en/europe/turkish-opposition-slams-french-move-on-events-of-1915/1450239
--------
URL: https://www.newageislam.com/islamic-world-news/thousands-pakistanis-form-human-chain/d/118315
New Age Islam, Islam Online, Islamic Website, African Muslim News, Arab World News, South Asia News, Indian Muslim News, World Muslim News, Women in Islam, Islamic Feminism, Arab Women, Women In Arab, Islamophobia in America, Muslim Women in West, Islam Women and Feminism