New Age Islam News Bureau
31 Jul 2019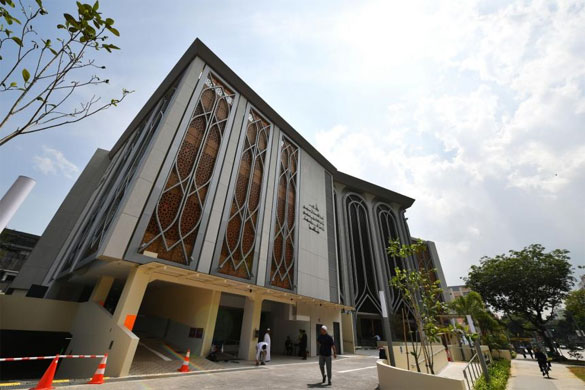 Masjid Darul Ghufran in Tampines.PHOTO: BERITA HARIAN
-------
• Thousand Years After Being Declared Hetetic, Hussain Bin Mansur Hallaj Gets Recognition as A True Sufi
• Understanding Islam from Original Sources Not Arabisation
• Doubt Greets China's Claim That Muslims Have Been Released from Camps
• Al-Qaeda Remains 'Resilient', Works Closely With Let, Says UN Report
• An Afghan Candidate Wrote His Will, Then Survived a Suicide Squad
• Parliament Approves Triple Talaq Bill: What the New Law Says
• 'Gender Justice' Vs 'Destruction of Muslim Families' In Debate
• Pakistan: Punjab Governor Urges Europe to Come Out Of Islamophobia
• Israel Will Face Demographic Death without Two-State Solution: Palestinian PM
• Iran Says It Will Expand Military Ties with Russia, Hold Joint Drills As U.S. Tries To Build Rival Coalition
• Death, Anguish and Flickers of Hope: 10 Years Of Boko Haram
• US Trying To Fulfill Fantasy Of Global Control With Help From Israel, Saudi Arabia: Analyst
Arab World
• Thousand Years After Being Declared Hetetic, Hussain Bin Mansur Hallaj Gets Recognition as A True Sufi
• UAE Says 'Dangerous' Recordings Prove Qatar's Terrorism Ties
• Muslim-Christian Summit Tries To Help Ease Escalating Sectarian Tensions In Lebanon
• Syrian troops advance in northwest, breaking stalemate
• Concerns In South Syria Over Damascus' Release of ISIS Members
• Coalition Says Strike Kills ISIS Jihadists in Syria
• Iraq says ex-governor embezzled $10 mln in aid for displaced
--------
Southeast Asia
• Understanding Islam from Original Sources Not Arabisation
• Doubt Greets China's Claim That Muslims Have Been Released from Camps
• Umno, PAS deny contested seats already negotiated
• Dr M says Zakir Naik here to stay as not many would take him
• Saudi Arabia's King Salman sponsors 20 Malaysian pilgrims for Haj
• Jakarta calls for plastic-free Idul Adha celebration
• Malaysia's new king calls for racial unity at coronation
--------
Europe
• Al-Qaeda Remains 'Resilient', Works Closely With Let, Says UN Report
• UK Forced To Disclose Audits of Funds Used By PA for Terrorists' Salaries
• UN Warns Islamic State Leader Plotting Comeback from Iraq
• Britain's youngest terrorist's identity to remain secret
• Mosque in Ireland 'Severely Vandalized' In Suspected Hate Attack
• Britain rules out seized tanker swap with Iran
• Germany extradites man wanted over Paris attacks to Belgium
• Macron, Rouhani hold talks over Iran-US tensions
• Germany turns down US proposal for Persian Gulf maritime coalition
• UK court to rule on ISIS 'Beatles' appeal
--------
South Asia
• An Afghan Candidate Wrote His Will, Then Survived a Suicide Squad
• 52 militants killed, 33 wounded as Afghan forces repulse Taliban attack in Baghlan
• Children among 26 killed, wounded as deadly blast rocks Spin Boldak in Kandahar
• Special Forces kill 14 Taliban militants; detain 6 others in Logar province
• Two Americans Killed in Apparent Insider Attack in Afghanistan
• Afghan government and NATO killing more civilians than the Taliban
• At least 28 killed as Afghan bus hits 'Taliban' bomb: official
• U.S. airstrike kills senior Taliban leaders in Farah province
• Taliban militants suffer casualties in Kabul drone strike: 201st Silab Corps
--------
India
• Parliament Approves Triple Talaq Bill: What the New Law Says
• 'Gender Justice' Vs 'Destruction of Muslim Families' In Debate
• Parliament passes triple talaq bill two years after Supreme Court struck down practice
• Mehbooba Mufti, Omar Abdullah engage in Twitter spat over passage of triple talaq bill
• For Kashmiri People, Article 35A the Last Vestige of Real Autonomy
• 500 more Indians allowed by Pakistan to attend Sikh festival
• Passage of triple talaq bill is only a part of many attacks on Muslims, says Asaduddin Owaisi
• Pak troops shell border areas along LoC in Rajouri
• Passage of Triple Talaq Bill 'will create fear among Muslim community', say activists
• Joint plan to defend special status: J&K parties assert need for consensus, united approach
• Ghulam Nabi Azad on triple talaq bill: 'Real intention to finish them (Muslims) in their house'
• JeM militant involved in Pulwama attack killed in Anantnag encounter
--------
Pakistan
• Pakistan: Punjab Governor Urges Europe to Come Out Of Islamophobia
• PM Directs CDA, Capital Administration To Develop Shah Allah Ditta Caves
• US hints at greater economic engagement with Pakistan
• Pakistan Army plane crashes near Rawalpindi; 18 killed
• SC moved against appointment of judges as law colleges' principals
• 5 killed in blast outside police station in Quetta
• Govt forcing NAB, FIA to arrest Shahbaz, says PML-N
• Pakistan, Uzbekistan agree to enhance security cooperation
• US accepted Pak narrative on Afghanistan: Qureshi
--------
Mideast
• Israel Will Face Demographic Death without Two-State Solution: Palestinian PM
• Iran Says It Will Expand Military Ties with Russia, Hold Joint Drills As U.S. Tries To Build Rival Coalition
• Israel, U.S. Working to Upgrade Unifil's Mandate to Weaken Hezbollah
• Report: Israel Launched Two Attacks on Iranian Targets in Iraq In July
• Israel jails Palestinian lawyer over shootings
• US, allies accomplices to Saddam's chemical attacks on Iran
• Israel building new barrier adjacent to blockaded Gaza Strip
• Several Saudi mercenaries killed as Yemeni missiles hit kingdom's Najran
• Israeli forces summon Palestinian kid for interrogation over stone throwing
• 12 Palestinians injured as Israeli forces, settlers storm shrine in West Bank
• Houthis massacre of Saada market kills 10: Yemeni official
--------
Africa
• Death, Anguish and Flickers of Hope: 10 Years Of Boko Haram
• Sudan army ruler renames feared spy agency from al-Bashir era
• Haftar brings in foreign forces to attack Tripoli: GNA
• UN urges probe into fatal shooting of Sudan schoolchildren at rally
• Human Rights Watch denounces Nigeria ban on Islamic movement of Sheikh Zakzaky
• Nigeria: Soldier, 10 Islamic State insurgents killed in Baga, MNJTF says
• Nigeria's ban of Shiite Muslim group risks Boko Haram repeat
• U.S. airstrike targets ISIS-Somalia in support of the Federal Government of Somalia
• Sudanese rally against deadly crackdown on student protest
• Gargash: NYT Somalia recording proves Doha's ties to terrorism
• Sudan's junta orders schools closed as tensions mount
• Nigeria police want people to help nab Zakzaky followers
• Nigeria officially bans mainstream Shia group
--------
North America
• US Trying To Fulfill Fantasy Of Global Control With Help From Israel, Saudi Arabia: Analyst
• Anti-Muslim Hate Crimes Drop For Second Year in a Row in United States: Report
• Senate Fails To Override Trump Veto On Saudi Arabia
• Police: Synagogue shooting leaves 1 wounded, suspect sought
• Investigators Find White Supremacy, Radical Islam Materials In Gilroy Shooter's Home
• US charges two Somali men for attempting to join Daesh in Egypt's Sinai
Compiled by New Age Islam News Bureau
URL: https://www.newageislam.com/islamic-world-news/thousand-years-after-being-declared/d/119351
--------
Thousand Years After Being Declared Hetetic, Hussain Bin Mansur Hallaj Gets Recognition As A True Sufi
New Age Islam News Bureau
Hussain Bin Mansur Hallaj, a mystic of Baghdad during the 3rd century Hijri was declared heretic by the muftis of the time and the king had ordered that he be killed. He was killed in 309 Hijri. The religious circle had said that Hussaiin bin Mansur's assertion "An'al Haque' was akin to kufr as the sentence was literally translated as 'I am God'. However, for the last centuries scholars have debated on the issue and they have argued that 'An'al Haque' deoes not mean 'I am God' but 'I am the Truth'. In recent times, the religious circle has realised that Mansur was wrongly declared a heretic due to the wrong interpretation of the sentence "An'al Haque' by the muftis of the time.
Recently, Ulama-e-Ahl-e-Sunnat of Bareilly paid tribute to Hussain bin Mansur Hallaj on his birth anniversary in a ceremony in Kanpur. Ulama of Bareilly aknowledged the fact that Hadhrat Hussain bin Mansur was a great sufi of his times. He was the disciple of Hadhrat Sahl Bin Tastari and was a contemporary of Hadhrat Junaid Baghdadi. Qari Faisal Jafri said that Hadhrat Hussain had memorised the Quran in the age of 12 years. Maulana Hassan Qadri said that Hadhrat Hussain bin Mansur was a pious and god loving sufi who was always absorbed in the zikr of Allah and had attained the highest place in the realm of mysticism.
Therefore, it can be said that after thousand years, Hussain bin Mansur Hallaj has been recognised as a great Sufi and a great devotee of God by the same religioius circle that had once declared him heretic.
--------
Understanding Islam from Original Sources Not Arabisation
Jul 31, 2019
I am puzzled by the example veteran diplomat Bilahari Kausikan gave to illustrate the Arabisation of Islam among local Muslims (3 forces could challenge social cohesion: Bilahari, July 25).
He referred to local Muslim women who would rather describe their headscarves with the Arabic word "hijab" instead of the Malay word "tudung". This illustration is puzzling to me, a local Malay Muslim.
"Hijab" may be an Arabic word to him, but to us, it is an Islamic term that includes the "tudung", "selendang", "abaya", "niqab", "burqa" and many other culturally unique styles of head coverings.
So, to me, that anecdote illustrates the increased Islamic consciousness among local Malay Muslims, instead of our purported Arabisation.
Besides, I am fairly certain the women he asked would have donned uniquely contemporary Malay styles and designs of head coverings, not to mention their clothing fashion, which is distinctly different from that worn in Arab countries.
An objective observer would have noticed the confidence our local Muslim women are showing in interpreting Islamic injunctions in ways suitable to our climate and tradition as well as the cosmopolitan nature of our country.
With better education, local Muslims are improving our understanding of Islam. With this, we are getting more familiar with the original terms and concepts of Islam as taught by our Prophet.
Inevitably, these terms would be in Arabic. Had the Prophet Muhammad been born French, I am quite sure, they would be in French. It would be unfortunate if the fine line between Arabic words and Islamic terms led to a misreading of the local Muslim community.
In fact, the growing trend of local Muslims learning the Arabic language will soon become apparent as well. My concern is that this, too, could be misunderstood.
We strive to understand the religion from its original sources to better interpret its teachings contextually, not to become Arabised.
https://www.straitstimes.com/forum/letters-on-the-web/understanding-islam-from-original-sources-not-arabisation
--------
Doubt Greets China's Claim That Muslims Have Been Released From Camps
By Chris Buckley and Edward Wong
Jul 30, 2019
BEIJING — Chinese officials said Tuesday that most of the inmates in re-education camps for Muslim minorities — a vast network of detention centers estimated to have held one million people or more — have been released. But the United States, experts on Chinese policies, and ethnic Uighur Muslims abroad quickly contested the claim.
They said that there was no evidence of mass releases from the camps across the Xinjiang region in China's northwest, and that people who had nominally been freed often effectively remained in captivity, including being forced into labor programs instead. The State Department and the Pentagon, which have criticized China's policies on Muslims for months, released the same long, forceful statement that said they were "unable to verify the vague claims" and that the Communist Party continued to show "extreme hostility to all religious faiths."
The unexpected announcement in Beijing appeared intended to blunt growing international condemnation of the camps. It was made by two top officials in the regional government of Xinjiang, the northwest region where the Chinese Communist Party has set up the centers to hold Muslims, most of whom are Turkic-speaking Uighurs, and systems of electronic surveillance in towns and cities. The officials indicated that most inmates had "returned to society."
The World Uyghur Congress, a Munich-based group that campaigns for self-determination, dismissed the two officials' claims as following "a predictable pattern of dubious statements."
"Although there may be a kernel of truth to what we heard this morning, it's so buried in deception that it becomes unrecognizable," Dolkun Isa, the group's secretary-general, said in a statement.
Western governments have grown increasingly vocal about the sweeping detentions in Xinjiang, a region in northwestern China. Members of the Trump administration have taken up the issue and discussed imposing sanctions against officials who are involved, though the Treasury Department has privately recommended against the sanctions for fear of jeopardizing trade talks.
This month, Secretary of State Mike Pompeo, an evangelical Christian who talks about defending religious freedom, called China's internment of Muslims "the stain of the century."
The State Department and Pentagon said Tuesday that China should allow United Nations officials to have unmonitored access to all camps and all detainees, and let Muslims "freely travel away from Xinjiang and China to promote transparency."
The American officials made clear that the camps were far from their only concern regarding China's Muslim policies. They denounced the surveillance systems outside the camps and the well-documented, government-run practice of ethnic Han Chinese, dominant in most of the country, staying uninvited in Uighur homes "to prevent the observance of Islamic practices."
Separately, American officials say they are increasingly concerned about factories with forced Uighur labor that are linked to the detention centers.
Randall G. Schriver, an assistant secretary of defense, told reporters in May that the centers were "concentration camps" that held "at least a million but likely closer to three million citizens out of a population of about 10 million."
Mr. Schriver did not say whether the three million referred to Muslims held simultaneously or whether it was an estimate of total detainees over a stretch of time, with some released during that period.
Chinese officials have depicted the camps as benign facilities that offer Chinese-language instruction and vocational training.
Alken Tuniaz, the vice chairman of the Xinjiang government, told reporters on Tuesday that "the majority of people who have undergone education and training have returned to society and returned to their families." He used the government's official description of the camps as "education and training" centers and of their inmates as "students."
"Most have already successfully achieved employment," he said. "Over 90 percent of the students have returned to society and returned to their families and are living happily."
Both he and Shohrat Zakir, the government chairman, refused to say how many people have been held in the camps, which are often large clusters of buildings surrounded by fences and guards.
Official Chinese media accounts of the two officials' comments varied, raising the possibility that they misspoke and their comments had to be drawn back. Some cited Mr. Zakir as saying that 90 percent or more of people from camps had returned to society. Others said, citing him, that 90 percent of those released had found suitable work.
Growing evidence from government documents shows the Xinjiang government wants to shift camp inmates and many other Uighurs into labor programs where they will work under the watch of the government and compliant factories, said Adrian Zenz, an independent researcher in Germany who studies the camps.
"They are basically now transitioning from internment to society-wide control," Mr. Zenz said. "They have a grand scheme now for controlling everybody, not just people in the camps but also putting those outside the camps into coercive labor."
Gathering evidence to test the official claims of releases from the camps is likely to be difficult. Foreign journalists are closely monitored and controlled when they visit Xinjiang, and independent investigators and human rights groups do not have free access.
Uighurs living abroad said they had not found evidence of widespread releases.
In interviews on Tuesday, two Uighur-Americans said they still had family members in detention. One woman, Ziba Murat, a resident of Florida, said she still had not heard from her ailing mother, Gulshan Abbas, or a great-aunt, both of whom disappeared from their homes in Xinjiang last September.
"I think they are lying," she said of the officials announcing mass releases.
Ferkat Jawdat, a resident of Virginia, said an uncle and aunt were still missing. His mother, Minaiwaier Tuersun, was released in May, after being detained since February 2018, and suffers from severe health problems. Her two younger brothers have also been released, he said.
But officials continue to monitor them in Xinjiang — and even Mr. Jawdat. He said he was contacted by a Chinese man over a chat app who said he was an official and who warned Mr. Jawdat to stay quiet on the Uighurs' plight or his mother would lose her freedom.
How China Turned a City Into a Prison
Children are interrogated. Neighbors become informants. Mosques are monitored. Cameras are everywhere.
Tahir Imin, a Uighur activist based in Washington, said, "Uighurs abroad continue to be unable to reach their relatives in the region. No phone calls, no internet communications."
Xinjiang is home to more than 11 million Uighurs, more than the Pentagon's estimate, and their treatment under President Xi Jinping has become a global human rights issue. Western governments, United Nations human rights experts, and advocates of Uighur self-determination have condemned the increasingly harsh restrictions on many Uighurs.
Beyond describing them as vocational training facilities, the Xinjiang officials said the camps offered classes that have effectively inoculated Uighurs against the temptation to embrace religious extremism or terrorism. Until several years ago, Xinjiang had experienced a string of deadly attacks by discontented Uighurs.
But former camp detainees who have left China say they were subjected to a high-pressure indoctrination program with the goal of removing devotion to Islam and instilling loyalty to China and its ruling Communist Party.
The Xinjiang officials' wording on Tuesday left room for uncertainty as to how much freedom can be exercised by inmates who have been released. Though they did not detail the circumstances under which detainees were being "returned to society," it is possible that people released in name are in fact still under heavy restrictions.
James Leibold, an associate professor of politics at La Trobe University in Australia who has studied Xinjiang, said that factories are often linked to the camps, and that inmates assigned to work there live under heavy guard and monitoring.
"I find it highly unlikely, and frankly inconceivable, that the Chinese Communist Party would build this massive network of internment camps and then simply mothball them a couple of years later," Professor Leibold said. "Rather, the purposes of the camps were perhaps always meant to evolve over time, shifting from education to production, while their coercive, nonvoluntary and extrajudicial nature remains the same."
At the news conference, Mr. Zakir, the regional chairman, also appeared to suggest that people from camps were being assigned factory jobs.
"You could say that maybe 90 percent or more," he said, "have found suitable work to their liking with an impressive income."
"These people have now become a positive factor in society, leading other ordinary people to create business and employment," he said.
Mr. Zakir is Xinjiang's most senior Uighur official, and has repeatedly served as the public face defending Chinese government policies in the region, including the re-education camps.
In October, party officials began to publicly acknowledge and defend the camps, many of which are large, prisonlike facilities behind walls. In March, Mr. Zakir likened them to boarding schools.
Earlier this month, a group of 22 countries, including Australia, Britain, Canada, France and Germany, issued a statement urging China to halt the mass detention of Uighurs and other Muslims. China struck back with a letter signed by 37 ambassadors from countries in Asia, Africa, the Middle East and Latin America who praised its human rights record, including the "de-radicalization" policies applied in Xinjiang.
The Chinese government's assertion that the population in re-education camps is shrinking appeared intended to stave off debate about Xinjiang ahead of a meeting of the United Nations General Assembly in September, as well as sessions of the United Nations Human Rights Council, said Sophie Richardson, the China director at Human Rights Watch. But she said that there was no reason to believe the assertion.
"They lied about the existence of the camps. They admitted the camps existed and lied about what happens inside them," Ms. Richardson said. "So one has to be awfully skeptical about a claim that — oops! — it's all sorted out."
If there have been releases from the camps, that may also reflect the heavy costs on local governments across Xinjiang of operating and guarding the facilities, as well as a desire to put more Uighurs to work so that officials can meet the goals laid down by Mr. Xi to eradicate poverty by 2020.
Uighurs abroad continue to report new cases of relatives being detained.
Abdurahman Memet, a Uighur tour guide who lives in the eastern Xinjiang city of Turpan, was detained this month, said his nephew, Muharram Muhammad'ali Baqi, who lives in Japan. The apparent reason for the detention was that he shared a letter from a relative who had been held in a camp with Mr. Baqi.
On Monday, Mr. Baqi said he received a call from a Chinese security official warning him that unless he stopped speaking publicly about the case, his family's situation would worsen and his father, who is now in prison, would have no chance of release.
"But if I don't do anything," he said, "things may be worse."
Chris Buckley reported from Beijing, and Edward Wong from Washington. Austin Ramzy contributed reporting from Hong Kong, and Nick Cumming-Bruce from Geneva.
https://www.nytimes.com/2019/07/30/world/asia/china-xinjiang.html
--------
Al-Qaeda Remains 'Resilient', Works Closely With Let, Says UN Report
Jul 30, 2019
Terror group Al-Qaeda remains "resilient", continues to consider Afghanistan a safe sanctuary for its leaders and works closely with the Lashkar-e-Toiba and the Haqqani network despite being overtaken by the Islamic State, a UN counter-terrorism watchdog set up by the Security Council has said in a new report.
The Islamic State itself which has diminished with the loss of its so-called "caliphate" in Syria and Iraq, has evolved into a "mainly covert network" and its leadership is focusing on establishing "establish sleeper cells at the local level in preparation for eventual resurgence", according to the 24th report of the Analytical Support and Sanctions Monitoring Team that was submitted to the UN Security Council Al-Qaeda Sanctions Committee this month.
Even in its current form, the report by UN's terrorism watchdog set up by Resolution 1267 of the Security Council, said the Islamic State poses the most "immediate threat to global security" and remains stronger than Al Qaeda in terms of its "finances, media profile and current combat experience and terrorist expertise".
But Al Qaeda 'remains resilient", the UN body said although there are questions about its leader Ayman al-Zawahiri's health and the group's succession plan.
It "continues to cooperate closely with Lashkar-e-Toiba and the Haqqani Network", the report said underscoring the threat these Pakistan-based terrorist groups continue to pose for the region and the world. A recent US department of defense reported the existence of hundreds of LeT fighter in Afghanistan.
Also read: Lashkar, Islamic State in plans with Pak army to target Indian assets in Afghanistan
Al-Qaeda remains the source of the largest collection of foreign fighters, which is Afghanistan. And the terrorist outfit responsible for the September 11, 2001 terrorist attacks remains a potent forced in Afghanistan. Its "members continue to function routinely as military and religious instructors for the Taliban" the report said.
And it remains entrenched there. "Al-Qaeda considers Afghanistan a continuing safe haven for its leadership, relying on its long-standing and strong relationship with the Taliban leadership," the UN body said.
https://www.hindustantimes.com/india-news/al-qaeda-remains-resilient-works-closely-with-let-says-un-report/story-AmHZGhgULsDdcJEzeqTGbI.html
--------
An Afghan Candidate Wrote His Will, Then Survived a Suicide Squad
By Mujib Mashal
Jul 29, 2019
KABUL, Afghanistan — Even before he received specific intelligence about an attempt planned on his life, Amrullah Saleh had a feeling they were coming for him soon. So he wrote his will.
As a former Afghan intelligence chief who is staunchly anti-Taliban, he had been near the top of the militants' list for a long time. But now there was an added reason for targeting him: He was about to launch his campaign as the running-mate of President Ashraf Ghani in his September re-election bid.
About a week ago, Mr. Saleh took a new look at the four-page will. He added instructions for his wife and five children on how to handle news of his death, and how to gain access to his savings.
Mr. Saleh said he was convinced that "I wasn't going to survive this time."
The attack he dreaded came on Sunday, the first day of the presidential campaign, after he and President Ghani had appeared at a tightly guarded rally in Kabul, Afghanistan's capital.
Soon after Mr. Saleh reached his political headquarters, he was greeted by an enormous car bomb. That was followed by a half-dozen suicide bombers climbing up to his fourth-floor office.
In the nearly seven hours of havoc that ensued, about 30 people were dead — 20 of them Mr. Saleh's guests or colleagues who had spent years at his side.
The candidate narrowly escaped after a 50-minute battle with the insurgents, engaging them from the building's rooftop where weapons were kept.
"They had come to kill me at any price, and they did everything right," Mr. Saleh said. "That I am alive is God's help, God's will, and maybe a little help from my background. I am deeply shaken — my emotions, my humanity. But my determination to fight is strengthened. I have 20 more reasons to fight."
Mr. Saleh, 46, is a longtime survivor: of suicide attacks and ambushes, of years of political isolation, but also of a deeply deprived upbringing. As a child, he was orphaned and left destitute.
His ascension to the highest levels of Afghan politics — he has allied with Mr. Ghani, whom he once staunchly criticized — comes in one the most difficult and uncertain periods of the Afghan war. Bodies are piling up on all sides, and an American search for a political settlement through negotiations is proving difficult.
The bloodshed has only furthered concerns about the repeatedly delayed vote. The Taliban control or threaten large swathes of the countryside. In the urban centers, Taliban militants, as well as members of the Islamic State, are waging suicide attacks.
Amid this heightened insecurity, candidates and voters alike are proceeding cautiously.
On Monday, the second day of the campaign, none of the 18 candidates held a rally or public gathering, local media reported.
It is not just the violence. There is also the problem of voter fatigue, with political crises resulting from the last two disputed votes adding to the toll of the war.
Some diplomats are concerned that a repeat of previous fraudulent elections could only weaken Afghanistan's hand in negotiations with the Taliban. Mr. Ghani's team, including Mr. Saleh, argue that only a government with a strong mandate through elections can negotiate with the Taliban.
Rangin Dadfar Spanta, who was Afghanistan's national security adviser when Mr. Saleh served as spy chief, said his old colleague was a prime target because of his "radical position" against the Taliban and against the Pakistan intelligence agency, which is accused of supporting the Taliban.
"He has been a rarity in our security sector: a person with deep research and study, but also with experience both from his time in the anti-Taliban resistance and later as intelligence chief," Mr. Spanta said.
But many of his critics see his inflexible resistance to the Taliban as a hurdle at a time when the war can end only through compromise. And his denials of the extent of Taliban control once went so far that they stirred ridicule.
"Those who claim that terror groups controls nearly half of Afghanistan are invited to visit my office in Kabul & join us for a tour of the country by road, by plane, by bike, on horse and by foot," Mr. Saleh tweeted in February, raising eyebrows amid the rising insecurity. "This falsehood and fake news is mostly spread by stooges, agents, and idiots."
When the car bomb went off outside his Kabul office early Sunday evening, Mr. Saleh was meeting a commander from northern Baghlan Province who had recently replaced his brother, who had been killed along with about two dozen of his fighters.
The blast was so strong, blowing out windows and furniture alike, that the attackers were already making their way up the stairs toward his fourth-floor office as Mr. Saleh tried to make sense of what had happened.
He and his aides followed a regularly practiced emergency drill and headed for the roof and its weapons stash. Afghan special forces also arrived at the scene and joined the battle.
Mr. Saleh's surviving bodyguards secured the adjacent building and put a ladder in place so he could climb across to it.
But the militants had already made it to his office and began shooting at the ladder from his small window. Mr. Saleh and the half-dozen colleagues with him managed to escape to the next building after the guards turned their fire on the office window and slid the ladder further away.
In the morning, the building was a scene of carnage.
In the hallway of his office suite, a small picture of Mr. Saleh's granddaughter lay under broken glass and dust.
Inside his office, his yellow notepad was glued to the floor with the blood of one of his aides who had been shot dead there. On the window of the room next door were the shoes and hat of one of the visitors who had tried — and failed — to escape.
"We went to the office this morning and found Haseeb's body under the armored gate," said Fahim Fetrat, the cousin of one of Mr. Saleh's bodyguards, named Haseeb. "We thought since he was too close to the car bomb there might not be anything left, but we found him."
Mr. Saleh did not sleep all night, helping prepare for the burial of his colleagues, his friends said.
The bodies went to cemeteries across Kabul, as well as provinces in the north and east. Some of Mr. Saleh's closest guards have received months of training by the Central Intelligence Agency in the United States. Three of them were buried in an overpopulated cemetery on a mountainside in the north of Kabul, their graves covered in fresh leaves.
Mr. Saleh said that when he arrived at a government hospital at 2 a.m. to visit the wounded and the dead, one of the relatives of a dead colleague was so angry that he slapped the candidate.
"I pulled him in and said, 'Hit me more,'" Mr. Saleh said. "He hit me again."
Mr. Saleh asked his bodyguards to step back, he said, the man's pain understandable: His loved one was gone, Mr. Saleh still alive.
The candidate said he then asked the young man whether his death would have eased his pain, and the man said yes. "I pulled my handgun, loaded it, and gave it to him," Mr. Saleh said.
The young man hesitated, he said, and returned the gun. Another relative stepped forward, grabbed Mr. Saleh by the collar and hit him.
"I told my guards they have no right to touch anyone who hits me here," Mr. Saleh said. "They have every right to do so. We need to answer them for what is going on in this country."
Jawad Sukhanyar and Fahim Abed contributed reporting.
https://www.nytimes.com/2019/07/29/world/asia/afghanistan-campaign-attack-amrullah-saleh.html
--------
Parliament approves Triple Talaq Bill: What the new law says
Jul 31, 2019
NEW DELHI: Parliament on Tuesday marked a historic moment when Rajya Sabha passed the much-debated and politically contentious triple talaq bill that makes the Muslim practice of instant divorce punishable with the government comfortably beating off the opposition challenge by 99-84 votes.
Lok Sabha had passed the Bill last week and once it gets Presidential assent the practice of Muslim men instantly divorcing their wives by uttering 'talaq' thrice will become a criminal offence, punishable by a jail term of up to three years.
The bill will replace an ordinance promulgated on February 21.
What the new law says
*Pronouncement of instant triple talaq by Muslim husband either spoken or written or in electronic form or in any other manner shall be void and illegal.
*Muslim husband who pronounces talaq to get jail term of up to 3 years, shall also be liable to fine.
*Offence punishable under this Act shall be cognizable, if information relating to commission of offence is given to an officer in charge of a police station by the married Muslim woman upon whom talaq is pronounced, or any person related to her by blood or marriage.
*Offence shall be compoundable, at the instance of the married Muslim woman upon whom talaq is pronounced, with permission of magistrate.
*No person accused of a punishable offence shall get bail unless magistrate, on an application filed by the accused and after hearing the wife, is satisfied that there are reasonable grounds.
*Married Muslim woman upon whom talaq is pronounced entitled to receive from her husband such amount of subsistence allowance as determined by magistrate.
*Married Muslim woman shall be entitled to custody of her minor kids in event of pronouncement of talaq by her husband as determined by magistrate.
https://timesofindia.indiatimes.com/india/parliament-approves-triple-talaq-bill-what-the-new-law-says/articleshow/70460465.cms
--------
'Gender justice' vs 'destruction of Muslim families' in debate
Jul 31, 2019
NEW DELHI: Opposition and treasury benches traded charges when Rajya Sabha took up the triple talaq bill on Tuesday with Congress alleging that the proposed law is aimed at "destruction of Muslim families" and the ruling BJP calling it an issue of "humanity, gender justice and woman empowerment". As expected, the debate that lasted over four hours turned out to be on 'secular vs communal' lines.
Moving the Muslim Women (Protection of Rights on Marriage) Bill, law minister Ravi Shankar Prasad said it would ensure justice for Muslim women from the reprehensible practice of instant divorce (triple talaq) and "should not be seen through a political prism".
He said the practice is continuing despite the Supreme Court banning it through its judgement. There were 574 cases (101 of them were reported) even after the government promulgated an ordinance banning the practice, he said.
Leader of the opposition Ghulam Nabi Azad alleged that he could see through the BJP's design a year and a half back and it is an effort to finish families of the minority community. "Na rahe baans, na baje bansooree," he said, alleging that the government was going ahead with whatever it wished simply because it's in power. "This is a politically motivated bill. Husband and wife will hire lawyers against each other; land will be sold in order to pay lawyers. By the time the jail term (of the husband) is over, they'll be bankrupt," Azad said.
Backing the bill, Shiv Sena MP Sanjay Raut said the law will liberate over 10 crore Muslim women. "If we run the country as per the law and Constitution, how is it a threat to secularism? This government wants to formulate a law that is as per constitutional provisions and to end the law of 'mullahs'. I believe this is the first step towards uniform civil law. Subsequently you will see how provisions including Article-370 and 35A would be done away with. There will be one law for everyone, all religions and castes."
https://timesofindia.indiatimes.com/india/gender-justice-vs-destruction-of-muslim-families-in-debate/articleshow/70457467.cms
--------
Pakistan: Punjab Governor Urges Europe To Come Out Of Islamophobia
JULY 31, 2019
Punjab Governor Ch Mohammad Sarwar on Tuesday said that it was high time that Europe came out of "Islamophobia ", and added that terrorism had nothing to do with Islam.
Addressing a welcoming ceremony on national narrative on intolerance, extremism, and terrorism "Pegham e Pakistan", he said the significance of Pakistan in the world was unprecedented these days, and under the leadership of Imran Khan, the image of Pakistan was getting better due to successful policies of the government.
"The world has received a clear message that the civil-military leadership is on the same page to defend Pakistan, State of Madina vision will be imposed in Pakistan, to defeat terrorist agenda in Pakistan we will need to pitch in individual and collective efforts and the whole nation is standing in support of its armed forces in the war against terrorism."
Federal Minister for Religious Affairs Peer Noor ul Haq Qadri, Provincial Minister for Religious Affairs Peer Syed Saeed ul Hassan Shah, Chairman Islamic Ideology Council Professor Qibla Ayaz, Central Chief of Jamaat Ahl e Hadees Professor Sajid Mir, Chairman Pakistan Ulema Council Tahir Mehmood Ashrafi, Secretary Wafaq ul Madars Qari Haneef Jalandhri, Professor Doctor Masoom Yaseen Zai and Doctor Muhammad Zia ul Haq from International Islamic University , Chairman Shia Madaras Allama Riaz Najafi and representatives from various religious parties were also present at the occasion.
Governor Punjab Ch Muhammad Sarwar said that including members of Armed Forces 70 thousand Pakistanis embraced Shahadat and Pakistan incurred the loss of 100 billion Dollars but we are content that we will remove the cancer of terrorism from our country. He said extremism and sectarianism are big issues of Pakistan which demand immediate resolution. In these efforts, a unanimous verdict "Pegham e Pakistan" from more than five thousand religious scholars is a step towards the solution and government will support to spread this message across Pakistan.
Federal Minister Religious Affairs Noor ul Haq Qadri speaking at the occasion said that under the leadership of Imran Khan we will make Pakistan a modern welfare state, religion and state are inseparable and we would not allow anyone to weaken the state of Pakistan. He said Pakistan is a blessing and every one of us needs to know its worth. Those who were rejected through votes in these general elections and trying to push their agenda using religion but rest assured they will only meet with disappointment.
Chairman of Islamic Ideology Council Professor Qibla Ayaz said terrorism hinders national progress the most and even today fighting with this menace our army is sacrificing their lives. In Waziristan and other terror affected regions, armed forces did extraordinary efforts to rehabilitate those regions and we are proud of that. . Those who are trying to associate terrorism falsely with Islam will only meet disappointment in their quest to distract youngsters. Chairman Pakistan Ulema Council Tahir Mehmood Ashrafi speaking at the occasion said we need to take the message of "Paigham e Pakistan, to eradicate terrorism and extremism, all across Pakistan and we won't allow anyone to use "Fatwas of Kufar" to destroy the peace of Pakistan. Those who murder an innocent life through suicide attacks or any other ways will never enter paradise, its state responsibility to take action against those who use kufar verdicts falsely. Those who wanted to turn Pakistan into Iraq and Egypt tasted defeat and Alhamdulilah Pakistanis totally safe now.
Secretary-General Wafaq ul Madaras Qari Haneef Jalandhri said that there is no doubt that suicide attacks are haram and those who involve in terrorist activities they have no association with Islam. Those who take guns in the name of Islam are contradicting Quran and Sunnah, Islam doesn't allow anyone to impose verdicts of infidels on anyone. He said today the whole nation is standing together against enemies of peace and we won't let them succeed. We are standing beside our armed forces and other institutions in this fight against terrorism.
https://dailytimes.com.pk/440030/punjab-governor-urges-europe-to-come-out-of-islamophobia/
--------
Israel will face demographic death without two-state solution: Palestinian PM
Jul 31, 2019
Palestinian Prime Minister Mohammad Shtayyeh says the Israeli regime will suffer a "democratic death" if it refuses to support a two-state solution to the decades-long conflict between the two sides.
"Israel stands today before a big challenge — either the two-state solution or a demographic death," Shtayyeh said in an address to at a meeting of the Socialist International organization in Ramallah on Tuesday.
He also noted that the Palestinians currently make up the majority population between the Jordan River and the Mediterranean Sea, estimating that there are at total of 6.8 million Palestinians in the West Bank, the Gaza Strip and the occupied lands compared to 6.6 million Israelis.
"For the first time since 1948, the demographic balance is in favor of the Palestinians," he said. "The Palestinians are 200,000 more than them."
The Palestinian premier further stressed that the Israelis have to choose between the so-called two-state solution or no peace. "Either the two-state solution or a racist regime in practice and law," he added.
Elsewhere in his speech, Shtayyeh called the administration of US President Trump "stupid" for thinking that it could make the Palestinian people surrender by recognizing Jerusalem al-Quds as Israel's "capital," transferring its embassy from Tel Aviv to the occupied city and cutting financial assistance to the Palestinian Authority.
The Palestinians, he said, would not accept less than the minimum of freedom, independence and the establishment of their sovereign state along the 1967 lines with Jerusalem al-Quds as its capital, he added.
"What is happening is dangerous for the future of Palestine, the region and the world," he said.
Shtayyeh also lashed out at Jason Greenblatt, Trump's Middle East envoy, for claiming at last week's UN Security Council meeting that the Palestinians have aspiration, not right, to East Jerusalem al-Quds as their capital.
"That (Greenblatt's assertion) is the highest level of political blasphemy and the highest level of prejudice against the Palestinian people's national rights," he said.
Greenblatt, along with Trump's son-in-law and senior adviser Jared Kushner, has begun a tour of Jordan, Egypt, Saudi Arabia, Israel, and Morocco to discuss the economic chapter of a so-called peace plan, which Washington had been developing without Palestine's consent to end the Middle East conflict in favor of Israel.
https://www.presstv.com/Detail/2019/07/31/602302/Israel-Palestine-Mohammad-Shtayyeh
--------
Iran Says It Will Expand Military Ties With Russia, Hold Joint Drills As U.S. Tries To Build Rival Coalition
By Tom O'connor
7/29/19
The head of Iran's navy has said he signed a document to expand ties with Russia, with whom his forces planned on conducting joint drills in the same tense waters that the United States sought to counter the Islamic Republic with international support.
Iranian naval commander Rear Admiral Hossein Khanzadi said Monday that he signed an unprecedented memorandum of understanding with Russia, largely involving the two countries' naval forces, and that it "may be considered as a turning point in relations of Tehran in Moscow," according to Iran's semi-official Fars News Agency. The news came as Khanzadi was visiting St. Petersburg to celebrate Russia's Navy Day and he further announced that "joint Russian-Iranian exercises in the Indian Ocean are expected to take place soon."
"When we talk about the Indian Ocean, perhaps the most significant part of the area is the northern Indian Ocean, which flows into the Gulf of Oman, the Strait of Hormuz and also the Persian Gulf," Khanzadi said.
Such an exercise would take place in the same waters in which the U.S. has accused Iran of attacking and seizing international vessels in recent months, charges Tehran has denied as it faced mounting sanctions in the wake of Washington's withdrawal last year from a 2015 nuclear deal with its longtime foe.
The agreement, officially known as the Joint Comprehensive Plan of Action, was also signed by Russia as well as China, the European Union, France, Germany and the United Kingdom⁠ — all of whom still support it in spite of President Donald Trump's exit. Washington has threatened to hit the countries with sanctions should they engage in trade with blacklisted Iranian business sectors, such as its otherwise lucrative oil industry.
The Pentagon has also deployed additional military assets such as 2,500 troops, a carrier strike group and a bomber task force to the Middle East in response to what the White House has claimed was a heightened threat posed by Iran. The U.S. has also held Iran responsible for two series of explosions that targeted foreign oil tankers traversing the Gulf of Oman since mid-May, accusations the country has denied.
Unmanned aerial systems too have been at the center of worsening frictions as the Trump administration claimed to have downed an Iranian drone last week, about a month after Iran's elite Revolutionary Guards shot down a U.S. Navy drone in the Persian Gulf region. Tehran denied losing a drone and the Revolutionary Guards seized a U.K.-flagged vessel the following day, accusing it of endangering vessels in the Strait of Hormuz weeks after the U.K. detained an Iranian supertanker accused of attempting to transport oil to Syria via the Strait of Gibraltar in what London called a violation of EU sanctions.
With tensions rising, the U.S. and the U.K. have made separate calls for an international maritime coalition to patrol the Persian Gulf. Secretary of State Mike Pompeo told the Economic Club of Washington that the U.S. would be successful in building "a maritime security plan" and that "we need countries from all across the world to assist us in protecting commercial transit."
Pompeo told Fox News Channel last week that when it came to retreiving the U.K,-flagged vessel in Iranian custody, "the responsibility...falls to the United Kingdom to take care of their ships" and newly-appointed U.K. Foreign Minister Dominic Raab told London-based newspaper The Times on Friday that any European-led mission would "doesn't seem to me to be viable without American support as well." France and Germany signaled early interest in the U.K.'s proposal but have sought to distance themselves from the U.S. position toward Iran.
South Korean Defense Ministry spokesperson Colonel Roh Jae-cheon told reporters Monday that his military was "looking into various options to ensure the safety of our vessels" in the Strait of Hormuz when asked if Seoul would sign on to the Pentagon's initiative, according to Yonhap News Agency.
https://www.newsweek.com/iran-says-it-will-expand-military-ties-russia-hold-joint-drills-us-tries-build-rival-coalition-1451630
--------
Death, anguish and flickers of hope: 10 years of Boko Haram
by Eromo Egbejule
Jul 31, 2019
Lagos, Nigeria - At the end of July 2009, Mohammed Yusuf - founder of the Boko Haram armed group - was killed in police custody in Maiduguri, Nigeria.
His successor, Abubakar Shekau, vowed to exact revenge on the Nigerian government and a merciless campaign was launched.
In the ensuing Boko Haram killing spree, nearly 30,000 people were killed and more than two million displaced, according to the Council on Foreign Relations' Nigeria Security Tracker.
A state of emergency was declared in 2013 by then-President Goodluck Jonathan in the northeastern states of Adamawa, Borno and Yobe.
As part of its counterinsurgency operations, the Nigerian military shut down telecommunications in the three states, forcing the fighters to move into Sambisa, a vast forest reserve 60km southeast of Maiduguri that has since become synonymous with the group.
Hundreds of young women have been abducted by the group to become brides to their fighters and in some cases suicide bombers.
Two hundred seventy-six schoolgirls were kidnapped from a Chibok boarding school in April 2014, while another kidnapping in February of last year saw some 110 teenage girls taken from their school in Dapchi.
But it is widely believed that the number of boys and men kidnapped by Boko Haram - most forcibly recruited to fight -over 10 years is much higher.
Waiting for Boko Haram to end
Abubakar Bala, a 32-year-old shoe mender, has watched his hometown Bama transform from a commercial hub in Borno state to a war-torn husk. His wife was killed when attackers invaded the city in September 2014 and he watched neighbours run over bodies as he fled through the forest.
"Only Allah can heal us. I still don't know where some of my family members are," he told Al Jazeera.
Fati Abubakar, a Maiduguri-based photographer, has lost family, friends and neighbours to Boko Haram. She has left Nigeria twice to study overseas and returns to find the situation largely unchanged every time.
"It has been 10 years. We are still waiting - endlessly optimistic but tragically traumatised," said Abubakar, who has been documenting northeast Nigeria's slow but resilient journey to normalcy.
"We have waited and waited and waited for Boko Haram to end."
Decade of horror
Yusuf had risen to prominence some seven years before his death, preaching the virtues of an Islamic way of life and encouraging people to turn their back on Western influence.
By 2002, he had established a group he called the Jama'at Ahl as-Sunnah lid-Da'wah wa'l-Jihad, comprising mostly young men galvanised by unemployment, government negligence and inequality.
The group continued to grow, especially in northeastern Nigeria where Borno state is. By 2009, security services had begun to try to shut down the group's public demonstrations.
It was during one of these altercations that Yusuf was arrested and held by the police, who later announced that he had died under unclear circumstances.
Splits within Boko Haram
By 2016, a split had formed in the group, which had sworn allegiance to the Islamic State of Iraq and the Levant (ISIL or ISIS) group a year earlier.
While one faction remained under the leadership of Abubakar Shekau, Yusuf's trusted lieutenant, another faction known as the Islamic State West Africa Province (ISWAP) formed under Abu Musab al-Barnawi, one of Yusuf's sons.
ISWAP tends to carry out more surgical strikes against military-aligned targets and installations, including one attack in November 2016, which killed seven soldiers and their colonel, Abu Ali, a well-loved commander.
The Shekau faction has moved towards softer targets, said Ryan Cummings, director at Africa-focused political consultancy Signal Risk.
"This came down to one of the core ideological splits within Boko Haram and which played out right at the structures of the Islamic State itself, that Shekau's penchant for violence against Muslim civilians - which he simply excommunicated due to their failure to live in Boko Haram's dawlah [Islamic province] - was not justifiable.
"However ISWAP itself has increasingly sought to target civilian interests in armed violence as noted by recent abductions of aid workers but has yet to reach the scale employed by Boko Haram.
"From an operational perspective, ISWAP has demonstrated a more acute capability, often executing surgical raids on military installations in Borno and Yobe states. For Boko Haram, violence has been less sophisticated and defined by armed ambushes on civilian convoys and the employment of suicide bombers against such interests."
Long struggle
In 2015, President Muhammadu Buhari unseated the incumbent Jonathan, promising to put an end to Boko Haram. Despite multiple claims the armed group has been "technically defeated", the army still struggles to control the violence.
The fight against Boko Haram has been beset by many drawbacks, including delays to military funding and reports of extrajudicial killings by the army, which has led to the US government refusing to sell weapons to Nigeria.
A coordinated response among neighbouring countries also facing the rebellion has been less than effective.
"This has severely diluted the efficacy of largely unilateral military efforts employed by these countries," Cummings told Al Jazeera.
"Also, in many of these countries - perhaps including Nigeria - the Boko Haram insurgency is a secondary concern to more pressing security issues occurring elsewhere in their borders, and which has seen a greater allocation of resources and political will."
In spite of the great gains made against the group, Boko Haram continues to evolve and analysts say the war is far from over.
In fact, an expansion of violence within the Lake Chad basin could destabilise ethnopolitical alliances in and trigger other peripheral security concerns, said Cummings.
"[It could be] similar to what we are witnessing in the insurgency dynamics of Mali and its expansion to neighbouring regions such as Burkina Faso and Niger," he warned.
Ray of hope
The odds may be stacked against Nigeria, but stories of hope are emerging.
Boko Haram barely holds any territory today.
The town of Gwoza, which the group declared as the seat of its caliphate in 2014, has been recaptured by troops and is gradually returning to life, as are other towns in Nigeria, Cameroon, Chad and Niger.
Bala, the shoe mender, has remarried and lives in Maiduguri with his wife. The couple met while staying at the Dalori camp for internally displaced people.
A Civilian Joint Task Force has stepped in to complement efforts by the understaffed army, using rudimentary firearms and machetes to protect their civilian neighbours.
Markets have re-opened and, after three years of playing its home games in northwestern Nigeria, the El-Kanemi Warriors football team has come home to play in Maiduguri.
Local flights from Yola and Maiduguri have started up again and previously shuttered banks are slowly re-emerging.
While many survivors are still grappling with the trauma of living through Boko Haram, more psychosocial support is being made available, lighting flickers of hope in people.
"Borno state, like every other conflict zone in the world, is full of sadness and happiness - gut-wrenching stories one day and awe-inspiring stories the next day," said Abubakar, the photographer.
"The ability of the human spirit to simultaneously endure tragedies and celebrate triumphs will never cease to amaze me. We have endured for 10 years but are still optimistic that one day it will end."
https://www.aljazeera.com/news/2019/07/death-anguish-flickers-hope-10-years-boko-haram-190729161220796.html
--------
US trying to fulfill fantasy of global control with help from Israel, Saudi Arabia: Analyst
Jul 30, 2019
The United States is using all in its power to fulfill its longtime policy of exerting political, economic and military control over the world using Saudi Arabia and Israel as its helping hands, says an American political analyst.
Scott Bennett, a former US Army psychological warfare officer and counter-terrorism analyst, made the remarks in reaction to criticism by Virginia Senator Bernie Sanders that President Donald Trump's foreign policy was centered around pleasing Israel and Saudi Arabia.
"The United States foreign policy cannot be 100 percent pro-Israel, 100 percent pro-Saudi Arabia and 100 percent against Iran," Bennett told Press TV on Monday. "That is just completely unbalanced, and it is prejudiced and bigoted."
Sanders, who is looking forward to challenge Trump in the 2020 US presidential election, said Trump needed to tone down his Middle East policy and stop turning a blind eye on every crime that the regimes in Riyadh and Tel Aviv had been committing.
"That is not the role that the United States of America should play," the senator said.
Bennett said Sanders was right in saying that Washington has adopted a dangerous foreign policy by putting Saudi Arabia and Israel before humanitarian purposes.
He said the US was pursuing this aggressive brand of foreign policy for "geopolitical destabilization" of the Middle East region.
He said the policy was part of part of a "warmongering agenda" by US Secretary of State Mike Pompeo and National Security Adviser John Bolton that revolves around "crushing Middle Eastern regimes and turning them into subservient colonies."
Ultimately, he said, the hawks in Washington were looking to fulfill the "fantasy of global hegemony and political control and economic and military control over the world."
Sanders, who is a staunch critic of Prime Minister Benjamin Netanyahu, further said Sunday that the Israeli premier is at helm of a regime with "many racist tendencies."
"But I think what has happened is, in recent years under Netanyahu you have an extreme right-wing government with many racist tendencies. The role of the United States – and this is not easy – is to try to finally bring peace to the Middle East and to treat the Palestinian people with the kind of respect and dignity they deserve," said the Vermont senator.
https://www.presstv.com/Detail/2019/07/30/602242/US-Trump-foreign-policy-Sanders-Saudi-Arabia-Israel
--------
Arab World
UAE Says 'Dangerous' Recordings Prove Qatar's Terrorism Ties
30 July, 2019
United Arab Emirates State Minister for Foreign Affairs, Anwar Gargash said Tuesday that a recent New York Times report proves Qatar's ties to terrorism.
Earlier this month, the New York Times obtained an audio recording of a telephone call between the Qatari ambassador to Somalia and a businessman who is close to Emir Sheikh Tamim bin Hamad Al Thani that reveals Doha's complicity in terrorist bombings in the African country.
The businessman, Khalifa Kayed al-Muhanadi told Qatari Ambassador Hassan bin Hamza Hashem that militants had carried out a bombing in the port city of Bosaso in northern Somalia, to advance Qatar's interests by driving out its rival, the UAE.
Gargash tweeted: "The dangerous recording cannot be denied with a hasty statement."
"Resorting to terrorism against the UAE is regrettable escalation and justifies the four countries' boycott of Qatar," he added.
In May, a car bomb went off in front of a government building in Bosaso.
"The bombings and killings, we know who are behind them," al-Muhanadi, said in the call on May 18, about a week after the bombing.
"Our friends were behind the last bombings," he remarked.
The attack, which was claimed by an ISIS affiliate, left eight people wounded.
https://aawsat.com/english/home/article/1836066/uae-says-%E2%80%98dangerous%E2%80%99-recordings-prove-qatar%E2%80%99s-terrorism-ties
--------
Muslim-Christian Summit Tries To Help Ease Escalating Sectarian Tensions In Lebanon
NAJIA HOUSSARI
July 30, 2019
BEIRUT: Christians and Muslims gathered for a spiritual summit in Lebanon on Tuesday amid concerns about a growing sectarian divide in the country's politics.
The crisis escalated after two aides to Minister of the Displaced Saleh Al-Gharib were killed on June 30 in Mount Lebanon. Al-Gharib is a member of the predominantly Druze-supported Lebanese Democratic Party, which is allied with the Christian Free Patriotic Movement (FPM). The aids were shot and killed following protests by supporters of the Progressive Socialist Party, which also draws its support mostly from the Druze community, against a visit by FPM leader Gebran Bassil to a Druze-majority area.
Prime Minister Saad Hariri suspended Council of Ministers meetings to focus on finding a peaceful resolution to a crisis that has exposed renewed divisions between the political forces in power.
The main issue relates to the political representation of a dwindling, but still significant, number of Christians.
Tuesday's spiritual summit, at the Druze Dar Al-Muwahhidin, concluded that "the national unity that emerged among the Lebanese spiritual communities based on the (1989) Taif Agreement (which ended the Lebanese Civil War) constitutes the basis and guarantor of the building of Lebanon. Any abuse of coexistence, especially in the mountain, is an insult to Lebanon's ideals and mission."
The participants called for "greater awareness and national solidarity to overcome the risks that are compounded by the projects and plans aimed at redrawing the map of the region." They stressed the "urgent need" for the government to bring about "stability and economic advancement," and find "a suitable and quick solution to the political hurdle the country is going through."
Grand Mufti Sheikh Abdullatif Durian spoke at the summit of a need to find "solutions to the crises in line with the rules of national unity and coexistence and through adherence to the constitution and Taif."
MP Henri Helou said the conclusions reached by the summit represent "the ceiling under which all positions must be kept, and a road map out of the crisis."
Walid Ghayyad, a spokesman for the Maronite Catholic Patriarchate, said: "The findings of the spiritual summit are not enough; political officials are required to translate this talk into national positions...Lebanon is not governed by one group; there is a need for balance and respect for each other."
He questioned whether the only solution to the crisis should be "for Christians to accept things as they are and abandon their role?" He added: "In some positions in the state, Christians do not exceed 10 percent compared to 90 percent for Muslims. There is a tug of war. The subject requires impartiality. It is true that the issue has been there for a long time but it has been exacerbated recently and the risks are increasing."
Khaled Kabbani, a former minister and member of the Constitutional Council, who attended the summit, said: "All the talk during the closed meeting of the summit stressed the need for moderation and understanding and the desire of everyone to overcome the crisis.
Full report at:
http://www.arabnews.com/node/1533331/middle-east
--------
Syrian troops advance in northwest, breaking stalemate
July 29, 2019
BEIRUT — Syrian troops made advances on the ground in northern Syria on Monday, seizing a hilltop village and a nearby town from insurgents in the first breakthrough for President Bashar Assad's forces following weeks of intensive air and artillery bombardment.
The area has been repeatedly targeted in recent days as Syria's government looks to regain momentum in its stalled offensive against the last opposition-controlled stronghold in Syria. The rebel area encompasses Idlib province and the surrounding rural areas of Hama province.
At least 450 civilians have been confirmed killed in the three-month offensive, including more than 100 in the last 10 days alone, according to the U.N. human rights chief.
Over the last three years, the government has regained control of most of the territories that were initially seized by the opposition in the early days of the civil conflict — now in its 9th year. Those military victories, supported by Russian airpower and Iranian-backed militias on the ground, followed intense military campaigns and tight sieges that forced rebels to surrender and move north.
The Idlib region is dominated by al-Qaida-linked militants and other jihadi groups, and is home to an estimated 3 million people, many of them displaced by other bouts of violence in other areas. The government, which launched its offensive in late April, says it is targeting terrorist locations.
Syria's Central Military Media said troops captured the Tal Malah village and the nearby town of Jibeen on Monday after fierce confrontations with militants entrenched in the area. The Syrian Observatory for Human Rights, a war monitor, reported the advances, saying government troops were able to seize the territory after militant groups withdrew, following intense air and ground shelling.
Full report at:
https://www.washingtonpost.com/world/middle_east/syrian-media-troops-advance-in-north-breaking-stalemate/2019/07/29/e98ec5e4-b1ef-11e9-acc8-1d847bacca73_story.html?noredirect=on&utm_term=.243e0f8bc56c
--------
Concerns In South Syria Over Damascus' Release of ISIS Members
30 July, 2019
Local sources in southern Syria said that concern prevails in the Yarmouk Basin area, southwest Daraa, over the large number of ISIS members who returned to the area after the Syrian regime started releasing them in batches since early last month.
Most of those ISIS militants were members of the Jaysh Khalid ibn al-Walid, the local ISIS affiliate.
The western Daraa countryside was ISIS' last stronghold in the area, before the Assad forces took over the Yarmouk Basin, via a military campaign, backed by Russian aircraft and settlement opposition factions in August 2018.
Since then, Daraa has been in a state of security chaos, with hundreds of people arrested, including those who have agreed to the settlements with the regime's forces, which have also obliged many into forced conscription. This has angered several residents, especially the factions that agreed to the settlements.
Activists in the Yarmouk Basin told Asharq Al-Awsat on Monday that currently, around 1,000 ISIS-affiliated militants returned to the area.
They said that one year ago, when the Assad forces launched its military campaign against the organization, the Syrian regime killed tens of ISIS militants and arrested around 400.
The sources asserted that lately, the Syrian regime has let 80 militants out of prison, including an emir of Jaysh Khalid ibn al-Walid group.
Currently, the area's residents have expressed concern over the release of the militants, fearing that the regime would benefit from their presence and would claim the existence of ISIS dormant cells to enforce tight security measures on the Yarmouk basin area or to launch large arrest campaigns against residents wanted in the compulsory service.
Full report at:
https://aawsat.com/english/home/article/1835876/concerns-south-syria-over-damascus%E2%80%99-release-isis-members
--------
Coalition Says Strike Kills ISIS Jihadists in Syria
29 Jul 2019
A US-led coalition air strike killed five jihadists in eastern Syria on Monday, a spokesman said, in the first such raid since the collapse of the Islamic State group's "caliphate".
"Coalition forces conducted a strike against a Daesh cell near Busayrah", a town in Deir Ezzor province, said coalition spokesman James Rawlinson, using an Arabic acronym for ISIS.
"This operation eliminated five terrorists who played a key role in facilitating attacks across the region against security forces and innocent civilians," he told AFP.
The five jihadists were all Syrian, according to the Syrian Observatory for Human Rights war monitor.
It was the first aerial attack by coalition warplanes since ISIS was driven out of its last holdout in Syria four months ago, the Britain-based group added.
A US-backed, Kurdish-led force announced it had expelled the extremists from their last patch of territory in eastern Syria, the town of Baghouz, on March 23.
That came after a months-long campaign backed by coalition air strikes.
The Syrian Democratic Forces' victory spelled the end of the jihadist proto-state declared in 2014 after IS seized large parts of Syria and neighboring Iraq.
But despite losing their territory, ISIS fighters continue to launch regular attacks across war-torn Syria.
They have claimed operations in SDF-held areas, including targeted killings and setting fire to vital wheat crops.
In Syria's vast desert, they have repeatedly hit regime forces with deadly attacks and ambushes.
They also maintain a presence in the northwestern region of Idlib, which is dominated by an al-Qaida-linked jihadist group.
The US-led coalition has said it is backing the SDF in northeastern Syria against thousands of remaining ISIS loyalists.
"The coalition will continue to enable partner forces in their pursuit of enduring defeat of Daesh," Rawlinson said.
Full report at:
https://www.military.com/daily-news/2019/07/29/coalition-says-strike-kills-isis-jihadists-syria.html
--------
Iraq says ex-governor embezzled $10 mln in aid for displaced
30 July 2019
Around $10 million in aid for the displaced in northern Iraq's Nineveh province, where ISIS was based, has been embezzled by its fugitive ex-governor, the country's anti-corruption commission said on Tuesday.
A spokesperson for the Integrity Commission told AFP that its investigators had uncovered "invoices from developers in Iraqi Kurdistan."
But, he added, "no receipt was found" for these debited sums, which were meant for the rehabilitation of two hospitals in the northern metropolis of Mosul, capital of Nineveh.
Many of the province's inhabitants are still displaced as public services have not been fully reestablished.
Currently, 1.6 million Iraqis are still crowded into camps for the displaced, of which 40 percent are originally from Nineveh, according to the International Organization for Migration (IOM).
A total of 11.3 billion Iraqi dinars ($9.4 million) had been allocated to the Provincial Council by the Ministry of Migration and Displaced, according to the commission.
"It has been debited and doesn't appear in any provincial authorities' bank accounts or in the Provincial Council funds," he said.
"It was transferred to Kurdistan," an autonomous region where the sacked governor of Nineveh, Nawfel Akoub, is thought to be in hiding, along with several other officials wanted by Baghdad.
He has been on the run since a ferry sank in Mosul on Mother's Day in March, killing 150 people.
In April, the commission said that more than $60 million of public funds were diverted by officials close to Akoub from Nineveh's budget of $800 million.
Graft is endemic across Iraq, which ranks among the world's worst offenders in Transparency International's annual Corruption Perceptions Index.
Full report at:
https://english.alarabiya.net/en/News/middle-east/2019/07/30/Iraq-says-ex-governor-embezzled-10-MN-in-aid-for-displaced.html
--------
Southeast Asia
Umno, PAS deny contested seats already negotiated
30 July 2019
BY IDA NADIRAH IBRAHIM
KUALA LUMPUR, July 30 — Umno and PAS have denied today any talks involving seat negotiations between them in the political pact between the two Malay-Muslim parties.
The secretaries-general of Umno and PAS, Tan Sri Annuar Musa and Datuk Seri Takiyuddin Hassan, had in a joint statement said the approved agreement had not touched on the issue at all.
"The Umno-PAS agreement was approved by the consultative committee from both parties which had not touched on the issue of seat negotiations.
"It was agreed that both parties have its own mechanism on the matter," they said.
The two parties denied a report by Malaysiakini claiming that they have agreed to allocate an equal number of seats to contest in the next general election.
The report had cited an unnamed source from to have claimed that the seat allocation would be on seats had been contested between Umno and PAS in previous elections, but would not include in Sabah and Sarawak.
The two Malay-Muslim parties had once been arch-enemies but set aside their differences after Pakatan Harapan's stunning victory in the general election last year ended the Barisan Nasional coalition's six-decade rule.
The new Umno-PAS alliance is banking on winning back rural voters who are majority Malay and Muslim to counter the PH coalition at the 15th general election due by 2023.
https://www.malaymail.com/news/malaysia/2019/07/30/umno-pas-deny-contested-seats-already-negotiated/1776085
--------
Dr M says Zakir Naik here to stay as not many would take him
July 31, 2019
PETALING JAYA: Dr Mahathir Mohamad has suggested that Putrajaya has no choice but to allow Dr Zakir Naik to reside in Malaysia as other countries are not keen to accept the controversial Muslim preacher who is wanted by Indian authorities.
"We have a multiracial and multi-religious population in Malaysia. We don't want anybody who comes up and expresses extreme views about race relations and about other religions," the prime minister said in a recent interview with Turkish news channel TRT World, when asked on his view about Naik who is accused of propagating hate.
"So to that extent, we cannot have him, but on the other hand it is difficult to send him anywhere else because many countries do not want to have him."
Indian authorities have filed money laundering charges against Naik, who has been granted permanent residence status in Malaysia.
In May, anti-graft authorities charged him in absentia with money laundering involving about Rs1.9 billion (RM114.5 million) worth of criminal assets.
Putrajaya has so far resisted requests for Naik's extradition, with Mahathir questioning the likelihood of him receiving a fair trial.
Naik has denied the charges against him, but says he is prepared to face them. However, he wants assurance from New Delhi that he will not be arrested until he is found guilty.
During his interview, Mahathir, who made his first official trip to Turkey after returning to power last year, also touched on the Chinese crackdown on Uighur Muslims in the Xinjiang province, as well as his stance on the Sunni-Shia conflict.
He said Malaysia's response to Chinese actions would be similar to how it reacted to the US.
"And there is no question of us taking any violent action against China but if we have the facts, yes we should condemn," he added.
He also criticised those stoking rivalries between Sunni and Shias, saying both are Muslim.
"Of course each claims to be the correct interpretation of Islam and we may dispute, but the fact is the world regards both Sunnis and Shias as Muslim," he said.
He said those out to label Muslims as terrorists ignore such sectarian differences.
Full report at:
https://www.freemalaysiatoday.com/category/nation/2019/07/31/dr-m-says-zakir-naik-here-to-stay-as-not-many-would-take-him/
--------
Saudi Arabia's King Salman sponsors 20 Malaysian pilgrims for Haj
31 July 2019
KUALA LUMPUR, July 31 — The King of Saudi Arabia, King Salman Abdulaziz Al Saud, is sponsoring 20 Malaysian pilgrims to perform the Haj under the 2019 Saudi King's guests programme.
The annual programme is organised by the Saudi Ministry of Islamic Affairs, Da'wah and Guidance, and is personally financed by King Salman. The cost covers the pilgrims' accommodation, flight tickets, food and drink as well as Haj rites.
Saudi Ambassador to Malaysia, Mahmoud Hussien Saeed Qattan, said the Saudi government has succeeded in getting a large number of Muslims from across the globe to come together.
He also said that the Saudi government has extensive experience in running the programme, which has been conducted for more than 20 years.
"We will always work to improve the programme from time to time," said the Ambassador to Bernama after an event celebrating the Saudi King's Guest, here, yesterday.
Among the programme's aim is to get the pilgrims to come together to enable the exchanging of views on Islam and strengthen the ties between them.
The Malaysian pilgrims selected for this year's programme include religious scholars and leaders, representatives from the government, academicians, and individuals from NGOs.
The group will depart for Jeddah from Kuala Lumpur International Airport on August 2, and will be in Saudi till August 17.
The selected Malaysian 'guests' will be among the 1,300 pilgrims from 72 countries under the programme.
King Salman has also invited 200 families of victims of the terrorist attacks in Christchurch, New Zealand, and 2,000 Yemeni military family members to perform the pilgrimage under the programme this year.
Full report at:
https://www.malaymail.com/news/malaysia/2019/07/31/saudi-arabias-king-salman-sponsors-20-malaysian-pilgrims-for-haj/1776158
--------
Jakarta calls for plastic-free Idul Adha celebration
July 31 2019
A common sight during the celebration of Idul Adha (the Islamic Day of Sacrifice) in nearly every mosque and community area in Jakarta may involve tons of kresek (single-use plastic bags) to contain the slaughtered meat to be distributed to residents.Cheap and convenient, kresek have long been the go-to carrier for many people on many occasions, including Idul Adha. However, for this year's celebration, which is to fall on Aug. 11, different carriers may replace the popular plastic bags as environmental consciousness is being encouraged in a bid to up the fight against the plastic waste plaguing the capital city. Of the city's daily 7,500 tons of waste, 30 percent is plastic.The Jakarta administration has issued a circular suggesting Muslims distribute the qurban (sacrifice) meat using eco-friendly packaging. In the announcement disseminated by the Jakarta Environment Agency, the cit...
Full report at:
https://www.thejakartapost.com/news/2019/07/31/jakarta-calls-plastic-free-idul-adha-celebration.html
--------
Malaysia's new king calls for racial unity at coronation
30 July 2019
Malaysia's sports-loving Sultan Abdullah Sultan Ahmad Shah called for racial unity as he was installed Tuesday as the country's 16th king under a unique rotating monarchy system.
It was a double celebration for Sultan Abdullah from central Pahang state, who turned 59 the same day. He was picked as Malaysia's new ruler in January, after Sultan Muhammad V from northeast Kelantan state abruptly resigned after just two years on the throne in the first abdication in the nation's history.
Nine ethnic Malay state rulers take turns as king for five-year terms under the world's only such system, which has been maintained since Malaysia's independence from Britain in 1957.
In his coronation speech, Sultan Abdullah warned that any attempt to sow racial discord in the country was akin to "playing with fire that will burn not only oneself but also burn down the whole village.
"Unity and national harmony are the country's pillars of strength. Do not ever stoke racial misunderstanding by raising matters that can threaten national unity and harmony," he said.
Garbed in black and gold regalia, Sultan Abdullah voiced confidence that Prime Minister Mahathir Mohamad's government is able to tackle economic and social challenges in trying to rebuild the country after winning last year's elections.
A large number of ethnic Malay Muslims, who make up about 60 percent of Malaysia's 32 million people, still support the opposition. While carrying out economic and institutional reforms, Mahathir's multiethnic alliance has to quell fears among Malays that their privileges under decades-old affirmative action that favors them in jobs, business and education will be eliminated.
Ethnic Chinese and Indians comprise about 30 percent of the population.
Mahathir in his speech acknowledged minor incidents of racial strife and said the government has set up an advisory body to strengthen racial unity. He said the government will step up efforts to bolster the economy and fight corruption to ensure that "no one is above the law."
Brunei's Sultan Hassanal Bolkiah and Abu Dhabi Crown Prince Sheikh Mohammed bin Zayed Al Nahyan also attended the ceremony at the national palace, steeped in centuries-old Malay tradition.
British-educated Sultan Abdullah is a prominent figure in sport bodies. He is a council member of the world football governing body FIFA, president of the Asian Hockey Federation, and an executive board member of the International Hockey Federation.
He took over after Sultan Muhammad V, 49, quit shortly after marrying a 25-year-old former Russian beauty queen last November. Sultan Muhammad however, reportedly divorced his wife recently.
Known as the Yang Di-Pertuan Agong, or He Who Is Made Lord, Malaysia's king plays a largely ceremonial role, since administrative power is vested in the prime minister and Parliament. The monarch is highly regarded as the guardian of Islam and Malay tradition, particularly among the Malay Muslim majority. He is also the nominal head of the government and armed forces.
Full report at:
https://english.alarabiya.net/en/News/world/2019/07/30/Malaysia-s-new-king-calls-for-racial-unity-at-coronation.html
--------
Europe
UK Forced To Disclose Audits Of Funds Used By PA For Terrorists' Salaries
By Maayan Jaffe-Hoffman
July 30, 2019
The United Kingdom's Information Commissioner Elizabeth Denham has ordered the Department for International Development (DFID) to disclose audit reports of accounts into which British grant money was transferred and allegedly used to pay salaries to convicted Palestinian terrorists.
The decision, signed on Friday by Jonathan Slee, senior case officer for the Information Commissioner's Office, overturns a 2018 refusal by both the DFID and its internal reviewer to disclose these reports, following a Freedom of Information request made by UK Lawyers for Israel (UKLFI) last year.
The commissioner is requiring that DFID provide UKLFI with a copy of the information falling within the scope of its request within 35 days or face being sent before the High Court.
"The Commissioner has concluded that there is a significant public interest in the disclosure of the information," Slee's letter said.
On July 5, 2018, UKLFI submitted a Freedom of Information Act request to the DFID for copies of audit reports for the Palestinian Recovery and Development Program (PRDP), a World Bank multi-donor trust fund (MDTF) for the Palestinian Authority PA, along with the terms of reference for these audits. However, the DFID refused to release this information, citing among other reasons that relations between the UK and the PA could be harmed by such disclosure.
However, according to UKLFI and now the commissioner, the harm could be greater to the British public.
UKLFI said that in the period 2008 to 2015, Britain gave grant aid to the PA's Central Treasury totaling £430.5 million (NIS 1.85 m.), via the World Bank. The aid was untied and not earmarked for a specific project.
Furthermore, Palestinian Media Watch (PMW) disclosed documents that showed that the PA pays more than 8% of its total budget through its Central Treasury to fund salaries for convicted terrorists, which serve to reward and encourage terrorism. As such, it is possible that some of the funds provided by the UK were used to pay these salaries.
Britain's funding allocations were audited by the independent auditor PricewaterhouseCoopers. According to UKLFI, the auditor failed to comply with OECD Guidelines for Multinational Entities by not reporting the use of funds transferred by the World Bank to pay salaries to terrorists.
PwC responded that the narrow scope of their work did not require them to consider this issue, and DFID revealed to the information commissioner that it did not hold audit reports of any accounts into which funds from the PRDP were disbursed, nor did it hold the terms of reference for the audit of the overall program.
"This revelation means that DFID ministers could not have known where British money was going, as they had claimed in Parliament, nor could they rely on the independent audits of the funds, if they were not aware of the terms of reference of those audits," said UKLFI in a release. "The position is particularly serious since this misinformation has facilitated the transfer of funds used 'to encourage and reward murder.'"
The commissioner's report said that it supported UKLFI's argument that the public interest in disclosure of the documents was extremely strong in this case since false information provided by DFID appears to have facilitated the continuation of a policy under which large sums of British public money were used to reward and encourage murder.
"The commissioner recognizes that the complainant has cited the PMW report as evidence to support his position.
Furthermore, and in the commissioner's opinion of arguably more significance, is the fact that similar concerns have been raised in Parliament. In the commissioner's opinion, this suggests that disclosure would serve a wider public interest," the commissioner's letter stated.
"Moreover, in the commissioner's opinion, the severity of the allegations arguably increases the public interest in the disclosure of information… She has reached this conclusion given the importance of the UK being open and transparent about how it ensures that the aid funds are used appropriately."
According to PMW, the PA is paying at least NIS 732 million (£170 million) in financial rewards to terrorists and their relatives.
A report released by the watchdog organization in February, based on data gathered from B'Tselem in combination with information from the PA, the Shin Bet (Israel Security Agency) and noted historians, revealed details about the amount of money being paid by the PA to terrorists who are in Israeli prisons and terrorists who were jailed and are currently released. This report likewise included information on relatives of dead terrorists who receive a monthly stipend and wounded terrorists.
PMW's report was issued around the same time that Israel implemented the "Pay-for-Slay" Law, which instructs the state to deduct and freeze the amount of money the PA pays in salaries to imprisoned terrorists and families of "martyrs" from the tax money it collects for the PA.
The law was passed in July 2018 and was approved for implementation by Israel's security cabinet this year.
As a result of Israel's commitment to withholding this tax money, the PA has refused to receive any money from Israel, leading to what is being described as a financial crisis in the territories.
The United States has been supportive of Israel's decision. In a tweet as recently as this month, US Special Envoy Jason Greenblatt slammed the Palestinian Authority's funding to terrorists, asking, "Why do donor countries tolerate this?"
A spokesperson for the UK in Israel did not return requests for comment.
https://www.jpost.com/Israel-News/UK-forced-to-disclose-audits-of-funds-used-by-PA-for-terrorists-salaries-597087
--------
UN Warns Islamic State Leader Plotting Comeback from Iraq
By Jeff Seldin
July 29, 2019
The Islamic State terror group's self-declared caliphate may be dead, but its leaders are hanging on in Syria and Iraq, dreaming of the day when they can again direct attacks on targets around the world.
The conclusion is part of a sobering assessment in a newly released quarterly United Nations report on IS, also known as ISIS or ISIL, which warns the epicenter for the terror group's budding renaissance is Iraq, "where Abu Bakr al-Baghdadi and most of the ISIL leadership are now based."
"The leadership aims to adapt, survive and consolidate in the core area and to establish sleeper cells at the local level in preparation for eventual resurgence," the report cautioned. "When it has the time and space to reinvest in an external operations capability, ISIL will direct and facilitate international attacks."
In the meantime, the report warns the terror organization, "has continued its evolution into a mainly covert network," since the fall of Baghuz, the last territory it held in Syria, this past March.
While the assessment that Baghdadi is operating mostly out of Iraq is new, the other warnings are similar to concerns voiced by U.S. officials and others dating back to last year.
IS "is well-positioned to rebuild and work on enabling its physical caliphate to re-emerge," Pentagon spokesman Commander Sean Robertson told VOA last August.
"This is not the end of the fight," U.S. Special Representative for Syria, Ambassador James Jeffery, said this past March, following the fall of Baghuz.
More recently, a report by the Washington-based Institute for the Study of War (ISW), said the terror group is poised for a comeback that "could be faster and even more devastating" than when it first swept across parts of Syria and Iraq.
Intelligence from U.N. member states anticipates that "comeback" will take place in the Syrian and Iraqi heartlands, where IS has the majority of its estimated 10,000 to 15,000 fighters, many in clandestine cells.
Echoing U.S. intelligence and military assessments, the U.N. report stated IS operations are more advanced in Iraq but that its operatives are still able to move freely across parts of both Iraq and Syria.
The group's attacks, which seem to be coming with increased frequency, appear aimed at frustrating the local populations, for example burning crops in northern Iraq to prevent any steps toward recovery and stabilization.
"Their hope is that the local populations will become impatient, blame the authorities and grow nostalgic for the time when ISIL was in control," the report said, adding member states fear it may be working.
At the same time, intelligence officials said IS is effectively using its media and propaganda arms to maintain relevance until such time that it is again ready to strike on the global stage.
Adding to the concerns of intelligence officials around the world are the large number of foreign fighters that may still be at large, either in Syria and Iraq, or in the surrounding countries.
U.S. counterterror officials estimate that more than 45,000 fighters from 110 countries flocked to Syria and Iraq, almost all to fight for IS.
As of earlier this year, as many as 10,000 were thought to be at large, having escaped the fall of the terror group's caliphate. But the new U.N. assessment warns that number could be higher, and that "up to 30,000 of those who travelled to the so-called 'caliphate' may still be alive."
Despite all this, the U.N. report finds IS still faces some significant challenges, especially when it comes to money.
While IS still has an estimated $50 million to $300 million in revenue left over from its self-declared caliphate, the group "is reported to lack liquid funds to run operations," according to the report. As such, member states told the U.N. that IS operatives have become more dependent on crime while also trying to profit from legitimate businesses.
IS has also become more dependent on provinces and its more established affiliates, so it runs the risk that its agenda will slowly become less international and more regionalized.
And it continues to face stiff competition from its main rival, al-Qaida, as the two terror groups battle in Syria and Iraq, and increasingly in parts of West Africa and the Sahel, for followers.
Full report at:
https://www.voanews.com/middle-east/un-warns-islamic-state-leader-plotting-comeback-iraq
--------
Britain's youngest terrorist's identity to remain secret
29 Jul 2019
The identity of Britain's youngest terrorist, who plotted to murder police officers in Australia, will remain a secret for the rest of his life following a high court ruling.
The teenager, from Blackburn, Lancashire, who can be identified only as RXG, sent encrypted messages when he was 14 instructing an Australian jihadist to launch attacks during a 2015 Anzac Day parade. Now 18, he was jailed for life at Manchester crown court in October 2015 after he admitted inciting terrorism overseas.
A ban on identifying him made at the time he was sentenced would normally expire upon his 18th birthday, but Dame Victoria Sharp granted him lifelong anonymity in a ruling delivered on Monday.
The judge said that identifying him was likely to cause him "serious harm" and it was therefore necessary to take the rare step.
Sitting with Mr Justice Nicklin, she said: "We are satisfied that RXG's case is an exceptional one. We acknowledge that any prohibition on the identification of a defendant in a criminal proceedings is a serious matter and represents a significant interference with the open justice principle. Nevertheless, on the evidence before us, in our judgment it is both necessary and proportionate."
The judge said experts had concluded that identifying RXG would "fundamentally undermine" his rehabilitation.
"The position is exacerbated by his autism, which manifests itself in his obsessive behaviour," she said. "This, combined with his need for recognition and status, makes him very vulnerable to exploitation and potential re-radicalisation."
At the age of just 14, the teenager took on the role of "organiser and adviser" and suggested beheading or using a car to kill officers. He was recruited online by Islamic State propagandist Abu Khaled al-Cambodi.
Over nine days in 2015, he sent thousands of messages to 18-year-old Sevdet Besim, instructing him to kill police officers at the remembrance parade in Melbourne held annually to commemorate Australians and New Zealanders killed in conflict. The 2015 event marked the centenary of the first world war battle in Gallipoli.
Australian police were alerted to the plot after British officers discovered material on the teenager's phone.
The youth's lawyers argued at a hearing last November that there was a "significant risk of attacks or retaliation against him" if his identity was made public. They said he would be at risk of "re-radicalisation" by extremists and that his relatives would be likely to face reprisals were he named.
A number of media organisations made representations to the court, arguing that he should be named.
Full report at:
https://www.theguardian.com/uk-news/2019/jul/29/britains-youngest-terrorists-identity-to-remain-secret
--------
Mosque in Ireland 'severely vandalized' in suspected hate attack
July 30, 2019
A mosque in Ireland was left "severely vandalized" on Monday, a local Muslim group told the Irish Times.
The Ahmadiyya Muslim Association group suspects the involvement of two far-right Irish group members in the attack on the Maryam Mosque in the western city of Galway.
The Mosque, which serves the city's 200 Ahmadi Muslims, had its locks and windows destroyed, as well as the security camera equipment stolen.
The office of the mosque's Imam Ibrahim Noonan was also wrecked, the report said.
"The taking of the security equipment suggests an effort to hide their tracks. It indicates a level of planning and sophistication," a police officer told the Irish daily.
The imam said he was warned of a planned attack on the mosque three months earlier by an unidentified caller.
The suspected two far-right groups were mentioned in the anonymous call with the name of a prominent UK far-right activist.
Full report at:
http://www.arabnews.com/node/1533006/world
--------
Britain rules out seized tanker swap with Iran
July 29, 2019
London (AFP) - Britain on Monday ruled out swapping seized oil tankers with Iran as a second UK warship arrived in the Gulf to conduct convoys that have irritated Tehran.
A sense of crisis in the world's busiest oil shipping lane has been building up for weeks as Iran responds to US President Donald Trump's "maximum pressure" campaign.
The US economic sanctions and stepped-up military presence are designed to force Iran to renegotiate a landmark 2015 nuclear pact from which Trump pulled out last year.
Britain further outraged Iran by seizing one of its tankers -- the Grace 1 -- on July 4 on suspicion of it carrying oil to Syria in violation of EU sanctions.
Iran vowed to retaliate and its Revolutionary Guards stormed and detained the UK-flagged Stena Impero and its 23 crew as they sailed through the Strait of Hormuz on July 20.
New British Foreign Secretary Dominic Raab flatly rejected the idea of the two tankers being exchanged or simultaneously released in a bid to dial back the tensions.
"There is no quid pro quo," Raab told BBC radio.
"This is not about some kind of barter. This is about international law and the rules of the international legal system being upheld," he said.
"That is what we will insist on."
Iranian President Hassan Rouhani had hinted earlier that he was open to a tanker swap.
- 'Geopolitical tussle' -
Iran said on Sunday that its ship's seizure was also a violation of the 2015 nuclear pact that Britain co-signed and is trying to keep alive with EU allies.
Its remaining participants met in Vienna over the weekend for heated talks that also saw Iran lash out at Britain's proposal for European nations to lead a naval and air Gulf escort mission.
Britain's HMS Montrose frigate began helping UK-flagged tankers enter into and out of the Gulf last week.
Its naval presence near Iran grew to two with the arrival on Sunday of the HMS Duncan destroyer -- the most advanced warship Britain currently has.
The UK defence ministry said the two will conduct escorts together for the next month.
The Montrose will then go in for scheduled maintenance and be replaced by the HMS Kent frigate later this year.
"Freedom of navigation in the Strait of Hormuz is vital not just to the UK, but also our international partners and allies," UK Defence Secretary Ben Wallace said.
Yet Britain's European force proposal is running up one already being prepared by the United States.
Both plans have strongly angered Tehran.
Iranian government spokesman Ali Rabiei said on Sunday that the proposed European fleet "carries a hostile message, is provocative and will increase tensions".
Britain's Raab said London was still insisting on a European force -- despite the potential conflict with Washington.
"This shouldn't be some sort of geopolitical, EU versus US tussle," he said in the radio interview.
He added that "it would be important for the European-led initiative to have US support to make it viable".
Full report at:
https://news.yahoo.com/britain-rules-seized-tanker-swap-iran-110839950.html;_ylt=AwrC1jFD1j5dWhUAMADQtDMD;_ylu=X3oDMTByOHZyb21tBGNvbG8DYmYxBHBvcwMxBHZ0aWQDBHNlYwNzcg--
--------
Germany extradites man wanted over Paris attacks to Belgium
July 29, 2019
BERLIN — German authorities say they have extradited a Bosnian man to Belgium, where he was sought in connection with the November 2015 terror attacks in Paris.
News agency dpa reported that prosecutors in the eastern town of Naumburg said the 39-year-old man was handed over to Belgian authorities on Monday. He was arrested in June, and a court rejected his objections to extradition.
His name wasn't released.
German prosecutors have said the man is suspected of being connected to the Nov. 13, 2015 extremist attack that killed 130 people and was wanted by Belgian authorities for alleged support of a terrorist organization. They didn't detail the nature of his suspected involvement.
Full report at:
https://www.washingtonpost.com/world/europe/germany-extradites-man-wanted-over-paris-attacks-to-belgium/2019/07/29/c58afd0c-b203-11e9-acc8-1d847bacca73_story.html?noredirect=on&utm_term=.1320eb531884
--------
Macron, Rouhani hold talks over Iran-US tensions
31 July 2019
French President Emmanuel Macron on Tuesday spoke with his Iranian counterpart Hassan Rouhani and reiterated his call for a de-escalation of tensions between Iran and the United States, the Elysee said.
"It is France's role to make every effort to ensure that all parties agree to a break and open negotiations," the French presidency said.
The 2015 deal over Iran's nuclear program has begun to unravel since US President Donald Trump announced Washington was pulling out of the agreement last year and reimposed sanctions, to the dismay of European allies.
France, Britain, and Germany were among the key players in the pact.
Macron had a "long" discussion with Rouhani during the French leader's annual holiday at his summer retreat, the medieval fort of Bregancon on France's Mediterranean coast, the Elysee said.
Macron "recalled the need to initiate a de-escalation of tensions," it added.
Paris has engaged in intense diplomacy seeking to solve the current tensions, with Macron's foreign policy advisor Emmanuel Bonne twice visiting Tehran.
Full report at:
https://english.alarabiya.net/en/News/middle-east/2019/07/31/Macron-Rouhani-hold-talks-over-Iran-US-tensions-.html
--------
Germany turns down US proposal for Persian Gulf maritime coalition
Jul 30, 2019
Germany says it has rejected a proposal by the United States to set up a military coalition in the Persian Gulf to counter what it calls the "Iran threat" as tensions mount between Washington and Tehran.
"The US recently presented its concept of a naval observation mission in the Persian Gulf to a number of its allies, including Germany, and asked them to participate.
"The government took note of the proposal, but made no promises. Foreign Minister [Heiko] Maas has repeatedly stressed that, in our opinion, priority must be given to reducing tensions, and to diplomatic efforts. We are in close consultation with France and the UK. Participation in the US strategy of 'maximum pressure' is ruled out for us," the German Foreign Ministry said in a statement received by Russia's Sputnik news agency.
The statement came on the same day that German Finance Minister Olaf Scholz said his country was working closely with France and Britain amid tensions in the Persian Gulf.
"The goal of all responsible politicians must be to observe the situation very soberly and carefully, and not to sleepwalk into an even bigger crisis," Scholz said in an interview with the Funke group of newspapers.
"De-escalation is the order of the day," he pointed out.
Earlier on Tuesday, the United States stepped up diplomatic pressure on Germany, and officially asked the Western European country to join its maritime mission in the Persian Gulf against what it alleged as "Iranian aggression."
"We've formally asked Germany to join France and the UK to help secure the Strait of Hormuz and combat Iranian aggression," Tamara Sternberg-Greller, a spokeswoman for the US Embassy in Berlin (shown in the picture below), said in a statement.
She added, "Members of the German government have been clear that freedom of navigation should be protected... Our question is, protected by whom?"
Many German politicians have reportedly expressed grave reservations about any naval mission, and fear that any such move – particularly one orchestrated and led by the United States – could increase the risk of a military aggression on Iran.
US President Donald Trump regularly criticizes Germany for what he considers its insufficient contribution to the North Atlantic Treaty Organization (NATO).
US Marine General Joseph Dunford, chairman of the Joint Chiefs of Staff, said on July 9 that the US was proceeding with plans to assemble the coalition purportedly aimed at ensuring freedom of navigation in waters off Iran and Yemen.
"We're engaging now with a number of countries to see if we can put together a coalition that would ensure freedom of navigation both in the Straits of Hormuz and the Bab al-Mandab," Dunford said.
"And so I think probably over the next couple of weeks we'll identify which nations have the political will to support that initiative and then we'll work directly with the militaries to identify the specific capabilities that'll support that," he added.
Washington has lately adopted a quasi-warlike posture against Tehran, and intensified its provocative military moves in the Middle East, among them the June 20 incursion of advanced US-made RQ-4 Global Hawk into Iranian airspace over territorial waters off the coastal province of Hormozgan.
The UK has also joined the US in fueling tensions with Iran by seizing an Iranian-owned supertanker in the Strait of Gibraltar on July 4 in an apparent act of "maritime piracy."
Full report at:
https://www.presstv.com/Detail/2019/07/30/602282/Germany-turns-down-US-proposal-for-Persian-Gulf-maritime-coalition
--------
UK court to rule on ISIS 'Beatles' appeal
July 30, 2019
The UK's highest court is to decide if the government can share evidence involving two alleged members of ISIS without seeking assurances the men will not be executed in the US.
El Shafee Elsheikh and Alexandra Kotey are alleged to have participated in the torture and murder of western hostages in Iraq and Syria as part of the brutal "Beatles" ISIS cell. Both are being held, alongside hundreds of suspected foreign fighters, in a Syrian prison run by Kurdish authorities. They have been stripped of their British citizenship.
The UK government had said it felt the men were more likely to be found guilty in the US. But it was claimed on Tuesday that UK authorities now had enough evidence to prosecute Mr Kotey on murder charges.
"There was a historical decision in February 2016 that there was sufficient evidence to charge Alexanda Kotey here with five offences of murder and eight offences of hostage-taking," said Edward Fitzgerald QC, representing Ms Elgizouli.
"And, further, that warrants were then issued for his arrest.
"In respect of Mr El Sheikh, the new evidence further shows that the DPP now concedes that there may be sufficient evidence to charge and prosecute him here, at least for offences of membership of a proscribed organisation," he said, according to The Telegraph.
In June 2018, the UK Home Secretary said he would provide the US with 600 witness statements via the Mutual Legal Assistance agreement. The statements were gathered by the Metropolitan Police to support a possible prosecution. The government did not ask for assurances that capital punishment would not be used if the men were extradited to the US.
This fact was used as the basis for a legal challenge of the decision by Mr Elsheikh's mother, Maha Elgizouli. But in January, the High Court said the government decision was not unlawful.
Ms Elgizouli has now taken the case to the Supreme Court. The case started on Tuesday afternoon and is expected to last until Wednesday.
In a letter to US legal authorities last July, the interior minister at the time, Sajid Javid, said: "I am of the view that there are strong reasons for not requiring a death penalty assurance in this specific case, so no such assurances will be sought.
"As you are aware, it is the long-held position of the UK to seek death penalty assurances, and our decision in this case does not reflect a change in our policy on assistance in US death penalty cases generally, nor the UK government's stance on the global abolition of the death penalty."
Full report at:
https://www.thenational.ae/world/europe/uk-court-to-rule-on-isis-beatles-appeal-1.892612
--------
South Asia
52 militants killed, 33 wounded as Afghan forces repulse Taliban attack in Baghlan
30 Jul 2019
The Afghan forces killed 52 Taliban militants and wounded 33 others during a clash in northern Baghlan .
The 209th Shaheen Corps in a statement said the Taliban militants launched a coordianted offensive Tapa-e-Qarghan area and Qarghab Base in Daha-e-Ghori district.
The statement further added that the security forces effectively responded to the offensive with the support of the Air Forces.
Furthermore, the 209th Shaheen Corps said the security forces killed 52 militants during the clash and wounded 33 others.
The 209th Shaheen Corps also added that the dead bodies of some militants are still left in the area.
The security forces confiscated some weapons and munitions including a 82mm mortar, several RPG-7 rocket launchers and PKM machine guns.
Meanwhile, the 209th Shaheen Corps said the security forces also killed 7 commanders of the group during the clash.
https://www.khaama.com/52-militants-killed-33-wounded-as-afghan-forces-repulse-taliban-attack-in-baghlan-03494/
--------
Children among 26 killed, wounded as deadly blast rocks Spin Boldak in Kandahar
30 Jul 2019
A deadly explosion killed or wounded at least 26 civilians including many children in Spin Boldak district of Kandahar.
The local security officials said an Improvised Explosive Device went off in Spin Boladak earlier today.
The officials further added that the explosion killed 3 children and wounded 23 other civilians including 6 children.
Meanwhile, the Provincial Government Media office in a statement said the IED was planted in motorcycle which the militants detonated among the civilians in a crowded in Ganj area.
No individual or group including Taliban militants has so far claimed responsibility for the explosion.
Today's incident took place hours before UNAMA released its latest report regarding civilian casualties.
Full report at:
https://www.khaama.com/children-among-26-killed-wounded-as-deadly-blast-rocks-spin-boldak-in-kandahar-03497/
--------
Special Forces kill 14 Taliban militants, detain 6 others in Logar province
31 Jul 2019
The Afghan Special Forces killed 14 Taliban militants during an operation in central Logar province of Afghanistan.
The informed military sources said Wednesday that the Special Forces conducted the operation in Charkh district of Logar.
The sources further added that the Special Forces killed 14 Taliban militants and arrested 6 others during the operation.
Furthermore, the military sources said an airstrike killed a Taliban fighter in Chak-e Wardak district of Wardak province.
Full report at:
https://www.khaama.com/special-forces-kill-14-taliban-militants-detain-6-others-in-logar-province-03504/
--------
Two Americans Killed in Apparent Insider Attack in Afghanistan
By Jeff Seldin, Ayaz Gul
July 29, 2019
Two U.S. service members have been killed in action in Afghanistan in what appears to be an insider attack.
The NATO-led Resolute Support Mission said Monday that two Americans are dead, withholding additional information pending notification of their families. A U.S. official later confirmed the deaths were the result of a so-called "green on blue" attack, during which an Afghan service member or an attacker wearing an Afghan uniform, fires on U.S. or allied forces.
The initial U.S. assessment followed claims by Taliban spokesman Zabihullah Mujahid on Twitter that the Americans died when an Afghan soldier turned his gun on them in a military camp in Afghanistan's southern Kandahar province.
The Taliban also claimed at least one other soldier was killed and that several others were wounded, though those claims could not be confirmed.
With the two confirmed deaths, at least 14 U.S. service members have been killed in Afghanistan this year, according to a tally by the website iCasualties.org. Thirteen U.S. service members were killed in Afghanistan in 2018.
Talks with Taliban
The latest deaths also come as the U.S. has been engaging the Taliban in talks, seeking a peaceful resolution to the 18-year war in Afghanistan.
Taliban negotiators have insisted any peace deal include the withdrawal of U.S. forces, and those of U.S. allies, from Afghanistan. The Taliban have also refused to hold direct talks with the government of Afghan President Ashraf Ghani, saying such talks can only take place once the U.S. leaves.
For its part, Washington is seeking assurances from the Taliban that Afghanistan will never again be used as a base to launch terror attacks against the U.S.
Yet despite the talks, attacks by either the Taliban or the Islamic State terror group have continued to plague much of Afghanistan.
An attack Sunday in Kabul that targeted the office of Amrullah Saleh, Ghani's choice for vice president in elections set for September, killed at least 20 people and wounded another 50, officials said.
No group has claimed responsibility for the bombing.
In comments in Washington Monday, John Sopko, the U.S. special inspector general for Afghanistan reconstruction (SIGAR), raised concerns that despite Washington's efforts, Afghan security forces may not be capable of sustaining peace, even if a deal with the Taliban can be reached.
"Afghan security forces cannot survive without external donor support, both financial and technical," Sopko said.
"Problems don't miraculously disappear. We, and other oversight bodies, have identified problems that affected reconstruction. And some of these problems could affect lasting peace," he said.
U.S., NATO efforts
SIGAR estimates the U.S. alone has spent about $18 billion to equip Afghanistan's security forces, buying more than 600,000 weapons, 70,000 vehicles and more than 200 aircraft.
But its audits have found that U.S. and NATO efforts have often been unorganized, with Afghan forces suffering as a result.
Specifically, SIGAR blamed an eight-year lag in shifting Afghan forces to the latest standardized NATO weaponry for an ammunition shortage that left them unable to repel a Taliban attack in Ghazni province in 2018.
Sopko called a lack of armored ambulances for Afghan security forces — there are just 38 — another "absurd example" of missed opportunities to better support Afghan forces.
SIGAR officials also warned the performance of Afghan forces has tended to rise and fall in sync with the U.S. presence in the country.
""It's like a shark tooth," James Cunningham, SIGAR's security sector project lead, said Monday. "The shark tooth is really based on our [U.S. military] deployment cycle."
Despite such concerns, both U.S. President Donald Trump and other top officials have said the U.S. intended to reduce the number of troops in Afghanistan.
"We want to reduce what is, for us, tens of billions of dollars a year in expenditures and enormous risk to your kids and your grandkids who are fighting for America," U.S. Secretary of State Mike Pompeo told an audience Monday in Washington, adding he expects more U.S. troops to come home before the next U.S. presidential election in November 2020.
Full report at:
https://www.voanews.com/usa/two-americans-killed-apparent-insider-attack-afghanistan
--------
Afghan government and Nato killing more civilians than the Taliban
30 Jul 2019
Afghan forces and their international allies killed more civilians in the first half of 2019 than the Taliban and other militant groups, UN figures show, extending a trend that began in the first quarter of the year.
This year is the first time since civilian casualty records started over a decade ago that pro-government forces have caused more deaths than insurgents, raising serious questions about the western mission there.
For years, despite civilian deaths and injuries caused by both sides, the government in Kabul and its allies had been able to point to UN statistics showing that insurgents were the biggest killer of Afghan civilians.
That is no longer the case. Overall the report found 403 civilians were killed by Afghan troops and 314 by their international allies in the first six months of 2019, a total of 717. The Taliban, Islamic State and other militant groups killed 531 civilians.
Afghanistan is facing a critical few weeks, as peace talks with the Taliban enter what many hope will be their final stages, ahead of a presidential election set for the end of September. There have been concerns that both sides have ramped up violence as the peace process got under way, to strengthen their position at the negotiating table.
"Gaining leverage in peace talks should not come at the cost of such carnage on either side," said Patti Gossman, an associate Asia director at Human Rights Watch.
A deal might not end violence in Afghanistan entirely, however; the UN found that more than 10% of civilian casualties are caused by the regional Isis affiliate, which is not party to the talks.
Overall casualties were down by nearly a quarter from record levels a year earlier, but civilians were still being killed and maimed at a "shocking and unacceptable" rate, the UN said in its regular report on the protection of civilians.
Airstrikes were particularly deadly, and one of the few types of casualty to increase significantly compared with the same period of 2018. Two-fifths of the deaths and injuries from airstrikes were attributed to international forces, the UN said – in effect US airstrikes.
Although the US officially ended its combat mission in Afghanistan in 2014, it still has special forces on the ground and provides air support to Afghan troops.
The government has repeatedly said the high toll from air attacks is a result of militants hiding among civilians, but international humanitarian law bars the use of disproportionate force.
"The claim that the Taliban use civilians as shields is not an excuse for disproportionate attacks," Gossman said. "In fact, neither the US nor the Afghan government adequately investigates airstrike deaths, or holds its forces accountable for targeting that causes civilian deaths."
The Taliban have rejected calls for a ceasefire while peace talks are under way, and have been carrying out near daily operations, mainly targeting security forces.
But militants have also attacked civilians in violation of international law. More than 300 people were killed in violence targeting civilians, including tribal elders, aid workers, religious scholars, mullahs and government officials.
"Parties to the conflict may give differing explanations for recent trends, each designed to justify their own military tactics," said Richard Bennett, the human rights chief of the UN assistance mission in Afghanistan, which released the report.
There has been no claim of responsibility for an attack on Sunday night that apparently targeted the office of the Afghan president's running mate and former chief of the intelligence service.
Full report at:
https://www.theguardian.com/world/2019/jul/30/nearly-4000-afghan-civilians-killed-or-wounded-in-first-half-of-2019-un-says
--------
At least 28 killed as Afghan bus hits 'Taliban' bomb: official
July 31, 2019
Dozens of passengers, mainly women and children, were killed in western Afghanistan early Wednesday when the bus they were travelling in hit a roadside bomb, officials said.
The attack, which came one day after the United Nations said civilians are being killed and wounded at a "shocking" level in Afghanistan's war, occurred around 6:00 am (0130 GMT), authorities said.
"A passenger bus travelling on the Kandahar-Herat highway hit a Taliban roadside bomb. So far at least 28 killed, 10 wounded," said Muhibullah Muhib, the spokesman for Farah province.
All were civilians, mostly women and children, he said. Farooq Barakzai, a spokesman for Farah's governor, confirmed the toll but warned it may rise higher.
There was no immediate confirmation from the Taliban that it was behind the blast.
The group, which has resurged since its regime was toppled by the US invasion in 2001, made a vague pledge this month to reduce civilian casualties.
Civilians have long paid a disproportionate price in the nearly 18 years since the US invaded Afghanistan.
On Tuesday, the UN released a report showing that casualties have dropped 27 percent in the first half of 2019 compared to the same period last year, which was a record — but nonetheless 1,366 civilians were killed and another 2,446 injured.
Child casualties represented almost a third of the overall total of civilian casualties.
The UN also said that US and pro-government forces caused more civilian deaths than the Taliban and other insurgent groups for the second quarter running.
It branded efforts to reduce the violence "insufficient".
The bloodshed is expected to rise after the launch this week of official campaigning in Afghanistan's presidential election, set for September 28.
At least 20 people were killed on Sunday, the first official day of the campaign, and 50 wounded when a suicide attacker and gunmen targeted the Kabul office of Afghan President Ashraf Ghani's running mate, Amrullah Saleh.
There are also doubts the election will happen at all, with lingering questions about whether Afghanistan should hold a key poll amid a months-long, US-led push to forge a peace deal with the Taliban.
This week US Secretary of State Mike Pompeo said that President Donald Trump wants to begin withdrawing troops before the vote, though he emphasised in comments to reporters Tuesday that there is "no deadline".
Full report at:
https://www.dawn.com/news/1497265/at-least-28-killed-as-afghan-bus-hits-taliban-bomb-official
--------
U.S. airstrike kills senior Taliban leaders in Farah province
30 Jul 2019
A U.S. airstrike killed two senior Taliban leaders and his two militants in western Farah province.
The Provincial Police Headquarters in a statement said a U.S. airstrike killed Mullah Badar, a senior Taliban leader who was facilitating weapons and munitions supply to Taliban militants.
The statement further added that the airstrike also killed another Taliban commander Mullah Amruddin and his two militants.
Furthermore, the Provincial Police Headquarters said the U.S. forces conducted the airstrike in Peyur Village of Bala Bolok district.
Full report at:
https://www.khaama.com/u-s-airstrike-kills-senior-taliban-leaders-in-farah-province-03499/
--------
Taliban militants suffer casualties in Kabul drone strike: 201st Silab Corps
30 Jul 2019
The U.S. forces conducted an airstrike in Sarobi district of Kabul killing or wounding at least three Taliban militants.
The 201st Silab Corps in a statement said the U.S. forces conducted the airstrike in Ozbin Valley.
The statement further added that the U.S. drone target the Taliban militants in Katab Khel area killing 1 militant and wounding 2 others.
Furthermore, the 201st Silab Corps said the airstrike did not harm anyone else.
The military sources had earlier confirmed that an airstrike has killed a Taliban fighter in Sarobi of Kabul.
Full report at:
https://www.khaama.com/taliban-militants-suffer-casualties-in-kabul-drone-strike-201st-silab-corps-03501/
--------
India
Parliament passes triple talaq bill two years after Supreme Court struck down practice
July 30, 2019
The Triple Talaq bill, passed thrice by the Lok Sabha over the last 19 months, finally received the approval of the Rajya Sabha on Tuesday amid walkouts by BJP allies JD(U) and AIADMK.
The Muslim Women (Protection of Rights of Marriage) Bill, 2019, which makes the practice of instant triple talaq a penal offence, and for which ordinances were issued three times, was cleared by the House with 99 votes in favour and 84 opposing it.
The Rajya Sabha had earlier rejected an Opposition-sponsored motion to send the bill to a Rajya Sabha Select Committee with 100 votes against it as compared to 84 in favour.
Lok Sabha had passed the triple talaq bill last week with 303 votes in favour and 82 opposed, where there was high drama when SP's Mohammad Azam Khan made objectionable remarks about BJP's Rama Devi, who was chairing the proceedings.
Once granted assent by the President, the practice of instant divorce by Muslim men will be punishable by a jail term of up to three years.
While nearly 20 opposition MPs, including five each from Congress and Samajwadi Party, were not present during voting, abstention by BSP and TRS also helped the government get its legislation through in the upper house where the ruling party does not enjoy a majority. Fence-sitter BJD supported the legislation. The ruling NDA has 107 members in the 242-member Rajya Sabha.
Narendra Modi
✔
@narendramodi
An archaic and medieval practice has finally been confined to the dustbin of history!
Parliament abolishes Triple Talaq and corrects a historical wrong done to Muslim women. This is a victory of gender justice and will further equality in society.
India rejoices today!
65.7K
7:22 PM - Jul 30, 2019
Twitter Ads info and privacy
18.5K people are talking about this
Triple talaq bill a victory of gender justice, says PM Modi
Calling it a historical step, Prime Minister Narendra Modi said passage of the triple talaq bill was a victory of gender justice and would further equality in society. "An archaic and medieval practice has finally been confined to the dustbin of history! Parliament abolishes Triple Talaq and corrects a historical wrong done to Muslim women. This is a victory of gender justice and will further equality in society. India rejoices today!" PM Modi tweeted.
Narendra Modi
✔
@narendramodi
I thank all parties and MPs who have supported the passage of The Muslim Women (Protection of Rights on Marriage) Bill, 2019 in both Houses of Parliament. They have risen to the occasion and this step of theirs will forever be remembered in India's history.
31.4K
7:24 PM - Jul 30, 2019
Twitter Ads info and privacy
6,776 people are talking about this
Modi further said the abolition of triple talaq would contribute to women empowerment. "This is an occasion to salute the remarkable courage of those Muslim women who have suffered great wrongs just due to the practice of Triple Talaq. The abolition of Triple Talaq will contribute to women empowerment and give women the dignity they deserve in our society," Modi said.
Triple talaq bill politically motivated, says Congress
The debate that went on for almost five hours witnessed a slugfest between Law Minister Ravi Shankar Prasad and Leader of the Opposition Ghulam Nabi Azad, who termed the bill a "politically motivated" move to destroy Muslim households.
Justifying the three-year jail term for Muslim men, Prasad said the government could not leave in lurch women who have been divorced by triple talaq via WhatsApp or other such means.
Replying to Azad, the Law Minister cited the Shah Bano case and said the Congress leader should think of why his party could never win a majority following the peak of 400-plus seats it won in 1984 Lok Sabha polls.
"I am a minister of the Narendra Modi government and not Rajiv Gandhi government. More than 20 Islamic nations have regulated triple talaq" Prasad said.
Azad said the Opposition had been forced to vote against the bill after the government did not accept their demand to send it to a select committee and make triple talaq a civil offence.
Under Opposition pressure, the government had included certain safeguards in the bill, such as adding a provision for bail for the accused during trial. A provision was added to allow the magistrate to grant bail "after hearing the wife".
Supreme Court struck down Triple Talaq in 2017
A five-judge Bench of the Supreme Court had struck down instant triple talaq in a complex, layered, split verdict in August 2017. Last week, in the Lok Sabha, Prasad said since January 2017 as many as 574 triple talaq cases and since the Supreme Court order, more than 300 such cases were reported by the media.
Three of the five judges on the Constitution Bench — Justices Rohinton F Nariman, Uday U Lalit and Kurian Joseph — called the practice un-Islamic and "arbitrary" and disagreed with the view that triple talaq was an integral part of religious practice.
But the minority ruling of Chief Justice J S Khehar and Justice S Abdul Nazeer underlined the primacy of Muslim personal law and said the practice enjoyed constitutional protection and was beyond the scope of judicial scrutiny.
https://indianexpress.com/article/india/rajya-sabha-passes-triple-talaq-bill-5864548/
--------
Mehbooba Mufti, Omar Abdullah engage in Twitter spat over passage of triple talaq bill
Jul 31, 2019
PDP chief Mehbooba Mufti and National Conference (NC) leader Omar Abdullah engaged in a war of words on Twitter after the passage of the triple talaq bill in Rajya Sabha, with the latter stating that PDP leaders abstaining from voting "helped the government with the numbers needed to pass the bill."
Soon after the Rajya Sabha passed the Muslim Women (Protection of Rights on Marriage), Bill, 2019, Mufti tweeted, "Fail to understand the need to pass the triple talaq bill especially since the Supreme Court had already declared it illegal. Undue interference seemingly to punish Muslims. Given the current state of the economy, should this really have been a priority?"
Mufti's post didn't go well with Abdullah, who tagged her post on the micro-blogging site and wrote, "Mehbooba Mufti ji, you might want to check how your members voted on this bill before tweeting. I understand they abstained which helped the government with the numbers needed to pass the bill. You can't help the government and then 'fail to understand need to pass'!"
Replying to him, Mufti tweeted, "Omar sahab, I suggest you get off your moral high horse since it was your own party that expelled Soz sahab for voting against the BJP in 1999. FYI in Parliament, abstention is essentially a no vote."
Abdullah was quick to retort to Mufti's claims, and wrote, "Madam, is recounting an incident from TWENTY years ago the best you can do to defend PDP duplicity? So you are accepting you instructed your MPs to abstain. And no an abstention is NOT a no vote, a no vote is a no vote. An abstention helped the BJP this time."
The central government on Tuesday scored a major victory in the Rajya Sabha when the House passed the Triple Talaq Bill after rejecting the opposition's demand to refer the Bill to the Select Committee and to remove the criminality clause which provides for jailing the husband for three years for pronouncing triple talaq to his wife.
The Bill was passed with 99 members in its favour while 84 members voted against it in the final division. In the division on referring the Bill to the Select Committee, the government got 100 votes while 84 voted against.
Full report at:
https://www.hindustantimes.com/india-news/mehbooba-mufti-omar-abdullah-engage-in-twitter-spat-over-passage-of-triple-talaq-bill/story-IlETFeh8KYcbjhW55Iap6K.html
--------
For Kashmiri people, Article 35A the last vestige of real autonomy
Srinath Ragahvan
Jul 31, 2019
Kashmir valley has lately been aswirl with rumours of an impending move by the central government to scrap Article 35A of the Constitution. The article, which prevents anyone who is not a state subject of Jammu & Kashmir from purchasing property and settling in the state, is seen as a vital safeguard for the autonomy of J&K.
Its removal, Kashmiris fear, would pave the way for a demographic transformation of the Valley. While the article has been on peoples' mind owing to petitions in the Supreme Court challenging its validity, the latest bout of speculation has been triggered by concerns about increased paramilitary deployment in J&K, allegedly to contain the public fall-out from the scrapping of the article.
Senior BJP leader and former chief minister of Madhya Pradesh, Shivraj Singh Chauhan, clarified in a press conference in Srinagar that Article 35A was sub-judice and the BJP had "not discussed any proposal to see it scrapped as of now". But this has not stanched the flow of rumours.
The rumours also reflect apprehensions in the Valley following Home Minister Amit Shah's pointed statement
in Parliament that Article 370, which deals with the special status of J&K, was "temporary in nature" and "not permanent". Shah's statement, in fact, continued with the BJP's long and consistent stand on the
abrogation of Article 370, going back to 1951 when its parent, the Bharatiya Jana Sangh, was founded.
To fully grasp the political sensitivity around Article 35A, we need to understand its historical significance for Kashmiris.
THE DIFFERENT STATUS OF J&K
The Instrument of Accession signed by then Maharaja Hari Singh of Kashmir in October 1947 specified only three subjects on which the state would transfer its powers to the Government of India: foreign affairs, defence and communications. In March 1948, the Maharaja appointed an interim government in the state, with Sheikh Abdullah as the prime minister. The interim government was also tasked with convening a constituent assembly for framing a constitution for the state. In the meantime, the Constituent Assembly of India was conducting its deliberations. In July 1949, Sheikh Abdullah and three colleagues joined the Indian Constituent Assembly and negotiated the special status of J&K, leading to the adoption of Article 370.
This article limited the Union's legislative power over Kashmir to the three subjects in the Instrument of Accession. If the Union government wanted to extend other provisions of the Indian Constitution, it would have to issue a Presidential Order under Article 370. The state government would have to give prior concurrence to this order. Moreover, the constituent assembly of J&K would have to accept these provisions and incorporate them in the state's constitution. Once Kashmir's constitution was framed, there could be no further extension of the Union's legislative power to the state. This secured J&K's autonomy.
Incidentally, this was the reason for listing the provisions of Article 370 as "temporary" in the Indian Constitution: the final contours of the state's constitutional relationship with the Union were to be determined by the constituent assembly of J&K.
The constituent assembly of Kashmir convened in November 1951. Just as it got to work, Abdullah wanted to depose the Maharaja and end dynastic rule. Because the Maharaja was recognised by the President of India, this move raised larger questions about working out more precise details of J&K's constitutional relationship with the Union. It eventually led to the Delhi Agreement of 1952. Although Nehru and Abdullah fell out soon after, several provisions of the Indian Constitution were extended to J&K via a Presidential Order in 1954.
This order also empowered the state legislature to regulate the rights of permanent residents – a demand of Abdullah and other Kashmiri leaders. These were later defined in the J&K constitution of 1956. Article 35A of the Indian Constitution only clarifies the different status of J&K in this respect.
The Kashmiris insisted on these rights because they resulted from a protracted struggle. This movement had begun back in 1889 when the J&K government had changed the language of the court from Persian to Urdu. This had eroded the prominence of the Kashmiri Pandits in the state bureaucracy and led to the induction of Hindus from Punjab. Following a long campaign against 'outsiders', the Maharaja enacted in 1927 a law that defined a 'hereditary state subject'. Kashmiri Muslims also used this legislation to demand greater opportunities within the state structure commensurate with their demographic profile.
MISUSING PROVISIONS OF ARTICLE 370
The legality of Article 35A is being challenged in the courts on the grounds that it was not added to the Constitution by a constitutional amendment under Article 368. The argument does not stand scrutiny. For one thing, the article does not confer any rights on J&K state subjects – it only reflects them. More importantly, the Presidential Order of 1954 cannot be impugned without questioning the validity of other provisions of the Indian Constitution extended to J&K at the same time. Such orders have also periodically been used to amend the state's constitution. Indeed, this has been done despite the fact that the constituent assembly — the ultimate ratifying body — was dissolved after the adoption of the J&K constitution in November 1956.
Starting with Jawaharlal Nehru, successive central governments continued to extend their powers over Kashmir by merely seeking the approval of pliant state legislatures. New Delhi argued that since the constituent assembly of Kashmir had wound up in November 1956, the powers granted to that body should be vested in the state legislature. The intention of the framers of the Constitution was just the opposite. Worse, this reading was upheld by the Supreme Court, thereby making a mockery of Article 370. This gross misuse of the provisions of Article 370 has already hollowed out the special status of J&K. Indeed, Kashmiris regard the provisions listed in Article 35A as the last vestige of any real autonomy.
OPENING THE PANDORA'S BOX
The BJP is in an unprecedentedly strong political position to give effect to its longstanding demands on Kashmir. But the velocity with which rumours are currently circulating suggests that there may be a major backlash against a move to scrap Article 35A.
In this context, it is also worth pointing out that while Article 370 is designated as "temporary", the BJP should consider carefully the temptation to abrogate it in order to "integrate" J&K with India. Article 370(1)(c) explicitly mentions that Article 1 of the Indian Constitution applies to Kashmir through Article 370. Article 1 lists the states of the Union. This means that it is Article 370 that binds the state of J&K to the Indian Union. Removing Article 370, which can be done by a Presidential Order, would render the state independent of India. The article was framed in this fashion for good reason. In 1949, when these discussions took place, it was likely that a plebiscite would be held in the state. The framers of the Indian Constitution had to allow for the possibility that the Indian union may have to let go of J&K.
Full report at:
https://www.hindustantimes.com/opinion/opinion-for-kashmiri-people-article-35a-the-last-vestige-of-real-autonomy/story-0xytj2Y6HQzfTwrhaoVbWK.html
--------
500 more Indians allowed by Pakistan to attend Sikh festival
Jul 31, 2019
Pakistan on Tuesday allowed a special group of a little more than 500 Indian Sikh pilgrims to join an event at Nankana Sahib that will launch celebrations marking the upcoming 550th birth anniversary of Guru Nanak, the founder of Sikhism.
The 'jatha' or caravan of Indian pilgrims crossed over to Pakistan through the Wagah border crossing on Tuesday morning, the Foreign Office said.
"These pilgrims are scheduled to kick start celebrations of the 550th birth anniversary of Baba Guru Nanak from his birthplace, Nankana Sahib…on…1 August, 2019," it said in a statement.
Every year, thousands of Indian Sikhs travel to Pakistan on the birth and death anniversaries of Guru Nanak, the Baisakhi festival and the death anniversary of Maharaja Ranjit Singh.
The Pakistan high commission in New Delhi issued visas to the Indian pilgrims on July 26.
Full report at:
https://www.hindustantimes.com/india-news/500-more-indians-allowed-by-pakistan-to-attend-sikh-festival/story-I9Er9rlmTt0KmB2d62P16I.html
--------
Passage of triple talaq bill is only a part of many attacks on Muslims, says Asaduddin Owaisi
July 30, 2019
As many hailed the passage of triple talaq bill in the Rajya Sabha on Tuesday, All India Majlis-e-Ittehadul Muslimeen (AIMIM) chief Asaduddin Owaisi said the bill is only a part of many of the attacks on Muslim identity and citizenship.
In a tweet, Asaduddin Owaisi also put forth hate crime against Muslims and said, "Mob violence, police atrocities & mass incarceration won't bog us down. With a firm belief in the Constitution, we've withstood oppression, injustices & denial of rights."
Asaduddin Owaisi
✔
@asadowaisi
#TripleTalaqBill should be seen only as one part of many attacks on Muslim identity & citizenship since 2014. Mob violence, police atrocities & mass incarceration won't bog us down
With a firm belief in the Constitution, we've withstood oppression, injustices & denial of rights
5,244
7:55 PM - Jul 30, 2019
Twitter Ads info and privacy
2,374 people are talking about this
Hyderabad MP Asaduddin Owaisi's comments came while many in the political spectrum hailed the passage of the triple talaq bill in the Upper House on Tuesday evening by 99 votes in favour.
Comments also came from the All India Muslim Personal Law Board (AIMPLB) which called the passage of the bill a black day in the Indian democracy.
In a tweet, "the Muslim body said, Certainly, it's a black day in Indian democracy. Despite Indian Muslim women's opposition to the #TripleTalaqBill, the Modi led government passed the bill in both the lower house and the upper house. We on behalf of millions of women condemn this action."
Reactions also came from the Congress party.
By questioning the relevance of the triple talaq bill, the Congress said there was no need to criminalise the practice as it had already been abrogated by the Supreme Court.
Full report at:
https://www.indiatoday.in/india/story/triple-talaq-bill-rajya-sabha-aimim-chief-asaduddin-owaisi-comment-1575368-2019-07-30
--------
Pak troops shell border areas along LoC in Rajouri
Jul 31, 2019
JAMMU: Pakistani troops on Wednesday opened fire and shelled mortars along the LoC in Jammu and Kashmir's Rajouri district, officials said.
Indian troops gave a befitting reply, resulting in heavy damage to Pakistani Army posts and casualties to Pakistani soldiers, they said.
"At about 0030 hours, the Pakistan Army initiated unprovoked ceasefire violation by firing of small arms and shelling with mortars along the Line of Control (LoC) in Nowshera sector of district Rajouri", a Defence spokesman said.
The Indian Army is responding strongly and effectively, he said.
This is the fourth consecutive day of firing and shelling by the Pakistan Army targeting civilian areas along the LoC in Poonch and Rajouri districts, in which a baby and a jawan were killed and two others were injured.
Pakistan troops had also shelled forward areas and villages along the LoC in Tanghar area of North Kashmir on Tuesday, they said.
Full report at:
https://timesofindia.indiatimes.com/india/pak-troops-shell-border-areas-along-loc-in-rajouri/articleshow/70460364.cms
--------
Passage of Triple Talaq Bill 'will create fear among Muslim community', say activists
by Anuradha Mascarenhas
July 31, 2019
Several social activists on Tuesday criticised the triple talaq Bill, especially the provisions that make the practice a criminal offence, and said the new law would not bring any relief to Muslim women.
Passage of this law will create a sense of fear among the community instead of providing relief to Muslim women, social activist Razia Patel told The Indian Express. The legislation will unfortunately provide no relief to Muslim women as instead of adopting a secular common law like the domestic violence Act which is already available, this law has criminalised the process, she said.
"The main question is whether this will provide justice to Muslim women. Clearly the answer is no," Patel said. "It has many contradictions. For instance once the husband is jailed, how will he provide maintenance. Criminalisation of family law shows ill intention of this government against the Muslim community. This was unnecessary," she added.
"For several years the BJP has been talking about uniform civil code but now they have made special laws for the Muslim community and are also using shariat to find out support for the same. Passage of this law will create a sense of fear among the community instead of providing relief to Muslim women," she told The Indian Express.
Kiran Moghe, secretary of All India Democratic Women's Association, said that the Bill should have gone to a select committee so that all sections would have had an opportunity to present their views. "There are aspects about which there is no consensus yet. For instance, the criminalisation of divorce, which is a discriminatory provision via a vis other communities," Moghe said.
"Also was there really a need for a law when the SC had already declared triple talaq as null and void in earlier cases. So this is part of the BJP's communal politics targeting Muslim men in the name of women's empowerment," Moghe said.
Anwar Rajan, trustee of Maharashtra Gandhi Smarak Nidhi, who has been part of the struggle to bring a ban on the unilateral triple talaq form of divorce, however, was disappointed with the way legislation was being brought out. This is not a solution but will pose several problems, he said.
Full report at:
https://indianexpress.com/article/india/passage-of-triple-talaq-bill-will-create-fear-among-muslim-community-say-activists-5865414/
--------
Joint plan to defend special status: J&K parties assert need for consensus, united approach
by Naveed Iqbal
July 31, 2019
A day after former Chief Minister Mehbooba Mufti and PDP chief said she had approached NC patron and former CM Farooq Abdullah to convene an all-party meeting to discuss the "recent developments that have caused a sense of panic" in Jammu and Kashmir, the state's political leadership reasserted the need to build consensus on the matter.
Mufti spoke to People's Conference chairman Sajad Lone and general secretary Imran Ansari, former ministers in her coalition government, on Tuesday. In a tweet, she said, "There is a growing consensus that the present situation demands recalibration of response & a united approach."
In a statement, Mufti urged all stakeholders in the state to make a joint effort "to prevent this catastrophe that can potentially lead to unimaginable problems". Reiterating that J&K's constitutional status is something that is beyond politics as it concerns "our very existence", she emphasised that special status is the result of a unique historical process that defied the logic of Partition. "The constant erosion of that position has not only thrown us into an unending turmoil and uncertainty, it has also cost one of the most promising regions of the world its actual potential of growth and greatness."
Pradesh Congress chief Ghulam Ahmad Mir said that "if and when" they are invited, they will be part of forming a consensus because "we are the party that has given these constitutional guarantees in the form of Articles 370 ad 35A to the state. In our manifesto Rahul ji (Gandhi) had spoken of the need to strengthen it, because of which we drew backlash and BJP is actually fighting this with us."
After his conversation with Mufti, PC's Ansari told The Indian Express, "The political affairs committee that met today was unanimous and unambiguous in its assertion that special provisions are irreversible and sacred for the people of Kashmir. For broader consensus, we all need to talk about these issues and we will also place our opinion."
While the NC is yet to announce a schedule for an all-party meeting, Farooq Abdullah had on Monday told The Indian Express that the party "is working on it". The party has maintained that the matter is under consideration.
Full report at:
https://indianexpress.com/article/india/joint-plan-to-defend-special-status-jk-parties-assert-need-for-consensus-united-approach-5865288/
--------
Ghulam Nabi Azad on triple talaq bill: 'Real intention to finish them (Muslims) in their house'
by Manoj C G
July 31, 2019
OPPOSING THE Muslim Women (Protection of Rights on Marriage) Bill, Leader of Opposition Ghulam Nabi Azad said the name of the Bill was a "misnomer" as the real intention was "destruction of Muslim families".
He said the idea was to "finish" the Muslim community. He said some parties and the government get defamed because of incidents of lynching. "So it is better to let the (Muslim) households burn by the lamps of their own house… the house will burn and nobody will have any objection," he said. "So if this clan is to be finished… finish them in their house… make such a law… that was the real intention," he said.
He rejected the government's argument that several changes were made to the original Bill. "You have done a cosmetic surgery… the illness has not gone," he said. Azad, like others in the Opposition, argued that Muslim marriage is a civil contract, and accused the government of giving a "criminal face" to a civil contract.
"You have made it a cognizable offence. So the police can put somebody in jail without a warrant… you are very keen to put the husband in jail… but the government will not give any financial assistance to the wife… you have said that many Islamic countries have similar laws… So, will you also bring a law to enforce chopping of hands and head, whipping… don't compare Indian Muslims with the Muslims of any other country," he said.
He said the government eagerly brought the Bill, saying the Supreme Court had said so. "First of all, the Supreme Court has not said anything about criminal law… it was in the minority judgment of the Supreme Court… how many minority judgments have come since 1947 and how many are you going to implement… The Supreme Court also said that a law should be made on lynching… bring a Bill on lynching… don't be selective… then I will accept that you follow the Supreme Court's suggestion and guidance," he said.
Azad said the Supreme Court has already declared instant triple talaq as null and void. "So if I abuse you now, if I threaten to kill you… threaten to shoot you in a fit of rage… will you give me capital punishment… you cannot since it is a mere threat… the triple talaq law is like that… the Supreme Court has said triple talaq is null and void… so what are you giving punishment for," he asked.
"This Bill is politically motivated. This (Bill is such that) minorities remain engaged in personal conflict. Husband will hire lawyer against wife and wife will hire lawyer against husband. They will sell their land or home to fight the case…. The wife and children will be on the roads and, after the husband is released from jail, he will commit suicide or become a dacoit or thief or start begging," Azad said.
His party colleague, Digvijaya Singh, asked whether the government had taken the Muslim community into confidence before bringing the Bill. "Where was the BJP's love for Muslim women when a pregnant woman was stabbed in Gujarat during the 2002 riots," he asked.
Full report at:
https://indianexpress.com/article/india/ghulam-nabi-azad-on-triple-talaq-bill-real-intention-to-finish-them-muslims-in-their-house-5865091/
--------
JeM militant involved in Pulwama attack killed in Anantnag encounter
by Bashaarat Masood
July 31, 2019
A Jaish-e-Mohammad (JeM) commander, who was involved in the February 14 Pulwama attack, was killed in an encounter with a joint team of forces in Bijbehara area of Anantnag district on Tuesday.
On Tuesday afternoon, after a tip-off about presence of militants, a joint team of J&K Police, Army and paramilitary forces cordoned off Katoo village of Bijbehara area. As the joint team were zeroing in on the target house, militants hiding in the village opened fire, triggering a gun battle. In the encounter that lasted several hours, the two JeM militants were killed.
Fayaz Ahmad Thokar, a resident of Tral, was killed along with another local militant.
J&K Police termed Thokar's killing as a "big achievement".
"He (Thokar) was a co-conspirator in the February 14 Pulwama suicide attack," a senior police officer said. "He was a prize catch."
Police have identified the other slain militant as Shan Showkat Bhat.
Police sources said Thokar was a close associate of JeM commander Mudasir Khan, who was killed in Tral. A resident of Midoora, Khan was the brains behind the attack.
Police said Thokar was also the main accused in the fidayeen attack at Anantnag in June. Five CRPF personnel were killed in the attack and a Station House Officer(SHO) Arshad Khan was injured, who later succumbed at a New Delhi hospital.
Full report at:
https://indianexpress.com/article/india/jem-militant-involved-in-pulwama-attack-killed-in-anantnag-encounter-5865273/
--------
Pakistan
PM directs CDA, capital administration to develop Shah Allah Ditta caves
Kashif Abbasi
July 31, 2019
ISLAMABAD: Prime Minister Imran Khan has directed the Capital Development Authority (CDA) and Islamabad Capital Territory (ICT) administration to development the historic Buddha Caves in Shah Allah Ditta.
Sources said Mr Khan issued the directions during a meeting at the Prime Minister's Office on July 17, and told both organisations to collaborate with the national history and literary heritage ministry.
A follow-up letter addressed to the concerned ministries from the Prime Minister's Office said the CDA and ICT administration should collaborate with the ministry to develop the caves.
It said the CDA chairman and National History and Literary Heritage Division secretary have been directed to take steps to develop the site.
Islamabad Chief Commissioner Amer Ali Ahmed, who holds acting charge as CDA chairman, confirmed that "we have been directed to develop the Buddha Caves to promote tourism."
"The prime minister was keen to develop historical archaeological sites in the capital city," he said.
He added that tourist sites will be developed in close coordination with the ministry.
"The Shah Allah Ditta caves have great potential to attract foreign tourism," the chief commissioner said, adding that the CDA and ICT administration will carry out civil work and other amenity work while the archaeology department deals with the preservation of the site and so on.
Deputy Mayor Syed Zeeshan Naqvi, who lives in the area and belongs to the PML-N, said many past governments announced that they would develop the site, but to no avail.
In 2010, the CDA prepared a PC-I for the preservation and protection of the site in addition to the development of Sadhu ka Bagh, a tourist attraction near the caves. The project has yet to be completed.
"This site is very important to followers of Buddhism... Foreign tourists who visit here regularly complain about the neglected sites," he said, adding that if the prime minister is taking an interest in these caves "it is a positive sign."
He said the caves boast Buddhist murals that date back some 2,500 years.
National History and Literary Heritage Division Joint Secretary Syed Junaid Akhlaq said the archaeology department will play its due role in the preservation of these historical sites.
"These are protected sites and the archaeology department is already executing a small project to uplift and preserve them. Now after the prime minister's directive, all the concerned departments will play our role to develop these sites," he said, adding that the Evacuee Trust Property Board is the custodian of the caves, and the archaeology department is collaborating closely with them.
The Shah Allah Ditta caves are said to date back to the Stone Age. Archaeologists have said the caves and rock shelters were first brought into use by humans during the Stone Age.
The caves were used in various eras, and the surviving frescos on the walls represent images such as Hindu deities, while a stream in front of the caves also shows that the site remained in the use of Hindus before partition.
https://www.dawn.com/news/1497116/pm-directs-cda-capital-administration-to-develop-shah-allah-ditta-caves
--------
US hints at greater economic engagement with Pakistan
Anwar Iqbal
July 31, 2019
WASHINGTON: The United States and Pakistan can further enhance bilateral trade if strategic ties between the two countries continue to improve, said a White House factsheet released on Tuesday.
The factsheet "Working toward Peace and Stability: Building Economic Prosperity" notes that the United States and Pakistan enjoy a strong economic partnership that benefits both countries.
The official document points out that Pakistan and the US traded $6.6 billion worth of goods last year, setting a new record of bilateral trade.
While the document recognises Pakistan's role in the Afghan peace process, US officials recently also urged Islamabad to encourage transit trade between India and Afghanistan, noting that it would benefit all by enhancing trade between South and Central Asian regions.
President Donald Trump also expressed his desire to increase trade with Pakistan when asked at his July 22 news briefing what his administration was willing to do to help boost the Pakistani economy.
"Yes, I see great trade with Pakistan. And I'm not talking about a little bit more. I'm talking about — we could go 10 and even 20 times what we're doing right now," he said.
"You know, Pakistan is a big country. It's actually a very big country, and they have tremendous product. They make great product," he added.
"I've bought from Pakistan over the years when I was in the private sector. They make incredible product. They're brilliant people. They're hard-working people."
He said that he believed the US and Pakistan could "have a fantastic trade relationship. I don't mean we'll increase it by 20 per cent. I mean, I think we can quadruple it. I think it could go — I mean, literally, it sounds crazy — you could go 10 times more. You could go 20 times more."
He said he believed in multiplying trade with Pakistan because he felt "what we do right now is not much, and we should do a lot."
Trump's statement and the White House factsheet endorse Islamabad's claim that Prime Minister Imran Khan's US visit was a success, although it also highlights the key issues that need to be resolved to further enhance this relationship.
The document notes that Pakistan also purchased extensive amounts of American liquefied natural gas during the same period, about 22.8 billion cubic feet.
ExxonMobil re-established its presence in Pakistan in 2018 after 27 years and is working to increase LNG imports.
It lays greater emphasis on economic relations than did recent statements by US officials, who focused more on Pakistan's cooperation in restoring peace to Afghanistan.
Full report at:
https://www.dawn.com/news/1497206/us-hints-at-greater-economic-engagement-with-pakistan
--------
Pakistan Army plane crashes near Rawalpindi; 18 killed
Jul 30, 2019
ISLAMABAD: A small military plane of the Pakistan Army crashed into a residential area in the garrison city of Rawalpindi early Tuesday, killing 18 people, including five military personnel, officials said.
The Pakistan Army Aviation aircraft on a routine training flight crashed in the suburbs of Mora Kalu village, killing 12 civilians and five crew members and destroying five to six houses, said the Inter-Services Public Relations (ISPR) - the media wing of the Pakistan Army.
It said that all five crew members, including two pilots, were killed in the crash.
However, a local rescue spokesman said that 18 dead bodies were brought to hospital that included 13 civilians and five crew members.
District commissioner Rawalpindi Ali Randhawa told the media that the incident occurred between 2:30 to 2:40 am when a small military plane which was on a training mission crashed in Rawalpindi.
Rescue teams of 1122 and Pakistan Army immediately reached the site and started the rescue operation.
The ISPR said that rescue officials had extinguished the fire caused by the crash and moved the injured to various hospitals of Rawalpindi, where paramedics said most of the victims were badly burnt.
At least 12 people wee injured in the accident, officials said.
The cause of the crash is yet to be ascertained and the rescue operation was completed by the morning, they said.
The village where the plane crashed is located close to the posh area of Bahria Town. Soon after the crash, a massive fire broke out that engulfed several houses in the locality.
Some of the locals have also uploaded pictures of the burning houses on social media.
President Arif Alvi and Prime Minister Imran Khan expressed their grief over the loss of lives in the aircraft crash.
Pakistan has a poor air safety track record, with plane and helicopter crashes occurring frequently over the years.
In 2016, a Pakistan International Airlines (PIA) plane carrying 48 people, including famous pop singer-turned-Islamic preacher Junaid Jamshed, his wife and Deputy Commissioner Chitral Osama Warraich, crashed and burst into flames in a hilly area near Abbottabad after facing engine problems.
In 2012, a Bhoja Airline plane, a Boeing 737 carrying 121 passengers and six crew members, crashed near Islamabad just just before touchdown.
The worst aviation tragedy on Pakistani soil came in July 2010 when an Airbus 321 passenger jet operated by the private airline Airblue crashed into hills overlooking Islamabad. The flight was coming from Karachi.
All 152 people on board were killed in the accident, which occurred amid heavy rain and poor visibility.
Full report at:
https://timesofindia.indiatimes.com/pakistan/pakistan-army-plane-crashes-near-rawalpindi-18-killed/articleshow/70451276.cms
--------
SC moved against appointment of judges as law colleges' principals
Nasir Iqbal
July 31, 2019
ISLAMABAD: The Supreme Court has been requested to review its Aug 31, 2018 order of allowing retired judges of superior or sessions courts with five-year judicial experience to be appointed as principals of law colleges.
Advocate Fareed Ahmed A. Dayo, who has been the senior most professor at Sindh Muslim (Govt) Law College in Karachi for the past 17 years, argued in his petition that the apex court decision was contrary to the policy formulated by the National Judicial Policy Making Committee, which functions under the chief justice of Pakistan, since the committee's decisions were bound to be followed by superior court judges even after their retirement.
The petition argued that it would be below the status or dignity of the judge of a superior court to act as secretary of the board of governors (BoGs) of law colleges in Karachi in terms of Section 6 of the Sindh Government Education and Training Institutions Ordinance, 1960.
Fareed Dayo was appointed lecturer on April 1, 2003 and confirmed by S.M. Law College's BoGs on April 10, 2004.
The petitioner contended that he had a legitimate expectancy to be appointed principal of the law college, but the Sindh High Court had on a petition ordered issuance of advertisement in newspapers inviting applications for the post. Subsequently, the petitioner was not considered for the post and he apprehended that he would be excluded permanently and some retired judge might be appointed as principal of the law college.
The petition contended that the apex court's judgement would violate the fundamental rights of senior faculty members of different government law colleges, if outsiders/retired judges were appointed principals of such institutions. It said the Supreme Court had also failed to take into consideration that no criteria had been fixed for the appointment of chairman and members of BoGs for law colleges, adding that the chairmanship of BoGs was given to the vice chancellor of the relevant University of Law Colleges.
The petition contended that the S.M. Law College was governed under the Sindh Government Education and Training Institutions Ordinance, 1960, and not under the Rules of 2015 (which has repealed the Rules of 1978) framed by the PBC under the Pakistan Bar Council Legal Education Rules, 2015.
The petition explained that there were two kinds of law colleges — one run by the private sector under the PBC Legal Education Rules 2015, and the other by the government under the Sindh Government Education and Training Institutions Ordinance.
Full report at:
https://www.dawn.com/news/1497195/sc-moved-against-appointment-of-judges-as-law-colleges-principals
--------
5 killed in blast outside police station in Quetta
Syed Ali Shah
July 30, 2019
At least five people have been killed after a loud explosion outside the City police station in Quetta, DawnNewsTV reported quoting police and hospital officials.
According to the spokesman for Quetta's Civil Hospital, Waseem Baig, around 34 people have also been injured in the blast, the nature of which was not immediately clear.
The dead and injured have been shifted to Civil Hospital where an emergency was imposed to treat the injured.
Balochistan Inspector General of Police Mohsin Hassan Butt told DawnNewsTV that police were apparently the target of the blast and policemen are among those injured.
The blast shattered the glass windows of nearby shopping malls and shops. The sound of the explosion was heard far and wide, causing panic among the people.
Full report at:
https://www.dawn.com/news/1497090/5-killed-in-blast-outside-police-station-in-quetta
--------
Govt forcing NAB, FIA to arrest Shahbaz, says PML-N
Amir Wasim
July 31, 2019
ISLAMABAD: The main opposition Pakistan Muslim League-Nawaz (PML-N) has alleged that the government is putting pressure on various institutions to arrest party president and opposition leader Shahbaz Sharif.
Speaking at a news conference at the National Press Club here on Tuesday, senior PML-N leader and former National Assembly speaker Ayaz Sadiq, information secretary Marriyum Aurangzeb and joint secretary Attaullah Tarrar challenged the government and head of the Prime Minister's Assets Recovery Unity (ARU) Shahzad Akbar to present proofs of corruption against the party leaders before courts and become a party to the defamation suit that had been filed by Mr Sharif against British newspaper Daily Mail for publishing a damaging and "false" report against him.
"Shahzad Akbar at the behest of (Prime Minister) Imran Khan is pressurising NAB (National Accountability Bureau (NAB) and FIA (Federal Investigation Agency) to arrest Shahbaz Sharif," said Ms Aurangzeb.
The PML-N's information secretary asked Mr Akbar to make public the proofs against the arrested party leaders and Mr Sharif, instead of waving "meaningless papers" at press conferences to hide his "embarrassment and deceive the nation".
Ms Aurangzeb declared Mr Akbar a "rented spokesperson" of the PTI regime, saying if he had any "semblance of courage and integrity", he should stop wasting taxpayers' money on press conferences and should present the proofs in courts.
"Why did the PTI regime end up in the sewerage drain of Ramzan Sugar Mill after claiming billions in corruption? Why did they need to blackmail and pressure judges into rulings against Nawaz Sharif, if they had such undeniable proofs of corruption against him? Why were they forced to use the age-old tool of political victimisation, the assets beyond means?" she asked.
Ms Aurangzeb alleged that the story in the Daily Mail had been planted by Mr Akbar at the behest of the "selected prime minister".
She said a number of PML-N leaders like Hamza Sharif, Khawaja Saad Rafique, Salman Rafique, Shahid Khaqan Abbasi and Rana Sanaullah were behind the bars, but the government had failed to prove any corruption charges against them.
She slammed the PTI government for making "fake cases" to silence the PML-N leaders by locking them up behind bars. She said the case against Rana Sanaullah was a "blatant and shameful act" of enormous proportions. She dared the PTI to present the video of the narcotics being recovered from Mr Sanaullah's car which they claimed to have seized.
She said even a government minister lied on the floor of the assembly regarding the allegations against Mr Sanaullah.
She pointed out that when Mr Sanaullah asked in the court about the video, they had nothing to say.
Quoting Interior Minister retired Brig Ijaz Shah that the spokespersons of the opposition leaders should also be arrested, she challenged the minister "to arrest her right now".
Mr Sadiq said the present "regime" was trying to deceive the nation with false accusations to divert attention from its "glaring blunders" that had brought the country and its people to the brink of total disaster.
Showing the response letter written by the Daily Mail in response to the notice sent by Mr Sharif, the former speaker said the British publication had excused itself from submitting the reply in the designated 14-day period and had sought additional time. Mr Sadiq said this plea for a delay could only mean that the newspaper did not have any plausible proof to back up its "fictitious story".
He said the publication presented the story as a piece of investigative journalism and if that investigation was rooted in truth it would not need more than 24 hours to present evidence and prove the story.
According to Mr Sadiq, Mr Akbar said he was a barrister which was strange because he did not know anything about the UK's legal system which merited a direct notice to the party which in turn triggered the legal suit.
Full report at:
https://www.dawn.com/news/1497193/govt-forcing-nab-fia-to-arrest-shahbaz-says-pml-n
--------
Pakistan, Uzbekistan agree to enhance security cooperation
Jul 31, 2019
RAWALPINDI: Pakistan and Uzbekistan agreed to improve military level contacts and training besides undertaking concrete steps for eradication of terrorism, said a statement released on Tuesday by the Inter-Services Public Relations (ISPR).
These matters were discussed during a meeting between Chairman Security Services of Uzbekistan and Chief of Army Staff General Qamar Javed Bajwa at the General Headquarters (GHQ) in Rawalpindi.
As per army's media wing, during the meeting, matters pertaining to mutual interests, bilateral ties, regional situation, defence and security cooperation and other issues were also discussed in detail.
Full report at:
https://www.pakistantoday.com.pk/2019/07/30/pakistan-uzbekistan-agree-to-enhance-security-cooperation/
--------
US accepted Pak narrative on Afghanistan: Qureshi
JULY 30, 2019
Foreign Minister Shah Mahmood Qureshi Monday said a major shift had occurred in the policy and thought of the US leadership in the last 11 months and now it was seeking political solution to the Afghan issue.
https://dailytimes.com.pk/439673/us-accepted-pak-narrative-on-afghanistan-qureshi/
--------
Mideast
Israel, U.S. Working To Upgrade Unifil's Mandate To Weaken Hezbollah
By Omri Nahmias
July 30, 2019
WASHINGTON – Israel and the United States are jointly working to have the United Nations Security Council to upgrade the mandate of the international peacekeeping force based in southern Lebanon, providing it with greater authority in an effort to weaken Hezbollah.
Israel Ambassador to the UN Danny Danon told The Jerusalem Post that Israel is working with the US to upgrade UNIFIL's mandate, specifically to give it the ability to visit and inspect any area in southern Lebanon. Under the existing mandate, UNIFIL cannot enter villages and urban areas unless it first coordinates such visits with the Lebanese Armed Forces.
Danon told the Security Council last week that in the 13 years since the war ended, "[we have] yet to receive an accurate picture of the gravity of the situation in southern Lebanon. It is unfortunate that some have chosen to turn a blind eye to the reality on the ground."
Danon added that "UNIFIL must be fully equipped to discharge its mandate and contribute to stability in the region."
Resolution 1701 calls for no sale or supply of arms and related material to Lebanon except as authorized by its government, he pointed out. "It appears, however, that this call for an embargo has been completely ignored."
Israel and the US want to add two clauses to UNIFIL's mandate. The first would give UNIFIL authority to enter any village or area it would like without restriction.
The second would obligate UNIFIL to report if Hezbollah attempts to prevent the international force from visiting a specific location, something not enforced today.
"We believe that they should do more, and that they should be more effective," Danon told the Post. "We think that the mandate should be more specific. Unfortunately, today they are not allowed to enter many areas. Once they're being blocked from entering a location, the least they could do is to put it in their report, the exact location, and who blocked them. They are failing to do that, and it happens daily."
Israel believes that Hezbollah is storing most of its weapons within residential areas inside homes, hospitals and schools in the nearly 180 Shi'ite villages throughout southern Lebanon, which fall within UNIFIL's area of operations.
Danon said that he respects the work of UNIFIL, and that changing the mandate will allow its personnel to get "better results on the ground."
The United Nations Interim Force in Lebanon (UNIFIL) was established in 1978 and beefed up in 2006, after the Second Lebanon War ended with the passing of Security Council resolution 1701. UNIFIL's mandate is renewed annually in August.
https://www.jpost.com/Middle-East/Israel-US-working-to-upgrade-UNIFILs-mandate-to-weaken-Hezbollah-597097
--------
Report: Israel Launched Two Attacks On Iranian Targets In Iraq In July
By Tzvi Joffre, Anna Ahronheim
July 30, 2019
The IAF used its F-35i stealth fighter jets to hit two Iraqi bases that were used by Iranian forces and proxies and for storing ballistic missiles, the London-based Saudi daily Asharq Al-Awsat reported on Tuesday.
The first attack happened on July 19 at a base in Amerli in the Saladin province north of Baghdad. Iraqi and Iranian sources blamed Israel at the time, and Asharq Al-Awsat reported that "diplomatic sources" confirmed the attack, specifying that it was carried out by an Israeli F-35.
Al Arabiya television news reported that Iranian-made ballistic missiles were transported to the base shortly before the attack via trucks used to transport refrigerated food. The identity of the aircraft which conducted the attack was unspecified at the time, and the US denied any involvement. Iranian Revolutionary Guard Corps (IRGC) and Hezbollah members were killed in the airstrike, according to Al Arabiya. However, the Iranian-backed al-Hashd ash-Sha'abi (Popular Mobilization Forces) denied that any Iranians were killed, according to Fars News Agency.
A source from the IRGC told the Kuwaiti Al-Jarida newspaper that preliminary investigations indicate that Israel was behind the attack. An Israeli drone launched from a US base in Syria attacked the base, which stored short- and medium-range missiles.
The IRGC reached this conclusion because the type of missile that hit the camp is the same used by the IAF in attacks on Syria.
Asharq Al-Awsat also reported that a second attack by Israel on Sunday on a base in Ashraf, northeast of Baghdad, had targeted Iranian advisers who were present at the base and a shipment of ballistic missiles that had just arrived from Iran.
Last week, an explosion killed Hezbollah operative Mashour Zidan in southern Syria, and a few days later, a rocket struck the strategic Tel Haraa site not far from where Zidan was killed.
Zidan, a resident of the Druze village of Hadar, is said to have been a senior Hezbollah operative responsible for recruiting volunteers from villages near the border with Israel as part of Hezbollah's Golan file.
The site has been used by the Syrian Armed Forces for years to observe IDF movements, and since the Bashar al-Assad regime reclaimed the area from rebels last summer, there have been several strikes on the site that have been blamed on Israel.
While the base, which has electronic surveillance capabilities, was supposed to be manned solely by regime troops, pro-Iranian militias – including Hezbollah – are known to be stationed there.
Iran has begun moving its assets from areas repeatedly struck by Israel to locations closer to the border with Iraq, specifically the T4 Airbase located between Homs and Palmyra.
Full report at:
https://www.jpost.com/Arab-Israeli-Conflict/Israel-expanding-attacks-against-Iranians-in-Syria-and-Iraq-report-597128
--------
Israel jails Palestinian lawyer over shootings
30 July 2019
An Israeli military court jailed a prominent Palestinian lawyer for 13 and a half years on Tuesday for shooting at Israeli vehicles in the occupied West Bank, the army said.
Tareq Barghout, a Ramallah-based lawyer who represented Palestinians accused by Israel of security-related offenses, was himself arrested in February, along with Palestinian Authority official Zakaria Zubeidi.
The army said in a statement that Barghout was convicted as part of a plea bargain.
"Barghout fired at Israeli buses and at security forces on a number of occasions," it said.
Zubeidi, a former head of a militant group who later became an official of the PA commission for Palestinians in Israeli jails, is still awaiting trial.
Both men were charged in May with carrying out shooting attacks in the Ramallah area between November 2016 and January 2019, in which three Israelis were slightly injured.
According to Israel's Shin Bet domestic security agency the pair used Zubeidi's official PA vehicle for transport.
Israeli lawyer Leah Tsemel, representing Barghout, said that he alone fired the shots.
"He said in his statement that he opened fire after feeling that Palestinians were being treated very unjustly by Israeli courts," she told AFP.
She said that he was also distressed by having to accompany bereaved Palestinians to receive from Israeli authorities the bodies of loved ones killed in conflict with Israeli forces.
"Once, Barghout fired from a distance at a settlers' bus to make them understand that they can never feel secure in the occupied territories," Tsemel said.
Excluding annexed east Jerusalem, more than 400,000 Israeli settlers live in the West Bank alongside more than 2.5 million Palestinians.
International law considers the settlements to be illegal and a barrier to peace between Israelis and Palestinians.
Full report at:
https://english.alarabiya.net/en/News/middle-east/2019/07/30/Israel-jails-Palestinian-lawyer-over-shootings.html
--------
US, allies accomplices to Saddam's chemical attacks on Iran
Jul 30, 2019
When former Iraqi dictator Saddam Hussein used chemical weapons to kill thousands of Iranians during the imposed war from 1980 to 1988, not only did the US and its Western and regional allies look the other way but they also aided the then-dictatorial regime in committing war crimes.
Iraq didn't have the possibility of producing the bombs from scratch. But it had several accomplices. Countries providing Iraq with the ingredients for chemical bombs knew Iraq was at war.
The US, the UK, Germany, Italy, and Holland were among the countries providing Saddam Hussein's Ba'athist Iraq with the equipment and material to build chemical weapons.
Iraq made the most of its acquisitions by launching over 350 large-scale gas attacks along the Iran-Iraq border between 1980 and 1988 on soldiers and civilians alike.
And it wasn't just mustard gas. Iraq also used the nerve agents VX, Tabun, and Sarin. This left Iran with over 107,000 victims, 2,600 of whom died at the time. Over 45,000 others were left in permanent need of relief aid provided by Iran's Veterans and War Victims Foundation.
The northwestern Iranian town of Sardasht was just one of the civilian areas to experience the devastating effects of mustard gas and nerve agents.
The citizens of Sardasht were all too accustomed to Iraqi bombardment in the 1980s — conventional bombs that is. Little did they know that the new chemical bombs didn't have to explode to kill and maim. Before they knew it, 110 people were dead.
It was on July 22, 1988 when Zardeh, a village of 1,700 residents were hit presumably by Tabun, a nerve gas that causes convulsions and paralysis before death. This killed 275 on the spot and injured 1,146. Not least, a Zardeh water source was contaminated by missile collision. This poisoned people and animals in other villages.
Other Iraqi dirty strikes on Iran after Sardasht were carried out in March 1988 in villages around the city of Marivan, and in May-June 1988 in villages around the cities of Sarpol-e Zahab, Gilan-e-gharb, and Oshnavieh.
In March 1988, Iraq also used chemical weapons in Halabja, home to Iraqi Kurds, who had joined with Iran in fighting Saddam. According to reports, 5,000 mainly women and children were killed of mustard gas and sarin poisoning, and up to 12,000 have died since because of chemical exposure.
Today, Tehran's Peace Museum is a reminder of the horrors of chemical warfare
The Iranian nation revisited the Sardasht affair on its 32nd anniversary recently. That is barely over a month apart from Hiroshima and Nagasaki days on August 6 and 9, when the Japanese cities were nuked by the US in 1945.
Iranian Foreign Minister Mohammad Javad Zarif in a message paid tribute in to Sardasht chemical attack victims.
"Undoubtedly, the chemical bombardment of Sardasht is one of the most bitter memories remained for the Iranians since the eight years of the imposed war…," Zarif said. "This stain of disgrace will remain on the foreheads of the perpetrators and supporters of this crime forever."
"The Islamic Republic of Iran, in accordance with the legal, religious and ethical norms on the prohibition of Weapons of Mass Destruction, insists on its principled policy of condemning the use of chemical weapons at any time, any place and under any circumstances, and considers the complete elimination of the remaining stockpiles of chemical weapons of the US, the only holder of those weapons…, as a key step towards achieving a world free of WMDs," the top Iranian diplomat stated.
Today, Iran is the world's largest laboratory for the study of the effects of chemical weapons, because of the unthinkable number of Iranian victims.
While small-pox has been eradicated more or less, and cancer patients get to live a decade longer in comfort, victims of chemical warfare say they only feel worse as time goes by.
Mustard gas or sulfur mustard initially smells as harmless as garlic. But it can cause large blisters on the skin and in the lungs. Its victims suffer anything from blindness to cancer. The nerve agent was used against Iran in dusty, liquid, and vapor forms.
The ongoing suffering of lives impaired is undeniable. But, as Dr. Mostafa Ghanei, pulmonary specialist, makes the point, it could have been even worse.
"Only God knows what would happen to the poor victims of chemical attacks if it wasn't for Iran's findings in this field. Iran's findings helped reduce the symptoms of the victims of Halabja chemical attack down to 50 percent," he told Press TV
Shahram Shoeibi, an expert from Food and Drug Organization, said, "Nuclear bombs have a massive destructive power; they can kill a huge number of people in a few seconds and destroy cities and infrastructure completely. Chemical weapons do not have such power but they can destroy the internal organs of a body. We can refer to chemical bombs as the nuclear bombs of human bodies because they did to a human body what nuclear bombs do to a city."
About a million Iranians in different regions were exposed to Iraq's chemical gases. While it seems insulting to compare those Iranian cities' catastrophic plight to any other, a certain Japanese lady insists the world should annually commemorate and commiserate chemical warfare victims also, on Sardasht Day. Married to an Iranian, she gave up a son to the 8-year war imposed on Iran.
"During the war, together with other Iranian women who were caring for the injured, guarding ammunition depots, and organizing food drives, I did my best to help as much as I can. I had learnt that for independence, we must make sacrifice otherwise world powers will plunder your resources." Haniko Yamamora, a mother of chemical attack victim, said.
Ahmad Saleemi, an Iran-Iraq war veteran who was injured on the border between Iran and Halabja, said the victims of the chemical attacks were fighting in a second war caused by the shortage of drugs.
"Unfortunately, we don't have access or at least easy access to the medicines that relieve our pain."
Other chemical victims Press TV spoke to were Ali Akbar Fazli and Morad Darvishi.
"Chemical agents affect lungs and internal organs of the body badly. Victims of chemical weapons like me cannot tolerate pungent smell; if there is pungent smell, I can't even talk anymore," said another war veteran Fazli, adding, "My left hand and leg have been injured during the war I also suffer a ruptured eardrum because of a mortar explosion," Darvishi.
"It was the Operation Dawn 8 in Arvand Rud; I was doing my job as a nurse in the warzone that the chemical weapons bombardment of Iraqis started. It was nerve agent," said Darvishi.
"I was actually wearing protective suit and gas mask but it wasn't enough. Due to the explosions my eardrums were ruptured. After I went into a coma, they took me to a hospital in Tehran. For three months, I could not hear or see a thing. My skin was entirely peeled off from top to toe. I got blisters all over," he added.
Ahmad Momeni Rad, at faculty of law and political science of the University of Tehran said that the United Nations Security Council had asked the inspectors of the UN and IAEA to keep secret the identity of the companies which had sold chemical weapons to Iraq.
"In 2004, a trial was held against a man named Frans van Anraat in Netherland who was the head of one of the companies which sold thousands of tons of raw materials of chemical weapons to Saddam. He was arrested and sentenced to prison time under the conviction of complicity in genocide but the UNSC did almost nothing but a mere expression of regret. This is while the UNSC was expected to pass a tough resolution against the Iraqi Baath Regime."
Full report at:
https://www.presstv.com/Detail/2019/07/30/602274/Iran-Iraq-chemical-attacks
--------
Israel building new barrier adjacent to blockaded Gaza Strip
Jul 31, 2019
The Israeli military has been building a new barrier made of sand dunes close to the so-called buffer zone between the occupied territories and the Gaza Strip.
The latest barrier follows the start of construction earlier this year of a 65-kilometer-long wall along the eastern perimeter of the coastal enclave and a maritime separation wall in northern Gaza.
The Israeli military claims that the barriers are aimed at preventing Palestinian resistance factions in the Gaza Strip from monitoring Israeli forces operating in the area and to confront Palestinians who have been demonstrating in the enclave against the Israeli occupation since late March 2018.
https://www.presstv.com/Detail/2019/07/31/602303/Israel-new-barrier-Gaza
--------
Several Saudi mercenaries killed as Yemeni missiles hit kingdom's Najran
Jul 30, 2019
Several Saudi-sponsored militiamen loyal to Yemen's former president, Abd Rabbuh Mansur Hadi, have been killed when Yemeni army forces and their allies launched a missile strike against their camps in Saudi Arabia's southern province of Najran.
The media bureau of the Houthi Ansarullah movement announced in a statement that Yemeni missile defense units fired five domestically-manufactured Zelzal-1 (Earthquake-1) missiles and artillery rounds at positions of Saudi mercenaries in al-Sadis area of the region, located 844 kilometers (524 miles) south of the Saudi capital Riyadh, on Tuesday afternoon.
The statement added that the missiles hit the designated targets with great precision, leaving a number of Saudi-paid militiamen killed and injured.
Earlier in the day, scores of Saudi mercenaries were killed and injured when Yemeni troopers and fighters from allied Popular Committees struck their positions in Moraba'a al-Shaja'a area of the same Saudi region.
Separately, Yemeni forces and their allies launched a barrage of artillery rounds at the strongholds of Saudi mercenaries in the Qa'atabah district of the southern Yemeni province of Dhale, leaving a number of the Riyadh-backed militiamen dead and injured.
Several Saudi mercenaries were also killed and wounded when a bomb explosion struck them in al-Jarrah area of Yemen's southern province of Ta'izz.
Saudi Arabia and a number of its regional allies launched a devastating campaign against Yemen in March 2015, with the goal of bringing the government of Hadi back to power and crushing Ansarullah movement.
The US-based Armed Conflict Location and Event Data Project (ACLED), a nonprofit conflict-research organization, estimates that the Saudi-led war has claimed the lives of over 60,000 Yemenis since January 2016.
Full report at:
https://www.presstv.com/Detail/2019/07/30/602269/Several-Saudi-mercenaries-killed-as-Yemeni-missiles-hit-kingdoms-Najran
--------
Israeli forces summon Palestinian kid for interrogation over stone throwing
Jul 30, 2019
Israeli forces have summoned a four-year-old Palestinian child from the occupied East Jerusalem al-Quds neighborhood of al-Issawiya after charging him with throwing stones at a military vehicle.
On Monday, a large number of police forces stormed the neighborhood in order to capture the child, identified as Mohammad Rabiaa Elayyan.
They chased the child and when members from his family showed up, they were handed a warrant ordering them to bring him to the Israeli police station on Salaheddine Street for interrogation.
Mohammad and his father Rabiaa went to the Israeli police station on Tuesday morning, accompanied by fellow residents of Issawiya, who came to protest the interrogation warrant.
Palestine's official WAFA news agency reported that Rabiaa was briefly interrogated by Israeli police, and released shortly thereafter.
The Wadi Hilweh Information Center – Silwan also posted a video, showing the four-year-old Palestinian child crying as he is carried by his father, who enters the police station.
Qadri Abu Bakr, chairman of the Commission of Detainees' and Ex-Detainees' Affairs, later denounced the Israeli police for summonsing the four-year-old Palestinian child for interrogation.
Abu Baker, in a post published on his Facebook page, slammed the Israeli regime for committing flagrant crimes against Palestinian minors and children.
"The Palestinian childhood is in serious and constant danger while the international community keeps silent on Israel's violations," he wrote.
Israeli police spokesman Micky Rosenfeld described the summoning as a "standard procedure," adding, "It's an educational process and at the same time community policing to deal with that incident."
He went on to say that no police officers were injured in the alleged stone-throwing incident involving Mohammad.
Later on Tuesday, Israeli police summoned Palestinian child Qais Firas Obaid and his father – residents of Issawiya – for interrogation, claiming that the young boy had thrown stones at Israeli soldiers. They both have to appear in Israeli police station on Wednesday.
Jawad Siam, director of the Wadi Hilweh Information Center – Silwan, said the interrogation summons are part of a broader policy to exert pressure on Issawiya's residents.
"It's a way to put pressure on the family, on the people. They know they cannot arrest them, they cannot put them in jail - but it's a kind of terror against the children," he commented.
Siyam said residents of Issawiya have been under a lot of pressure to stop their acts of protest against regular raids and arrests by the Israeli army and police, and frequent home demolitions.
"It's collective punishment against Issawiya. They want people there to give up to police. But the fact is that people do not want to welcome the police.
Full report at:
https://www.presstv.com/Detail/2019/07/30/602256/Israeli-forces-summon-Palestinian-kid-for-interrogation-over-stone-throwing
--------
12 Palestinians injured as Israeli forces, settlers storm shrine in West Bank
Jul 30, 2019
Twelve Palestinians have been injured when clashes erupted with Israeli forces who paved the way for hundreds of settlers to storm a shrine on the outskirts of Nablus city in the occupied West Bank.
According to the Arabic-language Palestinian Information Center, the clashes erupted after hundreds of Israeli troops stormed the compound of Joseph's Tomb (Qabr Yusuf), east of Nablus, late on Monday.
Medical sources said four Palestinians were hit by live bullets fired by the Israeli forces and were transferred to the hospital, while eight others were hit by rubber-coated steel bullets.
According to the report, many Palestinians also suffered suffocation after inhaling tear gas used by the Israeli forces.
In the early hours of Tuesday, tens of buses and vehicles carrying 1,300 setters arrived in the shrine under Israeli army protection.
About 600,000 Israelis live in over 230 illegal settlements built since the 1967 occupation of the Palestinian territories of the West Bank and East Jerusalem al-Quds.
Joseph's Tomb is situated in the West Bank's Area A, which is controlled by the Palestinian Authority; however, the Israeli military allows the settlers to visit the site without approval, and even escorts them into the place.
This is while the regime prevents Muslims from worshiping there.
Israelis claim the site contains the tomb of a rabbi, but the site is part of an old mosque where Muslim scholar Yousuf Dweekat has been buried.
Full report at:
https://www.presstv.com/Detail/2019/07/30/602237/Palestinians-injured-Israeli-forces-settlers-West-Bank
--------
Houthis massacre of Saada market kills 10: Yemeni official
July 30, 2019
DUBAI: The Houthi militia bombed a market in Saada, killing 10 and wounding 20, a Yemeni government source told the Saudi News Agency on Tuesday.
The source condemned the attack, which was caused using a Katyusha rocket launcher. This is not the first time global organizations disregard these repeated terrorist crimes against civilians, the source said.
The source called for the international community to take a clear stance on these terrorist acts and the escalating humanitarian catastrophe.
The use of such terrorist methods and gang behavior would not succeed in achieving what the Iranian-backed Houthi militia seeks, which is forcing the Yemeni people to accept its rebellion, the source added.
The Yemeni official echoed the government's call to the United Nations, the Office of the High Commissioner for Human Rights, the Security Council and international organizations to exert more pressure to stop the militia from targeting civilians.
Full report at:
http://www.arabnews.com/node/1533011/middle-east
--------
Africa
Sudan army ruler renames feared spy agency from al-Bashir era
30 July 2019
Sudan's feared spy agency, the National Intelligence and Security Service, which was a key tool of ousted President Omar al-Bashir to repress dissent, has been renamed by the head of the country's military council, the agency's chief said Monday.
The agency, widely known as NISS, launched a sweeping crackdown on street protests, which erupted in December against now ousted leader Omar al-Bashir.
NISS will now be called General Intelligence Service (GIS), its chief Lieutenant General Abu Baker Mustafa said in a statement.
He said the name change follows a decree issued by the head of the country's ruling military council General Abdel Fattah al-Burhan.
The council took over after the military ousted Bashir in April and is now working with an alliance of protest and opposition groups on a power-sharing deal.
"The change in the name comes at a time when the security apparatus is being restructured to keep pace with the political changes in the country," Mustafa said.
"The name change also reflects increased professionalism in the agency to help protect the country and national security."
During the ironfisted rule of Bashir, NISS oversaw repeated crackdowns on government opponents and the media.
Its agents frequently confiscated the entire print-runs of newspapers that criticized government policy or reported on anti-government protests.
When agents of NISS targeted anti-Bashir protesters, the crackdown left dozens dead, hundreds wounded and thousands arrested in the months-long protest campaign before the army ousted Bashir on April 11.
The crackdown was overseen by the former head of the agency, Salah Ghosh, who resigned from his post soon after Bashir's ouster. He was replaced by Mustafa.
Ghosh, had worked on and off for NISS ever since the 1989 coup that brought Bashir to power, according to Sudanese media.
He was credited with building NISS into one of the most important pillars of Bashir's regime.
https://english.alarabiya.net/en/News/middle-east/2019/07/30/Sudan-army-ruler-renames-feared-spy-agency-from-al-Bashir-era.html
--------
Haftar brings in foreign forces to attack Tripoli: GNA
Viola Fahmy
30.07.2019
TRIPOLI
A Libyan military commander on Tuesday accused Khalifa Haftar, who commands rival forces in eastern Libya, of bringing in foreign troops to attack the capital Tripoli.
"There is intelligence information about launching airstrikes [on Tripoli] by bringing foreign parties [into Libya]," Osama al-Juwaili, commander of the military West Zone of the UN-recognized Government of National Accord (GNA), said.
He, however, did not elaborate on the identity of the foreign forces, saying that his forces have taken "unpredictable measures" against the possible attacks.
Since early April, forces loyal to Haftar have been launching a campaign to capture Tripoli from the GNA forces.
Clashes between the two sides since then have left more than 1,000 people dead and about 5,500 wounded, according to the World Health Organization (WHO).
Commenting on the seized French weapons in Gharyan, the commander said the Libyan Presidential Council has officially asked France to issue a clarification in this regard.
"The French said that they were unusable weapons that will be destroyed, but Libya is not a landfill. This is unconvincing," he said.
GNA forces seized four French missiles when it overran a camp of Haftar forces in June.
France earlier this month officially denied providing missiles to forces loyal to commander Khalifa Haftar in Libya's east.
Libya has remained beset by turmoil since 2011, when long-time ruler Muammar Gaddafi was ousted and killed in a bloody NATO-backed uprising after four decades in power.
Full report at:
https://www.aa.com.tr/en/africa/haftar-brings-in-foreign-forces-to-attack-tripoli-gna/1545022
--------
UN urges probe into fatal shooting of Sudan schoolchildren at rally
Jul 30, 2019
The United Nations has called for an investigation into the killing of five schoolchildren during a protest rally in central Sudan.
According to a doctors committee linked to the Sudanese opposition, the victims "succumbed to direct wounds from sniper bullets during a peaceful rally" against shortages of bread and fuel in the city of al-Obeid, the capital of central province of North Kurdufan, on Monday.
In a statement on Tuesday, the UN children's agency (UNICEF) called on the authorities "to investigate and hold all perpetrators of violence against children accountable."
"No child should be buried in their school uniform," the statement read, saying the victims killed were between 15 and 17 years old.
The Sudanese Professionals Association (SPA), a key protest group, said, "The Janjaweed forces and some snipers, without any mercy, confronted school students with live ammunition."
It was referring to the African country's paramilitary Rapid Support Forces (RSF), a tribal militia that was originally deployed to the western region of Darfur in 2003, when mainly non-Arab tribes took up arms against Sudan's Arab-led government.
Authorities announced a night-time curfew in four towns in North Kordofan state following the deaths in al-Obeid and the SPA called for nationwide rallies against the massacre.
The SPA said more than 60 people were wounded in the protest rally.
Ismail al-Taj, a protest leader at a Monday rally in the capital Khartoum said "the dead are children and that adds to the brutality of this cowardly incident."
Calls for suspending talks with junta
The killings come as protest leaders have called for the Tuesday talks with the ruling generals to be suspended.
"We cannot sit at the negotiating table with those allowing the killing of revolutionaries," Siddig Youssef, a prominent protest leader, said in a statement.
The talks were due to be held on the remaining aspects of installing civilian rule after the two sides inked a power-sharing deal earlier this month.
Meanwhile, Sudan's military rulers sought to distance themselves from the incident and condemned the killing of the schoolchildren.
"Killing peaceful civilians is an unacceptable crime that needs immediate accountability," General Abdel Fattah al-Burhan, told reporters on Tuesday.
The African country has been the scene of numerous protest rallies over the past seven months. On April 11, the Sudanese military unseated and then imprisoned 75-year-old president Omar al-Bashir after some four months of widespread protests over dire economic conditions and soaring prices of basic commodities.
Following the ouster of Bashir, who had come to power through a military coup in 1989, Sudanese military leaders established the so-called Transitional Military Council (TMC) with the task of running state affairs.
However, generals faced popular protests, which called for a civilian body to replace the TMC.
Full report at:
https://www.presstv.com/Detail/2019/07/30/602238/UN-Sudan-shooting-schoolchildren-alObeid
--------
Human Rights Watch denounces Nigeria ban on Islamic movement of Sheikh Zakzaky
Jul 30, 2019
Human Rights Watch (HRW) has denounced a recent Nigerian court ruling that bans the movement led by jailed Muslim cleric Sheikh Ibrahim al-Zakzaky, calling on the Abuja government to reverse the ban, which prevents the group's members from "exercising their right to carry out peaceful activities."
A court in the capital Abuja ruled that activities of the Islamic Movement in Nigeria (IMN) amount to "acts of terrorism and illegality" and ordered the government to ban the religious group.
The move drew criticism from New York-based Human Rights Watch.
"The sweeping court ruling against the Shia movement threatens the basic human rights of all Nigerians," said the HRW's Nigeria researcher, Anietie Ewang. "The government should seek to reverse the ban, which prohibits the religious group's members from exercising their right to meet and carry out peaceful activities."
He also warned that the ban "may portend an even worse security force crackdown on the group, which could have dire human rights implications throughout Nigeria."
The ban runs contrary to the Nigerian constitution and international human rights law, which guarantee the rights to freedom of religion, association and expression, the HRW added.
Ewang also warned that the ban "may portend an even worse security force crackdown on the group, which could have dire human rights implications throughout Nigeria."
The ban was imposed on the Islamic group while the Nigerian constitution and international human rights law guarantee the rights to freedom of religion, association and expression.
IMN members regularly take to the streets of the Nigerian capital to call for the release of Sheikh Zakzaky, who has been in detention since 2015. Nigerian forces have used live ammunition against the protesters.
Now 66 years old, the cleric was reportedly poisoned in prison and requires urgent medical care abroad, according to members of IMN.
Security forces killed at least 20 members of the movement during protests over the past week, according to a spokesman for the group.
Full report at:
https://www.presstv.com/Detail/2019/07/30/602227/Nigeria-human-rights-watch-Shia-Islamic-Ibrahim-alZakzaky-protests
--------
Nigeria: Soldier, 10 Islamic State insurgents killed in Baga, MNJTF says
JULY 29, 2019
One soldier was killed and five were injured in an attack in northeastern Nigeria's Borno state that also saw 10 Islamic State West Africa Province fighters killed, the regional force battling insurgency in the Lake Chad area said.
The incident in Baga was described as a "surprise dawn attack on Multinational Joint Task Force and national troops," by the MNJTF's Chief of Military Public Information Colonel Timothy Antigha in a Monday, July 29 release published by Nigeria's Defence Headquarters.
Antigha said that around around 30 ISWAP militants – including suicide bombers – attempted to infiltrate a defensive position in the Baga area around 0530 local time.
He said that "vigilant troops spotted their approach" and thwarted the assault.
"In the process, 10 terrorists, including four suicide bombers were neutralized. Others escaped with gun shot wounds," Antigha said.
"Unfortunately, a soldier paid the supreme [price], while five others sustained varying injuries and have been evaluated for medical attention," Antigha said, without specifying the soldiers' nationalities.
Arms and ammunition were later recovered, Antigha said, and an image showing four AK-pattern assault rifles and a mobile phone was published.
"It must be re-emphasized that the MNJTF acting cohesively with national forces will continue to pursue courses of action necessary for the achievement of its mandate in the Lake Chad Basin," Antigha said.
The MNJTF, which comprises personnel from Chad, Cameroon, Niger, and Nigeria, launched Operation Yancin Tafki on February 21 to battle the insurgents. It has said the cross-border operation is aimed at "making islands and other settlements in Lake Chad untenable for Boko Haram Terrorists."
ISWAP in the Lake Chad area
Since July last year, ISWAP has intensified attacks on military targets, killing dozens of soldiers and overrunning bases, mainly in the Lake Chad area of Nigeria, Chad and Niger where it is the dominant insurgent group.
In late December, ISWAP fighters overran two military bases in and around the fishing town of Baga, east of Borno state capital Maiduguri on the shores of Lake Chad. Images released by Islamic State appeared to show large quantities of weapons, vehicles and other equipment captured during the fighting in and around Baga.
ISWAP also attacked nearby military locations in Cross-Kauwa, Kukawa, Kekeno and Bunduram, and made three unsuccessful attempts to overrun Monguno, prompting preparations for a military offensive in the area late last year.
The fighting triggered a "massive displacement" of civilians to already overcrowded camps in Monguno and Maiduguri, the United Nations said in January.
Nigerian troops reportedly returned to Baga on January 10, but the town – and the wider area – has been contested since the initial onslaught in December.
In April, two Chadian soldiers and at least 39 "Boko Haram" fighters were killed when ISWAP attacked the MNJTF in Cross Kauwa.
In May, ISIS released video featured extensive battle footage of attacks against military bases which appear to have been carried out between November and January, including attacks in Kareto, Arege and Baga in the Lake Chad area of Borno state.
More recently in early June, ISWAP fighters attacked military bases south of Baga in Marte, Dikwa and Kirenowa.
In late June, at least one Chadian soldier was killed and 12 other soldiers were injured during an MNJTF operation against ISWAP in the Baga area, the Nigerian Army said, adding that 42 "terrorists" were "neutralized while several others were wounded." ISIS claimed "at least 15" soldiers were killed and others injured in a suicide car bomb attack.
The number of military casualties caused in recent attacks is unclear. The Nigerian military seldom comments on the ongoing counter-insurgency operations, and tends to downplay the insurgents' effectiveness, calling reports "fake news" and the work of "Boko Haram sympathizers."
Decade-long cross-border insurgency
The jihadist group known as Boko Haram began its bloody insurgency in northeastern Nigeria in 2009, but it has since spread into neighboring Niger, Chad and Cameroon, prompting a regional military response. More than 27,000 people have been killed and two million others displaced, sparking a dire humanitarian crisis in the region. The U.S. assesses that Boko Haram and ISWAP have been responsible for over 35,000 deaths since 2011.
Boko Haram split into two factions in mid-2016. One, led by long-time leader Abubakar Shekau, is notorious for suicide bombings and indiscriminate killings of civilians. Shekau pledged allegiance to ISIS leader Abu Bakr Al-Baghdadi in March 2015, but ISIS central only gives formal backing to the other faction, which it calls Islamic State West Africa Province.
The ISWAP faction, which largely focuses on attacking military and government targets, was led by Abu Mus'ab Al-Barnawi, but in March, audio recordings revealed that ISIS appointed Abu Abdullah Idris bin Umar, also known as Ibn Umar al-Barnawi, as leader. Despite releasing several videos featuring ISWAP since, ISIS has not yet made a public statement confirming the change.
Full report at:
https://thedefensepost.com/2019/07/29/nigeria-iswap-baga-borno/
--------
Nigeria's ban of Shiite Muslim group risks Boko Haram repeat
29.07.2019
Announcing a government ban on the Islamic Movement of Nigeria (IMN), presidential spokesman Garba Shehu accused the Shiite Muslim group of running "terrorist activities, including attacking soldiers, killing policemen, destroying public property and consistently defying state authority."
IMN followers have been holding protests to demand the release of their detained leader, Ibrahim Zakzaky. At least 20 members of the group were killed over the past week in a series of demonstrations that have shown little sign of abating, increasing pressure on the government.
Read more: Nigerian Shiites brave terror threat
Zakzaky, a pro-Iranian cleric, has been in detention since 2015 despite a court order to release him. On Monday, a court adjourned his bail hearing until August 5.
Ibrahim Musa, a spokesman for IMN, has denied the government accusations. "All the people we interacted with know that we are not terrorists, because we don't carry arms even during our processions," he said.
Who are the IMN?
Zakzaky founded the organization — originally a student movement inspired by Iran's Islamic revolution — in the late 1970s. The Nigerian cleric convinced fellow students that an Islamic revolution was also possible in their country. The group's first reported march in 1980 was in support of Iran after a joint US-Canadian operation to save US diplomats trapped in Tehran in 1979.
The number of Shiites in Nigeria is estimated at 3 million, a number big enough to scare the central government.
In recent years, the country has seen frequent clashes between security forces and IMN followers during protests and religious processions. Apart from demanding Zakzaky's release, the Shiite group has claimed it only seeks freedom to practice its faith in northern Nigeria, where it has many followers.
The group's Shiite ideology is in opposition to the establishment ideology, Wahhabism, a strict Sunni version of Islam from Saudi Arabia.
Ban on Shiite religious practice?
IMN followers say they are being persecuted by the country's majority Sunni Muslims. But the government has said the ban does not cover the general Shiite Muslim sect — just its founding organization, IMN.
"We all know this a mere semantics," AG Bello, lawyer based in the northern town of Kaduna, told DW. "The followership of IMN is the Shiite sect. It's still technically the Shiite and their activities that have been proscribed by the federal government." Many Nigerians in Kaduna have interpreted the government prohibition as a blanket ban on Shiite Muslim practice in Nigeria. "We have been practicing our faith for years, so there is no need for banning us, we are not terrorists," Zainab Gashua told DW.
"It is mischievous for anyone to believe we are terrorists. We are not terrorists; we are just an Islamic movement," said another woman, Zainab Katsina.
Boko Haram deja vu
Monday's ban has raised fears the IMN could go underground, providing a potentially serious security challenge for a government already dealing with the threat posed by Muslim militant group Boko Haram in the country's northeast. Civil society has called on the central government not to repeat its past mistakes.
But the movement itself has denied any plans to take up arms. In the past, IMN spokesman Musa has rejected analogies between his movement and Boko Haram: "The Islamic movement is guided by and led by the principles of Islam, and Islam is a religion of peace. It only calls on people to understand it, it doesn't force people to follow it," he said.
Read more: Nigerian army accused of mass killing of Shiites
Boko Haram also began as a non-violent group that turned deadly after its leader, Mohammed Yusuf, and more than 700 people were killed in a clash with Nigerian forces at Maiduguri's central mosque in 2009. Ibrahim Gwamna Msheliza, a political analyst from Maiduguri, told DW last October that central authorities have learned nothing from what happened in the northeast.
Full report at:
https://www.dw.com/en/nigerias-ban-of-shiite-muslim-group-risks-boko-haram-repeat/a-49789069
--------
U.S. airstrike targets ISIS-Somalia in support of the Federal Government of Somalia
Jul 29, 2019
In coordination with the Federal Government of Somalia, U.S. Africa Command conducted an airstrike targeting ISIS terrorists in the Golis Mountain region, Somalia, on July 27, 2019.
"Airstrikes like these remain an effective tool in the counter-terrorist campaign against ISIS and al-Shabab," said U.S. Air Force Brig. Gen. William West, deputy director of operations, U.S. Africa Command. "The Federal Government of Somalia and the United States will continue to disrupt terror organization operations and degrade their capabilities whenever possible."
The Golis Mountains are a known area for terrorist activity. Precision airstrikes such as these support Somali security forces efforts to protect the Somali people from terrorism and support long-term security in the region.
At this time, it is assessed the airstrike killed one (1) terrorist who played a key role in facilitation for the group.
Currently, we assess no civilians were injured or killed as a result of this airstrike. Our process and procedures allow for additional information to inform post-strike analysis.
Full report at:
https://www.africanews.com/2019/07/29/us-airstrike-targets-isis-somalia-in-support-of-the-federal-government-of-somalia/
--------
Sudanese rally against deadly crackdown on student protest
30 July 2019
Thousands of Sudanese students joined protests across the country Tuesday condemning the violent dispersal of a demonstration the day before that left four high school students dead.
The killings reignited tensions between the pro-democracy movement behind the protests that toppled President Omar al-Bashir in April and the military council that has ruled since then.
The two sides had been set to hold talks on Tuesday to finalize a power-sharing agreement, but those were postponed after the killing of the students.
Security forces opened fire on a demonstration by teenage students in the city of Obeid on Monday. At least five people were killed, including four students.
Protest leaders say they were killed by security forces, while local authorities say they have launched an investigation. The military condemned the violence.
Tuesday's marches were called by the Sudanese Professionals Association, which spearheaded the uprising that began in December and eventually toppled al-Bashir.
The umbrella group is part of a larger coalition, known as the Forces for the Declaration of Freedom and Change, that is negotiating with the military over a transition to civilian rule.
Videos posted online showed thousands of students in school uniforms, with schoolbags on their backs, marching Tuesday in the streets of Khartoum and other places.
One video showed students in the capital waving Sudanese flags and chanting slogans such as: "Free revolutionaries, we will continue our way forward."
Authorities canceled school nationwide starting Wednesday and until "further notice," the state-run SUNA news agency reported.
Officials in North Kordofan, where Monday's shootings took place, suspended classes shortly after the violence and imposed a nightly curfew in parts of the province.
The protest coalition and the military council had been set to meet Tuesday, but protest leader Nour al-Din Salah said his side pushed the meeting to Wednesday following the latest violence.
"A delegation from the Forces for the Declaration of Freedom and Change has traveled to the city of Obeid... The delegation includes the main negotiators," Salah said.
Both sides agreed on the outline of a power-sharing deal earlier this month but remain divided on several key issues, including whether military commanders should be immune from prosecution for violence against protesters.
Last month, security forces violently dispersed the protesters' main sit-in outside the military headquarters in Khartoum, killing scores of people and plunging the fragile transition into crisis.
Full report at:
https://english.alarabiya.net/en/News/middle-east/2019/07/30/Sudanese-rally-against-deadly-crackdown-on-student-protest.html
--------
Gargash: NYT Somalia recording proves Doha's ties to terrorism
30 July 2019
The UAE's Minister of State for Foreign Affairs Anwar Gargash says Qatar's complicity in an attack that was carried out in Somalia in May proves Doha's ties to terrorism.
"In the Qatar crisis with its neighbors, the New York Times report on the mediator and the Qatari ambassador in Somalia documents Doha's relationship with extremism and terrorism. The recording is dangerous and can not be denied with an urgent statement that was not accompanied by an investigation," Gargash said in a tweet.
"Resorting to terrorism against the UAE is a regrettable escalation and affirms the correctness of the actions of the four countries [Saudi Arabia, the UAE, Bahrain and Egypt]," he added.
A businessman linked to the Qatari Emir told Qatar's ambassador to Somalia that an extremist attack in May was carried out to advance Doha's interests in the country against the UAE, an audio recording obtained by the New York Times revealed.
According to the New York Times report, in the recording Khalifa Kayed al-Muhanadi tells Qatari ambassador Hassan bin Hamza Hashem that "the bombings and killings, we know who are behind them."
"Let them kick out the Emiratis, so they don't renew the contracts with them, and I will bring the contract here to Doha," al-Muhanadi says.
The ambassador then tells al-Muhanadi that the attacks were taking place "to make them run away," referring to the UAE, whose Dubai state-owned port operator DP World has a presence in the Horn of Africa.
"Our friends were behind the last bombings," al-Muhanadi replies. A suicide bombing in Bosaso in northern Somalia wounded at least eight people in May.
Full report at:
https://english.alarabiya.net/en/News/gulf/2019/07/30/Gargash-NYT-Somalia-recording-shows-Doha-s-relationship-with-terrorism.html
--------
Sudan's junta orders schools closed as tensions mount
Jul 31, 2019
Officials in Sudan have ordered the shutdown of schools across the country amid an escalation of tensions over the killing of five students.
Snipers allegedly shot dead the five high school students while they were taking part in a protest rally against fuel and bread shortages in al-Obeid City on Monday.
Late on Tuesday, authorities ordered all schools nationwide to suspend classes.
"Orders have been given to governors of all states to shut kindergartens, primary, and high schools from tomorrow (Wednesday) until further notice," the official SUNA news agency said, following a directive issued by the ruling military council.
On the streets in the capital, Khartoum, crowds of students rallied, waving flags and chanting, "The people want to fight for the rights of martyrs."
"We keep silent all the time and they kill us," said Enas Saifeddine, a 16-year-old high school student. "The five students of al-Obeid were killed because they were asking for something basic like food, water, and electricity."
The killings, which have caused outrage across the country and beyond, are attributed to the tribal paramilitary group known as the Rapid Support Forces (RSF).
The United Nations (UN) has called for an investigation into the killings. The UN's children agency, UNICEF, has urged Sudanese officials "to investigate and hold all perpetrators of violence against children accountable."
Meanwhile, General Abdel Fattah al-Burhan, the head of the ruling military council, has condemned the killings.
"What happened in al-Obeid is sad. Killing peaceful civilians is an unacceptable crime that needs immediate accountability," he told journalists, quoted by state television.
The military council has been in power since April, when generals ousted long-time president Omar al-Bashir in the midst of protests against him.
Full report at:
https://www.presstv.com/Detail/2019/07/31/602299/Sudan-schools-shutdown-five-students
--------
Nigeria police want people to help nab Zakzaky followers
Jul 30, 2019
Nigeria's police chief says they want people to help security forces arrest members of the Islamic Movement in Nigeria (IMN), led by jailed cleric Sheikh Ibrahim al-Zakzaky.
Nigeria's Inspector General of Police Mohammed Adamu, addressing senior members of the police force in the capital, Abuja, on Tuesday, said he wanted the public to share information to "aid in the identification of the locations of the IMN members and their mentors as well as in working with us in apprehending and bringing them to justice."
He added that any IMN member or individuals linked to the movement "shall be treated as a terrorist... and shall be brought to justice."
Adamu also said that all forms of processions or protests by IMN were now illegal and banned.
His comments came days after a court in Abuja ruled that activities of the IMN amounted to "acts of terrorism and illegality" and ordered the government of President Muhammadu Buhari to ban the religious group.
The Nigerian government has been violently cracking down on the IMN and its members since 2015.
The court ruling will pave the way for an even harsher crackdown.
Shortly after the highly controversial move, Human Rights Watch (HRW) denounced the court ruling, saying it threatened the basic human rights of all people in the African country.
The ban is a sheer violation of the Nigerian constitution and international human rights law, which guarantee the rights to freedom of religion, association, and expression, the HRW added.
Zakzaky, now 66, has been in detention since December 2015 after his residence in the city of Zaria was raided by Nigeria's forces, during which he was beaten and lost vision in his left eye.
During the brutal crackdown, three of his sons lost their lives, his wife sustained serious wounds, and some 350 of his followers were killed.
Since then, IMN members have been regularly holding protest rallies in Abuja, demanding the immediate release of the senior cleric. Nigerian forces have used live ammunition against the protesters.
Full report at:
https://www.presstv.com/Detail/2019/07/30/602279/Nigeria-police-Sheikh-Zakzaky-IMN-arrest
--------
Nigeria officially bans mainstream Shia group
Abu 'Adnan
30.07.2019
Nigeria on Tuesday announced an official ban on the Islamic Movement of Nigeria, an umbrella body for the country's largest Shia group, warning its members may now be prosecuted for terrorism.
Police chief Mohamed Adamu ordered security agencies to arrest anyone who claims membership in the group led by Sheikh Ibrahim El-Zakzaky, who has been detained since 2015 following a clash his followers had with troops. Over 350 Shia members died in the brutal crackdown after they blocked the convoy of the Nigerian army chief Yusuf Buratai.
"Shia members will henceforth be treated as terrorists and enemies of the state," Adamu said at a police conference in the capital Abuja, a few days after the country's federal high court judge approved a government proposal to ban the group.
"All forms of procession or protest by the movement are now illegal and thus banned."
The top cop said Shia members may now be tried under Nigeria's terrorism law.
The step came after several violent protests Shia have staged in Abuja, culminating in multiple deaths, including a top police officer and journalist.
Full report at:
https://www.aa.com.tr/en/africa/nigeria-officially-bans-mainstream-shia-group/1545318
--------
North America
Anti-Muslim Hate Crimes Drop For Second Year in a Row in United States: Report
By Masood Farivar
July 30, 2019
WASHINGTON - Anti-Muslim hate crimes in 10 of the largest U.S. cities declined last year for the second year in a row, according to a new report from California State University at San Bernardino.
There were a total of 53 reported anti-Muslim hate crimes in cities with large Muslim populations such as New York and Los Angeles, down from 74 incidents reported in 2017, the report by the university's Center for the Study of Hate and Extremism stated.
The 28% decline in anti-Muslim incidents last year on top of a smaller decrease in 2017 followed three years during which attacks on Muslim Americans nearly doubled to levels not seen since the attacks of Sept. 11, 2001. The offenses have ranged from harassment and assault to homicide.
Preliminary data
While cautioning that the data is preliminary, Brian Levin, director of the center and the report's lead author, said the decline was focused mostly on larger cities where historically a disproportionate number of hate crimes take place.
Anti-Muslim hate crimes, Levin said, tend to be "cyclical," rising as terror attacks carried out by Muslim extremists inspire a public backlash and falling when the violence subsides.
The latest drop in anti-Muslim hate crime came as the number of deaths caused by Muslim American extremist violence fell to one last year from 17 in 2017 and 54 in 2016.
By comparison, in December 2015, after a Muslim couple killed 14 people in San Bernardino in the deadliest terror attack since 9/11, anti-Muslim hate crimes jumped 300%. And five days later when then-presidential candidate Donald Trump called for a total ban on Muslims entering the country, anti-Muslim and anti-Arab bias incidents jumped even further, according to Levin.
"Around political events, particularly ones that are divisive or involve particular communities, we have to be very careful with the political rhetoric because it does translate sometimes in the minds of unstable or angry assailants into an approbation for the direction of their aggression," Levin said.
Contributing to the decline in the number of anti-Muslim incidents reported by police departments, the FBI reinstated an anti-Arab hate crime category in 2015. Incidents previously designated as anti-Muslim are now sometimes labeled anti-Arab.
Unpublished data collected by the Muslim advocacy organization Council on American-Islamic Relations broadly confirms the latest decline in anti-Muslim hate crimes in the United States. CAIR data, cited by the California State University report, shows bias attacks on Muslims declined by more than half last year, from 300 incidents in 2017 to 134 incidents in 2018.
Decrease not recorded
Zainab Arain, national research and advocacy manager for CAIR, did not confirm the figures. But in an earlier email, she said that CAIR, unlike the FBI and the Center for the Study of Hate and Extremism, did not record a decrease in anti-Muslim bias incidents in 2017.
In fact, the group recorded a 15% increase in anti-Muslim hate crimes and a 17% jump in anti-Muslim bias incidents in 2017 from the previous year, with government agencies responsible for instigating more than one-third of the bias incidents, she said.
"This represents an almost unprecedented level of government hostility toward a religious minority within the United States, and is counter to the American value of religious freedom," Arain wrote.
Trump administration officials reject such criticism, saying they remain committed to combating hate crime.
"I am deeply concerned about the rise in hate crimes and political violence that we have seen over the past decade," Attorney General William Barr said at a recent Justice Department summit on combating anti-Semitism. "We must have zero tolerance for violence that is motivated by hatred for our fellow citizens whether based on race, sex, or creed."
https://www.voanews.com/usa/report-anti-muslim-hate-crimes-drop-second-year-row
--------
Senate fails to override Trump veto on Saudi Arabia
Vakkas Dogantekin
30.07.2019
The U.S. Senate has failed to override President Donald Trump's veto of legislation meant to stop the sale of specific arms to Saudi Arabia.
Although five of the Senate's 53 Republicans voted in favor of the legislation late Monday, the 45-40 vote fell short of the two-thirds needed to override a presidential veto.
Fifteen Republicans abstained.
The U.S. Congress has long sought to punish the Saudi government for its human rights violations, and pressure rose after the murder last fall of Saudi journalist Jamal Khashoggi by Saudi operatives in the kingdom's Istanbul Consulate.
Saudi Arabia initially denied any knowledge of Khashoggi's whereabouts after he went missing on Oct. 2, 2018, but later tried to blame his death on a team of rogue operatives carrying out a botched rendition operation.
Khashoggi, according to reports by the UN and other independent organizations, was murdered and dismembered, very likely on the orders of Saudi Crown Prince Muhammad bin Salman.
Congress previously passed legislation mandating that Trump identify and sanction those responsible for the journalist's killing, but he never complied.
Full report at:
https://www.aa.com.tr/en/americas/senate-fails-to-override-trump-veto-on-saudi-arabia/1544806
--------
Police: Synagogue shooting leaves 1 wounded, suspect sought
Jul 29, 2019
Authorities said Monday they have yet to determine whether the weekend shooting of a member of a Miami area synagogue constituted a hate crime, adding they're still seeking the suspect after the attack outside the temple's front door.
The victim, identified by the rabbi as temple member Yosef Lifshutz, was shot several times in the legs Sunday evening and underwent surgery at a hospital, police said. He was listed in stable condition at Aventura Hospital.
Miami-Dade police detective Alvaro Zabaleta told news outlets the attacker got out of a black Chevrolet Impala around 6:30 p.m. Sunday and shot the 68-year-old victim as he approached the front door of the Young Israel of Greater Miami temple.
The Miami-Dade State Attorney's Office's hate crimes unit is reviewing the case, spokeswoman Lissette Valdes-Valle said Monday.
The rabbi of the synagogue described Lifshutz as an esteemed member of the temple community.
"He's a wonderful person," Rabbi David Lehrfield told WSVN . "Everybody loves him."
Police were searching for the shooter. The car had circled the temple several times as Lifshutz walked toward the building, Zabaleta told WSVN.
"It circled once again, and by that time the victim was approaching the door," Zabaleta said. "That's when the driver of the Impala exits the vehicle and opens fire towards the victim, striking him multiple times in the lower extremities."
Damon Salzman, president of Young Israel of Greater Miami, posted on the temple's Facebook page that the person who shot Lifshutz is a bully and a coward.
Full report at:
https://abcnews.go.com/US/wireStory/police-man-hurt-shooting-synagogue-miami-64628702
--------
Investigators Find White Supremacy, Radical Islam Materials In Gilroy Shooter's Home
BY JOHN BOWDEN
07/30/19
Investigators in Nevada have found evidence indicating an intent to carry out a large-scale attack as well as white supremacist literature in the home of a man suspected of committing a deadly Sunday shooting at a festival in California.
The San Francisco Chronicle reported Tuesday that a search of 19-year-old suspect Santino William Legan's home in Walker Lake, Nev., turned up empty ammunition boxes, a gas mask, a knife, reading materials about radical Islam and white supremacy, and a camouflage backpack.
Also found at the home was an empty bottle of Valium, according to the Chronicle. Authorities are now searching computers and other electronic devices at the home for more evidence of Legan's online activities and possible further connections to white supremacist movements.
"We continue to try to understand who the shooter was, what motivated him, and whether he was aligned with any particular ideology," FBI Special Agent Craig Fair said at a press conference Tuesday, according to the Chronicle.
"Reviewing digital media, historically, has been very revealing in terms of somebody's mind-set, ideological beliefs, intentions," Fair continued. "We've got to get into the computers, the towers, the thumb drive, the phone, to get a holistic picture of him and who he was in touch with, what sentiments and thoughts he shared with others, what he cataloged for his own consumption."
Three people were killed and more than a dozen were injured Sunday when a suspect, who police say was Legan, opened fire on the Gilroy Garlic Festival. One of the victims was just 13 years old.
Full report at:
https://thehill.com/homenews/state-watch/455474-investigators-find-white-supremacy-radical-islam-materials-in-gilroy
--------
US charges two Somali men for attempting to join Daesh in Egypt's Sinai
Jul 31, 2019
The US Department of Justice has charged two men for allegedly conspiring to travel to Egypt and join the Daesh (ISIL) Takfiri terrorist group operating in the African country's restive Sinai Peninsula.
The department announced in a press release on Tuesday that the defendants, both refugees from Somalia, were arrested by FBI agents after they checked in for their flight at the Tucson International Airport in Arizona.
"On July 26, Ahmed Mahad Mohamed and Abdi Yemani Hussein, were arrested for conspiring to provide material support and resources to ISIL, a designated foreign terrorist organization," the department said in the press release.
"Ultimately, the defendants purchased airline tickets to travel to Egypt, with the intention to travel on to Sinai and join ISIL," it added.
The Justice Department said the two men had been in communication with an FBI undercover employee whom they believed was a supporter of Daesh ideology and planned to travel overseas to fight for the Takfiris or to conduct an attack within the United States.
If convicted, the two Somalis will be sentenced to up to 20 years in prison.
The Sinai Peninsula has been under a state of emergency since October 2014, after a deadly terrorist attack left 33 Egyptian soldiers dead.
Over the past few years, terrorists have been carrying out anti-government activities and fatal attacks in Egypt, taking advantage of the turmoil that erupted after the country's first democratically-elected president, Mohamed Morsi, was ousted in a military coup in July 2013.
The Velayat Sinai group, which is affiliated with Daesh, has claimed responsibility for most of the assaults.
Last year, the Egyptian army launched a full-scale counterterrorism campaign on an order by President Abdel Fattah el-Sisi, after a terror attack in North Sinai claimed the lives of more than 300 people at a mosque.
Full report at:
https://www.presstv.com/Detail/2019/07/31/602291/US-Justice-Department-Egypt-Daesh-Sinai-Peninsula
--------
URL: https://www.newageislam.com/islamic-world-news/thousand-years-after-being-declared/d/119351
New Age Islam, Islam Online, Islamic Website, African Muslim News, Arab World News, South Asia News, Indian Muslim News, World Muslim News, Women in Islam, Islamic Feminism, Arab Women, Women In Arab, Islamophobia in America, Muslim Women in West, Islam Women and Feminism