New Age Islam News Bureau
30 May 2019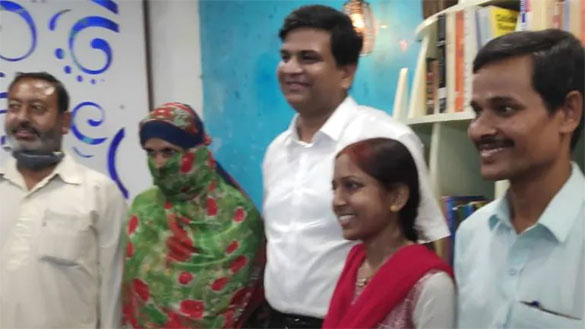 Doctors of a Mohali, Punjab-based private hospital suggested the kidney swap after the medical parameters of all four -- Abdul Aziz Nazar, Shazia, Sujit Kumar Singh and Manjula -- perfectly matched with each other.
---------
• These Hindu, Muslim Families Swapped Kidneys, Saved Lives, Broke Stereotypes
• Prominent Muslim Figures: Religious, Cultural Diversity Don't Justify 'Conflict'
• Muslim World League Publishes 'Mecca Document' Encouraging Tolerance In Muslim Societies
• Jordan's King Tells Trump Adviser Peace Can Only Come with a Palestinian State
• China Is Allegedly Forcing Its Muslims to Break Their Ramadan Fast
• Islamic Front Suggests PAS Abandons Politics and Become Missionaries
• Muslims and Jews Share Iftar at Marrakech's Beth-El Synagogue
• Violence in Pakistan after Hindu Doctor Is Accused Of Blasphemy
India
• These Hindu, Muslim Families Swapped Kidneys, Saved Lives, Broke Stereotypes
• 'Inspired' By Jaish, Hizbul Mujahideen Tried Copycat Attack on CRPF Convoy In J-K
• J&K: Civilian Killed, 30 Injured As Clashes Break Out Between Stone-Pelters, Security Forces in Shopian
--------
Arab World
• Prominent Muslim Figures: Religious, Cultural Diversity Don't Justify 'Conflict'
• Muslim World League Publishes 'Mecca Document' Encouraging Tolerance In Muslim Societies
• Visitors to Prophet's Mosque in Madinah praise Saudi efforts to serve Islam
• Iraq sentences two more French ISIL members to death
• Iraqi airstrike kills 10 Islamic State militants in Salahuddin
• Daesh terror group burns 5,000 acres of crops across Iraq: official
• Mass-Grave of More ISIL Victims Found in Deir Ezzur
• Qatari Emir, Turkish President, and Lebanese FM not attending Mecca summits
• Iraq hands over 188 Turkish children of suspected ISIS members
• Iraq condemns 7th Frenchman to death for ISIS membership
• Terrorists in Idlib using civilians as human shields: Syria's UN envoy
• Saudi Arabia calls on Islamic nations to reject Iran's 'interference'
--------
Africa
• Jordan's King Tells Trump Adviser Peace Can Only Come with a Palestinian State
• Boko Haram: Army kills two terrorists attempting to enter Sambisa
• Security forces kill 4 al-Shabab fighters in southern Somalia
• Muslim martyrs site to be established in Uganda
• Travellers stranded as Sudan strike enters second day
--------
Southeast Asia
• China Is Allegedly Forcing Its Muslims to Break Their Ramadan Fast
• Islamic Front Suggests PAS Abandons Politics and Become Missionaries
• Islam and Politics Inseparable - Kelantan Islamic Development Chairperson
• Penang Mufti: Non-Muslims Can Distribute Tithes (One-Tenth of Income, Paid As A Contribution to A Religious Organization)
• MP says time ripe for Parliamentary Interfaith Commission
• West Jakarta Police Arrest Former US Soldier for Creating Fake News
--------
Europe
• Muslims and Jews Share Iftar at Marrakech's Beth-El Synagogue
• Iran Seeking To Expand Military Program to Weapons of Mass Destruction: German Intelligence
• Isis 'Beatle' Alexanda Kotey admits he helped plan London terror plot
• 'Turkey part of Europe': Turkish diplomat
--------
Pakistan
• Violence in Pakistan after Hindu Doctor Is Accused Of Blasphemy
• Indian Security Personnel Harass Guests At Iftar Hosted By Pakistan HC: Reports
• 320 Pakistanis detained in Malaysia arrive in Islamabad
• Bajwa, Afghan NSA discuss border management
• JIT exonerates doctor from 'intentionally' spreading HIV in Ratodero
• LHC refers Hamza's bail matter to another division bench
• References against judges: PML-N vows to resist govt 'bid to weaken judiciary'
• MQM-P urges PM Imran to help urban Sindh get due rights
• Pakistan PM will stress need for solidarity, unity at OIC Makkah summit
• Terror bid foiled, one held with explosives, detonators in Mardan
--------
South Asia
• Myanmar: Arrest Warrant Issued For Anti-Muslim Monk Wirathu
• Myanmar Military Accused Of 'War Crimes' In Rakhine
• Afghan Forces Hit With Wave of Attacks on Eve of Taliban Talks
• Taliban, Russia Demand Foreign Troops Leave Afghanistan
• Freed Hardline Sri Lanka Buddhist Monk Vows to Expose Islamist Militancy
• Afghan forces seize 1000 Kgs of explosives; foil deadly attack in Kabul city
• Taliban raid kills 18 members of security forces in western Afghanistan
--------
Mideast
• Al-Quds Neither America's To Give Away nor Israel's To Take, Says Iran's Zarif
• EU says Turkey distancing itself from bloc, criticizes human rights record
• Tankers almost certainly damaged by Iranian naval mines, US says
• Arab Coalition launches operation targeting Houthi positions in Yemen's Dhalea
• Arab Coalition targets Houthi positions in Sanaa
--------
North America
• Facebook's Zuckerberg Faces Summons After Snubbing Canada
• Navy SEAL accused of killing ISIS prisoner seeks to toss case over withheld evidence
• Trump Adviser Warns of 'Strong Response' to Any Gulf Attack
• New book claims Kushner called Khashoggi 'terrorist'
• Bolton, Abu Dhabi prince discuss anti-terror efforts
Compiled by New Age Islam News Bureau
URL: https://www.newageislam.com/islamic-world-news/hindu-muslim-families-swapped-kidneys/d/118751
--------
These Hindu, Muslim families swapped kidneys, saved lives, broke stereotypes
Manjeet Sehgal
May 29, 2019
Breaking religious barriers, a Hindu man donated his kidney to a Kashmiri Muslim, whose wife later donated her kidney to the Hindu donor's wife.
Abdul Aziz Nazar, a carpenter by profession and aged 53, hails from Kareri village of Baramulla district. Belonging to a poor family, Abdul had lost both the kidneys due to urolithiasis (kidney stones) and was searching for a donor.
Nazar had registered his name on an app that matched donors and receivers.
Similarly, Sujit Kumar Singh,46, from Bihar was also searching for a kidney for his wife Manjula, 42, who was a patient of glomerulonephritis (a kidney disease) and had both her kidneys affected.
Sujit Kumar Singh had also registered his wife's name on the app.
Interestingly, while Sujit's kidney matched with Abdul Aziz Nazar, his wife Manjula Kumari's blood group matched with Abdul's wife Shazia (50).
Doctors of a Mohali, Punjab-based private hospital suggested the kidney swap after the medical parameters of all four -- Abdul Aziz Nazar, Shazia, Sujit Kumar Singh, and Manjula -- perfectly matched with each other.
Dr. Priyadarshi Ranjan who conducted all the four surgeries in a single day said this kidney transplant was very tricky not because of religion but because of the differences in inter-state organ transplant rules.
"While both the donors and recipients belong to different states the surgeries were conducted in a third state.
"I faced three difficulties, namely the medical parameter, secondly the interstate organ transplant rules and thirdly religion, which however was not an issue at all as medical science believes in humanity," Dr. Ranjan said.
All the four surgeries were conducted on December 3, 2018.
Abdul Aziz Nazar said it was not religion but the life which matters. "I feel very happy that the kidney belongs to a Hindu," he said.
Nazar, however, said that he did not get any financial help from state and the central government. He has spent over Rs 7 lakh to get the kidney transplant done.
Both Sujit Kumar Singh and his wife Manjula Kumari are also happy after surgery.
"We were not getting the right kidney. I had never thought that a Muslim woman's organ will save my wife's life," Singh said.
For the latest election news, live updates and election schedule for Lok Sabha Elections 2019, log on to indiatoday.in. Like us on Facebook or follow us on Twitter for general election updates.
https://www.indiatoday.in/india/story/hindu-muslim-kidney-transplant-1537665-2019-05-29
--------
Prominent Muslim figures: religious, cultural diversity don't justify 'conflict'
May 30, 2019
MAKKAH: A historic anti-extremism document has been signed by 1,200 figures from the Muslim world following a landmark gathering in the holy city of Makkah.
The four-day conference, organized by the Muslim World League (MWL), was attended by dignitaries, scholars, senior officials and leading thinkers who between them represented 139 countries. The delegates also represented 27 components of different Islamic sects.
Saudi Arabia's King Salman was the first leader to sign the declaration and later received the scholars in the holy city. The king was given the final Makkah Declaration document.
Signatories confirmed they sought to interact with all walks of life to achieve the interests of human beings, promote noble values, build bridges, and to confront injustice and hatred.
The Makkah Declaration said that religious and cultural diversity did not justify conflict and that civilized dialogue was the path to overcoming historical differences.
It called for legislation to deter people who promoted hate and instigated violence, saying such laws would weaken the causes of religious and ethnic conflict. It condemned attacks on places of worship, calling them criminal acts that required a strong legislative and security response. It said the extremist ideas that motivated these types of attacks needed to be challenged.
The Makkah Declaration said it was everyone's duty to fight terrorism, injustice, oppression and the violation of human rights. It also urged greater environmental protection, saying that wasting natural resources and causing pollution breached the rights of future generations.
It warned that Islamophobia stemmed from ignorance about the reality of Islam and that people clung to the misdeeds committed by those claiming to be Muslims and falsely attributing their acts to Islamic laws.
The declaration called for non-interference in the affairs of other states as it was an unacceptable violation, singling out the marketing of sectarian ideas or attempts to impose fatwas.
It recognized the principles of women's empowerment, the rejection of their marginalization, the degradation of their dignity, the minimization of their role, or the obstruction of their opportunities in the religious, scientific, political or social arena. It called for the protection of young Muslims' identity with special attention to five key points — religion, homeland, culture, history and language.
Identity should be protected from attempts at deliberate or unintentional exclusion or assimilation. Young people also needed to be protected from intellectual extremism and the idea that there was a clash of civilizations.
Young people should be equipped with the values of tolerance, peaceful coexistence and harmony in order to accept the existence of others, preserve their dignity and rights and respect the laws and regulations of the countries they lived in, the declaration added.
Earlier this week the conference heard that Saudi Arabia had fought extremism with "determination and decisiveness."
"Saudi Arabia has strongly condemned and fought all forms of extremism, violence and terrorism, with ideology, determination and decisiveness, and has opposed any identification with them," King Salman said in a speech delivered on his behalf by Makkah Gov. Prince Khalid Al-Faisal.
Saudi Arabia was committed to "spreading peace and coexistence and has established international intellectual platforms and centers to promote these principles," the king said.
"We reiterate our invitation to stop the racist and xenophobic speech from whatever source and under any pretext whatsoever," he added.
The MWL conference discussed topics including "Moderation in Islamic History and Jurisprudence Heritage" and "Practical Programs to Promote Moderation Among Youth."
The conference marked the start of several major regional summits in the Kingdom this week. Arab League members and Gulf Cooperation Council leaders will discuss Iran's recent aggression toward Saudi Arabia and the wider region.
In addition, dozens of member states from the Organization of Islamic Cooperation (OIC) have been invited to attend the body's 14th Islamic summit.
http://www.arabnews.com/node/1503946/saudi-arabia
--------
Muslim World League Publishes 'Mecca Document' Encouraging Tolerance In Muslim Societies
29 May 2019
The Muslim World League (MWL) has published a document on Wednesday that concludes the sessions of the "Mecca Document Conference," aiming to achieve peace between different elements of the Muslim society, two days before the Islamic Summit.
The seven-page long document has 29 different Islamic principles accompanied with instructions of tolerance and equality while repelling hate preachers and any sect considering the other "inferior".
The first page of the document stresses the importance of its issuance from Mecca, the holiest city in Islam and the direction of prayer for more than 1.6 billion Muslims around the world.
"Islamophobia is a result of not truly knowing Islam… to truly know Islam, one needs objectivity and getting rid of judgments," the document says addressing the trendy fear or hatred of Islam.
The document rejects the interferences in the affairs of other countries "especially through aiming for political dominance, economic greediness, or encouraging sectarian ideologies."
It also addresses connecting a certain religion with the political practices of its followers, stressing on the fact that all three monotheistic religions are innocent of negative practices.
To eliminate causes of conflicts related to religion and culture, the document encourages enforcing laws that set back hate preachers and encouragers of violence and terrorism.
"It is everyone's responsibility to counter terrorism and oppression and reject violating human rights," reads one of document's 29 principles. The document also stresses on women's rights in Islam, including in religious, scientific, political, and societal aspects, and discourages the wage gap between genders.
The document in concept is similar to one called "the Medina document" which was written in the time of Mohammed, the prophet of Islam. It was a constitutional document that aims to unify the principles of living and achieving peace between different elements of society.
https://english.alarabiya.net/en/News/gulf/2019/05/29/MWL-publishes-Mecca-Document-encouraging-tolerance-in-Muslim-societies.html
--------
Jordan's king tells Trump adviser peace can only come with a Palestinian state
May 29, 2019
AMMAN: US President Donald Trump's son-in-law Jared Kushner on Wednesday met Jordan's king on the second leg of a mini-regional tour aimed at finding support for his Israel-Palestinian peace plan, the royal palace said.
King Abdullah II insisted on the "need to intensify efforts to achieve a comprehensive and lasting peace based on the two-state solution that would guarantee the establishment of an independent Palestinian state with east Jerusalem as its capital."
Presidential advisers Kushner and Jason Greenblatt met with King Abdullah and the official Petra news agency said the two parties "discussed regional developments, especially efforts to resolve the Palestinian-Israeli conflict."
The remarks, which were carried in a palace statement, were made in the presence of Kushner.
Kushner, who is seeking support for his long-delayed but controversial Israeli-Palestinian peace plan, arrived in Jordan from Morocco, where he met King Mohammed VI. Moroccan officials declined commenting on Kushner's visit.
Jason D. Greenblatt
✔
@jdgreenblatt45
Constructive meeting with @KingAbdullahII in Jordan today including a good conversation about regional dynamics and our administration's efforts to help Israel and the Palestinians achieve a brighter future.
89
11:11 PM - May 29, 2019
Twitter Ads info and privacy
52 people are talking about this
He is scheduled to travel to Israel next.
The Moroccan king chairs the Al-Quds Committee, an organization that brings together supporters of the Palestinian cause in the Arab world.
It was created by the Organization for Islamic Cooperation to work for the preservation of the religious, cultural and urban heritage of Jerusalem.
The United States is expected to roll out the economic aspects of the peace plan at a conference in Bahrain on June 25-26.
Dubbed "Peace for Prosperity," the Bahrain gathering is expected to bring together leaders from several governments, civil society and the business sector.
Jordan, a key US ally, has not yet said whether it will attend the June 25-26 meeting in Manama, capital of Bahrain. The Palestinians have already said they will not attend the summit and have rejected the Trump administration's Mideast peace plan out of hand.
They have boycotted the US administration since Trump broke with decades of consensus and recognized Jerusalem as Israel's capital in December 2017.
Kushner has said the conference will focus on the economic foundations of peace between Israel and the Palestinians. The conference will not include core political issues, such as Palestinian statehood.
Trump's office said the conference was a "pivotal opportunity... to share ideas, discuss strategies, and galvanize support for potential economic investments and initiatives that could be made possible by a peace agreement."
The Palestinians see this as offering financial rewards in exchange for accepting ongoing Israeli occupation.
"Attempts at promoting an economic normalization of the Israeli occupation of Palestine will be rejected," said Saeb Erekat, secretary general of the Palestine Liberation Organization.
Reliant on American political and military support, it will be difficult for Jordan reject the invitation. But with most of its people of Palestinian descent, it will be difficult to embrace a plan that does not include a Palestinian state.
The meeting in Rabat focused on developments in the Middle East and North Africa as well as strengthening the partnership between Morocco and the US, a palace spokesman told AFP.
Greenblatt tweeted that he and Kushner shared an iftar dinner — the traditional meal to break the daily fast during the Muslim holy month of Ramadan — with Morocco's king, Crown Prince Moulay Hassan and Foreign Minister Nasser Bourita.
"Thank you to His Majesty for a special evening and for sharing your wisdom," Greenblatt wrote. "Morocco is an important friend & ally of the United States."
http://www.arabnews.com/node/1503766/middle-east
--------
China Is Allegedly Forcing Its Muslims to Break Their Ramadan Fast
May 30, 2019
Every year, Muslims observe the Islamic holy month of Ramadan, a period of fasting in which they aren't supposed to eat, drink, smoke or have sex from dawn to dusk. It is a time of reflection and repentance, and a lesson in abstinence. And it's already kinda hard because they're not supposed to even sip water during this time. But apparently, China never got the memo.
Authorities in China are allegedly being big bullies and targeting members of the Muslim minority Uyghur community, who mostly live in the Xinjiang province, to break their fast before the sun sets. Forcing them to eat and drink with the threat of punishment not only violates Islamic rules of Ramadan, but is a brutal way to treat a community that is already under much pressure in the area.
"It's distressing, and it's insulting to our dignity," said Dolkun Isa, president of the World Uyghur Congress, an advocacy organisation in Munich that defends the rights of the Uyghur Muslim minority. He claims that not only are restaurants being forced to open up during the day, but Muslims working in Chinese companies are also being harassed into eating and drinking during their lunch breaks. Even shops owned by Muslins have been told to either continue selling cigarettes and alcohol over the course of the month or face being shut down completely.
While Muslim majority nations like Doha have rules in place that expect even expats and tourist to respect the Ramadan tradition and prohibit them from eating, drinking or smoking in public, most Muslim nations have remained largely silent about this. Despite widespread criticism by Western countries and advocacy groups on how China treats its Uyghur minority, these countries are apparently quiet to avoid making China angry.
The most notable of this silent lot is Saudi Arabia, whose king holds the title of Custodian of the Two Holy Mosques, two of Islam's holiest sites. The Middle East is an essential economic partner for China and even provides oil to help fuel its growth. However, despite all this clout, a news agency in Xinhua reported that in a phone call with Chinese President Xi Jinping this month, Saudi Arabia's King Salman said that the kingdom "is willing to strengthen exchanges with China at all levels."
In fact, during his visit to China earlier this year, the Crown Prince Mohammed bin Salman, appeared to condone the way China was treating Uyghur Muslims, saying, "We respect and support China's rights to take counterterrorism and de-extremism measures to safeguard national security," according to local Chinese media.
Now, China is reportedly up to some pretty messed-up stuff. They've been reportedly destroying long-standing mosques and even throwing Uyghur Muslims into "vocational training centres" that are widely criticised for basically being concentration camps. Women have been banned from wearing the traditional hijab, men have been banned from growing beards and an app is tracking movements made by Muslims. And while China has reportedly been trying to ruin Ramadan for a few years now, incidents appear to have increased this time around.
This is allegedly because of a campaign China is running to keep Muslim nations quiet and cooperative. Over the last six months, it has focused on members of the Organization of Islamic Cooperation in a campaign considered so vigorous that people acquainted with this effort are even saying that some of the 57 member states are talking about the situation in China as a national security matter.
According to The Washington Post, people in the know of this campaign are even claiming that China is relying heavily on Saudi Arabia and its main ally, the United Arab Emirates, through direct appeals to the leadership of those two countries in an attempt to get other Muslim states on their side.
There's already been a big shift in Saudi Arabia's position on policies under the leadership of the crown prince, who has tried to confront and co-opt conservative religious principles in the kingdom to create a new identity for Saudi, one that favours nationalism over religion.
"One of the pillars of Saudi legitimacy is they're the guardians of the holy sites," says John Calabrese, director of the Middle East-Asia Project at the Middle East Institute in Washington. "Others would expect that they would take a much more forward-leaning stance on this."
But while Saudi's silence speaks volumes, they aren't the only ones. Even countries like Pakistan, Egypt and Iraq aren't saying much. In fact, Pakistan's prime minister, Imran Khan, has claimed twice in interviews that he's in the dark about the situation of Muslims in China, while the Indonesian government publicly declared that it "would not interfere" in China's "domestic affairs."
The country that comes closest to criticising China is Turkey, where Uyghurs originate from, which broke the silence to call on China to close the "torture and political brainwashing" centres.
In its global Belt and Road infrastructure program, China will be spending $200 billion across 60 countries, which includes Muslim countries. They're making a rail link and developing property in Malaysia, running a high-speed train line for Iran, and putting up ports and power plants for Indonesia. Even nations like Egypt and Iraq are pretty pumped about this project.
But oil-rich Saudi Arabia has no need for China to build roads or aid construction. In fact, China is the world's biggest importer of Saudi oil, even overtaking the United States in 2009 by buying $46 billion worth of products from Saudi Arabia in 2018, a year in which overall bilateral trade increased by 33 percent to $63 billion.
But Saudi Arabia's traditionally close relationship with the United States came into a controversy after Jamal Khashoggi, a Washington Post contributing columnist, was killed in the Saudi Consulate in Istanbul last year, apparently on the orders of the Saudi leadership.
So, many are speculating that Saudi is looking to make up for its diplomatic isolation by becoming pally with China. Said He Wenping, research fellow at the Institute of West-Asian and African Studies at the Chinese Academy of Social Sciences, "A stronger relationship with China could help Saudi Arabia overcome its increasing diplomatic isolation and help rehabilitate its image after the Khashoggi slaying."
https://www.vice.com/en_in/article/qv7wjb/china-is-allegedly-forcing-its-muslims-to-break-their-ramadan-fast
--------
Islamic front suggests PAS abandons politics and become missionaries
May 29, 2019
The Islamic Renaissance Front (IRF) suggests the Parti Islam Se-Malaysia (PAS) abandons its political struggle to focus on Islamic missionary and propagation of the Islamic faith.
In a statement reported by the Leaders Online., the IRF director Ahmad Farouk Musa says: "PAS could not and should not rule this country. In fact, they should just abandon their political struggle and focus on becoming a dakwah movement like Jamaat Tabligh."
The Jamaat Tabligh is a non-partisan international Islamic propagation missionary movement that encourages Muslims to stick to their faith. It has a vast global network and preaches non-violence and a strict adherence to Islamic rites and rituals.
The IRF responded to the PAS central committee member Mohd Khairuddin Aman Razali's calls on the ruling Pakatan Harapan coalition government to establish Islam as a supreme and true faith above all other religions.
Islam is the only religion stated in the Malaysian Federal Constitution. Dr Mohamed Azam Mohamed Adil in an article in the New Straits Times says when Malaya gained independence on Aug 31, 1957, the words "Islamic state" were not incorporated into the Constitution.
"Nor is the word secular found in the Federal Constitution. It was only on Sept 29, 2001, after 44 years of independence, during his tenure as the fourth prime minister, Dr Mahathir made a declaration that Malaysia was an Islamic state," writes Mohamed Azam.
The issue gained traction over the suggestions by some quarters to allow the teaching of different religions in local schools.
The PAS member says such suggestions was not acceptable, adding that teaching other religions among school students may encourage Muslim youth to adapt religious pluralism and thus challenge Islam's rule. He also says interfaith understanding is against Malaysia's Federal Constitution.
Ahmad Farouk on the other hand says PAS director Khairuddin's statement is obvious that PAS is unable or perhaps unwilling to accept Malaysia's innate and present multicultural diversity.
"Learning about each other's religion in such a diverse society like will foster tolerance. This is to inculcate the spirit of togetherness as one community despite having different faiths."
Failure [to understand different beliefs] would only lead to chaos and mayhem as what we have seen in some countries that have been intolerant towards diversity."
Because of PAS's refusal to understand the importance of religious and cultural tolerance, Farouk questions whether PAS can actually ever lead Malaysia./TISG
http://theindependent.sg/islamic-front-suggests-pas-abandons-politics-and-become-missionaries/
--------
Muslims and Jews Share Iftar at Marrakech's Beth-El Synagogue
MAY 23, 2019
Rabat – For the holy month of Ramadan in Marrakech this week, Muslims prayed in front of the Torah, before the Jewish Holy Ark of Beth-El. This meeting of religions happened as the Beth-El synagogue hosted iftar, allowing Jews and Muslims to break the fast together on May 21.
About 220 people gathered in the synagogue whose name translates as "house of God." In Morocco, while Islam is the official religion, all Abrahamic faiths are present.
Jews and Muslims breaking bread together during Ramadan is a result of King Mohammed VI's policies, which actually "encourage more and more meetings between different religions and children of Abraham, the repair of old synagogues, the restoration of all these old Jewish mellahs."
Together, the two communities share Moroccan culture. "After the prayer, we blessed Morocco and especially King Mohammed VI and his family. Then we went out for a wonderful dinner, " said Jacky Kadoch, president of the Jewish community of Marrakech.
"A pure happiness to be together, for a dinner shared with family, which was not official," said Jacky Kadoch. "This is the third year that we are organizing an event during Ramadan."
"A few minutes later, there is prayer. Since ftour was in the big courtyard of the synagogue, I spontaneously proposed to the imam who was present if he wanted to perform the prayer inside the synagogue. What he accepted with a lot of enthusiasm," said the president of the Jewish community.
The evening was peaceful. Jacky Kadoch added, "There are tensions. Sometimes, we look at the Jewish community from another angle because unfortunately there is this concern that we all experience and feel, the Palestinian question, for which we pray every day for it to be arranged, so that all world finds a space to live serenely."
https://www.moroccoworldnews.com/2019/05/273984/muslims-jews-iftar-marrakech-beth-el-synagogue/amp/?fbclid=IwAR0Exwufcgvv398maEDk3L2h6CsAWMexmUBKiJgka7O15a4oatTU2N0FVLw
--------
Violence in Pakistan after Hindu doctor is accused of blasphemy
MAY 29, 2019
Mobs set ablaze shops in Sindh belonging to Hindus after a veterinary doctor from the community allegedly tore pages of a holy book and wrapped medicines in them, according to a report.
The doctor, identified as Ramesh Kumar, was arrested on Monday under the country's strict blasphemy laws after a local cleric filed a police complaint.
Under Pakistan's blasphemy laws, anyone accused of insulting Islam can be sentenced to death.
Shops set on fire
The doctor was taken into custody while angry protesters set fire to a clinic and shops owned by Hindus and burnt tyres on a road in Phuladyon town in Mirpurkhas district in the province, The Express Tribune reported. There were reports that the protesters also looted some shops.
With the situation spiralling out of control, local authorities called in the paramilitary Rangers to deal with the mob violence.
Police also registered a case against those engaged in rioting.
"It's an unfortunate incident. We have taken the doctor into custody and are investigating incident," Senior Superintendent of Police Mirpurkhas Javed Baloch said. He said a case has been registered and police have established a picket in the town to deal with any untoward incident.
"The situation is now normal," he said, adding that the police would take action against those who have ransacked properties of the Hindu community. "We have detained some suspects on charges of damaging properties," he added.
The Mirpurkhas Deputy Commissioner said the government would compensate those whose properties were damaged during the violence.
A large number of Hindus reside in the interior of Sindh province and in Karachi and the Pakistan Hindu Council has complained in the past of minority community members being targeted under the blasphemy law by people because of personal enmity.
Hindus form the biggest minority community in the Muslim-majority Pakistan.
According to official estimates, 75 lakh Hindus live in Pakistan. However, according to the community, over 90 lakh Hindus are living in the country.
https://www.thehindu.com/news/international/violence-in-pakistan-after-hindu-doctor-is-accused-of-blasphemy/article27297116.ece
--------
India
'Inspired' by Jaish, Hizbul Mujahideen tried copycat attack on CRPF convoy in J-K
May 30, 2019
Neeraj Chauhan
The National Investigation Agency (NIA) , which is looking into the March 30 failed car bombing attack on a Central Reserve Police Force (CRPF) convoy in Banihal, Jammu & Kashmir, has revealed that terror group Hizbul Mujahideen (HM) was behind it, and that it was inspired by another terror group, Jaish-e-Mohammed's February 14 Pulwama bombing, according to two officials aware of developments in the investigation.
The two officials, neither of whom wanted to be identified, added that the terror group thought the attack would "give international recognition" to it.
The agency learnt about the conspiracy during the questioning of the HM terrorists, including Hilal Ahmad Mantoo, Owais Amin (who drove the car into the CRPF convoy), Umar Shafi, Aqib Shah, Shahid Wani and Wasim Ahmed Dar. They were arrested by the Jammu and Kashmir police after the attack.
An NIA officer said that Mantoo, a PhD student from Central University of Punjab who is believed to be close to the HM commander in South Kashmir, Dr Saifullah, was also confronted last week with overground workers (OGWs) of the outfit, identified as Mushtaq Ahmad Malik, Zakir Hussain Mir, Rafiq Ahmad Magray and Alam Bhat.
"Most of them have claimed they received orders from the top brass of HM that the outfit needs to do something like Jaish did in Pulwama. They locally assembled a bomb using gelatin sticks, urea, ammonium nitrate, LPG cylinders and few other chemicals but it was not a perfect bomb. They say they wanted to gain international headlines so that Pakistan-based leader of HM Syed Salahuddin is praised in that country," said the NIA officer.
The incident happened on March 30, one-and-a-half months after the Pulwama attack, in which 40 CRPF personnel were killed by a Jaish bomber. India responded 12 days later with an air strike on a Jaish facility in Balakot, Pakistan. At several points in those weeks, India and Pakistan were close to war. In the HM attack, a Santro car laden with explosives hit a CRPF bus around 10 am when the convoy was moving from Srinagar to Jammu. Nobody was injured in the incident.
"The Hizbul has not been able to carry out any major attack in Kashmir valley in the last three years since a concerted crackdown by the security forces. Their space has been occupied by JeM, which has mostly Pakistan-based cadres, so HM members were desperate to revive the group by doing something on the same lines. They could not carry it off," a second NIA officer said.
The central anti-terror probe agency is trying to find out if any JeM members were involved in the Banihal attack.
https://www.hindustantimes.com/india-news/inspired-by-jaish-hizbul-mujahideen-tried-copycat-attack-on-crpf-convoy-in-j-k/story-LBXWcJcY5hxlFaR8vxZA3H.html
--------
J&K: Civilian killed, 30 injured as clashes break out between stone-pelters, security forces in Shopian
May 29, 2019
A civilian was killed and 30 others injured in clashes between security forces and stone-pelters Wednesday at Pinjoora in South Kashmir's Shopian district. Heavy clashes erupted in the area after security forces launched a cordon and search operation on a tip-off about the presence of militants there.
The search operation later turned into an encounter.
Earlier today, over 50 civilians were injured in clashes at Kulgam district when people took to encounter site and clashed with security forces to help militants escape.
https://indianexpress.com/article/india/jk-civilian-killed-30-injured-in-clashes-with-security-forces-in-shopian-5755190/
--------
Arab World
Visitors to Prophet's Mosque in Madinah praise Saudi efforts to serve Islam
May 30, 2019
MADINAH: Visitors to the Kingdom have praised the efforts of the Saudi government to serve Islam and Muslims around the world, through development projects to improve and preserve the Two Holy Mosques in the cities of Makkah and Madinah.
A number of visitors at the Prophet's Mosque in Madinah praised the efforts of King Salman and Crown Prince Mohammed bin Salman to improve services provided to visitors and Umrah pilgrims.
Visitors praised security measures, comfort facilities and the guidance they received during their journeys.
Bilal Bouziane, a visitor from Algeria, called Saudi Arabia the "beacon of Islam and peace for the whole world."
Jaafar Ahmed, from Sudan, commended the efforts of the Kingdom in the service of Islam, Muslims and humanity, pointing to the 14th Summit of the Organization of Islamic Cooperation, currently being held in Makkah, as proof of its dedication to modern, tolerant and moderate religion.
Salih Abdulmajid from the UK praised the government's keenness to improve services provided to visitors, as well as the implementation of large projects to ease the performance of holy rituals, while Ghulam Murtada, from Pakistan, lauded the continuing expansion of the Two Holy Mosques to allow more Muslims to visit the holy sites.
More than 1,300 volunteers are providing assistance around the clock to pilgrims at the Prophet's Mosque. SPA Madinah
http://www.arabnews.com/node/1503961/saudi-arabia
--------
Iraq sentences two more French ISIL members to death
28 May 2019
Iraq has sentenced two more French ISIL members to death and their execution is expected within three days.
Tuesday's ruling brings the total number of French former members of the Islamic State of Iraq and the Levant (ISIL, also known as ISIS) to six.
The men - identified as Karam el-Harchaoui and Brahim Nejara, both in their 30s - are among a group of 12 French citizens who were captured by the US-backed Syrian Democratic Forces (SDF) in neighbouring Syria and handed over to Iraq in January.
Four other French ISIL members - identified as Mustapha Merzoughi, Kevin Gonot, Leonard Lopez and Salim Machou - were sentenced to death on Sunday and Monday.
Iraqi courts have placed on trial hundreds of foreigners, condemning many to life in prison and others to death, although foreign ISIL members have not yet been executed.
The trials have been criticised by rights groups, which say they often rely on evidence obtained through torture.
They have also raised the question of whether suspected ISIL fighters should be tried in the region or repatriated, in the face of strong public opposition at home.
French position
France's Foreign Minister Jean-Yves Le Drian said earlier on Tuesday that his government was working to spare the group of condemned Frenchmen from execution after Iraq sentenced them to death, though France has made no effort to bring back the captured ISIL fighters.
Drian also reiterated France's position but said the ISIL members should be tried where they committed their crimes.
"We are multiplying efforts to avoid the death penalty for these ... French people," he said on France Inter radio.
He did not elaborate, but said he spoke to Iraq's president about the case.
France is outspoken against the death penalty globally. The sentencings in Iraq come amid a controversy about the legal treatment of thousands of foreign fighters who joined ISIL in Syria and Iraq.
Full report at:
https://www.aljazeera.com/news/2019/05/iraq-sentences-french-isil-members-death-190528102459844.html
--------
Iraqi airstrike kills 10 Islamic State militants in Salahuddin
by Mohammed Ebraheem
May 28, 2019
Salahuddin (IraqiNews.com) – Iraqi warplanes killed on Tuesday 10 Islamic State militants and destroyed two armored vehicles during an air raid in Salahuddin province.
"The Iraqi Air Force, in coordination with Salahuddin Operations Command, carried out an airstrike targeting Islamic State terrorists in Allas district in Salahuddin," Alsumaria News quoted the Security Media Cell as saying in a press statement.
The air raids left 10 Islamic State militants killed and two armored vehicles destroyed, including a booby-trapped one, the statement read.
The operation also resulted in destroying two oil tankers at the site.
Iraq declared the collapse of Islamic State's territorial influence in November 2017 with the recapture of Rawa, a city on Anbar's western borders with Syria, which was the group's last bastion in Iraq.
IS declared a self-styled "caliphate" in a third of Iraq and neighboring Syria in 2014. A government campaign, backed by a U.S.-led international coalition and paramilitary forces, was launched in 2016 to retake IS-held regions, managing to retake all havens, most notably the city of Mosul, the group's previously proclaimed capital.
Full report at:
https://www.iraqinews.com/iraq-war/iraqi-airstrike-kills-10-islamic-state-militants-in-salahuddin/
--------
Daesh terror group burns 5,000 acres of crops across Iraq: official
28.05.2019
Daesh terror group has been setting fire to the livelihoods of Iraqi farmers in Kirkuk, Salahaddin, Mosul, Al-Anbar and Diyala provinces, an Iraqi government official said Tuesday.
Iraqi Ministry of the Interior's Civil Defense General Director Kadim Salman told Anadolu Agency (AA) that the terror group has burned 5,000 acres of agricultural land, usually late at night.
Salman said the government has formed crisis groups to prevent the burning of more crops.
He said the resources of civil defense directorates in the affected cities were insufficient, and the directorates had requested emergency support from the government. The government responded by providing them with vehicles and equipment to aid their efforts to prevent and quickly intervene in crop fires.
Efforts to quickly put out the fires have been successful in many areas, managing to save 11,000 acres of agricultural land from the flames, Salman said.
Salman said Daesh has been setting the fires to take revenge on local residents and farmers who did not support them against the Iraqi military as they lost power in the country.
He said Daesh is also attempting to cause wider damage by blasting power lines passing through the agricultural areas, noting that security forces have an important duty to prevent these attacks from happening.
Kirkuk Governor Rakan Said had previously told AA that the terror group tried to punish impoverished Iraqi citizens by burning their most important income source, the agricultural land.
In June 2014, Daesh took control of more than a third of Iraqi territory, particularly in northern Mosul and western Al-Anbar provinces. Iraqi security forces managed to recapture most Daesh-held territory by December 2017, at which time Baghdad declared that Daesh's military presence in Iraq had been eradicated.
But the terrorists have adapted their tactics to insurgent-style attacks since they were defeated and driven out of areas they controlled for years. Although the threat of Daesh attacks in city centers has lessened, the terror group continues to carry out attacks in rural areas.
Full report at:
https://www.dailysabah.com/mideast/2019/05/28/daesh-terror-group-burns-5000-acres-of-crops-across-iraq-official
--------
Mass-Grave of More ISIL Victims Found in Deir Ezzur
May 29, 2019
The Baladi News Website reported that the residents of the town of al-Sha'afeh in Eastern Deir Ezzur found the mass grave in a home that was used by the ISIL as jail.
It noted that since the ISIL has used their house as its prison, it is possible that terrorists before withdrawing from the region have executed the civilians.
In a relevant development late in March, the bodies of over 300 victims of the ISIL and the US air raids, including those of slain women and children, were discovered in mass-graves and from under the rubles of destroyed buildings in Raqqa.
The Kurdish-language Hawar News quoted al-Khamis as saying that the corpses of 304 people had been unearthed from a mass-grave in Fakhikheh region in Southern Raqqa since early January.
He added that most of the bodies belonged to the civilians, including women and children, noting that some of the victims had been executed.
Meantime, media activists reported that bodies of several civilians, most of them women and children, were pulled out of the debris in al-Adkhar and al-Ta'aminat districts of Raqqa in the past few days.
Full report at:
http://en.farsnews.com/newstext.aspx?nn=13980308000771
--------
Qatari Emir, Turkish President, and Lebanese FM not attending Mecca summits
30 May 2019
The Qatari Emir, Turkish President, and Lebanese foreign minister will not be attending the Mecca summits, according to media reports.
Turkish state news agency, Anadolu, on Wednesday announced that Qatari Emir Tamim bin Hamad al-Thani will not be attending the Mecca Summits.
Turkish President Recep Tayeb Erdoğan will "most probably" not be attending the summit, said Independent Arabic citing knowledgeable sources. Sources also told Independent Arabic that Lebanese Foreign Minister and President of Hezbollah allied Free Patriotic Movement, Gebran Bassil, will also not be attending.
Qatari Foreign ministry spokeswoman Lolwah Al-Khater said in a tweet that Prime Minister Sheikh Abdullah bin Nasser Al Thani would attend the summits, writing that the region's quickly escalating tensions made high-level participation a "national and humanitarian duty to achieve collective security."
The emergency summits in Mecca, Islam's holiest city, on Thursday will discuss tensions with Iran following attacks on oil tankers off the coast of the United Arab Emirates and drone strikes on oil pumping stations in Saudi Arabia, both of which Tehran denies involvement in.
Full report at:
https://english.alarabiya.net/en/News/middle-east/2019/05/30/Turkish-state-news-agency-announces-Qatari-Emir-not-attending-Mecca-summits.html
--------
Iraq hands over 188 Turkish children of suspected ISIS members
29 May 2019
Iraqi authorities handed over 188 Turkish children of suspected ISIS members to Turkey on Wednesday at Baghdad airport, where they boarded a plane and prepared to fly home, officials from Iraq's judiciary and UNICEF said.
Representatives of the Iraqi judiciary and the UN agency were present until the children got on the plane.
UNICEF Regional Chief of Communications Juliette Touma told Reuters the aircraft had not yet taken off.
An Iraqi judiciary spokesman said the group included several that had "come of age" and been convicted and sentenced for illegally crossing the border. Children can be held responsible for crimes in Iraq from the age of nine.
"The central investigations court, which is responsible for the terrorism file and foreign suspects, has handed the Turkish side 188 children left behind by Daesh terrorists (ISIS) in Iraq," said the spokesman, Judge Abdul-Sattar al-Birqdar, in a statement.
An Iraqi foreign ministry official, a representative of the Turkish embassy in Baghdad and representatives of international organizations including UNICEF were present, Birqdar added.
Reuters reported in March that about 1,100 children of ISIS fighters are caught in the Iraqi justice system.
The youngest stay with their mothers in prison, and at least seven children have died because of poor conditions.
Several hundred older children are being prosecuted for offences ranging from illegally entering Iraq to fighting for ISIS.
Some 185 children aged between nine and 18 have already been convicted and received sentences from a few months to up to 15 years in juvenile detention in Baghdad.
Iraq is conducting trials of thousands of suspected ISIS fighters, including hundreds of foreigners, with many arrested as the group's strongholds crumbled throughout Iraq.
Baghdad is keen for those who cannot be prosecuted to be sent home, but the issue is legally complicated and politically toxic, and many nations have so far refused to take them.
Full report at:
https://english.alarabiya.net/en/News/middle-east/2019/05/29/Iraq-hands-over-188-Turkish-children-of-suspected-ISIS-members.html
--------
Iraq condemns 7th Frenchman to death for ISIS membership
29 May 2019
A Baghdad court sentenced a Frenchman to death on Wednesday for joining ISIS, bringing to seven the number of French militants on death row in Iraq.
Yassin Sakkam was among 12 French citizens transferred to Iraqi authorities in January by a US-backed force fighting the militant group in Syria.
"I admit to having sworn allegiance" to ISIS, he told the court, saying he was paid $70 (62 euros) a month. He added that he regretted his decision to join the group, and asked to be pardoned.
Sakkam, now 29, left France in late 2014 to fight for ISIS, posting online pictures of himself carrying arms and speaking to multiple media outlets about ISIS.
He became one of the most notorious militants in France, which has been seeking his arrest since 2016. Kurdish authorities detained him in Syria in 2017.
His brother Karim carried out a suicide attack at the Iraqi-Jordanian border in 2015, according to the French Terrorism Analysis Centre (CAT).
Sakkam's sentence came despite France reiterating its opposition to capital punishment this week amid a series of similar judgments against French citizens handed to Baghdad.
Iraq has taken custody of thousands of militants in recent months after they were captured in neighboring Syria by the US-backed Syrian Democratic Forces (SDF) during the battle to destroy ISIS.
They include hundreds of foreigners suspected of ISIS membership, raising the question of whether suspected ISIS militants should be tried in the region or repatriated.
France has long insisted that its adult citizens captured in Iraq or Syria must face trial locally, while reiterating its opposition to capital punishment.
Iraqi law provides for the death penalty for anyone joining a "terrorist group" – even those who did not take up arms.
Also on Wednesday, an Iraqi court sentenced Tunisian Mohammed Berriri to death for joining ISIS, after a hearing lasting less than an hour.
Berriri, 24, admitted to joining the group, saying he thought it was "defending the weak", but said he now regretted doing so.
Sakkam and the six other French citizens handed death sentences in recent days have 30 days to appeal. The remaining five French suspects face trial in the coming days.
The trials have been criticized by human rights groups, which say they often rely on evidence obtained through torture.
In a statement sent to AFP, a group representing the families of French militants asked the government in Paris to "do everything possible to stop this fatal chain of death sentences" and to try them "on our soil".
Full report at:
https://english.alarabiya.net/en/News/middle-east/2019/05/29/Iraq-condemns-seventh-Frenchman-to-death-for-ISIS-membership.html
--------
Terrorists in Idlib using civilians as human shields: Syria's UN envoy
May 29, 2019
Syria's UN Ambassador Bashar al-Ja'afari says foreign-backed Takfiri militants based in the northwestern Idlib Province are using civilians as "human shields," stressing the government's commitment to protecting its people from the scourge of terrorism.
Speaking Tuesday at a UN Security Council session on the situation in Syria, Ja'afari said that the al-Nusra Front terrorist group, which occupies most of Idlib, continues its acts of aggression against the region's adjacent areas and the Syrian army positions.
He also emphasized that Syria reserves the right to safeguard its citizens from terror.
"Syria will liberate all its territory from terrorism and from any illegitimate foreign presence in the country," Ja'afari said. "Syria will spare no effort to rescue its citizens from the dominance of terrorist organizations in Idlib, which take people as human shields and to put an end to the attacks of those terrorists on civilians in the neighboring towns and cities."
Ja'afari also complained that some Security Council member states have, since the beginning of the Syria crisis, been trying to exploit the humanitarian issue in order to defame the Syrian government and tarnish its image.
In recent weeks, Syrian armed forces, backed by Russia's air cover, have been conducting counter-terrorism operations in areas surrounding Idlib, the last significant militant stronghold in Syria.
Last week, the Syrian army warned civilians to leave Idlib amid preparations for a final military campaign to flush terrorists out of the region.
Elsewhere in his remarks, Ja'afari slammed American occupation forces and their affiliated terrorists for seizing thousands of civilians at al-Hawl and Rukban refugee camps.
He further urged the Security Council to intervene in the US obstruction of the Russian-Syrian efforts meant to end the sufferings of the camp residents and prevent Turkey from changing the demographic nature of the regions its occupies.
"The presence of any foreign military force on the Syrian territory, without the Syrian government acceptance, is an aggression and occupation," Ja'afari said.
Full report at:
https://www.presstv.com/Detail/2019/05/29/597194/Syria-terrorists-Idlib-Bashar-alJaafari
--------
Saudi Arabia calls on Islamic nations to reject Iran's 'interference'
May 29, 2019
MAKKAH: Saudi Arabia's foreign minister on Wednesday called on Islamic nations to reject Iran's "interference" in the affairs of other countries.
"Tehran's support for Houthi rebels in Yemen is proof of Iranian interference in other nations' affairs and this is something that ... Islamic countries should reject," Ibrahim Al-Assaf told a gathering of foreign ministers of the Organization of Islamic Cooperation (OIC).
He also said the Kingdom condemned terrorist attacks aimed at threatening the supply of oil and urged a political solution in Syria backed by the UN. The meeting was a preparatory gathering ahead of the full OIC meeting on Friday.Earlier, King Salman welcomed leaders and representatives from the GCC, Arab countries and the OIC member states taking part in upcoming summits in Makkah, the Saudi Press Agency reported.
Three summits are taking place in the holy city this week and the king asked Allah to make them a success for the good of Arab and Muslim nations.
King Salman thanked Allah for his grace toward Muslims around the world as they enjoyed the last 10 days of Ramadan. He hoped Allah would accept the prayers and good deeds of the millions of Muslims who had come to Saudi Arabia to perform Umrah or visit the Prophet's Mosque in Madinah.
The Cabinet wished those taking part in the summits every success, welcoming the start of an international conference organized by the Muslim World League under the king's auspices.
It also praised the Kingdom's progress in rising up the ranks of a global competitiveness index. Saudi Arabia rose 13 places in the Annual Book of the World Competitiveness IMD 2019 to place 26th.
The Cabinet condemned terrorist bombings that targeted a marketplace in Mosul, Iraq, and attacks on mosques, in Kabul, and Quetta, Pakistan. The Cabinet offered its condolences to the families, governments and people of Iraq, Pakistan and Afghanistan. It wished them a speedy recovery and reiterated the Kingdom's solidarity with these countries in fighting all forms terrorism and extremism.
Minister of Media Turki bin Abdullah Al-Shabanah said the Cabinet had dealt with a number of reports on the latest regional and global developments. He highlighted the Kingdom calling on the international community to take a firm stance against the Iran-backed Houthi militia.
Full report at:
http://www.arabnews.com/node/1503806/saudi-arabia
--------
Africa
Boko Haram: Army kills two terrorists attempting to enter Sambisa
May 28, 2019
By Nsikak Nseyen
The Army on Tuesday disclosed that it has killed two terrorists, who attempted to cross into the Sambisa forest from Gwoza-Dure road in Borno State.
Col. Sagir Musa, the Acting Director Army Public Relations, confirmed this in a statement on Tuesday.
He said that the incident occurred on Sunday as troops embarked on a fighting patrol under the newly inaugurated "Operation Hallaka Dodo'' by the 7 Division, Maiduguri.
Musa said that the terrorists were attempting to move into the forest with supplies for their fellow insurgents when the troops engaged them.
He said that assorted drugs and medicines meant for supply to their fellow criminals in the forest were recovered from them.
The Army spokesman added that although the situation within the general area of the Division was calm, Operation Hallaka Dodo was being conducted by all Brigades and Battalions in their areas of responsibility.
https://dailypost.ng/2019/05/28/boko-haram-army-kills-two-terrorists-attempting-enter-sambisa/
--------
Security forces kill 4 al-Shabab fighters in southern Somalia
2019-05-29
MOGADISHU, May 29 (Xinhua) -- Somali security forces on Tuesday killed a senior al-Shabab terrorist and three other fighters as they intensified assault against the insurgents in the Horn of Africa nation.
"Al-Shabab leader in Adala district and three al-Shabab terrorist were killed in Gaharey, 40 km from Adale," the ministry of information said on Tuesday evening.
The ministry did not provide the identity of the senior al-Shabab leader killed.
There was no an immediate comment from al-Qaida allied group al-Shabab on the latest incident.
Somali forces backed by African Union Mission in Somalia have stepped up operations on al-Shabab in central and southern Somalia, conducting consecutive operations to flush the militants out of those regions.
Full report at:
http://www.xinhuanet.com/english/2019-05/29/c_138100220.htm
--------
Muslim martyrs site to be established in Uganda
Godfrey Olukya
29.05.2019
Ugandan President Yoweri Kaguta Museveni promised the country's Muslim community Wednesday that a Muslim martyrs' site will be established at Namugongo.
Namugongo, a township located 15 kilometers (9.3 miles) from the nation's capital, Kampala, is the site where in 1806 dozens of people who had just converted to Christianity and Islam were killed on the orders of Mwanga II, a local king, who feared they were more loyal to their new religion than to his authority.
Twelve Muslim, 22 Catholic and 23 Protestant converts were murdered. Protestants and Catholics have established shrines which are thronged to every June 3 to commemorate their deaths
While hosting Muslims for a fast-breaking dinner, or iftar, at State House Entebbe, Museveni said that just like Catholics and Protestants are now traveling to their respective martyrs' sites ahead of Martyrs' Day on June 3, Muslims would also be able to commemorate their faithful who died at the site.
''The government will help in establishing the Muslim martyrs' site. We shall work with the Muslim leadership to document the story of the Muslim martyrs and develop a site in their memory just like we have done with the Catholics and Protestants," Museveni said.
Full report at:
https://www.aa.com.tr/en/africa/muslim-martyrs-site-to-be-established-in-uganda/1492632
--------
Travellers stranded as Sudan strike enters second day
29 May 2019
Hundreds of travelers remained stranded in the Sudanese capital Wednesday as bus terminal staff stopped work for a second day in support of protesters demanding the ruling generals step down.
In a bid to step up the pressure on the military council which took power after ousting longtime president Omar al-Bashir, the Alliance for Freedom and Change protest movement called for a two-day general strike starting on Tuesday.
Thousands of employees of government offices, banks, private sector firms and the docks of Port Sudan observed the strike on Tuesday, insisting that only civilian rule can lift Sudan out of its political crisis.
On Wednesday, the capital's airport began to return to normal after scores of staff stopped work on Tuesday. But the flights of Sudanese airlines Badr, Tarco, and Nova remained suspended.
At the main bus terminal, stranded passengers were looking for private transport to reach their destinations as bus company staff remained on strike.
"This is the second day I came to the bus terminal with my family and I am still unable to travel," said Mohamed al-Amin, who was trying to reach the eastern state of Kassala. "Now I'm trying to hire a car with some other passengers."
Several newspapers were unable to bring out their editions because their printers were on strike.
"My newspaper is not on strike but we were unable to print the edition because the technicians were on strike," the owner of al-Mjher newspaper, al-Hindi Ezzeddine, tweeted.
Ahead of the two-day strike, protest leaders had said medics, lawyers, prosecutors, and staff from the electricity, water, public transport, telecommunications, and civil aviation sectors were set to take part in the strike.
The army ousted Bashir in April after months of protests against his autocratic rule, including a sit-in by tens of thousands outside Khartoum's military headquarters.
But the generals, backed by key Arab powers, have resisted calls from African and Western governments to step down. Thousands of protesters remain camped outside army HQ.
Before suspending talks last week, the two sides had agreed on many aspects of the political transition, including its duration and the bodies that will oversee it.
Full report at:
https://english.alarabiya.net/en/News/world/2019/05/29/Travelers-stranded-as-Sudan-strike-enters-second-day-.html
--------
Southeast Asia
Islam And Politics Inseparable - Kelantan Islamic Development Chairperson
29 May 2019
Kelantan Islamic development committee chairperson Mohd Nassuruddin Daud believes that Islam and politics are too intertwined to be teased apart.
This is in light of Perak ruler Sultan Nazrin Muizzuddin Shah's recent order barring political parties from holding events or exhibiting their logos in mosques and surau.
Asked about the order, Nassuruddin said he agreed with it but but brushed off the need for such a rule in Kelantan.
"Such issues do not arise in Kelantan. We only have religious ceramah in our mosques, we do not talk about politics.
"But Islam and politics are inseparable. When we talk about Islam, this includes talking about political Islam. There is no issue on whose words we follow, we follow Islam.
"But we do not use party logos, (party logos) should not be brought into mosques," he said when asked by the media in Kota Bahru, Kelantan last night.
Nassuruddin is state assemblyperson for Meranti and also the Kelantan PAS information chief.
Sultan Nazrin had issued the order after receiving complaints about politicians giving religious sermons and using their party logos at mosques and surau in Perak.
Following a meeting with state Harapan, Umno and PAS leaders, he then suspended mosque and surau committee chairpersons who had allowed political events to be organised on their watch.
According to state newswire Bernama, the ruler did not want Muslim places of worship to be tainted or the congregation to be divided by politics.
https://www.malaysiakini.com/news/477860
--------
Penang Mufti: Non-Muslims Can Distribute Tithes (One-Tenth of Income, Paid As A Contribution to A Religious Organization)
29 May 2019
BUTTERWORTH, May 29 — It is permissible for non-Muslims to distribute tithes to recipients, said Penang Mufti Datuk Seri Wan Salim Wan Mohd Noor today.
He said in terms of fiqah (Islamic jurisprudence) non-Muslims could be made representatives whether to receive or distribute tithes to recipients.
"This is only related to Mu'amalat (part of fiqah) such as tithe, nazar (vow) and kaffarah (actions which can eradicate sins). However, worships which are physical in nature (ibadat Badaniyah) such as prayers and fasting should not be represented by others (non-Muslims),'' he said at the breaking-the-fast and payments of business tithes here.
Commenting on the pictures on the tithe distributions to recipients by several non-Muslim elected representatives in Penang which viralled on the social media, he said Penang Zakat (ZPP) only channelled tithes via numerous quarters including Muslim and non-Muslim elected representatives to be disseminated among the recipients.
''As long there is no malpractice, in my opinion, it need not be turned into an issue. As mufti, I wish to urge Muslims not to blow up a trifling matter like this, but on the other hand must be more focused on extra important matters to spur economic development and education of Muslims so they can achieve a higher position and be on par with the other races,'' he said.
Full report at:
https://www.malaymail.com/news/malaysia/2019/05/29/penang-mufti-non-muslims-can-distribute-tithes/1757582
--------
MP says time ripe for Parliamentary Interfaith Commission
May 29, 2019
KUALA LUMPUR: Saying some radicals are playing with race and religion to destablise the nation, Batu Kawan MP Kasthuri Patto today called for the setting up of a Parliamentary Interfaith Commission, an idea first proposed by the Bar Council more than a decade ago.
"By revisiting and establishing the Parliamentary Interfaith Commission, Malaysia as a land where the world's greatest religions congregate, will set a sterling example to the rest of the world," she said.
Kasthuri, who is part of the Parliamentary Special Select Committee on Rights and Gender Equality, said there was a rise in "vicious comments and attacks" against Malaysians of different faiths, ethnicities and beliefs openly and on social media, mostly behind fake accounts.
The Bar Council had mooted the formation of an Interfaith Commission of Malaysia in 2005 during a conference attended by 50 religious groups, political parties, and civil societies.
It was proposed that the commission would act as an independent advisory body, conciliatory body, and a consultative body, to promote awareness of the tenets and beliefs of different religions and faiths.
Kasthuri said the idea was shot down by "grossly flawed arguments" by those who claim that it "could pigeon hole any particular religion, be it Islam or other religions".
"At a time where opinions and comments on religion and belief can be viciously attacked by derogatory, racist and xenophobic responses, the establishment of this interfaith commission will act as a bridge to create platforms for understanding, interaction and dialogue, be it academic, intellectual or religious, to foster goodwill and unity among the different ethnicities, religions and beliefs in Malaysia, within the parameters and framework of the law and the Federal Constitution," said the DAP leader.
She welcomed a suggestion by PAS' Kuala Nerus MP, Khairuddin Aman Razali, to promote interfaith understanding by teaching Islam to non-Muslim students, but said Muslims too should be taught about other religions.
"While his suggestion is welcomed in the spirit of unity, the same concept must be accorded to our Muslim friends to learn, understand and respect other religions, beliefs and cultures of Malaysians in this place we all call home."
She said Khairuddin had made a "far-fetched argument" by citing the Constitution's prohibition on the propagation of other religions to Muslims, adding that he was "a classic example" of why a Parliamentary Interfaith Commission was needed
"Religious diversity in a New Malaysia must function as the bridge between the rakyat and places of worship.
Full report at:
https://www.freemalaysiatoday.com/category/nation/2019/05/29/mp-says-time-ripe-for-parliamentary-interfaith-commission/
--------
West Jakarta Police Arrest Former US Soldier for Creating Fake News
MAY 29, 2019
Jakarta. The West Jakarta Police's cybercrime unit arrested a former member of the United States Air Force on Tuesday morning for allegedly fabricating information aimed at discrediting the government, a spokesman said.
In a video that went viral on social media, the suspect, Jerry Duane Gray, who became a naturalized Indonesian citizen in 2010, said the current government was dishonest and should be replaced by Prabowo Subianto, who was defeated in last month's presidential election.
The video was recorded by one of his friends, whom police are still trying to track down.
"Actually, the current conditions in Indonesia are so awful; there is a lot of fraud being committed by this regime. It is clear that there is a communist infiltration. The people of Indonesia, not only Muslims, must be united until this country is developed … until the name of the Indonesian president is Prabowo. The current one, he must resign," Gray said in the video, referring to President Joko "Jokowi" Widodo
"For the sake of the Republic of Indonesia, he must step down soon, don't wait until October. It's too long," he added.
He allegedly also spread false information about the presence of Chinese soldiers among police personnel deployed to maintain order during the May 22 rally, Jakarta Police spokesman Chief Comr. Argo Yuwono said.
"Yes, he was arrested for [spreading] hatred and creating false news," Argo said.
Gray arrived in Indonesia in 1985 and used to work as news cameraman for a national television channel. He was arrested in the Kembangan area of West Jakarta.
Argo said Gray was born in Germany and used to work in Saudi Arabia before moving to Indonesia.
The spokesman said the suspect was seen near the offices of the Election Supervisory Agency (Bawaslu) in Central Jakarta during last week's riots.
Full report at:
https://jakartaglobe.id/context/west-jakarta-police-arrest-former-us-soldier-for-creating-fake-news
--------
Europe
Iran seeking to expand military program to weapons of mass destruction: German intelligence
May 30, 2019
While European powers still claim Iran's regime is in compliance with the nuclear deal, a new German intelligence report accuses the Islamic Republic of seeking to build weapons of mass destruction.
Fox News obtained a May 2019 intelligence document from the state of Bavaria detailing Iran's nefarious weapons activities in the southern German state during the previous year.
Iran is a "risk country" that is "making efforts to expand its conventional arsenal of weapons with weapons of mass destruction," wrote the Bavarian Office for the Protection of the Constitution in its intelligence report.
The Bavarian agency is the rough equivalent of the FBI without arrest powers.
According to the intelligence report, weapons of mass destruction are defined as "the spread of atomic, biological, chemical weapons of mass destruction."
Iran's clerical regime had agreed to restrict development on its nuclear program in exchange for economic concessions as part of the 2015 Joint Comprehensive Plan of Action (JCPOA).
But the U.S. withdrew from the JCPOA, informally known as the Iran deal, in 2018 because the agreement did not prevent Tehran from building a nuclear weapons device, according to President Trump's administration.
Richard Grenell, the U.S. Ambassador to Germany, told Fox News on Tuesday: "We know the Iranian regime is on the hunt for money to fund their malign activities and so it is imperative that the U.S. and our European allies work together to deny this regime the capital they seek. They will use secretive schemes and dark money; we must be vigilant. They are strapped for cash."
The Bavarian intelligence report charged: "In order to obtain the necessary know-how and corresponding components, these states [Iran, North Korea, Pakistan] are trying to establish business contacts to companies in highly technological countries like Germany."
According to the 335-page report that covers security threats to Bavaria, Germany's criminal customs police prevented an electronic beam welding machine from being transported to Iran. "The machine can be used for the production of [missile] launch vehicles," noted the report.
In connection with the machine, extensive attempts were made" to disguise the actual customer in Iran," according to the intelligence document, citing an end user company in Malaysia. The director of the Bavarian-based company that sought to sell the welding machine was convicted of violating Germany's export control law.
The intelligence agency said it will continue "to monitor whether Iran consistently and consequently complies with the agreement signed in July 2015." The United States government classifies Iran's regime as the leading international state-sponsor of terrorism.
Dr. Efraim Zuroff, the director of the human rights organization Simon Wiesenthal Center's Israel office and Eastern European Affairs, told Fox News: "If there is a factual basis to the findings of the recently-published Bavarian intelligence report, and I have no reason to doubt it, this has to be a shrill wake-up call for the German government and its ongoing efforts to maintain the nuclear agreement with Iran at all costs."
Zuroff added: "Despite all the signs indicating the numerous weaknesses of the agreement and the duplicity of the Iranians, the German government has consistently tried to refrain from dealing with Teheran as a genocidal threat to Israel and the promotor of terror all over the world. Time for Berlin to wake and face the bitter reality."
https://www.foxnews.com/world/iran-military-weapons-of-mass-destruction-germany
--------
Isis 'Beatle' Alexanda Kotey admits he helped plan London terror plot
May 30, 2019
A member of an Isis cell nicknamed "The Beatles" has admitted his part in a plot to kill soldiers, police officers and civilians in a series of drive-by moped shootings in London.
Alexanda Kotey, who is now in a jail operated by the US-backed Syrian Democratic Forces jail in Syria, also admitted to helping to direct funds towards the attackers, Tarik Hassane and Suhaib Majeed, who were sentenced to life in prison in 2016.
They had planned to shoot their targets from a moped in drive-by shootings at Shepherd's Bush police station and the Parachute Regiment Territorial Barracks in White City.
Kotey told ITV News the attack was intended to be part of a wider plan to create sleeper cells in European countries.
He said: "The idea was to plant people in countries so that if there was any aggression from these countries they would have people who would conduct a mission."
Kotey, who is originally from London, also said he would arrange for donations made in Britain to reach the terror group in Syria.
"When people would raise donations in Britain I would co-ordinate with them to send money to us," he said. "I used my phone to communicate."
He revealed his role as a hostage-keeper for "The Beatles", which he said involved "extracting" information from western prisoners.
He said he forced hostages to divulge the email addresses of relatives so he could inform them their loved ones had been taken hostage.
However, Kotey denied he took part in any killings.
"I don't see in my case it makes a very big difference if I was actually there or not there," he said.
He added: "I have a lot of accusations against me, they are quite heavy accusations so it wouldn't change much if I said I was there or I wasn't."
Last year, government ministers were accused of misleading parliament on why the UK dropped its opposition to the death penalty for Kotey and another member of "The Beatles", El Shafee Sheikh.
Kotey and Elsheikh, who had their British citizenship stripped, are likely to be sent to the US for prosecution.
Official documents have named them as members of the cell, claiming they beheaded more than 27 hostages and tortured many more.
Full report at:
https://www.independent.co.uk/news/world/middle-east/isis-beatles-london-terror-attack-plot-alexanda-kotey-shepherds-bush-white-city-a8934016.html
--------
'Turkey part of Europe': Turkish diplomat
29.05.2019
Ankara's top diplomat for EU affairs said on Wednesday that it is not possible to accept "unjust and disproportionate criticisms" in the 2019 EU Commission report on Turkey.
"The EU does not demonstrate impartial attitude towards Turkey because of the prejudices arising from their own problems," Faruk Kaymakci said.
The European Commission published Wednesday a report on Turkey as part of EU's 2019 Enlargement Package which includes country reports for the six Western Balkans states and Turkey.
The report praised the effective dialogue and cooperation in the field of migration between the EU and Turkey, while it strongly criticized Turkey on the issues of the rule of law, fundamental rights, freedoms, the new presidential system, separation of powers and "growing political polarization".
"Turkey made good progress in the area of migration and asylum policy and remained committed to the effective implementation of the March 2016 EU-Turkey statement," according to a statement by European Commission on key findings of the 2019 Report on Turkey.
The report, on the other hand, criticized Turkey in terms of human and fundamental rights, citing backsliding in some areas, including freedom of expression.
Underlining that the report reflects the EU's own existential crises, Kaymakci said that populist movements correspond to the European public opinion as seen in the European Parliament elections.
Kaymakci added: "EU cannot identify the current situation in Turkey correctly," stressing EU's alienation from its founding ideology.
"The statements claiming that Turkey is moving away from European values are inconsistent and invalid [...] Turkey is a part of Europe. Turkey is Europe," he said.
Kaymakci stressed that Turkey will contemplate on the consistent and reasonable criticisms in the report.
The report also praised high voter turnouts in the June 2018 presidential and parliamentary elections and the March 2019 municipal elections, while criticizing "the lack of conditions for contestants to compete on an equal basis."
He also criticized the reference to the Fetullah Terrorist Organization (FETO) as "Gulen Movement", describing it as if a civil society organization.
FETO and its U.S.-based leader Fetullah Gulen orchestrated the defeated coup of July 15, 2016, which left 251 people martyred and nearly 2,200 injured.
Full report at:
https://www.aa.com.tr/en/europe/-turkey-part-of-europe-turkish-diplomat/1492301
--------
Pakistan
Indian Security Personnel Harass Guests At Iftar Hosted By Pakistan HC: Reports
May 30, 2019
NEW DELHI: Guests arriving at the Pakistan high commission for the traditional Iftar were harassed by Indian security personnel, in a repeat of a similar happening during the Pakistan Day celebrations in New Delhi in March, reports said on Wednesday.
"There may be prospects of a thaw in the Indo-Pak relations but ties at the ground level continue to be hostile as the latest incident that occurred outside the Pakistan High Commission shows," The Tribune said.
Pakistan is understood to have decided to protest against the harassment, it said.
According to reports, videos have emerged of armed security personnel rummaging in personal vehicles and plainclothes men asking invitees to produce identity cards that were then photographed while those of presumably another security agency were seen writing down I-card numbers of the invitees.
Reports said the harassment might cast a shadow on the Iftar scheduled by Indian High Commissioner to Pakistan Ajay Bisaria on Friday "as security agencies of both countries reciprocate will full measure".
The close questioning of invitees, an aggressive search of some of the cars and exhortations by uniformed and plainclothes security personnel was a repeat of the intimidation on Pakistan Day celebrations at the same venue in March. At that time, security personnel were heard asking invitees to join the Indian government in boycotting the Pakistan Day celebrations.
"We have decided on a full court press [against Pakistan]," said an intelligence official while declining to comment on the incident.
https://www.dawn.com/news/1485432/indians-harass-guests-at-iftar-hosted-by-pakistan-hc-reports
--------
320 Pakistanis detained in Malaysia arrive in Islamabad
Mohammad Asghar
May 30, 2019
RAWALPINDI: A special flight on Wednesday brought back 320 Pakistanis who had been stranded in Malaysia mainly due to the closure of eastern airspace of Pakistan for foreign airlines.
The flight landed at the Islamabad International Airport at 10.10pm, over 45 minutes behind the schedule, as their friends and relatives sitting on the floor waited for the deportees.
Some of the Pakistanis brought back to Islamabad on the special flight were detained by the Malysian authorities as their tickets expired after the closure of Pakistan airspace.
Earlier, Foreign Office spokesman Dr Mohammad Faisal said in a tweet that a special flight of PIA would bring home 320 Pakistani nationals who were stranded in Malaysian jails due to cancellation of direct flights. He said they were imprisoned for expiry of visa or residence permits.
He said the preparations for their return were directly supervised by foreign minister Shah Mehmood Qureshi. He said the Ministry of Foreign Affairs made a special cell to facilitate the return. It included representatives of Pakistan International Airline, Ministry of Overseas Pakistanis and Pakistan Baitul Mal.
He said Prime Minister Imran Khan had issued special directives for the return of the detainees so that they could join their families on Eidul Fitr.
The aviation division said in a press release that Pakistan Baitul Mal had released Rs40 million for the repatriation of Pakistani prisoners, who had been stranded in Malaysia due to the closure of airspace after the completion of their jail terms in petty crimes.
The cheque was presented by Baitul Mal chairman Aun Abbas to Aviation Minister Ghulam Sarwar Khan and Special Assistant to PM on Overseas Pakistanis Zulfikar Abbas Bukhari.
The PM had directed Bait-ul-Mal and Foreign Office to release Rs40m and Rs10m, respectively, for bringing back the stranded Pakistanis, the aviation division said.
Aviation Minister Ghulam Sarwar said over 300 Pakistanis after being released were sent to the Malaysian detainee camps after the Pulwama incident that led to the closure of the airspace. He said the government was in contact with the Malaysian authorities to launch a direct flight from Kuala Lumpur to Islamabad.
Full report at:
https://www.dawn.com/news/1485380/320-pakistanis-detained-in-malaysia-arrive-in-islamabad
--------
Bajwa, Afghan NSA discuss border management
May 30, 2019
ISLAMABAD: Army Chief Gen Qamar Bajwa discussed border management and the Afghan reconciliation process with National Security Adviser of Afghanistan Hamdullah Mohib.
"Mr Hamdullah Mohib, National Security Adviser (NSA) of Afghanistan called on General Qamar Javed Bajwa, Chief of Army Staff (COAS). During the meeting, matters related to mutual interest, peace and stability in the region, Pak-Afghan border management and prospects for peace with particular emphasis on reconciliation process in Afghanistan were discussed," the Inter-Services Public Relations said in a statement on Wednesday.
The statement was issued a day after Mr Mohib visited Rawalpindi on a daylong trip heading a delegation comprising Interior Minister Massoud Andarabi and other officials on the invitation of Gen Bajwa.
Foreign Secretary Sohail Mahmood had reportedly attended the delegation-level talks in Rawalpindi.
The visit precedes the likely visit by Afghan President Ashraf Ghani to Islamabad.
Mr Ghani was invited for a visit when he phoned Prime Minister Imran Khan on May 5 for discussing ongoing peace efforts, security, and bilateral economic cooperation.
The Afghan president accepted the invitation for the visit during which he, according to officials, would "hold comprehensive exchange of views on all issues of mutual interest".
Mr Mohib's visit also marks a sort of resumption of high-level contacts between the two neighbours that had been virtually suspended since last November. The last major interaction was under the Afghanistan-Pakistan Action Plan for Peace and Solidarity forum when the two sides discussed repatriation of Afghan refugees from Pakistan.
The development took place amidst a deadlock in the ongoing talks between the United States and the Taliban in Doha. The talks are stalemated over initiation of an intra-Afghan dialogue and reduction in violence.
Full report at:
https://www.dawn.com/news/1485439/bajwa-afghan-nsa-discuss-border-management
--------
JIT exonerates doctor from 'intentionally' spreading HIV in Ratodero
May 30, 2019
LARKANA: The joint investi­gation team (JIT), which was probing charges against Dr Muzaffar Ghanghro that he had deliberately infected people with HIV in Ratodero, has exonerated him from 'intentionally' spreading the deadly virus in the town.
DIG Irfan Baloch, flanked by Qambar-Shahdadkot SSP Kamran Panjotha who headed the JIT, SSP Masood Bangah and ASP Mohammad Kaleem Malik, said at a press conference at the SSP office here on Wednesday that the investigation had not proved that Dr Ghanghro had intentionally spread the disease.
However, he said, the probe did establish that the doctor was one of the major sources for the virus' spread. The JIT learnt after interviewing 145 HIV victims that 125 of them had received treatment at the doctor's clinic, leading to the conclusion that he was a major source of spreading the HIV, he said.
Dr Ghanghro was arrested on April 30 after an FIR was registered against him under Section 324 on a complaint lodged by Abdul Sami, a member of Sindh Healthcare Commission. He was accused of multiple use of syringe at his private clinic.
Mr Baloch said the JIT which was also assisted by Dr Shahla Baqi, Dr Azizllah Dhillo and Dr Sunail Dodani was of the opinion that the doctor did not follow standard operating procedure for the use of syringes during his practice and did not ensure hygienic conditions on the premises of his clinic.
He said the JIT was of consensus opinion that reuse of syringe was the cause of eruption of HIV cases in general population. He quoted reports of Sindh AIDS Control Programme and said that so far 700 persons had been tested positive for HIV in blood screening exercise and of them 550 were children, almost 80 per cent of the cases.
He said in answer to a question that the doctor himself was unaware of his being infected with the HIV till he was diagnosed with the disease after his arrest in the wake of surfacing of huge cases of HIV positive in blood screening.
Asked if the JIT had investigated the ratio between intramuscular and intravenous use of syringe, the DIG said that it was not the focus of the JIT, there might be multiple factors for the spread the virus.
He said the doctor's 'mental state' was sound and the JIT had not found any evidence of 'revenge' on his part in spreading the disease.
He said that a new FIR would be registered against the doctor under Section 322 in the light of JIT's findings as the earlier FIR was lodged under Section 324.
He said that Larkana Commissioner had constituted a task force for action against the sleazy business of 'repacking' used syringes and selling them in the market. "We are probing it but have made no headway so far," he admitted.
He said that crackdown against quacks would continue ruthlessly and expressed shock at the murder of an HIV positive woman whose body was found hanging from a tree in Dakhan town on Wednesday.
Full report at:
https://www.dawn.com/news/1485335/jit-exonerates-doctor-from-intentionally-spreading-hiv-in-ratodero
--------
LHC refers Hamza's bail matter to another division bench
May 30, 2019
LAHORE: Lahore High Court Chief Justice Sardar Muhammad Shamim Khan on Wednesday entrusted proceedings on the bail petition of Leader of Opposition in Punjab Assembly Hamza Shahbaz to another division bench after the bench seized with the case recused itself from hearing it following reservations expressed by the petitioner.
The bench comprising Justice Syed Mazahar Ali Akbar Naqvi and Justice Waheed Khan will take up the bail petition on June 3.
Previously, a bench comprising Justice Ali Baqar Najafi and Justice Sardar Ahmad Naeem had been hearing the bail petition in multiple inquiries initiated against Mr Hamza by the National Accountability Bureau.
Hearing to be held on June 3
Mr Hamza on Tuesday personally told the bench that he had reservations on the bench since NAB Chairman retired Justice Javed Iqbal made the bail proceedings controversial by discussing them in a recent interview to the media. He said the bureau's chairman in his interview claimed to have influenced the formation of the bench. He had requested the bench to not proceed with the matter to protect integrity of the courts.
The bench had admitted the request and recused itself from the matter, requesting the chief justice to fix it before any other bench. Mr Hamza is facing inquiries in the matters including Punjab Saaf Pani Company, Ramzan Sugar Mills, money laundering and assets beyond means.
KHWAJAS: After the distrust expressed by Hamza Shahbaz, the division bench of Justice Ali Baqar Najafi on Wednesday asked the counsel for former railways minister Khwaja Saad Rafiq and his brother Khwaja Salman Rafiq whether their clients had trust in the bench.
At this, advocates Azam Nazir Tarar and Amjad Pervez said they and their clients had complete trust in the bench. They had same answer when the bench asked them to think again before further proceedings. At this, the bench adjourned hearing till June 18.
The NAB accused Khwaja brothers of establishing a housing project – Air Avenue – which was later converted into a new housing project – Paragon City Pvt Ltd.
The Paragon City, as per the NAB, was an illegal society and not approved by the Lahore Development Authority.
NAB notice: Opposition Leader in Punjab Assembly Hamza Shahbaz on Wednesday replied to the National Accountability Bureau's call up notice instead of appearing before it saying he had already furnished information mentioned in its questionnaire.
Full report at:
https://www.dawn.com/news/1485356/lhc-refers-hamzas-bail-matter-to-another-division-bench
--------
References against judges: PML-N vows to resist govt 'bid to weaken judiciary'
Zulqernain Tahir
May 30, 2019
LAHORE: The PML-N has taken exception to the Pakistan Tehreek-i-Insaf government's move of filing a reference in the Supreme Judicial Council (SJC) against the alleged misconduct of three superior court judges, saying it will strongly "resist this attempt to weaken the guardians of the Constitution" at every forum, including the parliament.
PML-N vice-president and former premier Nawaz Sharif's daughter Maryam Nawaz has termed this action a "terror attack" on the country's judiciary by the Imran Khan government.
"Filing references against three judges of superior court in SJC is another dictatorial step of this fake government. The saga of crushing the voice of judges had begun with removal of a judge of the Islamabad High Court and now it has scaled new heights," she said.
In a series of tweets, Maryam said: "The government is removing the judges one by one who follow the Constitution and do not submit to its will. The incompetent government of Imran Khan is responsible for defaming the state institutions. This inept prime minister has caused unbearable loss to every institution and put the country in danger."
She said her party would strongly resist the "fake government's" conspiracy against the judges having good repute.
"We urge lawyers, civil society, media persons and political parties to play their role like they did when dictator Musharraf had taken a similar step," she said.
Meanwhile, former foreign minister and PML-N senior leader Khawaja Asif tweeted: "References by the government against members of superior judiciary are an attempt to weaken the guardians of the Constitution. Independent judiciary guarantees rule of law & PMLN will resist any attempt to curtail its independence."
PML-N Information Secretary Marriyum Aurangzeb said the PTI was trying to impose its will on the judiciary and violate the judicial process. "PM Khan does not have the courage or the decency to respect disagreement or dissent whether it comes from the floor of the parliament, the media or the court of law," she said.
The former information minister said the PML-N would resist this "attack on the judiciary" in every way and at every forum. "PML-N supreme leader Nawaz Sharif fought for the supremacy of the judiciary under the most challenging circumstances and led the movement on the road which God Almighty blessed with victory."
She said the parliament was the mother of all institutions and it knew very well how to guard its constitutional status against "self-serving, agenda-driven" individuals and groups.
Full report at:
https://www.dawn.com/news/1485360/references-against-judges-pml-n-vows-to-resist-govt-bid-to-weaken-judiciary
--------
MQM-P urges PM Imran to help urban Sindh get due rights
May 30, 2019
ISLAMABAD: A delegation of the Muttahida Qaumi Movement-Pakistan (MQM-P) leadership led by Federal Minister for Information Technology Dr Khalid Maqbool Siddiqui on Wednesday called on Prime Minister Imran Khan and demanded the premier hold an investigation into the corrupt and illegal practice of denying the residents of Karachi and Hyderabad their due rights in government jobs.
They pleaded for ensuring that big cities like Karachi and Hyderabad get their due right in developmental funds till the establishment of provincial financial commission.
The MQM delegation also asked for ensuring implementation of the establishment of provincial financial commission for equitable distribution of NFC at the provincial level.
Earlier on April 13, MQM-P had demanded Prime Minister Imran Khan to intervene in Sindh to rescue the province in the aftermath of 18th Amendment.
Full report at:
https://www.pakistantoday.com.pk/2019/05/29/constitution-allows-pm-to-intervene-in-karachi-issues-mqm-p-leaders-tell-imran/
--------
Pakistan PM will stress need for solidarity, unity at OIC Makkah summit
MUHAMMAD ISHTIAQ
May 29, 2019
ISLAMABAD: Pakistan Prime Minister Imran Khan will stress the need for solidarity and unity at a summit in Makkah this week, the Foreign Ministry said in a statement on Wednesday.
Saudi Arabia's King Salman has invited 57 member states from the Organization of Islamic Cooperation (OIC) to attend the summit which seeks to provide "a valuable platform to exchange views and deliberate on a range of political, economic and security issues of interest to Islamic countries," the ministry said.
The OIC has backed Pakistan in its dispute with India over the Kashmir region, which both countries govern in part but claim in full.
"The prime minister will ... focus on the imperatives of solidarity and unity in the Ummah, support for Muslim causes including Jammu and Kashmir, countering growing Islamophobia, and ensuring educational and scientific excellence. As one of its founding members, Pakistan has played a key role in advancing a range of Muslim causes, in efforts to revitalize the organization," the statement added.
Pakistan's Foreign Minister Shah Mehmood Qureshi, who arrived in Jeddah on Tuesday, is taking part in the OIC's Council of Foreign Ministers meeting to finalize the agenda ahead of the leaders' session in Makkah.
Qureshi earlier told reporters that the OIC summit was of immense significance as Pakistan would discuss the current situation in the Middle East.
"We will present our point of view regarding the challenges faced by the Muslim Ummah," he added.
Qamar Cheema, an Islamabad-based analyst, said Saudi Arabia had a pivotal role in making the OIC a constructive forum for addressing the grievances of the global Muslim community.
"For making the OIC vibrant, Saudi Arabia and other concerned states need to initiate fresh dialogue to resolve bilateral disputes among states and to develop a unified stance of global issues of mutual importance," Cheema told Arab News.
Dr. Vaqar Ahmed, from the Islamabad-based think tank the Sustainable Development Policy Institute, said Pakistan needed to take this summit as an opportunity to advocate closer trade and investment integration across Islamic countries.
"Perhaps a preferential trade arrangement should be discussed. This will also help create cross-border value chains and help contribute to inclusive growth and job creation," Ahmed told Arab News.
This year marks the 50th anniversary of the OIC's establishment.
Full report at:
http://www.arabnews.com/node/1503771/saudi-arabia
--------
Terror bid foiled, one held with explosives, detonators in Mardan
May 30, 2019
MARDAN: The police foiled a terror attempt, arrested a suspect with explosives, detonators and dynamites here on Wednesday.
The police on a tip-off conducted an operation in Shergarh area of Mardan.
During operation, an extremist was apprehended with 25-kilogram explosives, 50 detonators and 12 dynamites.
The detainee along with his accomplice was planning to target public places and sensitive installations.
Full report at:
https://www.pakistantoday.com.pk/2019/05/29/terror-bid-foiled-one-held-with-explosives-detonators-in-mardan/
--------
South Asia
Myanmar: Arrest warrant issued for anti-Muslim monk Wirathu
by Joshua Carroll
May 30, 2019
Yangon, Myanmar - A court in Myanmar has issued an arrest warrant against Wirathu, a notorious Buddhist monk whose hate-preaching sermons against the Rohingya and other minority Muslims have stoked religious tensions.
The monk, who once reportedly dubbed himself the "Burmese bin Laden", faces up to life imprisonment under the country's sedition law, which prohibits stirring up "hatred", "contempt" or "disaffection" towards the government.
Police have so far declined to say why Wirathu has been charged, but the monk recently drew anger from senior officials for a series of speeches in which he attacked Myanmar's de facto civilian leader Aung San Suu Kyi.
Wirathu has not yet been arrested and his exact whereabouts are unknown. A police spokesperson did not answer calls from Al Jazeera seeking comment.
He is usually based at his monastery in the city of Mandalay, but a judge has told police to bring him before a court in the country's main city of Yangon before June 4, the Myanmar Now news agency reported.
Contacted by phone, a man who described himself as a student of Wirathu told Al Jazeera the monk had left Mandalay for Yangon, where he has been summoned to appear before a panel of senior monks on Thursday.
The panel is expected to reprimand him for his involvement in "mundane affairs" after a recent speech he gave defending Myanmar's military-drafted constitution and railing against Aung San Suu Kyi's efforts to amend it.
During the speech he said military members of parliament, who are guaranteed unelected seats by the constitution, should be worshipped like the Buddha.
His nationalist followers have vowed to show their support for him with a protest on Thursday near Yangon's Shwedagon pagoda, the country's holiest Buddhist site.
Wirathu has described Muslims as "mad dogs" and threatened to use violence to oppose international efforts to bring Myanmar's generals to justice for the slaughter of thousands of Rohingya in 2017, which United Nations investigators have said may amount to genocide.
In 2003, he was jailed for almost 10 years for inciting deadly riots against Muslims. Last year, Facebook barred him from the platform in response to his incendiary posts about the minority.
Myanmar's first civilian government in decades, led by Aung San Suu Kyi's National League for Democracy (NLD) party, has long regarded Wirathu as a nuisance.
In 2017, a government-appointed committee of top monks barred Wirathu from preaching for a year, stating that he had "repeatedly delivered hate speech against religions to cause communal strife." In the same year, the committee disbanded Ma Ba Tha, a Buddhist nationalist group in which he was a key figure.
But Aung San Suu Kyi has been unable to shake criticism that she is bowing to pressure from Buddhist hardliners.
David Mathieson, a Myanmar-based analyst, said the sedition charges against Wirathu followed a shift in public opinion towards the monk.
"Wirathu has been widely dismissed inside Myanmar as a buffoonish ultranationalist for a long time now," he told Al Jazeera. "The authorities may have calculated what remained of his support base would be unlikely to create serious trouble if he was arrested."
With an election coming up next year, "the NLD may well have calculated moving against Wirathu would generate more popular support, not less," he added.
Rights groups are uneasy about the decision to target the monk with a sedition law.
"The government's use of sedition charges raises concerns about the focus of the investigation, which should be squarely on Wirathu's incitement of violence and hostility," said Matthew Bugher, head of Asia for Article 19, an advocacy group focussed on freedom of expression.
"Wirathu's speech is vile and repugnant," he added. "International investigators have already reported on the apparent links between his words and the violence and discrimination directed at Muslim populations. A criminal investigation into his speech and actions is clearly warranted."
https://www.aljazeera.com/news/2019/05/myanmar-arrest-warrant-issued-anti-muslim-monk-wirathu-190529051810338.html
--------
Myanmar military accused of 'war crimes' in Rakhine
May 29, 2019
Rights group Amnesty International has accused Myanmar's military of committing "war crimes" against an ethnic Buddhist group in Rakhine State, after worldwide condemnation of the army for committing horrific atrocities against local Muslims there.
The UK-based Amnesty announced on Wednesday it was in possession of "new evidence" indicating that Myanmar's military was "committing war crimes and other human rights violations" against the ethnic rebels, citing extrajudicial killings, arbitrary arrests, torture, and enforced disappearances.
Myanmar's armed forces have reportedly deployed thousands of troops and heavy artillery across northern Rakhine, where so-called Arakan Army (AA) militants are battling the army in a bid to win more autonomy for the state's ethnic Buddhists.
Rakhine was also the scene of a brutal crackdown and carnage by the country's military against the Rohingya Muslim community between 2017 and 2018.
Thousands of the Muslims were killed in the crackdown, and nearly 800,000 others fled to neighboring Bangladesh. United Nations investigators have said the campaign against the Muslims amounted to "genocide."
Amnesty said its new findings were based on scores of interviews with people from various ethnic groups, photographs, videos, and satellite imagery.
The rights group also underlined that a number of Rohingya Muslims still in Rakhine had also been killed by the military.
"The new operations in Rakhine State show an unrepentant, unreformed and unaccountable military terrorizing civilians," said Amnesty's regional director Nicholas Bequelin.
While access to the conflict region is heavily restricted, details about the killing of civilians have emerged over recent weeks and months, according to Amnesty.
The army has only confirmed that it shot dead six detainees in the village of Kyauk Tan late last month.
Amnesty has also censured Myanmar's government for choosing to "remain silent" as supplies of medicine, food, and humanitarian relief remain blocked by authorities.
Full report at:
https://www.presstv.com/Detail/2019/05/29/597196/Amnesty-Myanmar-war-crimes-Rakhine-Buddhist-rebels
--------
Afghan Forces Hit With Wave of Attacks on Eve of Taliban Talks
By Thomas Gibbons-Neff
May 28, 2019
KABUL, Afghanistan — More than 40 people were killed across Afghanistan on Tuesday on the eve of talks between Afghan politicians and Taliban leaders in Moscow, as the militant group pursued a familiar tactic of intensifying its attacks before high-profile meetings.
Thirteen Afghan soldiers were killed by Taliban fighters in Khost Province, and 23 people, including Afghan special operations forces, police officers, civilians and militia members, died in western Ghor Province. In northern Samangan, Taliban fighters nearly overran an Afghan military outpost, killing at least six Afghan police officers and soldiers, according to Afghan officials.
But on Monday, Afghan soldiers wrested control of the Deh Yak district in southeastern Ghazni Province from Taliban fighters after a concerted offensive. The group had controlled the town for two years.
The spurt of violence came as Afghan politicians, including one of the candidates vying to replace President Ashraf Ghani in elections in September, and members of the Taliban arrived in Moscow to celebrate 100 years of diplomatic relations with Russia. The ceremony serves as an excuse for informal peace talks between Afghan politicians and 14 Taliban negotiators.
In an opening ceremony, Foreign Minister Sergey V. Lavrov of Russia called for the "total pullout" of foreign forces from Afghanistan, a jab at the United States and other NATO countries that deploy troops there.
Mullah Abdul Ghani Baradar, the Taliban's deputy leader, said his group was "committed for peace" and wanted to "end the occupation" of Afghanistan.
In February, 50 delegates from both the Taliban and Afghan politicians met at Moscow's President Hotel. The Afghan delegation, led by former President Hamid Karzai, spoke of preserving the current Afghan government following any withdrawal of foreign forces. The Taliban criticized the Afghan Constitution that was put in place after the American-led invasion in 2001.
Absent from the discussions in February were any representatives from Mr. Ghani's government. But this week's talks will include the Afghan ambassador to Russia, Latif Bahand, who will represent Kabul in any "intra-Afghan" talks, according to Sibghatullah Ahmadi, the spokesman for the Ministry of Foreign Affairs.
Last month, what was meant to be the first meeting between the Afghan government and Taliban negotiators was derailed after the militant group objected to the large number of Afghan officials attending.
A United States delegation, led by Zalmay Khalilzad, the Americans' peace envoy, has had several meetings with the Taliban in Qatar. Each time the Taliban have rejected requests that they talk to the Afghan government.
Full report at:
https://www.nytimes.com/2019/05/28/world/asia/afghanistan-taliban-attacks-moscow-talks.html
--------
Taliban, Russia Demand Foreign Troops Leave Afghanistan
May 28, 2019
ISLAMABAD —
The Taliban and Russia have jointly called for the withdrawal of U.S.-led coalition troops from Afghanistan, with a top leader of the Islamist insurgent group denouncing the foreign presence in the country as a major obstacle to Afghan peace.
Mullah Abdul Ghani Baradar, the political deputy of the Taliban, made the remarks in Moscow to a gathering of Russian and Afghan government personnel, as well as representatives from prominent political groups from the war-torn country.
Russia organized the meeting to mark the 100th anniversary of diplomatic relations with Afghanistan.
"The Islamic Emirate [Taliban] is truly committed to peace but the first step is to remove obstacles in the way of peace, meaning the occupation of Afghanistan must come to an end," Baradar said in rare public appearance and speech.
Russian Foreign Minister Sergey Lavrov in his welcome address to the group urged that foreign forces leave Afghanistan. He underscored the importance of bilateral relations, saying Russia is ready to offer more help to Afghanistan to fight terrorist groups led by Islamic State and drug-trafficking networks.
"This conflict in Afghanistan has no military solution and the only way to settle this issue is to rely on diplomacy and politics. We believe all foreign military [forces] should be withdrawn from the country and the society of Afghanistan should unite in finding a solution," the Russian foreign minister stressed.
"We believe that Afghanistan should stay united where all the ethnic groups can live peacefully. We hope that peace will settle in Afghanistan as soon as possible," Lavrov added, saying that accelerated Afghan peace-building efforts recently initiated by Moscow are furthering the peace process.
Top Afghan candidates challenging President Ashraf Ghani in the upcoming presidential elections, former president, Hamid Karzai, and Afghan diplomats in Moscow, as well as the head of the official Afghan High Peace Council (HPC) tasked with promoting peace, were in attendance at Tuesday's meeting and delivered their own speeches.
In his address, the HPC chief, Karim Khalili, emphasized the need for agreeing to "a dignified and just mechanism" for ending years of bloodshed in Afghanistan.
Mullah Baradar
Mullah Baradar, who is heading a 14-member Taliban delegation, was the center of attention during Tuesday's meeting in Moscow. He is known as a co-founder of the Islamist Taliban and is believed to have played a central role in organizing insurgent activities after the U.S.-led military invasion of Afghanistan 17 years ago.
Baradar was traveling through Pakistan in 2010 when American security operatives, together with local counterparts, arrested him in Karachi. The insurgent commander was then placed in Pakistani custody until late last year. At that point, Washington requested that Islamabad free Baradar to push a nascent process of negotiations that U.S. diplomats initiated with the Taliban late last fall to seek an end to the Afghan war.
Intra-Afghan conference
Taliban and Afghan delegates also are scheduled to hold an intra-Afghan meeting on Wednesday to discuss ways to promote peace in their country.
The bilateral talks would mark the second time Taliban officials have met with Afghan opposition politicians in Russia. The first such interaction took place in February, but no government representatives were present because of objections by the insurgents.
The Taliban clarified in a statement issued late Tuesday that no Kabul government representatives will participate in the intra-Afghan conference, and insurgent delegates will interact only with Afghan politicians as well as civil society representatives. The Taliban refuse to engage in any peace talks with anyone associated with the U.S.-backed Kabul government, dismissing them as "stooges" installed by foreign "occupation" forces.
"The delegation of Islamic Emirate [Taliban] will also hold closed-door meetings with senior officials of the Russian Federation," said Taliban spokesman Zabihullah Mujahid.
U.S.-Taliban talks
The meetings in Moscow come as months of direct peace negotiations between the United States and the Taliban appear to have slowed down, if not deadlocked, over the insurgents' refusal to cease hostilities until all U.S.-led international forces withdraw from Afghanistan.
Washington has linked its troop withdrawal move to counterterrorism assurances by the Taliban, a comprehensive cease-fire and the insurgent group's participation in a peace dialogue with the Afghan government and other groups to end years of hostilities.
Full report at:
https://www.voanews.com/a/taliban-russia-demand-foreign-troops-leave-afghanistan-/4935723.html
--------
Freed Hardline Sri Lanka Buddhist Monk Vows To Expose Islamist Militancy
MAY 28, 2019
COLOMBO (Reuters) - A hardline Buddhist monk accused of inciting violence against minority Muslims in Sri Lanka said on Tuesday he planned to denounce Islamist militants after he was freed from prison last week by presidential pardon.
Galagoda Aththe Gnanasara, head of the Bodu Bala Sena (BBS) or "Buddhist Power Force", was pardoned by President Maithripala Sirisena after serving nine months of a six-year sentence for contempt of court.
Rights activists said his release sent a message that majority Buddhists could incite hate against minorities. Gnanasara has denied allegations that he encouraged violence against Muslims and Christians, saying he only highlighted threats from militants.
His pardon came a week after rioters attacked Muslim-owned homes, shops, and mosques in apparent reprisal for Easter bombings, claimed by Islamic State, that killed more than 250 people.
Police said Gnanasara's group had no links to the attacks.
At a news conference on Tuesday, Gnanasara said Sri Lankan followers of Wahhabism, a conservative branch of Islam, were indirectly responsible for the April 21 bombings on churches and hotels.
"I urge the government to arrest the main people responsible for the spreading of Wahhabism," Gnanasara said.
Hilmy Ahmed, the vice president of the Muslim Council of Sri Lanka, said he was willing to meet him.
"We will talk to him and see what he wants to discuss. We have always had cordial discussions with him even though he has his extremist views," Ahmed said.
Some political analysts see the pardon as a bid by Sirisena to woo Sinhala Buddhists, who make 70 percent of the nation's 22 million people, ahead of elections this year.
"He is trying to build the Sinhala Buddhist votes," said Kusal Perera, a political columnist.
Gnanasara was convicted in 2018 on four counts of contempt of court. The case stemmed from a 2016 court hearing on the abduction of journalist Prageeth Eknaligoda over which military intelligence officials were accused.
Gnanasara shouted at the judge and lawyers because the military officials had not been given bail. He also threatened Eknaligoda's wife.
During a Monday evening visit to a temple, Gnanasara said he is "active once more... Attaining nirvana can wait."
Full report at:
https://www.reuters.com/article/us-sri-lanka-monk-pardon/freed-sri-lanka-buddhist-monk-vows-to-expose-islamist-militancy-idUSKCN1SY1CH?il=0
--------
Afghan forces seize 1000 Kgs of explosives; foil deadly attack in Kabul city
27 May 2019
The Afghan National Defense and Security Forces have recently seized 1000 kilograms of explosives during an operation in Kabul city.
A military source said Monday that the Afghan special force conducted a raid in Kabul city and seized 500kg of explosives.
Without providing further added that source further added that the Special Forces also detained three suspected militants during the same operation.
In the meantime, the Ministry of Interior in a statement said the police forces foiled a deadly attack in Kabul city by seizing and destroying 1000 kilograms of explosives in four separate controlled-detonations in Kabul.
The statement further added that the security forces recently had seized the RDX-HMS type explosives during an operation.
The anti-government armed militants including Taliban have not commented regarding the report so far.
Full report at:
https://www.khaama.com/afghan-forces-seize-1000-kgs-of-explosives-foil-deadly-attack-in-kabul-city-03501/
--------
Taliban raid kills 18 members of security forces in western Afghanistan
May 29, 2019
At least 18 members of Afghan security forces have been killed after Taliban militants stormed several posts providing protection to a historic minaret in western Afghanistan.
Abdul Hai Khatebi, the provincial governor spokesman of the western province of Ghor, said on Wednesday that 15 pro-government militias and three policemen had been killed in the attacks, which started Monday.
Sayed Zia Hussaini, the deputy police chief of Ghor, confirmed that militants ran over some checkpoints around the revered 12th-century Jam minaret. "The Taliban have captured some checkpoints around the minaret. We had to retreat because more fighting would cause damage to the minaret."
Fakhruddin Ariapur, the Ghor province director of information and culture, said that the Taliban assaults had cut the government access to the area.
"The Taliban have shut off telecommunication towers and have cut any access to the area," Ariapur said, adding, "The cleaning-up work (from the flood) has stopped and we don't know what is happening there."
The attack comes less than a week after the minaret, which is the UNESCO World Heritage Site, was threatened by surging floodwaters.
Late last week, dramatic video footage showed brown torrents crashing up against the base of the brick minaret, which was built in about 1190. On Monday, the government had hired about 300 local workers to channel floodwaters away from the tower.
The war-wracked country has been struggling to stop scores of deadly attacks by the Taliban militant group almost across the country over the past months.
The Taliban have stepped up attacks on security installations in their so-called spring offensive amid direct talks with the United States, rejecting calls by the US's chief negotiator Zalmay Khalilzad to lay down their arms.
This comes as a sixth round of talks between the US and Taliban recently ended in the Qatari capital Doha with no tangible progress. The Taliban have said peace negotiations were stumbling over the fundamental question of when foreign forces would depart the war-ravaged country.
The administration of President Donald Trump is now negotiating with the Taliban in an attempt to discourage the group from attacking US troops.
Full report at:
https://www.presstv.com/Detail/2019/05/29/597245/Afghanistan-Ghor-Taliban-Abdul-Hai-Khatebi-Ariapur--Jam
--------
Mideast
Al-Quds neither America's to give away nor Israel's to take, says Iran's Zarif
May 29, 2019
Iranian Foreign Minister Mohammd Javad Zarif says the the holy occupied city of Jerusalem al-Quds belongs to Palestine and the Palestinian nation, stressing that neither the United States nor the Israeli regime can make decisions about it.
"Al-Quds (Jerusalem) is neither America's to give away nor Israel's to take. And NOT for brutal accomplices to try to buy. Quds belongs to Palestine & Palestinians: history shows that whomever ignores this is condemned to ignominious failure," the top Iranian diplomat said in a post published on his official Twitter page on Wednesday.
Javad Zarif
✔
@JZarif
Al-Quds (Jerusalem) is neither America's to give away nor Israel's to take. And NOT for brutal accomplices to try to buy.
Quds belongs to Palestine & Palestinians: history shows that whomever ignores this is condemned to ignominious failure.
Iran stands with Palestine. #QudsDay
3,366
7:38 PM - May 29, 2019
Twitter Ads info and privacy
1,926 people are talking about this
Zarif reaffirmed Tehran's full support for the Palestinian cause, calling for mass participation in International Quds Day rallies on Friday.
The International Quds Day is a legacy of the late founder of the Islamic Republic, Imam Khomeini, who designated the day in solidarity with Palestinians.
Since the 1979 Islamic Revolution in Iran, the International Quds Day has been held worldwide on the last Friday of the the Muslim fasting month of Ramadan.
Meanwhile, the Palestinian Hamas resistance movement has called upon Muslim heads of state and leaders participating in the upcoming 14th summit of the Organization of Islamic Cooperation (OIC) in the Saudi city of Mecca to support the Palestinian nation, and adopt appropriate and effective measures aimed at protecting al-Quds.
Ismail Haniyeh, the head of the Hamas political bureau, said in a statement on Wednesday that the OIC session comes at a time when "the Palestinian issue is facing challenges, which threaten its present, future and existence. It is being held when Israeli terrorism against Palestinian land and people is on the rise."
He pointed out that the American team -- comprised of President Donald Trump's senior adviser and son-in-law Jared Kushner, Middle East envoy Jason Greenblatt, and US ambassador to the occupied territories David Friedman --"plays a suspicious role in supporting and promoting political and economic schemes aimed at liquidating the Palestinian cause and undermining Palestinians' rights."
Haniyeh then stressed "the need for an effective and urgent Islamic action" that would protect the occupied city of al-Quds, al-Aqsa Mosque, stand against the Israeli regime's policy of criminal and racist occupation, and would put an end to its plots of "Judaization, division and displacement."
The senior Hamas official finally demanded the final communiqué of the OIC summit, which is scheduled to take place on May 31, to be a unified Muslim stance aimed at building a roadmap towards achieving the aspirations of the Palestinian nation, which is the liberation of their homeland and return to it.
https://www.presstv.com/Detail/2019/05/29/597249/AlQuds-neither-Americas-to-give-away-nor-Israels-to-take-Zarif-says
--------
EU says Turkey distancing itself from bloc, criticizes human rights record
May 29, 2019
BRUSSELS: The European Union said on Wednesday that Turkey continues to distance itself from the bloc and its values and says sees no reason to unblock the country's EU membership talks.
In a progress report on Turkey's membership prospects released Wednesday, the EU's executive commission criticizes "serious backsliding in the areas of the rule of law and fundamental rights."
The EU agreed last year that no new chapters in Turkey's accession talks should be opened or closed and the report notes that "the underlying facts leading to this assessment still hold."
Turkey has been involved in membership talks since October 2005 but progress has been extremely slow.
The topics of concern are all areas considered central for membership by the European Union, which prides itself on being a democratic club of market economies that respect the rule of law.
"Turkey has continued to move further away from the European Union," the Commission said in its annual report on Ankara's progress toward membership, a path formally undertaken in 2005.
"Negotiations have ... effectively come to a standstill," the Commission said of Turkey, a member of the US-led NATO alliance which shares a border with Iraq and Syria.
Some EU countries oppose the large, relatively poor and mainly Muslim country joining. Germany, notably, would prefer an alternate kind of "privileged partnership" for Turkey.
But the office of the Turkish Foreign Ministry hit back at the criticisms from the EU, saying the findings in the enlargement report reflect the EU's own "existential crisis."
Turkey's deputy foreign minister said the report does not "accurately assess the current situation" in the country and that Turkey would be "carefully noting the constructive criticism" in the report.
He said he also expected Turkey's European allies to support it in its battle against security threats.
The EU wants to see a return to the reforms of Erdogan's first years in power as prime minister from 2003 that made it an important emerging economy.
Full report at:
http://www.arabnews.com/node/1503676/middle-east
--------
Tankers almost certainly damaged by Iranian naval mines, US says
May 30, 2019
US National Security Adviser John Bolton has said "naval mines almost certainly from Iran" were to blame for the damage to oil tankers in the Gulf of Oman earlier this month.
Mr Bolton provided no evidence to support the allegation, which Iran said was "laughable".
The attacks off the eastern coast of the United Arab Emirates on 12 May left holes in the hulls of four ships.
The incident came amid an escalation in tensions between Iran and the US.
Last Friday, US Vice Admiral Michael Gilday said he believed "with a high degree of confidence that this [attack] stems back to the leadership of Iran at the highest levels".
Mr Bolton, a long-standing advocate for regime change in Iran, echoed the admiral's words during a visit to the UAE on Wednesday, telling reporters it was "clear that Iran is behind" the attack.
"There's no doubt in anybody's mind in Washington who's responsible for this," he said. "Who else would you think is doing it? Someone from Nepal?"
But Abbas Mousavi, Iran's foreign ministry spokesman, said Mr Bolton's accusations were "ludicrous".
"Iran's strategic patience, vigilance and defensive prowess will defuse mischievous plots made by Bolton and other warmongers."
In another development, Iran's Supreme Leader Ayatollah Ali Khamenei has said Iran will not negotiate any new deals with the US over its nuclear and missile programmes, calling negotiations "useless".
Earlier President Hassan Rouhani signalled talks were possible if sanctions were lifted.
What do we know about the incident?
Few details have been released, but it took place at about 06:00 (02:00 GMT) on Sunday, 12 May, within UAE territorial waters east of the emirate of Fujairah, just outside the Strait of Hormuz.
The UAE authorities said four ships were targeted in a "sabotage attack".
There were no casualties but Saudi Arabia said two of its ships had suffered "significant damage".
Another tanker was Norwegian-registered, while the fourth was UAE-flagged.
The UAE has not publicly blamed anyone for the sabotage of the vessels.
What has this got to do with the US and Iran?
On paper, little. No US-flagged ship was attacked, and no evidence has been provided that Iran was involved.
But the US sees the attack as part of a wider "campaign" against it and its allies approved by Iranian leaders.
Mr Bolton said Iran-backed forces also carried out drone strikes on two oil pumping stations in Saudi Arabia on 14 May and fired a rocket into an area of the Iraqi capital Baghdad that houses the US embassy on 19 May.
He also revealed that there had been "an unsuccessful attack on the Saudi port of Yanbu a couple of days before the attack on tankers".
Iran has denied it was involved in the attacks in Saudi Arabia and Iraq.
What is behind the heightened US-Iran tensions?
The tensions began rising at the start of May, when Washington ended exemptions from sanctions for countries still buying from Iran. The decision was intended to bring Iran's oil exports to zero, denying the government its main source of revenue.
Full report at:
https://www.bbc.com/news/world-middle-east-48443454
--------
Arab Coalition launches operation targeting Houthi positions in Yemen's Dhalea
29 May 2019
The Arab Coalition announced that it has launched an operation targeting Houthi positions in the Yemeni province of Dhalea on Wednesday.
The coalition asked Dhalea residents to avoid going near the target sites, adding that the operation aims to neutralize Houthi capabilities used to carry out hostilities.
The coalition also stated that the operation is in accordance with international and humanitarian law, and that they have taken all measures to protect civilians.
https://english.alarabiya.net/en/News/gulf/2019/05/29/Arab-Coalition-starts-operation-targeting-Houthi-positions-in-Yemen-s-Dalea.html
--------
Arab Coalition targets Houthi positions in Sanaa
29 May 2019
The Arab Coalition has targeted Houthi positions in the Yemeni capital Sanaa, including Houthi weapons stores in the al-Dulaimi air base, north of the capital.
Arab Coalition spokesman Colonel Turki al-Malki had said that they are continuously targeting Houthi posts in the air base as the militias have turned it into a base to manufacture and maintain drones, as well as to store weapons.
The Arab Coalition had announced in mid-May that it has launched an operation on Houthi military targets in Yemen to "neutralize the ability of the Houthi militia to carry out acts of aggression."
On Tuesday, Arab Coalition spokesman Colonel Turki al-Malki said that they will not tolerate the Iran-backed Houthi militias targeting civilian facilities with drones.
Speaking at a press conference in Jeddah, al-Malki confirmed that the coalition has information about all the locations from where drones are being launched toward Saudi Arabia.
Full report at:
https://english.alarabiya.net/en/News/gulf/2019/05/29/Arab-coalition-targets-Houthi-positions-in-Sana-a.html
--------
North America
Facebook's Zuckerberg faces summons after snubbing Canada
05/28/2019
Global frustration with Facebook was laid bare during an international hearing in Canada on Tuesday as lawmakers from several countries blasted top executives Mark Zuckerberg and Sheryl Sandberg for ducking a request to appear at the session.
Lawmakers were so peeved by the no-show that a panel in Canada's House of Commons took the rare step of approving an open-ended summons for the duo: Next time either Zuckerberg or Sandberg set foot in Canada, they will be required to appear before a parliamentary committee with jurisdiction over tech issues. If they don't, Canadian lawmakers are threatening a vote to hold them in contempt of Parliament.
"I am sick to death of sitting through hours of platitudes from Facebook and avoidance tactics," said United Kingdom MP Jo Stevens, one of many foreign lawmakers who attended the hearing. "I want the boss here to take responsibility."
Stevens bemoaned that Tuesday was the second time Zuckerberg, Facebook's co-founder, chairman and CEO, brushed off an invitation to appear before a legislative body, after he had failed to attend a parliamentary hearing in London late last year.
"He wouldn't come to answer our questions in London at our Parliament, so we have come across the Atlantic to make it easier for him," Stevens added. "And we can only conclude he is frightened of scrutiny."
Facebook in recent years has angered world leaders around the globe, who have criticized the company for seeming to dodge responsibility for its role in the economic, social, and political destabilization that social media platforms have caused — all the while, piling up billions of dollars in profits.
Lawmakers from nearly a dozen countries used Tuesday's forum in Ottawa to press tech companies about privacy violations, hate speech, and the spread of misinformation.
The Canadian hosts earlier this month had requested that Zuckerberg and Sandberg, Facebook's COO, attend the hearing. But the company instead sent two senior executives in their place.
"It's abhorrent that he's not here today and Ms. Sandberg is not here today," said Bob Zimmer, a Canadian Conservative MP who chairs the Commons committee on Access to Information, Privacy and Ethics, which hosted the session. The panel approved issuing an open-ended summons for the duo without objection.
"As soon as they step foot … into our country, they will be served and expected to appear before our committee," Zimmer added.
He emphasized that if Zuckerberg or Sandberg come to Canada and ignore the summons to appear before lawmakers, the next move would be a vote on a motion to hold the duo in contempt of Canada's Parliament. If the motion were to pass, jail time could be the result, though that penalty has not been applied in recent memory.
Zimmer's displeasure was shared by numerous members of Parliament from Canada's other political parties.
Charlie Angus, a member of the left-wing New Democratic Party who presented Tuesday's motion to serve the Facebook executives with an open-ended summons, said he was unaware of a previous example of Canadian lawmakers taking such a step.
Angus said he used to believe tech companies could regulate themselves, but has since lost faith. "I'm a recovering digital Utopian," he said.
Nathaniel Erskine-Smith, a member of Canada's governing Liberal Party, ridiculed Zuckerberg's recent op-edin the Washington Post in which he promised to talk to lawmakers about Facebook's efforts to safeguard data.
"If he was an honest individual writing those words, he'd be sitting in that chair," Erskine-Smith said.
Lawmakers from Singapore, Germany, Estonia, Morocco, Chile and Ecuador, among other countries, also took part in Tuesday's hearing.
The two Facebook executives who did show up — one based in Canada, the other in the U.S. — defended the company and promised to comply with new ethics standards and to collaborate in the development of future ones around the world.
"We actually do go over and above the law," Kevin Chan, head of public policy at Facebook Canada, said during one heated exchange.
But Tuesday's hearing was the latest indication that anger with Facebook could soon eclipse the company's ability to control it.
French President Emmanuel Macron has been critical of Facebook and other tech giants for, among other perceived failings, the amount of taxes it pays in Europe. Macron has launched a "Tech for Good" initiative, and his administration has placed regulators inside Facebook to monitor how the company works to combat hate speech. Macron and Zuckerberg met in early May to discuss that effort.
After video of a massacre in Christchurch, New Zealand, circulated on Facebook, the country's prime minister, Jacinda Ardern, said "it's critical that technology platforms like Facebook are not perverted as a tool for terrorism, and instead become part of a global solution to countering extremism."
Macron and Ardern have since teamed up to issue a "Christchurch Call" aimed at preventing violent extremist and terrorist content from being circulating online. (Facebook has backed that initiative.)
U.K. Prime Minister Theresa May has also criticized Facebook and other social media companies for not doing enough to stop online bullying and harassment. Last month, when the U.K. rolled out proposed new lawsthat would force those firms to take steps to combat harmful content, the prime minister said that "online companies must start taking responsibility for their platforms, and help restore public trust in this technology."
As harsh as the rhetoric around Facebook can be in the United States, the company still enjoys a certain amount of domestic deference as an American success story. But leaders outside of the U.S. often treat the firm as an unwelcome import.
Beyond America's borders, Facebook lacks the lobbying expertise it has built up in its home country, and often finds itself struggling to navigate local political landscapes, loyalties and alignments.
In a sign of potential trouble ahead for the company, lawmakers heard Tuesday from prominent tech critics, including Roger McNamee, an early investor and adviser to Facebook and author of the book "Zucked: Waking Up to the Facebook Catastrophe."
McNamee said hate speech and conspiracy theories are central to the algorithms at the heart of Facebook's business model, despite the potential for that kind of content to undermine democracy. He urged lawmakers to take drastic steps to address the problem and to consider deploying their ultimate response: shutting down social media platforms that fail to take adequate countermeasures, and allowing new competitors to take root.
Barring such action, he urged lawmakers to ban web tracking, scanning of email and documents, and third-party commerce in data, and argued for micro-targeted ads to be taxed to make them economically unattractive.
"If your goals are to protect democracy and personal liberty, you have to be bold," McNamee added. "You have to force a radical transformation of the business model of internet platforms."
https://www.politico.com/story/2019/05/28/canada-facebook-mark-zuckerberg-1475782
--------
Navy SEAL accused of killing ISIS prisoner seeks to toss case over withheld evidence
May 30, 2019
SAN DIEGO – Lawyers for a Navy SEAL accused of killing an Islamic State prisoner in Iraq in 2017 want the case thrown out because of alleged prosecutorial misconduct that include withholding evidence and conducting surveillance on the defense.
Attorneys for Special Operations Chief Edward Gallagher plan to ask a military court Wednesday in San Diego to dismiss the case or remove the prosecutor and, possibly, have the judge himself step aside.
"Gallagher's case has been irreparably corrupted by a government campaign of outrageous and illegal conduct," attorney Tim Parlatore said in the opening salvo of his motion to dismiss the charges. "This prosecution threatens to make an unequivocal farce of our justice system."
The motion comes with Gallagher's trial less than two weeks away and amid mounting pressure from the defense after lawyers discovered prosecutors planted tracking software in emails sent to the defense team and a journalist that may have violated attorney-client privilege and other constitutional rights.
The Navy has said it did nothing wrong and has no plans to remove the prosecutor. A spokesman wouldn't comment on the motions.
Among the evidence apparently kept from the defense were results of a polygraph exam Gallagher was given weeks before his arrest on charges that he fatally stabbed an injured young teenage militant and picked off civilians from a sniper's perch.
Gallager knew at the time he was under investigation and denied committing any war crimes during the test, Parlatore said in court papers. Gallagher was told he passed the exam.
Parlatore said he only knows about the exam because his client told him about it and investigation documents showed efforts to schedule the test.
Polygraphs, commonly referred to as lie-detector tests, are not admissible in civilian or military courts because they are "not an indication of truth," said Gary Solis, a former military judge and Marine Corps prosecutor who teaches law at Georgetown.Passing such a test means the person answered most of the key questions without any indication of lying.
It's debatable whether the results would be considered evidence of innocence, and therefore the prosecution would not necessarily have to turn them over to the defense, Solis said.
The judge could admonish the defense for revealing polygraph results because it could taint the jury in the case, Solis said.
The effort to get the case thrown out comes as President Donald Trump has considered pardoning several service members accused of war crimes, including Gallagher, who has pleaded not guilty.
Gallagher's family has lobbied vigorously for his freedom and dozens of Republican lawmakers have rallied to his cause.
Prosecutors have said Gallagher stabbed the injured militant and then posed for a photo with his corpse for his re-enlistment ceremony. He sent a text to fellow SEALs later saying, "I got this one with my hunting knife."
Parlatore dismissed that as a joke that reflects the dark humor of a warrior. No blood was found on the knife by forensics experts, he added.
Parlatore said he's aware of evidence that showed at least one member of Gallagher's squad practiced medical procedures on the militant when he was dead or nearly dead, which might indicate he died from a different cause.
He said witnesses would be willing to testify to that, but prosecutors have said they're unaware of anything performed on him that was not medically necessary or any alternative cause of death.
Full report at:
https://www.foxnews.com/us/navy-seal-accused-of-killing-isis-prisoner-seeks-to-toss-case-over-withheld-evidence
--------
Trump Adviser Warns of 'Strong Response' to Any Gulf Attack
May 29, 2019
ABU DHABI, United Arab Emirates (AP) — President Donald Trump's national security adviser warned Iran on Wednesday that any attacks in the Persian Gulf will draw a "very strong response" from the U.S., taking a hard-line approach with Tehran after his boss only two days earlier said America wasn't "looking to hurt Iran at all."
John Bolton's comments are the latest amid heightened tensions between Washington and Tehran that have been playing out in the Middle East.
Bolton spoke to journalists in Abu Dhabi, the capital of the United Arab Emirates, which only days earlier saw former Defense Secretary Jim Mattis warn there that "unilateralism will not work" in confronting the Islamic Republic.
The dueling approaches highlight the divide over Iran within American politics. The U.S. has accused Tehran of being behind a string of incidents this month, including the alleged sabotage of oil tankers off the Emirati coast, a rocket strike near the U.S. Embassy in Baghdad and a coordinated drone attack on Saudi Arabia by Yemen's Iran-allied Houthi rebels.
On Wednesday, Bolton told journalists that there had been a previously unknown attempt to attack the Saudi oil port of Yanbu as well, which he also blamed on Iran. He described Tehran's decision to back away from its 2015 atomic deal with world powers as evidence it sought nuclear weapons, even though it came a year after America unilaterally withdrew from the unraveling agreement.
Bolton stressed the U.S. had not seen any further Iranian attacks in the time since, something he attributed to the recent military deployments — America recently sent an aircraft carrier and B-52 bombers to the Persian Gulf. But he warned the U.S. would strike back if again attacked.
"The point is to make it very clear to Iran and its surrogates that these kinds of action risk a very strong response from the United States," Bolton threatened, without elaborating.
Bolton spoke before talks with Abu Dhabi's powerful crown prince, Sheikh Mohammed bin Zayed Al Nahyan. He declined to have his remarks recorded by journalists.
A longtime Iran hawk, Bolton blamed Tehran for the recent incidents, at one point saying it was "almost certainly" Iran that planted explosives on the four oil tankers off the UAE coast. He declined to offer any evidence for his claims.
"Who else would you think is doing it?" Bolton asked at one point when pressed. "Somebody from Nepal?"
Iran's Foreign Minister Mohammad Javad Zarif has repeatedly criticized Bolton as a warmonger. Abbas Mousavi, a spokesman for Iran's Foreign Ministry, said later Wednesday Bolton's remarks were a "ridiculous accusation."
Separately in Tehran, President Hassan Rouhani said that the "road is not closed" when it comes to talks with the U.S. — if America returns to the nuclear deal. However, the relatively moderate Rouhani faces increasing criticism from hard-liners and Supreme Leader Ayatollah Ali Khamenei over the collapsing accord.
Meanwhile, acting U.S. Defense Secretary Patrick Shanahan said some 900 troops coming to the Mideast over the perceived Iran threat to reinforce the tens of thousands already in the region would be placed in Saudi Arabia and Qatar. Another 600 attached to a Patriot missile battery have had their deployment in the region extended.
"The Iranian threat to our forces in the region remains," Shanahan said.
Speaking in Abu Dhabi, Bolton linked the rocket fire in Baghdad, the alleged sabotage of the ships and the drone attack by Yemen's rebels, describing them as a response from Iran and its proxies.
"I think it's important that the leadership in Iran to know that we know," Bolton said. He then brought up what he said could be a considered a fourth, previously unknown attack.
"There also had been an attack, an unsuccessful attack, on the Saudi port of Yanbu a couple of days before the attack on the tankers," he said, without elaborating.
Saudi officials did not immediately respond to a request for comment about Bolton's claim on Yanbu, which is the terminus, or end point, of the kingdom's East-West Pipeline. The Houthis have already targeted two pumping stations on that pipeline during a coordinated drone assault.
Bolton also said the U.S. would boost American military installations and those of its allies in the region.
The White House said Wednesday that Bolton will meet with his counterparts from Israel and Russia next month in Jerusalem to discuss regional security issues. White House press secretary Sarah Sanders did not disclose further details about Bolton's planned meeting with Israeli national security adviser Meir Ben-Shabbat and Nikolai Patrushev, secretary of the Russian security council.
Earlier this month, on the first anniversary of Trump's withdrawal from the nuclear deal, Tehran announced it would begin to back away from the agreement.
The accord saw Iran limit its enrichment of uranium in exchange for the lifting of economic sanctions. Trump pulled out of the accord as he said it didn't go far enough in limiting the Iranian nuclear program, nor did it address Iran's ballistic missile program.
Bolton said that without more nuclear power plants, it made no sense for Iran to stockpile more low-enriched uranium as it now plans to do. But the U.S. also earlier cut off Iran's ability to sell its uranium to Russia in exchange for unprocessed yellow-cake uranium.
Iran has set a July 7 deadline for Europe to offer better terms to the unraveling nuclear deal, otherwise it will resume enrichment closer to weapons level. Bolton declined to say what the U.S. would do in response to that.
"There's no reason for them to do any of that unless that's part of an effort to reduce the breakout time to produce nuclear weapons," Bolton said. "That's a very serious issue if they continue to do that."
Bolton's trip to the UAE comes just days after Trump in Tokyo appeared to welcome negotiations with Iran.
"We're not looking for regime change — I just want to make that clear," Trump said. "We're looking for no nuclear weapons."
But Bolton himself, for years before becoming national security adviser, called for overthrowing Iran's government in interviews and in paid speaking engagement before an Iranian exile group.
"I don't back away from any of it. Those are positions I took as a private citizen," Bolton said when asked about his prior remarks. "Right now I'm a government official. I advise the president. I'm the national security adviser, not the nation security decision-maker. It's up to him to make those decisions."
Full report at:
https://www.usnews.com/news/politics/articles/2019-05-28/us-national-security-adviser-in-uae-amid-tensions-with-iran
--------
New book claims Kushner called Khashoggi 'terrorist'
Umar Farooq
29.05.2019
WASHINGTON
A soon-to-be published book claims that U.S. President Donald Trump's son-in-law and White House senior advisor Jared Kushner called slain journalist Jamal Khashoggi a "terrorist", Vanity Fair magazine reported Wednesday.
"This guy was the link between certain factions in the royal family and Osama. We know that. A journalist? Come on. This was a terrorist masquerading as a journalist," Kushner reportedly told a reporter in an off-the-record interview, Michael Wolff wrote in his new book Siege: Trump Under Fire.
He was referring to slain Al-Qaeda chief Osama bin Laden.
Khashoggi, a U.S. resident and columnist for The Washington Post, was killed shortly after entering the Saudi Consulate in Istanbul on Oct. 2 last year.
Saudi Arabia initially denied any knowledge of his whereabouts but following a rising number of contradictions in its narrative sought to blame the journalist's death on a botched rendition operation being carried out by rogue agents.
Kushner is known to have a close relationship with Saudi Crown Prince Mohammed bin Salman, who the CIA has reportedly concluded was responsible for ordering Khashoggi's murder.
Kushner is currently in Jordan on a tour of the Middle East to garner support before the unveiling of his long-anticipated "Deal of the Century", a backchannel plan to reach a peace settlement between Israel and the Palestinians.
Based on leaks in the media, the plan will call on the Palestinians to make major concessions to Israel regarding Jerusalem's status and the right of Palestinian refugees to return to their homes in historical Palestine.
Full report at:
https://www.aa.com.tr/en/americas/new-book-claims-kushner-called-khashoggi-terrorist/1492613
--------
Bolton, Abu Dhabi prince discuss anti-terror efforts
29.05.2019
U.S. National Security Advisor John Bolton on Wednesday met with Abu Dhabi Crown Prince Mohamed bin Zayed Al Nahyan to discuss the region's fight against terrorism.
According to the UAE's state-run WAM news agency, the two men discussed ongoing joint anti-terrorism efforts between their two countries.
Speaking earlier Wednesday from Abu Dhabi, Bolton claimed that recent attacks on several oil facilities in the Persian Gulf had been carried out with the use of "naval mines almost certainly from Iran".
Bolton, who is known for his hawkish stances vis-à-vis the Middle East, went on to assert that another failed Iranian attack had occurred in the Saudi Port of Yanbu.
In early May, the UAE announced that four vessels -- including two oil tankers -- had been targeted in "sabotage attacks" near its territorial waters.
Abu Dhabi, however, has so far refrained from blaming any particular party for the alleged attack.
Days later, Saudi Arabia said that armed drones had attacked two pumping stations on the East-West Pipeline, which carries oil from the kingdom's Eastern Province to the Port of Yanbu.
Full report at:
https://www.aa.com.tr/en/americas/bolton-abu-dhabi-prince-discuss-anti-terror-efforts/1492474
--------
URL: https://www.newageislam.com/islamic-world-news/hindu-muslim-families-swapped-kidneys/d/118751
New Age Islam, Islam Online, Islamic Website, African Muslim News, Arab World News, South Asia News, Indian Muslim News, World Muslim News, Women in Islam, Islamic Feminism, Arab Women, Women In Arab, Islamophobia in America, Muslim Women in West, Islam Women and Feminism