New Age Islam News Bureau
4 May 2019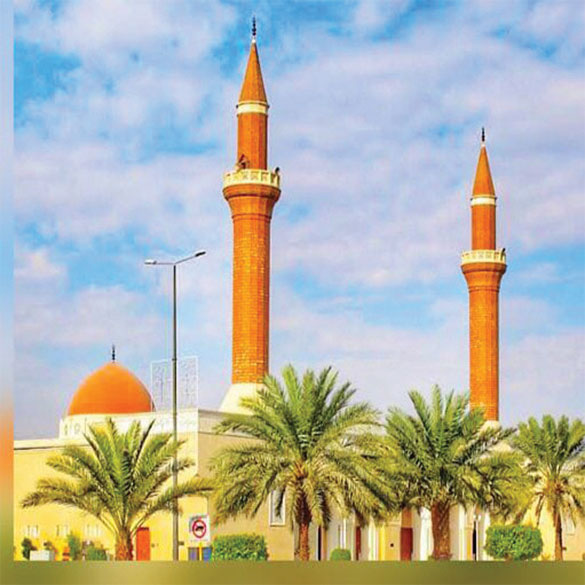 Al-Maidani Mosque in Al-Wurud district in Riyadh. The mosque delivers the Friday sermons in English for the benefit of non-Arabic speaking worshippers. (Supplied photo)
--------
• There Is Something Unique: Riyadh Al-Maidani Mosque Delivers Friday Sermon in English
• Iraq Is Pushing To Build an Isolation Camp for 30,000 Iraqis Who Lived Under ISIS in Syria
• UN Rights Chief Says 'Appalled' By Iran Execution of Two Minors
• Masood Azhar Slapped With Assets Freeze, Travel Ban in Pakistan
• Pak Army Top Brass Endorses All 'Initiatives towards Regional Peace'
• ISIS Bride Shamima Begum Will Be Hanged If She Comes To Bangladesh: Foreign Minister
• Islamophobia in America Is About Politics More Than Religion
• US Accuses China Of Using 'Concentration Camps' Against Muslim Minority
• Xinjiang Crackdown on Ethnic Minorities at the Heart of China's Belt and Road
• 'Easter Bombers Visited Kashmir for Training': Sri Lanka Army Chief
Arab World
• There Is Something Unique: Riyadh Al-Maidani Mosque Delivers Friday Sermon in English
• Iraq Is Pushing To Build an Isolation Camp for 30,000 Iraqis Who Lived Under ISIS in Syria
• UN report calls for the disarmament of Lebanon's Hezbollah
• Damascus won't let Turkey control even one centimetre of Syrian territory: Deputy FM
• Guterres calls on Lebanese government to prevent Hezbollah holding weapons
• Holograms to show first-ever Egyptian king's tomb treasures
• Lebanon may be forced to work with Syria on refugee issue: Aoun
• Large-Scale Operation against ISIS Remnants in Iraq's Kirkuk
--------
Europe
• UN Rights Chief Says 'Appalled' By Iran Execution of Two Minors
• Europe in peace thanks to Turkey: Erdogan
• EU calls for protecting inhabitants of Syria's Idlib
--------
Pakistan
• Masood Azhar Slapped With Assets Freeze, Travel Ban in Pakistan
• Pak Army Top Brass Endorses All 'Initiatives towards Regional Peace'
• Pakistan court dismisses Nawaz Sharif's petition seeking bail extension
• Commanders support Afghan peace process
• No negative impact of UN move against Masood Azhar, says envoy
• Pakistan won't have presidential system, says PM Imran
• PM orders prices of essential items fixed in Ramzan
• PML-N Never Did Politics In National Interest: Sirajul-Haq
--------
South Asia
• ISIS Bride Shamima Begum Will Be Hanged If She Comes To Bangladesh: Foreign Minister
• Taliban: US Should Stop Violence Instead Of Asking Militants to Lay Down Arms
• ISIS using Afghanistan as bridgehead, says Russia's defence minister
• 43 ISIS militants including Pakistani, Uzbek nationals killed in East of Afghanistan
• 6 of a family killed, 9 wounded in Taliban militants attack in Faryab: 29th Shaheen Corps
• At least 80 Taliban, ISIS militants killed in latest airstrikes, Special Forces operations: sources
• Afghanistan's grand council ends with call for peace talks
• 15 militants killed in northern Afghanistan
--------
North America
• Islamophobia in America Is About Politics More Than Religion
• US Accuses China Of Using 'Concentration Camps' Against Muslim Minority
• US landlord who refused to rent to Muslim men settles lawsuit
• US imposes sanctions on Iran enriched uranium exports, but renews nuclear work waivers
• FM Zarif rules out US-Iran war, but says 'accidents' possible
• US Senate fails to end military assistance to Saudi war in Yemen
• US to extend waivers tied to Iran's nuclear program
--------
Southeast Asia
• Xinjiang Crackdown on Ethnic Minorities at the Heart of China's Belt and Road
• Malaysia home minister hits back at claims Pakatan Harapan is eroding Muslim rights
• Ummah claims cops gave go-ahead for tomorrow's rally, but with conditions
--------
India
• 'Easter Bombers Visited Kashmir for Training': Sri Lanka Army Chief
• Terror acts continued after 2014, ban on SIMI must: Cops tell tribunal
• India, Morocco prevent further terror strikes in Sri Lanka
• After IS arrest, Kerala on edge ahead of Ramzan, Thrissur Pooram
• Burhan Wani aide Lateef Tiger may be among 3 militants killed in J-K's Shopian gunfight
--------
Mideast
• As Israeli Group Expands, Palestinian Houses Face Demolition
• Six Civilians Killed In Yemen in Suspected Al-Qaeda Bombing
• Israeli jets, soldiers kill 4 Palestinians in Gaza Strip
• Turkey says not moving away from NATO with S-400 deal
• Three Palestinians killed by Israeli military in Gaza
• Six civilians killed in Yemen in suspected Al-Qaeda bombing
• Iran, Turkey Reject Trump's Move to Classify Muslim Brotherhood as Terrorist Organization
--------
Africa
• South Sudan Parties Agree On Six More Months To Form Unity Government
• Stalemate persists in Tripoli after overnight fighting
• Marred by conflicts, Tripoli residents feel the pinch in Ramadan
• Sanallah urges for halt of military operations, warns of ISIS infiltration to oil facilities
• Boko Haram kills at least 14 loggers in Nigerian village
Compiled by New Age Islam News Bureau
URL: https://www.newageislam.com/islamic-world-news/there-something-unique-riyadh-al/d/118504
--------
There Is Something Unique: Riyadh Al-Maidani Mosque Delivers Friday Sermon in English
May 04, 2019
RIYADH: Al-Maidani Mosque in Al-Wurud district in Riyadh welcomes the followers of Islam every Friday to pray, but here, there is something unique: The mosque delivers the sermon in English.
Mohammed Abu Shaban, who delivers the sermon after the Friday prayer every week, told Arab News that expatriate worshipers asked for the translation for the benefit of non-Arabic speaking attendees.
"We started this translation over 10 years ago, it was organized in cooperation with Imam Abdus Salam, who kindly arranged this session with the Ministry of Islamic Affairs, Dawah and Guidance, for our non-Arabic speakers," said Shaban.
"At the beginning, we started with just the session in the mosque, then soon we launched our YouTube channel where we record the session, and then we broadcast it for our viewers. Anybody can search for our video."
Shaban, who is from Australia, underlined that Saudi Arabia had a duty, as the "country" of Islam, to help people to benefit from hearing the Friday sermon.
"I believe there are similar sessions in some other mosques and we will encourage that, to benefit the maximum number of non-Arabic speakers, as it is our duty to make it available to the whole Muslim community," he said.
"Thankfully, the ministry is fully behind it and promoting it. It's the least we can offer to fellow Muslims."
He noted that there are considerable number of people who do not speak and understand Arabic currently living in the Kingdom who would benefit from the translation.
"Through the years many, even some non-Muslims, have come, and every few months we see new people becoming Muslim. This is another blessing that will encourage us to continue with the session and presenting what is the teaching of Islam as the people come to know it."
Volker Enders, a German national who is now practicing Islam and attends the session, told Arab News: "I learned about this session from a colleague who brought me here and introduced me to the English sermon." This is very beneficial to me, and I am also attending an English lecture at the King Khalid Mosque every Tuesday."
http://www.arabnews.com/node/1492196/saudi-arabia
--------
Iraq is pushing to build an isolation camp for 30,000 Iraqis who lived under ISIS in Syria
By Louisa Loveluck and Mustafa Salim
MAY 2, 2019
IRBIL, Iraq — Senior Iraqi officials are pressing to establish a special detention camp to isolate as many as 30,000 Iraqis who lived in the Islamic State's final stronghold in ­Syria, captured in March by U.S.-backed forces.
But as Iraq prepares to repatriate citizens now held in ­Syria, humanitarian groups have been resisting efforts to move them to a single detention facility, fearing this could create prison camp conditions that would prevent them from reintegrating into society and, in some cases, further radicalize them.
Objections from humanitarian groups have already scuttled a proposal to set up a new camp near Tal Afar in the northern province of Nineveh. Senior Iraqi officials, however, remain opposed to the idea of scattering the Islamic State returnees, mostly women and children, among existing displacement camps around the area, according to high-ranking figures in the Displacement Ministry and parliament.
"The goal is to select a special place to contain those people," said one Iraqi official, who spoke on the condition of anonymity because he was not authorized to discuss the issue. "It's for security reasons, but also to keep them alive. If they return to their areas, they'll be singled out for revenge attacks by people who lost relatives to the Islamic State."
The Islamic State committed atrocities in Iraq and Syria ­during the nearly five years it controlled territory there. But its rise to power was made possible, in part, by its success in selling itself as a protector and liberator of disaffected Sunni Muslim communities, which felt marginalized by the governments and security forces of those countries. How the Iraqi government proceeds in the coming weeks could have far-reaching consequences for whether those wounds can be closed or whether the sense of grievance only deepens.
Officials in Baghdad have spent months negotiating a deal to repatriate just more than 30,000 civilians who are now under the control of Syrian Kurds, allied with the United States, who have neither the means nor desire to continue holding them.
The Iraqi families had spent years living under the Islamic State's self-declared caliphate, moving to Syria as the militants lost their Iraqi foothold and then leaving the proto-state only as it crumbled. Now, they are packed into the teeming al-Hol displacement camp in northern Syria as Iraqi officials decide their fate and aid groups look on with alarm. The Iraqis represent more than two-fifths of those held at al-Hol and are by far the largest group other than Syrians themselves. Iraqi fighters who have been captured are now jailed in either Syria or Iraq.
To date, the Iraqi government has shown an unusual willingness to repatriate citizens who signed on with the Islamic State. Most other countries — in Europe, the Middle East, North Africa and elsewhere — have been reluctant to bring their nationals home amid security fears that continued to spike after the recent devastating attacks in Sri Lanka, for which the Islamic State has asserted responsibility.
About 20,000 Iraqis have voluntarily returned to Iraq since the start of the fight against the Islamic State, humanitarian officials say. More than 1,700 families at al-Hol have also registered with the United Nations for voluntary repatriation, according to humanitarian agencies. The timeline for their return remains unclear, and they are expected to be transferred in batches over an extended period.
"We're doing everything we can to avoid the prison camp scenario," one aid worker said, speaking on the condition of anonymity because of the sensitive nature of the topic. Humanitarian groups are urging that the returnees be placed in four ­existing camps, where the United Nations already provides food, medical care and other services.
Fear and resentment
The challenge, recognized by Iraqi officials as well as aid groups, is how to map out a future for the returnees that does not involve indefinite confinement. In existing camps in northern Iraq, families displaced by previous waves of fighting already fret that they cannot go home, citing fears of violent retribution by militias or neighbors the Islamic State had displaced.
Tens of thousands of Iraqis with alleged links to the Islamic State — some to its fighters, others to civil servants who kept working when the militants rolled in — have been languishing in those camps for several years. Their experience underscores the dangers of a prolonged stay in the camps. But it also highlights the barriers to leaving or reintegrating into Iraqi society.
"The biggest concern for us now is that some of our camps are fostering the best environment for a new extremism," said an Iraqi aid worker whose group is funded by the government. "Even if a family is innocent, it is now being looked at with hatred by [Iraqi] society accusing them of being ISIS families. The government achieves the same by not issuing them papers or giving them proper schools. . . . Organizations will recruit them selling the idea of revenge."
In the sprawling Khazir camp near Irbil, its roads churned to mud after heavy spring rains, families with ties to the militant group see no good options. They say that staying in the camp would leave them permanently displaced and vulnerable to exploitation by armed groups and predatory camp officials.
The Khazir camp near Irbil, Iraq, already holds thousands of internally displaced Iraqis. (Mohamed El-Shahed/AFP/Getty Images)
Inside the camps, women who lost their husbands to airstrikes or prison say they are targeted for sexual violence, by militiamen and camp guards, or forced marriage. Kawakip, 40, who now lives in the Khazir camp, said that two of her daughters had recently been coerced into short-lived marriages with camp outsiders after guards let them in to choose a wife. In a nearby tent, another family said the same had happened to three of their children.
"These marriages are just sex marriages, but you can't say no," said Muntahar, a girl in a floral dress who looked younger than her 16 years. She pointed to a divorce certificate from February. "Then they take you for a week, or for a few months, before throwing you back into the camp. They just tell you, 'You're a daughter of ISIS. I don't want you anymore.' "
After visits to the camps last year, researchers from Amnesty International said they had witnessed a deepening sense of resentment among families accused of links to the Islamic State. "There was a real lack of faith and often extreme fear," said Razaw Salihy. "There was a real belief that the government knew exactly what was happening to them, and that it constituted a punishment."
Dangers of going home
But leaving the camps can be daunting and expose families to violence by mostly Shiite militias — known in Arabic as the Hashd — that had battled the Islamic State, a radical Sunni group.
"We were told that the Hashd would rape our daughters if we tried to go home," Kawakip said. "I tried to cross a checkpoint to get to the documentation office so I could get permission to return home, but they stopped me at a checkpoint. They told me they'd kill me if I came back and tried again."
A variety of armed groups, including Sunni tribal and Shiite militias, control territory that many of the returnees would have to traverse to get home. Many of these militias have escalated their threats to block people with a "first degree" connection to the Islamic State — perhaps a brother, father or sister — from going back to their areas of origin.
Moreover, babies born in the time of the caliphate lack official Iraqi birth certificates, meaning the children have no government recognition and could be shut out of Iraq's education system ­forever.
During visits to four displacement camps, members of every Islamic State-connected family interviewed said they had been threatened by Iraqi officials when trying to procure documentation for children born in areas controlled by the group or to replace documents that had been damaged or stolen. These refugees spoke on the condition that their full names be withheld because they feared further retribution.
A senior aid official at al-Hol said Iraqi officials are becoming increasingly suspicious that returnees from Syria pose a hostile threat. For their part, many Iraqis at al-Hol, after years of Islamic State indoctrination and menacing statements by Iraqi militias, fear they could be killed if they go back across the border.
"Iraqis within the camp itself have started to unregister from returning because of this rhetoric and concern about what might happen to them," the aid official said.
Human rights activists and Western diplomats say that returnees who remained with the Islamic State until its final stand are those most likely to be treated as social outcasts by other Iraqis. Any camp built explicitly for repatriated families, the activists and diplomats warn, risks fueling the same grievances that aided the group's rise in the first place.
"It's important to look at families who had alleged links to ISIS and to look at the reasons that might have happened. One of the reasons these families have always told us is it that they felt marginalized, they felt like they were from communities the government didn't care about or that was targeted with impunity," said Belkis Wille, a researcher at Human Rights Watch.
But Sheikh Mohammed Nasser al-Bayati, a commander with one of northwestern Iraq's most powerful Shiite militias, expressed little sympathy for those who might try to return to their hometowns or villages.
"Well, I'm afraid we won't be able to stop the people from attacking them," Bayati said as he sat in his group's base in the city of Tal Afar last week. When asked about returnees from Syria, he bristled. "They should all be prosecuted or killed," he said.
Erin Cunningham in al-Hol, Syria, contributed to this report.
https://www.washingtonpost.com/world/iraq-is-pushing-to-build-an-isolation-camp-for-30000-iraqis-who-lived-under-isis-in-syria/2019/05/02/f714763a-561b-11e9-aa83-504f086bf5d6_story.html?noredirect=on&utm_term=.3dd0d6cc3c90
--------
UN Rights Chief Says 'Appalled' By Iran Execution Of Two Minors
3 May 2019
The UN human rights chief voiced outrage on Friday at Iran's execution of two 17-year-old boys charged with rape and robbery, stressing that executing children is banned under international law.
Mehdi Sohrabifar and Amin Sedaghat were executed on April 25, after a trial that the UN rights office said appeared to have "seriously breached fundamental due process guarantees."
"I am appalled," UN High Commissioner for Human Rights Michelle Bachelet said in a statement, urging Tehran to immediately halt all executions of people accused of committing crimes while children.
"The prohibition of executions of child offenders is absolute under the International Covenant on Civil and Political Rights and under the Convention on the Rights of the Child," she said.
Iran is a party in both those treaties.
Bachelet said the cases of Sohrabifar and Sedaghat were particularly deplorable since "both boys were reportedly subjected to ill-treatment and a flawed legal process."
The two boys were 15 years old when they were arrested and accused of rape and robbery in 2017.
The UN rights office said it had received information that they were held in police detention for two months, and were initially deprived of their right to a lawyer and had been beaten.
It also pointed to reports that the boys, who originally denied all charges, had reportedly been coerced into making false confessions before they were convicted and sentenced to death.
The boys' families had brought the case to the Supreme Court, which overturned the lower court's sentence and ordered a retrial.
The lower court again convicted the boys and sentenced them to death.
"Apparently, neither the victims nor their families were aware that the executions were going to take place," the rights office said.
The two were reportedly flogged before their execution, it said, stressing that flogging amounts to cruel, inhuman and degrading treatment and possibly torture under international law.
"I once again call on the authorities to halt all executions of juvenile offenders, and to immediately commute all such death sentences," Bachelet said.
https://english.alarabiya.net/en/News/middle-east/2019/05/03/UN-rights-chief-says-appalled-by-Iran-execution-of-two-minors-.html
--------
Masood Azhar slapped with assets freeze, travel ban in Pakistan
May 3, 2019
ISLAMABAD: The Securities and Exchange Commission of Pakistan (SECP), the country's financial regulatory agency, has directed all nonbanking financial companies (NBFCs) and other regulated entities to immediately freeze all investment accounts of Jaish-e-Muhammed chief Masood Azhar soon after the UN placed him on its global terror list.
Pakistan has also imposed a travel ban on Azhar.
The SECP issued the freeze order after the Pakistan foreign office asked all concerned entities, including State Bank of Pakistan (SBP) and SECP, to freeze the funds, accounts and other financial resources of the JeM chief.
Regulated entities include securities brokers, commodities brokers, insurers, and NBFCs.
The SECP has asked the NBFCs to scan their customer databases for any match with the stated designated/proscribed person in the attached SRO (issued by the foreign office) and report the results to the SECP within three days.
However, in case of a true match or suspicion of a proscribed/designated person, some strict action has to be taken immediately. These actions, according to SECP, would be to freeze without delay the customer's fund or block the transaction if it is an existing customer; reject the customer if the relationship has not commenced; lodge a suspicious transaction report with the Financial Monitoring Unit, notify the SECP; notify the ministry of foreign affairs in case that person is designated under UNSC Resolutions; and notify the National Counter-Terrorism Authority in case that person is designated under the AntiTerrorism Act, 1997.
"Please note that non-compliance with the above shall lead to penal action under the SECP Act, 1997. You are therefore advised to comply with the legal requirement within the prescribed time as contained in the regulations, guidelines and SRO respectively," the SECP instructions added.
An interior ministry official said the JeM chief was already on the Fourth Schedule of the Anti-Terrorist Act (ATA) and could not travel without permission from the police. He was also barred from owning any weapon due to the listing under the ATA.
His name was also already on the list of proscribed persons maintained by the National Anti-Terrorist Authority.
https://timesofindia.indiatimes.com/world/pakistan/secp-directs-freeze-on-masood-azhars-assets/articleshow/69167906.cms
--------
Pak Army Top Brass Endorses All 'Initiatives Towards Regional Peace'
May 4, 2019
RAWALPINDI: Pakistan Army's top brass on Friday reiterated their resolve in supporting all initiatives towards regional peace, said a statement released by the Inter-Services Public Relations (ISPR).
Chief of Army Staff General Qamar Javed Bajwa chaired the 221st Corps Commanders Conference at the General Headquarters (GHQ) and the military's high command reviewed the evolving geo-strategic situation.
Continued efforts by security forces to bring enduring peace in the country were also discussed and progress on the ongoing Operation Raddul Fasaad was discussed.
Last month, the COAS had reiterated that Pakistan was focused and determined to achieve peace and stability.
During his visit to National Defence University (NDU), the army chief emphasised upon the internal and external security situation of the country and expressed his vision of an enduring peace within Pakistan and the region.
https://www.pakistantoday.com.pk/2019/05/03/army-top-brass-endorses-all-initiatives-towards-regional-peace/
--------
ISIS bride Shamima Begum will be hanged if she comes to Bangladesh: Foreign Minister
May 3, 2019
LONDON: UK's runaway ISIS bride Shamima Begum will be hanged for supporting terrorism if she visits Bangladesh, the country's Foreign Minister has warned.
Minister Abdul Momen said the 19-year-old girl - who fled Bethnal Green for Syria and is currently living in the al-Hol desert refugee camp in Syria - would be punished severely as the country has a "zero tolerance" for terrorism.
Begum was one of three schoolgirls to leave Bethnal Green to join the terror cult in 2015 and resurfaced at a Syrian refugee camp in March.
Now 19, Begum was stripped of her British citizenship in February by Home Secretary Sajid Javid.
"We have nothing to do with Shamima Begum. She is not a Bangladeshi citizen. She never applied for Bangladesh citizenship.
She was born in England and her mother is British," Momen told UK's ITV News.
"If anyone is found to be involved with terrorism, we have a simple rule, there will be capital punishment. And nothing else. She will be put in prison and immediately, the rule is, she should be hanged," he said.
The Foreign Minister added he would be "sad" if Begum was left stateless, but said it had "nothing to do with us".
"We see so many people who are stateless," he said.
He likened the British government's decision to strip Begum of her British citizenship and potentially leaving her stateless to the treatment of the Rohingya by the Burmese authorities.
"When they're being persecuted and killed, we open our doors to save humanity," he said.
Bangladesh claims it is currently hosting almost 1.1 million Rohingya refugees after they fled over the border to escape persecution in their native country.
The British government is yet to respond to Momen's comments.
Begum, who fled London as a 15-year-old schoolgirl to join the Islamic State (ISIS) terrorist group, is believed to be entitled to Bangladeshi citizenship by virtue of her parents' heritage.
She fled to join ISIS in February 2015 and married Dutch ISIS recruit Yago Riedijk as a so-called jihadi bride.
Her 27-year-old husband, who is being held in a Kurdish detention centre in north-eastern Syria, recently said in a media interview that he wanted his wife and baby to be allowed to return to the Netherlands.
Both the Netherlands and Bangladesh have since denied that Begum would have a right to entry into either country.
Under international law, the UK can revoke a citizenship of a British national only if the individual would not be made stateless.
Begum's British citizenship was revoked on the grounds that she is eligible for citizenship of Bangladesh until the age of 21 through her parents' Bangladeshi dual nationality.
But Bangladesh's Ministry of Foreign Affairs has since ruled out such a possibility of her being considered for Bangladeshi citizenship
https://timesofindia.indiatimes.com/world/south-asia/isis-bride-shamima-begum-will-be-hanged-if-she-comes-to-bangladesh-foreign-minister/articleshow/69166329.cms
--------
Islamophobia in America is about politics more than religion
MAY 3, 2019
Your feelings about Muslims depend more on your politics than your faith, according to a new survey.
The American Muslim Poll 2019, a research project by the Institute for Social Policy and Understanding (ISPU), found that a range of factors determine people's views on Muslims, including their politics, views about other minorities, and whether or not they have a Muslim friend — but not how religious they are.
The survey polled nearly 2,400 people in January 2019 to gather insight into the views of Muslim, Jewish, Catholic, Protestant, white evangelical, and religiously unaffiliated Americans.
Working with Georgetown University's Bridge Initiative, a research project on Islamophobia, the ISPU measured the extent to which the public endorses five anti-Muslim stereotypes in an "Islamophobia Index." On a scale of 0-100, the public's endorsement of negative stereotypes about Muslims increased from 24 in 2018 to 28 in 2019.
The poll found that one of the strongest predictors of whether people hold favorable views of Muslims is whether they identify as a Democrat or liberal. That may explain why a large majority of Muslims who voted in the 2018 midterm elections were more likely to vote for a Democrat for Congress (76%) than a Republican, the study noted.
Another strong predictor of Islamophobia was a person's views on other minorities — specifically on black Americans, Jews, and LGBTQ people. The survey found that respondents were more likely to have favorable views of Muslims if they have favorable views of other minority groups. This proved to be an even better way to predict someone's feelings toward Muslims than whether or not they actually know a Muslim person. Favorable views of feminists were a moderate predictor of favorable views towards Muslims.
Interestingly, knowing something about Islam generally was a stronger predictor than knowing a Muslim person, the report found, which "suggests that knowledge of the faith helps dispel generalized tropes about the people even more than knowing one good individual member of that group, who can be dismissed as an exception or 'one of the good ones.'"
Higher income was a moderate predictor of whether someone holds favorable views of Muslims. One's sex, age, education, nativity to the United States, and religiosity were not clearly linked to Islamophobia.
"Islamophobia is therefore clearly more political and ideological than theological for most Americans," the report concludes.
While religiosity — measured as either spiritual engagement, group solidarity, or importance of religion in daily life — was not correlated to Islamophobia in a meaningful way, the study did note that faith groups in America view Muslims differently.
Jewish Americans scored the lowest on the Islamophobia index (18), after Muslims themselves, while white Evangelicals scored the highest (35). A majority of Jewish Americans (53%) hold favorable views of Muslims, while white evangelicals are twice as likely to hold negative views (44%) about Muslims than positive ones (20%). One reason for that is how many of them actually know a Muslim. According to the report, three in four Jews actually know a Muslim, while only one in three white evangelicals do. (For comparison, about half of the general public know a Muslim.)
The report offers clear solutions on combating Islamophobia, including educating the public on Islam and fostering more human interaction between people of different backgrounds. The report also stresses the importance of building coalitions with other marginalized communities in America.
Pointing to the link between lower Islamophobia and favorable views of black Americans, Jews, and LGBTQ people, the report concludes that "Islamophobia is just one branch on a bigger tree of bigotry."
"Combat Islamophobia in coalition with other impacted communities," the authors suggest. "Work to end racism and religious bigotry more generally."
https://thinkprogress.org/anti-muslim-hate-depends-more-on-your-politics-than-your-religion-a-new-poll-finds-dcd203931ed6/
--------
US accuses China of using 'concentration camps' against Muslim minority
4 May 2019
The United States has accused China on Friday of imprisoning more than a million Muslims in "concentration camps" in some of Washington's strongest condemnation of Beijing's treatment of minorities.
The comments by Randall Schriver, who leads Asia policy at the US defense department, are likely to increase tension with Beijing, which is sensitive to international criticism and describes the sites as vocational education training centres aimed at stemming the threat of Islamic extremism.
Former detainees have described being tortured during interrogation at the camps, living in crowded cells and being subjected to a brutal daily regimen of party indoctrination that drove some people to suicide.
Some of the sprawling facilities are ringed with razor wire and watch towers.
"The [Chinese] are using the security forces for mass imprisonment of Chinese Muslims in concentration camps," Schriver told a Pentagon briefing during a broader discussion about China's military, estimating that the number of detained Muslims could be "closer to three million citizens".
Schriver, an assistant secretary of defense, defended his use of a term normally associated with Nazi Germany as appropriate, under the circumstances.
When asked by a reporter why he used the term, Schriver said that it was justified "given what we understand to be the magnitude of the detention, at least a million but likely closer to three million citizens out of a population of about 10 million".
"So a very significant portion of the population, (given) what's happening there, what the goals are of the Chinese government and their own public comments make that a very, I think, appropriate description," he said.
The Chinese embassy in Washington did not immediately respond to a request for comment.
US secretary of state Mike Pompeo on Thursday used the term re-education camps to describe the sites and said Chinese activity was "reminiscent of the 1930s".
The US government has weighed sanctions against senior Chinese officials in Xinjiang, a vast region bordering central Asia that is home to millions of Uighurs and other Muslim ethnic minorities. China has warned that it would retaliate "in proportion" against any US sanctions.
The governor of Xinjiang in March directly dismissed comparisons to concentration camps, saying they were "the same as boarding schools."
US officials have said China has made criminal many aspects of religious practice and culture in Xinjiang, including punishment for teaching Muslim texts to children and bans on parents giving their children Uighur names.
Academics and journalists have documented grid-style police checkpoints across Xinjiang and mass DNA collection, and human rights advocates have decried martial law-type conditions there.
https://www.theguardian.com/world/2019/may/04/us-accuses-china-of-using-concentration-camps-uighur-muslim-minority
--------
Xinjiang crackdown on ethnic minorities at the heart of China's Belt and Road
May 03, 2019
Traders travel freely through the bustling Khorgos special economic zone that straddles the Kazakhstan-China border, but signs on the Chinese side bear a blunt warning — no veils or long beards allowed.
It's a stark reminder of the severe security policies that China has imposed on mostly Muslim ethnic minorities in its vast border region of Xinjiang, which it considers crucial to the success of President Xi Jinping's cherished Belt and Road Initiative (BRI).
The gateway to Central Asia and key project partner Pakistan, Xinjiang is at the heart of the globe-spanning trade infrastructure programme.
A series of riots, bombings and stabbings blamed on ethnic Uighurs over the years prompted authorities to launch a massive security crackdown in the far western region.
"The BRI is an important factor behind the central government's urge to bring the restive region of Xinjiang once and for all under its control," said Adrian Zenz, an independent German researcher specialising in Xinjiang.
The drastic measures have included placing as many as one million Uighurs and other mostly Muslim Turkic-speaking minorities, including ethnic Kazakhs and Kyrgyz, in internment camps that Beijing downplays as "vocational education centres".
Locked away, forgotten: Muslim Uighur wives of Pakistani men
Uighur wives of Pakistani traders have also been swept up in the dragnet.
The crackdown has put the leaders of Central Asia and Pakistan, who attended a Belt and Road summit in Beijing last week, in an awkward position. Key recipients of BRI projects, they have refrained from publicly criticising China's Xinjiang approach despite discontent within their own countries.
"Frankly, I don't know much about that," Prime Minister Imran Khan told the Financial Times in March when asked about China's treatment of Uighurs.
Although Kazakhstan has stated that the well-being of ethnic Kazakhs in China is an "important factor" in ties with Beijing, it has also voiced support for China's battle against terrorism, extremism and separatism.
Kazakh authorities are holding an activist on suspicion of inciting inter-ethnic hatred after he highlighted the treatment of ethnic Kazakhs in Xinjiang, while an escaped Chinese national who described conditions in an internment camp has been denied asylum.
"Fundamentally for these countries it's quite difficult because they have this economic partner which is only going to become bigger and more powerful," said Raffaello Pantucci, director of international security studies at the Royal United Services Institute.
"They need to try to manage that relationship while at the same time make sure that they are representing their people to some degree," Pantucci said.
Trade hub
Xi picked Kazakhstan's capital to launch his pet project in 2013, a symbolic choice highlighting Central Asia's historic place on the ancient Silk Road.
Beijing has invested $410 million in 16 projects including a highway connecting China, Kyrgyzstan and Uzbekistan, a railway tunnel in Uzbekistan and a regional natural gas pipeline, according to the Xinjiang government.
China's investments in Central Asia pre-date BRI as Beijing has long seen development in the region as key to pacifying Xinjiang, Pantucci said.
"From China's perspective, the long-term answer to problems — separatism, unhappiness in Xinjiang — is basically economic prosperity," he said.
Kazakhstan and China share the massive, special trade hub in Khorgos, where traders can shop for clothes, kitchenware and other goods without needing a visa to go through security checkpoints.
"The goods are cheaper there. Every day we can come to the border without it (feeling) like a border," said Aida Massimzhanova, a resident of Kazakhstan's largest city Almaty.
But Khorgos is also a reminder of China's tightening stance on the Muslim faith that is dominant in Kazakhstan.
A Kazakh journalist on a press tour was told by Kazakh officials that she would not be able to pass through the Chinese security check if she kept her hijab. She chose to stay back.
On the Chinese side, journalists were prevented from approaching a sign showing Muslim veils are prohibited — an apparent violation of an agreement on a common law governing the special trade zone.
Authorities have banned a number of Muslim practices in Xinjiang, including wearing "abnormal" beards.
Public anger
Gaukhar Kurmanaliyeva associates the special economic zone on the border with the long arm of Beijing after her cousin Asqar Azatbek was allegedly snatched by unknown Chinese people on the Kazakh side in December 2017.
The Kazakh foreign ministry raised the case with Beijing and told Kurmanaliyeva that Azatbek, a Chinese-born Kazakh passport holder, was jailed for breaking Chinese citizenship laws.
"We don't know where he is (being held) or how he is," Kurmanaliyeva told AFP.
In Kyrgyzstan, a committee was formed by relatives of those vanished in Xinjiang's security sweep. Marat Tagayev, who joined the committee over fears for friends living in China, said the foreign ministry reported that most Kyrgyz have left the internment camps.
"But how many still remain in the camps?" Tagayev said.
In statements to AFP, the Xinjiang government said Azatbek's case "doesn't exist" and it denied having any foreign nationals in the camps, while the Chinese foreign ministry said BRI "has become the main line of cooperation between China and Central Asian countries".
In Pakistan, which hosts the multi-billion dollar China-Pakistan Economic Corridor linking Xinjiang to the port of Gwadar, traders have protested over the detention of their Uighur wives in the Chinese region.
Ali Ibrar, a 39-year-old trader from northern Pakistan married to a woman from Xinjiang, has been involved in a push to bring abuses there to the attention of Islamabad.
"Pakistan is not only silent about the plight of Uighur Muslims but is also aiding and abetting China by forcing people like me to silence," he alleged.
https://www.dawn.com/news/1480020
--------
'Easter bombers visited Kashmir for training': Sri Lanka army chief
May 04, 2019
The chief of Sri Lanka's army said some of the people who carried out the April 21 serial bombings in his country had travelled to regions such as Kashmir and Kerala in India to possibly be part of terrorism training activities, according to an interview with the BBC published online on Friday.
The comments by Lieutenant General Mahesh Senanayke is the first confirmation by a senior security official in either of the countries of the terrorists having travelled to India, a link that Indian security agencies have been pursuing since shortly after the attacks in the island nation.
"They had gone to India, travelling to Bangalore, Kashmir and Kerala state, (according to) information available with us," Senanayke said.
Asked if he was aware of the purpose of those visits, the army commander replied: "It would have been for some sort of a training or to establish links with other organisations outside the country".
Counter-terror agencies such as the National Investigation Agency have carried out raids in parts of Tamil Nadu and Kerala, where they have picked up several people for suspected links to the Islamic State – the Syria-based terror group that claimed responsibility for the attack.
According to Indian officials who have not to be named, at least two of the suicide bombers had travelled to India in 2017.
A Union home ministry official did not comment on the Sri Lanka Army chief's comment. "Sri Lanka hasn't shared any such information with us. Importantly, Sri Lankan security agencies themselves have ruled this out after investigation," a senior official in the security establishment, who did not wanted to named, said. Till now, Indian investigators have not mentioned a Kashmir link to the Lankan bombers, though leads were still being followed.
One of the key suspects who is believed by Indian officials to have visited India is Islamic preacher Maulvi Zahran Bin Hashim – leader of Sri Lanka National Towheed Jama'at (NTJ) and the ringleader of Easter Sunday attackers.
Indian officials refused to share details about the purpose of Hashim's visit or the people he was in touch with. Hashim, an official said, was initially associated with Tamil Nadu Towheed Jama'at (TNTJ) but the organisation was not found involved in any terror activities. He subsequently broke away from TNTJ to form his own – Sri Lanka National Towheed Jama'at (NTJ) and started preaching violent form of Islam in the island nation.
https://www.hindustantimes.com/india-news/easter-bombers-visited-kashmir-for-training-sri-lanka-army-chief/story-DjPf07lADhbfi8eqIaVyRI.html
--------
Arab World
UN report calls for the disarmament of Lebanon's Hezbollah
3 May 2019
UN Secretary-General Antonio Guterres called again for the disarmament of Lebanon's Hezbollah and the halting of its military interventions in neighboring Syria, in a semi-annual report released Friday.
Noting that the new Lebanese government is making the economic situation its priority, Guterres stressed that "it is also important to look into (the) development of a national defense strategy."
He also said that the omnipresence of weapons beyond the control of the state, coupled with the existence of armed militias, continues to jeopardize Lebanon's security and stability. "The fact that Hezbollah still has significant military assets beyond the control of the Lebanese State remains very worrying," Guterres said.
The secretary-general also argued that Hezbollah's commitment to the conflict in Syria risks "bogging Lebanon into regional conflicts and threatens its stability as well as that of the region."
"I again call on Hezbollah and all other concerned parties to refrain from any military activity inside or outside the country, in accordance with the provisions of the Taif Agreement and resolution 1559," said Guterres.
https://english.alarabiya.net/en/News/middle-east/2019/05/03/UN-report-calls-for-the-disarmament-of-Lebanon-s-Hezbollah.html
--------
Damascus won't let Turkey control even one centimeter of Syrian territory: Deputy FM
May 3, 2019
Syrian Deputy Foreign Minister Faisal Mekdad says the Damascus government "will not allow Turkey to control even one centimeter of the Syrian territory," stressing that Ankara should know that "Damascus will not accept the survival of militant groups" in Syria's northwestern province of Idlib.
"The Damascus government's resolution is to liberate every inch of the Syrian territory, and Idlib is no exception," Mekdad said in an exclusive interview with the Lebanon-based Arabic-language al-Mayadeen television news network.
He added, "The Turks and others should know that the Syrian government is determined to recover all of Syrian soil. Turkey must also understand that its support for terrorism and its occupation of the Syrian territory will not guarantee security."
The high-ranking Syrian official then advised US-sponsored Kurdish militant groups active in northern Syria to stop being used as a pawn by Washington, and to prove loyalty to their homeland.
Mekdad told the pro-government and Arabic-language al-Watan daily newspaper on November 4 last year that "occupation" forces from Turkey must depart the territories of his conflict-plagued Arab country in order for security and stability to be restored there.
"The Syrian Arab army is the only party that stands against the Turkish occupation of the Syrian territories," he said.
"We believe that these (Kurdish parties) should return to the spirit of citizenship and to believe in their homeland; not to use Americans, Israelis and others against the interests of their native soil," Mekdad said when asked about calls by some Kurdish militant groups in the areas controlled by the US-backed Syrian Democratic Forces (SDF) to stand against Turkish attacks.
The Syrian deputy foreign minister added, "The Syrian army stands with all groups, parties and tribes in order to tackle terrorism for the benefit of Syrian people."
He stated that Syria will eventually emerge victorious over terrorism and its sponsors, and all areas will be liberated from the clutches of Americans, Turks and separatists, thanks to the high motivation and sacrifices made by the Syrian nation and Syrian army.
The senior Syrian official highlighted that the Damascus government cannot trust Turkish assurances, because Ankara's objectives are colonial and expansionist.
Full report at:
https://www.presstv.com/Detail/2019/05/03/595018/S-Turkey-control-even-one-centimeter-of-Syrian-territory-Deputy-FM
--------
Guterres calls on Lebanese government to prevent Hezbollah holding weapons
May 03, 2019
LONDON: UN Secretary-General Antonio Guterres called on the Lebanese government to prevent Hezbollah and other groups from owning weapons in a report issued by the UN on Friday.
The report added that the presence of armed militias threatened Lebanon's stability and security.
It also stressed the need for the state to monopolize weapons and the use of force.
In May 2018, Guterres strongly criticized Hezbollah for operating as the most heavily armed militia and a political party in Lebanon and urged the militant group to halt military activities inside and outside the country, including in Syria.
In a report to the Security Council, Guterres also called on Lebanon's government and armed forces "to take all measures necessary to prohibit Hezbollah and other armed groups from acquiring weapons and building paramilitary capacity" outside the authority of the state.
"In a democratic state, it remains a fundamental anomaly that a political party maintains a militia that has no accountability to the democratic, governmental institutions of the state but has the power to take that state to war," he said.
Hezbollah, which is mainly financed by Iran, is considered a terror group by the US, Canada, Israel and the Arab League.
The heavily armed group has a large militia that has taken part in Syria's civil war alongside President Bashar Al-Assad's government, and also has elected members of parliament and positions in Lebanon's national unity government.
The group's influence over Lebanese state institutions has expanded in the last year. Together with allies that view its arsenal as an asset to Lebanon, it won more than 70 of parliament's 128 seats in an election last year.
Full report at:
http://www.arabnews.com/node/1492071/middle-east
--------
Holograms to show first-ever Egyptian king's tomb treasures
May 04, 2019
CAIRO: Visitors to the world's largest museum devoted to one civilization will be able to view never-before-seen items belonging to Egyptian King Tutankhamun, thanks to the latest technology.
The Grand Egyptian Museum (GEM), due to open in late 2020, is to use holographic displays to exhibit hundreds of objects excavated from the ancient pharaoh's tomb.
Many of the priceless relics have never been put on public show, and GEM will be dedicating two giant galleries to the life of the boy king.
Egyptian Tourism Minister Rania Al-Mashat announced the major exhibition during an interview on the Extra News channel and said King Tut's famous mask would be taking center stage among the vast array of items on display.
Since the 1922 excavation of Tutankhamun's tomb by renowned British archaeologist Howard Carter, only some of the thousands of objects found there have been on public display. It took experts eight years to empty the burial chamber.
"We decided to focus on quality, not quantity," said Al-Mashat, adding that GEM, which is situated at the edge of the pyramids of Giza, had taken a "unique" approach to promoting the exhibits.
"Visitors at the Egyptian booths can wear 3-D glasses and experience delving into Luxor's archaeological sites or diving in Egypt's Red Sea," Al-Mashat added.
It is not the first time Egypt has turned to hologram technology. Last month the technique was used at a concert starring the late iconic singer Abdel Halim Hafez.
Egypt's use of digital technology in tourism is aimed at attracting more foreign tourists to the country. Last year, visitors were able to tour Queen Nefertiti's sacred tomb using virtual reality glasses.
"This is very impressive," Taiyo Coates, a graphics designer, told Arab News.
"While the culture is not always viewed as the most technological, Egypt currently has some of the best examples of technology out there. It's crazy to see the advancements."
Each of the 7,000 square-meter galleries that GEM is dedicating to Tutankhamun will take visitors on a journey, explaining how the young king ate, dressed and lived. The holograms of his treasured items will be seen within the two exhibition halls.
When completed, the museum will be one of the biggest in the world, exclusively showing snippets into the ancient Egyptian civilization.
Full report at:
http://www.arabnews.com/node/1492256/middle-east
--------
Lebanon may be forced to work with Syria on refugee issue: Aoun
May 04, 2019
BEIRUT: Lebanese President Michel Aoun told Spanish Foreign Minister Josep Borrell on Friday that Lebanon is hoping the EU will change its stance over the return of Syrian refugees "to avoid repercussions for Lebanon." Aoun warned Borrell that Europe's current stance "will force us to take steps to organize this return with the Syrian government."
In a meeting with Egyptian Prime Minister Mostafa Madbouly on the same day, Aoun said that Syrian refugees "face political incitement and exploitation because they have not returned to their country, which raises questions about the reasons."
On Thursday, Volker Türk, the assistant high commissioner for protection at the Office of the UN High Commissioner for Refugees (UNHCR), announced in a talk at the American University of Beirut (AUB) that the UNHCR's goal during the next 10 years is to resettle a million refugees around the world in other countries.
"We want to encourage countries to host refugees," he said. "This number does not only include Syrian refugees, because the refugee crisis has worsened since 2011, due to conflicts that have erupted around the world."
Türk said that there are more than 6 million internally displaced persons (IDPs) inside Syria and more than 10 million Syrian refugees in neighboring countries. "The peak of this displacement was when Syrian refugees suddenly flocked to Europe, and European countries did not have the mechanisms in place to deal with this matter," he said. There are 1.1 million Syrian refugees in Lebanon, according to the UNHCR.
Türk flew to Beirut after a visit to Syria, during which he held meetings with Syrian officials and discussed the issue of Syrian refugees. "The discussion with the Syrian side was forthright, and they conveyed a clear message that they want to work with us (to assist) Syrian refugees who wish to return," he told Arab News.
Arab News learned that, during his visit, Türk met an assistant to Syria's deputy foreign minister, but did not meet with any senior officials from the Syrian government.
Türk said that he and his accompanying delegation visited the Zabadani district, much of which has been destroyed by the Syrian conflict. He said that he focused during his meetings with IDPs who have returned to their homes "on the quality of life they lead as well as their needs."
Türk believes that the Global Compact on Refugees (GCR), adopted by the UN General Assembly in 2018 by a large majority to improve the way the crisis is managed at an international level "(will) keep the asylum issue in the international community's mind in a sustainable manner instead of addressing it occasionally."
Türk emphasized that the importance of the GCR is that it includes an item on the protection of refugees who cannot return to their countries, notes the situation of refugees living below the poverty line, and makes clear to the international community that it has a responsibility to deal with the consequences of these crises and to find solutions to them.
The GCR — which is not binding — was ratified by 181 countries. America and Hungary voted against it, and the Dominican Republic, Eritrea and Libya abstained.
The compact contains four main objectives: Taking pressure off host countries; promoting the self-reliance of refugees; broadening access to third-country solutions; and contributing to securing the necessary conditions for the refugees' safe and dignified return to their countries of origin.
The GCR also includes a paragraph on the adoption of the 2016 New York Declaration for Refugees and Migrants, which focuses on the protection of people who are forced to flee their countries and on supporting the countries that host them.
During the AUB session, there was a lively discussion about the extent to which countries can be pressured to resettle refugees. Türk was also confronted by skepticism about the resettlement of refugees — with some suggesting that they should be have to remain in the first host country they enter.
Tarek Mitri, former Lebanese minister and director of the Issam Fares Institute, which organized the session, said: "Lebanese society is divided between demands for the immediate repatriation of refugees and support for their voluntary and safe return; thus, this society is in fear. The most important question is whether the Syrian regime wants the refugees to return at a time when it is immersed in engineering a new demography in Syria. And what has become of the Russian initiative to facilitate the return of refugees? Its owners are now saying during private meetings that it has become so difficult to implement. They have even admitted that pressure from the Syrian regime has stopped the initiative, and that this has nothing to do with securing finance for the reconstruction of Syria."
Türk stressed that it is important for Syrian refugees to obtain birth and citizenship documents, adding that this is a right for all refugees as per international conventions.
However, while he insisted on that refugees who wish to return home must be allowed to do so, he did not offer any assurance that the Syrian authorities are willing to receive them.
Full report at:
http://www.arabnews.com/node/1492216/middle-east
--------
Large-Scale Operation against ISIS Remnants in Iraq's Kirkuk
2 May, 2019
A commander in Iraq's Joint Operations Command has confirmed that Iraqi forces backed by US-led coalition warplanes have launched a military operation against ISIS remnants in Kirkuk province.
The commander, who refused to be identified, spoke to Asharq Al-Awsat a day after the US Central Command announced that two US Air Force F-35A Lightning II aircraft conducted an air strike at Wadi Ashai, Iraq, in support of Combined Joint Task Force – Operation Inherent Resolve on April 30.
He said that Wadi Ashai has a rugged terrain that ISIS militants can turn into hideouts.
The US Central Command said on Tuesday that the April 30 strike marked the F-35A's first combat employment.
The F-35As conducted the airstrike using a Joint Direct Attack Munition to strike an entrenched ISIS tunnel network and weapons cache deep in the Hamrin Mountains, a location able to threaten friendly forces, said the statement.
"The F-35As, recently deployed from Hill Air Force Base, Utah, joined the Combined Forces Air Component team in the US Central Command area of operations on April 15," it added.
A member of Kirkuk's council told Asharq Al-Awsat that the operation against ISIS remnants is considered the largest since Iraq announced the organization's defeat late 2017.
"At least 35 terrorists have been killed and more than 8 ISIS hideouts have been destroyed," the source said.
Full report at:
https://aawsat.com/english/home/article/1704756/large-scale-operation-against-isis-remnants-iraq%E2%80%99s-kirkuk
--------
Europe
Europe in peace thanks to Turkey: Erdogan
Beyza Binnur Dönmez
03.05.2019
Europe is indebted to Turkey for hosting 4 million refugees, Turkey's president said on Friday.
"If European countries are living in peace today, it is thanks to Turkey for hosting 4 million refugees," Recep Tayyip Erdogan said in the Istanbul Congress Center, where he attended a week-long event on innovation.
Turkey has been the main route for refugees trying to cross to Europe, especially since 2011, the beginning of the Syrian civil war.
Underlining that Turkey has been unable to find sufficient support in its efforts to rebuild Syrian security, Erdogan said Turkey would not allow any threat against itself remain in Syria.
He stressed that his country would continue its fight until all of Syria is delivered to its real owners, the Syrian people.
"Any economic and political moves against the independence of our country are doomed to fail," Erdogan said.
Syria has been locked in a vicious civil war since early 2011, when the Assad regime cracked down on pro-democracy protests.
Since then, hundreds of thousands of people have been killed and more than 10 million displaced, according to UN officials.
https://www.aa.com.tr/en/europe/europe-in-peace-thanks-to-turkey-erdogan/1469285
--------
EU calls for protecting inhabitants of Syria's Idlib
Vakkas Doğantekin,Yusuf Hatip
03.05.2019
The European Union on Friday called for protecting inhabitants of Syria's northwestern Idlib province and ensuring humanitarian access to the province.
"With the marked increase of airstrikes over Idlib province and northern Hama over the past weeks and days, we are once again running the risk of a dangerous escalation in Idlib," said a statement by the EU spokesperson.
"The civilian population cannot afford this risk: they have already suffered far too much," the statement added.
EU noted that the recent attacks have been carried out on densely-populated areas, homes, medical facilities, and settlements for internally displaced people.
It drew attention to the importance of the Sochi agreement reached last September, where the Astana guarantors Turkey, Russia and Iran committed to safeguard Idlib as a de-escalation zone.
"This agreement needs to hold: a military escalation in Idlib would put at risk the lives of more than three million civilians living in the region," the statement said.
It said: "Only a political process that respects the freedom and the dignity of all Syrian people in accordance with UNSC Resolution 2254 and the Geneva Communiqué can bring about a lasting solution to the conflict".
On Thursday, five civilians were killed in attacks by Assad regime forces on residential areas located inside northern Syria's de-escalation zones.
Overnight airstrikes and artillery attacks targeted the villages of Kansafra, Termela, Bsekla Has and Abdin in Idlib province, along with the village of Al-Huwaiz and the town of Kafrnabuda in Hama province, sources said.
In Kansafra and Bsekla, the attacks left five civilians dead, including a woman and two children, according to the White Helmets civil-defense agency.
Full report at:
https://www.aa.com.tr/en/europe/eu-calls-for-protecting-inhabitants-of-syria-s-idlib-/1469107
--------
Pakistan
Pakistan court dismisses Nawaz Sharif's petition seeking bail extension
May 3, 2019
There was no "imminent threat" to his life, the court noted.
Pakistan's apex court on Friday dismissed former Prime Minister Nawaz Sharif's petition which sought an extension for a bail granted to him on medical grounds.
The three-time former Pakistani Prime Minister was sentenced to seven years in prison by an accountability court on December 24 after he was found guilty in the Al Azizia Steel Mills corruption case. The ailing Pakistan Muslim League (Nawaz) leader was granted bail on medical grounds by the Pakistani Supreme Court on March 26 for six weeks, according to Geo News. He was, however, not allowed to leave the country while on bail, which is set to expire on May 7.
On April 25, Nawaz had filed a review petition for a bail extension citing medical reasons again. His bail extension petition was heard by a three-member bench headed by Chief Justice Asif Saeed Khosa, who rejected the Pakistani's leader's request.
During Friday's hearing, the Chief Justice remarked that the conduct of petitioner (Nawaz) showed that there was no "imminent threat" to his life, adding that it was possible to treat the former Pakistani Prime Minister in prison as the superintendent would be "empowered" to send him to the hospital when required, according to local media.
He has been lodged in the Lahore Kot Lakhpat Jail since his conviction in December 2018. He was removed from power in 2017 by Pakistan's Supreme Court amidst hearings of corruption charges against him, which stem from the Panama Papers scandal.
https://www.khaleejtimes.com/international/pakistan/pakistan-court-dismisses-nawaz-sharfis-petition-seeking-bail-extension
--------
Commanders support Afghan peace process
May 04, 2019
ISLAMABAD: The Pakistan Army on Friday reiterated its support for Afghan peace process and vowed to continue working for sustainable peace in the country.
The support for Afghan peace process was reaffirmed as the latest round of talks between the United States and Taliban in Qatar ran into a fresh stalemate due to the latter's refusal to accept the American demand for a ceasefire. The US has made it clear that a peace deal would require simultaneous agreement on troops withdrawal, counterterrorism assurances, intra-Afghan dialogue, and reduction in violence leading to a comprehensive ceasefire.
"Forum reiterated to continue its efforts for bringing enduring peace in the country while supporting all initiatives towards regional peace," ISPR said in a statement on the corps commanders' conference held at the GHQ, which was chaired by Army Chief Gen Qamar Javed Bajwa.
Pakistan facilitated the talks between the US and Taliban and more lately Prime Minister Imran Khan pledged neutrality in Afghan conflict. "Pakistan will not be party to any internal conflict in Afghanistan anymore," Mr Khan said in a policy statement on Afghan peace last week in which he denounced violence by both sides of the conflict. The prime minister's statement was welcomed by the US government.
However, such categorical statements from Islamabad too have failed to push the peace process forward with the Taliban first refusing to talk to the Afghan government, then last month cancelling a meeting with Afghan representatives in Doha, and now refusing to observe a ceasefire. The Taliban, it should be recalled, had on the occasion of Eidul Fitr last year observed an unprecedented ceasefire raising hopes for peace. In a related development the Loya Jirga in Afghanistan ended on Friday with demands for peace and ceasefire.
The commanders' meeting, which is a monthly feature, discusses internal and external security situation and professional matters of the Army.
"Forum reviewed evolving geo-strategic environment and security situation of the country including progress of operation Raddul Fasaad," ISPR said.
Military spokesman Maj Gen Asif Ghafoor had at a press briefing earlier this week said that Operation Raddul Fasaad (RuF) was progressing satisfactorily. Sharing statistics, he said 47 major operations and 100,000 intelligence-based operations had been undertaken, which resulted in the recovery of over 64,000 weapons and 5.1 million units of ammunition.
A major success under RuF has been the border fencing. A total of 1,000kms of border has so far been fenced decreasing chances for unauthorised border crossing. Additionally, the security of the border with Afghanistan has been buttressed by construction of 300 border forts. A total of 843 forts are planned to be constructed.
Full report at:
https://www.dawn.com/news/1480158/commanders-support-afghan-peace-process
--------
No negative impact of UN move against Masood Azhar, says envoy
Anwar Iqbal
May 04, 2019
HOUSTON: There will be no negative repercussions of Masood Azhar's designation as it only reinforces Pakistan's commitment to fighting terrorism with the international community, says Ambassador Asad Majeed Khan.
The Pakistani ambassad­or, who is on a rare visit to Hou­ston this week, noted that the United States also appreciated Pakistan's commitment in its first reaction to the designation on Thursday.
The United States was the main sponsor of a proposal that a UN sanctions committee adopted on Wednesday by declaring Jaish-e-Moham­mad chief Masood Azhar a global terrorist. The adoption happened only after China, which had vetoed the move on four previous occasions, withdrew its objection.
Before the adoption, China and Pakistan worked jointly to delink the designation from the Kashmiri struggle for freedom and the Feb 14 Pulwama terrorist attack. The delinking allows Pakis­tan to continue to support the Kashmiri freedom movement.
"I see no reason why this designation should have a negative impact on our relations with the United States or China," said the ambassador while talking to the media after his address at the World Affairs Council in Houston on Thursday night. "It reinforces our commitment to fight terrorism."
In his address to the council, the ambassador also spo­ke about improvements in US-Pakistan relations after a recent dip. "This is a very important and consequential relationship," Mr Khan said. "We are keen to have a strong partnership."
The ambassador also spoke about Pakistan's role in promoting US-Taliban talks in Doha. Pakistan, he said, helped in the formation of a powerful Taliban delegation for the talks. "Without this, there could not be a significant progress in the talks."
Ambassador Khan said that while Pak­is­tan's role was important, other regional actors must also play their parts.
Pakistan, he said, also supported US efforts for a broad-based intra-Afghan dialogue, which should include the Afghan government and the Taliban. Mr Khan hoped that progress in the Afghan peace process would improve Pakistan's relations with the United States.
Full report at:
https://www.dawn.com/news/1480169/no-negative-impact-of-un-move-against-masood-azhar-says-envoy
--------
Pakistan won't have presidential system, says PM Imran
May 4, 2019
ISLAMABAD: As rumours regarding presidential system make rounds in the media, Prime Minister Imran Khan on Friday allayed these reservations, assuring the nation that "the government hasn't even thought of imposing the presidential system in the country". "There's no truth in these rumours. The Pakistan Tehreek-e-Insaf (PTI) government is not considering any such move," Imran said while talking to a select group of journalists at Prime Minister's House.
He also revealed that former finance minister Asad Umar would soon rejoin the federal cabinet, weeks after the latter resigned from his position in protest when he was told to take charge of the Energy Ministry.
Imran, who has mentioned on multiple occasions that changing ministers is just like changing batter orders, said that the govt will make use of all suitable individuals for the good of the country.
The prime minister said that he doesn't have enough experts, so he was using technocrats for the job. He was apparently responding to the criticism raised by the opposition on the inclusion of technocrats into his government.
"In the absence of experts, we are employing technocrats," the premier said, adding that he has to show the performance of his government.
Imran, who came into power on his promises to eradicate corruption, said that government won't give an NRO [National Reconciliation Ordinance] to anyone and he won't let the opposition parties get away with their corrupt practices using democracy as an excuse.
Reiterating his resolve, the prime minister said he does not care about his premiership but will not sign another "deal".
"In 2016, Chaudhry Nisar stated that Bilawal Bhutto and Ayyan Ali's bills were being paid by the same accounts. Are these cases made up by me," asked the prime minister while referring to the ongoing accountability process in the country.
He also shared that the government was bringing forth seven bills for the welfare of the public.
Among the bills introduced in the National Assembly included Legal and Justice Authority Bill 2019, Whistleblower Protection and Vigilance Commission Bill 2019, Civil Procedure (Amendment) Bill 2019, Letters of Administration and Succession Certificates Bill 2019, Enforcement of Women's Property Right Bill 2019 and Muslim Family Law (Amendment) Bill 2019.
Asked as to how the government would get the bills passed from Senate where they lacked required majority, he said the government was going to play its role for public welfare and desires a positive behaviour from the opposition.
"If opposition stands with us to pass these bills, it will be a good thing," he added.
There was a hue and cry after Imran Khan came into power. It was being claimed that the military supported him to seize power. A commission was also formed to probe the alleged rigging. However, there has been headway in this regard.
"I was asked to make an inquiry commission for alleged election rigging and I did that, but the opposition did not even show up for the making of the commission."
PM Imran further claimed that he felt ashamed to sit in the National Assembly because of the unsavoury language used by the opposition. "I am unable to comprehend what happens in parliament. For eight months, there has only been conflict there."
Though the premier has made these comments, but according to a report— in January – in a local media outlet the prime minister himself has attended only six out of 34 National Assembly sittings, meaning thereby that he has to date been part of only 17.65 per cent sessions.
TWO-TIER JUSTICE SYSTEM:
Briefing journalists about the salient features of the bills, Federal Law Minister Barrister Firough Nasim said under the Civil Procedure (Amendment) Act 2019, the government had proposed a two-tier concept of legal system.
In first tier, the main case would be heard and not be interrupted till finalization of the proceedings. In case of miscellaneous petition or stay order, these would be heard in second tier by a different judge.
According to the new concept, losing side would pay the winning side the cost of litigation along with compulsory "adjournment costs" of Rs 5,000 for seeking adjournment as well as special costs if any party was found of abusing the court process through frivolous litigation.
Another bill the government proposes to authorize the National Database Registration Authority to issue Letters of Administration or Succession Certificates to the legal heirs of a deceased in respect of the immovable or movable property in accordance with the Family Registration Certificate maintained by NADRA where there was no dispute among the heirs.
He said under Enforcement of Women's Property Right Bill 2019, the government had proposed to utilize the existing Women Ombudsperson for receiving the complaints of any woman deprived of ownership or possession or properties.
If the case required in-depth inquiry, the matter would be referred to the civil court preferably within 60 days that would save the women themselves from filing the cases in the said courts. After passage, the law would be applicable to the federal capital, while the provinces have been asked to follow the suit.
Under Muslim Family Law (Amendment) Bill 2019, concerning the Shiite school of thought, the widow of the deceased would get 1/4th share. Moreover, under the proposed bill related to the very sect, divorce would be ineffective if it was done jokingly, under anger, intoxication or under coercion.
The law minister said another bill to safeguard the overseas Pakistanis against the fraudulent activities was also in process. Moreover, the reforms in CRPC and NAB laws would also be introduced.
Foreign Minister Shah Mahmood Qureshi, who is also the deputy parliamentary leader of the Pakistan Tehreek-e-Insaf in National Assembly, told media that by passing the said bills, the impression of the parliament should be rectified.
He said the seven bills had been laid in the parliament and referred to the standing committees concerned. The opposition had the opportunity to put in their contribution to improving the legislation, he added.
Full report at:
https://www.pakistantoday.com.pk/2019/05/03/pm-hopes-asad-will-be-back-in-cabinet/
--------
PM orders prices of essential items fixed in Ramzan
May 4, 2019
ISLAMABAD: Prime Minister Imran Khan on Friday directed the authorities concerned to ensure the provision of essential commodities at fixed rates during the month of Ramzan.
The prime minister gave the instructions during a meeting regarding Ramzan Package 2019 in Islamabad.
He also ordered the administration officers to be present in the field and take immediate action against profiteers and hoarders.
The prime minister said that in order to make the administrative control effective, control rooms should be set up at the provincial level to monitor provision of essential commodities, electricity, gas and water during Ramzan.
He said the relevant ministries and departments have been directed to ensure supply of gas, electricity and water during Sehr and Iftar timings.
"The government realises the difficulties being faced by the people and we will make all possible efforts to provide relief to the masses," said PM Imran.
Full report at:
https://www.pakistantoday.com.pk/2019/05/03/pm-orders-prices-of-essential-items-fixed-in-ramzan/
--------
PML-N Never Did Politics In National Interest: Sirajul-Haq
03rd May 2019
ISLAMABAD, (UrduPoint / Pakistan Point News - 3rd May, 2019 ) :Ameer Jamaat e Islami, Pakistan, Senator Sirajul Haq Friday said Pakistan Muslim League (PML)-N never did politics in national interest and when the harsh time came they chose the path to escape.
He urged the government to set a new trend by reducing prices of essential commodities in the month of Ramazan as in the west on Christmas Eve prices were reduced to 50 per cent, he said while talking to media persons here outside the Parliament house.
Regarding the appointment of PAC chairman he said, the decision was already planned and was taken after mutual consultation among the party leaders.
Full report at:
https://www.urdupoint.com/en/pakistan/pml-n-never-did-politics-in-national-interest-612272.html
--------
South Asia
Taliban: US should stop violence instead of asking militants to lay down arms
May 3, 2019
The Taliban have called on the US to end the use of force in Afghanistan instead of putting pressure on the militant group to lay down its arms.
Taliban spokesman Zabihullah Mujahid made the remarks in response to US special envoy to Afghanistan Zalmay Khalilzad, who is engaged in a sixth round of talks with the group in the Qatari capital Doha.
Khalilzad said in an opening session that this "is time to put down arms, stop the violence, & embrace peace."
"In our opening session, I underscored to the Talibs that the Afghan people, who are their brothers & sisters, want this war to end," Khalilzad wrote.
The Taliban spokesman reacted to the remarks on Friday, saying that Washington "should forget about the idea of us putting down our arms."
"Instead of such fantasies, he should drive the idea home (to the US) about ending the use of force and incurring further human and financial losses for the decaying Kabul administration," he added.
Mujahid said the United States must stop repeating failed strategies while expecting different outcomes.
"It would be better if @US4AfghanPeace musters the courage to call a spade a spade, not a gardening tool & accept the current realities."
After five rounds of talks, Khalilzad claimed progress in the talks last month, saying the two sides had reached an "agreement in draft" on the issues of troop withdrawal and counter-terrorism assurances.
The Taliban, however, insist that talks cannot move ahead until foreign forces leave Afghanistan.
"Peace will require that we find common ground on four inter-connected issues: troop withdrawal, counter-terrorism assurances, intra-Afghan dialogue & negotiations, and reduction in the violence leading to a comprehensive ceasefire," Khalilzad said in his tweet.
"Nothing will be final until we agree on all 4 issues," he added.
The Taliban have refused so far to meet with the government of President Ashraf Ghani, calling it illegitimate.
The Taliban's five-year rule over at least three quarters of Afghanistan came to an end following the US invasion in 2001, but 18 years on, Washington is seeking truce with the militants, who still control large swathes of land.
American forces have remained bogged down in Afghanistan through the presidencies of George W. Bush, Barack Obama, and now Donald Trump.
https://www.presstv.com/Detail/2019/05/03/594991/Afghanistan-Taliban-US-conflict-Zalmay-Khalilzad
--------
ISIS using Afghanistan as bridgehead, says Russia's defence minister
02 May 2019
The Russian defense minister Sergei Shoigu has said that the Islamic State of Iraq and Syria (ISIS) terrorist group is using Afghanistan as a bridgehead to further expand its foothold into the region.
Shoigu made the remarks at a meeting of the defense ministers of the Shanghai Cooperation Organization in Bishkek.
"It is important to note that after the rout of the so-called Islamic State, terrorists are moving from Syria and Iraq to other regions, including Central and Southeast Asia," he was quoted as saying in a report by TASS News Agency.
"As a result, cross-border crime is growing, a breeding ground is emerging for extremist and separatist movements and terrorist cells are coming into existence. The most complex situation is developing in Afghanistan," Shoigu added.
Expressing concerns regarding the strengthening of ISIS positions in Afghanistan, Shoigu said the group is using Afghanistan as a bridgehead for further expansion into the region.
Full report at:
https://www.khaama.com/isis-using-afghanistan-as-bridgehead-says-russias-defense-minister-03864/
--------
43 ISIS militants including Pakistani, Uzbek nationals killed in East of Afghanistan
04 May 2019
At least 43 militants of the Islamic State of Iraq and Syria (ISIS) terrorist group were killed in two separate airstrikes which were conducted in East of Afghanistan.
The Ministry of Defense (MoD) in a statement said the airstrikes targeted two training camps of the terror group in Chapara district of Kunar province.
The statement further added that several Pakistani and Uzbek nationals were also among those killed.
A prominent Uzbek militant leader identified as Ismail, who was previously cooperating with the Al-Qaeda terrorist network and had recently joined ISIS ranks, was also killed in the airstrike, the Ministry of Defense added.
The anti-government armed militants including ISIS sympathizers have not commented regarding the airstrike so far.
Kunar is among the relatively volatile provinces in East of Afghanistan located along the Line of Durand close to the tribal regions of Pakistan.
Full report at:
https://www.khaama.com/43-isis-militants-including-pakistani-uzbek-nationals-killed-in-east-of-afghanistan-03878/
--------
6 of a family killed, 9 wounded in Taliban militants attack in Faryab: 29th Shaheen Corps
04 May 2019
At least six members of a family were killed and nine others were wounded in an attack by Taliban militants in northern Faryab province of Afghanistan.
The 209th Shaheen Corps in a statement said a group of Taliban militants stormed a residential house in Qaisar district few days back targeting all members of a single family.
The statement further added that the attack was carried out in Kohi Village leaving six members of the family dead including elders and children while nine others were wounded.
The anti-government armed militants including Taliban have not commented regarding the incident so far.
Full report at:
https://www.khaama.com/6-of-a-family-killed-9-wounded-in-taliban-militants-attack-in-faryab-29th-shaheen-corps-03877/
--------
At least 80 Taliban, ISIS militants killed in latest airstrikes, Special Forces operations: sources
03 May 2019
At least 80 Taliban and ISIS militants have been killed during the latest airstrikes and operations of the Afghan Special Forces across the country, the military sources said Friday.
The sources further added that Afghan Special Forces conducted a raid in Nahr-e Saraj district of Helmand province killing 6 Taliban fighters and destroying 200 Kg of narcotics.
The Afghan Special Forces conducted two similar raids in Maiwand district of Kandahar province on IED-making facilities killing 2 Taliban fighters, destroying a house-borne IED, 3 jugs of homemade explosives, 3 pressure plate IEDs and several IED components.
At least 33 militants were killed in separate airstrikes conducted in Tarinkot district of Uruzgan, Burkah district of Baghlan and Sinkay district of Zabul province, the sources said, adding that 7 Taliban fighters in an operation of the Afghan Special Forces in Andar district of Ghazni province.
The Afghan Special Forces conducted an operation in Deh Bala district of Nangarhar province killing 22 ISIS-K fighters and destroying 2 pressure plate IEDs, the sources added.
The sources also added that the Taliban fighters attacked a 203rd Corps battle position along Highway 1 in Muhammad Aghah district of Logar province but the attack was repulsed killing 8 Taliban fighters.
"4th Afghan National Civil Order Forces brigade conducted a successful ambush in Muhammad Aghah district killing 2 Taliban fighters and wounding another," the sources said.
Full report at:
https://www.khaama.com/at-least-80-taliban-isis-militants-killed-in-latest-airstrikes-special-forces-operations-sources-03876/
--------
Afghanistan's grand council ends with call for peace talks
3 May 2019
An Afghan grand council convened by President Ashraf Ghani ended on Friday with a resounding call for peace with the Taliban and a promise from the president to free 175 Taliban prisoners ahead of Ramadan, the Islamic holy month that starts next week.
The council, known as Loya Jirga, had brought together more than 3,200 participants, politicians, tribal elders, many prominent figures and others to hammer out a shared strategy for future negotiations with the Taliban.
Ghani had sought to project a unified stance with the council but several prominent Afghans boycotted the gathering, including Ghani's partner in the government, Chief Executive Abdullah Abdullah, exposing the deepening rifts in the administration.
"I want to say to the Taliban that the choice is now in your hands," Ghani said at the closing ceremony in Kabul. "Now it is your turn to show what you want to do."
Ghani said the message of the five-day gathering was clear: "Afghans want peace."
He also offered a cease-fire but stressed that it would not be unilateral. The proposal is likely moot as the Taliban have so far rejected a cease-fire until US and NATO troops withdraw from the country.
The Taliban have in recent months stepped up their attacks, inflicting staggering casualties on Afghan forces, and now hold sway over half the country.
The US, meanwhile, has accelerated efforts to find a peaceful resolution to the 17-year war, America's longest conflict.
US special peace envoy Zalmay Khalilzad, appointed last year, has been crisscrossing the region seeking consensus among Afghanistan's neighbors, as well as Russia and China, on the need for a peace settlement.
President Donald Trump has also expressed his frustration with Washington's longtime involvement in Afghanistan, as well as a desire to bring the estimated 14,000 US soldiers home.
The grand council produced a 23-point list for peace-talks with the Taliban, including a truce for Ramadan, when Muslims fast from dawn to dusk.
The Loya Jirga also urged the government to form a strong negotiating team and said at least 50 of its members should represent victims of wars.
It wasn't immediately clear whether that referred to wars that pre-dated the 2001 US-led invasion that toppled the Taliban regime.
The council also backed women's rights, in keeping with the tenets of Islam.
But after opening the council on Monday, Ghani handed over the chairmanship to Abdul Rasool Sayyaf, a former warlord with past links to Osama bin Laden and the militants who took control of Kabul after the collapse of the communist government in the early 1990s.
He is known for adhering to a strict interpretation of Islam and refusing to meet with women.
"We want a sustainable peace in our country," said Hatifa Tayeb, the council's secretary and one of the women delegates. "No fight has a winner and no peace has a loser, so we all want from the Taliban to stop the conflict and join the peace process."
Also this week, Khalilzad is holding a new round of talks with the Taliban in Qatar, where the insurgents maintain a political office.
Those talks, however, are focused only on a timetable for the withdrawal of US troops and guarantees from the Taliban that Afghan territory will not be used in the future to harbor global terrorists.
Full report at:
https://english.alarabiya.net/en/News/world/2019/05/03/Afghanistan-s-grand-council-ends-with-call-for-peace-talks.html
--------
15 militants killed in northern Afghanistan
2019-05-02
AYBAK, Afghanistan, May 2 (Xinhua) -- Up to 15 insurgents loyal to the Taliban group have been killed and 13 others arrested over the past 24 hours in the northern Samangan province, said army spokesman Abdul Hadi Jamal on Thursday.
Clashes flared up in Ruyi Doab district on Wednesday after the security forces launched cleanup operations and the insurgents resisted, and later fled the area leaving 15 bodies behind and 13 more captured.
Full report at:
http://www.xinhuanet.com/english/2019-05/02/c_138029604.htm
--------
North America
US landlord who refused to rent to Muslim men settles lawsuit
May 4, 2019
DENVER: A Denver landlord who was recorded telling her tenant to find an "American person … good like you and me" to sublease her property instead of a Muslim father and son seeking to open their second restaurant must pay the men $675,000 under a settlement.
The three men sued last year, generating local news coverage and online pleas to boycott the woman's business, which mirrored the response to racist comments captured on tape or video across the U.S. in recent months. Public attention soon faded, and attorneys said they were headed for trial until the night before jury selection was set to begin in Denver.
The parties finalised the settlement in April. Rashad Khan said it was a relief after more than a year of reliving his first experience of someone refusing to work with him and his father, Zuned, because of their faith and race.
"My dad and I just wanted to know that there's justice, that she can't do this," said Khan, 36.
The dispute focused on a building in the Denver neighborhood of Capitol Hill, surrounded by homes, coffee shops and grocery stores.
Craig Caldwell began renting the building on a corner lot in 2016 but decided to close his fried chicken restaurant there in late 2017.
Caldwell had to continue paying rent for the five-year lease unless he could find someone to sublease it. The Khans seemed like his solution.
They hoped to open a second Indian restaurant, replicating a fast-casual model that proved popular in the nearby city of Boulder. Caldwell was sold after checking their financial records, trying the family recipes and seeing both father and son working the counter at their business.
But weeks went by without approval of the sublease agreement by the building's owner, Katina Gatchis. Caldwell said he was shocked when the woman's son blamed the Khans' Islamic faith.
"I didn't believe it, and I didn't think anybody would believe me," said Caldwell, who is 71 and white.
He decided to use a voice recording app on his cellphone during his next conversation with Gatchis. In Colorado, it is legal to secretly record a conversation if at least one participant consents.
"American person!" Gatchis said in the recording, provided to The Associated Press by Caldwell's attorneys. "American person, I need. Good like you and me." Caldwell returned to see her a few days later.
He hoped Gatchis would change her mind, but she remained insistent in a recording of that conversation.
"They bring all the Muslims from the Middle East, and then I have a problem around here, bam boom, bam boom," she said.
Attorneys for Gatchis did not return phone or email messages seeking comment on the recordings and settlement. In a court document filed in March, they said Gatchis admitted making the statements "and that the recordings are accurate."
Gatchis acknowledged in the document that she "unlawfully discriminated" against the Khans' company but said Caldwell could not sublease to them without her approval under the terms of his original lease.
Caldwell took the recordings of Gatchis to his business attorney. He referred Caldwell to Denver attorney Qusair Mohamedbhai, whose firm often handles discrimination claims and other civil rights cases.
Mohamedbhai said proving discrimination is often difficult and credited Caldwell for speaking up.
"Businesses in Colorado and across the country should know that these laws are on the books, they are highly enforceable, and that if they will discriminate, people will stand up against them and tell them it is wrong," Mohamedbhai said.
Colorado's Civil Rights Commission, which investigates discrimination complaints, does not track incidents by specific religions or race. According to its most recent annual report, the commission received 96 complaints of discrimination based on religion and 432 complaints based on race during the last fiscal year.
Khan said his father did not seem surprised by Gatchis' remarks, but he himself was shocked.
"Just to look at my name and assume everything in my life, everything that I am," he said. "I was angry, I was disappointed. I started to have a little bit of self-doubt. It kind of creeps into your mind: Who else is thinking these things? Is she the only one?"
Khan came to the United States when he was 11, sponsored by his father, who had a green card and was then working in Phoenix. They later moved to Boulder.
Khan earned a degree at the University of Colorado Boulder and worked in information technology before teaming up with his dad. Their restaurant's recipes are influenced by the family's roots in Bangladesh and England, where Khan was born.
On a typically busy weekday, staff at Curry n Kebob carried platters of naan, basmati rice and varieties of meat and curry to customers waiting for lunch.
Khan said he received constant support from customers and friends as the suit wrapped up and still hopes to find a Denver location to grow the family's business.
"If it weren't for me being (in America), I wouldn't have the life I do," he said. "I wouldn't enjoy the freedoms I have, and I wouldn't have the justice system that allowed her to have the consequences for acting like she did."
https://www.pakistantoday.com.pk/2019/05/03/us-landlord-who-refused-to-rent-to-muslim-men-settles-lawsuit/
--------
US imposes sanctions on Iran enriched uranium exports, but renews nuclear work waivers
May 3, 2019
The administration of US President Donald Trump has imposed sanctions on Iran's export of enriched uranium but at the same time renewed three key waivers that will allow European allies, Russia and China to cooperate with the Islamic Republic on civil nuclear program.
"Any involvement in transferring enriched uranium out of Iran in exchange for natural uranium will now be exposed to sanctions. The United States has been clear that Iran must stop all proliferation-sensitive activities, including uranium enrichment, and we will not accept actions that support the continuation of such enrichment," the State Department announced in statement issued on Friday.
Under Iran's 2015 nuclear deal, known as the Joint Comprehensive Plan of Action (JCPOA), Tehran is limited to keeping 300 kilograms of uranium enriched up to 3.67 percent. As part of the JCPOA, Iran is allowed to sell any enriched uranium above that threshold on international markets in exchange for natural uranium, with Russia a key player.
The waivers, due to expire Saturday, are extended for 90 days, the State Department statement added.
The waiver extensions pertain to the Bushehr nuclear power plant, the Fordow enrichment facility, the Arak nuclear complex and the Tehran Research Reactor, a senior US official said, on condition of anonymity.
On May 8, 2018, Trump announced that he would abandon the JCPOA, reached between Iran and six world powers – the US, the UK, France, Russia, China and Germany.
Under the JCPOA, Iran agreed to limit parts of its peaceful nuclear program in exchange for the removal of all nuclear-related sanctions.
In August, Trump ordered all nuclear-related sanctions that were removed under the deal to be reinstated immediately.
The new decision comes after the Trump administration took other steps to crack down on Iran. Trump said in a statement on April 22 that, in a bid to reduce Iran's oil exports to zero, buyers of Iranian oil must stop purchases by May 1 or face sanctions.
Full report at:
https://www.presstv.com/Detail/2019/05/03/595025/US-Iran-nuclear-activities-sanctions
--------
FM Zarif rules out US-Iran war, but says 'accidents' possible
May 3, 2019
Iranian Foreign Minister Mohammad Javad Zarif dismisses the likelihood of a war between Iran and the United States but says certain "accidents" might ignite a military confrontation.
In a recent interview with the British online newspaper Independent at Iran's Permanent Mission to the United Nations in New York, Zarif said although he did not think a war between Iran and the US was imminent, "accidents can happen" that then spiral into a "military conflict."
In response to a question about the nature of such accidents, Zarif gave the example of a recent move by US President Donald Trump to put Iran's Islamic Revolution Guards Corps (IRGC) on its blacklist of foreign "terrorist" organizations.
A lack of "vital communication" between the IRGC forces and ships going through the Persian Gulf and the Strait of Hormuz, a strategic waterway where most of the world's oil exporters pass through, can easily lead to conflict.
The United States in April officially registered the IRGC as a "foreign terrorist organization," according to a notice published on the website of the US Federal Register.
Iran's Supreme National Security Council (SNSC) slammed the US government as "supporter of terrorism," designating American forces in West Asia, known as the United States Central Command (CENTCOM), as a "terrorist organization."
In a statement, the Iranian top security council said the designation came as a "reciprocal measure" against US President Trump's "illegal and unwise" move to blacklist the IRGC as a foreign terrorist organization.
In a meeting with IRGC personnel and their family members in the capital Tehran, Leader of the Islamic Revolution Ayatollah Seyyed Ali Khamenei said the recent US decision is rooted in America's "rancor" against the force, which has been in the forefront of the fight against enemies.
"The IRGC is the vanguard both on the field confronting the enemy on [Iranian] borders and even several thousand kilometers away [in Syria] as well as on the political battleground against the enemy," the Leader said, adding that Americans hold a grudge against the force for that reason.
Also in his interview, the top Iranian diplomat mentioned an incident happened in the Persian Gulf in January 2016 when the IRGC naval forces arrested 10 US sailors after their patrol boats entered Iran's territorial waters.
Zarif said that "a direct line of communication" between him and his US counterpart at the time John Kerry let the two top diplomats control the situation and secure the quick release of American sailors, adding that no such communication channel exists today.
"So a similar incident in the Persian Gulf could quickly get out of hand," he said.
On January 13, 2016, the IRGC announced that ten US Marines, who had drifted into the country's territorial waters in the Persian Gulf and had been taken into Iranian custody, had been released after Americans apologized for the incident.
When asked about Zarif's interview with Fox News, the Iranian foreign minister said he wanted to reach out to Trump's base in American mainstream "because it is important to speak to the other side sometimes".
However, he noted that it was not his first interview with Fox and that he had talked to the channel years ago when he was Iran's ambassador at the United Nations in New York.
Full report at:
https://www.presstv.com/Detail/2019/05/03/595008/Zarif-Independent-Iran-US-war-conflict-New-York
--------
US Senate fails to end military assistance to Saudi war in Yemen
May 3, 2019
The US Senate has failed to override President Donald Trump's veto of a congressional resolution demanding an end to American military support for the Saudi-led coalition waging war in Yemen, a country plagued by more than four years of a devastating conflict.
The vote on Thursday was 53 to 45, falling short of the two-thirds majority needed to override a veto, despite a handful of Trump's fellow Republicans joining Democrats in backing the War Powers Act, which limits the president's ability to send troops into action without congressional authorization.
The resolution's passage earlier this year marked the first time both the Senate and House of Representatives supported the provision of the War Powers Act.
Supporters of the resolution said they wanted to reassert the constitutional power of Congress to declare war, and send a strong message to Saudi Arabia about the devastating civilian toll of the war in Yemen.
The Saudi-led war in Yemen has killed tens of thousands of people and spawned what the United Nations calls the world's most dire humanitarian crisis, with the country on the brink of famine.
Saudi Arabia and a number of its regional allies launched a devastating military campaign against Yemen in March 2015, with the aim of bringing the former Saudi-sponsored government back to power.
The US along with some Western countries are complicit in the ongoing aggression as they supply the Riyadh regime with advanced weapons and military equipment as well as logistical and intelligence assistance.
Last November, Washington stopped providing aerial refueling for the coalition's warplanes. It only halted the support after the coalition grew independent of it.
Many members of Congress have also become angry with Riyadh over the murder of dissident Saudi journalist Jamal Khashoggi, a US resident and columnist for the Washington Post.
US intelligence agencies believe Saudi Crown Prince Mohammed bin Salman ordered the killing.
However, some observers believe the anti-Saudi sentiment in Congress is not genuine and Riyadh continues to have widespread support in Washington.
Riyadh spent $27 million on hiring lobbying firms in 2017 to influence Congress, compared with $10 million in 2016, according to the Center for International Policy, which tracks foreign influence spending in the US.
The Senate vote on Thursday comes less than two weeks after the beheading of 37 Saudi nationals across the kingdom.
World leaders and several human rights organizations have expressed shock and condemnation over the mass execution.
Full report at:
https://www.presstv.com/Detail/2019/05/03/594976/US-Senate-Trump-veto-Yemen
--------
US to extend waivers tied to Iran's nuclear program
Umar Farooq
04.05.2019
WASHINGTON
The U.S. said Friday it would extend waivers granted to nations involved in the 2015 Iran nuclear deal that allow them to take part in nonproliferation projects designed to make it harder for Tehran to obtain a nuclear weapon.
The projects include reactor redesigns to prevent the creation of plutonium and infrastructure projects that will help ensure that some facilities are not used for uranium enrichment.
"Iran must stop all proliferation-sensitive activities, including uranium enrichment, and we will not accept actions that support the continuation of such enrichment," the State Department said in a statement.
The extensions for the projects were granted for 90 days with the potential for them to be renewed.
The U.S. introduced the measures as a continuation of previous policies aimed at curbing Iran's ability to revive its nuclear weapons program.
Among those policies are an oversight of the country's civil nuclear program which the department said would constrain Iran's ability to shorten its "breakout time" in terms of getting a nuclear weapon.
The department introduced further restrictions including sanctions on the transfer of enriched uranium out of Iran in exchange for natural uranium and warned that any assistance to expand Iran's Bushehr nuclear power plant beyond the existing reactor unit could be subject to sanctions.
The U.S. also said it would no longer permit Iran to store heavy water, a byproduct of nuclear enrichment.
"The Trump administration continues to hold the Iranian regime accountable for activities that threaten the region's stability and harm the Iranian people," the State Department said in the statement. "This includes denying Iran any pathway to a nuclear weapon."
The moves taken by the State Department are the latest in a series of actions to assert economic pressure on Iran.
The Trump administration re-imposed sanctions on Iranian oil exports in November after the president pulled out of the 2015 Iran nuclear deal between Tehran, Washington and five other countries.
Full report at:
https://www.aa.com.tr/en/americas/us-to-extend-waivers-tied-to-irans-nuclear-program/1469462
--------
Southeast Asia
Malaysia home minister hits back at claims Pakatan Harapan is eroding Muslim rights
MAY 3, 2019
KUALA LUMPUR - Malaysia's Home Minister Muhyiddin Yassin on Friday (May 3) hit back at a Muslim organisation planning a mass rally, saying these so-called defenders of Islam were nowhere to be seen when pilgrimage fund Tabung Haji and plantation agency Felda lost millions of dollars under the previous administration.
Gerakan Pembela Ummah (Muslim Defenders Front) is planning a mass rally in Kuala Lumpur on Saturday, asking Muslims to come together to defend their rights that the non-governmental organisation claims are being eroded by the year-old Pakatan Harapan (PH) government.
Tan Sri Muhyiddin's response, as quoted by Malay Mail news site: "They are doing all this on the expense of religion to get more followers and support.
"But in reality, if they were really interested in defending Islam, where were they when Tabung Haji issue cropped up?"
The Malaysian government has bailed out Tabung Haji with a RM17.8 billion (S$5.8 billion) plan that removed financially distressed assets from its books. PH has said Tabung Haji was weakened by bad management, including paying above-market rates for a plot of land owned by scandal-tainted state fund 1Malaysia Development Berhad (1MDB).
And another RM6.3 billion is being used to rescue the Federal Land Development Authority (Felda), a palm and rubber plantations agency that helps rural Malay Muslims.
The PH government has been hit by claims that it was eroding Muslim rights since it came to power and appointed non-Malays to powerful positions such as the finance minister and the attorney-general, with such claims rising in frequency in recent months.
The two biggest Malay Muslim parties, Umno and Parti Islam SeMalaysia (PAS), have banded together in an informal opposition alliance, and has placed race and religion at the front of their campaign to weaken PH.
The rally is to take place at the downtown KL mosque of Masjid Jamek, a popular gathering place for peaceful demonstrators from the time the four PH parties were in the opposition.
The protesters then plan to march to the Sogo shopping centre nearby to listen to speeches by rally leaders.
But to Mr Muhyiddin, claims that Malay Muslim rights need defending now do not make sense. He is also president of PH member Parti Pribumi Bersatu Malaysia chaired by Prime Minister Mahathir Mohamad.
"Where were they when our country's debt was revealed?" he asked. "If they meant well for Islam, what did they do?"
"Just like Felda... which a big part of it involved Muslims. In the end it was us, Pakatan Harapan who took responsibility to figure out big debts such as RM17 billion," he said, as quoted by Malay Mail.
Mr Muhyiddin dismissed the Saturday rally as a publicity stunt, and advised the organisers not to misuse religion to sow public discord.
"All I can say is don't evoke Islam sentiments or make us look like we are not protecting Islam," he said.
"There is no evidence till now to show Islam has been neglected or any of Islam's institutions were meddled with or demolished by PH."
https://www.straitstimes.com/asia/se-asia/malaysia-home-minister-hits-back-at-claims-pakatan-harapan-is-eroding-muslim-rights
--------
Ummah claims cops gave go-ahead for tomorrow's rally, but with conditions
03 May 2019
By Emmanuel Santa Maria Chin
KUALA LUMPUR, May 3 — Organisers of the Himpunan Pertahanan Kedaulatan Islam rally will go ahead with the planned demonstration tomorrow, claiming to have received approval from the district police.
According to Aminuddin Yahaya, chairman of Gerakan Pembela Ummah (Ummah), the approval came with the condition that the rally was not used to stir up negative views.
He told Malay Mail the demonstration is set to go ahead as planned from 2pm to 6pm.
He said representatives from his movement had a meeting with Dang Wangi district police yesterday evening, where the approval from the enforcers soon followed.
"Police just informed us not to incite other religions or races.
"We expect a crowd of around 5,000 to 10,000, but we never know as the response is so good from the rakyat," he told Malay Mail, adding that heads of NGOs are expected to deliver speeches tomorrow.
Ummah is one of the organisers for the rally.
Aminuddin added that the police's approval letter giving the go-ahead for the rally was received by the body today following their meeting yesterday.
Among the issues the rally aims at protesting is the stance of the Pakatan Harapan (PH) government who have been blamed for apparently sidelining the Malay community and challenging the sovereignty of Islam.
The rally also plans to raise issues pertaining to the Roman Statute, the International Convention on the Elimination of All Forms of Racial Discrimination (ICERD), PH's stance on the Unified Examination Certificate (UEC) and Teaching and Learning of Science and Mathematics in English (PPSMI), and the untimely death of fireman Muhammad Adib Mohd Kassim during riots at the Sri Maha Mariamman temple in Seafield last November.
It plans for participants to gather at Masjid Jamek in the city centre for Zohor prayers, where they will then march to the Sogo shopping complex along Jalan Tuanku Abdul Rahman where speeches and a 'people's declaration' will be recited, before dispersing at 6pm.
Home Minister Tan Sri Muhyiddin Yassin yesterday advised those looking to attend the rally not to fall for the propaganda of certain quarters who he claimed would purposely fan racial and religious sentiments at the rally.
Meanwhile, English daily The Star quoted Dang Wangi district police chief Assistant Commissioner Mohd Fahmi Visuvanathan Abdullah who confirmed the meeting between organisers and the police.
He said the approval was given after all requirements under the Peaceful Assembly Act were met.
The report quoted Mohd Fahmi as assuring the public that sufficient numbers of police personnel would be on the ground to ensure public order.
"We will also facilitate traffic for the convenience of other road users as such gatherings are bound to cause some congestion," he said in the report.
Full report at:
https://www.malaymail.com/news/malaysia/2019/05/03/ummah-claims-cops-gave-go-ahead-for-tomorrows-rally-but-with-conditions/1749437
--------
India
Terror acts continued after 2014, ban on SIMI must: Cops tell tribunal
by Chandan Haygunde
May 4, 2019
State ATS and CID officials on Friday deposed before the Unlawful Activities (Prevention) Tribunal constituted by the Centre to ascertain whether there was sufficient cause to extend the ban on the Students Islamic Movement of India (SIMI).
The tribunal, presided by Justice Mukta Gupta of the Delhi High Court, began its hearing in Pune on the premises of SPPU.
ATS Superintendent Ravindrasinh Pardeshi, who supervises terrorism cases in Pune and 10 other districts in the state, has filed an affidavit before the tribunal justifying the ban on SIMI.
While deposing on Friday, Pardeshi submitted information on the Mumbai local train bombings of July 2006, in which alleged SIMI operative Ethesham Siddiqui was convicted by a court. He said that alleged terror operative Abdul Subhan Qureshi alias Tauqeer, arrested last year and allegedly involved in several terror cases including the 2006 Mumbai train bombings, was also associated with SIMI.
Besides, Pardeshi said that Mirza Himayat Inayat Baig, convicted in the 2010 German Bakery blast in Pune, was convicted under the UAPA Act for his links with SIMI. While a lower court in Pune had awarded death sentence to Baig, the Bombay High Court had set it aside and awarded him life imprisonment while convicting him under the Explosives Act.
Pardeshi further told the court about a 2011 fake currency case, in which an alleged SIMI operative was arrested. He also submitted details of the blast of July 16, 2014 near Faraskhana-Vishrambag police station in Pune. Investigation and CCTV footage had revealed the involvement of five alleged SIMI operatives. Three of the accused died in an encounter with police in Madhya Pradesh while two died in Telangana, he told the tribunal.
Submitting that SIMI continued to indulge in terror activities even after 2014, Pardeshi told the tribunal that banning the outfit was essential.
https://indianexpress.com/article/india/terror-acts-continued-after-2014-ban-on-simi-must-cops-tell-tribunal-5709756/
--------
India, Morocco prevent further terror strikes in Sri Lanka
MAY 03, 2019
NEW DELHI: India and its key partner in North Africa, Morocco, have collaborated to prevent further terror strikes in Sri Lanka after the Sunday Easter bombings in what can be described as a major success in counter-terror operations in the subcontinent in recent times.
Morocco, which maintains a substantial information bank on ISIS and its network provided leads to Sri Lanka in collaboration with India that led to an operation in Colombo to eliminate terrorists who were planning second round of attacks after Easter Sunday bombings, ET has learnt.
Besides additional information was provided by Morocco to Sri Lanka that helped to preempt other terror attacks that ISIS was planning to orchestrate, according to persons familiar with the developments.
Earlier within hours of the attack Morocco had shared intelligence with Delhi and Colombo to identify nine suicide bombers responsible for Eastern Sunday bombings.
Morocco has wide-ranging and effective counter partnerships with leading countries including USA, France, Spain and India among other countries and signed three counter-terror pacts with Delhi since last year. In February, Rabat and Delhi during Foreign Minister Sushma Swaraj visit signed a memorandum of understanding to fight terrorism.
In fact Morocco that follows a moderate school of Islam, has one of the successful records of counter-terrorism and de-radicalization.
Last year Abdelhak Khiame, Head of Morocco's Central Bureau of Legal Investigation (BCIJ), said Moroccan security services dismantled "183 terrorist cells" in the country that were in the various stages of planning "361 devastating terrorist projects". More than 3,000 people, including 292 individuals with previous criminal record, have been arrested by Moroccan authorities over the past decade.
Morocco over the year has adopted three major national counterterrorism measures, officials told ET. The first was a 'home affairs' approach to security. In October 2014, the Ministry of the Interior launched Operation Hadar (Arabic for 'vigilance'), requiring the security forces to work together to combat terrorism. This resulted in enhanced security at airports, train stations and border posts.
The second measure was to strengthen the legal system. In 2015, the Moroccan parliament amended the country's counterterrorism laws to criminalise a range of possible terrorism-related activities, including travel to Syria.
The third step was creation of BCIJ as the lead agency for counterterrorism in Morocco. Since 2015, it has been responsible for numerous terrorism-related arrests and is credited with preventing several terrorist attacks in Morocco.
BCIJ works closely with Morocco's security agencies -- Morocco's general directorates of national security and territorial surveillance to raid terror cells across Morocco. On April 24, Morocco arrested a seven-member terror cell which was plotting to undermine the security of the country. The operation is one of many that BCIJ has carried out throughout the year against terrorists.
European countries have been working closely with Morocco (Africa's second biggest economy), and conducting joint anti-terror operations with Moroccan security forces.
Full report at:
https://economictimes.indiatimes.com/news/defence/india-morocco-prevent-further-terror-strikes-in-sri-lanka/articleshow/69163536.cms
--------
After IS arrest, Kerala on edge ahead of Ramzan, Thrissur Pooram
May 03, 2019
The Kerala police has beefed up security in the port city of Kochi and Thrissur where the state's biggest cultural festival 'Thrissur Pooram' is scheduled in ten days, after the National Investigation Agency (NIA) broke up a module of terror outfit Islamic State in Kerala with the arrest of a suspected terrorist on April 29, a senior official said.
The arrested terrorist, Riyas Abookacker, a native of Palakkad, reportedly told the NIA that he was ready for a suicide attack in Kerala but his friends had let him down by not providing explosives and logistic support.
Following his interrogation, the NIA had raided many suspected hideouts in Tamil Nadu in the last two days and seized incriminating documents, sources with the NIA said adding at least 60 people from both states, Kerala and Tamil Nadu, were under observation.
During interrogation, Riyas reportedly admitted that he had been following the speeches of Zahran Hashim, the mastermind behind the Lankan bombings, for more than a year and he was eager to carry out a terror attack in a tourist spot in Kerala, where foreigners were frequent visitors.
It was also found that he was in touch with Abdul Raashid from north Kerala who reportedly joined the IS three years ago, through encrypted social network Telegram. Raashid had earlier sent a fiery speech exhorting his supporters to attack soft targets in Kerala, including the Thrissur Pooram festival.
Following the revelations made by Riyas, police have combed hotels, home stays and resorts in Kochi. "We are on high alert and co-coordinating with central agencies well," a senior police officer said. Though the NIA detained two more people from north Kerala's Kasargode they were let off later for lack of evidence. But it could not locate a person from south Kerala's Kollam who was closely associated with Riyas.
Full report at:
https://www.hindustantimes.com/india-news/after-is-arrest-kerala-on-edge-ahead-of-ramzan-popular-cultural-festival/story-fBHiY7VXmRhYHqWtFt1RBM.html
--------
Burhan Wani aide Lateef Tiger may be among 3 militants killed in J-K's Shopian gunfight
May 03, 2019
Lateef Tiger, a top Hizbul commander and a close associate of the slain separatist poster boy Burhan Wani was among the three militants killed on Friday by the security forces in Jammu and Kashmir's Shopian district, sources said.
Police has, however, so far officially only confirmed that three militants have been killed in this encounter which has now ended.
"The identities of the slain militants will be confirmed after we recover their dead bodies," an officer said.
A soldier of the Indian Army was injured in this joint operation carried out by the Rashtriya Rifles (RR), special operations group (SOG) of state police and the Central Reserve Police Force (CRPF).
The house in which the militants were hiding was destroyed in the gunfight while two other houses were partially damaged.
Clashes broke out at the site of the gunfight between the civilian protesters and the security forces.
One youth has sustained pellet injury during the mob control operation by the security forces.
Clashes also erupted in Anantnag, as news of Tiger's possible elimination spread. Lateef Tiger belonged to Awantipora town of Pulwama district.
A few of the other areas in South Kashmir were also reporting clashes as news of the encounter spread despite authorities suspended mobile Internet facility in all the four south Kashmir districts.
Train services between Srinagar and Banihal towns those passing through south Kashmir districts have also been suspended.
Tiger was killed in Adkhara village of Imam Sahib area and with the end of Lateef Ahmad Dar -- 11 out of 12 members of the so-called 'Burhan Brigade' in south Kashmir is all but over. Only of the remaining 12, Tariq Pandit, was arrested by the security forces in 2016.
Full report at:
https://www.hindustantimes.com/india-news/burhan-wani-aide-lateef-tiger-may-be-among-3-militants-killed-in-j-k-s-shopian-gunfight/story-lh8z7h5FgFgoJx4lvmORyO.html
--------
Mideast
As Israeli group expands, Palestinian houses face demolition
3 May 2019
For 20 years, Hala Kashour has lived with her husband in what she called "paradise," a bucolic meadow that rolls through a Palestinian neighborhood of east Jerusalem.
The coveted pasture, which Israel calls the "Peace Forest," lies in the crosshairs of a long-simmering conflict between the city government and its Palestinian residents that flared up on a recent spring morning as Kashour, 47, was jolted awake by the sound of bulldozers crushing her neighbor's house.
Some 60 houses in the grassy quarter, known to its 500 residents as Wad Yasul, are facing demolition by Israel.
Earlier this month, the Supreme Court declined to hear the residents' appeal against demolition orders, saying the structures were built without required permits in a municipally designated green space.
"God willing, we won't be next," said Kashour, who claims she built the neighborhood's first house, a stone cottage ringed with rose bushes, on land her family has owned for 50 years.
Demolition of unauthorized Palestinian-owned structures in east Jerusalem is not unusual.
The municipality contends it cracks down on zoning violations. Palestinians say it is nearly impossible to receive building permits, and that Israel is severely restricting their ability to build on land they claim for the capital of their future state.
But the Peace Forest demolitions have drawn particular attention because of accelerating construction by a nationalist Jewish organization in the same park.
With the support of Israel's Tourism Ministry, the City of David Foundation has set up lodging structures, operates a Segway tour through the woodland and is advancing plans for several tourist attractions, including a visitor center and what it bills as the country's largest zip line.
The foundation said it has leased 4% of the park's total area from the government.
Although city regulations forbid construction of any kind in designated parks, the municipality confirmed it was working to alter zoning restrictions and retroactively authorize City of David's construction and facilitate its expansion.
Activists and Palestinian residents say the case of the Peace Forest highlights discriminatory Israeli policies that have propelled a housing crisis in overcrowded east Jerusalem.
"The government zoned this area in an intractable way to prevent Palestinian construction, and now we can see the designation being altered to serve Jewish settlement," said Aviv Tatarsky from Ir Amim, an Israeli group that advocates equality in Jerusalem.
A government plot
The Supreme Court's dismissal of the case brought an end to the residents' costly decade-long legal battle to get their houses, in many cases built decades ago on inherited family land, authorized by Israel.
Structures belonging to two families were destroyed immediately following the decision, and two more homes were demolished on Tuesday. Pending demolition orders for the rest of the area can go into effect at any time, said Zyad Kawar, lawyer for the Palestinian residents.
Many residents view the park zoning as a government ploy to force Palestinians out of east Jerusalem, which Israel considers an indivisible part of its capital.
"They don't want to give us permits, that's the bottom line," said Nasser Burqan, 42, whose cousin owned a house demolished this month. "It's displacement."
Discriminatory Israeli policies
Israel captured east Jerusalem from Jordan in the 1967 Mideast War and annexed it, a move not internationally recognized.
Since then, Israel has boosted the Jewish presence there, building neighborhoods where over 200,000 Jews now live.
The Peace Forest sits in the larger Palestinian neighborhood of Silwan, long a focal point of Jewish settlement for its proximity to some of the world's most sensitive religious sites in the walled Old City.
The City of David Foundation runs popular archaeological and touristic sites in and around Silwan - spots it emphasizes as centerpieces of ancient Jewish civilization.
The City of David projects are not planned on the ruins of the demolished homes, and the foundation says the city's demolition plans go back long before it became involved.
But critics say the demolitions on one hand, and the green light to City of David on the other, illustrate two sets of standards for Jews and Palestinians in the city.
The organization has also drawn sharp criticism for helping to settle Jewish families in Arab neighborhoods, fueling suspicions that its tourism projects mask efforts to erase the line between east and west Jerusalem, and with it, hope for an independent Palestinian state.
The two-state dream seems more distant than ever after newly re-elected Prime Minister Benjamin Netanyahu promised on the campaign trail to annex West Bank settlements.
He is poised to form a governing coalition with right-wing parties that reject Palestinian sovereignty.
His re-election comes a year after the Trump administration recognized Jerusalem as Israel's capital and moved the US Embassy to the city.
Though Trump says his move does not determine the city's final status, it was seen by the Palestinians and others as recognizing Israel's claim to the city, including its eastern sector.
https://english.alarabiya.net/en/features/2019/05/03/As-Israeli-groups-expand-Palestinian-houses-face-demolition.html
--------
Six civilians killed in Yemen in suspected Al-Qaeda bombing
May 04, 2019
ADEN: At least six civilians, including children, were killed in Yemen on Friday when a roadside bomb believed to be planted by Al-Qaeda went off in the country's southeast, a Yemeni security official said.
At least six others were wounded in the blast, the second attack in less than a week in Al-Qatn village in the vast Hadramaut region
Al-Qaeda's local affiliate in Yemen, Al-Qaeda in the Arabian Peninsula (AQAP), has taken advantage of a civil war between the Iran-aligned Houthi group and President Abd-Rabbu Mansour Hadi's government to strengthen its position in the impoverished country.
AQAP operates in several provinces in south and eastern Yemen, including in Abyan, Shabwa and Al-Bayda.
http://www.arabnews.com/node/1492191/middle-east
--------
Israeli jets, soldiers kill 4 Palestinians in Gaza Strip
May 3, 2019
Two Palestinians have been killed in an Israeli air raid on the Gaza Strip shortly after Israeli soldiers attacked Palestinian protesters taking part in the weekly "Great March of Return" rallies, leaving two of them dead and at least 50 others injured.
Palestinian sources confirmed on Friday that Israeli aircraft had targeted a position belonging to the Palestinian resistance in the al-Maghazi refugee camp, located in the center of the Gaza Strip.
The attack reportedly killed two members of Hamas' military wing, known as the Ezzedine al-Qassam Brigades. The airstrike also injured three other Gazans.
Israeli sources also reported that the Israeli military had shelled the Bureij refugee camp at the center of the Gaza Strip.
The attacks came shortly after two Israeli soldiers were wounded by alleged sniper fire on the Gazan border.
Palestinian resistance groups have vowed to respond to the attacks.
'Golan is Arab, Syrian'
Carrying Syrian flags, Palestinian demonstrators participating in the "right to return" rally also protested Tel Aviv's occupation of Syria's Golan Heights.
The Palestinians shouted slogans saying that the Heights belonged to "Arab Syria".
The demonstrators decried United States President Donald Trump's March 25 proclamation recognizing Israel's "sovereignty" over the Syrian territory.
Damascus strongly condemned the move and called it a "blatant attack on the sovereignty and territorial integrity" of Syria.
The decision was also denounced by the Arab League which stated that "Trump's recognition does not change the area's status."
The Friday protest comes as Palestinians in Gaza have been holding weekly rallies to demand the right to return for those driven out of their homeland by Israeli aggression and an end to the siege on the enclave since March last year.
More than 270 Palestinians have been killed since then, and over 16,000 have been injured.
A United Nations fact-finding mission found earlier that Israeli forces committed rights violations during their crackdown against the Palestinian protesters in Gaza that may amount to war crimes.
The Gaza Strip has been under an Israeli siege since June 2007, causing a decline in living standards as well as unprecedented unemployment and poverty.
Full report at:
https://www.presstv.com/Detail/2019/05/03/595023/Palestinians-Israeli-airstrikes
--------
Turkey says not moving away from NATO with S-400 deal
May 3, 2019
Turkish Defense Minister Hulusi Akar says his country is not distancing itself from the US-led NATO military alliance by acquiring Russian S-400 missile defense systems.
Akar said Ankara should not be excluded from the F-35 fighter jet production program over the deal, noting that such a move would put "very serious" burdens on the other partners in the project.
"There is no clause saying 'you will be excluded if you buy S-400s' in this partnership. Excluding us just because any one country wants so would not be in line with justice, laws or rights. This should not happen," Akar said in an interview with broadcaster NTV on Friday.
The United States announced on April 1 that it would be suspending all "deliveries and activities" related to Turkey's procurement of F-35 jets over Ankara's plans to purchase the S-400s.
Moscow and Ankara finalized an agreement on the delivery of the S-400 in December 2017. Back in April 2018, Turkish President Recep Tayyip Erdogan and his Russian counterpart Vladimir Putin said in Ankara that they had agreed to expedite the delivery of the S-400. At the time, it was said that the delivery could be made between late 2019 and early 2020.
The US and a number of NATO member states criticized Turkey for its planned purchase of the S-400, arguing the missile batteries are not compatible with those of the military alliance.
The US also warned of tough sanctions if Turkey pursued plans to acquire S-400. Ankara, however, said it would not go back on the deal with Russia.
Turkey also proposed to form a working group with the US to determine whether the S-400s pose a threat to the F-35s, but says US officials have not responded to the offer yet.
Akar said that Ankara was attempting to clarify to the US and other partners in the F-35 project that the S-400s would not pose a threat to the F-35s, and added that his country had taken measures to prevent that.
President Erdogan on Tuesday criticized the US for threatening to stall the delivery of F-35 fighter jets to his country, saying "The F-35 project is bound to collapse if it excludes Turkey."
Elsewhere in his remarks, the Turkish minister said his country was still assessing the latest US offer to sell Raytheon Co. Patriot missile defense system, which he described as more positive than Washington's previous offers.
Turkey said two weeks ago it expected US President Donald Trump to use an S-400 sanctions waiver, after US Secretary of State Mike Pompeo warned that Ankara could face penalties under a law that calls for sanctions against countries buying military gear from Russia.
The S-400 is an advanced Russian missile system designed to detect, track, and destroy planes, drones, or missiles as far as 402 kilometers away. It has previously been sold only to China and India.
Ankara is striving to boost its air defense, particularly after Washington decided in 2015 to withdraw its Patriot surface-to-air missile system from Turkish border with Syria, a move that weakened Turkey's air defense.
Before gravitating towards Russia, the Turkish military reportedly walked out of a $3.4-billion contract for a similar Chinese system. The withdrawal took place under purported pressure from Washington.
Full report at:
https://www.presstv.com/Detail/2019/05/03/595004/Turkey-NATO-S400-deal
--------
Three Palestinians killed by Israeli military in Gaza
May 03, 2019
GAZA: Three Palestinians were killed by Israeli fire in the Gaza Strip Friday, authorities in the territory said, after Israel said two of its soldiers were wounded in a shooting on the border.
One of the Palestinians was shot dead along the frontier while the two others were killed in an air strike, the health ministry in Gaza said.
The Israeli army said the air strike was in retaliation for the shooting incident on the border that left its soldiers wounded.
The Gaza ministry named the men killed in the air strike as Abdullah Abu Mallouh, 33 and Alaa al-Bubli, 29, while the man killed in the clashes was 19-year-old Raid Abu Teer.
The Israeli military said it had hit a base belonging to Gaza's rulers Hamas after sh ots were fired at its forces along the border.
The army said "one soldier was moderately injured, and another soldier was lightly injured" when they came under fire during renewed protests.
An army spokeswoman said around 5,200 Palestinians had taken part in the demonstrations throughout the day.
Hamas did not immediately comment on the affiliation of the Palestinians killed but pledged to respond to what it called an "Israeli aggression."
Palestinians have been taking part in often violent demonstrations along the border for more than a year, calling on Israel to ease its crippling blockade of the strip.
At least 268 Palestinians have been killed by Israeli fire since the protests began in March 2018, the majority along the border.
Full report at:
http://www.arabnews.com/node/1492076/middle-east
--------
Six civilians killed in Yemen in suspected al-Qaeda bombing
3 May 2019
At least six civilians, including children, were killed in Yemen on Friday when a roadside bomb believed to be planted by al-Qaeda went off in the country's southeast, a Yemeni security official said.
At least six others were wounded in the blast, the second attack in less than a week in al-Qatn village in the vast Hadramaut region
Al-Qaeda's local affiliate in Yemen, Al-Qaeda in the Arabian Peninsula (AQAP), has taken advantage of a civil war between the Iran-backed Houthis and the Arab Coalition-backed Yemeni legitimate government to strengthen its position in the impoverished country.
Full report at:
https://english.alarabiya.net/en/News/gulf/2019/05/03/Six-civilians-killed-in-Yemen-in-suspected-al-Qaeda-bombing.html
--------
Iran, Turkey Reject Trump's Move to Classify Muslim Brotherhood as Terrorist Organization
2 May, 2019
Turkey and Iran on Wednesday criticized the United States over President Donald Trump's attempt to classify the Muslim Brotherhood as a terrorist organization.
Ankara has rejected the US move, which the White House confirmed on Wednesday, saying it would promote "anti-Islamism" in the West and around the world.
Iranian Foreign Minister Mohammad Javad Zarif, for his part, accused Washington of supporting terrorism in the region, stressing that Tehran opposed the inclusion of the "Muslim Brotherhood" on the US list of "terrorist organizations."
"The US is not in position to (..) start naming others as terror organizations and we reject by any attempt by the US in this regard," Zarif was quoted by Reuters as saying. "The US is supporting the biggest terrorist in the region, that is Israel," he added.
White House press secretary Sarah Sanders said that Trump "has consulted with his national security team and leaders in the region who share his concern and this designation is working its way through the internal process."
According to Reuters, the inclusion of the Muslim Brotherhood on the US list allows sanctions to be imposed on those who have relations with the group, which is classified as terrorist in a number of Arab countries.
The US announcement comes three weeks after Egyptian President Abdel Fattah el-Sisi's visit to Washington. According to the New York Times, which revealed information about Trump's attempt to classify the Muslim Brotherhood, the president's initiative faces strong objections, especially within the Pentagon.
Egypt did not officially comment on the US move against the Muslim Brotherhood, but members of the parliamentary foreign relations committee welcomed it.
Full report at:
https://aawsat.com/english/home/article/1704771/iran-turkey-reject-trump%E2%80%99s-move-classify-muslim-brotherhood-terrorist
--------
Africa
South Sudan parties agree on six more months to form unity government
4 May 2019
South Sudan's ruling and opposition parties agreed on Friday to give themselves six more months to form a unity government as part of a peace deal they signed in September, the regional group IGAD said in a statement.
Also on Friday, President Salva Kiir lifted a state of emergency imposed in 2017 in five northern states of the country, South Sudan Radio reported, in a bid to help foster peace.
South Sudan gained independence from Sudan in 2011 but descended into a civil war two years later. After a string of failed agreements, a peace deal was signed last September between the two sides, represented by Kiir and his former deputy turned rival, Riek Machar.
As part of the peace deal, the two sides aimed to form a national unity government by May 12. The parties met in neighboring Ethiopia's capital Addis Ababa on Friday to seek a way forward on the unity government.
"The Parties identified lack of political will, financing and time constraints as the major challenges that have delayed implementation of the Pre-Transitional tasks and underscored the need to ensure that specific pending tasks are adequately funded within a clearly set out and reasonable timeframe," IGAD said in a statement.
"In light of the above, the Parties unanimously agreed to extend the Pre-Transitional period by an additional six months effective from 12th May 2019 to enable the execution of the critical pending tasks," the intergovernmental group added.
While the peace deal has helped to reduce fighting and partly alleviated the humanitarian crisis afflicting the country, a UN panel of experts on South Sudan said in a report on Tuesday that the country still faces significant challenges.
IGAD, which has been helping to mediate between the two sides, said the new agreement will be presented for consideration at its council of ministers meeting to be held on 7th to 8th May in Juba in South Sudan.
https://english.alarabiya.net/en/News/middle-east/2019/05/04/South-Sudan-parties-agree-on-six-more-months-to-form-unity-govt-IGAD.html
--------
Stalemate persists in Tripoli after overnight fighting
3 May 2019
Heavy fighting raged overnight in the battle for the Libyan capital Tripoli, with neither faction able to secure gains on the frontlines as an offensive by eastern commander Khalifa Haftar entered its fifth week.
Haftar's Libyan National Army (LNA), which is allied to a parallel administration based in Benghazi, has in the past week brought up more troops and heavy guns to the frontline.
But it has been unable to breach the defenses in the city's southern suburbs of forces loyal to the internationally recognized government in Tripoli.
On the frontline
Heavy fighting raged from Thursday afternoon until early morning Friday in the area of the former international airport but the frontline has changed little, residents said.
The LNA moved up on one part of the front earlier this week but was repelled by the Tripoli forces, who had built barriers, including shipping containers, on southern roads where tanks and artillery guns are in position.
The Tripoli forces regained some ground but analysts say the threat of the LNA will persist as long as it keep its forward base in Gharyan, about 80 km (50 miles) south of Tripoli.
The town is difficult to take because it lies in mountains that rise from the coastal plain on which Tripoli sits.
Full report at:
https://english.alarabiya.net/en/News/north-africa/2019/05/03/Stalemate-persists-in-Tripoli-after-overnight-fighting.html
--------
Marred by conflicts, Tripoli residents feel the pinch in Ramadan
May 04, 2019
TRIPOLI: Shoppers throng Tripoli's Souk Al-Hout market but their mood is somber as Libya's capital is again hit by violence and prices have shot up ahead of the holy month of Ramadan.
"Our country is famous for its dates," a staple which Muslims eat first to break the Ramadan dawn-to-dusk fast, says shopkeeper Abdallah Al-Chaibi.
"But no one is able to buy them because their price has doubled," he adds as he struggles to woo shoppers to buy the celebrated degla variety which are grown in southeastern Libya.
"I cannot imagine an iftar without dates," he says.
During Ramadan, Muslims around the world abstain from eating, drinking, smoking and having sex from dawn to dusk.
They break the fast with a meal known as iftar and before dawn they have a second opportunity to eat and drink during sahoor.
In the days ahead of Ramadan — which begins on May 5 this year — families embark on shopping sprees to stock up on food for the iftar meal, which is often a feast that draws friends and relatives.
But renewed clashes between rival forces in and around Tripoli, a cash shortage and rising prices mean that this year's iftar will be more frugal than those of previous years, and in oil-rich Libya that hurts.
"A large part of the population is unable to buy even basic items and guaranteeing (iftar) meals has become a challenge," says Chaibi.
"In a wealthy country like Libya we are not used to this."
Libya has been plagued by chaos, violence and economic hardship since the ouster of Muammar Qaddafi in a NATO-backed uprising in 2011.
On April 4, military commander Khalifa Haftar launched an offensive to seize Tripoli pitting his Libyan National Army against the Tripoli government forces backed by powerful militias in Tripoli's southern suburbs.
The ensuing deadly clashes have killed 376 people according to the World Health Organization.
More than 40,000 have been displaced, according to the UN, but the figure does not include the many families who have sought safety with relatives.
"This will be the most difficult Ramadan in years," said Malek Mohamad, a resident of Tripoli in the covered Souk Al-Hout market, where shoppers can find everything from fish to spices.
He said the fighting had forced thousands of residents of southern districts to flee with just a few of their belongings. "They now have to buy things and this will eat into their meagre budgets," he said.
Since 2011, insecurity and shortages have been part of the daily lives of Libyans. Economic reforms launched last year were supposed to tackle a chronic lack of liquidity, but have been hit by the flare-up.
"Every time there is a glimmer of hope, a new military conflict erupts among Libyans," says Mohamed Al-Noueri, who ekes out a living selling spices and garlic from a tiny stall in the market.
Noueri, 69, says he is responsible for the needs of a family of 10, including a daughter with a physical disability and sons who study at university.
He himself is diabetic and says he "struggles to buy my medication."
"I am tired like many other (Libyans) who try to resist year upon year. And now war awaits us," he adds, his face wrinkled and sad.
Housewife Manal Khayri is also desolate on the eve of Ramadan.
"I spent three days queueing outside a bank and only managed to withdraw 500 dinars (around $350)," she says.
"This will be barely enough to cover our needs for the first week of Ramadan," says the mother of four as she shopped for pulses for her iftar meals.
"I pray to God to bring the Libyan people closer to each other," she adds.
Authorities say they have taken measures to ensure there will be no shortages of basic food products during Ramadan.
Full report at:
http://www.arabnews.com/node/1492231/middle-east
--------
Sanallah urges for halt of military operations, warns of ISIS infiltration to oil facilities
May 02, 2019
The Chairman of the National Oil Corporation (NOC) Mustafa Sanallah urged in an interview with Al-Hurra TV Channel for ending military operations in southern Tripoli and warned of ISIS militants' infiltration into oil facilities due to the war or the militarization of the oil sector.
Sanallah warned that if the war would linger, then oil production could be affected or stopped, saying the only solution is to halt the military conflicts and that the oil sector must remain outside this war and neutral.
"There are warships in Ras Lanuf port and Sidra port is still closed. There have been two attempts to seize two tugboats at the port. All in all, the workers in Sidra convinced the military unit to back off from seizing the tugboats as it could lead to the shutdown of the port." He explained.
He said the NOC is working with all institutions in eastern and western Libya all alone and is based in Tripoli as the only legitimate body to operate the oil sector in the country, adding that they are working with the Presidential Council's government which is overseeing the work of the NOC since it is the legitimate government in Libya.
"France-Italy rift over oil privileges in Libya is untrue. The NOC is operating with Italian Eni and French Total." Sanallah remarked.
Full report at:
https://www.libyaobserver.ly/news/sanallah-urges-halt-military-operations-warns-isis-infiltration-oil-facilities
--------
Boko Haram kills at least 14 loggers in Nigerian village
2019-05-02
ABUJA, May 2 (Xinhua) -- At least 14 bodies of loggers from a village in Nigeria's northeastern state of Borno were evacuated to a police station following an attack by terror group Boko Haram earlier this week, the head of a local militia group told Xinhua on Thursday.
Residents of Duwabayi village, in the state's Monguno area, found the bodies of the loggers killed after a Boko Haram attack on Tuesday evening and alerted the Civilian Joint Task Force (CJTF), which helps the military fight the militants, said Ali Bulama, head of the CJTF in the area.
"The victims were in search of trees to cut down in a bush near the village when the Boko Haram fighters attacked and shot them. We found bullet wounds on all the corpses and took them to the police station," Bulama said via telephone.
Local police have declined to comment on the attack.
Duwabayi village was deserted sometime last year after residents fled and took refuge in a camp for internally displaced persons (IDPs) in Monguno due to incessant Boko Haram attacks in the area.
Monguno is located 135 km north of Maiduguri, the capital of Borno State, and hosts a military formation. The town has been repeatedly attacked by Boko Haram militants who have made several failed attempts to overrun the military base.
Boko Haram has repeatedly attacked farmers, loggers and herders, accusing them of giving information to the military and the pro-government CJTF.
Full report at:
http://www.xinhuanet.com/english/2019-05/02/c_138029768.htm
--------
URL: https://www.newageislam.com/islamic-world-news/there-something-unique-riyadh-al/d/118504
New Age Islam, Islam Online, Islamic Website, African Muslim News, Arab World News, South Asia News, Indian Muslim News, World Muslim News, Women in Islam, Islamic Feminism, Arab Women, Women In Arab, Islamophobia in America, Muslim Women in West, Islam Women and Feminism