New Age Islam News Bureau
16 Dec 2019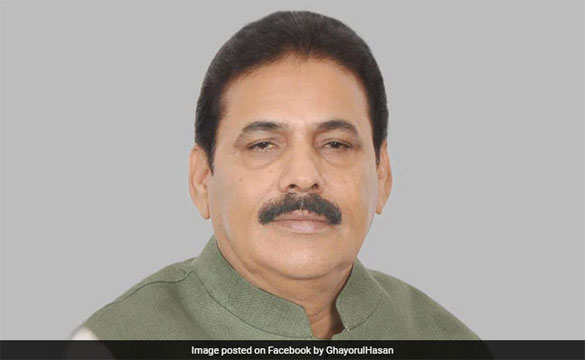 Indian Muslims are neither intruders nor refugees, says Syed Ghayorul Hasan Rizvi.
------
• 'There Is No Danger to Indian Muslims': Minorities Panel Chief
• We Are Protesting As Assamese, Not As Hindu Or Muslim: Anti-CAA Agitators
• Citizenship Law Protests: Bengal Imam Who Lost Son To Communal Clashes Calls For Peace
• Willing To Take Back Our Citizens, If Any, Illegally Staying In India: Bangladesh
• Niqab Ban Debate Shows Jokowi's Tough Stance On Islamic Hard-Liners
• ISIS Has Created Mobile App for Recruitment and Funding: Egyptian Fatwa Observatory
• Terrorism in the UK More than Trebles In 5 Years
• US-Based Islamic Scholar Defends Anti-Semitic Comments, Slams Western Media
• Amazon Sells Islamist Books Banned In Jails
• Islamist Rebels Reportedly Hack To Death 22 In Eastern Congo Despite Presence Of U.N. Peacekeepers
Compiled By New Age Islam News Bureau
URL: https://www.newageislam.com/islamic-world-news/there-no-danger-indian-muslims/d/120540
India
• CAA stir: Jamia Millia students stage protest against police action, demand CBI inquiry
• Dr Kafeel Booked For 'Hate Speech' On AMU Campus
• UN Human Rights Says Act Is 'Discriminatory', Excludes Muslims
• Act's main aim is to break spirit of Muslims: Maulana Syed Arshad Madani
• At least 60 injured in police crackdown at Aligarh Muslim University
• AMU students protest in support of Jamia, face tear gas and lathicharge by police
• Mosques to fight against drug abuse in DK, Udupi
• 6 die as Indians protest law granting citizenship to non-Muslim illegal migrants
• SC to hear pleas alleging police atrocities on students protesting against CAA
• 50 students, detained during protests at Jamia, released: Police
• Police entered campus by force: Jamia administration
• #JamiaProtest: Anubhav Sinha, Swara Bhasker, Vikrant Massey and others condemn Delhi Police for action against students
------
South Asia
• India not pushing anyone into Bangladesh: Foreign Minister Dr Momen
• Australian commando found dead three years after raising Afghanistan war crime allegations
• Special Forces storm Taliban prison in Uruzgan, rescue 12 civilians
• Afghanistan's senate member and ex election commission chief convicted of public budget theft in United States
------
Southeast Asia
• Nahdlatul Ulama Reacts To WSJ's Report On China's Handling Of Uighur Muslims
• Muslim youths urged to help counter Islamophobia
• AmBank Islamic's Eqhwan named best Islamic banking CEO Malaysia 2019
• Rubbish, says Najib on claim he instructed cops to murder Altantuya
------
Arab World
• Saudi Heritage Preservation Society wins UN role
• Arab League Secretary-General Strongly Rejects "Arab Spring" Term
• Kuwait deports Egyptian over 'links to Muslim Brotherhood'
• Iraqi protesters reject Mohammed Shia' Al Sudani as possible candidate for PM
• Key road development projects in Makkah enter final stage
• Saudi show jumpers ride for places in Tokyo Olympics team
------
Europe
• UK Muslims Fear Johnson's Victory Could Fan Islamophobia
• British Muslims prepare to leave UK after Boris Johnson wins election
• European Court of Human Rights declared Samadov innocent/ Baku fined
• British Indians claim their campaigning influenced 70 seats in UK election
• 187 anti-Muslim crimes reported in Germany so far this year
------
North America
• 'Suspicious Packages' Reported Near Mosque Deemed Garbage: NYPD
• The roots of Islamic terrorism run deep
• US likely to pull out 4,000 troops from Afghanistan soon
------
Mideast
• Iran Sunni Leader Calls for Release of Outspoken Cleric
• Erdoğan to discuss issues of Islamic world in Malaysia
• Released Professor: Enemies Afraid of Iran's Scientific Growth
• Rouhani among notable Islamic leaders at KL Summit 2019
• Israel's Mossad Intelligence Agency Helps Bust Islamic State Terrorist Cell in Denmark
• Baku-Mashhad direct flight to facilitate Azeri pilgrims' trip to holy city
• Kuwait Arrests Muslim Brotherhood Member Arriving from Turkey
• Gaza Christians face Christmas travel ban
• For $250,000 you, too, can be an Egyptian
• Morocco seeks to 'turn page' on tense ties with Algeria
• Morocco says arrests extremist who planned 'suicide attack'
------
Africa
• CAN calls for CJN's removal over comment on Sharia law
• UK probes Nigerian-owned church where members allegedly sell blood to raise funds
• Uganda-Rwanda meeting ends in more disagreements
------
Pakistan
• 'APS Carnage Will Never Be Forgotten,' COAS, President Say On 5th Anniversary Of Horrific Attack
• Islamabad Policemen to Don Body Cameras
• LHC issues notice to federal govt on Musharraf's application to halt high treason trial
• Parents organise rally on eve of fifth anniversary of APS massacre
------
"There Is No Danger To Indian Muslims": Minorities Panel Chief
December 15, 2019
New Delhi: Amid heated debate on the Citizenship (Amendment) Act, Chairman of National Commission for Minorities Syed Ghayorul Hasan Rizvi has asserted that the legislation is not against minorities and Indian Muslims need not fear as they are neither intruders nor refugees.
"This legislation is not against minorities. Even Parsis, Christians, Sikhs, Jains and Buddhists are minorities," Syed Ghayorul Hasan Rizvi told PTI on Saturday. "Some people are also saying that the Act is anti-Muslim but it is not true as there is no mention of Indian Muslims in it," the NCM chairman said.
He said Indian Muslims need not fear the Act as they have nothing to do with the Muslims of Pakistan, Bangladesh, and Afghanistan.
"There is no danger to Indian Muslims," Syed Ghayorul Hasan Rizvi said.
"Indian Muslims are neither intruders nor refugees. An Indian Muslim is a respected citizen and the question of sending him out of this country does not arise. The home minister has also said the same," Syed Ghayorul Hasan Rizvi said.
He also said, "It will be expected from the Union government to ensure that Indian Muslims do not face any problem due to NRC."
Under the Act, members of Hindu, Sikh, Buddhist, Jain, Parsi and Christian communities who have come from Pakistan, Bangladesh and Afghanistan till December 31, 2014, and facing religious persecution there will not be treated as illegal immigrants but given Indian citizenship.
The opposition and a few Muslim organisations are opposing the Act, saying it involves discrimination on religious grounds.
https://www.ndtv.com/india-news/there-is-no-danger-to-indian-muslims-minorities-panel-chief-minorities-panel-chief-syed-ghayorul-has-2149298
------
We are protesting as Assamese, not as Hindu or Muslim: Anti-CAA agitators
Dec 15, 2019
GUWAHATI: They come from myriad backgrounds and faiths but at the protest venues in the city and several parts of the state, they all unite against the Citizenship (Amendment) Act as they believe it's an "assault" on Assamese culture and identity.
Forty-eight-year-old Guwahati resident Upendrajit Kalita says he felt a "sense of betrayal" the day Parliament passed the Citizenship (Amendment) Bill, alleging that the legislation goes "against the Assam Accord" which was signed to protect the interest of the native Assamese people.
Kalita, who works in an advertisement agency, had participated in the historic six-year-long Assam Movement led by the All Assam Students' Union (Aasu) that had culminated in the signing of the Assam Accord in 1985.
Those indulging in arson 'can be identified by their clothes': PM Modi on anti-CAA protest
The massive protests across the state against the Citizenship (Amendment) Bill (CAB), now an Act, are currently also led by the Aasu, which has asserted that it will be unrelenting in its battle.
Assamese singer Zubeen Garg along with Aasu members take part in a mass hunger strike during a protest against the Citizenship Amendment Act, in Guwahati on Friday. (ANI photo)
From Guwahati, the nerve-centre of the protests, to Jorhat, and from Dibrugarh to Sivasagar, protesters have virtually brought the state to a standstill, demanding that "the CAA must go", otherwise the agitation will be stepped up.
Anti-citizenship law protests: Latest developments and reactions
"One of the clauses of the Accord mandated detection and deportation of all illegal migrants without discriminating on the basis of religion and the all-accepted cut-off year of 1971. Clause 6 of it was to give constitutional protection to original citizens of Assam," Kalita said, and alleged the CAA "goes against all of that".
"Assam is already grappling with the influx of illegal migrants from Bangladesh. Our own people, especially the poor need attention, and now this CAA will lead to more Bangladeshi migrants settling in our state. Assam cannot be a dumping ground for illegal immigrants, Hindus or Muslims, or from any other religion. So, we vehemently oppose this," he told PTI.
Kalita has been taking part in all major agitations in the city from the beginning, from the Latasil playground to the AEI grounds in Chandmari, where a sea of protesters have been gathering in response to the Aasu's call.
A man plays cymbals as protesters gather during an agitation against the passing of Citizenship Amendment Bill, in Dibrugarh. (PTI photo)
People from all communities, including eminent personalities, have joined the stir and come out in the open, defying curfew in Guwahati that was clamped on Thursday.
Aasu chief adviser Samujjal Bhattacharya on Saturday had said, "We are on a mission to ensure the revocation of the amended Citizenship Act. This is our traditional war cry which we will continue to chant till our demand is fulfilled."
Naquib Hussain, 39, a taxi driver who runs services from the airport area in Borjhar, said he had been taking part in the protests.
"In other parts of India, people may feel their religious identity is more important, but here in Assam, we are Assamese first and then, anything else. So, we are against CAA. It will hurt the interests of us Assamese," he said.
Bobby Kakati, a businessman, also agreed that all sections of Assamese, in unison opposed the Bill, and are now demanding the revocation of the Act.
"Everyone in Assam, irrespective of their religion, have been fighting tooth and nail against this legislation, as it is communally polarising and unconstitutional," he claimed.
Assamese people display placards during a protest against the Citizenship Amendment Act, at Azad Maidan in Mumbai, on Saturday. (ANI photo)
Kalita alleged that the BJP had been very vocal about "evicting illegal Bangladeshi migrants" from Assam before the general elections, but now, this CAA will "lead to more of such people coming and settling in our home state".
"We have accepted Bangladeshis who arrived here from 1951-1971, and they have voting rights too. But those who came after 1971 cannot be given citizenship and land rights," he argued.
"We are not against anyone, but when our own Assamese people are struggling for food, shelter and jobs, can we afford to bring in the burden of more people," the 48-year-old resident of Hatigaon area asked.
Kalita, Kakati and other Guwahati locals, including Imran Ali Ahmed and Shamsher Alam, feel that the greater influx of "illegal immigrants" will also compromise the "original Assamese culture" besides, "affecting the demography" in the future.
"We are worried about erosion of our culture, corrosion of our language, and it is another reason we are opposing this Act which is detrimental to Assamese, irrespective of the religion they belong too," both Kalita and Ahmed concurred.
However, Prime Minister Narendra Modi on Thursday, the day Assam saw violent protests over CAB, had assured the people that they had nothing to worry about.
In a series of tweets, in both Assamese and English, Modi said he and the central government were "totally committed to constitutionally safeguard the political, linguistic, cultural and land rights of the people as per the spirit of Clause 6".
"No one can take away your rights, unique identity and beautiful culture. It will continue to flourish and grow," the prime minister had tweeted.
Notwithstanding the assurances, protesters largely feel that both the central and the state leadership have "betrayed people of Assam" for "political gains".
"The British did divide and rule policy, and now the BJP is doing the same, keeping in mind the next Assembly elections in Assam and 2024 general elections," the activist alleged.
"Our own Assam leaders have failed and betrayed us. Our own AGP leaders and chief minister Sarbananda Sonowal instead of supporting us are palling with the BJP. We used to call Sonowal as 'Jatiya Nayak' (leader of Assam in the country), but he doesn't deserve that tag anymore," he alleged.
"AGP leaders had dreamt of building a 'sonar Assam' (golden Assam) but instead, they deserted us and now, we are all in a 'burning Assam'," Kalita rued.
https://timesofindia.indiatimes.com/india/we-are-protesting-as-assamese-not-as-hindu-or-muslim-anti-caa-agitators/articleshow/72686245.cms
------
Citizenship Law protests: Bengal Imam who lost son to communal clashes calls for peace
Written by Ravik Bhattacharya
December 16, 2019
Maulana Imdadul Rashidi, the Imam from Asansol in West Bengal who thwarted escalation of riots in the wake of his son's death during 2018 communal clashes in the Paschim Bardhaman city, has once again appealed for peace, terming the ongoing violence during protests against NRC and new citizenship law "wrong and unacceptable".
His appeal to the protesters not to cause discomfort to ordinary people or harm public or private properties has been circulating on social media since Sunday morning. "Protests should not cause ordinary people discomfort, harm anyone, any community, caste or religion and damage government or private properties. What a section of people are doing is wrong and unacceptable. I appeal for peace and restraint," Imam Rashidi told The Indian Express over the phone from Asansol.
The Imam, who lost his 16-year-old son to communal clashes following Ram Navami processions in Asansol in March, 2018, agreed that the proposed NRC and Citizenship Act are putting lakhs of people in trouble. "People are scared. One should protest according to law. Everyone should exercise his or her democratic right to protest, but in a peaceful manner," Rashidi added.
"Government should help people, not trouble them. In Assam, so much money had been spent and so many people detained. Then the (Central) government is saying they will scrap it and bring a nationwide NRC. Many people do not have proper papers. Where will they go? We have no problem with the new law granting citizenship to all others, but Muslims. But in the long run, it is putting a particular community in a very bad situation. Government should think over this," said Rashidi, whose appeal in the aftermath of 2018 violence was instrumental in reigning in communal clashes in the region.
On March 30, 2018, hours after his son Sibtulla Rashidi was found dead, becoming the fourth victim of violence triggered by Ram Navami processions across the state, the Maulana presided over a congregation where he appealed for peace.
He had told the crowd he would leave the town if there was retaliation.
"What better person than the Imam appealing for peace. We recorded his video of the appeal and circulated it in social media. We are hopeful that his message will reach out to the section who are engaged in vandalism of railway stations and public buses," said Md Jim Nawaz, a social activist who has set up an online platform, sohojogita.com and is part of a group holding seminars in districts to tackle NRC rumours.
In 2018, Sibtulla, who appeared for his Class X board exams that year, was reported missing after communal clashes in Rail Par area of Asansol. According to sources, he was picked up by a mob and allegedly beaten to death. His body was recovered later.
https://indianexpress.com/article/india/citizenship-law-protests-bengal-imam-who-lost-son-to-communal-clashes-calls-for-peace-6168860/
------
Willing to take back our citizens, if any, illegally staying in India: Bangladesh
Dec 15, 2019
DHAKA: Bangladesh foreign minister A K Abdul Momen on Sunday said his country has requested India to provide a list of any Bangladesh nationals living illegally in the country and it will allow them to return.
Responding to a question on India's National Register of Citizenship (NRC), Momen, who cancelled his visit to India on Thursday citing his busy schedule, said Bangladesh-India relations are normal and "very sweet" and they will not be affected.
He said India has termed the NRC process as its internal matter and assured Dhaka that it would not affect Bangladesh.
He rejected speculation of "pushback" attempts by India, saying some Indian nationals are illegally entering Bangladesh through middlemen due to economic reasons.
"But if anybody other than our citizens enters Bangladesh, we will send them back," he told media here when asked about reports that some people are illegally entering the country through borders with India.
Momen said Bangladesh has requested New Delhi to provide a list of Bangladeshis living illegally in India, "if any", to be repatriated.
"We will allow them (Bangladesh citizens) as they have the right to enter into their own country," he said.
Asked why he cancelled his India visit, the minister said his busy schedule coinciding with the Martyred Intellectuals Day and Victory Day and also the absence of the state minister for foreign affairs Shahriar Alam and the ministry's secretary in the country made him defer his tour.
Diplomatic sources in New Delhi had said that Momen and home minister Asaduzzaman Khan cancelled their visits to India over the situation arising out of the passage of the controversial Citizenship (Amendment) Bill in Parliament.
Momen cancelled his tour a day after he termed as "untrue" home minister Amit Shah's comments on persecution of religious minorities in Bangladesh.
The external affairs ministry in New Delhi had said that Momen conveyed to India about postponement of his visit due to scheduling issues, and asserted that Shah referred to religious persecution in Bangladesh during the military rule and not under the the current government.
Bangladesh was learnt to have been upset following roll out of the NRC in Assam around four months ago even though India conveyed to it that the issue was an internal matter of the country.
The NRC has been prepared to identify genuine Indian citizens living in Assam since March 24, 1971, or before, and identify illegal Bangladeshi migrants in the state.
Out of 3.3 crore applicants, over 19 lakh people were excluded from the final NRC published on August 30.
Prime Minister Sheikh Hasina had taken up the issue of NRC with Prime Minister Narendra Modi during their bilateral meeting in New York in September.
https://timesofindia.indiatimes.com/world/south-asia/india-asked-to-provide-list-of-illegal-bangladeshis-if-any-on-its-soil-fm-momen/articleshow/72692482.cms
------
Niqab ban debate shows Jokowi's tough stance on Islamic hard-liners
DECEMBER 16, 2019
JAKARTA -- Just a week after he was named Indonesia's new religious affairs minister, retired army general Fachrul Razi sparked a controversy by suggesting a ban on the niqab -- a face veil for women -- and men's cropped pants in government offices.
The garments are typically worn by members of deeply conservative Muslim groups. They are common in the Middle East but not in Indonesia -- which, despite being the world's largest Muslim-majority country, is a secular democracy.
In recent years, however, conservative garb has become a more frequent sight in public places. This coincides with growing concerns over Islamist groups holding more sway in the Southeast Asian country's political sphere, as well as rising cases of intolerance, such as the forced disbandment of minority religious congregations by local residents in some regions.
There has also been talk of hard-line conservative groups infiltrating government offices and state-owned enterprises. A 2017 survey found that nearly half of 100 mosques within the compounds of government offices and SOEs in Jakarta spread intolerant views, while at least 17 showed signs of "high radicalism."
President Joko "Jokowi" Widodo has tasked Razi with navigating this political minefield. And the new minister has charged right in.
In one public speech, Razi linked conservative attire with a campaign to establish an Islamic caliphate -- a taboo idea in the past, but one that now has more outspoken proponents.
"There are rules for civil servants," Razi said in Jakarta on Oct. 31, in the tone of a military commander. "If you're in the army and wear cropped pants, [that means] you don't follow the rules. You should quit!"
He continued: "Those who support the caliphate means supporting a nation within the nation of Indonesia. But [civil servants] are paid by the state of Indonesia. Can you respect Indonesia? If you can't, quit the military. Quit being civil servants. Quit the SOEs!"
Critics were quick to slam him for inaccurately linking conservatism with radicalism.
The debate has parallels with controversies in Europe, where several countries with large Muslim populations have also banned face veils and other types of Islamic or religious clothing.
Razi has since backpedaled from his call for a ban, but has made a string of other remarks and policies that have angered conservatives. He expects neighborhood Islamic gatherings, ubiquitous across Indonesia for decades, to register with his ministry. He has revived a plan to certify preachers who deliver sermons at mosques nationwide. And, most recently, he removed the subject of caliphates from the Islamic jurisprudence curriculum at Islamic schools.
Razi's appointment itself is out of the ordinary.
The post of religious minister has traditionally gone to representatives of Indonesia's largest Muslim group, the Nahdlatul Ulama, or NU. The appointment of an army veteran with a barely relevant background, and his tough approach, suggest a sense of urgency on Widodo's part over rising Islamism.
The president said as much when he introduced his new cabinet on Oct. 31 and stated that tackling radicalism will be one of Razi's main duties. This had been the job of the National Counterterrorism Agency, or BNPT, with the religious ministry mainly overseeing Islamic education and hajj pilgrimages.
"What I see is that with a growing inclination toward radicalism ... the government is now adopting a security approach in dealing with religious affairs," said Yon Machmudi, a lecturer on Middle Eastern and Islamic studies at the University of Indonesia. "There is now some kind of an overlap between the ministry's functions and those of the BNPT."
Islamic movements were largely suppressed during the three decades of Suharto's authoritarian secular New Order regime. Only groups endorsed by the state, such as the NU and Muhammadiyah, were able to freely spread their teachings. Their inclusive, pluralistic local brand of Islam has helped the country maintain its moderate Muslim identity.
The collapse of the New Order in 1998 gave birth to democracy and created space for conservative Muslim movements. Gradually, more Indonesians have embraced Middle Eastern strands of the religion. This trend has accelerated in the past several years, fueled in part by heated election campaigns in which some candidates have painted their rivals as anti-Islam.
Widodo himself has been a main target of this strategy.
In a survey released last year by the Jakarta State Islamic University, 62% of Muslim teachers who responded said they support an Islamic state, while 40% said there was no need to learn sciences from the West as the Quran provides knowledge already.
Another survey by think tank Alvara Research Center found that 23% of students voiced support for an Islamic state, with 41% backing Shariah-inspired ordinances.
Widodo won reelection in April after recruiting NU leader Ma'ruf Amin as his running mate to counter the anti-Islam allegations. Both men have since recruited more NU figures within their circles, giving the organization a larger political presence. The NU -- increasingly in conflict with hard-liners like the Salafi movement, the disbanded Hizbut Tahrir Indonesia and the Islamic Defenders Front, or FPI -- has backed Razi's policies.
But observers warn that alienating other Muslim organizations in favor of the NU, and taking a confrontational stance against nonviolent groups, could backfire and sow conflict.
Machmudi said Razi needs to understand the difference between Islamist groups that shun terrorism and violent radicals. He suggested the government should pursue a softer, dialogue-based approach with the former.
Nava Nuraniyah, analyst at the Institute for Policy Analysis of Conflict in Jakarta, said the government needs to be careful not to spawn new forms of discrimination and oppression.
"The Jokowi government's decision to take a tougher line against extremism is welcome, but he needs to ensure that tactics used do not feed a new narrative of repression," Nuraniyah said in a note. "The Jokowi government must be careful to avoid programs in his second term that could inadvertently reunite [Islamists]."
Illiberal and anti-democratic populist Islamist movements are an undeniable reality in Indonesia and can be considered a threat to its democracy, Kate Grealy, a Ph.D. candidate in the department of political and social change at Australian National University, argued recently in the ANU publication New Mandala.
However, she added, "The flexibility and subjectivity of the terms 'Islamist' and 'extremist' -- as they are used in the Indonesian context -- provide Jokowi with a dangerous amount of scope to purge the security forces and civil service at will."
https://asia.nikkei.com/Politics/Niqab-ban-debate-shows-Jokowi-s-tough-stance-on-Islamic-hard-liners
------
ISIS has created mobile app for recruitment and funding: Egyptian Fatwa Observatory
Sama Osama
Sunday 15 Dec 2019
The Observatory for Monitoring Takfiri Fatwas and Extremist Ideologies at Egypt's Dar Al-Iftaa said in a statement on Sunday that the terrorist group ISIS has created a new mobile application on Google Play and the App Store called 'Because Communication Matters.'
According to the observatory, the terrorist group uses this application to promote its ideology and attract more supporters.
The observatory said that ISIS created this application after an online campaign against it succeeded in shutting down around 26,000 accounts belonging to the group on different social media platforms.
The observatory believes that this led the group to create the new app outside of the common social media platforms
The observatory explained that the new app guarantees users full confidentiality, and that it is well-shielded against any possible infiltration by security agencies.
According to the observatory, the application can host around 10,000 users, and is able to store videos and transfer encrypted information.
The observatory's statement referred to a report by VICE News, which says that since last week the group has created around 10 channels and pages on the application, and that some of them have over 100 followers.
The observatory said that ISIS is also using the application to collect more funds in Bitcoin.
The observatory warned from the dangers of such a development in the group's communication techniques, especially as it is currently trying to reorganize itself following the death of its leader Abu Bakr Al-Baghdadi.
http://english.ahram.org.eg/NewsContent/1/64/357786/Egypt/Politics-/ISIS-has-created-mobile-app-for-recruitment-and-fu.aspx
------
Terrorism In The UK More Than Trebles In 5 Years
December 15, 2019
Terrorism in the UK more than trebles in five years with 10 per cent of offenders coming from just five wards in Birmingham, survey reveals
A major new study has revealed terror attacks in the UK have more than tripled in the last five years.
The shocking report also reveals that Islamist-related offences have doubled in the last five years, while the rate of beheadings and stabbings has increased eleven-fold.
and have been identified as housing the most offenders, with East London home to half of London-based offenders (22 per cent overall), the most common boroughs being Tower Hamlets, Newham and Waltham Forest.
The study identifies all Islamism-inspired terrorism convictions and suicide attacks in the UK between 1998 and 2015.
The , published by the Hannah Stuart and the , says Islamism-inspired terrorism remains the principal terrorism threat to both the United Kingdom and British interests overseas.
London was the place of residence at the time of arrest in 43 per cent of Islamism-related offences.
The second most common region was the West Midlands, with 18 per cent of arrests – 14 per cent of which came from Birmingham.
The report claims: 'Offenders lived in neighbourhoods with both a higher than average relative deprivation and Muslim population.'
According to the society, there were 264 convictions between 1998 and 2015 involving 253 British or foreign nationals.
And the role of women in Islamism-inspired terrorism has trebled – from four per cent in the years 1998-2010, to 11 per cent in 2011-2015.
Some 72 per cent of those committing offences are British nationals, 47 per cent are in full time work or education and 76 per cent have been known to the authorities.
The authors say 16 per cent had converted to Islam, and 22 per cent had attended terrorist training camps.
The report states: 'The 269 Islamism-related offences (IROs) comprise 135 distinct terrorism cases.
'The rate of offending increased in the five-year period between 2011 and 2015 compared to the 13-year period between 1998 and 2010.
'IROs doubled in five years (increasing from an average of 12 to 23 per year) while distinct terrorism cases almost tripled (from five per year to 14 per year).'
https://insiderfinancial.net/terrorism-in-the-uk-more-than-trebles-in-5-years.html
------
US-based Islamic scholar defends antisemitic comments, slams Western media
By AARON REICH
DECEMBER 15, 2019
"The Day of Judgement will not come about until Muslims fight the Jews, when the Jew will hide behind stones and trees. The stones and trees will say O Muslims, O Abdullah, there is a Jew behind me, come and kill him. Only the Gharkad tree, [the Boxthorn tree] would not do that because it is one of the trees of the Jews."
So says an infamous Muslim hadith that is often quoted by radical Islamists, and is in some schools in the Middle East. It is also often used as an example of how ingrained antisemitism and Jew-hatred is in the Muslim faith.
However, this is not the case, Texas-based Islamic scholar Sheikh Yasir Qadhi has argued. Rather, it is an attempt by Western media to paint Islam in an inherently bad light, as reported by the Middle East Media Research Institute (MEMRI).
Speaking at the East Plano Islamic Center (EPIC Masjid) in Plano, Texas, Qhadi described what he perceived as a grave misconception.
"Every once in a while, some innocent preacher somewhere in the Western world gives a sermon and quotes this hadith, and MEMRI jumps on him." He said, adding: "You know what MEMRI is? If you don't, then you were blessed by Allah.
"Or, Fox News... or Pamela Geller jumps on him, and takes this small clip and goes viral with it, and says: 'Oh, this is an antisemite, and he is calling for the destruction [of the Jews], and he is Hitler version 2.73."
He explained that "The hadith mentions that every tree and every rock will say to the believer: 'Come, there is – that person – behind, come, and he is hiding.' So that there is no use to hide anymore, because the creation of Allah will publicly humiliate [the Jew] and say: 'Oh, he is hiding here, come and deal with this person.'
"This raises a very difficult topic. Are these hadiths antisemitic?"
His argument was no. In fact, according to Qadhi, not only are the hadiths not antisemitic, but antisemitism as a whole isn't native to Islam, and was unseen in Muslim lands until 1947.
"Lets be frank and honest here," he argued, explaining: "Antisemitism is a European phenomenon. It is not a Muslim phenomenon."
He addressed the complaints people have about the Koran that don't mesh well in today's politically correct society.
"Are you, oh you people who are criticizing books of the past, going to censor your own books and not teach them when they have misogyny, when they have race issues and when they... might be politically incorrect?" Qadhi asked, and gave Shakespeare as an example.
"Read The Merchant of Venice – it is a purely antisemitic tract. Are you going to ban The Merchant of Venice?... Are you going to take it and make it non-available? The hypocrisy is ludicrous."
Qadhi, it should be noted, never once denied that the hadith referred to the death of Jews. However, they are "predictions, not prescriptions," and are simply used to describe events that will occur in the End of Times. While this may be seen as problematic, Qadhi argued that censoring problematic parts of history and texts was equivalent to white washing. "You don't go back and sanitize history just because you don't like it. Even if you don't like it, it needs to be taught and explained and clarified. That is a matter of principle, and that is what liberalism stands on."
He also slammed accusations of antisemitism towards Muslims as being impossible, for two simple reasons: Most are semites, and their religion was founded by semites.
"We Muslims cannot be antisemites because our Prophet was a semite and Abraham was a semite," Qadhi explained. "The majority of semites are Muslims. How can Muslims be antisemites?"
However, he added that "we can be anti-Zionists, and we are anti-Zionists."
It should be noted, however, that this view isn't universally accepted among Muslims. In June, French Imam Hassen Chalghoumi told The Jerusalem Post that anti-Zionism is simply a mask, and is "used to say antisemitic things in a more polite manner."
https://www.jpost.com/Middle-East/US-based-Islamic-scholar-defends-antisemitic-comments-slams-Western-media-610969
------
Amazon sells Islamist books banned in jails
By DOMINIK LEMANSKI
Sun, Dec 15, 2019
Several texts were outlawed by prison officials in 2015 but are still available from the tech giant and are even eligible for "next-day delivery", the Henry Jackson Society think tank has found.
Among the prohibited titles for sale is Milestones by ideologue Sayyid Qutb, which blames Jews for "materialism, animal sexuality, the destruction of the family and the dissolution of society".
Qutb was a leading member of the Muslim Brotherhood in Egypt in the Fifties and Sixties, who urged violent jihad.
He is believed to have inspired al-Qaeda leaders Osama bin Laden and Ayman al-Zawahiri as well as former Islamic State caliph Abu Bakr al-Baghdadi.
Canadian Salafi Muslim preacher Abu Ameenah Bilal Phillips's The Fundamentals of Tawheed is also for sale, despite a UK prisons ban.
Another text prohibited in jails but on sale with Amazon is Towards Understanding Islam by Syed Abul Ala Maududi.
A review team led by Ian Acheson, a former Home Office official and ex-prison governor, issued an urgent internal alert to remove the "extremist literature" with "immediate effect". But seven months later in July 2016 several of the texts were still available in jails.
Last night critics called on Amazon to do more to police their platform.
Dr Paul Stott, of the Henry Jackson Society, said: "Although we ban extremists from the UK, their books can still get through, and in this case be sold by a global corporation that considers itself to have positive corporate values."
Amazon said: "As a bookseller, we provide our customers with access to a variety of viewpoints, including books that some customers may find objectionable.
"That said, we reserve the right not to sell certain content, such as pornography or other inappropriate content."
https://www.express.co.uk/news/world/1217569/amazon-Islamist-books-banned-jails
------
Islamist rebels reportedly hack to death 22 in eastern Congo despite presence of U.N. peacekeepers
BENI, CONGO – Islamist rebels hacked to death at least 22 civilians, 13 of them women, in an overnight raid in the DR Congo's troubled Beni region bordering Uganda, local officials said Sunday.
Members of the Allied Democratic Forces (ADF), an Islamist-rooted militia with its origins in Uganda, killed the civilians using machetes, Beni region administrator Donat Kibwana told AFP.
"Teams have been mobilized to recover the bodies and bring them back for dignified funerals," he said.
The victims were farmers and included 13 women, said Noella Katsongerwaki, Beni's civil society president.
Dozens of armed groups have troubled the DR Congo's restive east for decades despite a U.N. peacekeeping presence, but recent attacks have been blamed on the ADF.
More than 100 people have died in assaults blamed on the group since Nov. 5.
The latest incident came a day after six civilians were killed in an attack in the eastern city of Beni.
Congo forces launched operations against the militia in the eastern region at the end of October.
The ADF has retaliated by carrying out massacres, in an apparent bid to discourage civilians from helping the military.
Mounting anger over militia violence has sparked demonstrations in the eastern city of Beni, where local people accuse the UN peacekeeping force MONUSCO of failing to protect them.
MONUSCO has said it will carry out joint operations with the Congolese army to crackdown on the ADF.
MONUSCO, one of the biggest U.N. peacekeeping operations in the world, today comprises more than 16,500 military personnel and observers, 1,300 police and at least 4,000 civilians.
But it has struggled to make progress in a vast country beset by armed groups as well as an Ebola epidemic, poverty and poor governance.
https://www.japantimes.co.jp/news/2019/12/16/world/crime-legal-world/islamist-rebels-reportedly-hack-death-22-eastern-congo-despite-presence-u-n-peacekeepers/#.Xfci5dUzbIU
------
India
CAA stir: Jamia Millia students stage protest against police action, demand CBI inquiry
Dec 16, 2019
NEW DELHI: A group of Jamia Millia students stood shirtless in the bone-chilling cold outside the university gates on Monday and formed a human chain to protest the police action against their colleagues a day earlier.
Slogans of "Inquilab Zindabad" rent the air as the group of around 10 students, accompanied by their fellow colleagues, took out a small march, demanding a CBI inquiry into the "police brutality".
Carrying a tricolour, students clapped and raised slogans against the central government and the Delhi Police. "This government is anti-minority, anti-students, anti-poor. We won't tolerate this. Won't keep mum," they said.
A few also live streamed the protest on Twitter, Facebook and other social media platforms.
A group of students claimed that the police on Sunday damaged two mosques on the university campus, beat up the Imam and also a blind student, Arsalan (27), who was in the library.
The protesting students said a meeting will take place around 12 pm to chart out the future course of action.
Anas Siddiqui, a student, added that the police called them "terrorists" and dared them to come out of the campus and face them.
"Our colleagues have been beaten up badly. The policemen entered bathrooms, libraries and beat up girls. Our protest is against the goons called Delhi Police," a research scholar, who did not want to be identified, said on Monday.
Delhi chief minister Arvind Kejriwal and university Vice-Chancellor Najma Akhtar did not even bother to visit the injured students, the protesters said.
Earlier, when a few women escorted an injured student to narrate their ordeal to the media, some people were seen asking them not to give any statements.
"We were inside the university when the police barged in. Around 20 policemen came from gate no 7 and 50 others came from the rear gate. We told them we were not involved in the violence. They didn't listen. They didn't even spare women," Khanzala, who suffered injuries to the legs and abdomen, said.
A women broke down as Khanzala showed his injuries to the media.
Abdur Rehman, a student of the physiotherapy department, claimed that hospitals in the locality, barring Holy Family, denied treatment to the injured students.
Rakshanda, another student, alleged that the police failed to control the violence on Sunday and targeted them when they could do nothing about the actual culprits.
The protesters alleged two specially-abled students were also attacked during the police action, as they shared videos among themselves.
In the video, an MBA student Arsalan was seen claiming that he was beaten up inside the library.
A few students and locals were seen clearing the roads to allow smooth movement of vehicles.
https://timesofindia.indiatimes.com/city/delhi/caa-stir-jamia-millia-students-stage-protest-against-police-action-demand-cbi-inquiry/articleshow/72741640.cms
------
Dr Kafeel booked for 'hate speech' on AMU campus
Dec 16, 2019
AGRA: Dr Kafeel Khan, the paediatrician from Gorakhpur's BRD Medical College who had been suspended after more than 60 infants died at its hospital in August 2017, was booked for alleged hate speech during a protest on AMU campus against Citizenship (Amendment) Act, 2019, on Friday.
According to SP (city) Abhishek, the FIR was registered against him under section 153-A (promoting enmity between different groups on ground of religion) of IPC at the civil lines police station on December 13. He said that the matter was being inquired into. The FIR stated that while addressing students, without naming anyone, Dr Kafeel said that "Mota Bhai" was teaching everyone to become Hindu or Muslim but not a human being. "CAA makes Muslims a second category citizen and subsequently they will be harassed with the implementation of the NRC," he added.
He further said: "This is fight is for our existence. We have to fight." Dr Kafeel also said that students at RSS school are being taught that those who have beards are terrorists. He said through CAA, the government has being shown that India is not "our" country. The FIR states that Dr Kafeel made an attempt to vitiate the peaceful atmosphere and disturb the communal harmony, with his speech.
Meanwhile, another FIR was registered against an unidentified person, who had shouted provocative and anti-Hindu slogans on the AMU campus during the protest against the CAA. The video of the students protest has gone viral on social media. The FIR was registered under section 153-A of IPC. Agitated BJP youth workers demanded immediate arrest of the accused, who they claimed were AMU students. BJP Activists have handed over a memorandum to the SP (crime), demanding arrest of these students.
SP (Crime) Arvind Kumar said that the police were verifying the video and its content. "If anything is found inappropriate, action will be taken accordingly," he added.
https://timesofindia.indiatimes.com/city/agra/dr-kafeel-booked-for-hate-speech-on-amu-campus/articleshow/72736556.cms
------
UN Human Rights Says Act Is 'Discriminatory', Excludes Muslims
13 December 2019
Protests against Citizenship Act continued in several parts across India especially in the northeastern region and in Guwahati, Assam.
The Army and security forces continued flag marches in Guwahati city, a day after two persons were killed in police firing during the violent protests.
Meanwhile, in view of the chaotic situation in the city the annual summit between Prime Minister Narendra Modi and his Japanese counterpart Shinzo Abe has been postponed.
While the bill was passed by both the houses of the Parliament, three Chief Ministers; Chief Minister of Punjab, Captain Amarinder Singh, West Bengal Chief Minister Mamata Banerjee and Kerala Chief Minister Pinarayi Vijayan have disallowed the bill to be implemented in their respective states.
Here are the Live Updates:
7:30 PM: United Nations Human Rights Group also tweeted on its Twitter handle saying that the Citizenship Act, which is newly passed, is "discriminatory " in nature because it fails to "extend protection to Muslims."
7:15 PM: CPI-M leader Maruti Mandap, along with leaders of several Muslim organisations, staged a protest outside the office of the Commissioner of Police, Kalaburagi, Karnataka against the imposition of Section 144 in the area.
The protestors were later detained by the police.
This prohibition was imposed in order to ensure the maintenance of law and order in the city a day after the Citizenship (Amendment) Bill, 2019, became an Act after Presidential assent on Thursday.
Meanwhile, CPM leaders in Kerala staged a protest in front of a post office in Kottayam against the controversial Act on Friday.
7:04 PM: The ruling CPI(M)-led LDF and the opposition Congress-led UDF will on December 16 launch a joint protest here against the controversial Citizenship (Amendment) Act, Chief Minister Pinarayi Vijayan said here on Friday.
6:53 PM: Union Home Minister Amit Shah's scheduled visit to Shillong on December 15 to attend a function in North-Eastern Police Academy (NEPA), has been postponed in view of the "law and order situation in the region". Meanwhile, the state police has been using tear gas and lathi charge against the protestors.
The mobile Internet and SMS services were shut down for 48 hours across Meghalaya on Thursday.
5:50 PM: Congress leader Jairam Ramesh has approached the Supreme Court challenging the validity of the Citizenship (Amendment) Act, 2019.
Senior Opposition leader Ramesh, in his petition, sought appropriate order or direction from the Apex Court declaring and quashing of the Citizenship (Amendment) Act, 2019 as unconstitutional, null and void and ultra vires of Articles 14 and 21 of the Constitution of India.
5:47 PM: People, agitating against the amended Citizenship Act, on Friday blocked tracks at the Uluberia railway station in West Bengal's Howrah district, vandalised the complex and some trains, injuring a driver, officials said. No passenger was injured in the incident, as per initial reports.
5:44 PM: The All Assam Students Union (AASU) has filed a petition in Supreme Court challenging the amended Citizenship Act on Friday, its chief adviser Samujjal Bhattacharya said.
"Modi had promised to deport all illegal immigrants after May 16, 2014 (when the result of the election for the Lok Sabha was announced). He did not send back a single illegal Bangladeshi, instead, he is now welcoming them," Bhattacharya, who also the adviser to the North East Students Organisation, said.
5:20 PM: Jamia Millia Islamia students tear-gassed by Delhi Police during a protest against Citizenship Act.
5:00 PM: Mamata Banerjee spoke against the Citizenship Act and vowed that it will never be implemented in West Bengal till the time TMC ruled the state: "We will never allow the NRC exercise and Citizenship Act in Bengal. We will not implement the amended Act, even though it has been passed in Parliament. The BJP can't just bulldoze the states to implement it."
"The Citizenship Act will divide India. As long as we are in power, not a single person in the state will have to leave the country," the chief minister added.
4:30 PM: India on Friday announced that the annual summit between Prime Minister Narendra Modi and his Japanese counterpart Shinzo Abe, which was scheduled to be held in Guwahati, has been postponed.
4:00 PM: Assam Chief Minister Sarbananda Sonowal warned of taking strong action against those involved in arson and violence in the state, saying vandalism has no place in any democratic process.
"We will not tolerate any violence. Strong action will be taken against anyone who is involved in vandalism," he told PTI.
https://www.outlookindia.com/website/story/india-news-live-updates-amid-protests-over-citizenship-act-japan-pm-shinzo-abes-india-visit-postponed/344087
------
Act's main aim is to break spirit of Muslims: Maulana Syed Arshad Madani
By Vasudha Venugopal
Dec 16, 2019
New Delhi: Maulana Syed Arshad Madani, the chief of the Jamiat Ulema-e-Hind, an influential organisation of Muslim clerics, told ET on Sunday that the main aim of the Citizenship (Amendment) Act was to "brand Muslims untrustworthy" and break the spirit of the community. "Not everyone without a document of proof of residence or nationality is an infiltrator. He could have been born and raised here, just like his father. This is as much his land, as it is of those who are asking h ..
The Jamiat Ulema-e-Hind will approach the court against the law on Monday, having already consulted lawyers Indira Jaisingh and Rajeev Dhavan on the issue, said Madani. "Our advocate on record will be Irshad Hanif," he said. Madani, who had met RSS chief Mohan Bhagwat in September to discuss a host of issues, said that while he had raised several issues including Ayodhya, Kashmir and lynchings over suspected cow slaughter with Bhagwat, the issue of citizenship law did not arise then. "We did not ..
"The Muslims of this country have sacrificed a lot to build this country and keep it secular. Jamiat has always taken the words of Nehru and Gandhi as a guiding light. The Partition of India was because of political leaders at that time, not because of Muslims," he said. Madani said the Jamiat's petition in the court will be based on the "unconstitutional character" of the amendment. "It is completely against the secular fabric of our country and Constitution. It could have been framed different ..
https://economictimes.indiatimes.com/news/politics-and-nation/acts-main-aim-is-to-break-spirit-of-muslims-maulana-syed-arshad-madani/articleshow/72732359.cms
------
At least 60 injured in police crackdown at Aligarh Muslim University
DECEMBER 15, 2019
Police entered the Aligarh Muslim University campus on December 15 evening after a clash broke out between students and the police. Sources in the Jawaharlal Nehru Medical College said that at least 60 students were brought in with injuries after the clash. Salman Imtiaz, president of the outgoing students Union is also injured with rubber bullet injuries. The district administration has shut down the Internet services for the next 24 hours.
At around 8.30 p.m. students came out of the Sir Syed gate in solidarity with the Jamia Millia students who faced a lathi-charge on December 15.
Sources said it was a sudden surge as the Students' Union had just planned to issue a statement. The students have been peacefully protesting against the Citizenship Amendment Bill/ Act since December 8. Eyewitnesses said the proctorial team failed to stop the students. Deputy proctor Naved Khan got injured while trying to stop the students. The police fired tear gas shells and managed to disperse the students for a while.
"But they returned with salt and buckets to quell the threat of tear gas shells," said a student requesting anonymity. Then stones were hurled at the police injuring many police personnel including some senior officials.
"After that, the police entered the campus, and lathi-charged the students and broke their vehicles," said a source. "They entered Sir Syed Hall (North) and Morisson Hall and beat up the students." A room was also allegedly set on fire in Morisson Hall. While the police sources it was the work of the students, the latter held the police responsible for it. A student alleged that the university administration was nowhere to be seen. "The Vice-Chancellor has yet to make a statement. The letter of the closure was handwritten by the registrar. They have closed down the campus but we don't know how we will move out."
University spokesperson Prof. Shafey Kidwai said the authorities were in touch with the district administration to find out a modality to evacuate the hostels. "It has been a sudden development and students have nowhere to go. We are chalking out a plan," he said.
Meanwhile, UP Chief Minister Yogi Adityanath has appealed for peace. Later, UP Police tweeted that situation in AMU was under control.
"The university is closed from today (15/12/2019) till 05/01/2020. This is being done due to disturbances created by some antisocial elements for last three days," AMU registrar Abdul Hamid said in a statement. "All other offices will remain open as usual and the closure of the university is for the purpose of reading and examination only. The remaining examination will be conducted after 05/01/2020," the statement added. He said the schedule for examination will be notified later.
https://www.thehindu.com/news/national/students-injured-in-police-crackdown-at-aligarh-muslim-university/article30313968.ece
------
AMU students protest in support of Jamia, face tear gas and lathicharge by police
The protests sweeping the country regarding the Citizenship Act amendment have now reached the Aligarh Muslim Univeristy in Western Uttar Pradesh. Late on Thursday evening, the police clashed with student protestors.
At least three policemen were seen injured as the students targeted them with stones, NDTV reported. The police used tear gas and water cannons to try and disperse the crowd.
Video footage also showed the police vandalising motorbikes outside the campus.
Aligarh erupted after news started filtering in from the Jamia Milia Islamia Univeristy in Delhi where the Delhi Police had used used force inside the university campus in an effort to quell protests around the Citizenship Act amendment. Soon after, Aligarh University students gathered at the Sir Syed Gate and shouted slogans against the adminstration.
https://scroll.in/latest/946934/clashes-at-aligarh-muslim-university-police-fire-tear-gas-at-student-protestors
------
Mosques to fight against drug abuse in DK, Udupi
Dec 15, 2019
Educationist and chairman of Bearys Group, Syed Mohammed Beary, who is leading the campaign, addressing the media on Saturday, said that the campaign is the need of the hour in Mangaluru, which otherwise will become like Punjab if the drug menace is not addressed.
"Some of the recent incidents that took place under the influence of drugs have pained me. If effective measures are not taken without losing any more time, Mangaluru is likely to earn the distinction of being the narcotics capital of the state. I decided to start a campaign by bringing together religious leaders not only from the Muslim community, but also from the Christian and Hindu communities," he said.
Drugs are now not limited to urban areas. "It has found inroads into rural areas wherein rural school students too are becoming slaves to drugs. The situation is turning worse with each passing day. We want to find a solution and end it," said Beary.
Campaign in mosque
Explaining how and where campaigns will be held, Beary said that they have spoken to the qazis of about 800 mosques in Dakshina Kannada and Udupi districts.
They have decided to run a campaign across districts to fight against drugs. It will be a 100-day campaign which includes a series of awareness programmes involving all the mosques across the region.
"Their focus will be to educate parents, students and youths on the issue of drug abuse and create awareness in every family under their jurisdiction on the issue. The drive will be run under the guidance and supervision of Twaqa Ahmed Musliyar and Bekal Ibrahim Musliyar, the prominent qazis of the region. The city and district police have also offered cooperation for the campaign," he explained.
Apart from it, Beary said that they are also trying to rope in religious leaders from other communities, educational institutions, NGOs, social activists and various student and youth organisations. "Drug abuse is not just limited to one community alone. We will meet the bishop of Mangaluru and Vishvesha Theertha swamiji of Paryaya Pejawar Mutt on the issue," said Beary.
https://timesofindia.indiatimes.com/city/mangaluru/mosques-to-fight-against-drug-abuse-in-dk-udupi/articleshow/72625898.cms
------
6 die as Indians protest law granting citizenship to non-Muslim illegal migrants
December 15, 2019
Angry protesters in northeast India vowed Sunday to keep demonstrating against a contentious citizenship law as the death toll from bloody clashes sparked by the bill rose to six.
Tension remained high at the epicentre of the unrest in Assam state's biggest city, Guwahati, with troops patrolling the streets.
In Assam, four people died after being shot by police, while another was killed when a shop he was sleeping in was set on fire and a sixth after he was beaten up during a protest, officials said.
Some 5,000 people took part in a fresh demonstration Sunday in Guwahati, with hundreds of police watching as they sang, chanted and carried banners with the words "Long live Assam".
The legislation, passed by parliament on Wednesday, allows New Delhi to grant citizenship to millions of illegal immigrants who entered India from three neighbouring countries on or before December 31, 2014 — but not if they are Muslim.
Besides stoking concern among Muslims, the proposed changes have also led to protests by residents unhappy about an influx of Hindus from Bangladesh who stand to gain citizenship.
"Assam will continue to protest. India is a democracy and the government has to listen to us," said Karan Mili, a colleague of one of the victims, 25-year-old Iswor Nayak, who died Sunday.
"We don't want violence but protests will continue… Assamese will not stop until government revokes the law," another demonstrator, Pratima Sharma, told AFP.
Officials said oil and gas production in the state were hit by the curfew, although the restrictions were eased during the day on Sunday, with some shops opening.
In West Bengal state, where protests stretched into a third day, Chief Minister Mamata Banerjee — who has spoken out against the national government's push for the law — suspended internet service in several districts.
Demonstrators set fire to tyres, staged sit-ins on highways and railway tracks, and torched trains and buses, with riot police brought in to disperse protesters and train services suspended in some parts of the east.
In India's capital New Delhi, several buses were set on fire and video posted on social media appeared to show police firing tear gas at protesters.
Some 35 people injured in the clashes were taken to hospital, the Press Trust of India reported, while authorities said schools in the area would be closed on Monday.
Police also entered Delhi's Jamia Millia Islamia University after the clashes to detain some people, although the institution said its students did not take part in the violence.
– Calls for calm –
Prime Minister Narendra Modi blamed the opposition Congress party for the unrest.
"To give respect to those who fled to India and were forced to live as refugees, both houses of parliament passed the Citizenship Amendment Bill," he said at a rally in eastern Jharkhand state.
"Congress and its allies are stoking fire over the Citizenship Act but the people of the northeast have rejected violence… They (Congress supporters) are resorting to arson because they did not get their way."
Home Minister Amit Shah called again for calm.
"Culture, language, social identity and political rights of our brothers and sisters from the northeast will remain intact," Shah added in Jharkhand, News18 television network reported him as saying.
For Islamic groups, the opposition, rights activists and others in India, the new law is seen as part of Modi's Hindu nationalist agenda to marginalise India's 200 million Muslims. He denies the allegation.
Rights groups and a Muslim political party are challenging the law in the Supreme Court, arguing that it is against the constitution and India's secular traditions.
Asom Gana Parishad — an ally of Modi's Bharatiya Janata Party in Assam which had supported the bill in parliament — told local media it now intended to challenge the law in the Supreme Court.
https://punchng.com/6-die-as-indians-protest-law-granting-citizenship-to-non-muslim-illegal-migrants/
------
SC to hear pleas alleging police atrocities on students protesting against CAA
Dec 16, 2019
NEW DELHI: The Supreme Court has agreed to hear on Tuesday pleas which have alleged police atrocities on students holding protests against the amended Citizenship Act at the Aligarh Muslim University and the Jamial Millia Islamia University here.
A bench headed by Chief Justice S A Bobde on Monday also took serious note of the rioting and destruction of public property during protests against the Act and said this must stop immediately.
A group of lawyers led by senior advocate Indira Jaising and Collin Gonsalves mentioned the matter before the court urging it to take suo motu (on its own) cognisance of the alleged violence unleashed against students who are holding protest against the Act.
"The only thing we want is that the violence must stop," the bench said, adding, "if protests and violence and damage of public property will be there, we will not hear the matter".
The bench also comprising justices B R Gavai and Surya Kant asked the lawyers to file their petitions and said it would hear them tomorrow.
https://timesofindia.indiatimes.com/india/sc-to-hear-pleas-alleging-police-atrocities-on-students-protesting-against-caa/articleshow/72737623.cms
------
50 students, detained during protests at Jamia, released: Police
Dec 16, 2019
NEW DELHI: As many as 50 students, who were detained during protests at the Jamia Millia Islamia University here on Sunday, were released in the early hours of Monday, police said.
Of the 50 students, 35 were released from the Kalkaji police station and 15 from the New Friends Colony police station, a senior police officer said.
Earlier on Sunday night, the Delhi Minority Commission (DMC) issued a direction to the SHO of Kalkaji Police Station to release the "injured" Jamia students held there or take them for treatment at a reputed hospital without any delay.
The commission also directed the officer to file a compliance report by 3 pm on Monday.
In the order, DMC Chairman Zafarul Islam Khan said failure to implement it will attract appropriate action.
Protesters torched four public buses and two police vehicles as they clashed with the police in New Friends Colony, near Jamia Millia Islamia, during a demonstration against the amended Citizenship Act on Sunday, leaving nearly 60 people including students, cops and fire fighters injured.
Police used batons and tear gas shells to disperse the violent mob, but denied firing at them. However, videos of purported police firing, injured students in the university bathroom as well as footage of them bleeding emerged on the social media.
But Delhi Police refuted reports of any casualty during the clashes.
Following the arson on roads, police entered the Jamia university campus, where tension prevailed as several persons were detained for alleged involvement in the violence.
https://timesofindia.indiatimes.com/city/delhi/50-students-detained-during-protests-at-jamia-released-police/articleshow/72715107.cms
------
Police entered campus by force: Jamia administration
Dec 16, 2019
New Delhi: The Jamia Millia Islamia administration on Sunday claimed that Delhi Police personnel entered the university by force and beat up staff members and students who were compelled to leave the campus. Both the student community as well as the teachers' association disassociated themselves from the violence and arson that took place near the university on Sunday afternoon.
According to a university source, the Jamia vice-chancellor informed the ministry about the situation, taking exception to the fact that the police entered the campus without permission. Students alleged that policemen fired teargas inside the library, canteen and the mosque. Many students were beaten up, they alleged. Some students hid inside washrooms and others, who were trying to escape from the lathicharge, were allegedly beaten up. Many students made distress calls. "Please help, they are breaking the windows and throwing tear gas. We have switched off the lights and are just sitting here," the university shared a video call made by one of the students.
VC Najma Akhtar told TOI: "No permission was taken (to enter the campus). Those students who were in the library were rescued and are safe." She also appealed to the students to remain on the campus.
Earlier, as the students were forced to leave the campus, they were allegedly asked to raise their hands by the cops. One student said: "I was studying at the library and, suddenly, all hell broke loose. They are now asking us to raise hands and leave as if we are criminals?"
Chief proctor Waseem Ahmed Khan said: "Police have entered the campus by force. Our staff and students are being beaten up and forced to leave."
Before the police action, the university had issued a statement that the protest was organised by people of nearby areas and not by Jamia students. "The university had already declared winter vacations and postponed the semester exam after the December 13 incident. A large number of students staying in hostel have already left," said a press statement issued by the administration.
The teachers' association also condemned the violence: "Jamia practises and preaches peace. JTA condemns all violence near Jamia or anywhere in India," it said in a statement.
On December 13, students and teachers had called a protest against the Citizen Amendment Act. On that day, too, students were allegedly lathicharged by police. On Saturday, the university declared a semester break even as the protest was called off.
https://timesofindia.indiatimes.com/city/delhi/police-entered-campus-by-force-jamia-admin/articleshow/72704766.cms
------
#JamiaProtest: Anubhav Sinha, Swara Bhasker, Vikrant Massey and others condemn Delhi Police for action against students
Dec 16, 2019
With the Citizenship (Amendment) Act shaking the entire nation, people from various parts of the country protested against the bill which was passed by the government a few days ago.
But what shocked the everyone was Delhi Police's action against the students and staff of Jamia Millia Islamia university. According to reports, the Delhi Police entered the campus of Jamia without permission and beat up students and staff, as they along with the locals protested at Jamia Nagar on Sunday against the amended Citizenship Act.While this horrific brutality shocked the entire, several people took to social media to raise their concern and condemn Delhi Police's actions. With hashtags like #JamiaMilia and #JamiaProtest trending on social media, several Bollywood celebrities even took to their respective handles to express their concern as well as slam the police.
'Veere Di Wedding' actress Swara Bhasker took to Twitter and wrote, "Shocking messages of violence, tear gassing from #Jamia in #Delhi ! Why are students being treated like criminals? Why are hostels being tear gassed.. ??? What is going on #DelhiPolice ???? Shocking and shameful! #CABProtests"
On the other hand, 'Article 15' director Anubhav Sinha took to social media and questioned the ones in power on being silent in a series of tweets.
'Jolly LLB 2' actress Sayani Gupta shared a picture of A-listed Bollywood stars with Prime Minister Narendra Modi and asked them to come out and take a stand against the brutality as she wrote, "On behalf of the students of Jamia & AMU request at least one of you to tweet or message Mr. Modi condemning this act of police brutality and violence against students. The time has come to speak up guys. Yes? No? May be?"
'Chhapaak' star Vikrant Massey, Konkona Sensharma, Ali Fazal, Soni Razdan, Richa Chadha and others also took to their respective handles to raise their voice against the brutality which shocked the entire country.
https://timesofindia.indiatimes.com/entertainment/hindi/bollywood/news/jamiaprotest-anubhav-sinha-swara-bhasker-vikrant-massey-and-others-condemn-delhi-police-for-action-against-students/articleshow/72734976.cms
------
South Asia
India not pushing anyone into Bangladesh: Foreign Minister Dr Momen
December 16, 2019
Foreign Minister Dr AK Abdul Momen on Sunday said India is not pushing anybody into the country but some people are coming with the help of middlemen with the impression that one can have free food here.
He said the government will send them back if anybody other than Bangladesh citizens enters the country through the Bangladesh-India border without following the due process.
Dr Momen said he has requested India to give the list if there is any Bangladeshi living in India illegally.
"Let's know it (Bangladesh seeks info from India)," he told reporters at the Foreign Affairs Ministry, adding that there is a standard procedure to follow in that case.
Dr Momen said those who are Bangladeshi citizens have the right to come back but others will be sent back.
Responding to a question on the National Register of Citizenship (NRC), he said India termed it their internal matter and assured Bangladesh that it will in no way affect Bangladesh.
"The Bangladesh-India relations are normal. The relations won't be affected." said the Foreign Minister explaining reasons behind cancellation of his India visit.
Meanwhile, the Ministry of Foreign Affairs said the scheduled visit of Dr Momen was cancelled due to his 'busy schedule' at home ahead of Martyred Intellectuals Day and Victory Day.
India also termed its relations with Bangladesh "very strong" and brushed aside speculations over the last-minute cancellation of Dr Momen's New Delhi visit.
Bangladesh maintains good relations with India: Quader
Bangladesh Ruling Awami League general secretary Obaidul Quader said Bangladesh maintains good relations with India as the newly enacted Citizenship (Amendment) Act will have no effect between the two countries.
"We have good relations with the Indian government. The newly passed Citizenship (Amendment) Act,2019, is India's own internal affairs. The act will not affect our relations," said Quader while addressing a sub-committee meeting of the Swechasebak League at city's Bangabandhu Avenue this morning.
https://www.indiatoday.in/world/story/illegal-bangladeshis-ak-abdul-1628548-2019-12-16
------
Australian commando found dead three years after raising Afghanistan war crime allegations
Monday, 16 Dec 2019
A soldier of the Australian Special Operations Forces has reportedly died three years after raising Afghanistan war crime allegations, it has been reported.
The 45-year-old soldier, Sergeant Kevin Frost went public in 2016, admitting his involvement in an alleged war crime in Afghanistan.
"The particular incident that I was involved in resulted in the POW that I had captured actually being executed, murdered," he told ABC during a television interview.
Sergeant Frost further added "I can't remember if he cut the cuffs off first or if he cut the cuffs off after he shot him. That's the one point I can't remember there, cause I wasn't looking.
"I didn't want to look. I turned around and the guy was dead. He'd been shot through the forehead," he added.
The family of Sergeant Frost confirmed over the weekend that he tragically passed away after going missing near his Busselton home last week.
The friends of Sergeant Frost described him as 'fearless, proud and witty man' while paying tribute to him, according to The NEWDAILY.
The death of Sergeant Frost comes as Prime Minister Scott Morrison says his government will consider calling a royal commission next year into veterans' suicides.
https://www.khaama.com/australian-commando-found-dead-three-years-after-raising-afghanistan-war-crime-allegations-04423/
------
Special Forces storm Taliban prison in Uruzgan, rescue 12 civilians
Monday, 16 Dec 2019
The Afghan Special Forces rescued 12 civilians from a Taliban prison during a raid in southern Uruzgan province, the Afghan military said Monday.
According to a statement released by Special Operations Corps, the Special Forces conducted the raid in Shaheed Hasas district.
The statement further added that the Special Forces also killed 3 Taliban militants, arrested 5 others and confiscated 310 kgs of opium and a motorcycle during the raid.
The Taliban group has not commented regarding the operation so far.
Uruzgan is among the volatile provinces in South of Afghanistan where Taliban militants are actively operating in some of its districts and frequently carry out terrorist related activities.
https://www.khaama.com/special-forces-storm-taliban-prison-in-uruzgan-rescue-12-civilians-04422/
------
Afghanistan's senate member and ex election commission chief convicted of public budget theft in United States
Sunday, 15 Dec 2019
Afghanistan's previous election commission chief and senator Mohammad Yousuf Nuristani convicted of public budget theft and federal welfare fraud by a court in the United States.
A US attorney's office in southern district of California announced on Wednesday that Yusuf Nuristani pleaded guilty in federal court to Theft of Public Money, admitting that he received over $100,000 in government benefits by concealing foreign travel and residency between July 2015 and December 2018.
During a hearing before U.S. Magistrate Judge Karen S. Crawford, Nuristani admitted that he applied for Supplemental Security Income (SSI) from the Social Security Administration in July 2015. Nuristani acknowledged that he knew an SSI recipient must reside within the United States, and that he was required to report any travel outside of the United States lasting more than thirty days. Nuristani admitted to concealing and repeatedly lying to the Social Security Administration about his foreign travel and residency, and to receiving $27,492.44 in SSI payments and to causing a loss of $73,090.34 to the State of California for health care payments and services as a result of his fraud, a statement by the attorney's office clarified.
The statement further said that Nuristani received SSI at his claimed address in E1 Cajon, California as he was serving both as the head of Afghanistan's Independent Election Commission and as an Afghan senator in the upper body of Afghanistan Parliament, Meshrano Jirga.
According to a press release by the California's district office, this particular case was brought through the Travel and Residency Enforcement Co-Op (TREC), a pilot project of the Social Security Administration, its Office of Inspector General, the California Department of Health Care Services Investigations Division, and the United States Attorney's Office for the Southern District of California. TREC is designed to detect and prevent misuse of the SSI program, a needs-based program administered by the Social Security Administration and designed to provide a floor of income for the aged, blind or disabled who have little or no income and resources. An individual approved to receive SSI automatically becomes eligible to receive Medi-Cal health benefits from the State of California. Since its formation in 2017, TREC has resulted in 25 federal convictions of individuals who fraudulently concealed foreign travel, foreign residency, and foreign financial resources from the Social Security Administration. To date, TREC has obtained over $2 million in court-ordered restitution to state and federal agencies, and has resulted in a savings of millions more.
Criminal investigators with the Special Inspector General for Afghanistan Reconstruction (SIGAR) also assisted with this investigation.
"I am proud of the work of this office, especially AUSA Jeffrey Hill, and our law enforcement partners for stopping this decades-long fraud, and ending the exploitation of government programs intended to help our country's most vulnerable," said United States Attorney Robert S. Brewer, Jr. "Those who abuse the trust of the taxpayer will be brought to justice."
"Supplemental Security Income provides a lifeline for the elderly and disabled residing within the United States. The Social Security Administration's Office of the Inspector General and its TREC partners vigorously investigate allegations of foreign travel and residency fraud, and prosecute those who steal from the American taxpayer. My office is pleased to see charges brought in this case, and appreciate that the U.S. Attorney's Office shares our determination to protect the integrity of this vital income security program," said Robb Stickley, Special Agent in Charge of the Inspector General's Office of Investigations in San Francisco.
As a part of his plea agreement, Nuristani has agreed to make full restitution to the Social Security Administration and the California Department of Health Care Services. He faces up to 10 years in federal prison and a fine of up to $250,000 at his sentencing before the Hon. Cynthia A. Bashant on March 9, 2020.
This comes as that Yousuf Nuristani was sentenced to a 13-month jail sentence by a court in Afghanistan back in May 2019 for the charges of public money theft, but the decision was never implemented.
Nuristani had taken one million Afghani from the 'public bus transport' budget when he was Herat's governor in 2009, but he never returned it, the prosecutor had claimed.
https://www.khaama.com/afghanistans-senate-member-and-ex-election-commission-chief-convicted-of-public-money-theft-00987/
------
Southeast Asia
Nahdlatul Ulama Reacts To WSJ's Report On China's Handling Of Uighur Muslims
16 December 2019
TEMPO.CO, Jakarta - Nahdlatul Ulama executive board (PBNU) secretary-general Helmy Faishal brushed aside rumors of conforming to China's persuasion in silencing critics regarding the fate of Xinjiang's Muslim ethnic Uighur minorities.
This was initially mentioned in a report by the Wall Street Journal (WSJ) entitled 'How China Persuaded One Muslim Nation to Keep Silent on Xinjiang Camps.' Where the media suspects China of formally persuading Indonesian Islamic organizations, media, and academics to stop the flow of criticisms.
They claim China had spent a large number of funds and donations, suspected to be commissioned to Indonesian organizations after the global issue re-emerged in 2018 following news of Uighur Muslims held in a concentration camp in Xinjiang.
"That news report is totally false. There is no flow of funds in any form regarding the Uighur Muslim issue," said the PBNU executive board secretary-general.
Helmy asserts that the Nahdlatul Ulama (NU) is a religious social organization that is independent and has no ties with other organizations. "And [PBNU] cannot be dictated by anyone."
He also said that NU in its core principle consistently defies any form of violence, which includes the alleged persecution of Uighur Muslims in Xinjiang.
https://en.tempo.co/read/1284240/pbnu-reacts-to-wsjs-report-on-chinas-handling-of-uighur-muslims
------
Muslim youths urged to help counter Islamophobia
16/12/2019
by Hasnah Jusid
KUALA LUMPUR, Dec 16 -- Muslim youths should use social media platforms with wisdom with a view to playing a more active role in overcoming Islamophobia, according to Bersatu Youth executive council member Muhammad Muzzammil Ismail.
He underscored the importance for them to portray a positive image of Islam.
"They should be more active in communicating with others, embrace diversity and most importantly do not try to be invisible when faced with issues, but try to solve them with hikmah (wisdom)," he told Bernama ahead of the Youth Kuala Lumpur (KL) Summit 2019 scheduled for Dec 17 and 18.
He said intercultural learning between young people around the world will help in conveying the true teachings of Islam as a religion of peace.
The Youth KL Summit is a prelude to the KL Summit 2019 from Dec 18 to 21 to be chaired by Prime Minister Tun Dr Mahathir Mohamad at the Kuala Lumpur Convention Centre here.
Muhammad Muzzammil's involvement at the Youth KL Summit is expected to focus on technology and sustainable development.
He also said that Muslim countries should continue to champion education and innovation to be on par with developed nations.
"True progress is when we, Muslim countries, attain advancements consistent with Islamic values and teachings," he said.
Meanwhile, geopolitics and human governance expert Wan Ahmad Fayhsal Wan Ahmad Kamal said new frameworks for youth education, training and talent mobility should be considered by Muslim countries to enable their youth to be on par with peers in other parts of the world.
"We want our youth to escape from the previously closed and insular cycle of education and embrace an 'open education' concept. We want our youth to get global exposure and access to the best education opportunities globally," he said.
Wan Ahmad Fayhsal, who will focus on matters pertaining to youth exchange at the Youth KL Summit, underscored the importance of commitment to lifelong learning and equitable access to opportunities especially among young people.
http://www.bernama.com/en/general/news.php?id=1799929
------
AmBank Islamic's Eqhwan named best Islamic banking CEO Malaysia 2019
December 16, 2019
KUALA LUMPUR (Dec 16): AmBank Islamic Bhd chief executive officer (CEO) Eqhwan Mokhzanee has been named the Best Islamic Banking CEO Malaysia 2019 by Global Banking and Finance Review (GBAF).
AmBank Islamic also bagged the Most Promising Islamic Bank Malaysia Award 2019.
In AmBank's statement today, Eqhwan said the award was a tribute to the leadership and colleagues at AmBank Islamic and AmBank Group, and also to its customers and other stakeholders in taking AmBank Islamic to the next level.
"The Most Promising Islamic Bank Malaysia 2019 Award is a testimony that the foundation which AmBank Islamic has built will stand it in good stead to be one of the leading Islamic banks in the future," Eqhwan added.
AmBank group CEO Datuk Sulaiman Mohd Tahir noted that AmBank Islamic has achieved significant progress from the execution of its strategic plans, as manifested from its financial performance and resilience, diversified customer base, competitive product offerings and organisational capabilities.
"This award recognises AmBank Islamic's tremendous potential to serve its customers in the continuously evolving market place," he said, noting that AmBank Islamic is now poised for the next level in providing sustainable and customer-centric Islamic banking and financial solutions.
Eqhwan was also recently awarded the Islamic Banker of the Year 2019 Award by Global Islamic Finance Awards (GIFA).
GBAF, established in 2011, is a UK-based financial portal and print magazine. GBAF Awards reflect the innovation, achievement, strategy, progressive and inspirational changes taking place within the global financial community.
https://www.theedgemarkets.com/article/ambank-islamics-eqhwan-named-best-islamic-banking-ceo-malaysia-2019
------
Rubbish, says Najib on claim he instructed cops to murder Altantuya
December 16, 2019
PETALING JAYA: Najib Razak has rubbished fresh claims by one of the convicted killers of Altantuya Shaariibuu that the former prime minister had ordered him to carry out the brutal murder of the Mongolian woman in 2006.
This followed Azilah Hadri's allegation from behind bars that he and Sirul Azhar Umar – who has since fled to Australia after they were sentenced to death – had received a "shoot to kill" order.
"This is a complete fabrication by a desperate person seeking to escape the gallows," Najib told FMT in an immediate reaction to Malaysiakini's report on Azilah's claims, contained in an application to review the Federal Court's decision in 2015 which found them guilty of the murder.
"Why did this information not come out earlier, and only now, more than a decade after her death and only after 19 months PH has been in power? " asked Najib.
When contacted, Azilah's lawyer Hazman Ahmad told FMT that he had no role in the preparation of the statutory declaration cited by Malaysiakini, adding that they last met "two or three years ago".
Azilah and Sirul were part of the police's Unit Tindakan Khas (UTK) when they were arrested for the murder of Altantuya, a Mongolian who had a relationship with Abdul Razak Baginda.
The case has been linked to the 2002 purchase of two French-built Scorpene-class submarines and alleged kickbacks by Razak, who was an aide to Najib, the defence minister at the time.
Altantuya's murder trial had heard that she was killed in a forest near Shah Alam in late 2006 and her body blown up with explosives.
Najib has repeatedly rejected allegations of his involvement in the crime.
Razak was charged with abetting the duo but was later acquitted without his defence being called.
Sirul meanwhile has been held at an Australian immigration detention centre in Sydney for the past three years.
'Desperate move'
Najib described the latest allegations against him as the work of a "desperate man", adding that it serves the Pakatan Harapan's efforts to "divert public attention from its failures".
"Anyone can do a SD especially if he's already on death row," said Najib.
"I believe this is a deal struck between the Harapan (PH) government and Azilah, with the latter's death sentence being commuted or delayed in return.
"This is an attempt to distract attention and to hit out at me," he said.
https://www.freemalaysiatoday.com/category/nation/2019/12/16/rubbish-says-najib-on-claim-he-instructed-cops-to-murder-altantuya/
------
Arab World
Saudi Heritage Preservation Society wins UN role
December 16, 2019
RIYADH: The Saudi Heritage Preservation Society has become the first Gulf organization to act as a global consultant with the UN Educational, Scientific and Cultural Organization (UNESCO).
The move follows a recommendation by UNESCO's Intangible Cultural Heritage Committee at a forum in Bogota, Colombia, and caps several international achievements by the society.
In recent years the society had widened its role in preserving Saudi heritage, as well as raising awareness of its importance and national value.
In 2013, the society launched several projects emphasizing protecting and documenting archaeological sites and old buildings. Moreover, the projects involve initiatives toward sculptures and skills associated with traditional arts and crafts through launching awareness campaigns and seasonal competitions.
Its mission includes monitoring and encouraging public and private initiatives related to the preservation of Saudi heritage, identifying undeveloped and overlooked areas of Saudi cultural legacy, and promoting public awareness about the importance of Saudi cultural heritage for present and future generations.
https://www.arabnews.com/node/1599466/saudi-arabia
------
Arab League Secretary-General strongly rejects "Arab Spring" term
Sun, Dec. 15, 2019
CAIRO – 15 December 2019: Secretary-General of the Arab League Ahmed Aboul Gheit on Sunday rejected referring to a series of anti-government protests, uprisings, and armed rebellions that spread across much of the Arab world in the early 2010s as "The Arab Spring."
During his participation at the third edition of the World Youth Forum in South Sinai's Sharm El Sheikh, Aboul Gheit interrupted presenter Amr Abdel Hamid as he mentioned millions of displacement cases as one of the repercussions of the so-called "Arab Spring."
"It should not be called a spring!" the Arab League Secretary-General immediately interrupted Abdel Hamid.
Aboul Gheit deprecated to describe the events as a "spring" as it resulted in the death of around 500,000 Syrian people, expulsion of four to five million Syrians from their country, displacement of six million Syrians, the destruction of Libya, and Iraqi cities, and the return of cholera and poliomyelitis to Yemen.
"This should not be called a spring, and I am responsible for my words," Aboul Geit added amid applause.
Prime Minister Sameh Shoukri also said that the revolutions and their repercussions had significantly affected international peace and security. He affirmed that change happened in an unorganized way and caused the national states to fail to achieve internal security and provide services to citizens.
These incidents resulted in internal conflicts in states like Syria, Yemen and Libya, Shoukry said, adding that such conflicts allowed terrorist groups to get funds and expand their operations through exploiting the international situation of these countries.
The forum kicked off on Saturday in the Red Sea resort city of Sharm el Sheikh, with the participation of around 7,000 attendees from around the world, according to state's news agency MENA.
A number of senior officials attended the "International Peace and Security: Current Challenges" session, including Secretary General of the Arab League Ahmed Abul Gheit, Secretary General of the Organization of Islamic Cooperation (OIC) Yousef bin Ahmed Al-Othaimeen and Paul Bekkers, director of the Office of the Secretary General at the Organization for Security and Co-operation in Europe (OSCE).
https://www.egypttoday.com/Article/1/78707/Arab-League-Secretary-General-strongly-rejects-Arab-Spring-term
------
Kuwait deports Egyptian over 'links to Muslim Brotherhood'
December 15, 2019
Kuwaiti authorities yesterday arrested an Egyptian at the Kuwait International Airport, as he was coming from Turkey, over alleged links the so-called "the Muslim Brotherhood cell," which was detected in mid-July.
Local Al-Rai identified the arrested man as "Islam Abdel Rahman," adding that he was a dentist in Kuwait after had previously worked at Egypt's Sohag Hospital. It reported that the defendant's father was also working as a doctor in Turkey before had been arrested at the Bahrain airport as was intending to attend his daughter's wedding. The father was later deported to Egypt.
The local newspaper quoted sources as saying that Abdel Rahman had left Kuwait "along with others for Turkey when the cell was exposed." The sources pointed out that he had stayed in Turkey for some four months "until his comrades informed him that his name was no longer on the wanted list."
The Muslim Brotherhood cell was exposed and seized by the Kuwaiti security forces in July. The local authorities later deported the defendants to Egypt on the back of a security agreement between the two Arab countries.
The Egyptian regime, led by the incumbent president Abdel Fattah Al-Sisi, has launched an unprecedented crackdown on dissidents following the 2013 military coup – which toppled the country's former first freely-elected president, Mohamed Morsi. Thousands of the dissidents were tried or subjected to enforced disappearance or extrajudicial detention under the pretext of being members or supporters of the now-banned Muslim Brotherhood. Most recently, authorities arrested Coptic rights activist Ramy Kamel and briefly detained a group of journalists from Mada Masr, one of the few independent media outlets that continued to operate after the coup.
The Brotherhood has repeatedly denied any ties to terror.
https://www.middleeastmonitor.com/20191215-kuwait-deports-egyptian-over-links-to-muslim-brotherhood/
------
Iraqi protesters reject Mohammed Shia' Al Sudani as possible candidate for PM
December 15, 2019
BAGHDAD,— Iraqi protesters have rejected an apparent bid by Iran-aligned groups to nominate a politician for the country's premiership close to two weeks after Adel Abdul Mahdi submitted his resignation amid deadly unrest.
National anti-corruption demonstrations have taken place throughout much of Iraq since the start of October 2019 and have seen hundreds killed. Since they began, casualty numbers have reportedly reached over 500 dead and at least 20,000 others injured in clashes between demonstrators and security forces.
As the death count continued to rise, Abdul Mahdi announced he would step down from his post, with the Iraqi Parliament approving the move during an extraordinary session on Dec. 1. This was a short few days after the bloodiest day of protests across the country.
On Friday, reports emerged quoting informed sources that the Iranian-backed al-Fateh and State of Law Coalition alliances had agreed to nominate Mohammed Shia' Al Sudani to succeed Abdul Mahdi. Sudani claimed to be severing his political affiliations on Friday.
"I announce my resignation from the Islamic Dawa Party…and the State of Law Coalition bloc," Sudani said in a tweet. He continued, "I am not a candidate for any party," adding, "I belong to Iraq first."
The protesters were quick to raise pictures of Sudani, rejecting his possible nomination for the position of prime minister, seeing him as a return to the premiership years of Nouri al-Maliki, who is the leader of the political entities Sudani withdrew from.
Demonstrators have repeatedly demanded that the future premier must not be affiliated with establishment political parties and have held no prior senior official posts.
Supporters of the Iranian-backed Asaib Ahl al-Haq militias organized a march on Saturday in support of Sudani. They were also condemning recent US sanctions on AAH leader Qais al-Khazali, which came amid reports of killings of protesters carried out by members of his group.
Firebrand cleric Muqtada al-Sadr is among the fiercest opponents of Sudani taking office and has threatened further escalation should it come to pass.
On Friday, Salih Mohammed al-Iraqi, a senior leader in Sadr's political movement, wrote "Farewell" in a seemingly ominous social media post on his official page – which hundreds of thousands of people follow – after the news.
Al-Iraqi is a close figure to Sadr, and his words carry massive weight among Sadr supporters and protesters, despite his seemingly obscure character.
Iraqi President Barham Salih could officially call on Sudani to form a new cabinet on Sunday, a move that would potentially lead to further instability in an already tumultuous period in the country.
Iraqi protesters reportedly burn house of premiership candidate
Angry Iraqi protesters on Saturday reportedly set fire to the house of the candidate for the country's premiership.
The incident occurred in the city of Ammara in Missan province, where the demonstrators raided the house of Mohammed Shia al-Sudani and set it on fire, Shafaq News reported.
Ekurd Daily could not independently verify the report.
Iraqi protesters have repeatedly made it clear that they do not want the future prime minister to have held any official positions in the previous cabinets, while al-Sudani formerly served as the Minister of Labour and Social Affairs.
https://ekurd.net/iraqi-protesters-reject-sudani-2019-12-15
------
Key road development projects in Makkah enter final stage
December 16, 2019
MAKKAH: The Makkah Region Development Authority (MRDA) is working on the finalization of the second and third ring road projects in Makkah in collaboration with the Royal Commission for Makkah City and Holy Sites, as part of the city's reconstruction project, under the guidance of Makkah Gov. Prince Khalid Al-Faisal and with the support and follow-up of Prince Badr bin Sultan, deputy governor of Makkah and deputy chairman of MRDA.
The project's fieldwork includes implementing intersections, building bridges and services related to roads. The authority finished three of the intersections on the second ring road (on the western side) in the first phase: Al-Kakiyyah, Jorhom, and Al-Tandabawi, and transformed them into continuous flow intersections, and at the moment, the preliminary taking over of the 15-month project is underway.
The second phase is the implementation of Al-Bibyan's intersection. The work includes building five concrete bridges following the Sulaimaniyah tunnel in the second ring road via Madinah's intersection and Al-Mansoor Street down to Hussein Arab Street.
The preliminary work is complete and currently, some of the foundation bridges are being dug and cast, and the coordination to protect and remove interceptors as well as properties is underway. The project will take 24 months.
As for the completion of the third ring road, a 2.5-km stretch of the ring road has been implemented from Al-Khansaa intersection to Al-Jaza'er Street intersection. The work is underway and includes the erection of four concrete bridges over 24 months, and the implementation of a 3.5-km stretch of the third ring road starting from Al-Jaza'er Street intersection to Al-Taniem intersection. The work includes a concrete bridge and 4 million cubic meters of rock cuts.
Spokesperson Jalal bin Abdul Jalil Kaaki stressed that the authority was working hard to complete the ring roads in Makkah, in coordination with the authorities, in order to finish the projects on schedule.
https://www.arabnews.com/node/1599476/saudi-arabia
------
Saudi showjumpers ride for places in Tokyo Olympics team
December 16, 2019
RIYADH: Saudi showjumpers at this month's Diriyah Equestrian Festival aren't just riding to win — they are battling for places at next year's Tokyo Olympics, the country's equestrian chief said on Sunday.
"Saudi riders' participation in international championships is very important," said Prince Abdullah bin Fahd bin Abdullah, president of the Saudi Equestrian Federation.
"Coming in contact with international riders will provide them with what they need to achieve their ambitions, which we all know are very big. That is why Saudi riders always have remarkable presence on the international level — hard competitors to beat, like the young rider Waleed Al-Ghamdi, who came second in the first stage of the competition.
"We are waiting for the results of this championship to draft the program for the Tokyo Olympics. We have a good chance at winning but, in this sport one can never be sure until the end of the stage. We will always be sure of the self-confidence our riders have, which will be felt as they represent the Kingdom in any competition," he added.
Prince Abdullah expressed his happiness at the start of the first stage of the International Show Jumping Championship as part of the Diriyah Equestrian Festival
"The success is due to God, the support the sport has from the wise leadership of Prince Abdul Aziz bin Turki Al-Faisal, chairman of the General Sports Authority (GSA)," he said
The festival — which concludes next weekend, Dec. 19-21 — is taking place at Al-Duhami Farm, the equestrian arena built by Saudi Olympic legend Ramzy Al-Duhami and his wife Sara Baban.
In addition to showjumping, the attractions include art and photography exhibitions, cultural activities and a range of cafes and restaurants.
Visitors enjoyed a fun and exciting atmosphere as riders gave their best performances on the field, showcasing their skills and talents.
Diriyah has always been a symbol of authenticity and culture, while entertainment came with its international sports activities characterized by their sophistication, strength and diversity.
Mohammed Al-Mudayfar, owner of the artistic incubator "Resin Art" taking part in the activities, said: "The exhibition aims at highlighting the Kingdom's identity in line with the festival's. By participating, I seek to revive the Kingdom's culture and introduce it to the visitors.
"The exhibition includes 60 Saudi artworks. They received huge support so they can showcase them in a suitable manner, in line with this year's fun and exciting activities," he added, noting: "Featured handicrafts, paintings and sculptures are all up for sale.
"We provide the necessary space and materials for any artist that wishes to showcase his work. Supporting young Saudis and talented ones in particular is a national duty that society should sense its importance especially when it is related to our heritage and traditions."
The activities area had a part dedicated to kids that has educational and entertainment activities such as painting horse heads made of cork.
Another exhibition called "Objectives" managed by 24-year-old Lama Al-Thubaiti offered visitors a variety of jewelry and accessories that could be modified according to their requests. Al-Thubaiti works as a doctor for people with hearing disabilities and has been working to develop her brand for five years now.
"We are very happy with the visitors' reaction and our presence here is remarkable as we get ready to open our headquarters soon," she said.
The activities area also featured a wide range of restaurants, Saudi and international cafes, a photography corner and cultural facilities such as Arabian and historic horse exhibition, engraving, henna and local artists.
Diriyah Equestrian Festival is taking place for the second year in a row to bring the international event to the Kingdom, reflect the traditional values of equestrianism according to European standards. The event will run for two weeks, providing participants with the chance to qualify to the 2020 Tokyo Olympics and the World Championship.
https://www.arabnews.com/node/1599451/sport
------
Europe
UK Muslims Fear Johnson's Victory Could Fan Islamophobia
December 16, 2019
There is a "palpable sense of fear amongst Muslim communities" in the UK, the Muslim Council of Britain (MCB) has warned, after Prime Minister Boris Johnson secured a crushing victory in the 2019 general election.
"We entered the election campaign period with longstanding concerns about bigotry in our politics and our governing party. Now we worry that Islamophobia is 'oven-ready' for government. Mr Johnson has been entrusted with huge power, and we pray it is exercised responsibly for all Britons," the MCB's Secretary-General Harun Khan said.
The warning came as accusations of Islamophobia within the Conservative Party continue to plague it.
Despite concern that Islamophobia is "oven-ready" for government, a record number of Muslim MPs were elected on Thursday, with 19 winning seats in the general election; an increase of four from the last election in 2017.
Of these, 15 belong to the Labour Party and the other four, including Chancellor of the Exchequer Sajid Javid, are Conservatives.
As the UK saw a record number of 220 women elected to the House of Commons, this trend was also seen in the number of Muslim women, with 10 winning seats.
Despite this, Muslims are still not proportionally represented in parliament.
Only 3 percent of the UK's 650 MPs are Muslim, whilst the country's Muslim population stands at around 5 percent.
The MCB's concerns about bigotry and Islamophobia were echoed on Thursday by ex-party chairwoman Baroness Sayeeda Warsi, the first female Muslim cabinet member.
Warsi said the Conservative Party "must start healing its relationship with British Muslims," and the fact that her colleagues in the party had retweeted comments from Islamophobes Tommy Robinson and Katie Hopkins was "deeply disturbing."
She added: "An independent inquiry into Islamophobia is a must — the battle to root out racism must now intensify."
The Tory peer has repeatedly called for an inquiry into Islamophobia in the Conservative Party, and told BBC Radio 4's Today program in November that the party had a "deep problem" with Islamophobia.
"Remember, we're now four years into these matters first being brought to the attention of the party … the fact that we're still prevaricating about even having an inquiry, and the kind of inquiry we're going to have, shows just how dismissive the party have been on the issue of Islamophobia."
https://www.eurasiareview.com/16122019-uk-muslims-fear-johnsons-victory-could-fan-islamophobia/
------
British Muslims prepare to leave UK after Boris Johnson wins election
Basit Mahmood
Sunday 15 Dec 2019
British Muslims have started the process of leaving the UK over fears for their 'personal safety' now Boris Johnson is Prime Minister for five years, Metro.co.uk can reveal. Among them is the head of a Muslim charity, which provides food parcels for poor people in Manchester, after saying he was scared for the 'future of his children'. Manzoor Ali said: 'I'm scared for my personal safety, I worry about my children's future.' It comes after the prime minister was accused of 'Islamophobia and racism' following a number of controversial comments he made in the past, including his remarks in a 2005 Spectator article in which he claimed it was only 'natural' for the public to be scared of Islam. Mr Johnson also received a considerable degree of criticism for comparing Muslim women to 'letterboxes and bank robbers' in a column for the Telegraph last year. The prime minister has insisted his comments were taken out of context and he was defending the right of Muslim women to wear what they like. During the election campaign he also apologised for Islamophobia in the Conservative party, after a number of candidates shared posts by Tommy Robinson, referring to Muslims as scum.
Asked if he would apologise for Islamophobia in his party, he said: 'Of course, and for all the hurt and offence that has been caused – of course we do. 'And all that is intolerable and it's so important as a country that we don't allow that kind of thing and that's why we're going to have the independent inquiry.' However, after Mr Johnson's Conservatives won a landslide in the election on December 12, Manzoor Ali, who runs the Barakah Food Aid charity in Greater Manchester, said that his family have given him their blessing to move to a place that would be safe and secure for them. Mr Ali told Metro.co.uk: 'My charity has been going on for 10 years, we've helped people from all walks of life, including former soldiers and white working class English people. 'But I'm scared for my personal safety, I worry about my children's future.'
Mr Ali went on to accuse the prime minister of 'Islamophobia and racism' because of his past remarks and 'failure to root out Islamophobia in his party'. He added that Britain was his home and he didn't know where else to go, but his family are in agreement that they should move to ensure their safety. The father of three said New Zealand appealed to him, given the humane and compassionate manner in which the prime minister of the country, Jacinda Ardern handled the aftermath of the Christchurch mosque shootings in which 51 people were killed by a far-right terrorist.
His sentiments were echoed by Eidan, 38, an IT consultant from North London who said she was 'very scared' following the result of the election, especially after being assaulted previously, with her headscarf ripped off and people calling her a 'terrorist' in public in recent years. She fears the result will embolden 'racists and islamophobes'. Eidan told Metro.co.uk: 'I've actively started looking for jobs elsewhere, maybe Turkey, maybe Pakistan. 'I'm very very scared. 'My niece who is a doctor, she has started saying, "I don't know if this is the right country for us". She also said she spoke to her nephew in Canada to find out if 'conditions were better for Muslims there', to which she says he told her 'it was a lot better than in the UK'. Eidan said she found it heartbreaking she couldn't call London home, as she does not know where else she can call home.
https://metro.co.uk/2019/12/15/british-muslims-start-leaving-uk-boris-johnson-wins-election-11911078/
------
European Court of Human Rights declared Samadov innocent/ Baku fined
December 15, 2019
AhlulBayt News Agency (ABNA): Azerbaijan fined 4000 euros by the European Court of Human Rights for violating rights and moral damage of Dr. Mohsen Samadov, head of the Prisoner of the Islamic Party of Azerbaijan (AIP) Who was sentenced to prison in 2011 for a speech in their sect.
According to European Court of Human Rights ruling, Samadov's arrest was violation of the guaranteed rights of the European Convention on Human Rights and Azerbaijan should pay him 4,000 euros in compensation for the violated rights of the Islamic Party leader.
Speaking at a party meeting on January 7, 2011, Dr. Mohsen Samadov referred to the Baku government's policies as reminiscent of the Muawiyah and Yazid policies and compared them to the 1937 policies of the communist regime.
He said in a speech that "Today, in our Muslim country, too, our daughters are insulted fo their Hijab... Today, our government is completely at the disposal of the Zionists and the source of the current anti-religious actions in Azerbaijan is the Zionist regime."
Following this speech in 2010, the Supreme Court of Azerbaijan sentenced Haj Mohsen Samadov to 12 years in prison for false crime carrying weapons and narcotics and now he has been imprisoned in the dreaded prisons of the Republic of Azerbaijan for nearly nine years.
On September 11, 2016, Grand Ayatollah Makarem Shirazi in a letter to Haj Mohsen Samadov, who was on a hunger strike in protest of the Azerbaijani government's actions in prison, called on him to end his hunger strike.
https://en.abna24.com/news//european-court-of-human-rights-declared-samadov-innocent-baku-fined-must-pay-compensation-to-imprisoned-head-of-the-azeri-islamic-party_994027.html
------
British Indians claim their campaigning influenced 70 seats in UK election
Dec 16, 2019
LONDON: Three different groups of British Indians which mobilised hundreds of volunteers to campaign against Labour in the run-up to the UK general election claim they influenced the outcome in about 70 seats.
Angry with Labour over its anti-India stance under its leader Jeremy Corbyn, more than 600 PIOs formed a nationwide campaign called BHIVM (British Hindu and Indian Votes Matter) to bring British Indian and non-Indian British Hindu (such as Nepalese and Mauritius) communities together on an anti-Labour pitch.
Vinod Tikoo, one of the volunteers, said, "We focused predominantly outside London in places like the Midlands, the North, South West and Wales. We identified 80 plus seats nationwide including 30 plus marginals we could influence the Indian diaspora vote and worked relentlessly over the last three months."
According to BHIVM's initial data crunching, Tiikoo claims they influenced around 22 seats where Labour was defeated, around 29 seats where the Conservatives increased their majority and another 20 plus seats where the Labour majority was significantly reduced.
Labour won just 203 seats at the election – its worst performance since 1935 – and 32.1 per cent of the vote share.
Tikoo said the Labour resolution on Kashmir, the protests outside the India high commission in London, including one on Diwali, the fact that banned terror outfit JKLF came out in public support of Labour, were among the factors that motivated them.
"We ran hustings in four constituencies – in Hounslow, Reading West, Woking and one in the Midlands," he said. "We sent letters to candidates and we used our wider networks and community groups, both traditional ones and on social media, to put the message across. We actively worked with community groups to campaign door-to door. We also did a lot with Facebook and Twitter. We had more than 250 volunteers working on a social media campaign informing the community on Labour's policies under Corbyn, including its stance on Kashmir. There was a lot of interaction on social media from non-Indians too, especially the Jewish community."
He emphasised they did not campaign on a pro-Tory stance, rather an anti-Labour one. "This was more of anti-Jeremy Corbyn, than anything else," he said.
He does not claim their campaign was the sole force swinging those seats the Tories won. "In the Midlands and the North there were many pro-Brexit voters upset with Labour who affected the Labour seats. But there were some seats we could impact because of activism in the Indian community such as Swindon South," he said. In Swindon South the group campaigned for the Conservative MP Robert Buckland and helped him increase his majority. "Swindon has the biggest Goan community in Britain," he said.
Other seats they claim to have influenced include Carshalton and Wallington, which was a Conservative gain from the Lib Dems with a majority of 629.
"We also increased Conservative MP Bob Blackman's majority in Harrow East. In Sutton and Cheam we did a lot of work for Conservative MP Paul Scully There is a large Indian community there because and Paul, like Bob Blackman, is very positive to the Indian community," he said.
The group claims to have also helped Conservative Gareth Bacon in Orpington get an increased majority of 22,378 over Labour and to have helped Liberal Democrat Ed Davey beat Conservative Aphra Brandreth in Kingston and Surbiton with an increased 10,489 majority.
The group also campaigned in marginal seats such as Keighley (which saw a Tory gain), Chipping Barnet (which saw an increased Conservative majority), Milton Keynes North (increased Conservative majority), Milton Keynes South (increased Conservative majority); and Boris Johnson's seat of Uxbridge, where Labour's Ali Milani was trying to unseat him (but instead saw an increased majority.)
The Conservative Friends of India (CFI), for its part, targeted 40 Tory-Labour marginal seats. It carried out a sophisticated micro-campaign targeting PIOs in 16 of them, CFI patron and treasurer Amrish Patel said. It was successful in 15. These were seats where the number of PIOs exceeded the majority that needed to get overturned. They were also top target seats for the Tories.
The seats which he says they influenced include Dudley North. Here Labour had a majority of 22 above the Tories in the 2017 election and 71 per cent voted Leave. 2,522 people were recorded of Indian-origin in the 2011 census. The Conservatives gained the seat with a majority of 11,533.
Another is Newcastle-under Lyme. Labour had a majority of 30 in the 2017 election and 62 per cent voted Leave. 848 people of Indian origin were living there at the time of the 2011 census. The Conservatives gained the seat from Labour with a majority of 7,446 votes.
Peteerborough is another example, he said. Labour had a majority of 607 from a by-election in June and 61 per cent voted Leave. 3,503 PIOs lived there at the time of the last census. In this election the Conservatives gained the seat with a majority of 2,580.
Meanwhile Kuldeep Shekhawat told TOI that his team of 800 British Indian volunteers, who were also campaigning in Tory-Labour marginals, managed to help gain two seats, Wolverhampton South West and Warrington South, for the Conservatives from Labour. Shekhawat also claimed that his team, who, he said hail from from everywhere from Kashmir to South India, influenced the result in around 68 seats.
In Wolverhampton South West, where approx 12,239 PIOs live (according to the last census), the Conservatives gained the seat with a majority of 1,661 votes. Warrington South, where an estimated 1,238 PIOs live, was also a gain from Labour. Conservative Andy Carter won with a majority of 2,010 unseating British Pakistani MP Faisal Rashid.
"These were volunteers volunteering in their personal capacity as British Indians, campaigning for India against Labour, not all of them were part of Overseas Friends of BJP (OFBJP) UK," explained Shekhawat, who is OFBJP UK president.
His group, however, failed to oust any of the six PIO Labour MPs they targeted - but did achieve reduced majorities for some of them.
"We helped slash the majority in dozens of Labour seats by getting the Indian diaspora to vote Conservative for the first time," Shekhawat said, citing Walsall South, Wigan, Leicester East, Harrow West and Bradford South as examples.
"We also significantly increased the Conservative majorities in Harrow East and Reading West which until now were marginals."
Labour's Barry Gardiner and Virendra Sharma, who Shekhawat's group was supporting, both held their seats – albeit with lower majorities. That might have been because Conservative Friends of India was campaigning for Gardiner's rival PIO Anjana Patel. Gardiner's majority was slashed from 17,061 to 8,079.
https://timesofindia.indiatimes.com/world/uk/british-indians-claim-their-campaigning-influenced-70-seats-in-uk-election/articleshow/72734158.cms
------
187 anti-Muslim crimes reported in Germany so far this year
15.12.2019
At least 187 anti-Muslim crimes were committed in the third quarter of 2019, according to the German government, which issued a report on the numbers following a request filed by a leftist group in parliament.
However, the number is expected to increase given that previous figures in the first and second quarters had shown a rise. Twenty-five of the attacks directly targeted mosques or places of worship.
The first report on anti-Muslim attacks said a total of 132 attacks had been recorded, but this figure subsequently clocked up to 188. As for the second report, the initial figure for attacks was held at 165, which was later updated to 222.
Burhan Kesici, chairman of the Berlin-based Islam Council, told Anadolu Agency that the anti-Islam discourse in Germany has recently increased and attacks usually focused on mosques and Muslims.
He called on all Muslims to file complaints to the police if they ever experience similar incidents and noted that the government response to the parliamentary question demonstrated how anti-Islam rhetoric in the country was a great issue.
Germany has witnessed growing Islamophobia in recent years sparked by hate propaganda of far-right parties. Police recorded 813 hate crimes against Muslims last year, including verbal insults, threatening letters, and physical attacks which led to the injury of at least 54 Muslims. More than 100 mosques and religious institutions were also attacked by far-right extremists in 2018.
Germany is home to 81 million people and is home to the second-largest Muslim population in Western Europe after France.
Of the country's nearly 4.7 million Muslims, at least 3 million are of Turkish origin.
https://www.dailysabah.com/politics/2019/12/15/187-anti-muslim-crimes-reported-in-germany-so-far-this-year
------
North America
'Suspicious Packages' Reported Near Mosque Deemed Garbage: NYPD
December 15, 2019
An unspecified number of "suspicious packages" reported near a Queens mosque Sunday morning turned out to be garbage, the NYPD said.
In a tweet, the NYPD asked pedestrians to avoid the vicinity of 37-46 Crescent Street in Dutch Kill. The address the NYPD provided is listed as the Bosnian-Herzegovinian Islamic Center of New York.
Not long after, however, police said the report was a false alarm.
"The package on Crescent Street in Queens has been deemed to be SAFE," the NYPD tweeted. "Items determined to be garbage. Expect residual delays in the area."
It wasn't immediately clear what the items that prompted the scare were.
https://www.nbcnewyork.com/news/local/police-investigating-report-of-suspicious-packages-in-queens-nypd/2242169/
------
The roots of Islamic terrorism run deep
December 15, 2019
(December 15, 2019 / JNS) The Dec. 6 murder of three U.S. soldiers at the Pensacola Naval Air Station by a Saudi Islamic terrorist was independent of U.S. policy in the Middle East and beyond, as indeed all previous cases of anti-U.S. and anti-Western Islamic terrorism have been.
For instance, Iran's ayatollahs launched an anti-U.S. terror wave in 1979, while the United States supported the ayatollahs' ascension to power and betrayed the shah of Iran. Another example: Turkish President Recep Tayyip Erdoğan's intense support of Muslim Brotherhood terrorism, which has targeted the United States and all pro-U.S. Arab regimes, is aimed at advancing Erdoğan's vision of reestablish the Ottoman Empire and undermining U.S. interests. This in spite of Turkey's NATO membership and the multi-year, mega-billion dollar U.S. investment in Turkey's national security since 1947.
Neither are Islamic rage and anti-Western terrorism driven by economic, social, or educational goals.
The roots of the Islamic rage against Western culture in general, and against the United States in particular, lie in a worldview which precedes American declaration of independence in 1776, and also the 1620 landing of the early Pilgrims in New England.
According to proffesor Bernard Lewis, a world-leading expert on Islam and the Middle East, the anti-Western Islamic rage represents the current edition of a clash of civilizations: "Muslims from an early date recognized a genuine rival – a competing world religion. … This was Christendom. … The struggle between these rival systems has now lasted for some 14 centuries. It began with the advent of Islam, in the 7th century. … It has consisted of a long series of attacks and counterattacks, Jihads and crusades, conquests and re-conquests. … America had become the archenemy, the incarnation of evil, the diabolic opponent of all that is good, and specifically, for Muslims, of Islam."
The roots of the religious, cultural, political, legal and military Islamic treatment of the "infidel," especially the dhimmi (the infidel under Islamic rule), derive from the Koran-based Pact of Umar, the second Caliph (following Muhammad), who has been a role model of Islamic leadership. The Pact of Umar was extended to infidels in areas conquered by Muslims. It ensured the "protected"—inferior—status of infidels, who paid a special tax (jizya—"safety tax") and submitted themselves to the rule of Islam, which is, supposedly, the only legitimate religion, divinely-ordained to rule humanity.
Among the Pact's list of restrictions on—and privileges of—the "protected" dhimmi:
• Dhimmi structures (homes or churches) may not overtop Muslim structures.
• No erection of new monasteries, churches, convents or monks' cells, and no repair of such houses of worships in Muslim quarters.
• No public display of crosses and dhimmi books (Bibles) and symbols.
• No public manifestation of the dhimmi religion.
• Only low-volume clappers may be used in churches.
• Dhimmis must show respect toward Muslims, rising from seats when Muslims wish to sit.
• No possession of weapons.
• No Arabic inscriptions on dhimmi seals.
• Dhimmis may not imitate Muslim dress or manner of speaking.
• Dhimmis must wear the zunar (a wide belt or girdle), which distinguishes them from Muslims. For Christians, blue belts or turbans, for Jews, yellow belts or turbans (the origin of the "yellow badge").
• Striking a Muslim removes a dhimmi's "protection."
• By violating any of these restrictions and privileges, dhimmis forfeit their "protected" status, making them liable to penalties for sedition and contumacy.
The Pact of Umar serves as a major guideline for contemporary Islamic authorities, as documented by Egypt's Sheikh Yusuf Qaradawi, the spiritual leader of the Muslim Brotherhood (the largest Islamic terrorist organization in the world today, with political subsidiaries in the Middle East, Europe and the United States), who is considered the most influential Islamic scholar alive and whose sermons are broadcast live throughout the globe.
Sheikh Qaradawi referred to the Pact of Umar as a cardinal Islamic legacy in his 2012 book "Jerusalem: the concern of every Muslim."
In an October 2000 Cairo Arab Summit speech, Yasser Arafat stated that "the Palestinian struggle is in accordance with the Pact of Umar," which he said was violated by Israel's claim of sovereignty over Islamic holy sites in Jerusalem.
The text of the Pact of Umar is featured on a marble plate in the courtyard of the Umar Mosque in Jerusalem's Christian Quarter, and is displayed in many Arab shops and during demonstrations in Judea and Samaria.
While the vast majority of Muslims are not terrorists, most Middle Eastern Muslim societies are non-democratic, ruled by rogue regimes which suppress the voice of the majority, employing terrorism as a tool to advance their worldview.
Islamic terrorism has been a systematic feature of intra-Arab and intra-Muslim politics—domestically and regionally—since the 7th century. Its toll has dramatically exceeded the toll of anti-Western Islamic terrorism.
Western democracies cannot expect Islamic terrorism to be kinder to the infidel than it has been to fellow believers.
https://www.jns.org/opinion/the-roots-of-islamic-terrorism-run-deep/
------
US likely to pull out 4,000 troops from Afghanistan soon
Anwar Iqbal
December 16, 2019
WASHINGTON: The Trump administration intended to announce the drawdown of about 4,000 troops from Afghanistan early next week, US officials told NBC News on Sunday.
"The drawdown could be … a unilateral concession to the Taliban," other officials told CNN. "The smaller US military presence will be largely focused on counterterrorism operations against groups like Al Qaeda and ISIS-K," they added.
The officials, however, acknowledged the expected withdrawal could "reduce considerably" the US military's ability to train and advise local Afghan forces.
The United States still has between 12,000 and 13,000 troops in Afghanistan.
The officials who spoke to NBC News said this would be a phased withdrawal that would occur over a few months, but they did not say when it would begin.
Defence secretary says withdrawal will take place even if Taliban don't finalise an agreement
US President Donald Trump promised to withdraw US troops from Afghanistan during the 2016 presidential campaign and has made several attempts to start the process since coming to power.
US Secretary of Defence Mark Esper told an audience in Washington last week that the withdrawal would happen even if the Taliban did not finalise an agreement. Gen Scott Miller, the commander of US troops in Afghanistan, said later that he could sustain a reduction in forces.
One of the former defence officials said the withdrawal announcement was "part of trying to reset the talks with the Taliban". This would allow US peace envoy Zalmay Khalilzad to urge the Taliban that the two sides restart negotiations where they left off, with the US withdrawing troops and the Taliban promising a ceasefire.
NBC News reported that the commander of US Central Command, Gen Frank McKenzie, participated in meetings on Thursday to discuss the footprint for US troops in the Middle East. The discussion included the issue of increasing the US military footprint in other parts of the Middle East to counter the "threat from Iran".
The New York Times noted in an earlier report that one of America's major goals in Afghanistan had been to train thousands of Afghan troops and it had spent billions of dollars to achieve that target.
"But nobody in Afghanistan — not the American military, and not President Ashraf Ghani's top advisers — thinks Afghan military forces could support themselves," NYT reported. "The Afghan army, in particular, suffers from increasing casualty rates and desertion."
Another report in The Washington Post said that US military trainers described the Afghan security forces "as incompetent, unmotivated and rife with deserters". The report claimed that Afghan commanders "pocket salaries — paid by US taxpayers — for tens of thousands of ghost soldiers".
No US military trainer "expressed confidence that the Afghan army and police could ever fend off, much less defeat, the Taliban on their own," the Post added.
The office of the US Special Inspector General for Afghanistan Reconstruction (Sigar) noted that more than 60,000 members of Afghan security forces have been killed, a casualty rate that US commanders have called unsustainable.
A US military officer, interviewed by Sigar, estimated that one-third of police recruits were "drug addicts or Taliban".
Since 2001, an estimated 157,000 people have been killed in the war in Afghanistan, forcing the United States to reconsider its stance on an apparently unending war.
So far, 64,124 Afghan security forces, 43,074 Afghan civilians, 42,100 Taliban fighters and other insurgents, 3,814 US contractors, 2,300 US military personnel, 1,145 Nato and coalition troops, 424 humanitarian aid workers and 67 journalists and media workers have been killed in 18 years of war in Afghanistan.
https://www.dawn.com/news/1522489/us-likely-to-pull-out-4000-troops-from-afghanistan-soon
------
Mideast
Iran Sunni Leader Calls For Release Of Outspoken Cleric
December 15, 2019
The spiritual leader of Iran's Sunni population has called for the immediate release of a fellow clergyman, who has been behind bars since November 28.
"The Islamic Republic authorities must raise the level of their tolerance, and address problems through discussion", Mawlana Abdolhamid Ismaeelzahi, said on Saturday, December 14. He is considered as the religious leader of Sunnis in Iran and his movements have been restricted by intelligence organs.
Meanwhile, the secretary-general of the Council of Sunni Theologians of Iran (CSTI), Hassan Amini, also issued a statement demanding the release of the Friday prayer Imam of Peshamag, Sunni clergyman Molavi Fazl al-Rahman Kouhi.
Kouhi, the Friday Prayer Imam (leader) of Sunnis in Peshamag, in the city of Sarbaz, southeast Iran, was arrested on November 28, after being summoned to Special Clerical Court in Iran's second-largest city, Mashhad.
In a sermon on November 22, Molavi Kouhi had lambasted the Islamic Republic's authorities for the mistreatment of demonstrators in November, who came out to protest a sudden threefold increase in gasoline prices.
Kouhi has a history of critical comments against the Islamic republic, including its involvement in the Syrian war.
Referring to Kouhi's recent fiery speech that led to his arrest, Amini said, "Kouhi's comments were a courageous expression of religious matters, in obvious support of legal and legitimate rights of Sunnis of Iran."
Nearly 90% of Iranian Muslims are Shi'ites, and about 10% are Sunnis. Some believe the number of Sunnis in Iran is much higher, but it is hard to know the exact ratio of Sunni-Shi'ite population. Most Sunnis in Iran are Kurds, Turkmens, and Baluchis, living in the northwest, northeast, south, and southeast of the country.
Molavi AbdolHamid Ismaeelzahi (L), a Sunni theologian and a spiritual leader of the Sunni community in Iran, in a meeting of Sunni clerics with president Hassan Rouhani, on December 11, 2016.
Deploring the heavy-handed suppression of the protesters, Kouhi had noted, "It is not glorious; fathers do not gloat over beating their children."
Meanwhile, Kouhi had dismissed the authorities' claim that increasing gasoline prices would not have a domino effect on the costs of other goods and products.
"Such comments are merely deceptive," Kouhi had reiterated.
Kouhi's arrest triggered a series of protests on November 30 in Sunni-populated areas, and the security forces fired bullets and tear gas to disperse the crowds. Several people were injured in the shooting.
Kouhi, has always been a vociferous critic of the Islamic Republic policies and specifically its paramilitary, the Islamic Revolution Guards Corps.
Two years ago, Kouhi was arrested for unknown charges, an exiled dissident website, Kaleme, reported in April 2017.
Zahedan's Prosecutor Ali Movahdi Rad claimed that Kouhi had been summoned after being given "several warnings about minding national solidarity" and accused him of "delivering furious speeches against internal and external security issues" and "urging people to join terrorist groups."
However, according to Kaleme, Kouhi had criticized the IRGC for deploying young Sunni Iranians to fight in Syria.
The Baloch Activists Campaign (BAC) also announced at the time Kouhi was arrested for issuing a fatwa (Islamic religious ruling) against fighting in the Syrian civil war and accused the IRGC of "taking advantage of poor Sunni youths" by dispatching them as soldiers to the war-torn country.
A week after his arrest, Kouhi was released on April 10, 2017, with a $31,000 bail.
https://en.radiofarda.com/a/iran-sunni-leader-calls-for-release-of-cleric-critical-of-attacks-on-protesters/30326446.html
------
Erdoğan to discuss issues of Islamic world in Malaysia
December 15, 2019
The Turkish president is set to attend a summit in Malaysia where participants will discuss the problems plaguing the Islamic world, officials said Sunday.
Recep Tayyip Erdogan will attend the Kuala Lumpur Summit slated for Dec. 16 and 17 upon the invitation of Malaysian Prime Minister Mahathir Mohamad.
The summit will discuss issues such as independence, development, administration, identity and culture, justice and freedom.
Representatives of Qatar, Iran, Pakistan and Indonesia will also be present at the event.
https://www.yenisafak.com/en/news/erdogan-to-discuss-issues-of-islamic-world-in-malaysia-3507452
------
Released Professor: Enemies Afraid of Iran's Scientific Growth
Sun Dec 15, 2019
TEHRAN (FNA)- Massoud Soleimani, a renowned Iranian scientist who had illegally been kept behind bars by FBI for 13 months before he was released as a result of a prisoners swap between Iran and the US in early December, says enemies, including the US, are afraid of Iran's further progress in scientific and technological fields.
"What makes enemies sad and afraid is Iran's science and they cannot bear Iran's progress," Soleimani said, addressing a ceremony to welcome him at Tarbiat Modares University on Sunday, before he was rushed to a hospital in Tehran for a heart attack.
He said nothing is more important to Iran than standing on its feet and relying on its internal power with the help of science.
Asked about the cause of his detention in the US without a trial, Soleimai said the hegemonic nature of the Americans prevented them from trying him while they were aware that there was no proof or evidence against him.
Soleimani was due to participate in a press conference in Tehran on Sunday but he was rushed to the Tehran Heart Center with a chest pain as he was on his way to a press conference.
Medical authorities at the THC said in a phone contact that Soleimani is in good health conditions now and receiving necessary treatment.
Professor Soleimani arrived at Tehran Mehrabad airport on December 7 after he was released by the US in a prisoner swap. He was welcomed by his family members and Iranian officials upon his arrival.
Iranian Foreign Minister Mohammad Javad Zarif accompanied the released scientist from Zurich where the swap took place.
The Iranian foreign minister said in a tweet earlier in the day that the top scholar, along with Xiyue Wang — a Chinese-born US citizen who had been sentenced to 10 years in prison for espionage in Iran in 2017 — had been delivered to the Swiss officials and would "be joining their families shortly".
Soleimani arrived in the US on October, 22, 2018 with a visa issued upon an invitation by the Mayo Clinic in Minnesota to lead a research program on the treatment of stroke patients.
He was, however, arrested by the FBI upon arrival at the Chicago airport. His visa was canceled and he was transferred to a jail in Atlanta, Georgia.
His family had several times voiced worries about Soleimani's "poor" mental and physical condition in jail, saying he is suffering from chronic irritable bowel syndrome, has lost 15 kilograms and suffers from severe vision loss.
Soleimani's family condemned the US government's hostile act.
BJay Pak, the US attorney in Atlanta, secured Soleimani's indictment on June 12, 2018, just a month after President Donald Trump withdrew the US from the Iran nuclear deal, and Soleimani had been fully unaware of such an indictment when he flew to the US.
Franco and Page Pate, another Atlanta lawyer, said that they had been puzzled by the federal government's decision to prosecute a renowned Iranian professor and two of his former students - Mahboobe Ghaedi and Maryam Jazayeri - for purported trade sanction violations over eight vials of human growth hormone.
Franco said that Soleimani's treatment by federal authorities, the revocation of his visa and the decision to detain him without bond doesn't square with Soleimani's international reputation as a scholar, professor, and doctor widely known in the field of stem cell research and regenerative medicine. Soleimani has no criminal history anywhere in the world, he added.
The hormone, which is a form of synthetic protein, was seized from Jazayeri in 2016 by customs authorities in Atlanta when she was heading to Iran to give it to professor Soleimani for research purposes. Jazayeri had received the hormone from Ghaedi.
The seizure occurred at a time when Washington was still a signatory to the 2015 nuclear deal, officially known as the Joint Comprehensive Plan of Action (JCPOA), and anti-Iran sanctions had not been re-imposed yet.
The growth hormone is not banned in the US or Iran and was being used "exclusively for medical research", which is still considered largely exempt from US sanctions, Franco said.
However, Ghaedi and Jazayeri faced similar federal charges for attempting to supply Soleimani with the growth hormone.
Ghaedi is a permanent American resident and an assistant professor at Yale University's School of Medicine. She is free on a $250,000 bond. Jazayeri is a naturalized US citizen and Kentucky resident and has conducted medical research at the University of Louisville. She is currently free on a $200,000 bond.
"I truly don't understand it," Franco said of the government's decision to prosecute, adding that it appeared to be "some type of policy argument". Pate, who represents Jazayeri, said his client was "completely confused by all this."
Motions to dismiss the charges are pending in federal court in Atlanta in front of US District Judge Eleanor Ross. However, Federal prosecutors in Atlanta have not yet responded to the motions.
Hearing this case had been adjourned for at least three times since October and his family and Tarbiat Modares University had paid over $70,000 to his lawyers to prove his innocence, but all to no avail, said TMU's Vice-chancellor for Research Affairs Yaghoub Fathollahi.
Fathollahi added that Soleimani is a distinguished professor who has been ranked among the top 1% scientists in the world.
https://en.farsnews.com/newstext.aspx?nn=13980924000829
------
Rouhani among notable Islamic leaders at KL Summit 2019
15 December 2019
TEHRAN, Dec. 15 (MNA) – Malaysian news agency named Iranian President Hassan Rouhani among the notable Islamic leaders expected to join upcoming Kuala Lumpur Summit 2019.
According to bernaman.com, besides the Emir of Qatar Sheikh Tamim Hamad Al Thani; Turkish President Recep Tayyip Erdogan; and Prime Minister of Pakistan Imran Khan, Iranian President Hassan Rouhani is expected to join the summit, which will be held at the Kuala Lumpur Convention Center from Dec 18 to 21.
The event will be a significant forum for Muslim leaders to discuss the current situation faced by Muslim community around the world, Prime Minister Tun Mahathir said.
He said it has come to the stage where Muslims everywhere are being oppressed.
"The Muslims are labelled as terrorists, and there is now a feeling of fear of Islam. It is quite obvious to everybody that the situation is getting worse."
"On the other hand, that oppression does not seem to worry anyone," he said in a video message posted on official KL Summit 2019 Twitter account, today.
https://en.mehrnews.com/news/153384/Rouhani-among-notable-Islamic-leaders-at-KL-Summit-2019
------
Israel's Mossad Intelligence Agency Helps Bust Islamic State Terrorist Cell in Denmark
DECEMBER 15, 2019
Israel's famed Mossad intelligence agency recently helped bust a major terrorist cell in Denmark as part of an ongoing policy of collaboration with Western intelligence agencies, local media outlets reported on Sunday.
The Mossad first tracked the cell, whose members had fought for the Islamic State in Syria. Several of them were born in Denmark while the rest were Pakistanis with relatives in the country.
Mossad then passed the information to Danish security services, who began tracking the group themselves. The Danes placed the cell under surveillance for several weeks and then undertook a major operation, raiding safe houses in seven different cities. Twenty-two terror operatives were arrested in the raids. The Danes uncovered evidence that the group was in possession of weapons and explosives for use in an imminent attack.
According to Hebrew news website Mako, despite the perception that many European countries often take politically hostile positions towards Israel, the Mossad is heavily involved in tracking and interdicting European-born Islamic State members and other jihadist terror operatives who have escaped the onslaught against these groups in Iraq and Syria and returned to Europe.
This is not the first time Israel has been involved in interdicting terror attacks in Europe, Mako said. The operations are the result of a process initiated under former Mossad director Meir Dagan, who believed Israel had to collaborate with Western intelligence sources in order to win its own war on terrorism.
Among the countries Israeli intelligence is now collaborating with are Britain, France, Italy, the Czech Republic, Poland, and Bulgaria.
https://www.algemeiner.com/2019/12/15/israels-mossad-intelligence-agency-helps-bust-islamic-state-terrorist-cell-in-denmark/
------
Baku-Mashhad direct flight to facilitate Azeri pilgrims' trip to holy city
December 15, 2019
AhlulBayt News Agency (ABNA): A direct flight between the Republic of Azerbaijan's capital of Baku and Iran's holy city of Mashhad is going to be launched, an official said.
Abolfazl Mokramifar, director general of Khorasan Razavi province's cultural heritage, handicrafts and tourism department, said it will be launched next week.
Azerbaijan Airlines will operate two flights a week between the two cities, he noted.
According to Mokramifar, it is aimed at facilitating travels to Mashhad by Azeri pilgrims.
More than 85 percent of the people of Azerbaijan are Shia Muslims, he noted, adding that with the launch of the direct flight, over 3,000 Azeri pilgrims are expected to visit Mashhad every month.
https://en.abna24.com/news//baku-mashhad-direct-flight-to-facilitate-azeri-pilgrims%e2%80%99-trip-to-holy-city_994019.html
------
Kuwait Arrests Muslim Brotherhood Member Arriving from Turkey
Sunday, 15 December, 2019
Asharq Al-Awsat
Authorities in Kuwait arrested a prominent Muslim Brotherhood member upon his arrival in the country from Turkey, reported al-Rai newspaper.
It identified him as Islam A., a dentist who works in Kuwait.
Authorities deported him to Egypt after carrying out the necessary investigations with him.
The detainee had previously worked at a Sohag hospital in Egypt and had connections with members of a detained Brotherhood cell that was busted by Kuwait.
The cell had been previously deported to Egypt in line with a security agreement with Kuwait.
Al-Rai said the latest detainee had resided in Turkey for four months before returning to Kuwait where he was seeking to complete travel documents.
He confessed during investigations with Kuwaiti authorities to his ties with the busted cell.
He also confessed to providing financial support to Brotherhood members in Egypt.
Sources revealed that he enjoys close relations with one of the suspects behind acts of violence in Egypt, including arson against churches.
https://aawsat.com/english/home/article/2036931/kuwait-arrests-muslim-brotherhood-member-arriving-turkey
------
Gaza Christians face Christmas travel ban
HAZEM BALOUSHA
December 16, 2019
GAZA CITY: Hatem Al-Far, 51, and his family seem nervous. They are awaiting the issuance of Israeli permits to visit the rest of his family and the holy places in Bethlehem and Jerusalem.
Al-Far lives in Gaza, but he has not been able to visit Bethlehem for four years, while Israel sometimes allows his wife and one of his children to travel to the West Bank during the Christmas and Easter.
Israel announced earlier that Christians in Gaza would not be allowed to visit the holy places for the first time, while 100 Palestinians would be allowed out of the Gaza Strip to Jordan.
The announcement has affected Al-Far, his family and Christians in Gaza who will not be able to go to the West Bank.
"I don't trust anything until I get the permit in my hands, or at least my wife and children get the permits to travel and meet my daughter and son who are currently living in the West Bank." Al-Far said.
He added: "Christmas is the most prominent opportunity for us as a family to meet. I do not know what is the reason for preventing me from obtaining a permit to visit the Church of the Nativity and do prayers there. The West Bank is part of Palestine, there is no logical reason to prevent any Christian from traveling and even staying there if he wishes."
Israel tightly restricts movements out of the Gaza Strip, a territory controlled by the extremist group Hamas since 2007.
Gaza has only around 1,000 Christians — most of them Greek Orthodox — among a population of 2 million in the narrow coastal strip.
Driven by the shattered economic situation, the siege, and the Israeli wars, the number of Christians in Gaza has shrunk in recent years, some of whom have moved to live in the West Bank or emigrate abroad.
A number of Christians in Gaza mentioned that when Israel grants permits it does not grant them to all family members, which makes traveling difficult in the holiday season.
Hani Farah, secretary-general of the YMCA in Gaza, said: "Israel practices all forms of repression and violations against the Palestinians, regardless of their religion or gender."
He added: "Just as Israeli bombs and missiles do not differentiate between the Palestinians, the blockade of Israel and its repressive measures do not differentiate between a Muslim and a Christian. We are all trapped in Gaza and we share pain and suffering."
Like hundreds of other Christian Gazans who had applied for permits, Farah — who is a lay member of the Greek Orthodox community — had not received one for himself, his wife or their four children.
With the exception of the holiday seasons, Christians suffer from severe restrictions imposed by Israel on the movement of Gazans to the West Bank, according to Farah.
The number of Christians in Gaza is shrinking due to several factors, according to Farah, the most important of which are economic conditions.
"When young people do not find work they are forced to travel abroad. The same is true for girls when they want to be associated with a husband but do not find someone to approach them, so they travel in order to marry."
Gisha, the Israeli legal center for freedom of movement, said: "The decrease in the number of holiday permits issued to Christians in Gaza over the years, and the fact that this Christmas Israel has not allocated any permits for Christians to travel between Gaza and the West Bank, point to the intensifying of access restrictions between the two parts of the Palestinian territory, a deepening of Israel's separation policy."
https://www.arabnews.com/node/1599441/middle-east
-------
For $250,000 you, too, can be an Egyptian
MOHAMMED SHAMAA
December 16, 2019
CAIRO: Egypt is offering citizenship to foreigners willing to buy real estate worth at least $500,000 or pay $250,000 to the state treasury under amendments to the country's nationality laws.
The move is part of Egypt's bid to boost its finances and draw back foreign investment that fled the country in the wake of its 2011 uprising.
In its latest initiative, the Council of Ministers stipulated four conditions under which foreigners will be granted Egyptian citizenship.
First, an individual can buy Egyptian real estate, government-owned or otherwise and worth at least $500,000, with the money wired from abroad according to Central Bank rules.
Second, if the person establishes or takes part in an investment project worth at least $400,000, with the money also wired from abroad. The foreigner's share in the project cannot be less than 40 percent and must comply with Egyptian investment law.
Third, if a foreigner deposits $750,000 from abroad. The deposit may be returned after five years in Egyptian pounds according to the exchange rate at the time. The deposit may be exchanged after three years if the individual deposits $1 million or more. In both cases, no interest will be applied.
The fourth condition is if the foreigner transfers a nonrefundable $250,000 to the state treasury from abroad. Parliament must confirm any citizenships that are conferred.
The council's decision ignited a spate of rumors, with claims that it applied to Israelis, Iranians and Turks, three countries that have tense relations with Egypt.
However, a member of the Defense and National Security Committee, Maj. Gen. Yehya Al-Kedwani, said that national security requirements will be taken into consideration before nationality is granted to anyone.
"The law gives the prime minister authority to establish a committee that will focus on all aspects of the process, including that of the national security authorities, to decide on applications for citizenship within three months if several conditions are met, the first of which is the deposit of $10,000 (the application fee)," Al-Kedwani said.
Foreigners can apply for a six-month residency permit until all the requirements are met.
"Egyptian citizens, rest assured," Al-Kedwani said. "This is a common occurrence in many countries and it will be a chance to have investments in the country."
However, Amgad Riad, an economic expert, told Arab News the citizenship offer is unlikely to attract any kind of investment.
"It appears to be a catalyst for investment, but the current law has many incentives for investors, including the right to residency and recruitment," he said.
Riad said the goal behind the newly issued decision is unclear.
https://www.arabnews.com/node/1599436/middle-east
------
Morocco seeks to 'turn page' on tense ties with Algeria
December 15, 2019
RABAT: King Mohammed VI has called for an easing of bilateral tensions with Algeria, long stoked by the disputed Western Sahara region, official Moroccan media said Sunday.
The king issued the call in a message to congratulate Abdelmajid Tebboune for winning Algeria's presidential election, which took place on Thursday, MAP news agency said.
"The King also reiterated his previous call to open a new page in relations between the two neighboring countries, based on mutual trust and constructive dialogue," it said.
The North African neighbors have been at loggerheads for decades over Western Sahara, a former Spanish colony disputed between Morocco and the Polisario Front, an Algeria-backed independence movement.
Morocco fought a war with the Polisario Front from 1975 to 1991, when a cease-fire deal was agreed.
Algeria and Morocco have had frequent diplomatic rows and their land border has been closed since 1994. Heads of state from the two countries have not met since 2005.
The international community has long advocated that a referendum be held to decide the status of Western Sahara.
But Morocco, which annexed the territory after Spain withdrew in 1975 and considers it an integral part of the kingdom, has instead offered autonomy for Western Sahara.
The Polisario Front insists on a UN referendum on independence.
After a long break, a UN-led dialogue between Morocco, the Polisario Front, Algeria and Mauritania resumed in Switzerland in December 2018, followed by a second round in March, but no breakthrough was made.
https://www.arabnews.com/node/1599386/middle-east
------
Morocco says arrests extremist who planned 'suicide attack'
December 15, 2019
RABAT: Moroccan anti-terror police announced Sunday the arrest of an alleged extremist who "planned a suicide attack."
The 41-year-old extremist tried to "build expertise in the use of arms," Morocco's central office for judicial investigations said in a statement.
He was imbued in the "ideological propaganda" of the Daesh group, it added.
"Electronic devices and documents... on the making of explosives" were seized, the office said.
Long spared extremist violence, Morocco was last year hit by the gruesome murder of two Scandinavian tourists in the High Atlas mountains, committed in the name of Daesh.
The perpetrators were sentenced to death, a penalty not carried out in Morocco since 1993.
https://www.arabnews.com/node/1599341/middle-east
------
Africa
CAN calls for CJN's removal over comment on Sharia law
by Ikokwu Ikemba
December 15, 2019
The President of Christian Association of Nigeria (CAN), Rev. Samson Ayokunle, has called for the removal of the Chief Justice of Nigeria, Justice Tanko Muhammed, over his alleged religious bias.
Ayokunle made the call in his reaction to the CJN's call for the integration of Sharia law in the country's penal code through a constitutional amendment.
However, the CAN president in a statement issued on Sunday by his Special Assistant on Media and Communications, Pastor Adebayo Oladeji, described the statement credited to the CJN as provocative and unacceptable.
He urged Justice Mohammed to retract the statement because it can "provoke a religious crisis in the country."
The statement read: "Our attention has been drawn to the advocacy of the Chief Justice of Nigeria, Justice Ibrahim Tanko Muhammed, for the amendment of the Constitution with a view to adding more Sharia contents.
"Justice Muhammed reportedly made the call while declaring open the 20th Annual Judges Conference at the Ahmadu Bello University (ABU), Zaria, Faculty of Law's Moot Court.
"We have not seen the full text of the paper presented and we learnt the Chief Justice was represented at the event. So, it is difficult to know if the speech was that of the Chief Justice or his representative.
"We don't believe that such a reckless and provocative statement could be made by the number one judicial officer in the country. How could the CJN say 'We as Muslims have the numbers to amend the constitution'? It is not possible. It is either he was misquoted outrightly or quoted out of context.
"Asking for constitutional amendment with a view to adding more to the Sharia contents is ill-timed, provocative and unacceptable. Was the Chief Justice of Nigeria put there deliberately for the promotion of Islamic matters or to be an unbiased and fair judge for all irrespective of religion? It appears from this statement (if he made it) that he was put there for Islamisation agenda.
"Those in the government are warned not to use the cheap popularity or acceptance they seek to set two religious practitioners against each other.
"This type of statement, if true, is enough for the President of the country to initiate the removal of this Chief Justice from office."
https://www.thebreakingtimes.com/can-calls-for-cjns-removal-over-comment-on-sharia-law/
------
UK probes Nigerian-owned church where members allegedly sell blood to raise funds
December 15, 2019
According to reports, the church is run by 39-year-old Pastor Tobi Adegboyega, a Nigerian who took up residency in Britain in 2005.
According to the Evening Standard, Adegboyega once shared a room with his cousin, Star Wars actor John Boyega, after moving to London from Nigeria; adding that the pastor "works with young people who have been involved with gangs and street crime."
The church is being investigated over allegations that pastors were pressuring young people in the congregation to sell their own blood to raise funds, Mail on Sunday has reported.
"The Charity Commission said it has opened an inquiry into SPAC Nation to probe financial and safeguarding concerns after claims emerged that pastors had encouraged worshippers to take out loans in order to pay for the church's lavish spending," the medium claimed.
The commission described SPAC Nation as "a charity set up to 'advance Christianity,' noting that it works "particularly with young people."
It has, meanwhile, ordered the church to deposit all its money in the bank while the investigation lasts.
While the Scotland Yard is said to be reviewing the complaints against the SPAC Nation, Labour MP Steve Reed, who is also the Shadow Children's Minister, told the Mail On Sunday that the allegations he had received about SPAC Nation were "truly disturbing."
SPAC Nation has since denied all wrongdoing, Huffington Post said.
Trouble allegedly started after the Huffington Post alleged in a report that some members of SPAC Nation had been taking teenagers to donate blood for medical trials in a practice known as "bleeding for seed."
The Mail On Sunday had alleged that parishioners were encouraged to raise £100,000 a week; while HuffPost UK alleged that young church members claimed that some members go to donate blood and are paid up to £100 by medical trial companies.
"This money is then handed by the young people over to the church's pastors," HuffPost UK said.
The reports further alleged that while members were told to raise "the seed" through whatever means — including if they had to "beg, borrow or steal," pastors in the church cruise around town in £150,000 Rolls-Royces and a Lamborghini with personalised number plates such as 'Pastor R.R' on a Rolls Royce allegedly owned by a pastor.
In a series of links on the SPAC Nation's website, various media reports had earlier focused on the activities of the church and its lead pastor, Adegboyega.
The BBC in a February 1, 2018 report had described SPAC Nation as "The church where drugs and knives are left at the altar;" while The Sunday Times of August 11, 2018 sees it as a church that uses "'Demonic' drill rap used to spread the gospel."
On its homepage, the SPAC Nation has this to say about itself:
'SAFEGUARDING POLICY FOR CHILDREN & YOUNG PEOPLE
2019 – 2020.'
"SPACNATION is a faith based organisation that is committed in seeing the lives of young people being transform ed. A generation whereby many young people have been dejected, abused and simp l y overlooked, SPACNATION merely offers an alternative, whilst changing the narrative of this generation one step at a time.
"Taking a hands on approach, SPACNATION offers 1:1 mentorship / key work sessions , counselling and guidance through the means of lifestyle evangelism ''. A concept that is not common within today s society, SPACNATION breaks the mould and has demonstrated over the year's continuous commitment to young people.
"Uncompromising non conformists. SPACNATION loves GOD and loves PEOPLE.
"The care and protection of children, young people and vulnerable adults involved in Church activities is the responsibility of the whole Church. Everyone who participates in the life of the Church has a role to play in promoting a Safer Church for all. This document sets out the safeguarding children, young people and vulnerable adult's policy of SPACNATION. SPACNATION 's safeguarding policy statement is based on 5 foundations and offers 6 overarching policy commitments:
1. Promoting a Safer environment and culture
2. Safely recruiting and supporting all those with any responsibility related to children, young people and vulnerable adults within the Church
3. Responding promptly to every safe guarding concern or allegation
4. Caring pastorally for victims/survivors of abuse and other affected persons
5. Caring pastorally for those who are the subject of concerns or allegations of abuse and other affected persons
6. Responding to those that may pose a present risk to others."
https://punchng.com/uk-probes-nigerian-owned-spac-nation-church-where-members-allegedly-sell-blood-to-raise-funds/
-------
Uganda-Rwanda meeting ends in more disagreements
December 16, 2019
After eight hours of closed-door deliberations inside a hall at the Commonwealth Resort Munyonyo, delegates from Rwanda and Uganda failed to reach an agreement and decided to refer the matters to the heads of state of both countries.
There was no communique after the representatives came out of the second meeting of Joint Ad Hoc Commission on the implementation of the Luanda MoU at 11:40 pm on Friday even when the day had started with hope that there could finally be something to write home. The talks started at around 4 pm. The first meeting of Joint Ad Hoc Commission on the implementation of the Luanda MoU was held in Kigali earlier in September.
Angola's minister for External Affairs Manuel Augusto Domingos had said in the Kampala meeting 'both countries showed the will to resolve the dispute peacefully".
The Ugandan team was led by the Foreign Affairs minister Sam Kutesa and deputy attorney general Mwesigwa Rukutana. Also present on the Uganda side was state minister for Internal Affairs Obiga Kania, the Chieftaincy of Military Intelligence (CMI) boss Brig Abel Kandiho and deputy chief of defense forces Lt Gen Wilson Mbadi.
On the Rwanda side sat ambassador of Rwanda to Uganda Frank Mugambage and the minister for East African Affairs Olivier Nduhungirehe. There were also other delegates from Rwanda.
Present as witnesses were the Angolan minister for External Affairs Manuel Augusto Domingos and Democratic Republic of Congo (DRC) deputy prime minister Gilbert Kankonde.
Inside the meeting room, where journalists were not allowed, Rwanda laid on table 'evidence' of Uganda's support to the armed dissidents who want to overthrow the Kigali administration. But we have been told that Uganda rejected this flatly.
Rwanda reportedly presented evidence of constant contact, including phone call records between some Ugandan officials and the people it accuses of rebelling against the Kagame government. Rwanda claimed the recent attack in Kinigi was discovered to have been coordinated by Ugandan minister of state for Regional Cooperation Philemon Mateke as evidenced by the phone records.
Rwanda also said some of the people who attempted at attacking it had fled to Kisoro in western Uganda. Also, Rwanda told Uganda that it had continued to illegally detain Rwandans even after promising to stop in the first meeting in Kigali. Uganda said there was no merit in the accusations.
Kutesa said for Uganda, the unresolved issue remains the infiltration of security agencies by Rwandan government, border closure and the illegal activities of Rwandans in Uganda. Nduhungirehe said the border closure is not the main issue because Rwanda has a duty to protect its sovereignty and safety of its citizens. Kutesa maintained that the reason why some Rwandans have been detained by Uganda is because they were suspected to be involved in espionage activities.
A few minutes to midnight, as they left the room, both Kutesa and Nduhungirehe smiled sheepishly, perhaps knowing that the dispute between Rwanda and Uganda is much deeper than had been anticipated.
They consequently referred the matter to the two principals – Presidents Yoweri Museveni and Paul Kagame – the comrades who understand its depth better than anyone else. Nduhungirehe described the talks as "deep, frank but cordial."
For now, the status quo remains – border closed, Rwandans not allowed to travel to Uganda and it remains as uncertain as ever on when the dispute can be solved.
https://observer.ug/news/headlines/62929-uganda-rwanda-meeting-ends-in-more-disagreements
------
Pakistan
'APS carnage will never be forgotten,' COAS, President say on 5th anniversary of horrific attack
December 16, 2019
Chief of Army Staff (COAS) Gen Qamar Javed Bajwa, on the fifth anniversary of the Army Public School (APS) attack, said the carnage will never be forgotten.
On Dec 16, 2014, six terrorists affiliated with the banned Tehreek-i-Taliban Pakistan carried out the horrific attack on the school and killed 132 innocent students and 17 staff members.
In a tweet on Monday via the Inter-Services Public Relations account, Gen Bajwa stated: "Five of the involved terrorists have been hanged through military courts. Salute to martyrs and their families."
"We have come a long way in failing terrorism as a nation. United we move towards lasting peace and prosperity of Pakistan," he said.
President Arif Alvi in his message said the nation "cannot forget the massacre of little angels/teachers". "Hard to commemorate this day without tears in one's eyes. In its remembrance, we reiterate our pledge to root out terrorism and extremism in all its manifestations from our country," he said.
In his message on the fifth anniversary of the APS attack, Prime Minister Imran Khan said: "The blood of the innocent united the nation against all forms of extremism, terrorism, violence and hatred."
In a statement shared by the Prime Minister's Office, the premier said that today is a day to remember and pray for the survivors and the victims of the attack.
"On this day while paying tribute to our young martyrs, we also laud the sacrifices of our armed forces, police and law-enforcing agencies in the fight against the scourge of terrorism.
"We pledge on this day not to allow any militant mindset to take our country and the nation hostage to its bigoted vision," he said.
In his message, National Assembly Speaker Asad Qaiser said: "The sacrifices of the students and teachers martyred in the APS attack will always be remembered".
In a press release issued on Monday, he stated that the wounds from the deadly attack are still fresh despite the passage of five years. "The martyrs united the entire country in the fight against terrorism," he said.
He maintained that we must eliminate terrorists in order to curb acts of terrorism such as the attack on APS.
"A day that can never be forgotten — a tragedy so intense it shook the nation to its core — the APS terror attack that took away the lives of so many innocent children along with their teachers," Human Rights Minister Shireen Mazari said on Twitter.
"Tears and prayers are all we have left alongside a resolve to ensure 'never again'," she said.
PPP Chairperson Bilawal Bhutto Zardari called it "a travesty" that the APS commission report hasn't been released even now.
"It is a failure of the state that justice has not been served. Its inexcusable that the National Action Plan (NAP) still isn't implemented," he said. "As a victim of terrorism, one who has yet to find justice, I know the pain of all those who lost loved ones. And to them I say, I am with you."
MNA Ali Wazir said "the pain is very deep and cannot be erased from our minds".
"Each peaceful day in Pakistan is a tribute to our youngest soldiers ... we have not forgotten," said Special Assistant to the Prime Minister on Overseas Pakistanis Zulfiqar Bukhari.
A dark day for Pakistan
On Dec 16, 2014, armed militants stormed APS, Peshawar, and carried out the deadliest attack in the country's recent history.
The militants, wearing paramilitary uniforms, scaled the school's rear wall on Warsak Road using ladders and cut the barbed wire along the top of the wall. Once inside the school, they opened fire in all directions.
The responsibility for the attack was claimed by the outlawed Mullah Fazlullah-led Tehreek-i-Taliban Pakistan. The attack on APS saw a shift in public opinion on the country's struggle against militancy.
In the aftermath of the attack, the army intensified Operation Zarb-e-Azb in tribal areas where militants had previously operated with impunity, and the government announced to launch the sweeping National Action Plan to tackle militancy.
https://www.dawn.com/news/1522579/aps-carnage-will-never-be-forgotten-coas-president-say-on-5th-anniversary-of-horrific-attack
------
Islamabad policemen to don body cameras
Dec 16, 2019
ISLAMABAD: Policemen in Pakistan's capital city of Islamabad will be provided with body cameras to record encounters so that the video can be used as evidence in courts and also to restore the public's faith in the law enforcement agency.
The recordings will help keep all parties honest and allow them to gain some confidence in one another, knowing that anything anyone says about the interaction can later be verified, The Express Tribune reported citing police officials as saying on Sunday.
"These cameras will be connected with the Safe City Project," Islamabad Inspector General of Police (IGP) Muhammad Aamir Zulfiqar said.
"This way, complaints about policemen especially serving at police pickets will be automatically resolved," he added.
Twenty such cameras will be purchased in the testing phase, which will later be provided to cops serving at various police stations in the capital city.
Video recordings of police's interaction with the members of public would force officials to act politely and responsibly since they are often blamed for taking bribes and being harsh with the common man.
Being small and portable, the body cameras are expected to be highly useful for the police.
https://timesofindia.indiatimes.com/world/pakistan/islamabad-policemen-to-don-body-cameras/articleshow/72733994.cms
------
LHC issues notice to federal govt on Musharraf's application to halt high treason trial
Rana Bilal
December 16, 2019
The Lahore High Court on Monday issued a notice to the federal government on former military ruler Pervez Musharraf's miscellaneous application urging the high court to stay the high treason case proceedings pending before a special court in Islamabad.
Musharraf in his application has asked the high court to declare the proceedings pending before the special court and all actions against him — from initiation of the high treason complaint to the appointment of the prosecutor and constitution of the trial court — as unconstitutional.
The three-member special court is expected to announce its verdict in the long-drawn high treason case tomorrow (December 17), despite an earlier Islamabad High Court (IHC) order stopping the special court from issuing the verdict it had reserved in the case last month.
The IHC's order had come on November 27 — a day before the special court was set to announce its verdict.
On Saturday, in an application filed through advocates Khawaja Ahmad Tariq Raheem and Azhar Siddique, Musharraf asked the LHC to stay the trial at the special court until his earlier petition pending adjudication by the high court is decided. In that petition, the former dictator had challenged the formation of a special court holding his trial under charges of high treason and legal flaws committed in the procedure.
The application urged the high court to immediately suspend all actions, including the filing of the complaint, submission of a challan, the appointment of a prosecution team and constitution of the trial court.
During today's proceedings, Justice Syed Mazahar Akbar Ali Naqvi asked why the second application was submitted if another petition by Musharraf was already being heard in the LHC. Siddique, Musharraf's counsel, said this was a miscellaneous application.
"Would it be reasonable to form a full bench to hear Musharraf's petitions?" asked Justice Naqvi, in response to which Siddique and the government lawyer said the court had nearly heard the entire matter and there was no need to form a full bench.
Issuing a notice to the federal government on Musharraf's application for tomorrow, the court decided to hear it alongside the main petition set for hearing in the LHC on Tuesday.
The high treason trial of the former military dictator for clamping the state of emergency on Nov 3, 2007, has been pending since December 2013.
He was booked in the treason case in December 2013. Musharraf was indicted on March 31, 2014, and the prosecution had tabled the entire evidence before the special court in September the same year. However, due to litigation at appellate forums, the trial of the former military dictator lingered on and he left Pakistan in March 2016.
Special court verdict halted
In October, the special court was informed that the government had sacked the entire prosecution team engaged by the previous PML-N government to prosecute the high treason case against Musharraf.
The special court — comprising Chief Justice of the Peshawar High Court (PHC) Waqar Seth, Justice Nazar Akbar of the Sindh High Court (SHC) and Justice Shahid Karim of the LHC — had on November 19 reserved the judgement in the case. The court said the verdict would be announced on Nov 28 on the basis of available record.
However, days before the final verdict was to be announced, the Pakistan Tehreek-i-Insaf (PTI) government sought deferment of the announcement of the verdict and in a fresh petition, requested the Islamabad High Court that "the special court be restrained from passing final judgement in the trial".
The government petition was filed by the interior ministry through the additional attorney general.
Subsequently, on November 27, the IHC stopped the special court from issuing its verdict reserved in the case on Nov 19. Additionally, they directed the government to notify a prosecution team by December 5.
On December 5, the new prosecution team for the government appeared before the special court after which the special court adjourned proceedings till December 17, adding that it would hear arguments in the next proceeding and announce the verdict.
The special court had observed that while it would not comment on the maintainability of the IHC order, the members of the three-judge court were of the view at the last hearing of the case that the IHC's order was not binding on them.
The IHC, however, ruled that its order of stopping the special court from announcing its verdict in the treason case was binding on it (special court) regardless of the fact that it comprises three high court judges.
The IHC in the written order stated: "A plain reading of the Act of 1976 [The Criminal Law Amendment (Special Court) Act] unambiguously shows that the Federal Government and the prosecution have a pivotal role. The trial proceedings under the Act of 1976, from initiation till conclusion, are dependent on the presence of the prosecution appointed by the Federal Government…The Special Court cannot, therefore, pronounce the judgement without affording a reasonable opportunity of hearing to the appointed prosecutor."
According to the IHC order, the Act of 1976 reads as a whole unequivocally makes it obvious that the trial proceedings are entirely dependent on the prosecution and that in its absence or without hearing it, judgement cannot be announced.
https://www.dawn.com/news/1522577/lhc-issues-notice-to-federal-govt-on-musharrafs-application-to-halt-high-treason-trial
------
Parents organise rally on eve of fifth anniversary of APS massacre
December 16, 2019
PESHAWAR: The fifth anniversary of the horrible attack on the Army Public School (APS), Peshawar, will be observed on Monday.
On Dec 16, 2014, six terrorists affiliated with the banned Tehreek-i-Taliban Pakistan conducted the attack on the school and killed 132 innocent students and 17 staff members.
In the memories of their beloved martyred sons, the parents held a candlelit vigil on the APS Shuhada Memorial located outside the Peshawar Archives Library on Sunday.
Moving scenes were witnessed during the vigil and mourning procession as several mothers burst into tears while watching the pictures of their martyred children and discussing their memories.
The parents also organised Quran Khwani on the Archives Library's premises and prayed to Allah to rest the departed souls in Jannatul Firdaus.
A big banner with the pictures of the martyred students was displayed on the APS Shuhada Hall.
A total of 132 students and 17 staff members died in Taliban attack
The parents also held banners and pictures of their martyred children during the mourning procession, which emerged from the Archives Library and culminated at the Peshawar Press Club.
"We have not forgotten the martyrs of the APS tragedy," read a banner.
On Monday, the main official programme will be held on the APS campus to be attended by parents of the martyrs. High-ups of the army and the Khyber Pakhtunkhwa government are also likely to attend the event.
Other programmes will be held in the APS Shuhada Hall in the Archives Library and Islamia College University, Peshawar.
Remembering the martyrs, Qaumi Watan Party chairman Aftab Ahmad Khan Sherpao on Sunday paid his respects to the ­victims of the APS attack and said that the nation will always remember the ­tragedy.
In a statement issued here on Sunday, he recalled that the attack had united the nation in its fight against terrorism.
Mr Sherpao said his party shared the grief of the bereaved families and prayed to Allah Almighty to grant them the courage and fortitude to bear this loss with equanimity.
"The nation is still in a state of shock and grief over the brazen attack in which innocent schoolchildren were targeted," he added.
Meanwhile, Pakistan Peoples Party chairman Bilawal Bhutto-Zardari paid rich tribute to the innocent martyrs of APS.
In his message, the PPP leader said that extremism and terrorism were the enemies of peace and human development. Those who facilitated and sponsored the scourge of terrorism had committed crimes against humanity and it was the responsibility of the nation to say 'never again'.
Mr Bhutto-Zardari said that extremism and terrorism had been used as a tool to advance certain vested interests and impose specific agendas in an attempt to hold the citizens hostage to constant fear.
He said the PPP had always maintained its stance against terrorism and had been bold and clear in its message that the people of Pakistan deser­ved to live their lives, free from threats to personal and religious freedoms. The PPP had suffered greatly for its stand as its leadership and workers were martyred in this fight against authoritarianism in all its forms, he added.
He said killing of innocent children at the APS Peshawar would continue to haunt Pakistan and remain as a black spot in the history of the nation unless "we fight back against the forces that not just commit but also aid and abet terrorism".
https://www.dawn.com/news/1522499/parents-organise-rally-on-eve-of-fifth-anniversary-of-aps-massacre
------
URL: https://www.newageislam.com/islamic-world-news/there-no-danger-indian-muslims/d/120540
New Age Islam, Islam Online, Islamic Website, African Muslim News, Arab World News, South Asia News, Indian Muslim News, World Muslim News, Women in Islam, Islamic Feminism, Arab Women, Women In Arab, Islamophobia in America, Muslim Women in West, Islam Women and Feminism