New Age Islam News Bureau
9 Aug 2014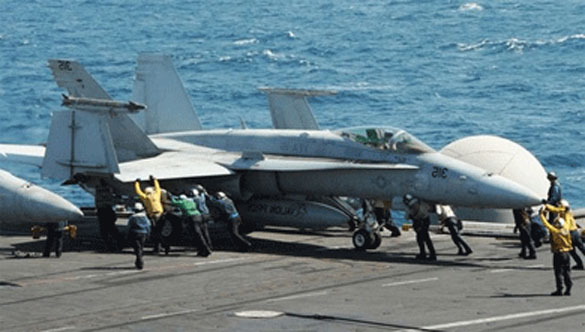 The Pentagon confirmed that US Navey F18 jets dropped bombs onIslamic State artillery positions near Erbil
------------
Southeast Asia
• The World's Largest Muslim Country Bans Support for the Islamic State
• Bekasi Mosque Caretaker Refutes ISIL Intervention
• Malaysian Police detain two terror suspects, ISIL supporters
• Malaysian Islamists Are Split Over Support for ISIS
• 'Enemies' using internet to attack Islam - Jakim targets non-Muslims
• US 'hiding truth' on Malaysian plane
------------
Arab World
• US warplanes bomb Islamic State group in Iraq
• Pope sending cardinal to Iraq to support fleeing Christians
• Iraq unity can end crimes against Yazidi community: Iran official
• Takfiri threat endangers global peace: Iran official
• Saudi Arabia executes two for murder, drug trafficking
• IS militants capture key base from Syrian army: monitor
• Lebanon's Hariri back as army battles Syria militants
• Steps taken to ensure Ebola-free Haj
----------
Mideast
• Al Qaeda executes 15 Yemeni soldiers
• Gaza conflict reignites as Egypt backs new truce
• Tormented Gazans back in UN schools as Israel resumes blitz
• Five key reasons behind Islamic State's victorious run
• Israel and Hamas claim victory as truce ends
• Jordanians hold pro-Gaza rally in Amman
---------
South Asia
• Taliban kill four Afghan policemen in attack in Helmand
• Rivals sign deal to form Afghan unity govt
• Hasina slams developed countries
• 180 Bangladeshis in Iraq 'confined'
• 2 Bangladeshi workers killed in Bahrain
----------
Pakistan
• PML-N govt 'internal terrorist', says Qadri
• Qadri to be held on sedition, terrorism charges: Mashhood
• Imran told Siraj March may be cancelled if recount done on 10 seats: PM
• Tribesmen refuse to leave N Waziristan town
• Police crackdown continues in Punjab
• Youm-e-Shuhda: Punjab on fire!
• Azadi March at all costs, says Imran
-----------
India
• Sharif regrets Pakistan's bad relations with India
• "Bangladesh government focussing on Indian IT firms for joint venture"
• Pak violates ceasefire along LoC in Poonch
-----------
Africa
• Boko Haram train hundreds to gain foothold in Cameroon
• UN threatens South Sudan with bans over conflict
• UN team holds talks in Libya to broker militia ceasefire
• Nigeria declares state of emergency over Ebola
-----------
North America
• US urges citizens to defer travels to Pakistan
• US jets strike militants in Iraq
-----------
Europe
• The resignation of Britain's most senior Muslim politician puts spotlight on its Israel policy
• Archbishop: UK must open doors to Iraqi minorities
• UK urges Britons in parts of Iraq's Kurdistan to leave
• Anglican leader condemns 'evil' persecution of Iraq Christians
• Scary: Radical Islam Is Completely Taking Over Europe. See Why America Could Be Next
Compiled by New Age Islam News Bureau
URL: https://newageislam.com/islamic-world-news/new-age-islam-news-bureau/the-world's-largest-muslim-country-bans-support-for-the-islamic-state/d/98502
-----------
Southeast Asia
The world's largest Muslim country bans support for the Islamic State
By Ishaan Tharoor
August 7, 2014
Authorities in Indonesia this week condemned the Islamic State — the Sunni extremist militants who have taken over large chunks of territory in Iraq and Syria, killing hundreds of innocent civilians in the process — and ordered a ban on YouTube videos that in any way endorse the jihadists. Despite being home to the world's largest population of Muslims, Indonesia is a pluralistic state with myriad ethnic groups and religious minorities. Still, its government wrestles with the real fear of homegrown extremism.
"The government rejects and bans the teachings of [the Islamic State] from growing in Indonesia. It is not in line with state ideology ... or the philosophy of [diversity] under the unitary state of the Republic of Indonesia," said Djoko Suyanto, a former commander in chief of the Indonesian military who now holds a senior cabinet post in the country's newly formed government, at a news conference Tuesday.
The Southeast Asian archipelago nation may be thousands of miles away from the battlefields of Iraq and Syria, but it is no stranger to the call of global jihad. Government authorities believe there are about 30 Indonesians enlisted in the Islamic State's legion of foreign fighters, according to the Jakarta Post. A recent video uploaded on YouTube showed a jihadist named Abu Mohammed al-Indonesi urging fellow Indonesians to join the fight and flock to the Islamic State's self-declared Caliphate.
Indonesia's own jihadists have been largely subdued over the past decade after a ruthless crackdown by the country's security forces. But political Islam is strong in parts of the country, and there are pockets of low-level support for wider pan-Islamic causes. A worrying trend of violence toward religious minorities, including members of the beleaguered Ahmadi sect, persists.
Speaking to Australia's ABC News in June, Indonesian terrorism expert Sidney Jones said there were splits among the country's hard-bitten jihadists on which Islamist faction fighting in Syria to support. "I think the scary thing in some ways is that ISIS now seems to have more support from the most militant factions of the Indonesian jihadi community, where the less-radical ones are supporting the al-Qaeda-linked rival of [the Islamic State] called the al-Nusra Front," she said.
As Time magazine reports, Indonesia makes it possible to raise money or join jihadist groups overseas. That tolerance led to a spate of troubling incidents: Supporters of the Islamic State held a rally in Jakarta in March, while in June, Islamists dressed in Islamic State insignias disrupted a family weekend carnival day in the Javanese city of Solo.
The latest statements made by the government suggest that it intends to take a tougher line on such displays of solidarity.
Ishaan Tharoor writes about foreign affairs for The Washington Post. He previously was a senior editor at TIME, based first in Hong Kong and later in New York.
http://www.washingtonpost.com/blogs/worldviews/wp/2014/08/07/the-worlds-largest-muslim-country-bans-support-for-the-islamic-state/
-----------
Bekasi mosque caretaker refutes ISIL intervention
August 09 2014
The caretaker of a Bekasi mosque has denied that the facility was used by sympathizers of the Islamic State of Iraq and the Levant (ISIL), also known as ISIS, to perform a recruitment ceremony.
"I received a message saying that there was a declaration for ISIS. Incidentally, I was not home. I tried to cross-check […] On that day, there was almost no activity at the mosque," Muhajirin mosque council head Suparno said as quoted by kompas.com on Saturday.
He was speaking at a hearing between the council, South Bekasi sub-precinct police, the Bekasi chapter of the Regional Intelligence Community (Kominda) and local community leaderson Saturday.
At the same hearing, South Bekasi sub-precinct head Comr. Susilo Edi said that the police had been informed about the ISIL movement in the South Bekasi area.
He added that according to intelligence, members of the Jamaah Anshorut Tauhid (JAT) recently pledged their loyalty to ISIL at the mosque.
Therefore, he said he expected community leaders to remain alert regarding the spread of ISIL ideology.
http://www.thejakartapost.com/news/2014/08/09/bekasi-mosque-caretaker-refutes-isil-intervention.html
-----------
Malaysian Police detain two terror suspects, ISIL supporters
August 09 2014
The National Police's Densus 88 counterterrorism squad arrested two accomplices of suspected terrorist leader Santoso in Ngawi, East Java, on Friday and confiscated arms and a flag of the Islamic State of Iraq and Levant (ISIL), also known as ISIS.
National Police Chief Gen. Sutarman said on Friday that the suspects, identified only as G and K, were apprehended in two separate locations in Widodaren subdistrict in Ngawi regency.
"They financed Santoso's cell and supplied him with logistics. They also took part in a robbery led by Hilman in Bali in 2012," he said at National Police headquarters in Jakarta.
Sutarman was referring to one of Santoso's accomplices who was shot dead in a police raid in Denpasar in March 2012 while allegedly planning a terror attack.
The police have accused Santoso, alias Abu Wardah, the leader of East Indonesia Mujahidin, of being responsible for a spate of terrorist attacks in conflict-torn Poso in Central Sulawesi.
Many of his followers are suspected of having committed robberies, particularly in Java, Bali and Medan, to finance the group's activities.
Sutarman said that during the arrest of K Densus 88 seized a Beretta handgun, two magazines, 21 rounds of ammunition and the ISIL flag.
"They have proclaimed their support for ISIS," the police chief said.
The National Police have anticipated the possibility of many Indonesian extremists pledging their allegiance to ISIL after some noted terrorist figures — like Santoso, and convicted terrorist and radical preacher Abu Bakar Ba'asyir — declared their support for the extreme Islamist group that has occupied some parts of Iraq and Syria.
"Indonesia is vulnerable to ISIS given that in the country we have many radical groups that can easily be influenced. Therefore we must take preventive measures, step up our vigilance and enforce the law against criminals with links to ISIS," Sutarman said.
Aside from G and K, another Santoso follower who has joined ISIL is believed to be Bahrumsyah, alias Abu Muhammad al-Indonesi, a Syarief Hidayatullah State Islamic University (UIN) drop out who has become an ISIL recruiter.
The police estimate that there are 56 Indonesians, including Bahrumsyah, who have joined ISIL in Iraq and Syria in a hope of establishing an Islamic state or caliphate.
Sutarman said the police, along with relevant ministries and institutions, were discussing measures to be taken against the 56 ISIL combatants should they return to the country. "There has been a discussion about charging them under the [2006] Citizenship Law in order to revoke their citizenship," Sutarman said.
He said that the government had yet to decide which sanctions to take against the ISIL combatants.
Also on Friday, Nahdlatul Ulama, the country's largest Muslim organization, declared its opposition to ISIL. "I guarantee none of NU's santri [students] will be lured into joining or being involved with that movement," NU chairman Said Aqil Siradj said in Jakarta.
Earlier on Thursday, the Indonesian Ulema Council (MUI) issued a call warning Muslims not to join the group.
MUI chairman Din Syamsuddin said that ISIL was a violent and radical movement that tarnished the image of Islam as a peaceful religion.
http://www.thejakartapost.com/news/2014/08/09/police-detain-two-terror-suspects-isil-supporters.html
-----------
Malaysian Islamists Are Split Over Support for ISIS
Aug 09, 2014
Malang/Balikpapan. The hard-line group Jamaah Ansha rut Tauhid, or JAT, appears to be crumbling after its jailed leader Abu Bakar Ba'asyir pledged his allegiance to the extremist Islamic State of Iraq and Syria, or ISIS.
Around 3,000 JAT members have reportedly left the organization to avoid being dubbed supporters of ISIS — which was recently denounced by the Indonesian government. The resigning members are planning to establish a new group, according to acting JAT leader Mochamad Achwan.
"Many JAT members are against Ustad Abu Ba'asyir's decision. Many ulemas have questioned the leadership of [ISIS'] Abu Bakr Al-Baghdadi," Achwan said in the East Java town of Malang on Friday.
Al-Baghdadi is considered by supporters to be the caliph of ISIS's self-proclaimed caliphate, a pan-Islamic state that the Sunni group is seeking to expand outside Iraq and Syria — where its infamous violence has stoked fear, especially among the Shiite and Christian minorities in those two war-torn countries.
Ba'asyir, who is serving a prison term for terrorism, was recently reported to have pledged his allegiance, or 'bai'at', to the ISIS caliph from his cell at Nusa Kembangan Prison off the southern coast of Central Java.
Achwan said that because of their disagreement with Ba'asyir's move, approximately 3,000 JAT members, including senior leaders, were planning to resign from the organization and establish a new group in the following week.
Supporters of ISIS in JAT, he said, were estimated to number no more than 100.
The decision to leave, Amir said, was made after Ba'asyir said that JAT members who did not support ISIS should leave JAT. He added that he understood the remaining members of JAT would hold an event to pledge their allegiance to the ISIS caliphate.
"JAT members who support ISIS haven't yet pledged their allegiance," Amir said.
Achwan lamented Ba'asyir's decision to support ISIS, saying the aging firebrand cleric did so because he did not receive full information concerning ISIS.
Achwan said it was difficult to maintain regular communications with Ba'asyir and inform him on the ISIS issue. "I've only been able to meet him occasionally, while the terrorists who support ISIS are able to meet Ustad Abu every day."
Achwan said he had been cornered by some other JAT members for his indifference towards ISIS. JAT is among fundamentalist Islamist groups that believe that Muslims across the world must pledge allegiance to a caliph once a caliphate is established.
"I'm not against the idea of an Islamic Caliphate, especially because it will implement Shariah law," he said.
Meanwhile, in the East Kalimantan port city of Balikpapan, local religious leaders expressed great concerns over recent distribution of leaflets persuading people to join ISIS.
Jailani, the secretary of the Balikpapan office of the Indonesian Ulema Council (MUI), said the leaflets cited verses of the Quran to encourage people to join ISIS.
Jailani said MUI would soon coordinate with police to track down the distributor of the leaflets and curb their further spread. He further said that MUI Balikpapan was planning to conduct a meeting with a number of other Islamic groups in the city, as well as Islamic boarding schools and the National Intelligence Agency (BIN) to anticipate the spread of the movement.
"ISIS's presence is banned in Indonesia, so we must anticipate the form the movement may take," Jailani said.
In Kutai Kartanegara, the largest district in East Kalimantan, a number of local residents have reportedly performed 'bai'at' for ISIS after being persuaded by its supporters.
http://www.thejakartaglobe.com/news/islamists-split-support-isis/
-----------
'Enemies' using internet to attack Islam - Jakim targets non-Muslims
08 August 2014
KUALA LUMPUR - Federal Islamic authorities today joined the call for online attacks against Islam to be punished severely, following recent complaints that authorities were not vigorously pursuing non-Muslims for such activities.
Telling Muslims they were duty-bound to defend Islam against threats and insults proliferating on the Internet, the Malaysian Islamic Development Department (Jakim) said these actions were against religion and the law, and urged for a crackdown against such cyber-attacks.
In its weekly Friday sermon, Jakim alleged of numerous cases where social media and communications technology have been used to demean Islam, belittle Malay sensitivities and insult the Malay Rulers.
"The actions of these groups push the limits of Muslims' patience. With all sorts of insults before this, we no longer want any rude and uncivilised statements or actions by any party to pass without stiff action and maximum punishment under existing laws," read the sermon, posted on Jakim's website.
"Stiff and prompt action by the authorities is necessary so that this is not repeated and serves as a lesson to all to not play with fire and go overboard," it added.
The sermon called on all Muslims to take up the role and responsibility of standing up to the challenge posed by Islam's cyber-enemies, using "whatever reasonable means" including social media to protect the position of Muslims, especially in Malaysia.
Full report at:
http://www.malaysia-chronicle.com/index.php?option=com_k2&view=item&id=336211:show-they-are-wrong-why-resort-to-oppression-%E2%80%98enemies%E2%80%99-using-internet-to-attack-islam-jakim-targets-non-muslims&Itemid=2#axzz3A1zsEr9k
-----------
US 'hiding truth' on Malaysian plane
Aug 9, 2014
Former US lawmaker Ron Paul says Washington is "hiding" the truth about the downing of a Malaysian passenger plane in eastern Ukraine last month.
"The US government has grown strangely quiet on the accusation that it was Russia or her allies that brought down the Malaysian airliner with a buck anti-aircraft missile," Paul wrote in an article published by Voices of Liberty on Thursday.
Malaysia Airlines flight MH-17 crashed in eastern Ukraine on July 17, killing all the 298 people on board. The Boeing plane was en route from the Dutch capital, Amsterdam, to Kuala Lumpur when the accident happened at an altitude of 10 kilometers above eastern Ukraine.
US officials claim the plane was downed by a missile fired by pro-Russian forces in Ukraine but Paul says that claim is baseless because the US has not provided any evidence for it.
"It's hard to believe that the US, with all of its spy satellites available for monitoring everything in Ukraine, that precise proof of who did what and when is not available," the former congressman said.
Full report at:
http://www.presstv.ir/detail/2014/08/09/374634/us-hiding-truth-on-malaysian-plane/
------------
Arab World
US warplanes bomb Islamic State group in Iraq
09 Aug 2014
US warplanes have bombed positions of self-declared jihadists in northern Iraq, in what the federal and Kurdish governments vowed would allow them to start clawing back areas lost in two months of conflict.
President Barack Obama's order for the first air strikes on Iraq since he put an end to US occupation in 2011 came after fighters from the Islamic State group made massive gains on the ground, seizing a dam and forcing a mass exodus of religious minorities.
The Pentagon on Friday said US forces bombed an artillery position after fire against Kurdish regional government forces defending their capital Erbil.
Hours later, it said a drone destroyed a mortar position and jets hit a seven-vehicle convoy belonging to the Islamic State with eight laser-guided bombs.
The US operation began with air drops of food and water for thousands of people hiding from the group in a barren northern mountain range.
Many people who have been cowering in the Sinjar mountains for five days in searing heat and with no supplies are Yazidis, a minority that follows a 4,000-year-old faith.
RELATED: Iraqi Yazidis - 'If we move they will kill us'
Late Friday, the Pentagon said that cargo planes escorted by combat jets made a second air drop of food and water to "thousands of Iraqi citizens" threatened by the fighters on Sinjar mountain.
Full report at:
http://www.aljazeera.com/news/middleeast/2014/08/us-warplanes-hit-islamic-state-group-iraq-20148813164822786.html
-----------
Pope sending cardinal to Iraq to support fleeing Christians
8 August 2014
Pope Francis is sending a cardinal to Iraq to help thousands of Christians fleeing the rapid advance of jihadists from the Islamic State of Iraq and Syria (ISIS), the Vatican said Friday.
Cardinal Fernando Filoni, a former papal nuncio to the country, is being sent to Iraqi Kurdistan to show the pope's "spiritual support and the church's solidarity with the people who are suffering," papal spokesman Federico Lombardi said.
He said Filoni would be departing soon but gave no date.
Full report at:
http://english.alarabiya.net/en/News/middle-east/2014/08/08/Pope-sending-cardinal-to-Iraq-to-support-fleeing-Christians.html
-----------
Iraq unity can end crimes against Yazidi community: Iran official
Aug 8, 2014
Iranian president's special advisor on ethnic and religious minorities' affairs has condemned the ISIL crimes against the Yazidi Kurds in Iraq.
On Thursday, Ali Younesi slammed the recent massacre of a group of Yazidi Kurds by the ISIL Takfiri terrorists and expressed hope that all the Iraqi factions and political parties could restore peace in the country through solidarity.
According to the UN, nearly 40,000 Iraqis from the minority Yazidi population have taken refuge in nine different locations on Mount Sinjar in northwestern Iraq amid terrorist activities of the ISIL.
Younesi underlined Iran's support for the Iraqi Kurds, stating, "Over the recent days, consignments of aid have been dispatched to the Kurdistan region and we hope that the assistance continues."
"What jeopardizes Iraq's national unity is the emergence of blind religious and ethnic prejudices," he said.
Full report at:
http://www.presstv.ir/detail/2014/08/08/374542/unity-can-end-yazidis-ordeal-in-iraq/
----------
Takfiri threat endangers global peace: Iran official
Aug 8, 2014
A deputy to the Iranian foreign minister has warned against the global threats of foreign sponsorship for Takfiri terrorism.
Iran's Deputy Foreign Minister for Arab and African Affairs Hossein Amir-Abdollahian said on Friday that taking advantage of extremist terrorists as a political tool for certain countries will inflict irreparable political and security damage and human loss on the region and the international community.
The Iranian official said without any doubt, the actions of Takfiri terrorists in Iraq, Syria and Lebanon are not possible without foreign support.
The Takfiri mindset has nothing to do with the pure and real Islam, but it represents a link between the Zionist regime of Israel and the terrorist currents such as the ISIL, Amir-Abdollahian pointed out.
Full report at:
http://www.presstv.ir/detail/2014/08/08/374549/takfiri-threat-endangers-global-peace/
-----------
Saudi Arabia executes two for murder, drug trafficking
9 August 2014
A Saudi found guilty of drug trafficking and a convicted murderer were beheaded by the sword on Friday in the conservative Muslim kingdom, the interior ministry announced.
The ministry, in statements carried by state news agency SPA, said Eid al-Umairi, found guilty of having dealt with "large quantities of amphetamines", was executed in the northwestern city of Tabuk.
Full report at:
http://english.alarabiya.net/en/News/middle-east/2014/08/09/Saudi-Arabia-executes-two-for-murder-drug-trafficking.html
-----------
IS militants capture key base from Syrian army: monitor
Aug 9th, 2014
BEIRUT: Islamic State militants captured the key Brigade 93 Syrian army base in Raqa province overnight, the Syrian Observatory for Human Rights said on Friday.
"The IS took Brigade 93 after fierce fighting and a triple suicide bomb attack," Observatory chief Rami Abdel Rahman said, adding that government forces now hold just one position in the province at Tabqa military airport.
He said IS militants were now preparing to attack the airport, the last bastion in the province of President Bashar al-Assad's forces.
Since February, most of Raqa has been held by the Islamic State after the militants ousted mainstream rebel groups battling Assad's regime.
Some troops had already pulled out of Brigade 93 in July after IS captured Division 17, another base in the region where at least 85 people were killed in fighting or summarily executed shortly afterwards, the Britain-based Observatory said.
It said that in the fighting for Brigade 93, "36 soldiers were killed, some of whom were beheaded, while others died in the fighting or in the initial triple suicide bombing" that launched the attack.
Full report at:
http://www.dawn.com/news/1124113/is-militants-capture-key-base-from-syrian-army-monitor
-----------
Lebanon's Hariri back as army battles Syria militants
August 09, 2014
BEIRUT: Lebanon's leading Sunni politician Saad Hariri returned from self-imposed exile Friday on a trip to bolster the country's army as it battles militants in the latest spillover from Syria's war.
Hariri's visit, his first since 2011, comes after open conflict between the army and militants on the border with Syria killed 17 troops and left 19 kidnapped.
The former prime minister arrived after announcing earlier that Saudi Arabia, one of his chief allies, had pledged $1 billion to shore up the army and security forces against militants.
On Wednesday, a day after announcing the funding, Hariri said he would consult with Lebanon's Prime Minister Tammam Salam and the army and security forces on how they would be disbursed.
His arrival underscored the seriousness of the clashes in the Arsal region in eastern Lebanon on the Syrian border.
Fighting that began there on Saturday has eased, with a truce meant to lead to the withdrawal of gunmen from several militant groups fighting in Syria and the release of 17 policemen and 19 soldiers thought to be held hostage.
Full report at:
http://www.nation.com.pk/international/09-Aug-2014/lebanon-s-hariri-back-as-army-battles-syria-militants
-----------
Steps taken to ensure Ebola-free Haj
9 August 2014
Pilgrims arriving from different countries are being monitored for the Ebola virus at the airports.
This was stated by a senior official from the Ministry of Health. "We are checking pilgrims coming on airlines from West and Central Africa, and also from other countries, since pilgrims could have been on transit in the endemic countries and can potentially be carriers of the virus," said Sami Badawood, director general of the Directorate of Health Affairs in Jeddah.
"We don't want to take any chances by allowing infected pilgrims into the Kingdom," Badawood said, adding that the suspected cases will be quarantined immediately and sent to a designated hospital for specialized treatment.
Full report at:
http://www.arabnews.com/news/featured/613751
-----------
Mideast
Al Qaeda executes 15 Yemeni soldiers
Aug 9th, 2014
ADEN: Al Qaeda militants abducted and executed on Friday 15 Yemeni soldiers in the southeastern province of Hadramawt, a military official said.
The latest bloodshed comes a day after 11 suspected Al Qaeda militants and four Yemeni soldiers were killed on Thursday in attacks on two army posts in the restive province.
Full report at:
http://www.dawn.com/news/1124206/al-qaeda-executes-15-yemeni-soldiers
-----------
Gaza conflict reignites as Egypt backs new truce
August 09, 2014
GAZA CITY - Deadly hostilities engulfed Gaza once again where a 10-year-old boy was killed on Friday and Israeli warplanes struck targets in retaliation for dozens of Palestinian cross-border rocket attacks.
But Egypt, mediating indirect talks between Israelis and Palestinians, said negotiations were making progress despite the violence and called for an expired ceasefire to be extended. The head of the Palestinian delegation in Cairo also said they were committed to achieving a truce, while Israel warned that it would not negotiate under fire.
Israel accused Hamas of breaching a 72-hour truce early Friday after Palestinian fighters fired two rockets.
Prime Minister Benjamin Netanyahu ordered the military to retaliate "forcefully to the Hamas breach of the ceasefire". The violence ended a three-day lull in four weeks of fighting between Israel and Hamas that has killed at least 1,894 Palestinians and 67 people on the Israeli side, almost all soldiers.
A 10-year-old boy was the latest fatality, and 11 other Palestinians were wounded in Israeli air strikes on Friday, said Ashraf al-Qudra, Gaza's emergency services spokesman. The United Nations says at least 1,354 of the Palestinians killed in the fighting since July 8 were civilians, including 447 children. In Gaza, some families who had returned home trickled back to shelter in UN-run schools after Palestinian fighters fired rockets at Israel and Israel retaliated from the skies.
In Al-Tuffah in Gaza City, hundreds of refugees were seen living in classrooms, laundry hanging off balconies and a scrum of people queueing for UN food handouts. "Of course we're all scared, I'm scared, my children are scared, my wife is scared," Abdullah Abdullah, 33, told AFP at the school. The Israeli army said Palestinian fighters fired 35 rockets into the Jewish state, wounding a civilian and a soldier in the south, and that "terror sites" had been targeted in Gaza.
The army banned all gatherings larger than 500 people within 40 kilometres (25 miles) of Gaza and said kindergarten and summer camps could only operate if there was a bomb shelter nearby.
Full report at:
http://www.nation.com.pk/international/09-Aug-2014/gaza-conflict-reignites-as-egypt-backs-new-truce
-----------
Tormented Gazans back in UN schools as Israel resumes blitz
9 August 2014
GAZA CITY: Cradling his baby daughter, Saeed Masri took flight Friday from renewed Israeli bombardment of Gaza with little faith that even a UN facility can protect his family.
Three hours after a temporary cease-fire between Israel and Hamas ended, a missile hit the roof of a building opposite the apartment in Jabaliya where he was staying with relatives after his own neighborhood was shelled.
"We were in Beit Hanun and were there during the war and the shelling, so after that I came to stay here with my cousins," Masri said as he trudged down the street with his family in tow.
It was only a small rocket fired by a drone, intended as a warning for civilians to leave, residents said.
It shattered the roof of the building and left no casualties, but an ambulance was parked around the corner in case it was followed by more attacks.
Masri heeded the message immediately, packing some food into plastic bags, gathering his wife and five children and setting off down the street to find safety.
His eyes darted as he spoke, looking back at the building just hit by the strike, his daughter silent in his arms and with the four other children milling around his legs.
He planned to take shelter in a UN-run school to keep his family safe, but he had little hope it would guarantee protection.
"The schools aren't safe either, they hit the schools," he said.
At least 153 schools in Gaza, including 90 run by the UN, have been damaged by Israeli air strikes or shelling during the conflict, the UN children's fund UNICEF says.
"Why is the whole world sleeping, why?" asked Masri quietly. "Children and women are being targeted, and the world is sleeping."
Full report at:
http://www.arabnews.com/news/middle-east/613671
-----------
Five key reasons behind Islamic State's victorious run
9 August 2014
BAGHDAD: Looking at the Islamic State's string of military conquests in northern Iraq over the past week, one could think the jihadis outnumber their opponents 10 to 1.
The group remain a relatively small force and its strength lies not in numbers. US airstrikes could stop the rot but IS remains a powerful foe.
Here are five reasons identified by military experts for its successes:
1) The Islamic State has made use of the military equipment it seized from its defeated enemies, including tanks, humvees, missiles and other heavy weaponry.
The amount of hardware, often US-made, the Iraqi army left behind in its spectacular retreat when the IS launched its offensive two months ago has transformed IS's capabilities.
2) IS has long had a foothold in Iraq — that's even where the group's first incarnation was born in 2004 — but it became what it is today by fighting in neighboring Syria.
3) Aggressive tactics by fighters who have amassed huge experience during months fighting the Syrian regime and rival rebels: "That's a kind of fighting people in Iraq weren't used to," said Cordesman.
Full report at:
http://www.arabnews.com/news/middle-east/613661
-----------
Israel and Hamas claim victory as truce ends
08 Aug 2014
Ramallah, occupied West Bank - As the Gaza war passes the 30-day mark, more than 1,800 Palestinians and 67 Israelis, most of them soldiers, have been killed, leaving many to wonder how the fighting will end and if it will result in any strategic gains for Hamas or Israel.
Both seemed interested in halting the war, as evidenced by a 72-hour lull that began on Tuesday and indirect talks that were held in Egypt. But the truce was not extended, and Palestinian groups in Gaza fired at least twenty rockets into Israel during the first hour after it expired on Friday.
Talks in Cairo have apparently stalled, after the Israeli delegation left, having refused to accede to some of the largest Palestinian demands, like the construction of a seaport in Gaza.
The top echelon of Hamas' leadership has so far managed to remain intact, surviving intense aerial, ground, and naval bombardment that has damaged or destroyed more than 30,000 homes in Gaza, as well as the coastal enclave's sole power and main sewage treatment plants. Many schools, mosques, and government buildings were levelled, and employment-generating industries were dealt severe blows that threaten to plunge the fragile economy further into crisis.
Hamas might be able to sell the war as a success to its constituents in military and strategic terms: The Palestinian faction managed to hold on to some of its rocket stock, and inflicted substantial Israeli military casualties, killing 64 soldiers in less than three weeks of ground fighting.
"Hamas' military gains can be divided into two categories: Palestinian fighters proved far more resilient than Israelis had expected, and the group managed to diminish Israel's prestige and power of deterrence," said Khalil Shaheen, an analyst with the Palestinian Centre for Policy Research.
At a press conference on Wednesday evening, Israeli Prime Minister Benjamin Netanyahu also tried to sell the war as a clear victory for Israel. "The security situation of residents of [the south] is better, is safer than it was before the operation," he said.
Full report at:
http://www.aljazeera.com/news/middleeast/2014/08/israel-hamas-claim-victory-as-truce-ends-2014887350474962.html
-----------
Jordanians hold pro-Gaza rally in Amman
Aug 9, 2014
Over 15,000 supporters of Muslim Brotherhood have staged an anti-Israeli demonstration in the Jordanian capital of Amman, urging the resistance movement to ratchet up its campaign against Israel.
Scores of masked youths dressed in the uniform of Izzedine al-Qassam Brigades, the military wing of the Palestinian resistance movement Hamas, also took part in the Friday rally, the largest demonstration in Amman in years, and staged a symbolic military parade in support of Hamas.
A Muslim Brotherhood spokesperson on Friday called on Hamas to escalate its attacks against Israel in an attempt to avenge the deaths of civilians in Gaza.
"In the coming phase, after negotiations failed, the only thing left is the flag of resistance which was behind the victory in Gaza," said Zaki Bani Rusheid, deputy head of the Muslim Brotherhood in Jordan.
Full report at:
http://www.presstv.ir/detail/2014/08/09/374624/antiisrael-demo-held-in-amman/
---------
South Asia
Taliban kill four Afghan policemen in attack in Helmand
Aug 9th, 2014
KABUL: Afghan Taliban fighters stormed a police checkpoint overnight in southern Afghan province of Helmand, killing four policemen, an official said.
Deputy district Governor Mohammad Rassoul said the attack happened in Sangin district and that the Taliban have captured the checkpoint.
Rasssoul said the government forces are trying to retake the post and that clashes are under way at the location between Afghan police and the Taliban.
The attack took place as US Secretary of State John Kerry was in Kabul on Friday for talks aimed at preventing the fragile country from collapsing into political chaos after disputed elections.
Full report at:
http://www.dawn.com/news/1124111/taliban-kill-four-afghan-policemen-in-attack-in-helmand
-----------
Rivals sign deal to form Afghan unity govt
Aug 9th, 2014
KABUL: Afghanistan's rival presidential candidates had agreed in writing to work together to form a government of national unity, the candidates told a news conference, following meetings with US Secretary of State John Kerry on Friday.
A joint declaration signed by the candidates did not provide details on the government framework, except to say that both sides would form commissions to work on its structure.
"One of these men is going to be president, but both are going to be critical to the future of Afghanistan, no matter what," Mr Kerry told reporters in Kabul.
Know more: Ghani, Abdullah agree to audit of all votes after talks with Kerry
The joint declaration stated that the candidates would agree to a timeline for the electoral process and an inauguration date for the next president by the end of August. However, it did not appear to signal significant progress from the original deal, also brokered by Mr Kerry when he was in Kabul in July, aimed at ending the bitter dispute between Ashraf Ghani and Abdullah Abdullah.
There were no fresh details of how a government of national unity might work, after meetings between Mr Kerry and the Afghan candidates during his overnight stay.
"The two parties affirm they are committed to sincerely cooperate ... and draw up the detailed text of the political agreement in light of the constitution and the political framework agreement reached on July 12," the declaration said.
The power sharing deal, agreed verbally a month ago, was intended to reduce the risk of a violence flaring between the different ethnic groups represented by the two presidential hopefuls.
Full report at:
http://www.dawn.com/news/1124212/rivals-sign-deal-to-form-afghan-unity-govt
-----------
Hasina slams developed countries
Aug 9th, 2014
Strongly condemning the killings in Gaza by Israelis, Prime Minister Sheikh Hasina yesterday came down heavily again on the developed nations and the human rights organisations at home and abroad for their silence over the offensive.
"I am stunned to see the world conscience remain silent. When one incident of death occurs here (Bangladesh), we receive letters from so many congressmen with protests and criticisms. Today, hundreds of children and women, including expecting mothers, are being killed with bullets… why their conscience is silent," she questioned.
The prime minister was speaking at a function organised by women and children affairs ministry at Osmani Memorial Auditorium marking the 84th birth anniversary of Begum Fazilatunnesa Mujib, the wife of Bangabandhu Sheikh Mujibur Rahman, who was killed along with most of her family members, including Bangabandhu, on the fateful night of August 15, 1975.
Chaired by the State Minister for Women and Children Affairs Meher Afroz Chumki, the function was addressed, among others, by Dhaka University Vice-Chancellor AAMS Arefin Siddique, Chairman of Jatiya Mahila Sangstha Momtaj Begum and Bangladesh Shishu Academy Chairperson Selina Hossain.
Full report at:
http://www.thedailystar.net/backpage/hasina-slams-developed-countries-36363
-----------
180 Bangladeshis in Iraq 'confined'
Aug 9th, 2014
A total of 180 Bangladeshi migrants have been languishing in restive Iraq for over two months as they are kept confined at their workplace at Najaf.
Under constant watch by security guards of the Turkish employer, the expatriates are passing their days at a makeshift house without enough food and water.
Recruiting agency Career Overseas Consultants Ltd had sent the Bangladeshis to Iraq in late May for working at Abu Torab Housing Project in Najaf, said Jabed Ahmed, younger brother of expatriate Md Siddique. "After a month, my brother informed me that they had been held hostage at their workplace without enough food and water," added Jabed.
Family members of the migrants could not confirm why their relatives were confined at the workplace.
The agency took Tk 4 lakh from each of the jobseekers. Though the recruiter had said the employer would pay project engineer Siddique $1200 per month, he didn't receive a single penny as yet.
As a conflict erupted in Iraq in June between Sunni rebels and the Iraqi government forces, the company management left the project site, leaving the Bangladeshis confined there.
None of the Bangladeshis can contact the families at home as they don't have access to phone or internet, Jabed said quoting his brother as saying.
Mother of another migrant Zakir Hossain of Jessore, Aklima Begum said her son wanted to return home, but he could not. "He asked me to do whatever is needed to rescue him from confinement," she added.
Full report at:
http://www.thedailystar.net/backpage/180-bangladeshis-in-iraq-confined-36362
-----------
2 Bangladeshi workers killed in Bahrain
Aug 9th, 2014
A tragic accident claimed the lives of two Bangladeshi labourers at a concrete plant in Al Hidd Industrial Area of Bahrain on Thursday.
The dead are Billal Hossain, 32 and Yunus Sikder, 37, said Mohidul Islam, first secretary (labour) of Bangladesh embassy in Bahrain, yesterday.
The workers died on the spot after some stacked concrete blocks fell on them at the plant, he said, adding that a crane carrying a five-tonne piece of concrete had accidentally hit those concrete blocks.
The embassy official could not confirm the name of that plant. He could not give further details of the victims either.
Full report at:
http://www.thedailystar.net/backpage/2-bangladeshi-workers-killed-in-bahrain-36364
----------
Pakistan
PML-N govt 'internal terrorist', says Qadri
August 09, 2014
ARSHAD BHATTI
LAHORE - Amid the tense situation prevailing in the Model Town area of the provincial metropolis on Friday, Pakistan Awami Tehreek (PAT) chief Dr Tahirul Qadri termed the PML-N government 'internal terrorist' that blocked the roads, creating an acute scarcity of eatables in the area.
Addressing a press conference in front of his residence, Qadri said the area had been made Gaza and the PML-N rule was playing the role of Israel. He said thousands of PAT workers at the party secretariat had no food.
Referring to the placement of containers on the roads leading to PAT Secretariat and deployment of heavy contingents of police, he said, "The government is playing the role of Israel. I urge civil society of Lahore to bring food and water for his workers as they are here for bringing about a revolution for the masses."
He asked his supporters to remove all obstacles and reach his residence for the future of the country and for their rights.
He said the police were raiding the houses of PAT workers and arresting them, including women, all over the province. He said the rulers would be held accountable for their deeds.
On the government's point of view that it has blocked the roads for his security, Dr Qadri said the Punjab chief secretary and home secretary have threatened the private security companies to remove security from the PAT Secretariat and his residence.
Qadri asked the supporters of PTI and PAT to part ways with their leaders if they strike any deal with the rulers as the two leaders had pledged to topple the government. "PTI's slogan is to end the government only, but I promise to change the whole system. I urge PTI and PAT workers to bring a revolution and support the long march," he said. Qadri said he would announce the date for his revolution march after Youm-e-Shuhuda.
When asked about any possibility of negotiations with the government, he said only masses would hold talks with the rulers.
He congratulated the PAT workers who had reached the secretariat removing all the obstacles. He also asked them to continue reaching Lahore for bringing about a revolution and removing barriers as these had been placed unlawfully.
He also told newsmen that a large number of his workers in Bakkar, Darya Khan, Jhang and Kaloorkot had been arrested.
Full report at:
http://www.nation.com.pk/lahore/09-Aug-2014/pml-n-govt-internal-terrorist-says-qadri
-----------
Qadri to be held on sedition, terrorism charges: Mashhood
August 09, 2014
SAJID ZIA
LAHORE - The government has made up its mind to arrest PAT Chairman Dr Tahirul Qadri on the charges of sedition, terrorism, provocation and committing anti-state acts. The police, with the help of other agencies including Rangers, have also started crackdown on the persons who the government believes are terrorists and were hired by Dr Qadri to simultaneously unleash terror in seven main cities of Punjab.
The government has dubbed Dr Tahirul Qadri as a foreign agent who has been planted to shed blood and create chaos in the country for halting the wheel of development and progress. The government also claims to have recovered huge cache of weapons, steels rods and clubs the PAT was to use for disturbing peace in the province. The government is not likely to allow PAT to observe Yaum-e-Shuhada on August 10.
Addressing a press conference here on Friday evening, Punjab Law Minister Rana Mashhood Khan said this while reacting to the PAT and Minjhaj workers clash with the police outside the Model Town office of this organisation. He said the government exercised extreme restraint and decided to take action when it learnt Qadri had no agenda other than creating chaos in the country.
Rana Mashhood said the violent act committed by the PAT workers, whom he called terrorists, against the police had exposed that Qadri was acting on the agenda of foreign powers and his agenda was to create anarchy and derail the system and the government. The government had detected the places where PAT had amassed weapons and had recovered a large cache, besides arresting those who were going to carry out terror acts in the Punjab cities.
Full report at:
http://www.nation.com.pk/lahore/09-Aug-2014/qadri-to-be-held-on-sedition-terrorism-charges-mashhood
-----------
Imran told Siraj march may be cancelled if recount done on 10 seats: PM
Aug 9th, 2014
ISLAMABAD: Addressing the country's civilian and military leadership on Saturday, Prime Minister Nawaz Sharif said that after meeting with Pakistan Tehreek-i-Insaf (PTI) chief Imran Khan, Jamaat-i-Islami (JI) chief Sirajul Haq had approached him and had also conveyed PTI's concerns.
Nawaz said that Siraj had told him of Imran agreeing to call off the march if recounting was carried out on 10 seats.
However, PTI's Shireen Mazari has denied that any such demand was made by the party, adding that the party's demands would be announced by Imran Khan on August 14.
The premier said he was open to discussion on the subject, adding that Imran Khan is welcome for negotiations.
Prime Minister Sharif also said that the decision for Operation Zarb-i-Azb was taken after the attack on the airport in Karachi. He added that a national consensus existed on the operation and it enjoyed public support.
The premier said the government fully recognised the army's sacrifices in the war against terror.
He further said that after the 2013 elections, a new era had dawned and for the first time in the country's history, a federal government was working in full cooperation with the provinces and their respective leaderships.
The premier said opposition queries and concerns were always welcome within legal parameters, adding that these should not be turned into battles.
Pakistan cannot afford any more confrontations as it is dealing with the scourge of terrorism, a debilitating energy crisis and an already weak economy, he said.
Today's briefing was convened by the government for updating the political leadership about the ongoing Operation Zarb-i-Azb against militants in North Waziristan and other challenges to the national security.
Chief Minister Sindh Syed Qaim Ali Shah and Chief Minister Balochistan Abdul Malik Baloch were present at the meeting and leaders of parliamentary parties were attending the briefing.
Full report at:
http://www.dawn.com/news/1124301/imran-told-siraj-march-may-be-cancelled-if-recount-done-on-10-seats-pm
-----------
Tribesmen refuse to leave N Waziristan town
By Abdul Salam
Aug 9th, 2014
BANNU: The residents of Ediak in North Waziristan Agency have refused to evacuate over the imminent military offensive against militants in the area.
The refusal comes two days after the administration served notices on hundreds of the residents of Razmak, Spinwam, Shewa, Shawal, Eidek and adjoining areas of the tribal agency to shift to Bannu without delay.
They were even offered free transport for Bannu.
The elders of tribesmen called a jirga on Thursday to decide about the future course of action.
The participants unanimously decided not to vacate their homes but said they would continue to be in contact with the administration on the matter.
Eidak is seven kilometres away from Mirali and has around 25,000 population. The Fata Disaster Management Authority has already made arrangements at Sidgai checkpost to register displaced families before giving them Rs20,000 each.
Later, the administration and Eidgai elders had talks until Thursday night. However, there was no breakthrough as both the sides stuck to their guns.
Another such jirga on the matter will take place shortly.
Full report at:
http://www.dawn.com/news/1124256/tribesmen-refuse-to-leave-n-waziristan-town
-----------
Police crackdown continues in Punjab
Aug 9th, 2014
RAWALPINDI: The police have rounded up over 177 PAT activists in the last two days under the 16 Maintenance of Public Order Ordinance.
Seven Pakistan Awami Tehreek workers were also arrested from Taxila and Wah Cantonment.
In Taxila, those arrested were identified as Hameed Gul and Wahid Khan. Four activists were arrested from Wah Saddar and their names are Habib Khan, Mengal Khan, Ismail Khan and Niaz Mohammad. One activist, Sadaqat Khan, was picked up from Wah Cantt. However, the police failed to trace the main local leader of PAT.
Police sources said more arrests were expected within the next 24 hours.
Despite strict checking of vehicles and passengers at exit points of Rawalpindi city, a large number of PAT workers managed to leave the city and reach Lahore to attend a gathering of the party there. The police rounded up 95 PAT workers in Rawalpindi, 23 in Jhelum, 39 in Attock and 20 in Chakwal.
Full report at:
http://www.dawn.com/news/1124297/police-crackdown-continues-in-punjab
-----------
Youm-e-Shuhda: Punjab on fire!
August 09, 2014
ASHRAF JAVED AND ARSHAD BHATTI
LAHORE - Violent clashes erupted between police and PAT workers in Lahore's Faisal Town neighbourhood on Friday after the followers of Dr Tahirul Qadri attacked the on-guard cops to clear the barriers placed around in bid to avert gathering of more activists in the area.
Qadri, a cleric who wants to topple the present regime within weeks, has announced to observe August 10 as Youm-e-Shuhda (in the memory of those killed by police in Model Town in June). Police is trying to prevent his followers from gathering at the Minhajul Quran Secretariat, from where the Pakistan Awami Tehrik (PAT) chief plans to march on Islamabad.
The planned demonstrations of PAT and Imran Khan's Pakistan Tehreek-i-Isaf (PTI), which has its separate plan of dislodging the government through their 'Azadi March' on August 14, have unnerved Pakistan Muslim League-Nawaz's (PML-N) fledgling government. Qadri says the government is corrupt and Khan says it is failing to investigate election irregularities.
Eyewitnesses said the clashes broke out when hundreds of Qadri's supporters, all of a sudden, started pelting police with stones in a bid to remove shipping containers placed to block the roads and restrict the movement of agitators. They also brought a crane to move the containers blocking off the residence of Qadri and Minhaj Secretariat. Police responded with firing tear-gas shells and battening the protesters.
Lahore DIG (Operations) Dr Haider Ashraf confirmed to TheNation that more than 150 PAT workers were arrested after violent clashes in Faisal Town. "The situation is under control at this moment and heavy police contingents are on-guard to keep the things under control," he said late Friday.
Dozens of policemen including three station house officers (SHOs) sustained head injuries and were rushed to the Jinnah hospital, where they were being treated. A number of protesters were also wounded in the clashes and some others fell unconscious because of massive tear-gas shelling.
Full report at:
http://www.nation.com.pk/national/09-Aug-2014/punjab-on-fire
-----------
Azadi March at all costs, says Imran
August 09, 2014
IMRAN MUKHTAR
ISLAMABAD - Rejecting reports of likely breakthrough between the government and his party, Pakistan Tehreek-i-Insaf (PTI) Chairman Imran Khan has ruled out any chance of calling off the Azadi March on August 14.
"No force can stop the (Azadi) march, whatever you read in the newspapers is baseless," Imran said while addressing a press conference at his Bani Gala residence Friday. He also ruled out possibility of putting off the long march on the promise of opening of election results of some constituencies.
"We will hold rally and sit-in here in Islamabad at any cost. We will give our demands within the ambit of Constitution. I will personally sit here and the sit-in will continue till the fulfilment of our demands," Khan said.
Flanked by senior party leadership including Shah Mahmood Qureshi and Makhdoom Javed Hashmi, he said PTI would demand strengthening of democracy, and ending monarchy and dictatorship in the country. Khan stressed that whatever security threats he would be facing he would hold the Azadi March and warned that if the army intervened, it would be only because of the actions of Nawaz Sharif and Punjab government. "Our protest will be peaceful... Sharifs are panicked," he said. The government will invite intervention of army by stopping the way of peaceful march. Khan also welcomed the decision of Lahore High Court to release all confiscated motorbikes.
The PTI chairman said it was unfair that government was claiming mandate after the rigged elections and questioned what is difference between the rulers and Husseni Mubarak of Egypt and Colonel Gaddafi of Libya who also claimed having their peoples' mandate.
Khan said rigging was proved in all 14 constituencies that were opened for verification and all other petitions were disposed of by election tribunals without making a decision. "Our aim is to hold march to rectify the electoral system of Pakistan and to bring to book those who rigged elections. Why the government did not offer to open election results of four constituencies in the last twelve months before," he reminded.
Before issuing 46-page white paper against PML-N government, he said that Nawaz Sharif warned Punjab Police in February last not to indulge in illegal actions and now what was Punjab Police doing by breaking into houses of PTI workers. "There will be a war on August 14 between two ideologies, on one side will be monarchs whose children are waiting to replace them and on other side will be democrats."
Full report at:
http://www.nation.com.pk/national/09-Aug-2014/azadi-march-at-all-costs-says-imran
-----------
India
Sharif regrets Pakistan's bad relations with India
August 9, 2014
Nawaz Sharif hoped that the planned meeting of the India-Pakistan foreign secretaries will help move the ties forward.
Prime Minister Nawaz Sharif on Saturday regretted that Pakistan was having bad relations with key neighbour India and said it was time the two had good relations.
Addressing the National Security Conference in Islamabad, which was attended by ministers, Chief Ministers, political leaders of all major parties, army chief Gen Raheel Sharif and other senior civil and military officials including ISI chief Lt. Gen Zaheerul Islam, Mr. Sharif noted with dissatisfaction that his country was not having good ties with neighbours.
The Prime Minister mentioned India by saying that it is time for having good relations with it.
He hoped that the planned meeting of the foreign secretaries will help move the ties forward.
Mr. Sharif also said Pakistan wants to improve ties with Afghanistan and hoped that the new leadership in that country will cooperate with him.
Full report at:
http://www.thehindu.com/news/international/south-asia/pakistan-prime-minister-nawaz-sharif-regrets-pakistans-bad-relations-with-india-says-it-was-time-the-two-had-good-relations/article6298839.ece?homepage=true
-----------
"Bangladesh government focussing on Indian IT firms for joint venture"
STAFF REPORTER
August 9, 2014
The Bangladesh government is focusing on Indian information technology (IT) companies for joint venture projects in the IT sector, said the country's Information and Communication Technology (ICT) secretary Nazrul Islam Khan here on Friday.
Bangladesh government's Minister for Posts, Telecommunication and Information Technology Abdul Latif Siddiqui said that considerable focus is on Indian companies for building "Digital Bangladesh." They were addressing the gathering at the ICT (information and communication technology) East 2014 organised by the Confederation of Indian Industry, Eastern Region.
On the proposed high tech parks in Sylhet (500 acres), Dhaka (232 acres), and Jessore (10 acres), Mr. Khan said that "Indian firms are in contention for bagging the projects".
Mr. Siddiqui is leading a high-powered team, including Mr. Khan, to interact with CEOs of Indian IT farms and to involve them in Bangladesh's "pursuit of e-governance, e-education, cyber security, capacity building, skill development, and training programmes".
Full report at:
http://www.thehindu.com/news/cities/kolkata/bangladesh-government-focussing-on-indian-it-firms-for-joint-venture/article6298583.ece
-----------
Pak violates ceasefire along LoC in Poonch
PTI | Aug 9, 2014
JAMMU: Pakistani troops have targeted Indian forward posts with small arms and automatic weapons along the Line of Control in Poonch district of J&K, prompting Indian forces to retaliate.
"Pakistani troops opened unprovoked firing from small arms and automatic weapons at our forward posts in Bhimbher Gali sub-sector in Poonch district of J&K around 2230 hours yesterday," PRO defence Lt Col Manish Mehta said.
The Indian Army troops took positions and responded with equal caliber weapons to Pakistan's firing which resulted in intermittent exchanges of fire, he said.
"There was no loss of life or damage to property in the firing on this side of LoC," Lt Col Mehta said.
It was second ceasefire violation by Pakistan this month. The ceasefire violation and firing by Pakistan comes barely hours after handing over of captured 30-year-old BSF constable Satyasheel Yadav to Border Security Force (BSF) officials by commanders of the Pakistan Rangers yesterday at the zero line at Octroi borderpost along the International Border in RS Pura sector of Jammu district.
Full report at:
http://timesofindia.indiatimes.com/india/Pak-violates-ceasefire-along-LoC-in-Poonch/articleshow/39925286.cms
-----------
Africa
Boko Haram train hundreds to gain foothold in Cameroon
9 August 2014
YAOUNDE, Cameroon: The Nigerian separatist movement Boko Haram has recruited and trained hundreds of young Cameroonians to carry out attacks in their own country, according to the police and civilians.
As the militant group seeks to gain a foothold in the poor, rural north of Cameroon, experts warn that violence may spread beyond border areas to other parts of the central African country.
"Boko Haram has recruited many young people" from Cameroon's Far North region, a police officer from the area told AFP on condition of anonymity.
The hard-line movement, whose loosely translated name means "western education is forbidden," has for years sown terror throughout Nigeria's northeast, then trained youths "to attack Cameroon," the officer said.
"They are now asking them to prove themselves on home ground," he said.
On Wednesday, the militants murdered nine passengers on a bus and a soldier in a separate vehicle in a remote northern town, according to Cameroon's state radio and local paramilitary police.
Precize figures are unavailable on how many young Cameroonians have been recruited by Boko Haram, but security sources estimate the number to be in the hundreds.
In April, a local police inspector said that close to 200 young people — aged 15-19 years — were recruited in just two months in Kolofata, a small border town in the Far North.
Now, the same inspector says the recruits have completed their training. "Some have recently returned to their villages before going to the front."
The recruitment drive coincides with an increase in attacks within Cameroon — including one particularly brazen operation that targeted the country's deputy prime minister, Amadou Ali.
"At a recent meeting, Amadou Ali said he had 'a list of 450 young people' from Kolofata (his hometown) who were recruited by Boko Haram," according to the police officer.
The warning from Ali, a prominent figure in Cameroon's fight against Boko Haram, proved to be a prescient one when militants attacked his home and a number of others in Kolofata on July 27.
Full report at:
http://www.arabnews.com/news/world/613476
-----------
UN threatens South Sudan with bans over conflict
Aug 9, 2014
The United Nations Security Council (UNSC) has threatened to impose sanctions on the warring factions in South Sudan for their failure to resolve the ongoing conflict in the African country.
In a unanimous statement, released on Friday, the 15-member council urged South Sudanese President Salva Kiir and his former deputy and current rebel leader Riek Machar to implement a ceasefire.
The statement said that the actions by the warring sides "in continuing to pursue a military solution to this conflict are unacceptable."
Under a peace deal signed three months ago, Kiir and Machar agreed to establish a unity government by August 10. However, there are no signs that the two sides are making efforts to meet that deadline.
This prompted the UNSC to express "its readiness to consider... all appropriate measures, including targeted sanctions against those who take action that undermines the peace, stability and security of South Sudan."
The warning comes ahead of a visit to South Sudan by UN Security Council ambassadors next week.
Full report at:
http://www.presstv.ir/detail/2014/08/09/374604/un-threatens-s-sudan-with-sanctions/
-----------
UN team holds talks in Libya to broker militia ceasefire
August 09, 2014
TRIPOLI : A UN delegation was holding talks in Tripoli on Friday to try to broker a ceasefire between armed factions who have turned the Libyan capital into a battleground after the worst fighting since the fall of Muammar Gaddafi.
Most Western governments followed the United States and the United Nations in evacuating diplomats and shutting embassies after three weeks of clashes between factions fighting over Tripoli airport that have killed 200 people.
The delegation, led by a representative of the United Nations mission in Libya, known as UNSMIL, aims to end the violence, help displaced residents and alleviate food and gasoline shortages, UNSMIL said in a statement on its website.
Full report at:
http://www.nation.com.pk/international/09-Aug-2014/un-team-holds-talks-in-libya-to-broker-militia-ceasefire
-----------
Nigeria declares state of emergency over Ebola
Aug 8, 2014
The Nigerian president has declared a state of emergency in the country over the outbreak of the deadly Ebola virus.
On Friday, President Goodluck Jonathan "declared the control and containment of the Ebola virus in Nigeria a national emergency," the president's office said in a statement.
Jonathan urged people to avoid large gatherings to prevent the spread of the disease that has claimed two lives in the African country.
"Religious and political groups, spiritual healing centers, families, associations and other bodies should... discourage gatherings and activities that may unwittingly promote close contact with infected persons or place others at risk."
Full report at:
http://www.presstv.ir/detail/2014/08/08/374579/nigeria-in-state-of-emergency-over-ebola/
-----------
North America
US urges citizens to defer travels to Pakistan
Aug 9th, 2014
WASHINGTON: The United States warned its citizens on Friday to defer all non-essential travel to Pakistan.
This travel warning replaces the one issued on Feb 5 this year to remind US citizens of ongoing security concerns in Pakistan.
The US Embassy in Islamabad and the US Consulate General in Karachi continue to provide consular services for all US citizens in Pakistan. The US Consulate General in Peshawar no longer offers consular services and the mission in Lahore is still temporarily closed for public services.
Full report at:
http://www.dawn.com/news/1124234/us-urges-citizens-to-defer-travels-to-pakistan
-----------
US jets strike militants in Iraq
Aug 9th, 2014
ARBIL: US warplanes bombed militant positions in northern Iraq on Friday, in what the federal and Kurdish governments vowed would allow them to start clawing back areas lost in two months of conflict.
President Barack Obama's order for the first air strikes on Iraq since he put an end to US occupation in 2011 came after Islamic State (IS) militants made massive gains on the ground, seizing a dam and forcing a mass exodus of religious minorities.
The Pentagon said US forces bombed an artillery position after fire against Kurdish regional government forces defending their capital Arbil.
In a second wave hours later, a drone destroyed a mortar position and jets hit a seven-vehicle IS convoy with eight laser-guided bombs.
The US operation began with air drops of food and water for thousands of people hiding from the Sunni extremist militants in a barren northern mountain range.
Many people who have been cowering in the Sinjar mountains for five days in searing heat and with no supplies are Yazidis, a minority that follows a 4,000-year-old faith.
Late Friday the Pentagon said that cargo planes escorted by combat jets made a second air drop of food and water to "thousands of Iraqi citizens "threatened by the militants "on Mount Sinjar, Iraq. "Obama accused the IS, of attempting "the systematic destruction of the entire people, which would constitute genocide".
Full report at:
http://www.dawn.com/news/1124302/us-jets-strike-militants-in-iraq
-----------
Europe
The resignation of Britain's most senior Muslim politician puts spotlight on its Israel policy
By Adam Taylor
August 7
Sayeeda Warsi, better known by her peerage title Baroness Warsi, was once something for the British Conservative Party to be proud of. The daughter of Pakistani immigrants, she worked her way up from a relatively humble Yorkshire background to become the first Muslim woman to serve in the upper echelons of British government, the cabinet.
For the Conservatives -- a right-wing party often criticized as being too posh, too white and too male -- Warsi was an emblem for their new, modern, perhaps even multicultural viewpoint. She won praise in 2009 when she appeared on the BBC's "Question Time" and took the far-right British National Party leader Nick Griffin to town ("I want to ask Nick Griffin what about me isn't British," she defiantly said). Two years before that, she had traveled to Sudan to successfully mediate the release of a British woman accused of blasphemy. The left-wing Guardian reported it as "Tory peer's triumph delights Cameron."
This week, however, Warsi became the face not of the Conservatives' triumph, but of the rifts in the party – if not in Britain as a whole.
On Tuesday, Warsi dramatically announced her resignation as senior Foreign Office minister with a tweet. She explained that she could no longer support the British government's position in the conflict between Israel and Palestinians:
She later tweeted her resignation letter.
For the Conservatives, it was a difficult blow. The party had traditionally been the most pro-Israel of Britain's political parties, and Britain has generally been an important political and economic ally for Israel, with millions of dollars of arms traded each year and the country abstaining from votes on Palestinian recognition at the United Nations, for example. The problem is, this viewpoint appears to be increasingly incongruous with the actual views of the British public. In the United Kingdom, as in a number of other European nations, Israel is losing support. One recent poll found that around two-thirds of respondents believed Israel was committing "war crimes" in its Gaza offensive.
Warsi's position was clearly complicated by the fact that she was a British Muslim, and, like many British Muslims, she felt sympathy for Palestinians. "People would have been saying to her, 'How can you be part of a government which is so pro-Israel?'" Mohammed Amin, chairman of the Muslim Conservative Forum, told the Financial Times.
Britain on a whole has a strange relationship with its Islamic minorities, both embracing them in multicultural moments and freaking out over things like halal pizzas. For the Conservatives, that relationship is especially strained: Just 16 percent of England's minorities voted for the party in the last election, and British Prime Minister David Cameron doesn't make things better when he says things such as Britain is a "Christian country."
Warsi seemed to understand the position she was in: In 2012, before a cabinet reshuffle, she explained her appeal to the Conservatives in an interview with The Daily Telegraph: "'I'm a woman, I'm not white, I'm from an urban area, I'm from the North, I'm working-class – I kind of fit the bill." Even before this current situation, however, Warsi's relationship with the Conservatives was strained. In 2010, Cameron told her not to attend an Islamic conference because of a "conflict of opinion on how extremists should be dealt with"; Warsi later became known for her "gaffes."
Full report at:
http://www.washingtonpost.com/blogs/worldviews/wp/2014/08/07/the-resignation-of-britains-most-senior-muslim-politician-puts-spotlight-on-its-israel-policy/
-----------
Archbishop: UK must open doors to Iraqi minorities
Aug 9, 2014
The Archbishop of Canterbury, Justin Welby, has urged the British government to open doors to Iraqi religious minorities being targeted by ISIL terrorists.
Speaking on a tour of the Philippines on Thursday, the Archbishop condemned the "terrible suffering" of Christians and other minorities in Iraq, saying that people's right to freedom of religion and belief was being "brutally violated."
The Archbishop also called on the international community to document human rights abuses committed in Iraq, so that those responsible could be brought to justice in the future.
"The international community must document human rights abuses being committed in northern Iraq so that future prosecutions can take place," he said.
Welby's intervention comes days after France said it is ready to give asylum to those who needed it.
Full report at:
http://www.presstv.ir/detail/2014/08/09/374596/uk-must-open-doors-to-iraq-minorities/
-----------
UK urges Britons in parts of Iraq's Kurdistan to leave
8 August 2014
The Foreign Office on Friday urged Britons in the Erbil, Sulaimaniyah and Dohuk provinces of Iraq's autonomous Kurdistan region to "leave now" following attacks by extremists.
The travel advice, which was issued before U.S. jets struck jihadist positions near the city of Erbil, does not extend to the Kurdish capital itself, an spokeswoman said.
In an updated guidance, the Foreign Office advised against all travel to those areas of the Kurdistan region affected by fighting following attacks by jihadist militants this week.
"If you're currently in these areas you should leave now," it said.
Full report at:
http://english.alarabiya.net/en/News/middle-east/2014/08/08/UK-urges-Britons-in-parts-of-Iraq-s-Kurdistan-to-leave-.html
-----------
Anglican leader condemns 'evil' persecution of Iraq Christians
8 August 2014
Archbishop of Canterbury Justin Welby, the leader of the world's Anglicans, said Friday the forced exodus in northern Iraq was part of an "evil pattern" of Christians being "persecuted for their faith".
The Church of England leader said Britain should open its doors to refugees fleeing the jihadist Islamic State advances and urged the international community to challenge the "culture of impunity" allowing the extremists' actions to take place.
"The horrific events in Iraq rightly call our attention and sorrow yet again. Christians and other religious minorities are being killed and face terrible suffering," Welby said in a statement.
"What we are seeing in Iraq violates brutally people's right to freedom of religion and belief.
"It is extremely important that aid efforts are supported and that those who have been displaced are able to find safety. I believe that, like France, the United Kingdom's doors should be open to refugees."
He called for the international community to document rights abuses to aid future prosecutions, challenging the "culture of impunity which has allowed these atrocities to take place".
Full report at:
http://english.alarabiya.net/en/News/middle-east/2014/08/08/Anglican-leader-condemns-evil-persecution-of-Iraq-Christians-.html
-----------
Scary: Radical Islam Is Completely Taking Over Europe. See Why America Could Be Next
08 August 2014
Thank you very much for inviting me.
I come to America with a mission. All is not well in the old world. There is a tremendous danger looming, and it is very difficult to be optimistic. We might be in the final stages of the Islamization of Europe. This not only is a clear and present danger to the future of Europe itself; it is a threat to America and the sheer survival of the West. The United States is the last bastion of Western civilization, facing an Islamic Europe.
First, I will describe the situation on the ground in Europe. Then, I will say a few things about Islam. To close, I will tell you about a meeting in Jerusalem.
The Europe you know is changing.
You have probably seen the landmarks. But in all of these cities, sometimes a few blocks away from your tourist destination, there is another world. It is the world of the parallel society created by Muslim mass-migration.
All throughout Europe, a new reality is rising: entire Muslim neighborhoods where very few indigenous people reside or are even seen. And if they are, they might regret it. This goes for the police as well. It's the world of head scarves, where women walk around in figureless tents, with baby strollers and a group of children. Their husbands, or slaveholders if you prefer, walk three steps ahead. With mosques on many street corners. The shops have signs you and I cannot read. You will be hard-pressed to find any economic activity. These are Muslim ghettos controlled by religious fanatics. These are Muslim neighborhoods, and they are mushrooming in every city across Europe. These are the building-blocks for territorial control of increasingly larger portions of Europe , street by street, neighborhood by neighborhood, city by city.
There are now thousands of mosques throughout Europe . With larger congregations than there are in churches. And in every European city, there are plans to build super-mosques that will dwarf every church in the region. Clearly, the signal is: we rule.
Many European cities are already one-quarter Muslim: just take Amsterdam , Marseille, and Malmo in Sweden. In many cities, the majority of the under-18 population is Muslim. Paris is now surrounded by a ring of Muslim neighborhoods. Mohammed is the most popular name among boys in many cities.
Advertisement
In some elementary schools in Amsterdam, the farm can no longer be mentioned because that would also mean mentioning the pig, and that would be an insult to Muslims.
Many state schools in Belgium and Denmark only serve halal food to all pupils. In once-tolerant Amsterdam, gays are beaten up almost exclusively by Muslims. Non-Muslim women routinely hear 'whore, whore.' Satellite dishes are not pointed to local TV stations, but to stations in the country of origin.
Full report at:
http://www.westernjournalism.com/grim-warming-dangers-sharia-man-sees-coming-america/
-----------
URL: https://newageislam.com/islamic-world-news/new-age-islam-news-bureau/the-world's-largest-muslim-country-bans-support-for-the-islamic-state/d/98502