New Age Islam News Bureau
8 March 2018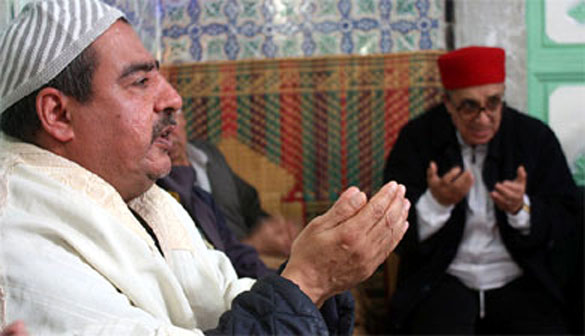 "La ilaha ill-Allah" – There is no God but God – they repeat, every syllable rolling into the next without breath, a never-ending song of faith. Minutes go by, hours. Such recitations, a pillar of Sufism, are reserved by some communities for special holidays but are part of the weekly, and at times daily, routine here in Tunisia.
----
• Ahle Hadith, the Salafist Brand of Islam to Issue Fatwa against Islamic State Terror Group
• NADRA Changes Religious Status of 10,000 Muslims to Ahmadis
• LHC Bars Govt from Arresting JuD Chief Hafiz Saeed
• How Tunisia's Resilient Sufis Have Withstood Hard-Line Islamist Attack
• Islamic State Group Calls On Muslims to Immigrate To Afghanistan
• Israel Passes Law Aimed At Stripping Palestinians' Al-Quds Residency
India
• Ahle Hadith, the Salafist Brand of Islam to Issue Fatwa against Islamic State Terror Group
• Kerala Love Jihad: Didn't Portray Hadiya's Spouse as Terrorist, Says NIA
• Bharatiya Muslim Vikas Parishad charge Sri Sri Ravi Shankar of playing into hands of RSS, BJP
• Ayodhya Issue: Barelvi Clerics Cold-Shoulder Sri Sri's Mediation Bid
• Pakistan under pressure changes its terror strategy against India
• Love jihad: NIA's lookout notice against 2 witnesses
• Less of LeT, more of JeM: J&K police see Pakistan strategy
• Muslim daughter can inherit from Hindu father: Gujarat high court
--------
Pakistan
• NADRA Changes Religious Status of 10,000 Muslims to Ahmadis
• LHC Bars Govt from Arresting JuD Chief Hafiz Saeed
• Pak Senate Approves Bill Empowering Transgender Community
• Shariah Academy Delegation Visits Council of Islamic Ideology Islamabad
• Over 20 killed as US drone hits TTP training centre in Kunar
• Bilawal criticises both PTI and MQM as 'terrorists'
• Policeman protecting members of Hazara community in Quetta gunned down
• Thousands of Pakistanis detained in KSA denied rights: report
--------
Africa
• How Tunisia's Resilient Sufis Have Withstood Hard-Line Islamist Attack
• Boko Haram Terror Continues, 10 Killed In Fresh Attacks
• Tunisia to mark March 7 as 'Day against Terror'
• Released Boko Haram member threatens more attacks in Nigeria
• Boko Haram: 20 organisations set to storm Sambisa forest, North East
--------
South Asia
• Islamic State Group Calls On Muslims to Immigrate To Afghanistan
• Sri Lanka Blocks Social Media as Anti-Muslim Rioting Flares
• TTP Chief Mullah Fazlullah's son reportedly killed in Kunar airstrike
• Suicide Bomber Kills Muslim Official in Afghan City
• Coordinated attack on Spin Boldak police commandment in Kandahar
• Suicide attack rocks Jalalabad city in East of Afghanistan
--------
Mideast
• Israel Passes Law Aimed At Stripping Palestinians' Al-Quds Residency
• Iran Feels Heat as Riyadh Opens up Stadiums and Fights against Graft
• Palestine plans mass border rallies for Gaza, Jerusalem
• Iranians protest in Iraq following arrest of prominent Shiite cleric
• Humanitarian catastrophe in Eastern Ghouta must be prevented: Iran
• Hamas to boycott Palestine National Council meeting next month
• Turkey calls on US to stop YPG militants' advance to Syria's Afrin
• 'Political solution only way to end Yemen conflict': Saudi crown prince and PM May agree
• Turkey-U.S. to convene a working group to fix bilateral disputes
--------
Arab World
• Kurdish, Arab Fighters Drop Islamic State Fight to Defend Syria's Afrin
• Syria Regime Captures Half of Ghouta Enclave
• Syrian troops split rebel-held enclave near capital, 45 dead
• Arab Daily Underlines Superiority of Hezbollah's Intelligence Body over Israeli Spy Agencies
• 1,700 Kurdish Gunmen Dispatched to Northern Syria to Confront Turkish Army
• Over 2,900 Kurdish Fighters Killed, Captured in Turkish Army Operation in Northern Syria
• Turkey Asks U.S. to Stop Kurds from Shifting Fighters to Western Syria
• ICRC Says Has More 'Cooperative' Access to Detained Islamic State Families
• Popular Forces: No Justification for US Military Deployment in Iraq
• Jubeir: Agreed with UK on need to deter Iran, stop its support for terrorism
--------
Europe
• Jihadist Influx into Britain and Europe after Islamic State Collapse 'Lower Than Expected'
• UK PM Says Links with Saudi Arabia 'Saved British Lives'
• French Muslims, Jews, and Christians visit Morocco
• Chief inspector: English schools need to address extremist elements
• Britain First leaders jailed over anti-Muslim hate crimes
• UK to focus on areas of agreement as Saudi crown prince arrives
• Tube bomb accused trained 'to kill' by Islamic State, court heard
• Accomplice of Paris attacks mastermind held in Poland: prosecutor
• German government condemns AfD lawmakers' Damascus visit
• Uzbekistan seeks increased role in Afghan peace process
• Queen Elizabeth II receives Saudi crown prince at Buckingham Palace
• Chopper crash kills at least three in Russia's Chechnya
• Saudi crown prince welcomed in London amid rights activists protests
• Corbyn urges May to condemn Saudi war on Yemen as bin Salman visits
• UK FM Boris Johnson says Iranian missiles fired at Saudi Arabia 'unacceptable'
--------
North America
• US Agents Untrained To Vet Islamic Radicals, Have Poor Grasp of Jihadist Threat, Experts Warn
• No Second Chances for Convicted Terrorists, No Matter What Trudeau Says
• Tennessee's Capitol Hill draws attention of American Muslim Advisory Council
• Why US getting increasingly desperate in Syria
• Canada, EU and UK condemn anti-Muslim violence in Sri Lanka
--------
Southeast Asia
• Indonesia Lacks Legislation to Prosecute Islamic State Fighters Returning From Conflict, Expert Says
• Parliament: Network of young religious teachers to be expanded, says Yaacob Ibrahim
• All Muslim minor couples must get parental consent, complete preparation programme before marrying
• Isma decries attempts to erode Malaysia's 'Malay-Muslim identity'
• Chinese Malaysian loyalty under spotlight as China flexes muscle
Compiled by New Age Islam News Bureau
URL: https://www.newageislam.com/islamic-world-news/the-salafist-brand-islam-ahle/d/114524
--------
Ahle Hadith, the Salafist Brand of Islam to Issue Fatwa against Islamic State Terror Group
Mar 07, 2018
Ahle Hadith, a large Sunni Muslim sect that emulates the ultra-orthodox Salafist brand of Islam, is set to declare "terror tactics" and the Islamic State (IS) as "un-Islamic" through a fatwa or a religious edict at an Islamic conference here on March 9-10, the body's chief said on Wednesday.
In 2007, the influential Darul Uloom seminary in UP's Deoband had issued a similar anti-terror declaration, but this is the first time that a prominent religiously conservative group closely identified with Salafists will rule against the IS.
The fatwa has been endorsed by 40 senior scholars associated with the New Delhi-based Markazi Jamiat Ahle-Hadees Hind, the main body representing the sect, Maulana Asghar Ali Imam Mahadi Salafi, the group's leader told HT.
Salafi said the edict is a public reiteration of an "extraordinary fatwa" passed against the "self-made caliphate of Daesh" on February 15, 2015. IS is popularly known as Daesh in Arabic.
A small number of Indians are believed to have joined IS and the National Investigation Agency (NIA) has officially implicated the group for inspiring a train explosion in Madhya Pradesh on March 7, 2017.
Ahle Hadith was founded as a 19th century Islamic movement in north India.
Salafism is cited by several analysts as the ideological precept guiding the al-Qaeda and other jihadist organisations. "This is to prevent our youth from being lured by the ISIS..." Salafi said. An estimated 40,000 madrasas, or theological schools, in the country are affiliated to the Ahle Hadith sect.
Many Muslim social organisations have disavowed terrorism in recent years. "I think it's our Constitution, our judiciary and civil society which are great avenues of justice. This makes the Indian Islamic model the only pragmatic and workable model..." said Akhtarul Wassey, former head of Islamic Studies at Delhi's Jamia Millia Islamia.
https://www.hindustantimes.com/india-news/orthodox-muslim-sect-to-issue-fatwa-against-islamic-state-terror-group/story-rcs1HHL9zrIJSYM33D8WnM.html
--------
NADRA changes religious status of 10,000 Muslims to Ahmadis
Mar 8, 2018
ISLAMABAD: In a rather mysterious development, the religious status of thousands of Muslims was changed to 'Ahmadis' by the National Database and Registration Authority (NADRA) on Wednesday.
NADRA officials, meanwhile, confided in Pakistan Today that the authority had not changed the religious status of any Muslim to Ahmadi, adding that it might have been corrected as mentioned and maintained by the Ahmadi people in oaths.
"Earlier, there was no criterion. Ahmadis used to submit an affidavit in which they state that due to NADRA's mistake their religious status was mentioned as Muslim, which is incorrect and they wanted to rectify it. Upon which, the authority entertained their applications and 'corrected' their religious status," the officials added.
They said that NADRA had now recommended the Islamabad High Court (IHC) to make court decree mandatory for change and correction of the religious status.
However, Kamran Amjad Kayani, an IHC advocate, on March 1 sent a legal notice to the NADRA chairman, seeking an explanation as to how the subordinate staff of the national database changed the religious status of people from Muslim to non-Muslim (Ahmadi) without obtaining the court decree, which was 'gross misconduct on the part of NADRA management'.
"You have to explain your position in this regard within seven days after the receipt of this legal notice; otherwise, the undersigned has the right to approach the court of law for the initiation of the criminal proceedings, as well as the constitutional jurisdiction of the IHC," read the legal notice available with Pakistan Today.
It is pertinent to mention here that the IHC had earlier sought the population data of Ahmadis living in Pakistan since 1947.
According to the Deputy Attorney General (DAG) Arshad Mehmood Kayani, the data of the recently concluded census was being compiled and might be finalised by the end of April 2018. However, the Census 1998 figures were provided to the court, according to which the population of Ahmadis was 286,212.
Justice Siddiqui had noted that the figure showed a huge difference from the data earlier provided by NADRA.
The database authority had informed the court that just over 167,000 Ahmadis were registered in Pakistan and 10,205 changed their religious status from Muslim to Ahmadi.
IHC on Wednesday reserved its verdict in the case pertaining to the controversial change in the Khatam-e-Nabuwat clause of the Election Act, 2017.
In October, the government's move to "simplify" a provision in the election form had led to a three-week crippling sit-in in the federal capital and the subsequent resignation of the federal law minister.
Justice Shaukat Aziz Siddiqui reserved the verdict for Friday after hearing the arguments from the petitioner and federation, as well as several scholars and lawyers, who had rendered their assistance in the case as amicus curiae (friend of court).
It merits mentioning here that the court had been hearing the petition on a day-to-day basis since February 20. Petitioner Maulana Allah Wasaya's counsel Hafiz Arafat had maintained that the act relating to the declaration was against Article 8 and 227 of the Constitution, and resulted in creating a serious law and order situation across the country.
The major developments during the course of hearings included the government's submission of report of a committee led by Pakistan Muslim League-Nawaz (PML-N) Senator Raja Zafarul Haq on the controversy.
On Wednesday, Deputy Attorney General Arshad Mehmood Kayani submitted the census data of 1981, 1998 and tentative data of 2017. He also submitted the travel history of almost 6,000 persons, who obtained fresh passports after changing religious status from Muslim to Ahmadi.
Almost all the amicus curiae appraised the court that concealing real faith was a crime, and act of cheating and fraud with the state.
The amici curiae included professor Dr Hafiz Hassan Madni from the Institute of Islamic Studies at University of Punjab in Lahore; Dr Mohsin Naqvi, ex-Council of Islamic Ideology (COII) member; Professor Dr Sahibzada Sajidur Rehman member COII; and Mufti Muhammad Hussain Khalil Khel from Karachi as amicus to render their assistance on the proposed questions.
Among the lawyers, Akram Sheikh, Dr Aslam Khaki and Dr Babar Awan provided assistance to the court in connection with the amendment in the Election Act, 2017, which had led to a sit-in in the capital.
https://www.pakistantoday.com.pk/2018/03/07/nadra-changes-religious-status-of-10000-muslims-to-ahmadis/
--------
LHC bars govt from arresting JuD chief Hafiz Saeed
Mar 8, 2018
LAHORE: The Lahore High Court (LHC) on Wednesday barred the federal and Punjab governments from arresting or putting Jamaatud Dawa (JuD) chief Hafiz Saeed under house arrest until further notice.
The court expressed annoyance over the failure of the provincial government and the centre in submitting their replies to the court in connection with a plea filed by Saeed against his possible arrest or house arrest.
On January 23, Saeed had moved the court and challenged his possible arrest or government action against JuD and Falah-e-Insaniat Foundation (FIF).
In a petition filed through Advocate AK Dogar, Saeed stated that the government wanted to take action against him and his organisation under the pressure of the United States (US) and India. He requested the court to restrain the government from taking action against JuD or FIF.
In the writ petition, Dogar stated that Saeed and his allies were detained in Pakistan on the insistence of US and India, but the government could not provide any proof against them in the court of law.
Last month, the federal government had issued a notification directing the authorities concerned to freeze the assets of JuD and FIF under the Anti-Terrorism (Amendment) Ordinance, 2018 after President Mamnoon Hussain promulgated the Ordinance that enables the government to impose a ban on the entities banned by the United Nations Security Council (UNSC).
Following an amendment in Section 11-B and 11-EE of the ATA, the organisations and personnel banned through the UNSC's resolution will stand banned in Pakistan too.
The United States has been threatening to get tough with Islamabad over its alleged ties with militants, and last month President Donald Trump's administration suspended aid worth about $2 billion.
Islamabad denies assisting militants in Afghanistan and India.
https://www.pakistantoday.com.pk/2018/03/07/lhc-bars-govt-from-arresting-jud-chief-hafiz-saeed-until-further-notice/
--------
How Tunisia's resilient Sufis have withstood hard-line Islamist attack
Mar 8, 2018
MARCH 7, 2018 TUNIS, TUNISIA—"La ilaha ill-Allah, La ilaha ill-Allah," the men, young and old, chant as they rock rhythmically, pressing wooden prayer beads through their hands.
"La ilaha ill-Allah" – There is no God but God – they repeat, every syllable rolling into the next without breath, a never-ending song of faith.
Minutes go by, hours. Such recitations, a pillar of Sufism, are reserved by some communities for special holidays but are part of the weekly, and at times daily, routine here in Tunisia.
Yet in Tunisia, a 1,000-year-old tradition of mystic Sufi orders has been under pressure by a campaign of threats, slander, and vandalism from hard-line Salafist groups seeking to take over mosques and communities since the country's 2011 revolution.
Salafism, a strict puritanical strand of Islam originating from Saudi Arabia, rejects Sufis for their reverence for holy men and for their worldly search for divine truth in life. They see them as an obstacle to spreading their hard-line interpretation of Islam to parts of North Africa, Asia, and Europe.
In a bid for influence following Arab Spring revolutions, Gulf-backed Salafis and Salafi-inspired groups such as the so-called Islamic State (ISIS) systematically demolished Sufi shrines, kidnapped and assassinated Sufi clerics, and killed Sufi prayer-goers in Egypt, Syria, and Libya.
In parts of the Arab world, Salafis' voices have become so prominent, many Sufi movements and gatherings have adopted lower profiles to prevent attacks.
But in Tunisia, residents say, the Salafis have failed. They miscalculated, vastly underestimating Tunisians' historical and generational connection to Sufism. Across the country, neighborhoods and towns are named after Sufi saints, and most Tunisian families can trace their lineage to a Sufi saint or holy person.
"We love God and we love our heritage," says Mohammed, who is unemployed, after completing a Sufi recitation at the Sidi Ibrahim Riahi shrine in Tunis. "For some of us this is all we have. No extremist can take this away from us."
Spiritual battleground
It was only natural that Tunisia, the lone success story from the Arab Spring, become a battleground between Gulf-backed Salafism and local Sufism. After toppling longtime dictator Zine el-Abidine Ben Ali, Tunisia established a modern democratic constitution guaranteeing human rights and a level of personal freedoms and transparency far exceeding other states in the region.
Taking advantage of the weakened state right after the revolution, between 2011 and 2013, hardline Salafis took control of most of the mosques in Tunisia. Salafist groups and supporters burned or desecrated 40 Sufi shrines and tombs. Hardline Islamists made inroads in marginalized communities by offering money to open small businesses, cover rent, or pay for weddings.
In many Arab states, Salafis have succeeded in spreading their influence, inciting the destruction of hundreds of Sufi shrines and tombs with little public outcry.
In Libya, Salafist Madkhalis used armed vice squads and alliances with warlords. In Egypt, Salafis are represented in parliament by a political party and their views are broadcast almost 24 hours a day on satellite networks and the radio. In Syria, Sufis have come under pressure from both Salafist groups and jihadists such as Al Qaeda and its various affiliates and ISIS.
But today Tunisians of all backgrounds between the ages of 10 and 90 file into Sufi shrines, or zawiyas, making supplications as routinely as grabbing a morning coffee or getting on the bus for the morning commute.
Out of Tunisia's 11.5 million population there are more than 300,000 devoted members to various Sufi orders, say experts, who estimate that the vast majority of Tunisians identify with a Sufi order or saint without labeling themselves as Sufi.
"Before there was a Tunisian state, there was Sufism," Mohammed Jayyoudi, a retired aeronautical engineer says as he leaves a morning recitation at Sidi Mahrez shrine. "We would give up our Tunisian nationality before we give up our traditions and religious practices."
Sufis in Tunisian history
Sufism flourished in Tunisia starting around the 11th century, a millennium before the modern state, as mystic clerics opened up zawiyas, centers to search for God's truth, and hosted regular ziker – recitations of Koranic verses, prayers, and the names of God and prophets.
These Sufi zawiyas, which taught Koranic memorization and Islamic jurisprudence, became epicenters of education in North Africa and helped Islam spread out across the continent.
Sufi holy persons also established schools, hospitals, and markets – building and fortifying towns across Tunisia, even using minarets and strategically placed shrines as a lookout for invaders. Sufi figures also became important leaders of popular and armed resistance movements against French, Italian, and British colonial occupation in the 19th and early 20th centuries across North Africa.
In Tunisia, the shrines to Sufi saints are both geographic landmarks and part of local folklore. Locals in the capital base their directions around the shrine of Sidi Mahrez – known locally as sultan of the medina, Tunis's old city. And Sidi Bou Said Al Baji, whose tomb on a seaside clifftop overlooks a town of the same name, is believed to protect Tunisia's coasts from invaders to this day.
And there is a bond stronger than history binding Tunisians and Sufism: blood.
Many Tunisians make annual and sometimes weekly visits to their holy Sufi ancestors' shrines. Even secular Tunisians are proud of their Sufi lineage.
"We are related to Shadhili, others to Ben Arous and so on," says Oussama Marassi, a self-proclaimed Marxist, naming prominent Sufi saints. "Whether you pray or not, you will stand up for your ancestor."
"The Salafis underestimated how central Sufism and Sufi saints are to Tunisians' identity and personal history," Sheikh Mohammed Riahi, Sufi cleric and descendant of Sufi saint Ibrahim Riahi, said after completing prayers at his ancestor's shrine.
"These are our ancestors. When these brazen attacks happened, Tunisians stood with Sufi orders and against extremism. Tunisians will always stand up for their own."
Women's role
Another wedge between Tunisians and Salafism is the latter's male-dominated theology, alien to Tunisians' progressive attitudes toward women's role in the workplace and worship.
Women run many Sufi shrines across Tunisia, prepare and serve food for worshipers and the needy, while women are allowed to pray and supplicate at shrines alongside men – a rarity at Islamic sites.
Women take part in joint ziker recitations in shrines and at homes; often sitting in an adjacent room, joining men at the end of the recitations for food and tea. Women even perform their own rituals, such as a weekly recitations and Islamic songs at shrines such as Sidi Abul Hassan Shadhili zawiya in south Tunis.
This more inclusive approach of Sufism in Tunisia, combined with the country's modernist, secular path since the 1950s, leaves many Tunisians bewildered by Salafis' harsh restrictions on women.
"The Salafis tell us to stay in the home, clean, cook, and pray there," says Noor, a Tunisian university student who was at Sidi Riahi zawiya. "All people – men and women – have the right to ascertain truth, remember God, and express their love to God. That is true Sufism."
While Islamic movements have become hyper-politicized in much of the Arab world, Tunisian Sufis have been largely absent from the political sphere, protecting themselves from political attacks.
"For Tunisians, we don't think of our way of worshiping and remembering God as Sufism or mysticism, it is just Islam," says Sheikh Mazen Cherif, president of the Islamic World Union of Sufism, and a Tunisian Sufi thinker. "Sufism here unites, it doesn't divide."
Community outreach
Salafist movements have largely spread their hardline interpretation of Islam throughout the Arab world through charity; Gulf oil money funds Salafist charities that feed the poor, renovate homes, pay for university tuition, and provide funds to open small businesses in the Levant and North Africa.
In Tunisia, Sufis have the Salafists beat by around 900 years. Helping the poor has been a pillar of Sufism for nearly a millennium; many zawiyas operated as halfway homes for the needy and homeless, shop stalls were donated to local entrepreneurs.
To this day, Sufi zawiyas offer meals to the needy and worshipers. In multiple shrines visited by this reporter, homeless Tunisians and African migrants took part in communal meals following ziker.
"By giving and breaking bread we are reminded of our Islamic duty to help our fellow man and woman," Faten Mohammed says as she brings a pot of pasta into Sidi Mahrez shrine. "We don't need Salafis for this."
Indeed, as fervent as Salafis may be in their own orthodox beliefs, they know their path forward in Tunisia today cannot be forced.
Saber Trabelsi, an unemployed resident of a marginalized Tunis suburb, came under the influence of hardline Salafists who came to his neighborhood mosque with offers of redemption and purpose in 2012. He, and many young men like him, reject Sufi mysticism and deride the veneration of saints as "polytheism" and "heresy."
"Sufi practices are outside Islam and Sunni doctrine. It is paganism," Mr. Trabelsi says.
But rather than confronting Sufi adherents with threats, insults, violence or denouncing them as kafirs, infidels, like many Salafis have done in Libya and Egypt, Trabelsi instead tries to politely counter their arguments with scripture.
Trabelsi says he has learned to live with, rather than attack, Sufism – and with good reason.
"My five brothers and sisters are all Sufis," Trabelsi says. "All I can do is pray that they change their path."
https://www.csmonitor.com/World/Middle-East/2018/0307/How-Tunisia-s-resilient-Sufis-have-withstood-hard-line-Islamist-attack
--------
Islamic State group calls on Muslims to immigrate to Afghanistan
Mar 7, 2018
KABUL: The Islamic State group in Afghanistan is inviting Muslims worldwide to come to the war-torn country if they cannot reach Syria or Iraq, as it seeks to expand its foothold.
A 25-minute propaganda film released by the Islamic State-Khorasan Province (IS-K) on March 4 promotes IS strongholds in Afghanistan's north and east as an "option for immigration", the SITE Intelligence Group said Tuesday.
"O you Muslims in every corner of the world! Immigrate to Khorasan! If you are incapable of immigrating to Iraq and Sham (Syria), come to Khorasan," a fighter said on the video.
The name Khorasan refers to a historic region which includes parts of modern-day Afghanistan, Pakistan and neighbouring countries.
The video comes amid growing concerns that IS fighters fleeing battlefields in Syria and Iraq are finding their way to Afghanistan, where the group has a small but potent presence.
AFP recently reported that French and Algerian fighters, some arriving from Syria, had joined IS in the northern Afghan province of Jowzjan.
A German national was also recently arrested with the Taliban in the restive southern province of Helmand, Afghan officials said last week. He is one of the only Europeans found among the militants throughout the 16-year war.
The IS video published with an Arabic narration showed some fighters delivering messages in Pashto, Persian and Uzbek languages.
It opens with a narration mocking US President Donald Trump's vow to destroy the group in Afghanistan and goes on to show executions of prisoners and the training of child soldiers.
IS-K was attempting to turn "rumours" of foreign fighters moving to Afghanistan from Syria "into reality", Borhan Osman, a senior analyst at International Crisis Group, told AFP.
But the group would struggle to persuade fighters to travel as far as Afghanistan, said Emily Winterbotham, a senior research fellow at the UK-based Royal United Services Institute for Defence and Security Studies.
"It's trying to keep IS-K viable and the IS-K brand going, but the reality is Afghanistan is still a long way away from Syria and Iraq -- it's not an easy journey," she said.
The Islamic State group, or Daesh as it is locally known, first emerged in Afghanistan in 2014 as NATO combat troops withdrew from the country and handed over responsibility to Afghan security forces.
Since then, the group has carried out multiple attacks mostly in urban areas, killing hundreds of people across the country despite a US-led bombing campaign against their known hideouts.
Since 2016 it has dramatically escalated its attacks in Kabul, adding to the dangers already faced by civilians, with the UN citing the capital as one of the deadliest places in the country.
https://timesofindia.indiatimes.com/world/south-asia/islamic-state-group-calls-on-muslims-to-immigrate-to-afghanistan/articleshow/63204593.cms
--------
Israel passes law aimed at stripping Palestinians' al-Quds residency
Mar 8, 2018
The Israeli parliament has passed a law that enables the minister of interior to revoke the permanent residency status of any Palestinian in Jerusalem al-Quds on grounds of "breach of loyalty" to the Tel Aviv regime.
The law, passed by the Knesset on Wednesday, is also applicable to those whose statuses were obtained based on false information, and in cases in which "an individual committed a criminal act."
In accordance to the law, Israel's Interior Minister Aryeh Deri now has the power to revoke the residency documents of any Palestinian whom he chooses to see as a threat.
A senior member of the Palestine Liberation Organization (PLO) slammed the law as "extremely racist piece of legislation."
"By unethically stripping the residency of Palestinians from Jerusalem al-Quds and depriving the rights of those Palestinians to remain in their own city, the Israeli regime is acting in defiance of international law and is violating international human rights and humanitarian laws," Hanan Ashrawi said.
The Palestinian rights group Adalah stressed that the law is illegal under international humanitarian law.
"East Jerusalem is considered occupied territory under international humanitarian law (IHL) - like all other areas of the West Bank and the Gaza Strip - and its Palestinian residents are a protected civilian population. It is therefore illegal under IHL to impose upon them an obligation of loyalty to the occupying power, let alone to deny them the permanent residency status on this basis," the group said in a statement.
In the past, Human Rights Watch has stressed that such residency revocations, which force Palestinians out of Jerusalem, "could amount to war crimes" in the eyes of the International Criminal Court (ICC).
The law will most likely apply to East Jerusalem al-Quds residents who have protested against the Israeli occupation and its manner of treatment of Palestinians.
The occupied Palestinian territories have witnessed a new wave of tension ever since US President Donald Trump announced his decision on December 6 last year to recognize Jerusalem al-Quds as Israel's capital and relocate the US embassy in Israel from Tel Aviv to the occupied city.
The dramatic shift in Washington's policy vis-à-vis the city triggered demonstrations in the occupied territories, Iran, Turkey, Egypt, Jordan, Tunisia, Algeria, Iraq, Morocco and other Muslim countries.
http://www.presstv.com/Detail/2018/03/08/554721/palestine-israeli-parliament-alquds
--------
India
Kerala love jihad: Didn't portray Hadiya's spouse as terrorist, says NIA
Mar 7, 2018
New Delhi: The National Investigation Agency (NIA) on Wednesday has denied in the Supreme Court the allegation of Akhila alias Hadiya, involved in Kerala's love jihad that she was misled to portray her husband Shafin Jahan as a terrorist and also of treating her as a criminal.
In an affidavit filed on Wednesday, the NIA denied that the agency behaved with her with a prejudice as if she is a criminal or a terrorist. The allegation was baseless as the NIA was conducting investigation in a fair and objective manner based upon evidence and material collected so far.
It also said that the allegation that Shafin Jahan was portrayed as a terrorist was incorrect and it had carried out the probe under directions of the apex court and whatever it had stated reflected in the status report filed by the agency.
Regarding the probe, NIA said it had almost completed the investigation except examination of two individuals, Fasal Musthafa and Shirin Shahand, who are material and crucial witnesses in the case.
It has been learnt that these two witnesses are presently in Yemen and they had left India even the probe was started. Look out circulars had been issued to apprehend them if they visit the country.
The NIA rejected Hadiya's charge that the agency had created a story (of love jihad' and forced conversions to Islam) and were trying to establish it without any proof.
The NIA said such a charge is totally baseless and incorrect. There was no question of NIA treating Hadiya as a criminal or a terrorist and it would complete the investigation at the earliest in accordance with law.
The NIA wanted the court to take into consideration the outcome of the report before passing any order.
Hadiya had asserted that she converted to Islam out of own volition and married Shafin Jahan and pleaded to allow her to live with her husband.
The apex court in November 2017 has set Hadiya at liberty and allowed her to pursue her studies at the Sivaraj Homoeopathic Medical College in Salem, Tamil Nadu.
She reiterated that she was a Muslim and she wanted to continue to live as a Muslim.
She said, "Since August 22, 2016, except the period from September 27, 2016 to December 20, I have been under confinement without the freedom that I am entitled to. Even now I am under police surveillance. I most humbly pray that my entire liberty may kindly be restored to me."
She said Shafin Jahan, is her husband and she wanted to continue to live as his wife. "I embraced the faith/religion of Islam on my choice as per my conscience and on my own free will, after studying about Islam and thereafter I married Shafin Jahan. I further pray that this Court may be kind enough to appoint my husband as guardian."
The further hearing of the case will be held on March 9.
http://www.asianage.com/india/all-india/070318/kerala-love-jihad-didnt-portray-hadiyas-husband-as-terrorist-says-nia.html
--------
Bharatiya Muslim Vikas Parishad charge Sri Sri Ravi Shankar of playing into hands of RSS, BJP
Siraj Qureshi
Agra
March 8, 2018
Following the advice given by spiritual guru Sri Sri Ravi Shankar to the Muslims to take back their claim on the disputed site in Ayodhya, Muslims have criticized the guru for playing into the hands of the BJP and RSS and trying to immerse the country into a poisonous trough of communalism by likening the Ayodhya issue with the dire conditions in Syria.
Demanding that the guru should take his words back, Bharatiya Muslim Vikas Parishad chairman Sami Aghai said that first of all, Ravi Shankar should explain how and when he became a self-styled saint.
He said that somebody who deliberately tries to divide the country and throw the people of this peace-loving country into a civil war, could not be called a saint. He should be called a traitor and should face charges of treason.
Aghai said that the matter of Ayodhya land ownership was currently being heard by the Supreme Court of India and it appeared that Ravi Shankar had even challenging the authority of the apex court by saying that if it decided in favour of the Hindus, the decision will be acceptable and if the court decided in favour of Muslims, the decision will not be accepted.
Aghai said the so-called guru had been admonished by the Supreme Court earlier for polluting the river Yamuna in Delhi by organising a mega event on the riverbank without permission and was fined several crore rupees.
UP Sarvadaliya Muslim Action Committee president Syed Irfan Salim said Ravi Shankar is a businessman first and a spiritual guru later.
He sadi that watching Baba Ramdev hog the limelight these days, Ravi Shankar wanted the focus of the media on himself, so he decided to barge into a dispute that has been raging for centuries, seeking to resolve it without even talking to the concerned parties who have been spending several lakhs every year on contesting this dispute in various courts of the country.
Also read: Shiv Sena on Ravi Shankar's Syria comment: What kind of art of living is this?
He added that, in the process, Ravi Shankar was only pushing the country to the brink of a civil war and for that, he should be immediately sent to jail, but surprisingly, neither the central nor state government took any action in this context against him.
Social activist Mohd. Yaseen Qureshi said that some people thrived in a discordant atmosphere and self-styled gurus like Ravi Shankar were among those people.
He said the people of India, whether they are Hindus or Muslims or belonging to any other faith, should be wary of such godmen and not allow them to destroy the communal harmony of this country.
Full report at:
https://www.indiatoday.in/india/story/muslims-charge-sri-sri-ravi-shankar-of-playing-into-hands-of-rss-bjp-1184155-2018-03-08
--------
Ayodhya issue: Barelvi clerics cold-shoulder Sri Sri's mediation bid
Mar 07, 2018
Art of Living (AoL) founder Sri Sri Ravi Shankar got a lukewarm response to his attempt to mediate on the Ayodhya issue as no Muslim cleric, barring Tauqir Raza of Ittehad-e-Millat Council, met the spiritual leader during his visit on Tuesday.
Sri Sri's meeting with Barelvi cleric-turned-politician Tauqir Raza, which lasted 20 minutes, also remained inconclusive.
While Muslim clerics decided against meeting Sri Sri during his maiden visit to Bareilly, he was also not allowed to enter a madarsa, Islamic Study Centre, which runs under the aegis of Dargah-e-Ala Hazrat.
"We were not informed about his visit in advance. We do not allow arbitrary visits as it affects academic activities," said madarsa in-charge Akhtar Raza Khan, elder brother of Tauqir Raza.
Sri Sri later visited Alaknath temple.
Talking to media persons after meeting the AoL founder, Tauqir Raza said any decision on the Ayodhya issue would not be accepted if it was taken without considering the demands of both the parties.
"We should strive to resolve the issue outside court but the concerns of all parties should be addressed before arriving at a conclusion," he said.
Full report at:
https://www.hindustantimes.com/lucknow/ayodhya-issue-barelvi-clerics-cold-shoulder-sri-sri-s-mediation-bid/story-ymfpCc9nt49sW6Er3N5pyN.html
--------
Pakistan under pressure changes its terror strategy against India
Mar 08, 2018
NEW DELHI: Pakistan appears to have adopted a strategy to turn heat on India by blaming it for sponsoring terror after Delhi was successful in cornering Islamabad at the successive Financial Action Task Force meets besides various bilateral fora including in Gulf.
After making Khulbhushan Jadhav a symbol of India's "interference" in Pakistan, Islamabad recently arrested "India trained terrorist" Muzafar Nagraj and his accomplices.
Police in Pakistan's Hyderabad city has described the arrest as "big catch".
The Hyderabad police claimed on Friday to have busted a group of terrorists trained in India to carry out armed struggle for the independence of Sindh. Hyderabad DIG Javed Alam Odho informed the media about the arrest of five alleged terrorists in the outskirts of Hyderabad, reported leading Pakistani English daily The Express Tribune.
The suspects were identified as Muzaffar Nagraj, Murtaza Abro, Shakeel Ghangro, Rafaqat Jarwar and Aarib Soomro, according to the Tribune. While Pakistan is yet to raise the issue of these arrests with India, persons familiar with the Indo-Pak ties labelled charges as baseless and described development as a diversionary tactic.
Islamabad reportedly desperate for a formal dialogue with Delhi have sent several feelers to the Modi government over last few months only to be cold shouldered in the wake of terror attacks in J & K and repeated ceasefire violation along the Line of Control. The drama created during the visit of Khulbhushan Jadhav's family members did not help the cause.
Besides FATF decision what has impacted Pakistan Army has been India's success since 2015 to get support from key Gulf nations on cross border terror. The recent visit by PM Narendra Modi to both UAE and Oman bears testimony to the fact as both Abu Dhabi and Muscat issued joint statements deploring terror as an instrument of state p ombia India and UAE deplored efforts by countries to give religious and sectarian colour to political issues and pointed out the responsibility of all states to control the activities of the so-called 'non-state actors', and to cut all support to terrorists operating and perpetrating terrorism from their territories against other states.
Full report at:
https://economictimes.indiatimes.com/news/defence/pakistan-tries-to-blame-india-for-terror/articleshow/63211156.cms
--------
Love jihad: NIA's lookout notice against 2 witnesses
Dhananjay Mahapatra
Mar 8, 2018
NEW DELHI: The National Investigation Agency told the Supreme Court on Wednesday that it has 'almost completed' its probe into a contentious 'love jihad' phenomenon in Kerala except for the interrogation of two individuals — Fasal Musthafa and Shirin Shahana — who it feared have fled to Yemen.
The NIA submitted a sealed cover status report of its seven month-long investigation into the 'love jihad' issue, which was brought before the court by father of Akhila Ashokan aka Hadiya who converted to Islam and married Shafin Jahan. "Examination of two individuals namely Fasal Musthafa and Shirin Shahana, who are material and crucial witnesses in the case, is yet to be undertaken since these two witnesses are not available in India," the NIA said. Represented by additional solicitor general Maninder Singh and advocate R Balasubramanian, NIA had contested the claim of senior advocate Kapil Sibal, appearing for Shafin Jahan, that had questioned the love jihad story.
It was the HC which had flagged the love jihad phenomenon while dealing with the habeas corpus petition filed by Hadiya's father K M Ashokan. While submitting its report on Wednesday, the NIA said: "It has been learnt by the NIA that Fasal Musthafa and Shirin Shahana have left India before the NIA took over the investigations as directed by the SC. It has been further learnt that these two witnesses are presently in Yemen. "The NIA got lookout circulars issued through competent authority. The investigation, barring the examination of these two crucial witnesses, is almost complete," it said.
https://timesofindia.indiatimes.com/india/love-jihad-nias-lookout-notice-against-2-witnesses/articleshow/63210084.cms
--------
Less of LeT, more of JeM: J&K police see Pakistan strategy
by Bashaarat Masood
March 8, 2018
Behind the growing presence of Jaish-e-Mohammad in Jammu & Kashmir, police see a change of strategy from Pakistan after "increased, repeated international scrutiny of Lashkar-e-Toiba and it chief Hafiz Saeed".
A report by J&K police says that while the LeT may reduce its operations in the Valley, Pakistan is reviving Jaish to give some "breathing space" to Hizb-ul Mujahideen and LeT. The report, prepared two weeks ago by the intelligence wing of the state police, has been circulated to all district police officers by the police chief.
"The reason for Jaish-e-Mohammad coming to the forefront (of militancy in valley) may be due to the increased and repeated international scrutiny of LeT and its chief," says the report. "The recent development of Pakistan declaring Hafiz Saeed a terrorist under global pressure and reports that Pakistan government is taking over all the facilities, offices and seminaries that belong to JuD (Jamat-ud-Dawa) and FIF (Falah-e-Insan Foundation), the LeT might lessen its role by providing logistical support to Jaish for executing attacks."
The report speaks of a "rare collaboration" between Lashkar and Jaish in the Valley. "There are reports of terrorists from LeT and JeM having met days before the Fidayeen attack on the CRPF camp suggesting the strike might have been the result of a rare collaboration between the two," reads the report. "While there have been occasions where LeT provided logistic support to indigenous terror groups such as Hizb-ul Mujahideen, its collaboration with JeM signals a shift in Valley's insurgent landscape".
The report warns of more coordinated attacks by Jaish and LeT. It suggests the reason for revival of Jaish in the Valley is heavy losses suffered by Hizb and Lashkar last year.
"The year 2017 witnessed heavy losses to terrorist outfits especially LeT and Hizb as their top commanders were killed," it says. "The Pakistan-based handlers of terrorists have started reviving Jaish cadres in valley and the main motive of carrying Fidayeen type attacks is to push security forces on backfoot in order to give some breathing space to Hizb and LeT."
While Jaish had very little or no presence in the Valley in 2016, the militant outfit has taken the centre-stage of militancy of late. The outfit has carried four Fidayeen attacks — three in the Valley and one in Jammu — in the last eight months.
For many years now, the outfit didn't have any members at local level, but it has since managed to recruit several youth in south Kashmir. In fact, two of the three Fidayeen who stormed a CRPF commando training centre in Lethpora, South Kashmir, were local recruits.
Police sources say the outfit's commander, three-foot-tall Noor Mohammad, was behind the revival of the outfit in the Valley, especially South Kashmir. Mohammad was killed in an encounter in December last year.
Full report at:
http://indianexpress.com/article/india/less-of-let-more-of-jem-jk-police-see-pakistan-strategy-5090108/
--------
Muslim daughter can inherit from Hindu father: Gujarat high court
Mar 8, 2018
AHMEDABAD: A division bench of Gujarat high court on Wednesday held that a woman, who follows a religion other than Hinduism, is entitled to the inheritance of her Hindu father's ancestral property, according to the Hindu Succession Act.
A bench of Chief Justice R S Reddy and Justice V M Pancholi upheld an order passed by a single-judge bench to this effect and dismissed an appeal against the order, said advocate Dhruv Dave, who represented the woman, who had converted to Islam and renounced her Hindu faith.
The case involves Naina alias Nasimbanu Firozkhan Pathan from Vemali village in Vadodara. She renounced Hinduism and embraced Islam to marry Firozkhan, a Muslim man, in 1991. Her father Bhikha Patel passed away in 2004, leaving behind certain land parcels in the village. When she staked a claim to the property and applied to enter her name on the list of heirs, her sister and brother opposed it on the ground that she was not eligible to inherit the property because she had converted.
Interestingly, the deputy collector held that the Muslim woman was entitled to inherit the property. But the district collector and state revenue secretary overturned the decision and said that as Naina had embraced Islam, the provisions of the inheritance laws for Hindus could not be applied in her case.
The woman moved the HC, where Justice J B Pardiwala ruled in her favour. Her brother and sister challenged the order before a division bench, which upheld the conclusion and said that the change of religion or loss of caste are no grounds to deny inheritance rights to the Muslim daughter of a Hindu father.
Full report at:
https://timesofindia.indiatimes.com/city/ahmedabad/muslim-daughter-can-inherit-from-hindu-father-hc/articleshow/63209438.cms
--------
Pakistan
Pak senate approves bill empowering transgender community
Omer Farooq Khan
Mar 7, 2018
ISLAMABAD: Pakistan's Senate, the upper house of parliament, on Wednesday unanimously approved a bill, empowering transgenders to determine their own gender identity.
If the bill becomes a law, the trans people, known as "hijras" in the subcontinent, would not need to appear before a medical board to determine their gender, said Nasreen Jalil, chairperson of the Senate's Functional Committee on Human Rights.
Pakistan's transgender community was opposed to the idea of setting up a medical board to decide their gender. Their fear stemmed from the decision of a medical board, which might become a source of embarrassment and harassment for them. "The bill provides protection to the members of the transgender community and prohibits attack on their self-esteem and mistreatment," Jalil said.
Under the proposed law, the transgender people will also be able to obtain a driving license and passport. They will also have the option to get their gender changed in the National Database and Registration Authority (Nadra) records.
The bill also bars organisations and companies from discriminating against them in jobs.
In 2011, the transgenders were given the right to vote in Pakistan, and a year later, the government had awarded them the right to inheritance. Last year, Pakistan also counted transgenders as a separate category in the census.
But despite all these positive steps, they were subjected to systemic violence and discrimination in accessing health services, affordable housing, transportation and alternative livelihood options.
Full report at:
https://timesofindia.indiatimes.com/world/pakistan/pak-senate-approves-bill-empowering-transgender-community/articleshow/63206563.cms
--------
Shariah Academy Delegation Visits Council Of Islamic Ideology Islamabad
07th March 2018
A delegation of Shariah Academy Wednesday visited the Council of Islamic Ideology (CII) here and evinced keen interest in research work of the council.
ISLAMABAD, (UrduPoint / Pakistan Point News - 07th Mar, 2018 ):A delegation of Shariah Academy Wednesday visited the Council of Islamic Ideology (CII) here and evinced keen interest in research work of the council.
Dr. Ikram-ul- Haq, Secretary CII, briefed the delegation about the constitutional status, functioning and performance of the CII. The delegation comprising Session Judges, Civil Judges, Prosecutors, Officers of Law Division, Ministry of Law and Justice along with coordinator Asghar Shahzad, participants attended the briefing and put useful questions.
The session of briefing and questions jointly converted the event into healthy discussion.
While giving remarks, the members of the delegation expressed their impressions about the CII, saying that they had never thought that the CII was doing such a wonderful work.
Efforts of research section, IT section, and administration were highly appreciated, said a press release. They wonderfully watched the presentation about search able Library project comprising of the recommendations of the CII.
Full report at:
https://www.urdupoint.com/en/pakistan/shariah-academy-delegation-visits-council-of-276524.html
--------
Over 20 killed as US drone hits TTP training centre in Kunar
Tahir Khan
MARCH 8, 2018
ISLAMABAD: An American spy aircraft rained missiles on a training centre of suicide bombers in Afghanistan's eastern Kunar province on Wednesday, killing over 20 militants and a teacher, Taliban sources said.
"Militants of the banned Tehrik-e-Taliban Pakistan (TTP) were running the camp in the mountainous Shaltan area of Kunar, bordering Pakistan," they said.
A Taliban source said US drone fired five missiles on the camp when the bombers were present for routine training. He described the strike as a disastrous for the TTP as the group might have lost some key members.
There were also conflicting reports about the death of Abdullah, son of TTP Chief Fazalullah, but there was no confirmation. A TTP source said Fazalullah was also a frequent visitor of the camp. "Some other TTP senior leaders also live there as they consider this mountainous region safe."
The TTP chief for Bajaur, Gul Muhammad, was running the camp and earlier reports suggested that he was also present in the area but a Taliban official later denied the report.
Gul Muhammad is the brother of Pakistani Taliban leader Maulvi Faqir Gul Mohammad was arrested in Nangarhar in February 2013. Pakistan had sought his extradition but Kabul had refused his handover.
Some Taliban sources told Daily Times that senior TTP commander Yasin was among those killed. He was teacher of the suicide bombers, according to a Taliban source.
"A majority of TTP militants have sanctuaries there and they use Ghakhi area to enter Bajaur for attacks," sources added.
An influential Pakistani Taliban leader, Jan Wali, also known as Ahmad Sheena, was killed in the same area on December 27 in a bomb blast. Another TTP Bajaur chief Dadullah was also killed in a US drone strike in August 2012.
It is the second time in less than a month when the TTP militants came under drone strike.
Last month, the TTP confirmed the killing of its deputy chief Khan Said Sajna in a US drone strike in Afghanistan's Paktika province.
There is a long list of senior militant leaders who have been killed in Afghanistan, almost all by the US spy aircraft or ground operations by the American forces as well as infighting.
Umar Narai, also known as Khalifa Umar Mansoor, who had claimed the 2014 brutal attack on the Army Public School, was also killed in a US drone strike in July 2016.
Full report at:
https://dailytimes.com.pk/211945/over-20-killed-as-us-drone-hits-ttp-training-centre-in-kunar/
--------
Bilawal criticises both PTI and MQM as 'terrorists'
March 08, 2018
Imran Ayub
KARACHI: Pakistan Peoples Party (PPP) chairman Bilawal Bhutto-Zardari chided on Wednesday both the Pakistan Tehreek-i-Insaf and the Muttahida Qaumi Movement (MQM) when he called the ruling party in Khyber Pakhtunkhwa "friends of terrorists", while labelling the Muttahida a "terrorists' party". Moreover, the PPP chief came down hard on the founding leaders of both organisations for their "politics of hatred".
The PPP chairman also challenged PTI chief Imran Khan to contest the coming elections from Karachi to taste an "exemplary defeat" as the people of the metropolis would not "experience again" the politics of hatred they had done for three decades while giving vote to the MQM.
Maintaining his tone over the rift-hit MQM-P after visiting the residence of slain PPP MPA Abdullah Murad on his 14th death anniversary, the party chairman took the opportunity to club the Muttahida with the PTI, which had recently announced that it would field its chairman, Imran Khan, as one of the candidates from Karachi in the coming elections.
"I want him [Imran Khan] to contest from Karachi," he replied to a question about his views on the PTI decision. "I even request you [Imran Khan] to please do, but let me tell you that you will face an exemplary defeat in Karachi, because the people of Karachi do not accept politics of hatred. The people of Karachi have already experienced politics of hatred. So we don't want another Altaf Hussain, so we will not let Imran Khan win."
He called Imran Khan a "friend of terrorists" and Karachiites would never accept such a leader as the Taliban-led militancy had claimed many innocent lives in Karachi.
He also referred to the 2007 Karsaz bomb attack allegedly carried out by the Taliban that killed more over 200 people. Earlier, the PPP chairman without naming it, called the MQM-P the "terrorist party" while recalling the March 2004 assassination of Abdullah Murad in Malir.
"Abdullah Murad sacrificed his life for democracy and the people of this city," he said. "He was one of those true Karachiites who contested the 2002 elections and despite rigging by a terrorist party he won the seat, but the terrorists didn't accept those results and killed him. These are sacrifices of people like Abdullah Murad and other martyrs of democracy that Karachiites are witnessing change."
Going strong and consistent against what was until recently the largest single party in the urban areas of Sindh, the PPP chairman's tone is setting the trend of his party's election campaign in cities, mainly in Karachi and Hyderabad, where it would most probably face the MQM-P as the key contestant. Only earlier this week, Mr Bhutto-Zardari had remarked that the time of the MQM-P was over and now he was sounding more aggressive against the party.
Full report at:
https://www.dawn.com/news/1393825/bilawal-criticises-both-pti-and-mqm-as-terrorists
--------
Policeman protecting members of Hazara community in Quetta gunned down
Syed Ali Shah
March 07, 2018
A policeman was gunned down and another injured when their vehicle was attacked in Quetta's Hazar Ganji area on Wednesday.
Police said unidentified assailants opened fire at a police vehicle guarding fruit sellers belonging to the Hazara community, who were commuting from Hazar Ganji to Hazara Town.
The assailants escaped unhurt from the site of the attack, police sources said.
Police and other law enforcement personnel reached the spot as an investigation was launched into the attack.
Police described the act as a targeted attack, the sources added. There was no immediate claim of responsibility.
Police and security agencies in the provincial capital have recently faced multiple attacks by miscreants.
Full report at:
https://www.dawn.com/news/1393745/policeman-protecting-members-of-hazara-community-in-quetta-gunned-down
--------
Thousands of Pakistanis detained in KSA denied rights: report
March 08, 2018
ISLAMABAD - Thousands of Pakistanis imprisoned in Saudi Arabia and dozens sentenced to death in the kingdom have been denied their legal rights to a defence, a report in Islamabad warned Wednesday.
Saudi Arabia executes more Pakistanis than any other foreign nationality annually, nearly all for heroin smuggling, according to the study by Justice Project Pakistan and Human Rights Watch (HRW).
Sixty-six Pakistanis were beheaded in the country between 2014 and 2017 alone, the report entitled "Caught in a Web" said. "You not only have the death sentence, but you have it without due process or elementary fair trial," Saroop Ijaz, an HRW researcher, told AFP.
Pakistani migrants are "exceptionally disempowered and marginalised," Ijaz told AFP, adding that the group faces a "premodern discriminatory" criminal justice system in Saudi Arabia.
With 1.6 million nationals, Pakistanis constitute the second largest foreign community in Saudi Arabia, and most are members of a low-skilled workforce with few rights. Some 2,795 Pakistanis are currently imprisoned in Saudi Arabia, the study says.
According to Saudi media reports, a Pakistani man was executed on Tuesday in Makkah, convicted of drug trafficking. Four others were sentenced last month for raping and killing a woman and raping her teenage daughter, according to the Saudi interior ministry.
Detained Pakistanis "have braved a system that puts them in periods of detention without charge or trial, no access to legal assistance, pressure on detainees from the authorities to sign confessions and accept predetermined prison sentences to avoid prolonged arbitrary detention," said Sarah Belal, executive director for JPP.
The report also criticised inefficient translation services, which can "make Pakistanis sign a confession without even knowing it," said Ijaz, who also blamed Islamabad for not doing enough to help. "The Pakistani government has not shown either the willingness or the capacity to defend its citizens who are facing a harsh and discriminatory justice system."
Under the "kafala" system in force in Saudi Arabia, which regulates the status of migrant workers, many are prohibited from changing jobs before the end of their contract if their employer objects to it - a restriction which NGOs call forced labour or even slavery.
Full report at:
https://nation.com.pk/08-Mar-2018/thousands-of-pakistanis-detained-in-ksa-denied-rights-report
--------
Africa
Boko Haram terror continues, 10 killed in fresh attacks
7th Mar 2018
Kano, Nigeria: Boko Haram killed 10 people in three separate attacks in northeast Nigeria, in the latest violence against civilians in the restive region, local militia said Wednesday. On Tuesday, four loggers were killed when they stepped on a landmine left by the jihadists near Dikwa, 90 kilometres (55 miles) east of the Borno state capital, Maiduguri.
The four had gone to retrieve a vehicle abandoned the previous day following a Boko Haram ambush that left three dead."Four people died yesterday (Tuesday) just outside Dikwa as a result of an explosion from a mine planted by Boko Haram," Babakura Kolo, a militia leader in Maiduguri, told AFP.
"They were among a team of loggers who were attacked by Boko Haram on Monday while on their way to the bush to collect firewood under security escort. "Three loggers were killed in the attack while the rest fled to Dikwa and left behind a pickup van."
Another militia leader, Ibrahim Liman, gave a similar account of the incident. Also on Tuesday, three people were killed in Gamboru on the border with Cameroon, said Umar Kachalla, a militia leader who is based in the town. He said the attackers sneaked into the town on foot at about 2:00 am (0100 GMT).
"They slaughtered their first victim in the Kasuwar Shanu area and looted his provision store before moving to Fulatari area where they shot dead two residents," he said. The motive for the killings were unclear, he added. In August 2014 Boko Haram seized Dikwa, forcing residents to flee to Maiduguri.
Chadian troops retook it from the insurgents the following March, allowing residents to return, but sporadic attacks persist from the jihadists hiding in remote areas. Most of the returnees to Dikwa live in a camp for the displaced where they rely on food handouts from aid agencies.
Many have turned to felling trees from the surrounding bushland to sell as firewood to make money to buy extra provisions. Boko Haram have increasingly targeted loggers in their armed campaign, accusing them of spying and passing information to the military and the local militia fighting them. In January five loggers were killed in Ajeri village near Dikwa in an attack that left four others injured.
The Islamist militants' nearly nine-year insurgency has killed at least 20,000 and forced some 2.6 million others to flee their homes, sparking a dire humanitarian crisis.
https://telanganatoday.com/boko-haram-kills-nigerian-attacks
--------
Tunisia to mark March 7 as 'Day against Terror'
07 March 2018
Prime Minister Youssef Chahed on Wednesday announced that Tunisia would henceforth recognize March 7 of each year as a "national day against terrorism".
He made the announcement from the southeastern town of Ben Gardane, which is located on the border with Libya.
On March 7, 2016, Ben Gardane was the scene of fierce confrontations between Tunisian security forces and the ISIL terrorist group, which ended in a crushing defeat for the latter.
"This victory over terrorism can be attributed to our security forces and the noble people of Ben Gardane," read a statement issued by the prime minister's office.
Full report at:
http://www.worldbulletin.net/africa/199522/tunisia-to-mark-march-7-as-day-against-terror
--------
Released Boko Haram member threatens more attacks in Nigeria
March 7, 2018
By Fikayo Olowolagba
A Boko Haram commander Shuibu Mimi who was recently released has threatened to unleash further violence on Nigeria.
Shuibu Moni in a video released online on Wednesday promised to attack states in Nigeria very soon.
According to reports, the Boko Haram commander in the video was freed sometime in May in exchange for some 82 kidnapped Chibok girls in a deal facilitated by the Swedish government.
The video showed Moni and some members of his team displaying firepower in Sambisa forest.
Moni, who spoke in Hausa and Arabic stated that contrary to claims by the Nigerian government that Boko Haram fighters have been chased out of Sambisa forest in Borno state, they (Boko Haram terrorists) remain firmly on ground.
He subsequently threatened to unleash further violence on Nigeria in coming days.
Full report at:
http://dailypost.ng/2018/03/07/released-boko-haram-member-threatens-attacks-nigeria-video/
--------
Boko Haram: 20 organisations set to storm Sambisa forest, North East
March 7, 2018
By Ameh Comrade Godwin
The Centre for Social Justice, Equity and Transparency (CESJET) said it is set to storm Sambisa forest, north eastern Nigeria and other parts of the country with 20 other local and international organizations.
The group said the visit will further ascertain the level of success in the counter-insurgency war, as well as troops' responsiveness to emergency and the current state of affairs of the various operations being carried out by the military.
Addressing journalists in Abuja, Joyce Ogwu, the CESJET Executive Director, said it was the group's belief that the outcome of the tour will offer insight that would dampen the distraction currently placed in the path of the military.
The group while also reacting to the various reports in the aftermath of the recent adoption of 110 schoolgirls from Government Girls Science Technical College (GGSTC) Dapchi, Yobe State, cautioned individuals or politicians to desist from attempting to make political gains from the tragic incident.
According to her, the attack by the terrorists was a desperate attempt to continue to remain relevant using propaganda as the last tool after troops decimated them into near insignificance and being used as a shield by enemies of Nigeria who wanted to see the country fail.
"The devious purveyors of falsehood that are milking this tragedy are creating the impression that the counter-insurgency war has halted or has failed in the aftermath of the attack on Government Girls Science Technical College (GGSTC) Dapchi.
"We have found such claims to not only be untrue but also mischief at its height. Our concern is that such manipulation of reality is calculated to boost the morale of Boko Haram terrorists to regroup from their defeat. They had earlier scattered into the desert and neighboring countries after the Nigerian Army dealt them crippling blows but are now being given confidence by those that are exploiting the Dapchi girls to instigate the terrorists to come back together. We are seeing a repeat of strategies earlier deployed by Boko Haram come into play all over again," he said.
She stated that the war against insurgency was very much on course and President Muhammadu Buhari still deserved commendations for all that had been achieved in this regard.
She said, "Unlike the series of attacks in the past that showed the display of helplessness by the military, the Nigerian military has continued to maintain recovered grounds.
Full report at:
http://dailypost.ng/2018/03/07/boko-haram-20-organisations-set-storm-sambisa-forest-north-east/
--------
South Asia
Sri Lanka blocks social media as anti-Muslim rioting flares
March 7, 2018
MULLEGAMA, Sri Lanka — Religious violence flared anew in the hills of central Sri Lanka on Wednesday despite a state of emergency, with Buddhist mobs sweeping through towns and villages, burning Muslim homes and businesses and leaving victims barricaded inside mosques.
The government ordered popular social media networks blocked in an attempt to stop the violence from spreading, and thousands of police and soldiers spread out across the worst-hit areas.
The police also ordered a curfew across much of the region for a third straight day, trying to calm the situation.
Hundreds of Muslim residents of Mullegama, a village in the hills of central Sri Lanka, barricaded themselves inside a local mosque after Buddhist mobs attacked their homes Wednesday morning accusing them of stealing the donation box of a nearby temple. At least 20 Muslim homes appeared badly damaged and flames engulfed one two-story home.
The Muslims hiding in the mosque, speaking on condition of anonymity because of fear of reprisals, said police prevented them from saving their property and did nothing to stop the attackers.
One Sinhala Buddhist man who was part of the attack died in an explosion and another man was injured, according to the men in the mosque. A local Buddhist man said the Muslims were using improvised explosives, which the men in the mosque denied.
The police officials said they could not immediately identify what caused the explosion or who was responsible.
Mullegama Piyaratana , a Buddhist monk at the temple, said the attacks on the Muslim homes took place after some people pelted the temple with rocks late Tuesday. He would not identify who attacked the temple.
In the nearby small town of Katugastota, Ikram Mohamed, a Muslim, stood outside the wreckage of the textile shop where he worked, after Sinhalese Buddhist mobs set it on fire. He and the owner had closed the shop Wednesday morning when police announced the curfew. They returned to find it destroyed, and clothing and dressmaker dummies smoking in the ruins.
"There are many good Sinhalese people," he said. "This is being done by a few jealous people."
Muslims own many of the small businesses in Sri Lanka, a fact that many believe has helped make them targets as Buddhist-Muslim relations have worsened in recent years amid the rise of hard-line Buddhist groups, which accuse Muslims of forcing people to convert and destroying sacred Buddhist sites.
Area residents said mobs swept through at least two towns in the central hills Wednesday, attacking two mosques and a string of Muslim-owned shops and buildings.
An internet company official, meanwhile, said the government had ordered popular social media networks blocked in areas near the violence, and slowed dramatically across the rest of the country.
The official, speaking on condition of anonymity under company policy, said the order was for Facebook, Instagram, Viber and WhatsApp. Some of those networks appeared to be blocked in Colombo, the capital, while others worked sporadically and very slowly. President Maithripala Sirisena declared the state of emergency on Tuesday, though a day later details of the decree remained unclear. While the hills were flooded with soldiers and policemen ordering people off the street, little, if anything, appeared to have changed elsewhere in the country.
While government officials have not directly accused Buddhist extremists of being behind the violence, many comments appeared aimed at them.
The government will "act sternly against groups that are inciting religious hatred," Cabinet minister Rauff Hakeem said Tuesday after a meeting with the president.
The emergency announcement came after Buddhist mobs swept through towns outside Kandy, burning at least 11 Muslim-owned shops and homes. The attacks followed reports that a Buddhist man had been killed by a group of Muslims. Police fired tear gas into the crowds, and later announced a curfew in the town.
The U.N. office in Colombo condemned the violence.
"The United Nations urges authorities to take immediate action against perpetrators and to ensure that appropriate measures are swiftly taken to restore normalcy in affected areas," it said in a statement Wednesday.
Denmark and Norway warned their citizens in Sri Lanka about the state of emergency, saying they should be "cautious, stay away from large crowds and demonstrations, follow media and listen to advice from local authorities."
The Norwegian foreign ministry urged people "to stay in touch with family and relatives in Norway."
Sri Lanka has long been divided between the majority Sinhalese, who are overwhelmingly Buddhist, and minority Tamils who are Hindu, Muslim and Christian. The country remains deeply scarred by its 1983-2009 civil war, when Tamil rebels fought to create an independent homeland.
While the rebels were eventually crushed, the Buddhist-Muslim religious divide has taken hold in recent years.
https://www.washingtonpost.com/world/asia_pacific/anti-muslim-riots-flare-anew-in-sri-lanka-despite-emergency/2018/03/07/4602d08c-21e5-11e8-946c-9420060cb7bd_story.html?utm_term=.880d5f9ce6e2
--------
TTP Chief Mullah Fazlullah's son reportedly killed in Kunar airstrike
Mar 08 2018
The Pakistani Taliban, Tehrik-e-Taliban Pakistan (TTP) Chief, Mullah Fazlullah's son has reportedly been killed in an airstrike in eastern Kunar province of Afghanistan.
The group has confirmed to the local media outlets that the son Mullah Fazlullah has been killed in an airstrike in eastern Kunar.
In a statement sent to the local media outlets, TTP has said at least nineteen suicide bombers were also among killed in the airstrike.
TTP has blamed the Afghan Intelligence, National Directorate of Security (NDS), for providing information regarding the TTP hideout which was targeted by the US air forces.
The attack was reportedly carried out in Sultan Khel area of Kunar near Bajaur Agency tribal region of Pakistan.
The sources in Pakistan have said that a hideout of the group Ghaz was camp was targeted in the airstrike and the commander of Bajaur chapter of TTP Gul Mohammad was also killed in the raid.
In the meantime, reports indicate that at least twenty five people were killed in the airstrike and a key TTP figure involved in training suicide bombers Ustad Yaseen was also among those killed.
Full report at:
https://www.khaama.com/ttp-chief-mullah-fazlullahs-son-reportedly-killed-in-kunar-airstrike-04598/
--------
Suicide Bomber Kills Muslim Official in Afghan City
March 7, 2018
A suicide bomber in the eastern Afghan city of Jalalabad killed a senior religious official and his bodyguard on Wednesday and wounded at least 11 people, officials said.
Islamic State claimed responsibility for the attack, the militant group's news agency AMAQ said without providing evidence.
The suicide bomber approached Abdul Zaher Haqqani, Nangarhar provincial director of religious affairs, and detonated his explosive vest, the provincial governor's spokesman, Ataullah Khogyani, said.
"He was coming off a bridge when the attacker approached him and blew himself up close to his car," Khogyani added.
Full report at:
https://www.usnews.com/news/world/articles/2018-03-07/suicide-bomber-kills-religious-official-in-afghan-city
--------
Coordinated attack on Spin Boldak police commandment in Kandahar
Mar 07 2018
A group of insurgents launched a coordinated attack on the police commandment of Spin Boldak district in southern Kandahar province.
Preliminary reports indicate at least four people were killed in the attack and a number of others have been wounded.
The local security officials confirm the militants detonated a motorcycle bomb near the police commandment to open the way for the remaining insurgents to launch the attack on the compound.
Provincial police spokesman Zia Durrani confirmed the attack and said at least three policemen were wounded in the attack.
However a security source says two three policemen lost their lives in the attack and four others were wounded.
The source further added that four militants have also been killed during the clashes with the security forces that lasted for several hours.
Full report at:
https://www.khaama.com/coordinated-attack-on-spin-boldak-police-commandment-in-kandahar-04597/
--------
Suicide attack rocks Jalalabad city in East of Afghanistan
Mar 07 2018
A suicide attack rocked Jalalabad city the provincial capital of eastern Nangarhar province this afternoon.
According to the local officials, the target of the attack was the provincial Hajj and Religious Affairs Chief Mawlavi Abdul Zahir Haqqani.
The officials further added that Mawlavi Haqqani has been wounded in the attack but there are reports regarding his health condition.
However, the provincial government media office confirmed that the head of the Hajj and Religious Affairs of Nangarhar Mawlavi Abdul Zahir Haqqani has been killed.
A statement by the provincial government said the incident took place at 3:10 pm local time targeting the vehicle of Mawlavi Haqqani.
The statement further added that Mawlavi Haqqani was killed along with his driver in the attack and nine civilians were wounded.
Full report at:
https://www.khaama.com/suicide-attack-rocks-jalalabad-city-in-east-of-afghanistan-04595/
--------
Mideast
Iran feels heat as Riyadh opens up stadiums and fights against graft
8 March 2018
The operation of fighting corruption and implementing reforms in Saudi Arabia is no longer an internal affair. In fact, its echoes have gone further beyond the Kingdom's borders to reach other countries. The actions taken in this regard have resulted in a positive response at both the official and popular levels in the world. This had led some Iranian media to try and distort the steps taken by Saudi Arabia. Nevertheless, Iranian civil and popular societies were thrilled with Saudi Arabia's actions, especially regarding women's rights.
As an example, during a meeting with FIFA president Gianni Infantino last Friday, Iranian President Hassan Rouhani pledged that Iran would allow women to enter stadiums, as reported by some Iranian media. Nevertheless, Rouhani did not bother to fix a specific date for this initiative, which was confirmed later by Infantino.
It seems that the ongoing reforms and the fight against corruption in Saudi Arabia have rapidly created ripples in Iran. Indeed, several Iranians have called for fighting corruption, calling for restoring the reforms that were wrongfully buried and forgotten. This was reflected in a draft resolution entitled "Recovering the illegal funds of Officials" signed by 166 deputies out of 290 which was present in the Iranian Shoura Council for the first time in the history of the Iranian regime established four decades ago.
Iranian media devoted considerable reporting time in this regard by interviewing officials along with Tasnim agency which interviewed Iranian citizens who spoke during the recent popular protests in Iran.
Illegal funds
In his interview yesterday with the Iranian Agency 'Tasnim', MP Mohammad Dehghan, member of the Judicial Committee of the Iranian Parliament, explained the details of this project confirming that it may include the presidents of the three authorities, ministers, heads of provinces and directors since the beginning of the revolution (1979) until today, stressing that the project will "discuss the illegal funds and return them to the Treasury."
He added that the ambit of fighting corruption includes "members in the parliament, judges and mayors, representatives of the supreme leader and leaders of the military forces". This will be by forming a committee to be the reference for examining the documents that reveals the corruption.
While Dehghan asserts that the responsibility for investigating corruption and restoring money became the responsibility of the judiciary, according to the new regulation, contrary to Article 49 which makes it the responsibility of the executive authority. However, in order to avoid suspicious conflicts behind the new regulation, which might be against Hassan Rouhani, the head of the executive authority as part of fighting over power, Dehghan also confirmed that this regulation is not political.
The reform movement and anti-corruption efforts have failed repeatedly since former reformist President Mohammad Khatami won the May 1997 elections in Iran. The Supreme guide personally intervened to close corruption files against officials in Mahmoud Ahmadinejad government, who was then supported by the guide. These files were not opened until Ahmadinejad split from the hardliners and personally criticized the regime.
https://english.alarabiya.net/en/features/2018/03/08/Iran-Replication-of-the-Saudi-experience-in-stadiums-and-fight-against-graft.html
--------
Palestine plans mass border rallies for Gaza, Jerusalem
07.03.2018
Palestinian political factions on Wednesday announced plans to stage mass demonstrations along the Gaza Strip's fraught border with Israel.
The planned demonstrations are meant to protest the decade-long Israeli-Egyptian blockade of the strip and the U.S. decision to recognize Jerusalem as Israel's capital.
"We have drawn up a national committee tasked with breaking the siege imposed on Gaza and reversing U.S. President Donald Trump's decision on Jerusalem," Khaled al-Butsh, a leader of the Islamic Jihad group, said at a press conference in Gaza City.
Preparations for the rallies, he said, would include the erection of large camps along the border to accommodate demonstrators.
The planned protests, al-Butsh added, "will stress the invalidity of Trump's so-called 'Deal of the Century' [between the Palestinians and Israel] and U.S. attempts to nullify the Palestinians' right to return to their ancestral homeland".
The term "Deal of the Century" refers to a back-channel plan by the Trump administration aimed at reaching a final settlement of the Mideast conflict.
Last month, Anadolu Agency revealed details of the plan, which would reportedly allow Israel to annex all of Jerusalem -- along with major West Bank settlement blocs -- in return for a demilitarized Palestinian state.
According to al-Butsh, the recently-formed national committee includes representatives of several prominent Palestinian political factions -- including Fatah, Hamas and Islamic Jihad -- along with those of human rights NGOs, social institutions, youth groups and Arab tribes.
Simultaneous marches are rallies will also be held in the Israeli-occupied West Bank, in coordination with Palestinians in Syria, Lebanon and in the diaspora, al-Butsh said.
In an earlier interview with Anadolu Agency, Islamic Jihad spokesman Dawood Shihab did not rule out the possibility of some of these rallies breaching the border.
Israeli forces deployed near the border prohibit Palestinians from approaching the area, often shooting at -- or arresting -- anyone who does so.
Full report at:
https://aa.com.tr/en/middle-east/palestine-plans-mass-border-rallies-for-gaza-jerusalem/1082794
--------
Iranians protest in Iraq following arrest of prominent Shiite cleric
8 March 2018
A protest was held in front of the Iranian consulate in Karbala on Wednesday following the arrest of a prominent Shiite cleric, Ayatollah Sayyid al-Shirazi, by order of the supreme leader, Ali Khamenei.
The dozens of protesters, including some Shiite clerics, chanted the slogan 'death to the Vilayat-e-Faqih (the guardianship of the Islamic Jurist)' and called for Shirazi's immediate release while holding Iraq responsible for allowing Iran to arrest the Iraqi cleric.
According to Farsi media outlets, excessive violence was used in the arrest of Shirazi in Qom where Iranian security forces stopped his car, insulted him and threw his turban on the ground before taking him to an unknown location.
Protests were also held in front of the Iranian embassy in Baghdad in support of the cleric.
Shirazi, who is the son of the Iraqi Shiite of Iranian descent, Grand Ayatollah Hossein al-Shirazi, is known to oppose the Vilayat-e-Faqih and believes in the separation of religion and the state. He is popular among Shiites in Iraq and Iran.
Iranian authorities did not announce the reasons for the arrest, however, a source close to Shirazi said that a video of him talking about the 'absolute power of the Vilayat-e-Faqih' which was done at the end of 2017 may be the reason.
Full report at:
https://english.alarabiya.net/en/News/world/2018/03/08/Iranians-protest-in-Iraq-following-arrest-of-prominent-Shiite-cleric.html
--------
Humanitarian catastrophe in Eastern Ghouta must be prevented: Iran
Mar 7, 2018
The Iranian president says efforts have to be concentrated on implementing a sustainable ceasefire in Syria and preventing a humanitarian catastrophe in the country's Eastern Ghouta region.
President Hassan Rouhani made the remarks during a Wednesday phone conversation with his Turkish counterpart Recep Tayyip Erdogan.
"We have to prevent a humanitarian catastrophe from taking place in Eastern Ghouta. Tehran and Ankara must shoulder heavy responsibility of saving the people of Syria, especially those in Eastern Ghouta," said Rouhani.
The Iranian president further called on Turkey to use its influence to prevent terrorists from launching mortar attacks on Damascus, while adding that attacking a country's capital is a grave issue for any government.
He added that if such attacks by the terrorists are halted, "it can be asked of other parties to halt their operations too."
Eastern Ghouta, a besieged area on the outskirts of Damascus, which is home to some 400,000 people, has witnessed deadly violence over the past few weeks, with Takfiri terrorists launching mortar attacks on the Syrian capital in the face of an imminent humiliating defeat.
Full report at:
http://www.presstv.com/Detail/2018/03/07/554712/iran-turkey-suria-ghouta-rouhani-erdogan
--------
Hamas to boycott Palestine National Council meeting next month
Mar 7, 2018
The Palestine National Council will hold a rare meeting next month to elect representatives for the powerful Executive Committee although officials from the resistance movement Hamas say they would boycott the event.
Ismail Radwan, a Hamas official, said on Wednesday that there was a need for the formation of a completely new National Council as the body in its current formula has failed to be representative of all Palestinians.
"Convening it this way violates the national agreements and it boosts the Palestinian split," said Radwan.
The Palestine National Council is mainly operating in the Israeli-occupied West Bank. In the Gaza Strip, where Israel has no presence, the body has almost no influence and its authority as a national Palestinian entity has repeatedly been challenged by Hamas, which controls Gaza.
Radwan's comments came after Ahmad Majdalani, a top Palestinian official, said the Council will convene on April 30 in Ramallah. It would be the first meeting for the chief Palestinian legislative body in nearly a decade.
Other sources said the council would meet with the presence of nearly 700 delegates mainly to discuss political issues and also to elect officials that could fill positions on the 18-member Executive Committee. The vote for leadership roles has become necessary given the presence of aging people on the board who have struggled to properly serve over the past years. One senior member of the Committee died recently while two other suffer from serious health issues.
Full report at:
http://www.presstv.com/Detail/2018/03/07/554684/Palestine-Council-meeting-Hamas
--------
Turkey calls on US to stop YPG militants' advance to Syria's Afrin
Mar 7, 2018
A high-ranking Turkish official has called upon the United States to stop militants from the Kurdish People's Protection Units (YPG) from moving to Syria's northwestern region of Afrin, where Ankara is conducting a cross-border military operation.
Speaking to reporters at the presidential complex in the capital Ankara on Wednesday, Turkish Presidential Spokesman Ibrahim Kalin said his country expects US authorities to stop YPG terrorists "shifting" from the northern Syrian city of Manbij, located 30 kilometers west of the Euphrates, to Afrin.
"We have taken the necessary measures on the ground via official channels, and we will continue to take [such steps]. This is our most natural right. Whether they do it or not is a separate question," Kalin pointed out.
The remarks came on the same day that President Recep Tayyip Erdogan said a total of 2,960 YPG terrorists have been "neutralized" since the start of Operation Olive Branch in Syria.
Turkish authorities often use the word "neutralized" to imply the terrorists in question either surrendered or were killed or captured.
Ankara views the YPG as the Syrian branch of the Kurdistan Workers' Party (PKK) militant group that has been fighting for an autonomous region inside Turkey since 1984.
Erdogan has repeatedly said that Afrin should be cleared of "terrorists," and demanded the deployment of Turkish troops there during a speech back in November 2016.
This is while US officials regard the YPG as the most effective fighting force against the Daesh Takfiri terrorist group in northern Syria, and have substantially increased their weaponry and technology support to the group.
The controversy over a possible Syria border force first started on January 14 when a report emerged on Reuters saying that the military coalition led by the United States in Syria was planning to set up a large border force of up to 30,000 personnel with the aid of its militia allies.
The Syrian government has already condemned the Turkish offensive against Afrin, rejecting Ankara's claim about having informed Damascus of the operation.
Damascus "strongly condemns the brutal Turkish aggression on Afrin, which is an inseparable part of Syrian territory," Syria's official news agency SANA cited a Syrian Foreign Ministry source as saying on January 20.
Full report at:
http://www.presstv.com/Detail/2018/03/07/554677/Turkey-US-YPG-Syria-Afrin-Manbij
--------
'Political solution only way to end Yemen conflict': Saudi crown prince and PM May agree
7 March 2018
LONDON: Saudi Arabia and Britain agreed that a political solution is only way to end the conflict and humanitarian suffering in Yemen, during a meeting at 10 Downing Street on Wednesday.
PM May agreed with Saudi Crown PRince Mohammed Bin Salman on the importance of full and unfettered humanitarian and commercial access, including ports access.
Later on Wednesday, the Saudi Arabian and British foreign ministers held a joint press conference to lay out agreements between the two countries.
The UK and Saudi Arabian FMs agreed to monitor the navigation routes in preparation of the reopening of the ports in Yemen.
UK's Boris Johnson said that the UK has called for an international meeting to discuss with Saudi Arabia a political solution in Yemen. He said that the world understood Saudi Arabia's right to protect its borders.
Saudi Arabia's Adel Al-Jubeir said that Saudi Arabia supported the transitional process and political dialogue in Yemen and the war in the country was imposed on Saudi Arabia, but that the Kingdom will continue to provide humanitarian assistance to Yemen after the war's conclusion.
He also added that Riyadh and London agreed on the necessity to deter Iran and stop its support terrorism, while Johnson said Iran was playing a disruptive and dangerous role in Yemen and destabilizing the region.
Full report at:
http://www.arabnews.com/node/1261456/saudi-arabia
--------
Turkey-U.S. to convene a working group to fix bilateral disputes
08 2018 06
A joint mechanism established between Turkey and the U.S. for the resolution of bilateral problems will convene for its first meeting in Washington D.C. on March 8-9, with Syria and Iraq on its agenda.
The meeting aims to solve longstanding problems between the two NATO allies, as conflicting interests have led to a low in bilateral ties.
This is primarily due to disagreements over the former's support for the YPG as its local partner in Syria in the struggle against the Islamic State of Iraq and the Levant (ISIL). Ties between two NATO allies have also deteriorated because of the U.S.'s harboring of exiled Islamic cleric Fethullah Gülen, whom the Turkish government accuses of masterminding the July 2016 coup attempt.
In the latest round of disputes between Ankara and Washington, Turkey reacted fiercely to U.S. plans to form a border army with the Syrian Democratic Forces (SDF), which is dominated by YPG fighters. Moreover, Ankara voiced its intention to advance its "Operation Olive Branch" from Syria's Afrin district to the Manbij region in order to sweep out Syrian Kurdish fighters, a move that could potentially risk military confrontation with U.S. troops deployed there.
State Secretary Rex Tillerson has stepped up efforts to restore dialogue with Ankara, paying a visit to the capital last month in a bid to ease tension.
The outcome of his two-day talks with the Turkish leadership was to establish a mechanism between Turkey and the U.S. that would immediately tackle disputed issues through three working groups on the issues of fighting terror in Syria and Iraq, Gülen, the judiciary (including U.S. citizens arrested in Turkey), and the implications of the Turkish government's purchase of Russian S-400 anti-missile systems.
The first round of meetings on Thursday will focus on Turkey and the U.S.'s different understandings regarding the fight against terrorism in Syria and Iraq. Turkey sees the YPG as an offshoot of outlawed Kurdistan Workers' Party (PKK) and asks its NATO ally to stop supplying arms to the group and take back any heavy weapons given to them. Ankara also urges the U.S. to keep its promise regarding the YPG's retreat from the Manbij region to the east of Euphrates River.
Turkey has proposed to Tillerson deploying joint forces in Manbij after the YPG withdraws from the region. In the joint press conference, Tillerson said they "wanted to ensure that the city remained under control of the allied forces and did not fall into the hands of others."
Turkey has prioritized tackling Manbij, where YPG and U.S. troops have been stationed together, despite promises from Washington to Ankara that they would be withdrawn to the east of the Euphrates.
Ankara sees the issue of Manbij as a test for the U.S.'s resolve to normalize bilateral relations so they can resume cooperating in Syria again. The U.S., for its part, is focused on ways to maintain the security of the Manbij region, which Tillerson has described as "strategic."
I think our goal is for the U.S. and Turkish governments to reach an agreement on how security can be provided in Manbij. But I cannot predict what the outcome of these discussions will be. "We certainly recognize that Turkey has a legitimate interest in the security infrastructure in northern Syria, which includes Manbij," a U.S. official earlier told Hürriyet Daily News.
"We remain committed to fulfilling our promises regarding the YPG presence in Manbij. It is a city with a lot of people and somebody has to provide security there but our intention is that will not be the YPG," he added.
If the U.S. use these talks as a new delaying tactic, of course, it would cause fresh problems, the presidential spokesperson İbrahim Kalın told reporters on March 7. Kalın also urged the U.S. to stop trying to legitimize the People's Protection Units (YPG) by describing the group's "terrorists" as generals.
"Calling a member of a terrorist group [a general] means putting that terrorist group in the same category as a legal state," Kalın stated. He identified the U.S. approach as "scandalous" with regards to the law of nations.
The case is not about "lack of information, but the mentality," he said, noting that these remarks, which were made just before the meeting of the working group, cast a shadow on the seriousness of the consensus reached between the two countries. He urged the U.S. administration to clarify its position regarding the YPG.
Full report at:
http://www.hurriyetdailynews.com/turkey-u-s-to-convene-a-working-group-to-fix-bilateral-disputes-128398
--------
Arab World
Kurdish, Arab fighters drop Islamic State fight to defend Syria's Afrin
Mar 7, 2018
QAMISHLI (SYRIA): Hundreds of miles away from family and friends facing an attack by Turkey, Kurdish and Arab forces deployed in the eastern Syrian desert against jihadists have become increasingly frustrated.
Six weeks into the Turkey-led assault on the Kurdish enclave of Afrin, young men and women are leaving the fight against the Islamic State group in droves to head west to help.
Kurdish militia have formed the backbone of the Syrian Democratic Forces (SDF), an alliance that has successfully expelled IS from much of Syria with the backing of a US-led military coalition.
But as news of the battle in Afrin reaches them, the fighters have become reluctant to hunt down jihadists in their last hideouts in Deir Ezzor province.
"We're preparing to head to Afrin," SDF fighter Roshavam Qamishlo told AFP on Saturday. The enclave "needs us now more than ever".
He spoke at the funeral of three comrades-in-arms in the northeastern town of Qamishli, where dozens came to pay their respects to those killed in Deir Ezzor.
"They should have died in Afrin," he said, as their coffins were displayed in the middle of the crowd, draped in the Kurdish colours of yellow, red and green.
Arab fighters, too, have opted to ditch battlefronts against IS to shore up lines of defence in Afrin.
On Tuesday, SDF commander Abu Omar al-Idlibi said 1,700 of his fighters -- mostly Arabs from northern Syria whose families had sought refuge in Afrin -- would be sent to defend the enclave in the coming week.
Afrin, which is controlled by the Kurdish People's Protection Units (YPG) militia, is one of three regions Syria's Kurds hope will be part of a self-ruled federal region in the country's north.
Turkey sees the YPG as a "terrorist" group and has bombarded the region with air strikes and artillery fire since January 20.
More than 170 civilians have died in the assault, says the Syrian Observatory for Human Rights, a Britain-based monitor.
Ankara however denies the claim and says it takes the "utmost care" to avoid civilian casualties.
The offensive has prompted a call-to-arms for the YPG and SDF, and one senior SDF official says "hundreds of fighters from Afrin and who have relatives there have returned to defend" their people.
As a result, the US-led coalition declared an "operational pause" to its anti-IS fight in eastern Syria on Monday.
US and coalition officials have said they will not get involved in the Afrin fighting and expressed concern it would detract from the SDF's operations against IS.
In addition to reinforcements from IS battlefronts, other fighters have streamed into Afrin from Qamishli, Hasakeh in the northeast and Kobane further west, says Rezan Hedo, an adviser to the YPG in Afrin.
Others even travelled from the Kurdish neighbourhood of Sheikh Maqsud in the northern city of Aleppo, Hedo tells AFP.
In Qamishli, another fighter who gave his nom de guerre as Nushin Qamishlo said he would also join the fight on the Turkish border.
"We all want to go," said the 25-year-old, who sported a thick beard and whose head was wrapped in a bright blue scarf.
"We're highly capable and will take on the Turks even without the coalition's help."
Fighter Al-Ashqar Nuseen feared losing Afrin could be a huge blow to his long-awaited dreams of a federal Syrian Kurdish region.
"We will defend Afrin with all our might, taking on the Turks like we did Daesh," he said, using an Arabic acronym for IS.
Ali Omar, 65, a Syrian Kurdish bystander at the funeral in Qamishli, said he supported the Kurdish fighters withdrawing from Deir Ezzor.
"When it's our interests, our people, our villages and our towns that are threatened, we're forced to leave everything and head to defend our homeland," he said.
But he questioned why the US-led coalition, which the Kurds have aided in its fight against IS in Syria, had not intervened to help the Kurds in Afrin.
"Why are we helping you in Deir Ezzor and other places, and you don't help us in Afrin?"
Without help from any outside power, Syria's Kurds have found themselves in the awkward position of having to ask for support from the Damascus regime.
Since last month, pro-regime fighters have been deployed alongside Kurdish fighters in Afrin on several fronts.
Abdel Salam Ahmad, a high-ranking official of the Kurdish Democratic Society Movement, said Syria's Kurds have lost faith in the international community.
"This region will not find stability until a fair solution is found for the Kurdish people," he said.
https://timesofindia.indiatimes.com/world/middle-east/kurdish-arab-fighters-drop-islamic-state-fight-to-defend-syrias-afrin/articleshow/63200161.cms
--------
Syria regime captures half of Ghouta enclave
March 08, 2018
HAMMURIYEH - Syria's government has recaptured half of Eastern Ghouta , battering the shrinking rebel enclave on Wednesday with air strikes that killed dozens and defying UN calls for a halt to violence.
The blistering onslaught has prompted international outrage, including accusations by the United Nations that the government was orchestrating an "apocalypse".
The Russia-backed Syrian army and allied militia began a fierce bombing campaign on February 18 on Eastern Ghouta - the last opposition bastion near Damascus - then launched a ground offensive a week later.
The campaign has so far left at least 850 civilians dead, including dozens of children, according to the Syrian Observatory for Human Rights. Towns and villages have fallen in quick succession in recent days.
On Wednesday, government forces captured Beit Sawa, Al-Ashaari, and nearby farmland, the Britain-based Observatory said, putting them in control of more than half the territory once held by rebels.
Heavy air strikes, mostly by Russian warplanes, left at least 45 civilians dead including four children across the enclave, said the Observatory, which relies on a network of sources on the ground.
An AFP correspondent in the battered town of Hammuriyeh saw the bodies of two men engulfed in flames lying near an overturned motorcycle, as a rescue worker tried frantically to put out the fire.
More than 50 air strikes pummelled the town on Wednesday. A wounded woman could be seen stuck under the rubble of a collapsed building.
The advance came after hundreds of Afghan, Palestinian, and Syrian loyalist militiamen arrived in Eastern Ghouta to bolster the ground push, according to the Observatory. Government troops in military vehicles were seen on Wednesday patrolling Al-Mohammadiyeh, an agricultural zone in the southern part of Ghouta recently retaken by the regime .
Across some green farmland, columns of thick smoke rose from an urban skyline. The bombardment has continued despite a one-month ceasefire demanded by the UN Security Council more than a week ago.
The council met behind closed doors on Wednesday to discuss the failed truce, after France and Britain requested urgent talks. Swedish ambassador Olof Skoog, who negotiated the ceasefire resolution along with Kuwait, told reporters that implementation of the truce remains "totally and completely inadequate".
UN human rights chief Zeid Ra'ad Al Hussein said the Syrian regime and its foreign allies were already planning their next "apocalypse".
"This month, it is Eastern Ghouta which is, in the words of the Secretary General, hell on earth; next month or the month after, it will be somewhere else where people face an apocalypse - an apocalypse intended, planned and executed by individuals within the government, apparently with the full backing of some of their foreign supporters," said Hussein.
Eastern Ghouta's roughly 400,000 residents have lived under government siege since 2013, facing severe shortages of food and medicines even before the latest offensive began.
Forty-six aid trucks entered the area on Monday for the first time since the offensive, but had to cut short their deliveries and leave due to heavy bombardment. Nearly half of the food aid could not be delivered and Syrian authorities removed some medical and health supplies from the trucks, the United Nations said.
UN Secretary-General Antonio Guterres urged all warring sides to allow aid trucks to return for a planned second delivery to the enclave's main town of Douma on Thursday.
Linda Tom, spokesperson for the UN's humanitarian coordination office OCHA in Syria , said the aid would aim to reach 70,000 people in Douma and would include medical supplies not allowed in Monday's delivery.
The offensive has displaced more than 10,000 people in Eastern Ghouta , according to the Observatory.
Outside of Douma on Wednesday, dozens of residents could be seen pushing wheelbarrows and carts piled high with mattresses, rugs, and cardboard boxes.
They have opted to flee deeper into the rebel-controlled enclave, despite a so-called "humanitarian corridor" announced by Moscow last week.
Russia said it would guarantee safe passage to civilians and rebels wishing to flee the enclave during a "pause" that is meant to bring calm to Eastern Ghouta between 9:00 am (0700 GMT) and 2:00 pm.
No Syrian civilians are known to have used the "corridor".
The two main rebel groups in Eastern Ghouta - Jaish al-Islam and Faylaq al-Rahman - deny the exit routes or the pauses have been coordinated with them.
"There is no communication with the Russians, directly or indirectly," said Wael Alwan, spokesman for Faylaq al-Rahman.
Full report at:
https://nation.com.pk/08-Mar-2018/syria-regime-captures-half-of-ghouta-enclave
--------
Syrian troops split rebel-held enclave near capital, 45 dead
8 March 2018
Syrian government forces seized vast swaths of territory including farmland in the opposition-held suburbs of Damascus on Wednesday, effectively dividing the besieged enclave in two and further squeezing rebels and tens of thousands of civilians trapped inside, state media and a war monitor reported.
The government, determined to wrest the eastern Ghouta suburbs from the control of rebels after seven years of war, has resorted to extreme levels of shelling and bombardment to clear the way for its troops to advance on the ground. Hundreds have been killed in the past two weeks, including 45 on Wednesday according to the Syrian Observatory.
Doctors and residents reported intense shelling and cases of suffocation and difficulty breathing, accusing the government of using chlorine gas Wednesday night. Hamza Hassan, a surgeon working at one of the hospitals in eastern Ghouta, said that staff was overwhelmed with chlorine odor and that he had treated 29 children with difficulties breathing.
Such reports, which have been recurrent in the past weeks, could not be independently confirmed. The government has repeatedly denied using chlorine gas.
Earlier on Wednesday, the state-affiliated al-Ikhbariya TV station broadcast live shots from the region, showing dense columns of smoke rising above the town as explosions and rockets could be heard flying overhead. Syria's Central Military Media said troops took control of the town of Beit Sawa and most of Misraba, both rebel-held communities in the heart of the enclave.
The Syrian Observatory for Human Rights said that by nightfall, Syrian government troops and allied militias had seized half of the territory held by rebels in eastern Ghouta and split the enclave in two halves - a north and southern part.
By slicing the territory, the Syrian government succeeds in further squeezing rebels, making it more difficult for them to continue to hang on to the territory.
The killing continues
Dramatic videos released by the opposition's Syrian Civil Defense on Wednesday showed rescuers digging away hard-packed rubble to rescue a dust-covered little boy and a baby girl in the town of Arbeen. The Britain-based Observatory, which monitors the war through a network of activists on the ground, said more than 50 people were killed in the bombardment Wednesday.
In Geneva, UN human rights chief Zeid Ra'ad al-Hussein denounced what he said were attempts by Syria's government to justify indiscriminate, brutal attacks on hundreds of thousands of civilians by the need to combat a few hundred fighters in eastern Ghouta, calling it "legally and morally unsustainable."
"When you are prepared to kill your own people, lying is easy too. Claims by the government of Syria that it is taking every measure to protect its civilian population are frankly ridiculous," he said.
Full report at:
https://english.alarabiya.net/en/News/middle-east/2018/03/08/Syrian-troops-split-rebel-held-enclave-near-capital-45-dead.html
--------
Arab Daily Underlines Superiority of Hezbollah's Intelligence Body over Israeli Spy Agencies
Mar 07, 2018
"The Israeli security apparatus and think-tanks have failed in the past 26 years to infiltrate in the Nasrallah's security protection layers, which shows superiority of Hezbollah's intelligence body over Israel's spy agencies," the Arabic-language al-Ray al-Youm wrote on Wednesday.
"This is while the Israeli spy agencies claim that they are one of the most developed and advanced intelligence apparatus in the world," it added.
Al-Ray al-Youm wrote that in addition to the power of Hezbollah's intelligence superiority, another reason for Israel's failure in assassinating Nasrallah is that he lives like ordinary people and goes everywhere.
"Hezbollah is the only Arab and Islamic power which threatens the Israeli occupying regime. The Israeli military experts believe that Hezbollah enjoys astonishing technological and military power and is in possession of over 150,000 missiles, drones, speed boats and underground military equipment," it added.
The report came after a senior Israel Defense Forces official said on Wednesday Israel's goal in its next war in the North will be to "reach a decisive victory" including the killing of Nasrallah.
Full report at:
http://en.farsnews.com/newstext.aspx?nn=13961216001480
--------
1,700 Kurdish Gunmen Dispatched to Northern Syria to Confront Turkish Army
Mar 07, 2018
The Arabic-language Elam al-Harbi reported that the SDF has called 1,700 gunmen from the battlefields against ISIL and has sent them to Afrin to face the Turkish troops and the Ankara-backed Free Syrian Army militants operating under Operation Olive Branch.
More fighters are expected to head towards Afrin region in the coming days, as Kurds prepare for a major battle against the Turkey and Ankara-backed militants.
Relevant reports said on Tuesday that the Turkish Army troops and Ankara-backed militants continued Operation Olive Branch against Kurdish militias in Afrin Region in Northwestern Aleppo and captured more points, laying siege on a strategic region.
The army and allied militants clashed with the Kurds and captured the village of al-Yaji in Sheikh Khoroz and the village of Bolshak and al-Fatirah strategic hills in Sheran region.
The Operation Olive Branch forces further managed to lay siege on the Kurds in Sheran from three directions.
Full report at:
http://en.farsnews.com/newstext.aspx?nn=13961216000996
--------
Over 2,900 Kurdish Fighters Killed, Captured in Turkish Army Operation in Northern Syria
Mar 07, 2018
The army said that a sum of 2,940 Kurdish fighters have been killed or captured by the Turkish troops and allied militants within the framework of Operation Olive Branch in Afrin region.
Turkey's Operation 'Olive Branch' kicked off on January 20 from air and ground in Afrin in Syria's Aleppo to oust the Kurdish People's Protection Units (YPG), which Ankara views as a terror organization and the Syrian branch of the outlawed Kurdish Workers' Party (PKK).
Syrian President Bashar al-Assad has stressed that Turkish offensive in Afrin is part of Ankara's strategy based on supporting terrorists.
The Syrian government has condemned the "brutal Turkish aggression" against the Kurdish-controlled enclave of Afrin, rejecting Ankara's claim about having informed Damascus of the operation.
The General Staff reported on Tuesday that a sum of 2,872 Kurdish gunmen were killed or captured by the Turkish troops in Afrin region started on January 20.
The general staff further said that fierce clashes were underway between the two warring sides in Northern Syria.
Full report at:
http://en.farsnews.com/newstext.aspx?nn=13961216000914
--------
Turkey Asks U.S. to Stop Kurds From Shifting Fighters to Western Syria
By ANNE BARNARD
MARCH 7, 2018
BEIRUT, Lebanon — The Turkish government took the extraordinary step on Wednesday of asking the United States to stop Kurdish commanders from diverting their forces from areas of eastern Syria to the fight in Afrin in the west.
The request followed an announcement from the Kurdish forces, which are allied with the United States in the fight against the Islamic State militant group, that they intended to send 1,700 fighters from Deir al-Zour, a strategically important eastern province, to the fight against Turkey in Afrin, a Kurdish enclave.
Ibrahim Kalin, a spokesman for President Recep Tayyip Erdogan of Turkey, said his country had taken "the necessary steps" through official channels and "expected from the U.S. that it should absolutely step in" to prevent the movement of the Kurdish forces from Manbij to Afrin. "This is our most natural right," Mr. Kalin added.
It was not clear why Mr. Kalin had referred to Manbij, a city at the westernmost point of the Syrian territory held by the Kurds, though it might have been cited as a way station for the troops as they moved toward Afrin.
There was no immediate American response to the request by the Turks, an American ally and NATO member that invaded Afrin in January and threatened to drive the Kurds from the entire Syria-Turkey border. But the Turkish assault has since bogged down.
The fighting in Afrin is creating problems for the United States. The transfer of personnel from the Kurdish-led, American-backed militia known as the Syrian Democratic Forces, or S.D.F., is a blow to Washington's effort to stamp out the last vestiges of the Islamic State, also known as ISIS.
On the diplomatic front, the Americans have insisted that although they are allied with the S.D.F. in eastern Syria, they have no affiliation with the group in the northwest and will not aid any of its operations there. But with its Kurdish coalition allies now streaming to join the defenders in Afrin, that posture will be increasingly difficult to maintain. As a result, in Afrin, the Trump administration is finding itself awkwardly on the opposite side from Turkey.
The S.D.F. said in a statement on Tuesday that it had made a "painful decision" to move the fighters from Deir al-Zour to Afrin, citing "the failure of the international community" to pressure Turkey and "stop its madness within our Syrian borders."
The role in Afrin of the Kurdish militia known as the People's Protection Units, or Y.P.G., which is the main component of the S.D.F., has raised tensions with Turkey, which considers the militia an extension of a separatist group that is active in Turkey and is listed as a terrorist group by both Ankara and Washington.
For six weeks, Turkey has mounted a campaign to wrest control of Afrin from the Y.P.G., an offensive that has displaced some 10,000 people and killed several hundred civilians and 41 Turkish soldiers. Mr. Erdogan said this week that 159 Syrians belonging to the Free Syrian Army, which is fighting alongside Turkish armed forces, had also died.
The Y.P.G. has responded with cross-border shelling, leading to civilian deaths in Turkey.
Adding to the complications, the Y.P.G., which has carved out a zone of de facto autonomy from the Syrian government within Afrin and in a larger swath of northeastern Syria, last week allowed some pro-government militias to enter its territory to help the fight against Turkey.
The militias did not include formal army troops, but they flew the Syrian government flag. State television in Syria said the militias were aiding in the defense of the country's borders but made no reference to Kurdish aspirations.
Turkey's incursion came soon after the United States said that it would continue to support the S.D.F. even after the fight against the Islamic State ends and that it would help the group form a border force to protect the long frontier its territory shares with Turkey.
Now, the movement of troops away from Deir al-Zour threatens two American objectives there: preventing a resurgence of the Islamic State and curbing the growing influence of Iran, which sponsors militias that fight for the Syrian government.
In another crisis point in Syria, negotiations on Tuesday between the government and Jaish al-Islam, the rebel group that controls the northern and eastern parts of the Damascus suburb of eastern Ghouta, went nowhere. Despite mass civilian casualties and major territorial losses, the armed groups in the enclave refused to withdraw, according to antigovernment activists.
"The result of the negotiations which Jaish al-Islam took part in yesterday is that the displacement and exit of the armed groups and civilians was refused completely," said Alaa al-Ahmad, an activist in eastern Ghouta, adding that rebel groups had "refused a policy of displacement."
Videos published by Syrian pro-government news media showed some residents of the town of Hammouriyeh taking to the streets Wednesday afternoon calling on the rebel fighters to leave. The videos, in which some people could be seen waving Syrian government flags, could not be independently verified.
The residents of eastern Ghouta have lived under a harsh government siege since 2013 and have borne the brunt of a heavy bombing campaign that has pounded the enclave for weeks, claiming the lives of over 800 civilians to date. The bombardment has continued despite a unanimously approved 30-day cease-fire agreed to by the United Nations Security Council that was intended to provide respite and an opportunity for civilians to evacuate.
After the failed negotiations, about 700 fresh pro-government troops arrived on Wednesday, the Syrian Observatory for Human Rights reported, in preparation for a push into the urban heart of the rebel-held enclave.
Syrian and Russian authorities maintain that rebels have shelled the humanitarian corridor and prevented civilians from leaving. The Russian Ministry of Defense, in a briefing on Wednesday, maintained that only 17 people had thus far been able to evacuate through the corridor.
Full report at:
https://www.nytimes.com/2018/03/07/world/middleeast/turkey-syria-us-afrin.html?mtrref=www.google.co.in&gwh=446D9889284F6A4688643B40AA616826&gwt=pay
--------
ICRC Says Has More 'Cooperative' Access to Detained Islamic State Families
March 7, 2018
BY RAYA JALABI
BAGHDAD (Reuters) - The International Committee of the Red Cross said on Wednesday it had "increasingly cooperative" access to families of suspected Islamic State militants whose safety in detention has been a focus of concern for foreign aid agencies.
More than 1,000 wives and children have been held in Iraq since the defeat of Islamic State militants in August 2017, and some of the women have gone on trial for joining Islamic State.
The ICRC has had intermittent access to the families, giving humanitarian aid and helping coordinate contact with relatives or officials in their countries of origin.
Foreign aid agencies said last year they were "gravely concerned" about the fate of the families.
"With regard to families of foreign fighters: ICRC has had various but increasingly cooperative accesses to those families," ICRC President Peter Maurer told reporters during a visit to Baghdad.
"We were able to bring assistance to those families in need, to reestablish some minimal contacts with family members abroad."
The families mostly came from Turkey, France, Germany and former Soviet states, such as Tajikistan, Azerbaijan and Russia.
LEGAL PROCEEDINGS
First detained in a camp near Mosul, the families were moved to a military base in Baghdad in November, as Iraq's government deliberated over their fates. The move to the capital coincided with a push by Iraqi officials to begin legal proceedings.
Last month, Baghdad Criminal Court sentenced 17 women to death for joining Islamic State and handed over four women and 27 children to Russia who were not prosecuted after investigations concluded that they did not participate in "terrorist operations."
Thousands of foreigners have fought on behalf of Islamic State in Iraq and Syria since at least 2014. Many foreign women came - or were brought - from overseas to join the militants.
The ICRC has called on all sides in the Iraq and Syria wars to treat detainees in line with international law that prohibits torture or executions and enshrines the right to a fair trial.
The detention of the militants and their families is a particularly "complex issue", Maurer said, but one the ICRC was continuing to help "in the months and years to come."
Part of the ICRC mandate is to help secure humane treatment and conditions of detainees held in the countries in which the organization operates.
Despite Iraq having declared victory over the militants in December after a three-year-war which devastated large parts of the country, the country's detainee population "will continue to increase in the foreseable future," Maurer said.
Maurer said the ICRC aims to see those people in detention and those in "detention-like set-ups."
Iraq has a "particularly diversified" setup regarding detentions, he said, as both the state and the various armed groups operating in the country hold detainees.
"It's not secret as well that we don't have access to all detainees in all situations," he said.
Full report at:
https://www.usnews.com/news/world/articles/2018-03-07/icrc-says-has-more-cooperative-access-to-detained-islamic-state-families
--------
Popular Forces: No Justification for US Military Deployment in Iraq
Mar 07, 2018
"The US forces' presence after victory over the ISIL has no justification and violates the country's constitution. The US presence in Iraq's territories is aggression against the country's sovereignty and defiance of the Iraqi nation's demand for withdrawal of foreign forces," Laith al-Ozairi told the Arabic-language Mawazin News on Wednesday.
He warned that the Americans who were forced to leave Iraq in 2011 are attempting again to find new pretexts for their continued presence in the country.
"We have kicked them out through the door, but they are coming back through the window."
In similar statements on Sunday, the Hezbollah movement in Iraq welcomed the parliament's decision which requires the government to set a timeline for withdrawal of the US forces, and warned of Washington's plots to create new terrorist groups to justify its continued deployment in Iraq.
"The parliament's decision stresses the nation's right of resistance against the foreign forces. The US administration pays attention to this statement and attempts to keep its forces in Iraq" through some schemes, Hezbollah battalions said in a statement.
"The US creates new terrorist grouplets to justify continued deployment of its forces in Iraq," he added elaborating on Washington's possible plans for future.
The Iraqi parliament demanded that its government set a deadline for the withdrawal of foreign troops.
Full report at:
The parliament voted to set a timetable for the withdrawal of foreign forces.
http://en.farsnews.com/newstext.aspx?nn=13961216001424
--------
Jubeir: Agreed with UK on need to deter Iran, stop its support for terrorism
8 March 2018
"Iran is playing a destructive and dangerous role in Yemen and destabilizing the region," British Foreign Secretary Boris Johnson told a news conference with his Saudi counterpart Adel al-Jubeir on Wednesday night.
"The Saudi government has formed an alliance to support the legitimate government in Yemen," Johnson said. The British minister pointed to "a British-Saudi agreement to control shipping lines in preparation for the opening of Yemeni ports."
For his part, Adel al-Jubeir said that Saudi Arabia agreed with Britain "on the need to deter Iran and stop its support for terrorism."
"We support the transitional process and the political dialogue in Yemen," he added, stressing that "the war there was imposed on us."
He pointed out that "the Houthis have rebuffed all attempts to reach a political solution in Yemen."
The Saudi foreign minister affirmed the Kingdom's continued humanitarian assistance to Yemen after the war.
Jubeir pointed to the launch of a strategic partnership with Britain covering many areas.
Full report at:
https://english.alarabiya.net/en/News/gulf/2018/03/08/Jubair-Agreed-with-UK-on-need-to-deter-Iran-stop-its-support-for-terrorism.html
--------
Europe
Jihadist influx into Britain and Europe after Islamic State collapse 'lower than expected'
March 7th 2018
The flood of combat-proven jihadists that it was feared would arrive in Europe following the military collapse of the Islamic State terror group has yet to materialise, the head of the EU policing agency said on Wednesday. Britain and other European countries had been braced for an influx of battle-hardened fighters seeking to return after leaving home to support the terror group in its attempts to establish an Islamic caliphate in Syria and Iraq. Combatants Counter-terrorism officers have long been concerned that the defeat of Islamic State would result in a significant number of European combatants, versed in skills from bomb making to frontline fighting, seeking to sneak back to launch attacks at home. But Rob Wainwright, the head of Europol, the EU policing agency, told a security conference in London yesterday that the flow of returning militants had not been at the expected level. He said: "Despite our concern for over 12 months about this threat, our general understanding is that the returning numbers are lower than expected." 850 Britons Some 850 people from Britain are estimated by the authorities to have travelled to Syria or Iraq to support or fight for jihadist groups, around 100 of whom are known to have died or been killed. Mr Wainwright said that in all, up to 6,000 people from European countries are thought to have travelled to join IS. He said that the reasons for the reduced influx back to Europe were unclear but include the theory that a significant number of fighters had headed for alternative Islamist battle fronts in Libya and the Sahel region. Martyrdom Mr Wainwright said it was also possible that many had remained in Syria and Iraq with the aim of perishing there. He said: "Maybe they are still there in larger numbers than we thought. Maybe they're truly committed to the cause and committed to martyrdom by standing to the last." Britain has said it is ready to strip jihadists of their citizenship with Defence Secretary Gavin Williamson saying he was happy to see Britons fighting for IS hunted down and killed. In a newspaper interview in December, he said: "A dead terrorist can't cause any harm to Britain." The Government has already stripped two Britons captured on the Syrian-Iraqi border earlier this year of their citizenship. Londoners Alexanda Kotey and El Shafee Elsheikh, who were the remaining members of the so-called "Beatles" group of IS torturers and executioners, are being held in custody in Iraq while their fate is decided.
https://inews.co.uk/news/uk/jihadist-influx-britain-europe-islamic-state-collapse-lower-expected/
--------
UK PM says links with Saudi Arabia 'saved British lives'
7 March 2018
Prime Minister Theresa May defended Britain's links to defense and security ally Saudi Arabia in parliament on Wednesday, saying cooperation had helped save the lives of hundreds of people.
"The link that we have with Saudi Arabia is historic, it is an important one, and it has saved the lives of potentially hundreds of people in this country," May said in response to a question from opposition Labor Party leader Jeremy Corbyn.
"We are seeing reforms in Saudi Arabia and encourage it," she added.
May's statement came as Saudi Arabia's Crown Prince Mohammed bin Salman arrived at her office at 10 Downing Street later in the day following his meeting with the Queen.
https://english.alarabiya.net/en/News/gulf/2018/03/07/UK-PM-May-says-links-with-Saudi-Arabia-have-saved-British-lives.html
--------
French Muslims, Jews, and Christians visit Morocco
March 7, 2018
UMF, which facilitates interreligious dialogue in France, initiated this trip as part of a mission to represent French Islam, said Hauman Yaakoubi, Secretary-General of the Union.
Led by the president of the Regional Council of the Muslim Religion of Provence-Alpes-Cote d'Azur (PACA), Khalid Belkhadir, the delegation is expected to hold interviews with officials, and visit, until next Friday, a number of places of worship for the three monotheistic religions as well as sites in Morocco's holy cities.
Morocco is home to many religious sites and some of the places the delegation will visit are Mosque Hassan II, the Church of Our Lady of Lourdes, and the Museum of Judaism in Casablanca.
The delegation is also expected to visit the Mohammed V Mausoleum and the Mohammed VI Institute for the Training of Imams in Rabat.
In Fes, the delegation will visit the Al Quaraouiyine Mosque, the Slat Al Fassiyine Synagogue, Aben Danan Synagogue, and other historical sites in the city.
The delegation was received Tuesday in Rabat by the Minister for Islamic Affairs, Ahmed Toufiq. They attended talks that focused on the Moroccan model of management in the religious field.
Toufiq applauded the delegation's initiative and its willingness to discover the Moroccan model that advocates the values of moderate Islam, stressing that "the world today needs people who believe in moderation to affirm the universality of religious discourse."
Morocco has long since sought to promote the vision of "tolerant Islam" and to prevent proliferation of extremists in mosques by training imams in "best practices" of moderate traditions.
A considerable number of imams and mourchidates (female religious guides) come to Morocco from Sub-Saharan Africa and Europe, particularly France, to obtain theological training from Morocco's religious scholars.
Full report at:
https://www.moroccoworldnews.com/2018/03/241957/french-muslims-jews-christians-visit-morocco-religions/
--------
Chief inspector: English schools need to address extremist elements
By Catherine Pepinster
Mar 8, 2018
LONDON (RNS) — As the country grapples with religious extremism, Britain's Parliament has turned its focus toward an increasingly fraught space: English schools.
Parliament's highly influential education select committee heard Wednesday (March 7) from England's chief inspector of schools, whom some appreciate for her frankness on the issue and others accuse of unfairly singling out Muslims.
Chief inspector Amanda Spielman made headlines at a conference last month for her remarks after a clash between educators and Muslim parents.
Speaking to members of Parliament on Wednesday, Spielman reiterated her concerns about religious extremism in English schools and said her inspectors had found in some private Islamic schools that children had been shown films of people being beheaded and that they had been taught that it is acceptable for men to beat their wives.
Although these most extreme examples were found in private schools that were not properly registered with authorities, Spielman also expressed concerns about state schools.
That British parliamentarians have chosen to intervene in the issue signifies how much anxiety surrounds it — in education circles and British society at large. Educators have come into conflict with conservative Muslim parents who want their children to be able to observe religious practices even in secular state schools. The parents accuse the schools of thwarting religious expression.
The politicians' decision to summon Spielman — head of the Office for Standards in Education — before the select committee followed her public comments warning of grave tensions in schools over religion, particularly Islam, and her urging of head teachers to promote a "muscular liberalism."
On Wednesday she told MPs that what she meant by this was: "Living British values … If we tolerate deeply intolerant practices and culture, we are not living British values," she said.
Spielman said inspectors had found in schools "books by people who are banned from entering the country, books promoting very concerning practices."
She also called Britain's education system "unusually permissive" and called for inspectors to have more oversight of unregistered schools.
Spielman's earlier comments on the conflict between religious and British values were made last month at a conference on education organized by the Church of England. There she expressed support for a London head teacher who had tried to ban girls under the age of 8 in her school from wearing the hijab and to stop children fasting on school premises. That teacher had been called a racist and likened to Adolf Hitler in a spoof video. The school's governors overturned the ban and made her apologize.
Spielman, in the same speech, also warned of extremists using education "to isolate and segregate, and in the worst cases, to indoctrinate impressionable minds with extremist ideology."
After Spielman's comments, her critics accused her of intolerance toward Islam and of conflating culturally conservative Muslims with extremists.
As freelance writer Samira Shackle wrote in The Guardian: "Spielman's speech made a big leap from the debate about children wearing the hijab, to extremism. It is a leap that is made all too often by public officials, particularly when it comes to education. We see it time and time again: any policy question that relates to Muslims is immediately framed as an issue of terrorism, fundamentalism or a failure to integrate."
The Muslim Council of Great Britain responded to Spielman's remarks: "Ms. Spielman continues to issue a disproportionate number of public statements about Muslims and apparent links to extremism."
Although Islam is now Britain's second-largest religion, Muslims still make up a small share of the population: 4.4 percent, or 2,786,000 people. But with very few Islamic schools and the Muslim population concentrated mainly in inner cities, especially London, the student bodies of some secular state schools have become almost entirely Muslim.
She has won support for her outspokenness. Her predecessor as chief inspector, Sir Michael Wilshaw, warned that given the profound changes in British society, schools need official guidance from government over whether girls should wear the hijab in class.
Wilshaw told the BBC: "The (U.K.) has enormously changed. When heads want to change things, they have now to take into account deep-seated and sincere feelings. … The government needs to step in." He also warned that government ministers were too reluctant to act: "There is a reticence and it's leaving head teachers alone, isolated and vulnerable."
The National Secular Society, one of Britain's leading organizations favoring more secular public spaces, has also expressed concerns that teachers aren't given the support they need when faced with parents who want a more religious school culture.
Its education and schools officer, Alastair Lichten, said: "It is possible to come down on either side of the argument about religious dress in schools, but the haranguing of teachers who make the decision is a real problem."
Spielman's agency also wants to investigate the activities of religious organizations that offer education to children out of school. While this would include madrassas, offering instruction to Muslim boys, it would also encompass that most traditional of English institutions, the Church of England Sunday school, where children are taught Bible stories.
But the Church of England is resisting any changes to the law that would allow her agency's inspectors to investigate, perceiving it as an infringement of freedom.
Full report at:
https://www.religionnews.com/2018/03/07/chief-inspector-english-schools-need-to-address-extremist-elements/
--------
Britain First leaders jailed over anti-Muslim hate crimes
7 Mar 2018
The leaders of the far-right group Britain First have been jailed for a series of hate crimes against Muslims.
The group's leader, Paul Golding, was sentenced to 18 weeks in prison, while deputy, Jayda Fransen, was sentenced to 36 weeks on Wednesday. They had each been found guilty of religiously aggravated harassment at Folkestone magistrate's court earlier the same day.
"These defendants were not merely exercising their right to free speech but were instead aiming religiously aggravated abuse at innocent members of the public," the prosecutor told the court.
They were both arrested in May last year as part of an investigation into the distribution of leaflets and online videos posted during a trial at Canterbury crown court in the same month.
Three Muslim men and a teenager were convicted of rape and jailed as a result of those proceedings.
On Wednesday, the judge Justin Barron said Golding and Fransen's words and actions "demonstrated hostility" towards Muslims and the Muslim faith.
"I have no doubt it was their joint intention to use the facts of the [Canterbury] case for their own political ends. It was a campaign to draw attention to the race, religion and immigrant background of the defendants."
Both were convicted over an incident at a takeaway in Ramsgate, in Kent, during which Fransen banged on the windows and doors and screamed "paedophile" and "foreigner". Two children were playing in the middle of the shop and Jamshed Khesrow, a friend of the owners, was inside.
The judge dismissed a second charge against the pair over an incident alleged to have taken place outside Canterbury crown court later that day.
Fransen was convicted on another count related to a visit to a house she wrongly believed to be the address of a defendant in the Canterbury trial, Sershah Muslimyar. Golding was cleared of uploading a video of that incident.
Fransen was convicted on a third count over an incident at the home of Tamin Rahmani, during which she shouted racist abuse through the front door while his pregnant partner was inside.
Jaswant Narwal, the chief crown prosecutor in the south-east, said: "The victims suffered the distress of the abuse followed by additional stress when the footage was uploaded to the internet."
Britain First has been noted for its extreme white supremacist and anti-Muslim stances in the past, and Fransen gained particular notoriety when racially charged videos she published on Twitter were retweeted by Donald Trump.
Full report at:
https://www.theguardian.com/world/2018/mar/07/britain-first-leaders-convicted-of-anti-muslim-hate-crimes
--------
UK to focus on areas of agreement as Saudi crown prince arrives
7 Mar 2018
The Saudi crown prince, Mohammed bin Salman, will arrive in the UK on Wednesday for what is effectively a state visit that will include lunch with the Queen, dinner with the Prince of Wales and the Duke of Cambridge, a day at the prime minister's rural retreat, Chequers, and attendance at a meeting of the UK national security council.
The trip, which also takes in stops in Cairo and New York, is the prince's first foreign tour as heir to the Saudi throne and is seen as his chance to project the kingdom as a reforming youthful society determined to take up its status as a major G20 economic power.
A coalition of UK human rights groups are planning to protest against the visit outside Downing Street, calling out rights abuses in the kingdom, as well as the UK government's arms sales and support for Riyadh's intervention in the war in Yemen, which has killed thousands of civilians and driven the Middle East's poorest country to the brink of famine.
Despite the demonstrations, however, British officials hope the visit will shift the Saudi relationship beyond traditional spheres of security and defence so the UK can capitalise commercially on the recent social and cultural reforms inside the deeply conservative country.
Saudi efforts to diversify the economy away from oil revenues will provide new opportunities for British firms in health, technology, entertainment, sport and education. Both Saudi and UK officials are predicting handshakes on bilateral contracts worth more than $100m (£72m) over 10 years.
No breakthrough is expected on the UK's bid to stage the listing of Saudi Aramco, the world's largest oil company, on the London Stock Exchange. Saudi sources said they did not expect a sale this year. "It is a huge issue and we are still looking at it," said the Saudi foreign minister, Adel al-Jubeir.
Neither is one expected on Saudi Arabia's intervention in the war in Yemen, or its foreign policy disputes with Lebanon, Qatar, or its regional rival Iran.
Bipartisan support for Saudi actions in Yemen has broken down in both the US and the UK recently. Jubeir told the Guardian that Saudi Arabia had always accepted there was no military solution to the conflict, and denied any split in war objectives with its close political ally the United Arab Emirates.
"I do not see any division between UAE and Saudi – we both support a united Yemen, we both support the legitimate government, and both want to deny a foothold for Iran in Yemen," he said.
Tensions also exist between the UK and the kingdom over continued European support for the Iran nuclear deal.
The UK will focus on areas of agreement with Riyadh, on the need for a supplementary agreement on the Iranian ballistic missile programme and possible sanctions in the wake of a UN panel of experts finding that Iranian-sourced missiles reached Houthi rebels in Yemen in breach of a UN arms embargo. The UK tends not to highlight passages from the same recent UN experts' report that condemns Saudi airstrikes as a violation of humanitarian law.
Jubeir admitted the war had damaged the kingdom's reputation, but did not comment on civilian casualties.
"We made mistakes when the crisis began. We did not have a very effective strategy," he said. "The perception was the richest Arab country attacking the poorest Arab country. Nobody likes wars, including us. It is a situation that was imposed on us. It is not an aggressive war, but one of defence to prevent a country being taken over."
The foreign minister insisted reforms introduced by the crown prince over the past year, including granting women the right to drive and own businesses, had not produced pushback from the religious establishment. "You cannot achieve your objective of an open, modern dynamic economy if 50% of women are not participating," he added.
In an interview with the Arab paper Asharq al-Awsat, the UK foreign secretary, Boris Johnson, said: "We feel strongly that this is the beginning of change in the whole Islamic world. We strongly admire what Prince Mohammed is doing, and we want to engage in and support what is happening. He is a man of tolerance and mutual respect."
Emily Thornberry, the shadow foreign secretary, struck a critical note, telling the BBC's Today programme that Saudi airstrikes were launched every 93 minutes in Yemen and a child died from preventable causes every 10 minutes. She challenged Saudi claims that Yemen portswere no longer blockaded, adding the UK was "in a unique position to lead our international friends to stop the war in Yemen".
Thornberry also challenged the extent of the prince's domestic reforms and expressed worry about the rate of executions in Saudi Arabia.
The Muslim Association of Britain urged May to put human rights at the heart of her discussions with Bin Salman, saying "recent superficial measures", such as allowing women to drive and opening cinemas, should not mask an absence of democracy and a continued crackdown on political dissent.
Full report at:
https://www.theguardian.com/world/2018/mar/07/uk-to-focus-on-areas-of-agreement-as-saudi-crown-prince-arrives
--------
Tube bomb accused trained 'to kill' by Islamic State, court heard
By Emily Pennink
8 March 2018
London: The teenage asylum seeker behind September's failed London Underground bombing told British authorities he was trained "to kill" by Islamic State (IS), a court has heard.
Iraqi Ahmed Hassan, 18, is accused of packing shrapnel into a plastic bucket containing 400g of explosives then leaving it to go off on a timer at Parsons Green station during rush hour on September 15.
There were 93 commuters on board when the device partly exploded on the District Line carriage, leaving many with serious burns or crushed in the stampede.
Prosecutor Alison Morgan told jurors it was just "a matter of luck" that the bomb did not fully detonate and people were not killed.
Hassan had arrived in Britain in the back of a lorry via the Channel Tunnel in October 2015.
In January 2016, he claimed asylum, saying he was in "fear of Islamic State" because of what happened to him in his home country.
Asked by Home Office officials if he ever had any training with IS, he said: "They trained us on how to kill. It was all religious-based."
He said he was recruited on his own and trained with 1000 people until Iraqi soldiers came into IS territory and told everyone to go.
He denied he had been sent to Europe to work for IS, the court heard.
In early September 2017, Hassan allegedly seized a "window of opportunity" to prepare the device while his foster parents were on holiday in Blackpool.
The BBC reported the court heard Hassan bought metal items from Asda and Aldi supermarkets the day before the bombing and bought sulphuric acid online on Amazon.
To distract attention from himself, he got the hydrogen peroxide delivered to a friend's address, jurors were told.
Full report at:
https://www.smh.com.au/world/europe/tube-bomb-accused-trained-to-kill-by-islamic-state-court-heard-20180308-p4z3cg.html
--------
Accomplice of Paris attacks mastermind held in Poland: prosecutor
03/07/2018
This marks the first Polish investigation of an Islamic State member, and the first intel came from the CIA
A Moroccan accomplice of Abdelhamid Abaaoud, the mastermind of the deadly 2015 Islamic State attacks in Paris, is being held in Poland over suspected participation in terrorist activity, Polish prosecutors said Wednesday."During our investigation we found that between December 2014 and September 2016 Mourad T. was involved... with an armed crime organization -- an international terrorist organization called Islamic State," prosecutors said in a statement.
Mourad T., born in Casablanca and now 28 years old, was detained September 5, 2016 in Poland. If the court in the southern city of Katowice convicts him, he could get between six months to eight years in prison. Prosecutors added that Mourad T. was an "accomplice" and "scout" of Abaaoud, who planned the November 2015 attacks in Paris that killed 130 people. Mourad T. notably met with Abaaoud in the Turkish city of Edirne in late 2014, along with Sofiane Amghar and Khalid Ben Larbi, two jihadists who were killed in a terror raid in Belgium in 2015.
Mourad T. used several false identities and spent time in EU countries Austria, Greece, Hungary, as well as in non-members Turkey and Serbia.Prosecutors added that they found instructions on how to make explosive devices and mentions of potential targets on the telephone belonging to Mourad T.
This marks the first Polish investigation of an Islamic State member, which the domestic counterintelligence agency ABW undertook after receiving information from its EU counterparts. According to local media, the first intel came from the CIA.The first trial stemming from the November 13, 2015 massacre of 130 people ended with jail sentences for two men who aided the attack perpetrators.
Full report at:
https://www.i24news.tv/en/news/international/europe/169321-180307-accomplice-of-paris-attacks-mastermind-held-in-poland-prosecutor
--------
German government condemns AfD lawmakers' Damascus visit
7 March 2018
German Chancellor Angela Merkel's spokesman on Wednesday condemned a visit by politicians of the far-right AfD party to the "inhumane" Syrian regime.
"People who court this regime disqualify themselves," said Steffen Seibert on the Damascus trip by six members of the Alternative for Germany party.
"The Syrian regime demonstrates on a daily basis how inhumane its actions are," he said, noting that the suffering of civilians in Idlib, Aleppo and East Ghouta is "suffering that President (Bashar al) Assad ordered or condones".
The German foreign ministry was not informed about the AfD lawmakers' trip ahead of time, a spokeswoman said.
The group of six, comprised of four members from Germany's national parliament and two state lawmakers, arrived in Damascus on Monday for talks with pro-regime officials and a tour they said aimed at getting a real idea of the situation on the ground.
They said they were "surprised" at scenes of normal life in Damascus as they push their bid for Berlin to start sending refugees back to the war-torn country.
The group is being led by Christian Blex, a member of North Rhine-Westphalia's regional parliament, who posted pictures on Facebook of his Monday meeting with Syria's pro-regime Grand Mufti Ahmed Badreddin Hassoun.
Hassoun often appears alongside Assad for religious occasions and has in the past warned against Western interference in his country, threatening terror attacks in Europe.
The anti-Islam, anti-immigrant AfD entered the Bundestag for the first time last year, capitalizing on anger over an influx of more than a million asylum seekers in Germany since 2015.
Justice Minister Heiko Maas said Wednesday that parts of the AfD may warrant surveillance by Germany's domestic intelligence agency.
"At least some groups within the AfD appear to have set themselves up to become a new political home for neo-Nazis," Maas told Der Spiegel weekly.
"Parts of the AfD have long been on the path to becoming a case for the domestic intelligence service."
As one of its first acts in parliament, the party proposed striking a deal with Assad to repatriate Syrian refugees, who make up the largest number of newcomers in Germany. The motion was rejected.
Full report at:
https://www.thelocal.de/20180307/government-condemns-afd-lawmakers-damascus-visit
--------
Uzbekistan seeks increased role in Afghan peace process
March 7, 2018
TASHKENT: Uzbekistan wants to establish a new venue for peace talks between the government of neighbouring Afghanistan and the Taliban, it said on Tuesday, having invited the world's top diplomats to a conference later this month.
The Uzbekistani government hopes the March 26-27 conference will jumpstart the "Afghan-owned, Afghan-led process for national reconciliation", its foreign ministry said in a statement.
It is unclear, however, whether any Taliban representatives will be present at the meeting where Afghan President Ashraf Ghani is set to deliver a keynote speech.
The meeting will be the first such event to be hosted by Uzbekistan President Shavkat Mirziyoyev, who came to power in 2016 and has pledged to open up the resource-rich nation of 32 million to the outside world.
Tashkent has invited UN Secretary-General António Guterres and his Special Representative for Afghanistan, Tadamichi Yamamoto, to the conference, as well as EU foreign policy chief Federica Mogherini. Her counterparts from China, Russia, the United States, the United Kingdom, and many other countries have also been invited.
It is, however, uncertain whether all of them will attend.
Mirziyoyev's office said last week that US President Donald Trump supported the conference in a message, saying his "administration is considering the composition of the relevant delegation of the United States".
The Uzbekistani foreign ministry said it expected the meeting to adopt the resolution calling for "guaranteed integration of the armed opposition into the political life of Afghanistan" while condemning "all forms and manifestations of terrorism".
"Initiating the Tashkent Conference, Uzbekistan by no means intends to confine itself to arranging it as a one-off event, but to continue with vigorous efforts – both bilaterally and multilaterally – to promote a peaceful political process in Afghanistan," it said.
Mirziyoyev took over the Muslim-majority former Soviet republic after the death of President Islam Karimov who had run it for more than a quarter of a century.
Tashkent's ties with the West were strained under Karimov, who was often criticised over his government's human rights abuses.
Full report at:
http://www.freemalaysiatoday.com/category/world/2018/03/07/uzbekistan-seeks-increased-role-in-afghan-peace-process/
--------
Queen Elizabeth II receives Saudi crown prince at Buckingham Palace
7 March 2018
British Queen Elizabeth II welcomed Saudi Crown Prince Mohammed bin Salman at Buckingham Palace on Wednesday during his first official visit to the UK.
The Crown Prince arrived in the UK on an official visit, in response to an invitation from the British government.
The schedule includes a meeting with Queen Elizabeth II, British Crown Prince Charles and Prime Minister Theresa May.
Queen Elizabeth had a welcome reception followed by a banquet organized for Saudi Crown Prince Mohammed bin Salman at the royal palace.
The British Foreign Secretary Boris Johnson received Prince Mohammed upon his arrival in the UK late on Tuesday.
Full report at:
https://english.alarabiya.net/en/News/gulf/2018/03/07/Queen-Elizabeth-II-receives-Saudi-crown-prince-at-Buckingham-Palace.html
--------
Chopper crash kills at least three in Russia's Chechnya
Mar 7, 2018
At least three people have been killed and several others gone missing when a Russian helicopter crashed in Chechnya.
Russian news agencies quoted local authorities as saying that the Mi-8 helicopter belonging to the border guards crashed in the Itum-Kale region in southern Chechnya, near Georgia's border, on Wednesday.
The chopper went down while preparing to land as its rotor clipped a mountainside amid thick fog, officials said.
Rescuers have retrieved three bodies and found one survivor. The helicopter was believed to be carrying several other people, and they are still unaccounted for.
The twin-engine Mi-8 has been a mainstay of Soviet and Russian aviation since the late 1960s. It also has been widely used worldwide.
Full report at:
http://www.presstv.com/Detail/2018/03/07/554687/helicopter-crash-Russia-Chechnya
--------
Saudi crown prince welcomed in London amid rights activists protests
Mar 7, 2018
Saudi Crown Prince Mohammed bin Salman has arrived in London for his controversial three-day visit amid massive outcry and protests against Riyadh's human rights violations and its deadly war on Yemen.
Bin Salman was welcomed at London airport by Foreign Secretary Boris Johnson late on Tuesday. He had lunch with Queen Elizabeth II at Buckingham Palace on Wednesday and is scheduled to dine later with Prince Charles and Prince William.
The Saudi delegation will also meet Prime Minister Theresa May and senior ministers inside the premier's Downing Street offices to launch a UK-Saudi "Strategic Partnership Council," focusing on cooperation in different spheres, including economy, education and culture, as well as defense and security.
The three-day visit will also include a briefing with national security officials and a visit to May's country residence.
As welcoming ceremonies were underway for the Saudi crown prince, anti-war activists rallied near Parliament and said they would protest later outside the gates of Downing Street against Riyadh and London's roles in the war on Yemen.
In a fiery exchange with opposition lawmakers in parliament on Wednesday, May defended Britain's links to Saudi Arabia.
May defends Saudi ties
Asked by Labour Party leader Jeremy Corbyn whether she would slam Riyadh's "shocking abuse of human rights," May said, "The link that we have with Saudi Arabia is historic, it is an important one, and it has saved the lives of potentially hundreds of people in this country."
Her statements were interrupted briefly as opposition lawmakers cried "Shame!"
Although May noted that she would raise humanitarian concerns about Yemen in his meeting with bin Salman, she stressed that all arms sales to Saudi Arabia were strictly regulated.
She underlined her government's support for the Saudi-led war on Yemen, noting that the campaign has been supported by the UN Security Council.
Saudi Arabia and its allies launched the war on Yemen in March 2015 to reinstall its former Riyadh-allied government. The military aggression has so far killed over 13,600 Yemenis.
The war is being led by bin Salman, also Saudi Arabia's defense minister, with the help of the US and the UK.
May's government has remained defiant in the face of growing pressure to stop arms exports to Saudi Arabia, defending the sales amid evidence of war crimes and civilian deaths in Yemen.
The UK has increased its weapons sales by around 500 percent since the onset of the Saudi invasion, according to a report by The Independent.
The UK has, so far, sold more than six billion pounds of arms to Saudi Arabia.
Business interests
Both Saudi Arabia and Britain try to seize the opportunity to broaden their existing business ties. While Saudi Arabia needs to convince skeptical investors about its domestic reforms, the UK is looking for trading partners as it is in the process of exiting the European Union.
Britain seeks to expand its market for service sector exports in Saudi Arabia and attract Saudi cash to finance domestic projects. London also eyes listing state oil firm Saudi Aramco in its stock market.
According to British and Saudi sources, bin Salman's visit is expected to bring about several business deals, including an agreement with British defense group BAE Systems and European weapons maker MBDA as well as an initial agreement on gas exploration, petrochemicals and other industries.
Diplomats say the agreements could be worth more than $100 billion.
'War criminal bin Salman not welcome'
The government tries to create a welcoming atmosphere for the Saudi crown prince in London. London taxis display advertising graphics welcoming Prince Mohammed and electronic billboards promote the visit.
However, anti-war activists and human rights campaigners have designed buses and vans touring London over the past two days with banners accusing bin Salman of war crimes. More similar programs are underway before the main planned rally on Wednesday.
"The UK should not welcome war criminal Mohammed bin Salman," the banners read.
The activists accuse Mohammed bin Salman of being the "chief architect" of the Yemen war, which according to the UN, has led to the world's worst humanitarian crisis.
According to the Campaign Against Arms Trade (CAAT), over the past three years, Britain has licensed $6.4 billion worth of arms sales to Saudi Arabia.
"The pictures of the crown prince on the steps of Downing Street will be projected around the world, and will be used by the regime to legitimize it on the world stage. Theresa May is handing a major propaganda coup to the dictatorship," Al Jazeera quoted Andrew Smith of the UK-based NGO as saying.
Full report at:
http://www.presstv.com/Detail/2018/03/07/554689/Saudi-Arabia-Britain-bin-salman
--------
Corbyn urges May to condemn Saudi war on Yemen as bin Salman visits
Mar 7, 2018
Jeremy Corbyn has called on Prime Minister Theresa May to protest Saudi Arabia's war in Yemen during the visit of the kingdom's crown prince to London.
The British opposition Labour Party leader said Tuesday that May should tell Crown Prince Mohammed bin Salman that Britain would stop providing arms to Riyadh.
Bin Salman's three-day visit will begin with a lunch with Queen Elizabeth on Wednesday.
His stay in the UK will include two audiences with the British Royal family, a briefing with national security officials, and a visit to the prime minister's country residence.
"Theresa May should use this visit to announce the UK will no longer supply arms to Saudi Arabia while the devastating Saudi-led bombing of Yemen continues and make clear Britain's strong opposition to widespread human and civil rights abuses in Saudi Arabia," Corbyn said.
Saudi Arabia and its partners launched a war on Yemen in March 2015 to reinstall its former Riyadh-allied government. The military aggression has so far killed over 13,600 Yemenis.
The war is being led by bin Salman, also Saudi Arabia's defense minister, with the help of the US and the UK.
May's government has remained defiant in the face of growing pressure to stop arms exports to Saudi Arabia, defending the sales amid evidence of war crimes and civilian deaths in Yemen.
The UK has increased its weapons sales by around 500 percent since the onset of the Saudi invasion, according to a report by The Independent.
The UK has, so far, sold more than six billion pounds of arms to Saudi Arabia.
The weapons sold by Britain, which has also been providing logistical and arms support for the bombardment, include precision-guided bombs.
Full report at:
http://www.presstv.com/Detail/2018/03/07/554629/UK-Saudi-Arabia-Corbyn-arms-sales
--------
UK FM Boris Johnson says Iranian missiles fired at Saudi Arabia 'unacceptable'
7 March 2018
LONDON: The launching of Iranian missiles at Saudi Arabia from Yemen is "unacceptable" and Tehran's role in the country should be constrained, British Foreign Secretary Boris Johnson said.
In an interview with Arab News' sister newspaper Asharq Al-Awsat, Johnson said Britain understood "Saudi Arabia's need to defend itself and we understand his Royal Highnesses desire to protect his country."
"It's unacceptable that Iranian missiles are being used against Saudi Arabia and we wish to see an end to that," the foreign secretary said.
Saudi Arabia, which is leading an Arab military coalition in Yemen in support of government forces against Iran-backed rebels, has been targeted by missiles fired across the border. Many are shorter range, hitting areas near the border, but the Houthis have increasingly launched longer range ballistic missiles, including several targeting Riyadh that were shot down.
UN experts in January reported they had "identified missile remnants" and other military equipment brought into Yemen of Iranian origin that violated an arms embargo.
Britain drafted a UN Security Council resolution last month on renewing an arms embargo on Yemen that would have put pressure on Iran over the supply of missiles to the Houthis. The council eventually adopted a resolution that failed to condemn Tehran after Russia vetoed the British version, drawing an angry reaction from the US and London.
In the interview published as Crown Prince Mohammed bin Salman started his three-day visit to the UK, Johnson said he agreed with Arab states' concerns over Iran's role in the region. "We want to see Iran's role in Yemen constrained," he said.
Johnson said Britain understands the legitimate government of President Abed Rabbo Mansour Hadi was removed and there's a UN resolution calling for him to be restored and that the Arab coalition is seeking to achieve that.
But he added that it was going to be difficult to get an exclusively military solution and that there needs to be political progress.
Prince Mohammed's visit is expected to include discussions on security and the conflicts playing out in the Middle East.
Johnson described the situation in Syria as a "major tragedy" and said he agreed with Saudi Arabia on the need to relaunch negotiations in Geneva to start a political process.
He condemned the regime bombardment of Eastern Ghouta that has killed hundreds in the past two weeks and that the regime should be held accountable for its "disgusting" chemical attacks.
Johnson also said the raft of reforms launched in Saudi Arabia encouraged the UK to bolster cooperation with the kingdom.
Full report at:
http://www.arabnews.com/node/1261351/world
--------
North America
US agents untrained to vet Islamic radicals, have poor grasp of jihadist threat, experts warn
7 Mar, 2018
US law enforcers aren't trained to detect Islamic radicals, which enabled a suspected Al-Qaeda-linked jihadist to remain off the radar in America for seven years, attorney Jennifer Breedon told RT.
Saudi national, Naif Abdulaziz Alfallaj, who trained at the Al-Qaeda camp in Afghanistan together with some of the 9/11 plane hijackers, was detained in Oklahoma in February. He arrived in the US on a non-immigrant visa back in 2011 and lived freely in the country, even taking pilot lessons. It took the US security agencies a whole seven years to match the fingerprints from Al-Qaeda papers obtained in Afghanistan in 2011 with the prints in its database and reveal Alfallaj's true identity. The man now faces up to 20 years in prison for two counts of visa fraud and lying to the FBI about his terrorist links.
Breedon, an attorney specializing in foreign policy, international law and religious terrorism, believes that the Alfallaj affair shows "an ongoing failure of the US – and also Europe – to properly vet these people and for our law enforcement to even understand the nature of radical Islamists."
"Why this person was able to go under the radar; why he went all the way through the State Department vetting process – because there's no vetting process that vets for extremist religious ideology," she said. According to the attorney, the employees of the relevant US agencies "haven't been properly trained" and are unaware of the most basic things, like who the Wahhabis are and what Sharia Law is.
"It's very likely that [Alfallaj] didn't even have to try hard to deceive" the US authorities, Breedon said. "The State Department is asking questions and they're expecting an honest answer. And these people, especially, if they have terrorist ties or connections, are never going to be honest on a 'yes' or 'no' questionnaire… If we don't know how to read between the lines or truly understand their ideology we'll continue to not catch these people."
The jihadists are able to freely come and stay in the US unhampered because "the FBI has many problems right now," Breedon said. "The FBI has been too busy with trying to harm President Donald Trump… or trying to go after these supposed Russian hackers. You have the FBI spending… millions of dollars for the special investigation into these things the American people don't care about, so it's very likely that something as important as allowing a terrorist to get a US visa would fall under the rug."
Another unhelpful thing is the Western model of "we can't offend anybody," Breedon believes. In 2016, when Omar Mateen killed 49 people and injured 58 others at an Orlando gay club, "the FBI had ample warning that the Orlando attacker was a threat, but because he was Muslim they didn't want to look into it; they didn't want to be seen as targeting a certain religious group – and because of that lots of people died."
Breedon also refuted the FBI's claims that it needs more funding to be effective, reminding that "reports have come out with school shootings in the US where the FBI many times received a phone call warning them about these shooters and… the FBI didn't follow up. It's not so much a lack of resources as it is a lack of knowledge and understanding about threats that matter the most," she said.
Former US diplomat, Jim Jatras, told RT that the "incompetence" of the US security agencies could be the simplest explanation for Alfallaj's seven-year stay in the US. "We know of many cases where people, who should've been on the watch list, weren't there because of some bureaucratic mix up or because they had trouble with the names. As you know, especially, with Arabic names, sometimes there's a lot of confusion or differences how they are rendered into English."
"The other explanation is that this gentleman is a Saudi and there was some sort of favoritism involved. That perhaps some agency had an interest in him for other reasons and he was given special treatment as a result," Jatras said.
If this assumption turns out to be valid then "it also may show that there are agencies that have their own priorities that are not necessarily the same as those of the American people and keeping the American people safe… This is an ongoing problem, especially, with regard to the kind of support we've been giving to terrorist groups in many countries over the last decades," he said.
https://www.rt.com/usa/420757-jihadist-vetting-fbi-untrained/
--------
No second chances for convicted terrorists, no matter what Trudeau says
March 7, 2018
Should convicted terrorists get a "second chance" in Canada?
We're about to find out. A Mississauga, Ont., man is currently in the U.S., awaiting sentencing for his ISIS plot to mass murder civilians in New York City.
Kuwait-born Abdulrahman El-Bahnasawy's lawyers have asked for a shortened sentence for the 20-year-old, so he can come back to Canada and undergo mental health treatment and so-called religious counselling.
El-Bahnasawy was arrested in New Jersey in 2016 after taking steps towards his ISIS-inspired plot to attack New York City landmarks. He told an undercover FBI agent he wanted it to be "the next 9/11."
His lawyers tried to build the case that he was a drug-addicted loner and suffered from mental illness. Despite efforts to paint him as a victim, he was found to be mentally fit to stand trial and pleaded guilty to several terrorism charges.
El-Bahnasawy has now penned a 24-page handwritten letter that supposedly apologizes for his actions. However, the publicly-released letter doesn't lend much confidence to the idea that this man is remorseful or reformed in any way.
Instead, it reads like a justification for jihad — the story of a victim whose parents pushed him towards fundamentalist Islam despite his desire to smoke pot and be a normal Canadian teenager.
He rambles on for 17 pages about his interest in drugs and his parent's attempts to impose their religion upon him.
"My parents forced me to enrole (sic) in an Islamic school, I wasn't Muslim and didn't identify as Muslim, but it was better than Kuwait," he wrote. It was at this Islamic school in Canada, he says, that he "realized Islam would fix all the problems in society or the world in general."
He said he began to then reject "the rule of the people (or so called democracy and freedom)" and started down the path towards jihad.
El-Bahnasawy provides a propaganda-laden version of global affairs, where "the Jews and Christians" refuse to follow Islam, the Americans engage in a one-way war against Muslims and the Western media unfairly portrays ISIS as "barbaric" and "terrorists."
This is what led him to "military jihad," he says.
El-Bahnasawy's story includes complaints about how he was treated in U.S. custody, and how sad he felt when American officers called him "wannabe ISIS."
He finished his letter by stating his hope that Islam will govern the world, and encourages his judge to read the Qu'ran and convert to Islam. ("I hope to see you as a Muslim someday," he writes.)
Meanwhile, his lawyers want us to believe that he is worthy of a second chance. A support letter written to the judge states that his family will help him to "be rehabilitated to be a productive member of society." They sure didn't do that the first time around.
Terrorists like El-Bahnasawy don't deserve a second chance in Canada. And families like his don't deserve a first chance either.
Too bad we live in a country where our Prime Minister not only believes in second chances, but also believes that former ISIS members can become an "extraordinarily powerful voice."
Trudeau's granted Canadian citizenship to a convicted terrorist and ringleader of the Toronto 18, and rewarded another al-Qaida terrorist with $10.5 million and an official apology.
No wonder this convicted ISIS terrorist wants to come back to Canada.
Full report at:
http://torontosun.com/opinion/columnists/malcolm-no-second-chances-for-convicted-terrorists-no-matter-what-trudeau-says
--------
Tennessee's Capitol Hill draws attention of American Muslim Advisory Council
March 7, 2018
NASHVILLE, Tenn. (WKRN) – Every day during the legislative session, dozens of groups come to Tennessee's Capitol Hill hoping their voices are heard–especially on major issues like school security.
Among the many groups rushing around to see lawmakers Wednesday were Tennessee members of the American Muslim Advisory Council.
They fanned out around the new legislative building, but about a dozen of the Muslim activists landed about 15-minutes with Republican House Speaker Beth Harwell in her conference room.
One issue the group wants is for a bill to include language that no child should be bullied because of their faith, but Speaker Harwell also heard a plea about school security from a Nashville mother of two students.
Kasar Abdallah said she was thinking about vulnerable kids instead of arming some teachers or more resource officers
"I am here to push you into allocating funding instead of that and putting it into getting licensed health professionals who can reach out to these vulnerable children," she told the Speaker.
The speaker was making no commitments just yet on any of the bills mentioned.
"Do we get a commitment on any of them?" asked Zulfat Suara of Bolivar, Tennessee.
"You know I do not commit on a bill until i see it in its final version," responded the Speaker.
When pressed by the group, Harwell did say something might come out of the Governor Bill Haslam's new working group on school safety.
"We'll look for a broad approach including some additional funding for behavioral health issues in our schools," said the speaker.
Abdallah said the group was appreciative of any lawmakers who met with them but left them with a reminder as well.
Full report at:
http://wkrn.com/2018/03/07/tennessees-capitol-hill-draws-attention-of-american-muslim-advisory-council/
--------
Why US getting increasingly desperate in Syria
Mar 8, 2018
The United States is getting increasingly desperate because the Syrian Arab Army and their true allies have recently made remarkable gains in their fight against foreign-sponsored militants, an independent political analyst and peace activist in London says.
Writer and journalist Adam Garrie said in an interview with Press TV on Wednesday while commenting on a report which says the administration of US President Donald Trump has considered new military action against the Syrian government on the allegations that it has used chemical weapons against militants, according to officials.
Trump called on the military to prepare options for punishing the government of President Bashar al-Assad in response to reports of alleged chlorine gas attacks and possibly other chemicals against foreign-sponsored militants, the Washington Post reported on Monday.
The Syrian government has dismissed as "lies" Washington's claims that it has used toxic chemicals against militants or civilians.
"The US and other supporters of Takfiri terrorists are getting increasingly desperate. The Syrian Arab Army and their true allies have made some remarkable gains over the last week," Garrie said.
"And as usual following the lies of the White Helmets-affiliated propaganda group, they are saying that there's a chemical attack. The White Helmets for quite a few months now – approaching for the better part of the year now -- have been talking about the prospective chemical attack in Ghouta, and the winder world doesn't buy it anymore," he stated.
"I doubt that the elite in the US is so foolish to actually believe what their paid propagandists say, but it's always nice to have a justification however fatuous to commit a war crime that would impede the progress of Syria liberating its own territory which is one of the strategic goals of the United States," he noted.
Last week, Syria even rejected allegations of possessing chemical weapons, stressing that the foreign-backed Takfiri terrorist groups operating in the country, including al-Nusra and Daesh, had obtained some stocks.
Syria's Ambassador to the United Nations in Geneva Hussam Edin Aala on Wednesday refuted the "false allegations" made by certain countries against his government, saying, "Syria cannot possibly be using chemical weapons because it very simply has none in its possession."
In his address to the UN-sponsored Conference on Disarmament in Geneva, Aala also denounced the use of chemical weapons anywhere.
The remarks came a day after the UK said it would start "seriously" considering joining US military strikes against the Arab country if such claims were true.
On February 26, the so-called Syrian Observatory for Human Rights, which is sympathetic to anti-Damascus terrorists, said 14 civilians had suffered breathing difficulties after a Syrian warplane struck a village in Eastern Ghouta region in the suburbs of the Syrian capital, Damascus.
Full report at:
http://www.presstv.com/Detail/2018/03/08/554724/Why-US-getting-increasingly-desperate-in-Syria
--------
Canada, EU and UK condemn anti-Muslim violence in Sri Lanka
Mar 8, 2018
Canada, the European Union and the United Kingdom have all condemned the violence against Muslims in Kandy and other parts of Sri Lanka this week.
"Canada is deeply concerned by recent inter-communal violence in Sri Lanka, in which Muslims were targeted," the country's foreign minister, Chrystia Freeland said in a statement.
"Canada calls on the government to ensure the safety and security of all minorities, to protect human rights and fundamental freedoms for all and to hold those responsible for the violence accountable."
The European Union's delegation in Sri Lanka called for the perpetrators to be brought to justice, saying in a statement:
"The recent attacks on communities are very worrying. It is important that the Government and the security forces take urgent action against hate crimes and ensure that the perpetrators of such actions are swiftly brought to justice."
Referring to the state of emergency called by the government, the EU delegation said, "the EU trusts that any actions taken under the State of Emergency will be proportionate and respect constitutional rights and freedoms."
Full report at:
http://www.tamilguardian.com/content/canada-eu-and-uk-condemn-anti-muslim-violence-sri-lanka
--------
Southeast Asia
Indonesia lacks legislation to prosecute Islamic State fighters returning from conflict, expert says
Mar 8, 2018
A terrorism researcher has warned that Indonesia's laws are not sufficient to crack down on and prosecute Islamic State militants returning to the country.
Dr Solahudin, who is visiting lecturer at Melbourne University, told the ABC that Law 15 of the 2003 Eradicating Terrorism legislation — established following Bali bombings in October 2002 — had been under review for two years, but the process had been dogged by conflicts of interest from different authorities.
"The Government has been trying to revise the law, but the process has been very slow as the military wants to [be] involved," he said.
Meanwhile, Dr Solahudin, who is also a researcher at the Centre for Terrorism and Conflict at the University of Indonesia, said authorities had limited legal tools available to crack down on those who had returned from Islamic State conflict areas like Syria and Iraq.
"The act of terrorism — to be a crime punishable under Indonesian law — has to take place in Indonesia, not overseas," he said.
Hundreds of jihadists and their families have reportedly returned to Indonesia since the US-led offensive against the group began back in 2014.
Last year, Turkish authorities said the number of Indonesians captured after the dismantling of Islamic State's caliphate had reached 435 people, including ex-combatants and their families.
Indonesian deputy national police chief General Syafruddin said at least seven former IS fighters were arrested in Turkey last year who had since been detained by Indonesian authorities.
"They have not been released yet," General Syafruddin told local media.
General Syafruddin added that Indonesians should not be worried about the returnees, but he warned that terrorism was still a lingering threat.
After interviewing dozens of jihadist returnees, Dr Solahudin said that most of them had returned after becoming disillusioned with Islamic State's ideological propaganda and the harsh realitity on the ground.
"Some of them told me that they came to Syria because recruiters promised them with good salary and living under (Islamic) shariah," he said.
"However, the leader of the Indonesian IS group in Syria never distributed the food allowances, hence many of them decided to quit IS after believing there was corruption within the organisation."
Dr Solahudin said even though it was likely the government had arrested most of the Islamic State returnees, the returnees had not been properly charged with terrorism offences yet due to legal issues.
"There are only five IS returnees that have been arrested and charged with planning terror attacks in Indonesia, and another man charged with facilitating IS returnees to conduct terror atacks at home," he said.
"Other reasons why authorities had not arrested jihadists returning to Indonesia is because many were considered to be not dangerous enough and were therefore put into de-radicalisation program run by the National Anti-Terrorism Agency."
Dr Solahudin said it was also important to pay attention to the various affiliations and motivations among differing jihadists returning to the country, and to recognise when a returnee is simply Muslim.
"In general the non-IS jihadists, such as the Salafis, consider jihad in Indonesia as illegitimate because they already see Indonesia as Muslim country," he said.
He added that many Muslims were returning from the region after completing tasks such and delivering humanitarian aid, and that was critical to differentiate genuine returnees from those who had been fighting.
http://www.abc.net.au/news/2018-03-08/indonesia-lacks-legislations-to-prosecute-returning-jihadists/9526848
--------
Parliament: Network of young religious teachers to be expanded, says Yaacob Ibrahim
Mar 8, 2018
SINGAPORE - Singapore's Malay/Muslim community is concerned about the spread of extremist ideology, and will take steps to tackle them, Minister-in-charge of Muslim Affairs Yaacob Ibrahim said in Parliament on Thursday (March 8).
Dr Yaacob said the Islamic Religious Council of Singapore (Muis) will grow its network of young asatizah, or religious teachers, and continue to get these teachers up to speed in digital media and counselling to counter youth radicalism.
He was responding to Mr Zainal Sapari (Pasir Ris-Punggol GRC), who had asked what could be done to protect youth from radical ideology, during the debate on the budget of the Ministry of Culture, Community and Youth, which oversees Muslim affairs.
Dr Yaacob, who is also Minister for Communications and Information, noted that extremist ideology spread on social media and acts of terror by the Islamic State in Iraq and Syria (ISIS) have set Muslims against non-Muslims in many societies. Others have also been misled by religious preachers espousing exclusivist beliefs and practices.
He told the House: "This is surely the road to alienation, marginalisation and ruin. In Singapore, we must stand united against such ideologues and ideologies, and against Islamophobia."
Dr Yaacob also said that 11 teachers have been selected for Muis' asatizah youth network (AYN) based on their online presence and influence.
The AYN will play a more pro-active role in guiding the community on social media, he added, noting it had produced an online video series after attending a workshop on effective counter-narrative and digital engagements conducted by Google Singapore last year.
The network of asatizah will be expanded to 30 teachers by the end of this year, The Straits Times understands.
Dr Yaacob also gave an update on Singapore's plan to develop an Islamic college in Singapore, in response to queries from Dr Intan Azura Mokhtar (Ang Mo Kio GRC) and Dr Fatimah Lateef (Marine Parade GRC).
He said that along with Muis officials, he has been visiting institutions of higher learning in Middle Eastern countries such as Egypt, Jordan and Turkey, as well as those in multi-religious countries such as the United States and Canada, to study different models of tertiary Islamic education.
Full report at:
http://www.straitstimes.com/politics/parliament-network-of-young-religious-teachers-to-be-expanded-yaacob-ibrahim
--------
All Muslim Minor Couples Must Get Parental Consent, Complete Preparation Programme before Marrying
08 Mar 2018
SINGAPORE: From Oct 1, Muslim minor couples – where one or both parties are below the age of 21 – must complete a marriage preparation programme and obtain consent of their parents or guardian before applying for marriage.
This follows amendments to the Administration of Muslim Law Act (AMLA) last year, Minister-in-Charge of Muslim Affairs Yaacob Ibrahim said in Parliament on Thursday (Mar 8).
"While the proportion of minor marriages has declined from 10 per cent of Muslim marriages in 2007 to 3.6 per cent in 2017, this group still needs support," he said, adding that the marriage preparation programme will benefit about 200 minor couples each year.
The programme, conducted by INSPIRASI Hubs, helps minor couples make informed decisions about marriage and prepares them for the adjustments and challenges.
"The hubs are centres dedicated to preparing minor and young couples for marriage, and to raise awareness of these new requirements and the importance of marriage preparation and parental support," Dr Yaacob said.
He added that the Ministry of Social and Family Development (MSF) is working with the hubs to improve the marriage preparation curriculum.
As for obtaining parent or guardian consent, MSF said in a release that this requirement is similar to laws under the Women's Charter.
The existing requirement of seeking consent from the bride's wali, or lawful guardian as defined by AMLA, is unaffected.
"Obtaining consent signals the support given to the couple for their marriage," MSF added. "Strong family support from parents or guardian, especially in the first few years of marriage, is critical in helping couples stabilise their relationship."
Meanwhile, Dr Yaacob said PPIS Vista Sakinah – the centre for Malay/Muslim remarriages and step-families – will work with agencies to waive the remarriage preparation programme fees for low-income step-families.
Full report at:
https://www.channelnewsasia.com/news/singapore/all-muslim-minor-couples-marriage-consent-preparation-programme-10025090
--------
Isma decries attempts to erode Malaysia's 'Malay-Muslim identity'
BY ZURAIRI AR
March 7, 2018
ANGI, March 7 — There is a concerted effort to erode Malaysia's "Malay-Muslim" identity, a Muslim group alleged today, citing opposition to a Bill that will allow Shariah courts to impose harsher penalties as an example.
Abdul Rahman Mat Dali, the deputy president of Ikatan Muslimin Malaysia (Isma), claimed those responsible were non-Muslim Malaysians who refuse to accept that the country "belongs" to the Malays.
"There are those who cannot accept that the land belongs to the Malays, therefore anything that changes the image of Malaysia to become more Malay and Muslim, they will oppose.
"Whatever that makes our image becomes less Malay and less Muslim, they would support," he said while launching a book on "Sinicisation" by Interdisciplinary Research and International Strategy (IRIS) Institute here.
Abdul Rahman claimed this unnamed group of non-Muslims had supported the Oktoberfest celebrations in the country, and opposed a private member's Bill to amend the Syariah Courts (Criminal Jurisdiction) Act 1965, also known as Act 355.
"Although [Act 355] does not involve non-Muslims, they still opposed. Why? Because they don't want us to remain and become more Malay than before. You may not realise this, but in Isma, we observe this."
Earlier, he said Malaysia's identity must remain "Malay and Muslim", since there is no historian, geologist or anthropologist who could deny that the land belongs to the Malays.
"For the English, their country is England. Danish, Denmark. Chinese, China. Indians, India. All have their own countries, own identities. But when you talk about the Malays, where is their country?
"Nobody can deny that the Chinese came from China, that is their place of origin. Impossible that we don't have one," he said, referring to the Malays.
Full report at:
http://www.themalaymailonline.com/malaysia/article/isma-decries-attempts-to-erode-malaysias-malay-muslim-identity#yjHBjgoyAr9qpKpU.97
--------
Chinese Malaysian loyalty under spotlight as China flexes muscle
BY ZURAIRI AR
March 7, 2018
BANGI, March 7 — With China's expanding its influence into South-east Asia, there is renewed concern among some Malay-Muslim activists over the allegiance of Malaysia's ethnic Chinese citizens.
These activists suggested that Chinese Malaysians still harbour sympathy and even loyalty towards the republic even though they have set down roots here.
According to Abdul Rahman Mat Dali, the deputy president of Islamist group Ikatan Muslimin Malaysia (Isma), it is only natural for Chinese Malaysians to feel a connection with China.
"Humans cannot run from a sense of belonging, of tribalism, the social connection. Which means, if they do not feel it, there is something wrong with them.
"For Chinese, surely there is the connection, it is natural," he told a press conference after launching the book titled Pen'China'an Malaysia (The Sinicisation of Malaysia) here today.
In its book on "Sinicisation" — which refers to the process of non-Chinese societies getting influenced by China, especially its culture — publisher Interdisciplinary Research and International Strategy (IRIS) Institute claimed that China is using its diaspora as a tool to increase its influence in Malaysia.
The research outfit wrote in a chapter that the republic has targeted Chinese organisations and political parties to implement its strategy, by offering aid, training and incentive in aspects of economy, education, culture, media and politics.
Despite that, it admitted that the strategy is facing difficulties since the Sino community here, on average, views China negatively.
When asked about the chapter IRIS chief executive Syed Ahmad Israa' Ibrahim conceded that there is a conflict within the Chinese community itself.
"The Chinese who are patriotic and loyal, they themselves feel jeopardised by China's aggression, same with other South-east Asian countries with the Chinese diaspora.
"They feel that the national interest is disturbed by the arrival of China, so there is a conflict between the old China and the new China," he said, referring to ethnic Chinese communities which have long been part of a country, and the influx of those from mainland China.
Can the Chinese outmuscle the Malays?
The concern was also brought up during a forum after the launch, with Datuk Sirajuddin Salleh, the deputy president of Malay rights group Perkasa expressing his worry that the Chinese may even overpower the majority Malays soon.
"The thinking of the Chinese is stereotyped. So I make the conclusion that the Chinese in China, and those here all think the same.
"We have seven million Chinese here, four million in Singapore, six to seven million in Thailand. Are they not united?" he said during a question-and-answer session.
The Department of Statistics estimated last year that Chinese Malaysians made up 23.2 per cent of the 32 million total population, or roughly 7.4 million, making it the biggest ethnic minority group in the country.
In comparison, ethnic Chinese made up 24.6 per cent of the population in the most recent national census in 2010.
Sirajuddin also alleged that three million of China's nationals will enter Malaysia soon through some development projects, but admitted he had based it on a rumour.
In response, Ahmad Murad Abdul Halim, a lecturer on Chinese Studies with the Islamic Science University of Malaysia, claimed that the Chinese diaspora worldwide is seen as an extension of China's society.
"All the Chinese in the world are brothers… Now, they're bringing up the issue of nationalism among the diaspora, so the latter they will fall along with Beijing," he said.
The sentiment was echoed by Abdul Muein Abadi, a political science lecturer at Universiti Kebangsaan Malaysia, pointing out the since-shelved proposal for an "overseas Chinese card" that will allow foreigners with Chinese ethnicity to enjoy benefits such as permanent residency.
The early Chinese who came here were mostly brought into Malaya from Southern China provinces such as Fujian and Guangdong by British colonists during 19th and 20th century to make up their workforce in the then booming tin mines and rubber plantations.
Full report at:
http://www.themalaymailonline.com/malaysia/article/chinese-malaysian-loyalty-under-spotlight-as-china-flexes-muscle#PhIzAJj27e5JUSCZ.97
--------
URL: https://www.newageislam.com/islamic-world-news/the-salafist-brand-islam-ahle/d/114524
New Age Islam, Islam Online, Islamic Website, African Muslim News, Arab World News, South Asia News, Indian Muslim News, World Muslim News, Women in Islam, Islamic Feminism, Arab Women, Women In Arab, Islamophobia in America, Muslim Women in West, Islam Women and Feminism