New Age Islam News Bureau
13 Jan 2016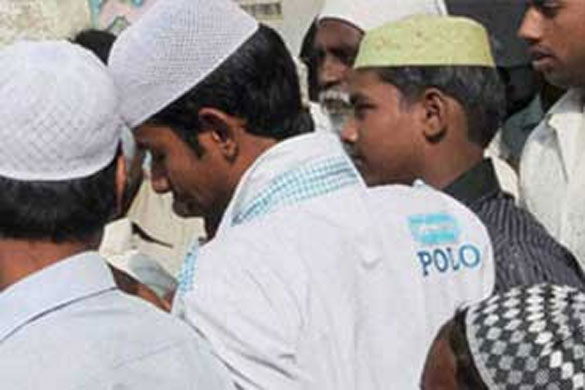 Photo: Muslims have highest young population, they also die young.(Representational image)
-------
India
• The Only Hebrew Teacher in Indian Academia Is a Devout Muslim
• Muslims Have Highest Young Population, They Also Die Young in India
• Suspected IS Letter Threatens To Kill Pune ATS ACP, Cops Begin Probe
• Row after RSS Affiliate Asks Madrasas to Hoist Tricolour on Republic Day
• Pathankot terror attack: Terrorists hid overnight in airbase shed
------------
Arab World
• Sunni Mosques in East Iraq Attacked After ISIS-Claimed Blasts
• Over 40 Terrorists Killed by Gov't Forces across Syria's Central Province of Homs
• 41 Militants Killed in Clashes with Gov't Forces in Syria's Idlib
• Militants Confirm Death of Senior Commander
• Militants Withdraw From More Lands North of Syria's Homs
• Militants Sustain Heavy Death Toll in Army Attacks North of Syria's Hama
• Syrian Troops March on Takfiris' Positions
• Syria army fully captures rebel redoubt in Latakia
• Iraqi PM vows to expel ISIS after deadly mall attack
• Alqraa Museum evidence of Saudi citizen's loyalty
------------
Africa
• Bomb Attack Kills over Dozen in North Cameroon Mosque
• Boko Haram Kills Seven in North-eastern Nigeria
• Ex-Gitmo inmates want to 'live normally' in Ghana
-----------
South Asia
• With His Words, Raihan Abir Honours His Slain Secular and Atheist Bangladeshi Colleagues
• Pakistan Army Officers Involved In Attack on Indian Consulate: Afghan Police
• Bangladesh Seeks Death Penalty for Jamaat-e-Islami Leader
• At Least Six Dead, 11 Injured In Blast near Pakistan Consulate In Afghanistan
• 30 Bangladeshi victims go to European court
• Canadian freed after 5yrs in Afghan Taliban captivity
------------
Pakistan
• Senators Question Existence of Council Of Islamic Ideology
• Pakistan: 15 Killed In Explosion outside Polio Centre in Quetta
• Provincial Status for GB to Jeopardise Kashmir Cause, Warns Yasin Malik
• Pakistan won't deploy troops on foreign soil
• Rangers search journalist's residence
• At least 17 killed in Quetta polio office blast
• Malik seeks UN chief's role on Iran-Saudi conflict
------------
North America
• Fight against Islamic State is not World War III, says Barack Obama
• 23,144 US Bombs Hit Muslim Countries In 2015
• US urges India, Pakistan not to give up on peace
• 'Anti-Muslim campaigning feeds extremist propaganda'
------------
Mideast
• IS Bomber Kills 10 Tourists in Istanbul
• Iran Releases U.S. Sailors Accused of 'Trespassing'
• IRGC Navy Commander: Those Looking for War with Iran Committing Suicide
• Iran asks U.S. to apologize for Navy 'violation'
• One killed, three wounded in Israeli airstrike on Gaza Strip
• US destroys IS bank in Iraq
• Iran to sell heavy water to US
• Israeli air strike in Gaza kills Palestinian
• Turkey detains 68 ISIS suspects in nationwide raids
• US Reckless Moves in Persian Gulf Could Break Out War
------------
Southeast Asia
• Don Moots 'Civil Jihad' To Counter Isis Violence in Malaysia
• Philippines Says Southern Rebels Not Linked To Islamic State
• Lawyers' group want legal reform to protect non-Muslim parents
• Islamic State-influenced Malaysian teen holds woman on knife-point
• IGP: Police powerless to bring home IS-recruited kids
• Indonesian arrested, false bomb threat at Penang airport
• Is the gov't on top of the IS problem, asks Kit Siang
------------
Europe
• Norway Calls for Anti-ISIL Coalition to Do More
• Historic Mosque Attacked In Crimea
• Putin: too early to speak about sheltering Assad in Russia
• Yemen peace talks postponed, U.N. says
• PM: Istanbul suicide bomber was ISIS militant
• UK detain 2 in anti-terror bust
Compiled by New Age Islam News Bureau
URL: https://www.newageislam.com/islamic-world-news/new-age-islam-news-bureau/the-only-hebrew-teacher-in-indian-academia-is-a-devout-muslim/d/105975
------------
India
The only Hebrew teacher in Indian academia is a devout Muslim
Navras Jaat Aafreedi
Jan 13, 2016
The only Hebrew language teacher who holds a position in Indian academia is Dr Khurshid Imam, Assistant Professor at the School of Language, Literature and Culture Studies in Jawaharlal Nehru University. In this conversation with Dr Navras Jaat Aafreedi, he reveals the secret of a Ben Gurion "mosque" and tells us about a hadīth in which Prophet Muhammad encouraged Muslims to learn Hebrew.
Please correct me if I am wrong in understanding that you are the only person teaching Hebrew at any Indian university?
Not only am I the only person teaching Hebrew at any Indian university, but I was also instrumental in getting Hebrew introduced at the Jawaharlal Nehru University. Although officially speaking it was introduced at the university only as a result of a bilateral agreement between India and Israel, yet had I not made efforts for it, I doubt if this would have happened when it happened. (This interview was conducted in 2011. Since then, Dr Imam has been joined by Achia Anzi in teaching Hebrew at JNU, but Anzi teaches on a contractual basis. Hence, Imam still remains the only Hebrew teacher to hold a tenure track position in Indian academia.)
There are two divisions in any religious community, one of the observant followers and the other of the non-observant ones. You clearly belong to the observant section of Muslims. Considering this and given the tensions between Jews and Muslims today, it is surprising to come across you, an observant Muslim, as the only Hebrew teacher in India. Although Islam does not forbid learning any language, it is hard to find somebody like you.
It is only because of the stereotyping of Muslims that people are surprised when they find me teaching Hebrew. Stereotyping can have very dangerous ramifications as witnessed in the post-9/11 fatal attacks on Sikhs in the US when they were mistaken for Muslims because of their beards and turbans. Also, generally Muslims know their religion not as a result of self-study but as a consequence of how it is interpreted to them by the clerics, which shapes their understanding of how a Muslim should conduct himself. Hence, they are often suspicious of those among them who study the Torah or have Jewish friends.
Similarly, instead of appreciating a Muslim studying the Hebrew language in which one of the most important sacred texts, the Torah, was received, it is seen with suspicion and even condemned. There was a time when the Indian Muslims had a similar attitude towards English, then seen by them as a language of the imperialists and enemies of Islam which would distance the Muslims from their religion, Islam. But today not only is English taught even in the Islamic seminaries, its importance is realised by one and all across the Indian Muslim community.
My family, friends and wider community were all surprised when I decided to learn Hebrew. Even in Israel, everybody seemed to be surprised to find a visibly observant Muslim like me with a beard and Islamic skull cap desirous of learning Hebrew. For the Israelis, it was their first ever interaction with a non-Arab Muslim, and that too an observant one and on top of that interested in learning their language, which took them by surprise. So, among both, Muslims as well as Jews, there were people who felt I had gone crazy. And I was met with this response only because of the stereotype of a Muslim that these people had. As for me, my interest in Hebrew was driven by my desire to learn about the Jewish version of the Middle East conflict, as my Jewish brethren expressed it in their language Hebrew. I could already access the Arab version in their language because of my knowledge of Arabic. I did not want to know about the conflict between the Jew and the Muslim through a third person.
During the time you spent in Israel for your studies, the consciousness that the people there would form their perception of Indian Muslims on the basis of their impression of you must have put some pressure on you?
It was after my MPhil at the Jawaharlal Nehru University that I went to the Hebrew University of Jerusalem for some time for specialising in the Modern Middle East. Initially I went to Israel on a Government of Israel Scholarship, but after that I was supported by Golda Meir scholarship to continue my studies there. The various courses that I took under these two scholarships were cumulatively considered at par with MA.
Although lessons in Hebrew language are not a part of MA in Middle Eastern Studies, yet knowledge of Hebrew is considered mandatory for it. Hence, I learnt Hebrew along with my MA and attained knowledge equivalent to seven levels. I was in Israel from 1998 to 2000. I registered for PhD in 2002 and was awarded the degree of PhD in 2009. I was the first non-Arab Muslim that the Israelis had any interaction with. And they started trusting me so much that some of my Jewish friends even visited the Palestinian Authority-administered Bethlehem with me for the first time in spite of all apprehensions. I got invited to their homes on Jewish festivals just as I was invited by my Palestinian friends on Muslim festivals. My having relations with both parties sometimes made people suspicious of me. Palestinians would think of me as a Yemenite Jew while the Ashkenazim would consider me an Arab. Hence, I was under threat from both sides. In this respect, mere glares would say a lot to me even if the people did not utter a word.
When I tread on areas beyond the university neighbourhood, people would look at me with suspicion. Muslims would look at me in the same manner if I visited a mosque not accompanied by any local Arab Muslim friend. The very atmosphere is such that people get easily suspicious of strangers and fear them to be suicide bombers or fanatic attackers. Later, I started empathising with them. I used to offer namāz (Islamic prayers) in the balcony of my flat in Israel. The door to the balcony had a picture of [Israel's first prime minister] Davd Ben Gurion. I never thought of removing the picture, and as a result my flatmates started calling it Ben Gurion mosque.
Without exaggeration, at least 20-25 Jews wept when I left Israel. Relations are still such that whenever anybody from this university goes to Israel, he is asked about my well-being. I see it as an achievement that I left behind weeping Jewish friends when I returned to India, given the fact that I had gone to Israel all alone, despite discouragement from family and friends and their warnings that according to them, I, a devout Muslim, was risking my safety by heading to an enemy country. Later, Israeli TV channel, Channel 8 Avutz Shimoni, invited me to Israel for two weeks for an interview for a six or seven episode documentary series on identity.
How and when did you develop an interest in the Hebrew language?
Conscious as I was that there was more to the animosity and the tensions between Jews and Muslims than just the Arab-Israel conflict, I decided to interact with Jews in their own language to get to the very root of the problem. It was an attempt on my part to understand their outlook, their point of view, right from the horse's mouth, instead of being informed through the press, predominantly by the third party, which is neither Jewish nor Muslim.
Secondly,there is a hadith according to which Prophet Muhammad asked his followers to learn Hebrew. It is said that two of the sahābā attained command of Hebrew, one in thirteen days and the other in fifteen days. Hebrew of those times was very close to Arabic. By learning Hebrew, I also followed a sunnat, according to which one should learn as much as possible. My knowledge of Hebrew has also enabled me to bridge the communication gap between me as a Muslim and Jews. I also felt that with the increasing strengthening of relations between India and Israel, knowledge of Hebrew would brighten my career prospects. The first organisation to employ me upon my return to India was the Indian Defence School where I taught Hebrew. Even today, when I do not teach there any more I am still requested to come from time to time whenever there is anything involving the Indo-Israel defence deals. Hence, I have served my religion as well as my country by learning the Hebrew language.
What did you propose to study when you applied for the Government of Israel Scholarship?
I proposed to research the Role of Extremist Writers in the Peace Process.
After your return from Israel on the completion of your studies, did you face any opposition or resistance to your academic endeavours in India?
I am often called a Mossad agent who has been planted among Indian Muslims. Jawaharlal Nehru University is politically a very sensitive place given the dominance of the Left at the campus. It is the Left which is considered secular and it is anti-Israel. Hence, I could not expect any support from them. And as far as the Right is considered, even if they were sympathetic towards the cause of Hebrew, they were suspicious of me because of my religious Islamic demeanour. Therefore, of the two main political factions active at the university campus, I could not get support from either.
In this situation, it was not easy to introduce and promote Hebrew in the university and all I could do was to keep a low profile. Conscious of the fact that Muslims and Jews are seen as political adversaries, I urged the people to see my attempt to introduce Hebrew as a purely academic act, rather than driven by any political agenda. JNU is particularly known for the study of modern foreign languages. I tried to draw attention to the need for the introduction of classical languages and projected Hebrew as one. Introducing Hebrew in the garb of a classical language was the only strategy I could think of for countering the forces resisting it.
What I teach today is actually Modern Hebrew. I neither find myself qualified to teach the classical form nor is there any demand for it as the students are largely market-oriented and not research oriented. It is the knowledge of Modern Hebrew which would serve them better.
Could you, please, narrate a few interesting anecdotes or experiences of Israel.
When I got off the taxi at the Hebrew University in Jerusalem after my arrival in Israel, a heavy suitcase of mine, which did not even have wheels, was lifted for me for a long distance, until I reached my destination, by a stranger. It is interesting to note here that I had been cautioned against going to Israel by friends and family, and now my very first experience there was so pleasant.
Once a bomb explosion took place in the university library and the old librarian got injured. I also happened to be there. The librarian was so impressed with my gesture of immediately getting him water to drink and also with my washing his wounds, that after that incident he always introduced me to the people as the gentleman who came to his rescue immediately after the explosion. As a result of this and many other incidents, I got the happy feeling that I was positively contributing to Jewish-Muslim relations by leaving behind a positive image of Muslims, unlike the one the Jews had before. There were even articles on me in the Israeli press after this incident.
Before I went to Israel, I did not use to allow anyone to take pictures of me, but in Israel I was photographed so much that I stopped resisting.
One day, I was on my way to see a filmmaker who had interviewed me for a documentary he was making on Jihad. I had with me a book for him, titled Killing in the Name of God. Just when the bus arrived at the stop a police car stopped right in front of it after overtaking it and the policemen signalled to the driver not to open the door. With the pistols pointed at me, I was asked to raise my hands. After which I was asked to lift my shirt and then to open the bag. Upon my opening the bag came out that book, which made them all the more suspicious. However, I was let off when I showed them my University Identity Card. They explained that they did so because they had some input about a suicide bomber.
I would admit that I did have the same perception of Jews as common among the common Muslims, that they are a people guilty of the falsification of religious texts. It was after going there that I realised that the Jews were not any different and were regular, ordinary people like us, with good as well as bad among them. The Indian Muslims do not seem to be prepared as yet for greater interaction with Jews, for many among them have cancelled their visits to Israel out of fear of being ostracised by their community or instead of going there directly have gone there secretly via some other country.
The Urdu press does play a negative role in shaping the Muslim perceptions of Jews and Israel. I do not know where this misconception came from that the Muslims are not free to pray in the Al Aqsa mosque, but it is very widespread among them. It is silly of the Muslim countries to not grant visas to those who have been to Israel. Just as we Muslims resent being stereotyped, the same way, we Muslims too, should not stereotype the other communities.The Hebrew University of Jerusalem has a Department devoted to Islamic Studies. When the Jews can study about Islam and its history why cannot the Muslims study about Jewish theology and history and culture. It is necessary to understand the Jews in order to understand the Quran, which is full of references to Abraham, Moses, David and Solomon.
Dr Navras Jaat Aafreedi is an Indo-Judaic studies scholar and a Muslim-Jewish relations activist, employed as Assistant Professor in the Department of History & Civilization, School of Humanities & Social Sciences, Gautam Buddha University, Greater Noida. http://scroll.in/article/801598/the-only-hebrew-teacher-in-indian-academia-is-a-devout-muslim
------------
Muslims Have Highest Young Population, They Also Die Young in India
January 13, 2016
New Delhi: The data released by Census 2011 has revealed that in India, Muslims have the highest share of children and teenagers among all religions.
According to the 15th National census survey conducted by the Census Organization of India, if all communities are grouped together, almost 41 percent of India's population is below 20 years old, leaving 50 percent in 20-59 age group, and nine percent above 60 years.
Across religious communities, Muslims have the highest share of children and teenagers (0-19 age group) at 47 percent, compared to 40 percent for Hindus, reports The Times of India.
Today, every fifth person in India is an adolescent (10-19 years) and every third – a young person (10-24 years), said the report.
Also, in a notable trend, life cycles of different religious communities in the country show declining shares of children and increasing proportion of elderly population.
As per 2001 census, the share of the young population was 45 percent for the whole country (44 percent for Hindus, 52% for Muslims and 35% for Jains).
Notably, there is a considerable variation in the share of the elderly population in 2011 census. In the Muslim community, only 6.4 percent of the population is over 60 years, almost 50 percent lower than the national average.
Also, Muslims have the highest total dependency ratio of 748 compared to the lowest ratio for Jains (498).
Full report at:
http://zeenews.india.com/news/india/muslims-have-highest-young-population-but-also-die-young_1844535.html
------------
Suspected IS letter threatens to kill Pune ATS ACP, cops begin probe
Jan 13, 2016
Pune Police have constituted a probe after receiving an anonymous letter from a suspected member of terror group Islamic State threatening to kill assistant commissioner of police Bhanupratap Barge and his family.
An officer with the Pune anti-terror squad (ATS), Barge prevented a 16-year-old girl from joining the IS last year and was involved in her de-radicalisation programme.
olice sources said police received the letter around two weeks back with the sender identifying himself as an IS operative. Security has been stepped up outside the Pune ATS office and officers deployed to protect Barge's family, officials said.
In December, Barge led the de-radicalisation programme of the class 11 student in Pune, who was attracted to IS ideology after watching a documentary on television and subsequently started regularly monitoring news on the Al Jazeera channel.
"The girl used the internet to get in touch with IS contacts and contacted about 200 young persons from different countries. Her interrogation revealed she was told to come to Syria for medical education and for further initiation," Barge had said.
The de-radicalisation programme with the help of family members and community people was "working" with encouraging results, he had added.
Full report at:
http://www.aninews.in/videogallery2/47945-muslim-head-elected-in-hindu-dominated-village.html
------------
Row after RSS Affiliate Asks Madrasas to Hoist Tricolour on Republic Day
January 12, 2016
An RSS affiliate's advice to madrasas to hoist the national flag on campuses on Republic Day has drawn criticism from prominent Islamic seminary Darul-Uloom-Deoband, prompting the Muslim Rashtriya Manch to clarify it never doubted the patriotism of these institutions.
The Islamic seminary has objected to the MRM's call and asked the Rashtriya Swayamsevak Sangh (RSS) whether it "believed" in the Constitution of India and the national flag.
Ashraf Usmani, press secretary of the seminary said though the decision to unfurl the national flag was the individual choice of madrasas, almost all of them hoist it and celebrate Independence and Republic days.
Hitting out at RSS, Usmani wanted to know the Sangh's contribution to the national freedom struggle in which he said madrasas had played an important role.
"It (RSS) only worships the saffron flag. First it should hoist tricolour at its headquarters and other offices and only then it should talk about madrasas," he said.
Meanwhile, the Muslim Rashtriya Manch has clarified its intention behind the campaign was not to test or doubt the patriotism of the religious educational institutions.
"We have been appealing the madrasas to hoist national flag on January 26 and August 15 for the last five years," national convenor of MRM Mohammad Afzal told PTI.
"Since this time our government is at the Centre, we are planning to organise the event on a large scale, but this doesn't mean that the Manch has any doubt about the patriotism of madarasas or wants to target them through this campaign," he said.
Afzal said all citizens should hoist the tricolour on important national events.
Full report at:
http://indianexpress.com/article/india/india-news-india/row-after-rss-affiliate-asks-madrasas-to-hoist-tricolour-on-republic-day/
------------
Pathankot terror attack: Terrorists hid overnight in airbase shed
by Praveen Swami
January 13, 2016
The four terrorists who attacked the Pathankot airbase last week spent up to 24 hours resting inside a disused Military Engineer Services shed as they prepared to launch their attack, highly-placed sources in the National Investigation Agency (NIA) have told The Indian Express. This raises the prospect that the attackers may have been aided by reconnaissance conducted earlier.
"From the evidence we've gathered," an official familiar with the investigation said, "it's pretty clear that the men broke open the lock on one of the MES buildings in a junkyard where disused equipment was stored, and made themselves at home."
NIA investigators, the official said, have found evidence that the men had eaten a meal inside the MES shed, as well as signs they had moved furniture around to create space to sleep in the dusty building.
"The timeline we've built is based on study of the site, as well as questioning of multiple witnesses working in the airbase and civilians outside of it," the official said. Last week, The Indian Express reported that the attackers had jumped over the perimeter wall of the base by climbing a eucalyptus tree, and then laid a nylon rope after cutting the barbed wire atop the fence.
"The best guess we can make," the official said, "is that the men rested, waiting for dark to fall, and then moved at a time when they knew the guards would be tired, just as a shift of the guard was due to take place." "It is just not possible that the terrorists would have had the confidence to take such a long break unless they knew the MES yard was unguarded, and barely visited by base staff," the official said. Following their detection by IAF surveillance assets, the attackers ran into a building used by base guards, opening fire and killing five unarmed personnel.
Full report at:
http://indianexpress.com/article/india/india-news-india/pathankot-attack-terrorists-hid-overnight-in-airbase-shed/
------------
Arab World
Sunni mosques in east Iraq attacked after ISIS-claimed blasts
12 January 2016
At least seven Sunni mosques and dozens of shops in eastern Iraq were firebombed on Tuesday, security sources and local officials said, a day after 23 people were killed there in two blasts claimed by Islamic State of Iraq and Syria (ISIS).
Ten people were also shot and killed in Muqdadiya, 80 km (50 miles) northeast of Baghdad, security and hospital sources said.
The rise of the Islamist militant group ISIS, which follows a Sunni jihadist ideology, has exacerbated a long-running sectarian conflict in the country, mostly between the Shiite majority and minority Sunnis.
A surge in such violence could undermine efforts by Prime Minister Haider al-Abadi, a moderate Shiite Islamist, to dislodge the militants from large swaths of the north and west that they seized in 2014.
At least two Sunni mosques south of Baghdad were attacked last week after a Shiite cleric was executed in Saudi Arabia, triggering angry reactions in Iraq and neighboring Iran.
At the height of Iraq's civil war nearly a decade ago, such mosque attacks often unleashed revenge killings and counter attacks across the country.
Officials tried on Tuesday to head off further violence, condemning the mosque attacks as well as Monday's bombings which ISIS said had targeted Shiites.
Abdul Lateef al-Himayim, head of Iraq's government body overseeing Sunni religious sites, called them "a desperate attempt to destroy Iraqi unity", while the United Nations warned in a statement the mosque bombings could "take the country back into the dark days of sectarian strife".
Haqqi al-Jabouri, a member of the local council in Diyala province where Muqdadiya is located, said both types of attacks hurt the social fabric of the community. He blamed "undisciplined (Shiite) militias" for burning the mosques.
Shiite militias were crucial in keeping ISIS from overrunning Baghdad and southern Shiite shrines during their lightning advance across the Syrian border in 2014, and have supported Iraqi forces pushing back the militants, including from parts of Diyala.
Militia elements have been accused of human rights abuses against Sunnis, allegations the groups have repeatedly denied or blamed on rogue members.
Amal Omran, a Shiite member of the Diyala council, blamed the mosque attacks on "infiltrators" seeking to smear the image of the militias.
Witnesses said some of those killed on Tuesday had been shot inside their homes or dragged into the street and executed by gunmen wearing black and camouflage uniforms.
Police sources and local residents said the gunmen were patrolling Muqdadiya and warning families through loudspeakers to leave the city or face death.
Reuters could not verify these accounts.
"It's worse than hell. I hid my two sons under a pile of clothes inside a wardrobe to avoid being discovered," said Um Ibrahim, a Sunni widow who fled to nearby Khanaqin after seeing two mosques engulfed by black smoke.
The attacks occurred in the central districts of Mualimeen, Asri and Orouba, the security sources said.
Full report at:
http://english.alarabiya.net/en/News/middle-east/2016/01/12/Sunni-mosques-in-east-Iraq-attacked-after-ISIS-claimed-blasts.html
------------
Over 40 Terrorists Killed by Gov't Forces across Syria's Central Province of Homs
Jan 13, 2016
"The army soldiers, in an ambush, hit the Takfiri terrorists hard in al-Jalmouz in the Northern part of Homs province, and killed over 20 militants," the army said.
"Concentration centres of the ISIL militants in concentrations in Um Sharshouh and Keisin came under massive attacks of the Syrian government forces, which ended in destruction of the militant group's military hardware in large scale," the army added.
"The government forces also raided the ISIL strongholds near al-Bayarat West of the ancient city of Palmyra (Tadmur), killed 20 Takfiri terrorists and destroyed their military grid," the army went on to say.
The Syrian army reported on Tuesday that its troops killed and injured scores of the Takfiri terrorists in heavy clashes in the Eastern suburbs of the town of Quaryatayn in Homs province.
A large number of ISIL terrorists were killed and many others were wounded in Quaryatayn clashes.
Full report at:
http://en.farsnews.com/newstext.aspx?nn=13941023000447
------------
41 Militants Killed in Clashes with Gov't Forces in Syria's Idlib
Jan 13, 2016
The Syrian army commandoes carried out two separate special operations in Tamanna and Maarat al-Nu'man, and killed 25 terrorists.
In the meantime, an army officer told the FNA that the army and the National Defense Forces (NDF) engaged in a heavy battle with the militant groups in the Northern part of Idlib in Sarmada, which left at least 11 terrorists dead.
"The army also stormed the Takfiri terrorists' positions near Saraqib, in which at least five militants were killed," the officer went on to say.
The pro-government forces have intensifies attacks on the militant groups' defence lines across Idlib.
On Tuesday, army announced that the Southern territories of Idlib province were the scenes of fierce battles between the militant groups and the Syrian Army and its popular allies, adding the government forces gained the upper hand against the terrorists in the province.
"The Syrian army troops and the NDF stormed Jund al-Aqsa's positions near Kafr Roma village near Maarat al-Nu'man town, killed at least 20 terrorists and destroyed their armored vehicles," the army said.
Full report at:
http://en.farsnews.com/newstext.aspx?nn=13941023000344
------------
Militants Confirm Death of Senior Commander
Jan 13, 2016
The terrorist groups said on their social media pages on Tuesday that Abu Raghad, one of al-Nusra Front's prominent commanders in Hawran, was shot dead by unknown party in Om elmiathin town, Southeast of Dara'a city.
The terrorist groups also said five militants were killed in Sheikh Miskeen town. The militants also acknowledged that they suffered heavy losses.
Meanwhile, sources said the Syrian army engaged in clashes with terrorists in Sheikh Meskeen amid heavy airstrikes and artillery shells.
Syrian artillery shells also hit militants' positions in the towns of Basar al-Harir and Ibtta.
On Monday, the Syrian army, backed by the country's warplanes, engaged in fierce battles with the Takfiri militants near the recently-liberated town of Sheikh Meskeen.
The Syrian army killed and injured a group of militants in clashes in the vicinity of Sheikh Meskeen town in Dara'a.
The news comes as the Syrian warplanes also destroyed terrorists' concentration centers in the town.
Full report at:
http://en.farsnews.com/newstext.aspx?nn=13941023000505
------------
Militants Withdraw From More Lands North of Syria's Homs
Jan 13, 2016
"The Syrian army and the country's National Defense Forces (NDF) pushed back the militants from the Northern part of al-Rastan lake, which claimed the lives of many Takfiri terrorists and caused many others to lay down guns and turn themselves in to the government forces," the army said.
The Syrian army reported on Tuesday that its troops killed and injured scores of the Takfiri terrorists in heavy clashes in the Eastern suburbs of the town of Quaryatayn in Homs province.
A large number of ISIL terrorists were killed and many others were wounded in Quaryatayn clashes.
Full report at:
http://en.farsnews.com/newstext.aspx?nn=13941023000472
------------
Militants Sustain Heavy Death Toll in Army Attacks North of Syria's Hama
Jan 13, 2016
"The Syrian army and the country's National Defense Forces (NDF) stormed the ISIL gatherings in Atshan North of Hama and killed or wounded tens of terrorists," the army said.
"Military vehicles of the Takfiri militants were destroyed by the Syrian army in an area between al-Lataminah and Lahaya, which ended in the killing and wounding of many militants," the army went on to say.
In relevant developments on Tuesday, the Syrian army troops stormed the militant groups' strongholds near the villages and towns in the North of Hama province, inflicting major losses on them.
Full report at:
http://en.farsnews.com/newstext.aspx?nn=13941023000249
------------
Syrian Troops March on Takfiris' Positions
Jan 13, 2016
On Tuesday, Syrian army targeted Takfiri terrorists' fortified positions in Dara'a al-Mahatta neighborhood in Dara'a city.
Elsewhere, Syrian troops inflicted losses on terrorists in the Southern side of Manshiyeh area in Dara'a al-Balad neighborhood in Dara'a city.
The army also targeted a concentration center of al-Nusra Front terrorists in Athman town, North of Dara'a city.
Earlier on Tuesday, FNA dispatches said Syrian Army and the country's popular forces inflicted major losses on the terrorist groups in the province of Dara'a.
Full report at:
http://en.farsnews.com/newstext.aspx?nn=13941023000327
------------
Syria army fully captures rebel redoubt in Latakia
12 January 2016
Syria's army and allied forces "took full control" on Tuesday of the rebel-held town of Salma, in the northwestern province of Latakia, state television reported.
In a breaking news flash, the channel said the army, backed by the pro-government National Defense Forces militia, had also seized hilltops surrounding the town.
Opposition forces in Latakia province -- including Al-Nusra -- are largely based in the northern and northeastern areas of Jabal Akrad and Jabal Turkman.
Regime forces have fought fiercely in recent months to retake those areas.
Since September 30, they have been backed by an intense air campaign by Russia, a staunch ally of Assad.
More than 260,000 people have died since Syria's conflict erupted in March 2011.
http://english.alarabiya.net/en/News/middle-east/2016/01/12/Syrian-army-enters-rebel-bastion-in-Latakia-province.html
Iraqi PM vows to expel ISIS after deadly mall attack
12 January 2016
Iraq's prime minister vowed on Tuesday to continue the fight against Islamic State of Iraq and Syria (ISIS) militants, a day after the group launched a suicide attack on a shopping mall in the capital, Baghdad, killing 18 people.
Touring the bombed and destroyed mall in the eastern Shiite-dominated area of New Baghdad, Haider al-Abadi described the attack as a "desperate attempt" by militants after they lost control of the key western city of Ramadi, the capital of Anbar province. Iraq's government will "spare no efforts" to expel ISIS forces from the country, al-Abadi said.
Gunmen stormed the Jawhara Mall on Monday after setting off a car bomb and launching a suicide attack at its entrance.
Iraqi forces later surrounded the building, landing troops on the roof before clashing with attackers inside, killing two gunmen and arresting four. Along with the 18 killed, around 50 people were wounded.
Full report at:
http://english.alarabiya.net/en/News/middle-east/2016/01/12/Iraqi-PM-vows-to-expel-ISIS-after-deadly-mall-attack.html
------------
Iraqi PM vows to expel ISIS after deadly mall attack
12 January 2016
Iraq's prime minister vowed on Tuesday to continue the fight against Islamic State of Iraq and Syria (ISIS) militants, a day after the group launched a suicide attack on a shopping mall in the capital, Baghdad, killing 18 people.
Touring the bombed and destroyed mall in the eastern Shiite-dominated area of New Baghdad, Haider al-Abadi described the attack as a "desperate attempt" by militants after they lost control of the key western city of Ramadi, the capital of Anbar province.
Iraq's government will "spare no efforts" to expel ISIS forces from the country, al-Abadi said.
Gunmen stormed the Jawhara Mall on Monday after setting off a car bomb and launching a suicide attack at its entrance.
Iraqi forces later surrounded the building, landing troops on the roof before clashing with attackers inside, killing two gunmen and arresting four. Along with the 18 killed, around 50 people were wounded.
Full report at:
http://english.alarabiya.net/en/News/middle-east/2016/01/12/Iraqi-PM-vows-to-expel-ISIS-after-deadly-mall-attack.html
------------
Alqraa Museum evidence of Saudi citizen's loyalty
13 January 2016
DAMMAM: Alqraa Village, located 160 km of Hafr Al-Batin, contains an archaeological museum. In the museum, which is open to the public and visitors, one can learn there about traditional ways of working and living in the Kingdom.
The establishment of Alqraa Museum is evidence of the loyalty of one Saudi family's breadwinner to the Kingdom. He began the museum himself but sadly dies before it was completed. His family decided to make his dying wish a reality and serious steps were taken in order to officially open the museum. Approval was obtained from the authorities in addition to taking necessary courses on museum management.
Al-Anoud Abdullah Al-Doweesh, the museum owner, said: "My husband had a great interest in heritage and wanted to establish an integrated heritage museum in the village of Alqraa where we live. Unfortunately, he passed away before he was able to achieve his dream but my children and I decided to complete the project and make our village an attractive destination."
Al-Doweesh said that they obtained the required licenses from the Civil Defense and from the Saudi Commission for Tourism and National Heritage (SCTNH), in addition to attending specialized courses in museum management in order to acquire the final license from the SCTNH.
Full report at:
http://www.arabnews.com/saudi-arabia/news/864321
------------
Africa
Bomb attack kills over dozen in north Cameroon mosque
Jan 13, 2016
More than a dozen people have lost their lives and at least one person has sustained injuries in a bomb attack targeting a mosque in Cameroon's volatile northern region near the border with Nigeria.
"The attack took place at 5:40 a.m. (0440 GMT) at a mosque in Kouyape. There were 13 deaths, including the man who blew himself up, and one wounded," a senior local official, who declined to be named, said on Wednesday.
No group or individual has so far claimed responsibility for the deadly incident, but the Takfiri Boko Haram terrorist group, which is based in neighboring Nigeria, has carried out similar attacks in Cameroon.
Full report at:
http://www.presstv.ir/Detail/2016/01/13/445624/Cameroon-bomb-attack-mosque-Kouyape-Nigeria-Boko-Haram/
------------
Boko Haram kills seven in northeastern Nigeria
Jan 12, 2016
Boko Haram Takfiri militants have killed seven people in northeastern Nigeria.
Local official sources said on Tuesday the attack was carried out on Sunday evening in the town of Madagali, Adamawa State.
"They killed seven people and burnt 10 houses," said Maina Ularamu, a former official with the Madagali local government.
"We are calling on the security agencies ... to flush out the insurgents because they use the bush as their operational base from where they attack Madagali and its environs."
Adamawa police spokesman Abubakar Othman confirmed Ularamu's statement and said two people were also injured in the attack.
Madagali and nearby towns and villages have been repeatedly attacked by Boko Haram in recent months.
On December 28, 2015 thirty people were killed in two bombings at a market in Madagali.
Nigeria's President Muhammadu Buhari declared weeks ago that Boko Haram had been "technically" defeated. The militants are said to be losing their stronghold in Borno State.
Buhari said the Takfiri group had lost its military capability to launch "conventional attacks" against security forces or community centers.
Following Buhari's comments, Boko Haram terrorists launched a wave of attacks in the northeast of the country, killing dozens of people and injuring scores more.
Full report at:
The militants are affiliated to the Daesh Takfiri terrorist group.
http://www.presstv.ir/Detail/2016/01/12/445501/Nigeria-Boko-Haram-Madagali-Adamawa/
------------
Ex-Gitmo inmates want to 'live normally' in Ghana
January 13, 2016
ACCRA - Two Yemeni men transferred from Guantanamo Bay to Ghana are looking to rebuild their lives but are not out to avenge their detention, they said in an interview broadcast late Monday.
"We have been wrongly arrested for 14 years without any charge against us," one of the men, Mahmud Umar Muhammad Bin Atef, told public radio station Uniiq FM.
"We have suffered but we are not looking for revenge," he added.
The Pentagon in Washington announced the transfer of Atef and Khalid Muhammad Salih al-Dhuby on January 6 and maintained they did not pose a threat but would still be monitored.
Nevertheless, there has been some public opposition in Ghana to the men's arrival on security grounds.
The United States had claimed Dhuby, who lived in Saudi Arabia, was a "probable" member of Al-Qaeda and received training in Afghanistan to target coalition forces.
Atef was allegedly a Taliban member and fought under Osama bin Laden's 55th Arab Brigade, also against NATO forces, according to their leaked case files published in the New York Times.
Full report at:
http://nation.com.pk/international/13-Jan-2016/ex-gitmo-inmates-want-to-live-normally-in-ghana
------------
South Asia
With His Words, Raihan Abir Honours His Slain Secular and Atheist Bangladeshi Colleagues
Michael Petrou
January 12, 2016
Raihan Abir escaped a wave of murderous attacks on secular and atheist writers by Islamist extremists in Bangladesh and found refuge in Canada. But he is still threatened with death.
In September, the Islamist group Ansarullah Bangla Team published a hit list online of some 20 secular Bangladeshi writers and activists living abroad. "Let Bangladesh revoke the citizenship of these enemies of Islam," read an accompanying statement. "If not, we will hunt them down in whatever part of God's world we find them and kill them right there."
Among those threatened was Abir, editor of Mukto-mona, a bilingual English-Bengali website and blog dedicated to freethinking and science. He has been living in Canada since June.
Abir regularly received death threats by text message and email while still in Bangladesh. "It's not uncommon for Islamic extremists to attack writers and secular people, so I was keeping myself away from going to public meetings and rallies so people don't track me," he says. "I was taking these kind of precautions because we have to. But in 2015, it got out of control."
Several of Abir's secular friends and colleagues in Bangladesh were hacked to death last year—including Avijit Roy, who co-founded Mukto-mona with his wife, Rafida Bonya Ahmed, and who co-authored the book Philosophy of Disbelief with Abir.
Roy and Ahmed, visiting Bangladesh from their home in America, were set upon by a mob of machete-wielding extremists in a crowded Dhaka street in February. Roy died. Ahmed was badly wounded, losing a thumb in the attack. The two reportedly lay bleeding on the ground for an hour before they were taken to hospital.
Also murdered in 2015 were Ananta Bijoy Das, a blogger and editor of Philosophy of Disbelief; Faisal Arefin Dipan, who published it; Niloy Chatterjee, who wrote for Mukto-mona and was a university friend of Abir's; and atheist blogger Washiqur Rahman.
"I felt like it is my social responsibility. I want Bangladesh to be a secular country. It is a secular country, but it is being hacked by Islamic extremist people," says Abir, explaining why he continued to write despite the consequential danger.
"The fear of Islamic extremists is that we are enlightening people. We are talking about injustices. We are talking about superstitious things. That's why secular people, the people of Mukto-mona, are being targeted.
"They always have the excuse: 'You are writing against our Prophet. You write against Islam. You get money from Jews, and that's why you are defaming Islam.' These are all kinds of excuses. Mukto-mona actually is not for criticizing Islam. It is not for criticizing Muhammad. It's a website for writing about science, writing about secularism, humanism, all kinds of values."
Full report at:
http://www.macleans.ca/news/world/in-toronto-a-bangladeshi-editor-pays-tribute-to-his-murdered-colleagues/
------------
Pakistan army officers involved in attack on Indian Consulate: Afghan police
January 13, 2016
Pakistani military officers were involved in the attack on the Indian Consulate in Mazar-e-Sharif in which assailants attempted to storm the mission building, a senior Afghan police official said on Tuesday.
"We saw with our own eyes and I can say 99 per cent that those attackers were from Pakistani military and used special tactics while conducting their operation," Sayed Kamal Sadat, police chief of the Balkh province, said of the attack that took place last week.
Sadat said the attackers — officers from across the border — were well-trained military men who fought Afghan security forces in the 25-hour siege.
Read Also: Indian consulate attack: Before dying, Afghan attackers scrawled 'Afzal Guru avenged' on walls
"The attackers were military personnel. They were educated and well prepared and had intelligence. They fought us and only by Allah's grace were we able to control them and eliminate them," Sadat was quoted as saying by Tolo News.
The police official said efforts were underway to track down, identify and detain those who assisted the attackers to gain access to the building that was opposite the Indian Consulate.
Full report at:
http://indianexpress.com/article/india/india-news-india/pakistan-army-officers-involved-in-attack-on-indian-consulate-afghan-police/
------------
Bangladesh Seeks Death Penalty for Jamaat-e-Islami Leader
January 13, 2016
DHAKA: The Bangladesh government on Tuesday filed a review petition with the Supreme Court seeking the death penalty for a top Islamist leader convicted of war crimes during the country's 1971 war.
A war crimes tribunal set up in 2010 has sparked violence and drawn criticism from opposition politicians, including leaders of the Jamaat-e-Islami party, that it is victimising Prime Minister Sheikh Hasina's political opponents.–Reuters
Four opposition politicians, including three leaders of the Jamaat-e-Islami, have been convicted by the tribunal and executed since late 2013. The Supreme Court in 2014 commuted to life imprisonment a death sentence handed down to top Jamaat-e-Islami member Delwar Hossain Sayedee, 76, for atrocities committed during the nine-month war. State prosecutors are challenging that decision. "We have sought the highest punishment for him," Attorney General Mahbubey Alam told reporters, after his office filed the petition.
Sayedee's initial conviction in 2013 on charges of genocide, rape, torture and the persecution of Hindus triggered protests in which about 60 people were killed.
Anger over the tribunal's convictions and the executions has come amid a surge in militant violence in Muslim-majority Bangladesh, with militant groups claiming the murder of two foreigners and four secular writers and a publisher last year.
Full report at:
http://nation.com.pk/international/13-Jan-2016/bangladesh-seeks-death-penalty-for-ji-leader
------------
At least six dead, 11 injured in blast near Pakistan consulate in Afghanistan
Jan 13, 2016
KABUL: Afghan security forces exchanged fire with gunmen barricaded in a house near the Pakistan consulate in the eastern city of Jalalabad on Wednesday after a suicide bomber blew himself up, killing at least six people and wounding 11, officials said.
Afghanistan's Tolo News reported that five policemen guarding the consulate were killed, and three children and a consulate staff member were among those injured.
However, Foreign Office spokesman Qazi Khalilullah denied this. "All Pakistanis working at the Pakistani consulate in Jalalabad are safe. No one has been injured," he said.
Witnesses said heavy gunfire and a series of explosions could be heard and residents and children from a nearby school had been evacuated.
Officials said three attackers are inside the consulate and a gunbattle between security forces and attackers is ongoing.
Earlier, Attaullah Khogyani, a spokesman for the provincial governor, said a suicide bomber had tried to join a queue of people seeking visas to Pakistan and blew himself up after being prevented from entering the building. The nature of the blast could not be independently confirmed.
Local Afghan officials said they were investigating the incident outside the consulate, which is near the Indian and Iranian diplomatic mission. A hospital and schools are also situated in the area which is usually busy during morning rush hour as people queue for visas.
The area around Pakistan consulate in Nangarhar province was sealed off after the attack.
There was no claim of responsibility for the blast in Jalalabad, which is the main trade gateway to the Khyber Pass and Pakistan. Nangarhar province is home to a number of insurgent groups and criminal gangs.
Insurgent attacks are not uncommon in Jalalabad. The militant Islamic State group also has a presence in province.
Full report at:
http://www.dawn.com/news/1232685/at-least-six-dead-11-injured-in-blast-near-pakistan-consulate-in-afghanistan
------------
30 Bangladeshi victims go to European court
January 13, 2016
Some 30 aggrieved Bangladeshis, who were shot and injured on a strawberry farm in Greece in 2013, filed a case with the European Court of Human Rights in Brussels last week over Greece's alleged violation of human rights.
Tarikul Islam, minister and head of chancery at the Bangladesh Mission in Greece, yesterday confirmed this to The Daily Star over the phone.
"We have received information that some aggrieved Bangladeshis filed a case with the European Court of Human Rights to seek justice for the alleged violation of their rights. We will soon clarify our stance on this," he said.
Zainul Abedin, president of All European Bangladesh Association, yesterday told the BBC Bangla Service that the Bangladeshis had filed the case as a Greek court acquitted the accused people and had not delivered any order regarding compensation for the victims.
Meanwhile, the Greek Council for Refugees (GCR) said the migrants, who worked in strawberry plantations in Nea Manolada, submitted the complaint over violation of the Article 4 of the European Convention on Human Rights, which outlaws forced labour and slavery.
"It is the first time such a case has been filed against Greece, and the first time that the large-scale phenomenon of forced labour is to be addressed at a European level," reports Moscow-based news agency Sputnik International, quoting a GCR press release.
"... Four international human rights organisations and an academic institution have announced their plan to support the lawsuit. The Greek authorities are invited on January 20, 2016, to comment on the breach of obligations under Article 4," it added.
Around 200 migrants, mostly from Bangladesh and Pakistan, worked in the plantations. They protested against a six-month long delay in wages and went on a strike against the owner of the firm in April 2013.
Full report at:
http://www.thedailystar.net/backpage/30-bangladeshi-victims-go-european-court-201097
------------
Canadian freed after 5yrs in Afghan Taliban captivity
January 13, 2016
OTTAWA - A Canadian man has been freed from captivity in Afghanistan after being taken hostage by the Taliban five years ago, Canada's foreign minister said Monday.
Colin Rutherford, who was 26 years old when he was reported missing in February 2011 while visiting the war-torn nation as a tourist, was released with the help of Qatar.
"Canada is very pleased that efforts undertaken to secure the release of Colin Rutherford from captivity have been successful," Canadian Foreign Minister Stephane Dion said in a statement. "We look forward to Mr. Rutherford being able to return to Canada and reunite with his family and loved ones," he added.
The Taliban confirmed his release on "humanitarian grounds" in a brief statement Tuesday, which provided no further details.
The insurgent group had captured Rutherford in the central province of Ghazni, who accused him of being a spy.
Full report at:
http://nation.com.pk/international/13-Jan-2016/canadian-freed-after-5yrs-in-afghan-taliban-captivity
------------
Senators question existence of Council of Islamic Ideology
AMIR WASIM
Jan 13, 2016
ISLAMABAD: The Senate witnessed impassioned speeches on Tuesday when discussion on three annual reports of the Council of Islamic Ideology turned into a debate on the question of very existence of the CII.
Members of the JUI-F, who appeared to have come to the house well-prepared, pointed their guns towards the PPP when Farhatullah Babar raised question on the constitutional and legal status of the CII and Sassui Palejo criticised its members for focussing only on women and marriage issues.
Four out of five senators of the JUI-F, which at present has the CII chairmanship, took part in the first of its kind debate in the Senate and called for implementing the council's recommendations.
Mr Babar said the task assigned to the CII under the 1973 Constitution had been completed and submission of annual reports was no longer a constitutional requirement.
The PPP senator said the CII in its report had itself admitted that after the submission of its final report in December 1996, it was no longer constitutionally required to continue submitting reports to parliament. However, he said, the council unilaterally decided to keep submitting annual reports. He requested the chairman to refer the matter to the law and justice committee.
He said the Federal Shariat Court was tasked to examine and could even strike down any law on the touchstone of whether it was Islamic or not. "Then what was the need for CII and its reports?"
He said the council had made some controversial pronouncements like rejecting a bill for establishing homes for the elderly terming the idea against the norms and traditions of society and the Women Protection Bill and declaring DNA test unacceptable as primary evidence in rape cases.
Some time ago, he said the council first approved the draft of a resolution recommending amendment to the blasphemy law to discourage its misuse but soon the hardliners joined hands and struck down the proposed resolution.
Back in 1978, he said, the CII had recommended that words 'Allah-o-Akbar' should be inscribed on the national flag to inspire people for Jehad. "Not surprisingly, the flag of Taliban bears these symbols and they have been carrying out what they call Jehad," he added. "Recommendations such as these demonstrate how dangerously conservative and out of touch with the times the CII is," he said.
Chairman Raza Rabbani turned down the request to refer the issue to the law committee, stating the Constitution did not say that the CII would stand abolished after submission of its final report which it was required to submit within seven years of its existence in 1973.
Maulana Abdul Ghafoor Haideri described the remarks of Mr Babar as "disrespect" to the CII which was a constitutional institution.
Full report at:
http://www.dawn.com/news/1232659/senators-question-existence-of-council-of-islamic-ideology
------------
Pakistan: 15 killed in explosion outside polio centre in Quetta
January 13, 2016
At least 15 people, mostly security officials, were killed and over 10 others injured today in a bomb blast apparently carried out by a suicide bomber outside a polio vaccination centre in Pakistan's southwestern city of Quetta.
"The blast was apparently carried out by a suicide bomber," Balochistan Home Minister Mir Sarfaraz Bugti told media after the blast.
The deceased include 12 policemen, one paramilitary and two civilians, a police official said.
Eyewitness at the site said they heard firing after a loud blast rocked the area.
The victims have been shifted to Civil Hospital Quetta, where an emergency has been imposed, the Dawn reported.
Police and rescue workers reached the site soon after the blast, while security forces have cordoned off the area.
Today is the third day of a three-day anti-polio campaign which was launched in Quetta and other districts of Balochistan on Monday.
The campaign is to target 2.4 million children under the age of five. Over 55,000 children of Afghan refugees are to be immunised under the campaign.
Polio teams were being dispatched from the polio centre targeted today in the blast, security sources said.
Full report at:
http://indianexpress.com/article/world/world-news/quetta-bomb-blast-pakistan-polio-centre/
------------
Provincial status for GB to jeopardise Kashmir cause, warns Yasin Malik
TARIQ NAQASH
Jan 13, 2016
MUZAFFARABAD: A Sri­n­agar-based pro-freedom leader has advised Prime Minister Nawaz Sharif to beware of implications of a proposal to convert Gilgit-Baltistan into a province for the Kashmir cause.
In a letter to Mr Sharif, Jammu Kashmir Liberation Front (JKLF) Chairman Yasin Malik referred to media reports suggesting that the government was going to hold a meeting on Jan 14 to deliberate upon GB's future and that the meeting might reach a consensus to merge the territory with Pakistan.
"This will have implications on the dispute over Jammu and Kashmir. If Pakistan imposes its sovereign writ over Gilgit-Baltistan, Delhi will then have a political and moral right to integrate Kashmir with India. Thus with one stroke, Pakistan will be helping India to consolidate its writ on Kashmir," Mr Malik said.
"I, as someone who represents the aspirations and sentiments of the people of Jammu and Kashmir, urge and appeal to you to stay away from such a course of action," he advised the prime minister.
Mr Malik said it was not just his political wisdom but also the regard for the sentiments, sacrifices and aspirations of Kashmiri people that had driven him to make the appeal.
Since 1947, he said, people of Jammu Kashmir had been struggling for their right and despite loss of hundreds of thousands of lives, they held that struggle dear to their heart.
"If your government incorporates Gilgit-Baltistan into Pakistan and, as a consequence, India consolidates its hold on Kashmir, this will amount to a bartering of (Kashmiri) people's aspirations."
Full report at:
http://www.dawn.com/news/1232674/provincial-status-for-gb-to-jeopardise-kashmir-cause-warns-yasin-malik
------------
Pakistan won't deploy troops on foreign soil
BAQIR SAJJAD SYED
Jan 13, 2016
ISLAMABAD: The Foreign Office shared with the National Assembly's Standing Committee on Foreign Affairs on Tuesday broad contours of Pakistan's invo­lvement in the Saudi-led 34-nation counter-terrorism coalition and said it would not entail deployment of troops on a foreign soil.
The committee was given an in-camera briefing by the Foreign Office on the counter-terrorism coalition announced by Saudi Arabia and the diplomatic standoff between Iran and the kingdom which started with the execution of Saudi dissident Sheikh Nimr.
Conversations with members of the committee revealed that Pakistan was looking forward to training security forces of the member countries, providing military hardware and sharing intelligence. Additionally, there are indications that Pakistan would work with Saudi Arabia for developing a narrative that could counter extremist ideology. The two countries will involve their clergies for this purpose.
FO shares with NA body broad contours of Pakistan's involvement in Saudi-led coalition
Pakistan earlier confirmed its participation in the coalition when it was announced last month, but said it would decide the extent of its participation after it received details about the initiative from Saudi Arabia.
Last week's visits by Saudi Arabia's defence and foreign affairs ministers provided clarity about the coalition to Pakistani authorities.
The sense emerging from the NA committee's meeting has suggested that Pakistan may have picked the activities in which it intends to participate.
In a late evening statement on the committee's meeting, the Foreign Office said: "The facets of cooperation and different activities of the coalition will be decided after consultative meetings, which will be hosted by Saudi Arabia in the near future."
The members who spoke to Dawn said they had been assured that the policy of not committing troops in any conflict situation remained unchanged and would be strictly adhered to. Pakistan, they implied, would have limited cooperation with the coalition in line with its policy of fighting terrorism and extremism.
The committee's chairman Awais Leghari said Pakistan's participation in the alliance would not be against any country. It would be only against terrorism, he added.
"We want to send a clear message to our neighbour (Iran) that we are not trying to isolate anyone," Mr Leghari said.
Full report at:
http://www.dawn.com/news/1232658/pakistan-wont-deploy-troops-on-foreign-soil
------------
Rangers search journalist's residence
MOHAMMAD ASGHAR | MUNAWER AZEEM
Jan 13, 2016
ISLAMABAD: In an unprecedented move Rangers personnel searched the house of New York Times Correspondent Salman Masood as part of a "terrorist search operation".
Mr Masood, who is also the Islamabad-based resident editor of English daily The Nation, put up a series of posts on his Twitter account on Tuesday morning, documenting the search as Rangers looked around the house.
According to Mr Masood, Rangers personnel arrived at his residence, located in Defence Housing Authority (DHA) Islamabad. A man in plainclothes repeatedly rang his door bell at around 7am. He was accompanied by Rangers personnel and a police officer. "They claimed that they wanted to search the house for a suspect, but they did not have a search warrant," he said.
"Though I introduced myself to them, they told me to hand over my CNIC and cell phone numbers, then left the house. They came back a little later with some women police officers and asked to search the house. This time, they searched the kitchen cabinets, the dining room and the lounge," Mr Masood told Dawn.
Police claim search was part of operation carried out in Loi Bher, Sihala areas
"After searching the house, they asked me if I had an illegal weapon in my possession, to which I replied that I did not." On their way out, he said, they told him they had to search another house nearby, but did not say why.
A senior Islamabad police official, speaking on condition of anonymity, told Dawn that the search operation carried out in DHA Islamabad was not a targeted one. "It was a search operation in which several houses were searched," he said.
However, nothing suspicious was recovered. In fact, Mr Masood tweeted that he was asked if he "had any illegal weapons hidden in the house".
Since it was live-tweeted, news of the raid spread quickly and drew condemnation from journalists and civil society activists.
In a statement issued later the same day, Interior Minister Chaudhry Nisar Ali Khan said he was taking notice of the raid and had directed the interior secretary to investigate who ordered the raid and why.
He also sought an explanation from the security agencies, saying that such action was not acceptable.
Full report at:
http://www.dawn.com/news/1232612/rangers-search-journalists-residence
------------
At least 17 killed in Quetta polio office blast
January 13, 2016
At least 17 people, including 12 police officers, and two anti-polio campaign workers, have died and many injured in a bomb blast in Quetta Satellite Town. The bomb targeted the head unit of anti-polio campaign office.
"There are 15 dead, including 12 police, one paramilitary, and two civilians," a local police official told AFP, adding that there are at least 10 people injured, with nine of them being police personnel and one a civilian.
Eyewitnesses said they heard firing as well after the blast.
According to Waqt News, the bomb was believed to be remote controlled. The claim was later refuted by security sources.
Rescue teams have reached the site and the injured are being shifted to a nearby hospital. Two of the injured are reportedly in critical condition. Emergency has been called in Civil Hospital, Quetta.
Full report at:
http://nation.com.pk/national/13-Jan-2016/blast-targets-anti-polio-campaign-office-in-quetta
------------
Malik seeks UN chief's role on Iran-Saudi conflict
January 13, 2016
ISLAMABAD - Former interior minister Senator Rehman Malik yesterday wrote a letter to United Nations Secretary General Ban-ki Moon seeking his intervention on the Iran-Saudi Arabia conflict.
Senator Malik - Chairman Senate Standing Committee on Interior - asked the UN chief to play an important role to cool down the growing tension between Iran and Saudi Arabia.
He said both the countries were important for the unity between Muslim countries and their relations with rest of the world.
Senator Malik proposed a UN General Assembly session to discuss ways and means to settle the dispute between Iran and Saudi Arabia.
He said UN silence over the issue was disappointing and the whole world.
Highlighting Secretary General Ban Ki Moon's efforts towards restoration of peace in different conflicted areas of the world, Senator Malik said he appreciated the extraordinary struggle for global peace.
Full report at:
http://nation.com.pk/national/13-Jan-2016/malik-seeks-un-chief-s-role-on-iran-saudi-conflict
------------
North America
Fight against Islamic State is not World War III, says Barack Obama
January 13, 2016
President Barack Obama accused critics on Tuesday of playing into the hands of Islamic State by comparing the fight against the militant group to World War Three, in an address aimed at laying out an optimistic vision of America's future.
Obama, who is delivering his last State of the Union speech to Congress before leaving office next year, said it was fiction to declare the United States was in economic decline or getting weaker on the international stage, despite rhetoric from Republican presidential candidates vying to replace him in the Nov. 8 election.
READ: Donald Trump on the State of the Union address: 'Boring, rambling, non-substantive'
"Masses of fighters on the back of pickup trucks and twisted souls plotting in apartments or garages pose an enormous danger to civilians and must be stopped. But they do not threaten our national existence," Obama said, according to prepared remarks.
Full text: Obama's State of the Union address
"That's the story ISIL wants to tell; that's the kind of propaganda they use to recruit. We don't need to build them up to show that we're serious, nor do we need to push away vital allies in this fight by echoing the lie that ISIL is representative of one of the world's largest religions," he said, referring to Islamic State by an acronym.
The remarks were a repudiation of Republican criticism of his strategy against Islamic State and, not so subtly, of Republican front-runner Donald Trump's call to temporarily ban Muslims from entering the United States.
Obama's address comes as 10 sailors aboard two US Navy boats were taken into Iranian custody. Iran told the United States the crew members would be "promptly" returned, US officials said. The event gave Republicans further fodder to criticize Obama's nuclear deal with Tehran.
Full report at:
http://indianexpress.com/article/world/world-news/fight-against-islamic-state-is-not-world-war-three-barack-obama/
------------
23,144 US bombs hit Muslim countries in 2015
13 January 2016
Council of Foreign Relations, a New York-based think tank, has estimated that 23,144 bombs have been dropped by the U.S. on Muslim-majority countries in 2015.
The chart, provided by the generally pro-State Department think tank, puts in stark terms how much destruction the U.S. has leveled on other countries. Whether or not one thinks such bombing is justified, it's a blunt illustration of how much raw damage the U.S. inflicted on the Muslim world in 2015.
About 77 percent of the U.S. airstrikes targeted ISIL in Iraq and Syria. The problem with the U.S.'s "kill-'em-all with airstrikes" rule, however, is that it is not working. Pentagon officials claim that at least 25,000 ISIL fighters have been killed (an anonymous official said 23,000 in November, while on Wednesday, Warren added "about 2,500" more were killed in December).
Full report at:
http://www.worldbulletin.net/america-canada/168358/23144-us-bombs-hit-muslim-countries-in-2015
------------
US urges India, Pakistan not to give up on peace
Jan 13, 2016
WASHINGTON: Descri­bing the India-Pakistan relationship as "tough and very complicated", the United States has urged the two neighbours not to give up their pursuit for peace.
At a US State Department briefing on Monday afternoon, spokesman John Kirby said that when Secretary of State John Kerry spoke with Prime Minister Nawaz Sharif on Jan 9, the two leaders also talked about an expected meeting between Indian and Pakistani foreign secretaries in Islamabad on the 15th.
He said that Secretary Kerry encouraged India and Pakistan to continue their discussions and to try to work through the problems they faced.
"I don't think they spoke with any great detail or specificity about the next round of talks and what's on the calendar. But writ large, yes, this was a topic of discussion with the prime minister," Mr Kirby said.
"We're committed to that end, to that goal, and we have been for a long time," said the US official while explaining Washington's position on promoting peace between India and Pakistan. But "these are tough issues, and these are some very complicated relationships," he added.
Full report at:
http://www.dawn.com/news/1232662/us-urges-india-pakistan-not-to-give-up-on-peace
------------
'Anti-Muslim campaigning feeds extremist propaganda'
January 13, 2016
WASHINGTON - Anti-Muslim rhetoric on the US campaign trail is "fodder" for extremist propaganda, the State Department has warned, after Donald Trump demanded a block on Muslim immigration.
The State Department spokesman was careful not to mention the Republican frontrunner by name, but cited Trump's appearance in a video made by Somali militants to bolster his case.
"The fact that one such candidate's comments were used in a recruiting video for an extremist group proves my point exactly," John Kirby told reporters at a daily briefing.
In footage that surfaced last week, the Somali Al-Qaeda franchise Shebab used an excerpt of a speech Trump made in December after a radical couple in California killed 14 people.
In his speech, Trump proposed a "total and complete shutdown" on Muslims entering the United States until US authorities are "able to determine and understand this problem."
The Shebab video response argued that this showed the United States is about to turn on its Muslim minority and urged believers to flee the West to fight as jihadists.
Trump has stood by his stance since the speech, repeating his call for a block on Muslim refugees and immigrants in interviews and in his first campaign television commercial.
The State Department spokesman, while insisting he did not want to be drawn into the campaign debate, noted that Secretary of State John Kerry has already warned about harmful rhetoric.
Full report at:
http://nation.com.pk/international/13-Jan-2016/anti-muslim-campaigning-feeds-extremist-propaganda
------------
Mideast
IS bomber kills 10 tourists in Istanbul
January 13, 2016
ISTANBUL - A Syrian suicide bomber on Tuesday struck the heart of Istanbul's busiest tourist district, killing 10 people, most of them Germans, in the latest deadly attack blamed on Islamic State jihadists.
Images from the scene showed several mutilated corpses lying on the ground close to the iconic Ottoman-era Blue Mosque in Sultanahmet, a district home to Istanbul's biggest concentration of historic monuments.
Turkey has been hit by a string of deadly attacks this year, but Tuesday's bombing was the first time in recent memory tourists had been targeted in the heart of the city.
Germany said at least eight of its nationals had been killed in the blast, while a Turkish official put the total number of Germans killed at nine.
Peru also confirmed one of its nationals had died in the attack, the foreign ministry in Lima said.
Turkish President Recep Tayyip Erdogan said the attack was carried out "by a suicide bomber of Syrian origin," while Prime Minister Ahmet Davutoglu said the man belonged to the Islamic State extremist group.
Officials said he was a Syrian born in 1988 who had crossed the border into Turkey.
The explosion occurred at around 0820 GMT by the Obelisk of Theodosius, a monument from ancient Egypt which was re-erected by the Roman Emperor Theodosius and stands just outside the Blue Mosque.
Police threw up a tight security cordon around the area as helicopters hovered overhead, and crowds of worried locals and tourists clamoured to find out what had happened, an AFP correspondent said.
The explosion was powerful enough to be heard in adjacent neighbourhoods, witnesses told AFP.
Full report at:
http://nation.com.pk/national/13-Jan-2016/is-bomber-kills-10-tourists-in-istanbul
------------
Iran Releases U.S. Sailors Accused of 'Trespassing'
By THOMAS ERDBRINK, HELENE COOPER and DAVID E. SANGERJAN. 13, 2016
TEHRAN — Iran has released two United States Navy patrol boats and 10 crew members who were described as "trespassing" in Iranian waters near a major naval base, state news media reported on Wednesday.
The Pentagon and the State Department said that one of the boats had experienced mechanical problems en route to Bahrain from Kuwait on a routine mission on Tuesday, and the Iranians appeared to have accepted that explanation.
The release was announced shortly before 10 a.m. on an Iranian state-run news channel, IRINN. "The detained U.S. Marines, after it was realized that their entry into Iran's territorial waters was unintentional, and after the Marines apologized, were released into international waters in the Persian Gulf," the channel reported, attributing the statement to the Islamic Revolutionary Guards Corps.
A boat of the type seized by Iran in the Persian Gulf on Tuesday. The sailors aboard are expected to be returned soon.Iran Seizes U.S. Sailors Amid Claims of SpyingJAN. 12, 2016
On the flight deck of the carrier Theodore Roosevelt after a mission. "When they launch, we launch," an American officer said.Off the Coast of Iran, a High-Stakes Version of Spy Versus SpyAUG. 17, 2015
The United States Naval Forces Central Command in Bahrain confirmed the release, saying in a statement that there were "no indications that the sailors were harmed during their brief detention" and that the Navy would "investigate the circumstances that led to the sailors' presence in Iran."
The defense secretary, Ashton B. Carter, released a statement commending the "timely way in which this situation was resolved" and thanked Secretary of State John Kerry "for his diplomatic engagement with Iran to secure our sailors' swift return."
The release of the sailors in less than 24 hours stands in sharp contrast to a similar incident eight years ago that developed into a major international standoff.
In 2007, 15 British marines in dinghies were arrested by the Revolutionary Guards Navy, which accused them of entering Iranian waters. The sailors were held for 13 days before the government of Mahmoud Ahmadinejad, then the president, set them free during a televised farewell ceremony in which they were given new suits and carpets as parting gifts.
A year later, the British Navy released a report saying that its vessels had been in an area with disputed borders between Iran and Iraq.
A prominent Iranian analyst with ties to the senior leadership said that the prompt resolution of the current incident was a reflection of how much Iran's relations with the West had evolved since the signing of the nuclear accord this year.
"This time, the Americans were cooperative in proving their innocence, and they quickly accepted their faults without resistance," the analyst, Hamidreza Taraghi, said in a phone interview. "The marines apologized for having strayed into Iranian waters."
Also playing a role was the strong relationship that has developed between Mr. Kerry and the Iranian foreign minister, Mohammad Javad Zarif, during negotiations on the nuclear deal, Mr. Taraghi said.
"John Kerry and Zarif were on the phone during the past hours, and this helped the problem to be resolved quickly due to their direct contact," he said.
The semiofficial Iranian news agency Fars said that the boats had illegally traveled more than a mile into Iranian waters near Farsi Island, the site of a major Iranian naval base. It said that members of the Revolutionary Guards Navy had confiscated GPS equipment, which would "prove that the American ships were 'trespassing' in Iranian waters."
The waters in question are a frequent site of intelligence collection by the United States and by Iran and many other gulf countries. The American and Iranian navies frequently encounter each other there.
The detention and release of the sailors comes at a particularly delicate moment in the tense American-Iranian relationship, just days before a nuclear deal is to be formally put in place, under which the United States is to unfreeze about $100 billion in Iranian assets.
That step is to be made after international nuclear inspectors verify that Iran has shipped 98 percent of its nuclear fuel out of the country, has disabled and removed centrifuges, and has taken a large plutonium reactor permanently offline.
The American sailors were aboard two riverine patrol boats — 38-foot, high-speed boats that are used to patrol rivers and littoral waters. One official said the two vessels, which often patrol shallow waters near Bahrain, had failed to make a scheduled meeting with a larger ship to refuel.
Full report at:
http://www.nytimes.com/2016/01/14/world/middleeast/iran-navy-crew-release.html?emc=edit_na_20160113&nlid=71783194&ref=headline&_r=0
------
IRGC Navy Commander: Those Looking for War with Iran Committing Suicide
Jan 13, 2016
"Today, if any country thinks of military confrontation against the Islamic Republic of Iran, it is either looking for a way to commit suicide and being annihilated or it has become mad and drunken and has developed dementia," Fadavi said, addressing a ceremony to unveil the country's first amphibious aircraft in the Southern port city of Bandar Abbas on Tuesday.
He called on the regional states which are dependent on foreigners and enemies of Islam to think reasonably and don't act upon enemies' dictations, stressing that the enemies don't think of anything but destruction of the capital and infrastructures of Islamic nations.
In relevant remarks in November, Iranian Defense Minister Brigadier General Hossein Dehqan underlined the Armed Forces' capability to give a rapid and crushing response to any enemy threat.
"The Iranian Armed Forces are able to control and repel threats decisively and swiftly in accordance with their level and type," Dehqan said, addressing a gathering in Tehran of Iran's diplomatic corps abroad.
Full report at:
http://en.farsnews.com/newstext.aspx?nn=13941022001248
------------
Iran asks U.S. to apologize for Navy 'violation'
13 January 2016
Iran's Revolutionary Guards said on Wednesday that Tehran has asked the U.S. for an apology for "violating" Iran's territorial waters, after 10 American sailors were arrested on Tuesday.
An Iranian naval commander said the U.S. aircraft carrier with the sailors on board had acted "provocatively and unprofessionally" for 40 minutes by carrying out maneuvers in the Gulf. This is yet to be confirmed.
Separately, a spokesman for the Revolutionary Guards (IRGC) said the U.S. sailors were being interrogated, according to the Tasnim news agency.
Late on Tuesday, a U.S. defense official said plans were in place for Iran to return the sailors to the U.S. Navy vessel in international waters early on Wednesday.
White House spokesman Josh Earnest told CNN that "We have received assurances from the Iranians that our sailors are safe and that they will be allowed to continue their journey promptly."
Full report at:
http://english.alarabiya.net/en/News/middle-east/2016/01/13/Iran-asks-U-S-to-apologize-for-Navy-violation-.html
------------
One killed, three wounded in Israeli airstrike on Gaza Strip
Jan 13, 2016
At least one Palestinian has been killed and three others have been wounded in an Israeli airstrike on the northern part of the Gaza Strip.
An Israeli warplane targeted a site allegedly belonging to Palestinian resistance movement Hamas in the town of Beit Lahia on Wednesday.
The Palestinian Health Ministry said a 31-year-old man, identified as Musa Abu Zuaiter, was killed in the attack.
Meanwhile, Israeli troops raided Beit Lahia, threatening the residents to leave the town.
In another Wednesday development, Palestinian media reported that the Israeli regime had force-fed Palestinian prisoner Muhammad al-Qiq, who had been on a hunger strike since November 24 last year.
The staff of Israel's Afula hospital tied the inmate's hands and feet and injected him with a serum, reports said.
Full report at:
http://www.presstv.ir/Detail/2016/01/13/445627/Gaza-Strip-Israel-airstrike-Beit-Lahia/
------------
US destroys IS bank in Iraq
January 13, 2016
BAGHDAD - Islamic State has published a video purporting to show the destruction from an airstrike on a bank in its northern Iraqi stronghold which the US-led coalition said had been aimed at disrupting the group's financing activities.
Reuters could not verify the authenticity of the footage posted by a news agency that supports the militant group, but two Mosul residents contacted by Reuters confirmed the location of al-Zuhour bank in an eastern district of the city.
Targeting Islamic State's finances is a key part of the coalition's strategy to defeat the group. Iraq's finance minister last year said the militants had looted nearly half a billion dollars from banks in Mosul and the other northern cities of Tikrit and Baiji after its lightning dash across the Syrian border in 2014.
Papers and burnt furniture littered the concrete and steel rubble of several buildings that appeared to have been destroyed by the bombing, the video showed. Debris hung from dust-covered tree limbs, and rescuers pulled an old man's bloodied body from the remains.
Footage from inside a damaged apartment building suggested civilian areas had also been hit. A military spokesman said earlier on Monday that a US aircraft had bombed an Islamic State cash distribution site which was distributing money to fund "terrorist" activities.
CNN, citing unnamed US defence officials, had said the building was destroyed by two 2,000-pound bombs. The officials could not say exactly how much money was there or in what currency, but one described it as "millions," CNN reported.
Islamic State, which split off from al Qaeda, has also financed its operations through oil smuggling, racketeering, kidnapping and taxing the millions of people living in areas it controls in Syria and Iraq.
At least seven mosques and dozens of shops in eastern Iraq were firebombed on Tuesday, security sources and local officials said, a day after 23 people were killed there in two blasts claimed by Islamic State.
Ten people were also shot and killed in Muqdadiya, 80 km northeast of Baghdad, security and hospital sources said. At least two mosques south of Baghdad were attacked last week after a Shia cleric was executed in Saudi Arabia, triggering angry reactions in Iraq and neighbouring Iran.
At the height of Iraq's civil war nearly a decade ago, such mosque attacks often unleashed revenge killings and counter attacks across the country.
Officials tried on Tuesday to head off further violence, condemning the mosque attacks as well as Monday's bombings which Islamic State said had targeted Shias.
Abdul Lateef al-Himayim, head of Iraq's government body overseeing Sunni religious sites, called them "a desperate attempt to destroy Iraqi unity", while the United Nations warned in a statement the mosque bombings could "take the country back into the dark days of sectarian strife".
Haqqi al-Jabouri, a member of the local council in Diyala province where Muqdadiya is located, said both types of attacks hurt the social fabric of the community. He blamed "undisciplined militias" for burning the mosques.
Meanwhile, gunmen shot dead two Iraqi television journalists north of Baghdad on Tuesday who had been on a reporting trip with a top security officer, the channel said.
Iraq is one of the most dangerous countries in the world for journalists, especially those from the country, who are far more exposed to attacks than their foreign counterparts.
"Armed militias assassinated correspondent Saif Tallal and his cameraman Hassan al-Anbaki near Baquba," the capital of Diyala province, a Sharqiya news presenter said on the air.
The journalists were killed while returning to Baquba from a reporting trip with Staff Lieutenant General Mizher al-Azzawi, the head of security command responsible for the province, the channel said.
Full report at:
http://nation.com.pk/international/13-Jan-2016/us-destroys-is-bank-in-iraq
------------
Iran to sell heavy water to US
January 13, 2016
TEHRAN - Iran will sell part of its stock of heavy water to the United States under its nuclear deal with world powers, its deputy atomic chief said Tuesday.
Ali Asghar Zarean also denied reports Iran had dismantled the core of its Arak nuclear reactor, a key step in the deal that will see sanctions lifted in exchange for limits on Tehran's nuclear programme.
"Iran will sell 40 tonnes of its excess heavy water to the United States through a third country," Zarean, deputy head of Iran's Atomic Energy Organisation, was quoted as saying by the official IRNA news agency.
"Six tonnes of the exported heavy water will be used in nuclear facilities and the rest in American research centres," he said. Iran has a heavy water production plant in its Arak nuclear site, which has been operating for several years.
Under its July deal with the P5+1 group - the United States, Britain, China, France, Russia and Germany - Iran has agreed to replace the core of the Arak heavy water reactor and take other steps to ensure it cannot be used to make nuclear weapons.
Iran has removed the core of its Arak heavy water nuclear reactor and filled it with cement as required under a nuclear deal signed with world powers last year, the semi-official Fars news agency said on Monday, citing an informed Iranian source.
Any such move, reducing the plant's ability to produce plutonium, might signal imminent implementation of the nuclear deal and clear the way for Tehran to receive relief from economic sanctions.
Separately, the European Union's foreign policy chief said that EU nuclear-related sanctions on Iran could be lifted soon.
"I can tell you that my expectation is that this day could come rather soon. The implementation of the agreements is proceeding well," Federica Mogherini said during a visit to Prague.
The fate of the reactor in central Iran was one of the toughest sticking points in the long nuclear negotiations that led to an agreement in July between Iran and six world powers, known as the Joint Comprehensive Plan of Action (JCPOA).
Under the deal's terms, Iran accepted that the Arak reactor would be reconfigured so it could not yield fissile plutonium usable in a nuclear bomb.
China, the United States, France, Britain, Russia and Germany have agreed to participate in the redesign and the construction of the modernised reactor.
The Islamic Republic has said that the 40-megawatt, heavy-water plant is aimed at producing isotopes for cancer and other medical treatments. It has denied that any of its nuclear activity is aimed at developing weapons.
Full report at:
http://nation.com.pk/international/13-Jan-2016/iran-to-sell-heavy-water-to-us
------------
Israeli air strike in Gaza kills Palestinian
13 January 2016
An Israeli aircraft attacked a group of Palestinians in the Gaza Strip on Wednesday who the military said planned to detonate a bomb at the border with Israel, and Palestinian hospital officials said one man was killed.
Local residents in the Hamas Islamist-run enclave said the incident occurred on a beach about 1 kilometer from the Israeli-built border fence in the northern part of the territory.
In a statement, the Israeli military said an aircraft "targeted a terror cell" plotting to detonate an explosive device along the Israeli-patrolled frontier.
Israel's Shin Bet security service was involved, the statement said, indicating the strike was launched on the basis of intelligence information about an imminent Palestinian attack.
Palestinian hospital officials said a 26-year-old man was killed.
Over the past few months, the focus of Israeli-Palestinian violence has largely shifted from the Gaza Strip to the Israeli-occupied West Bank and Israel, where Palestinians have carried out stabbings, car rammings and shootings that have killed 24 Israelis and one U.S. citizen.
Since Oct. 1 Israeli forces or armed civilians have killed at least 143 Palestinians, 91 of whom authorities described as assailants. Most others have been killed in clashes with security forces.
Full report at:
http://english.alarabiya.net/en/News/middle-east/2016/01/13/Israeli-air-strike-in-Gaza-kills-Palestinian.html
------------
Turkey detains 68 ISIS suspects in nationwide raids
13 January 2016
Turkey has detained 68 suspected members of the Islamic State of Iraq and Syria (ISIS) group in raids across the country, state media said on Wednesday.
The arrests were made after an ISIS suicide bomber killed 10 people in central Istanbul on Tuesday, but the reports did not make clear if there was any connection.
Sixty-five people were detained on Tuesday in raids in Ankara; Izmir on the Aegean; the Syrian border town of Kilis; Sanliurfa close to Syria; Mersin on the Mediterranean; and the southern city of Adana, the Anatolia news agency said.
In Ankara, the authorities detained 16 people who were suspected of planning a major attack in the capital, the report said.
The 21 people detained in Sanliurfa were also planning an attack at an unspecified location in Turkey, it added.
Full report at:
http://english.alarabiya.net/en/News/middle-east/2016/01/13/Three-Russians-detained-in-Turkey-over-ISIS-connection.html
------------
US Reckless Moves in Persian Gulf Could Break Out War
Jan 13, 2016
Admiral Fadavi's remarks came after the IRGC seized two US Navy boats Tuesday and detained them on Iran's Farsi Island in the Persian Gulf.
"After that the US navy and a US aircraft-carrier showed unprofessional behavior for about 40 minutes and made some moves in the air and the sea in the region...but calm was restored to the region with the timely action of the IRGC forces and came under our 100 percent control," Admiral Fadavi said.
The IRGC Navy commander reiterated that his forces are in full control of all waters of the Persian Gulf and Hormuz Strait.
"The territorial waters of every country are those waters that the presence of foreign vessels should take place with the prior information and permission of that country," he added.
He said that the presence of the US forces in the Persian Gulf region and the Strait of Hormuz has always been harmful and the two boats had 10 marines on board who were captured three nautical miles deep into Iran's territorial waters near Farsi Island.
Admiral Fadavi noted that since the beginning contacts were underway between the IRGC Navy and Iran's foreign ministry, and said, "We were in contact with (Foreign Minister Mohammad Javad) Zarif and he was informed about the situation. (US Secretary of State) John Kerry also had contracted Mr. Zarif and requested release (of the US marines), but Mr. Zarif has adopted a strong and firm stance and told Kerry that they have been in Iran's territorial water and they should apologize."
Yet, Admiral Fadavi reiterated that the needed orders will soon be issued on the case, and the fate of the detained marines and their vessels will be specified soon.
Nine men and one woman trespassed Iran's territorial waters in the Persian Gulf when they were captured by the IRGC Navy. Each of the two US Navy boats that were 3 miles deep into the Iranian waters when they were captured by the IRGC Navy's second naval zone were equipped with three 50mm caliber machine guns and other light and semi-heavy weapons.
"The incident happened yesterday and the US vessels had trespassed Iran's territorial waters," IRGC Spokesman General Ramezan Sharif said on Wednesday.
"After violating Iran's sea border, the IRGC navy arrived at the scene powerfully and warned the two US vessels and they complied with the warning," he added.
The General reiterated that there had been "no clashes in the Persian Gulf" during this incident, adding that the two US vessels and the 10 marines were carrying light and semi-heavy weapons.
Full report at:
http://en.farsnews.com/newstext.aspx?nn=13941023000317
------------
Southeast Asia
Don moots 'civil jihad' to counter Isis violence
BY SHERIDAN MAHAVERA
13 January 2016
A civil jihad movement to counter extremist groups, such as the Islamic State of Iraq and Syria (Isis), is needed if Malaysia wants to stop local youth from becoming terrorists, an academic says.
International Islamic University's Dr Maszlee Malik said a purely criminal justice approach, such as tougher laws and more police surveillance, would not stop the youth from trying to join Isis.
His call comes as Malaysians are shocked over reports that two local youths killed 33 people in separate suicide attacks in Raqqa, Syria, and Tikrit, Iraq.
The two are part of an estimated 123 Malaysians now fighting the war in Syria as part of various Muslim rebel groups. Maszlee said 66 of them were linked to Isis.
This is while the country's police continue to detain Muslim youths travelling to Syria to join Isis while smashing terror cells plotting attacks in Malaysia.
Maszlee made the call in a study he conducted on the motivations of 30 individuals detained by Malaysian police in Sungai Buloh prison on terrorism-related charges.
The idea for a civil jihad to counter the violent jihad is based on a key finding of the study.
A majority of those who joined the Syrian war did so because of a sense of idealism and desire to help civilians slaughtered by the Syrian authorities.
In fact, not all of the detainees agreed with Isis' ideology or had gone to Syria to join the group. Some had gone with relief organisations to aid civilians but stayed on with other rebel groups.
In his study, Maszlee said a civil jihad could tap into this sense of idealism and steer youth away from the path of extremism.
Full report at:
http://www.themalaysianinsider.com/malaysia/article/don-moots-civil-jihad-to-counter-isis-violence
------------
Philippines says southern rebels not linked to Islamic State
January 13, 2016
MANILA: Islamic State militants have no known links with Muslim rebel groups in the Philippines, security officials said on Tuesday, dismissing a video suggesting as much as propaganda.
A video emerged last week indicating the possible merger of four Islamist militant groups, including Abu Sayyaf, establishing a "wilayat", or an Islamic State province, in the southern Philippines.
"There is no credible, verified and direct link established and the possibility of establishing a satellite is unlikely," military spokesman Colonel Restituto Padilla told reporters, adding some of the personalities in the video had been killed in more recent clashes with security forces.
"The recent pronouncement of Abu Sayyaf group leader Isnilon Hapilon is part of their propaganda and does not necessarily reflect the existence of an ISIS-directed terror operation in the country."
Full report at:
http://www.freemalaysiatoday.com/category/world/2016/01/13/philippines-says-southern-rebels-not-linked-to-islamic-state/
------------
Lawyers' group want legal reform to protect non-Muslim parents
BY V. ANBALAGAN, ASSISTANT NEWS EDITOR
13 January 2016
Putrajaya must translate its 2009 policy decision on unilateral conversion to Islam into legislative reform to protect the rights of non-Muslim parents in the country, says the Association of Women Lawyers. Its president, Goh Siu Lin, said the Cabinet should look into making changes to the Federal Constitution and the Law Reform (Marriage and Divorce) Act 1976. "Apart from relying on the Federal Court to make a ruling on M. Indira Gandhi's case, the Cabinet must turn to Parliament to bring about legal reform," she told The Malaysian Insider.
Full report at:
http://www.themalaysianinsider.com/malaysia/article/lawyers-group-want-legal-reform-to-protect-non-muslim-parents
------------
Islamic State-influenced Malaysian teen holds woman on knife-point
Jan 12, 2015
KUALA LUMPUR: A 16-year-old boy, influenced by the Islamic State propaganda on social media, held a woman on knife-point at a supermarket in northwestern Malaysia.
The teenager, clad in an attire synonymous with the militant group, held the woman at knife-point in Sungai Petani in Kedah state of the Muslim-majority country on Monday.
The teenager was later arrested, Inspector General of Police Khalid Abu Bakar said. "He is being detained under the Security Offences (Special Measures) Act (Sosma)."
"Investigations revealed that he was influenced by the IS movement through social media and wanted to prove that he was capable of such acts by threatening the woman," he said today.
There has been a rise in the number of Malaysians getting influenced by the Islamic State group.
Prime Minister Najib Razak has expressed shock over reports that two Malaysians were involved in recent suicide bombings in Iraq and Syria.
He said such an ideology neither belonged to Malaysia nor was derived from Islam.
The government was committed to countering terrorism from all aspects both domestically and internationally, he said.
Full report at:
http://timesofindia.indiatimes.com/world/rest-of-world/Islamic-State-influenced-Malaysian-teen-holds-woman-on-knife-point/articleshow/50548173.cms
------------
IGP: Police powerless to bring home IS-recruited kids
Adam Abu Bakar
January 13, 2016
Khalid Abu Bakar says however that his force will go all out to convince Malaysians recruited by the Islamic State to abandon their ideology and return home.
khalid-abu-bakarKUALA LUMPUR: Police are powerless to bring back eight Malaysian children believed to have been recruited and trained by Islamic State (IS) terrorists at several of their camps in Syria and Iraq.
"It is out of our jurisdiction. But we will continue to curb attempts (by the IS) to recruit Malaysians," Inspector-General of Police Khalid Abu Bakar told reporters at Hilton Hotel today.
He was commenting on the Special Branch's revelation yesterday about the eight that had been recruited and trained to become either IS members or full-fledged terrorists in the Middle East.
Full report at:
http://www.freemalaysiatoday.com/category/nation/2016/01/13/igp-police-powerless-to-bring-home-is-recruited-kids/
------------
Indonesian arrested, false bomb threat at Penang airport
January 12, 2016
GEORGE TOWN: An Indonesian woman was arrested after claiming that there was a bomb in her luggage while it was being inspected at the Departure Terminal of Penang International Airport (LTAPP) today.
Barat Daya District Police Chief, Supt Lai Fah Hin said the woman was to board the Lion Air flight to Kuala Lumpur at 9.45am when she was arrested by auxiliary police.
"An initial scan on her luggage did not indicate the presence of a bomb…the woman then said she was only joking," he told reporters.
Lai said police did not find any illegal items on the woman during a body inspection and her urine also tested negative for drugs.
Meanwhile, Lai advised the public, especially those using air transport service, not to utter words or produce signs that could pose a threat to the safety of other passengers and the aircraft.
Within the last 12 months, he said four such cases were reported at the LTAPP.
Full report at:
http://www.freemalaysiatoday.com/category/nation/2016/01/12/indonesian-arrested-false-bomb-threat-at-penang-airport/
------------
Is the gov't on top of the IS problem, asks Kit Siang
January 12, 2016
PETALING JAYA: "What is really going on?" This is the question DAP supremo Lim Kit Siang is asking after the nation's top cop said he was still waiting for official confirmation that two suicide bombers who killed over 30 people in the Middle East were really Malaysians.
Khalid Abu Bakar had said this earlier today, despite Prime Minister Najib Razak having expressed shock about the actions of the two suicide bombers.
Lim, in a statement, said such contradictions would not give the Malaysian government a good image as to its efficiency, competence and professionalism.
"Is the government on top of the IS (Islamic State) problem? How could two IS 'shocks' happen within 24 hours?"
The Gelang Patah lawmaker also wondered if the Prime Minister and the government was serious about the IS threat and challenge, especially after Bukit Aman revealed that Malaysian children were being groomed as IS fighters as well.
Full report at:
http://www.freemalaysiatoday.com/category/nation/2016/01/12/is-the-govt-on-top-of-the-is-problem-asks-kit-siang/
------------
Europe
Norway calls for anti-ISIL coalition to do more
13 January 2016
The coalition fighting terrorism in Syria and Iraq should do more to combat ISIL, Norway's foreign minister said during a visit to Turkey that coincided with a deadly suicide attack on Istanbul's tourist district.
Borge Brende said the fight against terror should be stepped up as he made a trip to capital Ankara on Tuesday -- the day a suicide attack in Istanbul's Sultanahmet district killed ten people, mostly German tourists.
The attack, in which a Norwegian national was slightly injured, according to the country's Foreign Ministry, was blamed on ISIL by Turkish Prime Minister Ahmet Davutoglu.
Condemning the attack, Brende told Anadolu Agency: "We are of course concerned that again ISIL is behind this.
"We have to step up in fight against terrorism. The coalition against ISIL has to do more in fighting terrorism."
Norway is part of the coalition and has a training mission in northern Iraq. Last month, the U.S. asked for support from the NATO member in Syria.
The minister, a member of Norway's center-right Conservative Party, was in Ankara to speak at a conference of Turkish ambassadors where he met Turkey's President Recep Tayyip Erdogan, Foreign Minister Mevlut Cavusoglu and EU Minister Volkan Bozkir.
"I was visiting on a very sad day though, due to what took place in Istanbul, the terrorist attack," he said. "I had the chance to convey my most deep condolences to President Erdogan and also to the foreign minister."
Brende said instability in the Middle East was a crucial concern for Norway and stressed Turkey's "very important" role in the region.
Referring to his meeting with Turkish officials, Brende said: "I used the opportunity to thank the government of Turkey and the Turkish people for your hospitality and the way you have received millions of asylum seeker and refugees from Syria to your country."
Turkey has taken in around 2.5 million Syrian refugees since civil war broke out across its southern border in 2011. The country has also taken in hundreds of thousands of refugees from countries such as Iraq, Iran and Afghanistan.
Brende said the refugee crisis was a challenge for the wider world, not just Turkey, and pointed to an upcoming summit on the issue to be held in London as a sign that governments are tackling the problem.
"It is so important to step up the humanitarian relief but, in addition, we saw last year 1 million asylum seekers coming to Europe," Brende said. "Germany and Sweden have taken many of these but Norway is also among the countries that received the most asylum seekers."
Full report at:
http://www.worldbulletin.net/europe/168356/norway-calls-for-anti-isil-coalition-to-do-more
------------
Historic mosque attacked in Crimea
12 January 2016
A historic mosque in Ay-Serez village in Russian-occupied Crimea's Sudak region has been attacked.
Police have already started a search for the unidenified assailants, a security forces source reported.
The incident has taken place on Sunday night.
"On one of the walls of the mosque, which is currently under re-construction, it has been desecrated with a drawing," a police source said.
Full report at:
http://www.worldbulletin.net/europe/168334/german-minister-heads-to-istanbul-after-attack
------------
Putin: too early to speak about sheltering Assad in Russia
12 January 2016
Russian President Vladimir Putin said on Tuesday that it would be too early to speak about granting political asylum to Syrian President Bashar Assad, a Putin ally and arguably the main obstacle in the Syrian peace process.
Russia began carrying out air strikes on the positions of ISIS fighters in September in support of Assad's army which critics say are aimed against Assad's opponents.
Russia, the United States, Middle East nations are promoting talks between the Syrian government and opposition, and Assad has been seen as a highly divisive figure.
Putin said in an interview with the German daily Bild published on Tuesday that Moscow is advocating for a constitutional reform in Syria and if the next election is democratic, "Assad won't have to go anywhere, no matter if he is elected president or not."
Full report at:
http://english.alarabiya.net/en/News/middle-east/2016/01/12/Putin-too-early-to-speak-about-sheltering-Assad-in-Russia.html
------------
Yemen peace talks postponed, U.N. says
Jan 12, 2016
A round of United Nations-brokered Yemen peace talks will not begin on Jan. 14 as planned but may take place a week or more later, U.N. spokesman Ahmad Fawzi told a regular U.N. briefing in Geneva on Tuesday.
A coalition led by Saudi Arabia and its Sunni Muslim allies has been fighting the Shi'ite Houthi movement, which controls the capital, since March of last year. Nearly 6,000 people are known to have died.
The warring parties agreed last month on a broad framework for ending their war but a temporary truce was widely violated and has since ended.
Last week, former president Ali Abdullah Saleh, who has joined forces with the Houthis, said he would not negotiate with the government of President Abd-Rabbu Mansour Hadi, throwing into doubt the fate of the peace talks.
Full report at:
http://www.reuters.com/article/us-yemen-security-talks-idUSKCN0UQ13720160112
------------
PM: Istanbul suicide bomber was ISIS militant
12 January 2016
The Istanbul suicide bombing that left 10 people dead, mostly Germans, was carried out by a militant from the Islamic State of Iraq and Syria (ISIS) extremist group, Prime Minister Ahmet Davutoglu said on Tuesday.
"We have determined that the perpetrator of the attack is a foreigner who is a member of Daesh," Davutoglu said in Ankara, using an Arabic acronym for ISIS.
Germany's foreign minister says eight Germans are among the dead in an Istanbul bombing and nine others are wounded, some seriously.
A Turkish official had earlier said that nine Germans had died. The reason for the discrepancy was not immediately clear.
Meanwhile, President Recep Tayyip Erdogan had earlier confirmed the bomber was a Syrian.
"I strongly condemn the terror attack which was carried out by a suicide bomber of Syrian origin," Erdogan said in a speech in Ankara in his first reaction to the blast.
"Unfortunately... there are fatalities, including locals and foreigners. This incident showed again we have to stand together in the face of terror."
"Turkey's determined position will not change. We don't make any difference between the names or abbreviations (of terror groups)."
"The first target of all the terror groups active in this region is Turkey. Because Turkey fights them all with the same determination," he added.
Turkey has been on high alert after a series of attacks blamed on ISIS including a double suicide bombing in the capital Ankara in October that left 103 people dead. Turkish authorities have in recent weeks detained several suspected ISIS members with officials saying they were planning attacks in Istanbul.
But Turkey is also waging an all-out assault on the outlawed Kurdistan Workers' Party (PKK) which Ankara and its Western allies classify as a terror group.
A Kurdish splinter group, the the Freedom Falcons of Kurdistan (TAK) claimed a mortar attack on Istanbul's second international airport on December 23 which killed a female cleaner and damaged several planes
Meanwhile the banned ultra-left Revolutionary People's Liberation Party-Front (DHKP-C) has also staged a string of usually small-scale attacks in Istanbul over the last months.
German, Norwegian tourists
Turkey's CNN Turk television said that foreign tourists from Germany and Norway are among those wounded in the central Istanbul explosion.
An official from one tour company who declined to be identified told Reuters that a tourist group from Germany was in the area at the time of the blast, but it was unclear whether any of them had been hurt.
Investigations were being conducted into the type of explosive which caused the blast and those responsible, the governor's office statement said.
A witness and police officer at the central Istanbul Sultanahmet square, a major tourist attraction, reported seeing body parts after the blast, Reuters news agency reported.
Eyewitnesses told Al Arabiya News the explosion was so loud and strong that it was heard from several kilometers away, and many tourists were left in shock. The blast caused a one-meter-deep crater, according to the media reports.
Turkish police sealed off the square as ambulances rushed to the scene of the explosion.
Sultanahmet square, close to the Blue Mosque and Hagia Sophia, in a major tourist area of Turkey's most populous city.
According to the initial unconfirmed reports from state-run television TRT based on eyewitnesses, the explosion was allegedly caused by a suicide bomber. Police forces have reportedly found mechanical parts in the area that further confirm the use of suicide bomber tactics.
Full report at:
http://english.alarabiya.net/en/News/2016/01/12/Explosion-rocks-central-Istanbul-square-some-casualties.html
------------
UK detain 2 in anti-terror bust
12 January 2016
U.K. counter-terror police have arrested two men in western England on suspicion of "Syria-r
elated" activities.
The men were detained at their home in Walsall, 15 kilometers northwest of Birmingham, under terrorism laws that allow police to question them for an initial 48 hours without charge.
Police said their ages were 25 and 32, but gave no further information.
A statement from the West Midlands Counter Terrorism Unit said: "The offences under investigation all relate to terrorism activity connected to Syria.
"Officers are this morning carrying out searches at a number of addresses in the Walsall area associated with the suspects.
Full report at:
http://www.worldbulletin.net/europe/168335/german-minister-heads-to-istanbul-after-attack
URL: https://www.newageislam.com/islamic-world-news/new-age-islam-news-bureau/the-only-hebrew-teacher-in-indian-academia-is-a-devout-muslim/d/105975
New Age Islam, Islam Online, Islamic Website, African Muslim News, Arab World News, South Asia News, Indian Muslim News, World Muslim News, Islamic World News