New Age Islam News Bureau
10 March 2020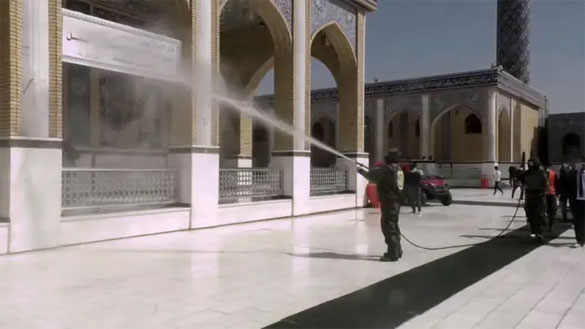 In Iraq, workers are spraying the Great Mosque of Kufa with disinfectant to help prevent the spread of the coronavirus. Reuters
---
• The Middle East Is Coping with The Coronavirus by Disinfecting Mosques and Canceling Muslim Prayers
• Hindu Community Expresses Solidarity with Indian Muslims As It Celebrates Holi In Karachi
• Iraq Locks Down Shia Holy City to Contain Coronavirus
• Boko Haram Members Are Muslims, Their Activities Not Islamic – Senator Barkiya
• One Year On, Australian Muslims Say The Christchurch Mosque Massacre Has Changed How They Worship
• 'Rajya Sabha Can Address Under-Representation of Muslims In Lok Sabha'
• Threat of Ethnic-Religious Violence In Sri Lanka, Warns UN
• 'Sharia Fintech': Start-Ups Race to Tap Indonesia By Aligning with Islam Rules
• Michigan Muslims Support 'Amo Bernie,' as Much of the Jewish Community Opts for Biden
----------

Middle East
• The Middle East Is Coping with The Coronavirus by Disinfecting Mosques and Canceling Muslim Prayers
• Shia Militias Now A Greater Threat Than ISIS In The Middle East, Says Canadian Commander
• Muslim, Christian Scholars Gather in Istanbul In the Symposium -- Titled Muslim-Christian Scholars' Works On Philosophy And Theology
• Supreme Leader's new year speech in Imam Reza (AS) shrine called off
• Erdogan urges 'concrete support' from Europe over refugee crisis
----
Pakistan
• Hindu Community Expresses Solidarity with Indian Muslims As It Celebrates Holi In Karachi
• Dr Adnan was attacked to obstruct Nawaz's treatment, claims Shehbaz Sharif
• Senate body seeks record of land purchased by foreigners
• Karachi collapsed buildings' debris removed
----
Arab world
• Iraq Locks Down Shia Holy City to Contain Coronavirus
• Cross-Ventilation Is One Way to Keep Mosques Free Of Viruses
• Islamic affairs minister instructs taking further measures in mosques to curb the spread of coronavirus in the Kingdom
• Two Americans Die in Raid on Islamic State Hideout in Iraq
-----
Africa
• Boko Haram Members Are Muslims, Their Activities Not Islamic – Senator Barkiya
• Tunisia. Procedures of converting to Islam suspended due to Corona
• Dethronement: I have accepted whatever Allah decides – Sanusi
• Sudan PM says he survived 'terror attack' in Khartoum
-----
Australia/New Zealand
• One Year On, Australian Muslims Say The Christchurch Mosque Massacre Has Changed How They Worship
• New Medal Honours Dr Amjad Hamid, Killed In Christchurch Mosque Attack
• 'Please don't hate us' - Christchurch mosque attack survivor
• Mosque attack victims memorial service confirmed as going ahead
-------
India
• 'Rajya Sabha Can Address Under-Representation of Muslims In Lok Sabha'
• Framed for Being Kashmiri Muslims, Says Family of Couple Arrested For IS Links
• Meats pieces thrown by Muslims outside temple in UP's Hathras? Police debunks false claim
----
South Asia
• Threat of Ethnic-Religious Violence In Sri Lanka, Warns UN
• Afghan forces kill suicide bomber, foil deadly attack in Kandahar
• Pompeo welcomes Ghani's announcement regarding the release of Taliban prisoners
-----
Southeast Asia
• 'Sharia Fintech': Start-Ups Race to Tap Indonesia By Aligning with Islam Rules
• Pakistan receives first batch of locust control pesticide, equipment
• Coronavirus doctor in Wuhan says high blood pressure is key death risk
• Foreign investors more interested in policies and stability
• Minorities fear for Malaysia's future
----
North America
• Michigan Muslims Support 'Amo Bernie,' as Much of the Jewish Community Opts for Biden
• American forces raid Islamic State hideouts on Qarachogh mountain: witnesses
• UN Rapporteur blasts Iran's execution of gays based on Islamic morality
• Sanders hires adviser who blamed America for 9/11, questioned bin Laden op, mocked Michelle Obama's looks
• Two US Troops Killed Fighting Islamic State Group in Iraq
• Donald Trump in excellent health, not been tested for coronavirus: White House
----
Europe
• Muslim Bloc Urges Safety For Asylum Seekers In Greece
• Anti-racist Trevor Phillips: Labour is gagging Muslims debate
• Conversation with an Imam: being Muslim in Post-Brexit UK
Daily says sorry over 'Islamist' community centre headline
Compiled by New Age Islam News Bureau
URL: https://www.newageislam.com/islamic-world-news/the-middle-east-coping-with/d/121266
------
The Middle East Is Coping with The Coronavirus by Disinfecting Mosques and Canceling Muslim Prayers
11 hours ago
One of the holiest mosques in Iraq was recently sprayed with disinfectant to help prevent the spread of the coronavirus.
The Great Mosque of Kufa temporarily closed its doors to worshippers for the deep cleaning, as the Iraqi government shut schools and cafes and banned large public gatherings.
Countries across the Middle East are canceling traditional religious events, forcing many worshippers to decide whether to practice their faith as usual or protect their health.
In Iraq, the ministry of industry started manufacturing face masks and distributing them to the public. This happened soon after the first reported cases, including a family of four who tested positive after returning from Iran in late February. Since then, the country has documented at least 60 infections and 6 deaths.
In Iraq, workers are spraying the Great Mosque of Kufa with disinfectant to help prevent the spread of the coronavirus. Reuters
The situation is much worse in Iran, which currently has the second highest number of coronavirus deaths reported outside of China, with 237 lethal cases out of more than 7,000 infected.
At the start of the outbreak in China, Iran donated 3 million face masks to the country, but now, Iran itself is facing a shortage.
Reports of widespread stockpiling have caused the government to crack down on sales of medical supplies on the black market. Police say they have confiscated nearly 7 million face masks and made at least 70 arrests.
Over in Saudi Arabia, officials abruptly stopped issuing tourist visas to foreigners planning umrah pilgrimages to the world's holiest Muslim sites in Mecca and Medina.
Millions of people from all over the world — including more than 1 million Indonesian Muslims alone — take this type of pilgrimage throughout the year.
These pilgrims were told their trip to Mecca was canceled just two days before they were scheduled to leave home.
Andri Kurniaputra, Indonesian pilgrim: "We are quite disappointed because I have been longing to visit the Great Mosque, but God willing, hopefully this will only be a temporary postponement."
It is uncertain if the government will extend the travel ban during the annual hajj pilgrimage in July, when more than 2 million people are expected to visit the country.
Starting in 2012, Saudi Arabia has seen more than 2,000 cases of Middle East respiratory syndrome — known as MERS. More than 800 people have died as of this year.
And as the coronavirus continues to spread across the region, the cleansing of mosques like the one in Kufa, Iraq, may become a regular part of life and worship.
https://www.businessinsider.com/coronavirus-middle-east-iran-saudi-arabia-2020-3?IR=T
-----
Hindu community expresses solidarity with Indian Muslims as it celebrates Holi in Karachi
March 10, 2020
Though Holi is a festival of colours and symbolises the victory of good over evil, Karachi's Hindu community celebrated the festival with simplicity on Monday to express solidarity with Indian Muslims facing violence in Delhi.
Before starting the celebrations, a large number of the Hindu community members prayed at the Shri Swaminarayan Mandir in Karachi for the Indian Muslims and dedicated the colourful religious festival as a message of peace against violence.
In other parts of the city, including Lyari, Narayanpura, Ranchore Line and Arambagh, where the majority of the Hindu community resides, the festival was celebrated with enthusiasm and gaiety. Muslim activists also joined the Hindu community to celebrate the festival with them in some areas. Special arrangements for Holka Fire were also made in several temples where people threw coloured water and coloured powder at each other.
Seema Maheshwary, a human rights activist and Hindu community representative, said Holi is a festival of colours which basically tells us that goodness is always superior to evil. Every year, the Hindu community celebrates Holi with zeal and fervour, but this year the community members decided to show solidarity with the Indian Muslims.
"Today, when worship began at the Shri Swaminarayan Mandir, Swami Jee said that we have to show sympathy for Muslim brothers and sisters who lost their lives in the recent unrest in Delhi, India," said Maheshwary, adding that Pakistan's Hindu community believed that Muslims were victims of violence, and the Muslims in India deserved the sympathy of the Hindu community in Pakistan.
She said that not only the Hindu community but Muslim activists and Muslim friends of Hindus also celebrate Holi, Diwali, Raksha Bandhan and other traditional Hindu festivals with them.
"I always participate in festivals of religious minorities because it keeps the society united. Through such festivals, we can promote interfaith harmony," said Naghma Shiekh, a human rights activist.
She said that Holi was an important occasion for the Hindu community and colours had no religion; they reflected happiness, joys and goodness. In his press statement, Pakistan Tehreek-e-Insaf leader Hunaid Lakhani said Holi was a festival of happiness and we had to celebrate this festival together. Pakistan's Hindu community had played an important role in the country's development. Hindus were equally important citizens of Pakistan and no one should be victimised on the basis of religion.
https://www.thenews.com.pk/print/626604-hindu-community-expresses-solidarity-with-indian-muslims-as-it-celebrates-holi-in-karachi
-----
Iraq Locks Down Shia Holy City to Contain Coronavirus
10/03/2020
ERBIL - Authorities in the Iraqi province of Najaf said in Monday that they would lock down the city on Wednesday as part of precautionary measures against the outbreak of coronavirus.
Najaf Governor Lu'ay Yasseri said in a statement that the lockdown also affects traffic in the province, except for the vehicles used for burials.
Authorities, earlier the day, also decided to close all shrines and other religious sites until further notice.
A total of 67 cases of the coronavirus have so far been recorded across Iraq, the first of which was in Najaf.
http://www.basnews.com/index.php/en/news/iraq/587671?__cf_chl_jschl_tk__=2cb2ca94df1b889236e48e5e7b04597b09504bea-1583819786-0-AeI01XjauPyuL57Ld0x-Rlyj9KNsGlw4ul-Pvwn69RO5CYUb7bDS8S-lEXTGzO8R6mua_He4WeaRVY_mYLhjWs1Dc1CWpLQ4QjHaBAuURJ4C1q0tZUuY8DSMs4okpP3YgKwnDtDgKXQsXvcqtnL3bABwmtLO_Ql3noT0u-KgMnd1PQcrLmibG8UEZ2xIv2_LLkKUocdF853Fl99QiDjcV_C0GDnl2vRdwIkgcCd4i3ldwU97Vcm2Uncc6DAF31ff4p3ha50nh815OyU10g9ZCqkPiLgAU2pGPMYD6De0k-Y05oz38tmiCtwk0X3mB7dpCg
-----
Boko Haram members are Muslims, their activities not Islamic – Senator Barkiya
March 9, 2020
By Musliudeen Adebayo
A member of the National Assembly, Senator Kabir Abdullahi Barkiya has declared that the activities of the Boko Haram insurgents are completely opposed to the teachings of Islamic religion.
Barkiya who represents Katsina Central Senatorial District made this disclosure while speaking with journalists in Abuja at the weekend.
He maintained that some of the activities such as killing of people and burning of places of worship were not Islamic.
Barkiya said, "There is nowhere in the Qur'an where Allah said innocent people should be killed. However, we cannot call them kufar (unbelievers) until they denounce the Kalimah (testimony).
"We cannot call the Boko Haram kufar (unbelievers). They didn't deny Islam but their activities are contrary to the teachings of Islam. That's why I said there is nowhere in the Qur'an where Allah said innocent people should be killed. They are ignorants who were brought up indoctrinated and following a wrong ideology.
"Therefore, it is a teamwork for all Nigerians, particularly Muslims, to deplore their activities and teach people the pristine Islam different from what Boko Haram is preaching. We have to put heads together to see how we can preach to them (Boko Haram members) that what they are doing is wrong. We need to also tell others that what Boko Haram is doing is not Islamic. So, this is the only way.
"We have to be collective in this task – I mean we, the true Muslims. A verse in the Holy Qur'an says; "We will not change your condition except you decided to change your own condition by yourselves". So, that's what we ought to be doing fundamentally."
Barkiya noted that apart from the military action already being waged by the Nigerian Army at the war front, fervent prayers and fasting can also bring an end to the decades of Boko Haram's terror in Nigeria.
He added that the role of prayers and fasting in overcoming challenges bedevilling the country cannot be ignored.
"You cannot force people to join your religion. It is unacceptable. Therefore, most people are just ignorant and do not have knowledge of Islam. It is our duty as Muslims to explain to people that the perception is wrong because Allah Who owns the religion says you should not force people into it. You can only encourage people until they feel convinced.
"Islam insists that a leader should give everybody his rights, whether Muslims or non-Muslims because Allah will ask you about it on the day of judgement. Everybody under you has his rights. This is what people don't know.
"Therefore, Islam is a religion of peace. God has put us together – Muslims, Christians, Pagans. It is our duty to come together and do things collectively and peacefully to move the country forward.
"While the soldiers are fighting at the war front, it is important for all Nigerians irrespective of their religion including the religious leaders to unite and pray for the country to defeat Boko Haram, bandits and others.
"Don't forget, the government has done the first thing, which is providing basic equipment to fight Boko Haram, but winning any battle is in the hand of Allah and it requires prayers.
"That's why I strongly support Governor Zulum who appealed to Nigerians to pray and fast for Borno and other places being threatened by insecurity. I read that a lot of Nigerians, both Muslims and non-Muslims observed it. That is very great. Allah will surely answer the prayers of the oppressed and verily the challenges will be surmounted".
https://dailypost.ng/2020/03/09/boko-haram-members-are-muslims-their-activities-not-islamic-senator-barkiya/
-----
One year on, Australian Muslims say the Christchurch mosque massacre has changed how they worship
9 HOURS AGO
BY VIRGINIA LANGEBERG
Every person in the congregation is facing the sacred direction – or qibla – towards Mecca, as is done right across the world.
Some whisper silent prayers. Others glance up to the ceiling in their own time, their palms open, welcoming what's above.
Afterwards, worshippers gather to talk, and it's there they explain prayer time and daily life has not been the same for any Muslim here in the past 12 months.
On 15 March 2019, 51 people died and 49 were injured in a shooting attack on two mosques in Christchurch, New Zealand, during Friday prayers.
"It was beyond words, it was beyond comprehension of any human heart and mind," Maha Abdo from the Muslim Women's Association tells SBS News.
"I can still recall that moment when my WhatsApp messages were going berserk and people thought it was a joke, until all of a sudden it hit everybody; this is real."
"You'd be kidding to say it hasn't changed, you know. The incident itself, the day, the time, the moment that was all over social media. It's still in the back of all our minds."
Ahmad Malas from the Lebanese Muslim Association says precautions are now factored into everyone's day-to-day routine.
"Generally people are more alert, even the measures we take here at the mosque, but people are optimistic and they are coming."
In the immediate aftermath of the attacks, Ms Abdo and her colleagues swung into action, arranging gatherings for Muslims in New South Wales in an effort to curb their sense of isolation.
"Straight after the event, there was so much anxiety … mothers were concerned about sending their boys to the mosque for Friday prayers or any other prayers," she said.
"I remember organising a morning tea after Christchurch happened and making sure the local police knew about it, where we don't normally do that. Just so that, you know, you're taking all the measures."
"We have to be more vigilant, we have to have our phone always on certain speed-dials and having to be aware of your environment, of your surroundings, but not to allow that to cripple us."
"We were very, very overwhelmed with the response that we got from all sections of the community and the different faiths. It goes to show the strong bond between the different communities within Australia," he said.
"At the end of the day we're all Australian and things like this bring everyone together. So we need to overcome those differences and we really saw some positive examples of that."
While New Zealand responded swiftly to the attack with gun reforms, Australian Greens Senator Mehreen Faruqi says she has been disappointed by the political response at home.
"For Australia, I'm sorry to say, it has been business as usual in the past year. We moved on as quickly as the media cycle after the horrible deaths of 51 innocent Muslims on our doorstep for which an Australian man is on trial," she said.
"What we have seen is the rise of right-wing extremism, we haven't seen laws against hate speech, we haven't seen funding for national anti-racism campaigns since 2015."
Labor has called on the Morrison government to fund a fresh national anti-racism campaign amid a rising tide of race-based attacks.
A spokesperson for the Attorney-General said in response: "The Morrison Government has zero-tolerance to all forms of discrimination, especially racism".
"The government also recognises that intolerance towards Australia's Muslim and Jewish communities has sadly been on the rise in recent times."
Australian man Brenton Tarrant is charged with 51 counts of murder and 40 attempted murders and is expected to go on trial in June.
Muslim communities in Australia are holding commemorative events in the lead-up to the first anniversary of the attack on Sunday and New Zealand will hold a special Friday prayer and national remembrance service to mark it.
"People if they want to show their support, they're welcome to come. We will be mentioning the anniversary of Christchurch and renewing that prayer for the victims and their families," Mr Malas said.
"We're all one family at the end of the day. Any sort of violence or hate crimes needs to be rejected and made clear that it's rejected."
https://www.sbs.com.au/news/one-year-on-australian-muslims-say-the-christchurch-mosque-massacre-has-changed-how-they-worship
-----
'Rajya Sabha Can Address Under-Representation Of Muslims In Lok Sabha'
March 09, 2020
Political parties are addressing the issue of historical under-representation of Muslims in Lok Sabha by sending more people from the minority community to the Rajya Sabha, according to an academic paper, co-authored by Adnan Farooqui of the Department of Political Science, Jamia Millia Islamia and E Sridharan, University of Pennsylvania Institute for the Advanced Study of India.
The paper, which has been published as a book chapter in an edited volume by Ananya Vajpeyi and Volker Kaul titled Minorities and Populism – Critical Perspectives from South Asia and Europe. Philosophy and Politics - Critical Explorations says that an analysis of Muslim representation in the Rajya Sabha and Lok Sabha shows that "it is possible to ensure rough proportionality in the legislative arena even under circumstances when remedial provisions such as reservation in the legislature are not available".
"This is certainly the case when political parties both at national and State levels are willing to compensate for the shortfall in the lower house by selecting candidates from the politically vulnerable minority group to the upper house. The willingness to accommodate the representatives from the minority groups is especially the case when the said minority group is an important voter base for the party.
In the case of this study, in the absence of direct election and the use of a proportional electoral system for election to the Rajya Sabha ensures that the parties are in a position to accommodate minority representatives in their slate as the risk of alienating the majority is reduced," the paper adds.
The paper warns that if the political system "veers towards majoritarianism and is dominated by a party or parties whose core support base does not include a particular minority, then the likelihood of the community remaining under-represented increases".
The present under-representation of Indian Muslims in both the houses of the Indian Parliament underscores this," the paper claims.
Citing data from the 16th Lok Sabha, when Muslim representation was 23, the paper says that political parties sent 18 Muslim representatives to the Rajya Sabha as of February 2018. None of these members belonged to the nominated category.
In the 15th Lok Sabha, 33 members were Muslims. After the 1980 Lok Sabha polls, there were 49 members, the highest tally of representation. In the current Lok Sabha (17th Lok Sabha) there is a marginal increase in the Muslim representation with a total of 27 MPs.
"India's Muslim population since 1947 has increased from 9.9 per cent as per the 1951 Census, to 14 per cent as per the 2011 Census, both including Jammu and Kashmir. However, what is relevant is the fact that the population is dispersed in such a way that it does not enjoy a local majority at the constituency level in India except for 13 constituencies—three in the Kashmir Valley, one in the Lakshadweep Islands, four in West Bengal, two in Kerala, and one each in Assam and Uttar Pradesh (UP). These constituencies account for only a small fraction of the Muslim population of India, of less than 10 per cent. Over 90 per cent of the Muslim population is distributed so as to be a minority at the constituency level. Muslims are less than 10 per cent in 299 constituencies, 10–20 per cent in 163 constituencies, 20–30 per cent in 37 constituencies, 30–40 per cent in 20 constituencies, and 40–50 per cent in 11 constituencies," the paper said.
It says that "because of the imperative to aggregate votes, minorities do enjoy a certain degree of bargaining power in a competitive polity because the addition or subtraction of a significant vote fraction can make all the difference to the victory prospects of competing political parties. The latter, therefore, have an incentive to cast their net wide to accommodate all ethnic groups to the extent possible."
https://www.thehindubusinessline.com/news/national/rs-can-address-under-representation-of-muslims-in-ls/article31025230.ece
------
Threat of ethnic-religious violence in Sri Lanka, warns UN
10 MARCH 2020
Sri Lanka has been warned that the government's failure to rein in Buddhist extremist groups enjoying impunity while unleashing violence against minorities, threatens to propel the country into a vicious cycle of ethnic-religious violence.
In a damning report on the country's treatment of minorities, an independent expert appointed by the UN to identify challenges to the right to freedom of religion or belief, highlighted the danger of Sri Lanka's government continuously providing patronage to Buddhist hardliners.
"It is essential for the Government to not ignore the simmering tensions and intolerance and the damaging consequences of incitement to hatred and violence in a country that has gone through a long period of internal conflict," said Special Rapporteur Ahmed Shaheed told the UN Human Rights Commission in Geneva.
"Inaction by the authorities could aggravate the simmering tensions and if these were left unattended, Sri Lanka may risk being locked in a vicious cycle of ethno-religious violence."
The special rapporteur was in Sri Lanka from 15 to 26 August 2019, on the invitation of the government. He had met government officials and representatives of local rights bodies as well as victims of religious violence.
Highlighting the government's reluctance to act against hate crimes by organisations of the majority religion, the report refers to Bodu Bala Sena (BBS - Buddhist Brigade) led by Buddhist monk Galagodaththe Gnanasara among other organisations.
It notes that hundreds of hate-related incidents were reportedly committed by the BBS and other Buddhist extremist groups with impunity. This is despite a former UN Secretary-General Ban ki Moon, expressing his alarm and concern by "the rising level of attacks in Sri Lanka against religious minorities" as early as 2014.
BBS Chief Galagodaththe Gnanasara was released from jail in May last year by a presidential pardon after serving nine months of a six-year sentence for contempt of court.
His pardon by former president Maithripala Sirisena came a week after Sinhala mobs attacked Muslim-owned homes, shops, and mosques in apparent reprisal for Easter bombings, claimed by Islamic State, that killed more than 250 people.
After the bombings, more than 2000 Muslims have been arrested under the Prevention of Terrorism Act (PTA) in army and police raids of mosques and madrasas across the country.
"Families of Muslims arrested under the PTA claimed that they had a hard time to secure legal representation in their areas and had undergone significant financial hardship to hire lawyers from other areas," said Special Rapporteur Shaheed.
"Most of the Muslim lawyers have been reluctant to appear for those arrestees in fear of reprisals. Moreover, the Rapporteur received reports that there were often refusals by non-Muslim lawyers to defend those detained due to 'extraneous considerations'."
The report expressed concern over Government allowing the influence of religious clerics to determine public policy in secular matters.
Special Rapporteur Shaheed called the attention of the UNHRC to Sri Lanka's misuse of legal provisions aimed at curbing racial hatred. In particular he referred to the International Covenant on Civil and Political Rights Act (ICCPR Act) 2007.
"Although inciting to discrimination, hostility and violence is criminalised under the ICCPR Act, many argued that the Act was not applied in a manner that would protect minorities against incitement; rather, it is invoked to protect religions or beliefs against criticism or perceived insult."
Sri Lanka's ICCPR act was used to imprison award winning writer Shakthika Sathkumara for over four months, for publishing a short story on Facebook. Last April he was arrested following a complaint by an extremist Buddhist outfit that his work of fiction was derogatory and defamatory to Buddhism. He was in detention when Dr Shaheed was on the ten-day visit and later released under strict bail conditions. The charges against him are still pending and he could face up to 10 years in prison if found guilty.
While Shakthika was in detention, one of the country's topmost Buddhist monks, Warakagoda Gnanarathana who called for the boycott of Muslim shops and the stoning of Muslims. No legal action has been taken against him.
"ICCPR Act has ironically become a repressive tool curtailing freedom of thought or opinion, conscience and religion or belief," said Dr. Ahmed Shaheed in his report to UN on Sri Lanka.
He recommended that the Government of Sri Lanka address impunity and the lack of accountability urgently by fulfilling the pledges to various international human rights bodies and set up relevant mechanisms accordingly.
However, a day before the release of the report by Special Rapporteur on freedom of religion or belief, Sri Lanka informed the UNHCR of its decision to pull out from commitments to promoting reconciliation, accountability and human rights in the country.
http://www.jdslanka.org/index.php/news-features/human-rights/932-threat-of-ethnic-religious-violence-in-sri-lanka-warns-un
------
'Sharia Fintech': Start-Ups Race to Tap Indonesia By Aligning with Islam Rules
March 10, 2020
JAKARTA — Like millions of other Indonesians, Gandi Iswara had for years carried a wad of currency notes for dropping into donation boxes after prayers at mosques in suburban Jakarta.
From late last year, though, the 35-year-old engineer switched to a more convenient option: whipping out his mobile phone, firing up a digital payment app from Google-backed GoPay and tapping the QR code stickers that are now affixed to the boxes.
His digital conversion took some time, as Mr. Iswara initially held the view that all rewards and discounts offered by e-wallets conflicted with Islam.
"At first, I thought e-wallets resulted in usury, which is forbidden by Islam. But after a while I found them convenient in daily life," he said.
Winning over conservative Muslims like Iswara in the world's most populous Muslim-majority country is both a challenge and multibillion-dollar opportunity for fintech firms that are riding its mobile internet boom and aim to sell financial services.
Questions about compliance with Islamic law are a significant hurdle for the adoption of digital payments and other fintech services, industry executives say.
Known as Sharia, the law strictly prohibits charging interest, or "riba," and clerics in Indonesia disagree on whether the popular cashback rebates and discounts given by digital wallets qualify. Social media videos in Indonesia on whether e-wallets are "haram" — prohibited by Islam — or incorporate "riba" rack up hundreds of thousands of views.
Indonesia's top Muslim clerical body has even issued an edict deeming virtual money acceptable, as long it met specific conditions.
To showcase the compliance of their services with Islam, fintech firms are organizing forums with Islamic scholars and sponsoring religious festivals. Newer startups are tailoring services for Indonesia's growing body of "born-again" Muslims, known as the "hijrah" movement at home.
GoPay, which is part of ride-hailing firm Gojek, has partnered with the Indonesian Mosque Council since November to enable digital donations, including "zakat," or compulsory alms giving, in its 800,000 mosques, CEO Aldi Haryopratomo said. "Zakat" alone amounts to over $500 million annually in Indonesia.
"It has made it much easier for people to pay alms," said Budi, chief administrator of Jakarta's Istiqlal mosque, the largest in Southeast Asia, referring to digital payments services.
Rival LinkAja, which was formed by a consortium of Indonesia's top state-owned firms, has launched similar donation efforts. It is now readying LinkAja Sharia, which will offer a range of financial services specifically targeted at conservative Muslims and only accept money from Islamic banks.
Backed by companies including telco Telkomsel and Bank Mandiri, LinkAja is currently seeking to raise $200 million in outside financing, sources told Reuters. The company declined to comment on its funding.
The scale of 'sharia-fintech' in Indonesia is small, so far, with Islamic fintech start-ups disbursing about 1 trillion rupiah ($73.15 million) in sharia-compliant loans in 2019, a four-fold increase from 2018, according to the Indonesia Sharia Fintech Association.
But with all forms of Islamic banking accounting for only 6% of Indonesia's $580 billion in banking assets, there is room for growth.
The sector is also getting a policy push. The country's vice-president, cleric Ma'ruf Amin, took over Indonesia's National Islamic Finance Committee in January and has cited the growth of Islamic fintech as a key national priority.
One of them is peer-to-peer lender ALAMI, created by three ex-bankers, which has disbursed over $7.5 million in sharia-compliant financing to small and medium enterprises since May, and plans to become a digital bank.
CEO Dima Djani said that although conservative Muslims are its main target, others also are choosing it as an ethical banking option.
Muhamad Fajrin Rasyid, president of Bukalapak, one of Indonesia's top e-commerce companies which offers a sharia-compliant investing service, concurs.
https://www.bworldonline.com/sharia-fintech-start-ups-race-to-tap-indonesia-by-aligning-with-islam-rules/
-------
Michigan Muslims Support 'Amo Bernie,' as Much of the Jewish Community Opts for Biden
Mar 10, 2020
Allison Kaplan Sommer
Bernie Sanders has been affectionately called "Uncle Bernie" by his enthusiastic young supporters since his 2016 bid for the presidency. As he pushed this time around to win over Latino voters, the key constituency that helped him win the Nevada and California primaries, figures such as Congresswoman Alexandria Ocasio-Cortez have called him "Tio Bernie" translating the nickname into Spanish. Now, as he fights it out in Tuesday's primary in Michigan, with its large Arab-American population, the nickname has also surfaced in Arabic.
Sanders is "Amo Bernie" to Michigan's prominent freshman congresswoman, Palestinian-American Rashida Tlaib, who along with Ilhan Omar of Minnesota are the first Muslim women in Congress. The pair and Ocasio-Cortez are the three members of the infamous "squad."
Tlaib is the most prominent of a number of Muslim Michigan politicians who, along with Arab-American organizations, are enthusiastic supporters of the 77-year-old Jewish Vermont senator. They are joined by Muslims across the United States who sing his praises on Twitter using the hashtag #InshallahBernie.
The intensity of that support was on display at a rally Saturday in Dearborn, Michigan – the American city with the largest Muslim population – where he was preceded on stage by a traditional dabke dance with keffiyeh-wearing performers before being introduced by comedian Amer Zahr, who sported a T-shirt emblazoned with "Habibi Bernie 2020."
"People say, why are all these Arabs supporting the Jewish guy to be president? But they don't understand anything about us. Bernie does," Zahr exclaimed, pointing to the aspect of Sanders biography that Muslim voters relate to – that he grew up in an immigrant home. "Dearborn has been the home of new immigrants for over a century. It is where hope starts. We stand here at the crossroads of the fights for legal, racial and environmental justice."
Michigan Congresswoman Rashida Tlaib speaks prior to Sen. Bernie Sanders at a rally in Detroit, Mar. 6, 2020.Jeff Kowalsky/AFP
Sanders took to the stage to the strains of "power to the people" and vowed "to fight to end all forms of discrimination in this country." He went on to say: "Our job together is to bring people together, whether they are Muslims, whether they are Jews, whether they are Christians, no matter who they may be."
The rally was the most visible aspect of a major effort on Sanders' part to get out the Muslim and Arab-American vote in Michigan as the Vermont senator heads into the primary as a clear underdog, trailing former Vice President Joe Biden by a 51%-27% margin. Sanders needs a major turnout and solid support from the Muslim community, which constitutes about 3 percent of the state's population, if he is to recreate the shock upset victory that he scored in 2016 against Hillary Clinton.
After Biden raced ahead of Sanders last week on Super Tuesday, scoring wins in the Southeast as well as in Massachusetts, Minnesota and Texas, a defeat in Michigan could be the beginning of the end for Sanders' presidential bid.
A Sanders adviser told Politico that the candidate's campaign had invested in a multilingual, multi-layered barrage of "phone calls, texting, digital and newspaper ads, along with special paid messaging directly from Rashida Tlaib." The centerpiece of the digital push was a video featuring Michigan State Rep. Abdullah Hammoud praising Sanders for "sharing values with Arab Americans by pushing to "correct the injustices and the systemic racism that had been built and baked into the system. He wants to shatter that system ... [and] doesn't take the Muslim vote for granted."
The video makes no mention of foreign policy, but Sanders' record, particularly his opposition to the Iraq War and his stand on the Israeli-Palestinian conflict which has shifted to the left in recent years, clearly play a role in his appeal to the community.
In an article in the University of Michigan's newspaper, engineering student Omar Al-Ejel wrote that Sanders was uniquely positioned to speak out on the Palestinian issue because he is Jewish. "He's willing to say that he will divert money or use the money that's being sent to Israel, the billions of dollars, to invest in people living in Gaza."
For his part, Sam Baydoun, a commissioner for Wayne County, which includes Detroit, told Politico that the state's Middle Eastern voters "still care about what happens back home. And [Bernie] talked about having an even-handed approach to the Israeli-Palestinian conflict. That's very important to a lot of people."
On the same weekend that Sanders was campaigning in Dearborn, members of his own tribe – Michigan's Jewish community – were busy organizing an event for his opponent, Joe Biden. Israeli-American businessman and Democratic activist Hannan Lis hosted Biden surrogate John Kerry, the former secretary of state, for a parlor meeting, inviting 100 local Jewish leaders, including members of the local chapter of AIPAC.
Kerry told the group that Biden "really feels" the Middle East although, according to Lis, he sidestepped giving the AIPAC supporters an answer when asked where he thought a future President Biden would stand on reviving the Iran nuclear agreement.
But Biden was far from a hard sell in that room, Lis told Haaretz. After Pete Buttigieg, Amy Klobuchar, and Michael Bloomberg bowed out of the race, there was little question that the vast majority of Michigan's Jewish community, most of whom are Democrats, would rally around the former vice president.
"There is very little appetite for Sanders in the mainstream Jewish community," Lis said. "Most Michigan Jews are put off by his economic message and, most importantly, don't believe he could win against Trump."
When it comes to Israel, Lis said, "Sanders has managed to offend 90 percent of the Jewish community. … Even Jews who don't like Bibi Netanyahu don't support Bernie."
Former Vice President Joe Biden attends a campaign stop in Flint, Michigan, Mar. 9, 2020. Brendan McDermid/Reuters
Noah Arbit, the 24-year-old founder and chair of the Michigan Democratic Jewish caucus, who attended the Kerry event, said that like many American Jews, those in Michigan "don't just have a problem with what Bernie says. It's the people Bernie surrounds himself with. That's what is alienating."
But ultimately, it's not the Middle East that fuels the Jewish community's preference for Biden. It's the issue of electability.
"What Jewish Michiganders are looking at is who can defeat Donald Trump. Jewish Michiganders are not looking for a revolution. The only revolution we want is to get rid of Donald Trump," Arbit said.
Although Michigan is a particularly centrist Jewish community, Arbit disagrees with Lis's dismissal of progressive elements in the Jewish community. There is, he says, a small far-left progressive contingent that support Sanders, most of them young people.
Arbit said that, while he is not a Sanders supporter – the senator is too divisive for his taste – he is troubled by the way some in the Jewish community characterize him.
"When I hear statements like 'Bernie Sanders is an anti-Semite' or 'he's a self-hating Jew,' I find them offensive. I grate against this notion that exists in our Jewish community that if you hold progressive politics regarding Israel policies, you are labeled a 'self-hating Jew.' That's disgusting, and calling his Jewishness into question is beyond the pale," Arbit remarked.
When it comes to his Muslim neighbors, Lis said that Sanders is less of a natural fit than his high-profile supporters make him out to be: "The Arab community is highly conservative and Sanders, after all, represents the most liberal wing of the Democratic party."
While his views on civil rights and the Middle East may play well, many older Muslim voters aren't as comfortable with his economic views and stands on social issues, such as abortion and LGBT rights, according to Lis. The enthusiasm for Sanders may be high among the "young Arabs who grew up here in Michigan," Lis said, but "their parents are not voting for Bernie."
Both Lis and Arbit said that Sanders' biggest challenge among their state's Democrats on Tuesday has nothing to do with Jews or Muslims. The chances of a Sanders upset, they say, rely heavily on whether he can overcome Biden's popularity among African-American voters concentrated in the Detroit area.
Whatever the results, the two members of the Jewish community said local Democrats feel their state's choice of candidate may determine the future of the presidential race. "With Michigan coming after Super Tuesday," Arbit noted, "we often complain about not having enough influence. This time, we will definitely have an impact on the state of the race."
https://www.haaretz.com/us-news/.premium-michigan-muslims-support-amo-bernie-as-many-jewish-dems-opt-for-biden-1.8658284
------
Middle East
Shia militias now a greater threat than ISIS in the Middle East, says Canadian commander
Mar 09, 2020
Iranian-backed Shia militias embedded alongside Iraqi security forces are now a bigger threat than the fragmented fighting power of former Islamic State extremists, a senior Canadian military commander told a House of Commons committee today.
Lt.-Gen. Mike Rouleau delivered the assessment while updating the all-party House of Commons defence committee on recent events and threats in the Middle East.
He said out of the roughly 70,000 Shia militia members under arms in Iraq, about 30,000 of them are hardcore fighters affiliated with Iran who could pose a danger.
"They are a very big concern," Rouleau tesfied. "In fact, they're my No. 1 concern. At the moment, relative to force protection, I am more concerned about that swath of Shiite militia groups than I necessarily am about Daesh (the Arabic term for ISIS) because Daesh has been defeated militarily."
The remnant of the ISIS units hiding out in remote regions of northern Iraq and Syria, he said, "are reorganizing and spending time on themselves, more than they are spending time on attack planning."
Over the last two weeks, CBC News has spoken to several senior Canadian and anti-ISIS coalition commanders who share Rouleau's assessment and note that the militias have "yet to extract their pound of flesh" for the targeted killing of Iranian General Qasem Soleimani, the commander of the secretive Quds Forces, by the U.S. in early January.
Iranian mourners gather during the final stage of funeral processions for slain top general Qasem Soleimani in his hometown Kerman on January 7, 2020. (Atta Kenare/AFP/Getty Images)
The Iranians fired ballistic missiles into two Iraqi bases used by coalition forces, including Canadians, but have thus far taken no further retaliatory action.
The militias became highly integrated with Iraqi forces during the battles to expel ISIS from the northern part of the country, including the prolonged fight for Iraq's second largest city, Mosul.
"These Shiite militia groups we're concerned about are very well equipped," Rouleau told MPs. "They have tubed artillery. They have multiple launch rocket systems and armed UAVs. They have air defence equipment."
Rather than being a ragtag force, the fighters are like armed as though they are "a state military," he said.
Canada, with roughly 500 troops in Iraq alongside the U.S.-led coalition, is keeping a close intelligence eye on the various groups to determine what their intentions might be.
"They have been muted since the attack and the U.S. threats that — if a U.S. or coalition service member dies at the hands of these group — there will be an outsized response," said Rouleau, who is responsible for all military operations, foreign and domestic.
Ongoing crises in Iran, including the COVID-19 outbreak and the fallout from punishing economic sanctions, are also helping to mitigate any possible retaliation, he added.
Conservative defence critic James Bezan said he wondered how much support there was for the Shia militias within the Iraqi government itself.
Sandra McCardell, director general of the Middle East Bureau at Global Affairs Canada, told the committee that Iraq, prior to the Soleimani killing, had been engulfed in anti-Iranian, anti-corruption protests.
"They were frustrated and resentful of the foreign influence in their country," she testified. "I think what we've seen more recently, particularly since the killing of Qasem Soleimani, is that there has been pressure to again return to sectarian camps."
After the 2003 U.S.invasion, Iraq descended into a sectarian bloodbath between Shia and Sunni Muslims.
Rouleau said that in the aftermath of the Iranian missile attack on Erbil, where Canadian special forces have conducted operations out of since 2014, consideration is being given to consolidating Canadian bases in Iraq.
https://www.cbc.ca/news/politics/shiite-militia-isis-iraq-1.5491793?cmp=rss
-----
Muslim, Christian Scholars Gather In Istanbul In The Symposium -- Titled Muslim-Christian Scholars' Works On Philosophy And Theology
Fatih Turkyilmaz |
09.03.2020
Istanbul's Ibn Haldun University brought together Muslim and Christian scholars in the symposium -- titled Muslim-Christian Scholars' Works on Philosophy and Theology.
Located in the historical Suleymaniye district of Istanbul, the university organizes the symposium on March 9-12, 2020. In the symposium, Muslim and Christian scholars will discuss and share their current researches from a philosophical and theological perspective.
Professors Kelly James Clark, Burhan Koroglu and Enis Doko will chair the symposium in which workshops on philosophy and science will also be organized.
Speaking to Anadolu Agency, Doko said academics from various universities will discuss relations between theology, science and philosophy.
"Together with scholars from Turkey, the U.S. and Malaysia, we will have the opportunity to discuss religion and science from both Muslim and Christian perspectives," he said.
Doko added that one of the main purposes of the symposium is to increase collaboration between Muslim and Christian academics, and they want to work together both in academic and cultural works.
The symposium is in English and it is open for participation to academics, students and enthusiasts of the subjects.
In the first session of the symposium, Prof. Kelly James Clark gave a speech -- titled Religion and Violence: This is Why We Fight, pointing to the fact that philosophy and social sciences are closely related.
"The way to solve our disagreements is dialogue. We should focus on our prejudices. Neither all Muslims nor all Christians in the world have the same way of thinking," Clark said.
In the next two days of the symposium, Betul Avci from Ibn Haldun University, Samuel Murray from Duke University and Hayden Stephan from Saint Louis University will deliver speeches.
The last day of the event, March 12, will close with speeches of Enis Doko from Ibn Haldun University and Sumaiyah Ahmed from Jamia Hamdard University.
https://www.aa.com.tr/en/life/muslim-christian-scholars-gather-in-istanbul/1759811
-----
Supreme Leader's new year speech in Imam Reza (AS) shrine called off
Mar 10, 2020
Tehran, March 9, IRNA – Supreme Leader's Office in a statement announced that Ayatollah Seyyed Ali Khamenei's speech routinely held every year in the holy shrine of Imam Reza in Mashad to mark the arrival of new Iranian year (Nowruz) is called off due to health recommendations to prevent the outbreak of the coronavirus.
The statement said the Supreme Leader he will not travel to Mashhad on the occasion either.
The decision was made due to the strict advice of the specialists to avoid holding public gatherings and cancel trips to help contain the highly contagious disease, the statement said.
Hopefully, dear people will soon embrace healthy life by obeying the health standards fully and praying the Almighty God and those suffering from the disease will soon recover, it said.
https://en.irna.ir/news/83707910/Supreme-Leader-s-new-year-speech-in-Imam-Reza-AS-shrine-called
-----
Erdogan urges 'concrete support' from Europe over refugee crisis
09 March 2020
President Recep Tayyip Erdogan of Turkey says he is after "concrete support" from European allies amid an ongoing standoff with the European Union over a refugee crisis.
Speaking during a visit to Brussels on Monday, Erdogan blasted Greece for blaming Turkey for the recent migrant crisis.
"It is irrational and inconsiderate that an ally and a neighboring country put the finger of blame on Turkey for the irregulation migration."
"We will not allow this country to try to get unfair gains by abusing the current situation and the European Union."
"Our allies should display their solidarity with our country without discrimination and without laying down political conditions," Erdogan said. "It is very important that the support we demand is met without any further delay."
On February 28, Turkey said it would let refugees cross its borders into Europe, arguing it could no longer contain the prospect of a fresh influx because of intensified fighting in northwest Syria.
On the same day, the EU pleaded with migrants on the Turkish border to stop trying to cross into Greece but dangled the prospect of more aid for Ankara as the standoff entered a second week.
More than 10,000 migrants mostly from Syria and Afghanistan have gathered at the land border between Turkey and Greece hoping to get to western Europe.
Clouds of tear gas are seen at the Greece-Turkey border during clashes between migrants and riot police in the village of Kastanies, March 7, 2020. (File photo by AFP)
On Saturday, Greek police fired tear gas at refugees who responded to the officers by throwing stones and chanted "open the gates," journalists at the scene reported.
Ankara has repeatedly complained that Europe has failed to keep its promises under the 2016 EU-Turkey refugee deal to help migrants.
Elsewhere in his remarks, Erdogan also called on NATO to fulfill previous commitments it has made to bolster Turkey's defenses.
"NATO is in a critical process in which it needs to clearly show its alliance solidarity" with Turkey, he added.
https://www.presstv.com/Detail/2020/03/09/620507/Turkey-Erdogan-migrants-
-------
Pakistan
Dr Adnan was attacked to obstruct Nawaz's treatment, claims Shehbaz Sharif
March 10, 2020
Adnan Sheikh
PML-N chief and Leader of the Opposition in National Assembly Shehbaz Sharif on Tuesday condemned the attack on Nawaz Sharif's personal physician Dr Adnan Khan.
He said that the nature of the attack showed it was a "planned and organised incident" and he claimed that the attack was carried out to cause "obstruction in Nawaz Sharif's treatment".
Shehbaz added that a complaint was registered with the London police and expressed the hope that they would bring to light the people responsible [for the attack] after investigation. However, police has not yet made a comment on the nature of the attack.
Khan was out on his daily walk when he was attacked by two masked men, Geo News reported. According to the report, he sustained injuries on his head, face and chest after the two men attacked him from behind, punched him and hit him with a metal bar. Khan was taken to a hospital.
Khan accompanied Nawaz when he left for London for his treatment in November and has remained with the former premier since then.
He is the chief executive of Sharif Medical City — a medical and educational organisation in Lahore, executive director of Sharif Medical and Research Centre, a fellow of the World Health Organisation and a former member of the National Steering Committee of the Prime Minister's National Health Programme.
https://www.dawn.com/news/1539802/dr-adnan-was-attacked-to-obstruct-nawazs-treatment-claims-shehbaz-sharif
-----
Senate body seeks record of land purchased by foreigners
Ikram JunaidiUpdated
March 10, 2020
ISLAMABAD: The Senate Standing Committee on Law and Justice on Monday decided to obtain record of all land purchases made by foreigners during the last five years.
The decision was made while discussing 'The Constitution (Amendment) Bill 2018 (Amendment of Article 253A)' moved by Jamaat-i-Islami (JI) Senator Mushtaq Ahmed.
There was a perception that under the bill a person who is not a citizen of Pakistan shall not be entitled to own or purchase immovable property in the country. However, the mover said though foreign investments should be welcomed, it should be ensured that national interest was not compromised.
"No foreigner should be given lease of land for over 20 years because in Pakistan it becomes almost impossible to find record after two decades. After 20 years it should be seen if the lease of land should be extended or not," Senator Ahmed said.
The meeting was chaired by PML-N Senator Mohammad Javed Abbasi at the committee room of Parliament House.
Mover of bill says no foreigner should be given lease of land for over 20 years because it becomes almost impossible to find record after two decades
Majority of the members were of the view that there should be no bar on foreign citizens from purchasing land in the country after fulfilling all formalities. It was pointed out that a bill could be introduced on the matter if needed and it doesn't need to be a constitutional amendment. Moreover, the members observed that land was a provincial matter so how it can be dealt by the federal government.
However, Mr Ahmed said a bill on the matter cannot be moved as there was no law regarding purchase of land by foreigners.
"Clause III of Foreigners Act 1946 does not discuss the issue of land for foreigners. Moreover, all issues related to foreigners are in the domain of the federal government. I suggest that the committee should obtain five years record from the concerned departments of all the property purchased by foreigners during the last five years," he said.
After the meeting, Senator Ahmed told Dawn that foreigners from America, Europe and China purchased a large number of properties in Pakistan.
"Chinese nationals also married Pakistani women and the latter were told that the grooms had property in Pakistan. Though I am not against the foreign direct investment, we should keep national interest in mind," he said.
"During the last four meetings, I demanded record of land purchased by foreigners but the concerned departments seemed reluctant to provide it," Mr Ahmed said.
Meanwhile, the government opposed the Constitution (Amendment) Bill 2018 (Amendment of Article 45) moved by JI chief Senator Sirajul Haq calling for a provision that the president of Pakistan would not exercise this power in cases of punishments awarded under Hudood or Qisas.
The government observed that the president's power was not just for pardon but also of respite and reviewing other sensitivities.
Article 45 of the Constitution empowers the president to grant pardon, reprieve and respite, and to remit, suspend or commute any sentence passed by any court, tribunal or other authority.
https://www.dawn.com/news/1539739/senate-body-seeks-record-of-land-purchased-by-foreigners
------
Karachi collapsed buildings' debris removed
March 10, 2020
KARACHI: Civil and military administration on Monday completed the rescue operation and removal of debris in the Gulbahar area where a five-storey building had collapsed, falling on other adjacent buildings on Thursday, leading to the death of 27 people, including women and children, and injuries to 23 others, officials said.
According to a statement issued by the paramilitary force, after the collapse of the building on March 5, under directions of Rangers DG Maj Gen Omer Ahmed Bukhari, rescue teams of the Rangers were sent to the spot immediately.
The Rangers with personnel of the army and civil administration took part in rescue operations and also provided heavy machinery for the removal of the rubble.
The paramilitary force spokesperson said that 27 bodies and 23 injured persons were recovered from the debris. The injured were shifted to hospital for treatment.
The Rizvia Society police and rescue services said that among the dead were seven members of the same family whose bodies were shifted to their native place in Shikarpur for burial on Sunday.
Meanwhile, probe teams on Monday launched an investigation to ascertain the cause of the collapse of the building.
Karachi Commissioner Iftikhar Shallwani and Director General of the Sindh Building Control Authority Dr Nasim-ul-Ghani Sahito have set up two separate committees to probe the causes of the building collapse, investigate the approved building plan and fix responsibility.
The police have registered a case against the owner-cum-builder Javed and others on charges of manslaughter etc, but so far the suspect has not been arrested.
https://www.dawn.com/news/1539633/karachi-collapsed-buildings-debris-removed
-----
Arab world
Cross-ventilation is one way to keep mosques free of viruses
March 10, 2020
Our readers have their say on banking issues in India, possible causes for the spread of viruses in mosques and the right kind of street lights
Regarding Taylor Heyman's report Gulf states praised for response to coronavirus crisis (March 4): I am impressed with the concern and meticulous effort of the UAE to contain the virus. I am doctor working in the UAE for the past last 14 years. Being Muslim, I visit mosques daily. Here in the UAE they are very comfortable. They are air-conditioned throughout the year. During summer it is mandatory to run the AC but in winter and early spring, it is not required, especially when it is crowded and there is constant coughing.
Mosques are carpeted as well. Carpet fibres, if contaminated, can't be cleaned by merely vacuuming or even washing, and this affects those with allergies or asthma.
Coronavirus will not be the last contagion we face. After tiding over this crisis there will still be diseases of less virulence that do spread from person to person. Cross ventilation is more hygienic compared with a closed air-conditioned environment and is healthier.
Regarding the report India's Yes Bank seizure triggers investor and depositor panic (March 6): the recent cap on the withdrawal limit at 50,000 rupees (Dh2,483) from Indian Yes Bank created panic among depositors recently. The Reserve Bank of India has made its decision on the bank's irregularities and the poor customers will be inconvenienced. Senior citizens were already unhappy with their deposit rates. It is sad that people are worried about their deposits. The Reserve Bank and the government should come forward and assure citizens that their money is safe and work to solve this issue. Even though the RBI has no control over private banks, periodical monitoring for their lending to customers should be done.
With reference to your article Abu Dhabi awards contract for major LED street light project (March 8): as you can see in the photo, this switch is catastrophically bad for humans and the environment. The high colour temperature LED lights contain large amounts of blue wavelength light that causes permanent eye damage and disruption of circadian rhythms. Darkness is a fundamental necessity of human life and this street light conversion project will lead to serious long term damage. Cars can now drive themselves and have autopilot features. The glare from these LED lights impedes the ability of the sensors (and human eyes) to make a clear image. Instead of switching to 5000K LED lights, the city should use 2200K LED lights that are shielded and diffused, remove tall street light poles because lighting the roadway where cars travel is unnecessary and in fact, makes visibility worse, and install one metre tall bollards with 2200K LED light to allow pedestrians to navigate safely.
We hope that The National can do more stories on the necessity of darkness and the need to eliminate high-glare lights.
https://www.thenational.ae/opinion/feedback/cross-ventilation-is-one-way-to-keep-mosques-free-of-viruses-1.990344
-----
Islamic affairs minister instructs taking further measures in mosques to curb the spread of coronavirus in the Kingdom
2020/03/09
Riyadh, March 09, 2020, SPA -- Building on the measures taken by the Saudi authorities to curb the spread of coronavirus (Covid-19) Sheikh Dr. Abdullatif bin Abdulaziz Al Al-Sheikh, Minister of Islamic Affairs, Call and Guidance, ordered the implementation of a package of decisions regarding situations in mosques of the Kingdom, including lessening the gap between Azan (calling for prayer) and Iqama (start of prayer) to ten minutes for the five prayers aday; keeping Friday speech and prayer in the range of 15 minutes; suspending the tradition of feeding fasting worshippers; preventing long-stay inside mosques by worshippers following regular prayers; removing food and dates from inside mosques; and removing used drinking cups, usually found by the side of water refrigerators.
https://www.spa.gov.sa/viewfullstory.php?lang=en&newsid=2044828
-----
Two Americans Die in Raid on Islamic State Hideout in Iraq
By Isabel Coles
March 9, 2020
BEIRUT—Two American soldiers were killed during a raid on an Islamic State hideout in the mountains of central Iraq, highlighting the continuing security partnership between Baghdad and Washington despite strained relations.
The U.S.-led coalition said the two service members were killed while advising and accompanying Iraqi security forces on the mission on Sunday.
https://www.wsj.com/articles/two-americans-die-in-raid-on-islamic-state-hideout-in-iraq-11583775584
https://www.wsj.com/articles/two-americans-die-in-raid-on-islamic-state-hideout-in-iraq-11583775584
-----
Africa
Tunisia.. Procedures of converting to Islam suspended due to Corona
2020/03/10
Shafaq News / The Office of Fatwa in Tunisia decided to suspend the procedures of converting to Islam.
The decision came, according to Diwan's media, "In the context of the precautions taken to avoid infection with Corona virus, the temporary suspension of the procedures for converting to Islam or confirmation of it took place at a later date."
This decision sparked controversy in Tunisia, where activists considered that there was no justification for such a measure
https://www.shafaaq.com/en/world/tunisia-procedures-of-converting-to-islam-suspended-due-to-corona/#
-----
Dethronement: I have accepted whatever Allah decides – Sanusi
March 10, 2020
Sodiq Oyeleke
The dethroned Emir of Kano, Muhammadu Sanusi II, says he accepts his removal as the will of Allah (God).
He said, "With almost six years on this throne and (in charge of) our heritage. Today (Monday), the Almighty Allah, who gave me the leadership, has destined to take it back.
"As I always say, leadership has predetermined tenure, the days Allah destined are numbered. When the days come to an end one must leave.
"We have accepted whatever Allah decides. We have agreed. We appreciate (God). We are happy and we know it is what is best for us."
"We enjoin everyone to remain peaceful. We have directed our family, our children and those that support us that whoever gets it and is endorsed by the people they should pay allegiance to him.
"They should follow him (the new emir). They should guard his honour and dignity because that is also the honour and dignity of this palace," he added.
The PUNCH reports that Kano State Governor, Abdullahi Ganduje, on Monday, dethroned the 14th Emir of Kano, Muhammadu Sanusi II, after the traditional ruler's five years on the throne.
https://punchng.com/dethronement-i-have-accepted-whatever-allah-decides-sanusi/
-----
Sudan PM says he survived 'terror attack' in Khartoum
March 10, 2020
Sudan's prime minister said Monday he survived a "terror attack" after an explosion and gunfire targeted his motorcade in the capital Khartoum.
Abdalla Hamdok, a longtime economist, tweeted he was "safe and in good shape" following the explosion. Sudanese state TV said Hamdok had been heading to his office when the attack took place.
Hamdok also tweeted a photo of himself smiling and seated at a large desk, while a TV behind him showed news coverage reporting he'd survived.
The attack highlighted the fragility of Sudan's transition to civilian rule, almost a year after pro-democracy protesters forced the military to remove autocratic President Omar al-Bashir from power and replace him with a joint military-civilian government, which has promised to hold elections in three years.
However, Sudan's generals remain the de facto rulers of the country and have shown little willingness to hand over power to civilians.
Hamdok, in his brief statement on Twitter, said, "Rest assured that what happened today will not stand in the way of our transition, instead it is an additional push to the wheel of change in Sudan."
The country's top prosecutor, Taj al-Ser Ali al-Hebr, said in a statement that prosecutors have embarked on their investigation into the "professionally plotted" attack.
A statement from the prime minister's office said the attackers used explosives and firearms, and that a security officer was lightly wounded. The statement was read by Faisal Saleh, Sudan's information minister and interim government spokesman. He said the convoy was hit near the Kober Bridge.
Footage posted online showed two white, Japanese-made SUVs typically used by Sudan's top officials parked on a street, damaged with its widows broken. Another vehicle was badly damaged in the blast. Several dozen people were seen at the site of the attack, chanting: "With our blood and soul, we redeem you, Hamdok."
The protest movement that led the uprising against al-Bashir called the blast a "terrorist attack." The statement by the Forces for the Declaration of Freedom and Change called on people to take to the streets to "show our unity and cohesion … and protect the transitional authority."
Youth activists face arrest and intimidation and are still reeling from a ferocious crackdown by security forces last summer that broke up their sit-in outside the military's headquarters and killed dozens.
After months of negotiations, the military and the pro-democracy movement reached a power-sharing deal in August, at which point Hamdok took office. The deal established a joint military-civilian, 11-member sovereign council to govern Sudan for the next three years.
Prominent activist Khalid Omar, secretary general of the Sudanese Congress Party, said the attempt on Hamdok's life was a "new chapter in the conspiracy against the Sudanese revolution."
U.N. spokesperson Stephane Dujarric said U.N chief Antonio Guterres was "shocked and saddened" to learn of the attack and expressed "full solidarity" with the prime minister and people of Sudan.
The U.S. Embassy in Sudan tweeted: "We continue to support Sudan's civilian led transitional government and stand in solidarity with the Sudanese people."
Irfan Siddiq, the British ambassador in Khartoum, said the blast "is a deeply worrying event must be investigated fully." He tweeted that the Sudanese prime minister's office had confirmed Hamdok and his team "are all fine, with no injuries."
Hamdok met Monday with Egypt's intelligence chief, Abbas Kamel, who was visiting Sudan. Kamel also met with Gen. Abdel Fattah Burhan, head of the joint military-civilian sovereign council. He said Egypt "stands by the transitional government and the Sudanese people against the attempted attack," according to a statement from the sovereign council.
Monday's blast came less than two months after an armed revolt from within Sudan's security forces shut down the capital's airport and left at least two people dead. The tense stand-off between the armed forces and rogue intelligence officers paralyzed street life in several parts of Khartoum, along with another western city.
In 1989, al-Bashir came to power in an Islamist-backed military coup and imposed a strict interpretation of religion on its citizens, limiting personal freedoms.
Sudan's transitional authorities announced in February that they agreed to hand over al-Bashir to the International Criminal Court along with other former officials wanted by the ICC.
Hamdok has confirmed the government will cooperate with the court's efforts to prosecute those wanted for war crimes and genocide in connection with the Darfur conflict in the 2000s.
Sudan's transitional government has also been under pressure to end wars with rebel groups as it seeks to rehabilitate the country's battered economy, attract much-needed foreign aid and deliver the democracy it promises.
Nearly a year after al-Bashir's ouster, the country faces a dire economic crisis. Inflation stands at a staggering 60% and the unemployment rate was 22.1% in 2019, according to the International Monetary Fund. The government has said that 30% of Sudan's young people, who make up more than half of the over 42 million population, are without jobs.
https://indianexpress.com/article/world/sudan-pm-abdalla-hamdok-terror-attack-khartoum-6307785/
------
Australia/New Zealand
New Medal Honours Dr Amjad Hamid, Killed In Christchurch Mosque Attack
10 March 2020
A new medal will honour the memory of Dr Amjad Hamid, who was tragically killed in March 2019's Christchurch mosque attack.
The medal has been developed by The Royal New Zealand College of GPs because Dr Amjad Hamid, a heart doctor and a rural hospital consultant, was also a fellow of the College's Division of Rural Hospital Medicine.
The Amjad Hamid medal will be awarded for the first time this year to the top student of the University of Otago's GENA 728 paper, which is Cardiorespiratory Medicine in Rural Hospitals.
Lynne Hayman, CEO of the College says, "It is a fitting tribute to Dr Hamid to honour him in this way and to associate him with the highest achievers in cardiorespiratory medicine."
Jennifer Keys is the Chair of the Division of Rural Hospital Medicine and says, "Dr Hamid was known as a highly-skilled, caring and gentle doctor and his death was a shocking loss to the rural health profession.
"Creating this medal in his name will help keep his memory alive and memorialise his work in the annals of New Zealand medical history."
While Dr Hamid lived in Christchurch with his wife and family, he travelled to Hawera to work for Taranaki DHB as a rural hospital consultant at Hawera Hospital.
Dr Hamid had worked as a registered doctor in New Zealand since 1998 and has been a fellow of the college's rural hospital division since 2013.
https://www.scoop.co.nz/stories/ED2003/S00019/new-medal-honours-dr-amjad-hamid-killed-in-christchurch-mosque-attack.htm
-----
'Please don't hate us' - Christchurch mosque attack survivor
10-03-2020
"Please don't hate us, because we are innocent people and we just want a good life ... New Zealand is our house too."
Temel Atacocugu is one of those receiving ongoing treatment after he was shot nine times in the Christchurch mosque attacks earlier this year.Temel Atacocugu in hospital. Photo: RNZ / Logan Church
That is his message to New Zealand in his latest interview with RNZ, as the country prepares to mark one year since the attacks on Al Noor and Linwood mosques in Christchurch that left 51 people dead and many more injured and traumatised.
Temel has been in and out of surgery and counselling ever since, and RNZ's Checkpoint has been documenting his struggles and victories.
"I have nine bullets in my body," Temel said in his first interview in early April 2019. "I have injuries on my face, on my arm, my right knee, and my left legs ... and then between my hips."
He had just been transferred to Burwood hospital from Christchurch hospital, where he was struggling to deal with the noise. It was too much like the sounds inside the Al Noor Mosque on 15 March.
At the time, Temel was hopeful for the future and despite the stitches in the side of his mouth where the first bullet hit, he regularly smiled when he spoke. His eyes would light up when chatting about football, one of his passions.
"Already I see my future is bright ... I feel reborn," he said. "My new birthday is the 15th of March, 2019."
Temel would regularly meet his physiotherapist Helen at Christchurch Hospital. He has gradually regained control of his body over the past year.Temel would regularly meet his physiotherapist Helen at Christchurch Hospital. He has gradually regained control of his body over the past year. Photo: RNZ / Logan Church
That hope would be tested as the months wore on. Temel would regularly return to hospital for more surgeries and appointments with his physiotherapist Helen at the CDHB.
He also committed to regularly returning to the Al Noor mosque, despite being physically in pain and still struggling mentally.
"This is my second time, but every time I come I need to take some kind of pill to calm down because I'm quite nervous to come here," said Temel in late April.
A consistent concern for him over the past year has been money. Temel was co-owner ot Ottoman Kebabs, a small kebab shop in the ENTX Hoyts complex in central Christchurch.
He was already working long hours, but since the shooting has had to stay at home due to his injuries. As of March 2020 he has not been able to return to work, and was reliant on ACC to survive.
Temel would not be able to go back to work any time soon. He and his business partner, who was having to work even harder, had to employ more staff.
"I can't go back to the work at the moment, I can't look after the business ... my business partner has two businesses so he is also tired."
Temel has made a point to attend every court appearance of man accused of carrying out the attacks. Photo: RNZ / Logan Church
Temel said he was looking at potentially selling his business, and using the proceeds to help pay down a mortgage on a house he is hoping to purchase, though a final decision on that is yet to be made.
"When I'm motivated I'm happy, and when I'm happy I'm a good father but of course when [I'm] on...antidepressants or pain relief ... it is difficult for me," he says.
https://www.rnz.co.nz/national/programmes/checkpoint/audio/2018737824/please-don-t-hate-us-christchurch-mosque-attack-survivor
------
Mosque attack victims memorial service confirmed as going ahead
6:33 am today
Sunday's memorial service for the mosque attacks will still be going ahead despite some events being cancelled due to the Covid-19 coronavirus.
Tributes and flowers left outside Al-Noor Mosque in Christchurch after the terror attacks.Tributes and flowers left outside Al-Noor Mosque in Christchurch after the terror attacks. Photo: RNZ / Isra'a Emhail
A multi-faith group from the United Arab Emirates had cancelled a symposium planned in Christchurch due to what it said was the international trend of minimising travel and gatherings.
A Shia Islamic centre in Auckland last week said it was closing its doors for two weeks after some of its members returned from Iran recently.
Canterbury Medical Officer of Health Ramon Pink said there were however no plans to cancel Sunday's service in Hagley park.
"We haven't confirmed any cases of Covid-19 here in Canterbury, and of the 49 tests that have been done in our Canterbury region, all we have identified are viruses that we would normally see."
https://www.rnz.co.nz/news/national/411335/mosque-attack-victims-memorial-service-confirmed-as-going-ahead
----
India
Framed for being Kashmiri Muslims, says family of couple arrested for IS links
Mar 09, 2020
The family of the Srinagar couple arrested on Sunday from south Delhi for alleged links with the Islamic State-Khorasan Province (ISKP) and instigating protests against the Citizenship (Amendment) Act(CAA) said on Monday said that the two are being framed.
Jahanzaib Sami and his wife Hina Bashir Beigh, both in their late 30s and residents of Srinagar, were detained from their rented home in Okhla Vihar on Sunday and booked for sedition and promoting enmity between different communities under Sections 124A and 153A of the Indian Penal Code, and under the Unlawful Activities (Prevention) Act (UAPA), police officials said.
The family of the couple said the two were professionals with no interest in CAA or ISIS. "We are shocked. They are being framed just because they are Kashmiri Muslims. They are career oriented people and have a very clean record. They had no interest in the Kashmir issue and the CAA is out of question. Why would they instigate other people?," asked Sami's sister Sehrish Sami.
On Sunday, DCP, special cell, Delhi Police, Pramod Kumar Kushwah said the two were members of the banned terrorist outfit and were propagating its ideology of hatred against non-Muslims and thereby also inciting Muslims to kill non-Muslims.Delhi police officers also said that the couple had created several anonymous accounts on social media platforms such as Telegram, Facebook, Threema, Surespot, Instagram and Twitter to propagate the ideology of the Islamic State. They were also circulating material against the Indian government over the new CAA.
Mehjabeen Begum, the mother of the man, was inconsolable. "All the allegations against them are false. There is so much propaganda on media against them. They have never done anything wrong nor would they write anything wrong. Have they been arrested because my son has a beard and my daughter-in-law wears purdah? ," Begum said.
Sami has a BTech and MBA, and was working as a project manager with a UK based IT company in Srinagar, the family claimed. They refused to name the company. The company asked him to shift to Delhi after the internet shutdown in J&K following the revocation of the erstwhile state's special status on August 5 last year. He married Hina Bashir Beigh, an MBA in finance and marketing, in October in Srinagar and the couple started living on rent in south Delhi. Sami's father owns a manufacturing unit in Kashmir while his mother is a retired teacher.
"He had no plans to go to Delhi and he wanted to settle down in Kashmir after working in Pune in 2017-18. He returned in mid 2019 because of a job opportunity but then he was asked to temporarily shift to Delhi because of the internet shutdown here" said Sehrish Sami, adding that with the internet being restored , the two were considering returning.
https://www.hindustantimes.com/india-news/framed-for-being-kashmiri-muslims-says-family-of-kashmir-couple-arrested-for-is-links/story-W2wrU0gry4EF0m7Qgd43DJ.html
-----
Meats pieces thrown by Muslims outside temple in UP's Hathras? Police debunks false claim
9th March 2020
On February 13, one Navneet Gautam tweeted a video with the claim that Muslims are throwing pieces of meat outside a Hindu temple in 'Nai ka Nagla' neighbourhood of Uttar Pradesh's Hathras. In the video, a lane is visible where dogs can be seen loitering around the "pieces of meat". The tweet also had a rhetorical question – "how long will Hindus be treated like this?" Gautam's tweet was retweeted over 2,700 times and watched over 38,000 times.
Many other users on Twitter and Facebook shared the video with the same claim. A website named 'Haryana Ab Tak' also reported the incident claiming that people are furious over meat thrown near a temple in Hathras.
Hathras Police tweeted a graphic in response to Gautam's tweet and informed that a local municipality official visited the place where the said incident took place. It was found that things lying on the ground outside the temple were not pieces of meat but feathers of a chicken and other waste material that was thrown by a shopkeeper in a dustbin near the temple. The police said that street dogs in the locality pulled out the waste and spilt it all across the lane outside the temple. "Hathras police didn't get any information about Muslims throwing pieces of meat near the Hindu religious place -translated," states the clarification.
The bits and pieces lying on the lane are remains of chickens, meaning leftovers. This is clearly visible if one watches the video frame-by-frame. You can spot feathers and bones, not chunks of meat.
Moreover, at one point, a pile of garbage can be seen. After watching the video closely, it is observed that dogs must have torn open the pieces of meat placed inside a plastic bag from one place to another while pulling it out. A trail of garbage from that pile can be seen in the slow-downed version of the video attached below. The garbage spilt over in circular shape further indicates the manner in which the garbage was tron out of a plastic bag.
Alt News found that the claim about Muslims in Uttar Pradesh's Hathras throwing pieces of meat outside a Hindu religious place is false. The claim was rubbished by the Hathras police. We were also able to visually corroborate the police's statement.
https://www.altnews.in/up-police-dismisses-claims-of-muslim-population-throwing-pieces-of-meat-in-front-of-a-hindu-temple-in-hathras-district/
-----
South Asia
Afghan forces kill suicide bomber, foil deadly attack in Kandahar
10 Mar 2020
The Afghan forces foiled a deadly attack in southern Kandahar province by killing a suicide bomber who was looking to carry out an attack in Zherai district.
The Ministry of Interior in a statement said the explosives of the suicide bomber went off after the Afghan forces opened fire on him.
The statement further added that the suicide bomber was looking to carry out an attack in Hawz Madad area of Zherai district.
This comes as four militants who were looking to plant a roadside bomb in Dand district of Kandahar province were killed after their explosives went off prematurely.
https://www.khaama.com/afghan-forces-kill-suicide-bomber-foil-deadly-attack-in-kandahar-04495/
-----
Pompeo welcomes Ghani's announcement regarding the release of Taliban prisoners
10 Mar 2020
The Secretary of State Mike Pompeo welcomed President Mohammad Ashraf Ghani's announcement regarding the release of Taliban prisoners.
Pompeo in a statement said "We also welcome President Ghani's announcement that he will issue a decree March 10 on Taliban prisoner release and the formation of a national team for intra-Afghan negotiations."
He also added "We appreciate Dr. Abdullah's statement March 9 underscoring similar commitments to peace and inclusivity."
President Ghani had earlier opposed with the release of 5,000 Taliban prisoners which was included in the peace agreement between the United States and Taliban group.
Reacting to release of 5,000 Taliban prisoners ahead of intra-Afghan talks, Ghani said the release of Taliban militants should not be included as a prerequisite for the launch of intra-Afghan talks.
The U.S. and Taliban group signed a peace deal late last month after observing a 7-day reduction in violence.
The deal is expected to pave the way for the launch of intra-Afghan talks following the release of 5,000 Taliban prisoners which was initially rejected by President Mohammad Ashraf Ghani.
https://www.khaama.com/pompeo-welcomes-ghanis-announcement-regarding-the-release-of-5000-taliban-prisoners-04494/
-----
Southeast Asia
Pakistan receives first batch of locust control pesticide, equipment
March 10, 2020
BEIJING: China would help Pakistan establish and improve a comprehensive pest control system and effectively improve its ability to prevent and control biological disasters, said a Chinese foreign ministry spokesperson on Monday.
Geng Shuang said commenting on supply of pesticides and spray equipment to help Pakistan fight locust onslaught that China and Pakistan were all-weather friends and strategic partners. The two countries had a fine tradition of helping each other, he said.
He said at his regular briefing held here that considering the urgency of locust control, China had transported a batch of locust control materials to Pakistan, including 50,000 litres of pesticides and 15 high-powered spray equipment of which the first consignment of supplies had arrived in Pakistan this morning.
A new batch of coronavirus test kits was also shipped on the same plane that transported the locust control supplies to Pakistan, he added.
Shuang remarked that China believed that Pakistani government and people would be able to overcome the locust plague. "We are willing to continue to provide support, strengthen cooperation between the two sides in personnel training, experience sharing and technical support," he added.
He said that Pakistan was currently fighting a severe locust onslaught and in order to help the country respond to the disaster, the Chinese Ministry of Agriculture and Rural Affairs sent a team of experts of disaster prevention and control to inspect the severely affected areas in Pakistan.
From Feb 23 to March 5, the experts visited a number of disaster-stricken areas in Pakistan and conducted in-depth exchanges with relevant Pakistani departments, and proposed targeted measures, he added.
He said the comprehensive plan devised by China to fight the epidemic had been highly appreciated and recognised by Pakistan.
https://www.dawn.com/news/1539621/pakistan-receives-first-batch-of-locust-control-pesticide-equipment
-----
Coronavirus doctor in Wuhan says high blood pressure is key death risk
MAR 10, 2020
BEIJING – Patients with hypertension appear to be at a higher risk of dying from the coronavirus, said a top Chinese intensive care doctor who's been treating critically ill patients since mid-January.
While there's been no published research yet explaining why, Chinese doctors working in Wuhan, the central Chinese city where the virus first emerged, have noticed that infected patients with that underlying illness are more likely to slip into severe distress and die.
Of a group of 170 patients who died in January in Wuhan — the first wave of casualties caused by a pathogen that's now raced around the world — nearly half had hypertension.
"That's a very high ratio," said Du Bin, director of the intensive care unit at Peking Union Medical College Hospital, in an interview over the phone from Wuhan. He was among a team of top doctors sent to the devastated city two months ago to help treat patients there.
"From what I was told by other doctors and the data I can see myself, among all the underlying diseases, hypertension is a key dangerous factor," said Du, one of the most respected critical care experts in China. "Though there is no research published on that yet, we believe hypertension could be an important factor in causing patients to deteriorate, leading to a bad prognosis."
https://www.japantimes.co.jp/news/2020/03/10/asia-pacific/science-health-asia-pacific/covid-19-blood-pressure-death-risk/#.XmdWHs4zayI
----
Foreign investors more interested in policies and stability
March 10, 2020
LETTERS: We refer to the letter, "Civil servants must rise to the task", by Tan Sri Mohd Sheriff Mohd Kassim. We refute his notion that elements of Islamic symbols in the public service are problematic, connoting that Islam hampers investors and scares foreigners.
He seems to have a negative view on "Islamic symbolisms in the workplace" when saying "it tends to reinforce public and investor perception about creeping Islamisation in the government".
Is there any study to prove that? All these years of significant foreign investment into Malaysia, we have not heard about this as investors are more interested in government policies, work ethics and political stability.
He went on by giving a negative view of Islamic imageries, noting that government buildings in public property with Islamic symbols do not seem to contribute to progress.
The separation of Islam from public life — both in deeds and symbols — is deeply ingrained in the secular western educated elites.
His notion that it would be perceived as an Islamisation process in the government and, therefore, would scare away investors is unfounded and instils a phobia towards Islam, strangely coming from a Muslim himself.
The failure to create an effective pool of public servants with high integrity is because we have not been able to instil true Islamic values in the administration.
He continued to state that "some government departments also start the day by broadcasting Quran reading on the PA system for all to hear. Such display of religious preeminence can have a negative impact on investor sentiment about locating their executives to work and live here, in comparison with other Asean countries. They also make other races worry that the country is heading towards becoming an Islamic state."
While some one million civil servants are the backbone of the administration of the country, we feel strongly, unless Islamic discipline in work ethics is not inculcated firmly in all public services, then the nation will fail miserably to stand as a nation with true Islamic credentials.
Broadcasting Quran reading is a normal programme introduced in some agencies to instil Quranic consciousness in the everyday life of Muslims wherever they are, including at workplaces.
No one has complained about the Quranic reading and morning prayers in government buildings, which help to inculcate good values in performing one's duty.
https://www.nst.com.my/opinion/letters/2020/03/573254/foreign-investors-more-interested-policies-and-stability
-----
Minorities fear for Malaysia's future
March 10, 2020
The emergence of the hardline Islamist party PAS as part of conservative Muslim Prime Minister Muhyiddin Yassin's new coalition government is most unpopular with Malaysia's minorities.
Two of the country's biggest minorities are the Chinese and Catholics, with the latter comprising 3.68 percent or about one million people in a nation where 60 percent of people are Muslim. Catholicism is only pipped by Hinduism (6.3 percent) in terms of numbers of followers but Christianity overall accounts for 9.2 percent.
Malaysia's biggest ethnic minority are the Chinese, who account for 23 percent of the country's 32 million people, down from about 40 percent in 1957. The other significant minority are Indians, who were brought by the British to help with low-level administration and to teach English. India was very useful for the British in the century after it conquered what is now the world's second most populous nation.
Malaysia has attempted to rebuild itself since its 1957 independence from Britain — as Indonesia also has — as a religiously tolerant, multifaith society. That is true enough in Malaysia on paper and to a point in Indonesia, at least in the relative terms of South and Southeast Asia, where the heady cocktail of religion and nationalism is arguably the newest political thematic.
As part of trying to create a decent country in the years after independence, the Malay majority were determined to get the "native sons of the soil" or Bumiputra back in the race, having been left behind by the Chinese, who were mainly Cantonese or Fujian, Hakka and Hokkien; that's the same sort of mix you will see in the diaspora across Southeast Asia.
The United Malays National Organisation (UMNO) including former PM Mahathir Mohamad created economic apartheid and gerrymandered the parliament grossly in favor of rural areas where voters were easily bought off with necessities like palm oil and rice and driven to polling stations.
In Malaysia, geographically at the more Muslim end of the Malay-Indonesia archipelago, the hardliners have gained a foothold in the federal ruling alliance for the first time since 1974. This has sparked immediate and obvious fears from Christian denominations.
It will also have sparked even deeper fears for the Chinese, who have suffered both personal and institutional racism since the British left. Chinese are on average wealthier than Malays and their names are prominent in the top echelons of wealthy business people. They tend to be better educated and cosmopolitan.
As migrants over millennia, the Chinese and Jews are the great global exemplar. Indeed, the Chinese are sometimes known as "the Jews of Asia" — not a derogatory term unless one wants it to be — because they have traditionally controlled the banks and other major business in Indonesia, the Philippines and Thailand. And, of course, the Chinese invented modern Singapore; one reason was to get away from Malay racists.
After the 2018 election, opposition parties argued that Mahathir's Pakatan Harapan government was "too Chinese" because it included the Chinese-dominated Democratic Action Party. This has been circulated widely around Facebook and WhatsApp, and even in mainstream media sources.
According to Australian National University senior fellow and Malaysian expert Amrita Malhi, this argument has gained incredible traction. "It helps to some extent to explain Pakatan's slide in support, especially among Malay Muslim voters, since it was elected. Effectively, UMNO and PAS have managed to reverse the impact of Mahathir's China-focused election campaign and turn the focus back on to Malaysian Chinese. The resulting slide has been obvious in recent by-elections and caused significant panic inside the government. It was one of the triggers for the power struggle that erupted last week."
While UMNO's problem with the Chinese was fundamentally economic, PAS also has religious concerns. The Chinese make up one of the two largest slices of the Malaysian Catholic Church along with people who live on the island of Borneo, where the population is about 30 percent Christian.
There are a several ethnic Chinese bishops in Malaysia as well as many priests. The PAS argument is that Chinese political participation puts them in a "state of war" against Malay Muslims and, by extension, against Islam. There is also an insinuation that Chinese politics is "communist," which is a reference to the communist movement that was largely Chinese in its membership during much of the 1940s but which was wiped out in the lead-up to independence.
Many members of UMNO and Muhyiddin's Parti Pribumi Bersatu Malaysia will obviously want to keep PAS on a leash, yet Muhyiddin needs the party's numbers and it also has the support of UMNO. Of course, many moderate Muslims across Malaysia are deeply suspicious of PAS, so it's not just minorities that will be worried about whether UMNO can keep PAS in check.
https://www.ucanews.com/news/minorities-fear-for-malaysias-future/87410
-----
North America
American forces raid Islamic State hideouts on Qarachogh mountain: witnesses
10-Mar-2020
Early Sunday morning a fight ensued on the Qarachogh Mountain, commonly attacked by ISIS. American forces entered with warplanes and helicopters at approximately 7 am, to surround the intended target, ISIS members. Witnesses claim there were around 200 soldiers fighting, some of which were Americans. Intense fighting ensued after American soldiers descended from their helicopters on the mountain. Warplanes bombed three well-known ISIS hideouts while fire continued from four helicopter gunships. Ghazi Faysal, a member of a 15-man Peshmerga group protecting the village of Ali Rash, confirms that five ISIS were killed.
Qarachogh Mountain became a safe haven for hundreds of ISIS state fighters as their control of the Nineveh plains came to an end in 2017. ISIS militants have been able to gain control within the land disputes between the Iraqi Army and Peshmerga over territorial boundaries. Kurdish officials continually warn others about the reemergence of ISIS in Makhmour because they experience similar territorial disputes in Erbil and the federal government in Baghdad. Previous efforts to root out ISIS in the mountain have failed, despite consistent efforts by Kurdish, Iraqi security and US assistance. ISIS commonly targets those of families who choose not to cooperate often displacing families. Residents in these areas fear ISIS and desperately want them gone after crop field arsons and attacks on refugee camps. The United States continues to back Kurdish efforts to remove ISIS's control and residency from their areas.
https://www.oodaloop.com/briefs/2020/03/10/american-forces-raid-islamic-state-hideouts-on-qarachogh-mountain-witnesses/
-----
UN Rapporteur blasts Iran's execution of gays based on Islamic morality
By BENJAMIN WEINTHAL
MARCH 10, 2020
NEW YORK CITY — The newly released UN Report of the Special Rapporteur on the situation of human rights in the Islamic Republic of Iran condemned Iran's lethal homophobia in connection with a Jerusalem Post exposé on Tehran's public hanging of man based on an anti-gay charge.
According to Javaid Rehman , the UN Rapporteur who released his report on Monday to the UN Human Rights Council in Geneva, Switzerland, "The death penalty continues to be applied for a wide range of offences, in contravention of article 6 of the International Covenant on Civil and Political Rights, which notes that States parties that have not yet abolished the death penalty should only impose it for the most serious crimes. "
He added that "The Islamic Penal Code does not limit the application of the death penalty to such cases. The death penalty may be applied for example in some cases of adultery, for certain cases of consensual same-sex intercourse between men or for offences that are not well-defined, such as efsad-e fel-arz ('spreading corruption on earth'). In June 2019, when asked about the imposition of the death penalty in cases of same-sex intercourse between men, the Iranian Minister of Foreign Affairs said that the law was reflective of moral principles held by society."
In June, 2019, Iran's foreign minister Mohammed Javad Zarif defended the execution of gay people after a German reporter asked him: "Why are homosexuals executed in Iran because of their sexual orientation?"
Zarif responded that"Our society has moral principles. And we live according to these principles. These are moral principles concerning the behavior of people in general. And that means that the law is respected and the law is obeyed."
According to a 2008 British WikiLeaks cable, Iran's regime has executed between 4,000 and 6,000 gays and lesbians since the country's 1979 Islamic revolution.
The UN report noted that "Another former detainee who was an activist for lesbian, gay, bisexual and transgender rights and for gender equality and who had spent 19 days in solitary confinement in ward 209 at Evin Prison informed the Special Rapporteur that she was kept in a cell measuring 2m by 3m and could not talk to her family or the outside world for the first 15 days of her detention. She was not allowed to have any books. In the bathroom, only hot water was available, and in her cell the lights were on 24 hours a day. She developed an anxiety disorder that caused panic attacks, as a result of which she was taken to the prison clinic, where she was given medication. "
The report continued: "Another person who was in solitary confinement in ward 209 reports having been kept in such confinement for 83 days. For three weeks he had access only to the bathroom. He could ring a bell to ask for assistance and, when taken to the bathroom, he was blindfolded. During that period, he could not receive visits. His parents came every week but were sent back every time. Another detainee who was held in solitary confinement in Zahedan Prison was not allowed to talk to his family for 30 days."
Iran's ambassador to the UN ,Esmaeil Baghaei Hamaneh told the UN Human Rights Council that " I should be excused for failing to find any reason to be appreciative of the report which is just an updated version of a yearly ritual devised to stigmatize the Iranian nation. The report is inherently flawed because it is based on an innately produced mandate and overly politicized agenda.The report is far from a faithful reflection of Iran's continuing progress in human rights performance. "
The Post first reported that Iran's clerical regime executed a man based on an anti-homosexual law in January, 2019. The Post article led to increased scrutiny of Iran's lethal homophobia. The openly gay US ambassador to Germany and current acting Director of Intelligence, Richard Grenell, launched, in the same year, an unprecedented international campaign to decriminalize homosexuality across the world.
https://www.jpost.com/Middle-East/UN-Rapporteur-blasts-Irans-execution-of-gays-based-on-Islamic-morality-620388
------
Sanders hires adviser who blamed America for 9/11, questioned bin Laden op, mocked Michelle Obama's looks
By Brooke Singman
13 hours ago
Bernie Sanders' newest senior adviser has a history of incendiary comments that include placing blame on America for 9/11, disparaging Michelle Obama's appearance, and even describing the Obama administration's Usama bin Laden takedown as "choreography."
Sanders, I-Vt., over the weekend announced that Phillip Agnew, an artist and organizer, officially would be brought onto his Democratic presidential campaign. Agnew previously served the campaign as a national surrogate.
"I am excited to welcome Phillip to our team," Sanders, who is fighting to rebound after Super Tuesday losses to former Vice President Joe Biden, said in a statement Saturday. "He is a gifted organizer and one of his generation's most critical voices on issues of race and inequity. He has and will continue to push me and this movement to deliver on what is owed to Black people who have yet to experience reciprocity in this country."
Agnew tweeted the announcement, saying: "i've joined the campaign as a senior advisor; accepting the challenges & contradictions to my friends & comrades: thank you for the love & accountability. this is a people's position on a people's campaign. We will leave no one behind. That is our promise. @BernieSanders"
"Random thought while standing in Gas Station: Michelle Obama is an odd looking woman…I'd call her ugly but I don't want the backlash…" he tweeted on Oct. 22, 2009.
Agnew tweeted, again, on Dec. 10, 2009, saying: "Michelle Obama is just not pretty…I've tried to look at her from every angle possible."
Again, on Jan. 10, 2010, Agnew posted: "#letsbehonest Michelle Obama is NOT an attractive woman. Intelligent, yes. Successful, yes. But pretty? Hell no!!!"
"I am not my tweets from 2009. Still, words have power to heel & to harm and I acknowledge and apologize for when my words harm," he tweeted. "I've spent years speaking life and love into my community but I was wrong and I have to be accountable."
"I typed them as a young, immature, and insecure boy who thought he was forever invisible and 'invincible.' My comments were shallow, careless, sexist, and cruel," he said. "I grew up socialized by false standards of beauty and success. And young, dumb Phillip spouted all manner of things that today I absolutely reject and regret."
Then there was this one on May 2, 2011, the day U.S. Navy SEALs killed Usama bin Laden in Pakistan: "I don't believe sh*t America, and by default Obama, says. Sorry. We prolly BEEN killed Osama. All choreography. Got no proof; gut feeling."
Sanders campaign promotes to Senior Advisor Phillip Agnew, who tweets: America is responsible for mass shooting at Orlando nightclub, lied about killing Osama bin Laden, murders its citizens for money
And on Sept. 11, 2016, Agnew shared a cartoon of the burning World Trade Center and two boomerang-shaped planes in each tower, with "U.S. Interventionist Policy" imprinted on each.
I get that there is an entire generation of young activists who either weren't born/don't remember 9/11/2001 but you really need to think here, because you won't win elections by telling the loved ones of dead office workers and first responders that we got what we deserved.
Then on June 13, 2016, after the Pulse Nightclub mass shooting in Orlando, Fla., Agnew tweeted that "america is hate-founded, hate-legislated, hate-sponsored, hate-endorsed, hate-filled. This country created this."
Amid a backlash over that tweet, Agnew clarified that he was "not blaming the victims here," but that "when I say country I mean the people in power/policy, the government."
"Just clarifying who to blame," he said. "it isn't radical islam and it wasn't those people in the club. It is us. We spread this hate."
"international issues can be confusing for some," he tweeted on Feb. 25, 2019. "a good rule of thumb: if the US is sending 'humanitarian' aid…it's a PR cover for inhumane bullsh*t. If the US has chosen a side…it's the wrong one. If the US is PUSHING the story…it's a lie."
The Sanders campaign and Agnew did not immediately respond to Fox News' requests for comment for this report.
https://www.foxnews.com/politics/bernie-sanders-hires-senior-adviser
-----
Two US Troops Killed Fighting Islamic State Group in Iraq
March 9, 2020
By Brian W. Everstine
Two U.S. service members died during a March 8 fight with Islamic State group militants in northern Iraq.
The Americans were killed while advising and accompanying Iraqi security forces during a mission targeting an IS stronghold in a mountainous area, according to a March 9 U.S. Central Command release. The U.S.-led force had to deploy additional personnel to the area to recover the casualties in an effort that took about six hours, according to The New York Times. IS forces were reportedly barricaded in caves in the area.
The two are the first Americans to die in Iraq since last August, when a U.S. Marine was killed in another joint operation alongside Iraqi forces. Their names and service branches will not be released until their next of kin are notified.
U.S. forces have been fighting IS alongside local forces in the region since Operation Inherent Resolve began in 2014. Recent efforts have focused on supporting allied fighters instead of direct action against the terror group. In January, U.S. and coalition aircraft released 68 weapons on IS targets in Iraq and Syria, the second lowest monthly total since the operation began, according to Air Forces Central Command.
airforcemag.com/two-us-troops-killed-fighting-islamic-state-in-iraq/
-----
Donald Trump in excellent health, not been tested for coronavirus: White House
March 10, 2020
President Donald Trump remains in excellent health and has not been tested for coronavirus, the White House has said, even though he was in contact with multiple lawmakers who have since gone into self-imposed quarantine due to their proximity to someone with the virus.
White House Press Secretary Stephanie Grisham said on Monday that testing was not necessary because President Trump is not showing symptoms and the lawmakers aren't confirmed to be infected.
"The President has not received COVID-19 testing because he has neither had prolonged close contact with any known confirmed COVID-19 patients, nor does he have any symptoms," Grisham said. "President Trump remains in excellent health, and his physician will continue to closely monitor him," she said.
The White House statement came as Trump was in contact with multiple lawmakers who have since gone into self-imposed quarantine. These lawmakers had come into contact with someone at the Conservative Political Action Conference (CPAC) who tested positive for the deadly coronavirus. The virus is believed to have an incubation period of about 14 days.
Earlier during a news conference, Trump assured the country that his administration is taking all necessary steps to bring it under control. "We are going to take care of, and have been taking care of, the American public and the American economy," he said.
Vice President Mike Pence, who is leading the efforts on coronavirus, said the risk of contracting the virus to the American public remains low, and the risk of serious disease among the American public also remains low. "The President did deploy not just a whole-of-government approach, but also a whole-of-America approach. And last week, at the President's direction, we met with leaders in industries, from nursing homes to airlines, pharmaceutical companies, commercial labs, and it's had great, great impact," he said.
"Pharmaceutical companies are already working, literally around the clock, on the development of therapeutics; that will be medicines that can bring relief to people that contract the coronavirus. I know how pleased the President was to learn that the commercial labs in this country, led by companies like LabCorp and Quest, have already brought a test forward and are taking that to market effective today," he said.
This week, they plan to have meetings with hospital CEOs, health insurance CEOs, and building on top of what the President will be announcing tomorrow with regard to economic relief for working Americans. The global death toll from the new coronavirus crossed 3,800 on Tuesday, as China reported 17 new deaths. The virus has spread to over 100 countries with more than 110,000 cases of infection.
https://www.oneindia.com/international/donald-trump-in-excellent-health-not-been-tested-for-coronavirus-white-house-3047717.html
------
Europe
Muslim bloc urges safety for asylum seekers in Greece
09.03.2020
Mumin Altas
The Organization of Islamic Cooperation (OIC) is urging that the safety of asylum seekers at Greece's borders be ensured in line with human rights law.
Greek officials' announcements that the asylum seekers will be pushed back is in violation of human rights and EU law, said a statement by the OIC's Human Rights Commission.
Referring to the Universal Declaration of Human Rights Article 14, the statement said, "Everyone has the right to seek and to enjoy in other countries asylum from persecution."
"The commission supports the UN Refugees High Commission's statement on March 2, 2020, which calls for the states to not suspend applications by asylum seekers, who are under protection according to the UN's 1951 Refugee Convention.
"States also have the responsibility to not discriminate between asylum seekers based on their religious views. The only way to solve the asylum seekers' crisis in the long run is to respect human rights law. We invite OIC countries and the international community to support asylum-seekers and provide services for them," it said.
The OIC's Human Rights Commission has members from 18 countries, including Haci Ali Acikgul of the Justice Ministry's Human Rights Division.
Late last month, Turkey announced it would no longer stop asylum seekers from reaching Europe by land, while banning boat crossings as too dangerous.
In making the decision, Turkey complained that the European Union had failed to keep its pledges under a 2016 deal on migrants, and warned of a new refugee wave coming from the embattled province of Idlib, Syria, along Turkey's southern border.
Thousands of asylum seekers have since flocked to Turkey's Edirne province – which borders Greece and Bulgaria – to make their way to Europe.
Turkey has also criticized what it calls Greek authorities' brutality towards the asylum seekers at the border.
Turkey, which already hosts nearly 4 million Syrian migrants, more than any other country in the world, has said it would be unable to absorb yet another refugee wave.
Escalating attacks by the Assad regime and its allies in Idlib, Syria has sent a fresh wave of refugees toward Turkey's border.
https://www.aa.com.tr/en/europe/muslim-bloc-urges-safety-for-asylum-seekers-in-greece/1760109
-----
Anti-racist Trevor Phillips: Labour is gagging Muslims debate
March 10, 2020
by Harriet Line
A FORMER head of the UK equalities watchdog has accused the Labour Party of attempting to gag members after his suspension over allegations of Islamophobia.
Anti-racism campaigner Trevor Phillips, who has chaired the Equality and Human Rights Commission, faces an investigation and could be expelled from the party over comments dating back years.
Mr Phillips — who refused to vote for Labour, saying Jeremy Corbyn had failed to deal with anti-Semitism — faces questions over comments that include remarks on Pakistani Muslim men sexually abusing children in northern British towns, according to The Times. The paper said many of his statements date back years but Labour's general secretary Jennie Formby suspended him as a matter of urgency to 'protect the party's reputation'.
Mr Phillips said 'no one inside or outside the Labour Party has ever suggested that I have broken any rules' and said the party was in danger of becoming 'a brutish, authoritarian cult'.
He accused Labour of attempting to stifle 'healthy debate' among members by sending him a letter forbidding him from revealing details of his suspension. Mr Phillips told BBC Radio 4's Today programme yesterday: 'They say I'm accusing Muslims of being different. Well, actually, that's true. Muslims are different and, in many ways, I think that's admirable.'
The 66-year-old said it was 'nonsense' to define being anti-Islam as racist, arguing that Muslims did not identify as a race.
The Muslim Council of Britain said: 'Mr Phillips has made incendiary statements about Muslims that would be unacceptable for any other minority.'
https://www.metro.news/anti-racist-trevor-phillips-labour-is-gagging-muslims-debate/1938896/
------
Conversation with an Imam: being Muslim in Post-Brexit UK
10 March 2020
As the United Kingdom faces a post-Brexit reality spurred by an unprecedented rise in support for radical right populist parties, I interviewed Imam Saleem Hussain from Medina Mosque in Southampton, to gain an insight into how local Muslim communities view the threat of right-wing extremism, particularly in the run up to the first anniversary of the attack on the Al Noor Mosque in Christchurch, New Zealand.
I am one of the Imams at Medina Mosque in Southampton, which is unique because it is the only purpose-built mosque in Southampton, and the first purpose-built mosque in Hampshire. As part of my role, I have the responsibility of leading prayers, educating the Muslim public regarding the Islamic faith, performing marriage and funeral ceremonies, and providing advice to the community.
Medina Mosque is distinctive in that it prides itself on catering for everyone in the community – we do a lot of outreach work, have many schools and scout groups visiting, and we open our doors to everyone, regardless of religion.
Psychologically, there has been an increase in fear – many mosques and managements have become more aware of the safety of the mosque, and the wellbeing of the members of the public who visit the mosque to pray. So there have been measures put in place to try and prevent any potential terrorist attacks.
We are still in close contact with the local police, and, internally, within ourselves, we have made a lot of improvements to the safety of the building itself. For example, the mosque is now always locked when children come to study from 4.30pm to 6.30pm. There is also a bell system in place, so if anyone wants to enter the mosque, they will alert us to their presence, and, if we recognise that person, they will be allowed to come in and pray.
On Fridays, because there is always a larger congregation, we now have volunteers standing by the entrance of the mosque, keeping a lookout to see if there is anyone suspicious, so we could potentially take action.
Certainly, in the past two Eid's that we celebrated after the month of Ramadan, and also the holy pilgrimage Hadj, during these two festivals, we had a lot of security inside and outside the mosque.
Most of the security was composed of volunteers, people who came to pray at the mosque. We gave them high visibility jackets, they were standing outside, and around the mosque, ensuring everyone was safe and greeting people at the entrance. We also had an increase in police presence, with officers being placed around all the mosques in Southampton.
The local authorities do tend to highlight Medina Mosque, and dedicate more importance to it, mainly because it is a large purpose-built mosque, it is the mosque that is most visited by members of the public, and it is quite vulnerable because it links onto a main road.
As a community, it makes us incredibly sad – we should always feel safe, especially in a place of worship. There have been cases when I have been at the front, leading the prayers, and had a large congregation behind me, and sometimes the thought crosses my mind, whilst I am praying, what if someone just comes in now and does something - even at those times of prayer, I personally feel afraid, and if I, as the Imam feel afraid, then I am sure the people in the congregation also feel afraid and unsafe.
It is not a good feeling to have, knowing that your mosque has to have safety measures put in place. We have volunteers sacrificing their time, in which they could have been praying. However, if we look at it from another perspective, it does give us comfort knowing that there is help, that there are people out there willing to help, and willing to keep us safe.
There has been a considerable rise in right-wing populism in recent years – have you seen a rise in hate crime in the local community?
I usually spend most of my time in and around the mosque, and have occasionally come across individuals driving by who will wind their windows down and shout offensive remarks, either referring to me as a 'terrorist', or making derogatory remarks about Islam. Occasionally, when terrorist attacks take place, the general public will bring up the conversation about our wellbeing as Muslims, and their anxieties about the potential increase in hate crimes and Islamophobia.
The main people that come to me are women, who are concerned about their wellbeing as practicing Muslims, meaning women who cover themselves in traditional Islamic dress. Women often feel more vulnerable because it is visually apparent that they are Muslim, whereas often with men this is not apparent.
Most extremists do not tend to look at religion, rather, they look at colour and then make a judgement, 'oh this person is brown, he is definitely going to be a Muslim'. I have had cases where Hindus have come to us, and said we were walking and people mistook us to be Muslim and started shouting racist remarks. So if they see someone who is brown, they automatically link that colour to Islam.
The people who come directly to the Imam to report hate crimes are mainly people not from Southampton, but university students who have come from abroad, and, because they are not familiar with the area, they feel the best place to go for help would be the mosque.
Do you think media coverage of the controversy surrounding Islamic dress, has had an impact on the levels of anxiety felt by the women you mention?
The media have led to an increased anxiety among women – if the media and news reporters are mocking their attire, then women become fearful about wearing it. So psychologically, it has an impact – if women are going somewhere with littlediversity, they often question whether or not they should go, as they are fearful someone may shout abuse.
There was a case in Southampton, in which an English woman grabbed the headscarf of a Muslim woman, pulling it off whilst shouting abuse. This case is quite unusual because it is uncommon to have a lone woman show her extremist views towards another woman. Usually, if a woman does show her extremist views, it would be in a group, or during a protest.
Education is key – we focus more on the media, and what the media says, rather than focusing more on integration
This incident, in itself, put off a lot of Muslim women, for a certain period of time, from going out freely. Even with my wife, she always feels safer walking with me, and will only go out alone if it is absolutely essential, which is incredibly unfortunate.
The UK government has recently carried out an independent review of the Prevent strategy – do you think anything needs to change to help combat the rise in right-wing extremism?
I have had this conversation many different times with many different people. I do not one hundred percent agree with what Prevent does at the moment, because it seems like it is quite one-sided, and that we are just looking for violent extremists within the Islamic faith, which is incorrect.
There is a huge focus on mosques. People always want to come to the mosque and look at how it monitors its congregation and educate the imams into how we should figure out a person's character. There is nothing wrong with doing that, but Prevent needs to expand, their strategy needs to encompass all types of extremisms, from different cultures, different religions, because there is not just extremism within Islam."
What would you want the public to know about how local communities in the United Kingdom perceive the threat of right-wing extremism?
It is definitely a serious issue, one that will take a very long time to resolve. Muslim communities need to learn to integrate more with people from other cultures or other communities. I believe this is one of the main reasons people may lack an understanding of Islam.
I think education is key – we focus more on the media, and what the media says, rather than focusing more on integration. Many people currently feel afraid to talk to us, because they think that we are all extremists, so one of the ways we can tackle hate crimes is by changing public perceptions, showing people what a welcoming community we are.
Likewise, the majority of members who claim to be a part of a far-right extremist group are often lacking in education and understanding, and many of them are not willing to listen to the truth. Education and integration is key to preventing hate against Islam.
https://www.opendemocracy.net/en/countering-radical-right/conversation-imam-being-muslim-post-brexit-uk/
-----
Daily says sorry over 'Islamist' community centre headline
10 Mar 2020
by David Sharman
A regional daily has apologised after accidentally referring to a proposed Islamic community centre as an "Islamist" one.
The Colchester Daily Gazette has said sorry over the erroneous use of the term, which refers to "militancy and fundamentalism."
The term appeared in a story about plans to convert a pub into an Islamic community centre, and the protests against it.
But the headline 'Islamist centre's pub conversion set for approval' prompted a complain to the Independent Press Standards Organisation from Shoomi Chowdhury, who said the Gazette had breached Clause 1 (Accuracy) and Clause 12 (Discrimination) of the Editors' Code of Practice.
In her complaint, Ms Chowdhury said that the term "Islamist" was widely understood to refer to violent extremists, and it was inaccurate to describe the community centre in this way.
The Gazette accepted the human error caused by a journalist, who was said to be "very upset" with the mistake made.
Prior to the complaint being referred by IPSO, the Gazette published the following correction: "In yesterday's Gazette we printed an article about Colchester Islamic Community Centre's bid to convert the former Beehive pub. In the headline, the word 'Islamist' was used – a term that refers to militancy and fundamentalism.
"We apologise for this grave error; the headline should have read 'Islamic centre's pub conversion bid set for approval'. We have received many complaints from different communities.
"We would like to clarify Colchester Islamic Community Centre is a community and family-centred organisation whose work has always looked at the betterment of Colchester and looking to positively contribute to the community."
The Gazette also offered to write a follow-up piece or to publish a letter from Ms Chowdhury, which resolved the matter to her satisfaction.
https://www.holdthefrontpage.co.uk/2020/news/daily-says-sorry-over-islamist-community-centre-headline/
-----
URL: https://www.newageislam.com/islamic-world-news/the-middle-east-coping-with/d/121266
New Age Islam, Islam Online, Islamic Website, African Muslim News, Arab World News, South Asia News, Indian Muslim News, World Muslim News, Women in Islam, Islamic Feminism, Arab Women, Women In Arab, Islamophobia in America, Muslim Women in West, Islam Women and Feminism