New Age Islam News Bureau
19 May 2013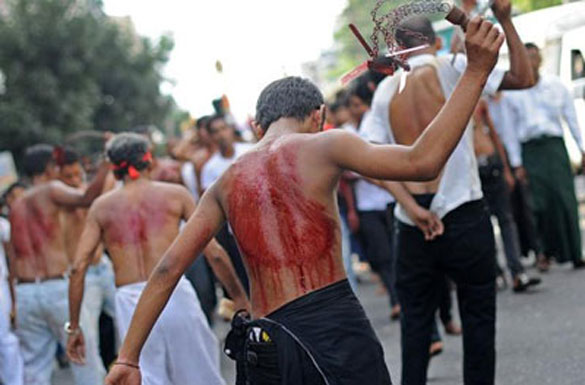 Photo: A Shia boy flogs himself during the Ashura celebrations in Myanmar
---------
Mideast
• Fight for your right: Iran plans to end ethnic cleansing of Muslims in Myanmar
• Suspected US drone in Yemen kills four al-Qaida militants
• Israel acts to deny Hezbollah of Syrian arms, says Netanyahu
• Iran's Guard Warns Against Post-Election Turmoil
• Iran hangs two for spying for Israel, US
Europe
• British imams and Muslim leaders stand against gay marriage
• France wants 'decisive sanctions' against Iran
• UN Security Council mulls Syria cross-border aid push
India
• SYM, Youth Wing of Jamat e Islami Breaks Taboos, Sets New Trends to Woo Masses
• Kataria ideal man, Sohrabuddin had to die: RSS-affiliated outfit
• Terror accused dies in police custody, UP CM orders inquiry
• Yasin Malik voices support for Tamil Eelam
• Indian teacher attacked in Maldives requires visa renewal for treatment
• Omar Abdullah apologises to family of Pak prisoner Sanaullah
• Counter-terrorism to top Indo-US Security dialogue agenda: Sushilkumar Shinde
Pakistan
• Hafiz Saeed's security chief murdered, body showing signs of torture
• Army 'throws weight' behind Nawaz Sharif
• Take gradual initiatives: Kayani tells Nawaz on ties with India
• Imran Khan blames MQM's Hussain for Karachi killing
• 'Unknown persons' attack PTI leaders' residences, torch vehicles
• TTP unlikely to follow Afghan Taliban on anti-polio help
• Nawaz Sharif's party gets majority in Pak Parliament
• Signing of treaty for transfer of prisoners urged
• PPP accepts results despite reservations, says Amin Fahim
• Pakistani toll in Siachen avalanche rises to 128
• Upmarket Pakistan district votes again as Imran Khan decries killing
Africa
• Tunisian police 'fire tear gas' to disperse Ansar al-Sharia rally
• After Crushing Mali Islamists, France Pushes Deal with Tuaregs
• Bomb explodes near three embassies in Tripoli
South Asia
• Attacks kill 10 police in Afghanistan
• Afghanistan's Karzai seeks Indian military aid amid tensions with Pakistan
• GIP-DRP coalition not a third way: Nasheed
• Ministry searching for 'celebrity ambassador' to promote the Maldives
• Demonstration banned for 1 month in Bangladesh
Arab world
• The Devil loves Twitter: Saudi religious police warn of "no afterlife" for social media users
• Salafists launch another attack on Egypt's 'ruling' Muslim Brotherhood
• Syria military pounds rebel town killing 13: Watchdog
• 'Rebel' campaigners announce 3 million anti-Morsi signatures
• God saved me, but I will bomb again, says suicide bomber in Syria
• Syrian Troops Said to Strike Town near Lebanon
• Egyptian army urges Mursi to 'order attack' on Sinai kidnappers
• 'Saddam is Here': Photography series puts ex-dictator back in frame
• Jordan acquits students accused of 'devil worship'
• Egypt marriages up by 2.7%, divorces up by 2.2%
• Saudi vies to avoid Afghan-style blowback from Syria
• Syria's Assad tells Argentine newspaper he won't step down
• Assad Suggests Peace Talks Would Fail Because West Wants to Prolong War
• Gunmen abduct father of Syria deputy FM: official
North America
• Unravelling the deadly network of the Haqqanis
Southeast Asia
• Disputed Election Sends Malaysian Politician Back to Fight on the Streets
• Indonesian Government to Establish New Shariah Bank
• Adat Law Needs to Adhere to Human Rights Standards
• All nations should peacefully resolve conflicts: Mahathir Mohamad
Compiled by New Age Islam News Bureau
URL: https://newageislam.com/islamic-world-news/new-age-islam-news-bureau/the-devil-loves-twitter--saudi-religious-police-warn-of--no-afterlife--for-social-media-users/d/11638
--------------
The Devil loves Twitter: Saudi religious police warn of "no afterlife" for social media users
May 18th, 2013
GMT via SyndiGate.info
Social networks and microblogs, particularly Twitter, cannot be guidelines in people's lives, the head of the Saudi Commission for the Promotion of Virtue and Prevention of Vice has said.
"Those who resort to social networks and microblogs, especially Twitter, as their guides have lost their lives and their afterlife," Shaikh Abdul Lateef Al Shaikh said.
"Twitter has become a platform for whoever does not have a platform," he said in the Saudi capital Riyadh, quoted by local Arabic daily Al Watan. Saudi Arabia has been pushing an integrated legal, media and social drive to confront the "deviant mindset" of extremists and arch-conservatives influenced by calls, often made online, to jihad and holy wars.
"We also need to fight ideas promoted by ignorant people who want to change the teachings of our religion. Islam is fully against any form of extremism and it has warned against the consequences of fanaticism. There are those who attempt to undermine the status of our religious scholars while our enemies have been using all means of destruction to create doubts, intellectual defects and ultimately divisions within our society," he said.
Saudi Arabia has one of the highest rates of social media users in the Arab world amid reports that they were favoured by young girls and women for chatting and learning about the latest social developments, arts and fashion trends. However, the online media networks have also been used by religious groups to propagate their ideologies and to enlist support from various countries.
The official said there were "segments" who were misusing the social media to "demoralise young people and influence naive minds."
"There are attacks on the country aiming to bring into Saudi Arabia disturbances that have caused deaths, violations, destructions and separations of families," he said.
"Security and stability can be achieved only through the solidarity of all Saudis and their common deterrence of attempts to mislead naive and simple people," Shaikh Abdul Lateef said. Meanwhile, Saudi Arabia's No. 2 telecom operator Mobily denied claims by a software engineer that the company had asked him to build surveillance tools to intercept customers' messages on Twitter and other services.
Matthew Rosenfield, who uses the pseudonym Moxie Marlinspike, published emails on his blog purporting to be from Mobily which included a request for help in intercepting traffic over applications such as Twitter, Whatsapp, Viber and Line.
http://www.albawaba.com/editorchoice/twitter-saudi-religion-492366
-----------
Mideast
Fight for your right: Iran plans to end ethnic cleansing of Muslims in Myanmar
May 19th, 2013
In the meeting with the UN ambassadors of the Organization of Islamic Cooperation (OIC) members in New York, Mohammad Khazaei expressed his concerns about the ongoing violence and human right abuses against Muslims in Myanmar.
He called for urgent actions to end the ethnic cleansing of Muslims in that country and proposed to OIC members to ask the UN Secretary General to take immediate and effective measures to stop the current situation and to avoid further disaster against Muslim population of Myanmar.
Khazaei believed the silence and indifference by international community on conditions in Myanmar as the reason of further violence against Muslims and their human rights in this country. Mohammad Khazaei welcomed the establishment of a Contact Group of the Islamic Cooperation Organization in Myanmar.
"We look forward to the investigation and recommendations of the OIC contact group, and their fact-finding mission to the region."
He urged the UN General Assembly to hold a special meeting on Myanmar and pass a resolution to stop the brutalities against the Muslims.
Mohammad Khazaei also asked the UN Secretary-General, Ban Ki-moon to dispatch an independent fact-finding mission to Myanmar to probe human rights abuses and identify the perpetrators behind the acts of violence there.
"The OIC countries should urge Myanmar's government to arrest and punish the violators of human rights and the perpetrators of violence against the Muslims," he said.
Iran Permanent Representative and Ambassador to the UN urged the use of all means including drafting a special resolution on Burma in the UN Human Rights Council and considering various uses of public diplomacy instruments including media campaigns for international awareness about the situation in the Myanmar.
http://www.albawaba.com/editorchoice/muslim-iran-myanmar-492646
---------
Suspected US drone in Yemen kills four al-Qaida militants
AP | May 19, 2013
SANAA, YEMEN: Yemeni security officials say a suspected US drone strike killed four al-Qaida militants in the country's south.
The officials say the attack took place around dawn on Saturday in an area called Deyfa in Abyan province. Officials spoke anonymously because they were not authorized to brief the media.
Yemeni forces battled al-Qaida in Abyan province last year, routing out militants from major cities that al-Qaida had overrun during the country's 2011 political turmoil. The militants fled to surrounding mountainous areas.
According to several research groups and The Associated Press's own reporting, there has been a dramatic rise in such drone strikes in Yemen since the country's new US-backed president assumed power early last year.
Washington says al-Qaida in Yemen is among the group's most dangerous and active branches worldwide.
http://timesofindia.indiatimes.com/world/middle-east/Suspected-US-drone-in-Yemen-kills-four-al-Qaida-militants/articleshow/20128378.cms
---------
Israel acts to deny Hezbollah of Syrian arms, says Netanyahu
19 May 2013
Israel is "acting" to prevent Syrian weapons reaching Lebanon's Hezbollah and will continue to do so, Prime Minister Benjamin Netanyahu said on Sunday.
His remarks came two weeks after Israel carried out air strikes near Damascus, which a senior Israeli source said were aimed at preventing the transfer of sophisticated Iranian arms to Hezbollah, the Lebanese Shiite ally of Syrian President Bashar al-Assad.
Netanyahu said the Middle East was going through its most sensitive period for decades, with the conflict in Syria at the centre of the turmoil.
"We are closely following developments and changes there, and we are prepared for any scenario," he said at the start of the weekly cabinet meeting.
"The government of Israel is acting in a responsible, determined and prudent manner to ensure the supreme interest of the State of Israel which is the security of its citizens according to the policy we set: to prevent as far as possible leakage of advanced weapons to Hezbollah and terrorist elements," he said.
"We will ensure the security interests of the citizens of Israel in the future."
Israel has repeatedly warned that it would not permit the transfer of advanced weapons or chemical agents to Hezbollah or to any other militant groups.
On January 30, another strike on Syrian soil, which also was attributed to Israel by regional sources, destroyed what military intelligence officials say was a shipment of Russian-made SA-17 anti-aircraft missiles destined for Hezbollah.
http://english.alarabiya.net/en/News/middle-east/2013/05/19/Israel-acts-to-deny-Hezbollah-of-Syrian-arms-says-Netanyahu.html
--------------
Iran's Guard Warns Against Post-Election Turmoil
19 May 2013
TEHRAN, Iran — A senior commander in Iran's Revolutionary Guard has warned that his forces will be on watch for possible unrest after next month's presidential election, calling the outcome "unpredictable" and sending the strongest message yet against any attempts to revive street protests, media reported Sunday.
The comments by Col. Rasool Sanaeirad point to a wide-ranging effort by Iranian authorities to intimidate opposition groups that could use the June 14 voting for possible political demonstrations.
Pro-reform groups have been under relentless pressure and crackdowns since major protests following the disputed re-election of President Mahmoud Ahmadinejad in 2009. Ahmadinejad is not running in this election because Iran's constitution bars him from seeking a third term.
Full report at:
http://www.nytimes.com/aponline/2013/05/19/world/middleeast/ap-ml-iran.html?ref=middleeast&gwh=F5F59A99B82B9CCA6514676FFDA48D2A
--------------
Iran hangs two for spying for Israel, US
AFP | May 19, 2013
TEHRAN, Iran: Iran hanged two convicted spies on Sunday, one found guilty of working for Israel, the other for the United States, the Tehran prosecutor's office announced.
Mohammad Heydari was convicted of "receiving payment to provide intelligence on various security issues and national secrets in repeated meetings with the Mossad," Israel's intelligence agency, a statement said.
Koroush Ahmadi was found guilty of "providing intelligence on various issues to the CIA."
The statement did not give further details.
Full report at:
http://timesofindia.indiatimes.com/world/middle-east/Iran-hangs-two-for-spying-for-Israel-US/articleshow/20132451.cms
--------------
Europe
British imams and Muslim leaders stand against gay marriage
British imams and Muslim leaders speak out against the Marriage (Same Sex Couples) Bill
18 May 2013
SIR – We have serious misgivings about the Marriage (Same Sex Couples) Bill, which seeks to legalise gay marriage.
As imams and Muslim leaders we have a responsibility to fulfil our sacred trust to God and present our view on these proposals on behalf of the Muslim communities we serve.
Marriage is a sacred contract between a man and a woman that cannot be redefined. We believe that marriage between a man and a woman is the cornerstone of family life and the only institution within which to raise children.
Full report at:
http://www.telegraph.co.uk/comment/letters/10065280/Muslim-leaders-stand-against-gay-marriage.html
--------------
France wants 'decisive sanctions' against Iran
19 May 2013
WASHINGTON: The United States and European nations should take "decisive sanctions" against Iran over its controversial nuclear program, French Defense Minister Jean-Yves Le Drian said Friday.
"Given the inflexibility of Iran's position, this dual, sanctions-dialogue approach should allow us to increase pressure on Iran in the coming months as the Iranian uranium enrichment program continues to expand in quantity and quality," Le Drian said.
"More than ever we have a responsibility to defeat this strategy of procrastination and concealment to ensure nuclear non-proliferation," he added during a talk at the Carnegie Endowment for International Peace think tank.
Full report at:
http://www.dailytimes.com.pk/default.asp?page=2013\05\19\story_19-5-2013_pg14_1
--------------
UN Security Council mulls Syria cross-border aid push
19 May 2013
UNITED NATIONS: The UN Security Council is considering a plea from senior UN aid officials to demand aid access in war-torn Syria, a move that could lead to a showdown between Russia and Western states over humanitarian cross-border deliveries, UN diplomats say.
As neighboring Jordan, Lebanon, Turkey and Iraq struggle to cope with the influx of Syrian refugees that the UN refugee agency (UNHCR) said on Friday has surpassed 1.5 million, UN officials have told the Security Council there are millions more people in need of aid inside Syria.
Full report at:
http://www.dailytimes.com.pk/default.asp?page=2013\05\19\story_19-5-2013_pg4_2
--------------
India
SYM, Youth Wing of Jamat e Islami Breaks Taboos, Sets New Trends to Woo Masses
KA Antony
May 19, 2013
KOZHIKODE Call it a departure from the orthodox line or trying to keep pace with the fast changing world.
A three-day summit of the Solidarity Youth Movement of Kerala, the youth wing of the Jamat e Islami, which is underway at Kozhikode, appears to have set a new trend in appealing to the mass, especially the Muslim youths in the state. The three-day event named 'Youth Spring' will conclude on Sunday.
The event, planned as part of the 10th anniversary of the formation of the organisation was inaugurated by Sarah Marusek, a leading political researcher from US on Friday.
It was a different experience for the people of Kozhikode as they had never expected music, set to the trendiest tunes, theatre performances, installation art, film festival and a slew of other cultural events that are not normally associated with orthodox Islamic outfits from the Solidarity Youth Movement of Kerala.
Full report at:
http://www.omantribune.com/index.php?page=news&id=144432&heading=India
--------------
Kataria ideal man, Sohrabuddin had to die: RSS-affiliated outfit
May 19 2013
Bhopal: An article in a weekly feature service of Vishwa Samvad Kendra Bhopal, an RSS-affiliated organisation, has described Sohrabuddin Sheikh as a terrorist, and defends Rajasthan's Leader of Opposition Gulab Chand Kataria.
"Sohrabuddin had to die one day like this. Had the police not eliminated him, a common man in the mould of a Mahatma or a Dharmatma would have been forced to shoot him dead," begins the article titled 'Sohrabuddin was not a saint' in the latest issue of Samvad Manthan. Full report at:
http://www.indianexpress.com/news/kataria-ideal-man-sohrabuddin-had-to-die-rssaffiliated-outfit/1117724/
-----------
Terror accused dies in police custody, UP CM orders inquiry
Ashish Tripathi, TNN | May 18, 2013
LUCKNOW: Khalid Mujahid, one of the accused of 2007 serial blasts in Lucknow, Faizabad, Varanasi and Gorakhpur, died on Saturday. According to police, Khalid, who was lodged in Lucknow jail, was taken to Faizabad for a hearing in a local court in connection with the blasts. On the way back, he fell sick and was rushed to the hospital where he was declared brought dead.
Meanwhile, Uttar Pradesh chief minister Akhilesh Yadav ordered an inquiry into Khalid's death. The inquiry will be done by a committee comprising secretary home and two police officers of the rank additional director general and inspector general.
Full report at:
http://timesofindia.indiatimes.com/india/Terror-accused-dies-in-police-custody-UP-CM-orders-inquiry/articleshow/20124797.cms
--------------
Yasin Malik voices support for Tamil Eelam
TNN | May 19, 2013
CUDDALORE: In a rare collaboration, two groups espousing the cause of separatism came together at a marriage hall in Cuddalore in northern Tamil Nadu on Saturday. Striking a chord with pro-Tamil activists, Kashmir separatist leader YasinMalik spoke about the 'Eelam dream' on the eve of the death anniversary of LTTE leader VelupillaiPrabhakaran. This is the first time that a Kashmiri separatist leader has been invited to Tamil Nadu to talk about the emotive Eelam (Tamil land) issue.
Full report at:
http://timesofindia.indiatimes.com/india/Yasin-Malik-voices-support-for-Tamil-Eelam/articleshow/20128987.cms
--------------
Indian teacher attacked in Maldives requires visa renewal before travelling home for treatment
By Neil Merrett | May 18th, 2013
The Indian High Commission in the Maldives has said an expatriate teacher hospitalised after being attacked on the island of Kumundhoo in Haa Dhaalu Atoll is waiting on education authorities to renew his visa before he can return to India for treatment.
Physics teacher Neelakantan Pappukutty Subash Kumar, who was attacked on May 14 over allegations he hit a student in the chest, had still been working for the Ministry of Education despite his work visa having expired the previous month. The teacher is not thought to be in a critical condition, according to diplomatic sources.
Full report at:
http://minivannews.com/society/indian-teacher-attacked-in-maldives-requires-visa-renewal-before-travelling-home-for-treatment-58082
--------
Omar Abdullah apologises to family of Pak prisoner Sanaullah
May 09 2013
Srinagar : Jammu and Kashmir Chief Minister Omar Abdullah offered "sincere apology" to the family of Pakistani prisoner Sanaullah Ranjay, who succumbed to injuries at a hospital in Chandigarh today.
"Although it's scant consolation, I'd like to offer a sincere apology to the family of Sanaullah and my sympathies for their loss," Omar wrote on micro-blogging site Twitter.
52-year-old Sanaullah, who was serving life sentence at Kot Balwal Jail in Jammu, was grievously injured in an attack by an inmate on Friday last. He died this morning at Post Graduate Institute of Medical Education and Research (PGIMER) in Chandigarh.
Full report at:
http://www.indianexpress.com/news/omar-abdullah-apologises-to-family-of-pak-prisoner-sanaullah/1113544/
-----------
Counter-terrorism to top Indo-US Security dialogue agenda: Sushilkumar Shinde
May 19 2013
New Delhi : Threats from terror groups like LeT and al-Qaeda, illicit financing and transnational crimes will be top on the agenda of the four-day India-US Homeland Security dialogue between Home Minister Sushilkumar Shinde and his American counterpart beginning in Washington tomorrow.
Shinde, who left early this morning for the US, will hold talks with US Secretary of Homeland Security Janet Napolitano on challenges like cyber security, counterfeit currency, illicit financing and cooperation between the two nations to tackle the crimes at the plenary session of the dialogue.
Full report at:
http://www.indianexpress.com/news/counterterrorism-to-top-indous-security-dialogue-agenda-sushilkumar-shinde/1117832/
------------
Pakistan
Hafiz Saeed's security chief murdered, body showing signs of torture
May 19, 2013
MULTAN: The body of Khalid Bashir, chief security officer for Jamaat-ud-Dawa (JuD)'s Hafiz Saeed, was found near Sheikhapura canal on Mureed Kay road in Lahore.
The JuD is the charity wing of Lashkar-e-Taiba militant group which India has accused of masterminding the 2008 terrorist attacks in the Indian commercial hub of Mumbai.
According to sources, Bashir received a phone call from an unknown person while having dinner at his residence. Later at night, he went missing and his body, showing signs of torture, was found in the morning.
Full report at:
http://tribune.com.pk/story/551375/mysterious-death-hafiz-saeeds-security-chief-murdered/
--------------
Army 'throws weight' behind Nawaz Sharif
By Kashif Hussain
19 May 2013
LAHORE: Chief of Army Staff (COAS) General Ashfaq Parvez Kayani and British High Commissioner Adam Thomson called on PML-N president and expected prime minister for the next parliamentary tenure Nawaz Sharif separately at his residence in Raiwind Farms on Saturday.
According to PML-N sources, General Kayani held a three-and-a-half-hour-long discussion with Nawaz in a very pleasant atmosphere and both exchanged views on internal and external security issues confronting the country, especially the Karachi situation, terror attacks in different parts of the country and drone attacks in the Tribal Areas.
Full report at:
http://www.dailytimes.com.pk/default.asp?page=2013\05\19\story_19-5-2013_pg1_1
--------------
Take gradual initiatives: Kayani tells Nawaz on ties with India
PTI | May 19, 2013
ISLAMABAD: In the backdrop of Nawaz Sharif's positive remarks on ties with India, powerful Army chief Gen Ashfaq Parvez Kayani has suggested Pakistan's PM- designate to take gradual initiatives with utmost caution for improving relations with New Delhi, a media report said.
Kayani made the suggestion when he called on PML-N chief Nawaz Sharif, set to become PM for a record third term following his party's victory in the May 11 polls, at his brother Shahbaz Sharif's home in Lahore yesterday.
The News daily quoted its sources as saying that Kayani wanted the new government to take gradual initiatives with utmost caution to improve relations with India as this alone "may lead to lasting peace in the region".
Full report at:
http://timesofindia.indiatimes.com/world/pakistan/Take-gradual-initiatives-Kayani-tells-Nawaz-on-ties-with-India/articleshow/20133246.cms
--------------
Imran Khan blames MQM's Hussain for Karachi killing
19 May 2013
The shooting happened on the eve of a highly contested vote
Imran Khan, the leader of Pakistan's PTI party, has blamed one of his political rivals for the killing of PTI vice-president Zahra Shahid Hussain.
She was shot dead outside her home in Karachi by gunmen on a motorcycle.
On his Twitter feed, Mr Khan said he was holding the leader of Karachi's dominant MQM party, Altaf Hussain, responsible for her death - a claim the MQM has strongly denied.
It came as Karachi voted in a partial re-run of Pakistan's general election.
Police are investigating whether Mrs Hussain's killing was the result of an attempted robbery or a politically motivated murder.
Her funeral will take place later on Sunday at a mosque in Karachi.
Doctors at Karachi's Jinnah Hospital have told the BBC their initial examination showed two bullet marks on her body.
A full post-mortem report is expected within 24 hours.
'Warnings'
Mr Khan said Mr Hussain, who is in self-imposed exile in London, had "openly threatened PTI workers and leaders through public broadcasts".
He said he was also holding the British government responsible, as he said he had warned them about Mr Hussain.
Full report at:
http://www.bbc.co.uk/news/world-asia-22585461
------------
'Unknown persons' attack PTI leaders' residences, torch vehicles
19 May 2013
HYDERABAD: 'Unknown persons' men torched three vehicles, attacked the residences of two PTI leaders, attacked a Lahore-bound train, and injured its driver, besides opening indiscriminate firing in various localities of Hyderabad and its adjoining areas.
Unidentified gunmen opened fire and pelted stones on the Pakistan Express train within the jurisdiction of Tando Yousuf police station, leaving the train driver injured.
The injured was shifted to Civil Hospital Hyderabad for treatment.
All the CNG stations and petrol pumps remained closed across the city which bore a deserted look amid panic.
Full report at:
http://beta.dawn.com/news/1012269/gunmen-attack-pti-candidates-residence-in-hyderabad
--------------
TTP unlikely to follow Afghan Taliban on anti-polio help
19 May 2013
PESHAWAR: Pakistani Taliban are unlikely to follow their Afghan counterparts, who recently offered help to their government in carrying out polio campaigns in the country, according to the relevant officials in the provincial capital.
The officials quoted the Afghan Taliban as declaring in a statement issued on May 13 that they supported all programmes, which sought to provide health facilities to the people of the country and that they acknowledged that immunisation was the only way to protect children against polio.
Full report at:
http://beta.dawn.com/news/1012291
--------------
Nawaz Sharif's party gets majority in Pak Parliament
May 19 2013
Lahore: Nawaz Sharif's PML-N has attained a majority in Pakistan's National Assembly after 18 independent candidates joined the party, placing it in a position to form government at the centre without striking an alliance with any other party.
Several independent candidates belonging to influential political families of Punjab and Sindh provinces are among those who have joined the PML-N, which emerged the single largest party in the May 11 general election.
They include the Legharis of Dera Ghazi Khan, the family of former President Farooq Leghari, and the Sherazi brothers of Thatha district of Sindh.
Full report at:
http://www.indianexpress.com/news/nawaz-sharif-s-party-gets-majority-in-pak-parliament/1117857/
-------------
Signing of treaty for transfer of prisoners urged
19 May 2013
ISLAMABAD: The caretaker government has suggested that the incoming government should sign the Convention on the Transfer of Sentenced Persons, a European multilateral treaty, to enable it to seek repatriation of Pakistani citizens imprisoned in countries which have already ratified the agreement.
After signing the treaty, the government can ask Washington for repatriation of Dr Aafia Siddiqui imprisoned in the US after being convicted of assaulting in Afghanistan officials interrogating her for her suspected links to Al Qaeda.
Full report at:
http://dawn.com/2013/05/19/signing-of-treaty-for-transfer-of-prisoners-urged/
--------------
PPP accepts results despite reservations, says Amin Fahim
May 19, 2013
KARACHI: Pakistan Peoples Party-Parliamentarians President Makhdoom Amin Fahim has said that the results of the 2013 elections are similar to those of 1997 and his party has accepted these despite its reservations.
He attributed whatever seats the PPP was able to secure to the political thinking of President Asif Ali Zardari and leadership of Bilawal Bhutto Zardari.
"Elections are over and it is now time to move ahead. All the parties should respect the mandate of one another," Fahim said while talking to the media at the luncheon hosted by PPP provincial President Qaim Ali Shah and MPA-elect Owais Muzaffar in the honour of newly-elected members of the national and provincial assemblies.
Full report at:
http://tribune.com.pk/story/551392/moving-on-ppp-accepts-results-despite-reservations-says-amin-fahim/
--------------
Pakistani toll in Siachen avalanche rises to 128
IANS | May 19, 2013
ISLAMABAD: The death toll in an avalanche in the Siachen glacier region last year has risen to 128, following the recovery of three more bodies, the Pakistani military said.
The bodies of three soldiers were recovered from Gayari sector of Siachen on Saturday, the Associated Press of Pakistan reported.
On April 7, 2012, at least 140 soldiers of the 6 Northern Light Infantry Battalion and a few civilians came under a huge avalanche in Gayari.
Full report at:
http://timesofindia.indiatimes.com/world/pakistan/Pakistani-toll-in-Siachen-avalanche-rises-to-128/articleshow/20134275.cms
--------------
Upmarket Pakistan district votes again as Imran Khan decries killing
Reuters | May 19, 2013
ISLAMABAD: An upmarket constituency of Pakistan's violence-plagued city of Karachi voted again under tight security on Sunday, a day after gunmen killed a senior politician from a reformist party in the district and a week after general elections.
It was not immediately clear who killed Zara Shahid Hussain, a senior member of the Pakistan Tehreek-e-Insaf party of former cricket hero Imran Khan, who accused the Muttahida Quami Movement (MQM) party, which has a stranglehold on the city.
Full report at:
http://timesofindia.indiatimes.com/world/pakistan/Upmarket-Pakistan-district-votes-again-as-Imran-Khan-decries-killing/articleshow/20134547.cms
-----------
Africa
Tunisian police 'fire tear gas' to disperse Ansar al-Sharia rally
19 May 2013
Tunisian police fired tear gas and shots into the air in Tunis on Sunday to disperse some 500 supporters of the hardline Islamist group Ansar al-Sharia who were protesting and throwing stones at police after their rally was banned, according to Reuters news agency.
Reports began circulating that Salafists then clashed with police forces, AFP news agency reported.
Ansar al-Sharia called on its supporters to gather in a Tunis suburb on Sunday, after the government banned it from holding its annual congress in the central city of Kairouan.
"We call on our brothers to gather in large numbers in the Ettadhamen district of the capital," the hardline Islamist group said on its Facebook page.
Full report at:
http://english.alarabiya.net/en/News/middle-east/2013/05/19/Tunisian-police-clash-with-Ansar-al-Sharia-Islamists-to-disperse-rally-.html
--------------
After Crushing Mali Islamists, France Pushes Deal With Tuaregs
19 May 2013
BAMAKO — After winning adulation across Mali for a five month military offensive that crushed al Qaeda fighters, France is now frustrating some of its allies by pushing for a political settlement with a separate group of Tuareg rebels.
A standoff over how to restore Malian government authority to Kidal, the last town in the desert north yet to be brought under central control, is sowing resentment with Paris and could delay planned elections to restore democracy after a coup.
Full report at:
http://www.nytimes.com/reuters/2013/05/19/world/africa/19reuters-mali-crisis.html?ref=africa&_r=0&gwh=4F26080C0AD4A0867606628C8480D46E
--------------
Bomb explodes near three embassies in Tripoli
May 18, 2013
A bomb exploded on Saturday in a Tripoli street housing the Algerian, Greek and Saudi embassies, lightly damaging a car, hours after a soldier was wounded in a bombing in Libya's second city, Benghazi.
A security source said the homemade bomb, locally known as "gelatina", had been placed near a car on a street in the central district of Dahra where the three embassies are located.
The car, parked outside the Greek embassy, was slightly damaged and there were no reports of casualties.
Full report at:
http://www.hindustantimes.com/world-news/restofasia/Bomb-explodes-near-three-embassies-in-Tripoli/Article1-1062296.aspx
--------------
South Asia
Attacks kill 10 police in Afghanistan
19 May 2013
KABUL: Taliban attacks killed at least ten Afghan police on Sunday, officials said, in the latest violence against the force which is due to take more security responsibility from Nato troops before their withdrawal next year.
In one of the incidents, Taliban fighters attacked a security check post in the Muqur district of Ghazni province in southern Afghanistan, killing six police, according to district governor.
"Six of our local police were martyred after hours of clash with Taliban when they attacked their post early today," he said. He added a second attack on a local police check post in Muqur wounded four police.
Full report at:
http://beta.dawn.com/news/1012306/attacks-kill-10-police-in-afghanistan
--------------
Afghanistan's Karzai seeks Indian military aid amid tensions with Pakistan
Reuters | May 19, 2013
KABUL: Afghan President Hamid Karzai plans to discuss potential arms deals with Indian officials during a trip to New Delhi this week, officials said, at a time when tensions are running high on Afghanistan's disputed border with Pakistan.
Kabul's overtures to New Delhi are likely to rile Islamabad where a new government led by two-time prime minister Nawaz Sharif is set to take office soon, promising improved ties with India.
Full report at:
http://timesofindia.indiatimes.com/world/south-asia/Afghanistans-Karzai-seeks-Indian-military-aid-amid-tensions-with-Pakistan/articleshow/20134697.cms
---------
GIP-DRP coalition not a third way; "two men with no other way": Nasheed
By Ahmed Naish | May 18th, 2013
The Dhivehi Rayyithunge Party (DRP) and President Dr Mohamed Waheed's Gaumee Ihthihad Party (GIP) were forced to form a coalition to contest the upcoming presidential election out of necessity, former President Mohamed Nasheed has said, contending that the parties lacked grassroots support and comprehensive policies to represent "a third way" for voters.
Appearing on state broadcaster Television Maldives (TVM) Thursday night, Nasheed reiterated that power-sharing coalitions were not compatible with a presidential system of government.
The Maldivian Democratic Party (MDP) presidential candidate stated that the public wanted political parties to present policies that could deliver job opportunities, public transport, better healthcare and education, a higher standard of living and "a way to overcome anxiety over paying water, electricity and phone bills."
Full report at:
http://minivannews.com/politics/gip-drp-coalition-not-a-third-way-two-men-with-no-other-way-nasheed-58055
--------------
Ministry searching for 'celebrity ambassador' to promote the Maldives
By JJ Robinson | May 19th, 2013
The Ministry of Tourism has announced it is seeking the appointment of a celebrity ambassador for the Maldives, through a company based in Singapore.
Deputy Tourism Minister and head of the Maldives Marketing and Public Relations Corporation (MMPRC), Mohamed Maleeh Jamal, told local media the government was in the process of selecting the most suitable celebrity on offer.
"We are currently holding discussions, the most suitable celebrities for Maldives and the prices they offer, we are discussing such things now," Maleeh told Sun Online.
Full report at:
http://minivannews.com/travelandarts/tourism-ministry-searching-for-celebrity-ambassador-to-promote-the-maldives-58113
--------------
Demonstration banned for 1 month in Bangladesh
19 May 2013
The government imposed a ban for one month on all kinds of political meeting and procession across the country for the sake of smooth relief and rehabilitation activities in the Cyclone Mahasen-ravaged districts, LGRD and Cooperatives Minister Syed Ashraful Islam said on Sunday.
"It is not possible to protect the fundamental rights like meeting and rally when the country was hit by any natural disaster," the minister said while addressing a press briefing at the Awami League president's Dhanmondi office.
Full report at:
http://www.thedailystar.net/beta2/news/1-month-ban-on-rally-procession-ashraf/
--------------
Arab world
Salafists launch another attack on Egypt's 'ruling' Muslim Brotherhood
Leading Salafist Yasser Borhami has launched a fresh scathing attack on Egypt's Muslim Brotherhood, accusing the movement of selling out Islam in order to reach power
18 May 2013
Prominent preachers from Egypt's ultra-conservative Salafist Call have again lambasted the "ruling" Muslim Brotherhood for their policies that they say contradict with Islamic teachings.
Speaking at a news conference held in the coastal city of Alexandria Saturday, Yasser Borhami — vice president of the Salafist Call — stated that "the Brotherhood does not represent Islam in any way," citing the performance of the government.
Full report at:
http://english.ahram.org.eg/NewsContent/1/64/71769/Egypt/Politics-/Salafists-launch-another-attack-on-Egypts-ruling-M.aspx
--------------
Syria military pounds rebel town killing 13: Watchdog
Syrian planes bomb the town of Qusayr in the early hours of the morning, killing at least 13 people, says the Syrian Observatory for Human Rights
19 May 2013
The Syrian military pounded the rebel-held central town of Qusayr, killing 13 people, in an apparent preparation for a ground assault, a watchdog said.
"After two days of calm, planes bombed the town of Qusayr in the early hours of the morning," Syrian Observatory for Human Rights director Rami Abdel Rahman said.
"At least 13 people, including rebels, were killed in these raids and in artillery and mortar fire by the army.
Full report at:
http://english.ahram.org.eg/NewsContent/2/8/71780/World/Region/Syria-military-pounds-rebel-town-killing--Watchdog.aspx
--------------
'Rebel' campaigners announce 3 million anti-Morsi signatures
Campaign calling for early presidential elections will be collecting signatures in Cairo and other parts of Egypt on Sunday
19 May 2013
The 'Rebel' campaign has collected 3 million signatures denouncing the presidency of Mohamed Morsi, Mai Wahba, a leading member of the campaign, stated on Sunday.
'Rebel' is a grassroots movement to register opposition to President Morsi and force him to call early presidential elections by collecting 15 million signatures by 30 June.
The campaign, which launched its activities at the start of May, has been collecting signatures at home and abroad on a daily basis.
Full report at:
http://english.ahram.org.eg/NewsContent/1/64/71778/Egypt/Politics-/Rebel-campaigners-announce--million-antiMorsi-sign.aspx
--------------
God saved me, but I will bomb again, says suicide bomber in Syria
BY:HALA JABER IN DAMASCUS
May 19, 2013
THEY called it the groom's farewell. More than 20 young men gathered around Abu Ismail to shake his hand and hug him as he prepared to set off for a "marriage in heaven" to 72 virgins.
Most of the men cried as they sang a martyr's anthem to give him courage: "I bid you goodbye with the tears of my eyes, watching my loved ones on earth as I leave them behind. As I embark on my journey, I will not bend..."
Abu Ismail, 25, knew them well after sharing a house with them for four months. "There were German Arabs, Turkish fighters, Saudis, Kuwaitis and Tunisians," he said. "They kissed me goodbye. Some were envious that they had not been selected for the task."
Full report at:
http://www.theaustralian.com.au/news/world/god-saved-me-but-i-will-bomb-again-says-suicide-bomber-in-syria/story-fnb64oi6-1226646170471
--------------
Syrian Troops Said to Strike Town Near Lebanon
May 19, 2013
AMMAN, Jordan — Syrian troops backed by tanks and warplanes launched an assault Sunday on a strategic rebel-held town near the Lebanese border, pounding the area with airstrikes and artillery salvos that killed at least 30 people and forced residents to scramble for cover in basements and makeshift bunkers, activists said.
The town of Qusair has been besieged for weeks by regime troops and pro-government gunmen backed by the Lebanese militant Hezbollah group. The siege is part of a withering offensives forces loyal to Syrian President Bashar Assad have been pushing in recent weeks to regain control of the towns and villages along the Lebanese frontier.
The region's strategic value is twofold: it links Damascus with the Mediterranean coastal enclave that is the heartland of President Bashar Assad's Alawite sect, an offshoot of Shiite Islam; and rebels smuggle weapons and supplies from Lebanon across the porous frontier to opposition fighters in Syria.
Full report at:
http://www.nytimes.com/aponline/2013/05/19/world/middleeast/ap-ml-syria.html?ref=world&gwh=ED09615973261578D8B21FDEEFF0B003
--------------
Egyptian army urges Mursi to 'order attack' on Sinai kidnappers
19 May 2013
The Egyptian army has urged President Mohammed Mursi to give them the "green light" to launch an attack operation on Sunday against kidnappers of policemen at the North Sinai town of al-Arish, presidential sources told the pan-Arab newspaper Asharq al-Awsat.
Four border policemen working at the Rafah crossing, a riot policeman, and a military border guard were abducted on Thursday by armed men who are demanding the release of a group of prisoners held at a police station in the North Sinai town of El-Arish.
Enraged border guards have staged a protest and closed the Rafah crossing, calling on Mursi to help free their colleagues.
Full report at:
http://english.alarabiya.net/en/News/middle-east/2013/05/19/Egyptian-army-urges-Mursi-to-order-attack-on-Sinai-captors.html
--------------
'Saddam is Here': Photography series puts ex-dictator back in frame
19 May 2013
The image of former dictator Saddam Hussein has resounded in the minds of many Iraqis since his fall.
"When you kill the dictator, it doesn't mean you can erase him from the minds of the people," says Iraqi Kurdish photographer Jamal Penjweny whose series "Saddam is Here" attempts to capture this thought.
From dentists, to butchers, to soldiers; Iraqis across the country took part in the Penjweny's photographic series, covering their faces with pictures of the former dictator while in their everyday locations.
Full report at:
http://english.alarabiya.net/en/life-style/art-and-culture/2013/05/19/-Saddam-is-Here-Photography-series-puts-ex-dictator-back-in-frame.html
--------------
Jordan acquits students accused of 'devil worship'
19 May 2013
A Jordanian military tribunal acquitted five university students of incitement charges on Sunday levelled over accusations they had engaged in "devil worship" and desecrated the Quran, a court official said.
"The court declared the students innocent and ordered them freed for lack of evidence," the official told AFP, without elaborating.
The students from Al Al-Bayt University in north-eastern Jordan were detained in March and charged with "doctrinal and sectarian incitement."
Full report at:
http://english.alarabiya.net/en/News/middle-east/2013/05/19/Jordan-acquits-students-accused-of-devil-worship-.html
--------------
Egypt marriages up by 2.7%, divorces up by 2.2%
Egypt's statistical agency CAPMAS releases statistics on marital status by age groups, gender and urban and rural areas in the country
19 May 2013
Egypt saw 2.7 percent more marriages in 2012 from 2011 and 2.2 percent more divorces in the same period, latest data from the Central Agency for Public Mobilisation and Statistics (CAPMAS) show.
The total number of marriages in 2012 reached 933,400 in comparison to 898,000 in 2011. Rural Egypt has more marriages, accounting for 54.9 percent of total marriages.
Full report at:
http://english.ahram.org.eg/NewsContent/1/64/71797/Egypt/Politics-/Egypt-marriages-up-by-,-divorces-up-by-.aspx
--------------
Saudi vies to avoid Afghan-style blowback from Syria
Chastened by the experience of Afghanistan, where hundreds of Saudis fought before returning to sow terror at home, the kingdom is battling to avoid similar blowback from the conflict in Syria, analysts say
19 May 2013
Saudi officials have issued increasingly stern warnings against volunteers from the conservative Sunni Muslim kingdom heading off to fight alongside the mainly Sunni rebels trying to oust the Damascus regime.
But diplomats say hundreds of Saudis, perhaps even several thousand, have gone regardless, and judging by death notices and other postings on social networks, their numbers show no sign of abating.
Full report at:
http://english.ahram.org.eg/NewsContent/2/8/71792/World/Region/Saudi-vies-to-avoid-Afghanstyle-blowback-from-Syri.aspx
--------------
Syria's Assad tells Argentine newspaper he won't step down
In a rare interview, Syrian President al-Assad insists he will not resign before the end of his mandate in 2014; denies that his government has used chemical weapons against civilians
19 May 2013
Syrian President Bashar al-Assad said Saturday he welcomed a US-Russian peace initiative to end Syria's civil war but had no plans to resign, in an interview with an Argentine newspaper.
"To resign would be to flee," he told Clarin when asked if he would consider stepping aside as called for by US Secretary of State John Kerry.
Full report at:
http://english.ahram.org.eg/NewsContent/2/8/71777/World/Region/Syrias-Assad-tells-Argentine-newspaper-he-wont-ste.aspx
--------------
Assad Suggests Peace Talks Would Fail Because West Wants to Prolong War
By ANNE BARNARD
19 May 2013
BEIRUT, Lebanon — President Bashar al-Assad of Syria, in a rare interview with a foreign newspaper, appeared to dismiss the possibility of serious progress arising from any peace talks, and to back away from earlier statements by Syrian officials that the government was willing to negotiate with its armed opponents.
"We do not believe that many Western countries really want a solution in Syria," Mr. Assad told Argentina's Clarín newspaper in an interview published online on Saturday, blaming those countries for supporting "terrorists" fighting his government.
Full report at:
http://www.nytimes.com/2013/05/19/world/middleeast/syria-developments.html?ref=world&gwh=DB379D9093819A6D53205AAD17881FE2
--------------
Gunmen abduct father of Syria deputy FM: official
May 18, 2013
Gunmen abducted the father of Syrian deputy foreign minister Faisal Muqdad on Saturday, apparently in reprisal for the arrest of one of their relatives, according to a government source and a watchdog.
"Today armed men abducted Mr Muqdad's father from his home in the village of Ghossom," in the southern province of Daraa, the government source said on condition of anonymity.
"They beat him up in front of his family then took him to Daraa city," said the source, adding that he is 84 years old.
Full report at:
http://www.hindustantimes.com/world-news/restofasia/Gunmen-abduct-father-of-Syria-deputy-FM-official/Article1-1062320.aspx
---------
North America
Unravelling the deadly network of the Haqqanis
By Manoj Joshi
19 May 2013
IN THE past forty years, the Haqqani network, straddling a zone that includes the Paktika, Paktia and Khost provinces of Afghanistan termed Loya Paktia collectively), and North Waziristan in Pakistan, mobilises a section of highland Pakhtuns who have been a thorn in the side of any established authority.
Today, as the Americans plan their withdrawal from Afghanistan, the power of this group — whose ability to facilitate the violence of the Al Qaida, the revived Taliban of Mullah Omar, as well as the Pakistani state, remains dominant — will have a major impact in the future of the militancy. Fountainhead of Jihad , based on sources that have been tapped for the first time provides a sophisticated and in- depth understanding of the enigmatic Haqqani network and its motivations.
Full report at: Mail Today
-----------
Southeast Asia
Disputed Election Sends Malaysian Politician Back to Fight on the Streets
By THOMAS FULLER
19 May 2013
KUANTAN, Malaysia — Not long ago he was flirting with the idea of semiretirement, maybe a teaching job at an American university. But now Anwar Ibrahim, the leader of the Malaysian opposition, former political prisoner and longtime bugbear of the establishment, says those plans are firmly on the shelf.
After a disputed election this month, in which he and his allies won a majority of votes but failed to capture control of Parliament, Mr. Anwar has returned to his roots as a political street fighter, drawing large crowds across the country to protest what he calls mass vote rigging.
Full report at:
http://www.nytimes.com/2013/05/19/world/asia/anwar-malaysias-opposition-leader-takes-to-the-streets.html?ref=world&gwh=651B2DB86F69E8C93624C7478A916A57
--------------
Indonesian Government to Establish New Shariah Bank
May 19, 2013
State-Owned Enterprises Minister Dahlan Iskan on Sunday revealed that the government is planning to establish a Shariah-compliant bank in order to manage Rp 40 trillion ($4 billion) worth of Indonesian hajj funds.
Dahlan said the establishment of the bank will support the implementation of a new policy issued by the Ministry of Religious Affairs obliging hajj funds to be managed exclusively by Shariah banks.
The government has stakes in four lenders — Bank Mandiri, Bank Rakyat Indonesia, Bank Negara Indonesia and Bank Negara — that run their own Shariah units. None of these banks, however, focus solely on Shariah banking.
Full report at:
http://www.thejakartaglobe.com/business/indonesian-government-to-establish-new-shariah-bank/
--------------
Adat Law Needs to Adhere to Human Rights Standards
May 19, 2013
This week a joint United Nations Development Program and the Indonesian National Development Planning Agency project Strengthening Access to Justice in Indonesia (SAJI) held its fourth workshop in Palu, Central Sulawesi.
The workshop aimed to strengthen adat (the informal justice system) in the province and focused on enhancing the existence of customary law by making it more compliant with national law and human rights standards.
The draft adat guidelines clarify key actors, functions, principles, and fair and accountable processes that apply special measures on gender equality related issues and are written in a general fashion to serve various kinds of customary laws.
Full report at:
http://www.thejakartaglobe.com/opinion/adat-law-needs-to-adhere-to-human-rights-standards/
--------------
All nations should peacefully resolve conflicts: Mahathir Mohamad
War should be criminalised, says Malaysia's former prime minister. Only then could the world be deemed 'civilised'
19 May 2013
Mahatir Mohamed, ex-Malaysian prime minister, has called on states all over the world to peacefully resolve their disputes without resorting to war and its heavy costs.
"If you kill one person you will be hanged, but you can kill thousands under the claim of war, which we regard as legitimate despite being a crime in itself," Mohamed said during his speech at a conference organised by the Muslim Brotherhood's Freedom and Justice Party (FJP) Sunday.
"You can kill women, children and babies and say you are at war. Today, all people are at risk of dying with bombs, or losing their fathers, mothers or any members of their families," he added.
Full report at:
http://english.ahram.org.eg/NewsContent/2/9/71786/World/International/All-nations-should-peacefully-resolve-conflicts-Ma.aspx
--------------
URL: https://newageislam.com/islamic-world-news/new-age-islam-news-bureau/the-devil-loves-twitter--saudi-religious-police-warn-of--no-afterlife--for-social-media-users/d/11638