New Age Islam News Bureau
21 Sept 2018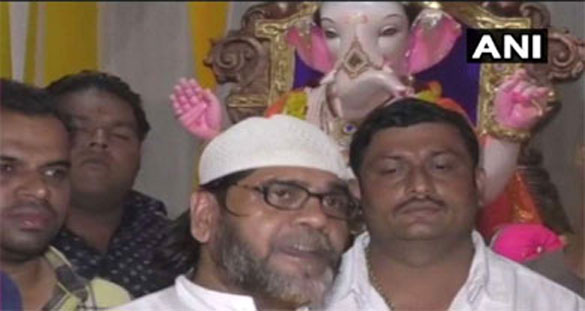 Maharashtra village is conducting Ganesh aarti and azaan for Muharram in same pandal. A devotee said, 'There is no rivalry between Hindus and Muslims and it is the politicians who instigate people and try to create a rift between us.' (Photo: ANI)
------
• Thane Sets Example of Communal Harmony; Hindus, Muslims Perform Azaan and Aarti Together
• 'Safety of Islam and Pakistan Lies In Hussainiyat': Supreme Shia Ulema Board
• Muslim Clerical and Political Leaders against Shop Selling Statuettes, Calls Them Idols
• World 'Won't Rest' On Rohingya Crisis, UK's Minister Tells Suu Kyi
• Mujahid Reminds Shariah Judges to Follow SOP on Underage Marriage
• Canada Declares Myanmar Treatment of Rohingya Muslims to Be Genocide
India
• Thane Sets Example of Communal Harmony; Hindus, Muslims Perform Azaan and Aarti Together
• Talaq Ordinance: Darul Uloom Slams Modi Govt's 'Interference' In Islamic Matters
• Hindu appeasement seen in India's ban of verbal divorce
• On Triple Talaq, Trinamool Minister Says Quran Will Prevail, Not Law or Constitution
• Sacrifice of Imam Hussain (AS) infused new life to Islam: Mirwaiz
• 'ISIS is Doing More Than Waving Flags': Probe Reveals Link between Kashmir & Hyderabad Modules
• Terrific News, Says US as India and Pakistan Agree to Hold Talks in New York
• Muslim clerics hold special prayers for Parrikar's speedy recovery at Goa BJP office
• Terrorist killed in encounter with security forces in J&K
--------
Pakistan
• 'Safety of Islam and Pakistan Lies In Hussainiyat': Supreme Shia Ulema Board
• Taziyas Made By Hindus Integral Part of Ashura Processions in Karachi
• Martyrs of Karbala Teach Us to Uphold Supremacy of Truth: President, PM
• Conflict in the Muslim World Is Weakening All of Us: Pak PM
• Saudi Arabia invited to become third strategic partner in CPEC: Fawad Chaudhry
• Zardari says Youm-e-Ashur serves as lesson to fight against tyranny, oppression
• PM Imran offers role to heal Middle East conflicts
• Sharifs will be offered neither deal nor concession: minister
• Judicial commission summons IHC judge on Oct 1 in third reference
--------
Arab World
• Muslim Clerical and Political Leaders against Shop Selling Statuettes, Calls Them Idols
• Arab Conflicts Seen Not Rooted in Ideology Alone, Say Experts
• It's Time for Filmmakers to Train Their Lenses on Real Muslim Stories
• Hezbollah leader boasts group has 'highly accurate' missiles
• Israeli air force chief to give Moscow findings on Russian plane downing
• Amnesty warns crackdown has turned Egypt into 'open-air prison' for critics
• Saudi Arabia, UAE using Israel's Pegasus malware to spy on citizens
• Bahraini regime forces detain another Shia cleric amid Muharram crackdown
• Egypt court removes judge who got Mubarak's sons detained
--------
South Asia
• World 'Won't Rest' On Rohingya Crisis, UK's Minister Tells Suu Kyi
• Maldives' Opposition Party Raises Alarm Over Fair Conduct Of Presidential Poll
• Rohingya refugee children in Bangladesh get doves of peace from the Middle East
• Experts air new concerns about 'grave' Myanmar crisis
• Shi'ite Muslims mark Ashura amid tight security
--------
Southeast Asia
• Mujahid Reminds Shariah Judges to Follow SOP on Underage Marriage
• China Distances Children from Families to Subdue Muslim West
• Indonesian City Orders Top Staff to 'Pray or Get A New Job'
• Why Kelantan Couples Choose Oct-Dec to Register Secret Thai Marriages
--------
North America
• Canada Declares Myanmar Treatment of Rohingya Muslims to Be Genocide
• Muslim Worker Alleges Workplace Discrimination over Prayers
• Pakistan's effort to end terrorist financing remains uneven: US
• UAE backs US offer of talks with Iran on nuclear and missile treaty
• US appeals court boosts Muslim American man's challenge against 'no-fly' list
• How an ancient Islamic holiday became uniquely Caribbean on Trinidad shores
--------
Mideast
• Palestinian Poet Released From Israeli Prison after Two Months
• Nasrallah: Hezbollah In Possession of Precision Rockets to Israel's Dismay
• Iran urges UN to censure Israel's nuclear threat, make it respect intl. rules
• Turkish court orders release of prominent opposition legislator
• Yemeni Nation's Struggle For Liberty Main Reason Behind Saudi-Led Aggression: Houthi
--------
Africa
• Cameroon's Muslim, Christian Leaders Join in Call for Peace
• Libya's Haftar: Army Will Intervene in Tripoli at the Right Time
• Nine Killed, As Many Injured In Boko Haram Raids In Nigeria: Reports
• Nigeria: 7 killed as Boko Haram razes villages
• Group canvasses political agenda for Muslims
• Kenya: Al-Shabaab Remains Major Security Threat to Kenya
--------
Europe
• The European Day Of Action Against Islamophobia And Religious Intolerance
• British FM Suggests Referring Myanmar Leaders to ICC
• France's Le Pen ordered to undergo psychiatric tests over ISIS tweets
• 8 EU nations oppose demolition of Palestinian village
• Turkish group in Germany attacked by PKK supporters
Compiled by New Age Islam News Bureau
URL: https://www.newageislam.com/islamic-world-news/thane-sets-example-communal-harmony/d/116447
--------
Thane Sets Example of Communal Harmony; Hindus, Muslims Perform Azaan And Aarti Together
September 21, 2018
New Delhi: Setting an example of religious harmony, Hindu and Muslim devotees in Mumbra village of Thane district in Maharashtra come together to celebrate their respective festivals Ganesh Chatuthi and Muharram under the same roof. "We (Hindus and Muslims) are sharing the same mic and loudspeaker and organisers are coordinating the timings for the respective rituals which are scheduled to be conducted throughout the day," a devotee told ANI.
The residents of the village gave a message of communal harmony by conducting Ganesha aarti and the azaan for Muharram in the same pandal, set up by the Ekta Mitra Mandal.
Another devotee present inside the pandal said, "There is no rivalry between Hindus and Muslims and it is the politicians who instigate people and try to create a rift between us just before the elections in order to get the mandate. Everybody in our village, irrespective of caste, likes to participate in such events together."
Lauding the initiative, Ramesh Dhumal, Assistant Commissioner of Police said,"Such programmes will only strengthen the relationships between the two communities and will send out a positive message of communal harmony to the outside world."
Earlier this month, Hindus, and Muslims of Agra's Kheriya Mod locality celebrated the festival of Janmashtami. With the theme of Hindu-Muslim unity, the banners put up for the occasion of 'Janmashtami' had featured Lord Krishna on one side and the Islamic symbol of crescent and star on the other.
http://www.india.com/news/india/ganesh-chaturthi-2018-muslims-hindus-perform-azaan-and-aarti-in-same-pandal-at-thane-3338133/
--------
'Safety of Islam and Pakistan Lies In Hussainiyat': Supreme Shia Ulema Board
September 21, 2018
Islamabad: Supreme Shia Ulema Board and Head of Tehreek-e-Nifaz e Fiqah Jafariya Agha Syed Hamid Ali Shah Moosavi has said that the safety of Islam and Pakistan lies in 'Hussainiyat', says a press release.
Talking to the media representatives while leading a Muharram mourning procession brought out from Central Masjid-o-Imambargah Jameatul Murtaza, Sector G-9/4, Islamabad, he said Islam found eternity after Karbala. "Conspiracy to create conflicts among Arabs and non-Arabs as well as different sects is underway. We will never let anyone harm Shia-Sunni unity till the last breath.
Dozens of 'Matami' organisations besides thousands of 'azadars' participated in the procession. Responding to a question from the media, Agha Syed Hamid Ali Shah Moosavi said that Allah and Rasool love those who love Hussain (AS). "Hussain ibn-e-Ali (AS) refused to pledge allegiance to Yazeed for the sake of Islam's glory. After he was asked for allegiance, Imam Hussain (AS) departed from Medina for Karbala and on the day of Ashura, sacrificed his entire family along with himself to grant Islam an eternal life. Pakistan was founded on the name of La ilaah while the foundation of La ilaah lies in the sacrifice of Imam Hussain (AS). Agha Moosavi said that 'azadari' is the most effective protest of the oppressed people which will kept continued even by our next generations.
Meanwhile, Addressing the matamdaran at Muhammasdi Chowk G-9/2, Khateeb Syed Qamar Haider Zaidi highlighted Hussaini objective. He said 'Gham-e-Hussain' is not any particular sect's inheritance; rather his 'qayam' was for demolition of oppression and barbarism, and survival of divine principles and 'Shariat-e-Muhammadi', that is why every conscious person is thankful to Hussain ibne Ali (AS). The participants on the occasion pledged to ensure complete adherence to the Code of 'azadari' announced by Quaid e Millat-e-Jafariya Agha Syed Hamid Ali Shah Moosavi. The procession culminated after reaching at Jamia Imam As-Sadiq (AS) Karachi Company after touching through its designated routes. 'matmi' groups from Islamabad and surrounding areas participated in 'matamdari'.
Replicas of 'zuljinah', 'alam', cradle of Hazrat Ali Asghar and Mehndi Shehzada Qasim (AS) were taken out. Mukhtar Students Organisation, Ibrahim Scouts, Mukhtar Generation, Mukhtar Force, Muhktar Organisation and other religious and social organizations took part in the arrangements while 'Sabeel-e-Hussaini' was also set up.
Members of Muharram Committee Azadari Cell of Tehreek e Nifaz e Fiqah Jafariya Islamabad along with high level officers of Police administration accompanied the procession throughout its route. Concluding prayers were offered by Allama Zahid Abbas Kazmi. The senior supervisor of the procession Syed Shujaat Ali Bukhari thanked the participants and Matamis for their participation.
https://www.thenews.com.pk/print/371406-safety-of-islam-and-pakistan-lies-in-hussainiyat
--------
Muslim clerical and political leaders against shop selling statuettes, calls them idols
09/20/2018
Kuwait City (AsiaNews) – A shop specialising in making 3D statuettes has become embroiled in a controversy with some of Kuwait's most conservative clergymen, almost turning a minor issue into a national cause célèbre. In fact, a Member of the Kuwaiti parliament has taken the issue to the house after it sparked a heated debate on social media.
Some Muslim clergymen view such items as idolatry, believing that any human representation – paintings or sculptures – constitutes a violation of Islamic traditions and rules as laid down by the prophet Muhammad.
Since it started, the controversy just got worse as conservatives slammed this type of commerce and its promoters. Many want the shop shut down, and the owner's license revoked.
The store uses 3D scanning booths and printers to create lifelike replicas of people; for conservatives, such miniatures and statuettes will be worshipped as idols within a few years.
"What this shop is doing is an abomination and it must be closed immediately," said Othman Al Khamees, a religious figure. "[I]t is more dangerous than liquor stores, because it revives the issue of idols." Islam outlaws the consumption of alcoholic beverages and transgressors can be punished with flogging.
Abdul Rahman Al Nassar created a hashtag to put pressure on the government to shut down the shop. For him, the real threat will materialise within years. "The grave concern is that the statues would be idolised later," he insisted.
Likewise, lawmaker Mohammad Hayef Al Mutairi believes that selling statues in Kuwait should not be allowed.
However, other Kuwaitis reacted with amazement and outrage at the whole controversy, even some clerics.
Hamad Al Sinan, another Kuwaiti religious figure, said that when the early Muslims entered Egypt, they took no action against the Sphinx. "There is no logic in issuing calls to ban figurines or replicas. Let us rise above such illogical, irrational thoughts," he said.
One Kuwaiti posted a picture of a statue of Ronald McDonald, the clown character used as the mascot of the McDonald fast-food chain, saying that no religious leader has said anything about it.
http://asianews.it/news-en/Muslim-clerical-and-political-leaders-against-shop-selling-statuettes,-calls-them-idols-44986.html
--------
World 'won't rest' on Rohingya crisis, UK's minister tells Suu Kyi
September 21, 2018
NAYPYIDAW, Myanmar — British Foreign Minister Jeremy Hunt on Thursday called for justice on the Rohingya crisis after his visit to Myanmar's Rakhine state, telling embattled leader Aung San Suu Kyi the world "won't let it rest".
Hunt's rallying cry for accountability comes at the end of a busy two-day visit during which he visited Rakhine — the epicenter of a brutal military campaign that drove out more than 700,000 Rohingya Muslims — and met with Suu Kyi.
"Burma needs to know the international community won't let it rest," said Hunt using Myanmar's former name.
Myanmar has set up an "independent" commission to address the army's crackdown against the Rohingya, rejecting the UN probe and calls for the International Criminal Court to investigate.
"If we don't see that process happening, we will use all the tools at our disposal to make sure there is justice... the world is watching," Hunt said after the meeting, which he said was "lively" and "frank".
The British foreign minister's visit came the same week UN investigators released a damning and meticulous report detailing why six Myanmar generals should be prosecuted for genocide against the Rohingya Muslim minority.
The Rohingya fled to neighboring Bangladesh, where they joined about 300,000 already in cramped refugee camps, carrying accounts of extrajudicial killings, extreme sexual violence and arson.
The evidence warrants the charges of genocide, crimes against humanity and war crimes, UN investigators said.
Hunt also brought up with Suu Kyi his "concerns" on the jailing of two Reuters journalists, Wa Lone and Kyaw Soe Oo, who were sentenced earlier this month to seven years each under the state secrets act.
The pair had uncovered the extrajudicial killings of 10 Rohingya men in the Rakhine village of Inn Din —something the army has since acknowledged.
Suu Kyi, who endured a total of 15 years of house arrest under the previous junta-led regime, said last week Wa Lone and Kyaw Soe Oo's sentencing upheld the rule of law.
"She said she would look into it," Hunt said Thursday.
Before the meeting, the foreign minister was led on a three-hour, tightly-managed tour of Rakhine via helicopter, which included the Taung Pyo Letwe returnee reception center, opened to receive the refugees even though virtually no Rohingya have come back.
Bangladesh and Myanmar signed an agreement last year to repatriate the Muslim minority but it has stalled as they fear returning to Rakhine without their safety and rights guaranteed.
In each of the three other locations Hunt was shepherded to, he found a pre-selected group of locals waiting to speak to him. At Pan Taw Pyin village, the final stop, he walked off to try to speak with nearby residents about their experiences despite the heavy security presence.
The military has consistently denied nearly all wrongdoing, insisting that its campaign was justified to root out militants, and Myanmar's ambassador to the UN on Tuesday slammed the UN probe as "one-sided" and "flawed".
Suu Kyi, a former pro-democracy icon, has seen a sharp fall from grace internationally due to her failure to address the Rohingya crisis.
Her supporters say her hands are tied by a still powerful military, which controls a quarter of parliament's seats and three ministries.
UN investigators say her government's "acts and omissions" contributed to the "atrocity crimes" in the crisis.
Hunt will head to New York next week for the UN General Assembly, where he will chair a foreign ministers' meeting Monday on Myanmar.
Suu Kyi will not be traveling to New York for the UN top meeting. — AFP
http://www.saudigazette.com.sa/article/543857/World/Asia/World-wont-rest-on-Rohingya-crisis-UKs-minister-tells-Suu-Kyi
--------
Mujahid reminds Shariah judges to follow SOP on underage marriage
21 September 2018
KUALA LUMPUR, Sept 20 — Shariah court judges handling underage marriages are reminded to follow the standard operating procedures (SOPs) which have been approved at the Shariah Judges' Conference two months ago.
Minister in the Prime Minister's Department Datuk Mujahid Yusof Rawa said the guidelines to be used as reference for Shariah judges, were issued following an 11-year-old girl's marriage to a 41-year-old man in Gua Musang, Kelantan in June.
"The main objective was to tighten existing procedures in relation to underage marriages but to date, only Selangor and the Federal Territory of Kuala Lumpur are following the guidelines.
"The marriage involving a 15-year-old girl in Tumpat, Kelantan recently occurred as the assigned judge did not follow the approved SOP," he told the media after officiating a Maal Hijrah 1440H celebration here today.
According to Mujahid among the procedures set out were, parents need to register the marriage application for minors, apart from making family background checks including psychological and health assessments.
"Only then can the Shariah judge make a decision but the guidelines clearly state that poverty cannot be used as an excuse to allow an underage marriage," said Mujahid.
"We are also considering on setting the age limit at 18 years for both men and women in granting permission for underage marriage," he said.
Recently, a 15-year-old girl reportedly married a 44-year-old People's Volunteer Corp (Rela) member, which was the second case after the underage marriage in Gua Musang last June.
Earlier, Mujahid presented the Federal Territory Ma'al Hijrah award to Malaysian Muslim Scholars Association chairman Datuk Sheikh Abdul Halim Abd Kadir, who was also the former mufti of Terengganu.
He received RM5,000, a trophy and certificate of appreciation. — Bernama
https://www.malaymail.com/s/1674837/mujahid-reminds-shariah-judges-to-follow-sop-on-underage-marriage
--------
Canada declares Myanmar treatment of Rohingya Muslims to be genocide
September 21, 2018
Canada's Parliament has unanimously adopted a motion declaring crimes committed against Rohingya Muslims in Myanmar to be genocide. The motion Thursday also endorsed the findings of a United Nations mission that outlined how crimes against humanity have been committed by the Myanmar military against Rohingya and other minorities.
In Washington, Canadian Foreign Affairs Minister Chrystia Freeland praised members of Parliament for passing the motion to recognize "this atrocity."
Human rights observers called the declaration as a significant milestone. Some 700,000 Rohingya crossed into Bangladesh after a brutal counter-insurgency campaign by Myanmar security forces. The U.N. report alleged widespread rights violations, including rape, murder, torture and the burning of Rohingya homes and villages.
Myanmar denies any organized abuses.
https://indianexpress.com/article/world/canada-declares-myanmar-treatment-of-rohingya-muslims-to-be-genocide-5367591/
--------
India
Talaq ordinance: Darul Uloom slams Modi govt's 'interference' in Islamic matters
Sep 20, 2018
Meerut: Vice-chancellor of the influential Islamic seminary Darul Uloom Deoband, Mufti Abul Qasim Nomani has termed the triple talaq ordinance passed by the Union cabinet as "a serious issue" and condemned it as "an encroachment upon the religious freedom of the Muslim community".
On Wednesday, ignoring political and clerical resistance, the Union cabinet cleared the ordinance to criminalise instant triple talaq. The new ordinance specifies a jail term of three years to the husband but at the same time also has the provision of bail by the magistrate after the victimised wife has been heard.
President Ram Nath Kovind also signed the petition the same day. The official name of the law is the Muslim Women (Protection of Rights on Marriage) Ordinance, 2018.
Speaking to TOI over the phone, Nomani said, "Nikah and talaq are purely religious matters and the Constitution of India has granted full religious freedom to all citizens of India. What the central government is doing is an infringement of fundamental rights, which is unacceptable. This move is against the values and real spirit of the Constitution."
Meanwhile, general secretary of Tanzeem Ulema-e-Islam, a Sunni Barelvi organisation, Maulana Shahbuddin Razvi said, "This development might result in a division between those who go by Sharia laws and those who will quote the law of the land and this could lead to a situation of confrontation. If Sharia laws have been kept in mind in drafting the new ordinance, then it is okay. Otherwise, it will lead to problems in a large number of Muslim homes."
State spokesperson of BJP, Chandra Mohan said, "The NDA government is committed to the welfare of minority women and this ordinance is yet another step towards providing them social security and freedom from subjugation. So, we do not think there should be any sort of opposition to this development."
https://timesofindia.indiatimes.com/city/meerut/talaq-ordinance-darul-uloom-slams-modi-govts-interference-in-islamic-matters/articleshow/65892151.cms
--------
Hindu appeasement seen in India's ban of verbal divorce
September 21, 2018
India's government has been accused of placating the Hindu majority ahead of a national election by introducing an emergency law banning verbal divorce among Muslims.
President Ram Nath Kovind on Sept. 19 gave assent to an ordinance banning the practice that allows a man to divorce his wife by saying talaq (divorce) three times in succession.
The ordinance, which needs to be ratified in parliament, comes after several attempts by Prime Minister Narendra Modi's pro-Hindu Bharatiya Janata Party (BJP) to enact a law purportedly to help Muslim women suffering because of the centuries-long triple talaq practice.
"The sole objective is to appease the Hindu vote bank ahead of the 2019 national election," said Molvi Javaid Ahmad, a Muslim scholar in Jammu and Kashmir state. "The move is direct interference in Muslims' religious affairs. It is a vindictive approach." Ahmad said the move gives the impression that the government can act tough against Muslims without caring for their votes. It helps consolidate Hindu votes in a religiously polarized election, he added.
However, BJP leader and federal Law Minister Ravi Shankar Prasad told media that there was an "overpowering urgency and a compelling necessity" to bring in the ordinance as verbal divorce continued unabated despite the Supreme Court banning it in August 2017 as "unconstitutional."
From January 2017 until Sept. 13 this year, there were 430 cases of verbal divorce, Prasad said.
The BJP that come to power in 2014 initiated a bill to ban verbal divorce but several opposition parties opposed it. The BJP said parties opposing the bill were afraid of losing votes from India's 172 million Muslims.
However, Lok Sabha, the Indian parliament's lower house, passed the bill on Dec. 28 last year, but Rajya Sabha, the upper house, kept it pending greater consensus and debate over the issue.
Qasim Rasool Ilyas, of the All India Muslim Personal Law Board, believes the government rushed the law without waiting for more debate to divert attention from the real issues facing the country such as inflation and unemployment.
"The way triple talaq has been criminalized makes it necessary to approach the court. We will soon decide how to do it," he said.
Ghulam Ali Gulzar, a prominent Muslim scholar and writer, told ucanews.com that the ordinance stipulates a jail term for a husband who uses verbal divorce.
"If the husband is in jail, who will take care of the divorced wife and the children? This is nothing but a vendetta which looms large against the community in the country," Gulzar said.
Joseph Dias, a Catholic leader in Mumbai, told ucanews.com that the move is "nothing but a preparation for the 2019 elections."
He questioned the government's concern for the suffering of divorced Muslim women and said similar customs exist in other religions in India.
Full report at:
https://www.ucanews.com/news/hindu-appeasement-seen-in-indias-ban-of-verbal-divorce/83392
--------
On Triple Talaq, Trinamool Minister Says Quran Will Prevail, Not Law or Constitution
by Ravik Bhattacharya
September 21, 2018
A day after the Centre passed an ordinance criminalising instant triple talaq, state minister Siddiqullah Chowdhury on Thursday said the Quran Sharif was supreme and would prevail over any constitutional provision or law that contradicts it. A number of Muslim organisations in the state are planning to protest the ordinance, with many minority leaders saying they would not tolerate any interference in religious affairs.
"For us, our holy scripture, the Quran Sharif, is supreme and if any constitutional provision or any law contradicts the Quran, then our scripture will prevail and not the law or Constitution… BJP is playing the religion card and is playing with Constitution. The ordinance will have no effect on Muslims. No one will adhere to it, but will follow the religion and the holy book," said Chowdhury, who is also the state president of the Jamiat-e-Islami Hind. He had earlier called the SC verdict on instant triple talaq "unconstitutional".
"Whatever tricks BJP may play, they will not be able to influence Hindus or Muslims. In 2019, they are on their way out. The ordinance is just a way of winning Hindu votes, which they will not succeed. Hindus and Muslims will throw them out of power," the state minister added.
Chowdhury said the BJP-led Centre should be concerned with rising violence against women.
"Every day, women and girls are being raped. Every day, women are being burnt and brutalised. What are they (BJP government at the Centre) doing? They are doing nothing about it. But for cheap vote bank politics, (they are) hurting the sentiments of Muslims," he said.
Meanwhile, Muslim organisations are planning to protest against the ordinance.
"India is a pluralist, secular country but this ordinance brought by BJP is violating the fundamental rights of Muslims and also the Constitution. We will hold a meeting shortly to decide on our course of action," said Md Kamaruzzaman, general secretary of the All India Minority Youth Forum.
However, the state BJP lauded the move by the Centre, saying Prime Minister Narendra Modi has helped Muslim women in the country by passing the ordinance.
Full report at:
https://indianexpress.com/article/india/triple-talaq-minister-quran-prevail-law-constitution-5367453/
--------
Sacrifice of Imam Hussain (AS) infused new life to Islam: Mirwaiz
Sep 20 2018
Hurriyat Conference (M) chairman and Mutahida Majlis-E-Ulema head Mirwaiz Umar Farooq on Thursday paid glorious tributes to the martyrs of Karbala Hazrat Imam Hussain (AS),his family and companions, stating that their great sacrifice infused new life and meaning into understanding Islam
In a statement here, Mirwaiz said that despite being far less in number, up against a mighty enemy , Imam Hussain (AS) fought courageously with faith and conviction along with his companions till his last breath, to uphold the great principles of Islam which he stood by.
"Imam Hussain (AS) refused to surrender before falsehood and deceit and instead fought for truth and righteousness. He preferred to sacrifice his life in the desert of Karbala but did not give in to it ,setting a great example for all of Muslim ummah to emulate and follow," he said.
Mirwaiz said that the best tribute to Imam Hussain (AS) and the valiant martyrs of Karbala is to keep their legacy of defending the truth and Haq alive ,at all costs.
Full report at:
https://greaterkashmir.com/news/kashmir/sacrifice-of-imam-hussain-as-infused-new-life-to-islam-mirwaiz/297064.html
--------
'ISIS is Doing More Than Waving Flags': Probe Reveals Link Between Kashmir & Hyderabad Modules
September 20, 2018
New Delhi: The national investigative agency and the Delhi police, in separate investigations, have found links between the ISIS modules of Hyderabad and Kashmir.
Top officials told CNN-News18 that two Kashmiri IS operatives arrested by Delhi police earlier this month and a man from Hyderabad, who is under investigation for trying to spread ISIS ideology in India, have been in regular contact to spread the terror outfit's footprint in India.
The suspected Islamic State in Jammu and Kashmir (ISJK) terrorists, Parvez (24) and Jamshid (19), who were arrested from near the Red Fort, have found to be 'motivated' by one Adnan Hasan.
The duo told investigators that they met Hasan in Srinagar last year and he motivated them to join ISIS. The investigation by NIA has also revealed that Hasan was indeed in Srinagar and was trying to recruit people for ISIS.
"When questioned, Adnan Hasan also accepted that he went to Srinagar on the same dates that Parvez and Jamshid mentioned. He is yet not accepting that he was radicalising the Kashmiri youths. We will seek further custody to confront the accused," a top NIA official told CNN-News18.
Hasan and his two associates, Mohammed Farhan Sheikh and Azhar Ul Islam, were arrested for being involved in "a conspiracy to identify, motivate, radicalise, recruit and train Indian Muslim youth on behalf of the proscribed outfit ISIS to carry out terror activities", an NIA statement said.
As per investigators, the key to the link between the Hyderabad and the Kashmir modules of ISIS could be a man called Abdullah Basith.
Basith, a resident of Hyderabad, is an 'aide' of Adnan Hassan. Delhi police sources said that during investigations it has emerged that suspected JKIS militant Jamshid had helped Abdullah Basith with his stay in the Shaheen Nagar area of Jamia in Delhi in 2014. Basith and his associates had allegedly tried to obtain a fake passport and cross over to Bangladesh via West Bengal.
Full report at:
https://www.news18.com/news/india/isis-is-doing-more-than-waving-flags-in-valley-probe-reveals-link-between-kashmir-hyderabad-modules-1883463.html
--------
Terrific News, Says US as India And Pakistan Agree to Hold Talks in New York
September 21, 2018
New Delhi: The United States on Friday lauded India's acceptance of Pakistani proposal for talks between the foreign ministers of the two neighbouring countries on the sidelines of the ongoing annual UN General Assembly session in New York. Calling the news as 'terrific', State Department Spokesperson Heather Nauert at her daily news conference said,"We saw that (reports of meetings between Indian and Pak leaders). I think that's a terrific news for the Indians and Pakistanis to be able to sit down and have a conversation together."
She also welcomed the exchange of messages between Prime Minister Narendra Modi and his Pak counterpart Imran Khan, saying, "We saw the reports about the positive messages being exchanged between Prime Minister Khan and also Prime Minister Modi. And we hope that the conditions will be set for a good strong relationship, a good strong bilateral relationship in the future."
The United States has traditionally welcomed any talks between India and Pakistan, the pace of which, it has noted, depends on the leadership of the two countries.
"In general, the United States supports dialogue between India and Pakistan that can reduce tensions, and we understand and had frequent conversations with the Indian partners on the expectations that there would be demonstrable reduction in cross-border terrorism or infiltration that will help create the confidence for dialogue to take place," Alice Wells, Principal Deputy Assistant Secretary of State for South and Central Asian Affairs, had told reporters during a conference call last week.
Full report at:
http://www.india.com/news/india/united-states-hails-the-decision-to-hold-talks-between-india-and-pakistan-foreign-ministers-in-new-york-calls-it-a-terrific-news-3338166/
--------
Muslim clerics hold special prayers for Parrikar's speedy recovery at Goa BJP office
SEPTEMBER 20, 2018
Prakash Kamat
'Koran Khawani', a ritualistic reading of the Koran was conducted by 10 maulanas
In an initiative taken by BJP's minority morcha at the party's South Goa office, 10 maulanas from masjids across the State conducted ''Koran Khawani'', a ritualistic reading of the Koran, for quick recovery of ailing Chief Minister Manohar Parrikar on Thursday.
Mr. Parrikar is now undergoing treatment at the All India Institute of Medical Sciences in New Delhi for advanced pancreas related ailment.
"We had called the maulanas from all over Goa to conduct the 'Koran Khawani', which invokes the good grace of Allah, at the BJP's South Goa headquarters to pray for the quick recover of our Chief Minister Manohar Parrikar," president of the minority morcha, Goa, Shaikh Jina, told journalists on Thursday.
He said that Mr. Parrikar had resolved several outstanding issues related to the Muslim community in Goa that included making Goa the embarkation point for Haj travel, the construction of a Haj House and his involvement in the issues affecting the community in the education sector.
Prayers in several temples and the Central church in Panaji had been conducted some time back for Mr. Parrikar who is been in and out of hospitals in India and abroad since February last.
Full report at:
https://www.thehindu.com/news/national/muslim-clerics-hold-special-prayers-for-parrikars-speedy-recovery-at-goa-bjp-office/article24993779.ece
--------
Terrorist killed in encounter with security forces in J&K
Sep 20, 2018
SRINAGAR: An unidentified terrorist was killed in an encounter with security forces in the forest area of Bandipora district of Jammu and Kashmir on Thursday, police said.
Security forces launched a cordon and search operation in forests of Sumlar area in Bandipora district following information about presence of terrorists there, a police official said.
The official said the search operation turned into an encounter after the terrorists opened fire towards security forces' positions.
Full report at:
https://timesofindia.indiatimes.com/india/terrorist-killed-in-encounter-with-security-forces-in-jk/articleshow/65890864.cms
--------
Pakistan
Taziyas made by Hindus integral part of Ashura processions in Karachi
Sep 20, 2018
KARACHI: In this bustling metropolis of Pakistan, taziyas made by Hindus in the courtyards of Hindu temples are a prominent part of the Ashura procession taken out on the ninth and 10th days of Muharram to remember the martyrdom of Hazrat Imam Hussain and his people in Karbala.
In at least two ancient Hindu temples in the old city area of Karachi, the Hindu community has worked with zeal and passion to make taziyas, which are a representation of the tombs of Hazrat Imam Hussain and Hazrat Imam Hasan, the grandsons of Prophet Muhammad, and are an integral part of the Ashura procession.
"We have been making these taziyas for three generations now and it is something we feel proud and passionate about," Rajesh, a Hindu, said in the Hindu-dominated Narainpura area of Karachi.
Rajesh worked day and night in the backyard of the Rama Pir temple with other Hindu youngsters to make the "Dhun Jee Sain" taziya with money collected from donations.
A few miles away on Akbar Road, members of the Hindu community have worked in the courtyard of the 100-year-old Mari Mata temple to prepare an imposing taziya, which will be used in the 10th Muharram procession on Ashura.
"This is known as the Mai Jannat taziya. Our elders have been making it at this very spot since even before partition," Gond Saleem said.
Gond, who practises Hinduism after his Hindu father who married a Muslim woman, is an autorickhsaw driver. He devotes a month to make the taziya every year.
"My mother, Mehmooda, also made it a point to see that the Mai Jannat taziya was prepared every year for Ashura till her death last year," he said, adding, "We carry on our elders' wishes."
An area in the courtyard of the ancient temple is reserved every year for the making of the taziya.
"It takes at least 40 days to complete this taziya at a cost of around one lakh rupees," Gond said.
He added that stickers, shiny vault paper and wood were used to make the taziya.
Jagnath, a Hindu living in the same area, said their elders living in Karachi had always shown respect towards the great sacrifice of Hazrat Imam Hussain and that they were doing the same.
"When these taziyas are prepared near our temple, everyone in our community takes part and helps out. It is a big occasion for us every Ashura," he added.
The reverence and dedication with which the Hindus make the taziyas is a mater of surprise since their living conditions may not even include the basic facilities.
Muharram, which is the first month of the Islamic calendar, is observed with great reverence and solemnity by Muslims with taziya processions taken out to remember the sacrifice of Hazrat Imam Hussain and his people.
In Karachi, like every year, thousands of policemen and paramilitary personnel have been deployed to look after the security of the Ashura processions.
https://timesofindia.indiatimes.com/world/pakistan/taziyas-made-by-hindus-integral-part-of-ashura-processions-in-karachi/articleshow/65889798.cms
--------
Martyrs of Karbala teach us to uphold supremacy of truth: president, PM
September 21, 2018
ISLAMABAD: President Arif Alvi and Prime Minister Imran Khan on Thursday said the martyrdom of Hazrat Imam Hussain (AS) was a lesson for everyone to never stand back and fight against extremism as well as intolerant ideologies.
"Let us pledge on this day to take solid steps in light of Uswah-e-Shabbiri that ensures respect for mankind, the solidarity of democracy and calls for promoting Islamic values for the development and prosperity of the country," President Alvi said in his message to the nation on Ashura.
"The day reminds us of the great sacrifices of the martyrs of Karbala rendered to uphold the supremacy of truth."
He said that the martyrdom of Imam Hussain (AS) acted as a source of guidance for Muslims and taught that one should never refrain from fighting the elements of tyranny.
"The incident of Karbala teaches us the significance of sacrifice to attain greater objectives," the president said.
Meanwhile, Prime Minister Imran Khan said that in view of the challenges faced by the country, there was a dire need to unite and promote the spirit of sacrifice. "This is the need of the hour and is linked with our very own existence, stability and prosperity," the premier said.
"Being steadfast while upholding truth is a mission and one should never refrain from offering even the greatest of all sacrifices," he said, adding that Ashura reminded Muslims of the sacrifices rendered by Hazrat Imam Hussain (AS) and his companions to uphold the sanctity of Islam.
He said the incident of Karbala was a historic battle between truth and falsehood that took place on 10th of Muharram and added, "Imam Hussain (AS) proved with his immortal sacrifice that truth always wins. This example of persistence is a guiding principle for our lives."
Full report at:
https://www.pakistantoday.com.pk/2018/09/20/martyrs-of-karbala-teach-us-to-uphold-supremacy-of-truth-president-pm/
--------
Conflict in the Muslim world is weakening all of us: Pak PM
September 21, 2018
JEDDAH: Pakistan's Imran Khan during his maiden foreign visit to Riyadh said that Muslim countries can't bear to have more conflicts as it is weakening all of us
"These conflicts are weakening all of us and Pakistan would like to play a role of putting out these fires, a role of reconciliation," said Imran Khan.
Prime Minister on Wednesday made the statement answering a question in an exclusive interview with Al Arabiya News Channel's General Manager Turki al-Dakhil.
The PM, who was on a visit to Saudi Arabia, met Crown Prince Mohammed bin Salman and energy minister Khalid al-Falih as he concluded his two-day visit.
https://www.siasat.com/news/conflict-muslim-world-weakening-all-us-pak-pm-1410269/
--------
Saudi Arabia invited to become third strategic partner in CPEC: Fawad Chaudhry
September 20, 2018
Saudi Arabia is the first major country Pakistan has formally invited to become a partner in China-Pakistan Economic Corridor (CPEC) projects, Minister of Information Fawad Chaudhry said on Thursday.
Addressing a press conference in Islamabad regarding Prime Minister Imran Khan's two-day visit to Saudi Arabia and United Arab Emirates (UAE), Chaudhry said that Pakistan's main interest lies in cooperation with Saudi Arabia on matters of trade and security.
"A high-level coordination committee has has been constituted [to look into matters of trade and commerce] and it has the complete backing of the Saudi King, His Highness Salman bin Abdul Aziz Al-Saud, as well as the Crown Prince [Mohammad bin Salman] and PM Khan," Fawad Chaudhry said.
The information minister announced that high-level delegations from Saudi Arabia and UAE will visit Pakistan to discuss trade and security in October.
The Saudi ministers of treasury and power as well as business leaders will be in the delegation. Pakistan and Saudi Arabia will finalise an important economic partnership during this visit, the information minister said.
He said that Saudi Arabia is the first country that Pakistan has invited to become a third partner in CPEC, and the projects that Saudi Arabia will be investing in will be worked out during the Saudi delegation's visit, scheduled for the first week of October.
"We expect major investments from Saudi Arabia," he said.
"Our strategic cooperation has been revitalised. We have assured the Saudi leadership that we will continue to provide security to their country and provide strategic support wherever needed," Chaudhry said.
The information minister said that in Abu Dhabi, the Pakistani delegation was received by Crown Prince Muhammad bin Zayed. Matters of mutual interest were discussed in detail during the meeting," Chaudhry said.
"I should mention here that the relations between Pakistan and UAE and Pakistan and Saudi Arabia had been frosty for the past few years, and this visit changed that," the information minister said.
He added that the complications in the procurement of UAE visas and other matters will be resolved soon as the matters had come under discussion during the visit.
"The foreign office will soon send a proposal to UAE and it is expected that these issues will be resolved for the thousands of Pakistanis that are dwelling in the Emirates," Chaudhry assured.
The information minister said that UAE would also help Pakistan in many projects, including the provision of fresh water to Karachi. "Delegations from UAE will come to Pakistan in October to discuss these matters," he said.
"It is important to mention here that His Highness Muhammad bin Zayed has a great standing in GCC and Saudi Arabia, and his support will go a long way for Pakistan," Chaudhry said.
'Nawaz will be in and out of jail'
Moving on to the matter of Nawaz Sharif's release yesterday, Chaudhry pointed out that the ousted prime minister had only secured bail, not been vindicated of the charges against him.
"Nawaz Sharif will be in and out of jail. The first thing I would like to do is address those people who kept asking why we put the Sharif family's name on the exit-control list (ECL). I guess now they know why we did it: had we not, they could have flown to London yesterday evening, and where would we have looked for them then?"
Chaudhry also commented on the fact that the PML-N and its supporters had praised the judicial system yesterday.
"So if the verdict is in their favour, all is well with the judiciary, and if it is against them, then the system is corrupt?" the minister asked. "The PML-N should decide what their stance is so that their own confusion also subsides."
He added: "I personally think that the judiciary is free and independent."
The information minister also said that Imran Khan does not have a personal feud with the Sharifs, "The government is simply the custodian of the wealth of the Pakistani people and we need to bring the looted wealth back to the country."
"Neither will we let Nawaz and Maryam leave the country nor will we let Ishaq Dar, Hasan and Hussain Nawaz stay abroad for much longer," Chaudhry said, adding that the Sharif family will have to return the Pakistani people's money back to them.
Full report at:
https://www.dawn.com/news/1434079/saudi-arabia-invited-to-become-third-strategic-partner-in-cpec-fawad-chaudhry
--------
Zardari says Youm-e-Ashur serves as lesson to fight against tyranny, oppression
September 21, 2018
Pakistan People's Party (PPP) Co-Chairman and former president Asif Ali Zardari on Thursday said that the teachings and philosophy of Hazrat Imam Hussain (RA) is a beacon of light for resisting dictatorship, tyranny, oppression and totalitarianism.
In his message on Youm-e-Aashur, the former president said that Hazrat Imam Hussain (RA) introduced golden principles for humankind. Battle of Karbala was a war between right and wrong and the evil forces were defeated in this battle.
He said that Hazrat Imam Hussain (RA) taught us to stand up to injustices and despotism and today the forces of evil are surfacing once again in the shape of terrorism, extremism and so-called Jihadi organisations who want to impose their agenda by the bullet. Youm-e-Aashur demands that we should fight these forces with full force and commitment.
Full report at:
https://www.pakistantoday.com.pk/2018/09/21/zardari-says-youm-e-ashur-serves-as-lesson-to-fight-against-tyranny-oppression/
--------
PM Imran offers role to heal Middle East conflicts
September 21, 2018
ISLAMABAD: Prime Minister Imran Khan reaffirmed Pakistan's support for Saudi Arabia and offered to play a reconciliatory role to end all conflicts in the Middle East, which were 'weakening us all'.
"In the Middle East, we will like (to play a) reconciliatory role to bring the Muslim world together. This will be our main effort. In Yemen too, we will, if required, play a positive role to end this conflict," the PM said in an interview with the Al Arabiya news channel.
He was responding to a question about how Pakistan could position itself in the Middle East and the Islamic arena and how could Saudi Arabia and Pakistan work together to combat terrorism and restore peace internationally.
"We assure our support for the Saudi government but at the same time we feel it is very important that there should not be any conflict in the Muslim world. Already, the Muslim world has (festering) issues in Libya, Somalia, Syria, Afghanistan … Pakistan has already suffered a lot. Conflicts in the Muslim world are weakening us all. Pakistan would like to play a role to put out these fires through reconciliation," he said.
When asked about Pakistan's response to the issue of Houthi militias targeting Saudi Arabia, the prime minister said that he did not believe in the efficacy of a military solution to any conflict.
According to him, every conflict had a political solution, asserting that Pakistan would not allow anyone to attack Saudi Arabia.
"This is a stated position of all our governments … We will not allow anyone to attack Saudi Arabia. We will stand by Saudi Arabia. But I can just say one thing: All conflicts can be resolved through dialogue. Look at Afghanistan, the conflict in Afghanistan has dragged on for 16 years. We were branded as pro-Taliban and Taliban Khan, but now everyone realizes that there is only one solution in Afghanistan and that is political solution."
Stressing the need for ensuring peace in the Middle East, the PM said that witnessing discord among Muslim nation was too distressing.
Pakistan, he said, wanted to assure the people of Saudi Arabia that the country would always stand by them just as "Saudi Arabia stood by us in bad times".
"We will always stand by Saudi Arabia in difficult times," PM said.
Answering a question about his government's proactive foreign policy and its impact on the geopolitical scenario, Imran Khan said that Pakistan already had a very good relationship with China.
"We need good relationships with Afghanistan and India too. We have made overtures to both (countries) … We want to develop our relations with both Afghanistan and India. A relationship based on mutual trust. Unfortunately this is what has been missing."
He said Pakistan, India and Afghanistan had different points of view…there was a trust deficit. "This is why Pakistan wants to build relationships based on mutual trust."
Pakistan, he said, wanted good ties with all its neighbours, including Iran.
Elaborating upon the possibility of Saudi Arabia's investment in China-Pakistan Economic Corridor (CPEC) projects, the PM said that CPEC was one of the greatest opportunities, allowing everyone to invest in Pakistan.
"CPEC connects Pakistan (with) China and along the way, there will be industrial zones which will be great opportunity for people to invest. … Once peace is restored in Afghanistan, the same road will connect Pakistan with Central Asia, because CPEC can go through Afghanistan to Central Asia. So this whole area is where the future is, I mean huge markets and … when (our) relationship improves with India, you (also) have (access to) huge market there too," he said.
Full report at:
https://tribune.com.pk/story/1808472/1-pm-imran-offers-role-heal-middle-east-conflicts/
--------
Sharifs will be offered neither deal nor concession: minister
Amir Wasim
September 21, 2018
ISLAMABAD: The government on Thursday rejected the notion that former prime minister Nawaz Sharif and his family members were released from jail under a "deal" and that Saudi Arabia had played any role in it.
"Nawaz Sharif is not so important for Saudi Arabia that they will talk about him," said Minister for Information Fawad Chaudhry while speaking at a news conference a day after Mr Sharif, his daughter Maryam Nawaz and son-in-law retired Captain Mohammad Safdar were released from Rawalpindi's Adiala jail after suspension of their sentences by the Islamabad High Court in the Avenfield properties case.
Editorial: Much room for NAB process against Sharifs to improve
The IHC verdict coincided with Prime Minister Imran Khan's visit to Saudi Arabia, giving rise to speculation in some circles that the Sharif family members' release was a result of the Saudis' request.
It may be recalled that Saudi Arabia was a guarantor in a deal between the Sharif family and then military dictator Gen Pervez Musharraf in 2000 under which the Sharifs were released from jail and allowed to leave the country.
"Those who say that Saudi Arabia would have talked [about Nawaz Sharif during Prime Minister Khan's visit] actually don't know what kind of relationship the Saudis have with Nawaz Sharif," the information minister said without elaborating.
"There will be no deal and no dheel (concession) with them (the Sharifs)," he declared, adding that soon "they will be back to the place where they had been a few days back". "Nawaz Sharif will be in and out of jail. This thing will continue," he said, adding that the Sharifs had only been granted bail and the case was still pending against them.
"Those who were questioning the government for putting the names of the Sharifs on the Exit Control List (ECL) would have got the answer now. Had we not done so, they could have flown to London soon after their release, and where would we have looked for these princes then?" he said, justifying the decision of the federal cabinet to place the names of the Sharifs on the ECL during its first meeting.
"We will not allow Nawaz Sharif and Maryam Nawaz to leave Pakistan and at the same time we will not allow (former finance minister) Ishaq Dar, and Hassan and Hussain (the two sons of Mr Sharif) to stay out of Pakistan," he said.
Mr Chaudhry said that for them it was not important that how much time the Sharifs would spend in jail, as for the government bringing back the looted money of the people of this country was more important.
Lashing out at the Pakistan Muslim League-Nawaz, he said it was heartening to see the PML-N people praising the courts. "So if the verdict is in their favour, all is well with the judiciary, and if it is against them, then the system is corrupt?" the minister said, asking the PML-N to decide once and for all as to what was their stance to end their confusion.
"In my opinion, the judiciary is free and independent," he added.
Mr Chaudhry said the National Accountability Bureau (NAB) was also an independent institution and the government had no control over it. He said the government was looking for the loopholes due to which the Sharifs had been granted bail and soon they would rectify them and send them back to jail.
PML-N's reaction
The PML-N termed the information minister's remarks "irresponsible" and asked him to focus on "governance" instead of wasting time on petty matters.
Talking to Dawn, PML-N information secretary Mushahidullah Khan said that no party leader had given any statement about courts after the IHC verdict as they believed that Mr Sharif had only got "relief" and not justice.
Commenting on Mr Chaudhry's statement regarding deal, he said the PML-N had not struck any deal when it could have done so in the past then why it would be doing it now. "Had we struck a deal, Nawaz Sharif would have been prime minister even today," he said.
Mr Khan also ridiculed the minister's justification for putting the names of the Sharifs on the ECL, terming the government's act "vindictive". He recalled that Nawaz Sharif and Maryam Nawaz were in London when the NAB court had announced the verdict and they returned home despite knowing that they would straightaway land in jail.
Full report at:
https://www.dawn.com/news/1434173/sharifs-will-be-offered-neither-deal-nor-concession-minister
--------
Judicial commission summons IHC judge on Oct 1 in third reference
Nasir Iqbal
September 21, 2018
ISLAMABAD: The Supreme Judicial Council (SJC) has summoned a sitting Islamabad High Court (IHC) judge on Oct 1 to face a reference on a speech he made in which he allegedly targeted a particular constitutional institution.
Headed by Chief Justice of Pakistan Mian Saqib Nisar, the five-member SJC asked Justice Shaukat Aziz Siddiqui of the IHC to appear in person along with his counsel on Oct 1 and face a third reference against him.
On July 31, the SJC had issued a show-cause notice to Justice Siddiqui on the reference for making unnecessary and unwarranted comments on June 21 at the Rawalpindi District Bar Association office about some important constitutional institution by accusing the establishment of manipulating the judicial proceedings.
The SJC took up the matter after considering that such comments prima facie had the tendency of undermining the respect otherwise due to such a constitutional institution.
Justice Siddiqui is already facing a reference on alleged misconduct on the complaint by some retired employee of the Capital Development Authority (CDA) for alleged refurbishment of the official residence beyond entitlement.
Against that reference, the judge instituted a petition before the Supreme Court seeking an open trial of the reference, which is pending before the SJC and being heard in the open court.
Likewise, the SJC also issued a similar show-cause notice to Justice Siddiqui under Article 209 (5)(6) of the Constitution on a reference moved by Advocate Kulsum Khaliq on behalf of former MNA Jamshed Dasti. It was alleged in the reference that the high court judge during one of the hearings in a case against the 20-day Faizabad sit-in objected to a compromise between the federal government and the protesting party. The compromise was facilitated by the armed forces.
After scrutinising the reference by Mr Dasti, the SJC meeting held on Feb 6 opined that the judge was guilty of misconduct.
Earlier, Justice Siddiqui was asked to furnish his reply/explanation to the council's secretariat on the third reference.
Subsequently, Justice Siddiqui furnished his reply before the council and argued that the SJC was not an appropriate forum to take up such a matter as facts needed to be investigated.
Justice Siddiqui explained that he had addressed the legal fraternity for the purpose of the independence of the judiciary and its precedent was set by former chief justice Iftikhar Muhammad Chaudhry.
Full report at:
https://www.dawn.com/news/1434174/judicial-commission-summons-ihc-judge-on-oct-1-in-third-reference
--------
Arab World
Arab Conflicts Seen Not Rooted in Ideology Alone, Say Experts
September 20, 2018
WASHINGTON —
Ideology is not the main reason that some people in the conflict-ridden Arab world join extremist groups. Rather, a host of other issues, including political participation, poverty, income disparity and unemployment, push people toward violence and extremism, a panel of experts said Thursday.
"The mainstream population [in the Arab world] is poor and vulnerable. Decisions to survive and provide for the family, not ideological beliefs, lead to people joining extremist groups," said Rami Khouri, a professor of journalism and public policy at the American University of Beirut.
Khouri added that in addition to tackling poverty, inequality and economic disparity, environmental factors such as shortage of water and drought must not be ignored when solutions are sought to end conflicts in the region.
Mehran Kamrava, a professor of international affairs at Georgetown University in Qatar, argued that while addressing poverty is key to resolving conflicts in the region, the fight against poverty could not be won unless it was coupled with creating economic opportunities for people through sound economic policies and strengthening the education and development sectors. He argued that they all go hand in hand.
"Education by itself cannot resolve issues unless there is a political system that allows people to express themselves. Adding to this is providing people with work opportunity and improving their livelihood," Kamrava said.
The Washington-based Arab Center organized the panel discussion, which focused on the future of the Arab world.
Religion
Amatalalim Alsoswa, a Yemeni activist and the country's former ambassador to Sweden, Denmark and the Netherlands, pointed to religion's role in solving some of the regional problems.
"Religious faith has always been an integral part of the culture in the Arab world and will continue to be in the future. The problem here is [lack] of tolerance for opposing views and assuming that one's own religion or sect is the only true one," Alsoswa said.
Alsoswa added that if utilized properly, religion could play a positive role in promoting ideals such as tolerance of others, social justice, good governance, equality of citizenship, women's rights and civil rights.
The Arab world "continues to suffer from a deadlock of past grievances. But it is not too late to build on the rich heritage of the region to bring change. Such change requires government systems that promote the path forward," she said.
Thomas R. Pickering, former U.S. undersecretary of state for political affairs, echoed parts of Alsoswa's assessment, adding that local knowledge of the region and its history was crucial.
"America has a deficit in its knowledge of Islam and the Arabic-speaking world, and as a result we are making mistakes," Pickering said. "It is important to rely on people who have the knowledge of the region."
https://www.voanews.com/a/arab-conflicts-seen-not-rooted-in-ideology-alone/4581061.html
--------
It's time for filmmakers to train their lenses on real Muslim stories
Shelina Janmohamed
September 20, 2018
The opening scenes of the BBC's blockbuster TV series Bodyguard are certainly gripping. On a train that is about to be blown up in a terrorist attack, the show's white, male hero searches the carriages for the would-be perpetrator. Then he flings open a door to find a Muslim woman in a black hijab and abaya hiding in the toilet. She looks terrified.
She is wearing a suicide vest and in her hand is the detonator. The lead character, played by Richard Madden, talks her down, explaining to her that she has been indoctrinated by her husband, who is quite happy for her to kill herself in pursuit of his own ideals. After a few well-chosen words, she is liberated from her deadly mission, the hero hugs her and all is well.
So, just a few minutes into the show, we've already got our white saviour moment. What else did you expect? It should also come as no surprise that the would-be suicide bomber embodies every available stereotype of Muslim women: timid, easily manipulated, a victim of domestic abuse and brainwashing that has led to extremism and violence.
The real world, of course, is rather different. Across the world, there are 1.6 billion Muslims, each of them with their own experiences. So how is it that almost none of their stories are being told? The film and TV industry prides itself on providing a space in which the brightest creative minds work together to create innovative entertainment. If they drew on the wealth of narratives that exist within the world's Muslim population, the results could be magical. Now, however, it appears that the best they can come up with is the worn-out trope of the oppressed jihadi bride.
Bodyguard – like most contemporary films and TV shows – singularly fails the Riz Test. Named after the British actor Riz Ahmed, who made a powerful speech to the UK House of Commons last year about on-screen diversity and the portrayal of Muslims, it asks five important questions about films and shows that star at least one character who is identifiably Muslim.
Are they talking about the victim of, or the perpetrator of, Islamist terrorism? Are they presented as irrationally angry? Are they portrayed as superstitious, culturally backwards or anti-modern? Do they appear to be a threat to a western way of life? If the character is male, is he presented as misogynistic? If female, is she presented as oppressed by her male counterparts? If the answer to any of the above is yes, then the film or show fails.
Unfortunately, very little of what we see today would pass judgement by any of these criteria. A study published last week by the Mena Arts Advocacy Coalition found that only 1 per cent of US television actors are of Middle Eastern or North African origin, and 78 per cent of the roles they were given were as terrorists and tyrants.
Creatively speaking, this is lazy and tedious. It's also commercial madness. As films such as Black Panther demonstrate, audiences want global stories – stories that avoid stereotypes, stories filled with nuance and wide-ranging perspectives. The global Muslim population is a colossal market that is being shamefully under-served. What a missed opportunity.
It is also a matter of conscience. The stories we tell and are exposed to affect how we see the world. Some people argue that some Muslims have committed acts of terrorism and that this reality needs to reflected. Fair enough. The problem is that that, right now, this is the only story that is ever told. There is also plenty of anger when Muslims step forward to demand sophisticated, non-stereotypical representation on screen.
It's time to break free of these tired, old arguments and reflect the world we live in. Yet all we ever get to see is more Muslim actors being cast as villains. For example, it was recently reported that the actor Said Taghmaoui, who is of Moroccan heritage, is in line to play the baddie in the next James Bond movie. That's just more of the same.
Full report at:
https://www.thenational.ae/opinion/comment/it-s-time-for-filmmakers-to-train-their-lenses-on-real-muslim-stories-1.772270
--------
Hezbollah leader boasts group has 'highly accurate' missiles
20 September 2018
The leader of Lebanon's militant Hezbollah boasted Thursday the group now possesses "highly accurate" missiles despite Israeli attempts to prevent it from acquiring such weapons.
Hassan Nasrallah didn't offer specifics on the weapons in his traditional televised speech commemorating Ashoura, a top religious holy day for Shiite Muslims. He told supporters they need to be confident in Hezbollah's capabilities and that the regional balance of power has changed.
He claimed Israeli strikes in Syria to prevent Hezbollah from acquiring precise missiles were ineffective.
"I tell (Israel) no matter what it did to cut the route, it is over. It has already been achieved," he said, adding that Hezbollah "now possesses precision missiles and non-precision and weapons capabilities."
Hezbollah has thousands of fighters in Syria supporting President Bashar Assad's forces in the civil war.
Israel worries Hezbollah has been improving its capabilities and acknowledged carrying out scores of strikes in Syria, most of them believed aimed at halting suspected arms shipments for Hezbollah.
"If Israel imposes a war on Lebanon, Israel will face a destiny and reality it didn't expect any day," Nasrallah said.
Israeli leaders have said they will not allow "game-changing" weapons, such as guided missiles, to reach Hezbollah.
Nasrallah's speech was broadcast on a large screen to supporters in Beirut's majority-Shiite suburb of Dahiya.
On Wednesday, Nasrallah said Israeli claims to have targeted a shipment to Hezbollah in Syria's Latakia province earlier this week were "lies."
Hezbollah fighters will continue to be deployed in Syria, he said, but perhaps in lesser numbers due to reduced fighting there after Syrian government forces regained control of most rebel-held areas.
Full report at:
https://english.alarabiya.net/en/News/middle-east/2018/09/20/Hezbollah-leader-says-has-rockets-despite-Israeli-efforts-in-Syria.html
--------
Israeli air force chief to give Moscow findings on Russian plane downing
20 September 2018
Israel's air force commander will lead a delegation to Moscow to share the military's findings on the Syrian downing of a Russian warplane following Israeli air strikes, the army said Wednesday.
The delegation, led by Major General Amikam Norkin, would on Thursday "present the situation report... regarding all aspects" of the incident, the army said in a statement.
"In addition, they will present the continuous Iranian attempts to transfer strategic weapons to the Hezbollah terror organization and to establish an Iranian military presence in Syria."
On Monday, Syrian air defenses shot down a Russian military plane, killing 15 soldiers, after Israeli missiles had struck the coastal region of Latakia.
Meanwhile, President Bashar al-Assad on Wednesday blamed Israel for the downing of a Russian plane, which was accidentally hit by Syrian anti-aircraft fire during an Israeli missile strike.
"This unfortunate incident was the result of Israeli arrogance and depravity," the Syrian leader said, offering his condolences in a letter to his Russian counterpart.
"We are determined that such tragic events will sway neither you nor us from continuing the fight against terrorism," he continued in the letter published by the official Sana agency.
The Russian military accused Israeli pilots of using "the Russian plane as a cover, exposing it to fire from Syrian air defenses".
Israel denied the allegations, saying its jets were already back in Israeli airspace when Syrian forces launched the missiles that hit the Russian plane.
Israeli Prime Minister Benjamin Netanyahu expressed his "sorrow" to Russian President Vladimir Putin in a phone call on Tuesday, offering to assist Moscow in the investigation.
Putin had said the incident was the result of "tragic accidental circumstances," warning Netanyahu against carrying out such operations in the future and pledging to beef up security for Russian forces in Syria.
Full report at:
https://english.alarabiya.net/en/News/middle-east/2018/09/20/Israeli-air-force-chief-to-give-Moscow-findings-on-Russian-plane-downing.html
--------
Amnesty warns crackdown has turned Egypt into 'open-air prison' for critics
Sep 19, 2018
Amnesty International has censured the Egyptian government for intensifying its crackdown on freedom of expression, voicing concern that the clampdown has turned the country into an "open-air prison" for critics and dissidents.
The London-based international human rights group said Wednesday that authorities had arrested at least 111 people since December 2017 for criticizing general-turned-president Abdel Fattah el-Sisi and Egypt's human rights situation, adding that the crackdown on freedom of expression under the rule of Sisi had reached "alarming" and "unprecedented" levels.
"It is currently more dangerous to criticize the government in Egypt than at any time in the country's recent history," Amnesty's North Africa Campaigns Director Najia Bounaim said in a statement, adding that Egyptians were "treated as criminals simply for peacefully expressing their opinions."
Bounaim said security services had ruthlessly clamped down on independent political, social and cultural spaces, stressing that measures by Sisi's government were more extreme than anything seen in the country during the past 30 decades.
These measures, she said, "have turned Egypt into an open-air prison for critics."
"President el-Sisi's administration is punishing peaceful opposition and political activists with spurious counter-terrorism legislation and other vague laws that define any dissent as a criminal act," Bounaim added.
Egypt has intensified a crackdown on dissent in the past years since the ouster of the country's first democratically-elected president Mohamed Morsi in July 2013.
Since coming to power in June 2014, Sisi's rule has also been marked by efforts to crack down on all forms of dissent, with authorities justifying the move targeting activists and critics as being directed at saboteurs trying to undermine the state.
Thousands of people have been jailed since 2013 while death sentences have been handed down to hundreds of Sisi's political opponents on different charges, including terror ones.
Full report at:
https://www.presstv.com/Detail/2018/09/19/574604/Egypt-crackdown-Amnesty-International
--------
Saudi Arabia, UAE using Israel's Pegasus malware to spy on citizens
Sep 21, 2018
A recent report has revealed that Saudi Arabia and the UAE have been among the countries that have been extensively using the spyware Pegasus to spy on their own people and track human rights advocates.
The report, published by Citizen Lab on Tuesday, said the usage of Pegasus - made by the Tel Aviv-based NSO company - in both countries had significantly increased between August 2016 and August 2018.
"Our findings paint a bleak picture of the human rights risks of NSO's global proliferation. At least six countries with significant Pegasus operations have previously been linked to abusive use of spyware to target civil society," the Citizen Lab said in its report, refusing to name all the countries.
Citizen Lab said it identified at least six operators with "significant operations" in the Persian Gulf region including at least two that appeared to predominantly focus on the UAE and one with a Saudi focus. One was also focused on Bahrain, it added, without elaborating whether it was affiliated to Saudi Arabia - which is helping Manama suppress dissent - or not.
"Three operators may be conducting surveillance beyond the MENA region, including in Canada, France, Greece, the United Kingdom, and the United States," the report added.
The UAE had earlier used the phone hacking spyware to spy on several Arab figures, including the Qatari emir, Lebanese prime minister, and a Saudi prince.
The New York Times reported on August 31 that the NSO Group and affiliates had actively participated in cyber attacks on individuals sought by the UAE using the controversial Pegasus spyware to turn their smart phones into surveillance devices.
Two lawsuits have been filed against the company in Israel and Cyprus by a Qatari citizen as well as Mexican journalists and human rights activists who say they were targeted by the spyware.
Saudi national Yehia Assiri, one of the targets of the spyware, told the Middle East Eye recently that "governments that use these technologies have something to be scared of, and have no respect for human rights."
Assiri also described the move as a reflection of the lies by the governments that use Israeli spy tools to monitor their citizens.
"They publicly claim their animosity toward Israel, but secretly use its products to spy on activists whom it then accuses of treason," he said.
The Citizen Lab, an affiliate of the University of Toronto, added in its report that it had also found evidence that the software might have been deployed against victims in 45 countries.
In addition researchers found indications of possible political themes within targeting materials in several countries, which they said casts doubt on whether the technology is being used as part of "legitimate" criminal investigations.
Bill Marczak, senior research fellow at The Citizen Lab, was quoted as saying that the researchers had found that the spyware was used by governments to spy on journalists, human rights defenders, opposition politicians, lawyers, and anti-corruption advocates.
"We identified in 45 countries: Algeria, Bahrain, Bangladesh, Brazil, Canada, Cote d'Ivoire, Egypt, France, Greece, India, Iraq, Israel, Jordan, Kazakhstan, Kenya, Kuwait, Kyrgyzstan, Latvia, Lebanon, Libya, Mexico, Morocco, the Netherlands, Oman, Pakistan, Palestine, Poland, Qatar, Rwanda, Saudi Arabia, Singapore, South Africa, Switzerland, Tajikistan, Thailand, Togo, Tunisia, Turkey, the UAE, Uganda, the UK, the US, Uzbekistan, Yemen, and Zambia."
Pegasus is a modular malware. After scanning the target's device, it installs the necessary modules to read the user's messages and mail, listen to calls, capture screenshots, log pressed keys, exfiltrate browser history, contacts, and so on and so forth. Basically, it can spy on every aspect of the target's life.
Full report at:
https://www.presstv.com/Detail/2018/09/21/574734/spyware-saudi-arabia-uae-israel
--------
Bahraini regime forces detain another Shia cleric amid Muharram crackdown
Sep 20, 2018
Bahraini regime forces have detained another Shia Muslim cleric as the ruling Al Khalifah dynasty presses ahead with its heavy-handed crackdown against members of the religious community during the Muslim mourning month of Muharram.
Rights activists, requesting anonymity, said Bahraini officials ordered the arrest of Sheikh Mohammed al-Reish after he underwent an hours-long investigation at a police station in the Hoora district of the capital Manama, Arabic-language Lualua television network reported.
The report came only two days after Shia clergyman Sheikh Majid al-Sahlawi was arrested, and the public prosecutor's office ordered him to be detained for 15 days pending investigations.
There are no reports yet on the charges of the cleric.
Earlier, Bahraini troopers had arrested Sheikh Hani al-Banna and Sheikh Yassin al-Jamri, and took them to the police station in the coastal town of al-Budaiya.
A Bahraini source, requesting not to be named, said regime forces had summoned a number of Shia clergymen over the past few days for their sermons in the run-up to Ashura, which marks the martyrdom anniversary of Imam Hussein (PBUH), the third Shia Imam and the grandson of Prophet Mohammad (PBUH).
Bahraini regime forces have removed stalls set up to provide food and drinks to the mourners as well as Ashura signs across the country.
Bahrain forces attack mourning Shias on Ashura
Meanwhile, Bahraini regime forces have attacked dozens of Shia Muslims marking Ashura.
On Thursday, dozens of people took to the streets in the village of Nuwaidrat, located about 10 kilometers south of Manama, carrying banners in commemoration of the martyrdom anniversary of Imam Hussein (PBUH) and pictures of distinguished Shia cleric Sheikh Isa Qassim, who has been stripped of his citizenship.
The Manama regime's mercenaries then raided, and fired teargas canisters to disperse mourners chanting "Labaik Ya Hussain" to invoke the memory of the third Shia Imam. A number of mourners suffered breathing difficulties, red eyes and wheezing as a result.
Thousands of anti-regime protesters have held demonstrations in Bahrain on an almost daily basis ever since a popular uprising began in the country in mid-February 2011.
They are demanding that the Al Khalifah regime relinquish power and allow a just system representing all Bahrainis to be established.
Manama has gone to great lengths to clamp down on any sign of dissent. On March 14, 2011, troops from Saudi Arabia and the United Arab Emirates were deployed to assist Bahrain in its crackdown.
Scores of people have lost their lives and hundreds of others sustained injuries or got arrested as a result of the Al Khalifah regime's crackdown.
On March 5, 2017, Bahrain's parliament approved the trial of civilians at military tribunals in a measure blasted by human rights campaigners as being tantamount to imposition of an undeclared martial law countrywide.
Full report at:
https://www.presstv.com/Detail/2018/09/20/574696/Bahraini-regime-forces-detain-another-Shia-cleric-amid-Muharram-crackdown
--------
Egypt court removes judge who got Mubarak's sons detained
September 20, 2018
CAIRO: An Egyptian court has accepted a defense motion to remove a judge who ordered the detention of former President Hosni Mubarak's two sons in connection with their ongoing trial on insider trading charges.
The legal basis for Thursday's verdict wasn't immediately known. It came less than a week after judge Ahmed Aboul-Fetouh ordered the two younger Mubaraks detained — wealthy businessman Alaa and Mubarak's one-time heir apparent Gamal — before he adjourned their hearings until Oct. 20.
Also unknown is whether legal proceedings would now begin to secure their release.
Separately, the two and their father were detained in 2011 and later sentenced to three years each for embezzling funds meant for maintenance of presidential palaces.
Full report at:
http://www.arabnews.com/node/1375131/middle-east
--------
South Asia
Maldives' Opposition Party Raises Alarm Over Fair Conduct Of Presidential Poll
Sep 19, 2018
COLOMBO: The Maldives' opposition party Wednesday raised concerns over conduct of the presidential elections on Sunday in a free and fair manner by the country's poll body, which it alleged has deployed activists of the ruling dispensation for the poll duty.
President Abdulla Yameen, of the ruling Progressive Party of Maldives (PPM), is seeking a second five-year term in the Indian Ocean archipelago, a popular high-end tourist destination.
Yemeen had imposed a state of emergency in February after the Supreme Court quashed the conviction of nine opposition leaders, including the country's first democratically elected president Mohamed Nasheed.
Nasheed, the main opposition Maldivian Democratic Party (MDP) leader, is currently in exile in Sri Lanka. He has been barred from contesting the Sunday's polls.
The Maldives' Elections Commission has appointed 107 PPM activists and members and tasked them with the official work on the election day, the MDP said here Wednesday.
"In yet another egregious example of bias, the Elections Commission has given the PPM activists official roles in administrating the voting, vote counting, and complaint procedures on election day. These PPM activists, as officials, will have sole discretion on how to adjudicate a complaint at the polling booth," a MDP release said.
The opposition party claimed that the Commission had rejected its written complaint, demanding political activists be relieved of their poll responsibilities.
The MDP also alleged that the Commission was headed by a staunch Yameen loyalist, who was the General Secretary of Yameen's former political party.
The commission had refused to allow political parties to use a copy of the final signed voter register. It is planning to use tablet computers to tally the vote, and ordering officials at the ballot boxes not to announce the vote until it is verified by the central Elections Commission.
These were clear breach of election law and precedence, the opposition claimed.
It further alleged that the use of tablet computers to collate election results from polling stations on election day will create an opportunity for rigging and fraud.
President Yameen is pitted against the joint opposition candidate Ibrahim Mohamed Solih.
Ahead of polls, the government has sent to jail his main rivals after speedy trials for charges ranging from terrorism to corruption. It has also and introduced new vote-counting rules that observers say will prevent them from seeing individual ballot papers, leading to doubts about the legitimacy of the vote.
https://timesofindia.indiatimes.com/world/south-asia/maldivies-opposition-party-raises-alarm-over-fair-conduct-of-presidential-poll/articleshow/65871933.cms
--------
Rohingya refugee children in Bangladesh get doves of peace from the Middle East
September 20, 2018
DUBAI: Eight-year-old Anjuman, living in Camp 7 at Kutupalong refugee camp in Cox's Bazar, Bangladesh, has received the most beautiful gift. "I am very happy to have received this dove. I like it so much," she said.
She is among 150 children in the camp who have received "peace doves" from Dubai after winning an art competition organized in the camp.
To celebrate the UN-declared International Day of Peace on Friday, a Dubai-based NGO, NRS International, and a UK-based NGO, Empathy Action, have given wings to a message of hope, peace and reconciliation.
Both these organizations have come together to make dove toys (symbolizing peace) to distribute among children, who are among the first victims of conflict in any part of the world.
And while peace isn't something the world often associates with the Middle East, there are plenty of ways in which countries in the region are trying to make the world a better place, from smaller initiatives such as the doves in Bangladesh to major efforts such as the peace deal brokered this week by Saudi Arabia between Ethiopia and Eritrea.
The peace doves were handmade by women at NRS International's factory in Pakistan. As many as 650 dove toys have been stitched and handcrafted from upcycled offcuts of refugee blankets and tarpaulins.
"Each dove, made from excess blanket material that normally keeps refugees warm, is a symbol of peace," said Wieke de Vries, head of corporate social responsibility at NRS International. It is the leading supplier of humanitarian relief items such as fleece blankets to UN agencies and international aid organizations.
Sandy Glanfield, innovations manager at Empathy Action, said the doves will carry a reminder that for 68.5 million displaced people worldwide, a blanket or tarpaulin is a basic necessity to survive. "The passionate and skillful women who made the doves add the love into this story," said Glanfield.
About 150 larger versions of peace doves have been distributed to Rohingya refugee children in Bangladesh camps, with the support of the Danish Refugee Council.
S.M. Atiqur Reza, who is a child protection assistant at the council, said that the peace doves have put smiles on the faces of the children in the refugee camp.
"The children were so excited, and they loved these doves and making plans to take it back home (whenever they go back home)."
But in a world of conflicts, there is still much to be done. Anjuman is just one of nearly 25.4 million refugees in the world, over half of whom are under the age of 18.
Dr. Hadia Aslam, who sets up health care systems for refugees in Europe and the Middle East, is not hopeful about world peace in the near future.
"I feel we have desensitized entirely to any atrocity that happens now. Nothing shocks us. I do not see a future for peace, but I do see conflict. Our systems are geared to hosting this," said the young doctor, who is the founder of a charity that has treated thousands of refugees in Europe.
For her, human rights violations by Israel are a major threat to world peace. "I don't know a lot about politics, but I can categorically raise concerns about Israel's human rights track record being astounding and the world silently watching. Their only motive is occupation and apartheid. There is no space for peace in such a place."
Vidya Bhushan Rawat, a leading peace activist based in New Delhi, said that the biggest threat to peace is injustice and growing inequalities." I don't think that the world has become a peaceful place at the moment. There is a steady growth of right-wing politics the world over, where minorities and immigrants are considered a threat to the nation.
"To protect the only planet we have we need to eradicate poverty, illiteracy, hunger, malnutrition, gender disparity and superstition from our societies."
Dr. Kamran Bokhari, director of strategy and programs at the Center for Global Policy in Washington, does not see peace becoming the norm any time soon.
"We constantly hear about peace talks. But seldom do these efforts produce actual peace. The rise of nationalism is undoing the internationalist order that we thought would gain ground after the end of the Cold War a quarter of a century ago. Meanwhile, non-state actors are filling the vacuums left behind by weakening states, which suggests greater, not less, global conflict."
Dr. Shehab Al-Makehleh also believes that the world is less peaceful now than it has been in a long time. "Right now, peacefulness is at the worst level of any time since 2012. By the end of 2017, 1 percent of the world population had been refugees and displaced," said the executive director of Geostrategic media in Washington, DC.
He does not expect things to improve unless decision-makers in the international community give this matter attention as the world will be witnessing new economic and financial crises that could turn major countries into enemies.
"Unless the UN takes necessary measures that the world does not fall into anarchy due to populism and nationalism, the domino effect will cross borders, causing insecurity at all levels, toppling some regimes and changing borders with hundreds of thousands of people dying of poverty and terrorism," Dr. Al-Makehleh said.
Full report at:
http://www.arabnews.com/node/1375371/world
--------
Experts air new concerns about 'grave' Myanmar crisis
September 18, 2018
GENEVA — U.N.-backed investigators who examined a bloody crackdown by Myanmar security forces that caused hundreds of thousands of Rohingya Muslims to flee to neighbouring Bangladesh issued a searing critique Tuesday of the United Nations' own response to the human rights crisis.
In a 432-page report, the members of a fact-finding mission on Myanmar fleshed out preliminary findings and recommendations released in a shorter version three weeks ago.
"With a heavy heart and deep sadness, we have drawn conclusions, on the basis of the facts, that we never expected would be as grave as they are," team chairman Marzuki Darusman said he presented the report to the U.N.-supported Human Rights Council.
"What we have found are not only the most serious human rights violations, but crimes of the highest order under international law," he said.
The team reiterated that some top Myanmar military leaders should be prosecuted for war crimes, crimes against humanity and genocide against the Rohingya during a deadly crackdown that erupted in August 2017 following militant attacks on security posts in Rakhine state.
In a rare rebuttal by Myanmar's government, its new ambassador in Geneva lashed out at what he called a "one-sided" report. The team has said Myanmar's government had not responded to its report or honoured requests for access to violence-hit regions.
"The way the report portrays … the national races of Myanmar is misleading," the ambassador, Kyaw Moe Tun, told the 47-member body. "It also undermines the government's effort to bring peace, national reconciliation and development to the entire nation."
"Regardless of the lack of balance, impartiality and fairness, the government of Myanmar takes the allegations of human rights violations seriously," he said. "The government will not condone human rights violations."
After Marzuki spoke of the rape of women and girls by military forces, the ambassador countered, "We share deep sympathy and concern for all displaced persons, especially women and girls."
The full report also provided new details about the investigators' concerns about how the United Nations reacted during the spasm of violence. It noted that the "only statement" from the U.N. resident co-ordinator's office "was to condemn the ARSA (militant group) attacks and losses suffered by the Myanmar security forces."
The council created the fact-finding mission 18 months ago, after years of abuses against ethnic minorities in Myanmar, focusing on the time since 2011 when the country began opening up after decades of isolation under a long-ruling military junta.
Though the investigators looked at the treatment of minority groups across the Southeast Asian nation, their mandate came just six months before the crackdown against the Rohingya in Rakhine, injecting the mission with far greater importance to help detail those abuses, crimes and human rights violations.
The report provides details of violence in Kachin, Shan and Rakhine states, much of which has been documented and made public through collection of witness accounts, satellite imagery and other sources. It cited allegations of crimes by the military and other security forces including murder, torture, pillaging, execution without due process, rape, sexual slavery and hostage taking.
It said some acts by ethnic armed groups and the Rohingya militant organization ARSA could also constitute war crimes.
Crimes against humanity, war crimes and genocide can be considered by tribunals such as the International Criminal Court, but Myanmar is not a party to it. The country's government has snubbed a ruling by the court's judges that said the ICC has jurisdiction to investigate alleged crimes against the Rohingya. The court's chief prosecutor said Tuesday she was opening a preliminary investigation into Myanmar's expulsions of Rohingya.
The report's critique of the United Nations focused not only on the world body's response to the Rohingya crisis, but its efforts across the country.
For example, the investigators noted that the U.N. had rolled out a "Human Rights Up Front Action Plan" in Myanmar in 2013, but said its "human rights driven" approach was "rarely, if ever, pursued."
"Rather, it was largely 'business as usual,' with development goals and humanitarian access prioritized only," the authors wrote.
They cited allegations that some U.N. personnel who tried to pursue a human rights agenda "were ignored, criticized, sidelined or blocked in these efforts."
They alluded to criticism from Fieldview Solutions, an outside group that works to advance human rights, in July that cited some in U.N. and humanitarian circles for not doing enough to expand their "political space" in Myanmar, adding, "The Myanmar government has learned that it can count on U.N. and humanitarian self-censorship."
The U.N. experts said some U.N. entities and staffers showed "a lack of co-operation" with their work, and "appeared to view it as a threat, rather than a means to address the most deep rooted human rights challenges facing Myanmar."
"This attitude and approach must change," they added.
The investigators did acknowledge that some people in the country had faced "intimidation and reprisals" for their "engagement" with the United Nations.
The team renewed its urgent call for "a comprehensive, independent inquiry into the United Nations' involvement" in hopes of "establishing whether everything possible to prevent or mitigate the unfolding crises was done." It also sought to draw lessons and — "as appropriate" — make recommendations on accountability.
The investigators bemoaned that "there has been no review of what happened, of where the approach taken had some positive effect and where it did not, and of how the U.N.'s approach could be improved in future crises."
Kingsley Abbott, senior legal adviser at the International Commission of Jurists, said the U.N.'s failure to implement the Human Rights Up Front Action Plan in Myanmar requires a credible and transparent investigation.
"The situation has demonstrated yet again that the U.N. secretary-general and his staff in Myanmar must ensure that the entire U.N. system actually puts human rights up front in its day- to-day work in the country," he added.
Full report at:
https://montrealgazette.com/pmn/news-pmn/experts-air-new-concerns-about-un-response-to-myanmar-crisis/wcm/7296396c-e0d2-4667-8c58-14ce1ae6c010
--------
Shi'ite Muslims mark Ashura amid tight security
SEPTEMBER 20, 2018
KABUL (Reuters) - Millions of Shi'ite Muslims performed mourning rituals on Thursday to mark Ashura, the holiest festival in their calendar, amid heightened measures in many places to protect against sectarian attacks.
Red and green banners fluttered in Shi'ite neighborhoods in Kabul, the Afghan capital, while armed volunteer groups stood guard at mosques and major intersections.
Attacks in recent years targeting the country's mainly Shi'ite Hazara minority have been claimed by an affiliate of Islamic State, and worsening security has led to a sharp reduction in large public gatherings.
In Bangladesh, a majority Muslim nation of 160 million, where Islamist militants have targeted Shi'ite shrines and mosques over the past few years, authorities said they had tightened security.
"Although there is no specific threat, we have taken all possible measures to avoid any unexpected incidents," said Asaduzzaman Mia, the chief of metropolitan police in Dhaka, the capital.
Ashura falls on the 10th day of the lunar calendar month of Muharram and commemorates the martyrdom in 680 AD of Imam Hussain Ibn Ali, one of the grandsons of the Prophet Mohammad, near Karbala in what is now Iraq.
Shi'ites mark the festival with large public rituals, sometimes involving bloody self-flagellation or cutting to signify a link with the sufferings of Hussain, whose death symbolizes a wider struggle against oppression and tyranny.
"It is not just a ritual, but also an occasion to confess the mistakes we have made in the past," said Humayan Kabir, a Shi'ite Muslim in the old part of Dhaka.
The death of Hussain eventually led to the division of Islam into the two main Sunni and Shi'ite sects and in recent years, the festival has been scarred by bloody sectarian attacks in many countries.
In India, Shi'ites were making preparations to mark the festival on Friday, in line with the customary sighting of the moon.
"We enact the battle of Karbala and want to show that if we had been there we would have fought alongside Hussain and his family," said Nasir Hussain, a resident of the disputed Himalayan region of Kashmir.
Mourners will gather in the financial capital of Mumbai on Thursday for a pre-Ashura procession during which they whip themselves, walk over burning coals and perform with fire.
"The stand that Imam Hussain took all those years ago reinforces my belief in the goodness of society," said Najaf, a mourner in India's southern tech hub of Bengaluru.
Full report at:
https://www.reuters.com/article/us-religion-ashura/shiite-muslims-mark-ashura-amid-tight-security-idUSKCN1M01LC
--------
Southeast Asia
China distances children from families to subdue Muslim west
September 21, 2018
ISTANBUL, Turkey: The Chinese government has turned four of Meripet's children into orphans, even though she and her husband are alive.
The kids were left with their grandmother when the couple visited Meripet's sick father in Turkey. But when Chinese authorities started locking up thousands of their fellow ethnic Uighurs for alleged subversive crimes such as travel abroad, a visit turned into exile.
Then, her mother-in-law was jailed, and Meripet learned from a friend that her 3- to 8-year-olds were placed in a de facto orphanage in the Xinjiang region.
"It's like my kids are in jail," Meripet said, her voice cracking.
Meripet's family is among tens of thousands swept up in President Xi Jinping's campaign to subdue a sometimes restive region, including the internment of more than one million Uighurs and other Muslim minorities. Now there is evidence that the government is placing the children of detainees and exiles into dozens of orphanages across Xinjiang.
The orphanages are the latest example of how China is systematically distancing young Muslims in Xinjiang from their families and culture, The Associated Press has found through interviews with more than a dozen Muslims and a review of procurement documents. The government has been building thousands of so-called "bilingual" schools where minority children are penalized for using their native languages instead of Mandarin. Some of these are boarding schools, which Uighurs say can be mandatory and, in a Kazakh family's case, start from the age of five.
China says the orphanages help disadvantaged children and denies the existence of internment camps for their parents. It prides itself on investing millions of yuan in education in Xinjiang to steer people out of poverty and away from terrorism. The country also maintains that strong measures are necessary to kill extremism in a region where it says Uighur separatists were responsible for the deaths of hundreds in past years.
But Uighurs fear that these measures are wiping out their ethnic identity, one child at a time.
"If the kids are forced to speak Mandarin and live like Han Chinese every day, I'm afraid they won't be like us anymore," said Meriyem Yusup, whose extended family has four children sent to state-run orphanages in Xinjiang.
Experts say what China is doing echoes how white colonialists in North America and Australia treated indigenous children.
"What we're looking at is something like a settler colonial situation where an entire generation is lost," said Darren Byler, a researcher of Uighur culture at University of Washington.
Most of these families in China cannot be reached by journalists. However, the AP interviewed 14 Uighur families living in Turkey and one Kazakh man in Almaty with a total of 56 children who remain in China. The families say 14 appear to be in state-run orphanages and boarding schools, while the whereabouts of the rest are unknown because many of their adult relatives in Xinjiang have been detained. Some interviewees, like Meripet, requested that they be identified only by their first names because they feared official retaliation against their relatives.
Since the start of last year, the government has budgeted more than $30 million (200 million Chinese yuan) to build or expand at least 45 orphanages, with enough beds to house about 5,000 children, an AP review of procurement notices in Xinjiang shows. In July and August alone, the government invited bids for the construction of at least nine such centers. These numbers do not include kindergartens and other schools where some children of Uighur detainees are also being housed.
Shi Yuqing, a Kashgar civil affairs official, told the AP over the phone that "authorities provide aid and support to everyone in need, whether they're the children of convicted criminals or people killed in traffic accidents."
The Xinjiang government did not respond to repeated requests for government. A Chinese foreign ministry spokesman, Geng Shuang, said Thursday the measures taken in Xinjiang were necessary for "stability, development, harmony."
Meripet's friend, who visited China last November, told her that her children are living in the Hotan City Kindness Kindergarten, where Meripet's sister-in-law was permitted to take them home for one night only. The schoolyard's entrance is blocked by an iron gate and adorned with the words "We Are Happy and Grateful to the Motherland." Armed police officers surrounded AP reporters minutes after their arrival and ordered them to delete any photos.
Students at another kindergarten in Xinjiang were regularly asked by officials if their parents practiced religion at home, according to Dilnur, a 35-year-old business student in exile in Istanbul, whose children attended the school. A man was taken away by police after his grandson said in class that he had made a pilgrimage to Makkah, she recalled.
Some bilingual schools are boarding schools, which are not uncommon in China. Adil Dalelkhan, an ethnic Kazakh sock merchant in exile in Almaty, said that even though his then five-year-old son could live with relatives, he was forced to stay at his preschool Mondays through Fridays instead. The father called the policy a "terrifying" step toward extinguishing Kazakh culture.
An official Kashgar notice posted in February states that children in the fourth grade and above with parents in detention must be sent to boarding school immediately — even if one parent is still at home.
In Istanbul, the only child still with Meripet is her fifth, a son born in Turkey whom she calls "my only light."
"I have only been able to keep living because I know there is hope," she said. "I know one day I will see my children again."
http://www.arabnews.com/node/1375426/world
--------
Indonesian city orders top staff to 'pray or get a new job'
20 SEPTEMBER 2018
Jakarta, Sep 20 An Indonesian city has ordered its top civil servants to visit their local mosque for dawn prayers or risk being sacked, underscoring the growing influence of religion across the world's biggest Muslim majority country.
Senior bureaucrats in Palembang, co-host of last month's Asian Games, are now required to visit their local mosque at the crack of dawn -- and they've been warned that a smartphone app was in the works to sniff out the less-than-devout.
The order, which may be a first for Indonesia, is aimed at helping bureaucrats better relate to residents' concerns while the early wake-up call could also boost productivity, city spokesman Amiruddin Sandy told AFP.
"By praying together at dawn with regular people, we get a chance to hear from them directly," he said, adding that common complaints ranged from water not running to broken street lights.
The edict comes as Indonesian society's lurch toward religious conservatism has challenged its long-held reputation for having a tolerant brand of Islam.
Religious and sexual minorities have been subject to increasing prejudice, from authorities whipping gay people in conservative Aceh province to Christian congregations being targeted by suicide bombers earlier this year.
Health officials in Aceh have struggled to roll out a child vaccination programme over concerns the medicine contains traces of pork -- outlawed in Islam -- while the country's leader Joko Widodo drew criticism for picking a conservative Muslim cleric as his running mate in next year's presidential elections.
Palembang's new rule, which started Wednesday, applies to Muslim members of its 16,000-strong civil service although only 1,100 senior staff will risk a sacking if they skip dawn prayers.
The city's mayor plans to do some spot checking to make sure officials were complying until the local government launches a smartphone app to keep track of attendance, Sandy said.
"If we find an official disobeying the regulation we won't immediately sack him. We will summon him first and ask why he didn't go to the mosque," he said. "If you're doing your prayers well then, God willing, everything else will be good." About 90 percent of Indonesia's 260 million people follow Islam.
Full report at:
https://www.outlookindia.com/newsscroll/indonesian-city-orders-top-staff-to-pray-or-get-a-new-job/1387202
--------
Why Kelantan couples choose Oct-Dec to register secret Thai marriages
21 September 2018
KUALA LUMPUR, Sept 21 ― Guess where most of the cases of Kelantan couples crossing the border into Thailand to covertly and illegally marry without permission ― including those involving children ― come from?
Kelantan chief Syarie prosecutor Zaini Sulaiman revealed that Shariah courts in the state had since early 2018 fined 417 individuals for marrying in Thailand without obtaining the court's consent.
He said a further 258 men were also ordered to pay fines for practising polygamy in Thailand without getting the court's consent.
"These couples were married in several regions in southern Thailand, including Narathiwat.
"A majority of them were from Pasir Putih, Gua Musang and Tumpat, and they were fined up to RM1,000 each, including those who married underage girls," he was quoted saying in an interview with local daily New Straits Times (NST) in Kota Baru, Kelantan.
According to statistics provided by the Department of Shariah Judiciary Malaysia (JKSM) to Malay Mail in July, there were 5,823 applications nationwide during the 2013-June 30, 2018 period by Muslims to the Shariah court for permission for marriages involving minors.
According to JKSM statistics, the top three states with the highest number of Muslim underage marriage applications during the same period were Sarawak (974), Kelantan (877) and Sabah (848).
It is unclear how many of these applications were approved.
In the same NST interview, Zaini said Muslim couples in Malaysia who marry in Thailand have to register their marriages with local religious departments, adding that their favourite period is the months of October to December.
"Most of these couples tied the knot in Thailand because they faced problems, such as the woman being pregnant or carrying children out of wedlock. After they marry across the border, they need to register with the local religious department.
"However, many procrastinate. They tend to register at the last minute. They normally (register their marriages with the department) on their favourite months, which are the last three months of the year," he said.
He said these couples felt that their registrations could be done quickly during the year-end period and believed it would then allow then to register their child in January.
He said there were also men who decided to register their marriages only after their underage wives turn 16.
In Malaysia, the legal age of consent for sex is 16. Sexual intercourse with a girl below the age of 16 is categorised as rape under local laws.
Malaysia had recently been rocked by the news of two child marriage cases in Kelantan — a June case involving a 41-year-old Malaysian rubber tapper who was fined RM1,800 by the Gua Musang Lower Shariah Court for marrying an 11-year-old Thai Muslim girl without the Shariah court's approval; and a 44-year-old father of two marrying on July 18 a 15-year-old girl with the Shariah court's approval.
As for the latter case, NST also reported today that the 15-year-old girl from Tumpat was believed to have filed an application on July 2 at the Shariah court there to seek approval for her marriage to the 44-year-old.
Kelantan chief Syariah judge Datuk Daud Muhammad was reported saying that the Tumpat Lower Shariah Court had through checks found that the Tumpat girl was not forced into marriage with the Gua Musang man.
"After going through her application to get married, the court found that she met the conditions set by the court.
"Therefore, the court approved her application," he was quoted saying by NST.
Deputy minister Fuziah Salleh yesterday said there are now tighter guidelines for Muslims seeking Shariah courts' approval of child marriages that have yet to be adopted nationwide, with minister Datuk Mujahid Yusof Rawa revealed yesterday that only Shariah judges in Selangor and Kuala Lumpur were following the stricter rules.
Full report at:
https://www.malaymail.com/s/1674998/why-kelantan-couples-choose-oct-dec-to-register-secret-thai-marriages
--------
North America
Muslim Worker Alleges Workplace Discrimination Over Prayers
Sept. 20, 2018
DETROIT (AP) — A civil rights advocacy group has filed a religious discrimination complaint against a Detroit energy company on behalf of a former worker who is Muslim.
The Michigan chapter of the Council on American Islamic Relations filed a grievance with the Equal Employment Opportunity Commission on Wednesday against DTE Energy, The Detroit News reported .
Ibrahim Canales joined the company last year and was initially allowed to attend Friday prayers by working extra hours throughout the week to make up for the lost time, the complaint states. But a new DTE supervisor who began two months later forbade Ibrahim Canales from attending Friday prayers, it alleges.
"Canales' new supervisor now refused to allow him to leave to attend Friday prayers, despite the fact that several other non-Muslim employees were allowed to work long hours during the week and take Fridays off completely," council officials said in statement.
Canales faced discipline for leaving despite having permission from other supervisors and he received biased evaluations that affected his pay and promotion opportunities, the filing states.
Records indicate that Canales' religious accommodation requests were approved and implemented, DTE officials said, adding that the company is an equal opportunity employer that's committed to being inclusive.
Canales left the company because of the treatment and took a job out of state, the council said.
"Nobody should have to choose between suffering in a toxic work environment or uprooting themselves and their family simply because they chose to practice their faith," said council staff attorney Amy Doukoure.
https://www.usnews.com/news/best-states/michigan/articles/2018-09-20/muslim-worker-alleges-workplace-discrimination-over-prayers
--------
Pakistan's effort to end terrorist financing remains uneven: US
Anwar Iqbal
September 21, 2018
WASHINGTON: As the new government in Islamabad starts work on addressing the concerns related to money laundering and terror financing, a US State Department report released on Thursday said that Pakistan criminalised terrorist financing through the Anti-Terrorism Act (ATA), but its implementation remained uneven.
Pakistan is a member of the Asia Pacific Group on Money Laundering — a Financial Action Task Force (FATF)-style regional body. In June, the Paris-based FATF placed Pakistan on its grey list of countries that could be marked out for economic sanctions if they failed to prevent terrorists from collecting funds within their domain.
The official US report — released with the State Department's country reports on terrorism — also highlights FATF's concerns about Pakistan.
"The FATF continued to note concern that Pakistan's outstanding gaps in the implementation of the UN Security Council ISIL (Daesh) and Al Qaida sanctions regime have not been resolved, and that UN-listed entities — including Lashkar-e-Taiba (LeT) and its affiliates — were not effectively prohibited from raising funds in Pakistan, nor being denied financial services," the report points out.
Last month, Finance Minister Asad Umar told the Senate that FATF had given Pakistan 15 months to comply with these requirements. The minister said FATF had identified 27 deficiencies in the Pakistani financial system, including "currency smuggling, hawala and terror financing of proscribed organisations".
The minister had told the house that the government would be addressing all the objections raised not only to satisfy the international community but also because it was in Pakistan's own interest to get rid of terror financing and terrorism.
The US State Department in its report acknowledged that Pakistan's laws technically comply with international anti-money laundering/countering the financing of terrorism standards, but added that Pakistani authorities "failed to uniformly implement UN sanctions related to designated entities and individuals such as LeT and its affiliates, which continued to make use of economic resources and raise funds".
The report also refers to a Nov 2017 decision of the Lahore High Court which refused to extend the detention of LeT founder Hafiz Saeed as it judged the government had not provided sufficient evidence against him nor had it charged Hafiz Saeed with a crime.
The US report also examines the National Action Plan that the PML-N government gave to FATF in June this year, noting that the plan contains efforts to prevent and counter terrorist financing, including by enhancing interagency coordination.
The law designates the use of unlicensed hundi and hawala systems as predicate offences to terrorism and also requires banks to report suspicious transactions to Pakistan's financial intelligence unit, the State Bank's Financial Monitoring Unit.
The US State Department, however, notes that throughout 2017 "these unlicensed money transfer systems persisted throughout the country and were open to abuse by terrorist financiers operating in the cross-border area".
Reviewing Pakistan's efforts to fight terrorism, the report notes that Pakistan continued to experience significant terrorist threats in 2017, although the number of attacks and casualties decreased from previous years.
The report also identifies several major terrorist groups focused on conducting attacks in Pakistan, including the Tehreek-i-Taliban Pakistan, Jamaatul Ahrar, and the sectarian group Lashkar-i-Jhangvi al-Alami.
The report also mentions groups located in Pakistan, but focused on conducting attacks outside the country, included the Afghan Taliban, Haqqani network, Lashkar-e-Taiba and Jaish-e-Mohammad (JeM).
The reports notes that in 2017, the terrorists used a range of tactics — stationary and vehicle-borne improvised explosive devices, suicide bombings, targeted assassinations, and rocket-propelled grenades — to attack individuals, schools, markets, government institutions and places of worship.
The report also notes that the Pakistani government and military continued high-profile efforts to disrupt terrorist attacks and eliminate anti-state militants. "Progress, however, remained slow on the government's efforts to implement UN sanctions related to designated entities and enforce anti-money laundering/countering the financing of terrorism (AML/CFT) controls."
The State Department also said that the Pakistani government pledged support to political reconciliation between the Afghan government and the Afghan Taliban but "did not restrict the Afghan Taliban and Haqqani network from operating in Pakistan-based safe havens and threatening US and Afghan forces in Afghanistan".
Full report at:
https://www.dawn.com/news/1434209/pakistans-effort-to-end-terrorist-financing-remains-uneven-us
--------
UAE backs US offer of talks with Iran on nuclear and missile treaty
September 20, 2018
The UAE has called for Arab Gulf states to be party to proposed US negotiations with Iran to on a treaty curb its nuclear and missile programmes.
The top US official for Iran affairs, Brian Hook, said on Wednesday that the United States wanted open negotiations on a treaty with Iran to replace the 2015 nuclear pact which President Donald Trump pulled out of in May.
The idea was endorsed by the Minister of State for Foreign Affairs Dr Anwar Gargash, who called Iran to consider it seriously in the face of renewed sanctions.
"The American remarks with regards to the conclusion of a comprehensive treaty that would control the international concern over Iran's nuclear and missile programme and its regional interference is important," Dr Gargash tweeted on Thursday.
"It is essential that the Arab Gulf states be part of the proposed negotiations. It would be wiser for Tehran to avoid the sanctions phase and deal seriously with the proposals."
The Arab Gulf allies were not party to the negotiations on the 2015 deal between Iran and the US, Russia, China, France, Britain and Germany, but were consulted by their western allies.
Iran's top leadership has rejected US offers for talks, including at the annual UN General Assembly starting in New York next week, after Mr Trump withdrew from the deal.
The US president, who will chair a session on Iran during the General Assembly, said in July that he was willing to meet Iran's leaders "anytime they want".
Mr Hook, who heads the State Department's Iran Action Group that formulates US policy towards Tehran, said the US would continue to tighten sanctions on Iran that were lifted under the 2015 pact.
"We have a sanctions regime that is under way, stronger measures are yet to come," he said.
The US in August reimposed restrictions on trade and financial dealings with Iran and will reintroduce restrictions on the Iranian oil sector from November.
Full report at:
https://www.thenational.ae/world/mena/uae-backs-us-offer-of-talks-with-iran-on-nuclear-and-missile-treaty-1.772430
--------
US appeals court boosts Muslim American man's challenge against 'no-fly' list
21 September 2018
Ali Harb
A US court of appeals ruled on Thursday that a Muslim American man can sue the government for placing him on the "no-fly list", although he was later removed from it.
Yonas Fikre, an Eritrean-born American citizen who lives in Portland, Oregon, found himself unable to return to the US after a business trip to Khartoum in 2010.
He says that he was brought to the US embassy in Khartoum under false pretenses to be interviewed by intelligence officers who asked questions about a mosque he attended in Oregon.
The agents allegedly tried to recruit him as an informant; he says he refused.
Torture in UAE
Fikre was able to fly to the United Arab Emirates, where he settled in the fall of 2010.
In 2011, Fikre was arrested in the UAE, where he endured "multiple threats and beatings" by English-speaking interrogators who again asked him about the mosque in Oregon, mirroring the FBI's inquiries in Sudan, according to the lawsuit. His ordeal in Emirati jail lasted for 106 days, court documents say.
The lawsuit alleges that Fikre contemplated suicide or a hunger strike to stop the abuse, but was told he would be force-fed.
"Near the end of his detention, Fikre again asked an interrogator whether the FBI had requested his detention and interrogation," the lawsuit reads. "This time the interrogator confirmed the FBI had made such a request and that American and Emirati authorities work closely on a number of such matters."
Fikre described the UAE interrogations in a 2015 interview with the Guardian.
"I refused to answer questions. That's when the beating started," he told the newspaper. "They started with punches, slaps. They got tired of that so they brought water hose. There's the hard ones, the black ones, and there's the soft ones. The soft kind they would use for strangling. When I refused to answer, they put that thing on my neck. They had me lay down and beat me on the soles of my feet. They beat me on the back constantly."
Even after he was released in the UAE, he could not return to the US because he was still on the "no-fly list".
The list was created after the 11 September 2001 attacks to prevent potential militants from boarding US flights. Critics of the measure argue that it robs individuals of their freedom to fly without presenting evidence or giving them a chance to defend themselves.
Fikre's lawsuit alleges that the US government violated his constitutionally protected right to due process.
In 2011, he travelled to Sweden where his bid for political asylum was rejected.
He did not return to the US until 2015, when the Swedish government put him on a Portland-bound private jet. He remained on the list until 2016. His lawsuit against the US government was dismissed by a district judge in Portland because he was no longer on the no-fly list.
On Thursday, the 9th Circuit Courth of Appeals ruled that Fikre has standing to sue because of the hardships that the government's actions still cause him, including damage to his reputation.
Judge Morgan Christen said in the ruling that Fikre remains sitgmatised if the government does not acknowledge that he did not belong on the list, which ties him to terrorism.
"Because acquaintances, business associates, and perhaps even family members are likely to persist in shunning or avoiding him despite his renewed ability to travel, it is plain that vindication in this action would have actual and palpable consequences for Fikre," Christen wrote.
Due process
The Council on American Islamic Relations (CAIR), which has been advocating for Fikre, welcomed the ruling.
"This decision will give Yonas Fikre his day in court to challenge the government's ability to place innocent Americans-people who have not been charged, arrested, or convicted of a terrorism-related offense-on its no-fly list," CAIR National Litigation Director Lena Masri said in a statement.
"The 9th circuit authored a well-supported opinion upholding due process, making it clear that saying: 'I won't do it again, trust me" just isn't enough when one's very liberty and reputation is at stake.'"
Nabih Ayad, a Detroit-based civil rights attorney who has represented several people placed on the list, including a paralysed man, said the decision opens the door for people who have been victimised by the list to seek damages from the government.
Ayad, who is not involved in Fikre's case, called the list "discriminatory".
"The government paints with a very wide brush, and it's targeted mostly towards people of our community, the Arab American and Muslim community," Ayad told Middle East Eye.
He explained that the FBI and Justice Department handle the no-fly list, but any agency can nominate individuals to be placed on it.
While there is a procedure to file a complaint with US aviation authorities to be removed from the list, Ayad said he does not know of anyone who has been able to regain the freedom to board an airplane through administrative means.
"The only ones who were ever able to get off had to bring a federal lawsuit, and not everyone has the know-how or the money or the privity to a federal constitutional attorney who knows how to deal with those issues," Ayad said.
In 2014, a federal judge ruled that the list is unconstitutional, arguing that travel is a "necessary aspect of liberties".
The ruling prompted the government to introduce changes to the list, including reforming the appeals system.
Full report at:
https://www.middleeasteye.net/news/us-appeals-court-boosts-muslim-american-mans-challenge-against-no-fly-list-1528455416
--------
How an ancient Islamic holiday became uniquely Caribbean on Trinidad shores
September 21, 2018
A throng of Trinidadians line up along the streets of St. James and Cedros to admire the vibrant floats with beautifully bedecked models of mausoleums. Their destination is the waters of the Caribbean, where the crowds will push them out to float.
This is part of the Hosay commemorations, a religious ritual performed by Trinidadian Muslims, that I have observed as part of the research for my forthcoming book on Islam in Latin America and the Caribbean.
What fascinates me is how a practice from India has been transformed into something uniquely Caribbean.
Re-enacting tragedy
During the 10 days of the Islamic month of Muharram, Shiite Muslims around the world remember the martyrdom of Hussein, Prophet Muhammad's grandson, who was killed in a battle in Karbala, today's Iraq, some 1,338 years ago. For Shiite Muslims Hussein is the rightful successor to Prophet Muhammad.
Ashura, the 10th day of Muharram, is marked by public mourning and a re-enactment of the tragedy. Shiite Muslims put on passion plays that include inflicting suffering, as a way to remember Hussein. In Iraq, Shiite are known to beat themselves with swords. In India, mourners whip themselves with sharp blades. Some Shiite also visit Hussein's shrine in Iraq.
The commemoration has also become a symbol for the broader Shiite struggle for justice as a minority in the global Muslim community.
Early history
In Trinidad, the 100,000 Muslims who make up 5 percent of the island's total population, celebrate the day of Ashura, as Hosay – the name derived from "Hussein."
The first Hosay festival was held in 1854, just over a decade after the first Indian Muslims began to arrive from India to work on the island's sugar plantations.
But Trinidad at the time was under British colonial rule and large public gatherings were not permitted. In 1884, the British authorities issued a prohibition against Hosay commemorations. Approximately 30,000 people took to the streets, in Mon Repos, in the south, to protest against the ordinance. Shots fired to disperse the crowd killed 22 and injured over 100. The ordinance was later overturned.
The "Hosay Massacre" or "Muharram Massacre," however, lives in people's memories.
Colorful floats of Trinidad
These days, Hosay celebrations in St. James and Cedros not only recall Hussein, but also those killed during the 1884 Hosay riots. Rather than recreate the events through self-flagellation or other forms of suffering, however, people in Trinidad create bright and beautiful floats, called "tadjahs," that parade through the streets to the sea.
Each tadjah is constructed of wood, paper, bamboo and tinsel. Ranging from a height of 10 to 30 feet, the floats are accompanied by people parading along and others playing drums, just as is the practice in India's northern city of Lucknow. Meant to reflect the resting place of Shiite martyrs, the tadjahs resemble mausoleums in India. To many, their domes might be a reminder of the Taj Mahal.
Walking ahead of the tadjahs are two men bearing crescent moon shapes, one in red and the other in green. These symbolize the deaths of Hussein and his brother Hassan – the red being Hussein's blood and the green symbolizing the supposed poisoning of Hassan.
The elaborateness of the tadjahs continues to increase each year and has become somewhat of a status symbol among the families that sponsor them.
A bit carnival, a bit Ashura
While the festival is certainly a somber one in terms of its tribute, it is also a joyous occasion where families celebrate with loud music and don festive attire. This has led some to compare Hosay to Trinidad's world-famous carnival with its accompanying "joie de vivre."
But there are also those who believe that the occasion should be a more somber remembrance of the martydom of Hussein. More conservative Muslims in Trinidad have made attempts to "reform" such celebrations. These Muslims believe local customs should be more in line with global commemorations like those in Iraq or India.
What I saw in the festival was an assertion of both the Indian and Trinidadian identity. For Shiite Muslims, who have dealt with oppression and ostracism – both in the past and in the present – it is a means of claiming their space as a minority in Trinidadian culture and resisting being pushed to the margins. At the same time, with its carnival-like feel, the festival could not be more Trinidadian.
Full report at:
https://www.business-standard.com/article/current-affairs/how-an-ancient-islamic-holiday-became-uniquely-caribbean-on-trinidad-shores-118092100123_1.html
--------
Mideast
Palestinian poet released from Israeli prison after two months
Sep 20, 2018
Israeli authorities have released prominent Palestinian poet Darin Tatour, after she completed two months out of her original five-month jail term given to her for "inciting terrorism" on social networking platforms.
Israeli officials commuted Tatour's sentence by three months, and she was released from Damon Prison, near the Rimon Junction in the Carmel Forest of northern Israeli-occupied territories, on Thursday.
"After three years of suffering, imprisonment and house arrest, I finally feel happy," the Palestinian literary figure said upon her release.
She added, "I have gained my freedom and I will continue to write. All my suffering was due to a poem I wrote and it saddens me that they (Israeli authorities) imprisoned me for writing the poem."
On July 31, the Israeli magistrate's court in the northern city of Nazareth sentenced Tatour after convicting her of "inciting terrorism" in a poem she posted online.
Back in 2015, the 36-year-old Palestinian was arrested by Israeli authorities for her poem entitled, "Resist, My People, Resist."
Israel's central court in Nazareth released Tatour from custody in early 2016, but placed her under house arrest.
Israeli forces detain al-Aqsa Mosque guard
Meanwhile, Israeli military forces arrested an al-Aqsa Mosque guard on Thursday morning as he was heading to his work at the compound in the Old City of the occupied East Jerusalem al-Quds.
Firas al-Dibs, spokesperson of the Islamic Waqf (Endowment) organization, which manages the compound's affairs, told the Palestinian Safa news agency that Israeli troopers detained Hamza al-Nabali, while he was walking towards the Hatta Gate to reach the mosque.
Palestinian sources, requesting anonymity, said Nabali was taken to an Israeli police station in the Old City for interrogation.
The occupied territories have witnessed new tensions ever since US President Donald Trump on December 6, 2017 announced Washington's recognition of Jerusalem al-Quds as Israel's "capital" and said the US would move its embassy to the city.
The dramatic decision triggered demonstrations in the occupied Palestinian territories and elsewhere in the world.
The status of Jerusalem al-Quds is the thorniest issue in the decades-long Israeli-Palestinian conflict.
The Palestinians see East Jerusalem al-Quds as the capital of their future state.
Moreover, more than 185 Palestinians have been killed by Israeli forces ever since anti-occupation protest rallies began in the Gaza Strip on March 30. Nearly 20,000 Palestinians have also sustained injuries.
The Gaza clashes reached their peak on May 14, on the eve of the 70th anniversary of Nakba Day (Day of Catastrophe), which coincided this year with the US embassy relocation from Tel Aviv to occupied East Jerusalem al-Quds.
On June 13, the United Nations General Assembly adopted a resolution, sponsored by Turkey and Algeria, condemning Israel for Palestinian civilian deaths in the Gaza Strip.
The resolution, which had been put forward on behalf of Arab and Muslim countries, garnered a strong majority of 120 votes in the 193-member assembly, with eight votes against and 45 abstentions.
It called on UN Secretary General Antonio Guterres to make proposals within 60 days "on ways and means for ensuring the safety, protection, and well-being of the Palestinian civilian population under Israeli occupation," including "recommendations regarding an international protection mechanism."
The resolution also called for "immediate steps towards ending the closure and the restrictions imposed by Israel on movement and access into and out of the Gaza Strip."
https://www.presstv.com/Detail/2018/09/20/574683/Palestinian-poet-set-free-from-Israeli-prison-after-two-months
--------
Nasrallah: Hezbollah in possession of precision rockets to Israel's dismay
Sep 20, 2018
Hezbollah's leader has warned Israel of a fate it "has never expected" if it chooses to wage a new war, reminding the regime that the Lebanese resistance movement is now in possession of precision rockets to Tel Aviv's dismay.
Sayyed Hassan Nasrallah made the comments during a Thursday speech in Beirut to a large crowd of mourners marking Ashura, the martyrdom anniversary of Imam Hussein, the third Shia Imam.
He further said the balance of power in the region has changed in favor of the anti-Israel axis of resistance, and that the Tel Aviv regime has failed in all its attempts to prevent Lebanon's Hezbollah from achieving precision rockets.
"No matter what you do to cut the route, the matter is over and the resistance possesses precision and non-precision rockets and weapons capabilities," Nasrallah said.
"All your attempts to prevent Hezbollah from possessing accurate missiles are foiled," he added.
The Hezbollah chief further warned Israel against opting for yet another act of aggression against his country and said, "If Israel imposes a war on Lebanon, Israel will face a fate and a reality it has never expected on any day."
He also pointed to the growing power of the resistance front, stressing that the Israelis "had pinned their hopes on the course of developments in Syria and Iraq, but they know that the axis of resistance has returned stronger than ever, and new countries have now joined it."
Therefore, he added, the Israeli regime is afraid of any conflict in the region, especially against Lebanon, and is well informed that any war would have dire consequences.
Tel Aviv is well aware that its weaknesses have been revealed to Hezbollah, and is well aware of our strengths, he added. "Israel is aware that technology alone cannot be decisive in a war."
Hezbollah to stand by Iran, Palestine, Yemen, Bahrain
The Hezbollah chief further expressed the movement's support for the Islamic Republic of Iran in the face of "all kinds of economic and political pressure," saying that "it is our duty to stand by Iran" as a new wave of anti-Iran American sanctions is returning.
Iran is being punished by the US only because it refused to give in to Washington's demands, and because it is keeping up its support for the oppressed nations in the region, including Palestine and Syria.
He further reiterated the movement's support for the Palestinian cause, reiterating Hezbollah's objection to the so-called "deal of the century" which the US administration is drawing up on the Israeli-Palestinian conflict.
Nasrallah also noted that Hezbollah firmly stands by the Yemeni nation, which has been under attack by the Saudi regime and a coalition of its allies.
Full report at:
https://www.presstv.com/Detail/2018/09/20/574671/Nasrallah-Hezbollah-Israel-Balance
--------
Iran urges UN to censure Israel's nuclear threat, make it respect intl. rules
Sep 20, 2018
Tehran has written to the United Nations, calling on the world body to condemn Israel for threatening Iran with a nuclear attack and bring the regime's atomic weapons program under its supervision.
Standing right beside the Dimona nuclear facility late last month, Israeli Prime Minister Benjamin Netanyahu described Iran as a "threat" to the region and said Tel Aviv has the means to destroy its "enemies" in a veiled reference to Tel Aviv's nuclear arsenal.
"Those who threaten to wipe us out put themselves in a similar danger, and in any event will not achieve their goal," he said. "But our enemies know very well what Israel is capable of doing. They are familiar with our policy. Whoever tries to hurt us – we hurt them."
In a letter addressed to the UN on Thursday, the Permanent Mission of the Islamic Republic of Iran to the world body said Netanyahu's belligerent remarks poses "a serious threat to international peace and security."
It also urged the UN to make Israel abide by international rules and the UN Charter.
The letter also highlighted Israel's long history of aggression, occupation, militarism and state terrorism among other international crimes, urging the world community to take a firm position on the Zionist regime's "unbridled actions and nuclear threat."
In the letter, Iran further demanded that the UN condemn Israel's anti-Iran threat, make the regime join the Nuclear Non-Proliferation Treaty (NPT) and bring its nuclear program under the supervision of the International Atomic Energy Agency (IAEA).
It also reminded the UN that Iran is itself a victim of weapons of mass destruction, particularly chemical weapons.
The UN member states should not turn a blind eye to Israel's threat and make efforts towards the elimination of its entire nuclear stockpile, the letter read.
Responding to Netanyahu's highly aggressive comments, Foreign Minister Mohammad Javad Zarif slammed the premier as "warmonger" and said the threat was " beyond shameless."
"Iran, a country without nuclear weapons, is threatened with atomic annihilation by a warmonger standing next to an actual nuclear weapons factory. Beyond shameless in the gall," Zarif tweeted.
Israel is the only possessor of nuclear weapons in the Middle East, but its policy is to neither confirm nor deny that it has atomic bombs. The Tel Aviv regime is estimated to have 200 to 400 nuclear warheads in its arsenal.
Full report at:
https://www.presstv.com/Detail/2018/09/20/574656/Iran-Israel-nuclear
--------
Turkish court orders release of prominent opposition legislator
Sep 20, 2018
A Turkish court has ordered the release of a prominent lawmaker from the main opposition Republican People's Party (CHP), who had been sentenced to more than five years in prison for his alleged role in disclosing government secrets.
Turkey's Court of Cassation issued the ruling for CHP Deputy Chairman Enis Berberoglu on Thursday, state-run Anadolu news agency reported, citing an unnamed judicial source.
According to the judicial source, Berberoglu's sentence has been suspended until the end of his term as deputy, when his parliamentary immunity ends.
The 61-year-old legislator was first sentenced to 25 years in prison in 2017 for purported releasing of classified documents with the purpose of espionage. The documents showed the country's National Intelligence Organization (MIT) had shipped weapons to foreign-backed Takfiri terrorists in Syria in January 2014.
Ankara believes that Berberoglu had provided the footage of transport for opposition newspaper Cumhuriyet, which posted it on its website in May 2015.
The paper said the trucks were carrying some 1,000 mortar shells, hundreds of grenade launchers and more than 80,000 rounds of ammunition for light and heavy weapons.
Ankara denied the allegation and claimed that the trucks had been carrying humanitarian aid to Syria. However, Berberoglu defended the video, saying it was genuine.
In a retrial that finished in February this year, Berberoglu, who has strongly denied the espionage charges, was sentenced to five years and 10 months in prison. In Turkey's snap parliamentary election in June, the legislator was re-elected to parliament from behind bars.
The leaked footage triggered a huge controversy in Turkey, with many bashing the government for explicitly supporting terrorism in neighboring Syria.
Cumhuriyet's former editor-in-chief Can Dundar and the daily's Ankara bureau chief Erdem Gul were among other defendants in the case. Dundar and Gul were sentenced to at least five years in jail for revealing what was said to be state secrets.
Elsewhere in the report, Anadolu said that during the transport of weapons, gendarmerie officers affiliated with the movement of the US-based opposition cleric Fethullah Gulen stopped the MIT trucks on their way to Syria, despite government orders to let them pass.
Ankara alleges that Gulen orchestrated the 2016 botched putsch against Turkish President Recep Tayyip Erdogan.
During the attempted coup, a faction of the Turkish military declared that it had seized control of the country and the government of Erdogan was no more in charge. The attempt was, however, suppressed a few hours later.
Gulen has denounced the "despicable putsch" and reiterated that he had no role in it.
Turkish officials have frequently called on their US counterparts to extradite Gulen, but their demands have not been taken heed of yet.
Turkey has been engaged in suppressing the media and opposition groups suspected to have played a role in the failed coup.
Tens of thousands of people have been arrested in Turkey on suspicion of having links to Gulen and the failed coup. More than 110,000 others, including military staff, civil servants and journalists, have been sacked or suspended from work over the same accusations.
Full report at:
https://www.presstv.com/Detail/2018/09/20/574717/Turkey-CHP-Enis-Berberoglu-prison-Syria
--------
Yemeni nation's struggle for liberty main reason behind Saudi-led aggression: Houthi
Sep 20, 2018
The leader of Yemen's Houthi Ansarullah movement has described the ongoing struggle of his fellow countrymen and women for liberty and dignity as the main reason behind the Riyadh regime's devastating military aggression against their homeland, which has claimed the lives of thousands of people and left the country's infrastructure in ruins.
"The Yemeni nation will never surrender, no matter how far the Saudi-led coalition would press its campaign of criminality and brutality. The problem of the Riyadh-based alliance with the Yemenis is rooted in the latter's fight to live a free and dignified life," Abdul-Malik al-Houthi addressed his supporters via a televised speech broadcast live from the Yemeni capital Sana'a on Thursday evening.
He added that the main responsibility of the Yemeni nation is to fight relentlessly against the enemies at every front.
Houthi then called on all freedom-loving people in Yemen to mobilize support for the battle in the country's strategic western province of Hudaydah and along the border with Saudi Arabia.
Elsewhere in his remarks, the Ansarullah leader expressed support for the Palestinians' resistance against the Israeli regime.
He also voiced solidarity with the Bahraini people, who have been facing the Al Khalifah regime's crackdown and repressive measures ever since a popular uprising swept the tiny Persian Gulf kingdom in mid-February 2011.
Saudi Arabia and a number of its regional allies launched a devastating military campaign against Yemen in March 2015, with the aim of bringing the government of former president Abd Rabbuh Mansur Hadi back to power and crushing Ansarullah.
Some 15,000 Yemenis have been killed and thousands more injured since the onset of the Saudi-led aggression.
Full report at:
https://www.presstv.com/Detail/2018/09/20/574704/Yemeni-nations-struggle-for-liberty-main-reason-behind-Saudiled-aggression-Houthi
--------
Africa
Cameroon's Muslim, Christian Leaders Join in Call for Peace
September 20, 2018
YAOUNDE —
Muslim and Christian clerics and leaders of all major denominations in Cameroon have jointly accused Cameroonians in the diaspora of funding the crisis that has rocked the English-speaking regions of the country for two years.
The clerics are asking both the military and armed groups to drop their guns and stop the killings, looting and burning of property. But the government says only the armed separatists should give up their guns.
Cheikh Oumarou Mallam, president of the Islamic superior council of Cameroon said as peace builders, Christians and Muslims should not be indifferent to the carnage that has been going on in the north west and south west regions of the central African state.
Addressing Christians and Muslims gathered at the Yaounde headquarters of the Episcopal Conference of Cameroon Bishops, Mallam said the council he leads decided to come up with a joint declaration with Christians because everyone in Cameroon's two English-speaking regions has been affected by the crisis.
Reverend Gustav Ebai, a spokesman of the Council of Protestant Churches of Cameroon, CEPCA, read the declaration in which clerics accused Cameroonians living outside of their country of fueling the crisis:
"We call on the diaspora to stop the hate speech communication that promotes violence, suspicion and fear among the people of Cameroon. We call on the diaspora to participate in the political process of Cameroon using democratic and nonviolent means. We call on the diaspora to respect the sacredness of human life and children's rights to education. They should put an end to the trivialization of human dignity and the hostage takings of schools. We call on those who finance the activities of armed groups to stop this dirty work that aims at destroying the natural fabric of Cameroon."
The declaration was issued the Episcopal conference of Cameroon's Roman Catholic bishops, the Council of Protestant Churches CEPCA, and the Islamic superior council of Cameroon which brings together all mosques and churches except pentecostal denominations. It calls on all political parties and civil society to center their activities on bringing peace to troubled regions.
They are also calling on both armed separatists and the military to lay down their weapons and stop indiscriminate killings, kidnappings, looting and burning of public property, and allow children to go to school.
Government's response
Cameroon's communication minister and government spokesman Issa Tchiroma praised the initiative, saying any effort to bring peace is welcome. But he said the government can not respect calls to withdraw troops deployed to protect the population from groups the government labels as terrorists.
Tchiroma said no regular army in the world surrenders arms when fighting an enemy.
"In a law abiding nation like our country, it is unacceptable to ask the government to put at the same level our regular army, at the same level with terrorists," he said. "It is unbearable, unacceptable."
Forty percent of Cameroonians — close to 24 million — are Christian, 20 percent are Muslim. The rest hold indigenous beliefs.
Religious tolerance in Cameroon has been the norm since 2002, when religious-based violence by the extremist group Boko Haram hit the country's northern border. To further promote tolerance, several churches and mosques sponsored interfaith gatherings to jointly preach against Boko Haram ideology.
But the crisis began in 2016, when teachers and lawyers advocated against the over use of French in the bilingual country. In October 2017, separatists declared what they called a new English-speaking republic in Cameroon called Ambazonia. The government waged a war on them.
Most of the separatist leaders escaped to other countries. Forty-seven of them, including Ayuk Tabe, who proclaimed himself Ambazonia's president, were caught in Nigeria and extradited to Cameroon.
Nearly 400 people have been killed, at least 70 schools torched, and 200,000 residents displaced since October 2017.
https://www.voanews.com/a/cameroon-muslim-christian-leaders-join-in-call-for-peace/4579906.html
--------
Libya's Haftar: Army will intervene in Tripoli at the right time
21 September 2018
The army will move towards Tripoli at the right time, in the right way, Libyan military strongman Khalifa Haftar said during several meetings with tribes east of the country on Thursday.
Haftar also refuted any connection between the army and the armed groups clashing in Tripoli.
Fighting erupted last week when the Seventh Brigade, militias, which hail from Tarhouna, a town about 60 km south of Tripoli, attacked southern neighborhoods of the capital. The Tripoli Revolutionaries' Brigades and the Nawasi Brigade – militias, which support the UN-backed government - have come to the city's defense.
The death toll from more than a week of fighting between armed groups in Tripoli has climbed to at least 50 people, including civilians.
Haftar added that everyone involved will be prosecuted, including governing bodies in Tripoli who support the militias.
The Al-Wefaq government is still unable to force the warring militias to cease fighting and abide by the UN-sponsored ceasefire agreement signed on September 6.
Full report at:
https://english.alarabiya.net/en/News/north-africa/2018/09/21/Libya-s-Haftar-Army-will-intervene-in-Tripoli-at-the-right-time.html
--------
Nine Killed, As Many Injured In Boko Haram Raids In Nigeria: Reports
September 20, 2018
KANO, NIGERIA: Nine people were killed and nine others injured when Boko Haram fighters raided two villages in northeast Nigeria, the civilian militia said on Thursday.
Jihadists in pickup trucks attacked Kalari Abdiye and nearby Amarwa, some 20 kilometres from Borno state capital Maiduguri, on Wednesday evening.
"The gunmen, who were obviously Boko Haram fighters, killed nine people and injured nine more in the attacks," Ibrahim Liman, from the Civilian Joint Taskforce told AFP.
"They attacked the villages around 8:30 pm when it was raining and people were indoors."
Frightened residents rushed out of their homes but when they did so they were shot "indicriminately", said another CJTF leader, Babakura Kolo.
"The two villages were completely burnt by the attackers," he added, giving a similar toll.
Both villages are in Konduga, a district of Borno state that has suffered repeated attacks in a nine-year insurgency which has left more than 27,000 dead.
Last December six people were killed in a suicide attack on a crowded market in Amarwa, while 10 people lost their lives in April when two female suicide bombers attacked the village.
It was not clear which of the two Boko Haram factions was behind the attacks and there was no claim of responsibility.
Fighters loyal to the group's long-time leader, Abubakar Shekau, have indiscriminately targeted civilians, particularly using suicide bombers and hit-and-run raids.
A separate faction backed by ISIS group and known as ISWAP has focused more on attacking military and government targets.
But more radical elements are said to have taken over the ISWAP leadership, prompting fears of an upsurge in violence against the local population.
Full report at:
https://www.ndtv.com/world-news/nine-killed-as-many-injured-in-boko-haram-raids-in-nigeria-reports-1919527
--------
Nigeria: 7 killed as Boko Haram razes villages
20.09.2018
By Rafiu Ajakaye
At least seven civilians were killed late Wednesday as Boko Haram attacked and burnt down three villages in northeast Nigeria, the country's official news agency NAN reported on Thursday.
The agency said the insurgents attacked Wanori, Kaleri and Amarwa villages that began at around 9.00 p.m. local time (2000GMT).
Villagers said the insurgents shot indiscriminately and looted food items before setting the villages on fire, according to the news agency.
Quoting unnamed security personnel, the agency said military fighter jets were later deployed in the areas but the insurgents had already burnt down the villages in Borno state, the heart of the nine-year insurgency.
The frequency and scope of the latest Boko Haram assault have alarmed security analysts and residents in the region, who feared the insurgents might have reorganized, the NAN said.
Full report at:
https://www.aa.com.tr/en/africa/nigeria-7-killed-as-boko-haram-razes-villages/1260355
--------
Group canvasses political agenda for Muslims
By Shakirah Adunola
21 September 2018
The Lekki Muslim Ummah (LEMU) has called for the participation of Muslims in leadership and governance of the country.
President of LEMU, Dr. Kamoru Omotosho offered this admonition at the organization's quarterly lecture themed 'Muslims and Nigeria politics.'
On the choice of the theme, Omotosho said, "some of us might be wondering why we are discussing politics in a religious seminar of this nature.
Brothers and sisters, it is not out of place to do so in Islam.
Islam is a total way of life, which covers all spheres of human endeavours.
The religion has prescriptions for everything, including politics and good governance. Religion and politics are inseparable in Islam," he said.
The chairman of the occasion, Dr. AbdulGaniy Labinjo said Muslims have been at the receiving end in the Nigerian political firmament, even though Muslim constitutes the majority in the country.
"Successive governments in the country hardly consider the interests of Muslims in formulating and implementing policies.
In recent times, we have been dominated, harassed and oppressed by the politicians because of our seeming indifference and disorganized approach to politics.
"Now, the religious politics being openly canvassed by our Christian counterparts calls for great circumspection, vigilance, and organized approach to politics by Muslims across the country."
He urged participants to be keenly interested in politics in the country if their fundamental rights must be protected.
"There must be a deliberate, planned and sustained political efforts to eradicate oppression of Muslims in the country.
"The Supreme Council for Islamic Affairs in Nigeria (NSCIA) and its affiliates like MUSWEN, JNI, etc., must collaborate and fashion out a proactive political agenda for the Muslim Ummah in Nigeria," he said.
The Chief Imam of LEMU, Imam Ridwan Jamiu said lack of good leaders and followers is one of the factors responsible for perpetual failure in the country.
"Muslims showing up in numbers and being involved in the political process will enable our votes to be sought-after by political actors.
We will then be taken seriously, and considered a vital constituency by candidates of all political parties; thus, requiring them to address issues of great concern to our community," he said.
He urged Muslims to take advantage of their civic rights to vote for credible candidates.
"As Muslims, we must take advantage of our rights, and become involved in politics either by running for government position or ensuring to vote for the right candidate.
Being able to vote and participate in the political process is a privilege that no one should forsake.
If we, as Muslims, feel we are not being treated fairly, or that important issues concerning us are being neglected, we must exercise our franchise.
We can then progress and make a difference in our lives, and in those of our families and communities."
Deputy Secretary General of NSCIA, Prof. Salisu Shehu spoke on good governance, responsible leadership and fighting corruption: Islamic perspective.
He decried the damage massive corruption has done to the country's socio-economic architecture permeating all sectors and all strata of the society.
"It influences all aspects of our life including our practice of our respective religions and faiths."
Full report at:
https://guardian.ng/features/why-muslims-must-involve-in-politics/
--------
Kenya: Al-Shabaab Remains Major Security Threat to Kenya
21 SEPTEMBER 2018
By Walter Menya
The Somalia-based Al-Shabaab militant group remains a potent threat to security in the region, although its capacity to stage regular attacks in urban areas has been degraded.
The International Crisis Group, a conflict-prevention think tank, in a report released on the fifth anniversary of Westgate Mall terror attack, warns against complacency despite the reduced number of attacks in cities including Nairobi and Mombasa.
The report, titled Al-Shabaab Five Years after Westgate: Still a Menace in East Africa, says that the al-Qaeda affiliate has adapted in a number of ways following its reduced ability to carry out bombings and gun and grenade assaults in urban areas.
Since 2015, Al-Shabaab has increasingly tried to recruit youths outside its traditional hotspots at the Coast and in the North Eastern.
RECRUITS
It has instead turned to western and central Kenya regions in an effort to find new fighters, including many Christian youths who, as recent converts to Islam, are more easily manipulated due to their limited understanding of the region.
Al-Shabaab has also focused on targets in the border region, where it has killed dozens of policemen and soldiers, principally through the lethal use of improvised explosive devices.
A crucial additional change has been a shift by militants from the Kenyan coast to the Pwani region of Tanzania, where Shabaab has forged alliances with local militants and staged numerous attacks, many of which have passed without notice internationally. CRACKDOWN
Since 2014, particularly in the town of Kibiti within Pwani, Al-Shabaab and affiliated militants have beheaded dozens of ruling Chama Cha Mapinduzi officials, killed policemen and staged assaults on moderate Muslim clerics.
Crackdowns by Tanzanian authorities have in turn forced some of the militants to migrate further south to Mozambique, which has seen a spate of attacks in recent months.
"Al-Shabaab is an adaptable and resilient organisation and, although its capacity has been blunted since 2013, it will remain an enduring threat to security in the region," Mr Murithi Mutiga, deputy project director for the International Crisis Group, said.
Full report at:
https://allafrica.com/stories/201809210026.html
--------
Europe
The European day of action against Islamophobia and religious intolerance
FARID HAFEZ
Sep 21, 2018
Many Muslims still remember the killing of a pregnant Muslim woman in a German court based on anti-Muslim motivation. On July 1, 2009, Marwa was stabbed to death by the attacker, who openly revealed his anti-Muslim bias.
Five years later on July 1, 2014, a Muslim student union launched the Day Against Anti-Muslim Racism. With this initiative, Muslims are able to raise awareness in their societies that Islamophobia is real and can have deadly effects.
Such initiatives aim to challenge existing Islamophobic policies. Such is the case with the Canadian example. Very recently in Canada, in early 2017, Black Lives Matter-Toronto alongside numerous other justice and civil liberties organizations, appointed Feb. 4 as National Day of Action against Islamophobia and White Supremacy following Trump's "Muslim ban." Their call was related to policy claims toward their own government to challenge their neighbor's Islamophobic policies.
Also, in 2014, the No Hate Speech Movement, a youth campaign for human rights online, financed by the Council of Europe, launched seven days of awareness. In 2014, Sept. 21 was made an Action Day against Islamophobia and Religious Intolerance.
Yet another day announced was Action Day Against Antisemitic Hate Speech on Nov. 9.
As for part of the No Hate Speech Movement, it was clear that there had to be a day against Islamophobia given, according to a survey conducted by the Council of Europe in 2012 that declared that Muslim people were the second most targeted group by hate speech online in Europe.
Since then, this day has informally become the European Day Against Islamophobia. Many different Muslim and civil liberties organizations throughout Europe use it to tackle Islamophobia on a supranational level in European institutions.
Security-oriented counterterrorism measures are having a disproportionate impact on Muslims or those perceived as such, including racial profiling by law enforcement authorities, police abuses during raids and the use of administrative restrictions on the basis of vague and discriminatory criteria.
The "escalator" approach whereby a conservative religious practice would lead to support for violent terrorism is bound to inefficiently target innocent Muslim individuals and families, and to generate violent backlash from the mainstream population.
As a first step, EU institutions must publicly recognize and condemn Islamophobia as a specific form of racism. The symbolically very important European Day Against Islamophobia must be filled with life.
The European Commission should agree on a road map to ensure that EU member states adopt national strategies to combat Islamophobia in areas such as employment, education, health, hate crime and criminal justice.
EU and national counterterrorism measures must build on independent impact assessment studies, include human rights safeguards and be complemented by long-term prevention through equality and social inclusion policies.
Although the statements of high-ranking politicians such as Frans Timmermans, the first vice president of the European Commission, who recognized the problem of Islamophobia, are positive steps.
The European Coalition against Islamophobia, which I am part of, declared that there is large potential for improvement regarding the fight against Islamophobia in the EU.
According to the European Coalition against Islamophobia, the EU and national legislation provide legal remedies for racist crime and discrimination, yet Muslims still suffer from violence, prejudice and exclusion in Europe. In this context, the EU's Fundamental Rights Agency (FRA) recommends better implementation of relevant EU and national legislation to combat widespread harassment and hate crime against Muslims.
With a new EU coordinator on combating anti-Muslim hatred being nominated, stronger and more concrete commitment and actions are needed to combat Islamophobia.
While it was a very positive step in 2015 to create the position of an EU coordinator on combating anti-Muslim hatred, there are still structural problems to be observed. What is needed and at the same time possible, is that the European Parliament can adopt a resolution on combating Islamophobia with concrete policy recommendations and ways forward as it did to combat anti-Semitism and anti-Gypsysism.
Given the current wave of illiberal democratic policies, this should be a priority for all politicians who work for an inclusive and open society. There is also a necessity for EU standards for national action plans against racism that take into account specific forms of racism and include specific measures on Islamophobia with objectives and targets. Also, EU member states should adopt national action plans against racism addressing Islamophobia as a specific form of racism. Here again, symbolic days against Islamophobia could be installed on a national level to organize these efforts collectively and create the framework to give a voice to those fighting for the equal treatment of Muslims.
Indeed, many NGOs in Europe reveal that there are still misconceptions by European as well as national institutions, with regards to the issue of Islamophobia. Hence, it is of utmost importance for EU policy makers not to fall into the trap of treating Muslims as potential problems but rather as human beings whose fundamental rights can be violated. Combating Islamophobia is about politically addressing structural forms of discrimination and racism affecting Muslims or those perceived as such. It is not about reforming Islam or surveilling Muslims.
https://www.dailysabah.com/op-ed/2018/09/21/the-european-day-of-action-against-islamophobia-and-religious-intolerance
--------
British FM Suggests Referring Myanmar Leaders to ICC
September 20, 2018
Britain's Foreign Minister Jeremy Hunt tweeted Thursday that Myanmar officials should be held responsible for their country's Rohingya crisis before the International Criminal Court.
Hunt's comments, referring to Myanmar as Burma, came after he met Thursday with embattled Myanmar leader Aung San Suu Kyi in a high-profile state visit to the country.
The visit followed Tuesday's release of a United Nations report that criticized Suu Kyi's handling of the crisis. The report details why several Myanmar generals should be prosecuted for genocide against the Rohingya minority, war crimes, and crimes against humanity.
It also accuses military leaders of extrajudicial killings, rape, and razing Rohingya villages in Rakhine, from which more than 700,000 Rohingya were forced to flee to neighboring Bangladesh.
Hunt arrived in Yangon Wednesday for a two-day visit. He said he planned to meet with military and civilian leaders. He met in the capital of Naypyidaw with Aung San Suu Kyi and said she would look into crisis-related issues that were discussed, including two Reuters journalists who were sentenced to 7-year prison terms earlier this month.
Wa Lone and Kyaw Soe Oo were convicted on September 3 of violating a colonial-era law on state secrets in a landmark case that was viewed as a test of progress toward democracy in Myanmar.
Hunt also met early Thursday with local Muslims in northern Rakhine state, where he "mainly observed the planned repatriation process," Rakhine State Minister U Chan Tha told VOA.
On Wednesday, U.N. advisor on the Prevention of Genocide Adama Dieng told reporters in New York Myanmar "may constitute certainly a threat to international peace and security."
"We have seen such mass exodus of people from Myanmar to Bangladesh," said Dieng, "and this is still, in fact, continuing ... which means, although the level of violence is now less, I would say [it is more] intense than before."
Full report at:
https://www.voanews.com/a/british-fm-suggests-referring-myanmar-leaders-to-icc-/4580009.html
--------
France's Le Pen ordered to undergo psychiatric tests over ISIS tweets
September 20, 2018
French far-right leader Marine Le Pen voiced outrage Thursday after being ordered to undergo psychiatric tests for having posted pictures of atrocities committed by ISIS on Twitter.
Ms Le Pen shared the gruesome images in December 2015, a few weeks after ISIS militants killed 130 people in attacks in Paris, sparking widespread condemnation in France.
The 50-year-old leader of the National Rally (formerly National Front), who lost to Emmanuel Macron in last year's presidential vote, was stripped of her parliamentary immunity over the pictures and charged with circulating messages that "incite terrorism or pornography or seriously harm human dignity".
On Thursday, she tweeted copies of a court order ordering her to undergo psychiatric evaluation.
Dated September 11, it calls for the tests to be carried out "as soon as possible" to establish whether she "is capable of understanding remarks and answering questions".
"It's crazy," fumed Ms Le Pen, herself a trained lawyer. "This regime is really starting to be frightening," she tweeted, suggesting that the case was part of a government plot to discredit her.
"I thought I had been through it all: well, no! For having condemned Daesh (ISIS) horrors in tweets, the 'justice system' is putting me through psychiatric tests! Just how far will they go?" she asked.
Ms Le Pen had shared the images in response to a French journalist who drew a comparison between IS and her party.
One of the pictures showed the body of James Foley, an American journalist beheaded by the Sunni extremists.
Another showed a man in an orange jumpsuit being run over by a tank, and a third showed a Jordanian pilot being burned alive in a cage.
"Daesh is this!" Le Pen wrote in a caption. Daesh is an Arabic acronym for ISIS.
She later deleted the picture of Foley after a request from his family, saying she had been unaware of his identity.
If convicted, she faces up to three years in prison and a fine of 75,000 euros ($87,000).
Ms Le Pen has denounced the case against her, which falls under a law punishing violent images that can be viewed by a minor, as a violation of her freedom of expression.
Full report at:
https://www.thenational.ae/world/europe/france-s-le-pen-ordered-to-undergo-psychiatric-tests-over-isis-tweets-1.772323
--------
8 EU nations oppose demolition of Palestinian village
21.09.2018
By Dildar Baykan
UNITED NATIONS
Eight European nations issued a joint statement Thursday at the UN Security Council calling on Israel to reverse course on plans to demolish Khan al-Ahmar, a Bedouin village in East Jerusalem.
Earlier this month, Israel's Supreme Court ruled against petitions by residents of the village to prevent its demolition, allowing authorities to carry it out within the next seven days.
Underlining the positions of France, the Netherlands, Poland, Sweden, the United Kingdom, Belgium, Germany and Italy, the statement voiced continued opposition to Israel's settlement policy, including demolitions of Palestinian communities and "forced transfers" of populations, which are illegal under international law.
The statement referred to the "strategic importance" of Khan al-Ahmar in the contiguity of a future Palestinian state and stressed that its demolition would bear serious consequences for its residents, threatening the viability of the two-state solution and undermining prospects for peace.
"We, as member states of the European Union, will not give up on a negotiated two-state solution with Jerusalem as the future capital of both states," the statement said, adding they would also continue to support the UN Relief and Works Agency (UNRWA).
The Israeli Supreme Court issued a verdict last May to demolish Khan al-Ahmar's makeshift school for 170 students as well as the homes of 190 residents. But authorities were unable to carry out the decision due to staunch resistance from the local population as well as a global backlash.
Israel hopes to expel some 10,000 Bedouin residents in East Jerusalem to make way for new Jewish-only housing units linking the city to the Maale Adumim settlement.
Full report at:
https://www.aa.com.tr/en/europe/8-eu-nations-oppose-demolition-of-palestinian-village/1260604
--------
Turkish group in Germany attacked by PKK supporters
20.09.2018
BERLIN
A Turkish association in central Berlin was attacked with Molotov cocktails early Thursday by sympathizers of the PKK terrorist organization.
The attackers threw stones and Molotov cocktails at the office of the Turkish Education Association and wrote slogans on the pavement in support of the PKK and the PYD, its Syrian affiliate.
Rustu Kam, the association's director, told Anadolu Agency that neighbors helped extinguish the fire and prevented it from spreading further.
He condemned the violence and expressed hope that the police would arrest the attackers soon.
PKK sympathizers have recently called for protests and demonstrations ahead of Turkish President Recep Tayyip Erdogan's visit to Germany next week.
The PKK and its offshoot organizations have claimed responsibility for dozens of attacks against Turkish cultural associations and mosques in Germany this year, after Turkey launched counterterrorism operations against the group in northern Syria.
The PKK has been banned in Germany since 1993, but it remains active, with nearly 14,000 followers among the Kurdish immigrant population in the country.
Ankara has long accused Berlin of failing to take serious measures against the PKK and its Syrian branch the PYD, which use the country as a platform for their fund-raising, recruitment, and propaganda activities.
Germany has a 3 million-strong Turkish community, many of whom are second- and third-generation German-born citizens whose Turkish grandparents moved to the country during the 1960s.
Full report at:
https://www.aa.com.tr/en/europe/turkish-group-in-germany-attacked-by-pkk-supporters/1259961
--------
URL: https://www.newageislam.com/islamic-world-news/thane-sets-example-communal-harmony/d/116447
New Age Islam, Islam Online, Islamic Website, African Muslim News, Arab World News, South Asia News, Indian Muslim News, World Muslim News, Women in Islam, Islamic Feminism, Arab Women, Women In Arab, Islamophobia in America, Muslim Women in West, Islam Women and Feminism