New Age Islam News Bureau
13 May 2019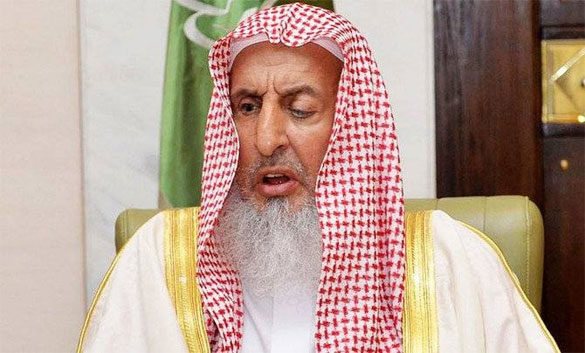 Sheikh Abdulaziz Bin Abdullah Al-Asheikh
------
• Terrorists Plundering Artifacts, Historical Treasures in North-western Hama
• Grand Mufti: Nothing can be worse than Daesh
• Buddhist Monks, Rohingyas and ISIS Target in India
• Pakistan's Hazaras Fear for Their Lives in Besieged 'Ghettos'
• Muslim Unity Stressed To Foil Conspiracies
• Get Up, Stand Up: Ulema Fight Politicians' Attempts at Dividing Muslim Communities
• Mosques Attacked In Sri Lanka Town after Facebook Row, Curfew Imposed
• Muslims in Spain Welcome Saudi Arabia's Efforts in Service of Islam
Arab World
• Terrorists Plundering Artifacts, Historical Treasures in North-western Hama
• Grand Mufti: Nothing can be worse than Daesh
• Saudi Whistle-Blower Reveals New Family Arrests by MbS
• Indonesia Welcomes Saudi Promotion of Moderate Islam: Consul General
• Syrian Army Arrives at Idlib Province Borders
• Saudi Forces Kill 8 Pro-Democracy Activists in Shiite Region
• Footprints of Israel Found in Terrorists' Arms Depot in Southern Syria
• Syrian army takes Takfiri targets in Idlib under heavy fire
• Social media and apps are platforms for good deeds during Ramadan
• Syria says insurgent shelling kills 6 civilians in northwest
--------
India
• Buddhist Monks, Rohingyas and ISIS Target in India
• Former cop among two Lashkar terrorists killed in J&K encounter
• Indian Catholics and Muslims condemn violence
--------
Pakistan
• Pakistan's Hazaras Fear for Their Lives in Besieged 'Ghettos'
• Muslim Unity Stressed To Foil Conspiracies
'• The Real Message of Ramazan': Roadside Iftar Feeds Thousands In Karachi
• Death toll rises to 13 in Lahore Sufi shrine suicide attack
• Muslim World League opens 'Iftar Saem' program in Pakistan
• No clue found to Lahore shrine blast as toll climbs to 13
• Trump to build wall with money meant for Pakistan, Afghanistan
--------
Southeast Asia
• Get Up, Stand Up: Ulema Fight Politicians' Attempts at Dividing Muslim Communities
• In 'Protect Islam' Rally, Protesters Calls For AG's Dismissal and Support for TMJ
• One year on, Pakatan Harapan's allure fades for Malays
• Cutting through the Malay noise
• In Sandakan, signs that Umno's race card will be rejected by east Malaysians
• May 13 tragedy: A lesson on importance of unity
• Malaysia's hopes of economic revival under Mahathir fade
• For some Muslims in Blitar, Ramadan night prayer is exercise
--------
South Asia
• Mosques Attacked In Sri Lanka Town after Facebook Row, Curfew Imposed
• Saudi-Educated Scholar Held For Sri Lanka Attack Link
• Sri Lanka Blocks Social Media after Worst Anti-Muslim Unrest since Easter Bombings
• Sri Lankan churches to resume services after terror attacks
• 24 Rohingya rescued from traffickers in Bangladesh
• Radical groups in Bangladesh react at anti-militancy campaign
• Afghan and U.S. forces arrest the shadow intelligence chief of Taliban in Baghlan: MoD
• 12 Taliban militants killed, 8 wounded in Special Forces raid in Uruzgan
--------
Europe
• Muslims in Spain Welcome Saudi Arabia's Efforts in Service of Islam
• Germany Debates 'Mosque Tax' To Replace Foreign Funding
• Britain's air force hunting Daesh leader al-Baghdadi in Libya: Report
• Turkish charity distributes Ramadan aid in N. Macedonia
• London mayor under police protection following threats
• European foreign ministers to hold emergency Iran talks
--------
Mideast
• Netanyahu Names Site in Syria's Golan Heights after Trump
• Lawyers strike plea deal for Israeli suspect in killing of Palestinian family
• Iran's Guards commander says US military presence in Gulf is 'an opportunity'
• UN confirms Houthis withdrawing from ports in Yemen's Hudaydah as planned
• Israel demolished 41 Palestinian structures in 2 weeks: UN
• Several soldiers killed, injured as Yemenis launch drone strike on Saudi army: Report
--------
Africa
• Gunmen kill six during Catholic mass in Burkina Faso
• Libyan coast guard rescues nearly 150 Europe-bound migrants
• Gunmen kill 6 in second church attack in Burkina Faso
• Sudan tribal clashes kill 7, wound 22: Official
• Seven Boko Haram terrorists killed in northeast Nigeria
• Turkish engineer killed by car bomb in Somalia's capital Mogadishu
• Troops neutralise four Boko Haram jihadists, clear Borno villages
--------
North America
• US pullout may lead to Taliban takeover, fears ex-US secretary
• US waging psy-war on Iran, not interested in confrontation: Scholar
• Iran says US aircraft carrier 'psychological war'
Compiled by New Age Islam News Bureau
URL: https://www.newageislam.com/islamic-world-news/terrorists-plundering-artifacts-historical-treasures/d/118582
--------
Terrorists Plundering Artifacts, Historical Treasures in North-western Hama
May 12, 2019
The terrorists stationed in Northwestern Hama have stolen a large amount of priceless treasures of Apamea Museum belonging to the 16th century AD in the surrounding areas of Qala al-Maziq in Northwestern Hama, Director of Syria's Museum Mahmoud Hamoud said.
He pointed to the vast excavations and destruction of Syria's archeological works by the terrorist groups stationed in Western Hama, and said the terrorists have smuggled the plundered artifacts to foreign countries.
In a relevant development in late April, media sources disclosed that the Turkey-backed terrorists were continuing to plunder the infrastructures and artifacts in Afrin in Aleppo province.
The local sources said that the Ankara-backed terrorists had begun excavations and diggings in different parts of Afrin to gain access to archeological works there.
The sources pointed to the terrorists' excavations in archeological sites and some ancient graveyards, including Tal Jandaris and Houri Nabi, with modern excavation machinery which has just come from Turkey, and said that the terrorists transfer Syria's artifacts to Turkey with the assistance of the Turkish authorities.
Syria's artifacts director general had previously warned against terrorists' attempts to plunder the archeological works from occupied regions in Northern Syria, including Manbij, Afrin, Idlib and Raqqa.
He had said that the Western countries, including the US and France help terrorists in plundering Syria's artifacts.
In a relevant development earlier in April, the Kurdish-language media reported that the Turkish Army had strengthened its military positions in areas under its control in Afrin and set up another military base for Jeish al-Islam terrorists there.
The Kurdish-language Hawar News quoted local sources in Afrin as saying that the Ankara Army is presently setting up 3-meter walls in the surrounding areas of its command centers in the villages of Afrin region, specially in the villages bordering al-Shahba region.
The report pointed to an attempt by the Turkish Army to destroy people's houses, administrative buildings, schools and water reservoirs North of Jalbareh village in Shirva, and said that the occupying army intends to set a new military base in the same region.
Meantime, informed sources reported that the Turkish troops are establishing a command center and a camp for Jeish al-Islam terrorists near Kawa al-Haddad Square.
They also said that the Jeish al-Islam terrorists are meant to use the camp for training their militants.
http://en.farsnews.com/newstext.aspx?nn=13980222000684
--------
Grand Mufti: Nothing can be worse than Daesh
2019-05-12
JEDDAH — The Daesh terror network is among the worst that have appeared on the earth, according to Grand Mufti of the Kingdom and President of the Council of Senior Scholars and the Administration for Religious Research and Ruling (Ifta) Sheikh Abdulaziz Bin Abdullah Al-Asheikh.
In an interview to Okaz/Saudi Gazette, he said Daesh has exceeded everything that preceded them in looting wealth and properties, shedding blood, violating honor, and selling women as slaves.
The Grand Mufti said to be safe from them, one has to seek protection by complying with the teachings of the Holy Qur'an and holding fast to the Sunnah of the Prophet (peace be upon him) as well as following on the footsteps of the forefathers of the Ummah.
http://saudigazette.com.sa/article/566228/SAUDI-ARABIA/Grand-Mufti-Nothing-can-be-worse-than-Daesh
--------
Buddhist Monks, Rohingyas and ISIS target in India
MAY 12, 2019
It was Taliban who destroyed the century-old Buddha statues of Bamyan in Afghanistan. The same Taliban who were once patronized by Pakistan armed forces and then left with no purpose and source of living when the purpose is solved.
The Muslims all around the world have been seen as an enemy to society and country too. Especially after the 9-11 terrorist attack in the United States. By principles of Islam, Muslims should be peaceful and faithful to their lands and motherland. It's the radical teachings by Arab and Pakistani mullahs which turned the picture upside down. They, distorted the concept of Jihad as they understood by their illiterate religious teachers who don't have any knowledge of the world's advancements.
Imran Munawar, an IT expert in Germany said "This routine of radicalized Islamists around the world made every Muslim ashamed of their activities. Whenever we hear some terrorist attack- we always assume this is done by some Islamist. Our religion never taught us this. Prophet Mohammad never practiced such rubbish acts. I, being an Ahmadi Muslim, believe in 'Love for All, Hatred for None'. This is what everyone must understand and believe."
Due to the radical teachings of Islam, even the peace-loving Muslims in many countries are facing threats and persecution. This persecution is the cause of those radical thoughts and self-centered socio-political benefits which Muslim majority nations sought. Anti-semitism is one of the major games which all Muslim majority nations play to sympathies their radicalized minds in the country.
There is one community in Muslims as well which always teaches the peaceful lessons to not just Muslims but others too. The Ahmadiyya Muslim Community, founded in India in the late 1880s is claimed to be the most modern Islamic sect in the world with a growing population of more than 200 million.
Taliban first stood against the Ahmadiyyas as they appeared to be a heretic to their so-called Islam. It was this reason that many radical Islamist clerics found it to be a very soft target for them to become the stars of the Muslim world. Many radical-Islamist organizations were born within Pakistan for the same cause. Now, there are more than 70 organizations around the world propagating anti-Ahmadiyya thoughts and all of them believe that Ahmadis are infidels are worth killing in the name of religion.
On the other hand, where other Muslim communities started facing threats from other radicalized minds have raised their concerns to other radical-Islamist organizations to deal with. Remember, radical minds can never be defeated with other radical minds but with love, harmony, and brotherhood, this is what the world needs today. One of the major moves of radical powers against Muslims in Asia was the crisis of Rohingyas in Myanmar. Many Rohingyas were butchered, girls were raped, children were beaten to death and thousands decided to leave their motherland. This is all the birth of radical-Islamist groups. Now, Rohingyas are joining the terrorist groups to avenge their sufferings.
"Rohingya issue is a very serious issue. Every society must understand that education is the key to success, not gun or violence. This is the first time we heard of Buddhist terror in the world. What radical people like Wirathu are doing in the world is totally unacceptable. No society will ever accept this act of religion-driven terror. " said Qamar Bajwa, a professional architect in Chandigarh, India.
In New Zealand, a brutal terror attack on a mosque is witnessed. Many lost their lives, if radical groups reach these victims and teach them their cause of Jihad at this crucial time, what will be the effect? But, Prime Minister of New Zealand Jacinda Ardern dealt with the situation very well. All the world leaders including Muslim leaders praised the efforts. The world needs leaders like Jacinda Ardern.
Terrorist groups have shown their next interest in Buddha Purnima in India now. To avenge the Rohingyas, ISIS, Lashkar-e-Taiba, Taliban, and Jaishe Mohammad are combined to attack this event. This is the responsibility of the Government of India and the intelligence to protect the events all around the nation and fail their target.
https://blogs.timesofisrael.com/buddhist-monks-rohingyas-and-isis-target-in-india/
--------
Pakistan's Hazaras fear for their lives in besieged 'ghettos'
May 13, 2019
QUETTA, PAKIstan: Crowded into "ghettos" surrounded by armed checkpoints, Pakistan's Shiite Hazara minority say they are being slaughtered by sectarian militants in the southwestern city of Quetta, with authorities seemingly unable to halt the killings.
For years, hundreds of thousands of the Shiite community's members have been hemmed into two separate enclaves cordoned off by numerous checkpoints and hundreds of armed guards designed to protect the minority from violent militants.
"It's like a prison here," said Bostan Ali, a Hazara activist, about conditions inside the enclaves.
"The Hazaras are experiencing mental torture," he added, complaining the community has been effectively "cut off from the rest of the city" and "confined" to such areas.
The Shiite community's presence is particularly strong in Quetta — the uneasy capital of impoverished Balochistan province where sectarian violence, suicide bombings, and banditry are common.
Hazaras are technically free to roam around Quetta at their will, but few do, fearing attacks.
To further protect the group, day traders and market vendors are also given armed escorts when they leave their neighbourhoods, while ongoing military operations are said to be targeting militants in the restive province.
But even these measures have proven inept at stopping major attacks on Hazaras.
Just last month a bombing at a vegetable market left 21 dead and 47 more wounded -- with the majority of the victims identified as Hazara.
The incident is all the more disturbing considering the group was under the protection of Pakistani paramilitary forces, who failed to stop the suicide bomber from detonating in the crowd.
The attack — claimed by the Islamic State and its local anti-Shiite affiliate Lashkar-e-Jhangvi — is just the latest in a long series of assaults targeting the group, including back-to-back bombings in early 2013 that killed nearly 200 of its members.
The situation across the border in Afghanistan is equally if not more dangerous, with Hazara mosques, schools, and community events regularly attacked by insurgents.
Pakistan has long been a cauldron of unrest and sectarian violence, with the officially Islamic Republic home to myriad sects of Islam and religious minorities that have been targeted by violent extremists for decades.
The Hazara have proven to be particularly vulnerable with their distinct Central Asian features making the members of the community easy targets for Sunni militants who consider them heretics.
At the entrance to Hazara town -- one of the two enclaves in Quetta -- a grim scene plays out every day as Hazara men squeeze into the backs of a long line of trucks headed in the city to buy food from the markets.
Once there, they are flanked by soldiers as they buy supplies before heading back to their homes in a heavily armed convoy.
Authorities insist the measures are a necessity.
In the last five years, 500 Hazaras have been killed and another 627 wounded in Quetta alone, according to a Pakistani security source familiar with the situation who asked not to be named.
"We know that we are passing through a killing field" explained Nauroz Ali, about life outside the enclaves.
He added: "But we have to earn a living for our families."
Criticised for their inability to stop the attacks, officials point to their own casualties in the fight against sectarian extremists as proof that they are trying their best.
Over the past six years, in their efforts to protect them "more police officers have died than Hazaras" says local police officer Abdur Razzak Cheema, adding that many terrorists have been arrested and others eliminated due to their efforts.
He explained: "New groups emerge. We're trying to track them down and eradicate the threat."
There are also plans to begin installing surveillance cameras at markets to improve security but Hazara community leaders are sceptical of the plans saying the existing measures have failed to stem the bloodshed.
"If three checkpoints in 3 km cannot keep (us) safe, can escorts, barriers and CCTV do any better?" wrote Muhammad Aman, a professor and activist, in a recent editorial in the Pakistani daily newspaper, Dawn.
"It seems that the terrorists are winning this war... there is no escape," he added.
Even the enclaves are not safe, as the bloody bombings in 2013 that struck inside the protected areas demonstrated.
As a result between 75,000 and 100,000 Hazaras have fled violence elsewhere in the country or abroad in recent years, according to the Hazara Democratic Party,
"We are hopeless," said Tahir Hazara, describing their neighbourhoods as nothing more than "ghettos".
He asked: "From whom should we expect protection to save our lives?"
https://timesofindia.indiatimes.com/world/pakistan/pakistans-hazaras-fear-for-their-lives-in-besieged-ghettos/articleshow/69302234.cms
--------
Muslim unity stressed to foil conspiracies
May 13, 2019
LAHORE: Clerics, religious scholars and leadership of different religious organisations speaking at Tahaffuz-e-Harmain Al Sharifain, Al-Aqsa conference have said Saudi Arabia and Pakistan are knotted with each other for mutual peace, defence and security. Enemies of Islam and Pakistan are hatching conspiracies to create anarchy and instability in Pakistan with the objective to undermine Muslim unity and integrity.
Terrorist activities are being committed in Pakistan and Saudi Arabia to create instability and anarchy in Muslim world, they said. Tahaffuz-e-Harmain Al Sharifain conference was held here on Sunday in the chair of Hafiz Muhammad Tahir Mehmood Ashrafi, Chairman Pakistan Ulema Council.
Religious scholars, clerics and representatives of different religious organisations addressing the conference resolved to confront the conspiracies of enemies of Islam with unity of Muslim Ummah.
Representatives of different religious organisations and notable religious scholars including Maulana Abdul Hamid Wattoo, Maulana Mian Rashid Munir, Maulana Malik Haq Nawaz, Maulana Ahsan Ahmed Husseini, Maulana Aseedur Rehman Saeedi, Sufi Rizwan Tabbasum, Maulana Hafiz Ishaq and Maulana Kamran Hazarvi said that an effective campaigning is being made for unity and integrity of Muslim Ummah and to eradicate terrorism, extremism and sectarian violence from Muslim world.
On this occasion, Hafiz Tahir Ashrafi announced that during the month of Ramazan congregations, seminars and conferences will be held all over Pakistan on the topics of message of Islam and Harmain Al Sharifain with perspective of Ramazan, peace, stability and moderate Islam.
Enemies of Islam and Muslims are creating anarchy with terrorism activities in Saudi Arabia and Pakistan to create instability in Muslim world. Muslims should unite to contain these conspiracies and anti-Islam propaganda.
Hafiz Tahir Ashrafi also stated that Pakistan is first atomic power of Muslim world and Saudi Arabia is centre of Muslims faith and belief. Both Pakistan and Saudi Arabia are facing same enemies.
Terrorism incidents in last one week in Pakistan and Saudi Arabia witness to the fact that enemies of Islam and Muslims are targeting centres of Muslim power. Hafiz Tahir Ashrafi also announced at the conference that Pakistan Ulema Council has initiated countrywide campaign to spread the message of Islam and Harmain Al Sharifain for peace and stability in Muslim world.
Terrorists aim at making anarchy and chaos in Pakistan and Saudi Arabia as they had done successfully in Syria, Iraq and Yemen. With unity of Muslim Ummah, all these conspiracies will be foiled, said Hafiz Tahir Ashrafi, adding 'we assure complete support to kingdom of Saudi Arabia for peace, stability and security of Harmain Al Sharifain.
Pakistan and Saudi Arabia are knotted in relations of faith and belief. Both Pakistan and Saudi Arabia have no relations with Israel and support the cause of Palestinians unanimously, he said.
A resolution at the conference paid homage for martyrs of Lahore Data Darbar suicide blast. Talking to the media after the conference, Hafiz Tahir Ashrafi lauded the decision of the government to associate registration of seminaries with Ministry of Education.
https://www.thenews.com.pk/print/470476-muslim-unity-stressed-to-foil-conspiracies
--------
Get Up, Stand Up: Ulema Fight Politicians' Attempts at Dividing Muslim Communities
MAY 13, 2019
Jakarta. Muslim scholars and clerics in Indonesia say they will resist attempts by the country's political elites to drive a wedge between followers of Islam and divide them into two fanatical camps in support of presidential nominees Joko "Jokowi" Widodo or Prabowo Subianto.
The ulemas have held a series of meetings in anticipation of the announcement of the official election result on May 22 by the General Elections Commission (KPU). They warned the politicians not to provoke people into attacking the KPU if they are unhappy with the election result.
"We are calling on everyone who cares about this country, to stop any attempt at hurting it. This is a priority in our religion," said Kyai Syamsul Maarif, the deputy chairman of the Jakarta branch of the Nahdlatul Ulama, the biggest Muslim organization in Indonesia, on Wednesday.
NU is the main backer of Jokowi's running mate Kyai Ma'ruf Amin, who holds the title of Supreme Leader (rais 'aam syuriah) at the organization.
Kyai is the title for an Islamic leader who typically also manages a pesantren, or Islamic boarding school.
Since nearly 90 percent of Indonesia's 260-million population are Muslims, Islam plays a very important role in shaping the country's politics.
NU Jakarta on Wednesday invited a group of ulemas and habibs, Islamic scholars from the Sayyid community who claim to be descendants of the Prophet Muhammad, to a breaking-the-fast event called iftar, in which they also discussed threats to the Islamic community.
Syamsul said the iftar was attended by more than 350 prominent ulemas and habibs.
Kyai Syamsul said he used the occasion to remind Indonesia's political elites to stop dividing Indonesian Muslims and call on his fellow ulemas to tell their followers not to manipulate Islam into a tool to further their political interests.
"Politicians and religious leaders should not act like they are above the law. If they have information or data [about voter fraud], bring them through the appropriate legal channel. They should not threaten people power to attack the KPU. It will do more harm than good," he said.
Supporters of Prabowo Subianto and his running mate Sandiaga Uno have been claiming since last month's election that the Jokowi camp has been guilty of a "massive and organized" vote-rigging that has resulted in Prabowo lagging way behind in the quick count.
Habib Ja'far bin Ahmad bin Salim Al Kaff, a "traveling cleric" from Tegal, Central Java, said he regrets the fact that politicians have been trying to ride the Muslim wave to divide the country.
"Don't get provoked, my Muslim brothers. Stay united, and Insya Allah [God willing] we will get over this situation. We the ulemas will hold more meetings like this to educate the ummat [Muslims] about the importance of national unity. We're very concerned about what is happening in this country right now," the habib said.
In the past few weeks, Indonesian social media has been awash with threats that Muslim supporters of Prabowo will lay siege to the KPU in an attempt to overrule and delegitimize its official election result.
A call on the KPU and the Election Supervisory Agency (Bawaslu) to disqualify Jokowi and Ma'ruf from the election has also spread on WhatsApp.
Prabowo is still refusing to concede the election despite quick count results pointing to an easy win for Jokowi.
As of Sunday evening, with more than 78 percent of the vote already counted by the KPU, Jokowi and Ma'ruf are leading the election with 56.3 percent of the vote against Prabowo and Sandiaga's 43.7 percent.
The police are now taking tougher measures against people threatening to mobilize mobs to attack the KPU or to demonstrate on the streets of the capital Jakarta in a "people power" show of strength.
The police have already declared activist and Prabowo supporter Eggi Sudjana a treason suspect for reportedly egging on Prabowo supporters to launch people power to overturn the result of the election.
Kyai Syarif Rahmat, a popular ulema who appears regularly on a television program called "Damai Indonesiaku" ("My Peaceful Indonesia"), said he believes both Jokowi and Prabowo are "good statesmen" who will put national unity above political interests.
He said provocations by elite politicians only serve their vested interests. "We have to be careful of these people. These are evil people. We can't let them divide our country," he said.
Syarif was speaking at another iftar event in Jakarta on Friday, also attended by ulemas and habibs.
Friday's iftar produced a declaration from ulemas and habibs based in Jakarta, Bogor, Depok, Tangerang and Bekasi. They pledged their support to the KPU, promised to respect the result of the official KPU vote count, called on the country's leaders and their supporters to obey the law, called on law enforcers to take firm measures against forces threatening national unity and pledged themselves to protect the unity of the Republic of Indonesia.
Kyai Manarul Hidayat, a former deputy secretary general of NU, who is now the executive chairman of the organization's Islamic education institute, predicted identity politics, currently a favorite plaything of elite politicians, will not have much staying power.
"Indonesia is a model of a peaceful Islam for the world. Our brand of Islam believes in blessings for everyone and the universe [rahmatan lil alamin]. When do we ever strangle a priest? NU even helps guard churches whenever there is a conflict," he said. "Our Islam is moderate and tolerant, not extreme. That's also the NU way," Manarul said.
https://jakartaglobe.id/context/get-up-stand-up-ulemas-fight-politicians-attempts-at-dividing-muslim-communities
--------
Mosques attacked in Sri Lanka town after Facebook row, curfew imposed
May 12, 2019
COLOMBO: Several dozen people threw stones at mosques and Muslimowned stores and a local man was beaten in the town of Chilaw on Sri Lanka's west coast on Sunday in a dispute that started on Facebook, sources told Reuters.
Three weeks ago in Sri Lanka Islamist bombers blew themselves up in four hotels and three churches, killing more than 250 people+ . Since then Muslim groups say they have received dozens of complaints from across the country about people being harassed.
"A police curfew has been imposed in Chilaw Police area with immediate effect until 6am tomorrow to control the tense situation," police spokesman Ruwan Gunasekera told Reuters. The police later said the curfew would be lifted at 4am.
A screenshot of the alleged Facebook exchange seen by Reuters showed a user had written in Sinhalese "It is difficult to make us cry" and added a local slur against Muslim men.
A Facebook user identified as Hasmar Hameed, whom two locals said was the man later arrested, replied in English: "Dont laugh more 1 day u will cry."
Authorities said they arrested the author of a Facebook post, identifying him as 38-year-old Abdul Hameed Mohamed Hasmar.
Locals in Chilaw, a majority Christian town, said Hasmar's post was interpreted as menacing and an angry crowd beat him.
Reuters was unable to determine what the original conversation was about or to contact Hasmar for comment.
"Later they pelted stones at three mosques and some Muslim-owned shops. Now the situation has calmed down, but we are scared of the night," said one local Muslim man who asked to remain anonymous for security reasons.
One mosque suffered extensive damage, he said. Video footage circulating online shows several dozen young men shouting and throwing stones at a clothes store called New Hasmars, which locals said belonged to Hasmar.
Some communities say they are fearful that the government, which failed to act on successive warnings about looming Islamist attacks, has not caught all potential militants.
A week ago in Negombo, where more than 100 people were killed during Easter prayers, a violent clash erupted between local Muslims and Christians after a traffic dispute.
Unlike after the Negombo clashes, the Sri Lankan government did not impose a ban on social media platforms on Sunday.
https://timesofindia.indiatimes.com/world/south-asia/mosques-attacked-in-sri-lanka-town-after-facebook-row-curfew-imposed/articleshow/69295666.cms
--------
Muslims in Spain welcome Saudi Arabia's efforts in service of Islam
May 12, 2019
RIYADH: Muslims in Spain have welcomed the Kingdom's efforts in the service of Islam and its followers, the director of an Islamic center in the southern Spanish city of Malaga is reported to have said by Saudi Press Agency.
Dr. Mohamed Kamal Mustafa Al-Zamrawi also commended the Kingdom's Ministry of Islamic Affairs, Call and Guidance for dispatching 70 imams around the world to lead prayers during the holy month of Ramadan.
Al-Zamrawi's comments came during a meeting with an Islamic Affairs Ministry envoy, Sheikh Naif bin Mohammed Al-Wathainani.
http://www.arabnews.com/node/1496211/saudi-arabia
--------
Arab World
Saudi Whistle-Blower Reveals New Family Arrests by MbS
May 12, 2019
Mujtahid wrote on his twitter page on Saturday that Bandar bin Salman was detained a while ago at the MbS' order and transferred to a solitary confinement in a farm in al-Kharj region in the Southern parts of Riyadh.
He added that bin Salman's mother who has recently been freed from house arrest is very sad about the issue but has not been able to do anything about it.
Mujtahid also said that the MbS' attempts to return Sa'ad al-Jabri, the right hand advisor of former Saudi interior minister Mohammed bin Nayef, who is in the US have failed so far and therefore, bin Salman has ordered his forces to detain two of Sa'ad's brothers and threatened that other members of his family will also be arrested if he does not return home.
The Saudi crown prince has also pressured his nephew Khalid bin Talal not to exit from a hospital in which his son has been kept in coma for years, he added.
According to Mujtahid, Sheikh Jamil al-Farsi is one of the prominent tribal leaders in Jeddah who has been kept under detention for over a year at the MbS' order.
The Saudi whistle-blower also said that the crown prince who is fearing a coup in the interior ministry has separated the military sectors from the ministry and put them under the supervision of the defense ministry.
Arab media outlets had also reported in January that bin Salman had put his younger brother, Bandar, under house arrest.
"Sources have told us that Mohammed bin Salman has detained his brother Bandar bin Salman and sent to the place where his mother Fahda Al Hathleen has also been kept under house arrest for a long time in the palace of Prince Sultan in Abha," the Arabic-language al-Ahd al-Jadid wrote on its twitter page.
US officials believe, based on several years of intelligence, that MbS took action against his mother, because he was concerned that she opposed his plans for a power grab that could divide the royal family and might use her influence with the king to prevent it.
The officials added that MbS had placed his mother under house arrest at least for some time at a palace in Saudi Arabia, without the king's knowledge.
The US intelligence assessment of the Crown Prince's actions against his mother, which American officials said has long been concealed from both the King and the public, is an example of MbS's willingness to remove any perceived impediment to solidifying his position as Saudi Arabia's next king, the current and former officials said.
http://en.farsnews.com/newstext.aspx?nn=13980222000214
--------
Indonesia welcomes Saudi promotion of moderate Islam: Consul general
SIRAJ WAHAB
May 13, 2019
JEDDAH: Indonesian Consul General Dr. Mohamad Hery Saripudin said his country welcomes Saudi Crown Prince Mohammed bin Salman's call for the promotion of moderate Islam.
Speaking as a guest of honor at the Arab News annual iftar at Assila Hotel in Jeddah on Sunday, Saripudin said the crown prince's vision of moderate Islam aligns well with Indonesia's concept of Islam Wasatiyyah.
"We believe in Islam Wasatiyyah — the middle way of Islam — in implementing moderation in the practice of the Islamic faith, and as a response to check the spread of extremism," Saripudin said, adding that Indonesians have a special attachment to Saudi Arabia.
"Indonesia sends the largest number of Muslims on Hajj. This year 231,000 Indonesians will perform Hajj, and in terms of Umrah pilgrims, last year we were second only to Pakistan, with Indonesia sending approximately 1.2 million Umrah pilgrims," he said.
"That translates to roughly 100,000 Indonesians visiting Jeddah, Makkah and Madinah every month, and this is over and above the 221,000 pilgrims who performed Hajj last year," he added. "Hajj and Umrah certainly have played important roles in building relations between Saudi Arabia and Indonesia."
The important element of a good relationship are these people-to-people ties, Saripudin said. "The Indonesian pilgrims play an important role in strengthening ties. Our pilgrims spend almost 70 days on average interacting with the local Saudi population, and this helps bring our two peoples together," he added.
"The Indonesians ensure that they take souvenirs from Saudi Arabia, which they then distribute to their families, relatives and acquaintances back home. This binds them all with Saudi Arabia. Both the spiritual and the tangible connections strengthen relations."
He said ties between the two countries are rooted in history. "Long before the historic visit of King Salman to Jakarta in March 2017, Saudi Arabia was among the first countries of the world to recognize the independence of Indonesia," Saripudin added.
"We welcome the clearance by the Shoura Council of the green card (residency) system. We've had many, many queries from our businesspeople and Indonesian expatriates about the new incentives being offered by Saudi Arabia, which will improve the business climate. The new green card system is a very significant step in the right direction," he said.
The huge numbers of Indonesian citizens and people of Indonesian descent in the Kingdom have adapted well to Saudi culture, and have thus become a powerful bridge in strengthening bilateral relations, he added.
"We invite Arab News to help us trace the footprints of the Saudi-Indonesian diaspora in both countries," Saripudin said, praising the newspaper's role in bringing different communities and countries together.
"I make it a point to read Arab News every morning before starting my day. If I don't read it, it's like having soup without salt. Arab News helps my sanity," he added.
"It's an honor to be here at the Arab News iftar as a guest of honor. The media is an essential part in promoting good ties between our two countries, and it has the ability to highlight the good and the bad in both."
Arab News has been "very supportive of us (Indonesians), and has played a positive role in promoting good Saudi-Indonesian ties," Saripudin said.
He thanked the newspaper's Editor in Chief Faisal J. Abbas, and promised greater cooperation with Arab News.
He highlighted the familiarization trips that the Indonesian government sponsors in order to familiarize Saudi journalists with Indonesia.
Speaking at the event, Abbas said: "Our iftar comes at a very important time for the Kingdom, when his royal highness the crown prince has announced that we want to go back to moderate Islam. This is important not just for Saudi Arabia but for the entire Muslim world."
There is no better example of tolerant Islam than Indonesia, the editor in chief added. Introducing Saripudin, Abbas said: "Indonesia was selected as the guest of honor at the 2019 Janadriyah cultural festival, so it's with great pleasure that I introduce to you our guest speaker for tonight's iftar."
Abbas said Arab News was founded 44 years ago. "We've recently gone through a transformation to make it more digital and more global," he added.
"We're also proud of our initiative to hire more Saudis and more women, and we're proud that women now form 35 percent of our global workforce."
Despite all these changes, "we were, and always will be, an international Arab newspaper based in Saudi Arabia," Abbas said.
This means "we're equally privileged to have some of the best Saudi, Arab and international talent working with us," he added.
Abbas and Arab News Western Region head Mohammed Al-Sulami presented to Saripudin a plaque that has the newspaper's first edition — dated April 20, 1975 — embossed in metal.
Full report at:
http://www.arabnews.com/node/1496226/saudi-arabia
--------
Syrian Army Arrives at Idlib Province Borders
May 12, 2019
The Syrian Army troops backed by artillery units and air force engaged in clashes with the terrorists North of Qala al-Maziq in Northwestern Hama, taking control of the towns of Bab al-Taqa, al-Sharia, al-Arimeh and al-Jamazieh.
The Syrian Army troops also managed to take control of the towns of Meidan Ghazal and al-Mostariheh in Jabal Shahshabou axis.
A military source pointed to deployment of the Syrian Army's units in al-Sharia town, and said that the Syrian Army troops arrived in Southern borders of Idlib province after making recent advances.
Meantime, the Syrian Army's artillery and missile units also pounded the military positions and movements of Tahrir al-Sham al-Hay'at (the Levant Liberation Board or the Al-Nusra Front) in the towns of Heish, Kafar Sajneh and Hass in Northern Hama and Southern Idlib as well as destroying several key centers and military positions of terrorists from where they launched attacks on the safe zone and killed a number of terrorists.
In a relevant development earlier this week, media sources said that the Syrian Army had taken full control of several strategic hills and regions in Northern Hama, as the government forces backed by Russian bombers had started fresh military operations in Idlib province.
The Al-Masdar News Website reported that the Syrian Army units backed by the Russian fighter jets attacked the military positions of Tahrir al-Sham al-Hay'at and Jeish al-Izza terrorists in Abu al-Zohour axis in Southern Idlib and Northern Hama and engaged in heavy clashes with the militants.
Meantime, the Syrian Army units managed to take full control of the towns of al-Bani and al-Jonbara near the town of Kafar Naboudeh and the strategic hill of Tal Osman that is close to several towns.
A source near the front-lines stated that heavy clashes are taking place near the Kafr Naboudeh front; however, he also pointed out that intense firefights have broken out along the Qal'at Al-Madiq axis as well.
Full report at:
http://en.farsnews.com/newstext.aspx?nn=13980222000359
--------
Saudi Forces Kill 8 Pro-Democracy Activists in Shiite Region
May 12, 2019
Local sources, requesting anonymity, said security forces stormed Sanabes village of Tarout Island on Saturday afternoon, shooting at local residents.
The sources added that a number of distinguished opposition figures were fatally shot in the attack.
The attacks are in line with continuous crackdown led by Crown Prince Mohammed bin Salman against pro-democracy campaigners, Muslim preachers and intellectuals.
Meanwhile, a former head of the American visa bureau in Saudi Arabia's port city of Jeddah says US President Donald Trump's administration and Congress have given the Al Saud regime the green light to press ahead with its brutal crimes, namely the ongoing atrocious military aggression against Yemen.
J. Michael Springmann told Press TV on Saturday evening that Saudi crude oil and the kingdom's weapons contracts with Western countries, such as Germany and France, have pushed the West to ignore numerous violations of international humanitarian law by Riyadh.
Springmann then described Eastern Province as the main center of Shia Islam, noting that followers of the radical ideology of Wahhabism display extreme sensitivity to any sort of activism in the area, and tend to link the public unrest there to foreign powers.
Saudi Arabia has stepped up what appears to be politically-motivated arrests, prosecution and conviction of peaceful dissident writers and human rights campaigners.
Eastern Province has been the scene of peaceful demonstrations since February 2011. Protesters have been demanding reforms, freedom of expression, the release of political prisoners, and an end to economic and religious discrimination against the oil-rich region.
The protests have been met with a heavy-handed crackdown by the regime, with regime forces increasing security measures across the province.
Over the past years, Riyadh has also redefined its anti-terrorism laws to target activism.
In January 2016, Saudi authorities executed Shia cleric Sheikh Nimr Baqir al-Nimr, who was an outspoken critic of the Riyadh regime. Nimr had been arrested in Qatif, Eastern Province, in 2012.
Late in April, citizens in Qatif said that Saudi police and military established a heavy presence in the Eastern province in preparation for possible protests by the Shiite-majority population after the Kingdom executed 37 people for alleged terrorism-related crimes.
Riyadh has claimed that the men had been put to death for "their adoption of extremist, terrorist ideology and forming terrorist cells to corrupt and disturb security, spread chaos and cause sectarian discord", accusing them of "cooperating with hostile parties in a way that damaged the high interests of the homeland".
At least 33 of the executed men belonged to the Shiite minority and human rights organizations expressed doubt about the fairness of their trials. The kingdom - that promotes Wahhabism, an orthodox reading of Sunni Islam - has provided little information about what specific crimes had been committed by whom or when.
Adam Coogle, who monitors Saudi Arabia for Human Rights Watch, stated that some of the men were convicted based on confessions that they later withdrew in court because, they said, they had been tortured.
"As a matter of principle, none of these people had lawyers during investigation, so all of these cases are unfair," he added.
The sentences were carried out in Riyadh, the holy cities of Mecca and Medina, Central Qassim province, Southern province of Asir and Eastern Province, home to the country's Shiite minority, who demanded an end to anti-Shia discrimination and the release of political prisoners.
The beheaded body of one of the victims was attached to a pole for several hours, according to reports.
United Nations Human Rights Chief Michelle Bachelet strongly condemned the executions of tens of Saudis beheaded in six cities across the kingdom.
Bachelet voiced concern about a lack of due process and fair trial guarantees amid allegations that confessions were obtained through torture.
Amnesty International had warned that Saudi Arabia was making use of the death penalty to crush opposition figures.
The Saudi government insisted that all the executions were perfectly in line with the law, but Amnesty International sounded the alarm over what it called a "shocking execution spree".
Amnesty noted that one of the prisoners executed in April was a young Shia man who had not come of age at the time of his alleged offence. The right group announced that Abdulkareem al-Hawaj was just 16 when he was arrested and found guilty of crimes linked to his participation in the anti-government protests.
The mass execution of April was the largest in Saudi Arabia since January 2016, when 47 men were executed on a single day, including Shia cleric Sheikh Mohammad Baqer Nimr al-Nimr.
It brings the number of such punishments this year to 106, according to a count by Human Rights Watch. Last year, the oil-rich Persian Gulf state carried out the death sentences of 149 people, according to Amnesty International.
Amnesty International has put Saudi Arabia on the list of top world executioners. According to data from the group, Riyadh executed at least 146 people in 2017, which represents 17 percent of all confirmed executions in the Middle East and North Africa.
Full report at:
Saudi Arabia is the only country in the world which accomplishes execution by beheading.
http://en.farsnews.com/newstext.aspx?nn=13980222000427
--------
Footprints of Israel Found in Terrorists' Arms Depot in Southern Syria
May 12, 2019
The Syrian Army's engineering units found several arms weapons and military equipment, including many weapons and military equipment, in the army's mop-up operation in the towns and villages of Quneitra province.
Meantime, a military source said that the army forces found a large cache of different types of weapons, machineguns, ammunition, RPG, anti-tank missile, communication equipment, night-vision cameras and also Israel-made military equipment and medicine.
The Syrian Army units, during their mop-up operations against the remnants of the ISIL, also discovered an underground depot containing a large amount of weapons, military equipment and ammunition in the surrounding areas of Qala al-Rahbeh West of the city of al-Mayadeen in Eastern Deir Ezzur.
In a relevant development last week, the Syrian army found a large cache of weapons, including US and Israeli missiles as well as West-made arms, during cleanup operations in areas formerly held by the terrorists in Southern Syria.
The engineering units of the Syrian army discovered underground weapons caches during purging operations in the towns and villages of Southern Syria.
A military source said that they found several US TOW missiles, Israeli LAV missiles, shoulder-launched missiles, US-made M-16 guns, West-made sniper guns, machine-guns and tens of thousands of rounds of ammunition, artilleries, mortars, TNT and advanced goggles.
In a relevant development last month, the Syrian army discovered a cache of arms and military equipment, including the US, Israeli and western weapons, during cleansing operations South of Quneitra province.
The Syrian Army's engineering units discovered depots packed with weapons and military equipment, some of them made in the US and Israel, left behind by terrorists in several towns and villages in Southern Quneitra.
A military source, meantime, said that the Syrian Army troops found different machineguns, anti-tank missiles, state-of-the-art telecommunications systems, West-made mines, satellite equipment and different kind of Saudi manufactured drugs and medicine.
Also in April, the Syrian army discovered a cache of weapons and military equipment, including West-made arms, during cleansing operations in regions freed from terrorists' hands in Northern Dara'a.
The engineering units of the Syrian army last Monday found a large number of different types of weapons, machine-guns, RPGs, guns and ammunition left behind by the terrorists who had earlier occupied the town of Ankhal in Northern Dara'a.
Full report at:
http://en.farsnews.com/newstext.aspx?nn=13980222000573
--------
Syrian army takes Takfiri targets in Idlib under heavy fire
May 12, 2019
The Syrian army has taken targets belonging to the Takfiri Jabhat Fateh al-Sham terrorist group in the country's east under heavy retaliatory fire for another day.
On Sunday, government forces struck the terrorists' hideouts in Bidama Village on the southern countryside of the city of Idlib, the official Syrian Arab News Agency (SANA) reported.
Over the past several days, the army has ratcheted up its operations on the outskirts of Idlib and the city of Hama, both provincial capitals, in response to attacks by terrorists targeting military positions and towns lying within a de-escalation zone located inside Idlib Province.
On Saturday, the troops hit the same whereabouts near Idlib, killing and injuring a number of the terrorists. Three days earlier, the forces had worked to choke up the terrorists' transit routes during counterattacks in the villages lying around the cities.
Jabhat Fateh al-Sham was formerly known as al-Nusra Front.
The Syrian government has retaken almost all the territory that militant groups — including al-Nusra and other terrorist outfits — had overrun in the country since a conflict erupted in 2011.
Under agreements between Syrian peace guarantors Russia, Iran, and Turkey, remaining militants were given safe passage into Idlib, where they remain pending decisions by the three countries.
Iran and Russia represent Damascus, and Turkey acts on behalf of the Syrian opposition.
Full report at:
https://www.presstv.com/Detail/2019/05/12/595743/Syria-army-Idlib-Nusra-Front-Idlib
--------
Social media and apps are platforms for good deeds during Ramadan
RUBA OBAID
May 13, 2019
JEDDAH: The holy month of Ramadan is seen as a time for giving and improving one's moral character, leading to many charitable and volunteering activities taking place across the Kingdom.
Social media platforms and apps — despite being blamed for social ills and mental health problems among the younger generation — have a role to play in spreading the Ramadan messages of selflessness.
"Ramadan is definitely an active season for us. We prepare a special new campaign for Ramadan every year," Saeed Azhar, founder of a volunteering non-profit, told Arab News. "The technology of today has greatly helped to define the roles of voluntary groups and to show their impact both locally and globally. Apps and social media provided better channels for communication among those interested in volunteering and raising awareness of its importance and positive impact in society."
His non-profit, Joy of Youth, has an Instagram account with more than 24,000 followers and a Twitter account of more than 9,000 followers. The group has distributed iftar food packages and handed out gifts to departing pilgrims — just two out of 55 campaigns successfully completed in the five years since it started.
"We have more projects in Ramadan, which means the opportunities we create increase greatly, and consequently the number of our volunteers also increases."
Joy of Youth was started in 2013 by Azhar and a group of young Saudi students in the US. The group began by distributing iftar meals in Jeddah and then gradually expanded, its work reaching 10 cities in the Kingdom including Jeddah, Makkah, Tabuk, Dammam and Alkhobar.
Joy of Youth has developed the type of services offered, and this year launched a health campaign.
"Human Health" aims to raise awareness in poorer neighborhoods by distributing bulletins and brochures, and offering free medical checks for people.
Azhar said social media platforms helped Joy of Youth attract young people who wanted to contribute to improving the lives of others, as well as sponsors and charities wanting to play their role in Saudi Arabia's social development.
"We have been able to spread our message and invite those who believe in it to join us. We saw the desire of many to leave a positive impact on their communities and their surroundings, which pushed us to expand outside the western region of the Kingdom in response to the increasing demand to participate in our initiatives," he added.
Azhar said the downside to social media — as far as Joy of Youth was concerned — was that the group could not include as many "passionate volunteers" as it wanted to in its campaigns.
"Twitter is the most interactive platform among volunteers and those who wish to join us," he added.
The Khadoum app is another social initiative that was developed by a group of young Saudis driven by their sense of community responsibility - and taking volunteering to another level.
"Khadoum was created in an effort to spread civic engagement and community participation among youth," the app's co-founder Dania Al-Masri told Arab News. "The iOS and Android app takes users on a journey that will later result in an increase in their overall empathy level and sense of leadership. It also motivates participants to acquire a higher sense of responsibility and honesty."
She said social media had helped to spread the concept of volunteering in Saudi Arabia and inspire the public to do good. "It has been a very powerful tool used to shed light on certain causes that need intervention, and we are very happy to see more and more aware individuals use this powerful tool to advocate for a community challenge or a cause."
Al-Masri and Khadoum co-founder Fidaa Al-Hassan started the app as a tech-based solution to civil society issues. Although the app began in Jeddah, the duo want to reach people across the Gulf.
The app enables users to unlock a set of volunteer ideas and community challenges. People are encouraged to provide solutions to the presented challenges, or complete the volunteer ideas and provide proof of completion.
The volunteer ideas and community challenges are updated on a regular basis through the app, and participants are encouraged to complete them and upload a verification photo or video. An app admin views the verification method presented, and either approves the completion of the mission or rejects it.
Upon approval of the mission, the user gains points that are equivalent to community hours and can get certificates for their work. Khadoum certificates are issued by the Oyoon Jeddah Charity.
Khadoum will be three years old in July. "Khadoum started out from the sole motivation of wanting to provide a window of opportunity to anyone who would like to volunteer. We truly wanted to make volunteering a daily habit that is convenient and accessible to all," Al-Masri said.
She added that more people are looking to volunteer and do good deeds during Ramadan.
Full report at:
http://www.arabnews.com/node/1496231/saudi-arabia
--------
Syria says insurgent shelling kills 6 civilians in northwest
May 12, 2019
DAMASCUS: Fighters fired rockets into a regime-held town in northwestern Syria on Sunday, killing six people, including five children who were playing near a monastery and wounding several others, state media said.
State TV said the shelling just before noon caused widespread material damage to the town of Suqailabiyah. It said the dead also included a 35-year-old woman.
State news agency SANA said regime troops had retaliated by firing shells toward rebels' positions on the southern edge of Idlib province, the last major opposition stronghold in the country.
Al-Qaeda-linked Hayat Tahrir Al-Sham, or HTS, is the main insurgent group in the area.
Priest Maher Haddad told The Associated Press by telephone from Suqailabiyah that a rocket struck near a group of children, instantly killing five and wounding others. He said the woman was killed in a nearby street by a separate rocket.
"The kids went out to play after some days of calm," Haddad said, since the town had not targeted who have been pushed further north by the Syrian army.
The UK-based Syrian Observatory for Human Rights, an opposition war monitor, also reported that six people were killed, adding that eight others, including six children were wounded.
The Observatory said regime shelling of an opposition-held village to the north killed one person and wounded others.
The rebel enclave has been rocked by a wave of violence since April 30, killing and wounding dozens while forcing some 150,000 people to flee their homes in rebel-held areas.
Syrian troops have been on the offensive under the cover of airstrikes for days, capturing several strategic locations and villages. Sunday's deaths are another blow to a cease-fire reached in September between Russia and Turkey.
Idlib is home to some 3 million people, many of them displaced from other parts of the country
The truce avoided a regime offensive on Idlib.
Turkey's official Anadolu news agency on Sunday reported Turkish military deployments in southeastern Kilis province and southern Hatay province, both bordering Syria. The fresh commando and armored vehicle deployments were to reinforce border units, according to the agency.
Full report at:
http://www.arabnews.com/node/1496146/middle-east
--------
India
Former cop among two Lashkar terrorists killed in J&K encounter
May 12, 2019
SRINAGAR: Two Lashkar-e-Taiba (LeT) terrorists were killed in a pre-dawn encounter in Hend Sitapora area of south Kashmir's Shopian district on Sunday. One of the terrorists was identified as a former cop while the other had taken up arms recently, police said.
Seven "terrorist sympathisers" were — three of whom sustained pellet injuries — after clashing with the security forces following the encounter.
Based on intelligence inputs, a joint team including personnel from Army's 34RR and J&K Police's Special Operations Group launched a cordon-andsearch operation in the region when holed-up terrorists opened fire at the search party. In the ensuing gunfight, two terrorists were killed.
Police identified the duo as Tariq Ahmad Bhat from Shopian's Khasipora area and Basharat Ahmad Shah from Pulwama's Nikloora area. A former police constable, Tariq was posted at Pakherpora in Budgam when he went missing along with an AK47 rifle on April 25, 2018. He later joined LeT.
The two were wanted in several terror attacks across Kashmir Valley, cops said. Security forces recovered a huge cache of arms and ammunition along with the terrorists' bodies from the encounter spot.
Thousands of people attended the funeral prayers of the slain terrorists at their native villages. Meanwhile, sympathisers took to the streets and pelted stones at the security forces near the encounter site and other surrounding areas. Forces used tear gas shells and pellets to disperse the mob, in which 7 people were injured, including three with pellet wounds.
The injured were rushed to a Shopian hospital from where the three with pellet wounds were referred to Srinagar's SMHS for treatment. The trio is in a stable condition, said a doctor there.
In view of the security situation after the encounter, district authorities have snapped internet services in Shopian and Kulgam districts.
https://timesofindia.indiatimes.com/india/former-cop-among-two-lashkar-terrorists-killed-in-jk-encounter/articleshow/69298251.cms
--------
Indian Catholics and Muslims condemn violence
May 8, 2019
Indian Catholic and Muslim leaders have spoken out against the targeting of innocent people by regional religious terror groups.
Jamiat Ulema-e-Hind, a prominent body of Islamic scholars, and the Catholic Bishops' Conference of India in a joint statement denounced ongoing attacks in India and other parts of South Asia.
They said associating terrorism with any faith was sacrilegious in itself.
The statement was issued on May 4 and signed by bishops' conference president Cardinal Oswald Gracias as well as Maulana Mahmood A. Madani, general secretary of Jamiat Ulema-e-Hind.
Madani was a member of the Indian parliament's upper house, the Rajya Sabha, for six years until 2012 and is an avowed critic of extremists' misuse of Islamic terms such as Jihad.
The joint statement comes as tensions remain high in Sri Lanka in the wake of the bombing of hotels and Christian churches that killed more than 250 people.
The international terror outfit Islamic State claimed responsibility for the Easter carnage.
On May 5, Christians and Muslims clashed in the Catholic stronghold of Negombo, near Sri Lanka's capital, Colombo, resulting in the imposition of a police curfew.
The joint Catholic and Islamic scholars' statement called on all faith leaders to "cleanse society of this evil."
It added that terrorism became all the more gruesome if carried out under a cloak of religion.
The bishops and scholars said attacks on religious places and festivals were aimed at dividing people of various faiths and they stressed the need to work cooperatively against such tactics.
Indian author and columnist A.J. Philip said there was a dire need for the unified stance of Christian and Muslims amid mounting fears of communal strife.
Christian leader A.C. Michael told ucanews.com that the joint statement constitutes an open message to Islamic State that its "nefarious plans" revealed in Sri Lanka would be resisted in India.
Christians are a tiny minority of about 27 million in India's 1.2 billion predominantly Hindu population.
Muslims, although also a minority, number some 170 million, making India the third largest Muslim country in the world after Indonesia and Pakistan.
The joint statement comes after reports that on April 29, Indian police arrested a Muslim man in southern Kerala state accused of having links to Islamic State. Police told media representatives that he admitted to be as follower of Sri Lankan bomber Zahran Hashim and to having a plan to to attack religious sites in India.
Aaqib Saleem, a renowned Indian Muslim historian, said the joint statement would help ease tensions and bring minority communities together.
"There are chances that the poison could spread in India too," Saleem told ucanews.com.
Therefore, it was necessary to segregate the version of Islam propagated by Islamic State from the Islam followed in India, he added.
Saleem predicted further efforts aimed at enhancing interfaith unity.
Michael said a message had been spread that the Christian and Muslim communities would stand by each other in the current trying circumstances.
Full report at:
https://www.ucanews.com/news/indian-catholics-and-muslims-condemn-violence/85135
--------
Pakistan
'The real message of Ramazan': Roadside iftar feeds thousands in Karachi
May 12, 2019
As the sun begins to fade in the Muslim holy month of Ramazan, volunteers start fixing traditional delicacies and drinks on scores of tables at different points of Karachi's main University Road. Others roll large plastic mats on the stony footpaths and fill them with food.
Motorists pull over hurriedly and join small crowds of people of all ages already gathered around the tables or occupying the plastic mats. As the call for maghrib (sunset) prayer resounds from a nearby mosque, they break their fast.
Another group of volunteers hand packets of food and bottles of water and juice to the fasting people sitting in their vehicles and public transport, who do not opt to stop.
Some 50 metres away, a different group of volunteers makes preparations for dinner to be served soon after iftar (fast-breaking). This all creates a brief traffic jam at this portion of the road.
Every Ramazan, hundreds of stalls are set up at the corners of city roads by relief organisations and local residents where homeless people, vendors, rickshaw and taxi drivers, labourers, beggars and even those who do not fast are served free food and drinks for the whole month.
At several points, dinner is also served.
A few individuals had started to arrange roadside iftar during Ramazan for needy people in Karachi two decades ago, which now has become a tradition.
In no time, this tradition was adopted by scores of other cities including the capital Islamabad, where roadside iftar stalls feed tens of thousands of people during Ramazan.
So much so, the country's tiny Sikh community has been hosting iftar for Muslims in the historic Qissa Khawani Bazaar and at several other points in Peshawar for the last several years.
"This is my sixth year to break the fast here," Abdul Hameed, an Afghan refugee, told Anadolu Agency at a roadside stall on the University Road in Karachi.
Hameed together with his other colleagues works as a scavenger in the city's eastern district far from his residence, and cannot afford to buy iftar.
"Mostly, we cannot reach home on time due to traffic jams and scanty transport. This (roadside stall) has resolved the iftar issue," he added.
The fasting people are served traditional delicacies — including samosa, pakora, fruit chaat, dates, and juices.
For dinner, biryani (a spicy mixture of rice and meat) is the favourite dish of the people of Karachi.
"At least in Ramazan, we fully fill our stomach," Hameed said in a lighter vein.
Abdullah, a rickshaw driver is another regular visitor of this site during the holy month.
"It's hard for me to go home [for iftar] and come back to work. Here, I get good and enough food, and save money that I spend on my family," he told Anadolu Agency.
Act of kindness
Zar Mohammad, one of the organisers, said he together with his friends and philanthropists has been arranging free iftar meals for the last 20 years in a row.
"From first to last (evening) of Ramazan, we break our fast with these people here. sometimes our families also join us," Mohammad, who is also a prayer leader at a mosque, told Anadolu Agency.
About finances, Mohammad said the friends and families themselves, area shopkeepers, philanthropists and even common citizens, all chip in to arrange the event throughout the month.
"We do not have to run here and there for finances. A month before (Ramazan), we simply start to chip in and by the end of the month, we have plenty of funds to manage this all," he said. "It has become a set tradition now. People trust us, and hand over huge amounts even without disclosing their names."
Around 1,000 people, including travellers, are served the meal every day during Ramazan, according to Mohammad.
Bhopal Singh, who arranges iftar in Qissa Khawani Bazaar in Peshawar, said he was pursuing the mission of his late father who worked for interfaith harmony in the country.
"For the last four years, I had been arranging iftar for my Muslim brothers here. But this year, we have changed the strategy due to security threats," Singh told Anadolu Agency, referring to threats received by the organisers last year from some militant groups that objected to their gesture.
"Unfortunately, some elements do not want interfaith harmony here," he regretted, saying: "Therefore, this year we are distributing ration among needy Muslims, and arranging iftar for prisoners in jail to avoid any mishap."
Monis Shaikh, a student of commerce at the Shaheed Zulfikar Ali Bhutto Institute of Science and Technology in Karachi, was excited as it was his first day as a volunteer.
"This is our first day to serve here," Shaikh said with a nervous smile on his face, pointing at a group of 8-10 students who were given instructions by an organiser.
The group plans to volunteer throughout the remaining days of Ramazan.
"Allah has blessed us with everything. It's our duty to serve and help his creation. This is the real message of Ramazan," he said.
https://www.dawn.com/news/1481846
--------
Death toll rises to 13 in Lahore Sufi shrine suicide attack
May 13, 2019
LAHORE: The death toll in the suicide attack targeting one of Pakistan's oldest and most revered Sufi shrines in Lahore has risen to 13 as another civilian succumbed to his injuries, a media report said Monday.
Tahir Aslam, 18, was working at a shop near the shrine. He was among the critically injured and was brought to the Mayo Hospital where he has succumbed to his injuries.
He was rushed to the hospital after the blast which has claimed the lives of six policemen and seven civilians, the Dawn newspaper reported.
A senior police official told the daily on condition of anonymity that security forces had yet to make any substantial progress in the investigations into the attack.
He said that although they had arrested a few suspects from Lahore, they were no big leads.
A suicide bomber blew himself up outside the Data Darbar shrine, the largest Sufi shrine in South Asia on Wednesday, the second day of the the fasting month of Ramzan.
A CCTV footage showed a teenage boy wearing black shalwar kameez and a suicide vest coming closer to the vehicle of elite force beforing blowing himself up.
Punjab Inspector General of Police Arif Nawaz has said it was a suicide attack as the target was the vehicle of the elite force that was stationed outside the shrine of Sufi saint Ali Hajvari commonly known as Data Darbar.
"Police was the target. 100 per cent," he said.
Lahore police spokesman Syed Mubashir has said the police have arrested four suspects with the help of CCTV cameras in the city.
The rickshaw used to transport the suicide bomber to the shrine has been identified, he added.
The CCTV footage shows the rickshaw driver approached the bomber as the latter emerged from Garhi Shahu area, some seven kilometres from the shrine.
Prime Minister Imran Khan condemned the attack and has directed the Punjab government to provide all assistance to the injured and families of victims.
Punjab Chief Minister Usman Buzdar has ordered an inquiry into the attack.
The famous shrine is visited by hundreds of thousands of people each year. In 2010, the heavily-guarded shrine was targeted in a suicide attack that killed more than 40 people.
Police also confirmed that Hizbul Ahrar had claimed responsibility for sending the teenage suicide bomber to the shrine.
The Counter Terrorism Department (CTD) of Punjab has examined the records of three terror groups, including the Ghazi Force and Jamaatul Ahrar.
Hizbul Ahrar is a splinter group of Jamaatul Ahrar headed by Muqarram Shah from Afghanistan. It separated from Jamaatul Ahrar due to internal rifts.
Full report at:
https://timesofindia.indiatimes.com/world/pakistan/death-toll-rises-to-13-in-lahore-sufi-shrine-suicide-attack/articleshow/69301742.cms
--------
Muslim World League opens 'Iftar Saem' program in Pakistan
May 12, 2019
ISLAMABAD: The regional office of the Muslim World League (MWL) in Islamabad has inaugurated the annual "Iftar Saem" program, which provides meals for fasting Muslims, in Pakistan and the Kashmir region.
The program was launched in the presence of Pakistan's Minister of Religious Affairs Noor-ul-Haq Qadri and Saudi Ambassador to Pakistan Nawaf bin Said Al-Malki. The program consists of 4,700 food baskets for the benefit of thousands of people across Pakistan, selected according to a field survey and prioritized based on need.
http://www.arabnews.com/node/1496206/saudi-arabia
--------
No clue found to Lahore shrine blast as toll climbs to 13
Imran Gabol
May 13, 2019
LAHORE: As the death toll in Wednesday's Data Darbar suicide bombing rose to 13 on Sunday, law-enforcement agencies have yet to find any clue that can help them trace the perpetrators.
Tahir Aslam, an 18-year-old resident of Pakpattan, was working at a shop near the shrine. He was among the critically injured and brought to the Mayo Hospital after the blast which claimed the lives of six policemen and seven civilians.
A senior police official told Dawn on condition of anonymity that as far the investigations into the case was concerned, security forces had yet to make any substantial progress. He said that although they had arrested a few suspects from Lahore, they were no big leads.
However, some media channels quoting the Counter-Terrorism Dep­artment (CTD) reported that agencies had arrested a suspected facilitator of the suicide bomber from Gujra­nwala. The suspect was identified as Zeeshan who was taken into custody from his home in Gujranwala. Police sources said that Zeeshan was released on Sunday evening while his cell-phone had been sent for forensic analysis. In a video message before his arrest, Zeeshan said that he was inside the shrine at the time of the blast and ran out as soon as he heard the bang.
"I am being labelled as a facilitator of the suicide bomber after I was spotted in the CCTV footage," he said.
Full report at:
https://www.dawn.com/news/1481991/no-clue-found-to-lahore-shrine-blast-as-toll-climbs-to-13
--------
Trump to build wall with money meant for Pakistan, Afghanistan
May 13, 2019
WASHINGTON DC: The United States has redirected $1.5 billion meant for Pakistan and Afghanistan to fund US President Donald Trump's Mexico border wall.
Acting US Defense Secretary Patrick Shanahan approved the transfer of $1.5 billion to build more than 80 miles (130 km) of barriers on the border with Mexico, including taking about $600 million from an account meant for Afghan security forces, US officials said on Friday.
The latest move was opposed by congressional Democrats, who also criticised a March transfer of $1 billion in military money to fund Republican President Donald Trump's wall.
"The funds were drawn from a variety of sources, including cost savings, programmatic changes and revised requirements, and therefore will have minimal impact on force readiness," Shanahan said in a statement.
Shanahan said that the US military had more than 4,000 service members on the border, along with 19 aircraft.
All 10 Democrats on Senate appropriations subcommittees that handle defence, veterans affairs and related spending, wrote to Shanahan to oppose the decision. "We are dismayed that the [State] Department has chosen to prioritise a political campaign promise over the disaster relief needs of our service members," they said.
A US official said the latest transfer would include $604 million from funds for the Afghan security forces, which are struggling to hold territory against Taliban militants.
The United States had appropriated $4.9 billion in support for those forces this year. The official said the money was taken from that account because they found savings in contracts.
"It took less money to meet the policy commitment than we thought," another US official said, adding this was not the first time money had been reprogrammed from the account.
The United States is in talks with the Taliban to end the 17-year-long war. US and Taliban negotiators wrapped up their sixth round of peace talks on Thursday with "some progress" on a draft agreement for when foreign troops might withdraw.
But there is a concern that overstretched Afghan forces could crumble if US troops leave.
The remainder of the money will come from a chemical demilitarisation programme, a retirement account, funds for Pakistan and Air Force programmes.
Lawmakers have hinted they may respond by putting new restrictions on the Pentagon's authority to move money around, as it has done in the past to deal with natural disasters.
Full report at:
https://www.pakistantoday.com.pk/2019/05/12/trump-to-build-mexico-border-wall-with-funds-meant-for-pakistan-others/
--------
Southeast Asia
In 'protect Islam' rally, protesters calls for AG's dismissal and support for TMJ
04 May 2019
By Jerry Choong
KUALA LUMPUR, May 4 — The rally to defend the "sovereignty of Islam" organised by pro-Islam Gerakan Pembela Ummah (Ummah) today saw placards calling for Attorney-General Tommy Thomas' dismissal, and posters in support of Johor Crown Prince Tunku Ismail Sultan Ibrahim.
Participants of the rally started gathering in Masjid Jamek despite the bad weather from 1pm and speeches by political and non governmental organisation (NGO) leaders are currently ongoing.
Ummah, which is a coalition of Muslim NGOs, had last year organised a rally against the International Convention on the Elimination of All Forms of Racial Discrimination (Icerd).
At 2pm the crowd had swelled to 2,000 people with many participants wearing headbands bearing the Islamic Shahada.
The organisers had said that the event was to protest against the Pakatan Harapan government for allegedly sidelining Malays and Muslims on issues pertaining to the Rome Statute, the International Convention on the Elimination of All Forms of Racial Discrimination (Icerd), the Unified Examination Certificate and the death of fireman Muhammad Adib Mohd Kassim in the Seafield temple riots in Subang Jaya among others.
Among those spotted at the event were Umno Youth chief Asyraf Wajdi Dusuki and PAS deputy president Datuk Tuan Ibrahim Tuan Man.
Participants also carried banners with slogans like "Respect the institution of the monarchy", "Defend the sovereignty of Islam" and "TMJ continue your fight".
Among NGOs at the scene included Benar Malaysia, Sedar Malaysia, and other Malay-Muslim groups.
The crowd appeared to comprise of mainly Umno and PAS supporters wearing their party colours. At least 10 traders were selling various designs of T-shirts and scarves.
Yesterday Home Minister Tan Sri Muhyiddin Yassin said Ummah has vested political interests and is out to tarnish the image of the Pakatan Harapan (PH) government by painting it as uninterested in protecting the welfare of Muslims who form the bulk of the country's multireligious population.
He dismissed the rally as a publicity stunt, and advised the organisers not to misuse religion to sow public discord.
https://www.malaymail.com/news/malaysia/2019/05/04/in-protect-islam-rally-protesters-calls-for-ags-dismissal-and-support-for-t/1749699
--------
One year on, Pakatan Harapan's allure fades for Malays
May 13, 2019
Malaysia's one-year-old Pakatan Harapan (PH) government believes it has done plenty for the country's dominant Malay-Muslim community - from spending billions of ringgit to bail out troubled agencies like pilgrimage fund Tabung Haji and land development agency Felda, to cracking down on corruption and recovering embezzled state funds.
Yet these high-level moves have barely registered, especially among rural Malays who struggle with high living costs and fear their ethnic privileges are being eroded.
Many of them had voted for a change of government, believing that the removal of the former administration's goods and services tax (GST) would result in lower prices. But this has not been the case.
Malays make up 74 per cent of the B40 group - the bottom 40 per cent of low-income earners - which comprises families with household incomes below RM4,360 (S$1,430) a month.
A second-generation settler from Felda's Sendayan settlement in Negeri Sembilan, who declined to be named, told The Straits Times: "We haven't got anything that we hoped for. PH promised that fuel prices would go down if they win, but they haven't. They promised that student loan repayments would be deferred, but that didn't happen."
The settler, who works as a building contractor, said his daughter had received an offer to further her studies in Australia, but the government could provide her with only a partial scholarship.
"I can't afford to pay the rest of it so she had to turn it down. I used to support PH but I am angry and disappointed now."
Many rural Malays are feeling the pinch and missing the financial aid provided by the previous Barisan Nasional (BN) government helmed by former premier Najib Razak.
Some of these measures - including cash handouts and medical aid - continue under Prime Minister Mahathir Mohamad, but on a lesser scale as the government tightens its belt.
High government debt - allegedly reaching RM1 trillion - has been blamed on the previous government's practices, including rumoured pilfering of state funds such as 1Malaysia Development Berhad (1MDB), Tabung Haji and Felda.
Najib is facing dozens of criminal charges for corruption and money laundering involving billions allegedly embezzled from 1MDB.
"Before this, if we saw Najib, we would have spat on him. But everything has changed. My friend was so excited the other day to hear that 'Bossku' was coming to visit," said the contractor, referring to Najib's new moniker, which means "my boss".
Many Malays also believe that the PH government is not doing enough to uphold their rights and the status of Islam.
This is a hot-button issue in Malaysia, where Malay Muslims make up 60 per cent of the 32 million-strong population. Out of the 222 parliamentary seats, 117 are Malay-majority wards.
On May 4, about 2,000 protesters marched in central Kuala Lumpur to defend "the sovereignty of Islam" against perceived threats, such as the government's now-retracted decision to accede to the Rome Statute of the International Criminal Court. The treaty was seen as undermining the rights of the country's royal rulers, the traditional protectors of the Malays and Islam.
Other missteps have damaged PH's credibility among Malay voters, including the fake academic qualifications scandal.
Caterer Mohamad Johan Rozaimi, 50, said PH Cabinet ministers have performed dismally, but added that PH has had only a year at the helm.
"BN had been there for 60. So maybe it is unfair to judge them (PH) as having failed. But the Cabinet is weak. I hope it will be reshuffled," he said.
Opposition parties Umno and Parti Islam SeMalaysia have teamed up to exploit the Malay community's disappointment with PH - winning three by-elections.
A recent Merdeka Centre survey showed that approval ratings for Tun Dr Mahathir and PH had plunged; only 24 per cent of Malays polled agreed with the direction the country was taking.
Political science professor Awang Azman Awang Pawi of Universiti Malaya said: "PH needs to stress more on the rights of the Malays... Without the Malay support, the country's political stability will be jeopardised."
Meanwhile, Dr Mahathir's blunt calls for Malays to work harder and not rely on the government's affirmative action policy have only distanced the Malays from PH, said Dr Awang Azman.
He was referring to Dr Mahathir's jibe on May 2 that those who found it too taxing to work the rice fields on a hot day could do so at night instead.
Cutting subsidies should be avoided, Dr Awang Azman added, as it would further burden the rural Malays.
Full report at:
https://www.straitstimes.com/asia/se-asia/one-year-on-pakatan-harapans-allure-fades-for-malays
--------
Cutting through the Malay noise
Joe Samad
May 13, 2019
The coalition of groups bent on destabilising the Pakatan Harapan government is using post-truth politics and disinformation, targeting disgruntled and susceptible Malays. They are taking to the streets trying to hoodwink their own race that the king, religion and anything "Malay" are under threat.
This group of Malays participated in mass demonstrations organised by NGOs like Ummah with the support of PAS and Umno members in December 2018, and the May 4 rally recently.
Umno supreme council member Lokman Noor Adam recently announced he is planning to stage a mega rally of one million people, 10 days after Hari Raya Aidilfitri, to protest against the ratification of the Rome Statute. Khairy Jamaluddin, the former youth and sports minister sums up Lokman in a tweet in November 2018, "You better pray I don't become President of Umno. First thing I'll do is sack you for having the IQ of a carrot".
Holding a rally at a time when most of us would still be celebrating Hari Raya shows much about a person. I am not sure what is the IQ of a carrot, zero perhaps?
Calling a rally after the fact is like taking action when the horse has already bolted. In the case of these two rallies, the government has already decided not to go ahead with ICERD and the Rome Statute, yet rallies were held to protest what has already been decided in their favour. What a waste of time.
Is royalty under threat? The tiff between our Prime Minister Dr Mahathir Mohamad and the Johor crown prince Tunku Ismail Sultan Ibrahim, where Dr Mahathir called him "stupid" and "little boy", is nothing new. The run-in with the Johor royalty started during the Umno era but these Malay groups are now trying to pin the blame on the PH government. The precedent was already set by Umno leaders, and it's like the pot calling the kettle black. These Malay critics have a short, or rather selective memory when it comes to these incidents.
In June 2015, a news portal reported that the former tourism and culture minister, Nazri Aziz, warned Tunku Ismail to keep out of politics, otherwise, he may be subjected to the same rule and will be whacked. Nazri was quoted as saying by an online portal, "Rulers and royal families are not above the law. If he wants to be a politician, then say so". When Nazri wanted to whack the crown prince, none of the Muslim NGOs, Umno or PAS took to the streets or criticised Nazri. Not even the former prime minister Najib Razak.
In another incident in October 2017, a YouTube video showed a preacher, Zamihan Mat Zin, openly criticising the Sultan of Johor's decree banning Muslim-only laundrettes in the state.
Zamihan was at that time under the employment of the Islamic Development Department (Jakim) and seconded to the home ministry.
When the Sultan of Johor declared Zamihan as persona non grata and banned Jakim from the state, the deputy prime minister then, Ahmad Zahid Hamid, instead of penalising or sacking Zamihan, said that the home ministry would retain the services of the outspoken preacher, to rehabilitate and de-radicalise Islamic State militants held in prisons.
Zamihan was a BN government employee who challenged the Sultan of Johor's decree.
Is Islam really under threat? Islam is in a confused state because some muftis play politics. Take the recent case. In his usual blunt remarks, Mahathir criticised Perlis Mufti Mohd Asri Zainul Abidin for being deaf to the good things the PH government has done for Islam. Asri's outburst was due to the arrest of preacher Muhammad Zamri Vinoth Kalimuthu. Zamri, who was alleged to be a disciple of controversial Indian Islamic preacher Zakir Naik, was arrested for mocking and belittling Hinduism during a religious sermon in December 2018. Asri has garnered support from strange bedfellows.
Umno Youth chief Asyraf Wajdi Dusuki revealed that the mufti, a frequent critic of the previous Barisan Nasional government, had contacted him seeking the wing's support. Why would a mufti reach out for the support of a deposed political party to protect a Muslim preacher if he is not playing politics?
Perhaps Asri should take heed of the advice Nazri gave to the Crown Prince of Johor – when you cross the line, you no longer remain a respected religious leader but will be exposed to public criticism and ridicule. Many of us can't remember a time when our muftis came out strongly against corruption and excesses of the previous BN government.
Asri's views have never been consistent. Netizens have commented that he tends to flip flop in his opinion and has a thing about Hinduism. In April 2017, he had to apologise to the Hindus who, he said, misunderstood the contents of his controversial poem criticising "cow worshippers". Asri had written the cryptic poem criticising "cow worshippers" (Hindus) for trying to have Naik handed over to the Indian government. Hindraf chairman P Waytha Moorthy had reportedly said that Asri was "under the influence" of Naik, who was granted permanent residence in Malaysia.
Many Muslims and NGOs feel uneasy with Naik's ideologies and controversial preaching. In India, he has now been formally charged with money laundering, and he has been banned from entering Sarawak, the United Kingdom and Canada: those governments are weary of Naik's controversial preaching.
The question being asked now is whether Asri follows Naik's ideology and teachings. Has Naik's preaching infiltrated our mufti's offices and the Muslim community? Perhaps Ummah should answer whether we need a foreigner and a wanted fugitive to teach and lecture Muslims in Malaysia instead of our own muftis. What happened to billion ringgit budget Jakim and all the Muslim scholars that we have sent to the Middle East? Are they all useless?
The reality is that Islam in Malaysia is under threat from internal and external forces.
The internal threats come in the form of the corruption of Muslim leaders, radicalisation of our Islamic youth, the growth of unregulated tahfiz schools, the distrust among different Muslim sects, the banning of books written by Muslim intellectuals and so forth.
Externally, the threat to Islam comes when we revere a foreigner and wanted fugitive and grant him permanent residence. Naik's preaching does not suit our multi-religious multi-racial country. Furthermore, he has not sworn allegiance to our King and country. For him, Malaysia is only a convenient sanctuary which serves his agenda. Why does he not reside in Indonesia which has the biggest Muslim population in the world and take his preaching with him? Are our religious and political leaders that gullible?
East Malaysians are always worried that the racial politico-religious issues constantly in play in West Malaysia will eventually reach our shores. Critics of Naik have said that his teachings are a catalyst for radicalisation of Islam and we should not be fooled by his intentions.
Works Minister, Baru Bian was reported to have said in a news portal in April of 2017 that Naik should not only be banned from Sarawak but deported or charged by Malaysian authorities. He questioned how we could harbour someone who is wanted elsewhere and give him PR status.
"He has been creating disharmony, making sensitive statements that have affected our multi-religious society in Malaysia. That itself should be grounds to deport him or charge him. This kind of person should not be allowed to stay in Malaysia".
Full report at:
https://www.freemalaysiatoday.com/category/opinion/2019/05/13/cutting-through-the-malay-noise/
--------
In Sandakan, signs that Umno's race card will be rejected by east Malaysians
13 May 2019
By R. Loheswar
KUALA LUMPUR, May 13 — DAP's landslide win in Sandakan is a clear indication that voters reject racial and religious politics championed by the two biggest Malay-Muslim opposition parties, Umno and PAS.
Political analysts told Malay Mail that while Umno and PAS's focus on championing Malay-Muslim rights has worked in the Rantau, Semenyih and Cameron Highlands by-elections, it hardly made a dent in the Sandakan polls.
DAP's Vivian Wong won with a majority of 11,521 votes compared to her closest rival Datuk Linda Tsen from Parti Bersatu Sabah (PBS) who took 4,491 votes.
The outcome of the voting is said to be a clear sign that former prime minister Datuk Seri Najib Razak's description of East Malaysia as "fixed deposit" votes for Barisan Nasional (BN) may no longer exist.
According to political analysts, the low voter turnout of 54.22 per cent out of the 39,684 voters showed that people in Sandakan weren't worried about losing their seat to the Opposition.
Universiti Sains Malaysia political science professor Ahmad Fauzi Abdul Hamid said, "The margin of victory shows the rejection of racial and religious politics which Umno and PAS are using in Peninsular Malaysia.
"Najib and Umno were proud to have Sabah and Sarawak as their 'fixed deposits' but now they are in danger of losing that permanently if they continue their toxic politicking. It won't work in Sabah and Sarawak."
Fauzi also questioned PAS's motive after the Islamist party declared its support for the PBS candidate.
He said PAS is now playing politics based on situations rather than what they actually stand for.
"When you use Islam as the basis for your party but behave like any other political party, then what separates you from them?" Fauzi asked.
"PAS endorsing PBS was not the best idea as PBS is known to be a pro-Christian group. It contradicts with their core values which is to put Islam at the fore front.
"It seems as though PAS politics are that of expediency and their record among Muslims in Sabah is not good," added Fauzi.
He claimed that Najib's visit worsened prospects for BN because he has unfulfilled promises owed to Sandakan people, namely an RM80 million airport and a PR1MA housing project which did not take off.
"Isn't this obvious hypocrisy when BN keeps on harping about Pakatan Harapan's failure to fulfill promises, when they (BN) had also done the same before?"
Fauzi said DAP's win in Sandakan shows that people are rejecting BN, as voters feel that there are other parties that can represent them better.
He added that the decision to field a former Batu Sapi MP as the PBS candidate was another wrong move.
"Batu Sapi is adjacent to Sandakan and its portfolio is now held by Minister in the Prime Ministers department Liew Vui Keong. In the eyes of Sandakan residents, Batu Sapi has not developed under PBS. For voters, it has turned into a derelict town," said Fauzi.
Meanwhile Universiti Teknologi Malaysia (UTM) Geostrategist Professor Dr Azmi Hassan said voters had rejected Umno long before the Sandakan by-election and that sentiment hasn't changed.
"Umno was rejected six or seven months ago. Sandakan voters don't see Bersatu as a threat that's why I feel Vivian won by a landslide."
Azmi said Najib's presence in Sandakan clearly shows that his gimmicks failed to work with people of Sabah.
"The 'Bossku' phenomena is meagre and insignificant in East Malaysia as it was never entrenched in its culture as much as in Peninsular Malaysia," Azmi told Malay Mail.
"I feel the message the voters sent was that they have more confidence and trust towards the current government and aren't too bothered with the Opposition."
Full report at:
https://www.malaymail.com/news/malaysia/2019/05/13/in-sandakan-signs-that-umnos-race-card-will-be-rejected-by-east-malaysians/1752218
--------
May 13 tragedy: A lesson on importance of unity
12 May 2019
KUALA LUMPUR, May 12 — The bloody May 13 racial riots of 1969 should be a lesson for the multiracial people in the country to recognise the importance of staying united in order to maintain peace and live in harmony.
For Universiti Kebangsaan Malaysia's Institute of Ethnic Studies principal research fellow Professor Datuk Dr Teo Kok Seong, the tragedy which occurred 50 years ago was also an important lesson to the government in ensuring country's development.
"The May 13 tragedy is a true reminder of the Malay proverb kalah jadi abu, menang jadi arang (the loser turns to ashes, the winner to charcoal) because racial conflict will not do any good to any race in the country, except tarnishing the image of the country in the eyes of the world," he told Bernama.
He said the tragedy also demanded respect for the social contract (Federal Constitution) on the status of Islam, national language, special rights and privileges of the Malays and natives of Sabah and Sarawak, as well as sovereignty of the Malay rulers.
"The people should always be reminded of that bloody incident, not only to enable them to self-reflect but most importantly to ensure that it will not recur, that is by maintaining good relationship among the races and ethnic groups," he said.
However, Teo did not deny that racial harmony in the country could once again be shaken by the global rise of ethnopopulism, an ideology that leads to a division of society into two groups based on race and religion, potentially disagreeing with each other.
Therefore, he said politics practised by any party in this country should focus on racial unity that should be improved in Peninsular Malaysia and on having better regional integration between the peninsula, Sabah and Sarawak.
Meanwhile, Universiti Utara Malaysia's College of Law, Government and International Studies dean Assoc Prof Dr Ahmad Marthada Mohamed called for all politicians to stop playing on racial sentiments and sensitive issues that could cause racial tension in the country.
He said in the effort to prevent racial riots from recurring, the government must also take stern and immediate action against those who raised racial sentiment and insulted a religion.
"In this era of technology, there are people who are keen on giving extreme comments on social media. If no action is taken against them, this will prompt others to do the same and such a provocative action is very dangerous to national harmony," he said. Besides, he said the government should continue empowering the Malays and Bumiputera, especially those in the low-income group, and reducing the economic gap between races.
"Among the causes of the May 13 tragedy was because the Malays felt they were lagging too far behind in economy, hence the introduction of the New Economic Policy," he said, adding that aid and assistance to deserving non-Malays must not be neglected.
Based on the official statistics, the bloody racial riots which occurred from May 13 to July 31, 1969, had claimed the lives of 196 people even though certain quarters estimated the number to be higher.
Full report at:
https://www.malaymail.com/news/malaysia/2019/05/12/may-13-tragedy-a-lesson-on-importance-of-unity/1752172
--------
Malaysia's hopes of economic revival under Mahathir fade
Rozanna Latiff
May 13, 2019
A year ago, Malaysian land surveyor Muhammad Nur Aliff had high hopes that a shock election victory by 93-year-old Mahathir Mohamad could be the catalyst for reform and revival in a country hobbled by sky-high public debt and corruption.
But polls show that such optimism has been steadily eroded since the election upset, in which the United Malays National Organisation (UMNO) was removed from power for the first time in 60 years and replaced by Mahathir and the patchwork Pakatan Harapan coalition.
Mahathir, who inherited a debt-laden economy, has focused much of his administration's attention on cleaning up public finances following a multibillion-dollar corruption scandal involving state fund 1MDB and former prime minister Najib Razak.
Najib is facing charges but denies any wrongdoing.
Meanwhile, deep divisions within the ruling coalition have curbed efforts to boost government revenue, attract investment or create jobs.
Support for the government fell to just 39 per cent in March, sharply down from the 66pc rating in August 2018, according to a survey by independent pollster Merdeka Center.
Mahathir also saw his popularity plunge to 46pc from 71pc over the same period, although he says he doesn't put much faith in these numbers.
Worryingly for Mahathir, Merdeka Center said Malay Muslims, who make up around 60pc of Malaysia's 32 million people, were largely more critical of his administration.
Most of the poorest people in the country are Malay and for decades they have been the beneficiaries of subsidies and other affirmative action policies pushed by UMNO.
Many in the majority community were also angered when Mahathir appointed an ethnic Chinese finance minister and an attorney-general from the Malaysian-Indian minority, and said cash handouts to Malays could be reduced.
Pledges to end the death penalty and rescind oppressive laws such as the colonial-era Sedition Act were also unpopular with traditionalists.
"Many young people placed a lot of hope in this new government, but we haven't seen anything that we had hoped for," said Aliff, 28, protesting in the capital last week with hundreds of other Malays.
"We want to ensure a better future for young people, especially young Malays."
REFORM U-TURN Following protests by Malays and a series of by-election defeats for the ruling Pakatan coalition this year, many of these planned policies have been put on the back-burner.
In recent months, Malaysia has rolled back efforts to abolish the death penalty and revoke repressive security laws, as well as reversed plans to ratify two UN human rights treaties, after pro-Malay groups raised objections.
But UMNO and members of the opposition Islamist party PAS have been quick to remind voters of what they describe as Mahathir's failure to uphold Islam and protect Malay interests.
"Pakatan is unpopular with the Malay-Muslim electorate," said Adib Zalkalpi, a Malaysia director with political risk consultancy Bower Group Asia.
"UMNO and PAS have formed a credible opposition front to challenge the government by exploiting communal sentiments." Reform ambitions are also hampered by fractures within Pakatan, a coalition of parties that was aligned in its goal of removing Najib and UMNO, but doesn't seem to agree on much else.
"Everyone is working in silos. Everyone has a general idea of the problems we face but there really are no discussions going on," said a senior government source, who asked not to be named due to the sensitivity of the topic.
"We don't have a common narrative to counter the opposition's racial rhetoric." Mahathir says accusations the coalition is dysfunctional are false.
"Our attention is directed at correcting all the mistakes of the previous government. That has taken much of our time," he told reporters on Thursday.
INVESTOR CONCERNS Business sentiment has cooled after initial optimism that followed Pakatan's electoral win, due mainly to a lack of consensus on the way forward for the economy, according to an April survey of 250 businesses by Ipsos Business Consulting.
"The continued lack of clarity on economic policies may lead to increased level of anxiety among the businesses and further intensify the fear of an economic slowdown," the firm said its report.
Investors in the survey also expressed concerns over currency fluctuations and slowing economic growth. The ringgit currency has slumped this year and stocks are underperforming regional rivals.
Malaysia has had to fill a revenue shortfall stemming from a populist measure to scrap a goods and services tax last year, while efforts to turn around struggling state entities that burden the treasury, including long-suffering Malaysia Airlines, have faltered.
In March, Malaysia's central bank cut its 2019 economic growth forecast to 4.3-4.8 percent from 4.9 percent, on expectations of a significant drop in export expansion due to slowing global growth and the US-China trade war.
On Tuesday, Bank Negara Malaysia became the first central bank in the region to cut its benchmark interest rate, in a move to support the country's economy.
Mahathir has mended ties with China, reaching a cut-price $11 billion rail link deal, which is a welcome investment boost.
But with Malaysia's debt-to-GDP ratio around 50pc, public support waning and an unstable ruling coalition, it will become increasingly difficult for Mahathir to boost economic growth and win back disillusioned voters.
Full report at:
https://www.dawn.com/news/1481853/malaysias-hopes-of-economic-revival-under-mahathir-fade
--------
For some Muslims in Blitar, Ramadan night prayer is exercise
May 12, 2019
Tarawih is a night prayer commonly performed by Muslims during the fasting month of Ramadan. They spend at least 10 to 30 minutes every night performing it together in mosques or prayer rooms. But Mambaul Hikam Islamic boarding school in Udanawu, Blitar, East Java, has a unique tradition of holding a very express tarawih prayer, spending only 10 minutes or less. The Jakarta Post visited the school's mosque on Thursday evening and found out there were a lot of people from inside and outside the city joining the prayer in the mosque as they were curious about the fast tarawih. Khoirul, for instance, drove 15 kilometers from the nearby city of Tulungagung to perform tarawih in the mosque. "I come here to know how it feels to perform the fast tarawih prayer. Usually, my body feels fresher after doing it," said the 30-year-old man. The mosque can accommodate m...
Full report at:
https://www.thejakartapost.com/news/2019/05/12/for-some-muslims-in-blitar-ramadan-night-prayer-is-exercise.html
--------
South Asia
Saudi-educated scholar held for Sri Lanka attack link
May 13, 2019
KATTANKUDY: Sri Lankan authorities have arrested a Saudi-educated scholar for what they claim are links with Zahran Hashim, the suspected ringleader of the Easter Sunday bombings, throwing a spotlight on the rising influence of Salafi-Wahhabi Islam on the island's Muslims.
Mohamed Aliyar, 60, is the founder of the Centre for Islamic Guidance, which boasts a mosque, a religious school and a library in Zahran's hometown of Kattankudy on Sri Lanka's eastern shores.
"Information has been revealed the suspect arrested had a close relationship with Zahran and had been operating financial transactions," police said on Friday.
https://timesofindia.indiatimes.com/world/south-asia/saudi-educated-scholar-held-for-sri-lanka-attack-link/articleshow/69299931.cms
--------
Sri Lanka blocks social media after worst anti-Muslim unrest since Easter bombings
MAY 13, 2019
COLOMBO (Reuters) - Sri Lanka is temporarily blocking some social media networks and messaging apps, including Facebook and WhatsApp, it said on Monday after attacks on mosques and Muslim-owned businesses in the worst unrest since Easter bombings by Islamist militants.
Several dozen people threw stones at mosques and Muslim-owned stores and a man was beaten in the Christian-majority town of Chilaw on the west coast on Sunday in a dispute that started on Facebook, sources told Reuters.
Authorities said they arrested the author of a Facebook post, identified as 38-year-old Abdul Hameed Mohamed Hasmar, whose online comment "1 day u will cry" people said was interpreted as threatening violence.
Later on Sunday and early on Monday authorities arrested a group of men in the nearby Kurunegala district for allegedly attacking Muslim-owned businesses, a police source told Reuters.
Military spokesman Sumith Atapattu said people in the mostly Buddhist district then demanded the arrested men's release.
"To control the situation, a police curfew was imposed during the night," Atapattu said.
Several mosques and Muslim homes were damaged in the attack in the district, the Muslim Council of Sri Lanka said, but the precise extent of damage and the number of arrests was not immediately clear.
The flare-up is the worst violence in the three weeks since Sri Lankan Islamist bombers blew themselves up in four hotels and three churches, killing more than 250 people.
Since then, Muslim groups say they have received dozens of complaints about people being harassed. Other communities say they fear the government, which failed to act on successive warnings about looming Islamist attacks, has not caught all potential militants.
Sri Lanka has used temporary bans on social media in a bid to deter misinformation and rumors.
"Social media blocked again as a temporary measure to maintain peace in the country," Nalaka Kaluwewa, director general of the government information department, told Reuters on Monday.
On Twitter, Sri Lanka's leading mobile phone operator Dialog said it had also received instructions to block the apps Viber, IMO, Snapchat, Instagram and Youtube until further notice.
A violent clash between Muslims and Christians erupted a week ago in Negombo, killing more than 100 people during Easter prayers, after a traffic dispute.
Full report at:
https://www.reuters.com/article/us-sri-lanka-blasts-socialmedia/sri-lanka-blocks-social-media-platforms-after-muslim-shops-mosques-attacked-idUSKCN1SJ02I
--------
Sri Lankan churches to resume services after terror attacks
May 10, 2019
Catholic churches in Sri Lanka will reopen for Sunday Mass this weekend as bishops step up efforts to ensure interfaith harmony after the Easter Sunday suicide bomb attacks that killed 258 people.
Church-run schools will reopen next week after state schools resumed classes on May 6.
Cardinal Malcolm Ranjith said Sunday Mass will resume in churches on May 12 after consideration of the security situation in the country.
"We don't want a single child to suffer as a result of unwanted attacks. We have decided to reopen schools on May 14. That will also be on the advice of security forces in various areas of the district," Cardinal Ranjith told reporters following a press conference with 12 bishops and President Maithripala Sirisena in Colombo on May 9.
The cardinal has criticized the government for not acting on foreign intelligence reports that attacks were being planned on Easter Sunday.
"Officials got the information but it was not communicated in a proper manner and we experienced great losses," he said.
"We hope that now government officials will get the support of international intelligence and have a proper mechanism to combat terrorism activities in the country."
President Sirisena has assured citizens that the security situation is now under control.
All state and private schools were due to open for the second term on April 22 but due to the terrorist attacks all were closed until further notice.
Cardinal Ranjith appealed for people of all faiths to remain calm after the so-called Islamic State claimed responsibility for the bombings of three churches and three hotels.
"We repeatedly say that all Muslims are not responsible for these brutal attacks. This was done by the youth who have brainwashed with extremist ideology against Muslim teachings. There is no war between religions — this is purely dealing with terrorism," he said.
"I asked Catholics not to take revenge and fight with Muslims. Our religion teaches forgiveness for those who do wrong to us."
A mob attacked Muslim-owned shops and a vehicle after a dispute between a tuk-tuk driver and villagers in Porutota near Negombo on May 5.
Cardinal Ranjith celebrated Mass on May 9 at St. Sebastian's Church in Negombo where more than 100 people were killed on April 21.
Bishop Norbert Andradi of Anuradhapura said the diocese has held several interfaith activities since the terror attacks.
"With a guard provided by security forces, we had Masses and Buddhists had Bodhi Pooja [veneration of the Bodhi tree] for the departed souls," he said.
Bishop Andradi said he had spoken to other religious leaders about how to promote religious harmony and coexistence among people.
Bishop Joseph Ponnaiah of Batticaloa said people were scared after the Easter Sunday attacks but generally have a good rapport with Muslims.
"Most of the shops in Batticaloa are owned by Muslims and Muslim people give support to the security forces by providing details of suspected terrorism places," he said.
"We request people to be vigilant and take safety measures. We had dialogue with interreligious leaders to build peace, harmony and reconciliation.
Full report at:
https://www.ucanews.com/news/sri-lankan-churches-to-resume-services-after-terror-attacks/85157
--------
24 Rohingya rescued from traffickers in Bangladesh
12.05.2019
Twenty-four Rohingya refugees have been rescued from being trafficked to Malaysia in the capital Dhaka in Bangladesh, a police official said.
Police also detained four traffickers as well as seized dozens of Bangladeshi passports from the smugglers, Mazedul Islam told the local daily Prothom Alo.
Of the 24 rescued Rohingya refugees, 22 were women aged between 15 and 22, officials said.
Islam said the traffickers have brought the refugees to Dhaka from Cox's Bazar and kept them confined at a house.
Rohingya, described by the UN as the world's most persecuted people, have faced heightened fears of attack since dozens were killed in communal violence in 2012.
According to Amnesty International, more than 750,000 Rohingya refugees, mostly women, and children, have fled Myanmar and crossed into Bangladesh after Myanmar forces launched a crackdown on the minority Muslim community in August 2017.
Since Aug. 25, 2017, nearly 24,000 Rohingya Muslims have been killed by Myanmar's state forces, according to a report by the Ontario International Development Agency (OIDA).
More than 34,000 Rohingya were also thrown into fires, while over 114,000 others were beaten, said the report, titled "Forced Migration of Rohingya: The Untold Experience."
Some 18,000 Rohingya women and girls were raped by Myanmar's army and police and over 115,000 Rohingya homes were burned down and 113,000 others vandalized, it added.
The UN has also documented mass gang rapes, killings -- including of infants and young children -- and brutal beatings and disappearances committed by Myanmar state forces.
Full report at:
https://www.aa.com.tr/en/asia-pacific/24-rohingya-rescued-from-traffickers-in-bangladesh-/1476158
--------
Radical groups in Bangladesh react at anti-militancy campaign
May 12, 2019
Mustafa Ali Noor
Some dubious individuals, groups and web portals are spreading propaganda and ill-motivated provocative comments giving instigation to communal riots following publication of an awareness advertisement in most of the daily newspapers in Bangladesh. The advertisement titled 'Elements of identifying a suspected militancy member through radical indicator' has drawn attention of the cross section of people.
According to counter-militancy experts, creating social awareness against militancy and radical Islam is extremely important as the entire world is now facing threats posed by various jihadist groups including Islamic State (ISIS).
Commenting on the effectiveness of the awareness advertisement they said, it has narrated the issue in a very simple manner, which can be easily understood by anyone who would read. It is essential for the members of the society to understand the 'radical indicator' in order to make sure, none of their neighbors are stepping into the wrong path of radicalization.
Following publication of the advertisement, a vernacular web portal named Notun Diganya published a provocative report, thus giving instigation to its readers towards communal riot.
Full report at:
https://www.weeklyblitz.net/counterterrorism/radical-groups-in-bangladesh-react-at-anti-militancy-campaign/
--------
Afghan and U.S. forces arrest the shadow intelligence chief of Taliban in Baghlan: MoD
13 May 2019
The shadow intelligence chief of Taliban for northern Baghaln province was caught alive during a joit operation of the Afghan and U.S. forces in northern Baghaln province, the Ministry of Defense (MoD) said.
"Taliban intelligence chief for Baghlan , Haji Mohammad Ramin was caught alive by Afghan and US forces in Baghlan Province," the Ministry of defense said in a statement late on Sunday.
The statement further added that Haji Ramin was behind the attack against Baghlan police Headquarters.
"He was hiding in a bathroom. 10 of his bodyguards were killed," the statement added.
Full report at:
https://www.khaama.com/afghan-and-u-s-forces-arrest-the-shadow-intelligence-chief-of-taliban-in-baghlan-mod-03958/
--------
12 Taliban militants killed, 8 wounded in Special Forces raid in Uruzgan
12 May 2019
At least 12 Taliban militants were killed and 8 others were wounded in an operation of the Afghan Special Forces in southern Uruzgan province.
The Special Operations Corps of the Afghan Military in a statement said the operation was conducted in Tarinkot city, the provincial capital of the province.
The statement further added that 3 Ak-47 assault rifles, 2 M-16 rifles, 1 rocket launcher, 2 radio sets, 37 IED pressure plates, and 17 landmines were confiscated.
A landmine production facility and 42 Improvised Explosive Devices were also discovered during the same operation, the statement added.
Full report at:
https://www.khaama.com/12-taliban-militants-killed-8-wounded-in-special-forces-raid-in-uruzgan-03957/
--------
Europe
Germany debates 'mosque tax' to replace foreign funding
12 May 2019
Support is growing in Germany for a "mosque tax" to make Islamic institutions less dependent on potentially anti-democratic or "radical" foreign funding sources, a media report said Sunday.
The federal government sees it as "a possible path," according to an answer to a parliamentary query, the Welt am Sonntag newspaper reported.
Several of Germany's 16 states had also signaled support in principle for the idea which would mirror Germany's voluntary Christian "church tax," the newspaper said.
Concern has grown in Germany about the influence of foreign funding sources on mosques for the country's estimated five million Muslims, who hail mostly from Turkey and Arab countries.
Some 900 mosques in Germany are run by the Turkish-Islamic Union of the Institute for Religion (Ditib), under the authority of President Recep Tayyip Erdogan's government.
Its imams are paid by the Turkish state, and the group has come under scrutiny with some of its members suspected of spying on Turkish dissidents living in Germany.
At the height of a bitter row between Germany and Turkey in mid-2017, two German ministers warned in a Spiegel Online commentary that Erdogan's "dangerous ideologies must not be imported to Germany via certain mosques."
In other cases, some mosques have come under police scrutiny or been closed for preaching radical and militant Islamist ideas.
Welt am Sonntag said that, in the newspaper's own survey, several states had affirmed that mosque communities in Germany should be able to finance themselves.
The interior ministry of the regional state of Mecklenburg-Western Pomerania had said it was open to "mosque financing based on the church model" to reduce foreign influence, including "the danger of possible radicalization."
A spokesman for the interior ministry of Baden-Wuerttemberg state had also pointed to the threat of outside influence "on theological content and political opinion."
"In the worst case," the spokesman had told the newspaper, this included "radical Islamist or anti-democratic content or aspirations."
Last December, a local news outlet - citing German Intelligence and security sources - said an official report has concluded that German security authorities consider the Muslim Brotherhood group as "more dangerous" to Germany's democracy, compared to the ISIS extremist group and al-Qaeda terrorist organization.
FOCUS Online added that the German Intelligence and security sources started to be worried about the turnout of people in organizations or mosques linked to the Muslim Brotherhood, especially in the state of North Rhine-Westphalia.
https://english.alarabiya.net/en/News/world/2019/05/12/Germany-debates-mosque-tax-to-replace-foreign-funding.html
--------
Britain's air force hunting Daesh leader al-Baghdadi in Libya: Report
May 12, 2019
After entering Syria to allegedly fight Daesh, Britain's Royal Air Force (RAF) is now in Libya on a mission to "capture or kill" the leader of the Takfiri terrorist group who has apparently fled to the North African country, according to a new report.
The Daily Express said on Sunday that RAF fighter jets were searching for Abu Bakr al-Baghdadi in Libya, where he is thought to be hiding after being purged from territories controlled by Daesh in Syria.
The report said British fighter jets, along with aircraft operated by Italian and US militaries, were carrying out round-the-clock sorties in search of the ABB, the code name being used to identify Baghdadi as a target. It said anyone killing or capturing the Daesh leader would receive $25million (£19million) as a bounty on his head.
The RAF jets are being scrambled from Waddington in Lincolnshire, in eastern England, to collate signals and intelligence on individuals and groups who might support the 48-year-old Daesh leader.
It is not clear how a coalition of Western military forces has decided to launch the search for Daesh leader in Libya, an oil-rich country beset by years of violence which started after a popular uprising and the NATO military alliance's intervention in 2011 to topple former dictator Muammar Gaddafi.
British authorities believed there are some "reliable" intelligence from within Libya proving that Baghdadi had been in the country after escaping Baghouz in Syria, where he was subject to a plot from people in his inner circle to kill him.
"It is reliable intel, but it needs to be verified," said a military source, adding, "The air component operation is delivering high-grade intelligence and we can map names and groups to people we known that have been or are part of ABB's inner circle."
However, Daily Express said similar operations were ongoing in neighboring African countries were militant groups with close affiliation to Daesh could have sheltered Baghdadi.
A recent video of Baghdadi showed him praising his fighters and their battle against the "apostates" in various parts of the world. He has also praised attacks on churches in Sri Lanka last month which killed over 250 people.
Libya has been the scene of increasing violence since Gaddafi's fall in 2011. His ouster created a huge power vacuum, leading to chaos and the emergence of numerous militant outfits, including the Daesh terrorist group.
British military forces had been previously spotted fighting alongside militants waging war against the government of Syrian President Bashar al-Assad.
Full report at:
https://www.presstv.com/Detail/2019/05/12/595785/UK-air-force-Daesh-Baghdadi-hunt-Libya
--------
Turkish charity distributes Ramadan aid in N. Macedonia
Furkan Abdula |
11.05.2019
Turkiye Diyanet Foundation (TDV), a charity linked to the country's religious authority, on Saturday distributed shopping vouchers to needy families in Skopje, as part of its efforts during the Muslim holy month of Ramadan.
Shopping vouchers for purchasing of food supplies, were distributed in a program organized in cooperation with Turkish embassy's Religious Services Consultancy in the North Macedonian capital Skopje.
Turkey's Religious Services Consultant Murat Alkan told Anadolu Agency that the head of Religious Affairs Directorate (Diyanet) is making efforts to distribute Ramadan aid to needy people in 98 countries around the world.
He said the vouchers of food packages were distributed among 250 families and that the charity will also serve 250 people with fast-breaking meals, or iftar, on Saturday.
Full report at:
https://www.aa.com.tr/en/europe/turkish-charity-distributes-ramadan-aid-in-n-macedonia/1475968
--------
London mayor under police protection following threats
Muhammad Mussa
11.05.2019
LONDON
The mayor of London has been put under 24-hour police protection following repeated abuse and threats on social media.
Sadiq Khan, who defeated the Tory Zac Goldsmith to become mayor in 2016, has said that the intensity of abuse has risen exponentially since the 2016 Brexit referendum.
"I will not be cowed or bullied by these people, but you can't escape the fact that those close to me are worried," Khan said in an interview with the Guardian.
"It can't be right that one of the consequences of me being the mayor of London and a Muslim in public life is that I have police protection," he added.
Khan, the first Muslim mayor of a global city who also campaigned to remain in the EU, said that the referendum campaign three years ago allowed "things" to come to the surface and normalized certain behaviors and ideas that shouldn't be normalized.
The London mayor also warned that such threats, if left unchallenged, could lead to violence and gave the example of the murder of Labour MP Jo Cox who was shot and stabbed by a far-right terrorist prior to the referendum.
"What sort of message does it send to my children's generation who want to get into politics?" Khan said.
In recent months, a large number of MPs have reportedly received death threats and abuse following their public stance against Brexit. These threats have been received online and in person.
Former Tory MP Anna Soubry was harassed and verbally abused by far-right individuals outside the houses of the parliament. Labour MP Lloyd Russell-Moyle said in an interview with Sky News that he was attacked and called a "traitor" while talking to his constituents.
Jess Phillips, another Labour MP who has been allegedly threatened by rape from a UKIP candidate, has met with the electoral commission to create a code of conduct for parliamentary candidates and would ban people from issuing death and rape threats.
Full report at:
https://www.aa.com.tr/en/europe/london-mayor-under-police-protection-following-threats/1475806
--------
European foreign ministers to hold emergency Iran talks
Jack Dutton
May 13, 2019
Foreign ministers from France, Germany and the UK were to meet the EU in Brussels later on Monday to discuss Iran's recent threat to breach commitments of the 2015 nuclear deal.
The three ministers and the EU High Representative and Vice President Federica Mogherini will discuss their response to Iran's announcement on Wednesday that it intended to abandon commitments to the agreement. US Secretary of State Mike Pompeo cancelled the Moscow leg of his Russia trip, but will meet Russian President Vladimir Putin and Foreign Minister Sergey Lavrov in the Black Sea resort of Sochi as planned on Tuesday, a State Department official said.
Mr Pompeo, who departed from Joint Base Andrews near Washington en route for Brussels, will hold talks with European officials on Iran and other issues on Monday before heading to Russia.
The ministers will consider further response to Iranian threats and discuss progress on their efforts to enable trade to continue with Iran.
The ministers said they remain committed to trade with Tehran if it upheld its commitments in the nuclear deal.
"This deal still offers the best prospect of averting a nuclear arms race in the Middle East," a British Foreign Office spokesman said before the deal.
"While Iran remains in compliance, the UK remains committed to the Iran deal.
"Following the Foreign Secretary's discussions with Secretary of State Pompeo last week, he wanted to meet counterparts at the earliest opportunity to agree on our response to Iran's worrying announcement."
In the agreement, which was signed in 2015, Iran agreed to curtail its nuclear ambitions and refrain from developing ballistic missiles in return for a lifting of sanctions.
But US President Donald Trump withdrew from the treaty last year.
Announcing the partial withdrawal on Wednesday, Iranian President Hassan Rouhani said he would give other signatories of the agreement 60 days to return to negotiating financial and oil deals.
On Thursday, the European signatories of the deal issued a joint statement rejecting Mr Rouhani's deadline and urging Iran to reconsider its decision to withdraw from some elements.
"We reject any ultimatums and we will assess Iran's compliance on the basis of Iran's performance regarding its nuclear-related commitments under the JCPOA [Joint Comprehensive Plan of Action] and the Treaty on the Non-Proliferation of Nuclear Weapons," the statement by Ms Mogherini and the three foreign ministers said.
Before an EU summit in Romania on Thursday, French President Emmanuel Macron said that the nuclear deal must be saved and that the accord's signatories should do all they can to ensure Iran respects it.
"Leaving the 2015 nuclear agreement is a mistake because it is undoing what we have already done," Mr Macron said.
"That's why France is remaining and will remain a part of it and I deeply hope that Iran will remain."
The European signatories said they regretted the decision by the US to reimpose sanctions on Iran on Wednesday.
That day, Mr Trump said that the sanctions "dramatically strengthened our national security" before deriding the nuclear deal as "horrible" and "one-sided".
Full report at:
https://www.thenational.ae/world/europe/european-foreign-ministers-to-hold-emergency-iran-talks-1.860644
--------
Mideast
Netanyahu names site in Syria's Golan Heights after Trump
May 12, 2019
Israeli Prime Minister Benjamin Netanyahu has named a site in Syria's occupied Golan Heights after US President Donald Trump, who has illegally recognized it as the Tel Aviv regime's territory.
At the start of the weekly cabinet meeting Sunday, Netanyahu said he had selected the site for the new settlement named after the US pro-Israeli leader.
"I promised that we would establish a community named after President Trump," he said. "I would like to inform you that we have already selected a site in the Golan Heights where this new community will be established, and we have started the process."
The Israeli premier said he would submit the new plan for cabinet approval after taking office again in the wake of last month's snap general election.
In a highly provocative move on March 25, the US president signed a proclamation recognizing Israel's "sovereignty" over the Syrian territory.
Damascus strongly condemned the move and called it a "blatant attack on the sovereignty and territorial integrity" of Syria.
In 1967, Israel waged a full-scale war on Arab territories, during which it occupied a large swathe of Golan and annexed it in 1981, a move condemned by the international community. Syria has repeatedly reaffirmed its sovereignty over the Heights, saying the territory must be completely restored to its control.
Trump's favor to Israelis over Golan followed his recognition of Jerusalem al-Quds as the capital of the Israeli regime.
The US has relocated its embassy from Tel Aviv to Jerusalem al-Quds, which Palestinians consider the capital city of their future state.
Israel reportedly plans to also name a train station near the Western Wall of Jerusalem al-Quds after Trump.
https://www.presstv.com/Detail/2019/05/12/595796/Site-in-Syrias-Golan-Heights-named-after-Trump-Israel-Netanyahu
--------
Iran's Guards commander says US military presence in Gulf is 'an opportunity'
12 May 2019
The United States' military presence in the Gulf used to be a serious threat but now it is an opportunity, a senior commander of Iran's elite Revolutionary Guards said on Sunday, according to the Iranian Students' News Agency (ISNA).
"An aircraft carrier that has at least 40 to 50 planes on it and 6000 forces gathered within it was a serious threat for us in the past but now...the threats have switched to opportunities," General Amir-Ali Hajizadeh, commander of the aerial forces division in Iran's Revolutionary Guards said.
He added, "If [the Americans] make a move we will hit them in the head."
https://english.alarabiya.net/en/News/middle-east/2019/05/12/Iran-s-Guards-commander-says-US-military-presence-in-Gulf-is-an-opportunity-.html
--------
UN confirms Houthis withdrawing from ports in Yemen's Hudaydah as planned
May 12, 2019
The United Nations says the withdrawal of Houthi forces from key ports of Yemen's western province of Hudaydah is proceeding "in accordance with established plans" for a second day, as the Saud-backed former government still refuses to pull out its besieging forces from Hudaydah in line with an accord the two sides reached in Sweden last year.
Yemen's Houthi Ansarullah movement is in control of key ports of Salif and Ras Isa and Hudaydah, which have been under a tight siege by country's former Saudi-backed government, led by ex-president Abd Rabbuh Mansur Hadi, since June last year.
More than 70 percent of Yemen's imports used to pass through the docks of Hudaydah, a lifeline for the war-ravaged country's crippled economy. Salif was used for unloading all main types of grain and Ras Isa, a vital oil terminal, used for exporting Ma'rib light crude's oil.
The lengthy siege pushed tens of thousands of people in Yemen to the verge of starvation and crippled the country's economy. In an attempt to prevent the humanitarian situation from further deterioration and to avert a full-scale assault by the Saudi-led coalition on the ports, Houthis signed a UN-brokered agreement with the ex-government in Sweden in last December.
The warring sides agreed to withdraw their forces from the ports in a two-stage process, the first phase of which from the Houthi side was unilaterally commenced on Saturday and is due to be completed on Tuesday.
"All three ports were monitored simultaneously by United Nations teams as the military forces left the ports and the Coast Guard took over responsibility for security," Lt Gen Michael Lollesgaard, head of the UN Redeployment Coordination Committee (RCC), said in a statement on Sunday.
In the first stage, Houthis are to draw back five kilometers from the three ports until Tuesday, while forces of the former government, backed by troops of the United Arab Emirates (UAE), currently massed four kilometers from Hudaydah, are to withdraw one kilometer fro, two other flashpoint ports.
The latter side has so far firmly refused to retreat according to the agreement and Houthis, who are unilaterally completing the first phase, denounced Hadi's forces for their refusal, prompting Houthi movement's spokesman Mohammed Abdulsalam on Saturday to strongly call on the UN and the UN Security Council to press Hadi and the Saudi-led coalition to move in line according the Stockholm agreement.
"We stress the need for the United Nations to pressure the aggressor to take similar steps to contribute to the implementation of the Stockholm Agreement and the achievement of peace," Abdulsalam said, adding, "The redeployment step comes at a time when the Alliance of Aggression continues to postpone and obstruct the implementation of its commitments with a view to thwarting" the peace deal.
Leading a coalition of its allies, Saudi Arabia invaded Yemen in March 2015 in an attempt to reinstall Hadi, who had resigned amid popular discontent and fled to Riyadh, and to crush the Houthi Ansarullah movement, which has been significantly helping the Yemeni army against a Saudi-led military coalition for the past four years.
The imposed war initially consisted of an aerial campaign, but was later coupled with a naval blockade and the deployment of ground mercenaries to Yemen. Furthermore, armed militia forces loyal to Hadi, in line with invaders, launch frequent attacks against Yemeni people in regions held by Houthis.
The aggression is estimated to have left 56,000 Yemenis dead.
The Saudi-led war has also taken a heavy toll on the country's infrastructure, destroying hospitals, schools, and factories. The UN has said that a record 22.2 million Yemenis are in dire need of food, including 8.4 million threatened by severe hunger. According to the world body, Yemen is suffering from the most severe famine in more than 100 years.
Full report at:
https://www.presstv.com/Detail/2019/05/12/595794/Yemen-Houthis-Hudaydah-
--------
Israel demolished 41 Palestinian structures in 2 weeks: UN
May 12, 2019
A United Nations (UN) report says Israeli forces destroyed at least 41 Palestinian-owned structures in the occupied East Jerusalem al-Quds and West Bank over the past two weeks alone.
The UN Office for the Coordination of Humanitarian Affairs (OCHA) said in its biweekly Protection of Civilians Report that most of the demolitions had taken place under the pretext that construction had taken place without a "permit," Palestinian Ma'an news agency reported on Sunday.
Of the demolitions, 37 were in East Jerusalem and four in the so-called Area C of the West Bank, the report said, adding that the destruction directly displaced 38 homeowners and affected 121 others.
On April 29 alone, Israelis authorities destroyed 31 structures in multiple neighborhoods in East Jerusalem al-Quds.
On April 25, the Israelis demolished a home in Az-Zawiya Village in the West Bank, displacing a family of seven, including five children, the report said.
During the full month of April, a total of 70 structures were demolished in the occupied Palestinian territories by Israeli forces, according to OCHA, displacing at least 70 people — including 33 children — and affecting a further 313 people.
In January, OCHA said Israel's demolition and confiscation of Palestinian-owned structures in the West Bank had soared by 10 percent in 2018.
International bodies and rights groups say Israeli demolitions of Palestinian structures in the occupied West Bank and East Jerusalem al-Quds are an attempt to uproot Palestinians from their native territory and confiscate more land for the expansion of illegal settlements.
Area C, which is under full Israeli control, makes up more than 60 percent of the entire occupied West Bank. Israeli authorities frequently demolish Palestinian buildings and structures in the area, with Bedouin and herding communities being particularly vulnerable to that practice.
Israel has been occupying the West Bank, including East al-Quds, since 1967. Ever since, it has been building settlements throughout the land, in a move condemned by the UN and considered illegal under international law.
Full report at:
https://www.presstv.com/Detail/2019/05/12/595788/Palestine-Israeli-demolitions-East-Jerusalem-alQuds-West-Bank-UN-OCHA
--------
Several soldiers killed, injured as Yemenis launch drone strike on Saudi army: Report
May 12, 2019
Several Saudi soldiers have been killed and dozens of others sustained injuries when Yemeni army soldiers, backed by allied fighters from Popular Committees, launched an airstrike against a military position in the kingdom's border region of Asir.
An unnamed Yemeni military source told Arabic-language al-Masirah television network that Yemeni soldiers and their allies attacked a gathering of Saudi troops in al-Rabu'ah town of the region on Sunday, using a domestically-designed and -manufactured Qasef K2 (Striker K2) combat drone.
The source added that several Saudi soldiers were killed in the aerial assault, and dozens of others sustained injuries.
Separately, scores of Saudi-sponsored militiamen loyal to Yemen's former president, Abd Rabbuh Mansur Hadi, have been killed and injured when Yemeni soldiers and their allies struck their strongholds in the al-Wazi'iyah and Hayfan districts of the southwestern Yemeni province of Ta'izz.
Saudi Arabia and a number of its regional allies launched a devastating campaign against Yemen in March 2015, with the goal of bringing the government of Hadi back to power and crushing the Houthi Ansarullah movement.
According to a December 2018 report by the Armed Conflict Location and Event Data Project (ACLED), a nonprofit conflict-research organization, the Saudi-led war has claimed the lives of over 60,000 Yemenis since January 2016.
Full report at:
https://www.presstv.com/Detail/2019/05/12/595781/Several-soldiers-killed-injured-as-Yemenis-launch-drone-strike-on-Saudi-army-Report
--------
Africa
Gunmen kill six during Catholic mass in Burkina Faso
May 13, 2019
Gunmen killed a priest and five parishioners during mass Sunday in an attack on a Catholic church in Dablo, northern Burkina Faso, security sources and a local official said.
"Towards 9:00 am, during mass, armed individuals burst into the Catholic church," the mayor of Dablo, Ousmane Zongo, told AFP. "They started firing as the congregation tried to flee."
The attackers -- between 20 and 30 according to a security source -- managed to trap some of the worshippers, Zongo added. "They killed five of them. The priest, who was celebrating mass, was also killed, bringing the number of dead to six."
The gunmen then set fire to the church, several shops and a small cafe before heading to the local health centre, which they looted, burning the chief nurse's vehicle.
"There is an atmosphere of panic in the town," said Zongo.
"People are holed up in their homes, nothing is going on. The shops and stores are closed. It's practically a ghost town," he added.
Security reinforcements were sent from Barsalogho, about 45 kilometres (30 miles) south of Dablo, and were combing the area, a security source told AFP. Dablo is located in the northern province of Sanmatenga.
The attack came two days after French special forces freed four foreign hostages in the north of the country in an overnight raid that cost the lives of two soldiers.
The operation was ordered to free French hostages Patrick Picque and Laurent Lassimouillas who disappeared while on holiday in the remote Pendjari National Park in Benin on May 1.
The team also found two other female captives, an American woman and a South Korean.
Christian, Muslim clerics targeted
Sunday's church strike came two weeks after a similar attack against a Protestant church in Silgadji, also in the north, when gunmen on motorbikes killed a pastor and five worshippers.
Burkina Faso has suffered from increasingly frequent and deadly attacks attributed to a number of jihadist groups, including the Ansarul Islam group, the Group to Support Islam and Muslims (GSIM) and Islamic State in the Greater Sahara.
The raids began in 2015 in the north before targeting the capital Ouagadougou and other regions, notably in the east.
Nearly 400 people have been killed since 2015 -- mainly in hit-and-run raids -- according to an AFP tally.
Jihadist groups target both Muslim and Christian clerics, mainly in the north.
According to security sources, the jihadists do not consider certain Muslim clerics sufficiently radical and sometimes accuse them of having collaborated with the authorities.
Religious leaders are not the only people targeted by the extremists. Last month, jihadists attacked a village school in Maitaougou, in the eastern province of Koulpelogo, killing five teachers and a municipal worker.
Former colonial ruler France has deployed 4,500 troops in Mali, Burkina Faso, Niger and Chad in a mission codenamed Barkhane to help local forces flush out jihadist groups.
Around 4.3 million people have been driven from their homes in the worsening violence that has engulfed the entire Sahel region, including one million over the past year, according to UN humanitarian officials.
UN Secretary General Antonio Guterres condemned Sunday's attack and offered condolences as he recalled "the sanctity of all places of worship," according to a UN spokesman.
Guterres "urges all citizens of Burkina Faso to stand firmly with one another across communities and not to succumb to efforts to sow discord and breed further violence."
https://www.thejakartapost.com/news/2019/05/13/gunmen-kill-six-during-catholic-mass-in-burkina-faso.html
--------
Libyan coast guard rescues nearly 150 Europe-bound migrants
12 May 2019
Libya's coast guard says it has rescued nearly 150 Europe-bound migrants, including women and children, off the country's Mediterranean coast.
Spokesman Ayoub Gassim said Sunday that a rubber boat carrying 96 migrants, including 16 women and four children, was intercepted a day earlier off the city of Zawiya, 50 kilometers (31 miles) west of Tripoli.
Gassim said another boat carrying 51 migrants was intercepted Saturday off the town of Khoms, some 120 kilometers (75 miles) east of Tripoli.
He said the migrants were given humanitarian and medical aid, then taken to refugee camps.
Libya became a major conduit for African migrants and refugees fleeing to Europe after the 2011 uprising that ousted Muammar Qaddafi.
Full report at:
https://english.alarabiya.net/en/News/north-africa/2019/05/12/France-releases-in-law-of-Tunisia-s-Ben-Ali-on-bail.html
--------
Gunmen kill 6 in second church attack in Burkina Faso
May 12, 2019
Gunmen killed six people including a priest outside a Catholic church in Burkina Faso on Sunday, a local official said, the second attack on Christians in two weeks in a nation increasingly overrun by militants.
Congregants were leaving church around 9 a.m. (0900 GMT) when about twenty men encircled them and shot six dead, Boucary Zongo, mayor of the northern town of Dablo where the attack took place, and a witness, told Reuters.
The attackers then burned the church, looted a pharmacy and some other stores, and left in vehicles, they said.
Burkina Faso has been beset by a rise in attacks in 2018 as groups with links to Daesh and al-Qaeda based in neighboring Mali seek to extend their influence over the porous borders of the Sahel, the arid scrubland south of the Sahara.
The government declared a state of emergency in several northern provinces bordering Mali in December because of deadly extremist attacks.
But violence has only worsened since. Two French soldiers were killed in an operation to rescue four people taken hostage in Burkina last week, France said.
Roughly 55% to 60% of Burkina Faso's population is Muslim, with up to a quarter Christian. The two groups generally live in peace and frequently intermarry.
Full report at:
https://www.presstv.com/Detail/2019/05/12/595784/Burkina-Faso-church-Mali-
--------
Sudan tribal clashes kill 7, wound 22: Official
May 12, 2019
Clashes between members of two Sudanese tribes in an eastern town have left seven people dead and 22 wounded over the past two days, a local official told AFP Sunday.
The violence erupted on Saturday between members of the Nuba and Bani Amer tribes in the town of Gadaref, said Mohieddine Ahmed, governor of Gadaref Province.
"It all started when a woman from the Nuba tribe and a water vendor from the Bani Amer tribe quarreled over the price of water" on Saturday, Ahmed said.
"The verbal dispute ended with the vendor killing the woman, which triggered anger among her tribe members."
Members of the two groups then set fire to homes and shops belonging to each other's kin, Ahmed added.
"In the ensuing clashes, seven people have been killed and 22 wounded," Ahmed said, adding that the two groups have clashed in the past.
The wounded included seven policemen, he said, as officers sought to separate the groups with tear gas and by firing shots in the air.
Ahmed said the fighting that erupted on Saturday continued until Sunday morning.
Tribal clashes are often reported in several regions of Sudan, especially in the war-torn western Darfur provinces.
Sudan, an ethnically diverse country, has been rocked by nationwide protests since December last year that led to the ouster of longtime leader Omar al-Bashir on April 11.
Full report at:
https://www.presstv.com/Detail/2019/05/12/595776/Sudan-tribal-clash
--------
Seven Boko Haram terrorists killed in northeast Nigeria
Rafiu Oriyomi Ajakaye
May 13, 2019
11.05.2019At least seven Boko Haram militants were killed late Friday in a shootout with the army and a local vigilante group.
Army spokesman Col. Sagir Musa said in a statement that troops and vigilantes on a joint patrol engaged the terrorists for hours in the Gulwa area of Borno State.
"Seven terrorists were killed, while several escaped with gunshot injuries and are being hunted by the troops," the statement said.
Musa said there were no casualties on the side of government forces, adding troops recovered seven weapons from the terrorists, including six AK-47s and one FN rifle.
https://www.aa.com.tr/en/africa/seven-boko-haram-terrorists-killed-in-northeast-nigeria/1475586
--------
Turkish engineer killed by car bomb in Somalia's capital Mogadishu
12.05.2019
A car bomb attack in the Somali capital Mogadishu has killed a Turkish citizen, police said Sunday.
The man was killed when explosives fitted to his car exploded on Sunday, police told dpa.
"A Turkish a civil engineer was mercilessly blown up in his car near KM4 street," said police spokesman Ali Hassan.
The heavily injured engineer was taken to the Turkey Recep Tayyip Erdoğan Training and Research Hospital but was not able to be saved.
It was unclear who planted the bomb, but the police suspect militant group al-Shabaab, they said.
Somalia has launched an investigation into the attack. Turkey's embassy in Mogadishu is closely following the process, according to Demirören News Agency.
On Saturday, al-Shabaab claimed responsibility for a roadside bombing targeting a local government official in the port city of Bosaso. Eight people were killed in the incident.
The terrorist group al-Shabaab has fought the Somali army and African Union peacekeeping troops for over a decade.
Full report at:
https://www.dailysabah.com/turkey/2019/05/12/turkish-engineer-killed-by-car-bomb-in-somalias-capital-mogadishu
--------
Troops neutralise four Boko Haram jihadists, clear Borno villages
May 12, 2019
Troops have killed four Boko Haram jihadists in a clearance operation, tagged Operation Hard Strike at villages in Borno State, the military authorities announced on Sunday.
The army spokesman, Col. Sagir Musa, made the announcement in a statement sent to the News Agency of Nigeria in Abuja.
Musa said that troops had cleared Surdewalla, Ranwa, Baladayo, Sabon Gari and Shetimeri villages, where the jihadists previously operated in.
He said that during the operation, a makeshift shelter, erected by the jihadists was destroyed by troops and that soldiers deployed at the Forward Operation Base in Gajigana ambushed terrorists attempting to infiltrate the town.
"Unconfirmed number of terrorists were exterminated and two soldiers were wounded during the encounter. The soldiers are stable and currently receiving treatment in a military hospital," he said.
Musa said that the Army's 177 Task Force Battalion, in collaboration with Civilian JTF, also cleared Mboa, Mboa-Kura, Yarchida, Bombula, Tshata and Bamzir villages.
He said that one AK-47 rifle, three magazines, 50 rounds of 7.62mm special ammunition and one magazine bandolier were recovered from the terrorists.
"There was no casualty on the troops or the Civilian JTF,'' Musa stated.
He thanked people who provided information that led to recent successes of the troops, pleading with the public to continue to report terrorists in their localities to Army locations or other security agencies.
Boko Haram fighters have waged a decade long war on Nigeria in a bid to carve out some areas of the country to enforce strict Islamic code.
Full report at:
https://punchng.com/troops-neutralise-four-boko-haram-jihadists-clear-borno-villages/
--------
North America
US pullout may lead to Taliban takeover, fears ex-US secretary
Anwar Iqbal
May 13, 2019
WASHINGTON: If American troops pull out of Afghanistan, the Taliban might retake control of the country, warns former US Defence Secretary Robert Gates.
Mr Gates, who served under two presidents — George W. Bush and Barack Obama — from 2006 to 2011, also believes that Taliban want to take over Afghanistan and that's why they are not negotiating with the Afghan government.
In an interview to CBS, which was broadcast on Sunday, Mr Gates agreed with the suggestion that the Afghan war might also end like the Vietnam war if the US troops were to pull out now. The war in Vietnam ended with the US withdrawal and a subsequent communist takeover of the country.
"The former US ambassador to Afghanistan, Ryan Crocker, who you know well, compared this to Vietnam. He said, 'You pull out your troops, it doesn't end the war. That hands the battlefield to your adversaries.' Do you see that?" the host asked.
"I think there's a very real risk of that, yes," Mr Gates replied.
"A repeat of Vietnam?" she asked.
"Well, a repeat of the government that we have supported being unable to sustain itself," he said.
Mr Gates urged Washington to ensure that the government in Kabul is stable before bringing American forces home. There are currently 12,000 US service members stationed there.
"I think that the circumstances under which you bring them home matter.
And I think trying to give the Afghan government the best possible shot at survival is really important for the future of Afghanistan," he said.
Mr Gates also outlined potential consequences of the Taliban retaking control of Afghanistan and claimed that a Taliban takeover would be particularly bad for Afghan women.
The present Afghan constitution, made with the US assistance, gave Afghan women some rights, such as attend schools and hold jobs. Women activists in Afghanistan fear that Taliban will take away those rights if they return to power.
Recently some Taliban representatives have that said they will not undo the rights granted under the Afghan constitution and will allow them to work and attend schools. Most Afghan women, however, are reluctant to trust them.
Mr Gates shares their concerns.
"So the question is, can you negotiate an arrangement whereby the Taliban agree to operate under the Afghan Constitution, become a part of the political process?" he asked.
When asked if Taliban have interest in joining a broad-based government in Afghanistan or just want to restore their rule, Mr Gates said they want to "take over Afghanistan".
"If they agree to any kind of a compromise deal, it's really up to the other Afghans at the end of the day to resist any moves, to get rid of those changes, to go backward, if you will," he said.
Tired of a war that has continued for almost 18 years, the Trump administration is currently holding peace negotiations with Taliban representatives in Doha, Qatar.
The talks are focused on two key points, the withdrawal of US troops from Afghanistan and a Taliban assurance that they will not allow militants to use the Afghan soil for attacking other countries.
US negotiators, headed by Ambassador Zalmay Khalilzad, have also tried to persuade Taliban to include the Afghan government in the peace talks but they are refusing to do so.
But Mr Gates urged US negotiators to arrange a deal between the insurgents and the Afghan government before US troops leave, although he admitted that ultimately it will be up to the Afghans to enforce it.
"I think it's up to us after all this time to at least try and put the Afghan government in as positive a position for that contest that will come at some point as we can. But at the end of the day, you've got to admit, it's going to be up to the Afghans themselves," he said.
https://www.dawn.com/news/1482000/us-pullout-may-lead-to-taliban-takeover-fears-ex-us-secretary
--------
US waging psy-war on Iran, not interested in confrontation: Scholar
May 13, 2019
An American scholar and author says despite employing psychological warfare against Iran, the United States is not inclined towards engaging in actual military confrontation with the Islamic Republic.
That is "probably true with regard to [US President Donald] Trump himself and perhaps many, not most of, his advisers and military people," Kevin Barrett told Press TV on Sunday.
However, "there may be a group, that kind of B-Team, talked about by [Iran's Foreign Minister Mohammad Javad] Zarif, that would be willing to go to war," he added.
Last month, the Iranian top diplomat identified the B-Team in remarks to Fox News as US National Security Adviser John Bolton, Israeli Prime Minister Benjamin Netanyahu, Saudi Crown Prince Mohammed bin Salman, and Abu Dhabi Crown Prince Mohammed bin Zayed Al Nahyan.
The US has been pursuing a policy of "maximum pressure" against Iran under Trump, which has Bolton as its top security aide. The flagship piece of the policy has seen Washington reinstating draconian economic sanctions targeting the Islamic Republic.
Washington has been enlisting the assistance of its regional allies in implementing the policy. Recently, it said that it would target every country potentially buying Iran's oil as of May 2 with "secondary sanctions."
Saudi Arabia and the United Arab Emirates immediately reported that they would be making up for potential shortages of the Iranian crude.
Earlier in the month, Bolton, the administration's most warlike figure, announced that the US has dispatched an aircraft carrier strike group and a bomber task force to the Middle East. The Pentagon said on Friday that the US was deploying an amphibious assault ship and a Patriot missile battery to bolster the carrier and bombers.
"Those people absolutely must be contained," Barrett added, referring to pro-war politicians such as Bolton.
On Wednesday, Iranian President Hassan Rouhani similarly said, "Today, a radical group inside the White House, which holds many affairs in its hands, has even seized control from the president himself."
Barrett, however, said, "Obviously, Iran is not going to knuckle under to these ridiculous kinds of demands of people like Bolton and [US Secretary of State] Pompeo." The latter has been identified as the architect of the "maximum pressure" campaign.
Full report at:
https://www.presstv.com/Detail/2019/05/13/595811/United-States-Iran-psychological-war-military-confrontation-Trump-Bolton-BTeam
--------
Iran says US aircraft carrier 'psychological war'
Mustafa Melih Ahıshalı
12.05.2019
Commander of Iran's elite Islamic Revolutionary Guards Corps (IRGC) Major General Hossein Salami has described the U.S. dispatch of an aircraft carrier to the Middle East as a "psychological war".
"The U.S. is seeking by this step to intimidate the people and some military officials of the occurrence of war," the semi-official Fars news agency quoted Salami as saying at a parliamentary session on Sunday.
"The American war against Iran is not possible, because Washington does not have the ability and the courage to wage war against it," he said.
The Iranian commander ruled out the possibility of a U.S. military action to what he called "the strength of our armed forces on the one hand, and the vulnerabilities of the U.S. aircraft carriers on the other."
On Wednesday, the U.S. imposed new sanctions on four Iranian metal sectors in the latest component of President Donald Trump administration's "maximum pressure" campaign on Tehran after sending a carrier strike group and a bomber task force to the region in response to unspecified threats from Iran.
Iranian President Hassan Rouhani said Wednesday that Iran would resume high-level enrichment of uranium to near weapons-grade levels if Tehran's interests in the nuclear deal are not protected within 60 days.
Full report at:
https://www.aa.com.tr/en/americas/iran-says-us-aircraft-carrier-psychological-war/1476406
--------
URL: https://www.newageislam.com/islamic-world-news/terrorists-plundering-artifacts-historical-treasures/d/118582
New Age Islam, Islam Online, Islamic Website, African Muslim News, Arab World News, South Asia News, Indian Muslim News, World Muslim News, Women in Islam, Islamic Feminism, Arab Women, Women In Arab, Islamophobia in America, Muslim Women in West, Islam Women and Feminism