New Age Islam News Bureau
23 Feb 2019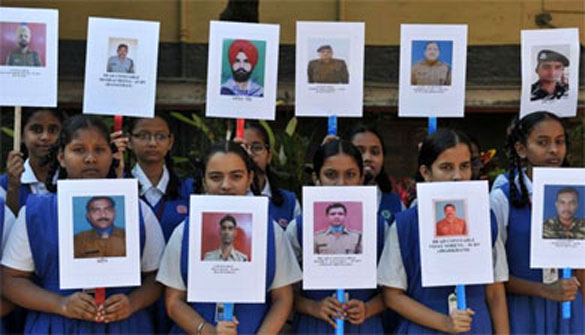 Indian students from the Saint Francis Girls High School in Hyderabad pay tribute to and hold placards with images of the slain Central Reserve Police Force, after an attack on a CRPF convoy in the Lethpora area of Kashmir on February 14. The Indian government has demanded that Pakistan take 'credible and visible action' over a major suicide attack in Kashmir as it rebuffed Pakistan Prime Minister Imran Khan's offer to investigate the bombing. (Noah Seelam/AFP/Getty Images)
------
• Terror Attacks Are Against Tenets of Islam: Anjuman-e-Islam
• No Place for Terror in Islam: Dargah Ala Hazrat, the Religious Head of the Barelvi Sect
• Cops Drop Sedition against 14 AMU Students, Cites 'Lack of Evidence'
• In Attempt to Counter Terrorism, Pakistan Re-Imposes Ban on Two Lashkar-e-Taiba Charities
• Pak Army Chief's Big Confession: Large Section of Pakistanis Radicalised in Name of Jihad
• No Go for Zakir Naik Due To Absence of 'Tauliah', Says Penang Islamic Dept
• Saudi Arabia to Include Chinese Language in Educational Curriculum
• Palestinians Worshippers Gain Access to Restricted Al-Aqsa Mosque Area
• Sudan's Al-Bashir Declares State of Emergency, Dissolves Government
• In Detroit, One Organization Is Schooling Muslims on Racial Justice
• UNSC Urges All States to Help India Probe Pulwama Attack
India
• Terror Attacks Are Against Tenets of Islam: Anjuman-e-Islam
• No Place for Terror in Islam: Dargah Ala Hazrat, the Religious Head of the Barelvi Sect
• Cops Drop Sedition against 14 AMU Students, Cites 'Lack of Evidence'
• In Gratitude, Kashmiris Offer Discounts and Free Services to Sikhs
• As India salutes Pulwama martyrs, this soldier fights to prove citizenship
• Jaish goes for the kill on social media
• Attacks on Kashmiris a dangerous trend, says Yasin Malik
• UP ATS arrests two Kashmiris 'with Jaish links' in Deoband
• Terror watchdog steps up pressure on Pakistan
• Pulwama attack: India urges ASEAN to support its fight against terrorism
• Assam launches crackdown against Rohingya Muslims
• Masood Azhar: militant at heart of Kashmir crisis got a second life in 1999
• 'UK actively pursuing listing JeM chief Masood Azhar under UNSC 1267'
--------
Pakistan
• In Attempt to Counter Terrorism, Pakistan Re-Imposes Ban on Two Lashkar-e-Taiba Charities
• Pak Army Chief's Big Confession: Large Section of Pakistanis Radicalised in Name of Jihad
• Pak Army Chief Visits Loc, F-16s Fly Combat Air Patrols
• Crackdown or an Eyewash? Under Global Pressure, Pak Punjab Takes Over Jaish HQ
• Pakistan's Offensive against Human Intelligence Led To Suicide Bombing In Kashmir
• Musharraf rules out possibility of Pak-India nuclear war
• We're peace loving nation but won't be intimidated: COAS Bajwa
• No objectionable material found during JeM 'HQs' raid
--------
Southeast Asia
• No Go for Zakir Naik Due To Absence of 'Tauliah', Says Penang Islamic Dept
• 'Cash Ties' With Saudis Why BN Sent Troops to Join Yemen War, Says Chandra
• Rebels Named Leaders of Philippine Muslim Territory
• RM250m Penang Islamic Hospital to open in 2022
• Thailand deports dozens of Muslims headed to south
• Muhyiddin directs IGP to investigate idol at surau
--------
Arab World
• Saudi Arabia to Include Chinese Language in Educational Curriculum
• Syrian Army Sends Large Military Convoy to Palmyra for Final Battle against ISIL
• Turkish Army, Affiliated Militants Continue Plundering People's Properties in Afrin
• SDF to Extradite over 500 ISIL Militants to Iraq
• US Takes Senior ISIL Commander Out of Southeastern Deir Ezzur in Heliborne Operation
• 13 French ISIL Ringleaders Arrested by Iraqi Intelligence Forces inside Syria
• Almost 30 trucks carry people out of ISIS Syria holdout
• Organization of Islamic Cooperation, UN officials discuss global relief efforts
--------
Mideast
• Palestinians Worshippers Gain Access to Restricted Al-Aqsa Mosque Area
• Security Forces Disband 2 ISIL-Affiliated Terrorist Groups in Western Iran
• Palestinian killed by Israeli fire in border clashes: Gaza ministry
• Iran starts Gulf war games, to test submarine-launched missiles
• UN demands immediate pullback of forces from Yemen ports
• Iran's revenge won't be limited to 'bunch of terrorists': IRGC
• Palestinian teen killed by Israeli forces in Gaza protests
• Pro-Hadi commander slain in Houthi attack near Saudi border
• Turkey orders 295 military personnel arrested over Gulen links
--------
Africa
• Sudan's Al-Bashir Declares State of Emergency, Dissolves Government
• UN warns hunger continues to worsen in South Sudan 5 months after peace deal
• Ethnic Tubus fear southern Libya offensive
• Troops repel election-day Boko Haram attacks
--------
North America
• In Detroit, One Organization Is Schooling Muslims on Racial Justice
• Trump Says India, Pakistan Facing a 'Very Dangerous Situation'
• US: Daesh Bride's Family Files Lawsuit against Trump
• Daesh bride could help US stem radicalization: lawyer
• 400 troops to remain in Syria after pullout: report
• US, Russian envoys for Afghanistan meet in Turkey
--------
Europe
• UNSC Urges All States to Help India Probe Pulwama Attack
• Jihad Bride Shamima Begum's Family Urges Sajid Javid to Bring Her Son to the UK, To Challenge Revoking Her Citizenship in Court
• French forces kill top Al-Qaeda commander in Sahel
• Poland in escalated dispute with Israel shortly after anti-Iran event
• UN warns Egypt about executions
• Egypt opposition urges EU heads to boycott Sharm summit
--------
South Asia
• Up To 30 Militants Killed In 4 Provinces in Past 24 Hours: MoD
• Members of a prominent terror gang of Taliban arrested in Kabul city
• Bangladesh shouldered a great responsibility to protect languages: PM
• Afghan forces perform 8 joint operations, 79 Special Operations tasks: MoD
• Taliban IED planter arrested in Herat province
Compiled by New Age Islam News Bureau
URL: https://www.newageislam.com/islamic-world-news/terror-attacks-tenets-islam-anjuman/d/117834
--------
Terror Attacks Are Against Tenets Of Islam: Anjuman-e-Islam
Feb 23, 2019
Dharwad: The students of Anjuman School and colleges and members of Anjuman-E-Islam took out a rally in Dharwad on Friday to protest the terrorist attack on CRPF jawans at Pulwama in Jammu and Kashmir.
Carrying a huge tricolour, they went in a procession from Anjuman campus to the deputy commissioner's office passing through important roads and junctions. Led by Anjuman-E-Islam president Ismail Tamatgar, the members condemned the terrorist attacks on India's defence personnel and expressed solidarity with India in tackling the terrorists. They said it was inhuman and against the tenets of Islam to kill anyone. They said the community stands solidly behind the government in its endeavor to end the terrorist menace and restore peace and harmony in the country. They also condemned the efforts to divide the armed forces on the basis of caste.
The members submitted a memorandum to the DC expressing grief over the killing of security personnel and extended support to the members of bereaved families.
https://timesofindia.indiatimes.com/city/hubballi/terror-attacks-are-against-tenets-of-islam-anjuman/articleshow/68118699.cms
--------
No Place for Terror in Islam: Dargah Ala Hazrat, the Religious Head of the Barelvi Sect
20 February 2019
Dargah Ala Hazrat, the religious head of the Barelvi sect of Sunni Muslims, has asked Muslims to not give shelter to any terrorist in their homes. The Dargah in a statement said: "There is no place for terrorism in Islam, and the Muslims do not give shelter to any terrorist." Condemning the terrorist attack in south Kashmir's Pulwama, Sajjada Nasheen Subhan Raja Khan said: "The incident of Pulwama embarrassed the humanity. I appeal to the government to end the terrorism." Dargah's spokesperson Nasir Qureshi said: "Our Dargah supports the martyrs' families in their grief. Those shedding the blood of innocents are enemies of Islam and they are defaming our religion across the world." The Dargah's directives read that the Muslim community should be united against those involved in terrorists activities.
As many 40 CRPF personnel were killed in Awantipora in south Kashmir's Pulwama district in a terror attack orchestrated by Pakistan-based and Pakistan-backed terror outfit Jaish-e-Mohammed on February 14. The convoy of 78 buses, in which around 2,500 CRPF personnel were travelling from Jammu to Srinagar, came under attack around 3.15 pm on February 14.
https://www.dailypioneer.com/2019/state-editions/no-place-for-terror-in-islam--dargah.html
--------
Cops drop sedition against 14 AMU students, cites 'lack of evidence'
Feb 22, 2019
The Uttar Pradesh police have dropped sedition charges against 14 Aligarh Muslim University students , citing "lack of evidence", according to a senior police officer.
On February 12, the students were booked for sedition on the complaint of Bharatiya Janata Yuva Morcha (BJYM) district president Mukesh Lodhi, who had alleged that he was assaulted by some students who also raised pro-Pakistan slogans.
The BJYM is the youth wing of the Bharatiya Janata Party, the ruling party at the Centre and in Uttar Pradesh. Senior superintendent of police Akash Kulhari said on Friday the charges were dropped three days ago as there was no evidence to support them.
He said there was no videographic proof or any other evidence "to support the claim that anti-India or pro-Pakistan slogans were raised by these youth during the clash between two student groups at University Circle on February 12".
The clashes appeared to have been triggered by reports that All India Majlis-e-Ittehadul Muslimeen (AIMIM) leader Asaduddin Owaisi was visiting the campus. The BJYM had demanded that the Owaisi's visit should be banned.
There was also an altercation between some AMU students and a television news channel crew that had come to cover the anticipated visit, which never took place. Earlier, the Aligarh Muslim University Teachers Association (AMUTA) had condemned the violence on the campus and sought strict restrictions on entry of outsiders to the university.
https://www.hindustantimes.com/india-news/cops-drop-sedition-against-14-amu-students-cites-lack-of-evidence/story-lGOMXOvpJWmDEmycmZ1wAJ.html
--------
In Attempt to Counter Terrorism, Pakistan Re-Imposes Ban on Two Lashkar-e-Taiba Charities
By ZAHEER BABAR
Feb 23, 2019
LAHORE, Pakistan — Pakistan has re-imposed a ban on two charities run by a U.S.-designated terrorist blamed for the 2008 Mumbai attacks, officials said Feb. 22.
The Interior Ministry said it decided on the ban during a meeting with by Prime Minister Imran Khan Feb. 21, in which it resolved to implement a 20-point National Action Plan to counter terrorism more effectively.
The two charities — Jamat-ut-Dawa and Falah-e-Insaniat Foundation — are thought to be a front for Lashkar-e-Taiba, a militant group founded by Hafiz Saeed, a Muslim cleric who lives freely in Pakistan and often addresses anti-India rallies.
They were banned in February 2018, and the government froze their assets in compliance with a U.N. request. But Pakistan's Supreme Court in September allowed them to resume operations.
The U.S. has placed a $10 million bounty on Saeed's head. Lashker-e-Taiba has been blamed for the Mumbai attacks.
On the same day, the administration of Punjab province took control of As-Sabir Seminary and Subhanallah Mosque in the city of Bahawalpur. A senior official said the two Islamic institutions were said to be linked to Jaish-e-Mohammad, the militant group India has blamed for the recent attack in Pulwama in the disputed Kashmir region. The official spoke on condition of anonymity because he was not authorized to speak to media.
State-run Pakistan Television reported that the government has appointed administrators for the two institutions where 600 students are being instructed on Islam by 70 teachers.
The Pulwama suicide attack on a military convoy killed more than 40 Indian troops and escalated tensions between the two nuclear-armed south Asian neighbors. India says the attack was planned in Pakistan, which Pakistan strongly denies.
https://www.indiawest.com/news/india/in-attempt-to-counter-terrorism-pakistan-re-imposes-ban-on/article_1ad36166-36c9-11e9-8433-db3f90972718.html
--------
Pak Army chief's big confession: Large section of Pakistanis radicalised in name of jihad
February 22, 2019
Pakistan Army Chief General Qamar Javed Bajwa has confessed that a large section of people in his country has been radicalised in the name of Islam.
General Bajwa's confession is a big embarrassment to Pakistan Prime Minister Imran Khan who had asked India to provide proof regarding his country's complicity in Pulwama terror attack in which 40 CRPF personnel were martyred. India had responded by saying that Imran will get numerous proofs if he looks inside his country.
"There is no place for caliphate in the society. We have radicalised a large section of people in the name of jihad. We have strengthened such people by providing them with weapons and political power. We are reaping what we had sown 40 years ago," General Bajwa said.
In a big ambarrassment to Pakistan, the United Nations Security Council (UNSC) on Thursday condemned Pulwama terror attack perpetrated by Pakistan-based Jaish-e-Mohammed in the "strongest terms".
Significantly, the press statement issued by the UNSC named the Pakistan-based terror group JeM , headed by Masood Azhar.
The members also reiterated that any "acts of terrorism are criminal and unjustifiable, regardless of their motivation, wherever, whenever and by whomsoever committed".
https://www.indiatvnews.com/news/world-pak-army-chief-qamar-javed-bajwa-s-big-confession-large-section-of-pakistanis-radicalised-in-name-of-jihad-505685
--------
No go for Zakir Naik due to absence of 'tauliah', says Penang Islamic dept
Predeep Nambiar
February 22, 2019
GEORGE TOWN: The Penang Islamic Department (JAIPP) says Dr Zakir Naik will not be allowed to give a public speech in Penang this June because the Indian Muslim preacher does not have the required credentials, or tauliah, from state religious authorities.
JAIPP director Zulkifli Long said a person must apply for the permit from religious authorities before he is allowed to speak on Islamic subjects.
He told FMT that Naik could apply for the credentials for a small fee.
Zulkifli's explanation comes after the Penang Island City Council reportedly refused to allow a public talk by Naik, planned for June 14 at the City Stadium.
He said the tauliah is given subject to several conditions, including one that requires a preacher must subscribe to Sunni Islam, and that he does not offend those of other beliefs and cultures.
When contacted, the Islamic Propagation Society International which is planning to host Naik in Penang said the public talk was "postponed". He declined to comment further.
Naik is accused of giving provocative speeches, which were cited as a reason by Bangladesh for an attack in Dhaka in 2016 which left 22 people dead.
India's National Investigation Agency is also investigating Naik's Islamic Research Foundation, over allegations of money laundering.
Naik has denied the charges, saying he is a victim of the Indian media whom he accuses of sensationalising the issue in their quest to get a bigger audience.
The 53-year-old televangelist, who was close to leaders of the previous government and was granted Malaysian permanent resident status, has also fought off attempts to have him deported.
Naik's son, Fariq had once given a talk in Penang in April 2016.
The talk at Universiti Sains Malaysia was attended by some 4,000 people.
https://www.freemalaysiatoday.com/category/nation/2019/02/22/no-go-for-zakir-naik-due-to-absence-of-tauliah-says-penang-islamic-dept/
--------
Saudi Arabia to include Chinese language in educational curriculum
22 February 2019
Saudi Arabia has decided to include the Chinese language in the curriculum at all stages of education in Saudi schools and universities.
The agreement was finalized during Saudi Arabia's Crown Prince Mohammed bin Salman's visit to China.
It is aimed at strengthening friendship and cooperation between Saudi Arabia and the People's Republic of China, and deepening the strategic partnership at all levels, according to Saudi Press Agency.
The inclusion of the Chinese language in the curriculum will enhance the cultural diversity of students in the Kingdom and contribute to the achievement of future national goals in the field of education under Vision 2030, reported SPA.
It is an important step toward opening new academic horizons for students of various educational levels in the Kingdom. Learning Chinese as a bridge between the two peoples will contribute to increasing trade and cultural ties.
On Thursday, the kingdom's Minister of Culture Prince Badr bin Abdullah bin Farhan, had announced the "Prince Mohammed bin Salman Award for Cultural Cooperation between the Kingdom of Saudi Arabia and the People's Republic of China."
https://english.alarabiya.net/en/News/gulf/2019/02/22/Saudi-Arabia-to-include-Chinese-language-in-educational-curriculum.html
--------
Palestinians worshippers gain access to restricted al-Aqsa Mosque area
Feb 22, 2019
Palestinians worshippers have managed to gain access to the Israeli-restricted Bab al-Rahma area of the al-Aqsa Mosque in the occupied Old City of East Jerusalem al-Quds.
Thousands of worshippers, who gained access to the area on Friday, were responding to calls by Palestinian clerics — including al-Aqsa Mosque's Mufti Ekrima Sa'id Sabri — to gather in the Bab al-Rahma sector for Friday prayers, according to the Palestinian Information Center.
Bab al-Rahma, with a gate of the same name, consists of a large building and a courtyard that lie east of the al-Aqsa Mosque compound.
The building was sealed by Israeli authorities in 2003 after they claimed it was being used by Palestinians for political activities. Israeli authorities renewed the restriction order annually until an Israeli court ordered the building closed until further notice in 2017.
Israeli forces responded to the planned assembly on Friday by setting up numerous roadblocks and checkpoints and arresting up to 60 Palestinians, according to various local Palestinian sources.
The Israeli measures, however, failed to stop the crowd from opening the gate and entering the area for prayers.
Following the development, the Palestinian resistance movement of Hamas issued a statement describing the event as "a new peaceful victory against the Israeli occupation."
Tensions continue in the occupied Palestinian territories in the aftermath of a move by the United States to recognize Jerusalem al-Quds as Israel's "capital" and relocate its embassy to the occupied city.
The al-Aqsa Mosque compound is a flashpoint, highly respected by Muslims, Jews, and Christians alike. The mosque is Islam's third holiest site after Masjid al-Haram in Mecca and Masjid al-Nabawi in Medina.
https://www.presstv.com/Detail/2019/02/22/589266/Palestine-access-restricted-alAqsa-Mosque-area
--------
Sudan's al-Bashir declares state of emergency, dissolves government
22 February 2019
Sudan President Omar al-Bashir, facing the country's biggest popular protests since he came to power 30 years ago, declared a one-year state of emergency on Friday and called on parliament to postpone constitutional amendments that would allow him to seek another term in a 2020 presidential election.
In a televised speech, Bashir said he would dissolve the central government as well as state governments.
"Firm economic measures should be taken in a new government", Bashir said, adding that he would assign that task to a qualified team.
He also addressed the opposition. "I extend a sincere invitation to the opposition forces, who are still outside the path of national reconciliation ... to move forward and engage in the dialogue regarding the current issues of our country".
In a subsequent decree, Bashir set up a caretaker administration comprising a senior official from each ministry, but kept the defense, foreign and justice ministers in place.
The anti-government demonstrations began on Dec. 19, triggered by price increases and cash shortages, but quickly developed into protests against Bashir's rule.
After Bashir's speech, angry protesters in the city of Omdurman chanted "Freedom!" and set fire to tyres while others blocked a main road, a Reuters witness said. Police there fired tear gas and chased protesters through small streets.
The National Consensus Forces, one of Sudan's main opposition groups, said the response to Bashir's declaration of a state of emergency should be more protests.
"(T)he regime declared a state of emergency to counter our popular revolution, which will not stop, God willing, before we achieve our goals and topple the regime", the group said in a statement.
Two weeks before the protests broke out, a majority of lawmakers had backed proposed amendments to the constitution that would allow Bashir to run for another term. But last Saturday, the parliamentary committee tasked with amending the constitution said it would indefinitely postpone a meeting to draft these changes.
Ahead of Bashir's speech, security forces fired tear gas to disperse at least 200 protesters in the capital, Khartoum, eyewitnesses said.
The Sudanese Professionals Association (SPA), the main protest organizer, issued a call for additional demonstrations.
"The demands of this revolution are clear ... foremost that this regime and its head step aside, including its repressive institutions", the SPA said in a statement.
Bashir, an Islamist and former army officer, came to power in 1989 after a military coup. He won elections in 2010 and 2015 after changes in the constitution following a peace agreement with southern rebels, who then seceded to form South Sudan.
Bashir had previously blamed the protests on foreign "agents", and challenged his rivals to seek power through the ballot box. He had shown no sign that he was prepared to concede any power.
But earlier this month he softened his tone dramatically, saying the protesters are mostly young people with poor prospects.
Even then Bashir warned against destabilizing the Sudanese state, saying, "You can look at what happened in Libya", which has been in a state of turmoil since a 2011 civil war led to the overthrow of longstanding dictator Muammar Gaddafi.
Activists say nearly 60 people have been killed during the protests, while authorities put the death toll at 32, including three security personnel.
Security forces have used tear gas and live bullets to disperse protesters, and have made hundreds of arrests, including of opposition party members, activists and journalists.
Bashir is wanted by the International Criminal Court over charges of masterminding genocide in the Darfur region, which he denies. He has been lobbying for Sudan to be removed from a list of countries which Washington deems state sponsors of terrorism.
The listing has blocked the investment and financial aid that Sudan was hoping for when the United States lifted sanctions in 2017, economists say.
https://english.alarabiya.net/en/News/middle-east/2019/02/22/Al-Bashir-gives-up-presidency-of-ruling-party-continues-duties-as-President-of-Sudan.html
--------
In Detroit, one organization is schooling Muslims on racial justice
Aysha Khan
February 20, 2019
(RNS) — It began, as so many social justice movements these days do, on Twitter.
Namira Islam, a Bangladeshi-American lawyer living in Detroit, had noticed that many of the ongoing conversations about Muslims online showed ignorance of the faith group's racial demographics.
Black Muslims were often presumed to be converts or activists. Black Muslims discussing their experiences with racism would receive messages saying that promoting separatism is un-Islamic. Non-Muslims as well as many prominent Muslims seemed to equate the faith with being Arab or South Asian. And the slur "abeed" — Arabic for "slave" — was commonplace.
As Black History Month approached in 2014, she rallied a crew of about 20 activists and scholars to launch a new hashtag: #BeingBlackAndMuslim.
"We wanted to reflect on the erasure of black Muslims in the conversations we were seeing online, as well as in our communities and institutions," Islam said. "Because those erasures reflect what we're seeing everywhere else."
And it resonated. For four hours that Feb. 10 five years ago, the hashtag trended on Twitter not only in the United States, but globally. The responses showcased black Muslims' pride and joy in their culture and experiences, Islam said, as well as the heartbreak and betrayal they felt at the hands of their brothers and sisters in faith.
Because of the racially egalitarian messages in the Quran and the teachings of the Prophet Muhammad, "people think if you're Muslim you can't be racist," Islam noted. But that couldn't be further from the truth, she said.
According to the Pew Research Center, black Muslims make up a fifth of U.S. Muslims. While black Muslims are significantly more likely than nonblack Muslims to say that Islam is important to their lives and that they pray five times a day, nonblack Muslims sometimes believe that their black counterparts are not real Muslims. Part of that may be rooted in inaccurate assumptions that most black Muslims belong to the Nation of Islam, which many consider to be heretical. In fact, just 2 percent of black Muslims currently identify with the Nation of Islam, Pew reports.
And while about 92 percent of black Muslims say black people face "a lot" of discrimination, only 66 percent of non-black Muslims agree.
Islam, 31, and educator Margari Aziza Hill, 43, saw in the viral hashtag an opportunity to expand the campaign into a long-term educational resource for Muslims who wanted to teach their own communities about race and religion.
Together, Hill and Islam launched the Muslim Anti-Racism Collaborative, now commonly called MuslimARC. Their mission statement: "Education for liberation."
Almost immediately, organizations reached out to the pair asking them to lead trainings and consultations about racism within Muslim communities. They hosted a panel at the Islamic Society of North America's conference that year and were invited to address a group of high school students competing at the annual Muslim Interscholastic Tournament. They were expecting an audience of 25 bored teens. Instead, they found themselves facing a rapt audience of 250.
"So right away we realized this was more than a hashtag," Hill, MuslimARC's managing director, said. "These people all thought they were alone in their experiences. So we started to think about how to sustain the conversation, how to intervene in this issue that clearly needed to be discussed."
Five years since that conversation began, their project has helped to train some of America's largest Muslim advocacy organizations in racial justice.
Hill — who has a background in curriculum design and has taught at a community college as well as Islamic school and summer camp — had been taking a course on virtual instruction at the online education platform Coursera ahead of #BeingBlackAndMuslim's launch.
"I had this idea to make anti-racism accessible in the same sort of way," said Hill. "Because how do you even learn anti-racism if you're not on a campus or working with a social justice organization? If you're just a regular lay person, how do you access that?"
Their solution was to develop a set of curricula: for organizations to train their members about racial justice and combating Islamophobia, and for individuals to understand how to be better allies. They produced a toolkit to help Muslims understand how to respond to police brutality and Black Lives Matter — "we must unequivocally affirm the egalitarian nature of Islam in which the Qur'an and Sunnah (Islamic traditions based on the actions of the Prophet Muhammad) clearly condemn racism," it noted — and hosted or facilitated online courses, webinars and meetups. Ahead of the anniversary of the assassination of Malcolm X, they asked imams around the country to focus their Friday sermons on the shooting and his life.
They also lead workshops and consultations for groups who need guidance in adopting inclusive practices. Their clients and partners have included the Council on American-Islamic Relations, MPower Change, Faith in Action, the Inner-City Muslim Action Network, Take On Hate, the Chicago Regional Organizing for Anti-Racism and Pop Culture Collab, with whom they consulted on the upcoming Sameer Gardezi-directed film series "East of La Brea."
Many mainstream Muslim advocacy organizations are now actively working for movements such as Black Lives Matter and pushing for funding more black Muslim grassroots projects, movements they once shied away from.
At an event Feb. 10 celebrating MuslimARC's five-year anniversary in Los Angeles, Hill told local Muslim leaders "we can trace the lineage of the language that we introduced." National organizations that were once ruled by "respectability politics and a white aspirational lens," she said, have now shifted to a "social justice lens."
Since that first hashtag conversation, MuslimARC says, it has reached more than 20,000 people in more than 40 cities.
That number is multiplied by those who have been impacted by their work, like Islamic studies scholar Kayla Wheeler, who teaches at Michigan's Grand Valley State University. Wheeler said that a series of interviews Hill and Islam conducted with Muslims of different racial backgrounds, which she found on Twitter, has helped her inform the way she teaches about Latino and Asian Muslims.
#BeingBlackAndMuslim also inspired Wheeler's 2-year-old Black Islam Syllabus project, in which she is compiling educational resources on black Muslims based on contributions solicited via Twitter.
Wheeler, in turn, has inspired other academics to collect resources, such as the Sudan Syllabus, curated by University of Pennsylvania doctoral student Razan Idris, and the Islamophobia is Racism Syllabus, curated by 10 prominent scholars.
"For me it's a space to not only see myself recognized but also to challenge my own assumptions about what Islam is and who is involved in Islam," said Wheeler. "It does a disservice to graduate students when we teach about Islam in a way that is Arab-centric and ahistorical."
Hill and Islam say they want to lead a faith-driven dialogue that disrupts the often-fraught dynamics between non-black and black Muslims. Such tensions are particularly high in Detroit, which has America's highest percentage of black residents, next door to Dearborn, America's most Arab city.
The demographics have led to clear tensions, particularly due to Arab-Americans' entrepreneurial success (which some would call exploitative) with small businesses.
This summer, Hill and Islam plan to open their first brick-and-mortar center, ARCHouse – a largely crowdfunded office and training space near Detroit's historic Muslim Center mosque, founded in the 1980s under the leadership of Imam W. Deen Mohammed.
The MuslimARC team is aware that the organization's growth has something to do with the rise of the Black Lives Matter movement and the election of Donald Trump. Terms like "intersectionality" and "microaggression" – once nearly exclusive to academics – are bandied about easily these days.
In some ways, that awareness has made MuslimARC's work easier, Islam said. "It's opened up a greater willingness to understand.
"But while anti-racism is trendy now," she added, "we have to remind folks that there's long-term work to be done. We have to make sure we're not so distracted by the crisis response that we don't focus on the systemic issues that were there under Obama, too."
The founders of MuslimARC say they are themselves continuing to learn and relearn the meaning of racial justice. Part of that is because they have put together a diverse board that includes black, Latina, Arab and South Asian members, which they say helps expose them to new viewpoints – and puts them in a better position to call out the racism they see.
"I'm not asking people to do anything that I myself have not done," said Islam.
https://religionnews.com/2019/02/20/in-detroit-one-organization-is-schooling-muslim-americans-on-racial-justice/
--------
UNSC urges all states to help India probe Pulwama attack
February 23, 2019
UNITED NATIONS: The United Nations Security Council has urged all states to "cooperate actively" with New Delhi for bringing to justice all those who were responsible for last week's attack on soldiers in Pulwama, India-held Kashmir.
Security Council President Anatolio Ndong Mba issued a statement on Thursday condemning the attack and expressing solidarity with the Indian nation and the government. "The members of the Security Council underlined the need to hold the perpetrators, organisers, financiers and sponsors of these reprehensible acts of terrorism accountable and bring them to justice," said the statement.
In Islamabad, the National Security Committee (NSC) decided on Thursday to proscribe the Jamaatud Dawa and its charity wing, Falah-i-Insaniat Foundation, as part of measures to tighten the noose around extremist and militant groups in the country.
The members also urged "all states, in accordance with their obligations under international law and Security Council resolutions, to cooperate actively with the government of India and all other relevant authorities in this regard".
Describing the attack as a "heinous and coward suicide bombing", the UNSC statement noted that "Jaish-e-Mohammed has claimed responsibility" for it.
JeM is already banned in Pakistan.
The Security Council reaffirmed that "terrorism in all its forms and manifestations constitutes one of the most serious threats to international peace and security".
The members reiterated that "acts of terrorism are criminal and unjustifiable, regardless of their motivation, wherever, whenever and by whomsoever committed".
They also reaffirmed the need for all states to "combat by all means, in accordance with the charter of the United Nations and other obligations under international law, threats to international peace and security caused by terrorist acts".
The UNSC statement resembles a similar statement issued by the US State Department last week, which also noted that Jaish-e-Mohammad had claimed responsibility for the attack. The US statement, however, had identified Jaish as a "UN -designated, Pakistan-based terrorist group", a description missing from the UN resolution.
Diplomatic observers in Washington said Islamabad and its allies, particularly Beijing, had worked hard to keep any reference to Pakistan out of the Security Council statement.
The US statement had also said Washington was "resolutely committed to working with the Indian government to combat terrorism in all its forms". Like the UNSC, the United States also urged "all countries to uphold their responsibilities pursuant to UN Security Council resolutions to deny safe haven and support for terrorists".
China, a permanent member of the UN Security Council, pointed out on Friday that the reference to Jaish in the UNSC statement was only in "general terms" and "does not represent a judgement".
China's foreign ministry spokesman Geng Shuang told reporters in Beijing that the Chinese government was following developments after the Pulwama attack.
"Yesterday, the UN Security Council issued a press statement that mentioned a particular organisation, but only in general terms. It does not represent a judgement on the attack," Geng said.
The US media, however, reported that without Beijing's endorsement the UNSC statement could not have been released as China is a permanent member of the council.
https://www.dawn.com/news/1465532/unsc-urges-all-states-to-help-india-probe-pulwama-attack
--------
India
In gratitude, Kashmiris offer discounts and free services to Sikhs
Feb 21, 2019
A non-profit organisation, Khalsa Aid, on Wednesday night received several messages and calls from the Kashmiri students who were ferried to Jammu free of cost.
People of the Kashmir Valley have now taken to social media for posting their gratitude towards the Sikh community.
From free car services from Car Plaza, Anantnag, and Dr Adil Wani's free dental services for one month, to Alburaq Group's free air tickets to IPTS Heights School offering free of cost education to Sikhs, Kashmiris are offering discounts and free services to Sikhs.
In a state of panic, more than 800 Kashmiri students fled Dehradun, Ambala and several other parts of nort India to escape backlash from the locals in the wake of Pulwama terror attack.
Initially, 21-year-old Khawaja Itrat, a student of CGC, Landran, and a member of Jammu and Kashmir Students Organisation (JKSO), had made arrangements for facilitating Kashmiri students' stay in Mohali at his residence.
There, former SGPC member Amarinder Singh had made provision for the students' billeting at Gurdwara Singh Shaheedan, Sohana, last Sunday. However, most students chose to leave for Jammu in the evening. On Sunday night, when nearly a hundred students arrived in Mohali on the assurance of protection given to them by the Punjab CM, Gurdwara Singh Shaheedan made four of its rooms available to the students.
Within 24 hours, Khalsa Aid, a non-profit organisation, offered to ferry the students back to Jammu free of cost.
The volunteers have reported to have sent off more than 400 Kashmiri students back home, safely.
https://www.tribuneindia.com/news/chandigarh/in-gratitude-kashmiris-offer-discounts-and-free-services-to-sikhs/732571.html
--------
As India salutes Pulwama martyrs, this soldier fights to prove citizenship
February 23, 2019
Guwahati: Since last Thursday when over 45 CRPF troops were martyred in Pulwama the whole of India, in one voice, is hailing and praising their sacrifices. But, there is this soldier from Assam's Barpeta district who served in Kashmir and at Siachen Glacier has to fight to prove his Indian citizenship.
"I have been posted in Kashmir, Kargil, and Siachen. I love my country and stand to protect it. But back home (in Assam), I am (seen as) a doubtful citizen," Shahidul Islam (43) told The Indian Express.
Shahidul Islam, who was in October 2018 posted in Kolkata, is now contesting a case at the Foreigners' Tribunal Number 11 of Barpeta district to prove that he is an Indian citizen.
The next hearing is scheduled on March 18. But, Shahidul said, "I may not be able to appear for the hearing on March 18 if I am on the move…."
Stating that the state border police's reference case against his family was made in 2003, Shahidul said, "The first notice to appear at the Foreigners' Tribunal came in October last year. It asked my mother, brother and me to appear on November 9."
Shahidul's brothers Mizanur Ali (27), with the CISF, and Delbor Ali (29), with Army Medical Corps since 2010, are also mentioned with their father Abdul Hamid, who died in August 2005, as minors in the 2003 reference case.
Full report at:
http://www.ummid.com/news/2019/February/23.02.2019/as-india-ssalutes-pulwama-martyrs-this-soldier-fights-to-prove-citizenship.html
--------
Jaish goes for the kill on social media
Rayan Naqash
Feb 22, 2019
I hope that by the time this message reaches you, I would be frolicking in god's paradise," 20-year-old Adil Dar, seated between a flag of the Jaish-e-Mohammed, and assault rifles and ammunition, is heard saying in a 10- minute video released on February 14, the day his suicide attack claimed the lives of 40 Indian paramilitary personnel in south Kashmir.
Social media had become an important tool for the new wave of young Kashmiri men waging jihad against the State. However, while this has been largely restricted to dissemination of pictures and videos that showed a human side of the jihadists, Dar's video statement was eerily similar to the previous admission of complicity by the Jaish-e-Mohammed. Dar's determination and admission was much like that of 16-year-old Fardeen Khanday's admission of mounting an attack on a paramilitary camp in the same southern region, on December 31, 2017.
"By the time this message reaches you, I will be far away, a guest in god's paradise," Khanday had said in his pre-recorded statement before he stormed the camp along with two others.
Dar, however, had upped the ante. In his pre-recorded statement, Dar taunted Indians as "drinkers of cow urine", a reference commonly used by Jaish chief Masood Azhar in his sermons, and warned of a threat to Islam. "The war that they could not win with weapons and soldiers, now they want to attack your faith, colour you in their culture, and deprive you of the beautiful traditions of Islam," he says in the video.
Social media war
One of the crucial elements of the radical Islamic content online is naturally the central focus on Islamic values. Jihadists are seen praying in orchards or over snow or merely marching to nasheeds playing in the background. However, where once videos released by them invoked among civilians a sympathy and connect, they are now focused on creating fear and deterrence. The frequency of videos and pictures released on the web has decreased while the content simultaneously has become increasingly explicit about violence.
In August 2018, amid killings of policemen and abduction of their relatives, Hizb Valley chief Riyaz Naikoo had warned in an audio released on social media: "This time we have let your families go unharmed but this will not happen again. Their next time will be as your actions are." Naikoo's threat to political workers, particular attacking sarpanches and panches with acid, has also caused widespread fear. This year, at least three executions were filmed and circulated.
Change of tack
Full report at:
https://www.firstpost.com/india/jaish-goes-for-the-kill-on-social-media-6136301.html
--------
Attacks on Kashmiris a dangerous trend, says Yasin Malik
Feb 23, 2019
Srinagar: Jammu Kashmir Liberation Front (JKLF) chairman Muhammad Yasin Malik Friday said that attacks on Kashmiris across India is a dangerous trend which is promoting hatred between humans.
"Roads and institutions across India have been turned into a war zones for Kashmiris. Attacks by goons on Kashmiri businessmen, students, tourists are most condemnable and outrageous. This situation will only promote violence and hatred and may push more people to armed path," Yasin Malik stated this while speaking to people at Masjid Jamia Abi Guzar here, according to the statement.
Terming these attacks as most horrible, JKLF chairman said that "videos and images of these attacks and acts of humiliations are like forcing more Kashmiri youth towards armed resistance and hence turn situation more vulnerable and unwanted".
"…I want to tell biased Indian TV channels, debaters, politicians and policymakers that it is you who leave no place for these youth to tread a peaceful political path and then start demonising and killing them shamelessly which is highly condemnable," JKLF chairman said.
The resistance leader further said: "Today we are witnessing pro-India Kashmiri politicians and some other people rushing to Jammu and Delhi, have photographs with rescued Kashmiri children and play politics on this human issue."
Hailing Sikh community for providing safety to stranded, JKLF chairman said that role of Sikh organizations and individuals including "Khalsa aid" are actually like a ray of hope for humanity in these dark times for which they deserve kudos.
Asking Kashmiris to remain steadfast, Malik said that our religion Islam, Prophet of Islam (SAW) and religious cum social traditions have taught us to serve humanity, shun hatred and religious divide, and despite all provocations safeguard our minorities, their lives, dignity and properties even at the cost of their lives.
Full report at:
https://kashmirreader.com/2019/02/23/attacks-on-kashmiris-a-dangerous-trend-says-yasin-malik/
--------
UP ATS arrests two Kashmiris 'with Jaish links' in Deoband
by Amil Bhatnagar, Adil Akhzer
February 23, 2019
Two Kashmiris were arrested by UP's Anti-Terror Squad (ATS) from a hostel in Deoband late Thursday night for suspected links with terror outfit Jaish-e-Mohammad.
The men were identified as Shahnawaz Teli (26) and Aqib Ahmad Malik (28), belonging to Kulgam and Pulwama areas of Kashmir, respectively, said UP DGP O P Singh. The police claimed to have recovered two country-made pistols of .32 bore along with 30 live cartridges along with "jihadi literature, chats and videos".
According to the ATS, an unidentified student tipped the police about activities of the two men, who were allegedly trying to radicalise students. Monitoring of the suspects was initiated and an operation conducted post 1 am. The two Kashmiris and seven other students were arrested from a private hostel, officers said. The seven students were let go after questioning. The two accused were produced in a court in Saharanpur and sent to ATS headquarters in Lucknow for three-day transit remand.
"We were informed that the two suspects were living in Deoband posing as students but had no admission in any institution. They were under constant watch through electronic surveillance. After concrete evidence was collected, IG ATS was asked to conduct the operation," said DGP Singh. UP Police is in touch with J&K Police.
The police claimed there was evidence of Shahnawaz being an active member of Jaish, and trained people to lob grenades. Family members of both the suspects denied that they were associated with any terror outfit.
Speaking to The Indian Express, Aqib's cousin Rayees Ahmad Malik said, "He left home to study in Deoband. He called yesterday evening and said that as Kashmiris are being harassed, he would return home in a few days."
Rayees said that no case was registered against Aqib, a resident of Chindgawan area in Pulwama district. "Police can check the background. These are absolute lies that he was part of any militant group. He is innocent," he said. The family has approached the local police station.
The family of Shahnawaz, a resident of Noonmai village of Yaripora in Kulgam district, said he had been studying in Deoband for two years. "Today, we received a call from his friend that security agencies arrived at their accommodation and he was taken away," said his brother Waqar Ahmad. "We requested local police to take up the matter with UP Police. His records are clear. We completely deny the UP Police claims. He is not an operative." Both families now plan to travel to Uttar Pradesh.
Meanwhile, confusion and apprehension prevailed in the Deoband neighbourhood where the two resided. Aqib's and Shahnaqaz's acquaintances said the two were preparing for the entrance examination of the main Darul Uloom University. "Both were in Deoband for 1-2 years and wanted to pursue the course of Aalim in the main university. The exam is very tough and they were preparing. They failed last time and were looking to clear the next exam to be held in two months. They kept to themselves. It came as a surprise to us," said Adil, who was preparing for the exam with them.
Full report at:
https://indianexpress.com/article/india/up-ats-arrests-two-kashmiris-with-jaish-links-in-deoband-5597375/
--------
Terror watchdog steps up pressure on Pakistan
by Shubhajit Roy
February 23, 2019
RATCHETING UP the pressure on Pakistan, the Financial Action Task Force (FATF) on Friday said Islamabad has not demonstrated a proper understanding of the "terrorism financing risks" posed by Jaish-e-Mohammad (JeM), Lashkar-e-Taiba (LeT), Jamaat-ud-Dawa (JuD), Falah-e-Insaniat Foundation (FIF), al Qaeda, Haqqani Network, Islamic State (IS) and Taliban.
In a statement, the Paris-headquartered international terror financing watchdog also condemned the Pulwama attack. "The FATF notes with grave concern and condemns the violent terrorist attack last week that killed at least 40 Indian security forces in Pulwama in the state of Jammu and Kashmir," it said.
"Pakistan has revised its TF (terror financing) risk assessment. However, it does not demonstrate a proper understanding of the TF risks posed by Da'esh (IS), al Qaeda, JuD (Jamaat-ud-Dawa), FIF (Falah-e-Insaniat Foundation), LeT (Lashkar-e-Taiba), JeM (Jaish-e-Mohammad), HQN (Haqqani Network) and persons affiliated with the Taliban," said the statement released after a week-long plenary session, which assessed Pakistan's commitments and actions taken against terrorist financing.
This comes a day after the Pakistan government decided to "accelerate action against proscribed organisations" and reinstated a ban on 26/11 mastermind Hafiz Saeed's JuD and its surrogate, FIF.
The FATF said Pakistan has to demonstrate "effective implementation of targeted financial sanctions (supported by a comprehensive legal obligation) against all 1,267 and 1,373 designated terrorists and those acting for or on their behalf, including preventing the raising and moving of funds, identifying and freezing assets (movable and immovable), and prohibiting access to funds and financial services."
This is clearly aimed at the JeM, JuD, FIF and Hafiz Saeed.
"As per FATF, Pakistan has to take action against 26 commitments by September this year. The deadlines for five commitments have already lapsed in January this year. Now, it has time to act on 16 commitments till May this year. If it fails to act on those 16 commitment by May, it would have failed to meet 21 out of 26 commitments, even after a year of grey-listing. While they will still have time till September, the blacklisting could be considered," sources told The Indian Express.
The FATF said Pakistan should continue to work on implementing its action plan to address its strategic deficiencies, including by adequately demonstrating its proper understanding of the terror financing risks posed by the terrorist groups and conducting supervision on a risk-sensitive basis.
Pakistan should also demonstrate that remedial actions and sanctions are applied in cases of anti-money laundering and combating the financing of terrorism violations, it said.
Full report at:
https://indianexpress.com/article/india/terror-watchdog-steps-up-pressure-on-pakistan-pulwama-attack-fatf-5597369/
--------
Pulwama attack: India urges ASEAN to support its fight against terrorism
February 22, 2019
Hours after the global terror financing watchdog FATF condemned the Pulwama attack and continued the 'Gray' listing of Pakistan, Home Minister Rajnath Singh urged the Association of South East Asian Nations (ASEAN) to support India's fight against the menace of terrorism.
Delivering the valedictory address at the 4th India-ASEAN Expo and Summit here, Singh said an environment of peace and security are prerequisites for trade and commerce to flourish. "This summit must acknowledge the fact and ensure that the soil of any country should not be used for propagating terrorism," he said, appealing to the ASEAN countries and other nations to support India's fight against terrorism.
The development also came a day after Pakistan banned Mumbai attack mastermind Hafiz Saeed's Jamat-ud-Dawa and its charity wing Falah-e-Insaniat Foundation amid global condemnation and increasing pressure. The suicide bomb attack on the Jammu-Srinagar highway was claimed by Pakistan based Jaish-e-Mohammad led by Maulana Masood Azhar.
The deadly attack on CRPF convoy in Pulwama, which killed at least 40 personnel, has received global condemnation with the Indian government launching an all-out effort to isolate Pakistan globally.
Earlier today the Financial Action Task Force in a statement said, "Pakistan has revised its TF (terror financing) risk assessment. However, it does not demonstrate a proper understanding of the TF risks posed by Da'esh (ISIS), AL-Qaida, JuD (Jamat-ud-Dawa), FIF (Falah-e-Insaniat Foundation), LeT (Lashkar-e-Taiba), JeM (Jaish-e-Mohammad), HQN (Haqqani Network) and persons affiliated with the Taliban."
Meanwhile, the Pakistan Army on Friday said that the country does not wish for war, but warned India of "surprise" in case it takes any aggressive military measures, amidst heightened tensions between the two sides, PTI reported. "We have a 72-year history. The partition happened in 1947 and Pakistan was liberated. India still hasn't been able to accept that," Director General Inter-Services Public Relations (ISPR) Major General Asif Ghafoor said.
Full report at:
https://indianexpress.com/article/india/pulwama-attack-india-urges-asean-to-support-its-fight-against-terrorism-5597139/
--------
Assam launches crackdown against Rohingya Muslims
Feb 23, 2019
GUWAHATI: The Assam government has ordered a crackdown on Rohingya Muslims believed to have been settled systematically by a network of sympathizers in minority-dominated districts of the state in large numbers.
Finance minister Himanta Biswa Sarma on Friday said, "We have been able to arrest only those who have been detected so far. We fear there could be more who have come in multiple streams and we do know how many of them are settled here now. We have asked our police force to detect each and every one of them as the top priority.".
He said since the detection of the first Rohingya Muslim in the state in 2009, infiltration from Myanmar has been on.
"Very recently, when the state machinery was focused on the unrest in the state (following the protests against Citizenship Bill), there has been a systematic effort to settle the Rohingya Muslims, who have been either living in the three refugee camps set up by India in Telengana, Delhi and Jammu, or infiltrated from across the border," Sarma said.
He added, "Certain organisations are making concerted efforts to push Rohingya Muslims into Assam and a network has developed to raise donations for them."
Sarma said police have arrested 75 Rohingya Muslims in the state so far, who are either in judicial custody or in detention camp in Goalpara jail or have been repatriated. He added that there is no designated camp for Rohingya in Assam.
"Most of these Rohingya Muslims have been detected and arrested in Hojai, Lumding, Cachar and Karimganj districts. These are the districts where the demography has drastically changed and the indigenous Assamese people are being pushed into oblivion," Sarma said.
The biggest batch of Rohingya Mulsims was arrested in Karimganj district on January 21, he said. Asked if these Rohingya Muslims can stay in Assam with refugee identity cards, Sarma said, "India does not recognise any such identity granted by the United Nations High Commissioner for Refugees (UNHCR). Only the Indian government is the competent authority to issue such refugee certificate, which is acceptable," he said.
Full report at:
https://timesofindia.indiatimes.com/city/guwahati/assam-launches-crackdown-against-rohingya-muslims/articleshow/68118162.cms
--------
Masood Azhar: militant at heart of Kashmir crisis got a second life in 1999
February 22, 2019
For eight days in 1999 the world watched in horror as hijackers diverted an Indian Airlines flight to Afghanistan and held the passengers hostage, the drama ending only when Delhi agreed to release three Kashmiri militants.
Nearly 20 years later, India is still paying the price for that decision.
One of the militants freed was Masood Azhar, who later went on to found Jaish-e-Mohammed (JeM), the militant group which claimed responsibility for the deadliest attack in three decades in Indian-held Kashmir.
More than 40 Indian troops were killed in the suicide blast on February 14, kindling a fresh diplomatic crisis between nuclear-armed arch-rivals India and Pakistan.
Based in Pakistan, JeM is one of several anti-Indian militant groups fighting in Kashmir which are officially outlawed in the country, but which are allegedly used by Islamabad as proxies in India.
Azhar – who has never been declared a terrorist by the international community – is also believed to be in Pakistan.
The US Treasury Department website still gives his home address as a location in Bahawalpur district of Pakistan's Punjab province, although his exact whereabouts remain shrouded in mystery.
Azhar was born the son of an elementary school teacher in Bahawalpur in 1968, according to Amir Rana, a security analyst who has carried out extensive research on Pakistani militant groups.
He originally entered Indian-held Kashmir on a Portuguese passport, security officials there told AFP, and established contact with numerous militant groups.
A common figure in the streets of Srinagar, he was known for his fiery speeches, and for mediating between the many groups flocking to the insurgency.
"His greatest value for the militant groups was as a motivator and recruiter, but more significantly he displayed a good capacity to reconcile their differences," one retired official said.
Azhar was detained by Indian authorities on terrorism charges in 1994. He reportedly bragged to his jailers that they would not be able to keep him in custody.
Azhar and other militants dug an escape tunnel, and when the moment came, Azhar insisted on going firstm, another security official said. "But he got stuck in the narrow tunnel because of his bulky physique and the whole attempt was thwarted."
Azhar remained in prison until the Indian Airlines flight from Kathmandu to New Delhi was hijacked on Christmas Eve in 1999, eventually landing in the southern Afghan city of Kandahar, at the time under Taliban rule.
One of the hijackers, Ibrahim Athar, was reported to be Azhar's younger brother.
Azhar reportedly met with Al Qaeda chief Osama bin Laden and Taliban founder Mullah Mohammed Omar in Afghanistan after he was freed, Mr Rana said.
He formed JeM in 2000, the analyst said, and a year later the group was blamed for a brazen attack on the Indian parliament in which militants killed 10 people, bringing India and Pakistan to the brink of war.
Azhar was detained and placed under house arrest, but a court in the Punjab provincial capital of Lahore ordered his release in 2002, citing "lack of evidence".
As homegrown Pakistani militant groups turned their guns on the state after 9/11, Mr Rana said Azhar was one of the few who kept a low profile.
The group struck again in 2016, with Delhi blaming them for an infamous attack on a military base in Indian-held Kashmir that left seven soldiers dead and once more sent tensions spiralling.
Azhar was again taken into "protective custody", but never formally charged.
Last July he addressed supporters in Muzaffarabad, the capital of Pakistani-held Kashmir, by telephone from an undisclosed location, claiming he had hundreds of militants ready to fight to the death.
The speech prompted Indian authorities to tighten security at airports in anticipation of another hijacking.
Azhar, meanwhile, has not been directly heard from since.
As well as Pakistan, JeM is also banned by the United Nations and India, while the US State Department lists it as a terrorist organisation.
However, Azhar has not been declared a terrorist, despite New Delhi and others trying several times to get the UN Security Council to name him as one, with the move blocked each time by Pakistan's ally China.
Full report at:
https://www.thenational.ae/world/asia/masood-azhar-militant-at-heart-of-kashmir-crisis-got-a-second-life-in-1999-1.828978
--------
'UK actively pursuing listing JeM chief Masood Azhar under UNSC 1267'
Feb 22, 2019
The UK is actively pursuing the listing of Jaish-e-Mohammad (JeM) chief Masood Azhar under United Nations Sanctions Committee (UNSC) 1267, said the British High Commission spokesperson in the national capital on Friday.
"The UK has previously supported the listing of Azhar under UNSCR 1267. We are once again actively pursuing the listing and we are working with other members of the UNSC to help achieve it," news agency ANI reported quoting the spokesperson.
This comes in the wake of Pulwama terror attack which was orchestrated by JeM, a Pakistan based terror outfit, claiming the lives of 40 CRPF personnel on February 14.
On Wednesday, British High Commissioner to India Dominic Asquith had said the UK and India have suffered from terror attacks but commitments over investments between the two countries should not be affected.
"UK and India have suffered from terrorist attacks. So, what happened in India last week in Kashmir is something that we regret. We send our condolences and we deplore terrorism wherever it takes place. Our commitment with India remains extremely strong," said Asquith, while talking to ANI.
India's attempts to list Azhar at the UNSC have been repeatedly blocked by China at the behest of Pakistan.
France, also a member of the permanent five of the UNSC, has officially announced that it would move a resolution soon in the 1267 committee seeking Azhar's listing. The proposal, when moved, will be fourth such bid at the UN in the past 10 years.
Since 2016, China has consistently blocked moves first by India and later by the US, the UK and France to designate Azhar as a global terrorist by putting repeated technical holds.
In 2009, India moved by itself a proposal to designate Azhar. This was followed in 2016 when India moved the proposal with the P3 - the US, the UK and France in the UN's 1267 Sanctions Committee to ban Azhar, also the mastermind of the attack on the airbase in Pathankot in January 2016.
Full report at:
https://zeenews.india.com/india/uk-actively-pursuing-listing-jem-chief-masood-azhar-under-unsc-1267-2182655.html
--------
Pakistan
Pak army chief visits LoC, F-16s fly combat air patrols
Feb 23, 2019
NEW DELHI: Pakistani fighter jets like F-16s have flown a few combat air patrols and photo reconnaissance missions close to the international border over the last two days, triggering some panic among its civilians, amidst heightened tensions with India after the Pulwama terror attack.
Defence sources on Friday said Pakistan was "trying to signal that it was prepared for any eventuality" as well as "check our alertness and preparedness levels" by flying its fighters close to the border in the Jammu and Munabao (Rajasthan) sectors.
Pakistan Army chief General Qamar Javed Bajwa, incidentally, also visited the Line of Control (LoC) to review the situation on Friday.
"Two low-flying Pakistani fighters generated sonic booms (akin to loud explosions or thunder) by breaking the sound barrier in Sialkot area on Thursday evening, which created panic among civilians living there… some took to Twitter and other social media platforms to express fears of a war breaking out. We are closely monitoring the situation," said a source.
Such fighter flying operations close to the borders, however, are not unusual during heightened tensions between India and Pakistan, with their air forces probing the rival's air defence systems and measures as well as the "reaction time" needed for them to kick in. Surveillance drones are also regularly flown by the two sides especially along the 778-km long LoC in J&K, some of which end up being shot down.
The Indian armed forces are also maintaining a highlevel of operational readiness, even as the two armies continue to exchange heavy fire in Nowshera, Mankot and other sectors along the LoC. The number of border ceasefire violations (CFVs) this year is already close to 300, which comes after as many as 1,629 CFVs were recorded in 2018.
The number of CFVs in 2016 stood at 449, but there was a surge in them after Indian para-special forces conducted "surgical strikes" against terror launch pads in Pakistanoccupied-Kashmir in September that year. The CFVs jumped to 971 in 2017, with the action-reaction cycle escalating further last year to break all records since the border ceasefire came into force as a major confidence-building measure between the two countries in November, 2003.
India and Pakistan also have a 1991 bilateral agreement that lays down that "rotary-wing aircraft" will not fly within 1-km and "fixedwing aircraft" within 10-km of each other's airspace.
https://timesofindia.indiatimes.com/world/pakistan/pak-army-chief-visits-loc-f-16s-fly-combat-air-patrols/articleshow/68120233.cms
--------
Crackdown or an eyewash? Under global pressure, Pak Punjab takes over Jaish HQ
Feb 22, 2019
ISLAMABAD/NEW DELHI: The government of Pakistan's Punjab province on Friday took control of the Islamic seminaries in Bahawalpur of Maulana Masood Azhar-led Jaish-e-Muhammed (JeM)+ , the terrorist organisation that owned up to the suicide bombing of a CRPF convoy that killed 40 jawans in Pulwama on February 14+ .
The move came a day after Pakistani PM Imran Khan directed the interior ministry and security institutions to accelerate action against extremist outfits in the country, following a meeting of the National Security Committee (NSC), Pakistan's top civil-military body tasked to make crucial decisions on security and foreign affairs.
The takeover of the complex, however, did not impress Indian observers, with reports that Azhar had left Bahawalpur days ago, and remains in the 'safekeeping' of the Pakistan military, which regards him as a valuable "asset" in the proxy war against India.
There have been similar crackdowns in the past that did not amount to much, such as after the 26/11 attacks on Mumbai, when some Lashkar-e-Taiba camps were raided.
The action seems a hasty response to international pressure and the fresh decision of anti-terror financing body FATF to keep Pakistan on the 'grey list'. Unless backed by concrete steps against Azhar and terror training camps along the Line of Control, taking over the Jaish campus may not amount to much more than Lashkar chief Hafiz Saeed's sporadic house arrests, which lack any serious intent.
The government of Punjab has taken over control of a campus comprising Madressatul Sabir and Jama-e-Masjid Subhanallah in Bahawalpur, reportedly the headquarters of Jaish-e-Mohammed, and appointed an administrator to manage its affairs," a spokesperson for the interior ministry said. "Punjab police has taken over security of the campus," the spokesperson added.
He said the action was taken in line with the decision of the NSC meeting on Thursday under the chairmanship of PM Khan.
According to the spokesperson, 600 students study on the JeM campus, which has a faculty of 70 teachers.
The NSC had also decided to ban Jamaat-ud Dawa and Falah-e-Insaniat Foundation (FIF), militant organisations.
Full report at:
https://timesofindia.indiatimes.com/world/pakistan/pak-punjab-govt-takes-control-of-jem-headquarters-in-bahawalpur/articleshow/68118341.cms
--------
Pakistan's offensive against human intelligence led to suicide bombing in Kashmir
Feb 22, 2019
SRINAGAR: The single biggest reason that kept Jaish-e-Mohammad suicide bomber Adil Ahmad Dar off the radar of the counter-insurgency agencies was the dismantling of human intelligence after Pakistan's aggressive assault on native informers in the last five years.
According to official documents exclusively accessed by TOI, Adil Ahmad Dar was categorised as a C-grade militant. In other words, Dar was considered by intelligence agencies as the least dangerous in the hierarchy of terrorists. The database, updated in December 2018, also reveals that there was no information about the existence and presence of Kamran and Farhad, the two top Pakistani Jaish commanders killed in a fierce gun battle in Pulwama on Monday.
In the case of the two Jaish commanders, security forces kept scrambling about their identity due to lack of intelligence. "We were also confused about their real identity because of the Pakistan army and ISI's code name strategy for terror operations.
The ISI deliberately gives various aliases to each terrorist to mislead us. They often use aliases like Abu, Ghazi, etc., which creates a lot of confusion. That is why we don't really know if there is a terrorist called Abdul Rashid Ghazi, the so-called IED expert who supposedly trained Adil Dar, the suicide bomber," a counter-insurgency officer said.
Officials of all security agencies admit that their own human intel has been in disarray ever since Pakistan's army and ISI launched an offensive against locals in Kashmir following Burhan Wani's killing in 2016. In the last three years, Pakistan-backed terrorists killed over 180 civilians, some of whom were informers, sources said. Officials declined to say exactly how many were informers. "But that did result in weakening of intelligence on the ground," a highly placed source said.
The intelligence agencies now realise their assessment about recruitment and infiltration has also been inaccurate. "In fact, going by the number of militants killed, it is now apparent that our statistics about recruitment and infiltration are underestimated," an official said. For example, forces estimated that in 2018, around 140 terrorists infiltrated into the Valley and around the same number of locals were recruited into militancy. After having killed over 240 terrorists last year, they are as of today still left with around 300 terrorists.
The massive gaps in the intelligence database has led to the thinking among the security agencies that they may have not analysed the trends in the Valley in the last ten years properly. "None of us really analysed why 2008 to 2010 were the worst in terms of street violence because of stone-pelting and clashes with forces. The years when we thought Kashmir peaceful, 2011 to 2013, actually had been the years when terror groups reorganised themselves and laid the foundation for the new-age militancy. The terror groups recruited massive numbers of overground workers (OGWs). An OGW is always a potential militant but just because OGW is the unarmed and silent part of society doesn't mean he's peaceful," an official said.
Full report at:
https://timesofindia.indiatimes.com/world/pakistan/pakistans-offensive-against-human-intelligence-led-to-suicide-bombing-in-kashmir/articleshow/68118516.cms
--------
Musharraf rules out possibility of Pak-India nuclear war
Feb 23, 2019
Former president General (r) Pervez Musharraf has ruled out the use of nuclear weapons in case of an armed conflict between India and Pakistan in the aftermath of February 14 suicide attack in occupied Kashmir's Pulwama district which left over 40 paramilitary forces killed.
"It is ridiculous even to say that there will be the use of an atomic bomb in case of any war between the nuclear neighbours. If Pakistan uses one bomb, India will use 20 bombs so Pakistan may have to use 50 – this is disastrous," the ex-military ruler said while replying to question at a news conference in Dubai on Friday, according to Gulf News.
"People who are talking about such possibilities have no idea of warfare," he said, adding that nuclear weapon at best is deterrence and should not be used by anyone.
The former president went on to say that the relations between Islamabad and New Delhi have been very tense and even dangerous for the 10 months.
Musharraf, who is also the founder of All Pakistan Muslim League (APML), addressed the media along with his senior party members – newly elected APML Chairman Hidayatullah Kheshgi and Secretary General Mehreen Malik. He announced he would be reorganising his party both in Pakistan and abroad and would enter the political scene before the next elections.
While replying to a question about his return to Pakistan, the ex-military general said: "I am planning to go back soon as the environment is conducive for my return to Pakistan," he said replying to a question.
He went on to say that many of the senior officials and ministers working for the Prime Minister Imran Khan government had also worked under him and would help him on his return.
However, he did not give any specific time frame for his return.
While talking about the ongoing reconciliation process in Afghanistan, Musharraf said that relations between Kabul and Islamabad are also at the lower level and they should work to improve ties.
To a question on withdrawal of US forces from the war-torn country, he said that Afghanistan would head to civil war and the Taliban will be the winner again. "If the US withdraws from Afghanistan, there will be a proxy war between India and Pakistan in Afghanistan."
Full report at:
https://www.pakistantoday.com.pk/2019/02/22/musharraf-rules-out-possibility-of-pak-india-nuclear-war/
--------
We're peace loving nation but won't be intimidated: COAS Bajwa
Feb 23, 2019
RAWALPINDI: Chief of Army Staff (COAS) General Qamar Javed Bajwa on Friday said that any aggression or misadventure shall be paid back in the same coin.
The COAS said this during a visit to Line of Control (LoC) where he reviewed the state of preparedness and lauded the high morale of the troops.
Maj Gen Asif Ghafoor
✔
@OfficialDGISPR
COAS visited Line of Control. Reviewed state of preparedness. Lauded high moral of troops.
"Pakistan is a peace loving country but we will not be intimidated or coerced. Any aggression or misadventure shall be paid back in same coin", COAS.
18.5K
19:37 - 22 Feb 2019
7,092 people are talking about this
Twitter Ads information and privacy
Full report at:
https://www.pakistantoday.com.pk/2019/02/22/were-peace-loving-nation-but-wont-be-intimidated-coas-bajwa/
--------
No objectionable material found during JeM 'HQs' raid
Feb 23, 2019
LAHORE: As part of the National Action Plan (NAP), the Punjab government took control of the Madrassa and Masjid in Bahawalpur which was allegedly being used as the headquarters of Jaish-e-Muhammad (JeM) but no controversial material was found during the checking as only religious teachings were being imparted there.
The move came a day after the National Security Committee (NSC) decided that efforts would be expedited to rout extremism from the society. JeM had purportedly claimed responsibility for a deadly attack on Indian security forces in the Indian-occupied Kashmir earlier this month, killing at least 44 paramilitary soldiers.
"The government of Punjab has taken over the control of a campus comprising Madrassatul Sabir and Jamia-e-Masjid Subhanallah in Bahawalpur, reportedly the headquarters of Jaish-e-Mohammad and appointed an administrator to manage its affairs," said the Punjab Home Department's spokesman in a statement.
The spokesman said that action was taken in line with the decision of the NSC meeting held on Thursday under the chairmanship of Prime Minister Imran Khan. According to the spokesperson, currently, 600 students are studying at the campus, which has a faculty of 70 teachers. The Punjab police are providing security and protection to the campus, he added.
Full report at:
https://www.pakistantoday.com.pk/2019/02/22/punjab-govt-takes-over-jaish-e-mohammad-seminaries/
--------
Southeast Asia
'Cash ties' with Saudis why BN sent troops to join Yemen war, says Chandra
Vinodh Pillai and Karyn Denise Dula Magno
February 23, 2019
KUALA LUMPUR: Prominent social critic Chandra Muzaffar today claimed the previous government deployed Malaysian troops to assist in the Yemeni war because of its "cash relationship" with the Saudis.
This follows criticism over the Barisan Nasional administration's decision to join the Saudi Arabia-led coalition in 2015 to help the Yemeni government, despite saying its role was non-military in nature.
Speaking at a forum during the "Stand with Yemen" event this afternoon here, Chandra said it was odd why the decision did not first get the consent of Parliament.
"I would like to call a spade a spade. There is no doubt that the intention from the beginning for stationing the troops… was not (to evacuate)… Malaysian students. That was a farce," Chandra claimed today.
He was referring to the previous government's stand that troops were only sent to protect and facilitate the evacuation of Malaysians students during Ops Yemen I in April 2015.
The troops deployed for Ops Yemen II, a second operation from June 2015 to September 2018, were similarly not on active duty or deployed for combat, according to the then defence minister.
Chandra disagreed. "The Malaysian government was clearly siding with Saudi Arabia. We developed a special relationship with Saudi Arabia under the previous government, one linked via money.
"So 'cash is king'. It was not just employed within Malaysia but also through bilateral and international relations," he said, adding this was a clear "cash relationship", one that spiralled into "loans and debts".
This was a likely reference to reports of Saudi funds being channelled into former prime minister Najib Razak's accounts and the Saudis' role in the 1MDB scandal, although Chandra didn't specify this.
It was a total deviation from Malaysia's foreign policy in any case, he said, and trained his guns on the public for being "partly ignorant" and the media for "not giving any coverage" as the issue unfolded.
"We never send troops to support another country but they got away with this because those from the opposition didn't raise questions. Some of them are now part of the government today," Chandra said.
Chandra was speaking at a forum at the Stand With Yemen symposium and photo exhibition being held at the International Institute of Islamic Civilisation & Malay World (Istac) in Taman Duta, Kuala Lumpur.
He was joined by Yemeni activist Abdul Rahman Al Maamari, terrorism expert James M Dorsey, who is attached with Singapore's Nanyang Technological University, and Minister in the Prime Minister's Department Mujahid Yusof Rawa.
Since 2015, the Saudis have been backing Yemeni government forces against the Houthi rebels, a predominantly Shia Muslim group.
Malaysian troops were deployed in 2015 but recalled after the new government informed Riyadh that the country would no longer be involved in the war.
Critics had warned that Malaysia could be guilty of the mass deaths caused by aerial bombardments of Yemen by the Saudi-led coalition.
Earlier in his talk, Chandra said it was a fact that there was a lack of response to the Yemen crisis by non-Muslims in Malaysia because they would generally brand this as an issue only affecting Muslims.
"The reason is obvious to most of us because the way Malaysians respond to a certain crisis or tragedy is based on their conditioning and their response is coloured by ethnicity or religion. It's the truth.
"There isn't much empathy at this level except for some individual groups here and there," he said, adding this is why it is difficult to get non-Muslim Malaysians support for the Palestinian cause as well.
Chandra called for Malaysians to stand up for causes like this, saying Putrajaya should have openly taken a stance against the Venezuelan crisis too, which recently escalated into a debate over the rightful president.
https://www.freemalaysiatoday.com/category/nation/2019/02/23/cash-ties-with-saudis-why-bn-sent-troops-to-join-yemen-war-says-chandra/
--------
Rebels named leaders of Philippine Muslim territory
February 22, 2019
MANILA: The Philippines on Friday handed over the reins of new Muslim-led territory to rebel leaders who waged a decades-long fight for autonomy but are now tasked with securing peace and prosperity.
President Rodrigo Duterte personally swore in Murad Ebrahim, head of the Catholic-majority nation's largest Muslim group, as interim chief minister at a symbolic Manila ceremony.
It comes after voters decisively backed in January the founding of the so-called Bangsamoro region in the south, the culmination of a peace deal to end a separatist insurgency that had killed some 150,000 people since the 1970s.
Duterte and Murad, leader of the Moro Islamic Liberation Front (MILF), have both said they hope the pact will help head off the rise of Islamist extremism in the country's Muslim-populated southern region of Mindanao.
"The road to peace may be long and rough, but I am glad that we've finally reached its end point," Duterte said in a speech after also swearing the other members of a Bangsamoro transition government, a majority of them picked by the MILF.
"Most of all we would like to see an end to the violence that has wracked Mindanao and have cost so many lives for nothing," the president added.
Murad's MILF signed a peace treaty with the Philippine government in 2014, and the legislature of the mainly Catholic Asian nation last year passed a law creating the self-rule area, which voters later ratified.
Murad and his transition body will form a cabinet as well as pass laws until the temporary arrangement ends with the election of a regional parliament in May 2022.
During Murad's term, some of his more than 10,000 armed fighters are expected to gradually disarm under the terms set by the peace treaty.
The rebellion began in the early 1970s as a bid to set up a separate Muslim state in the Mindanao region.
The rebels later scaled down their objective to autonomy.
Despite the MILF peace deal, violence persisted as more radical Islamic groups set up shop in what remains the poorest segment of the country.
In May 2017, hundreds of foreign and local pro-IS gunmen seized Marawi, the country's largest Muslim city.
The Philippine military wrested back the ruined city after a five-month battle that claimed more than a thousand lives.
Full report at:
https://www.freemalaysiatoday.com/category/world/2019/02/22/rebels-named-leaders-of-philippine-muslim-territory/
--------
RM250m Penang Islamic Hospital to open in 2022
22 February 2019
By Opalyn Mok
GEORGE TOWN, Feb 22 — The proposed RM250 million Penang Islamic Hospital is scheduled to be completed by 2022, said Yayasan Islam Pulau Pinang (YIPP) chairman Datuk Mansor Othman.
He said the hospital will be sharia certified and that works on the project will start on Monday.
"The initial cost was RM200 million when it was proposed in 2016 but it has increased to RM250 million and this included the cost of medical equipment," he told a press conference during the signing of a land lease agreement with Penang Islamic Religious Council (MAINPP) for the hospital.
The first Islamic hospital in the northern region will be a 15-storey building with a total of 600 carpark bays located on 2.54 acres of 'wakaf' land.
Mansor said 20 beds in the hospital will be specially allocated for the poor who could not afford private medical care.
The hospital will be a full-fledged private hospital and it will be certified sharia-compliant, he added.
MAINPP president Datuk Abdul Malik Abul Kassim said the hospital will have a 'wakaf' and 'zakat' concept.
"The hospital will incorporate Islamic values in all aspects," he said.
The hospital will have a total of 200 beds and will be located on a piece of land in Bayan Baru.
MAINPP signed a 66-year lease agreement with YIPP which will end in 2085.
Mansor said YIPP has appointed Hospital Pakar An Nur Hasanah Sdn Bhd as the operator to manage the hospital and already obtained approval in 2016.
He said the planning approval for the project was also obtained in July 2018.
"With the signing of the agreement today, we can start work immediately," he said.
Meanwhile, Malik said Zakat Pulau Pinang exceeded its target collection for 2018.
"Our target was to collect RM103 million for 2018 but we collected RM114 million, more than what we target," he said.
He said the zakat collection in 2017 was RM101 million.
"Our target for 2019 is to collect RM125 million," he said.
Full report at:
https://www.malaymail.com/news/malaysia/2019/02/22/rm250m-penang-islamic-hospital-to-open-in-2022/1725749
--------
Thailand deports dozens of Muslims headed to south
22.02.2019
Thailand deported more than 30 Muslims from Cambodia who had come to the Buddhist-majority country on valid visas.
Thai police deported the 34 Muslims who allegedly wanted to work in the troubled deep South. The group included 32 males and 2 females, according to the Bangkok Post newspaper.
Police claimed the visitors ''did not meet immigration requirements''.
''All of them were traveling on tourist visas but many said they planned to work in the southern provinces,'' the newspaper quoted Thai police.
After crossing the Thai-Cambodian frontier into Sa Kaeo region, the group was asked to return to the Cambodian border town of Poipet.
They reached the Sa Kaeo region where they were detained after police sought the purpose of the visit. Cambodian authorities were also asked to join the investigation.
Thai police argued to ''prevent any misunderstanding'' the group was detained.
''The officers found their trips were not endorsed by authorized officials and the group could not tell them exactly where they planned to stay in Thailand,'' the newspaper said.
''An inspection also found that each of them brought between 1,000 and 3,000 Thai baht [$32 - $96], which fell short of the minimum requirement of 20,000 baht [$639],'' police added.
The newspaper said Thai railway police on Thursday in Songkhla province's Hat Yai district dealt with a ''similar case of illegal travelers involving three Cambodian Muslims.''
Two did not have passports, however, they were on their way to Malaysia, the news report added.
Full report at:
https://www.aa.com.tr/en/asia-pacific/thailand-deports-dozens-of-muslims-headed-to-south-/1400354
--------
Muhyiddin directs IGP to investigate idol at surau
23 February 2019
KUALA LUMPUR, Feb 23 ― Home Minister Tan Sri Muhyiddin Yassin has instructed the Inspector-General of Police Tan Sri Mohamad Fuzi Harun to investigate in detail the party responsible for placing an idol at the Sabilul Huda surau in Klang.
Condemning the deplorable, seditious and highly provocative act to insult Islam and undermine racial and religious harmony, Muhyiddin said a strict action based on the law should be taken against the perpetrators of the act.
"The Home Ministry will not compromise with any act of contempt for religion that can affect the harmony of the people.
"Those who commit the despicable act must be detained through the process of the law, prosecuted in court and sentenced if convicted," he said in a statement posted on his Facebook page today.
Muhyiddin said the incidents of contempt of Islam included messages of insults towards the Islamic religion being disseminated in social media since lately was very dangerous and had raised the ire of Muslims.
"The latest is the insult to Prophet Muhammad SAW. The suspect in the case has been identified and investigations have been concluded by the police. I believe the Deputy Public Prosecutor will decide on charging the suspect in court soon," he said.
Full report at:
https://www.malaymail.com/news/malaysia/2019/02/23/muhyiddin-directs-igp-to-investigate-idol-at-surau/1726059
--------
Arab World
Syrian Army Sends Large Military Convoy to Palmyra for Final Battle against ISIL
Feb 22, 2019
Field sources in Syria reported on Thursday that the army's convoy consisted of a large number of forces and military equipment and was sent to Badiyeh region in the Eastern parts of al-Sukhnah city in Eastern Homs to strengthen the military points.
They added that the Syrian army dispatched forces to the region after the ISIL's repeated attacks against the army positions, noting that Damascus intends to fully purge the ISIL terrorists from the region.
Thousands of the ISIL militants have occupied a 4,000-sq/km region from Northern Palmyra to Northern al-Sukhnah and the Western borders with Deir Ezzur province.
A source told the Arabic-language al-Masdar news website earlier this week that an estimated 1,500-3,000 ISIL terrorists were believed to be active in Badiyeh al-Sham region located in Central Syria.
In a relevant development last week, the Syrian army continued its military operations against the remnants of the ISIL terrorist group in the depth of Palmyra desert in Eastern Homs, inflicting heavy losses and casualties on the terrorists.
The Damascus army troops engaged in heavy clashes with the ISIL terrorists in Palmyra desert, killing and wounding a large number of militants.
The army troops also pounded the terrorists' movements in Palmyra, and destroyed several hideouts and military vehicles carrying heavy weaponry.
A large amount of terrorists' military equipment, including mortars, missile-launchers, RPGs, machineguns, ammunition and medicine were also destroyed in the Syrian army attacks.
http://en.farsnews.com/newstext.aspx?nn=13971203000335
--------
Turkish Army, Affiliated Militants Continue Plundering People's Properties in Afrin
Feb 22, 2019
The Kurdish-language Hawar news quoted local sources in Afrin as saying on Thursday that the Ankara-backed militants have cut nearly 1,050 fruit trees belonging to the civilians in the village of Qorneh Foqani in Bolboleh region.
They also added that the terrorists have also cut the old trees near Meidanaki Lake in Shara region.
The sources said that the terrorists in Afrin region and other occupied areas in Northern Aleppo have engaged in severe differences and several of them in Afrin, al-Bab and, specially Jarabulus, have defected their groups and joined other groups affiliated to the Turkish army.
The terrorist groups and the countries which support them have in the past few years plundered Syria's resources and treasures.
In a relevant development last week, the US army troops took out a sum of 40 tons of gold ingots belonging to the ISIL in heliborne operations after agreeing with the terrorist group and as Washington was preparing to announce the end of ISIL in Eastern Euphrates.
"The US troops in concordance with the ISIL terrorist group relocated big boxes packed with ISIL's gold treasure on several helicopters from al-Dashisheh region in Southern Hasaka," the SANA news agency quoted local sources in Eastern Deir Ezzur as saying.
The sources pointed to boxes containing 40 tons of gold ingots that the ISIL had hidden in the Eastern part of al-Shadadi city, and said that the ISIL had stolen the treasure of gold from the Iraqi city of Mosul and different parts of Syria.
Full report at:
http://en.farsnews.com/newstext.aspx?nn=13971203000304
--------
SDF to Extradite over 500 ISIL Militants to Iraq
Feb 22, 2019
Qatari al-Obaidi was quoted by the Arabic-language al-Ma'aloumeh news website as saying on Thursday that 502 ISIL members will be delivered to the Iraqi forces based on an agreement with the SDF.
He added that the SDF has already extradited 151 ISIL members to the command center of al-Jazeera operations forces and Iraq's Division 7.
Al-Obaidi said that 23 senior ISIL commanders from different Iraqi provinces who were wanted by Iraq's judiciary were among the extradited terrorists.
Hashd al-Shaabi forces have been actively helping the Iraqi and Syrian armies in fighting the ISIL.
Iraqi sources reported late last month that over 43 terrorists were killed and wounded in a preemptive strike by Hashd al-Shaabi on the ISIL in Syrian territories near the borders with Iraq.
Commander of Hashd al-Shaabi in al-Anbar province Qassem Muslih said that his forces attacked a gathering of ISIL in Baqouz region in Southeastern Syria with artillery fire.
Full report at:
http://en.farsnews.com/newstext.aspx?nn=13971203000254
--------
US Takes Senior ISIL Commander Out of Southeastern Deir Ezzur in Heliborne Operation
Feb 22, 2019
An Iraqi security commander of the ISIL, nom de guerre al-Kays, and three other terrorists were taken away from al-Shahil town in Southeastern Deir Ezzur in a US heliborne operation.
Al-Kays was in charge of arresting civilian youth in different parts of Deir Ezzur province.
In a relevant development on Tuesday, the SOHR reported that a military convoy comprising 100 trucks of the US-led forces arrived in Syria's Hasaka province from Amouda-Qamishli passageway in Northern Iraq.
The SOHR noted that the military convoy consisted of 40 empty trucks, 50 covered trucks with unidentified contents and 10 oil tankers.
It was announced earlier this week that the ISIL terrorist group ended its presence in Eastern Euphrates after an agreement with the US Army and its allied militants to exit the region, media reports said.
The Arabic-language al-Watan Online news website reported that the US Army has relocated the last remnants of the ISIL terrorist group to an unknown place from the farms in the countryside of al-Baghouz town in Southeastern Deir Ezzur.
The SOHR, meantime, reported that about 440 ISIL terrorists left Eastern Euphrates in two phases after agreeing with the Syrian Army and the US-led Syrian Democratic Forces (SDF).
It reiterated that the US is going to officially declare the end of the ISIL's presence in Eastern Euphrates.
In a relevant development last Friday, media sources said that the SDF are going to declare end of the ISIL in Eastern Euphrates after the latter retreated from areas under its control in the region.
"After ISIL's foreign terrorists left the Eastern Euphrates and tens of them surrendered, the SDF took control of the al-Khanafera and Sheikh Mohammad regions in Baghouz town," sources in Eastern Euphrates said.
They reiterated that the ISIL is only in control of several houses and a camp South of the Baghouz town in an area covering less than 1 square kilometers.
The SOHR, meantime, announced that the US troops and the SDF will soon declare the end of ISIL's presence in Eastern Euphrates as tens of non-Syrian and Western terrorists of the ISIL have retreated from that region.
In a relevant development, a senior source in the SDF said that the ringleader of the ISIL terrorist group Abu Bakr al-Baghdadi "is being protected by the Americans in Eastern Syria", adding that Washington plans to play a Hollywood-like scenario to declare end of the ISIL caliphate.
The Arabic-language website of Sputnik news agency quoted the source as saying that Baghdadi is at present being heavily protected by the American forces in a secret place in Eastern Euphrates region.
He added that the Americans are waiting for an opportunity to conduct heliborne operations by their marine forces in Southeastern Deir Ezzur and declare the capture of al-Baghdadi and end of ISIL on footage.
The source insisted that the time for the "above-mentioned theater is close", adding that the American forces have held SDF back from further advances in the ISIL-occupied regions in Eastern Euphrates to play the scenario.
US President Donald Trump said in early February that the country would likely announce soon that the entire ISIL terrorist group caliphate had been retaken in Syria and Iraq.
"It should be formally announced, sometime probably next week, that we'll have 100 percent of the caliphate," Trump stated during his remarks at a ministerial meeting of the US-led coalition member-states.
Earlier, the American president said during his second State of the Union address that it was time to return US troops deployed in Syria back home.
In December, Trump declared the ISIL terrorist group has defeated in Syria, and announced the US troop pullout from the country but gave no timeline.
Also earlier, a senior US administration official told reporters that Syria's Al-Tanf region would be the last place in the country that American troops leave as they implemented a planned withdrawal.
Full report at:
http://en.farsnews.com/newstext.aspx?nn=13971202000716
--------
13 French ISIL Ringleaders Arrested by Iraqi Intelligence Forces inside Syria
Feb 22, 2019
The Arabic-language website of Sputnik quoted al-Arabiya as reporting on Thursday that the Iraqi intelligence agency has disbanded the biggest grouplet which provided financial support to the ISIL and arrested its members in operations inside and outside the Iraqi territories, specially in Syria, and other countries.
It added that most of those captured are Iraqi nationals, noting that a large number of banking notes have been seized from them.
Meantime, the Arabic-language website of RT quoted an Iraqi security source in al-Anbar province as saying that 150 Iraqi ISIL members, including 10 of their commanders, were extradited by the Syrian Democratic Forces (SDF) to the Iraqi forces.
US President Donald Trump last Saturday urged "Britain, France, Germany and other European allies" to take back the ISIL militants captured in Syria, hinting at the release of the fighters if Washington's EU allies refuse to put them on trial.
In a twitter post, Trump said that "the US does not want to watch as these ISIS fighters permeate Europe, which is where they are expected to go", hinting at the efforts made by the US troops in Syria on fighting the ISIL and its associates.
"The US does not want to watch as these ISIS fighters permeate Europe, which is where they are expected to go. We do so much, and spend so much - Time for others to step up and do the job that they are so capable of doing. We are pulling back after 100% Caliphate victory!" he added.
According to reports, US administration officials fear that some of the 800 detained fighters could wreak havoc unless European governments put them on trial. Moreover, senior US officials have reportedly warned that the EU is running out of time to take back the terrorists captured in Syria.
The terror threat has remained high in the EU in recent years. European countries have faced a number of bloody terror acts, including a concert bombing in Manchester in May 2017, which claimed lives of 23 people.
According to Scotland Yard, around 200 UK jihadists who went to Syria to fight alongside the ISIL militants are thought to be alive and could decide to return, something that could pose a serious threat to European security.
Full report at:
http://en.farsnews.com/newstext.aspx?nn=13971203000214
--------
Almost 30 trucks carry people out of ISIS Syria holdout
22 February 2019
Almost 30 trucks carried men, women and children out of the last redoubt of the ISIS group in eastern Syria on Friday, AFP correspondents reported.
Most on board were women and children, in the second such large-scale evacuation in recent days by gun-mounted pick-up trucks belonging to the US-backed Syrian Democratic Forces who are poised to seize the enclave.
Some 300 ISIS militants, along with hundreds of civilians believed to be mostly their families, have been under siege for more than a week in the tent camp in Baghouz.
The Kurdish-led Syrian Democratic Forces surrounding the patch of land have been unable to carry out a final assault on it because of the presence of the civilians.
Full report at:
https://english.alarabiya.net/en/News/middle-east/2019/02/22/Almost-30-trucks-carry-people-out-of-ISIS-Syria-holdout.html
--------
Organization of Islamic Cooperation, UN officials discuss global relief efforts
February 23, 2019
JEDDAH: The Organization of Islamic Cooperation (OIC) has said that the humanitarian assistance provided by its member states is much larger than what is mentioned in international statistics.
"The estimations indicate that the total humanitarian contributions made by the OIC's member states in 2015 and 2016 exceeds $4.8 billion," said Hesham Youssef, OIC assistant secretary-general for humanitarian affairs.
"We firmly believe that the humanitarian assistance provided was not reflected in the statistics because the top 10 donor countries do not include any of the OIC's member states despite their generosity."
http://www.arabnews.com/node/1456661/saudi-arabia
--------
Mideast
Security Forces Disband 2 ISIL-Affiliated Terrorist Groups in Western Iran
Feb 22, 2019
According to Intelligence Ministry statement on Thursday, the intelligence forces managed to identify and detain 13 terrorists, affiliated to the ISIL grouplet, who were divided in two groups to plant bombs, kill people and assassinate certain Iranian Sunni clerics in Iran.
A number of the captured terrorists had undergone military trainings abroad and wanted to carry out terrorist acts under the guidance of one of the ISIL's military operations ringleaders.
Remote-controlled bombs, arms and ammunitions were discovered from the terrorists.
In a relevant development last week, Iranian Police Chief Brigadier General Hossein Ashtari said the country's security forces had detained a number of terrorists at the borders recently.
"A number of individuals have entered Iran illegally in the past few months with the aim of carrying out terrorist acts but were arrested thanks to the border guards' vigilance and efforts," General Ashtari said, addressing a ceremony in the Northeastern province of Khorassan Razavi on Sunday.
He underlined the Law Enforcement Police forces' preparedness to safeguard the Iranian borders, stressing that security prevailed across the country.
General Ashtari added that the Law Enforcement Police wanted to accelerate its forces' missions by increasing the number of its personnel and enhancement of electronic and optic equipment at the borders.
His remarks came days after Iranian Intelligence Minister Seyed Mahmoud Alavi announced that the country's security forces had traced and captured members of an ISIL team of terrorists in the past few days.
"We have identified enemies' anti-security moves one after another with vigilance and comprehensive control and we traced and captured a 7-strong group affiliated to the ISIL," Alavi told reporters in Tehran on the sidelines of his visit to an exhibition of Iran's defense achievements earlier this month.
He added that the team planned terrorist operations in Iran, but was dismantled before making a move.
"We have had enemies' moves under radar due to our full control and vigilance and extensive monitoring so far, and (hence) nothing special has happened these days," he said, referring to the Ten-Day (Feb. 1-Feb. 11) Dawn marking the victory of the 1979 Islamic Revolution.
Yet, the intelligence minister said the nation's full security specially during the days that marked the victory of the Islamic Revolution did not at all mean that no antagonistic effort had been aimed at the country. "There have been several other teams of terrorists who have all been identified and captured before staging terrorist operations," he added.
http://en.farsnews.com/newstext.aspx?nn=13971203000179
--------
Palestinian killed by Israeli fire in border clashes: Gaza ministry
22 February 2019
A Palestinian teenager was killed on Friday by Israeli fire during clashes along the Gaza border, the Hamas-run health ministry in the enclave said.
Yussef al-Daya, 14, was hit in the chest to the east of Gaza City, ministry spokesman Ashraf al-Qodra said.
In Jerusalem, earlier in the afternoon prayers at the compound of Al-Aqsa mosque passed off peacefully on Friday despite a week of tension over access to a corner of the compound.
Israeli police had increased their presence over concerns of violence as thousands of Muslim worshippers gathered at the holy site.
Before the prayer session, police arrested 60 people they suspected would incite violence, a police spokesman said.
The dispute focused on a passageway of gates and a stairway leading to a hall that had been closed by Israeli authorities for years and was reopened on Friday by Muslim religious officials. The hall is located a short distance from Al-Aqsa mosque itself.
Full report at:
https://english.alarabiya.net/en/News/middle-east/2019/02/22/Palestinian-killed-by-Israeli-fire-in-border-clashes-Gaza-ministry-.html
--------
Iran starts Gulf war games, to test submarine-launched missiles
22 February 2019
Iran on Friday began large-scale naval drills at the mouth of the Gulf, which will feature its first submarine cruise missile launches, state media reported, at a time of rising tensions with the United States.
More than 100 vessels were taking part in the three-day war games in a vast area stretching from the Strait of Hormuz to the Indian Ocean, the state news agency IRNA reported.
"The exercise will cover confronting a range of threats, testing weapons, and evaluating the readiness of equipment and personnel," navy commander Rear Admiral Hossein Khanzadi, said in remarks carried by state television.
"Submarine missile launches will be carried out ... in addition to helicopter and drone launches from the deck of the Sahand destroyer," Khanzadi said.
State media said Iran would be testing its new domestically built Fateh (Conqueror) submarine which is armed with cruise missiles and was launched last week.
Iranian officials in the past have threatened to block the Strait of Hormuz, a major oil shipping route, in retaliation for any hostile US action, including attempts to halt Iranian oil exports through sanctions.
US President Donald Trump pulled out of an international agreement on Iran's nuclear program last May and re-imposed sanctions on Tehran. He said the deal was flawed because it did not include curbs on Iran's development of ballistic missiles or its support for proxies in Syria, Yemen, Lebanon and Iraq.
Iran has expanded its missile program, particularly its ballistic missiles.
Iran launched its domestically made destroyer Sahand in December, which official say has radar-evading stealth properties.
The USS John C. Stennis entered the Gulf in December, ending a long absence of US aircraft carriers in the strategic waterway.
Iran displayed a new cruise surface-to-surface missile with a range of 1,300 km (800 miles) earlier this month during celebrations marking the anniversary of the 1979 Islamic Revolution.
Full report at:
https://english.alarabiya.net/en/News/middle-east/2019/02/22/Iran-starts-Gulf-war-games-to-test-submarine-launched-missiles.html
--------
UN demands immediate pullback of forces from Yemen ports
23 February 2019
The UN Security Council on Friday called on all parties in Yemen to immediately implement a deal to pull their forces out of three key ports and a key grain depot.
In a unanimous declaration, the 15-member council welcomed the recent UN-sponsored agreement between Houthi rebels and the Arab Coalition fighting them.
They called for "the immediate implementation" of the first step of the deal, which includes the various factions pulling their fighters first back from the ports of Salif and Ras Issa and then from the port city of Hodeidah.
Martin Griffiths, the UN special envoy in Yemen, told Al Arabiya in an exclusive interview on Thursday that he hoped the redeployment of forces would happen as early as Friday or Saturday.
On Thursday, UN Secretary General Antonio Guterres held a meeting on the issue in New York with US Secretary of State Mike Pompeo.
Under the agreement struck in Sweden on February 17, fighters would redeploy outside the ports and away from areas that are key to the humanitarian relief effort in Yemen, devastated by famine and outbreaks of disease after years of conflict.
The ports are in the Houthi-held west of the country.
The agreement also sets out free access to the grain warehouses at Red Sea Mills, under control of the Yemeni government forces.
The UN has not had access to the grain depots since September and estimates that the stockpiles there could be enough to feed 3.7 million people for a month.
The Security Council members also "expressed concern at continued reports of violations of the ceasefire" which has been in place since December.
Full report at:
https://english.alarabiya.net/en/News/gulf/2019/02/23/UN-demands-immediate-pullback-of-forces-from-Yemen-ports-.html
--------
Iran's revenge won't be limited to 'bunch of terrorists': IRGC
Feb 22, 2019
A senior Iranian general says the country will definitely avenge the recent terrorist attack on IRGC forces in Sistan and Baluchestan, but the revenge will not be limited to "a bunch of terrorists".
Brigadier General Hossein Salami, the lieutenant commander of the Islamic Revolution Guards Corps (IRGC), told IRNA on Friday that the recent deadly attack on Iranian border guards will not be left unpunished.
"We cannot disclose the way in which we will respond to the terrorists, but no act will remain unanswered," he said.
"The scale of Iran's revenge is not limited to clashes with four terrorists; we rather will track the terrorists and find who they are linked to," the top general said.
"Our responses are strong, and those who receive it will get familiar with them," General Salami warned.
The top commander also slammed the "hostile" behaviors of Saudi Arabia and the United Arab Emirates (UAE) which Iran says have masterminded the Zahedan attack, but at the same time noted that such terror attacks are too trivial to undermine Iran's deterrence power.
"We seek to defeat big powers, and such incidents are too small for us."
The IRGC's chief commander earlier warned Saudi Arabia and the UAE that they could face retaliatory measures for supporting terrorists on behalf of the US and Israel.
General Mohammad Ali Jafari on Saturday stressed that Iran would give a "decisive" response to the Wednesday terrorist attack which killed 27 IRGC border guards in Zahedan-Khash road.
"The patience that the establishment once exercised against conspiracies and reactionary regimes in the region, especially Saudi Arabia and the UAE which carry out these acts on orders from the US and the Zionist regime, will be different and we will definitely take reparative measures," he said.
A few days after the attack, Saudi Crown Prince Mohammed bin Salman received a warm welcome in Islamabad, where he threw Pakistan an economic lifeline.
Iran's Major General Qassem Soleimani on Thursday cautioned Pakistan against the true intentions behind Saudi Arabia's pumping of billions of dollars into its troubled economy, saying the Riyadh regime is after breaking the Asian state apart by pitting it against its neighbors.
"Saudi-sponsored terrorists on Pakistani soil are causing trouble for all of the country's neighbors, and Pakistan must fully realize this matter," he said, adding that the Asian country must not turn into a place for activities that disturb regional states such as Iran, India and Afghanistan.
In reaction to Iran's warnings, Pakistani Foreign Minister Shah Mahmood Qureshi told Dunya TV Friday that Islamabad will extend all-out cooperation to Iran over the terror attack.
"We have strongly condemned the terrorist attack in Iran and we are in touch with Iran over the issue," he noted.
"I had a detailed telephonic discussion with Iranian Foreign Minister Mohammad Javad Zarif and we have also sent an expert level delegation to Iran which also met with the leaders of Islamic Revolution Guards Corps," said the minister.
Qureshi said Iran and Pakistan have agreed to cooperate with each other and "we will address the Iranian concerns and remove all differences."
"We have developed an understanding to stop such attacks on border areas through a joint center for quick response."
'US involved in Zahedan attack'
Former Pakistani defense secretary Naeem Khalid Lodhi said the US was involved in the attack and still supported its perpetrators.
In an article entitled "the Hidden US Game," published in the Urdu-language newspaper "Dunya (the World)" on Thursday, former Pakistani defense secretary Naeem Khalid Lodhi wrote, "I think the US supports the perpetrators of the Zahedan terrorist attack." The former Pakistani military official, who is a fellow at Islamabad-based research center (CSCR), said the Zahedan attack was undoubtedly a covert operation aimed at creating tension between Tehran and Islamabad.
Full report at:
https://www.presstv.com/Detail/2019/02/22/589226/IRGC-revenge-Zahedan-attack-limited-Saudi-UAE
--------
Palestinian teen killed by Israeli forces in Gaza protests
Feb 22, 2019
Israeli forces have shot dead a Palestinian and injured dozens more in mass protests along the fence separating the besieged Gaza Strip and the Israeli-occupied territories for the 48th consecutive Friday.
The spokesman for the Gaza Ministry of Health, Ashraf al-Qidra, said in a statement that 15-year-old Yusuf Saeed Hussein al-Daya was fatally shot in the chest during a Great March of Return protest east of Gaza City.
Qidra added that 41 demonstrators were struck with live rounds and transferred to nearby hospitals. Three of the injuries were described as critical.
Among the wounded Palestinians was paramedic Fares al-Qudra, who sustained injuries when a tear gas canister hit him in the head.
Palestinians have held weekly protests on the Gaza border over the siege on the enclave and the right for refugees to return to their homes they were forcibly expelled from during the 1948 creation of Israel.
More than 260 Palestinians have been killed by Israeli forces ever since anti-occupation protest rallies began in the Gaza Strip on March 30. Over 26,000 Palestinians have also sustained injuries.
The Gaza clashes reached their peak on May 14 last year, on the eve of the 70th anniversary of the Nakba Day (Day of Catastrophe), which coincided this year with the US embassy relocation from Tel Aviv to occupied East Jerusalem al-Quds.
On June 13, 2018, the United Nations General Assembly adopted a resolution, sponsored by Turkey and Algeria, condemning the Israeli regime for the death of Palestinian civilians in Gaza.
The resolution, which had been put forward on behalf of Arab and Muslim countries, garnered a strong majority of 120 votes in the 193-member assembly, with eight votes against and 45 abstentions.
The resolution called on UN Secretary General Antonio Guterres to make proposals within 60 days "on ways and means for ensuring the safety, protection, and well-being of the Palestinian civilian population under Israeli occupation," including "recommendations regarding an international protection mechanism."
Full report at:
https://www.presstv.com/Detail/2019/02/22/589259/Palestinian-teen-Gaza
--------
Pro-Hadi commander slain in Houthi attack near Saudi border
Feb 22, 2019
A high-ranking Yemeni military commander loyal to Abd Rabbuh Mansur Hadi, the former president, has been killed when army soldiers and allied fighters from the Houthi Ansarullah movement launched a surprise attack in the mountainous northwestern province of Sa'ada.
Brigadier General Salih Balaid al-Marqashi, a commander of pro-Hadi operations in Baqim district, was killed along with a dozen Hadi loyalists on Friday as Yemeni troops and their allies mounted an assault in the Murabba Shaja area near Saudi Arabia's southern border region of Najran.
Colonel Ahmed Abu Hadi, commander of the First Division of the pro-Hadi Special Forces Brigade, and dozens of pro-Hadi militiamen lost their lives on February 8, when Yemeni troops and Ansarullah fighters carried out a similar attack east of Harad district in the northwestern province of Hajjah.
On January 10, Yemeni forces and Popular Committees fighters attacked Saudi Arabia's mercenaries at Anad Air Base in the southwestern province of Lahij with the new domestically-developed Qasef K2 (Striker K2) combat drone.
On January 13, Chief of Yemen's pro-Hadi military intelligence agency Brigadier General Saleh Tamah succumbed to injuries he had sustained in the same drone strike.
Pro-Hadi deputy chief of staff General Saleh Zindani died of his wounds at a hospital in the United Arab Emirates on February 3.
He was among several senior Saudi-sponsored commanders who were injured in the Yemeni aerial assault.
Saudi Arabia and a number of its regional allies launched a devastating campaign against Yemen in March 2015, with the aim of bringing Hadi's government back to power and crushing Ansarullah.
According to a new report by the Armed Conflict Location and Event Data Project (ACLED), a nonprofit conflict-research organization, the Saudi-led war has so far claimed the lives of around 56,000 Yemenis.
The Saudi-led war has also taken a heavy toll on the country's infrastructure, destroying hospitals, schools, and factories. The UN has already said that a record 22.2 million Yemenis are in dire need of food, including 8.4 million threatened by severe hunger. According to the world body, Yemen is suffering from the most severe famine in more than 100 years.
Full report at:
https://www.presstv.com/Detail/2019/02/22/589244/yemen-hadi-loyalist-houthis
--------
Turkey orders 295 military personnel arrested over Gulen links
February 22, 2019
ISTANBUL: Turkey ordered the arrest of 295 serving military personnel on Friday, the prosecutor's office said, accusing them of links to the network of US-based Muslim cleric Fethullah Gulen, who Ankara says orchestrated a 2016 attempted coup.
Those facing detention included three colonels, eight majors and 10 lieutenants, with around half of the suspects being in the army and the remainder in other military forces including the navy and air force, the statement said.
The prosecutor's office said police launched simultaneous arrest operations at 1:00 a.m. (2200 GMT) under an investigation into pay phone calls between suspected Gulen operatives. It was not clear how many suspects have been detained so far.
About 250 people were killed in the failed putsch, in which Gulen, a former ally of President Tayyip Erdogan, has denied involvement. Gulen has lived in self-imposed exile in Pennsylvania since 1999.
More than 77,000 people have been jailed pending trial since the coup and widespread arrests are still routine. Authorities have suspended or sacked 150,000 civil servants and military personnel.
Full report at:
http://www.arabnews.com/node/1456241/middle-east
--------
Africa
UN warns hunger continues to worsen in South Sudan 5 months after peace deal
Feb 22, 2019
Five months into South Sudan's fragile peace, 1.5 million people are on the brink of starvation and half the population, more than six million people, are facing extreme hunger, say the United Nations and South Sudan's government in a report issued Friday.
Without aid more than 7.5 million people will be at risk of extreme hunger, 260,000 of whom could slip into catastrophe, at risk of starvation, by May, a 70 percent increase compared to the same time last year, said the report.
Aid agencies are concerned that months after the end of South Sudan's five-year civil war, which killed almost 400,000 people and displaced millions, that populations are still starving.
"There has been no countrywide improvement since last year, this is the start of a concerning trend with the same number of people struggling to access basic food requirements," Katie Rickard, the country representative for REACH, a humanitarian research initiative that contributed data for the analysis, told The Associated Press.
It's been two years since South Sudan declared famine in two counties in Unity state, the first formally declared famine anywhere in the world since Somalia's crisis in 2011. While famine hasn't returned the numbers are grim. 18 counties are currently classified as being in emergency with 45,000 people in Jonglei, Lakes and Unity states in catastrophe, said the report.
"Without food aid there would be a full blown famine," said one aid worker with close knowledge of the report who wasn't authorized to speak on the record.
The critical conditions are being attributed to displacement driven by conflict, low crop production, an enduring economic crisis and restricted humanitarian access.
Despite a 2017 decree by President Salva Kiir for unhindered access, aid workers still struggle to reach the most vulnerable people. In January the number of bureaucratic impediments such as delays and blockages at checkpoints almost tripled from 2018, according to the UN. In December supplies were stopped at the border and trucks traveling between Juba and Bentiu were each charged approximately $4,500 to pass through almost 60 checkpoints.
"It is unacceptable that over half of the population faces severe acute food insecurity whilst humanitarian workers continue to be killed and detained," said Sarah Jackson, Amnesty International's deputy director of research. The government should stop this man-made humanitarian crisis, she said.
Breaking the cycle of hunger is partly contingent on the implementation of the peace deal and the ceasefire's ability to hold, said Friday's report. But even then it'll take more than a year to pull the country out of crisis especially as people start to return home, Pierre Vauthier a representative for the UN's Food and Agriculture Organization told The Associated Press.
"The population needs humanitarian assistance... very quickly we will need to help them reintegrate," he said, adding that 2019 will be a defining year and the focus needs to be on increasing food production.
In parts of the country that have been cut off for years due to fighting and where communities have fled so there's been little cultivation, the government is concerned people will have nothing to eat when they decide to come home.
"People have been away for almost three years they're coming barehanded to start at zero, there's no food," said Emmanuel Richard, commissioner for Kupera County in Central Equatoria state. In recent weeks people have started trickling back in but they struggle to survive, eating wild fruits from the trees to sustain themselves, said Richard.
With only three months left in the pre-transitional phase of the peace deal, the international community's patience is waning as the agreement's been met with delays and continued fighting.
In a statement this week, Norway the UK and the US, the troika which helped usher South Sudan to independence, said it was "alarmed" and "disturbed" by the recent escalation in fighting around Yei, which risked undermining the peace agreement and lowering confidence about the parties' commitment to the accord.
As South Sudan grapples to pick up the pieces after years of war, civilians across the country continue bearing the brunt.
Shielding himself from the hot sun, 23-year-old student Mobio Mayar stands under a tree in the town of Wau one arm crossed over his skinny frame.
"The situation is worse than last year," he said. "We don't have work, there's no food and no water. Sometimes I sleep without eating."
https://www.presstv.com/Detail/2019/02/22/589267/South-Sudan-UN-hunger-peace-deal-REACH-Salva-Kiir
--------
Ethnic Tubus fear southern Libya offensive
February 22, 2019
OUBARI: In the southern Libyan city of Oubari, shops are shuttered and tension is palpable, as residents fear an imminent incursion by forces loyal to strongman Khalifa Haftar.
We "dread the repercussions of military operations that are unfolding on the edge of town," said 22-year-old hospital administrator Ali Senoussi, speaking on behalf of his Tubu community.
Many residents in Oubari — some 900 kilometers (560 miles) south of Tripoli — are Tubu.
The ethnic group fears vengeance by Arab communities that have joined an offensive by Haftar's self-styled Libyan National Army (LNA), which is on the outskirts of the city.
Long marginalized, Tubus live in the Tibesti region, which straddles Libya, Chad and Niger, an area long at the mercy of roaming rebel groups, traffickers and extremists.
"We are residents of this region. Our support and love for it is immense," said 22-year-old Senoussi, clothed in a traditional head robe to screen desert sun and wind.
"We cannot accept being involved in wars with Arab tribes that fight alongside Haftar," he insisted, sipping tea in the courtyard of a hospital where he works as an administrator.
The LNA says it is seeking to purge "terrorist and criminal groups," and some accuse the Tubus of supporting Chadian rebels.
But Senoussi dismisses the offensive as "a threat to the social peace of the whole region."
Tubu lawmakers even allege that ethnic cleansing is under way.
The community was among the first to join the 2011 uprising that ousted and killed Muammar Qaddafi.
But the former dictator's downfall by no means improved Tubus' standing in Libya.
Despite being home to some of the country's biggest oilfields, the region is regularly hit by shortages of all kinds — petrol, electricity, gas cylinders and even bread.
Prices have rocketed on the black market.
Senoussi said the lack of fuel had forced him to leave his car at home and walk to work.
"Most public sector workers prefer to walk" to avoid long queues that have become a fixture of daily life at gas stations, he said.
The intensified chaos of recent years means that the southern border areas are more than ever a haven for extremists, traffickers and rebels.
These groups exploit a security vacuum that is exacerbated by an ongoing power struggle between a UN-backed Government of National Accord in Tripoli and a rival administration loyal to Haftar in northeastern Libya.
Tribal and ethnic quarrels between the Tubus, Tuaregs and Arab groups over trafficking have added fuel to the fire.
"We are Muslims, but we have a culture and language that we share with our cousins from Chad, Niger and Sudan," explained Ali Yahyia, a Tubu expert on his community.
But this does not undermine "our support for the Libyan homeland," he insisted.
The LNA launched its ongoing military campaign in mid-January and on Wednesday night entered Murzuk, another southern Libyan city home to many Tubus.
Renowned for a fortress that dates back more than seven centuries, much of the historic settlement now resembles a ghost town.
Murzuk's windswept streets are littered with garbage.
Like Oubari, shops are closed and people are scared to circulate.
Even bakers — hit by a lack of flour — cannot raise their blinds.
"The city faces numerous problems at the service level, particularly at the hospital where we have only one doctor," deplored municipal councillor Ibrahim Omar.
Full report at:
http://www.arabnews.com/node/1456471/middle-east
--------
Troops repel election-day Boko Haram attacks
Feb 23, 2019
Early morning attacks on Maiduguri metropolis by Boko Haram insurgents were repelled by Nigerian troops on Saturday, the day Africa's biggest democracy is going to poll to elect a new president.
Another set of the insurgents also attacked a Yobe town around the same time, Reuters reported.
"The situation seems to have been contained by the Nigerian troops. Hopefully people will be assured to go out and cast their votes," said Ahmad Salkida, a journalist known to have the knowledge, to a large extent, on the workings of the different factions Boko Haram in Nigeria's northeast.
https://guardian.ng/news/troops-repel-election-day-boko-haram-attacks/
--------
North America
Trump says India, Pakistan facing a 'very dangerous situation'
Anwar Iqbal
February 23, 2019
United States President Donald Trump, while voicing alarm at a "very dangerous" standoff between India and Pakistan, indicated that the US and others are trying to defuse tensions between South Asia's two nuclear-armed states.
"Right now between Pakistan and India, there is a very, very bad situation. A very dangerous situation," Trump told reporters in the Oval Office on Friday afternoon.
"We would like to see it [hostilities] stop. A lot of people were just killed. We want to see it just stop. We are very much involved in that [process]," he added.
At least 40 Indian soldiers were killed in occupied Kashmir's Pulwama district on Feb 14 when a suicide bomber drove an explosive-laden car into their convoy. According to media reports, Jaish-e-Muhammad claimed responsibility for the attack but New Delhi immediately blamed Islamabad and threatened a retaliatory attack. It also announced that it would launch a diplomatic offensive to isolate Pakistan in the international community. Furthermore, India scrapped the Most Favoured Nation status granted to Pakistan and imposed a 200 per cent customs duty on its goods.
In response to India's allegations, Prime Minister Imran Khan promised to conduct an investigation if New Delhi provided "actionable evidence" but also warned that Pakistan will "retaliate" if attacked. On Friday, the Pakistan army also warned India to avoid "any misadventure", as it could have dangerous consequences.
The exchange alarmed world capitals, who — as President Trump hinted in his news briefing on Friday — immediately got in touch with both New Delhi and Islamabad to defuse the situation.
"We're talking and a lot of people are talking [...] but it is a very, very delicate balance going on. Right now, there is (sic) a lot of problems between India and Pakistan because of what just happened," Trump said.
Trump assured India that the US understood its feelings. "India is looking at something very strong. India just lost almost 50 people in the attack. I can understand that too," he said, adding that his administration was talking to "authorities in both countries". He, however, did not specify what measures the US and other nations had so far taken to avoid further escalation between the neighbouring countries.
On Thursday, the United Nations Security Council urged all states to "cooperate actively" with New Delhi for bringing to justice all those who were responsible for last week's attack.
The same day, Pakistan's National Security Committee decided to proscribe the Jamaatud Dawa and its charity wing, Falah-i-Insaniyat Foundation, as part of measures to tighten the noose around extremist and militant groups in the country.
India rejects third-party negotiations in its disputes with Pakistan, saying that it prefers bilateral talks. But so far, New Delhi has refused to hold direct talks insisting that it wants Islamabad to tackle with militancy. India's stance creates a difficult situation for mediators who cannot publicly declare their efforts for improving ties between the two neighbours, lest it annoys India.
President Trump, in response to a question during Friday's news briefing, pointed out that the US had last year suspended military aid to Pakistan "because they weren't helping us in the way that they should have".
"I stopped paying Pakistan the $1.3 billion that we used to pay them. In the meantime, we may set up some meetings with Pakistan," he said, but did not explain the nature, level or timings of those meetings.
He, however, added that ties between the two countries had improved.
"We have developed a much better relationship with Pakistan [in a] short period of time than we had [before]," Trump said. Bilateral ties between Washington and Islamabad have grown warmer since Pakistan agreed to broker peace talks between the Afghan Taliban and the US. The US is looking to achieve a lasting solution to Afghanistan's crisis before withdrawing its troops from Afghan soil.
https://www.dawn.com/news/1465575/trump-says-india-pakistan-facing-a-very-dangerous-situation
--------
US: Daesh bride's family files lawsuit against Trump
22.02.2019
By Umar Farooq
WASHINGTON
The father of an American woman who fled her home in the state of Alabama to join the Daesh terrorist group is filing a lawsuit against U.S. President Donald Trump's administration to get her returned to America.
The legal team representing Ahmed Ali Muthana, a former Yemeni diplomat at the U.N., argue remarks by Trump and his administration that said Hoda Muthana, 24, is not a U.S. citizen, subsequently barring her from re-entry, are unconstitutional.
"The failure of the United States to facilitate the return of Ms. Muthana and her son as it is obligated to do under the Constitution and the Fourth Geneva Convention will cause immediate and irreparable harm by jeopardizing their ability in the future to return to the United States," the Constitutional Law Center for Muslims in America said in a lawsuit filed late Thursday.
Trump said Wednesday in a tweet he told Secretary of State Mike Pompeo to not let Muthana and her 18-month-old son into the country. Pompeo called her a "terrorist" and said that she had no legal basis to enter the country.
The question of Muthana's citizenship is in murky waters, due to the fact that her father had served as a diplomat prior to her birth.
A person born in the U.S. to foreign diplomats is not automatically considered a citizen.
However, her attorneys argue Trump and Pompeo are inaccurate, saying that her U.S. birth qualifies her as a citizen.
Hassan Shibly, Muthana's lawyer, provided Anadolu Agency with a photo of her birth certificate showing she was born in New Jersey as well as a 2004 letter from the U.S. mission to the UN, saying her father was no longer a diplomat Sept.1, 1994, before she was born.
When applying for her passport, Muthana's father sent the UN letter to immigration authorities and they accepted the documentation and issued her a passport in 2005, and then renewed it in 2014.
In 2016, under President Barack Obama, a letter addressed to Muthana and sent by the U.S. to her family in Alabama tried to revoke her passport while she was still in Syria. That contradicted the Vienna Conventions of Diplomatic Relations, which says a person's diplomatic immunity ends when a post ends, according to the lawsuit.
The State Department, however, says it was not officially notified of the termination until Feb. 6, 1995, after Muthana's birth.
Shibly told Anadolu Agency this week that Muthana is extremely remorseful for her ignorance and arrogance, and that she had been brainwashed. The attorney says that she wants to help speak out against radicalization, is willing to face trial in the U.S. and is aware she would likely be charged and placed in jail.
Full report at:
https://www.aa.com.tr/en/americas/us-daesh-brides-family-files-lawsuit-against-trump/1400387
--------
Daesh bride could help US stem radicalization: lawyer
22.02.2019
By Umar Farooq
WASHINGTON
Four years ago, Hoda Muthana left her home in Hoover, Alabama and embarked on a journey to join Daesh's self-proclaimed caliphate.
While there, she took the name Umm Jihad, or "Mother of Jihad," and regularly used her social media accounts to stoke pro-Daesh sentiments, laud the terror group and call on Muslim-Americans to carry out attacks against their countrymen.
But after being married to three Daesh fighters and giving birth to a son, Muthana, who is now 24 years old, says the war and bloodshed she witnessed made her realize her mistake and she wants to come home.
"Seeing friends, children and the men I married dying changed me," Muthana said in a letter to her lawyer, Hassan Shibly.
While the U.S. administration says she is not a U.S. citizen and will not be allowed back into the country, Shibly says her return could make for a powerful tool against terrorism and radicalization.
"One of the things Hoda really wants to do is to be able to speak out and protect others from those very same mistakes," he told Anadolu Agency.
"I think her going down the dark path that she went down, and being a witness to how evil ISIS is, and then coming back to testify to the world how evil they are can be very, very helpful in protecting others from making those same mistakes," he added, using another name for Daesh.
According to George Washington University's Program on Extremism, 60 Americans left the U.S. to join Daesh in Iraq and Syria.
Those who want to return could become advocates against Daesh, since they have firsthand experience in what happened there, according to David Malet, Assistant Professor in the Department of Justice, Law and Criminology of the School of Public Affairs at American University.
"Many foreign fighters return with powerful stories of why others should not do what they have done. If she were used in this way, Muthana would be a much more credible spokesperson against ISIS than anyone in the Trump administration," Malet told Anadolu Agency.
"We know that less than one-tenth of one percent of returnees have become involved in domestic plots. My own research shows that most plots occur within the first few months of return and that there has never been a long-term threat after that."
President Donald Trump and his administration said Muthana would not be allowed back in the country, calling her a "terrorist," while Shibly said she had been manipulated by people online to brainwash her and that she did not have full control of her social media accounts.
"She realizes that she had completely gone astray, that she was very ignorant and arrogant and angry and she had lost her way. And she wants to make amends for her mistakes and find a safe haven for her child to grow up in," he said.
Shibly argues that her U.S. birth qualifies her as a citizen, providing Anadolu Agency with a photo of her birth certificate showing Muthana was born in New Jersey as well as a letter from the U.S. mission to the UN saying her father was no longer serving as a diplomat when she was born.
Someone born to a foreign diplomatic officer is not automatically considered a U.S. citizen at birth.
The State Department, however, said the letter "only addresses" Ahmed Ali Muthana's diplomatic privileges "during his reported length of service" and fails to address when those "privileges and immunities began and ended".
Malet says the Trump administration is contradicting its own calls for other countries to take back citizens caught in Syria and put them on trial.
"The administration is using the same tactics that the UK, Australia and others use to argue that she is not a citizen because of her father's legal status. This turnaround will discourage other countries from repatriating their citizens and lead to longer-term problems."
Full report at:
https://www.aa.com.tr/en/americas/daesh-bride-could-help-us-stem-radicalization-lawyer/1399716
--------
400 troops to remain in Syria after pullout: report
22.02.2019
By Michael Hernandez
WASHINGTON
About 400 U.S. forces will remain in Syria after the U.S. completes a pullout from the country long-sought by President Donald Trump, according to a report published Friday.
That figure is double what the White House announced late Thursday to make up a "small peacekeeping group" in the country following the withdrawal.
But the Washington Post cited an anonymous senior Trump administration official who said 200 troops will comprise the peacekeeping force, and an additional garrison of about 200 more will remain in southern Syria near the border with Iraq and Syria "for the foreseeable future."
The base at at-Tanf has been widely viewed by some within the administration as a critical foil to Iran establishing a land route from Tehran to Damascus via Iraq.
There was confusion surrounding the White House's announcement Thursday with some reports saying the 200 announced troops would be split between northern Syria for the stabilization force, and at-Tanf.
The U.S. is continuing efforts to corral support for an international stabilization force to take the place of the U.S. forces departing the country, but Washington's closest allies have so far balked at the proposition after Trump announced the U.S.'s then-complete exit without consulting them.
Trump's announcement in December also drew stern pushback from some of his closest legislative allies, including Senator Lindsey Graham who hailed the announcement as crucial to achieving U.S. objectives in Syria.
Full report at:
https://www.aa.com.tr/en/americas/400-troops-to-remain-in-syria-after-pullout-report/1400509
--------
US, Russian envoys for Afghanistan meet in Turkey
22.02.2019
Russian and U.S. special representatives for Afghan reconciliation met Friday in the Turkish capital Ankara.
The meeting between U.S. envoy Zalmay Khalilzad and his Russian counterpart Zamir Kabulov was held in the Russian Embassy.
Russian's Ambassador to Turkey Aleksey Yerhov and other officials from the two countries were present in the meeting.
The closed-door meeting lasted over one hour.
The two sides met Taliban leaders in Moscow in late December.
The U.S. is leading a round of talks with the Taliban and regional stakeholders aimed at ending the war in Afghanistan.
While the Taliban have held talks with Afghan politicians and U.S. officials, they refuse to recognize or negotiate with the Kabul government -- a rough patch that all sides are trying to resolve.
Kabul maintains that any peace plan should be Afghan-owned and Afghan-led.
Full report at:
https://www.aa.com.tr/en/americas/us-russian-envoys-for-afghanistan-meet-in-turkey/1399976
--------
Europe
Jihad bride Shamima Begum's family urges Sajid Javid to bring her son to the UK, to challenge revoking her citizenship in court
Feb 22, 2019
Jihadi ISIS bride Shamima Begum's family has pleaded Sajid Javid to help bring her infant son to Britain, saying they were "shocked and appalled at the vile comments" she had made since her discovery at a Syrian refugee camp.
Renu, the teenager's sister, wrote a letter to the home secretary on Thursday informing him that her family has decided to challenge his decision to strip Begum of her British citizenship in court. According to her, the 19-year-old Londoner's potential return was "a matter for our British courts to decide," Independent reports.
Begum was lost to "murderous and misogynistic cult" that had exploited her and "fundamentally damaged her", the family said, which, in turn led her to make the "sickening" comments in recent interviews, especially when she said the Manchester Arena bombing was simply "retaliation" for the war on ISIS in Syria.
"As a family man yourself, we hope you will understand that we, as her family cannot simply abandon her," Renu Begum's letter said. "We have a duty to her, and a duty to hope that as she was groomed into what she has become, she can equally be helped back into the sister I knew, and daughter my parents bore."
The note added, "We were pleased to learn from your comments in the Commons that you recognize my nephew, Shamima's son, as a British citizen. As a family, we ask now how we can assist you in bringing my nephew home to us. In all of this debacle, he is the one true innocent and should not lose the privilege of being raised in the safety of this country."
The letter emerged just hours after Labour boss Jeremy Corbyn said revoking Begum's British citizenship was "very extreme" and that she should be repatriated back into the UK. "She obviously has, in my view, a right to return to Britain," Corbyn said. "On that return, she must obviously face a lot of questions about everything she has done and at that point, any action may or may not be taken."
Meanwhile, Tasnime Akunjee, the lawyer representing Begum's family, has ritten to Javid on the steps to be taken to bring the ISIS bride's son back to Britain.
The Labor party, along with advocates on the left, have accused the home secretary of making Begum stateless after she was rejected by Bangladesh, who said there was "no question of her being allowed to enter" the country.
Instead, Bangladesh's foreign minister Shahriar Alam said its government was "deeply concerned that [Begum] has been erroneously identified as a holder of dual citizenship".
https://meaww.com/isis-bride-samima-begum-family-urge-sajid-javid-help-son-uk-will-challenge-revoking-citizenship-court
--------
French forces kill top Al-Qaeda commander in Sahel
February 22, 2019
PARIS: French forces have killed a top jihadist leader, Yahya Abou El Hamame, in an operation in Mali, Defence Minister Florence Parly said Friday.
The Algerian, a commander in Al-Qaeda in the Islamic Maghreb (AQIM), was reputedly responsible for kidnapping a number of Westerners in North and West Africa.
A ministry statement issued in Paris said he was "the mastermind and financier of several attacks".
El Hamame was killed Thursday when French land and air forces ambushed a column of vehicles he was travelling with north of Timbuktu, Parly said.
He reportedly served as AQIM's "governor" in Timbuktu when the city was held by Islamist rebels from April 2012 to January 2013.
A number of other "terrorists" were "neutralised", Parly added.
El Hamame was believed to be second in command of the Group to Support Islam and Muslims (GSIM), also known as Nusrat al-Islam, led by Iyad Ag Ghali.
The group was formed by the merger of Ansar Dine, the Macina Liberation Front, Al-Mourabitoun and El Hamame's Saharan branch of AQIM.
Full report at:
https://www.freemalaysiatoday.com/category/world/2019/02/22/france-says-kills-top-al-qaeda-commander-in-sahel/
--------
Poland in escalated dispute with Israel shortly after anti-Iran event
Feb 22, 2019
Poland has harshly responded to remarks by Israeli interim Foreign Minister Israel Katz, who has repeated his earlier comments that Poles "collaborated" with Nazi Germany in the killing of Jews during World War II.
Last week, Israeli interim Foreign Minister Israel Katz claimed that "many" Poles collaborated with the Nazis at the time and "suckled anti-Semitism with their mothers' milk," angering the Polish government, which withdrew from a planned meeting in Jerusalem al-Quds in protest.
On Thursday, Katz doubled down on his remarks, saying he did not regret them and that he was telling "the truth."
Polish Prime Minister Mateusz Morawiecki hit back hard on Friday.
In an interview with the Israeli daily Haaretz, Prime Minister Morawiecki said Katz' remarks targeted Poles too sweepingly and were "nothing short of racism."
"We experienced terrible war and decades of occupation, and we were not able to defend ourselves from accusations. But now Poland will no longer give in to a pressure to accept lies, misleading phrases, let alone racist insults," Morawiecki said.
"We are open to truth, even the most difficult truth about individual collaborators — but we will never agree to stretch their personal responsibility to the whole nation," he added.
Katz had last week quoted former Israeli Prime Minister Yitzhak Shamir as saying that "the Poles imbibed anti-Semitism with their mothers' milk," adding that "many" Poles have "collaborated with the Nazis."
Morawiecki said, "When I first heard of this, it seemed totally unbelievable. Such words could be used by a radical extremist, but not by a foreign minister."
"When you use these stereotypes that 'every Pole suckled anti-Semitism out of their mother's breast,' it's nothing short of racism," said Morawiecki.
Katz's earlier remarks prompted Warsaw to cancel participation in a planned summit by a number of Central European countries — known as the Visegrad Group — in Jerusalem al-Quds this week.
The event was effectively scrapped as a result of the Polish withdrawal.
Poland also last week summoned Israel's ambassador to Warsaw over similar remarks by Israeli Prime Minister Benjamin Netanyahu, who on February 14 appeared to accuse the European country of collaborating with Nazi Germany against the country's Jewish minority during WWII.
Israeli authorities later claimed that Netanyahu's comments had been misquoted and misunderstood.
Full report at:
https://www.presstv.com/Detail/2019/02/22/589251/Poland-Israel-Nazi-Germany-collaborate
--------
UN warns Egypt about executions
22.02.2019
By Bayram Altug
GENEVA
The UN human rights arm Friday raised concerns about the recent executions of 15 people in Egypt earlier this month.
Egyptian authorities should take all necessary measures to ensure the process and investigate allegations of torture, said Rupert Colville, the spokesman for the UN Human Rights Office "We urge the Egyptian authorities to halt all executions," he said.
Nine people were executed Feb. 20, linked to the killing of Egypt's General Prosecutor Hisham Barakat.
A week earlier, three others convicted of murdering a police officer were executed and, Feb. 7, three men were hanged in connection with the killing of the son of a judge.
All the individuals claimed before the courts they were subjected to torture to force confessions.
Colville said the UN has serious concerns about the conflicted process of fair trials in the cases and urged Egypt to properly investigate allegations tortures.
Full report at:
https://www.aa.com.tr/en/europe/un-warns-egypt-about-executions/1400363
--------
Egypt opposition urges EU heads to boycott Sharm summit
22.02.2019
Egyptian opposition figures have urged European leaders to boycott an Arab-European summit -- slated for Sunday in Sharm el-Sheikh -- to protest this week's execution of nine young convicts by the Egyptian authorities.
Opposition figures made the appeal in a Friday letter to the European Parliament, EU foreign policy chief Federica Mogherini, U.K. Prime Minister Theresa May, and a number of other European leaders.
"Your attendance at this summit will only give [Egyptian President Abdel Fattah] al-Sisi more legitimacy and encourage him to continue his policies," the letter reads.
Letter signatories also warn that the al-Sisi regime will maintain its frequent resort to capital punishment in the absence of any punitive measures.
The document is signed by Amr Darraj, a former minister of planning and international cooperation; Ayman Nour, a rights advocate and former presidential candidate; Mohamed Mahsoub, a former minister of parliamentary affairs; and prominent activist Mohamed Sultan.
Full report at:
https://www.aa.com.tr/en/europe/egypt-opposition-urges-eu-heads-to-boycott-sharm-summit/1400170
--------
South Asia
Up to 30 militants killed in 4 provinces in past 24 hours: MoD
23 Feb 2019
Up to 30 militants have been killed during the ground operations and airstrikes which were conducted in 4 different provinces of the country in the past 24 hours.
The Ministry of Defense in a statement said the operations were conducted in Ghazni, Uruzgan, Helmand, and Logar provinces.
The statement further added that 10 militants killed and 11 others were wounded during the airstirkes and Afghan army clearance operations in Andar district of Ghazni province.
The statement further added that 8 militants killed during the airstrikes in Tarinkot city of Uruzgan province and some weapons and munitions were also destroyed.
At least 5 militants were killed during the airstrikes in Helmand province, 2 of their hideouts were destroyed and a motorcycle and some weapons and munitions were also destroyed.
Similarly, 4 militants were killed during the similar airstrikes in Baraki Barak district of Logar province.
The anti-government armed militants including Taliban have not commented regarding the operations and airstrikes so far.
https://www.khaama.com/up-to-30-militants-killed-in-4-provinces-in-past-24-hours-mod-03354/
--------
Members of a prominent terror gang of Taliban arrested in Kabul city
21 Feb 2019
At least four members of a prominent terror gang of Taliban group were arrested during an operation of the Afghan intelligence operatives in Kabul city.
The Taliban group members who belonged to one of the most destructive networks of the group were arrested during an operation of the Special Forces of Afghan Intelligence which was conducted in the vicinity of the 5th police district of Kabul city, the National Directorate of Security, the intelligence directorate of Afghanistan said in a statement. The statement further added that the detained individuals have been identified as Abdullah son of Gul Rasool who is the leader of the network, Humayoun son of Majnoon, Maiwand son of Sharbat, and Faridullah alias AhmadZia son of Redi Gul.
The detained individuals have confessed that they were recruited in Taliban ranks by one of the Taliban group leaders Asadullah Nasrat in Paghman district of Kabul and were busy in bombings, armed robberies, assassinations, harassments, and lootings in Kabul city, according to the National Directorate of Security.
Full report at:
https://www.khaama.com/members-of-a-prominent-terror-gang-of-taliban-arrested-in-kabul-city-03351/
--------
Bangladesh shouldered a great responsibility to protect languages: PM
February 23, 2019
Prime Minister Sheikh Hasina yesterday expressed her firm conviction that no evil force would be able to suppress the Bengali nation.
She said this while addressing a discussion organised by Awami League, marking Amar Ekushey and International Mother Language Day at Krishibid Institute Bangladesh.
The premier said Awami League, with full support of people, came to power for the third consecutive term. "We have to work to uphold the confidence of people through continuing the pace of development and taking the country forward," she said.
At the event, a one-minute silence was observed in memory of the martyrs of Language Movement, Father of the Nation Bangabandhu Sheikh Mujibur Rahman, martyrs of August 15, 1975, Liberation War heroes and those who died in the fire incident in Chawkbazar on Wednesday night.
Hasina expressed profound shock at the loss of lives in the fire. She prayed for the eternal peace of the departed souls and conveyed sympathy to the bereaved family members.
In her speech, the prime minister said country's development is visible as the AL government carried out massive works over the last 10 years. Bangladesh is now free from hunger. But the country needs to be freed from poverty further, she said.
Bangladesh would celebrate birth centenary of Bangabandhu in 2020 and golden jubilee of independence in 2021 as a poverty-free nation, she said.
In 2041, Bangladesh would emerge as a developed and prosperous nation in South Asia and proceed with a 100-year delta plan to ensure sustainable development and prosperous future of the people.
Focusing on history of the Language Movement, Hasina said the movement for mother language began much earlier.
Sheikh Hasina also said it was Awami League which included the provision of making Bangla a state language after its win in the general election in 1956.
The AL government had declared February 21 as the Language Martyrs' Day, she added.
She said Bangladesh, as the hub of Language Movement, has shouldered a great responsibility to protect languages now on the verge of extinction.
International Mother Language Institute has been constituted for research and to give support to protect languages of different ethnicities and small groups, she said.
Hasina, the AL president, presided over the meeting while its general secretary Obaidul Quader gave welcome address.
Awami League advisory council members Amir Hossain Amu and Tofail Ahmed, presidium members Matia Chowdhury and Sheikh Fazlul Karim Selim, noted litterateur Imdadul Haque Milon and AL joint secretary Jahangir Kabir Nanak addressed the meeting, among others.
AL publicity secretary Dr Hasan Mahmud and deputy publicity secretary Aminul Islam conducted the meeting.
Full report at:
https://www.thedailystar.net/city/news/bangladesh-shouldered-great-responsibility-protect-languages-pm-1705978
--------
Afghan forces perform 8 joint operations, 79 Special Operations tasks: MoD
21 Feb 2019
The Afghan National Defense and Security Forces conducted 8 joint operations and 79 Special Operations Tasks in the past 24 hours in various parts of the country.
The Ministry of Defense in a statement said the Afghan Air Force also carried out 13 sorties during the same period in support of the armed forces to eliminate the sanctuaries of the enemies.
The statement further added that 7 militants were killed and at least 3 others were wounded during the same operations.
According to the Ministry of Defense, the operations were conducted in Nangarhar, Paktika, Kandahar, Uruzgan, Samangan, and Helmand provinces and as a result 5 militants were killed in Tarinkot city of Uruzgan province while 2 other militants were killed in Nesh district of Kandahar and 3 more were wounded.
Full report at:
https://www.khaama.com/afghan-forces-perform-8-joint-operations-79-special-operations-tasks-mod-03346/
--------
Taliban IED planter arrested in Herat province
23 Feb 2019
A Taliban militant who was planting Improvised Explosive Device (IED) was arrested during an operation of the Afghan security forces.
The Ministry of Interior (MoI) in a statement said the Taliban IED planter was arrested in Pashtun Zarghoon district of the province.
The statement further added that the IED planter who was attempting to plant a remote-controlled Improvised Explosive Device in Pashtun Zarghoon district to target the security forces was arrested by police forces of the district.
The statement further added that the detained terrorist has confessed that he was planting an IED on a roadside in Pashtun Zarghoon during the preliminary investigations.
He has also confessed that he was involved in various other criminal incidents including armed robberies and rape.
Full report at:
https://www.khaama.com/taliban-ied-planter-arrested-in-herat-province-03353/
--------
URL: https://www.newageislam.com/islamic-world-news/terror-attacks-tenets-islam-anjuman/d/117834
New Age Islam, Islam Online, Islamic Website, African Muslim News, Arab World News, South Asia News, Indian Muslim News, World Muslim News, Women in Islam, Islamic Feminism, Arab Women, Women In Arab, Islamophobia in America, Muslim Women in West, Islam Women and Feminism