New Age Islam News Bureau
1 Aug 2019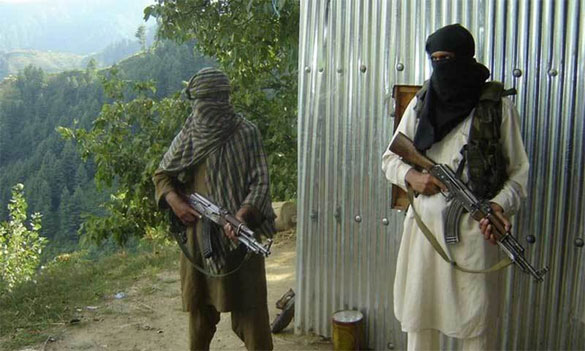 The one-page message in Urdu was seen by people in Miramshah, the headquarters of North Waziristan tribal district, on Wednesday. — Reuters/File
-----------
• Tehreek-i-Taliban Pakistan Warns Against Playing Music, Women Going Out Alone In Miramshah
• Religion Is Being Misused In Pakistan to Hunt for Political Power and Electoral Hegemony
• Arabic, Muslim Symbols Ordered Taken Down In China's Capital
• Saudi Arabia, UAE Are Loyal Servants of US Imperialism: Scholar
• Darul Uloom Remained Silent Over The Passing Of Triple Talaq Bill Saying There Is No New Stand Of The Body On The Issue
• Muslims Welcome Digitisation of Waqf Properties in India
• Hindu-Muslim Same-Sex Couple from New York Break New Ground; Pictures Go Viral
• Taliban Issues Contradictory Statements Regarding Deadly IED Explosion That Killed 34 Civilians on Kandahar-Herat Highway
Pakistan
• Tehreek-i-Taliban Pakistan Warns Against Playing Music, Women Going Out Alone In Miramshah
• Religion Is Being Misused In Pakistan to Hunt for Political Power and Electoral Hegemony
• Firdous for Joint Pak-Saudi Communication Strategy to Project Islam's True Image
• Bomb Targeting Police Kills Four in Southwestern Pakistan
• Pak Government Gives Permission to Take Out Nagar Kirtan At The Eleventh Hour
• Pak-Saudi communication strategy to project Islam's true image: Firdous
--------
Southeast Asia
• Arabic, Muslim Symbols Ordered Taken Down In China's Capital
• Indonesia's Aceh Whips 2 Men, Women For Breaking Shariah Law
• Taliban talks with Indonesian Muslim leaders focus on furthering Afghan peace process
• Indonesian Military Forms 'Super Elite Unit' To Crack Down On Terrorism
• Malaysia's Rohingya Refugees Forced to Work in Shadows
• Dr M: Malaysia a weak country that must learn to survive among powerful nations
--------
Arab World
• Saudi Arabia, UAE Are Loyal Servants of US Imperialism: Scholar
• Hamza Bin Laden, Son and Heir to Al-Qaida Founder, Is Dead
• Turkish Army Retreating from Controlled-Areas as Syrian Army Advances in Hama
• Jordan king reiterates call for Palestinian statehood in meeting with Kushner
• Daesh attacks kill seven security forces in Iraq
• Two-Thirds of U.N. Security Council Ask U.N. Chief for Syria Hospital Attacks Inquiry
• Iraqi military intelligence destroy Islamic State tunnel in Mosul
• Egypt has come a long way in fighting terrorism, money laundering: Madbouli
• Senior MP Reveals US Plot to Disperse Hashd Al-Shaabi from Mosul
--------
India
• Darul Uloom Remained Silent Over The Passing Of Triple Talaq Bill Saying There Is No New Stand Of The Body On The Issue
• Muslims Welcome Digitisation of Waqf Properties in India
• Three Jamaat-Ul-Mujahideen Bangladesh Cadres Held In Assam
• Kerala Man's Family Gets Message: Killed Fighting For Islamic State
• Zomato reply to customer on food, religion wins net
• Babri Masjid: Mediation panel to submit report on Thursday
--------
North America
• Hindu-Muslim Same-Sex Couple from New York Break New Ground; Pictures Go Viral
• ISIS Warns of Terror Strikes in San Francisco, New York, London
• US Believes Osama Bin Laden's Son Hamza Is Dead: Official
• US will extend sanctions waivers for Iran nuclear programs: Bolton
• US Senator Cruz says 'deep state' working to preserve Obama-Iran deal
• US sanctions Zarif for being Iran's 'primary spokesperson around the world'
• Zarif dares Pompeo to answer Iranian journos' 'rigorous' questions
• US peace envoy hints at inking accord with Taliban
• Want to get out of Afghanistan 'as quickly as we can', says Trump
--------
South Asia
• Taliban Issues Contradictory Statements Regarding Deadly IED Explosion That Killed 34 Civilians on Kandahar-Herat Highway
• Afghan forces kill 56 militants in northern Baghlan province
• Key Taliban group commander Mullah Ghazali dies of wounds in Farah
• Mullah Khal Mohammad, Esmatullah and dozens of their fighters killed in Faryab
• Taliban IED experts, Abdullah alias Laser and Muzamil alias Petrol blown up by own bomb
• Airstrike kills Taliban militants, destroy suicide bombing vests in Paktika
• Hamza bin Laden has reportedly died, U.S. officials say
--------
Mideast
• Israel Will Face Demographic Death without Two-State Solution: Palestinian PM
• Houthi attack on military parade kills dozens in Yemen's Aden
• Zarif: Iran Is Ready For Dialogue If Saudi Arabia Is Also Ready
• Iran to reduce nuclear deal commitments more unless Europe protects it - Zarif
• Singapore Detained Two Ships Carrying Iranian LPG In Violation Of US Sanctions
• Exchange of fire on Gaza border kills Palestinian, wounds 3 Israel soldiers
• Israel okays 700 Palestinian homes, 6,000 settler homes
--------
Africa
• Sudan's Military Rulers, Opposition to Hold Transition Talks within 48 Hours: Opposition
• Nigeria Police to Prosecute Banned Shiite Group Members under Terrorism Law
• Libya: Doctors Killed As Rebels Attack Libya Schools, Hospitals
• Kenya's plea to UN to classify Al-Shabaab a terrorist group
• Four school children among six shot dead in Sudan, says a source
• Nigerians hold new rally, demand release of prominent cleric Zakzaky
• Libya unity govt protests at 'untruths' in UN report
--------
Europe
• Germany will not join US-led Persian Gulf patrol force: Maas
• Iranians pin hope on new British PM to defuse tension
• Germany's Ramallah mission apologises for endorsing Klansman's anti-Jewish tweets
• Dearborn man's jihad journey to Syria chronicled in federal court
• UK warship commander says Iran trying 'to test' Britain in Gulf
• Turkey stockpiles F-16 parts amid threat of US sanctions
Compiled by New Age Islam News Bureau
URL: https://www.newageislam.com/islamic-world-news/tehreek-i-taliban-pakistan-warns/d/119362
--------
Tehreek-i-Taliban Pakistan Warns Against Playing Music, Women Going Out Alone In Miramshah
Pazir Gul
August 01, 2019
MIRAMSHAH: The banned Tehreek-i-Taliban Pakistan (TTP) has warned people against playing loud music, polio vaccination and women going out without being accompanied by a man, saying people defying the warning will face consequences.
The one-page message in Urdu seen by people in Miramshah, the headquarters of North Waziristan tribal district, on Wednesday cautioned the people: "We remind you [residents] that similar statements issued by Taliban several times in the past had fallen on deaf ears, but this time we are going to take to task those who violate the Taliban order."
The message further said: "There will be no use of DJs, neither inside the house nor in open fields and those ignoring the warning will be responsible for consequences."
Polio workers have been asked to do finger-marking of children during the vaccination campaign, but told not to administer polio drops to children or be ready to face dire consequences for defying the instruction.
The pamphlet prohibited playing loud music on computer and other shops with a warning that any place from where songs were heard could be blown up any time.
"Women shouldn't go out of their homes alone as it is harmful for our society. There is one informer of Mujahideen in every three people and it was misconception on the part of the people to think we will not get information about non-compliance of our order. Follow the order or be ready to face worst consequences," the message concluded.
https://www.dawn.com/news/1497395/ttp-warns-against-playing-music-women-going-out-alone-in-miramshah
--------
Religion is being misused in Pakistan to hunt for political power and electoral hegemony
July 31, 2019
Mehr Tarar
It has happened not just once. It has happened so many times there is no effective way for encapsulation of its impact. It has happened to all kinds of people, for all types of reasons, in ways that were varied yet had an eerie similarity.
Every decade has been shaped in its dark silhouette, every generation has been whipped into malleability without any inkling of the reason for its indistinguishability, every non-majority community has seen its shadow become a recurring nightmare.
There is no reason for its existence, yet it hovers like the blackness of sky at night over an entire set of people. It has happened in the past, it is happening now, and it will happen again.
In the Muslim Pakistan that I call my homeland, my home, there is much that is done in the name of religion that has explicit injunctions to do exactly the opposite of what is done in its name.
Islam, in its most fundamental teachings, and in its all-encompassing message, stands for one thing: obeisance to the Creator, belief in Allah's Messenger, and to do good for His people. Islam, through the Holy Quran, is an illustration of haqooq Allah – rights of Allah.
It is also through the Holy Quran that Allah speaking through His last Messenger, Prophet Mohammad (PBUH), teaches the importance of haqooq-ul-abad –rights owed to humanity.
The exquisite blending of the two, one more important than the other but both indispensable for human existence, perpetuation and absolution, is presentation of a divine blessing to mankind as a chance to show and practise gratitude for Allah's gift of life and how to live that life in the best possible manner.
The Holy Quran says: You are the best of peoples, evolved for mankind, enjoining what is right, forbidding what is wrong, and believing in Allah. (3:110)
More than fourteen hundred years later, the message of the Holy Quran remains unchanged, pristine in its original form, uncomplicated in its expansiveness, and secure in its eternity.
In the world of today, in the diurnal monotony of existence and sharp restlessness of inadequacy, what is often forgotten is the divine message: O mankind! We created you from a single [pair] of a male and a female, and made you into nations and tribes, that you may know each other [not that you may despise each other]. Verily the most honoured of you in the sight of Allah is [he who is] the most righteous of you. And Allah has full knowledge and is well acquainted [with all things]. (49:13).
Misuse of religion
In the Pakistan of today, the injunctions of religion, in the claws of those who are self-avowed vigilantes of religion, are turning into whips with which to turn a vulnerable populace into a frenzied horde to unleash chaos. A shadowy déjà vu of a series of events that altered, imperceptibly at first, hesitantly at times, and noisily most of the time, the very fabric of Pakistan.
My 97 per cent Muslim Pakistan has never been in need of a religious saviour, yet it has remained, since its inception, in the vice-like grip of various entities that proclaimed to be fighting for the sanctity of religion.
Mohammad Ali Jinnah's idea of a separate homeland for Muslims was for a country where their right to exist would be without fear, and where their rights were a given, and given without a fight.
The Muslim Pakistan was never meant to be a theocracy where religious rights of the majority would be of supreme importance with a complete repudiation of those who were not Muslim, or were the "wrong" kind of Muslim.
In August 1947, the green and white flag of Pakistan, reflective of the existence of its majority Muslim and minority non-Muslim population, was a symbol of Jinnah's dream and vision of Pakistan.
In July 2019, the white on the flag still exists, apparently unblemished. It is anything but that.
Pakistan, even if it was meant to be a theocracy, could have been a splendid place for all its citizens. A country that is supposed to have been made in the name of Allah would have made His fundamental tenets its raison d'etre. Oneness of Allah and finality of prophethood are the essence of Islam. There is no Muslim in Pakistan who does not consider that to be the first belief of being a Muslim.
What is deeply troubling is the very convenient overlooking of the other very important aspects of Islam. What is inconceivable to any God-fearing Muslim is how anyone who claims to be a Muslim overlooks the importance of the verse that is the opening of 113 of the 114 surahs of the Holy Quran, the compilation of Allah's messages to His people through His prophet, Mohammad (pbuh): Bi-smi llahi r-Ra?mani r-Ra?im... In the name of God, the Most Gracious, the Most Merciful. Allah is Compassionate, Forgiving, Fair, and for everyone. How do those who claim to follow Him create divisions, hatred and violence among His people, misusing His name?
What is happening in Pakistan today is what should never happen, yet it happens again and again. Using religion for attainment of political power and using religion for a naked agenda of self-aggrandizement and electoral hegemony is sinking to a low that is a recurrent phenomenon in the very complex history of Pakistan.
There is not a single political party in Pakistan that has not, in some form, used the cover of religion for attainment of power. Mollycoddling of religious groups, which on their own do not have any real electoral strength, is a constant for most political parties of Pakistan.
Religion is a unifying force. In Pakistan, religion is used to create divisions, and deepen schisms.
Opposition games
In the political battle of the Opposition parties versus the government of Prime Minister Imran Khan, there is a steady degeneration and coarsening of narratives. The no-holds-barred games, the take-no-prisoners stratagems, and the application of all forms of weapons, there is nothing that the Opposition parties have not tried, and still continue to.
They accuse the government of doing the same. After the July 2018 electoral success of Khan and his party, the refusal of the opposition parties, led by Asif Zardari and Maryam Nawaz Sharif, to accept the defeat as part of a democratic process, has been instrumental in propagation of their narrative: that Khan is a "selected" prime minister; that power belongs to them; and that their legal accountability is nothing but a political witch-hunt.
The formation of a united opposition front is neither new nor alarming. Their conferences, interviews, press conferences, rallies and protest marches are their democratic right. Alarming is the direction this drama has recently taken.
Faced with a situation in which there is no escape from their legal accountability, and no NROs in sight, and after holding everyone — government, judiciary, military establishment–responsible for their present bleak political prospects, now the last refuge is religion.
The latest favourite political ally of Sharifs and Zardaris is the chief of Jammat-e-Islami Maualna Fazlur Rahman, who fully understands the power of misuse of religion to whip up a frenzied cacophony that can wreak havoc in Pakistan.
Threats of overthrowing of Khan's government are as flaky as the alliance of parties and people who hate one another's guts on any given day. United, they have planned chaos. One weapon can be used to mobilise people, already exasperated with inflation and lack of opportunities, against an elected prime minister: self-avowed vigilantism of religion.
This holy alliance, secure under the umbrella of religion, understands that the only way to get people to unleash chaos in Pakistan is to brainwash them into thinking: Islam is in danger.
For the leader of the biggest religious party of Pakistan to announce that there would be a march to Islamabad in October to overthrow Khan's government if Khan doesn't resign in August is nothing more than blustery, petulant nervousness in the face of growing political irrelevance.
But what the same leader announced on July 27 in incendiary, very dangerous: "The finality of prophethood is part of Pakistan's constitution, and it will be protected at any cost. Don't think religion is without a protector. Our fight is for Pakistan's real freedom and its self-reliance. We will end the fake government." Hashtag: Namoos-e-Risalat Million March Quetta.
Allah and His beloved prophet and Islam do not need protection from any human being. In the Muslim Pakistan, Islam is not under any kind of threat. The divine is not dependent on the human for any form of protection. Eternally, it has been the other way around.
Making the persecuted religious minorities of Pakistan a target for public censure and violence for attainment of political agendas is so ugly a practice it defies comprehension.
Unleashing of public sentiments is planned through a fabricated scenario of blasphemy. Misusing people's devotion to their Creator and His prophet for personal political gains is not a service to Islam.
It is blasphemy of the worst kind.
And it has happened in Pakistan many times.
https://gulfnews.com/world/asia/pakistan/religion-is-being-misused-in-pakistan-to-hunt-for-political-power-and-electoral-hegemony-1.1564567844968
--------
Arabic, Muslim symbols ordered taken down in China's capital
Aug 1, 2019
Authorities in the Chinese capital ordered halal restaurants and food stalls to remove Arabic script and symbols associated with Islam from their signs, part of an expanding national effort to "Sinicize" its Muslim population.
Employees at 11 restaurants and shops in Beijing selling halal products said officials told them to remove images associated with Islam, such as the crescent moon and the word "halal" written in Arabic, from their signs.
Government workers from various offices told one manager of a Beijing noodle shop to cover up the "halal" in Arabic on his shop's sign and then watched him do it.
"They said this is foreign culture and you should use more Chinese culture," said the manager, who, like all restaurant owners and employees, declined to give his name because of the sensitivity of the issue.
The campaign against Arabic script and Islamic images marks a new phase of a drive that has gained momentum since 2016, aimed at ensuring religions conform to mainstream Chinese culture.
The campaign has included the removal of Middle Eastern-style domes on many mosques around the country in favour of Chinese-style pagodas.
Ethnic violence
China, home to 20 million Muslims, officially guarantees freedom of religion, but the government has campaigned to bring the faithful in line with Communist Party ideology.
It is not just Muslims who have come under scrutiny. Authorities have shut down many underground Christian churches, and torn down crosses of some deemed illegal by the government.
But Muslims have come in for particular attention since a riot in 2009 between mostly Muslim Uighur people and majority Han Chinese in the far western region of Xinjiang, home to the Uighur minority.
Spasms of ethnic violence followed, and some Uighurs, chafing at government controls, carried out knife and crude bomb attacks in public areas and against the police and other authorities.
In response, China launched what it described as a crackdown on "terrorism" in Xinjiang.
Now, it is facing intense criticism from Western nations and rights groups over its policies, in particular, mass detentions and surveillance of Uighurs and other Muslims there.
The government says its actions in Xinjiang are necessary to stamp out religious "extremism". Officials have warned about creeping Islamisation, and have extended tighter controls over other Muslim minorities.
'New normal'
Analysts say the ruling Communist Party is concerned that foreign influences can make religious groups difficult to control.
"Arabic is seen as a foreign language and knowledge of it is now seen as something outside of the control of the state," said Darren Byler, an anthropologist at the University of Washington who studies Xinjiang.
"It is also seen as connected to international forms of piety, or in the eyes of state authorities, religious extremism. They want Islam in China to operate primarily through Chinese language," he said.
Kelly Hammond, an assistant professor at the University of Arkansas who studies Muslims of the Hui minority in China, said the measures were part of a "drive to create a new normal".
Beijing is home to at least 1,000 halal shops and restaurants, according to the Meituan Dianping food delivery app, spread across the city's historic Muslim quarter as well as in other neighbourhoods.
It was not clear if every such restaurant in Beijing has been told to cover Arabic script and Muslim symbols. One manager at a restaurant still displaying Arabic writing said he had been ordered to remove it but was waiting for his new signs.
Several bigger shops visited by Reuters replaced their signs with the Chinese term for halal - "qing zhen" - while others merely covered up the Arabic and Islamic imagery with tape or stickers.
The Beijing government's Committee on Ethnicity and Religious affairs declined to comment, saying the order regarding halal restaurants was a national directive.
While most shopkeepers interviewed by Reuters said they did not mind replacing their signs, some said it confused their customers and an employee at a halal butcher shop accused authorities of "erasing" Muslim culture.
"They are always talking about national unity, they're always talking about China being international. Is this national unity?"
https://www.aljazeera.com/news/2019/07/arabic-muslim-symbols-ordered-china-capital-190731072007867.html
--------
Saudi Arabia, UAE Are Loyal Servants Of US Imperialism: Scholar
Jul 31, 2019
The simple fact is that no matter who rules in Washington, Saudi Arabia and the UAE are loyal servants of US imperialism and serve as its surrogates in the Persian Gulf region, according to Dennis Etler, an American political analyst who has a decades-long interest in international affairs.
Etler, a former professor of Anthropology at Cabrillo College in Aptos, California, made the remarks in an interview with Press TV on Wednesday after the US Senate failed in its latest bid to block the controversial sale of $8.1bn worth of weapons to Saudi Arabia.
The US Senate on Monday fell short of the two-thirds majority needed to override President Donald Trump's veto earlier in the month of three congressional resolutions aimed at blocking the country's arms sales to Saudi Arabia and the UAE.
However, a first vote on trying to overturn one veto on a measure passed by Congress to block the sale of certain weapons to the Saudi kingdom was backed by 45 senators against 40. The Senate's Republicans shunned the bid en masse, with only five supporting the vote. Fifteen senators, meanwhile, withheld their votes.
"Although the Democrat-led House and the Democrats in the Senate voted in favor of overriding Trump's veto of a bill stopping arms sales to Saudi Arabia and the UAE, how sincere are they really in wanting to end the Saudi intervention in Yemen?" Professor Etler said.
"The humanitarian crisis in Yemen brought on by the war led by the Saudi coalition and supported by the US was inherited by the Trump administration as was the war in Syrian. It is rather disingenuous for Democrats to now feign concern for the Yemeni people, as it was under their watch that the crisis began," he stated.
"No, the only reason that Democrats have become humanitarians is to politically challenge the White House in the upcoming presidential campaign," he noted.
"Nonetheless, anti-imperialists and friends of the Yemeni, Syrian and Iranian people must support all efforts to curtail arm sales to Saudi Arabia even if it means holding ones nose while supporting Congressional Democrats. It must be cautioned however that the US will remain an enemy of the world's people no matter who resides in the White House or which party controls Congress. It's a matter of playing both sides against the middle to ones advantage while recognizing that neither side is your friend or ally," he concluded.
https://www.presstv.com/Detail/2019/07/31/602353/Saudi-Arabia-and-UAE-are-loyal-servants-of-US-imperialism
--------
Darul Uloom Remained Silent Over The Passing Of Triple Talaq Bill Saying There Is No New Stand Of The Body On The Issue
by Rasia Hashmi
July 31, 2019
Saharanpur: Darul Uloom remained silent over the passing of Triple Talaq Bill saying there is no new stand of the body on the issue. On the other side, clerics opposed the passing of bill saying no law can be above Shariah. Mufti Abul Qasim Nomani of Darul Uloom said there is no different stand of Darul Uloom and the Muslim body sticks to its old stance. There is nothing new to say, he said.
It must be noted that Darul Uloom has always termed Triple Talaq Bill as inference in Shariah. Maulana Nomani said Triple Talaq is the inevitable part of Islam. For Muslims, a bill interfering in Shariah has no meaning. Muslims believes in Shariah and will continue to follow it, he said.
Shaikhul Hadeeth of Darul Uloom Waqf and national president of Tanzeem Ulama-e-Hind Maulana Ahmed Khizr Shah Masoodi opposed the Triple Talaq bill and said the government is interfering in religious matters. No bill against Shariah will be supported, he said.
Patron of Jamiat Dawatul Muslimeen Maulana Qari Ishaq Gora said Triple Talaq Bill is sheer interference in Islam and Shariah. He said though Triple Talaq or Talaq Bidah is wrong, it is also wrong on part of the government to make a law against it. It is a religious issue hence it should be left to the clerics, he told.
https://www.siasat.com/no-law-above-shariah-clerics-triple-talaq-bill-1567174/
--------
Muslims welcome digitisation of Waqf properties in India
Siraj Qureshi
July 31, 2019
The Shias and Sunnis are two major sects of Islam globally. In India, these two sects maintain their properties through two separate Waqf Boards', one belonging to the Shias and one to the Sunnis. Each board is embroiled in hundreds of property disputes.
Keeping these disputes in mind, the government has now decided to digitise all the Waqf property documents and has set a time of 100 days to accomplish this task. According to the information available with India Today, this project will be completed using GPS and GIC techniques.
Union minorities welfare minister Mukhtar Abbas Naqvi told India Today that the central government was receiving a lot of complaints pertaining to the irregularities in Waqf properties and this is what prompted the government to digitise all waqf records. Apart from digitising the properties, the government will also develop them into skill development hubs which will be called 'Hunarmand'.
Naqvi said, there are 6 lakh waqf properties in India and quite a few properties are on prime locations making them susceptible to misuse. Now, this land will be used to implement the central government's projects. A symposium on this subject will be organised soon to educate the Muslims about this project.
A Waqf Board member told India Today that IIT Roorkee and Aligarh Muslim University have been roped in to digitise these properties and at the initiative of the Prime Minister Narendra Modi, these properties will be used for imparting skills to Muslim youth and giving them employment. A lot of these properties are embroiled in disputes due to encroachment and other reasons and with digitisation, this problem will be resolved completely so that these properties can be utilised.
Naqvi said, the states that utilise the Waqf properties better, will be rewarded. At the PM's initiative, 120 highly backward districts have been identified where the minorities will be helped at the block level to ensure their upliftment.
Social activist and Jamit-ul-Quresh district president Mohd Shareef Kale said the central government's initiative is a welcome step. He said that there are 4 thousand Waqf properties in Uttar Pradesh but most of these properties are being misused to profit their caretakers who are making lakhs every month from these properties. He said the Waqf properties are called Allah's properties as they cannot be owned by anyone except Allah. The digitisation of these properties will make it clear if the properties have been entered in anyone's personal name.
Mohd Shareef Kale said, there have been several reports with the state government that waqf properties are being bought and sold illegally. The digitisation of the properties will reveal this scam and those who illegally use these properties will be punished accordingly.
https://www.indiatoday.in/india/story/muslims-welcome-digitisation-of-waqf-properties-in-india-1575679-2019-07-31
--------
Hindu-Muslim Same-Sex Couple from New York Break New Ground; Pictures Go Viral
Jul 31, 2019
A photoshoot of a Hindu-Muslim same sex couple from New York has gone viral. Wearing traditional attire, the pictures feature Anjali Chakra and Sundas Malik, hugging and kissing, while standing under an umbrella in the rain.
The pictures which were posted by the couple's photographer Sarowar Ahmed, have garnered almost 44,000 likes on Twitter.
"A New York Love Story," the photographer captioned the tweet while sharing the pictures.
Sundas is an artist from Pakistan while Anjali hails from India.
Many on social media applauded the couple for breaking the barriers of gender and religion.
Netizens also appreciated the pictures which were posted by Sundas on her Instagram page.
In another post, the couple's photographer, Sarowar Ahmed, wished the couple a happy anniversary while sharing a few more pictures of them.
Anjali Chakra also shared the pictures with the caption, "Happy anniversary to the girl who taught me how to love & be loved."
https://timesofindia.indiatimes.com/viral-news/hindu-muslim-same-sex-couple-break-new-ground-pictures-go-viral/articleshow/70472069.cms
--------
Taliban issues contradictory statements regarding deadly IED explosion that killed 34 civilians on Kandahar-Herat highway
31 Jul 2019
The Taliban group issued contradictory statements regarding a deadly roadside bomb explosion that killed 34 civilians including women and children on Kandahar-Herat highway.
Taliban spokesman, Zabiullah Mujahid issued a statement earlier this evening stating that a civilian bus faced an incident in Aab Khormai area of Farah on Kandahar-Herat Highway which 'martyred 34 civilians and wounded some others'.
However, the group issued another statement two hours later stating that "Convoy travelling from #Herat was engaged with IEDs today in Aab Khorma area of Farah Rod #Farah resulting in 2 APCs destroyed & over 15 gunmen KIA/WIA. This convoy was trying to reinforce another convoy besieged for past couple of days in the district center."
An explosion ripped through a passenger bus on Herat-Kandahar highway killing or wounding at least 34 civilians earlier today.
The passenger bus was travelling to Farah province from Herat when it struck an Improvised Explosive Device.
The explosion killed at least 34 civilians and wounded 17 others including many women and children.
Civilian Casualties UN Report and Afghan Government Reaction:
Today's incident took place a day after the UN mission released its latest report regarding civilian casualties in Afghanistan, reporting a 31 percent increase in civilian casualties attributed to pro-government forces.
However, the Afghan government strongly reacted to the latest report of UN mission in Afghanistan.
Presidential spokesperson Sediq Seddiqi told reporters that the Afghan government has strong observations on the latest report of UNAMA
Sediqqi further added "First of all we question their data collection method. For us it's unacceptable to just refer to initial media reports."
Furthermore, Sediqqi said "Any report of incidents needs further investigations. That has to be credible. You have to also report the results of the investigations being done by relevant organizations."
Sediqqi further added that Taliban are targeting civilian intentionally, they are bombing market, mosques, playgrounds and schools and planting mine on the roads.
Roadside bombings tactic that usually lead to civilian casualties:
Taliban militants and other insurgent groups frequently use improvised explosive devices as the weapon of their choice to target the security forces.
However, majority of IED attacks lead to civilian among the ordinary population of the country.
https://www.khaama.com/taliban-issues-contradictory-statements-regarding-deadly-ied-explosion-that-killed-34-civilians-on-kandahar-herat-highway-03515/
--------
Pakistan
Firdous for joint Pak-Saudi communication strategy to project Islam's true image
Usama Fayyaz
July 31, 2019
ISLAMABAD: Special Assistant to the Prime Minister on Information and Broadcasting Dr Firdous Ashiq Awan Wednesday stressed the need to evolve a joint communication strategy with the Kingdom of Saudi Arabia (KSA) to promote and project true image of Islam across the globe.
Dr Firdous, in a meeting with Saudi Minister for Media Turki Abdullah M Al Shabanah here, said collaboration in fields of media, film and culture was not only vital to strengthen bonds between the people of both countries but would also help in building the images of Saudi Arabia and Pakistan at international level.
The special assistant proposed exchange of dramas after dubbing in each other's languages as movies and dramas were one of the greatest mediums to portray the cultural traits and core values of any society.
It was imperative to introduce and promote common heroes and great stories among the youth of both countries, she added.
Dr Firdous said Prime Minister Imran Khan was very keen to promote tourism, and cooperation in the realm of film would prove instrumental in promoting the scenic beauty of Pakistan, particularly of its Northern Areas.
She also emphasized the need to strengthen cooperation between the radios of both countries as it was an important medium for bonding of the people.
She said exchange of visits of journalists from both countries would also help in learning from each other's experiences and best practices, besides projecting the common cause of Muslim Ummah.
Dr Firdous said the people of Pakistan had great affection for the people and leadership of Saudi Arabia and the visit of Crown Prince Muhammad Bin Salman Bin Abdul Aziz to Pakistan had further reinforced the existing historical cultural ties between the two countries.
Turki al Shabanah said as media minister, it was his first official visit to any country abroad and Pakistan became his first choice in that regard.
He appreciated the ideas of special assistant in strengthening cooperation in diverse fields, including culture, film and drama with the view to develop a strategy in future to project the vision of Saudi leadership and building the images of both countries.
The meeting was attended by Saudi Ambassador in Pakistan Nawaf Saeed Al Malkiy, Special Military Advisor to Crown Prince Major General MTalal Abdulah T.Al Otaibi, Secretary Information & Broadcasting Zahida Parveen and other senior officials from both sides.
https://www.brecorder.com/2019/07/31/514328/firdous-for-joint-pak-saudi-communication-strategy-to-project-islams-true-image/
--------
Bomb Targeting Police Kills Four In Southwestern Pakistan
July 30, 2019
A blast near a police car in the southwestern Pakistani city of Quetta on July 30 has killed four people and wounded more than two dozen, officials said.
Local police official Bakhat Achakzai said the attack targeted the vehicle parked in the middle of the volatile city, where security forces and members of the minority Shi'ite Muslim community often come under attack.
It was not immediately known what kind of explosive device had caused the blast, Achakzai added.
"We are still investigating if it was a suicide bombing or a device that has gone off," said another police official, Muhammad Tahir.
Four bodies -- including two children and one woman -- were taken to the city's main hospital, medical officials said.
Another 25 people were being treated in hospital and some of them were in critical condition.
There was no immediate claim of responsibility.
Full report at:
https://www.rferl.org/a/bomb-targeting-police-kills-four-in-southwestern-pakistan/30084017.html
--------
Pak government gives permission to take out nagar kirtan at the eleventh hour
Jul 31, 2019
AMRITSAR: A day after denying having any 'official' communiqué about a nagar kirtan being taking out by Shiromani Gurdwara Parbandhak Committee (SGPC) from Nankana Sahib, the Pakistan government on Wednesday finally gave its consent to take out the nagar kirtan after a meeting between office bearers of Gurdwara management bodies from India and Evacuee Trust Property Board (ETPB) at Nankana Sahib.
According to sources, till Wednesday morning both ETPB and PSGPC had denied having any official information about the Indian nagar kirtan, scheduled to be taken out from Nankana Sahib, Pakistan on August 1. It was only after the meeting between the officials of ETPB, PSGPC, Shiromani Gurdwara Parbandhak Committee (SGPC) and Delhi Sikh Gurdwara Management Committee that ETPB chairman Dr Amir Ahmad himself came before media to admit that there was 'no confusion'.
Strangely, on Tuesday Amir Hashmi, public relations officer, ETPB, had categorically informed TOI that ETPB or PSGPC was not aware of the SGPC led nagar kirtan.
After the meeting, Amir Ahmad, flanked by SGPC and DSGMC presidents came before media, saying that there was no confusion over nagar kirtan. "There is no confusion, nagar kirtan will leave, we are in close liaison" .
Chairman ETPB continued to duck away the questions of Pak media persons who wanted to know why there was a confusion over taking out nagar kirtan from Nankana Sahib.
In reply to a question by a Pakistani reporter about his meeting with the Indian Sikh leadership at Nankana Sahib on Wednesday, Amir Ahmad, despite his photographs with Indian Sikh leaders, denied having a meeting with them to reach an understanding before allowing SGPC to take out nagar kirtan.
"It was not a meeting but a courtesy visit to welcome and receive them".
Full report at:
https://timesofindia.indiatimes.com/pakistan/pak-government-gives-permission-to-take-out-nagar-kirtan-at-the-eleventh-hour/articleshow/70467166.cms
--------
Pak-Saudi communication strategy to project Islam's true image: Firdous
Aug 1, 2019
ISLAMABAD: Special Assistant to the Prime Minister on Information and Broadcasting Dr Firdous Ashiq Awan on Wednesday stressed the need to evolve a joint communication strategy with the Kingdom of Saudi Arabia (KSA) to promote and project true image of Islam across the globe.
Dr Firdous, in a meeting with Saudi Minister for Media Turki Abdullah M Al Shabanah, said that collaboration in fields of media, film and culture was not only vital to strengthen bonds between the people of both countries but would also help in building the images of Saudi Arabia and Pakistan at international level.
The special assistant proposed exchange of dramas after dubbing in each other's languages as movies and dramas were one of the greatest mediums to portray the cultural traits and core values of any society.
It was imperative to introduce and promote common heroes and great stories among the youth of both countries, she added.
Dr Firdous said that Prime Minister Imran Khan is very keen on promote tourism, and cooperation in the realm of film would prove instrumental in promoting the scenic beauty of Pakistan, particularly of its Northern Areas.
She also emphasised the need to strengthen cooperation between the radios of both countries as it was an important medium for bonding of the people.
She said that exchange of visits of journalists from both countries would also help in learning from each other's experiences and best practices, besides projecting the common cause of Muslim Ummah.
Dr Firdous said that the people of Pakistan had great affection for the people and leadership of Saudi Arabia and the visit of Crown Prince Muhammad Bin Salman Bin Abdul Aziz to Pakistan had further reinforced the existing historical cultural ties between the two countries.
Turki al Shabanah said that as media minister, it was his first official visit to any country abroad and Pakistan became his first choice in that regard. He appreciated the ideas of special assistant in strengthening cooperation in diverse fields, including culture, film and drama with the view to develop a strategy in future to project the vision of Saudi leadership and building the images of both countries.
Full report at:
https://www.pakistantoday.com.pk/2019/07/31/pak-saudi-communication-strategy-to-project-islams-true-image-firdous/
--------
Southeast Asia
Indonesia's Aceh whips 2 men, women for breaking shariah law
July 31, 2019
LHOKSEUMAWE:Three people were publicly whipped 100 times each in Indonesia's deeply conservative Aceh province on Wednesday, with one woman pleading for the masked shariah officer to stop because she could not bear the pain.
Dozens of people watched as the two men and one woman were canned in a stadium in Lhokseumawe, some 274km from the provincial capital Banda Aceh.
Flogging is used as punishment for a range of offences in the region at the tip of Sumatra island, including gambling, drinking alcohol, and having gay sex or relations outside of marriage.
On Wednesday, a 22-year-old woman and her boyfriend, who is also 22, received 100 strokes each after they were caught having pre-marital sex.
The woman broke down several times due to the pain of the punishment, forcing the shariah officer to stop the canning until she was cleared to continue by a doctor.
A 19-year-old boy was also whipped with a rattan cane for having sex with a minor.
His white shirt was soaked with blood by the end of the thrashing, an AFP reporter said.
The teen will now serve five years in prison, while the couple will walk free.
Fakhrillah, an official from the local prosecutor's office, said the flogging was held inside a stadium to prevent children from watching.
Aceh is the only province in the world's biggest Muslim-majority country that imposes Islamic law.
In December, two men caught having sex with underage girls were whipped 100 times each in Aceh.
Rights groups have slammed public caning as cruel, and Indonesia's president Joko Widodo has called for it to end, but the practice has wide support among Aceh's population.
https://www.freemalaysiatoday.com/category/world/2019/07/31/indonesias-aceh-whips-2-men-women-for-breaking-shariah-law/
--------
Taliban talks with Indonesian Muslim leaders focus on furthering Afghan peace process
July 31, 2019
JAKARTA: Taliban chiefs have held a series of talks with Indonesian Muslim leaders over the future peace process for Afghanistan, it was revealed on Wednesday.
A high-level delegation of Taliban officials met with government representatives and Islamic scholars during an under-the-radar visit to the Indonesian capital Jakarta, which began at the weekend.
On Tuesday, delegates led by the Taliban's political deputy, Mullah Baradar Akhund, held discussions with leaders of Indonesia's largest Muslim organization Nahdlatul Ulama (NU), and the country's highest authority on Islamic affairs, the Indonesian Ulema Council (MUI), at their headquarters in central Jakarta.
NU chairman, Abdul Manan Ghani, told Arab News on Wednesday that the main topic of the meeting was how the warring factions in Afghanistan could make peace with each other in order to build a stable community based on the spirit of Islamic brotherhood.
"We extended our views that they should place priority on having dialogue among the factions in Afghanistan and should not let other countries meddle in with their own vested interests, which could compromise an already fragile situation there," Ghani said.
He added that the Taliban could also take an example from Indonesia, a country that remained peaceful, largely tolerant and democratic despite its very diverse society and geography made up of 17,000 islands.
"Afghanistan can be a peaceful society, too, especially since it is much less diverse than Indonesia and society is contained in a much smaller location," Ghani said.
Earlier in the day, the Taliban delegation also met with scholars from the MUI. During talks the council agreed to assist with peace-making efforts between the Afghan government and the Taliban and help advise on ways to address various problems in Islamic society.
Muhyiddin Junaidi, head of the MUI's international relations department, told Arab News: "We would help to make peace in Afghanistan in accordance with our capacity as an organization and to complement the government's diplomatic efforts."
He said the MUI had also offered its assistance in providing scholarships for Afghan students to study in Indonesia's Islamic boarding schools and universities. "We also extended our assistance on how to issue fatwas in response to the various social, economic and cultural problems that Muslims face," Junaidi added.
Taliban spokesman, Zabihullah Mujahid, said in a press statement that during the meeting, Baradar and his colleagues had "highlighted the current situation of Afghanistan, policy and achievements" made by the Taliban.
Pictures circulating on social media showed the Taliban delegation visiting the Istiqlal Mosque, the largest mosque in southeast Asia.
Abu Hurairah Abdul Salam, a spokesman for the mosque, confirmed to Arab News that a delegation from Afghanistan, which he described as "guests of the vice president," took part in maghrib prayers on Monday afternoon but did not meet any mosque officials.
Despite its positive role in trying to help broker peace in Afghanistan, the Indonesian government has kept mostly quiet about the Taliban trip, which began on Saturday afternoon with a visit to Vice President Jusuf Kalla's official residence in central Jakarta, maghrib prayer at a nearby mosque and then dinner at his house which ended at 9 p.m.
Kalla's office issued a brief statement on Sunday about the dinner, saying that Indonesia always maintained communication with all parties involved in brokering peace in Afghanistan in order to maintain trust and make progress in the process. The vice president also said that his country continued to communicate with the US over the issue.
Full report at:
http://www.arabnews.com/node/1533826/world
--------
Indonesian Military forms 'super elite unit' to crack down on terrorism
July 30, 2019
The Indonesian Military (TNI) is expected to play a bigger role in the country's war on terror with the establishment of a "super elite unit" for deploying in national security emergencies, including terror attacks. The newly established Special Operations Command (Koopssus) comprises 400 personnel from the crème de la crème of the military's special forces: the 81 Special Detachment (Gultor) of the Army's Special Forces (Kopassus), the Jalamangkara Detachment (Denjaka) of the Navy's Marine Corps, and the Bravo 90 Detachment (Denbravo) of the Air Force's Special Forces Corps (Korpaskhas). The Koopssus is under the command of Brig. Gen. Rochadi, who was appointed to the new role from his previous position as the director of the TNI's Strategic Intelligence Agency (BAIS). Expected to be highly agile, the Koopssus is to conduc...
Full report at:
https://www.thejakartapost.com/news/2019/07/30/indonesian-military-forms-super-elite-unit-to-crack-down-on-terrorism.html
--------
Malaysia's Rohingya Refugees Forced to Work in Shadows
By Zsombor Peter
July 31, 2019
KUALA LUMPUR - On the morning of March 2, 2012, Mohammad Yunus boarded a rickety wooden boat on the far eastern shores of Bangladesh with about 100 fellow Muslim Rohingya from the sprawling refugee camps of Cox's Bazar.
Yunus, then 22, had recently fled his native Myanmar, where bloody communal clashes between Muslims and Buddhists were driving thousands of Rohingya from their homes. Though safe in Bangladesh, Yunus soon found life in the teeming camps unbearable. He saw no more of a future for himself there than in Myanmar, where the Rohingya are denied citizenship and face heavy persecution.
After 11 harrowing days at sea, and three more evading authorities in the jungles of southern Thailand, Yunus was smuggled into Malaysia, where he hoped to pick up where his life had so suddenly stalled. But seven years on, he feels as though his life remains on hold.
Though Malaysia lets refugees register with the UNHCR, the U.N.'s refugee agency, the country provides them next to no aid and denies them the right to work, while charging them for health care. Rights groups say that leaves most refugees with little choice but to toil in the country's shadow economy, where they can fall prey to employers ready to exploit their desperation, paying them less than others or not at all. Refugees also are barred from attending government schools, cutting them off from another path to improving their lot.
"It has been a long seven years. Even though I have tried to improve my situation, it is not changing. It is like the curse started in Myanmar, and everywhere is the same," said Yunus, seated on the floor of his room in a bare-bones apartment he shares with six other refugees on Kuala Lumpur's east end.
The one-time physics student now works long hours on constructions sites across the city and knows what it is to break his back for days, only to be told at the end that he won't be getting paid.
Bleak future
Osman Goni, a Rohingya refugee who fled Myanmar in 2014, sees no future for himself in Malaysia either. The 23-year-old electrician also has been refused his promised pay on several occasions. He has bribed his way out of jail four times after police raids on his job sites.
"I have felt like I should finish my life, I was so desperate, just take poison and finish my life," he said. "How can I live my life this way? It's like another prison."
Rohingya make up more than half of the 176,000 refugees registered in Malaysia, according to the UNHCR, the largest population in Southeast Asia outside Myanmar. And with the camps in Bangladesh now bursting with more than 1 million Rohingya following a fresh bout of pogroms in Myanmar in 2017, more keep coming.
Malaysia's Pakatan Harapan coalition of political parties vowed to give refugees a path to legal employment in its 2018 election campaign manifesto. Since it took power more than a year ago, a few ministers have made accommodating remarks but have not yet taken any concrete steps to follow through.
Malaysia's Ministries of Home Affairs and Human Resources declined to comment for this story, as did the officer in charge of Rohingya Affairs for the National Security Council.
Rights groups say the government's reluctance stems partly from the fear that accommodating refugees further will draw a flood of new arrivals. But Lilianne Fan, who chairs the Rohingya Working Group for the Asia Pacific Refugee Rights Network, says officials are coming to realize the Rohingya are being pushed by conditions in Bangladesh and Myanmar more than pulled by the promise of better jobs in Malaysia.
"The primary reasons they are here is because they're seeking protection. And, of course, in order to stay they deserve to have the right to work for survival," she said.
Economic boost
The refugees may even do the country some good.
A recent study by Malaysia's Institute for Democracy and Economic Affairs (IDEAS), an independent research group, found that the government could tap a legal refugee workforce for a $727 million (3 billion ringgit) boost to its gross domestic product and $12 million (50 million ringgit) in added tax revenue.
Working refugees with the law on their side can earn — and thus spend — more by landing jobs that better match their skills, having more reason to invest in training, and bargaining for higher wages.
The study also finds that refugees overwhelmingly compete for jobs with other migrant workers, not Malaysians, said Laurence Todd, IDEAS' director of research and development. A few older, low-skilled locals might lose out, he added, "but the net effect ... would be positive in that the economic activity generated by the Rohingya working [legally] would create more jobs," including some 4,000 for Malaysians.
Any move to make it happen, though, will also have to overcome Malaysia's fiercely tribal politics. The government already has backtracked on other key reform pledges under pressure from nationalist opposition parties quick to claim they would cost the country's majority ethnic Malays their own privileges. Alienating them further could cost Pakatan Harapan — already slipping in opinion polls — valuable votes in the next election.
In the meantime, Malaysia's Rohingya refugees remain in limbo, discouraged from putting down new roots, scared to return to a home that denies them basic human rights, and with shrinking options to move on as some Western countries tighten their immigration policies.
Todd said it means Malaysia's current "tolerate but don't integrate" approach is wearing thin, and the government soon may come to realize it will need to treat its Rohingya as something more than guests.
Full report at:
https://www.voanews.com/east-asia-pacific/malaysias-rohingya-refugees-forced-work-shadows
--------
Dr M: Malaysia a weak country that must learn to survive among powerful nations
31 July 2019
BY IDA NADIRAH IBRAHIM
KUALA LUMPUR, July 31 — Prime Minister Tun Dr Mahathir Mohamad said while Malaysia accepts the fact that it's a small, weak country and that it was imperative to learn how to survive amongst other powerful nations.
"Our policy is to be friendly with all countries of the world irrespective of their ideology or their practices.
"We want to be friends, we want to trade with them but sometimes, of course, we find that they do things which we cannot approve, but we are unable to change other countries.
"We accept the fact that we are a small weak country and a weak country must learn how to survive in the midst of very powerful nations. That is the history of Malaysia.
"We were a small state that exists in those days with many powerful countries around us. There is China, Siam [Thailand], and Myanmar... these were powerful countries in the past. But to exist, we have to learn how to handle relations with these powerful nations," he told Imran Garda of the Turkish international news channel TRT World in an interview aired on Monday.
While agreeing that there are some differences between the members of the Organisation of Islamic Cooperation (OIC), Dr Mahathir said countries that are less affected by the instability in the organisation, such as Malaysia and Turkey, should take up the task to be exemplary Islamic nations on the global stage.
He said the recent Malaysia-Turkey pact discussed over his official visit in Ankara last week gives the two nations the opportunity to reflect a positive light on Islam, which he said is regularly linked with terrorism.
He also said the dispute between the two Islamic factions, Sunni and Shia, does not benefit the Muslim community as the world generalises the link between all Muslims with the act of terrorism.
"I think the rivalry between the Sunnis and the Shias is not doing anyone any good, neither for the Sunnis nor the Shias. Of course, each claim to be the current interpretation of Islam and we may dispute but the fact is that the world regards both Sunnis and Shias as Muslims. They don't make a distinction and they consider both interpretations of the religion is terroristic, that Islam advocates terrorism whether they be Sunni or Shia.
"Malaysia and Turkey are among the few that seem to be more stable and more concerned about the fate of the Muslim ummah and their countries," he said.
Dr Mahathir said Malaysia and Turkey should show good governance in their respective countries in an atmosphere of peace and stability.
"We are capable of developing ourselves, capable of competing with the rest of the world," he said in the interview.
While Malaysia stands by its policy in distancing from interfering with the internal affairs of other countries, Dr Mahathir said Malaysia would provide the best help it could towards foreign Muslim groups who are oppressed, such as the Rohingya people in Myanmar and the Palestinians.
On China's treatment of its Uyghur Muslim community, Dr Mahathir said Putrajaya would condemn the act if it's true that the community is being detained in detention camps as reported by various news reports.
"China is a very powerful nation and the way we treat America is also the way we have to treat China because it is powerful. It is capable of taking action on its own that may be detrimental to the relationship of many Muslim countries with China.
"At the moment we need to verify certain things that they are accused of. Of course, they denied it We believe that the approach should not be confrontational. It should be through negotiation and exposure of what is actually happening in China.
Full report at:
https://www.malaymail.com/news/malaysia/2019/07/31/dr-m-malaysia-a-weak-country-that-must-learn-to-survive-among-powerful-nati/1776368
--------
Arab World
Hamza bin Laden, son and heir to al-Qaida founder, is dead
Aug 1, 2019
WASHINGTON: Osama bin Laden's son Hamza bin Laden, who was viewed as an eventual heir to the leadership of al-Qaida and who had repeatedly threatened to attack the United States, is dead, according to two US officials.
Details of the strike that killed him were scarce, including when and where. The US government played a role in the operation, but it was not clear how, according to the officials, who discussed his death on the condition of anonymity because it involved sensitive operations and intelligence gathering.
Hamza bin Laden was killed sometime during the first two years of the Trump administration, officials said. He was killed before the State Department announced a $1 million reward for information on his whereabouts in February, but US military and intelligence agencies had not confirmed his death by then.
Though bin Laden carried a prominent name and lineage, the news of his death represented more of a symbolic victory for the American government than the removal of a threat. Al-Qaida has not carried out a large-scale attack in years, and though bin Laden was being groomed to eventually take over the group, that time appeared to be well into the future.
Bin Laden was likely operating on the Pakistan-Afghanistan border, said Thomas Joscelyn, a senior fellow at the Foundation for the Defense of Democracies.
President Donald Trump was asked Wednesday about the death, first reported by NBC News, but he declined to comment.
The location of bin Laden had been the subject of public speculation. After the Sept. 11, 2001, attacks, he and other members of al-dQaida fled to Iran, where they were detained. He was eventually allowed to leave Iran, then reportedly moved with his family to the Pakistan border region. At one point, intelligence showed that he had traveled to Syria in the past several years, former officials have said.
The CIA has devastated al-Qaida, relentlessly targeting its operatives after 9/11. The agency killed another son, Saad bin Laden, in a drone strike in 2009. Another son, Khalid, was killed in the 2011 Abbottabad raid.
https://timesofindia.indiatimes.com/middle-east/hamza-bin-laden-son-and-heir-to-al-qaida-founder-is-dead/articleshow/70475092.cms
--------
Turkish Army Retreating from Controlled-Areas as Syrian Army Advances in Hama
Jul 31, 2019
The Arabic-language Al-Watan newspaper quoted a Syrian Army battlefield source as saying that the Turkish occupying forces have retreated from areas under their control in Mourek region in Northern Hama in a military convoy comprising 15 military vehicles towards borders with Turkey as the Syrian Army has recently made advances in al-Jobin and Tal Malh in Northern Hama.
Meantime, a group of other Syrian troops backed by the Syrian Army's artillery and missile units heavily pounded the terrorists' military positions in the town of al-Zuka and engaged in fierce clashes with the militants in the Northeastern part of al-Jobin and Tal Malh towns in Northern Hama, taking control of several regions, including Abu Raideh Farms near al-Zuka.
The Arabic-language website of the Russian Sputnik news agency, meantime, quoted a battlefield source as saying that the Syrian Army's artillery and missile units pounded the Turkistasni party's military positions in Kabani hills in Northeastern Lattakia and cut their movements.
The source noted that the Syrian Army troops are preparing to attack the terrorists' military positions and win control over the strategic hilltops in al-Zawiqat, Tal-e al-Syriatel and Heights 1154.
He said that if the Syrian Army takes full control of the mentioned hilltops, it will complete its control over Kabani strategic heights.
In a relevant development in mid-July, media reports said that Damascus and Moscow have given a last chance to Ankara to fully conduct its military operations in Idlib province before the upcoming Astana meeting on Syria.
Al-Watan newspaper quoted special sources as saying that the new round of Astana meeting in Kazakhstan's capital would be held on August 1-2 and it would be the last chance for Turkey to fulfill its commitments under the Russia-Turkey agreement on Idlib.
The sources noted that the delays by Turkey in implementing the Sochi agreement are not acceptable, and said that if Ankara does not fulfill its commitments, the Syrian Army will most probably conduct its cleansing operation in the remaining regions of Idlib.
Meantime, the daily quoted sources close to Ankara as saying that the Ankara-backed terrorist commanders attended a meeting with Turkish Army commanders in the Turkish capital earlier this week.
They said that the Turkish Army intends to maintain the areas under its control in Northern, Northwestern and Southern Idlib as long as possible before the next meeting.
The sources also pointed to Turkey's fear from possible military operations by Russia and Syria to take full control over the towns of Jabal Shahshabou in Northwestern Hama to Jisr al-Shoghour along Aleppo-Lattakia highway, and said that Turkey has promised Tahrir al-Sham and other terrorist groups to send fresh militants of Euphrates Shield and Olive Branch from Aleppo to these regions.
Full report at:
https://en.farsnews.com/newstext.aspx?nn=13980509000587
--------
Jordan king reiterates call for Palestinian statehood in meeting with Kushner
Jul 31, 2019
US President Donald Trump's adviser and son-in-law Jared Kushner has met with Jordan's King Abdullah II in Amman as part of a tour of the Middle East aimed to push for a controversial US plan on the Israeli-Palestinian conflict.
The royal court said in a statement that King Abdullah and Kushner discussed "efforts to solve the Israeli-Palestinian conflict" during their meeting on Wednesday.
During the meeting, King Abdullah II, who acts as the custodian of Islamic holy sites in Jerusalem al-Quds, stressed "the need to achieve a just and lasting peace to ensure the establishment of an independent Palestinian state... with east Jerusalem [al-Quds] as its capital, living in peace and security alongside Israel," according to the statement.
Earlier this month, an official in Trump's administration said Kushner would lead a US delegation on a tour of the Middle East to further push the US's "deal of the century," adding that he is expected to make stops in Israel, Egypt, Jordan, Saudi Arabia, Qatar and the United Arab Emirates.
The Palestinians have already rejected Trump's Middle East initiative, which is widely reported to be highly biased in favor of the Israeli regime, as "the slap of the century."
The Washington Post said in April that the plan is likely to "stop short of ensuring a separate, fully sovereign Palestinian state."
The economic portion of Trump's deal, which would inject $50 billion into struggling economies in the Middle East over the next ten years, was unveiled in June by Kushner during a conference in Bahrain. All Palestinian factions have boycotted the event, slamming Washington for what they view as an attempt to offer financial rewards for Palestinians to accept the Israeli occupation.
King Abdullah said, according to the royal court, that any peace plan should be based on the so-called two-state solution and in accordance with the Arab Peace Initiative.
Full report at:
https://www.presstv.com/Detail/2019/07/31/602348/Kushner-meets-Jordan-king-Mideast-tour
--------
Daesh attacks kill seven security forces in Iraq
August 01, 2019
TIKRIT/SULAIMANIYA, Iraq: At least seven members of Iraq's security forces were killed and 16 wounded overnight in two separate attacks by Daesh militants, police said on Thursday.
Three members of the paramilitary Popular Mobilization Forces (PMF) and two policemen were killed in an attack in the Sayed Gharib area north of Salahuddin province's Dujail district, 50 km north of Baghdad, late on Wednesday, police said.
The PMF is an umbrella grouping of mostly Iran-backed Shiite militias that formally report to Iraq's prime minister.
Separately, a mortar attack against Kurdish forces in Kola Jawi village of Sulaimaniya province's Kalar district at midnight killed two members of the semi-autonomous Kurdistan Regional Government's Asayish internal security forces and wounded 14, an Asayish source said.
Daesh has not claimed responsibility for either attack.
Iraq declared victory over Daesh, which once held large swathes of the country, in December 2017, but the hard-line Sunni militants have since switched to hit-and-run attacks aimed at undermining the Baghdad government.
Full report at:
http://www.arabnews.com/node/1533991/middle-east
--------
Two-Thirds of U.N. Security Council Ask U.N. Chief for Syria Hospital Attacks Inquiry
July 30, 2019
UNITED NATIONS — Two-thirds of the United Nations Security Council - including the United States, Britain and France - asked Secretary-General Antonio Guterres on Tuesday to investigate attacks on U.N.-supported medical facilities in northwest Syria, diplomats said.
Syrian President Bashar al-Assad's forces, backed by Russia, began an offensive on the last major insurgent stronghold three months ago that the United Nations says has killed at least 450 civilians and displaced more than 440,000 people.
The Security Council has been deadlocked on Syria with Russia and China - two of the body's five veto powers along with Britain, France and the United States - shielding Assad's government from any action during eight years of war.
Britain, France, the United States, Germany, Belgium, Peru, Poland, Kuwait, Dominican Republic and Indonesia delivered a demarche - a formal diplomatic petition - to Guterres over the lack of an inquiry into attacks on U.N.-supported facilities.
"At least fourteen U.N.-supported facilities on the list of deconflicted facilities have been damaged or destroyed in northwest Syria since the end of April," they told Guterres, according to the agreed request seen by Reuters.
"We therefore respectfully request that you consider launching an internal U.N. investigation into attacks that have damaged or destroyed U.N.-supported facilities in northwest Syria and report back promptly," they said.
They noted that in 2016 former U.N. Secretary-General Ban Ki-moon had used his discretionary power to open an inquiry into an attack on a Syrian Arab Red Crescent humanitarian convoy in Aleppo.
Guterres' spokesman Farhan Haq confirmed representatives of 10 member states had met with the secretary-general. "We will consider their request," Haq said.
While the United Nations has shared the locations of humanitarian facilities with the parties to the conflict, U.N. aid chief Mark Lowcock has told the Security Council that dozens of healthcare facilities have been struck since April.
"Is that information used as it's intended, to protect facilities ... or is it being used to target facilities?" Lowcock said to reporters on Tuesday after briefing the council for the seventh time since the Syrian government offensive began.
The 10 members of the Security Council also called on Guterres to investigate why the so-called deconfliction mechanism had failed to deter attacks.
Russia and Syria have said their forces are not targeting civilians or civilian infrastructure and questioned the sources used by the United Nations to verify attacks on health centers.
In a July 16 letter to Guterres and the Security Council, Syrian U.N. Ambassador Bashar Ja'afari said some 119 hospital and health care centers "have been out of commission since being taken over by terrorist groups" and "no longer serve their original purpose and cannot be considered hospitals, health-care centers or even 'civilian objects' under humanitarian law."
An array of insurgents have a foothold in northwestern Syria. The most powerful is the jihadist Tahrir al-Sham, the latest incarnation of the former Nusra Front which was part of al Qaeda until 2016.
British U.N. Ambassador Karen Pierce told the Security Council on Tuesday that Ja'afari's letter was an admission of Syrian government attacks on hospitals.
Full report at:
https://www.nytimes.com/reuters/2019/07/30/world/30reuters-syria-security-un.html?searchResultPosition=1
--------
Iraqi military intelligence destroy Islamic State tunnel in Mosul
by Mohammed Ebraheem
Jul 30, 2019
Mosul (IraqiNews.com) – A secret tunnel used by the Islamic State militant group was destroyed Tuesday in Mosul city, the Iraqi Military Intelligence Directorate said.
In a press release carried by the privately-owned Alghad Press website, the directorate said that "the tunnel was used by Islamic State militants for hiding out and escaping from security forces after the liberation of Mosul from terrorism."
The seizure of the tunnel came during a military operation launched by intelligence forces in al Qayyarah district in Mosul.
The troops managed to destroy the tunnel completely, added the statement.
Former Iraqi prime minister Haider al-Abadi announced in July 2017 liberation of the second largest Iraqi city of Mosul from IS militants, who had captured it in 2014. More than 25,000 militants were killed throughout the campaign, which started in October 2016.
The campaign was backed by paramilitary troops and a U.S.-led international coalition.
Full report at:
https://www.iraqinews.com/iraq-war/iraqi-military-intelligence-destroy-islamic-state-tunnel-in-mosul/
--------
Egypt has come a long way in fighting terrorism, money laundering: Madbouli
Jul. 30, 2019
CAIRO, July 30 (MENA) - Prime Minister Mostafa Madbouli said that Egypt has come a long way in fighting money laundering and terrorism financing via enacting laws and introducing supervisory and regulatory rules.
He added Egypt has set up measures to identify customers in the various financial institutions in line with international standards related to money laundering and terrorism financing that are defined by international organizations, topped by the Financial Action Task Force (FATF) and the Egmont Group of Financial Intelligence Units.
Speaking at an annual workshop, hosted by the Egyptian Money Laundering and Terrorist Financing Combating Unit (EMLCU), on capacity building in the Middle East and Africa region, Madbouli said that money laundering and terrorism financing are the most serious threats to the stability of the global financial and economic systems.
He stressed the necessity of complying with international and domestic regulatory systems that constitute a powerful deterrent to any criminal elements and persons engaging in terrorist activities.
He further underlined the need to foster cooperation among all countries and stakeholders and competent national authorities in a way that helps strengthen Arab and African economies.
Full report at:
https://www.egypttoday.com/Article/1/73349/Egypt-has-come-a-long-way-in-fighting-terrorism-money
--------
Senior MP Reveals US Plot to Disperse Hashd Al-Shaabi from Mosul
Jul 31, 2019
Karim al-Mohammadawi, a senior member of the Iraqi parliament's Security and Defense Committee, told the Arabic-language al-Ma'aloumeh news website that Washington is attempting to pressure the Iraqi government and security apparatus to transfer the family members of the ISIL terrorists from al-Houl camp in Syria to certain regions in Nineveh plain in Northern and Northeastern Mosul.
He added that Washington wants to create a safe region for ISIL's return to Mosul and drive away Hashd al-Shaabi from Nineveh plain.
Al-Mohammadawi warned that return of the ISIL terrorists' family members is a serious threat to Iraq's security.
The Arabic-language media outlets had reported earlier this month that Washington planned to bring back a more dangerous version of the ISIL terrorist group to Iraq and Syria after its failure to achieve its mischievous goals in the region.
The Arabic-language website of the Russian Sputnik news agency quoted Hessam Sho'aib, a Syrian military expert on terrorist organizations, as saying that a recent report by the US-based Institute for Studies of War (ISW) on rebirth of the ISIL terrorists in Iraq and Syria exposes this reality that the US Central Intelligence Agency (CIA) has created the ISIL and is preparing the grounds for the return of the terrorist groups, specially the ISIL, to the region.
Sho'aib noted that the ISW's report on ISIL's dominance over several regions in Iraq and Syria such as Mosul shows that the US is not looking for establishment of peace in the region and ISIL's retreat from Raqqa has taken place on CIA's order and not a defeat in war against the Syrian Democratic Forces (SDF).
He reiterated that the SDF is also a part of the CIA's plot for Syria, and said, "The US has come to know that it cannot conduct any kind of military operation against Iran, and therefore it has resorted to reviving the terrorist groups to carry out terrorist attacks as a much cheaper scenario for the region.
Full report at:
https://en.farsnews.com/newstext.aspx?nn=13980509001027
--------
India
Three Jamaat-ul-Mujahideen Bangladesh cadres held in Assam
31st July 2019
BARPETA (ASSAM): Three cadres of Jamaat-ul-Mujahideen Bangladesh (JMB) were arrested in Barpeta district on Tuesday, police said. The cadres were identified as Hafizpur Rehman, Yaqub Ali and Sariful Islam.
According to police, the arrest was made while they were keeping a watch in the area ahead of Independence Day. "We made a team to conduct a raid in the area. Surveillance was increased and police were kept on high alert soon after we received an input that JMB cadres are hiding in the Barpeta area," Barpeta Superintendent of Police Rabin Kumar said.
He said the court has sent Hafizpur Rehman on eight-day police custody. The SP said these cadres were trained in 2014 by Shakeel Ahmed who lost his life in Burdwan blast. The police have seized a country-made revolver and four live rounds from Rehman.
http://www.newindianexpress.com/nation/2019/jul/31/three-jamaat-ul-mujahideen-bangladesh-cadres-held-in-assam-2012076.html
--------
Kerala man's family gets message: Killed fighting for Islamic State
by Shaju Philip
August 1, 2019
A young man from north Kerala's Malappuram district who is suspected to have gone to Afghanistan and joined the Islamic State (IS) is believed to have been killed in a recent US drone attack.
Police officials identified the man as Muhammed Muhasin, a native of Edappal in Malappuram district. An engineering student, he has been missing since October 2017, the police said.
Police sources said Muhasin's family got a message on WhatsApp on Tuesday, informing them about his death. "The message in Malayalam said, 'your brother has been seeking martyrdom and Allah has fulfilled his wish. He has become a shaheed 10 days back,'' according to an officer.
Read in Malayalam
The message reportedly came with a warning that the incident should not be reported to the police.
An officer said that the message was accompanied by a photograph, ostensibly of Muhasin lying dead. "The family has identified him from the photo. But other than this message and photograph, we don't have any official confirmation from anywhere," the officer said.
The fact that the message was sent in Malayalam shows the presence of at least another person from Kerala in the group, according to the officer. "We have not identified the person who sent the message," the officer said, adding that during the period Muhasin had gone missing another engineering graduate from Malappuram had also joined the IS.
Sources said Muhasin was not part of the "Kasaragod module" of the IS, in which an estimated 25 people, including children and women, reportedly left the country in June 2016 to join the IS. Security agencies had later found that most people in that group had reached the IS-controlled Nangarhar region of Afghanistan.
Another group of at least 35 people from the coastal state's Kannur district had migrated to Syria to fight for the IS, according to police officials.
A source in the police said, "Muhasin had initially gone to Dubai and then joined the IS. He went missing in 2017 while studying engineering. His family had filed a missing complaint with the local police in Malappuram."
Full report at:
https://indianexpress.com/article/india/kerala-mans-family-gets-message-killed-fighting-for-is-5867963/
--------
Zomato reply to customer on food, religion wins net
Aug 01, 2019
Food delivery company Zomato won praise from people on social media on Wednesday after it refused to meet demands raised by a customer from Jabalpur who took offence about being assigned a "non-Hindu" delivery person for his food order.
"Food doesn't have a religion. It is a religion," the company tweeted in response to the customer's post, which was made on Tuesday. The customer, who identified himself as Amit Shukla and used the Twitter handle @Namo_Sarkaar had previously been told by a Zomato representative that the company does not discriminate against its riders.
"Just cancelled an order on @ZomatoIN they allocated a non hindu rider for my food they said they can't change rider and can't refund on cancellation I said you can't force me to take a delivery I don't want don't refund just cancel," Shukla had tweeted, attaching screenshots that showed his conversations with the food app's support.
It's founder, Deepinder Goyal, tweeted: "We are proud of the idea of India - and the diversity of our esteemed customers and partners. We aren't sorry to lose any business that comes in the way of our values."
Full report at:
https://www.hindustantimes.com/india-news/zomato-reply-to-customer-on-food-religion-wins-net/story-Ip2F6c8Dn3x5pJH4pFCEZP.html
--------
Babri Masjid: Mediation panel to submit report on Thursday
July 31, 2019
New Delhi [India]: The mediation panel in the Ayodhya land dispute case will submit status report in a sealed cover on Thursday in compliance with the Supreme Court's earlier order.
A Supreme Court bench, led by Chief Justice of India Ranjan Gogoi, will hear the matter on August 2.
The Supreme Court had on July 18 asked the mediation committee on the Ram Janmabhoomi-Babri Masjid land dispute to continue the process and submit a report on the progress made till July 31.
A Constitution bench comprising Chief Justice Ranjan Gogoi and Justices SA Bobde, DY Chandrachud, Ashok Bhushan and S Abdul Nazeer observed that it will take a call on August 2 on whether a hearing is required in the case.
The order came after former Supreme Court judge FMI Kalifulla, chairperson of the three-member mediation panel, submitted a status report. The court, after perusing the report, directed the committee to inform it about the progress made in the mediation till July 31.
On March 8, the court had constituted the panel which also comprises Art of Living founder Sri Sri Ravi Shankar and senior Madras High Court advocate Sriram Panchu.
Fourteen appeals are pending before the apex court against the 2010 Allahabad High Court verdict which ordered equal division of the 2.77-acre disputed land in Ayodhya among the Sunni Waqf Board, the Nirmohi Akhara and Ram Lalla.
Full report at:
https://www.siasat.com/babri-masjid-mediation-panel-submit-report-thursday-1567384/
--------
North America
ISIS Warns of Terror Strikes in San Francisco, New York, London
Adam Kredo
JULY 30, 2019
The ISIS terrorist organization is threatening to launch new attacks in San Francisco, New York, and London, according to new warning messages posted on the group's social media channels.
The messages, carried across the internet via the Telegram networking website, feature the three cities and call for adherents of the terror group's radical ideology to "kill them all," according to copies of the warnings obtained by the Middle East Media Research Institute, or MEMRI, a group that monitors jihadi networks.
"The pro-Islamic State (ISIS) Ash-Shaff Media Foundation shared five posters on Telegram which threaten and encourage terror attacks in the West," according to information compiled by MEMRI. "The posters are captioned in poor English and feature background images of San Francisco, New York City, and London. The Ash-Shaff media group is believed to be based in Indonesia and/or operated by Indonesians."
"Go and answer the call," one of the posters states. "Don't spare none [sic]. Kill them all. It is now time to rise. Slit their throats. Watch them die."
Another poster featuring a man in a suicide bomb vest standing in what appears to be downtown Manhattan urges ISIS followers to "slaughter them all."
"An additional poster features London's Big Ben burning in the background under the caption: 'O Crusaders Indeed You Are Weak And Powerless. The Soldiers Of Allah Gonna Be Immediately Come To Your Country And Will Destroy The Crusaders Everywhere,'" MEMRI noted. "ISIS enemies, mainly Russia, the U.S., France, and the UK, are often referred to as 'crusaders' in ISIS rhetoric."
https://freebeacon.com/national-security/isis-warns-of-terror-strikes-in-san-francisco-new-york-london/
--------
US believes Osama bin Laden's son Hamza is dead: official
August 01, 2019
The United States believes that Hamza bin Laden, a son of slain Al Qaeda leader Osama bin Laden and himself a notable figure in the militant group, is dead, a US official said on Wednesday.
The US official, who spoke on condition of anonymity, provided no further details, including when Hamza died or where.
President Donald Trump earlier on Wednesday declined to comment after NBC News first reported the US assessment. Asked if he had intelligence that bin Laden's son had been killed, Trump told reporters: "I don't want to comment on it."
Separately, the White House declined to comment on whether any announcement was imminent.
Hamza, believed to be about 30 years old, was at his father's side in Afghanistan before the September 11, 2001, attacks on the United States and spent time with him in Pakistan after the US-led invasion of Afghanistan pushed much of Al Qaeda's senior leadership there, according to the Brookings Institution.
Osama bin Laden was killed by US special forces who raided his compound in Pakistan in 2011. Hamza was thought to be under house arrest in Iran at the time, and documents recovered from the compound indicated that aides had been trying to reunite him with his father.
The New York Times reported that the United States had a role in the operation that led to Hamza's death, which it said took place in the past two years. Reuters could not immediately verify those details.
Still, the US government's conclusion appears to be a recent one. In February, the State Department said it was offering a reward of up to $1 million for information leading "to the identification or location in any country" of Hamza, calling him a key Al Qaeda leader.
Introduced by Al Qaeda's chief Ayman al-Zawahiri in an audio message in 2015, Hamza provided a younger voice for the group whose ageing leaders have struggled to inspire militants around the world galvanised by Islamic State, according to analysts.
Hamza called for acts of terrorism in Western capitals and threatened to take revenge against the United States for his father's killing, the US State Department said in 2017 when it designated him as a global terrorist.
He also threatened to target Americans abroad and urged tribal groups in Saudi Arabia to unite with Yemen's Al Qaeda in the Arabian Peninsula to fight against Saudi Arabia, it said.
Full report at:
https://www.dawn.com/news/1497458/us-believes-osama-bin-ladens-son-hamza-is-dead-official
--------
US will extend sanctions waivers for Iran nuclear programs: Bolton
1 August 2019
The United States will renew sanctions waivers for Iranian nuclear programs that allow Russia, China, and European countries to continue their civilian nuclear cooperation with Tehran, White House national security adviser John Bolton said on Wednesday.
"I think the idea here is we are watching those nuclear activities very, very closely," Bolton said in an interview on Fox Business Network. "So this is a short 90-day extension," he said.
Bolton's comments came hours after Washington imposed sanctions on Iranian Foreign Minister Mohammad Javad Zarif, a key figure in Iran's 2015 nuclear deal with world powers, which President Donald Trump withdrew from last year.
US Secretary of State Mike Pompeo in early May extended five of seven sanctions waivers for 90 days, a shorter period than earlier waivers. The waivers allow work at Iran's Bushehr nuclear plant, the Fordow enrichment facility, the Arak nuclear complex, and the Tehran Research Reactor.
Trump last year abandoned the nuclear agreement, arguing that he wanted a bigger deal that not only limited Iran's atomic work, but also reined in its support for proxies in Syria, Iraq, Yemen, and Lebanon, and curbed its ballistic missile program.
Trump also tightened sanctions on Iran in May to try to choke off its oil exports.
Fears of a direct US-Iranian conflict have risen since May with several attacks on oil tankers in the Gulf, Iran's downing of a US surveillance drone, and a plan for US airstrikes on Iran last month that Trump called off at the last minute.
The Washington Post reported on Tuesday that Trump, in an Oval Office meeting last week, sided with Treasury Secretary Steven Mnuchin who argued for renewing the waivers over the objections of Pompeo and Bolton.
The report said Mnuchin argued that if the waivers were not renewed, "the United States would have to sanction Russian, Chinese and European firms that are involved in projects inside Iran that were established as part of the 2015 nuclear deal."
Full report at:
https://english.alarabiya.net/en/News/middle-east/2019/08/01/US-will-extend-sanctions-waivers-for-Iran-nuclear-programs-Bolton.html
--------
US Senator Cruz says 'deep state' working to preserve Obama-Iran deal
1 August 2019
US Senator Ted Cruz said "deep state" staffers at the US State and Treasury departments were working to preserve the Iranian nuclear deal behind US President Donald Trump's back, after reports of White House plans to renew civil-nuclear waivers for Tehran.
The US is set to announce this week that it will renew sanctions waivers for five Iran nuclear programs that allow Russia, China, and European countries to continue civilian nuclear cooperation with Iran, according to a Washington Post article published on Tuesday.
"I hope these reports turn out to be wrong. The president has correctly ordered his administration to halt implementation of the catastrophic Obama-Iran nuclear deal. These waivers are part of the deal, and allow the Ayatollahs to build up their nuclear program, including at Fordow, a bunker they dug into the side of a mountain so they could build nuclear weapons," Senator Cruz said in a statement.
"If these reports are indeed accurate, then it is a temporary victory for the deep state staffers at Treasury and State who continue working tirelessly to preserve the Obama Iran deal rather than implementing the president's directive. I will continue to work towards permanently ending the nuclear deal, including by exercising Congress's important oversight responsibility to ensure the implementation of United States policy," Cruz, who serves on the US Senate Foreign Relations Committee, added.
Full report at:
https://english.alarabiya.net/en/News/middle-east/2019/08/01/US-Senator-Cruz-says-deep-state-working-to-preserve-Obama-Iran-deal.html
--------
US sanctions Zarif for being Iran's 'primary spokesperson around the world'
Aug 1, 2019
The administration of US President Donald Trump has imposed sanctions on Iranian Foreign Minister Mohammad Javad Zarif for what Iran calls "great fear" of his eloquent delivery of the Iranian nation's message to the world.
In separate statements on Wednesday, the US departments of State and Treasury announced the imposition of sanctions against Zarif because he "acted or purported to act for or on behalf of, directly or indirectly, the Supreme Leader of the Islamic Republic of Iran".
Back on June 24, US President Donald Trump announced new sanctions against Iran targeting Leader of the Islamic Revolution Ayatollah Seyyed Ali Khamenei and top commanders of the Islamic Revolution Guards Corps (IRGC).
In his statement on blacklisting Zarif, US Secretary of State Mike Pompeo claimed that the top Iranian diplomat is a "key enabler" of Iran's policies throughout the region and the world.
The US Treasury Department also said in its statement that Zarif is Iran's "primary spokesperson around the world," and that the ban "is sending a clear message that Iran's "recent behavior is completely unacceptable."
"The US' reason for designating me is that I am Iran's 'primary spokesperson around the world'. Is the truth really that painful?" Zarif said in a tweet shortly after the designation, mocking the terms used by the US administration to describe his activities.
He also reiterated that the move by the US administration "has no effect" on him or his family, as they "have no property or interests outside of Iran."
"Thank you for considering me such a huge threat to your agenda."
Javad Zarif
?
@JZarif
The US' reason for designating me is that I am Iran's "primary spokesperson around the world"
Is the truth really that painful?
It has no effect on me or my family, as I have no property or interests outside of Iran.
Thank you for considering me such a huge threat to your agenda.
6,317
2:03 AM - Aug 1, 2019
Twitter Ads info and privacy
3,514 people are talking about this
In another tweet, Zarif further mocked the reason for the sanctions.
"Since reason for designating me is my words, would "US persons" need OFAC license to "engage" with me by reading my writings or listening to interviews?" he asked the US secretaries of state and treasury as well as the CEO of Twitter Jack Dorsey.
Javad Zarif
?
@JZarif
We know that calling for dialog & peace is an existential threat to #B_Team.
And since reason for designating me is my words, would "US persons" need OFAC license to "engage" with me by reading my writings or listening to interviews?
cc: @stevenmnuchin1
cc: @SecPompeo
cc: @jack
1,663
4:53 AM - Aug 1, 2019
Twitter Ads info and privacy
778 people are talking about this
In a contradictory stance, a US official later claimed "the Trump administration is not closing the door to potential nuclear talks with Iran by sanctioning Foreign Minister Mohammad Javad Zarif, who it does not consider a significant decision maker."
"If we do have an official contact with Iran, we would want to have contact with someone who is a significant decision-maker," the senior administration official said.
In reaction to these remarks, Iranian Foreign Ministry Spokesman Seyyed Abbas Mousavi said, "The pinnacle of contradiction and stupidity of US leaders is where they repeatedly call Foreign Minister Zarif an insignificant actor in the Iranian politics but at the same time put him on the sanctions list in a totally unwise move."
"Americans are extremely terrified of Dr. Zarif's logic and his art of negotiation," he added.
The new ban comes as when the US was announcing its June sanctions against Iranian officials, Treasury Secretary Steven Mnuchin had said that Zarif would be blacklisted as well.
However, it was later reported the US had reversed that decision without giving specific reasons for it.
"Cooler heads prevailed. We ... saw it as not necessarily helpful," said one source familiar with the matter who spoke on condition of anonymity, adding that Pompeo had opposed designating Zarif "for the time being."
Zarif is seen as the architect of a 2015 multilateral nuclear deal, which the Trump administration abruptly abandoned last year. The US reinstated its unilateral sanctions against the Islamic Republic following its exit from the landmark deal.
Full report at:
https://www.presstv.com/Detail/2019/08/01/602368/US-Treasury-Pompeo-Iran-Zarif-sanctions
--------
Zarif dares Pompeo to answer Iranian journos' 'rigorous' questions
Aug 1, 2019
Iran's foreign minister has dismissed his American counterpart's "empty and disingenuous" offers to visit Iran and have an interview with the country's state TV, daring him to accept any of the many interview requests from Iranian reporters.
"Instead of making empty and disingenuous offers, Secretary [Mike] Pompeo can accept any of the many requests from Iranian reporters to interview US officials," Zarif tweeted Wednesday.
"He has refused till now, as he knows he has to be accountable to rigorous questioning—the very same way I am by the US media," he added.
Zarif suggested the US secretary of state does not dare to have an interview with Iranian reporters because they will ask him "to explain why he—& his boss: Call Iran a terrorist nation; Distort historical name of PERSIAN GULF to grovel to client regimes; Distort even the BIBLE to kowtow to a #B_Team member; Employ Economic Terrorism against entire Iranian people; and...."
Javad Zarif
?
@JZarif
• 15h
Instead of making empty and disingenuous offers, @SecPompeo can accept any of the many requests from Iranian reporters to interview US officials.
He has refused til now, as he knows he has to be accountable to rigourous questioning—the very same way I am by the US media.
Javad Zarif
?
@JZarif
@SecPompeo will then have to explain why he—& his boss:
Call Iran a terrorist nation;
Distort historical name of PERSIAN GULF to grovel to client regimes;
Distort even the BIBLE to kowtow to a #B_Team member;
Employ #EconomicTerrorism against entire Iranian people; and ...
917
9:01 PM - Jul 31, 2019
Twitter Ads info and privacy
333 people are talking about this
The Iranian foreign minister's comments came in reaction to Pompeo's offer to visit Iran and go on the Iranian television and speak directly to the Iranian nation, which he calls a "terrorist nation."
Asked if he would be willing to go to Tehran, Pompeo said in a July 25 interview with Bloomberg TV, "Sure. If that's the call, I'd happily go there... I would welcome the chance to speak directly to the Iranian people."
Pompeo said he would accept any offer to go on Iranian television as Zarif Iran has appeared on US television.
Seyed Mohammad Marandi
@s_m_marandi
• Jul 30, 2019
Replying to @s_m_marandi @SecPompeo
I propose a 45 minute interview in conversation form with @SecPompeo during one of his foreign trips. It can take place in a non-governmental building through a major media outlet independent of the US. @AJEnglish, @RT_com, @CGTNOfficial, @AlMayadeenNews, @SABCNewsOnline,...
Seyed Mohammad Marandi
@s_m_marandi
...@trtworld, or any other such media outlet. My English is not perfect & I've never done an interview before, but I know enough about Iran & I've been on TV enough to feel confident that I won't disappoint too much. If @SecPompeo is serious he should accept. I'm waiting.
57
7:18 PM - Jul 30, 2019
Twitter Ads info and privacy
23 people are talking about this
Shortly after his offer, Ali Rabiei, the spokesman for the Iranian administration, said that if Pompeo is willing to talk to Iranian reporters, he can have an interview with Press TV correspondent and anchor, Marziyeh Hashemi, who was detained by the US government on baseless grounds during a visit to meet with her family in the United States earlier this year.
Pompeo has said that he is willing to talk to Iranian reporters. We say that we have Ms. Marziyeh Hashemi, who can talk to him and we are not going to avoid this issue," he added.
Full report at:
https://www.presstv.com/Detail/2019/08/01/602363/Zarif-pompeo-iranian-media-interview-request
--------
US peace envoy hints at inking accord with Taliban
Shadi Khan Saif
31.07.2019
The top U.S. peace envoy for Afghanistan on Wednesday hinted at signing a peace deal with the Taliban soon.
Zalmay Khalilzad, U.S. special representative for Afghanistan reconciliation, left Kabul for Islamabad on Wednesday en route to Doha.
"Wrapping up my most productive visit to #Afghanistan since I took this job as Special Rep. The U.S. and Afghanistan have agreed on next steps. And a negotiating team and technical support group are being finalized", he said in a Twitter post.
"[...] if the Taliban do their part, we will do ours, and conclude the agreement we have been working on," he said.
In a major revelation, an Afghan official announced on Saturday that the much-awaited face-to-face talks with the Taliban will start within the next two weeks in a European nation.
State Minister for Peace Affairs Abdul Salam Rahimi -- a close aide to President Ashraf Ghani -- said in a statement that a 15-member team including religious scholars, women and civil society members representing Kabul at the proposed talks has been finalised.
Rahimi also called for immediate reduction in violence across the country.
However, Khalilzad and the Taliban were quick to clarify the remarks of the Afghan official.
Washington's top peace envoy said on Sunday the intra-Afghan negotiations will only occur after the U.S. and Taliban conclude their agreement.
Suhail Shaheen, spokesman for the Taliban's Qatar office, said in this connection that the intra-Afghan dialogue would begin after the timetable for the withdrawal of foreign troops is announced.
Full report at:
https://www.aa.com.tr/en/americas/us-peace-envoy-hints-at-inking-accord-with-taliban/1546206
--------
Want to get out of Afghanistan 'as quickly as we can', says Trump
Jul 31, 2019
WASHINGTON: US President Donald Trump on Wednesday said that he wants to get out of Afghanistan "as quickly as he can" and reiterated that the US should not have been in these wars.
The Trump administration has intensified its efforts in recent months to seek a negotiated settlement of America's longest war in Afghanistan where the US has lost over 2,400 soldiers since late 2001, when it invaded the country after the 9/11 terror attacks.
US Special Envoy for Afghanistan Reconciliation Zalmay Khalilzad is currently holding talks with the Taliban to work out an agreement for withdrawal of the US troops and participation of the rebel group in the Afghan government.
"We'll continue to (pull out troops from Afghanistan). Well, we're going to see. We're working on negotiating a deal right now, as you probably have heard, and you know, at some point, we want to get out as quickly as we can," Trump told C-Span in an interview.
His remarks comes two days after US Secretary of State Mike Pompeo said on Monday that President Trump has ordered him to reduce the number of American troops in war-torn Afghanistan before the presidential elections in 2020.
During the presidential election campaign in 2016, Trump had pledged to withdraw US troops from Afghanistan and end America's longest war.
"I want to get out of these crazy wars that we should've never been in," Trump said in response to a question.
Full report at:
https://timesofindia.indiatimes.com/south-asia/want-to-get-out-of-afghanistan-as-quickly-as-we-can-says-trump/articleshow/70471424.cms
--------
South Asia
Afghan forces kill 56 militants in northern Baghlan province
2019-07-30
PUL-E-KHUMRI, Afghanistan, July 30 (Xinhua) -- Up to 56 militants including seven commanders have been confirmed dead and more than 30 others sustained injuries as the government forces targeted Taliban hideouts in Qurgan Tepa area outside Pul-e-Khumri the capital of northern Baghlan province on Tuesday, army spokesman Mohammad Hanif Rezai said.
The crackdown was launched after the militants attacked security checkpoints in Qurgan Tepa area in the wee hours of Tuesday, the official said, adding that 56 armed insurgents have been killed and more than 30 others injured.
Seven Taliban group commanders including Qari Abdul Rahim and Mawlawi Mabariz are among those killed in the raids, Rezai said.
Provincial police spokesman Jawed Basharat also confirmed the operations, saying more than 50 Taliban fighters have been killed in Qurgan Tepa and adjoining areas since early morning.
Taliban militants who are in control of parts of Baghlan province have not commented yet.
http://www.xinhuanet.com/english/2019-07/30/c_138270157.htm
--------
Key Taliban group commander Mullah Ghazali dies of wounds in Farah
01 Aug 2019
A key group commander of Taliban Mullah Ghazali died of his wounds in western Farah province of Afghanistan.
The Provincial Police Headquarters in a statement said Mullah Ghazali sustained injuries during a clash with the security forces few days earlier.
The statement further added that the security forces wounded 2 Taliban militants during a separate clash in Nangab Village located in the outskirts of Farah city.
Furthermore, the Provincial Police Headquarters said the two militants were key members of Mullah Salam Hanzala, one of the group leaders of Taliban in Farah.
The Provincial Police Headquarters also added that the security forces and local residents did not suffer casualties during the clash.
Full report at:
https://www.khaama.com/key-taliban-group-commander-mullah-ghazali-dies-of-wounds-in-farah-03520/
--------
Mullah Khal Mohammad, Esmatullah and dozens of their fighters killed in Faryab
31 Jul 2019
The security forces killed two key Taliban leaders Mullah Khal Mohammad and Mullah Esmatullah and dozens of his fighters during the operations in Faryab province.
The 209th Shaheen Corps in a statement said the security forces conducted the operations as part of Shaheen-103 operations led by Special Forces.
The statement further added that the security forces targeted the militants in Gurziwan district and Kata Qala of Pashtun Kot district.
Furthermore, the 209th Shaheen corps said the security forces killed the two Taliban leaders and their 33 fighters during the operations and wounded 46 others.
The 209th Shaheen Corps also added that the security forces conducted the operations with support of Air Forces.
Full report at:
https://www.khaama.com/mullah-khal-mohammad-esmatullah-and-dozens-of-their-fighters-killed-in-faryab-03510/
--------
Taliban IED experts, Abdullah alias Laser and Muzamil alias Petrol blown up by own bomb
31 Jul 2019
A premature explosion has killed two Taliban IED experts in North-eastern Kapisa province of Afghanistan, the Afghan military said.
The 201st Silab Corps in a statement said a premature IED explosion killed two Taliban IED experts, Abdullah alias Laser and Muazamil alias Petrol in Kapisa province.
The statement further added that the two Taliban IED experts were planting a bomb in Afghania Valley of Nejrab district when it off prematurely, instantly killing the two IED experts.
Taliban militants frequently use improvised explosive devices to target the security forces but majority of roadside bombings inflict casualties on civilians.
A roadside bomb ripped through a passenger bus on Kandahar-Herat highway earlier today killing 34 civilians. The explosion also wounded 17 others.
Full report at:
https://www.khaama.com/taliban-ied-experts-abdullah-alias-laser-and-muzamil-alias-petrol-blown-up-by-own-bomb-03506/
--------
Airstrike kills Taliban militants, destroy suicide bombing vests in Paktika
01 Aug 2019
The security forces conducted an airstrike against a Taliban hideout in south-eastern Paktika province killing at least 8 militants.
The 203rd Thunder Corps in a statement said the security forces conducted the airstrike in Gomal district of Paktika.
The statement further added that the airstrike killed 8 militants and destroyed 11 suicide bombing vests.
Furthermore, the 203rd Thunder Corps said the airstrike also destroyed some other military kits and a weapons depot of Taliban.
Full report at:
https://www.khaama.com/airstrike-kills-taliban-militants-destroy-suicide-bombing-vests-in-paktika-03518/
--------
Hamza bin Laden has reportedly died, U.S. officials say
01 Aug 2019
Hamza bin Laden, the son of Osama bin Laden, the former chief and founder of al-Qaeda terrorist network has died.
According to American media outlets, U.S. officials have confirmed that Hamza bin Laden has died.
The officials have not disclosed further information regarding the date of Hamza bin Laden's death. The place where he died also remains unclear.
The U.S. President Donald and his national security adviser John Bolton refused to comment regarding the death of Hamza bin Laden.
This comes as the U.S. government offered a $1 million reward for the information leading to the whereabouts of Hamza bin Laden in the month of February.
Hamza bin Laden had earlier released audio and video messages in which he had called for the attacks on the United States and other countries.
Full report at:
https://www.khaama.com/hamza-bin-laden-has-reportedly-died-u-s-officials-say-03517/
--------
Mideast
Israel will face demographic death without two-state solution: Palestinian PM
Jul 31, 2019
Palestinian Prime Minister Mohammad Shtayyeh says the Israeli regime will suffer a "democratic death" if it refuses to support a two-state solution to the decades-long conflict between the two sides.
"Israel stands today before a big challenge — either the two-state solution or a demographic death," Shtayyeh said in an address to at a meeting of the Socialist International organization in Ramallah on Tuesday.
He also noted that the Palestinians currently make up the majority population between the Jordan River and the Mediterranean Sea, estimating that there are at total of 6.8 million Palestinians in the West Bank, the Gaza Strip and the occupied lands compared to 6.6 million Israelis.
"For the first time since 1948, the demographic balance is in favor of the Palestinians," he said. "The Palestinians are 200,000 more than them."
The Palestinian premier further stressed that the Israelis have to choose between the so-called two-state solution or no peace. "Either the two-state solution or a racist regime in practice and law," he added.
Elsewhere in his speech, Shtayyeh called the administration of US President Trump "stupid" for thinking that it could make the Palestinian people surrender by recognizing Jerusalem al-Quds as Israel's "capital," transferring its embassy from Tel Aviv to the occupied city and cutting financial assistance to the Palestinian Authority.
The Palestinians, he said, would not accept less than the minimum of freedom, independence and the establishment of their sovereign state along the 1967 lines with Jerusalem al-Quds as its capital, he added.
"What is happening is dangerous for the future of Palestine, the region and the world," he said.
Shtayyeh also lashed out at Jason Greenblatt, Trump's Middle East envoy, for claiming at last week's UN Security Council meeting that the Palestinians have aspiration, not right, to East Jerusalem al-Quds as their capital.
"That (Greenblatt's assertion) is the highest level of political blasphemy and the highest level of prejudice against the Palestinian people's national rights," he said.
Greenblatt, along with Trump's son-in-law and senior adviser Jared Kushner, has begun a tour of Jordan, Egypt, Saudi Arabia, Israel, and Morocco to discuss the economic chapter of a so-called peace plan, which Washington had been developing without Palestine's consent to end the Middle East conflict in favor of Israel.
https://www.presstv.com/Detail/2019/07/31/602302/Israel-Palestine-Mohammad-Shtayyeh
--------
Houthi attack on military parade kills dozens in Yemen's Aden
August 01, 2019
Two separate attacks in Aden - one claimed by the Houths - killed and wounded dozens on Thursday, security sources reported.
A Reuters witness saw nine bodies on the ground after an explosion hit a military camp belonging to the Yemeni Security Belt forces backed by the United Arab Emirates, which is a member of the Saudi-led military coalition battling the Houthis.
The attack killed at least 32 people, a medical and a security source told Reuters. Medecins Sans Frontieres tweeted that tens of wounded were hospitalised.
Soldiers screamed and ran to lift the wounded and place them on trucks. Red berets lay on the ground in pools of blood.
The Houthi's official channel Al Masirah TV said the group had launched a medium-range ballistic missile and an armed drone at the parade, which it described as being staged in preparation for a military move against provinces held by the movement.
The parade "was being used to prepare for an advance on Taiz and Dalea", Masirah cited a Houthi military spokesman as saying.
A pro-government military source and security sources said a commander, Brigadier General Muneer al-Yafee, a leading figure of the southern separatists, was among those killed.
"The blast occurred behind the stand where the ceremony was taking place at Al Jalaa military camp in Buraiqa district in Aden," the Reuters witness said. "A group of soldiers were crying over a body believed to be of the commander."
Yafee had just stepped off the stage to greet a guest when the explosion took place. Flags of the former South Yemen and those of leading coalition members were fluttering as the military band was waiting for its cue to start playing.
In a separate attack in another district of Aden on Thursday, an explosives-laden car blew up at a police station in the city's Omar al-Mokhtar neighborhood, killing three soldiers.
Sources say at least 20 people were wounded, including three civilians.
The bomber drove into the police station's gates shortly before the morning police lineup before the start of the workday.
The officials spoke on condition of anonymity because they weren't authorized to talk to reporters and the witnesses declined to identify themselves for fear of reprisals.
It was not clear if the incidents were related. Previous car attacks in Yemen have been carried out by militant groups like Al-Qaeda.
In February last year, twin suicide bombings claimed by Daesh hit a base of an Aden counter-terrorism unit, killing five people, including a child.
Five months later, two people were killed when an attacker blew himself in the city.
Full report at:
http://www.arabnews.com/node/1533951/middle-east
--------
Zarif: Iran is ready for dialogue if Saudi Arabia is also ready
31 July 2019
Iran is ready for dialogue if Saudi Arabia is also ready, Iran's Foreign Minister Mohammad Javad Zarif said on Wednesday, according to the IRIB news agency.
"If Saudi Arabia is ready for dialogue, we are always ready for dialogue with our neighbors," Zarif said. "We have never closed the door to dialogue with our neighbors and we will never close the door to dialogue with our neighbors."
https://english.alarabiya.net/en/News/middle-east/2019/07/31/Zarif-Iran-is-ready-for-dialogue-if-Saudi-Arabia-is-also-ready.html
--------
Iran to reduce nuclear deal commitments more unless Europe protects it - Zarif
JULY 31, 2019
DUBAI (Reuters) - Iran is set to further cut its commitments to its international nuclear deal unless its European partners move to protect it from U.S. sanctions by ensuring it can sell oil and receive income, its foreign minister told state television on Wednesday.
"Under current circumstances and if no action is taken (by the Europeans) we will take the next step (in cutting commitments)," Mohammad Javad Zarif said, adding that its European partners should guarantee Iran could sell its oil and collect the revenue.
Iran has said it will reduce its commitment to the nuclear accord in stages and may even withdrew from the pact unless the Europeans find ways to shield its economy from the U.S. sanctions.
https://af.reuters.com/article/worldNews/idAFKCN1UQ0UT
--------
Singapore Detained Two Ships Carrying Iranian LPG In Violation Of US Sanctions
July 30, 2019
Dalga Khatinoglu
Two vessels carrying Iranian LPG or liquid gas involved in Iran-China deliveries were detained in Singapore on July 22 and 24, a ship-tracking source has told Radio Farda.
The ships belong to Kunlun Shipping, a private Hong Kong company with a fleet of LPG vessels carrying Iranian-sourced cargoes.
The detention of the vessels is related to U.S. sanctions banning export of Iranian oil and gas and a direct result of a court order. However, Radio Farda has learned that the ships are no longer listed in the "vessels under Sheriff's arrest" section on the website of the Singapore Supreme Court.
The ship-tracking firm Kpler informs that one of the ships, Sea Dragon seems to have been released, as satellite images show it has left Singapore and is sailing back toward the Persian Gulf, carrying its load. The other vessel Gas Infinity is still in port.
Kpler also reports that the arrests seem to have been targeting vessels owned only by Kunlun Shipping as other ships involved in Iranian trade crossed the Singapore strait around the same dates without incident.
LPG carriers loading from Iran often use deceptive techniques to stay "under the radar" by turning off their transponders and indicating misleading destinations to cover their tracks.
Full report at:
https://en.radiofarda.com/a/singapore-detained-two-ships-carrying-iranian-lpg-in-violation-of-us-sanctions/30083605.html
--------
Exchange of fire on Gaza border kills Palestinian, wounds 3 Israel soldiers
1 August 2019
A Palestinian who crossed the Gaza border into Israel overnight shot at Israeli troops, drawing return fire in an incident that left the Palestinian dead and three Israeli soldiers wounded, the army said on Thursday.
An Israeli tank also targeted a Hamas military post during the incident, Israel's military said in a statement.
It said an army officer was moderately wounded and two soldiers were lightly injured by the Palestinian's shooting in the area of the southern Gaza Strip.
There has been tension along the Gaza border since regular protests and clashes erupted there in March 2018.
At least 297 Palestinians have been killed in Gaza or the border area by Israeli fire since then, the majority during demonstrations and clashes.
Seven Israelis have been killed.
The protests have declined in intensity recently after a truce brokered by UN officials and Egypt.
Under the truce Israel agreed to take steps to ease aspects of its blockade on Gaza, which is ruled by Islamist movement Hamas.
Israel and Hamas have fought three wars since 2008.
Full report at:
https://english.alarabiya.net/en/News/middle-east/2019/08/01/Palestinian-killed-3-Israeli-soldiers-wounded-in-Gaza-shooting-.html
--------
Israel okays 700 Palestinian homes, 6,000 settler homes
31 July 2019
Israeli ministers have given rare approval to 700 Palestinian homes in areas in the West Bank under the country's full control, while also approving 6,000 homes for settlers, an Israeli official said on Wednesday.
The official, speaking on condition of anonymity, confirmed the approval by Israel's security cabinet on Tuesday ahead of an expected visit by US President Donald Trump's son-in-law and senior adviser Jared Kushner.
It was not immediately clear if all of the homes will be new construction or if some already exist and are receiving retroactive approval.
The approvals are for the part of the West Bank known as Area C, which is under Israeli security and civilian control and where its settlements are located.
Area C accounts for more than 60 percent of the West Bank, the Palestinian territory that would form part of a future Palestinian state under the so-called two-state solution.
Israel rarely grants approvals for Palestinian construction in that area.
The plan for Palestinians, though relatively small and far outweighed by the new settlement homes, could allow Prime Minister Benjamin Netanyahu to argue he is making efforts in favor of Kushner's long-awaited peace plan.
Details on Kushner's visit, expected this week, were not yet made available.
Full report at:
https://english.alarabiya.net/en/News/middle-east/2019/07/31/Israel-okays-700-Palestinian-homes-6-000-settler-homes.html
--------
Africa
Sudan's military rulers, opposition to hold transition talks within 48 hours: Opposition
1 August 2019
Negotiators from Sudan's ruling military council and main opposition coalition have made progress on the sticking points in discussions on the transition from military rule and are set to hold direct talks within 48 hours, an opposition leader said.
The on-off talks on how to run the country after the overthrow of longtime President Omar al-Bashir had been halted on Tuesday after the killing of six people at a rally on Monday, at least four of whom were children.
But on Wednesday, Khalid Omar, from the Forces for Declaration of Freedom and Change opposition alliance (FFC), said their lower-level technical committees isolated the key points of contention in a constitutional declaration that will set the path from military rule to a new sovereign council.
The main delegations will meet for further discussions within 48 hours, Omar told Reuters, without giving details on what had been ironed out.
African Union mediator Mohamed Hassan Lebatt urged the military council and the FFC to sign the declaration.
He also called for a speedy trial for those responsible for shooting the children.
They were killed when security forces broke up a student protest in El-Obeid, 400 km (250 miles) southwest of Khartoum, opposition-linked doctors said. The teenagers were rallying against fuel and bread shortages, residents said.
The reaction to the killings remained raw. Hundreds rallied on Wednesday in El-Obeid, the capital of North Kordofan state, shouting, "Blood for blood! We won't accept blood money!" a chant that has been used for months during the protests that helped bring down Bashir and since.
The Sudanese Professionals Association, a key part of the FFC, strongly condemned the incident and called for mass nationwide protests on Thursday. It spearheaded the protest movement that led to al-Bashir's overthrow in April.
https://english.alarabiya.net/en/News/middle-east/2019/08/01/Sudan-s-military-rulers-opposition-to-hold-transition-talks-within-48-hours-Opposition.html
--------
Nigeria Police to prosecute banned Shiite group members under Terrorism law
July 30, 2019
Agency Report
The Inspector-General of Police, Mohammed Adamu, has said henceforth any protester arrested in connection with the proscribed Islamic Movement in Nigeria (IMN) will be prosecuted under the "Terrorism Act.''
Mr Adamu stated this on Tuesday in Abuja at a conference organised by the Force Headquarters for senior police officers.
The Federal Government on Friday obtained a court order proscribing the IMN after it branded it as a terrorist organisation.
The IGP said the conference was organised to review the activities of the banned organisation and other security challenges in order to emplace appropriate measures to address them.
Mr Adamu stressed that increasing engagement of terror tactics, violent and subversive activities of IMN contravened the Terrorism Prevention Act 2013, as amended.
According to him, with the judicial pronouncement of the Federal High Court in Abuja, the Federal Government has classified them as a terrorist group and accordingly proscribed the El-Zakzaky-led IMN.
"In consequence, henceforth, any person engaged or associating, in any manner that could advance the activities of the proscribed Islamic Movement in Nigeria, shall be treated as a terrorist.
"Such person will be treated as an enemy of the State, and a subversive element and shall be brought to justice within the context of the Terrorism Act.
"The import of this is that all forms of procession or protest by IMN is now illegal and thus banned," he said.
He said that the police and other security agencies were fully committed to giving full effect to the judicial pronouncement in the interest of internal security and national cohesion.
The IGP solicited for the support of the public in the provision of information that would help in identifying locations of IMN members and their mentors.
According to him, for the purpose of clarification, Nigeria is a secular state with constitution provisions guaranteeing the freedom to practice our faiths.
Full report at:
https://www.premiumtimesng.com/news/top-news/343906-nigeria-police-to-prosecute-banned-shiite-group-members-under-terrorism-law.html
--------
Libya: Doctors Killed As Rebels Attack Libya Schools, Hospitals
30 JULY 2019
By Ahmed Zayed
Tripoli — FOUR doctors and a paramedic have been killed following an attack on a school and hospital in the Libyan capital, Tripoli.
Eight medical personnel were wounded after the violence blamed on militants.
Since the beginning of the conflict in April, a total of 37 attacks have been registered on health personnel and facilities, resulting in a total of 11 deaths, 33 injuries and 19 ambulances directly or indirectly impacted.
The education of nearly 120 000 students has been affected and 27 schools are now used as shelters for families who fled their homes.
Bérangère Böell-Yousfi, the Humanitarian Coordinator in Libya, condemned the attack on Al-Alamain school and Az Zawiyah Field Hospital.
She called on all the parties to the conflict to respect their obligations under the international humanitarian law and stop attacks of hospitals, schools and other civilian infrastructure and personnel.
The envoy said the provision of basic services must be provided to civilians in desperate need.
"Thousands of lives are at stake. Parties to conflict must allow and facilitate rapid and unimpeded passage of impartial humanitarian relief, including medical missions," Böell-Yousfi.
Rival parties are contending for the control Tripoli.
Full report at:
https://allafrica.com/stories/201907300648.html
--------
Kenya's plea to UN to classify Al-Shabaab a terrorist group
JULY 31 2019
Kenya plans to formally ask the United Nations (UN) to classify Somali militant group al-Shabaab as a terrorist group.
The move is aimed at ensuring more attention is focused on combating the extremists.
Foreign Affairs PS Macharia Kamau said Kenya will submit a proposal to have the UN Security Council list the Shabaab as a terrorist organisation under an expanded bid to annihilate extremist groups in the world.
"We will formally be submitting a request, seeking UAE's support in listing al-Shabaab under UN Resolution 1267. This is important to bring the global efforts in tackling the group," he said in Nairobi, after meeting a delegation of United Arab Emirates officials where they signed a series of bilateral agreements and agreed to finalise a security agreement soon.
"It has caused serious havoc, not just on Kenya but the region and the world in general. It is important that all global efforts now come together to combat this," added Kamau.
Under Resolution 1267 of 1999, or subsequent and related decisions, the UN Security Council targeted terror or militant groups like the Talibans, Al-Qaeda and ISIS and their leaders such as Osama bin Laden, sanctioning the groups and those associated with them.
The Shabaab, which pledged allegiance to Al-Qaeda in 2010—although a splinter group later sided with ISIS recently—has not been classified as a terror group by the UN, despite efforts by the African Union, and even the UN itself in combating Al-Qaeda and ISIS or their affiliates.
It categorised groups or persons for sanctions if they participate in financing, plan, facilitate, prepare or perpetrate activities for, in the name of or in support of Al-Qaeda, ISIL or their associates.
Officially, under the UN, terrorism is seen as a global threat but only Al-Qaeda and ISIL are listed are terror groups.
Previous bids to have the Somalia-based Islamic insurgency listed was opposed by the US and the UK over fears Nairobi would want to be delisted as a participant in the Somalia-Eritrea sanctions regime.
Kenya's troops are part of the 22,000-strong African Union Mission in Somalia (Amisom) forces.
Full report at:
https://www.theeastafrican.co.ke/news/ea/Kenya-plea-to-UN-to-designate-al-shabaab-a-terrorist-group/4552908-5217248-357lvd/index.html
--------
Four school children among six shot dead in Sudan, says a source
1 August 2019
Four schoolchildren were among six protesters shot dead at a rally this week in Sudan, a doctor at a hospital that received the casualties said on Wednesday, after five pupils were reported killed.
Six people were killed and more than 60 wounded at the demonstration in al-Obeid on Monday, the country's protest movement and witnesses said, reporting at the time that five of them were school children.
But doctor Ameer Adam, a member of the team of medics who received the casualties at al-Obeid hospital, confirmed to AFP that only four were students, aged between 15 and 17.
"The confusion must have happened because the fifth protester who was killed had been wearing a uniform. His age was more than 18," Adam said.
AFP spoke to two families of those killed along with the four school students. They confirmed that their relatives who were killed were aged 23 and 55.
The younger man was dressed in the uniform of a pharmacy institute where he was a student, his family said.
Monday's killings triggered new demonstrations in al-Obeid and also in the capital Khartoum, where crowds of school children took to the streets to denounce the deaths.
The al-Obeid rally was to protest weeks of shortages of bread and fuel.
Full report at:
https://english.alarabiya.net/en/News/middle-east/2019/08/01/Four-school-children-among-six-shot-dead-in-Sudan-says-a-source.html
--------
Nigerians hold new rally, demand release of prominent cleric Zakzaky
Jul 31, 2019
Thousands of Nigerians have held a fresh rally in solidarity with the jailed Muslim cleric Sheikh Ibrahim Zakzaky.
During the rally which was held in the capital Abuja on Wednesday, the protesters, mostly affiliated with the Islamic Movement of Nigeria (IMN), called for the release of the ailing cleric, who is in urgent need of medical treatment.
Similar protest march was also held in Washington with protesters chanting slogans, such as "Free Free Zakzaky."
According to reports, Zakzaky's health is deteriorating in the prison, but the authorities still resist to give him access to treatment.
He was also scheduled to appear in a court on Monday that was due to decide whether or not he should be freed to receive urgent medical treatment. But, the court in the northern city of Kaduna adjourned the bail hearing until August 5.
The supporters of the IMN say the adjournment is a deliberate ploy to drag out proceedings so that sheikh's condition deteriorates to the point of no return.
Zakzaky, the founder of IMN, has been in detention since December 2015 after his residence in the city of Zaria was raided by Nigeria's forces, during which he was beaten and lost vision in his left eye.
During the brutal crackdown, three of his sons lost their lives, his wife sustained serious wounds, and some 350 of his followers were killed.
Since then, the government has been violently cracking down on the IMN and its members.
Recently, a Nigerian court granted the government permission to label the IMN as a "terrorist" group, a move that many believe would give the officials the opportunity to clamp down harder on it.
IMN members regularly take to the streets of the Nigerian capital to call for the release of Zakzaky.
Full report at:
https://www.presstv.com/Detail/2019/07/31/602360/Nigeria-IMN-Ibrahim-Zakzaky
--------
Libya unity govt protests at 'untruths' in UN report
August 01, 2019
TRIPOLI: Libya's Government of National Accord has protested at what it said were "untruths" in UN envoy Ghassan Salame's latest report on the conflict in the North African country.
Fayed Al-Sarraj, head of the UN-recognized GNA which is based in Tripoli, summoned Salame on Wednesday "to deliver a protest note over untruths" in his report to the United Nations Security Council, it said.
Salame, in a videoconference on Monday, raised the alarm over "the increasing frequency of attacks on Mitiga," the Libyan capital's only functioning airport.
"Several of these attacks have come perilously close to hitting civilian aircraft with passengers on board," he said.
Salame urged "the authorities in Tripoli to cease using the airport for military purposes and for the attacking forces to halt immediately their targeting of it."
Mitiga has closed several times over the past four months because of a battle for Tripoli between GNA forces and fighters of military strongman General Khalifa Haftar.
Full report at:
http://www.arabnews.com/node/1534011/middle-east
--------
Europe
Germany will not join US-led Persian Gulf patrol force: Maas
Jul 31, 2019
Germany has officially turned down a request by the United States to join its international naval force, which is supposed to protect vessels from an alleged Iranian threat as they pass through the Strait of Hormuz.
German Foreign Minister Heiko Maas said Wednesday that there was no military solution to the ongoing standoff in the region and Berlin would rather pursue a policy that prevents further escalation of tensions.
"Germany will not take part in the sea mission presented and planned by the United States," Maas told reporters on a trip to Warsaw, the Polish capital.
On Tuesday, the US Embassy in Berlin said the administration of US President Donald Trump had asked the German government to join France and Britain in a mission to secure shipping through the strait and combat what it claimed to be "Iranian aggression."
The Trump administration has, without providing any evidence, blamed Iran for recent mysterious attacks against oil tankers sailing through the Sea of Oman, near the Strait of Hormuz.
Iran has vehemently denied the accusation, warning regional countries about possible "false flags" by foreign players.
'Avenue of diplomacy'
The tensions come as ties between Tehran and Washington have deteriorated since May 2018, when Trump abandoned the 2015 nuclear deal with Iran and reimposed sanctions against the Islamic Republic.
Germany, France and Britain -- three European signatories to the deal, which was also signed by Russia and China -- have tried to keep it alive by protecting bilateral trade through a special payment channel.
A German government spokeswoman said Wednesday that Berlin had not made an offer to join the US-led mission because it wanted to see the situation de-escalated.
"The government is reticent about the concrete US proposal and so has not made an offer," deputy government spokeswoman Ulrike Demmer told a news conference after a cabinet meeting.
"For us, it is important to pursue the avenue of diplomacy ... and to seek talks with Iran to achieve a de-escalation, and to work towards the continuation of the nuclear deal," Demmer said. "Participating in a US-led mission could make this harder. "
German Defense Minister Annegret Kramp-Karrenbauer said earlier in the day that Berlin was exploring its options and had yet to respond to the US.
"We now have a first general request from the United States, the other international partners for a possible mission," she told reporters before a meeting with NATO Secretary-General Jens Stoltenberg in the Belgian capital Brussels.
"We are reviewing these requests, in close cooperation with Britain and France, and we are doing this against the backdrop of our political and diplomatic goals and in this overall assessment a corresponding decision will be taken," she said.
German Finance Minister and Vice Chancellor Olaf Scholz also said a US-led mission could cause an even bigger conflict.
"I'm very skeptical about that, and I think that's a skepticism that many others share," said Scholz, who chaired the cabinet meeting on Wednesday as Chancellor Angela Merkel was away on holiday.
Norbert Roettgen, a member of Merkel's conservative bloc, said he believed Germany should not join the US-led mission but he could see Berlin being part of an all European mission.
"The alternative is a European mission, if necessary without the British, if they decide for the US," Roettgen, chairman of the Bundestag's foreign relations committee, told broadcaster ZDF.
Demmer also said that, in principle, Berlin "continues to regard the proposal of a maritime protection mission by European countries as worth considering."
The UK has been leading its own efforts to form a European force for the Persian Gulf after Iran seized a British-flagged tanker in the Strait of Hormuz over violating international laws and injuring the crew of a Iranian small fishing boat in a dangerous collision.
Iran and the UK came at loggerheads earlier this month, when the UK seized an Iranian tanker Grace 1 on the grounds that it was carrying oil to Syria in violation of the EU's sanctions against the Arab country.
Iran says the ship was traveling in international waters and was not heading to Syria, accusing the UK of piracy.
https://www.presstv.com/Detail/2019/07/31/602356/Germany-Maas-Persian-Gulf-US-Iran-Stena-Impero
--------
Iranians pin hope on new British PM to defuse tension
Syed Zafar Mehdi
01.08.2019
With Boris Johnson taking over as Britain's new prime minister, Iranians are looking forward to him to defuse simmering tensions between Tehran and London over the seizure of oil tankers.
Iran and Britain engaged in a war of words last month when London seized an Iranian-flagged oil tanker off Gibraltar on suspicion of violating EU sanctions on Syria.
Tehran accused London with "piracy" and responded with capturing a British vessel in the strategic Strait of Hormuz for "violating international maritime rules".
The escalation has come at a time when Iran and EU/E3 are exploring ways to bypass U.S. sanctions and salvage the 2015 nuclear deal.
With Johnson elected as the new British Prime Minister, Iranian officials, including President Hassan Rouhani and Foreign Minister Javad Zarif, have expressed desire to work closely with him to defuse the crisis.
Rouhani sent a congratulatory message to Johnson on Sunday, expressing hope for closer ties between Tehran and London under his leadership.
Referring to Johnson's 2017 visit to Tehran and his understanding of regional dynamics, Rouhani termed it a positive factor that can "contribute to removing the existing obstacles on the path of development of relations between the two countries".
Zarif, in his congratulatory message, assured his former British counterpart that "Iran does not seek confrontation".
Last week, Johnson's father, in an interview with Iran's state-owned Press TV, said he was confident that his son would defuse tensions and "build bridges with Iran".
"Boris is a man who has this great sense of history," he said. "Iran means so much to him, so the chance to have long-standing relationship with a country with such a fantastic history."
Guarded optimism
While Iranian officials are pinning hopes in Britain's new political leadership to end the simmering crisis, the optimism in Iran is carefully guarded.
Sadrodin Moosavi, a senior analyst and managing director of Iran's state-run newspaper Iran Daily, feels Johnson will try to settle the problem with Iran for multiple reasons.
Johnson, he said, must concentrate on the Brexit issue, otherwise he will lose his office and the future of his party will be threatened too in the highly divided British parliament.
"So, the escalation of the situation (with Iran) will consume a considerable chunk of his time and energy," Moosavi told Anadolu Agency.
Other reasons, according to him, include the possibility of Labour Party trying to undermine him if he fails to de-escalate the situation, the need to prove to the British public that he will not be U.S. President Donald Trump's henchman, and awareness about the economic costs of navigation for the U.K. in the Strait of Hormuz and international waters in case of escalation.
On the seizure of the Iranian oil tanker, Moosavi said the action was against the nuclear deal that Britain is trying to keep alive.
"The release of the Iranian tanker will be a good gesture that shows Britain's sincerity in keeping the nuclear deal alive, which will in turn pave way for improvement of bilateral ties," he said.
Reza Nasri, a legal expert and foreign policy analyst, believes that Johnson has the opportunity to turn the page and start his government with a clean slate vis-a-vis Iran.
"Iranian officials hope he would seize this opportunity and adopt a more constructive approach instead of further complicating the situation by pursuing the same 'May-Hunt' policy," Nasri said, referring to former Prime Minister Theresa May and Foreign Secretary Jeremy Hunt.
He said the release of the Iranian tanker by the U.K. would be a goodwill gesture that would be reciprocated by Iran and would also help Johnson score political points at home.
"Releasing the Iranian tanker would not just be the 'right' thing to do, it would also be the 'legal' thing to do," Nasri said.
"The May government claimed that it seized the Iranian tanker to implement a European Union law. But the fact is that EU law does not apply to this particular situation," he said.
"What applies is 'international law' and the U.K. is not permitted to seize or detain Iran's vessel under the international law framework."
Dark clouds
While some observers believe that Iran and the U.K. have an opportunity to open a new chapter in their relations and de-escalate the situation, the other side of the opinion is grim.
"This is no more than an empty political compliment. At the moment, both of them need to save their face," said Maysam Araee, Founder of Maynter Center for Strategic Studies.
"I don't mean to suggest that they will not reach an agreement in future, but absence of common interests in economy, petroleum and politics does not augur well for their bilateral ties."
Araee said the two countries need to engage in meaningful talks to resolve issues.
"The seizure of tankers is not a matter that cannot be resolved if there is intention and will to defuse the crisis and improve ties. The ball is in U.K.'s court now."
Ali Pishroo, U.K.-based political analyst, does not see much hope of improved ties between Iran and the U.K. "under present circumstances" unless Iran reaches an agreement with the West, especially the U.S.
"In the event of England's exit from Europe, the country needs a strong and secure economic alternative and Donald Trump has promised long-term free trade deal with England," said Pishroo.
Full report at:
https://www.aa.com.tr/en/europe/iranians-pin-hope-on-new-british-pm-to-defuse-tension/1546733
--------
Germany's Ramallah mission apologises for endorsing Klansman's anti-Jewish tweets
Khaled Yacoub Oweis
July 31, 2019
Germany's mission in the occupied West Bank city of Ramallah has apologised for endorsing an anti-Semitic tweet.
The Berlin government is grappling with balancing its unease about Israeli policies and eager accommodation of Iran with a rise of anti-Semitic crime at home.
On June 18, the Berlin newspaper Bild reported that 'Germany in Ramallah', the official Twitter account of the German Representative Office in the Palestinian Territories, had endorsed Twitter material involving Holocaust denier David Duke by 'liking' the tweets.
It hinted that the Israel's meticulous documentation of the Holocaust, in which six-million Jews died, is fabricated, and that Israel would occupy the Moon if it reaches there.
The head of the mission, Christian Clages, admitted that "a number of anti-Semitic messages were liked" via the account.
"We repudiate such messages in the strongest terms. We sincerely apologise and will ensure that this misconduct cannot be repeated in the future," Mr Clages said on Twitter on Tuesday.
However, he placed no specific blame on members of his team as the German Federal Foreign Office said up to 20 people had access to the Germany in Ramallah account.
It was the second high-profile episode this year relating to perceived anti-Jewish action by organisations linked to the German government.
In June, Peter Schafer, head of Berlin's Jewish museum resigned after his office appeared to endorse on Twitter a German newspaper article condemning a German parliament resolution in May that termed as anti-Semitic the Boycott, Divestment and Sanctions against Israel, known as the BDS movement. The campaign seeks economic sanctions on Israel in return for what it regards as Palestinian rights.
A major exhibition at the museum on Jerusalem, which ended in April, was criticised as one-sided, in favour of the Palestinians.
Supporters of Hezbollah and Iran are rife in BDS, which divided the German intelligentsia, with some saying the movement is a tool of Iranian-backed militants espousing the destruction of Israel while others regard it as legitimate pressure to curb Israeli violations of Palestinian rights.
Germany has been spearheading European efforts for accommodation of Tehran's clerical rulers, with the stated aim of preserving the 2015 nuclear deal from which the US withdrew in May last year. Berlin has vigorously pursued business ties with Tehran before and invited Iranian delegations to Berlin.
The German government has also refrained from placing Iranian-backed Shiite militias, whose hatred of Israel is at the core of their creed, as terrorists, arguing that they have representatives in the Lebanese and Iraqi parliaments.
The German Interior Ministry said in May that anti-Semitic crimes in Germany rose 20 per cent last year, mostly committed by admirers of the far right.
The crimes centred on hate speech, graffiti and banned swastika signs. Of the 1,800 incidents in 2018, 90 per cent were blamed on supporters of far-right groups.
The statistics, as well as the latest controversies, are set to fuel an Israeli diplomatic and lobbying effort already underway in Berlin.
Full report at:
https://www.thenational.ae/world/germany-s-ramallah-mission-apologises-for-endorsing-klansman-s-anti-jewish-tweets-1.893064
--------
Dearborn man's jihad journey to Syria chronicled in federal court
July 30, 2019
Detroit — A Dearborn man captured overseas and charged with supporting the Islamic State fought in two countries, fired on Syrian forces and trained in religious and military camps, federal prosecutors said.
Prosecutors provided new details about Ibraheem Musaibli's journey to jihad and the nearly three years he spent in Yemen, Iraq and Syria before he was captured by Syrian Democratic Forces in July 2018.
The government revealed the new details Monday while trying to convince U.S. District Judge David Lawson to prevent Musaibli and his lawyer from seeing classified evidence that, if disclosed, could harm national security.
Musaibli's case presents one of the first times the Trump administration is using federal courts to prosecute a returning foreign fighter. Musaibli was brought back to Metro Detroit last year and charged with conspiring to provide material support to a terrorist organization.
Prosecutors want the judge to review the information privately and decide whether it is necessary for Musaibli, 29, to have while defending against charges that could send him to prison for at least 40 years and up to life.
The classified information "is not both relevant and helpful, nor does it contain material that is exculpatory, impeaching, or otherwise discoverable," prosecutors Cathleen Corken and Kevin Mulcahy wrote.
The court filing offers new details about the roots of a federal investigation that emerged last year when Musaibli was captured on a Syrian battlefield.
The investigation started in July 2016 when the State Department received a tip that Musaibli was engaged in jihad in Iraq, according to the filing. The emailed tip included a photo of Musaibli with what appeared to be a rifle.
The FBI learned that Musaibli had left the U.S. a year earlier and traveled to Yemen, where he lived for six months before leaving for Syria to join the Islamic State, known as ISIS, prosecutors wrote.
"By late October or early November 2015, (Musaibli) was with ISIS in Raqqa, Syria, the capital of ISIS at that time," according to the government.
While in Raqqa, Musaibli spent 10 days at an Islamic State religious training camp and traveled with other ISIS members to Mosul, Iraq, where he attended an ISIS military training camp, prosecutors said.
"The military camp included training on traversing terrain with a machine gun, shooting a machine gun, and conducting ambush techniques," prosecutors wrote. "Upon graduation from the ISIS military training camp, the defendant swore allegiance to ISIS and its leader, Abu Bakr Al-Baghdadi."
After finishing military training, Musaibli was assigned to a military brigade and received a Kalashnikov assault rifle, a vest, magazines and grenades, prosecutors said.
Musaibli and members of the brigade, armed with rifles, grenades and rocket-propelled grenades, traveled to Hit, Iraq, according to the government. There was a battle underway but Musaibli told investigators he only performed guard duty.
He maintained a social media presence, prosecutors said.
FBI agents searched his Facebook account and found postings and communications that confirmed his role as an Islamic State fighter and Musaibli told several people he was conducting "jihad," according to the government.
"I haven't killed any civilians so I don't know what ur talking about all I see in the battle place is (a derogatory term used by ISIS to refer to Shia Muslims) army with Iranian and u.s. flag," Musaibli wrote in August 2016, according to the court filing.
Investigators found other ties between Musaibli and the Islamic State.
In February 2017, military forces in Mosul, Iraq, recovered an Islamic State personnel roster written in Arabic that contained Musaibli's birthday and nom de guerre, Abu 'Abd-Al-Rahman Al-Yemeni, prosecutors said.
A recorded conversation from March 2017 indicates Musaibli knowingly joined the Islamic State, prosecutors said. That contradicts comments from Musaibli's relatives who told The Detroit News that he was tricked by fellow Muslims into traveling overseas and became trapped in war-torn Syria.
By November 2016, Musaibli was with the Islamic State in eastern Syria, prosecutors said.
"The defendant admitted to law enforcement that he conducted armed guard duty and fought on behalf of ISIS against the Syrian Army...," prosecutors wrote. "He claimed to recall only firing his weapon twice at Syrian military positions."
Musaibli later retreated before being captured by Syrian Democratic Forces and flown to the U.S. in July 2018.
Full report at:
https://www.detroitnews.com/story/news/local/wayne-county/2019/07/30/feds-chart-dearborn-man-ibraheem-musaiblis-path-isis-terror-camp/1867869001/
--------
UK warship commander says Iran trying 'to test' Britain in Gulf
31 July 2019
The commander of a British warship accompanying UK-flagged ships through the Strait of Hormuz amid heightened tensions with Iran said Wednesday that Tehran appeared to be testing the Royal Navy's resolve.
William King, commander of HMS Montrose, said during 27 days patrolling the flashpoint entrance to the Gulf he had had 85 "interactions with Iranian forces", which had often led to "an exchange of warnings" over radio.
"That gives you some idea of the intensity... (it) is perhaps more than we've seen of recent times," he told BBC Radio in a phone interview from aboard the frigate.
"The Iranians seem to be keen to test our resolve, test our reactions most of the time," King added.
"They'll claim that perhaps our presence is illegitimate, even though we're completely lawfully in international waters.
"They may also run boats in at speed towards us, to test what warning levels we get to."
Montrose, on a three-year deployment in the region since April based at a British naval hub opened in Bahrain last year, began the escorts through the world's busiest oil shipping lane earlier this month.
It followed Iranian threats of retribution for Royal Marines helping Gibraltar - a British Overseas Territory - seize one of its tankers on July 4 on suspicion it was carrying oil to Syria in violation of EU sanctions.
Despite Montrose's presence in the Gulf, Iran intercepted the British-flagged tanker "Stena Impero" on July 19 as it made its way through the strait and has detained the ship at an Iranian port.
Britain on Monday ruled out swapping the tankers, and has proposed the formation of a European-led naval escort mission for global shipping through the Strait of Hormuz.
It comes as US President Donald Trump exerts a "maximum pressure" campaign of economic sanctions and stepped-up military presence aimed at forcing Tehran to renegotiate a landmark 2015 nuclear pact he pulled out of last year.
However, amid the escalating tensions King said contact with Iran remained "professional" and "cordial" on the choppy waters of the Gulf.
"There's a healthy understanding, shall I say a respect between mariners, which now seems to be established," he added.
Full report at:
https://english.alarabiya.net/en/News/middle-east/2019/07/31/UK-warship-commander-says-Iran-trying-to-test-Britain-in-Gulf-.html
--------
Turkey stockpiles F-16 parts amid threat of US sanctions
31 July 2019
Turkey has been stockpiling F-16 fighter jet parts as the threat of US sanctions looms, according to a report from Bloomberg.
Two unnamed Turkish officials stated that Turkey initially began stockpiling in preparation for potential US sanctions after Turkey purchased Russian S-400 missiles. The two officials refused to reveal what kind of parts Turkey has been hoarding or the origin of their purchase.
The report brings Turkey's motives into question, as it is unclear if Turkey has been stockpiling the parts since before the US' recent decision to remove Turkey from the F-35 fighter jet program in response to Turkey's acquisition of Russian S-400 missiles.
"It is unclear if this was a long-term plan. If there was a long-term plan, then it is significant, as it suggests that they knew what they were getting into [with the S-400 deal] and they knew the consequences," Ian Williams, fellow, International Security Program and deputy director, Missile Defense Project, at the Center for Strategic & International Studies, told Al Arabiya English.
"We don't know if Turkey meant for the story to get out – it could be a leak – but assuming they did … it could be sending a signal that they'll weather the storm [of sanctions]," he added.
However, Williams added that Turkey likely also felt compelled to stockpile parts out of necessity in order to ensure a supply of parts for its air force. The US Congress is threatening sanctions against Turkey which would impact Turkey's entire military supply chain.
"Without F-16 parts, Turkey would have to dramatically restrict flying time, which is bad because they just liquidated half of their air force pilots. They need to replace them, or they could just start slowly cannibalizing air craft to make the spare parts," said Williams.
It is unclear where Turkey has been sourcing the F-16 parts. Turkey produces some F-16 parts through a licensing deal with Lockheed Martin, but could have also secured parts from other suppliers.
Manufactured by Lockheed Martin, the F-16 Fighting Falcon has around 3000 operational jets in 25 different countries around the world today.
Turkey will be forced to rely on its F-16s after the US cancelled its membership of the F-35 program in reaction to Ankara's acquisition of S-400 missiles, which are designed to shoot down Western aircraft.
US Chairman of the House Committee on Foreign Affairs Eliot Engel said on Monday that the S-400 deal could pose a threat to both NATO and US national security: "Turkey cannot operate an advanced Russian air defense system alongside sensitive NATO and American systems, period. President Erdogan must know there will be consequences."
The deal also triggers sanctions under the 2017 Countering America's Adversaries Through Sanctions Act (CAATSA) act. Although the US has not yet imposed sanctions on Turkey, US officials have made statements indicating that Turkey will be sanctioned under CAATSA.
US-Turkish relations have struggled in recent years. The US angered Turkey when it began arming the Kurdish militia known as the YPG, a group which Turkey considers a terrorist organization and a national security threat.
Erdogan's animosity towards the US intensified after the failed coup against him in 2016, which he claimed was orchestrated by the US-based Turkish cleric, Fethullah Gulen. The US refused to extradite Gulen to Turkey.
According to Williams, Erdogan's move for the S-400s is likely aimed to secure the survival of his regime, rather than based on national security calculations.
"Getting the S-400 brings [Russian President Vladimir] Putin on side. Erdogan is becoming more paranoid. He's got elections coming up, the economy is bad. He looks around and sees how powerful Russian support can be."
Full report at:
https://english.alarabiya.net/en/News/world/2019/07/31/Turkey-stockpiles-F-16-parts-amid-threat-of-US-sanctions-.html
--------
URL: https://www.newageislam.com/islamic-world-news/tehreek-i-taliban-pakistan-warns/d/119362
New Age Islam, Islam Online, Islamic Website, African Muslim News, Arab World News, South Asia News, Indian Muslim News, World Muslim News, Women in Islam, Islamic Feminism, Arab Women, Women In Arab, Islamophobia in America, Muslim Women in West, Islam Women and Feminism