New Age Islam News Bureau
9 Jan 2018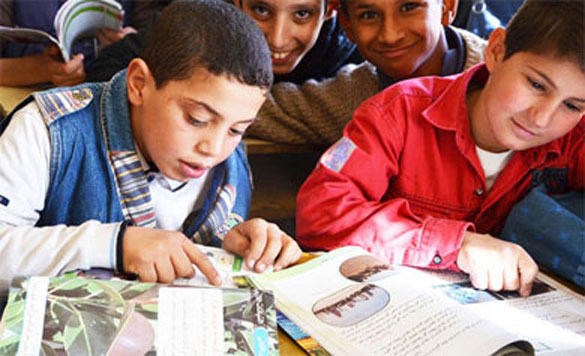 Iraqi children read books at school in the battered city of Mosul, in this December 27, 2017 photo. (AFP)
----
• Teachers in Iraq's Mosul Learn to Cope with Traumatized Pupils
• Pakistan Newspaper Issues Calendar with Mumbai Terror Attacks Mastermind Hafiz Saeed on It
• Bangladesh Court Upholds Ban on Rohingya Marriage
• Audio Leaked Of Netanyahu's Son Bragging about Dad's Shady Gas Deal outside Strip Club
• As Chaos Grows In Libya, Moammar Gadhafi's Son Plans a Political Comeback
Arab World
• Teachers in Iraq's Mosul Learn to Cope with Traumatized Pupils
• Daesh Executes Own Members in Iraq Over Refusing Bomb Attacks
• Eight children among 21 killed in Syria strikes
• New world order seen with warming of Saudi-Israel relations
• 157 non-Muslim wills registered in Abu Dhabi in five months
• Syrian Army Wins Back 7 New Regions in Idlib
• Remote camp on Jordan-Syria border getting UN aid by crane lift
• Bahrain's Al Khalifah regime deports youth for supporting Sheikh Qassim
• Syrian army forces, allies inflict further losses on terrorists in Idlib
--------
India
• Pakistan Newspaper Issues Calendar with Mumbai Terror Attacks Mastermind Hafiz Saeed on It
• AMU Scholar 'Linked' With Hizbul Tweeted About Missing JNU Student, Hadiya Case
• Hizbul commander Naikoo threatens to blind panchayat poll candidates in Jammu and Kashmir with acid
• Aligarh Muslim University Expels Kashmiri Student over 'Militant Link'
• 26/11 survivor Moshe Holtzberg emotional about visiting Mumbai
--------
South Asia
• Bangladesh Court Upholds Ban on Rohingya Marriage
• Over 40 ISIS Militants Killed, Wounded In Afghan Army Raids in Kunar
• Bleak Plight of Rohingya Spurs Fears As Radical Islamic Movement Seeks New Recruits
• Senior Afghan politician says Taliban leadership not in Pakistan
• Afghan intelligence reacts at Hamid Gilani's remarks about Taliban leadership
• Pakistan made important sacrifices, contributions in war on terror: China
--------
Mideast
• Audio Leaked Of Netanyahu's Son Bragging about Dad's Shady Gas Deal outside Strip Club
• UK Says Jerusalem Al-Quds Should Be Palestine, Israel's Shared Capital
• Iran Calls for Muslim Unity to Counter US' Divisive Policy
• Houthi militias threaten international navigation in Red Sea
• Yemeni army regains key mountain range bordering Saudi Arabia
• Houthis Accused of Stealing Almost $800,000 from Yemeni Pensioners
--------
Africa
• As Chaos Grows In Libya, Moammar Gadhafi's Son Plans a Political Comeback
• Jordan Arrests 17 in Foiled Attack Plot Linked To Daesh
• Muslim journalists seek fair portrayal of Islam in Nigerian media
• Libya unity govt ends operations near Tunisia border
• Nigeria: Muslim Journalists Seek Fair Portrayal of Islam in Nigerian Media
--------
Pakistan
• SC Regrets Injustices Being Committed Against Hazara Community
• China Opposes US Statements Linking Terrorism To Pakistan
• Tahir-ul-Qadri announces countrywide protest against PML-N from January 17
• JI says uncertainty harmful for unity, country's stability
• Afghan govt seeks extension of refugees' stay in Pakistan
• PHC orders release of TNSM's Maulana Sufi Muhammad on bail
--------
North America
• Pakistan Continue To Harbor Terrorists Threatening US: CIA Director
• Toronto's Reputation as A Breeding Ground for Anti-Muslim Hate Just Got Worse
• A jihadist redeemed in the heart of Washington
• 'I want to have a say': Muslim youth fellowship at Toronto City Hall aims to break down barriers
--------
Southeast Asia
• Johor Bars another Muslim Preacher from Giving Lectures
• Southeast Asian Giants Team Up to Resist IS
• Rising Tide of Jihadists Stopped Trying To Return To China, Chinese Advisers Say
• Syed Saddiq chides Tawfik Ismail over 'Mahathir's Islamisation'
--------
Europe
• Islam's Gradual Resurgence in Post-Soviet Azerbaijan
• Germany Expects Return of Over 100 Children of Islamist Fighters
• Greek court suspends Turkish soldier's asylum status 'for reasons of public interest'
Compiled by New Age Islam News Bureau
URL: https://www.newageislam.com/islamic-world-news/teachers-iraqs-mosul-learn-cope/d/113873
--------
Teachers in Iraq's Mosul Learn to Cope with Traumatized Pupils
9 January 2018
MOSUL: On a classroom whiteboard in the battered city of Mosul the words "rediscovering how to smile" outline the heartbreaking task of Iraqi teachers striving to heal their students' mental scars after brutal Daesh group rule.
Dozens of Iraqi teachers — many battling trauma themselves — have gathered at a university, where instructor Nazem Shaker seeks to guide them in helping children still struggling to cope months after Daesh was driven from the devastated city.
Shaker has drawn a "problem tree" on the board whose roots are a litany of anguish: "relatives killed," "witnessing beheadings," "destruction" and "poverty."
He hopes that through a program of games, mime and sport, teachers will be better able to help students reach the goals outlined in the top branches of his diagram, where "hope" and "optimism" join the aspiration to smile again.
"How to live together and eradicate violence," he says are key lessons that have to be passed on.
The teachers must help show students how to reconstruct their lives and escape the stress, pressures and bad memories that haunt them, he adds.
It is not just the years of Daesh rule that haunt the waking lives and sleeping hours of the children in Iraq's second city.
The ferocious nine months of urban combat that saw Iraqi troops force out the jihadists in July with the help of airstrikes by a US-led coalition have left deep marks — both physical and mental.
School headmaster Noamat Sultan encounters the destructive impact of the psychological trauma daily.
"One of our students was very aggressive and kept on picking fights with his classmates," he tells AFP.
"We had a long discussion with him and discovered that his father and brother had been killed recently in an explosion."
With the help of the boy's older brother and more attention from teachers, he has gradually been coaxed back to himself.
"We have already managed to convince him not to drop out of school," said father-of-eight Sultan.
Physical education teacher Rasha Ryadh has seen the heavy toll from the "psychological pressures caused by seeing executions, deaths, explosions and the loss of loved ones," but is sure the students can recover.
"They are ready to respond positively to the rehabilitation programs because they want to banish the thoughts and memories that drag them back to the period of Daesh group rule," she says.
Such is the case for 12-year-old schoolboy Ahmed Mahmud, who despite his youth says he is "exhausted" by everything he has seen.
"When I sit down in class I don't have the will to study," Mahmud says.
"I think back to the time of IS and I remember those who were executed like my uncle. They threw people off buildings and forced us to watch."
The 900 students at head teacher Sultan's school are able to study in just half of the building after fighting reduced the rest to rubble.
The few remaining classrooms are seriously overcrowded, and benches meant for two pupils often have five or more crammed on them.
Twelve-year-old Osama is not yet among them.
He is still reeling from seeing an air strike send most of the other houses in his street crashing down on top of his neighbors.
"For weeks he didn't say a word," says his mother Umm Osama.
The boy still needs help to dress, wash and eat, and often seems lost inside himself.
"Sometimes without warning he'd leave the house and just wander around aimlessly for hours," his mother says.
"Several times it was hard to find him."
http://www.arabnews.com/node/1221731/middle-east
--------
Pakistan Newspaper Issues Calendar with Mumbai Terror Attacks Mastermind Hafiz Saeed on It
January 2018 07
ISLAMABAD: A Pakistani Urdu newspaper has issued its annual 2018 calendar with United Nations-designated terrorist and 26/11 Mumbai attack mastermind Hafiz Saeed on it.
The revelation was made by a Pakistan-based journalist, Omar R Quraishi, who mentioned it on his Twitter handle.
In a tweet, Quraishi mentioned, "Pakistani Urdu newspaper 'Khabrain' issues its annual 2018 calendar with JUD chief Hafiz Saeed on it."
Saeed was recently released from house arrest after a Pakistani court cited lack of evidence against him in the 26/11 Mumbai attack case.
The JuD chief is also looking to contest the 2018 general elections in Pakistan and has, thereby, formed a party by the name of Milli Muslim League (MML).
Earlier this week, Saeed invited all Islamic states to launch 'Jihad' against the United States and Israel.
The event was conducted in the wake of US President Donald Trump-led administration unilaterally identifying and declaring Jerusalem as the capital of Israel.
Meanwhile, Pakistan recently prohibited Saeed's Jamaat-Ud-Dawah (JuD) and Falah-i-Insaniat Foundation (FIF) from collecting donations.
The Securities and Exchange Commission of Pakistan (SECP) ordered to prohibit all companies from donating cash to JuD and FIF, as well as several other such organisations named in a list of banned outfits by the United Nations Security Council (UNSC).
India has, time and again, protested against Pakistan for harbouring Saeed, who is wanted for allegedly plotting the Mumbai attacks.
http://www.newindianexpress.com/world/2018/jan/08/pakistan-newspaper-issues-calendar-with-mumbai-terror-attacks-mastermind-hafiz-saeed-on-it-1747967.html
--------
Bangladesh court upholds ban on Rohingya marriage
January 09, 2017
DHAKA - A Bangladesh court on Monday upheld a government ruling banning marriage between its citizens and refugees from Myanmar's persecuted Rohingya minority, who have fled ethnic violence in the neighbouring country.
The High Court in Dhaka dismissed a legal challenge from a father whose son married a Rohingya teenager in a Muslim ceremony in September despite laws forbidding such unions.
Marriages with Rohingya were banned in 2014 to try to prevent hundreds of thousands of refugees living in Bangladesh from seeking a back door to citizenship.
Babul Hossain, whose 26-year-old son ran away with his new wife after they married, questioned the legality of the ruling that threatens a seven-year jail term for any Bangladeshi who weds a Rohingya refugee.
But the court rejected his plea and ordered he pay 100,000 taka ($1,200) in legal costs.
"The court rejected the petition and has upheld the administrative order, which bans marriage between Bangladeshi citizens and Rohingya people," deputy attorney general Motaher Hossain Saju told AFP. Hossain's request that the court protect his son from arrest was also rejected, Saju added.
About 655,000 Rohingya have escaped to Bangladesh since August after the Myanmar army began a campaign of rape and murder in Rakhine state.
They joined the more than 200,000 refugees already living in Bangladesh who had fled previous violence in Rakhine. Aid groups have reported cases of Bangladeshis offering young women marriage as a way of escaping the overcrowded refugee camps along Bangladesh's southeastern border.
Hossain could not be contacted after the ruling.
But in a previous statement, he defended his son's marriage to the 18-year-old Rohingya woman and denied it was driven by a quest for citizenship.
"If Bangladeshis can marry Christians and people of other religions, what's wrong in my son's marriage to a Rohingya?" Hossain told AFP.
https://nation.com.pk/09-Jan-2018/bangladesh-court-upholds-ban-on-rohingya-marriage
--------
Audio leaked of Netanyahu's son bragging about dad's shady gas deal outside strip club
Jan 8, 2018
An audio recording of Israeli Prime Minister Benjamin Netanyahu's son is leaked in which Yair can be heard drunkenly bragging about his father's efforts to pass a shady gas deal outside a strip club.
In the audio track aired by Channel 2 News on Monday, Yair Netanyahu tells the son of an Israeli gas tycoon that his father pushed a controversial gas deal in parliament in favor of his father in 2015.
"Bro, you got to spot me. My dad made an awesome deal for your dad, bro, he fought, fought in the Knesset for this, bro," said Yair to Ori Maimon, the son of the gas tycoon Kobi Maimon, outside the club. "Bro, my dad now arranged for you a $20bn deal and you can't spot me 400 shekels?," added Yari.
Yair can also be heard talking about strippers and how much money he and his friend have spent on them.
In the past, Yair had drawn media criticism over his lifestyle which is financed at the expense of taxpayers.
The recording was leaked at a time when Netanyahu is involved in two separate corruption cases, and investigators have questioned him multiple times.
The cases involve allegations that Netanyahu received lavish gifts from wealthy businessmen and negotiated a deal with a newspaper owner for more favorable coverage. He has denied any wrongdoing.
Congress president and Netanyahu's long-time ally, Ronald Lauder, had given the premier and his son gifts, including expensive suits. The accounts prompted Israeli police to interrogate the prime minister.
Netanyahu is currently under probe over suspicions that he accepted 1 million euros (about $1.1 million) from accused French fraudster Arnaud Mimran for campaign funds during the 2009 elections.
There are also calls for Netanyahu to be investigated for his role in a billion-dollar deal to purchase three submarines from German shipbuilder ThyssenKrupp Marine Systems GmbH.
http://www.presstv.com/Detail/2018/01/08/548294/israel-netanyahu-yair-club-corruption
--------
As Chaos Grows In Libya, Moammar Gadhafi's Son Plans a Political Comeback
Jan 09, 2018
The fugitive son and onetime heir apparent of Libya's late Moammar Gadhafi is planning a comeback.
Seif al-Islam "decided to run in presidential elections and I see a big chance for him because all the big tribes are supporting him," said Abdel Majeed al-Mansouri, who headed Libya's economic development board before 2011 and was close to him.
"People are frustrated. Even those who were against the old regime will side with him as he's not coming back representing the old regime. He's coming with his plan for Libya's future."
Most Libya analysts disagree, dismissing Seif's chances in a potential presidential election this year. Yet the return of Gadhafi loyalists to the political arena six years after the NATO-backed uprising that killed him exposes the depth of public anger over insecurity and economic decay in the once-wealthy oil exporter. It will feed international concerns about the spread of Islamic State militants across North Africa and the tide of migrants clamouring to reach Europe.
"It's a sign the Gadhafists are mobilizing, trying to have their say" for the first time since 2011, said Issandr El Amrani, North Africa Project Director at the International Crisis Group. "Libya's getting more complicated. A breakthrough doesn't seem imminent."
Since Gadhafi's ouster, Libya has been carved up among dozens of militias and rival administrations in the east and in Tripoli. Infighting crippled shipments of oil, Libya's most important source of income, for nearly two years. While shipments have resumed, the economy has been devastated.
Libyans line up for hours outside banks to obtain paltry sums. The weakening of the dinar on the black market has fueled inflation that has impoverished wage-earners and enriched speculators.
A UN-brokered unity deal concluded in 2015 failed to heal the country's divisions. The government it parachuted into Tripoli, led by Fayez al-Sarraj, struggled to impose its authority over armed factions and the administration in the east. A new UN envoy appointed in June, Ghassan Salame, unveiled a revised plan, but the Dec. 17 expiry of Sarraj's mandate came and went without a final deal.
While Sarraj continues to be recognized internationally, the peace process has been declared a dead letter by Khalifa Haftar, the commander of the self-styled Libyan National Army who controls much of the oil-rich east. Haftar's bid to become military ruler of Libya pending elections has faltered, though, as he labors to win support outside his base.
Something, Libyans say, has to give.
"We've lost confidence in all the political figures in parliament, in the two governments, east and west," said Waheed Jabu, who works at the chambers of commerce in Tripoli. "Libyans now live in poverty. The banks are empty. People are unable to buy medicine, food or anything. There are gasoline shortages, electricity failures, water disruptions and general insecurity."
Into this murky political landscape wades Seif. Nothing has been heard from him directly, but a man identified as the family spokesman told the Egypt Today magazine that he plans to run. Mansouri, now living in Turkey, confirmed the plan. He offered no details about Seif's plan to reconcile Libyans and rebuild the battered economy, but said he thinks he will play an economic role if Seif wins.
The 45-year-old, London-educated Seif was captured in 2011 by rebels, and the International Criminal Court issued a warrant for his arrest the same year, accusing him of crimes against humanity during the rebellion against his father. He was never extradited. In 2015, a Tripoli court sentenced him to death for crimes committed in the revolution, but in June, his captors announced he'd been freed.
It is unclear whether he faces outstanding charges, which would disqualify him, and his whereabouts remain unknown. Mansouri said he communicates with Seif via an intermediary.
Elections could be held in 2018 if rival factions agree on a blueprint. In a Dec. 17 speech, Haftar said he would only answer to the Libyan people, an indication he may run. Sarraj is expected to contend, as are several prominent figures during the transitional period.
Mindful that Sarraj was perceived as foreign-imposed, Salame will hold a national conference bringing together a broader cross-section of society to endorse a new deal. It's a delicate balancing act in a country where many demand a Libyan solution while complaining the international community helped them oust Gadhafi, then abandoned them to chaos.
"The international community has lacked someone who can rein in the spoilers," said Karim Mezran, senior fellow at the Atlantic Council's Rafik Hariri Center for the Middle East. "I'm not saying an election would bring resolution, but it could be a last attempt. If it fails, Libya will be another Somalia, fragmented, with city-states and militias."
On the street, it is local militia leaders, smugglers and black-market kingpins who hold sway. That's pushing Libyans to contemplate once-unimaginable choices.
Seif would be the right choice if he'd concentrate on security, peace and national reconciliation," said Ahmed Wajej, a municipal worker in Tripoli. "Libyans hate all the political faces that are now on the scene. They want new faces that respect the will of the people and results of elections."
http://nationalpost.com/news/world/as-chaos-grows-in-libya-moammar-gadhafis-son-plans-a-political-comeback
--------
Arab World
Daesh executes own members in Iraq over refusing bomb attacks
Jan 8, 2018
A high-ranking commander of the Iraqi pro-government Popular Mobilization Units, commonly known by the Arabic word Hashd al-Sha'abi, says the Takfiri Daesh terrorist group has executed some of its members in Iraq's northern Salahuddin province after they refused to carry out separate bomb attacks.
Jabbar al-Mamouri told Arabic-language al-Sumaria television network on Monday that Daesh militants had recently killed a number of their comrades in Mutabijiya districts after the latter fiercely resisted to take the order.
Mamouri added that Daesh has recently been punishing its members for disobeying orders to launch bombings.
Eight Daesh members killed as Iraqi troops repel attack on border area with Syria
Meanwhile, Hashd al-Sha'abi fighters have repelled a Daesh militant attack on a border area between Iraq and Syria.
An unnamed military source said Daesh extremists launched an attack on Tall Safuk area, which volunteer forces successfully thwarted and killed eight assailants in the process.
The source added that two armored vehicles belonging to Daesh Takfiris were also destroyed in the counter-attack, which lasted for several hours.
On December 9 last month, Iraq's Prime Minister Haider al-Abadi declared the end of military operations against the Daesh terrorist group in the Arab country.
"Our forces are in complete control of the Iraqi-Syrian border and I therefore announce the end of the war against Daesh," Abadi told a conference in Baghdad.
Abadi visited the town of Qa'im and the nearby Husaybah border crossing in far western Iraq on November 5, and raised the Iraqi flag at the border crossing.
On October 5, Abadi said Iraqi armed forces had liberated Hawijah, driving Daesh Takfiris out of their last bastion in the oil-rich northern province of Kirkuk.
The Iraqi prime minister said on August 31 that the northwestern city of Tal Afar, located 200 kilometers northwest of Kirkuk, and the entire Nineveh province had been purged of Daesh Takfiri terrorist group.
The recapture of Tal Afar was made possible with the help of the Iraqi army, Federal Police, Counter-Terrorism Service (CTS) units, Hashd al-Sha'abi fighters and the Interior Ministry's elite rapid response forces, the Iraqi prime minister stated then.
On July 10, Abadi formally declared victory over Daesh extremists in Mosul, which served as the terrorists' main urban stronghold in the conflict-ridden Arab country.
In the run-up to Mosul's liberation, Iraqi army soldiers and volunteer Hashd al-Sha'abi fighters had made sweeping gains against Daesh.
The Iraqi forces took control of eastern Mosul in January after 100 days of fighting, and launched the battle in the west on February 19.
Daesh began a terror campaign in Iraq in 2014, overrunning vast swathes in lightning attacks.
http://www.presstv.com/Detail/2018/01/08/548245/Daesh-executes-own-members-in-Iraq-over-refusing-suicidal-attacks
--------
Eight children among 21 killed in Syria strikes
8 January 2018
Air strikes by regime and Russian aircraft on rebel positions in the northwestern province of Idlib killed at least 21 civilians, including eight children, a monitor said Monday.
The strikes carried out on Sunday were the latest against jihadists and rebels in a week-old regime offensive on Idlib, the last province in Syria to escape government control.
The raid left "at least 21 dead, including eight children and 11 members of the same family" west of the town of Sinjar in the southeast of the province, the Syrian Observatory for Human Rights said.
Full report at:
https://english.alarabiya.net/en/News/middle-east/2018/01/08/Eight-children-among-21-killed-in-Syria-strikes-monitor.html
--------
New world order seen with warming of Saudi-Israel relations
Zam Yusa
January 7, 2018
PUTRAJAYA: A Turkish scholar on international relations foresees a new world order following the warming of relations between Saudi Arabia and Israel.
Huseyin Bagci, a professor at the Middle East Technical University in Ankara, said the development was in tandem with Saudi Arabia's move to shift from its Wahhabi doctrine towards moderation.
He said it remained to be seen how far Malaysia and other countries in the Islamic world would change their value systems to fit into the new dynamics.
Although Saudi Arabia, an ally of the US, does not have official diplomatic relations with Israel, its ties with the Jewish nation have improved due to a shared perception of a threat from Iran.
Saudi crown prince Mohammed bin Salman, who was installed in June, is said to be a reformist with an agenda to move towards close ties with Israel.
In Malaysia, there is an ongoing debate on whether the country's tightening of bonds with Saudi Arabia would Arabise the country and threaten localised Islamic values and practices to the detriment of the nation's multi-cultural character.
Bagci said the improving rapport between Saudi Arabia, the US and Israel would have an impact on the relationships of these countries not only with Muslim nations but also with other countries.
"There'll be a debate among the international community about a new world order," he told FMT during a break in discussions at the International Security Dialogue in Putrajaya.
He said Saudi Arabia was at an interesting stage because Mohammed's ambitions appeared to be more intense than his predecessor's.
"Saudi Arabia is also changing from radical behaviour to one of moderation," he said.
"I'd say the Saudis are retreating from their Wahabbi position, which started in 1973 as an ideological fight against Nasserism and Arab nationalism," he said, referring to the socialist ideology based on the thinking of Egypt's 1952 revolution leader Gamal Abdel Nasser.
Bagci also said the Saudi shift would not be welcomed by Ankara because Turkey had been the economic leader in the West Asian region since the days of the Ottoman Empire, which lasted from the 14th century until 1922.
"Even today, we're better than Saudi Arabia economically, and we're bigger and more influential," he said.
In October, AFP reported that Mohammed had vowed to restore "moderate, open" Islam in Saudi-Arabia.
Full report at:
http://www.freemalaysiatoday.com/category/nation/2018/01/07/new-world-order-seen-with-warming-of-saudi-israel-relations/
--------
157 non-Muslim wills registered in Abu Dhabi in five months
January 9, 2018
The office was set up in August 2017 to look into matters of inheritance for non-Muslim residents
The Non-Muslims Wills Office at the Abu Dhabi courts has registered 157 inheritance wills over the past five months.
The special office, which was started in August 2017, was set up by the Abu Dhabi Judicial Department (ADJD) to look into matters of inheritance for non-Muslim residents.
With the initiation of the wills registration office, non-Muslim expatriates can now dictate how their assets should be distributed when they die. This will ensure there is no dispute or confusion over a deceased's belongings and custody of children, according to judicial officials.
The Undersecretary of Abu Dhabi Judicial Department, Counsel Yousef Saeed Al Ibri, said the wills registration office for non-Muslims contributes to raising the degree of legal protection over assets owned by non-Muslims in Abu Dhabi, by granting them freedom to select the appropriate method to write and register their will concerning disposal of their estate after their death.
"The registration of wills offers flexible legal options to assist non-Muslim families in the event of the death of the father or mother in order to protect assets and properties," said Al Abri.
"The office receives the written will from the resident and all documents of properties listed in the will. The documents are checked first for approval and then the person is given an appointment to appear to the office and sign his or her will," Hamed Hasan Al Ayadaroos, administrative manager of Notary-Public and Authentication at the Judicial Department had told Khaleej Times last year after the opening of the office.
Documents required for registering a will:
1. Original Emirates ID.
2. Original passport.
3. Three copies of the will.
4. Original documents of all properties in the will.
Procedure for registering a will:
1. Submit all documents online.
2. Pay a fee of Dh5,500 online.
Full report at:
https://www.khaleejtimes.com/nation/157-non-muslim-wills-registered-in-five-months-in-abu-dhabi
--------
Syrian Army Wins Back 7 New Regions in Idlib
Jan 08, 2018
The army soldiers continued clashes with al-Nusra militants in Southeastern Idlib, regaining control of the villages of Job al-Qasab, Bashkoun, Harjaleh, Maksar Foqani and Maksar Tahtani.
Meantime, during the operations to break the terrorists' siege on Fou'a and Kafraya, the two villages of North Neibaz, in the Northern parts of Qabali Neibaz, and A'ajaz in the Northern parts of the village of Kafraya al-Moa'zah were liberated.
The Syrian army troops had earlier today captured several villages after heavy attacks on the positions of the al-Nusra Front in their push towards Abu al-Dhohour airbase in Southeastern Idlib.
The army forces beat back the al-Nusra from the villages of Mardqana al-Bartaqa and Moshrefa Harmala Northeast of the newly-liberated town of Sinjar.
Also, the army men freed the villages of al-Fariheh, al-Hajman, al-Davoudiyeh, Rob'a al-Hawa and Abu al-Alij in Southeastern Idlib.
Field sources confirmed earlier today that tens of civilians in several villages in Southeastern Idlib protested against the Al-Nusra Front and drove them out of their regions as the Syrian Army troops have been rapidly advancing against terrorists.
The sources reported that tens of people in the villages and towns of Ramleh, Abu Alij, Jubb al-Qasab, Maksar Tahtani, Maksar Foqani and Kheiriyeh in Southeastern Idlib hoisted Syrian flags and forced the Al-Nusra terrorists out of their regions.
Full report at:
http://en.farsnews.com/newstext.aspx?nn=13961018001531
--------
Remote camp on Jordan-Syria border getting UN aid by crane lift
8 January 2018
United Nations agencies began on Monday delivering aid for the first time in six months to some 60,000 Syrian refugees stranded in a desolate area near where Syria's border meets the Jordanian and Iraqi frontiers, aid agencies and Jordanian officials said.
Foreign Ministry sources said Jordan had agreed with UN agencies to allow a one-off aid delivery after receiving assurances all future provisions would come from UN stores inside Syria.
The aid was dropped onto Syrian soil using a crane based on the Jordanian side of the frontier, the absence of direct contact signaling Jordan bears no responsibility for the camp.
The kingdom suspended regular aid deliveries to the camp after an ISIS suicide bomber in June 2016 drove an explosive-laden car from the Syrian side and rammed it into a Jordanian military border post, killing seven guards.
The delivery of food and other items covers the needs of around 10,000 households in the makeshift Rubkan camp, where conditions are described as desperate, a senior UN source involved in the operation told Reuters. The operation wold take a few days to complete.
Rukban lies within a 55 km so-called deconfliction zone set by the US Pentagon designed to ensure the safety of a US garrison near the Syrian town of Tanf close to the Iraqi-Syrian border.
Jordan's Foreign Minister Ayman Safadi said recently the country, already burdened with hundreds of thousands of refugees fleeing war-torn Syria, could not be made responsible for delivering aid to the camp.
"This is a Syrian international problem and not Jordanian. The inhabitants of the area are Syrians present on Syrian territory and the UN can meet their demands from inside Syria," Safadi said.
The kingdom wants the UN and global powers to put pressure on Damascus to give the written authorizations needed to allow supplies into Rukban, where the eastern border area leading to the camp is now in government hands.
"The only impedement now to supplies being delivered is the Syrian regime and pressure should be applied on it to help its own people," a Jordanian diplomatic official who asked not to be named told Reuters.
Washington also assured Amman conditions on the ground were no obstruction to delivery of aid into the "deconfliction" zone from Syria with Russian consent.
In the last two years tens of thousands of people seeking shelter in the camp had fled Russian and coalition airstrikes against former ISIS-held areas in central and eastern Syria. They trekked south across the desert to the Jordanian border, according to UN aid workers.
Full report at:
https://english.alarabiya.net/en/News/middle-east/2018/01/09/Remote-camp-on-Jordan-Syria-border-getting-UN-aid-by-crane-lift.html
--------
Bahrain's Al Khalifah regime deports youth for supporting Sheikh Qassim
Jan 8, 2018
Bahraini regime officials have deported a young man to neighboring Saudi Arabia over his support for prominent Shia cleric, Sheikh Isa Qassim, who has been stripped of nationality by the Al Khalifah regime and is suffering from deteriorating health.
Ahmed Ali al-Attiya, born to a Saudi father and a Bahraini mother, was handed over to Saudi authorities earlier this week, Arabic-language Lualua television network reported on Monday.
Attiya was a resident of the northwestern village of Diraz, where the residence of the 79-year-old clergyman is located, and had spent nearly two months in detention prior to his deportation. His two brothers have also been jailed.
On May 21, a Bahraini court convicted Sheikh Qassim of illegal collection of funds and money laundering and sentenced him to one year in jail suspended for three years.
It also ordered him to pay $265,266 in fines. The court ruling sparked widespread demonstrations across the kingdom.
Bahraini authorities stripped the cleric of his citizenship on June 20, 2016. They later dissolved the Islamic Enlightenment Institution, founded by him, in addition to the opposition al-Risala Islamic Association.
Sheikh Qassim is reportedly suffering from high blood pressure, diabetes, and heart disease.
United Nations spokesman Stephane Dujarric demanded last November that the top Shia cleric be released, and asked for immediate medical attention for him.
Manama regime has stepped up crackdown on political dissent in the wake of US President Donald Trump's meeting with Bahraini monarch King Hamad bin Isa Al Khalifah during a summit in the Saudi capital city of Riyadh on May 21, 2017.
Less than 48 hours after the US president left Saudi Arabia, Bahraini regime troops attacked supporters of Sheikh Qassim, in Diraz, killing at least five people and arresting 286 others. Reports said 19 policemen were also injured in the clashes.
The London-based Bahrain Institute for Rights and Democracy said Trump "effectively gave Hamad a blank check to continue the repression of his people."
Thousands of anti-regime protesters have held demonstrations in Bahrain on an almost daily basis ever since a popular uprising began in the country in mid-February 2011.
They are demanding that the Al Khalifah dynasty relinquish power and allow a just system representing all Bahrainis to be established.
Manama has gone to great lengths to clamp down on any sign of dissent. On March 14, 2011, troops from Saudi Arabia and the United Arab Emirates were deployed to assist Bahrain in its crackdown.
Scores of people have lost their lives and hundreds of others sustained injuries or got arrested as a result of the Al Khalifah regime's crackdown.
Full report at:
http://www.presstv.com/Detail/2018/01/08/548261/Bahrains-Al-Khalifah-regime-deports-youth-over-support-for-Sheikh-Qassim
--------
Syrian army forces, allies inflict further losses on terrorists in Idlib
Jan 8, 2018
Syrian government forces, supported by allied fighters from popular defense groups, have carried out fresh operations against foreign-sponsored Takfiri terrorists in the country's northwestern province of Idlib, inflicting substantial losses on them and liberating more areas.
The so-called Syrian Observatory for Human Rights reported on Monday that Syrian troops and their allies had retaken complete control of 14 villages, including Abul Eleij, Abu Tahiha, Ajaz, al-Farjah, Bashkun, al-Daoudia, Jeb Elqasab, Mardagana Burtuqala and Rubaa al-Hawa, in the Maarrat al-Nu'man district of the province following fierce clashes with members of the Takfiri Hayat Tahrir al-Sham (HTS) terrorist alliance.
The Britain-based monitor group said Syrian government forces and their loyalists, led by Brigadier Suhail al-Hassan, have managed to liberate 78 villages and towns in Idlib since December 25 last year.
The Observatory further noted that Syrian soldiers and their allies are now only 11 kilometers from the key Abu al-Zuhour Air Base, whose recapture would enable the Syrian army to regain the upper hand in carrying out airstrikes against militant positions in Idlib. The new gains came after Syrian forces managed on Sunday to regain control over a key stronghold of foreign-sponsored Takfiri terrorists in the country's northwestern province of Idlib.
A military source, requesting anonymity, said government troops and their allies liberated the town of Sinjar in the Maarrat al-Nu'man district of the province, located roughly 300 kilometers (186 miles) north of the capital, Damascus, on Sunday after members of the Takfiri Hayat Tahrir al-Sham (HTS) terrorist alliance were defeated.
The source added that Syrian army soldiers and their allies are also on their way to retake the towns of Mutawasita, Khiara, and Kafrya al-Ma'ara.
Sinjar would serve as a key launching pad for further military operations in Idlib province.
New achievements in Idlib Province were followed by a successful operation by Syrian government forces who managed to break a siege imposed by the foreign-backed Takfiri militants on a strategic army base in Eastern Ghouta near the capital, Damascus.
The advance came just a few days after the army's elite forces launched a major operation to break the siege by Ahrar al-Sham terrorists on the Military Vehicles Administration base in the town of Harasta in Eastern Ghouta.
At least 200 Syrian troops were believed to be trapped within the premises since the militants stormed the base in November. On December 31, the Takfiri militants reportedly widened their control of the base.
Syrian government forces and their allies have been also on the offensive since late October in Hama and Idlib provinces, capturing nearly 100 villages from militant groups.
Full report at:
http://www.presstv.com/Detail/2018/01/08/548228/Syrian-army-forces-allies-inflict-more-losses-on-terrorists-in-Idlib
--------
India
AMU Scholar 'Linked' With Hizbul Tweeted About Missing JNU Student, Hadiya Case
Jan 09, 2018
Social media and blog accounts show that the controversial encounter in Bhopal resulting in the death of eight undertrials, the disappearance of JNU student Najeeb Ahmed, and Hadiya's conversion to Islam are themes that kept Hizbul Mujahideen's latest recruit in Kashmir, Mannan Wani, occupied before he picked up the gun.
A picture of 26-year-old Wani, a geology research scholar from Aligarh Muslim University, holding a grenade launcher has gone viral on social media since Sunday night. The text on the picture says Wani hails from Lolab area of Kupwara district in north Kashmir, that his code is "Hamzah Bhai", and that he has been active since January 5.
A senior Kupwara police officer, however, told HT that police have not confirmed if Wani has joined the Hizb. "His father came and informed police. Wani was in Aligarh and then disappeared. We know of a photo being shared on social media and are investigating," he added.
The last tweets of Wani, whose Facebook account is now suspended, are about the Hadiya case. He wrote: "Aren't Females of India in their 20's full citizens of this country equals before the law? #freeHadiya #BraveHadiya". In another satirical post, he wrote: "In India, At the age of 18 One can choose his/her PM but can't chose her religion, Why? Becoz, Islam is Terrorism. #BravaHadiya #Muslims."
Some of his other tweets criticise Indian security forces for the killings of civilians during encounters. One such post from March last year says: "On an average one Kashmiri gets killed every day- Genocide is already going on. Where are we heading? #KashmirBleeds #Martyrs".
"Nowadays, when the attention of whole India has been diverted by demonetization, let us not stop, let us ask questions and let us strive for Justice (sic). As Albert Einstein has rightly said 'Learn from yesterday, live for today, hope for tomorrow. The important thing is not to stop questioning," blogged Wani while questioning the state's version of the encounter in Bhopal.
Meanwhile, AMU suspended Wani on Monday and constituted an inquiry committee. Uttar Pradesh police raided his room at Habib Hall in the presence of proctor Prof M Mohsin Khan, where they recovered some literature, which was sealed. SSP Rajesh Pandey said, "The literature has been seized for further investigation."
Pandey said Wani was on campus till January 2. "His family lodged a missing person complaint on January 5. Police and intelligence agencies have been scrutinising his activities and contacts in Aligarh. The NIA is also probing the matter," he said.
http://www.hindustantimes.com/india-news/hizbul-s-latest-recruit-tweeted-on-jnu-student-najeeb-ahmed-s-disappearance-and-hadiya-case/story-xbSCrUe7wbyDBH1hZf2J0I.html
--------
Hizbul commander Naikoo threatens to blind panchayat poll candidates in Jammu and Kashmir with acid
by Mir Ehsan
January 9, 2018
A Hizbul Mujahideen commander in an audio clip has threatened to use acid against those contesting in panchayat polls in Jammu and Kashmir that are to be held next month.
In an audio clip, Hizbul Mujahideen operational commander Riyaz Naikoo, who is based in south Kashmir, is seen telling another of the outfit's south Kashmir commanders, Sameer Tiger that a few drops of acid should be poured into the eyes of those who contest panchayat elections. Naikoo says the contestants will become a burden for their families.
The Hizbul commander also says that in 2016 because of the pellets many youths lost their eyesight and young boys lost their lives and that now the militants were planning similar fate for those wanting to contest elections. In the clip, Naikoo also says that this time they will neither kill people nor will they issue threats to those who contest elections. "We will go to their homes and pour acid in their eyes so that they will become a burden for their families," he is heard sayin.
The Hizbul commander further says that in villages many people are unaware about the repercussion of these polls and are being used by some political agents for their personal benefits. "This time we will force them to reveal the names of those people who force them to contest elections."
Though separatist leader Syed Ali Geelani has already asked people to stay away from the panchayat elections, this is the first time since the government's announcement of polls that Hizbul Mujahideen has threatened possible election contestants.
Reacting sharply to the threat, former Jammu and Kashmir chief minister and NC working president Omar Abdullah tweeted. ''If it isn't pellets it's acid. One way or the other people are threatened with being blinded."
Full report at:
http://indianexpress.com/article/india/jammu-kashmir-hizbul-commander-threatens-to-blind-panchayat-poll-candidates-with-acid-5016570/
--------
Aligarh Muslim University expels Kashmiri student over 'militant link'
by Manish Sahu
January 9, 2018
ALIGARH Muslim University (AMU) on Monday expelled Mannan Wani, a research scholar from Kashmir, after a photograph appeared on social media showing him holding a grenade launcher and a message claiming that he has joined militancy.
While the university ordered an inquiry into Wani's activities on the campus, Aligarh police sealed his room in AMU's Habib Hall (hostel) on Monday after seizing some documents.
Wani, son of Bashir Ahmad Wani, joined the Hizbul Mujahideen on January 5, states the message in the photograph that appeared on Facebook and WhatsApp. AMU Proctor M Mohsin Khan said that since Wani breached the AMU Students' Conduct and Discipline Rules-1985, the matter was placed before Vice-Chancellor Tariq Mansoor. "Taking into account the gravity of the offence, the V-C ordered that Wani be expelled with immediate effect till pending inquiry… The university campus and its institutions are also now out of bounds for Wani."
He said Wani joined AMU in the 2012-13 for MSc in Geology. After completing the course, he enrolled for MPhil in 2014. "He was currently pursuing his PhD in applied geology," said Khan. University PRO Omar Peerzada said: "Wani was last seen at his department on January 2. The hostel staff informed that Wani stopped eating in the dining hall four to five days before he left." He added, "His roommate never complained against him." Hailing from Kupwara, Wani used to stay in room 237 of Habib Hall. On Monday, a police team, along with AMU officials, searched the room. "The operation has been videographed. We have seized books, diaries and some other items," Aligarh SSP Rajesh Kumar Pandey said.
SP (City) Atul Srivastava said that Wani's roommate Muzammil — also from Kashmir and pursuing MSc — had gone to his native place four months ago and is yet to return. "AMU authorities do not why," he said, adding that some documents in Urdu were found in the room.
Full report at:
http://indianexpress.com/article/india/aligarh-muslim-university-expels-student-from-kashmir-over-militant-link-5016852/
--------
26/11 survivor Moshe Holtzberg emotional about visiting Mumbai
January 8, 2018
Moshe Holtzberg, the Israeli child who as a toddler survived the 2008 terror attack at a Jewish centre in Mumbai, is feeling "emotional and excited" as he prepares for his "homecoming" during the four day visit to India by Prime Minister Benjamin Netanyahu next week.
Moshe, 11, was two when his parents were killed in the Mumbai attacks at Nariman House (also known as Chabad House) by Pakistan-based Lashkar-e-Taiba terrorists. The attack on the Nariman House and other locations like the Taj Hotel left 166 people dead.
The boy, standing and crying between his dead parents' bodies, was saved in a daring move by his Indian nanny, Sandra Samuels, who was hiding in a room downstairs when the attack happened. "Moshe is very excited and at the same time emotional as he gets ready to leave for Mumbai on January 15. He is returning to his birthplace and is waiting to see many things connected to his late parents that he has heard about from us and his nanny. There are lots of memories," an overwhelmed Rabbi Shimon Rosenberg, Moshe's grandfather, told PTI.
In an emotional meeting with Prime Minister Narendra Modi on July 5 in Jerusalem, the young boy had expressed his wish to visit Mumbai. "I hope I will be able to visit Mumbai, and when I get older, live there. I will be the director of our Chabad House," Moshe had told the Indian Prime Minister.
Modi had responded by saying, "Come and stay in India and Mumbai. You are most welcome. You and your all family members will get long-term visas. So you can come anytime and go anywhere". Netanyahu then promptly asked Moshe to join him when he travels to India, a promise he did not forget and has invited the family to join him in Mumbai during his forthcoming visit to India starting on January 14.
"Moshe says that he was touched by the warm embrace he received from Prime Minister Modi when he met him in Jeursalem during his July visit to Israel. He says that he felt like it was one of his own people giving him a warm hug," Rosenberg said adding, "he is hoping to meet the Indian Prime Minister again during his India trip". "He is waiting to host Prime Minister Netanyahu and his wife Sara, and hopefully PM Modi 'at his home in Mumbai'," the grandfather said.
The young boy will be accompanied by his grandparents, Shimon and Yehudit Rosenberg, nanny Sandra and a psychologist during his trip to Mumbai. "During a meeting with the psychologist, who has been mentally preparing him for the visit, Moshe gave him an account of places in Mumbai he would like to visit. He has done his homework and knows about not only the site seeing places but also other places where his parents carried out works related to their assignment," Rosenberg noted.
Moshe's parents, Rabbi Gavriel and Rivka Holtzberg, who were serving as Directors at the Chabad House, were killed along with six others when the place also came under attack by Pakistani terrorists during the November 2008 Mumbai attacks. "It is heart warming to see that the Indian leadership and the people of India haven't forgotten us and share our pain. It gives us strength and makes us feel one", Rosenberg said.
In a brief telephonic call, Sandra, who was in Afula in the north of Israel where Moshe and his family lives, said that the boy is excited and told her before leaving for school on Sunday that it is like "homecoming" for him. The family also plans to celebrate Moshe's bar mitzvah in Mumbai. Bar mitzvah is a ceremony performed for Jewish boys at the age of 13 which some Israeli scholars compare with upnayana, or the thread ceremony.
Full report at:
http://indianexpress.com/article/india/26-11-survivor-moshe-holtzberg-emotional-about-visiting-mumbai-5016112/
--------
South Asia
Over 40 ISIS militants killed, wounded in Afghan army raids in Kunar
Jan 08 2018
Over 40 militants affiliated with the Islamic State of Iraq and Syria (ISIS) terrorist group were killed or wounded during the Afghan army artillery and airstrikes in eastern Kunar province of Afghanistan.
The 201st Silab Corps of the Afghan army in the East said the ISIS militants launched a coordinated attack on public uprising and Afghan local Police forces in Soki district.
A statement by the Silab Corps said the Afghan armed forces launched artillery and airstrikes in response to the ISIS attacks in Deriwa Gul valley.
The statement further added that twelve ISIS militants were killed and around thirty others were wounded during the operations.
The anti-government armed militant groups including the ISIS insurgents have not commented regarding the report so far.
This comes as a senior leader of the Pakistani Taliban, Tehrik-e-Taliban Pakistan (TTP), was killed in an explosion triggered by own explosives in this province.
The 201st Silab Corps of the Afghan Army said late in December that the Taliban leader Jan Wali who was also famous as Ahmad Sheena was killed in Shaltan district.
A statement by Silab Corps said Sheena was killed as a number of insurgents were busy planting roadside bombs and one of them went off prematurely, leaving the senior Taliban leader dead.
https://www.khaama.com/over-40-isis-militants-killed-wounded-in-afghan-army-raids-in-kunar-04219
--------
Bleak plight of Rohingya spurs fears as radical Islamic movement seeks new recruits
January 8, 2018
COX'S BAZAR, Bangladesh — Mohammad Haroon, a community leader at the Balukhali Refugee Camp here, is a worried man. The 27-year-old has heard complaints of men visiting refugees' tents in the dead of the night in search of young people. He is certain they are Rohingya insurgents on the lookout for recruits for their fight in neighboring Myanmar.
The fierce clash between the government of overwhelmingly Buddhist Myanmar and the Muslim Rohingya minority has created the world's most pressing humanitarian crisis, with hundreds of thousands forced to flee their homes. But the refugee camps here in Bangladesh also represent a fertile breeding ground and a new cause for Islamist militants looking to re-energize their struggle.
"There are bad elements everywhere. Here, these bad elements are trying to take advantage of our current situation and exploit us into turning against each other," said Mr. Haroon. "They want us to fight the military, the monks. What good can come out of more violence?"
Mr. Haroon was referring to the Arakan Rohingya Salvation Army, or ARSA, an insurgency movement that has organized attacks against Myanmar security forces. Ultra-nationalist Buddhist monks are among the most vocal critics of the Rohingya minority in the Southeast Asian country.
Since late August, an estimated 650,000 stateless Rohingyas have fled from Myanmar to neighboring Bangladesh to escape the military's campaign of torching villages, rape and murder. The Trump administration the United Nations are among a wide range of groups condemning what they see as ethnic cleansing.
Myanmar's military leaders claim their crackdown is in response to ARSA's deadly attacks. Earlier this month, for example, ARSA rebels attacked an army truck in Myanmar, wounding five troops, according to state-controlled media.
ARSA fighters, in turn, have said they are simply trying to protect the approximately 1 million Muslim Rohingyas who have long lived in largely Buddhist Myanmar from discrimination.
Descended from laborers imported from Bangladesh during British colonial rule in the 19th century, the Rohingyas are technically not Myanmar citizens. Most live in Rakhine, an impoverished province on Myanmar's west coast.
Across the sprawling, overcrowded refugee camps in southeastern Bangladesh's Cox's Bazar, the district bordering Myanmar, rumors swirl of more ARSA attacks in the offing.
The Rohingya refugees appear divided over the radical militant group. While most reject its violent methods, many see it as a last-ditch option if the international community fails to broker an agreement allowing them to return to their Myanmar homes.
"We have suffered at the hands of the Myanmar military for a long time. They didn't see us as humans or recognize us as citizens," said Mohammad Ataullah at the Balukhali Camp. "Whenever a Buddhist entered a shop, us Rohingyas had to leave. We were not allowed to study or get a job. The military has big guns, snipers, bombs and rocket launchers to target us from a distance and we only have our sickles to defend ourselves. ARSA says it was fighting for our cause but they only have crude weapons. It is an unequal fight."
Refugees scoffed at Myanmar's military leaders saying their military campaign was meant to "protect" the local population in Rakhine.
"We know what we have left behind and how many people our community has lost. There are orphans everywhere," said one 31-year-old camp resident, who asked not to be named for fear the military would target his relatives. "Who killed their parents? It wasn't ARSA."
Saying he has heard about ARSA training camps around the border, the man was concerned about more violence but didn't know if it could be avoided. "I don't trust ARSA because they used to threaten us back in Rakhine, terming those who didn't join them as traitors," he said. "But they are the only ones fighting against the barbarians."
Radicalization fears
Independent observers have warned of ARSA's efforts to target and recruit Rohingya youth, stoking fears of radicalization at the camps.
Angshuman Choudhury, a New Delhi-based researcher at the Institute of Peace and Conflict Studies, believes Rohingyan refugees are extremely susceptible to exploitation.
"The Rohingyas are a marginalized community that has been persecuted for decades," Mr. Chaudhury said. "Their economically vulnerable state and their natural urge to vent out their anger to what happened makes them the perfect recruitment tool."
With Islamic State's territorial base in Syria and Iraq nearly eliminated, terrorism analysts fear Islamist militants fleeing the Middle East could fasten on crises such as those in Myanmar as their next base of operations. Foreign fighters were much in evidence in recent brutal fighting between the government of the Philippines and radical Islamic terror groups in the country's south.
"The conditions in Rakhine are ripe for the influence of extremist stimuli, including the infiltration of Islamic State ideology, which may worsen the situation in Myanmar," a study last fall by researchers at Singapore-based Nanyang Technological University concluded. It's an ideal situation for the Islamic State and affiliates to collaborate with regional groups, they added.
In the Kutupalong Registered Refugee Camp in Cox's Bazar, Mohammad Yusuf's plight illustrates the depth of the problem.
The 21-year old was born in the camp after his family fled from a bout of ethnic violence in Myanmar in the 1970s. Five years ago, he attempted to travel across the border.
"See these marks?" said Mr. Yusuf, showing deep scars across his right arm. "This is where they hit me when we tried to go to Rakhine."
But he might have little option but to return.
"What future do we have here?" he asked. "We don't know what the Bangladesh government will do, what ARSA will do or what Myanmar will do. We don't know to whom should we turn to. A person who doesn't have a country has nothing."
While Mr. Chaudhury thought ARSA was well organized, he was skeptical they had the resources to wage a full-fledged armed struggle. "It can happen but it would require a considerable amount of funding and logistical support," he said.
Myanmar and Bangladesh are set to implement an agreement to send as many as 100,000 Rohingya back to Myanmar at the end of January.
But most refugees reject the prospect of returning under the current climate. They are in understandable fear for their lives, said Mr. Chaudhury.
"The current repatriation agreement is not at all viable logistically. Most refugees don't have documentation since they lost the papers in the fires. What happens to them? The situation could turn disastrous again," said Mr. Chaudhury. "The refugees prefer to remain in overcrowded, squalid camps than go back to Rakhine and face violence."
Mohammad Hashim, an 18-year old who lives and runs a small shop in the camp, said he wouldn't return unless his safety was guaranteed.
Full report at:
https://www.washingtontimes.com/news/2018/jan/8/fears-rohingya-muslims-could-be-radical-islam-recr/
--------
Senior Afghan politician says Taliban leadership not in Pakistan
January 09, 2018
KABUL - A senior Afghan politician has said that the Taliban leadership is based in Afghanistan and that the group is willing to negotiate peace.
The statement of Hamid Gailani, the chairman of Mahaz-e-Milli party, which is contrary to the official Afghan narrative, drew a strong rebuke from the country's top spy agency.
According to Tolo News, Gailani has said that most Taliban leaders are in Afghanistan and that they also want to negotiate with other countries involved. "I, along with religious scholars, will soon form a delegation to engage the Taliban leaders in talks," he told a gathering of clerics in Kabul.
This will be followed by meetings with countries that have been involved in the Afghanistan situation to talk about bringing peace and stability to the strife-torn country, he added.
Participants of the gathering said hundreds of religious scholars led by Gailani would hold talks with Taliban leaders to restore peace to Afghanistan. Gailani added that he did not believe reports that Taliban leaders were outside Afghanistan's borders. "I do not accept the rumours that Taliban leaders are in other places. They [government officials] say this because they cannot do anything else and they use this as an excuse," he added.
"Most of Taliban leaders are in their own country. I say to the Taliban this is your country and also to the government that this is your country."
Afghan officials claim that the Taliban leadership is hiding in Quetta and Peshawar – a claim Islamabad vehemently denies. The top Afghan spy agency reacted angrily to Gailani's statement, calling it 'irresponsible'.
Full report at:
https://nation.com.pk/09-Jan-2018/senior-afghan-politician-says-taliban-leadership-not-in-pakistan
--------
Afghan intelligence reacts at Hamid Gilani's remarks about Taliban leadership
Jan 08 2018
The Afghan Intelligence, National Directorate of Security (NDS), strongly reacted at the recent remarks of Afghanistan Mahaz party chief Syed Hamid Gilani's remarks regarding the leadership of the Taliban group.
Gilani on Saturday claimed that all the members of the leadership council of the Taliban are based in Afghanistan.
He also went on to claim that the Taliban leaders are prepared to participate in peace talks with the Afghan government and that his party will form a delegation with the Ulema Council members to start peace efforts.
However, the Afghan intelligence, National Directorate of Security (NDS), in a statement said Monday that it condemns the recent remarks by Gilani regarding the Taliban group leadership.
The statement further added that the Taliban group leadership council members are all based on the other side of the Durand Line and in key cities of Pakistan.
NDS in statement also added that the international community also has a well understanding regarding the issue regarding the Taliban safe havens in Pakistan.
Full report at:
https://www.khaama.com/afghan-intelligence-reacts-at-hamid-gilanis-remarks-about-taliban-leadership-04222
--------
Pakistan made important sacrifices, contributions in war on terror: China
Zafar Hussain
January 8, 2018
BEIJING: Chinese Foreign Ministry spokesperson said on Monday, Beijing opposes linking terrorism with any certain country and disagree to place a responsibility of anti-terrorism on a certain country.
Spokesperson Lu Kang said, terrorism is common enemy of the international community and cracking down it needs joint efforts from the world community.
The spokesman was responding to a question on a White House official's remarks that China could play helpful role in convincing Pakistan that it was in its national interest to crackdown on terror safe havens.
"We have stressed many times that Pakistan has made important sacrifices and contributions to the global anti-terrorism cause," he said.
He asserted "Countries should strengthen anti-terrorism cooperation on the basis of mutual respect instead of finger pointing at each other. This is not conducive to the global terrorism efforts."
Actually, China is defending the countries that have been making anti-terrorism efforts in a just and fair way.
Full report at:
https://www.thenews.com.pk/latest/266060-pakistan-has-made-important-sacrifices-contributions-in-war-on-terror-china
--------
Mideast
UK says Jerusalem al-Quds should be Palestine, Israel's shared capital
Jan 8, 2018
The British government has once again expressed its full support of Palestinians' share of Jerusalem al-Quds, over a month after US President Donald Trump announced its highly contentious decision on recognizing the entire flashpoint city as Israel's "capital."
According to a statement released by the UK Foreign Office, the country's Foreign Secretary Boris Johnson made the comments in speaking with his Palestinian counterpart Riyad al-Malki on Monday.
"It should be determined in a negotiated settlement between the Israelis and the Palestinians, and Jerusalem [al-Quds] should ultimately be the shared capital of" the Palestinian state and the Israeli regime, said Johnson.
Trump sparked international outrage on December 6 by declaring that the White House was recognizing the whole city as the "capital" of Israel and that he had instructed his administration to begin the process of moving the American embassy from Tel Aviv to the holy city.
The entire Jerusalem al-Quds is currently under Israel's control, while the regime also claims the city's eastern part, which hosts the third holiest Muslim site. The city has been designated as "occupied" under international law since the 1967 Arab War, which Palestinians want as the capital of their future state.
"I reiterated the UK's commitment to supporting the Palestinian people and the two-state solution, the urgent need for renewed peace negotiations, and the UK's clear and longstanding position on the status of Jerusalem," the British top diplomat further said on Monday.
The dramatic shift in Washington's policy vis-à-vis the city triggered demonstrations in the occupied Palestinian territories, Iran, Turkey, Egypt, Jordan, Tunisia, Algeria, Iraq, Morocco and other Muslim countries. At least 14 Palestinians have been killed and around 3,000 others injured during protests that have ensued the announcement.
On December 18, 14 members of the 15-member UN Security Council voted in favor of an Egyptian-drafted resolution, which did not specifically name the US or Trump but expressed "deep regret at recent decisions concerning the status of Jerusalem," while US Ambassador Nikki Haley wielded Washington's veto against the call, prompting the Palestinian government's strong condemnation.
On December 21, the UN General Assembly overwhelmingly voted in favor of a resolution that calls on the US to withdraw its controversial recognition of Jerusalem al-Quds as the Israeli capital.
Jerusalem al-Quds remains at the core of the Israeli-Palestinian conflict, with Palestinians hoping that the eastern part of the city would eventually serve as the capital of a future independent Palestinian state.
http://www.presstv.com/Detail/2018/01/08/548242/Palestine-Israel-UK-Boris-Johnson-Jerusalem-alQuds-capital-Trump
--------
Iran calls for Muslim unity to counter US' divisive policy
Jan 08, 2018
Iran on Sunday urged Muslim nations to forge closer cooperation to counter the US policy of seeking to create division among them.
"The US' dishonest, duplicitous and divisive policy towards Muslim countries, including Iran and Pakistan, requires that they bolster cooperation against the US in addition to maintaining vigilance and taking preventive measures," Ali Shamkhani, secretary of Iran's Supreme National Security Council, was quoted by the Press TV as saying.
Shamkhani made the remarks during a meeting with Pakistan's National Security Adviser Nasser Khan Janjua, whose country has recently come under criticism by US President Donald Trump.
"We will not allow some countries to affect relations between the two countries through sending weapons and hiring terrorists to create insecurity on their borders," Shamkhani said.
He also highlighted the need of lifting the Saudi Arabia blockade on Yemen, saying Muslim countries and the international community support political talks among Yemeni groups as a way to end the bombardment and siege of the country by the Saudi-led military coalition.
For his part, Janjua urged Muslim countries to "exercise vigilance" against foreign conspiracies hatched to increase the rift among them.
Full report at:
http://www.hindustantimes.com/world-news/iran-calls-for-muslim-unity-to-counter-us-divisive-policy/story-elVNZUmAJ3TzTH6KwnQ1PK.html
--------
Houthi militias threaten international navigation in Red Sea
9 January 2018
In spite of the losses suffered by the Houthi militias on more than one front in Yemen, Houthi leader Saleh al-Samad, threatened, on Monday, to "cut international navigation route through the Red Sea" as a "strategic option" to consider if progress continues towards the west of Yemen, and if "a political solution reaches a dead end," as he put it.
During his meeting with the Deputy Special Envoy of the Secretary-General of the United Nations to Yemen Moin Shreim, he said that the ships will not be allowed to pass, referring to the intentions of the militia to strike international shipping in the Red Sea and Mandeb Strait.
He also attacked the role of UN envoy to Yemen Ismail Ould Cheikh saying it is "disappointing" and questioned its credibility in handling and reaching a resolution for the Yemeni crisis.
"We have reached a point where we are no longer counting on the United Nations to find a political solution in Yemen," he said.
The Deputy UN envoy said that the main reference will always be the "United Nations' resolutions" and pointed out that his intention is to "act" in the event of receiving a political statement by Sanaa regarding the negotiations," according to the Houthi news agency.
Al- Samad expressed the willingness of his group to enter into any negotiations in the event that they "sense" that the United Nations is serious about reaching a resolution, as he put it.
This threat comes amid the progress of the Yemeni army on more than one front, as it has announced Monday, the restoration of a mountain range in the Directorate of Kataf and some areas in the province of Saada north of the country, near the border with Saudi Arabia.
Several countries have already identified Houthi militias as a threat to navigation in Bab al-Mandeb, after the targeting of many ships.
Full report at:
https://english.alarabiya.net/en/News/middle-east/2018/01/09/Houthi-militias-threaten-international-shipping-in-spite-of-losses.html
--------
Yemeni army regains key mountain range bordering Saudi Arabia
8 January 2018
The Yemeni army said on Monday that it has regained control of the Umm al-Athem mountain range in the Saada, near the Saudi border.
According to the armed forces' media center, army units aided by Arab coalition jet fighters struck the Houthis stronghold in Saada province following fierce battles.
Control over the mountain range cuts supply routes and passages for the Houthi militia.
Full report at:
https://english.alarabiya.net/en/News/gulf/2018/01/08/Yemeni-army-regains-key-mountain-range-bordering-Saudi-Arabia.html
--------
Houthis accused of stealing almost $800,000 from Yemeni pensioners
8 January 2018
The Yemeni Pensions Association released a document accusing the Houthi militia of stealing two billion Yemeni Riyals (almost $800,000) from funds deposited by the General Authority for Insurance and Pensions from the Central Bank in Sanaa.
The association called on the CEO of the World Bank to pressure the militia to return the money that they stole, and pay them their salaries which they have not received for a whole year, since the beginning of 2017.
The document which was shared on local websites on Sunday said that the Houthi controlled General Authority for Insurance and Pensions has incorporated the rights of retirees into public debt securities, even though the money is private, not public.
The document added that this is a clear violation of the Yemeni Constitution and laws.
After the stealing incident and their salaries being cut for a year, Yemen's retirees and their families are now considered the country's hardest hit segment since the beginning of the war, the document said.
The association had succeeded in getting a court order forcing the militia to pay them their salaries, which came up to about five billion Yemeni Riyals, however it was not executed.
The administrative court in Sanaa through their court order last November demanded the Central Bank to transfer the monetary amount to the retirees' bank accounts immediately, however the Houthis refused to oblige, the document said.
Full report at:
https://english.alarabiya.net/en/News/gulf/2018/01/08/Houthis-accused-of-stealing-2Bln-from-Yemeni-pensioners.html
--------
Africa
Jordan arrests 17 in foiled attack plot linked to Daesh
Jan 8, 2018
Jordan says it foiled a "massive" scheme of simultaneous attacks by a cell linked to the Daesh Takfiri terrorist group on civilian and security targets across the Arab kingdom in November 2017, state media say.
Petra news agency said on Monday that the country's general intelligence department had arrested 17 members of the cell and seized explosives and weapons that the group had planned to use in the operation.
The cell planned to carry out attacks on security installations and shopping malls simultaneously "to destabilize national security and sow chaos and terror among civilians," the report added. The plot also included a series of attacks on media organizations and clerics.
According to the report, the suspects had planned to finance their plot by robbing banks and stealing cars in the towns of Ruseifa and Zarqa, strongholds of support for militants. They had also manufactured homemade explosives from material bought from local markets.
Jordan has come under several attacks from suspected Daesh terrorists over the past few months.
In December 2016, the terrorist group claimed responsibility for a deadly attack that killed ten people, including a Canadian tourist. Four Daesh terrorists with machine guns and hand grenades carried out the assault in the southern city of Karak.
Three US soldiers were killed in November 2016 when gunmen fired shots at a car transporting the Americans at the entrance to al-Jafr military base near the southern town of Mann. The slain American service members were reportedly in Jordan on a training mission.
Jordan is a major US ally in the Middle East, and a member of the US-led coalition purportedly fighting Daesh in Iraq and Syria.
http://www.presstv.com/Detail/2018/01/08/548237/Jordan-Daesh-attack-Ruseifa-Zarqa-Karak
--------
Libya unity govt ends operations near Tunisia border
08 January 2018
Libya's UN-backed unity government on Monday announced an end of military operations near border with Tunisia.
In a statement, the government's presidential council said it has given orders for taking control of the Ras Ajdir border crossing with Tunisia.
It said security measures taken by the government would enforce security in the area, going on to vow to pursue "criminals and lawbreakers by all means".
On Friday, two Libyans were killed in clashes between armed groups loyal to the unity government and Libyan border officials in the town of Ras Ajdir on the Tunisian border.
Full report at:
http://www.worldbulletin.net/africa/197630/libya-unity-govt-ends-operations-near-tunisia-border
--------
Muslim journalists seek fair portrayal of Islam in Nigerian media
January 8, 2018
Muslim media practitioners at the weekend urged the Nigerian media to ensure fair portrayal of Islam and Muslims in the country.
This was part of the resolution of journalists and scholars at the 2nd Annual Conference of Muslims Media Practitioners of Nigeria (MMPN), Lagos State Chapter.
The event held on Saturday at the Multipurpose Hall of the Lagos State Secretariat Central Mosque, Ikeja.
Speaking at the event, a veteran journalist, Liad Tella, said that reportage of Muslims and Islamic issues suffered setbacks because the Nigerian media was mainly dominated by non-Muslims.
In his lecture titled, "Analysis of Reportage of Islam and Muslims in Nigeria", Mr.Tella urged Muslims to shun incompetence and embrace professionalism so as to win the respect and admiration of non-Muslims.
The journalist who is also a Senior Research Fellow at the Department of Mass Communication, University of Ilorin, traced the origin of the Nigerian media.
"It is a fact that Muslims are not adequately represented in the media but we can make a difference by discouraging incompetence and embracing professionalism," he said.
On his part, Lakin Akintola, Islamic scholar and right activist, accused the Nigerian media of misrepresenting Muslims on several occasions.
Mr. Akintola, a professor, urged Nigerian Muslims to endeavour to own media houses, while advising the Nigerian Union of Journalists (NUJ) to sanction erring journalists who deliberately disseminate falsehoods.
"The Nigerian media has been most unfair to Muslims in Nigeria, and I will advise that Muslim journalists should increase ownership of media houses," he said.
"Sometimes Muslims are deliberately shut out from the media on issues that concern them, while at other times we see parochial representation of Islam and the Nigerian Muslims.
"It is now common to hear Muslims being referred to as terrorists in the media; that is condemnable.
"The NUJ also needs to wield the big stick and sanction media houses that misrepresent religions or incite violence," he advised.
The Chairman on the occasion, Lai Olurode, urged Muslim journalists to be more active in projecting the true essence of Islam as a religion of peace.
Mr. Olurode, a professor at the University of Lagos, argued that the concept of Nigerian media could not be established in the same sense as, say, the British media. He, also, implored Muslims to be active in the media, stressing that they will have to tell their stories themselves.
"We have not been very active as Muslim media practitioners, and we cannot expect any other person to tell our stories for us," he said.
"We do not need to float our own media houses before we can be heard, we should endeavour to improve our visibility and be more active in projecting Islam in the media," he said.
Earlier in his remarks, the Lagos State Commissioner for Home Affairs, AbdulHakeem AbdulLateef, advised Muslims to strive to own and control their own media houses.
Mr. AbdulLateef, who represented Lagos State Governor, Akinwunmi Ambode, also urged Muslims to take more active roles in politics so as to affect society positively.
In his contribution, Mumini Alao, a sports journalist and publisher, urged the association to take concrete steps in addressing perceived stereotypical portrayal in the media.
Mr. Alao said the Press Council and others media regulatory agencies could be intimated of unprofessional conducts on the part of defaulting media outfits.
The high point of the event was the presentation of awards to the registrar of the Joint Admission and Matriculation Board, JAMB, Isiaq Oloyede. Mr. Oloyede, a professor, was recognised for his outstanding leadership traits as head of JAMB.
Full report at:
https://www.premiumtimesng.com/news/more-news/254883-muslim-journalists-seek-fair-portrayal-islam-nigerian-media.html
--------
Nigeria: Muslim Journalists Seek Fair Portrayal of Islam in Nigerian Media
8 JANUARY 2018
By Oladeinde Olawoyin
Muslim media practitioners at the weekend urged the Nigerian media to ensure fair portrayal of Islam and Muslims in the country.
This was part of the resolution of journalists and scholars at the 2nd Annual Conference of Muslims Media Practitioners of Nigeria (MMPN), Lagos State Chapter.
The event held on Saturday at the Multipurpose Hall of the Lagos State Secretariat Central Mosque, Ikeja.
Speaking at the event, a veteran journalist, Liad Tella, said that reportage of Muslims and Islamic issues suffered setbacks because the Nigerian media was mainly dominated by non-Muslims.
In his lecture titled, "Analysis of Reportage of Islam and Muslims in Nigeria", Mr.Tella urged Muslims to shun incompetence and embrace professionalism so as to win the respect and admiration of non-Muslims.
The journalist who is also a Senior Research Fellow at the Department of Mass Communication, University of Ilorin, traced the origin of the Nigerian media.
"It is a fact that Muslims are not adequately represented in the media but we can make a difference by discouraging incompetence and embracing professionalism," he said.
On his part, Lakin Akintola, Islamic scholar and right activist, accused the Nigerian media of misrepresenting Muslims on several occasions.
Mr. Akintola, a professor, urged Nigerian Muslims to endeavour to own media houses, while advising the Nigerian Union of Journalists (NUJ) to sanction erring journalists who deliberately disseminate falsehoods.
"The Nigerian media has been most unfair to Muslims in Nigeria, and I will advise that Muslim journalists should increase ownership of media houses," he said.
"Sometimes Muslims are deliberately shut out from the media on issues that concern them, while at other times we see parochial representation of Islam and the Nigerian Muslims.
"It is now common to hear Muslims being referred to as terrorists in the media; that is condemnable.
"The NUJ also needs to wield the big stick and sanction media houses that misrepresent religions or incite violence," he advised.
The Chairman on the occasion, Lai Olurode, urged Muslim journalists to be more active in projecting the true essence of Islam as a religion of peace.
Mr. Olurode, a professor at the University of Lagos, argued that the concept of Nigerian media could not be established in the same sense as, say, the British media. He, also, implored Muslims to be active in the media, stressing that they will have to tell their stories themselves.
"We have not been very active as Muslim media practitioners, and we cannot expect any other person to tell our stories for us," he said.
"We do not need to float our own media houses before we can be heard, we should endeavour to improve our visibility and be more active in projecting Islam in the media," he said.
Earlier in his remarks, the Lagos State Commissioner for Home Affairs, AbdulHakeem AbdulLateef, advised Muslims to strive to own and control their own media houses.
Mr. AbdulLateef, who represented Lagos State Governor, Akinwunmi Ambode, also urged Muslims to take more active roles in politics so as to affect society positively.
In his contribution, Mumini Alao, a sports journalist and publisher, urged the association to take concrete steps in addressing perceived stereotypical portrayal in the media.
Mr. Alao said the Press Council and others media regulatory agencies could be intimated of unprofessional conducts on the part of defaulting media outfits.
The high point of the event was the presentation of awards to the registrar of the Joint Admission and Matriculation Board, JAMB, Isiaq Oloyede. Mr. Oloyede, a professor, was recognised for his outstanding leadership traits as head of JAMB.
Full report at:
http://allafrica.com/stories/201801090004.html
--------
Pakistan
SC regrets injustices being committed against Hazara community
Haseeb Bhatti
January 08, 2018
The Supreme Court on Monday remarked on the plight of the Hazara community, which has been the target of multiple terrorist attacks over the years, while hearing a case pertaining to the deadly Quetta suicide bombing in August 2017.
"Injustices are being committed against the Hazara community," said Justice Asif Saeed Khosa while heading a three-member bench of the apex court on Monday. "The whole country grieves when the funeral processions of members of the Hazara community are carried."
During the hearing, the Khyber Pakhtunkhwa government also submitted a report on a 2016 attack at a courthouse in Mardan in which 14 people lost their lives.
According to the report, three lawyers and three police officers were among those killed in the attack. The court was requested to order that the compensation given to the victims of the Mardan attack be made equal to that given to the victims of the August Quetta carnage.
The bench declined, saying, "Hopefully, the chief minister of KP will increase compensation for the victims of Mardan".
Justice Dost Mohammad said that there is information that attempts are being made to spread religious hatred in Kurram Agency and Parachinar. Mentioning also the deadly 2014 Army Public School attack, that claimed the lives of 144 children and adults, the judge said that "everything is happening by way of some internal or external agenda".
"These are issues that the government should be dealing with, not the courts," Justice Khosa added. "It is the National Counter Terrorism Authority's (Nacta) job to keep an eye on these things."
The court was asked to form a commission to probe appoint a judicial commission — similar to the one constituted in the wake of deadly twin bombings that targeted lawyers in Quetta — to identify the state elements responsible for perpetuating atrocities against the Hazara community.
Progress on Quetta commission's report
On August 8 last year, 76 people, including 57 lawyers, were killed when a suicide bomber targeted the emergency services ward at Quetta's Civil Hospital.
The 110-page report of the Justice Qazi Faez Isa-led inquiry commission had put forth several recommendations in the aftermath of the attack, which included the activation of Nacta.
During Monday's hearing, the bench questioned the attorney general regarding the progress on the recommendations made in the Quetta Inquiry Commission report.
The report had also recommended that the federal and Balochistan governments develop and maintain a data bank with information of perpetrators/suspects of heinous crimes and terrorist organisations.
"The report was submitted before this court but the measures recommended have yet to be taken by the government," Justice Khosa told the AG.
"You have thrown the report in the trash," Justice Mohammad added.
The AG told the court that as far as Nacta is concerned, there is a problem with the budget. He added, however, that the data bank will soon be completed and police in KP and Balochistan will be able to identify individuals through fingerprinting.
The AG said that a system for tracing the financial links of terrorists is also being set up, as is a system for monitoring interprovincial border traffic.
Justice Khosa said that steps should be taken to establish schools in areas where there are madrassahs. "An alternative education system should be made available for people."
When asked if there were more children enrolled in public schools or seminaries, the assistant AG told the court that more children are attending public schools.
The assistant AG said that steps are being taken to supervise madrassahs and to set up an alternative education system.
The AG said that a satellite system for aerial surveillance is also in place.
Court emphasises need for border control
During the hearing, Justice Khosa recalled that former interior minister Chaudhry Nisar had approached the court regarding criticism against him in the Quetta commission report.
Specifically, the report had criticised the former minister for meeting with the heads of some banned groups to listen to their demands.
Justice Khosa noted that since leaving the post of interior minister, Nisar had not followed the case.
"The allegations made against Nisar were of a personal nature," the attorney general told the bench.
A lawyer from the Balochistan Bar present in court for the hearing questioned why Nisar had meet with the heads of the banned outfits. However, the bench said that it does not want to get involved in the matter.
The bench highlighted the need for border control and surveillance of airport terminals. The court noted that attackers enter the country through the Taftan border and are found in Hyderabad.
Justice Mohammad pointed out that smuggling and illegal transportation activities take place along the border with Iran.
"Drug smuggling and the income generated through the trade is oxygen for terrorists. Once this oxygen flow is stopped the terrorists will die themselves," he said.
https://www.dawn.com/news/1381607/sc-regrets-injustices-being-committed-against-hazara-community
--------
China opposes US statements linking terrorism to Pakistan
Jan 09, 2018
BEIJING: China on Monday said that Pakistan had made important sacrifices and contributions to the global anti-terrorism cause and finger pointing at each other was not conducive to the global counter-terrorism efforts.
"As we stressed many times that Pakistan has made important sacrifices and contributions to the global anti-terrorism cause and the countries should strengthen anti-terrorism cooperation on the basis of mutual respect instead of finger pointing at each other. This is not conducive to the global efforts," China's Foreign Ministry spokesperson Lu Kang said during his regular press briefing here.
Acknowledging once again Pakistan's sacrifices and contributions to the global anti-terrorism cause, he said that the Chinese side opposed linking of terrorism with any certain country and disagreed to place the responsibility of counter-terrorism on a certain country. "First and the foremost I would like to say that terrorism is common enemy of the world," he said.
He said that cracking down on the terrorism needs joint efforts from the international community. On China's continuous support to Pakistan in its anti-terrorism campaign especially during the recent weeks, he commented that actually, China was defending the countries that had been making anti-terror efforts in a just and fair way.
Full report at:
https://www.pakistantoday.com.pk/2018/01/08/china-appreciates-pakistans-sacrifices-in-anti-terror-cause/
--------
Tahir-ul-Qadri announces countrywide protest against PML-N from January 17
Jan 08 2018
LAHORE: Pakistan Awami Tehreek (PAT) chief Dr Tahir-ul-Qadri has announced a countrywide protest movement against the Pakistan Muslim League – Nawaz (PML-N) government which will commence from January 17.
The announcement made here on Monday came as the PAT led All Parties Conference (APC) deadline seeking the resignation of Punjab Chief Minister Shehbaz Sharif and Law Minister Rana Sanaullah over the Model Town tragedy expired on January 7.
"Now we will not ask for their resignations (Shehbaz, Sanaullah), but will take them with pressure. They will have to resign. It is no longer just about resignations but the end of PML-N governments wherever they are," Qadri said during a news conference.
Qadri said that an action committee had been formed which would take decisions and handle administrative matters pertaining to the protest. The action committee would hold its first meeting on January 11.
At least 14 people were killed and over 100 injured during an 'anti-encroachment operation' by Punjab Police outside Idara Minhajul Quran in Lahore's Model Town on June 17, 2014.
On December 5, 2017, the Punjab government following orders by the Lahore High Court released the Justice Baqir Najifi commission report on the Model Town incident. On December 30, the PAT-led All Parties Conference called for the resignations of Punjab Chief Minister Shehbaz Sharif, Law Minister Rana Sanaullah and others over the Model Town incident.
The steering committee was constituted after the APC.
Qadri comes to country as puppet: Talal Chaudhry
When approached for comments, Minister of State for Interior Affairs Talal Chaudhry said whenever Qadri has come to the country he has come as a puppet, the strings of which are controlled from somewhere.
According to Talal, Qadri was being used as a showpiece under which the alliance of Pakistan Peoples Party and Pakistan Tehreek-e-Insaf was concealed.
The monetary investment on Qadri was being made by PPP Co-chairperson Asif Ali Zardari.
The state minister, who is also a leader of PML-N, said the alliance is intended to attack the Senate elections first and then the general elections.
"However, they neither succeeded earlier nor would they this time," Talal said.
10-point statement by APC
The APC had put forward a 10-point statement.
1) All Parties Conference condemns the Model Town incident and the amendment in the Finality of Prophethood declaration.
2) Model Town incident was the worst of state terrorism, in which the leadership of Pakistan Muslim League-Nawaz, including Nawaz Sharif, Shehbaz Sharif and Rana Sanaullah were involved along with bureaucrats, police officers and Punjab government officials. They ordered firing on 100 people on the pretext of an anti-encroachment operation, martyring 14.
3) The amendment in the Finality of the Prophethood is an attack on the faith of hundreds of thousands of Muslims and on the Constitution. Nawaz Sharif and PLM-N as a party were involved in this state terrorism. The mastermind behind amendment in the Finality of Prophethood declaration has neither been brought to the fore nor has the culprit been punished. PML-N has lost the right to hold power after attacking the faith. This conflict will continue till people involved in the crime are taken to task. APC demands the culprits be dealt with an iron fist.
4) APC announced that people martyred and injured on June 17, 2014, in Model Town were not only workers of Pakistan Awami Tehreek but were also citizens of Pakistan. It is the joint responsibility of all the parties in the APC to fight for justice for the people who were fired at. APC owns the efforts that will be undertaken for the purpose. Justice in the Model Town incident will prove to be a milestone for the rule of law.
5) The bereaved families of Model Town incident have got only the report of Justice Baqir Najafi after waiting for justice for three and a half years. This proves that transparent investigation, trial, and provision of justice would not be possible in the case till Nawaz Sharif and Shehbaz Sharif will remain in power. Although 125 police officials were summoned, not a single one was arrested. Not only this, bureaucrats and government officials involved in the murder have not even been summoned. This shows that the incumbent government has failed to deliver justice.
6) Since the report of Baqir Najafi Commission has declared Punjab Chief Minister Shehbaz Sharif and Punjab Law Minister Rana Sanaullah responsible for planning the Model Town incident, the APC demands that they and others involved in the crime step down from their positions before January 7, 2018. APC has mutually extended the deadline of December 31, 2017, to January 7, 2018. If resignations are not given by January 7, the steering committee will organise a meeting on January 8 and decide the next course of action for protest.
7) APC demands that all provincial assemblies and Senate get resolutions approved regarding the resignation demands of Punjab CM Shehbaz Sharif and Punjab Law Minister Rana Sanaullah.
8) Two FIRs of the Model Town incident are filed and the Punjab government constituted two joint investigation teams (JIT) on the issue. These JITs could not record the statements from families of the victims, killed and injured, in the incident. This means that the martyrdom has not been recorded in any of the two JITs. The law required statements from the complainant and victims for the sake of fair trial. Therefore, the APC demands the chief justice of Pakistan to form a JIT taking suo motu notice on the incident which was against humanity, state, and the public. The APC also demands that a judge of the Supreme Court monitors the JIT.
9) APC demands that no NRO be given — under internal or external pressure — to the Sharif family, which has looted the national wealth. The public will not accept it if relief of any sort is given to the Sharif family.
Full report at:
https://www.geo.tv/latest/175893-will-take-resignations-not-demand-them-anymore-qadri
--------
JI says uncertainty harmful for unity, country's stability
Jan 09, 2018
LAHORE: Jamaat-e-Islami leader Senator Sirajul Haq has said that the clouds of uncertainty in regard to the election to the Senate and the general elections were getting darker with every passing day which was most harmful for national unity and stability of the country.
Talking to different delegations at Mansoora, he said that Pakistan's alliance with the US had only benefited the Americans as this country had suffered huge losses as was predicted by the Jamaat at the very beginning. He said that Pakistan continued to suffer loses of men and material while Washington had been making accusations against this country.
He said that the country lost around 70 thousands of its men besides financial losses of more than 130 billion dollars. He said that 95 per cent of these people were killed in drone attacks. He said that the people supporting the US war were now confused and did not know how to justify their policy.
He said that the US history was full of deceit and hypocrisy and it had always treated its 'slaves' in the same manner. He called for immediately suspending NATO supplies besides disallowing the use of aerial and land routes of the country.
Senator Siraj demanded a probe against those entering the country without visas and the accountability of those who allowed the American saboteurs to enter the country illegally. He said that the NATO supplies had only resulted in the vast destruction of the infrastructure, heavy financial losses besides pollution.
Full report at:
https://www.pakistantoday.com.pk/2018/01/08/ji-says-uncertainty-harmful-for-unity-countrys-stability/
--------
Afghan govt seeks extension of refugees' stay in Pakistan
Jan 09, 2018
ISLAMABAD/PESHAWAR: Afghanistan has pressed Pakistan to grant up to a one-year extension of the stay of over one million registered Afghan refugees in Pakistan, Afghan diplomats said on Monday.
The demand came days after the federal cabinet decided to grant only one-month extension to the stay of nearly 1.4 million registered refugees in Pakistan. In its January 3 meeting, the cabinet granted the extension in the Proof of Registration (PoR) cards that allow registered refugees to stay legally in the country.
The PoR cards expired on December 31, 2017 and under the cabinet's new decision the registered Afghan refugees can legally stay in Pakistan until January 31. The cabinet had also decided that the issue of early repatriation of the Afghan refugees should be raised with the UN refugee agency and with the international community.
Afghanistan Deputy Ambassador to Pakistan Zardasht Shams said that over one million refugees cannot be sent back home in one month time. He said that the Afghan government was in contact with the officials in Pakistan to extend the stay of the registered refugees by one year or at least six months.
The United Nations High Commissioner for Refugees (UNHCR) has already suspended voluntary repatriation of the refugees from Pakistan for winter break until March, he said. The cabinet has taken the decision at a time when the documentation of the hundreds of thousands of unregistered refugees is underway in Pakistan.
The Afghan deputy ambassador said that about 700,000 unregistered refugees had been documented until January 5. The documentation process, which is going on in 21 centres across Pakistan, is scheduled to conclude on January 31.
Addressing a press conference at the Peshawar Press Club, elders of the Afghan refugee rejected the January 31 deadline set by the government for their stay in the country and demanded more time to sort out their business matters with the local people. They said that the refugees to have pumped millions of rupees into the local economy and called for the government to create a mechanism to reimburse them.
Afghan elder Abdul Ghafar Shinwari said that they were ready for repatriation back to their country but the government must set guidelines for their investments in the country. He said that the Afghans have invested more than four billion dollars in different sectors. He said that Islamabad must ensure their safe and respectable repatriation.
Full report at:
https://www.pakistantoday.com.pk/2018/01/08/afghan-govt-seeks-extension-of-refugees-stay-in-pakistan/
--------
PHC orders release of TNSM's Maulana Sufi Muhammad on bail
January 08, 2018
The Peshawar High Court (PHC) on Monday ordered the release of Maulana Sufi Muhammad, chief of the banned Tehrik-e-Nifaz-e-Shariat-e-Mohammadi (TNSM), after accepting his bail application.
Justice Waqar Sath heard the case and accepted the TNSM chief's bail application.
On July 30, 2009, a Swat police station had booked the TNSM chief for hate speech against the government.
In that speech, Sufi Muhammad had termed the Constitution "un-Islamic" and demanded enforcement of the Sharia.
Situationer: The nine lives of Sufi Mohammad
In today's hearing, Sufi Muhammad claimed that he should be released "as his health is deteriorating with each passing day."
The TNSM chief has been kept imprisoned since his arrest in 2009, when the final phase of a military operation against militants was launched in the Malakand region.
A number of cases were registered against Sufi Muhammad; however, in each case, witnesses against him had either died or could not be traced.
Successive governments did not adopt a uniform policy towards him, which can be termed as a reason for his non-conviction in cases registered against him. Sometimes he was portrayed as the root cause of all the death and destruction witnessed by the inhabitants of Malakand, especially Swat, while at other times, the government saw him as a saviour who could restore peace to the region.
In 2009, the year a peace deal was signed with his proscribed organisation, he was exercising much influence and had even stopped regular courts from functioning there.
Know more: Sufi speaks out against TTP
In 2015, news had surfaced about Sufi Muhammad issuing an informal decree against Mulla Fazlullah-led Tehreek-i-Taliban Pakistan (TTP), declaring that members of the banned outfit lack the traits essential for a Muslim.
"They [TTP] do not come up to the definition of Momin and Muslim set by the Holy Prophet (PBUH)," he stated in a written 'will', a copy of which is available with Dawn.
The computer-written will, having both Pashto and Urdu versions with his signature placed in the end, was written in December — four days after the Dec 16 Army Public School carnage which left over 150 people, mostly schoolchildren, dead.
The octogenarian cleric accused Mullah Fazlulla, his son-in-law, of bringing a bad name to the TNSM, killing a number of its leaders, and inflicting colossal loss on seminaries.
Full report at:
https://www.dawn.com/news/1381625/phc-orders-release-of-tnsms-maulana-sufi-muhammad-on-bail
--------
North America
Pakistan continue to harbor terrorists threatening US: CIA Director
Jan 09 2018
The Director of the US Central Intelligence Agency (CIA) Mike Pompeo has said Pakistan continue to harbor terrorists who are posing threats to the United States.
In an interview with the CBS, Pompeo said "We see the Pakistanis continuing to provide safe harbor, havens inside of Pakistan for terrorists who present risks to the United States of America."
Pompeo further added "We are doing our best to inform the Pakistanis that this is no longer going to be acceptable. So this conditioned aid, we have given them a chance. If they fix this problem, we are happy to continue to engage with them and be their partner. But if they don't, we're going to protect America."
This comes as the US President Donald Trump last week criticized Pakistan in strong words for harboring the terrorist groups despite receiving billions in aid to support the counter-terrorism efforts in Afghanistan.
"The United States has foolishly given Pakistan more than 33 billion dollars in aid over the last 15 years, and they have given us nothing but lies & deceit, thinking of our leaders as fools. They give safe haven to the terrorists we hunt in Afghanistan, with little help. No more!" Trump said in a Twitter post on Monday.
A senior US State Department official also said last week that "We believe that there is significant evidence that leadership of the Haqqani Network resides inside Pakistan and is able to plan and execute from Pakistan attacks inside Afghanistan. So the disagreement is much more about those facts than it is on our overarching goals in the strategy. And we need them to address these sanctuaries in order for us to be able to be enabled to succeed in Afghanistan."
https://www.khaama.com/pakistan-continue-to-harbor-terrorists-threatening-us-cia-director-04223
--------
Toronto's Reputation as A Breeding Ground for Anti-Muslim Hate Just Got Worse
BY RICHARD SILVERSTEIN
JANUARY 8, 2018
Toronto's reputation as a hotbed of anti-Muslim incitement continues to grow after a U.S. federal district court in Washington, DC formally handed down hate crimes charges against a member of the Toronto-based Jewish Defence League (JDL) last month.
Yosef Steynowitz of Thornhill, was charged with assaulting Kamal Nayfeh, a technical instructor at a North Carolina college, and graduate student Ben Doernberg with wooden poles and repeated kicks during pro-Palestinian protests at last year's Aipac conference in DC. Nayfeh's bloodied face required nine stiches. The assault against Doernberg caused a concussion. Rami Lubranicki, an American member of JDL, was also charged along with Steynowitz.
The indictment, reads in part, that Steynovitz, "having readily available dangerous and deadly weapons… unlawfully assaulted and threatened Kamal Nayfeh in a menacing manner and intentionally, knowingly, and recklessly caused significant bodily injury."
The document goes on to state that "such criminal act demonstrated the prejudice of Yosef Steynovitz based on the actual or perceived race, color, or national origin of Kamal Nayfeh."
At the time, JDL chief Meir Weinstein alleged that the victims had been the ones who insulted and assaulted JDL members, who had acted in self-defense.
"They found out," says Weinstein in a video posted online shortly after the incident, "that it's not wise to lay not even a finger on any of us. Anyone who's going to try and raise a fist to us, push us and assault us, we would be glad to enforce a citizen's arrest when there's some semblance of cooperation from the aggressor. Unfortunately, we had to resort to a certain level of force, and we made it very clear the days of Jews being attacked and being docile are long over."
There is no evidence, however, that Nayfeh or Doernberg engaged in any acts of violence. The charges against Steynovitz are the latest in a string of incidents involving the Toronto-based group, which has been at the forefront of anti-Muslim protests in the GTA.
Last month, JDL hosted a speech by notorious U.S. blogger and Islamophobe, Pamela Geller.
Local activists had asked the Canadian government to bar Geller from entering the country citing her incendiary musings on Islam and the fact Britain had prohibited a planned visit in 2013 based on her anti-Muslim pronouncements. But her speech at Canada Christian College, a fundraising event for JDL, went ahead amid protests outside. According to the Quebec-based antifa Groupe de recherche sur l'extrême droite et ses allié-e-s, security at the event was provided by members of a number of far-right groups. Rebel Media "Commander" Ezra Levant, joined Geller on stage after her address for a question and answer period. Video of their exchange is featured on the website of Kevin Johnston, another among the cadre of local Islamophobes in JDL's militant orbit. Johnston, who has been a fixture at anti-Muslim protests in the GTA, was charged with wilful promotion of hate in July "over information published on various social media sites," according to police.
Yet, JDL continues to be given a platform in conservative circles. Weinstein, for example, took part in Toronto Councillor James Pasternak's "administrative inquiry" at City Hall into "a growing trend of hate-infested rallies being held in public spaces" – namely, the annual Al Quds Day rally sponsored by Queers Against Israeli Apartheid at Queen's Park, which had allegedly included chants that were "anti-Semitic and anti-Christian" in the past.
Meanwhile, at a City Hall rally in May to protest the federal government's anti-Islamophobia Motion M-103, members of the JDL physically attacked journalist and activist Kevin Metcalf, as Metcalf filmed the protest. In the video, JDL members can be heard telling Metcalf, "We're not fucking around here. You're going to get killed." JDL member Max Bocknek has been charged with assault by Toronto police.
Full report at:
https://nowtoronto.com/news/toronto-anti-muslim-hate-jewish-defence-league/
--------
A jihadist redeemed in the heart of Washington
08 January 2018
By Ismail's lips, surnames of Catalan politicians glide clumsily, pronounced in half and with a slight accent of American Midwest, but ir mere appearance shows a more than remarkable knowledge of current Spanish politics. The man has read about crisis and is interested in it with several questions. When it is noted how well informed it seems, responds with what at first seems a gag, but is actually saying no second: "I'm not a typical American." Ismail Royer came out of jail in December 2016 after completing 13 of his 20-year sentence for helping a group of friends go to an extremist training camp in Pakistan after 9/11, with ultimate goal of joining Taliban. He grew up like Randall in a suburb of St. Louis, Missouri. At age of 21 he converted to Islam, changed his name and went on to fight in Bosnia horrified by genocide. After a few years of his return, he became involved in fight for Kashmir and came into contact with Lashkar-e-Taiba, n a radical Islamist group that years later would be classified as a terrorist and claimed Mumbai bombing in 2008. That is organization with which he put more in contact with his friends, a group of young people with whom he used to meet to play paintball in a town of Virginia. When y were caught, press baptized m in a tragicomic way as jihadists of paintball. -When you look back, do you see yourself as an extremist? -For a short period of time, after 9/11, yes. But problem is not that only I was an extremist at time, problem is wrong ideas that allowed it to be. If someone had made me see how wrong my ideas were, when 9/11 happened I would not have been confused like this, and never happened to dark side. Royer, aged 44, is now working on fighting this extremism from Center for Islam and religious freedom, a non-profit organization whose offices are located a couple of blocks from White House in Washington. When he was free he began to write a blog about his personal journey, his mistakes, which in or words defines as an awareness. Jennifer Bryson, an expert who had spent three years interrogating prisoners at Guantanamo, read one of her post and contacted him. Soon after, he offered him a job at center. "I see my role, not so much in matter of extremism, but in trying to help Muslims understand what it means to be American, and that you can be Muslim, that re is no contradiction between two," he explains. There was a time when Ismail did see those contradictions. When asked about tipping point, by time he ceased to be a young activist in good faith – he felt "a Quixote," he says--to fall into that which he calls " dark side," points to Al 11-S. "I was totally against attack , but n re was a great polarization between Muslims and non-Muslims, and I was confused. An academic gave a talk to some friends and me and said, ' Look, that doesn't matter anymore, it doesn't matter wher [11-S] was right or wrong, what matters is what comes now, now West goes to war against Muslims and you must choose who you are with. ' You can disagree with m [al-Qaeda] as much as you want, but that does not change fact that re is a war between Islamic world and non-Islamic, ' he said. If world split into two camps, Ismail was with Muslims. Some of young people at meeting asked him if he could help m go to Pakistan. Then Royer went with his family to Bosnia and lost contact with boys. He began, he says, to whirl his head over all that had passed. "I realized that I was deceived, re was no global war... We had Pakistan on U.S. side, for example. You had... There was no such war between Muslims and non-Muslims. " By n, FBI started hanging around his far's house with questions. Royer ended up returning to America. In 2003 he was indicted and in 2004 pleaded guilty to two crimes, to assist in use of firearms in a violent crime and aid and collaboration in transport of explosives, but was not convicted of acts directly related to terrorism , something he emphasizes. Then came 13 and a half years of prison, a large part of m in a maximum Security Center in Colorado, where he coincided with ors condemned by jihadism and completed his particular awareness. Its epistolary disputes with British Richard Reed, so-called terrorist of Shoe, which in December of 2001 wanted to blow up a bomb on a flight between Paris and Miami tried to ignite a wick which it wore in footwear, are famous. Royer argued that it didn't make much sense to go killing neighbor in name of religion, asking him what kind of Islam he had in his head that, at point, made him think that harming civilians was virtuous. "All that process made me know what motivates se people," he says, and thought his experience would be "an asset." The center of his current work as an activist is religious freedom, that coexistence between religions: "I focus on that freedom especially because when you get it, you get rid of all grievances that [extremists] exploit." These, he explains, "are leaving religion, even when y claim to defend Islam, y do so in a way that undermines religion. That happens mostly with victimism, y put center of ir identity, rar than values. " -Do you identify yourself as a jihadist at some point in your history? -I think that during that time I was, yes... I have to be very careful not to minimize it.
Full report at:
http://www.turkeytelegraph.com/world/a-jihadist-redeemed-in-the-heart-of-washington-h14879.html
--------
'I want to have a say': Muslim youth fellowship at Toronto City Hall aims to break down barriers
By SABRINA NANJI
Mon., Jan. 8, 2018
In a rare democratic exercise, 13 Muslim youth will soon get to talk directly with a political operative that used to work for Stephen Harper — the former PM who once spurred heated debate over whether Muslims should be banned from wearing the niqab at citizenship ceremonies during the 2015 federal election.
For the young citizens headed to Toronto City Hall next month to work as part-time interns under a brand-new fellowship, it's a unique chance to discuss a policy many in the community called out as marginalizing at the time, with someone who was at one point close to its architects.
That would be Alykhan Velshi, who left his post as Harper's director of issues management in 2014 and is now chief of staff to Ontario PC Leader Patrick Brown.
That meeting is just one in a slew arranged with top politicos — including Michal Hay, Jagmeet Singh's NDP leadership campaign director, Tom Allison, who steered Ontario Liberal Premier Kathleen Wynne's leadership bid, and Walied Soliman, Brown's 2018 campaign chair — before the interns are embedded at city hall.
They'll be paired up with a councillor and work 12 hours a week for three months starting in January as part of Toronto's first-ever Muslim Youth Fellowship program, which was approved by council in October.
The idea is to increase democratic participation and political understanding among a community that is, relatively speaking, less engaged in certain aspects of civic life.
And in a city where just over 51 per cent of the population now identifies as a visible minority, the lack of diverse representation on council has never been more stark. Only a handful, roughly 11 per cent, of Toronto's 45-member council are visible minorities, and it appears that none are Muslim.
Amina Mohamed, 24, said she's excited to learn how to break down barriers between everyday folks and governing bodies.
"I don't fully understand the function of a city councillor. I get their relationship to me and my house and my garbage pickup, but I don't actually know the power that a city councillor actually has. I want to figure that out," she said.
Being from Scarborough, the recent University of Toronto grad is also hoping to talk transit — in particular, the hotly contested plan to extend the subway there.
"I was looking for a position in which I could professionally complain about transit in Scarborough," Mohamed said and laughed. "I plan to live here . . . I want to have a say in what my community looks like, what my country looks like."
She's also planning to launch a podcast.
"I want to educate others about your role as a citizen and the powers and privileges that come with it," she said. "Representation is so important. Unless you are there ensuring that your voice carries weight and has a face representing your ideas and your values, it's very difficult to kind of just hope that somebody else will achieve what you want them to achieve."
The eight-month fellowship is the brainchild of Mohammed Hashim and Nora Hindy, board members of the United Alliance on Race Relations. UARR and DawaNet — a Mississauga-based Muslim organization — forked out $22,200 for the program, a combination of community contributions and funding from the Atkinson Foundation. (The Atkinson Foundation is the charitable branch of the Star.) The city is providing $10,000 in one-time funding.
The idea sparked back in 2015, around election time, when Hashim's organization consulted the Muslim community on how they saw themselves fitting in Canadian democracy.
"There was a sense of disconnect," he said. "People felt that they were Canadian, people knew that they were Canadian, but because of the way the government was speaking of them, they felt that they might not be included in the democratic process."
For youth especially, they felt their voices were not being heard, Hindy added.
"I am hoping this will engage more youth, to give them a sense of democratic responsibility, to know that their voice and their presence will only make our country stronger," she said.
Hashim said the rise of Islamophobia in recent years has also created a civic "chill" among some Muslim youth.
"That's where this idea of, how do we actually build a bridge for members of the community who love government, who love public service who want to contribute — how do we create pathways to accelerate that process," he said.
Another organization — the Canadian Muslim Vote, a non-partisan group that works to increase political participation — is preparing a youth internship program of its own at the provincial level in time for the next general election, slated for June 7, 2018.
The program is in its infancy but communications director Muneeza Sheikh said a group of Muslim university students would provide support to the parties on the campaign trail while getting familiar with the political realm.
"The objective is to really get young people inspired and excited about politics and about democracy," Sheikh said.
Toronto's interns will each be paired up with Mayor John Tory or councillors Neethan Shan (who introduced the motion for the fellowship), Mike Layton (who seconded it), Ana Bailao, Gord Perks, Paula Fletcher, Janet Davis, Joe Mihevc, Kristyn Wong-Tam, Josh Colle, Paul Ainslie, Joe Cressy or Anthony Peruzza.
Shan said he envisions his intern doing anything from arranging community concerts to working on employment policy.
"The way I see my intern working, is being able to give them a spectrum of experience, time to go deeper in one or two areas," he said.
Shan, who is South Asian, said the lack of diversity on council, and among senior staffing, shows the significance of the fellowship.
"In the long term I'm hoping that many of the young people that go through these programs consider running for politics, or go into the public service at city hall, or to influence decision making from the outside," Shan said.
Layton said he hopes the city continues to support such programs for equity-seeking groups, citing the Indigenous youth internship from earlier this year.
"If your community doesn't have a history of interacting in the political realm, in this case the municipal political realm, it can often seem very foreign and seem like it's not something that touches your day-to-day life, when in fact it touches all of our day-to-day lives," Layton said.
Both Shan and Layton said they received some backlash from the public. Shan said the responses ranged from people lamenting how tax dollars are being spent to racist comments about an "infiltration" of Muslim people at city hall.
Full report at:
https://www.thestar.com/news/gta/2017/12/22/i-want-to-have-a-say-muslim-youth-fellowship-at-toronto-city-hall-aims-to-break-down-barriers.html
--------
Southeast Asia
Johor bars another Muslim preacher from giving lectures
January 8, 2018
PETALING JAYA: Abu Hassan Din, the younger brother of the late PAS Mursyidul Am Haron Din, has been barred from delivering religious lectures in Johor.
When contacted by FMT, he said he learned of the ban when he arrived in Johor last Saturday.
He said he was told by mosque officials who arranged his programmes in Muar and Pontian that the directive came from the Johor Islamic Religious Council.
Abu Hassan, who is a former religious officer of Istana Negara, was scheduled to give talks over two days in Pontian and another two days in Muar.
"The organisers do not know the reason for the ban. I am a bit disappointed not being informed of the reasons why I am not allowed to give talks," he said.
However, he added that he accepted the decision with an open heart.
The ban on Abu Hassan came two months after the Johor ruler, Sultan Ibrahim Sultan Iskandar, barred Zimbabwean preacher Ismail Menk or Mufti Menk, from delivering lectures in the state.
FMT is attempting to get an explanation from the religious authorities in Johor for the ban on Abu Hassan.
http://www.freemalaysiatoday.com/?p=859784
--------
Southeast Asian Giants Team Up to Resist IS
January 08, 2018
TAIPEI, TAIWAN —
Southeast Asia's two biggest countries, the Philippines and Indonesia, are joining forces to stop Islamic State sympathizers from crossing a porous sea border and helping violent rebel groups in deadly battles against the government in Manila.
Indonesian Foreign Minister Retno Marsudi met Philippine President Rodrigo Duterte in the southern city of Davao recently for talks that focused on stopping the threat. Duterte and the Indonesian foreign minister agreed to "elevate cooperation" on "maritime security" and "eradicating terrorism," the presidential office website in Manila said.
Predominantly Muslim Indonesia is known to have sleeper cells of sympathizers of Islamic State, a world terrorism sponsor based in Iraq and Syria. In 2016 Islamic State, or IS, picked a Filipino rebel, who was recently killed, as its emir in Southeast Asia, the U.S.-based SITE Intelligence Group says.
Some Indonesian sympathizers worked alongside Filipino rebels in a five-month war in the southern Philippines last year.
"President Duterte said that he wants to intensify maritime security in cooperation with Indonesia as foreign and local terrorists continue to enter and exit the country despite the military efforts to go after these elements," the Philippine presidential office website said.
Support for 2017 war
Philippine officials suspected that Indonesians as well as Malaysians had reached the southern island Mindanao last year to support a battle being fought by local Islamic State-inspired rebels. That fighting killed at least 1,127 people, including more than 900 militants.
In October, troops declared victory over the Maute Group of Muslim rebels, which had pledged allegiance to Islamic State, which is also referred to as ISIS.
At least 38 Indonesians were helping the Philippine rebels as of June, a month after the battle broke out in the city of Marawi, a police spokesman told news outlets in Jakarta at the time.
Some of the 40 to 50 foreign rebel supporters in Marawi had traveled from Indonesia, "responding directly to the call of the ISIS," said Bibhu Routray, a visiting security and counter-terrorism professor at Murdoch University in Australia.
Thirty Indonesians got there from Syria, apparently sent by IS, Routray said. "A lot of Indonesians had actually gone to Syria and on their way back to (their) home country they were routing through the Philippines, so that's one direct evidence that ISIS probably had sent them back to fight in Marawi," he said.
Continued cross-border threat
The Indonesian government said in November it would support the Philippine effort to stop radical elements in Marawi. In June the same government had sent 119 police officers and 200 special forces to Sulawesi Island to help the army squelch terrorists.
Philippine officials have warned against new Muslim rebel violence in Mindanao even with Marawi under control.
"I think it's logical that Indonesia should always keep its guards up, because they know for a fact that their main sleeper cells around Indonesia are waiting for opportunities to come," said Eduardo Araral, associate professor at the National University of Singapore's public policy school.
About 20 Muslim rebel groups operate in resource-rich but impoverished Mindanao, the southernmost major Philippine island and the site of Marawi.
They believe the majority Catholic country has taken a lopsided share of resources despite five centuries of Muslim settlement. Rebel violence has left about 120,000 dead in Mindanao since the 1960s.
Indonesia as a source of rebels
IS "sleeper cells" operate in most Indonesian provinces, the Straits Times of Singapore has reported, referring to groups that can be called to action as needed. The radical Islamic group East Indonesia Mujaheedin, which recruits young people in the jungles of Sulawesi island, has pledged support to IS.
"Despite the ending of the physical war in Marawi, the two countries remain vigilant because they know that there's still a lot of risk and threats that have not been totally eliminated," Araral said.
"The capability of ISIS and their affiliation in Southeast Asia to the group is still there," he said. "Financing is still flowing. The ideology is still there. They might have lost leaders, but I'm sure there will be new leaders that would come around."
Porous sea border
The presidential office did not spell out how Duterte and the Indonesian minister planned to control migration by suspected terrorists.
Analysts point to a chronic lack of patrols in the Celebes Sea, a 285,000 square-kilometer body of water bounded by Mindanao to the north, Borneo to the west and Sulawesi to the south.
Ten years ago the sea was already a "serious maritime black spot," the Jamestown Foundation security research organization says in a study.
"Decades of poor governance, economic and political marginalization, lack of state capacity, and separatist conflict have turned this area into an 'ungoverned space' and hence a haven for transnational criminals, including terrorists," it says. The Philippine armed forces ran a poorly funded navy then, it adds.
But Indonesia and the Philippines have overall strong ties plus a record for reaching maritime agreements.
They signed an agreement in 2014 after two decades of talks on formal boundaries around their exclusive economic zones in the Celebes Sea – a deal aimed at improving resource cooperation.
Full report at:
https://www.voanews.com/a/philippines-and-indonesia-work-together-to-block-isis/4197684.html
--------
Rising tide of jihadists stopped trying to return to China, Chinese advisers say
08 January, 2018
The number of "trained jihadist fighters" intercepted trying to re-enter China rose dramatically last year, posing a growing challenge for the country, according to Chinese government security and diplomatic advisers.
The sources did not specify total numbers but said the increase reflected a higher threat, particularly to China's western region of Xinjiang.
But one London-based analyst said it was difficult to assess the extent of the threat without absolute figures.
Addressing an international relations forum in Beijing late last month, Ji Zhiye, head of the China Institutes of Contemporary International Relations, said China faced a "prominent" risk of a terror attack.
"The number of jihadists captured on China's borders [in 2017] was more than 10-fold the number of the previous year," Ji said.
He estimated that around 30,000 jihadists who had fought in Syria had left the war-torn country and returned to their home countries, including China.
Ji's estimates were echoed by Li Shaoxian, director of the China-Arab Research Institute at Ningxia University. He told a forum at Renmin University on Saturday that Xinjiang was facing "severe" terrorist threats.
China has been on higher alert for terror attacks since the second half of 2015 when Islamic State expanded into Central Asia and Southeast Asia, including setting up bases in the Philippines and Indonesia.
"Terrorism is a global problem and cannot be eradicated over the short-run. Its threat to China is very real," Li said. "There are many extremists with jihadist training returning to Xinjiang."
In November, Syria's ambassador to China Imad Moustapha said an estimated 5,000 Chinese militants, mostly Uygurs from Xinjiang, were believed to have been trained in Syria.
Beijing has blamed militants from the East Turkestan Islamic Movement for violent attacks in the western province.
But Uygur exile and human rights groups say the government's intense security crackdown in Xinjiang, such as restrictions on Uygur language, culture and religion, has backfired, fuelling resentment and prompting more than 10,000 Uygurs to flee China.
China accused of collecting population of restive Xinjiang's DNA under guise of health programme
Raffaello Pantucci, director of international security studies at the Royal United Services Institute in London, said it was difficult to fully assess whether the risk of terrorism facing China was significantly higher last year, saying the 10-fold increase may not be alarming in real numbers.
Pantucci said it was possible that China had seen a spike in returning jihadists, but added that the risk of going back to China was rising as Beijing stepped up its crackdown.
"I think certainly and globally, you see a shift in people [with jihadist training] going from the battlefield ... But whether these people are returning home is difficult to know," he said.
China has ramped up security in Xinjiang since riots in the capital Urumqi in 2009.
In addition to anti-terror drills with Central Asian nations through the Shanghai Cooperation Organisation, China has also called on Turkey and Southeast Asian nations to crack down on extremists groups.
Xinjiang's police hiring binge comes from party boss's Tibet playbook
China and Turkey signed an extradition treaty last year when Turkish President Recep Tayyip Erdogan attended a forum in Beijing for the "Belt and Road Initiative", China's massive infrastructure and trade push to link up with Africa and Europe.
But Li said the cooperation between Beijing and Ankara was still limited.
China also intensified counterterrorism efforts with Southeast Asian countries. Thailand sent dozens of Uygurs back to China in 2015 and China has asked Indonesia to extradite Uygur terrorists.
China's overseas projects such as the US$46 billion China-Pakistan Economic Corridor are also facing rising threats of terrorist attacks, observers have warned.
China's embassy in Pakistan warns of 'series of terror attacks soon' on its nationals
Fu Xiaoqiang, also from the China Institutes of Contemporary International Relations, said the focus of terrorism would shift from the Middle East to the Asia-Pacific and areas close to China, especially Afghanistan.
"This is a very dangerous trend," he said, warning that the forces of extremism and terrorism were likely to be leveraged by countries keen to curtail China. "This is time-tested and well-tried strategy."
He said worsening security in Afghanistan and Pakistan would affect conditions in Xinjiang in the coming years.
Full report at:
http://www.scmp.com/news/china/diplomacy-defence/article/2127352/rising-tide-jihadists-stopped-trying-return-china
--------
Syed Saddiq chides Tawfik Ismail over 'Mahathir's Islamisation'
Nurul Azwa Aris
January 6, 2018
PETALING JAYA: PPBM Youth chief Syed Saddiq Abdul Rahman has come to Dr Mahathir Mohamad's defence and says the former prime minister did not destroy moderate Islam in Malaysia.
Responding to remarks made by former MP Tawfik Ismail in a recent article, Syed Saddiq said Tawfik should be looking at Prime Minister Najib Razak instead of pointing fingers at the PPBM chairman.
Syed Saddiq said Najib had allowed the saga of amending Act 355 to proceed for his own political gain despite massive division on the ground.
He was referring to PAS president Abdul Hadi Awang's private member's bill to amend the Shariah Courts (Criminal Jurisdiction) Act 1965 (Act 355) to enhance punishments that the shariah courts could impose.
"Mahathir preaches a far moderate Islam than Najib. You can call him so many things, even a dictator, but to say that he destroyed moderate Islam is just a disgusting allegation," Syed Saddiq said.
In an interview with FMT yesterday, Tawfik asked Pakatan Harapan (PH) to state its stand on the policy of infusing Islamic values into administrative procedures, which was introduced when Mahathir was prime minister and PKR leader Anwar Ibrahim was his deputy.
Tawfik, who was Sungai Benut MP for one term (1986-1990), claimed that Mahathir's Dasar Penerapan Nilai-Nilai Islam had caused deep divisions between the different races and even within the Muslim community.
"While the idea of instilling Islamic values is laudable, not much thought was given to its implementation. Mahathir and Anwar are both big on ideas but not so hot on the follow through," he told FMT.
Tawfik had also noted that when Abdullah Ahmad Badawi came to power and promoted Islam Hadhari (Civilisational Islam), both Mahathir and Anwar belittled the effort.
"They mobilised hardliners in order to discredit him. Why would the two of them be any different in 2018?"
Tawfik had also taken PH to task for allegedly lacking firmness in opposing Hadi's private member's bill.
Syed Saddiq said Mahathir had ensured that Malaysia took the path of moderation and as a result, the country was known worldwide as a Muslim democracy.
He said during Mahathir's era, Malaysia was a leader in moderation and even Middle East countries like Saudi Arabia, Qatar and the United Arab Emirates looked to Malaysia's version of Islam.
However, he said, there was now a complete reversal.
"Now, we are just followers, as we are looking to Saudi Arabia."
Syed Saddiq said it was ironic that Mahathir was labelled as a hardliner while on the other hand, PAS had labelled the PPBM chairman as the most anti-Islam prime minister who had always opposed any Islamic development.
"Yet, Tawfik states Mahathir did all the Islamisation and everything else."
Tawfik responds to Syed Saddiq
Meanwhile, in an immediate response, Tawfik asked the PPBM Youth chief: "Why don't you check your sources and see my legal action against RUU355? And also my record of speaking against the creeping theocracy wrought by Mahathir and Anwar?"
According to Tawfik, Anwar had joined Umno on the condition that his Malaysian Islamic Youth Movement (Abim) agenda would become Umno's agenda. Anwar led Abim as president from 1974 until he was roped in by Mahathir to join Umno in 1982.
"Read the article again and you will see that I attack both coalitions on this issue.
"Your sole MP Muhyiddin Yassin is also complicit, when he was in Mahathir's cabinet, for the current mess regarding religion and he was silent on RUU 355. Care to explain why?
Full report at:
http://www.freemalaysiatoday.com/category/nation/2018/01/06/syed-saddiq-chides-tawfik-ismail-over-mahathirs-islamisation/
--------
Europe
Islam's gradual resurgence in post-Soviet Azerbaijan
by Ayseba Umutlu
Jan 09, 2018
Fargana Gasimova's memories of Islam during the Soviet period are of a faith that had to be kept hidden.
Her grandparents would pray and fast in secret, careful to disguise any hint of their religion from the prying surveillance apparatus of the Soviet authorities.
"We were not allowed to pray or wear the hijab (headscarf) in Azerbaijan during the USSR," she tells Al Jazeera, using the acronym for the Union of Soviet Socialist Republics, or the Soviet Union.
"Only Atheism was propagated throughout the Soviet Union, including Azerbaijan," she adds.
Though its roots in the country date back to the seventh century, the practice of Islam during Soviet rule was suppressed and heavily regulated.
Since the collapse of the Soviet Union and the reemergence of Azerbaijan as an independent republic, those restrictions have been largely relaxed, and the practice of Islam has resurfaced in day-to-day life.
"After independence in 1991, we got many opportunities (to practise religion), and we gained our religious freedom, " Gasimova says.
"I can easily wear hijab on our TV channels and in the concert halls."
Gasimova is a Mugham singer, a form of Azerbaijani folk music, and the daughter of Alim Gasimov, widely regarded as one of the country's greatest artists in the field.
She began practising her faith aged 20 and four years later began covering her hair with a headscarf.
"I don't face any prohibitions in my country," she says.
Islam has played a big role in defining Azerbaijani culture and, nominally at least, between 93 and 99 percent of its population is Muslim, the majority of whom are Shia and a minority Sunni.
The country, which lies at the western foot of the Caspian Sea, briefly enjoyed independence from Russia in 1918, establishing a secular republic that ensured the free exercise of religion.
The fledgeling country's constitution gave citizens "full civil and political rights, regardless of ethnic origin, religion, class, profession, or sex."
However, the Red Army invaded in 1920, absorbing the country into the Soviet Union for the next seven decades.
Azerbaijani Muslims, like other Soviet citizens who were Muslims, Jews or Christians, faced heavy restrictions on their religious practice.
"People were not allowed to get a religious education," says Haji Salman Musayev, Deputy chairman of the Caucasus Muslim Office (CMO).
"There were only two madrasas (Islamic religious schools) in the entire USSR area, both of which were located in Uzbekistan."
Musayev complains his years at the Mir Arab madrasa, in the Uzbek city of Bukhara, were marred by intense state control over what was taught.
Those restrictions were part of a broader package of measures aimed at stifling religious practice in the country.
While the Soviet hold on religious practice lasted decades, it was not enough to completely negate the role of religion in Azerbaijani life.
"We could hardly send one or two people for the Hajj pilgrimage...now we can send as many as we want," said Musayev.
Religious observance
Under Soviet rule, there were only 18 mosques actively in use in the country, but after the collapse of the Soviet Union, that number has grown to 2,000.
After independence in 1991, the government enshrined freedom of religion in the country's constitution and embarked on a programme to refurbish and restore hundreds of mosques.
"After the collapse of the USSR, some people felt an emptiness, which they sought to fill with religion," said Marmara University's Professor Aqil Shirinov, explaining the uptick in religious practice after Azerbaijan regained its independence.
However, the trend was far from universal.
"The boom in religiosity scared some people," he said, citing fears among some Azerbaijanis that increased practise of faith could result in shifting cultural ideas of what was acceptable and not.
"Some families are afraid that their children can get involved in radical groups...sometimes families don't even allow their children to pray.
"These people consider themselves as Muslims, but in practice, they do not pray."
Religious observance in Azerbaijan remains low relative to other majority-Muslim countries decades after the Soviets left.
According to research by the Caucasus Barometer, only 20 percent of Azerbaijanis take part in religious rituals regularly, and less than 40 percent of the country limits practice to religious holidays.
Fargana Gasimova, however, is unbothered by the religiosity of others or lack thereof, so long as she is free to practise what she considers are the essentials of her faith.
A well-known personality in Azerbaijan, Gasimova says she is proud to serve as an ambassador for her faith and as a role model for her younger compatriots.
"Some people have tried to ruin the name of Islam and give Islam a bad image by associating it with terrorism," she says.
"When people see me performing at concerts abroad, I can feel that their opinions change.
"They even approach me with their kids and say: 'we brought our children here to show them art, to show what real Islam is.'"
http://www.aljazeera.com/news/2018/01/islam-gradual-resurgence-post-soviet-azerbaijan-180108110517329.html
--------
Germany expects return of over 100 children of Islamist fighters
January 08, 2018
German security officials are preparing for the arrival of over 100 infants and children of people who left the country to fight for Islamic State in Iraq and Syria, amid concerns about the radicalization of minors.
Nearly a thousand people are believed to have left Germany to join up with the Islamist militants. As the group's presence in the Middle East crumbles, some are returning with family members, while German authorities are trying to secure the release of children whose parents have been detained.
In a document addressed to a lawmaker and seen by Reuters on Monday, Interior Ministry State Secretary Emily Haber said it was difficult to estimate the exact number of children set to arrive since it was unclear how many babies were born while their parents were in Iraq or Syria.
But security officials had information indicating that "a low three-digit number of minors is expected," with the majority believed to be babies or toddlers, Haber said in a reply to a formal parliamentary query by Greens lawmaker Irene Mihalic.
Hans-Georg Maassen, head of the BfV domestic intelligence agency, had warned in October that children of returning Islamists could pose a threat after being "socialised and indoctrinated in the battlefield areas."
The radicalization of children has been in the spotlight given that three of five Islamist attacks in Germany in 2016 were carried out by minors, and a 12-year-old boy was also detained after trying to bomb a Christmas market in Ludwigshafen.
The German government says it has evidence that more than 960 people left Germany for Iraq and Syria through November 2017 to fight for the Islamic State jihadist group, of which about a third are believed to have returned to Germany . Another 150 likely died in combat, according to government data.
State Secretary Haber said there was no evidence of a big increase in the return of people from Iraq and Syria in recent months despite military setbacks for Islamic State.
The German foreign ministry was providing consular services to German citizens and their children who had been detained or imprisoned in Iraq, and was seeking the return of children that were now imprisoned with their parents in Iraq, Haber said.
"No timeline can be given for the return of these children since this is largely dependent on the cooperation of the Iraqi authorities," she wrote.
Given Germany's decentralized federal structure, state officials had the main responsibility for deradicalization of those who returned from Iraq and Syria, including those were convicted and incarcerated, Haber said.
But she said the federal government was supporting those efforts through a number of initiatives, including support for families of those who left Germany to fight for Islamic State.
Full report at:
https://nation.com.pk/08-Jan-2018/germany-expects-return-of-over-100-children-of-islamist-fighters
--------
Greek court suspends Turkish soldier's asylum status 'for reasons of public interest'
Jan 8, 2018
The asylum status of a Turkish soldier who fled the country along with seven others after a failed coup in 2016 has been suspended following a request by the Greek government which said it should have a say in the case.
An appeals court in Athens ruled on Monday that the soldier, who had been granted asylum by an independent asylum council on December 29, should wait for a formal court hearing on the council's decision scheduled for February 15.
The court said the suspension order was given "for reasons of public interest" and after a request by the Greek government which said the issue was politically too important to be adjudicated by an administrative body.
Authorities detained the soldier on Monday although the court had asked them to refrain from taking any action that could precipitate the individual leaving Greece.
The soldier was among a group of eight servicemen, including three majors, three captains and two sergeant majors, who fled Turkey by a helicopter after the July 15, 2016 coup attempt crumbled.
Ankara swiftly demanded the extradition of the eight soldiers, something that Athens initially accepted but later said it was up to its independent judiciary system to rule on their status.
Greece's justice minister said last week that there was a possibility for Athens to hold trials for the soldiers in the country. The soldiers, who have denied any involvement in the coup in Turkey and insist they fled the country out of fear for their lives, have yet to be formally charged by Greece.
Full report at:
http://www.presstv.com/Detail/2018/01/08/548231/Turkey-soldier-asylum-Greece
--------
URL: https://www.newageislam.com/islamic-world-news/teachers-iraqs-mosul-learn-cope/d/113873
New Age Islam, Islam Online, Islamic Website, African Muslim News, Arab World News, South Asia News, Indian Muslim News, World Muslim News, Women in Islam, Islamic Feminism, Arab Women, Women In Arab, Islamophobia in America, Muslim Women in West, Islam Women and Feminism