New Age Islam News Bureau
5 Dec 2016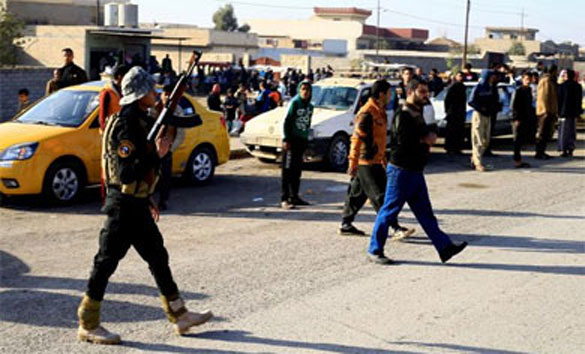 A member of Iraqi security forces walks in the street of Gogjali neighborhood in Mosul, Iraq, December 4, 2016. REUTERS/Thaier Al-Sudani
----------
• Taliban Wouldn't Last a Month without Pakistan Support: Afghan President
• Somalia: UK Govt Admits Funding Isil and Al Shabaab
• Pakistan Next Islamic State Target, Warns Dr Tahirul Qadri
• Report: Ghettoised UK Muslims Believe Britain 75 Per Cent Islamic
• Islamic State Strikes Back To Slow Iraqi Forces in Mosul
South Asia
• Taliban Wouldn't Last a Month without Pakistan Support: Afghan President
• Buddhist Leaders Meet Bangladesh Hefajat-e Islam Ameer
• Shariatpur's Idris Ali Given Death Penalty for 1971 War Crimes
• US drone strike kill 2 ISIS militants in east of Afghanistan
• Prominent ISIS leader killed in North of Afghanistan
• BGB sends back 48 Rohingyas
• Hasina apprises Hamid of Hungary, Morocco trips outcome
• Zabul governor and mayor escape gunmen attack in south of Afghanistan
• Russia reacts on US plans to purchase Blackhawks for Afghan Air Force
--------
Africa
• Somalia: UK Govt Admits Funding Isil and Al Shabaab
• Iraq and Syria Have 'Direct Bearing' On the Growth of Boko Haram
• Somalia: Seven Militants Killed in Qandala Battle
• Clashes between rival militias renew in Libya's Tripoli
• Central African Republic: Civilians Killed During Clashes
• Nigeria: Cleric Urges Religious Leaders to Inculcate Moral Values in Children
• Pakistan, Russia fighter jets set to join Boko Haram war
• Somalia: Drone Crashes in Somalia, Al-Shabaab Take Wreckage
--------
Pakistan
• Pakistan Next Islamic State Target, Warns Dr Tahirul Qadri
• 12 Lashkar-e-Islam Terrorists Killed In Khyber Agency Air Strikes
• Muhammad Bin Qasim 'Also' Part Of Sindh's History: Bilawal
• Aziz says it's simplistic to blame one country for violence
• PAT chief says operation in Punjab vital for peaceful Pakistan
• Army chief, PM Nawaz discuss national security issues
• Pakistan making sincere efforts to eradicate terrorism: Basit
• Raheel Sharif may command international Islamic anti-terror force: Pakistan media
• 11 killed in fire at Karachi's Regent Plaza hotel
--------
Europe
• Report: Ghettoised UK Muslims Believe Britain 75 Per Cent Islamic
• Russian Security Service Says Killed North Caucasus Islamic State 'Emir'
• French Salafist mosque to dispute its closure in Council of State
• Iran, Russia reaffirm Middle Eastern axis
--------
Arab World
• Islamic State Strikes Back To Slow Iraqi Forces in Mosul
• Over 50 Terrorists Killed in Syrian Airstrikes in Hama, Idlib
• Airstrikes kill 21, including 3 children, in Syria's Idlib
• Rifts Widening among Terrorist Groups Due to Syrian Army Advances in Eastern Aleppo
• Syrian army regains full control of city near Damascus
• Syrian Army Captures Several More Districts in Eastern Aleppo
• Syrian Army Choppers Drop Surrender-Now Leaflets over Aleppo City again
• Aleppo: Army Captures Two Key Districts West of International Airport in Major Breakthrough
• Syrian Army Still Continues Victories in Battle against Terrorists in Eastern Aleppo
• Damascus Army Continues to March on Militants' Positions in Aleppo
• Syrian Army Squeezes Terrorists in Eastern Damascus as Russia Prepares Massive Airstrikes
• Syrian Army Readying to Intensify Attacks on ISIL's Defense Lines East of Homs
• Egypt's FM in Washington discusses increasing US aid to Cairo
• Gulf States, Turkey call for UN meeting on Syria
• Rebels vow not to leave Aleppo as regime presses on
• Iraq's government ferrying relief supplies to Mosul
• Iraqi security forces uncover Daesh media center in southern Mosul
--------
India
• Afghan President Ashraf Ghani Snubs Sartaj Aziz, Quotes Taliban on Safe Haven in Pak
• Donald Trump Will Bring His 'Extraordinary Deal-Making Skills' To Mediate Kashmir Issue: Mike Pence
• 'Amritsar Declaration' calls for early finalisation of international counter-terror convention
• Muslim Man Marries Off 'Daughter' In Hindu Way
• JIH against out-of-court settlement of Babri Masjid dispute
• 'Pakistan has no reason to complain' about Sartaj Aziz not being allowed to visit Golden Temple
• Likely for 'mothership of terror' comment, PM Narendra Modi beats Donald Trump, others in Time's online 'Person of the Year' poll
• Delhi, Dhaka to talk on terrorism, intel-info sharing
• Ajit Doval-Aziz's 100-feet walk, talk of Heart of Asia meets
--------
Mideast
• Iran Ready to Further Ties with Friend, Strategic Partner China
• Erdogan Calls On Muslims to Protect Jerusalem
• Saudi jets attack Pakistani boat off Yemen, kill six sailors
• Netanyahu to discuss 'bad' Iran deal with Trump, Kerry stresses settlements
• Four Gazans killed in 'flooded' tunnel to Egypt
• Fatah vote sees Palestinian leader sideline rivals
• Iran reserves right to respond to US extension of bans law: Nuclear chief
--------
Southeast Asia
• Indonesians Rally for Tolerance after Blasphemy Protests
• Suu Kyi must stop Rohingya 'genocide': Malaysia PM
• Young Muslim Boys Take a Dip in A River Before Taking Part In A Mass Circumcision Ceremony In Malaysia
• DAP: We support Anwar, never asked for Chinese PM
• Rahman Dahlan: No better time for Umno and PAS supporters to unite
--------
North America
• US Must Stay In Iraq after IS Defeat: US Defence Secretary
• Twitter won't help to build Muslim registry in US
• More people should engage in politics so 'no party gets to run against Muslim Canadians,' Justin Trudeau says
Compiled by New Age Islam News Bureau
URL: https://www.newageislam.com/islamic-world-news/new-age-islam-news-bureau/taliban-wouldn-t-last-a-month-without-pakistan-support--afghan-president/d/109287
--------
Taliban Wouldn't Last a Month without Pakistan Support: Afghan President
By Reuters Published: December 5, 2016
AMRITSAR, INDIA: Afghan President Ashraf Ghani said on Sunday that the Taliban insurgency would not survive a month if it lost its sanctuary in neighbouring Pakistan, urging its neighbour to take on militant groups on its soil instead of giving Kabul financial aid.
Ghani's remarks, made at an international conference in the northern Indian city of Amritsar not far from the border with Pakistan, suggested tensions were rising with Pakistan after Ghani attempted to improve relations with Islamabad when he took office in 2014.
Pakistan said while violence had increased in Afghanistan, blaming another country for it didn't help.
Violence has spread around Afghanistan and the Taliban's ability to conduct coordinated high profile attacks in the capital Kabul has piled pressure on Ghani's Western-backed government to provide better security to a war weary people.
Last year, Afghanistan suffered the highest number of civilian casualties and military related deaths in the world, Ghani told the Heart of Asia conference aimed at getting regional players together to help stabilise his country.
"This is unacceptable… Some still provide sanctuary for terrorists. As a Taliban figure said recently, if they had no sanctuary in Pakistan, they wouldn't last a month," he said.
Analysts say Pakistan has historically backed the Afghan Taliban as a hedge against the influence of arch-rival India, with whom Pakistan has fought three wars, in its backyard.
Pakistan denies this and instead said it is itself a victim of terrorism and that fighters of the Tehreek-e-Taliban, one of the main groups carrying out attacks inside Pakistan, were operating from Afghanistan.
Sartaj Aziz, Pakistan's top foreign policy adviser, said it was true that there had been an upsurge in violence in Afghanistan. "We need to have an objective and holistic view rather to blame one country," he told the conference.
The number of people displaced by conflict in Afghanistan this year has surpassed half a million people, the United Nations reported last month, the highest number since it began compiling such statistics in 2008.
On top of the Taliban, Islamic State has claimed responsibility for attacks targeting minority Shias in Afghanistan where sectarian violence has been rare.
Ghani said there were 30 militant groups identified by the UN that were trying to establish a base in Afghanistan.
"I don't want a blame game, I want clarifications on what is being done to prevent the export of terror," Ghani said, calling it an undeclared war on Afghanistan.
"We thank Pakistan for their pledge of $500 million assistance for reconstruction of Afghanistan. I hope you use it to fight terrorists and extremists in Pakistan." Pakistan had made the pledge earlier this year.
Ghani's remarks, the strongest in recent months, come as India has simultaneously mounted pressure on Pakistan to end what it too calls cross-border terrorism in the disputed territory of Kashmir.
Prime Minister Narendra Modi said regional players had to act against not only the militants but their sponsors. "It must be backed by resolute action. Not just against forces of terrorism, but also against those who support, shelter, train and finance them."
Islamabad has rejected the Indian allegations and said it was ready to hold talks with India on the dispute over Kashmir, but no talks are planned with Aziz while he is in Amritsar, Indian officials said.
Source: tribune.com.pk/story/1253860/taliban-wouldnt-last-month-without-pakistan-support-ghani/
-----
Somalia: UK Govt Admits Funding Isil and Al Shabaab
4 DECEMBER 2016
The U.K. government is funding ISIS to the tune of $723 million, according to leaked British government documents.
The leaked documents reveal the British government is sending $723 million in "aid" to Somalia while admitting it is "certain" to be used to fund terror groups ISIS and Al-Shabaab.
The revelation that the UK is funding ISIS comes in a leaked 41-page business plan drawn up by the UK's Department for International Department.
The Daily Mail reports that the document, leaked to The Mail on Sunday, outlines strategy until 2020, and is marked 'Official Sensitive' on every page.
In a detailed 'risk register', it rates the probability of taxpayers' funds being 'misused or diverted by listed terror groups or criminal gangs' as 'certain' and 'likely to grow in the next six to 12 months' as tensions rise ahead of elections.
It also accepts there is a similar 'certain' risk rating - highlighted in red - that consultants will be unable to travel to insecure areas to monitor spending.
'This is so alarming,' said one Minister. 'The public will be deeply concerned that their hard-earned CASH is literally being handed out to terrorist organisations.'
Ian Austin, the Labour MP for Dudley North, said he planned to table questions to Ministers. 'Taxpayers will be horrified to find their money is going to terrorists at a time when police forces here are having budgets cut and officers are losing their jobs,' he added.
Other leaked papers expose that Britain is still sending bilateral PAYMENTS to India worth £70 million this year, despite pledges to end such transfers last year amid concerns over funding a nation with its own aid agency and a sophisticated space programme.
They also show Britain is giving cash to countries, including major aid recipients, despite high risks of corruption and concerns over the effectiveness of projects.
DFID officials admit that despite international diplomatic efforts in Somalia led by former Prime Minister David Cameron, large parts of the country are insecure and that the al-Shabaab group 'appears to have had a resurgence'.
Yet the UK is doling out £568.4 million, despite the document admitting 'Somalia remains an inherently high-risk operating environment.'
Officials set out tactics for mitigating such problems, including use of 'trusted partners' on the ground.
But the shocking revelations will fuel concerns that British cash is being misspent as billions are diverted into fragile states, worsening rather than alleviating problems.
Earlier this year, there was fury among many MPs after this newspaper revealed that British aid was ending up in the pockets of Palestinian terrorists.
There have also been cases of aid being 'taxed' or stolen in conflict zones by groups such as al-Shabaab, the fanatics behind the 2013 slaughter in a Kenyan SHOPPING centre.
A leaked UN report has warned of 'high level and systematic abuses' by Somali government officials who have passed weapons to the group.
In recent months, Islamic State has become more active in Somalia, even briefly capturing a town in the semi-autonomous Puntland region six weeks ago.
The 18 draft and final business plans cover 16 countries, the continent of Africa, and climate change strategy.
For all the discussion of value for MONEY, poverty reduction and risk protection, they make alarming reading as the British aid budget soars to £16 billion by 2020.
From Mozambique to Malawi, officials admit there are high chances of corruption. In Pakistan - our biggest aid recipient, getting £375 million this year - analysts admit that human rights and space for civil society are on 'a downward trajectory'.
DFID accepts there is a risk that its 'programme delivery will be associated with unintended, negative consequences'.
Ethiopia, the second biggest aid recipient, is receiving £332 million, with much of the money funnelled through government systems.
Officials say this is 'acceptable', although 'opposition political parties, independent media and formalised civil society organisations are constrained'.
DFID sources said there was always risk working in conflict zones: 'We have robust plans to mitigate against this but, on occasion, losses will occur. We are rigorous in investigating any concerns relating to funding.'
The source added that they were investing in India's poorest people, of whom there are still 290 million, in line with previous pledges to GENERATE growth and jobs.
http://allafrica.com/stories/201612040148.html
--------
Pakistan Next Islamic State Target, Warns Dr Tahirul Qadri
December 5, 2016
KARACHI: Pakistan Awami Tehreek (PAT) chief Dr Tahirul Qadri sounded an alarm on Sunday when he contended that Pakistan was the next target of the Islamic State (IS).
"God forbid! After Syria and Iraq, the next target of ISIS is Pakistan," he said during a peace conference held at Nishtar Park here. "ISIS is gradually gaining a foothold in Pakistan … Its influence is also expanding," he said.
Tahirul Qadri asks army chief to provide justice
Mayor Karachi Wasim Akhtar and leader of Pak Sarzameen Party Wasim Aftab also attended the conference. Leaders of Sikh, Christian and Hindu communities were also in attendance. However, Pakistan Peoples Party's Syed Qaim Ali Shah, who was invited to attend the conference, did not show up.
According to Tahirul Qadri, ISIS has already launched terrorist activities in the country. Foreign elements, he said, did not want Pakistan to prosper and they were engaged in fanning extremism and unrest in the country.
Linking corruption and terrorism, he said that terrorists were tarnishing the good name of Islam and also exploiting the poor people of Pakistan.
He said that the doctrines of al Qaeda and ISIS were almost the same. "The mindset is the same, only the name has changed," he said.
"We have to eliminate the acceptance of terrorism," he said, adding that Pakistan Army and political forces had to rethink their strategy.
Citing Hadiths, he said that Prophet Muhammad (PBUH) had prophesised the rise of ISIS 1,400 years ago.
Why Islamic State has been unable to enter Pakistan?
Quoting another Hadith, he said that "followers of black flags will lay claim to the Islamic State".
"They will invite people towards Islam, but will not be followers of Islam themselves," he said. These people, he reminded, would appear from the deserts of Iraq and their slogan "will be to kill people".
"They will initiate a civil war in Syria, because of which Syrians will be compelled to migrate."
"We are being identified as wrongdoers, but are not ready to believe it," he said, adding that Pakistan's enemies had set their eyes on the country's nuclear assets.
Karachi's power
He said that one day, Karachi's rights would be restored and that was when the Sindh megapolis would start to prosper. "For how long can anyone deny Karachi's rights," he asked.
Meanwhile, Wasim Akhtar said that despite limited resources and grappling with a host of issues, the city would set aside maximum resources for celebrating the birthday of Prophet Muhammad (PBUH).
Addressing Akhtar and Aftab, Qadri said that although it was not possible for both the parties to share the same stage, but both were on stage out of love for the Prophet (PBUH). If Karachi collapsed, Pakistan would collapse, he said.
http://tribune.com.pk/story/1253626/gaining-foothold-pakistan-next-isis-target-warns-qadri/
--------
Report: Ghettoised UK Muslims Believe Britain 75 Per Cent Islamic
4 Dec 2016
Some British Muslims live such segregated lives they believe the UK is a Muslim nation and 75 per cent of the population follow the Islamic faith, a government report will reveal this week.
The major review by Dame Louise Casey, the government's community cohesion Tsar, will expose how some communities have created a parallel existence with their own separate housing estates, schools, and television channels.
The report will "send shock waves through the system", a Whitehall source told The Times, adding: "It's going to be quite hard reading for some people."
In northern cities such as Bradford, Dewsbury and Blackburn, some Muslims will almost never leave their isolated areas and interact with mainstream British society, the document explains.
The Savile Town area of Dewsbury, for example, is 98.7 per cent South Asian, and has been described as "the most segregated area in the UK." The majority of the population follows the 'fundamentalist' Deobandiand school of Islam.
"Certain Muslims, because they are in these communities and go to Muslim schools, think Britain is a Muslim country. They think 75 per cent of the country is Muslim", a source who has seen the report told the paper.
The government does not have any serious integration strategy to manage the effects of mass migration, and the report is expected to attack the Home Office's inaction on the matter and the now prime minister Theresa May's record as Home Secretary.
Dame Mary previously investigated failings by children's services at Rotherham council after the Muslim rape gang scandal, and those familiar with her latest report described it as "full-fat Louise". She has reportedly been forced to see off attempts by the Home Office to water the document down.
The cohesion Tsar has also examined the social alienation felt by some white working class people in her work. However, the report will stress that the 'far right' poses a less significant threat that Islamist terror.
The report will also explain how the government has not done enough to defend Prevent, the counter-extremism policy, against misinformation put out by Islamist and far-left groups, who claim the work to tackle radicalization is "discriminatory" and even racist.
The National Union of Students (NUS), for example, has been working with Islamist sympathisers to call for students to "resist" Prevent for some time, holding events teaching them about "resisting the impact of the Prevent duty" and "organising non-compliance".
http://www.breitbart.com/london/2016/12/04/ghettoized-uk-muslims-believe-britain-75-per-cent-islamic/
--------
South Asia
Buddhist Leaders Meet Bangladesh Hefajat-e Islam Ameer
December 05, 2016
Some Buddhist leaders met Hefajat-e Islam Ameer Shah Ahmad Shafi at Darul Ulum Moinul Islam Madrasa in Hathazari upazila on Saturday night.
Engineer Subash Barua, a Buddhist leader who attended the meeting, said they talked to Hefajat leaders and activists at the Chittagong Press Club on November 25 when they organised a programme to protest the attack on Rohingyas in Myanmar. Hefajat had held a similar programme there.
"On that day, we decided to have the meeting," said Subash.
"The meeting was actually organised to increase religious harmony among people," Subash said while talking to this correspondent over the phone yesterday.
According to a press release of Hefajat yesterday, its ameer Shafi had told the meeting that he would continue to support the rights and security of the people who are not Muslims, including Buddhists.
http://www.thedailystar.net/backpage/buddhist-leaders-meet-hefajat-ameer-1325326
--------
Shariatpur's Idris Ali given death penalty for 1971 war crimes
05 Dec 2016
Shariatpur's Idris Ali Sardar has been sentenced to death for atrocities he committed during the 1971 War of Independence.
The International Crimes Tribunal (ICT) announced the verdict on the fugitive on Monday, after all charges against him were proven.
Full report at:
http://www.thefinancialexpress-bd.com/2016/12/05/55338/War-criminal-Idris-gets-death
--------
US drone strike kill 2 ISIS militants in east of Afghanistan
Dec 04 2016
At least 2 loyalists of the Islamic State of Iraq and Syria (ISIS) terrorist group were killed in a US drone strike in eastern Nangarhar province of Afghanistan.
The provincial police commandment in a statement said the two militants were killed in the restive Achin district.
The local officials further added that the ordinary civilians did not suffer any casualties in the raid.
The loyalists of the Islamic State of Iraq and Syria (ISIS) terrorist group have not commented regarding the report so far.
Both the Afghan and US forces conducted regular strikes against the loyalists of the terror group in this province.
The increased raids, usually involving drone strikes, by the US forces followed a broader role granted by the Obama administration earlier this year.
The broader role was granted amid concerns that the loyalists of the terror group are attempting to expand foothold in the country and turn the eastern Nangarhar province into a regional operational hub for its fighters.
Full report at:
https://www.khaama.com/us-drone-strike-kill-2-isis-militants-in-east-of-afghanistan-02422
--------
Prominent ISIS leader killed in North of Afghanistan
Dec 04 2016
A prominent leader of the loyalists of Islamic State of Iraq and Syria (ISIS) terrorist group was killed during a clash with the security forces in northern Jawzjan province of Afghanistan.
According to the local officials, the senior ISIS leader, identified as Mohammad Nasir, was killed after launching an attack on the security forces check posts in Darzab district.
District administrative chief Rahmatullah Hashar confirmed the report and said at least two members of the terror group were also wounded during the clashes.
He said additional forces have also been sent to the area to repulse the attack by ISIS loyalists.
Full report at:
https://www.khaama.com/prominent-isis-leader-killed-in-north-of-afghanistan-02421
--------
Hasina apprises Hamid of Hungary, Morocco trips outcome
04 Dec 2016
Prime Minister Sheikh Hasina on Sunday paid a courtesy call on President Abdul Hamid at Bangabhaban in Dhaka.
During the meeting, Sheikh Hasina apprised President Abdul Hamid of the outcome of her recent visits to Hungary and Morocco.
The President's press secretary Joynal Abedin briefed reporters after the meeting.
Sheikh Hasina went to Hungary on November 28 on a four-day visit at the invitation of Hungarian President Dr Janos Ader where she attended the Budapest Water Summit 2016.
Full report at:
http://www.thefinancialexpress-bd.com/2016/12/04/55297/Hasina-apprises-Hamid-of-Hungary,-Morocco-trips-outcome
--------
Zabul governor and mayor escape gunmen attack in south of Afghanistan
Dec 05 2016
The provincial governor and mayor of southern Zabul province escaped an ambush by unknown gunmen earlier today.
According to the local government officials, the incident took place on Zabul-Kandahar highway as the two top officials were on their way to Safa district.
Provincial governor's spokesman Gul Islam Siyal confirmed the incident and said governor Bismillah Afghanmal and mayor Karimullah Hakimi escaped the attack unhurt.
No group including the Taliban insurgents has so far claimed responsibility behind the incident.
Full report at:
https://www.khaama.com/zabul-governor-and-mayor-escape-gunmen-attack-in-south-of-afghanistan-02424
--------
Russia reacts on US plans to purchase Blackhawks for Afghan Air Force
Dec 05 2016
The Russian SPECIAL envoy for Afghanistan Zamir Kabulov has the replacement of the Afghan Air Force inventory with the US-made Blackhawk helicopters will be hard and will require more time and investment.
Insisting that Moscow is doubtful regarding the plan, Kabullov said only the training of the pilots for Blackhawks will require at least 4 years.
"Can Afghanistan wait for four years. I think there is not enough time available," Kabulov was quoted as saying by the State-run news agency, Sputnik News.
This comes as the United States Department of Defense (DoD) has reportedly requested funding to refurbish and update at least 53 UH-60 Blackhawk helicopters for the Afghan National Defense and Security Forces (ANDSF).
A spokesman for DoD, Adam Stump, told Reuters "The Department of Defence has determined that procuring U.S.-made helicopters is a more sustainable long-term solution to meet the requirements."
Full report at:
https://www.khaama.com/russia-reacts-on-us-plans-to-purchase-blackhawks-for-afghan-air-force-02423
--------
Africa
Iraq and Syria have 'direct bearing' on the growth of Boko Haram
5 DECEMBER 2016
A civil society organisation, Stand Up Nigeria (SUN), has alleged that the insecurity in Iraq and Syria have a direct bearing on the growth of the Boko Haram sect.
Christie Amor, SUN's director of public affairs, said this at a press conference in Abuja.
She said Amnesty International allegedly played "damaging roles" in both countries, and is now targeting Nigeria.
"In early 2011, Amnesty International gave the world a bogus report on whose strength a no-fly zone was imposed on Libya. The sequence of event after this led to the ouster and eventual murder of Muammar Qaddafi," she said.
"By June of the same year the same Amnesty International's investigation admitted that the international NGO cannot prove that Qaddaffi's troops committed the rights violations as it previously claimed.
"Instead, AI found that the so called rebels made false claims and manufactured evidence. In 1990, Amnesty International was pivotal to the decision by members of a western coalition to invade Iraq and consequently spark off the CHAIN of events that produced today's basket case called Iraq.
"The foreign interventions provoked on the strength of its fantasy reports has eroded the ability of the Syrian military forces to decisively clear out the foreign terrorists that overran their country since attacks on ISIS are inevitably researched as massacre of civilians.
"If we look closely, the three countries – Iraq, Syria and Libya – have direct bearing on the growth of Boko Haram in Nigeria.
"The growth of ISIS in Iraq and Syria was a morale booster for insurgents in Nigeria while the arms supplied to moderate rebels in those places found their way across the Mediterranean to African shores from where a now porous and borderless Libya ensure those advanced weapons end up with Boko Haram."
Amor said the group's report that military personnel killed 150 members of the Indegenous People of Biafra (IPOB) is not true.
She wondered why the group did not make any public statement on the extra judicial killings in the US
"It is suspicious that in the United States where police departments were reported to have extra judicially executed 997 people between 2015 and now, Amnesty International has not made any public report in the tragic systematic execution of ethnic minorities," she said.
"If Amnesty International has been able to issue any report about this tragic systematic execution of ethnic minorities then the report must have been specifically kept secret.
"It is crystal clear that Amnesty International has concluded and is resolute on giving Nigeria the Libya treatment whereby this country would not be able to defend itself against the so called "unarmed activists" who we know as Biafra separatists.
"This is why it issued its recent report that lied about 150 Biafran separatist terrorists being killed by the army. Amnesty International's research methodology and even the wording in this case is frighteningly similar to the one it issued in Libya and Iraq before then, with heavy reliance on the testimonies of the activists.
"We therefore ask pertinent questions as citizens: Who protects the common masses should the military decide to go to bed?
"In whose interest would it be for our army to become incapacitated as being pursued by Amnesty International: the masses or the terrorists and hoodlums who carry out these criminal infractions? What is our government waiting for before expelling Amnesty International or taking other decisive steps?"
https://www.thecable.ng/iraq-syria-direct-bearing-growth-boko-haram
--------
Somalia: Seven Militants Killed in Qandala Battle
4 DECEMBER 2016
A military official says Somalia's semi-autonomous northern Puntland regional forces have killed at least seven ISIL fighters on Saturday following a battle at Bashashin area near the coastal city of Qandala in Bari region.
Speaking to Radio Shabelle, Ahmed Muse Nur, a senior military commander said Puntland troops began an offensive towards Qandala on Saturday to drive pro-Islamic state militants out of the town.
Full report at:
http://allafrica.com/stories/201612050204.html
--------
Clashes between rival militias renew in Libya's Tripoli
4 December 2016
Violent clashes have renewed in the Libyan capital of Tripoli between rival militias as they aim to control more areas.
These clashes are viewed as a setback to Libya's UN-backed government of national accord which arrived in March to the capital upon the approval of some of the strongest armed factions.
The scene of burnt cars, explosives and destroyed buildings has become common in Tripoli as clashes have intensified between armed factions for more than two weeks now.
These street battles using heavy weapons worry Tripoli's residents. Meanwhile, cement and sand barriers across the city's neighborhoods hint the battles will prolong.
Clashes renewed due to disputes on controlling territories between militias from Tripoli and other extremist militias that are originally from Misrata.
Civilians and fighters have been killed as a result. According to medics, it's been difficult to transfer them to hospitals due to the heavy gunfire.
Full report at:
https://english.alarabiya.net/en/News/middle-east/2016/12/04/Violent-clashes-between-rival-militias-renew-in-Libya-s-Tripoli.html
--------
Central African Republic: Civilians Killed During Clashes
5 DECEMBER 2016
Nairobi — Serious fighting in the Central African Republic in late November 2016 between two Seleka groups left at least 14 civilians dead and 76 wounded, Human Rights WATCH said today. Armed groups appear to have deliberately targeted five of the civilians killed during the main clashes in the central town of Bria between November 21 and 23, and nine others in the ensuing days. Three other civilians are missing and presumed dead.
The civilian deaths, which occurred during the most serious violence between Seleka groups since the Seleka fractured in 2014, highlight the need for United Nations peacekeepers deployed in the Central African Republic to exercise their mandate and use force to protect civilians.
"The rising violence in the central regions between Seleka factions is having a predictably grave impact on civilians," said Lewis Mudge, Africa researcher at Human Rights Watch. "UN peacekeepers should anticipate these incidents and use force to protect these vulnerable people, as their mandate allows."
About 485 Peuhl civilians taking shelter in three residential compounds in Bria, many of them WOMEN and children, are terrified of revenge attacks because Peuhl comprise the majority of one of the fighting factions. These civilians need the immediate protection of the nearly 250 peacekeepers already in town, Human Rights Watch said.
Between November 28 and 30, Human Rights WATCH interviewed 10 civilian victims of the violence, 5 witnesses, 10 local authorities and leaders of the Seleka factions that fought - the Popular Front for the Renassaince in the Central African Republic (Front Populaire pour la Renassaince de la Centrafrique, FPRC), and the Union for Peace in the Central African Republic (l'Union pour la Paix en Centrafrique, UPC). The fighting left at least 115 combatants on both sides dead.
Tension between the two factions around Bria had been high before the latest violence. In early November, skirmishes erupted between the two groups over control of roads leading to diamond mines around Kalaga, a town 45 kilometers from Bria. Both factions collect "road taxes," especially in mining areas and on migration routes for Peuhl herders. The FPRC attacked the UPC in Gobolo on November 21, sparking major hostilities.
The UN has 12,870 peacekeepers deployed across the country, including 246 armed forces who were in Bria at the time of the fighting, but they were unable to protect civilians in the heavy fighting. The UN sent additional peacekeepers to the town after the clashes. National security forces, such as police and gendarmes, were not capable of stopping the fighting and sought protection from the UN.
The UPC largely consists of ethnic Peuhl, and the fighting led to violence against Peuhl civilians by both FPRC fighters and men in civilian CLOTHES. On November 21, two FPRC fighters killed a local businessman, Nouhou Badem, at his home in Mandé II neighborhood, where hundreds of Peuhl were seeking refuge.
Fighting flared around the town's hospital. By 8 a.m. on November 21, FPRC fighters who had brought injured fighters to the hospital had based themselves within the compound, firing on UPC fighters who had assumed positions outside the hospital. Around this time, FPRC fighters and men in civilian clothes pulled two injured Peuhl out of the hospital, one of them perhaps a fighter, and killed them outside the main entrance.
The fighting displaced up to 10,000 people from Bria, a town of approximately 43,000. At least 7,000 are in a makeshift camp around the UN peacekeeping base in town, with 2,000 to 3,000 others in homes and schools near the airstrip. At the makeshift camp, Human Rights Watch observed squalid conditions that require an urgent humanitarian response. The camp started to receive limited assistance on December 1.
The violence also spread to Bria's periphery. Peuhl fighters aligned with the UPC have targeted non-Peuhl civilians and, in revenge, armed non-Peuhl have attacked Peuhl civilians. On November 26, men with guns, machetes and knives attacked nine Peuhl, including three WOMEN and four children, outside of Golaga, 10 kilometers outside of Bria, killing five of them. Three of the others are missing and presumed dead.
Full report at:
http://allafrica.com/stories/201612050442.html
--------
Nigeria: Cleric Urges Religious Leaders to Inculcate Moral Values in Children
4 DECEMBER 2016
A cleric, Alhaji Abdulganiyu Abdulraheem, has urged religious leaders to inculcate moral values in children to curb terrorism and other social vices in the country.
Abdlraheem, the Amiru and Leader of Abuja Chapter of Dairat Jafariyat Fitorikat Tijaniyat Islamic Organisation of Nigeria, gave the advice on Sunday at the Monthly Quran Prayer/Lecture in Abuja.
According to him, it is a known fact that education is the bedrock of a nation's development process and Islam attaches great IMPORTANCE to knowledge and education.
"One of the purposes of acquiring knowledge is to gain the good of this world, not to destroy it through wastage, arrogance and in the reckless pursuit of higher standards of material comfort.
"Broad steps should be taken by our religious leaders to inculcate moral values in our children in the early childhood since their hearts will be pure at that tender age.
"Once we have that assistance in guidance, there will be no more violence or terrorism," Abdulraheem said.
He said acquisition of Islamic knowledge was connected with ethics and morality which PROMOTED virtue.
Full report at:
http://allafrica.com/stories/201612040258.html
--------
Pakistan, Russia fighter jets set to join Boko Haram war
5 DECEMBER 2016
The Nigerian Air Force (NAF) will take delivery of war -planes and helicopters from Pakistan and Russia to boost its fleet ahead of the final push against Boko Haram insurgents, it was learnt yesterday.
Nigeria has failed to procure fighter jets from the United States and Brazil.
Chief of Air Staff (CAS) Air Marshal Sadique Abubakar, who broke the news in Abuja, said Air Force personnel were undergoing training in many countries, including the United States, United Kingdom, Pakistan, Egypt and China.
The news came as Chief of Army Staff Lt.-Gen. Tukur Buratai ORDERED his men to end the insurgency this month.
Air Marshal Abubakar said: "We have been enjoying support from other countries. Sometimes arms procurement is shrouded in a lot of politics. Unfortunately, I'm not a politician, so I cannot say much on that. But what I can tell you is that right now we are expecting the Pakistani Chief of Air Staff in Nigeria soon. Pakistan has accepted to sell 10 trainer airplanes. And that is why the Pakistan Chief of Air Staff is coming for the induction ceremony in Kaduna."
The Chief of Air Staff said the Air Force was assisting the Army and the Navy in the North and South fighting terrorism and militancy through operational strategy, air interdictions strategy and soft-core strategy.
He said the objective was to create an enabling environment for the ground and surface forces to operate with little or no hindrance.
He said the Service was carrying out massive reactivation of redundant aircraft and many of them are already involved in the fight against Boko Haram.
"Another sub -strategy is the reactivation of airplanes. We have embarked on the reactivation of airplanes and today we are on the 13th aircraft. What I mean by reactivation is that aircraft that were not involved in any fight before the coming of this Federal Government; they were parked before but are today part of the fight.
"The 13th aircraft as I speak to you is being worked upon in Yola and we are hoping that before the end of this month that airplane will be flying. When you train, you must reactivate the platform to be used in flying."
He praised the competence of NAF pilots, saying: "In the last 18 months, we have flown almost 3000 hours with no incident. The pilots are among the most competent. Because the training curriculum is very clear. And that is why now in the Air Force you look at the wings, pilots wear wings. We have categorised the wings according to their skill levels.
"We also organise simulation training for our pilots, we organise evaluation visits where pilots are evaluated without any notice. We have also sent over 700 personnel of the NAF to different parts of the world to train and acquire the skills required for them to be effective.
On the incident involving an Augusta AW101 helicopter which was handed over to the NAF from the Presidential Air Fleet (PAF).
Full report at:
http://thenationonlineng.net/pakistan-russia-fighter-jets-set-join-boko-haram-war/
--------
Somalia: Drone Crashes in Somalia, Al-Shabaab Take Wreckage
4 DECEMBER 2016
By Hassan Istiila
A surveillance drone thought to belong to US intelligence agencies, has crashed in Bariire town in lower shabelle region of Somalia. Al Shabaab militants who still control parts of the region took the wreckage of the aircraft, residents who spoke on condition of anonymity told Radio Dalsan.
The United States uses unmanned aircraft in its campaign against al-Shabaab and over the past years several senior officials of the group were killed in airstrikes. In 2013 a suspected US surveillance drone crashed near the town of Bulo Mareer in the Lower Shabelle region of the country. The group released photos purported to be of the surveillance drone.
Full report at:
http://allafrica.com/stories/201612050295.html
--------
Pakistan
12 Lashkar-e-Islam terrorists killed in Khyber Agency air strikes
December 05, 2016
PESHAWAR: At least 12 militants affiliated to a banned outfit were reportedly killed in air strikes in the Rajgal valley area of Khyber Agency on Sunday.
According to security sources, Pakistan Air Force jets precisely targeted militant hideouts in Rajgal valley in which 12 militants were killed and several hideouts were destroyed.
Security sources said the militants killed in the air strikes were affiliated to Lashka-Islam.
Khyber Agency and North Waziristan are among Pakistan's seven semi autonomous tribal districts near the Afghan border.
https://www.thenews.com.pk/latest/169755-12-Lashkar-e-Islam-terrorists-killed-in-Khyber-Agency-air-strikes
--------
Muhammad Bin Qasim 'also' part of Sindh's history: Bilawal
December 05, 2016
Karachi - Sindh Culture Day was celebrated with traditional zeal in the metropolis with different social and political organisations arranging cultural programmes in order to promote the centuries-old culture of the province, especially its traditional dresses, Ajrak and Topi.
Addressing a ceremony held in connection with day at MQM-Pakistan's temporary headquarters in PIB Colony, Farooq Sattar said that people who believe in the teachings of Shah Latif will foil the conspiracy to divide people of the province. "We know that landlords of the province will not want it to happen, but we will get rid of this system of injustices in 2018," he vowed.
"Pir Elahi Bux, who gave away his land for the settlement of Mohajir community in Karachi, after the partition, said, "We will also play our role in eliminating injustices against the people of Sindh."
A ceremony was also arranged in front of the Karachi Press Club (KPC), where Sindhi Caps and Ajraks were presented to journalists.
Different organisations celebrated the occasion by setting up stalls of Ajrak and Sindhi Caps near the KPC.
Full report at:
http://nation.com.pk/karachi/05-Dec-2016/muhammad-bin-qasim-also-part-of-sindh-s-history-bilawal
--------
Aziz says it's simplistic to blame one country for violence
Dec 5, 2016
NEW DELHI: The Heart of Asia conference concluded in Amritsar on Sunday on an unhappy note for Pakistan, which was criticised roundly as a base for militant groups whom the conference statement described as a big threat to peace and security in the region.
The statement named Lashkar-e-Taiba, Jaish-e-Mohammed and the Haqqani group as posing threats to region together with other groups fomenting terrorism in the neighbourhood and beyond.
Foreign Affairs Adviser Sartaj Aziz countered the claim, calling the criticism 'simplistic'.
However, there was relief for Pakistan as the banned Tehreek-i-Taliban Pakistan too came up for criticism together with Jundullah.
Pakistan was also applauded for hosting Afghan refugees for three decades. Mr Aziz also found occasion to briefly exchange pleasantries with Prime Minister Narendra Modi in a meeting with a clutch of other foreign ministers.
"We remain concerned by the gravity of the security situation in Afghanistan in particular and the region and the high level of violence caused by the Taliban, terrorist groups, including ISIL/DAISH and its affiliates, the Haqqani network, Al Qaeda, Islamic Movement of Uzbekistan, East Turkistan Islamic Movement, Lashkar-e-Taiba, Jaish-e-Mohammad, TTP, Jamaatul Ahrar, Jundullah and other foreign terrorist fighters," the statement said.
Acknowledging the support that terrorism derives in the region, the statement demanded an immediate end to all forms of terrorism, as well as all support to it, including financing of terrorism.
"We recognise that terrorism is the biggest threat to peace, stability and cooperation in our region. We encourage the international community to continue to assist the government of Afghanistan."
Mr Aziz said his attending the Amritsar meet despite 'escalation' along the Line of Control was testimony to Pakistan's 'unflinching' commitment for lasting peace in Afghanistan.
He expressed unhappiness over cancellation of Saarc Summit in Islamabad in November, terming it a setback to regional cooperation.
Indian reports noted he did not mention the issue of Jammu and Kashmir but a closer read of Mr Aziz's comments reveals a nuanced mention of the dispute as disrupting peace. He also finessed the recent Afghan talks with the Hizb-i-Islami group of Gulbuddin Hekmatyar as a good beginning for widening the outreach to other groups.
Noting that Pakistan was aware of the serious challenges Afghanistan was facing, Mr Aziz said: "The first and foremost in our view is continuing violence and acts of terrorism claiming scores of human lives. This needs to be addressed urgently and effectively through collective efforts. The security situation in Afghanistan is very complex.
"It is simplistic to blame only one country for the recent upsurge in violence. We need to have an objective and holistic view."
Lauding the leadership of President Ashraf Ghani and Chief Executive Abdullah Abdullah, Mr Aziz said Afghan security forces had firmly and bravely stood their ground in repulsing militant and terrorist attacks. "We would do whatever we can to help achieve this objective."
The Afghan government, Mr Aziz said, "has also signed peace agreement with Hizb-i-Islami Afghanistan. The implementation of this peace deal can serve as a model for talks with other insurgent groups in future."
Full report at:
http://www.dawn.com/news/1300553/aziz-says-its-simplistic-to-blame-one-country-for-violence
--------
PAT chief says operation in Punjab vital for peaceful Pakistan
05-Dec-16
KARACHI: Karachi operation will only be successful if a similar action would be conducted in Punjab because Pakistan is going through its most crucial time, Pakistan Awami Tehreek (PAT) chief Tahirul Qadri said on Sunday.
He was talking to reporters at Khawaja House after arriving from Canada.
"I cannot understand the objectives of Karachi operation," he said and warned against harmony between politics and terrorism.
"This collusion would encourage terrorism that may spill over from Punjab to entire country," he opined.
There are terrorist havens in Punjab, but no crackdown has been taken in the province, he said. He said elimination of terrorists from Punjab was need of the hour.
"Operations took place in Karachi, Waziristan, Quetta and other parts of the country, but I think success will only be achieved, if terrorism would be eliminated from Punjab," he said.
"Rulers are trying to pave the way for 'monarchy' in the country and letter of Qatari prince has proved their corruption," he pointed out.
"Their corruption has been exposed. Now it is test of the institutions," he said, adding that the nation must wake up for resolution of issues.
The PAT chief said he loved Sindh and felicitated the people of the province on Sindh Cultural Day.
He said the corruption to the tune of billions is being committed whereas 'Arabs' are coming to save the Sharifs.
He said that whatever happened in Afghanistan, Yemen, Egypt, Libya, Iraq and Syria, he has an apprehension that the same can happen here as well because one family and their corruption has become stronger than the whole system.
Full report at:
http://dailytimes.com.pk/sindh/05-Dec-16/pat-chief-says-operation-in-punjab-vital-for-peaceful-pakistan
--------
Army chief, PM Nawaz discuss national security issues
December 5, 2016
ISLAMABAD: Army chief General Qamar Javed Bajwa called on Prime Minister Nawaz Sharif on Monday and discussed issues pertaining to national security, a statement from the PM House said.
Separately, General Bajwa met President Mamnoon Hussain who felicitated the former on assuming the command of Pakistan Army.
Respond to any aggression with full force, Gen Bajwa says
On Friday, Army chief said that every ceasefire violation along the Line of Control will be responded to with full force and in an effective manner.
"Each violation of any kind must be responded to with full force in the most effective manner," he said during a day-long visit to the 10 Corps Headquarters, Rawalpindi.
Full report at:
Lt Gen Bajwa was appointed as the 16th army chief of Pakistan Army on November 26.
http://tribune.com.pk/story/1253871/army-chief-pm-nawaz-discuss-national-security-issues/
--------
Pakistan making sincere efforts to eradicate terrorism: Basit
December 04, 2016
NEW DELHI: Pakistan High Commissioner to India, Abdul Basit, on Sunday said that, "Pakistan has been making sincere efforts to eradicate the menace of terrorism.
Talking to media in New Delhi, he said, "Terrorism is a common enemy and we should find comprehensive and strong approaches to deal with this challenge, rather than pointing fingers towards each other."
The High Commissioner said, "Pakistan has always talked of negotiations to settle all outstanding issues with India."
He said, "Dialogue is our strength as we are talking about genuine issues that are unresolved."
"However, the offer of talk should not be construed as our weakness as we want them on equal and dignified basis," he said.
He said, "Kashmir is the main hurdle in normalization of relations between Pakistan and India."
Full report at:
http://nation.com.pk/national/04-Dec-2016/pakistan-making-sincere-efforts-to-eradicate-terrorism-basit
--------
Raheel Sharif may command international Islamic anti-terror force: Pakistan media
Dec 4, 2016
Islamabad: Pakistan's former army chief, General Raheel Sharif (retd.) has agreed to command a multinational Islamic anti-terror force, on certain terms and conditions, including being allowed to arbitrate between belligerents, a media report said.
Daily Pakistan, citing sources, reported that Sharif, who relinquished office of the army chief command last week, was willing to command the 39-nation Islamic Military Alliance to Fight Terrorism (IMAFT) set up under Saudi Arabia's auspices in December last year.
The report said that Iran has also assured to accept Pakistan's role in mediating Yemen crisis if Sharif becomes IMAFT chief with an authority of arbitrator, and would use its influence on the Houthi rebels to bring them to the negotiating table.
It quoted the sources as saying that Sharif had expressed his willingness for the arbitration during his meeting with Saudi King Salman bin Abdul Aziz.
Full report at:
http://www.firstpost.com/india/raheel-sharif-may-command-international-islamic-anti-terror-force-pakistan-media-3139638.html
--------
11 killed in fire at Karachi's Regent Plaza hotel
ABDUL GHAFFAR | JUNAID FEROZE
Dec 5, 2016
At least 11 people were killed and 75 others injured when a huge fire erupted at Karachi's Regent PLAZA HOTEL early Monday, police and a doctor said.
The blaze broke out in the kitchen located at the ground floor of the four-star hotel located on the city's Shahrah-i-Faisal, and swept through the building, trapping scores of hotel guests in their rooms.
Three trucks from the fire brigade reached the site and started an operation to rescue the guests.
The firefighters were able to contain the blaze after three hours, with 11 people having been killed, said a press release issued by the Saddar Police Station.
No fire exits?
Karachi mayor Waseem Akhtar speaking to reporters said the cause of the fire could not be immediately ascertained.
He said the HOTEL had "no fire exits or fire alarms".
Karachi mayor talks to reporters.
"We have received 11 dead bodies and 75 injured," Dr Seemin Jamali, head of the emergency services at the Jinnah Postgraduate Medical Centre, told AFP.
Amongst the injured were people who had fractured bones after jumping from HOTEL windows to escape, others had been hurt by shattered glass and many were treated for smoke inhalation, she said.
She said six men, including three doctors and the HOTEL'S front desk manager, and five women were among the dead. Three foreigners affected by the fire are in a stable condition, said Jamali.
Most of the country's buildings don't meet safety standards to avoid such mishaps.
TV footage of the incident showed guests at the HOTEL using bedsheets to climb down from windows.
A man standing at a balcony kept waving for help but the hotel didn't have any means to reach him, a survivor, Hamid Ali, told a local television channel. He said the guests were sleeping when the fire broke out.
'Most people died due to suffocation'
Chief Fire Office Tehseen Siddiqui told DawnNews that although the blaze was not very intense and was contained "quite early", the smoke kept circulating inside because the air conditioning system stayed on.
Full report at:
http://www.dawn.com/news/1300614/11-killed-in-fire-at-karachis-regent-plaza-hotel
--------
Europe
Russian security service says killed North Caucasus Islamic State 'emir'
December 04, 2016
Russia's FSB security service said Sunday it had killed an "emir" of the Islamic State group in a raid in the volatile North Caucasus.
The FSB said in a statement that "among the neutralised bandits was the head of the Caucasus region's branch of the Islamic State Rustam Aselderov, and four of his close associates."
The FSB said that 35-year-old Aselderov was involved in blasts in the southern Russian city of Volgograd which killed 34 in 2013. He was fighting for another Caucasus insurgent group at the time. It also linked him to twin car blasts in Dagestan in 2012 that killed 14 and injured at least 120.
The FSB said he also organised a foiled attack that was to take place on Moscow's Red Square on New Year's Eve 2010 involving two female suicide bombers.
The warlord pledged allegiance to IS leader Abu Bakr al-Baghdadi in December 2014, the first major militant to do so in the Caucasus.
IS named Aselderov, also known as Sheikh Abu Mohammad al-Qadari, the governor of a new Caucasus province.
IS has since claimed responsibility for a number of attacks on police in Dagestan.
Aselderov previously fought with the local Caucasus Emirate insurgent group, taking over as leader of its Dagestan branch in 2012, the FSB said.
In 2015 the US Department of State imposed sanctions on Aselderov as a "foreign terrorist fighter" after the jihadist group appointed him leader of its North Caucasus franchise.
ussia in October offered a 5 million ruble ($78,000) reward for information on Aselderov's whereabouts.
The FSB said a joint operation with the interior ministry had cornered Aselderov and his fighters in a private house in the city of Makhachkala, where they found "automatic weapons and a large amount of ammunition and explosives."
The Russian North Caucasus is one of the major sources of foreign jihadists fighting in Syria and Iraq.
http://nation.com.pk/international/04-Dec-2016/russian-security-service-says-killed-north-caucasus-islamic-state-emir
--------
French Salafist mosque to dispute its closure in Council of State
5 Dec, 2016
A Salafist mosque in France which was shut down over PROMOTING violence is to contest the authorities' decision in the Council of State, a governmental body that acts as an administrative court. The mosque claims the Salafism it preaches is "peaceful."
The controversial mosque is located in the Ecquevilly commune of Yvelines department, some 30km from Paris. It was closed along with three more mosques in November by a decree issued by Yvelines Prefect Serge Morvan. The decree said that the mosque had links "to an influential Salafist movement that advocated rigorous Islam and called for discrimination, hatred and violence."
However, the lawyer for the mosque, Vincent Brengarth, believes that there is "no evidence to support these accusations" and the act was merely a "rupture of equality."
According to Brengarth, France's fight against terrorism" is banishing "all forms of Islam in France simply because they do not meet all the canons of Republican Islam."
The head of the Ecquevilly mosque and a member of a local Islamic Association Malik ibn Anas is planning on Monday to question the closure of the mosque in front of the Council of State, a body in the French national government that functions as legal adviser and as the Supreme Court for Administrative Justice, reported Le Figaro newspaper.
In its statement, the association says that the mosque preaches "Salafism of quietism (ordinary Salafism)," which differs from "revolutionary Salafism" and is against jihadism. The Salafism PROMOTED in the mosque is "apolitical and peaceful," the statement adds as cited by Le Parisien.
In August, French Interior Minister Bernard Cazeneuve said that French authorities had closed about 20 mosques and prayer halls considered to be preaching radical Islam since December 2015.
Full report at:
https://www.rt.com/news/369198-france-salafist-mosque-authorities/
--------
Iran, Russia reaffirm Middle Eastern axis
December 4, 2016
The big story out of the Middle East in 2016 is not necessarily the Syrian Civil War, but the emerging axis of Russia and Shia Islam, which includes Iran, Syria, Hezbollah, and other militias backed by Iran.
On Saturday, the Iranian News Service reported that Russia and Iran will continue their military alliance until the 'terrorists' are defeated. Of course terrorism is in the eye of the beholder, and in this case, Tehran means anyone that opposes the brutal dictatorship of Syrian President Assad.
Iranian president Hassan Rouhani says Tehran and Moscow will continue to cooperate in the Syrian war "until the ultimate goal of eradicating terrorism and restoring peace and full security to the region is achieved," reported ABC News.
Full report at:
http://www.washingtontimes.com/news/2016/dec/4/iran-russia-reaffirm-middle-eastern-axis/
--------
Arab World
Islamic State strikes back to slow Iraqi forces in Mosul
December 05, 2016
Islamic State fighters retreating in the face of a seven-week Iraqi military assault on their Mosul stronghold have hit back in the last two days, exploiting cloudy skies which hampered U.S.-led air support and highlighting the fragile army gains.
In a series of counter-attacks since Friday night, the jihadist fighters struck elite Iraqi troops spearheading the offensive in eastern Mosul, and attacked security forces to the south and west of the city.
On Sunday two militants tried to attack army barracks in the western province of Anbar. Police and army sources said the attackers were killed before they reached the base.
Iraqi officials say they continue to gain ground against the militants who still hold about three-quarters of the country's largest northern city.
One military source said the militants had taken back some ground, but predicted their gains would be short-lived. "We withdraw to avoid civilian losses and then regain control. They can't hold territory for long," the source said.
But the fierce resistance means the military's campaign is likely to stretch well into next year as it seeks to recapture a city where the jihadists are dug in among civilians and using a network of tunnels to launch waves of attacks.
This has prompted fears among residents and aid groups of a winter food, water and fuel supply crisis for the million residents still in Islamic State-held areas of the city, and calls to speed up operations.
"Daesh (Islamic State) still controls our neighbourhood, and the Iraqi forces have not taken a single step forward in three weeks. We're in despair," said a resident in the southeastern district of Intisar, where the army's Ninth Armored Division has struggled to make gains.
"My family and I have been sleeping under the concrete stairs in our house for a month now, afraid of the random bombardment between the Iraqi forces and the Daesh elements," he told Reuters by telephone.
"PEOPLE TRAPPED"
The capture of Mosul, the largest city under control of Islamic State in Iraq and Syria, is seen as crucial towards dismantling the caliphate the militants declared over parts of the two countries in 2014.
Some 100,000 Iraqi soldiers, Kurdish security forces and mainly Shi'ite paramilitary forces are participating in the assault that began on Oct. 17, with air and ground support from a U.S.-led international military coalition.
A senior officer in the Counter Terrorism Services (CTS) said its troops battled on Sunday to clear Islamic State fighters from one eastern Mosul district, using heavy machine guns and rockets.
"Since early morning our troops have been clearing out around 40 Islamic State militants," said Lt. Gen Abdul Wahhab al-Saidi, as heavy gunfire rattled behind him. "It's an ongoing operation and we have killed most of the militants."
"People are trapped in the neighborhood and some have been killed," said one resident fleeing into an area controlled by Iraqi forces. "They threatened us to try to force us to leave with them, but we refused," he said referring to militants.
Hundreds of residents in another neighborhood retaken from Islamic State queued for cooking gas canisters, some squabbling among themselves for a place in the line, others carting away their cylinders on their backs or in wheelbarrows and carts.
Iraqi commanders say they have killed at least 1,000 Islamic State fighters. A government adviser estimated the jihadist group now had about 4,000 fighters in Mosul.
The military has not given figures for its own casualties. The United Nations said last week nearly 2,000 members of the Iraqi security forces were killed across Iraq in November - a figure which Baghdad says was based on unverified reports.
The elite CTS units and the armored division have captured around half of the eastern side of Mosul, which is split down the center by the Tigris river.
A U.S.-led coalition has bombed four of the five bridges across the river, aiming to stem a flow of suicide car bombers coming from the west of the city to target the army in the east.
TANKS STRUGGLE
Officers say Islamic State has deployed more than 650 car bombs, but that the pace of attacks has fallen off.
In the Intisar district, the tanks of the armored division have struggled to adapt to close-quarter urban warfare, and commanders have summoned infantry reinforcement, an officer said.
Commanders also hope to stretch Islamic State defenses more thinly, by opening new fronts inside the city.
The head of the police rapid response forces, stationed a few miles south of Mosul on the west bank of the Tigris, told Iraqi television his units were awaiting orders to advance north towards the city.
First they must take control of the Islamic State-held village of Albu Saif, the last obstacle before reaching Mosul airport on the southern edge of the city.
A military statement said the army had captured on Sunday three villages near the town of Shirqat, further south from Mosul and close to the sites of two attacks on Friday night by Islamic State fighters which killed 12 people.
http://nation.com.pk/international/05-Dec-2016/islamic-state-strikes-back-to-slow-iraqi-forces-in-mosul
--------
Over 50 Terrorists Killed in Syrian Airstrikes in Hama, Idlib
Dec 05, 2016
Syrian warplanes launched heavy airstrikes on the concentration centers and movements of the terrorists of Jeish al-Fatah in the towns of al-Latamina and Kafr Zita in Northern Hama and in Kafr Nabl and Kafr Sanjeh in Southern Idlib, leaving at least 50 terrorists dead and many more wounded.
The fighter jets also targeted terrorists' bases in the towns of Taftnaz, Banish and Ta'aoum in Northern Idlib, inflicting major damage and casualties on the terrorists.
The Syrian army and air force destroyed terrorists' military positions in Hama and Idlib provinces also on Thursday, killing and injuring scores of the militants.
The army units hit hard the terrorists' gathering centers in Kafr Zira, al-Latamina, Wadi al-Ees and al-Sayyad regions in the Northern part of Hama province, destroying four military VEHICLES, artillery units and several of their military positions.
Several terrorists, including Tarek Khattab who was in charge of the artillery unit of Jeish al-Izzah terrorist group, were killed in the army offensive in Northern Hama.
Meantime, the terrorists' gathering centers and fortification came under heavy offensive by the Syrian army in the regions of Morek, Atshan, Skeik, North of Ma'an and Taybat al-Imam as well as the farms located between al-Zakat and Kafr Zita.
A large number of terrorists were killed in the operations and a number of their military VEHICLES were also destroyed.
Full report at:
http://en.farsnews.com/newstext.aspx?nn=13950915000303
--------
Airstrikes kill 21, including 3 children, in Syria's Idlib
4 December 2016
Airstrikes on a village in the Syrian province of Idlib killed at least 21 civilians on Sunday, among them three children, a monitor said.
The Britain-based Syrian Observatory for Human Rights, which earlier reported an initial toll of 14, said dozens more had been injured in the strikes on the village of Kafr Nabal.
It said the strikes appeared to have been carried out by a Russian warplane.
The Observatory says it determines whose planes carried out raids according to their type, location, flight patterns and the munitions involved.
Hossam Hosber, who witnessed the attack, told AFP "six strikes hit houses and a crowded local market."
Russia began a military intervention in support of President Bashar Assad in September 2015, saying it was carrying out strikes against "terrorists."
It denies that its strikes have caused civilians casualties.
Earlier on Sunday, the UN envoy to Syria, Staffan de Mistura, has said that Eastern Aleppo may fall into the hands of Syrian government forces by the end of the year, while expressing his wish to avoid "a terrible battle" during a conference in Rome.
In November, Defense Minister Sergei Shoigu said Russian forces had begun a "major operation" targeting Idlib and Homs provinces.
Full report at:
https://english.alarabiya.net/en/News/middle-east/2016/12/04/Airstrikes-kill-21-including-3-children-in-Syria-s-Idlib.html
--------
Rifts Widening among Terrorist Groups Due to Syrian Army Advances in Eastern Aleppo
Dec 04, 2016
Terrorist-affiliated websites disclosed that Fatah al-Sham Front (previously known as the al-Nusra Front) and Abu Amarah battalion have stormed the bases of Faylaq al-Sham and Jeish al-Islam in the Eastern districts of Aleppo city.
Rebel groups accuse each other of committing treason and starting ceasefire talks with the Damascus government, reports said.
Terrorist groups are still preventing civilians from leaving militant-held districts of Aleppo despite their public claims to the opposite.
Several militants fled the Eastern neighborhoods of Aleppo city and surrendered to the Syrian army this morning. Two of the surrendered militants were transferred to the city hospitals to be treated there.
On Saturday, Abdullah Muhammad al-Muhaysini, the religious leader of the Jeish al-Fatah coalition of terrorist groups, acknowledged militants' defeats and expressed surprise at the rapid advances made by the Syrian government forces in the Eastern districts of Aleppo city.
Al-Muhaysini underlined the widening rifts among commanders of the militant groups, and added, "Commanders are just justifying the root cause of the existing rifts, while these rifts among the militants pushed the (militant groups') 'Great Epic Operation' in Aleppo into total failure and a major, crushing defeat."
The Saudi Mufti (religious leader) termed as fruitless the start of any fresh offensive by the militants given the absence of unity and widening gaps among the militants, and regretted that unity is no more of any use after the almost complete fall of Aleppo to the army and the recent evacuation of all militants from Damascus.
The Syrian army units started SPECIAL operations in Aleppo after several humanitarian pauses declared by Damascus and Moscow to give a chance to the civilian population as well as the militants to leave the Eastern parts of the city through 8 corridors.
District after district have fallen into the hands of the Syrian army soldiers and their allies in the city of Aleppo, as the pro-government troops have recaptured important blocks and districts in the Northern and Southern parts of Eastern Aleppo as well as Southern and Western parts of the war-ravaged city.
Also, tens of thousands of civilians, including hundreds of children and newborn babies, have also left the Eastern part of the besieged Syrian city of Aleppo in recent days, while hundreds of militants laid down their arms and left Eastern Aleppo through the special corridor.
Meanwhile, terrorist commanders stationed in the Eastern parts of Aleppo have threatened al-Muhaysini that they will be forced to give up fight and surrender the city to the army in the next two days if not rescued from outside as a number of terrorists have called for the Syrian government's green buses to take them to other regions.
The Syrian army's rapid advances in the Eastern districts of Aleppo has perplexed the terrorist groups and created chaos among them.
Full report at:
http://en.farsnews.com/newstext.aspx?nn=13950914001274
--------
Syrian army regains full control of city near Damascus
Dec 4, 2016
Syrian government forces have wrested full control of a city near the capital Damascus after foreign-sponsored Takfiri extremists agreed to withdraw from the area in exchange for safe passage to militant-held regions in the northwestern city of Idlib.
The Russian Defense Ministry announced in a statement on Sunday that over 500 Jabhat Fateh al-Sham, formerly known as al-Nusra Front, militants and 1,500 members of their families, have pulled out of al-Tall, located about 10 kilometers northeast of the capital.
The statement added that the militants used the opportunity OFFERED by the amnesty declared by President Bashar al-Assad last week, stopped fighting and agreed through negotiations to leave for Idlib, which lies roughly 300 kilometers (186 miles) north of Damascus, 44 onboard dozens of buses provided by the government.
Before their departure, the militants handed in their heavy military equipment plus more than 200 units of small arms and LIGHTweapons.
Syrian pro-government forces advance in Aleppo's eastern district of Maysar as part of an ongoing operation to recapture all of the battered city on December 4, 2016. (Photo by AFP)
The development came only two days after the Russian military's Center for Reconciliation in Syria said government troops had recaptured Khan al-Shih, located about 25 kilometers southwest of Damascus, after foreign-backed gunmen departed the area and moved to Idlib.
Khan al-Shih had been under the control of foreign-backed militants since 2012.
Syrian army, allies win back three districts in eastern Aleppo
Meanwhile, Syrian government soldiers, supported by fighters from allied popular defense groups, have recaptured three more neighborhoods in the eastern quarter of the strategic northwestern city of Aleppo, located some 355 kilometers north of the capital, following fierce skirmishes with foreign-backed Takfiri militants.
Full report at:
http://www.presstv.ir/Detail/2016/12/04/496434/Syrian-forces-regain-alTall-Damascus-Takfiri-militamnts
--------
Syrian Army Captures Several More Districts in Eastern Aleppo
Dec 05, 2016
The army soldiers and the Lebanese Hezbollah fighters took control over the districts of Karam al-Qaterje, Karam al-Tahan, Juzeh Awad, Zahrat Awad and Aleppo government hospital Southeast of the city and on the Western side of the Aleppo International Airport.
The army men had earlier captured the Youth Housing Complex, Karam al-Tarab, Karam al-Jazmati, al-Halwaniyeh, Tariq al-Bab, Karam al-Maysar and two key squares of al-Jazmati and al-Halwaniyeh.
According to reports, the next target of the army soldiers is the key district of al-Sha'ar that is now under government forces' siege from three flanks.
An informed source told al-Mayadeen that the terrorists are now only faced with the two options of either retreating from the entire Eastern districts of Aleppo or getting killed.
The army soldiers won control over al-Halwaniyeh district after hours of heavy fighting on Sunday.
Full report at:
http://en.farsnews.com/newstext.aspx?nn=13950915000221
--------
Syrian Army Choppers Drop Surrender-Now Leaflets over Aleppo City again
Dec 05, 2016
Helicopters of the Syrian Army dropped thousands of leaflets over the Eastern neighborhoods of Aleppo city, calling on militants to lay down their arms, ask for amnesty and allow the civilians to leave the war-hit neighborhoods.
The Syrian army captured another district and two key squares in Southeastern Aleppo city on Sunday after inflicting heavy casualties on Jeish al-Fatah militants.
The army pushed Jeish al-Fatah terrorists from Karam al-Maysar district and al-Jazmati and al-Halwaniyeh squares after inflicting tens of casualties on the militants. Sources from the army said, at least, 28 militants were killed and over 30 others sustained INJURIES.
Full report at:
http://en.farsnews.com/newstext.aspx?nn=13950915000249
--------
Aleppo: Army Captures Two Key Districts West of International Airport in Major Breakthrough
Dec 04, 2016
The army men drove militants out of Karam al-Jazmati and Karam al-Tarab districts in the Eastern part of Aleppo city just to the West of the city's international airport.
Army officers are celebrating the victory as the pro-government forces' success in capturing Karam al-Jazmati and Karam al-Tarab was a giant stride to reinvigorate security around the Aleppo international airport.
Reports said the pro-government forces deployed in the Central and Southern parts of Aleppo city should now advance in the region for around 2 kilometers more before they can shake hands.
The army men now continue their advances to cut off communication roads connecting the Central part of the city to its Southern part to eventually tighten siege on militants in the Eastern districts of Aleppo.
On Saturday, Abdullah Muhammad al-Muhaysini, the religious leader of the Jeish al-Fatah coalition of terrorist groups, acknowledged militants' defeats and expressed surprise at the rapid advances made by the Syrian government forces in the Eastern districts of Aleppo city.
Al-Muhaysini underlined the widening rifts among commanders of the militant groups, and added, "Commanders are just justifying the root cause of the existing rifts, while these rifts among the militants pushed the (militant groups') 'Great Epic Operation' in Aleppo into total failure and a major, crushing defeat."
Full report at:
http://en.farsnews.com/newstext.aspx?nn=13950914000627
--------
Syrian Army Still Continues Victories in Battle against Terrorists in Eastern Aleppo
Dec 04, 2016
The army men, who captured two key districts of al-Jazmati and Karam al-Tarab West of Aleppo International Airport a few hours ago, managed to drive militants out of 30 percent of the district of Karam al-Maysay.
The army soldiers also continued to advance against militants in al-Halwaniyeh district and reached al-Halwaniyeh square after capturing a large number of residential complexes.
In the meantime, fierce clashes are underway between the army men and terrorists in Tal (hill) al-Shorta flank and the neighborhoods of Sheikh Lutfi and al-Marjeh.
The army soldiers targeted an arms depot of terrorists and meantime moved forward in Sheikh Lutfi and al-Marjeh in Southeastern Aleppo.
A field source disclosed on Saturday that the army sent hundreds of its forces and a large volume of its EQUIPMENT to the Southeastern districts of Aleppo city after government forces fortified their positions in the Northeast.
Full report at:
http://en.farsnews.com/newstext.aspx?nn=13950914000710
--------
Damascus Army Continues to March on Militants' Positions in Aleppo
Dec 04, 2016
The army pushed Jeish al-Fatah terrorists from Karam al-Maysar district and al-Jazmati and Al-Halwaniyeh squares after inflicting tens of casualties on the militants. Sources from the army said, at least, 28 militants have been killed and over 30 others have sustained INJURIES.
The army soldiers also advanced against militants in Eastern Aleppo and managed to restore security to half of the highway to the Aleppo International Airport.
Reports say the Army troops are still chasing the terrorists that are fleeing battlefields in the Eastern districts of the city.
Media sources reported on Sunday that the army troops, who captured the districts of Karam al-Tarab and Karam al-Jazmati earlier today, managed to capture more regions from the militants on the Western side of Aleppo International Airport.
Reports said Karam al-Qaterji has also fallen to the army in military terms, adding that the army men are now carrying out cleansing operation in the district.
In the meantime, the army soldiers took control of al-Halwaniyeh district after hours of heavy fighting and the army's engineering units have started clean-up operation in this district too.
The army further advanced against the militants in al-Sha'ar district after capturing al-Halwaniyeh.
Full report at:
http://en.farsnews.com/newstext.aspx?nn=13950914001404
--------
Syrian Army Squeezes Terrorists in Eastern Damascus as Russia Prepares Massive Airstrikes
Dec 04, 2016
Russia's SU33 fighter jets based on the aircraft carrier, Admiral Kuznetsov, will bomb positions of the Saudi-backed Jeish al-Islam in Eastern Ghouta as part of a wider military campaign currently underway by the Syrian Army to retake the longtime terrorists' bastion in Southeastern Damascus, massdar quoted the unnamed source as saying.
The source added that satellite-guided "Kalibr" cruise missiles will also be involved in the campaign by targeting the main and most protected command posts of Jeish al-Islam.
The prospected military operation comes as the terrorist groups rejected an evacuation agreement proposed by the Syrian government to be relocated to the Northwestern province of Idlib.
Hundreds of militants have been evacuated recently under similar DEALS, opening way for the Syrian government to expand its control around the capital.
Meanwhile, government troops continue to tighten the noose around terrorists in Eastern Ghouta, now advancing toward Hawsh Shalaq – to the West of the recently-recaptured Mida'ani town – from two flanks.
A large number of Syrian army troops arrived in Eastern Ghouta on Thursday as the Syrian army was preparing for a massive military operation against Jeish al-Islam terrorists in the cities of Douma and Harasta in Damascus province.
Full report at:
"Other army units are advancing in the Western front of Meida'ani," the commander added.
http://en.farsnews.com/newstext.aspx?nn=13950914001159
--------
Syrian Army Readying to Intensify Attacks on ISIL's Defense Lines East of Homs
Dec 04, 2016
Talal Barazi said that fierce clashes are now underway between the pro-government forces and ISIL terrorists in Eastern Homs as army units are advancing towards al-Sukhnah region East of the ancient city of Palmyra (Tadmur).
He further added that the army soldiers and popular forces have engaged in heavy fighting with ISIL East of al-Sha'er gas field and to the East of the villages of Jubb al-Jarrah and al-Mas'oudiyeh.
"The Syrian army, backed up by the Syrian and Russian fighter jets, targeted IMPORTANT positions of terrorists in the regions of al-Houleh, Tal (hill) Dou and Tal Zahab in Northern Homs and also in areas East of al-Rastan town.
"The Syrian Army and its allies are preparing to storm al-Sukhnah to cut off the militants' supply road between Raqqa and Deir Ezzur," Barazi said.
"The Syrian army troops will have two options after capturing al-Sukhnah. They can move towards Raqqa in the North to capture the self-proclaimed capital of ISIL. In the meantime, the pro-government forces can storm ISIL positions in Deir Ezzur province in the East and lift the siege on Deir Ezzur city and also take control of the border with Iraq and cut off ISIL's movement in Iraq and Syria," Barazi underscored.
Syrian Army troops and Air Force targeted the gathering points of ISIL and Fatah al-Sham Front (previously known as the al-Nusra Front) in Eastern and Northern Homs on Saturday, inflicting tens of casualties on the militants.
Full report at:
http://en.farsnews.com/newstext.aspx?nn=13950914001225
--------
Egypt's FM in Washington discusses increasing US aid to Cairo
4 December 2016
Egypt's Foreign Minister Sameh Shoukry, who is currently visiting Washington, said on Sunday that he has been discussing increasing US aid to Egypt, the state-owned Ahram Online reported.
Shoukry said US aid had long represented a great support for Egypt's development efforts, especially with Cairo's "current role in fighting terrorism and maintaining stability in the region."
Full report at:
https://english.alarabiya.net/en/News/middle-east/2016/12/04/Egypt-s-FM-in-Washington-discusses-increasing-US-aid-to-Cairo-.html
--------
Gulf states, Turkey call for UN meeting on Syria
4 December 2016
Saudi Arabia, UAE, Qatar and Turkey have issued a joint statement, urging the UN Security Council to hold an emergency session on Syria, Al Arabiya News Channel reported on Sunday.
In their statement, these countries called on the UN to take on the responsibility of restoring security and peace in Syria, highlighting the humanitarian suffering of people especially in the northwestern city of Aleppo.
In Aleppo, the humanitarian situation is deteriorating and hospitals are no longer able to treat those who escaped death especially after heavy bombardment by the Syrian regime against rebel-held areas east of the city.
Syria's army pushed further into eastern Aleppo Saturday in a devastating assault that has placed it in control of more than half the former rebel stronghold.
The statement comes after a previous emergency session held by the UN on Aleppo on Wednesday proved to be futile in bringing any UN action to end suffering in Syria.
A warning by Stephen O'Brien, the UN under-secretary-general for humanitarian affairs, on Wednesday also fell on deaf ears.
Full report at:
https://english.alarabiya.net/en/News/middle-east/2016/12/04/Gulf-states-Turkey-call-for-UN-meeting-on-Syria.html
--------
Rebels vow not to leave Aleppo as regime presses on
4 December 2016
Rebels in Aleppo have told the United States they will not leave their besieged enclave in the city 1after Moscow called for talks with Washington over their withdrawal, signaling they will fight on even as their top commander was wounded.
A Syrian military source said the army aimed to take full control of Aleppo within weeks, after seizing swathes of the city's rebel-held east in an advance poised to deal a major blow to the rebellion against President Bashar al-Assad.
With more than 30,000 people uprooted by the latest fighting, residents who fled eastern Aleppo for government-held areas early in the war began returning to the Hanano district recently captured from the rebels to inspect their homes.
Under relentless attack, the rebels may have no choice but to negotiate a withdrawal from their shrinking, besieged enclave in eastern Aleppo, where tens of thousands of civilians are thought to be sheltering.
Earlier today, the UN envoy to Syria, Staffan de Mistura, has said that Eastern Aleppo may fall into the hands of Syrian government forces by the end of the year, while expressing his wish to avoid "a terrible battle" during a conference in Rome.
His comments coincide with statements Russian Foreign Minister Sergey Lavrov made on the US-Russian talks to ensure the withdrawal of all opposition forces from Eastern Aleppo. The Syrian opposition considers this a retreat from what had been agreed upon in talks with the Russians, under the auspices of Turkey.
Full report at:
https://english.alarabiya.net/en/News/middle-east/2016/12/04/De-Mistura-East-Aleppo-may-fall-by-year-s-end-.html
--------
Iraq's government ferrying relief supplies to Mosul
4 December 2016
A senior Iraqi government official says authorities are sending food, heating oil and drinking water to civilians in areas retaken from ISIS in and around the northern city of Mosul.
Diaa Sallal, the top relief official at the Ministry of Immigration and Displaced, tells The Associated Press Sunday that the supplies are being delivered to the towns of Bartella and Qayara, east and south of Mosul respectively, as well as the outlying Mosul neighborhoods of Ekhaa First and Ekhaa Second.
Sallal, reached by telephone in Iraq's northern Kurdish region, gave no further details.
The government launched a campaign to retake Mosul from ISIS in October. The fighting has caused shortages of vital supplies like clean drinking water, according to the UN and Iraqi officials.
Major General Haidar al-Obaidi, an advisor of the first special operations command in counter-terrorism forces, said Iraqi forces have arrived to the river of Khosr and seized control of half of the area of the left coast of Mosul.
The advisor reiterated Iraqi forces' concern over civilians' safety as ISIS forces resume targeting them with booby trapped cars.
Full report at:
https://english.alarabiya.net/en/News/middle-east/2016/12/04/Iraqi-forces-seize-control-of-half-of-Mosul-s-left-coast.html
--------
Iraqi security forces uncover Daesh media center in southern Mosul
Dec 4, 2016
A high-ranking Iraqi security official says government forces have managed to uncover and dismantle a media and information center run by the Daesh Takfiri terrorist group south of Mosul as they try to flush the extremists out of their last urban stronghold in the country.
Commander of Federal Police Forces Lieutenant General Raed Shaker Jawdat told Arabic-language All Iraq News news agency on Sunday that Iraqi forces made the discovery in the town of Hammam al-Alil, situated about 30 kilometers south of Mosul, on Sunday.
Jawdat added that Iraqi security forces recovered a number of state-of-the-art cameras, dozens of video files, a considerable amount of MONEY and numerous confidential documents from the site.
Iraqi security forces liberate three villages around Shirqat
Meanwhile, soldiers from Salahuddin Liberation Operation and the 60th Brigade of the Iraqi Army have established their control over three villages in the northern province of Salahuddin.
Full report at:
http://www.presstv.ir/Detail/2016/12/04/496480/Iraq-Special-Forces-media-center-Daesh-Takfiri-militants-Hammam-alAlil-Mosul
--------
India
Afghan President Ashraf Ghani snubs Sartaj Aziz, quotes Taliban on safe haven in Pak
December 5, 2016
The words that Afghanistan President Ashraf Ghani chose Sunday to address Sartaj Aziz, Advisor to the Pakistan Prime Minister on Foreign Affairs, were unusually strong, but they resounded all the more given the venue and the gathering. At the inaugural of the Sixth Heart of Asia Conference-Istanbul Process in Amritsar, as Prime Minister Narendra Modi watched, Ghani turned to Aziz, who was seated along with foreign ministers of six other countries, and more than 30 other delegations, to deliver the snub.
Thanking Pakistan for pledging $500 million assistance for the reconstruction of Afghanistan, Ghani said the money was of no use until there was peace and stability in his country. "This money, Mr Aziz, can very well be used for containing extremism." He said despite his government's "intense" engagement" with Pakistan, and what he called Islamabad's "selective displacement" of terrorist networks, Afghanistan was at the receiving end of an "undeclared war" which had "intensified during 2016".
Ghani marked out the period between October 4 and November 20, when Afghanistan saw a spike in Taliban offensives, as one that witnessed "the highest rate of use of force and organised defence". He said this could not happen without terrorists receiving state-backed sanctuary. Quoting a Taliban leader, Ghani said: "As Mr Kakazada (Mullah Rahmatullah Kakazada), one of the key figures in the Taliban movement, recently said, if they did not have sanctuary in Pakistan, they would not last a month."
He said Afghanistan, at the moment, was dealing with "the nature, scale and scope of the fifth wave of political violence and terrorism" because of which his country was paying a huge price "in lost lives and denied opportunities". Last year, Ghani said, Afghanistan suffered the highest number of civilian casualties and military-related deaths in the world. "This is unacceptable. It can be avoided. It is not unavoidable," he said.
Speaking later, Aziz, the de facto Foreign Minister of Pakistan, said it was "simplistic to blame only one country for the recent upsurge in violence. We need to have an objective and holistic view". He said Pakistan was "making serious efforts" for facilitating peace talks with the Taliban through the Quadrilateral Coordination Group (QCG) — it comprises Afghanistan, Pakistan, the United States and China. A Western diplomat described Ghani's remarks as "blunt", while a former Indian ambassador to Afghanistan said these reflected Afghanistan's increasing frustration with Pakistan.
"The language on terrorism emanating from Pakistan has been getting sharper. The consensus today in Afghanistan, on Pakistan as a source of terror and the need to name it, has been growing stronger," said Gautam Mukhopadhaya, a delegate at the conference who was New Delhi's envoy to Kabul and retired recently from the Indian Foreign Service. Ghani also proposed "an Asian or international regime, whatever is acceptable, particularly to our neighbour Pakistan, to verify cross-frontier activities and terrorist operations. We do not want a blame game, we want verification."
For host India, Ghani had much praise, saying Prime Minister Modi's words had been matched by deeds. India recently pledged $1 billion as development assistance. Referring to an agreement at his bilateral meeting with Modi Sunday morning, Ghani said the soon-to-be-launched cargo air corridor "will give Indian and Afghan consumers and producers unimpeded access to each other's products and services". The agreement addresses the other issue that Afghanistan and India have with Pakistan: its denial of a surface trade route to the two countries through its territory.
"Our location at the heart of Asia and the recent momentum gives us the confidence that investment in connectivity in Afghanistan can have Asia-wide impacts and implications," Ghani said in his speech. But, he said, it was necessary "to tackle the elephant in the room," the political violence and terrorism that was destabilising his country. Aziz, on his part, said his participation at the conference, despite the escalation along "the Line of Control and the Working Boundary with India", was testimony to "Pakistan's unflinching commitment for lasting peace in Afghanistan and the region".
"We believe that all members of the QCG should continue their respective efforts for talks between the Afghan government and Taliban. In our view, there is no military solution to the Afghan conflict and all our efforts should be to achieve a politically-negotiated settlement through an Afghan-led, Afghan-owned process." He held up the Afghan government's peace deal with the Hizb-i-Islami Afghanistan (HIA) and its implementation as "a model" for talks with other "insurgent groups" in future.
Countering the view that regional connectivity was being held up by Pakistan, Aziz highlighted the China Pakistan Economic Corridor (CPEC), India's latest bugbear, as one with "immense potential for connecting our transportation and energy infrastructure with Afghanistan, and other countries of West and Central Asia."
Without mentioning India, he said "peaceful resolution of outstanding disputes" would further improve prospects of regional cooperation and connectivity. Again, without mentioning India, he said the postponement of the SAARC Summit scheduled in Islamabad in November was a setback to efforts at regional cooperation.
http://indianexpress.com/article/india/afghan-president-ashraf-ghani-snubs-pak-foreign-affairs-advisor-sartaz-aziz-quotes-taliban-on-safe-haven-in-pakistan-4410391/
--------
Donald Trump will bring his 'extraordinary deal-making skills' to mediate Kashmir issue: Mike Pence
December 5, 2016
President-elect Donald Trump might serve the role of a mediator in the Kashmir issue by bringing his "extraordinary deal-making skills" to sort the crisis, Vice President-elect Mike Pence said. Appearing on NBC's "Meet the Press", when asked if Trump would be a mediator over the Kashmir issue, Pence said, "I think you're also going to see an energetic leadership in the world, prepared to engaged and to look for ways that he can bring those extraordinary deal-making skills to bear on lessening tensions and solving problems in the world."
According to CNN, Pence was further pressed to respond to Trump's recent phone call with Pakistan Prime Minister Nawaz Sharif in which the President-elect offered to "play any role that you want me to play". The remark raised several hackles in New Delhi, who has so far not sought the intervention of the United Stated in settling the dispute over Kashmir with Pakistan.
Full report at:
http://indianexpress.com/article/india/donald-trump-will-bring-his-extraordinary-deal-making-skills-to-mediate-kashmir-issue-mike-pence-4411126/
--------
'Amritsar Declaration' calls for early finalisation of international counter-terror convention
05-Dec-16
AMRITSAR: The Heart of Asia Conference Sunday called for concerted regional and international cooperation to ensure elimination of terrorism in its all forms and manifestations, and laid stress on early finalisation of Comprehensive Convention on International Terrorism with consensus.
The 'Amritsar Declaration' issued at the conclusion of the 6th Ministerial Conference of Heart of Asia conference - held in Amritsar, India - also called for "dismantling of terrorist sanctuaries and safe havens, as well as disrupting all financial, tactical and logistical support for terrorism".
Co-chaired by Indian Finance Minister Arun Jaitley and Afghan Foreign Minister Salahuddin Rabbani, the conference recognised terrorism as the biggest threat to regional peace and cooperation.
The participants of the meeting called upon all the states to take action against the terrorist entities in accordance with their respective national counter terrorism policies, their international obligations and the UN Global Counter Terrorism Strategy 2006.
The participants recalled the five ministerial conferences in Istanbul (2011), Kabul (2012), Almaty (2013), Beijing (2014), and Islamabad (2015) and reaffirmed commitment to the principles, objectives, and outcomes enshrined in the declarations
The meeting commended countries in the region and beyond, particularly Iran and Pakistan, for their hospitality in hosting millions of Afghan refugees for over three decades and called upon them to continue hosting the Afghan refugees until their sustainable repatriation and reintegration in Afghanistan can take place in a voluntary, safe, gradual and dignified fashion, in accordance with the Solutions Strategy for Afghan Refugees to Support Voluntary Repatriation, Sustainable Reintegration and Assistance to Host Communities.
It welcomed the Afghanistan-Pakistan-UNHCR and Afghanistan-Iran-UNHCR Tripartite Commissions on Voluntary Repatriation of Afghan Refugees from Iran and Pakistan, and supported the final statement of the UNHCR executive committee, refocusing the international community's attention on the Afghan refugee situation in this critical period.
The conference recognised the role of cultural heritage as a catalyst for social and economic development of the Heart of Asia region.
The participants reaffirmed commitment to the UN Charter and its enshrined principles of sovereignty, independence, territorial integrity, sovereign equality of nations and non-intervention in the internal affairs of other states as well as universally recognised principles and norms of international law.
The conference reaffirmed commitment to the Universal Declaration of Human Rights and reiterated the importance of increased political dialogue and consultations between countries of the Heart of Asia region for a stable, peaceful and prosperous region.
It was also stressed to advance regional cooperation as an effective mean to address common challenges and to promote security, stability and socio-economic development in the Heart of Asia region.
The conference reaffirmed appreciation and expressed strong and unequivocal support for the ongoing constructive efforts of the Afghan government towards regional engagement and its commitment to building an increasing environment of trust and confidence throughout the region.
Full report at:
http://dailytimes.com.pk/pakistan/05-Dec-16/amritsar-declaration-calls-for-early-finalisation-of-international-counter-terror-convention
--------
Muslim Man Marries Off 'Daughter' In Hindu Way
05th December 2016
GUWAHATI: Vedic mantras will be chanted at a Muslim man's house in Assam's cultural city Tezpur on Sunday night on the occasion of his step daughter's marriage.
Roisa, 22, a schoolteacher, is a Bengali Hindu who was raised by Sher Alam and his family since she was six-months old.
The groom, Amit Guha, also a Bengali Hindu, is a lawyer at the District and Sessions Court in Tezpur. They had pursued their studies in the same college.
The local people, belonging to both communities, have started pouring into Alam's house to be a part of the "rare and unique" marriage which, they believe, will send a strong message across the country.
Roisa's parents — father, the late Hare Krishna Mishra and mother Rupa Mishra — lived at Alam's house as tenants. It was here that Roisa was born. Later, she was raised by Alam's family.
Hare Krishna had passed away just months after her engagement to Amit in January this year.
"She is no less than my daughter. But as she was a Hindu, I had always wanted to marry her off to a Hindu youth. But I was not sure that a Hindu will marry her since she was raised by a Muslim family. My joy knew no bounds when Amit's family came forward to seek Roisa's hand for their son," Alam told Express.
Revealing that the wedding will be solemnised in a Hindu way, Alam said that Roisa had always followed the Hindu religion and his family had no qualms about the same.
"She grew up following Hinduism and we never interfered in it. After all, we all are the children of God. There is no Muslim or Hindu per se," said Alam.
Full report at:
http://www.newindianexpress.com/nation/2016/dec/05/muslim-man-marries-off-daughter-in-hindu-way-1545663.html
--------
JIH against out-of-court settlement of Babri Masjid dispute
December 3, 2016
Muslim body Jamaat-e-Islami Hind has ruled out any out-of-court settlement of Babri Masjid dispute saying it will continue its peaceful struggle for restoration and reconstruction of the mosque, along with like-minded people. "Jamaat rules out any possibility for an out-of-court settlement towards resolution of the Babri Masjid case," JIH president Maulana Jalaluddin Umri said terming December 6, 1992, when the mosque was demolished, "one of the darkest days" of history of India.
"On the 24th anniversary of demolition of Babri Masjid, we resolve to continue the peaceful struggle for restoration and reconstruction of the Babri Masjid, in cooperation with the All India Muslim Personal Law Board (AIMPLB), human rights organisations and justice-loving people of all religions," he said at a press meet.
Unri regretted the Liberhan Commission presented its report in June 2009 after a long period of 17 years but "no steps" were taken to punish the guilty even after that. "The case is pending before the Supreme Court and Jamaat is hopeful that the verdict will be in its favor," he said.
Full report at:
http://indianexpress.com/article/india/jamaat-e-islami-hind-jih-against-out-of-court-settlement-of-babri-masjid-dispute-4409045/
--------
'Pakistan has no reason to complain' about Sartaj Aziz not being allowed to visit Golden Temple
Shailaja Neelakantan
Dec 5, 2016
NEW DELHI: Pakistan has no reason to complain that its foreign affairs chief Sartaj Aziz wasn't allowed to visit the Golden Temple in Amritsar yesterday, especially considering so many of his itinerary's last-minute changes were indeed accommodated, government sources told ANI today.
"India extended conveniences keeping security requirements in view... This was done despite last minute change of programme and advancing of arrival in Amritsar by special flight by more than 12 hrs," the sources told ANI.
They were referring to Aziz advancing his arrival to India by over 10 hours and arriving on Saturday for the Heart of Asia conference in Amritsar, a day earlier.
Yesterday, sources told TOI that the Punjab police did not allow Aziz to leave the hotel after the Heart of Asia conference due to security reasons. There was some speculation that Aziz wanted to brief the Pakistani media at the Golden Temple.
Prime Minister Narendra Modi and Afghanistan President Ashraf Ghani visited the Golden Temple on Saturday, and Iranian Foreign Minister Javad Zarif visited it yesterday. A senior Punjab cop also told TOI that Aziz's Indian visa was valid only for 17 hours.
Pakistan's foreign policy chief was yesterday seen sitting in his hotel lobby along with Pakistan high commissioner to India Abdul Basit, his support staff and security officials.
Full report at:
http://timesofindia.indiatimes.com/india/Pakistan-has-no-reason-to-complain-about-Sartaj-Aziz-not-being-allowed-to-visit-Golden-Temple/articleshow/55806795.cms
--------
Likely for 'mothership of terror' comment, PM Narendra Modi beats Donald Trump, others in Time's online 'Person of the Year' poll
Dec 5, 2016
New Delhi: Prime Minister Narendra Modi today won an online poll of readers for Time magazine's 'Person of the Year' in 2016, beating out other world leaders, artists and politicians as the most influential figure of the year.
According to the Time magazine, Modi won with 18 per cent of the vote when the poll closed Sunday at midnight. He placed well ahead of his closest contenders, including US President Barack Obama, US President-elect Donald Trump and Wikileaks founder Julian Assange, who all received 7 per cent of the "yes" vote. Modi also placed far ahead of other prominent figures of this year, like Mark Zuckerberg (2 per cent) and Hillary Clinton (4 per cent).
Time also analysed the moments from 2016 when this year's poll contenders were most talked about. For Modi it was on October 16, when the Indian leader suggested during a summit of BRICS nations in Goa that Pakistan is the "mothership" of terrorism.
Modi won the Time's readers' poll in 2014 as well, securing more than 16 per cent of the almost five million votes cast. He was again among contenders for the annual honour in 2015, but was not among the final eight candidates shortlisted by Time magazine editors for the title. Last year German Chancellor Angela Merkel was Time's 'Person of the Year'.
Every year, Time's editors decide who from among world leaders, presidents, protesters, astronauts, pop icons and disrupters should be person of the year. But they also ask readers to cast their votes and decide who they think most shaped a particular year.
The poll results, analyzed by poll host Apester, found that preferences differ across the world and in the US. Modi performed particularly well among Indian voters as well as those in California and New Jersey, where there's a large concentration of people of Indian origin.
Full report at:
http://timesofindia.indiatimes.com/india/Likely-for-mothership-of-terror-comment-PM-Narendra-Modi-beats-Donald-Trump-others-in-Times-online-Person-of-the-Year-poll/articleshow/55806689.cms
--------
Delhi, Dhaka to talk on terrorism, intel-info sharing
Dec 5, 2016
NEW DELHI: Anti-terror cooperation, sharing of intelligence inputs and how to jointly check cross-border smuggling will dominate the discussions between home secretaries of India and Bangladesh which begin on Monday.
Home secretary Rajiv Mehrishi and his Bangladeshi counterpart Mozammel Haque Khan and their teams will engage in intense discussions for two days to strengthen the anti-terrorism mechanism and sharing of information about terrorists.
Growing activities of terror group Islamic State in the subcontinent, increased presence of jihadi groups in Bangladesh and some Indian states and how to jointly tackle them will be discussed threadbare, sources said.
Both sides are expected to flag the menace of smuggling of cattle, narcotics and arms through the porous India-Bangladesh border and is expected to find out ways to check them. Bangladesh may press for Indian cooperation in nabbing its most wanted criminals, especially those who were involved in war crimes and assassination of Bangladesh founder Sheikh Mujibur Rahman.
Full report at:
http://timesofindia.indiatimes.com/india/Delhi-Dhaka-to-talk-on-terrorism-intel-info-sharing/articleshow/55801831.cms
--------
Ajit Doval-Aziz's 100-feet walk, talk of Heart of Asia meet
Sachin Parashar & Rohan Dua
Dec 5, 2016
AMRITSAR: An informal conversation between NSA Ajit Doval and Pakistan's foreign affairs adviser Sartaj Aziz+ turned out to be the highlight of the Heart of Asia (HoA) conference+ here, even as the government categorically denied later that there was any "bilateral meeting".
Terrorism was at the core of discussions at the conference, which seeks to promote peace in Afghanistan and was attended by representatives of over 40 countries.
Indian authorities brushed aside as insignificant a photograph which showed Doval and Aziz together, saying the two had merely walked together for "100 feet" after the dinner for delegates late on Saturday night. Doval was seen talking animatedly with Aziz in the photograph.
Pakistani high commissioner Abdul Basit too denied any meeting between Doval and Aziz. He said not much should be read into his informal interactions with Jaitley and Doval.
Aziz's early arrival had raised hopes of a breakthrough in ties between the two countries. He continued to maintain that Pakistan was ready for dialogue. He did not rake up the Kashmir issue in his address at the conference, merely saying it was simplistic to blame only one country for the upsurge in violence.
"We need to have an objective and holistic view," he said about the security situation in Afghanistan.
Full report at:
http://timesofindia.indiatimes.com/india/Doval-Azizs-100-feet-walk-talk-of-Asia-meet/articleshow/55800310.cms
--------
Mideast
Iran ready to further ties with friend, strategic partner China
Dec 5, 2016
Iranian Foreign Minister Mohammad Javad Zarif says Tehran is ready to develop ties in all fields with its friend and strategic partner China.
Zarif made the comment after arriving in Chinese capital Beijing early on Tuesday at the head of a high-ranking political and economic committee.
While stressing that the time is right for developing relations between Iran and China, Zarif noted that during his visit he is scheduled to meet with high-ranking Chinese officials to discuss further progression of ties.
"During this trip, IMPORTANT and serious talks will be held over various subjects with Chinese officials, especially over the economic issues," he said.
He noted that furthering relations between the two countries was among the subjects highlighted in talks held between Iran's President Hassan Rouhani and Chinese President Xi Jinping during his trip to Tehran earlier in the year.
Zarif arrived in China after a two-day visit to India which he hailed as successful, and is set to meet with his Chinese counterpart Wang Yi and Chinese Vice Premier Zhang Gaoli later in the day.
On Tuesday, Zarif will leave China for Japan, where he is scheduled to sit down with senior Japanese officials, including Foreign Minister Fumio Kishida, and attend joint economic seminars.
The delegation accompanying the Iranian foreign minister include heads of 38 companies affiliated with the Iran Chamber of Commerce, representatives from 15 knowledge-based companies, and eight commercial banks as well as a number of officials in the industrial, trade and scientific sectors.
http://www.presstv.ir/Detail/2016/12/05/496490/china-iran-zarif-beijing
--------
Erdogan calls on Muslims to protect Jerusalem
December 4, 2016
Istanbul: Turkish President Recep Tayyip Erdogan has urged all Muslims to defend the Palestinian cause and said it is their obligation to protect Jerusalem.
Speaking in Istanbul at a parliamentary symposium on Jerusalem, Erdogan said "it is the common duty of all Muslims to embrace the Palestinian cause and protect Jerusalem" and that safeguarding the Al-Aqsa Mosque should not be left to children armed with nothing but stones, Al Jazeera Channel reported.
He also condemned a proposed Israeli bill on Tuesday that limits "noise levels" at places of worship in Jerusalem, a plan seen as an attempt to silence the Muslim call to prayer.
Erdogan criticized the bill as "irrational" and "conscienceless." Highlighting "policies of repression and discrimination against our Palestinian brothers," Turkey's president also said safeguarding the Al-Aqsa Mosque should not be left to children armed with nothing but stones.
Full report at:
http://www.siasat.com/news/erdogan-calls-muslims-protect-jerusalem-1079094/
--------
Saudi jets attack Pakistani boat off Yemen, kill six sailors
Dec 5, 2016
At least six Pakistani sailors have reportedly been killed after a Saudi strike targeted their boat off the Yemeni coast.
The Saudi air raid targeted the boat, which was carrying 12 Pakistani sailors off Mukha coast in the Yemeni province of Ta'izz on Sunday, Yemen's Saba news agency said.
According to the report, the other six sailors are still unaccounted for.
The deadly raid comes amid the Riyadh regime continues its brutal military campaign against neighboring Yemen, which was launched in March 2015 to reinstall the former Yemeni government.
Yemen's former president Abd Rabbuh Mansour Hadi has ORDERED a major assault on the country's Red Sea coast against Houthi Ansarullah fighters and allied army forces, who have been defending the nation against a deadly Saudi offensive.
Reports said on Sunday that Saudi warplanes had intensified their air raids on the province of Ta'izz, which has witnessed heavy fighting on the ground between pro-Hadi militants and Yemeni armed forces in recent days.
Meanwhile, a child was killed as Saudi fighter jets bombed residential buildings in the province of Sa'ada.
Full report at:
http://www.presstv.ir/Detail/2016/12/05/496531/Saudi-jets-Pakistani-sailors
--------
Netanyahu to discuss 'bad' Iran deal with Trump, Kerry stresses settlements
December 05, 2016
Israeli Prime Minister Benjamin Netanyahu said on Sunday he would discuss with Donald Trump the West's "bad" nuclear deal with Iran after the U.S. president-elect enters the White House.
Speaking separately to a conference in Washington, Netanyahu and U.S. Secretary of State John Kerry clashed over the Iran deal and Israel's settlement construction on the occupied West Bank, which Kerry depicted as an obstacle to peace.
During the U.S. election campaign, Trump, a Republican, called last year's nuclear pact a "disaster" and "the worst deal ever negotiated". He has also said it would be hard to overturn an agreement enshrined in a U.N. resolution.
"Israel is committed to preventing Iran from acquiring nuclear weapons. That has not changed and will not change. As far as President-elect Trump, I look forward to speaking to him about what to do about this bad deal," Netanyahu told the Saban Forum, a conference on the Middle East, in Washington, via satellite from Jerusalem. Trump takes office on Jan. 20.
Netanyahu has been a harsh critic of the nuclear deal, a legacy foreign policy achievement for Democratic President Barack Obama. But he had largely refrained from attacking the pact in recent months as Israeli and U.S. negotiators finalised a 10-year, $38 billion military aid package for Israel.
Before the nuclear agreement, Netanyahu, a conservative, strained relations with the White House by addressing the U.S. Congress in 2015 and cautioning against agreeing to the pact.
The Obama administration promoted the deal as a way to suspend Tehran's suspected drive to develop atomic weapons. In return, Obama agreed to lift most sanctions against Iran. Tehran denies ever having considered developing nuclear arms.
Under the deal, Iran committed to reducing the number of its centrifuges by two-thirds, capping its level of uranium enrichment well below the level needed for bomb-grade material, reducing its enriched uranium stockpile from around 10,000 kg to 300 kg for 15 years, and submitting to international inspections to verify its compliance.
"The problem isn't so much that Iran will break the deal, but that Iran will keep it because it just can walk in within a decade, and even less ... to industrial-scale enrichment of uranium to make the core of an arsenal of nuclear weapons," Netanyahu told the forum.
'NO, NO, NO AND NO'
Appearing later in person, Kerry defended the deal, arguing its monitoring provisions provided the ability to detect any significant uptick in Iran's nuclear programs, "in which case every option that we have today is available to us then."
Full report at:
http://nation.com.pk/international/05-Dec-2016/netanyahu-to-discuss-bad-iran-deal-with-trump-kerry-stresses-settlements
--------
Four Gazans killed in 'flooded' tunnel to Egypt
December 05, 2016
GAZA CITY:- Four Palestinians have been found dead in a smuggling tunnel linking the Gaza Strip to Egypt's Sinai Peninsula, local officials said Sunday, accusing the Egyptian military of flooding it. The four men aged 22 to 45 "were found dead after the tunnel they were working in was flooded nine days ago by the Egyptian army," local authorities in the Gazan city of Rafah near Egypt's border said in a statement. Egypt had not confirmed the information, though it has destroyed hundreds of tunnels in the area, alleging they are used to transport arms and militants. –AFP
http://nation.com.pk/international/05-Dec-2016/four-gazans-killed-in-flooded-tunnel-to-egypt
--------
Fatah vote sees Palestinian leader sideline rivals
December 05, 2016
RAMALLAH - Palestinian president Mahmud Abbas's Fatah party announced election results to its ruling bodies on Sunday that saw the 81-year-old sideline rivals but also provided few clues to his eventual successor.
The vote for both the party's central committee and its parliament, known as the revolutionary council, came after Abbas opponents were excluded from the election. Beginning on Tuesday, some 1,400 delegates met in Ramallah for Fatah's first congress since 2009 and to vote in the elections. At the congress's opening, Abbas was re-elected head of the party.
Following Yasser Arafat's death in 2004, the ageing leader has been in charge of Fatah, the Palestine Liberation Organisation and the Palestinian Authority.
A number of those seen as opposing him were not invited to the gathering, and one of his main rivals, Mohammed Dahlan, was replaced on the central committee. Dahlan is currently in exile in the United Arab Emirates and Abbas reportedly resisted pressure from Arab nations to allow him to return.
Observers saw the reduced number of delegates eligible to vote -- down from more than 2,000 in 2009 -- as part of a move to exclude Dahlan supporters.
The central committee includes 18 members, plus four who are appointed, and the parliament will have 80 elected members and around 40 who are appointed. Marwan Barghouti, a popular figure jailed by Israel for life for murder over his role in the second Palestinian intifada or uprising, won the most votes for the central committee -- more than 900.
Other key figures standing included Jibril Rajoub, a former head of intelligence who now leads the Palestinian Football Association. He secured the second-highest number of central committee votes at more than 800.
Saeb Erekat, secretary general of the Palestine Liberation Organisation and a close Abbas ally, was also re-elected to the committee. Arafat's nephew Nasser al-Kidwa, also mentioned as a possible successor to Abbas, was re-elected to the central committee as well.
Abbas has not publicly backed a successor, but speculation over who will eventually replace him has mounted with polls showing most Palestinians want him to resign.
He was elected to a four-year term as Palestinian president in 2005, but has remained in office as elections have not been held. Palestinian analyst Jamil Hilal said "a small political elite within Fatah's leadership will decide who will lead after Abbas".
hat is mainly because Fatah is still deeply divided from Hamas, the Islamist movement that runs the Gaza Strip, with reconciliation attempts having repeatedly failed, he said. A number of analysts saw his holding of the past week's congress as a success for Abbas since he was able to sideline rivals.
He "proved that he still controls both Fatah and the Palestinian Authority in financial and organisational terms and that he can use them to fulfil his vision", said Wajih Abu Zarifa, a Gazan political science professor.
Full report at:
http://nation.com.pk/international/05-Dec-2016/fatah-vote-sees-palestinian-leader-sideline-rivals
--------
Iran reserves right to respond to US extension of bans law: Nuclear chief
Dec 5, 2016
Iran's nuclear chief says the country reserves the right to retaliate as it sees fit against a move by the US Congress to extend the Iran Sanctions Act.
Ali Akbar Salehi, the head of the Atomic Energy Organization of Iran (AEOI), made the remarks in a meeting with US Energy Secretary Ernest Moniz in Vienna on Sunday.
The two officials are in the Austrian capital to attend the "International Conference on Nuclear Security: Commitments and Actions," which is to be held there under the auspices of the International Atomic Energy Agency (IAEA) from December 5 to 9.
Salehi further communicated Iran's strong protest and serious concern over the congressional move, emphasizing that Tehran has the right to deliver a proportionate response.
Following in the footsteps of the House of Representatives, the US Senate recently voted to extend the Iran Sanctions Act (ISA) for another 10 years.
The law, which would authorize the US president to re-impose sanctions on Iran, was first adopted in 1996 to punish investments in the Islamic Republic over its nuclear program and support for anti-Israeli resistance groups. The ISA now needs President Barack Obama's signature to turn into law.
This is while Iran had all nuclear-related sanctions lifted on the back of the Joint Comprehensive Plan of Action (JCPOA), the nuclear accord it signed with the P5+1 group of countries -- the US, Britain, Russia, France and China plus Germany -- last year in Vienna.
Salehi further noted that Iran has been committed to the JCPOA -- which obliged it to introduce limits to its nuclear activities in exchange for the sanctions relief.
The commitment, he added, has been verified by the IAEA, which monitors the JCPOA's implementation process, urging the US to likewise honor its contractual obligations, especially by preventing the potential implementation of the ISA.
Full report at:
http://www.presstv.ir/Detail/2016/12/05/496500/Iran-Salehi-Moniz-JCPOA-Obama
--------
Southeast Asia
Indonesians rally for tolerance after blasphemy protests
Dec. 4, 2016
JAKARTA, Indonesia (AP) — Tens of thousands of Indonesians rallied in the center of the capital Jakarta on Sunday, calling for tolerance and unity after massive protests by conservative Muslims against the city's minority Christian governor.
The crowds filled a major traffic circle in the heart of the city and sprawled into its main thoroughfares.
The demonstrators waved "We Are Indonesia" signs and a giant red-and-white national flag was held aloft by hundreds of people.
The capital of Indonesia, the world's most populous Muslim nation, has been rocked in the past month by two major protests against Gov. Basuki "Ahok" Tjahaja Purnama, who is being prosecuted for alleged blasphemy. The movement against Ahok, who is the first ethnic Chinese to be governor of Jakarta and the first Christian in half a century, has raised communal tensions and challenged Indonesia's reputation for practicing a moderate brand of Islam.
A demonstration against Ahok on Friday drew at least 200,000 people. An anti-Ahok protest on Nov. 4 attracted at least 100,000 people and turned violent, with one dead and dozens of protesters and police injured.
Hard-line Muslim groups are demanding Ahok's immediate arrest. Police say his detention is not necessary and have called for the legal process to be respected.
Sunday's rally coincided with a weekly car-free morning in Jakarta when a central artery of the city is handed over to pedestrians for a few hours.
Police estimated 30,000 people turned up, said Jakarta police spokesman Argo Yuwono.
Organizers called it the "Parade of Indonesian Culture" and it featured traditional dances from Sabang in westernmost Aceh to Merauke in easternmost Papua.
National leaders of political parties under the pro-government coalition behind President Joko "Jokowi" Widodo, an ally of Ahok, delivered short speeches on the importance of keeping the ethnically diverse nation united.
Full report at:
http://www.whig.com/article/20161203/AP/312039743#
--------
Suu Kyi must stop Rohingya 'genocide': Malaysia PM
December 05, 2016
KUALA LUMPUR - Aung San Suu Kyi must step in to prevent the "genocide" of Rohingya Muslims in Myanmar, Malaysia's prime minister said Sunday as he mocked the Nobel laureate for her inaction.
Addressing a 5,000-strong rally in Kuala Lumpur, Najib Razak said the Myanmar government must stop the bloody crackdown in its far west that has sent thousands of Rohingya fleeing, many with stories of rape, torture and murder.
"What's the use of Aung San Suu Kyi having a Nobel prize?" Najib asked a raucous crowd.
"We want to tell Aung San Suu Kyi, enough is enough... We must and we will defend Muslims and Islam," he said as supporters chanted "Allahu Akbar" ("God is greater"). "We want the OIC(Organisation of Islamic Cooperation) to act.
"Please do something. The UN do something. The world cannot sit and watch genocide taking place," said Najib.
More than 10,000 Rohingya have fled to Bangladesh in recent weeks, the United Nations said on Wednesday, escaping a bloody army crackdown in the north of Rakhine state.
Arrivals in Bangladesh have told AFP horrifying stories of gang rape, torture and murder at the hands of Myanmar's security forces.
Myanmar has denied allegations of abuse, but has also banned foreign journalists and independent investigators from the area.
Muslim-majority Malaysia has recently upped its criticism of Myanmar for its handling of the crisis.
Last month it summoned the Myanmar ambassador, while around 500 Malaysians and Rohingya marched to the embassy in the Malaysian capital carrying banners denouncing the "genocide."
A senior minister has called on ASEAN, the ten-country Southeast Asia bloc, to review Myanmar's membership, while a strongly worded statement from the foreign ministry Saturday accused Myanmar of engaging in "ethnic cleansing."
But analysts said Sunday the issue is a convenient smokescreen for Najib, who is fighting allegations he took part in the looting of billions of dollars of public cash through state fund 1MDB.
Both he and the fund deny any wrongdoing.
James Chin, director of the Asia Institute at the University of Tasmania, told AFP that Najib "is there (at the rally) to boost his standing as an Islamic leader," with a general election looming.
Full report at:
http://nation.com.pk/international/05-Dec-2016/suu-kyi-must-stop-rohingya-genocide-malaysia-pm
--------
Young Muslim Boys Take a Dip in A River Before Taking Part In A Mass Circumcision Ceremony In Malaysia
4 December 2016
For many young boys the idea of being circumcised would be a daunting prospect.
But Muslim youngsters in Malaysia looked completely at ease as they danced around and took a dip in a river prior to an annual mass circumcision event this weekend.
Rather than something to fear, the ceremonies are seen as a rite of passage for the boys, aged between five and 12 years old.
The circumcision, which involves the removal of the foreskin from the penis, is regarded as the boys starting their journey into adulthood.
An operation is carried out using laser surgery while the youngsters are kept under anesthetic.
While Malaysia is a multicultural country, 60 percent of its 68 million population are Muslims and Islam is recognised as the nation's official religion.
Muslims are the largest religious group to circumcise boys, a procedure that is also known as the Tahara which means 'purification'.
They remove the foreskin as they believe it will make it easier to keep themselves clean, due to urine being trapped underneath it after going to the toilet.
Islamic custom demands Muslims are clean when they pray, which means that no urine can be left on the body.
Full report at:
http://www.dailymail.co.uk/news/article-3999146/Putting-brave-face-Young-Muslim-boys-dip-river-joke-taking-mass-circumcision-ceremony-Malaysia.html
--------
DAP: We support Anwar, never asked for Chinese PM
BY IDA LIM
December 4, 2016
SHAH ALAM, Dec 4 — The DAP has never demanded for the prime minister post to be held by an ethnic Chinese Malaysian, but has always backed Datuk Seri Anwar Ibrahim for the role, its secretary-general Lim Guan Eng said today.
Lim also said DAP will not seek to dominate if the federal opposition pact, Pakatan Harapan, wins the general elections, but will instead be a "fair and responsible partner" in the federal government.
"Being aware of issues that concern Malays and Muslims, DAP has never sought the position of the prime minister.
"And we have never asked for a Chinese to be a prime minister but has always supported a Malay, especially Datuk Seri Anwar Ibrahim as prime minister," he said in his policy speech at the DAP national conference today.
Earlier in his speech, Lim also said DAP reaffirmed the tenets under the DAP@50 Declaration — which was adopted at the end of the conference — in line with the party's 50th anniversary this year.
The points affirmed included the upholding Bahasa Malaysia's position as the national language while encouraging the use of mother tongues, preserving the Malay and Bumiputera communities' special position while protecting the rights of other ethnic groups, safeguarding Islam's role as the religion of the federation, while championing freedom of practice for other religions.
Lim quizzed if the points affirmed by DAP were wrong or examples of alleged "extreme liberalism" threatening Malays and Islam, noting that the federal opposition is still branded "anti-Islam" despite doubling the allocations for Islam in Penang during its administration when compared to Barisan Nasional's rule.
"It is time for us to reject identity politics that divides us through the politics of communal identity that breeds hate and fear.
Full report at:
http://www.themalaymailonline.com/malaysia/article/dap-we-support-anwar-never-asked-for-chinese-pm
--------
Rahman Dahlan: No better time for Umno and PAS supporters to unite
December 5, 2016
KUALA LUMPUR, Dec 5 — Umno MP Datuk Abdul Rahman Dahlan has suggested that now is the best time to unite the supporters of both his party and rival Islamist party PAS.
According to the urban wellbeing, housing and local government minister, this is because both the presidents of Umno and PAS put the unity of the ummah, or the community, above political or personal considerations.
"I feel that in decades of us politicking in this country, this is the best time to unite the Malays. At least among the supporters of Umno and PAS," Abdul Rahman said in an interview published in Malay daily Utusan Malaysia today.
"We have two leaders that is Datuk Seri Najib Razak and Datuk Seri Abdul Hadi Awang that put the interest of ummah unity above political or personal interests," he added, referring to Umno and PAS presidents.
The Kota Belud MP said one of the factors contributing towards it is the formation of splinter Parti Pribumi Bersatu Malaysia (PPBM), that brought Umno and PAS towards a united agenda.
"This is one of the advantage in the current political situation. Before this, we could not think that PAS and Umno can talk together," he said.
Abdul Rahman had earlier in the interview said Umno is now at the advantage after PPBM chose to ally itself with DAP, a party which the Malays and Bumiputera allegedly see as a threat to their interests.
Full report at:
http://www.themalaymailonline.com/malaysia/article/rahman-dahlan-no-better-time-for-umno-and-pas-supporters-to-unite
--------
North America
US Must Stay In Iraq after IS Defeat: US Defence Secretary
December 05, 2016
WASHINGTON - US Defence Secretary Ashton Carter has said that America and its allies will need to stay in Iraq - even after Islamic State is defeated.
Addressing the Reagan National Defense Forum in Simi Valley, California, on Saturday, Carter said terrorist groups were headed for a lasting defeat but the US-led coalition, which has been striking purported Daesh positions in Iraq since 2014, had to stay and keep training local security forces.
"But there will still be much more to do after that to make sure that, once defeated, ISIL stays defeated," the Pentagon chief said. "We'll need to continue to counter foreign fighters trying to escape and ISIL's attempts to relocate or reinvent itself. To do so, not only the United States but our coalition must endure and remain engaged militarily."
"In Iraq in particular, it will be necessary for the coalition to provide sustained assistance and carry on our work to train, equip and support local police, border guards and other forces to hold areas cleared from ISIL," he added.
Carter made the remarks amid significant achievements by Iraqi military and popular forces in purging Daesh from Mosul, the country's second-largest city. Since late October, nearly 30,000 Iraqi army soldiers, fighters from pro-government Popular Mobilization Units and Kurdish Peshmerga forces have launched a massive and multi-pronged operation to retake Mosul from foreign-backed militants.
http://nation.com.pk/international/05-Dec-2016/us-must-stay-in-iraq-after-is-defeat-ashton-carter
--------
Twitter won't help to build Muslim registry in US
December 4, 2016
Of the nine major tech giants, including Facebook, Apple and Google, only Twitter has declined to help if US President-elect Donald Trump seeks to create a national Muslim registry, a media report said.
US-based news website the Intercept said it contacted nine of the most prominent firms to ask if they would sell their services to help create a national Muslim registry -- an idea recently refloated by President-elect Donald Trump's transition team -- and only Twitter said no.
"We contacted nine different firms in the business of technology, broadly defined, with the following question: 'Would [name of company], if solicited by the Trump administration, sell any goods, services, information, or consulting of any kind to help facilitate the creation of a national Muslim registry, a project which has been floated tentatively by the President-elect's transition team?'," the report said.
After two weeks of calls and e-mails, only three companies provided an answer and only one said it would not participate in such a project.
Google, Facebook, Apple, IBM, IT giant SRA International and Canada-based Information technology consulting company CGI did not provide any answer to the query. Management consulting company Booz Allen Hamilton declined to comment.
Twitter said "No", and a link, which states as company policy a prohibition against the use, was shared on the website.
The link read: "To be clear: We prohibit developers using the Public APIs and Gnip data products from allowing law enforcement -- or any other entity -- to use Twitter data for surveillance purposes. Period."
Microsoft returned with an answer saying, "We're not going to talk about hypotheticals at this point."
Full report at:
http://www.business-standard.com/article/technology/twitter-won-t-help-to-build-muslim-registry-in-us-116120400500_1.html
--------
More people should engage in politics so 'no party gets to run against Muslim Canadians,' Justin Trudeau says
Dec 04, 2016
Canadians from different backgrounds should get involved in politics so that "no party gets to run against Muslim Canadians or any other group," says Prime Minister Justin Trudeau.
Trudeau made the comment during a roundtable discussion with Syrian refugees, sponsors and Matt Galloway, the host of CBC Toronto's Metro Morning, to air on Monday.
Galloway asked the prime minister for his reaction to the proposal to screen immigrants for "anti-Canadian values" put forward by federal Conservative leadership candidate Kellie Leitch.
Trudeau did not address Leitch by name. He said he told a group of Muslim-Canadians during a recent meeting that he was happy to have them as supporters. However, he said he suggested they encourage family members and friends to also get involved in politics, whether on behalf of the Liberals or another party that aligns with their values.
"The other two political parties have leadership races on now. I'd like to see more Canadians of diverse backgrounds engaging with parties that line up with their convictions and ideologies to make sure that no party gets to run against Muslim Canadians or any other group of Canadians and demonize them," Trudeau said.
"And I think the way we do that is getting involved in the whole breadth of the political spectrum in Canada. I'm happy when people decide they are more aligned with me and my party, but they should also think about being active and aligned with parties that disagree with me on certain issues."
Full report at:
http://www.cbc.ca/news/canada/toronto/programs/metromorning/trudeau-metro-morning-leitch-trump-1.3880437
--------
URL: https://www.newageislam.com/islamic-world-news/new-age-islam-news-bureau/taliban-wouldn-t-last-a-month-without-pakistan-support--afghan-president/d/109287
New Age Islam, Islam Online, Islamic Website, African Muslim News, Arab World News, South Asia News, Indian Muslim News, World Muslim News, Women in Islam, Islamic Feminism, Arab Women, Women In Arab, Islamophobia in America, Muslim Women in West, Islam Women and Feminism